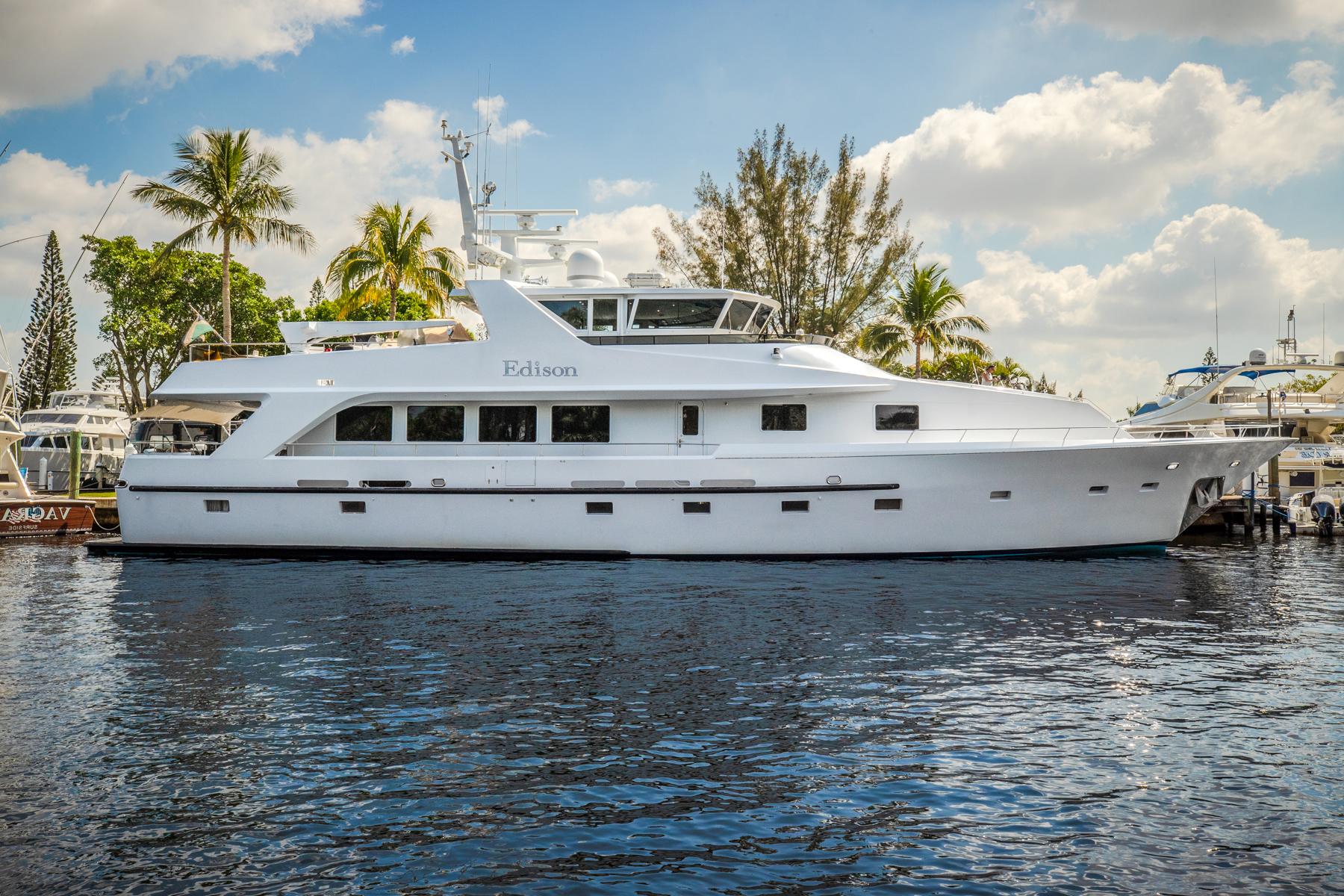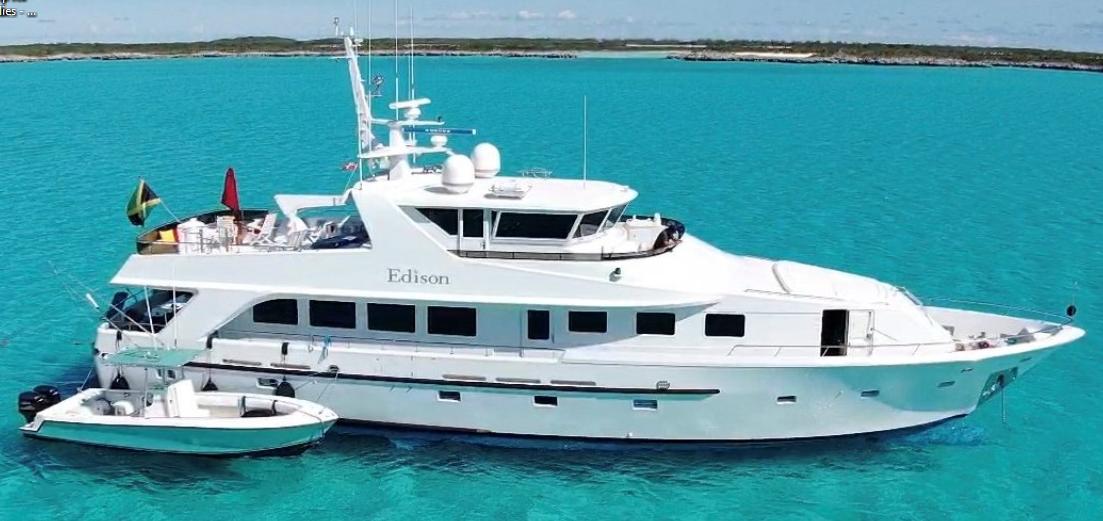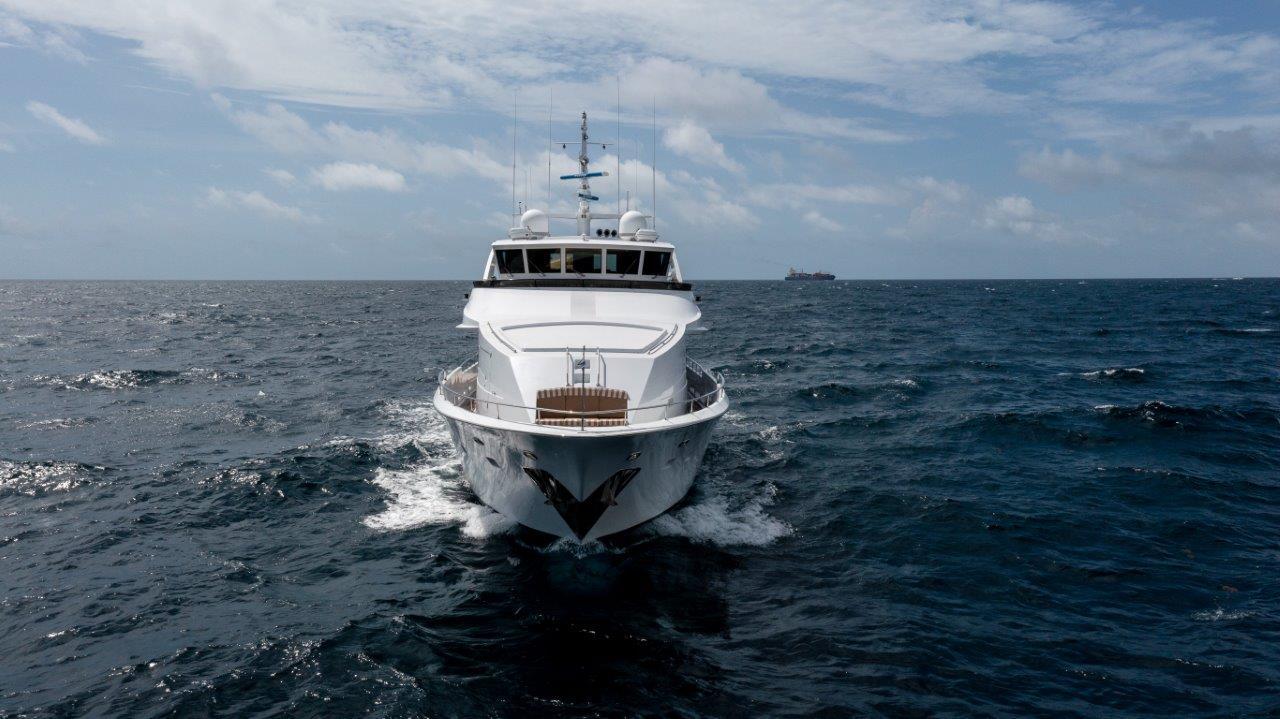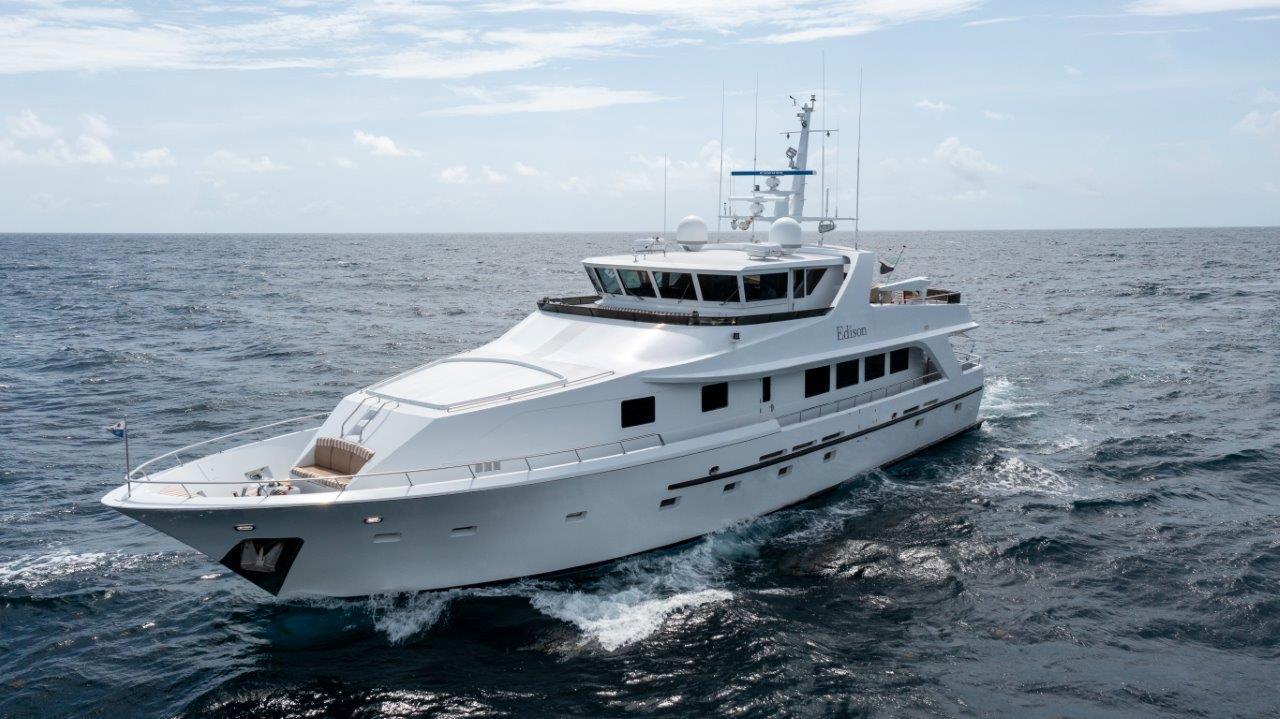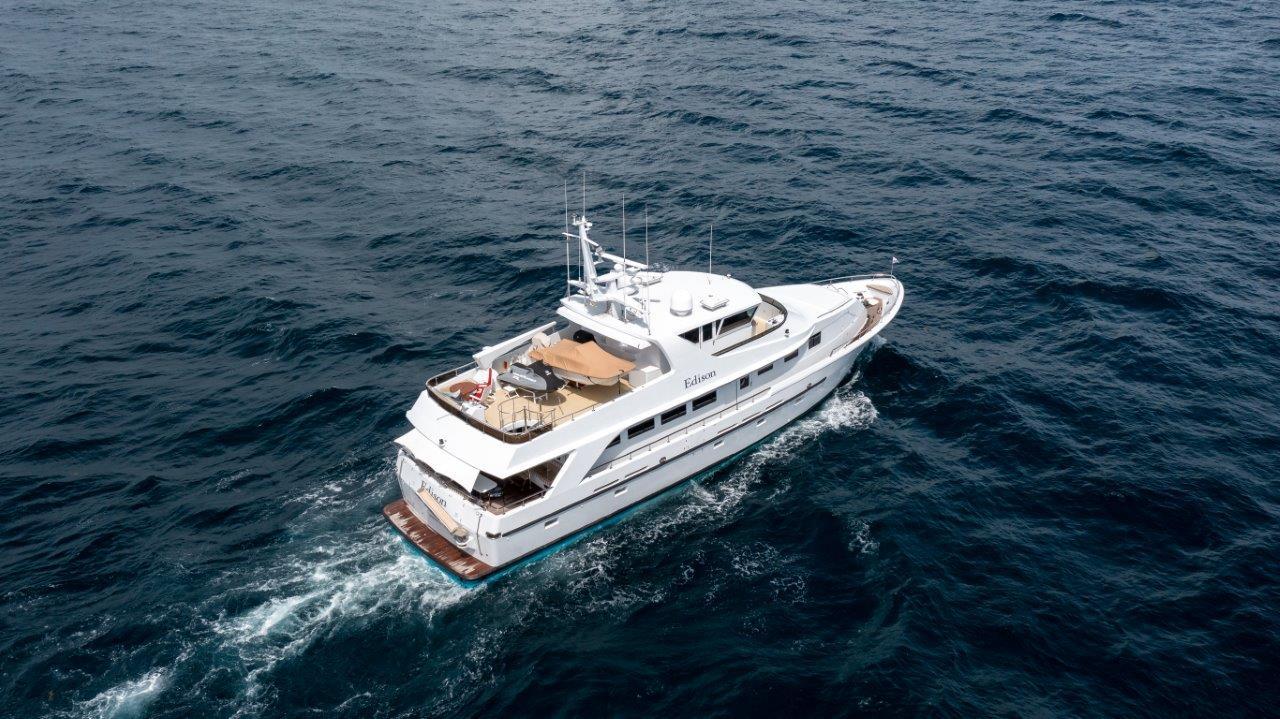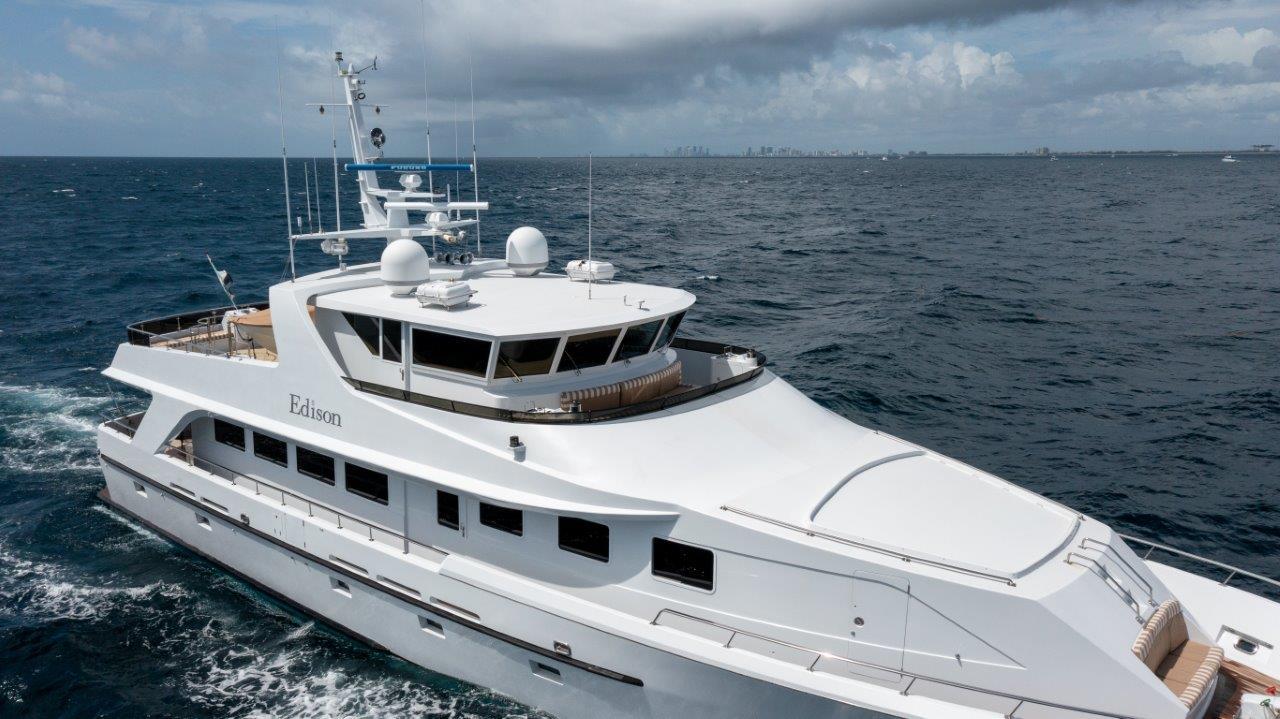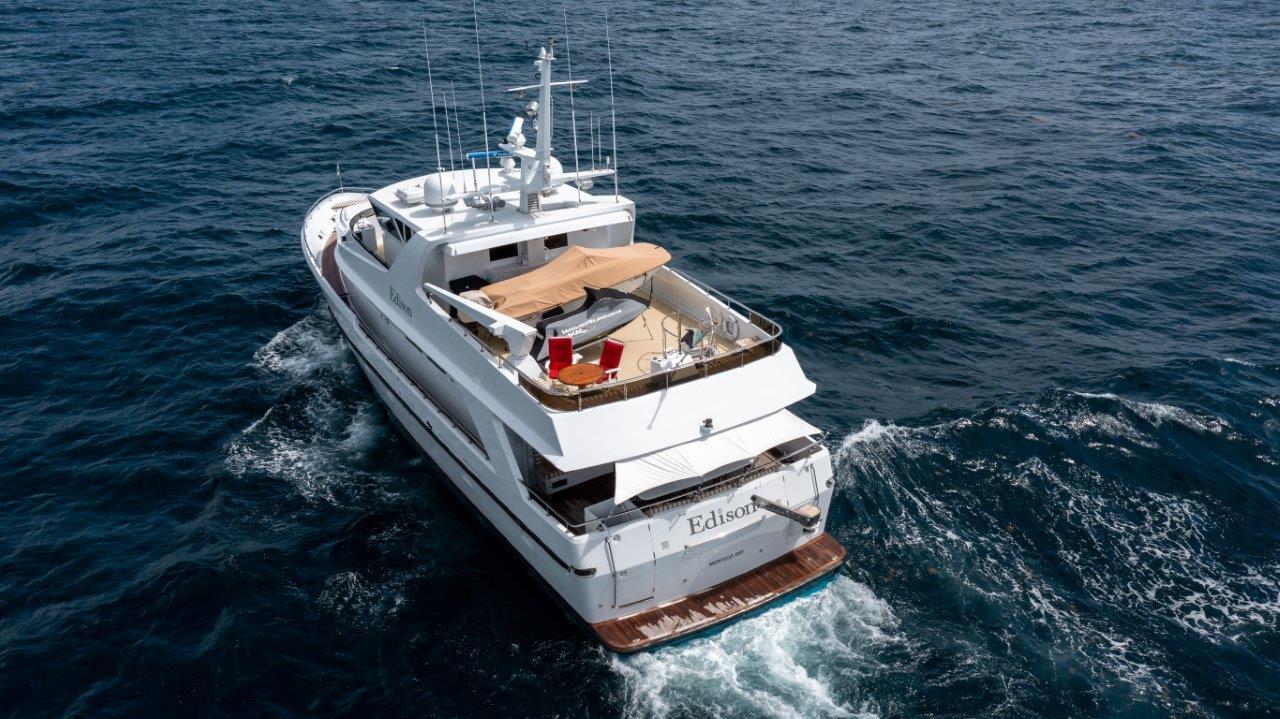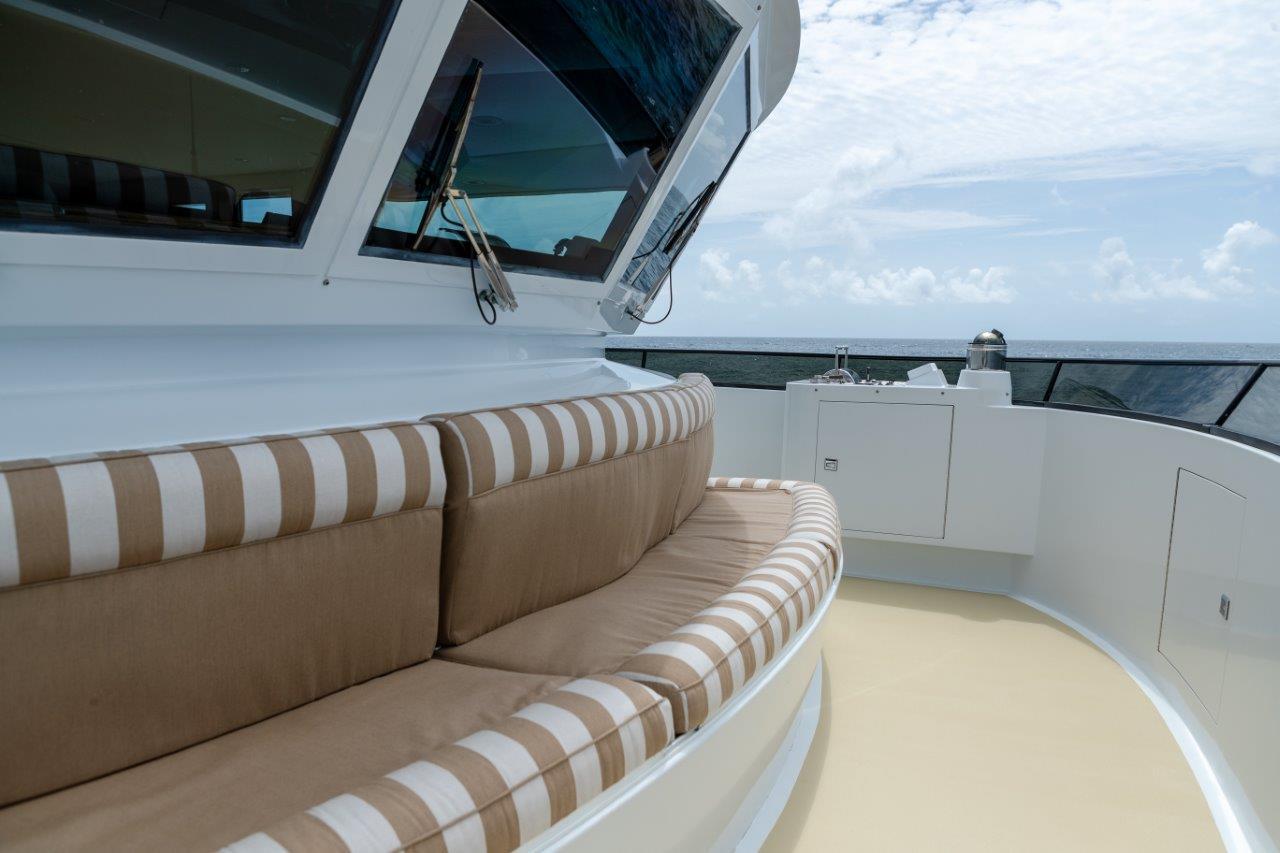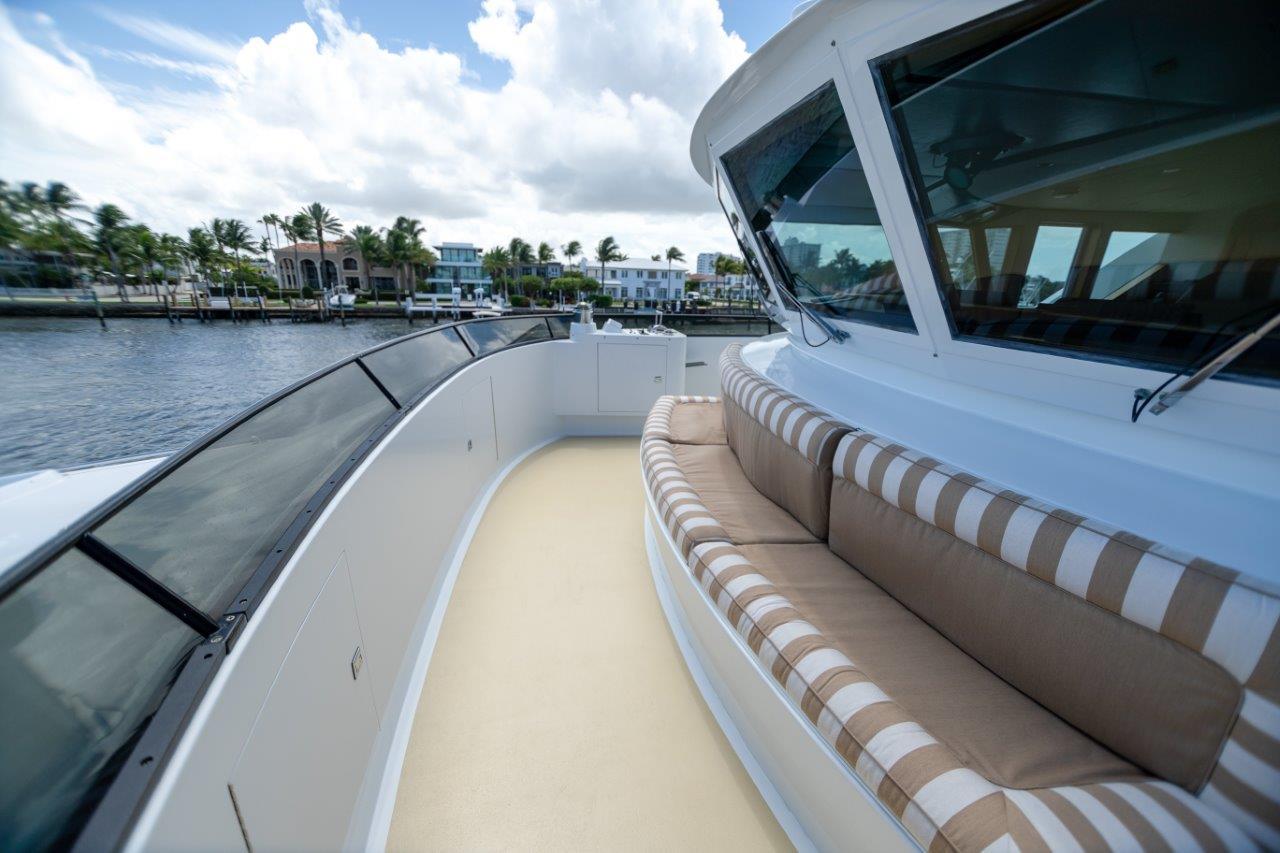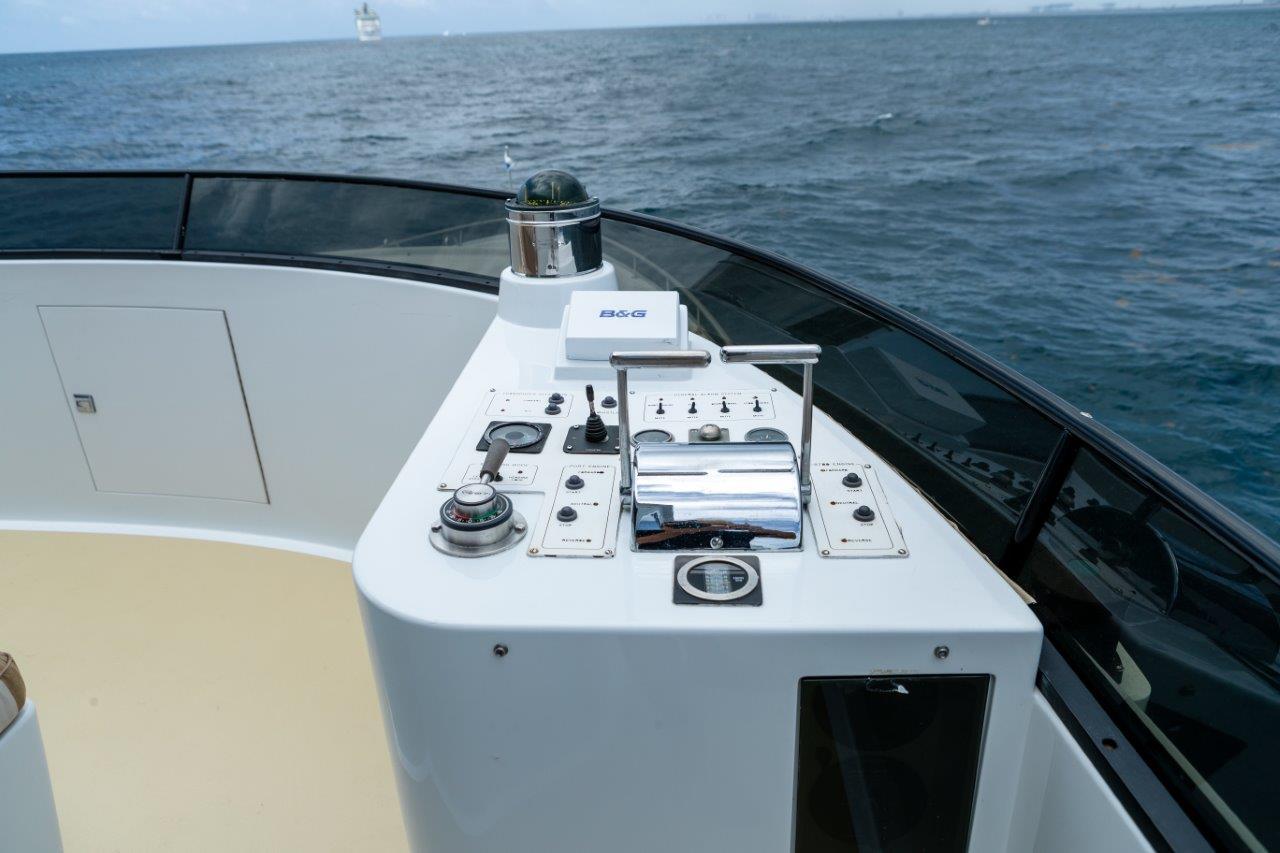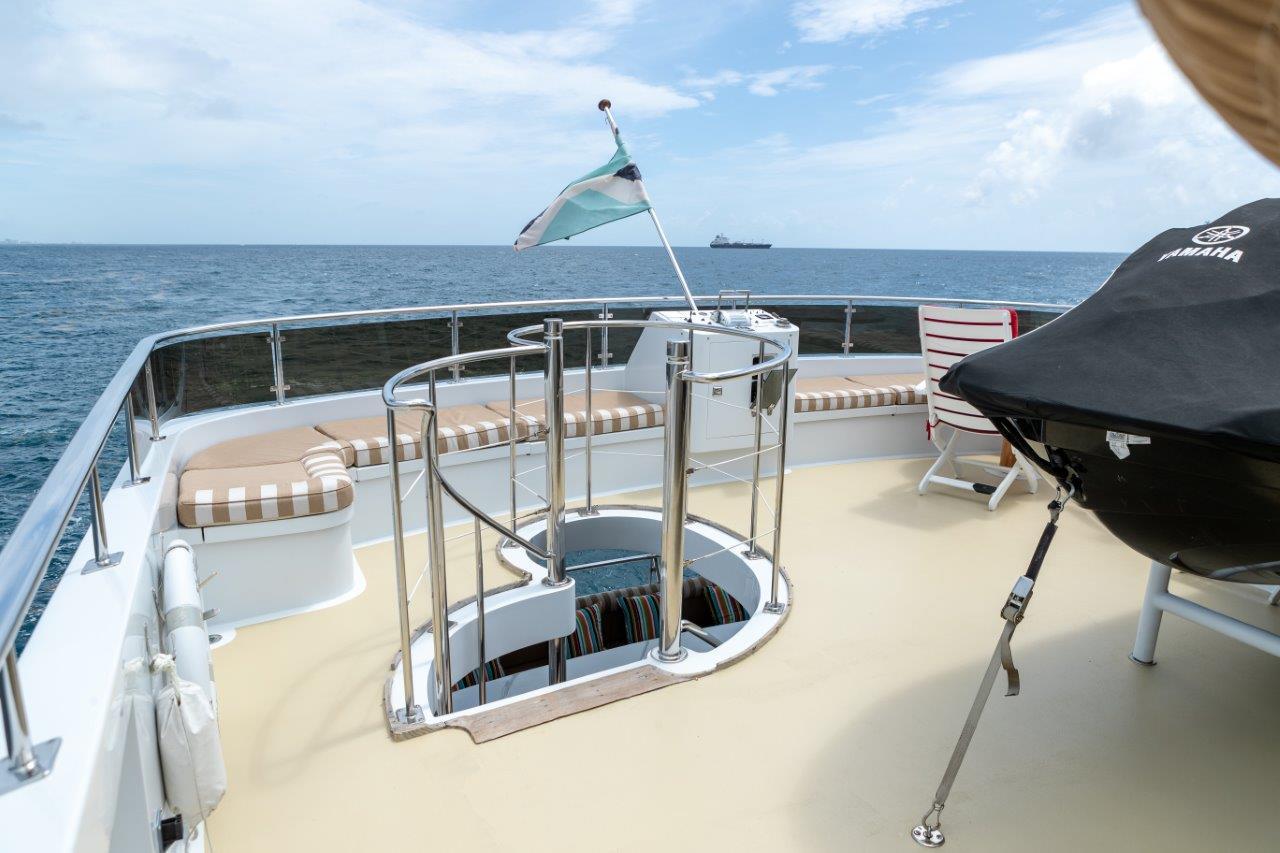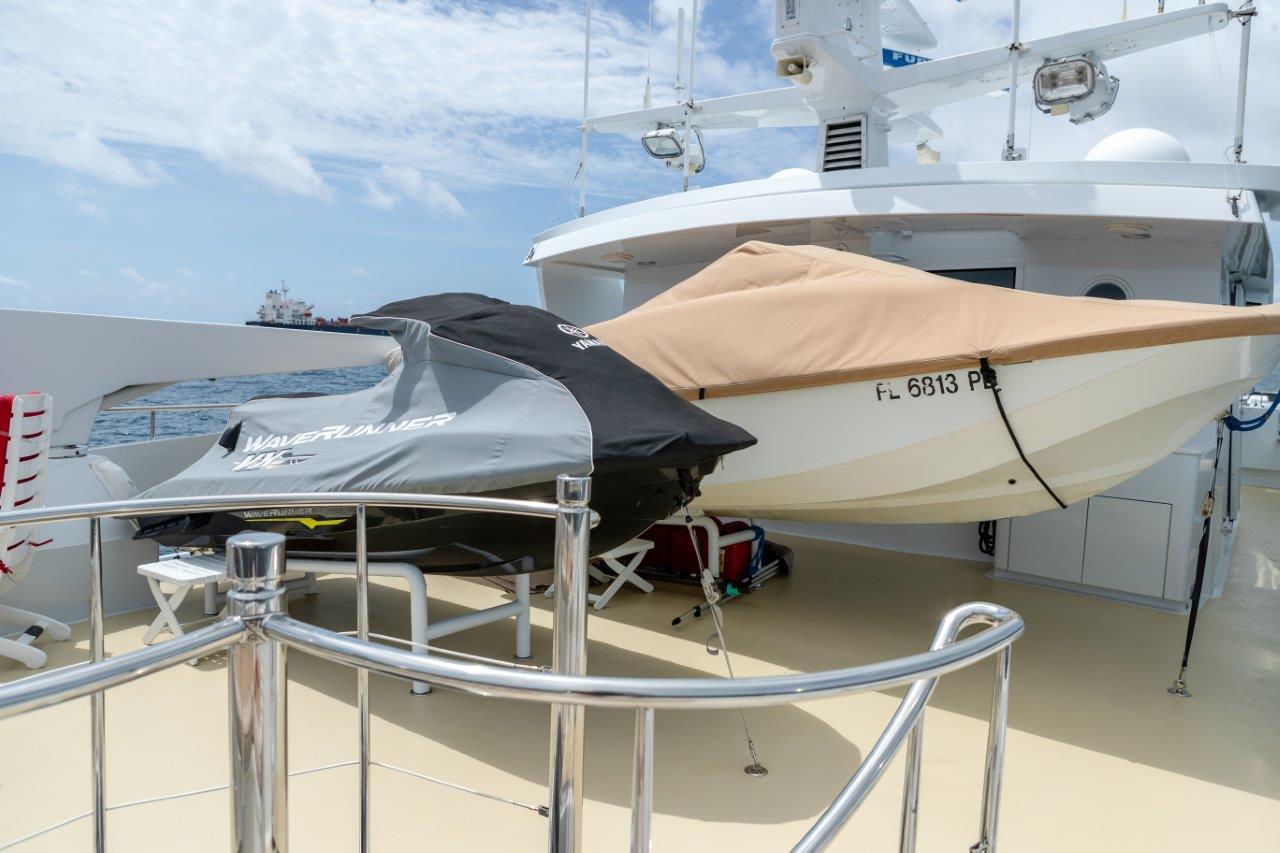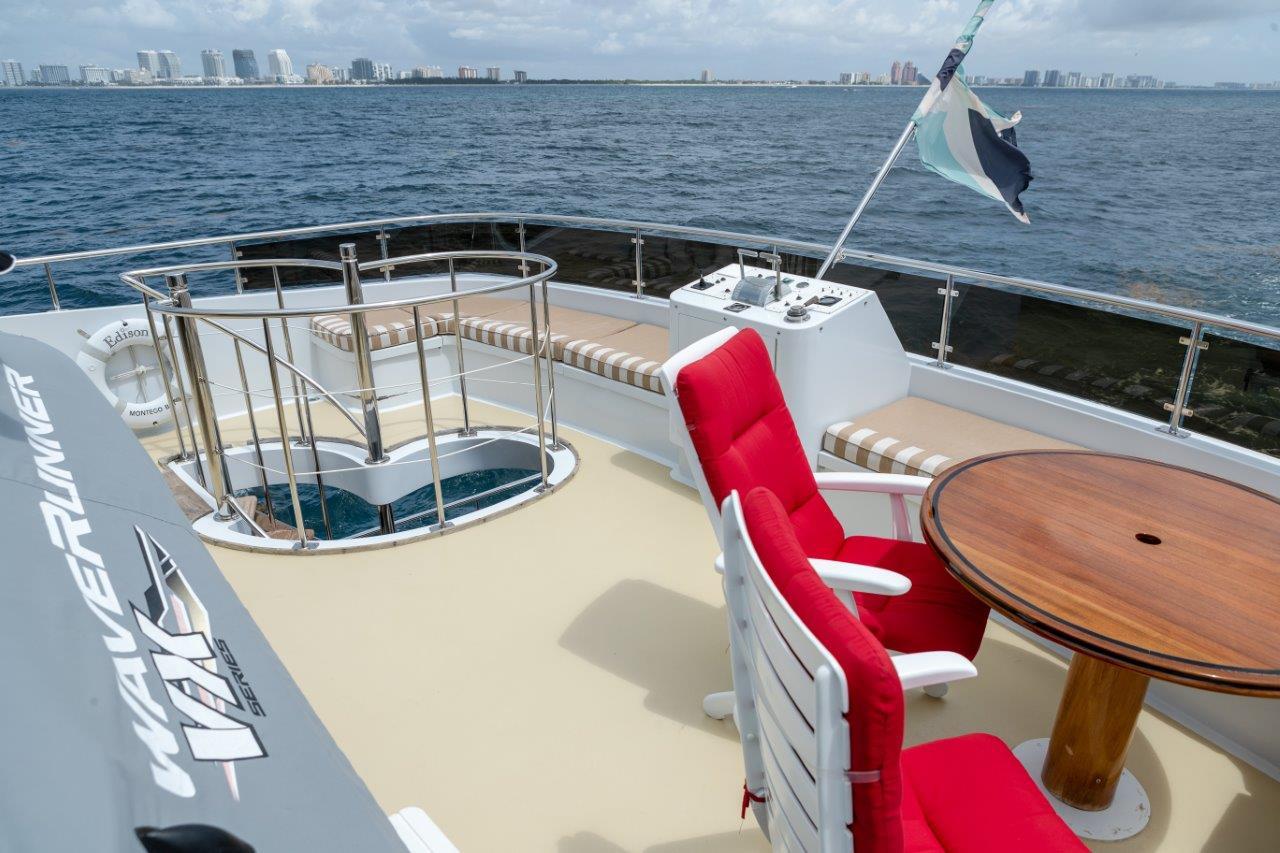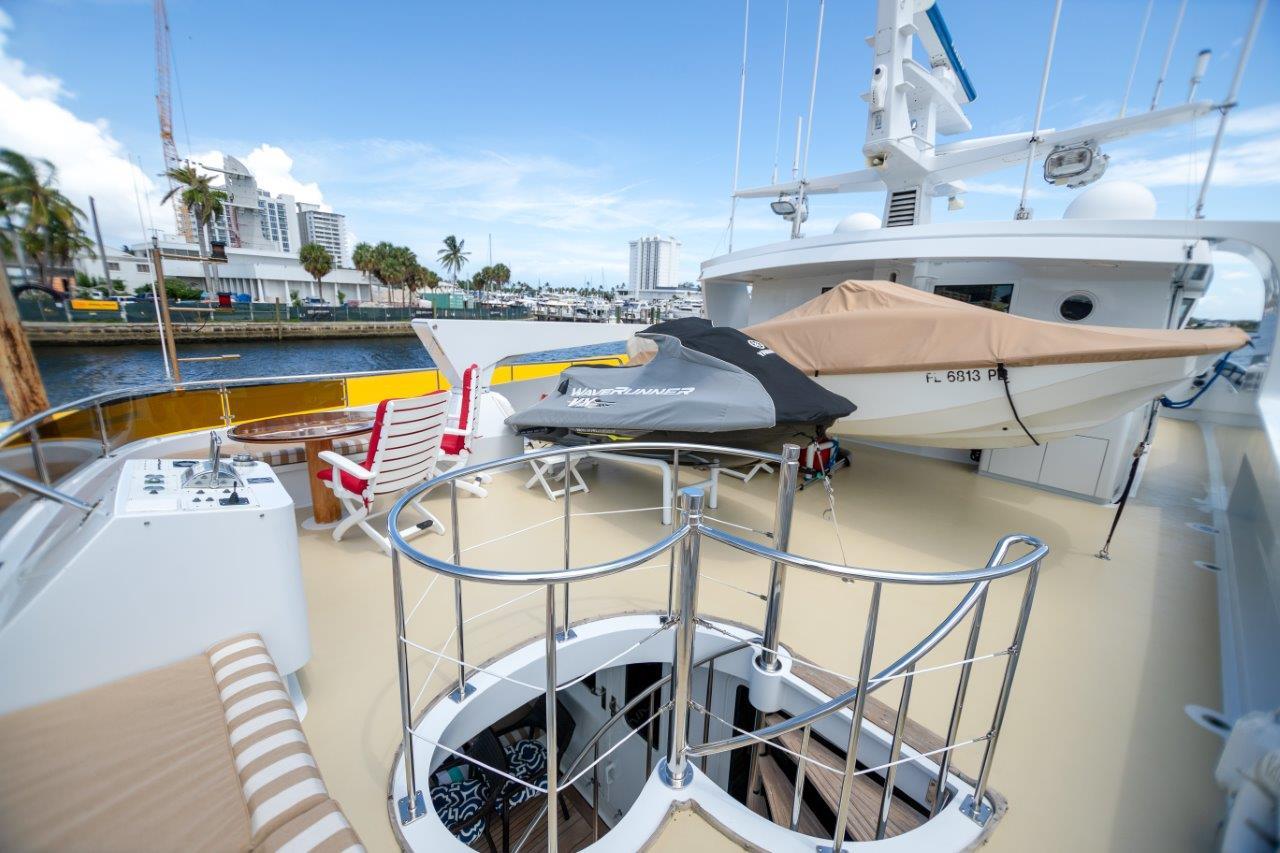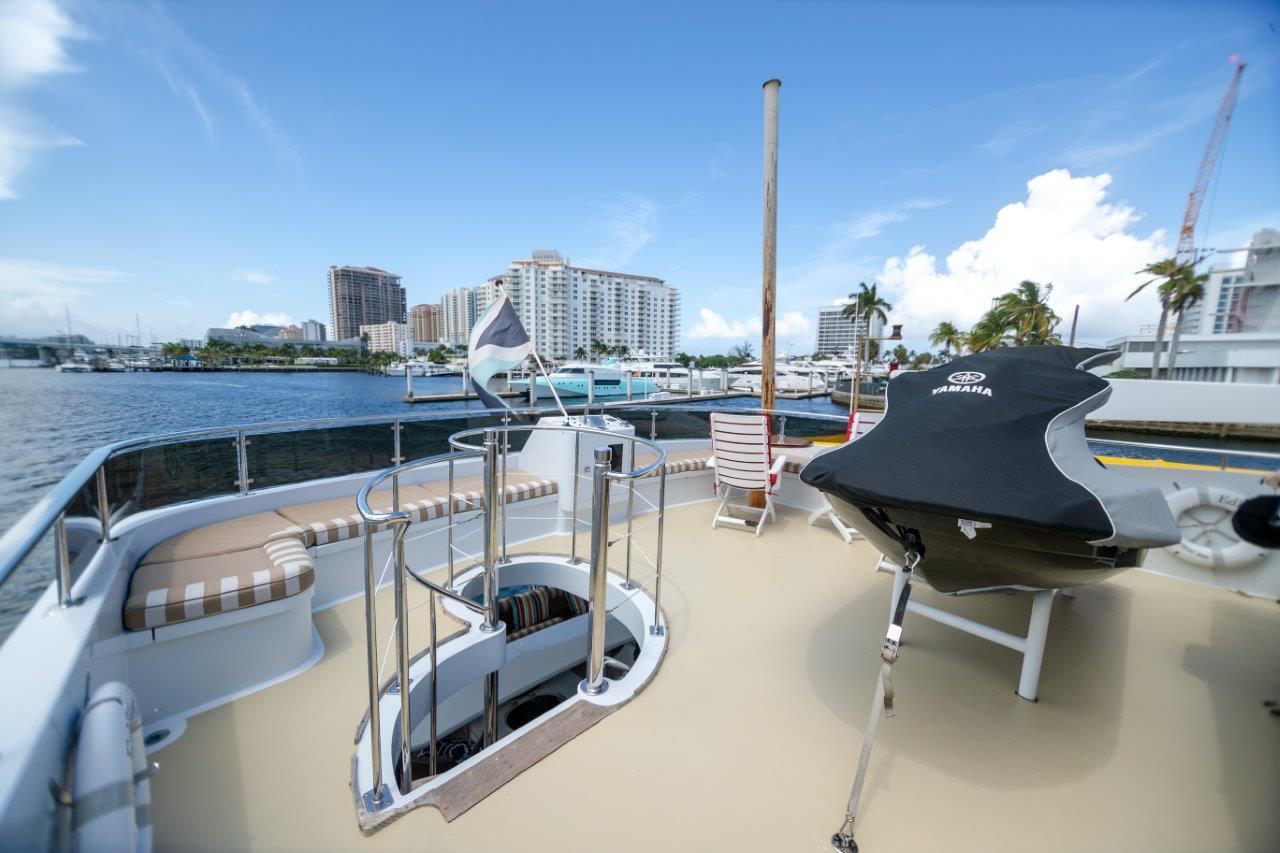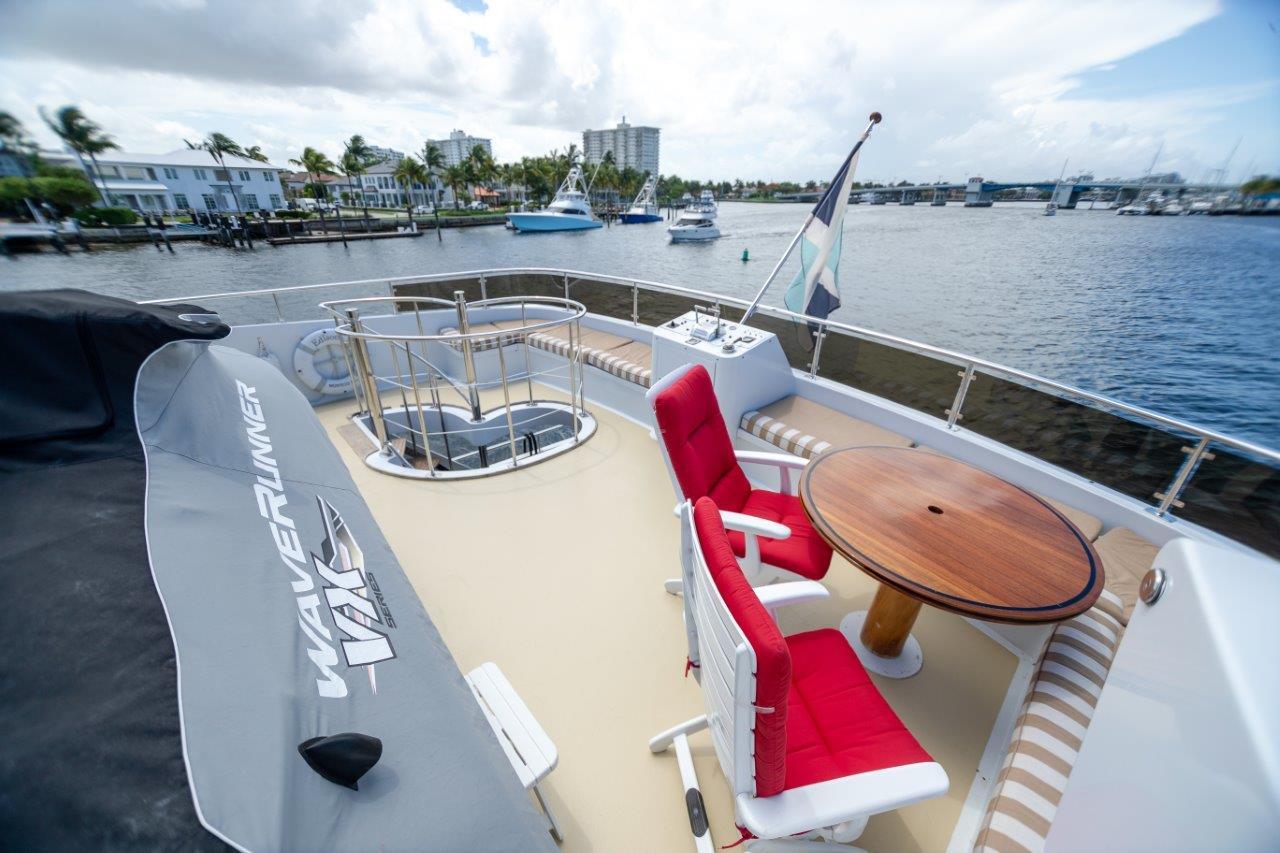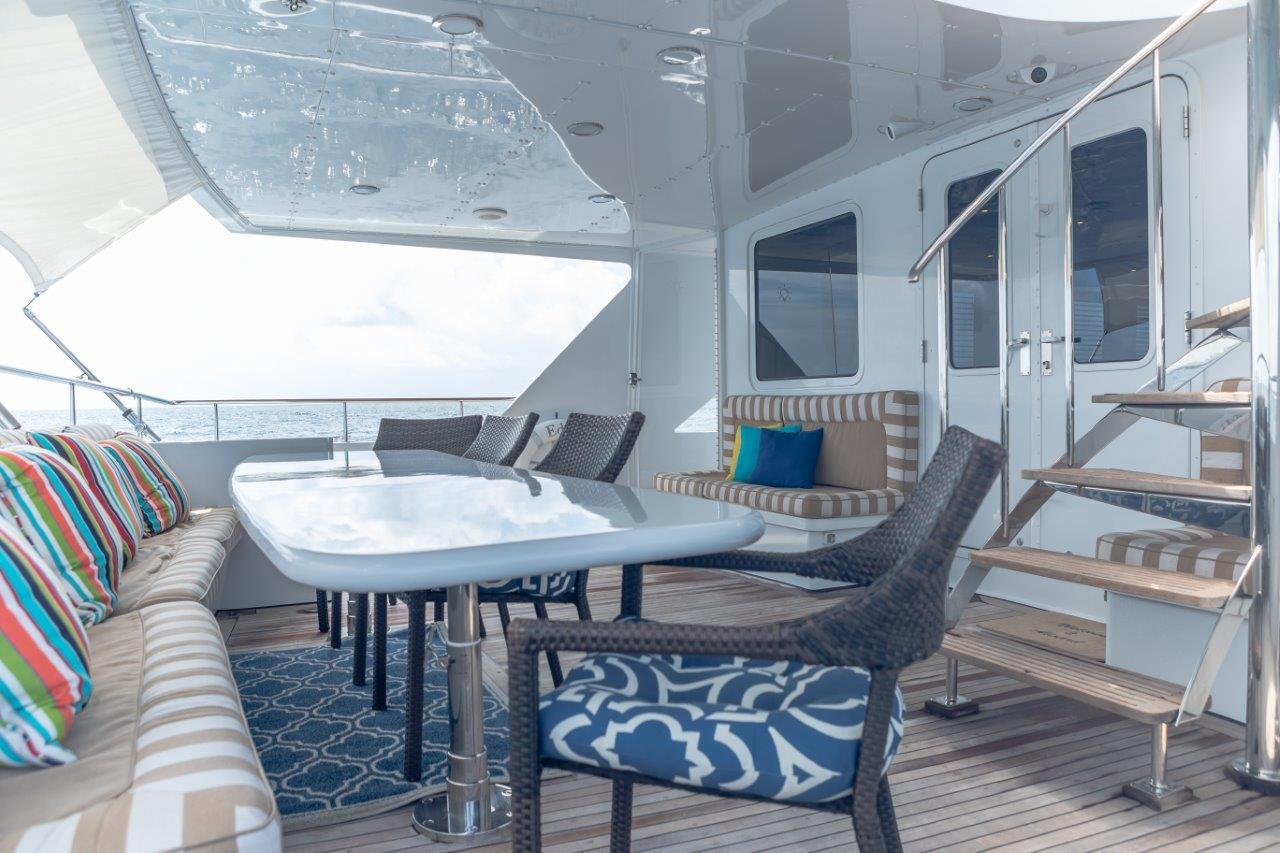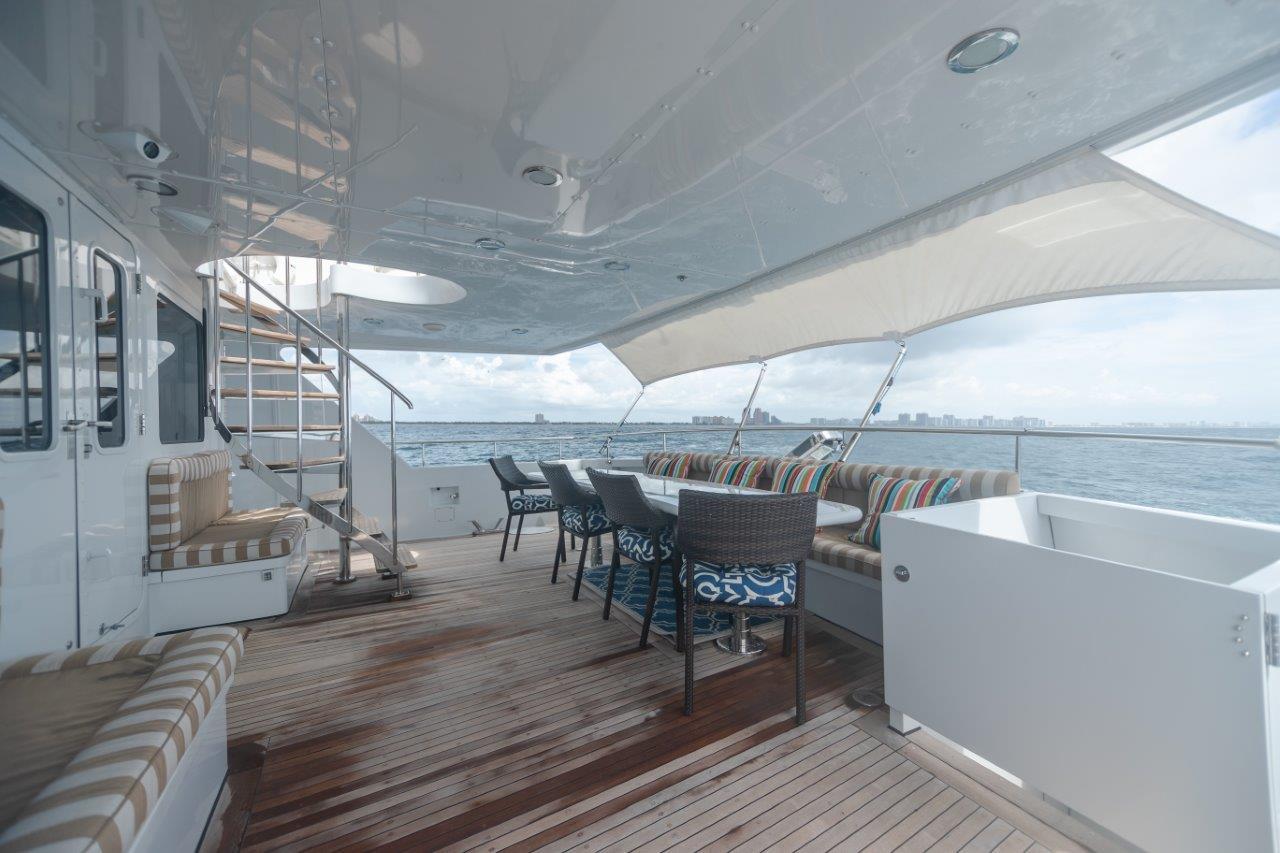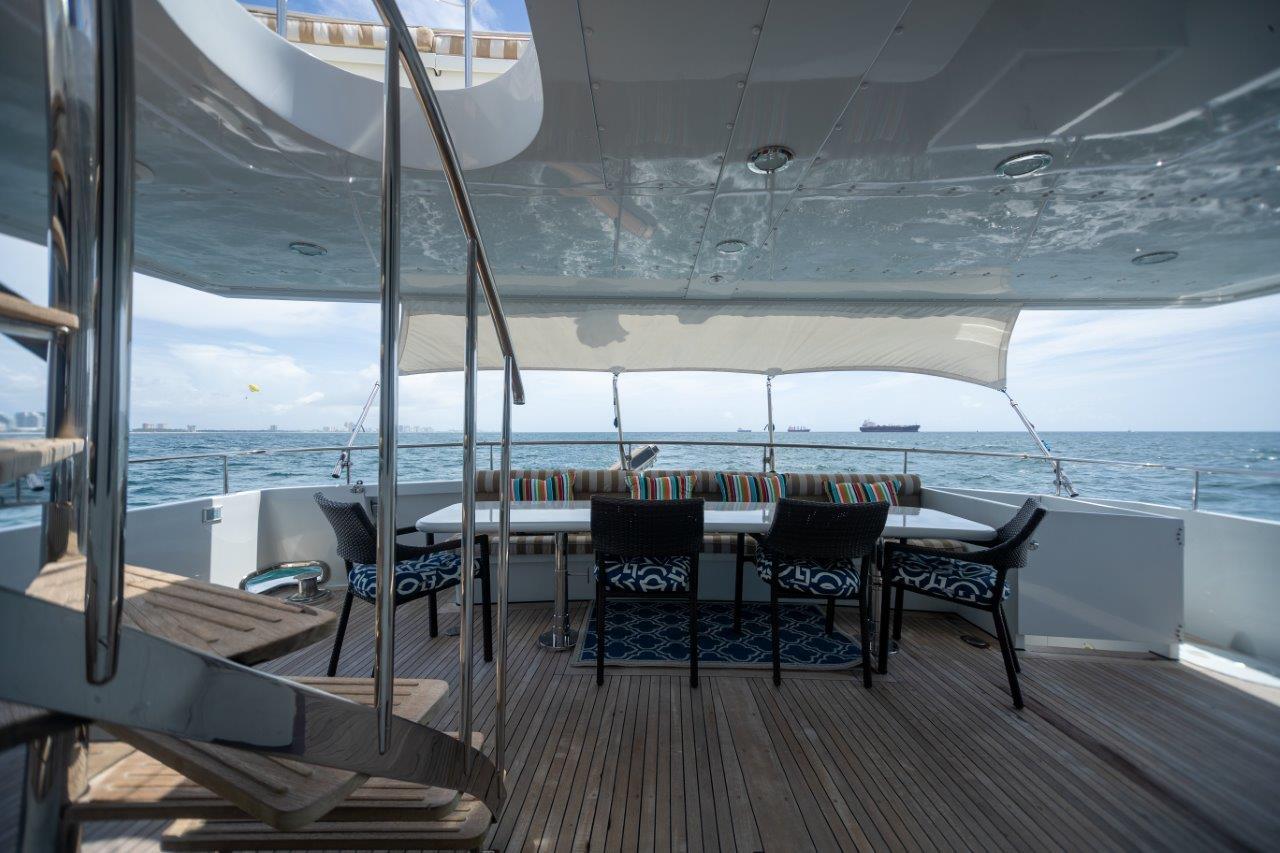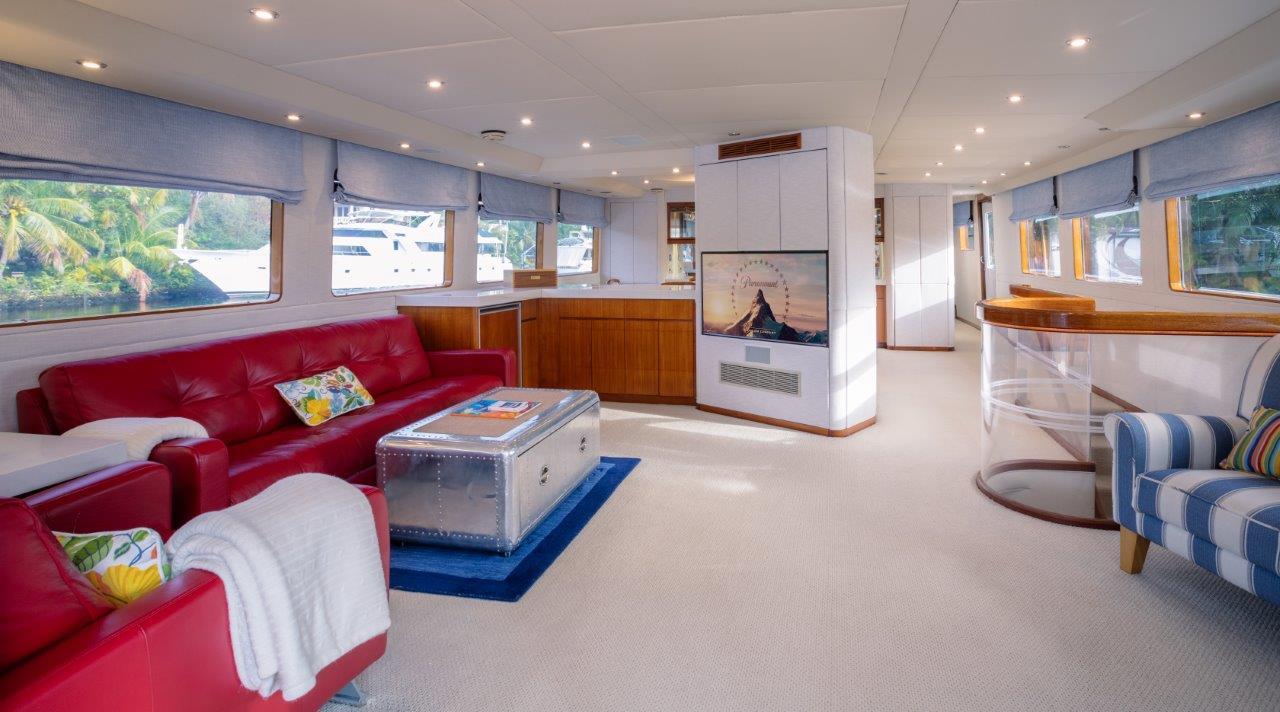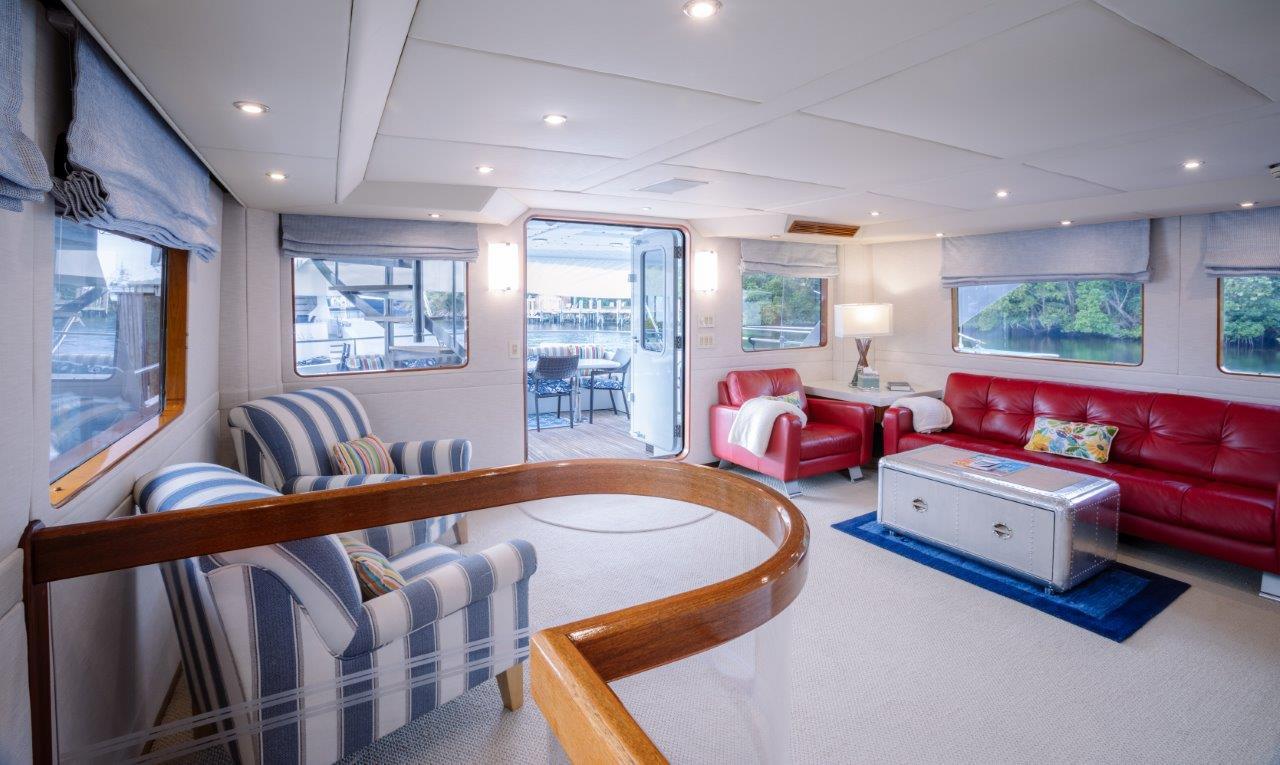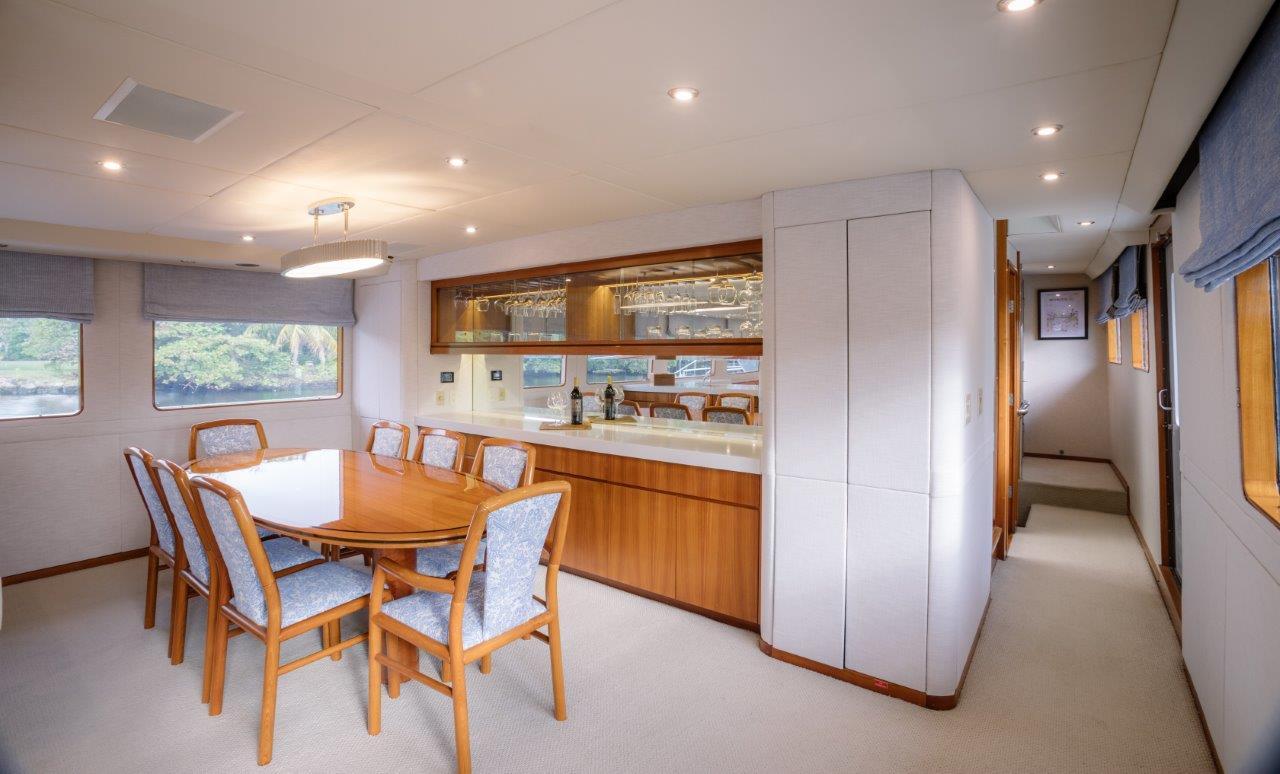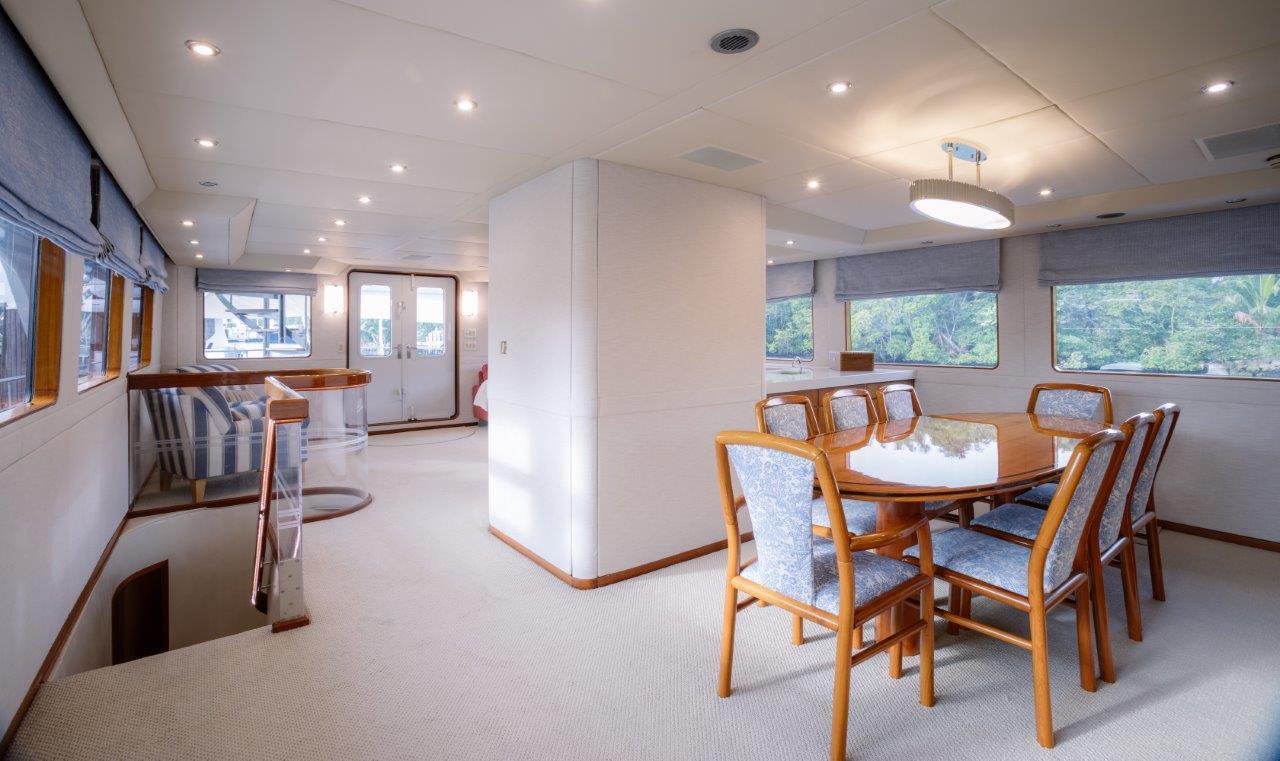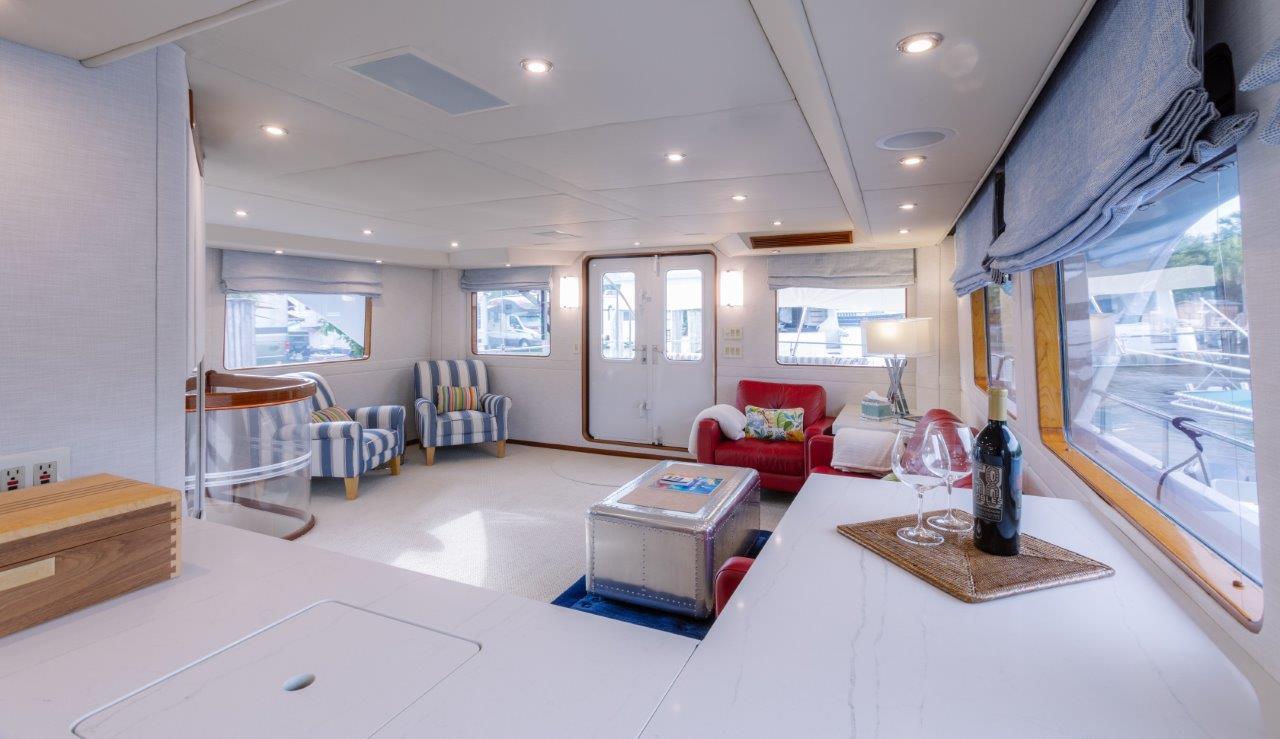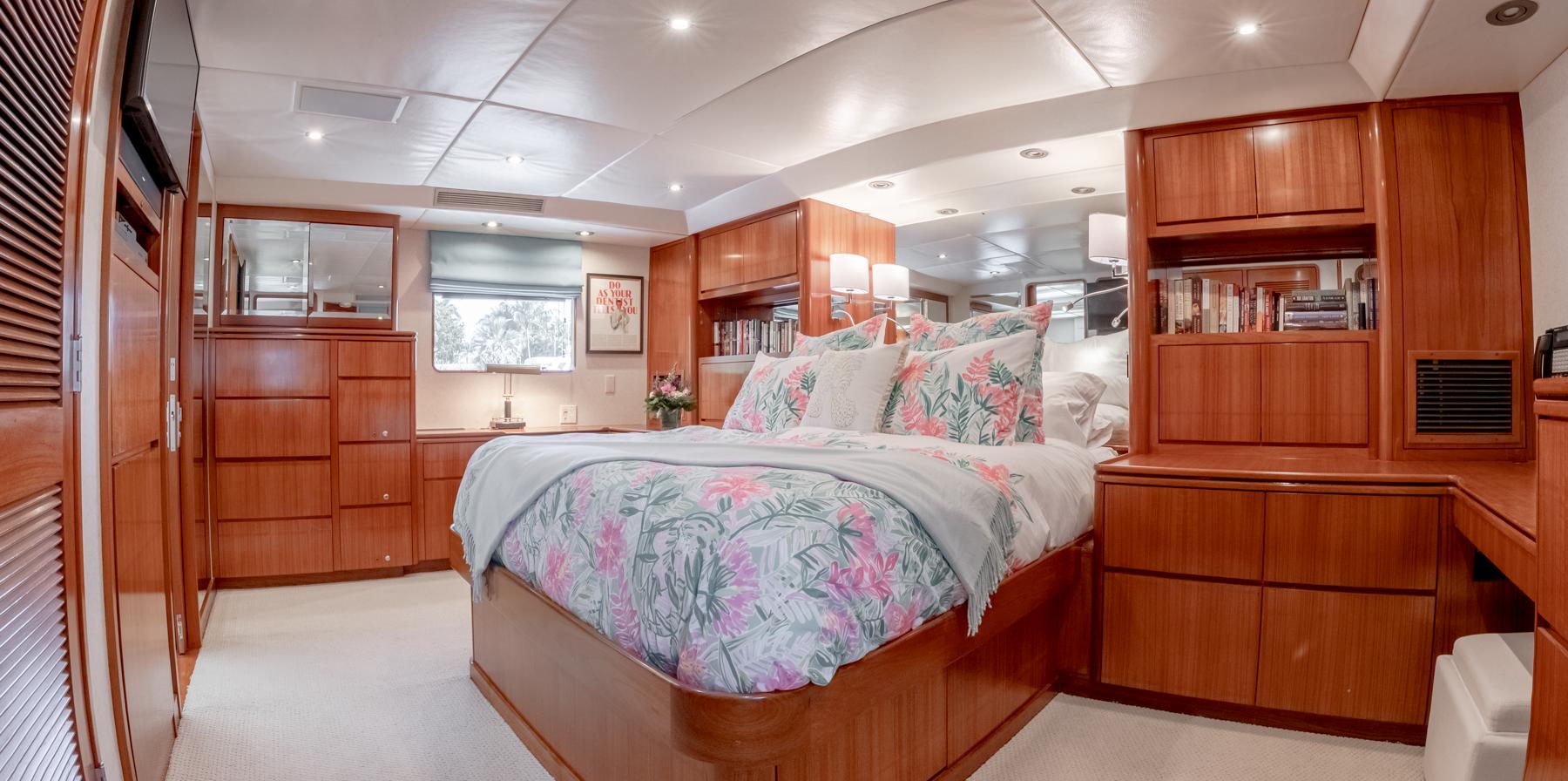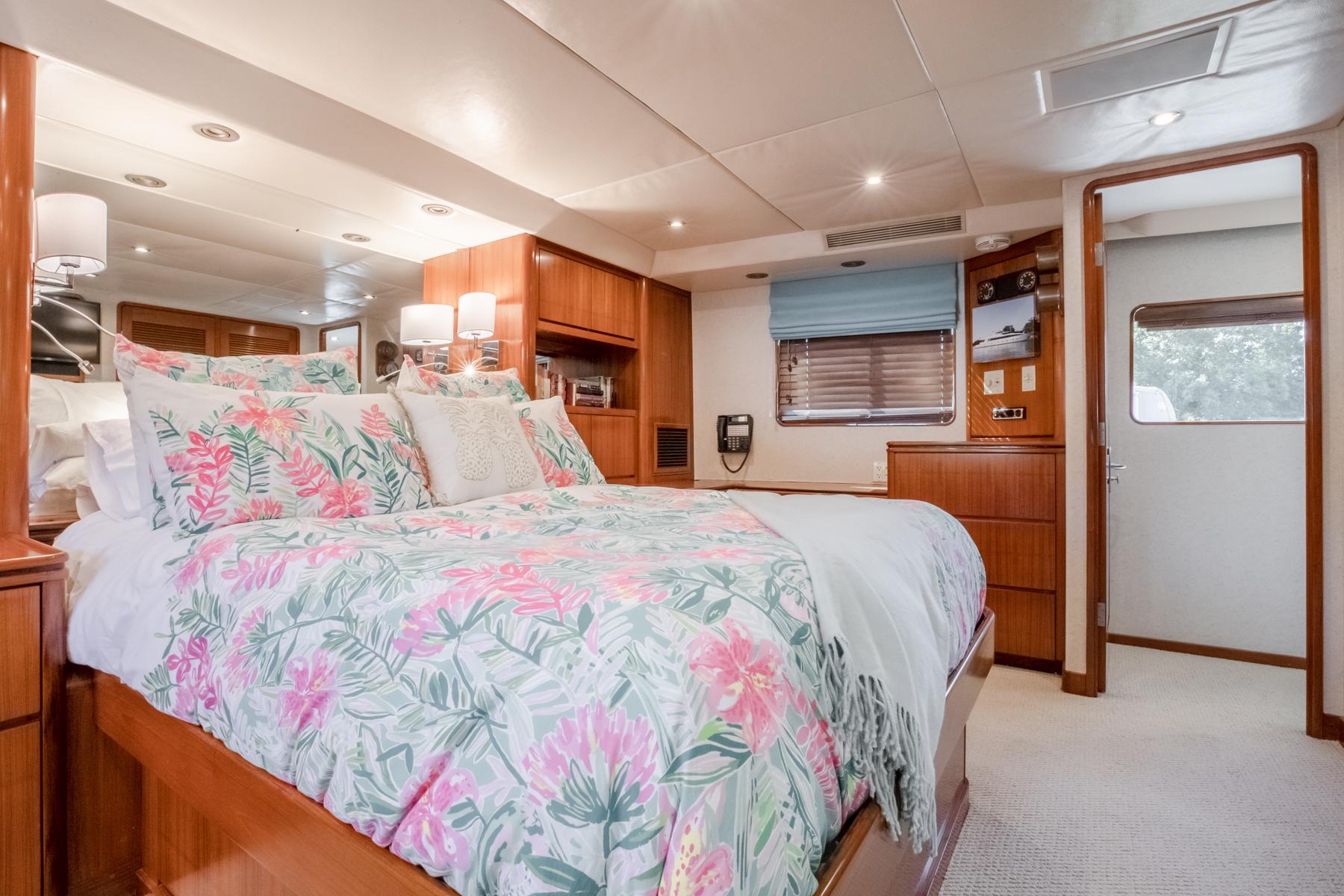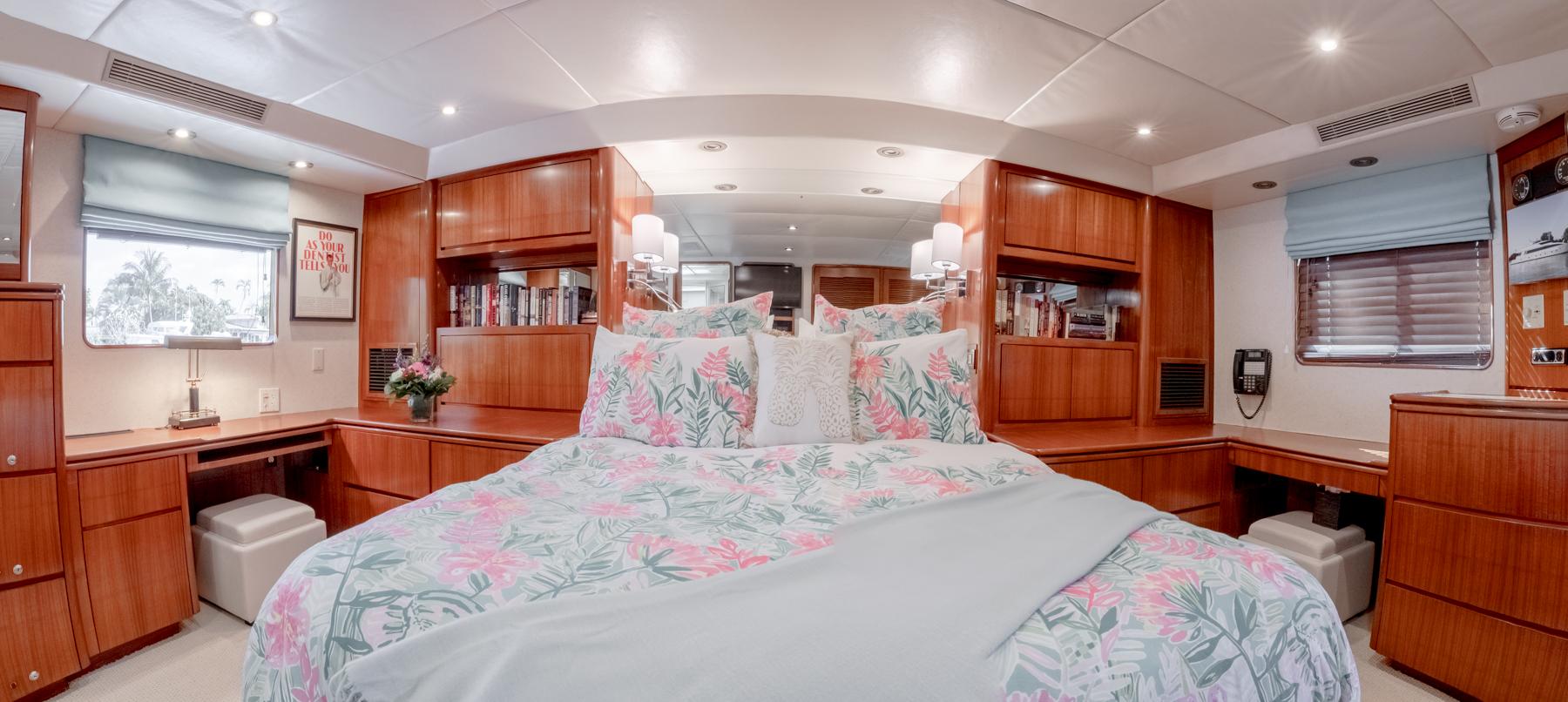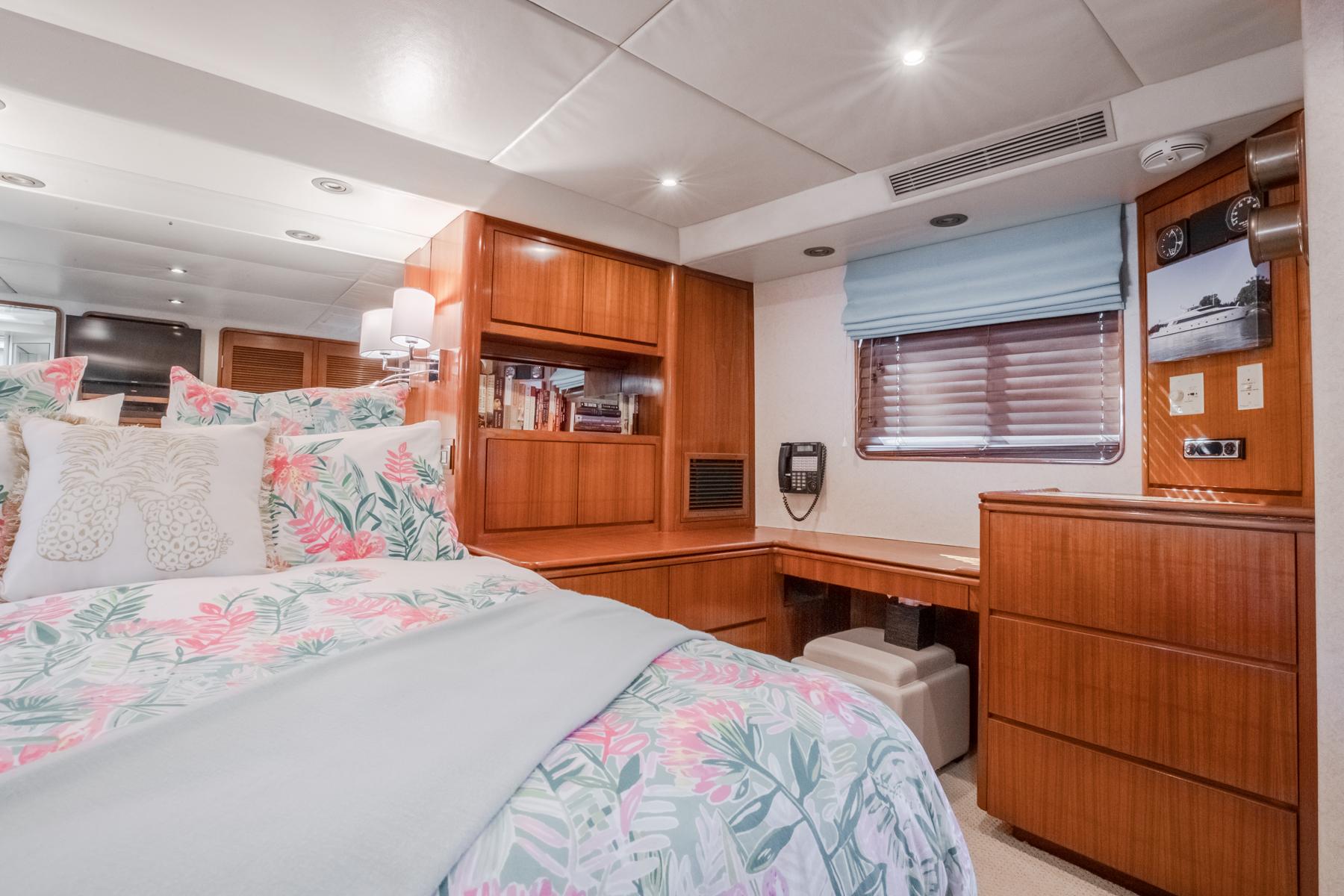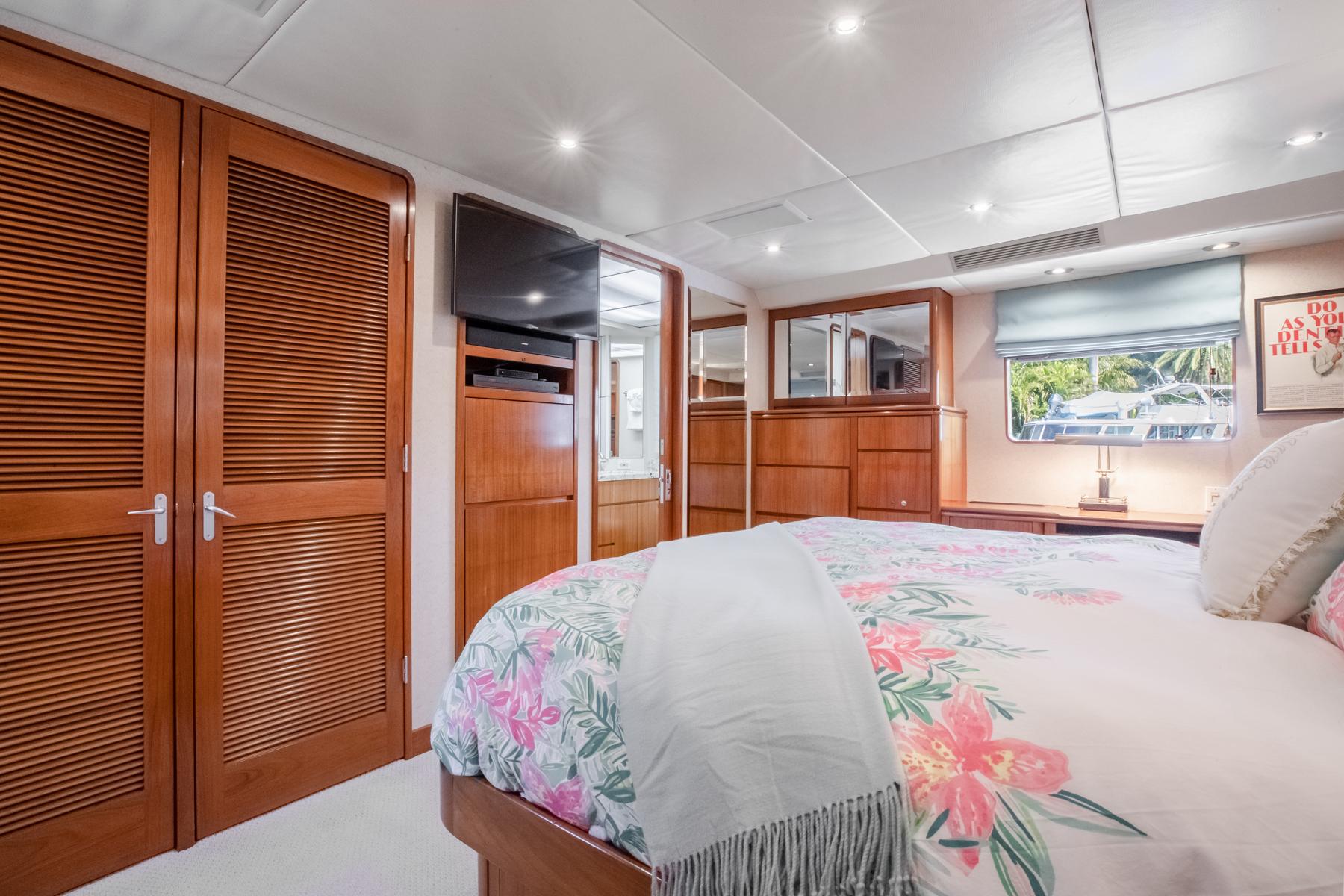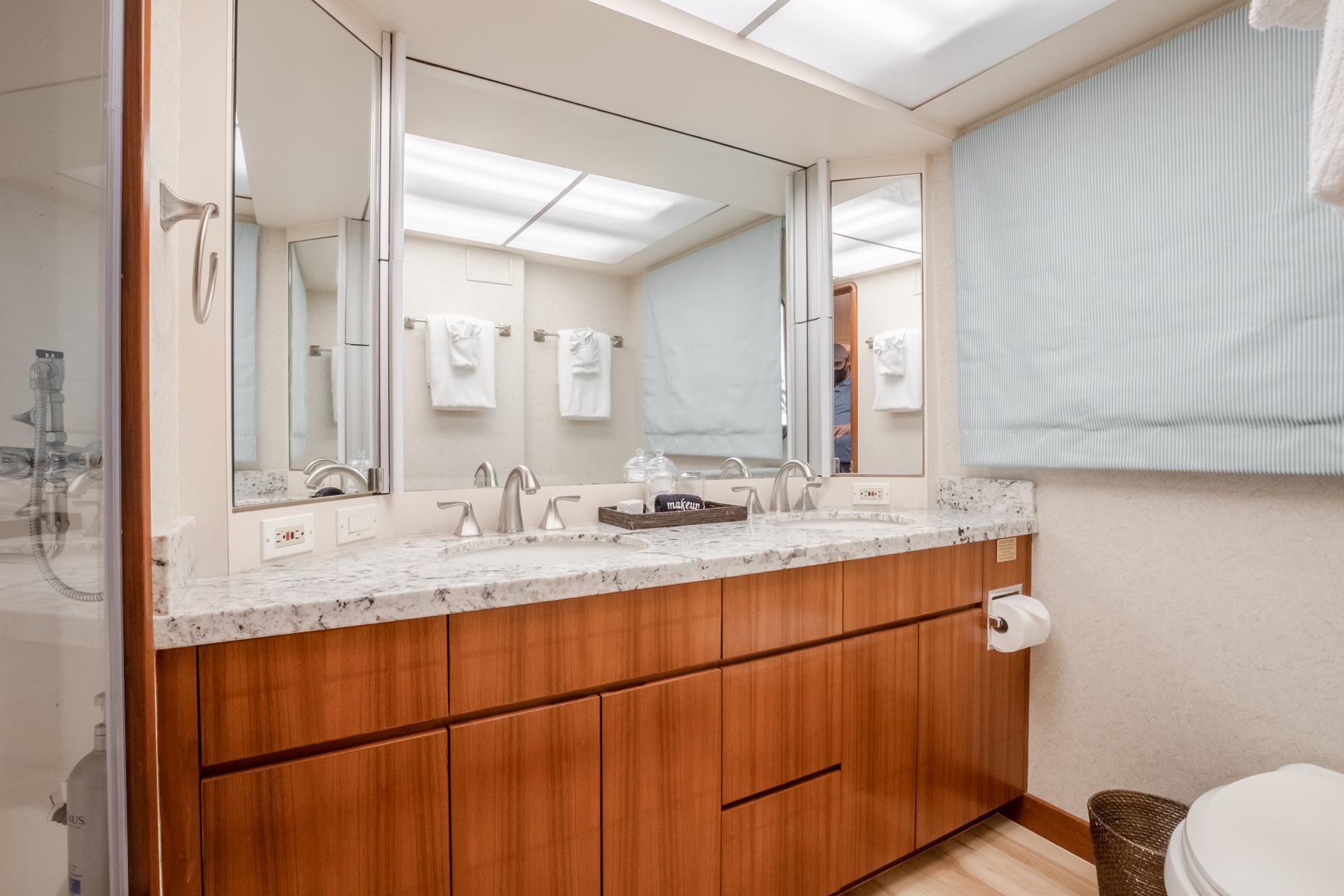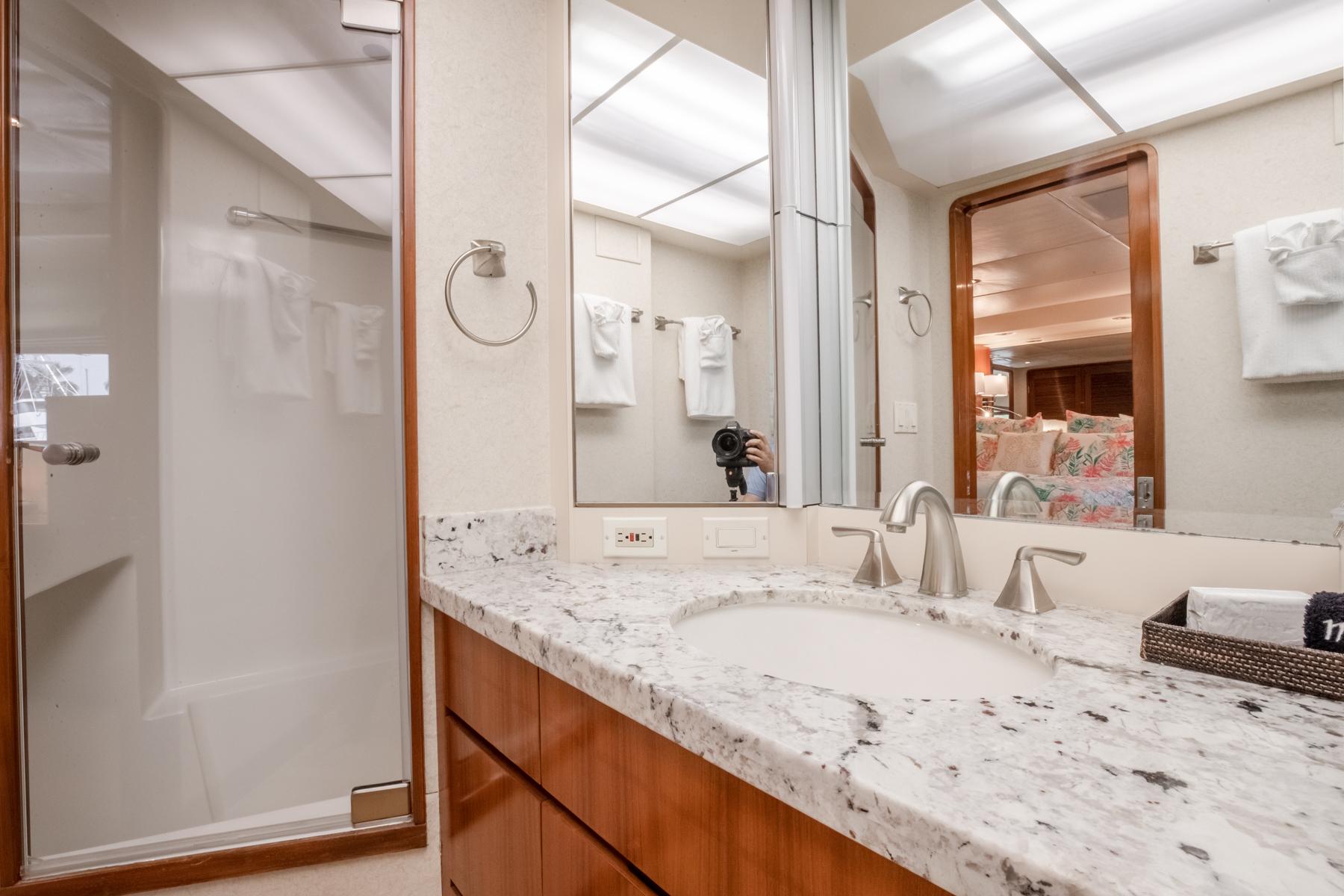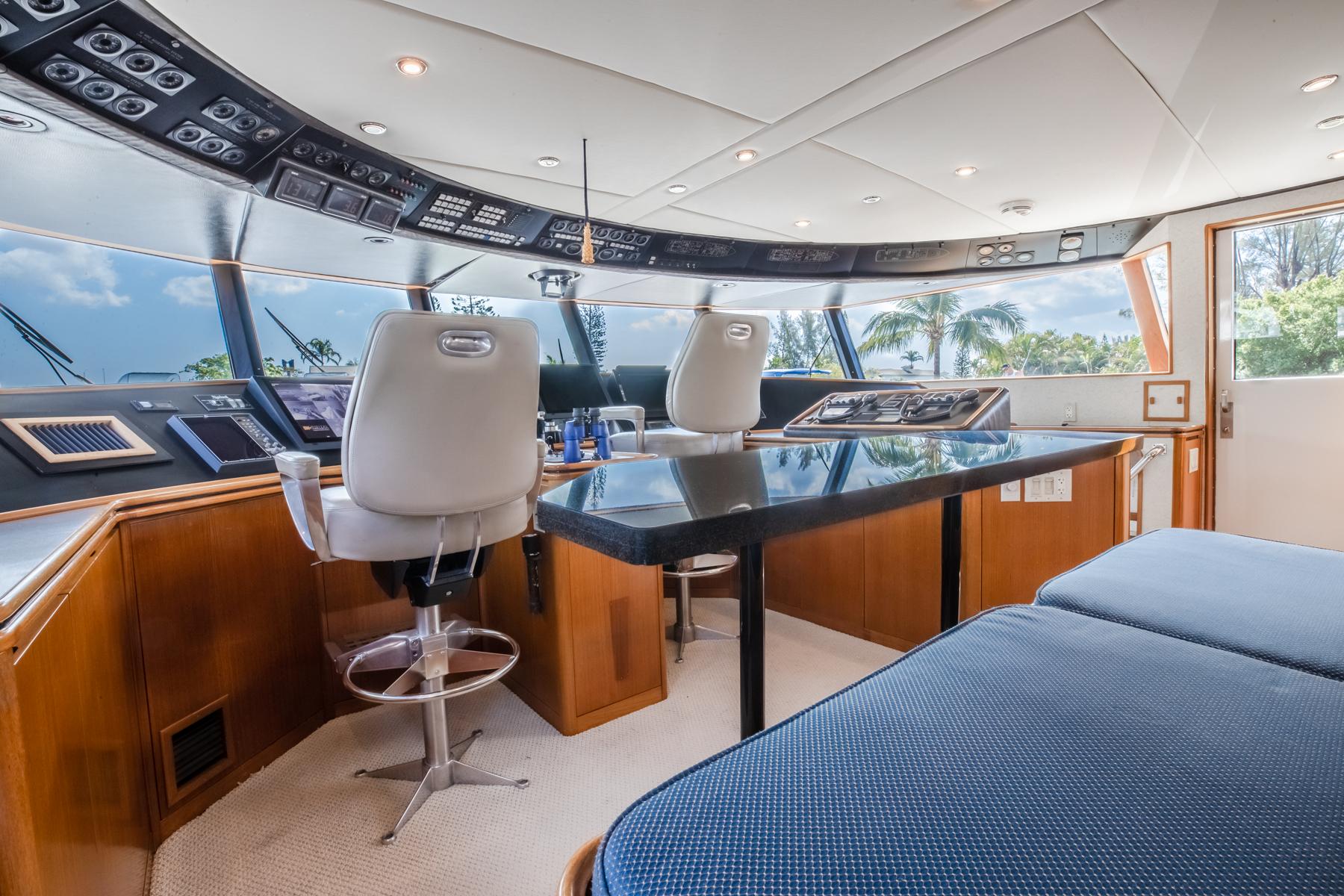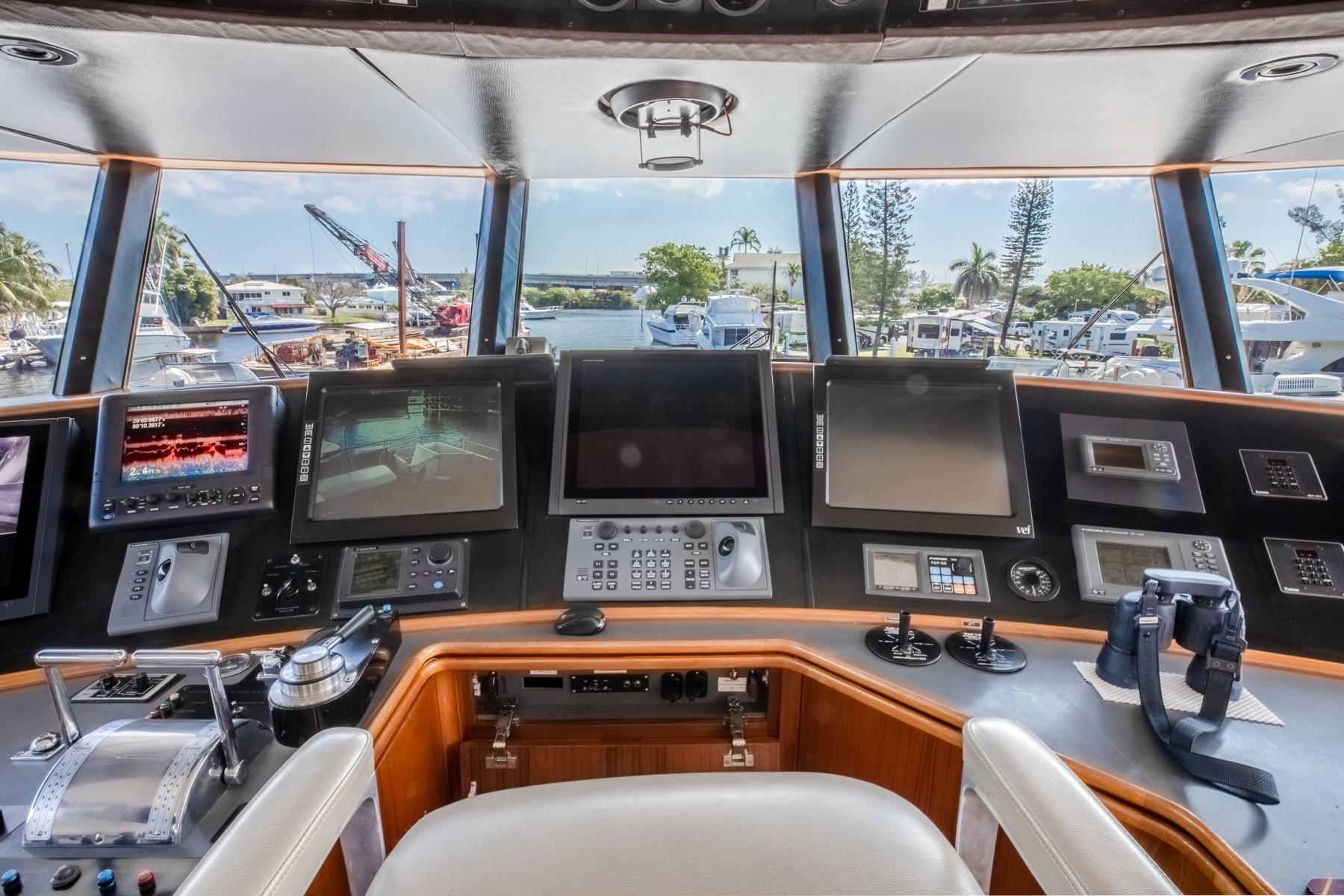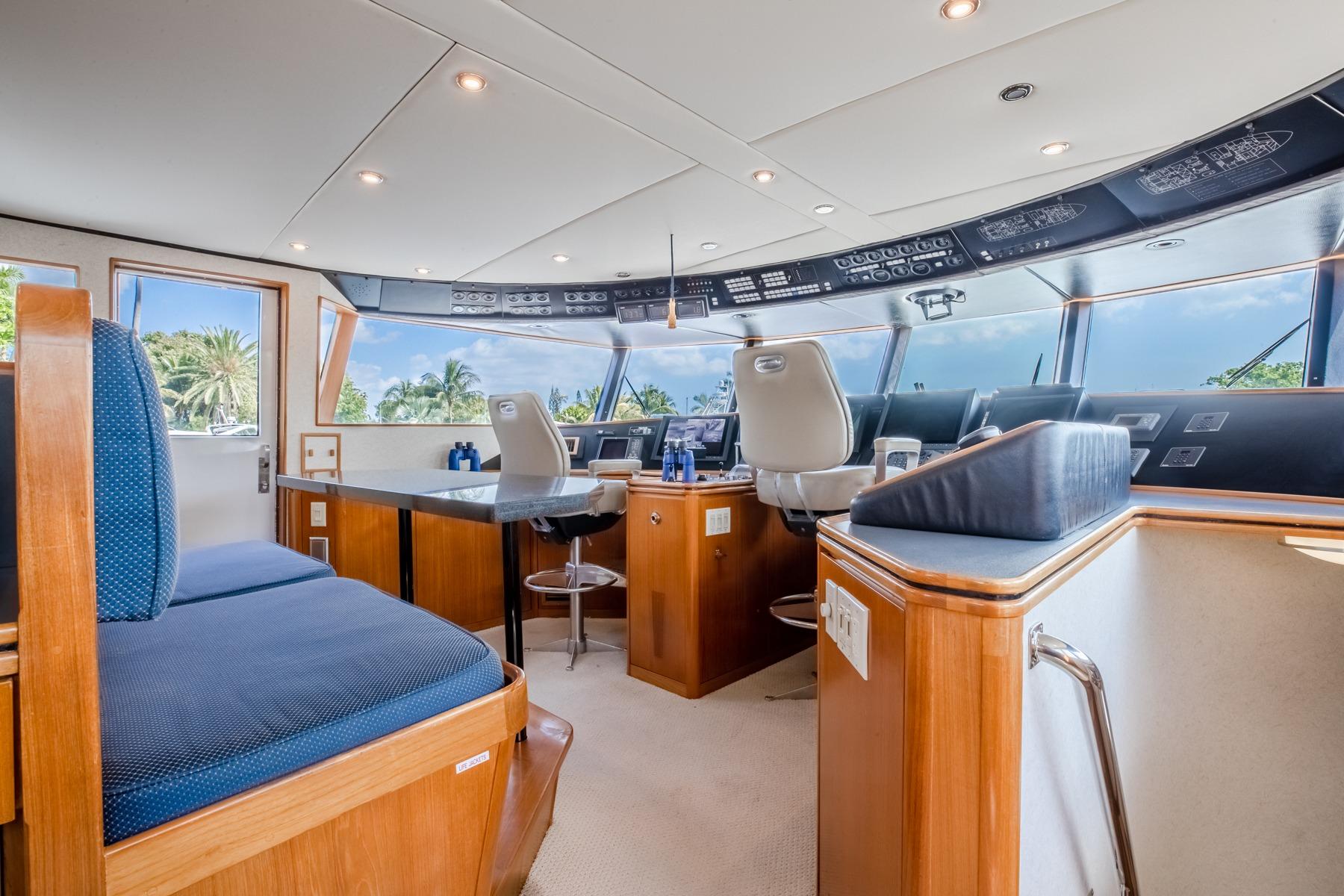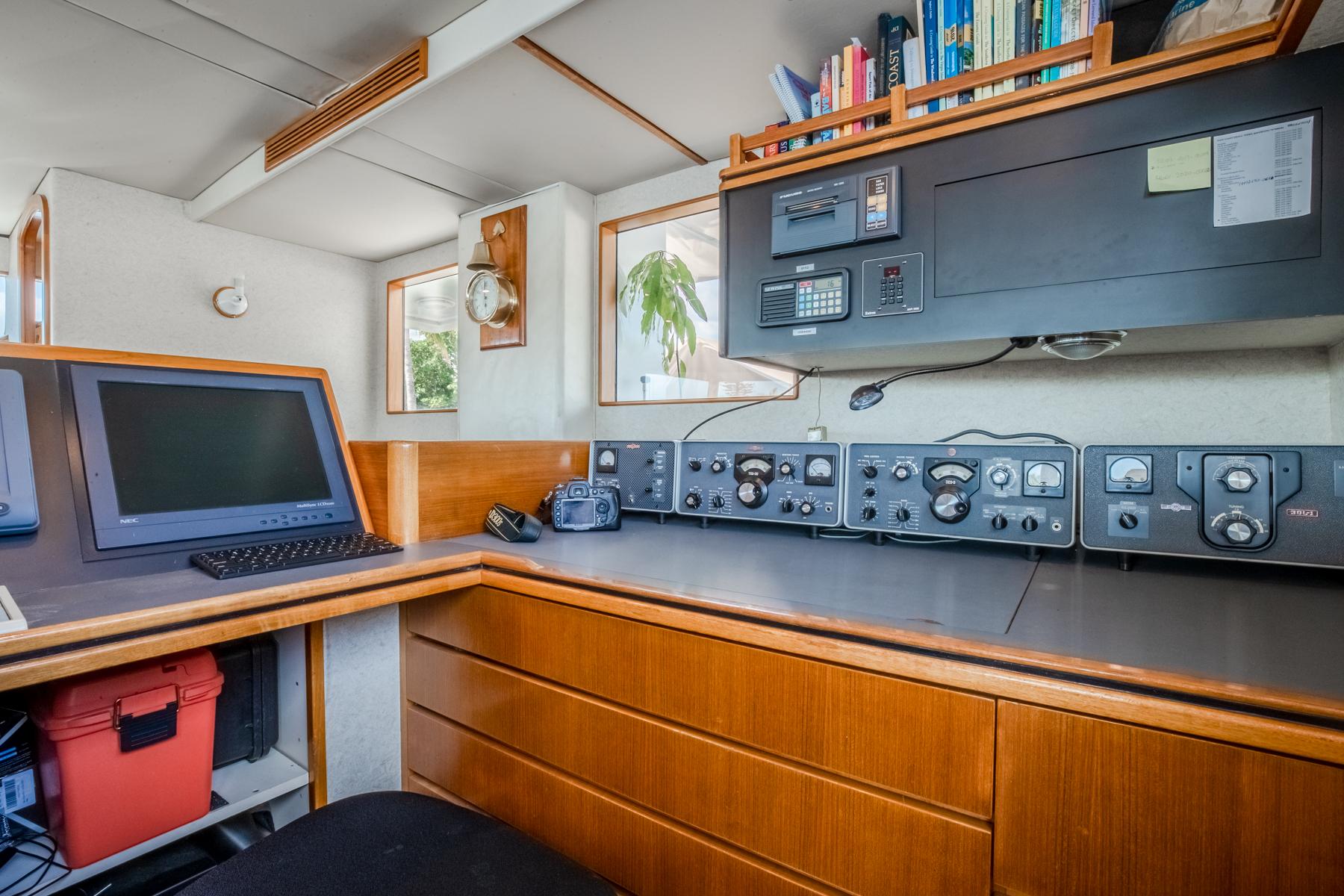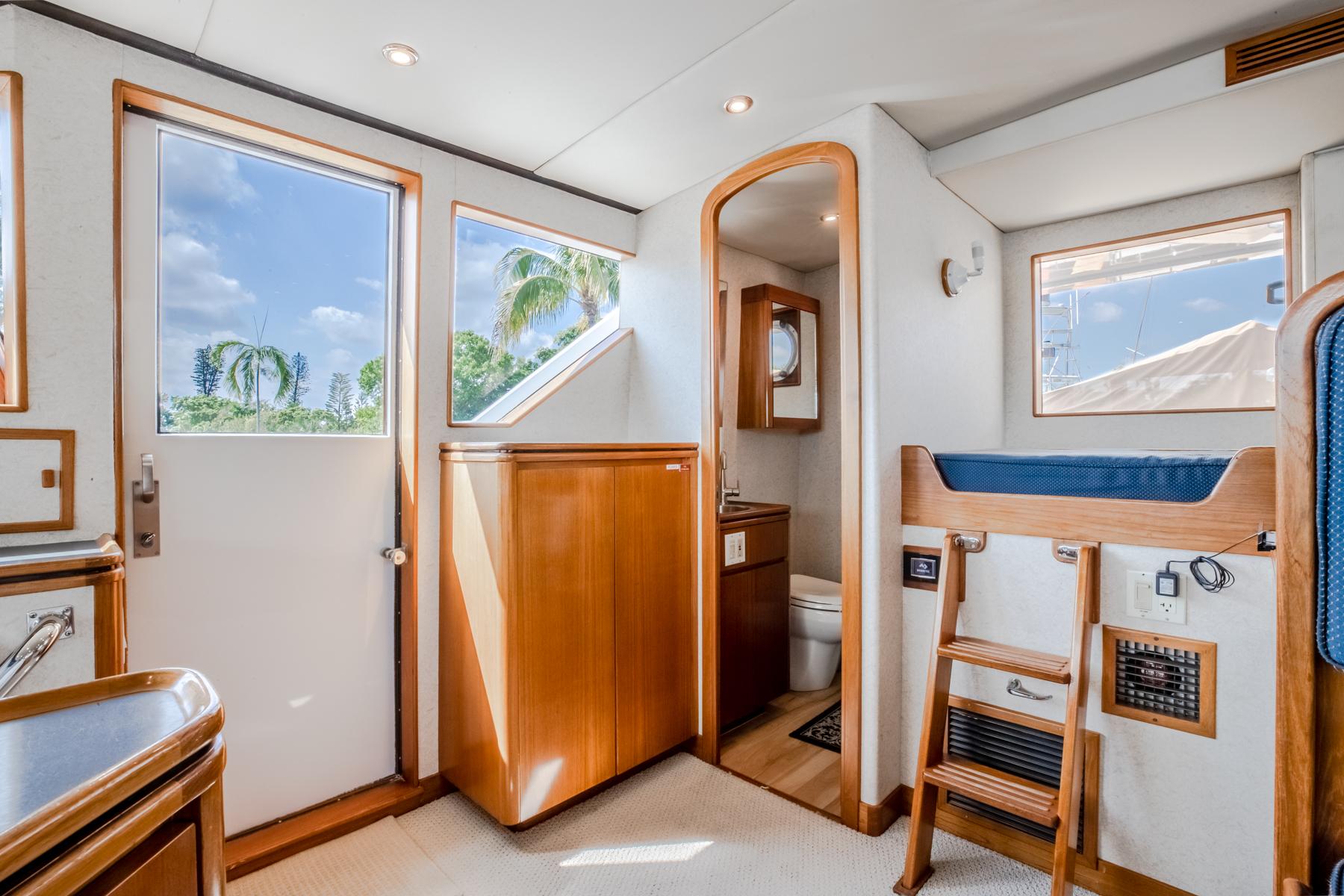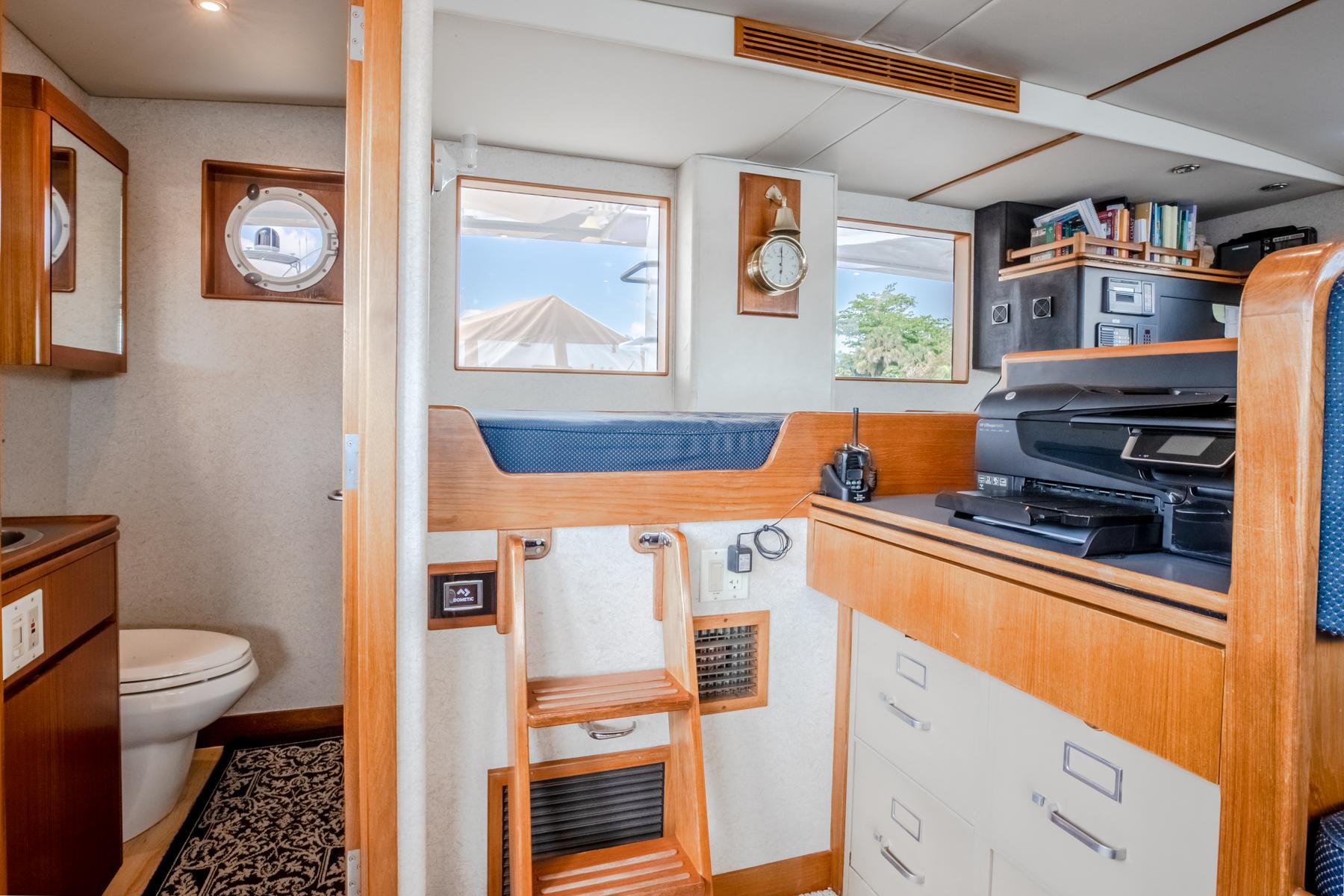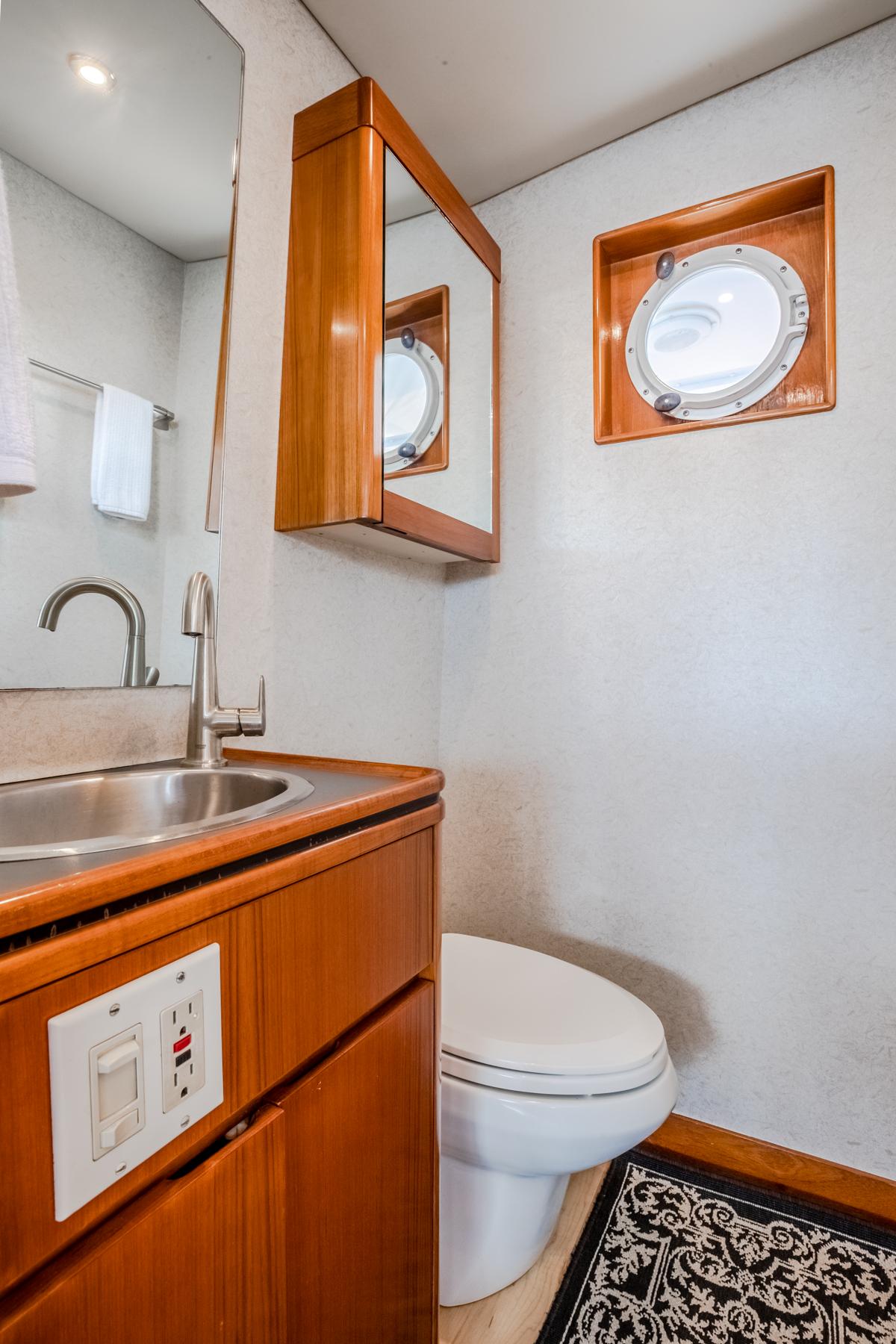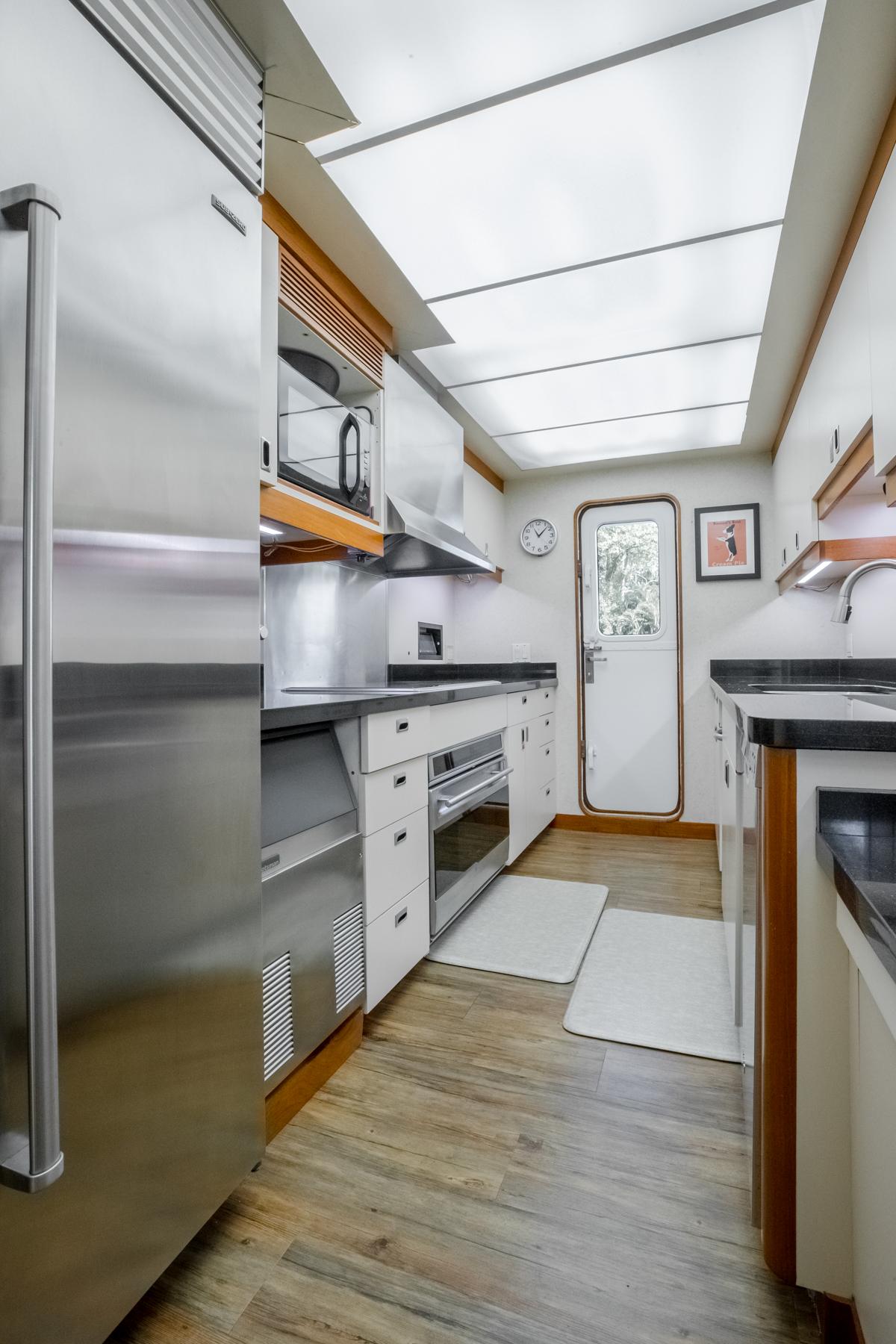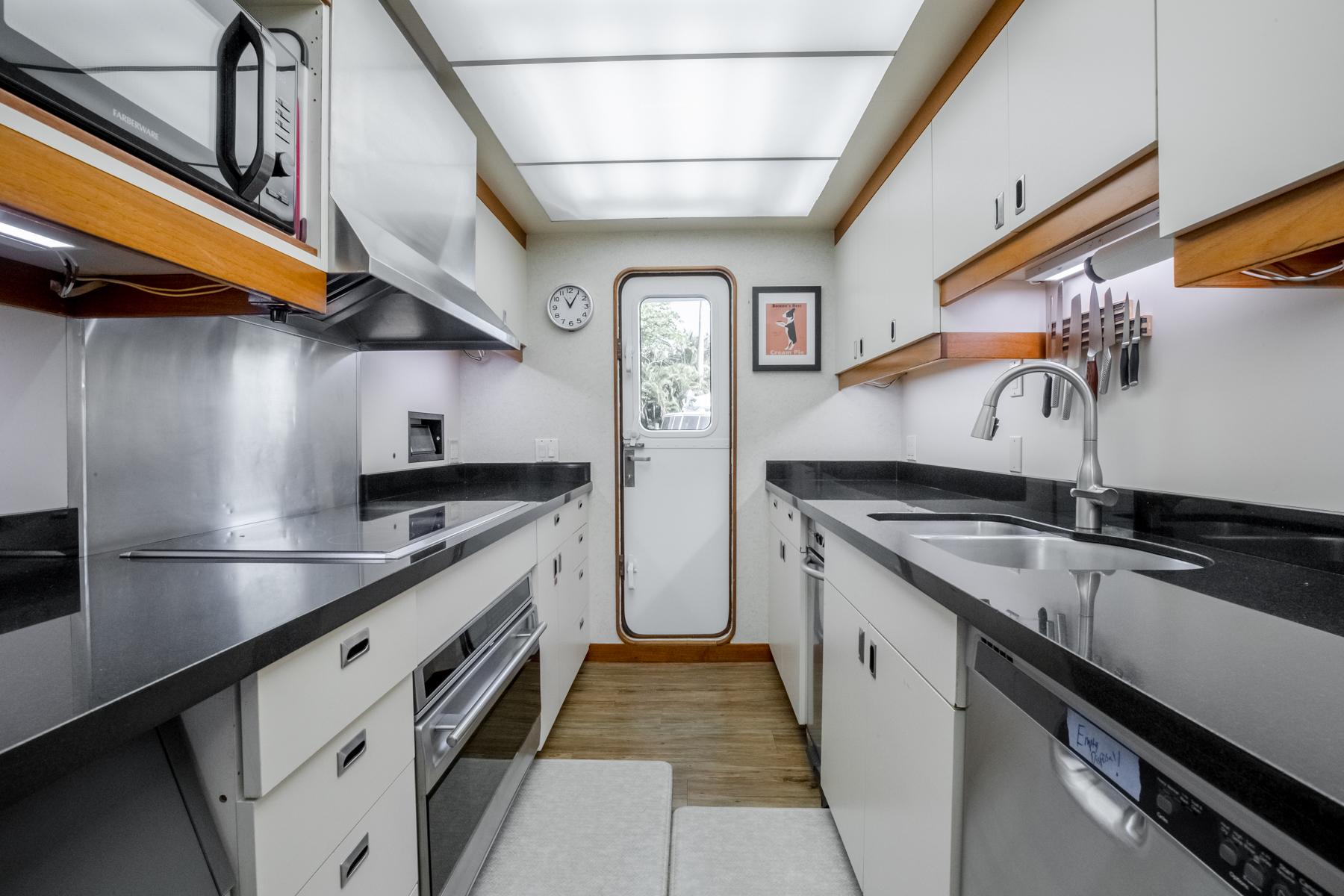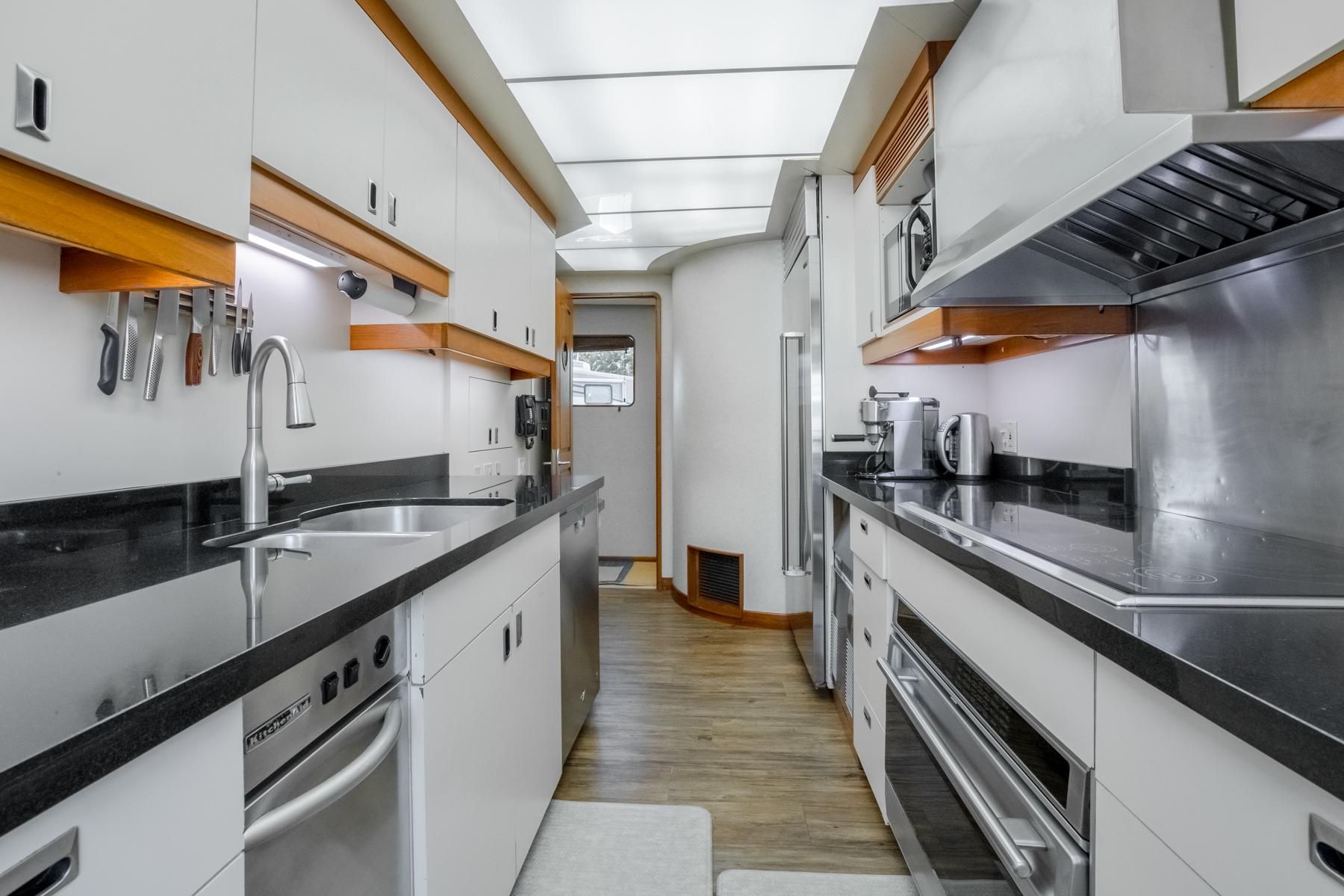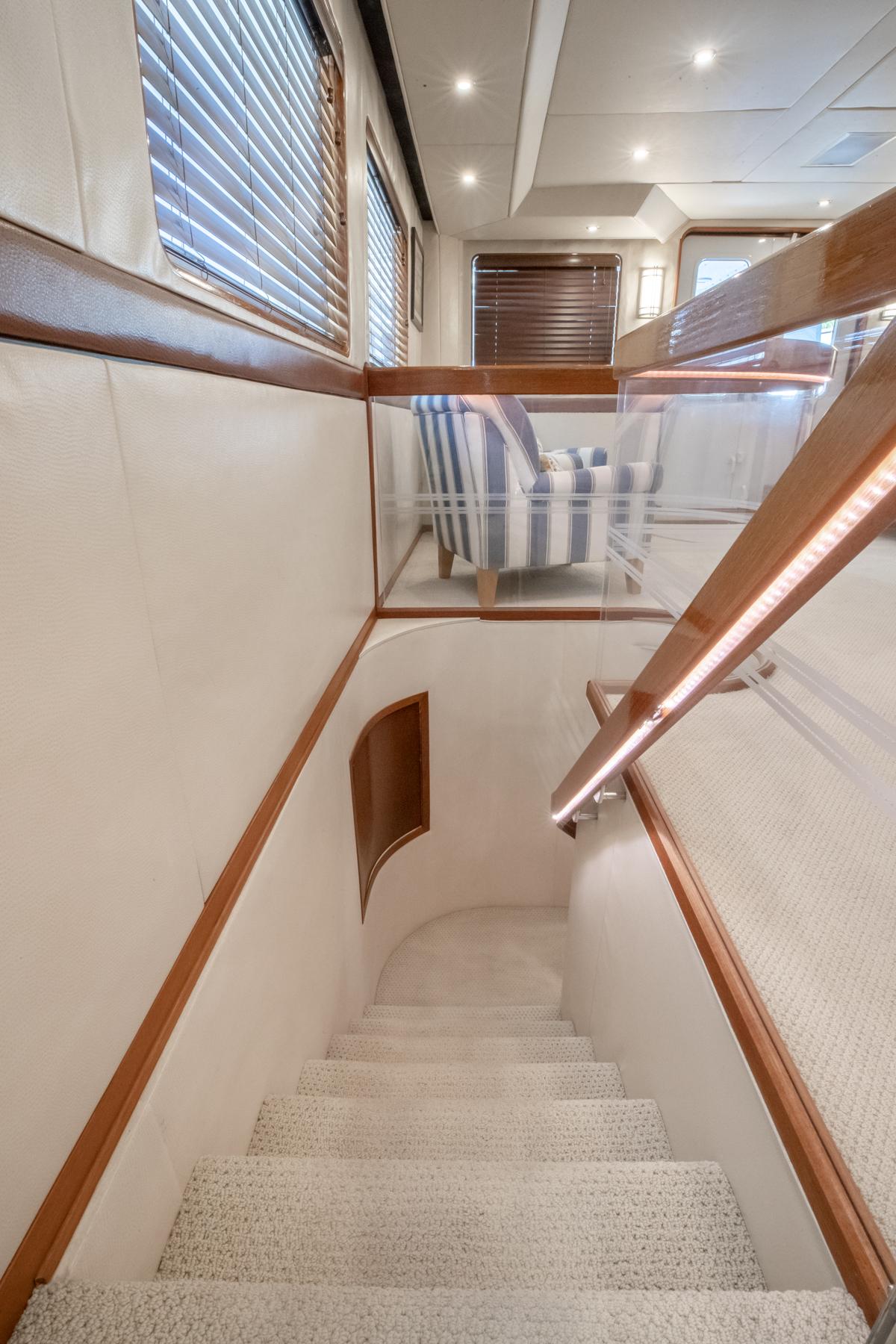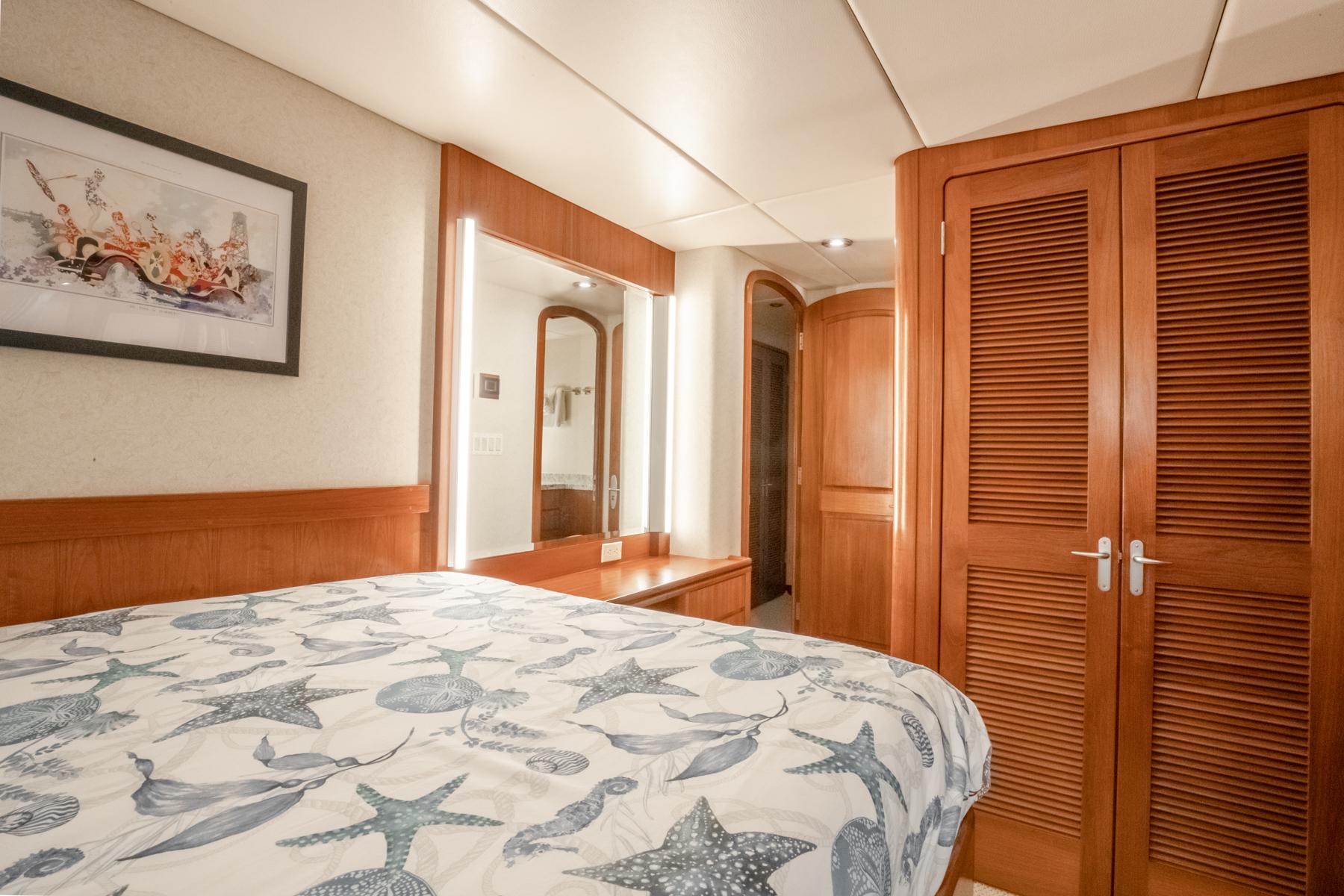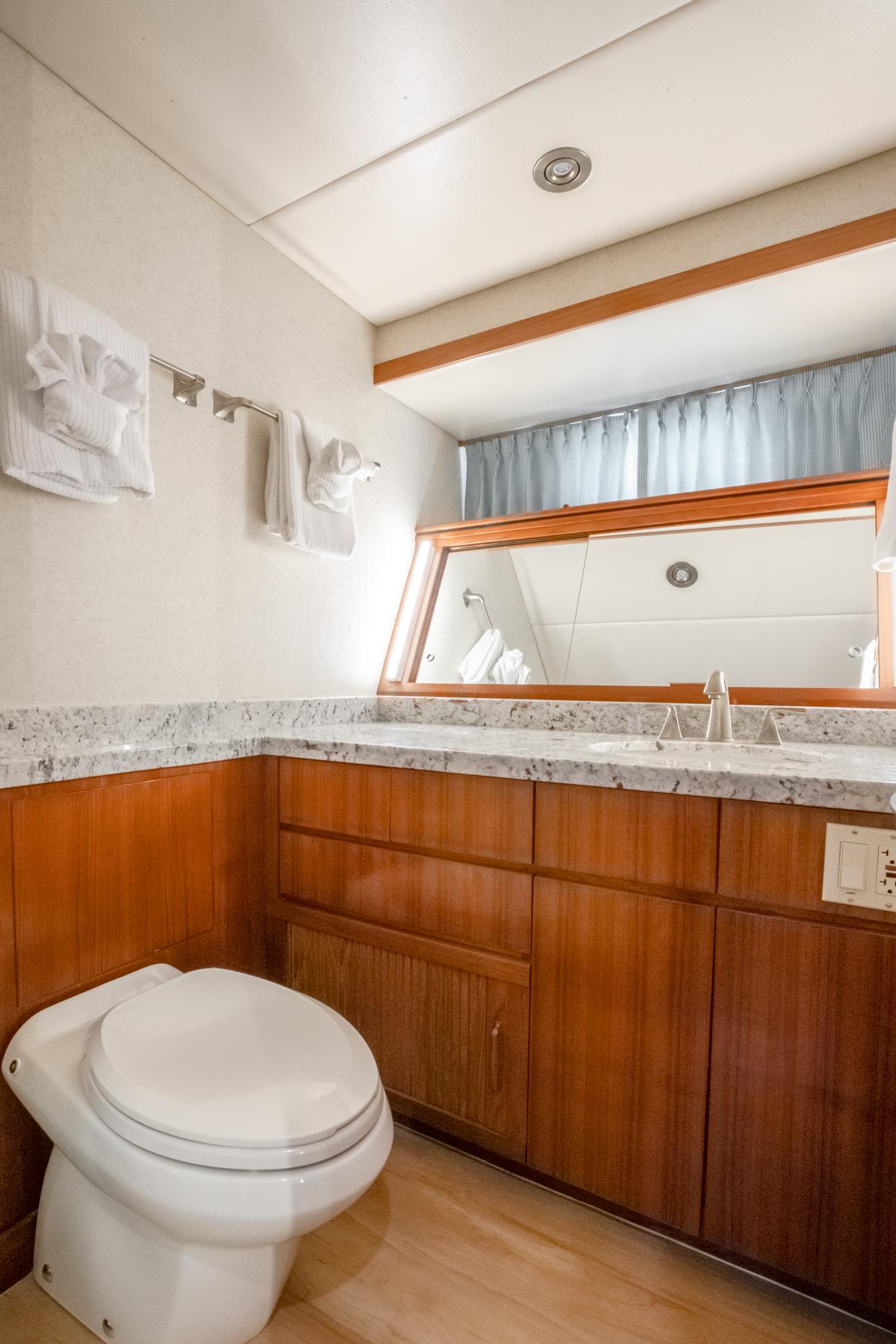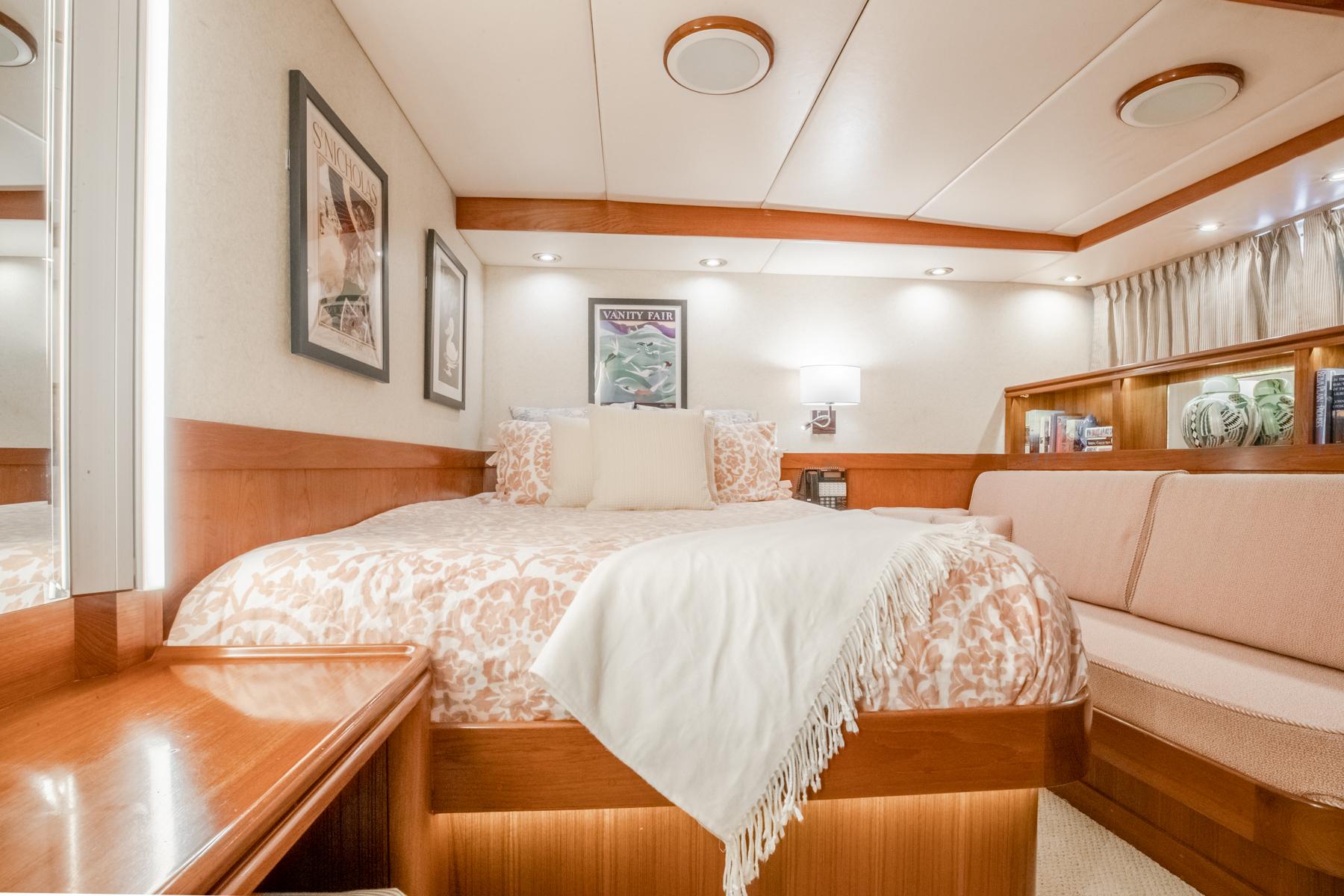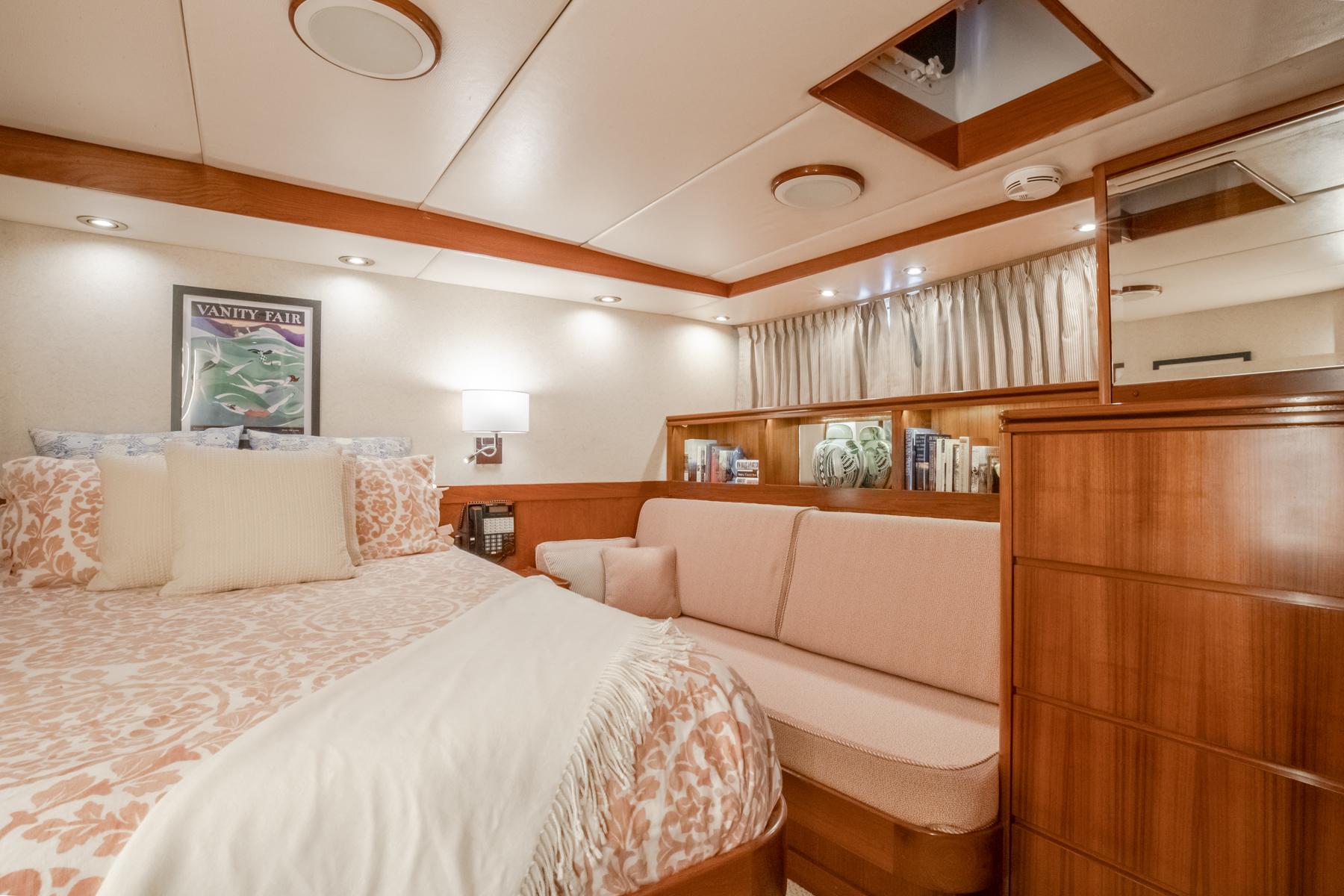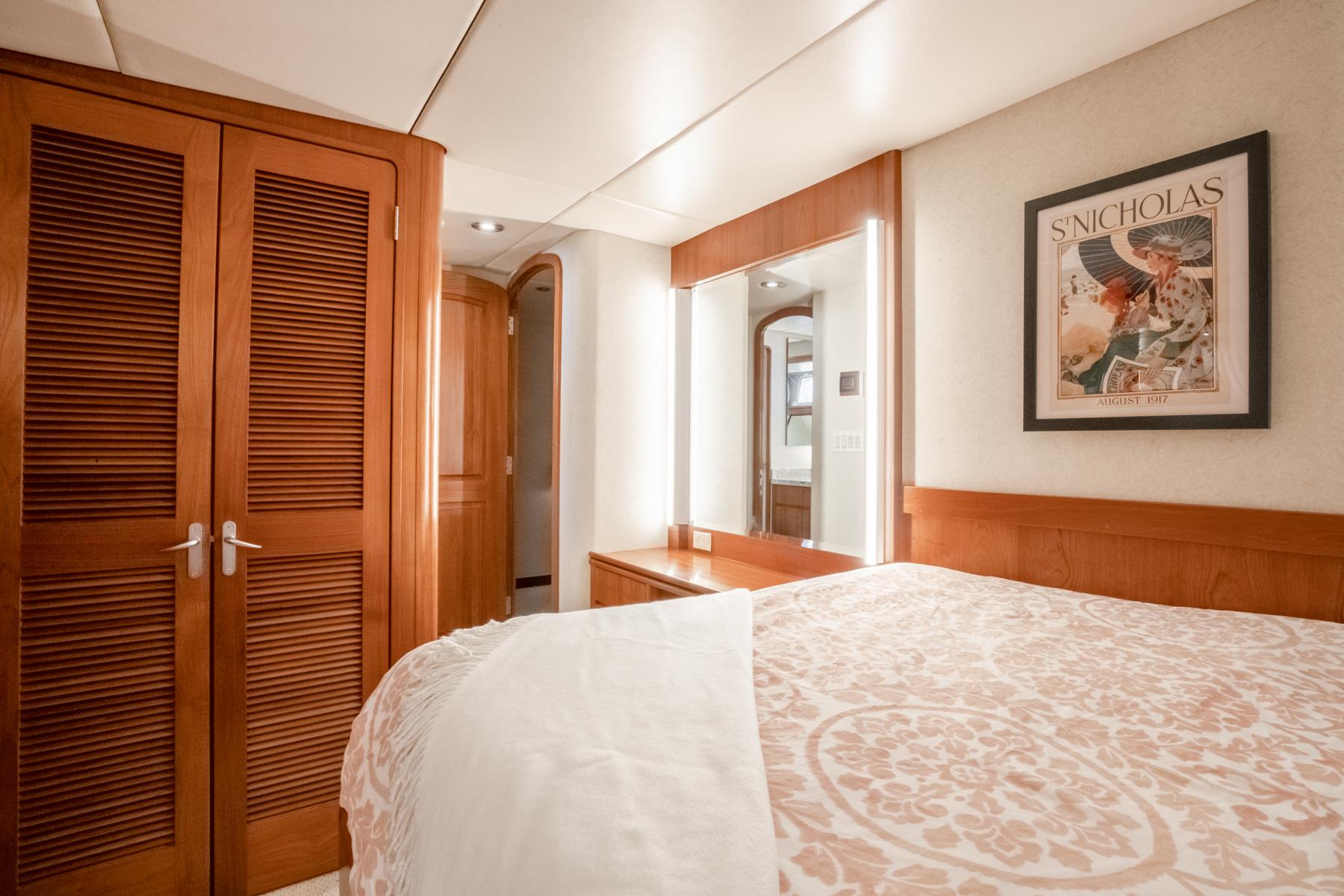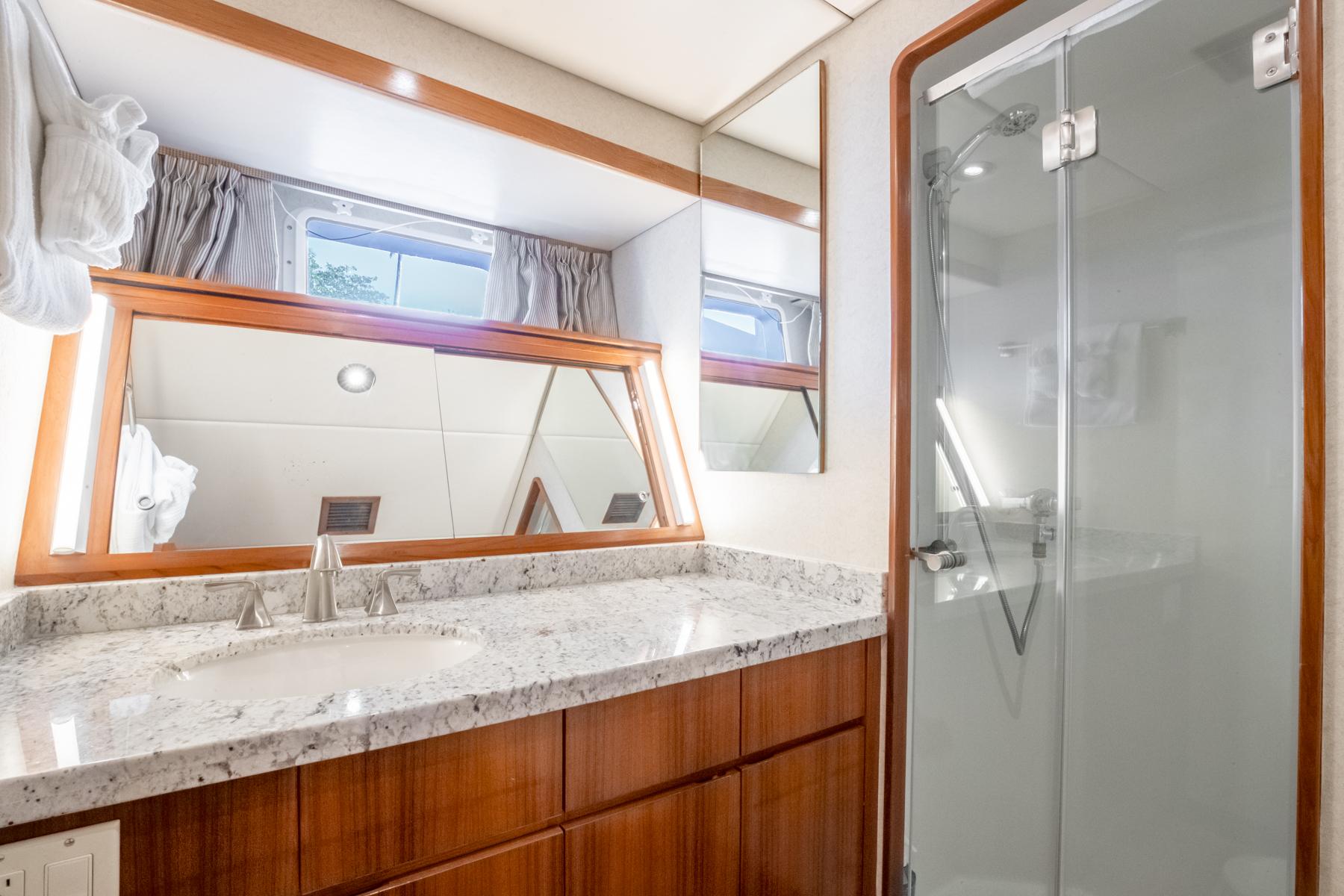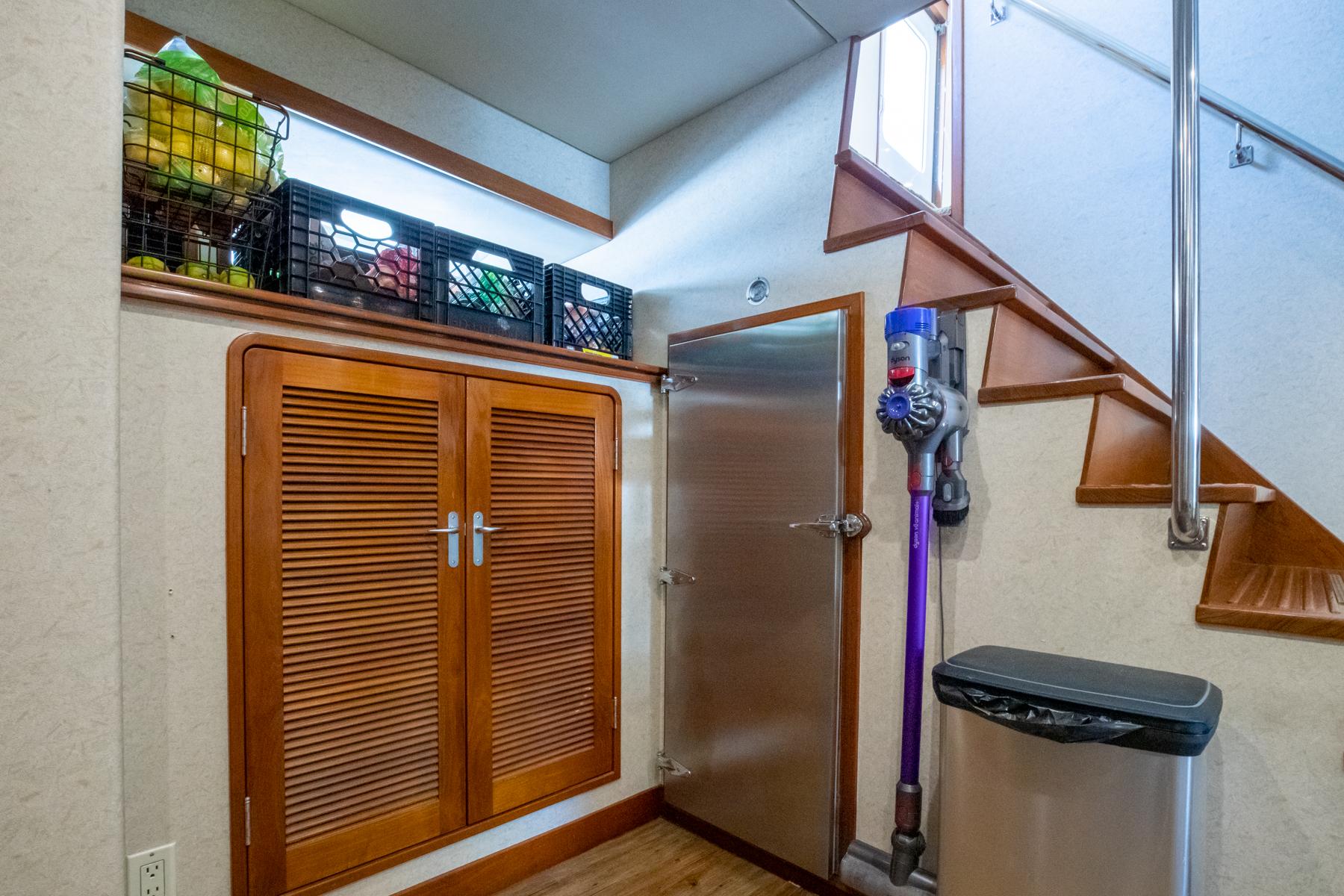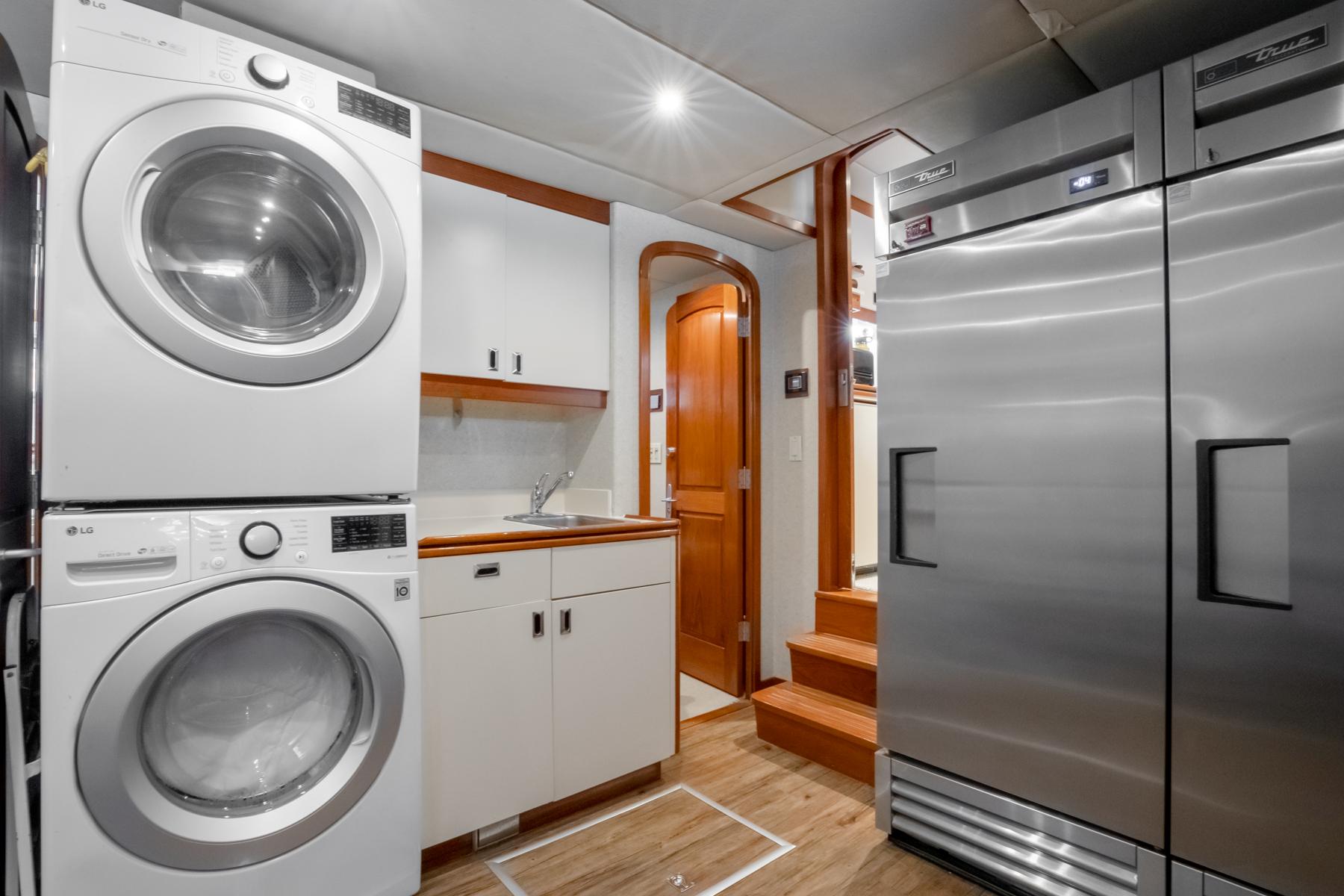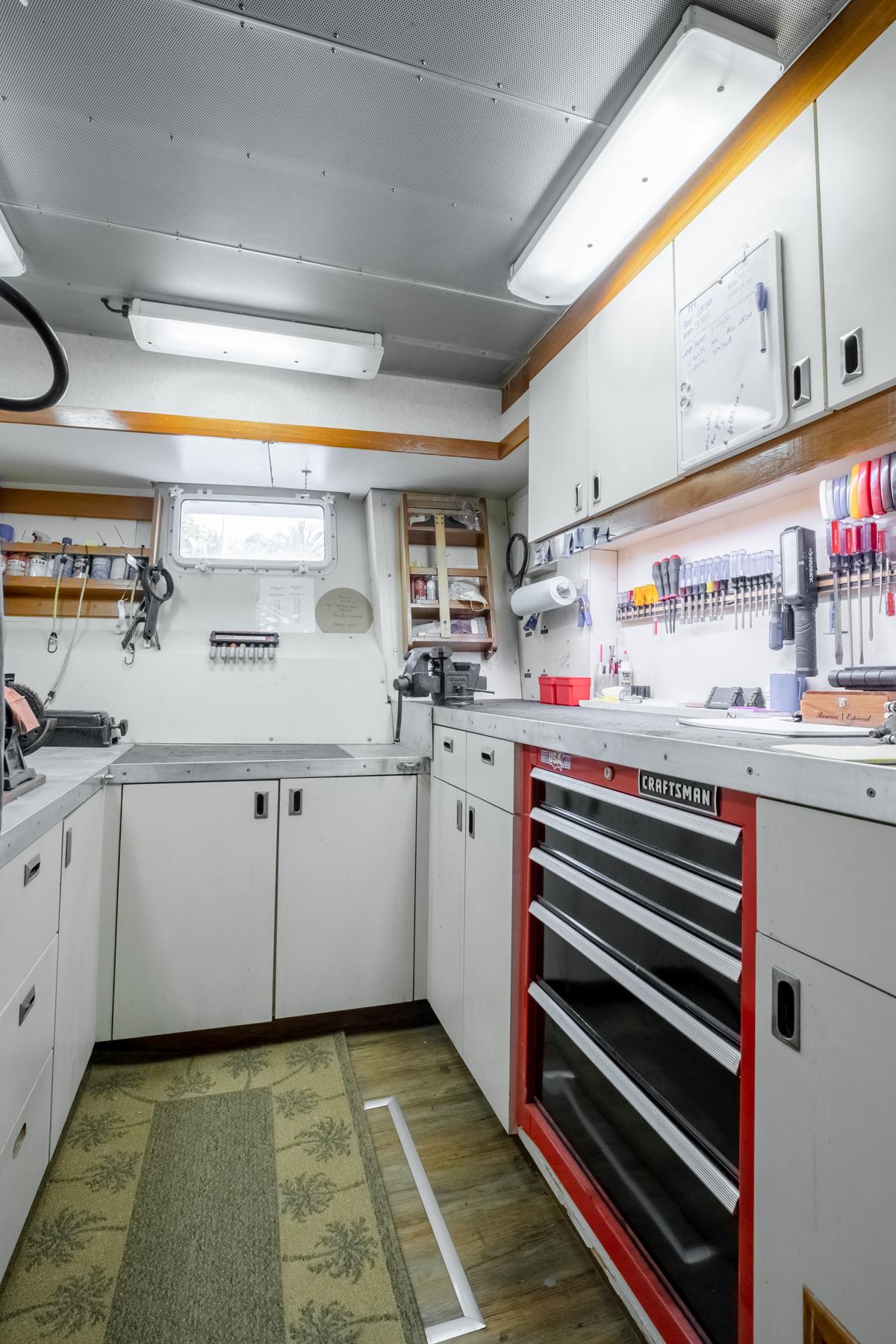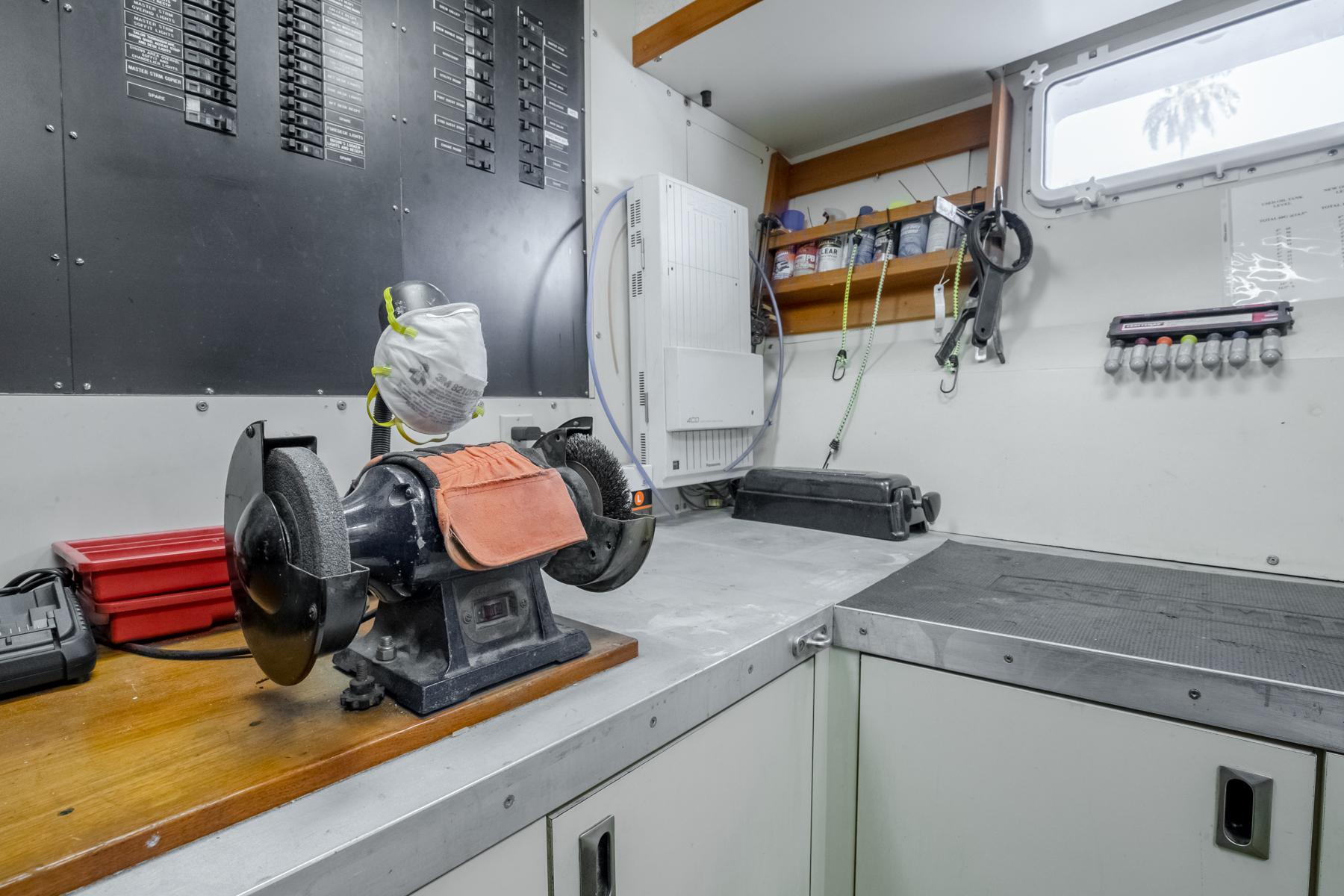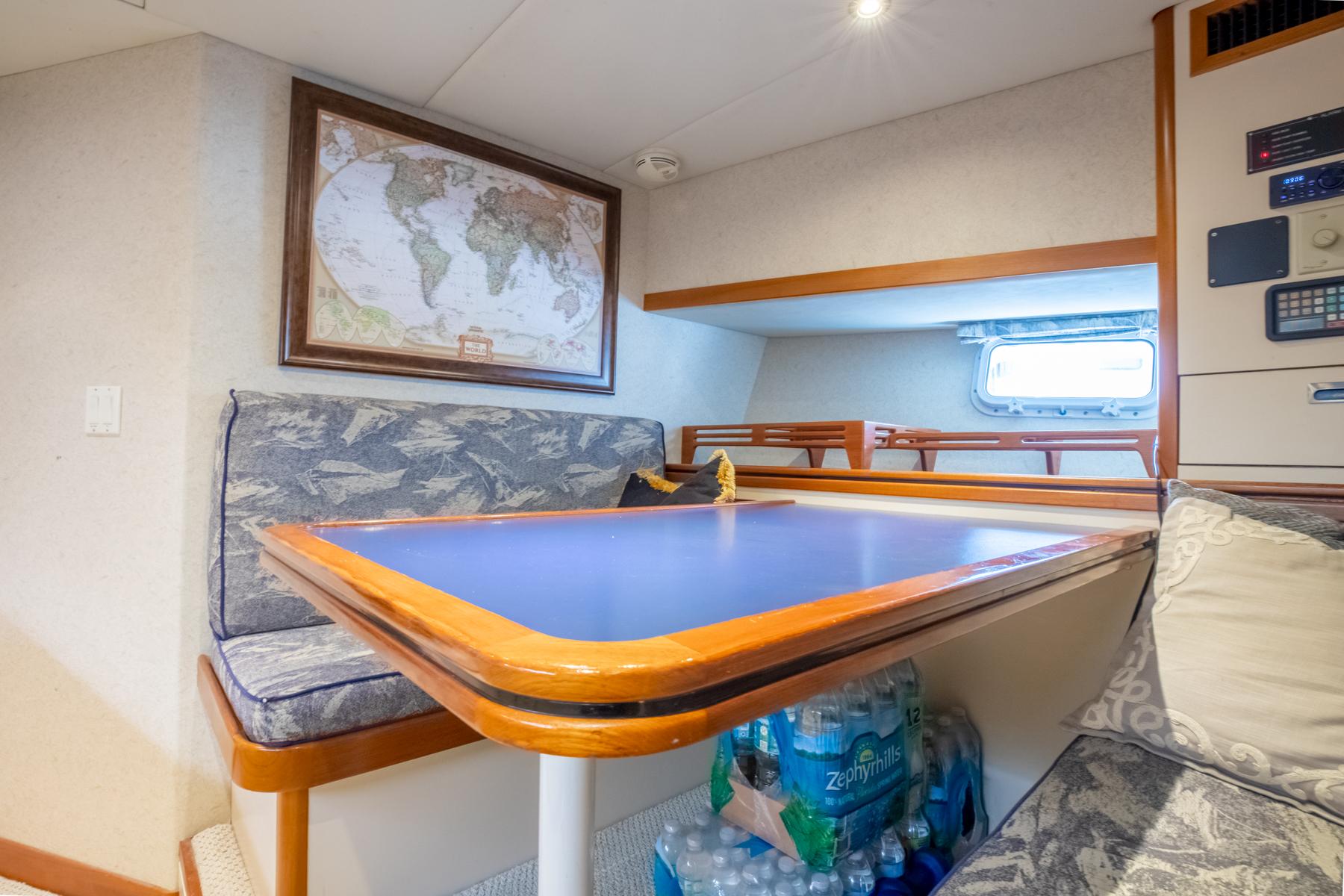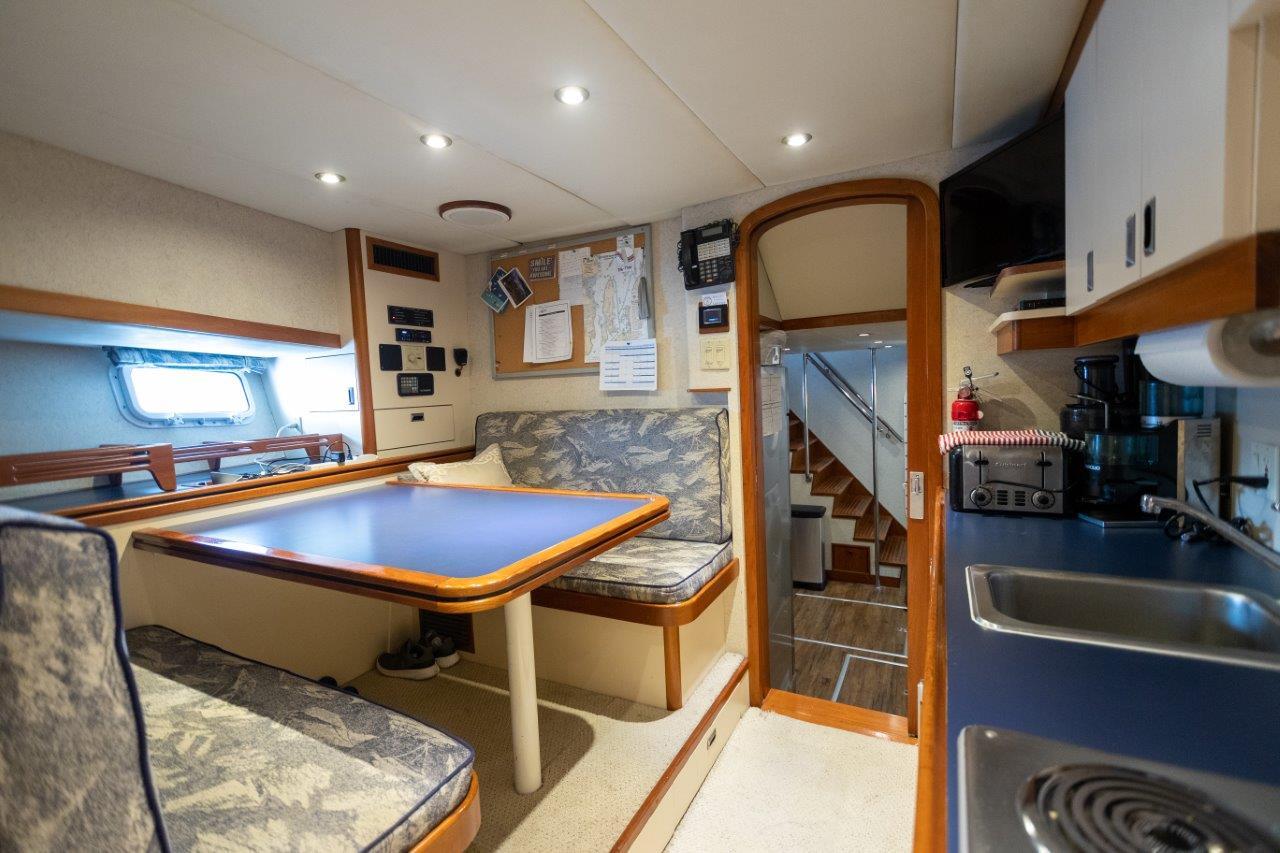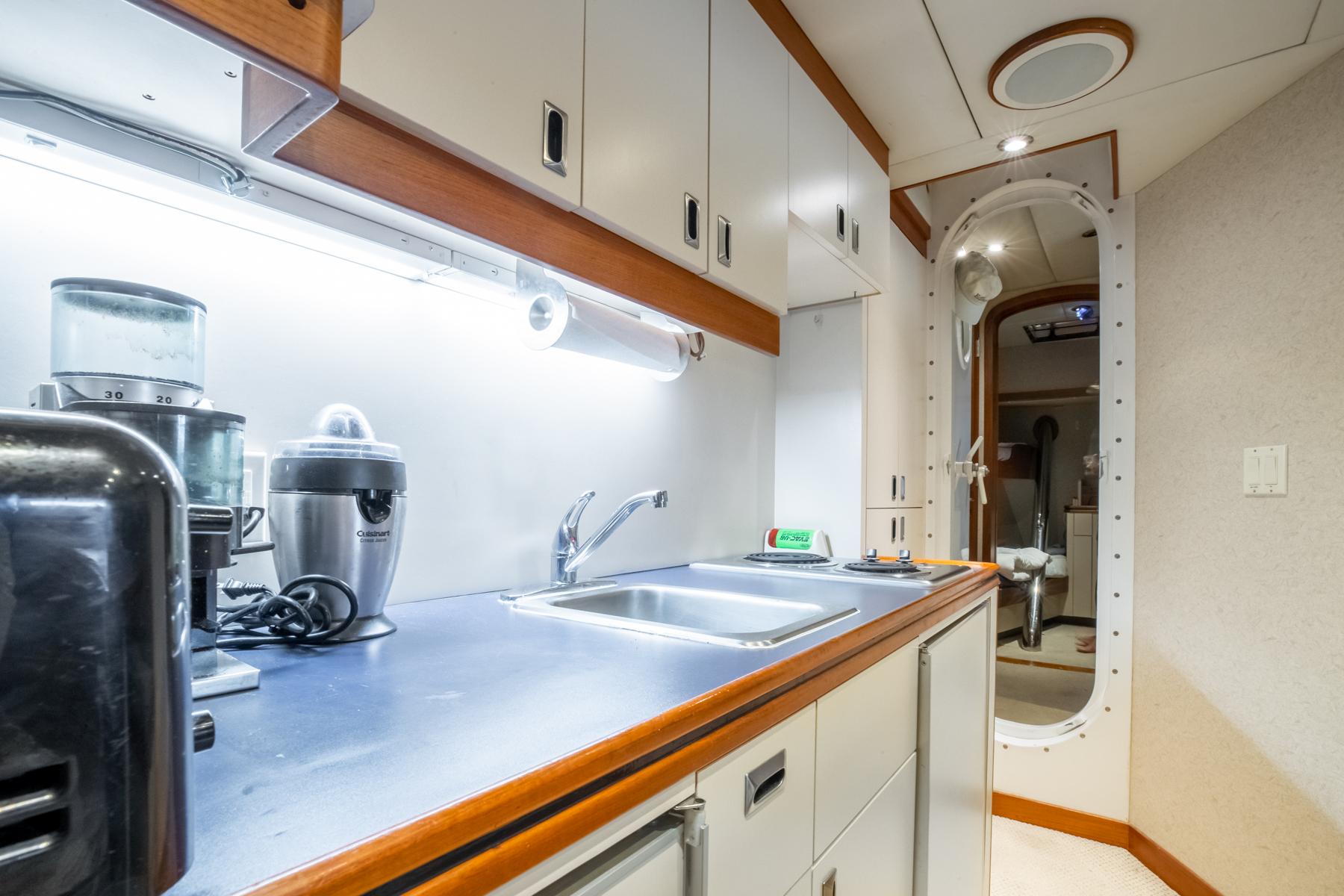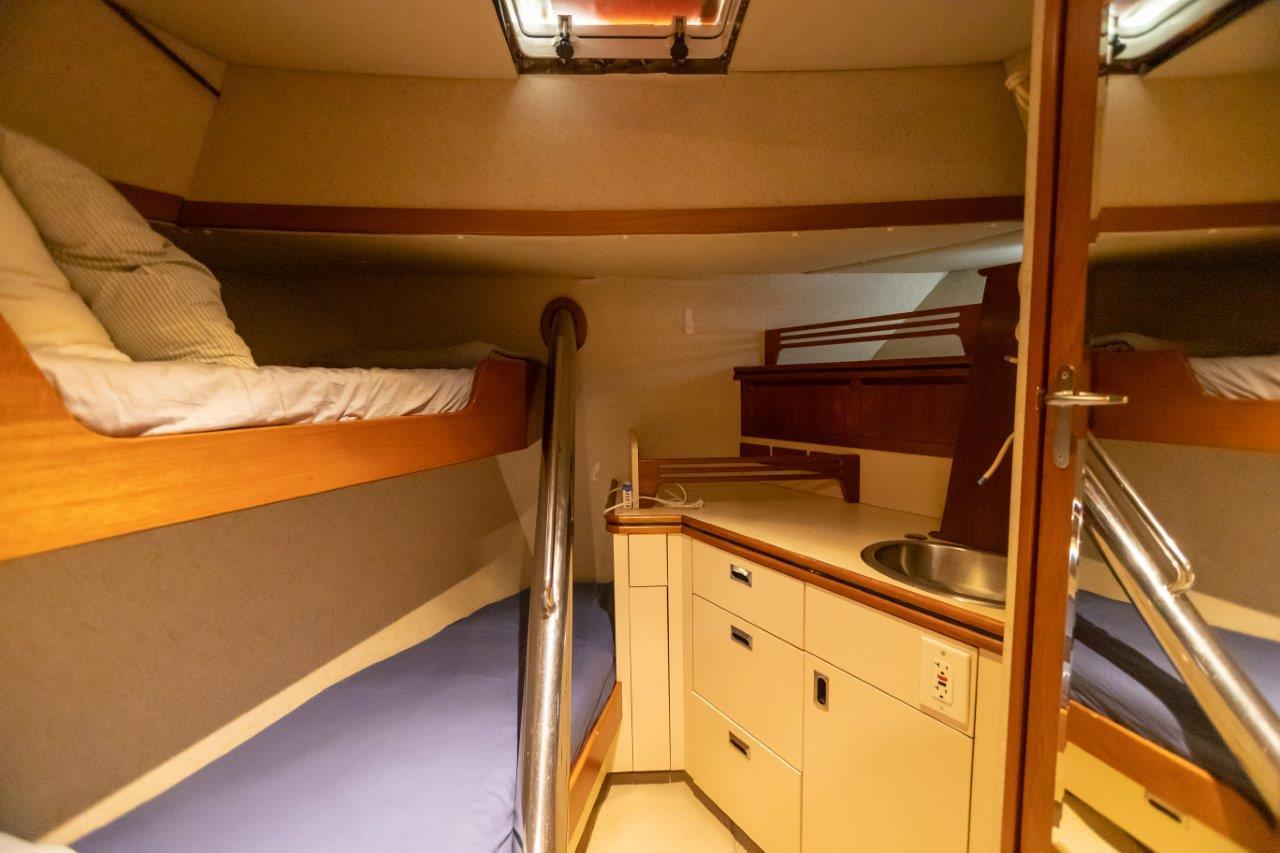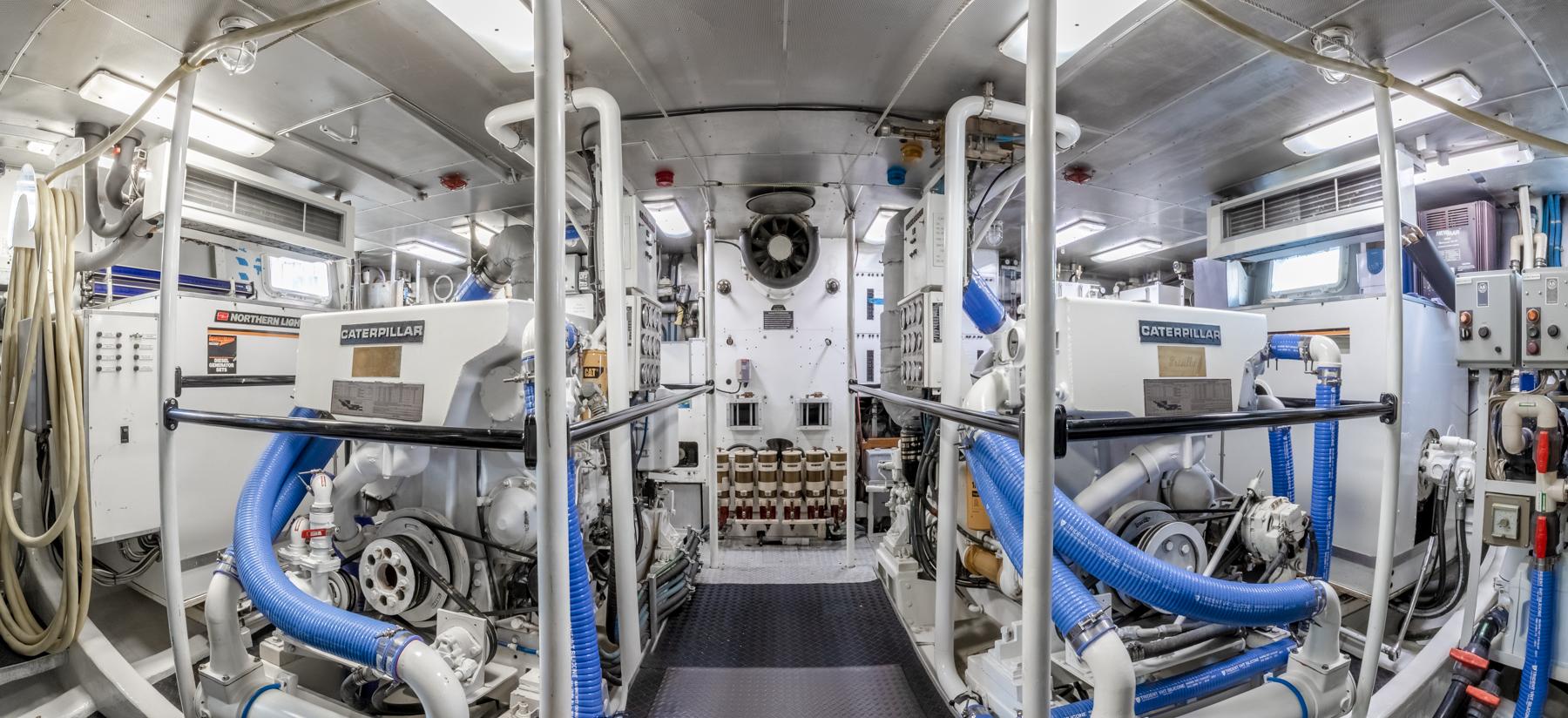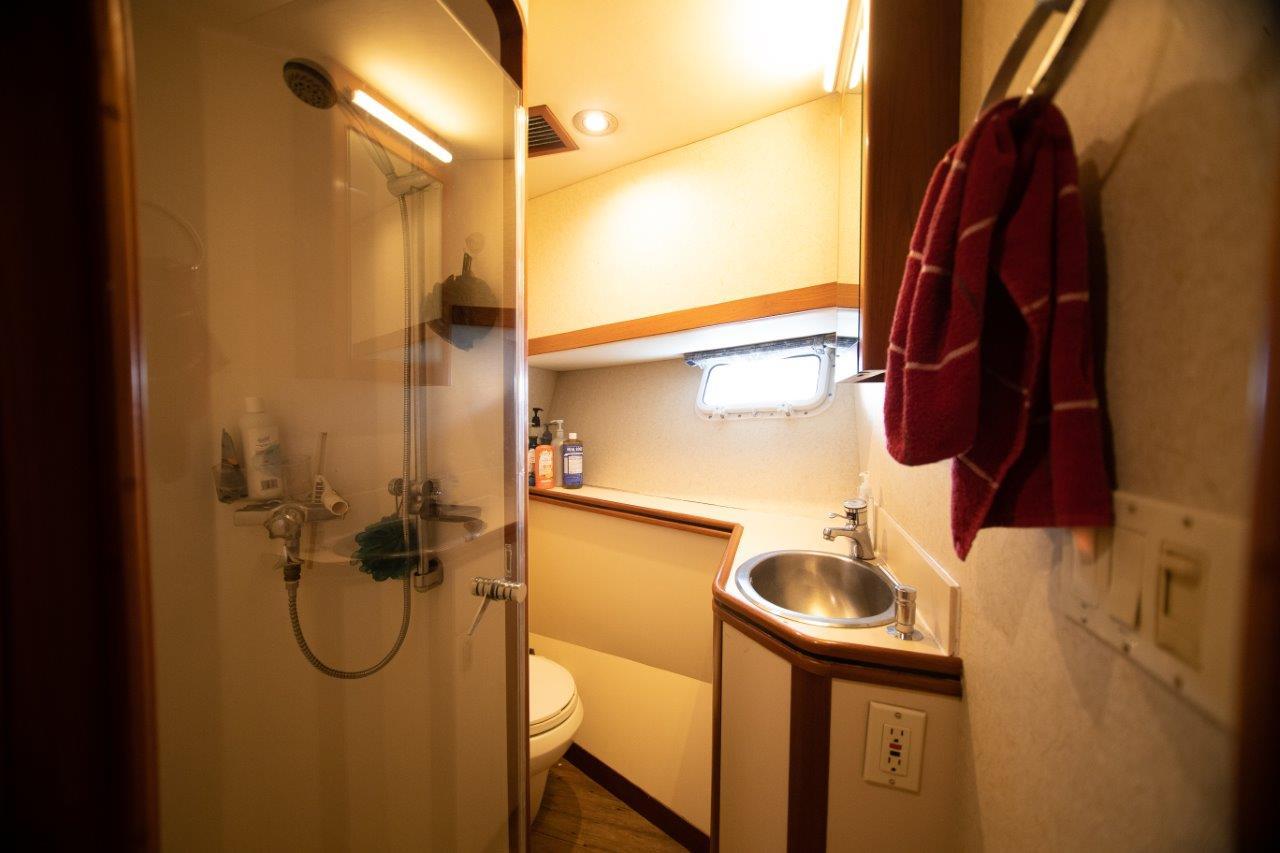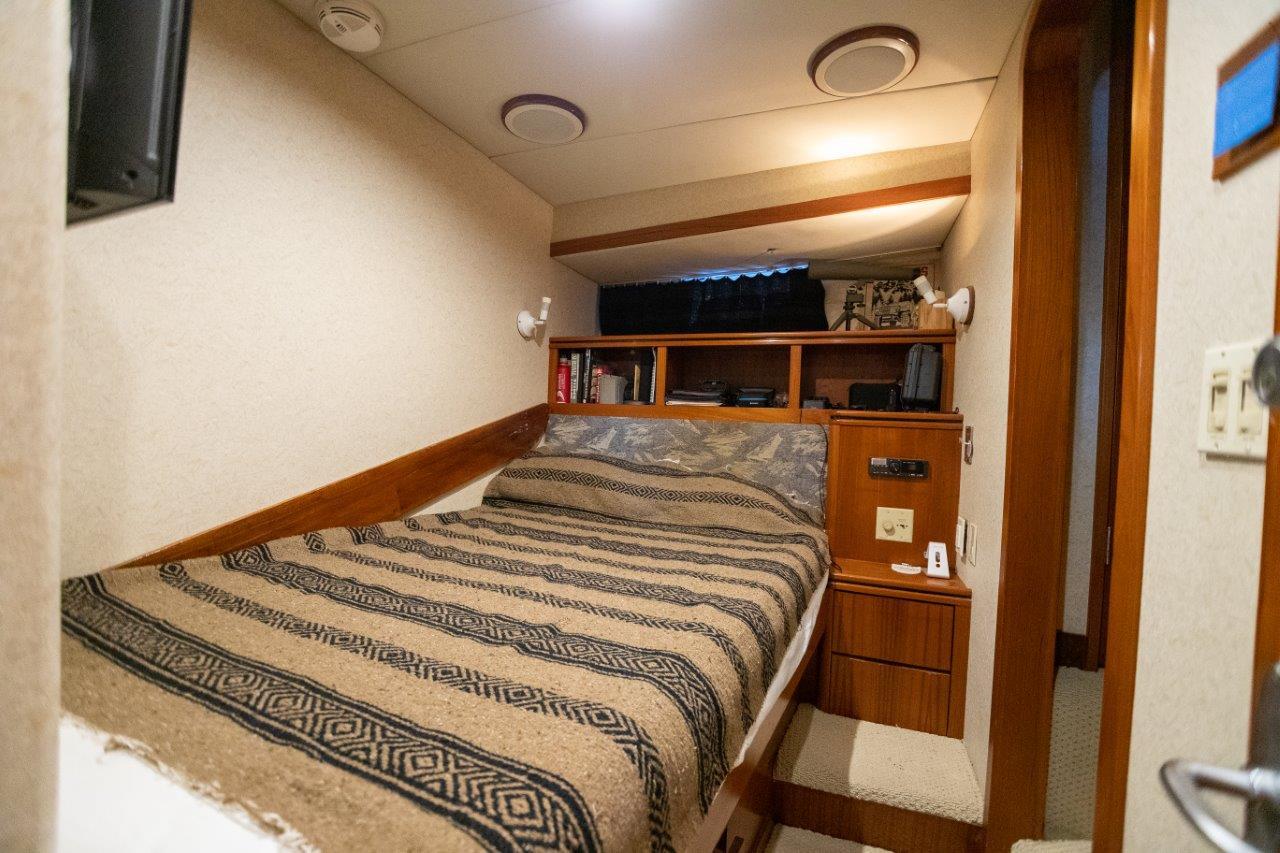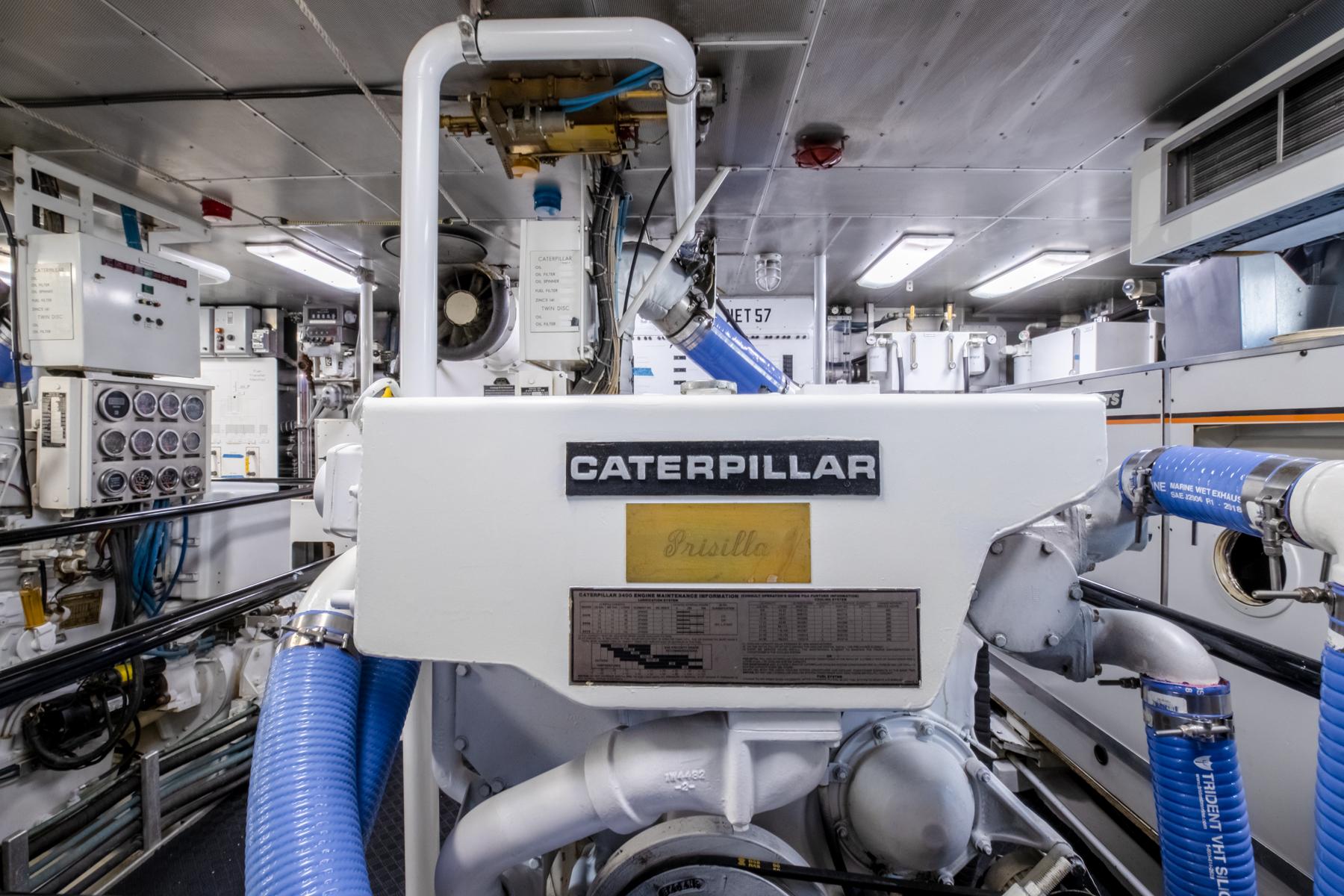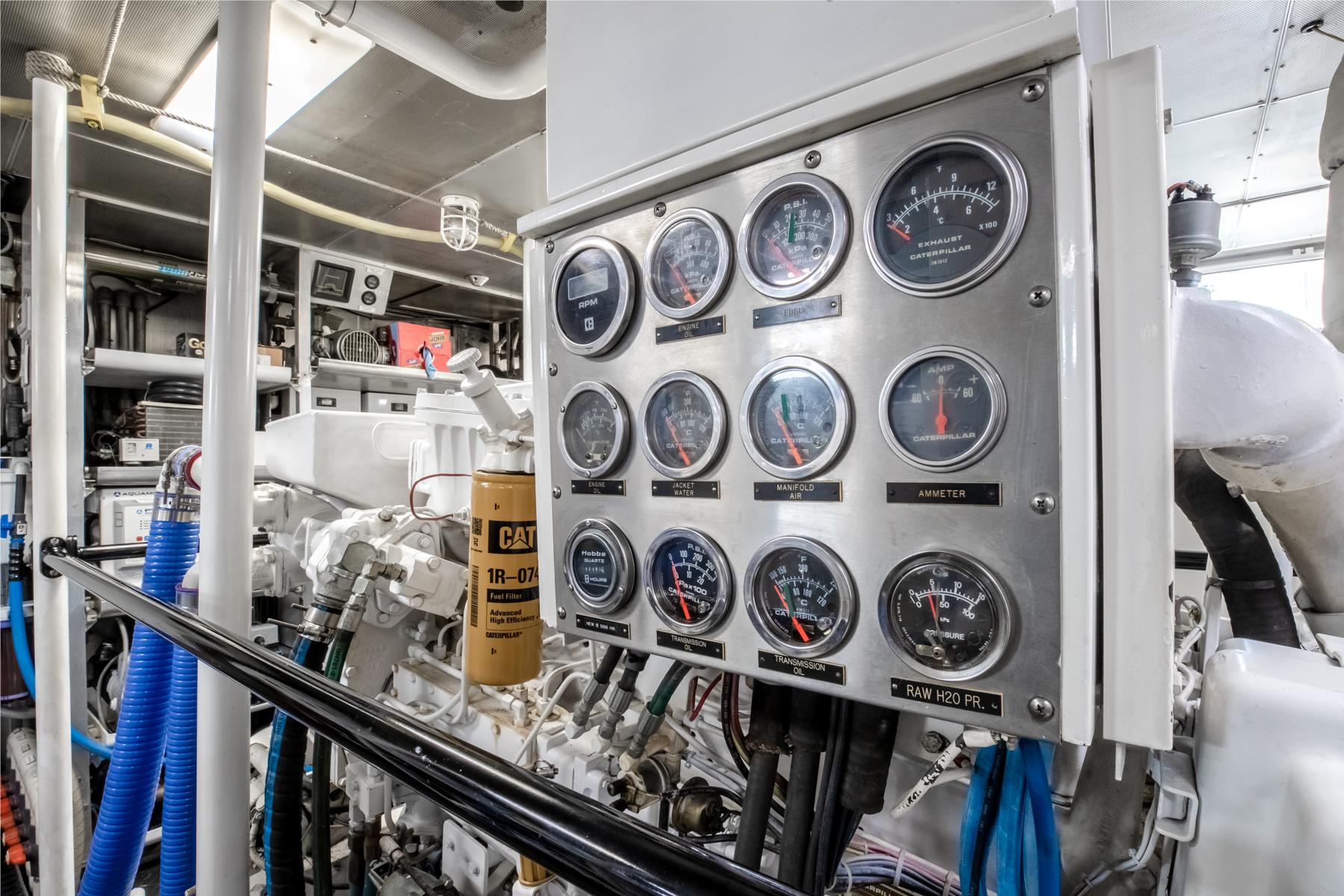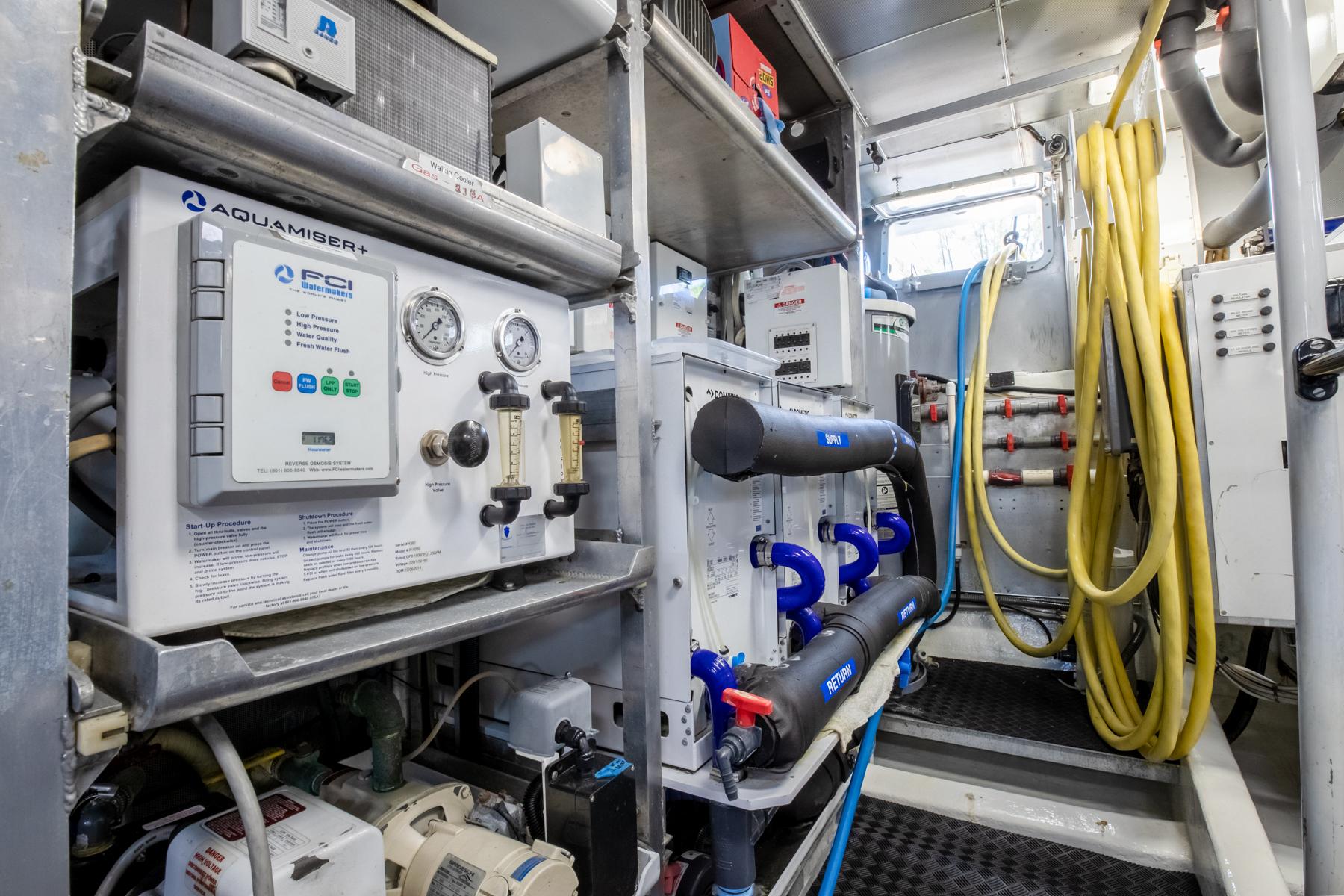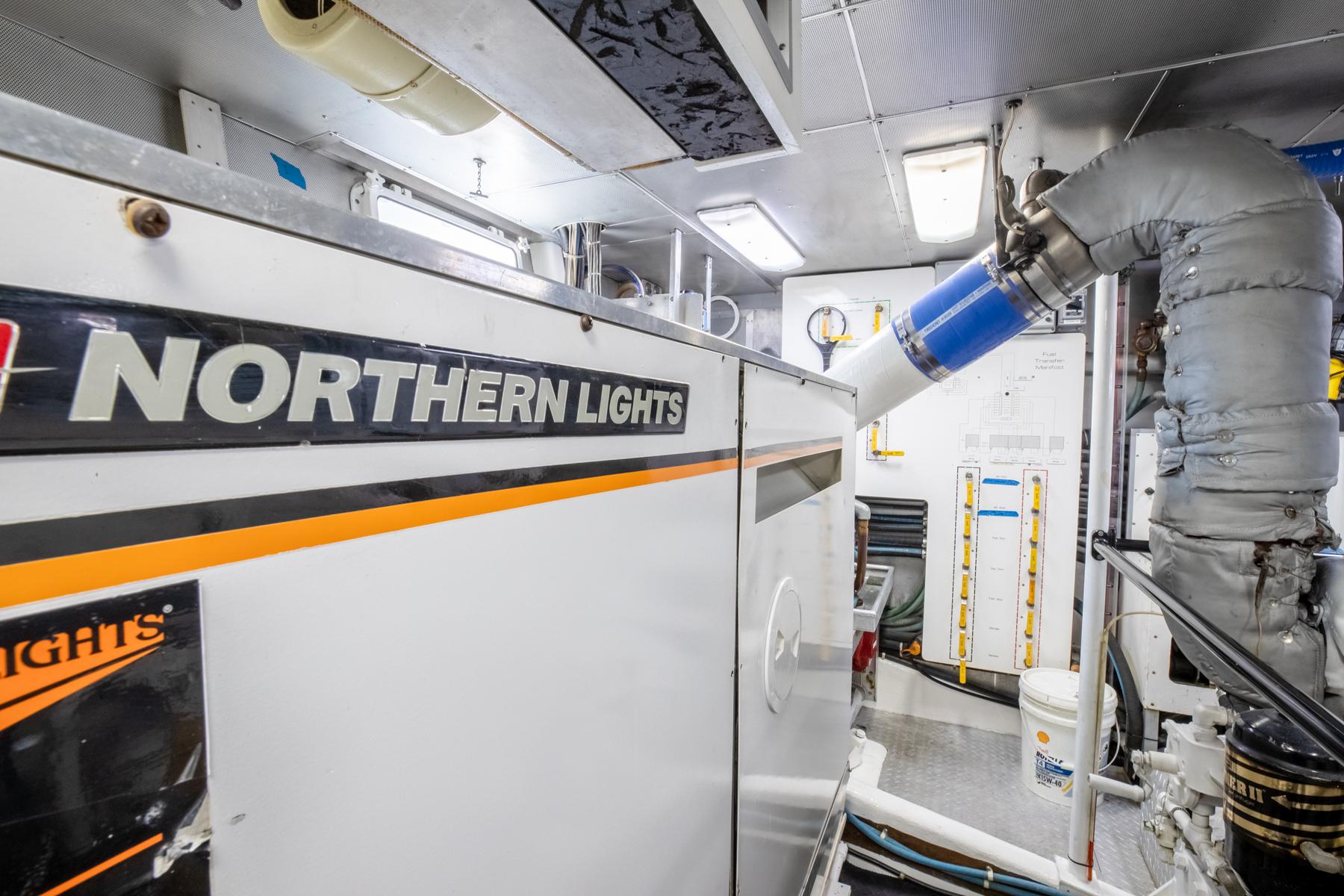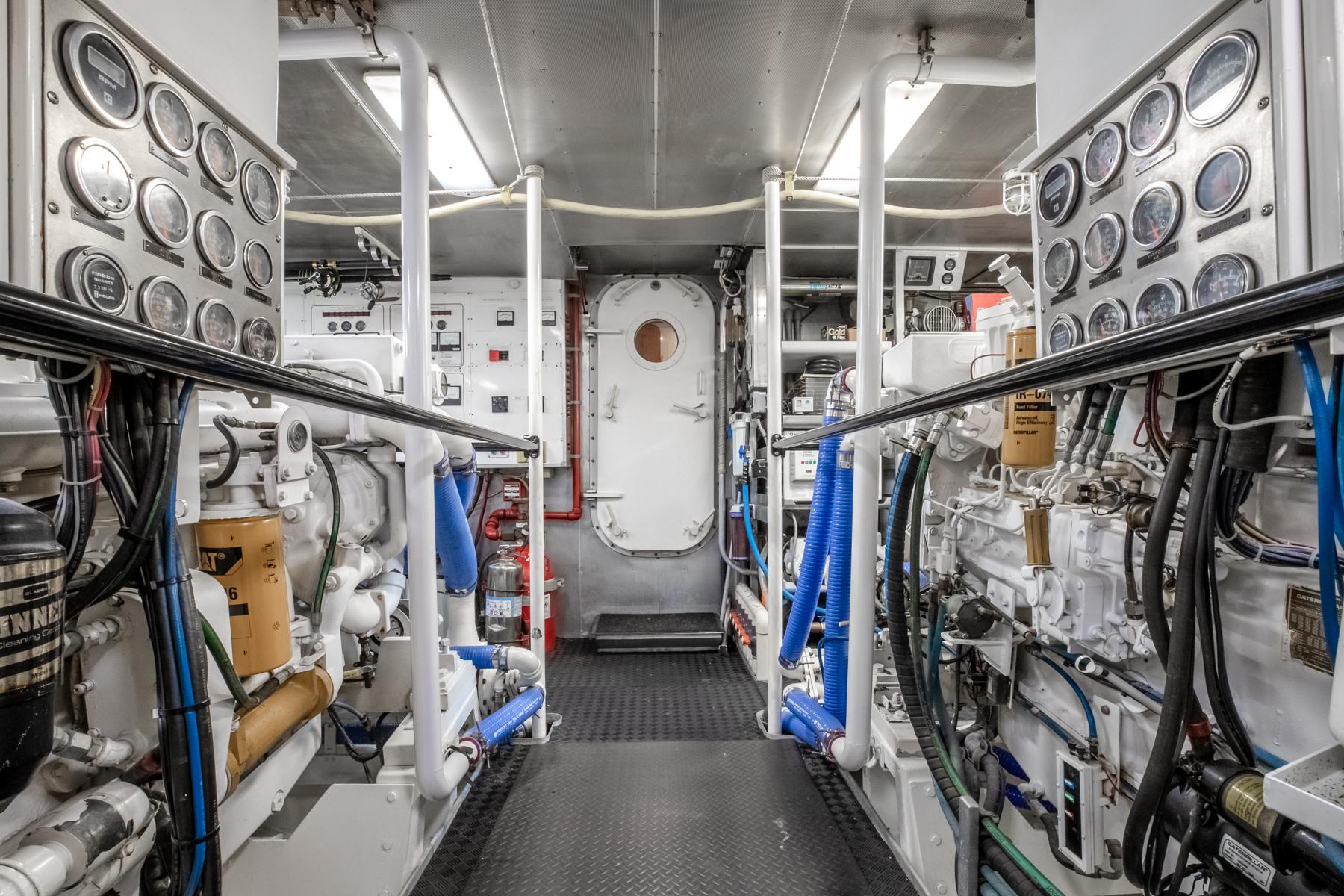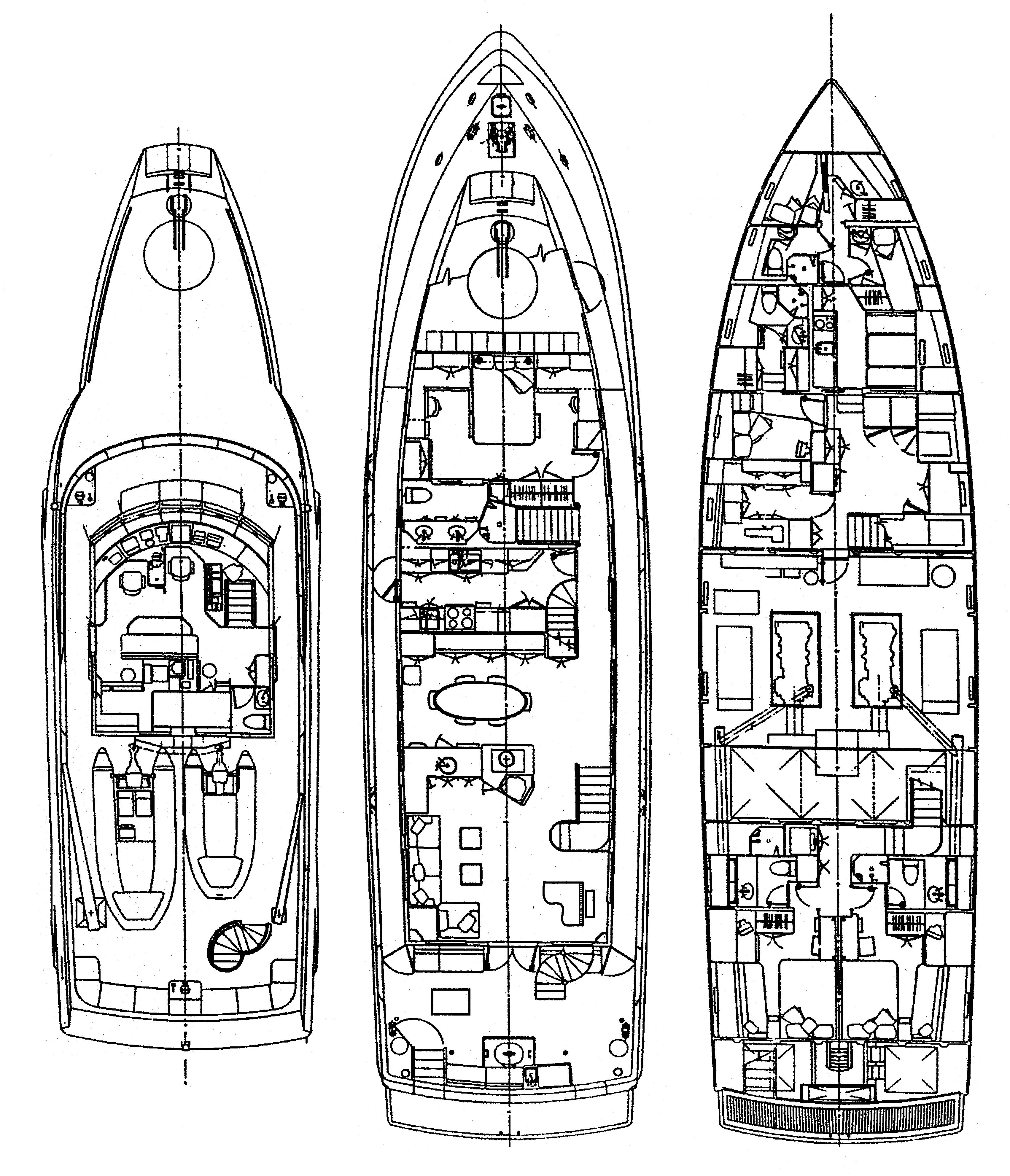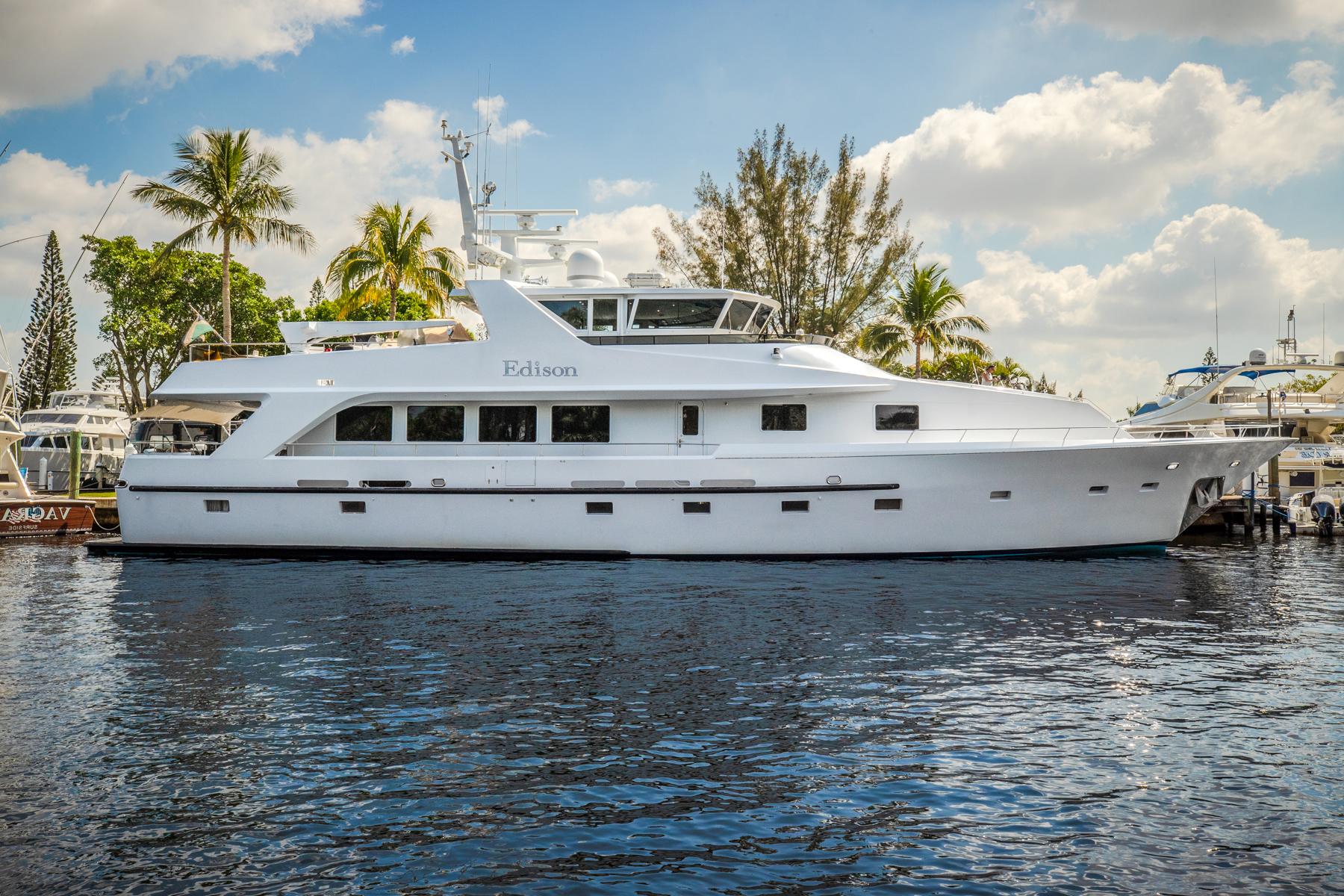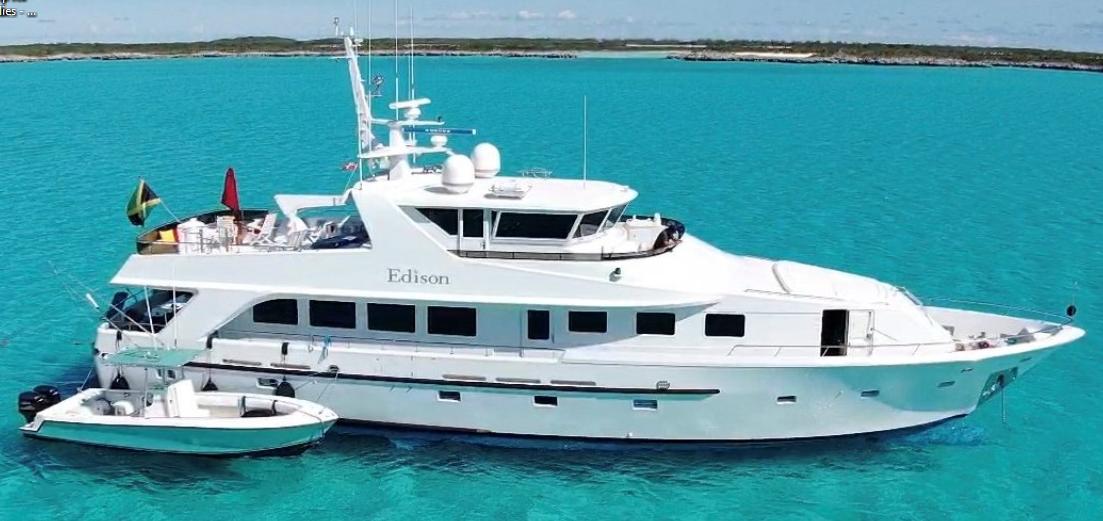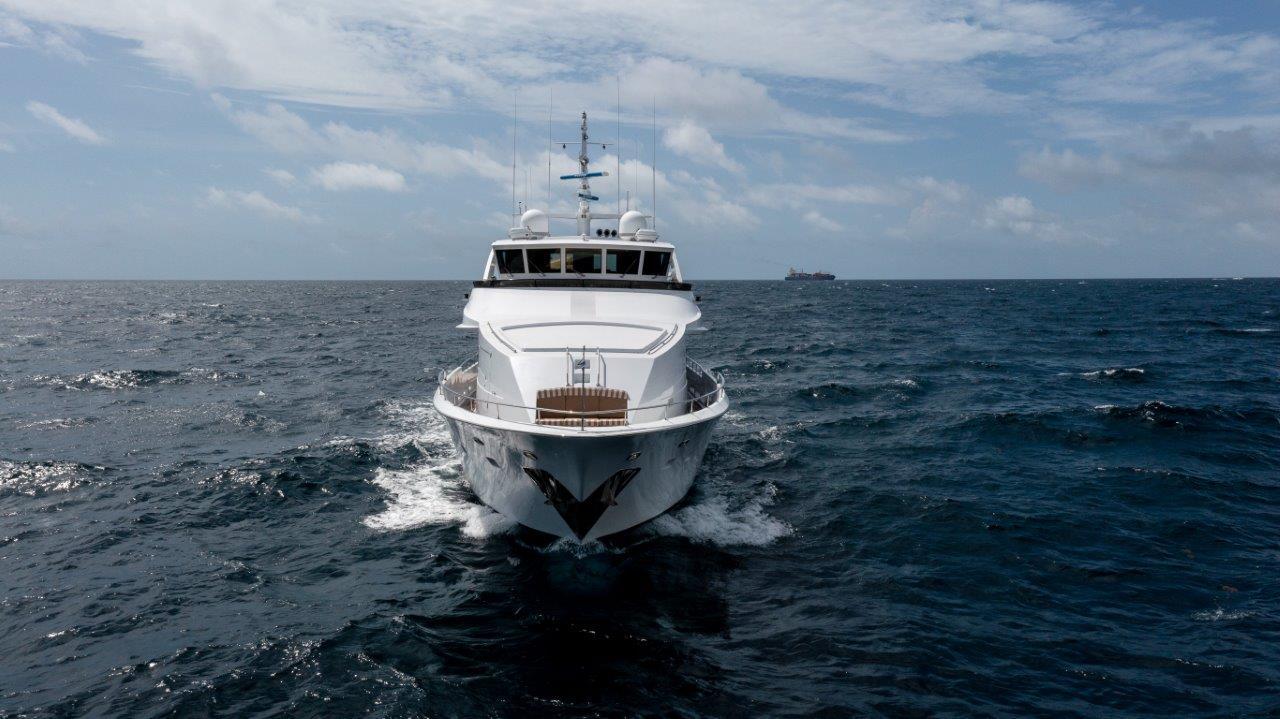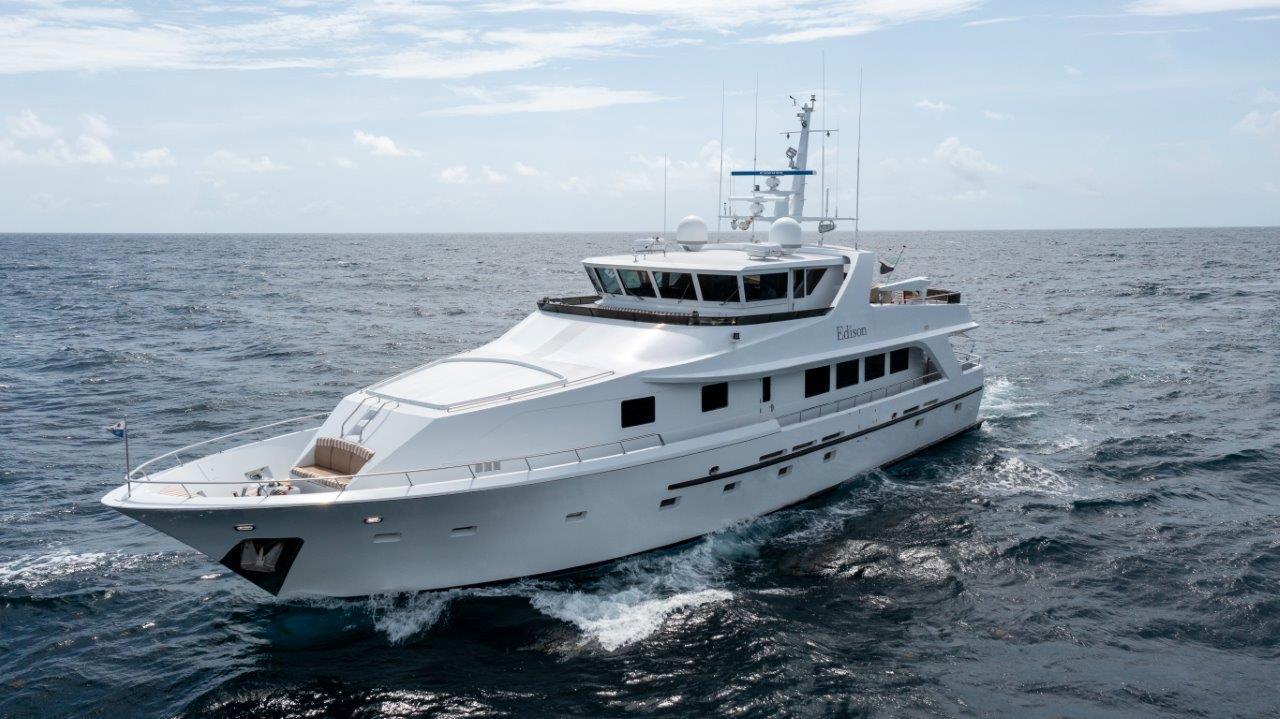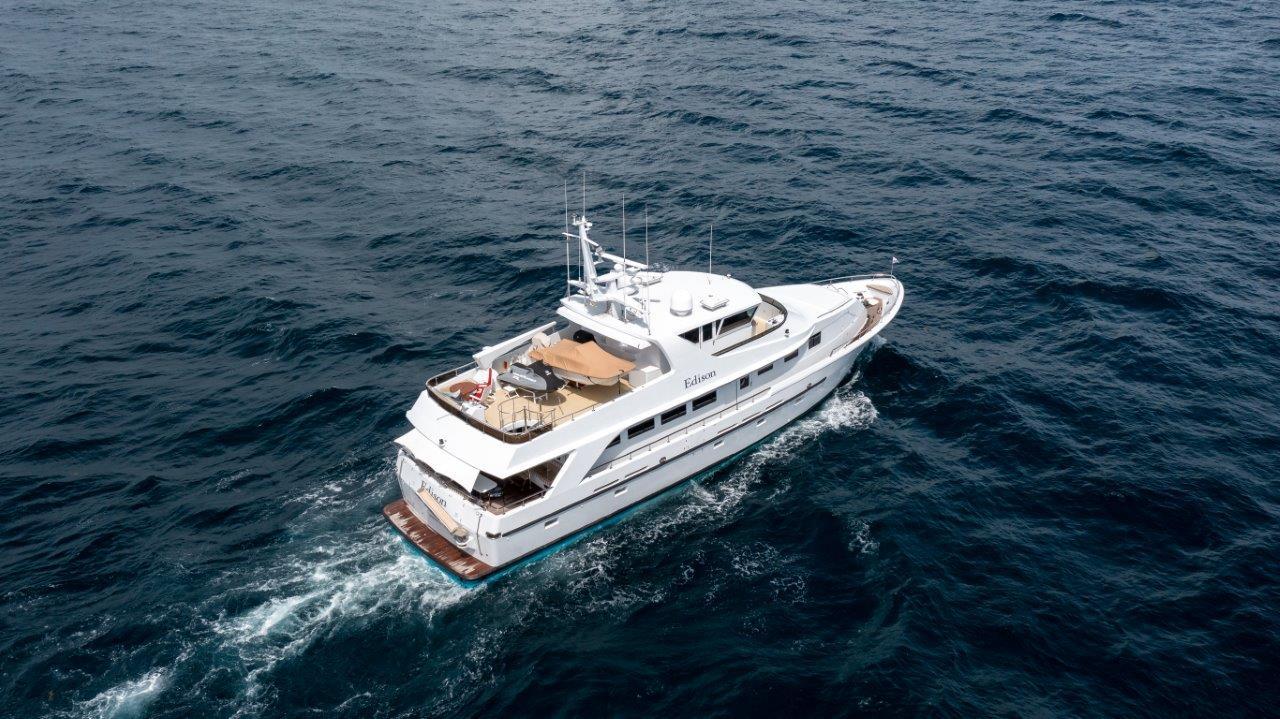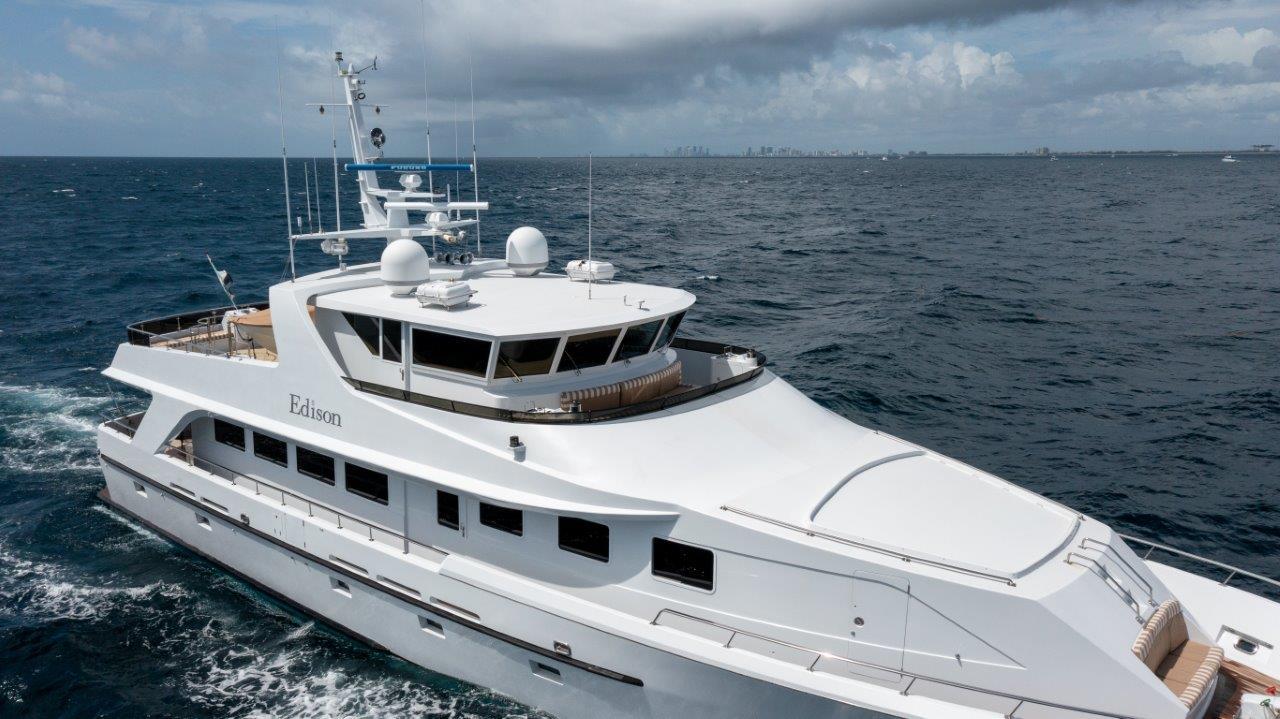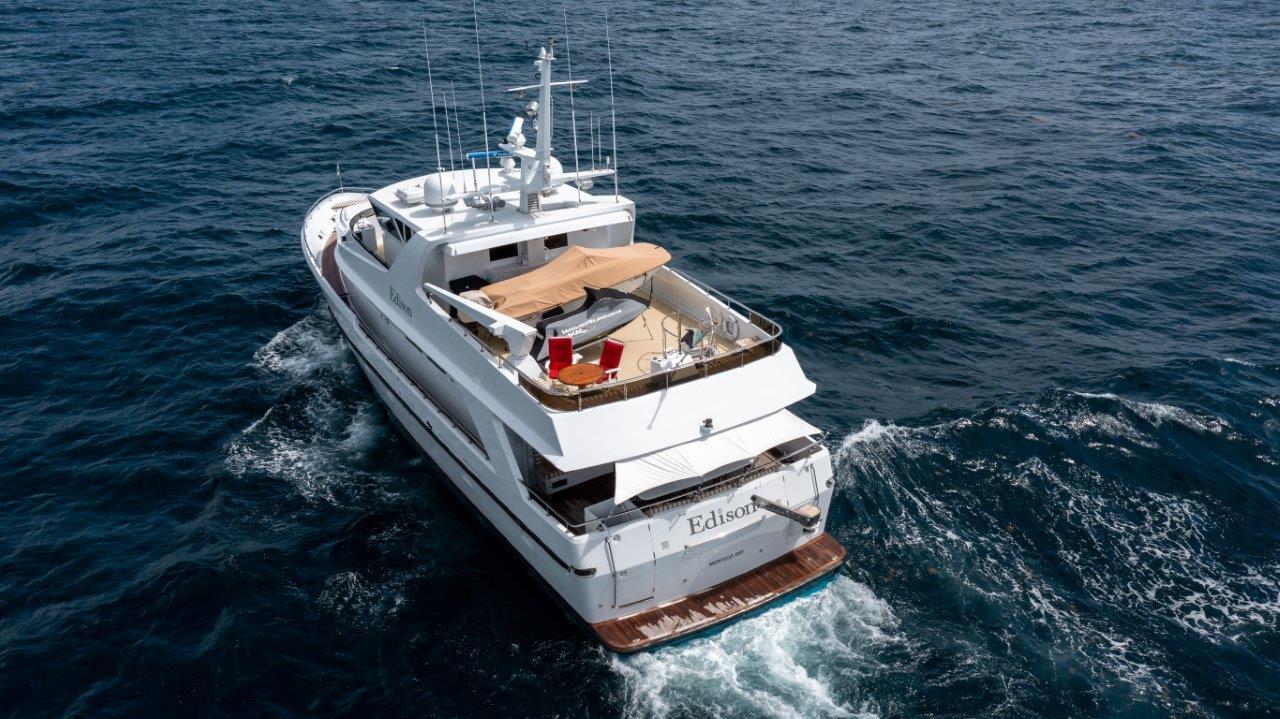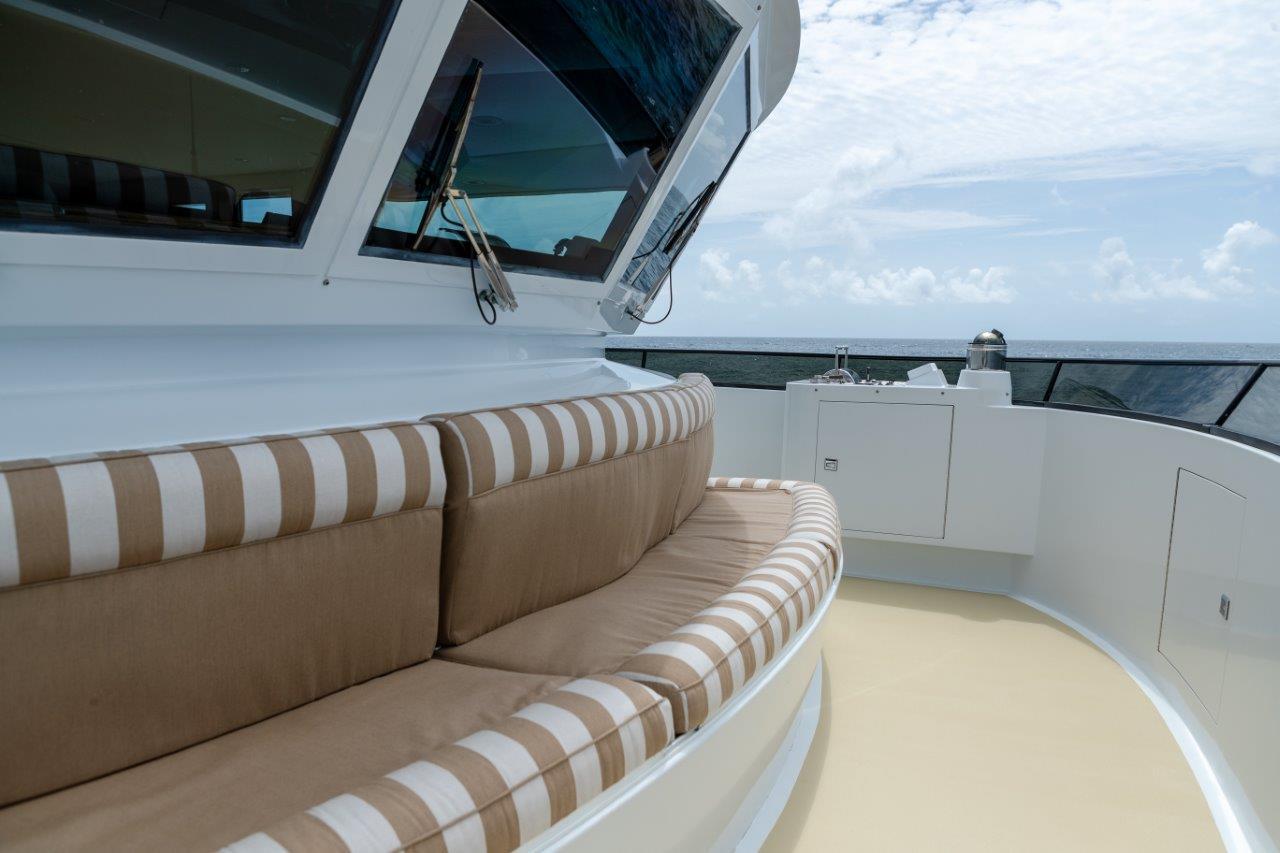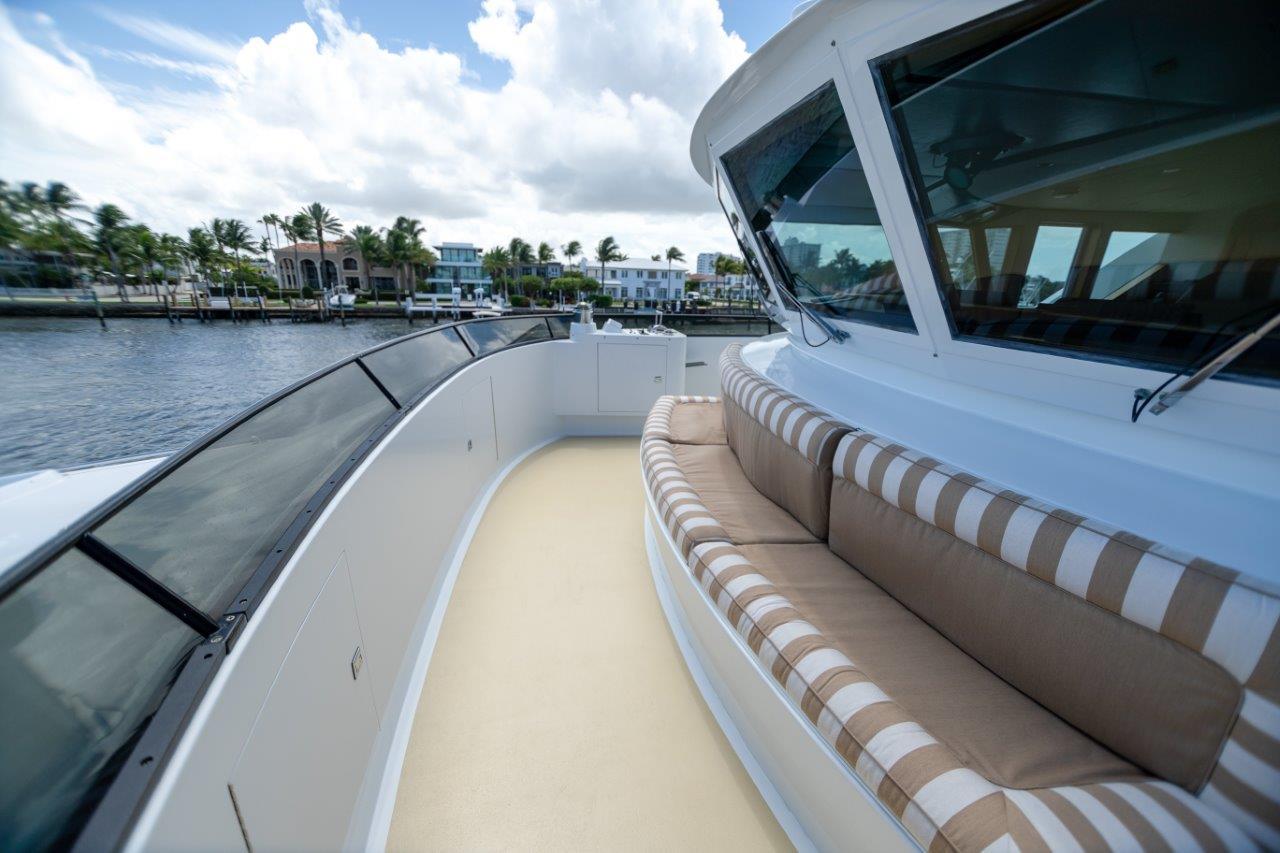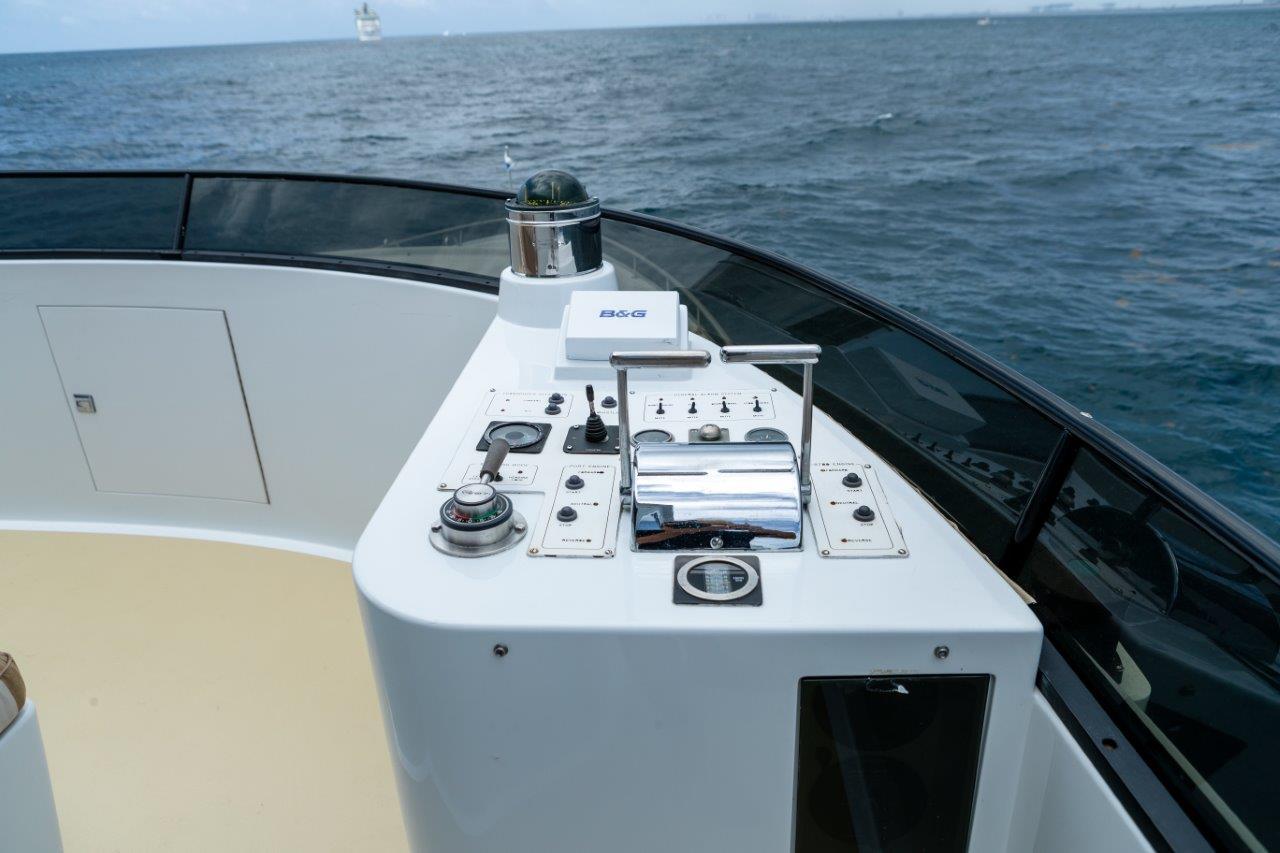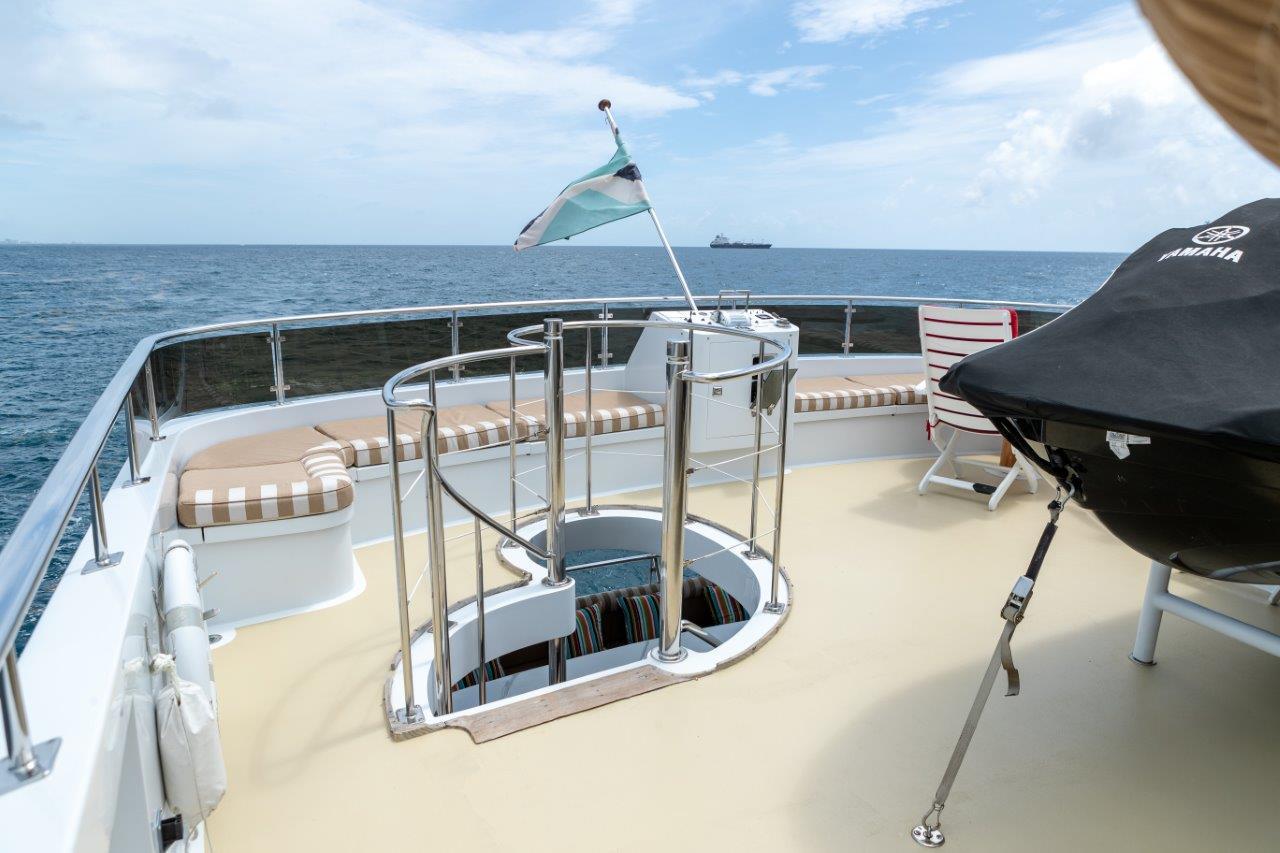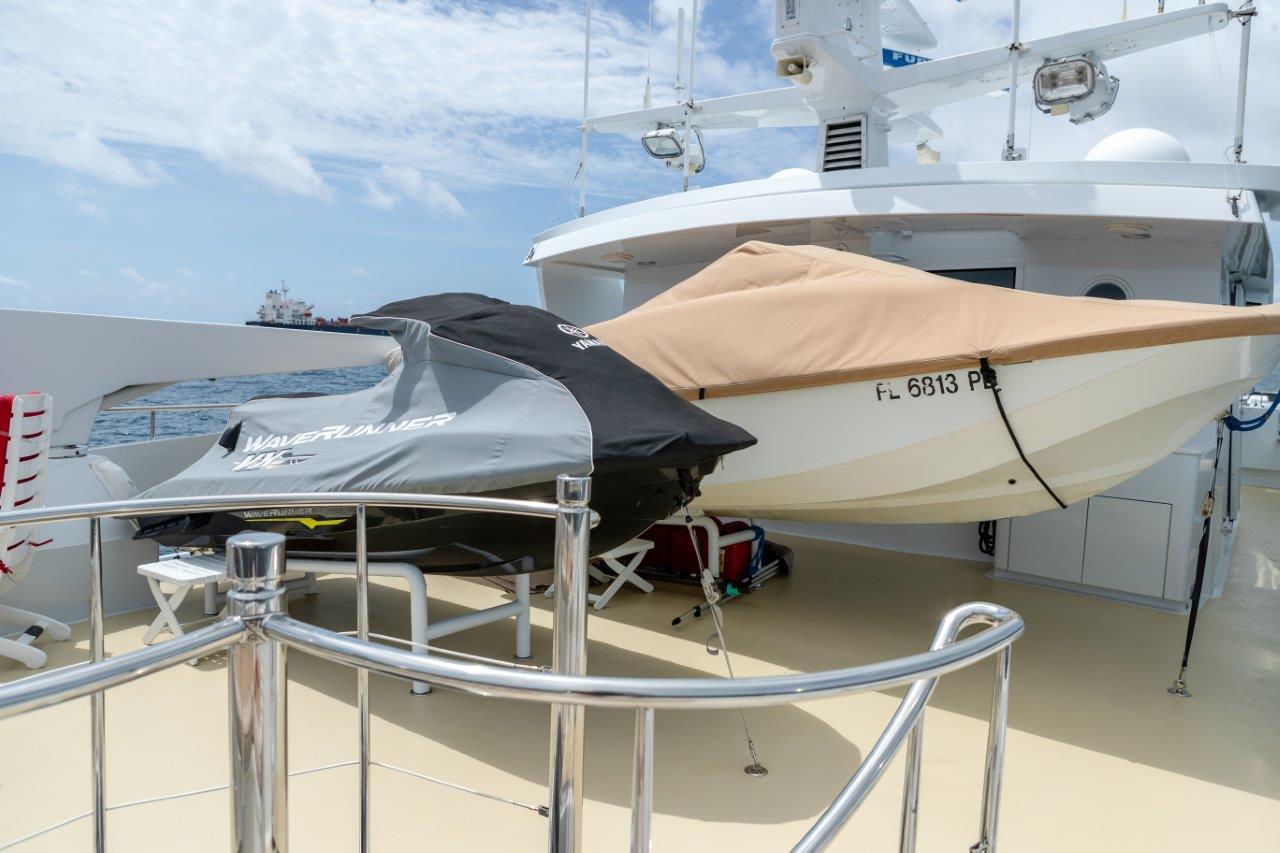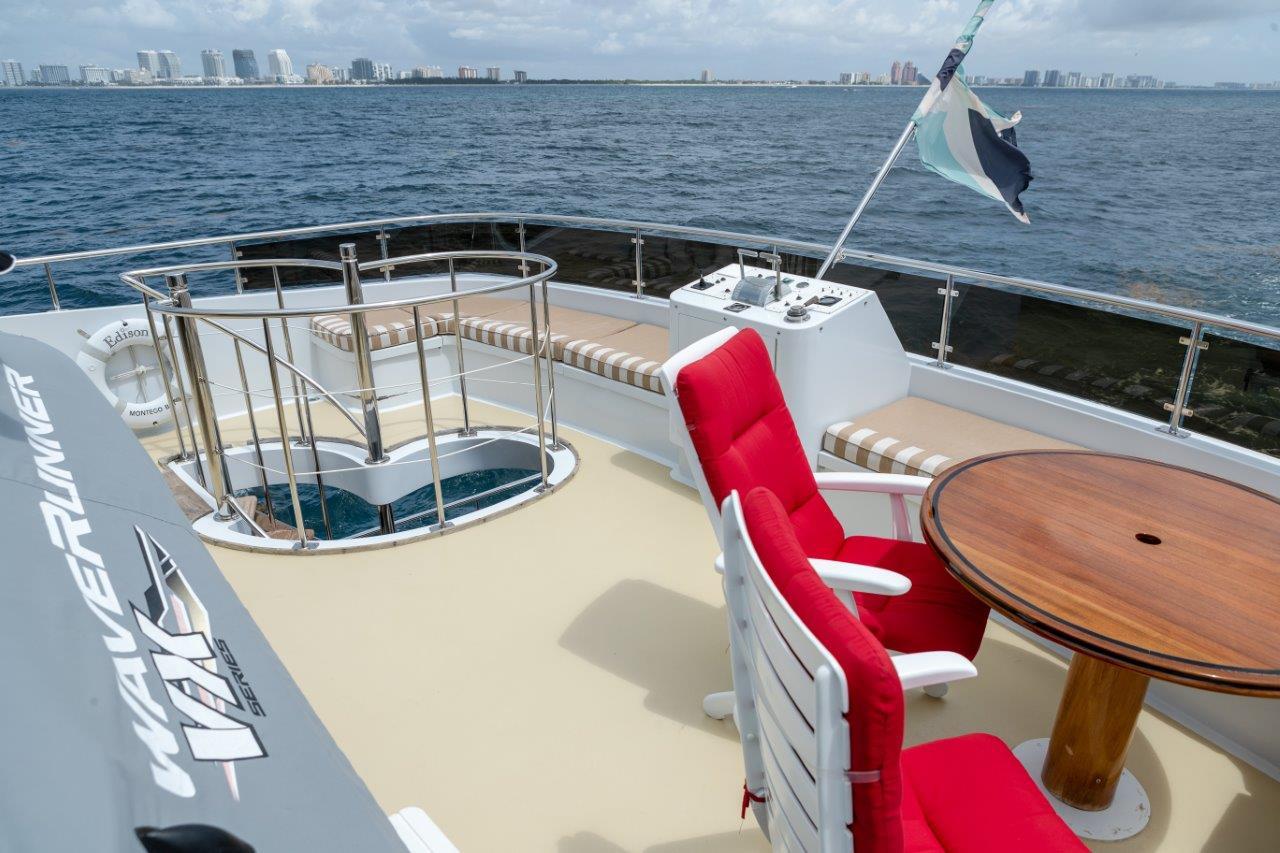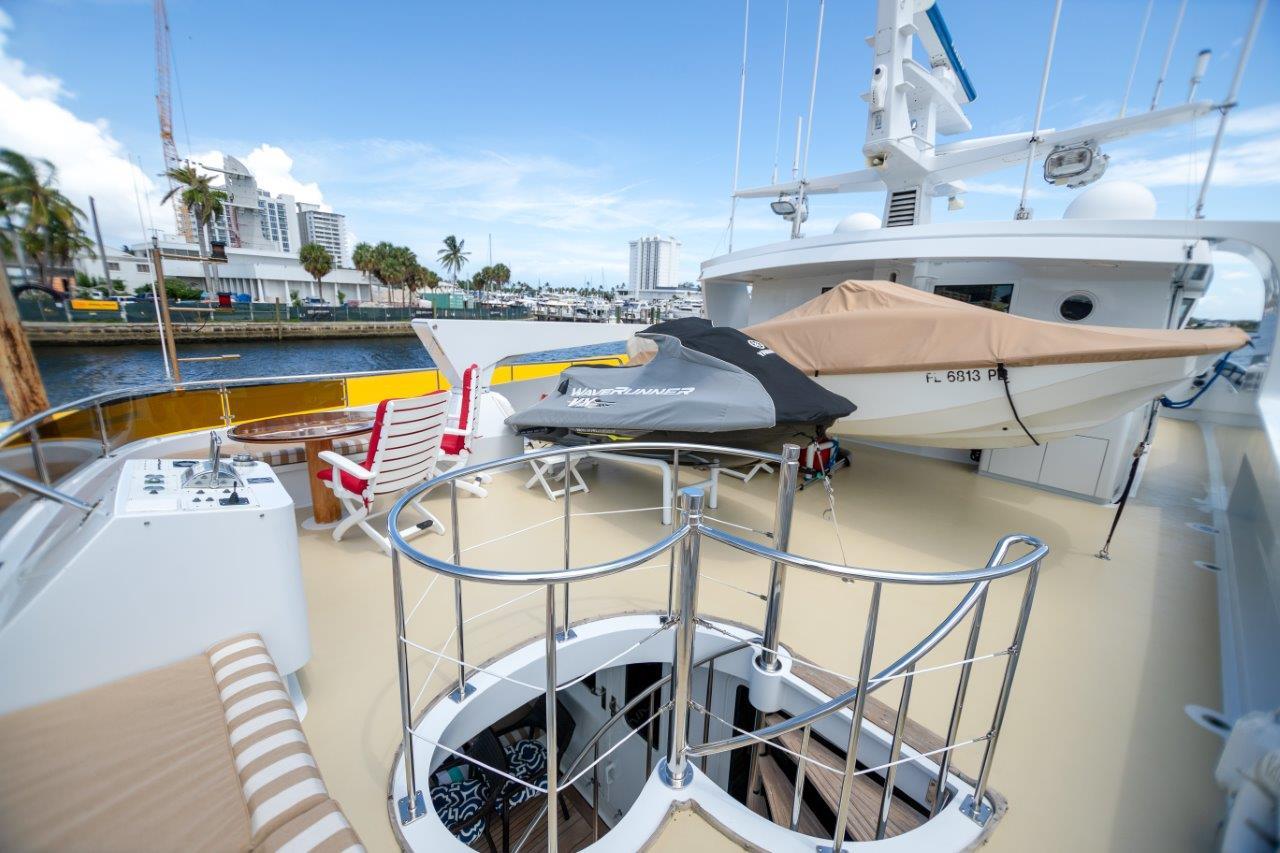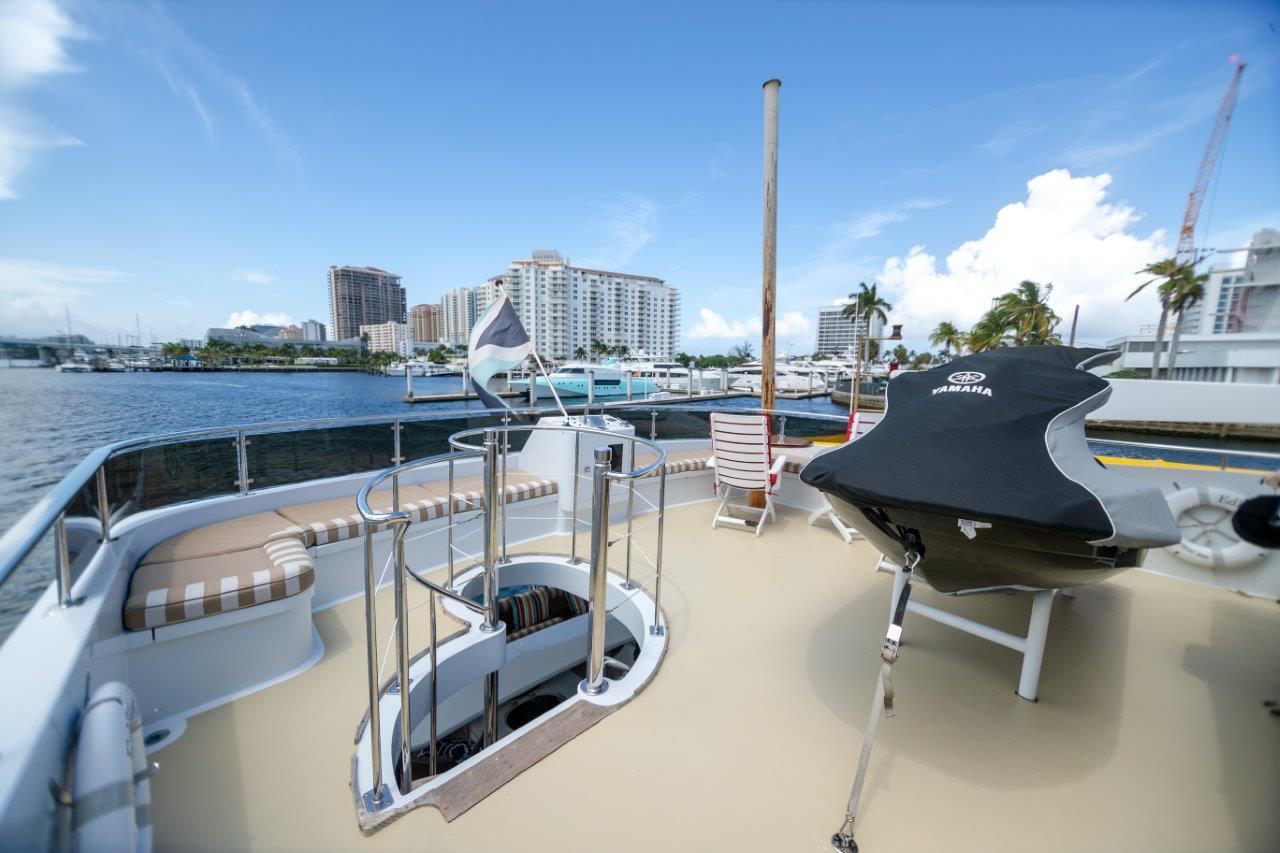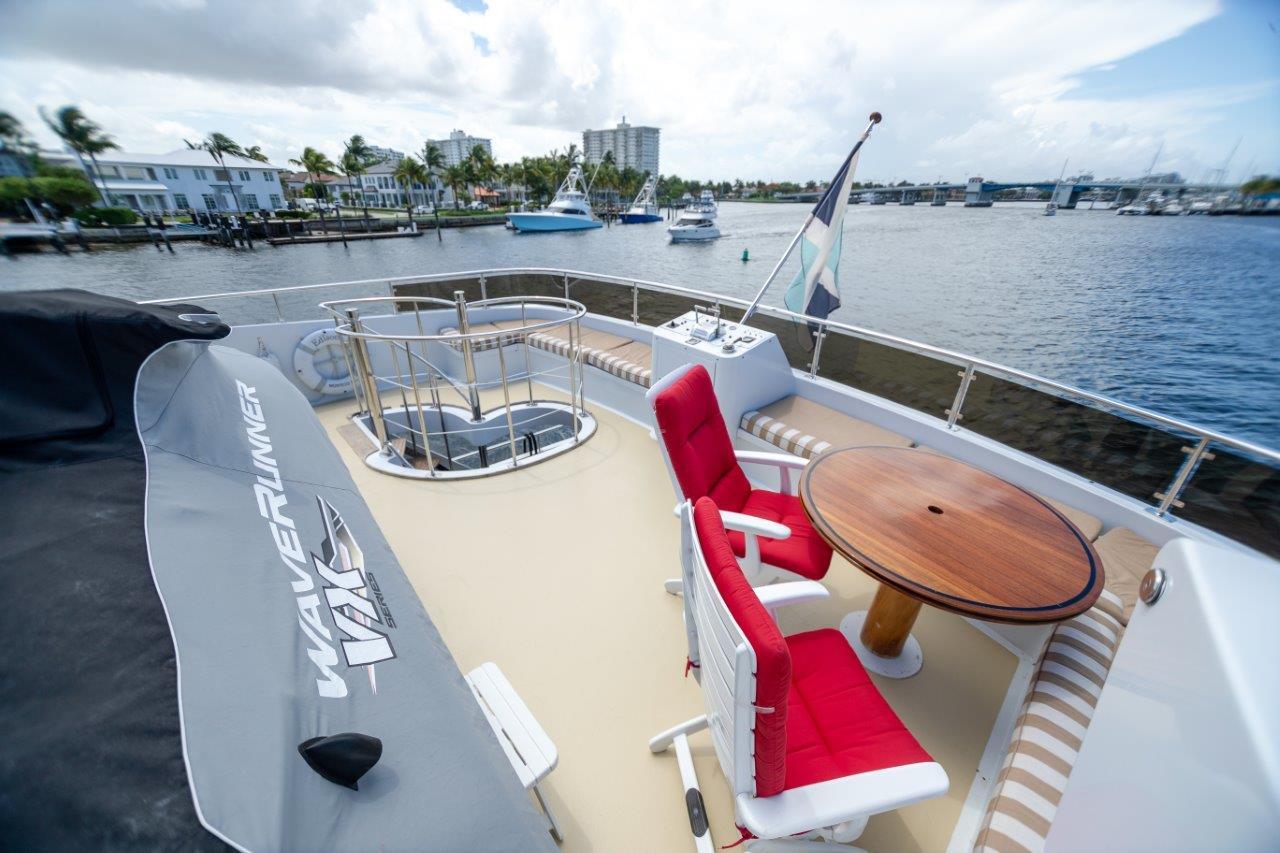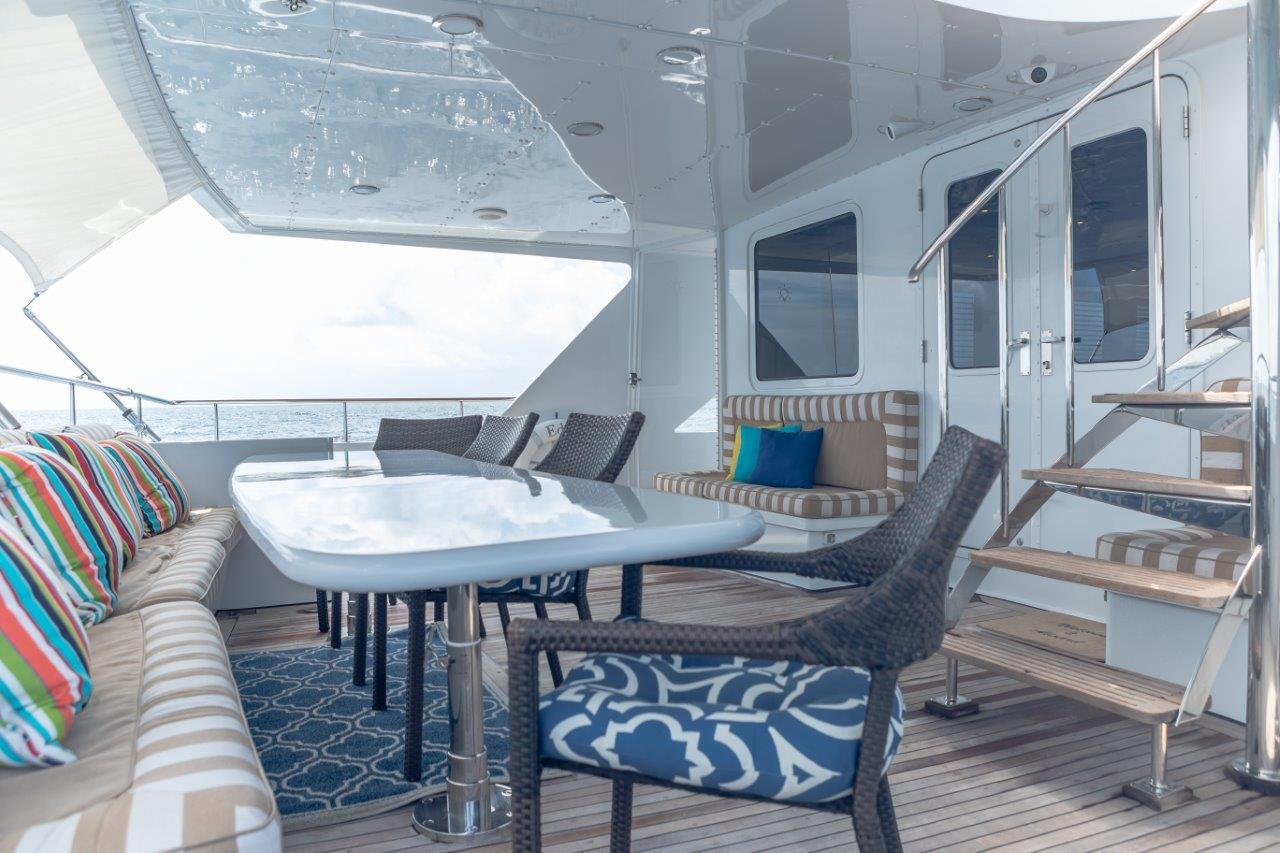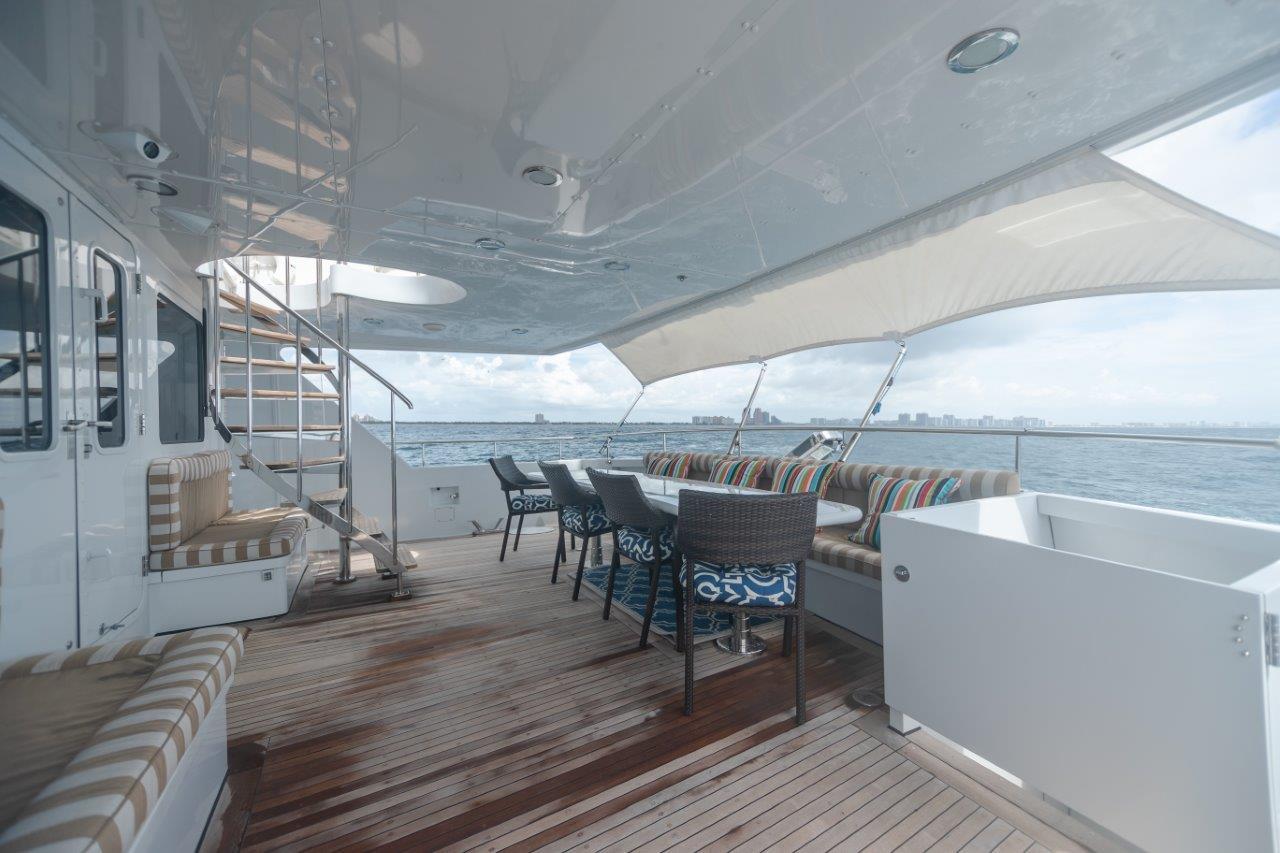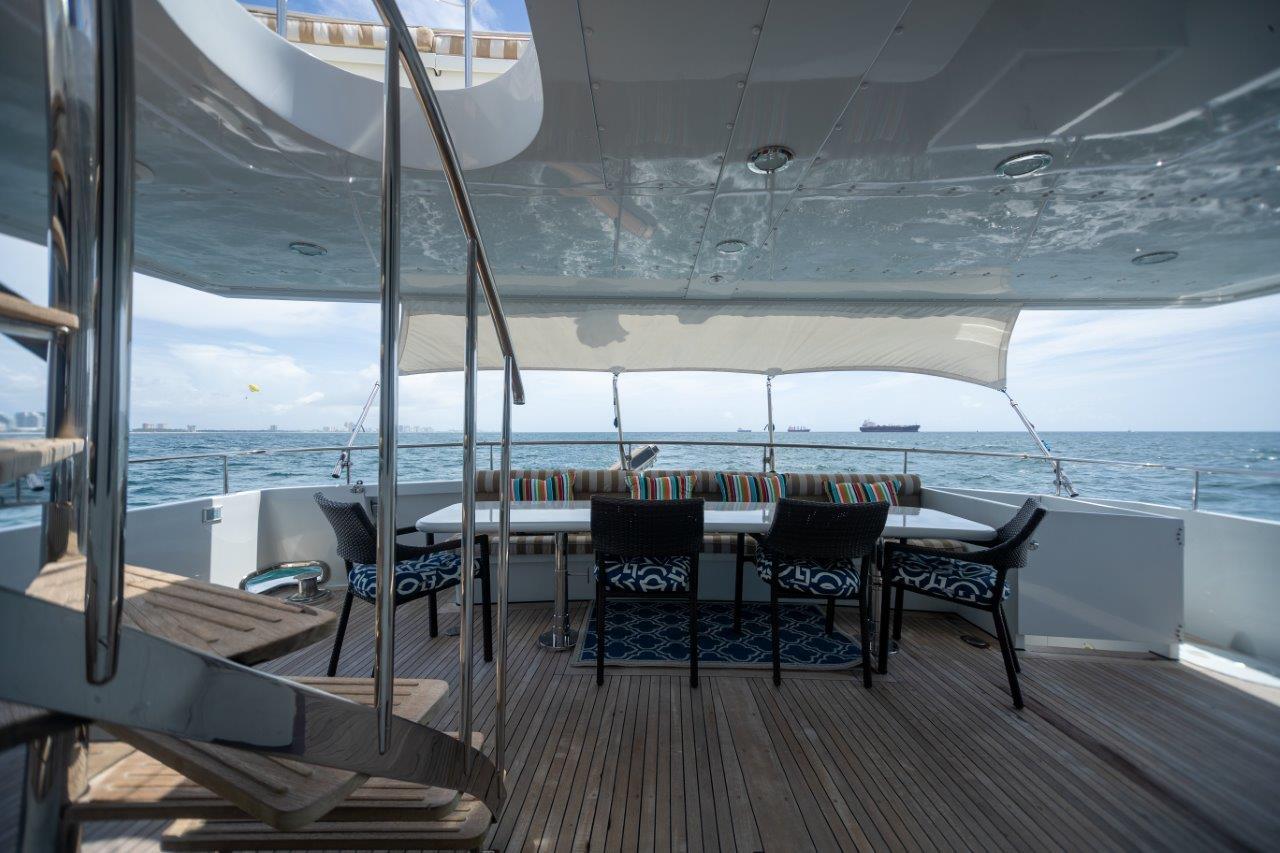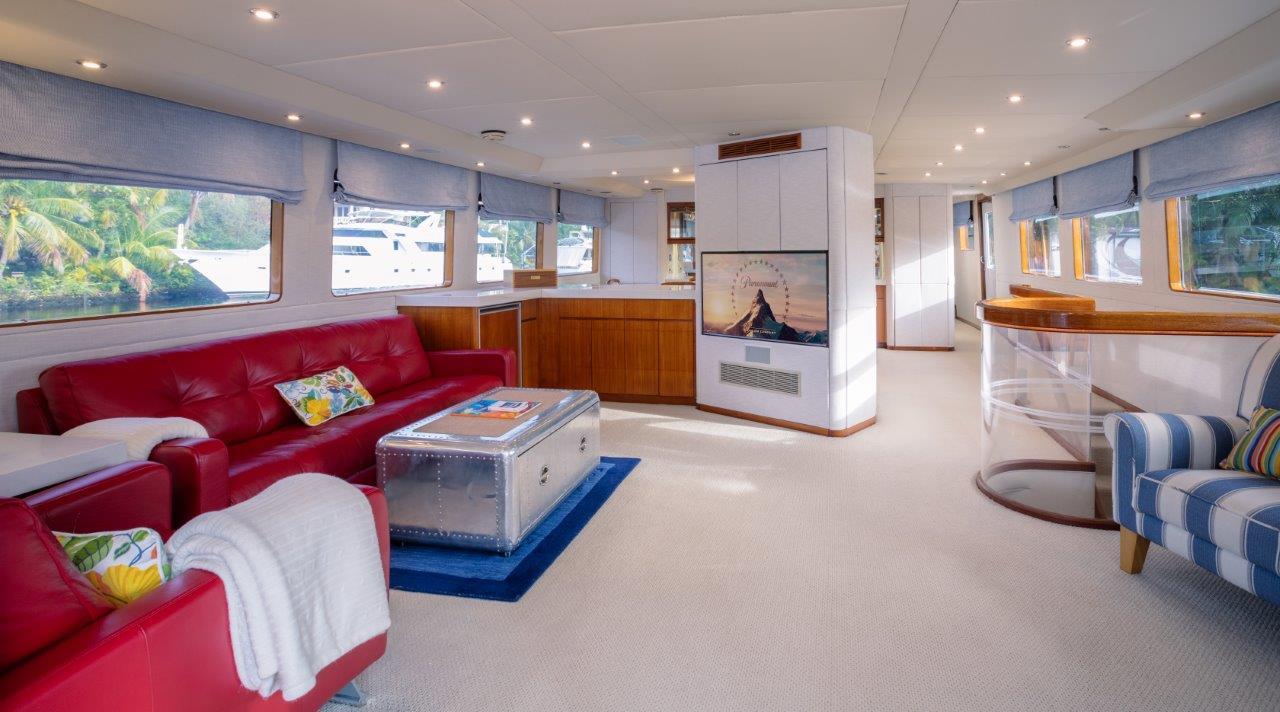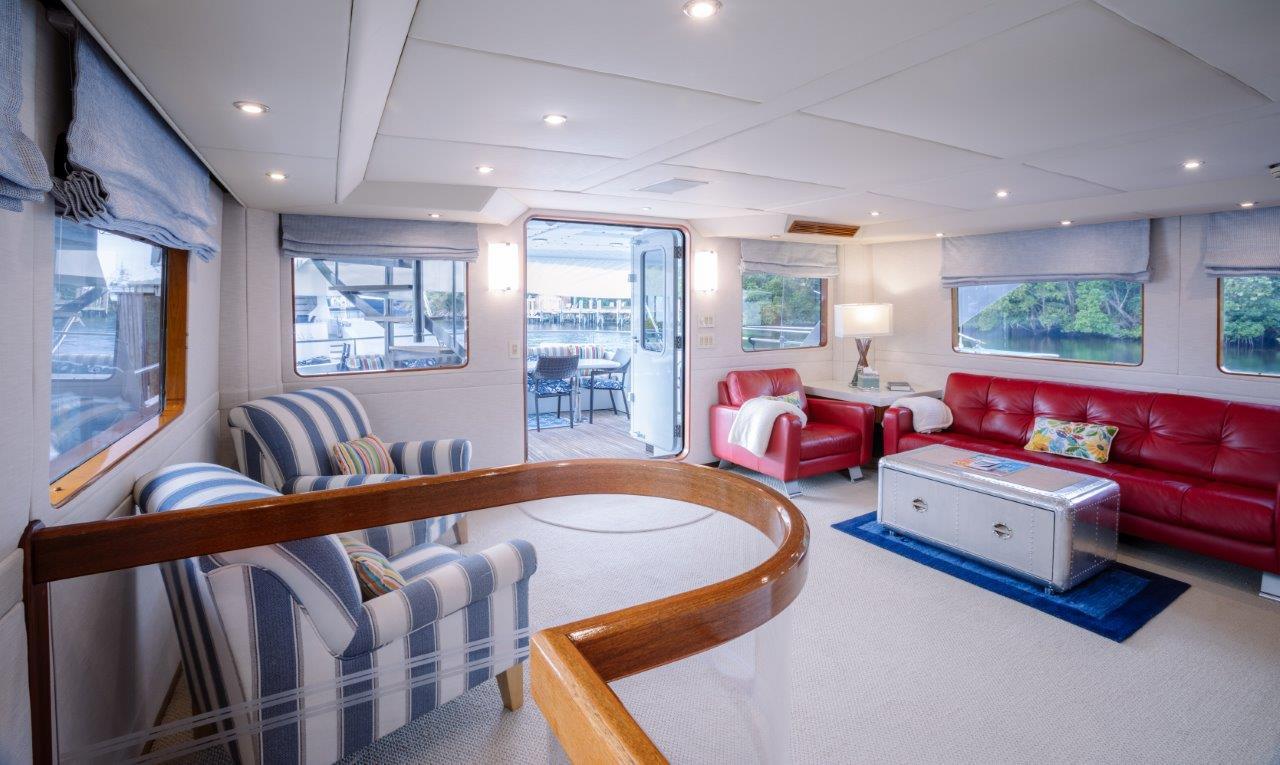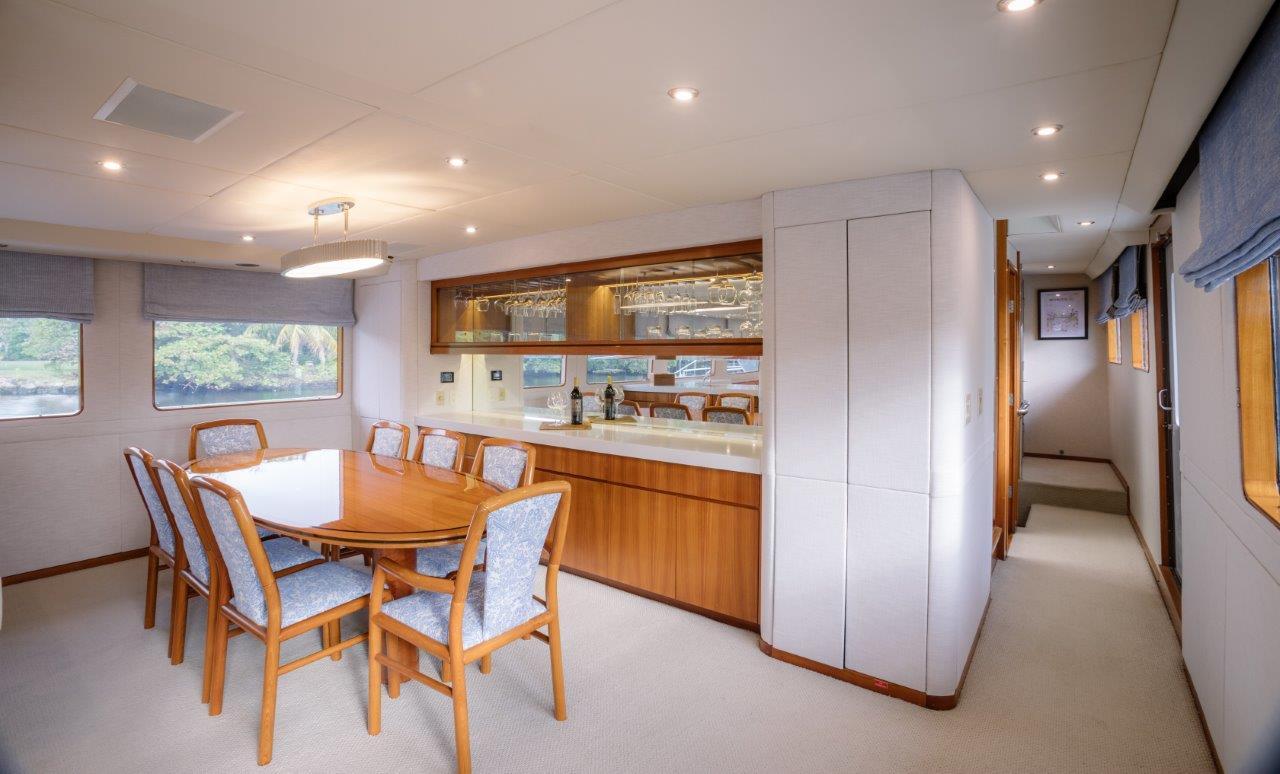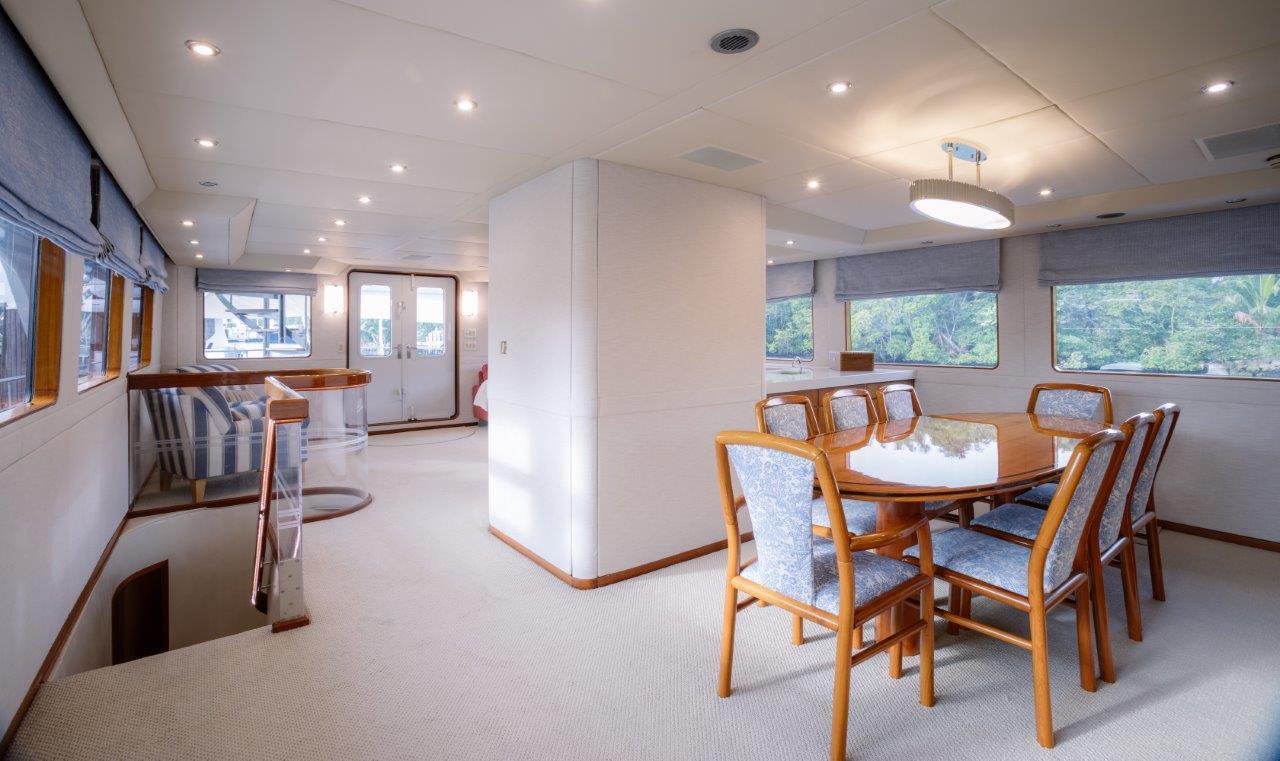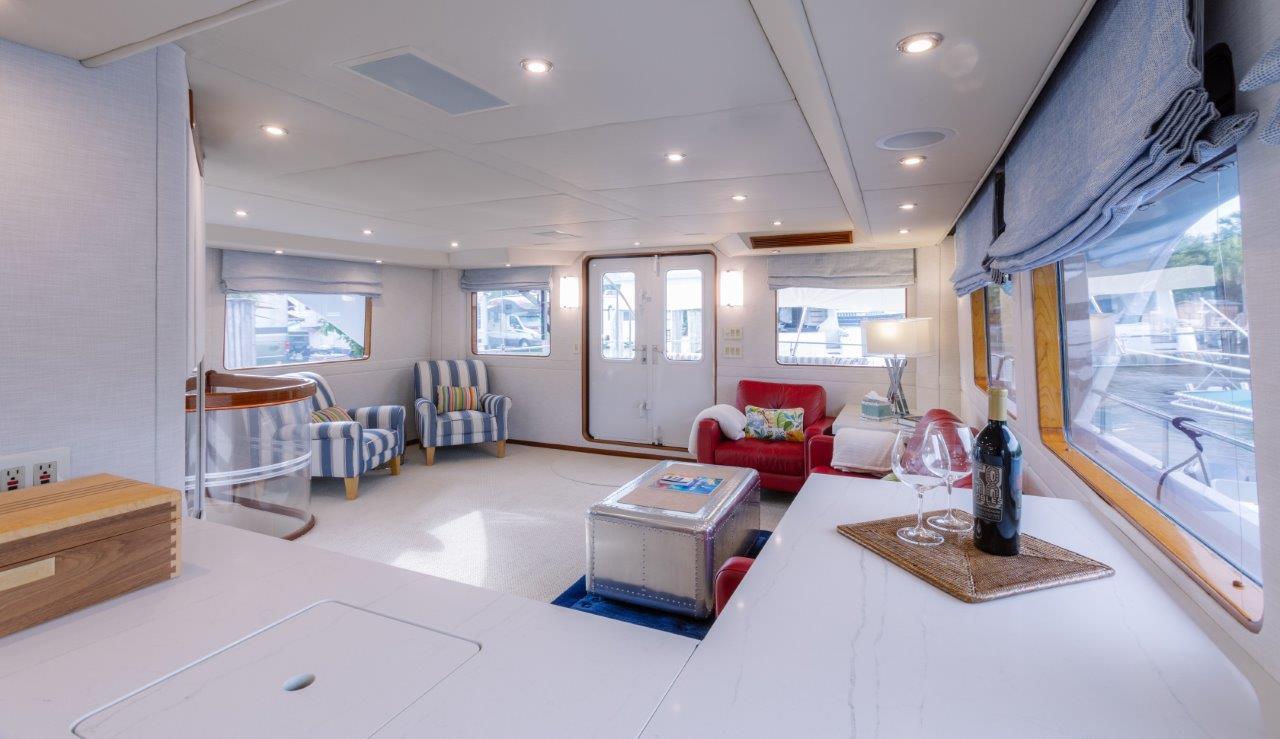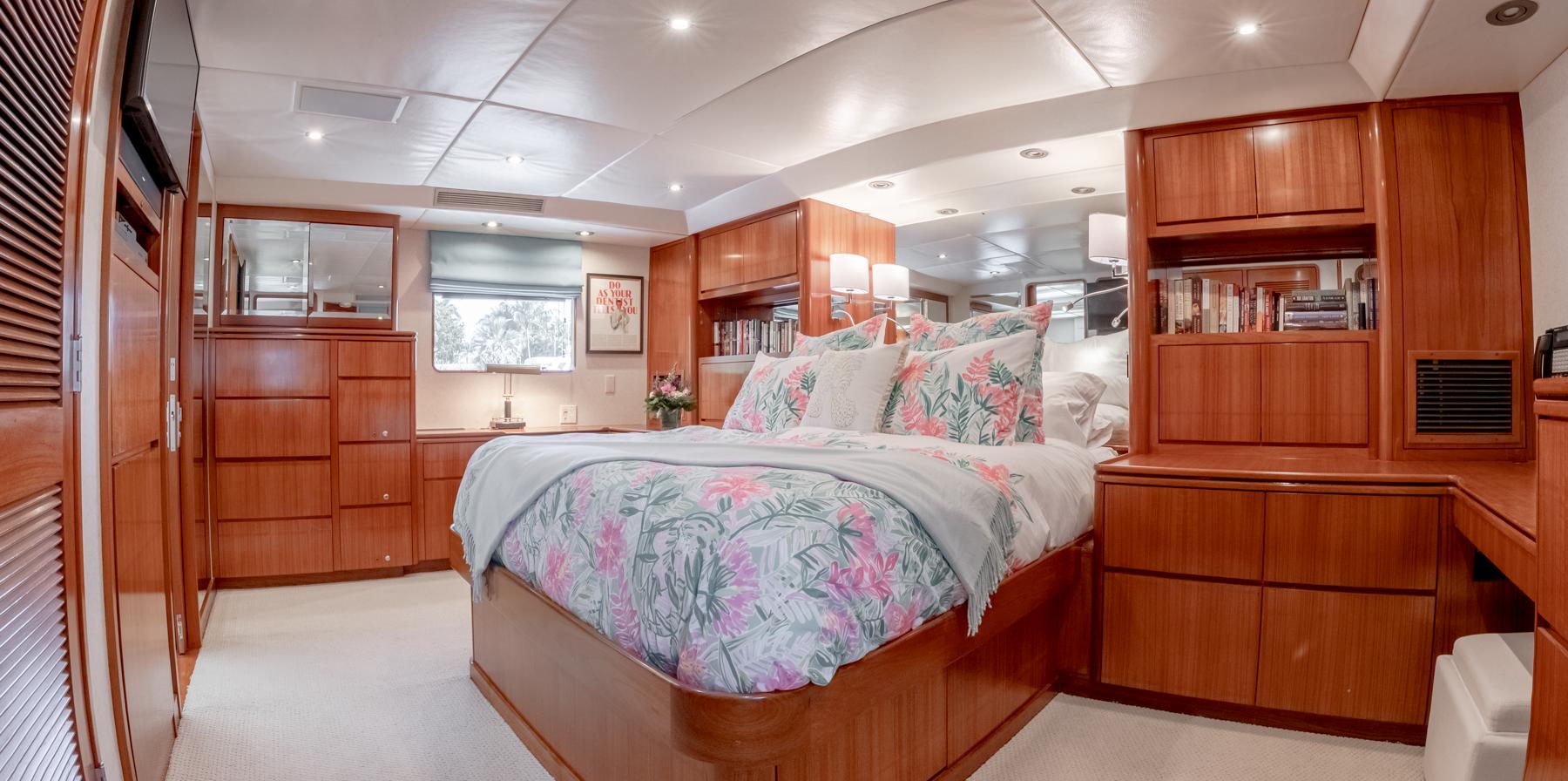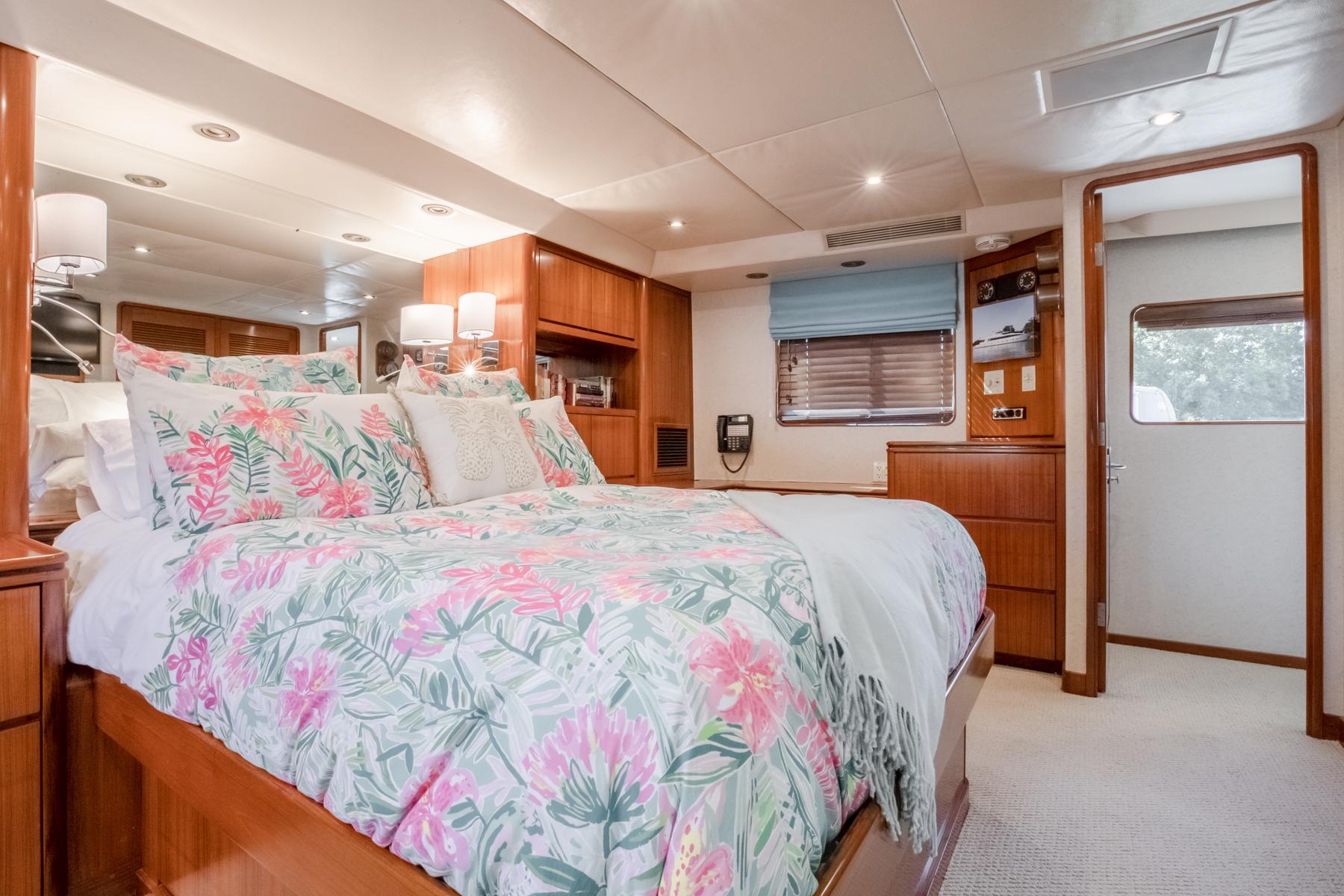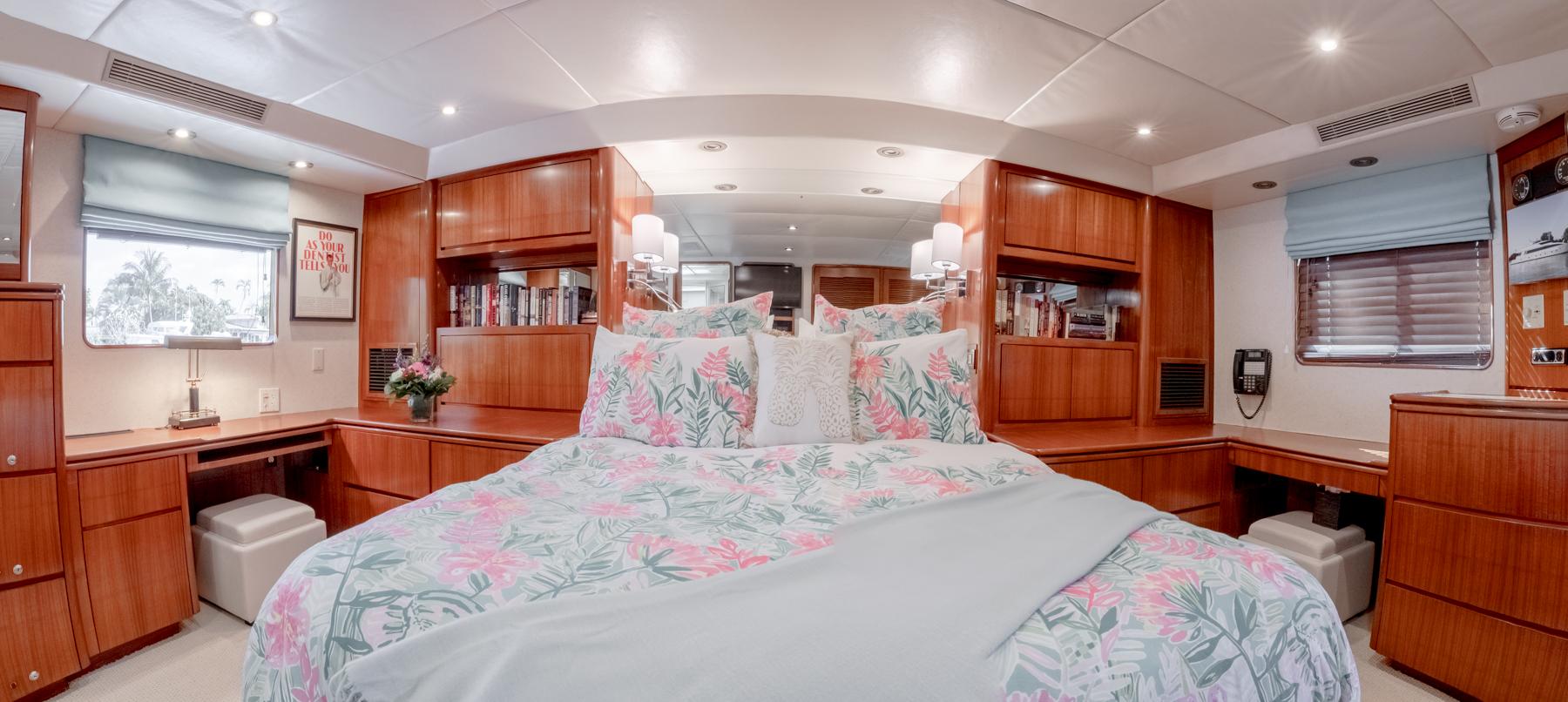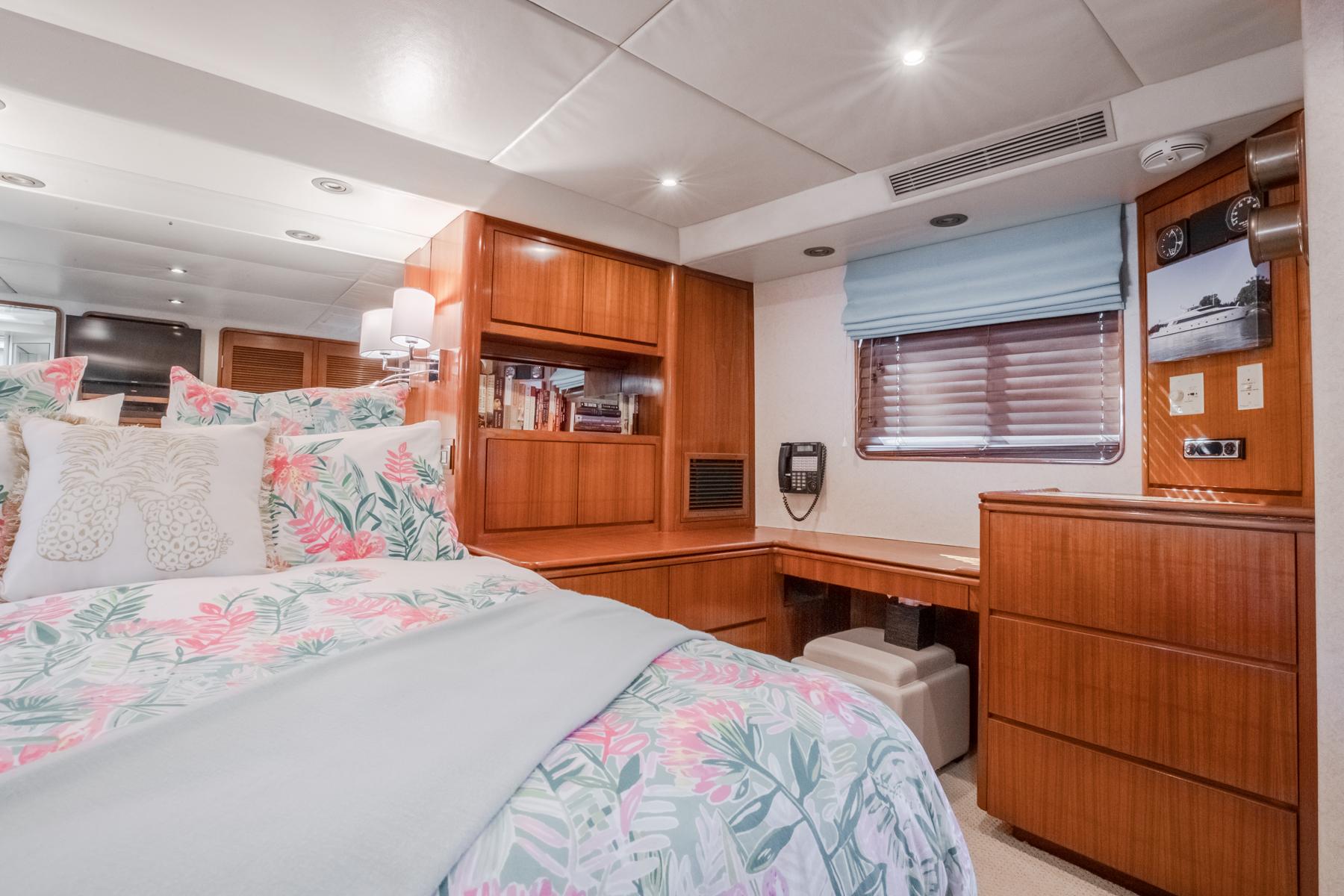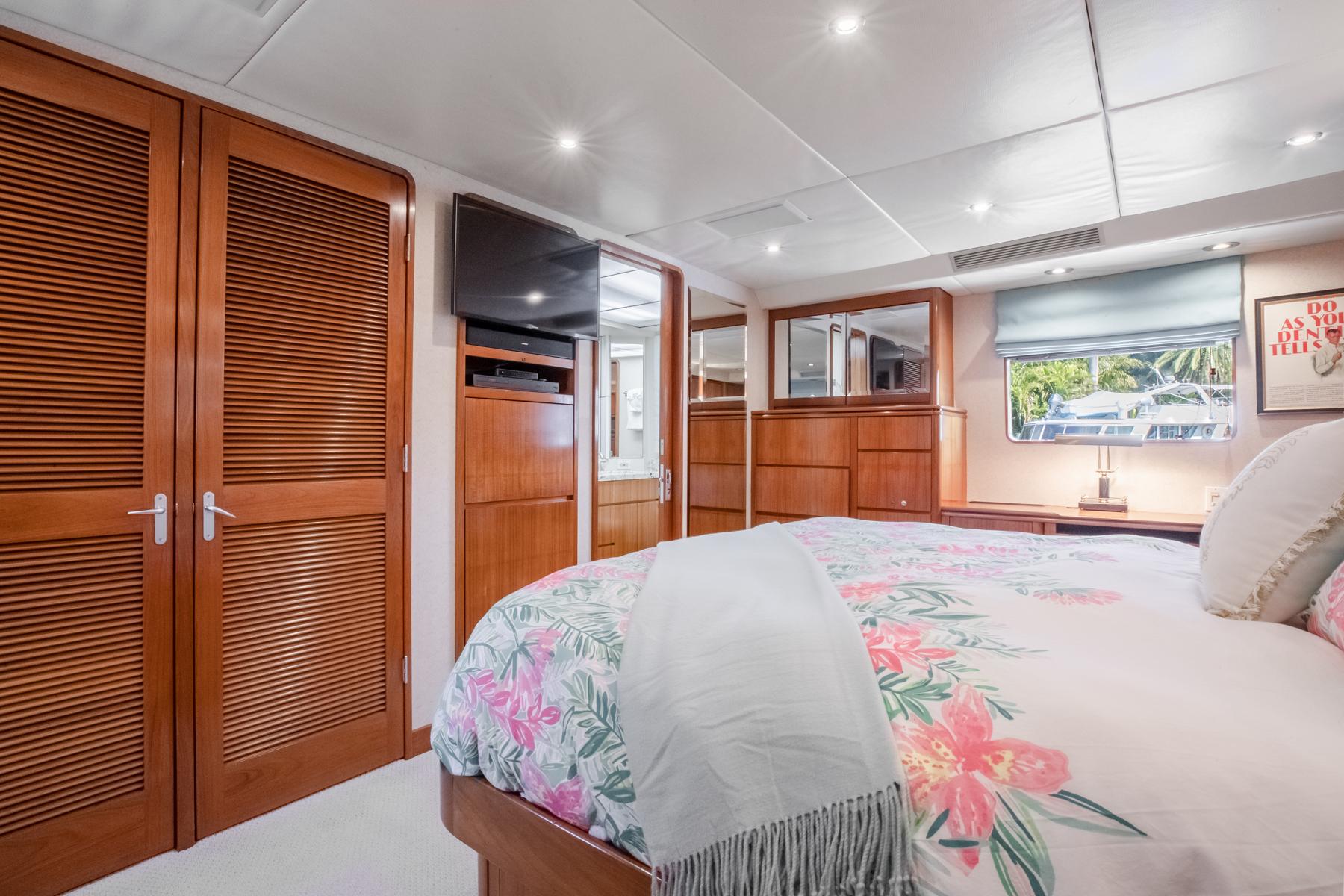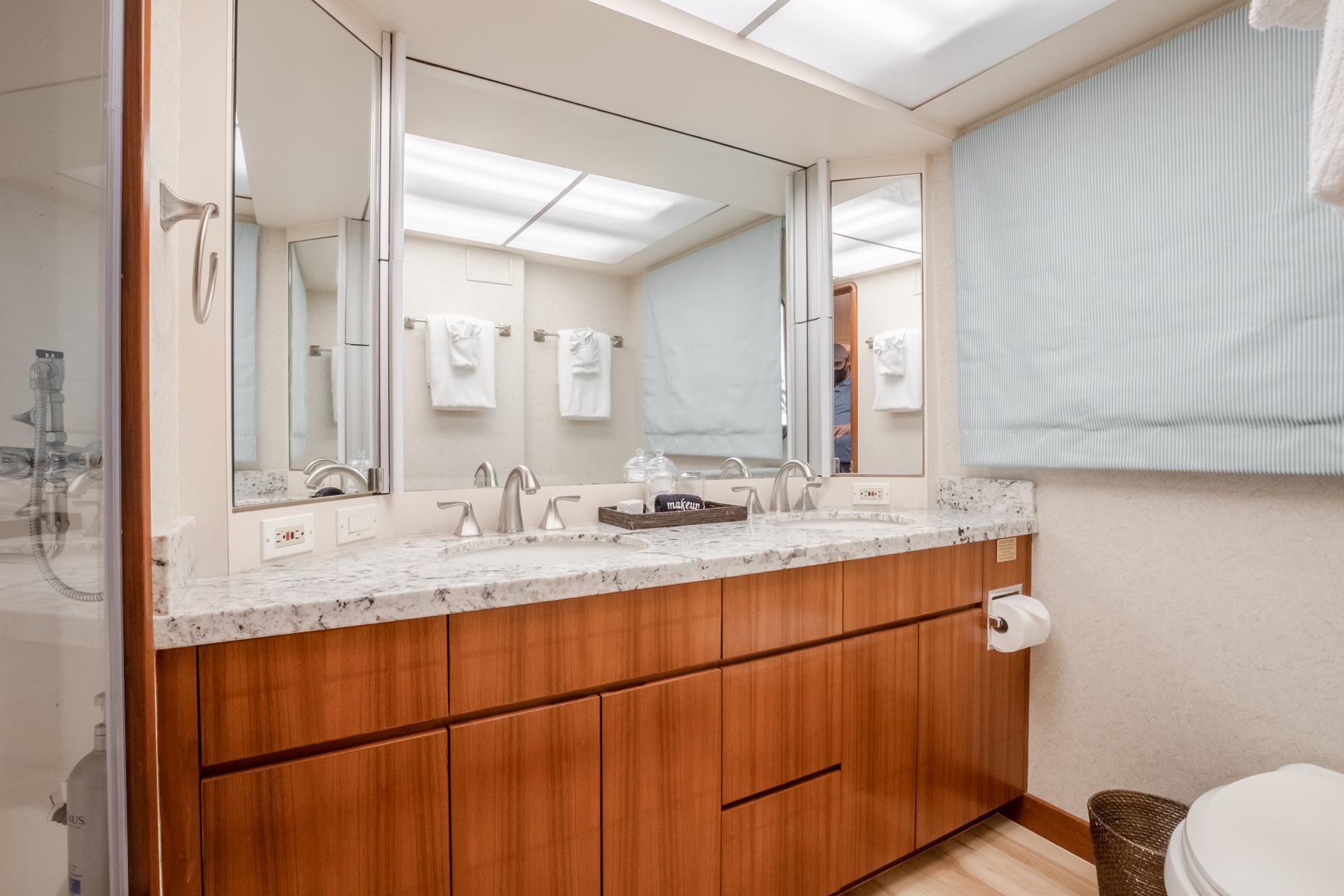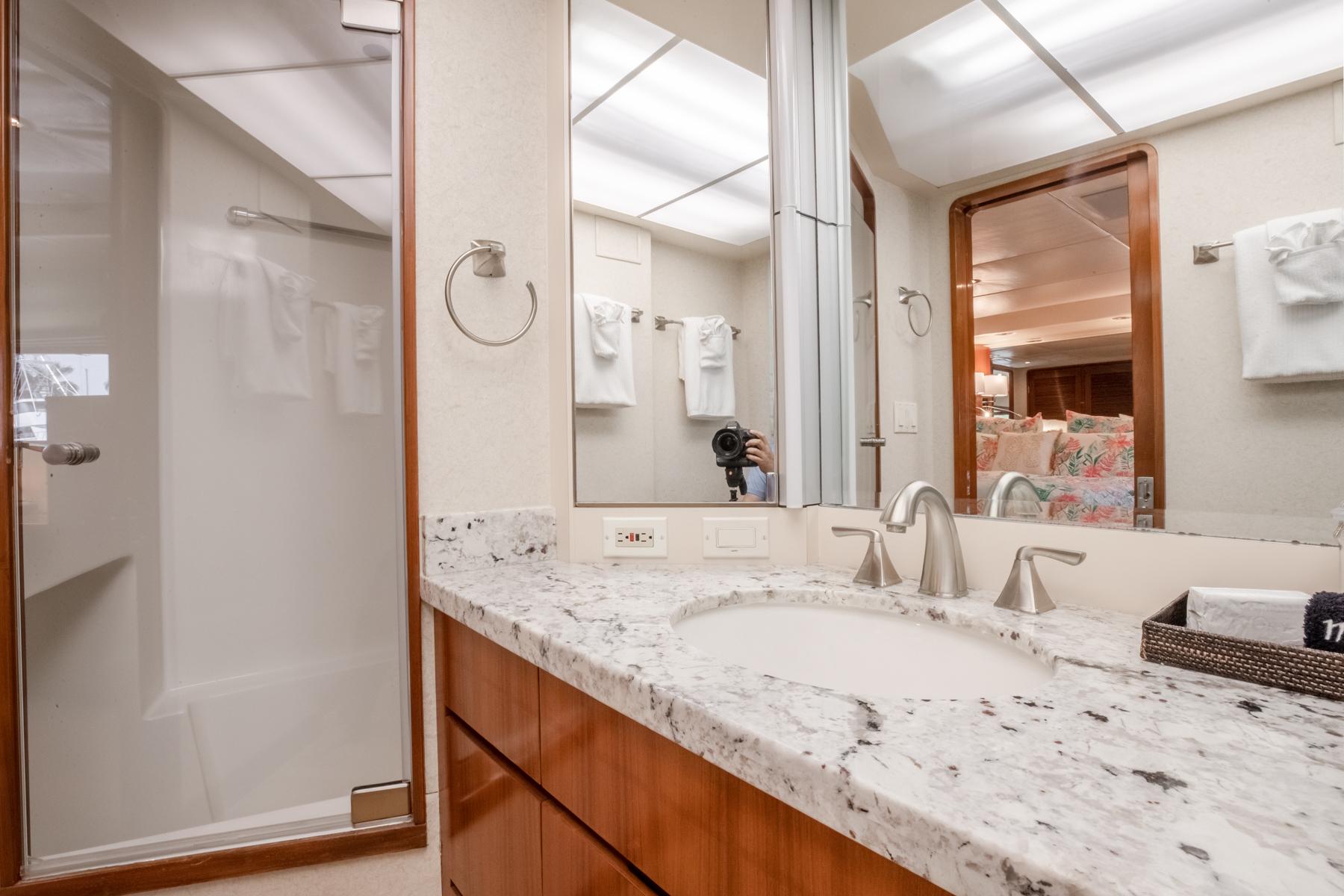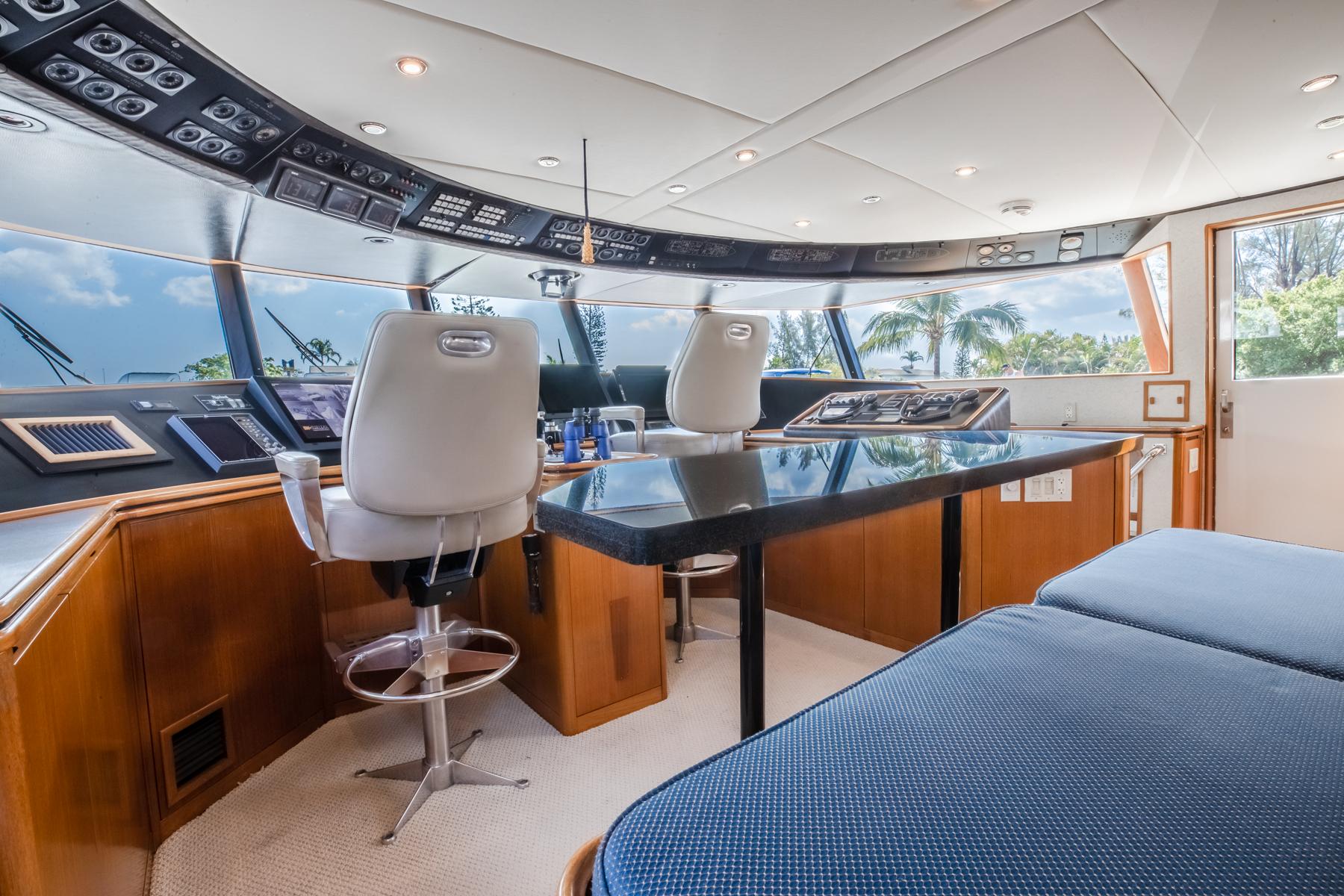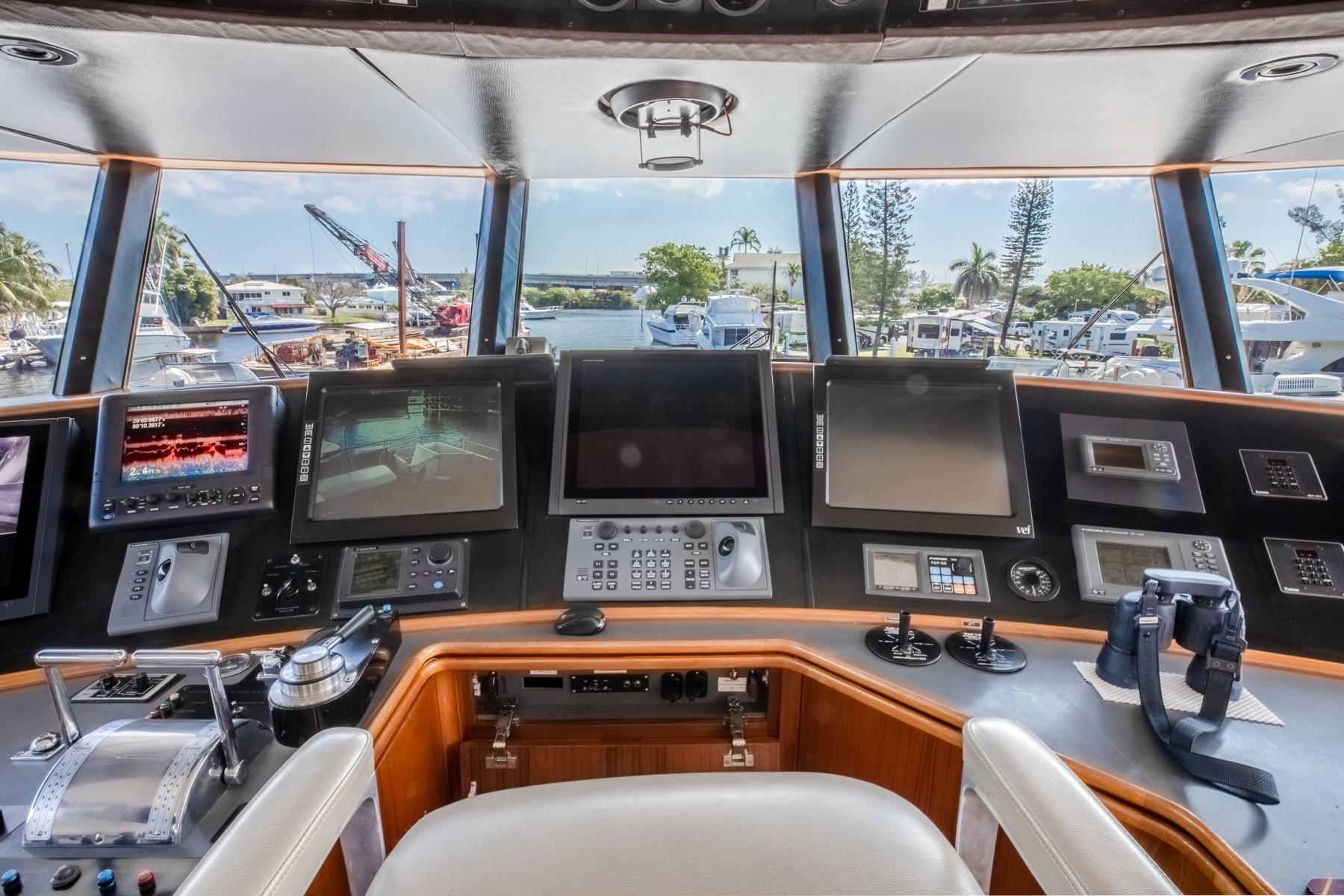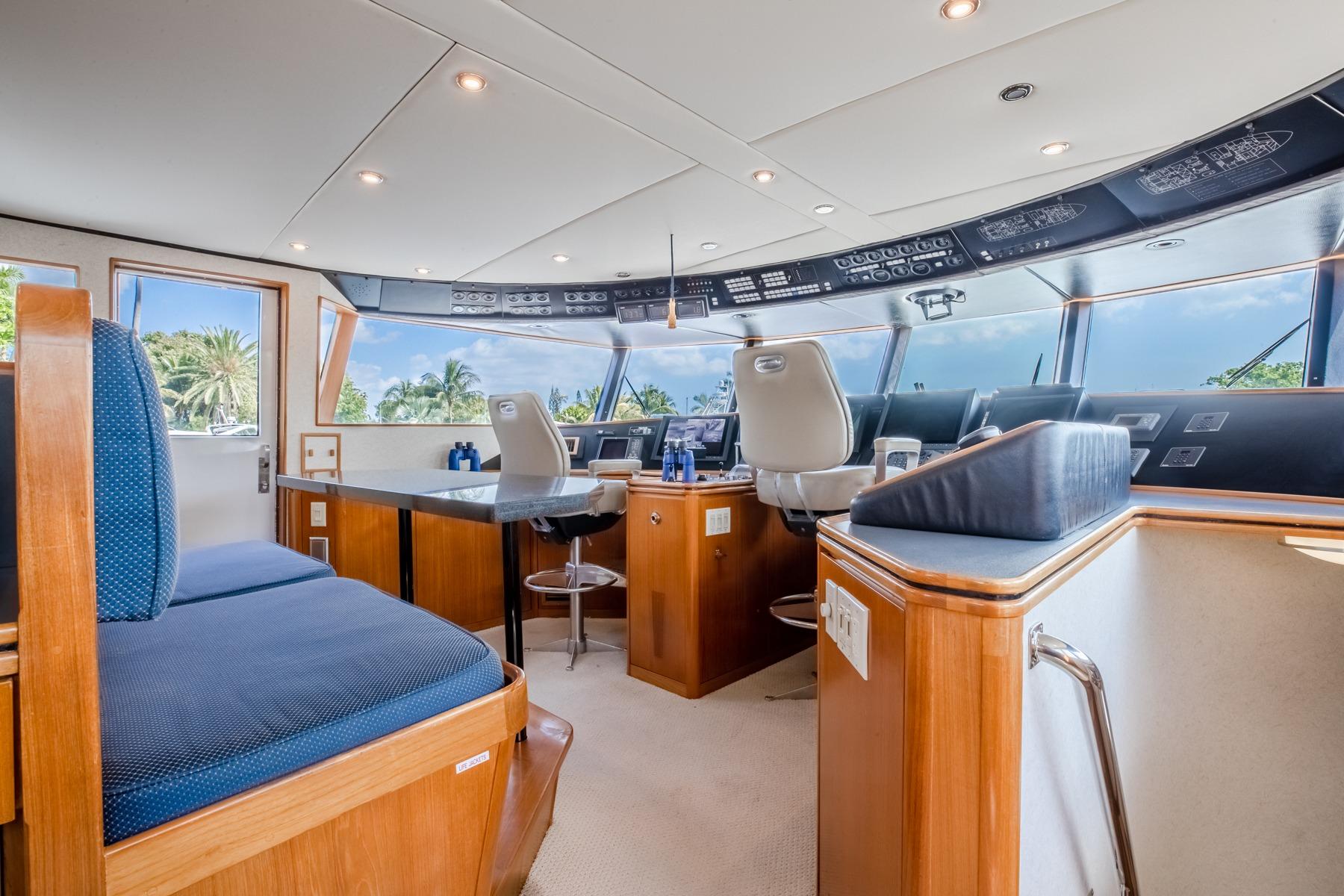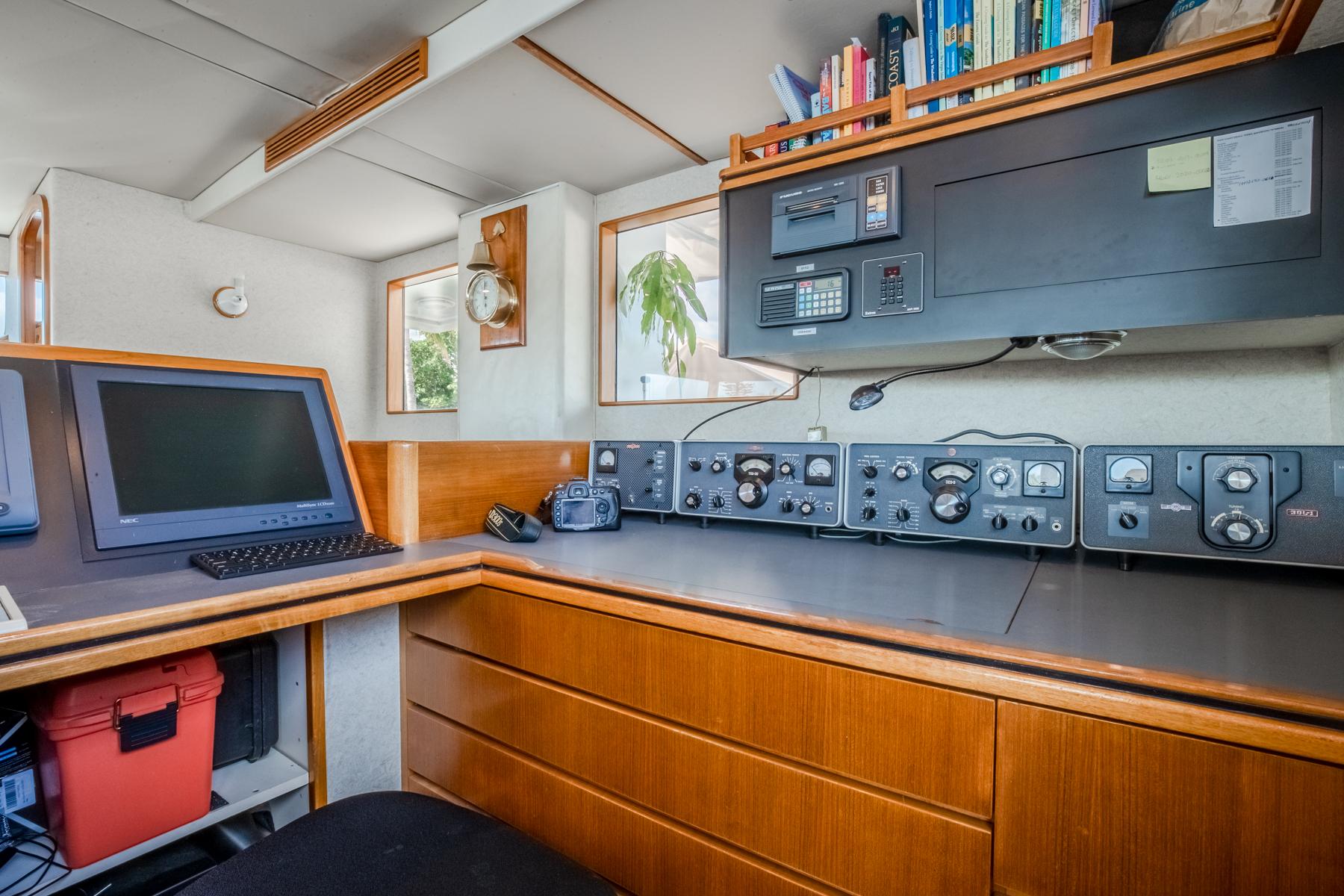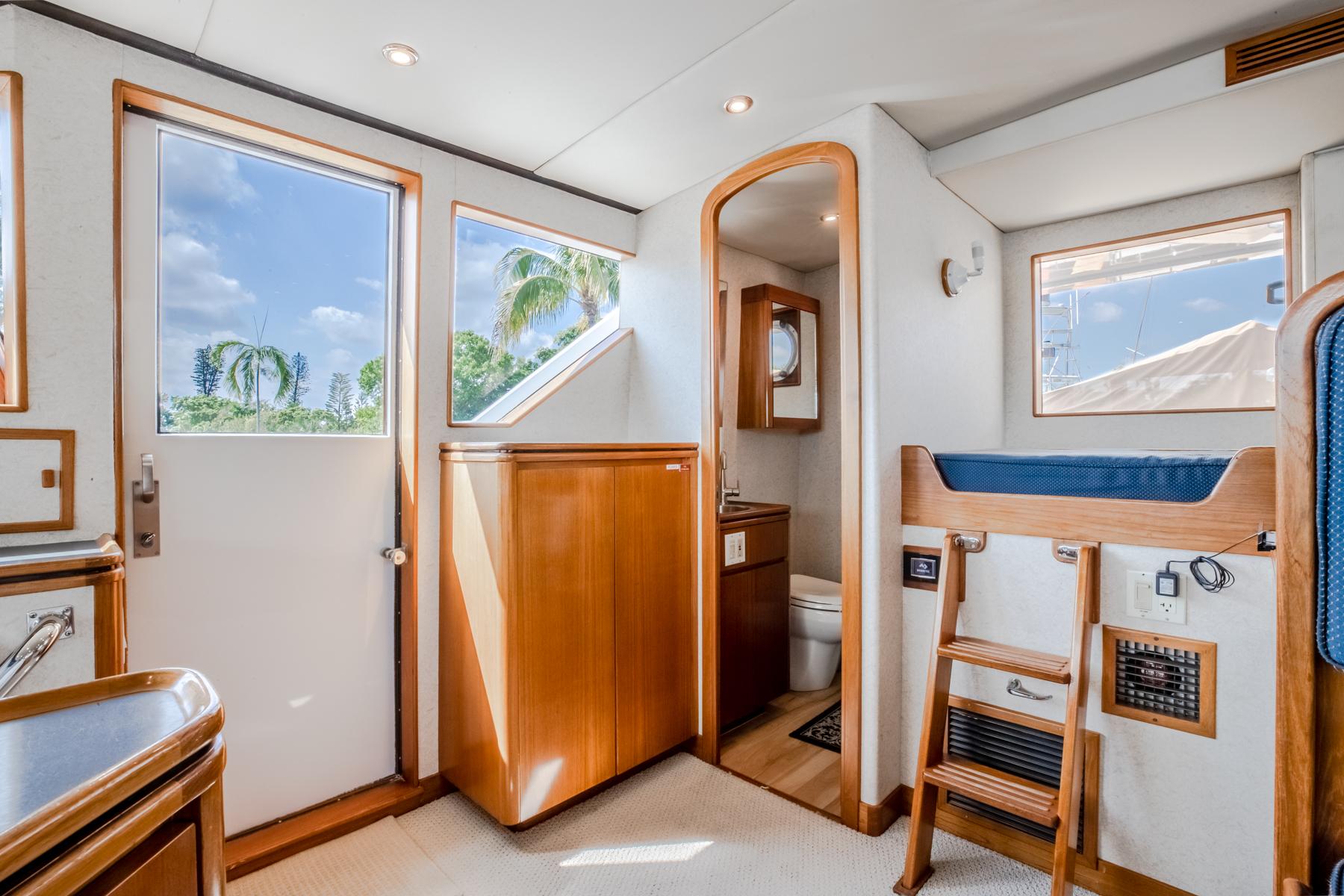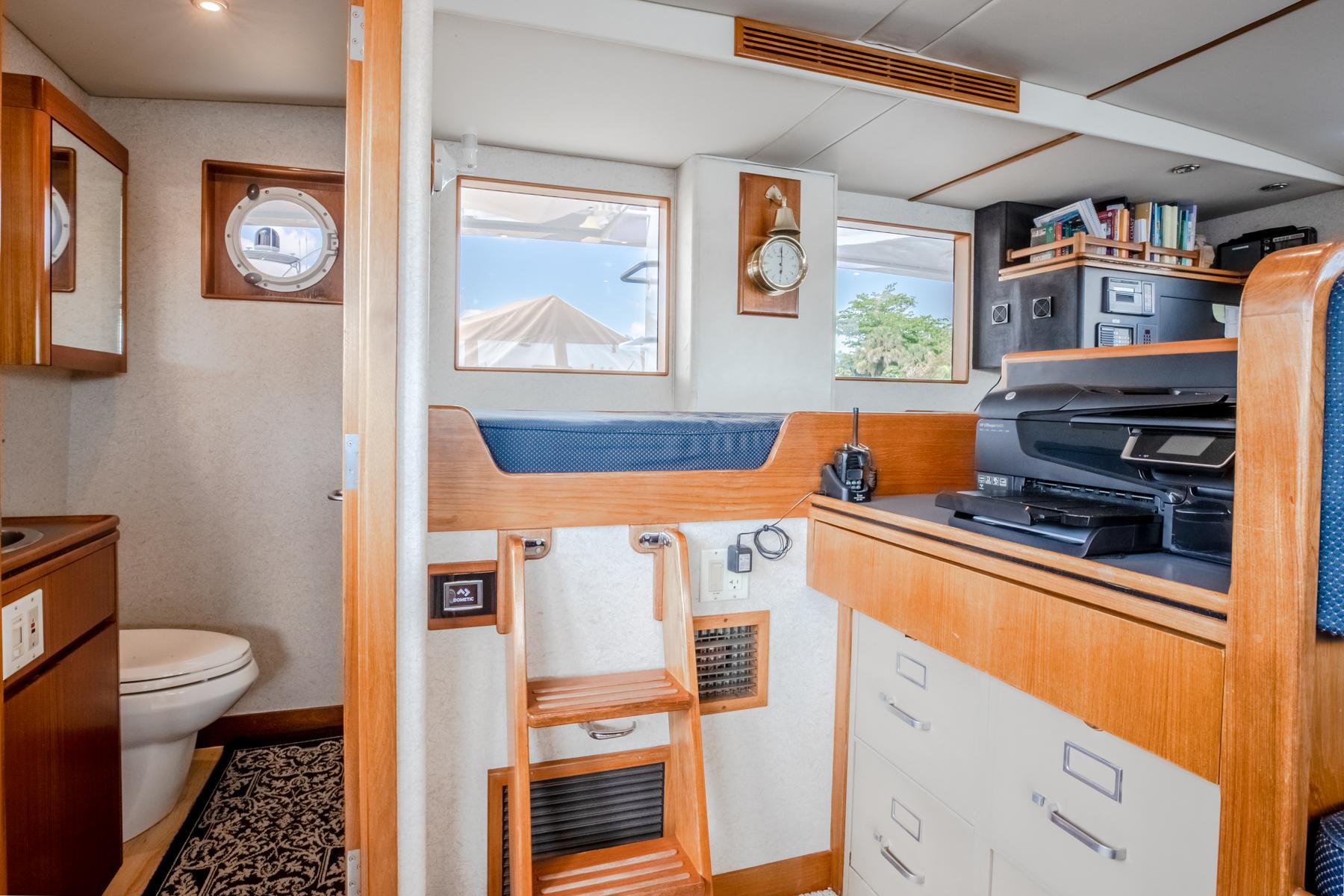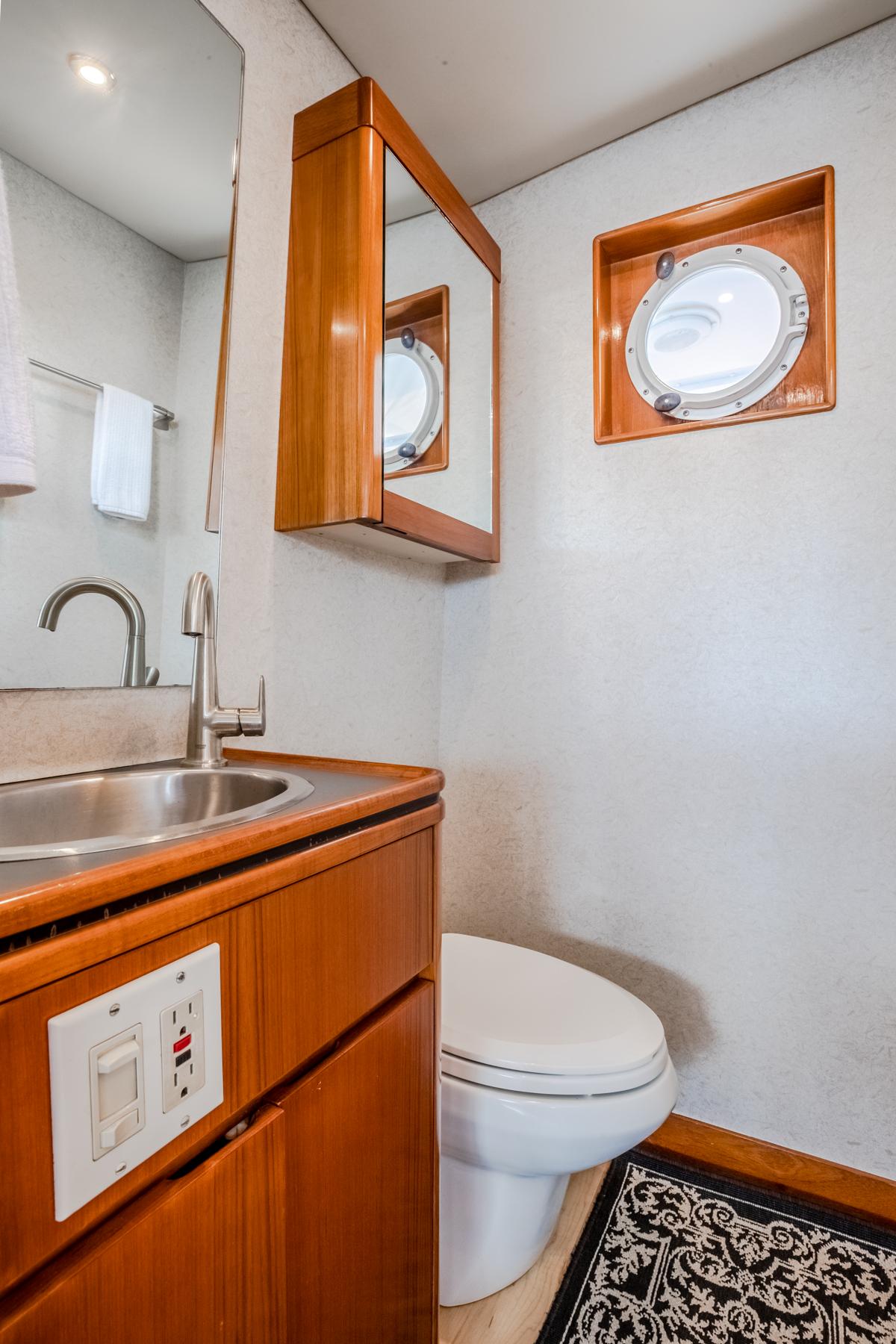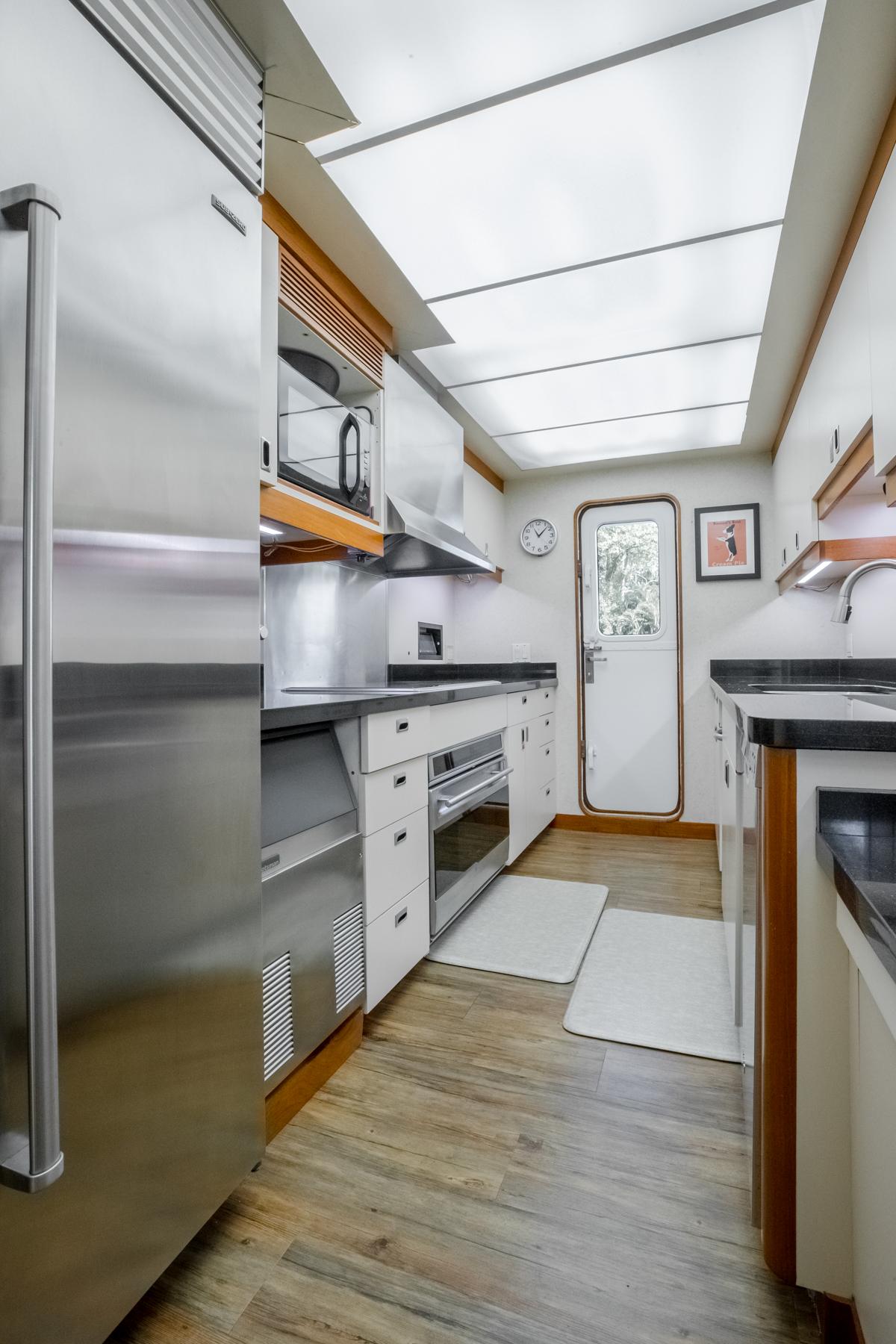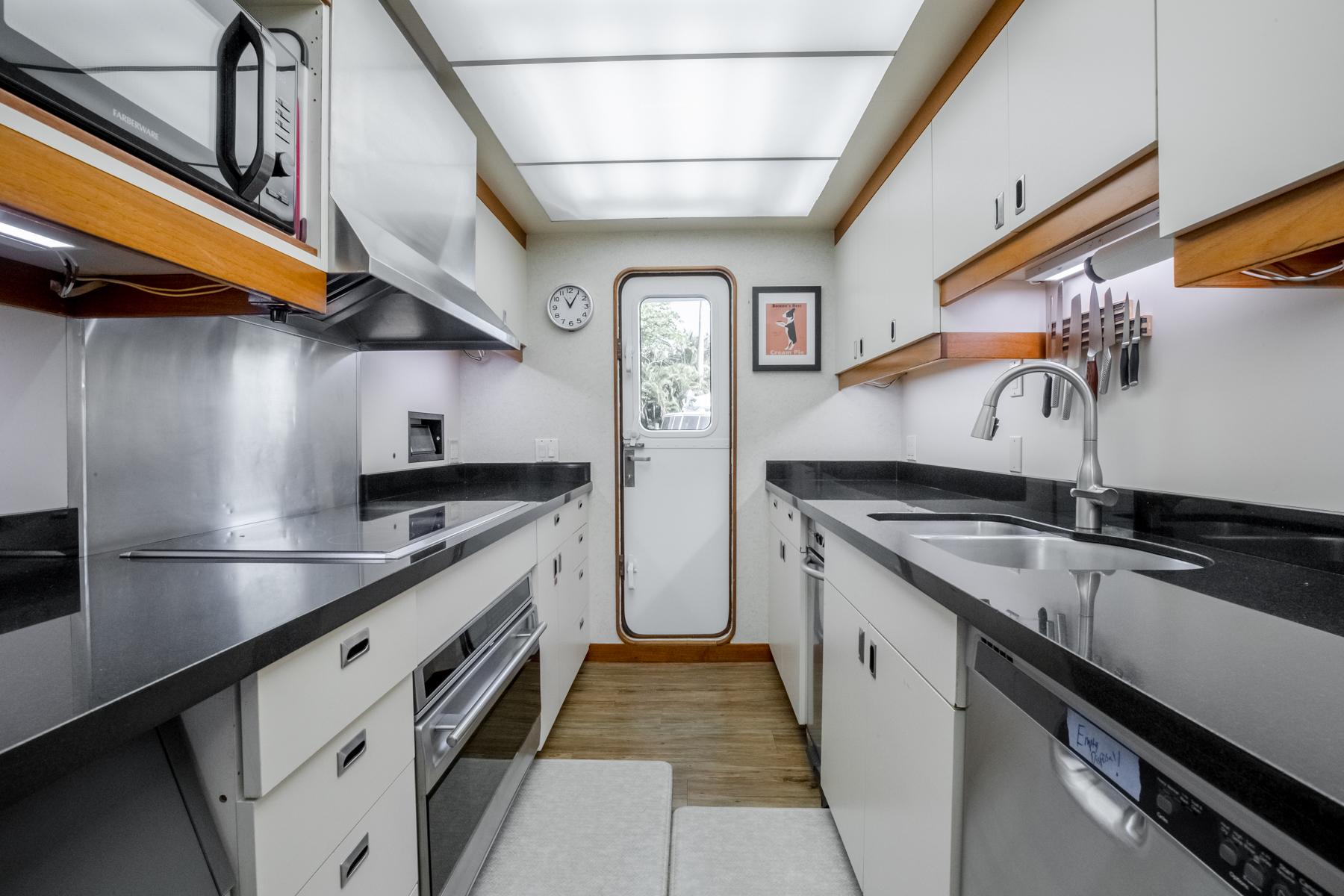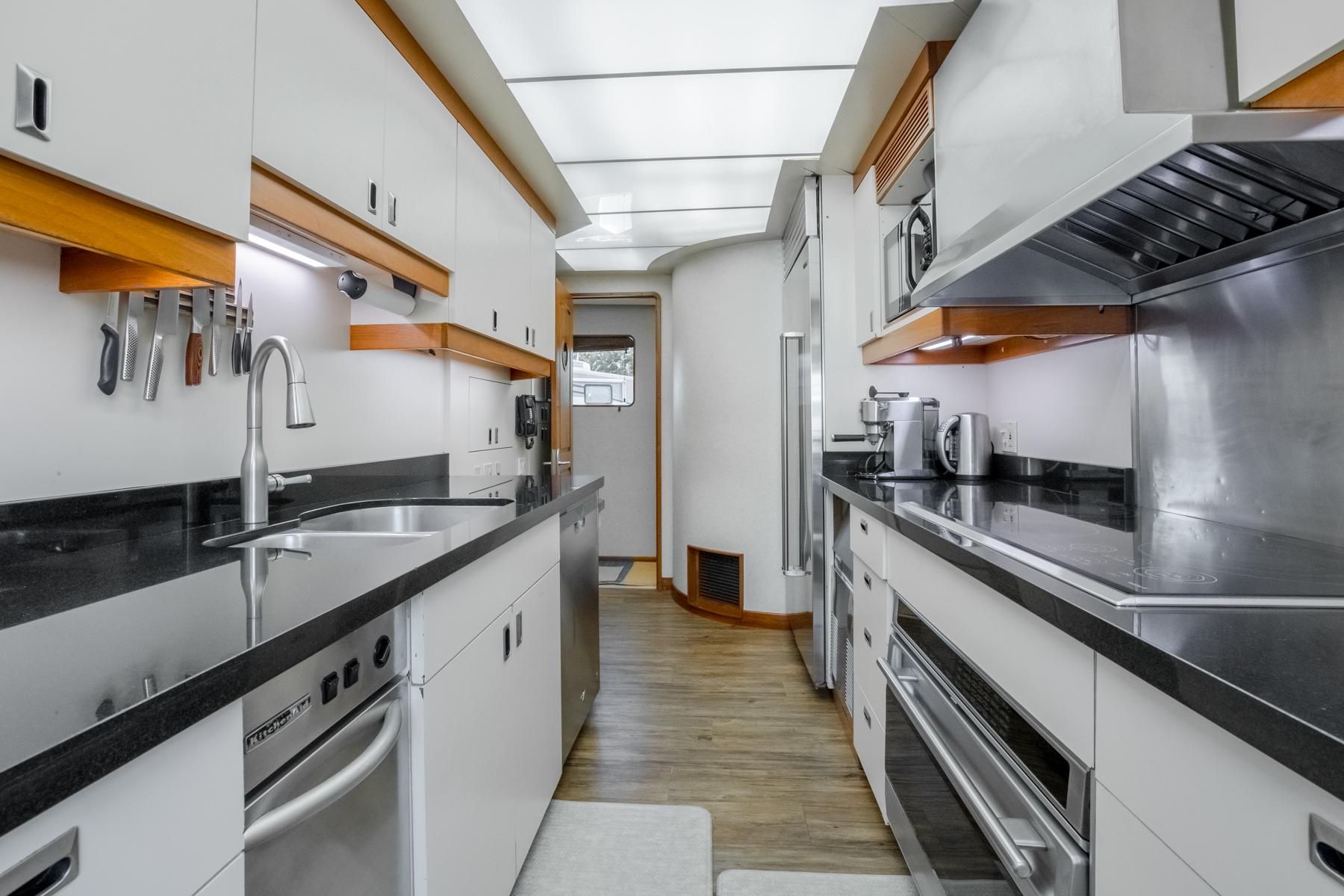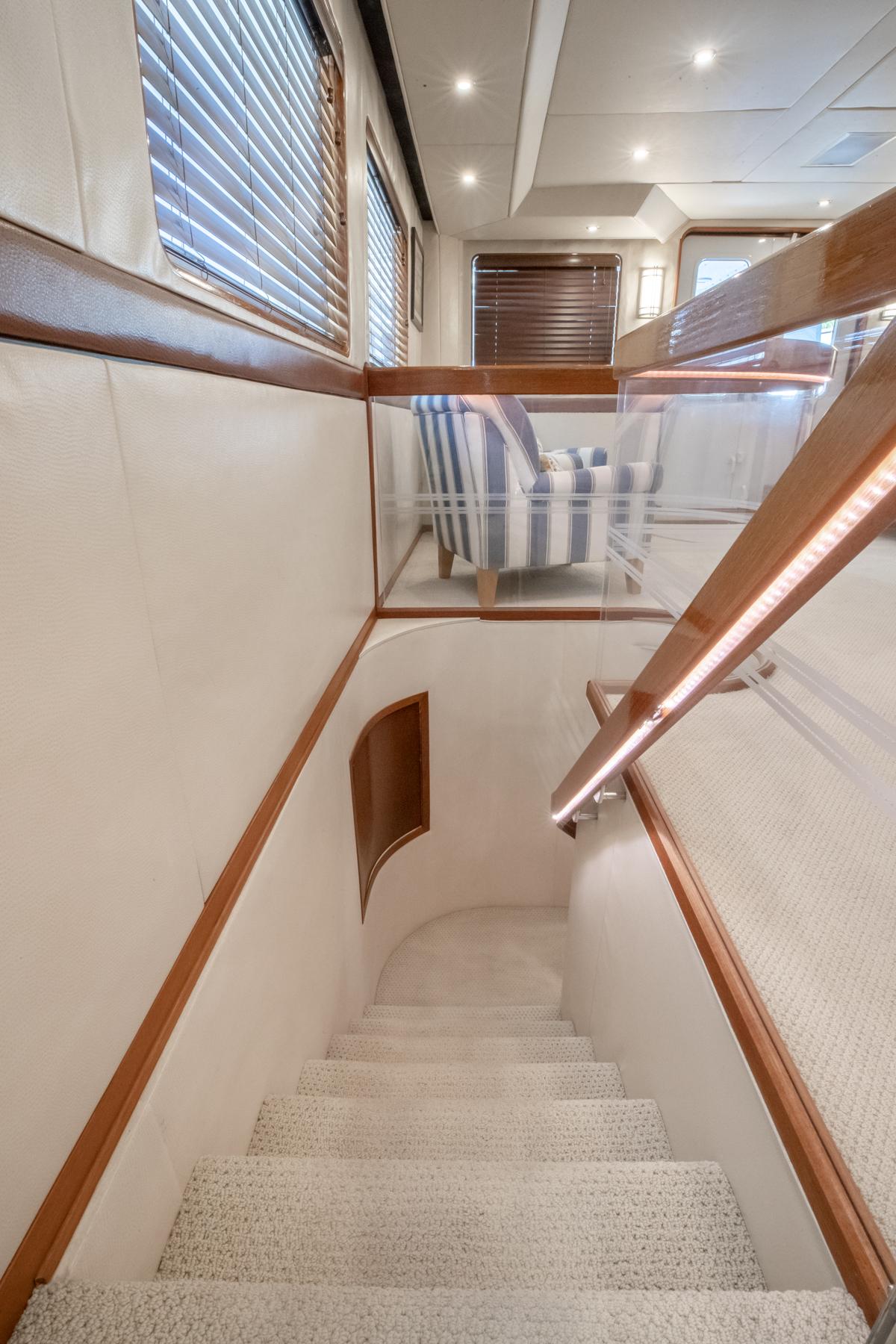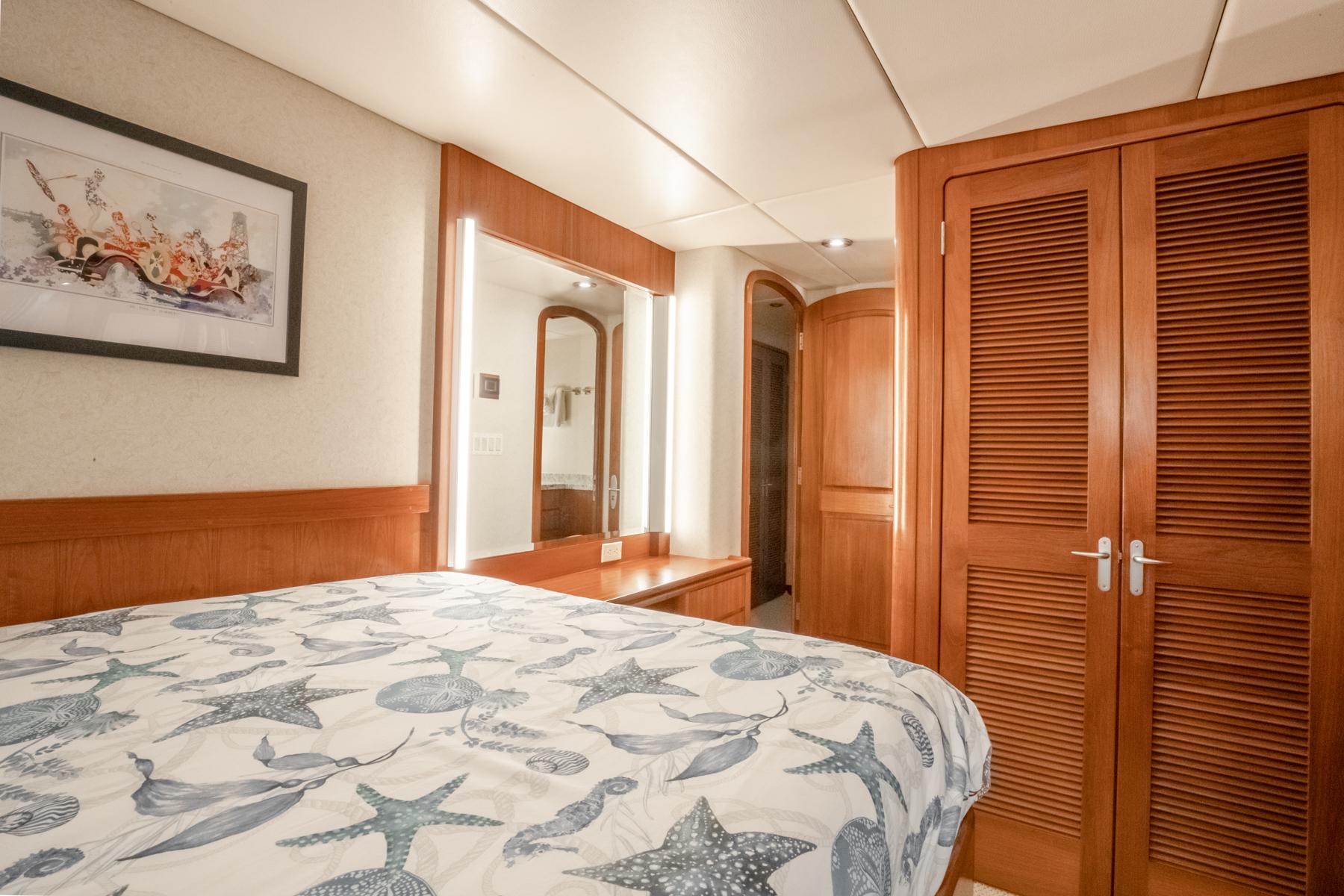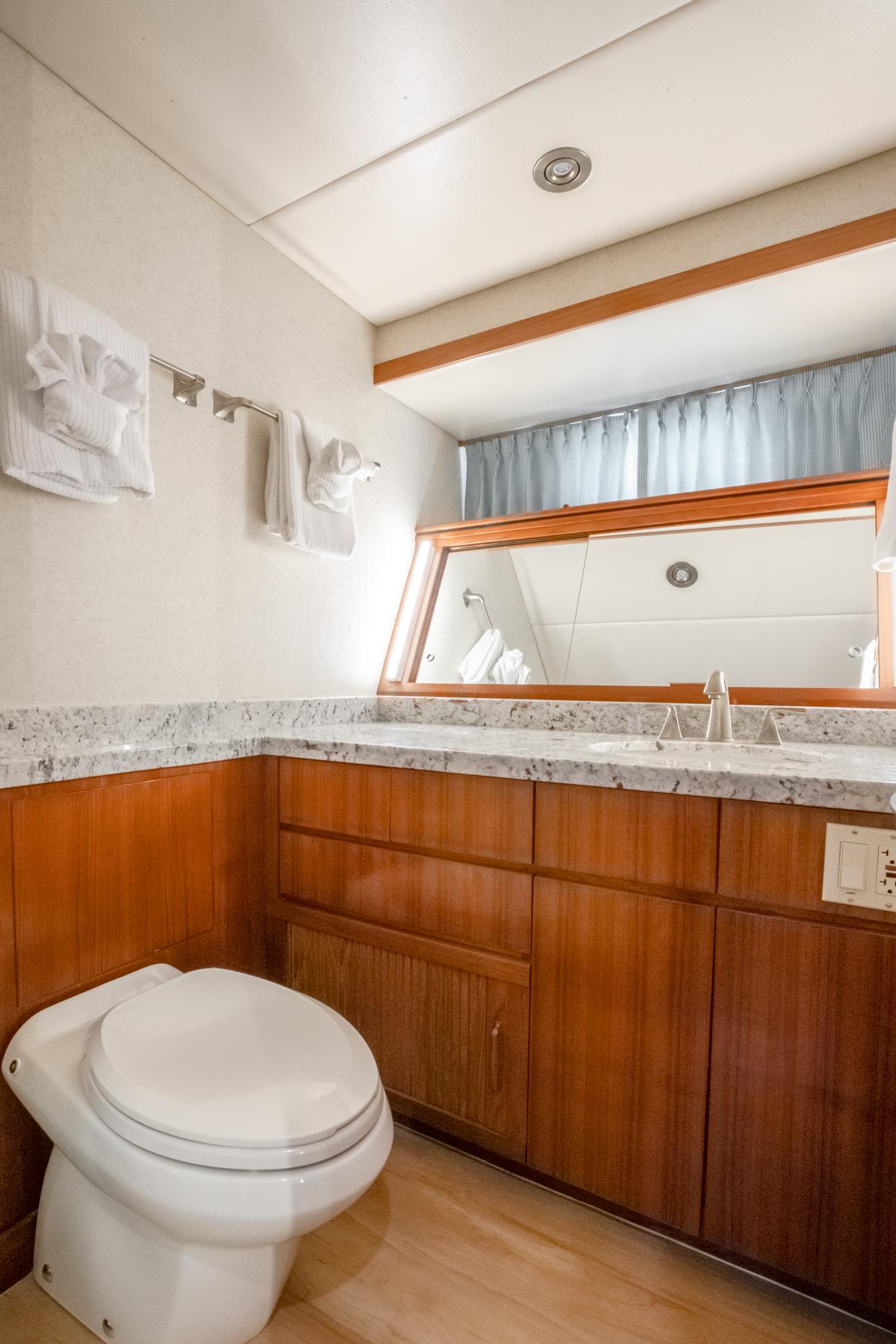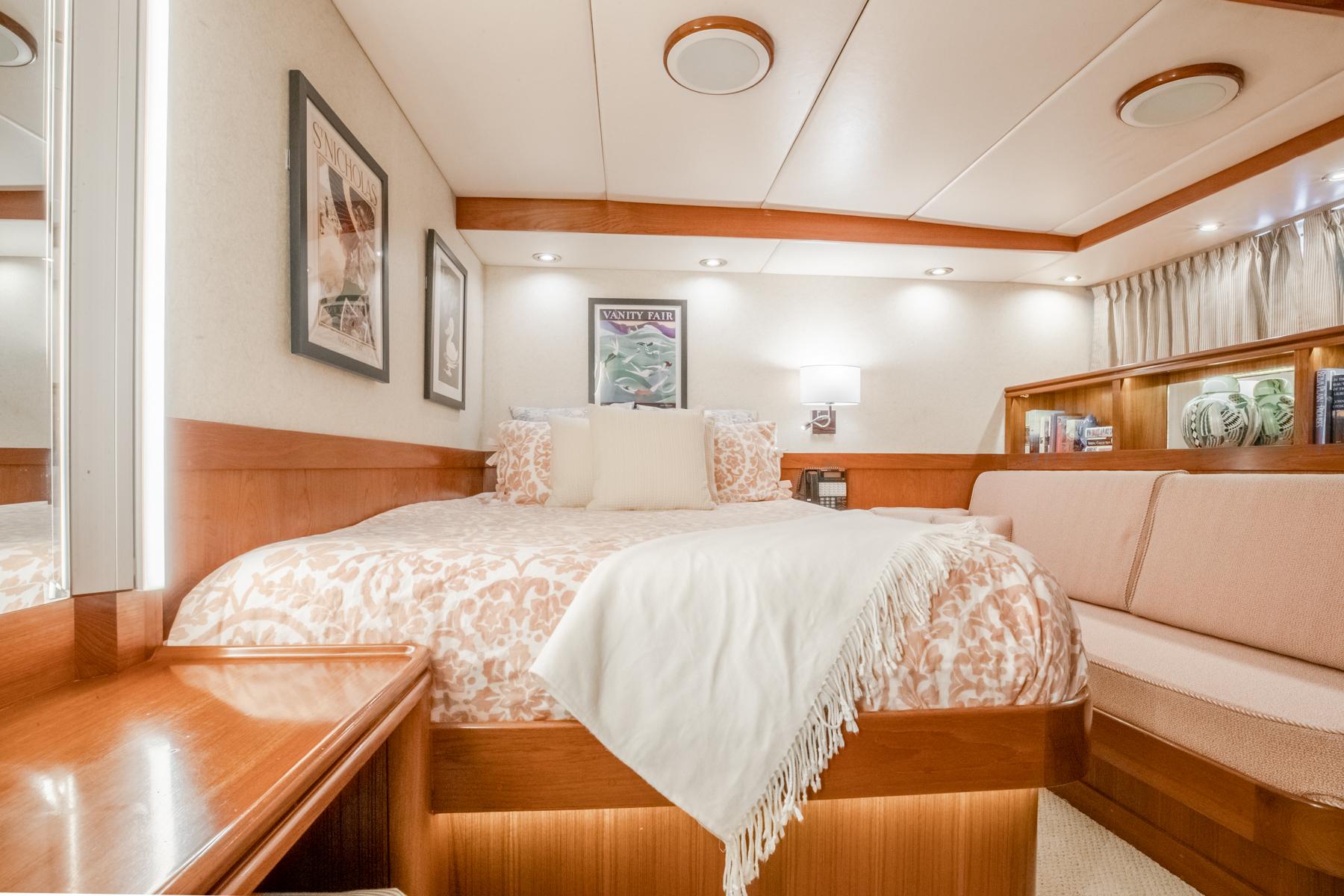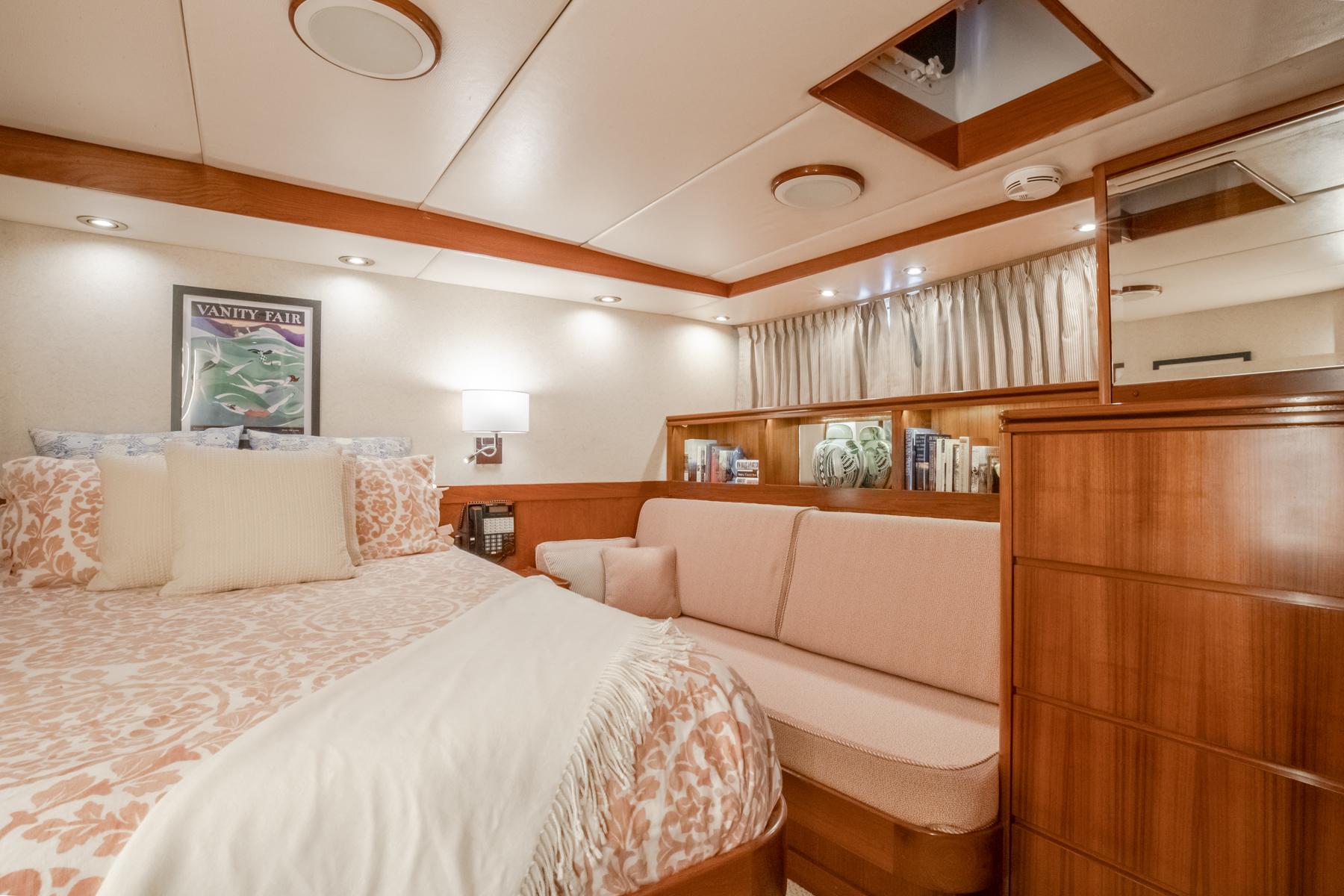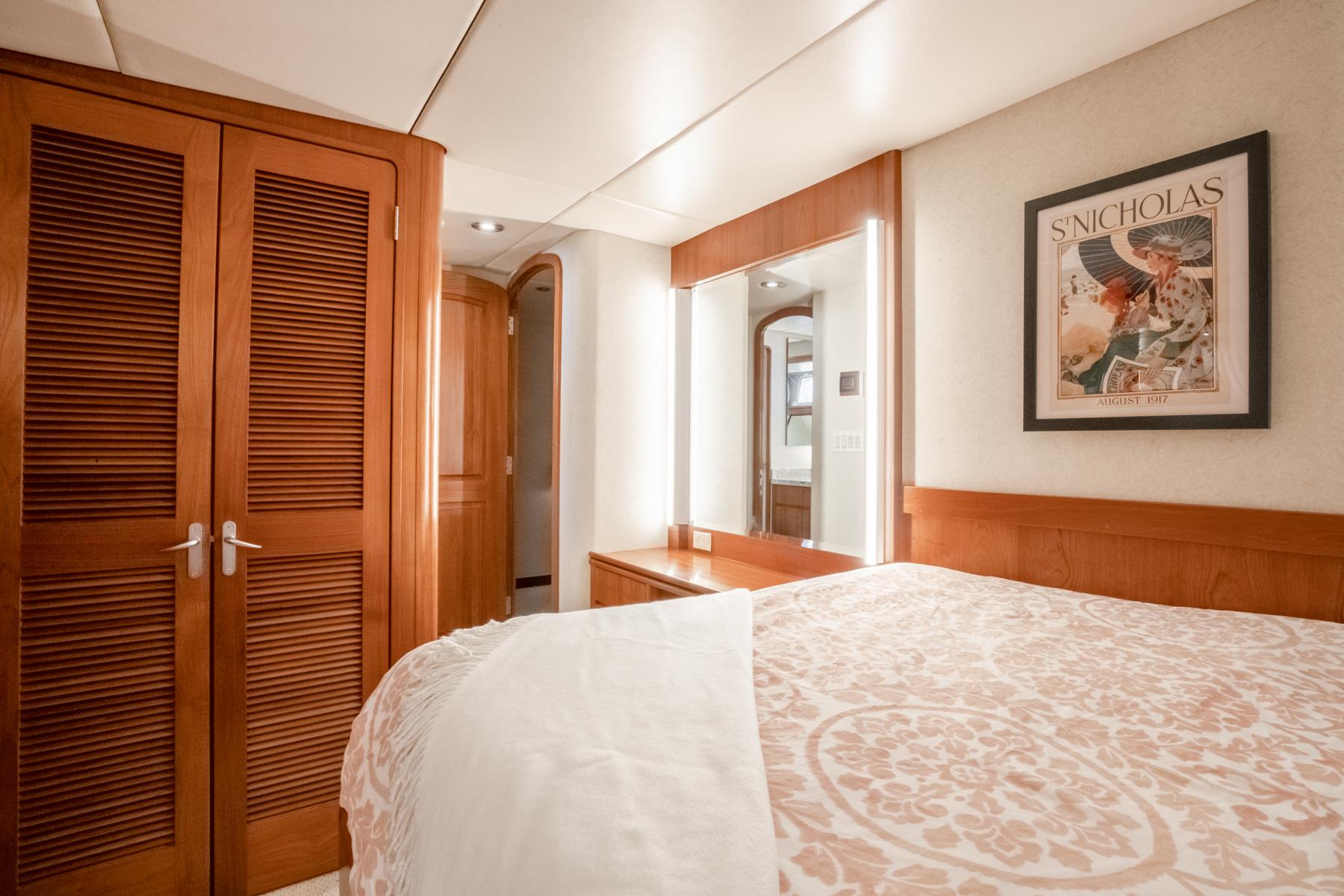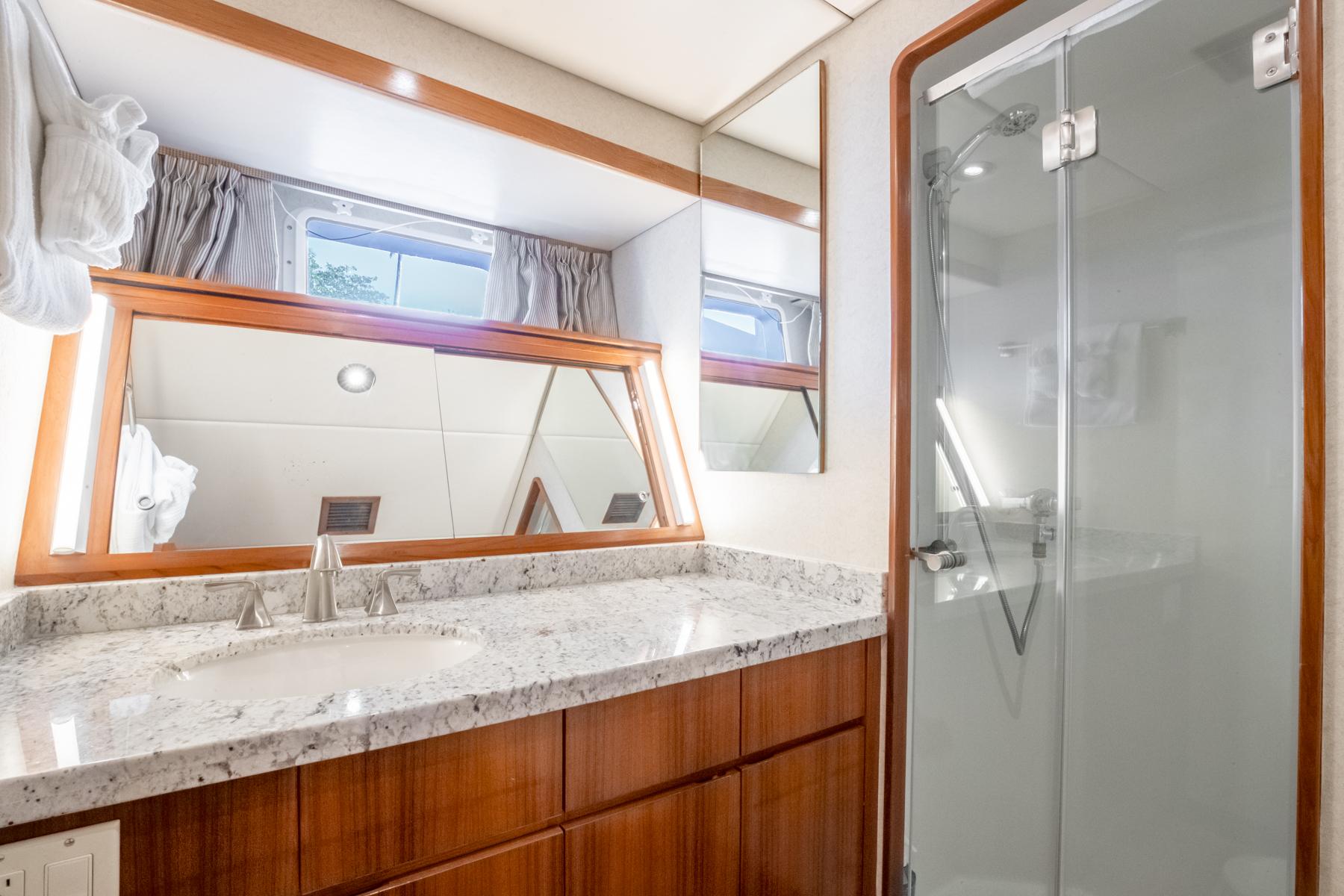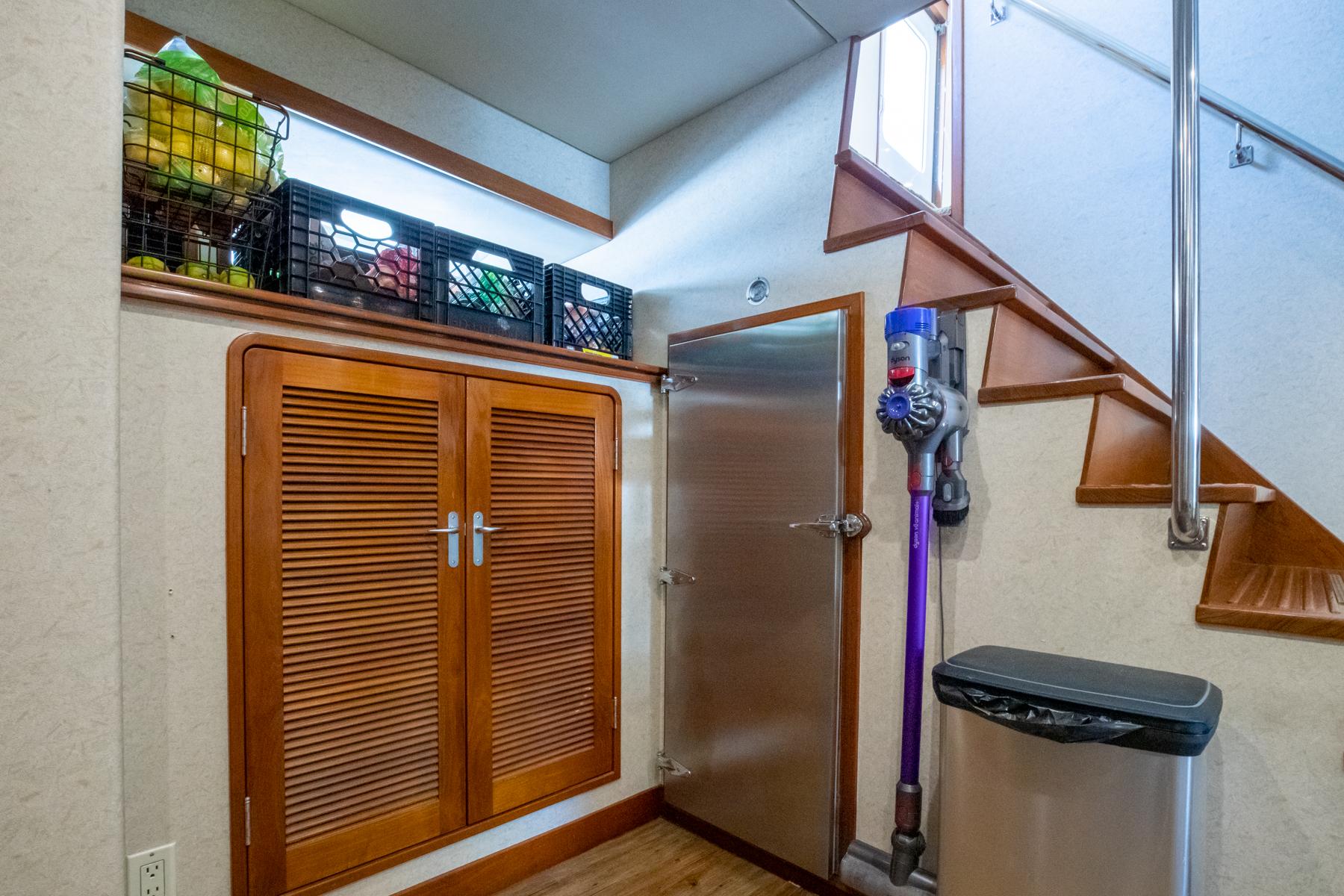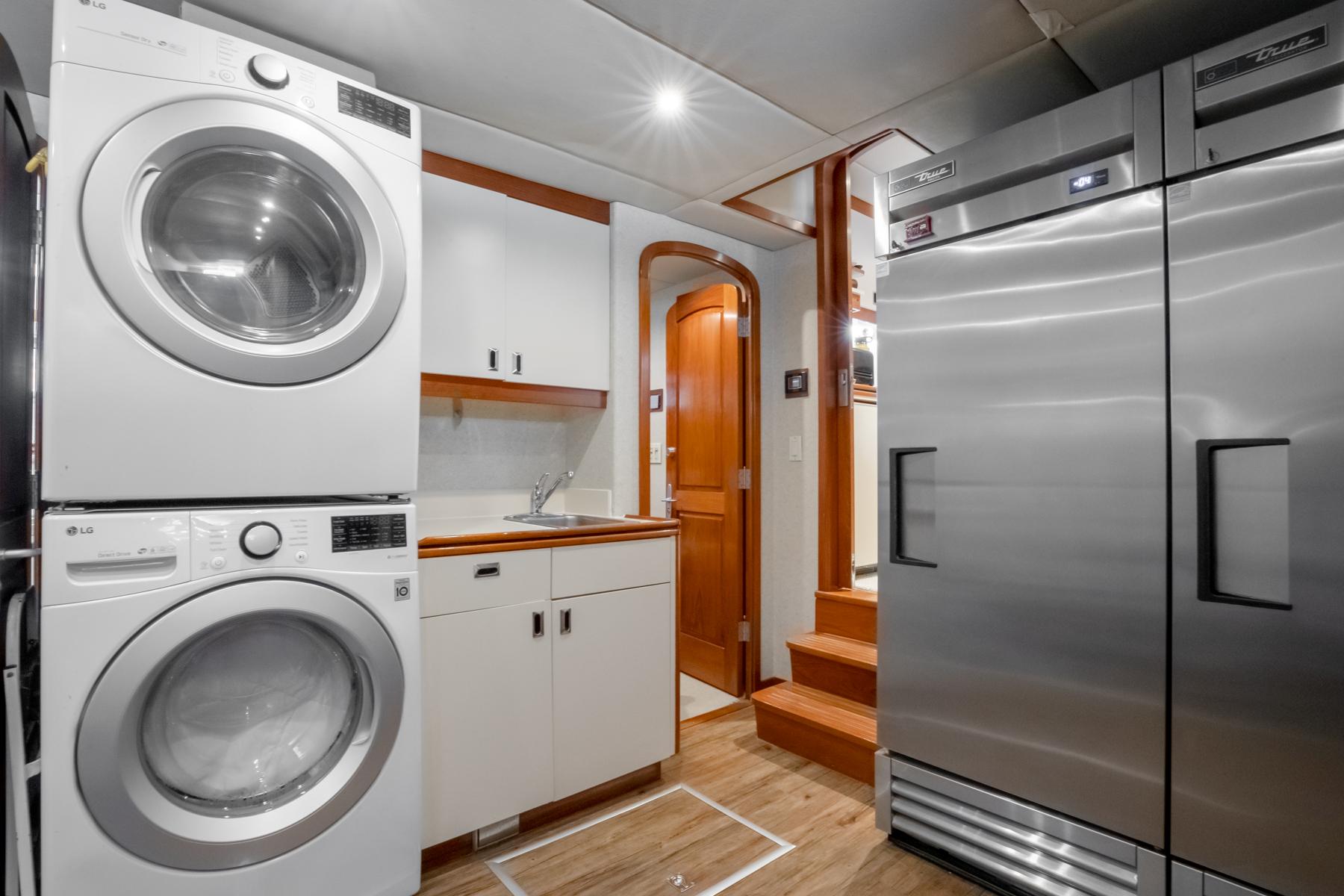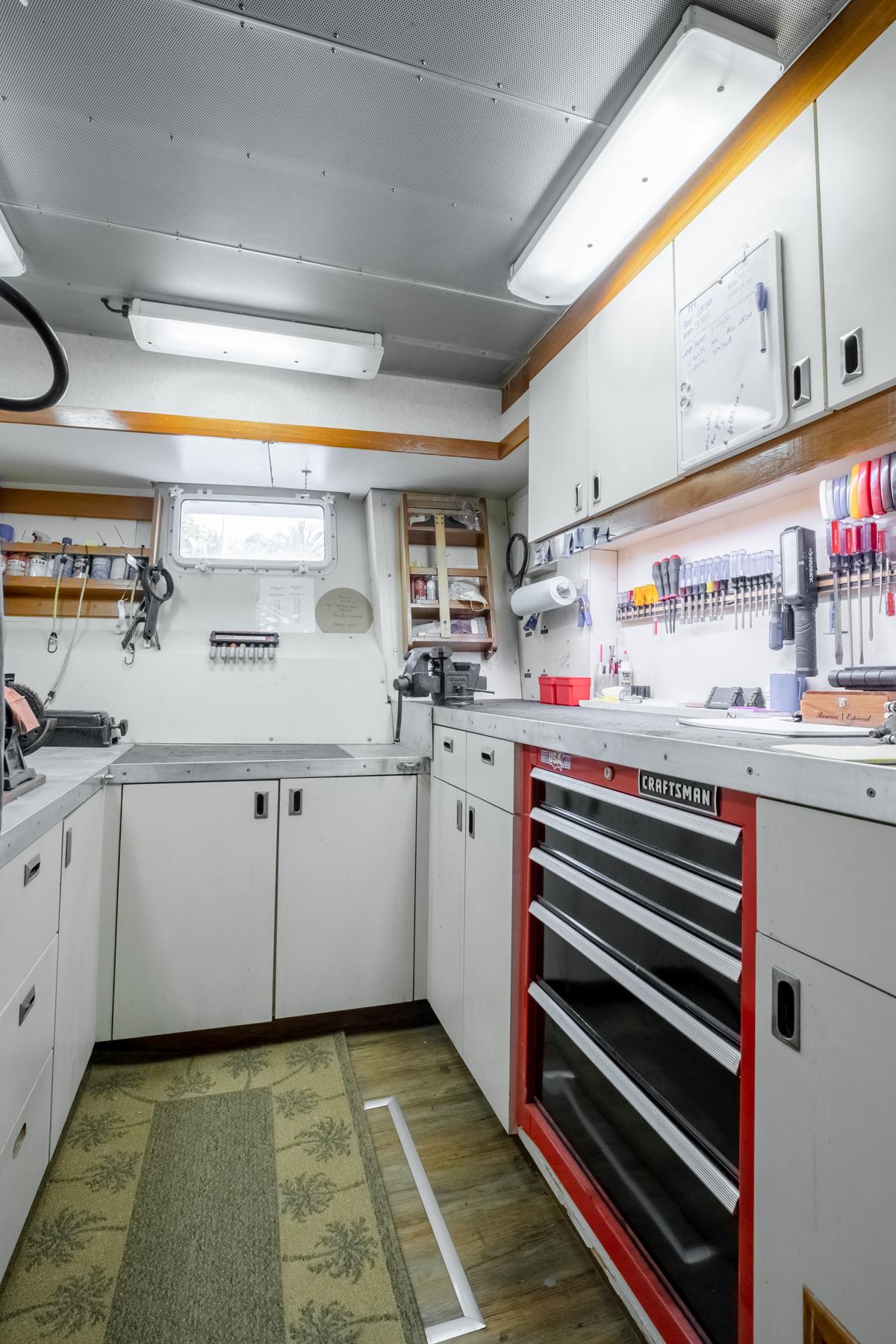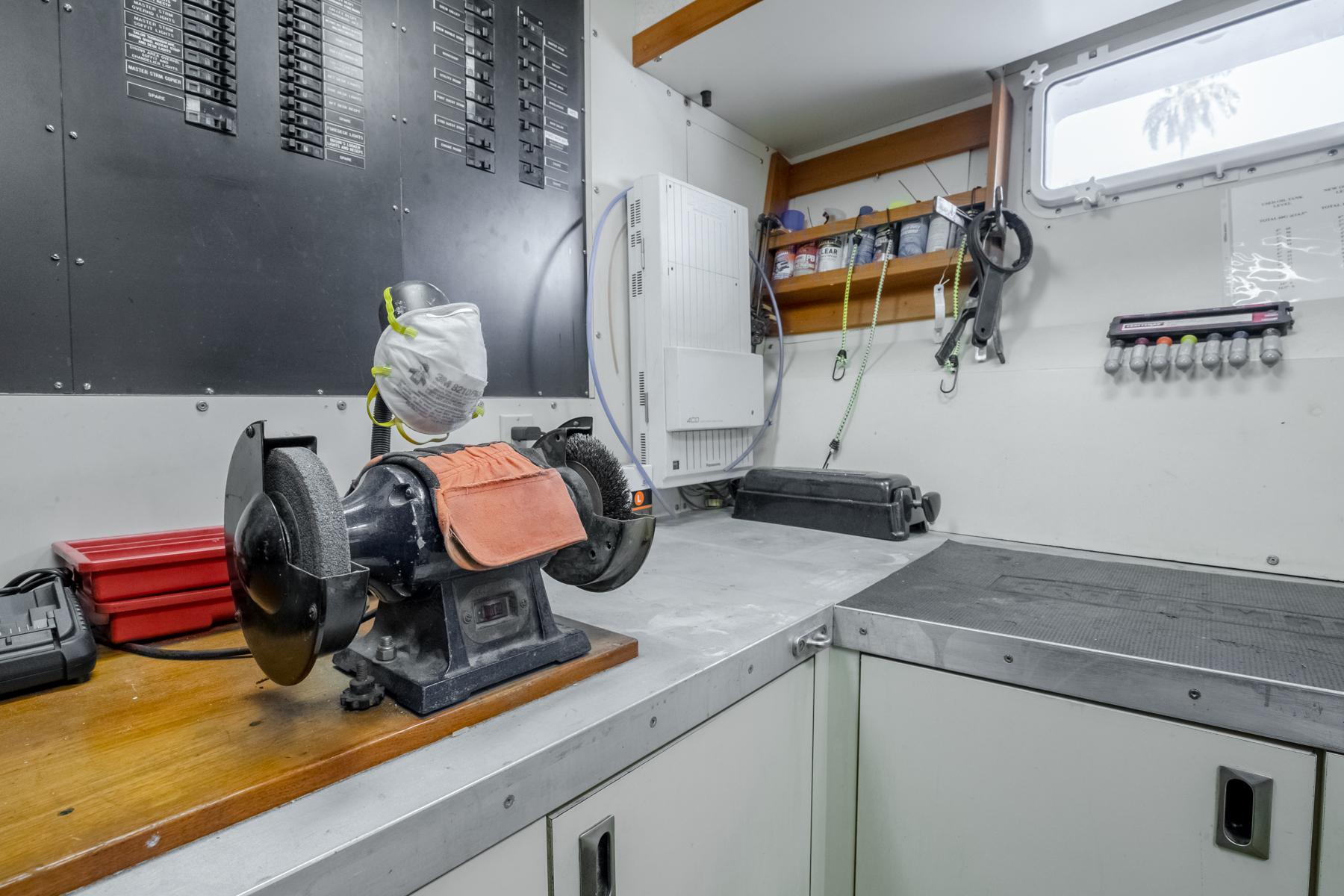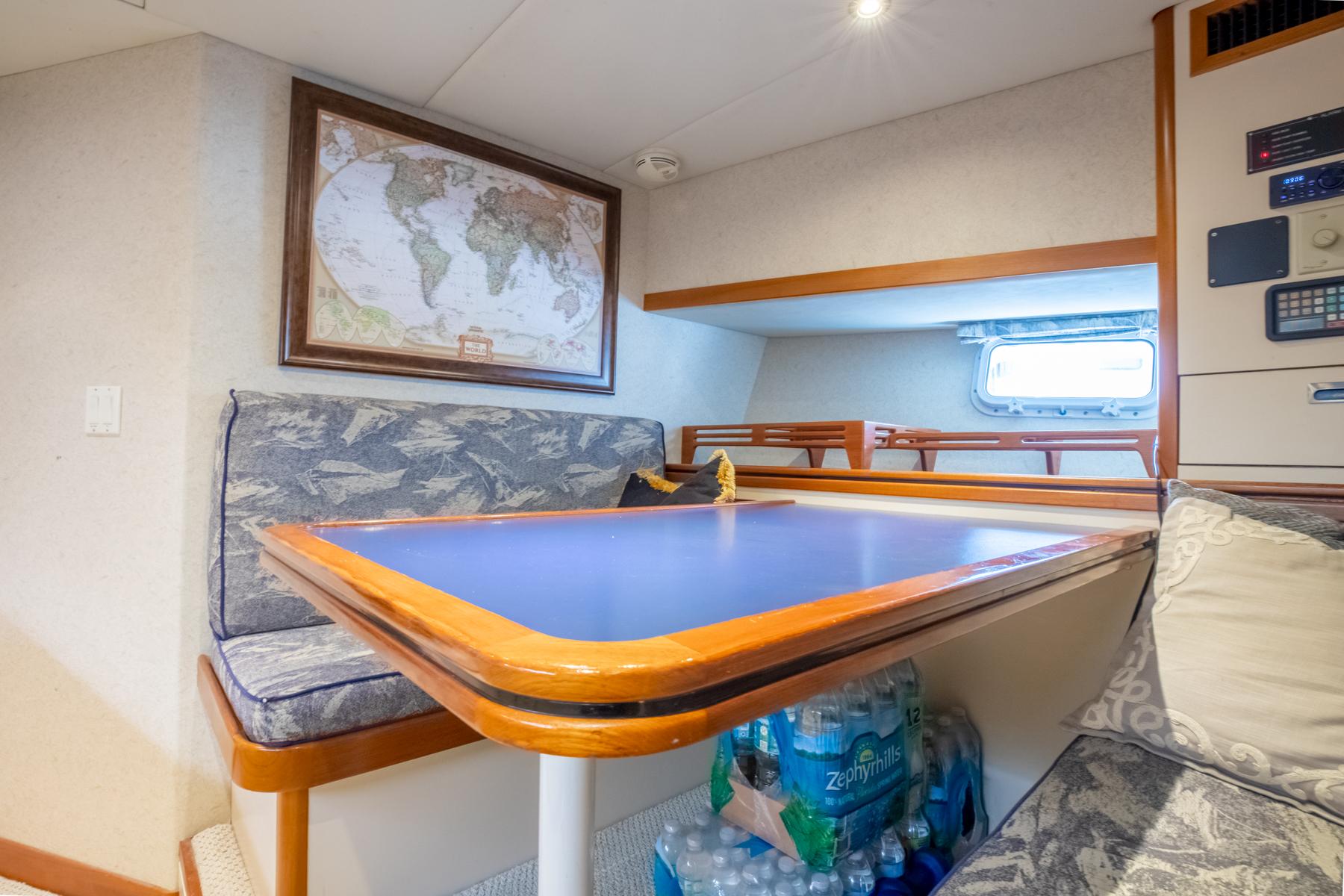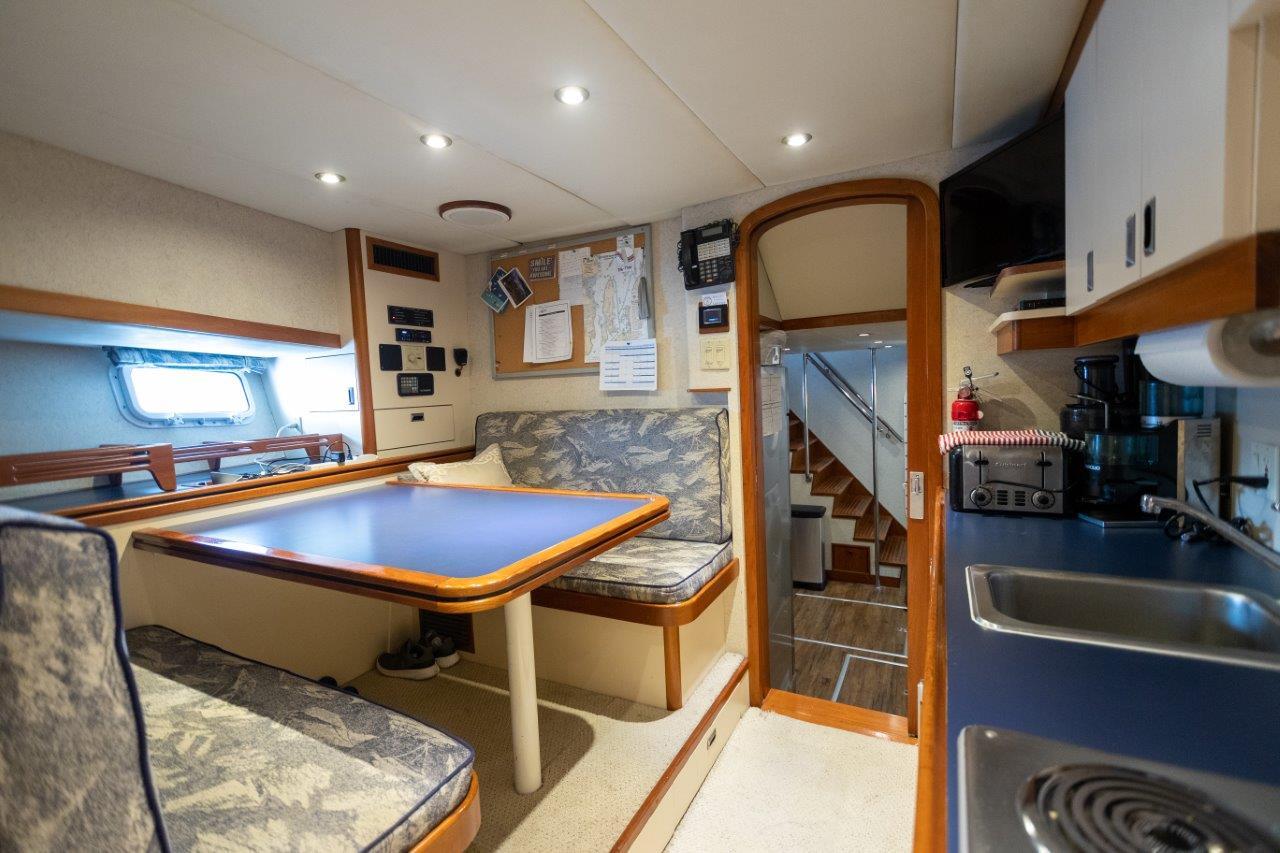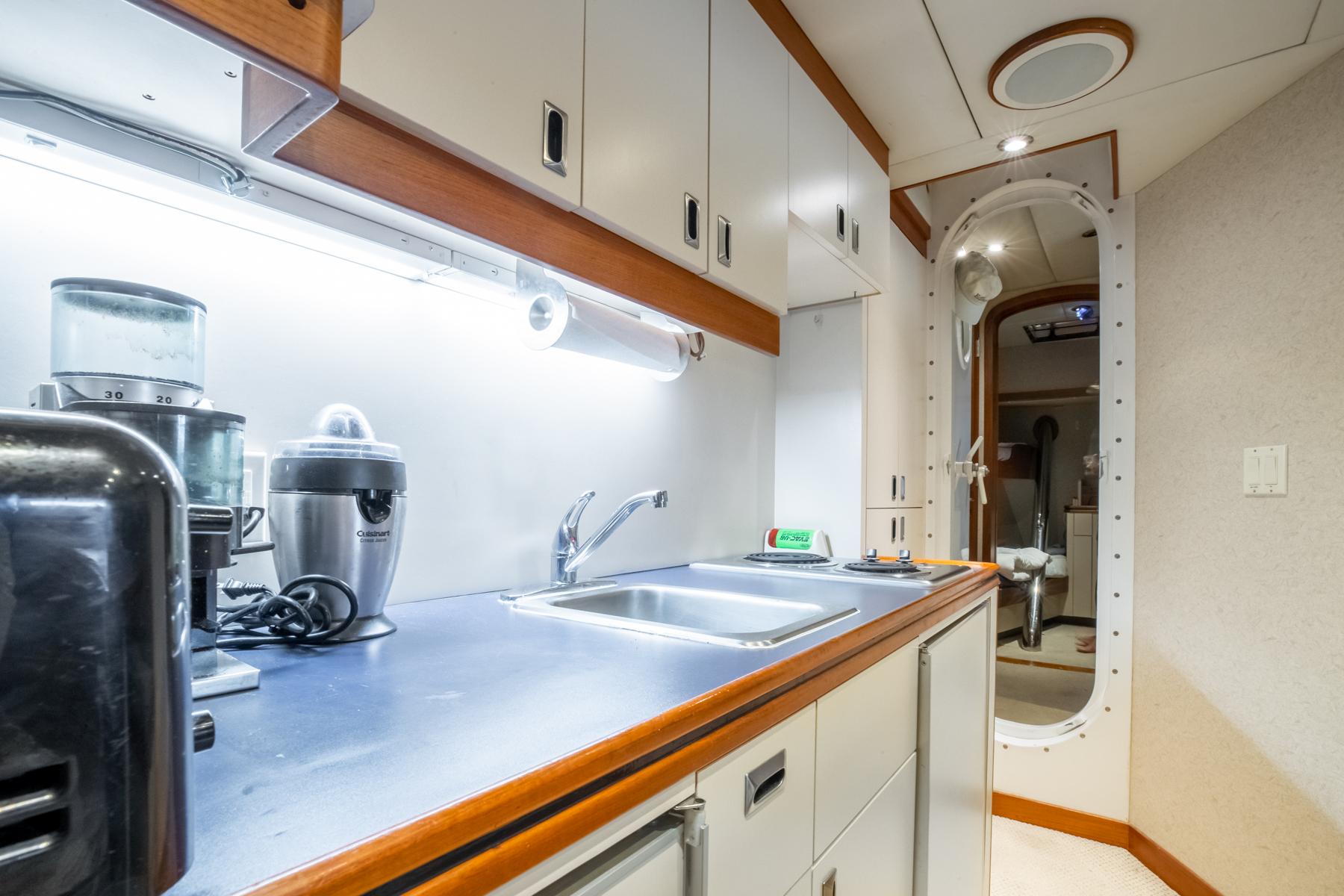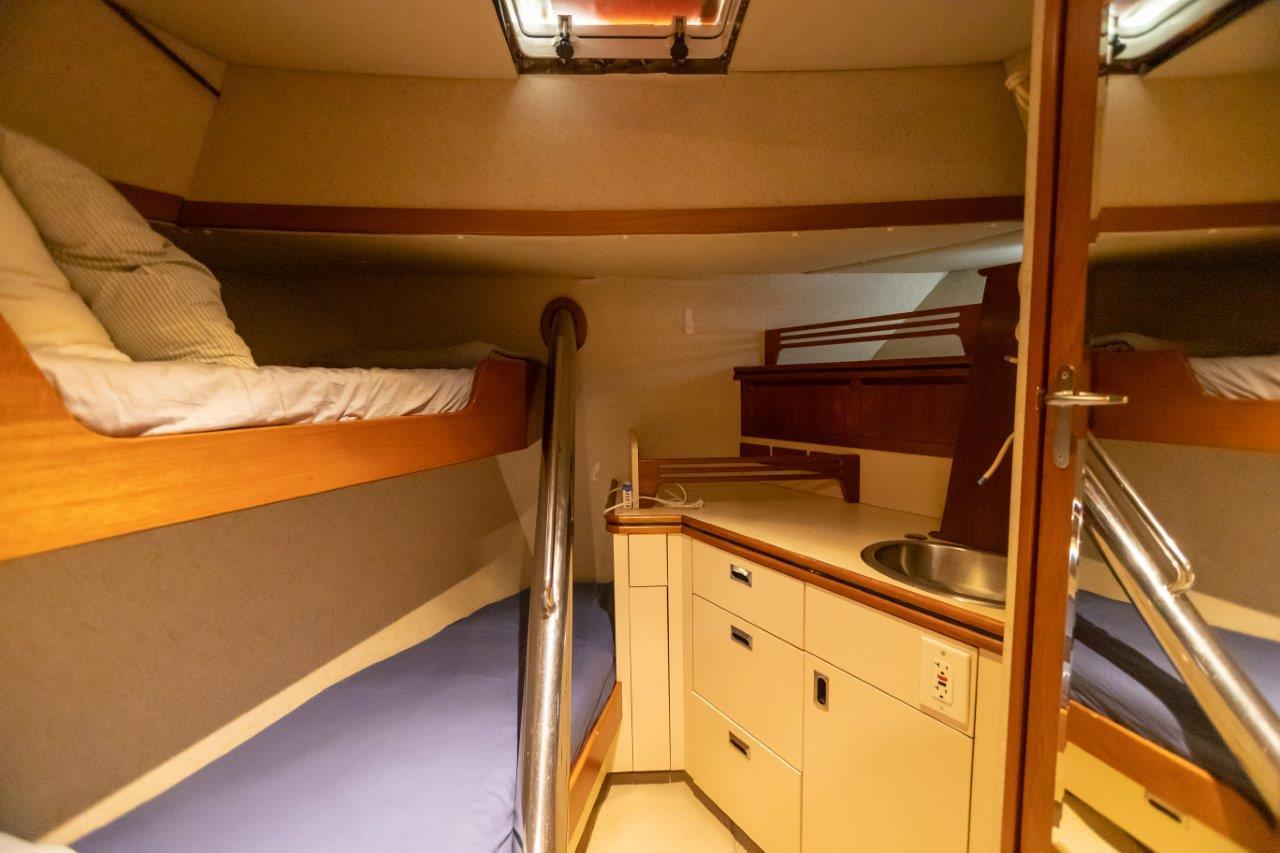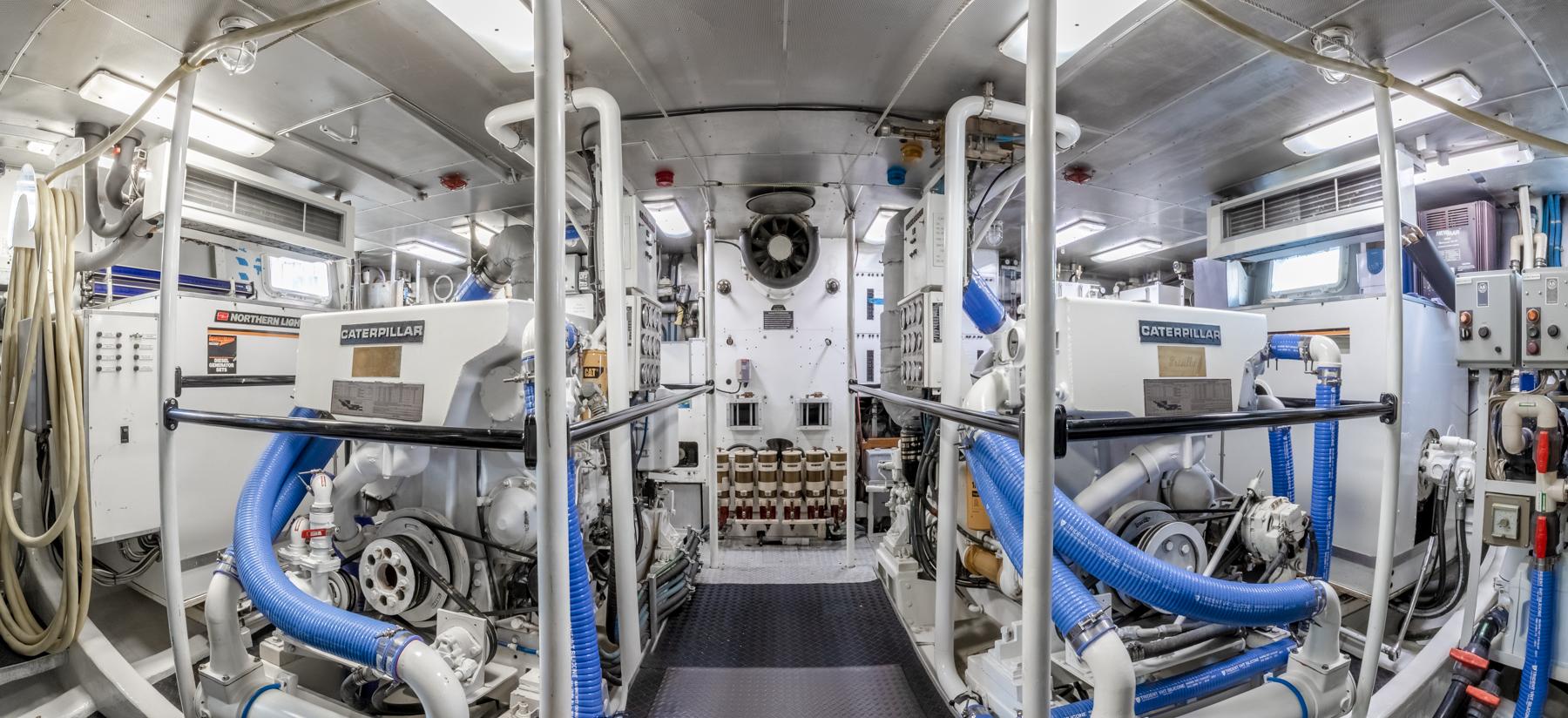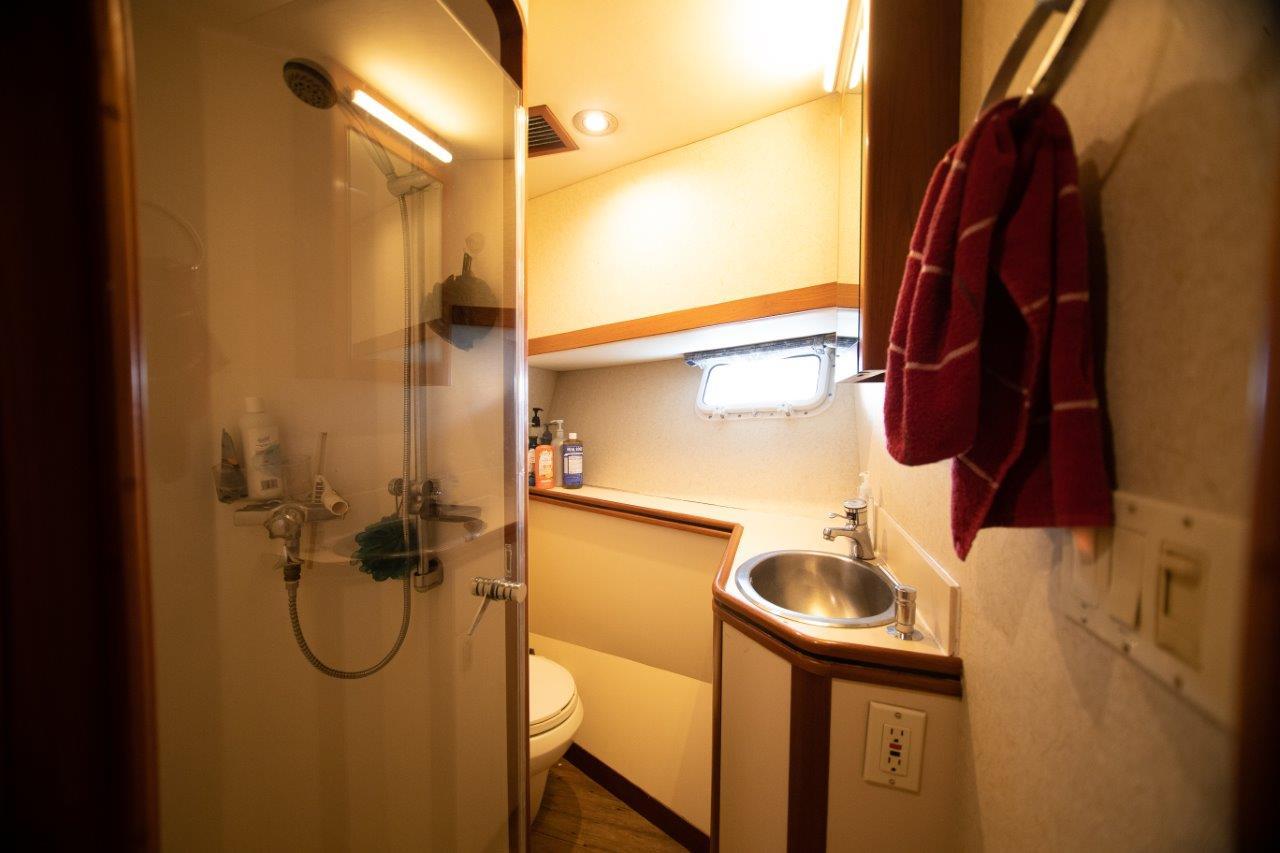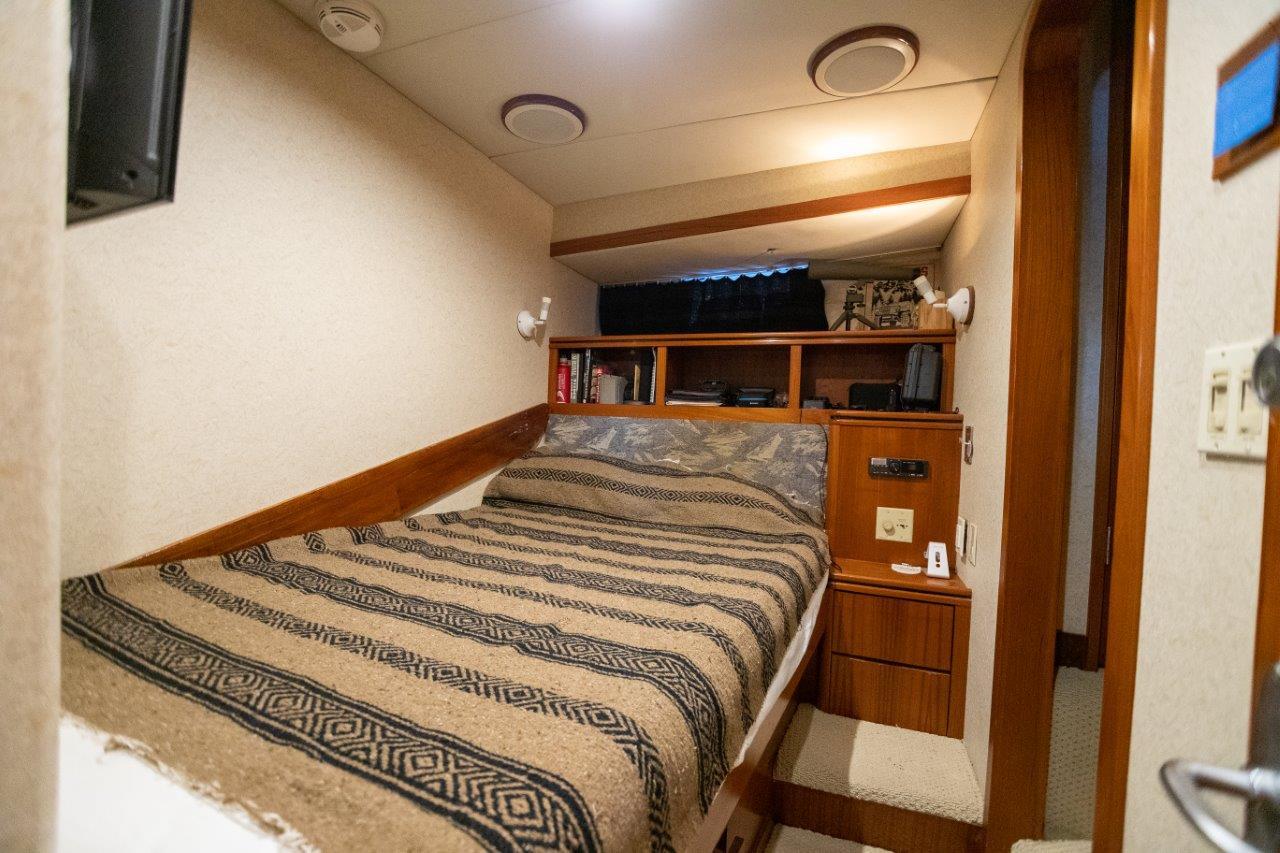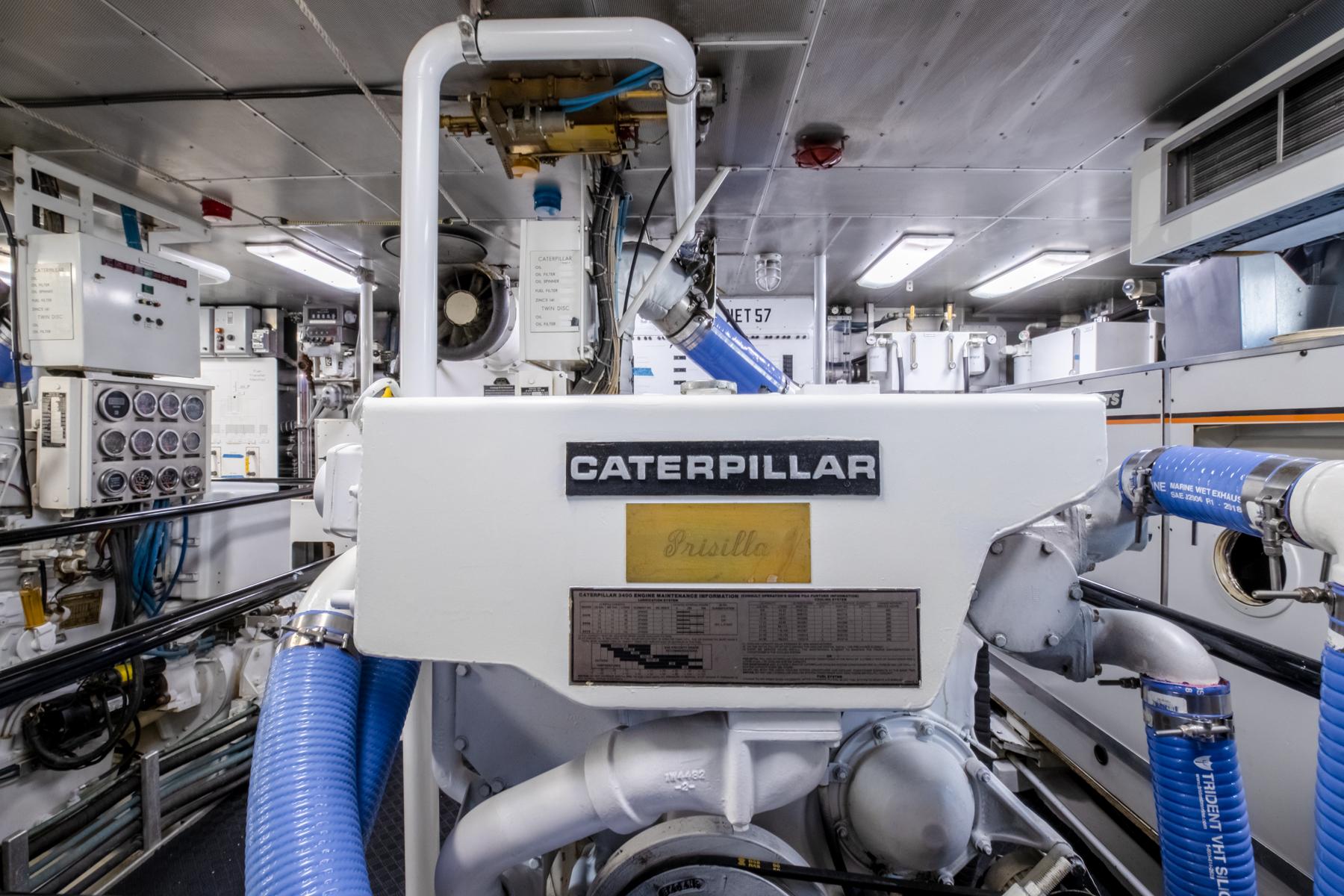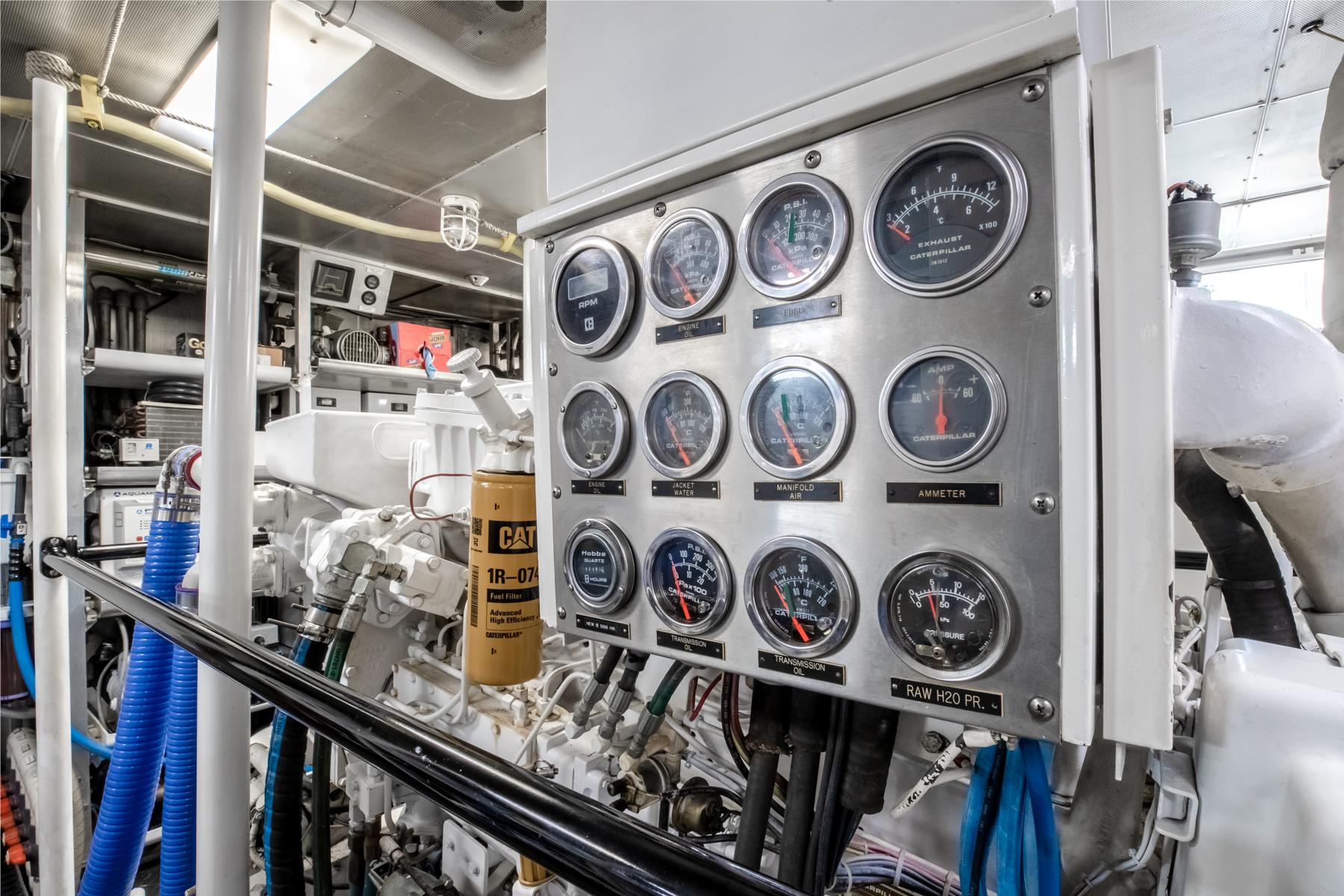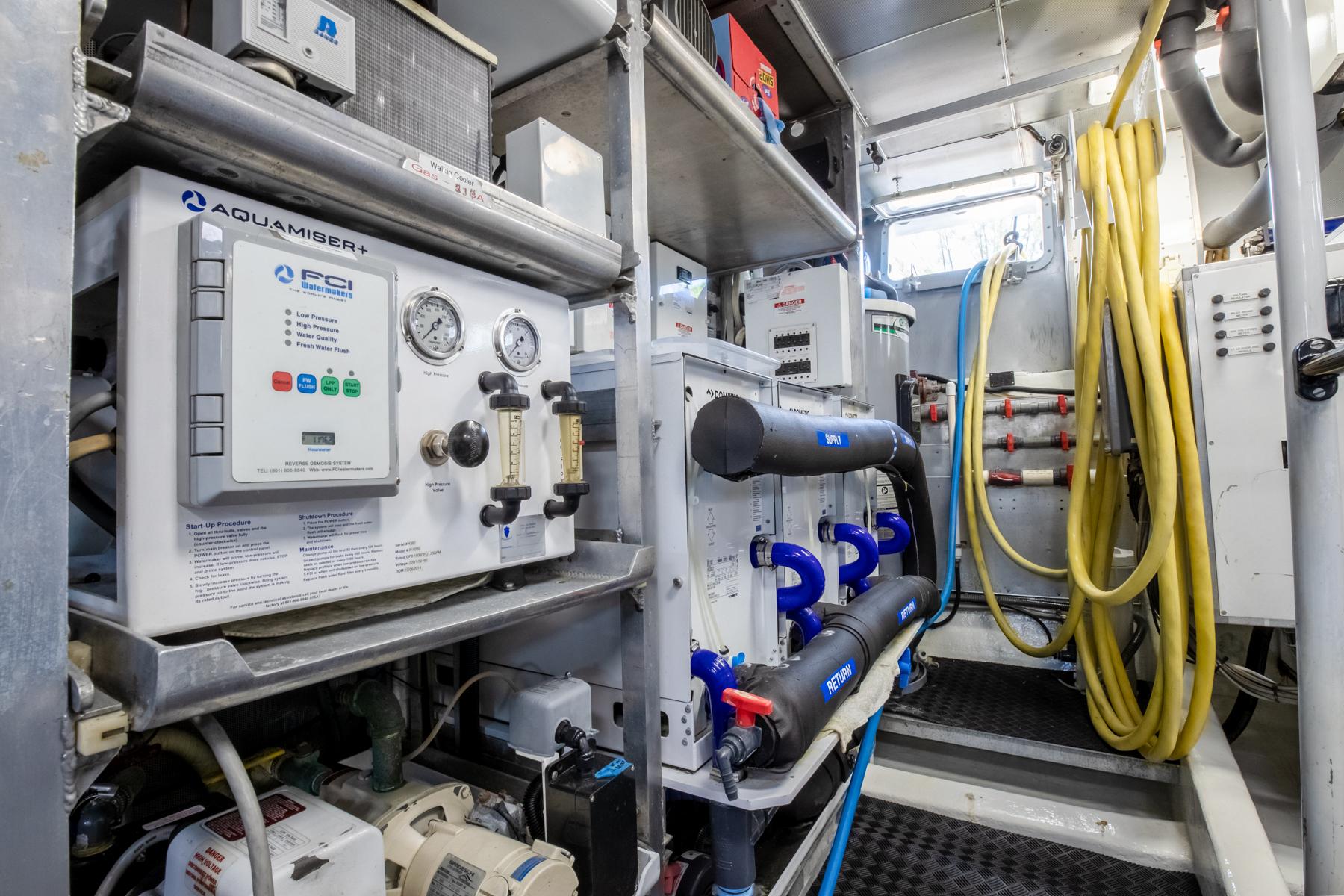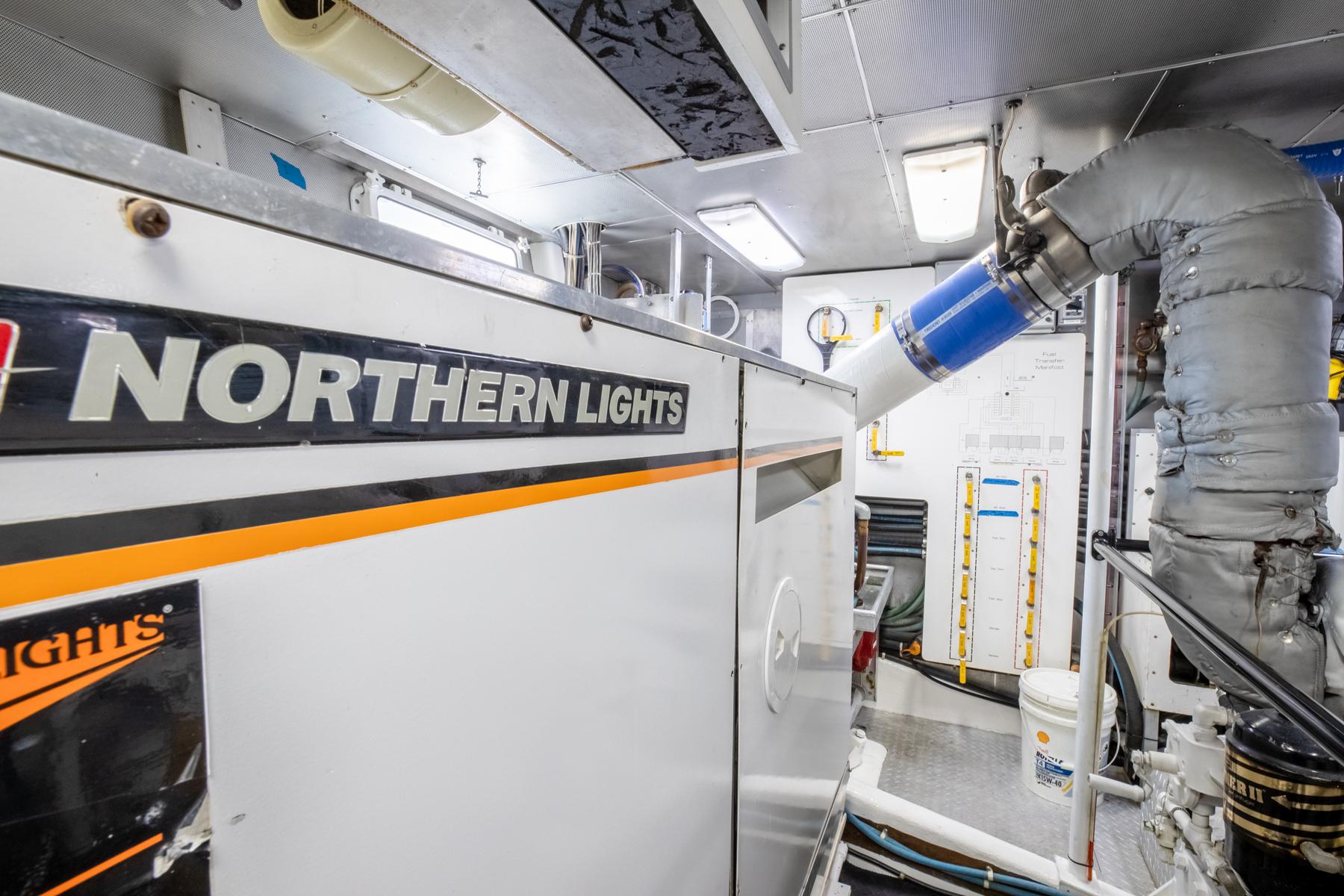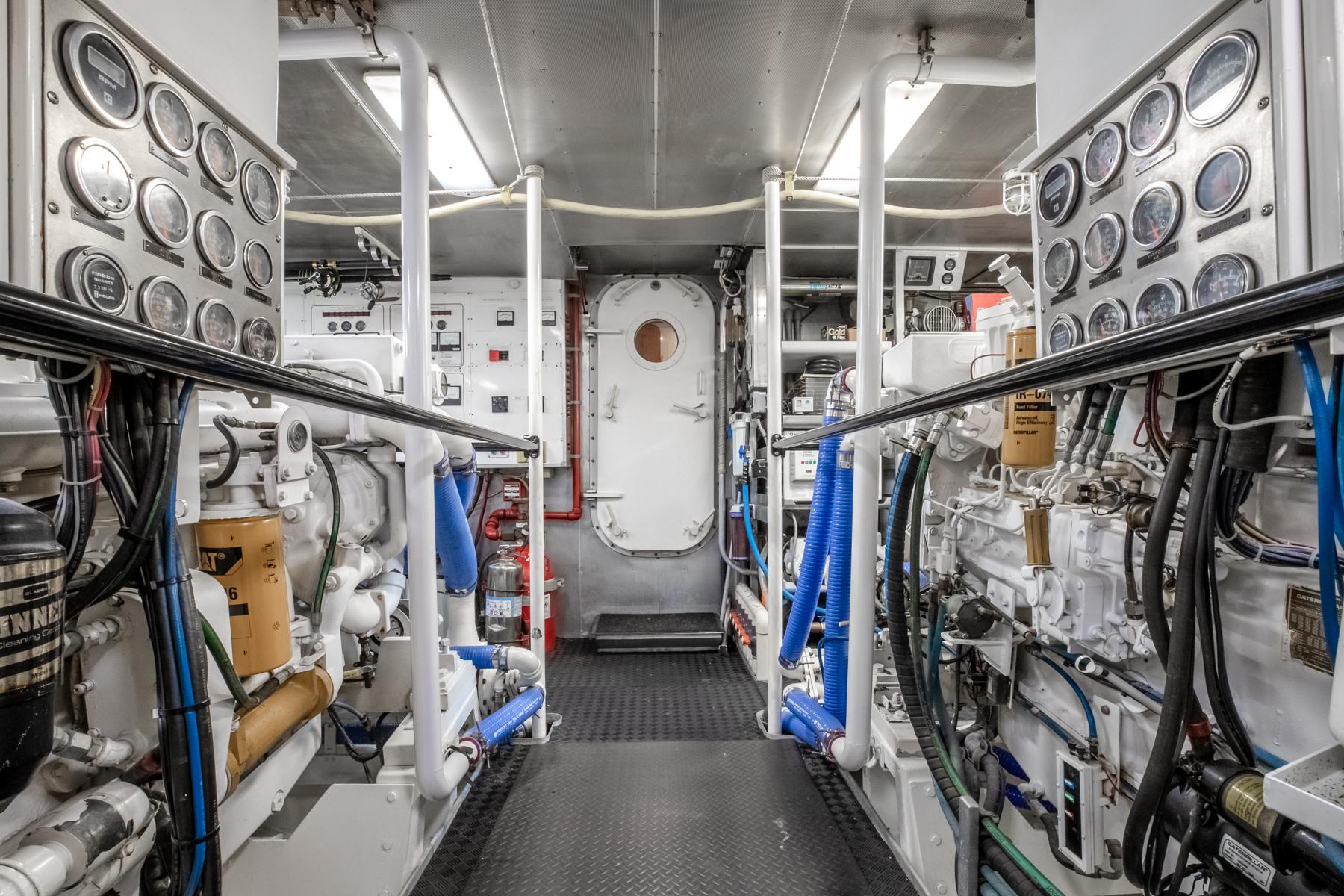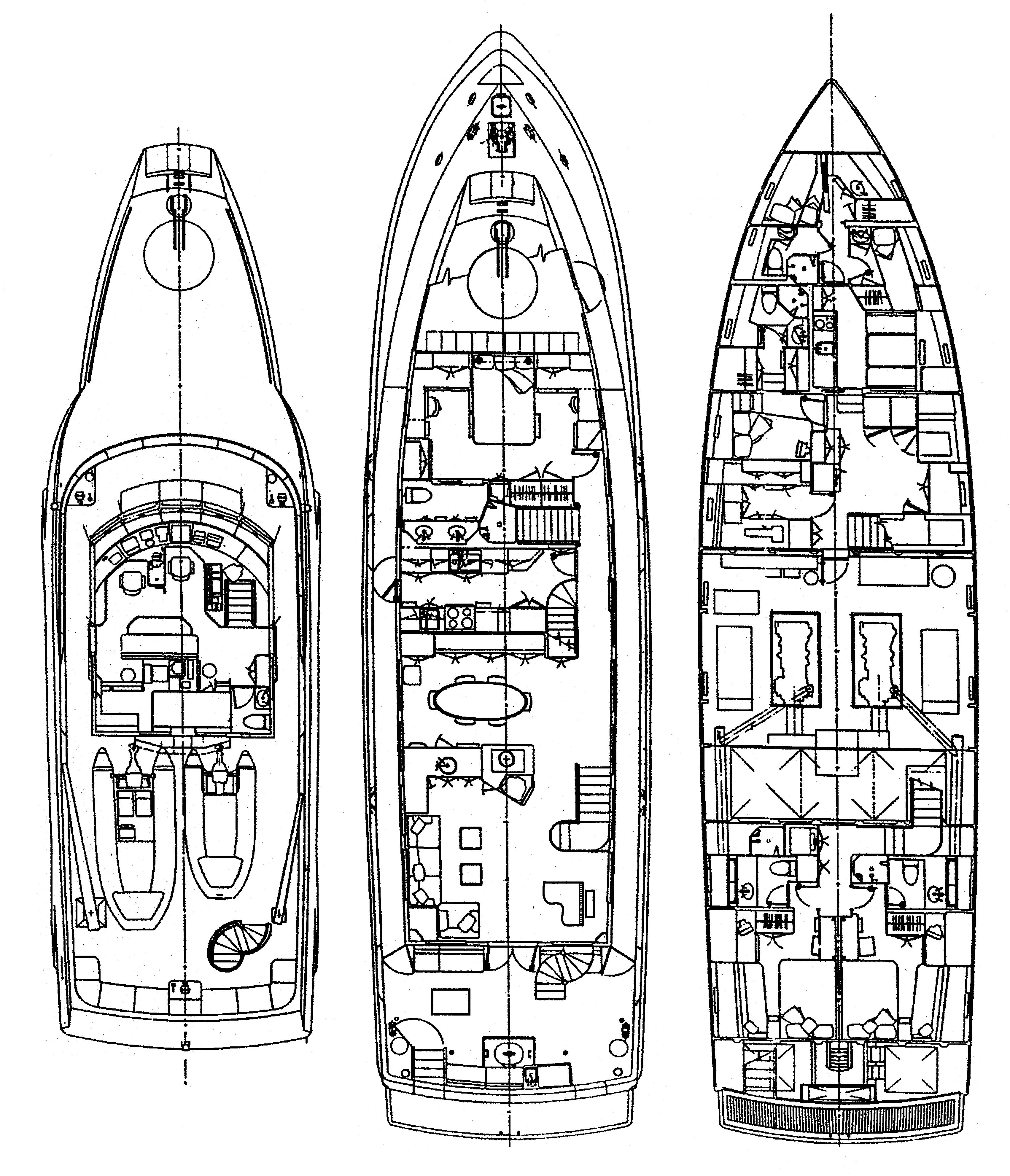 Description
DECEMBER 2021- ANNUAL SERVICE COMPLETED- Two coats of Seahawk bottom paint, shafts dialed, one cutlass bearing replaced, props/stab fins/rudders inspected with no issues, all new zincs, both anchor chains dropped, inspected and painted, thru hulls serviced
Launched in 1990 by Admiral Marine of Port Townsend, Washington, on a custom-built Westport hull, the 95-foot (28.96m) luxury motor yacht EDISON is truly exceptional. This one-of-a-kind long-range cruising yacht broke the mold and many barriers during her build process. The yacht's creator was a visionary engineer and pilot and with the assistance of naval architects Jack Sarin and Tim Nolan, he was able to create a masterpiece. She was the first yacht built without a helm wheel, first FRP yacht in the U.S. constructed with a bulbous bow, and the first yacht with oval stainless steel railings. Her FRP hull, Nomex cored FRP house and aluminum pilothouse were designed for lightweight and low maintenance. Her unique design has allowed the yacht to cruise the globe, navigating any seas or conditions. Built with fully redundant and isolated systems to ensure safety and security at sea, she is bulletproof.
EDISON has benefitted from exemplary maintenance throughout her life. She has received ongoing maintenance by full-time crew and undergone multiple refits, including one from 2014-2015 at a cost of over $1,200,000. This refit included Awlgrip and Seahawk paint, updated pilothouse electronics, replacement of all heads and the MSD system, air handlers and hoses, updates to all bathrooms, new main galley countertops, new appliances, rebuilt generators and refinished interior woodwork among other updates.
Under her current owner, who has owned the boat since 2017, EDISON has received a new a/c chiller plant, new shore power transformers, a rebuilt bow thruster, furniture in the main salon, the replacement of auxiliary refrigeration and freezers, a rebuilt hydraulic windlass, refinished teak decks and many other updates and upgrades. As such, EDISON shows in excellent condition. She is a turn-key yacht.
The interior spaces of EDISON are welcoming and comfortable. From her main salon with abundant seating and entertainment facilities to her formal dining area for eight, guests will find relaxation aboard. This space also offers a large bar with an undercounter refrigerator and ice maker. Three resplendent guest staterooms welcome up to eight guests aboard EDISON. The master is located forward on the main deck. It has a beautiful en-suite bathroom, large windows, abundant storage, and a desk, among other amenities. The yacht's two guest staterooms are located aft on the lower deck with double beds and single berths. All staterooms are beautifully appointed with high-quality finishes and impressive amenities. EDISON is run by a professional crew of four. She has three crew cabins which are accessed by a stairway located forward of the galley on the main deck. The open stairwell gives the lower utility space a very large, open feel which could easily accommodate a gym if desired. 
The exterior styling of EDISON is traditional; however, her reverse-angle bulletproof and heated windows in the pilothouse are certainly not a typical find aboard a yacht, ensuring she is a standout. The main deck aft of EDISON is home to a large dining table with both banquette seating and chairs. If shade is needed, a sunshade is available. The yacht's foredeck offers abundant storage. The sundeck has seating and an additional table for alfresco dining, as well as ample space for tenders or toys, which are launched from a 2,500-pound crane.
EDISON's pilothouse resembles a fighter jet cockpit with controls, gauges, and alarm panels located overhead. Strategically located in the center of the yacht, above the engines, EDISON's pilothouse was designed for comfort at sea.  A day-head, day bunk, and office provide additional amenities for both guests and the crew when underway.
Prior to construction, her custom hull design was tank tested. Her long and reliable global cruising history is evident in her details. EDISON is a one-of-a-kind long range yacht.
Disclaimer
HMY Yacht Sales, Inc. is pleased to assist you in the purchase of this vessel. This boat is centrally listed by Northrop & Johnson Yachts-Ships LLC.
Current Price:
$1,495,000
Fuel Capacity:
6000 Gallons
Engine Manufacturer:
Caterpillar
Vessel Overview
OVERVIEW
EDISON offers the rare opportunity to own a true one-of-a-kind, fiberglass, U.S.-built, proven world cruiser.
Built as HAWKEYE III, the original build owner was a visionary engineer and aerospace aficionado, with decades of offshore sailing experience and piloting jets all over the world. Details from these experiences are evident in the design of his second, and final, custom-built yacht, now known as EDISON, which he designed with assistance from naval architects Jack Sarin and Tim Nolan. 
EDISON has traveled all over the world under various ownerships, spending time in recent years in South Florida, the Bahamas, the Caribbean, and New England.
Maintained today to the highest of standards by a very experienced yachtsman, EDISON offers the true opportunity to own a reliable, safe, and comfortable, long-range cruising yacht, ready for a global adventure, if so desired. If staying within sight of white, sandy beaches is more to your liking, EDISON can easily anchor in shallow anchorages or find comfort at the dock of your favorite marina.
SPECIAL FEATURES
1. Uniquely designed, custom built, engineering marvel at the time of her christening on February 3, 1990 as HAWKEYE III.
2. She was the first fiberglass yacht built in the U.S. with a bulbous bow, without a helm wheel, and she was the first U.S. yacht built with oval, stainless-steel railings.
3. Extended range provided by reliable and durable derated (2) x CAT3406B engines and (2) x Northern Lights 40 kW generators @1200RPM
4. She has cruised all over the world under various ownerships, with the exception of the Arctic Ocean.
5. Extensive refit period from 2014-2015 that included new Awlgrip and Seahawk paint, as well as "long board" refairing of her exterior surfaces; receipts and invoices available from this yard period- further details in listing. Under her current owner, she continues to see constant upgrades, including such items as new power transformers and a/c chiller plant. 
6. Accommodations for up to 8 guests include an on-deck master as well as two lower cabins with double beds and single berths; all cabins feature updated en-suites that include glass showers and granite countertops.
7. Redundant and isolated systems aboard; machinery in engine room mounted on easy-to-access track system.
8. Massive refrigeration and storage areas available in the crew utility space, forward bosun's locker and aft lazarette. 
9. Current owner is an extremely knowledgeable yachtsman who has owned and maintained over a dozen 100' motor yachts throughout his life. He has owned EDISON since 2017. 
10. Maintained and operated by a full-time crew of 4, who have excellent longevity and are intimately familiar with EDISON's systems.
11. Full walk-around decks on both levels. 
12. Large crew area with large area, as well as a 7' x 7' workshop, crew galley and lounge. This space is comparable to a much larger, 120'-130' motor yacht crew area.
CONSTRUCTION
Full displacement, uniquely designed, Westport custom hull with a bulbous bow.
She was completed and launched by Admiral Marine in Port Townsend, Washington.
Prior to construction by Westport, her hull design was tank tested. Evidence of her long range, comfortable, and reliable cruising are abundant in her details. It is hard today to find such a thoughtful, long-range cruising yacht of her era, or even built in recent years.
Nomex cored FRP construction with aluminum pilothouse. Her pilothouse windows are reverse-angle, bulletproof, and with heated glazing for fog and ice.
Teak decks on the main deck that have been refurbished and sanded (2020).
Bulbous bow/tank can hold an extra 1,000 gallons of fuel or ballast capacity for extended cruising.
Sun deck repainted with non-skid. (2020)
Ceiling heights throughout: Lower deck- 6'7"; Main deck- 6'10"; Pilothouse- 6'10"
Full exterior paint job completed in 2016 with Awlgrip Awlcraft 2000. 
Bottom paint last completed in September 2019.
DIMENSIONS
General
Length Overall: 95 feet (29.00 meters)
Beam: 23 feet 6 inches (7.16 meters)
Draft Minimum: 4 feet 5 inches (1.35 meters)
Draft Maximum: 6 feet 9 inches (2.06 meters)
Tonnage: 192 gross tons  
Capacities
Fuel Capacity: 6,000 US Gallons (22,712 liters); 5 x fuel tanks above bilges with electronic sensors and sight gauges;  Day tank holds 1,800 US Gallons  
Water Capacity: 1,490 US Gallons (5,640 liters)
Watermaker: 1,800 US Gallons/day (6,813 liters)
Lube Oil: 118 US Gallons (447 liters)
Used Lube Oil: 60 US Gallons (227 liters)
Grey Water: 40 US Gallons (151 liters)
Black Water: 300 US Gallons (1,135 liters)
Slop Tank: 30 US Gallons (113 liters)
Speeds
Cruising Speed: 10 Knots
Consumption per Hour: 30 US Gallons
RPM: 1400 
ORIGINAL BUILD FEATURES
Pilothouse located in the center of the yacht, directly above the engines, for less motion at sea
Pilothouse and engine room monitoring systems and gauges for such minutiae as generator exhaust gas temperatures
Forward-facing, bulletproof, and heated pilothouse glazing
Staterooms not adjacent to, and isolated from, any mechanical or crew spaces
Redundant backups for all systems, individually isolated in case of failure
Large tool room and workshop outside of engine room
Extraordinarily large crew area and utility space that includes crew galley, 3 cabins, and a space for items such as gym equipment
Extensive refrigeration and freezer spaces with individual systems
Massive, walk-in, dry storage spaces in the bosun's locker and aft lazarette
Full keel for stability and grounding protection
Classic teak interior wood features curves on all millwork
Wide, properly inclined staircases between all decks; interior and exterior
Derated and governed original Caterpillar 3406B engines
Northern Lights 40kW generators @1200 RPM for longevity and silence (on air bags, non-turbo)
(5) x above bilge aluminum fuel tanks with electronic sensors and sight gauges
Most pumps, water-makers, refrigerator compressors, and generators on slide out trays for easy access
GUEST ACCOMMODATIONS
EDISON's master cabin is located furthest forward on the main deck and features a private en-suite bath with a glass shower, granite counters, updated vanity and sink,  updated fixtures, updated flooring, and a large window. The cabin features two large windows, one on both port and starboard sides providing excellent natural light. A desk, two chests of drawers, large built-in bookshelves with 32" deep cabinets on both sides of the queen-sized bed, and floor-to-ceiling hanging his and hers closets with additional deep storage, round-out space. The cabin also features Smart TV and entertainment systems, a/c controls, as well as a wind gauge and barometer. 
Two additional guest cabins are located on the lower deck aft, accessed via a staircase in the main salon with rope lighting for safety. These cabins both feature a double bed and 30" wide single berth and private en-suites, updated with the same finishes as the master bath. Two portholes in both cabins (there is a porthole located in the escape hatch of each cabin) and one porthole in each bathroom provide excellent natural light. Plentiful drawer storage, bookshelves, a lighted dressing table/desk, large floor-to-ceiling hanging closets, individual a/c controls, Smart TV's and entertainment systems, round out these cabins.
MACHINERY
Main Engines
Engine Type: (2) CAT 3406B cylinder diesels, 540 hp each; Hours (as of July, 2022): Port: 15,474 / Starboard: 15,513
Gearboxes: Twin Disc 3:1 MG514C reduction gears
Drive: Propellors, replaced with 1" larger blades (2019)
Generators & Electricity
Generators: (2) x 40 Kw Northern Lights @ 1200 RPM; Hours (as of July, 2022): Port: 6,275 SMOH; Rebuilt at 17,928 hours; 24,203 hours total / Starboard: 8,661 hour since engine replaced at 6,800 hours (2014); 
Shore Power: (2) x Acme Transformers 60 Hz (new 2018)
Voltage range 208-240 
(2) x shore power cables 240v, 100amp each; 2 x 50 amp joiner becomes 100 amp splitter boxes
Batteries: The main engine starting: bank replaced 2016-2017
Generator starting: bank replaced 2019
General service: bank replaced 2020
Air-Conditioning
Type: (3) x Dometic Varc Titanium AC Chillers; Five tons each, plus pumps
Replaced (2) x raw water pumps and (2) x circulation pumps; Added 24,000 BTU air handler unit to the Pilothouse  
Upgraded unit in the Galley
Other Machinery
Watermaker:  (1) FCI Aquamiser- 1,800 US Gallons/day
Stabilizers: Naiad roll control 301 dual-powered
Bow Thruster: Wesmar 50 hp (hydraulic)
Steering System:  Telcor
Fuel Filtration: Alfa Laval fuel centrifuge
Isolated fuel systems
(2) x Racor filters on each engine
(1) x Racor filter on each generator
Sewage System: Tidal Wave Headhunter HMX
Fresh Water System: Upgraded 2020; 2 x 110v jet pumps; 1 x 12v backup pump   AO Smith water heater (new 2018)
Misc. LED lighting throughout the entire vessel, including underlighting in the engine room, bosun's locker, and lazarette
COMMUNICATION, NAVIGATION & ENTERTAINMENT SYSTEMS
Communication Systems
Telephone System: Panasonic
Radio Telephone: SEA322 SSB
Search Light: Rayline, 1 light forward
Distress System: SAT C 1210 Furuno Inmarsat
VHF: (2) x ICOM VHF Radios M506
Computer Printer: HP Officejet 6600
Wi-fi: New system, access points added, 2 networks, antennas; Pepwave cellular
Navigation Systems
Radar: (1) Furuno FAR 2117-BB 12 kW; (1) Furuno FAR 2127- BB 25 kW (refurbished 2020)
Gyrocompass: (2) Furuno AD-108 converters; Sperry MK-37 w/repeaters interfaced to radars and autopilots
Compass: Danforth Constellation 5" (wing stations); CiPlath magnetic compass-pilothouse
Autopilot: Furuno (system 1, new 2020); Furuno FAT 50 (system 2)
Screens: (2) x Furuno MU-190; (2) x VEI monitors
Digital Depth: Furuno FCU-295, B&G
Video Sounder:  Furuno 261 dual-frequency color video
GPS: (2) x Northstar 941-X-GPS
Navtex: Furuno NX-500
Infrared Camera: ACR
Sonar: Furuno CH14 color scanning sonar- 360 degrees
Wind: B&G HS921
Entertainment Systems
Video Equipment- DIRECTV Satellite System
(1) 49" Samsung Smart TV (new 2019) (main salon)
(1) 32" Samsung Smart TV (master cabin)
(1) 24" Insignia flat-screen TV (crew lounge)
(2) 19" Insignia TV's (2 lower guest cabins)
Blu-Ray, DVD, and DIRECTV satellite receivers throughout
Audio Equipment
(1) Denon AV Sound Receiver (main salon)
(1) Custom Sight & Sound amp with matching load sensor and amp protector (main salon)
(2) Sony CD and stereo systems (lower guest cabins)
Sirius XM radio interior/exterior
Audio wall controls throughout
Bose soundbar in the master cabin
GALLEY AND LAUNDRY EQUIPMENT
Main Galley Equipment
Cooking Equipment: Wolf convection oven; Farberware microwave/air fryer/broiler/convection oven; Wolf stovetop with 5 burners (refurbished); Exhaust hood rebuilt with rubber mount for noise reduction; adjustable speed control
Refrigeration & Freezer: Sub-Zero side-by-side;Sub-Zero refrigerator (under-counter, main salon)
Icemaker: Scotsman
Wine Cooler: Vinotemp
Dishwasher: Whirlpool (new 2020)
Trash Compactor: KitchenAid
Crew Galley/Mess Equipment
Cooking Equipment: 2-burner cooktop
Refrigeration: (2) Sub-Zero under-counter refrigerators
(1) True Freezer (utility space, new 2019)
(1) True Refrigerator (utility space, new 2019)   
(1) Cooper Refrigerator (utility space, walk-in, compressor, and lines new 2019)
Laundry Equipment
(1) GE stackable washer and dryer (lower guest hallway)
(1) LG washer and dryer, stackable, front-loading (replaced 2019)
DECK EQUIPMENT
Anchor Windlass: (1) Lofrans Ercole 4000 electric with chain and line warping drum, hydraulic
Anchors: (2) @ 231 pounds each HHP; (1) Fortress stern anchor @ 60 pounds with 20' of chain and 600' of 1" rope
Anchor Chain: Port: 400' 5/8" H.S. chain; Starboard: 350' 5/8" H.S chain
Crane & Davit: Nautical Structures/Marquipt (new cable, October 2020); 2500 lb
Passarelle: Opacmare
Gangway: Marquipt
Ballast: 5,000 pounds added to the floor of Lazarette  
SAFETY EQUIPMENT
Life rafts: (2) 12-man automatic Givens
Life jackets: (42) adult life jackets;  (5) child life jackets
EPIRB: (1) EPIRB
Medical: Updated kit aboard including defibrillator
CCTV: New controlling unit- 6 cameras- 2 in ER, 2 on the main deck & 2 on the aft deck
Night Vision: FLIR, mast mount
CREW ACCOMMODATIONS
EDISON features one of the best crew areas on a boat of this size, comfortably accommodating up to 5 crew in 3 cabins.
The crew area is accessed via a staircase forward of the galley and aft of the master cabin. The stairwell is "open", giving the 7' x 7' utility space a spacious feeling, with natural light flooding the space from the port side entrance as well as as porthole on the starboard side. 
The utility space is home to a full length True Freezer and True Refrigerator as well as a Cooper "walk-in" refrigerator. Additionally, there is a stacked washer and dryer and two large pantry/storage closets. A separate engineer's workshop is adjacent to this space and features a large workbench, mounted vice, storage, and tool box.
The double berth Captain's cabin is forward of the engineer's workshop and features a private dressing area and en-suite. An open-minded buyer could use this cabin as a 4th guest stateroom if desired.
Forward of the Captain's cabin and through another door is the crew mess, crew galley, and two additional crew cabins.
The crew mess and galley feature a spacious table with seating on both sides, a porthole, and alarm panels to monitor the boat's systems. 
Forward of the crew mess and through a watertight door are the remaining crew cabins: a double bunk berth with vanity and sink and a single berth cabin located to starboard, also with a sink and vanity. Both cabins have portholes and there is an escape hatch in the double bunk berth. These two cabins share a separate full bath located on the port side, just outside the doors to these cabins. 
REFIT 2015-2016 and REFIT/UPGRADES UNDER CURRENT OWNER
Prior to her current owner, EDISON was owned by the same family for 10 years as SERENITY II. 
From 2015- 2016, these owners embarked on an extensive refit at Lauderdale Marine Center in Fort Lauderdale of mechanical and cosmetic nature at a cost of over $1,240,000. At the time of sale when she became EDISON, the receipts were provided and are available to her next owners.
Details of the 2015-2016 Refit:
Full exterior Awlgrip Awlcraft 2000 paint job and Seahawk bottom paint, including "long-board" refairing of exterior surfaces
All exterior windows and portholes removed, rebuilt, and resealed (except Pilothouse)
New Pilothouse electronics including two Furuno 72-mile ARPA radars
Replacement of all heads and new Headhunter Tier III compliant waste system
Replacement of all air-handlers and hoses
New granite countertops, glass doors, mirrors, sinks, fixtures, and floors in all heads
New main galley granite countertops
All new appliances in galley including Sub-Zero refrigerator, Wolf cooktop and oven, etc. 
Both generators rebuilt
Refinished all interior woodwork
New galley and crew area flooring
Dimmable LED lighting; interior and exterior
In 2017, SERENITY II was purchased by the current owner, becoming EDISON. The boat continues to undergo ongoing upgrades and a rigid maintenance schedule. 
Several new or rebuilt upgrades include:
New main salon and pilothouse headliners with insulation, new LED controllers (2019)
Furniture in the main salon replaced
(3) x Dometic VARC Titanium AC Chillers @5 tons each, plus pumps (2020)
Added an additional 24,000 BTU air handler to the Pilothouse
Upgraded air handler in Galley
All new hydraulic hoses/fittings throughout (2019)
All new Silicone Trident hoses throughout engine room (2020)
Rebuilt bow thruster, stabilizers serviced (2018)
Replaced all auxiliary refrigeration and freezers with True Cold units, added chest freezer to bosun's locker
Serviced all EPIRBs, life rafts (current through 2022)
New electrical power supplies and shore-power systems (North American capable only)
A new freshwater system including 3 pumps (two AC, one DC) and a filtration system
New water heaters with circulating pumps
LED lighting added in the engine room, bosun's locker, and storage areas
Shafts aligned with new dripless seals and rebuilt propellers (with spares)
Rebuilt hydraulic windlass
Rebuilt Marquipt 2500lb crane, including cable
All new exterior canvas covers and cushions
Removable aft deck awning
Refinished teak decks
HD 4K TV's throughout 
Engine room and deck CCTV cameras (2 in the engine room, 2 on the main deck, 2 on aft deck)
(2) x ICOM VHF radios (new 2021)
Furuno Autopilots- system 1 replaced (2018)
MaxSea Chart System and Computers
Pepwave cellular (5G) and Wifi systems, antennas
Updated medical kit with a defibrillator
Marble counters added to main salon/dining counters and added bar sink with faucet
Carpet and underlayment throughout
Mattresses and linens throughout replaced, including crew
New LG washer and dryer in crew area (2019)
Microwaves replaced in galley and crew galley
Rebuilt main engine exhaust systems and heat exchangers 
Added 5,000 lbs lead bar ballast in lazarette
EXCLUSIONS
Boston Whaler
Waverunner
Paddleboards
Artwork
DVD's, CD's, Games
Drones
Handheld Radios
Tools & Personal effects of the Owner and crew
A detailed list will be provided upon request at the time of sale. 
Disclaimer
Specifications and details of this vessel are provided in good faith for informational purposes only. Data regarding the specifications, operating characteristics and condition of the vessel was obtained from sources believed reliable but is not guaranteed by owner or brokers. Buyer assumes responsibility to verify all speeds, capacities, consumptions and other measurements contained herein and otherwise provided and agrees to instruct his agent or surveyor to confirm such details prior to purchase. Vessel is offered subject to prior sale, price and inventory changes and withdrawal from market without notice.
Engine hours are as of the date of the original listing and are a representation of what the listing broker has been told by the owner and/or actual reading of the engine hour meters. The broker cannot and does not guarantee the true hours. It is the responsibility of the purchaser to verify engine hours, warranties implied or otherwise, and major overhauls as well as all other representations noted on the listing brochure.
Return to Yachts for Sale
Get more information