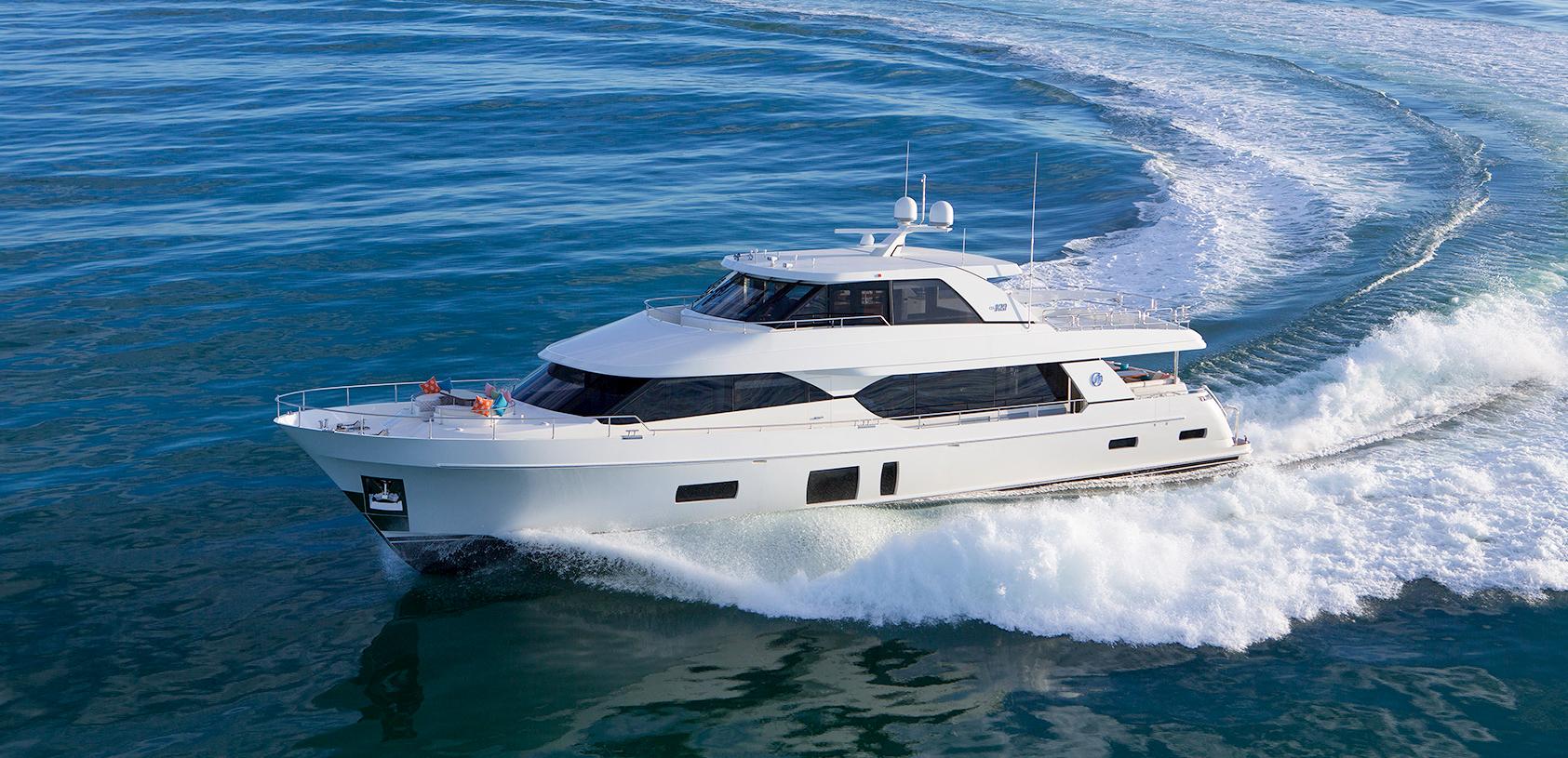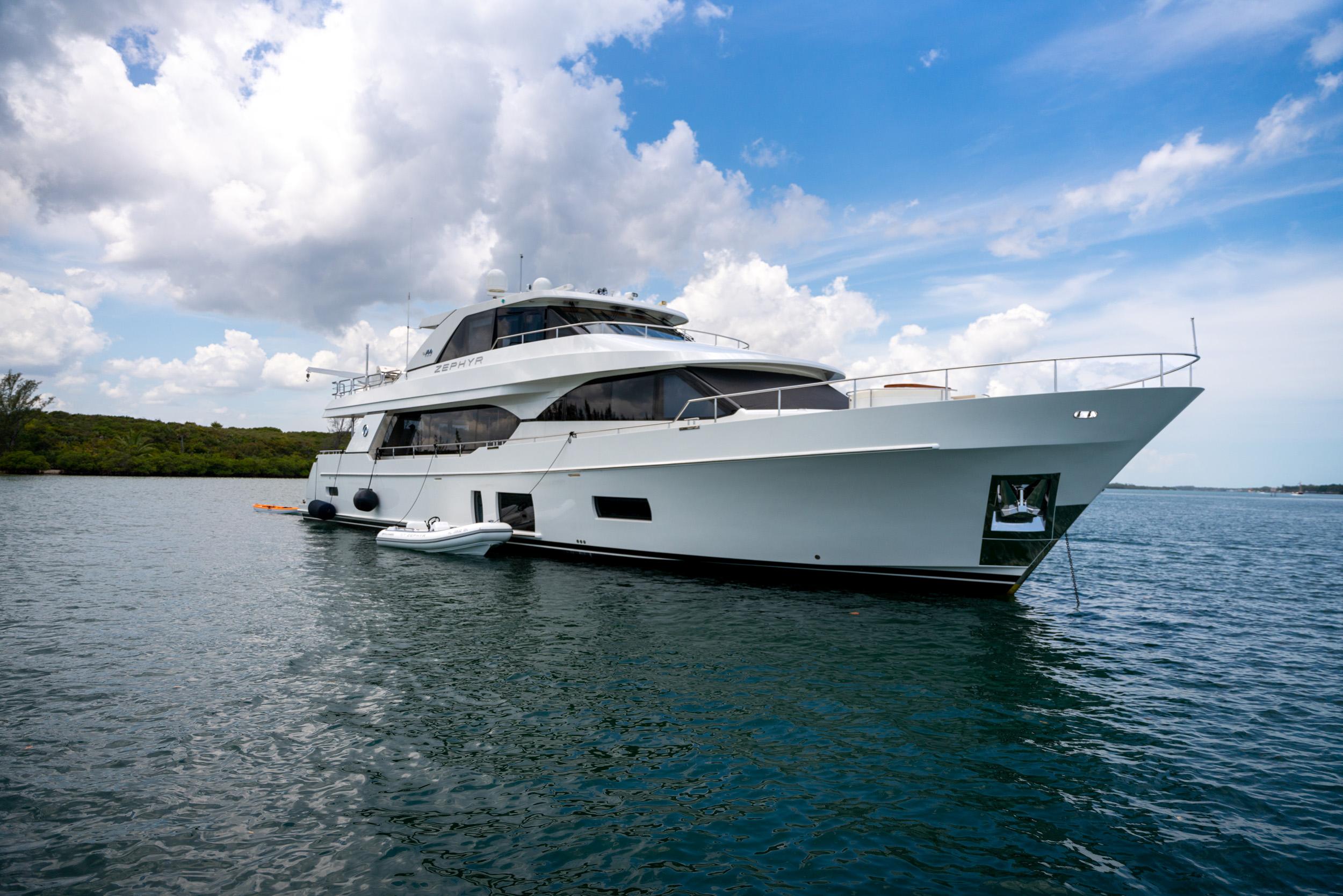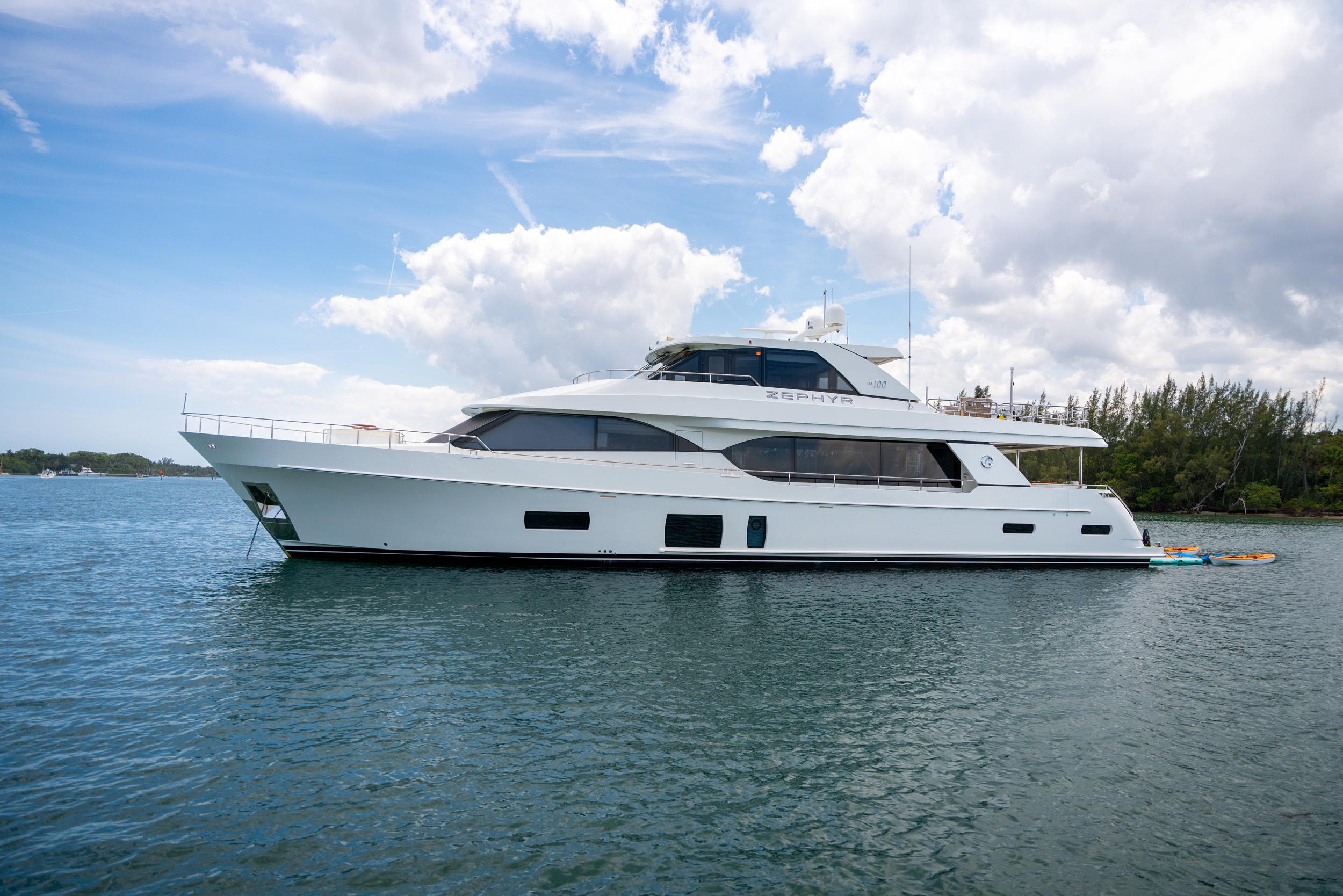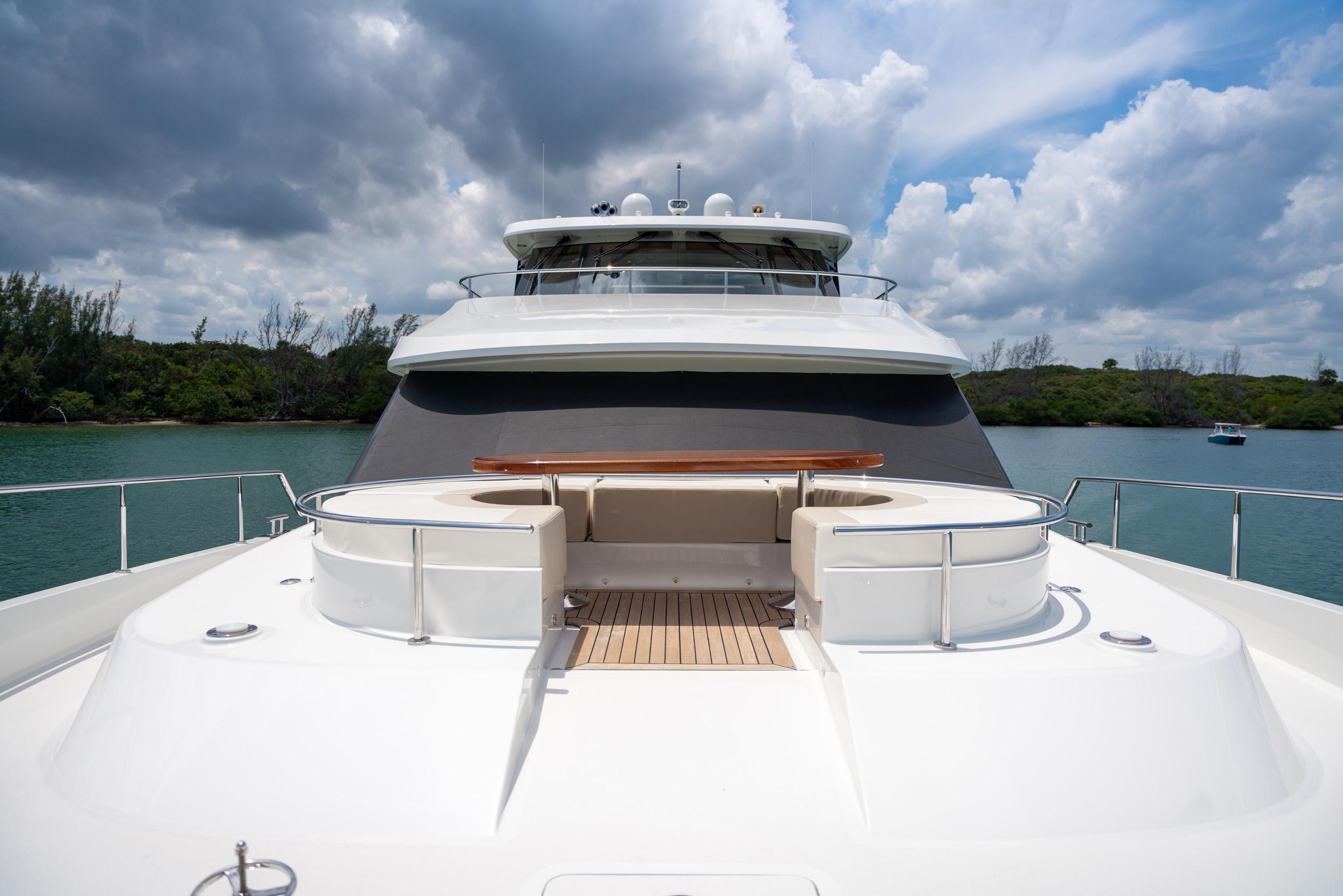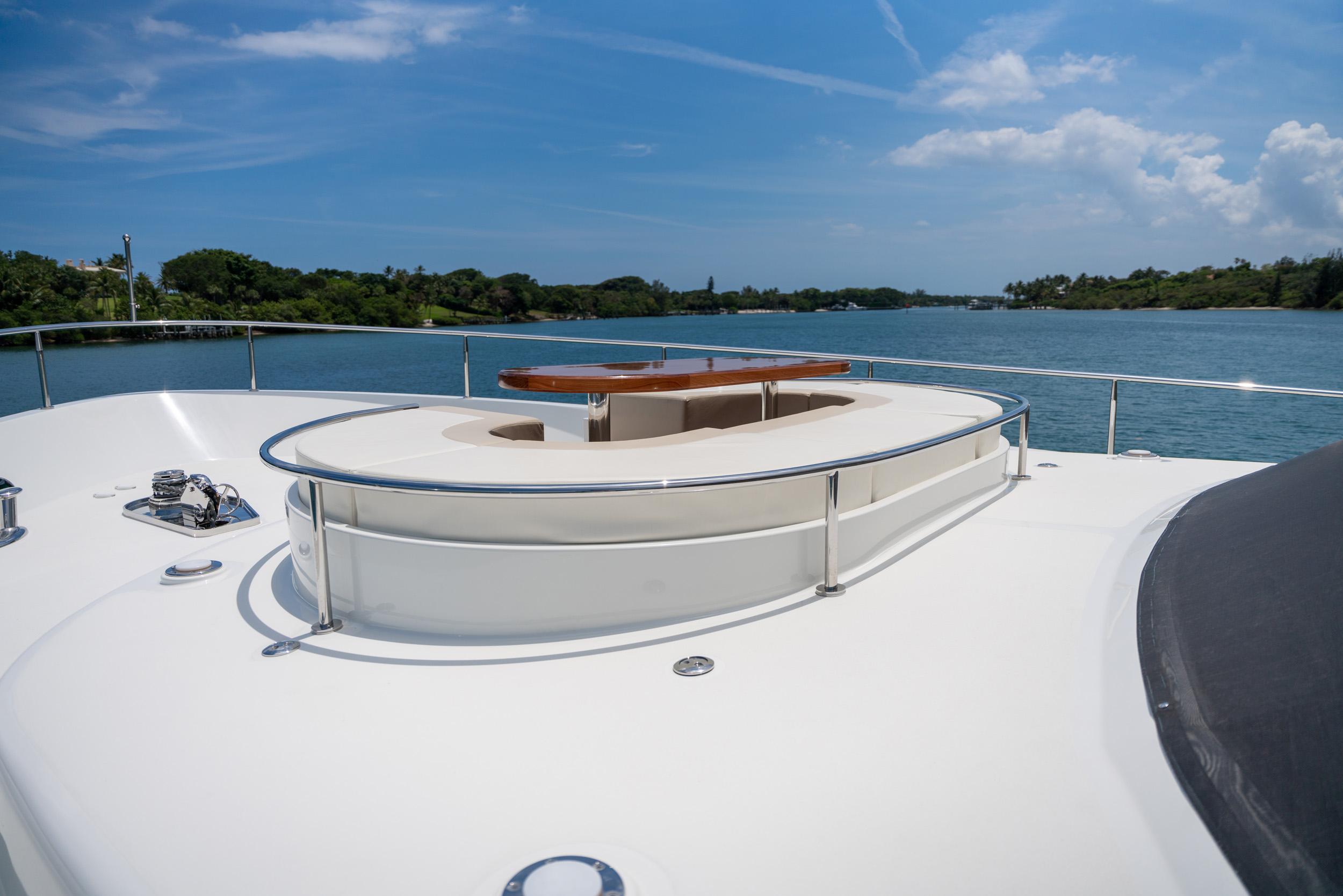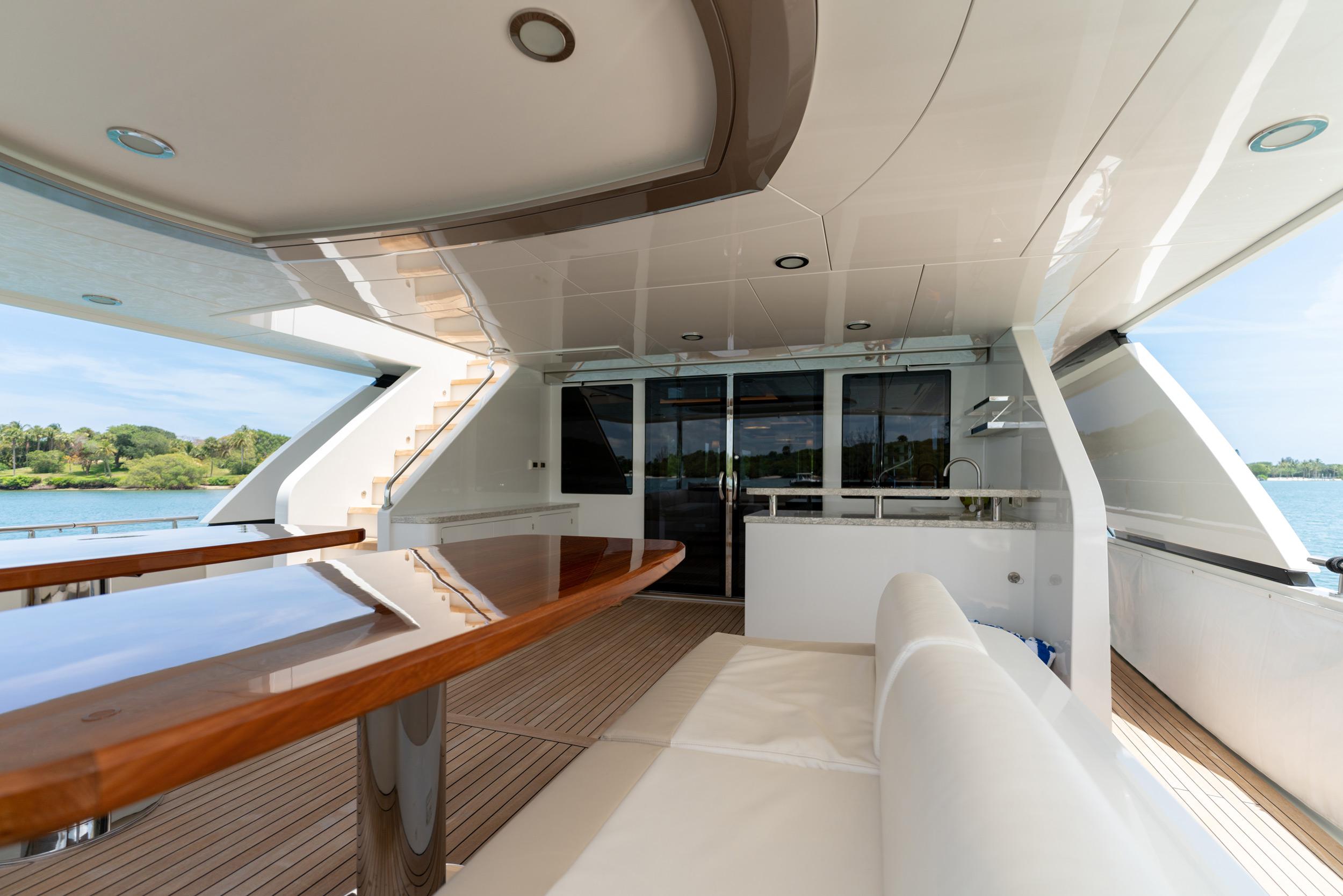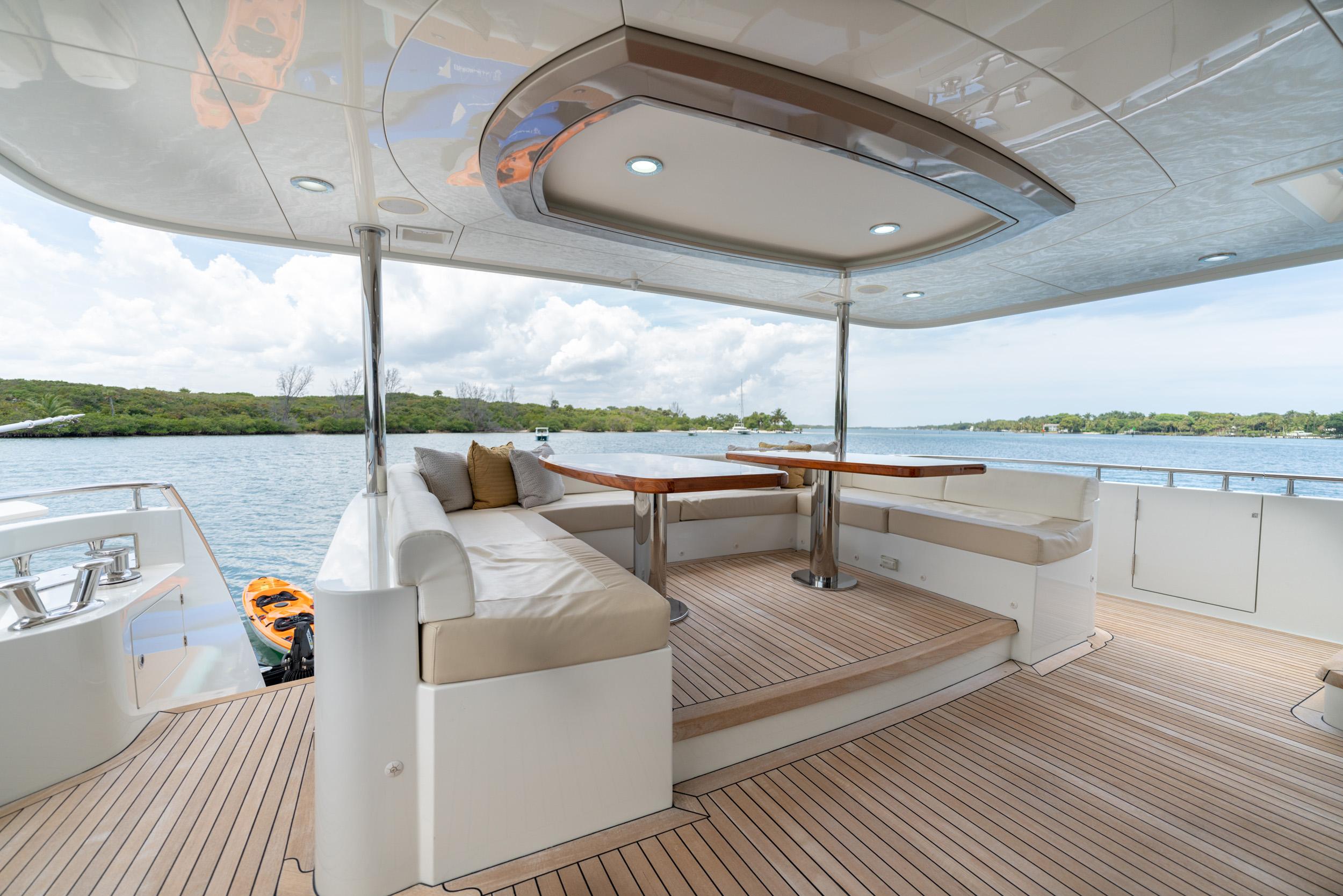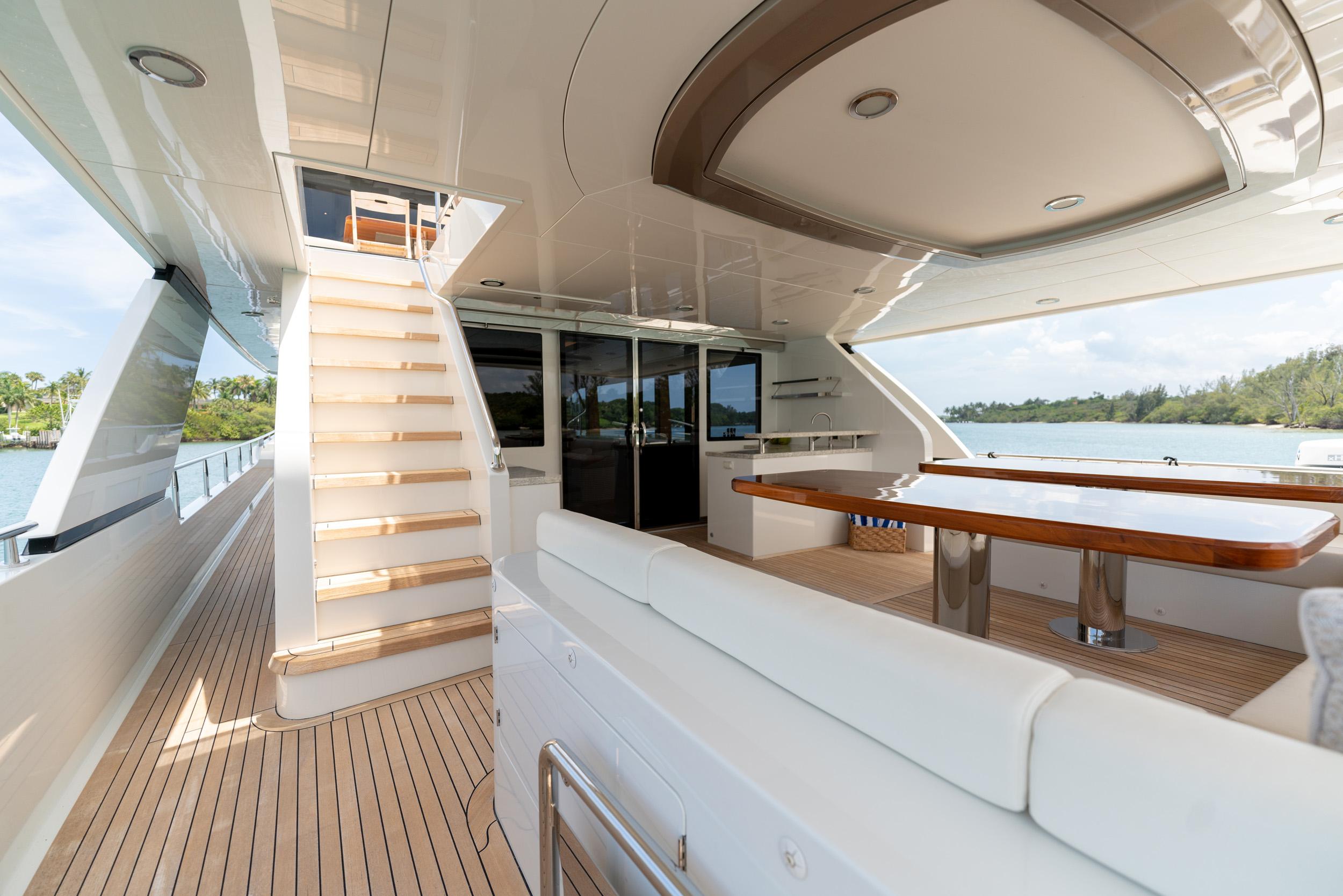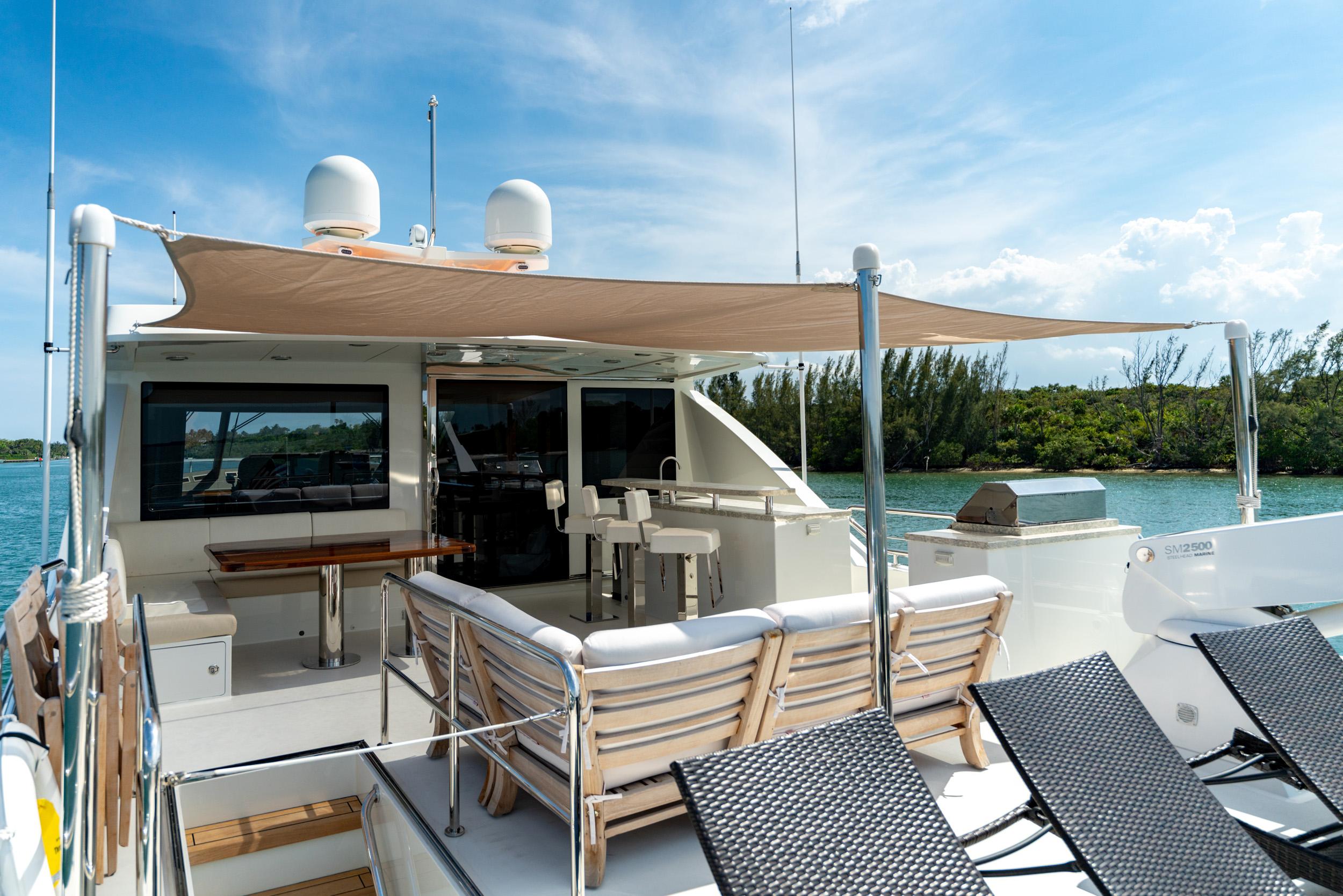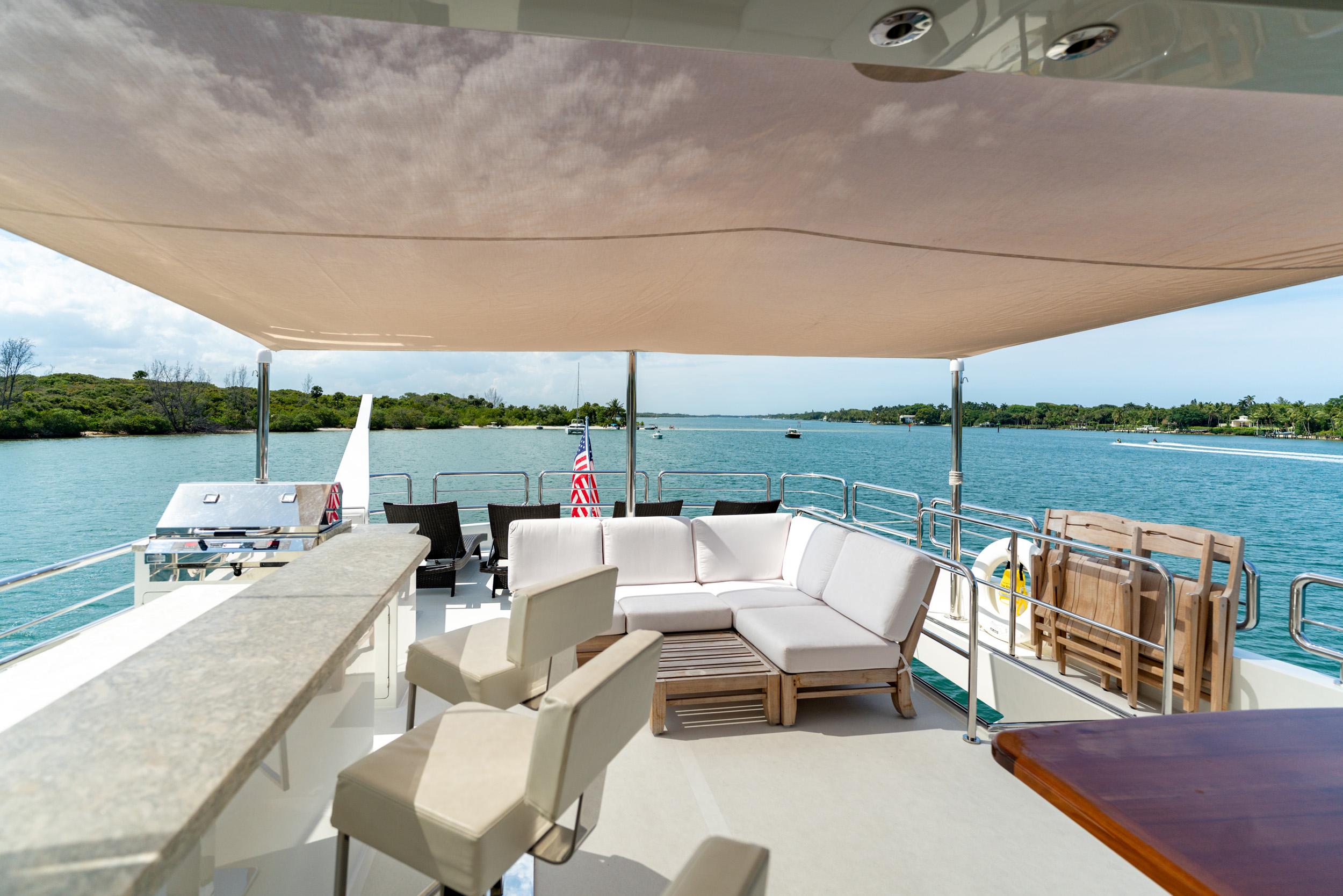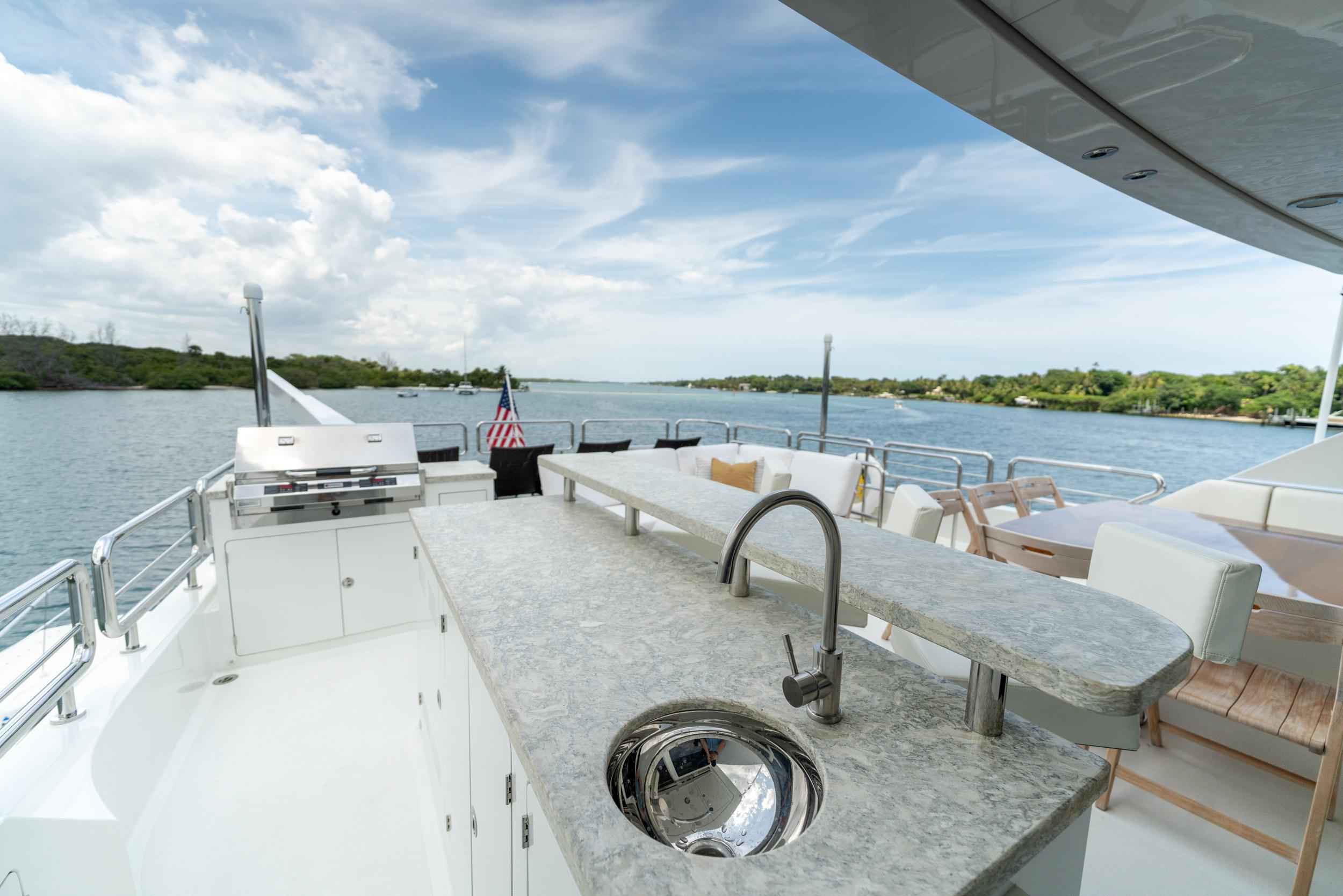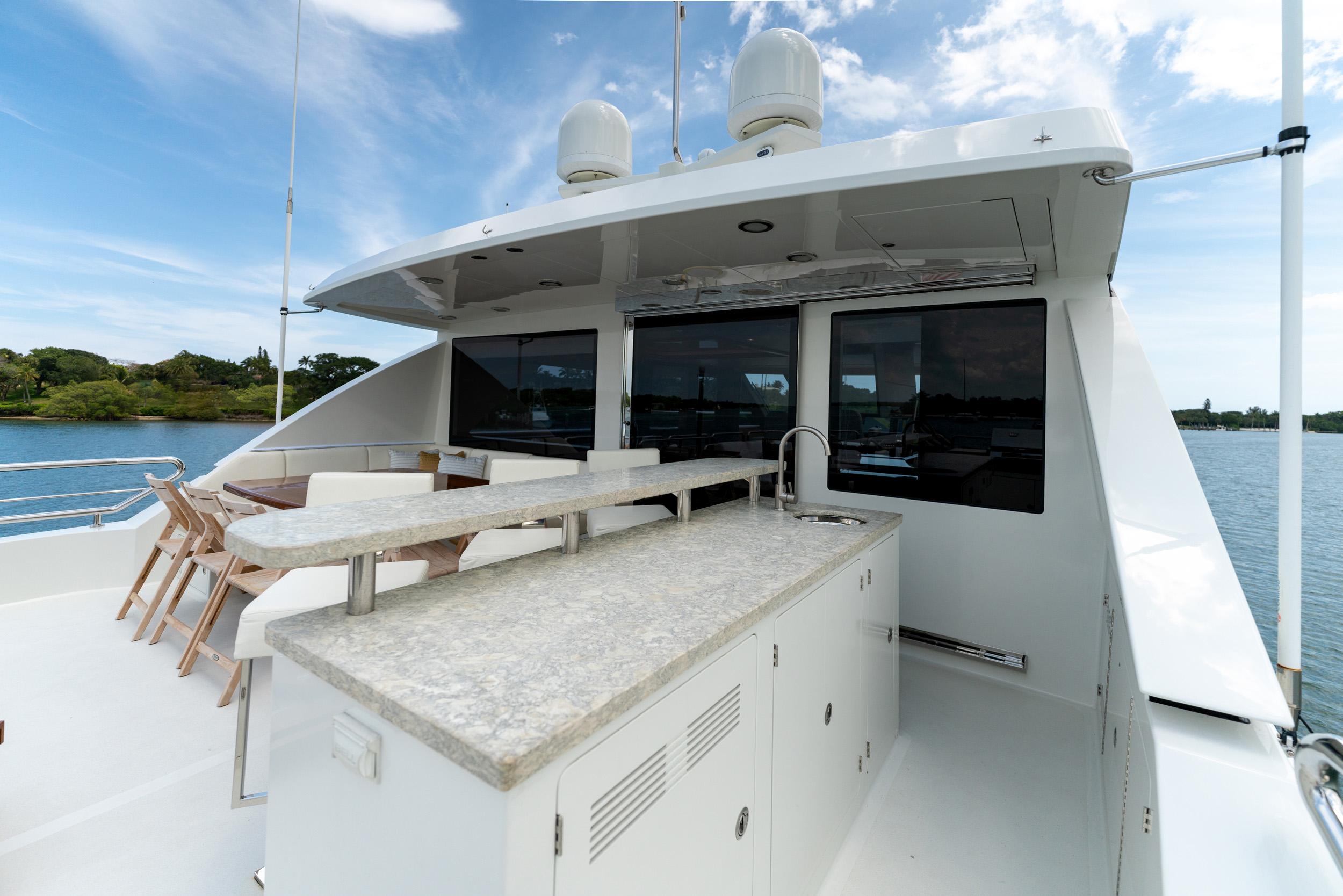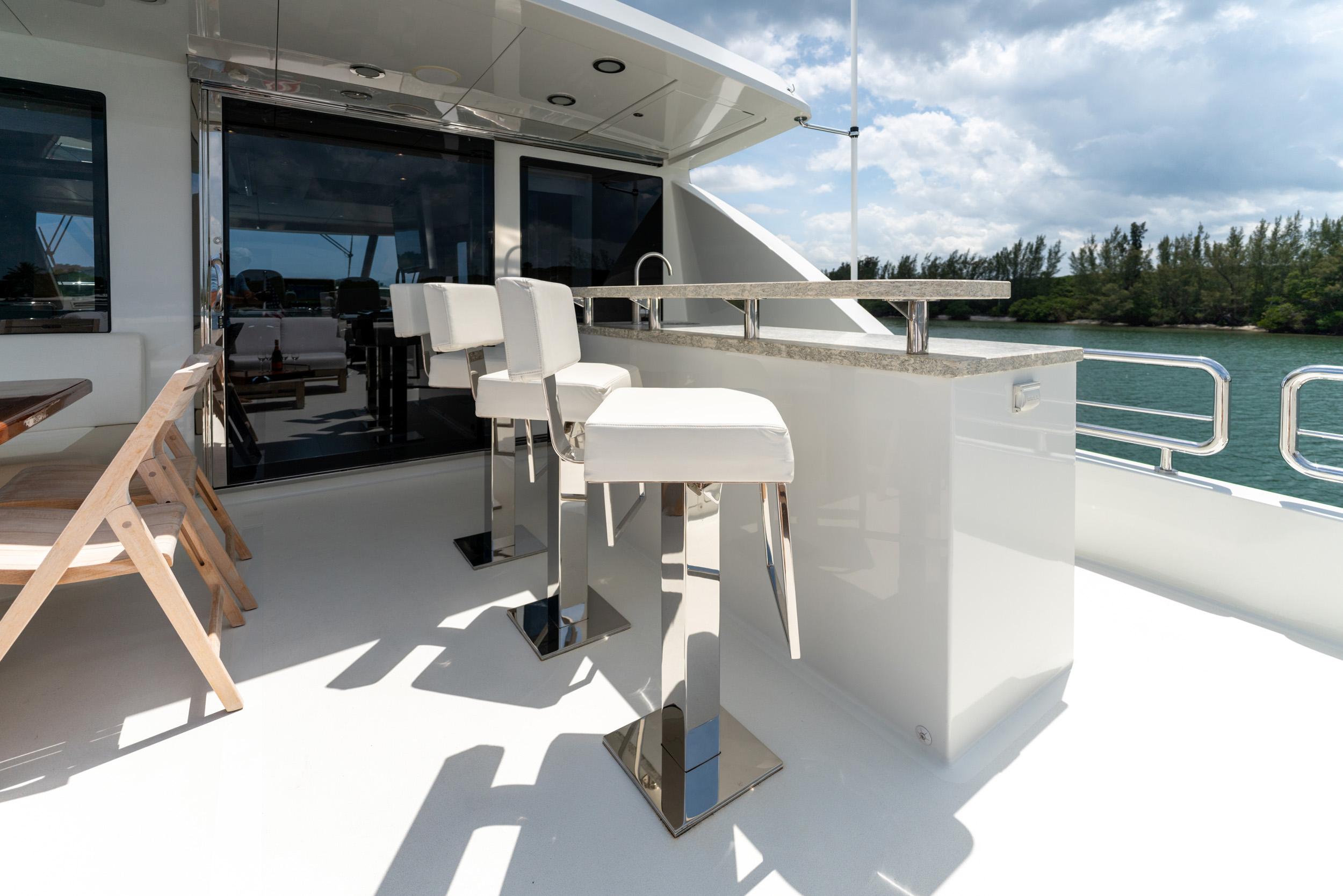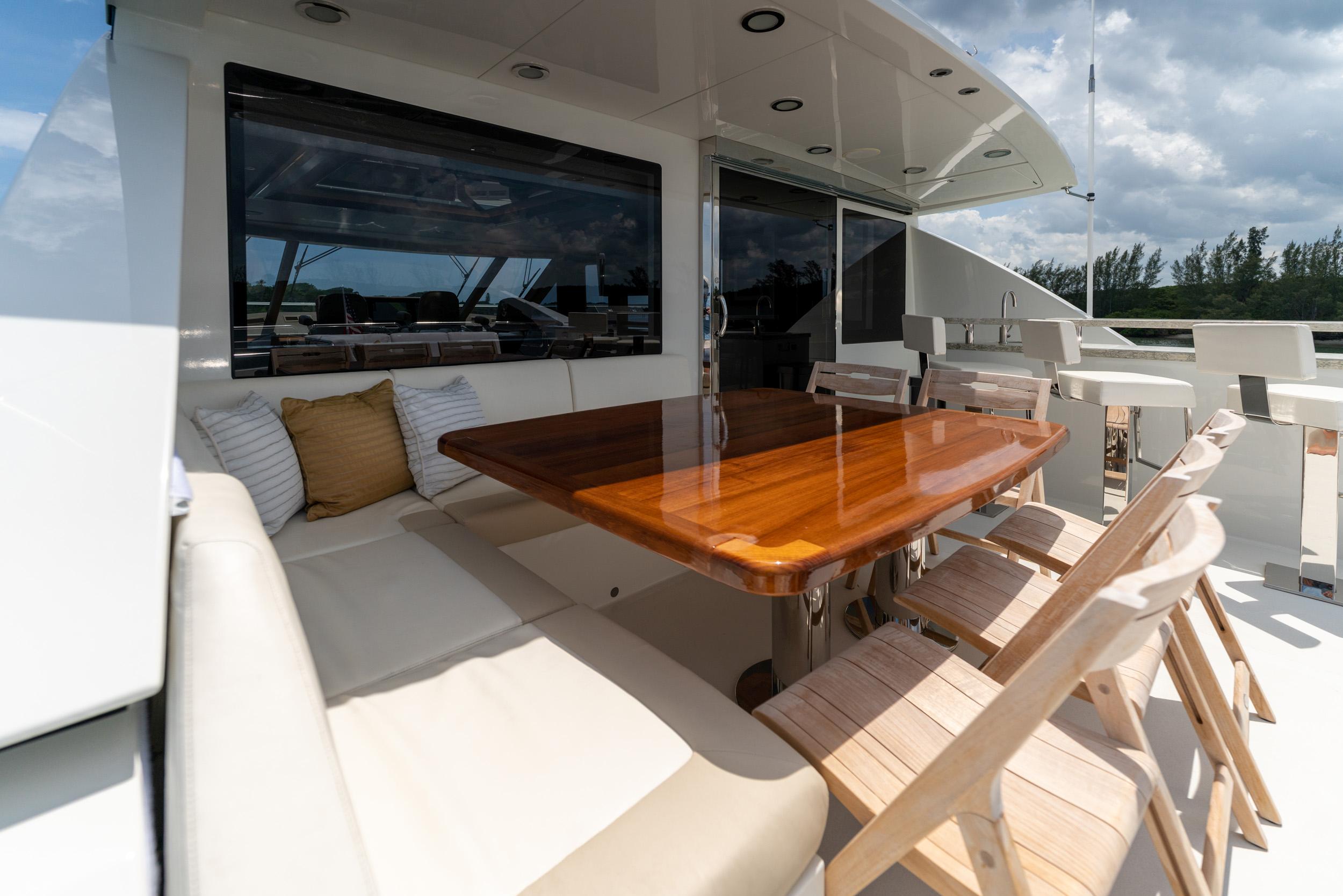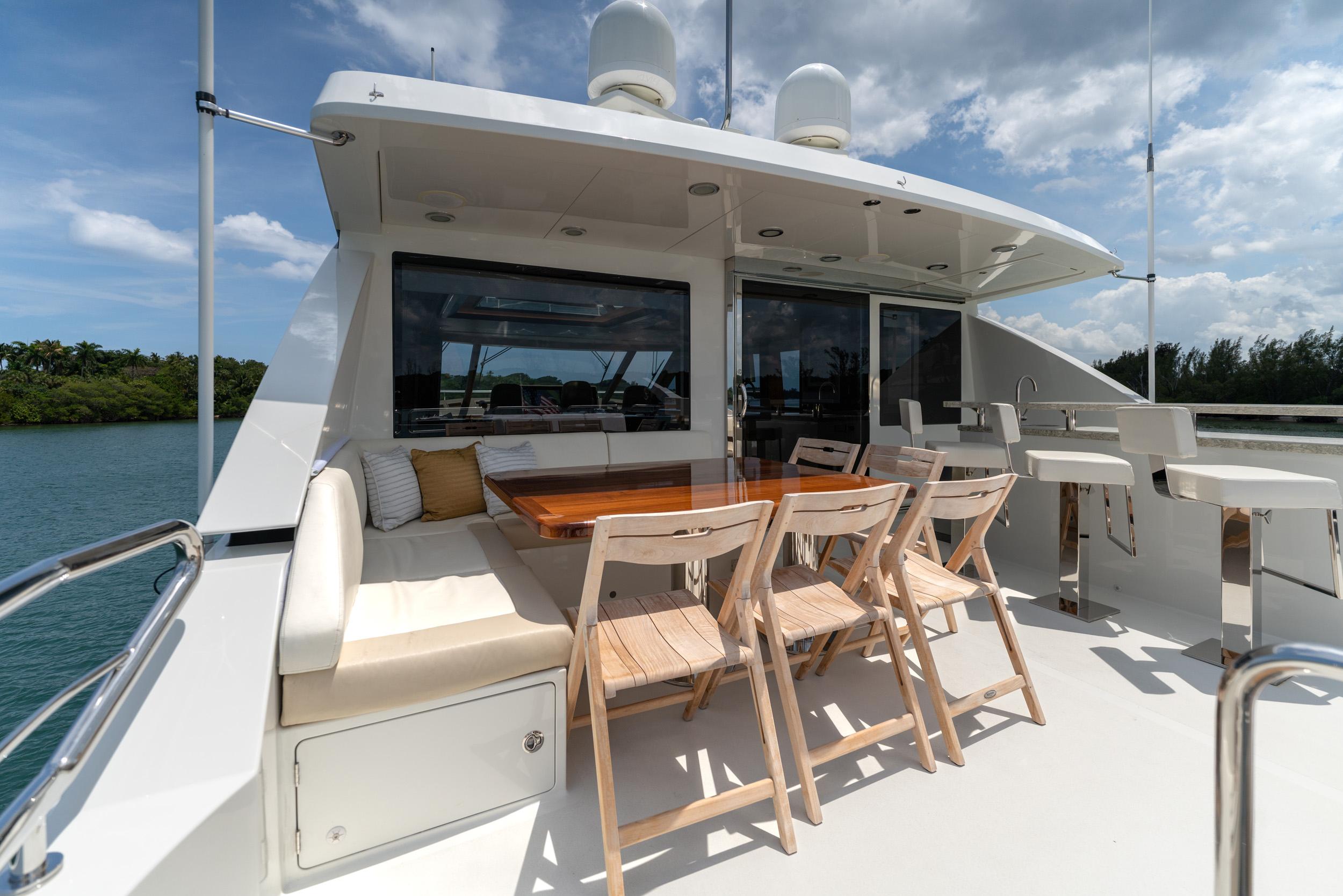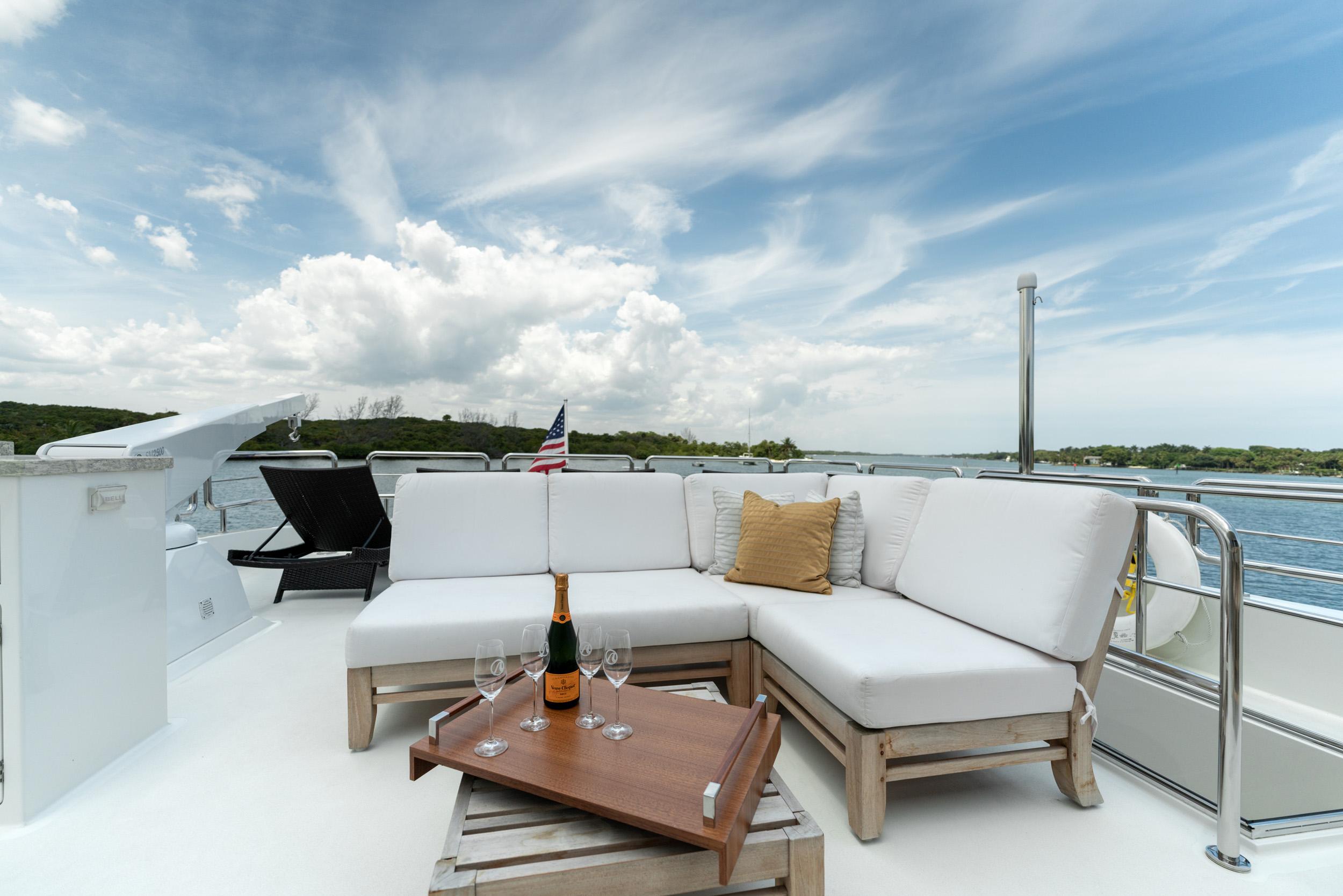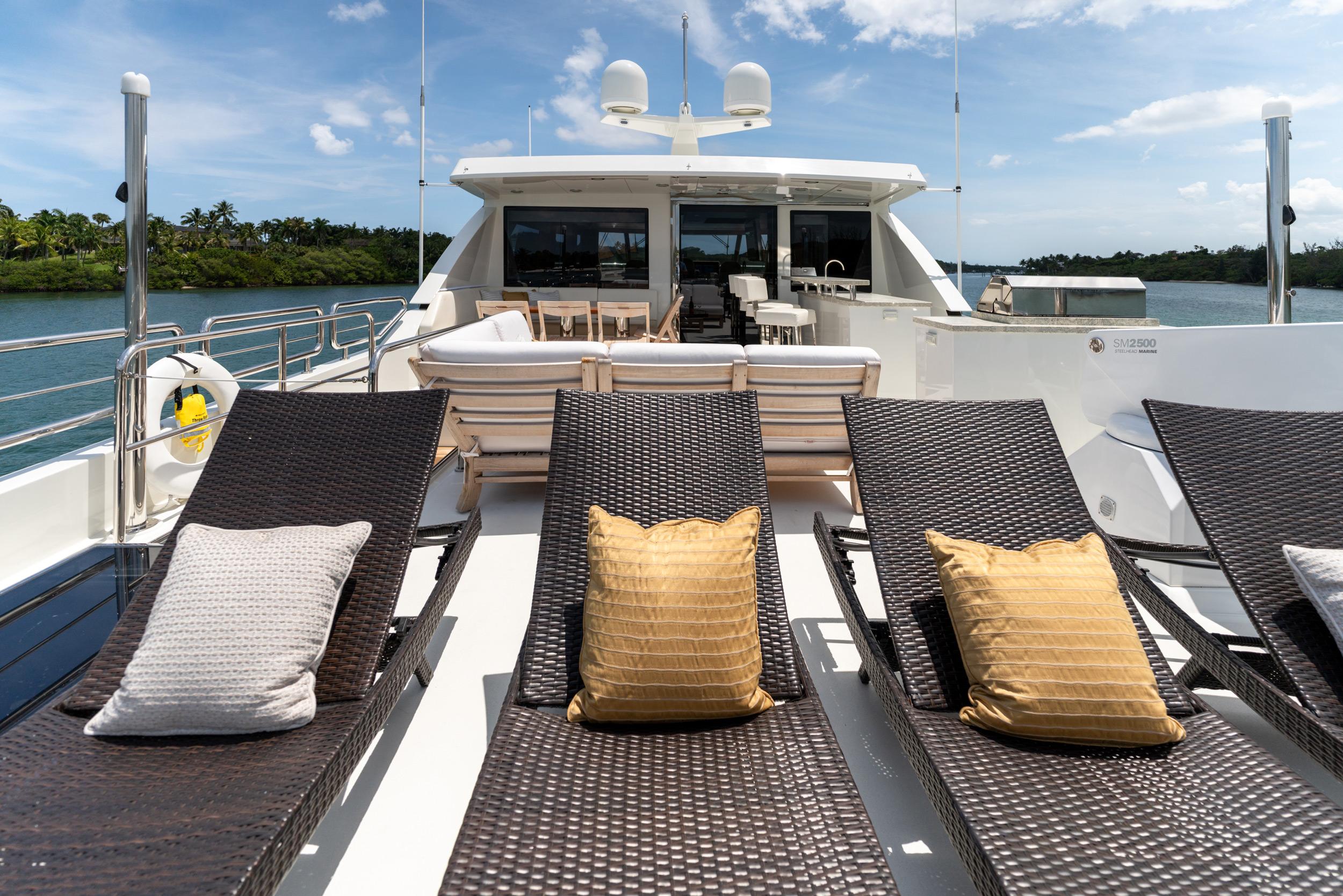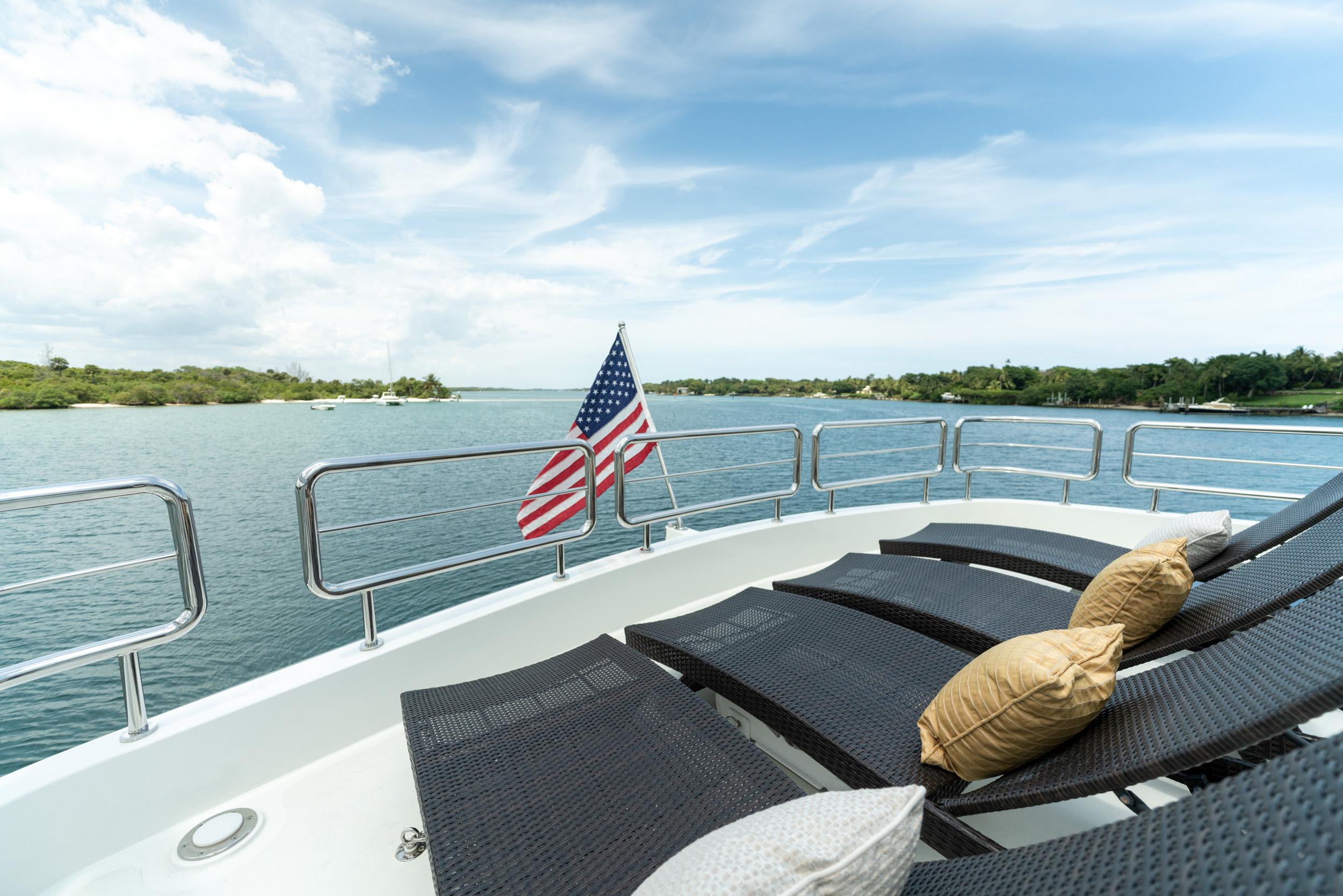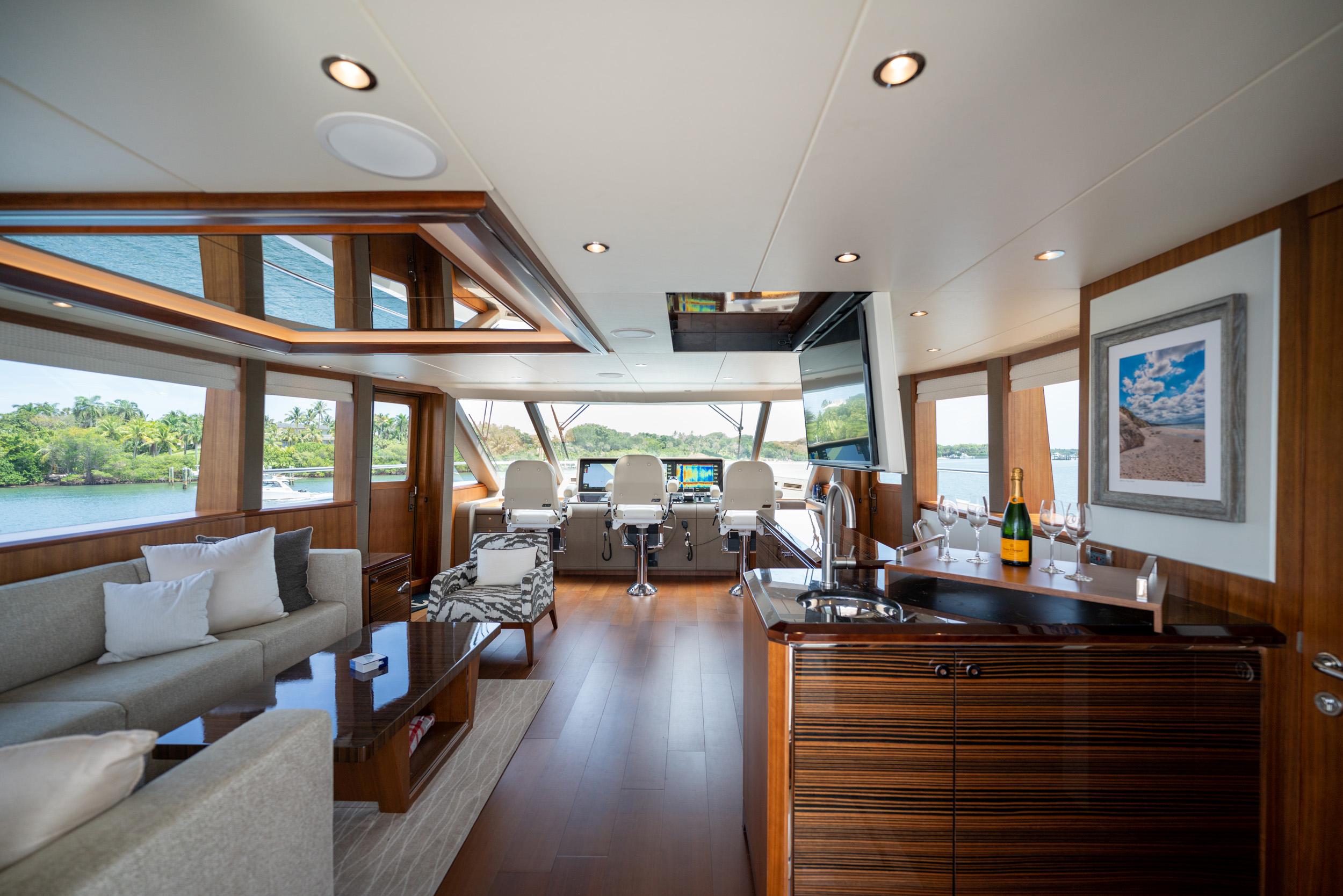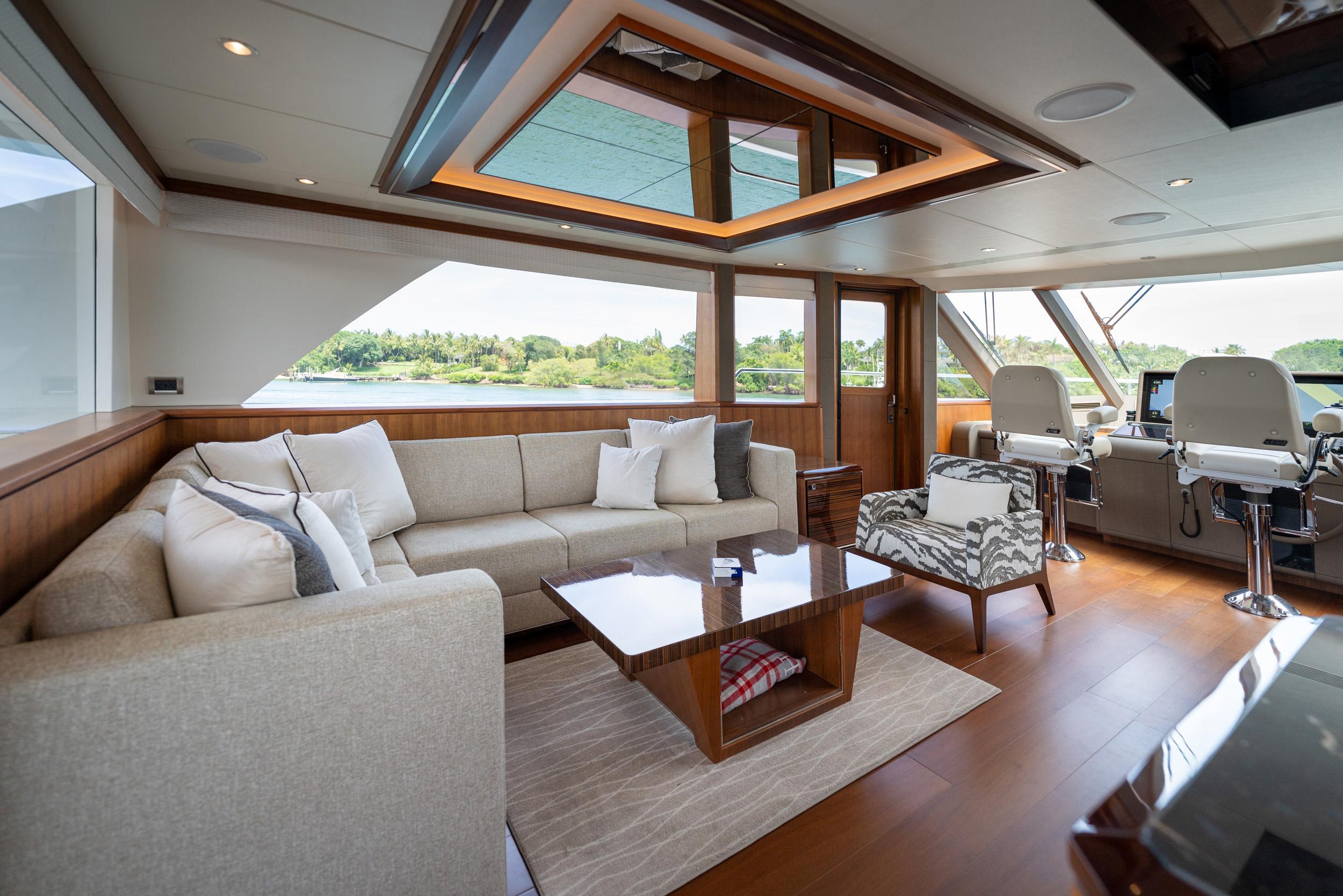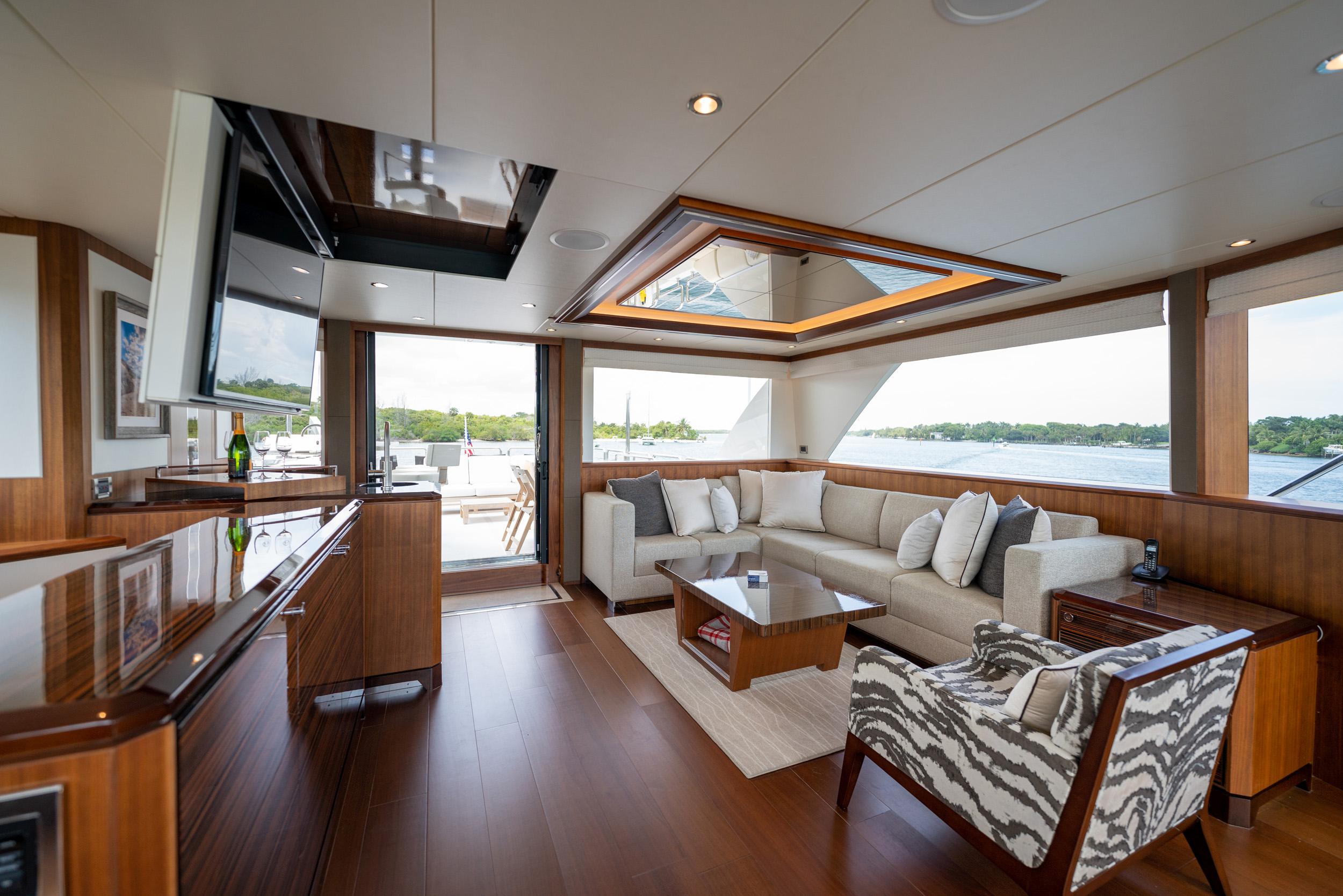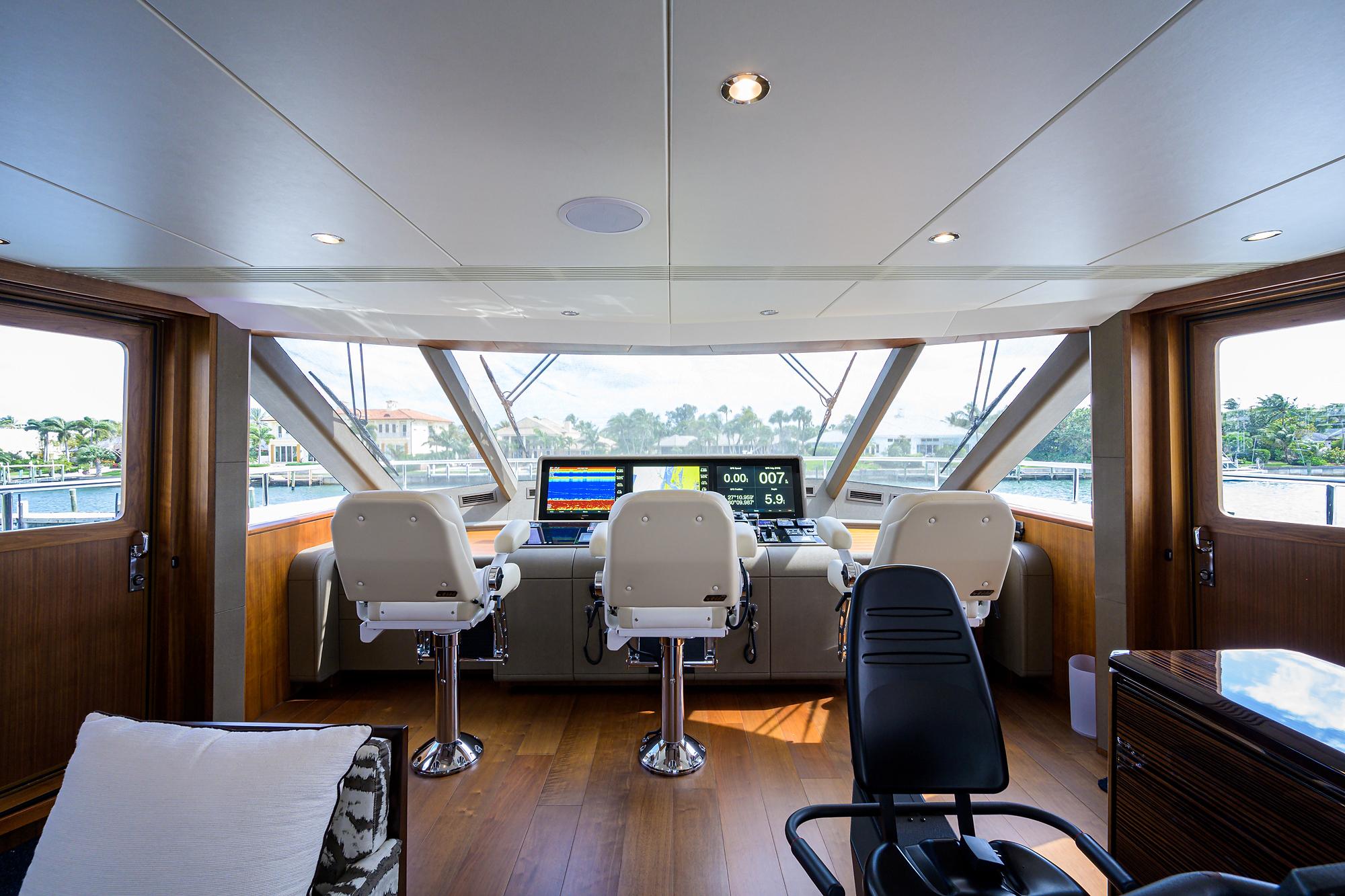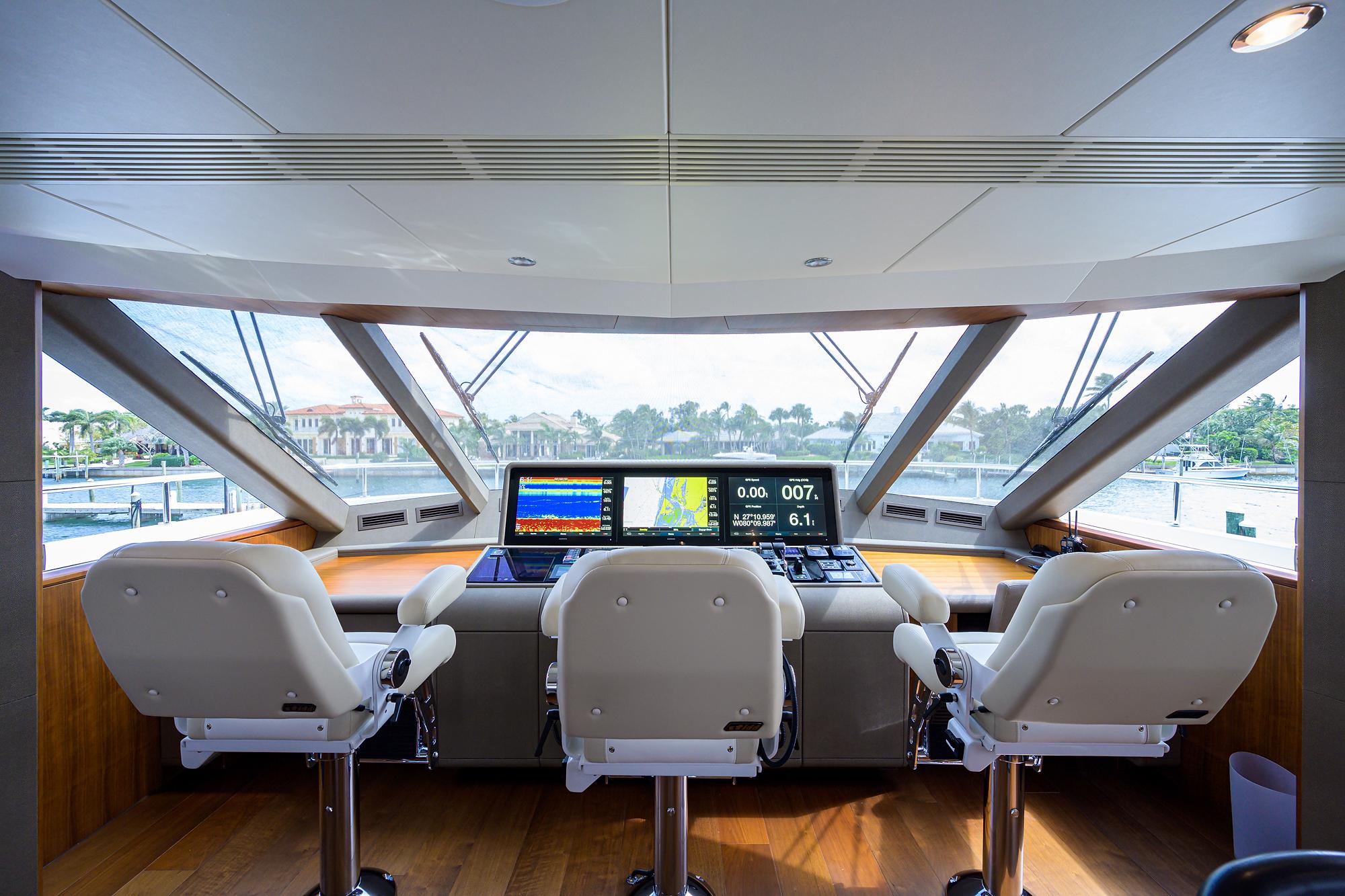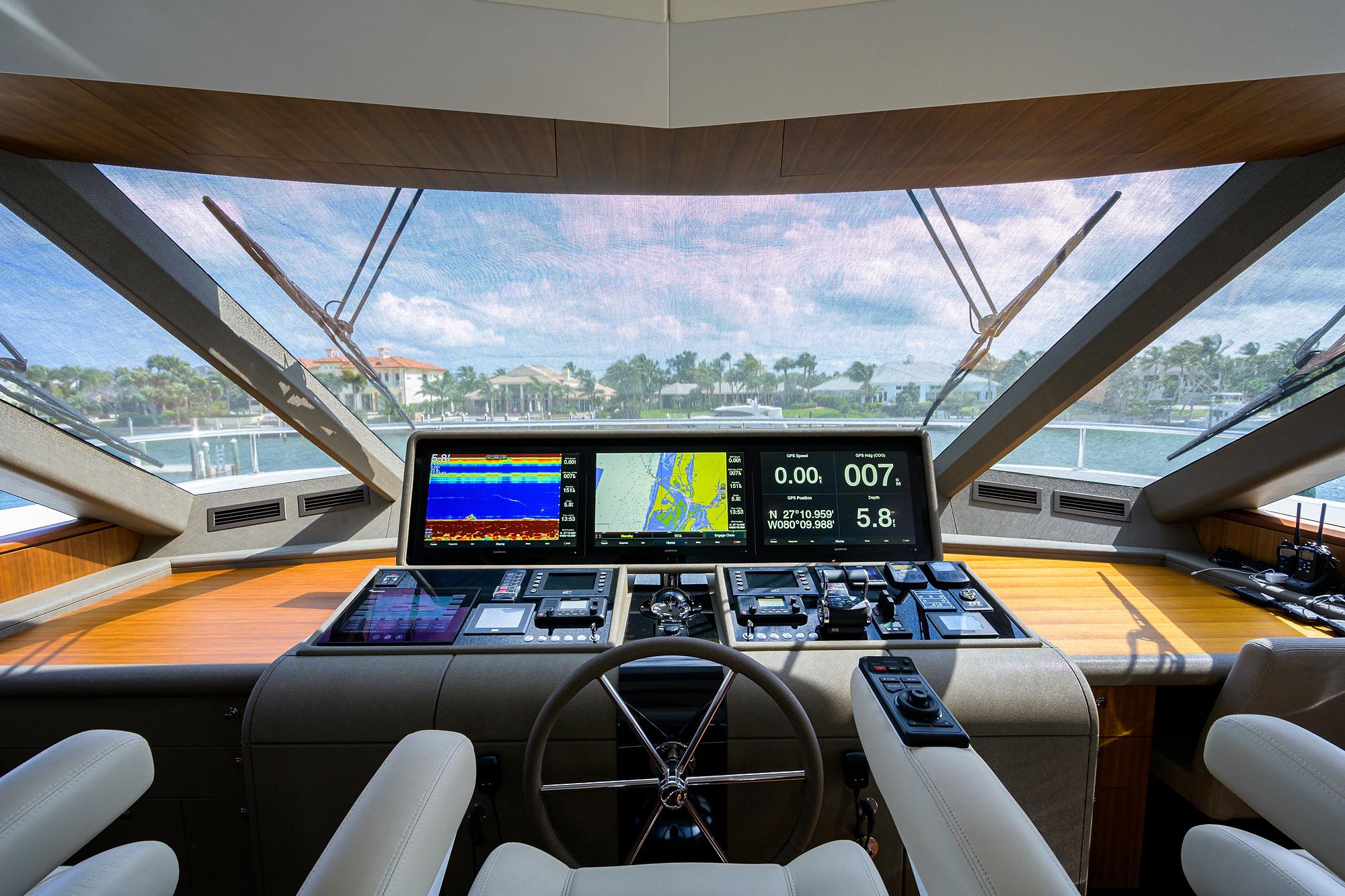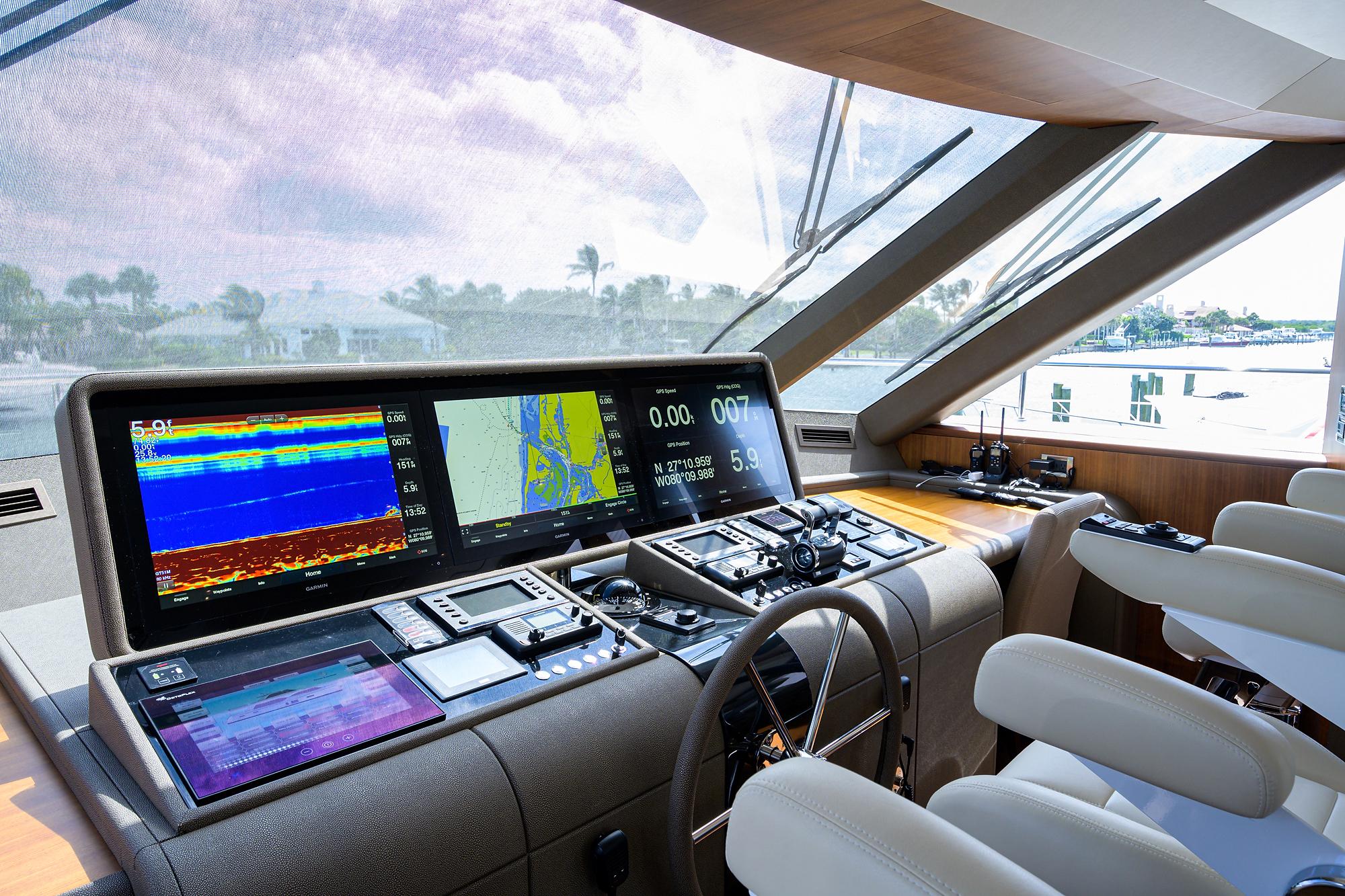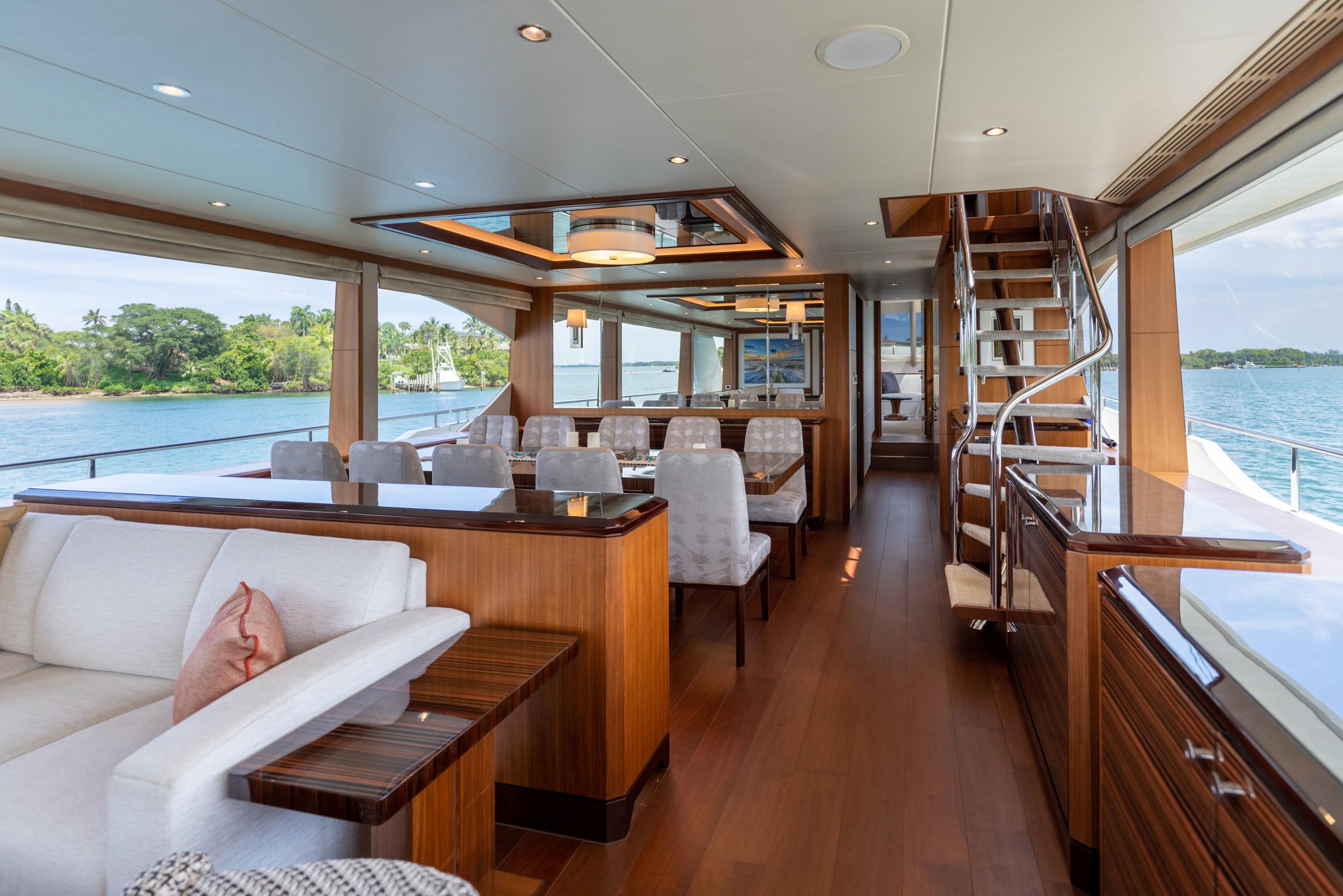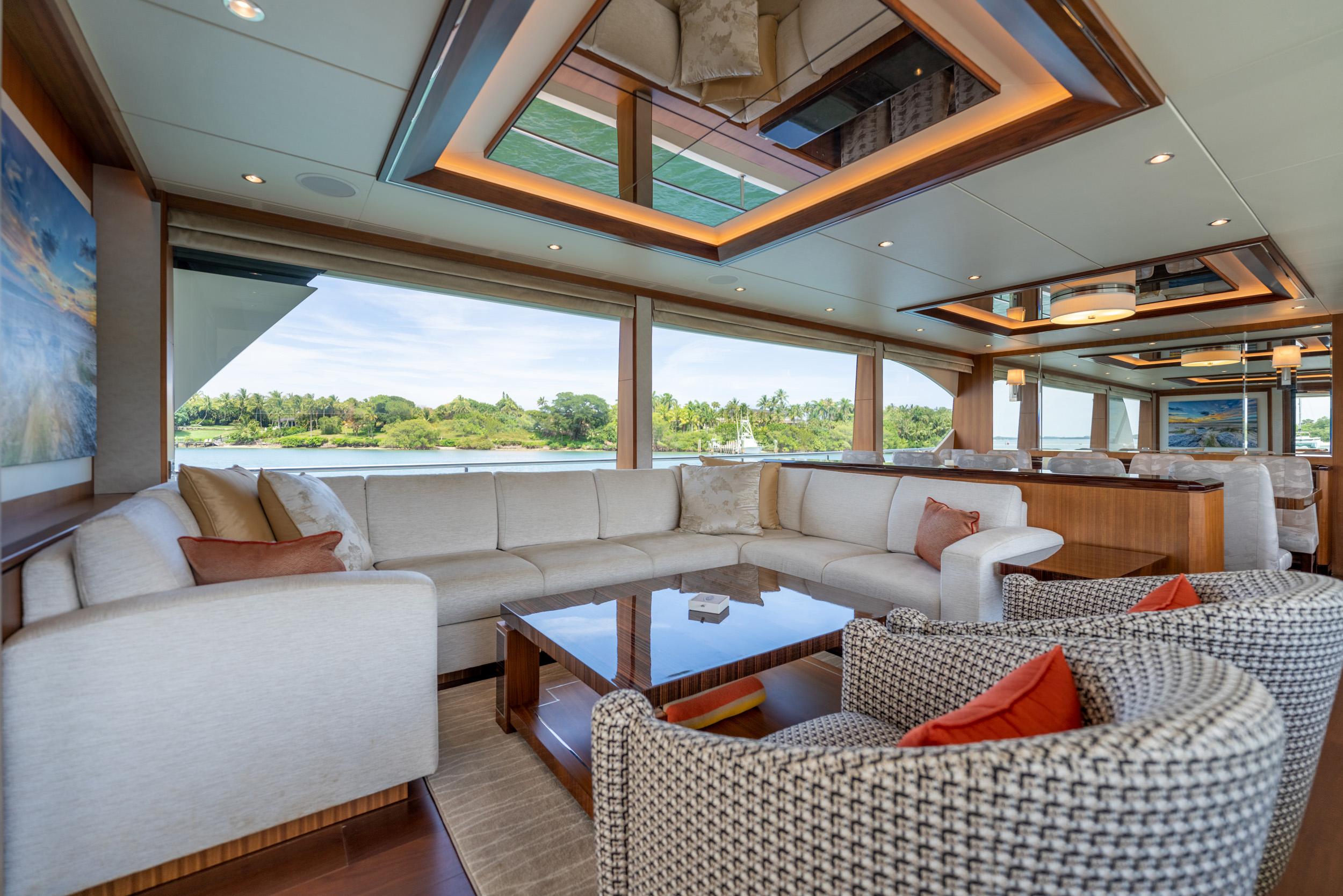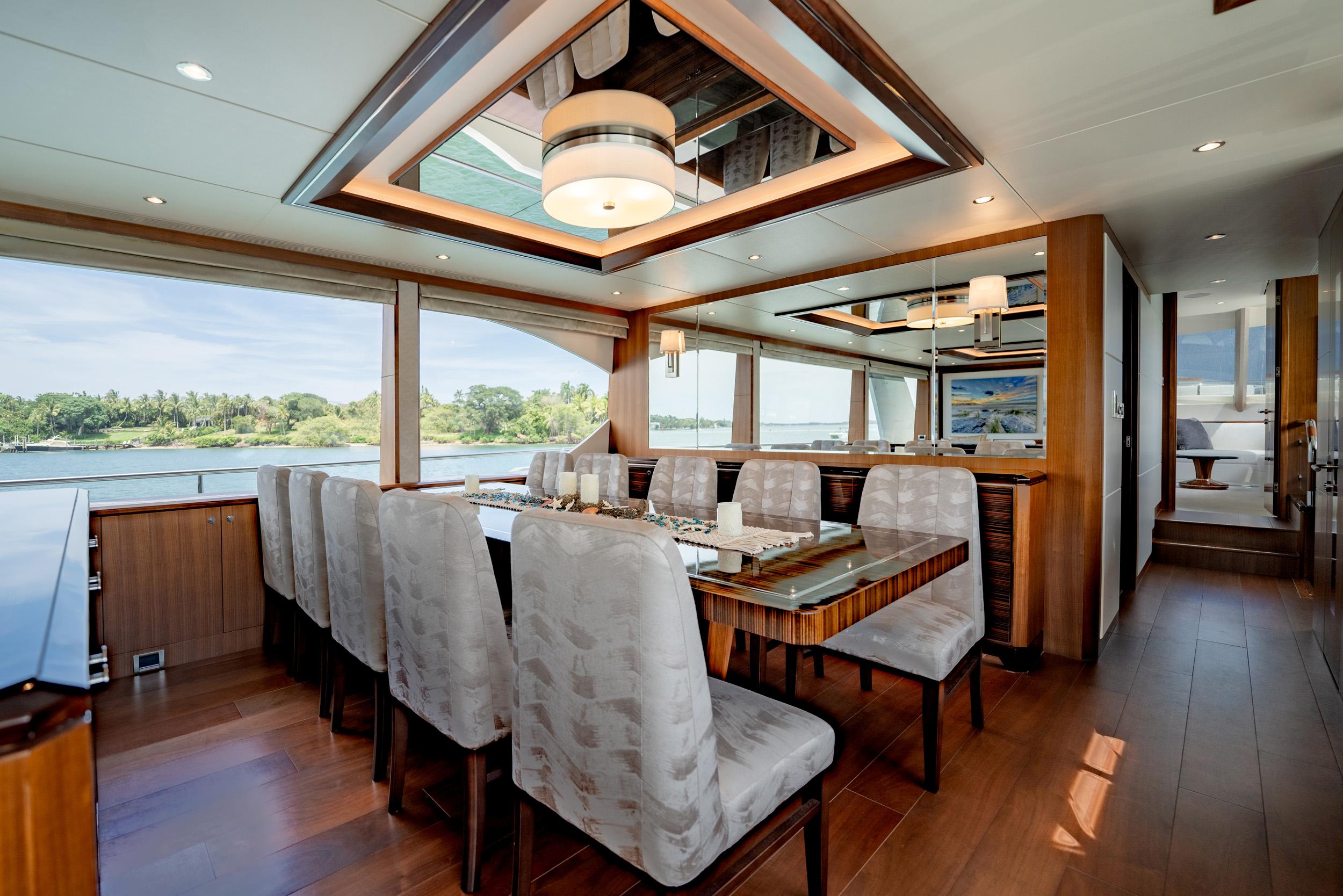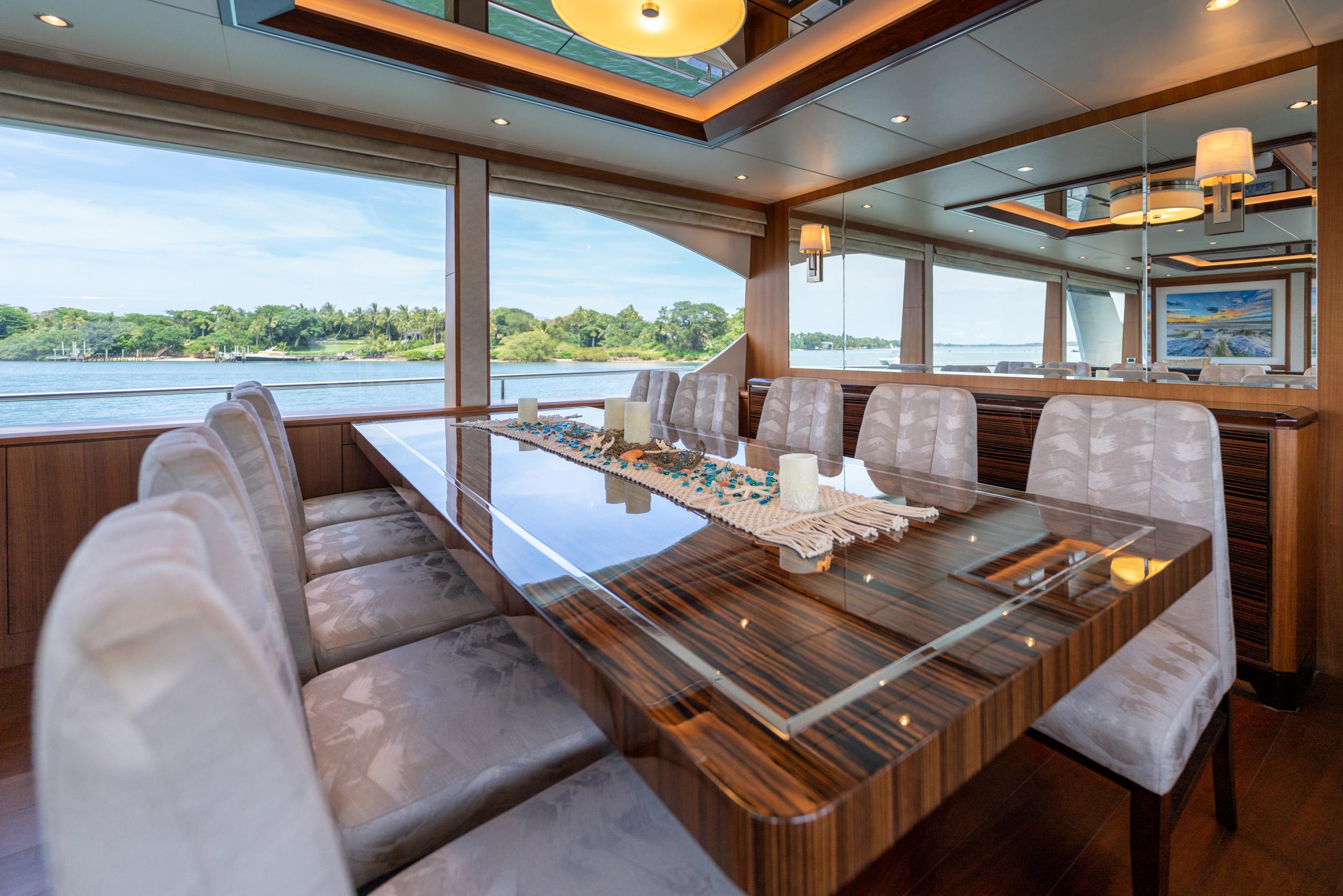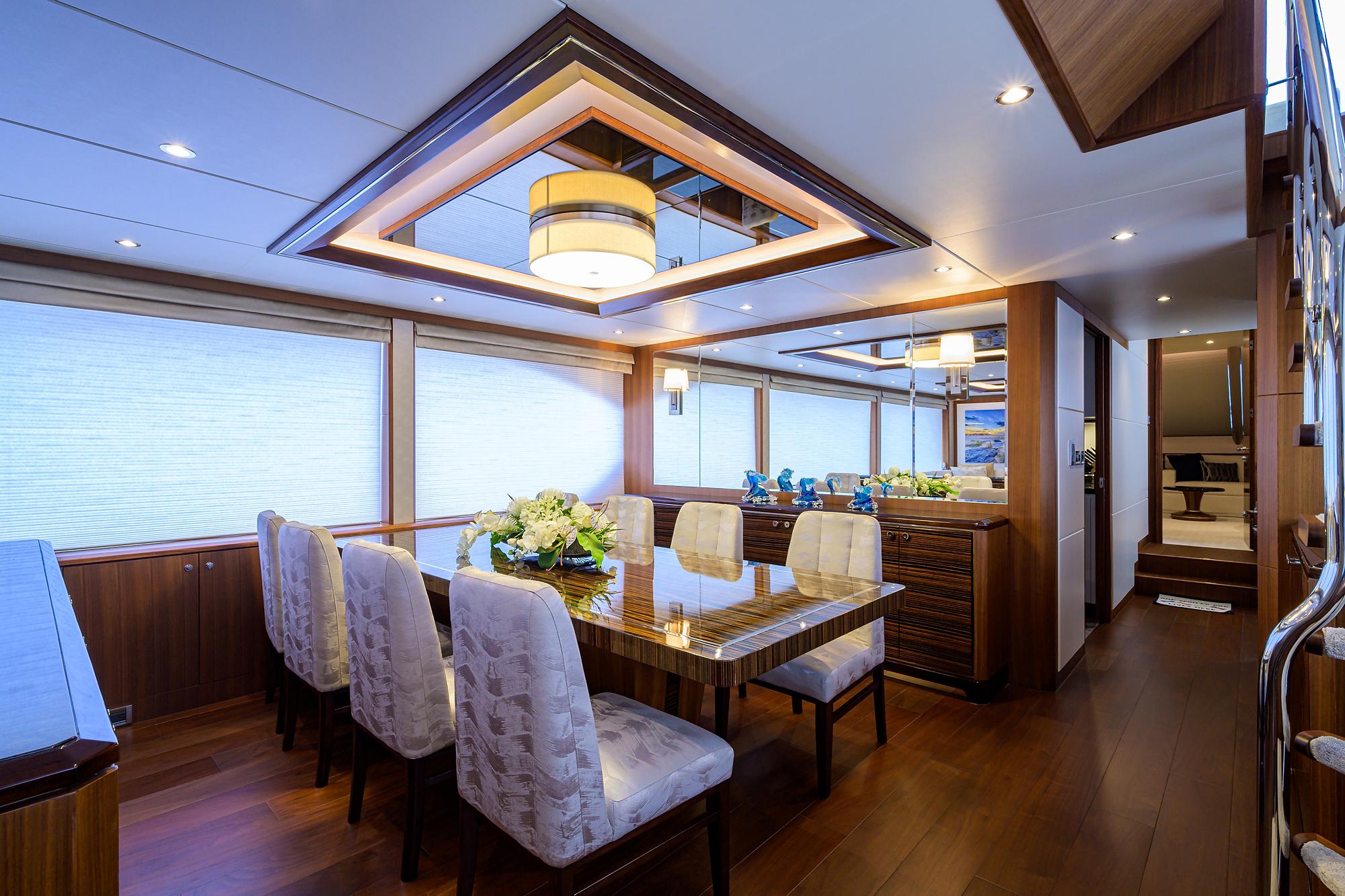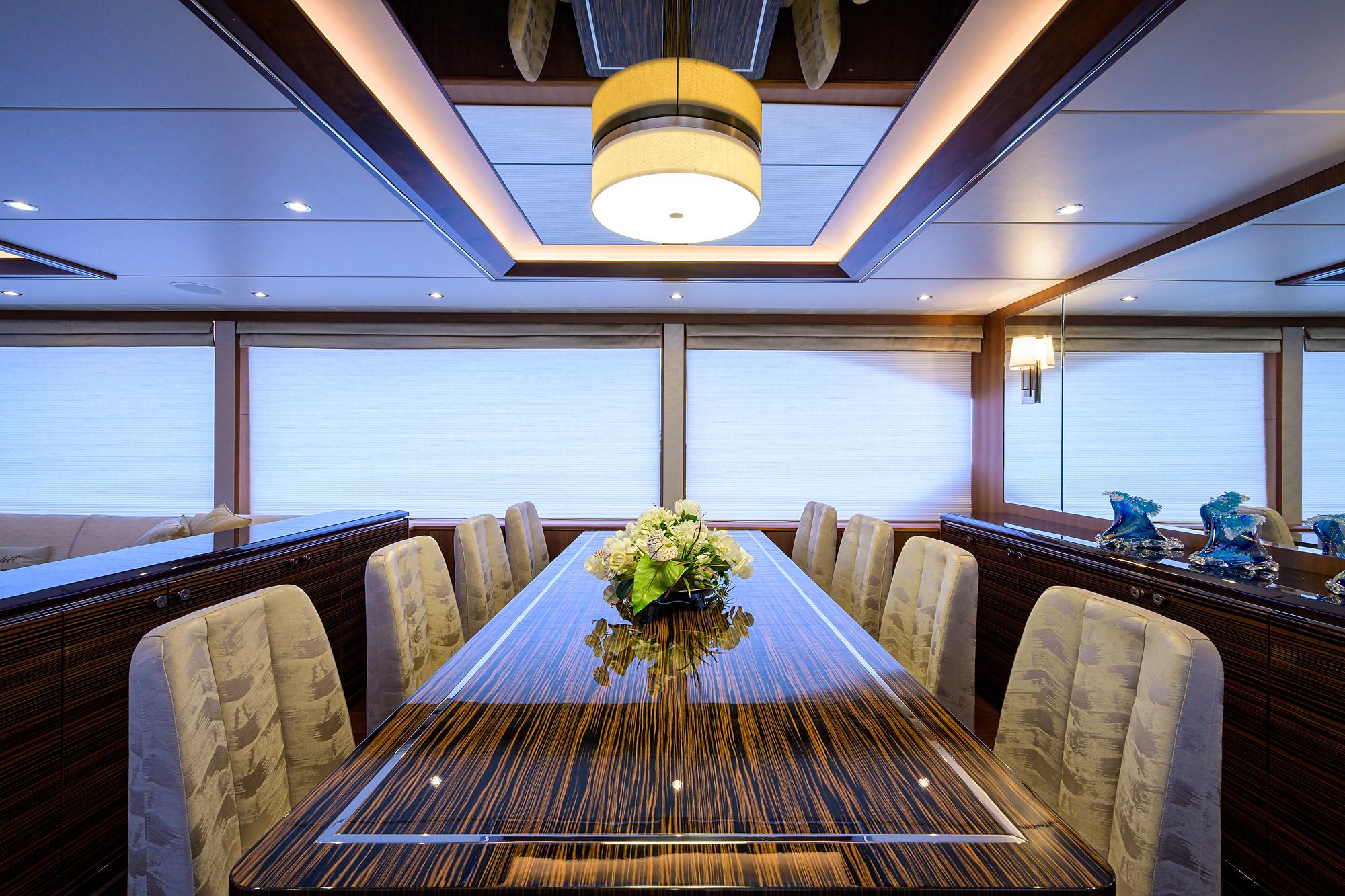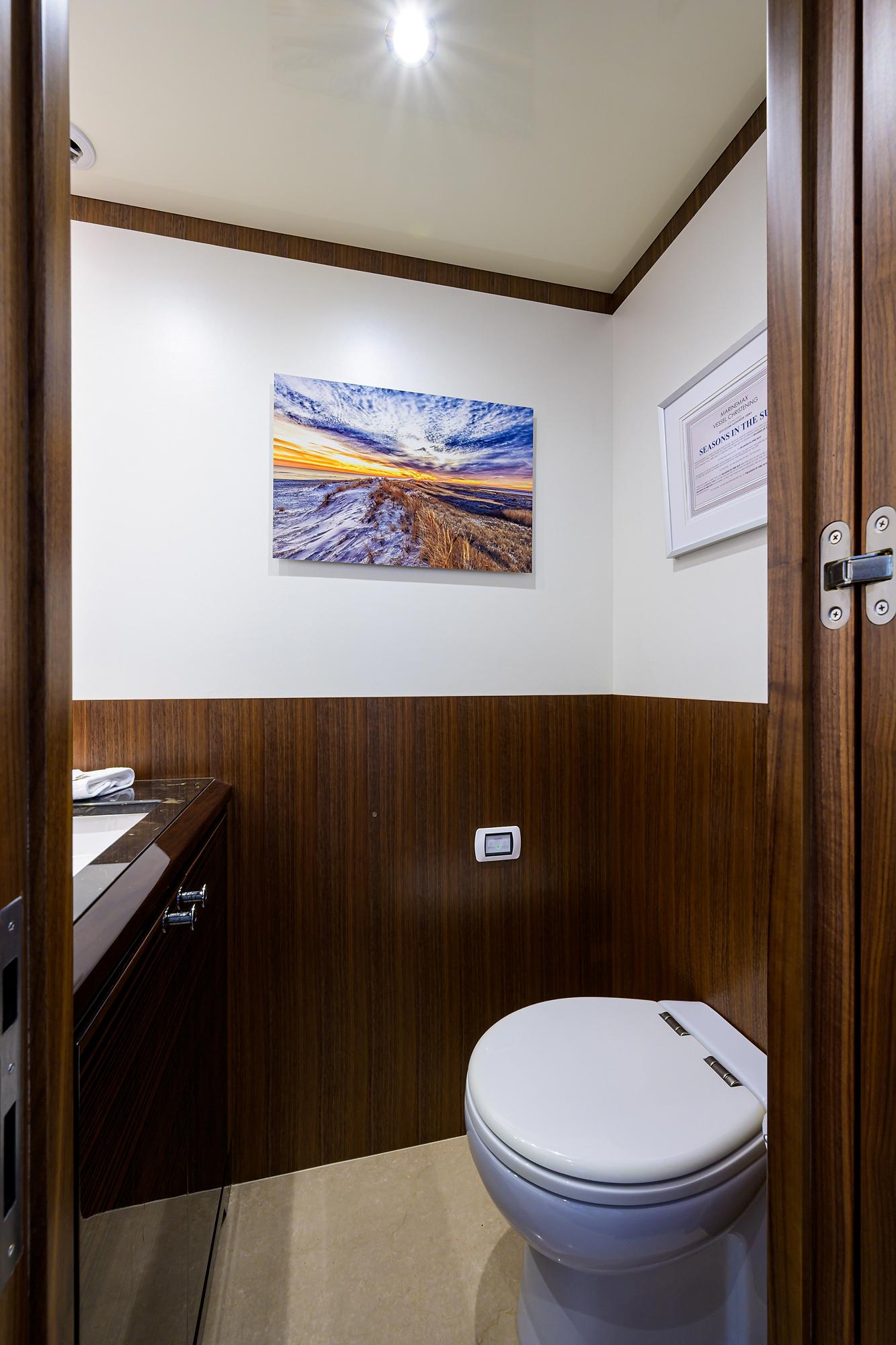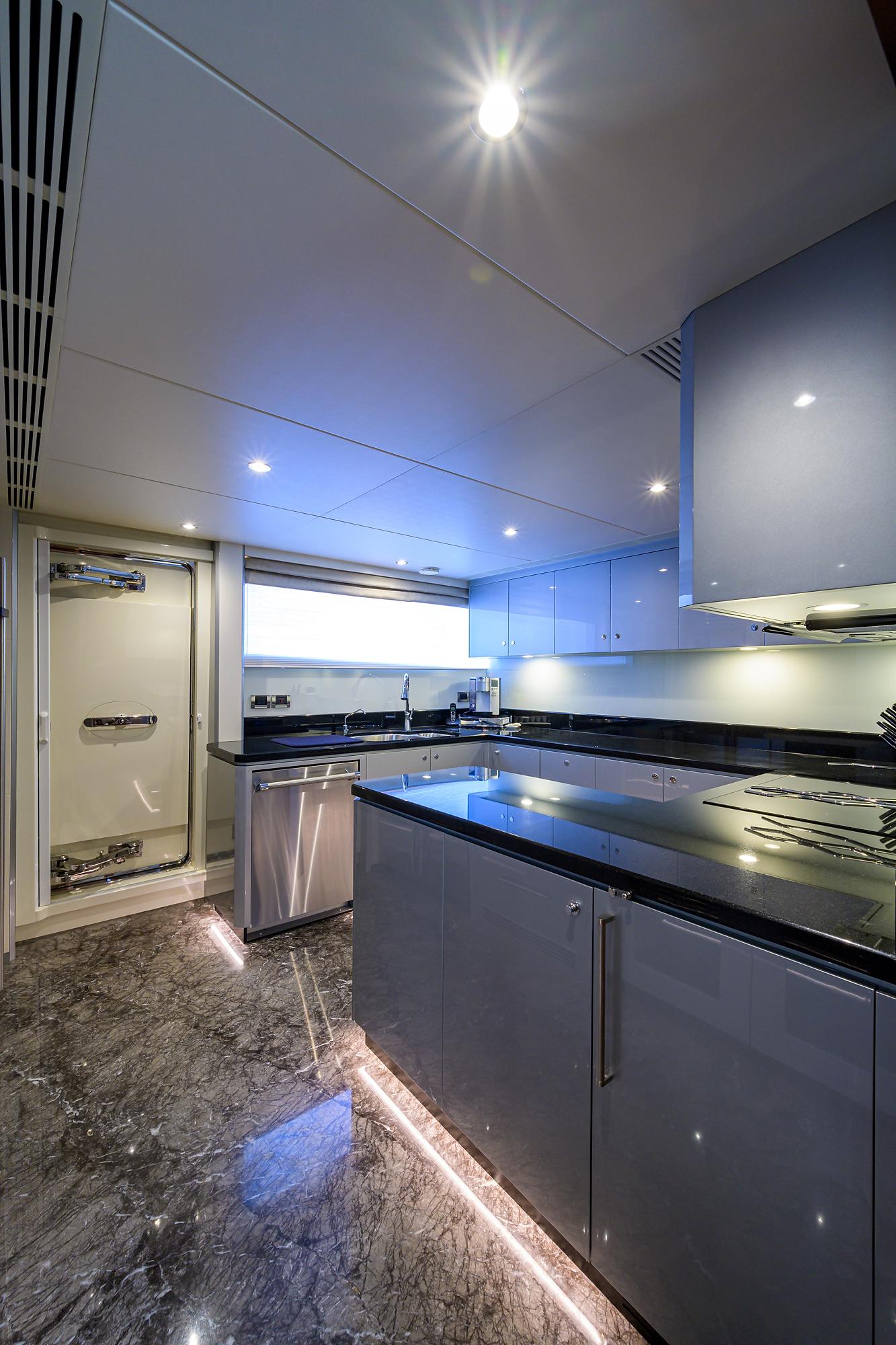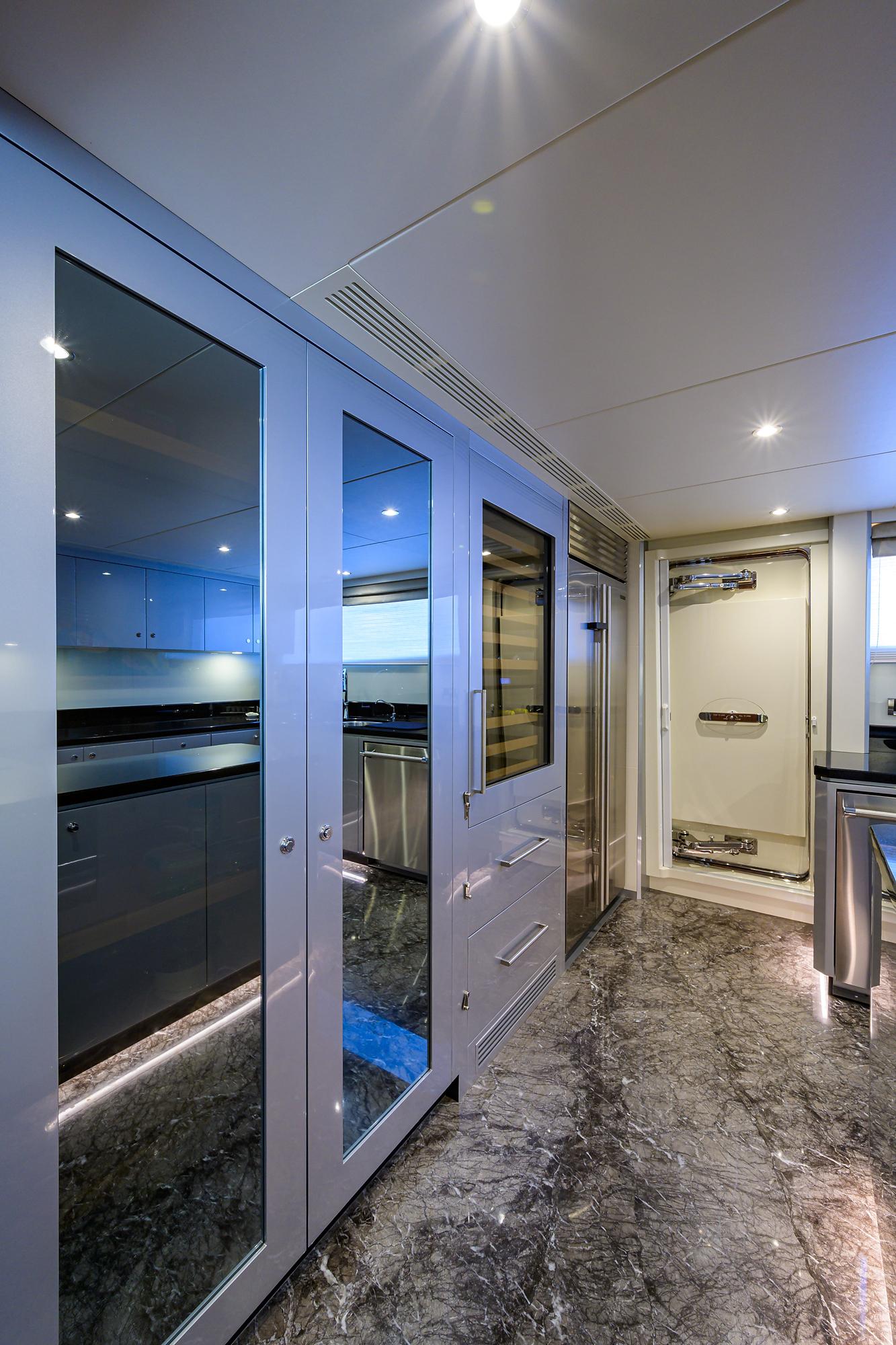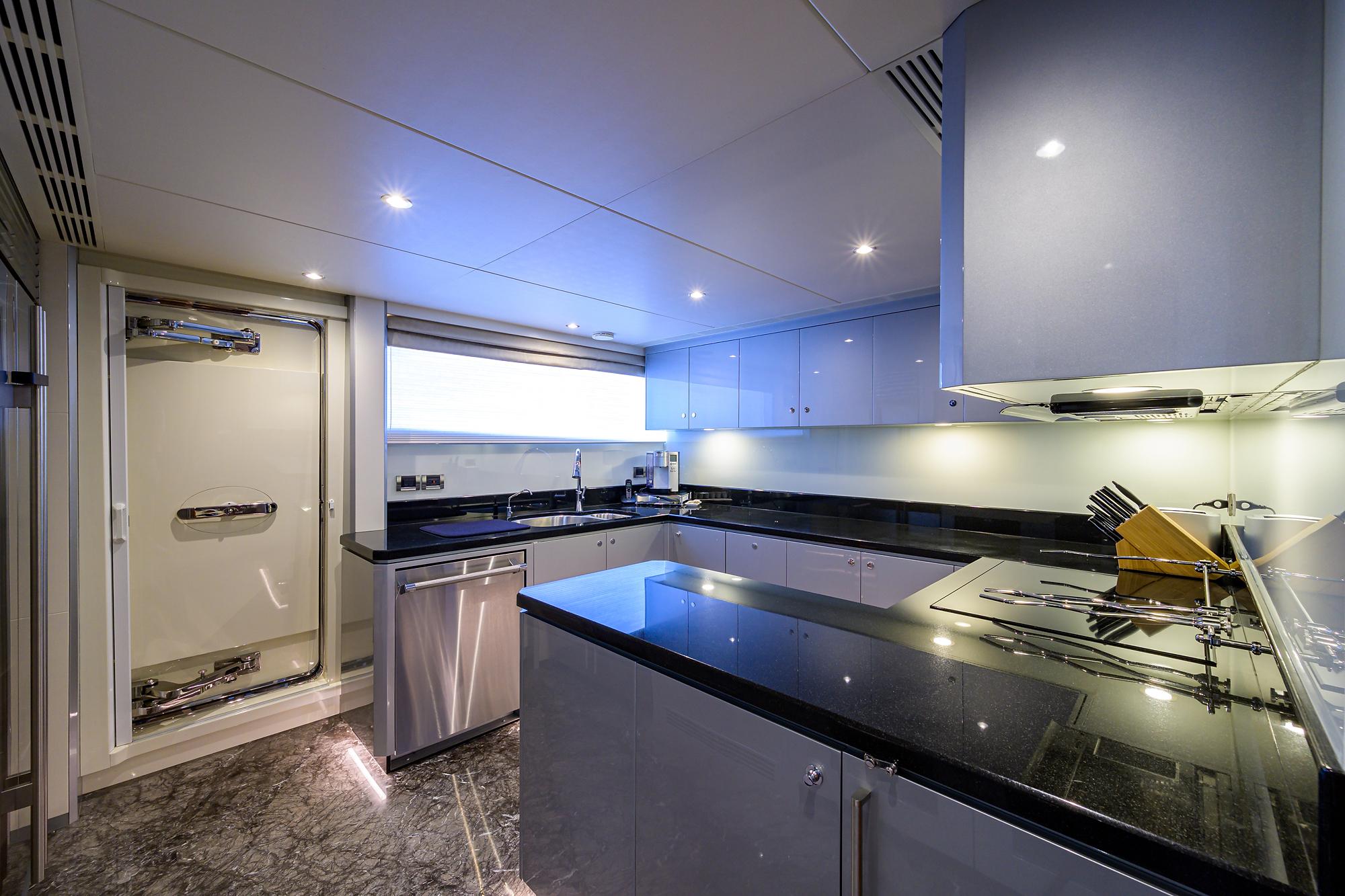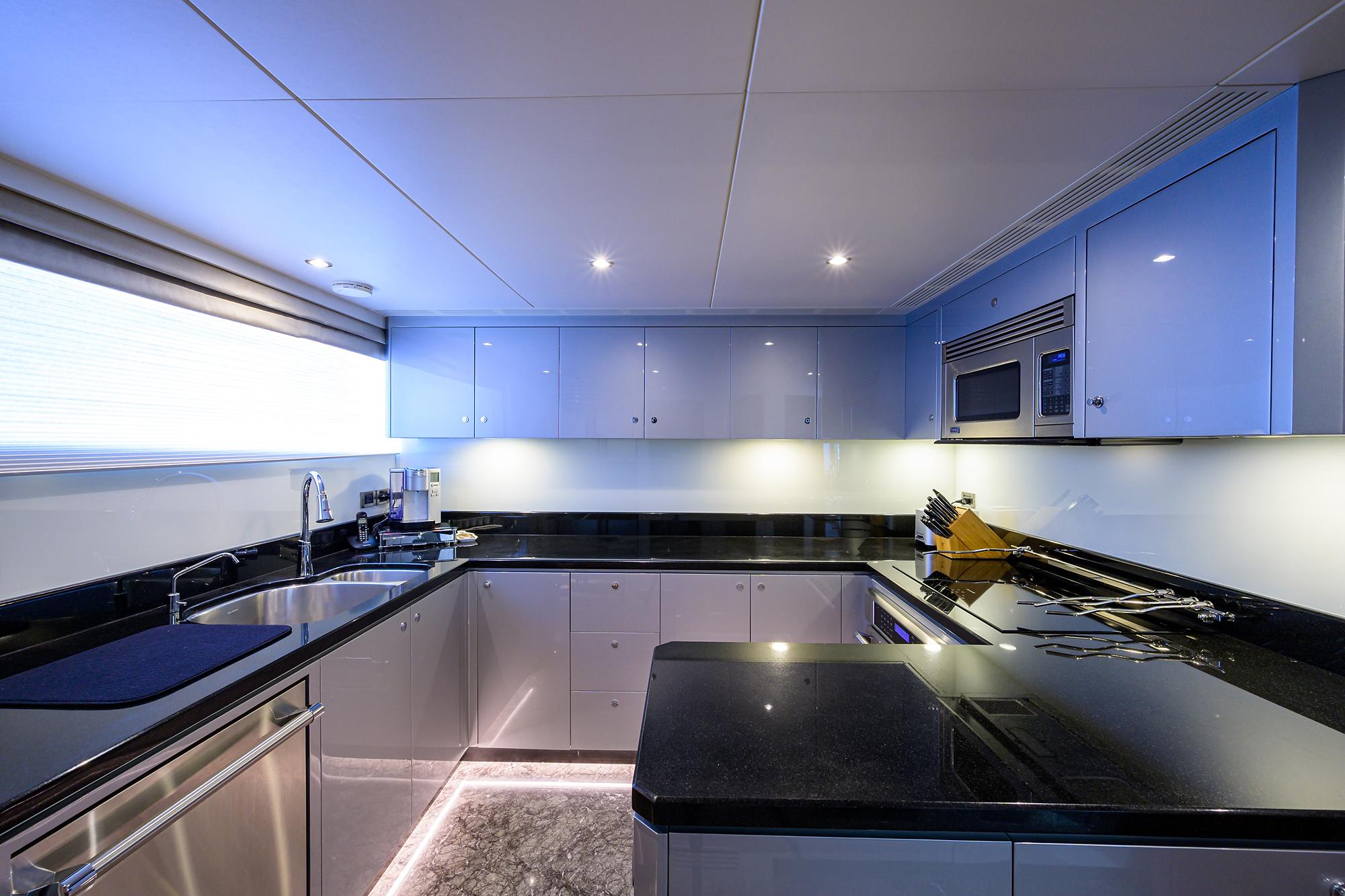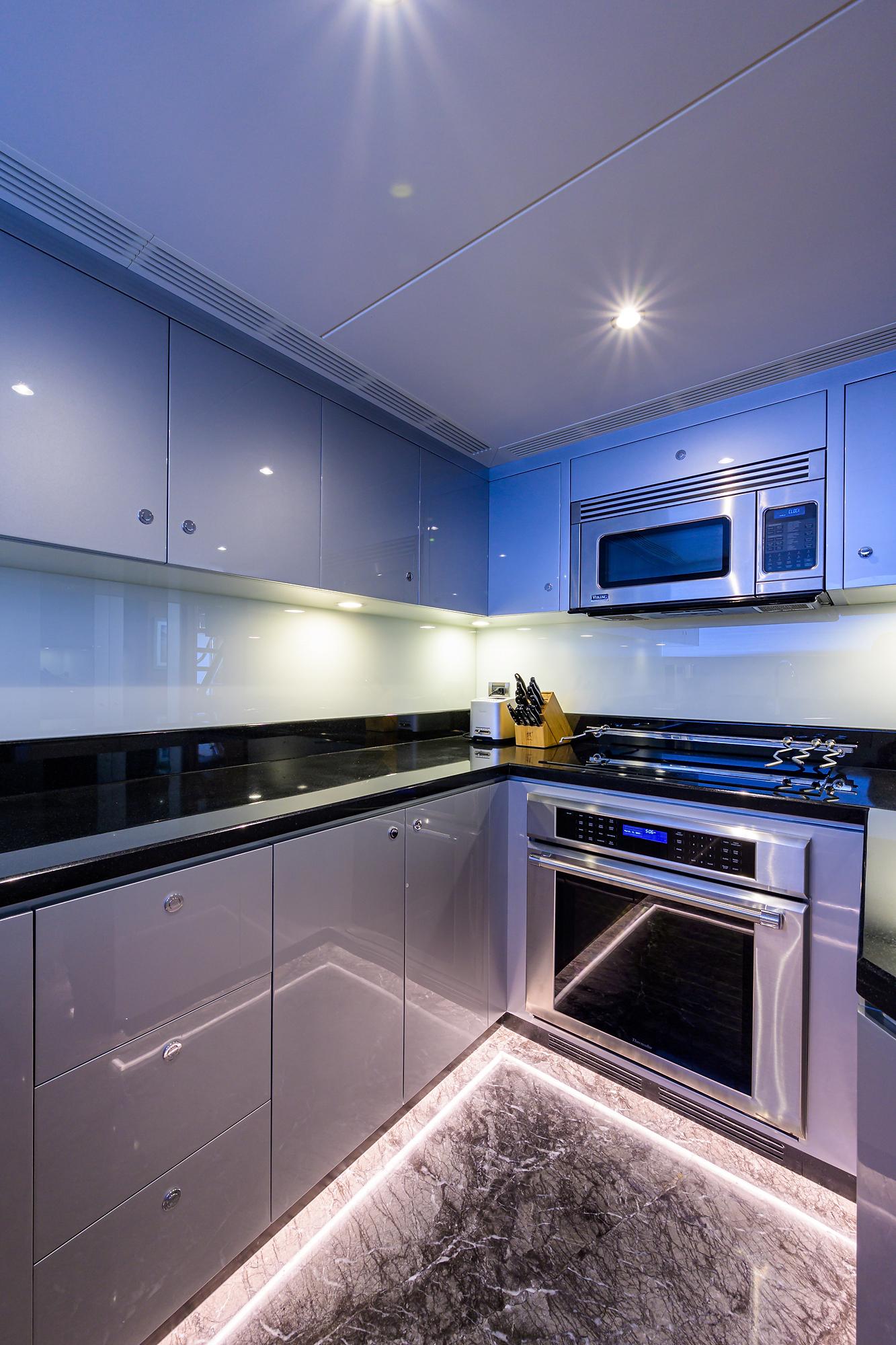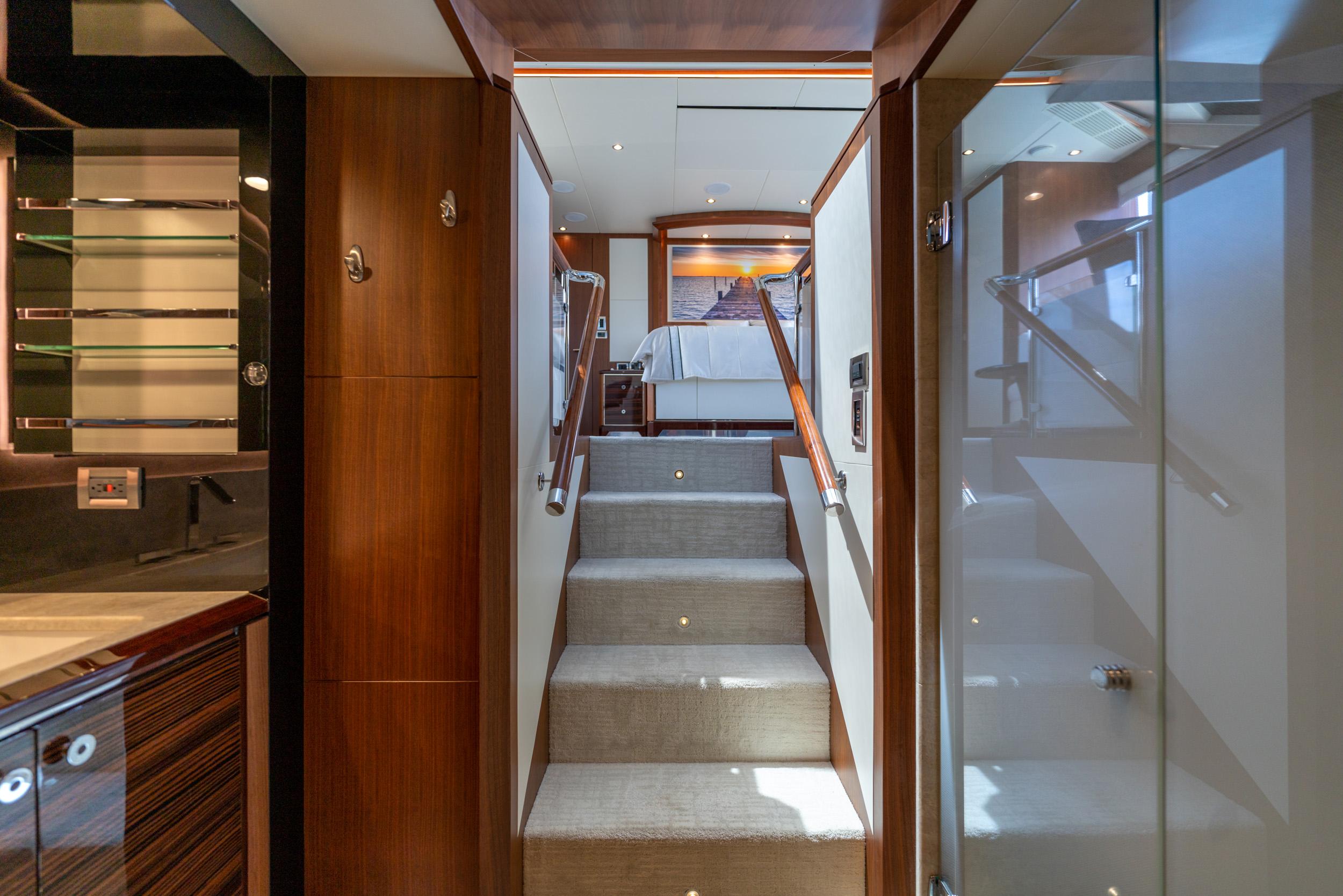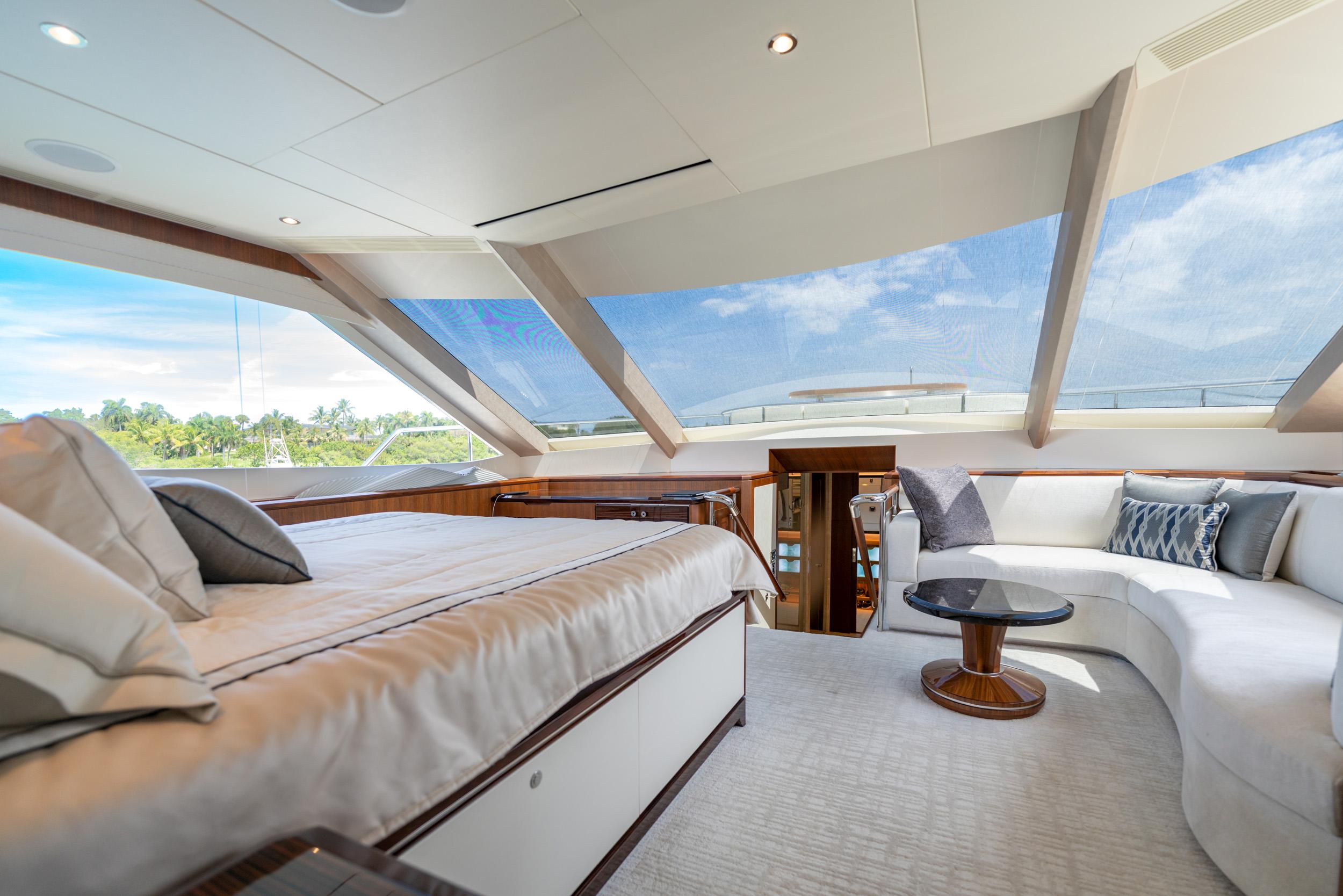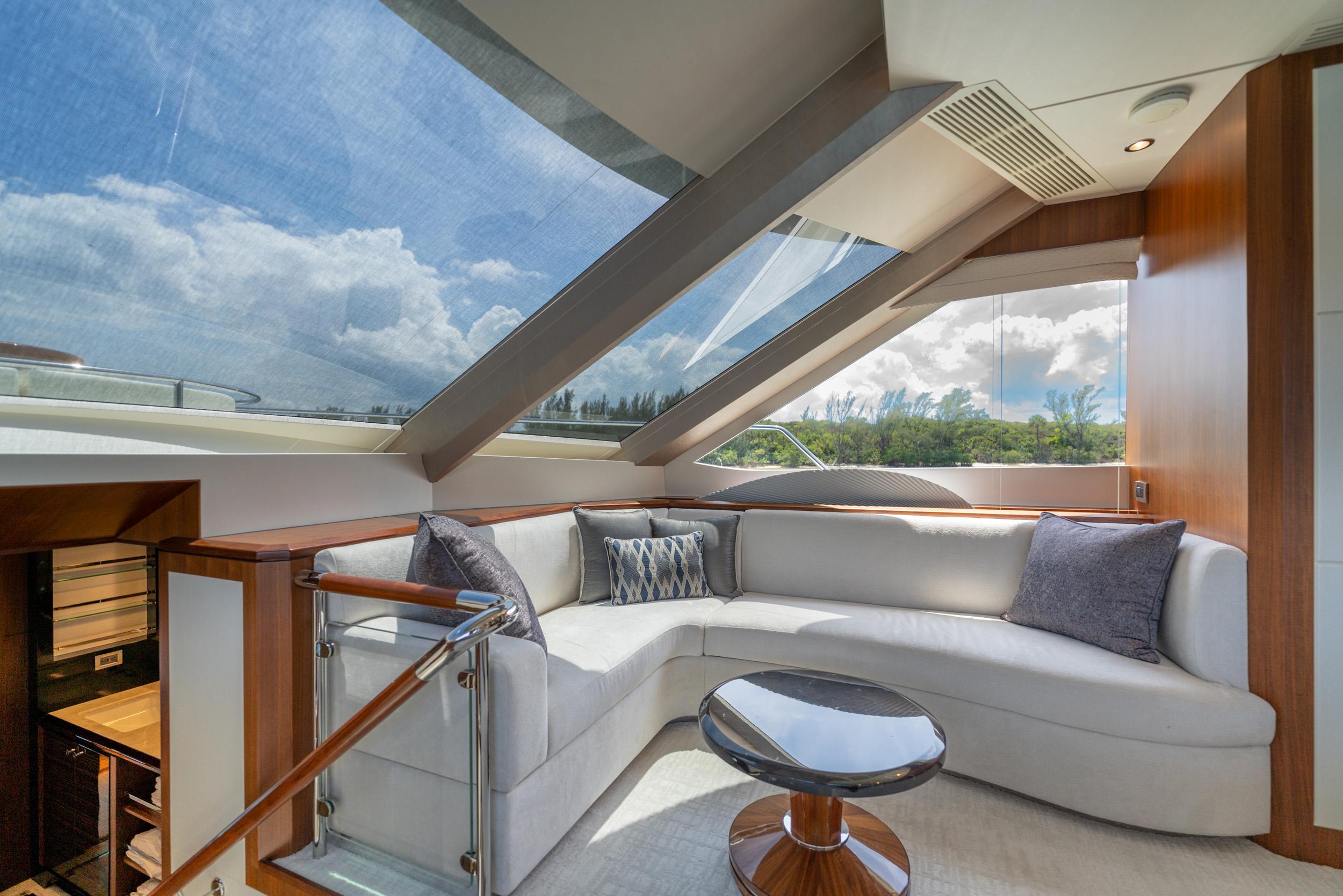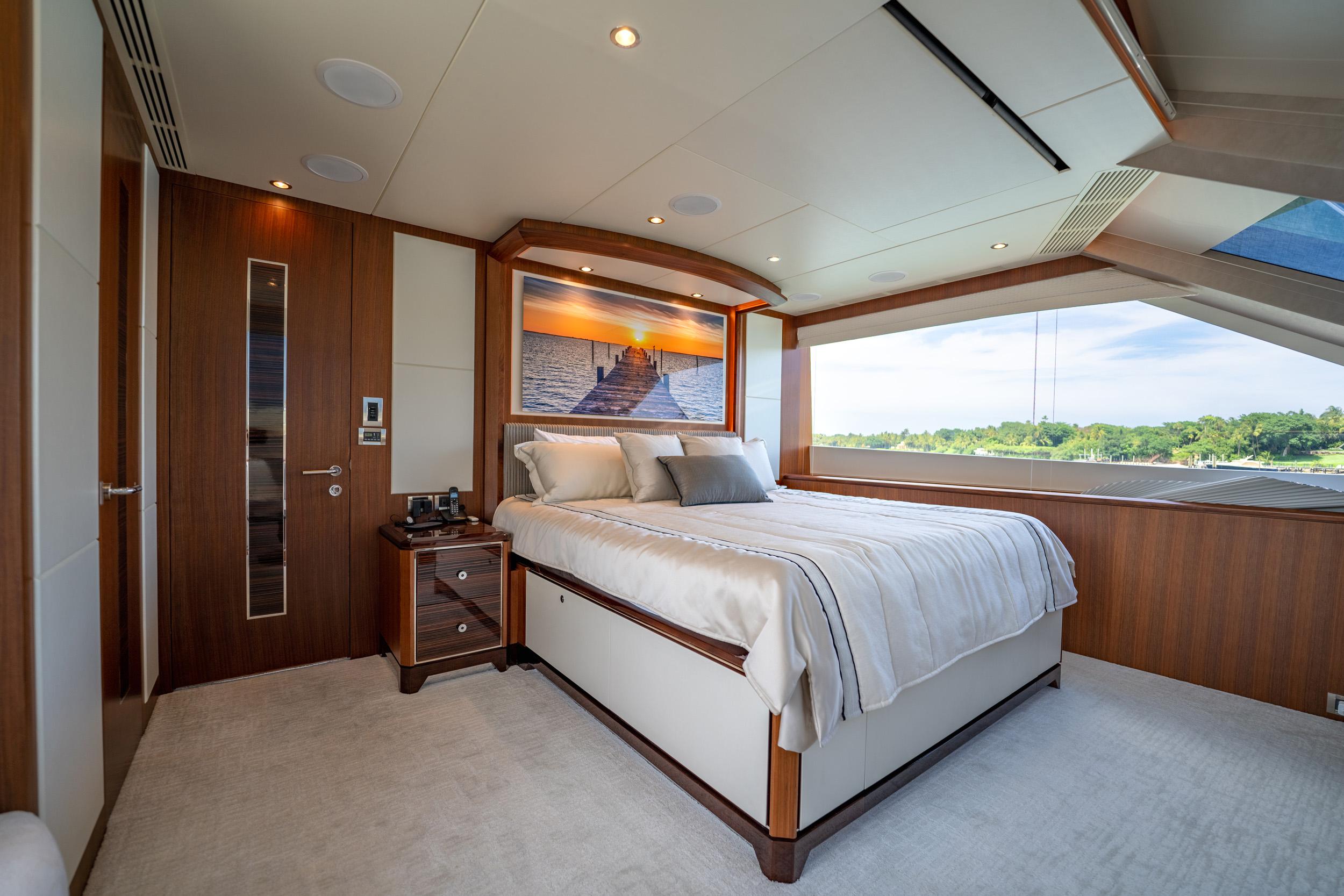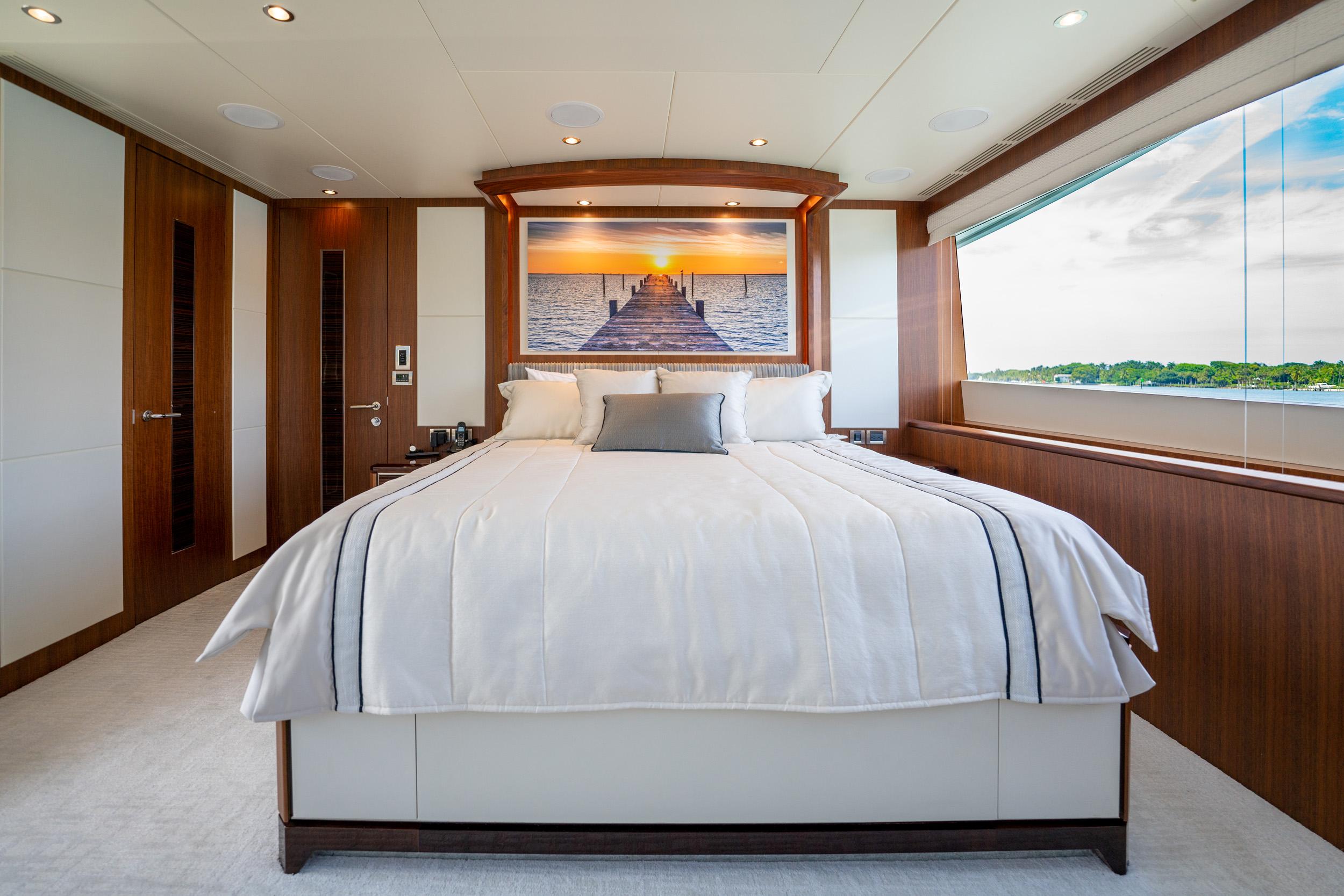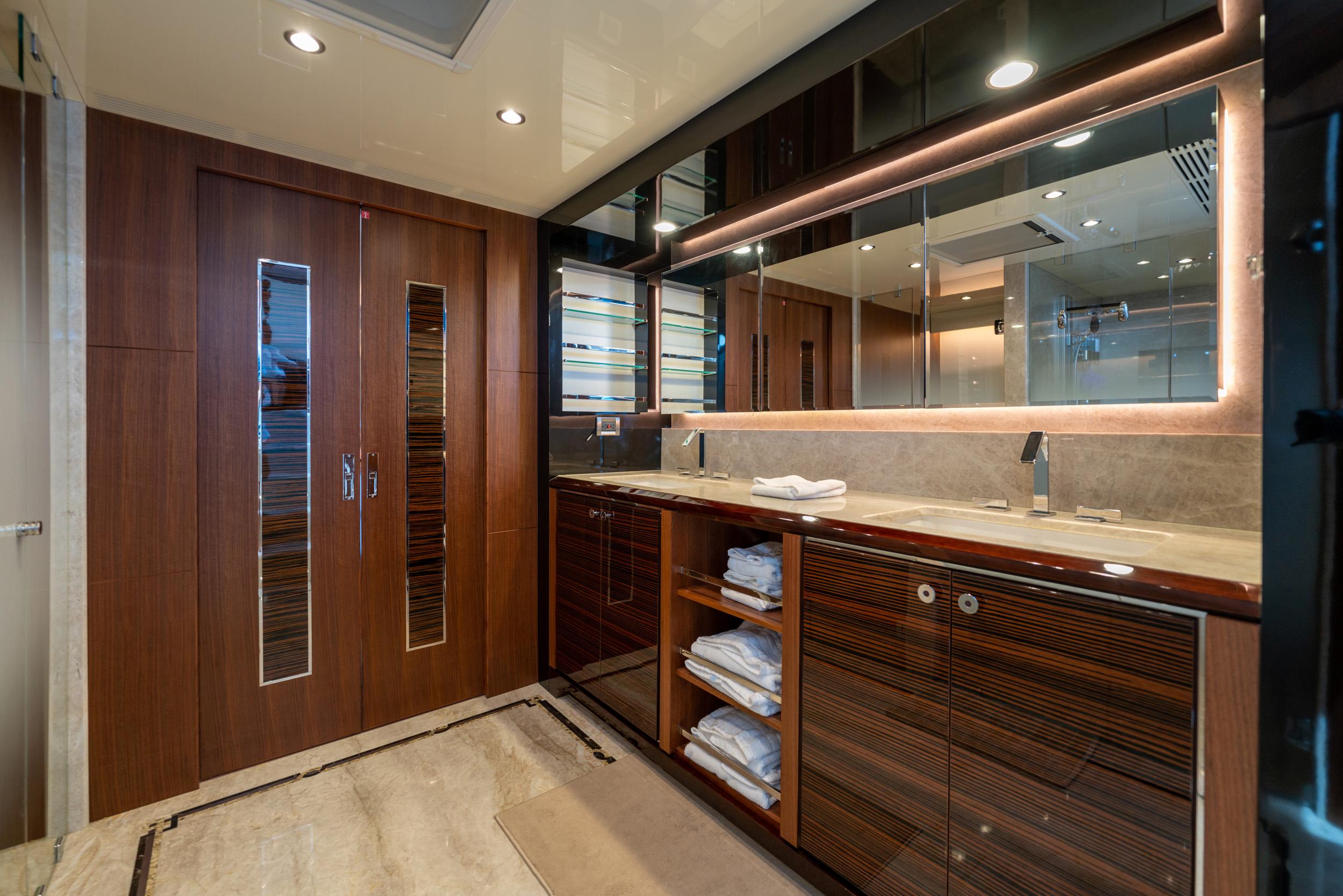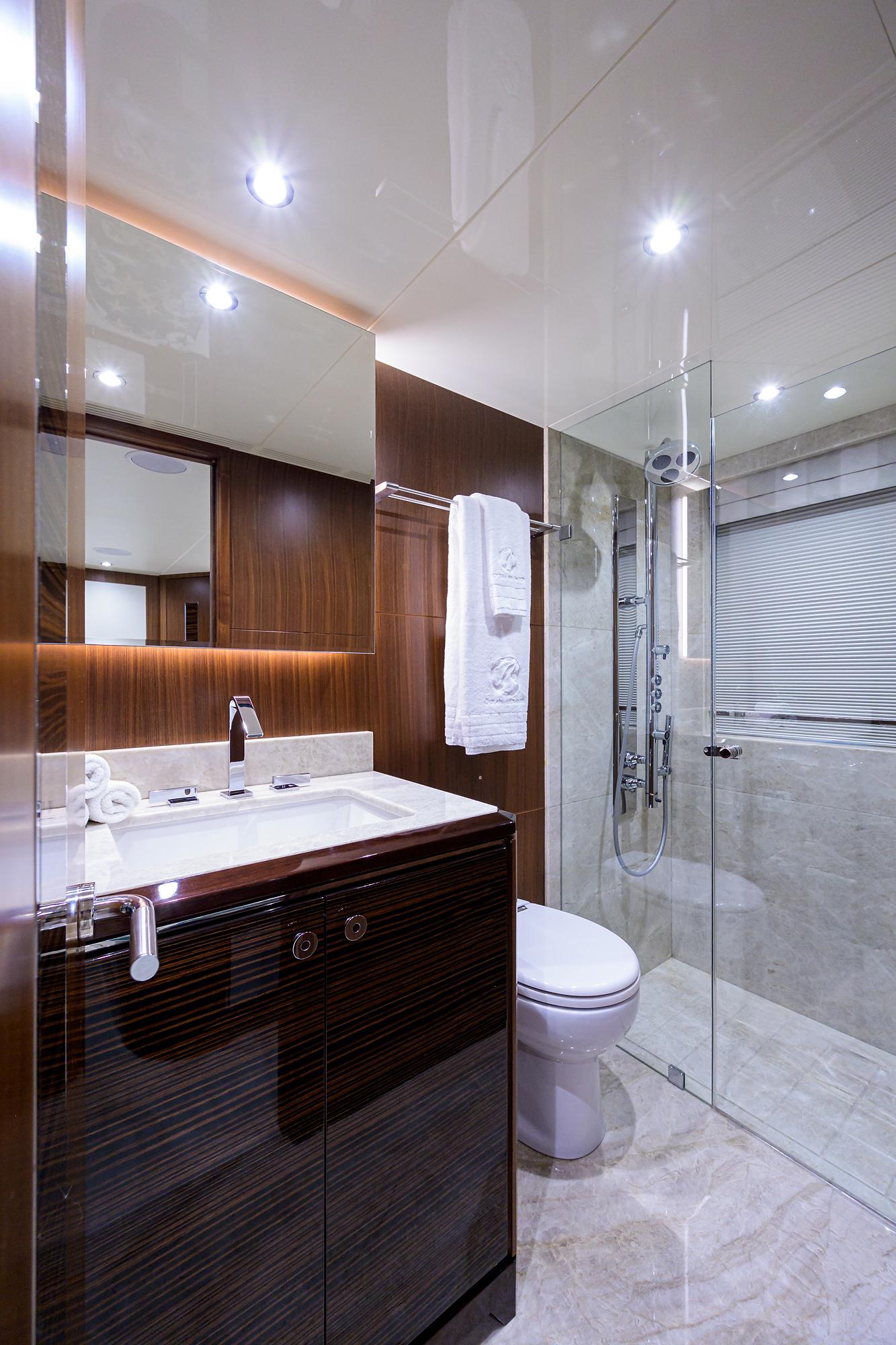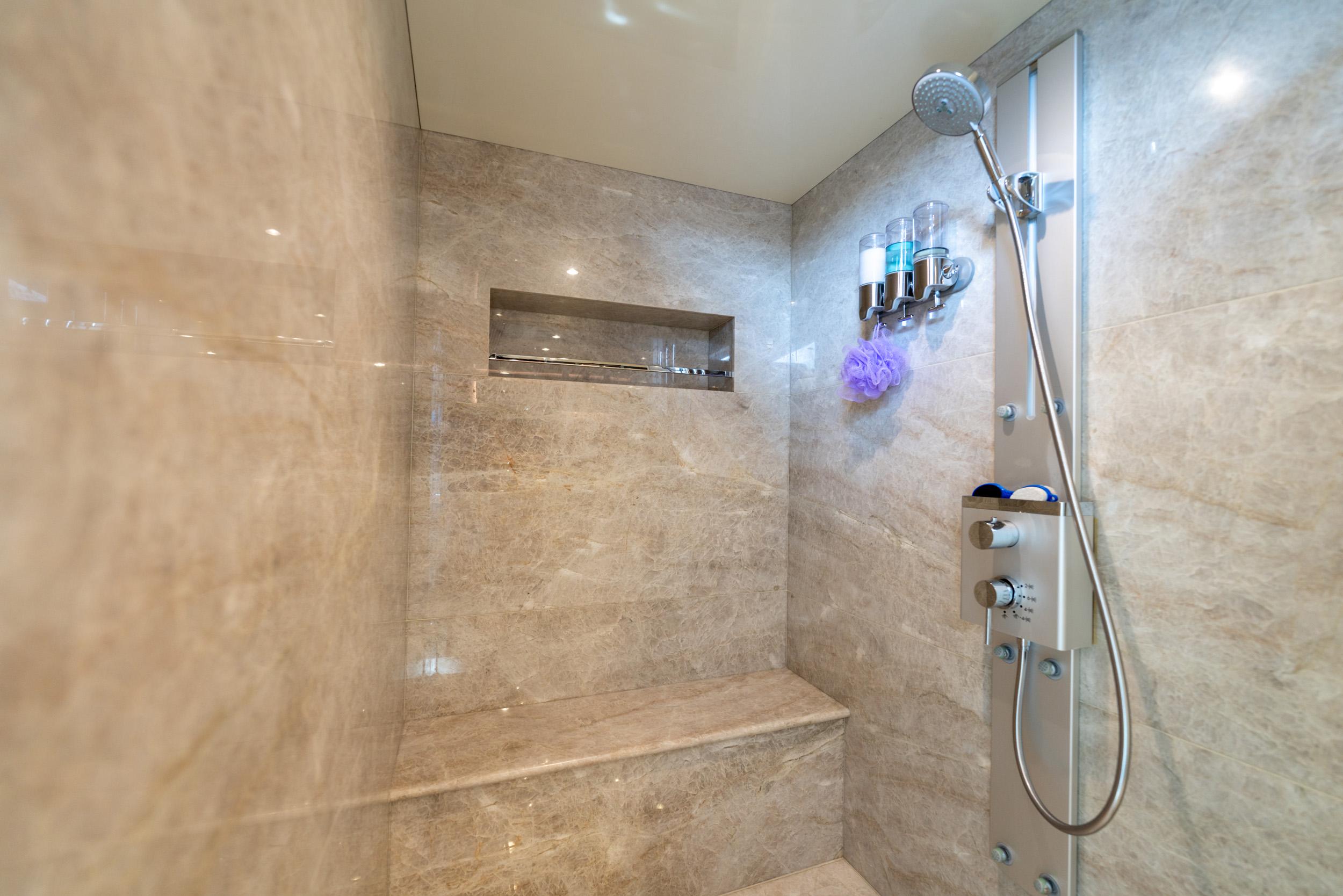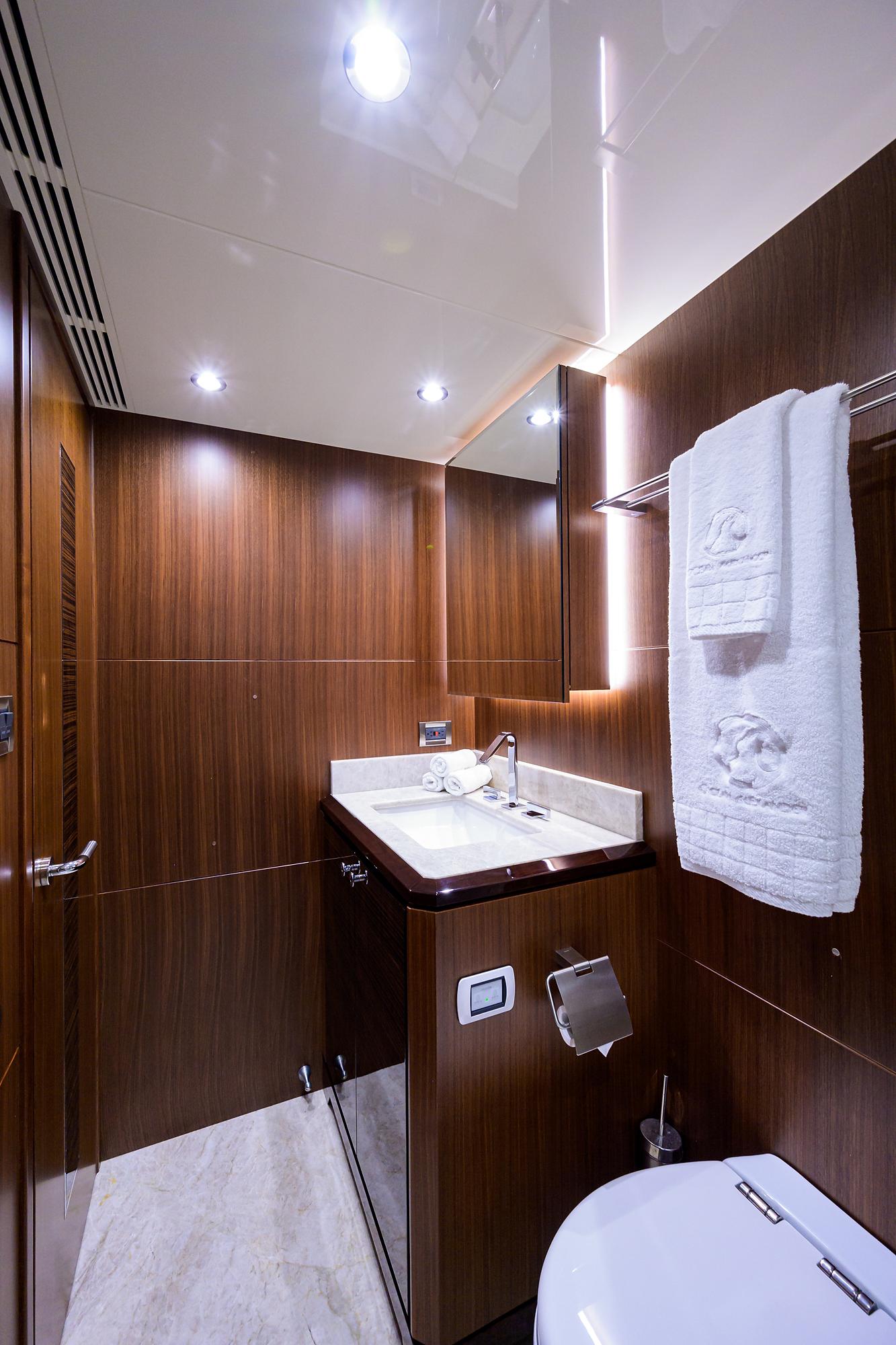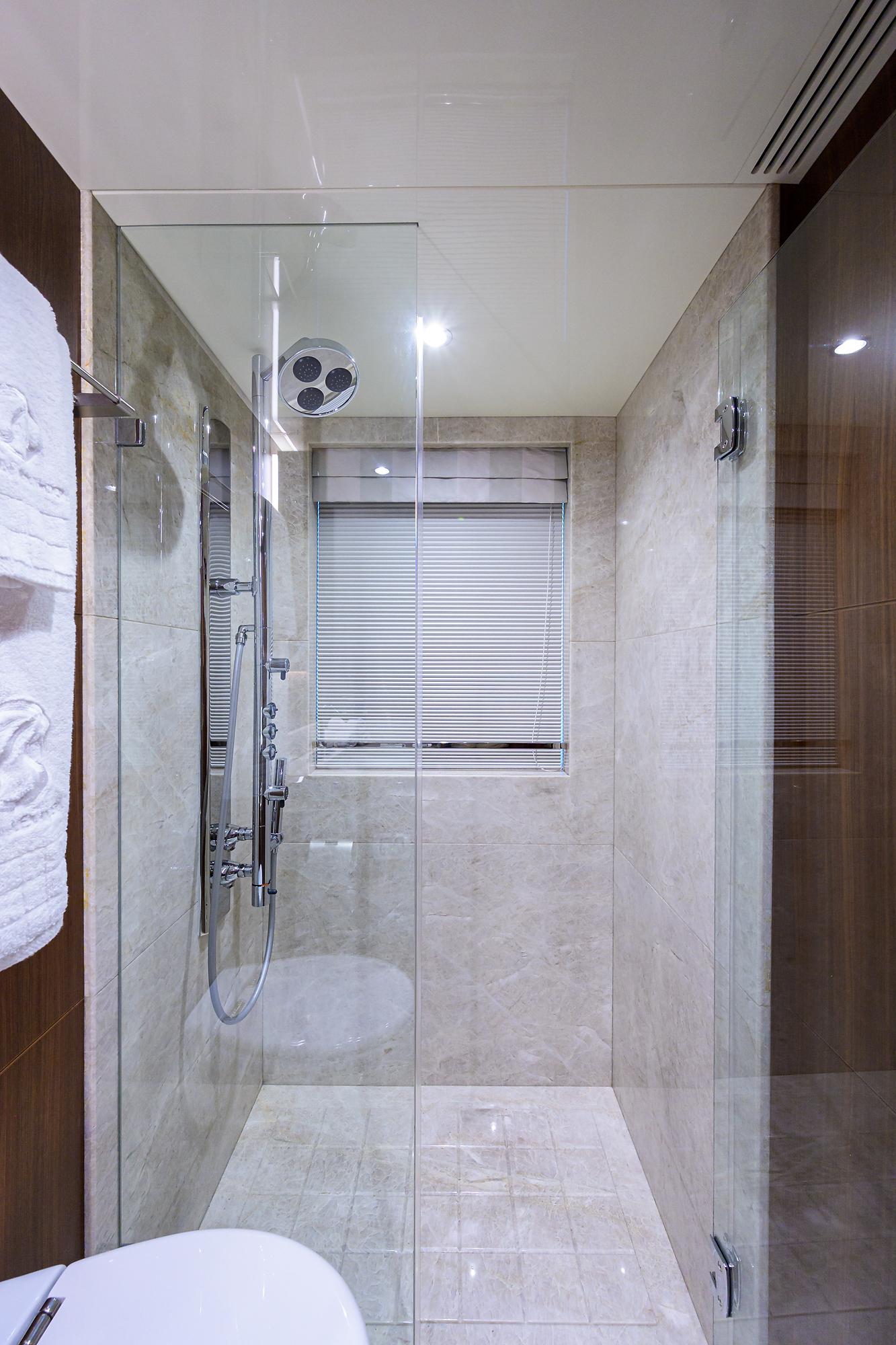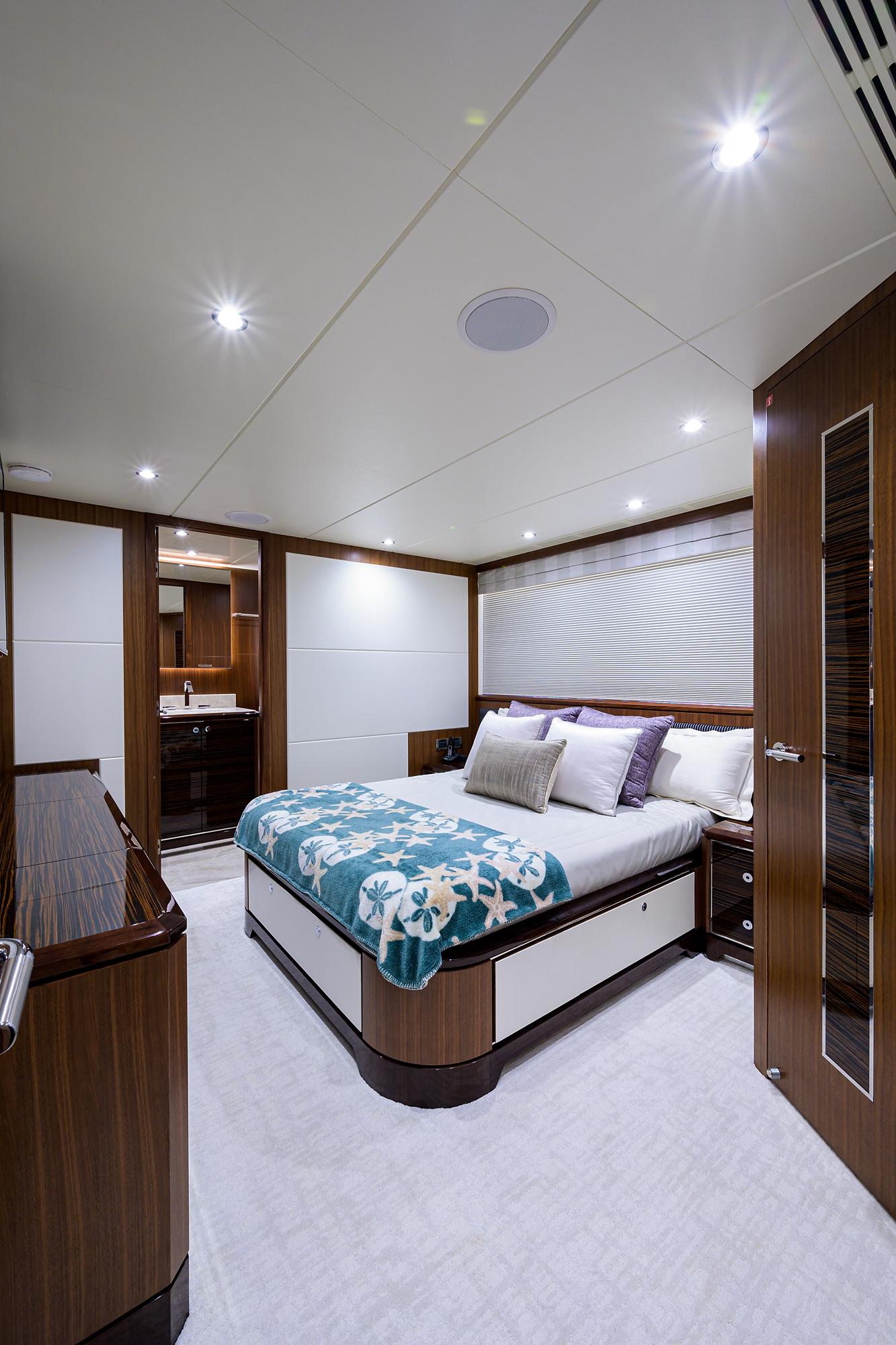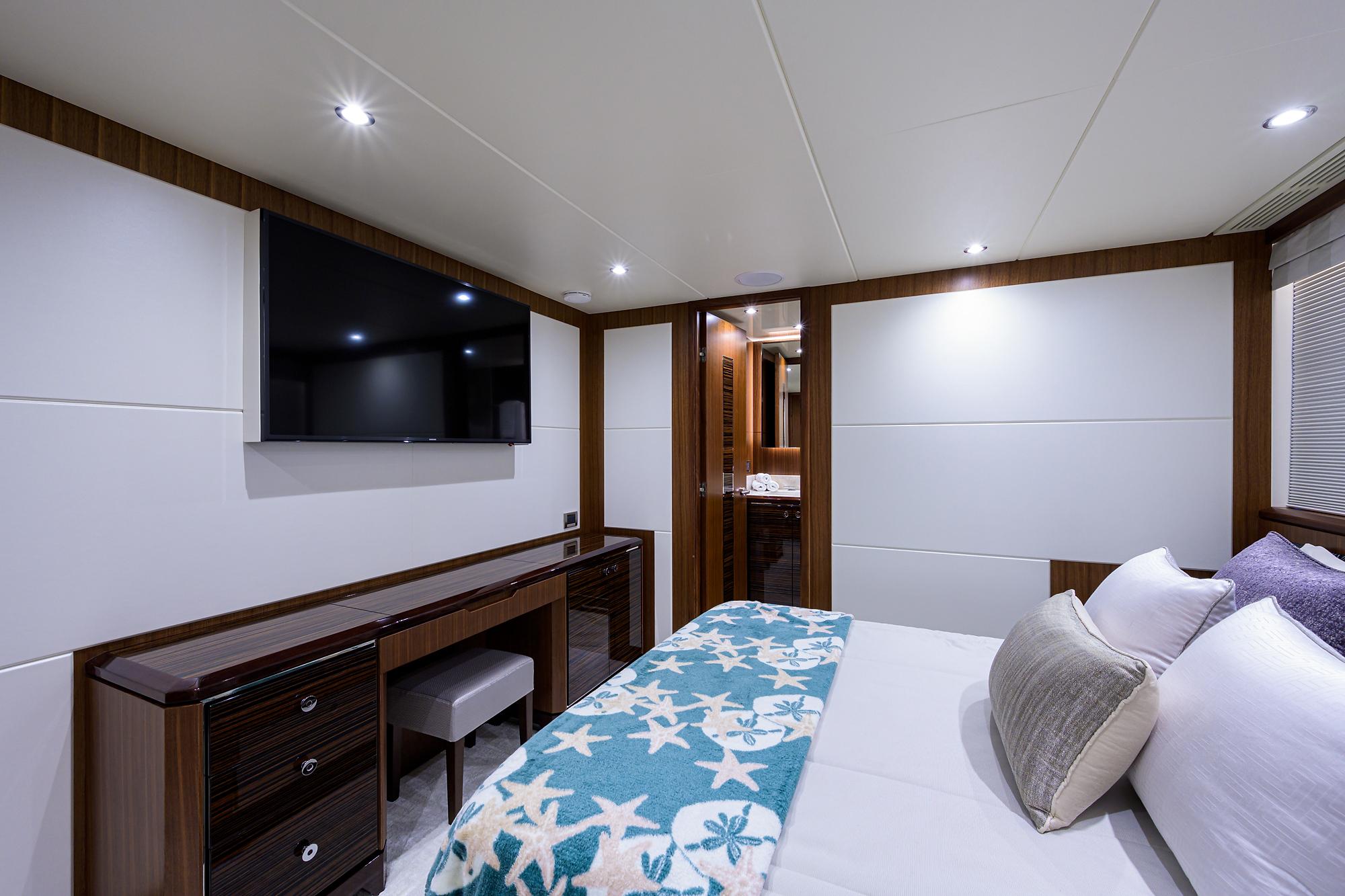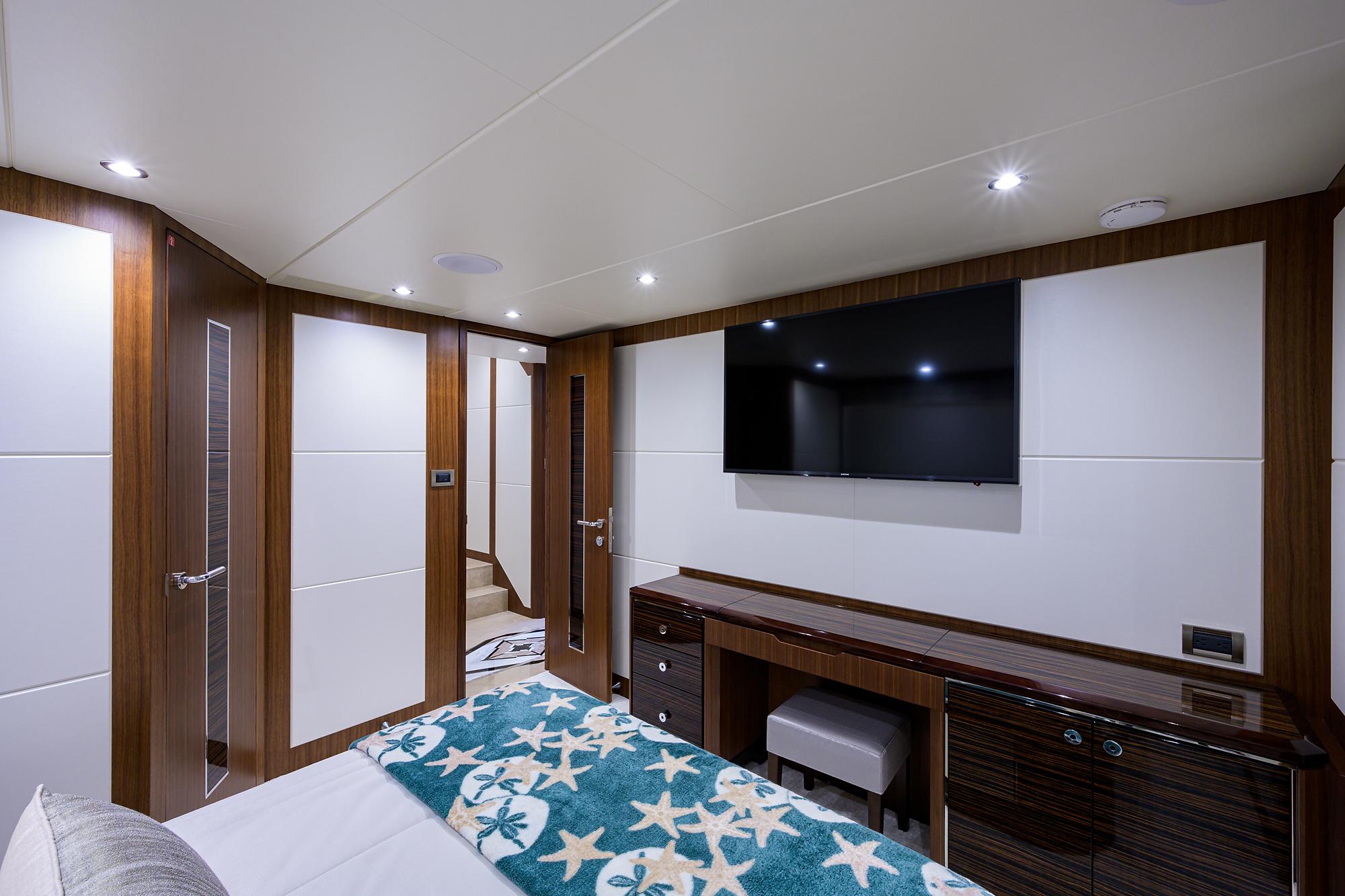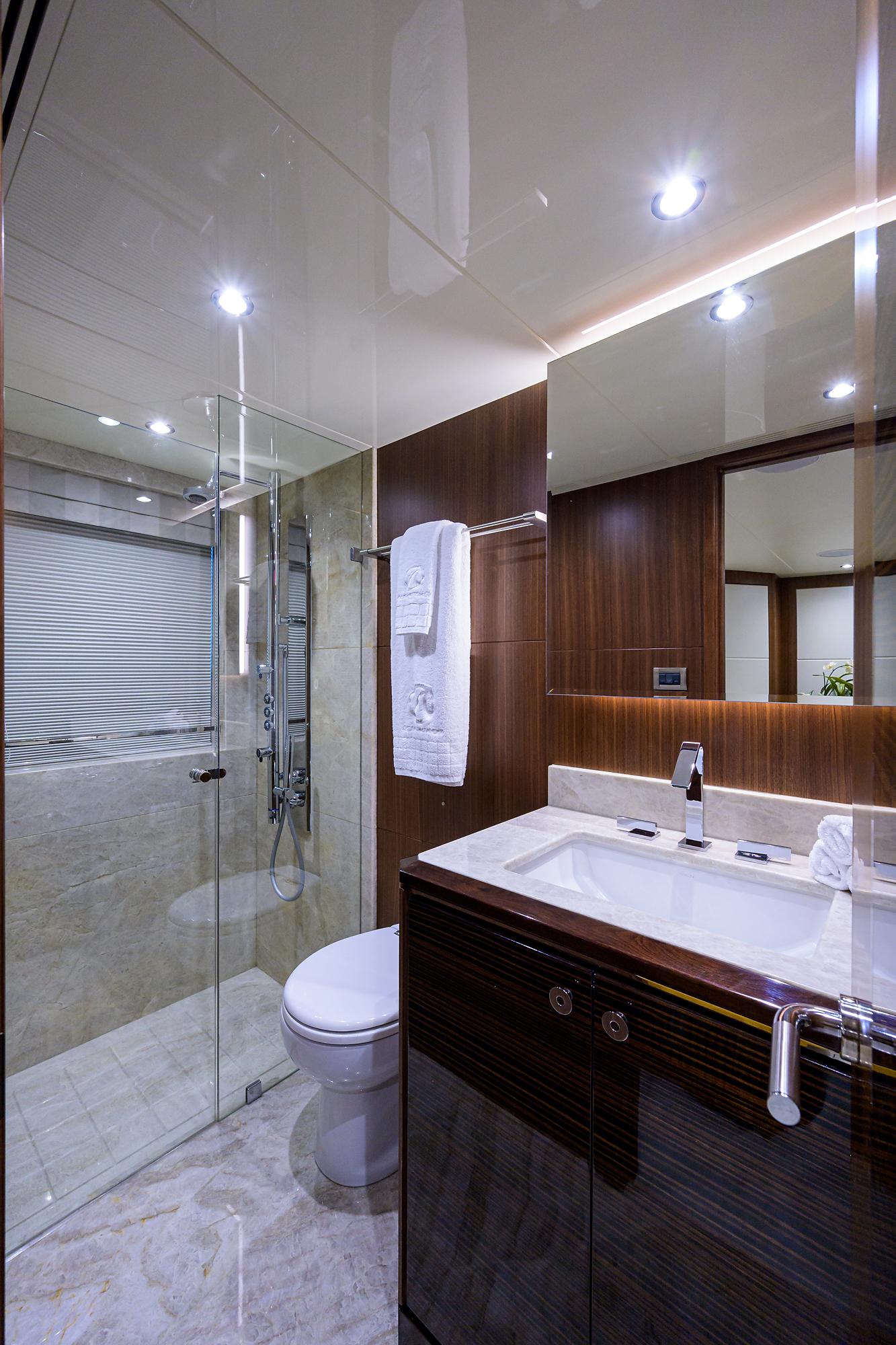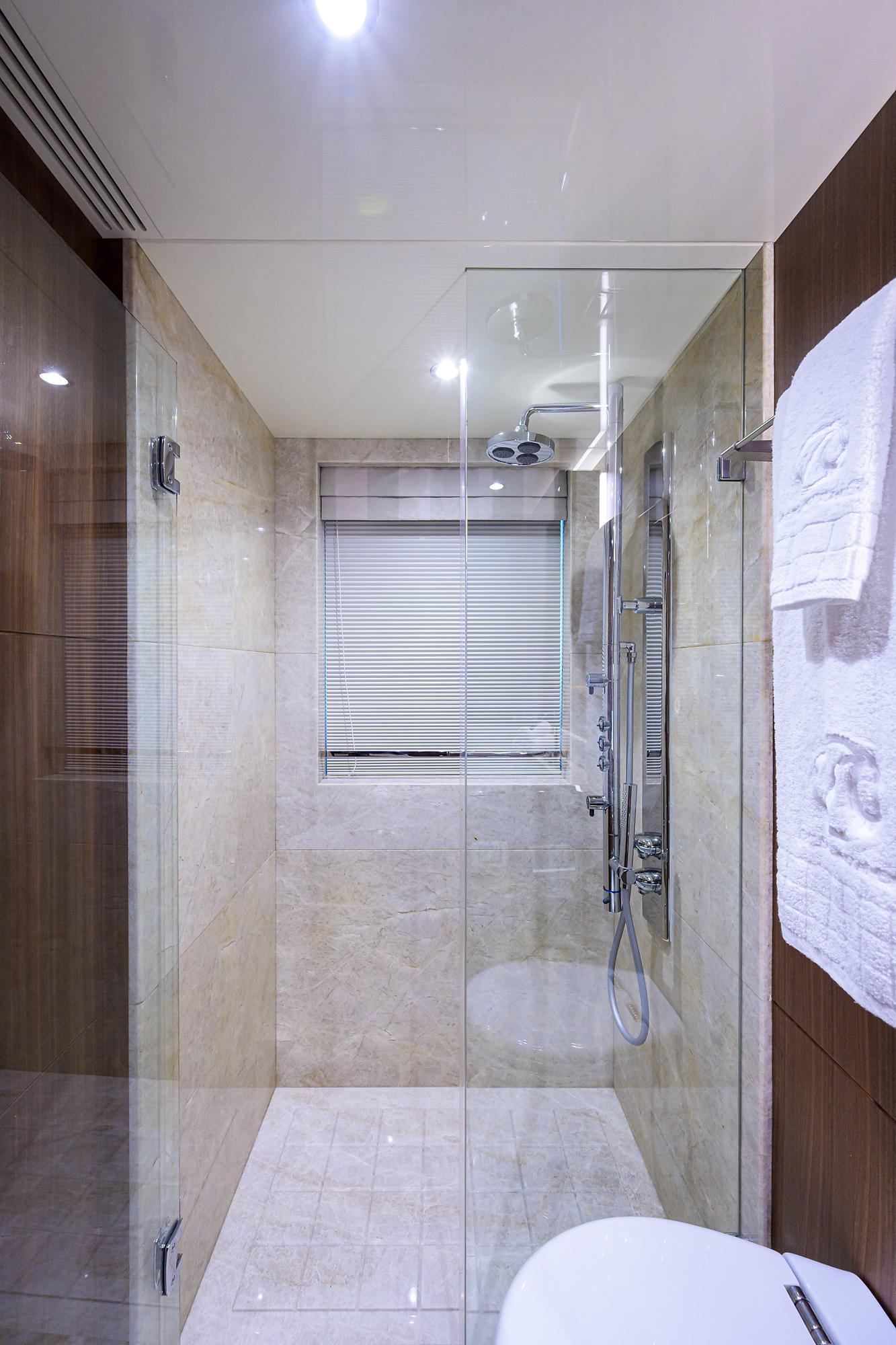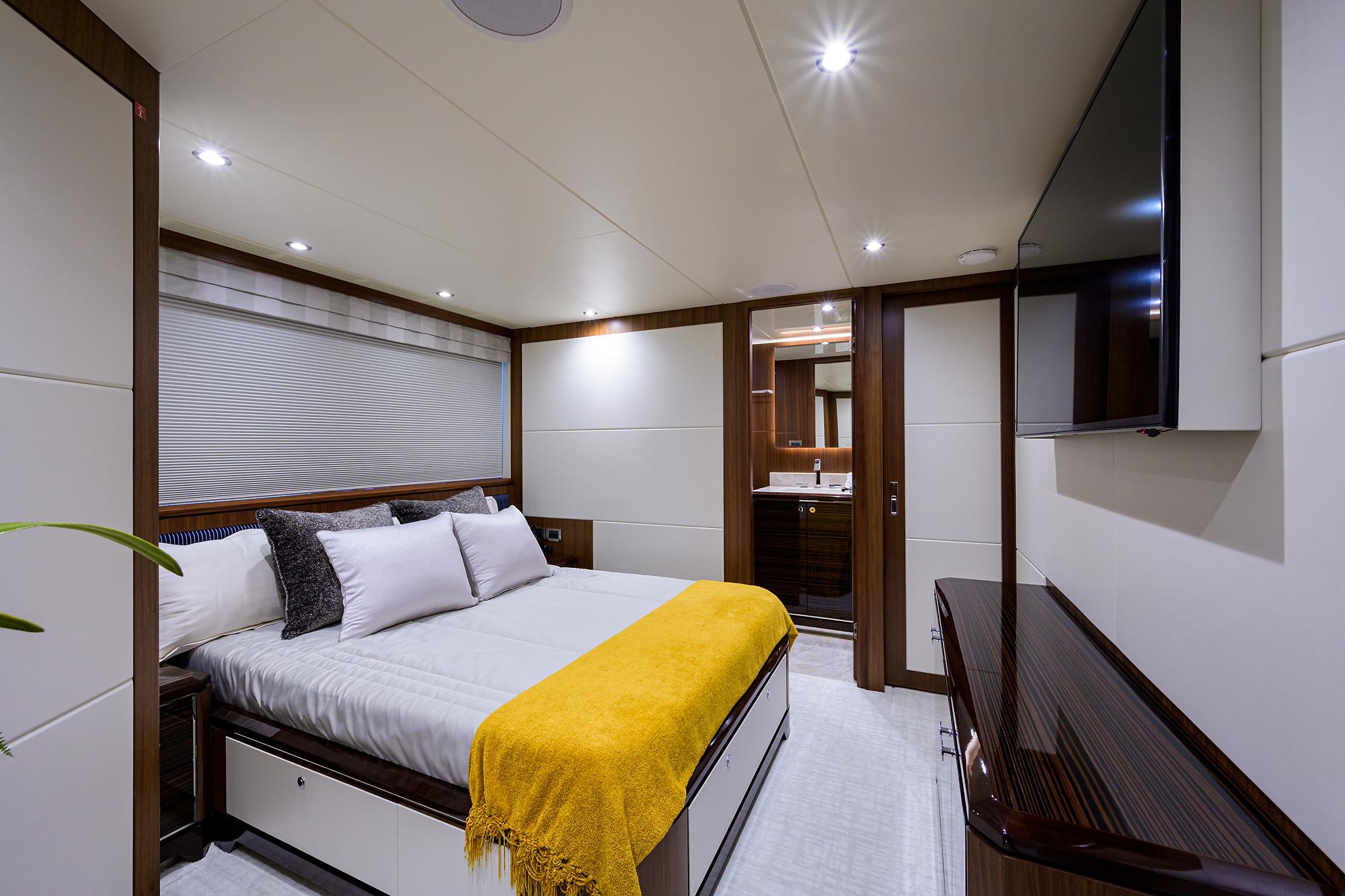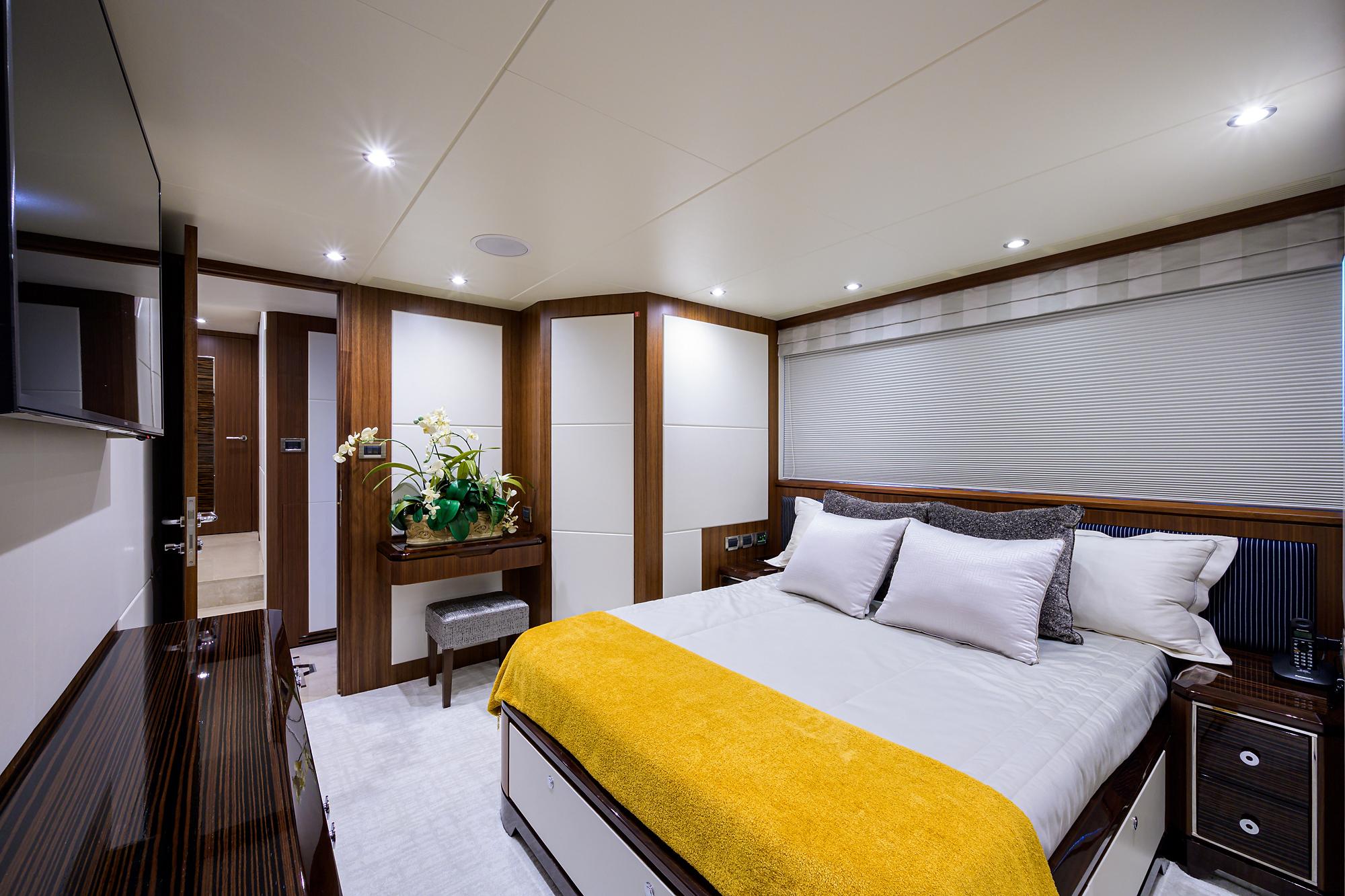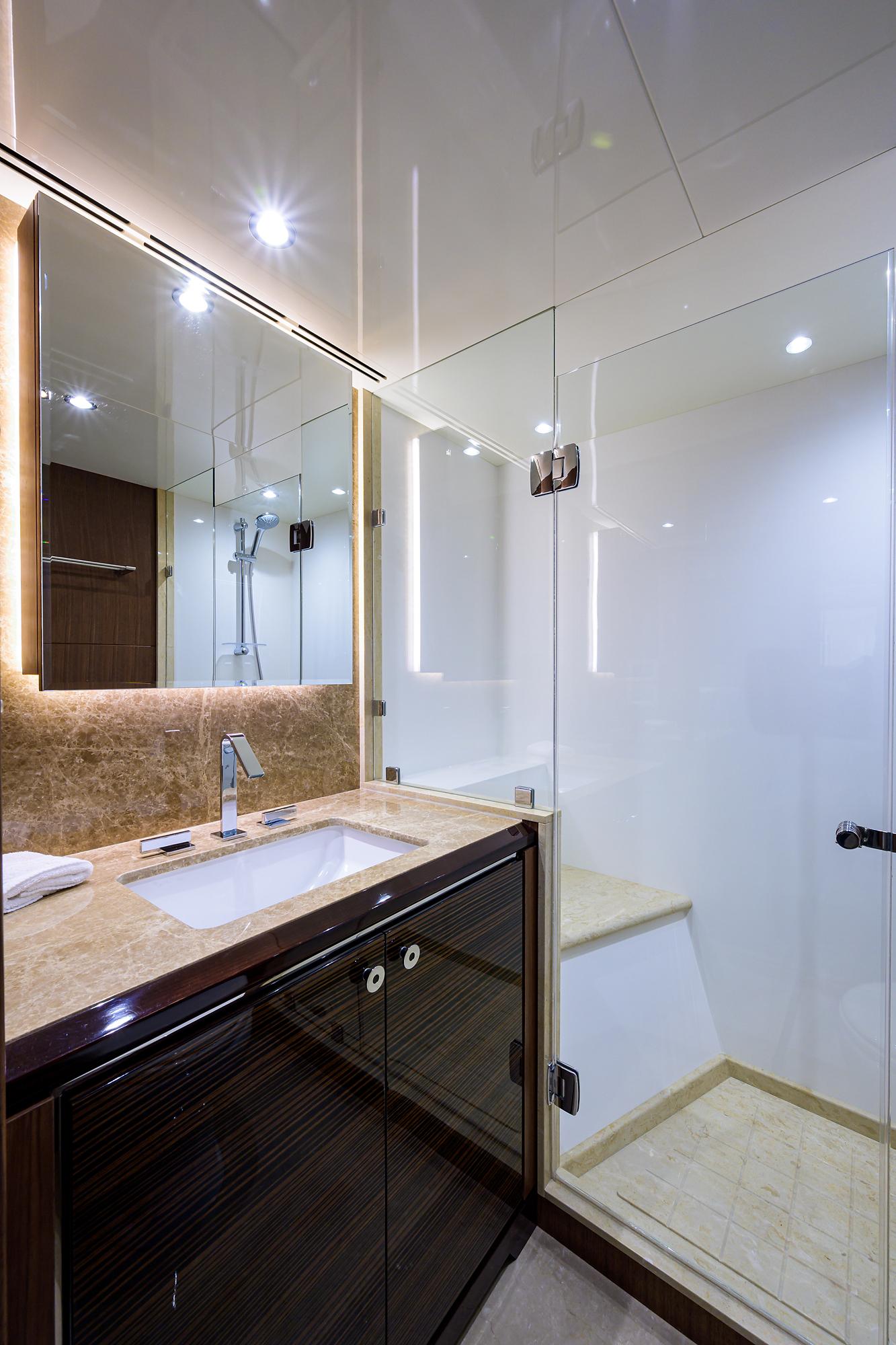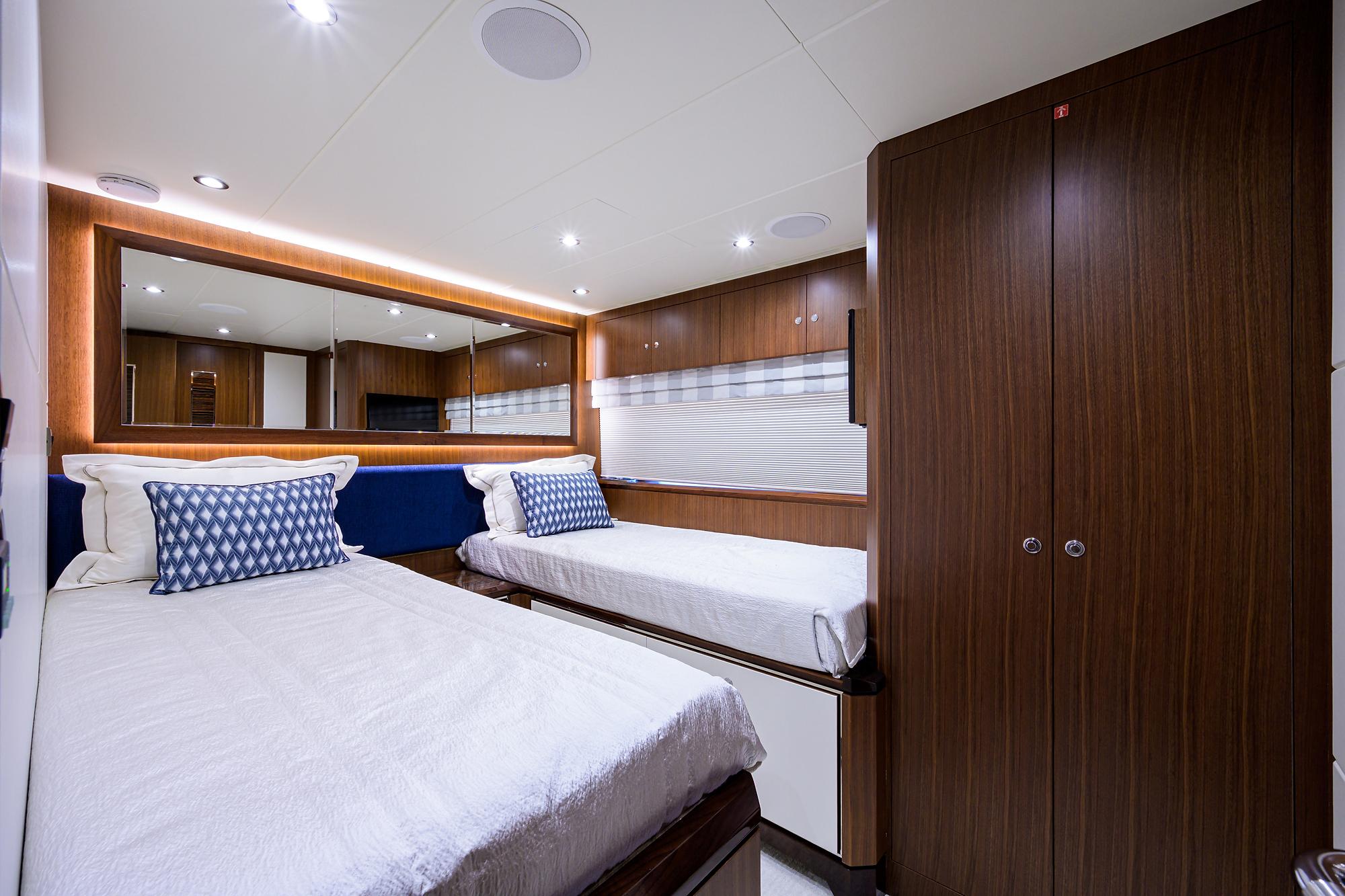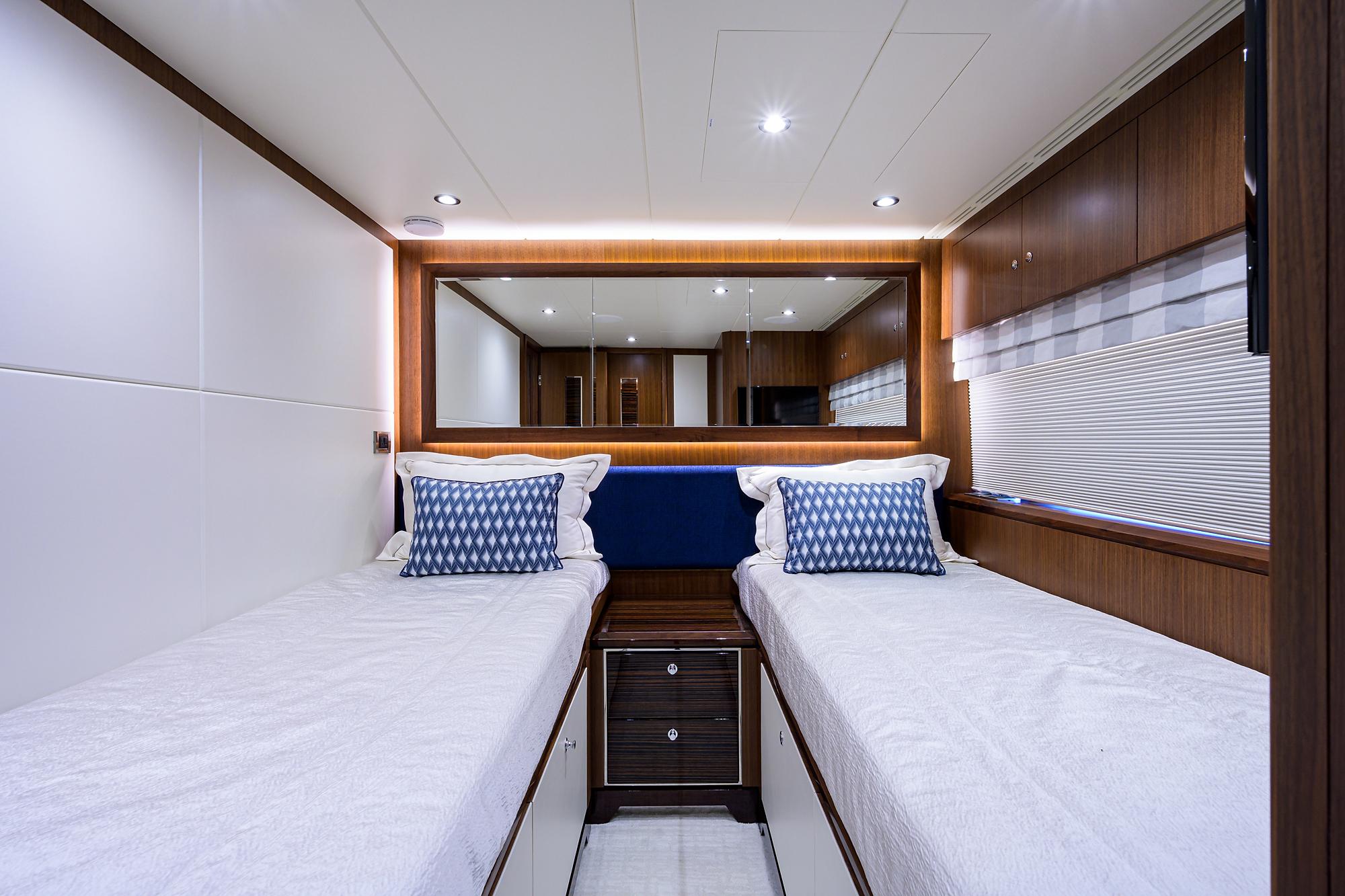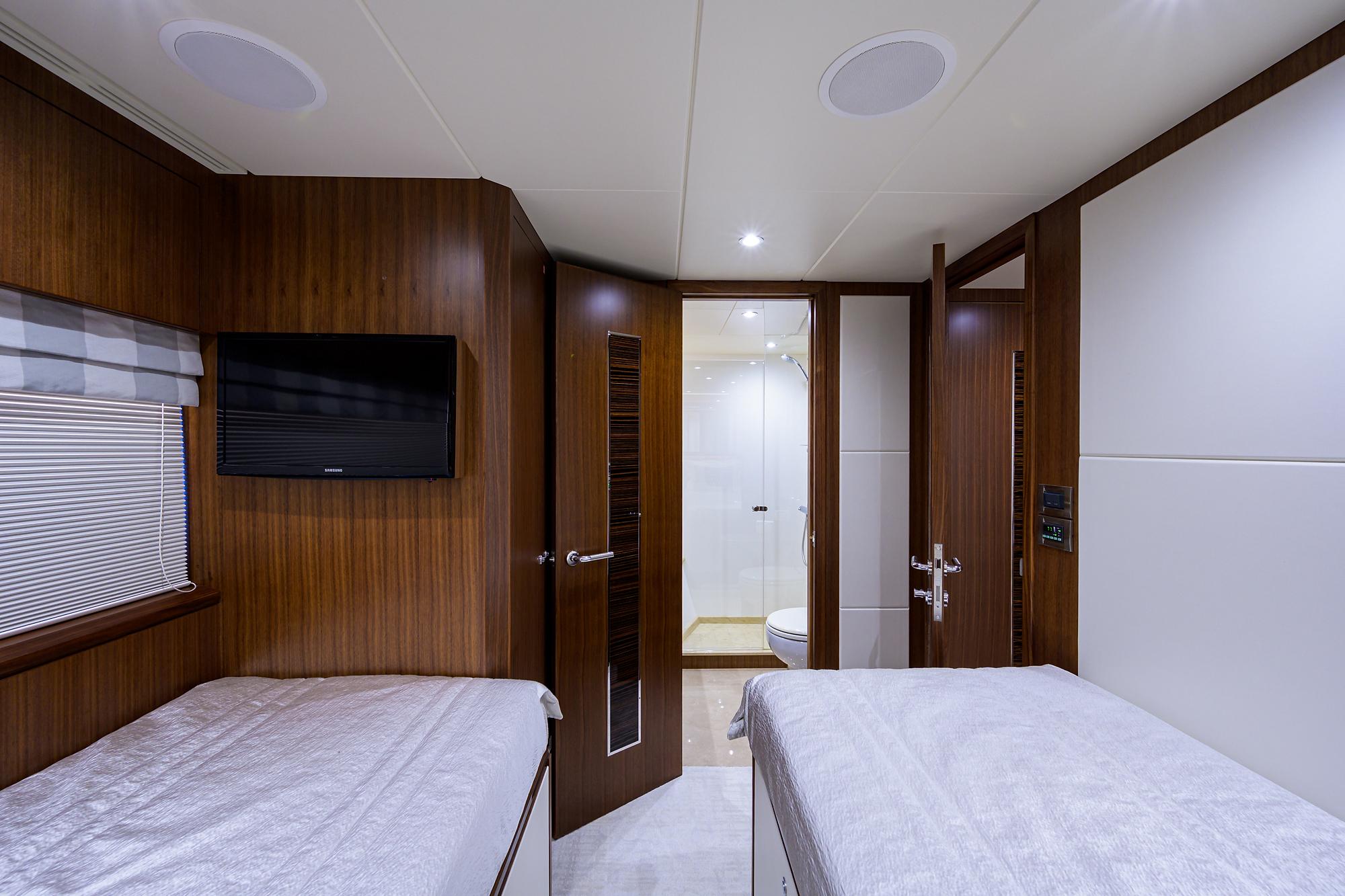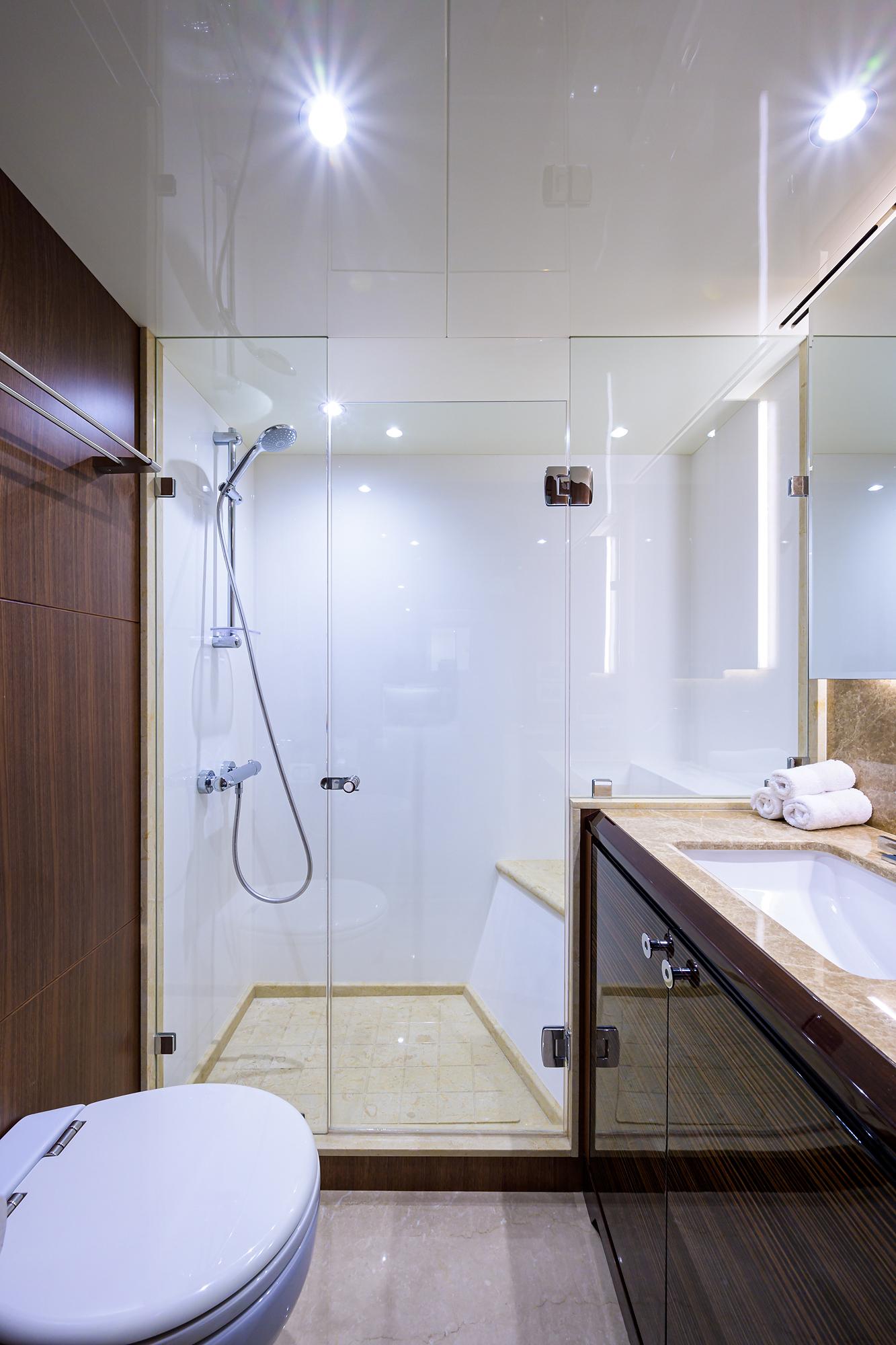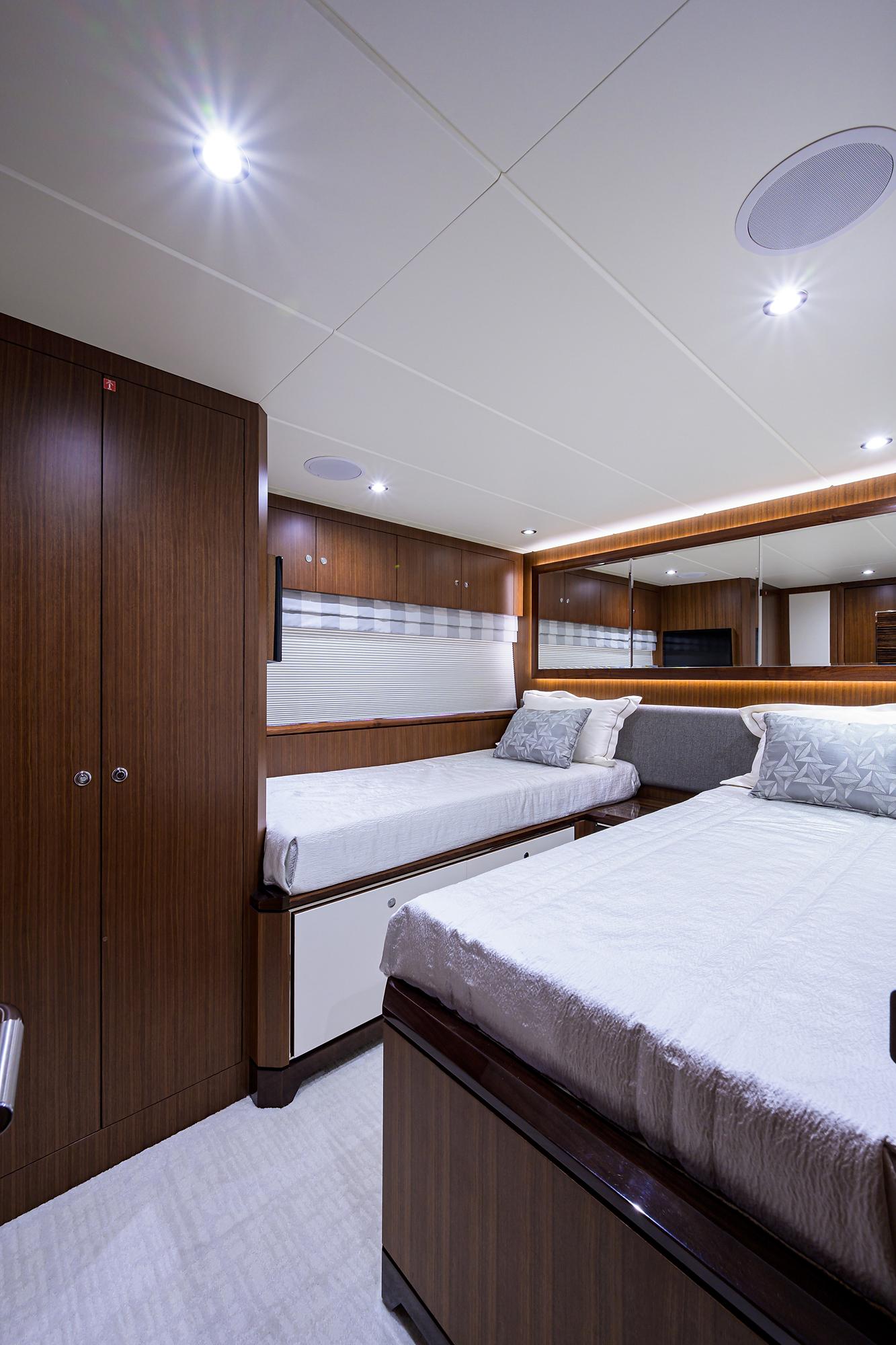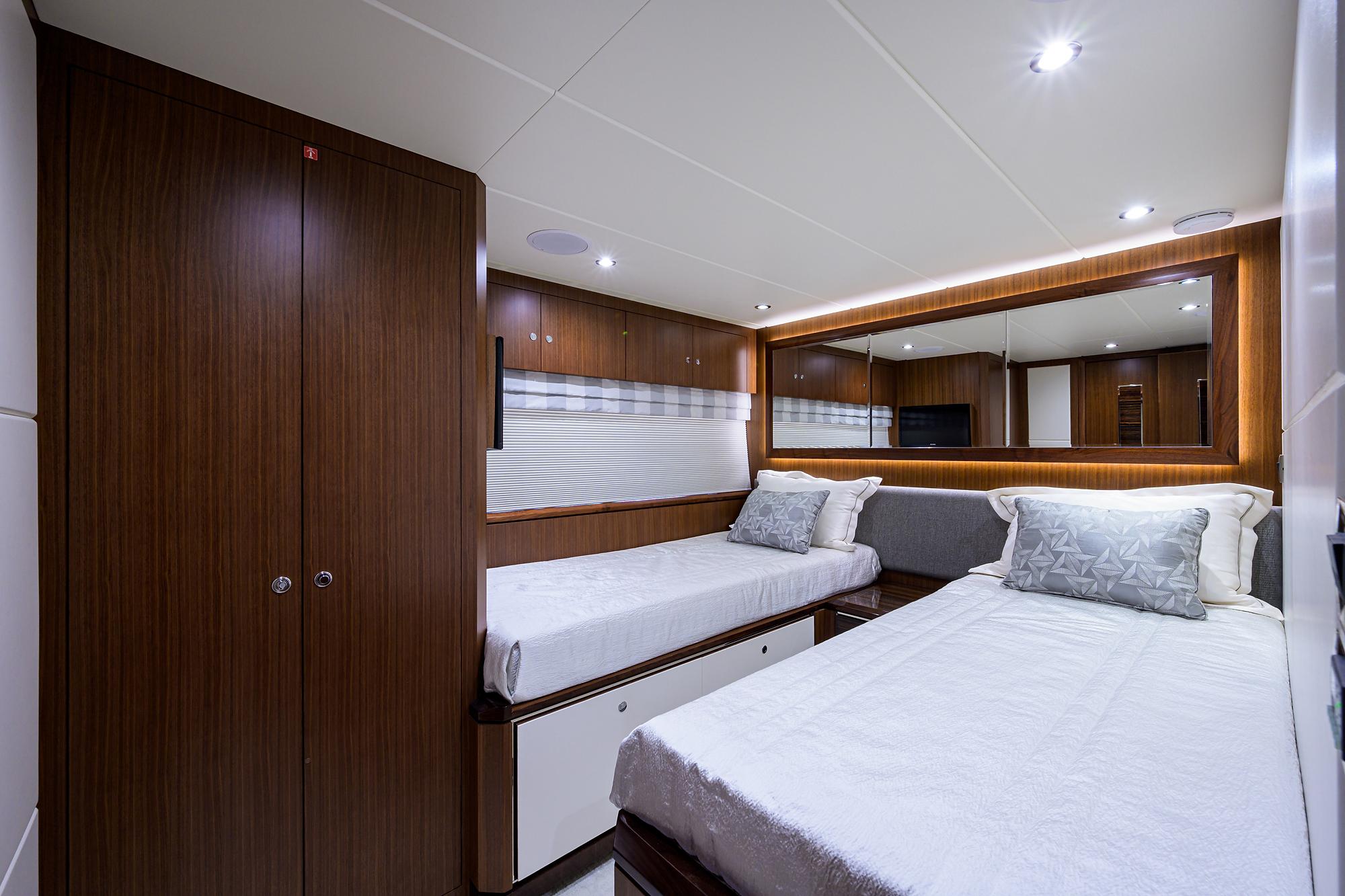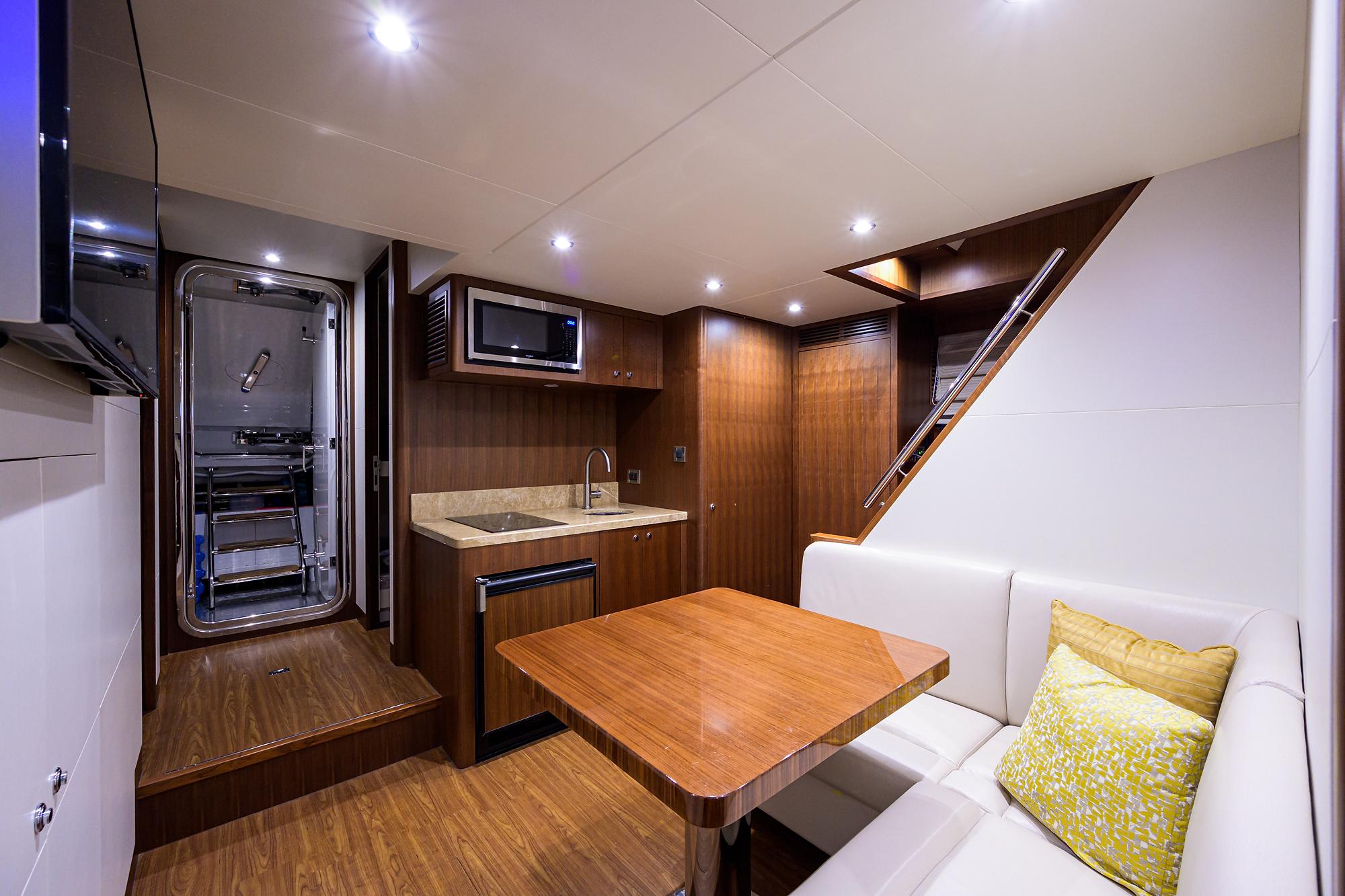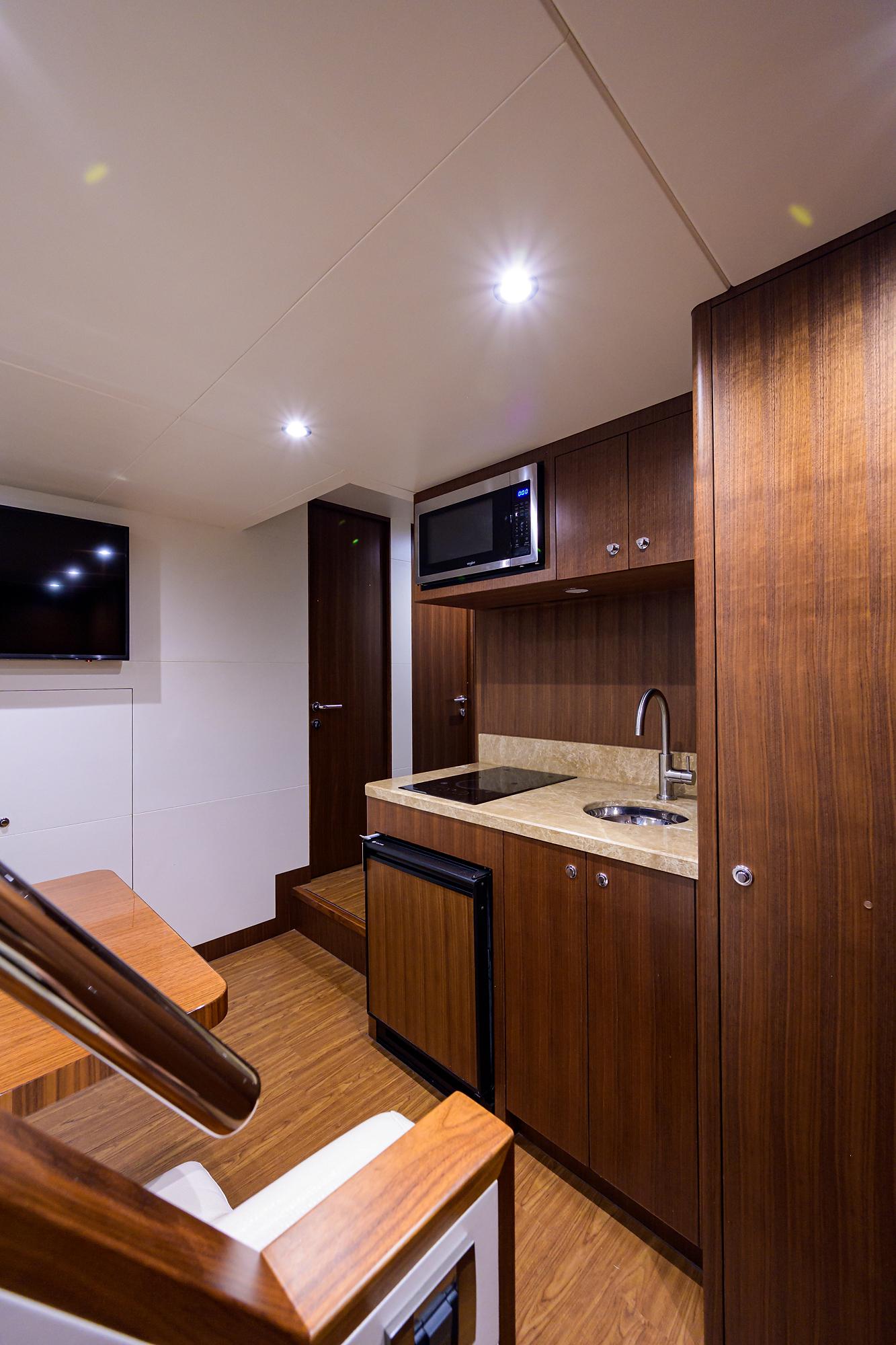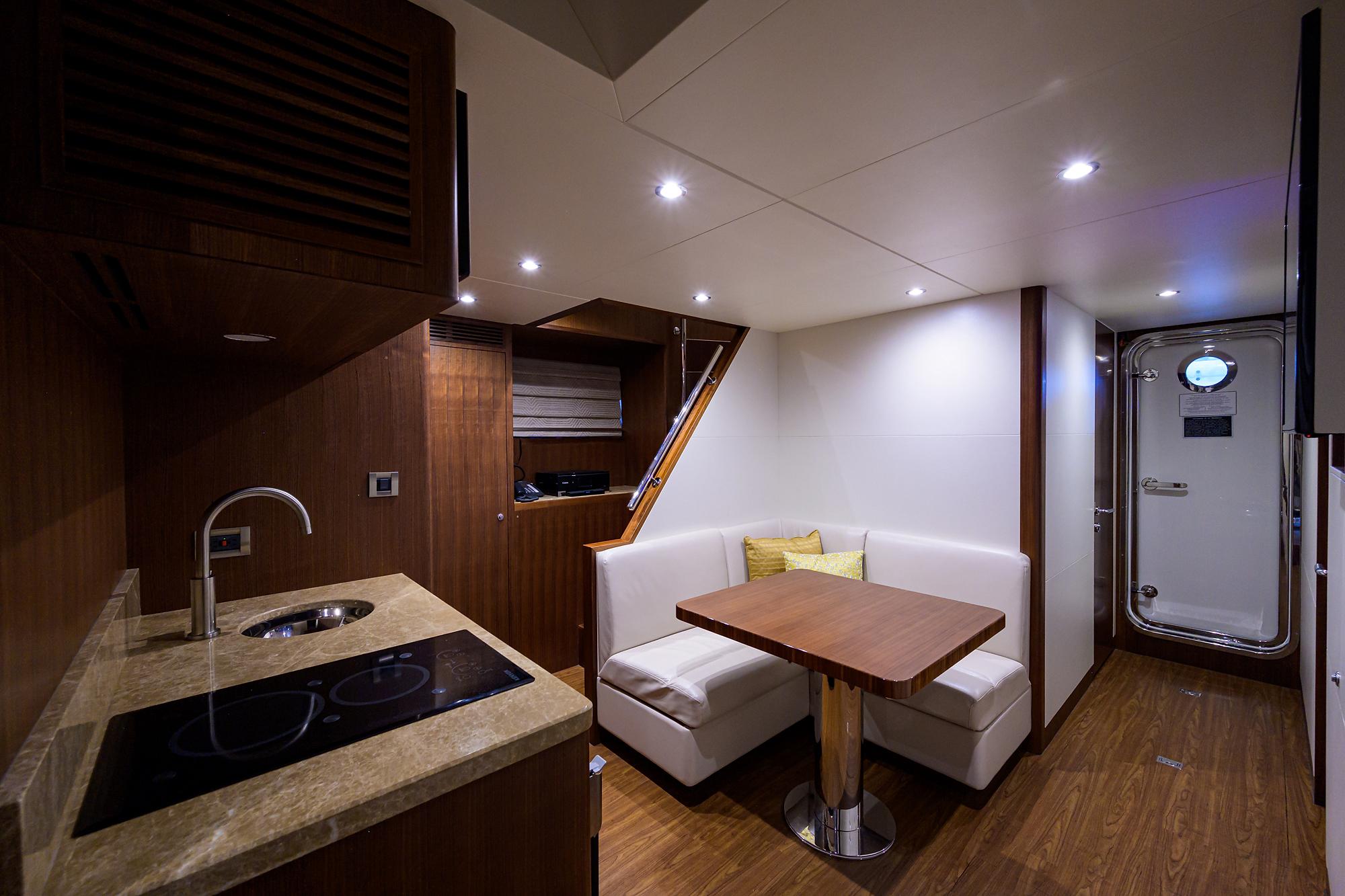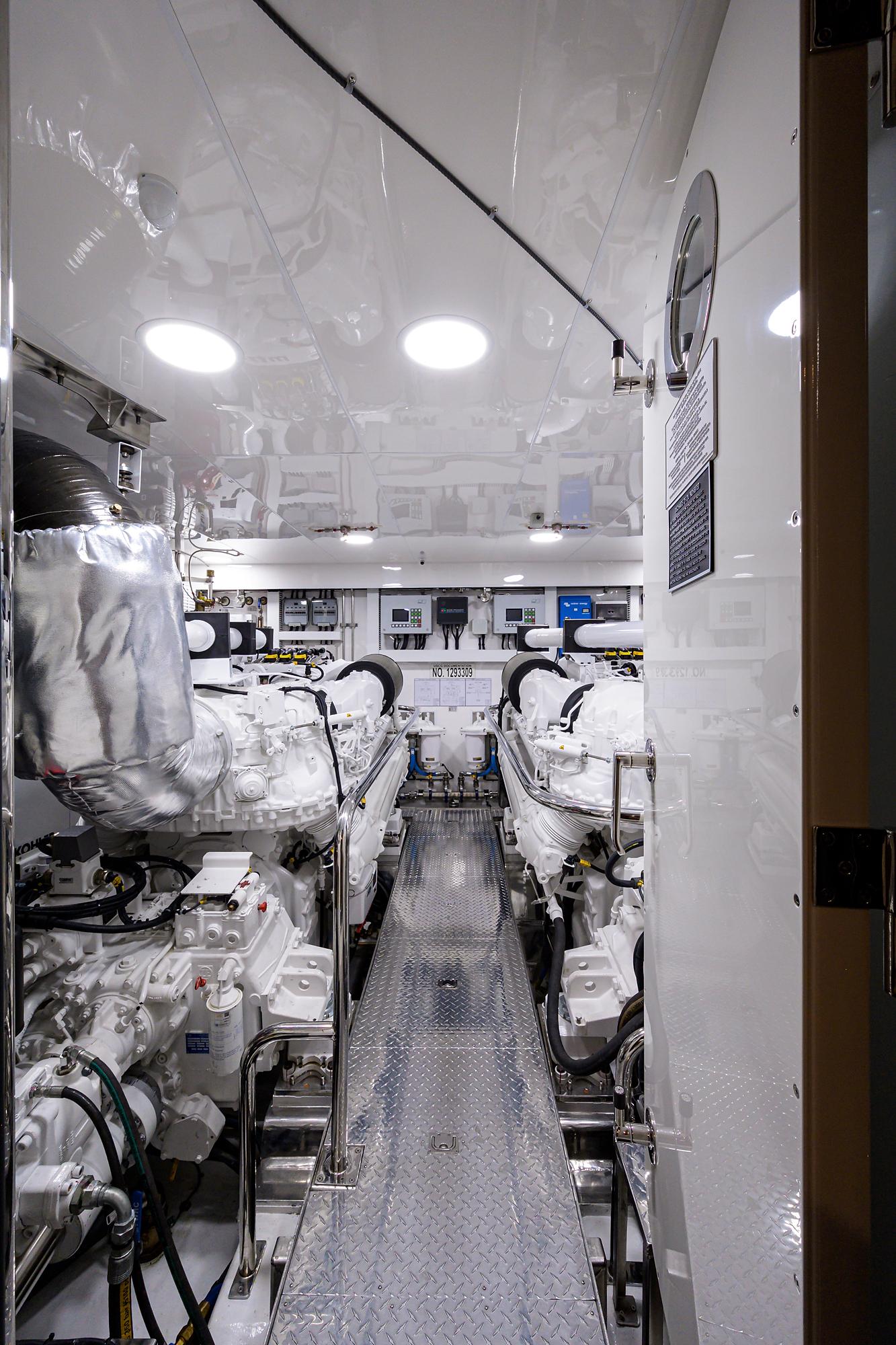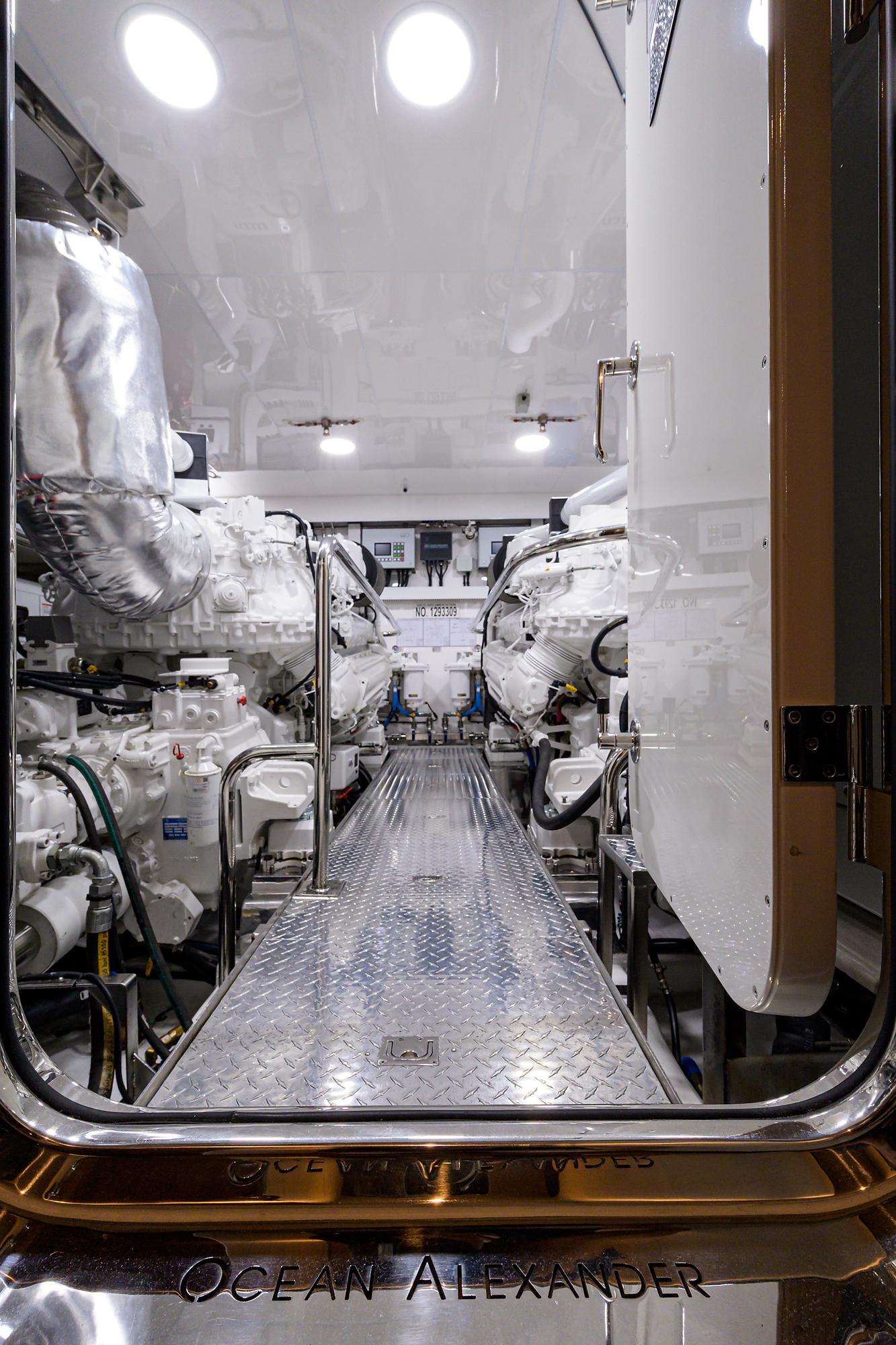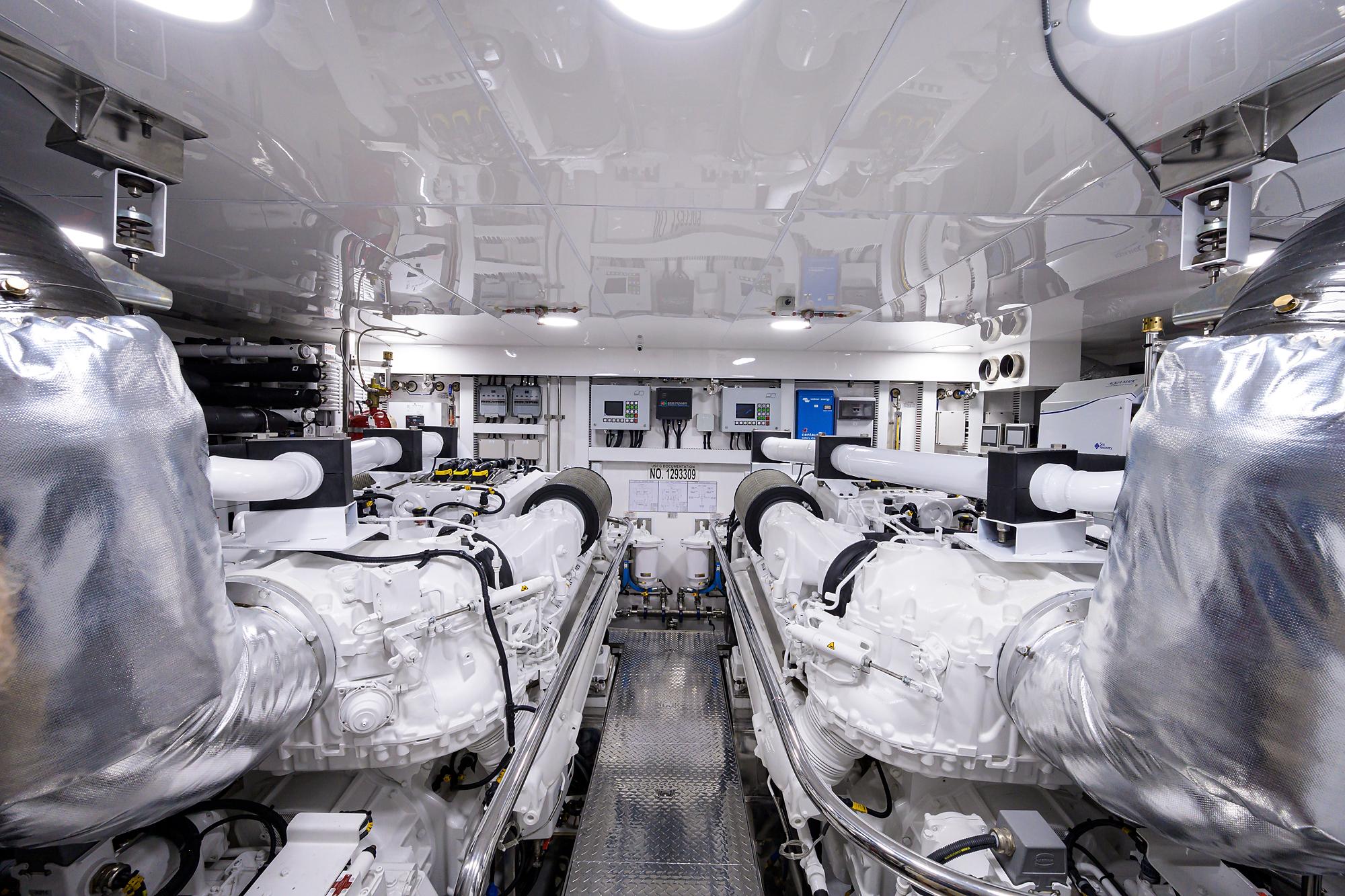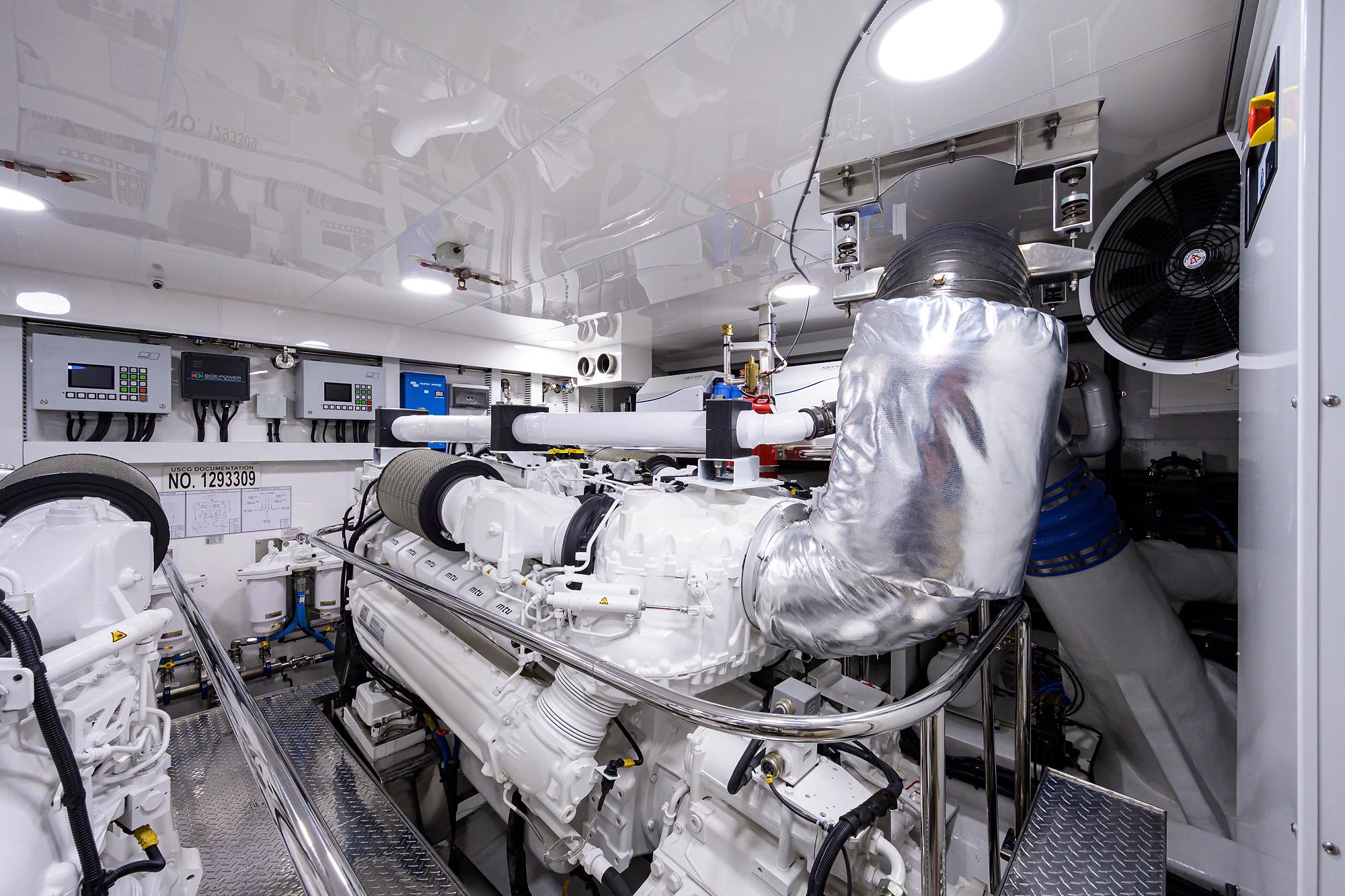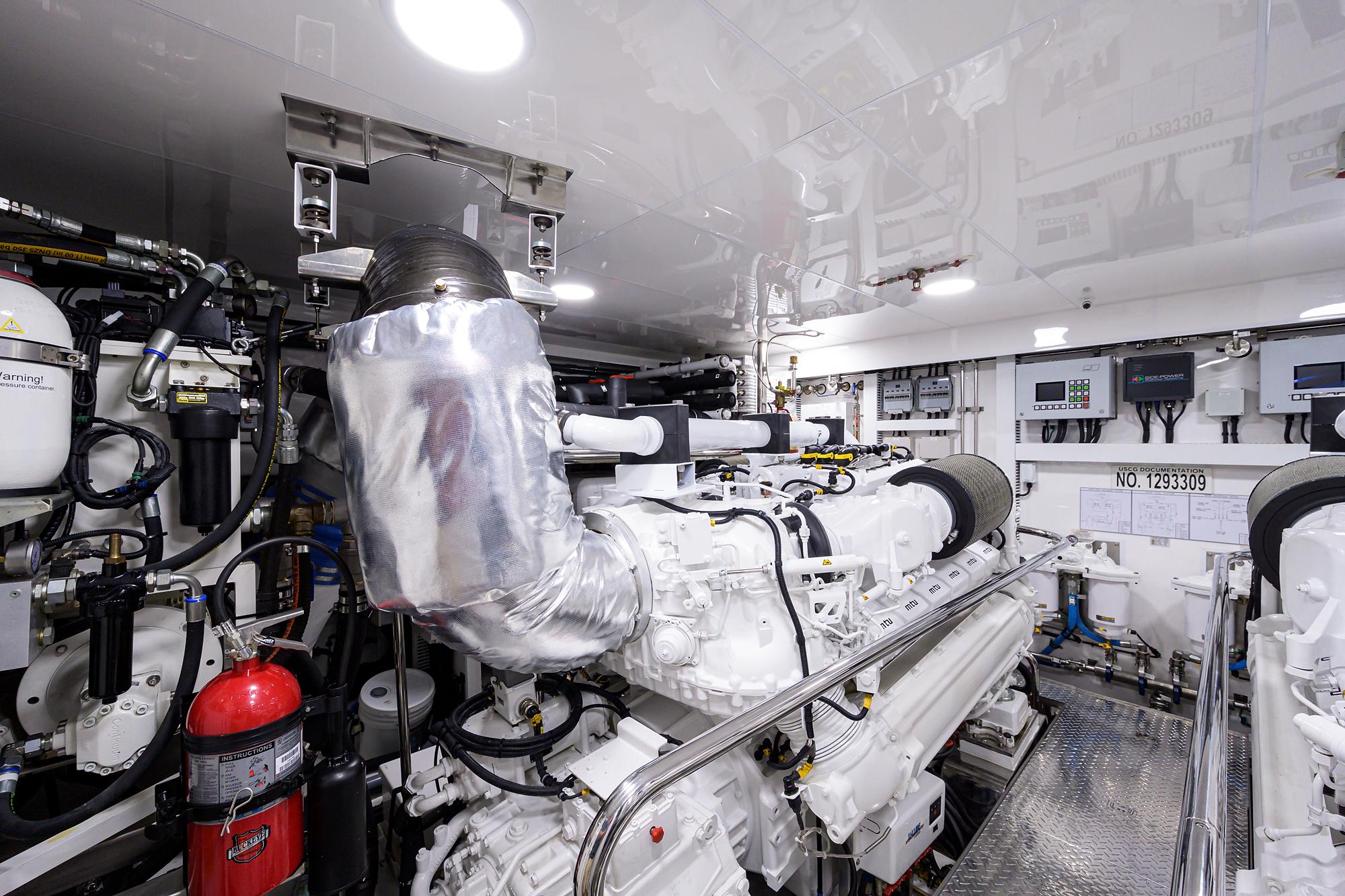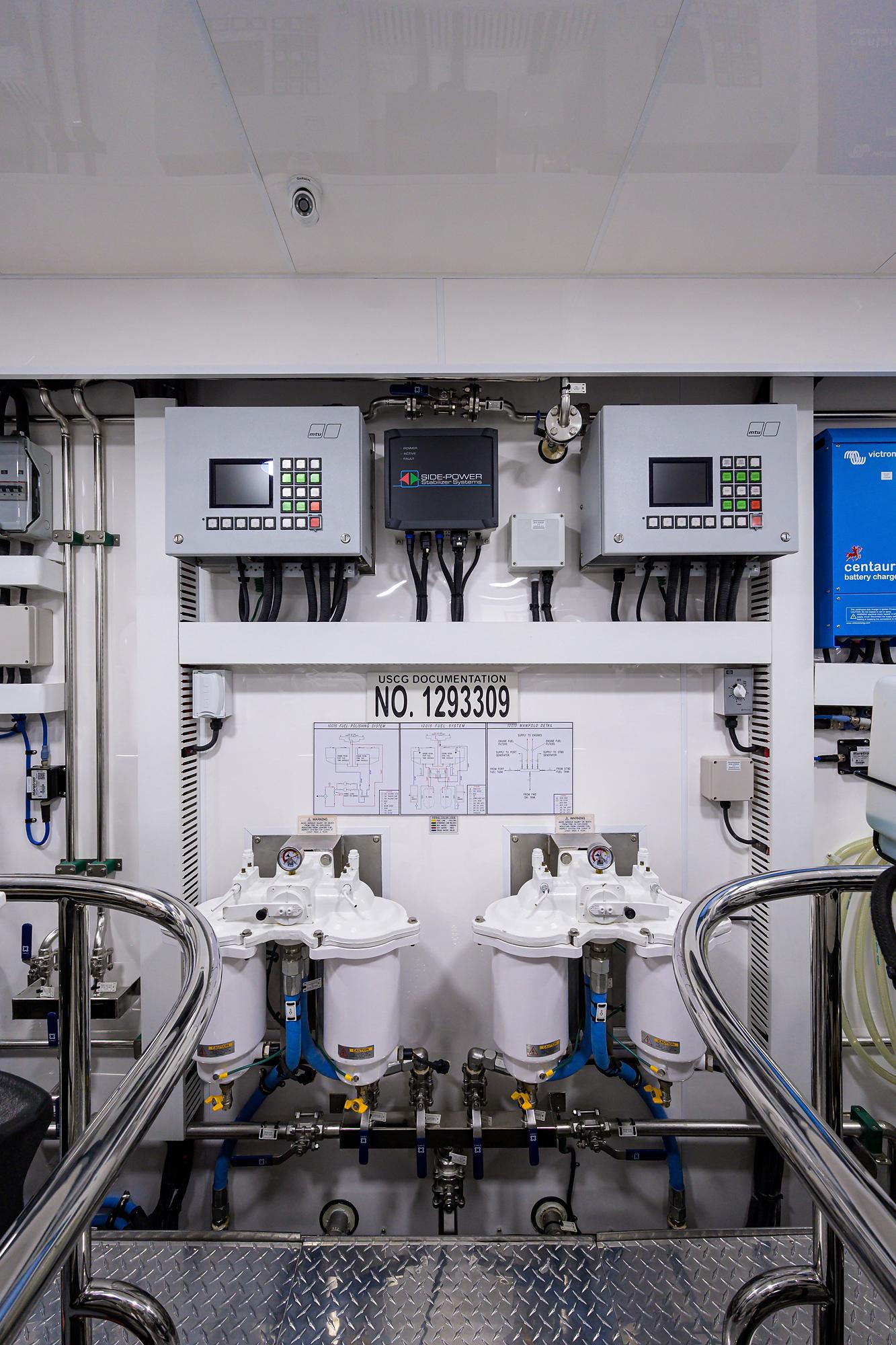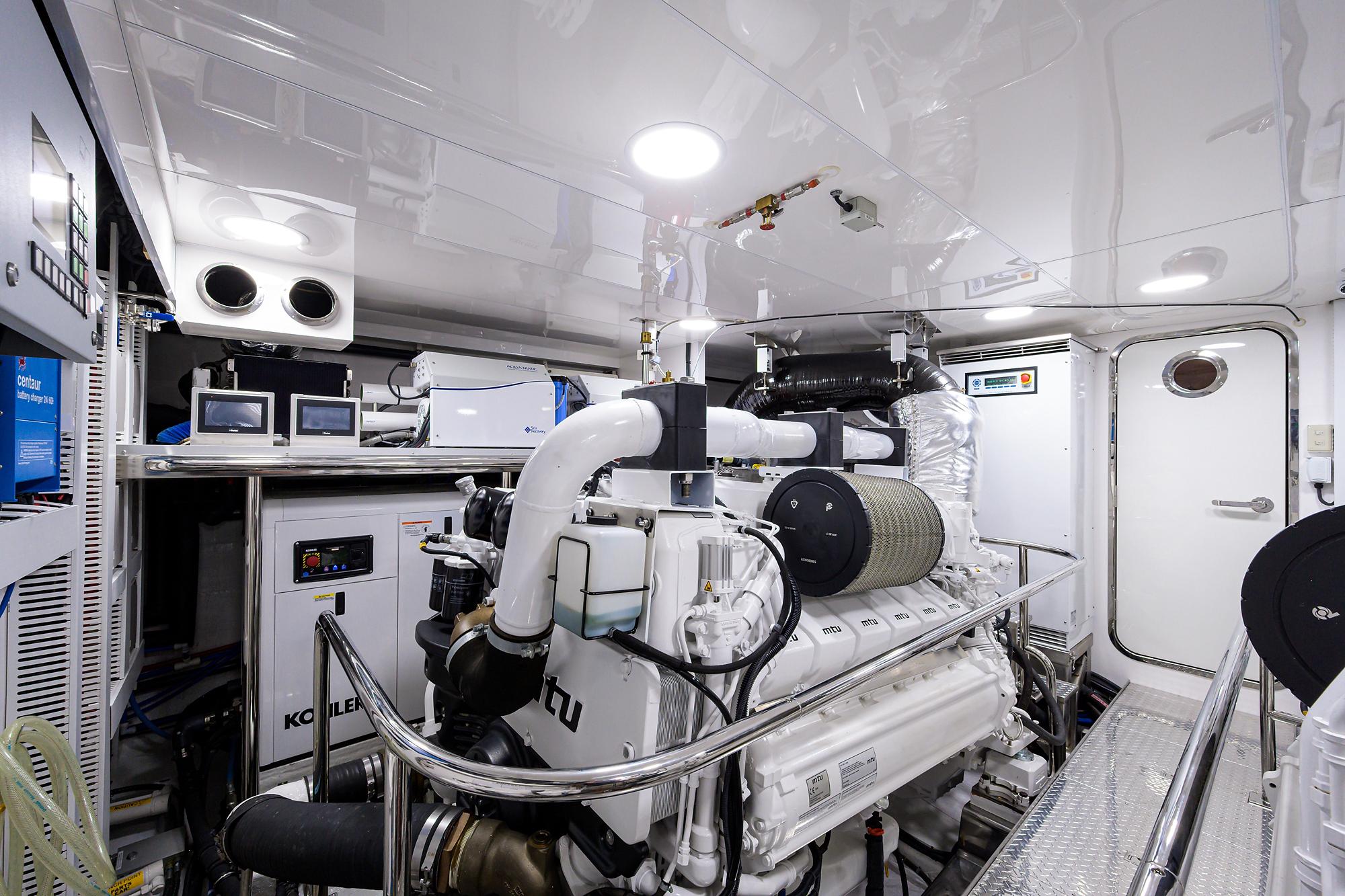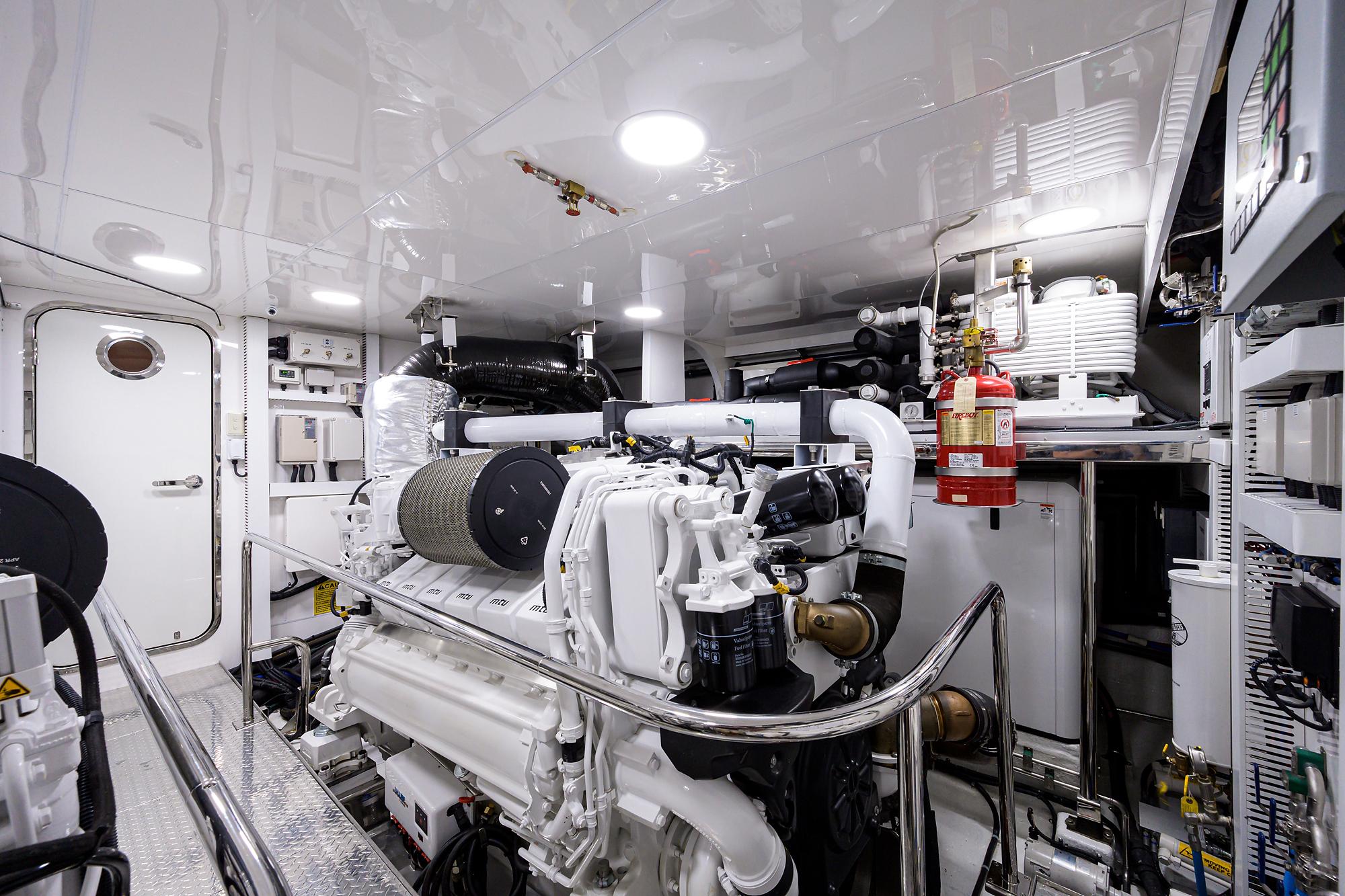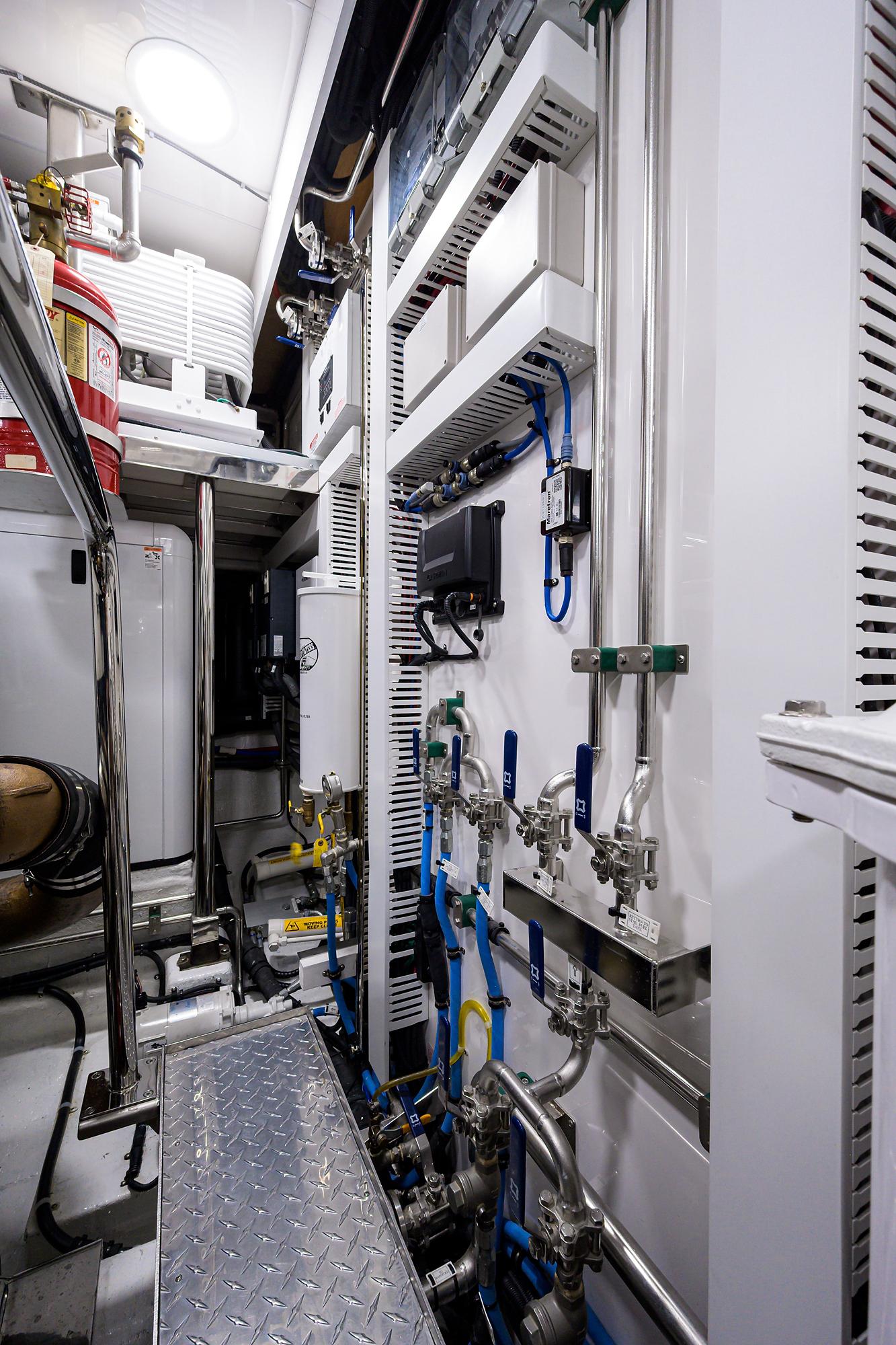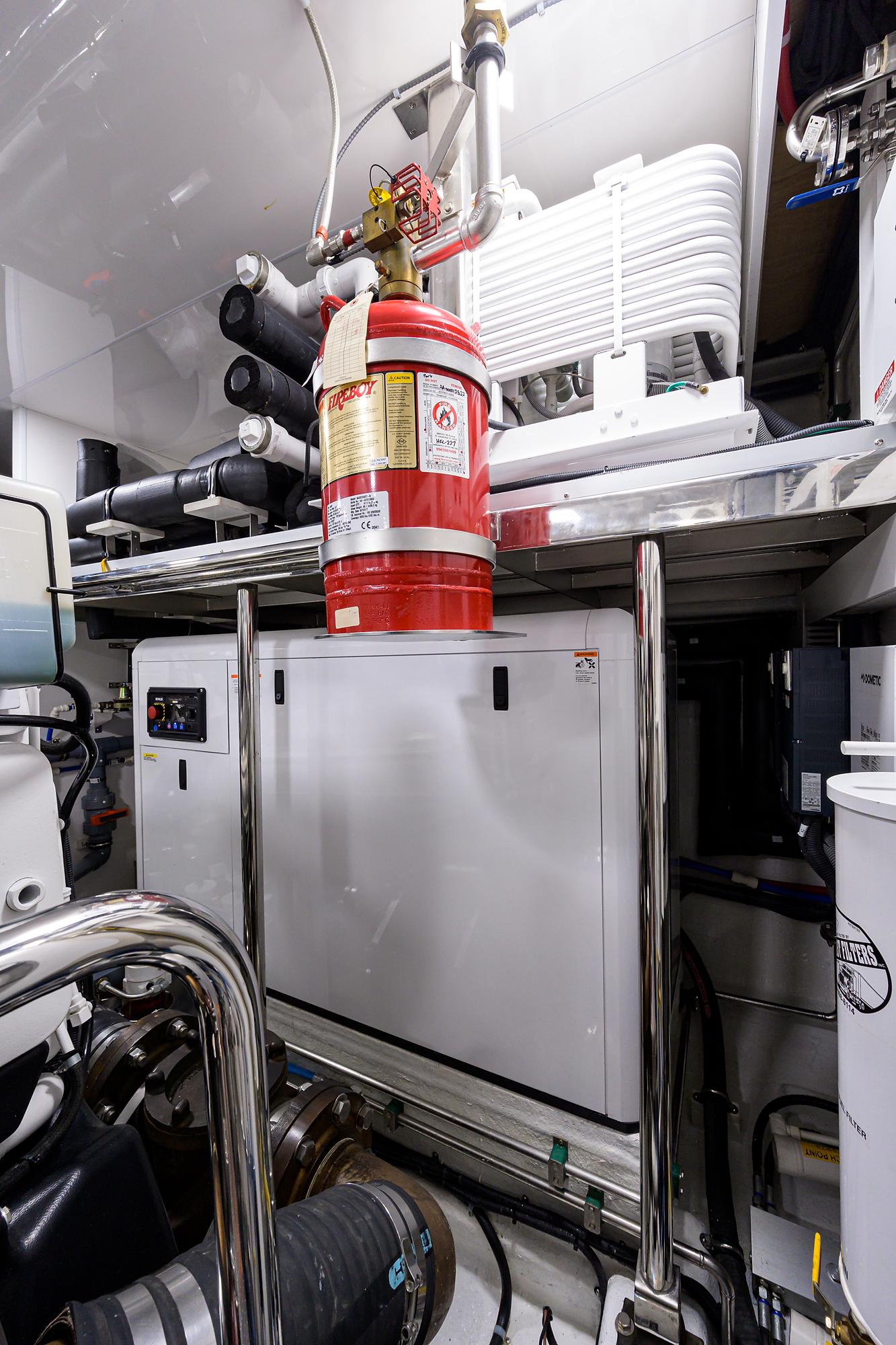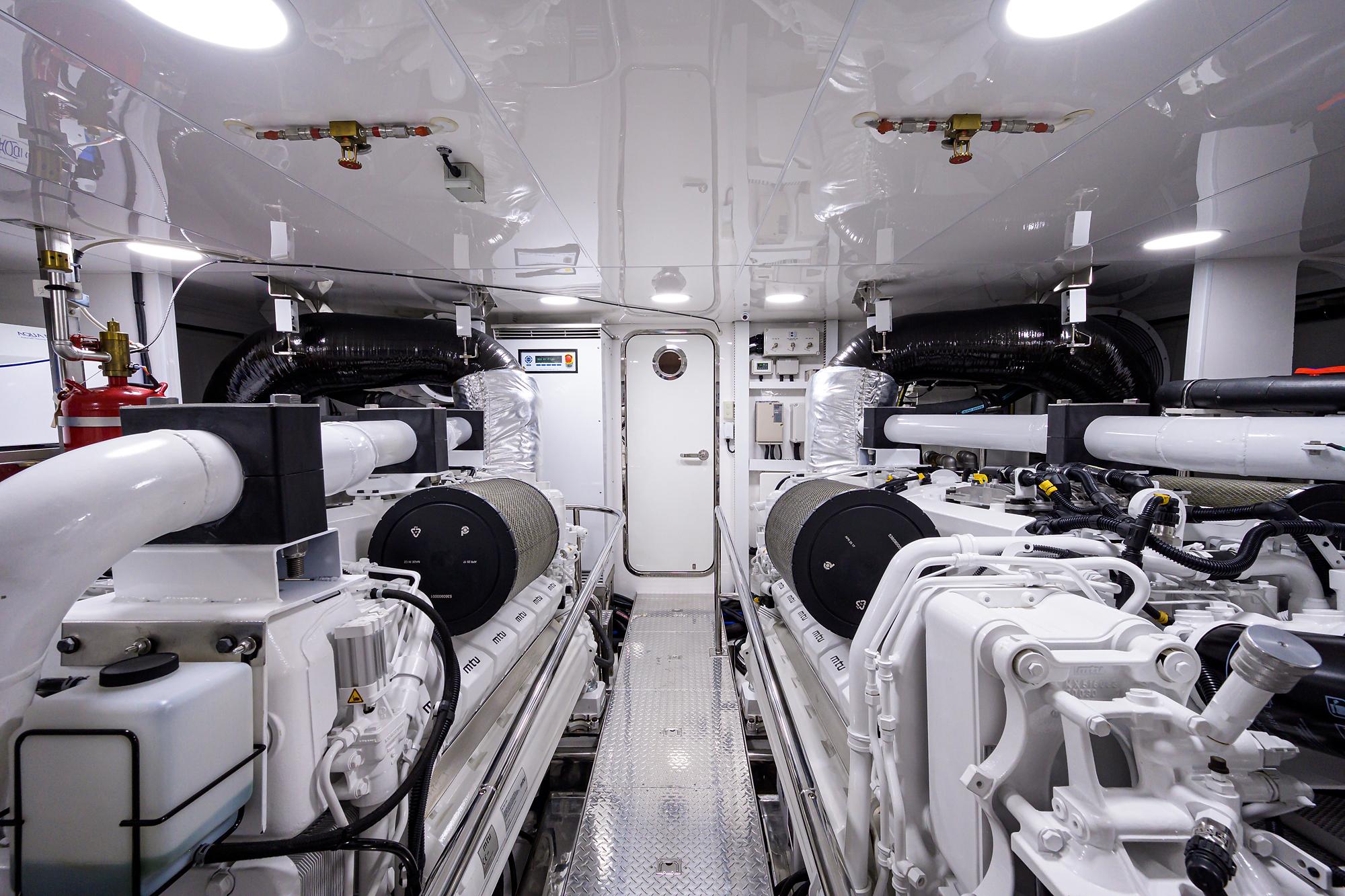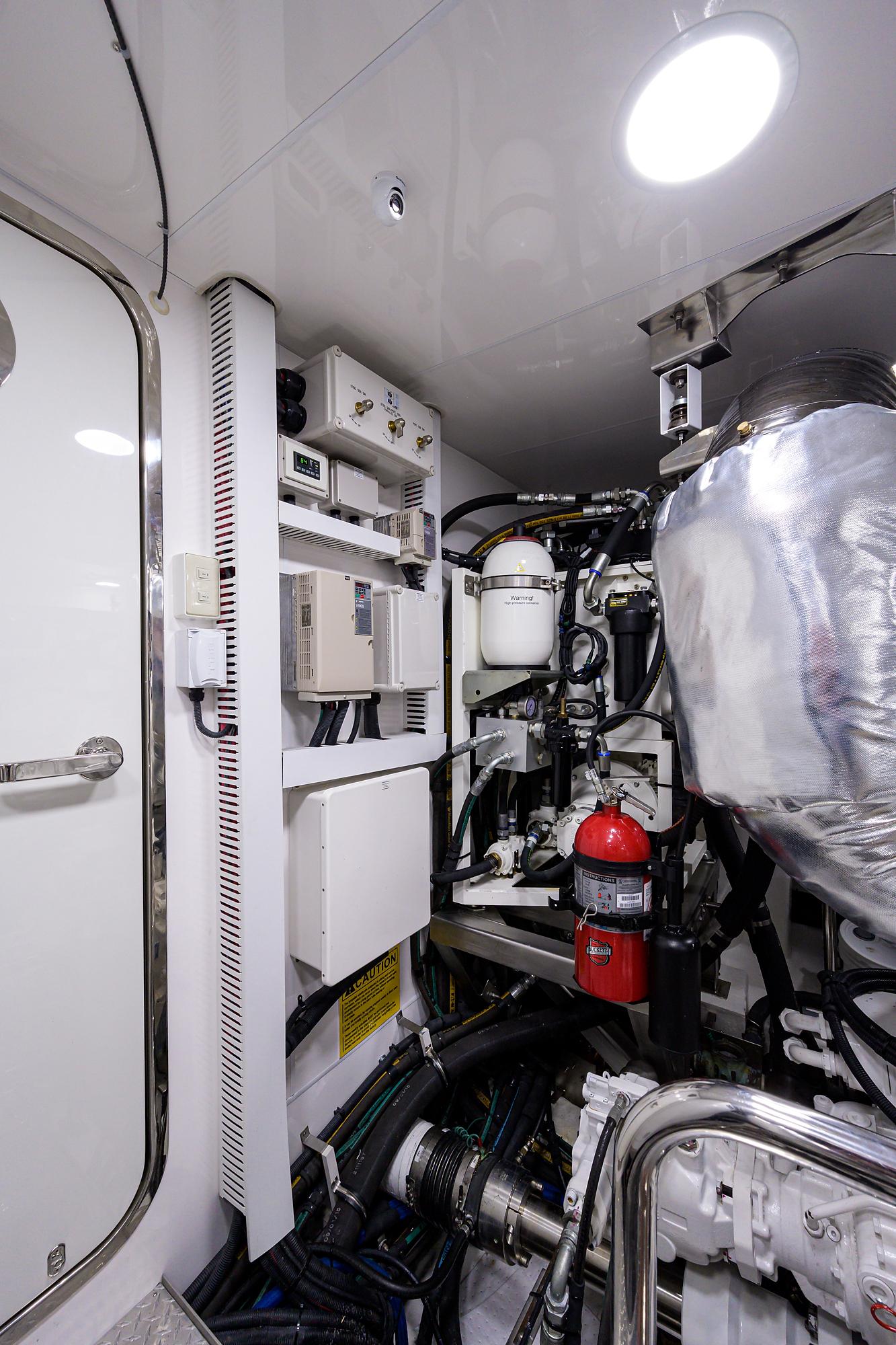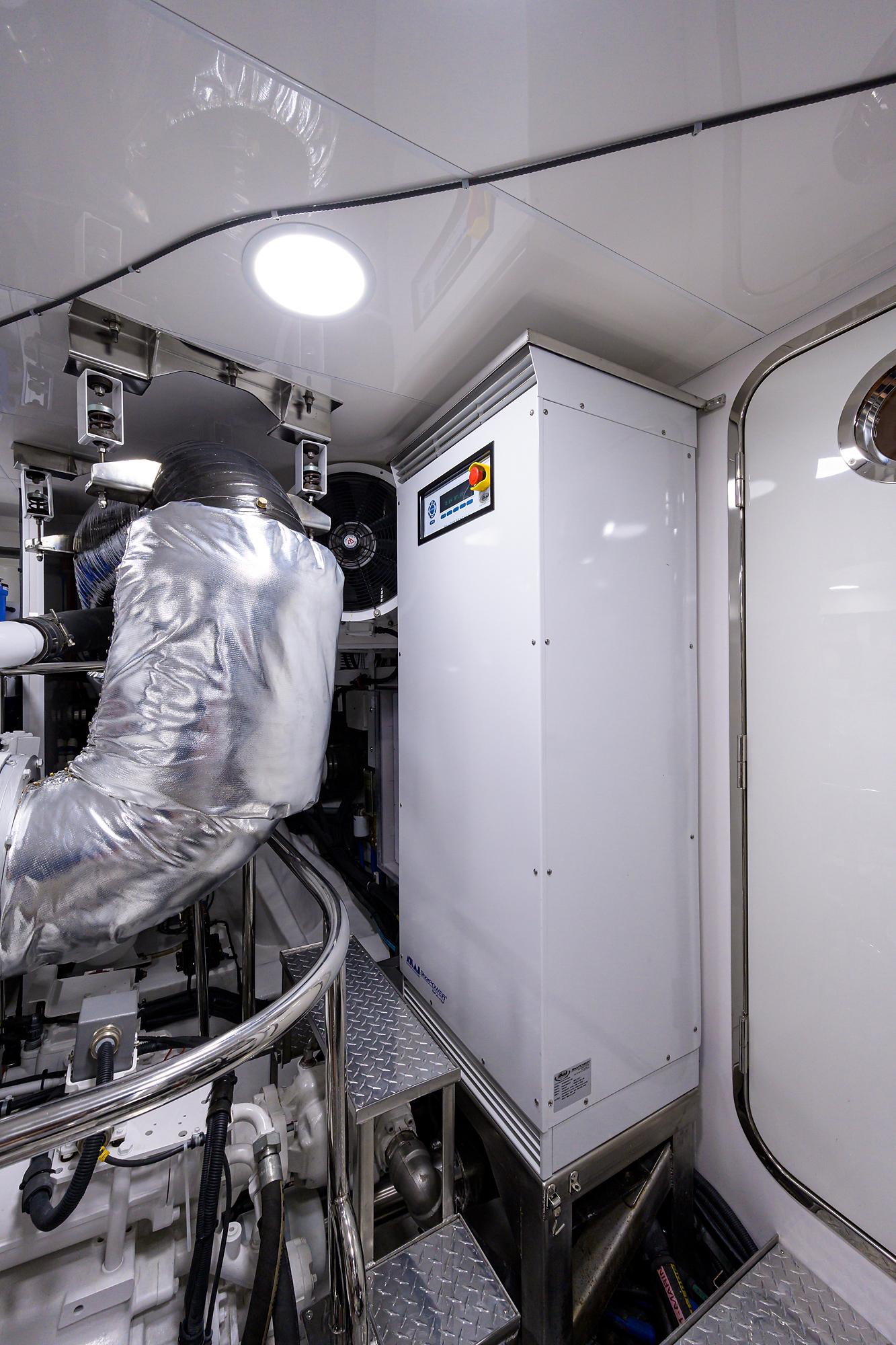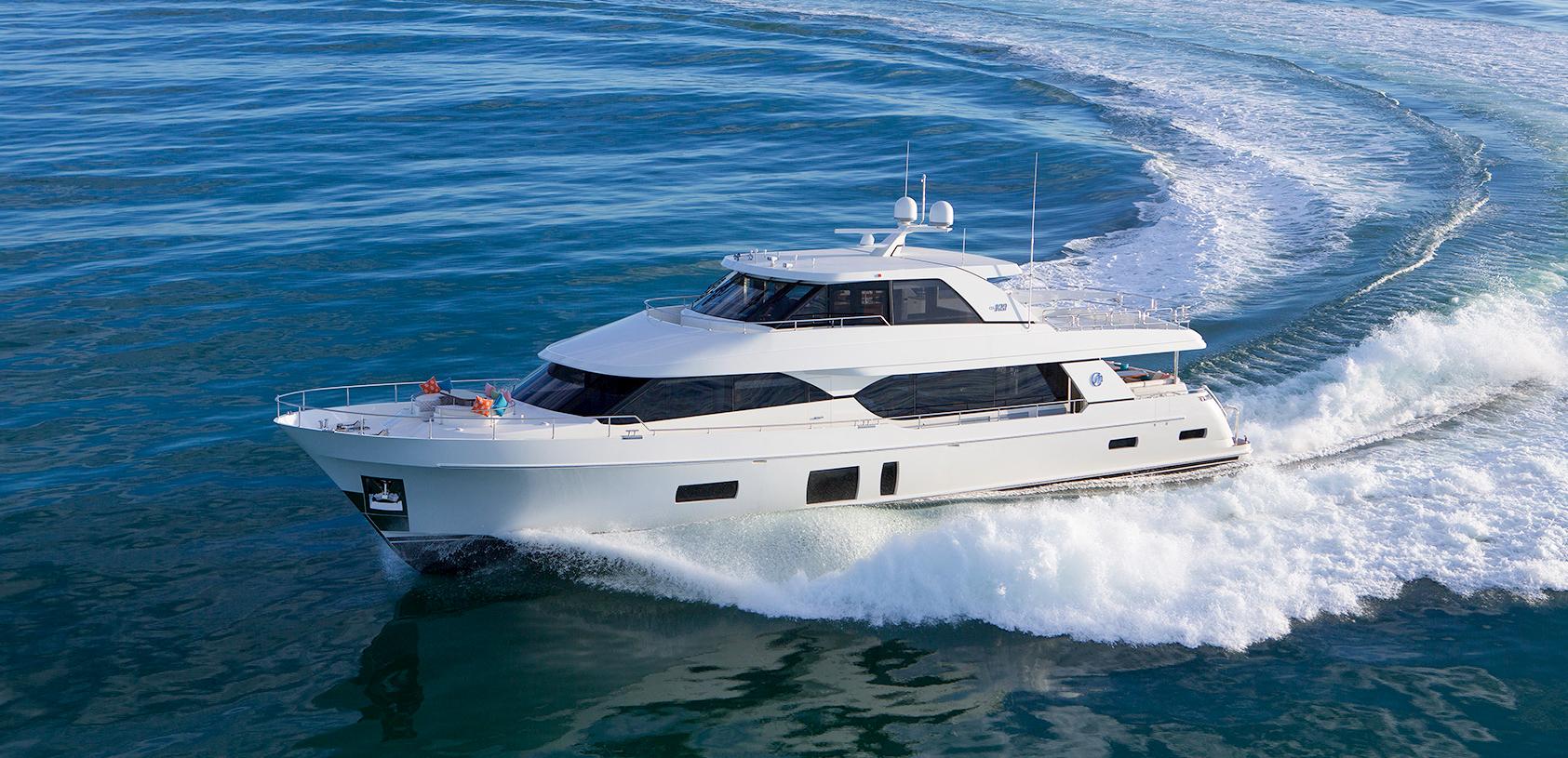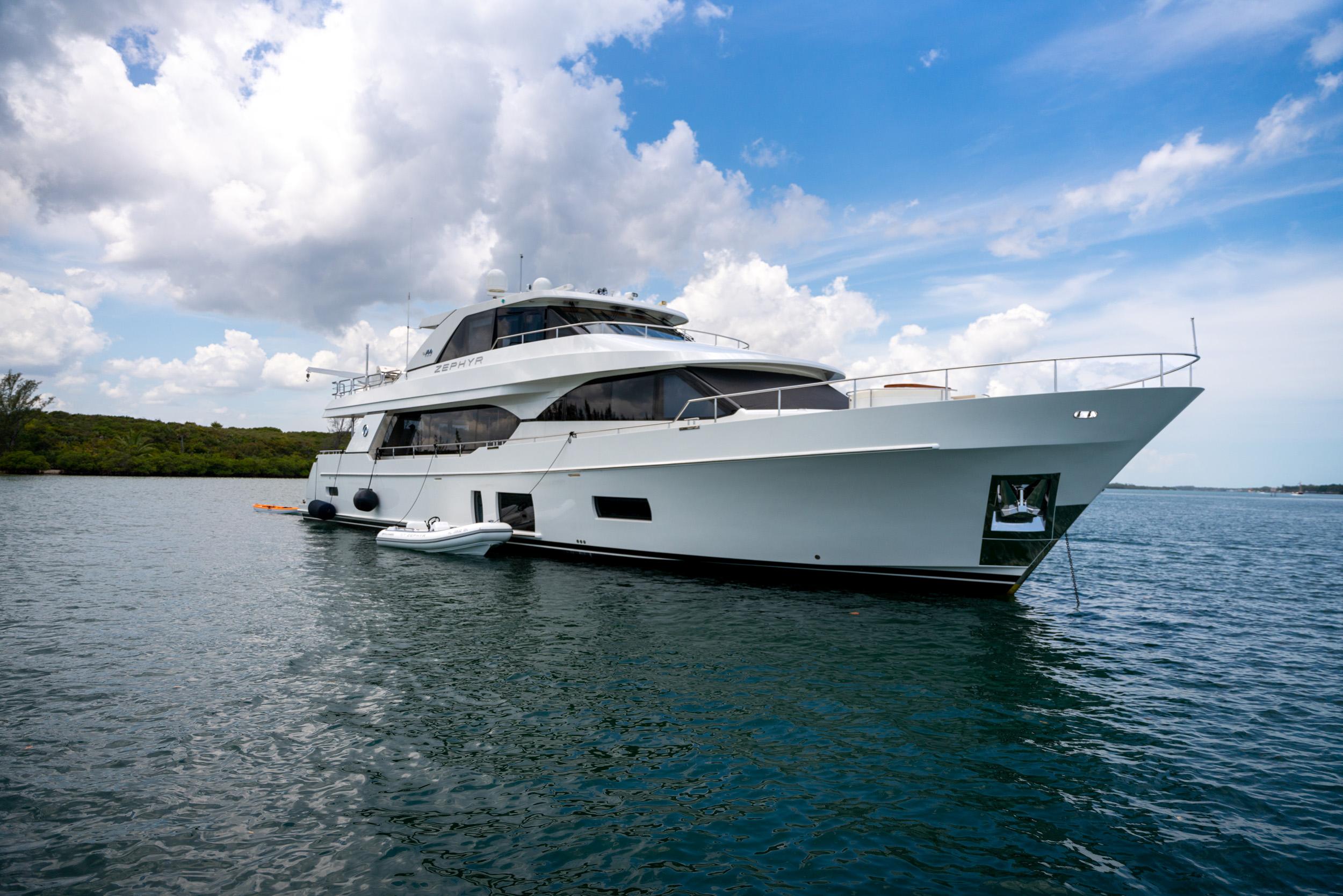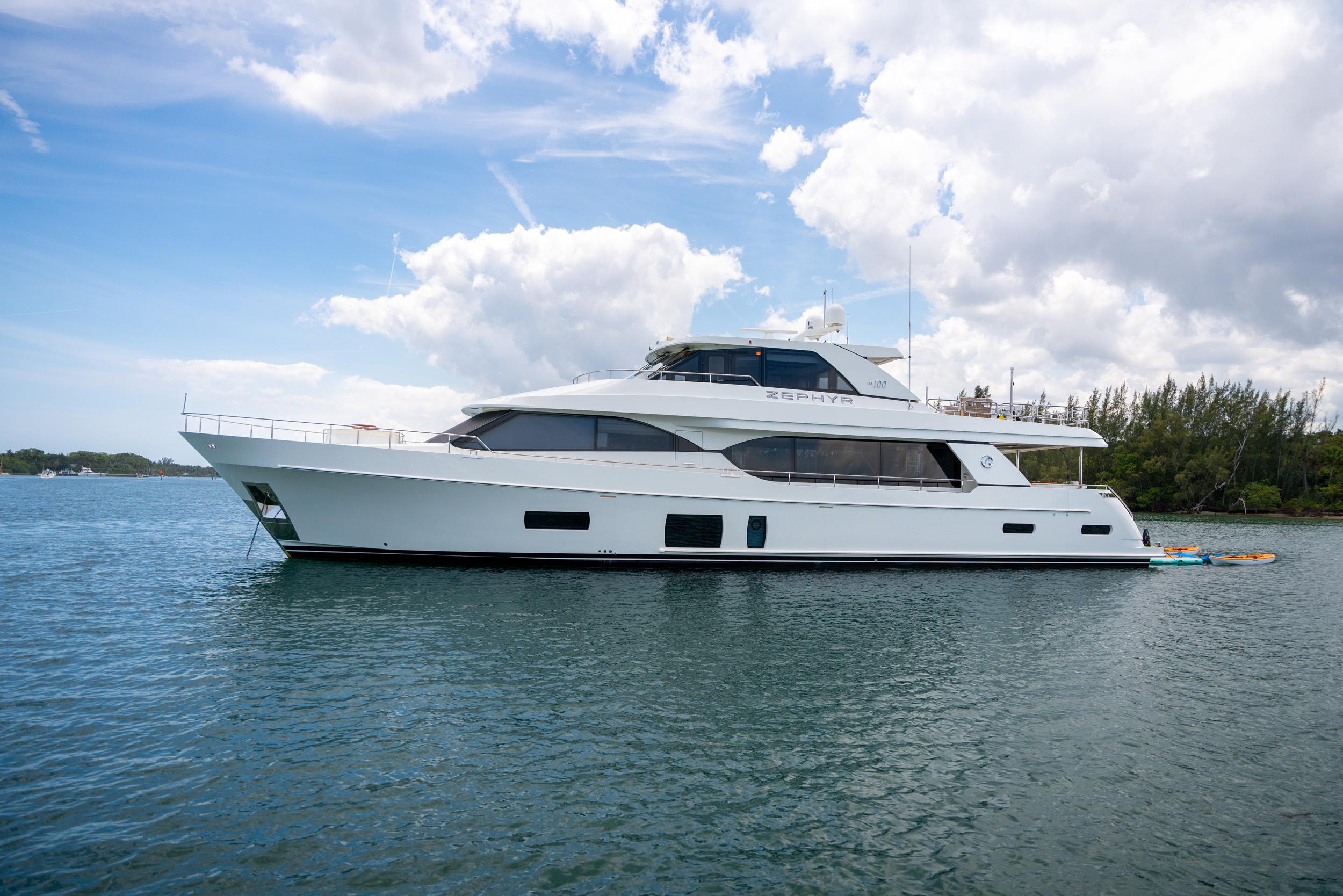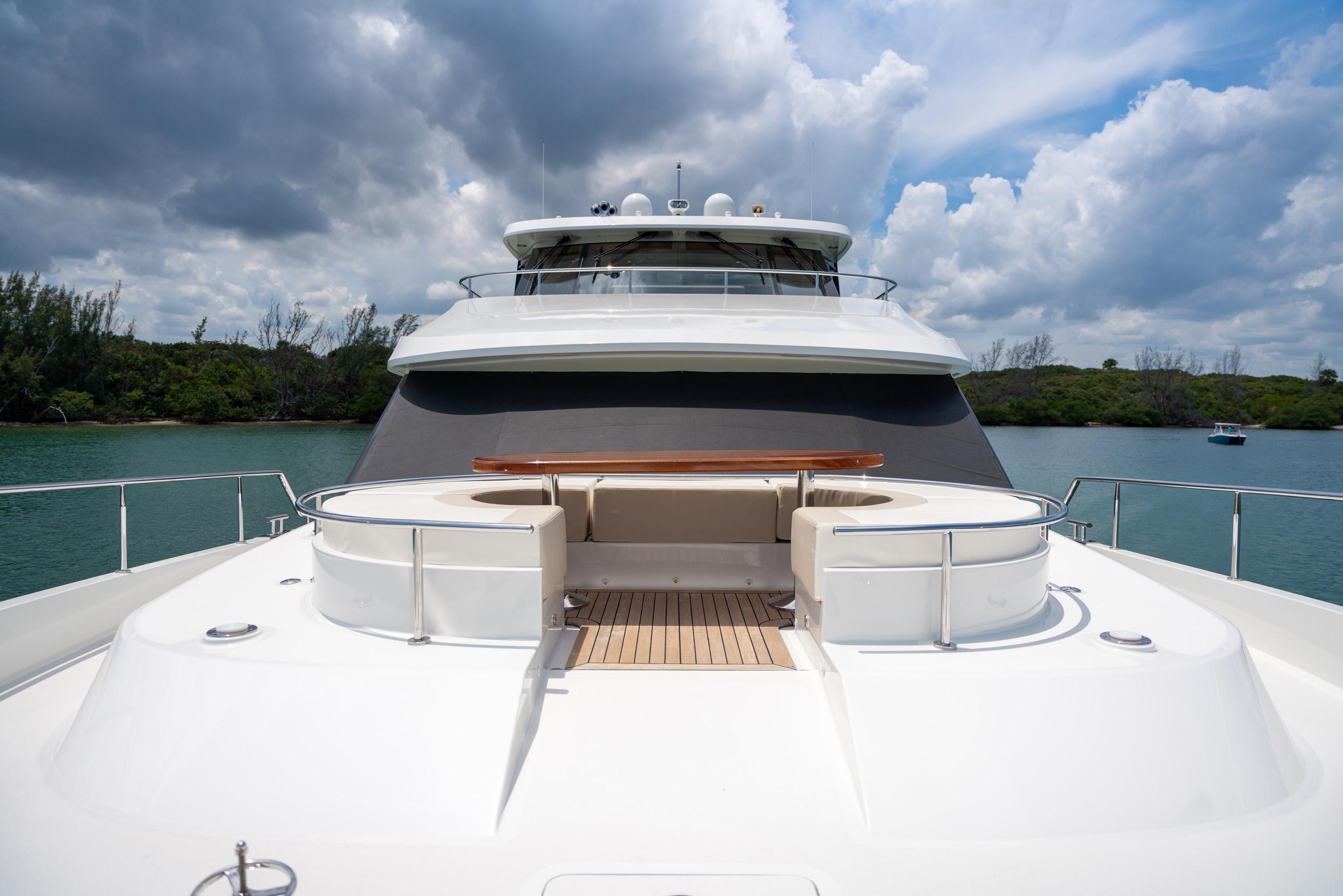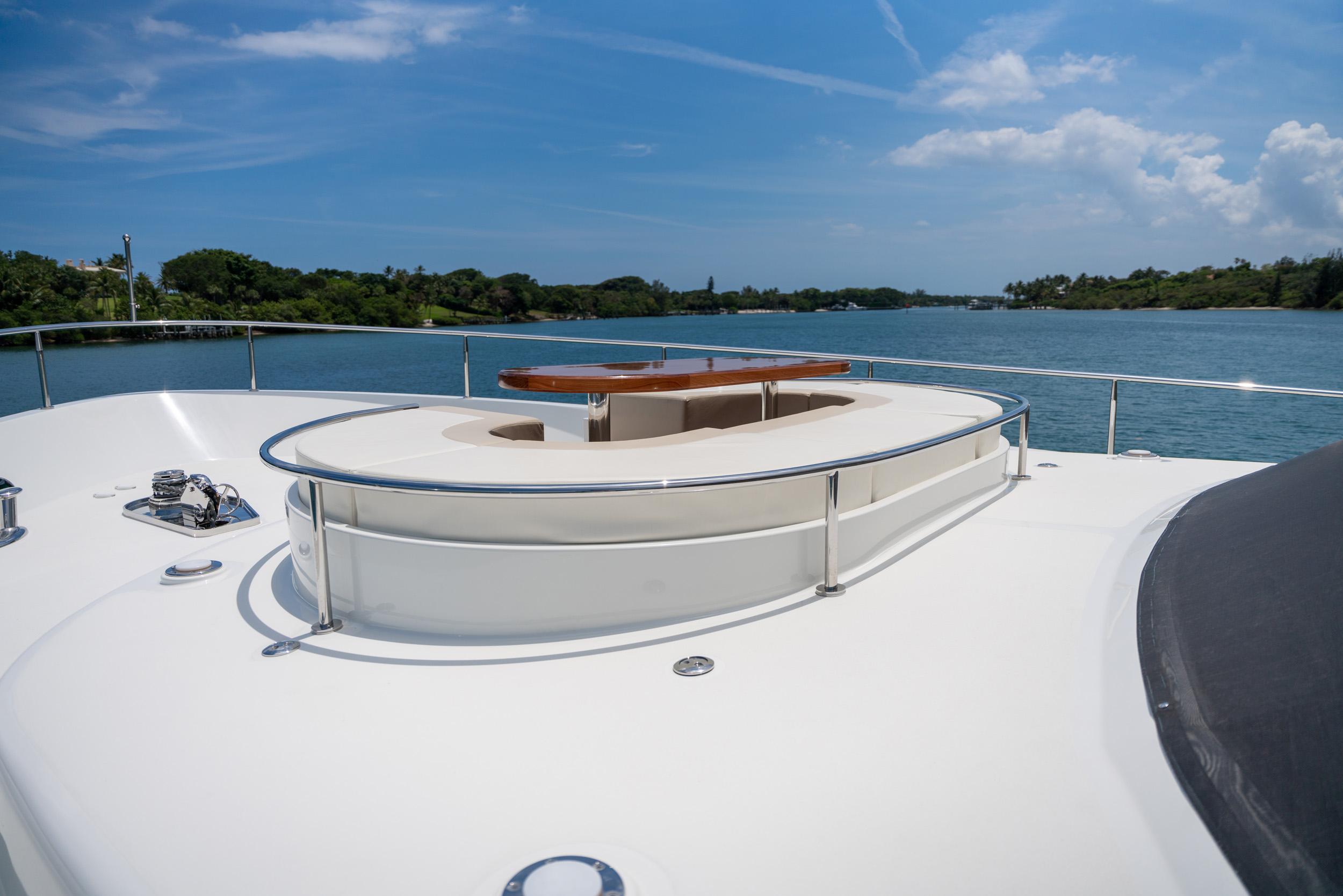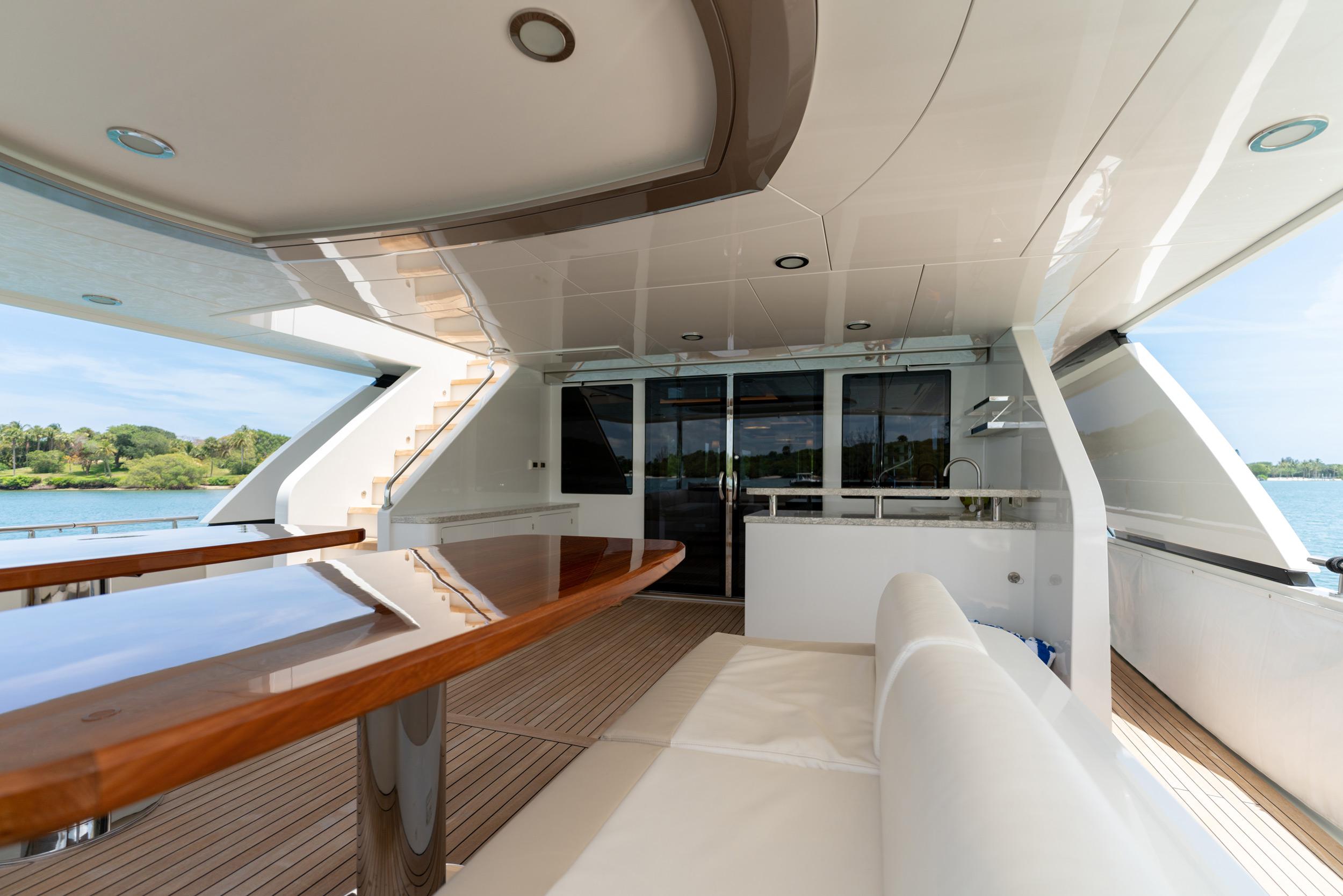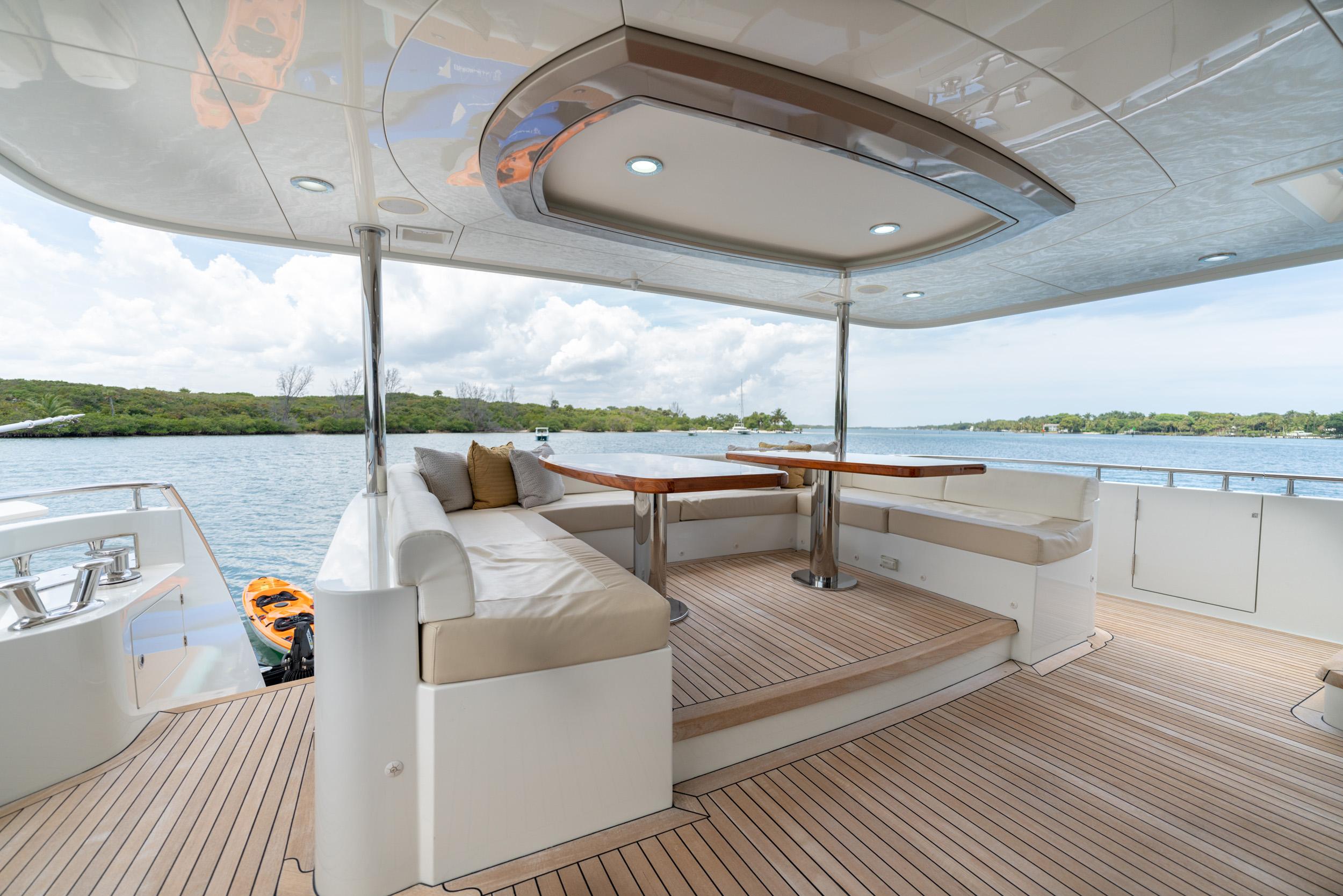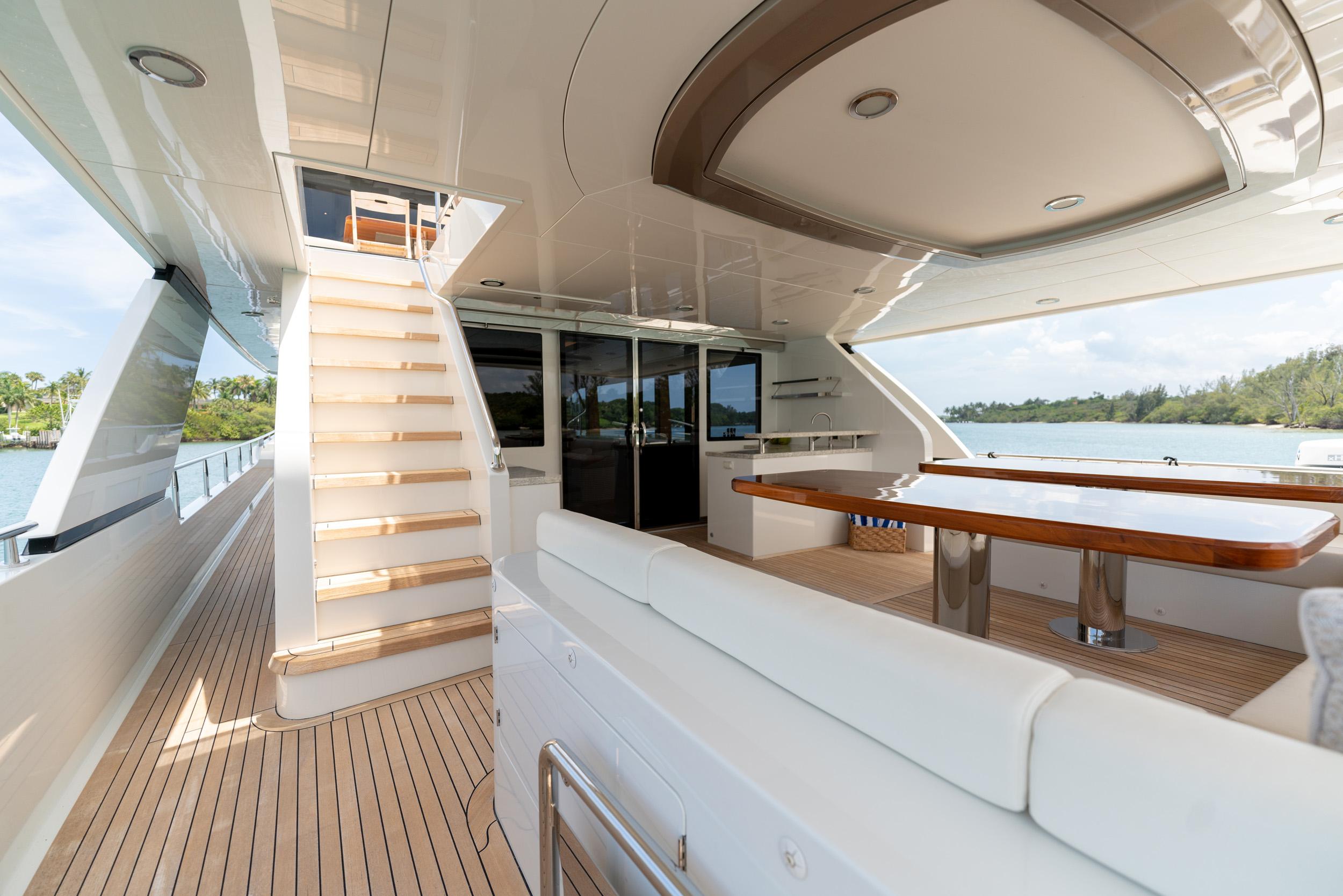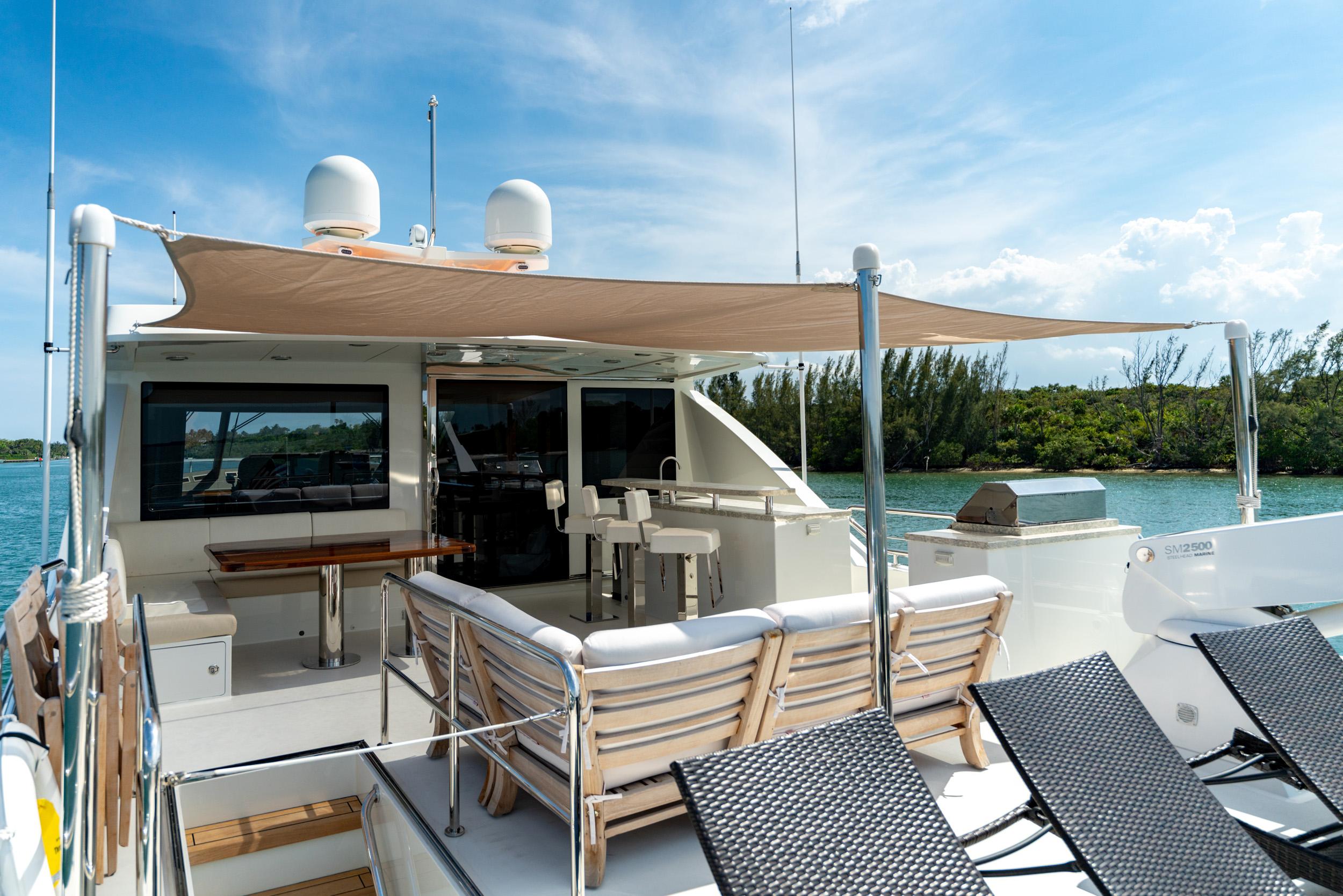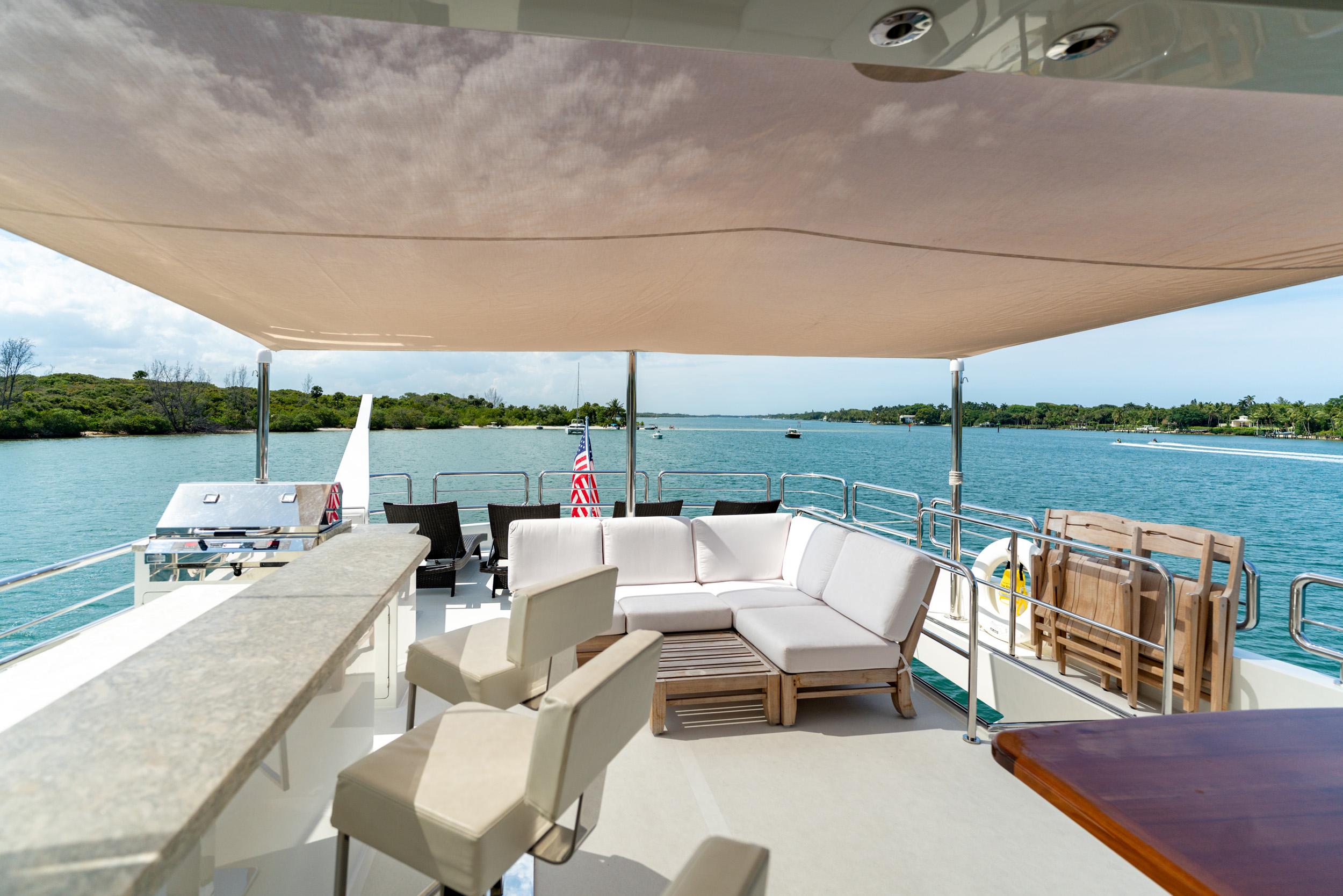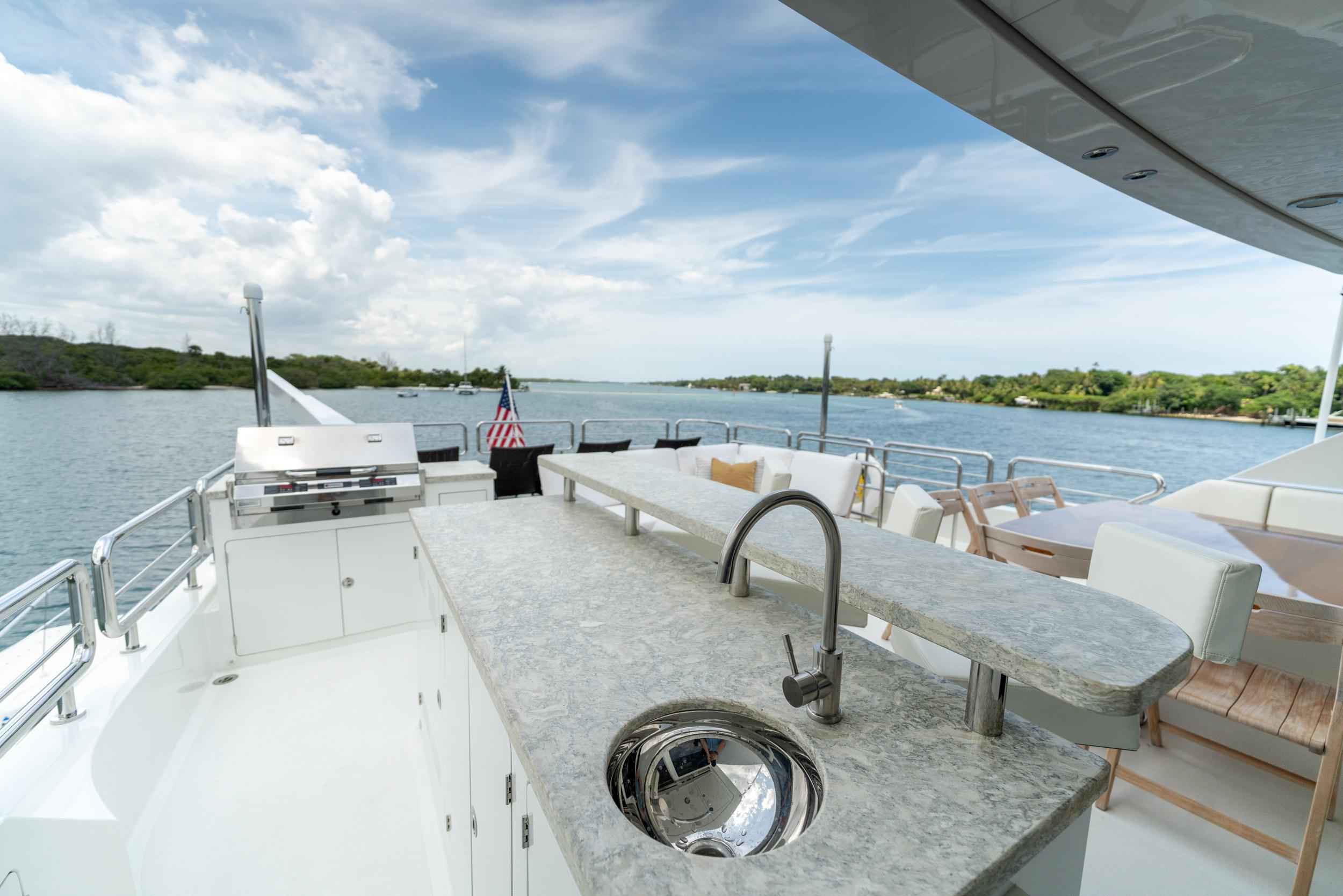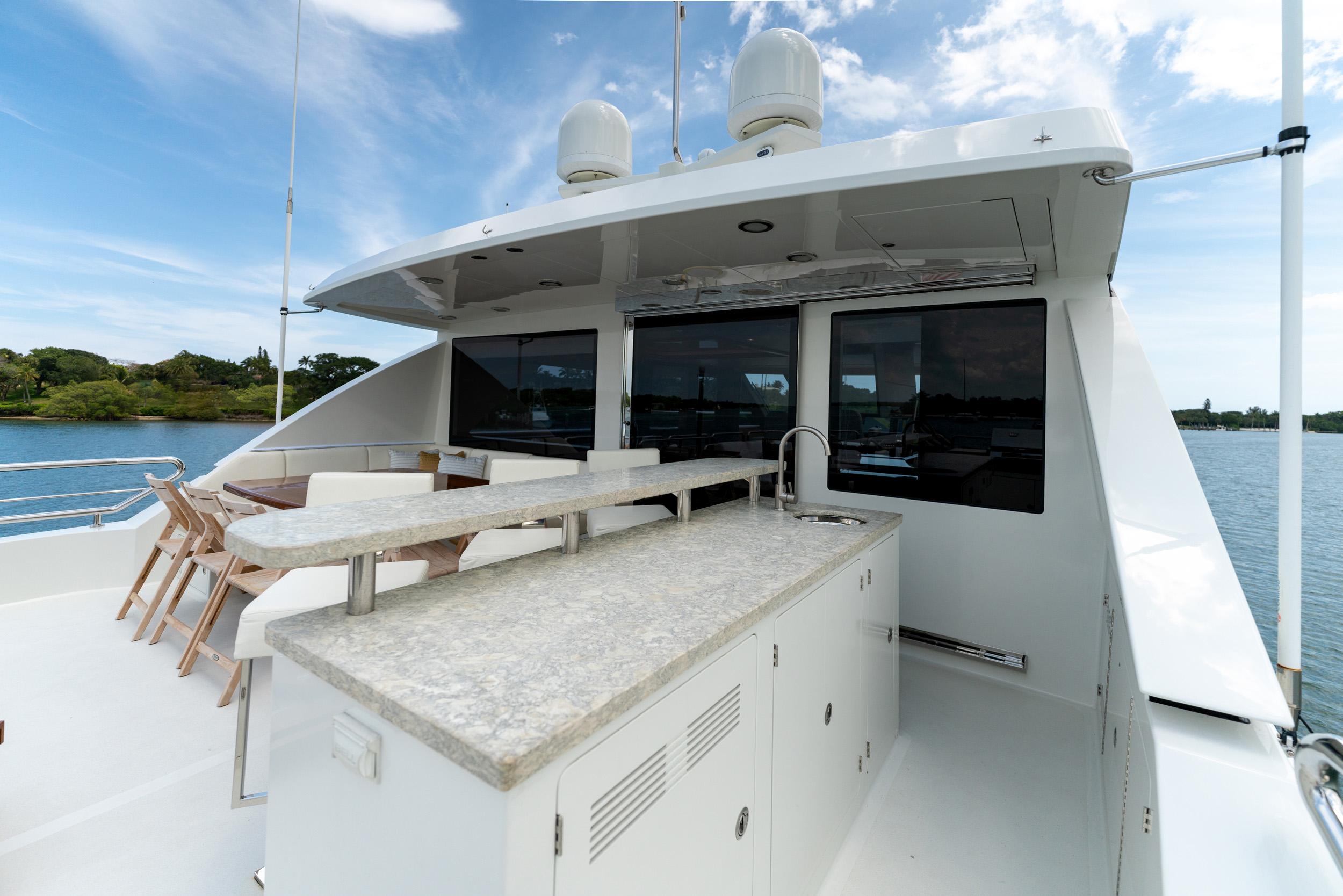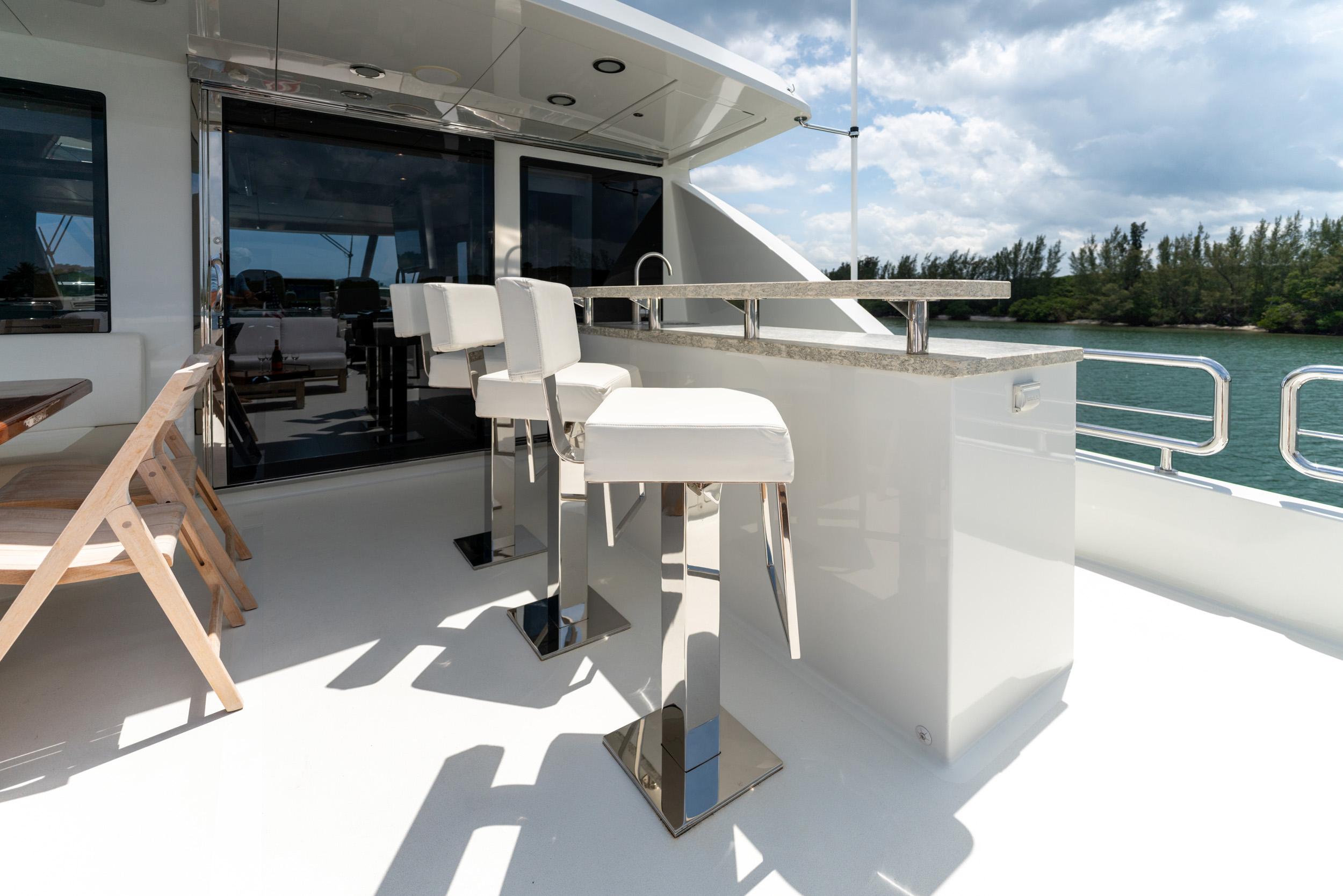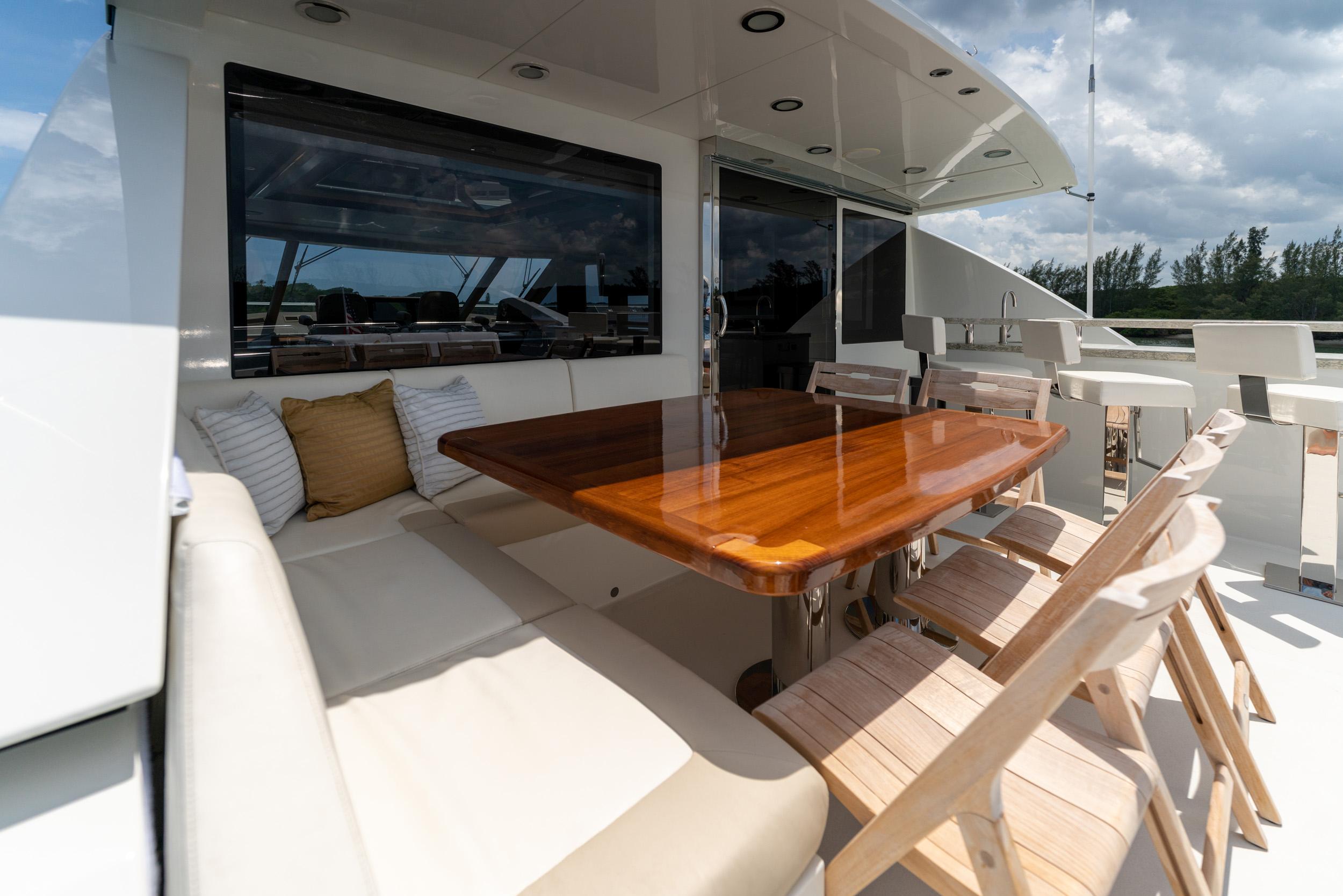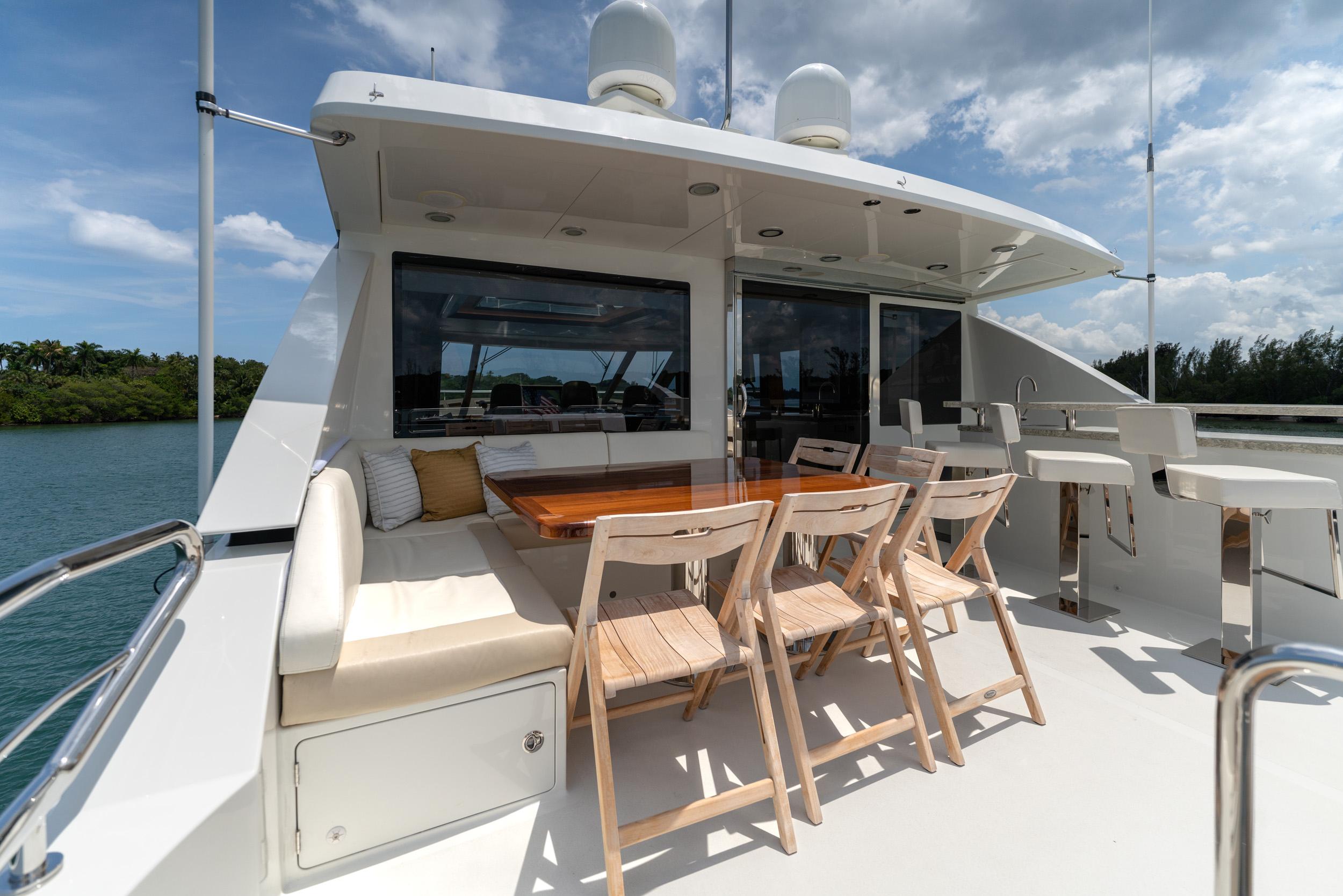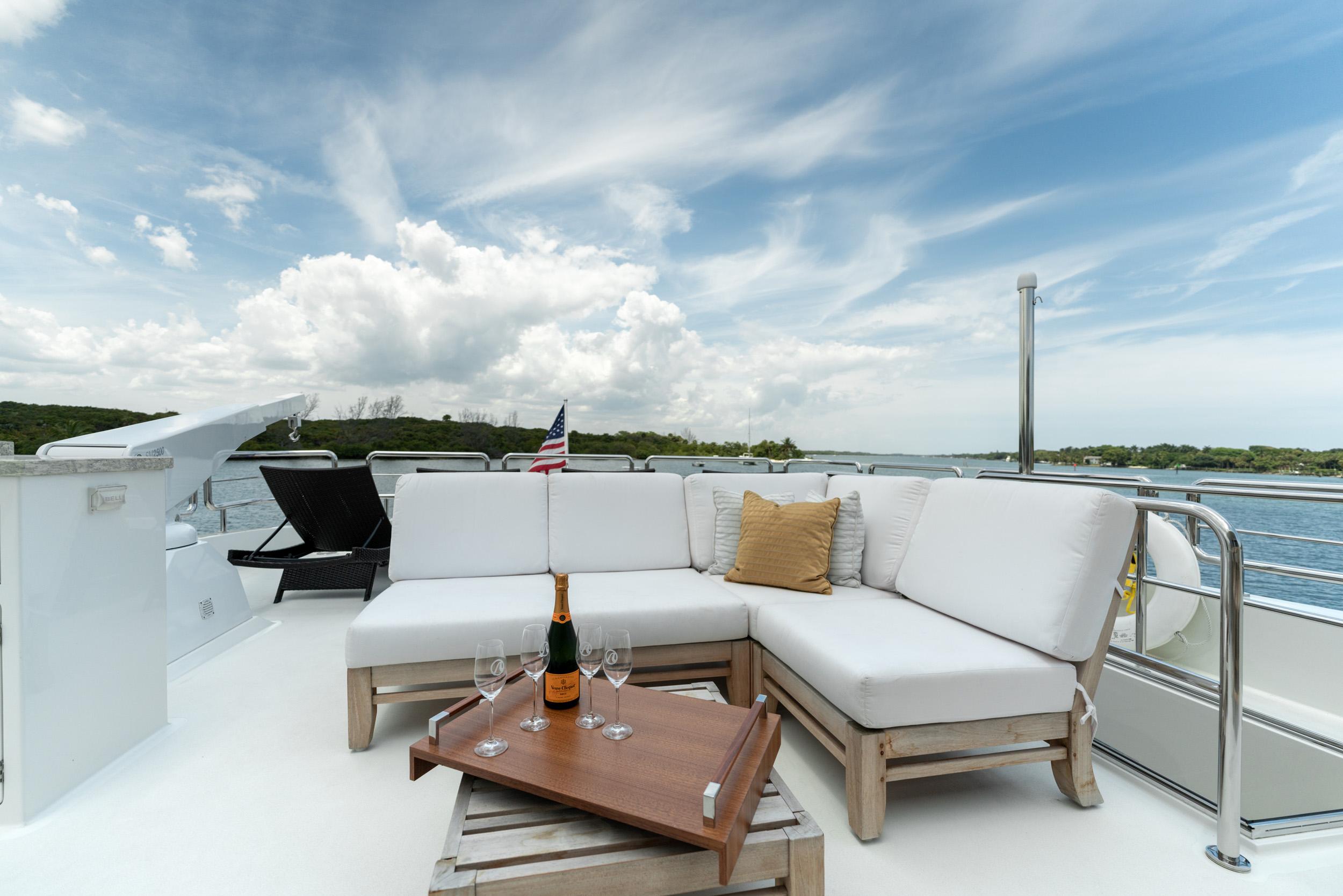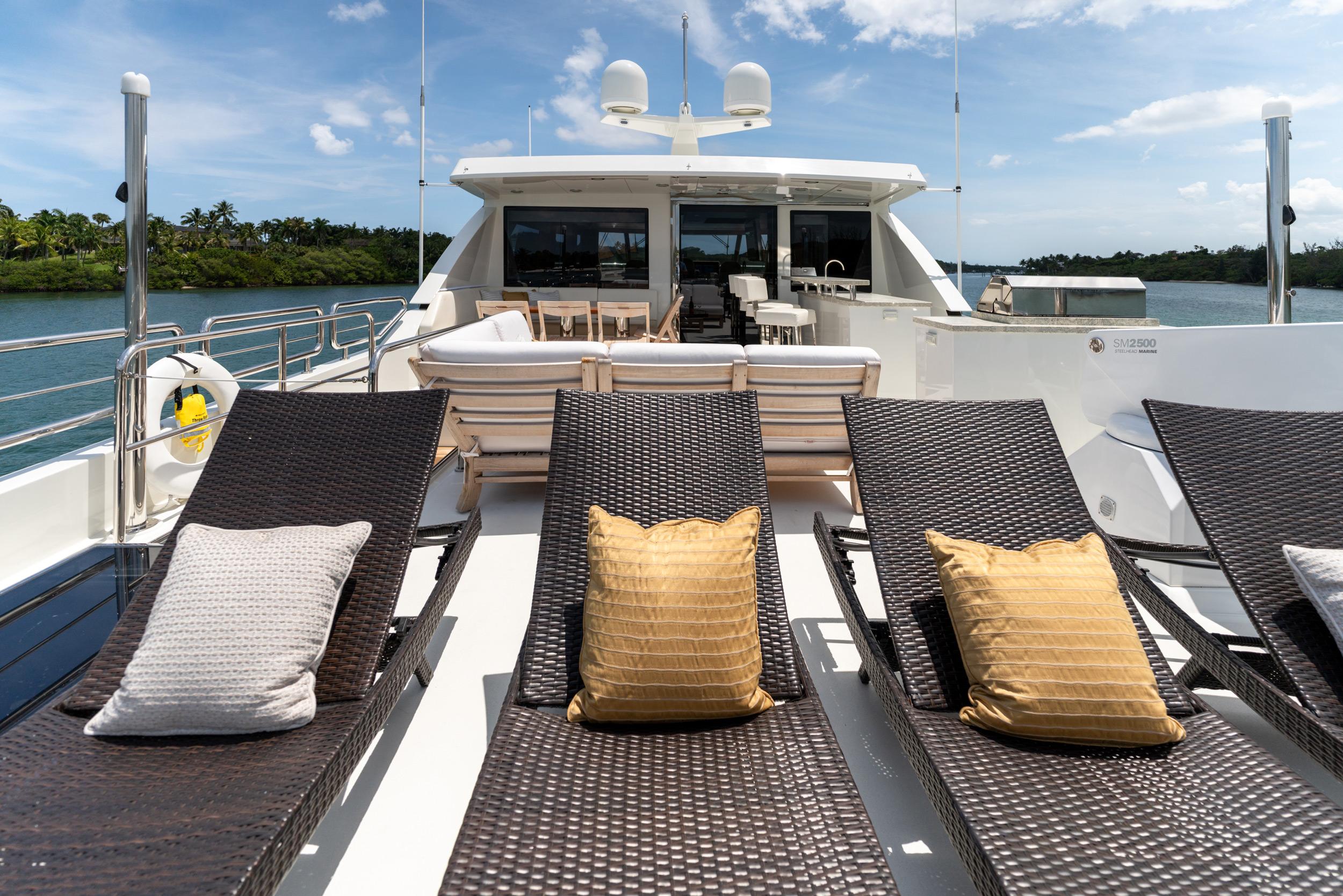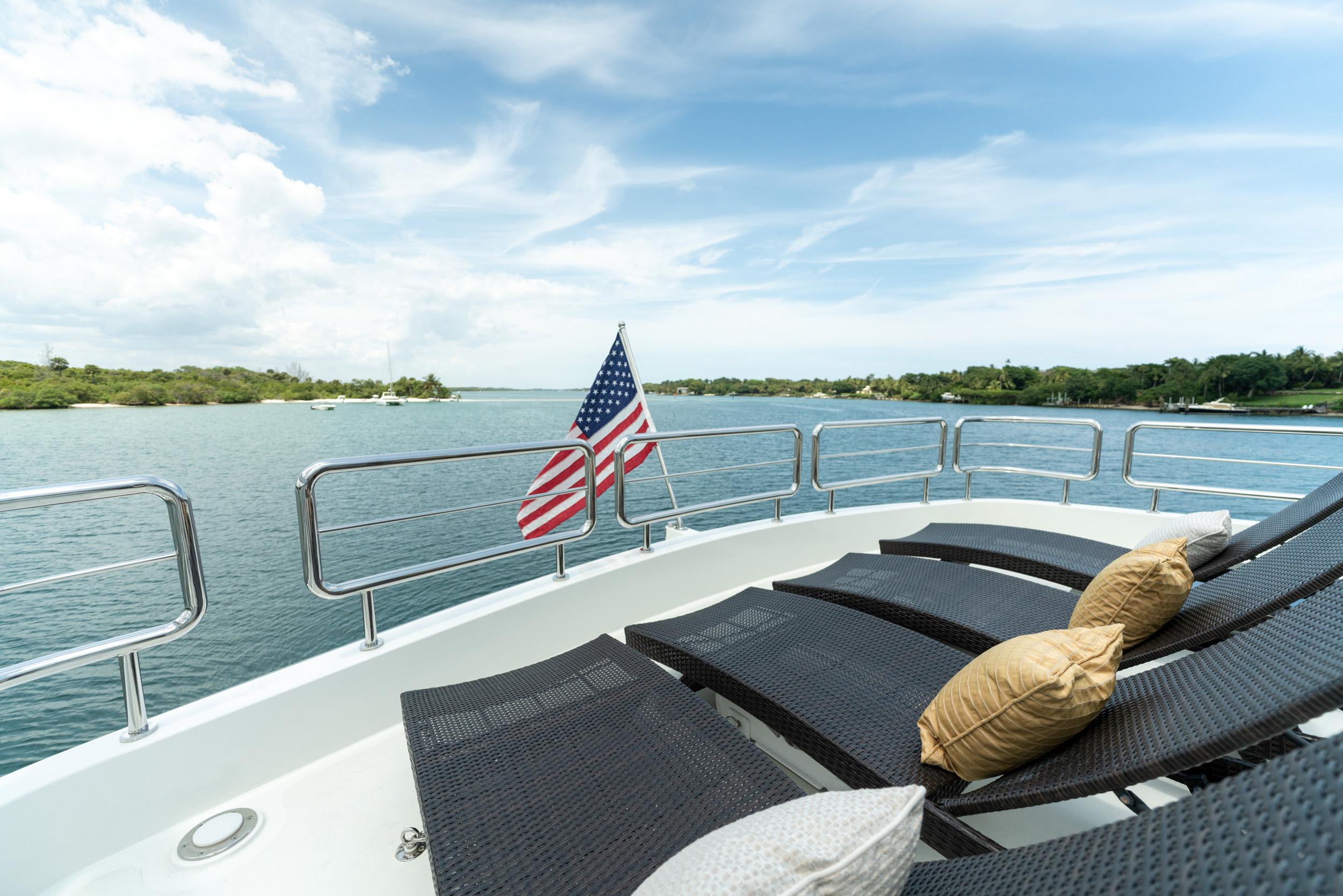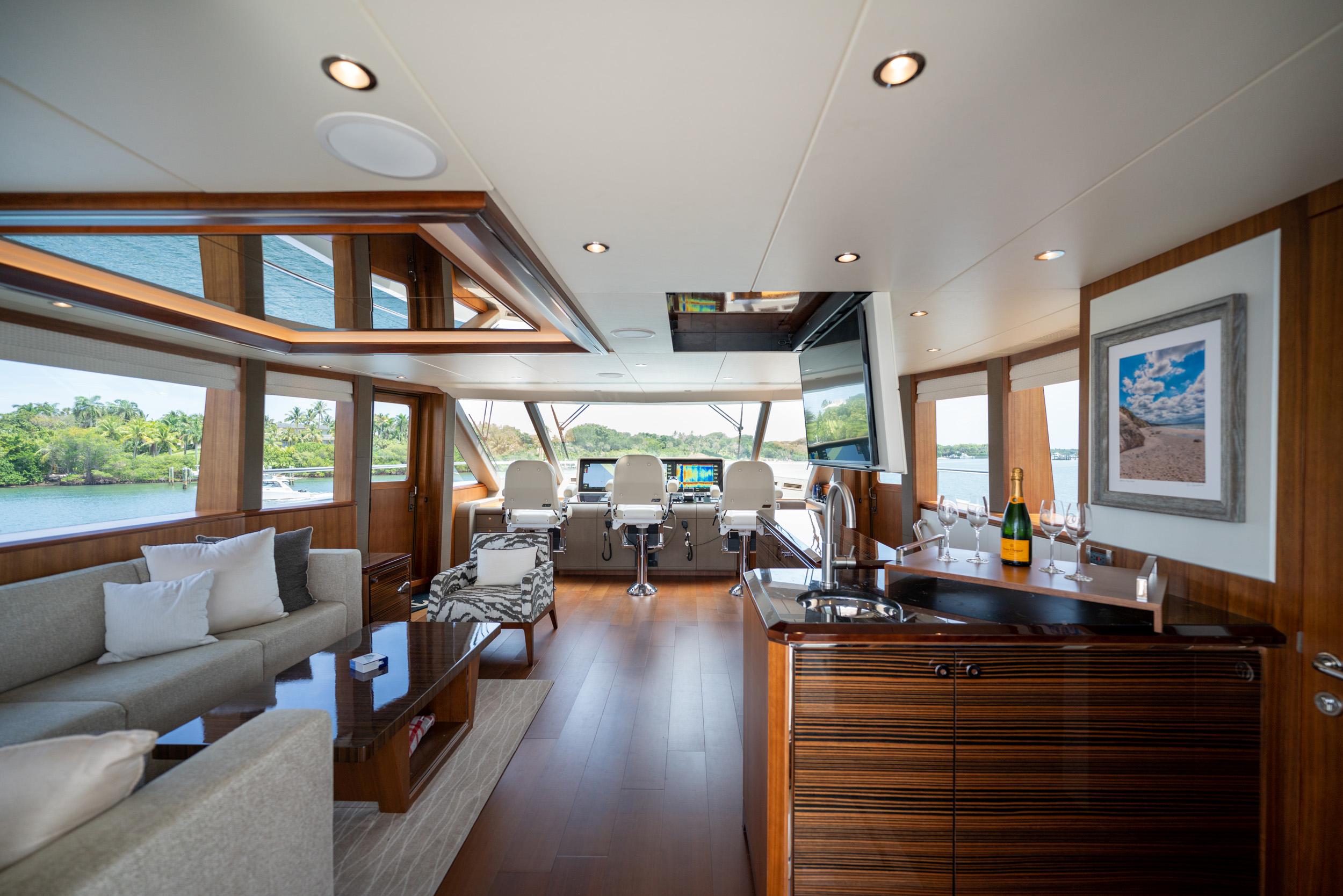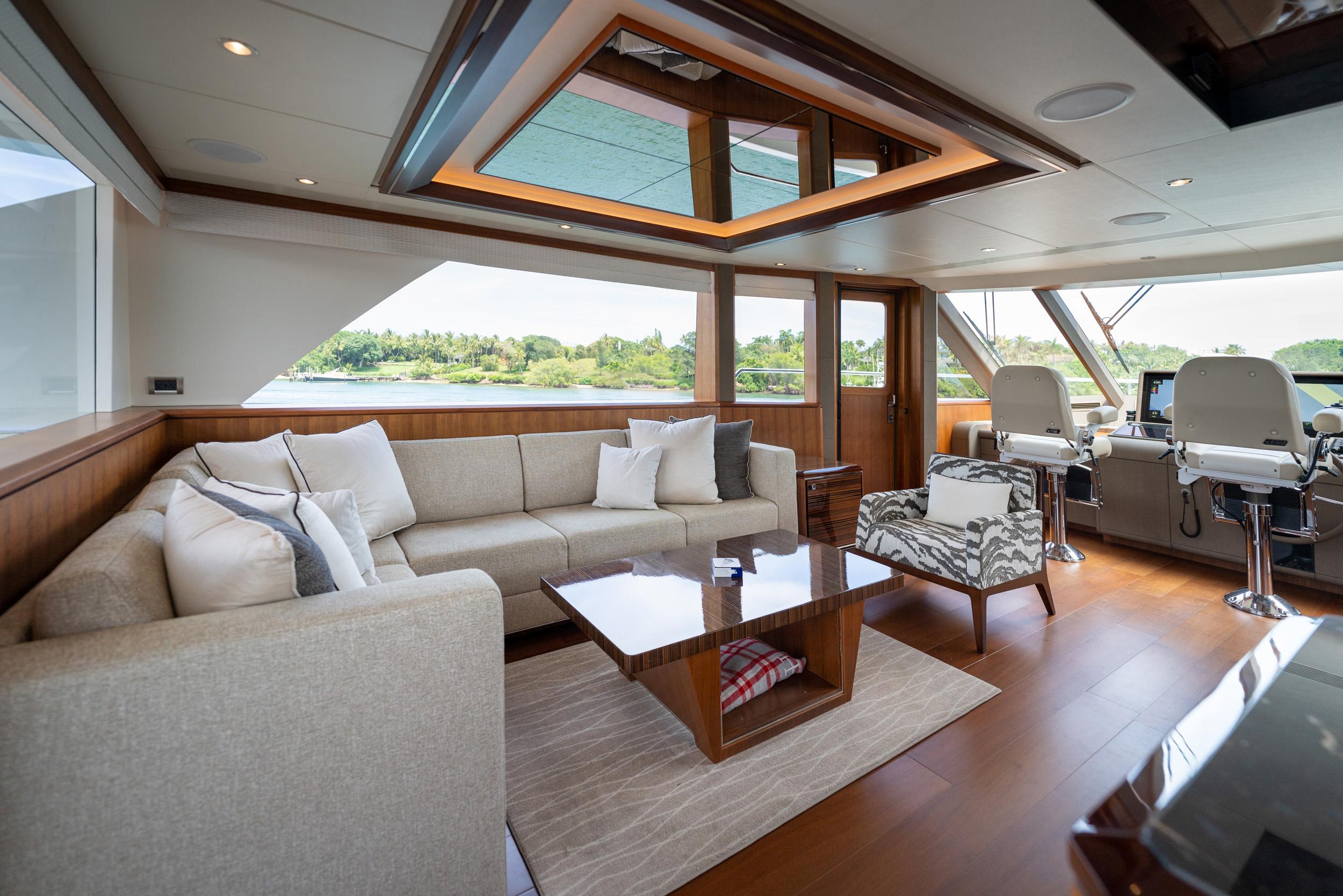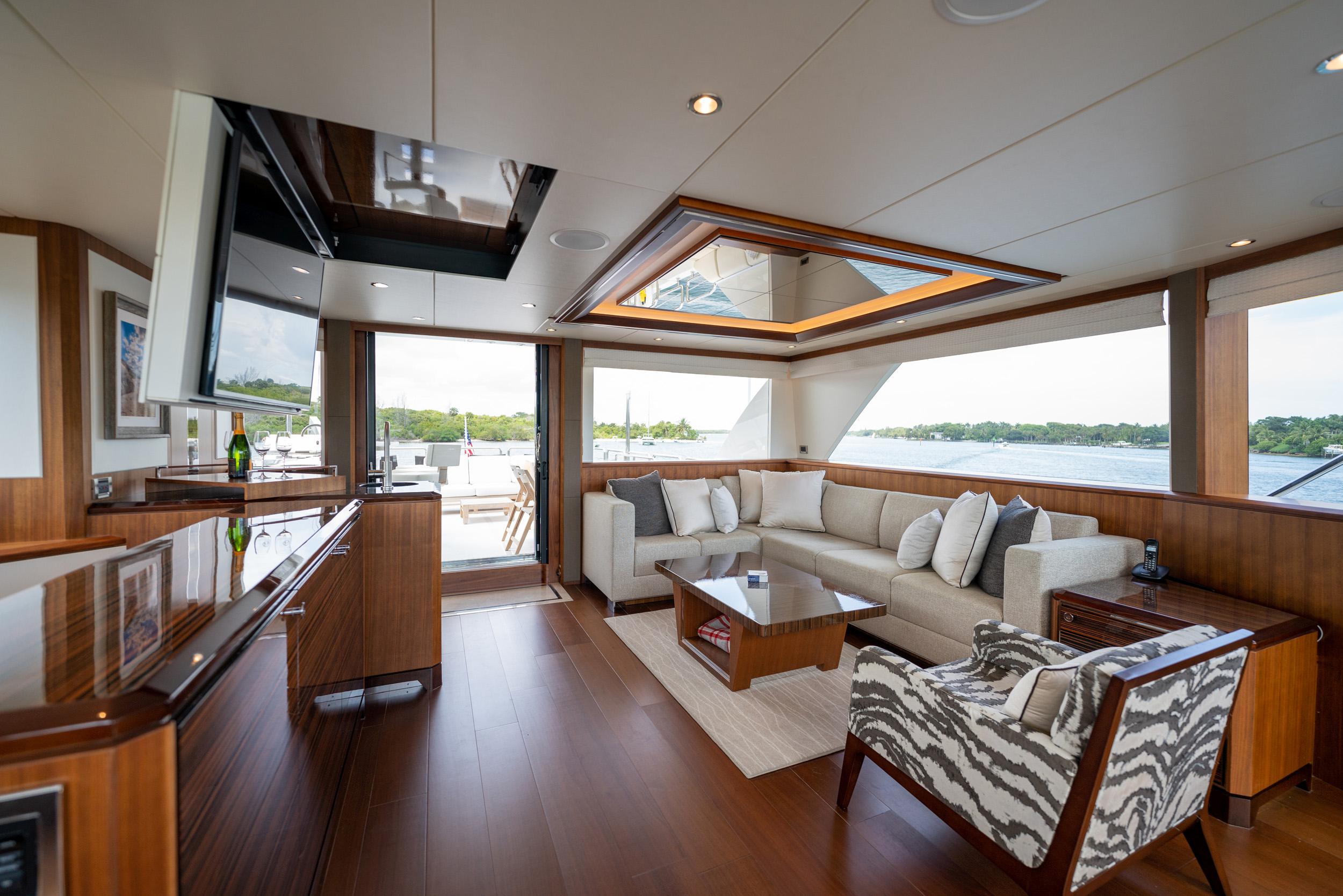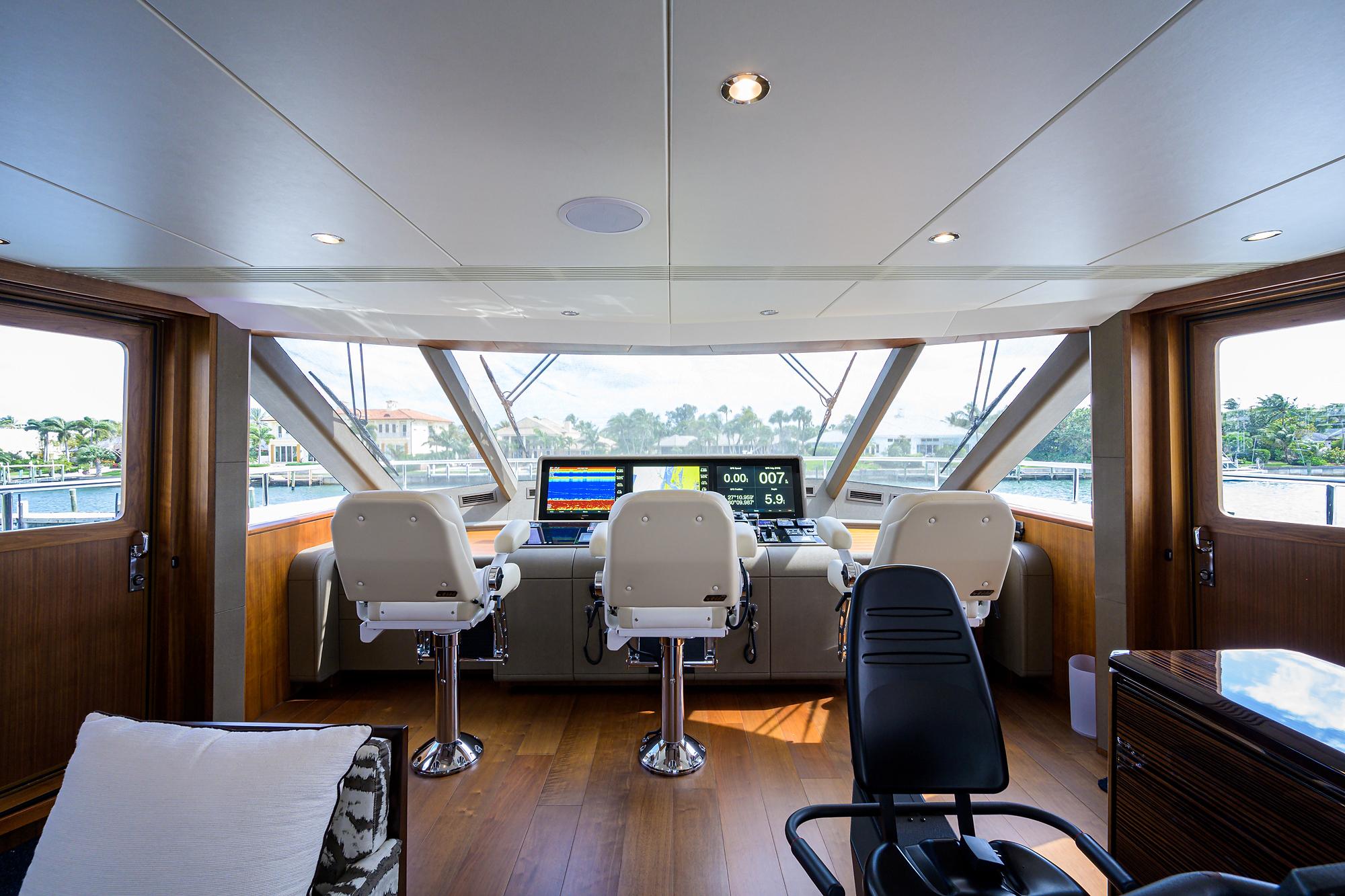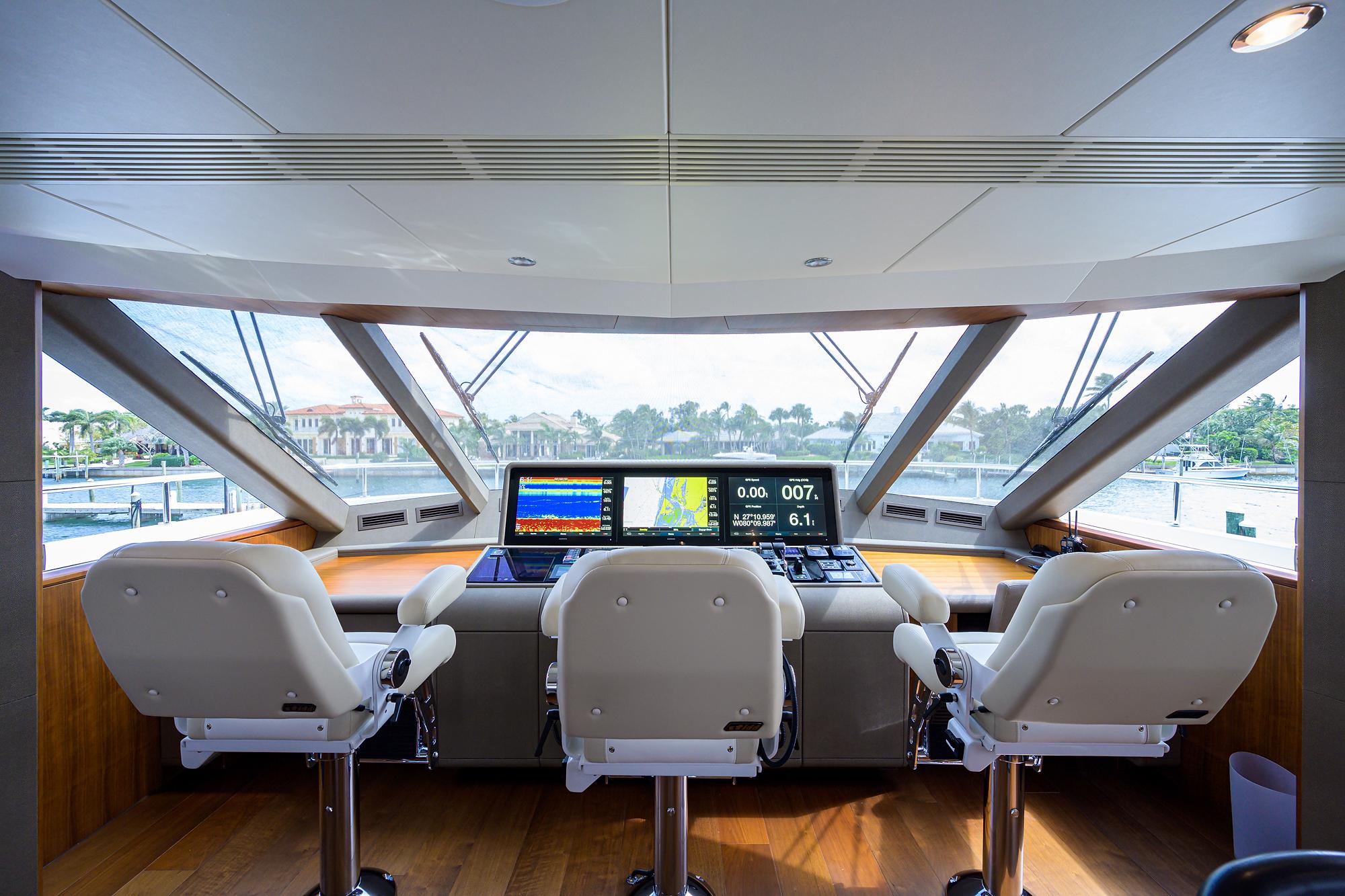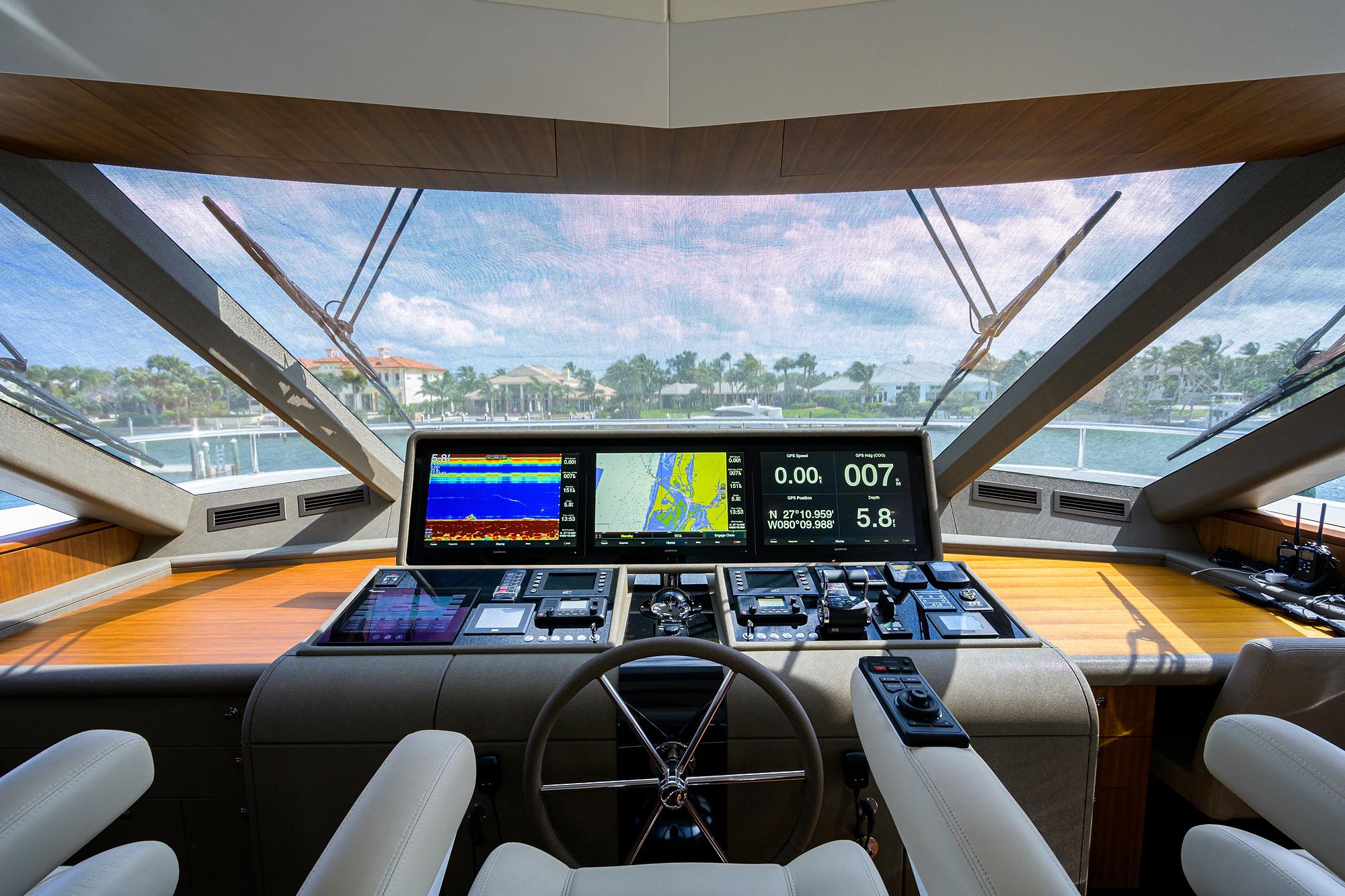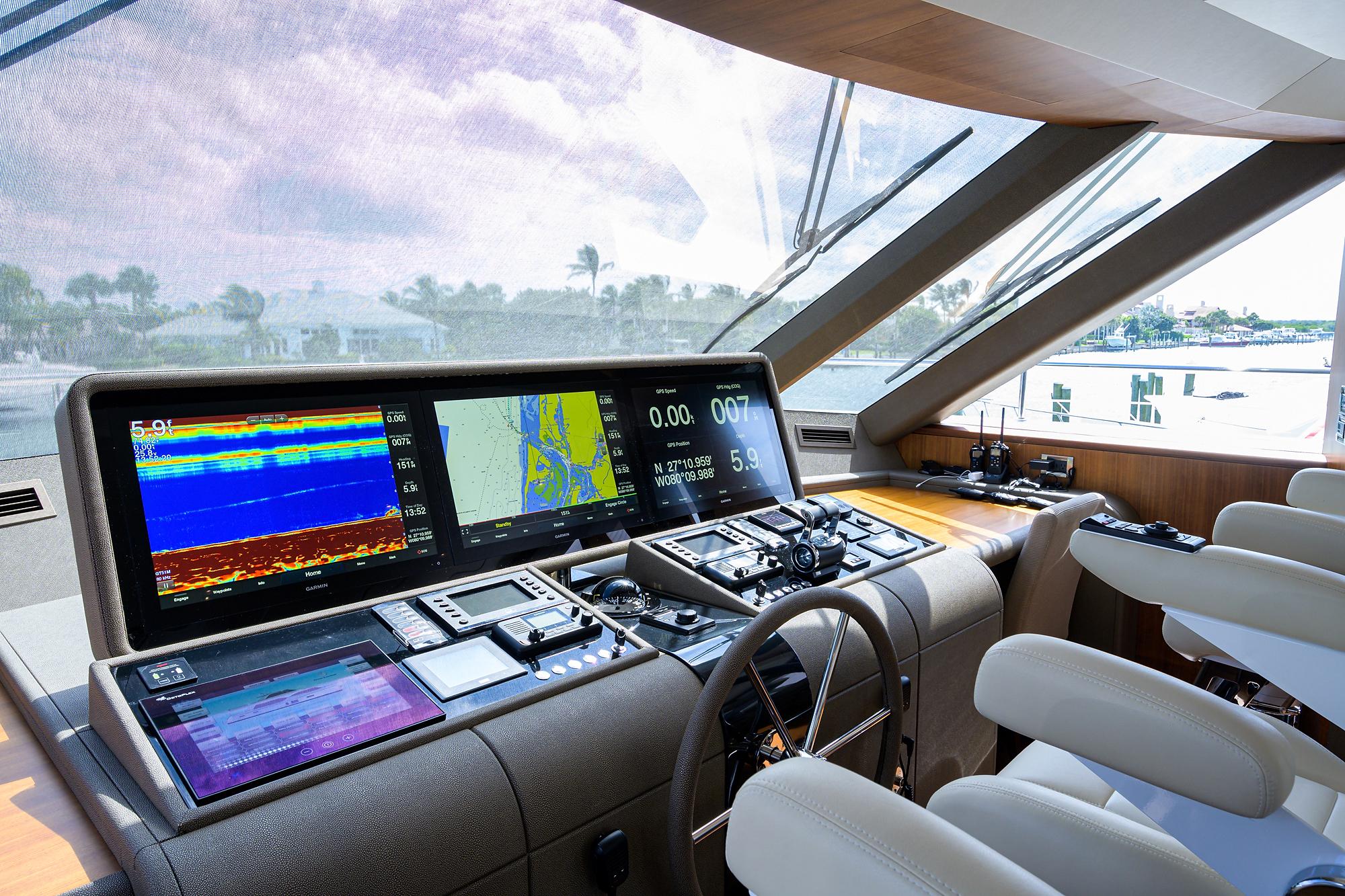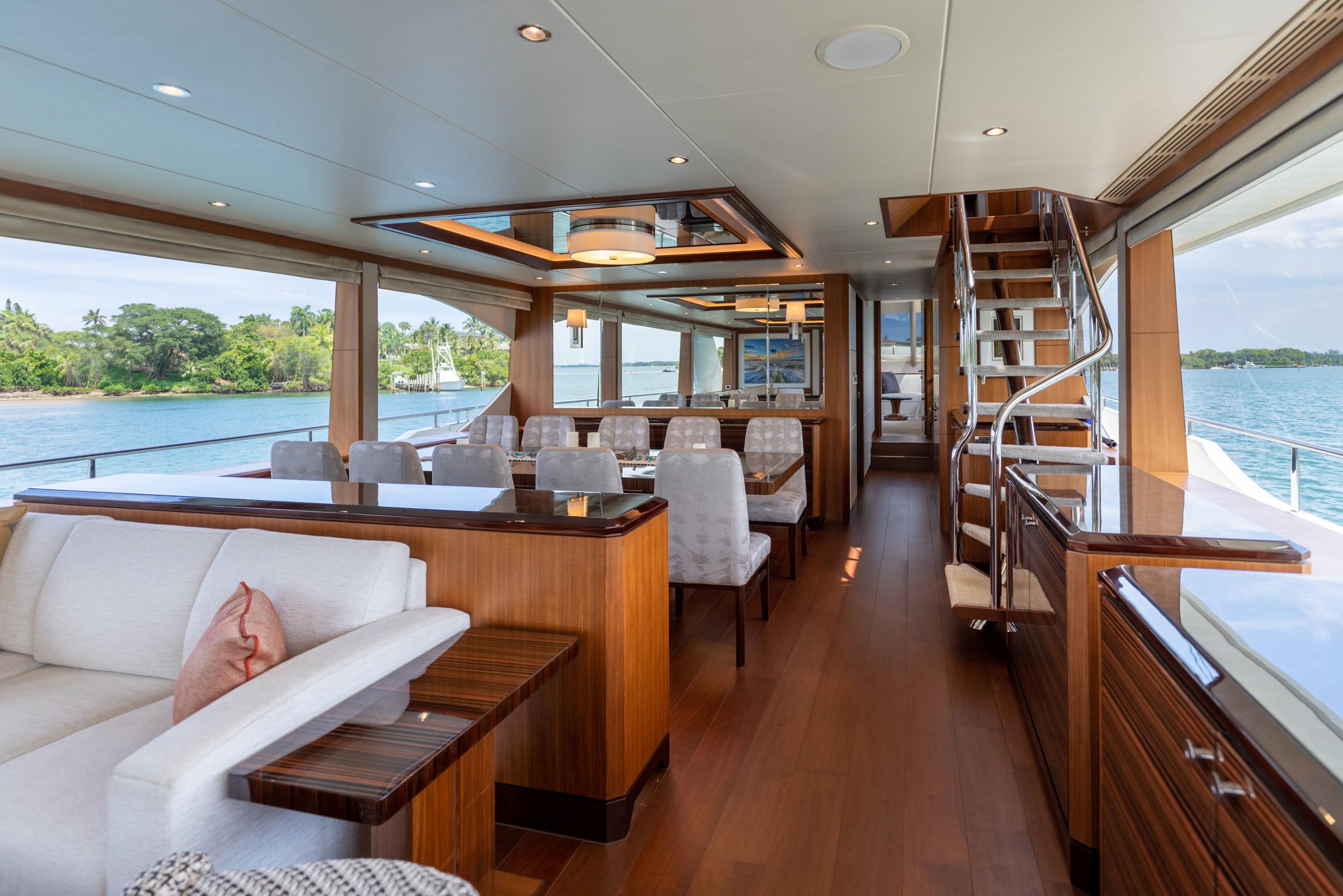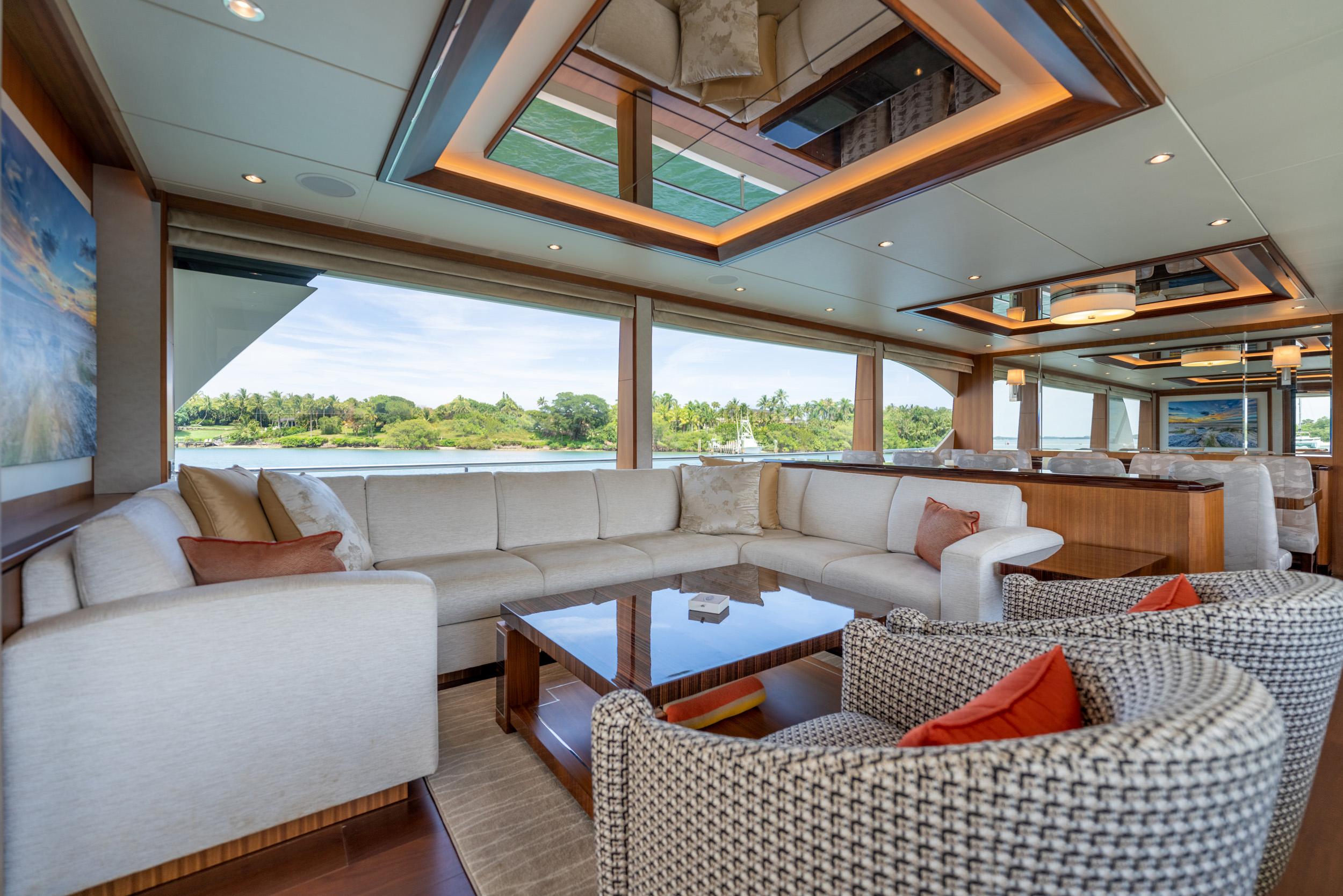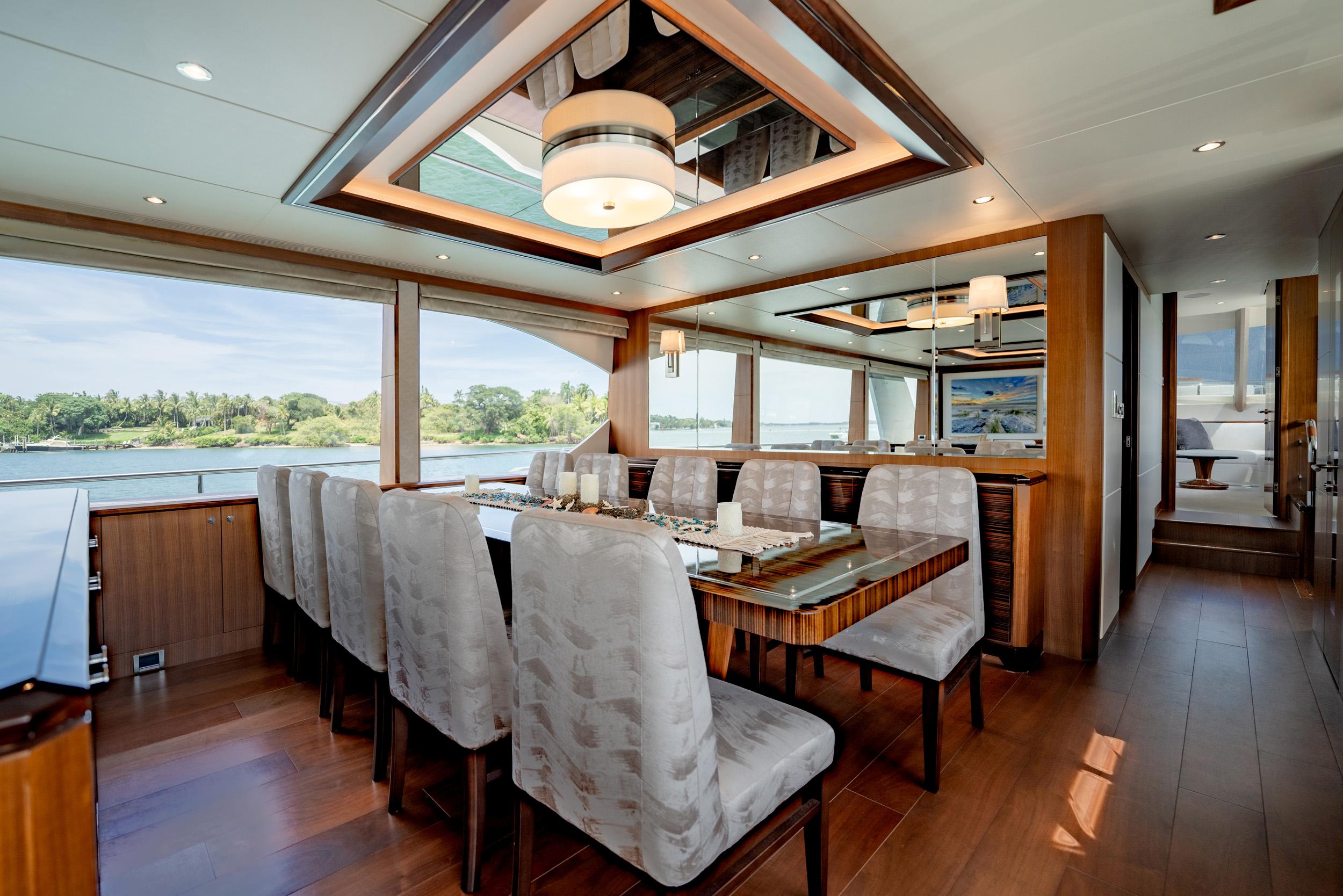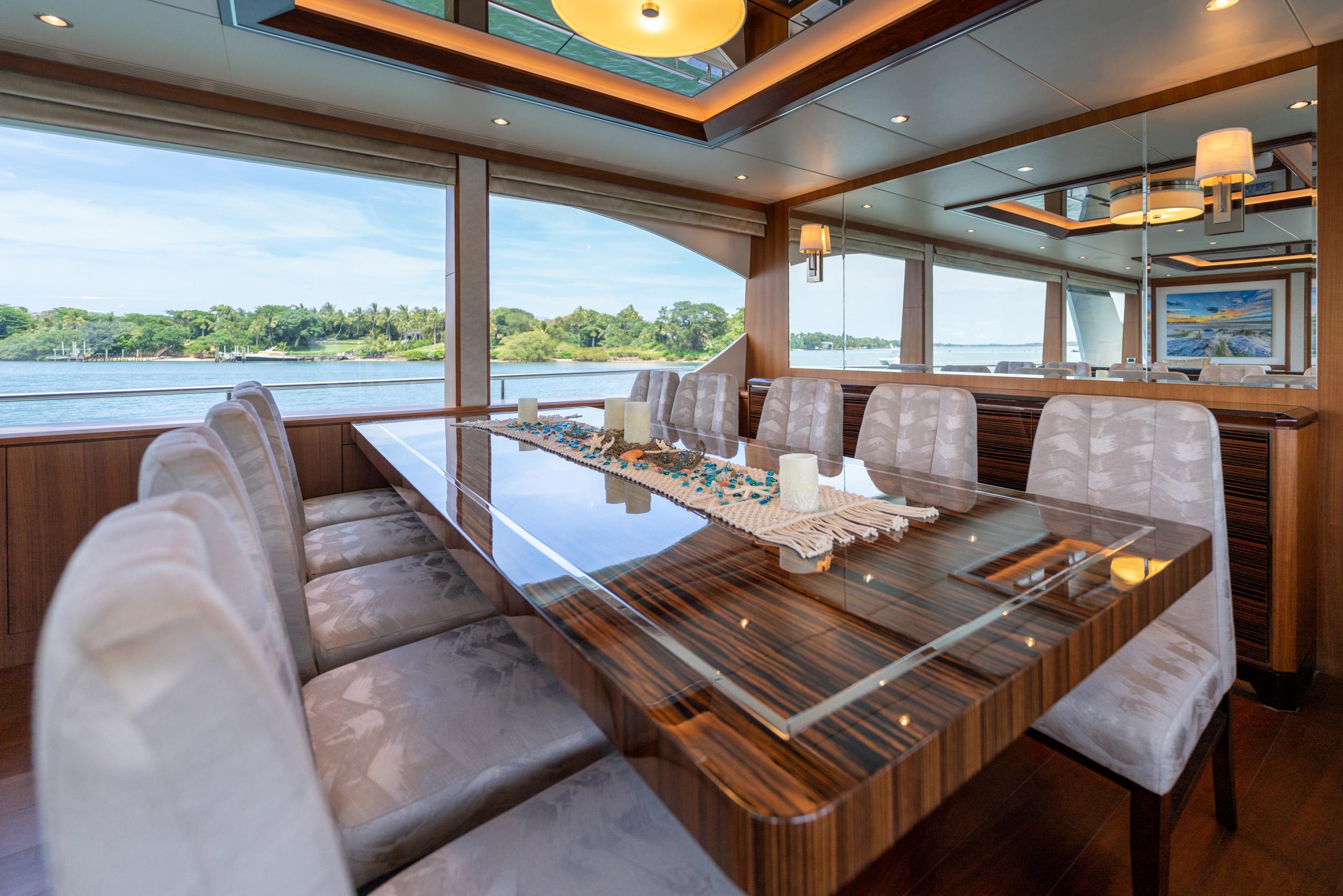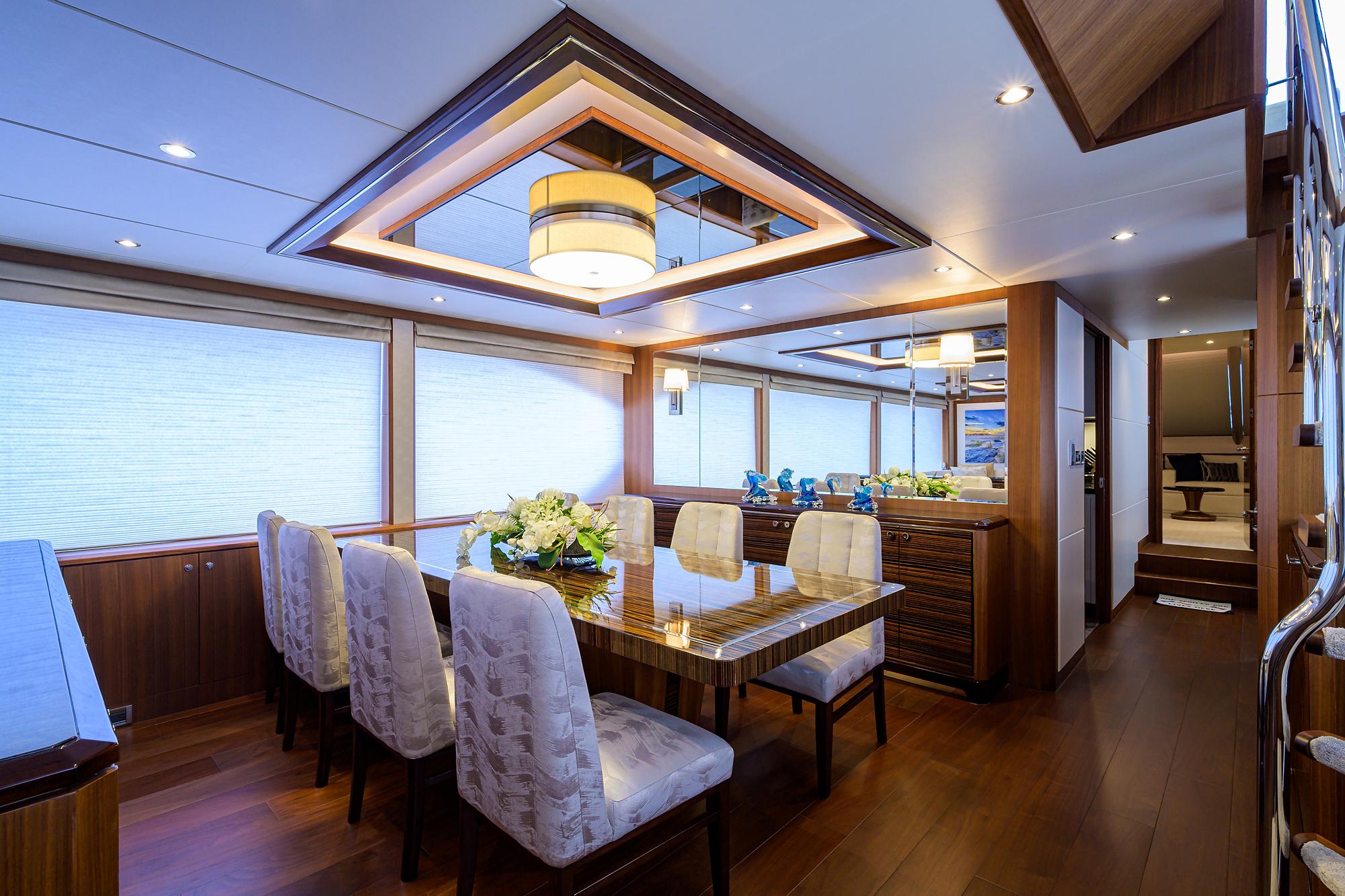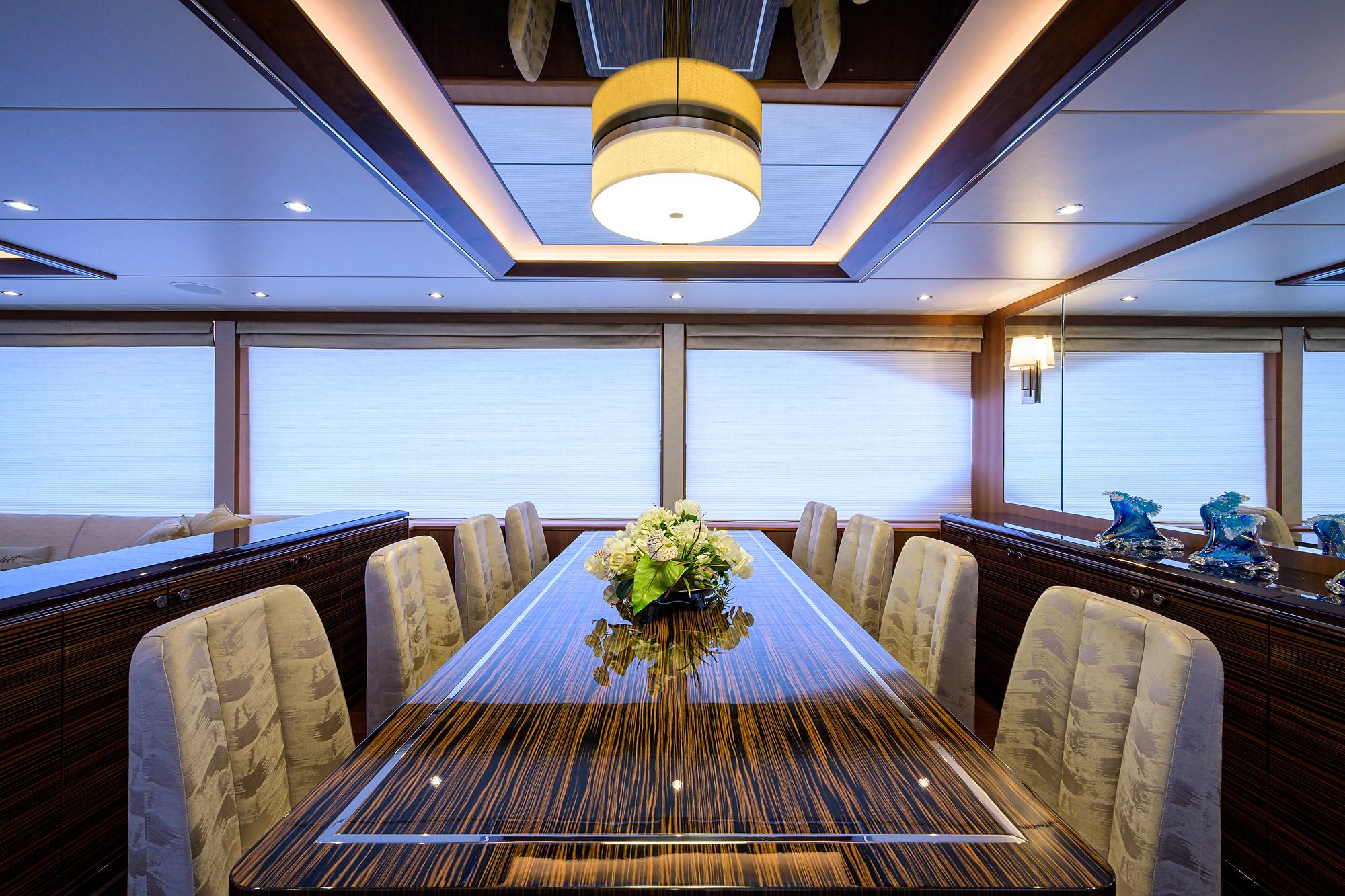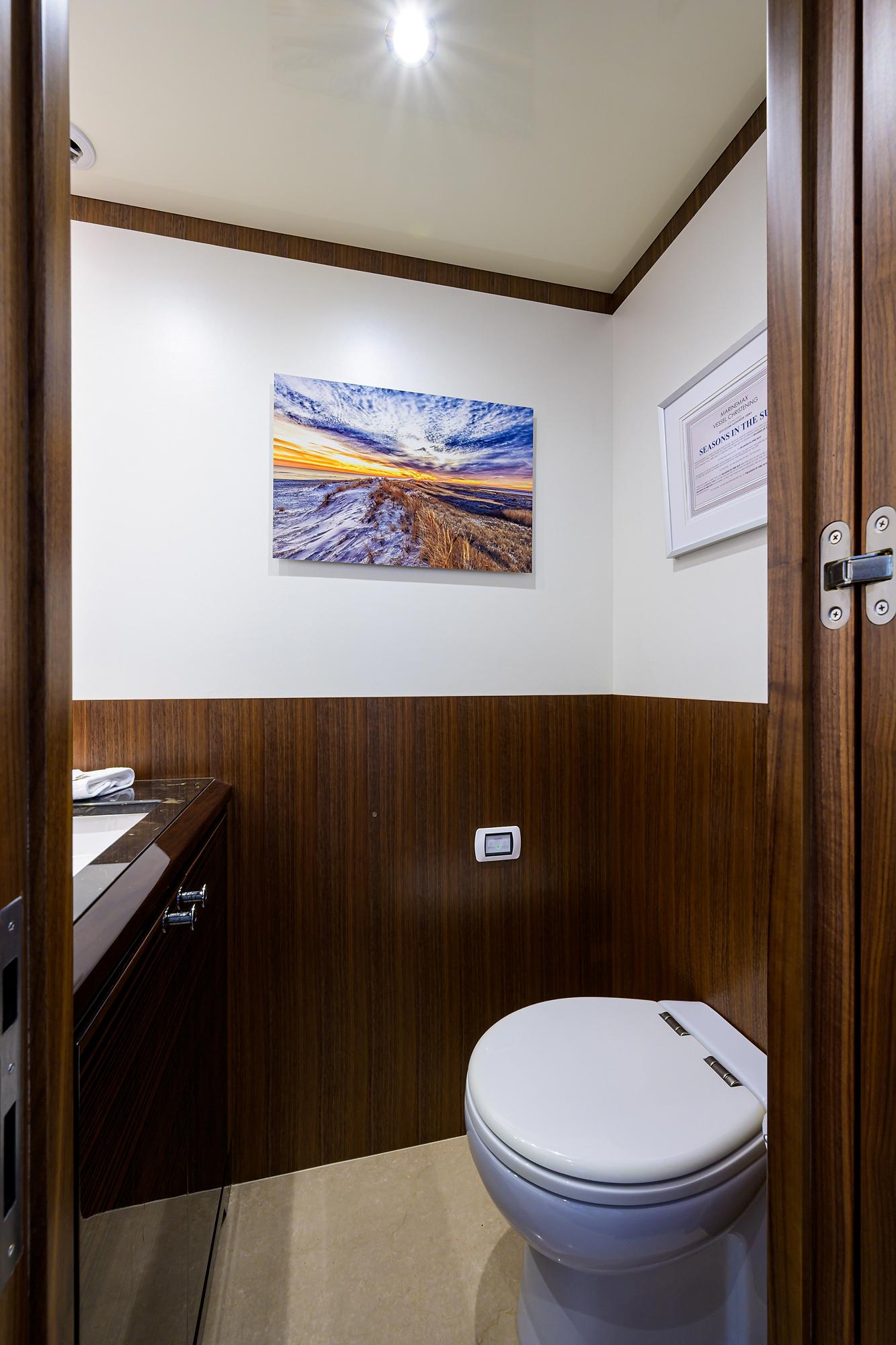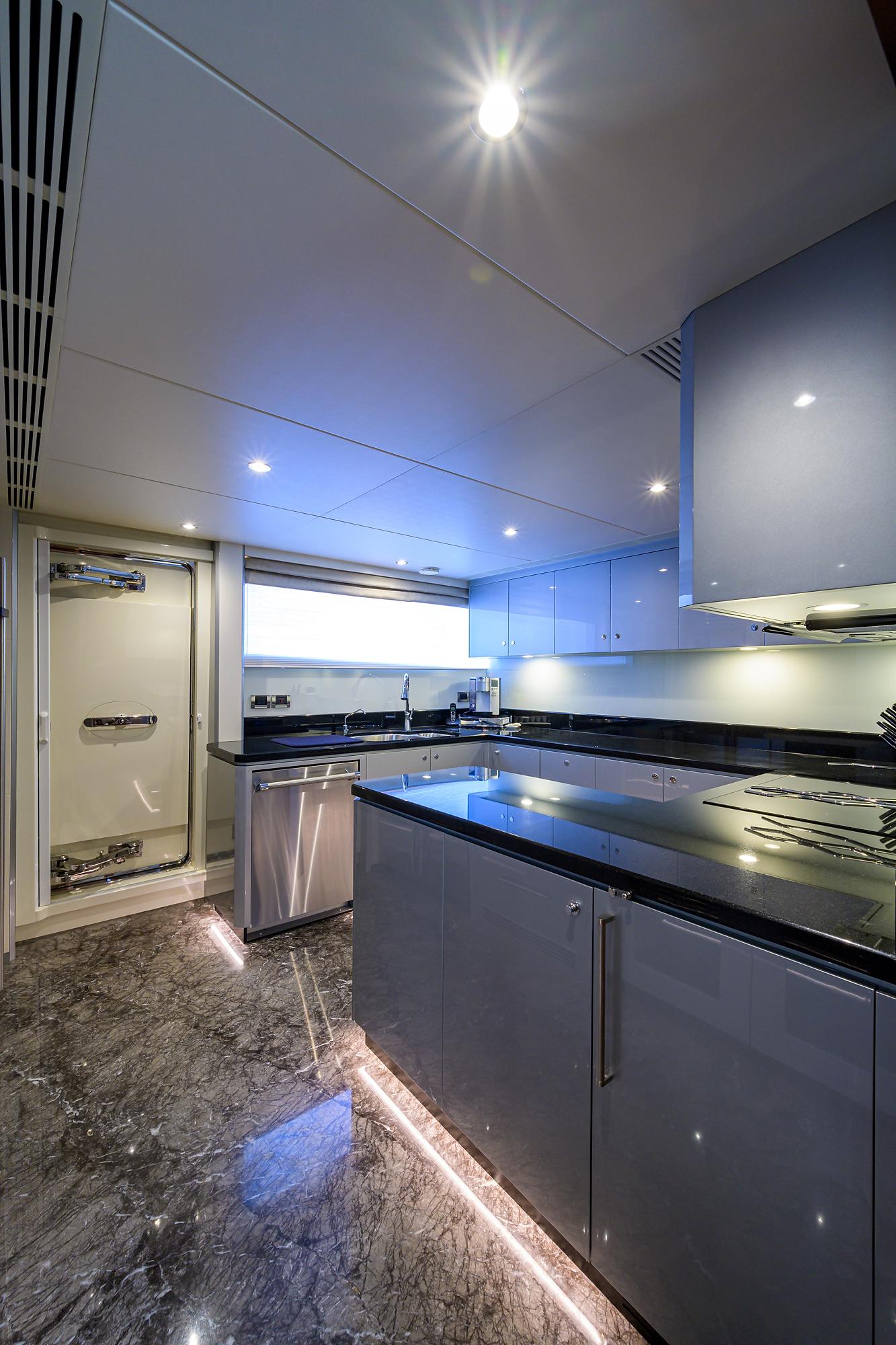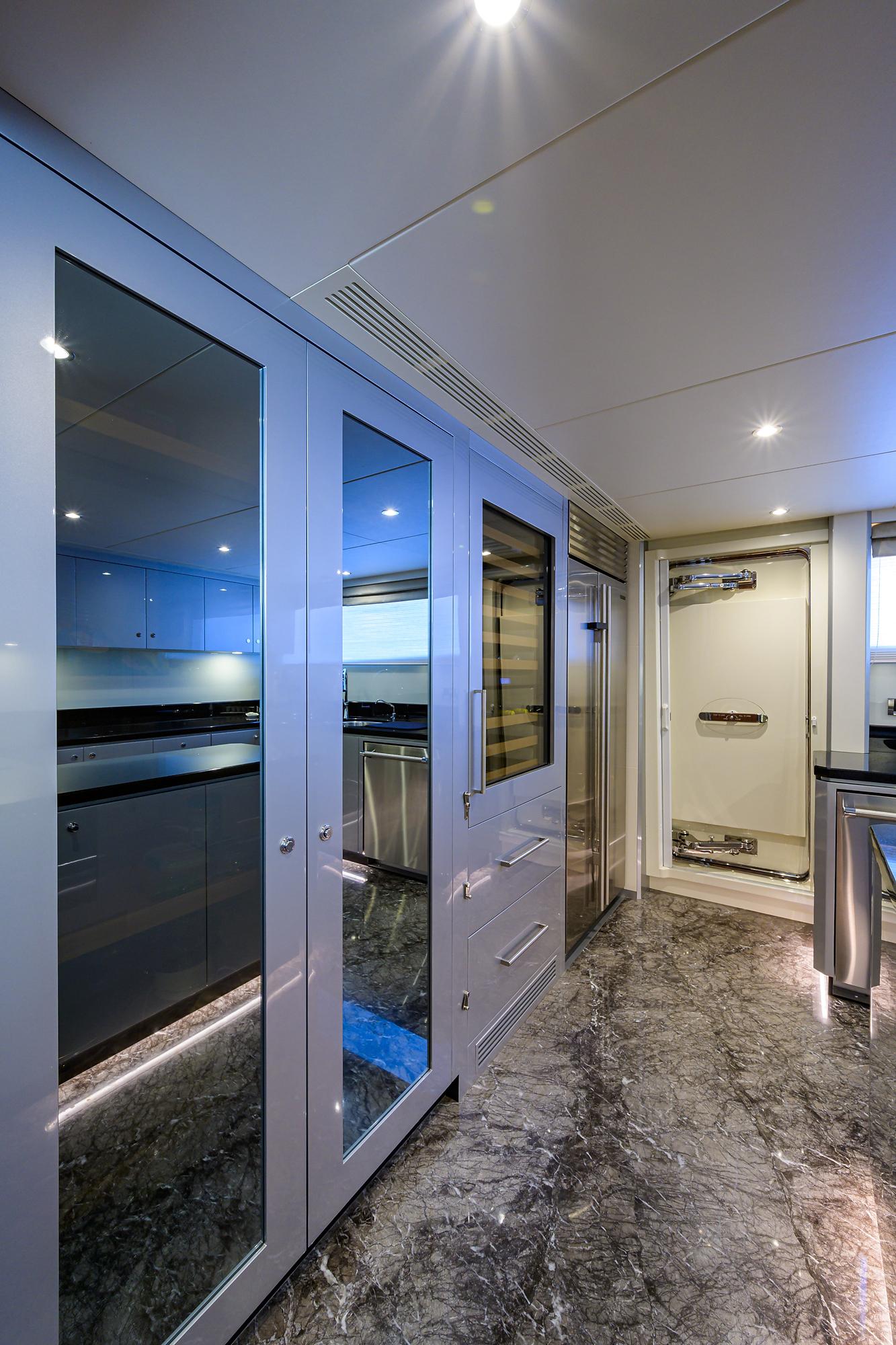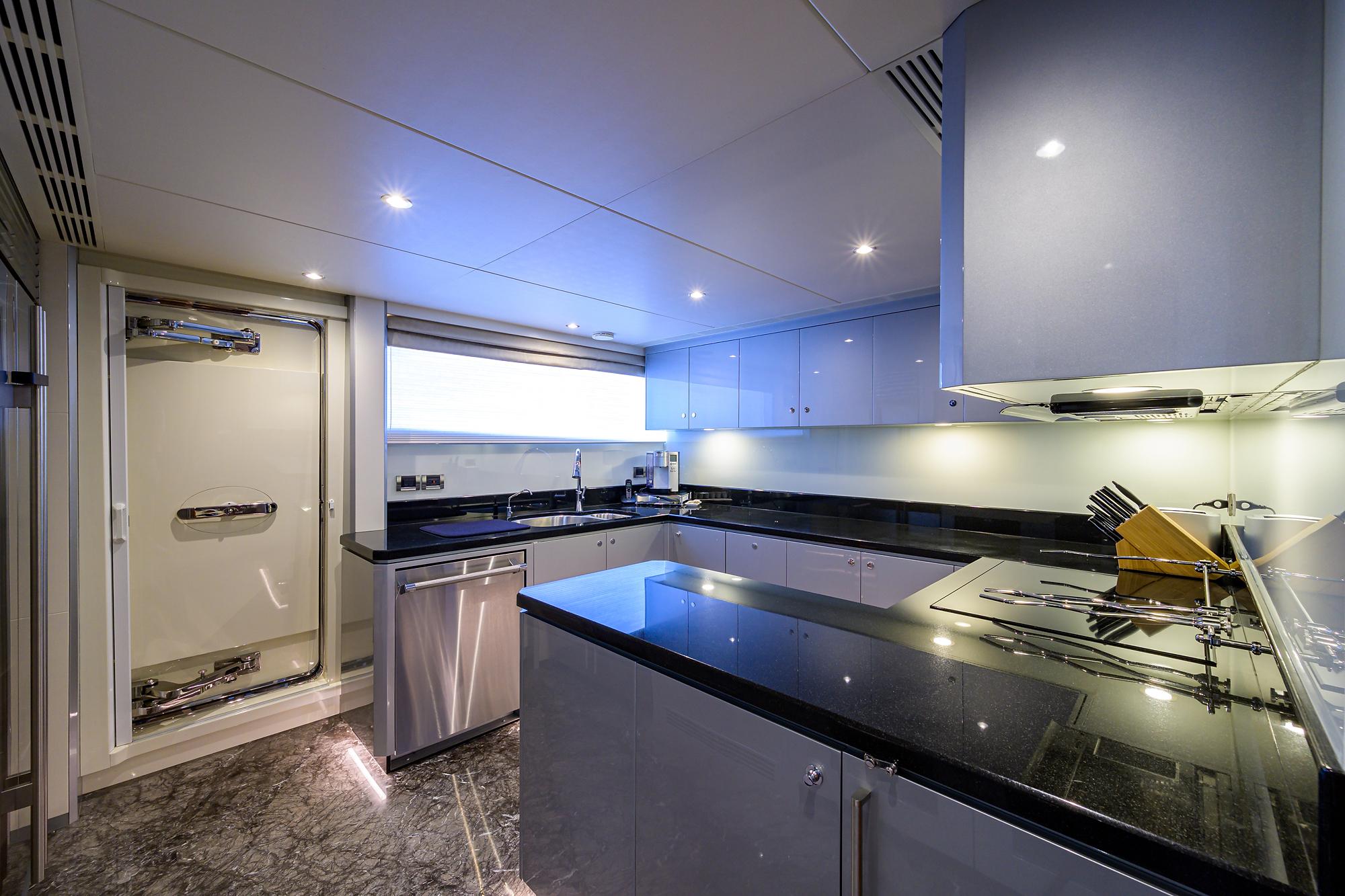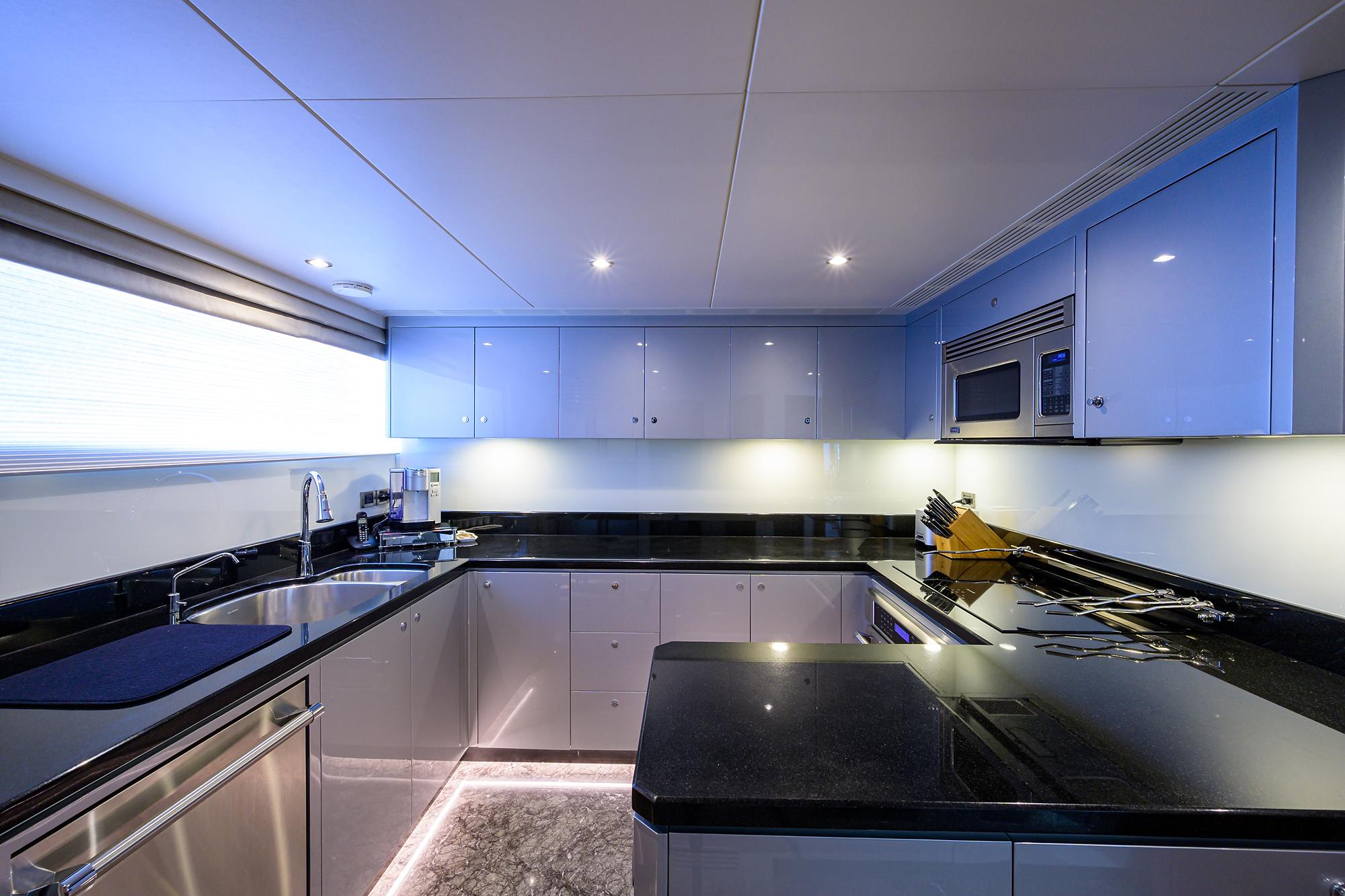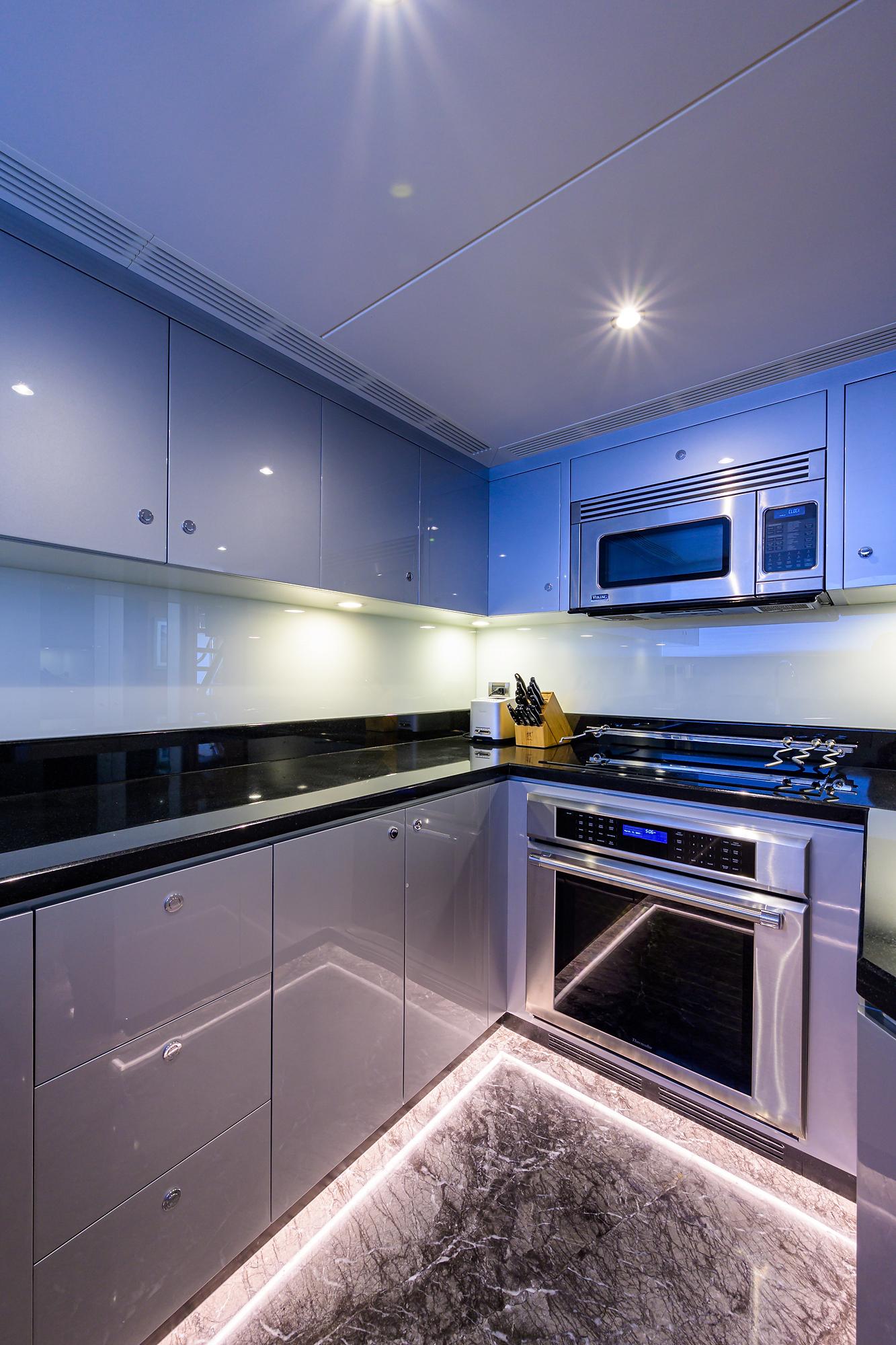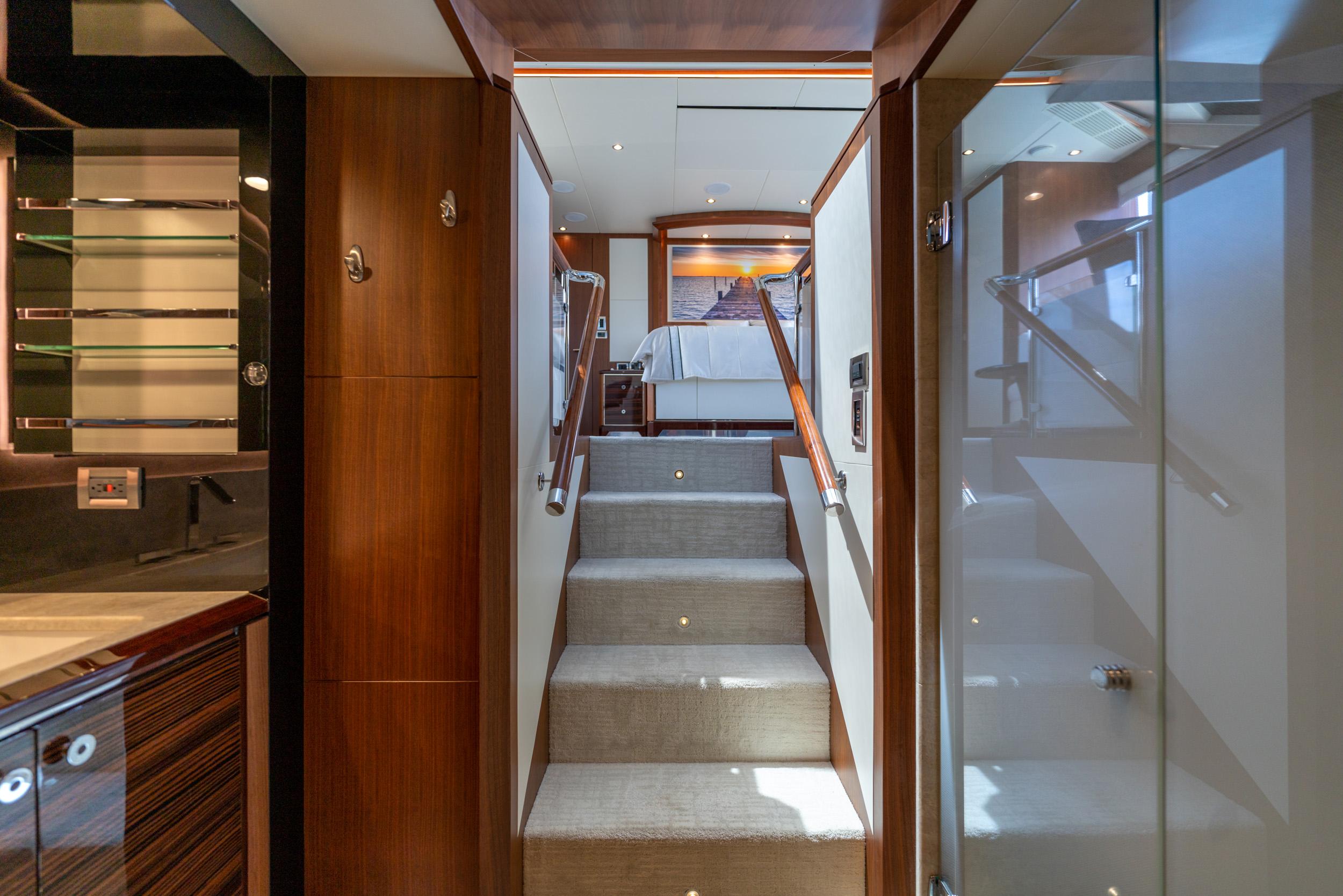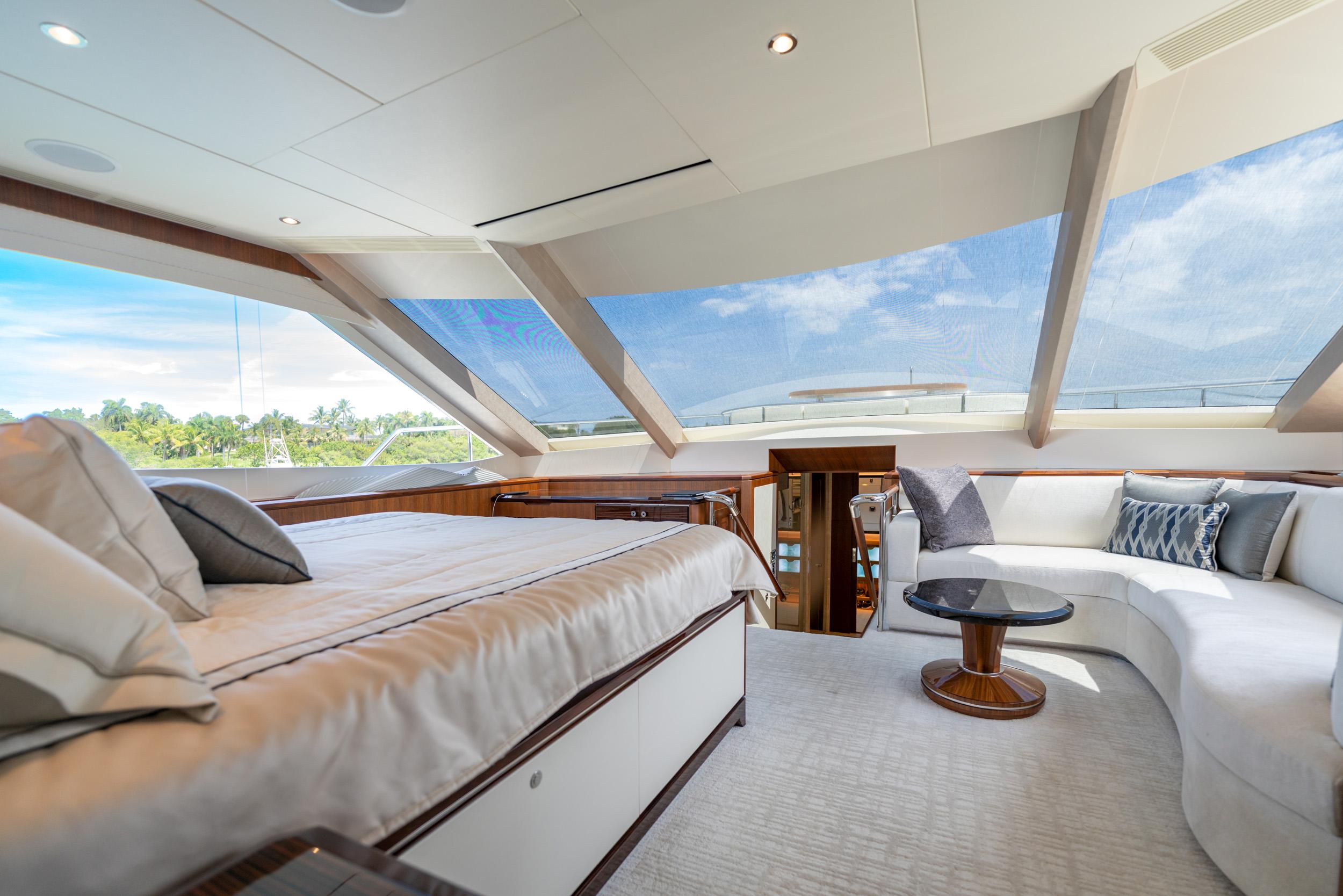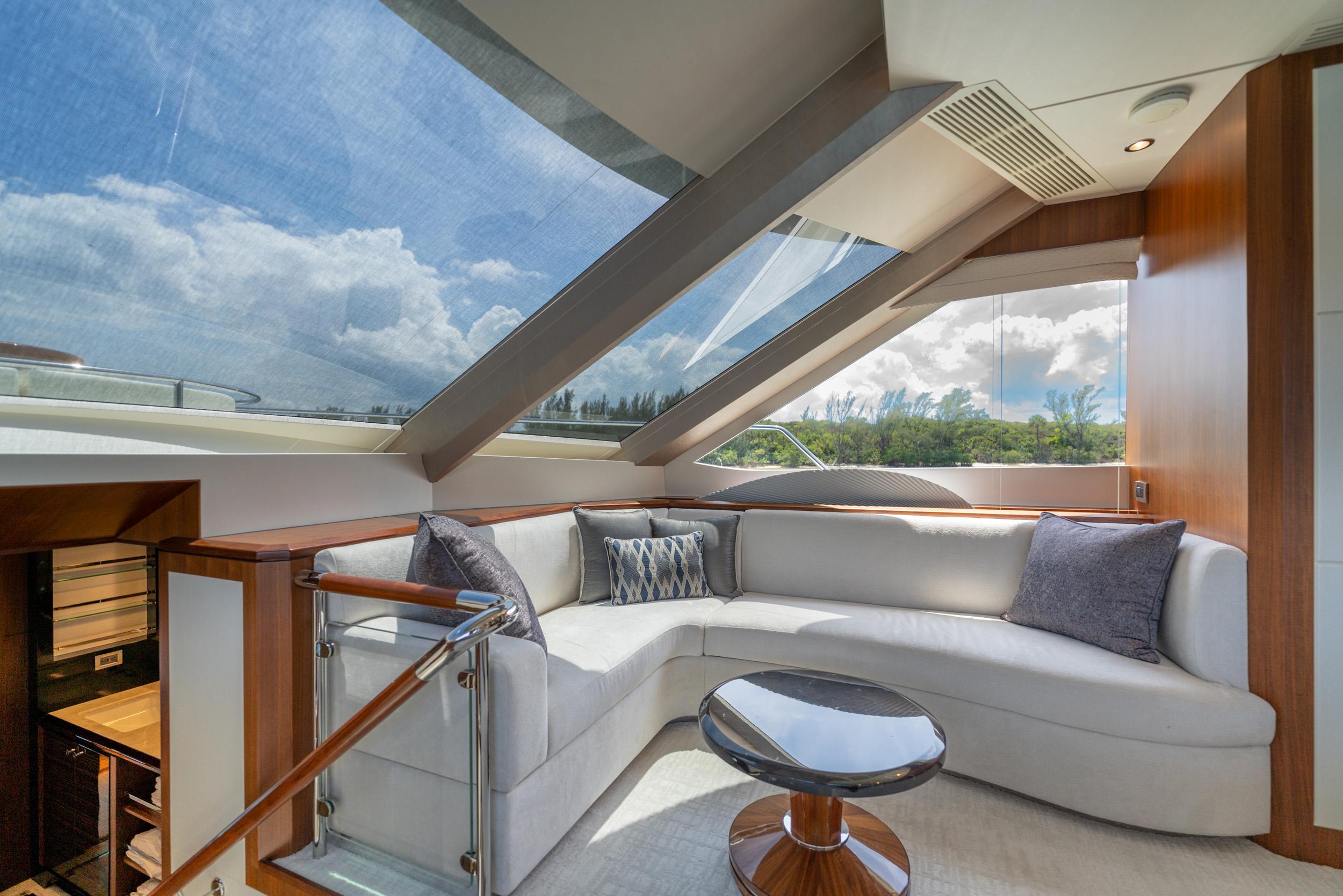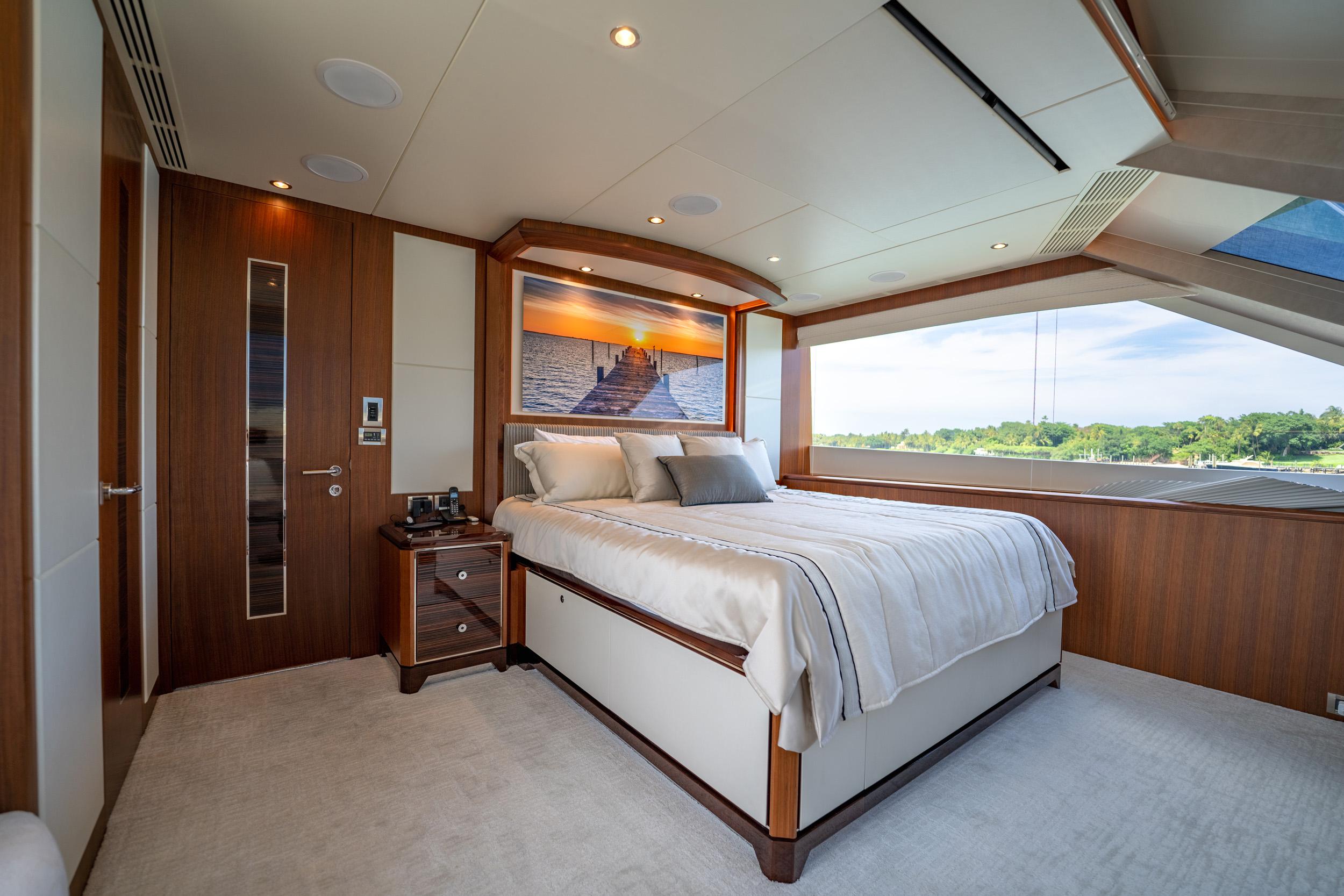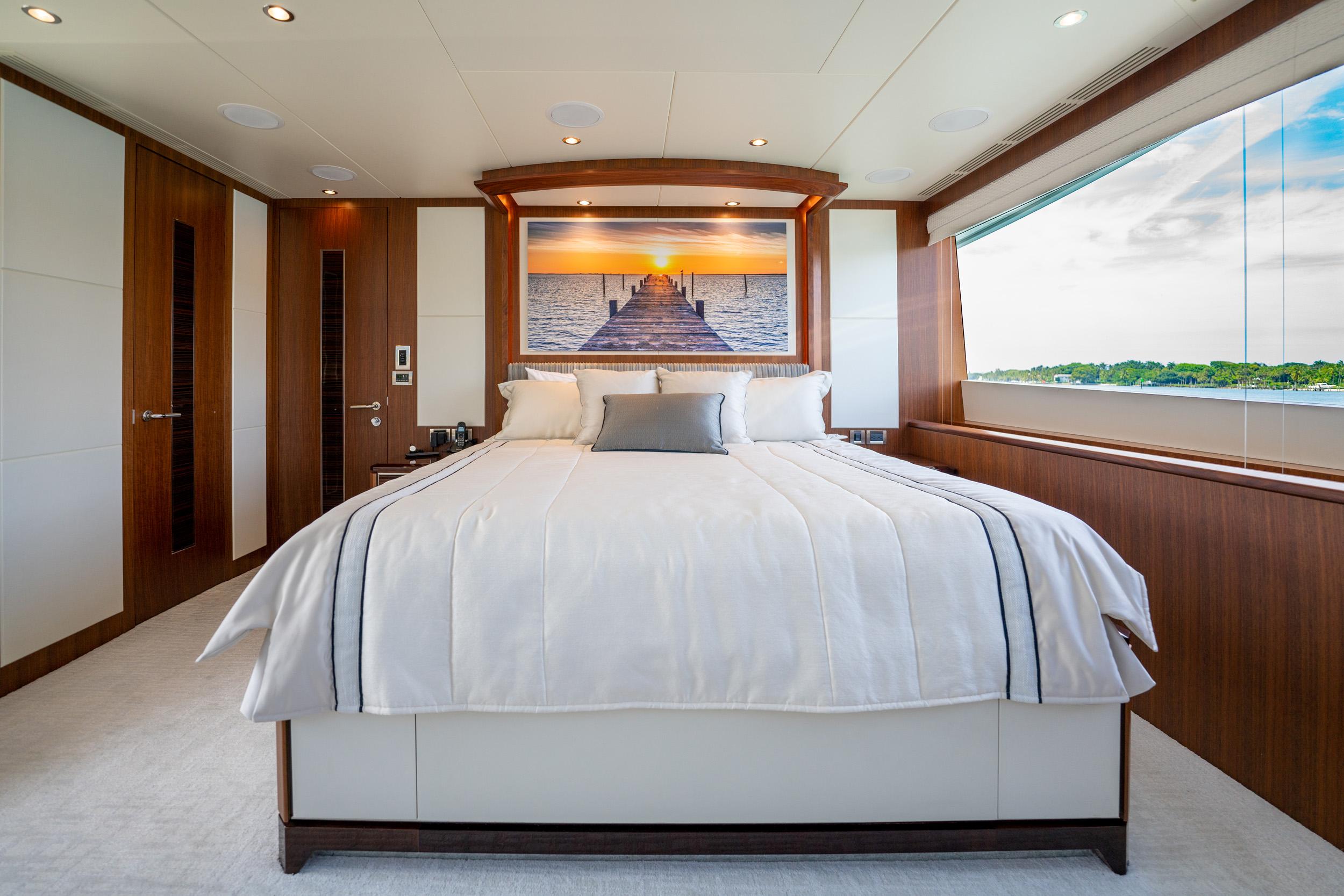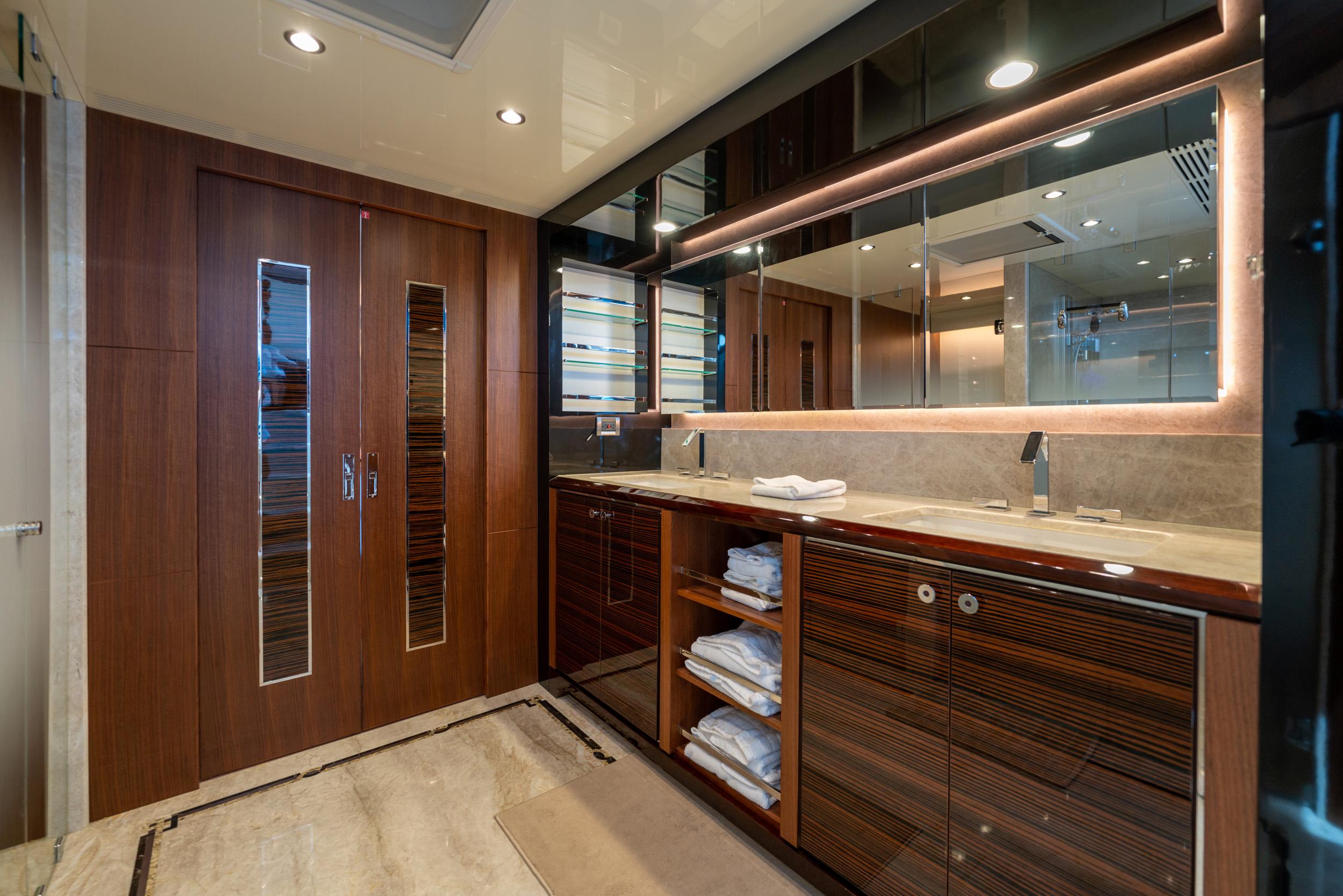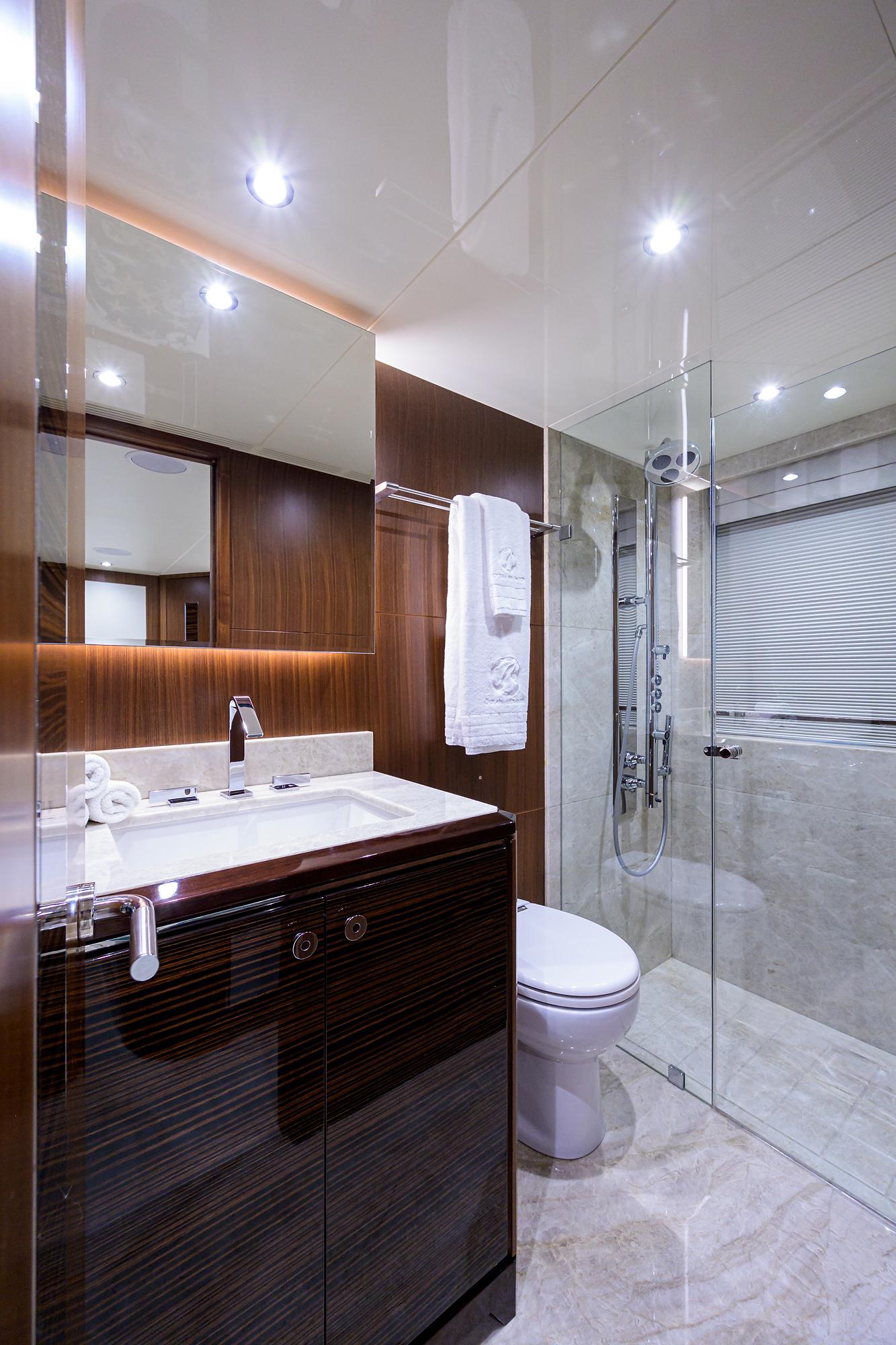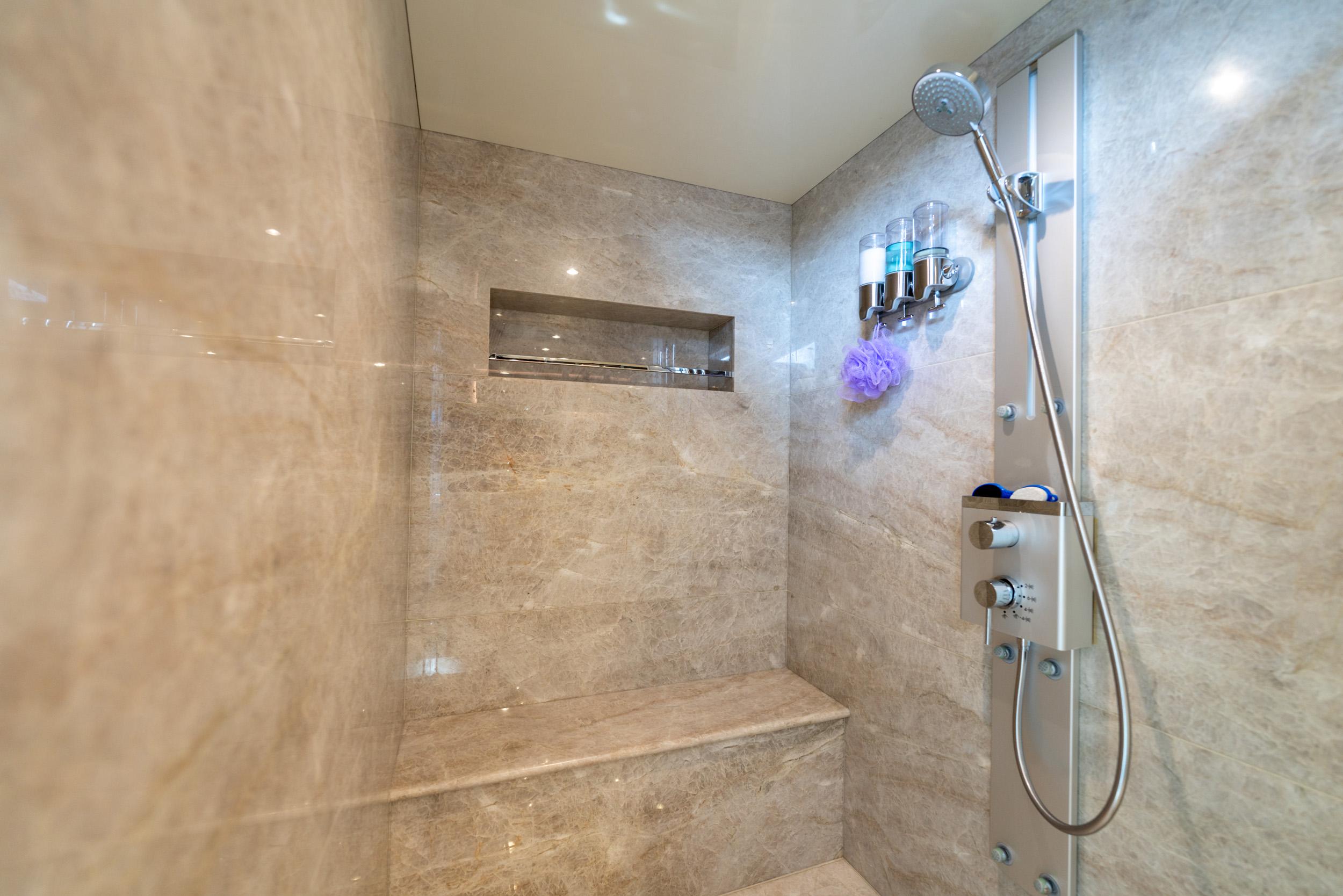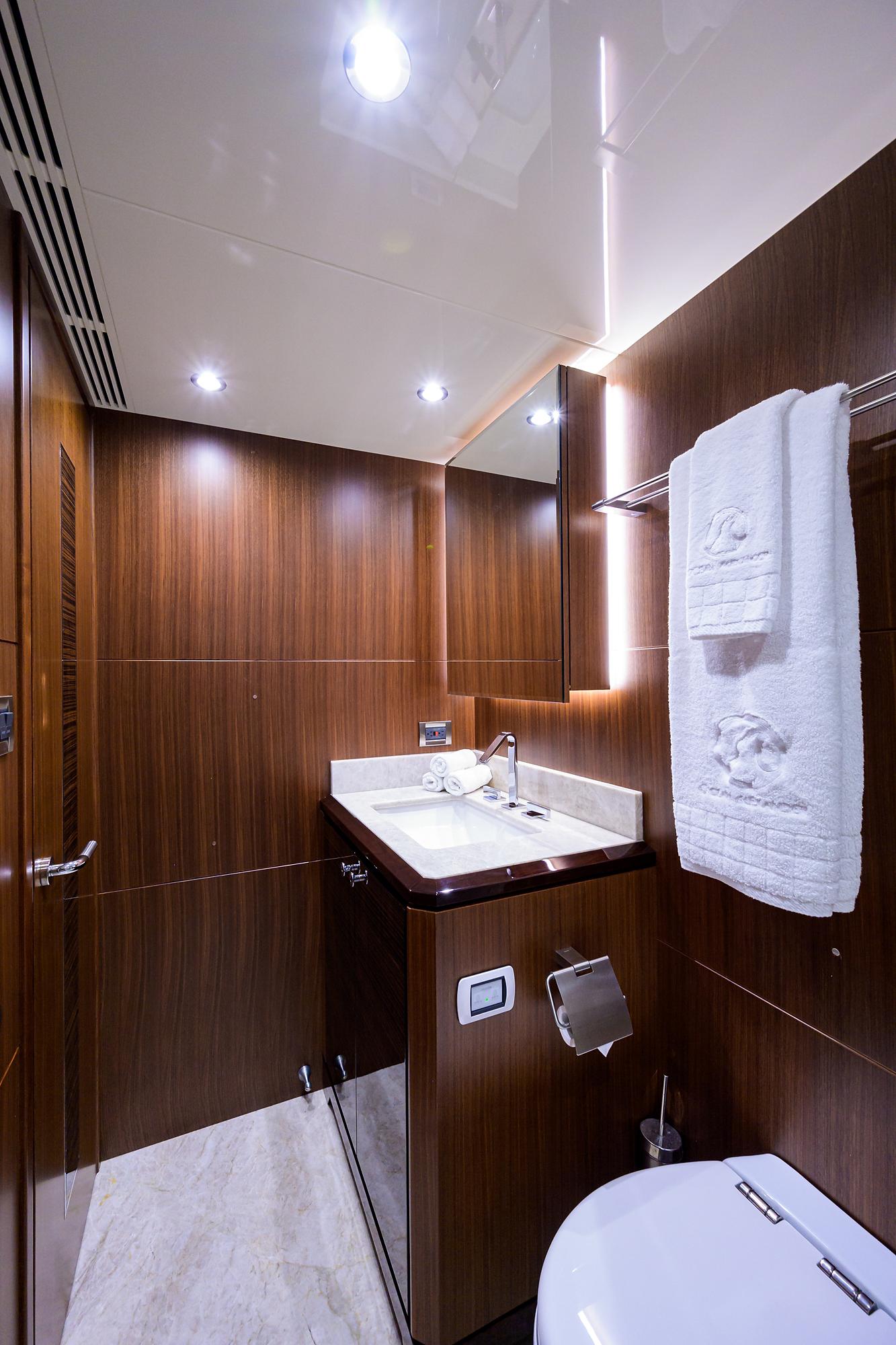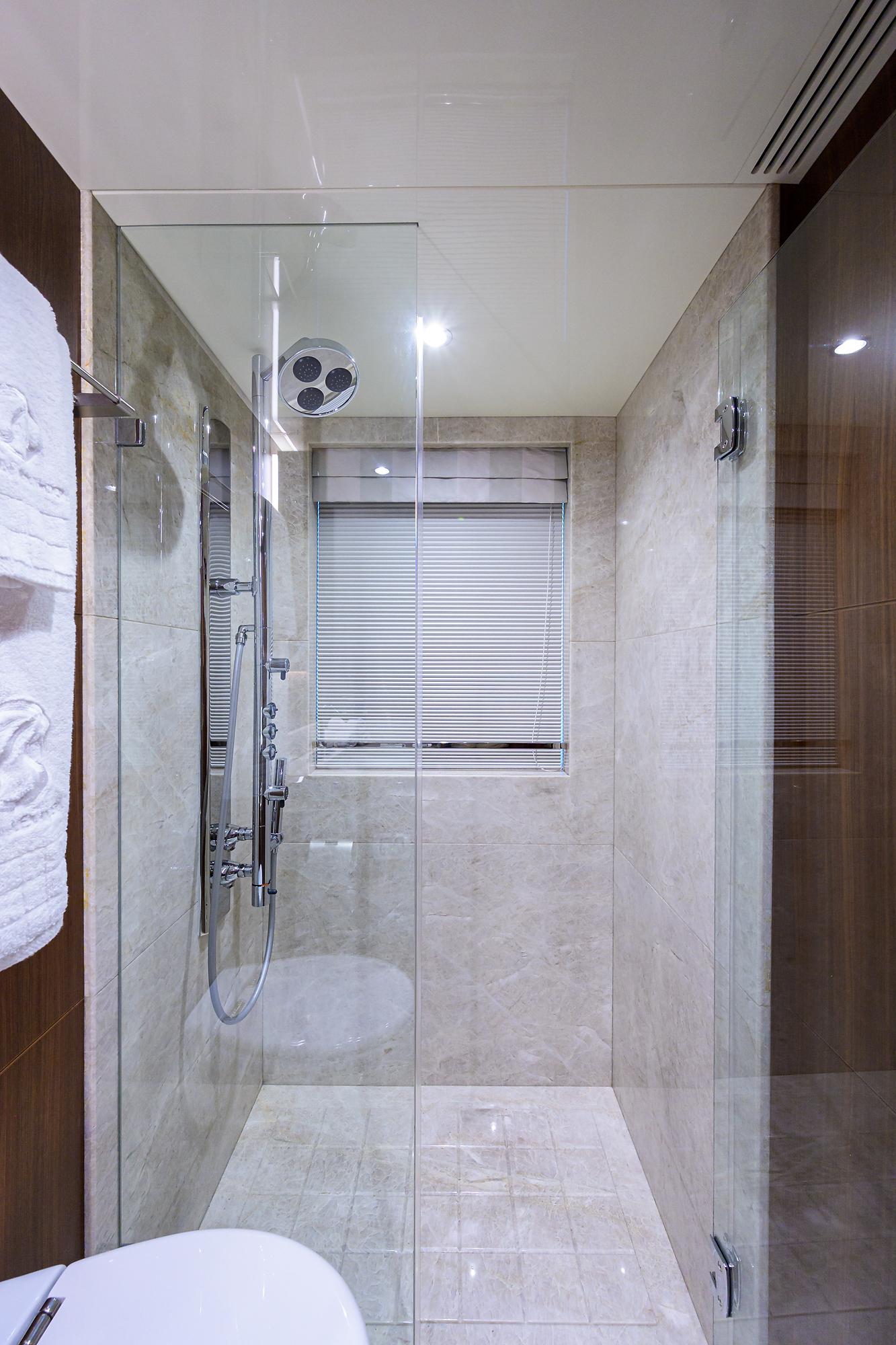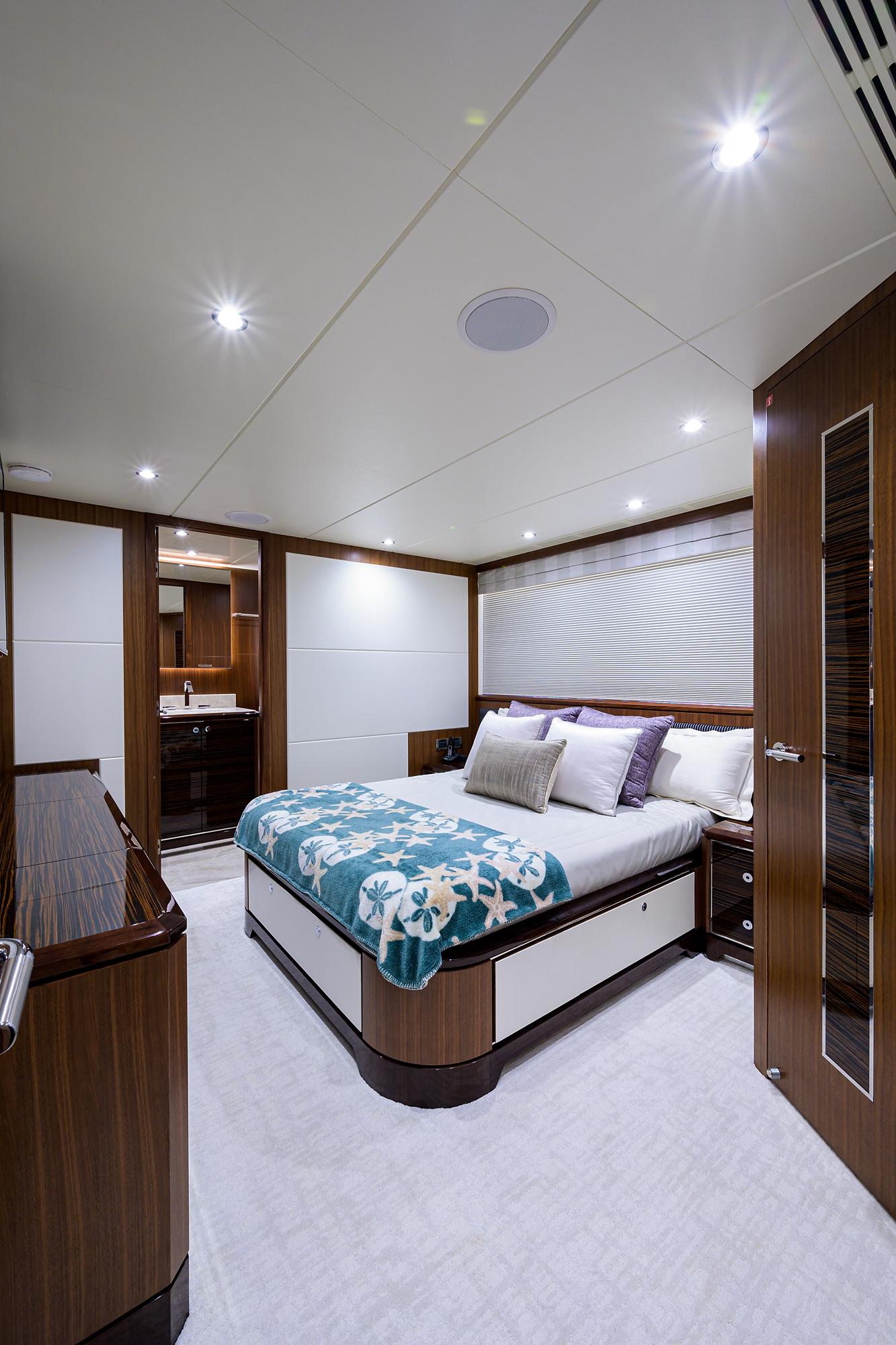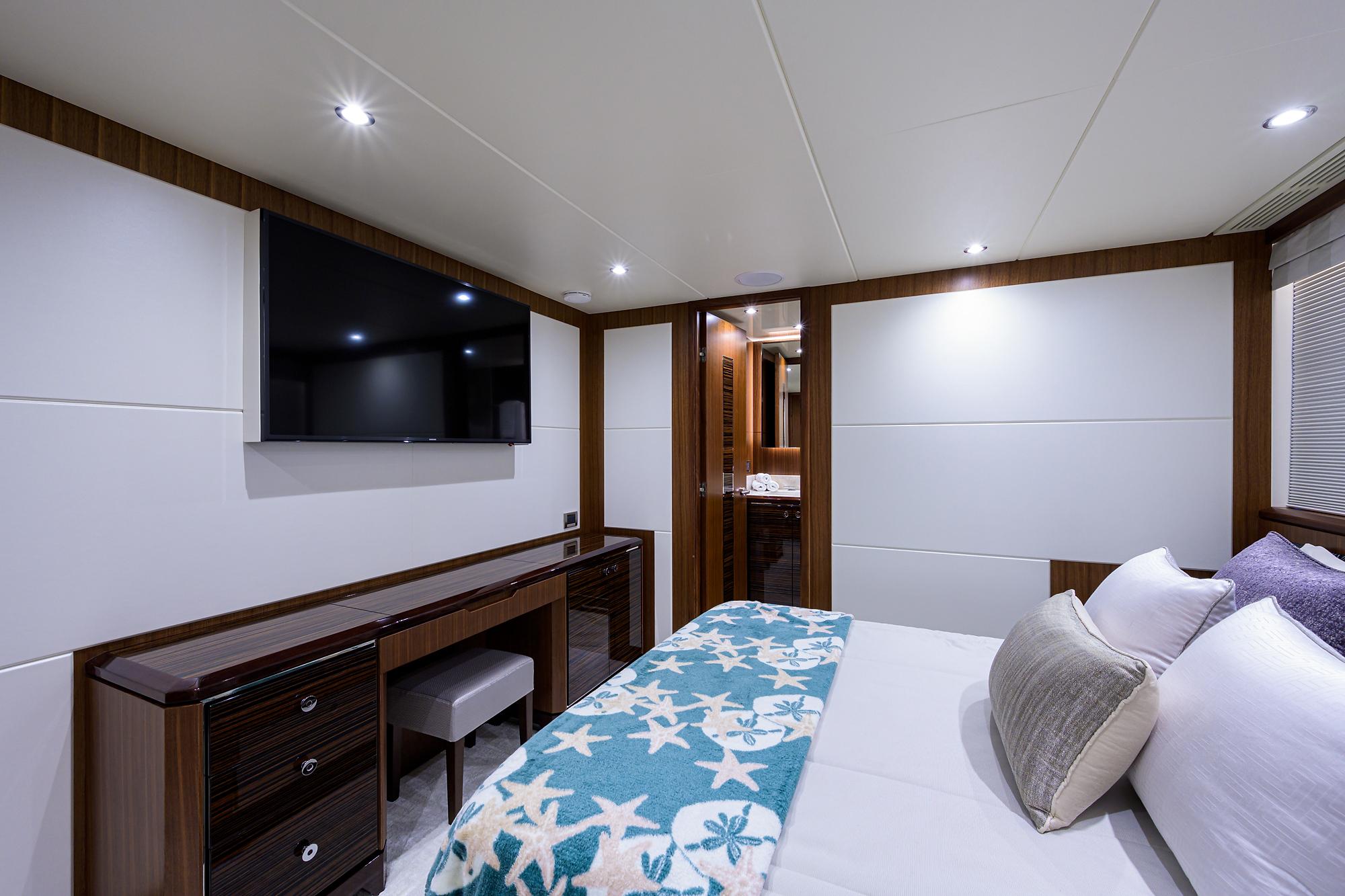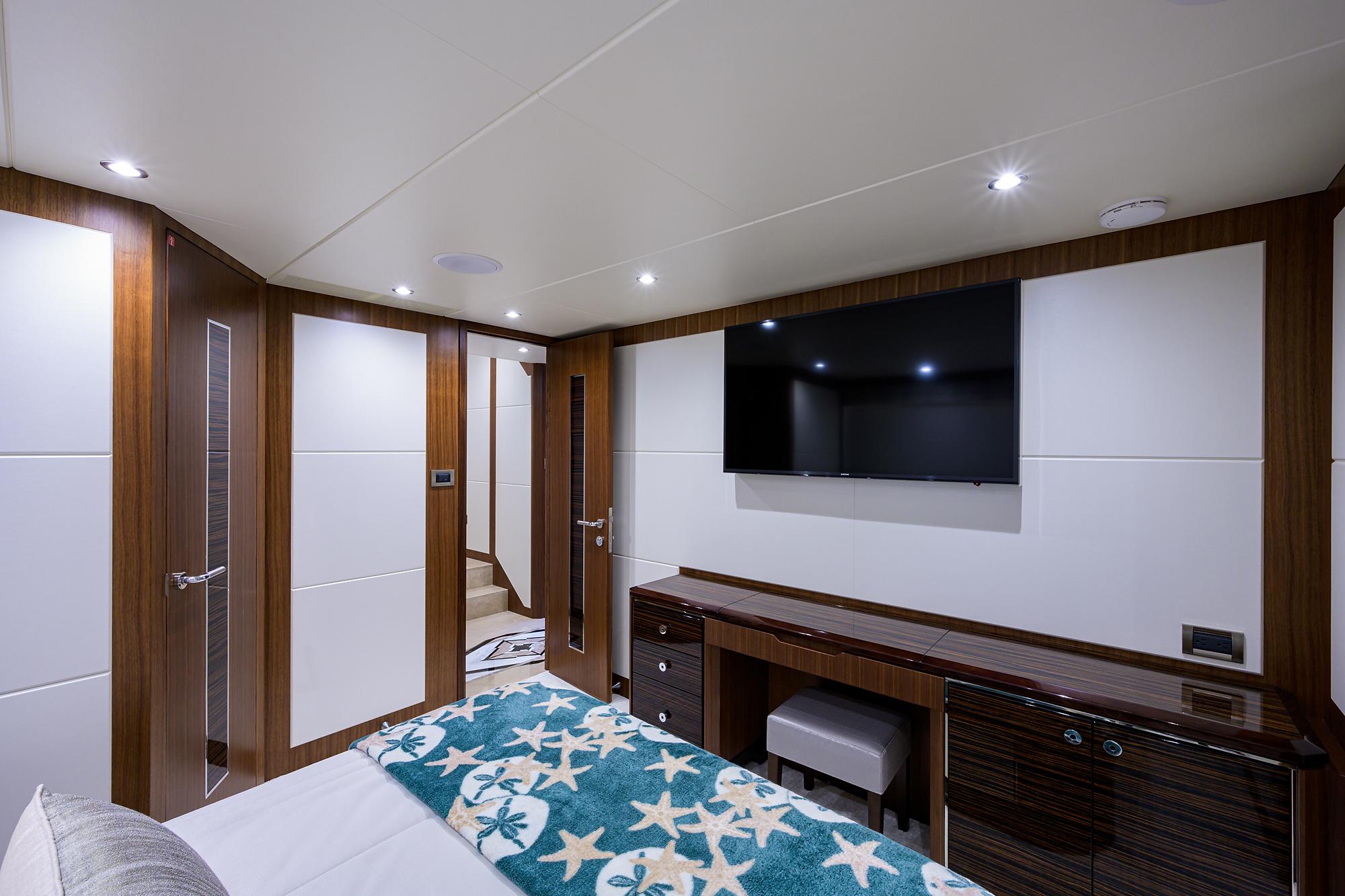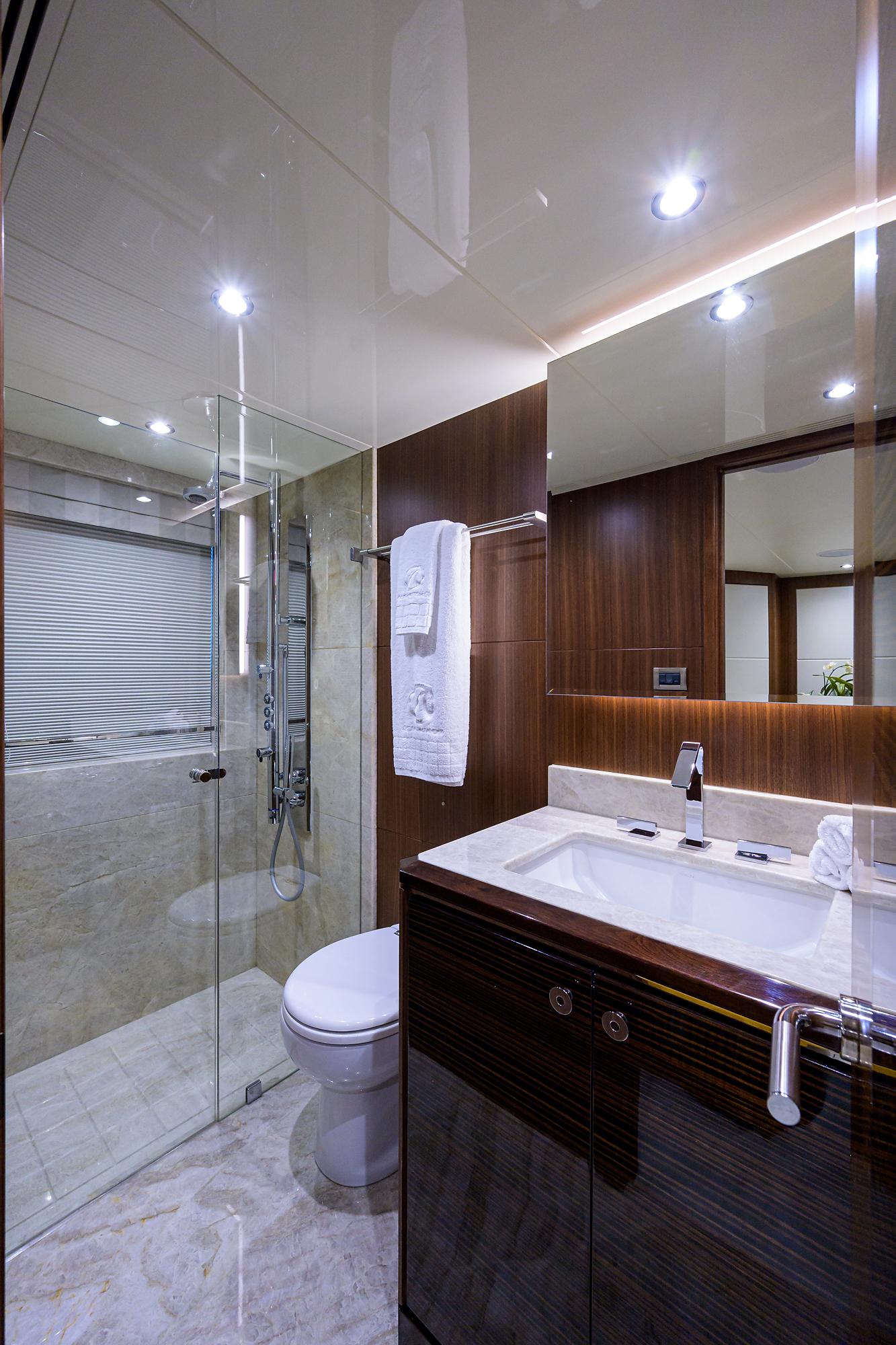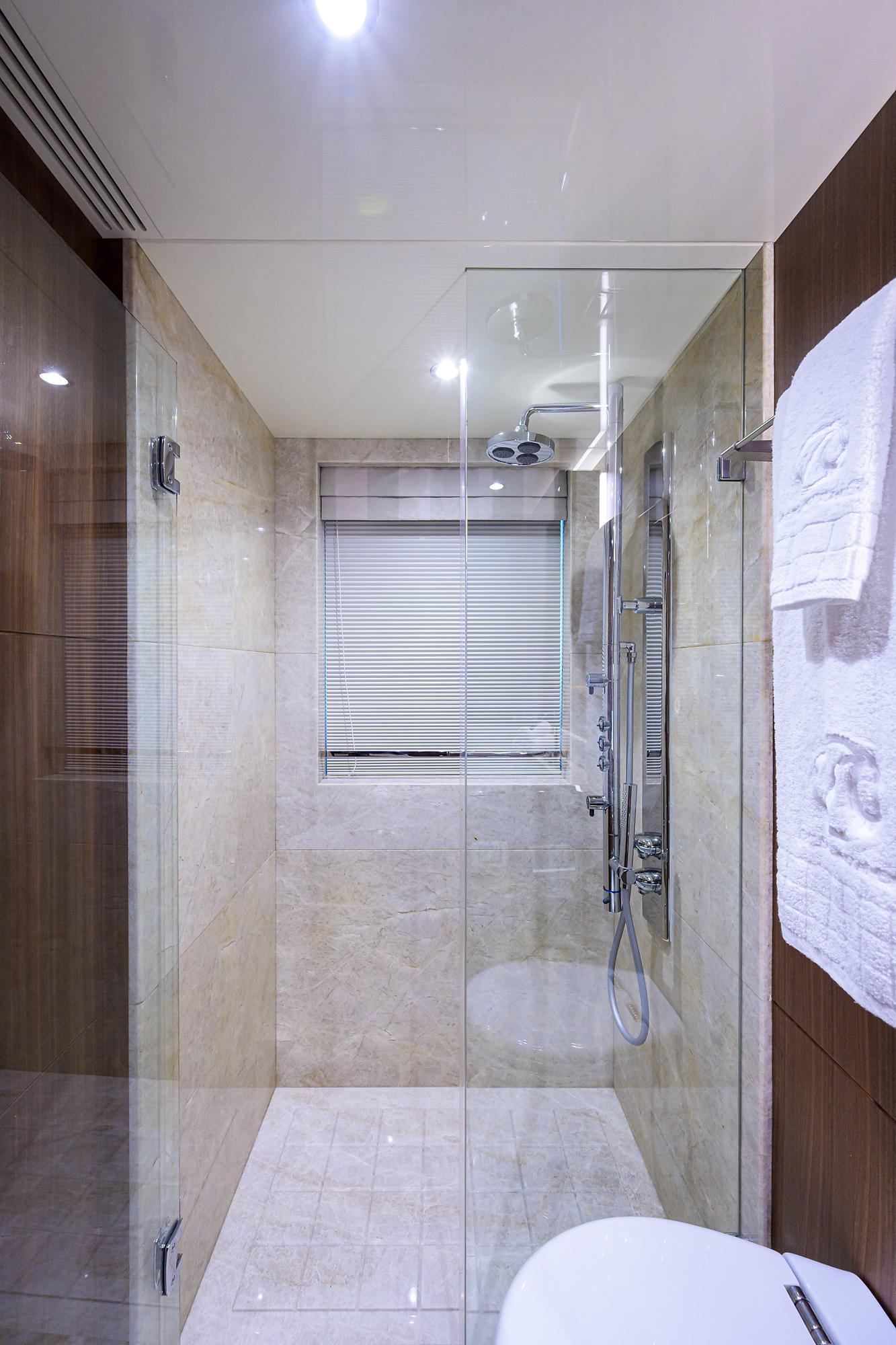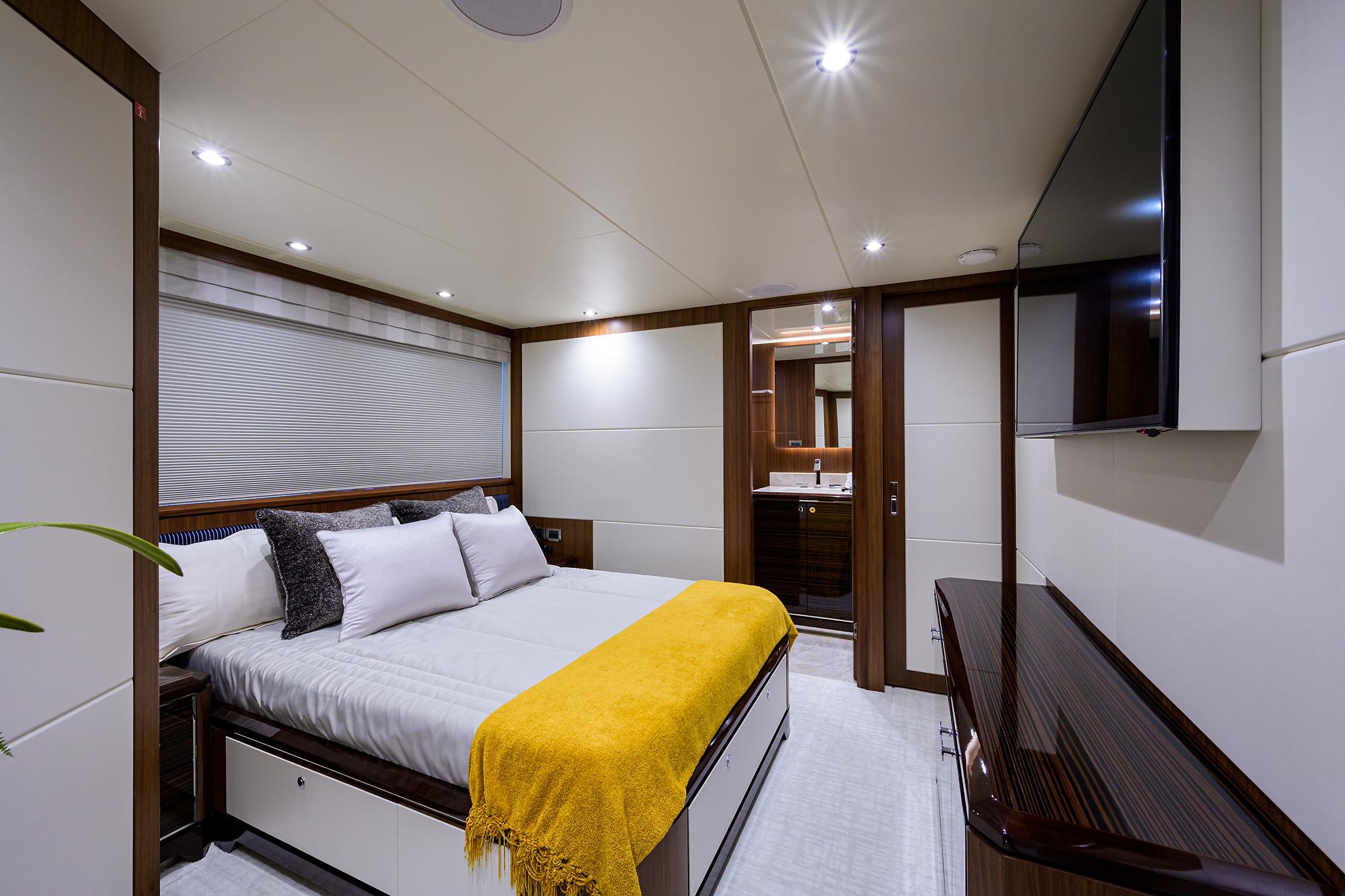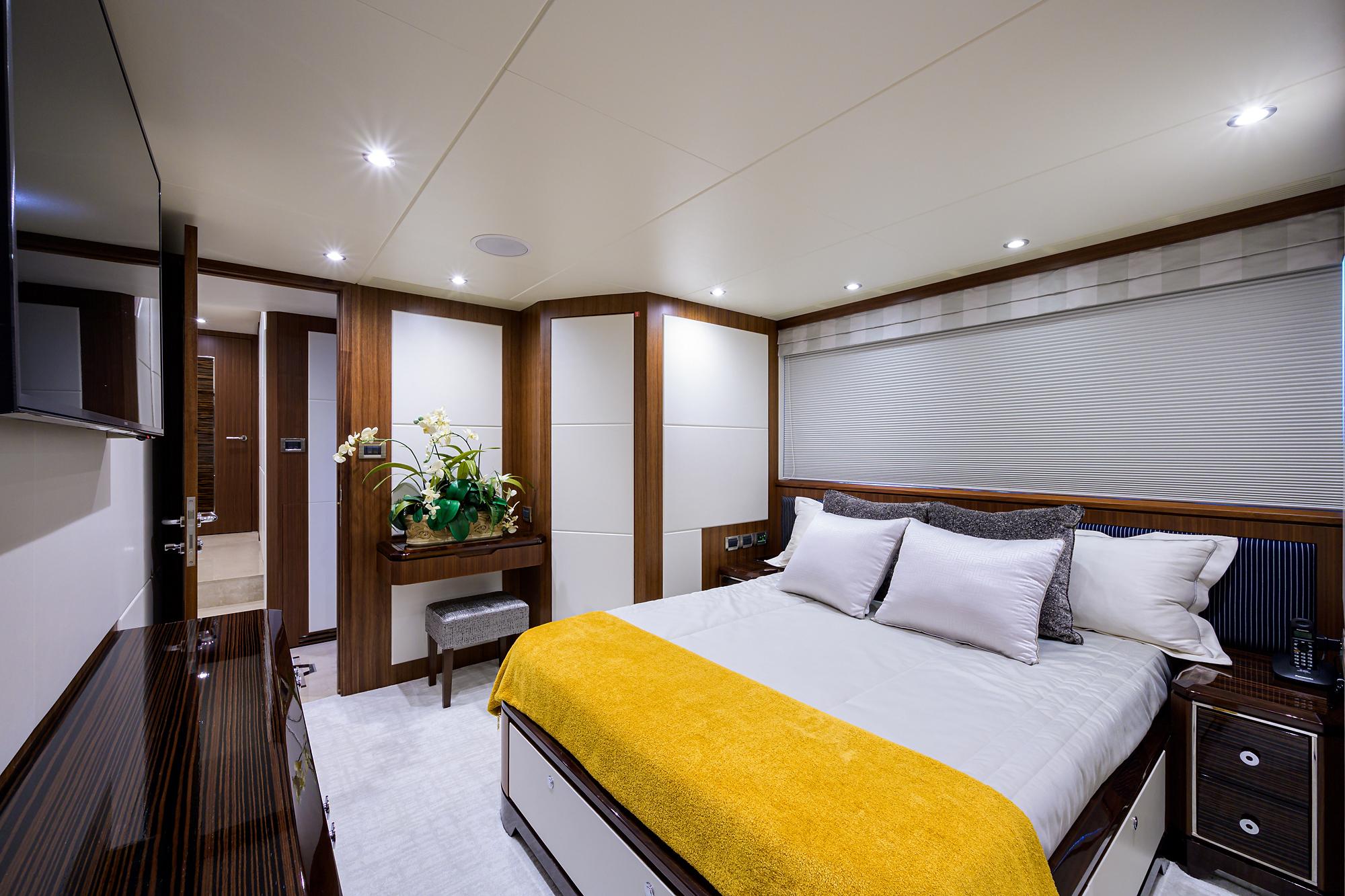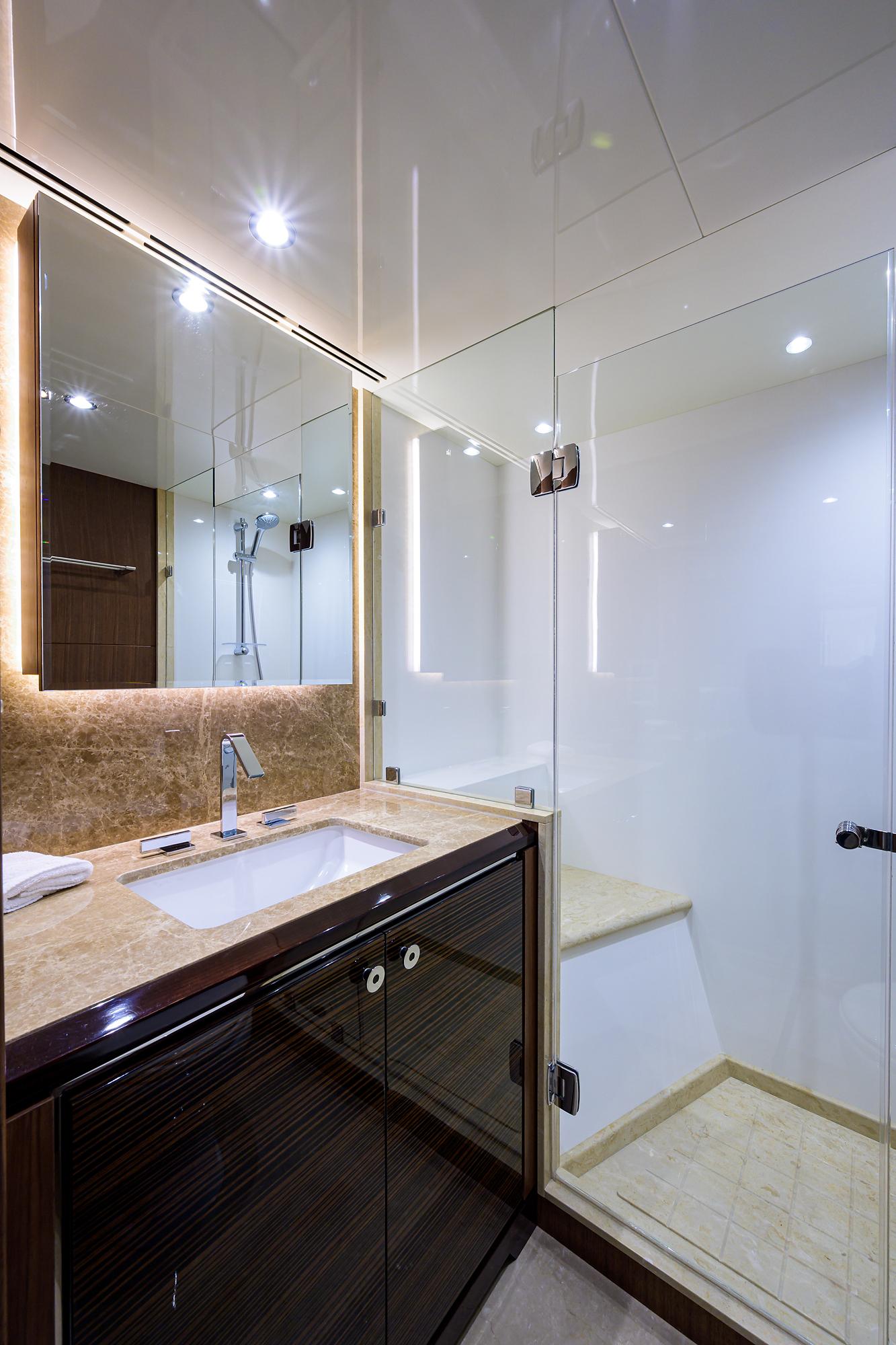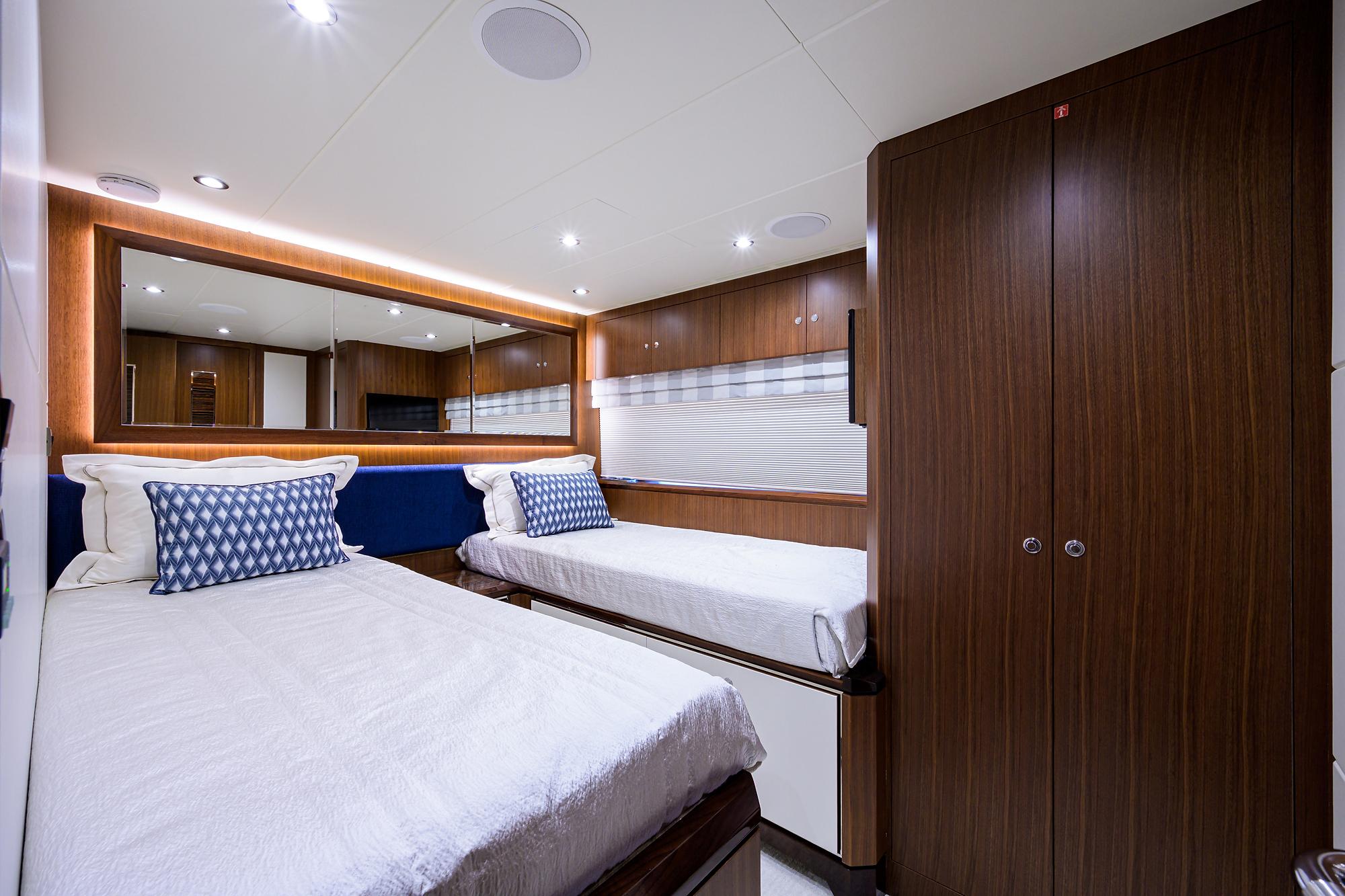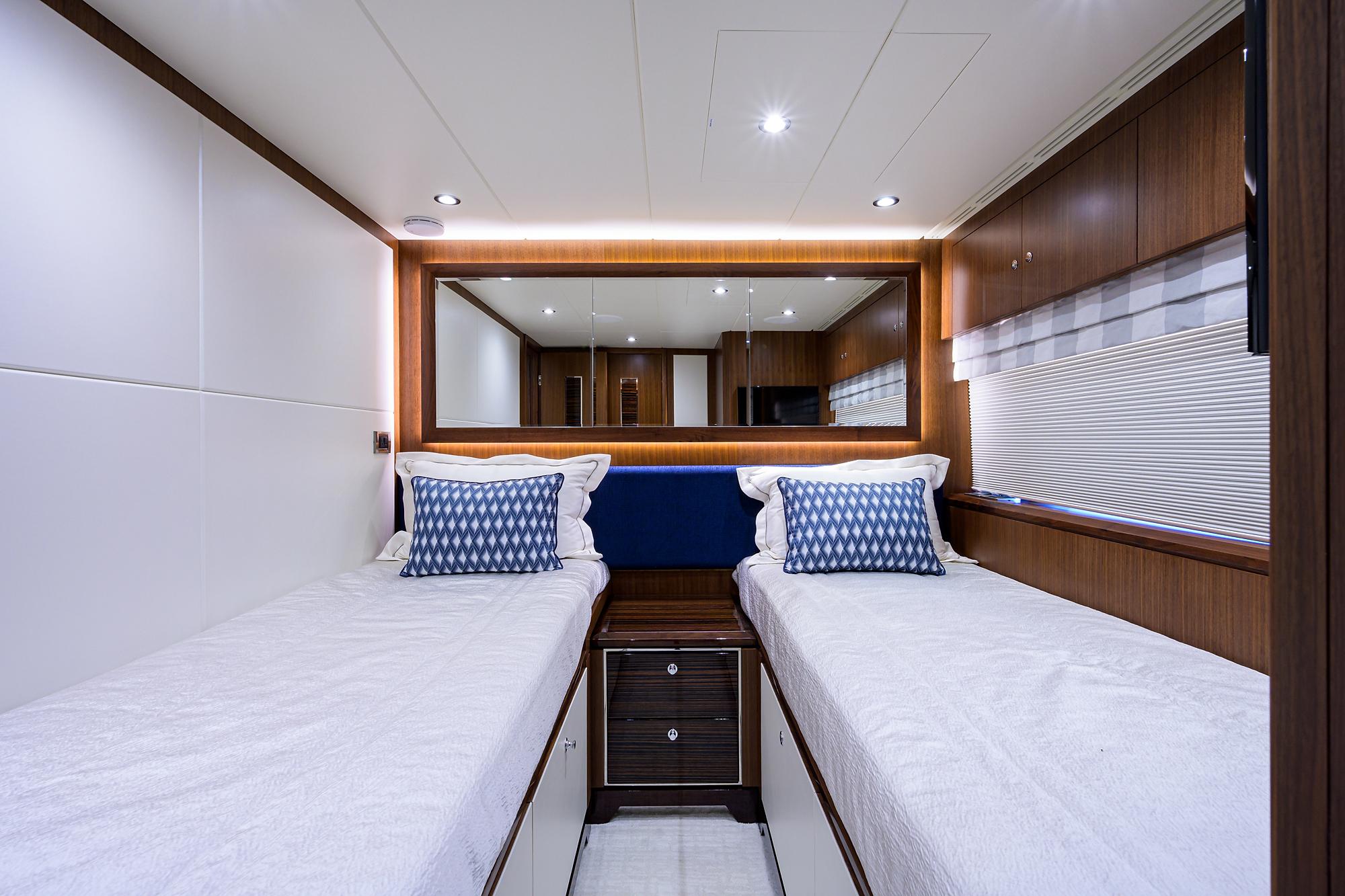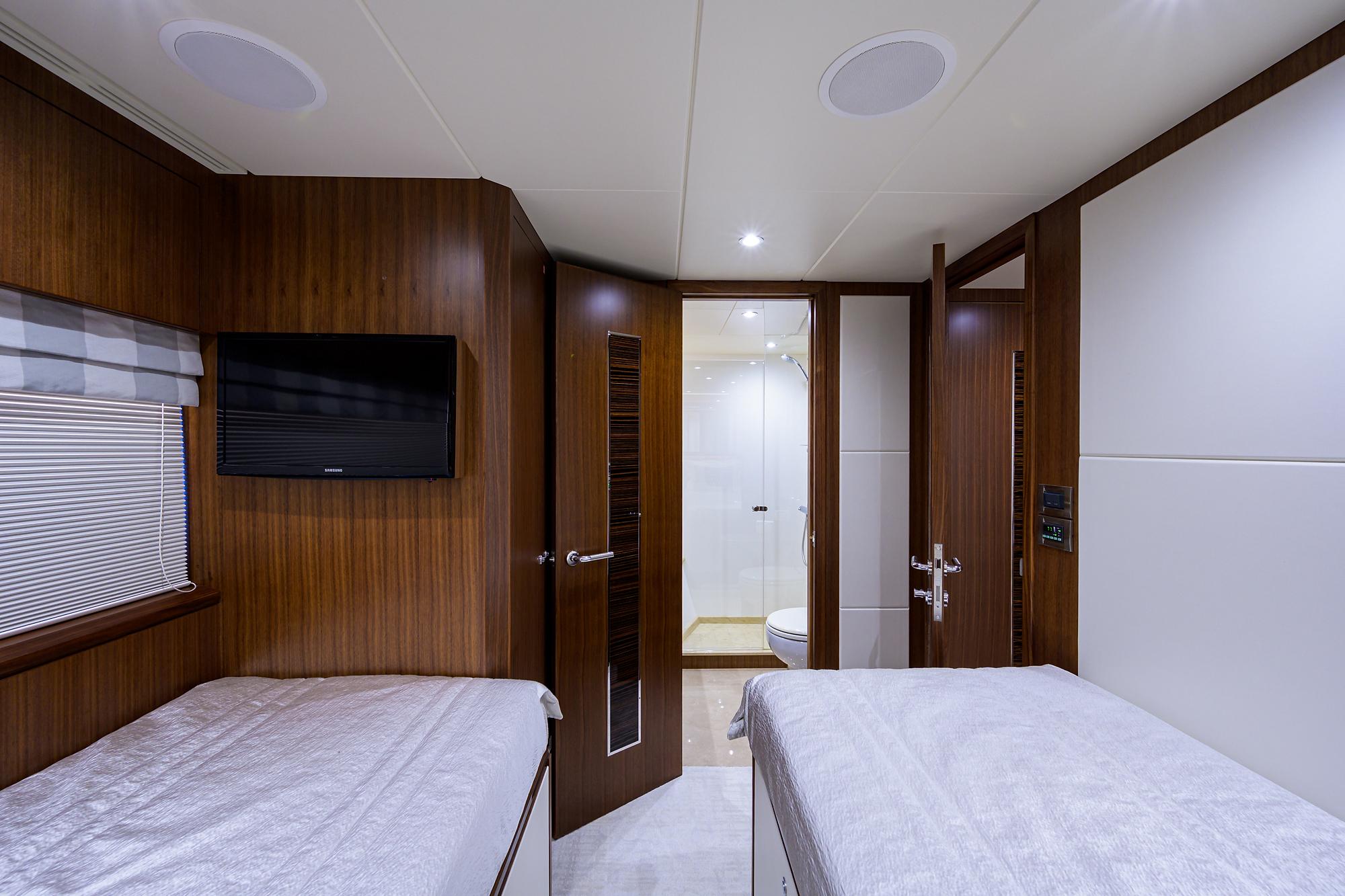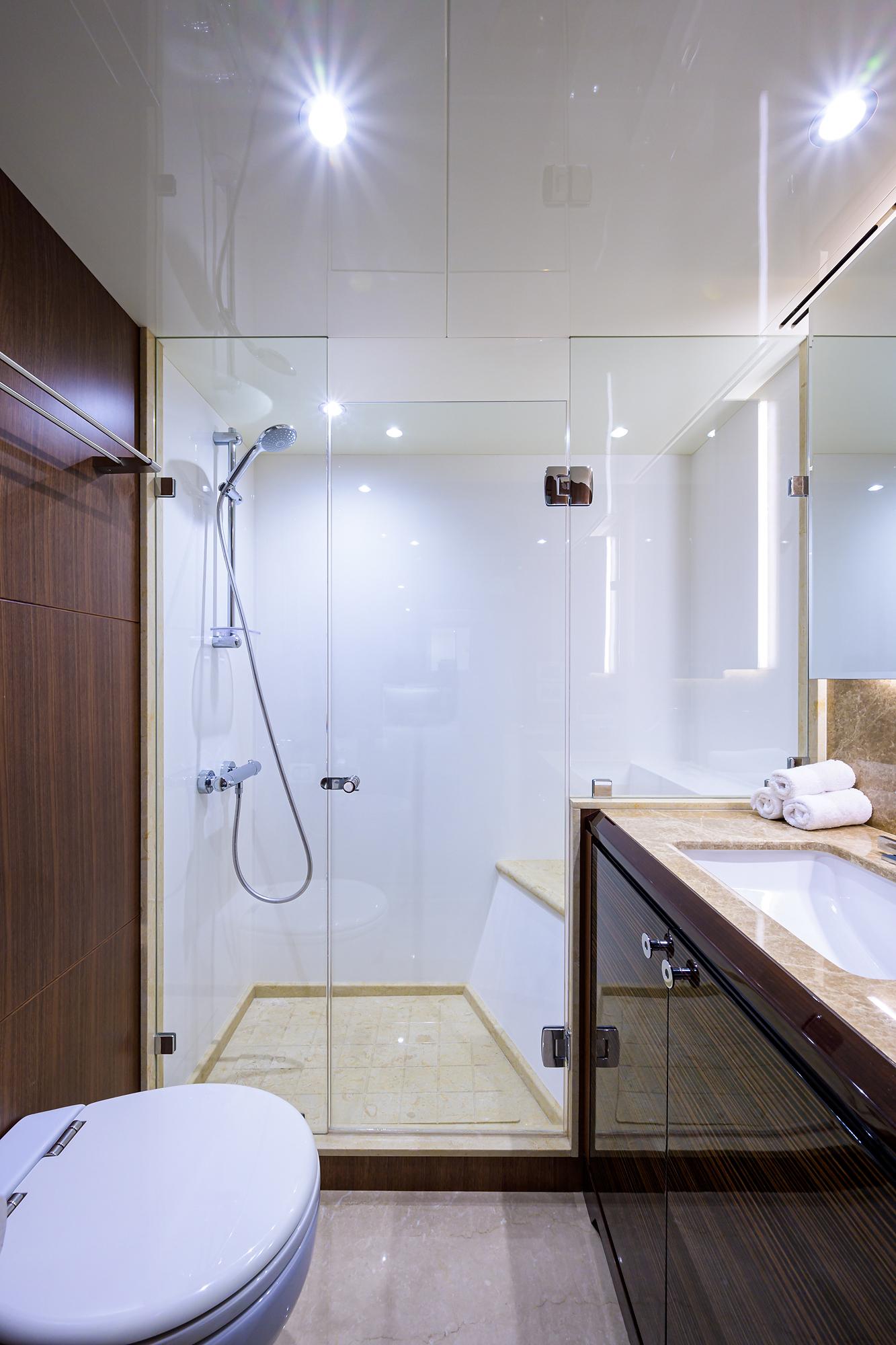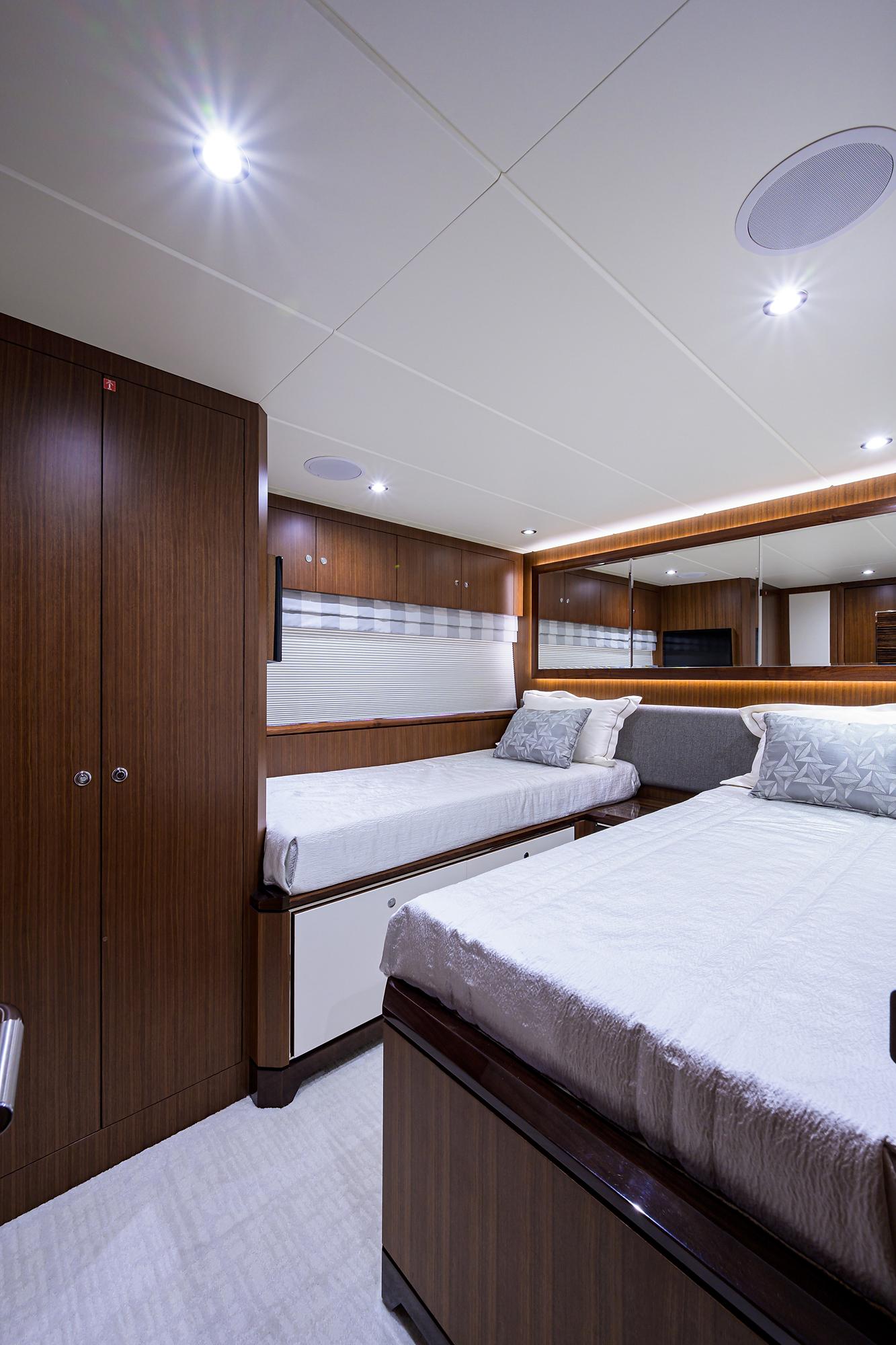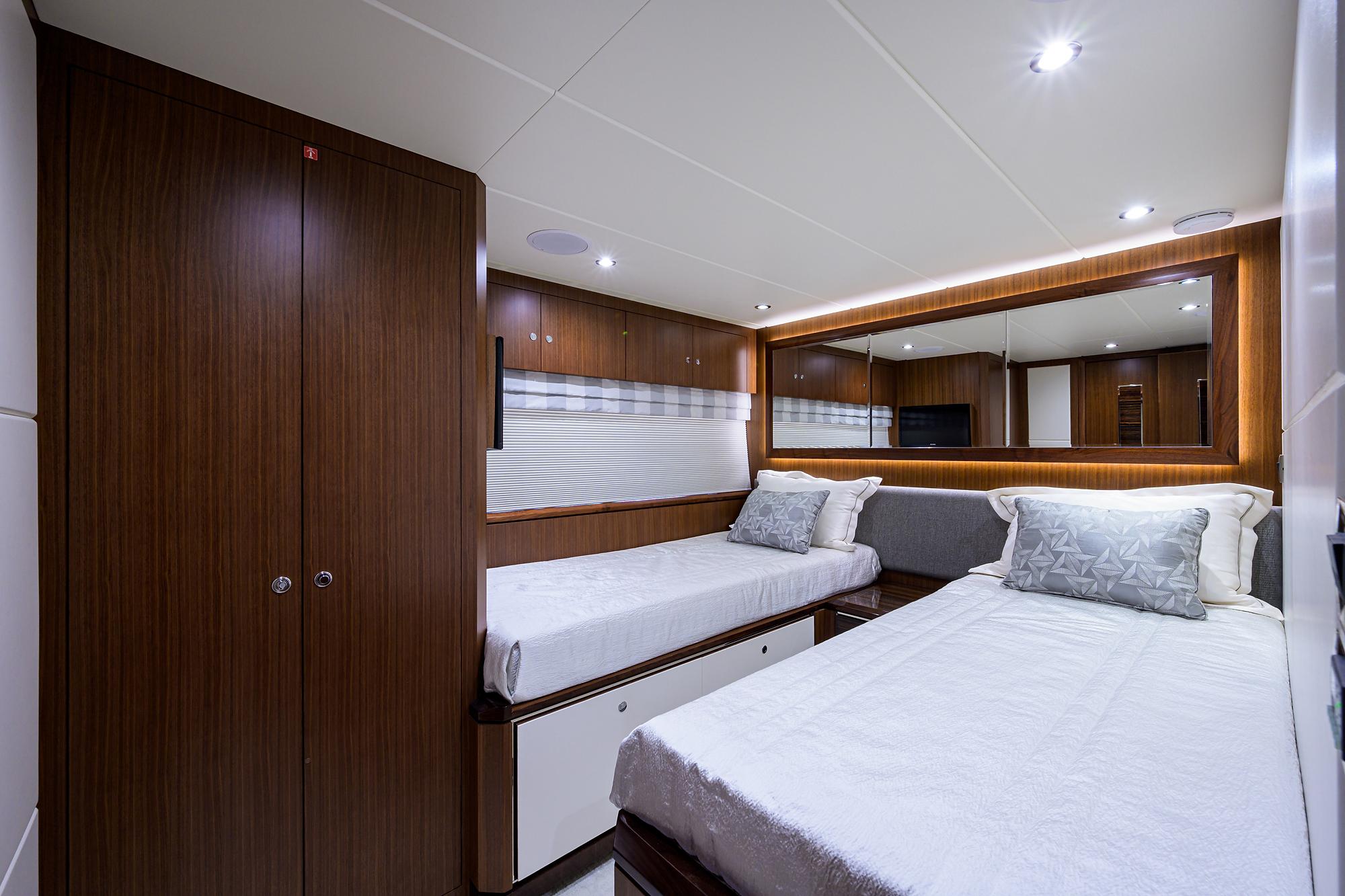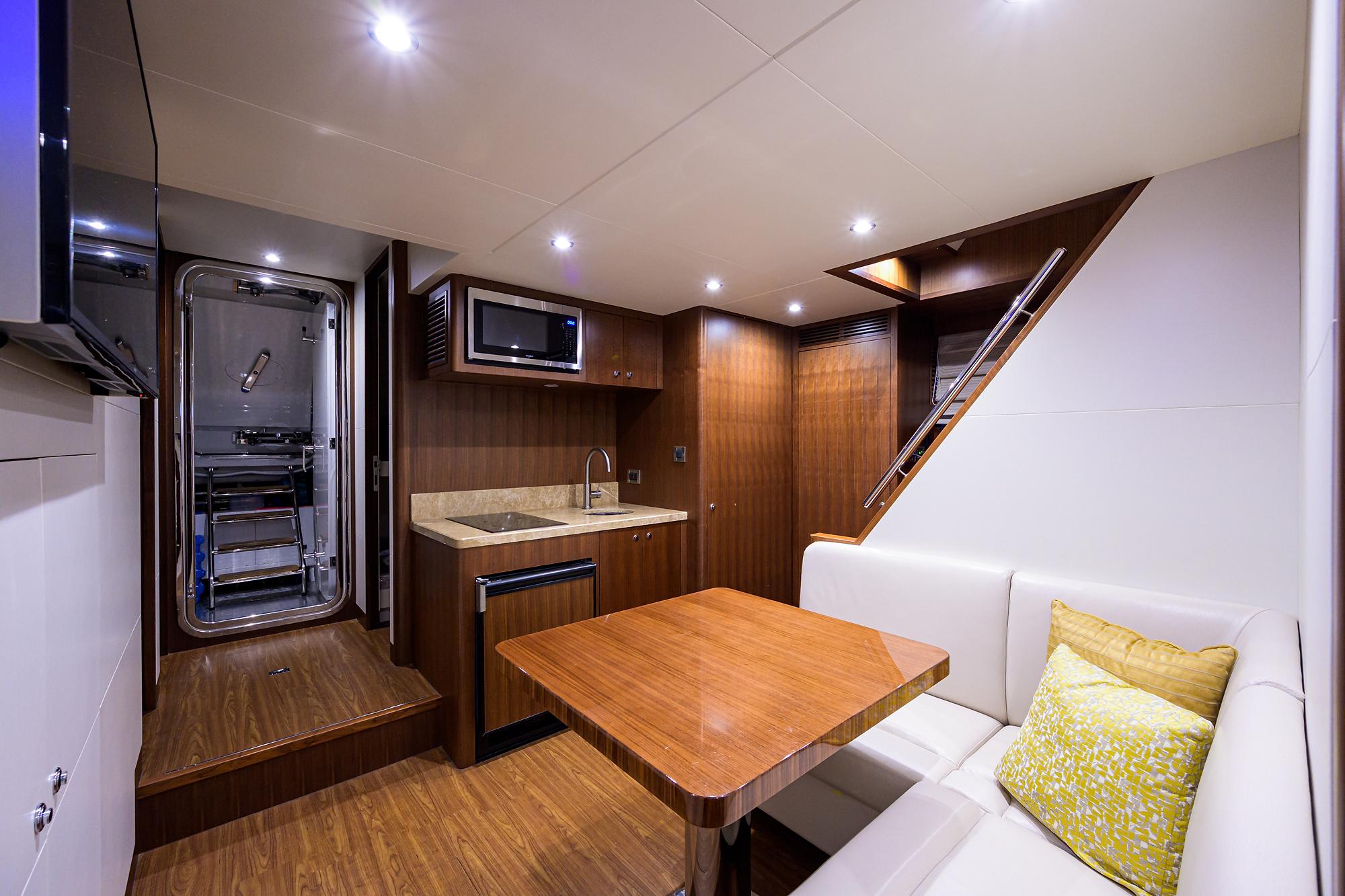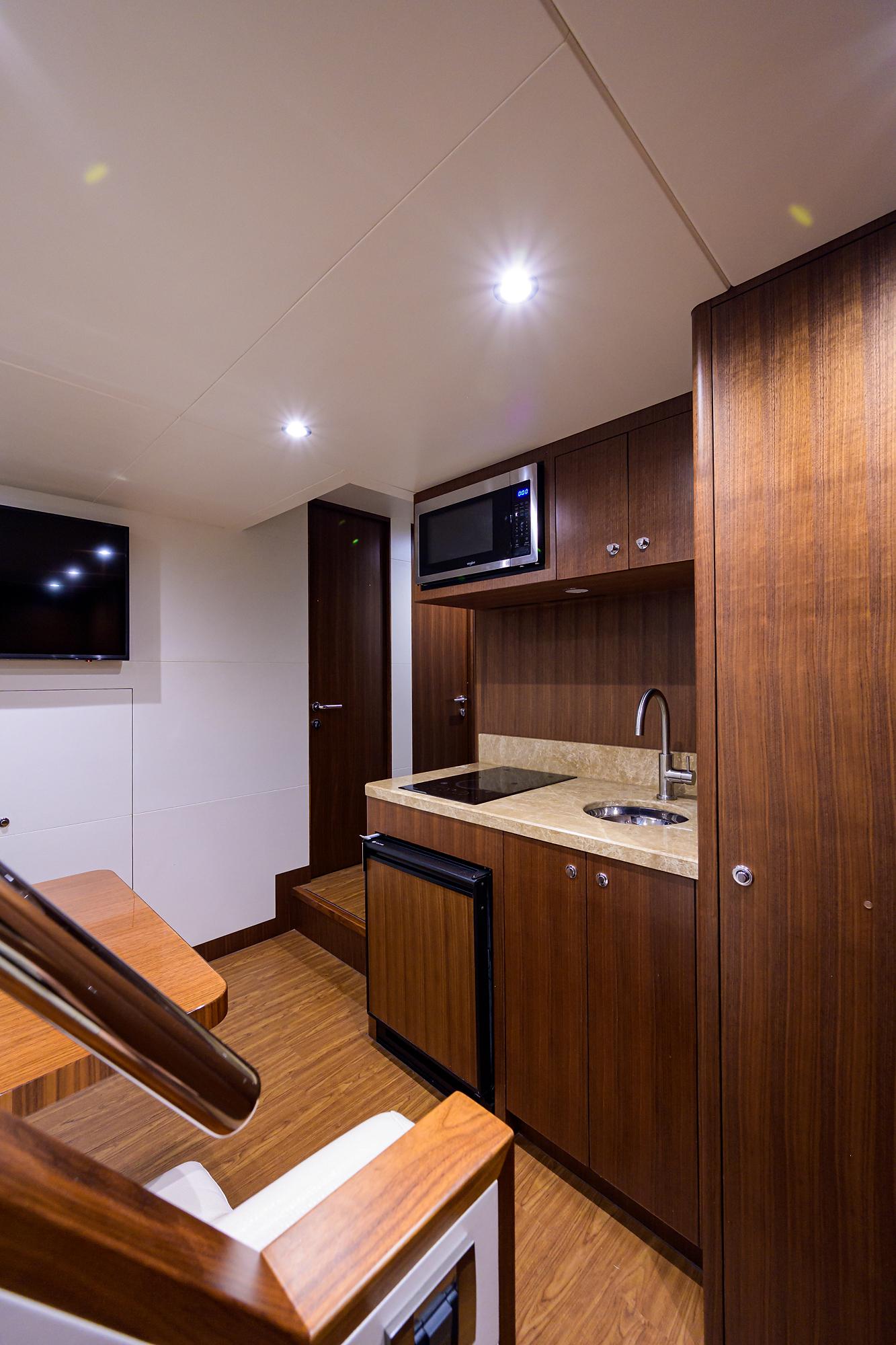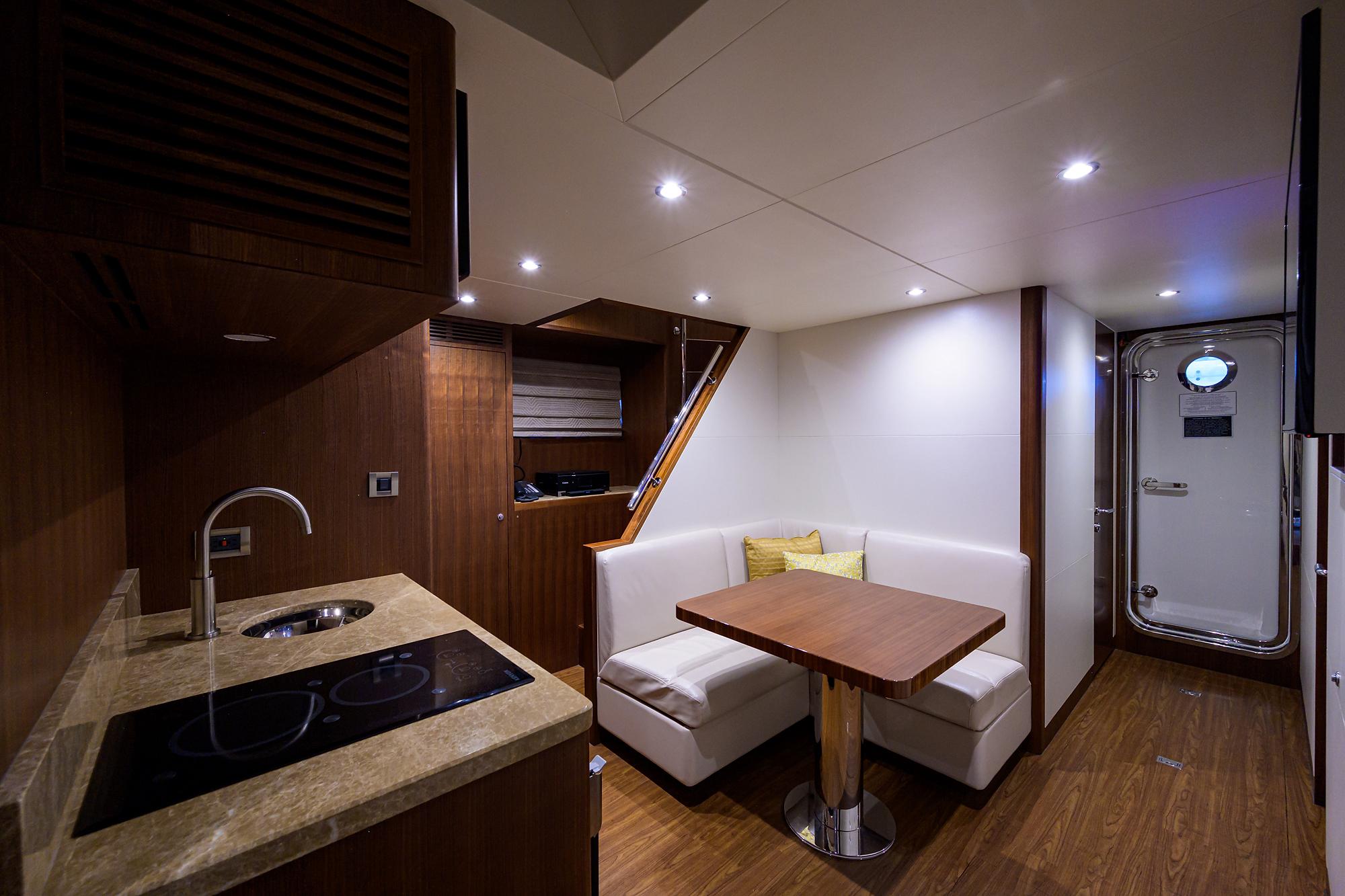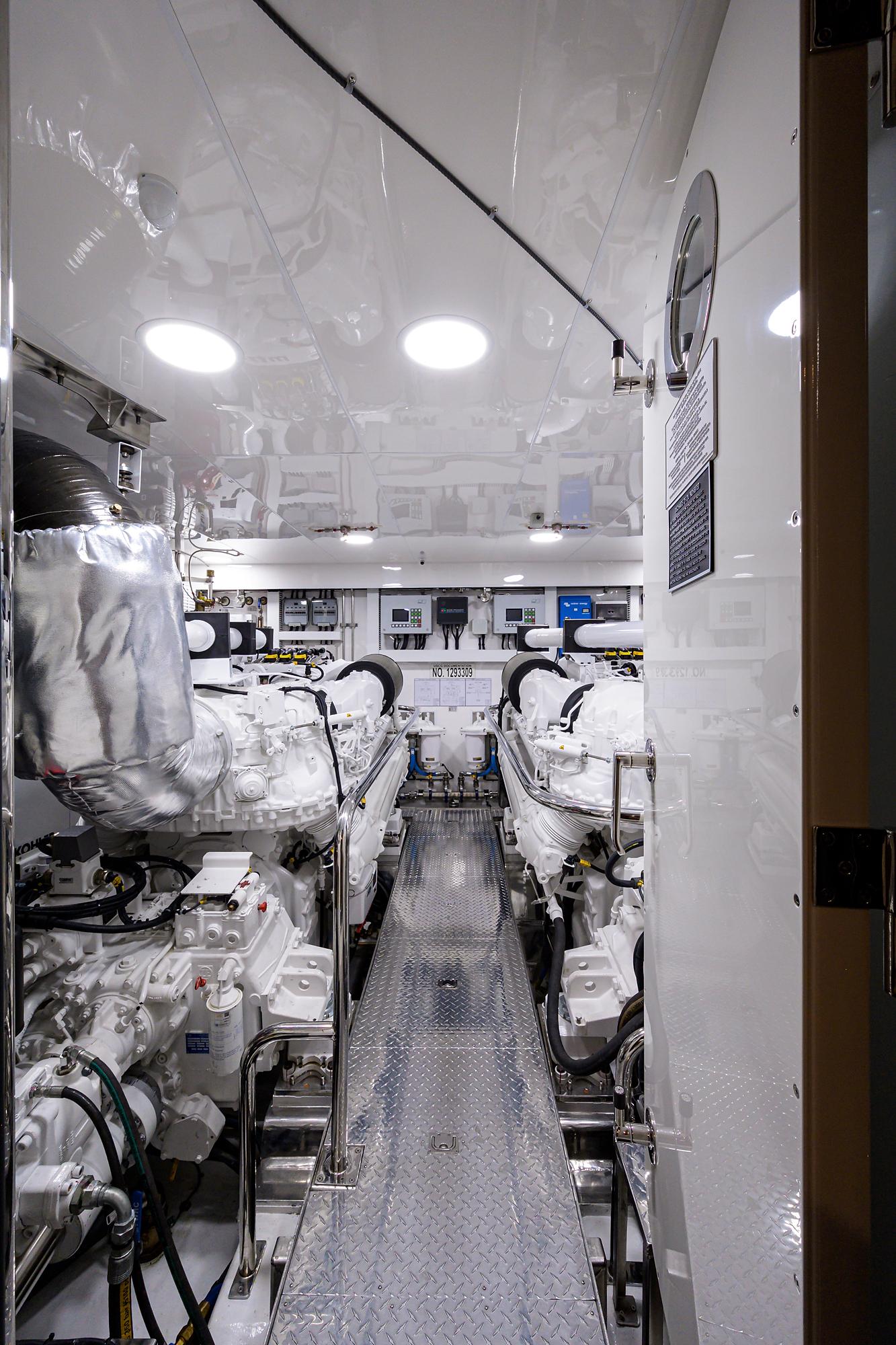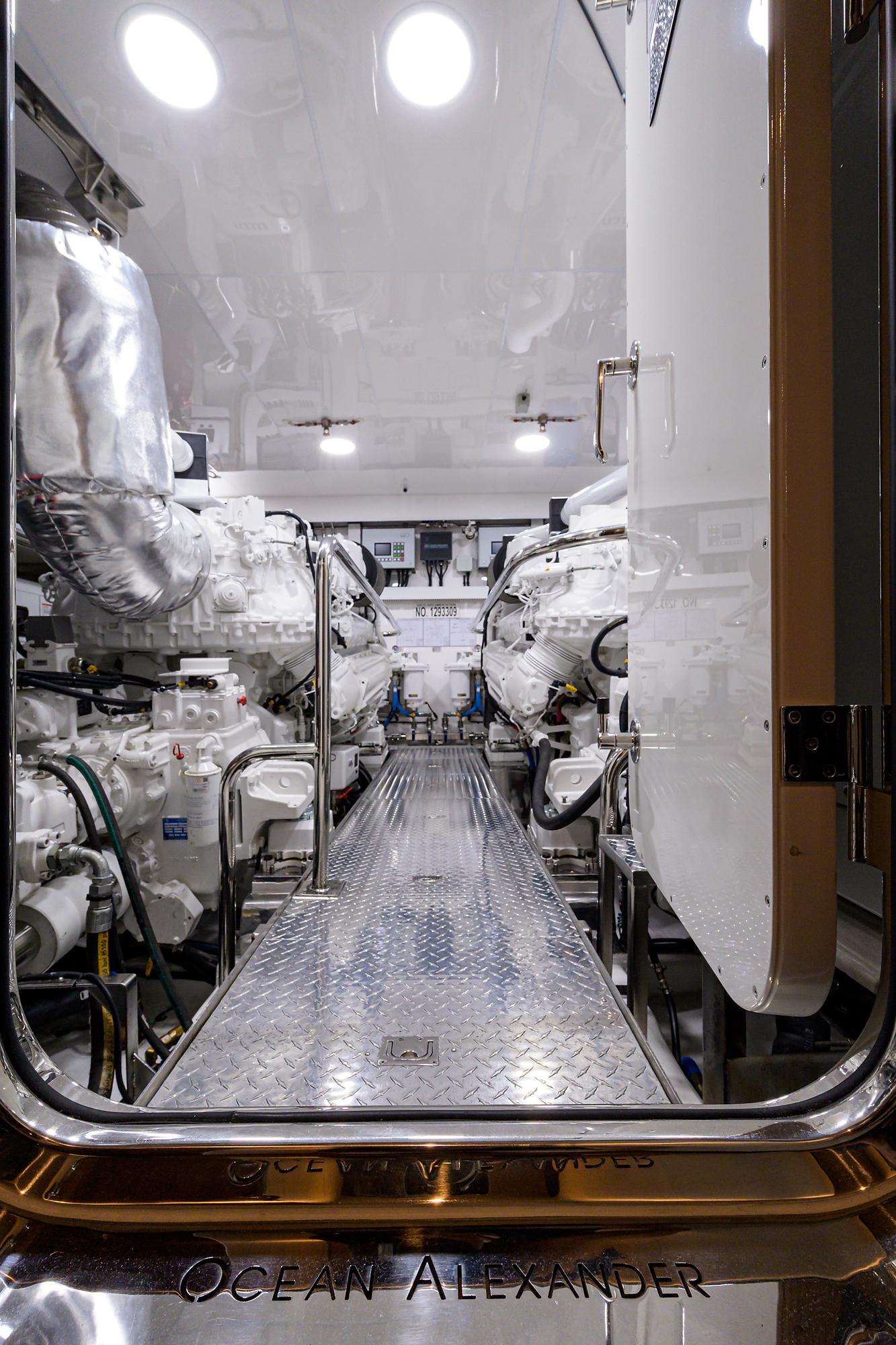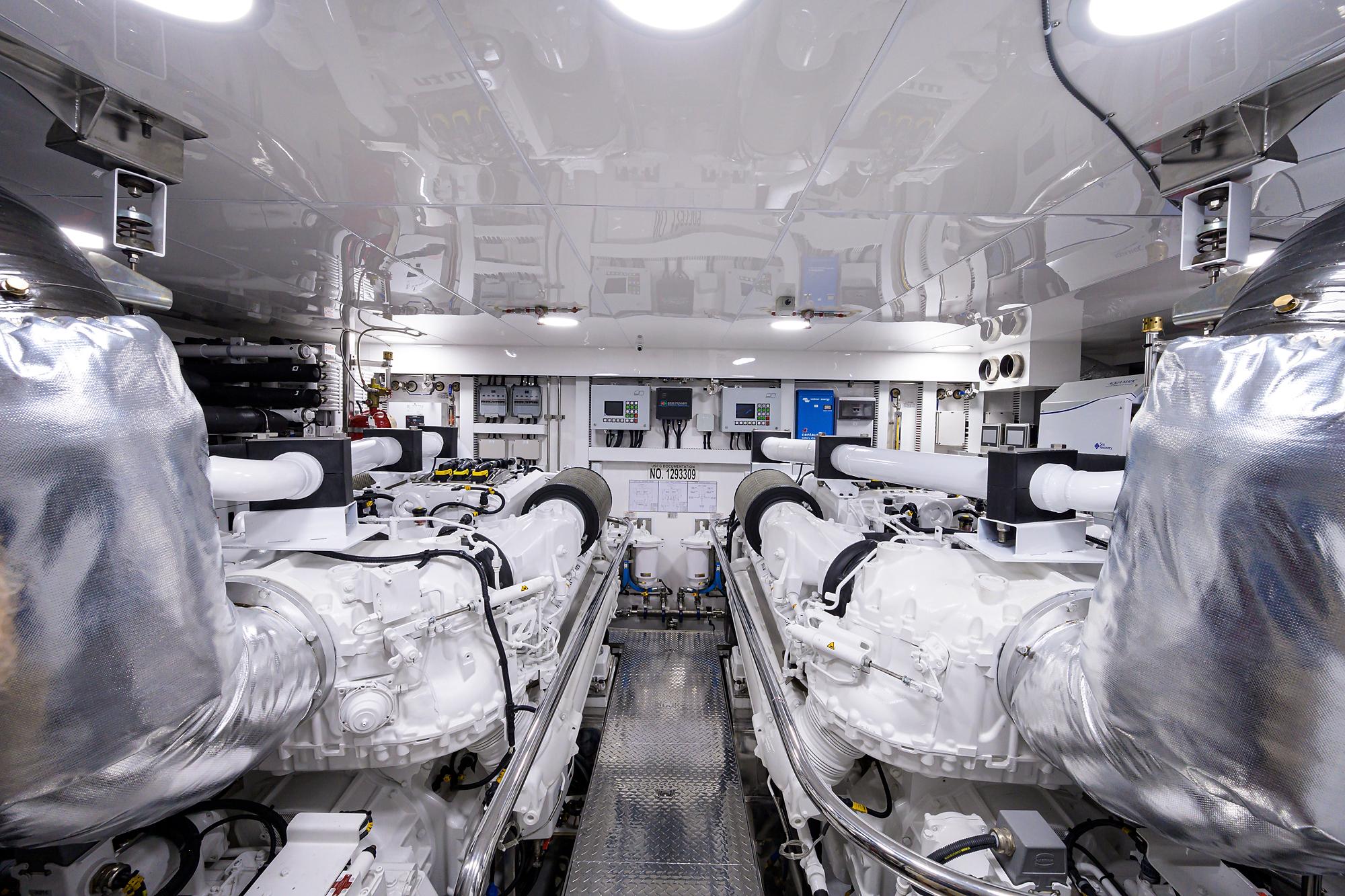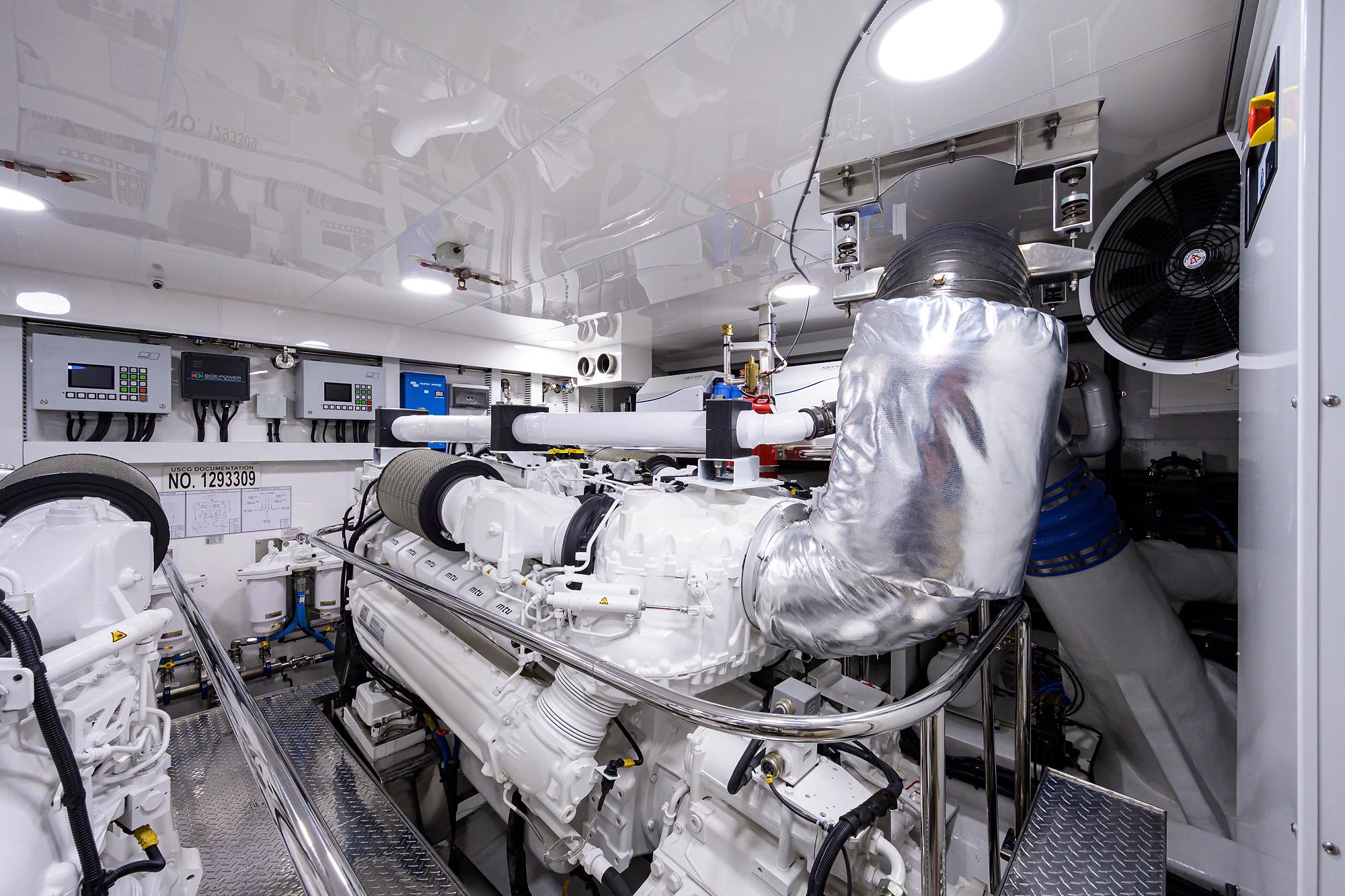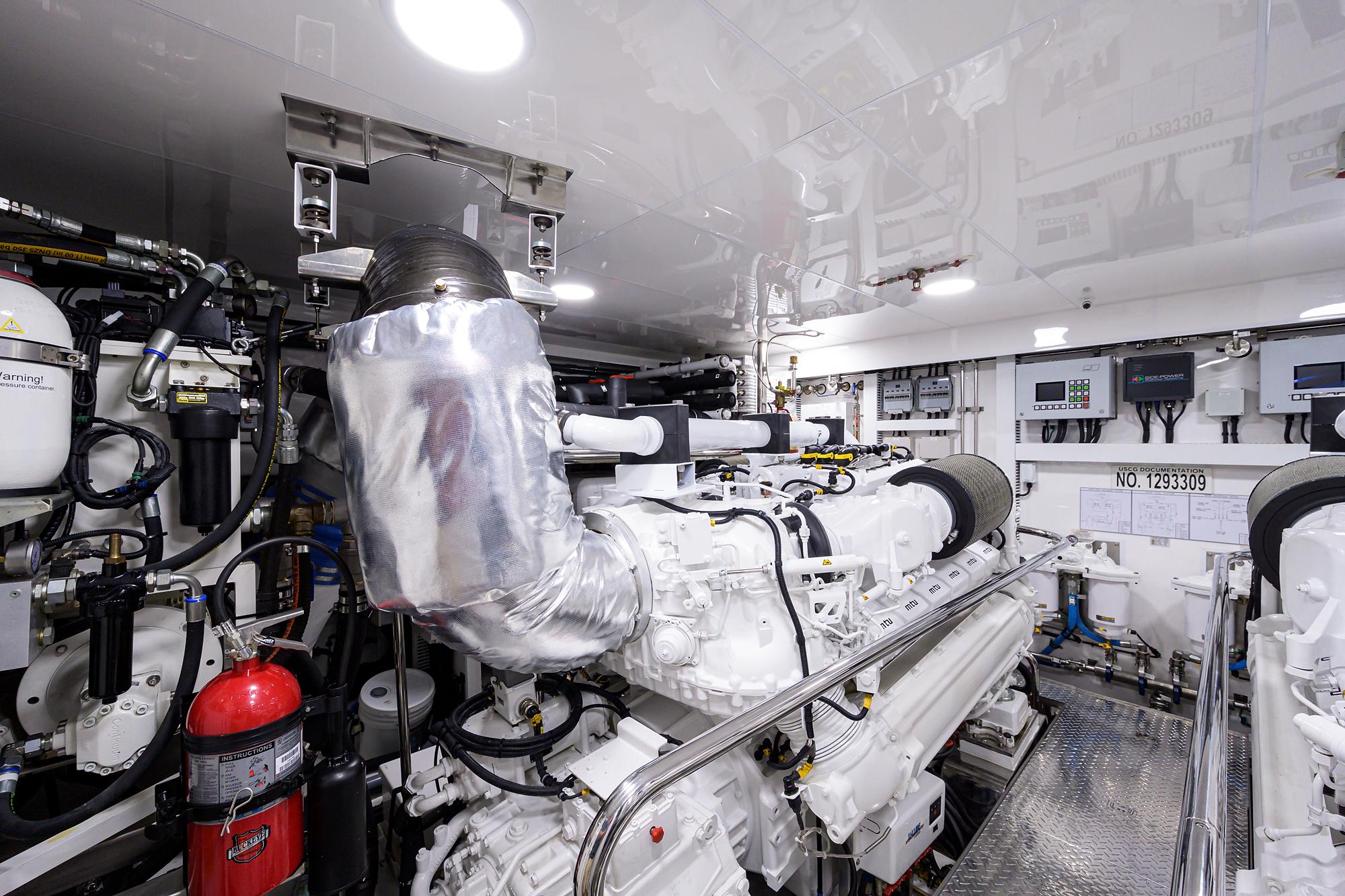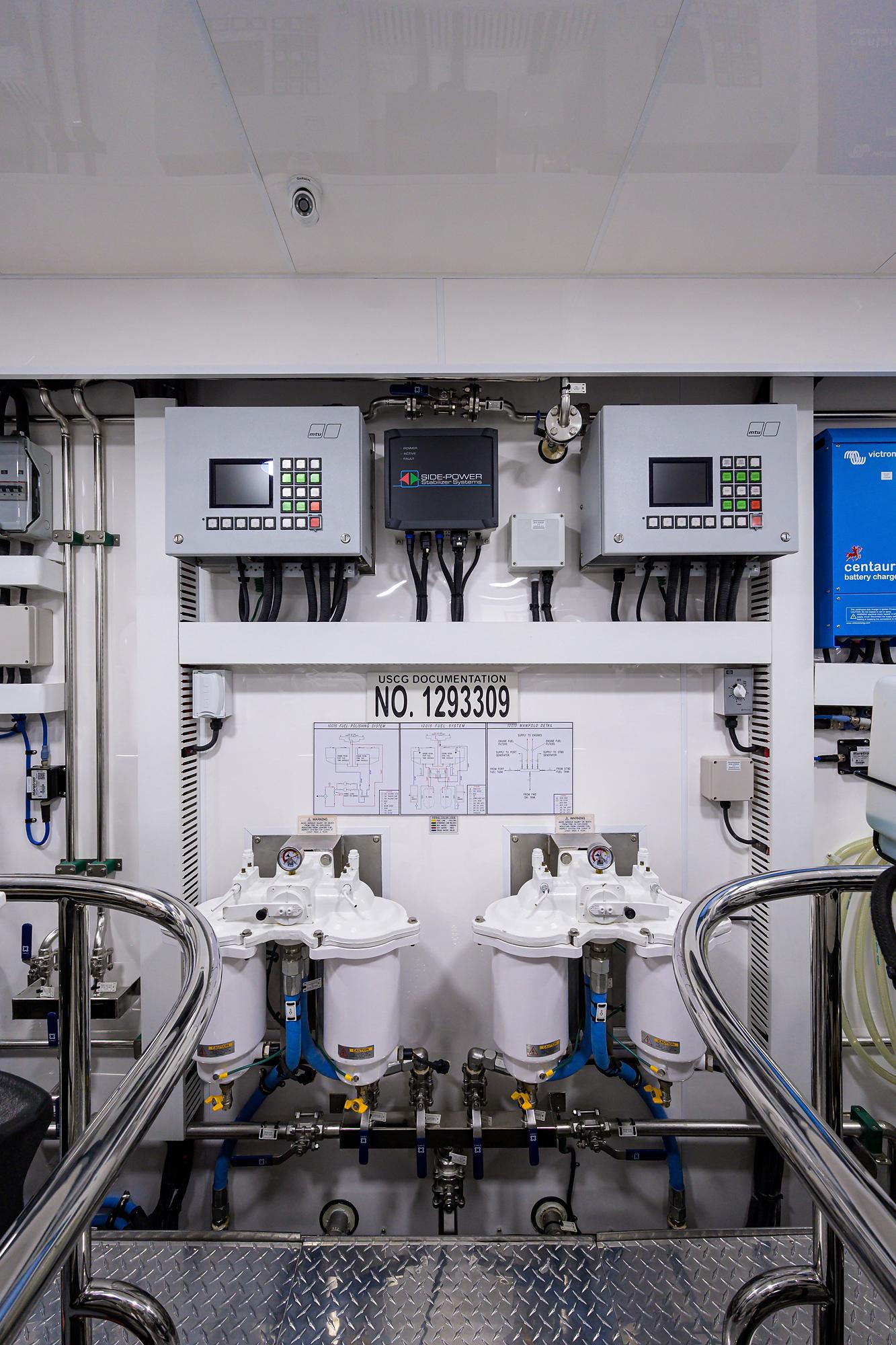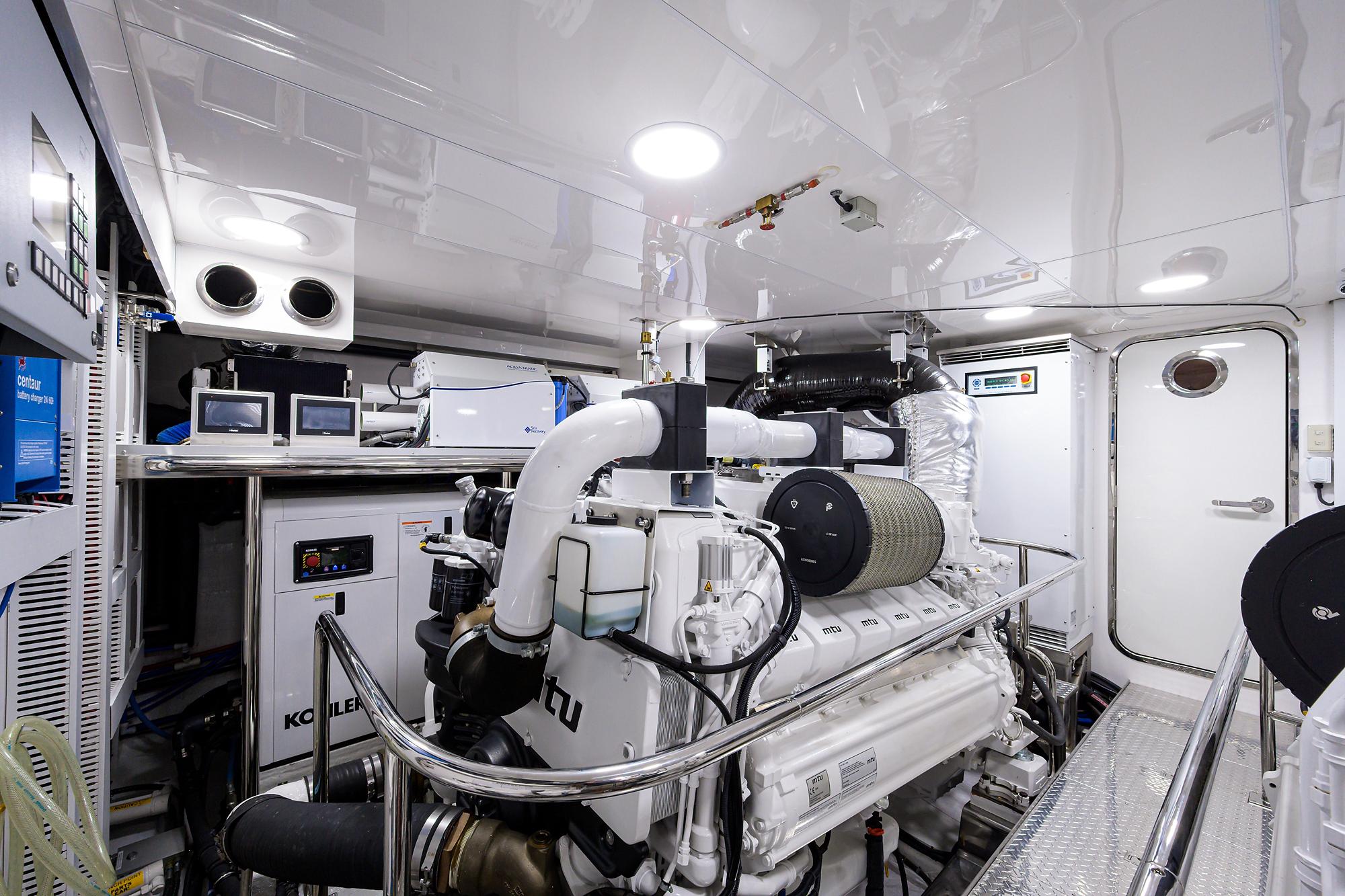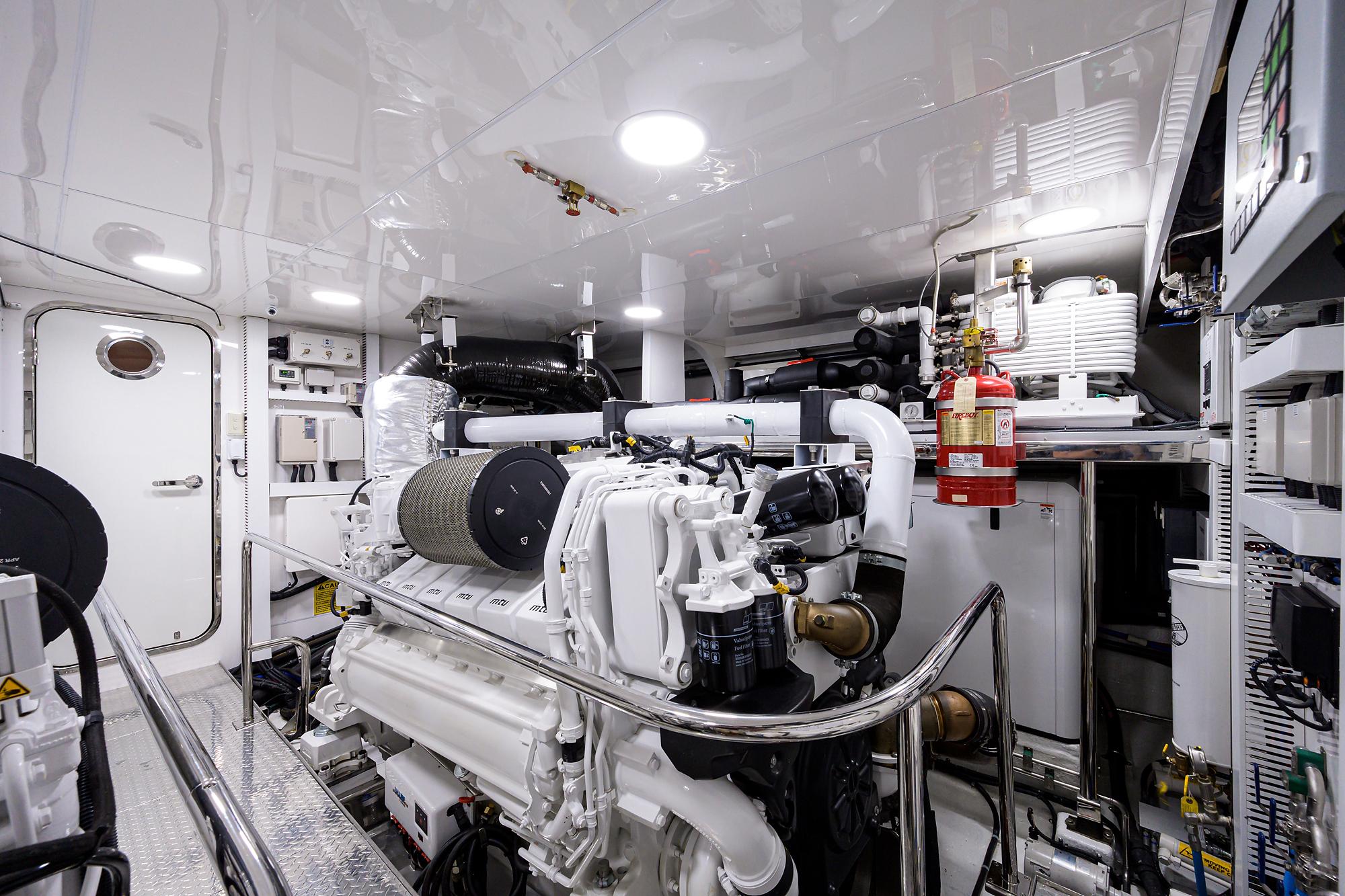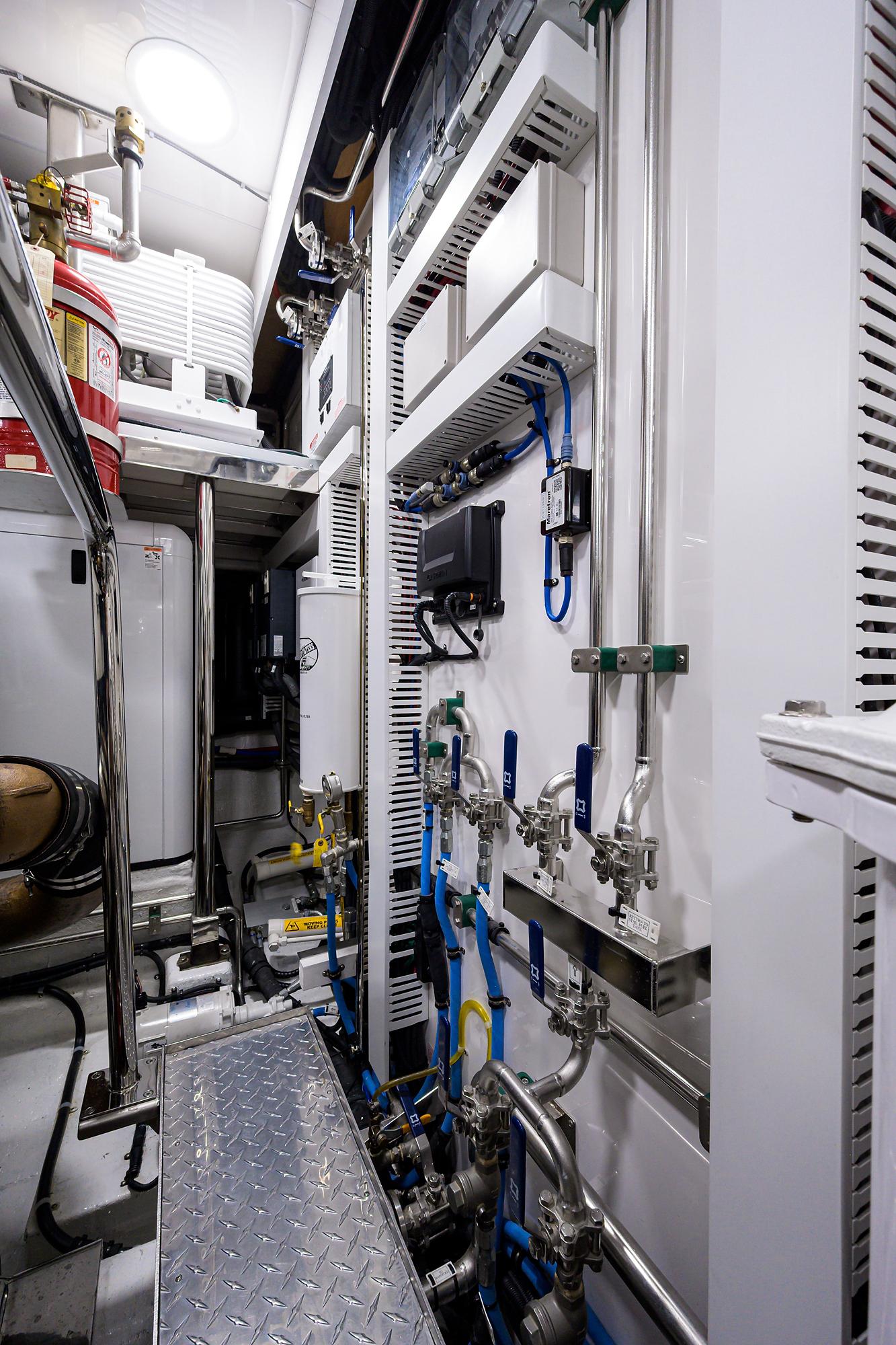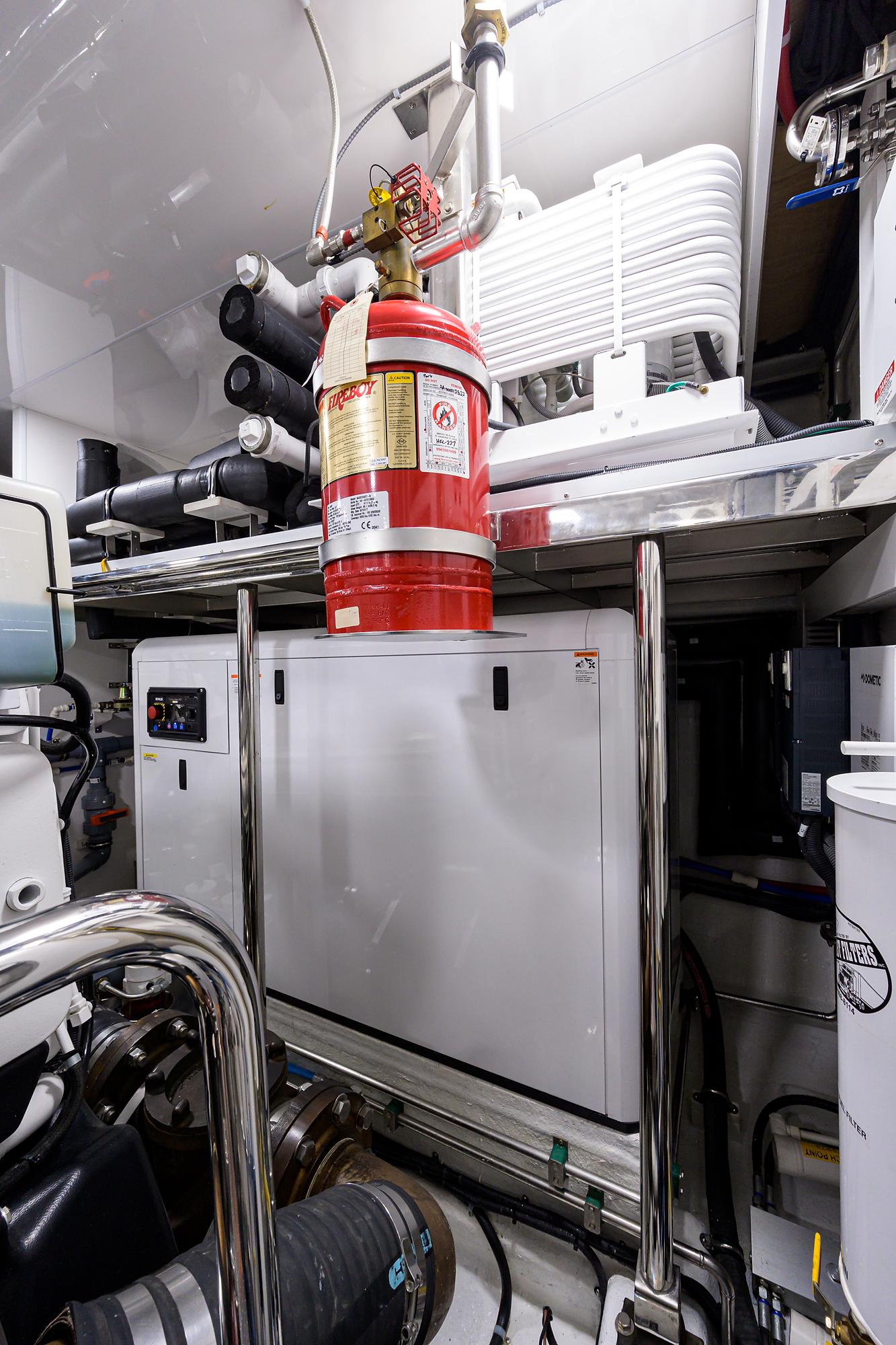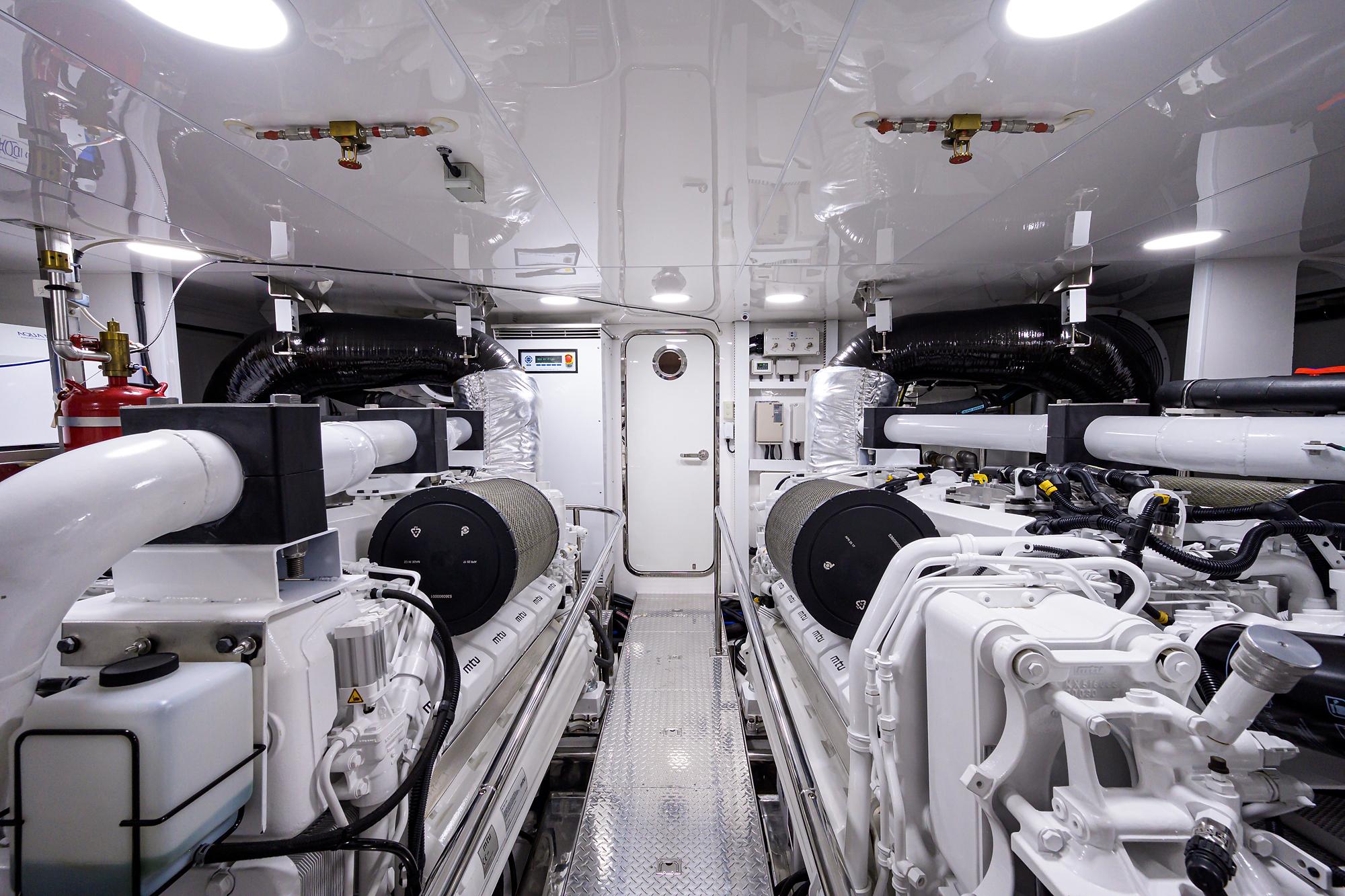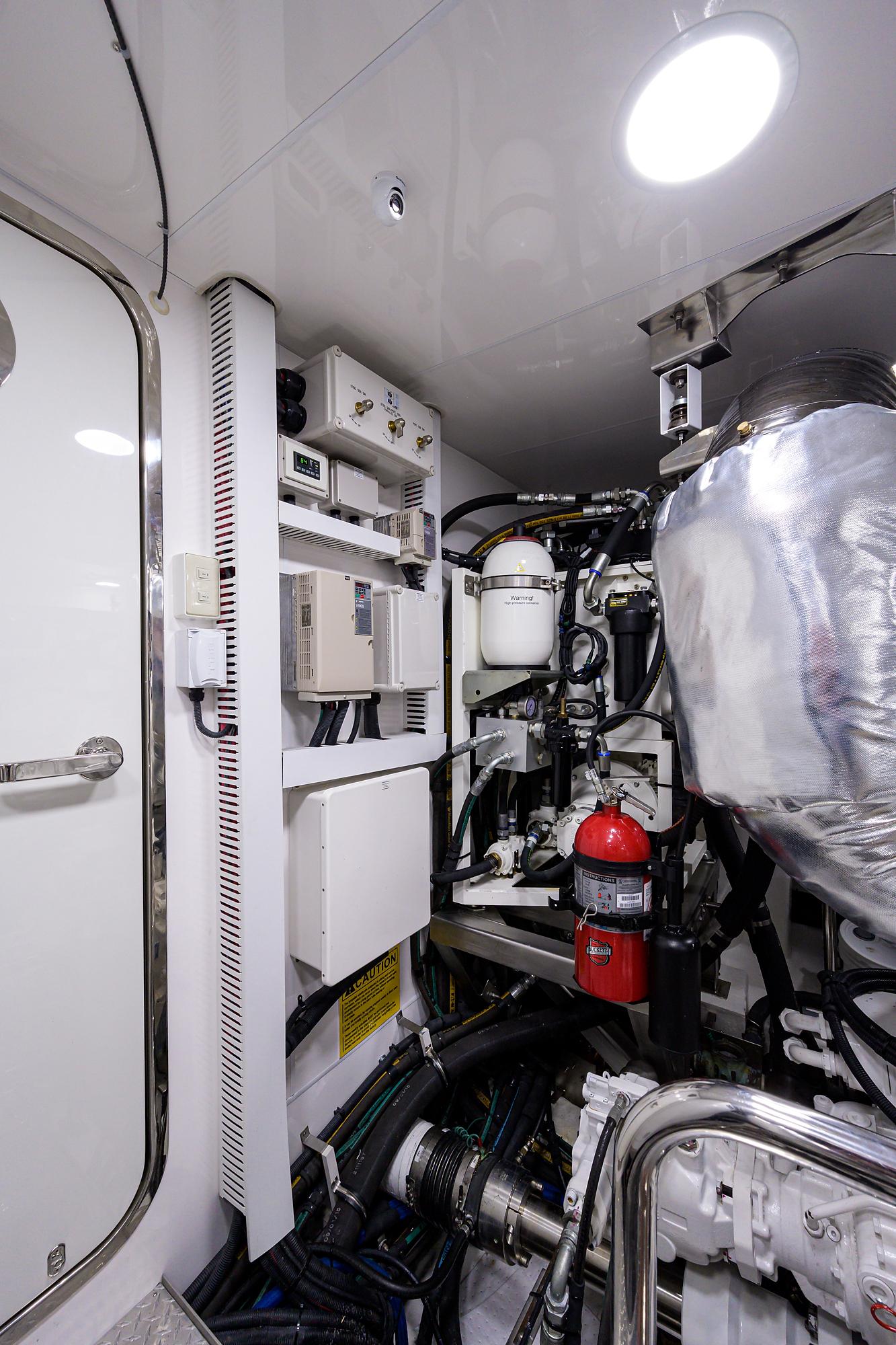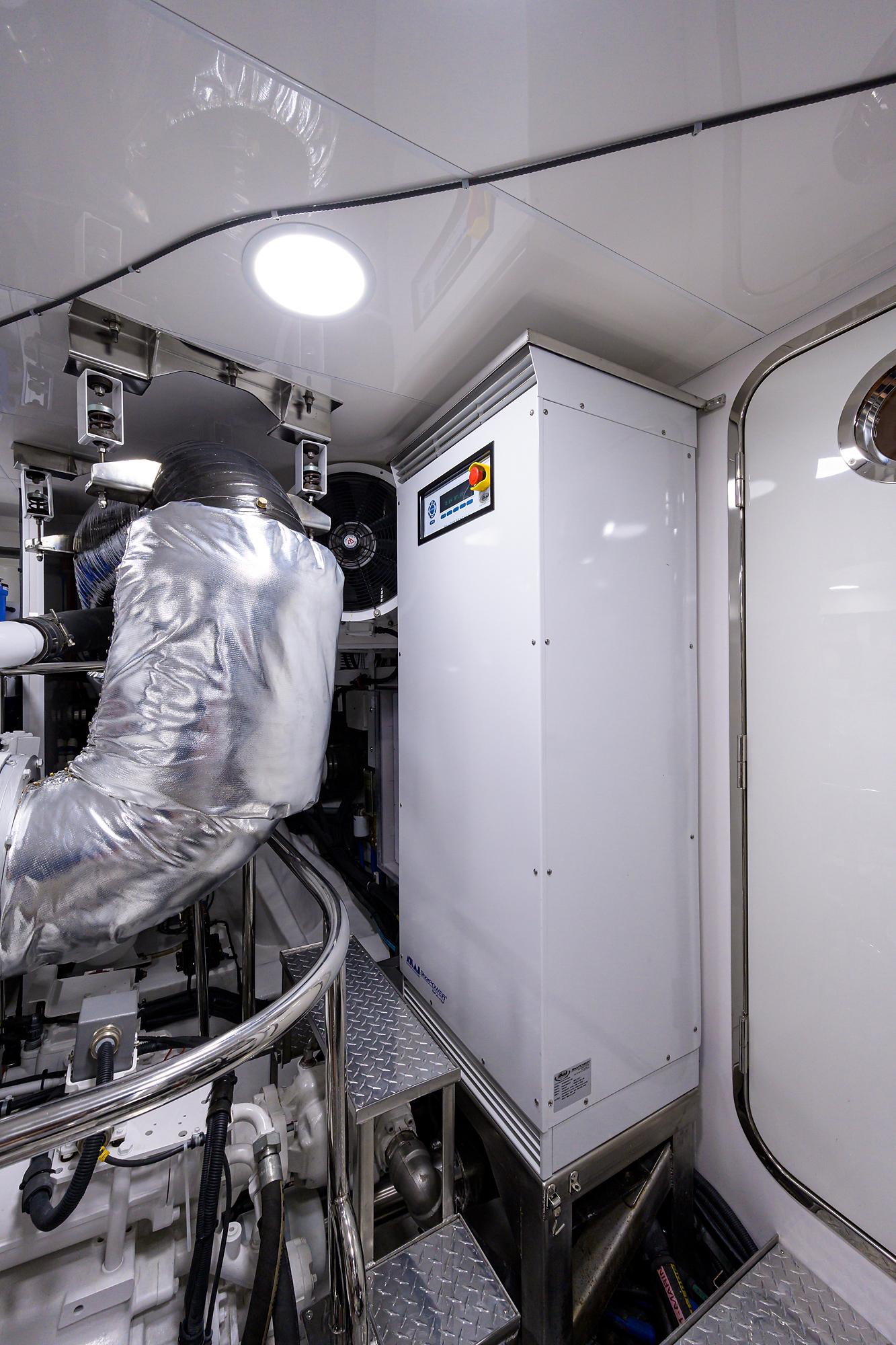 2019 Ocean Alexander 100 Motor Yacht Description
Vessel Highlights
      Twin  MTU 12V2000 -1940 HP engines (1644 hours)
      1000 hour service complete by FDDA (April 2023)
       Bottom job (April 2023)
       5 Stateroom -Including On Deck Master Stateroom
       Largest Crew quarters in class- 3 cabins + crew lounge
       Zero speed Stabilizers
       Atlas World Power System
       Plug In Yacht Controller- Remote Control (works on bridge and aft deck)
       2- Sea Recovery Water Makers (1,400 GPD)
       2,500 lb Davit
       Williams Jet tender
       Two paddle boards, Two kayaks
       Bow & Stern Thrusters
       Garmin Electronics package
       KVH Sat TV with Crestron
        2- 55 KW Generators
        Fuel Polishing System
        Electro Sea-Clear line system
        Spot Zero
        Waste Treatment System (Ecomar)
        Inverter Package
        8 LED Underwater Lights
        Massive amount of Refrigeration/ Freezer thru out the boat with ice making capacity.
       True Chefs galley
Current Price:
$9,695,000
Hull Material:
Fiberglass
Fuel Capacity:
4000 Gallons
2019 Ocean Alexander 100 Motor Yacht Vessel Overview
Engine Room
ENGINE ROOM:
MTU 12v2000 (1940 HP)
Stainless Steel Engine Beds
Lube Oil Change System with 45 gallon lube tank
Delta T fan system
2-55 KW Kohler Generators
2- 1,400 GPD Water Makers
Waste Treatment System
Atlas 
ElectroSea Clear line system
Spot Zero
Vessel Details
STEERING / CONTROL:
• Hydraulic steering system
• Steering control station with complete instrumentation
• S/S rudders w/integrated zinc plates
• Dripless seal for rudder post
• High performance computer designed and machined NiBrAl propeller
• Interior s/s steering wheel w/ Faux leather wrapped
• Maintenance free "dripless" seals for engine shaft packing glands
• Propeller shaft Aqua 22HS.
WINDLASS / MOORING:
• Dual hydraulic windlasses, VWCLP4000
• Dual stainless steel anchors 350 lbs. from hull sides w/ 250ft anchor chain (1/2" HT) & chain stoppers.
• Two vertical electric rope winches for aft deck VC 2500(Standard versus competitors' optional)
• Reinforced anchor platform and anchoring system
• Chain counter
• Hands-free anchor chain wash system – allows for cleaning of chain during ancho operation (Unique OA feature)
THRUSTER / STABILIZERS:
• Sidepower™ Vector Fin (DAME 2013 award winner) 15 ft2 hydraulic stabilizer fin with zero speed stabilization function
• Sidepower's patented "curved" fin design not only provides lift underway, but it is also unique in the industry with active "predictive" inertia control
• 55HP bow and 40HP stern thrusters.
OTHER:
• Stainless steel rails on the side of the engine and stainless steel engine mounting plates (Unique Ocean Alexander engineering affords industry-leading torsional rigidity and engine alignment assurance, further reducing vibration and high torque pressures)
• Color-coded piping system for easy identification Kahlenberg™ heavy-duty horn
• All engine room and bilge spaces shall be primed and top-coated with a polyurethane paint system.
• Heavy-duty commercial grade pantograph windshield wipers & washers w/ intermittent function
• Detailed stringers in engine room & lazarette
• Ocean Alexander proprietary "dry bilge ventilation system" with dedicated bilge exhaust to outside. This provides constant airflow to keep the bilges dry and mildew-free. Any moisture from condensation is evacuated outside the yacht to keep a clean and healthy cruising environment.
• Ocean Alexander design in oversized shafts, rudders, and other drive train systems typically one class larger than the competition. Superior handling and longevity are ensured with Ocean Alexander drive-train systems.
FUEL SYSTEM:
Sight gauges for all tanks
• 4.5mm thickness 5052 Aluminum fuel tanks with sight gauges and tested to international Standards 33CFR
510(a) w/ high and low fuel level alarm system
• Dual Racor® fuel/water separator with Y-valves for generators
• Gulfcoast™ Fuel polishing system based on US Military Abrahams-M1 tank design (standard versus competitors' optional)
• Dual MTU® fuel filter w/ remote readout of filter performance. (Unique OA standard, usually found on 150'+ vessels)
• Filler for fuel tanks on both sides with individual tank vents (Unlike others where fueling is only possible on 1 side. This unique OA feature allows for concurrent and faster fueling & negates the need to move the boat to complete fueling)
• Fuel system with venting and "catchment system" designed for burps or overflow accidents (Unique OA feature. Often ignored by competitors which can lead to high fines and insurance cancellation)
HOLDING TANK SYSTEM:
• Ecomar™ waste treatment system (600Gal/day) x 2
BILGE / DISCHARGE:
• Oversized drains to overboard
• Automatic bilge pump - The vessel shall be outfitted with automatic bilge pump with manual and automatic switches in each space as divided by weather-tight bulkheads.
• High water bilge alarm at every Rule® bilge pump station
• Dry bilge area arrangement in center engine room
• Lighted bilge with built-in (when necessary) S/S ladder (Unique OA Feature)
OTHER:
• Compressed air in ER & aft deck
AC / DC SYSTEM:
AC outlets throughout
• All primary AC & DC electrical wiring is appropriately labeled throughout the yacht
• GFI (110V) AC outlet in potential "wet" areas. In addition, the entire boat is dual-protected via ELCI Octoplex breakers. (OA is unique in the industry to provide dual protection
 GFCI & ELCI)
• 24 Volt system
• Engine battery isolation switches
• AGM Batteries with 40°F to 140°F operating temp and industry-leading low self-discharge rates 1 to 3%
Octoplex NMEA 2000 Monitor Network electrical control system
• Based on aerospace technology for remote activation, control, and status reporting of AC and DC breakers. Monitors power sources (AC and DC) for voltage, frequency, and amperage abnormalities and provides visual and audio alerts. Includes enhanced circuit breaker functionality with no-load indication, dimming and usage information with touch screen monitor that is user reconfigurable. Brown-out configurable   control through auto load shedding is included where operator-designated equipment (e.g. navigation and other essential systems) remains powered on while automatically switching other systems off. Octoplex NMEA 2000 Vessel system monitor system.  Provides main access doors, tank levels, bilge level, and battery monitoring of current, voltage, and temp. (Unique OA standard feature, not an optional upcharge like competitors)
• Heavy-duty batteries
• Battery paralleling system w/ control switch
• Service battery switch
• Bonding system throughout
• The vessel's bonding and grounding systems shall include copper straps secured to the hull and running the full length of the vessel parallel to the centerline.  Engines, generators, metallic through hulls, strainers, and pump bodies shall be connected to the bonding strap using an 8 AWG wire minimum or equivalent.
AIR CONDITIONING
Dometic® chilled water system air conditioning system, rated for "extreme tropical climates" (with reverse cycle for operation down to 40°F water temp)
• Refrigerant type is accepted worldwide under the Montreal Protocols
• Dedicated engine room air conditioning
• Where possible A/C exits from custom-made ceiling panels hidden from view.   Shortens  A/C ducting thus improving efficiency and speed of cooling by over 20%.
 Also reduces db reading by over 7 db (Design cues from 135)
LIGHTING:
• 24V LED lights (Aerospace quality, specially tuned color temperature for Ocean Alexander
• Convenience lights
• International navigation lights
NAVIGATION PACKAGE:
• Garmin 8600 series black box with 24" touch screen (three screens skylounge station)
• Garmin GRID remote input device installed on helm chair
• Garmin 25KW open array radar
• Garmin autopilot GHC20
• Garmin VHF and card reader
• Garmin blackbox sounder
• Garmin AIS with NMEA GPS
• Garmin marine camera (2 in engine room and 1 aft deck)
• KU-KA-band triad technology HD7 with direct HDTV
• Ritchie compass 5"
• IPad with built-in Garmin app for navigational control/viewing via iPad
• Navigational electronics standard versus optional with competitors
N2KVIEW SAFETY & SECURITY MONITORING PKG:
• These security/safety automatic monitoring and alert abilities include using Apple iPad or Android for wireless access to operate, view, and alarm Octoplex data and navigation system with a fully customizable screen layout, and remote notification (cell phone) capability
• These monitoring abilities include: main engines and generators, AC monitoring, DC house bank battery monitoring, engine room weather-tight bulkhead door, tank Levels, fire System, bilge level (high-water), and exterior door sensors . Unique OA standard feature, not an opt upcharge like competitors
POWER CONVERTER PACKAGE:
• Atlas 50/60 Hz power converter. Allows for automatic marina connection irrespective of 60 Hz (USA) or 50 Hz (European) standards.
• 100AMP charger
OTHER:
• Vimar™ switches and outlets
• Panasonic Intercom system – includes Panasonic phone system and digital Panasonic phones for connection in MSR, VIP, guest staterooms, crew lounge, salon, galley and skylounge.
• ACR searchlight with 1,000,000 peak candlepower and spreader lights for swim step and FB deck
• Onboard intranet, driven by commercial-grade 4G SIM card capable Wi-Fi router.  Allows outside 4G Internet card and/or internal intranet net connection via supplied iPad to Systems monitoring, Garmin, and other onboard equipment apps.   (Unique OA feature)
• Shore power receptacles in the transom with CM-8 cable master storage system. (OA is unique in making this a standard vs. optional. Cleans & boosts questionable shore power to better protect sensitive equipment onboard)
MAIN DECK MASTER STATEROOM:
• LED 50" flip-down TV with A/V System
• King-sized berth (with independently coiled his & her sections to ensure minimal transfer of movement)
• Two nightstands with wood countertop
• Hidden safe in hanging locker
• Walk-in closet on FWD w/ lighting
• Wide-opened curved window with custom-engineered solution incorporating aluminum beams allows the greatest visibility and incoming light
• Custom headboard with recessed indirect lighting
• Vanity on port, sofa with table on starboard
SKYLOUNGE :
• Cabinet including wet bar, Jenn-Air™ refrigerator w/ doors and storage
 LED 50" flip-down TV with A/V System
• Wood valance board
• Settee with wood table
• Day head
• Chart locker
• Phantom screen (for insects + pollen protection) with dedicated wood box for door
• Electric Stidd helm seats x3
TWIN VIP STATEROOM:
• LED 50" TV
• Double berth
• Two nightstands with wood countertop
• Vanity table with chair
• Walk-in closet
• Storage cabinets
TWIN GUEST STATEROOM:
• LED 24" TV
• Nightstands with wood countertop
• Cedar-lined, Full-height hanging locker with lighting
• Side-by-side berths can slide together and convert to single queen berth.
SALON:
LED 60" flip down TV with blue-ray A/V system
• Wood paneling and cabinetry
• Evan K Marshall custom design salon furniture and sofa. Sofa includes concealed drawers for intelligent use of space and increased storage
• Stone countertops at wet bar, entertainment cabinet, stbd cabinet front wall cabinet , and dining room divider cabinet
• Custom-designed window mullion
• Decorative ceiling treatment
• Phantom screen (for insects + pollen protection) with dedicated wood box for door
• Enlarged windows in salon with custom-engineered solution incorporating marine grade aluminum beams allowing for industry-leading window expanse. Incorporate (where possible) A/C outlet from ceiling, providing unobstructed view to the outside (Design cues from 135, improved for 2017)
• Sylomer floating floor and wall
• Sub Zero™ refrigerator
• Salon custom wood floor in lieu of carpet
CREW QUARTERS:
• Largest crew quarters in its class with Ocean Alexander's unique design, the crew quarters doubles as a Cabana. Allows for day head and rest/eat area for swimming/out-of-water activities without needing to access salon/main deck interiors
• LED 32" TV at captain stateroom with satellite receiver
Cedar-lined hanging locker with automatic lighting in captain stateroom
• Kitchenette (sink, microwave, cooktop, and refrigerator w/ice maker)
• Storage locker
• Drawers under bunk
• Microwave Oven
• Captain quarter includes a desk with storage and N2KView linked Apple iPad for systems diagnostics/alerts/settings. Full-height hanging closet and queen-size berth with storage under
• Dedicated stainless workbench and Snap-on tool chest. Also includes a wet locker (with ventilation and a separate water drain) and storage compartment. All staterooms fully air-conditioned
• LED 40" TV with satellite receiver at crew lounge
• Crew quarter w/private head & shower
INTERIOR DÉCOR:
• Wood paneling and cabinetry in semi-gloss
• Walnut wood satin finish
• Interior ceiling panels are removable and finished with diamond faceted edging. Provide a sharper and structured tailored look. (Design cues from 135)
• Evan Marshall designed the interior pilot station and display pod. With matching wood w/ Faux leather and a "floating" display pod. Ergonomically designed and laid out to enhance pilot experience/performance. (Design cues from 135)
• Custom designed and water jet cut stone with a stainless steel insert in the lower foyer and master bathroom. (Design cues from 135)
• Carbon monoxide and smoke detectors
• Air extraction in each head shall be by low noise extraction fans, switched separately from lights
• Opening port holes for staterooms and twin VIP heads
• High-quality European door locks
• Cedar-lined, hanging locker with auto lighting
• Fabric-covered walls for lower walkway walls
• Concealed hinges throughout interior cabinets
• Ergonomically designed mattresses and settees
• Washer/ dryer (Commercial quality, Energy Star washer/dryer) in lower foyer
• Danby refrigerator in lower foyer
• $70,000 décor allowance for carpet, bedspreads, and soft goods
• Electrical blinds for salon, dining, and master (excluding day head) and sky lounge (excluding day head)
• USB power plug at sky lounge countertop and inside MSR nightstand
• Dedicated oversized drawer for golf club/sport rackets/bulky items storage under MSR berth
• Crestron Audio/Video & lighting control package
GALLEY:
• Wood panel and cabinetry with positive-latch doors or proprietary drop-lock drawers.   Provides containment of stored objects while underway (Std. feature often ignored by competitor)
• Galley storage cabinetry w/hidden hinges
• Stone countertop
• Stone floor in galley
• Elkay™ professional series kitchen sink w/pull-out tap
• Overhead dish locker fwd & stbd
• 30" Thermador™ electric cook top
• 30" Thermador™ electric oven
• Sub-Zero® Refrigerator/ freezer
• Sub-Zero® ice maker
• Sub-Zero® wine cooler
• Whirlpool™ garbage disposal
• 30" Viking™ Over-the-Range Microwave with exhaust blower
• Thermador™ dishwasher
• 15" Whirlpool™ trash compactor
• Seagull™ water purifier (ADEX design award winner w/ filtration to 0.1 microns & EPA certification for microbiological purification)
• Custom s/s potholder for cook top
• Kessebohmer magic corner storage
HEADS:
• Wood paneling and cabinetry
• Stone countertop with china sink
• Seamless fiberglass stall shower w/ one-piece glass door. Industry-leading seamless   one-piece shower stall design provides long-term protection against moisture  and water intrusion behind the shower panels - leading to foul odors and water damage   (Unique OA feature)
• Shower door w/stone frame. The shower door shall use "crystal clear" glass custom-made for Ocean Alexander. Providing superior transparency and reflectiveness. Together with custom made for Ocean Alexander "minimalist and transparent water strips" provides a unique Ocean Alexander proprietary "Crystal   Shower"
• Cabinet with mirror door above the sink
• Air extraction in each head shall be by low-noise extraction fans
• Planus™ toilet system throughout with unique Ocean Alexander proprietary "Toilet lockout" system. Provides "lockout" of flushing when the holding tank is full.   Prevents accidental spillage or "blowback" often found on competitor yachts. Tankage status and alarm are standard via the N2KView monitoring system.
• Custom bathroom fixtures
• Heated stone floor on MSR heads
EXTERIOR:
• Rooftop with dedicated custom S/S ladder to navigational electronics (Standard versus optional with competitors)
• 2" elliptical 316L stainless steel handrails & stanchions, main deck 1-1/2" on FB. Elliptical conforms better to human grip than traditional round rails. Provides greater "grip strength" for safety and comfort (Unique OA feature)
• 316 stainless-steel cleats
• Elec. stainless-steel sliding doors for salon and sky lounge with safety light curtain that senses obstruction and protects grandkids/pets. Also includes a "foot-kick button" control for operation when both hands are full with food trays/other items.
• Two S/S flag poles, Fore and aft
• Teak and stainless steel swim ladder, foldable
• Weather-tight door on the transom for access to engine room/ crew quarters
• White non-skid flybridge deck
• 32" Electric-Chef™ electric barbecue custom-made for OA using 316 S/S, versus competitors' 304 materials.
• Boat deck seat w/storage underneath and stone table
• Fiberglass stairway up to flybridge from cockpit w/teak steps
• Teak deck for aft deck and walkway to midship
• Teak swim platform w/ teak steps
• High bulwark w/ flush-mounted deck lights
• Side boarding gates in cockpit
• Recessed boarding ladder on starboard gunnel with OA logo teak steps (Unique Ocean Alexander standard feature. Competitors either optional or not available)
• Boat deck outboard storage increased by 54% via additional storage lockers on port and starboard where possible
• Exterior ceiling panels are removable and finished with diamond faceted edging. Provides a sharper and structured tailored look. Also allows for easy service of navigational electronics and plumbing runs. (Design cues from 135)
• Custom designed fender storage at bow/chain locker/lazarette
• Bow seating w/ concealed pop-up lighting and hi-lo table convert to sun pad and exterior speakers w/ audio streaming ability
• High output LED underwater lights x 8
• S/S transom gates for pets/children protection
• ACR searchlight with remote on skylounge
• Pre-plumbing and wiring for Jacuzzi
• Manual awning for flybridge with custom-made stainless steel poles and marine-grade exterior. Ferrari mesh fabric. Includes custom-designed built-in storage for poles.
• Manual awning for bow with custom-made stainless steel poles and marine-grade exterior. Ferrari mesh fabric. Includes custom-designed built-in storage for poles
• Custom exterior protection canvas and windshield mesh cover for exterior seating and BBQ
• Flip down 32" TV from ceiling TV with satellite receiver includes additional exterior speakers for full stereo effect on fly bridge. Includes Bluetooth streaming ability direct to exterior TV and speakers
• Flip down 40" TV from ceiling TV with satellite receiver includes additional exterior speakers for full stereo effect on aft-deck. Includes Bluetooth streaming ability direct to exterior TV and speakers
• Aft-deck custom ceiling feature
• Boat deck sliding hatch
• 8-man life raft x 2 in valise bag
Exclusions
Scout Tender
Ocean Alexander Yachts
Ocean Alexander Yachts was born in 1977 with a mission to create the highest-integrity and superior-quality yachts on the water. This tradition has lasted and remains at the core of Ocean Alexander Yachts as it dominates the luxury motor yacht market. The rich design elements fused with the superior maneuverability and propulsion efficiency make this brand an alluring one. Ocean Alexander knows that a motor yacht is not a necessity; therefore, it should be a thing of beauty. Your yacht should have a presence you instantly associate with freedom, adventure, and luxury. Ocean Alexander has perfected the art of luxury while it has simultaneously made its vessels eminently livable and among the most technically accomplished in the industry.
HMY Yacht Sales
Since 1979, HMY Yacht Sales has been among the most trusted brokerage firms in the industry. For decades we have continued to instill confidence in our clients who choose to buy and sell yachts with us. Our goal is to provide you with the highest level of customer satisfaction combined with HMY's renowned yachting expertise. When you choose your next brokerage firm, make sure to select the one that is the most experienced and knowledgeable in yacht sales. HMY's expansive network of yacht sales professionals, support teams, yachting industry experts, and customers have been our recipe for success; and we've earned the trust of our clients from around the world. In 2022, HMY Yachts was recognized as the #1 North American Princess Yachts Dealer.
HMY Sales and Marketing Network
HMY Yachts is known for delivering sales results. We sell a pre-owned yacht on average every 12 hours. With accelerated sales results like this – there's no better firm you can trust to sell your yacht. We invest heavily in online marketing and exposing your yacht to the right target buyer is one of HMY's strengths. Plus, we activate and engage a high-performance network of brokers and buyers with walkthrough videos, virtual tours, MLS, email, magazines, social media, and digital campaigns. HMY's accelerated yacht sales approach generates leads and sales at record levels. We connect buyers with our brokers quickly – to get your yacht sold. Call HMY today. We'll put a world-class sales and marketing strategy together to sell your yacht so you can have peace of mind.
Established in 1979 and family-owned by Steve Moynihan
Recognized as one of the largest new and pre-owned yacht dealerships in the USA
HMY is on pace to sell over 500 pre-owned yachts, and over 150 outboard boats this year
HMY averages a yacht sale every 12 hours
50+ yacht sales professionals at 13 sales locations from Ocean Reef, Florida to Newport, Rhode Island
New yachts for sale: Viking, Valhalla Boatworks, Princess, OKEAN, Two Oceans Power Catamarans,  and the all-new ECLIPSE model line
HMY was recently recognized as the #1 North American Princess Yachts Dealer in 2022
Dedicated Outboard Boating Center featuring premium fishing and cruising outboard boats
HMY has a dominant presence with sales offices located in high-profile marina locations
Premiere exhibitor at the largest boat shows in America
A global network of sportfish, motor yacht, superyacht, and charter customers
Sponsors of yachting, fishing, and showcase events throughout the year
HMY has an in-house Luxury Charter Vacations division serving global customers
HMY is well known for its industry-leading investment in marketing, advertising, and digital
HMY's proven sales success has elevated HMY.com to be an elite yacht industry search engine
Web Links
View IG Post - 2019 OCEAN ALEXANDER 100 MOTOR YACHT - Zephyr
Return to Yachts for Sale
Get more information