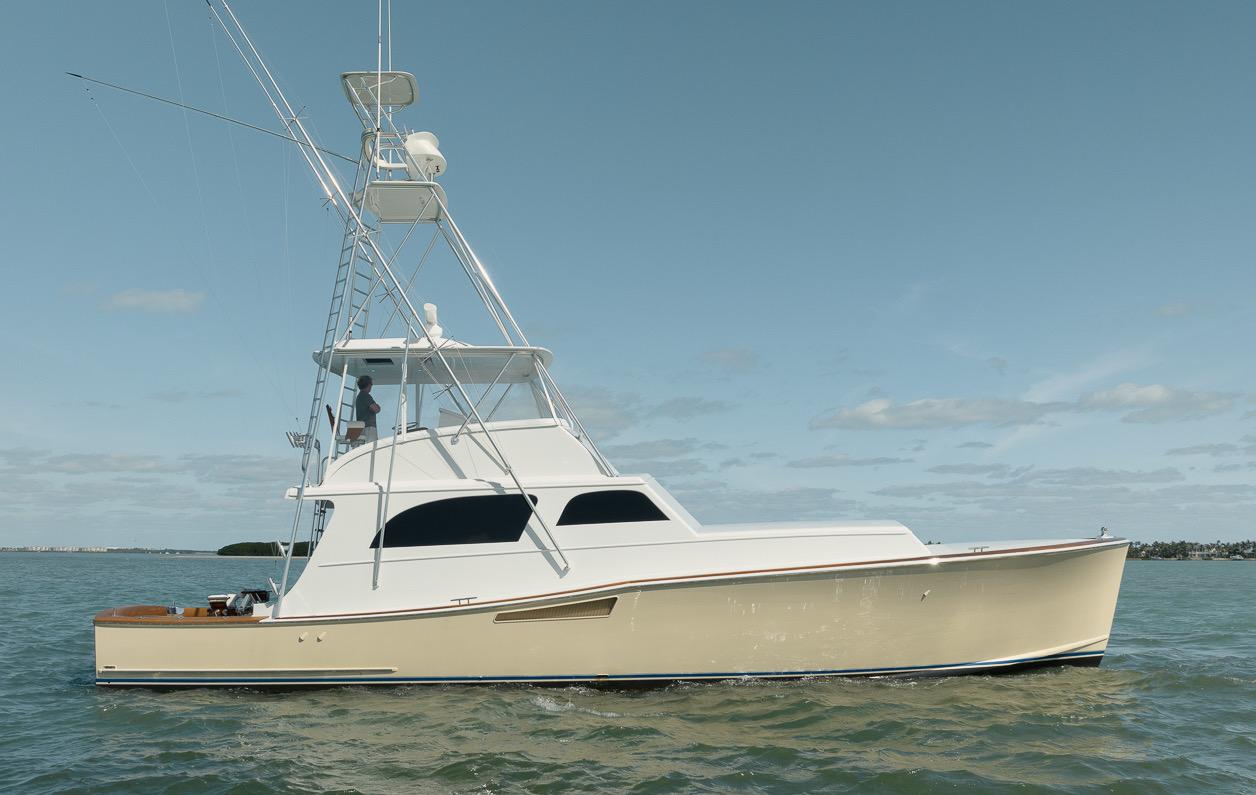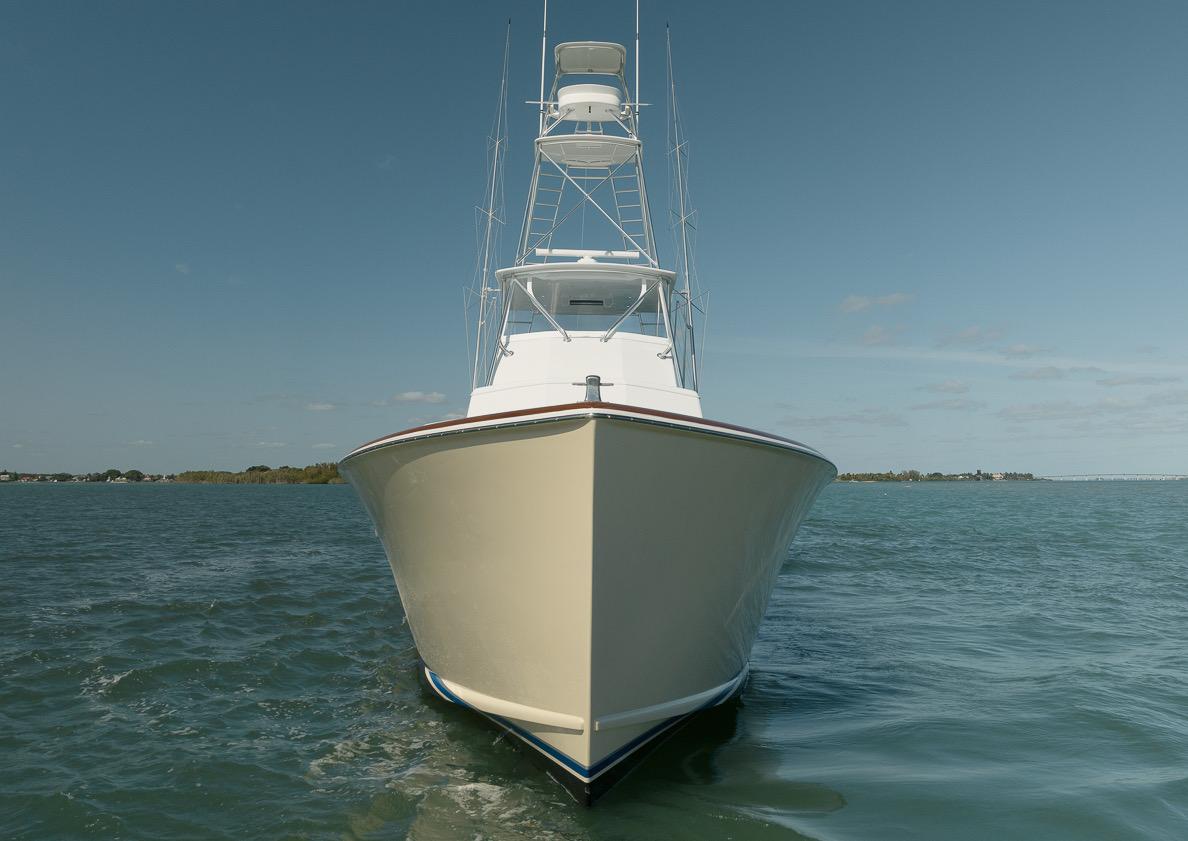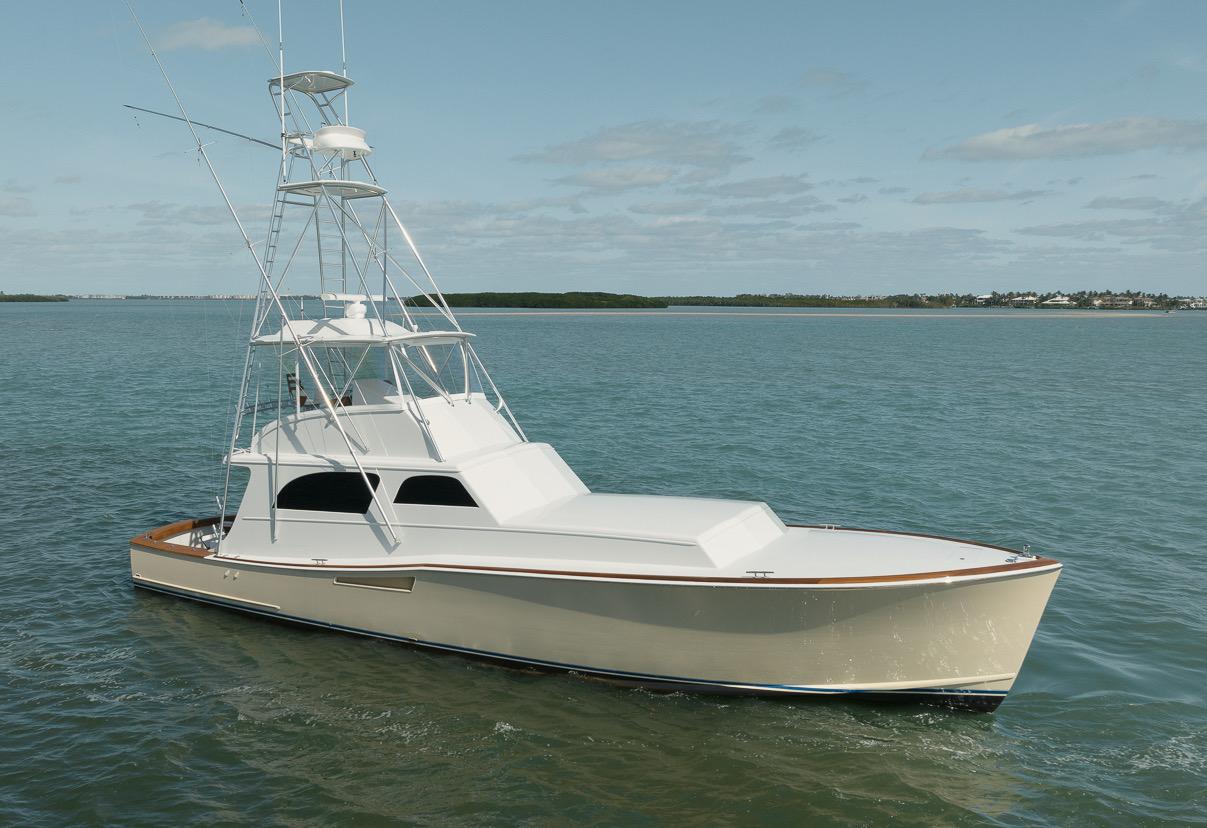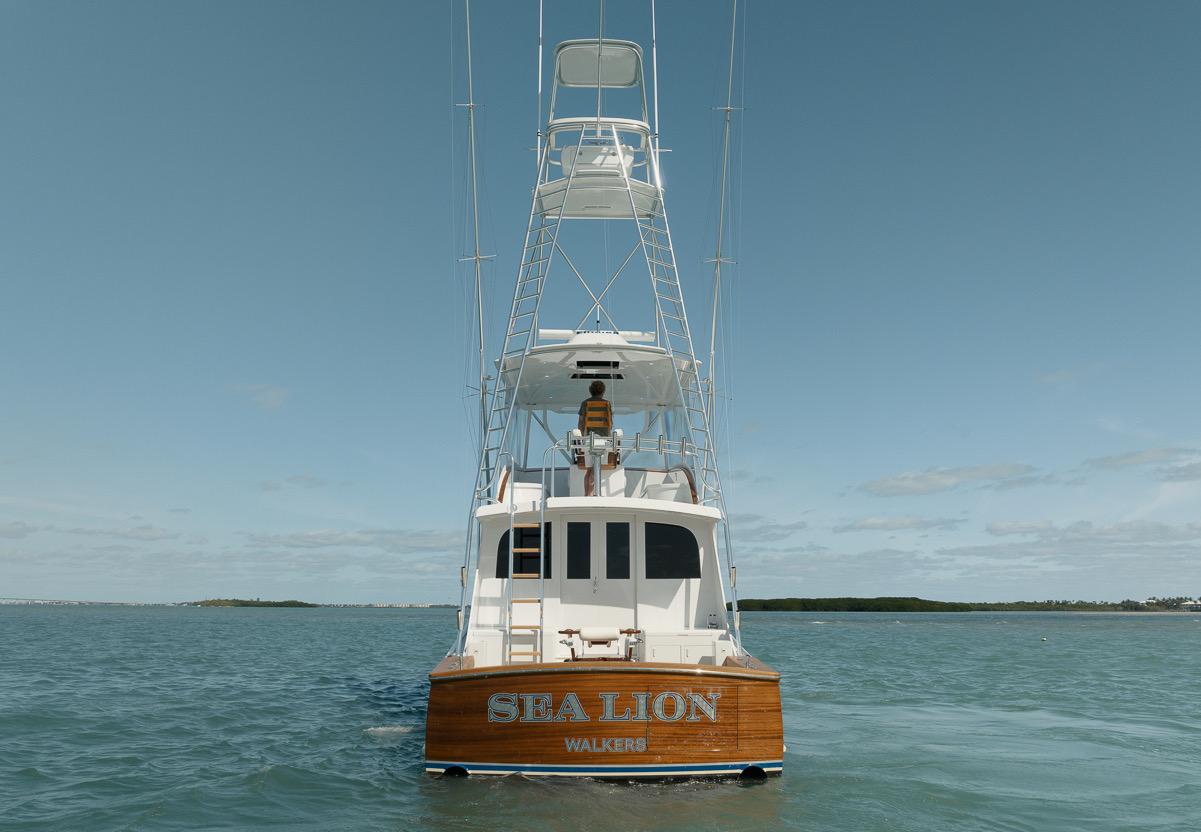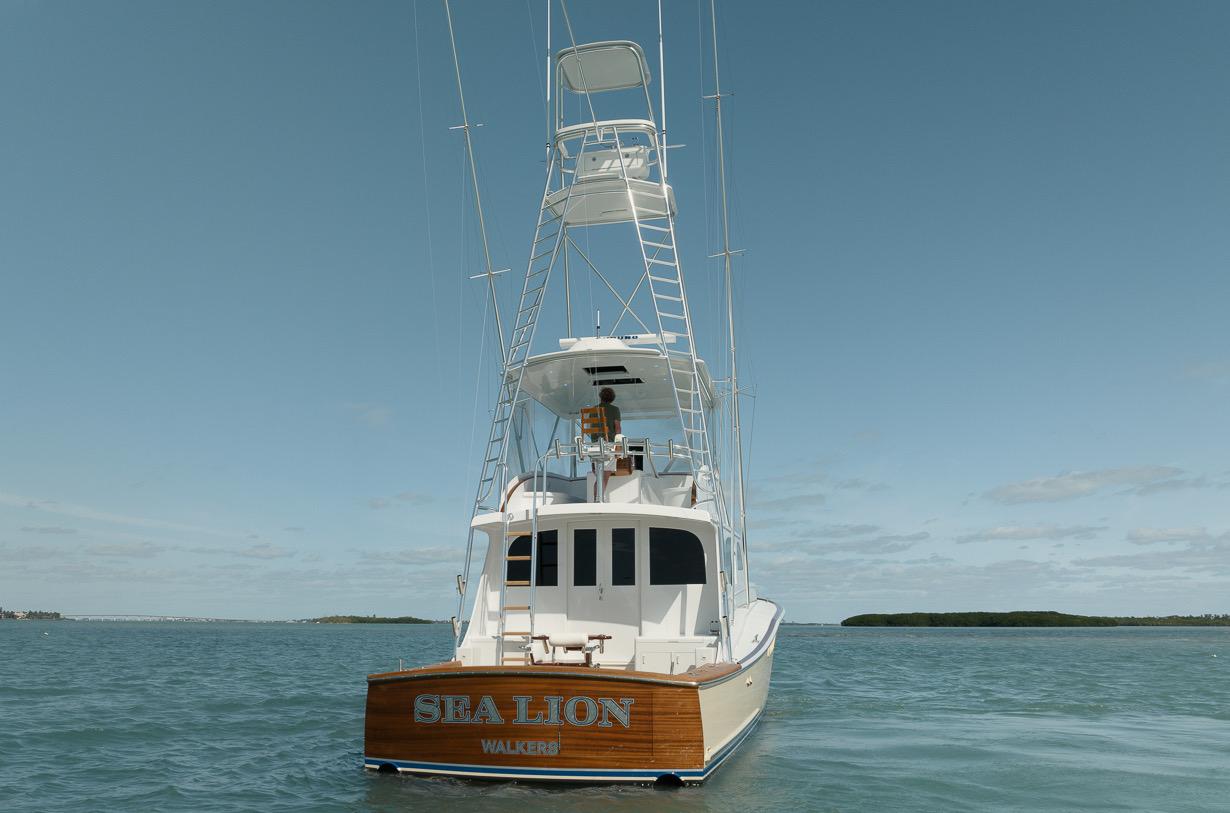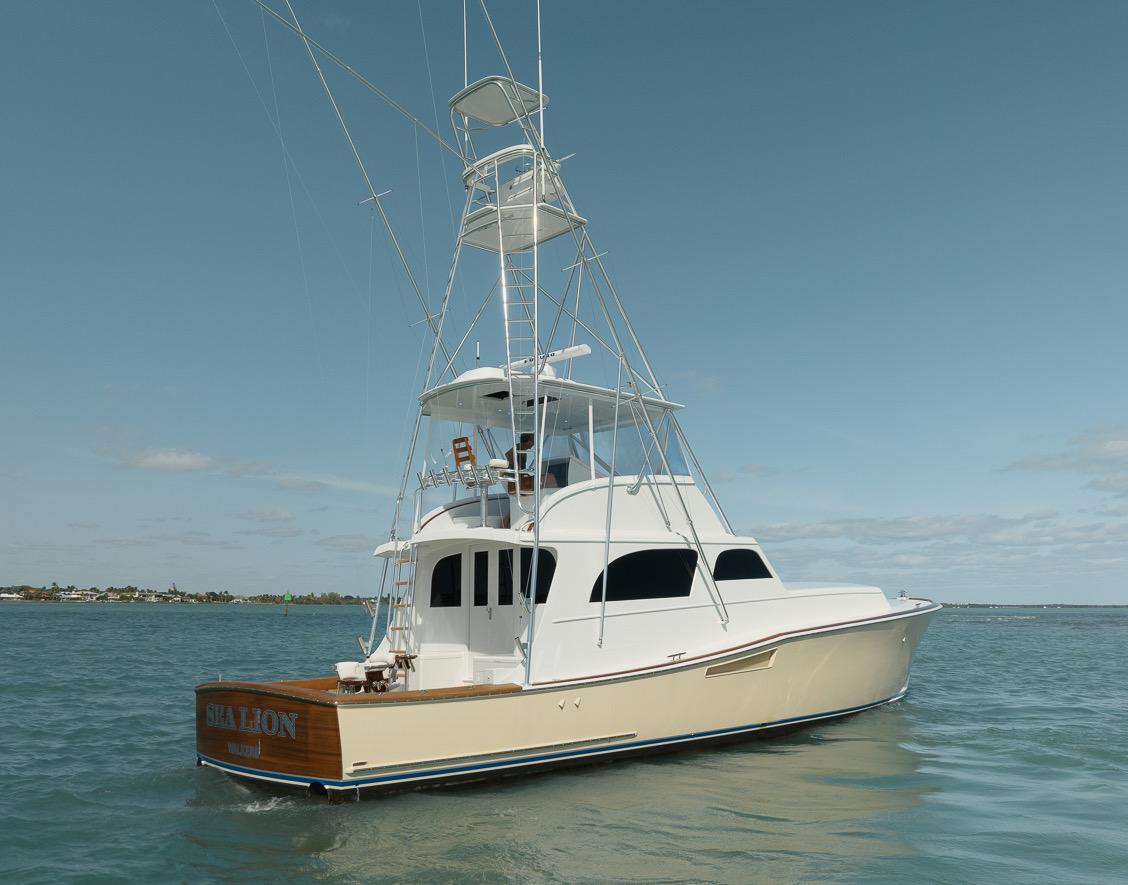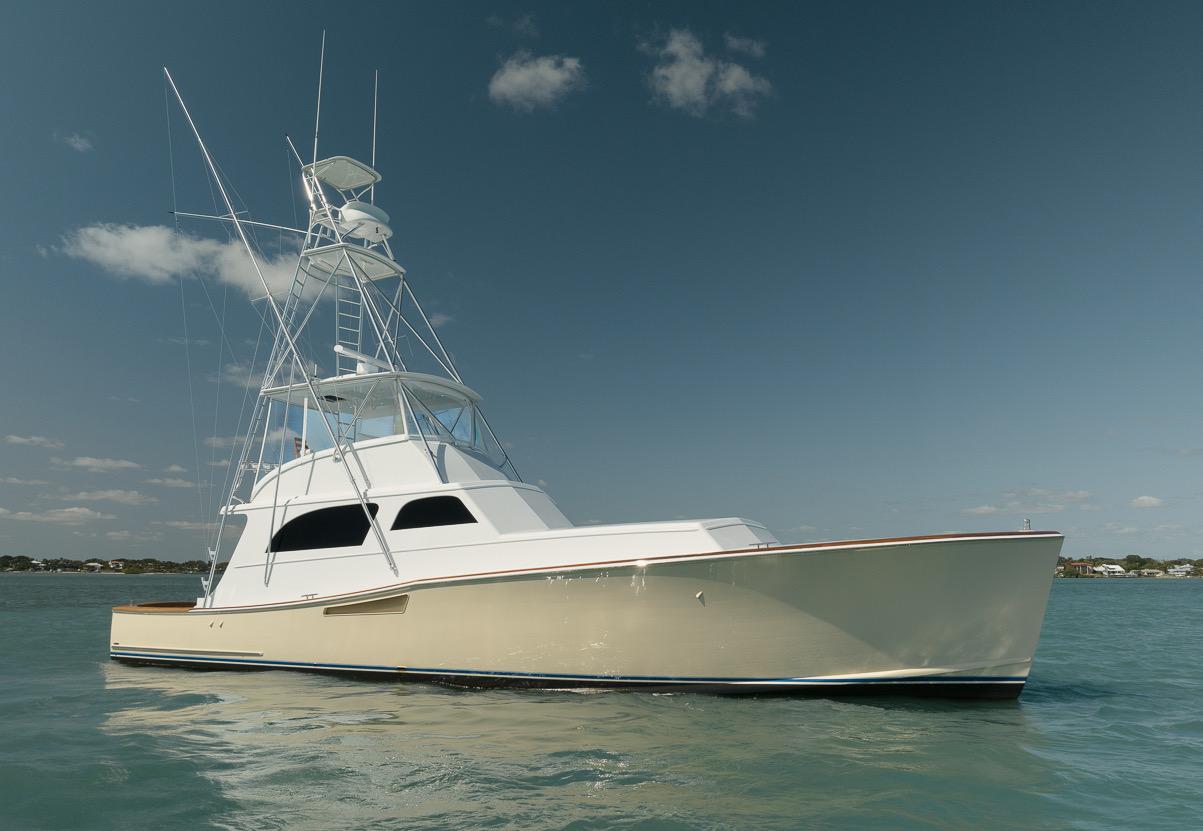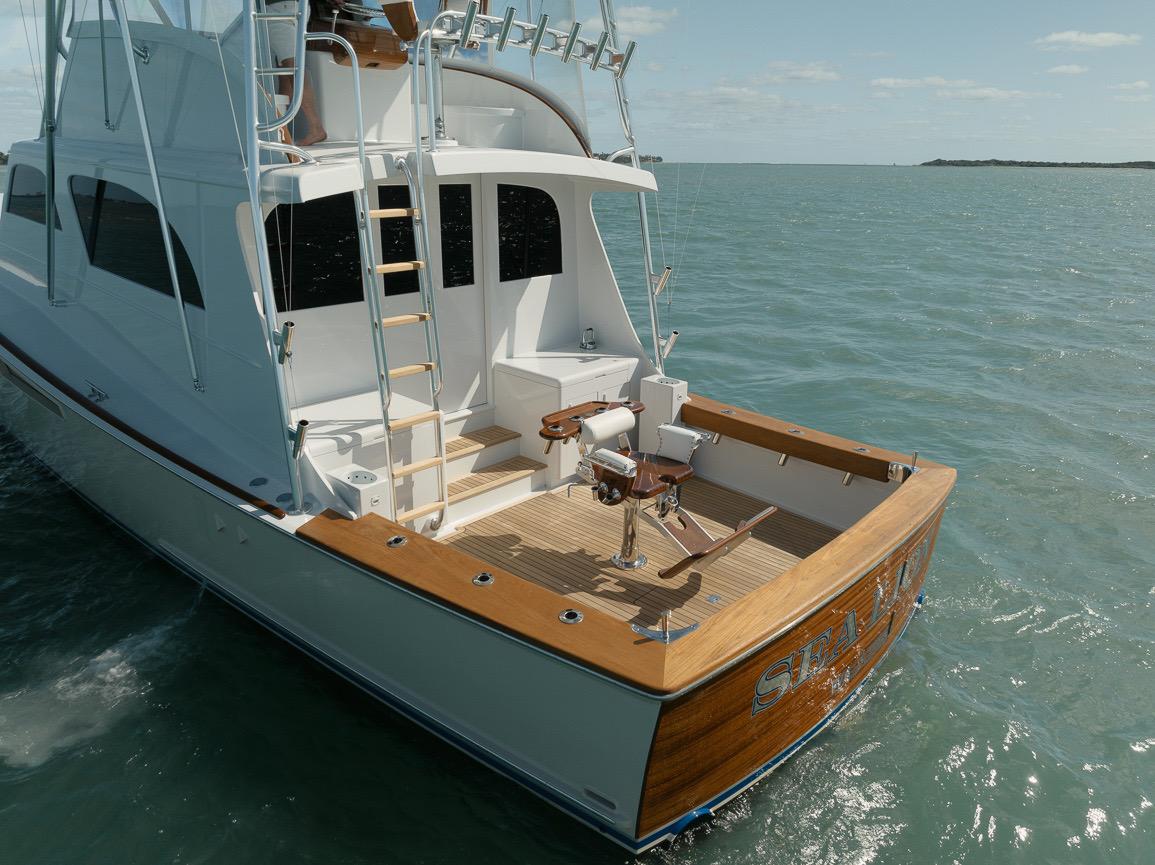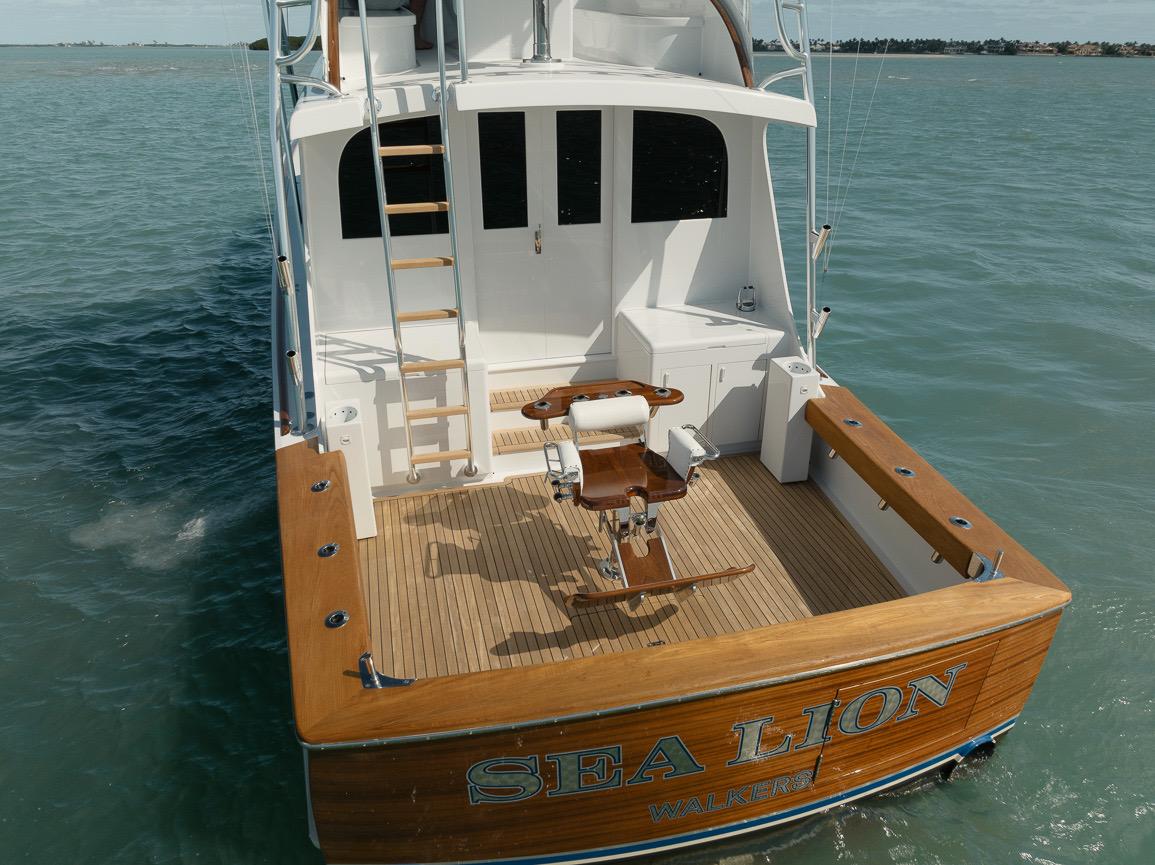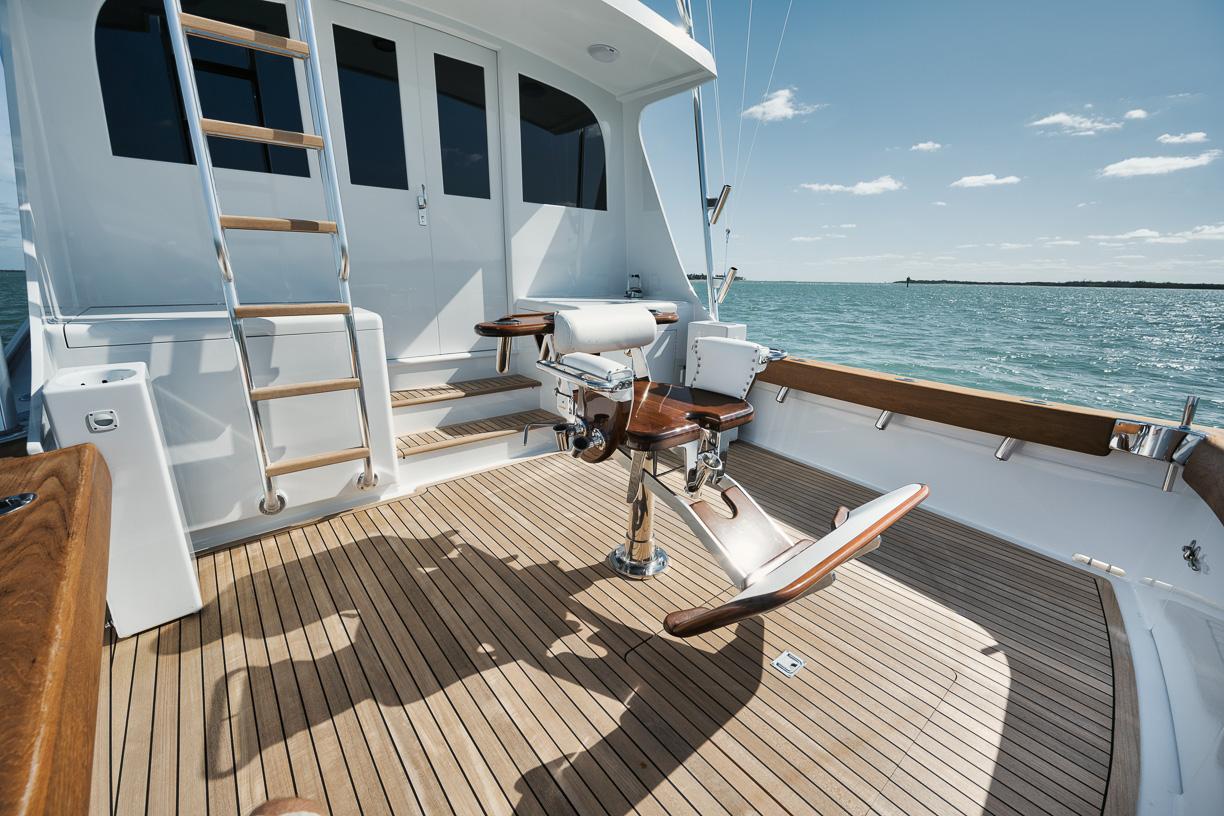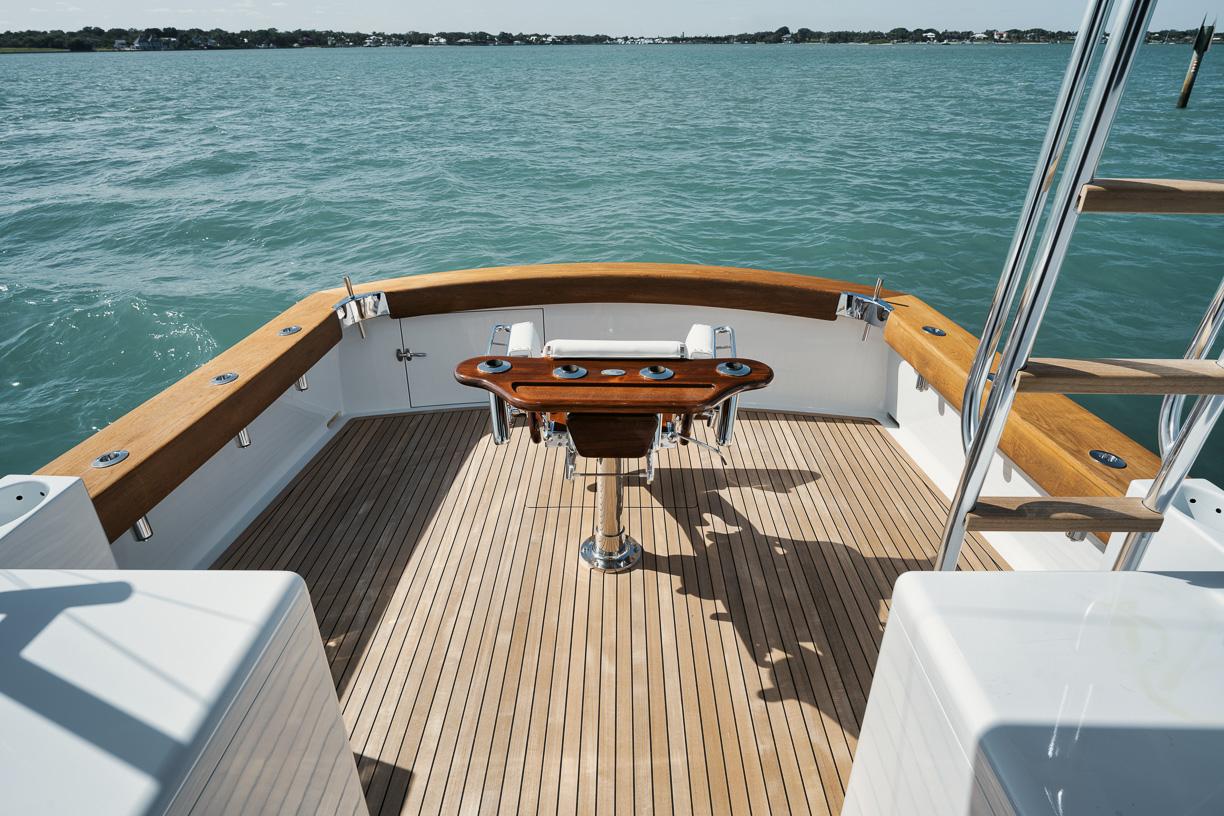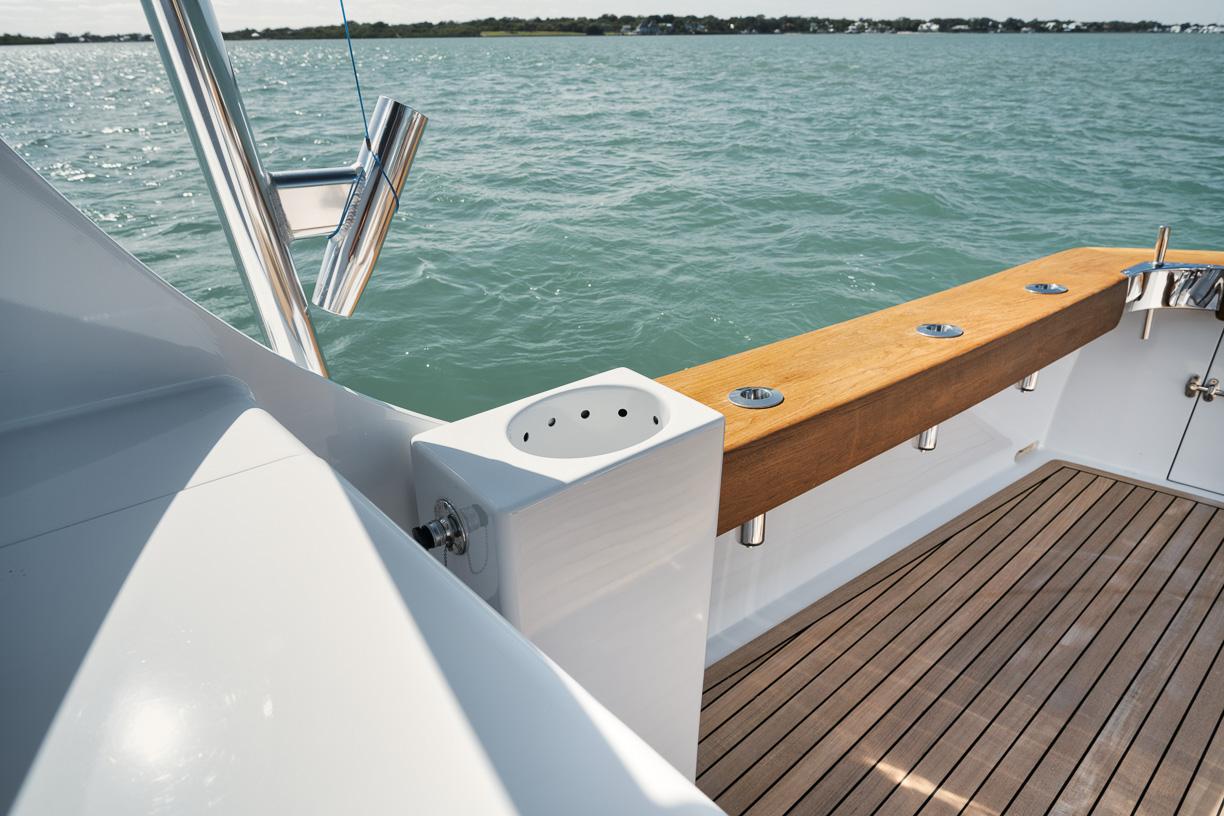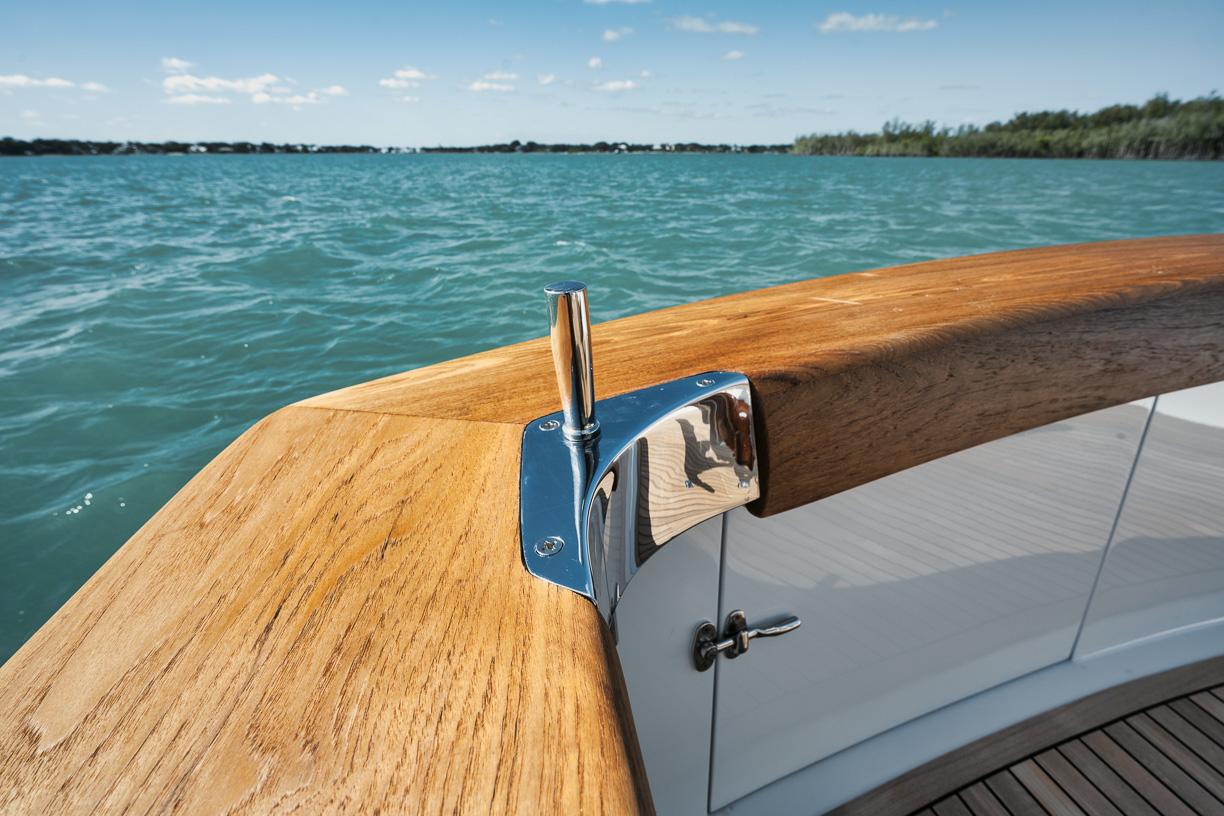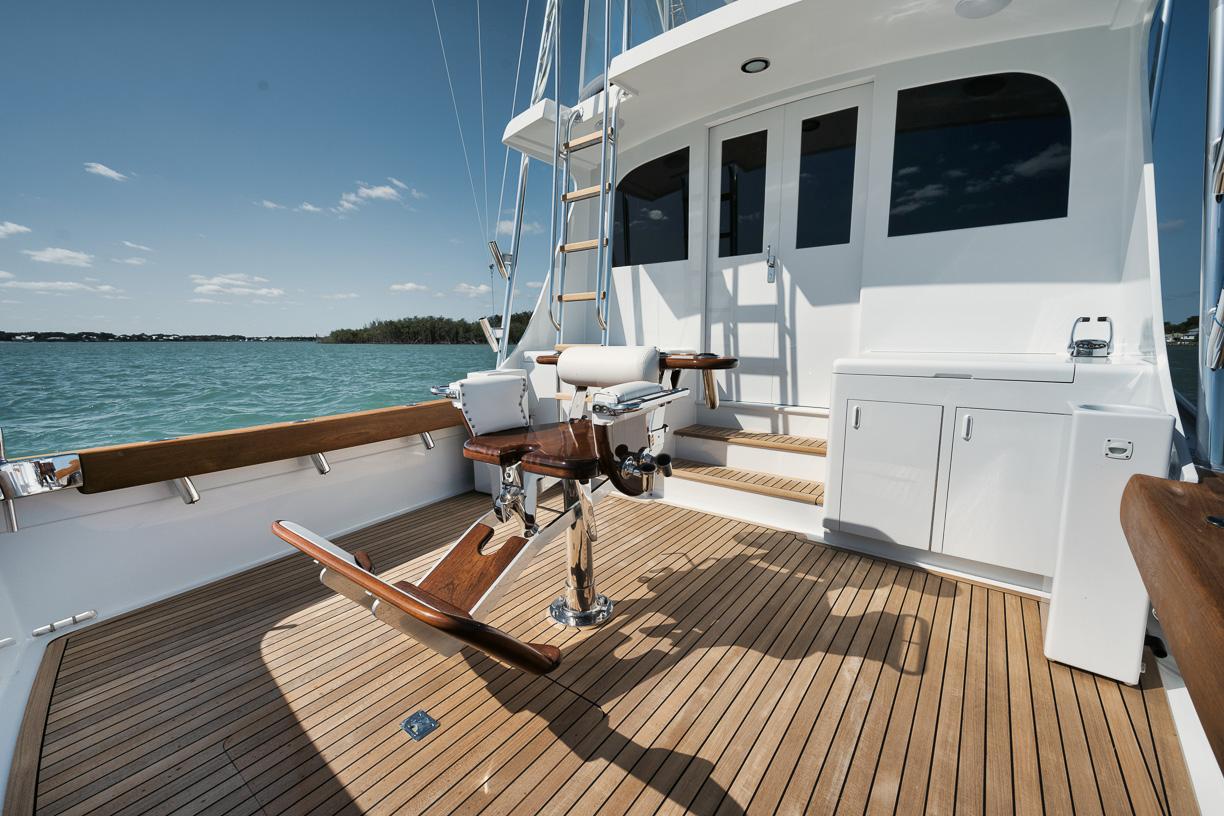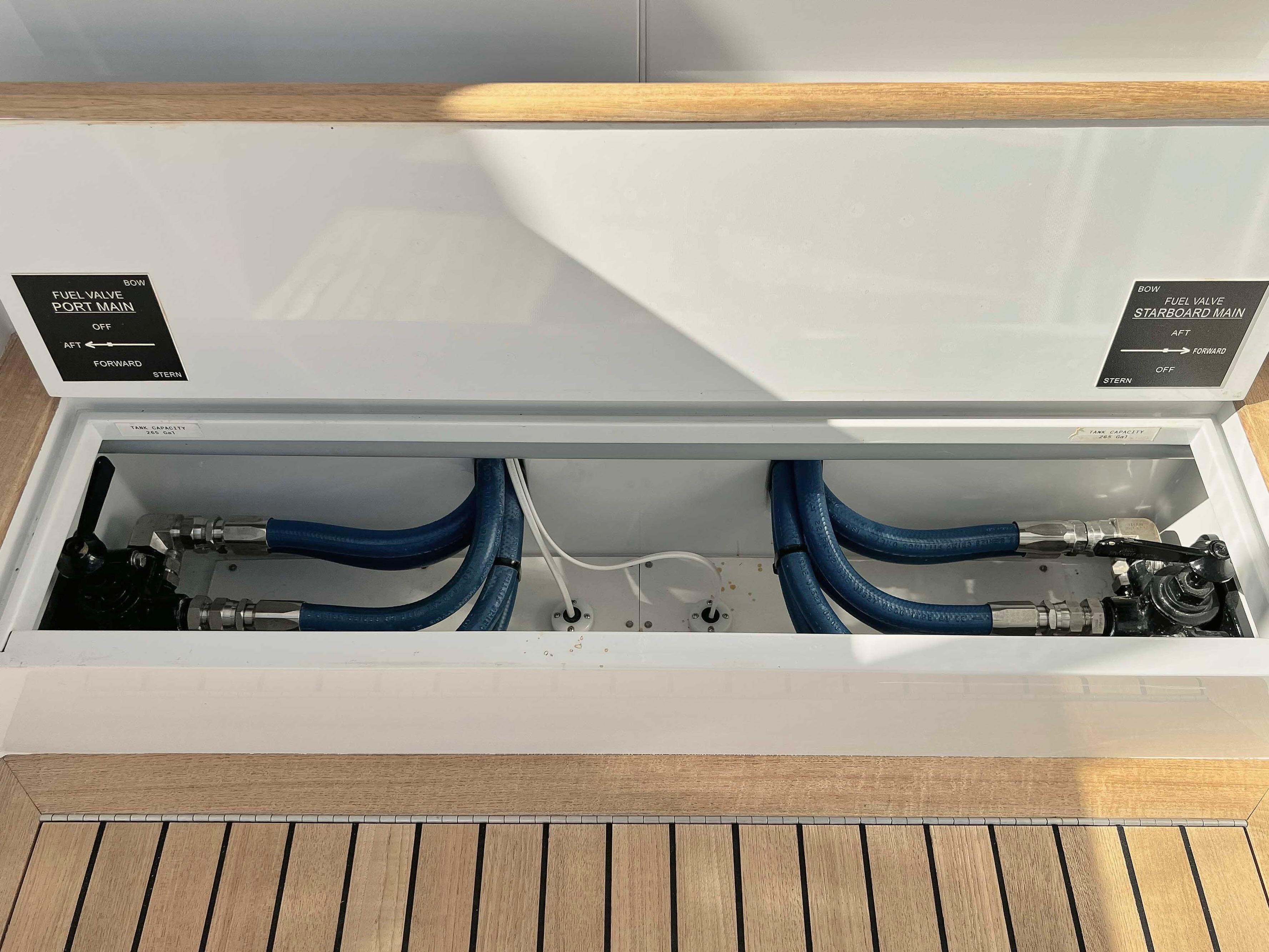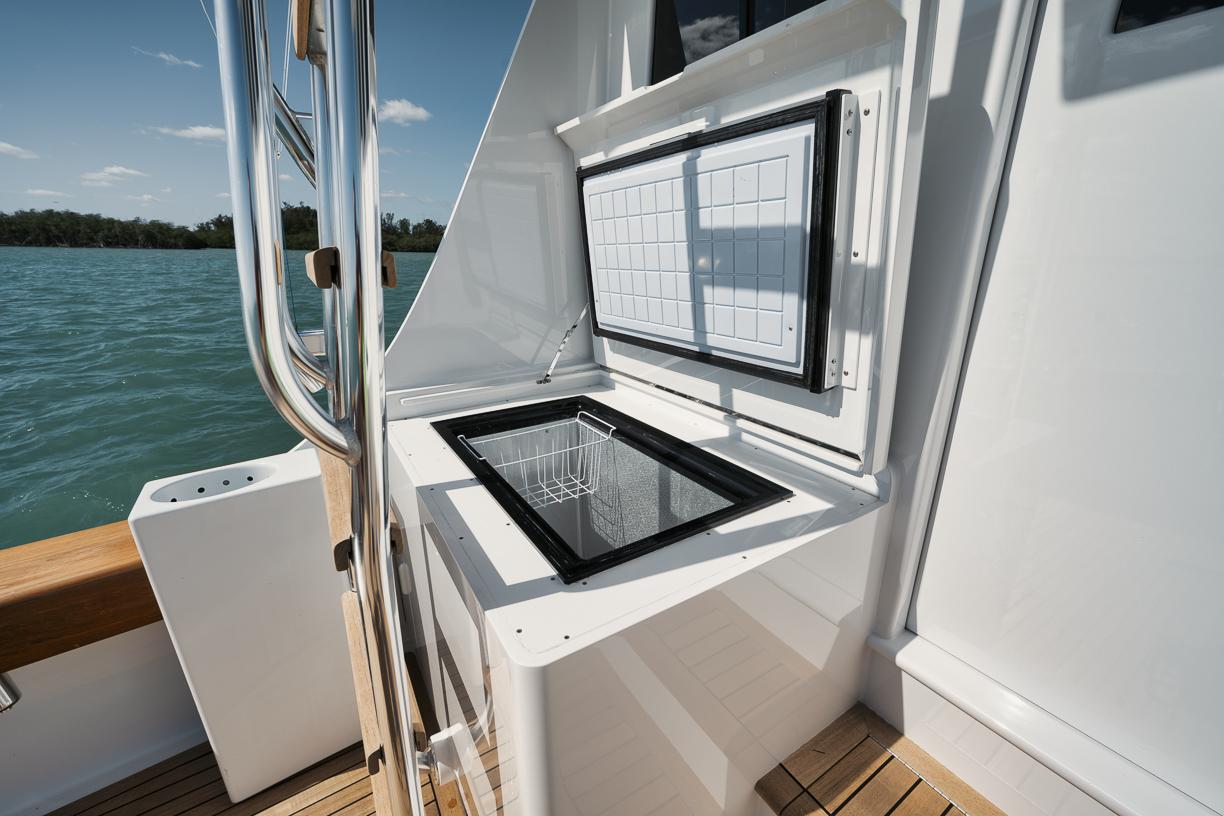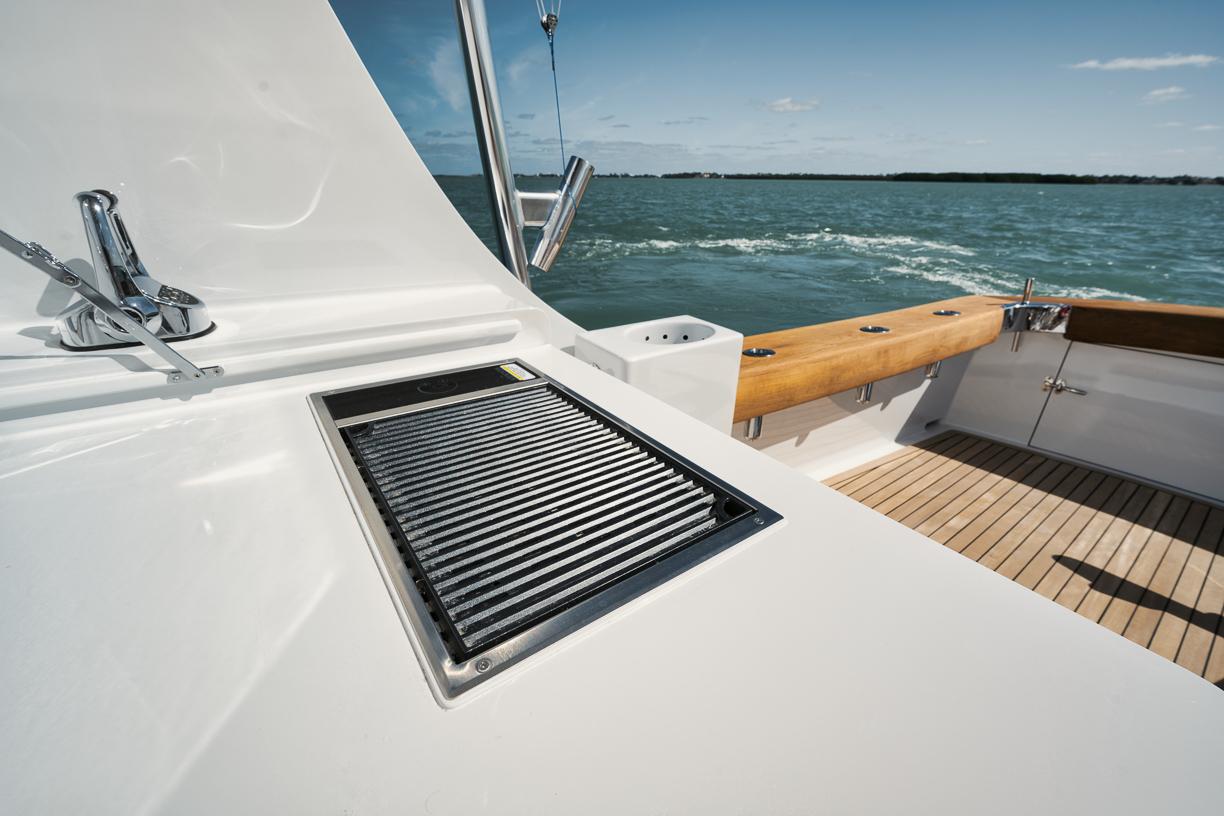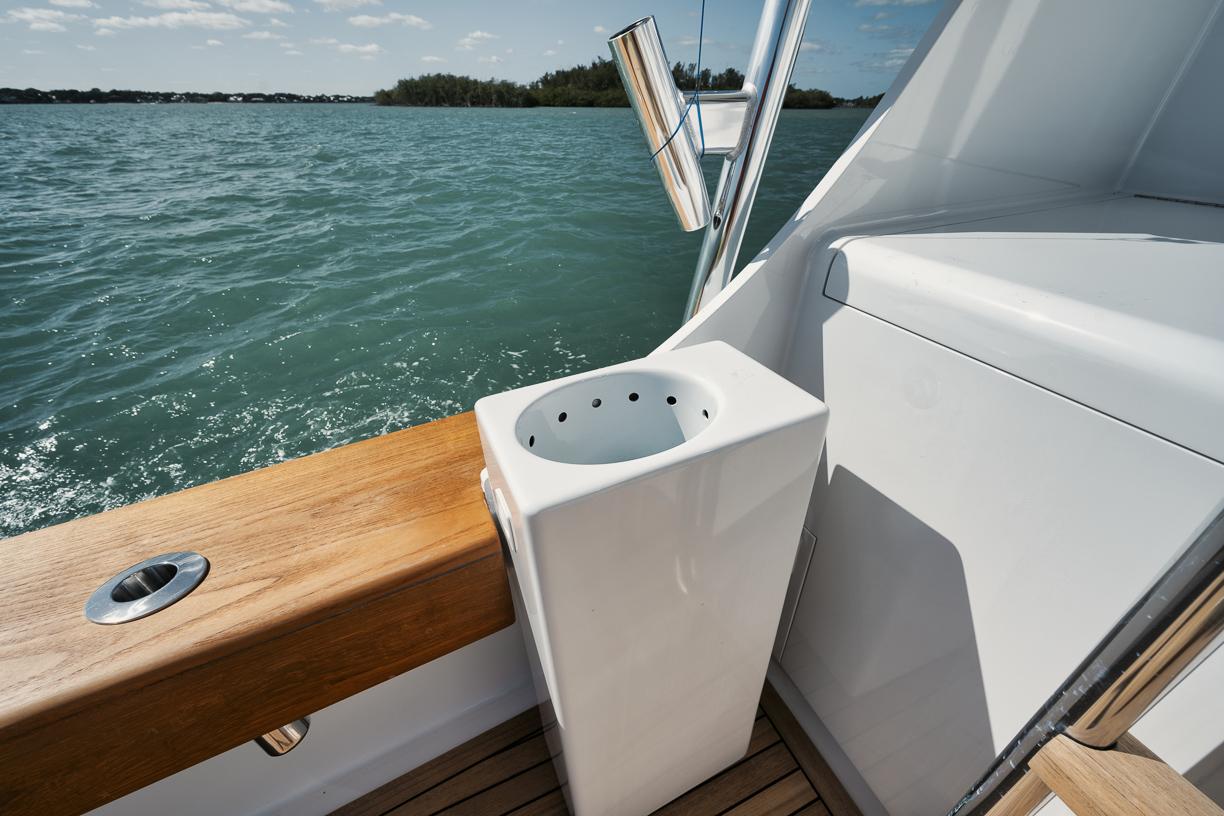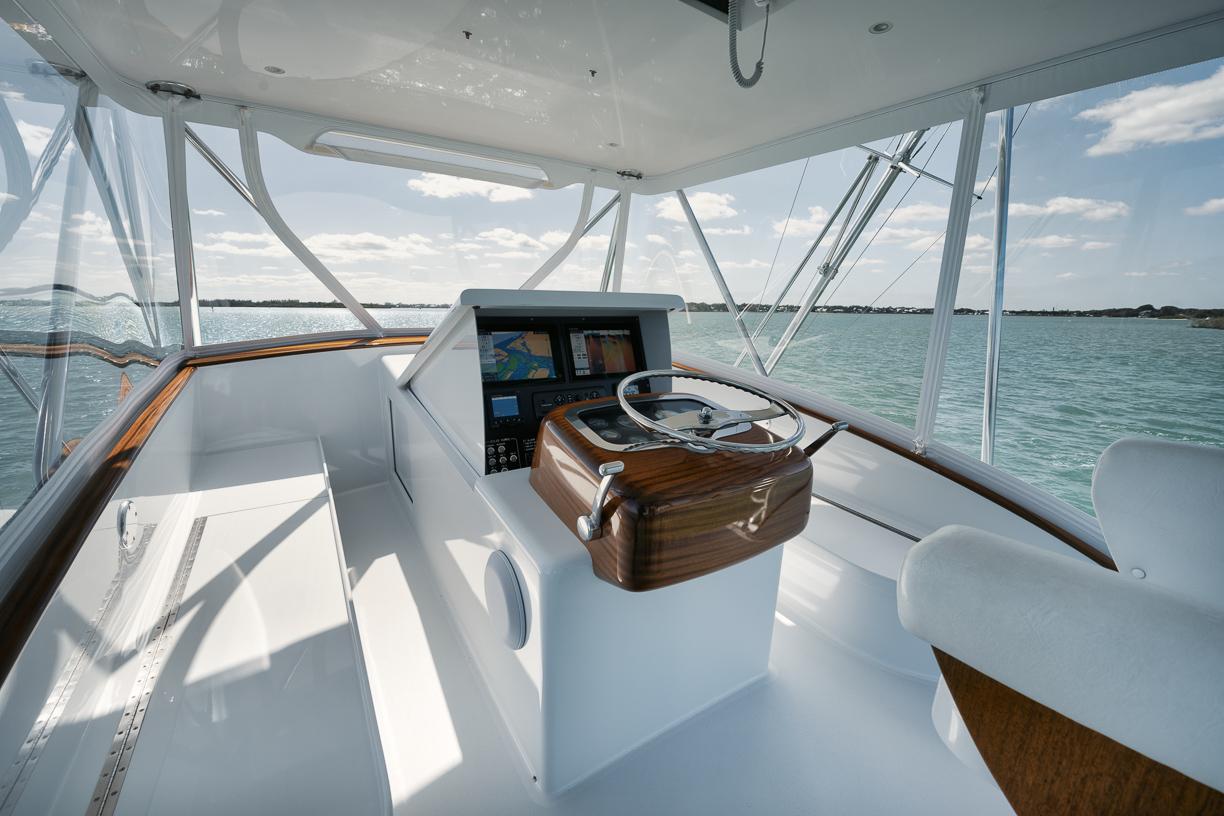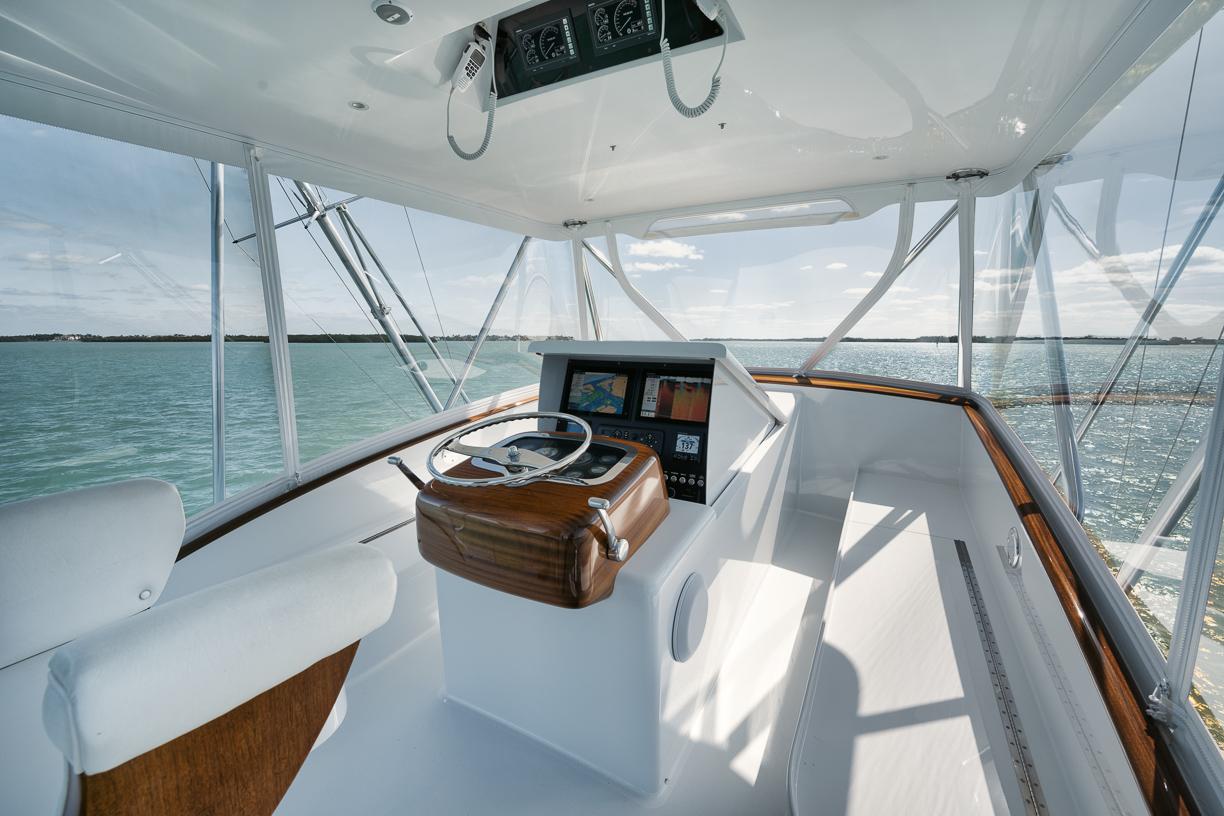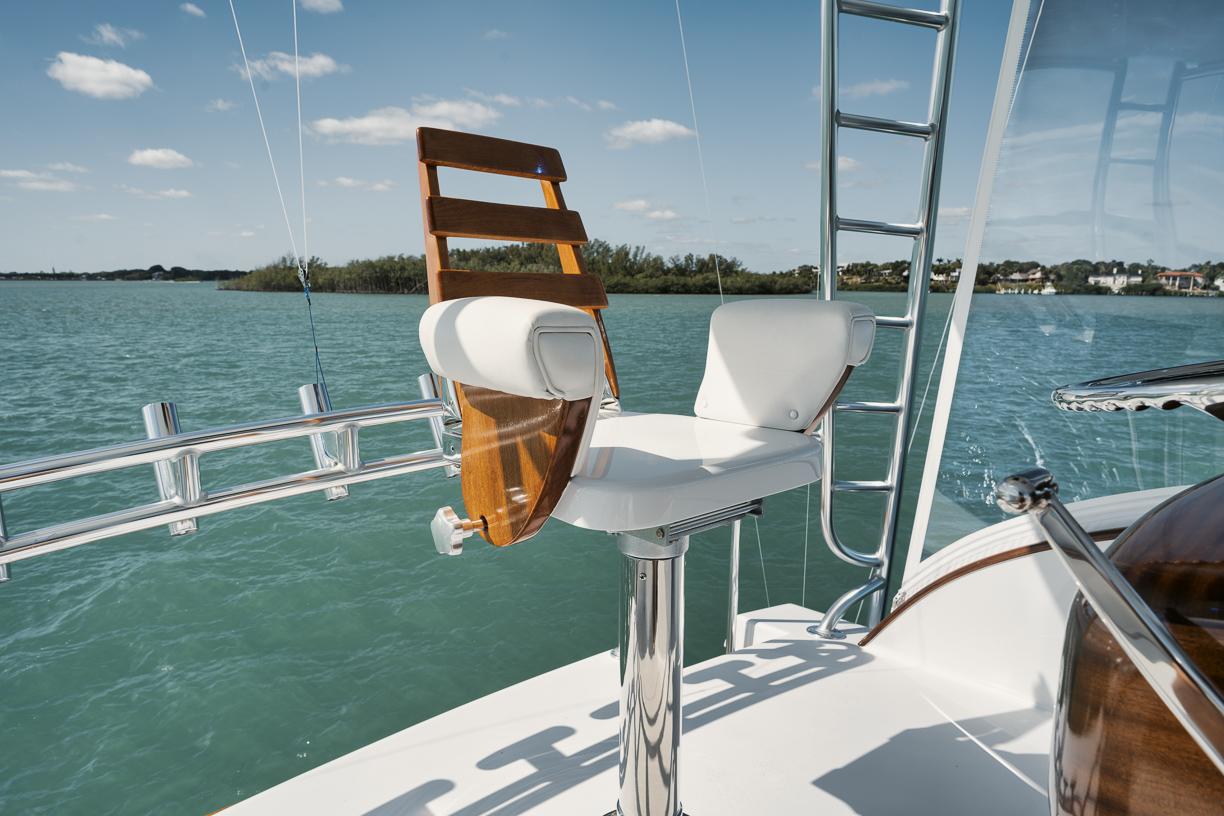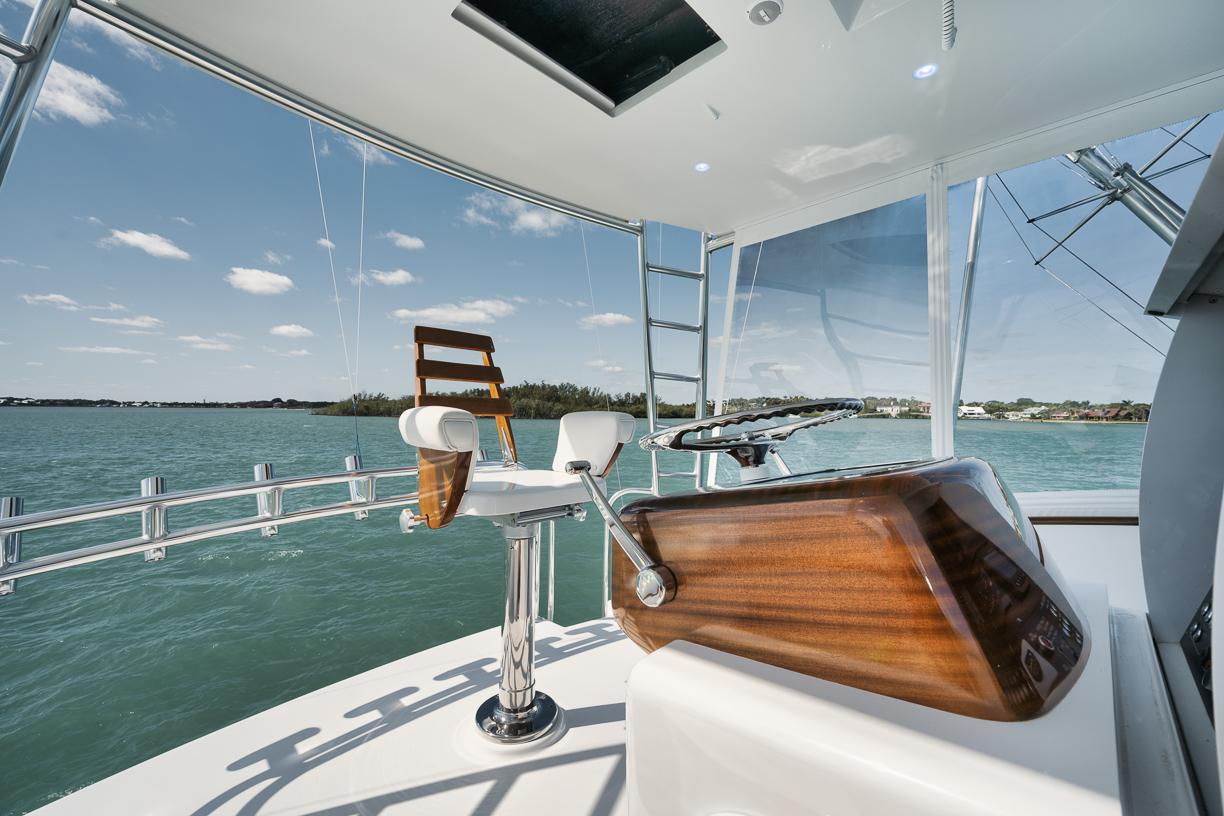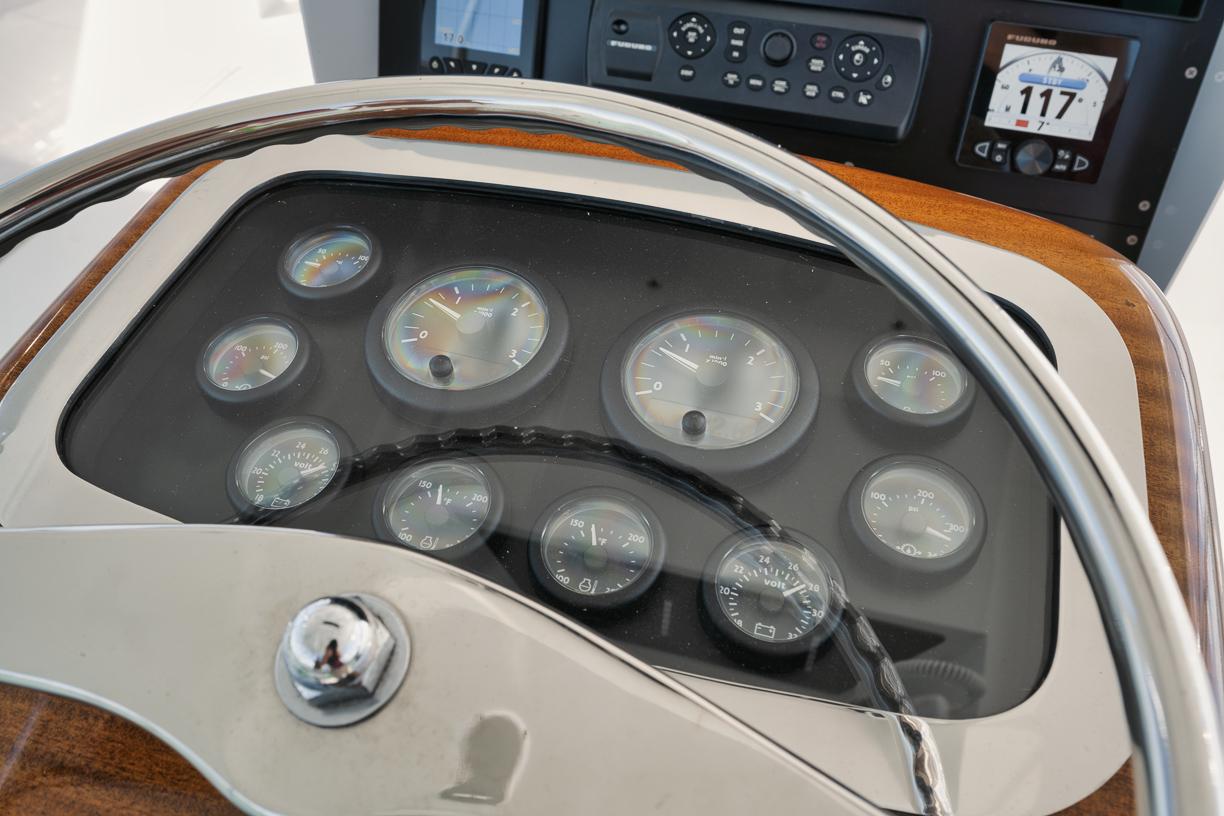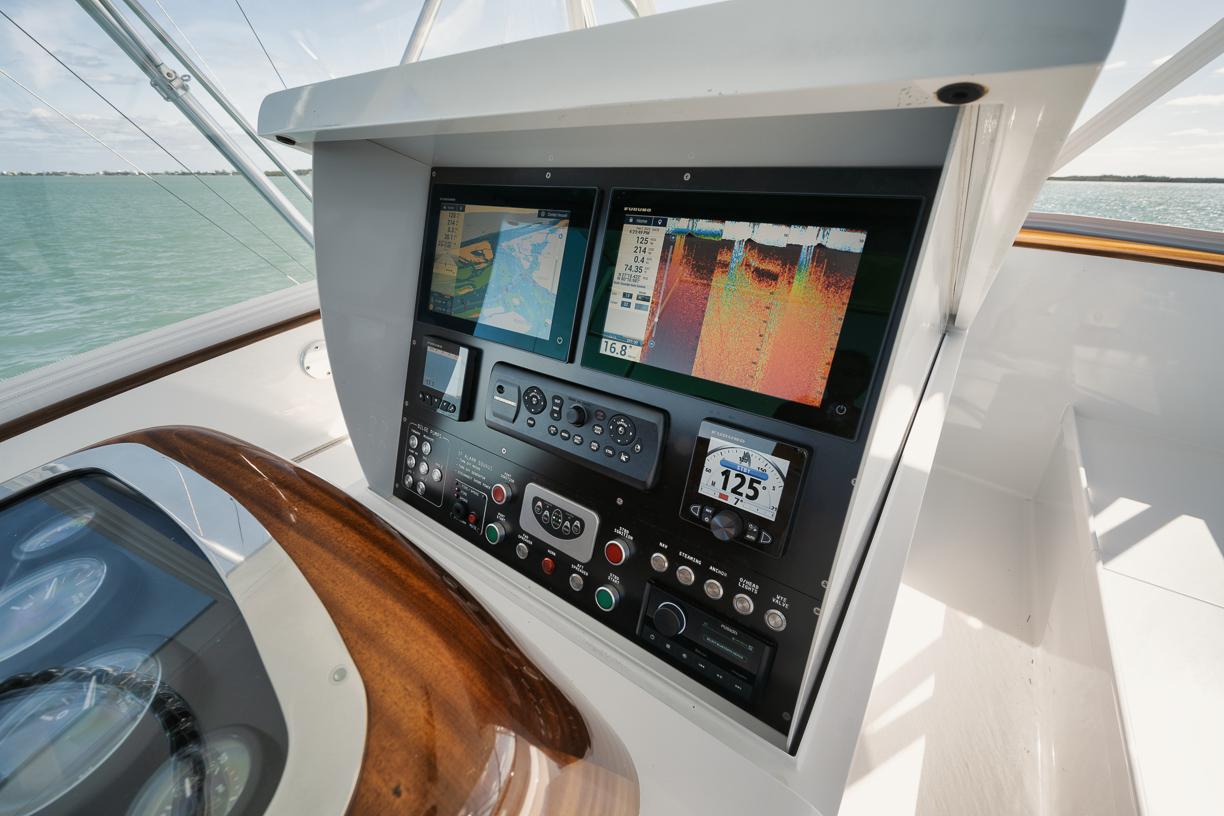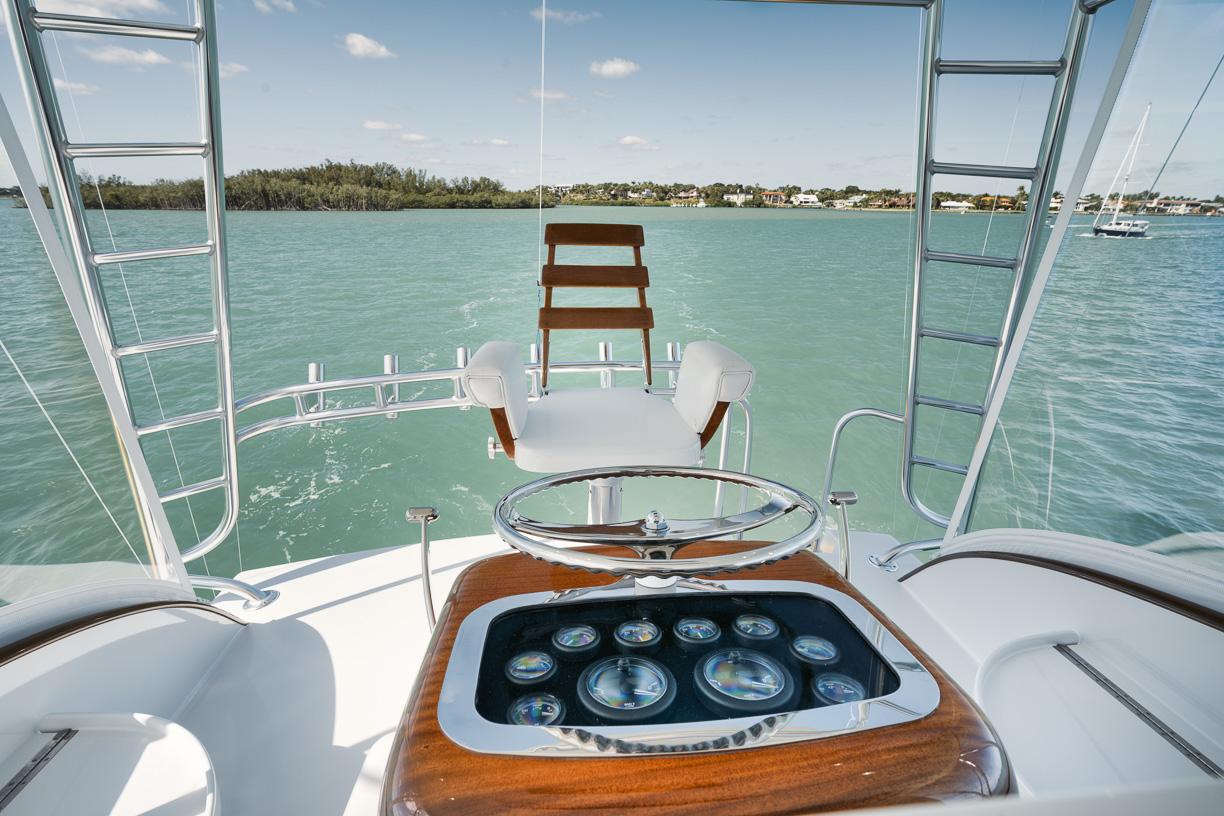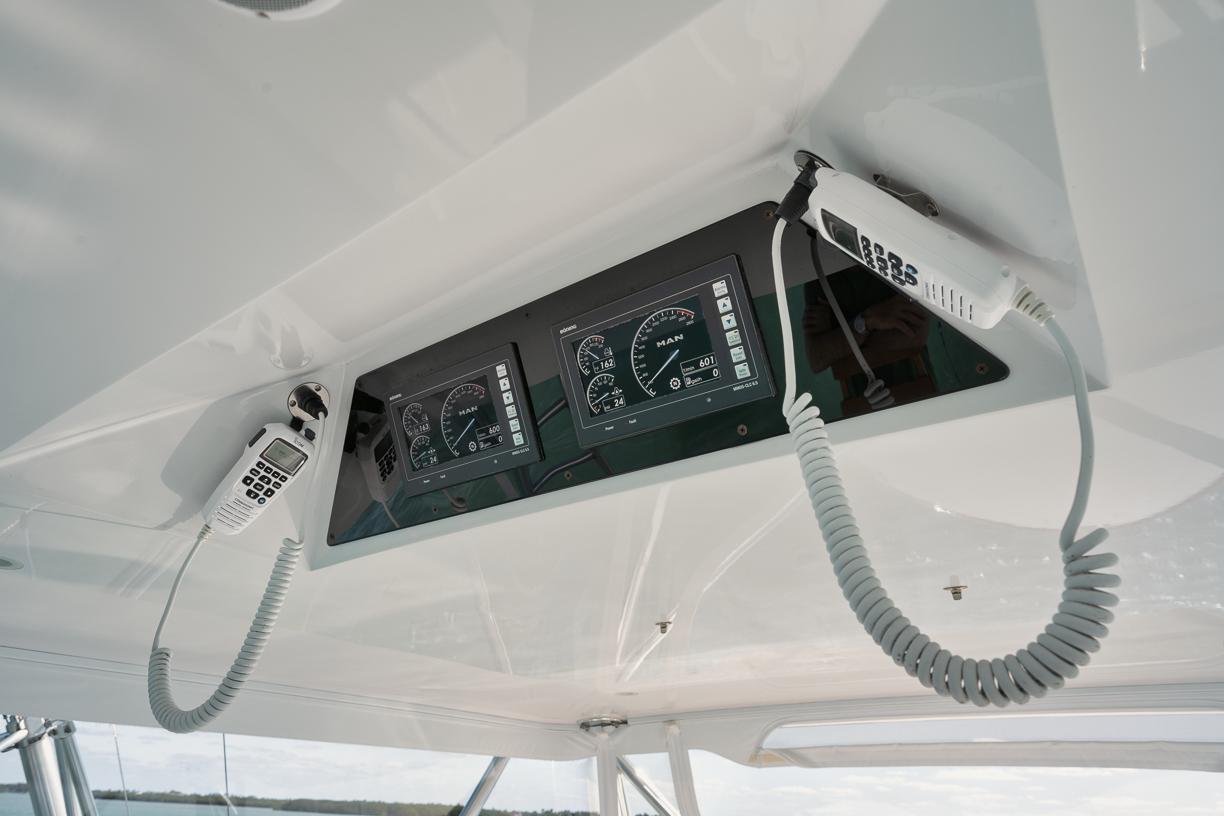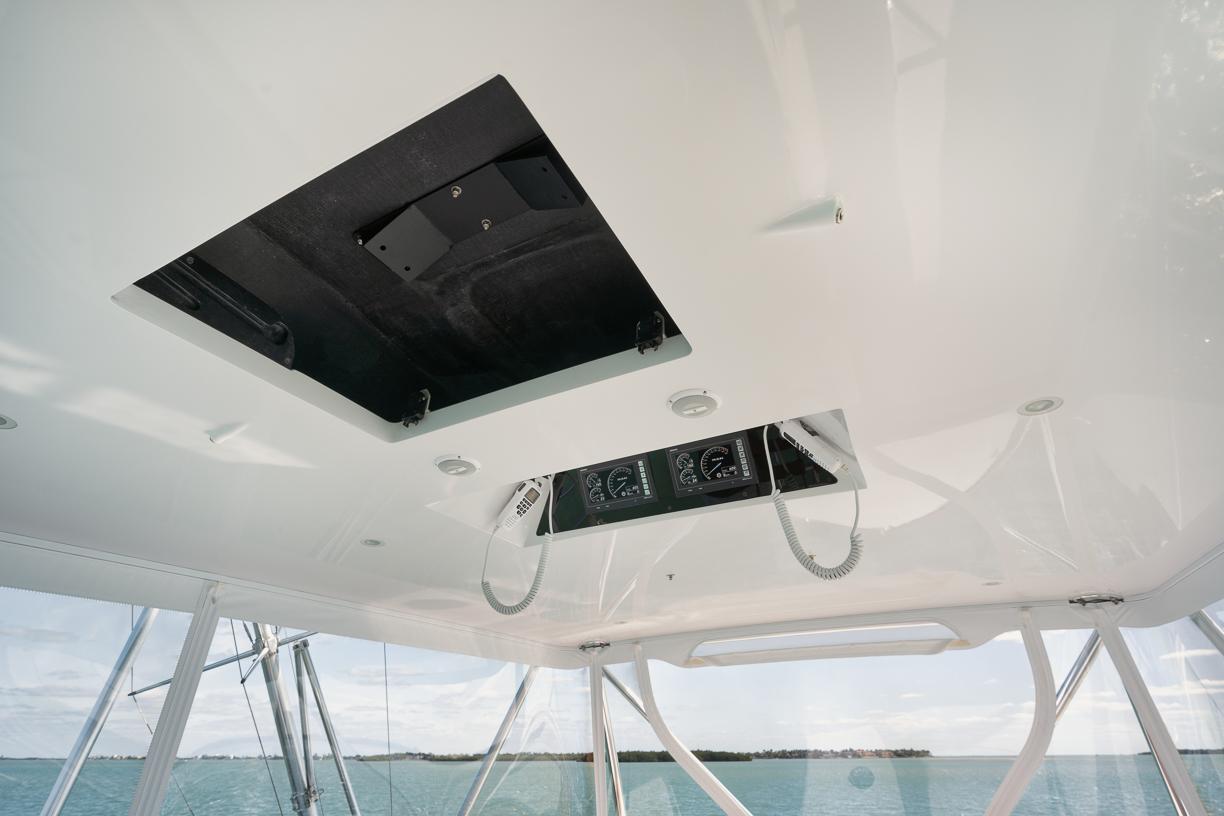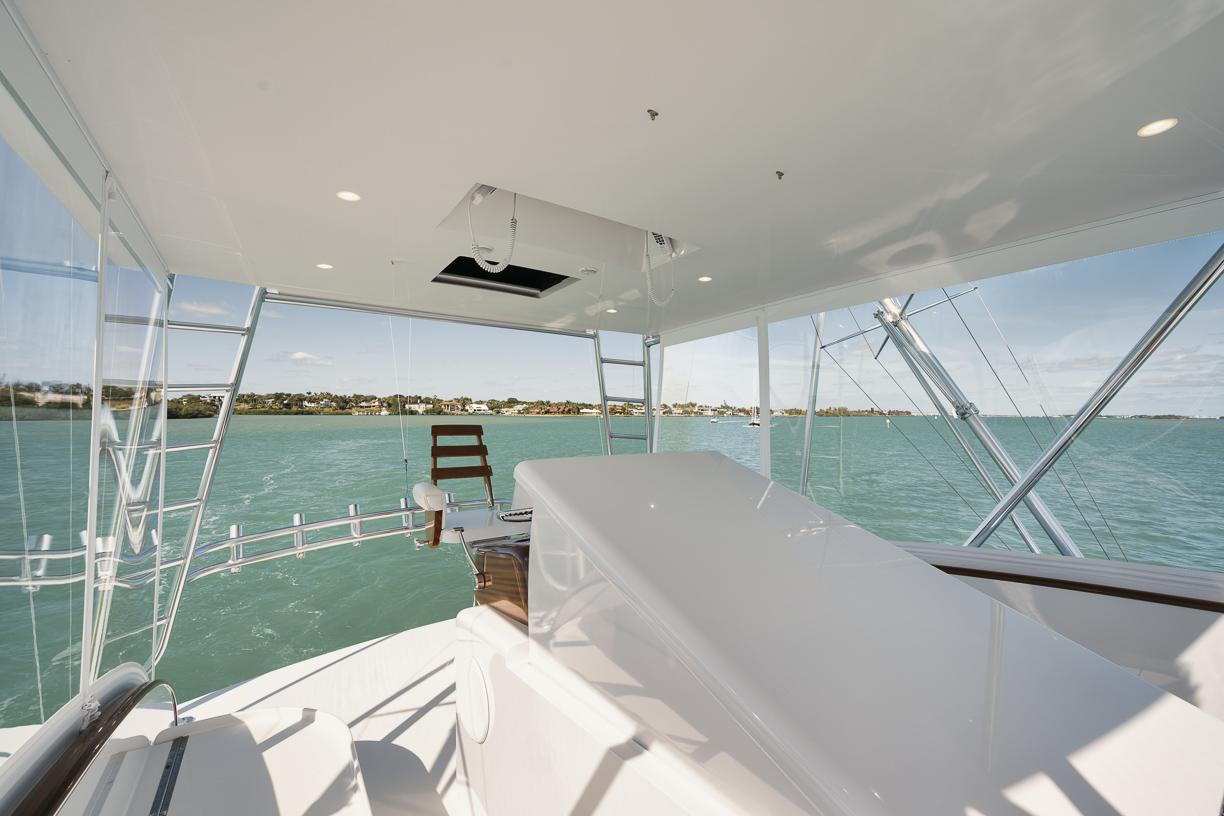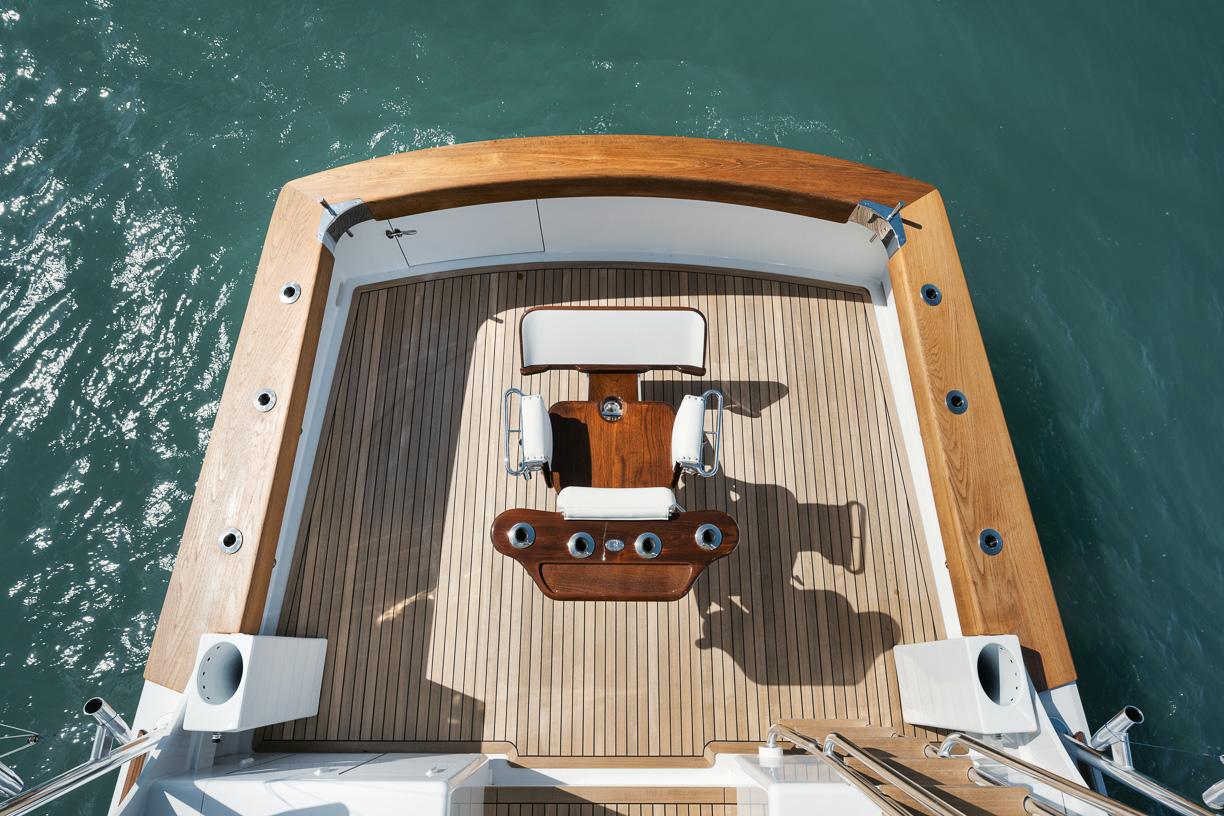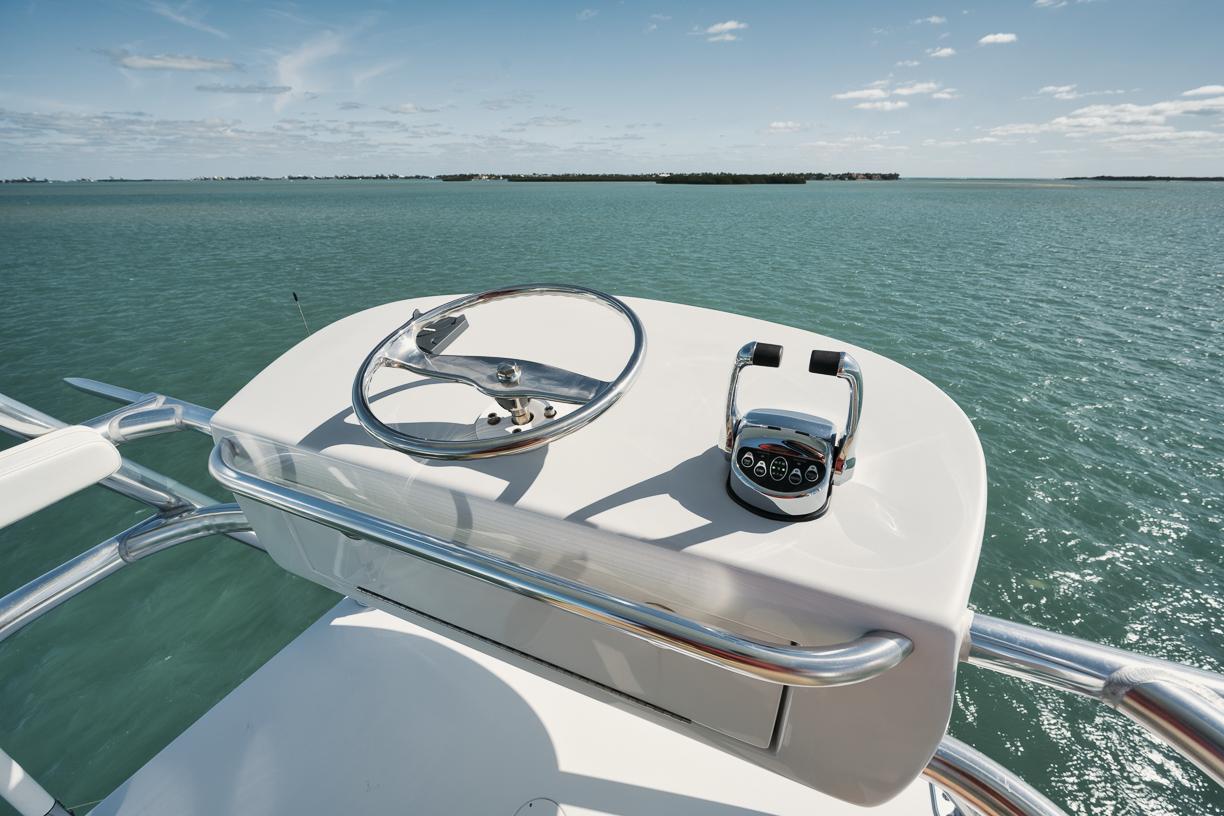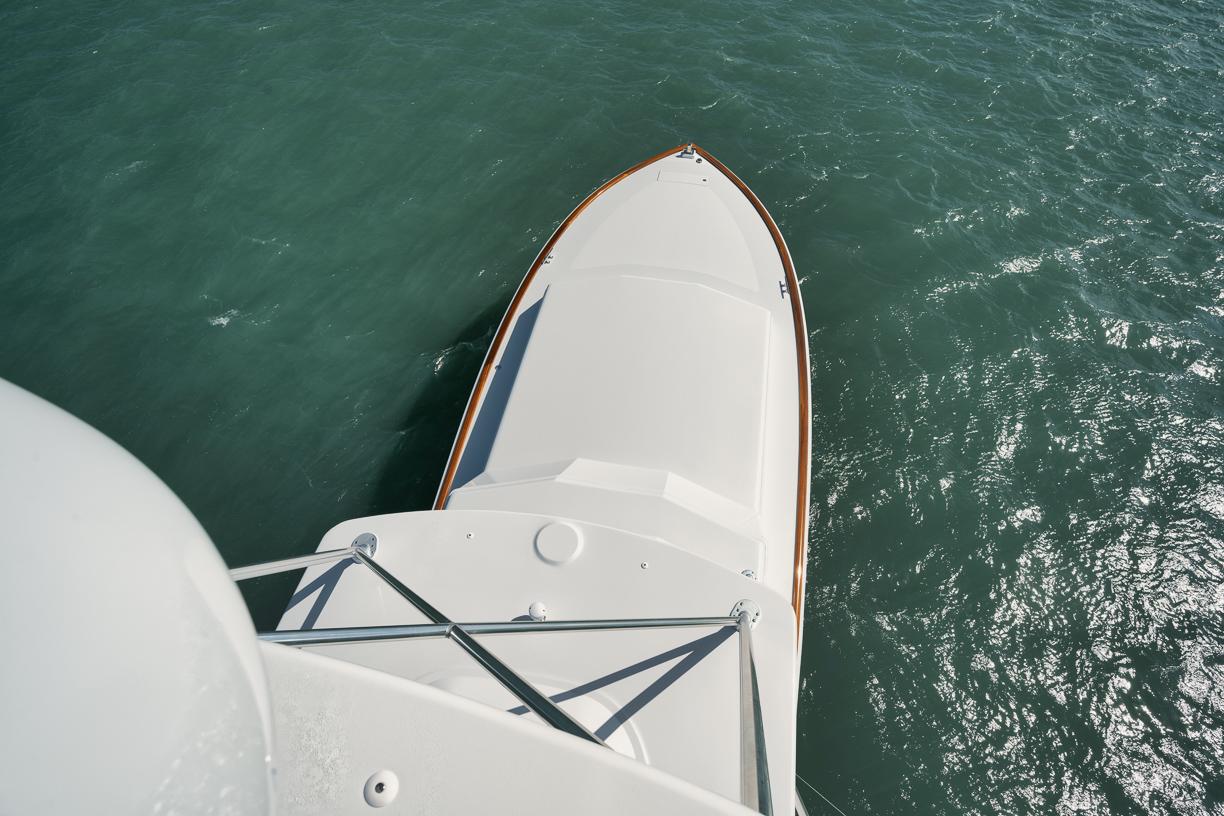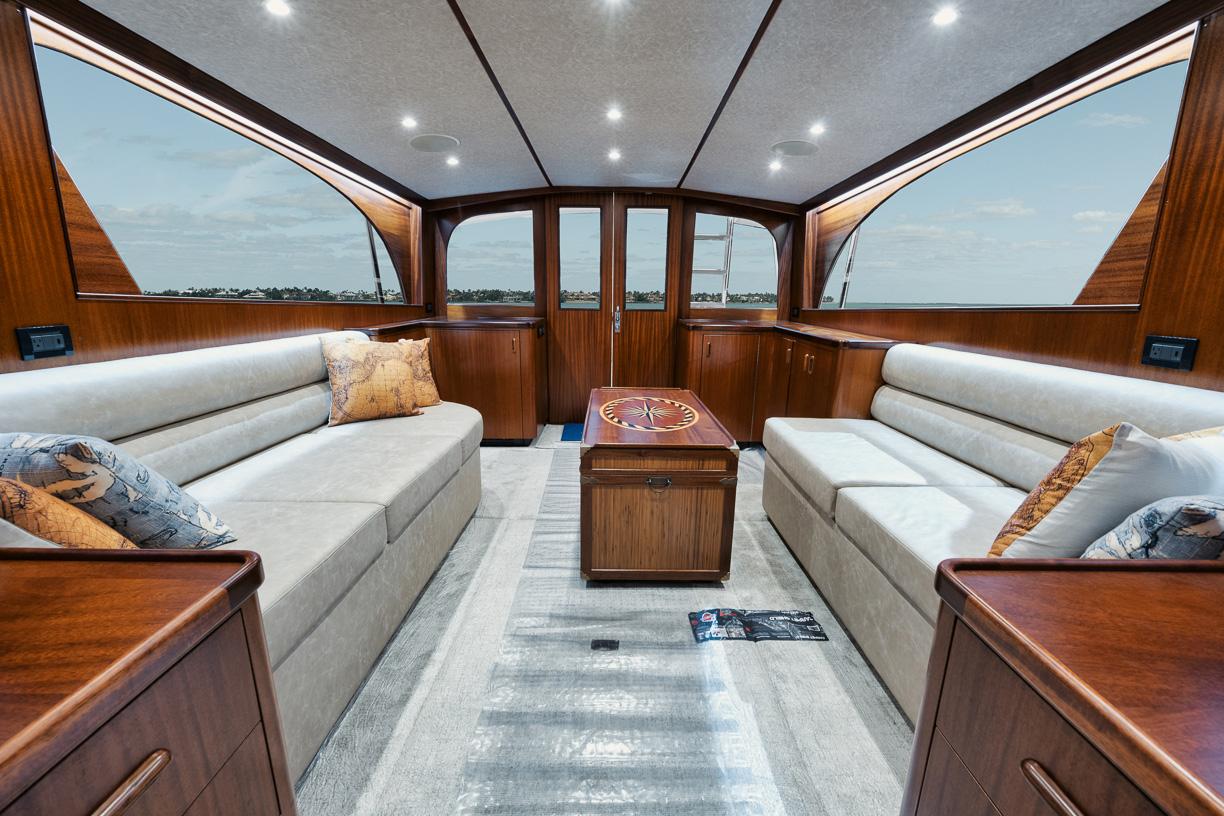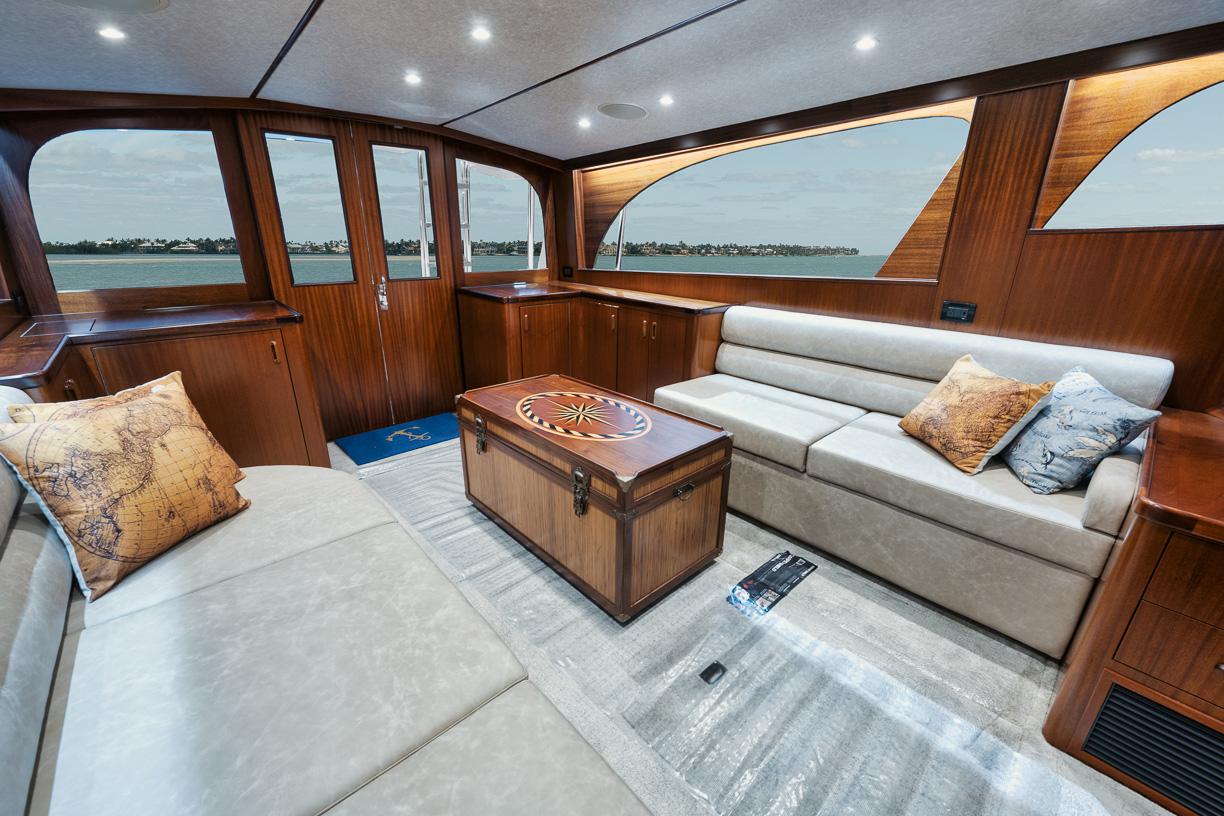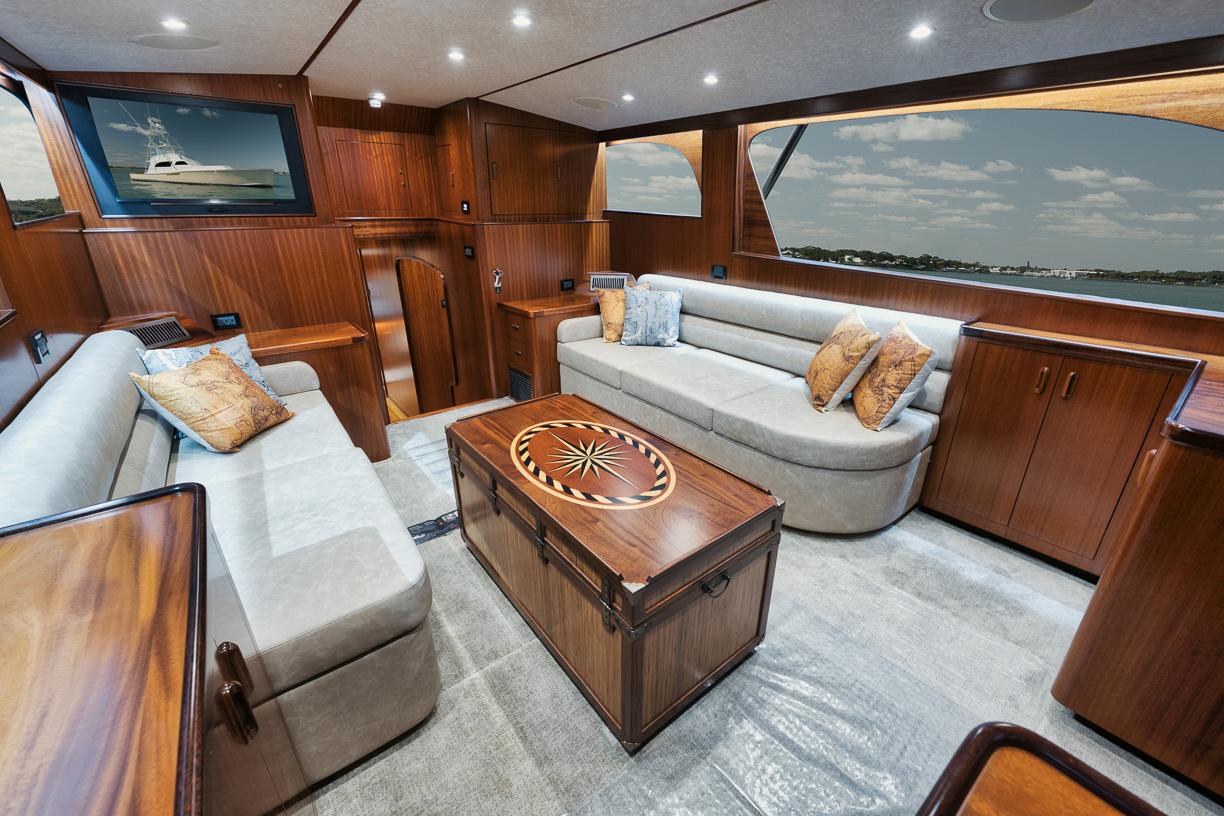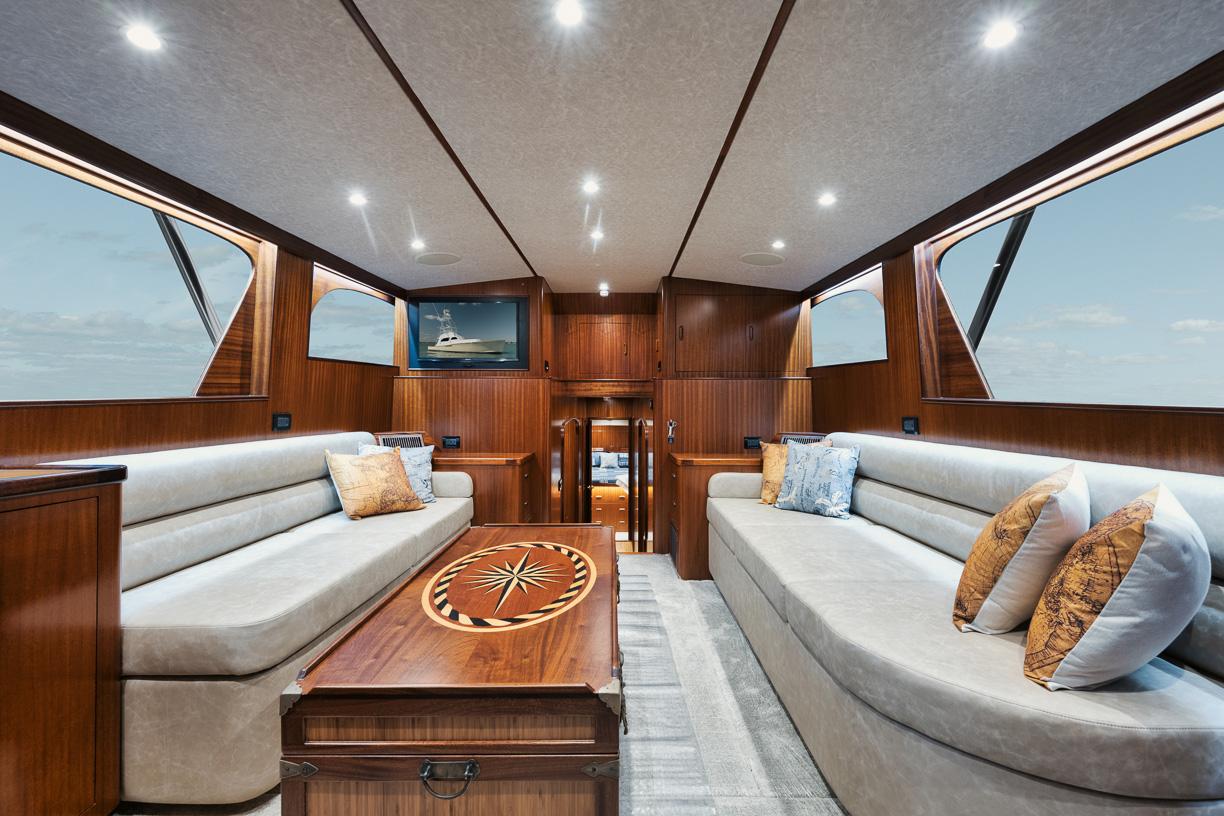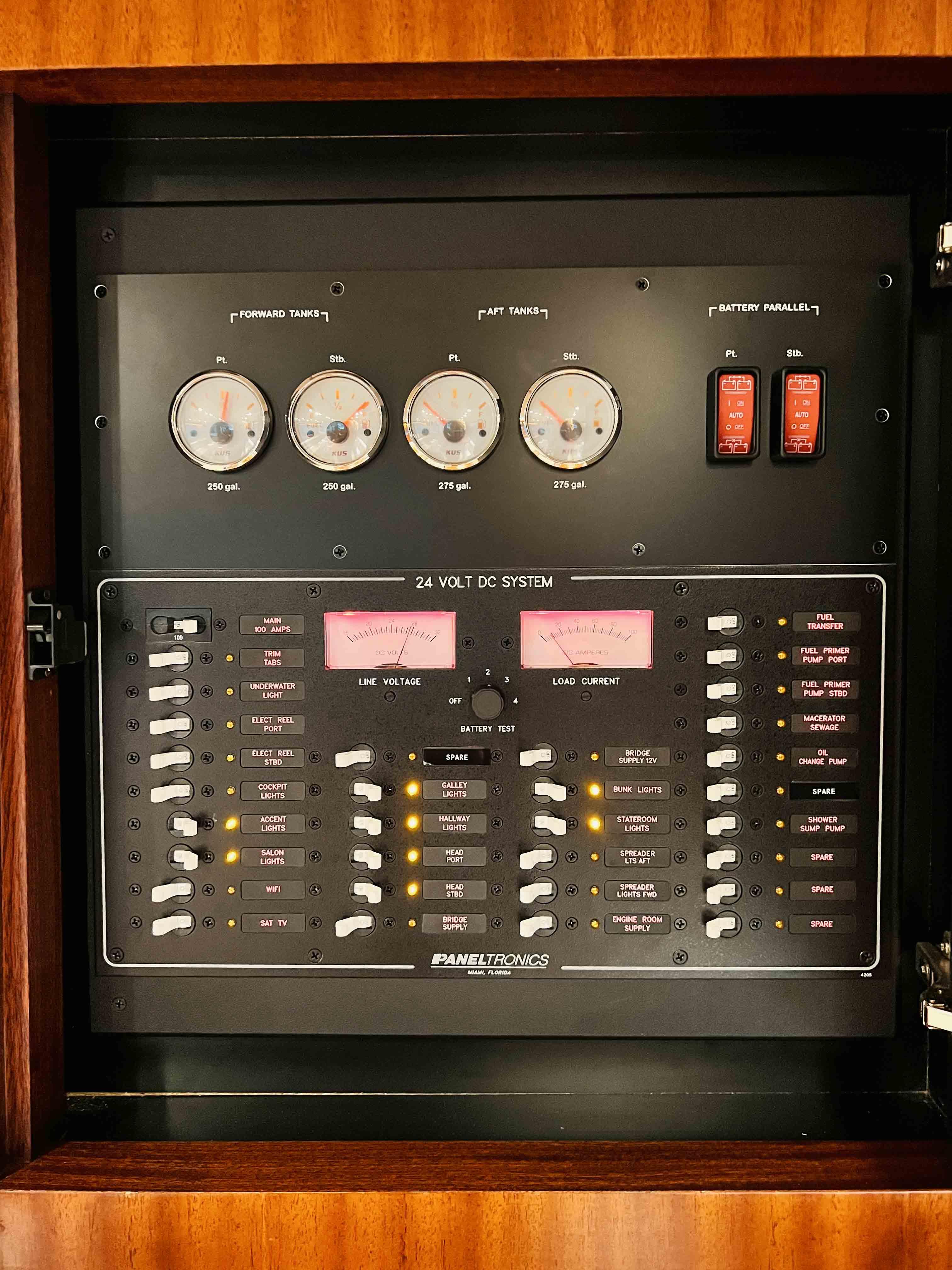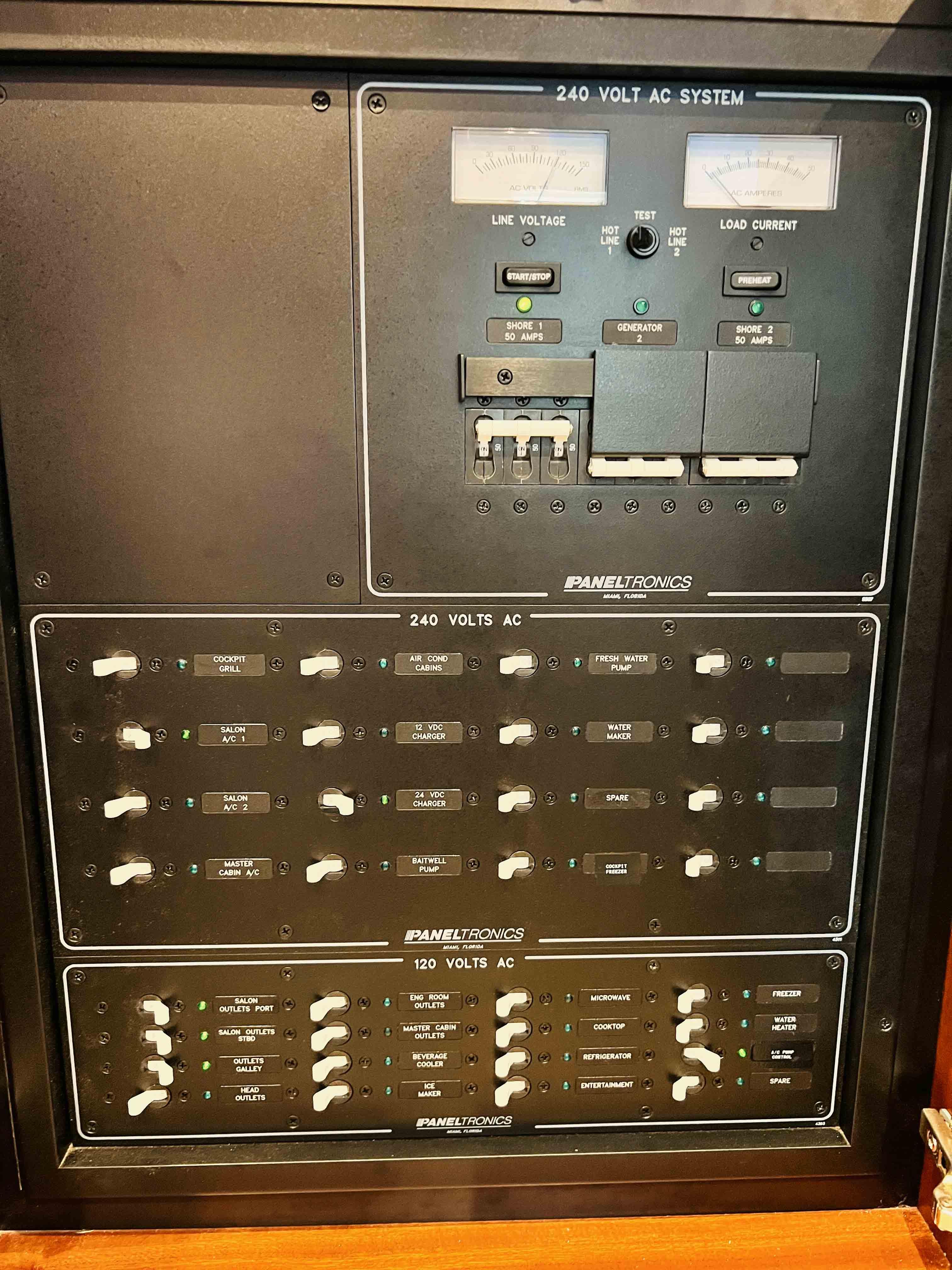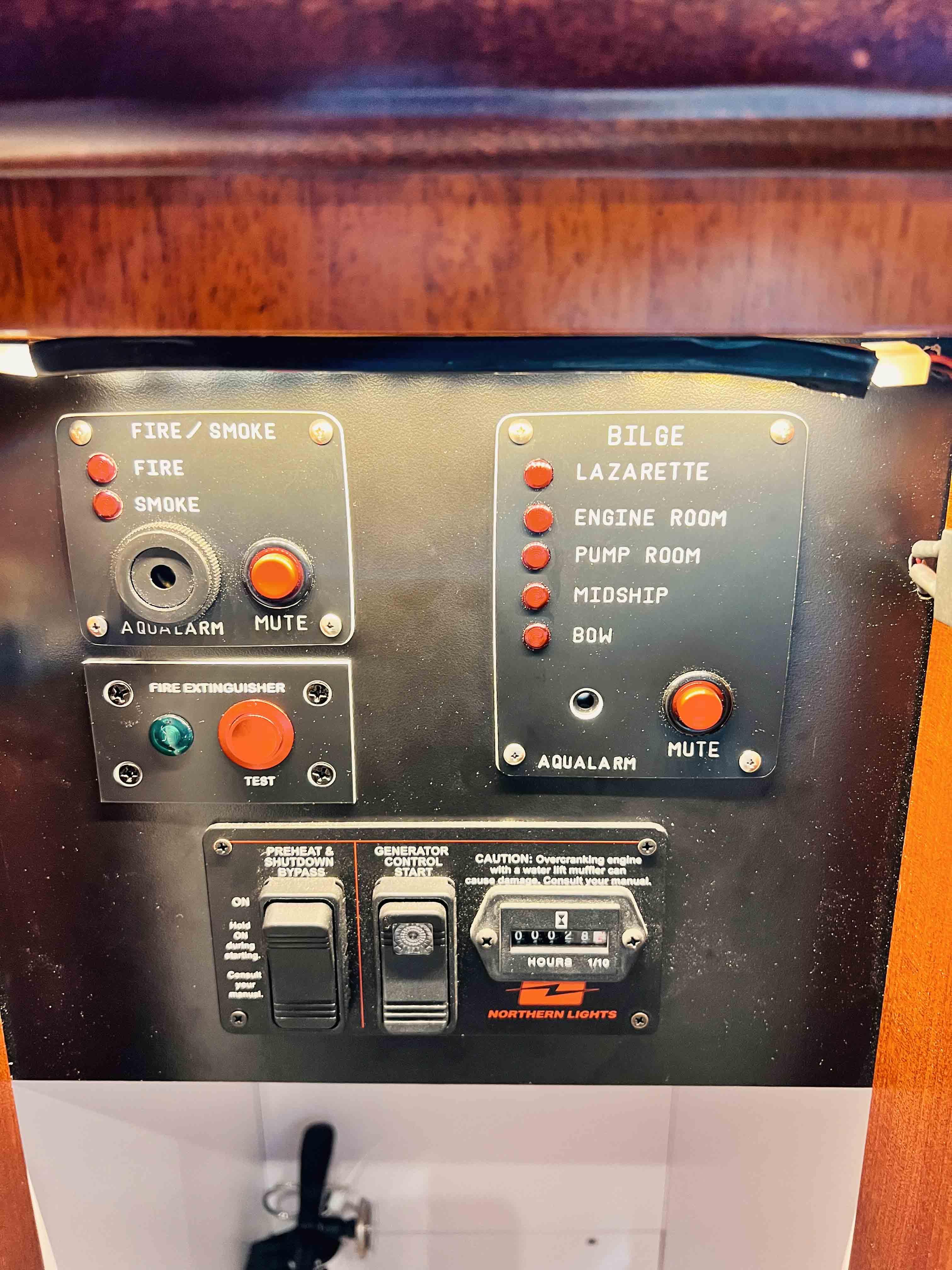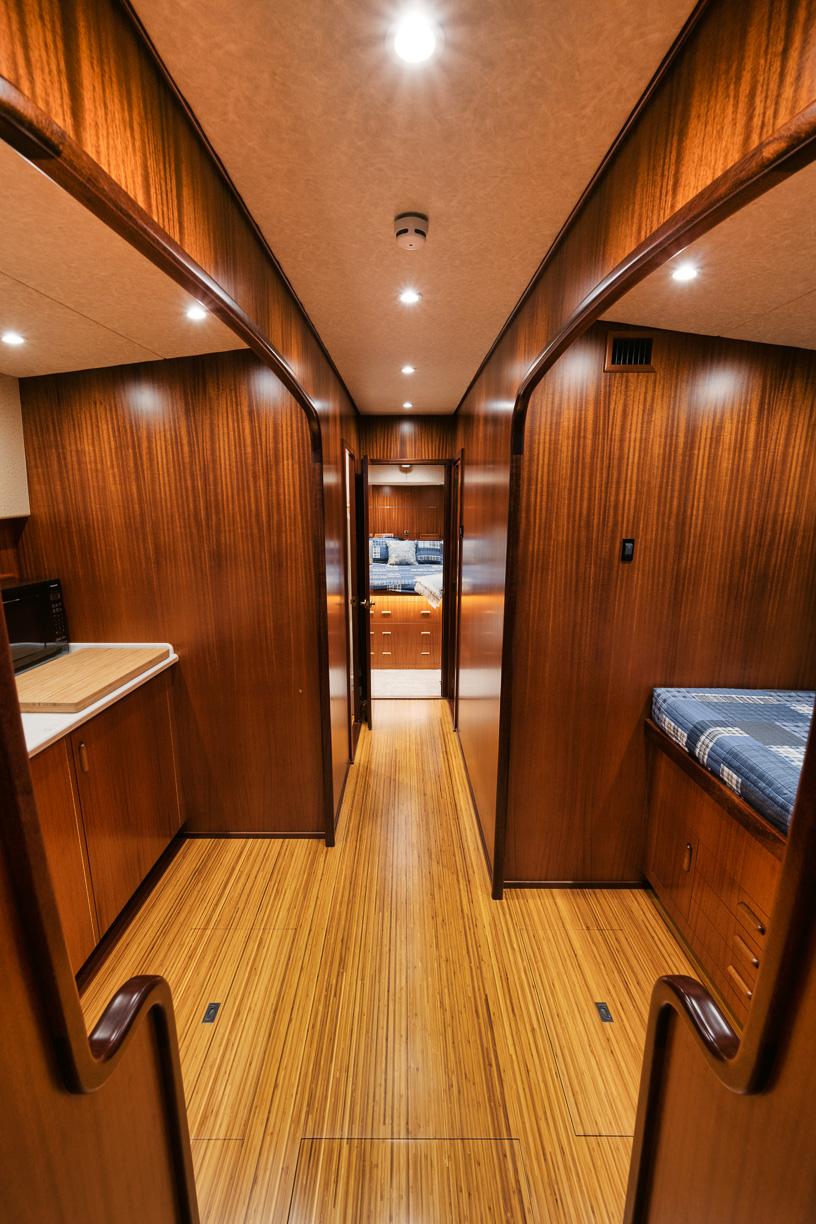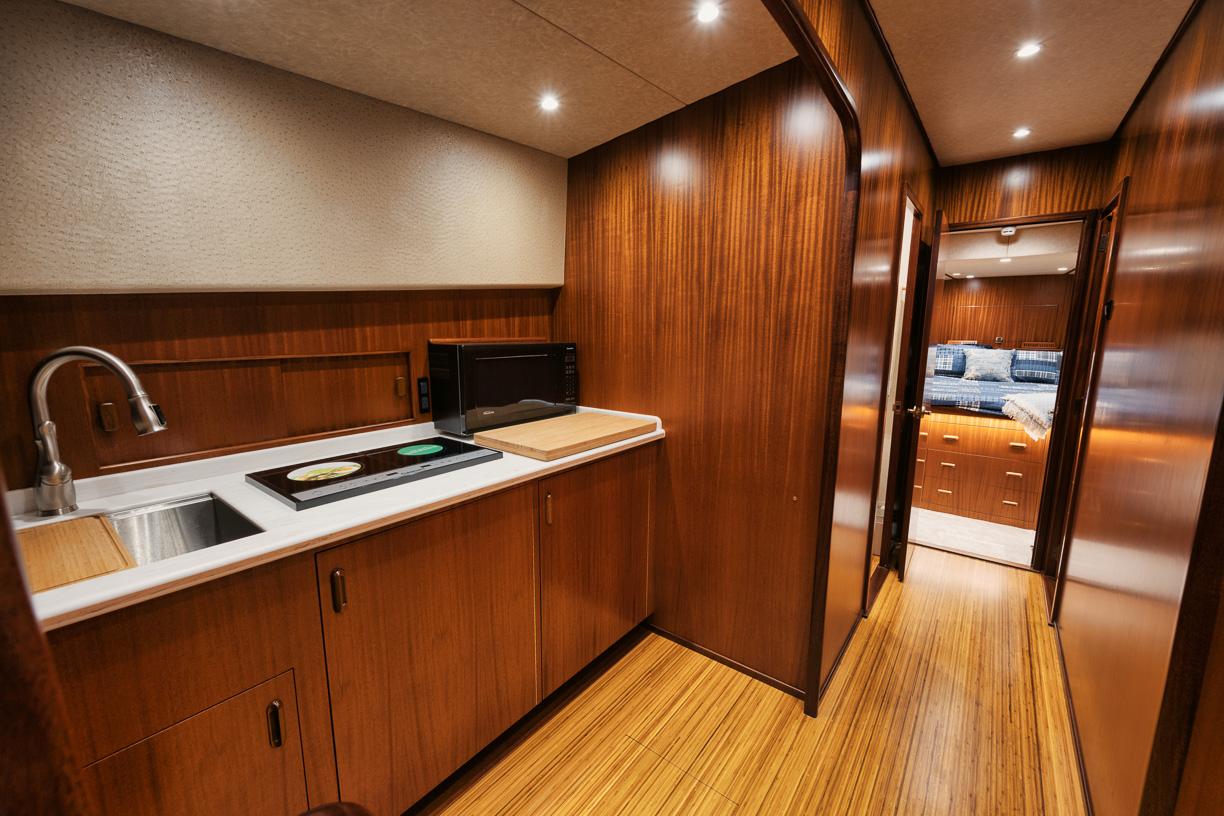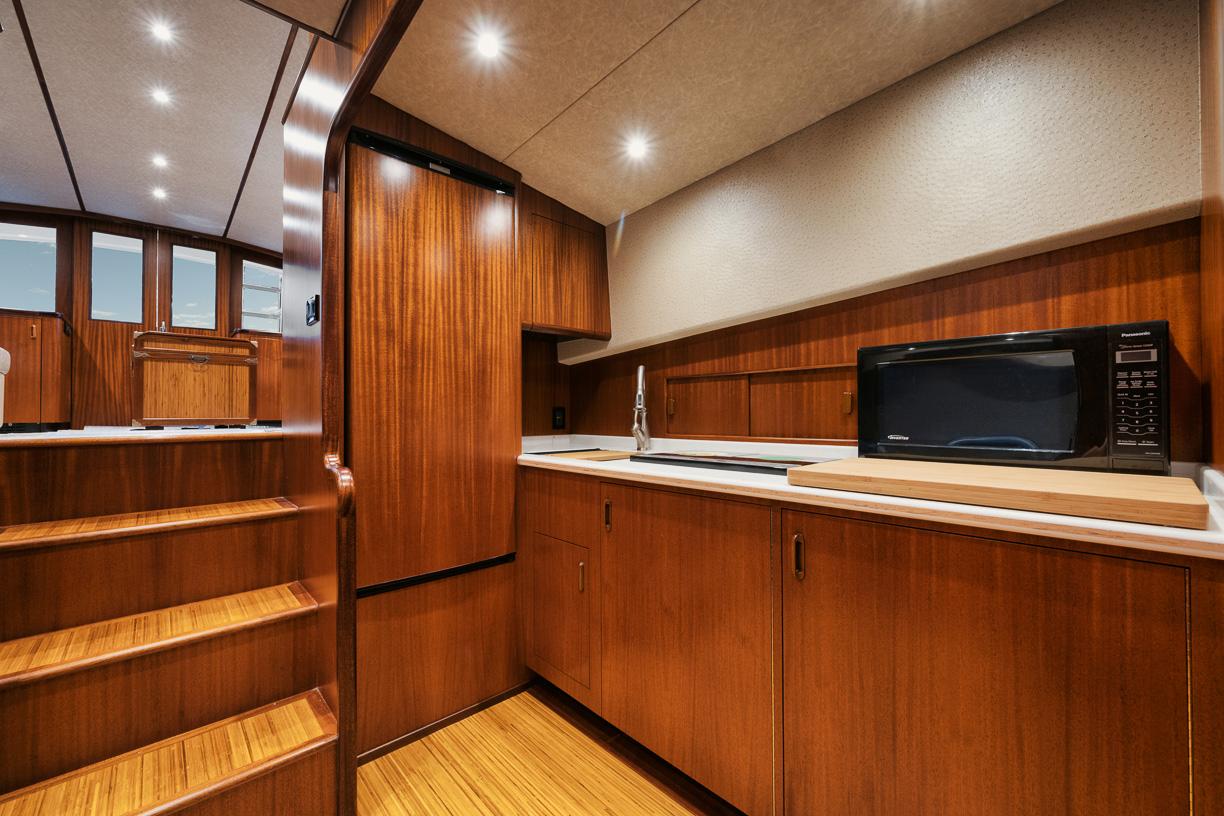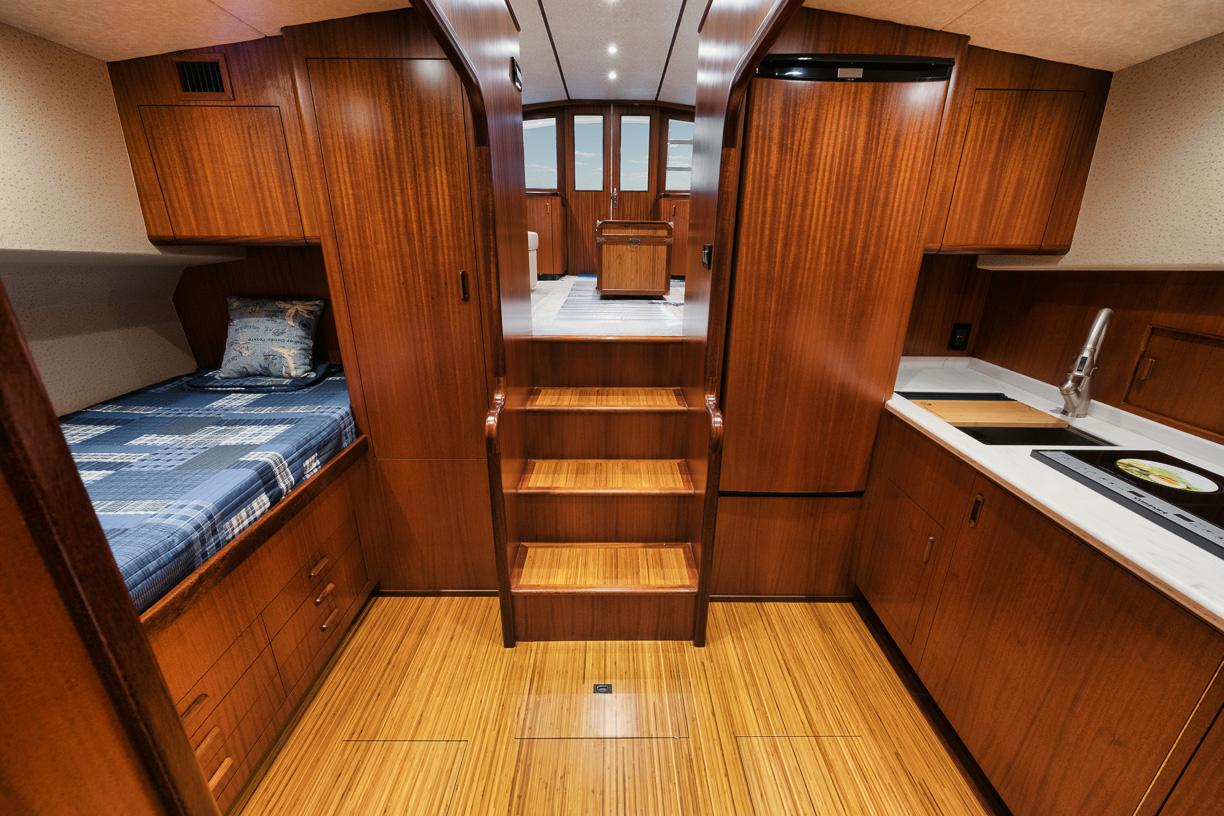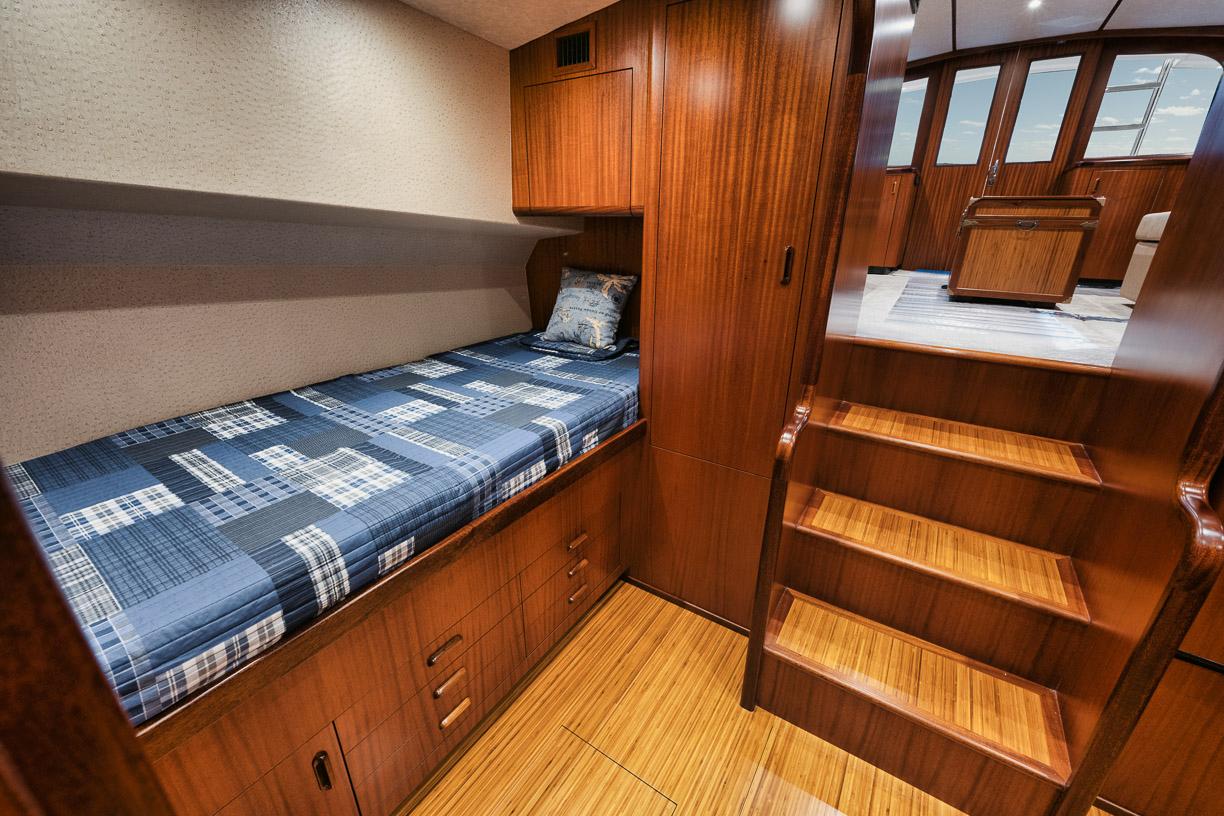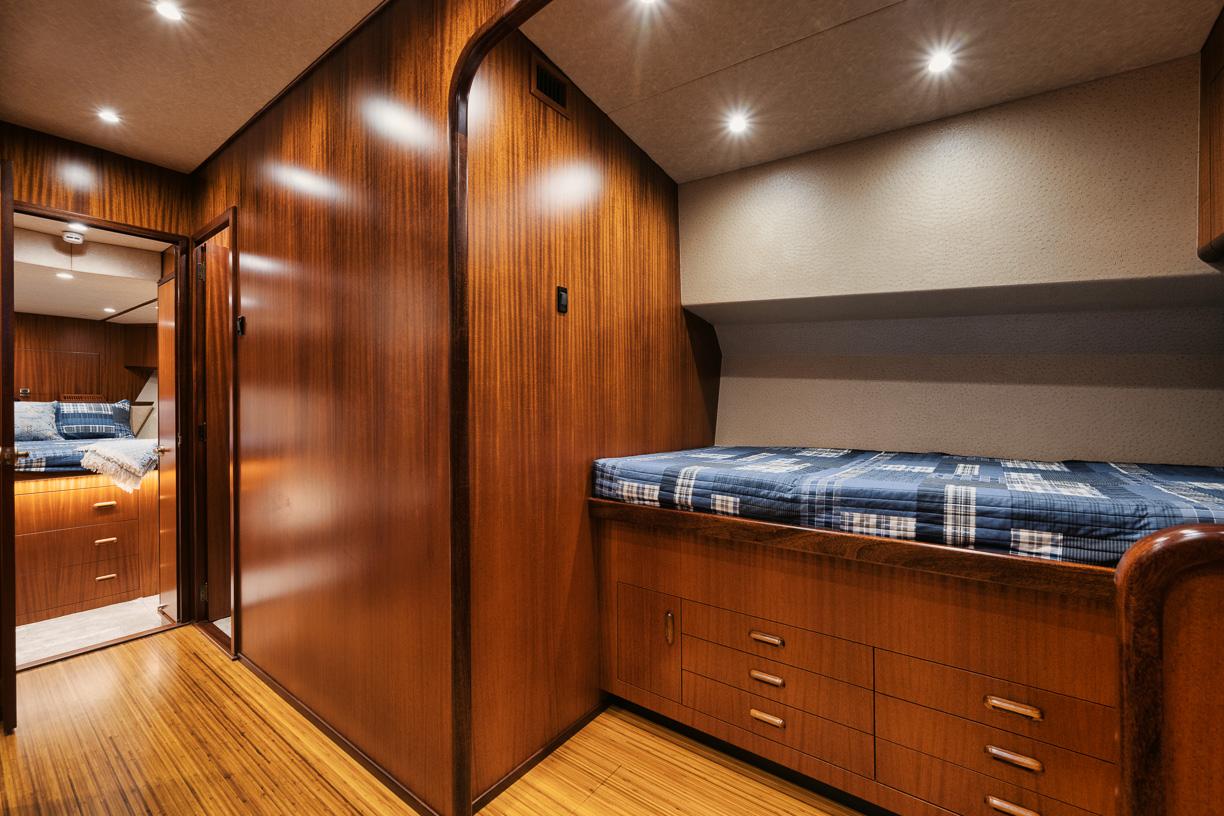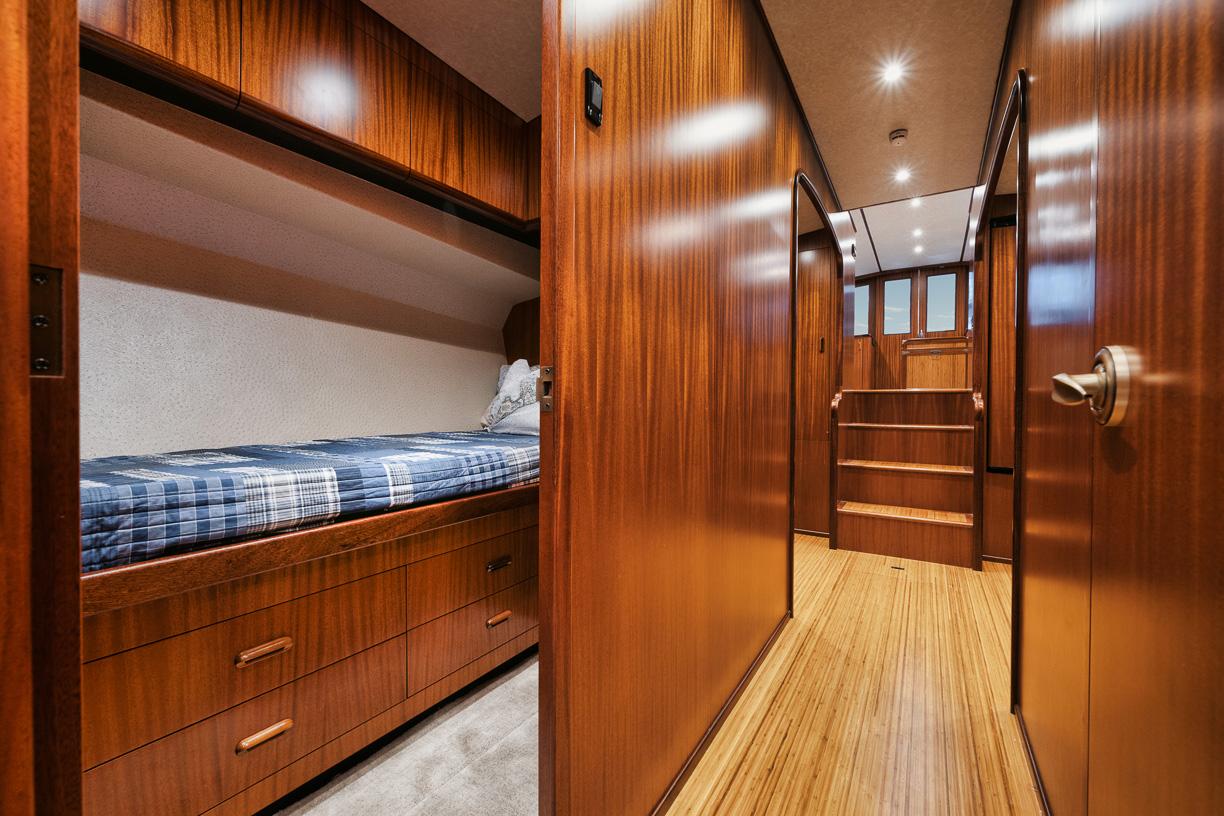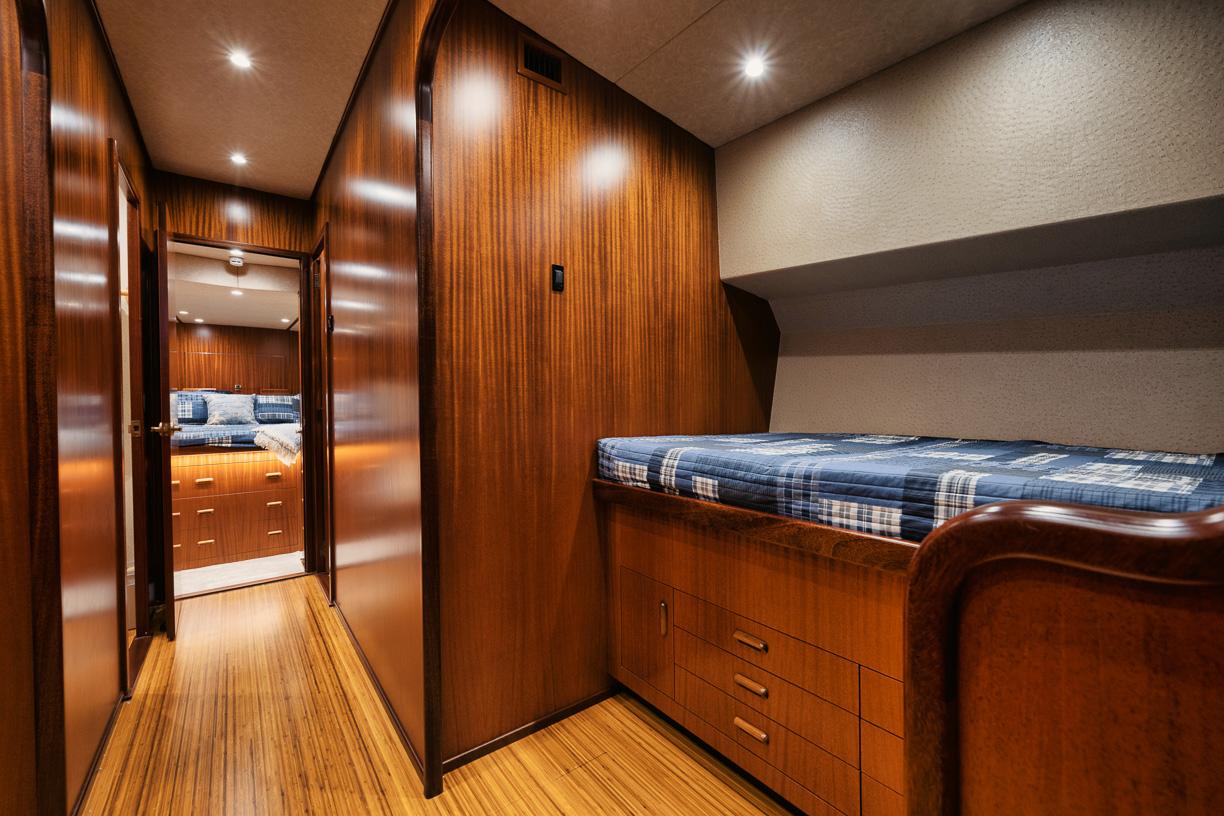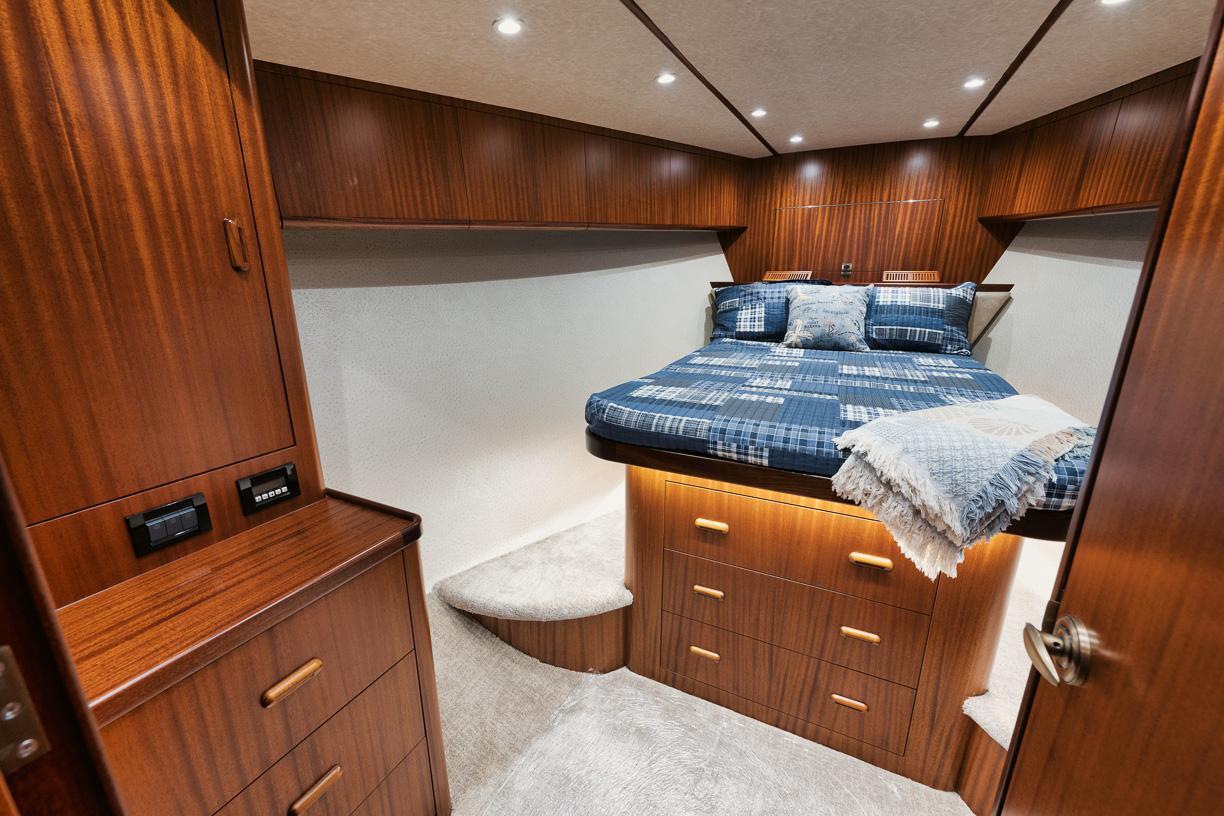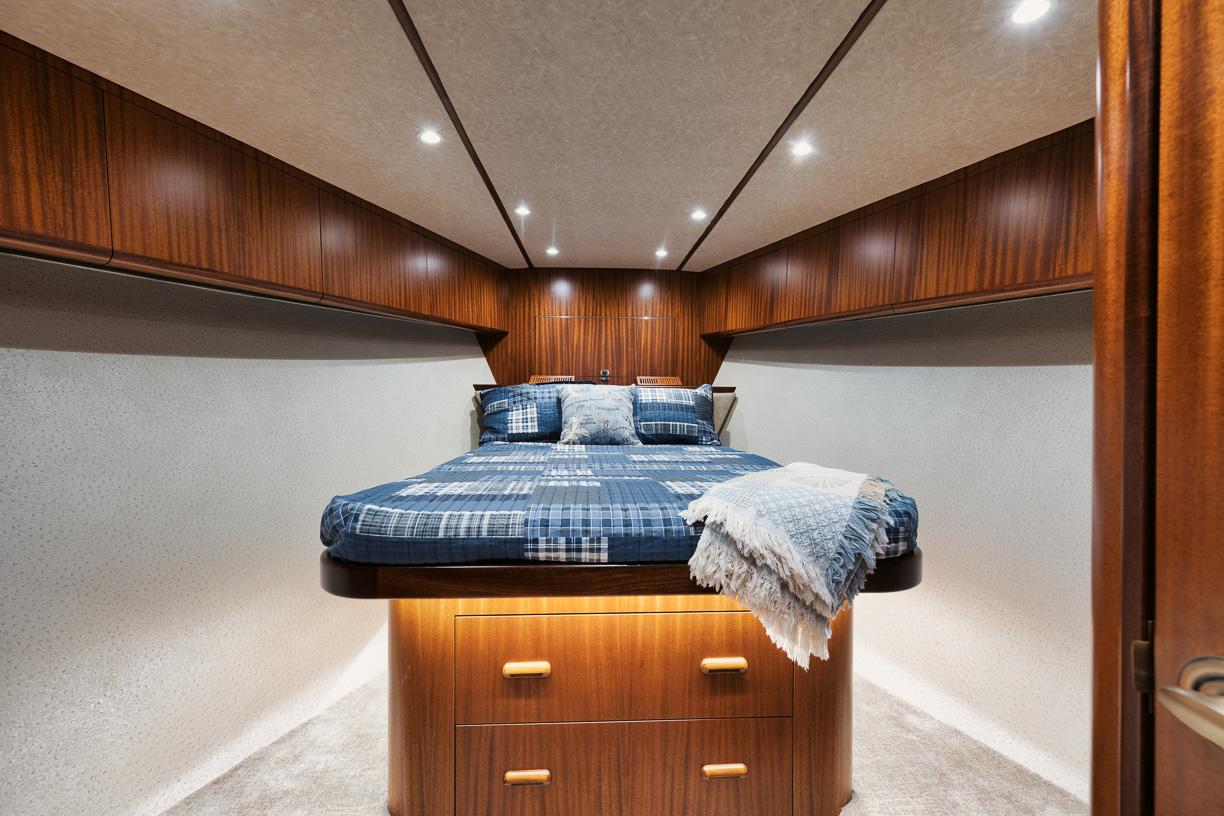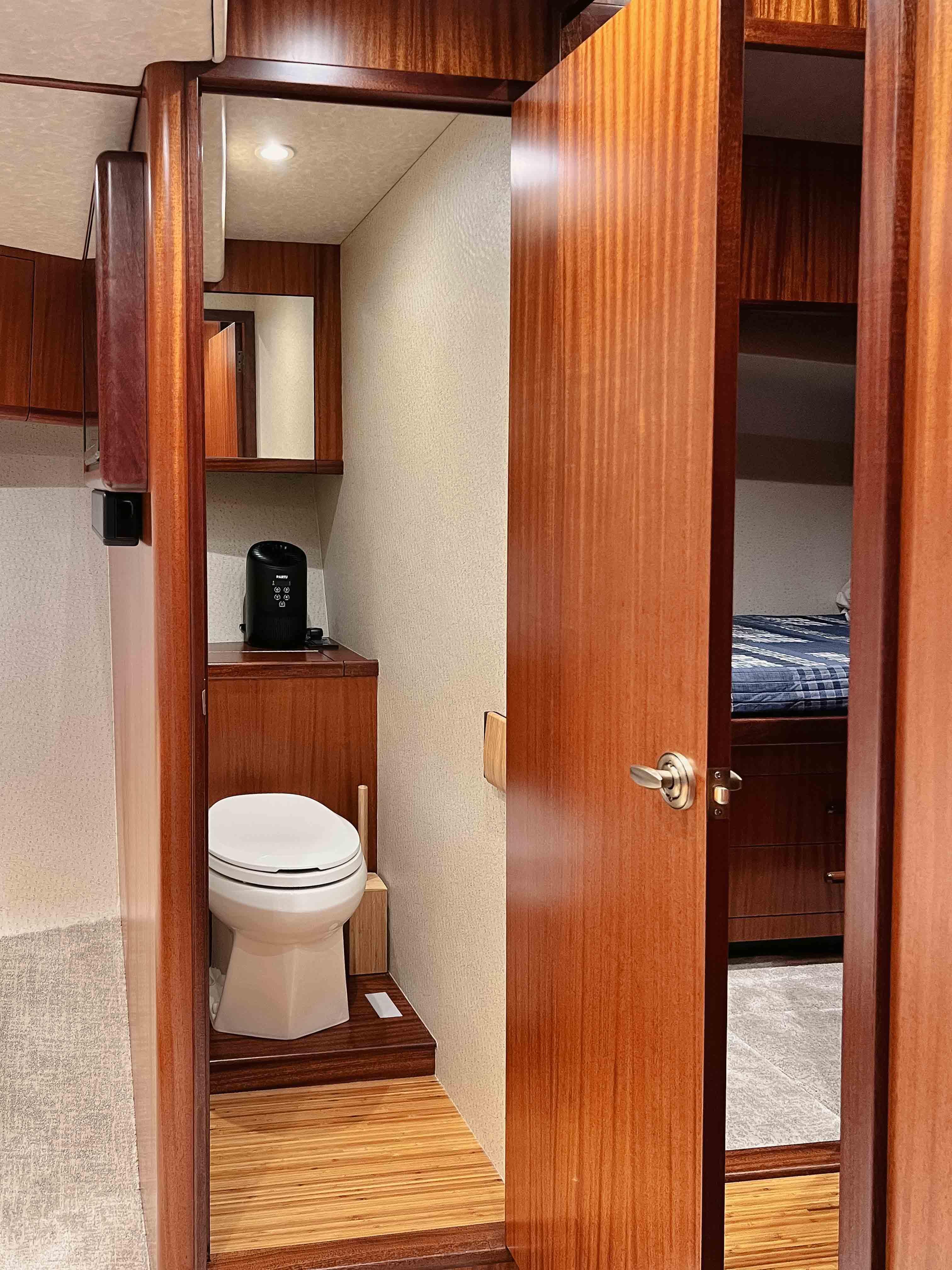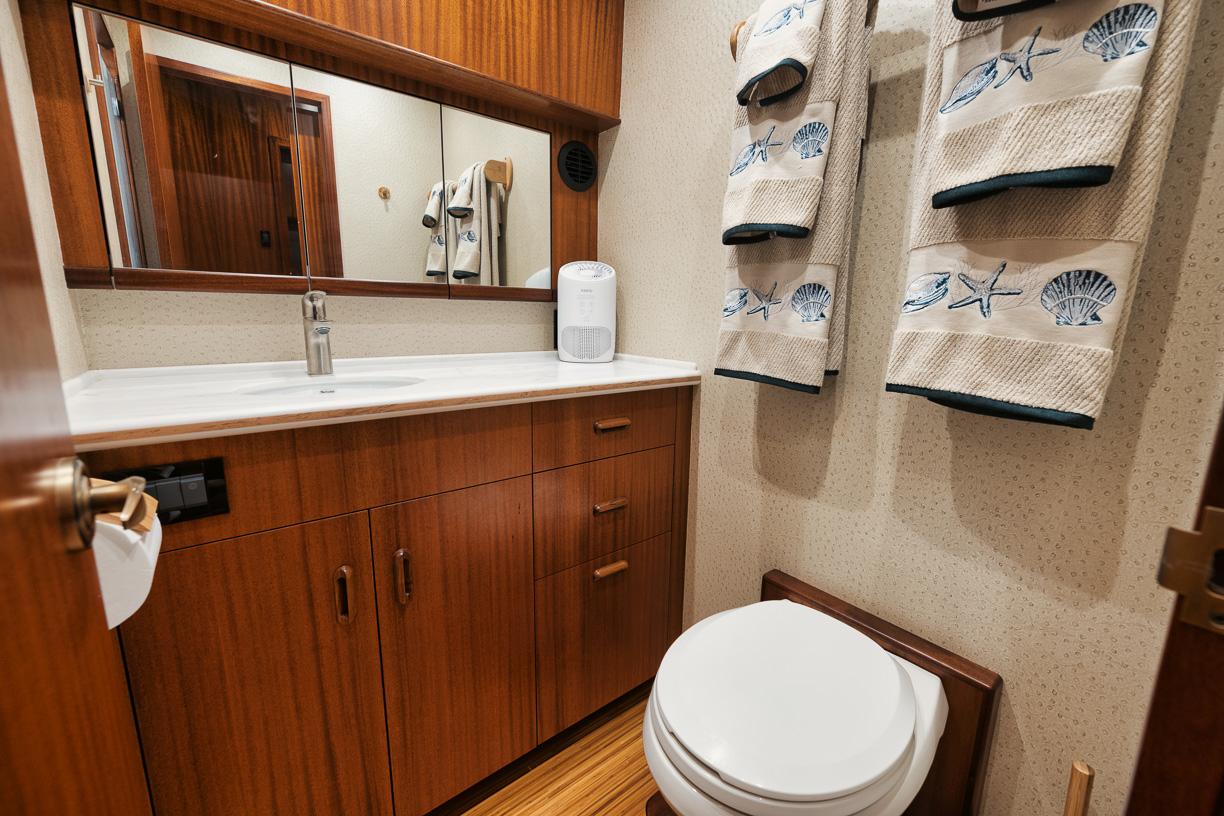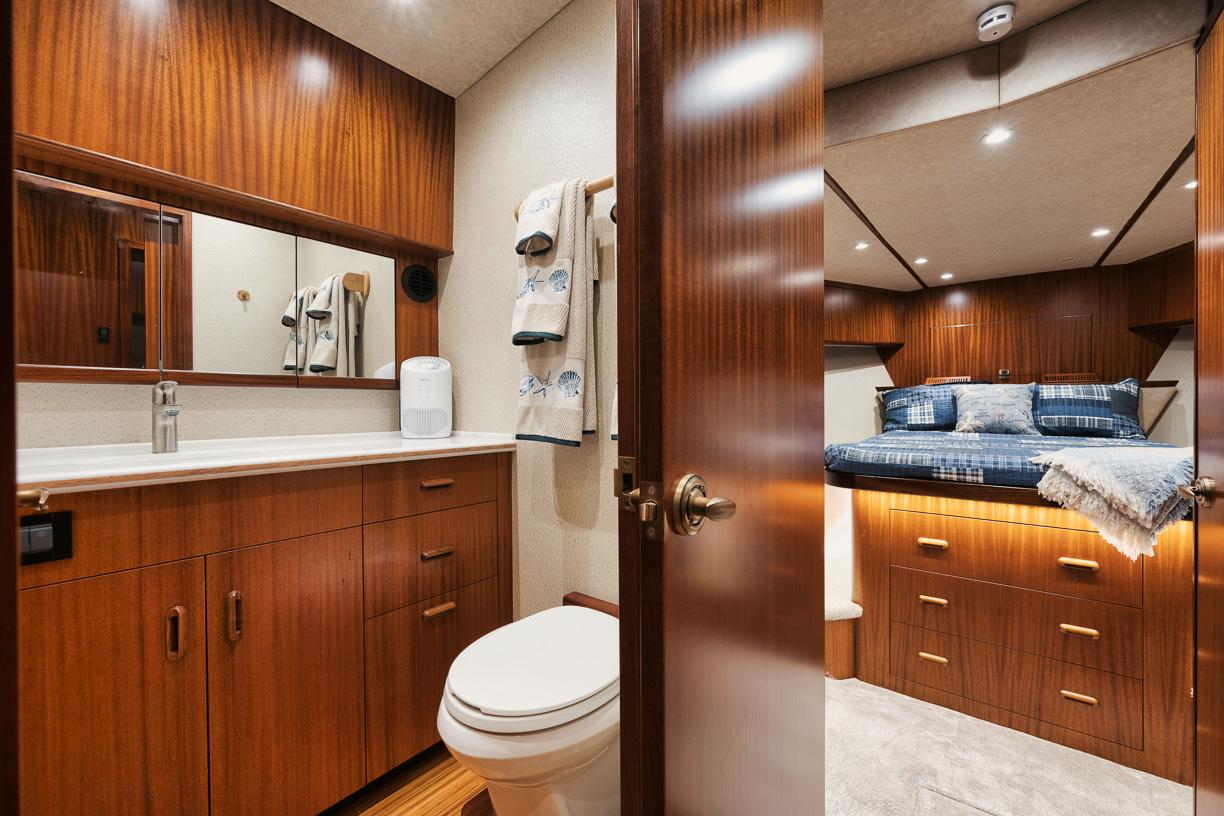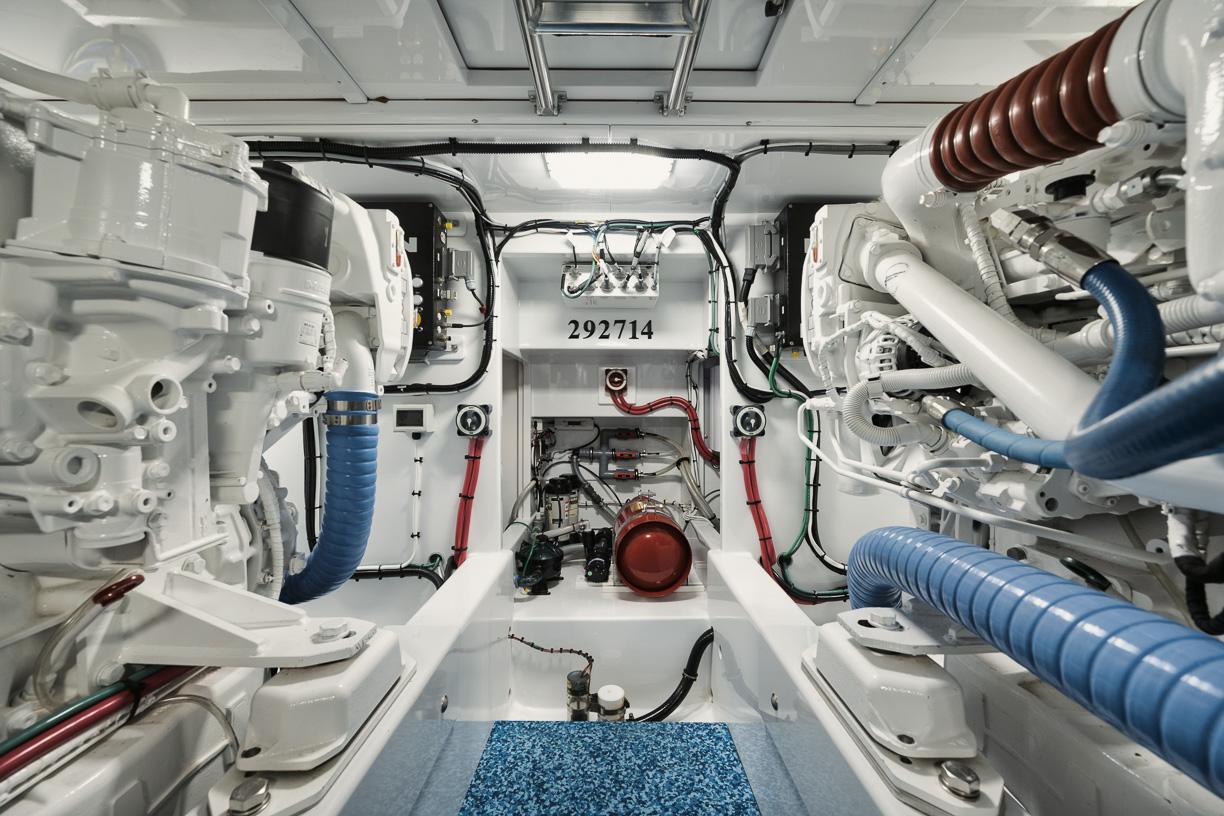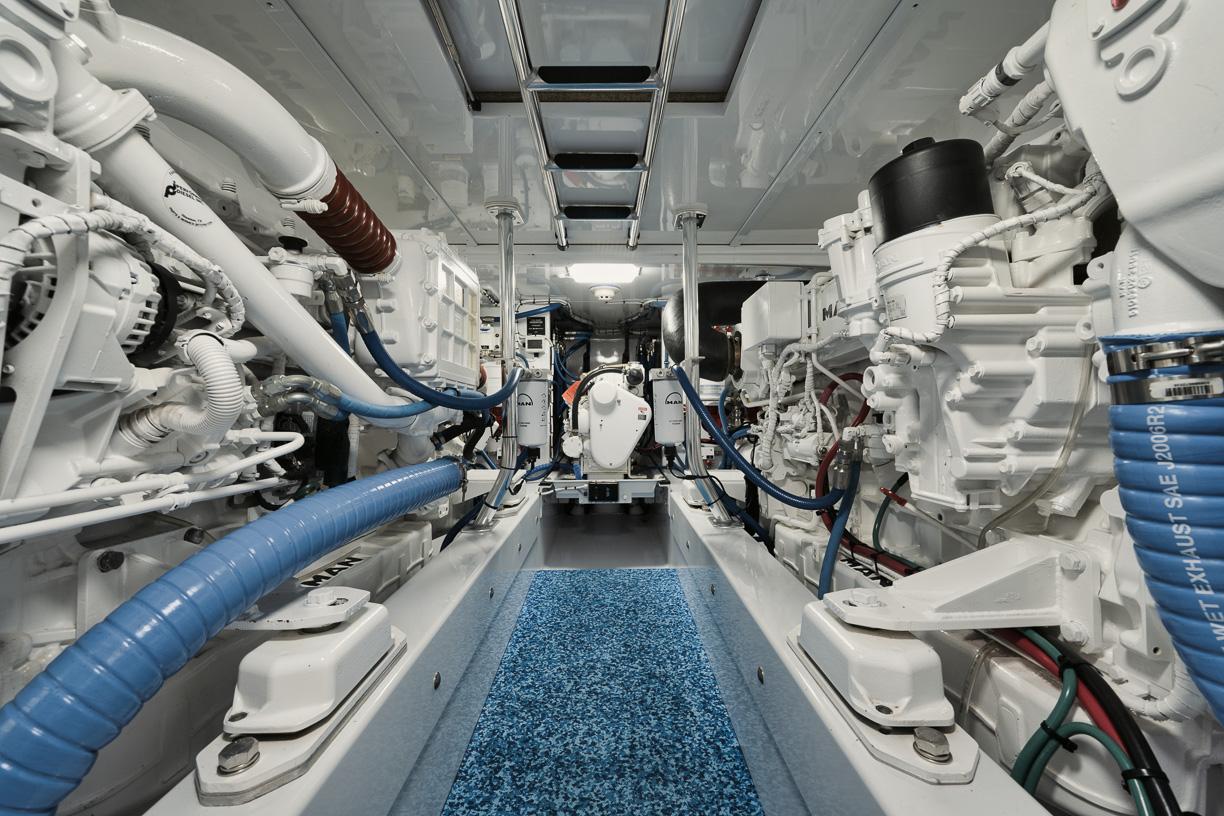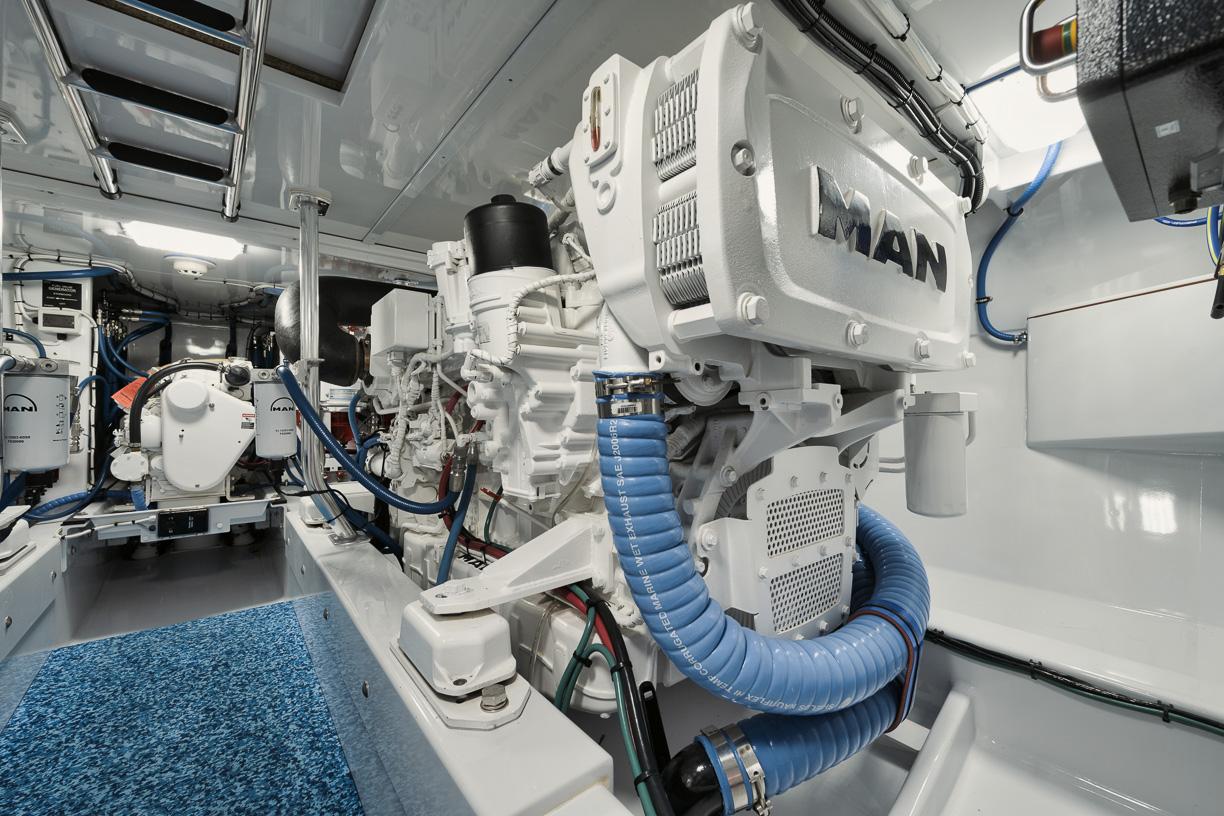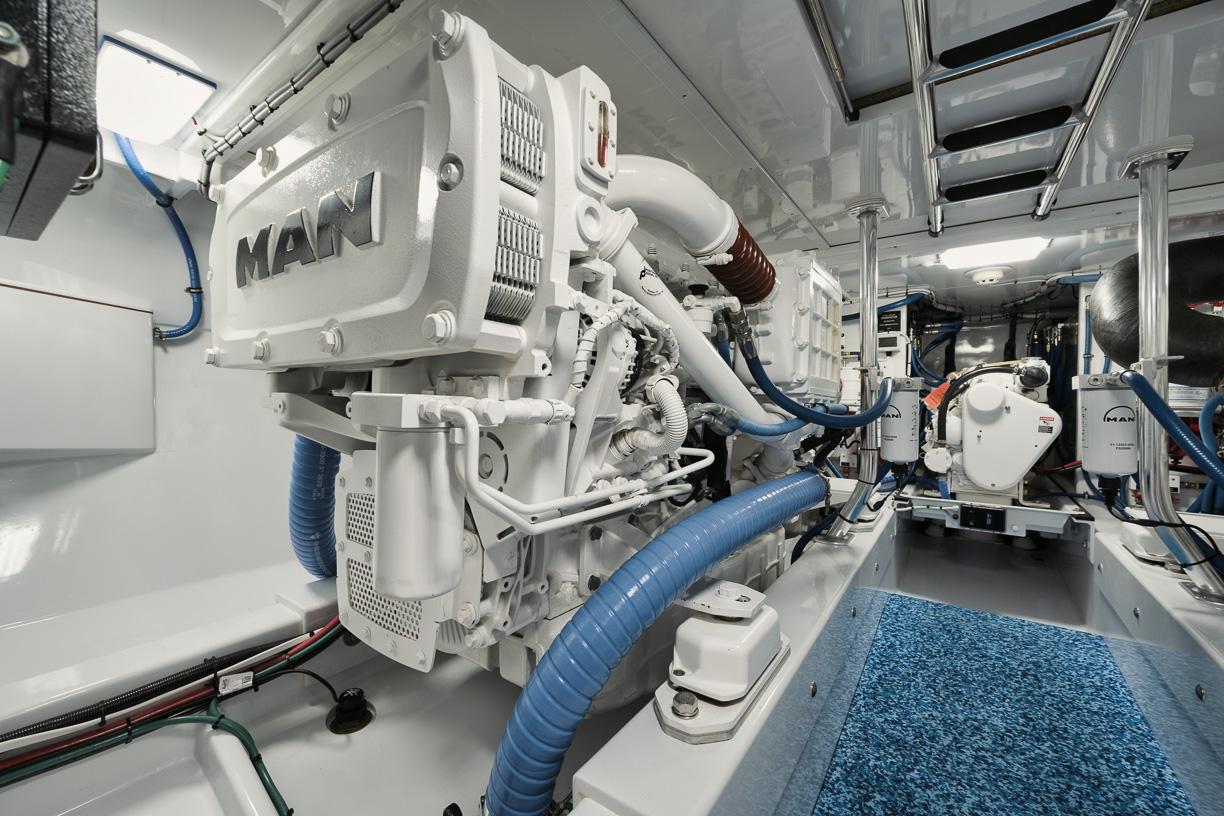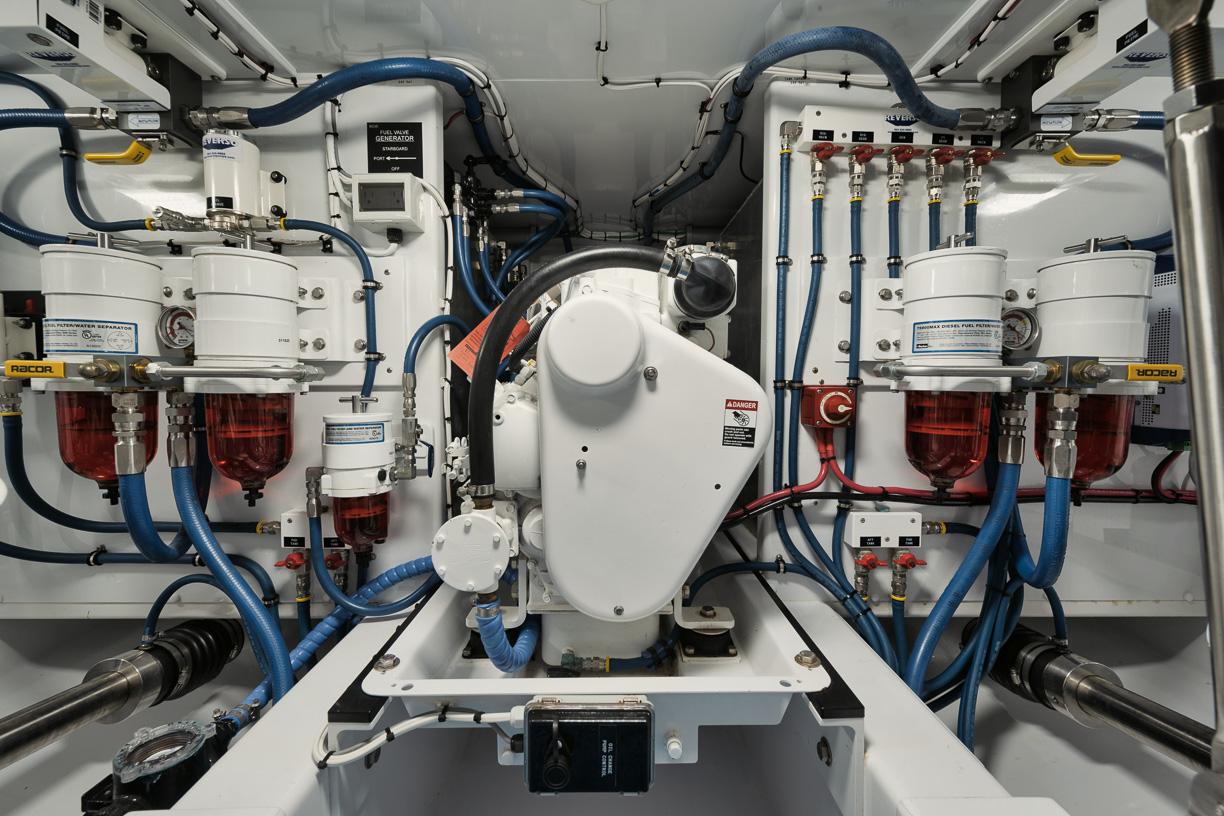 1963 Whiticar 54 Sportfisherman Description
Sea Lion ll has undergone a complete refit which started in January of 2018. Her refit started at the Willis yard in Stuart, FL for the first two years, concentrating on the structure, major mechanical installations, teak work, external bright work, fairing and paint.
She was moved to Whiticar Boat Yard in June of 2020 until February 2022. She has continued to be completely outfitted until 2023.
Sea Lion has two staterooms with a companionway bunk and 2 heads. Sea Lion ll is all Carvel mahogany plank on frame with an exterior fiberglassed bottom and hull.
If you are looking for one of the finest built sportfishing boats ever built that is still on the water today, look no further!  This refit sportfishing boat is more impressive than most newly built competitors.
One can appreciate the true craftsmanship that she has received.
Many of us will know this famous Whiticar when she was named "SEA LION II" and owned by the owners of Walker Cay in the Bahamas. She spent most of her years fishing out of Montauk, Long Island, Florida and The Bahamas.
She has numerous historic fishing accomplishments from 1000 pound Giant Tunas to big Blue Marlin.  Our 37th president, Richard M. Nixon frequently fished aboard her out of Walker Cay. SEA LION II was also part of the famous "Walkers Cay Chronicles". She is one of the smoothest trolling boats, along with her clean trolling wake and soft entry, SEA LION II is a pleasure to fish.
Current Price:
$1,999,000
Fuel Capacity:
1030 Gallons
1963 Whiticar 54 Sportfisherman Vessel Overview
Vessel Details
SALON
The salon is finished in carpet and features large hull side windows port and starboard. Forward to starboard in the salon is a 24-volt breaker panel and fuel tank gauges. Below this panel is a manual Fireboy pull for the engine room fixed FM200 system. Port and starboard built over cabinetry with access are the standalone air conditioning units. Aft to port is a 240-volt AC breaker panel with voltage meters and remote start for the Northern Lights generator, fire and smoke alarm panel, and a bilge alarm with an illuminated panel. Aft is an icemaker. To starboard is additional cabinetry with an undercounter Edgestar refrigerator. Centerline is the hinged carpeted overlay access panel into the engine room. The salon has a vinyl wrapped overhead with recessed lights and speakers. Entertainment to the salon is provided by a Sony flat screen television
Aft centerline are the double hinged glass inlay doors to the cockpit.
Custom built couches, tables and cabinets.
GALLEY
To port is the galley. Hard surface countertop with stainless steel sink and faucet. There is a standing Danby refrigerator and two undercounter freezers. On top of the galley countertop is a Panasonic microwave and a Cuisinart two-burner double induction cooktop
MASTER VEE BERTH STATEROOM
The forward vee berth has a raised double berth in a fore and aft arrangement. There are synthetic ostrich wrapped headliners with recessed lights and carpeted soles. Forward is a locker into the chain locker hatch. Outboard is raised cabinet storage. To starboard aft is a single toilet and mirror. Entertainment to the vee berth is via a Sony flat screen television and soundbar. 
GUEST STATEROOM
Guest stateroom is to starboard with a single berth in a fore and aft outboard arrangement. There is a hanging locker provided in this cabin and overhead lighting.
HEAD
To port is a full head with ceramic sink, hard surface countertop, and faucet. There is a mirrored medicine cabinet, glass enclosed shower, and Headhunter toilet
COMPANIONWAY
Moving aft in the companionway is an open berth arrangement. To starboard is an oversized single berth in a fore and aft arrangement with tackle center below. Inboard is a pantry.
ENGINE ROOM
The engine room is accessed from a center carpet overlay hatch in the salon. There is a removable stainless ladder with rubber treads provided. There are additional hatches port and starboard to access the tops of the main engines. The engine room is fully painted out and well lit by overhead LED lighting.
(2) MAN I6 800 HP Engines (24 hours)
(2) ZF 325 2:1 transmissions
1 Northern Lights 20 Kw generator (28 Hours)
Hynautic Steering
Fireboy FM 200 fire supression
(3) engine room bilge pumps, 1 midship bilge pump
Buck Algonquin bronze rudders
Delrin rudder bearings (Stuart Propellor)
Aquamet 22 2.5" shafts
5.5" insulation in salon floor
Hinged engine hatches above engines
Dripless shaft seals (Tides)
Custom fiberglass trim tabs
Groco fuel selector valves
Racor filters
Extreme Marine Power surge tubes and risers
Delta T systems with salt air mist eliminators
TANKAGE
● (2) 250-gallon diesel engine room tanks
● (2) 265-gallon diesel cockpit tanks
● 181-gallon fresh water Duraweld poly tank
● 15-gallon black water poly tank
FLYBRIDGE
"SEA LION II" is a triple station yacht with her primary electronics on the flybridge. 
● Polished stainless steel steering wheel
● Polished stainless steel throttle controls
● (2) Trim tab controls
● (2) Furuno multifunction displays with manual button control
● Furuno autopilot control
● Furuno multifunction display
● Bilge pump control
● Fire/smoke alarm with mute
● Engine starts/stops
● Glendinning single lever engine control
● Navigation and overhead lights controls
● Ritchie compass
● (2) Boning main engine displays model: MMDS/CLC6.5
● (2) ICOM VHF handheld radios and overhead speakers
● VDO gauges for main engines and pressures
ELECTRONICS
(2) Furuno 12" displays, GPS, Chirp Sounder, 24 Kw radar, autopilot
(1) Furuno autopilot
(2) Icom VHF radios
(1) Fusion stereo control
(1) Furuno 4" multifunction display
(2) Boning MAN engine displays
VDO mechanical gauges for engines
Bennett trim tab controls
Richie compass
KVH satellite TV
Airmar speed, temp transducer
ELECTRICAL
(1) Northern Lights 20 Kw generator
24V DC system
Hubble 15 KVA, 50A , isolation transformer
New Mar 50A galvanic isolator
(2) 50A Hubble cockpit supply
Dolphin 12V/40A charger for generator
Dolphin 24V/100A charger- 3 batteries
(2) 24V reverso fuel priming pumps
24V Reverso fuel transfer pump
24V Reverso oil change pump with remote switch
Mabru 17Kw prt A/C 240V
Mabru 12Kw Stbd A/C 240V
Mabru 12Kw Fwd A/C 240V 
Mabru 12Kw Midship A/C 240V located in hanging lockers in bunk room
Mabru A/C pump 800 for 17Kw
Mabru A/C pump 1500 for 3 12Kw
Glendenning controls- cockpit, bridge, tower
24V for bridge teaser reels
LED overhead lights
LED Nav lights
LED spreader lights
24V Rule pumps with smart switch (2aft, 1 fwd)
Kenyon 220V grill
24V electric reel plugs for cockpit
Headhunter Mach 5 freshwater pump
Saltwater pump
Tuna tube pumps
COCKPIT
The cockpit is finished with a teak deck and covering boards on top. There is a hinged fish door starboard side aft in the transom. Forward centerline is a double door into the salon. There are two teak overlay steps. The top step is hinged access for fuel valves and the bottom for storage. Port side is a tall hinged freezer locker and the polished stainless steel ladder with teak treads up to the flybridge. A removable tuna tube is on port side. Low in the bulwarks is the water fitting.  Centerline is a removable hatch for lazarette access. Starboard side is an additional removable tuna tube and the 50-amp shore power connection. Starboard side is a Kenyon electric barbecue with storage below. On top is a Glendinning docking station. Centerline on a single polished stainless steel mount is a Bluewater Fighting Chair with rocket launcher.
BOW DECK
The foredeck is protected by ankle high varnished teak cap rails which extend around both sides to the cockpit. The foredeck is finished in nonskid paint and has polished stainless steel cleats forward centerline, port, and starboard.  There is a gasketed and hinged hatch to the chain locker. Chain locker has a Fortress anchor with chain and rope. Aft is the forward house extending up to the flybridge. Both sides of the foredeck extending aft are finished in nonskid paint.  On each side of the side decks there are large hull side windows and polished stainless steel outriggers. There is a single cleat midships on each walkway. There are flush LED port and starboard running lights seen in the flybridge hardtop and outriggers on either side. On the port and starboard side decks are diesel fuel fills. On top of the flybridge hardtop is a Furuno open radar array and mounts for the outriggers on either side.
TUNA TOWER
Bausch American 9' Gap tower with hardtop
● Overhead hardtop
● Stainless steel grab rail
● Storage locker
● Upholstered leaning post
● Stainless steel steering wheel
● Glendenning single lever engine control
● VHF antennas port and starboard 
BILGES
The forward bow bilge is accessed via a carpeted flush hatch. The following gear and equipment is seen in the bow bilge:
● Headhunter accumulator tank
● Various wire runs
● Rule 2,000-gallon 24-volt bilge pump and USS style float switch
The midship/pump room bilge space is accessed by flush bamboo overlay hatches with grab handles. There is a freshwater manifold seen port side and a Headhunter Mach 5 water pump. Aft of the water pump is a small gray water box. Centerline is a 180- gallon water tank. This bilge space is protected by a Rule 2,000-gallon 24-volt DC bilge pump and USS style float switch with high water alarm.
HULL
"SEA LION II" has a variable deadrise hull with a single spay rail which extends the full length of the vessel port and starboard sides. Centerline is a 4" wide X 3" high long keel which extends the full hull length. The props are open and exposed. 2½" shafts are run in two water cooled bearing single leg struts.
Keyed and bolted to each shaft are 3-blade 31" X 42" Michigan propellers. Offset of each propeller outboard are semi balanced 32" X 14" rudders. Seen on the transom underside are two 10" X 42" dual ram trim tabs. Bolted to the transom is a 6" X 12" zinc.
On either side of the transom are the underwater exhausts. The transom has a
finished wood varnished and silver decal reading "SEA LION ll" "Walkers".
Both shafts and struts were removed, inspected, and laser lined and new Duramax cutlass bearings installed. The bronze rudders are equipped with Algonquin rudder ports with Tides dripless seals and Delrin rudder bearings. The trim tabs are custom made with new dual ram Bennett hydraulic actuators.
REFIT HISTORY
SEA LION ll has undergone a complete refit which was started in January of 2018. Her refit started at the Willis Marine yard in Stuart, Florida for the first two years concentrating on the structure work, major mechanical installations, teak work, external bright work fairing and paint. The refit continued at the Hinckley Yachts yard in Stuart, Florida and then was finished at Whiticar Boatworks.
WILLIS MARINE – January 8, 2018 to March 18, 2020
● Removed the Cypress keel
● Laminated a new keel with three layers of 3/8 clear fir
● Replaced all keel boats with 316L stainless steel
● Applied three layers of 1208 biaxial glass
● Glassed the bottom with one layer of 1208 biaxial glass
● Bonded and glassed all existing through-hulls
● Applied four layers of 1208 biaxial glass on the stern
● Removed the interior to the bare hull and house structure
● Repaired or replaced all bulkheads below deck
● Coated all of the interior of the hull with three coats of epoxy
● Faired and repaired spray rail
● Re-strip planked the port side of the hull
● Laid two layers of 1208 biaxial glass over the hull sides
● Doubled the air vent intake surface area as per the repowered engine requirements
⮚ Installed a custom air box by Delta T Systems with salt air mist eliminators
⮚ Installed water deflection baffles and drains in the air box
⮚ Installed common drain boxes in the hull side, the forward engine room at the waterline
● Rebuilt or replaced all the engine room stringers with mahogany
● Capped the engine beds with Okoume plywood
● Applied three layers of 1208 biaxial glass
● Installed extruded aluminum main engine beds
● Installed all Groco bronze seacocks
● Faired the engine room interior hull sides and bilges for a smooth finish
● Extended the engine room forward to create a pump room
● Epoxy injected the starboard side planking and added butt blocking to the planks
● Increased all the limber drainage hull sides and sleeved
● Moved the forward chain locker bulkhead aft to create a rope locker
● Glass the interior of the rope locker
● Added drains to the rope locker to the bow spray rail
● Installed anchor hanger for a Fortress anchor in the locker
● Created access to the locker through the deck hatch on the bow or through the headboard on the master stateroom bunk
● Replaced all deck beams from the stem to the stern with clear fir all epoxy coated
● Painted all bilges and engine room with Blue Label Awlgrip Matterhorn White
● Installed all new decks for the interior and cockpit with Okoume plywood. The cockpit deck was glassed with layers of 1208 biaxial glass
● Rebuilt the mahogany longitudinals in the lazarette
● Removed all four struts. The strut bases were recessed and reinforced. The struts were reinstalled and laser aligned.
● Built a new rudder shelf with fiberglass over fir
● Inspected and pressure tested the marine exhaust linear 12" mufflers
● Replaced all the salon house glass with ¼" tempered gray light tinted glass
● Built frameless windows. Increased the mating frame to 1½".
● Removed and filled the trunk cabin windows.
● Rebuilt the port side shear clamp. Beefed up the starboard sheer clamp
● Built the port side mahogany rub rail to match the starboard side
● Repaired and faired the starboard rub rail
● Reskinned the transom with mahogany. Bronze backing plates inserted for hardware
● Rebuilt the tuna door
● Installed new mahogany toe rails.
● All external brightwork is finished in Imron MS600 clear gloss.
● Installed hidden grab rail on bridge sides
● Extended the bridge console to the brow
● Fabricated and installed a finished mahogany helm pod.
● Fabricated and installed mahogany bridge caps
● Installed ¾" backing plates for the helm seat, outriggers, bases, and tower legs
● Installed a under deck pedestal to the keel for the fighting chair
● Faired and painted the hull with Imron MS600 paint in a custom Walker Cay Sand color
● Painted the topsides with an Imron MS600 custom Sea Lion White color
● Replaced all of the soft wood on the bow deck with Okoume plywood with one layer of glass
● Installed TNT custom fabricated aluminum fuel tanks – four in total – for a total capacity of 1,100 gallons all fit with CANbus tank level sending units
● Installed a Duraweld polypropylene 182-gallon water tank in the companionway bilge
● Installed cleats and mooring bits with ¾" backing plates
● All exterior fasteners are 316 stainless steel
● Installed ½" teak cockpit deck with a fabricated single hatch with custom fiberglass drain gutters
● Fabricated custom made glass trim tabs
● Roughed out the interior cabinets, bulkheads, and bunks with Okoume plywood
● New bench tops installed on the bridge
● Three coats of Pettit Barrier coat on the bottom
● Applied nonskid with Blue Label Awlgrip
● Fabricated a custom tackle center
⮚ Port with cockpit freezer
⮚ Starboard 220-volt Kenyon grill
⮚ Shore power port and starboard
⮚ Freshwater and saltwater washdowns port and starboard
● Custom fabricate new 2½" shafts by Stuart Propeller – Aquamet 22 with new custom made couplings
● All new Delrin rudder bearings
● Installed the MAN i6 800-hp engines – port serial #51050880195067; starboard serial ##51050881185067 – with ZF 2:1 down angle gears
● Installed new Northern Lights 20-kW generator, serial #8442-54428
● 5½" of insulation underneath the salon floor above the engine room
● Hinged engine room hatches
● Custom built double sliding doors for the salon out to the cockpit
HINCKLEY YACHTS – March 18, 2020 to June, 2020
● Veneered the interior with African mahogany
● Painted the interior of the shower
● Installed vertical cut bamboo flooring
● Installed Buck Algonquin bronze rudders
● Groco 6-port fuel selection manifold underneath the cockpit step
● J-Tek Marine wired interior
● Extreme Marine Power glass surge tubes and hard coated 316L exhaust risers
● Bosch American made 9" gap full tower with hardtops
● Sealed all the veneer with three coats of Epifanes. Planned to finish the interior with a two-part satin poly paint
WHITICAR BOAT WORKS- June 2020 to February 2022
● Wiring electronics and supplied by J Tech Solutions
● Veneered all interior woodwork
● Installed double sliding slam proof salon doors
● Installed new Bausch 9½ foot gap tuna tower with hardtops
● Installed new 1" 316L stainless cap rail
● Installed (6) port Groco fuel selector valves for generator feeds from fuel tank
● Wired new 50-amp Hubble isolation transformer wired for polarization
● New 50-amp galvanic isolator
● New Reverso fuel transfer pump with manifold
● New Reverso oil change pump with manifold
● Installed new duplex Racor 900 for both main engines
● Installed single Racor 500 generator
● Installed Dolphin 100-amp Pro Charger 24-volt
● (3) New 24-volt Optima Blue Top battery banks
● Installed Dolphin RV 40-amp charger for generator
● New Headhunter Stingray washdown and bait well pump
● New Air conditioners - 17,000 Btu with dedicated Mabru 1,200-gallon per hour pump
● (3) 12,000 Btu Mabru standalone units with a shared 1,200-gallon per hour pump
● Added 1½" Groco seacock for future watermaker
● ¾" Groco seacock with strainer for generator
● New Fireboy manual/automatic with manual pull in salon for the fixed fire system
● (2) Bromine feeder pump for AC units
● New Aqualarm with 5 zones for (7) bilge pumps
● New Aqualarm for smoke and fire engine room and salon detection with alarm on the flybridge
● Sea Dek floors between motors
● (2) Summit undercounter freezers in galley
● Darby refrigerator in galley
● Panasonic inverter microwave
● New induction cooktop
● New Headhunter Mach 5 water pump with shutoff manifold
● Nautic Boiler 110-volt, 7-gallon water heater
● 24-volt shower sump under galley hatch
● 15-gallon wastewater tank with new valve and seacock
● (2) Headhunter Royal Flush 24-volt heads with accumulator tank
● (2) New LED TVs
● (2) Furuno multifunction screens with 3D multi beam transducer and keypad controller
● New autopilot with Sea Star power assist
● (2) Furuno 4" multi display screens
● (3) Glendinning single lever engine controls for tower, flybridge, and cockpit
● Hornblaster 24-volt horn with tank and compressor
● (2) New custom tuna tubes in cockpit
● Costway 12-volt freezer in cockpit
● New 220-volt Kenyon grill in cockpit
● New shore power panels port and starboard in the cockpit with saltwater washdown bib, freshwater washdown bib, oil change, and additional saltwater washdown
● All new Vimar outlets and switches throughout the vessel
● New Quick Spa 24-volt overhead lighting throughout the interior and exterior of the vessel
● New overhead ceiling panels throughout
● (3) New engine room toolboxes
● Release fighting chair all teak refinished by Bluewater
● Helm chair refinished by Bluewater
● New carpet the salon and guest rooms
● (2) Custom couches for the salon with custom mounts
● Bilge access to all plumbing and wire chases throughout
● New Delta faucets and showerheads throughout
● New actuated electronics for popup panel
● New Ritchie compass
● New Fusion marinized speakers with 24-volt JL amp
● (4) Lumitec underwater lights
● (5) New Rule 24-volt bilge pumps with Smart switches
● New Edgestar ice maker in salon
● New Edgestar refrigerator in salon
● New risers and surge tubes from Extreme power
● 14" Liveal maline exhaust mufflers
● New single ram hydraulic steering arms and steering reservoir
● New oil change pump with 15-foot remote hoses and hookups from cockpit and engine room
● Platinum Leaf name board on transom with 16 coats of clear coat
● New port and starboard common drain boxes
● New stainless 17" two-spoke steering wheel on the flybridge
● New stainless 15" two-spoke steering wheel on the tower
● All new steering hydraulic lines
● All new fuel lines with Titan stainless fittings
● (2) New ZF transmissions with couplers supplied and commissioned by Performance Diesel, Inc.
Sea Lion II Virtual Walkthrough
Whiticar Yachts
Based in Stuart, Florida Whiticar Boat Works is a shipyard with a rich boat building history. Founded by Curt Whiticar in the early to mid 1900s, the company got its start when a 23 year old Curt designed and built a 33-foot single screw boat called the "Shearwater." This fishing boat is considered to be the backbone for the design of the modern Whiticar sport fisherman we know today. In 1947 Whiticar Boat Works moved into a new facility where it is still located today and in 1949 Curt hired his brother-in-law John Dragseth to manage the growing company's operations. From this time on the demand for Curt Whiticar's boats increased greatly and the company took off. The company's steady success came as a result of quality repairs and its famous line of seaworthy custom fishing boats.
HMY Yacht Sales
Since 1979, HMY Yacht Sales has been among the most trusted brokerage firms in the industry. For decades we have continued to instill confidence in our clients who choose to buy and sell yachts with us. Our goal is to provide you with the highest level of customer satisfaction combined with HMY's renowned yachting expertise. When you choose your next brokerage firm, make sure to select the one that is the most experienced and knowledgeable in yacht sales. HMY's expansive network of yacht sales professionals, support teams, yachting industry experts, and customers have been our recipe for success; and we've earned the trust of our clients from around the world. In 2022, HMY Yachts was recognized as the #1 North American Princess Yachts Dealer.
HMY Sales and Marketing Network
HMY Yachts is known for delivering sales results. We sell a pre-owned yacht on average every 12 hours. With accelerated sales results like this – there's no better firm you can trust to sell your yacht. We invest heavily in online marketing and exposing your yacht to the right target buyer is one of HMY's strengths. Plus, we activate and engage a high-performance network of brokers and buyers with walkthrough videos, virtual tours, MLS, email, magazines, social media, and digital campaigns. HMY's accelerated yacht sales approach generates leads and sales at record levels. We connect buyers with our brokers quickly – to get your yacht sold. Call HMY today. We'll put a world-class sales and marketing strategy together to sell your yacht so you can have peace of mind.
Established in 1979 and family-owned by Steve Moynihan
Recognized as one of the largest new and pre-owned yacht dealerships in the USA
HMY is on pace to sell over 500 pre-owned yachts, and over 150 outboard boats this year
HMY averages a yacht sale every 12 hours
50+ yacht sales professionals at 14 sales locations from Ocean Reef, Florida to Newport, Rhode Island
New yachts for sale: Viking, Valhalla Boatworks, Princess, OKEAN, Two Oceans Power Catamarans,  and the all-new ECLIPSE model line
HMY was recently recognized as the #1 North American Princess Yachts Dealer in 2022
Dedicated Outboard Boating Center featuring premium fishing and cruising outboard boats
HMY has a dominant presence with sales offices located in high-profile marina locations
Premiere exhibitor at the largest boat shows in America
A global network of sportfish, motor yacht, superyacht, and charter customers
Sponsors of yachting, fishing, and showcase events throughout the year
HMY has an in-house Luxury Charter Vacations division serving global customers
HMY is well known for its industry-leading investment in marketing, advertising, and digital
HMY's proven sales success has elevated HMY.com to be an elite yacht industry search engine
Web Links
View IG Post - 1963 Whiticar 54 Sportfisherman - Sea Lion II
Return to Yachts for Sale
Get more information