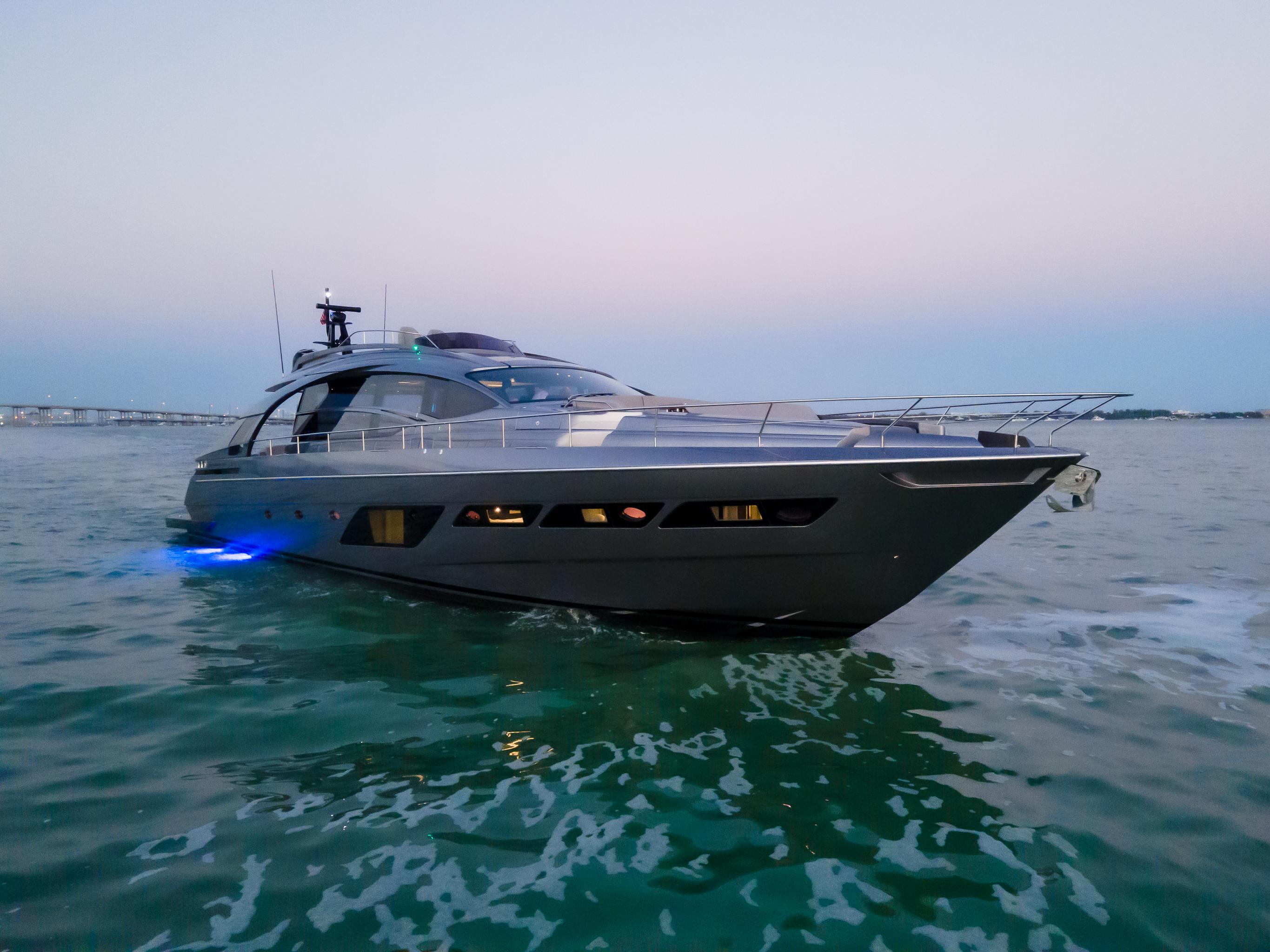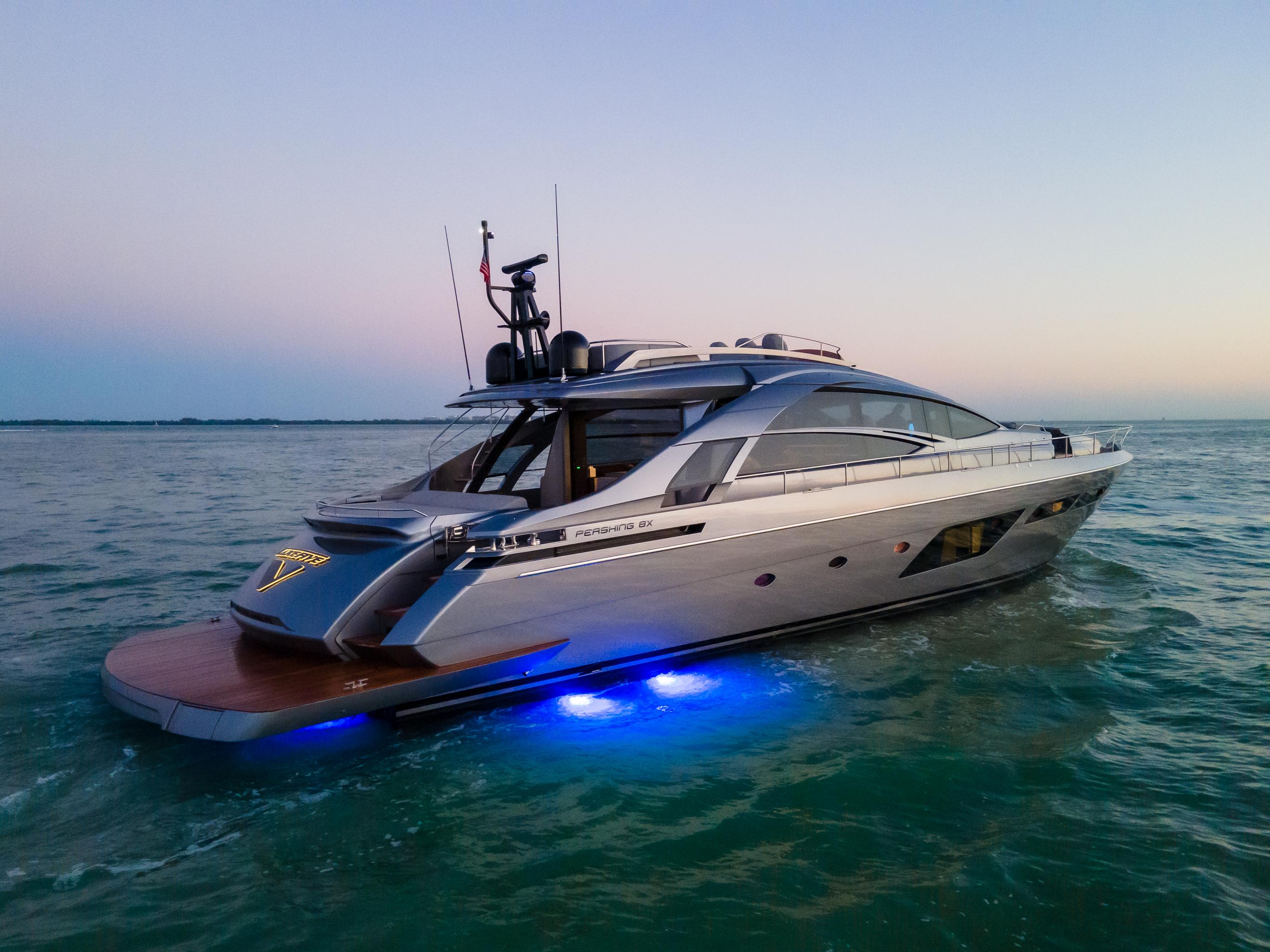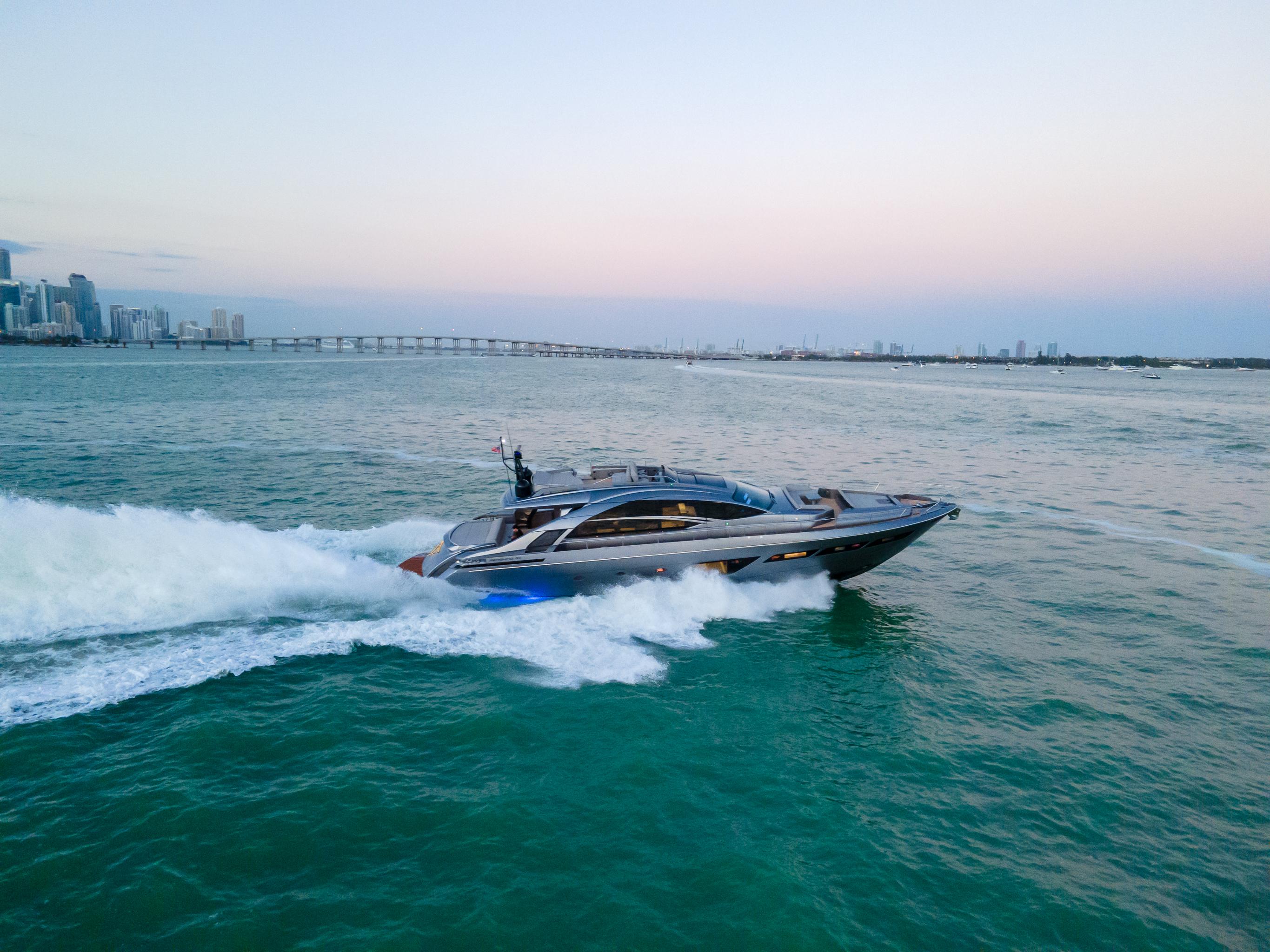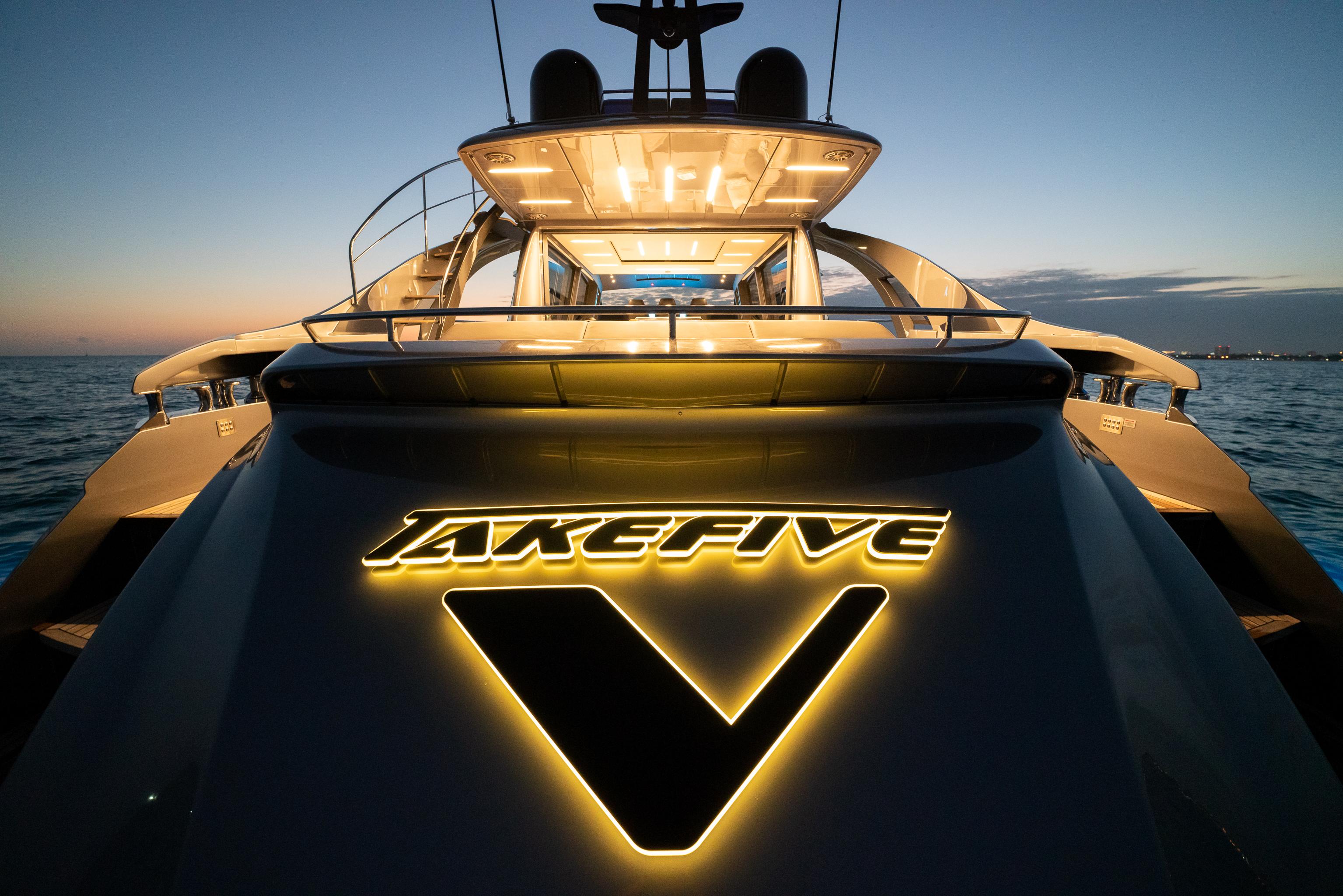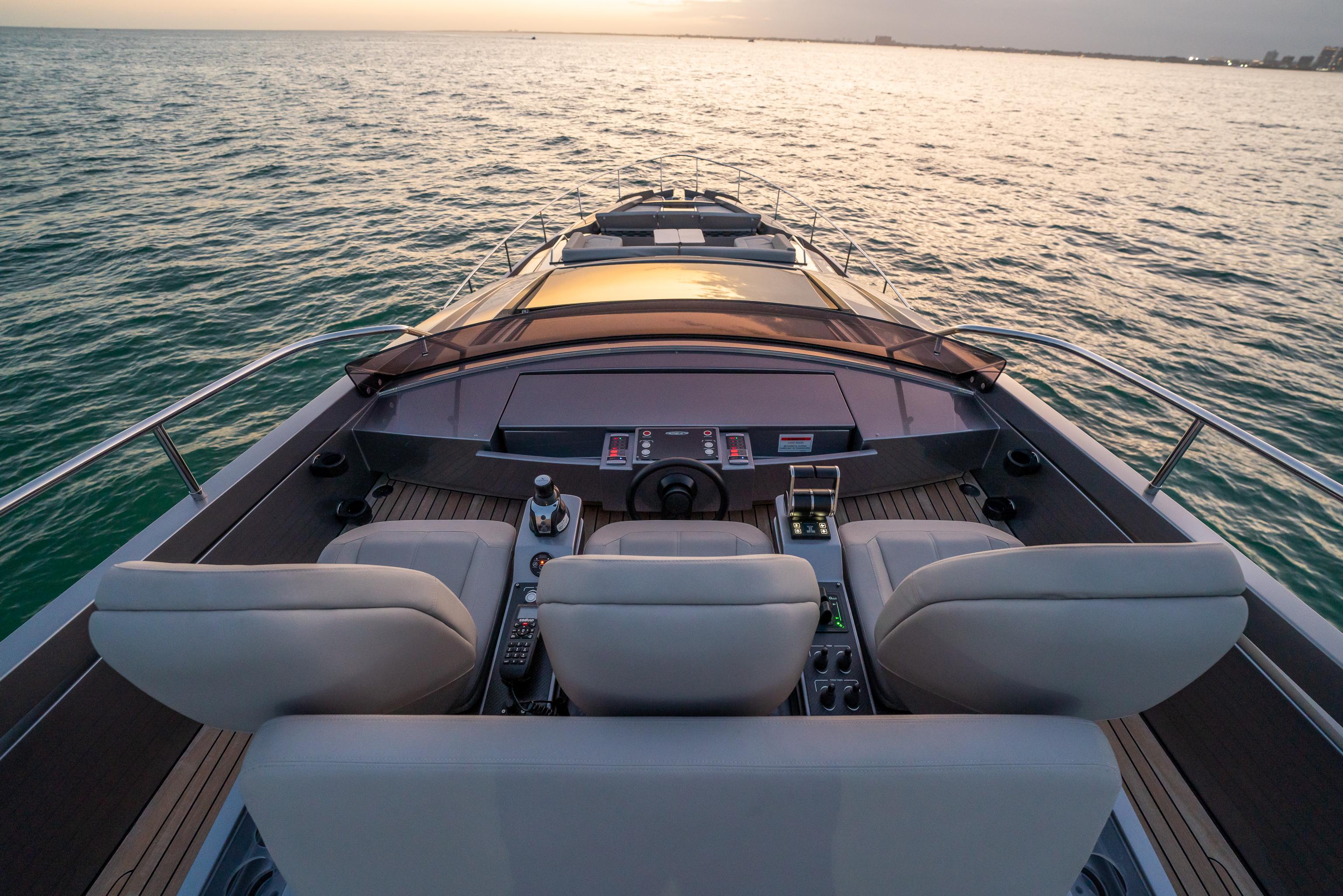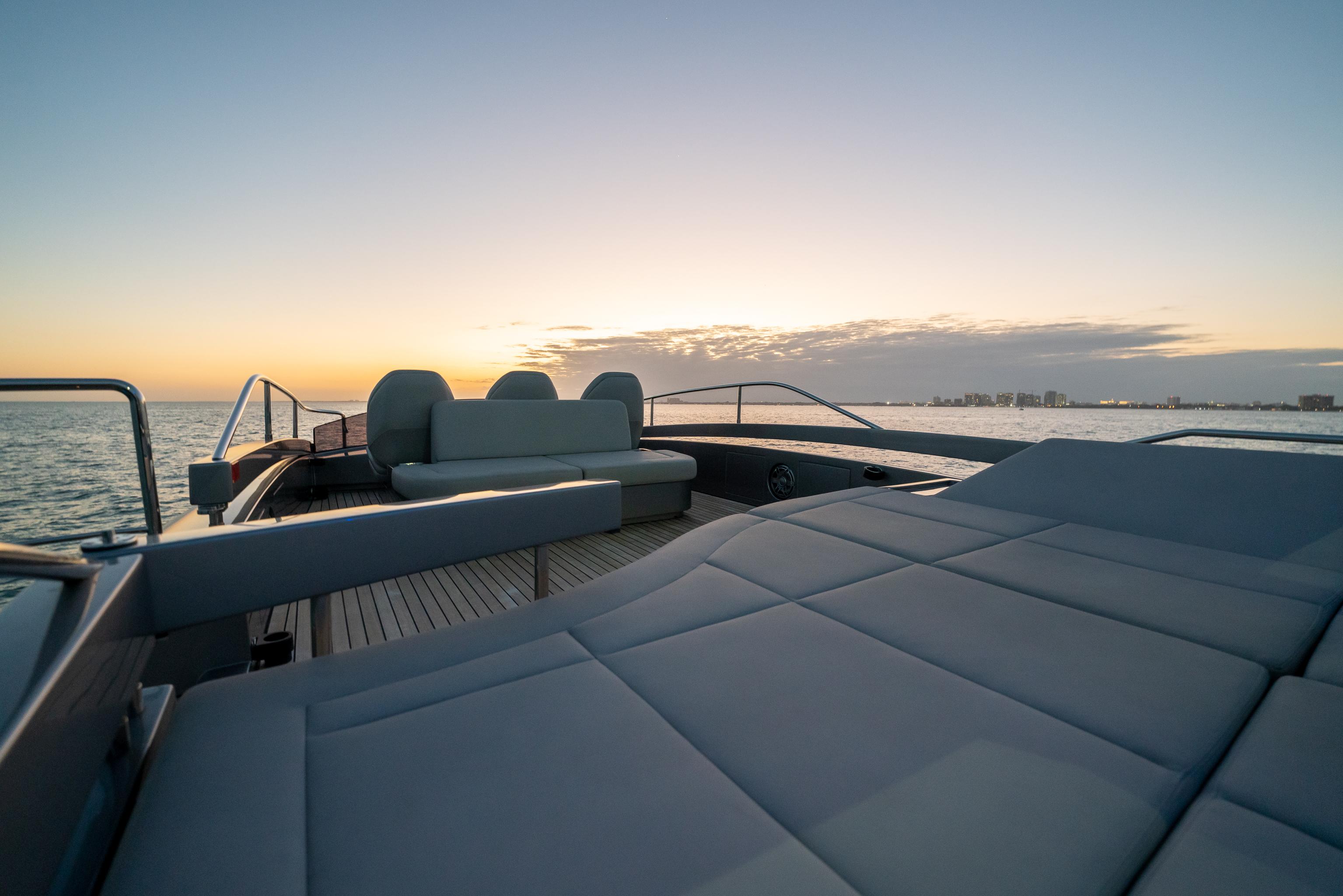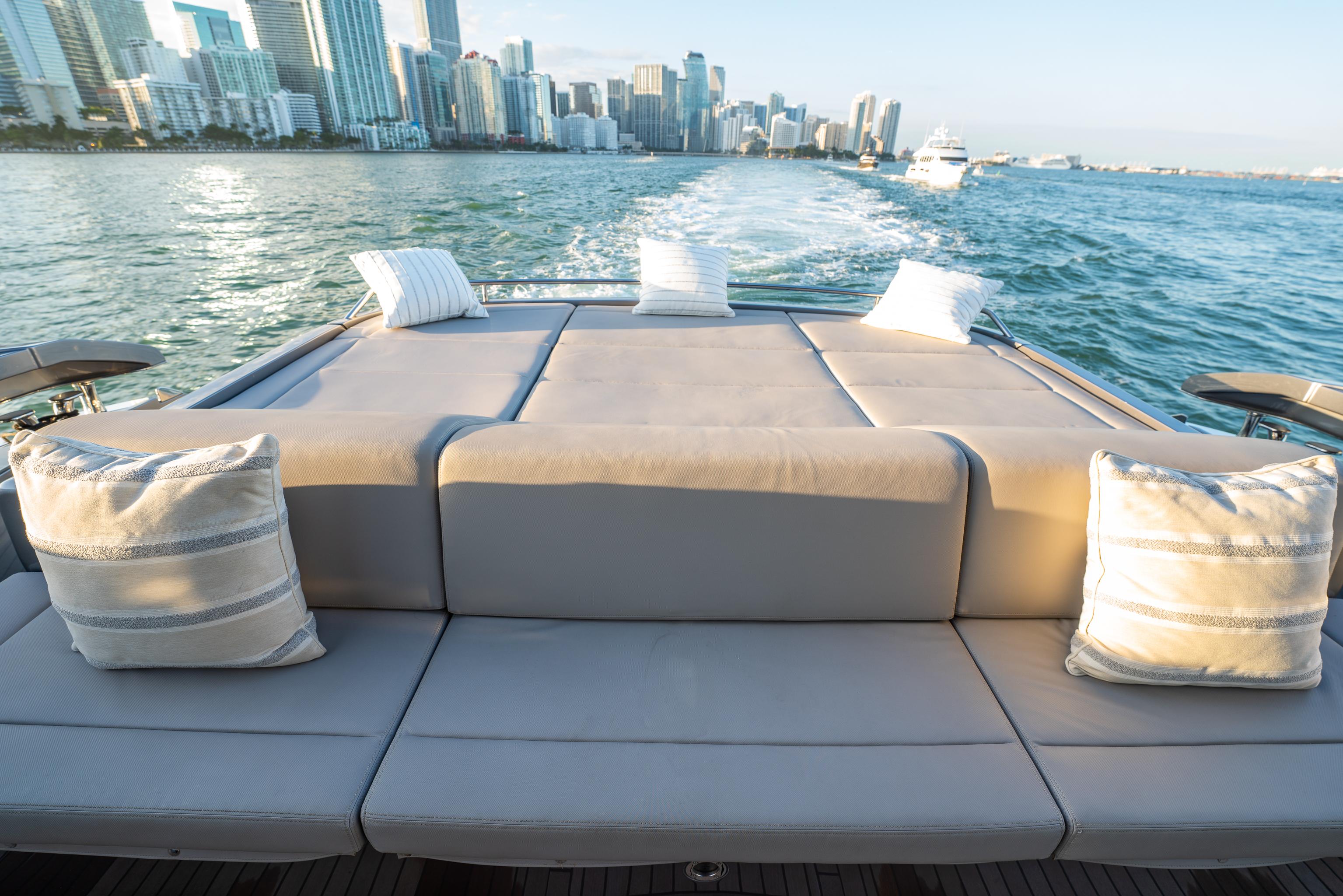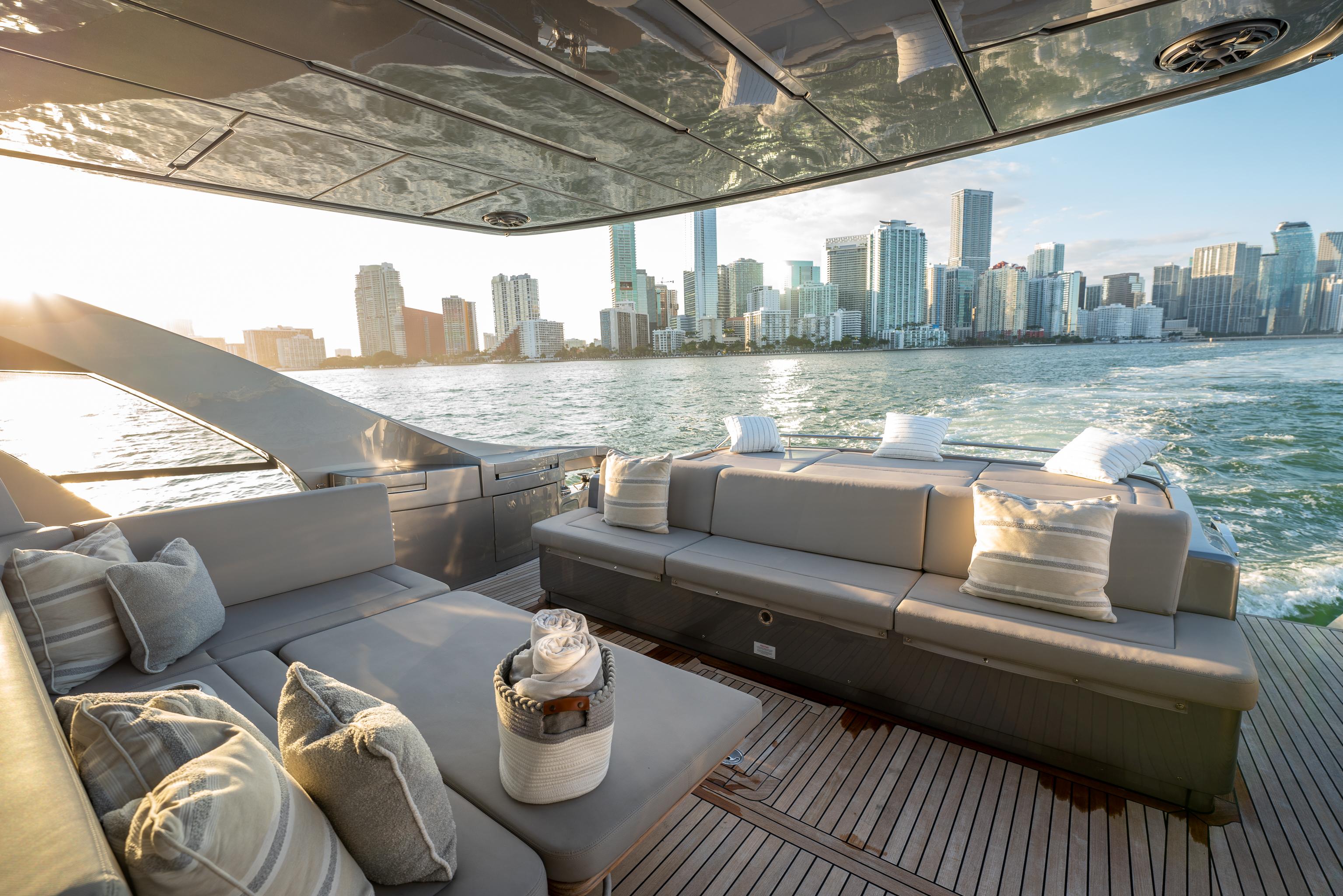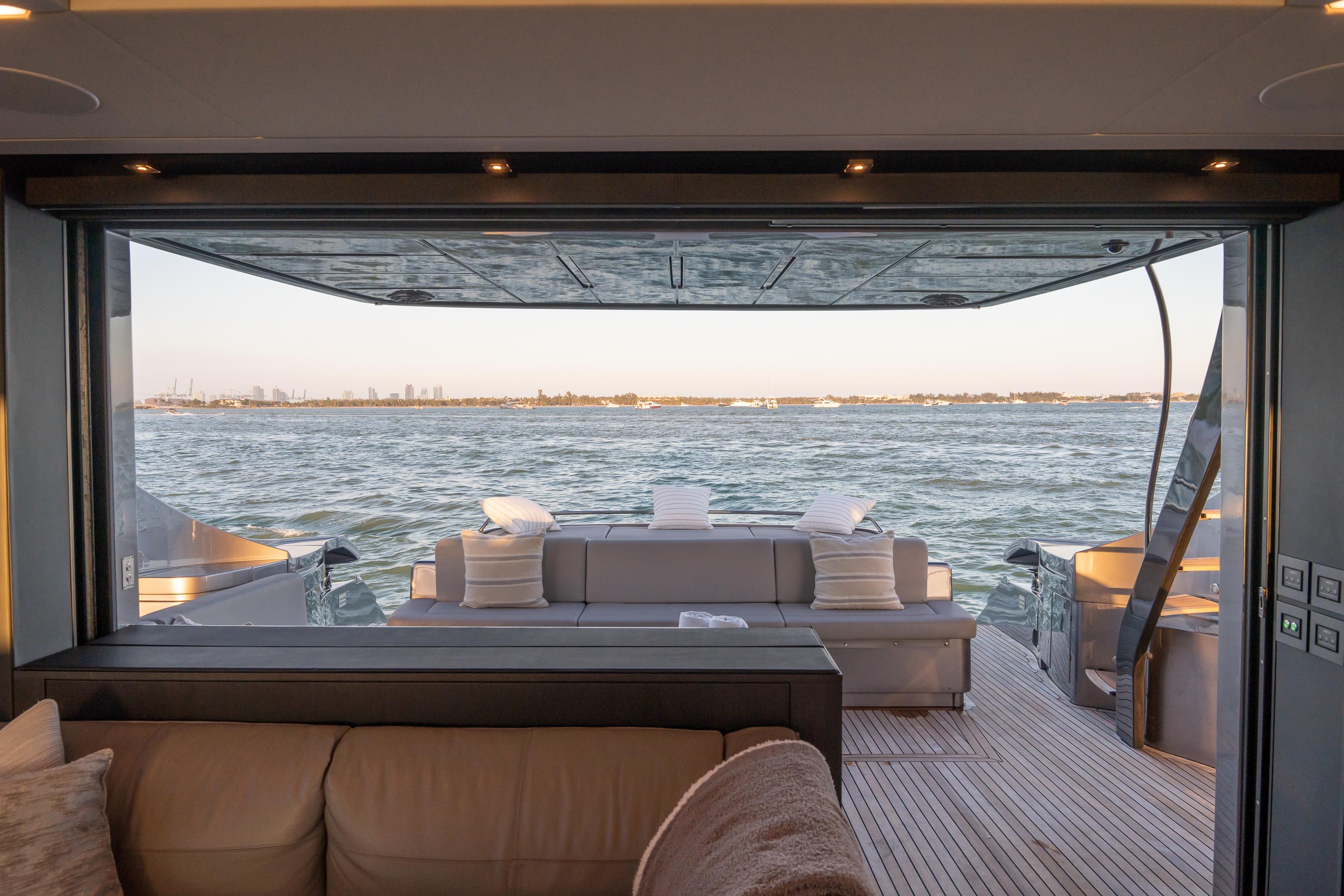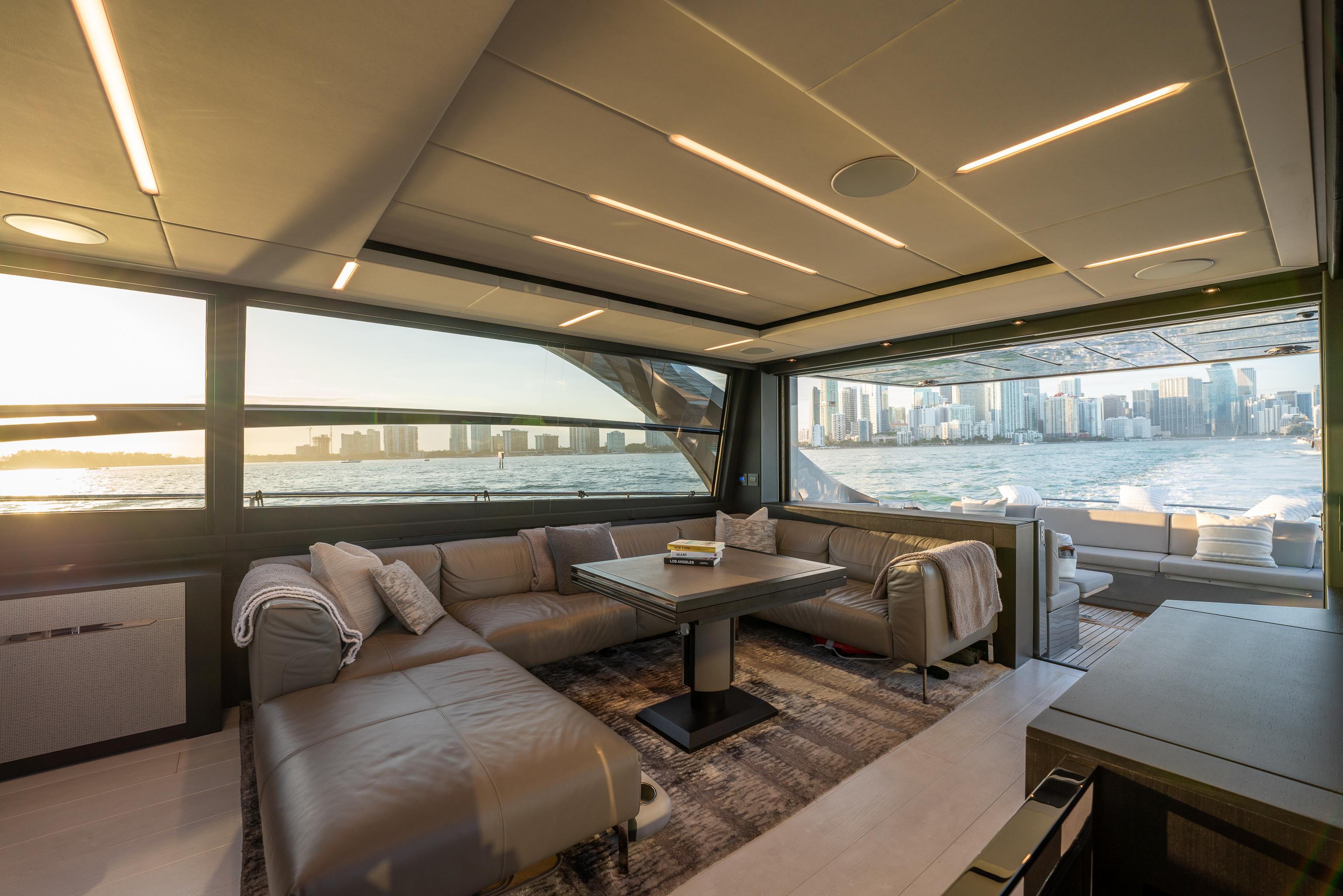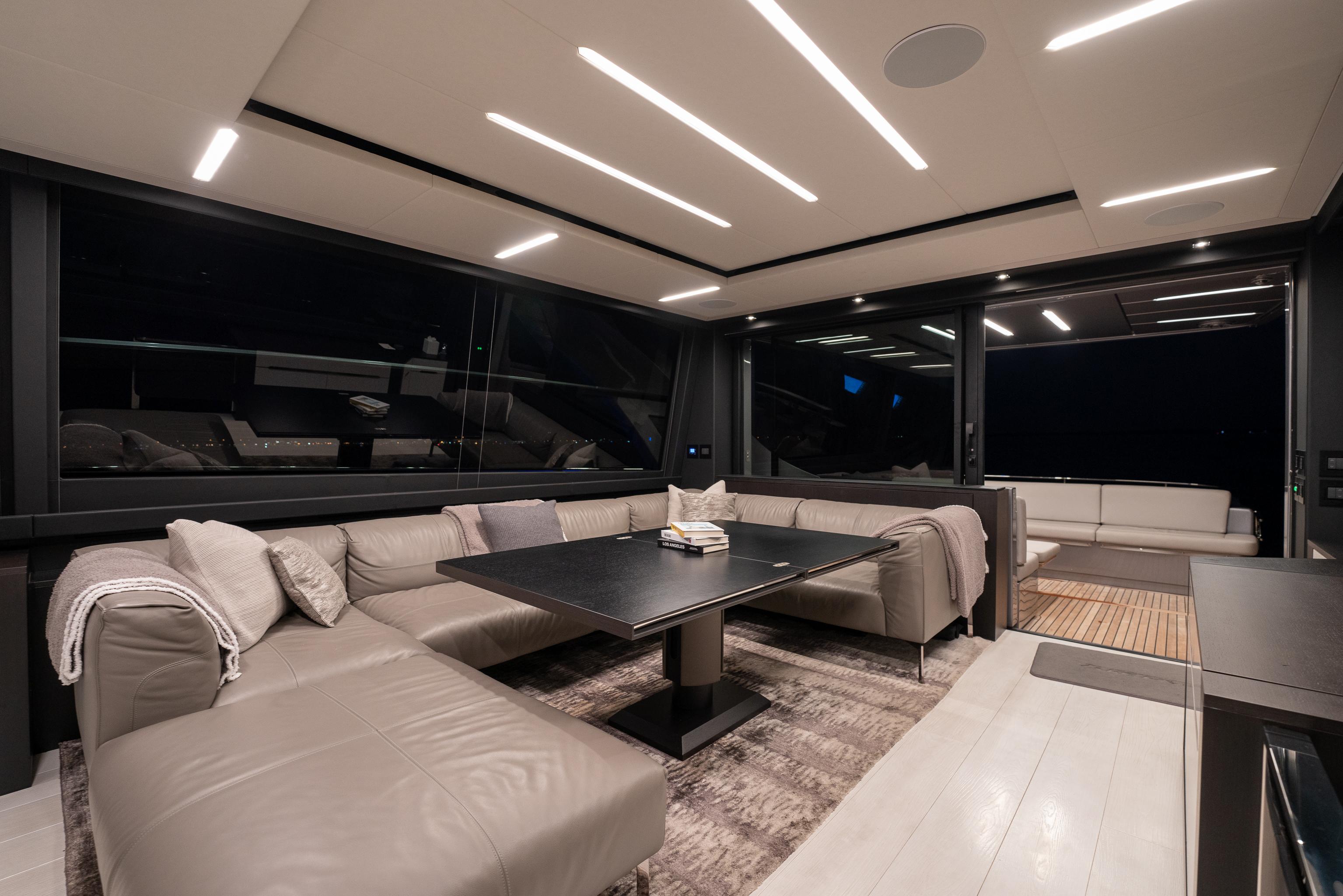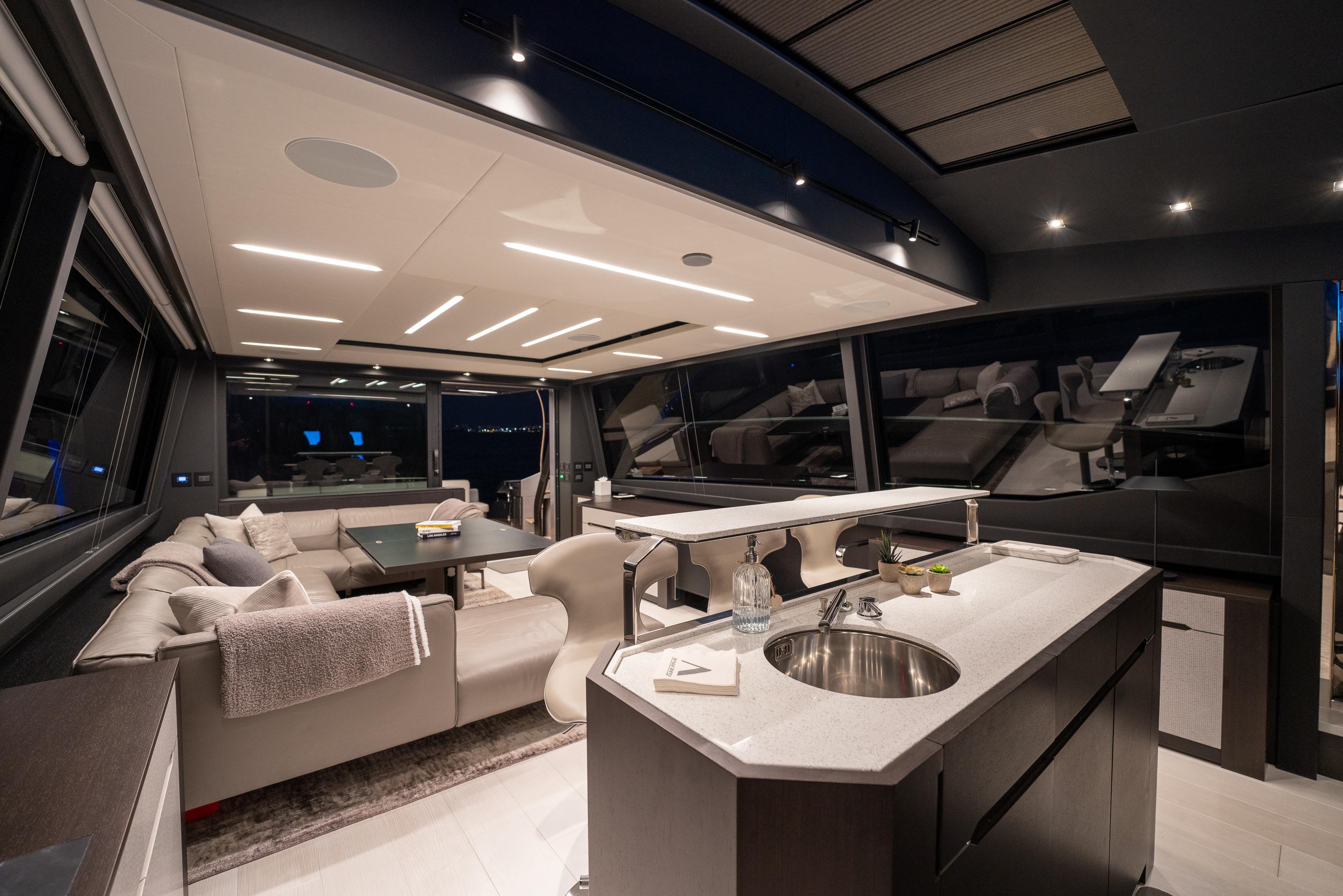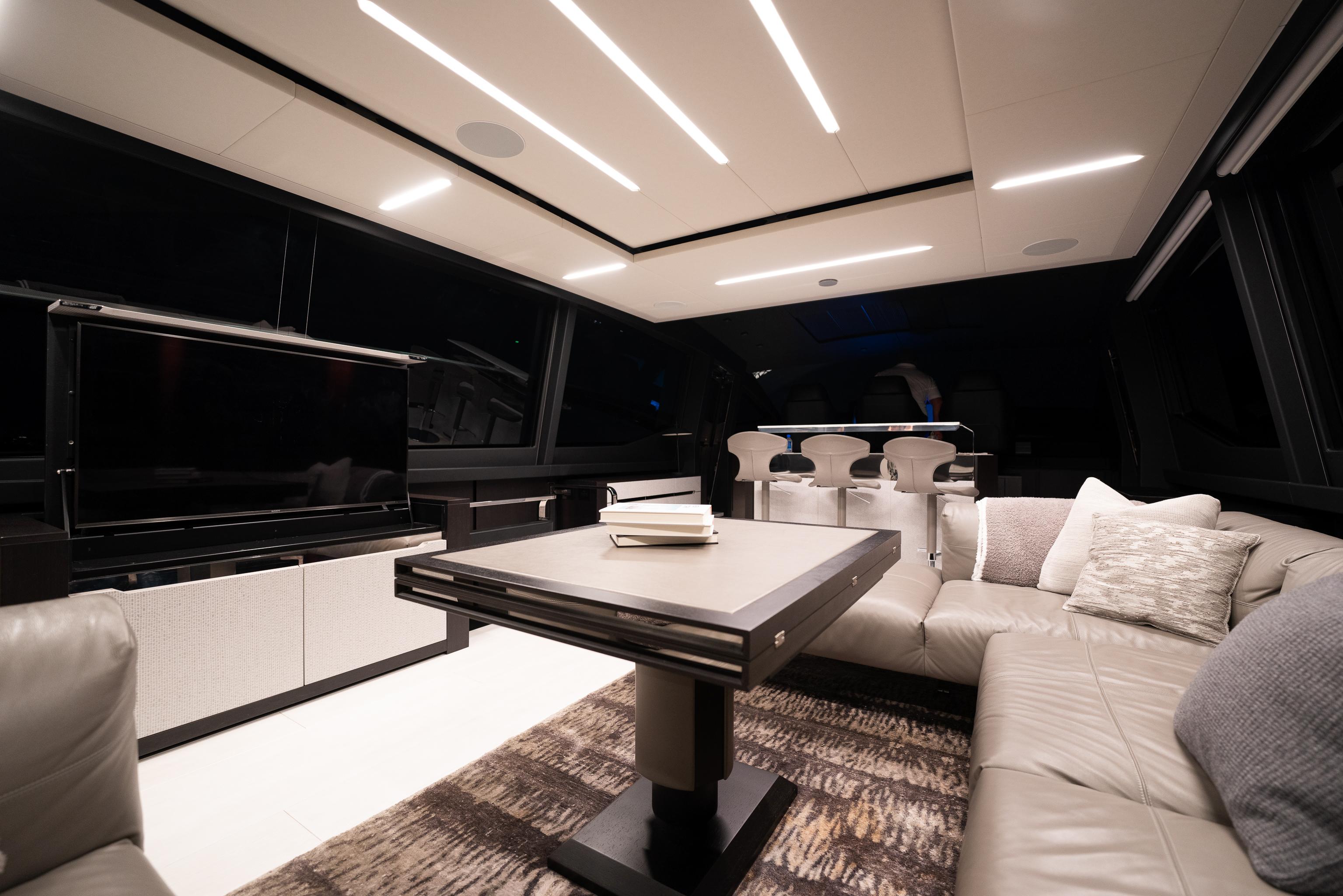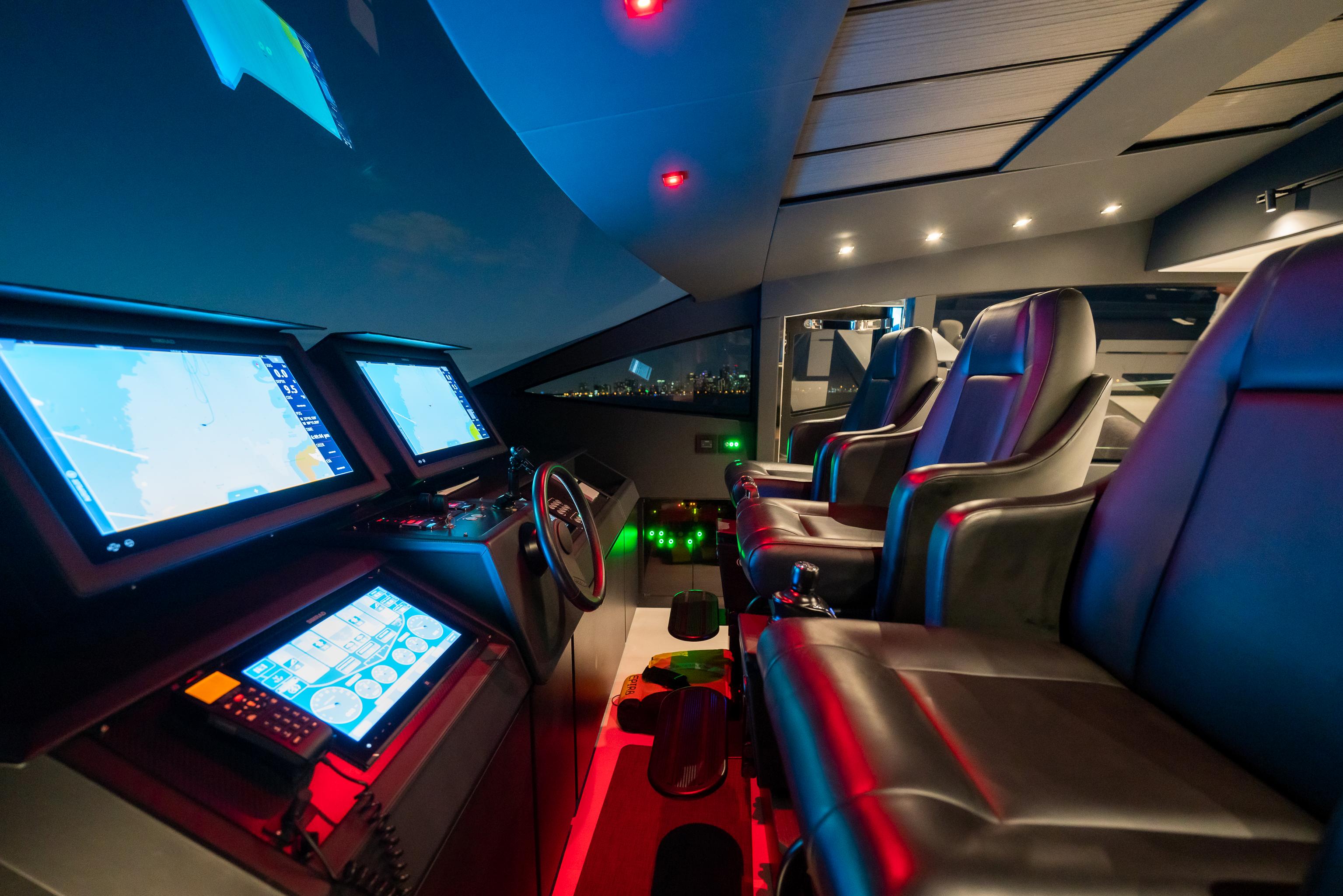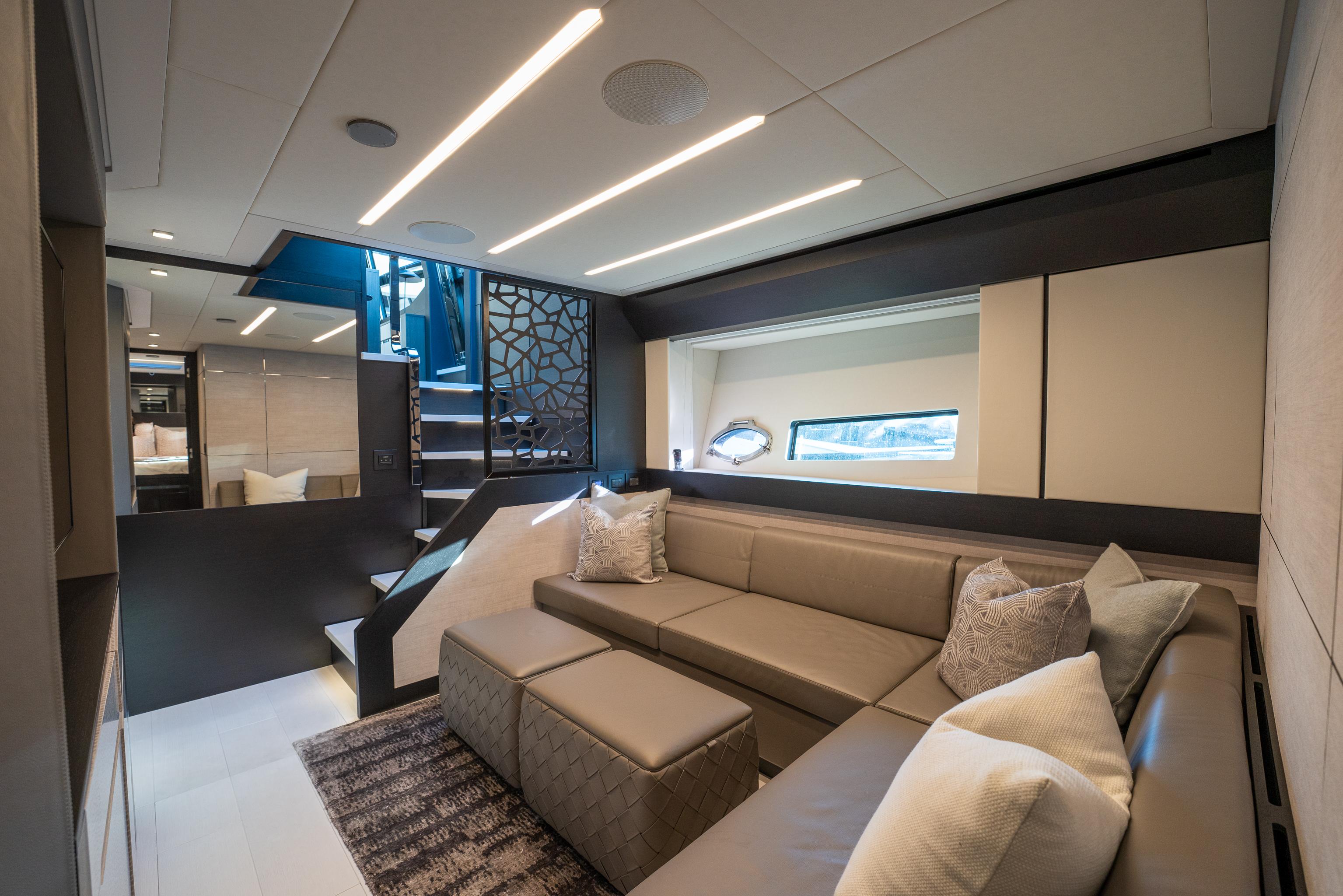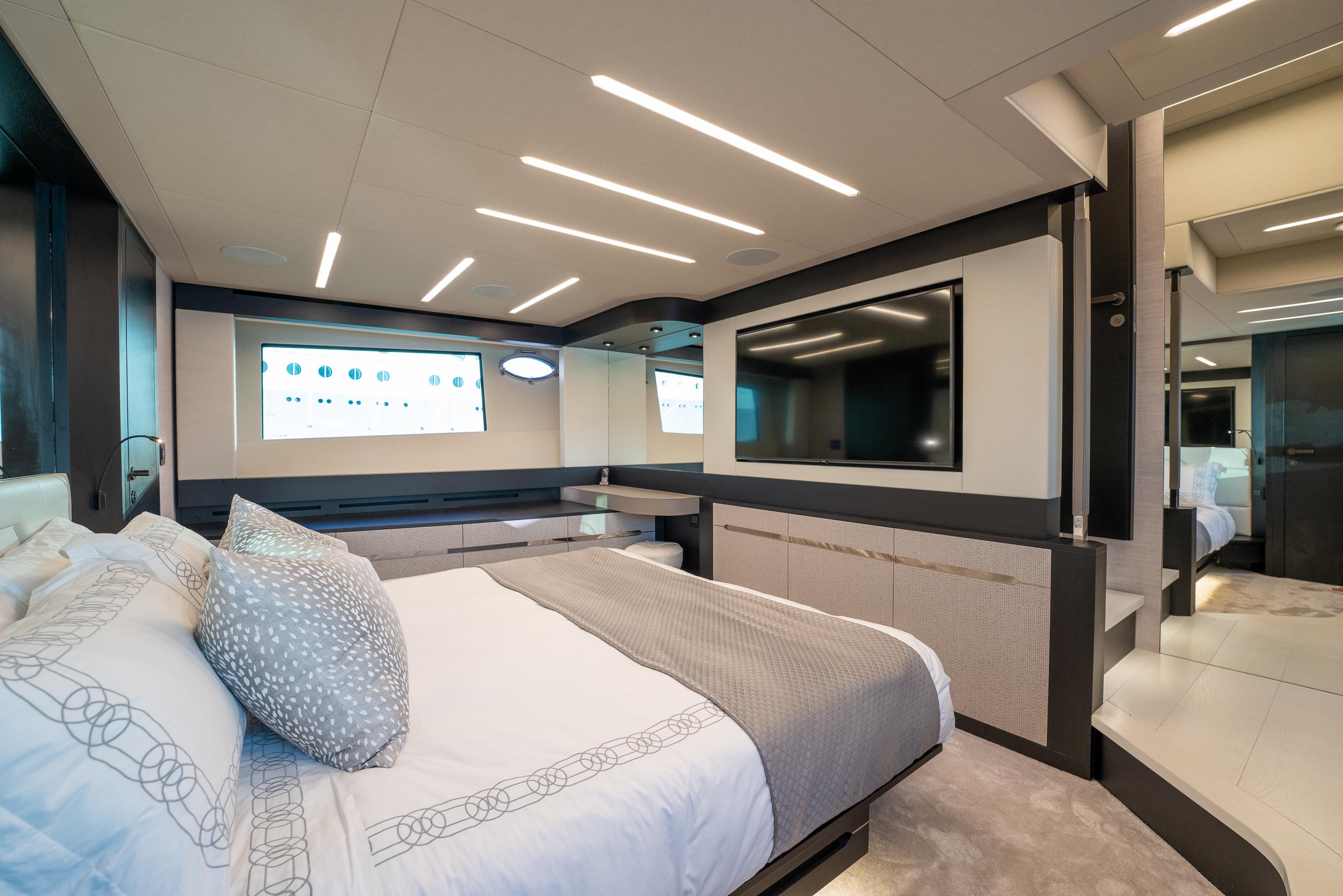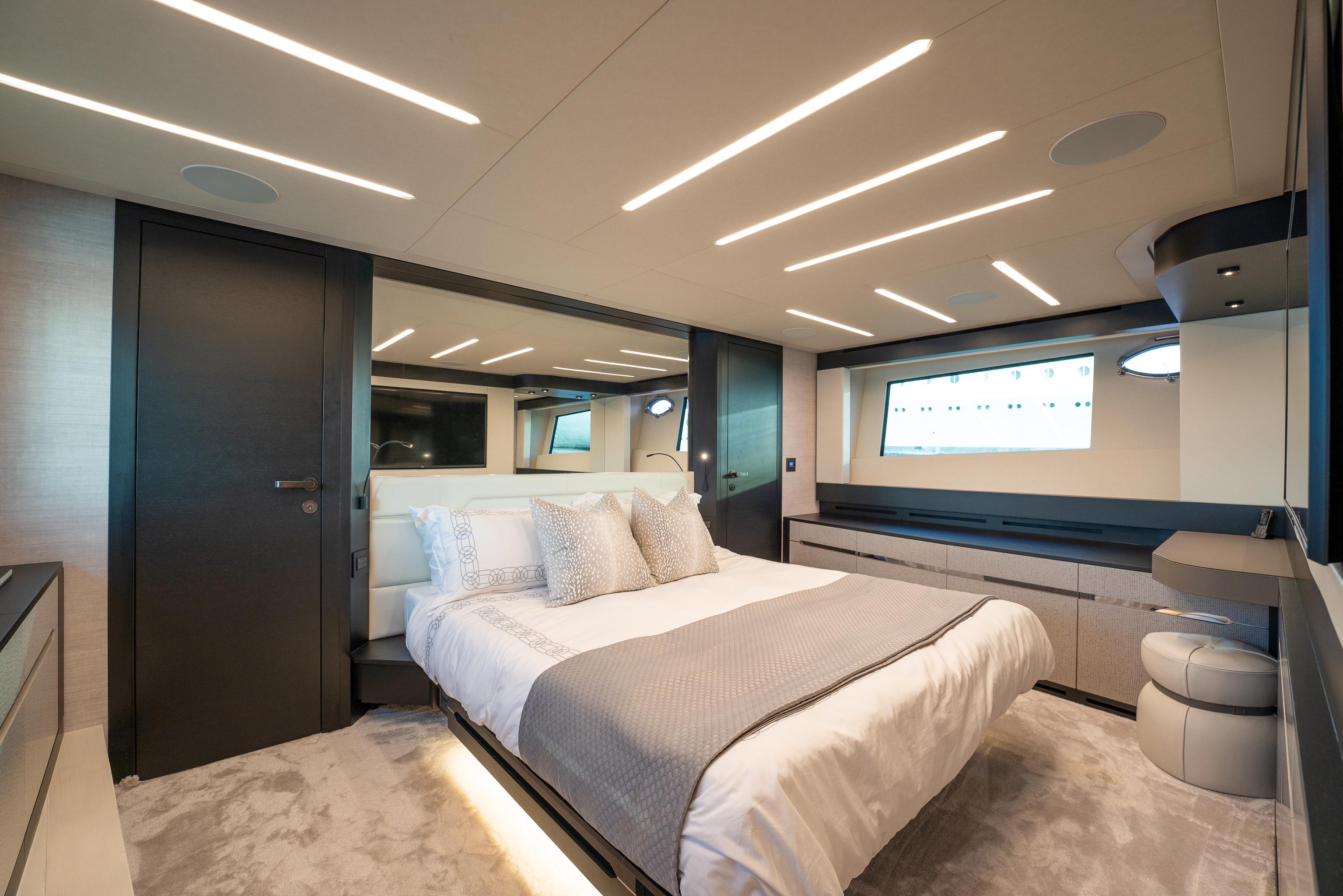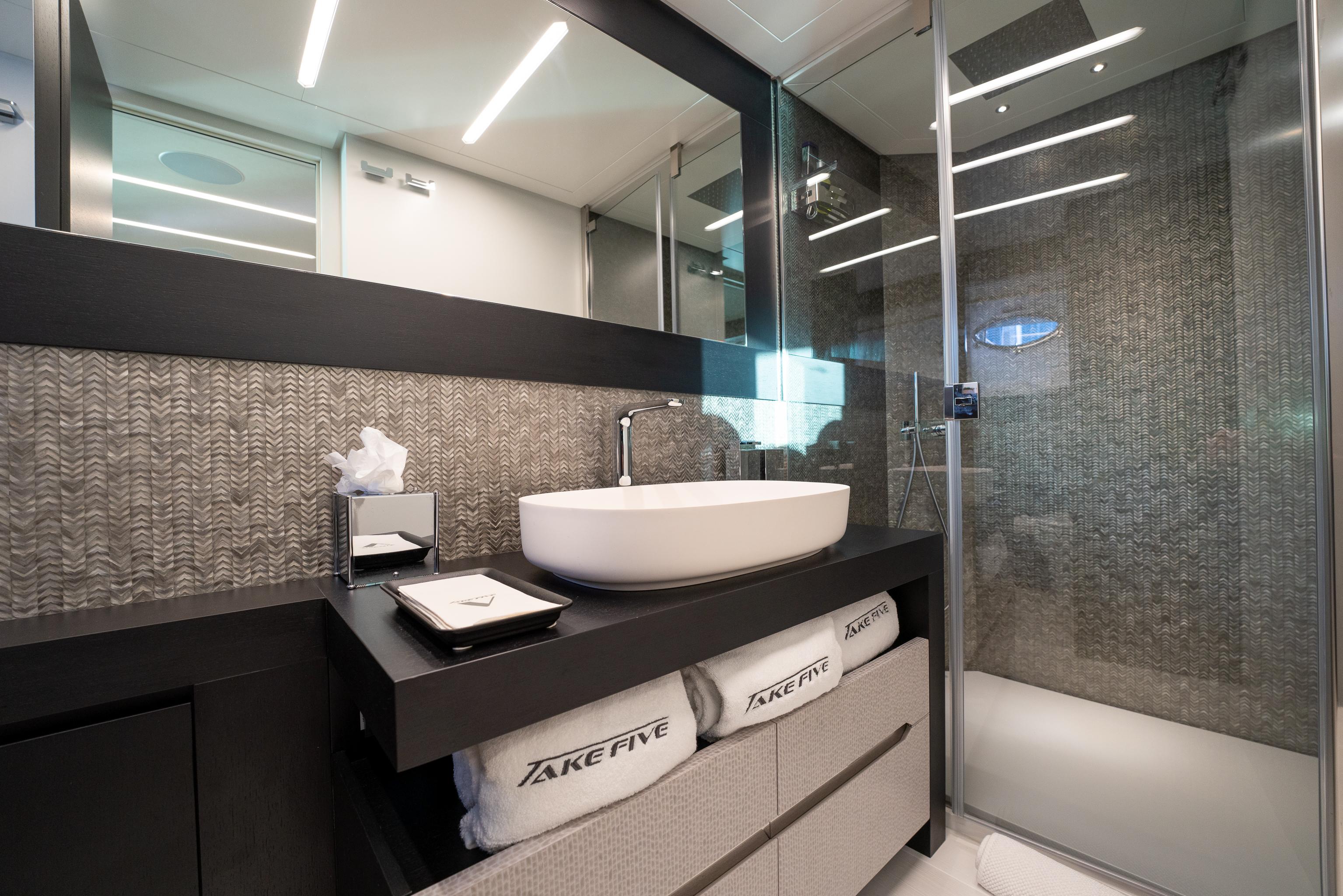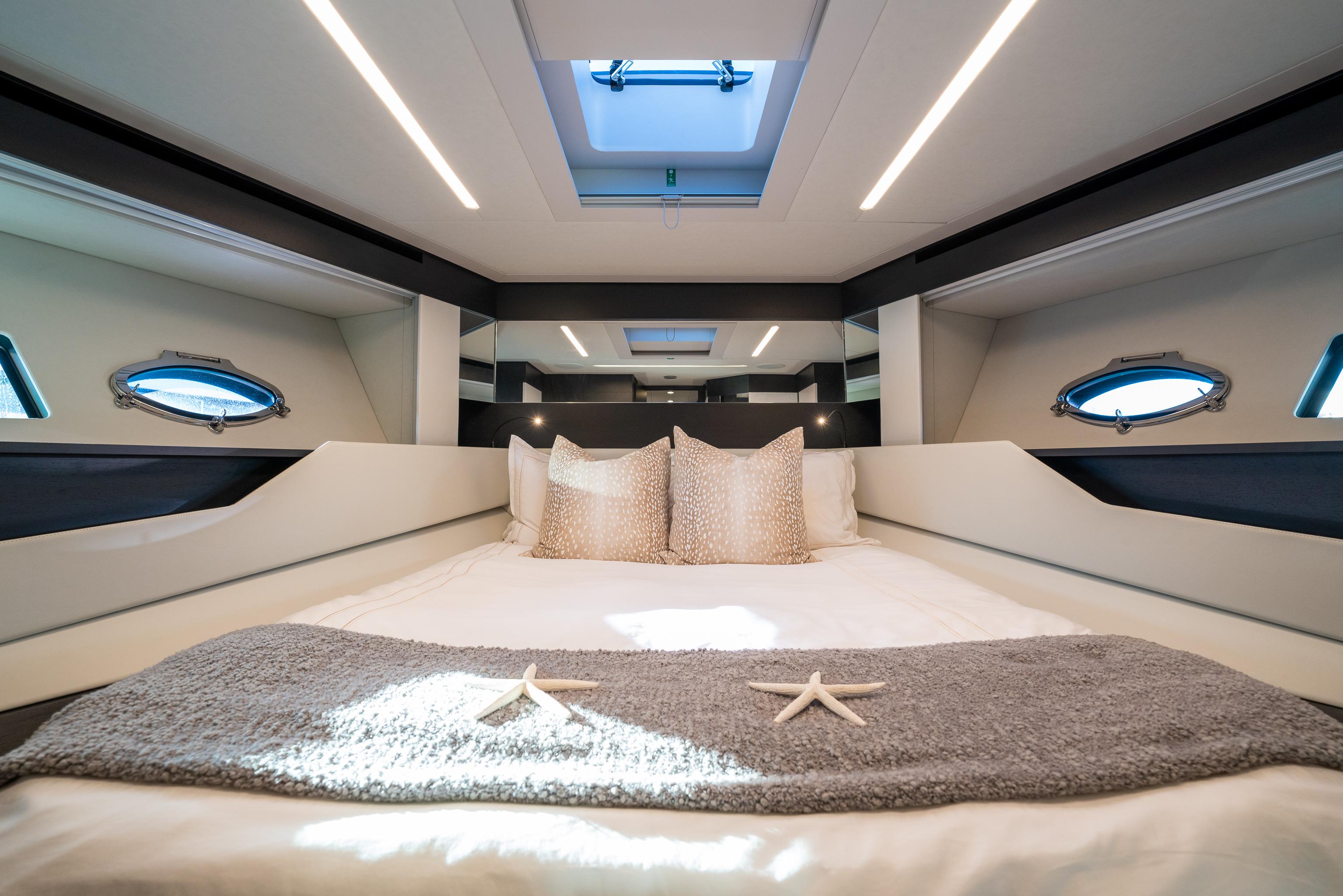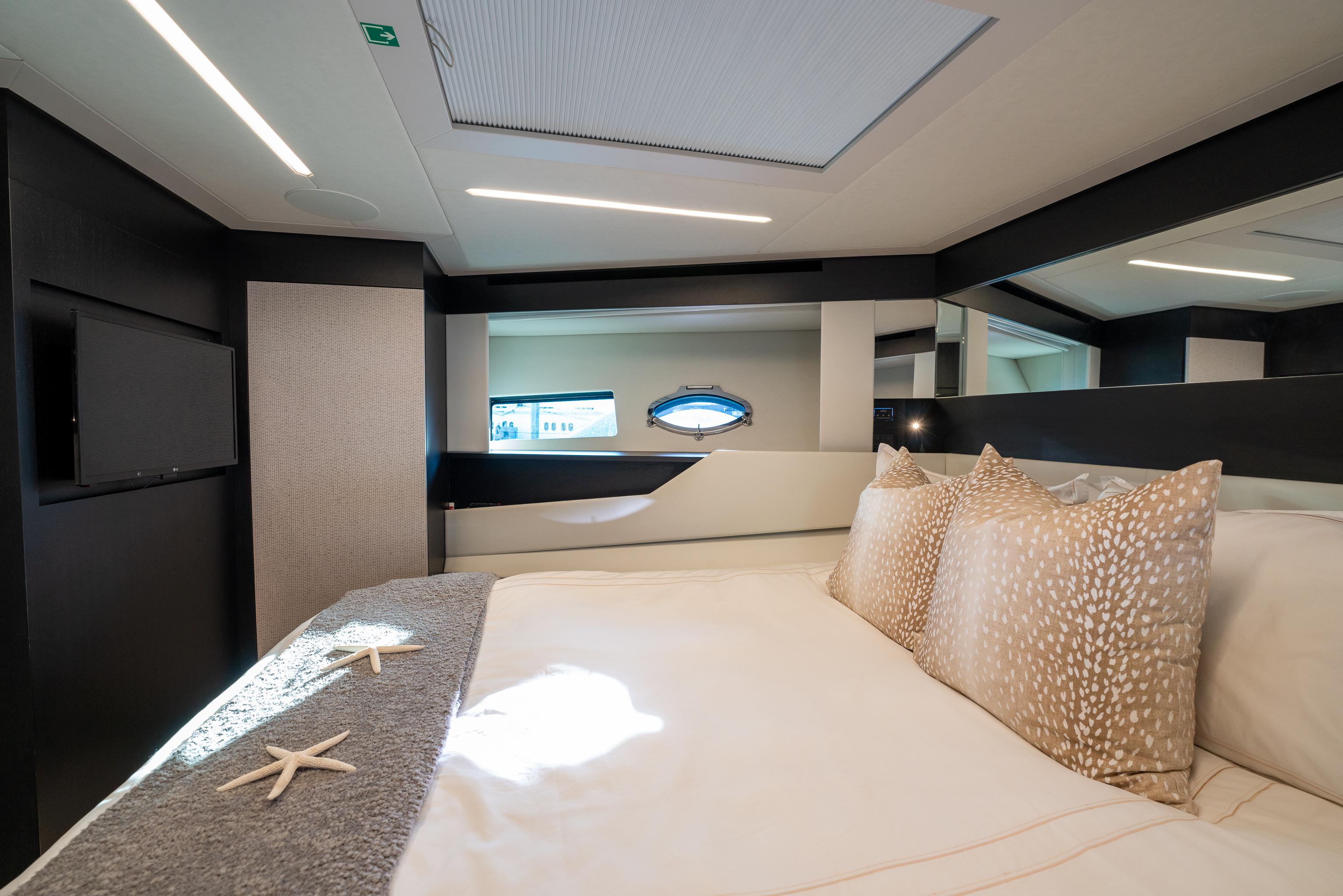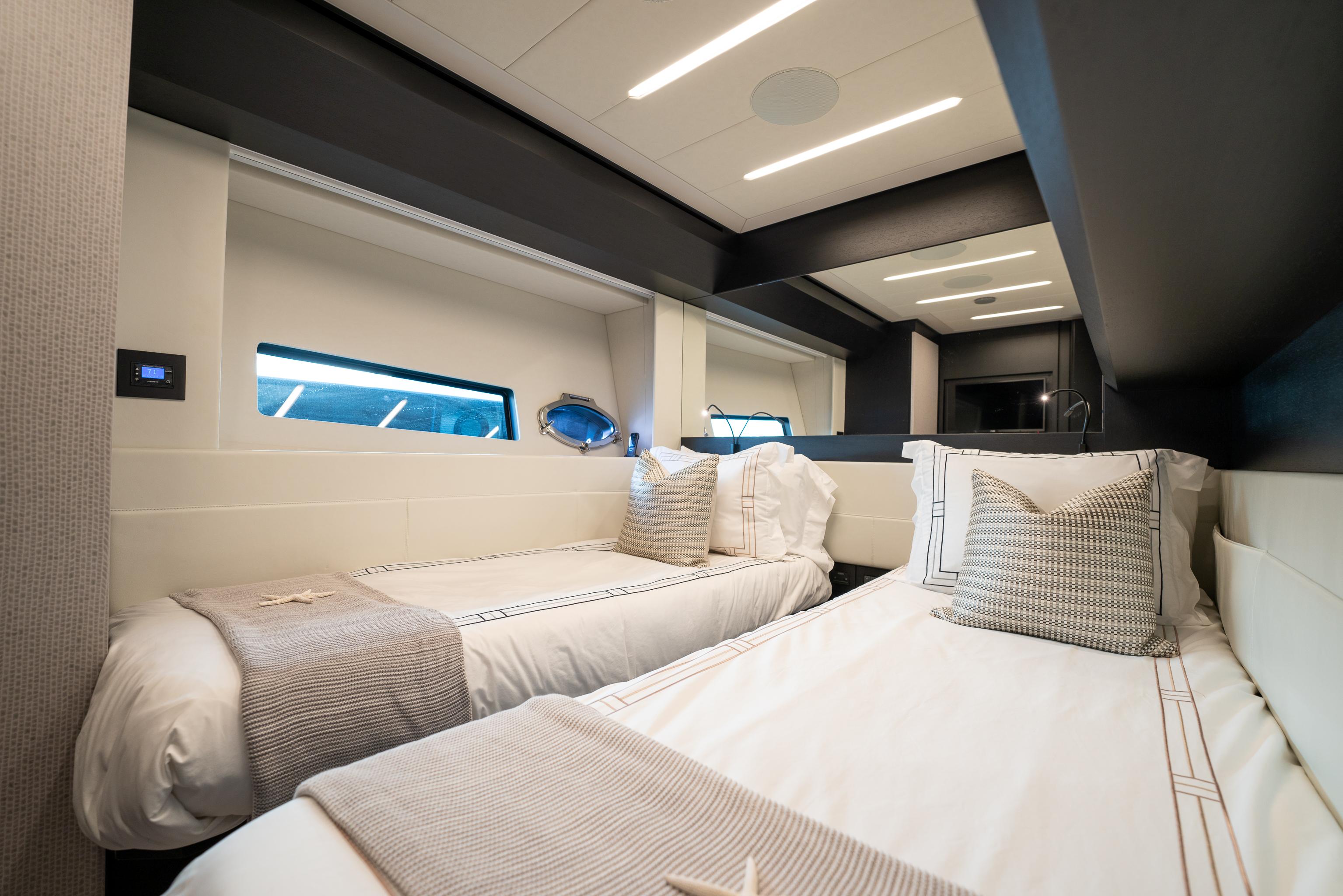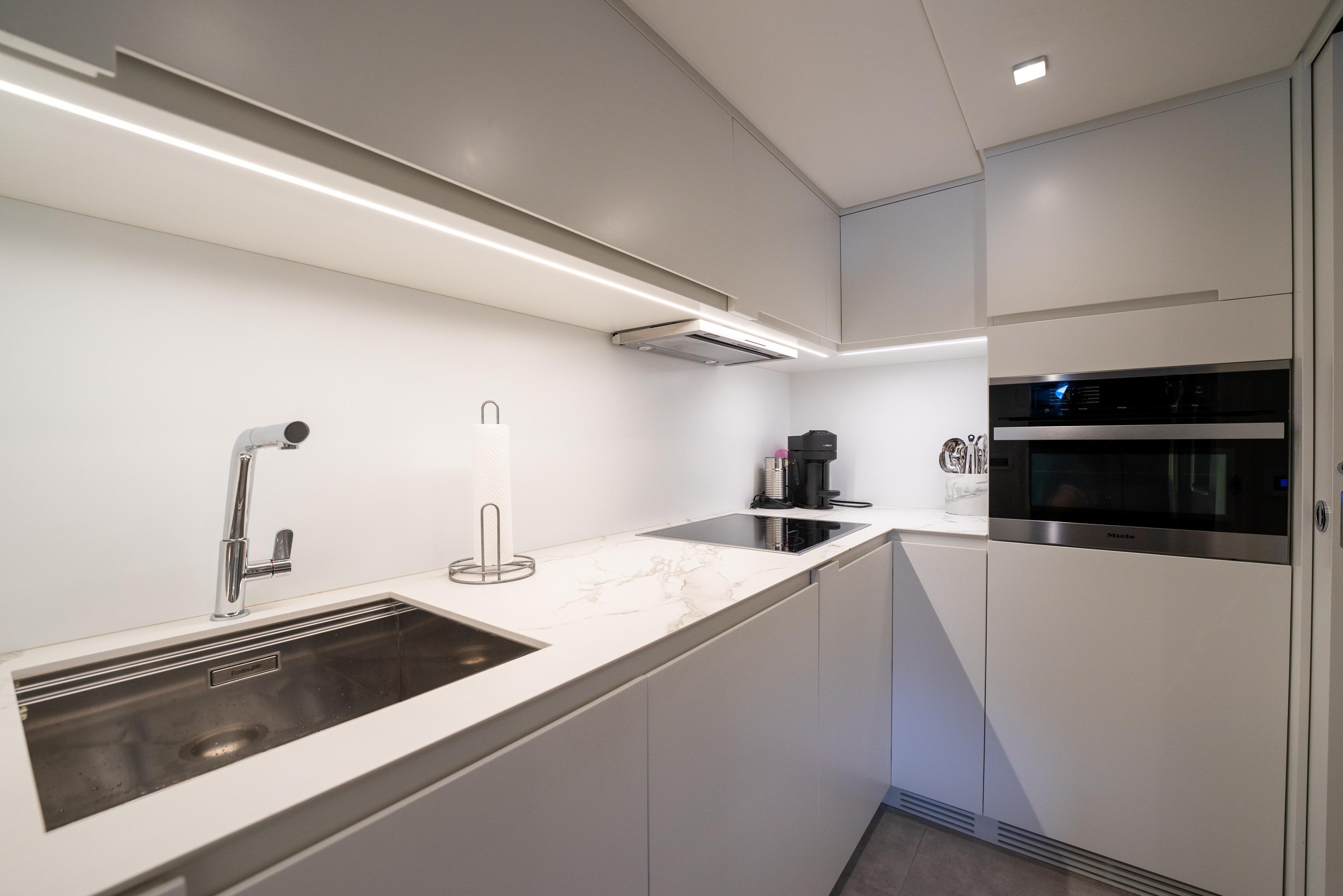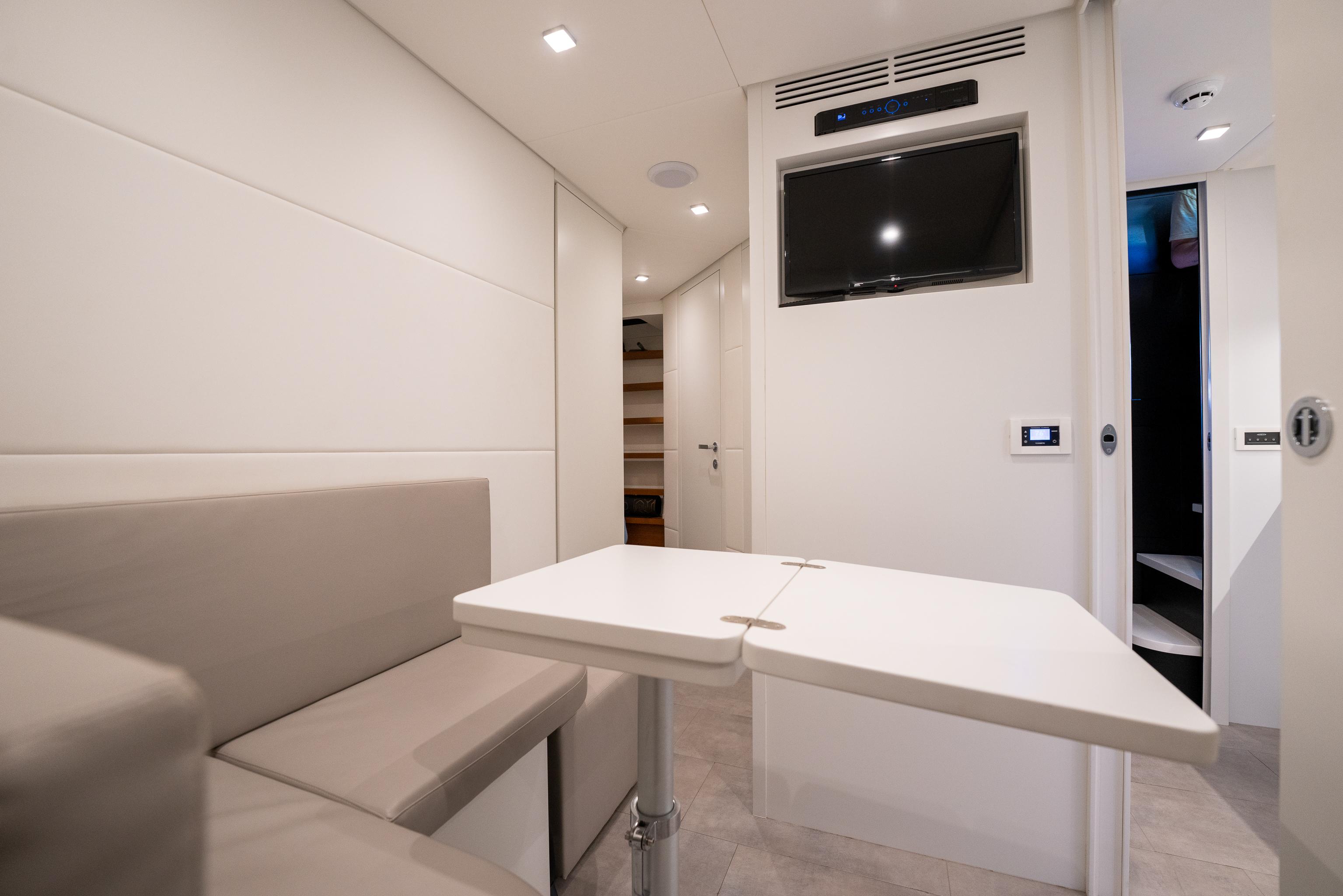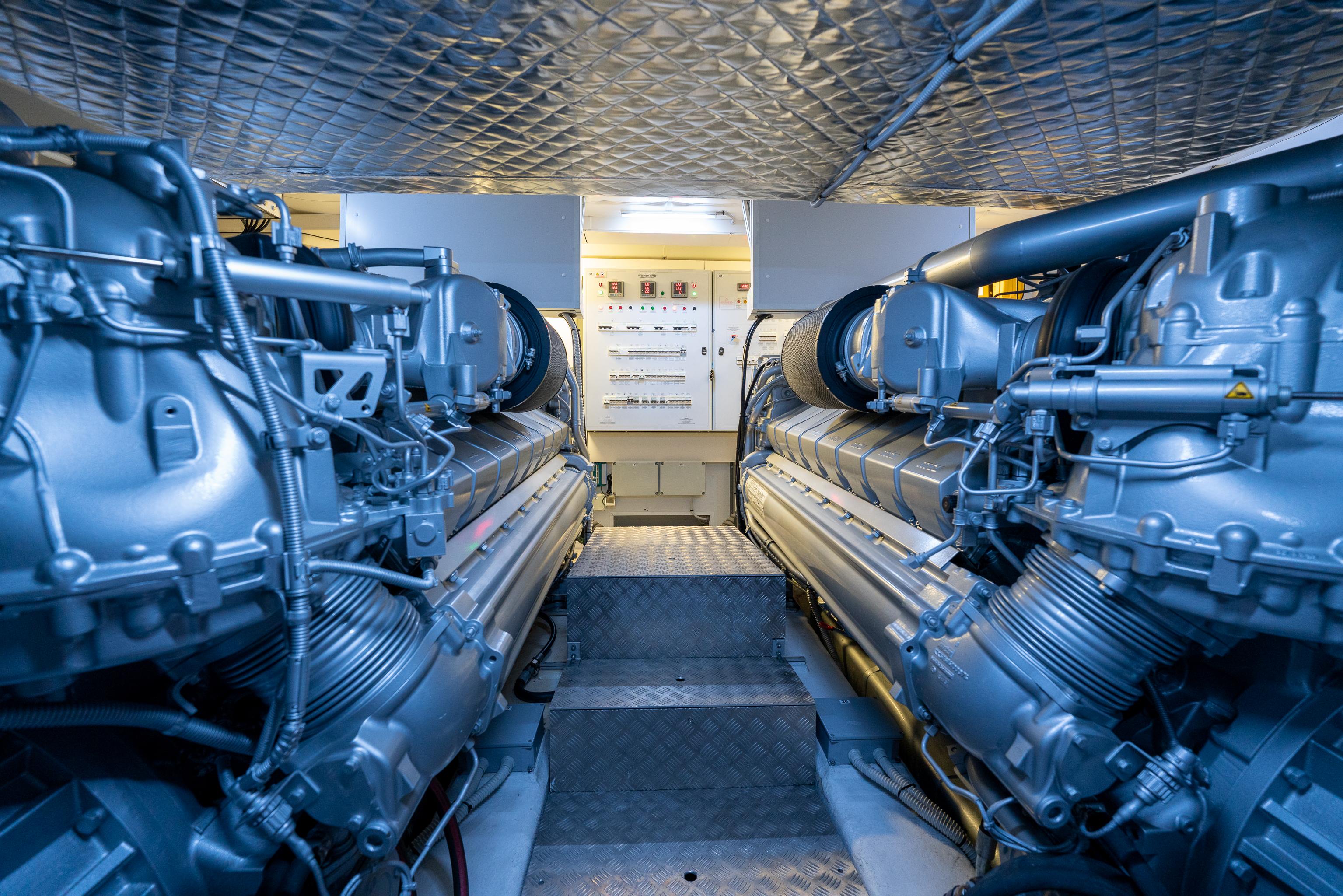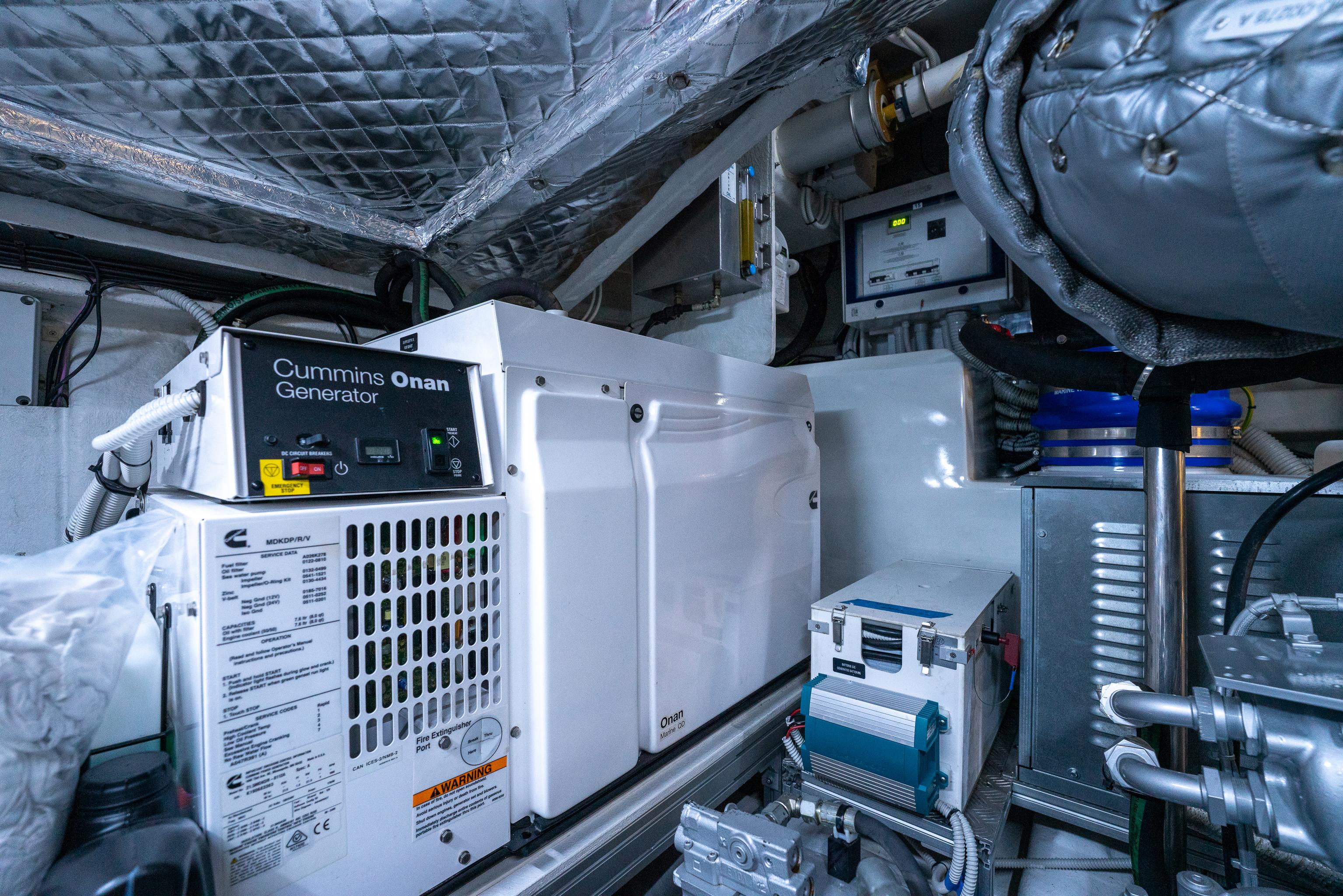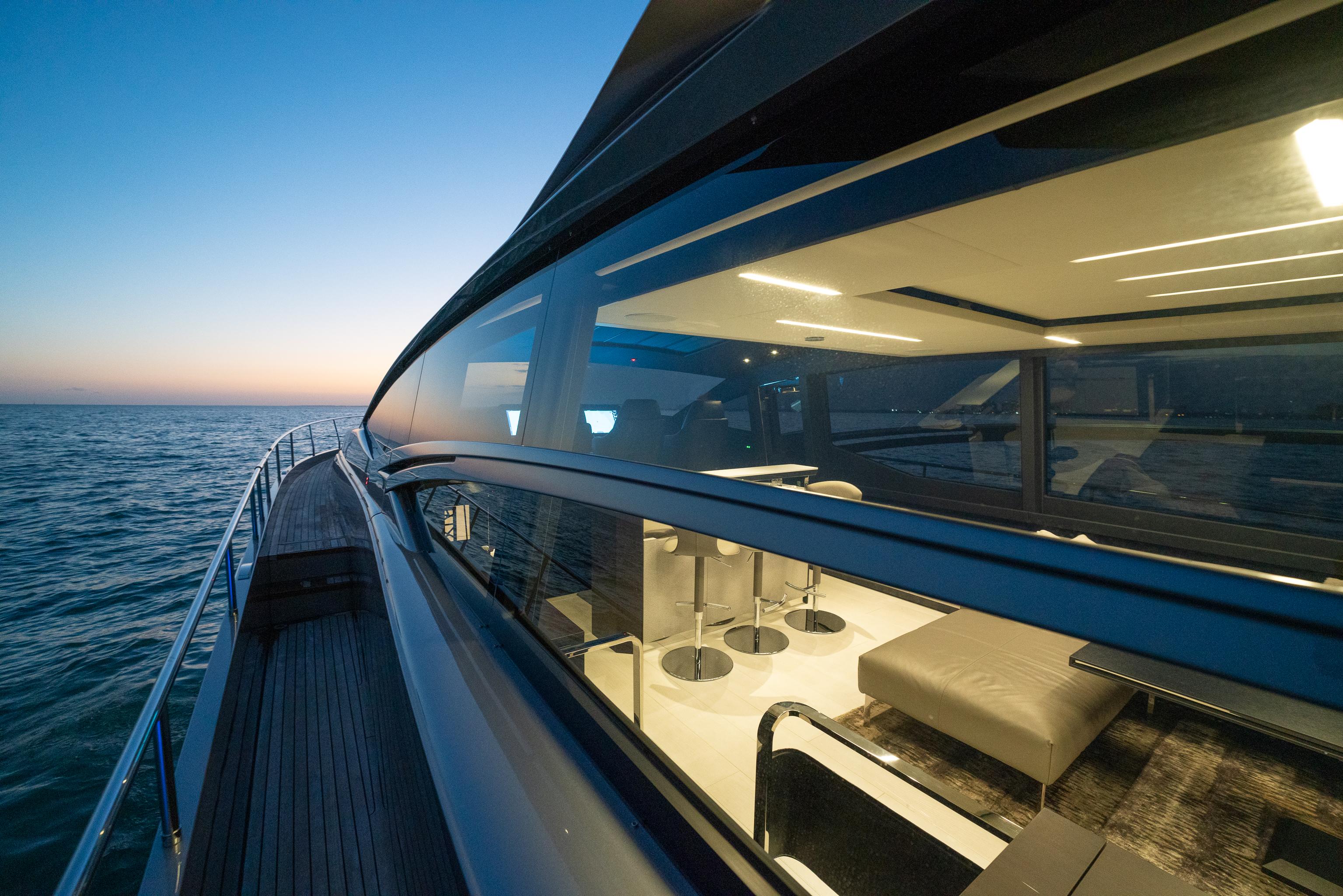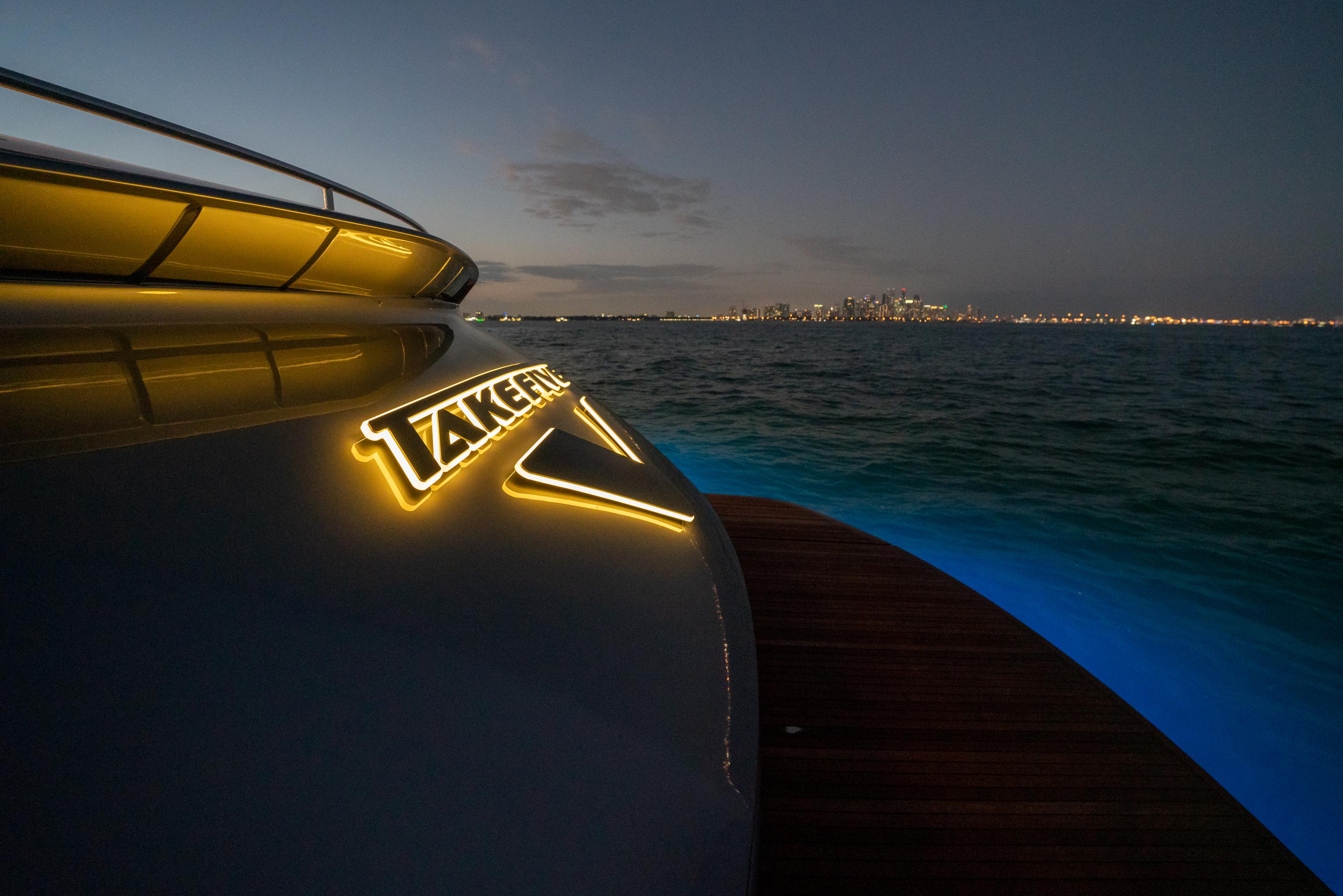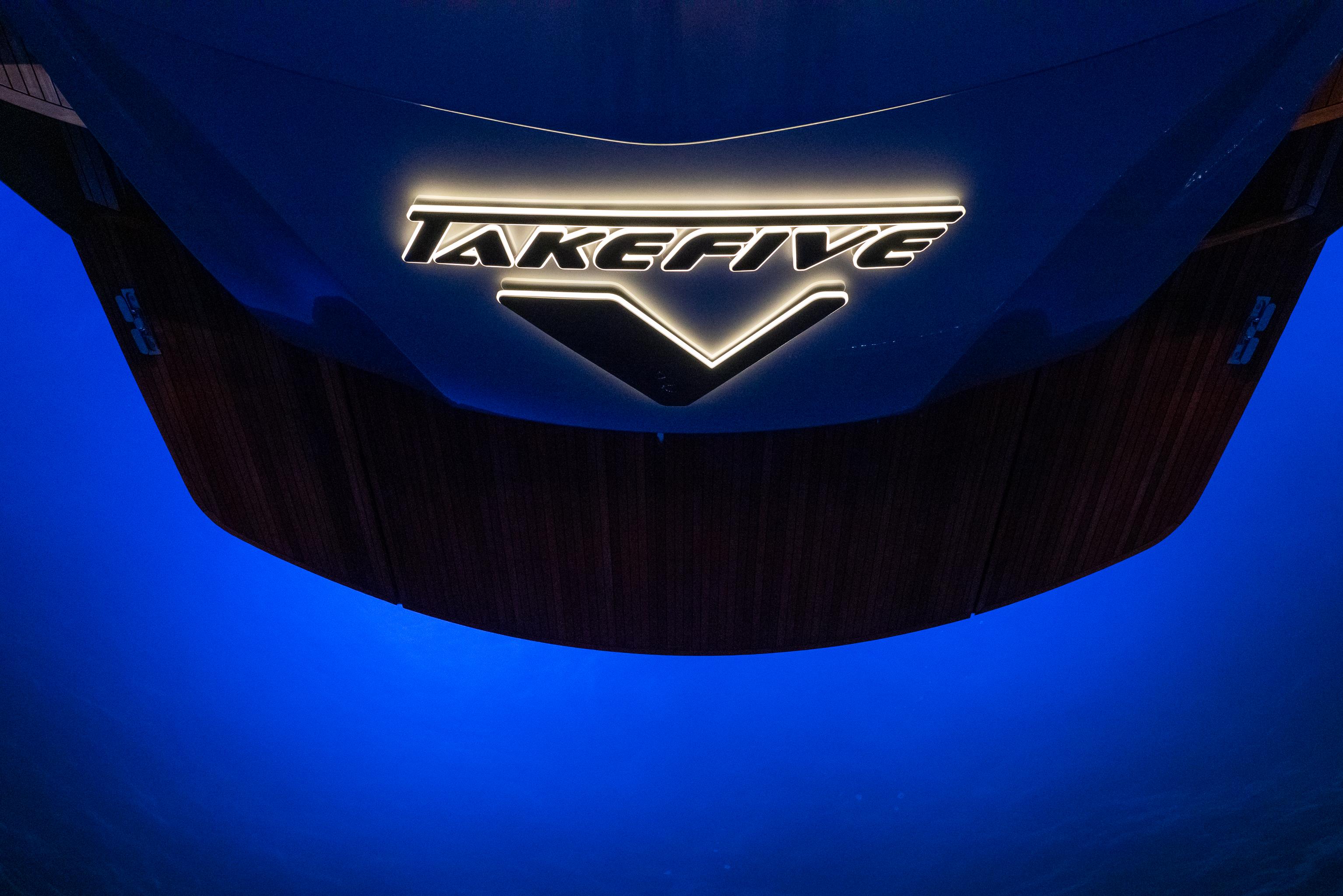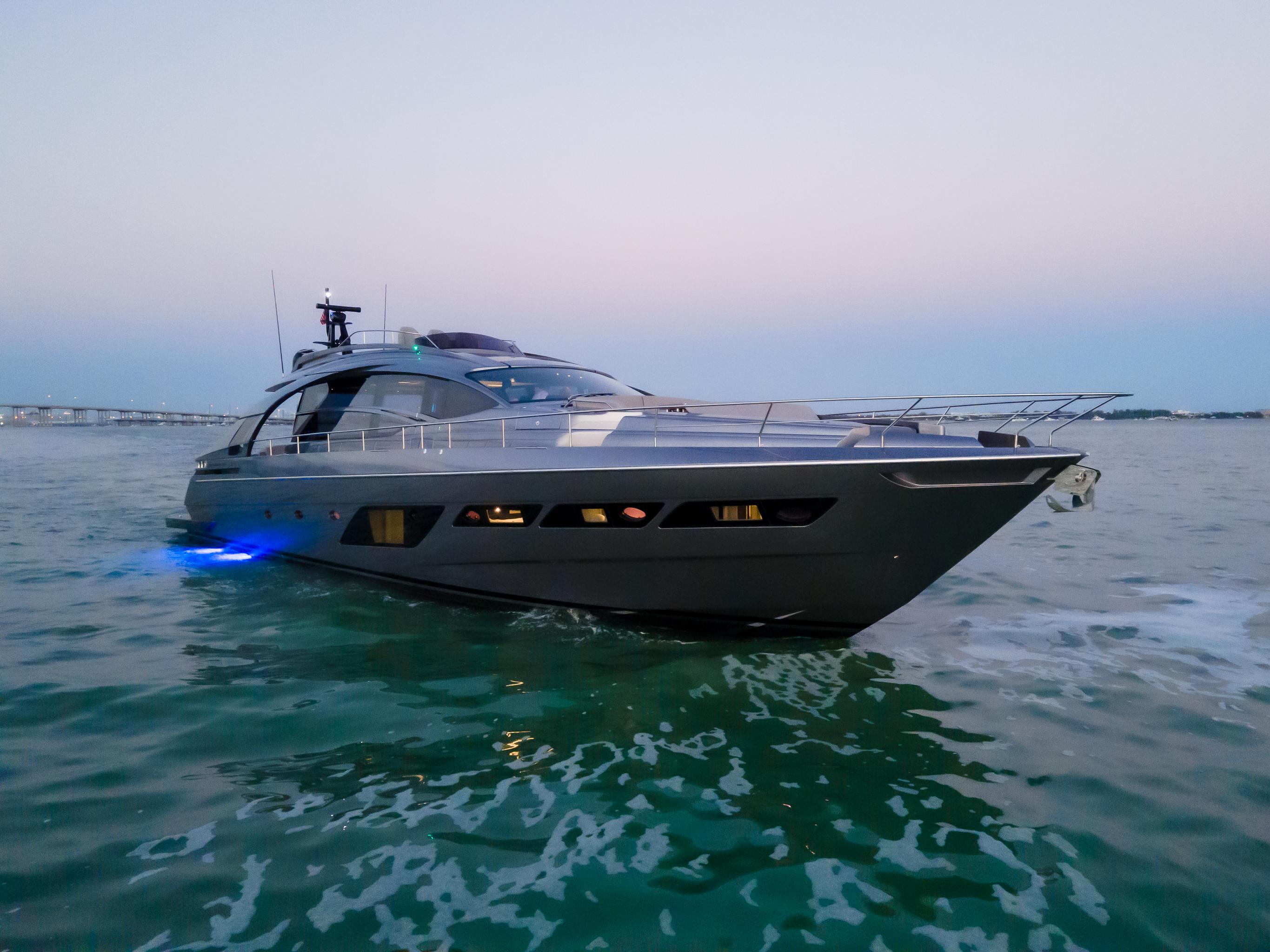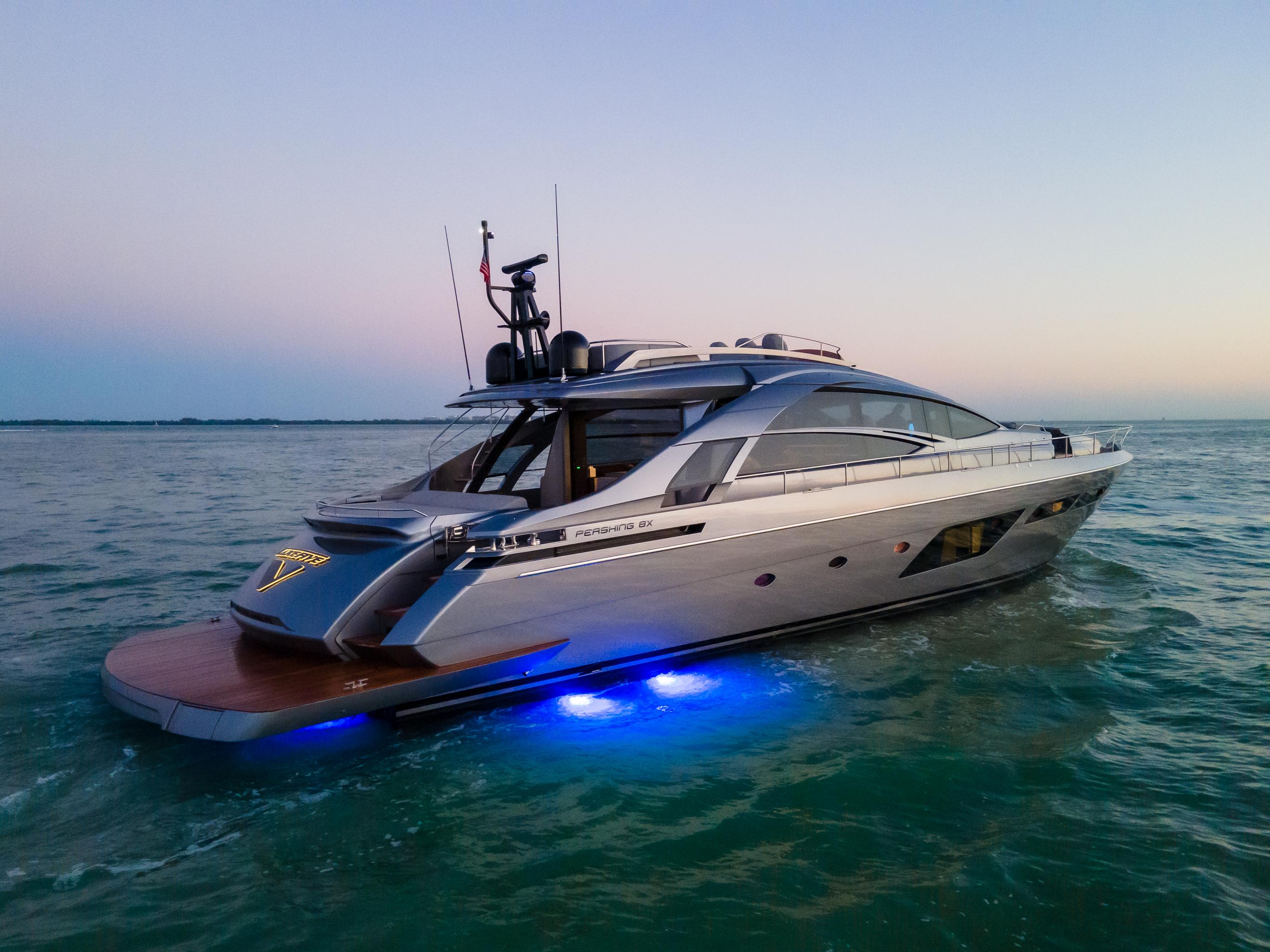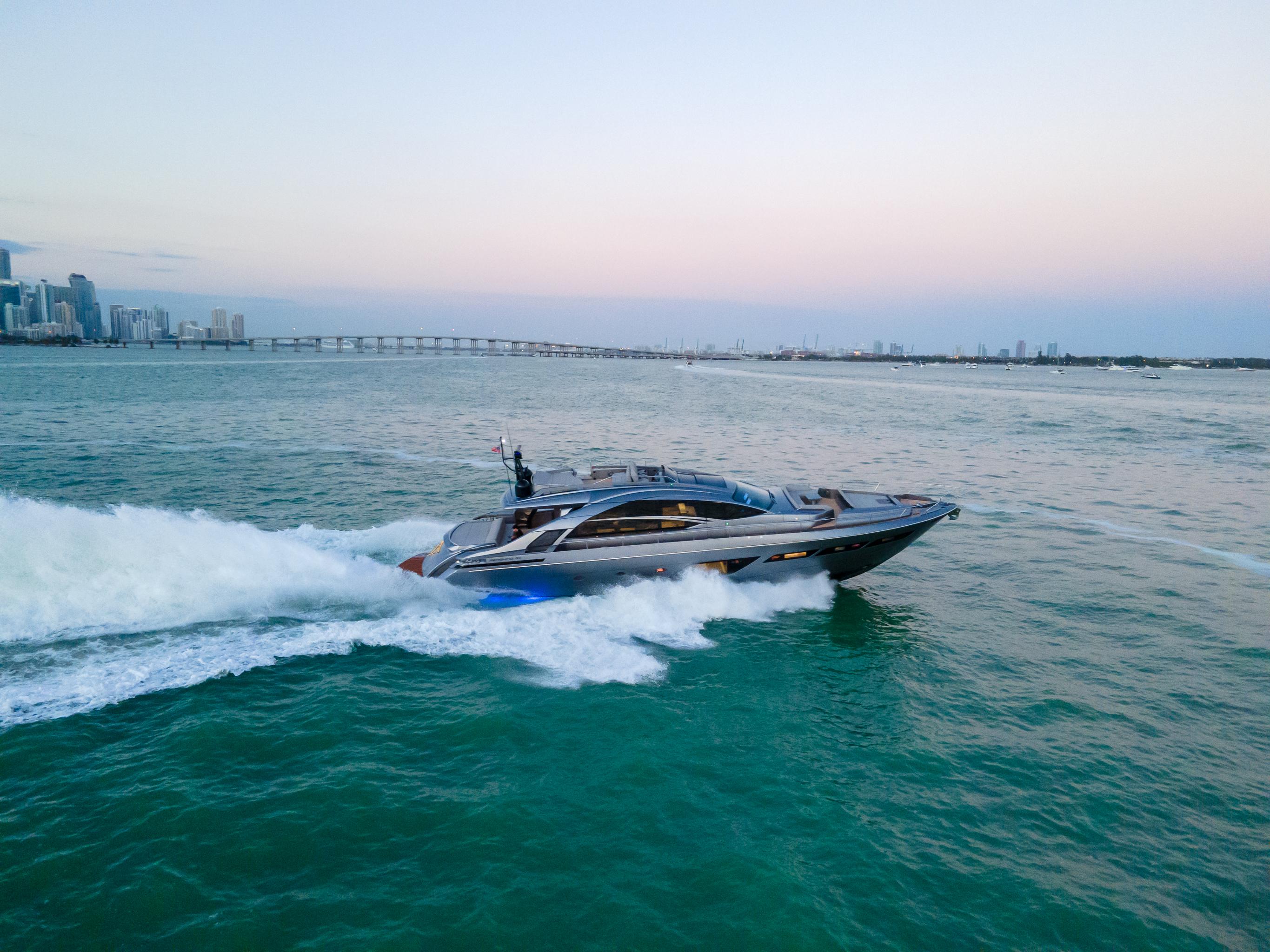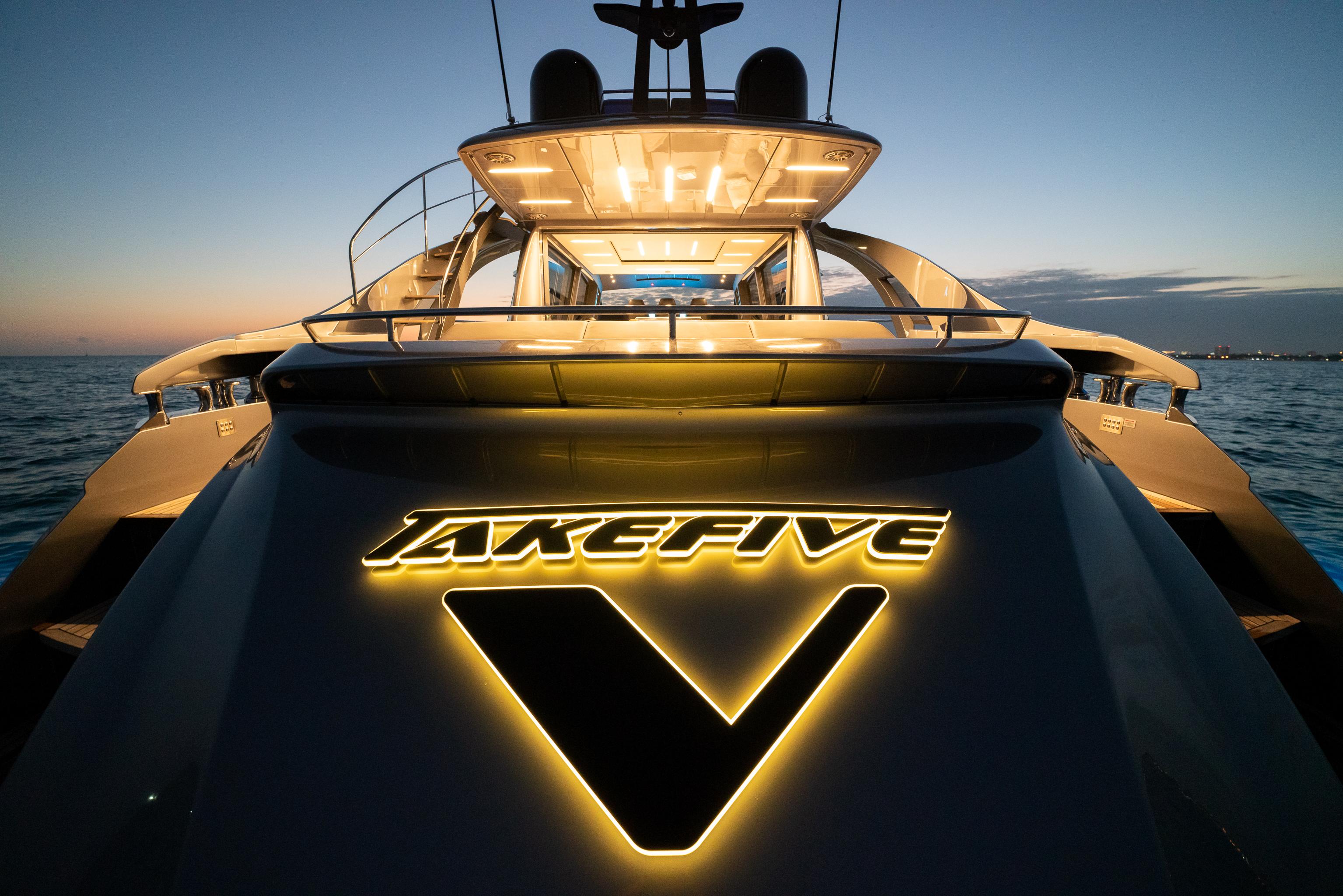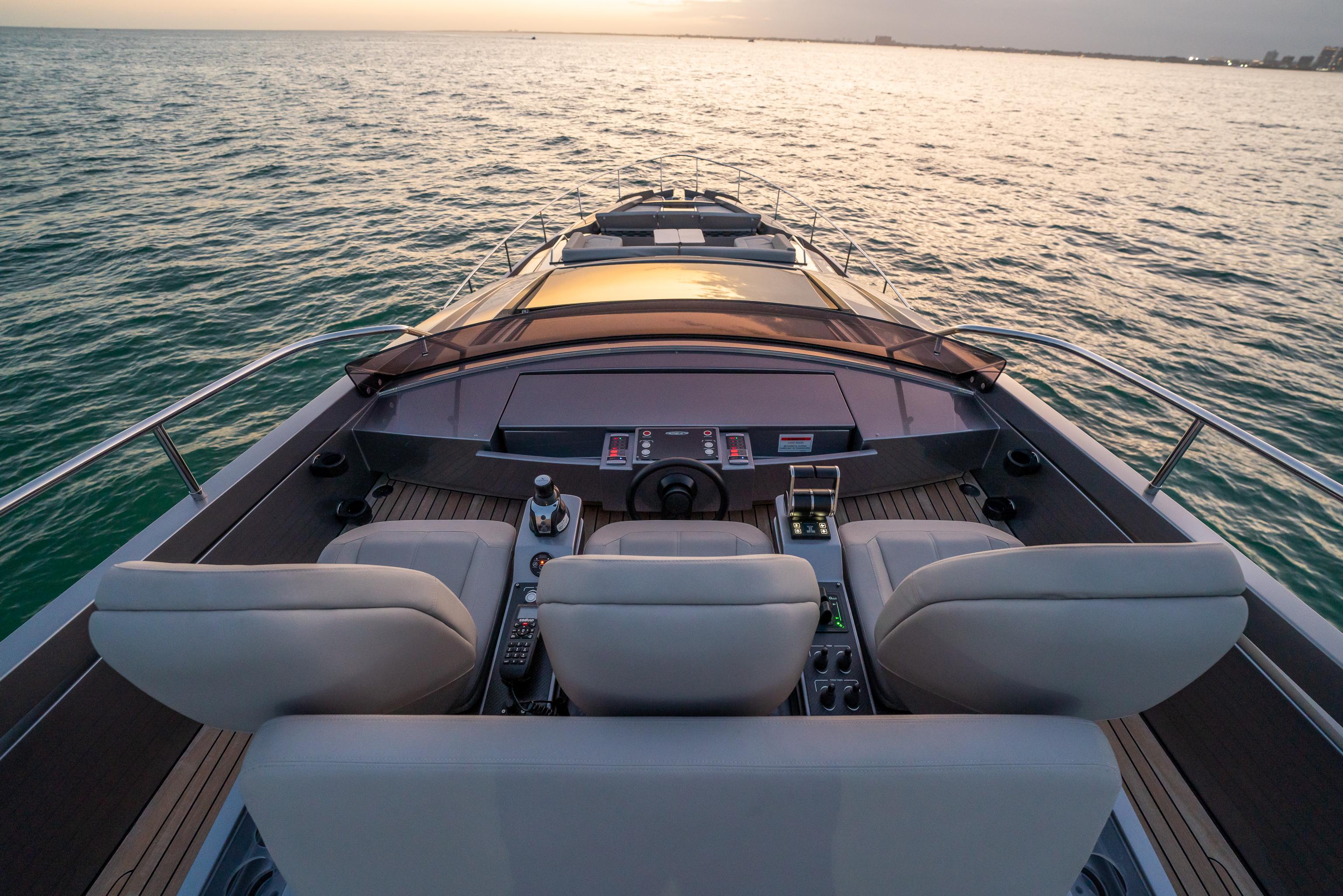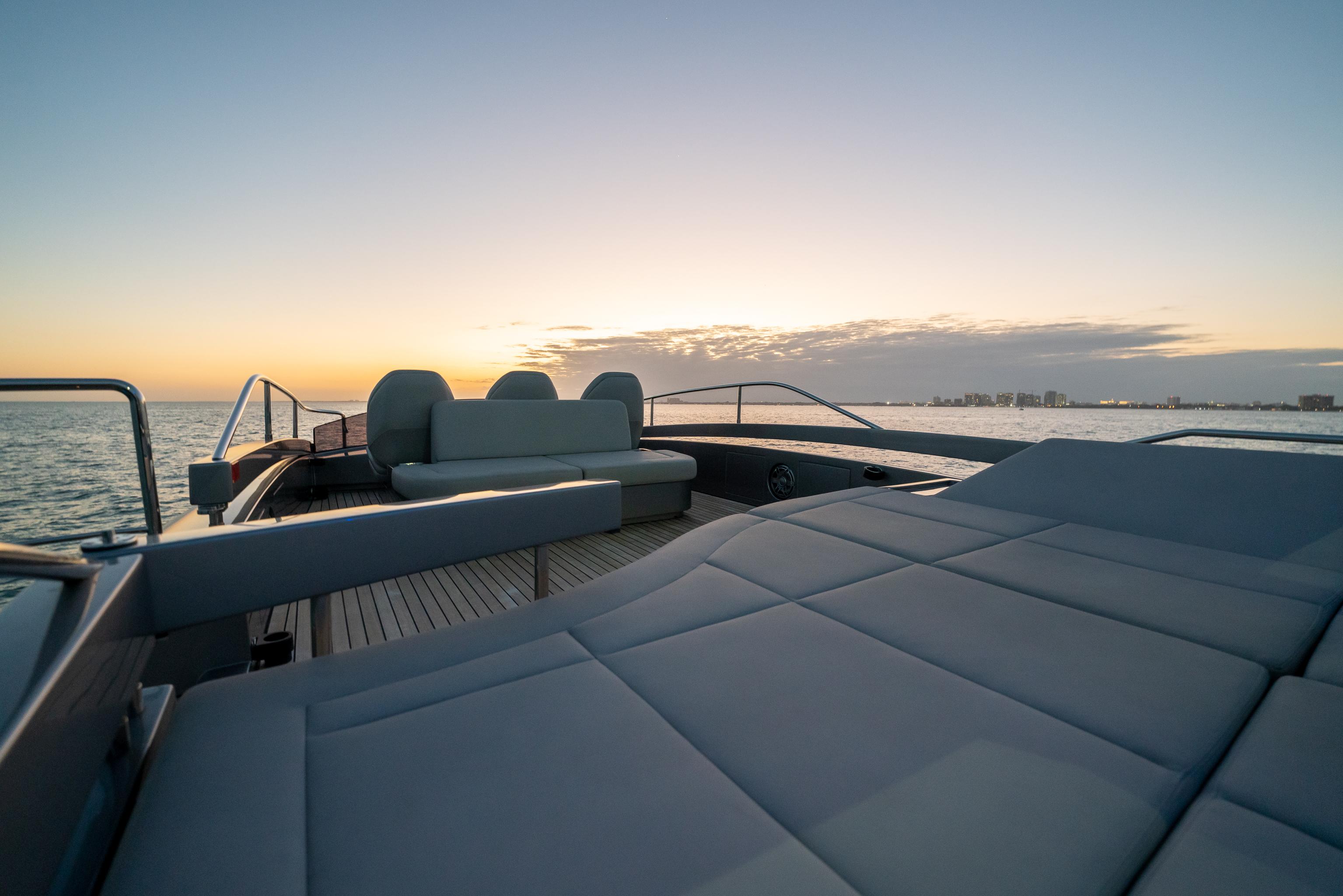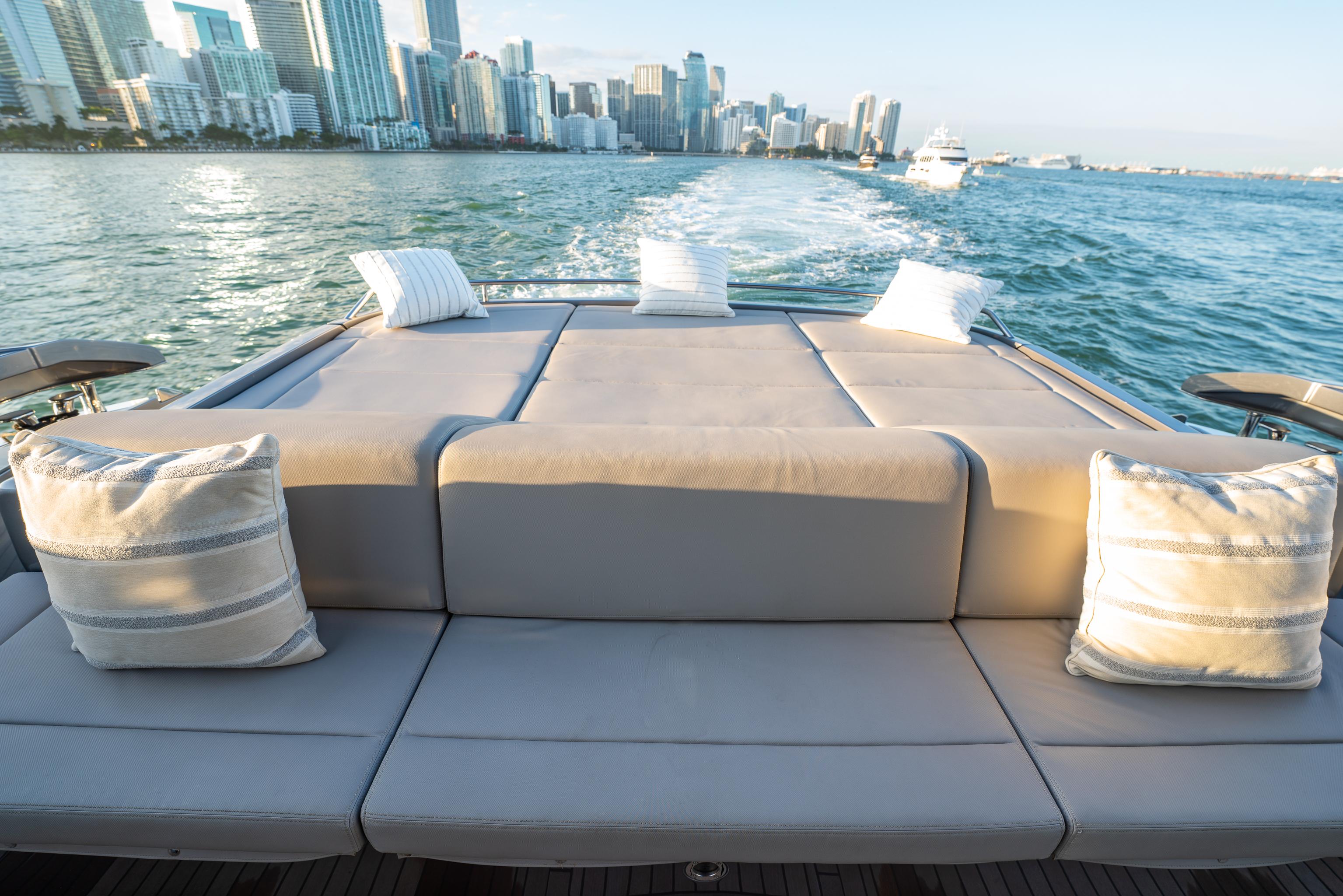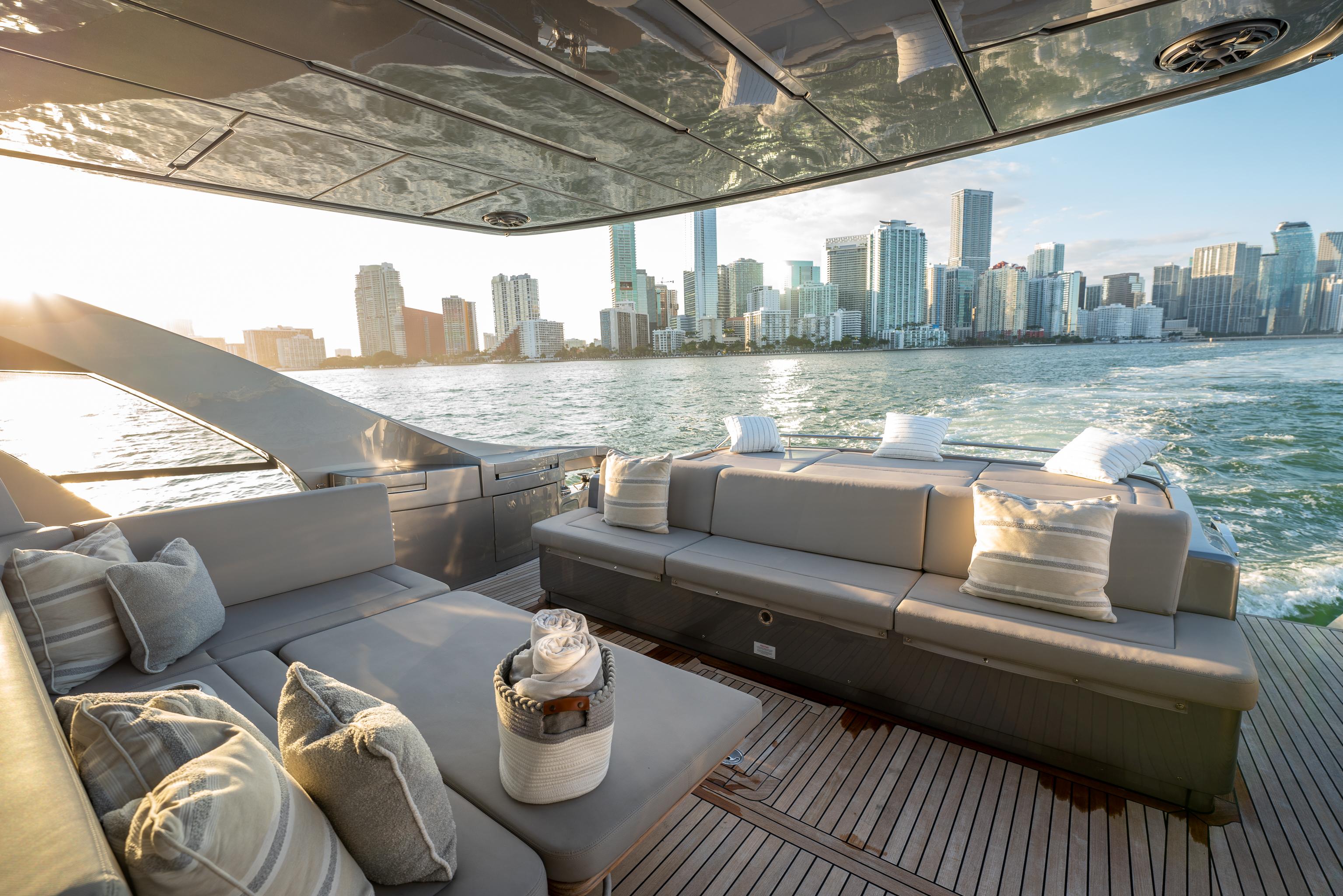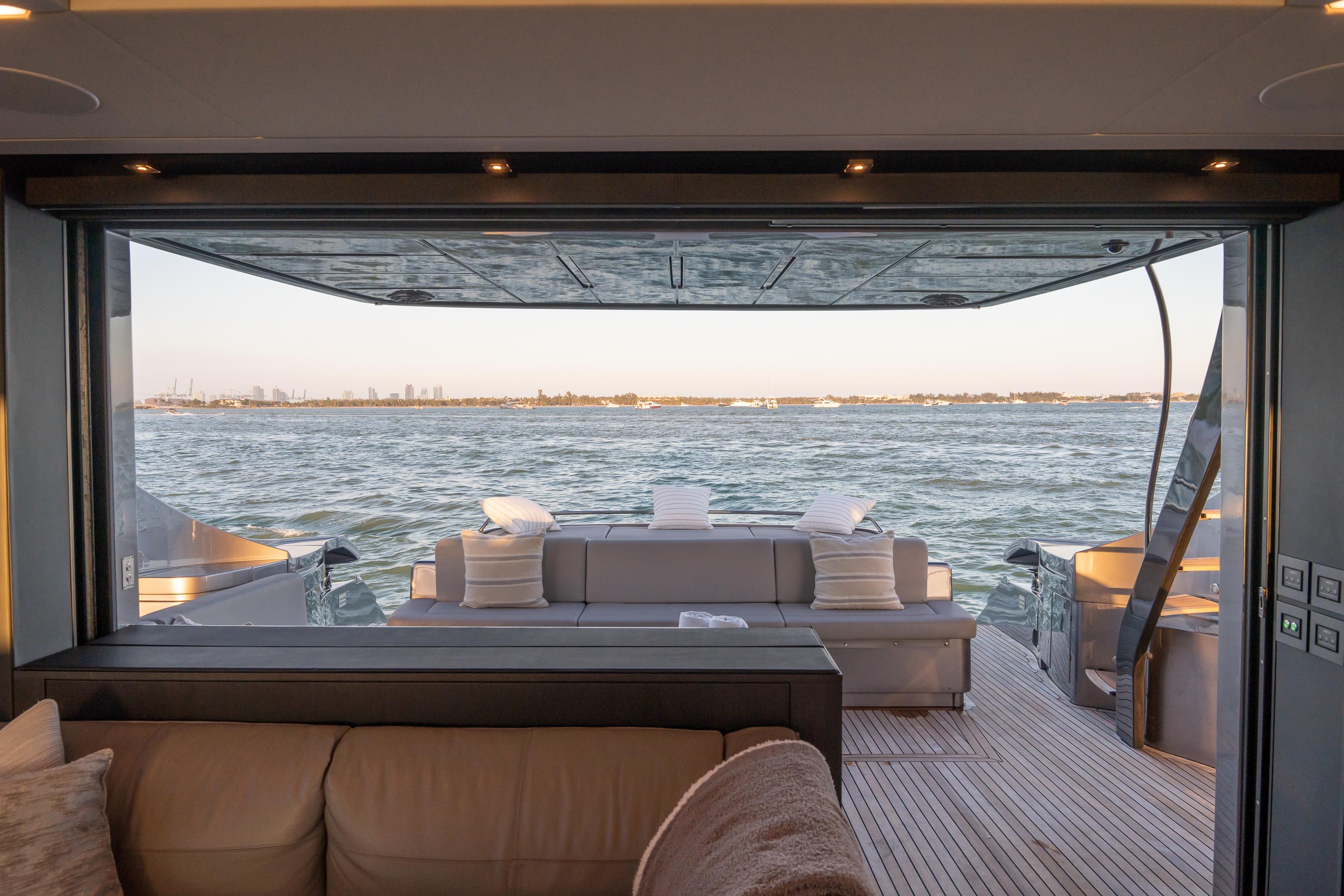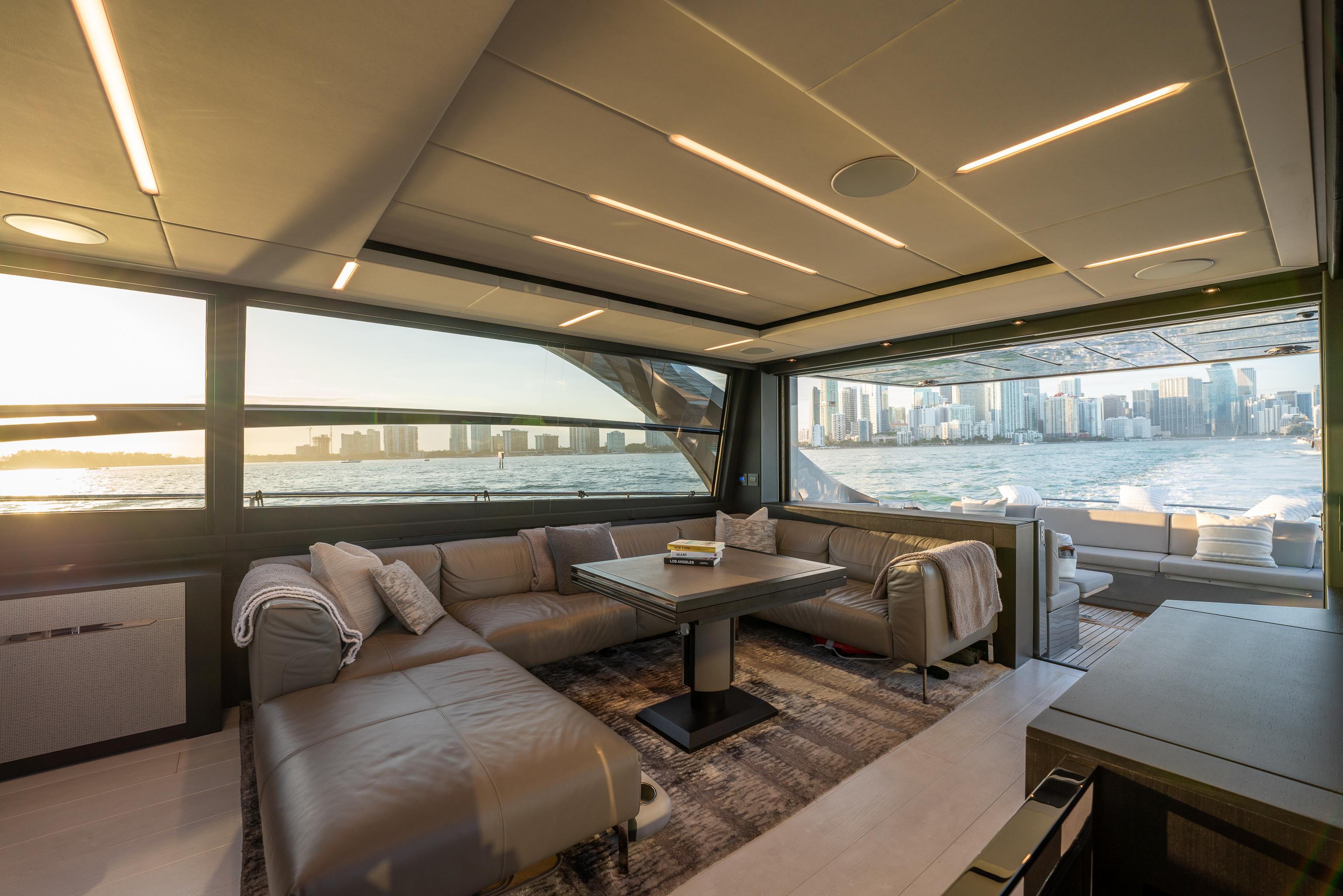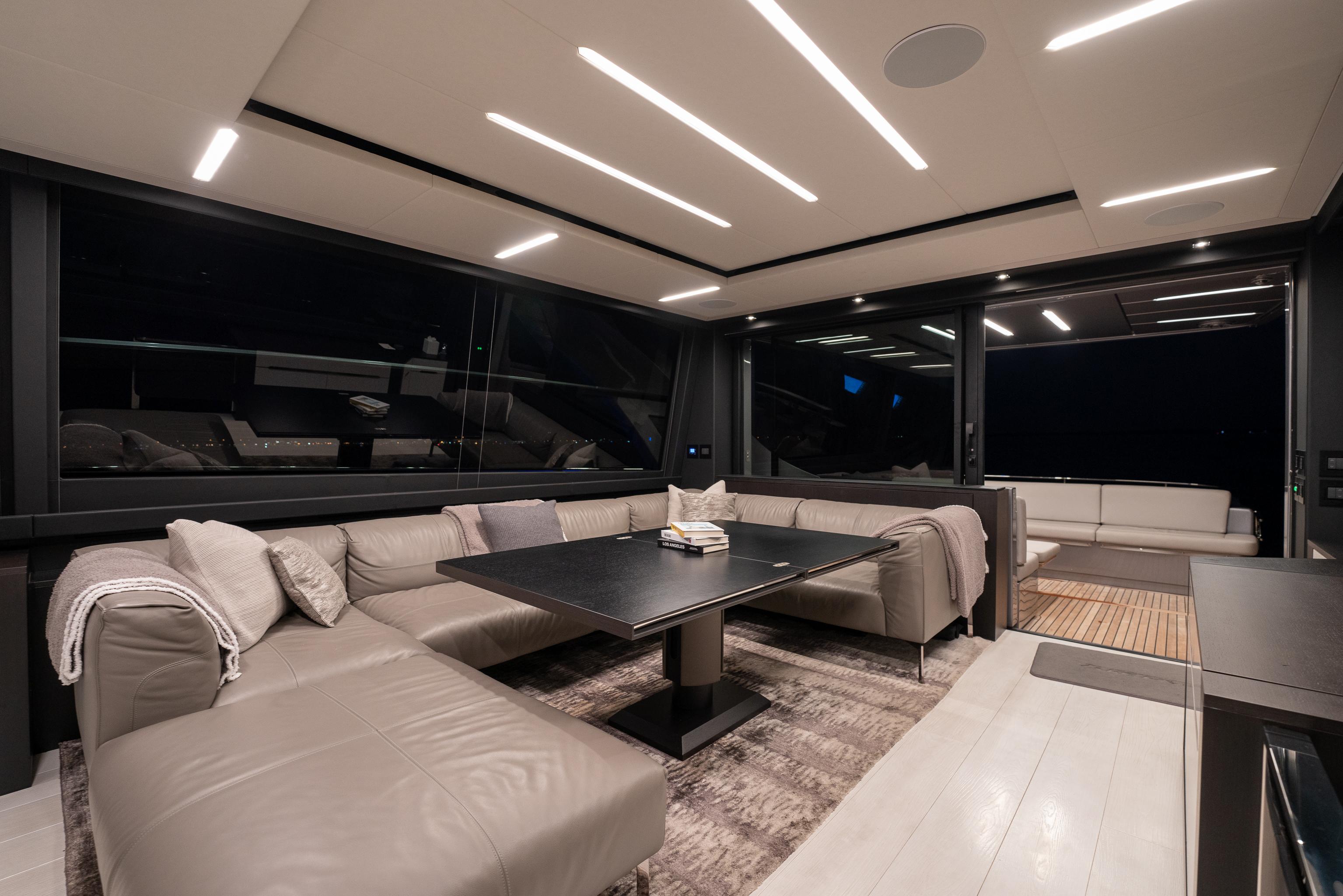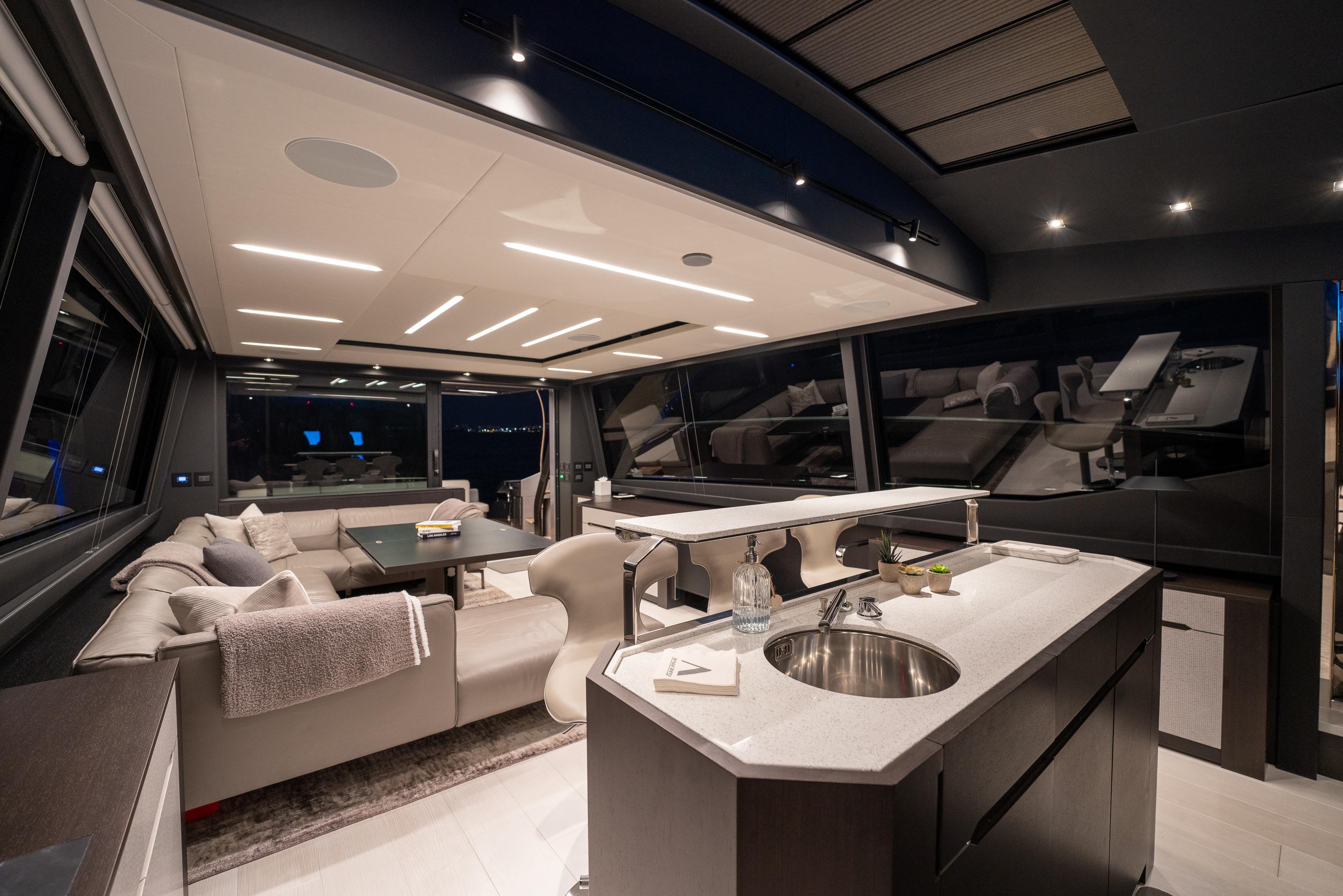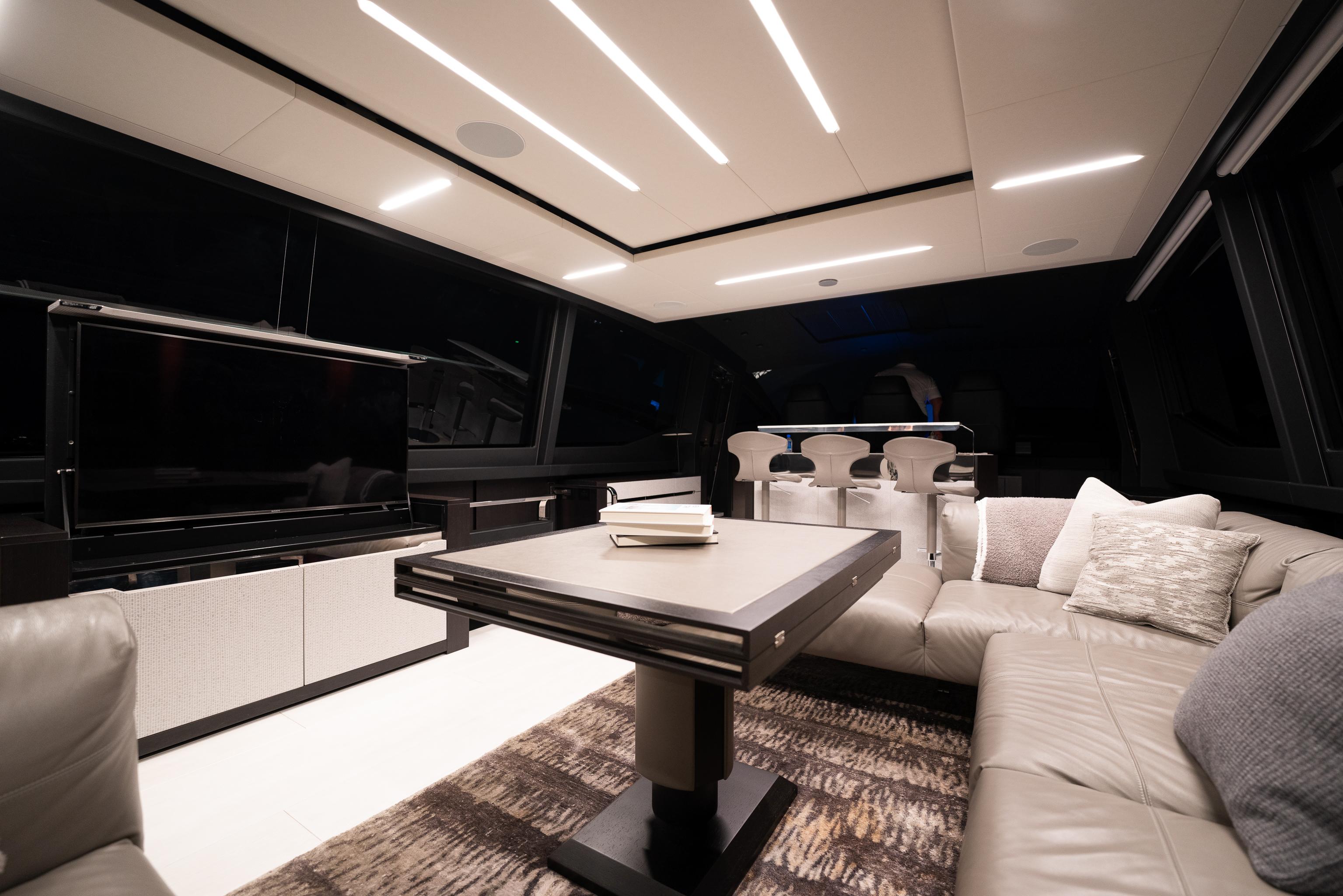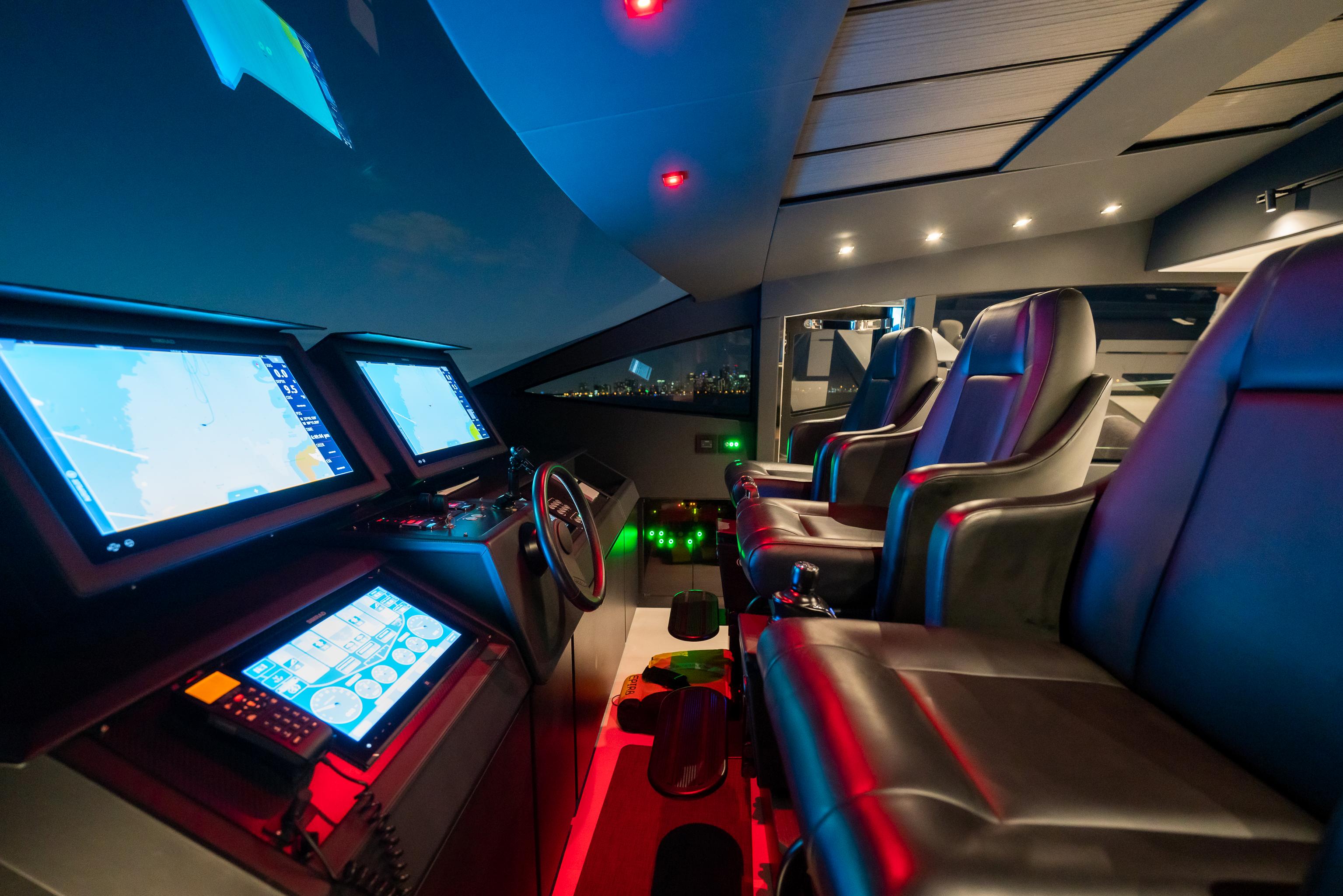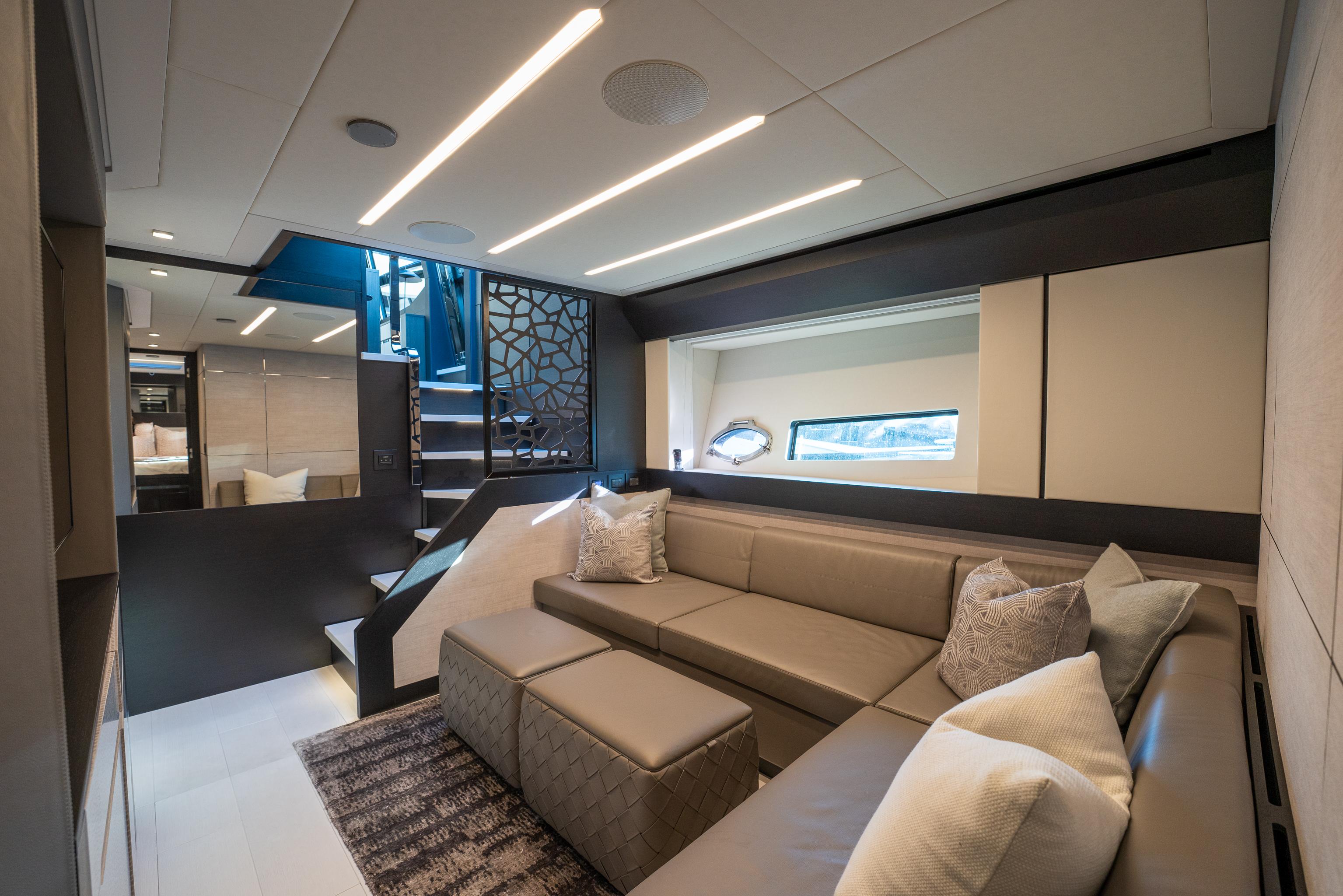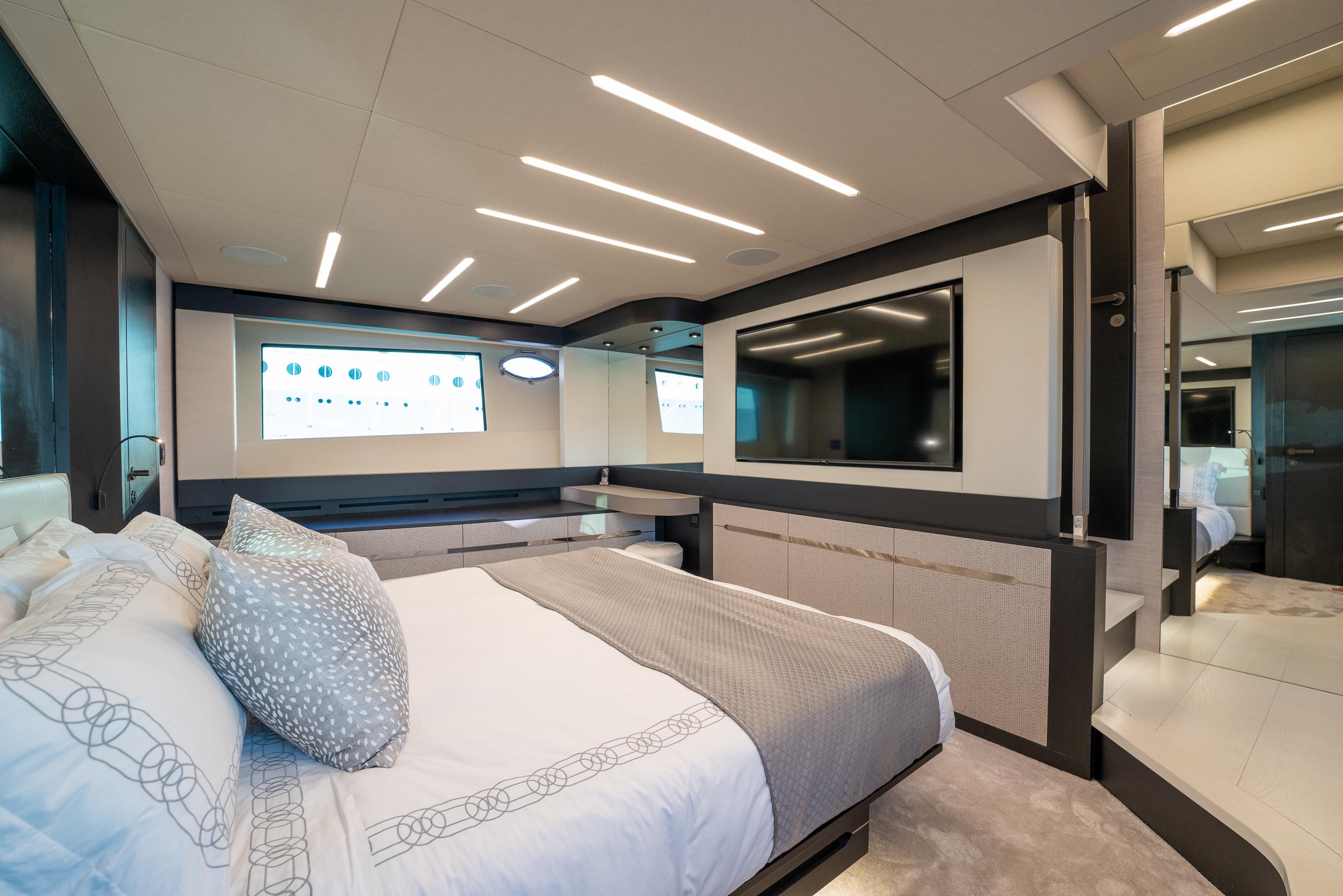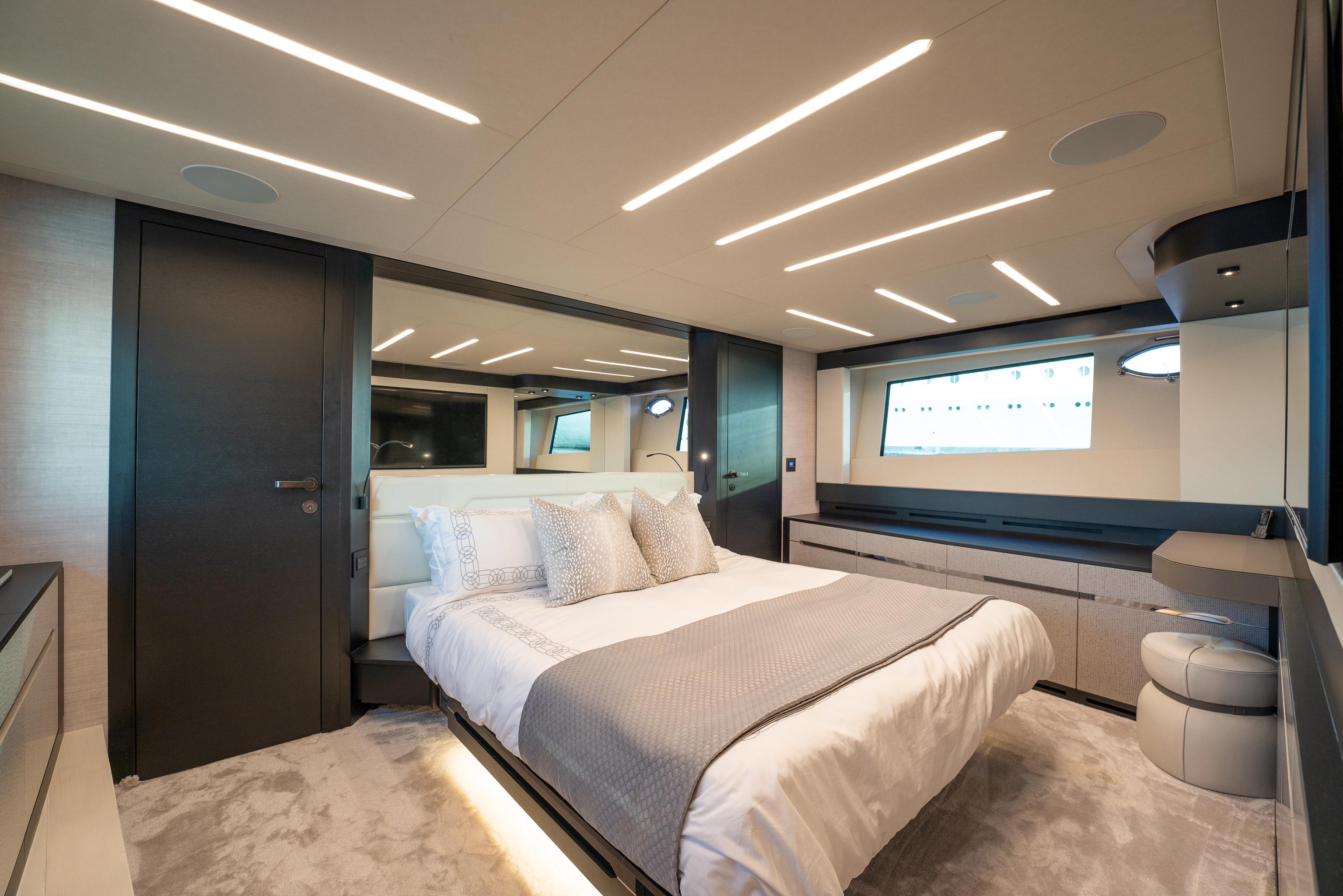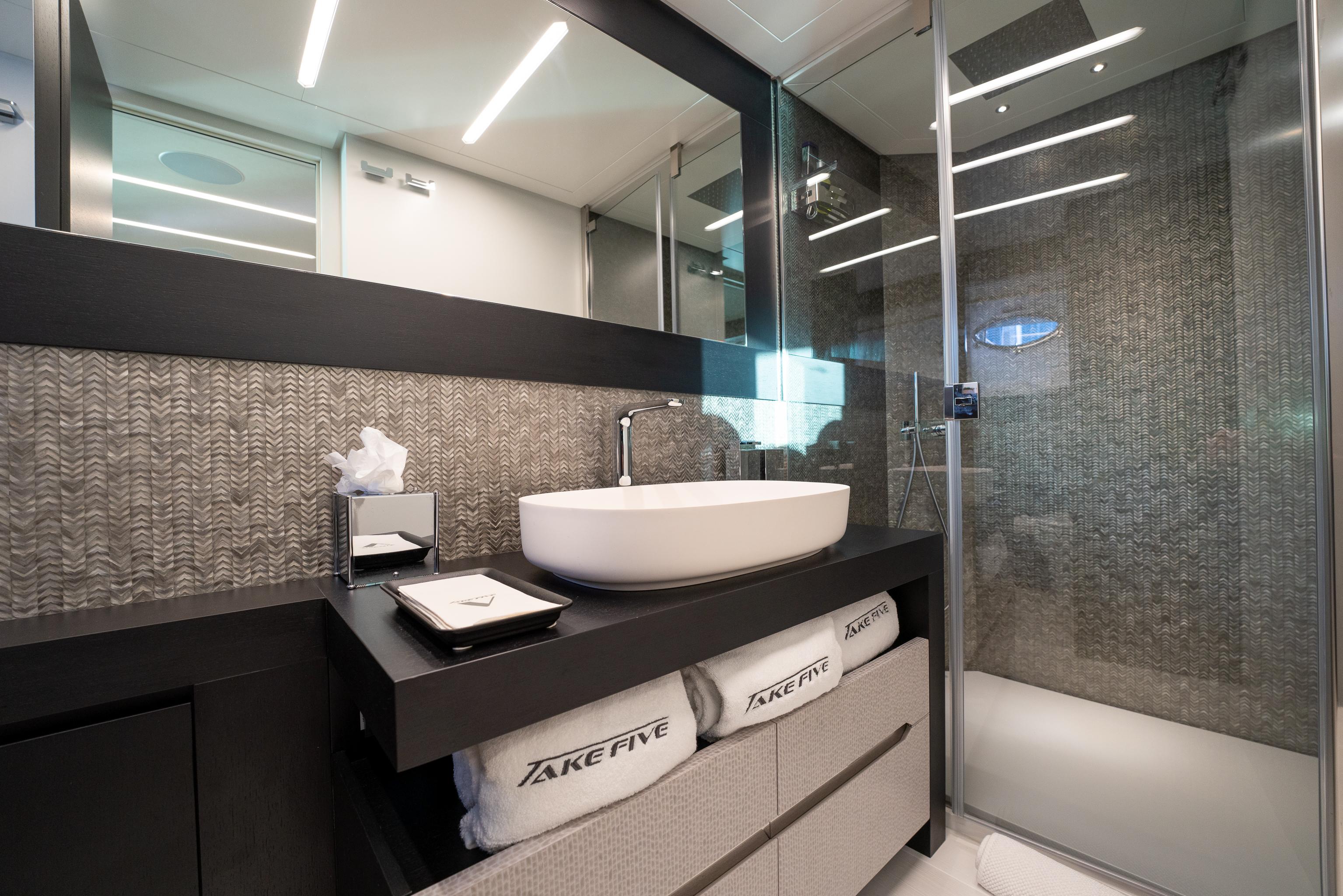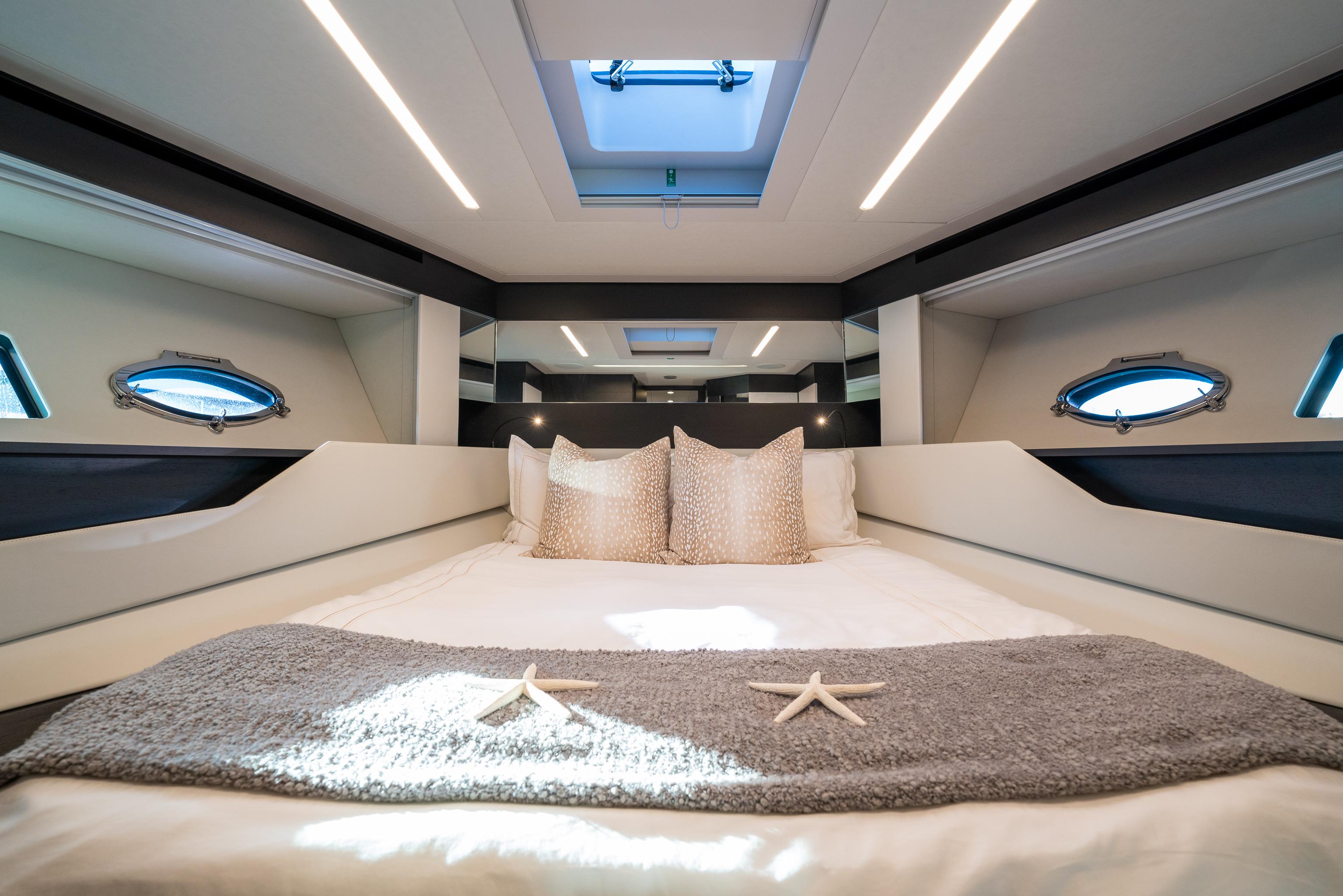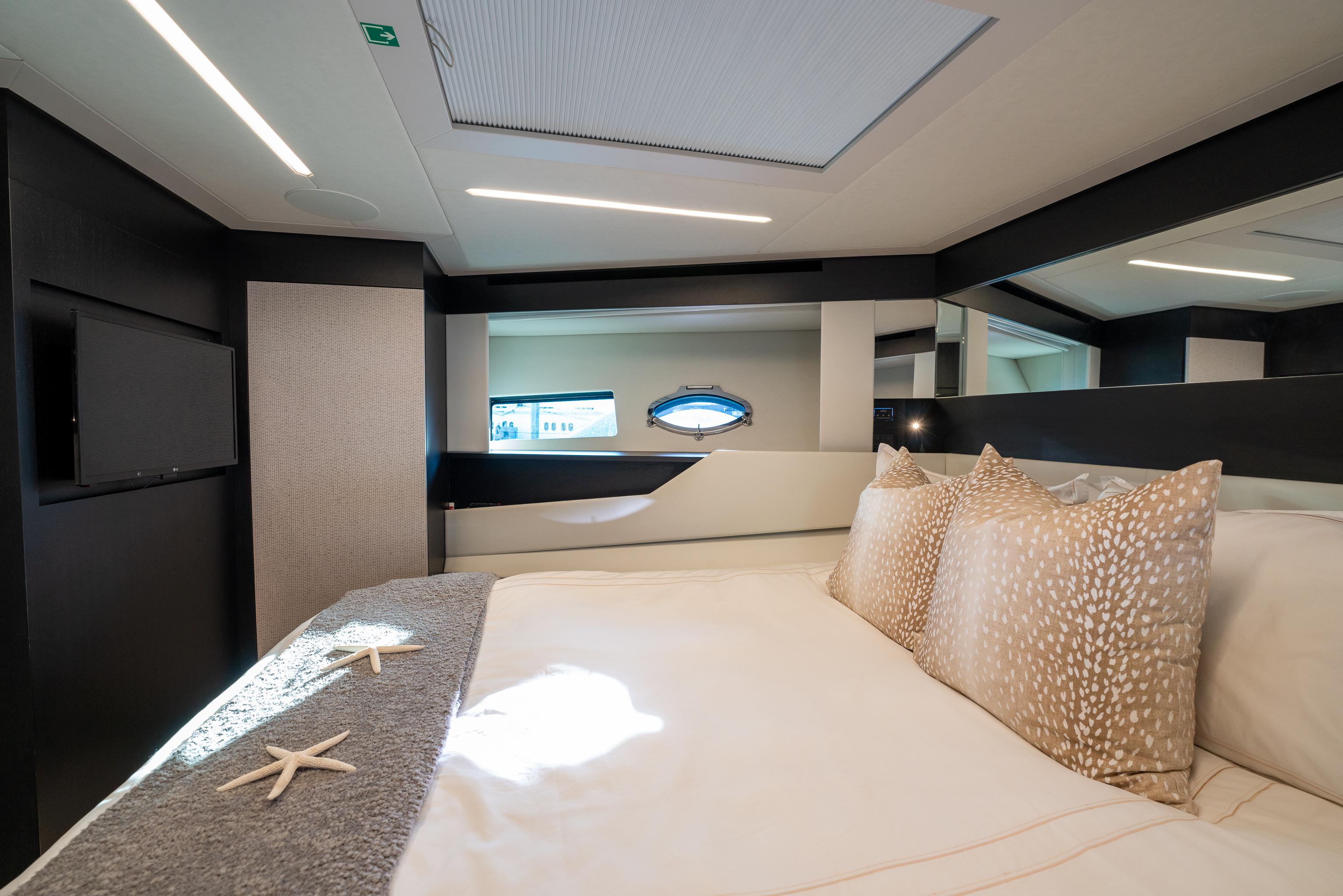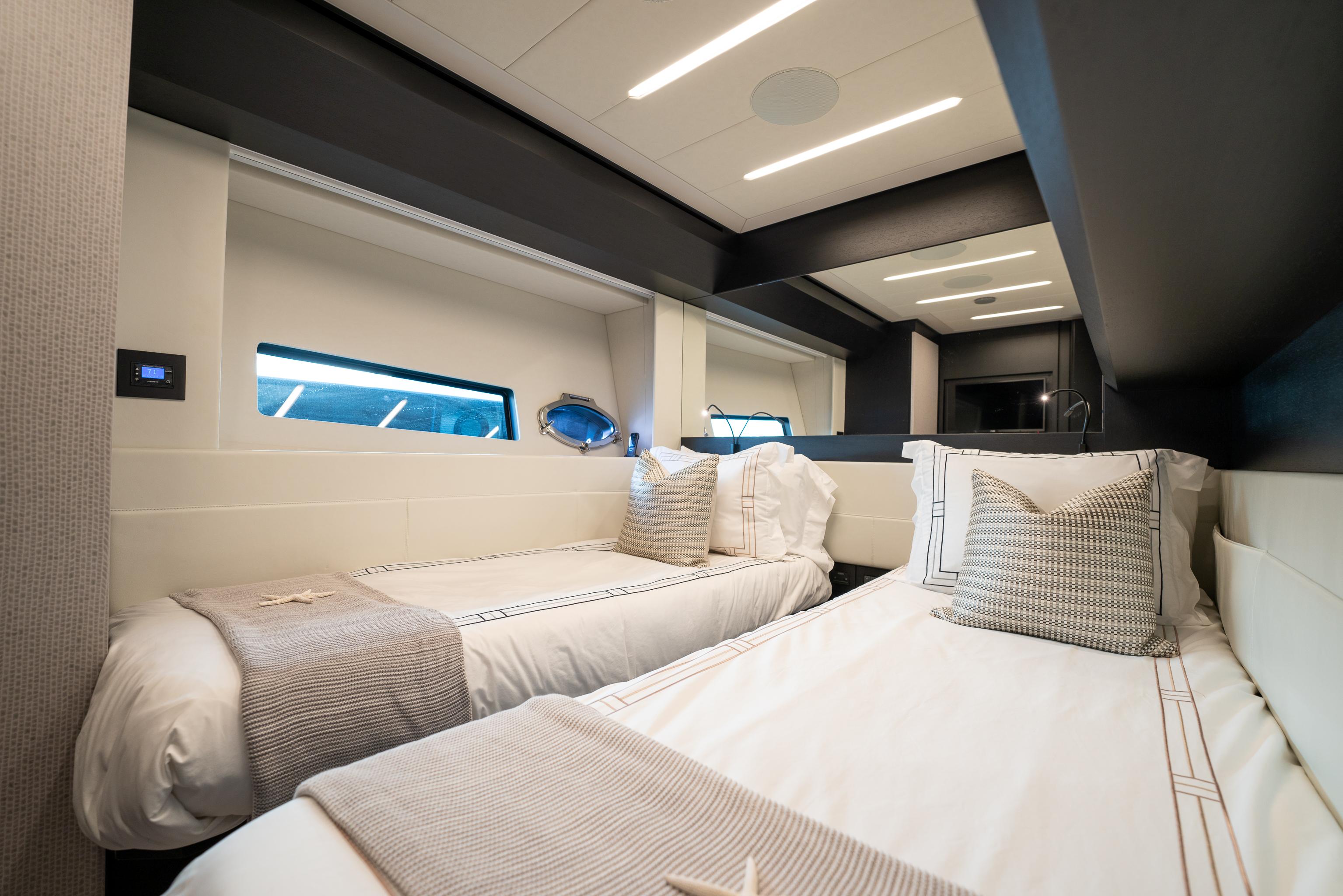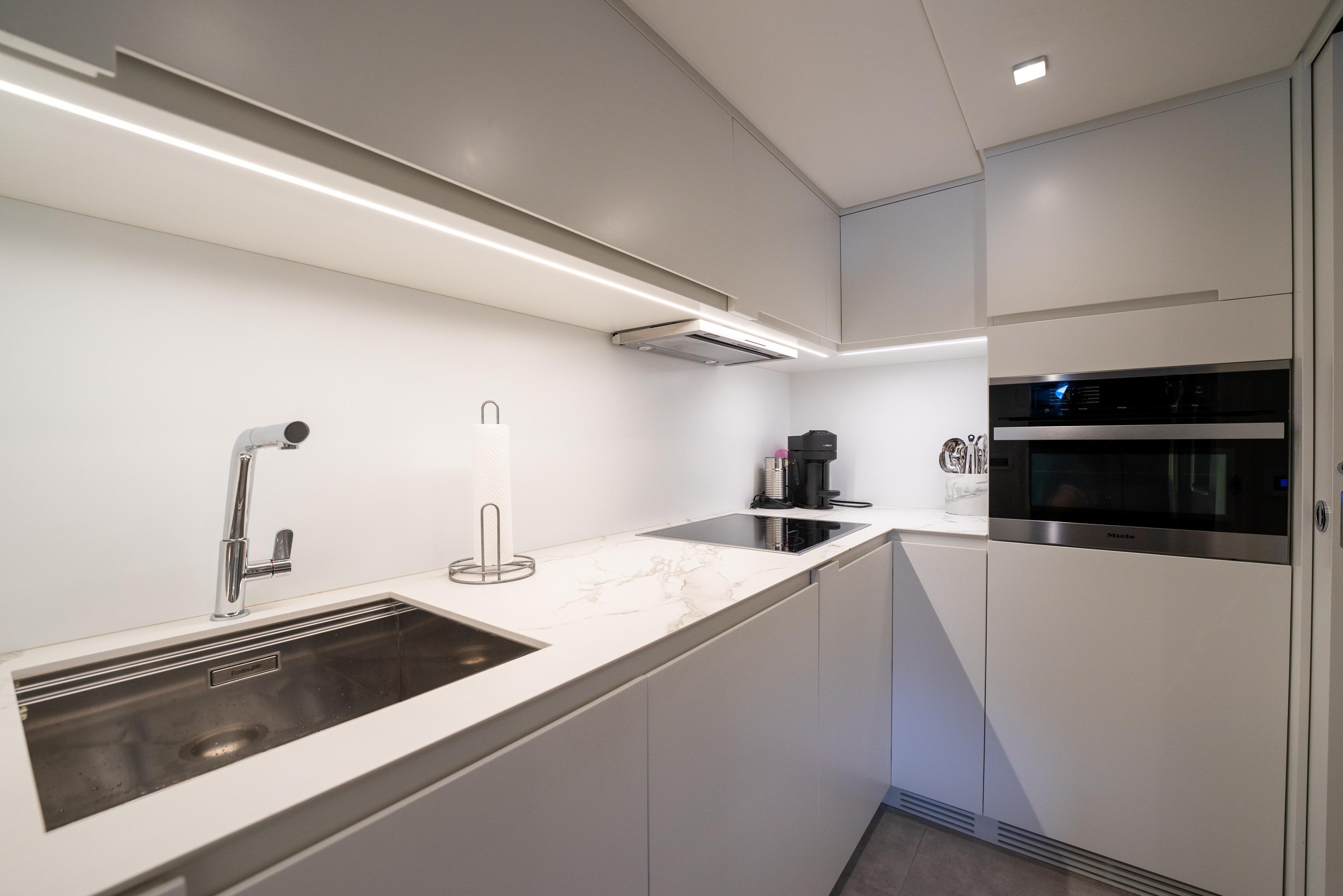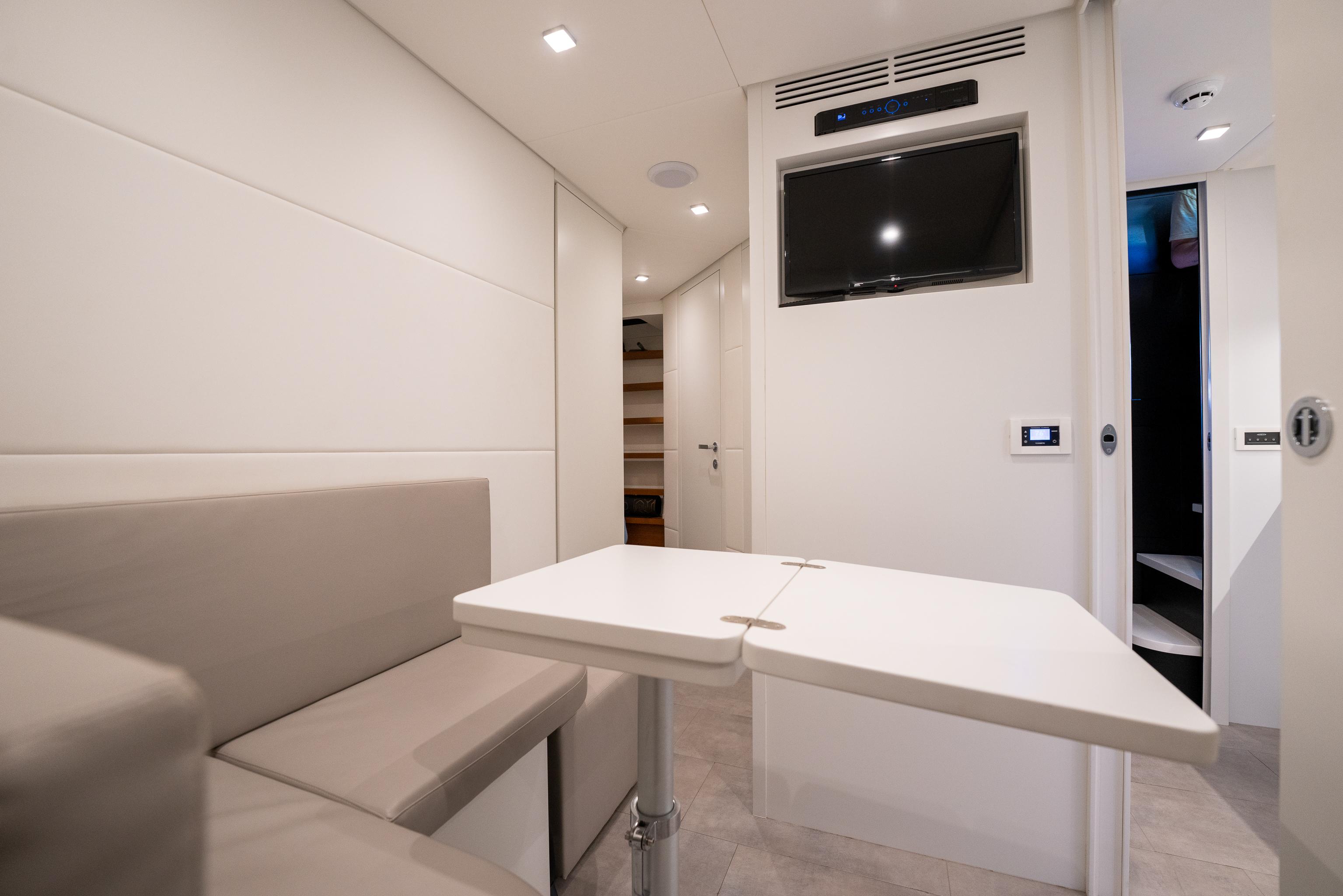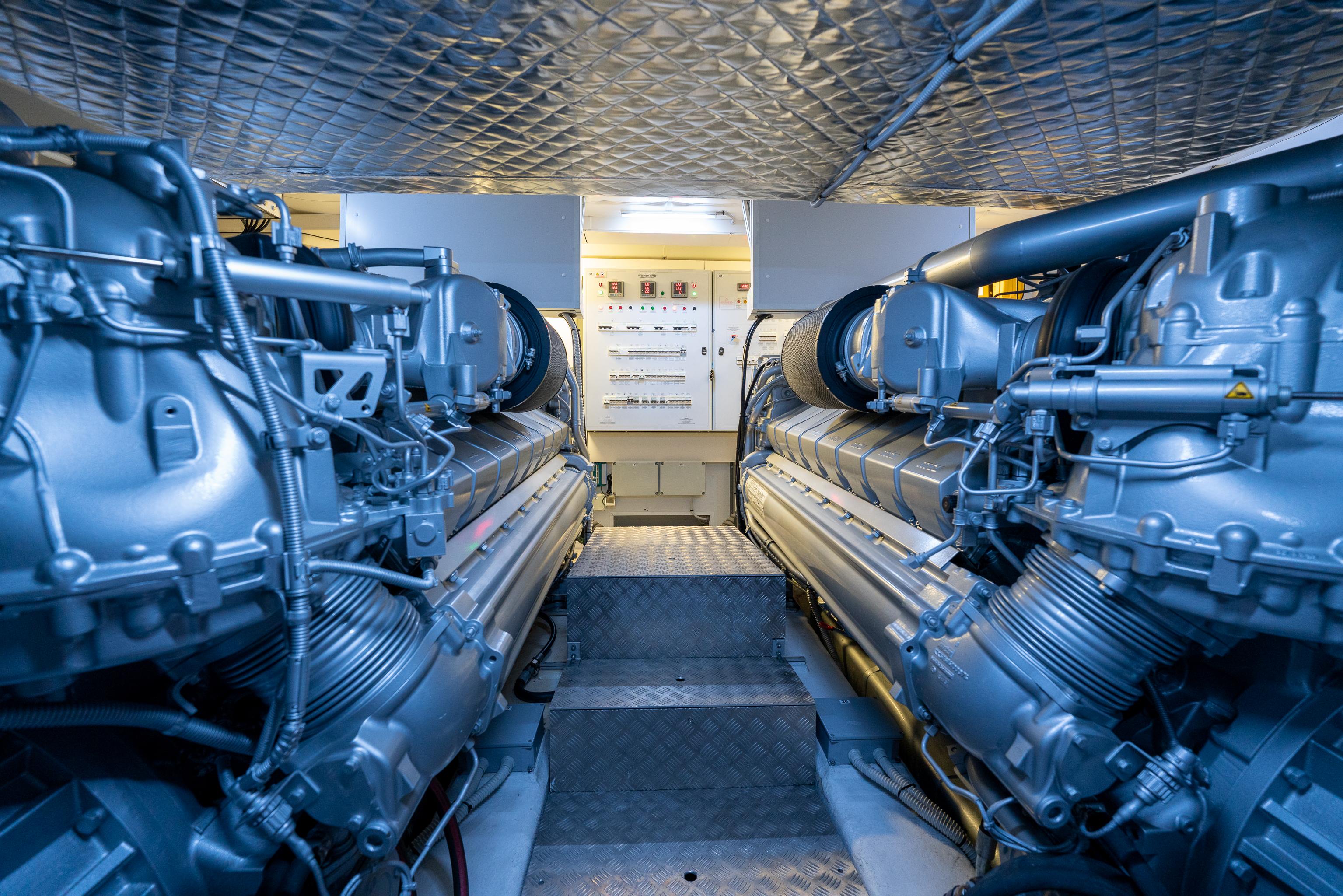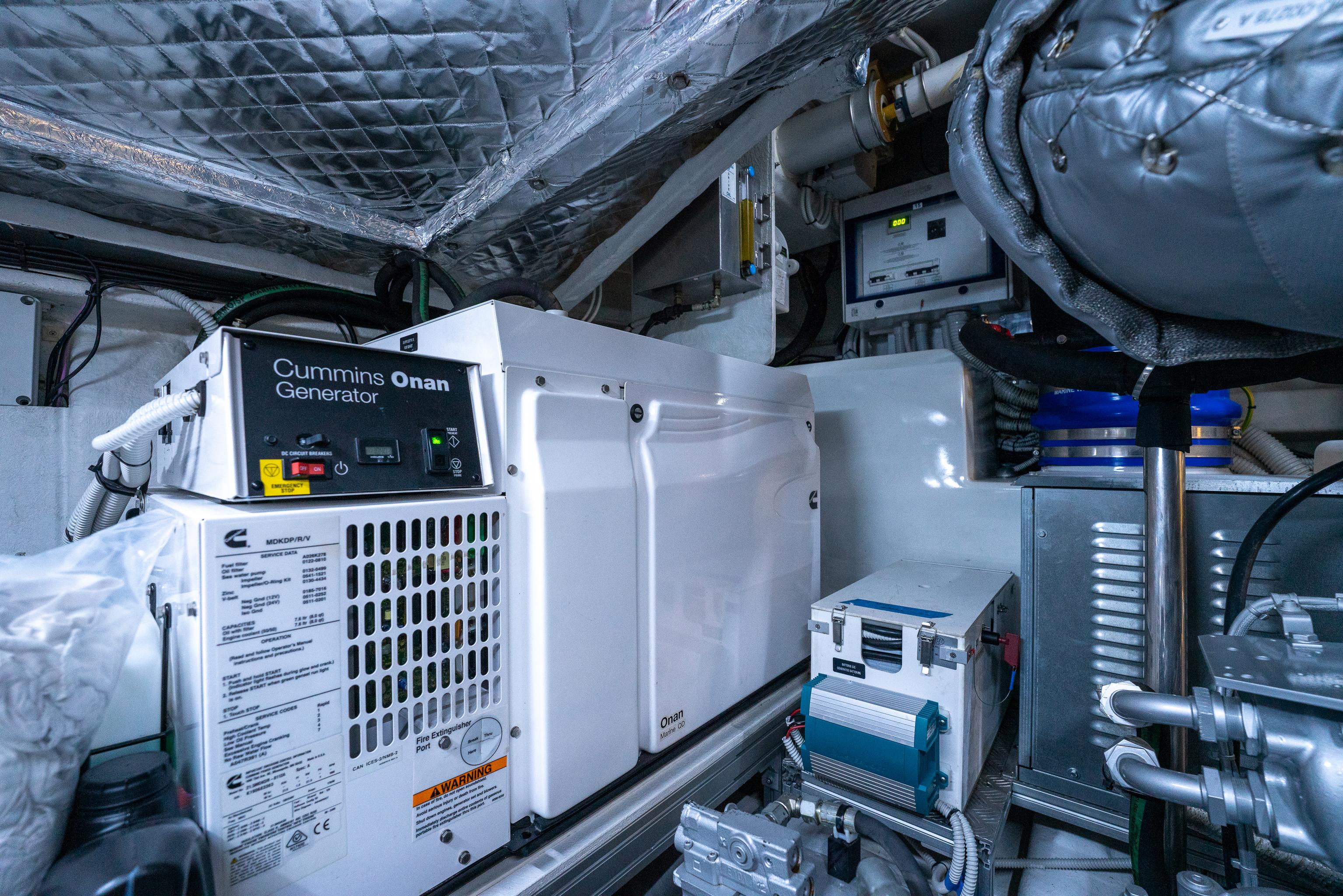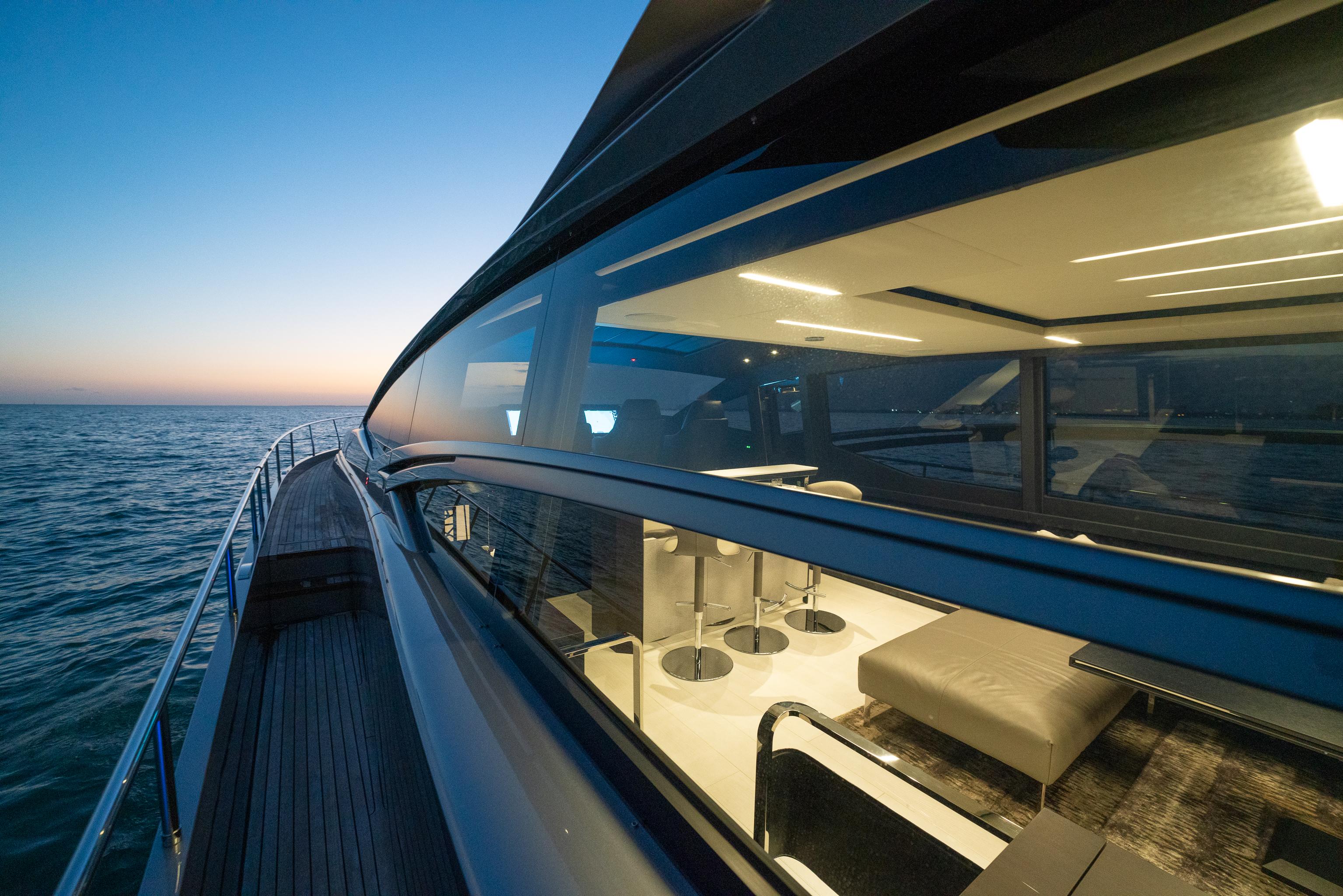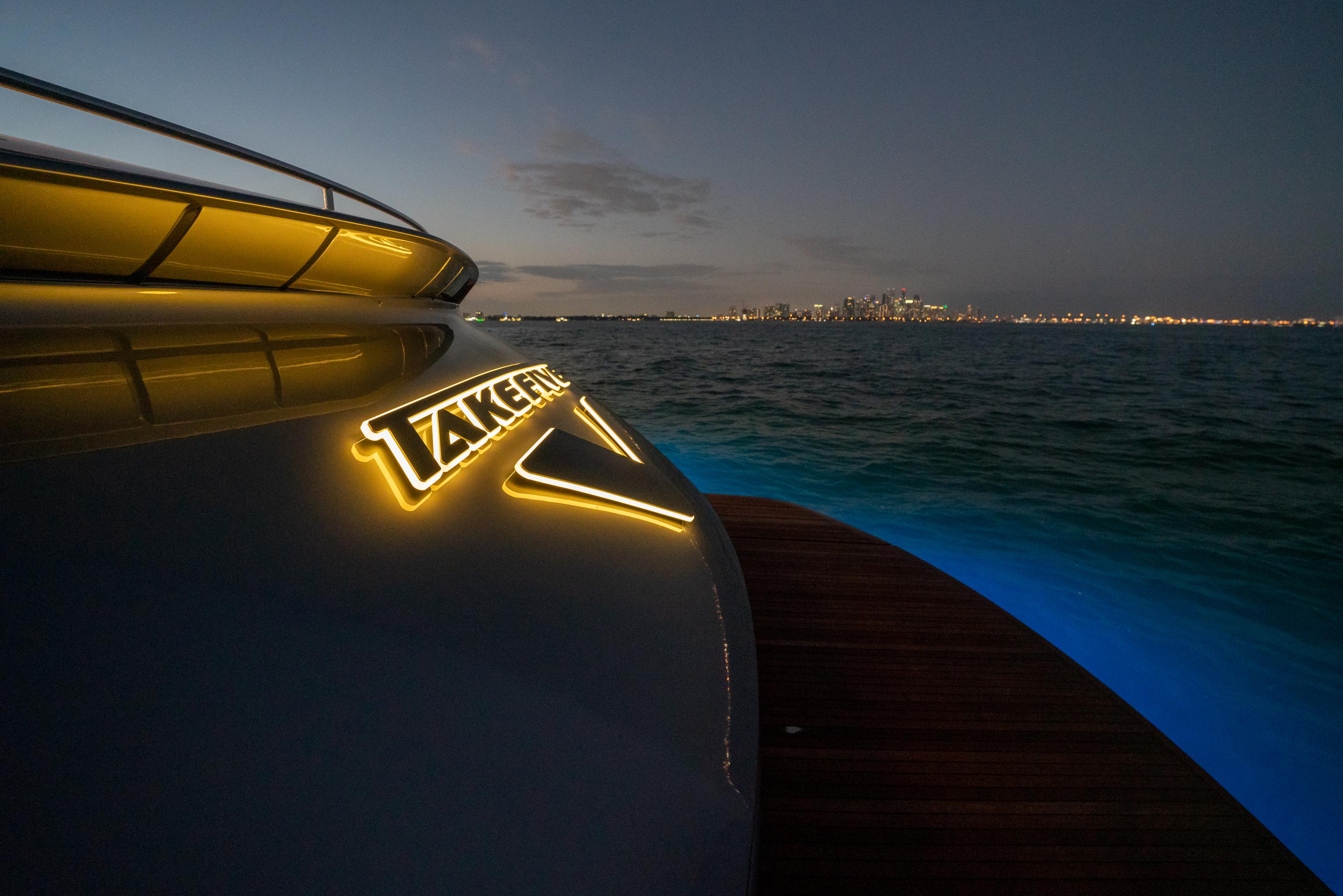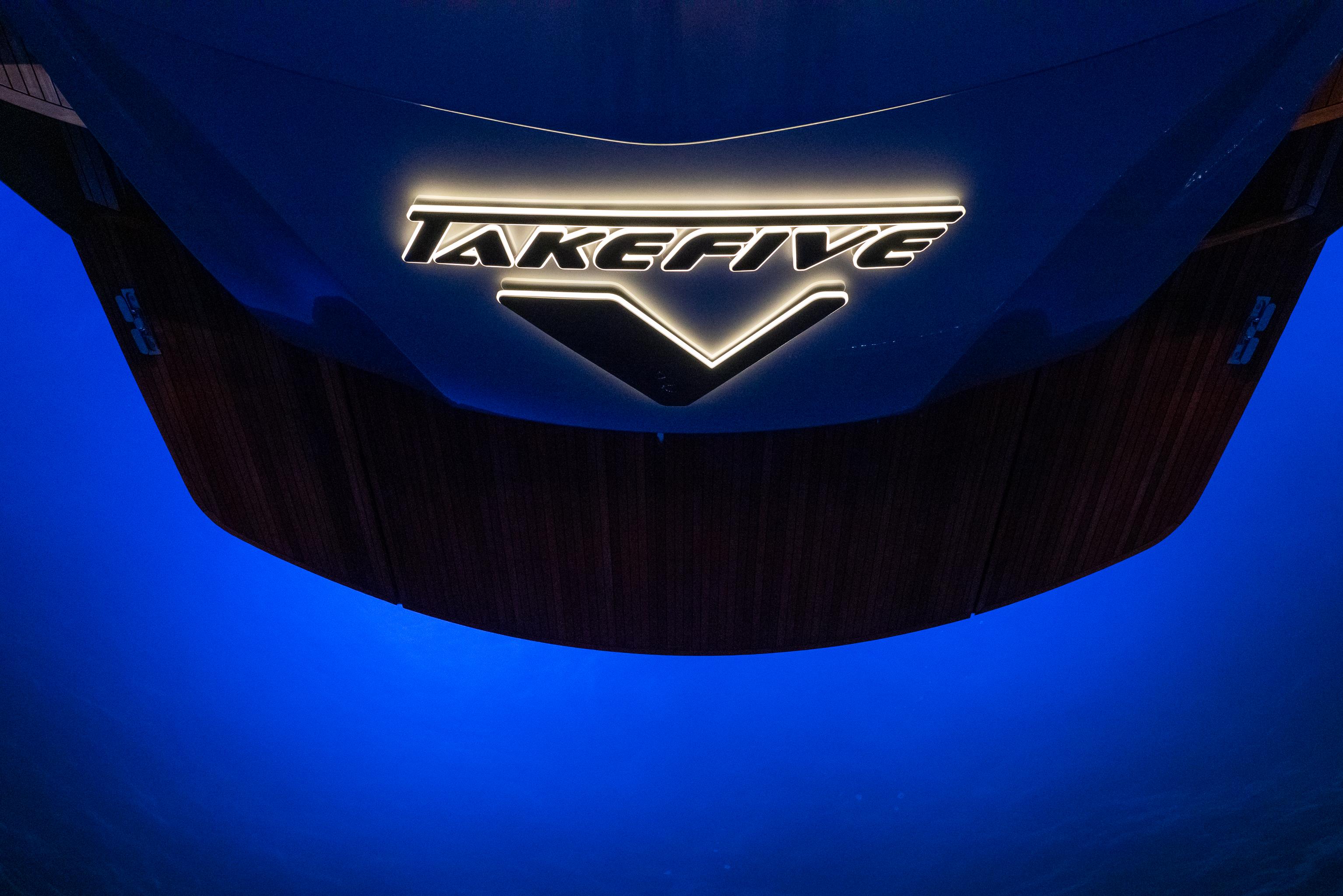 Description
TAKE V was built for a knowledgeable yacht owner with a proven track record of exceptional maintenance of all vessels branding the TAKE V designation. She is keenly for sale and is fresh out of the yard having taken care of the warranty punch list. Currently sitting at 450 hours (will change as boat is used) and ALL services are up to date as of 3/1/2023. No expense has been spared in the operation, maintenance or crewing of this program. 
Disclaimer
HMY Yacht Sales, Inc. is pleased to assist you in the purchase of this vessel. This boat is centrally listed by Apollo Yachts.
Current Price:
$6,850,000
Fuel Capacity:
1638 Gallons
Vessel Overview
Manufacturer Provided Description
The carbon fibre revolution. The umpteenth leap forward in Pershing style, each and every component designed to amaze, starting with the construction material. Lightweight, fast, hyper-performing, with the most spacious, welcoming spaces and a new propulsion system, the Pershing 8X is the dream and masterpiece of the "X Generation".
Design
The sophisticated naturalness of the carbon fibre boosts Pershing's sporty design and its most iconic elements such as the stunning side wings and the aerodynamic profile of the sun deck. The ingenious and scenic integration of the stairway leading to the sport flybridge lets an aesthetic signature evolve into a functional element, thus leaving more space in the cockpit.
Performance
The twin engines boast speeds of up to 48 knots in this optional configuration. Pershing 8X is equipped with the groundbreaking system that integrates propulsion control with the maneuvering, navigation and monitoring systems, which is accessible to the pilot via large natural carbon panels and 24" touchscreen monitors.
Comfort
The unrivalled combination of quality and innovation creates spaces which are exceptional in terms of both aesthetics and functionality. With dual side access, the main deck ensures intimacy and privacy. The helm station is a masterpiece of design, technology and sportiness. The innovative Music Hull system allows music to be listened to underwater, with high audio quality.
Pershing 8X Description
UPPER SUN DECK ACCESS TO THE SUNDECK
• Carbon Fiber and teak-laid stairs with stainless steel handrail
• Grp and stainless steel gate LED lights
• Plexiglass windshield Sofa in GRP upholstered with vinyl fabric and with lockers and glass holders
• Stainless steel handrail for stairs
• Stainless steel side handrail
• Stainless steel stern handrail
• Sunpad in vinyl and storage
• Teak Waterproof speakers with independent volume control (2)

 ANTENNAS AREA
• Dome (2)
• GPS antenna GRP radar arch (radar support, antennas, signals and horn)
• Horn Lights mast in black color stainless steel
• Navigation lights for Italian Flag Radar
• VHF antenna (2)

MAIN DECK COCKPIT/OUTSIDE AFT DINETTE
• Barbecue Ceiling lights with LED stripes
• Emergency engine shut down remote control
• Fire extinguishing system and alarm activation remote control from portside furniture
• GRP furniture on portside
• GRP furniture on starboard GRP sofa with seat and backrest in white vinyl
• Drawer fridge (30l) - Low lighting under sunpad seating
• Perimeter curtain rod for canopies
• Sink
• Teak Teak table with fixed support
• Watertight loudspeaker with independent control (2)

ACCESS TO THE ENGINE ROOM
• Access through teak hatchway Extendible ladder

ACCESS TO STERN SUNBATHING AREA
• GRP cover hatch to garage GRP sofa with seats and backrest upholstered in vinyl
• Stainless steel handrail Ø30mm on the aft platform

AFT MOORING STATION
• Capstan 1700W (2)
• Fairlead in stainless steel with rolls (2)
• Stainless steel mooring cleat (2)

AFT GARAGE
• Garage door
• Hydraulic system for garage hatch
• Tender towing system with winch

ACCESS TO THE BATHING PLATFORM
• Aft steps in teak Courtesy lights for steps
• External shower
• Fresh water tap
• Shore power 63A 230V Shore water inlet
• Stainless steel gate for cockpit entry (2)
• Swim ladder, hydraulic, hideaway with alarm
• Swimming teak platform with hydraulic movement
• Telescopic hydraulic hideaway gangway with (2) remote controls

SIDE WALKWAYS
• Access to crew quarter through teak and carbon hatchway
• Stainless steel and teak-laid steps
• Black water pump out cap Electric pantograph side door (2)
• Fresh water filling cap
• Fuel filling cap, dx and sx
• LED lighting Side locker at bow dinette with closure (2)
• Side Pershing silicon logo (2)
• Stainless steel grab on side of superstructure (2)
• Stainless steel mooring cleat at midship (2)
• Fender rope protection Stainless steel railing Ø40mm with stanchions Ø30mm and hooking points
• Steel rub-rail
• Teak

BOW MOORING STATION
• Access to bow locker with double hatch and closure
• Chain basket
• Chain wash down with sea water
• Fire hydrant outlet with sea water
• Fresh water tap Galvanized anchor with joint (1 x 50kg )
• Galvanized chain 100m 14mm Mooring LED lights
• Stainless steel mooring bow anchor roller
• Stainless steel mooring cleat at bow (2)
• Windlass 2700 W with waterproof control pad

OUTSIDE FORWARD DINETTE
• GRP sofa with seats and backrest upholstered in white vinyl
• Life rafts lockers (2) - Lockers (2)
• Led lighting Manual bimini top, 4 carbon poles and shade canvas

ACCESS TO BOW SUNBATHING AREA
• Bow sunpad upholstered in vinyl
• Storage below the sunpad at bow
• Teak Watertight loudspeakers with independent control (2)

HELM STATION
• Bow thruster joystick Ceiling spot LED lights
• Ceiling with black Frau leather
• Compass
• Co-pilot seat covered with Frau leather with double electric control (2)
• Digitally controlled A /C system EASYSET
• Top function Echo box in -hull transducer
• Electronic levers for engine controls
• Engine room remote camera on plotter screen
• Fixed armrest with tiller and wipers control at pilot's portside and 2 glass holders
• Glove compartment upholstered in Frau leather
• Helm wheel in Frau leather
• Instrument dashboard upholstered in Frau leather
• Integrated autopilot function Integrated system for alarms and electric data management NAVIOP
• Movable armrest with throttles and joysticks, at pilot's stdbd
• Multifunction touch display for navigation system (radar, chart plotter, GPS, echo sounder, monitoring system, engines and surface drive data) (3x16")
• OBD (On Board Diagnostic) socket
• Panels in carbon fiber
• Pilot seat with covered with Frau leather with double electric control
• Sliding glass roof with electric movement
• Soft touch switch plates
• Surface propellers trim joystick Tiller
• Touch display for engine and surface drive control (1x16")
• Trim tabs joystick USB socket
• VHF radio Windshield in transparent tempered glass
• Windshield wiper /washer (2)

SALON
• Audio-video system - Amplifier for external areas - Apple TV Coastal internet system (GPRS/UMTS) - Electric lifting mechanism for TV -- Hideaway 43" LED TV Hi-f surround: "5+1" system sinto-amplifier and Blu Ray player - Single remote control for the audio-video system (I-Pad Mini) - Cabinet for TV with shelves
• Ceiling covered ecoleather
• Ceiling LED lights
• Digitally controlled A /C system
• Dining table for 6 people Electric fabric roll curtains for side windows and sliding aft door
• - Hi-Fi rack
• Glasses set for 12 people Hideaway sliding aft door in black painted aluminum and crystal
• Intercom cordless system Parquet floor
• Rug under the sofa Side windows in monolithic / stratified tempered glass
• Sofa in Frau leather
• Soft touch switch plates
• Stainless steel cutlery set for 12 people
• Structural floor
• Walls upholstered in Frau leather
• Wood holder for glasses and plates
• Wooden furniture at portside Fridge (75l) - Icemaker connected to fresh water tank
LOWER DECK LOBBY
• Ceiling LED lights
• Ceiling with vinyl fabric panels
• Mirrors
• Soft touch switch plates
• Structural GRP floor covered with carpet
• Walls covered in wallpaper
• Wooden doors

VIP CABIN
• Audio-video system - LED TV 28" Loudspeakers (2) -- Mini Hi-f Blind compartments covered in laminated and vinyl
• Ceiling LED lights
• Ceiling with lacquered ceiling frame and panels upholstered in vinyl fabric
• Digitally controlled A /C system Double bed in wood with head boarder upholstered in Frau leather and locker underneath
• Mattress, pillow and bedcover - Emergency hatchway to deck with folding ladder and blinder
• Fixed side windows in stratified crystal with opening porthole in stainless steel with mechanic hook (2)
• Intercom cordless system
• Led Light underneath the bed
• Manual roll curtains in fabric
• Mirror at fore bulkhead Reading lights (2)
• Soft touch switch plates
• Structural GRP floor covered in moquette
• Walls covered in wood Wardrobe in wood, with clothes rack, internal light (2)
• Wood nightstand (2)
• Wooden door
• Door handles

VIP BATHROOM
A/C system outlet
• Aluminum Venetian blinds
• Blind compartments covered in laminated and vinyl
• Ceiling LED lights
• Clothes hook (2)
• Combined washbasin faucet
• Electric WC in ceramic
• Lacquered ceiling Mirror
• Opening portholes in stainless steel with mechanical hook
• Parquet floor
• Shower box in std laminate with tempered glass door
• Shower floor in Corian Shower with mixer -Soft touch switch plates
• Toilet brush holder
• Toilet roll holder
• Towel rail
• Walls covered in laminate Wash basin in white ceramic on furniture
• Washbasin unit in wood with doors
• Wooden door
• Door handles - Door stops

DOUBLE GUEST CABIN (2)
• Audio-video system - LED TV 28" Loudspeakers (2) -- Mini Hi-f Blinds compartment with vinyl finishing
• Ceiling LED lights
• Ceiling with lacquered ceiling frame and panels upholstered in vinyl fabric
• Digitally controlled A /C system
• Intercom cordless system
• Light stripe underneath the bed
• Manual roll curtains in fabric
• Mirrors at aft bulkhead Opening porthole in stainless steel with mechanic hook (2)
• Reading lights (2)
• Single bed in wood with bed head upholstered in Frau leather (2)
• Mattress, pillow and bedcover -Soft touch switch plates
• Structural GRP floor covered in moquette
• Walls covered in wallpaper
• Walls covered in wood Wardrobe covered in wood, with clothes rack, internal light
• Wood nightstand Wooden door
• Door handles - Door stops

GUEST BATHROOM /DAY HEAD
A/C system outlet
• Aluminum Venetian blinds
• Blind compartments with laminated
• Ceiling LED lights
• Clothes hook Combined washbasin faucet
• Curtain compartment
• Electric WC in ceramic
• Lacquered ceiling Mirror
• Opening portholes in stainless steel with mechanical hook
• Parquet floor
• Shower box in std laminate with tempered glass door
• Shower floor in Corian Shower mixer - Shower soap dispenser - Showerhead and shower handset -Soft touch switch plates
• Toilet brush holder
• Toilet roll holder
• Towel rail
• Walls covered in laminate Wash basin in white ceramic on furniture
• Washbasin unit in wood with doors
• Wooden door (2)
• Door handles (2) -- Door stops

MASTER CABIN
Access to the cabin through a stairway with wood steps
• Audio -video system - TV LED 43" - Apple TV Loudspeakers (2) - Single remote control for the audio-video system (I-Pad Mini) - Sinto-amplifier and Blu Ray player - Beauty shelf upholstered in Frau leather
• Blinds compartment with vinyl finishing
• Ceiling LED lights
• Ceiling with lacquered ceiling frame and panels upholstered in vinyl fabric
• Chaise longue in Frau leather
• Digitally controlled A /C system Double bed in wood with headboard upholstered in Frau leather, underneath locker and drawers
• Electric black out roll curtain Electric roll curtains
• Fixed side windows in stratified crystal (2)
• Furniture in wood (stdbd)
• Handrail lined with Frau sole leather
• Hif furniture in wood (ptsd )
• Intercom cordless system
• Led light underneath the bed Mattress, pillow and bedcover
• Mirror at bow bulkhead
• Mirrors at aft bulkhead Opening porthole in stainless steel with mechanic hook (2)
• Ottoman in Frau leather
• Reading lights (2)
• Soft touch switch plates
• Stern bulkhead sound insulation Structural GRP floor covered in moquette
• Walls covered in wallpaper
• Wardrobe covered in wood, with clothes rack, dresser
• Ceiling LED lights - Digital safe Door handles in metal -- Door stops Mirror on beauty shelf - Stern bulkhead sound insulation - Wooden door - Wood nightstand (2)
• Wooden door
• Door handles - Door stops Wooden furniture unit with fridge and doors

MASTER BATHROOM
•A/C system outlet
• Aluminum Venetian blinds
• Bidet in ceramic Blinds compartment covered in laminated
• Ceiling LED lights
• Clothes hook (2)
• Combined bidet faucets
• Combined washbasin faucet
• Door
• Door stops
• Electric WC in ceramic
• Lacquered ceiling Lacquered walls
• Opening portholes in stainless steel with mechanical hook
• Parquet floor
• Shower walls covered with mosaic and tempered glass door
• Mirror -- Mosaic shower plate Object holder inside shower - Shower faucet - Showerhead and shower handset
• Soap dish Soft touch switch plates
• Stern bulkhead sound insulation Toilet brush holder
• Toilet roll holder • Towel rail
• Wash basin Washbasin unit in wood with doors

CREW AREA GALLEY
• Audio-video system - LED TV 24" Loudspeakers (2) -- Mini Hi-f Ceiling spotlight
• Ceiling with lacquered ceiling frame and panels upholstered in vinyl fabric
• Ceramic glass hob with 4 burners
• Digitally controlled A /C system
• Dishwasher for 12 people
• Electric oven Extractable faucet
• Extractor fan • Galley top in acrylic stone Hanging lockers and internal shelves
• Intercom cordless system Lacquered sliding door, crew area /galley
• Lacquered sliding door, salon stairs/ galley
• Light underneath shelves
• Openable table Ottoman upholstered in vinyl fabric
• Rubbish bin Side-by -side fridge (fridge 419l + freezer 247l)
• Smoke detector system control panel
• Sofa upholstered in vinyl fabric Soft touch switch plates
• Stainless steel washbasin under top unit furniture with lacquered doors, internal shelves and drawers
• Vinyl floor • Walls covered with std laminate and panels upholstered in vinyl fabric

CAPTAIN'S CABIN
• Audio-video system Loudspeaker (2) -- Mini Hi-f Built in ceiling spotlight (2)
• Ceiling with lacquered ceiling frame and panels upholstered in vinyl fabric
• Digitally controlled A /C system Ivory lacquered door
• Door handles - Door stops Light switches
• Locker with lacquered doors
• Opening portholes in stainless steel with mechanical hook
• Reading lights
• Safe
• Single bed Mattress, pillow and bedcover - Vinyl floor
• Walls covered with std laminate and panels upholstered in vinyl fabric

DOUBLE CREW CABIN
• Audio-video system Loudspeaker (2) -- Mini Hi-f Built in ceiling spotlight (2)
• Ceiling with lacquered ceiling frame and panels upholstered in vinyl fabric
• Digitally controlled A /C system Light switches
• Locker with ivory lacquered door with clothes rack
• Opening portholes in stainless steel with mechanical hook
• Reading lights (2)
• Single bed (2)
• Mattress, pillow and bedcover (2) - Vinyl floor
• Walls covered with std laminate and panels upholstered in vinyl fabric
• Washer /Drier machine

CREW BATHROOM
• Built in ceiling spotlight
• Clothes hook Combined washbasin faucet
• Electric WC in porcelain
• Lacquered ceiling Lacquered door
• Door handles Light switches
• Mirror
• Opening portholes in stainless steel with mechanical hook
• Shower box in std laminate with tempered glass door
• Corian shower floor -- Shower faucet and pole Toilet brush holder
• Toilet roll holder
• Towel rail
• Vinyl floor
• Walls covered with std laminate and panels upholstered in vinyl fabric
• Washbasin unit lacquered with GRP top with opening doors 

ACCESS TO CREW AREA
• Aluminum Venetian blind Curtain compartment
• Opening porthole in stainless steel with mechanic hook
• Wooden locker with door (2)

TECHNICAL AREA ENGINE ROOM
• Access to the engine room Light alloy waterproof door - Air compressor
• Air intakes (2)
• Coupling joint between adaptor and TS flange (2)
• Diesel engine MTU 16V 2000 M96L 2638 hp (2)
• E/pump A/C Electric extractor (2)
• Engine exhaust muffler (2)
• Floor covered with anti slip aluminum
• Fluorescent light (2)
• Generator manifold and gas separator (2)
• Hydraulic oil heat exchanger (2)
• Hydraulic steering oil tank Hydraulic unit for gangway, swim ladder, garage hatch and aft door
• Hydraulic unit for platform, trims, trim tabs and steering
• Led light (6)
• Light switch Power generator 21.5kW 120/240V 60Hz with soundproof case (2)
• Protective cover added to coupling
• Racor fuel pre filter to generators (2)
• Stainless steel engine exhaust raiser (2)
• Support poles (2)
• Thermal acoustic insulation Waterproof camera interfaced with bridge (2)

PROPULSION AND MANEUVERING
• Electrohydraulic steer by wire steering
• Hydraulic bow thruster SH 340 KGF
• Hydraulic trim tabs (2)
• Nickel – Aluminum – Bronze surface propeller 6 Blades (2)
• Surface drive system with automatic trim

SYSTEMS FRESH WATER SYSTEM
• Boiler 30lt - electric (2)
• Fresh water inlet from water tank
• Fresh water outlet in engine room
• Fresh water pump with autoclave 24V 230V
• Level sensor
• Shore fresh water intake with pressure regulator
• Structural GRP main tank 1300l
• Water maker SEAFARI - 900 GPD (142l/h)

SEA WATER SYSTEM
• By -pass valve for emergency bilge discharge from engines (2)
• Dynamic seawater intake (3)
• Fire extinguishing and chain wash e/pump
• Sea water basket filter for engines, power generators, A/C pumps, services and fire extinguishing system (5)
• Seawater outlet for chain wash and fire extinguishing in forward locker
• Static seawater intake (2)

GREY WATER SYSTEM
• E/pump main tank discharge Level sensor
• Manifold by -pass for emergency grey and black water pump discharge
• Structural tank (320 lt)
• Valve 3 way in galley

BLACK WATER SYSTEM
• E/pump tank discharge Level sensor
• Polyethylene tank (300lt) with deck connection for tank pumping out

FIRE EXTINGUISHING SYSTEM
• Automatic/ manual system in the engine room and system area FM200
• Emergency engine shut down remote control
• Fire extinguishing system and alarm activation remote control
• Manual powder extinguisher 6Kg in engine room
• Manual powder extinguishers 1Kg (1 for each room)
• Manual powder extinguishers 6Kg (1 in the cockpit)
• Smoke detector system

AIR CONDITIONING SYSTEM
• Air conditioning for all cabins, bathrooms and main deck salon (crew bathroom excluded)
• Compressor for Tropical A/C main unit (144.000BTU)

ELECTRICAL SYSTEM
• Battery charger for generator
• Breaker box Carling Switch 90A for 240V shore supply
• Earthing system all along the hull joined to the anodes protection (zincs) on the transom
• Electric panel
• Voltage measuring instruments - Emergency parallel connection between service batteries and engine starter
• Engine starter battery (4)
• Engines battery charger
• Ground connection for sea water intake and railings
• Ground Fault Interrupter 120VAC-6 mA in all heads + galley + engine room
• Inverter 4kW 120V/60Hz for services
• Isolation transformer 25 KVA Main electric panel with magneto -thermic switches
• MTU electronic digital panels for engine control (2)
• Parallel connection between generators battery
• Power generator starter battery (2)
• Preparation for TV and decoder: cable 120V + F connector + TV antenna cables in salon, cabins and in crew dinette
• Service battery (12)
• Services battery charger
• Shore plug 100A 60Hz
• Shore power ground fault interrupter 100A-30mA
• Shore socket and loose cable Socket American type 120V, double in each box
• Switch of battery

FUEL SYSTEM
• Electronic fuel level remote indicator in dashboard
• Fuel decanter filter (2)
• Fuel sight gauge Manual fuel discharge/ load drainage pump (2)
• Racor fuel prefilter to generators (2)
• Structural GRP tank 6200l

BILGE SYSTEM
• Automatic/manual immersion E/pump for bilge discharge in each watertight compartment with level sensor
• E/pump with valve system for the separated or joint bilge system centralized suction
• Emergency engine room bilge system discharge through engines intake suction
Return to Yachts for Sale
Get more information