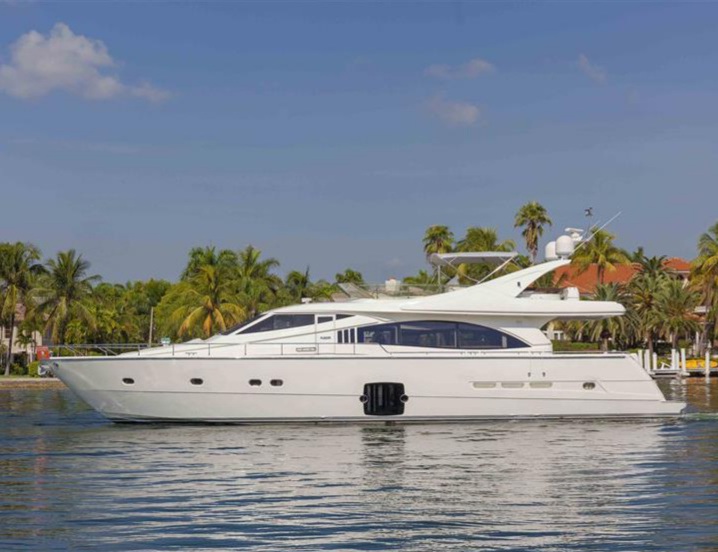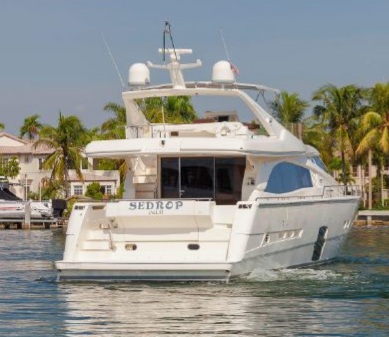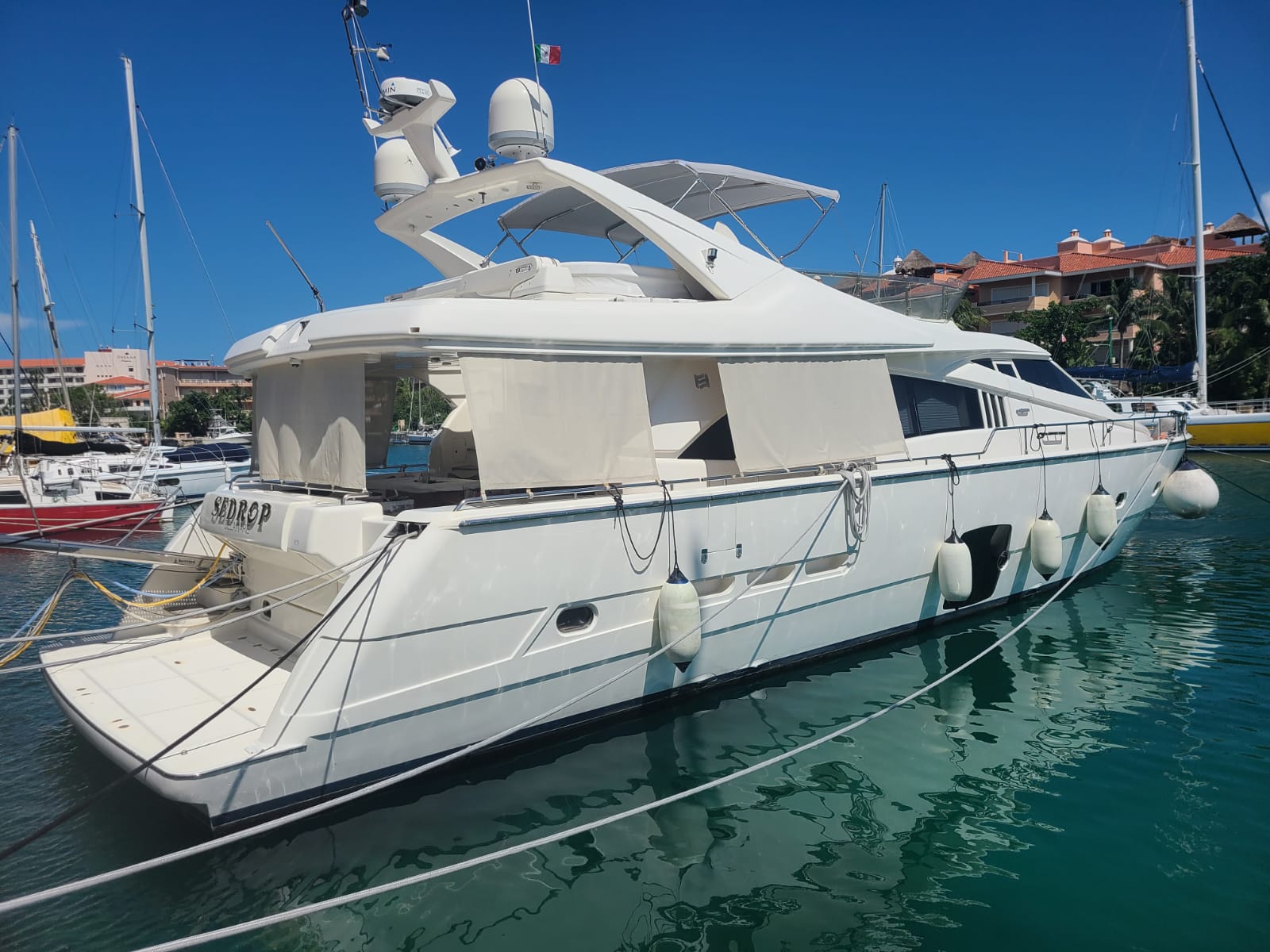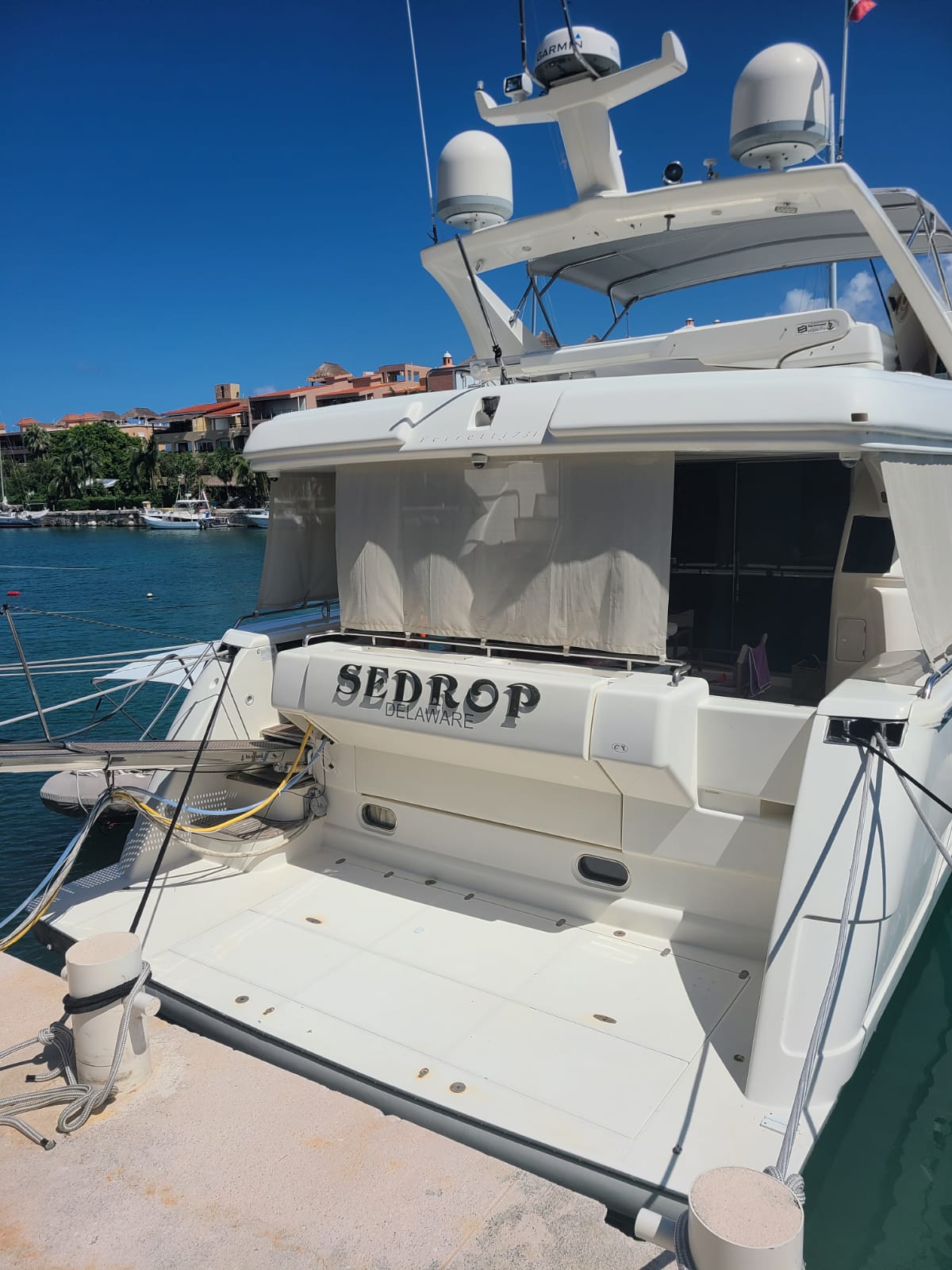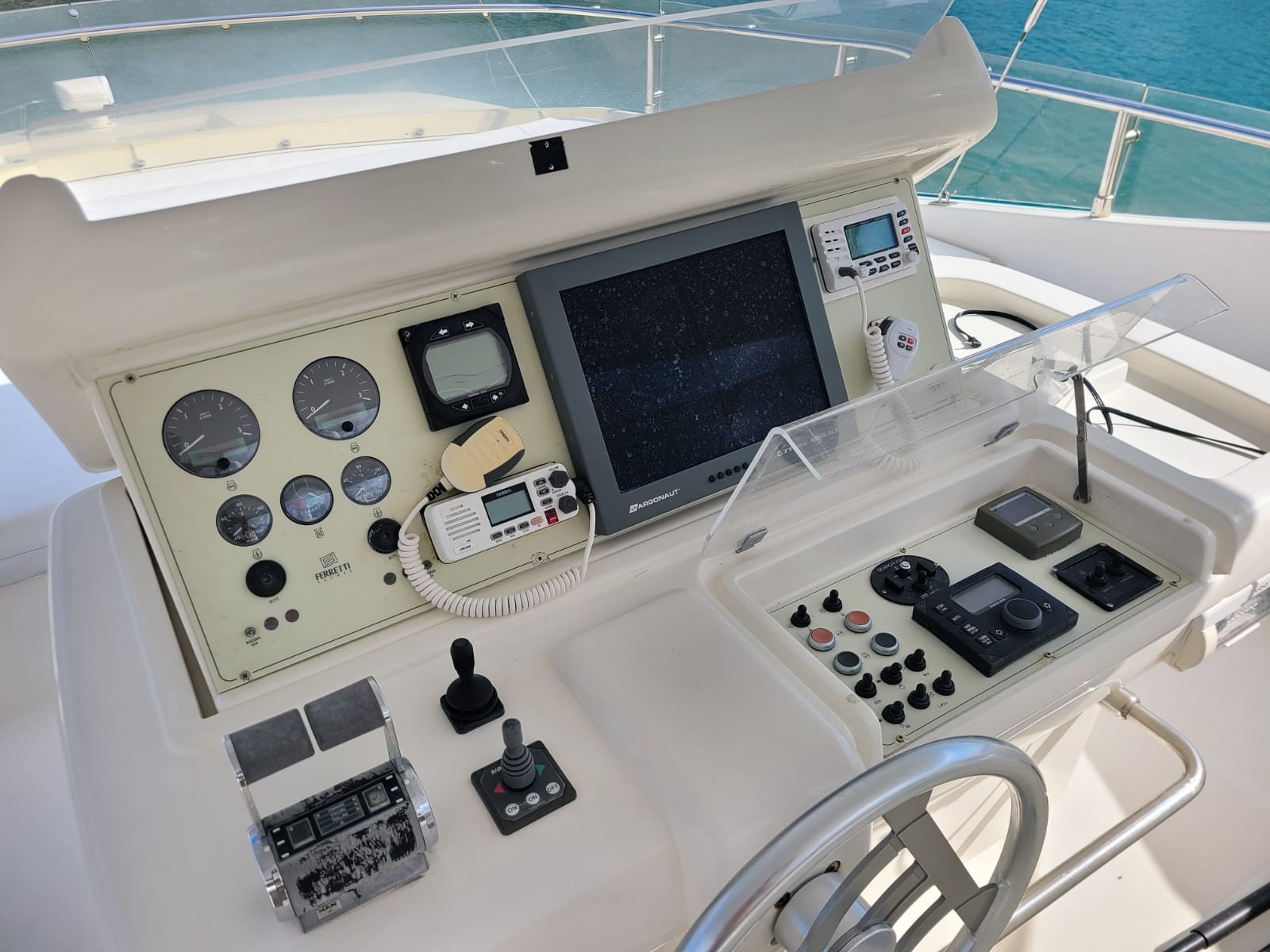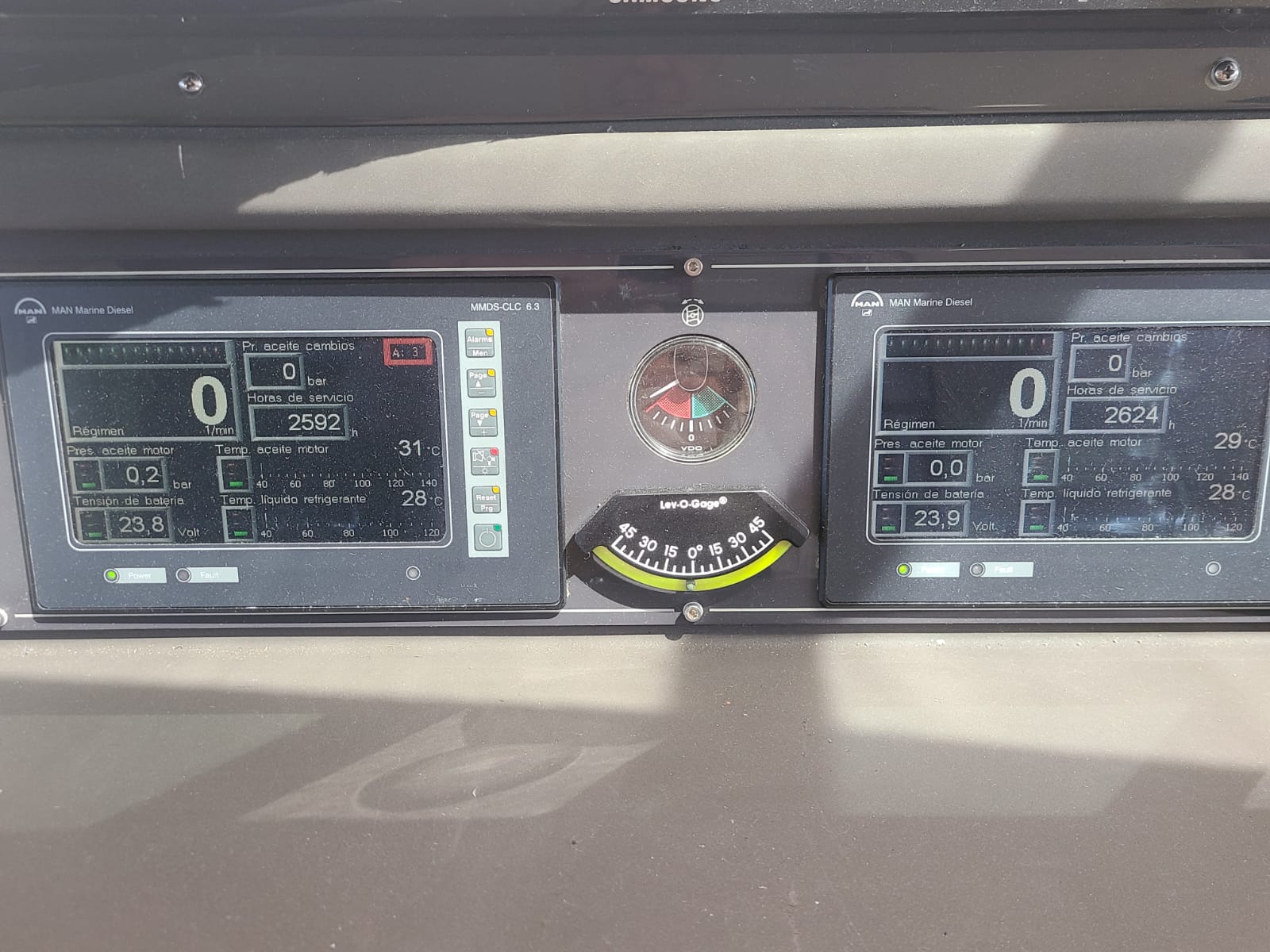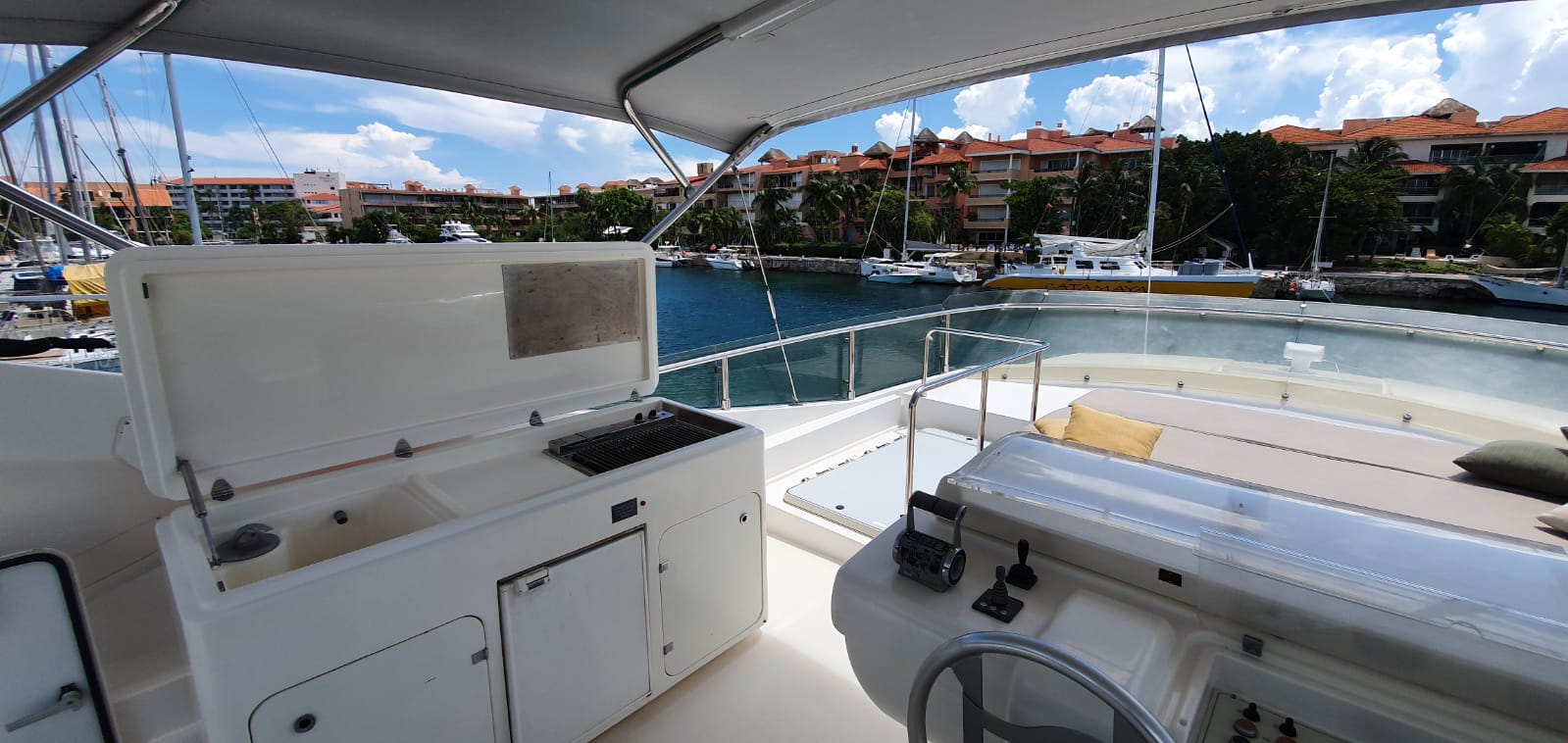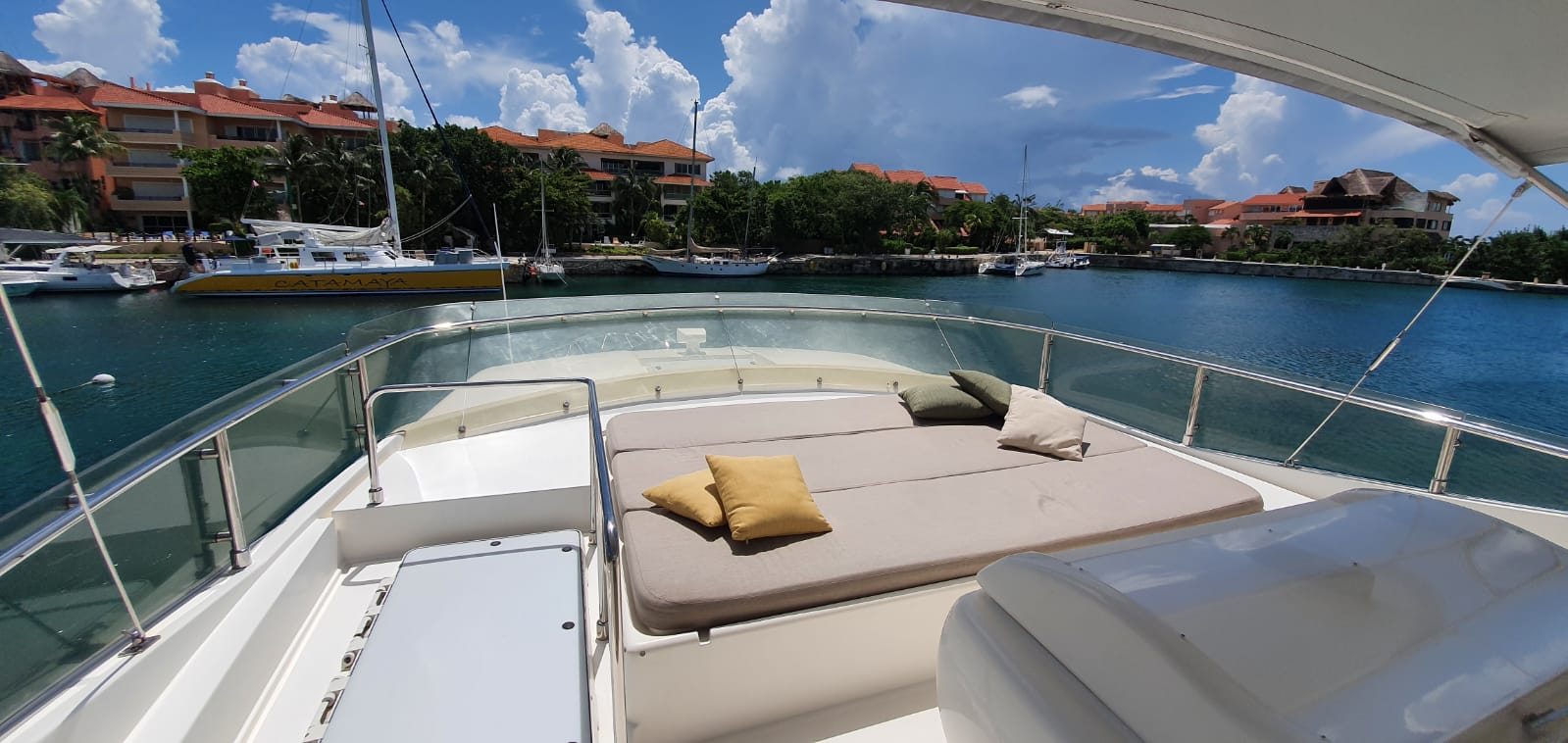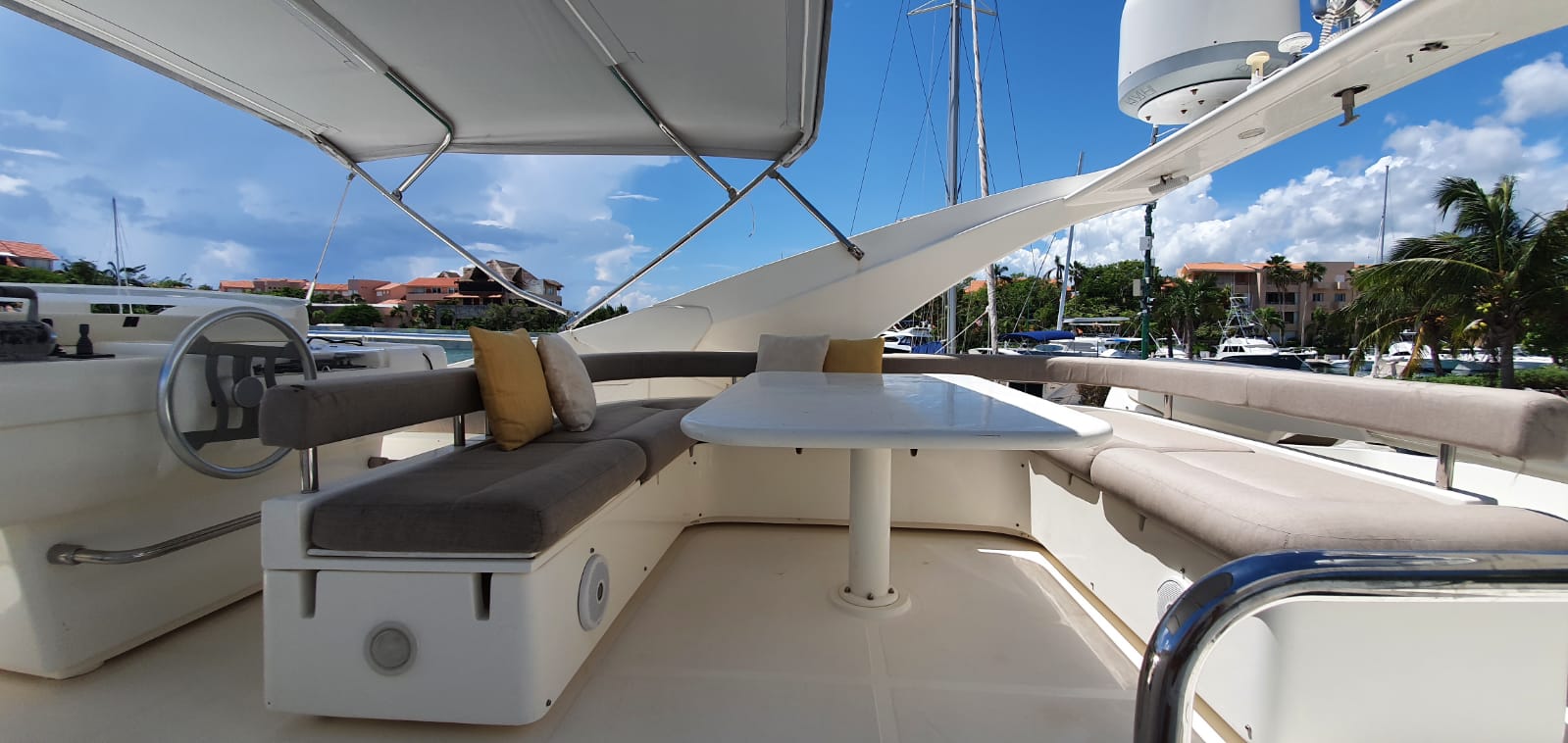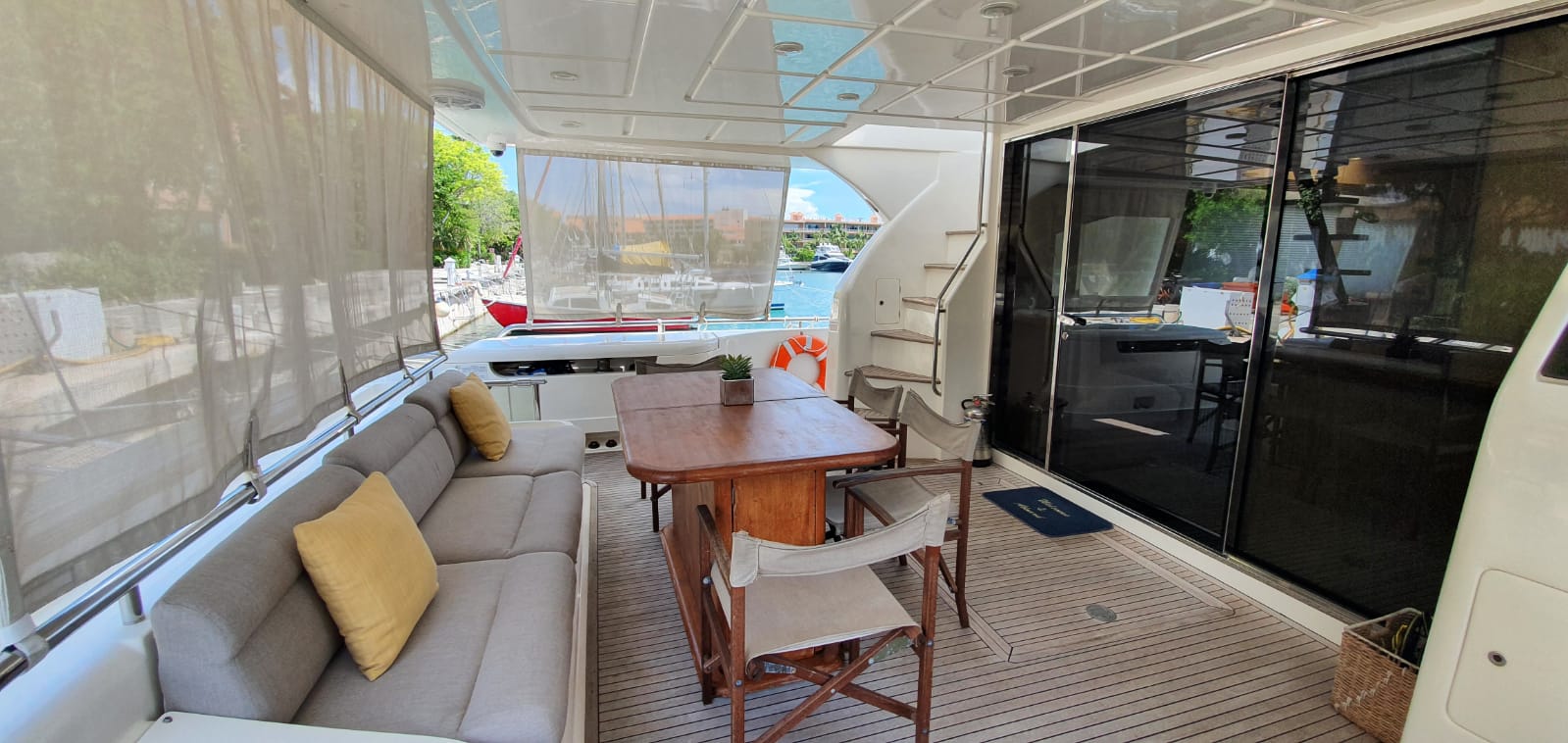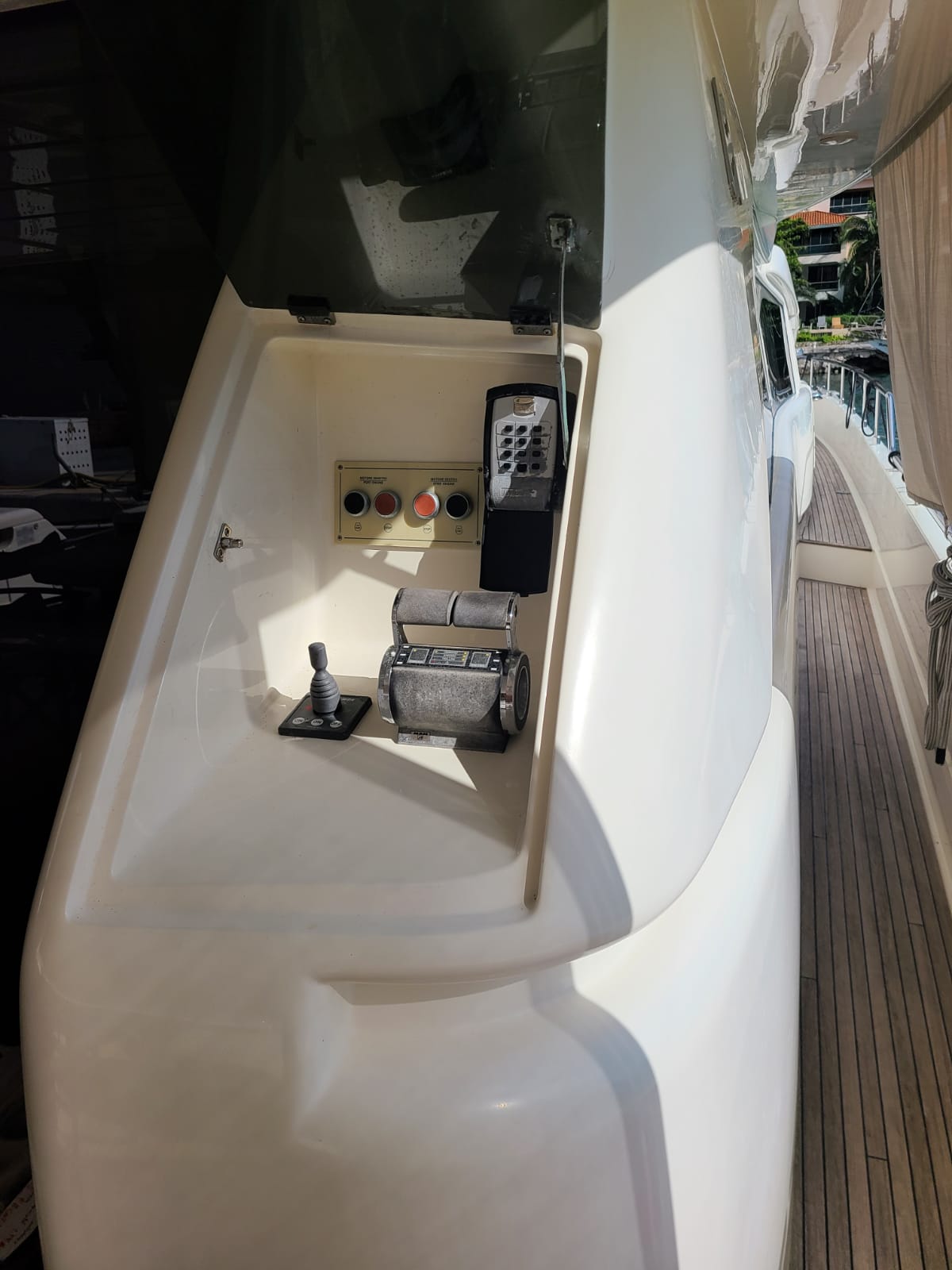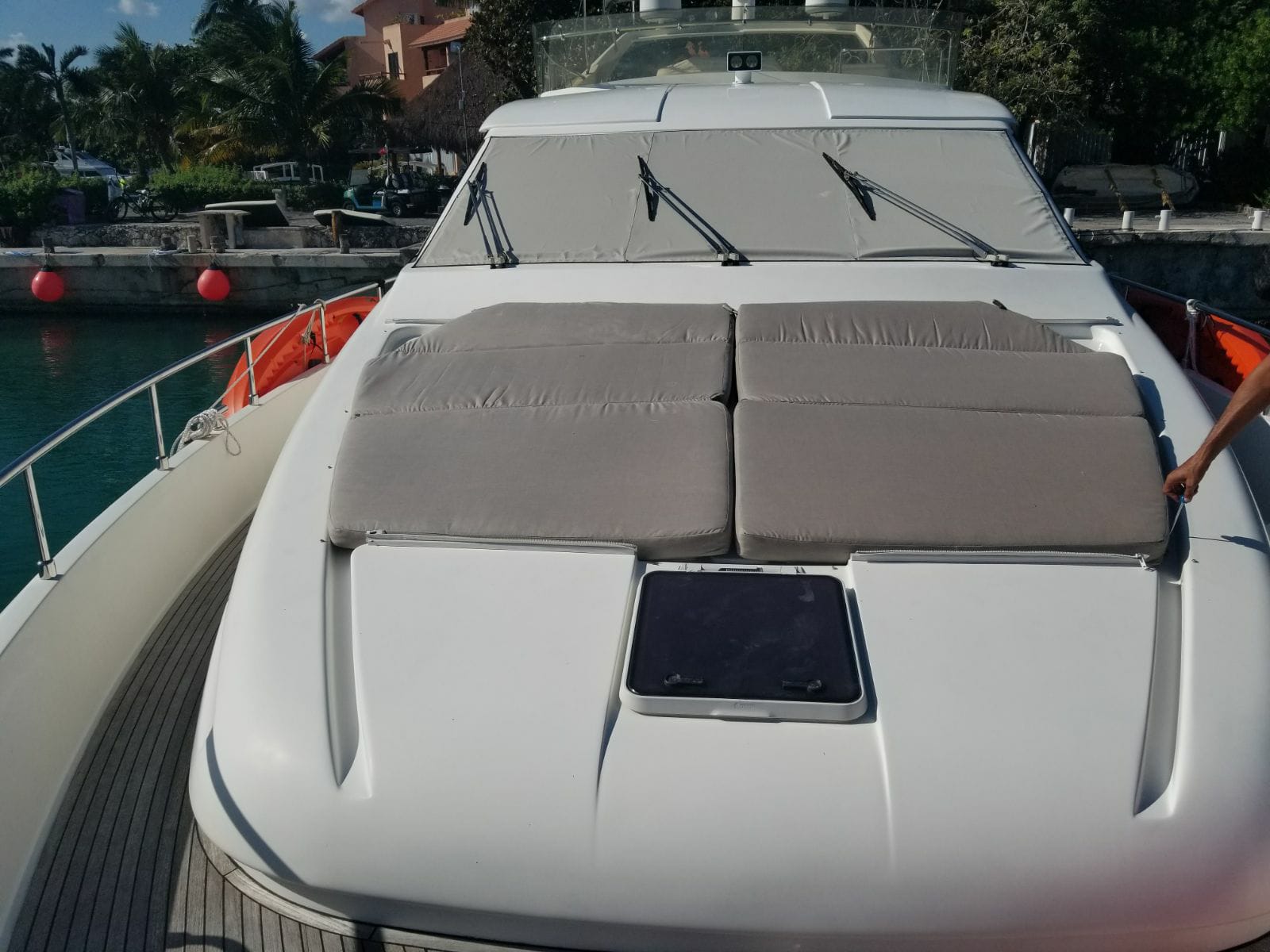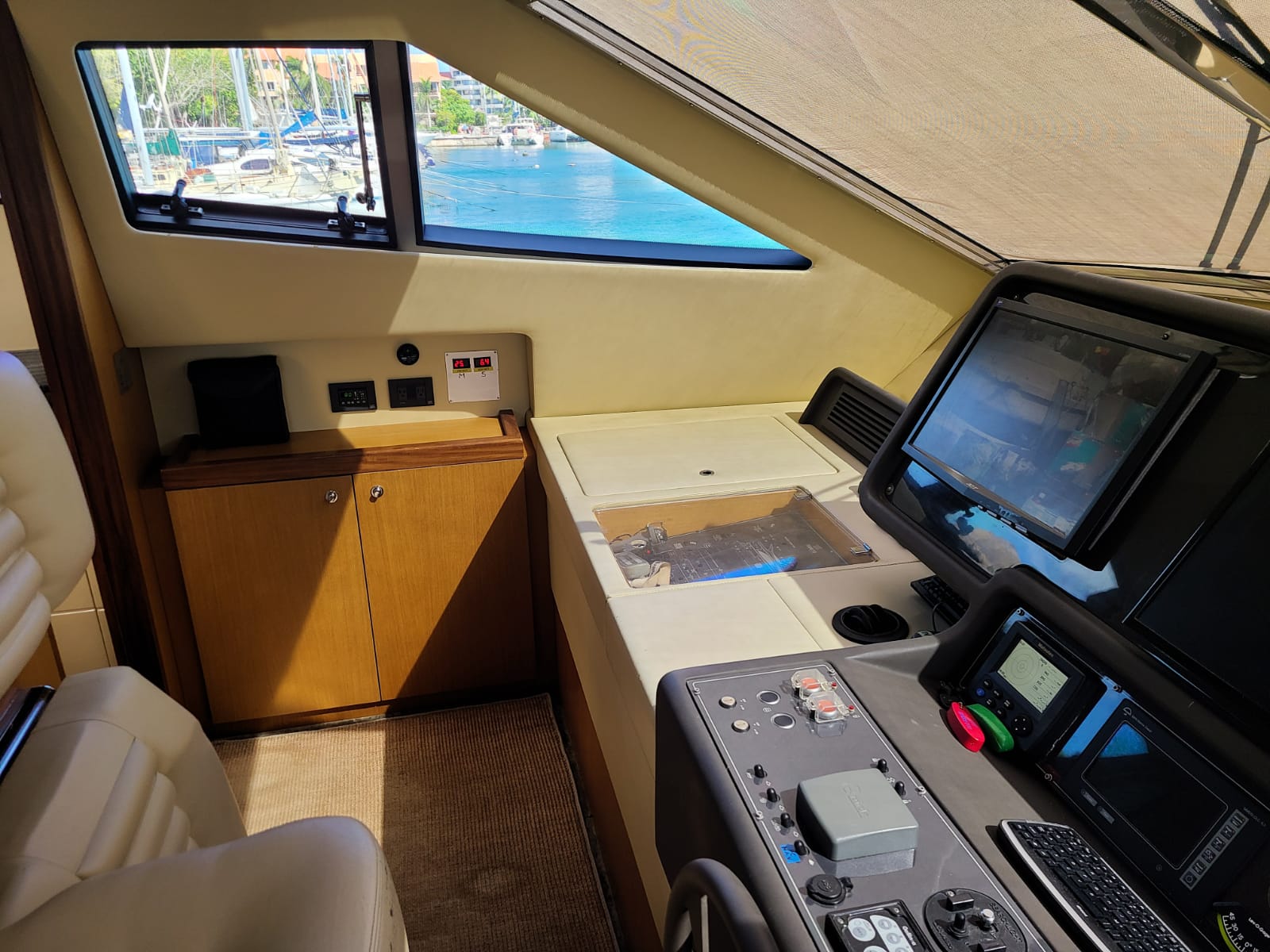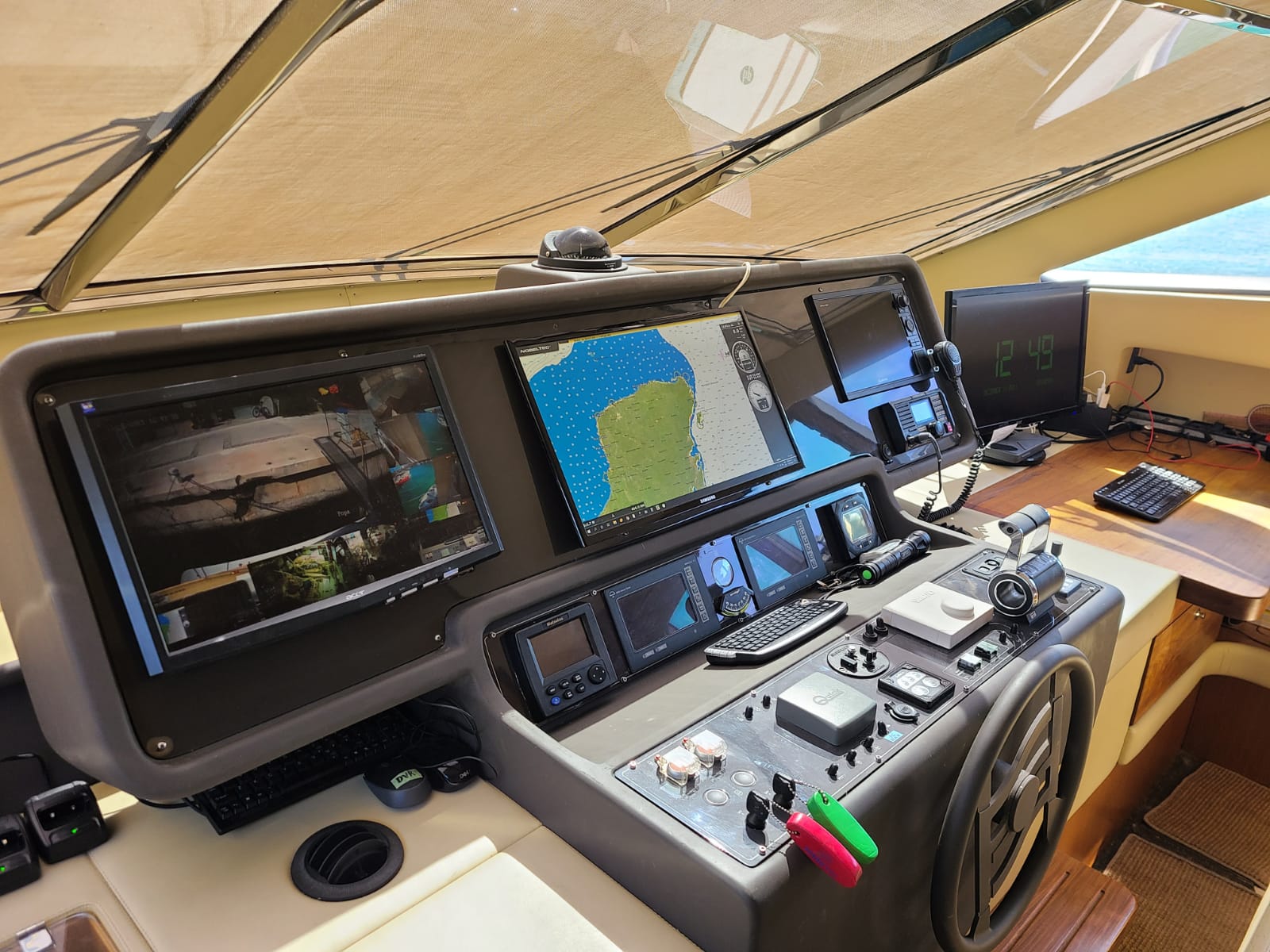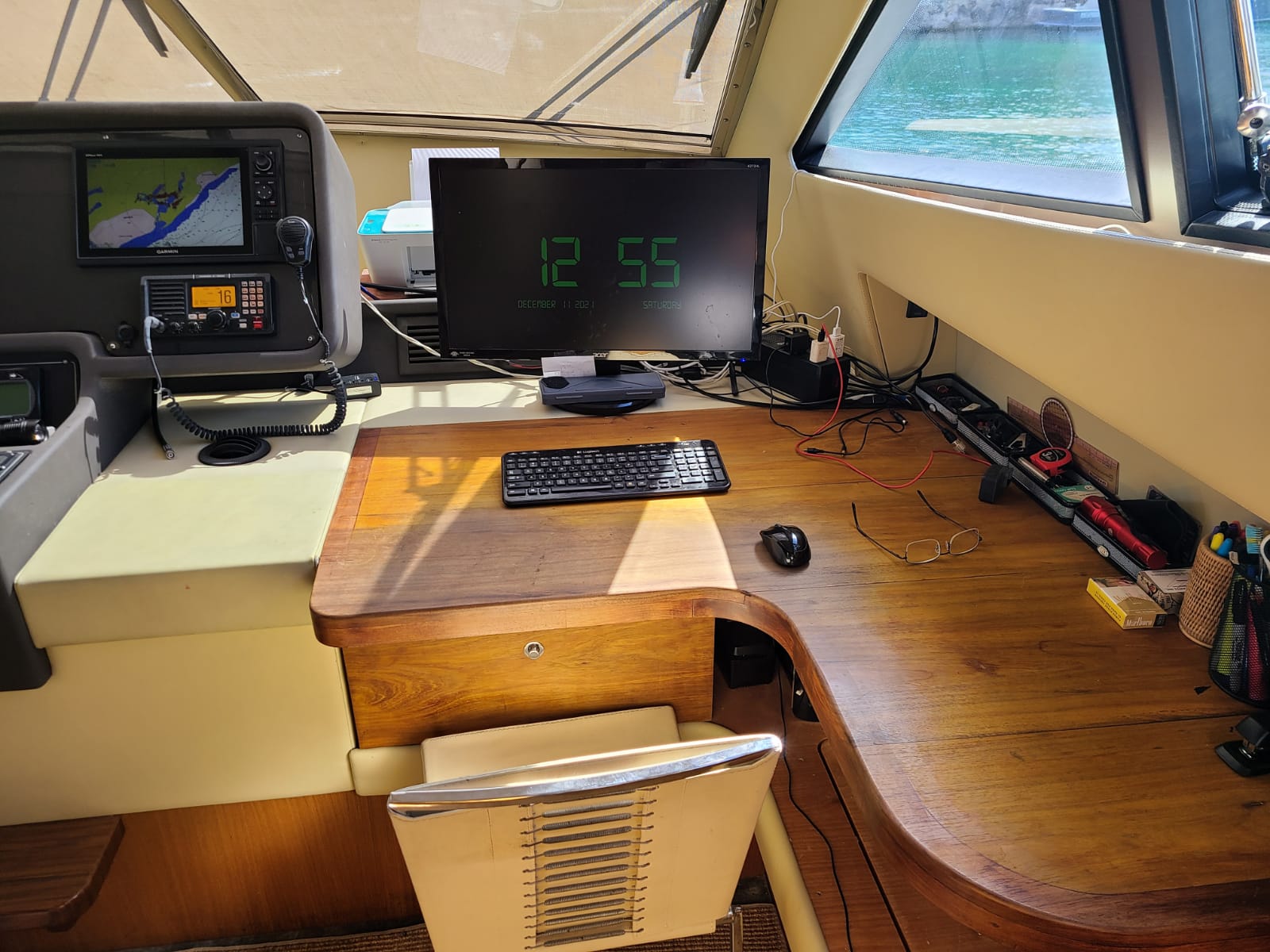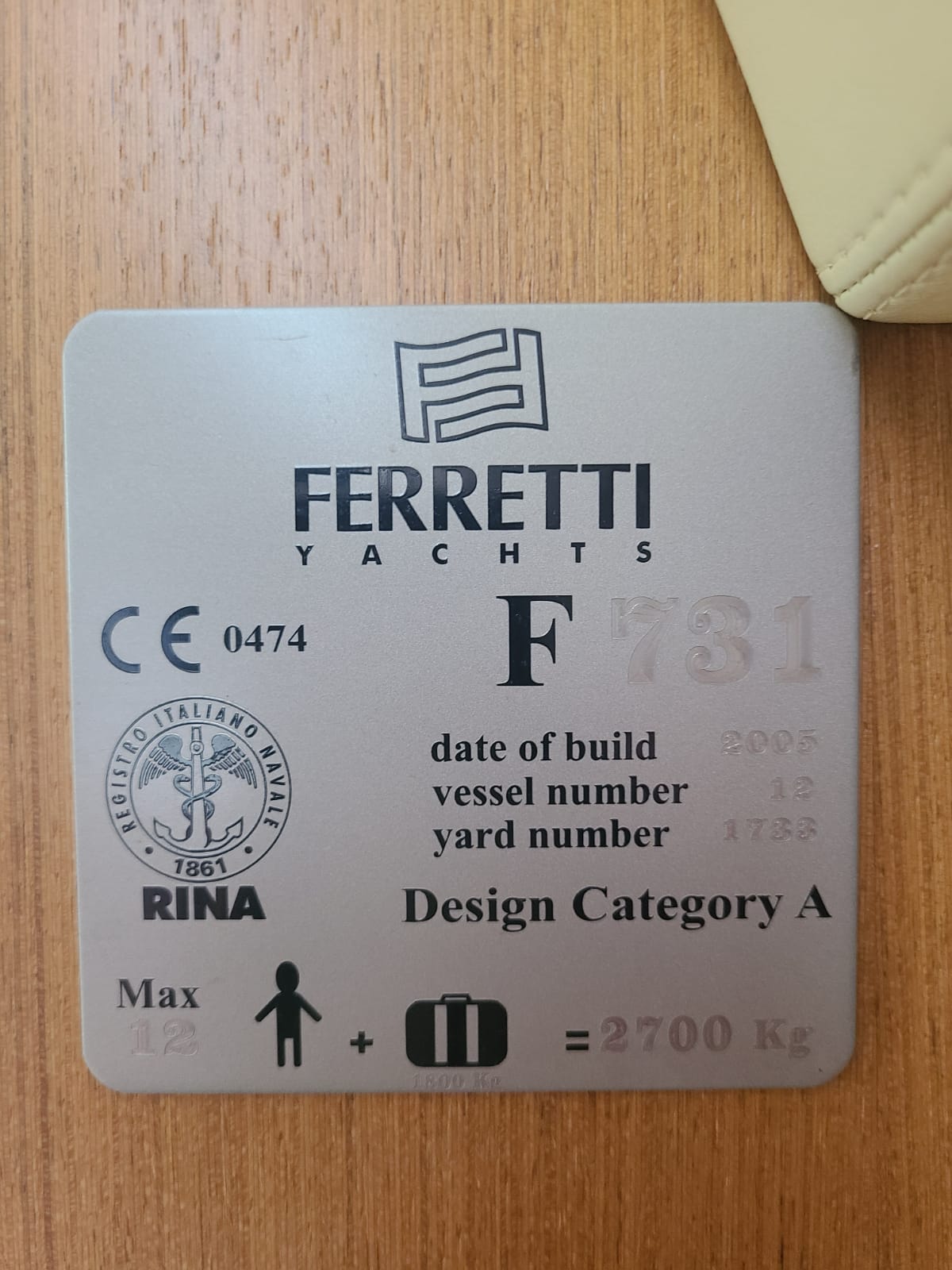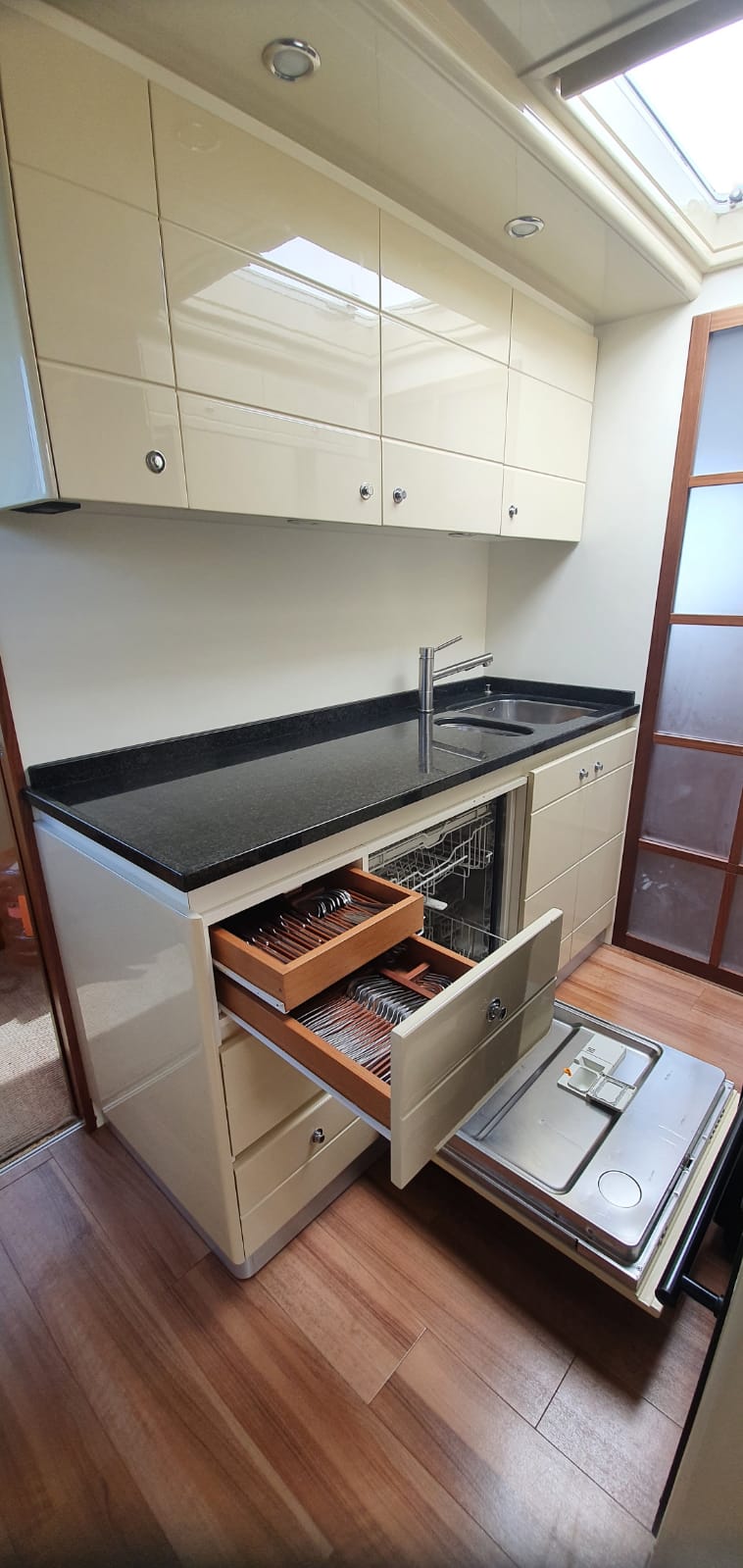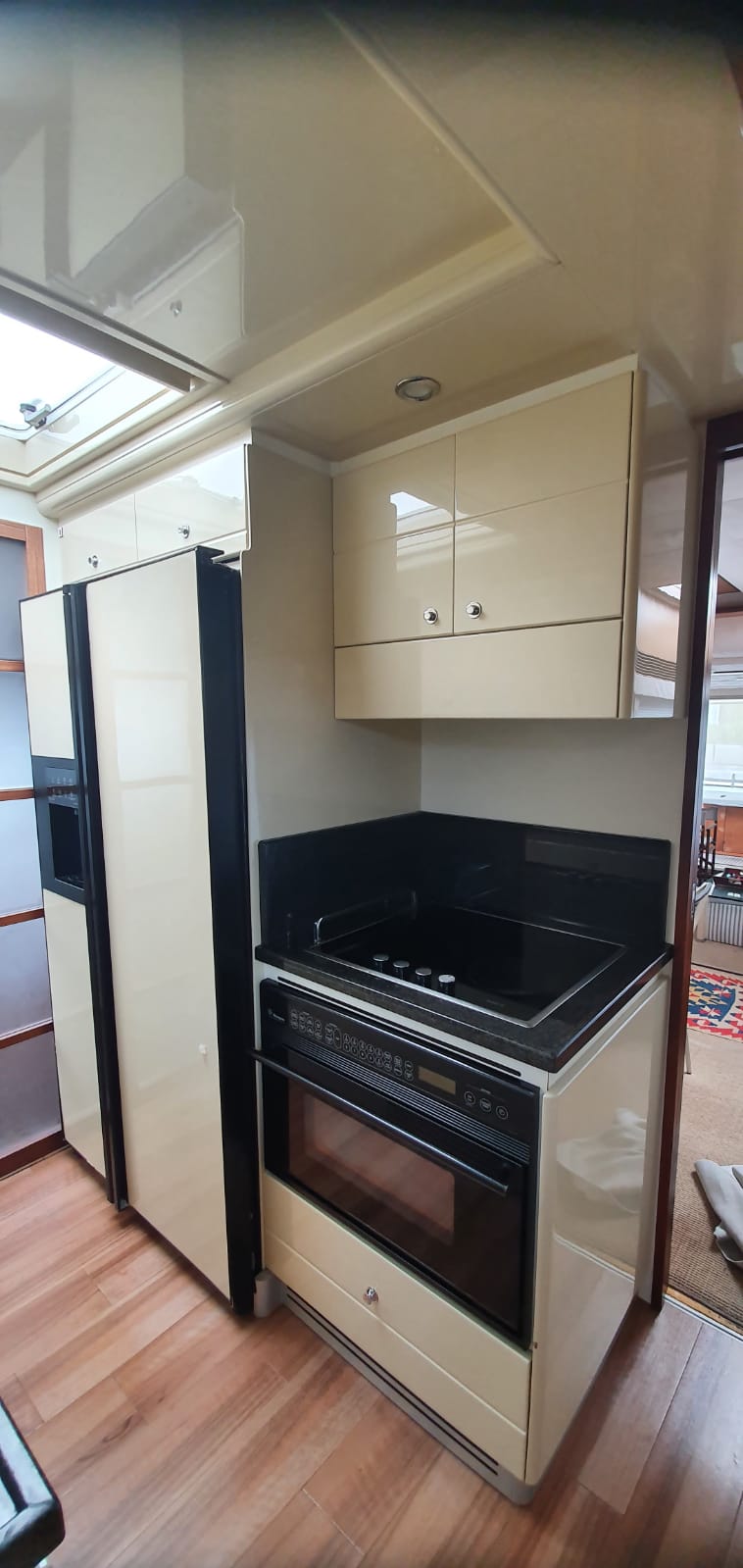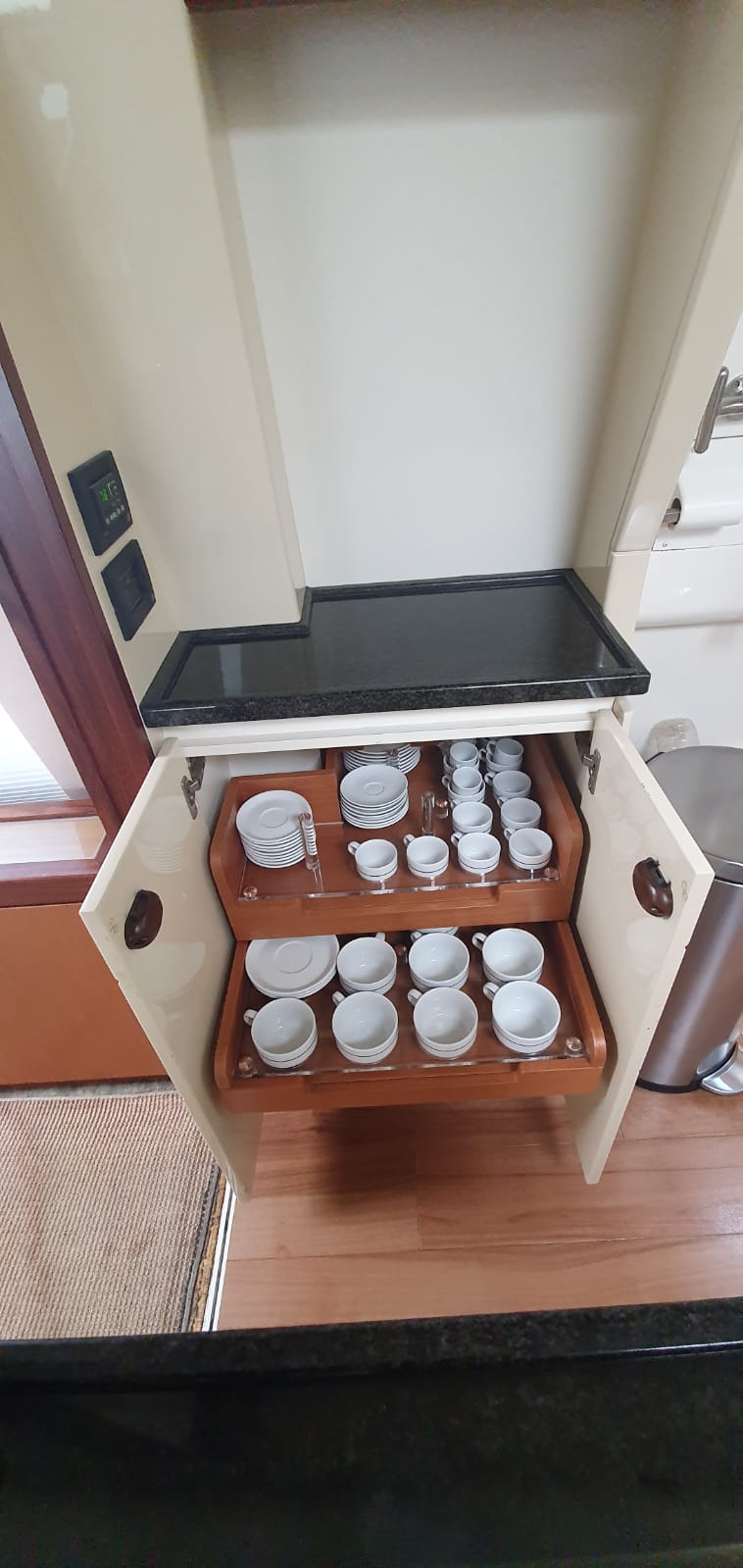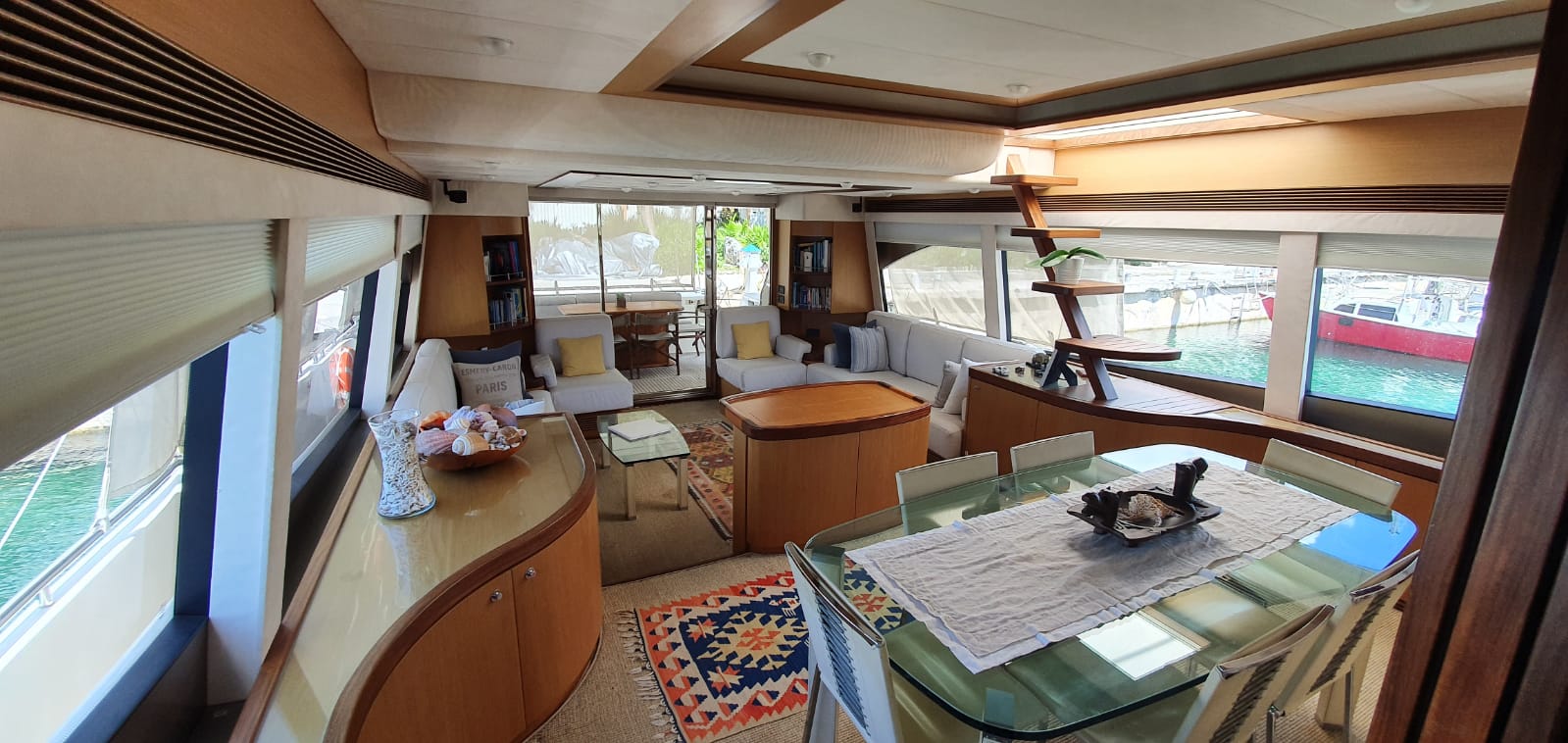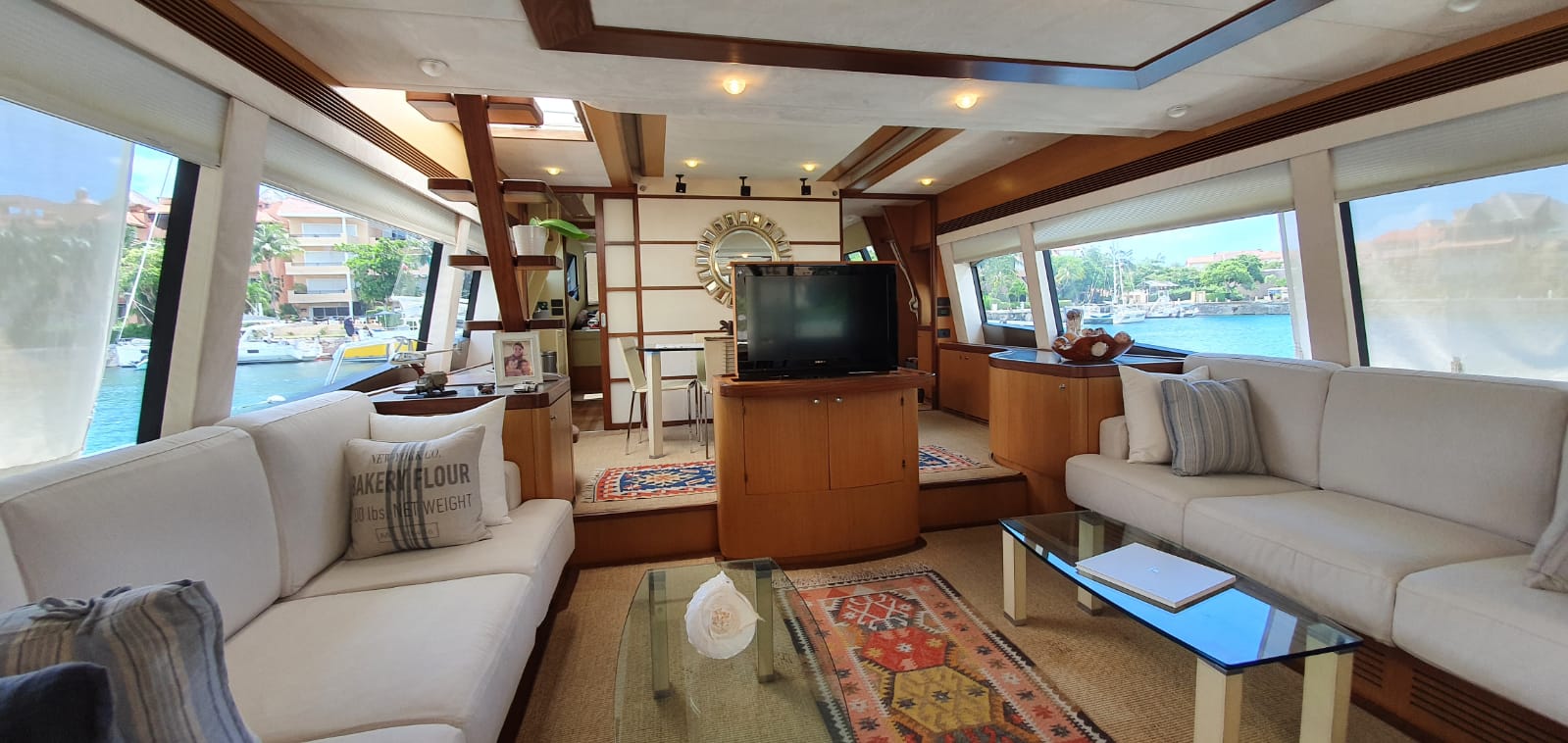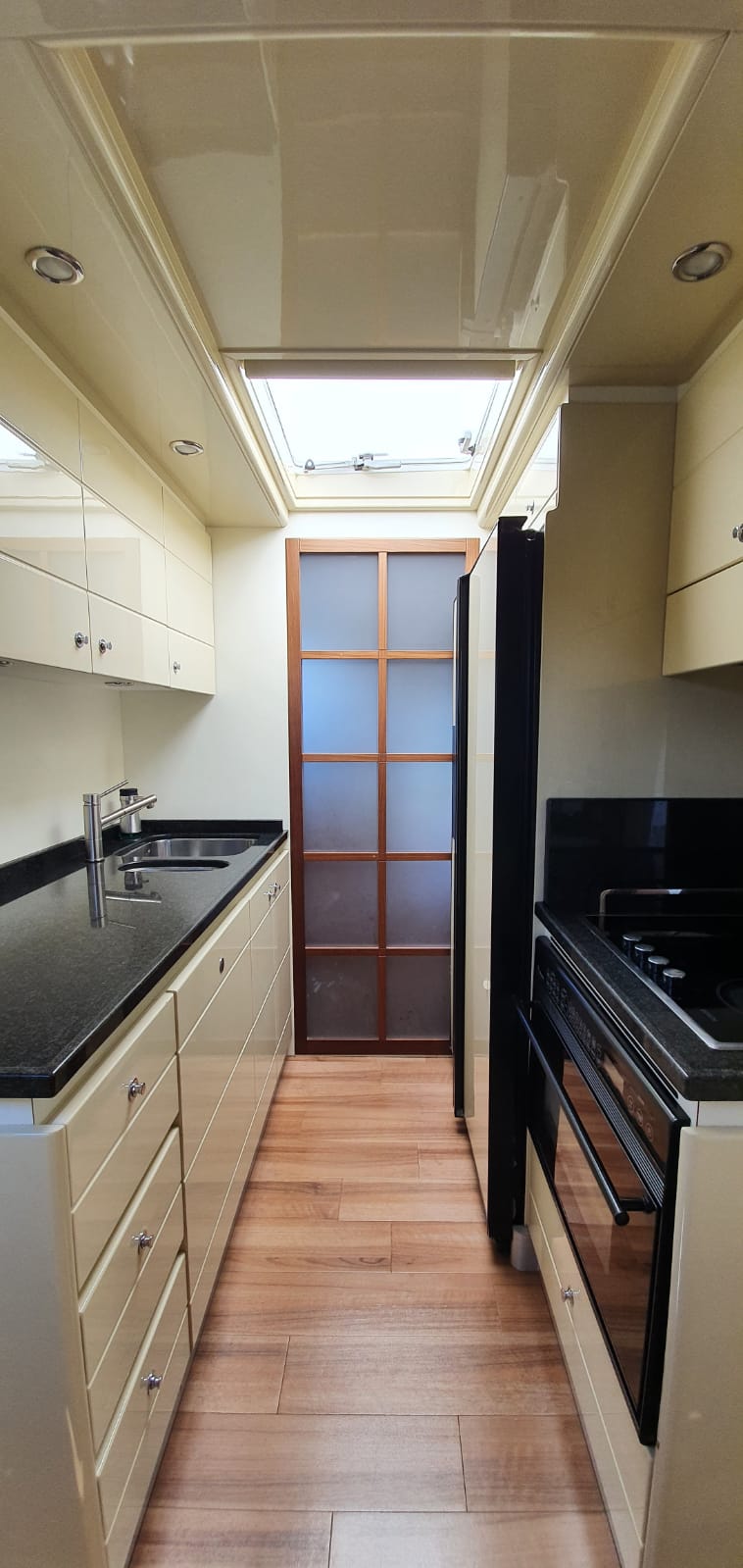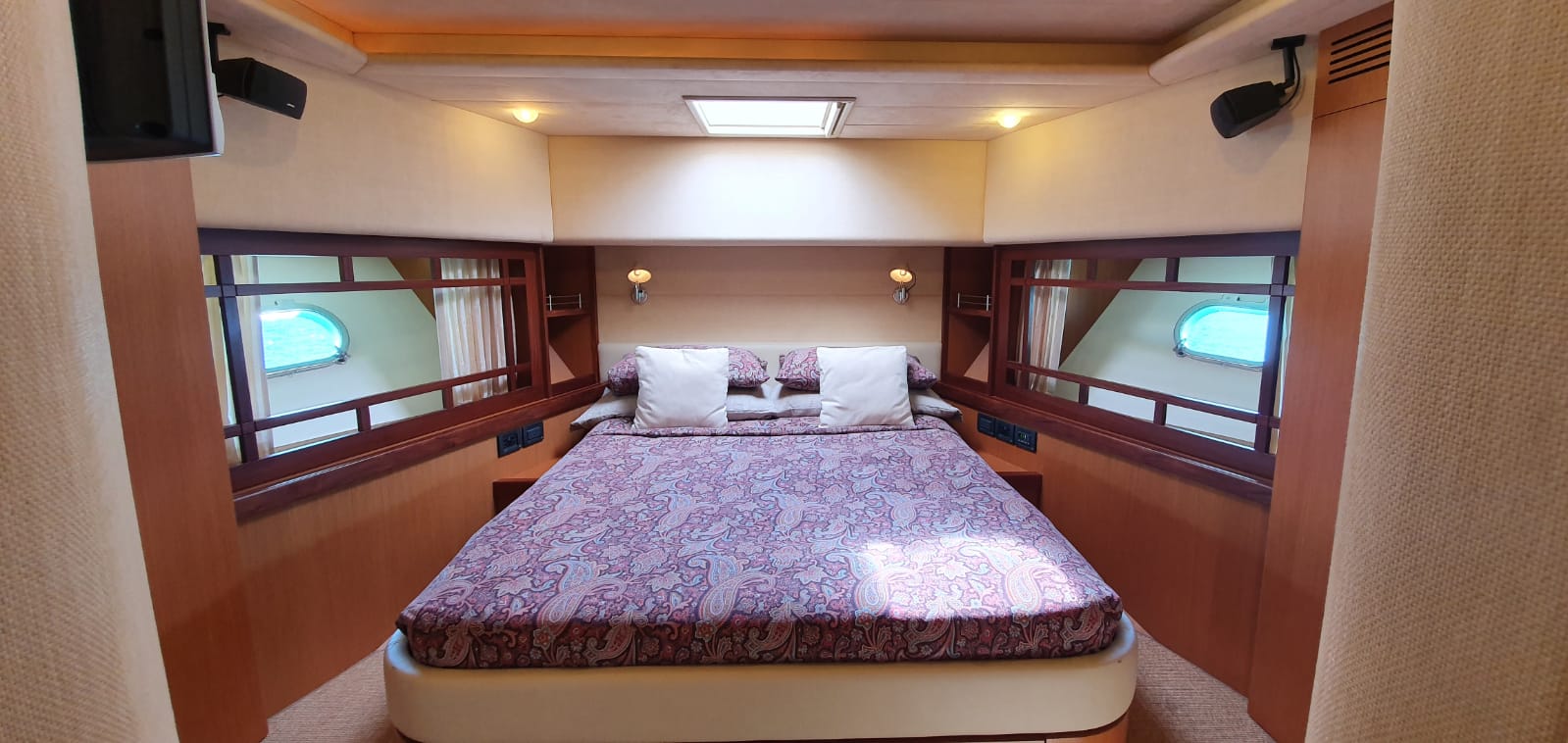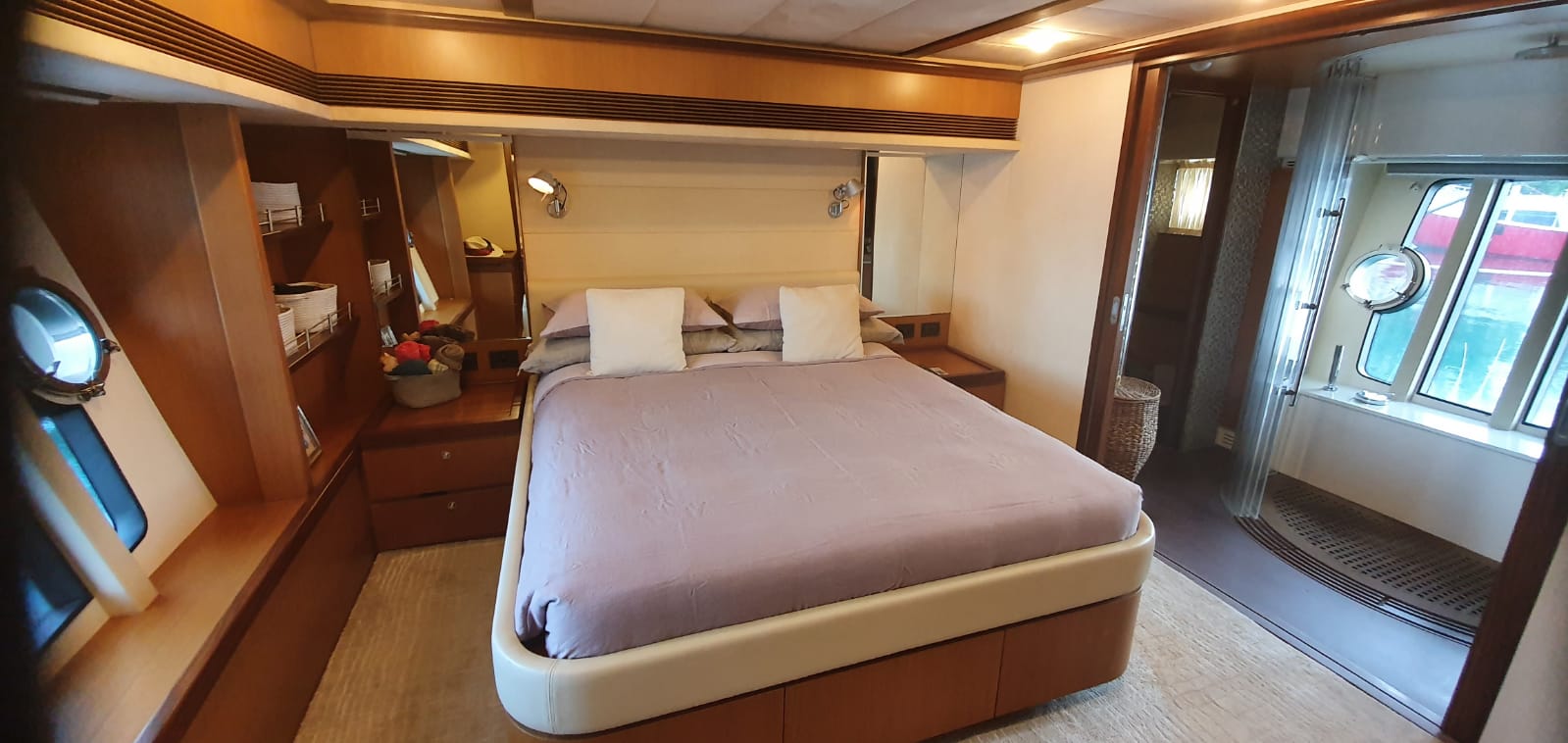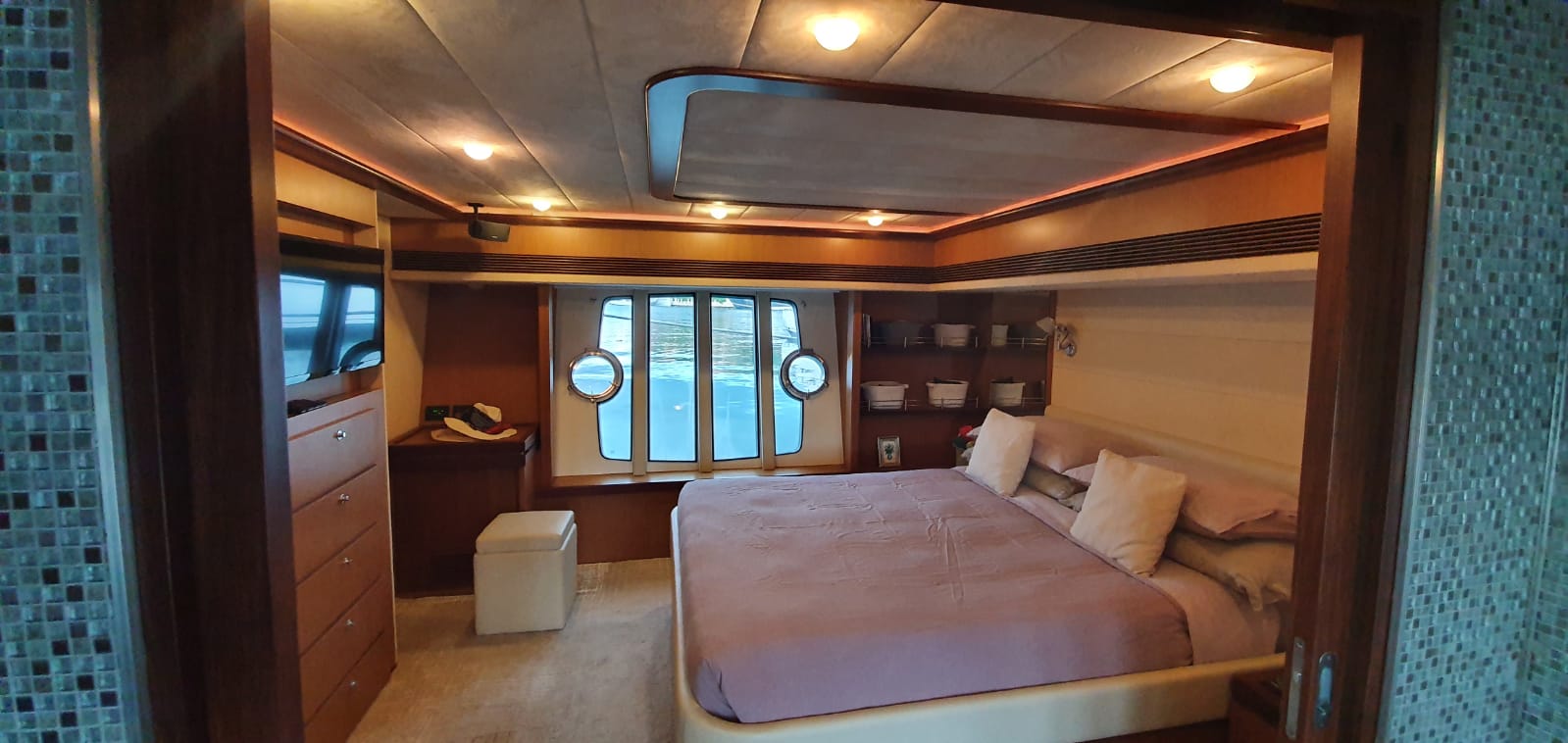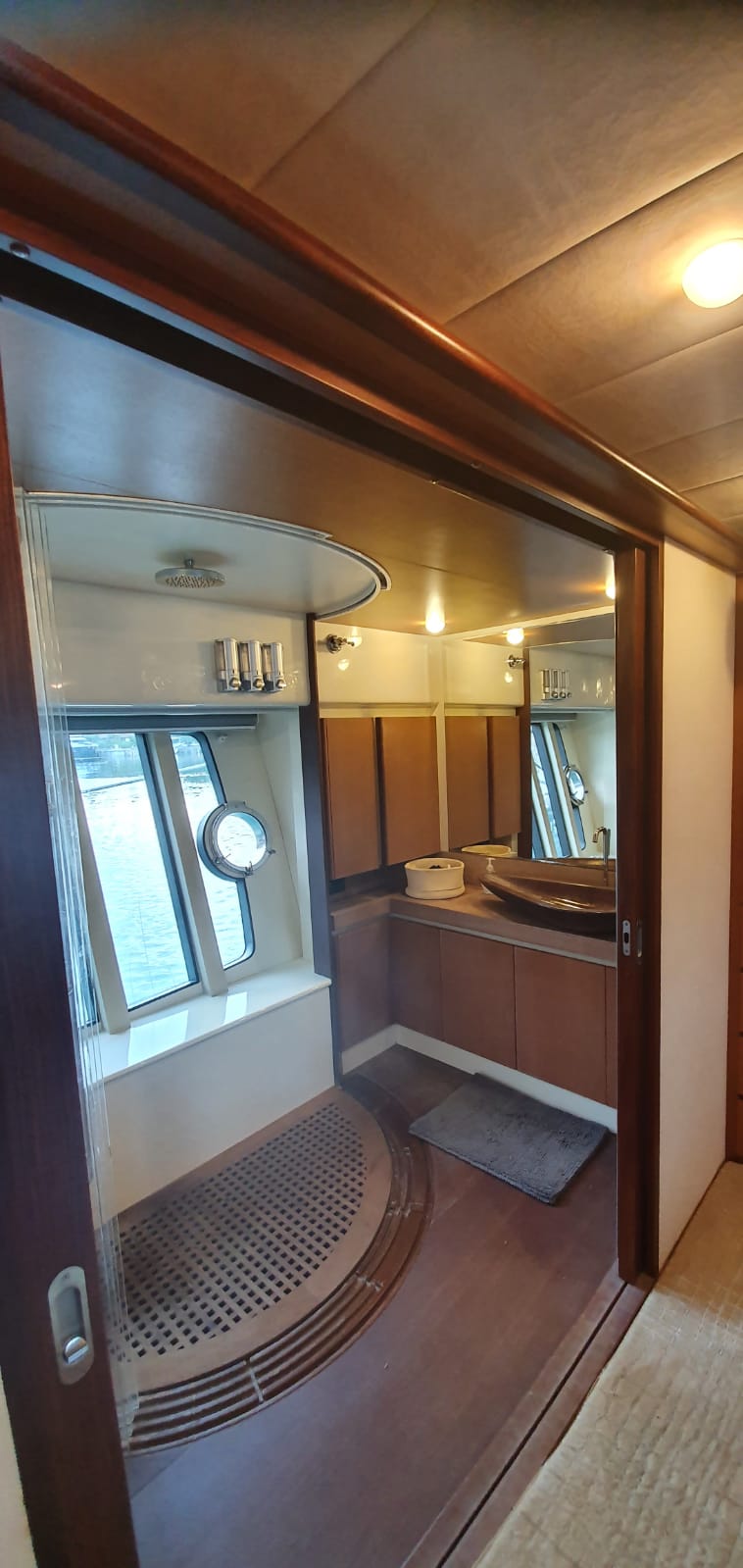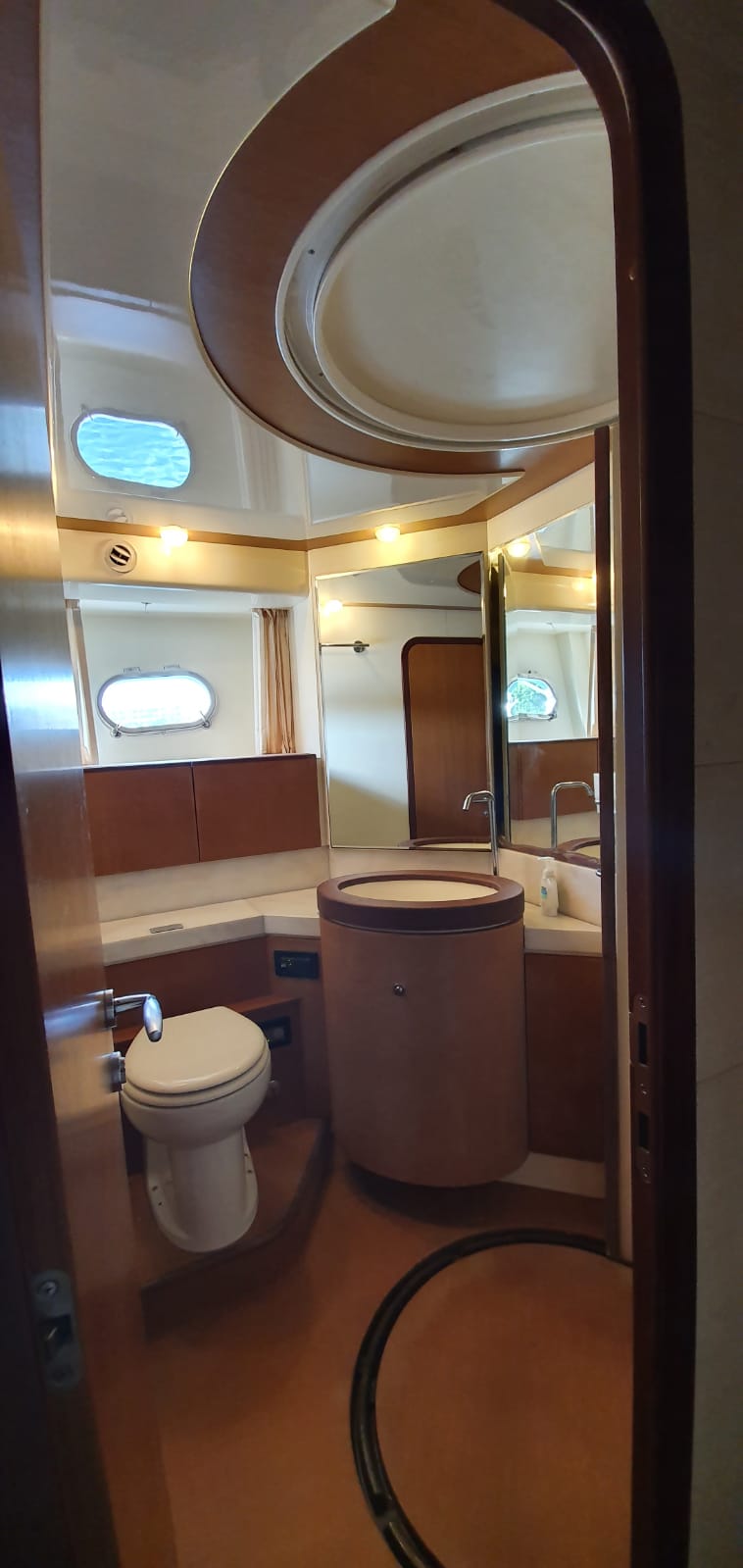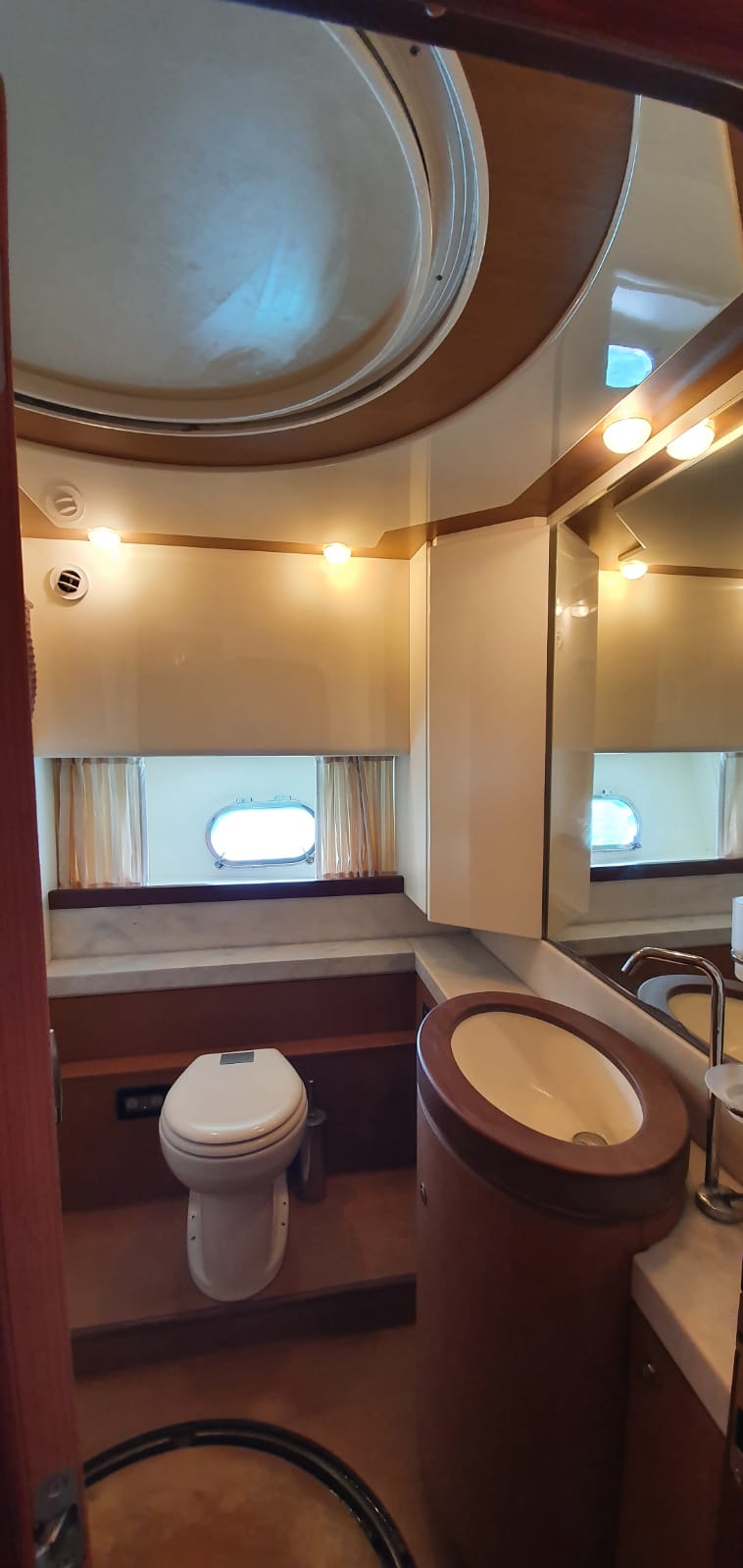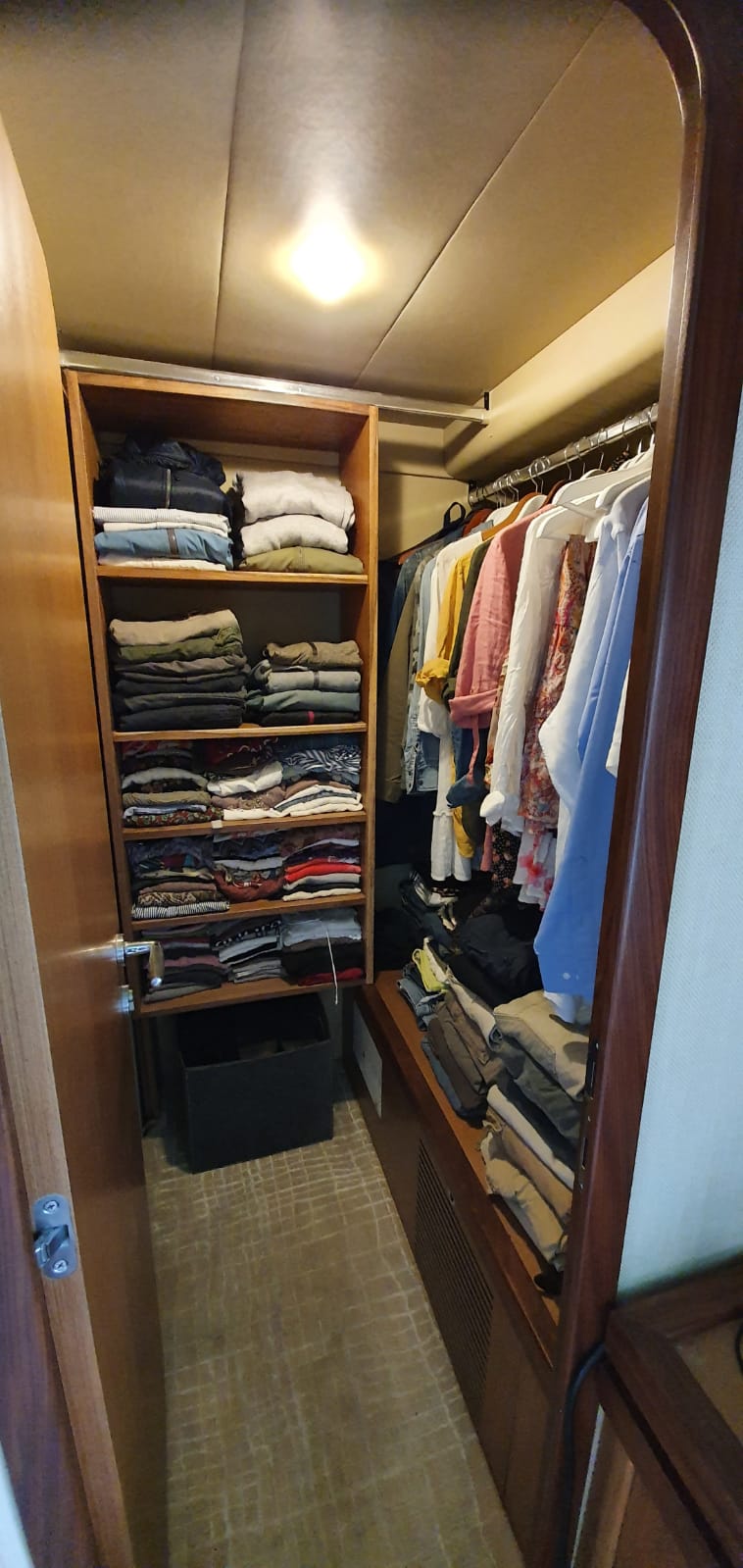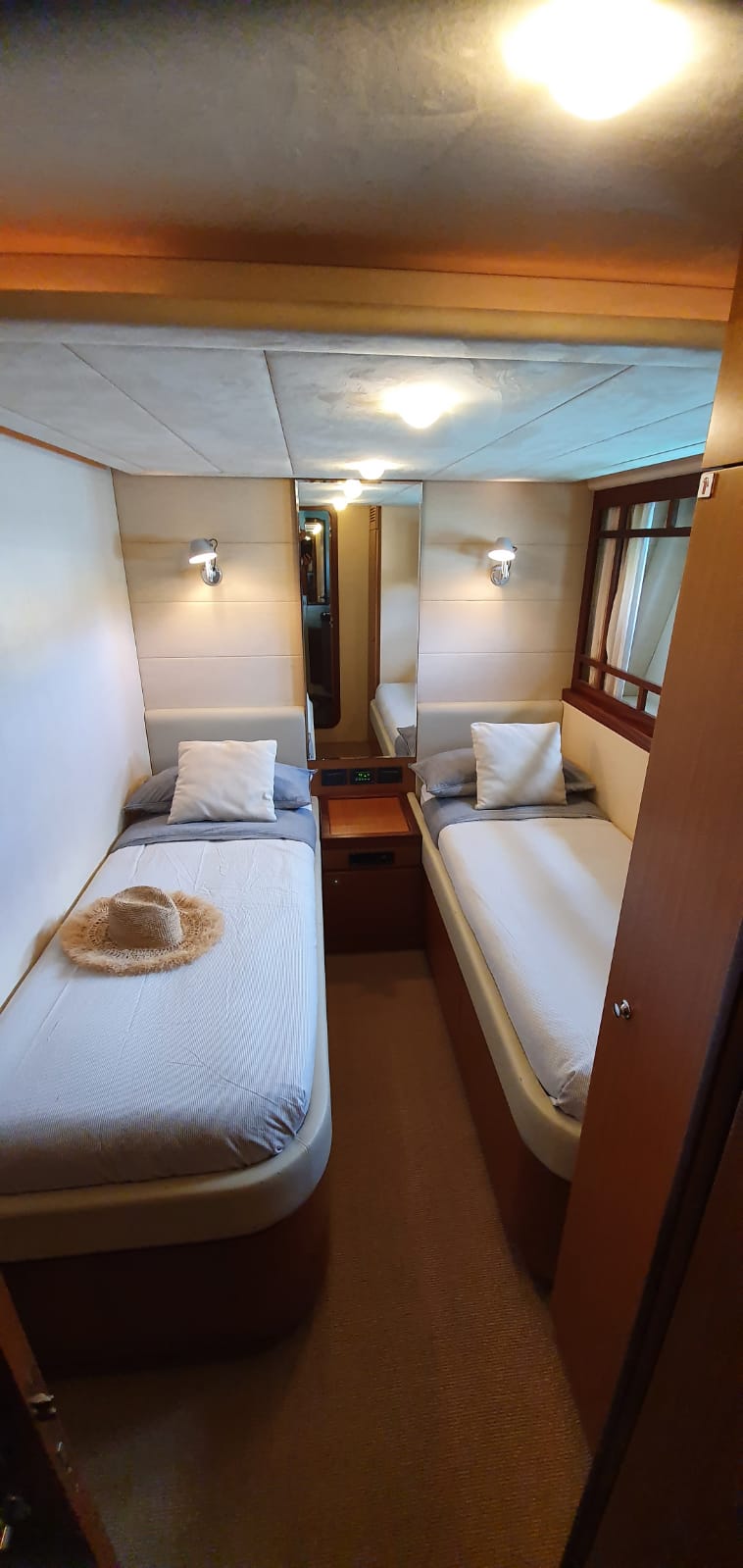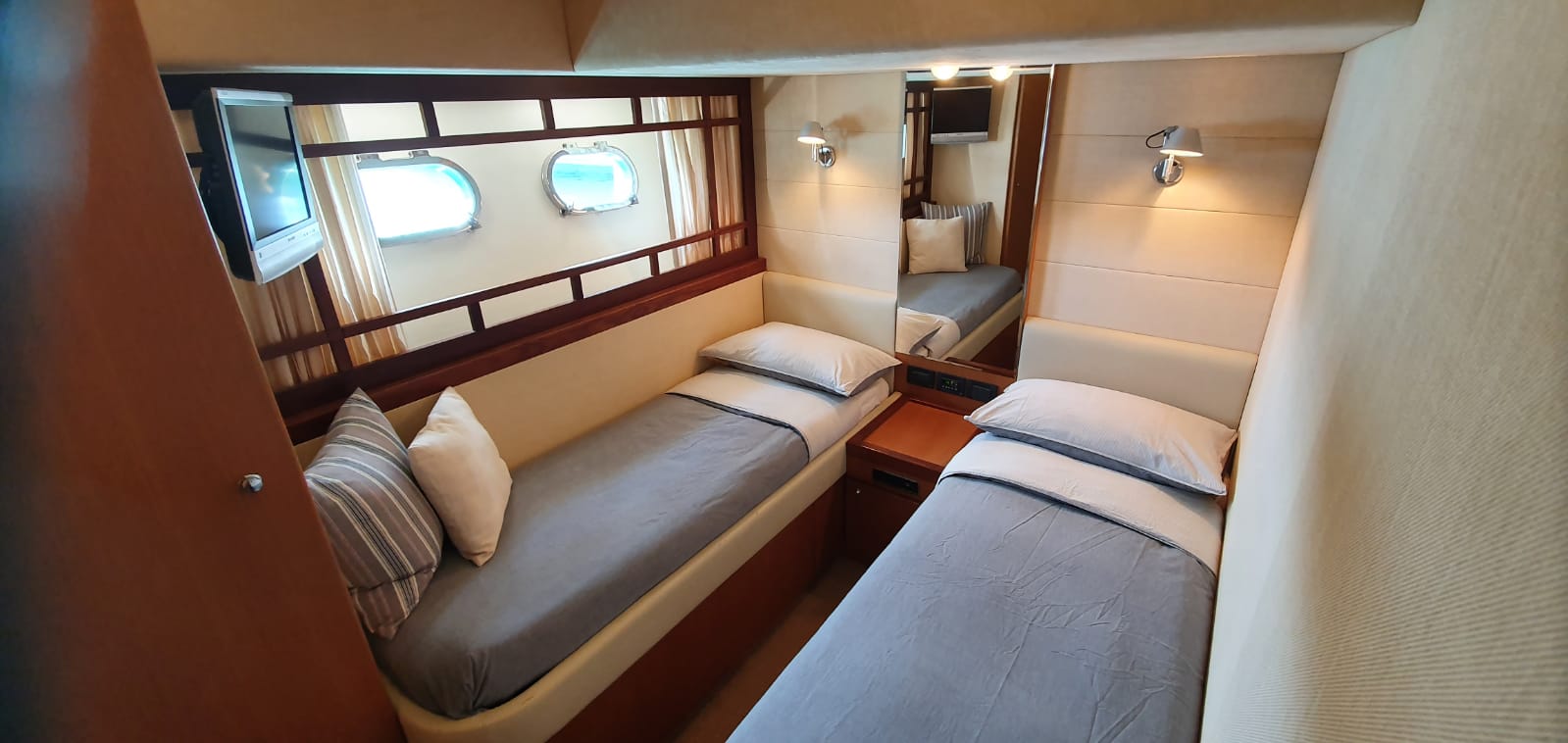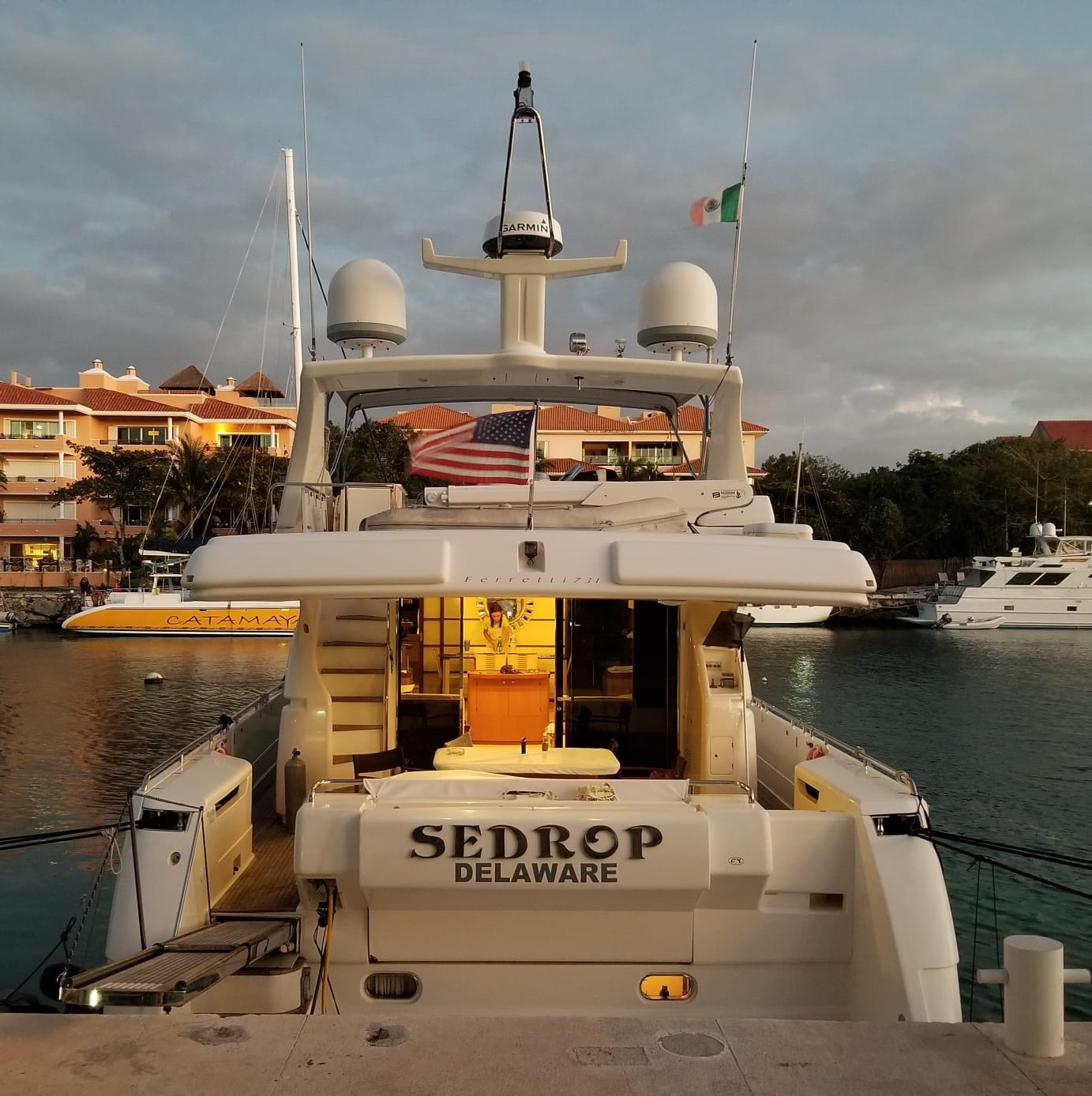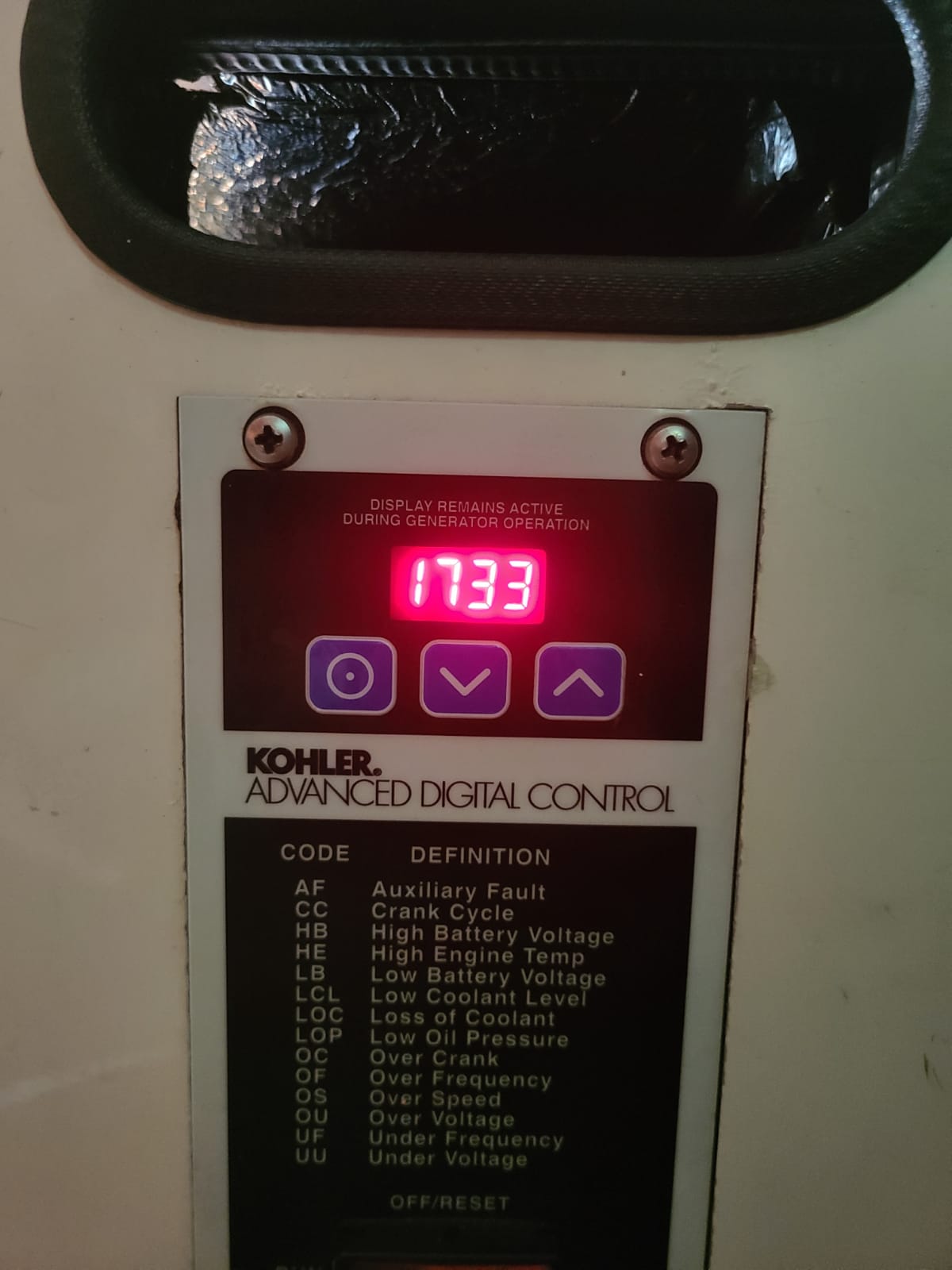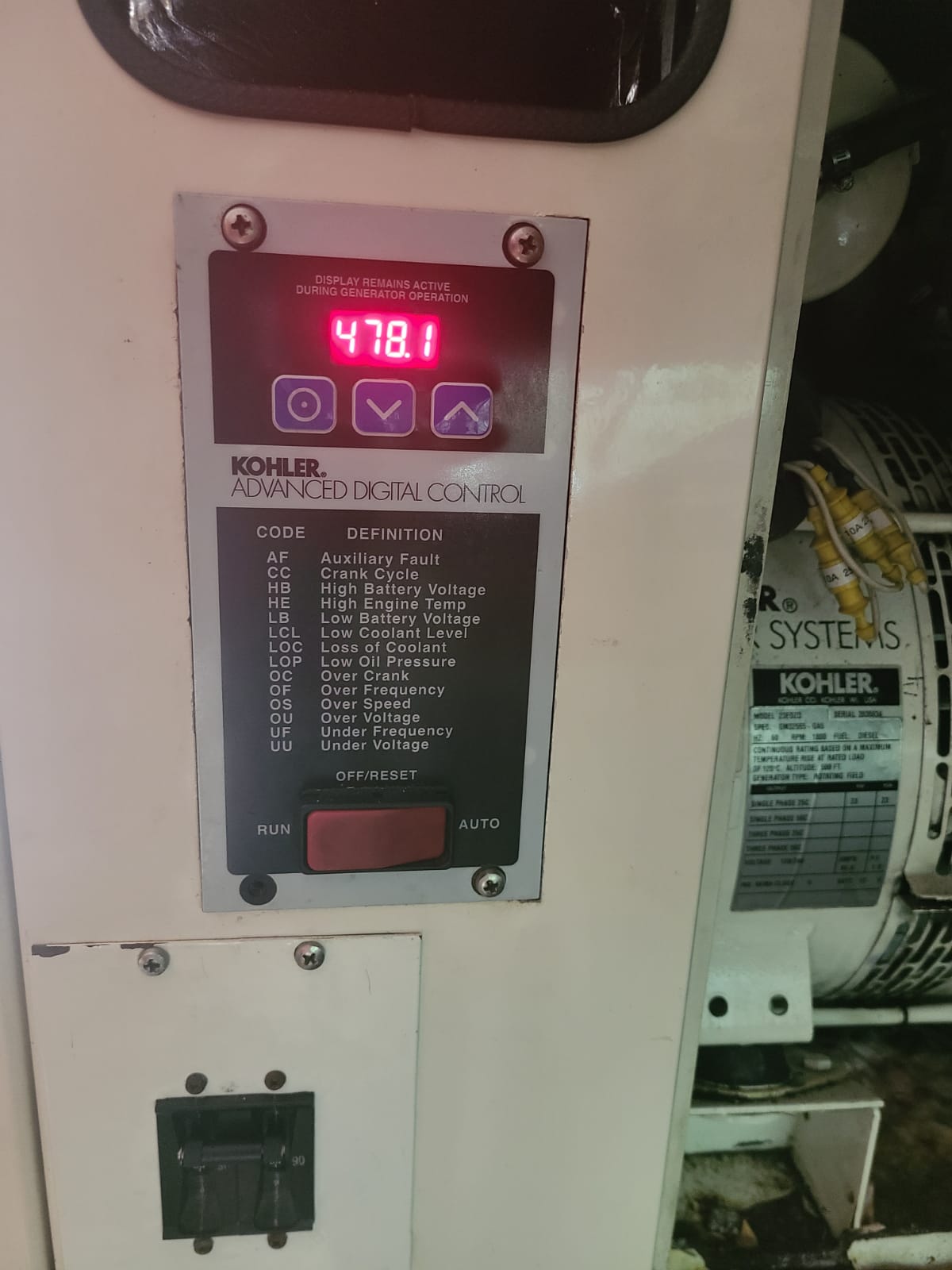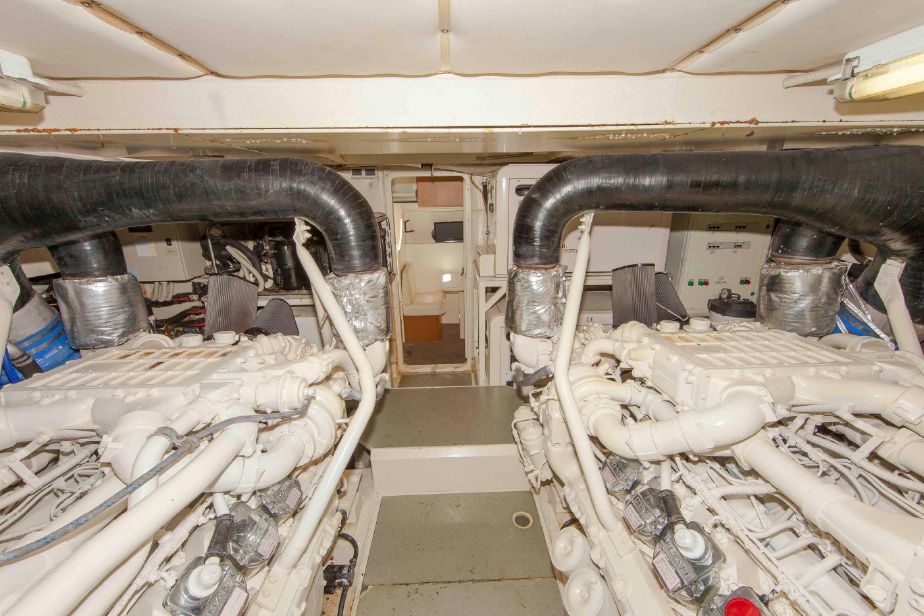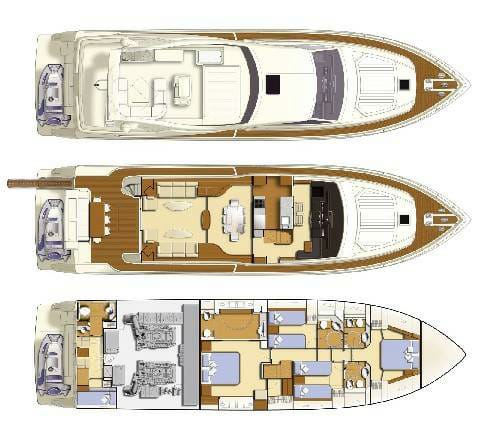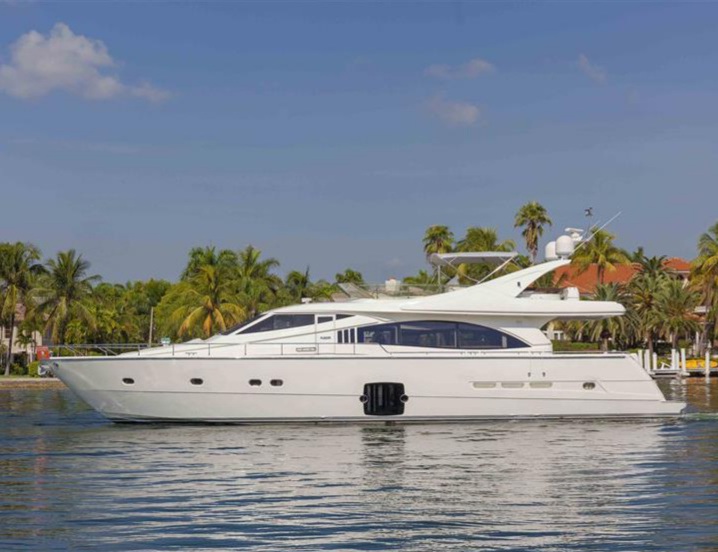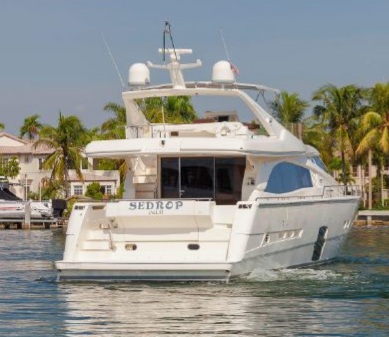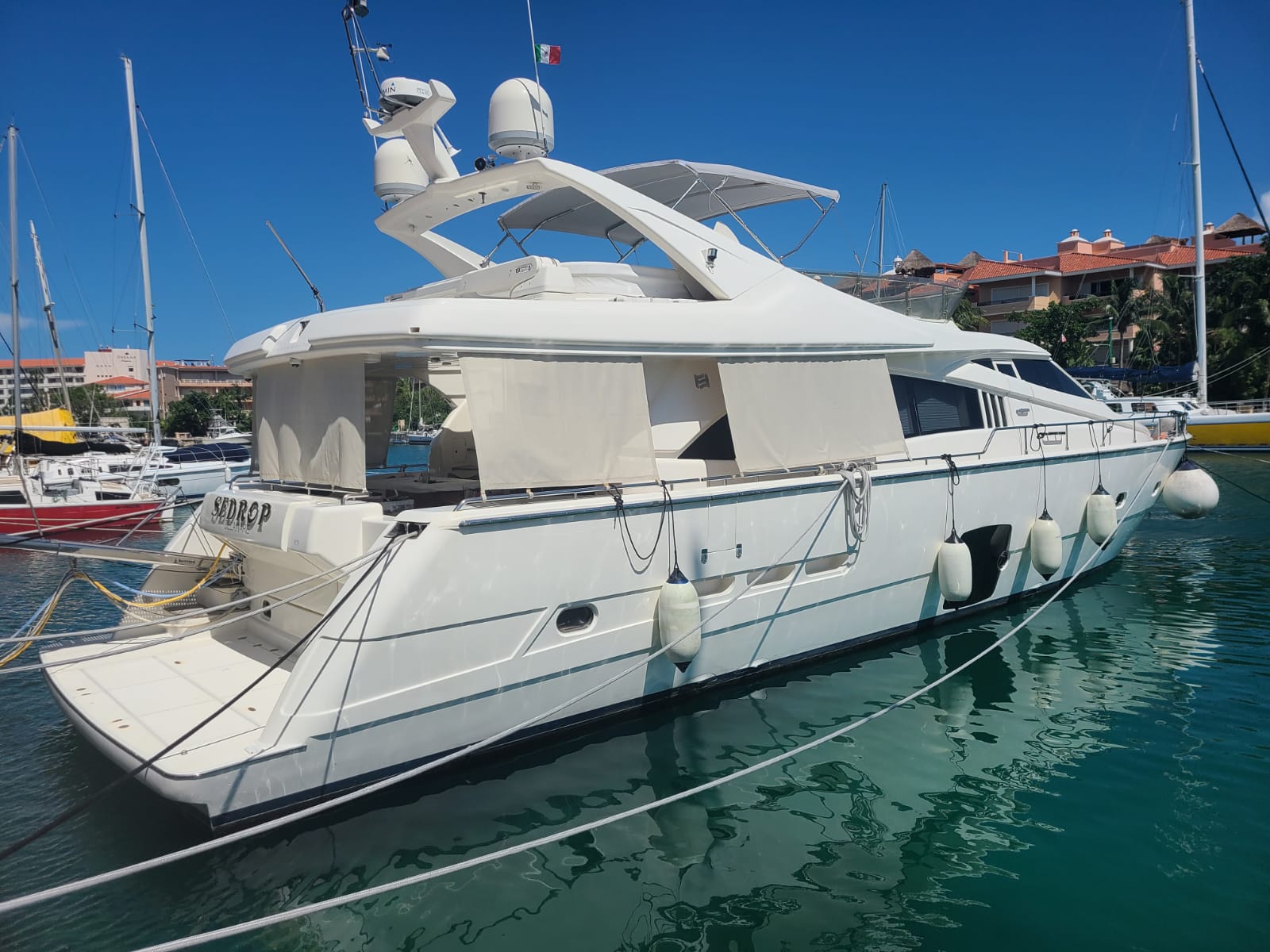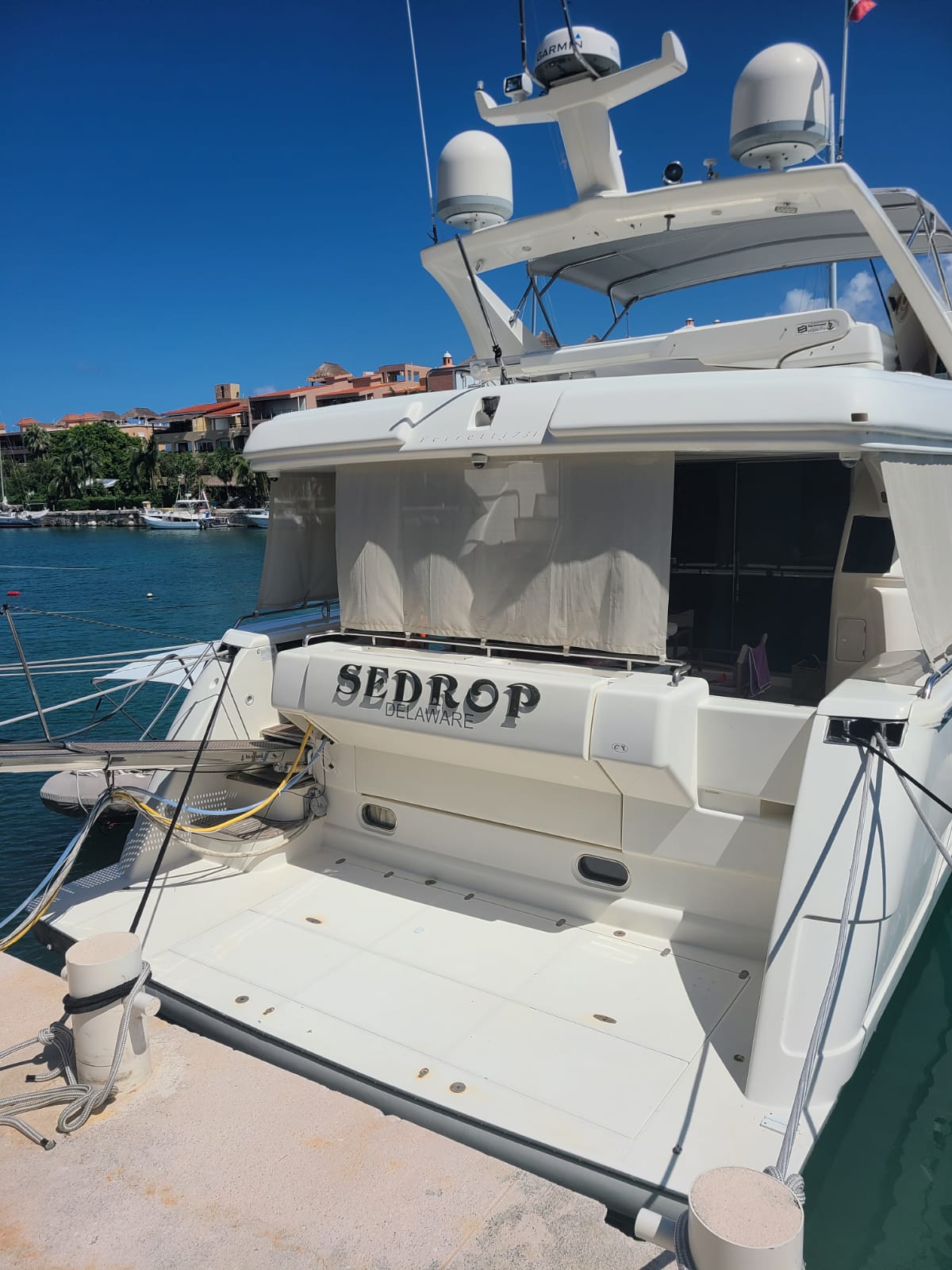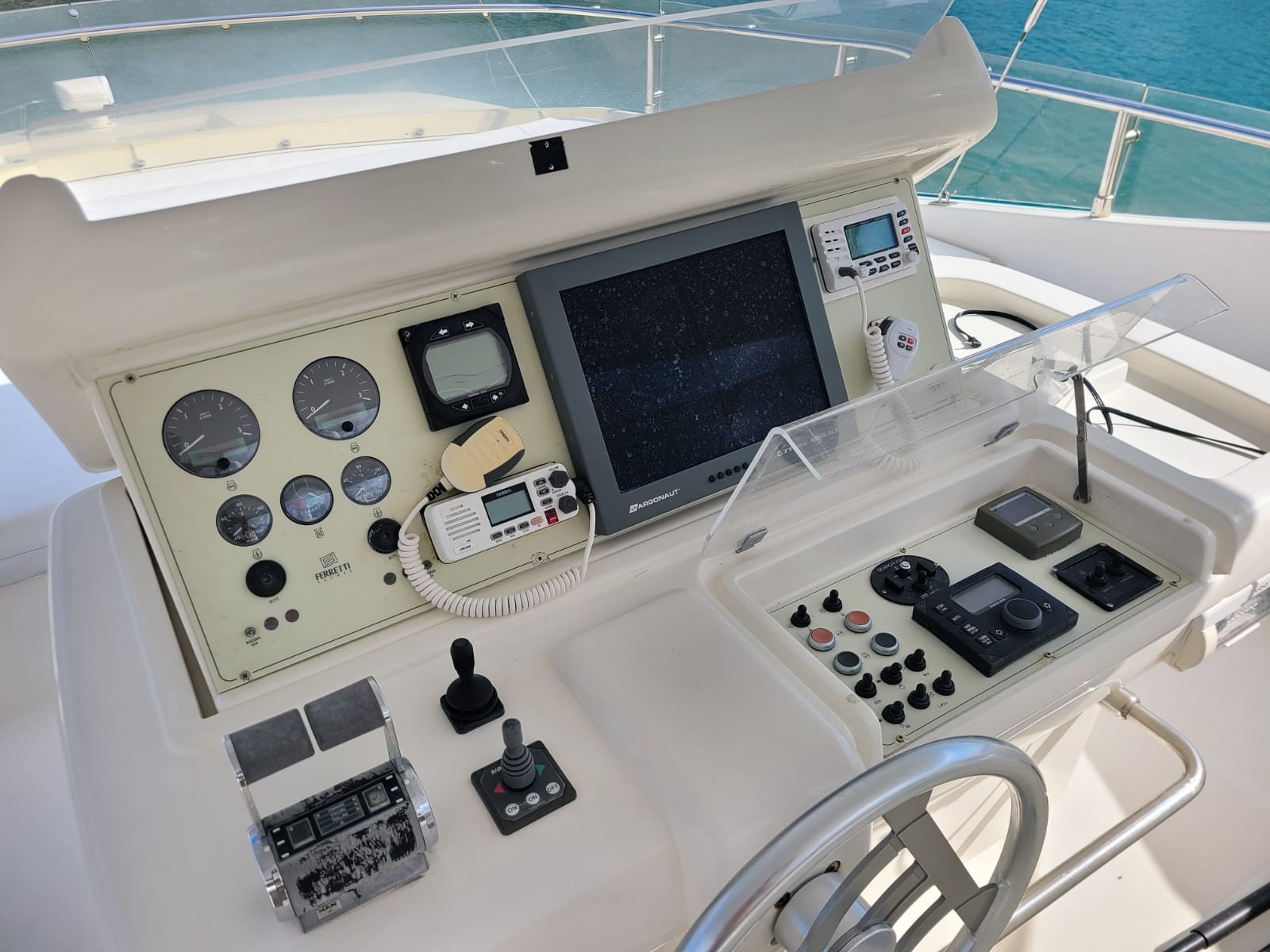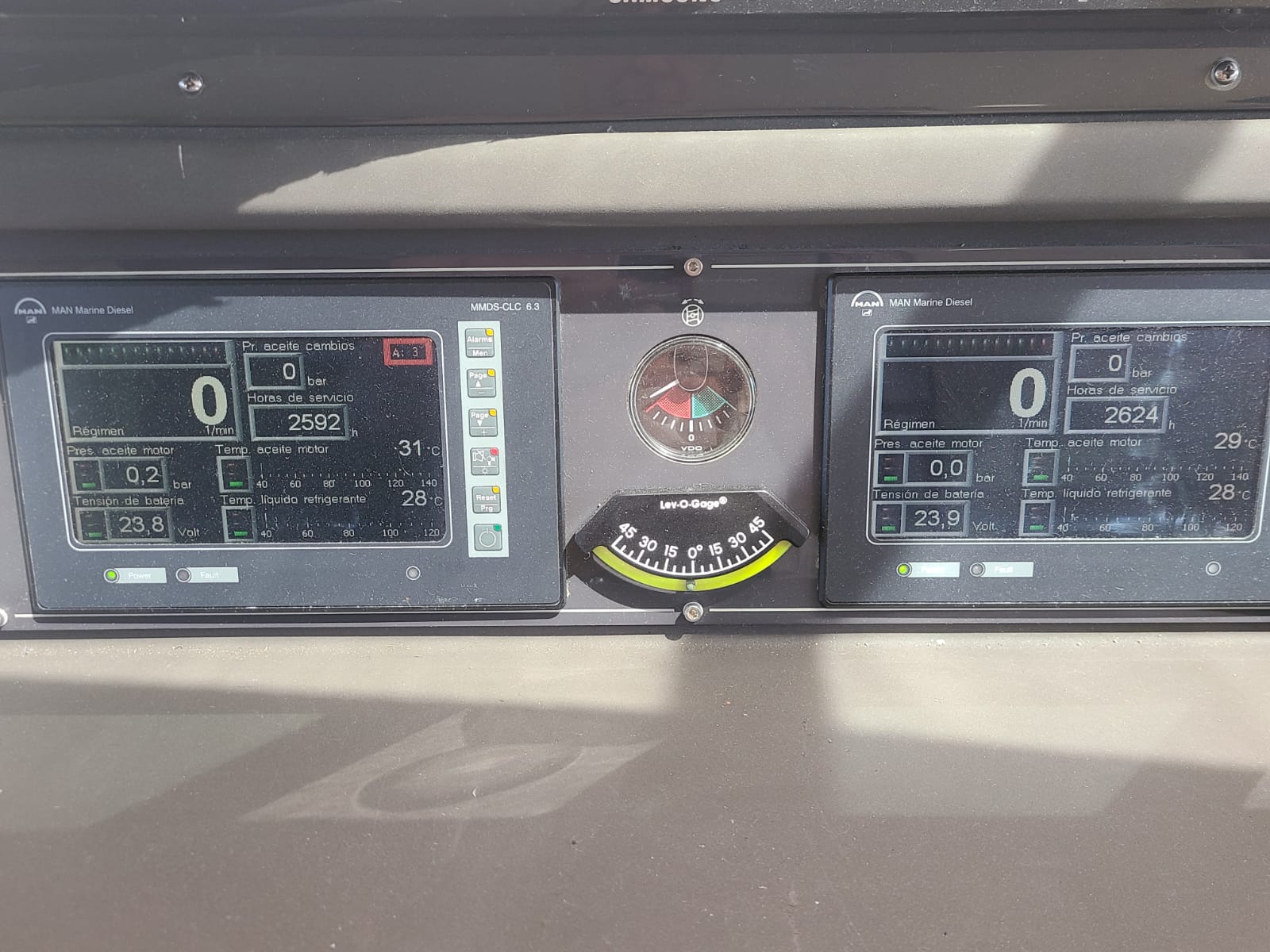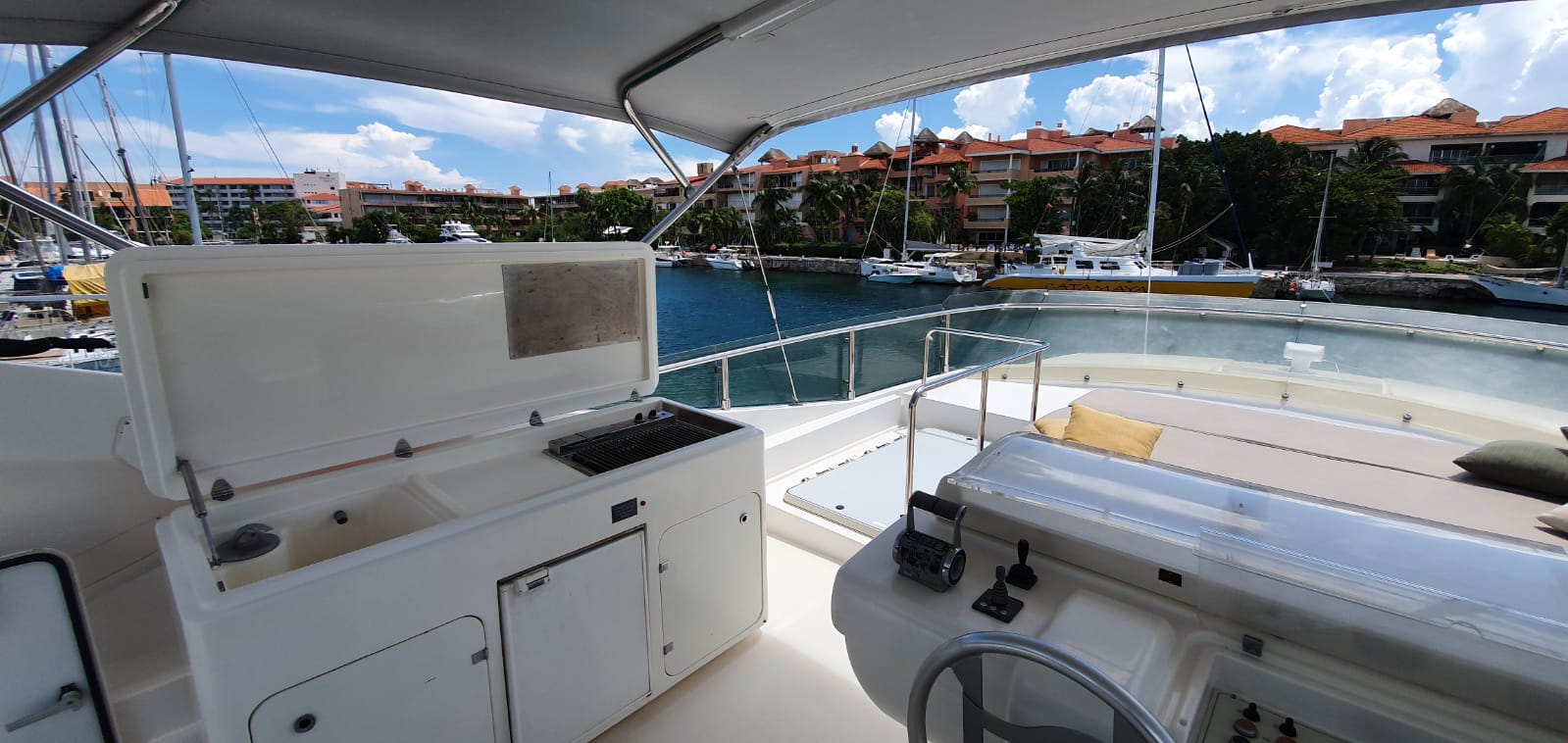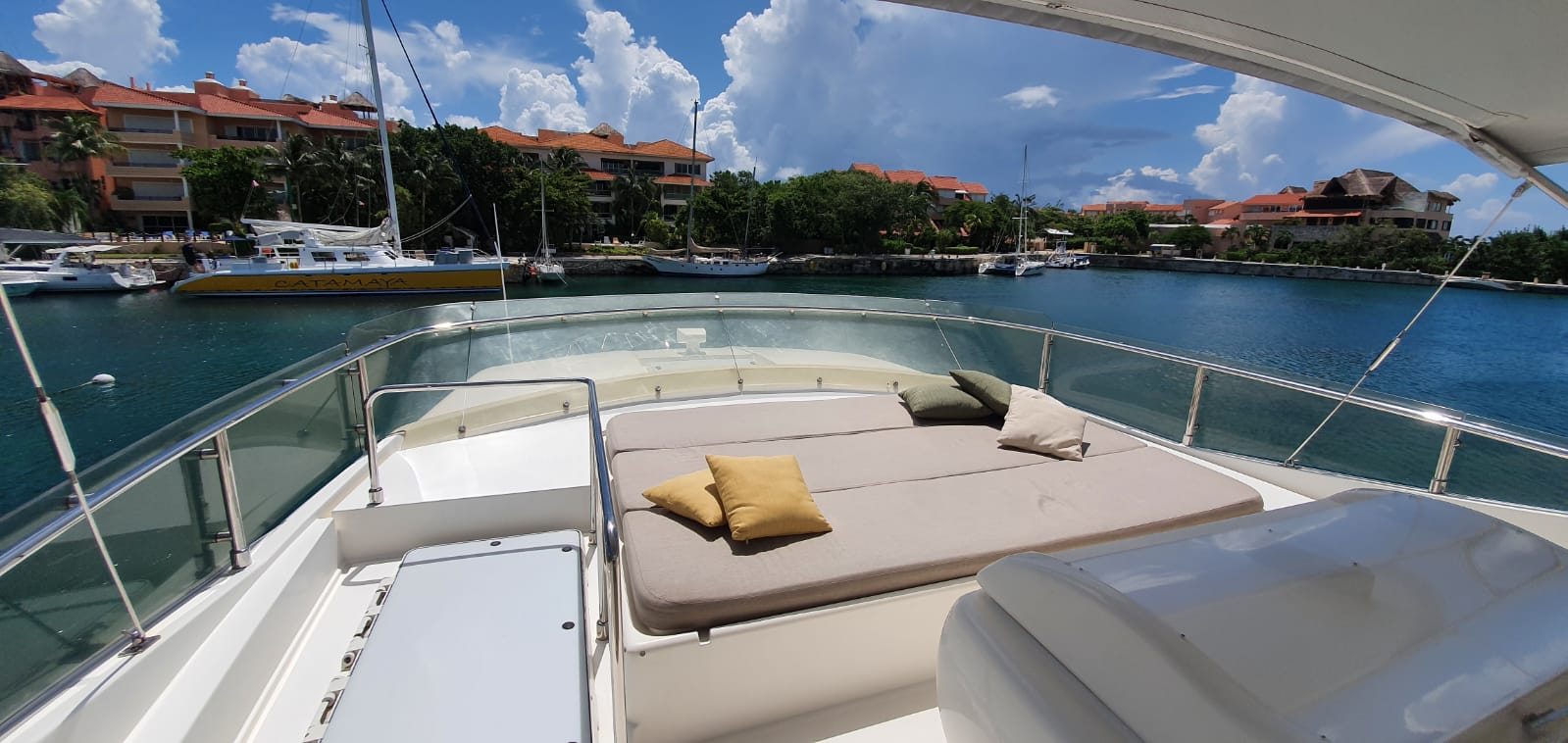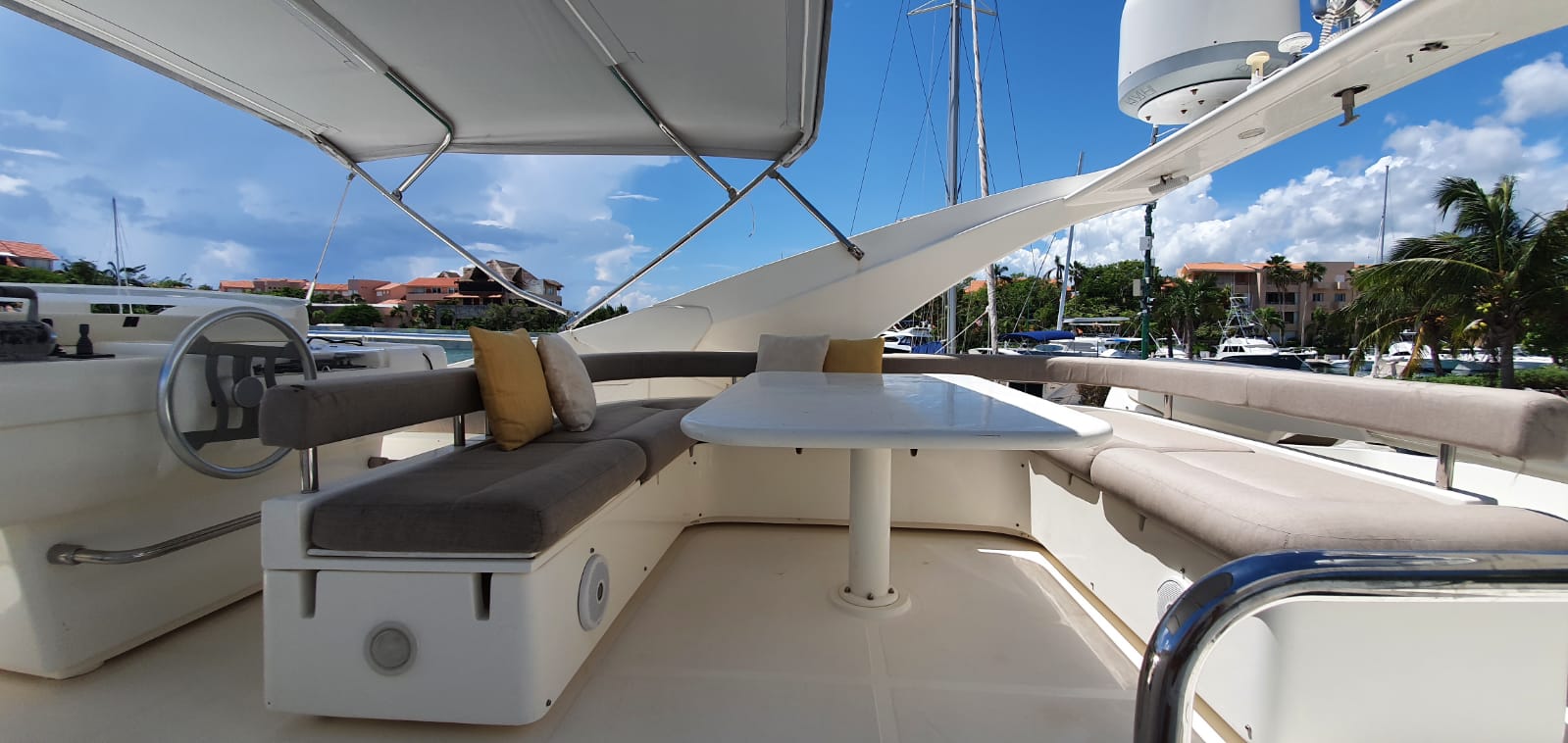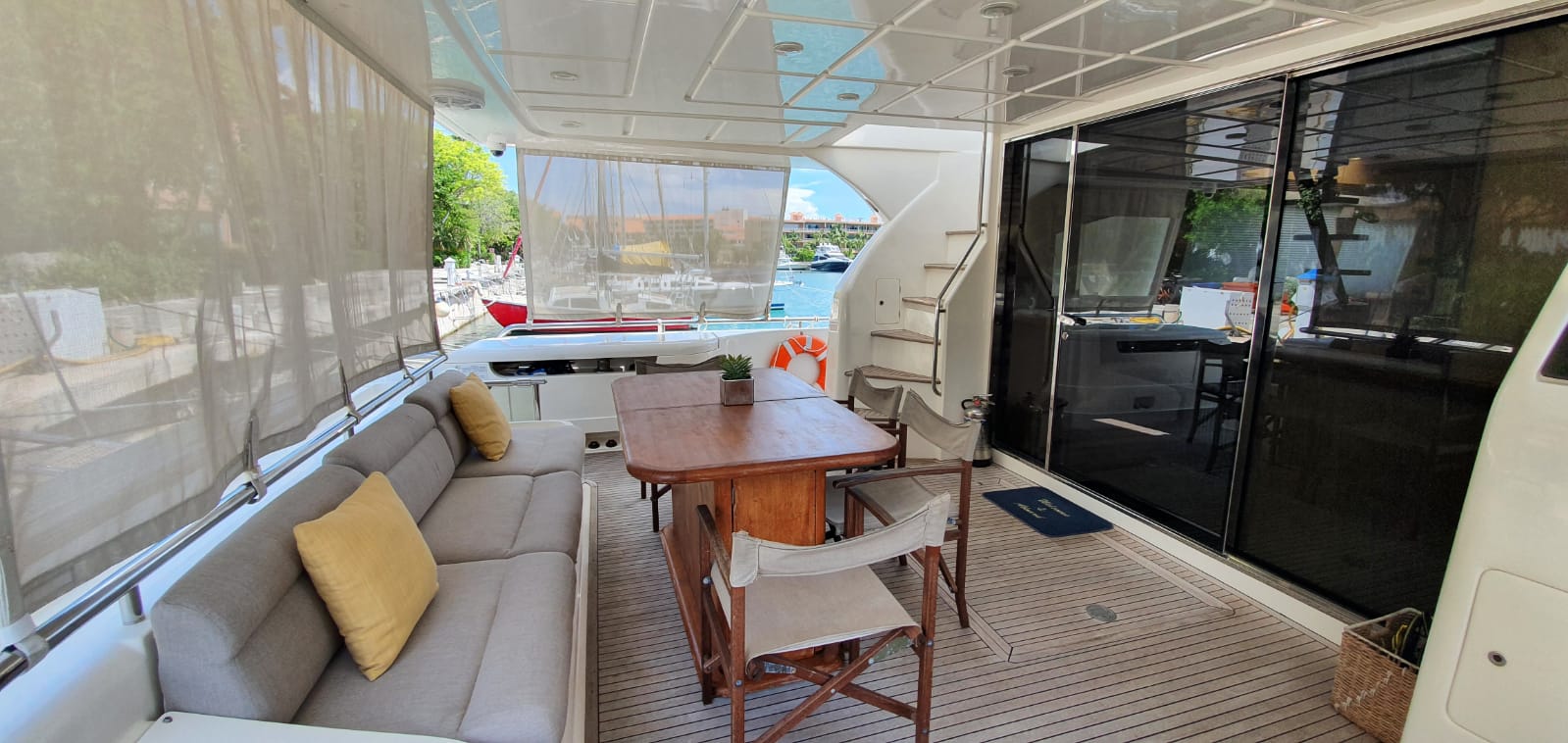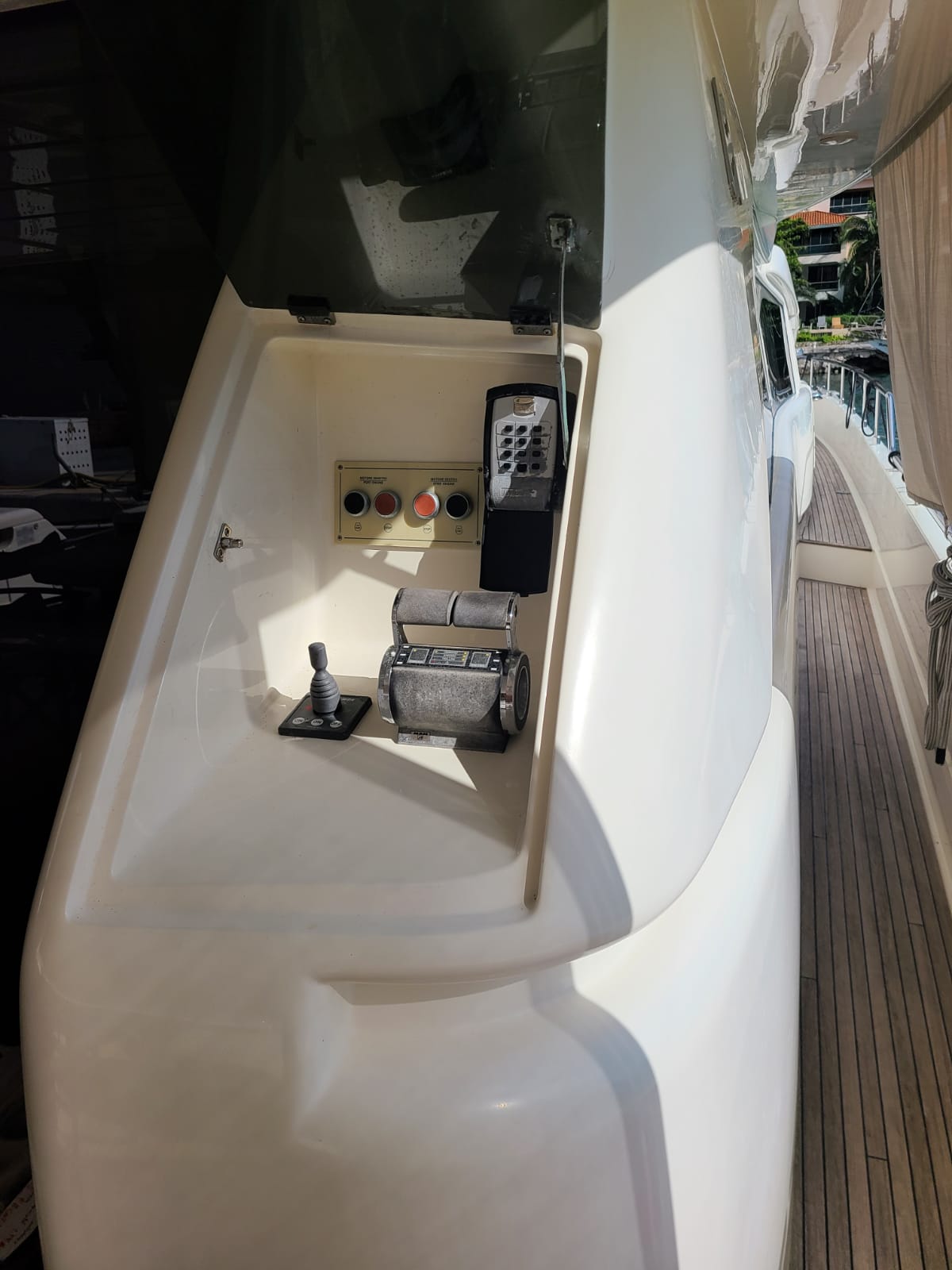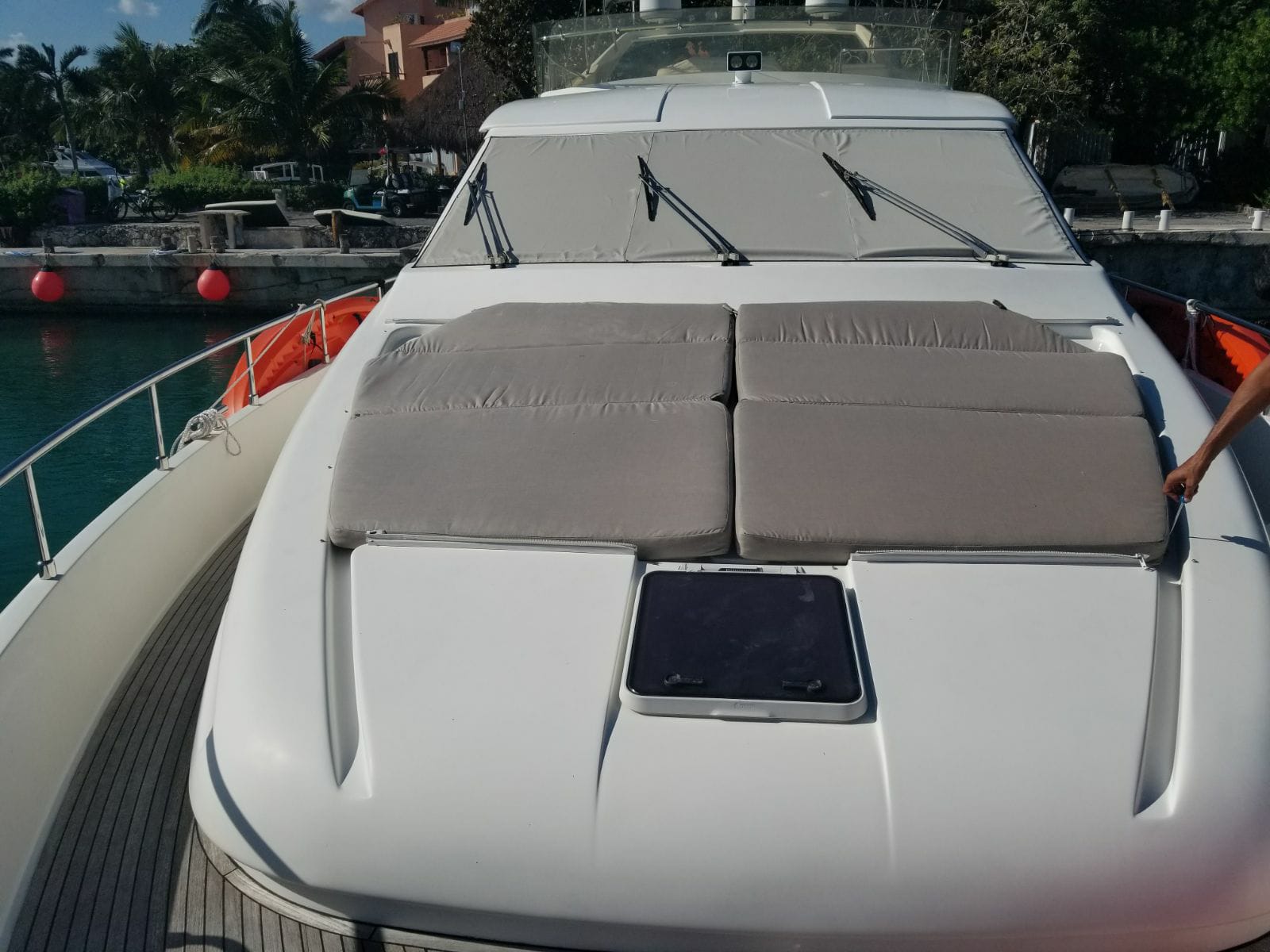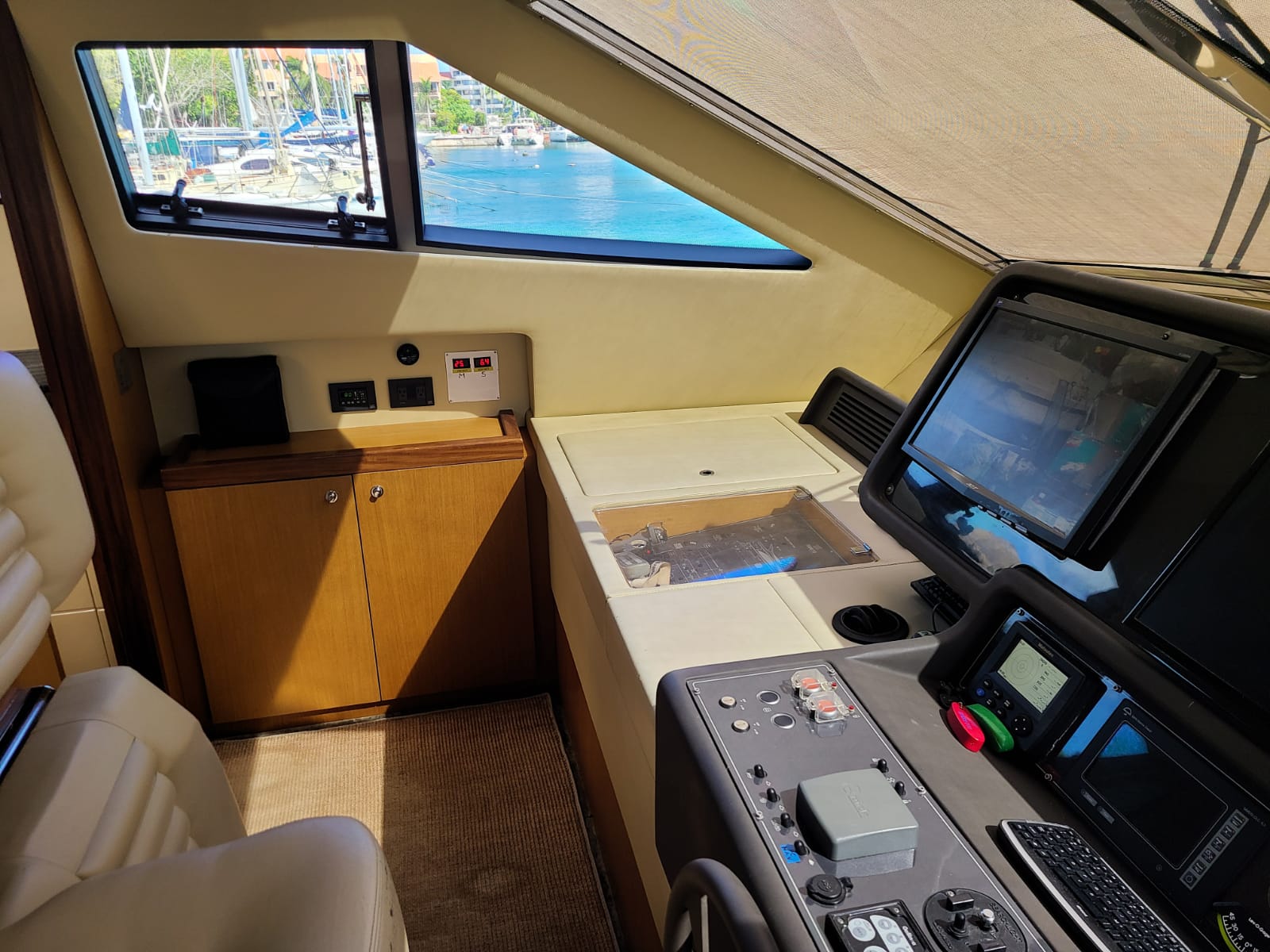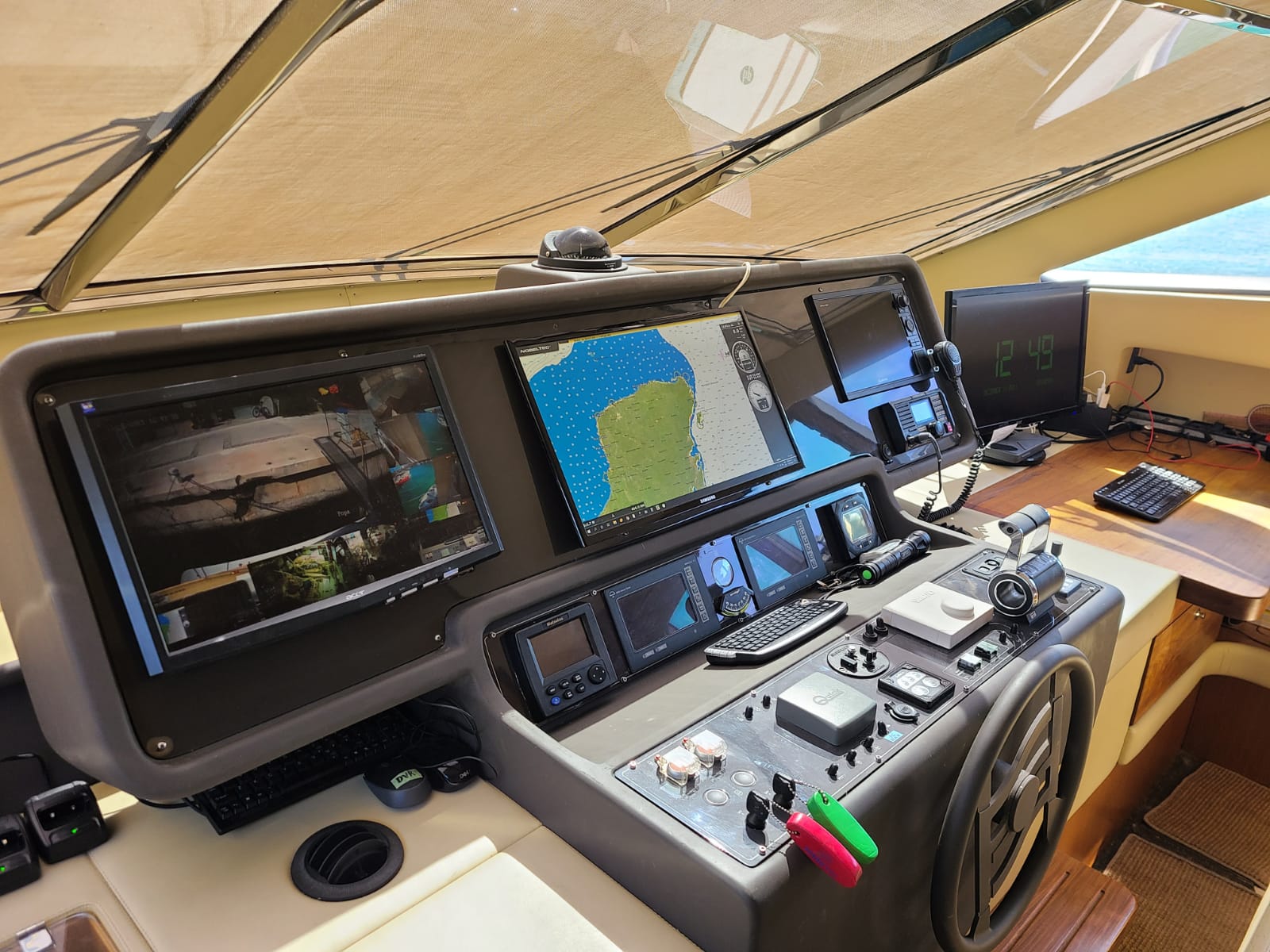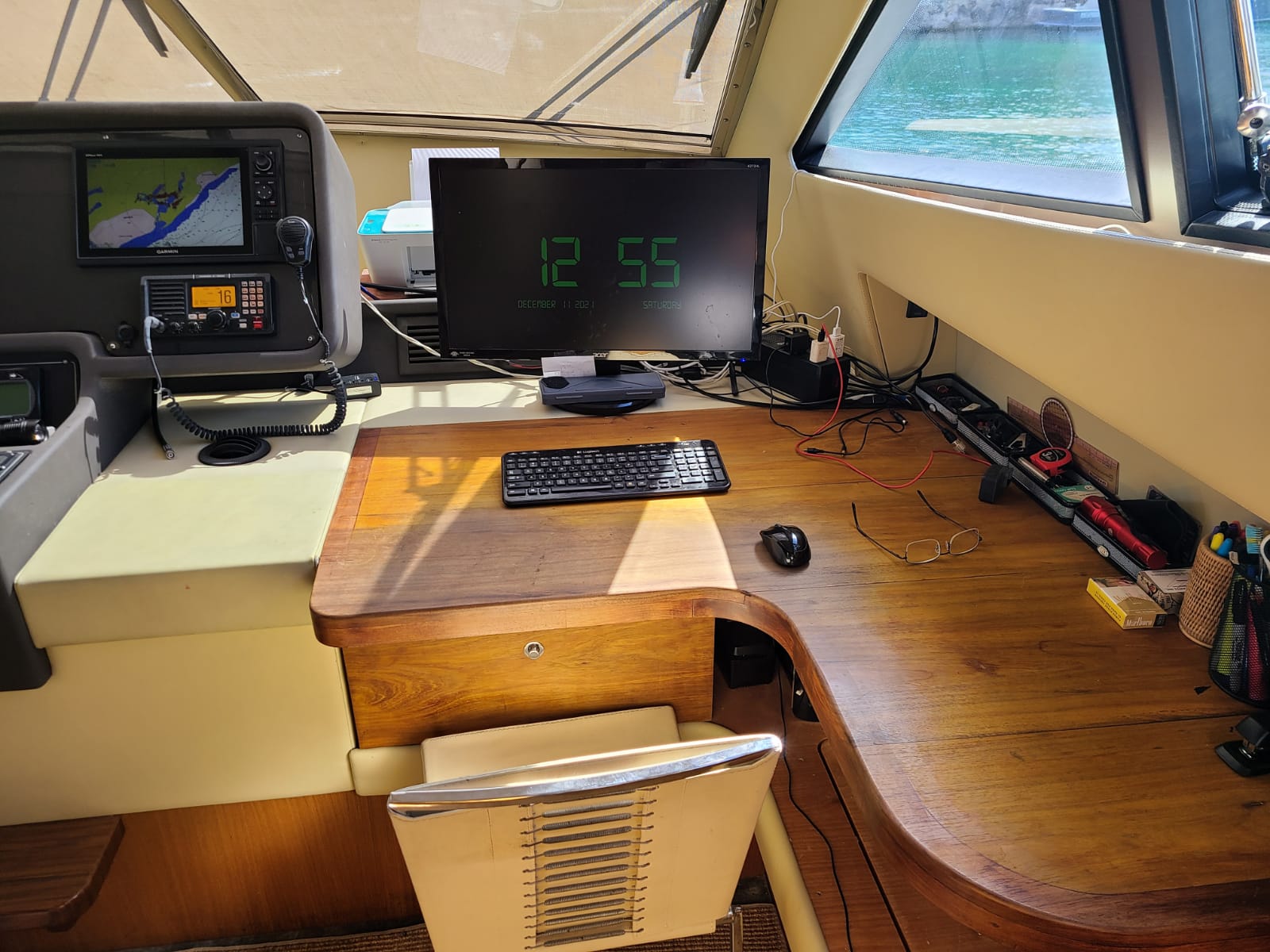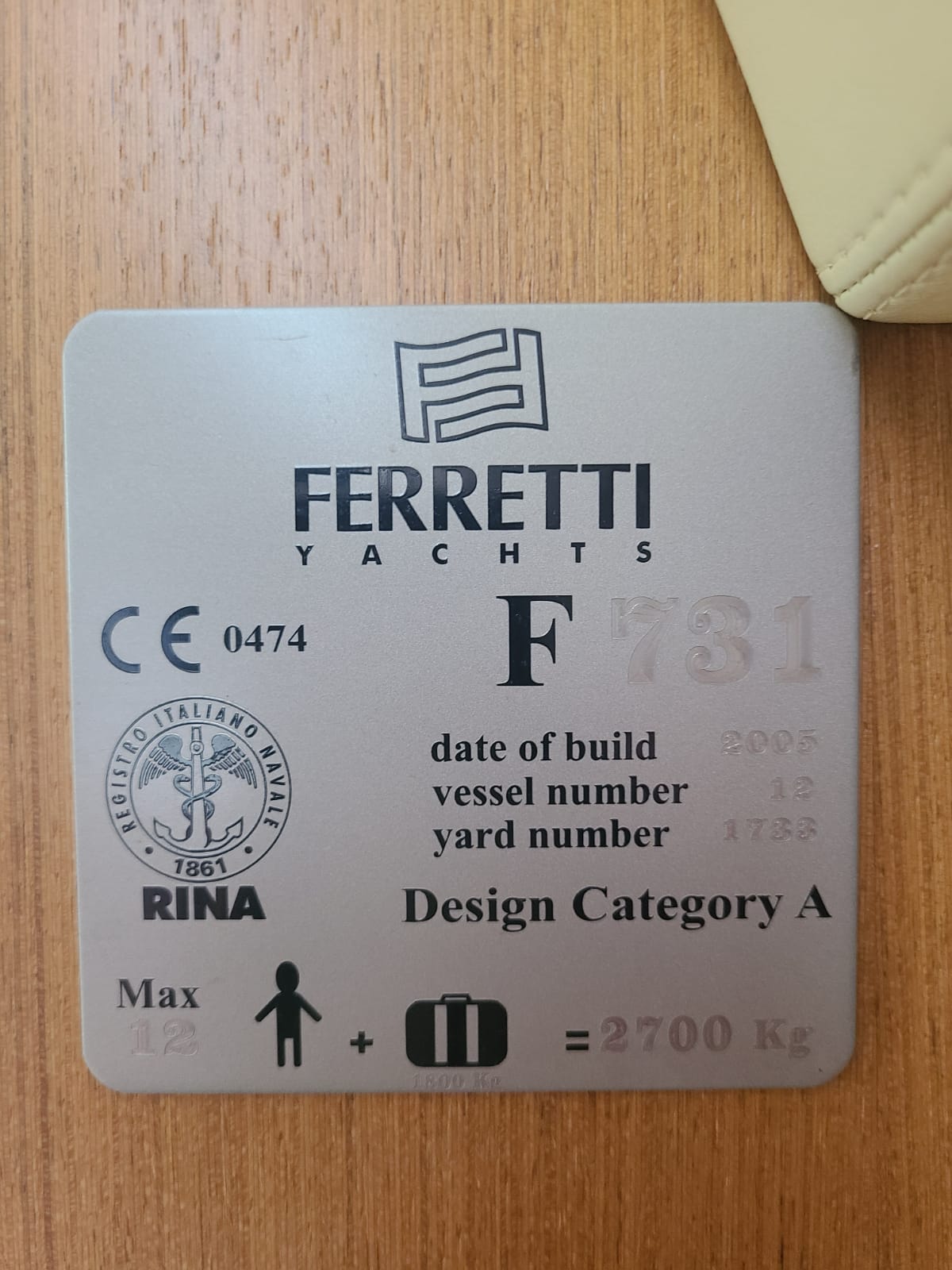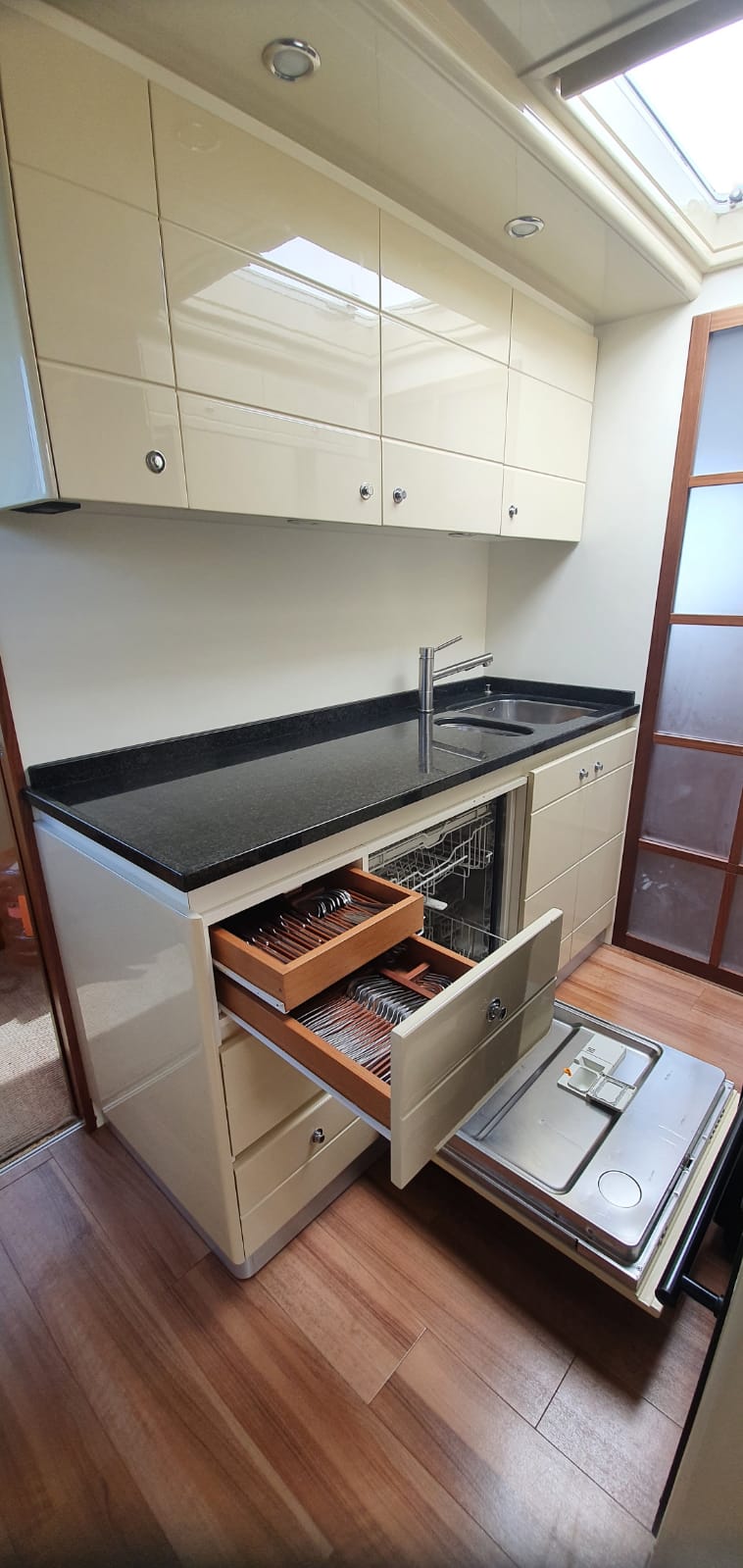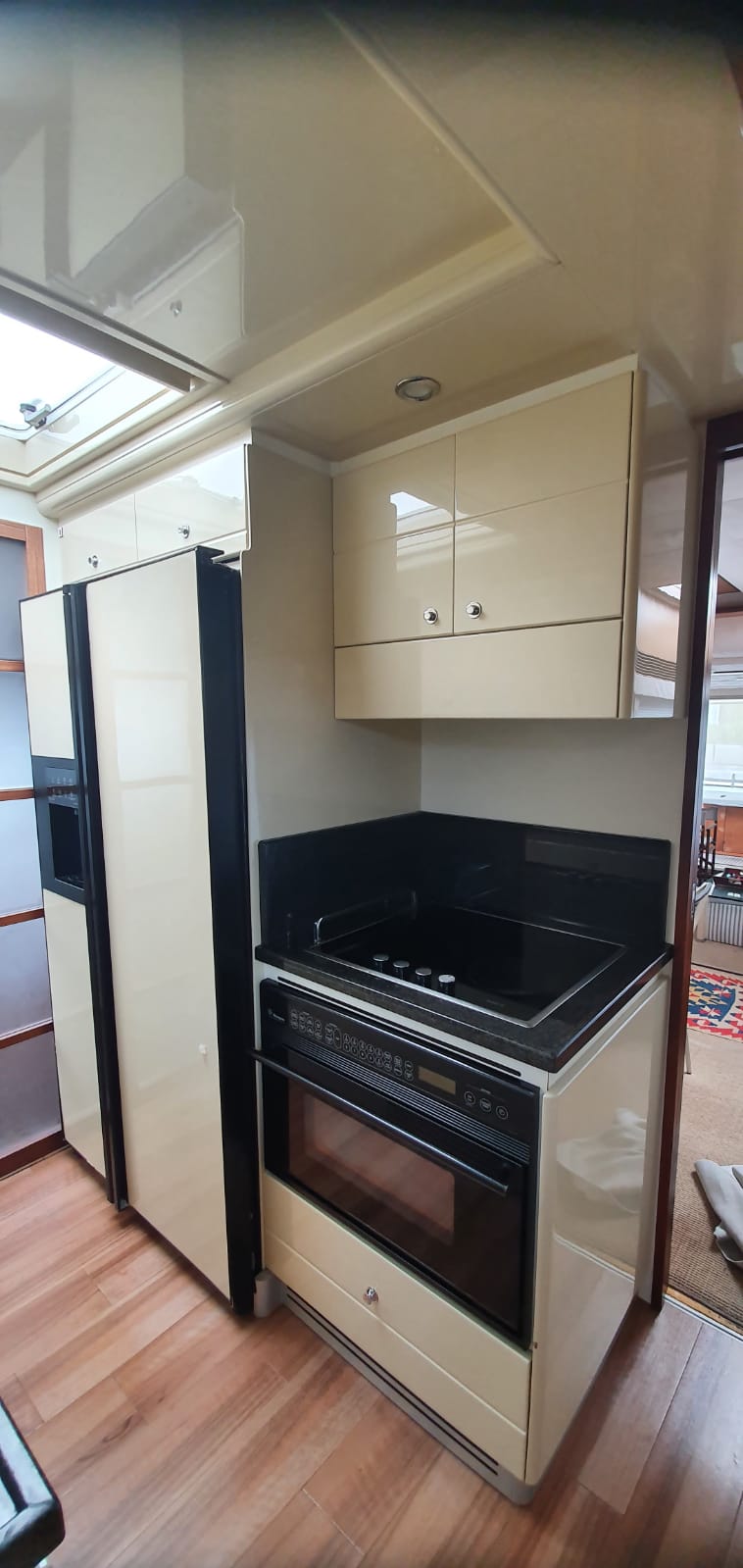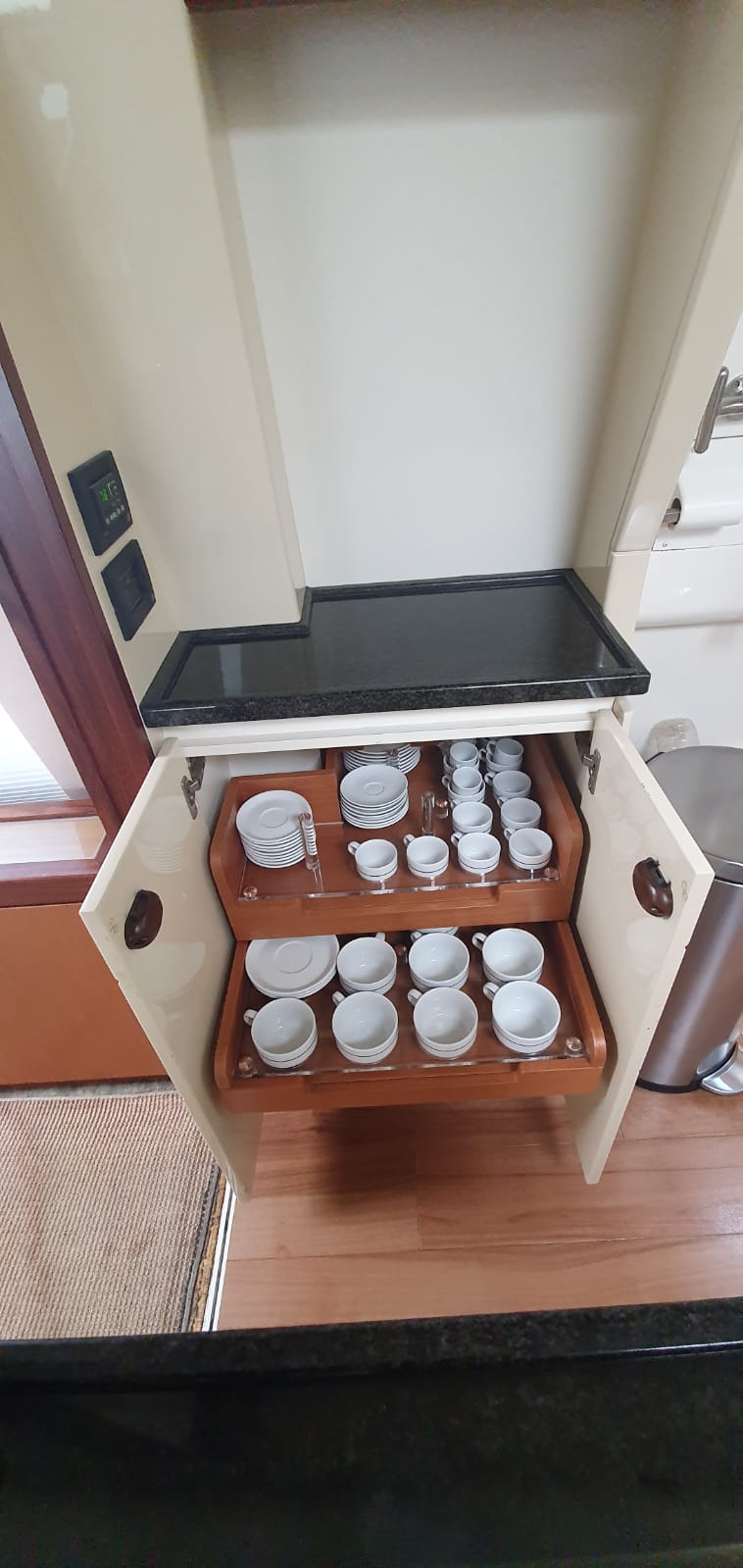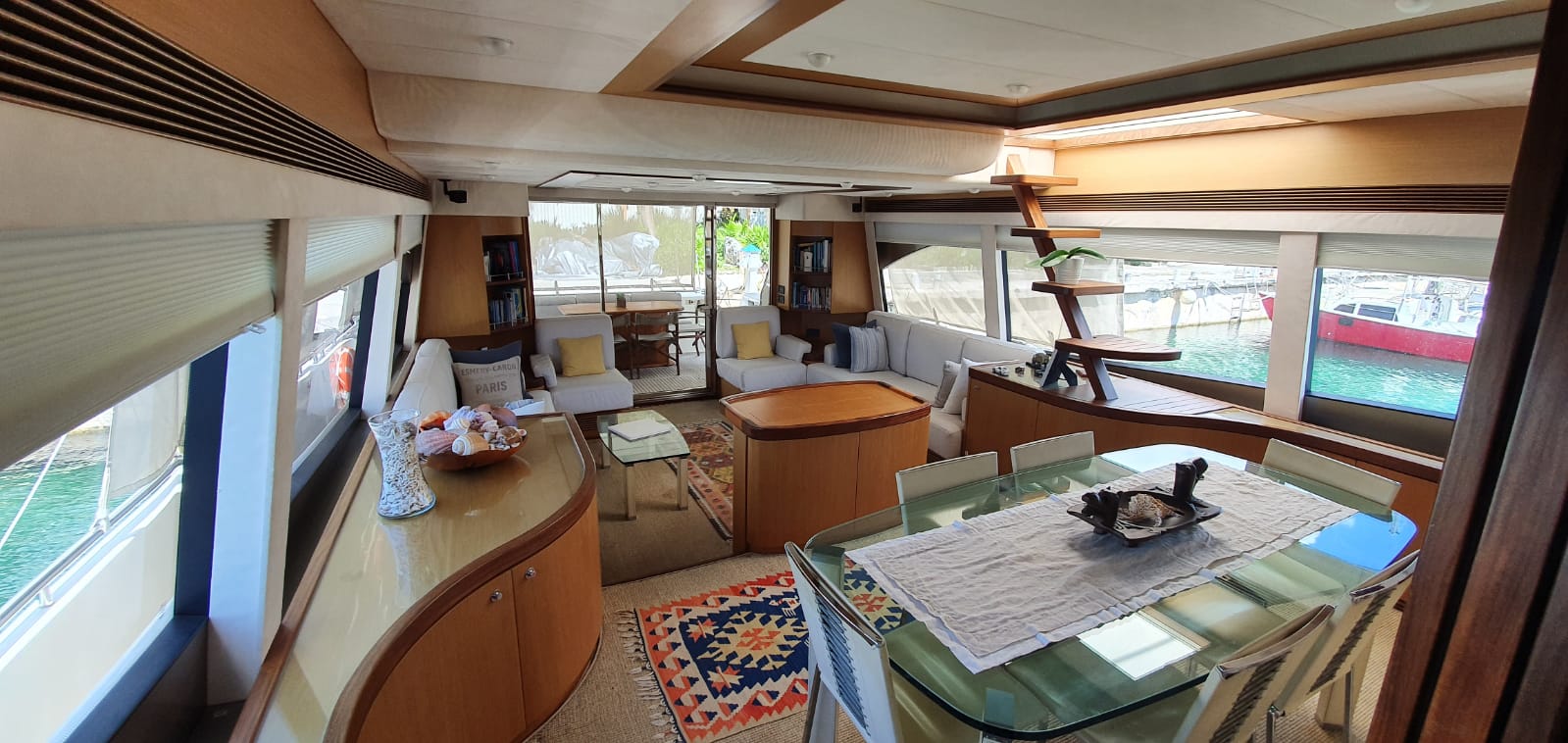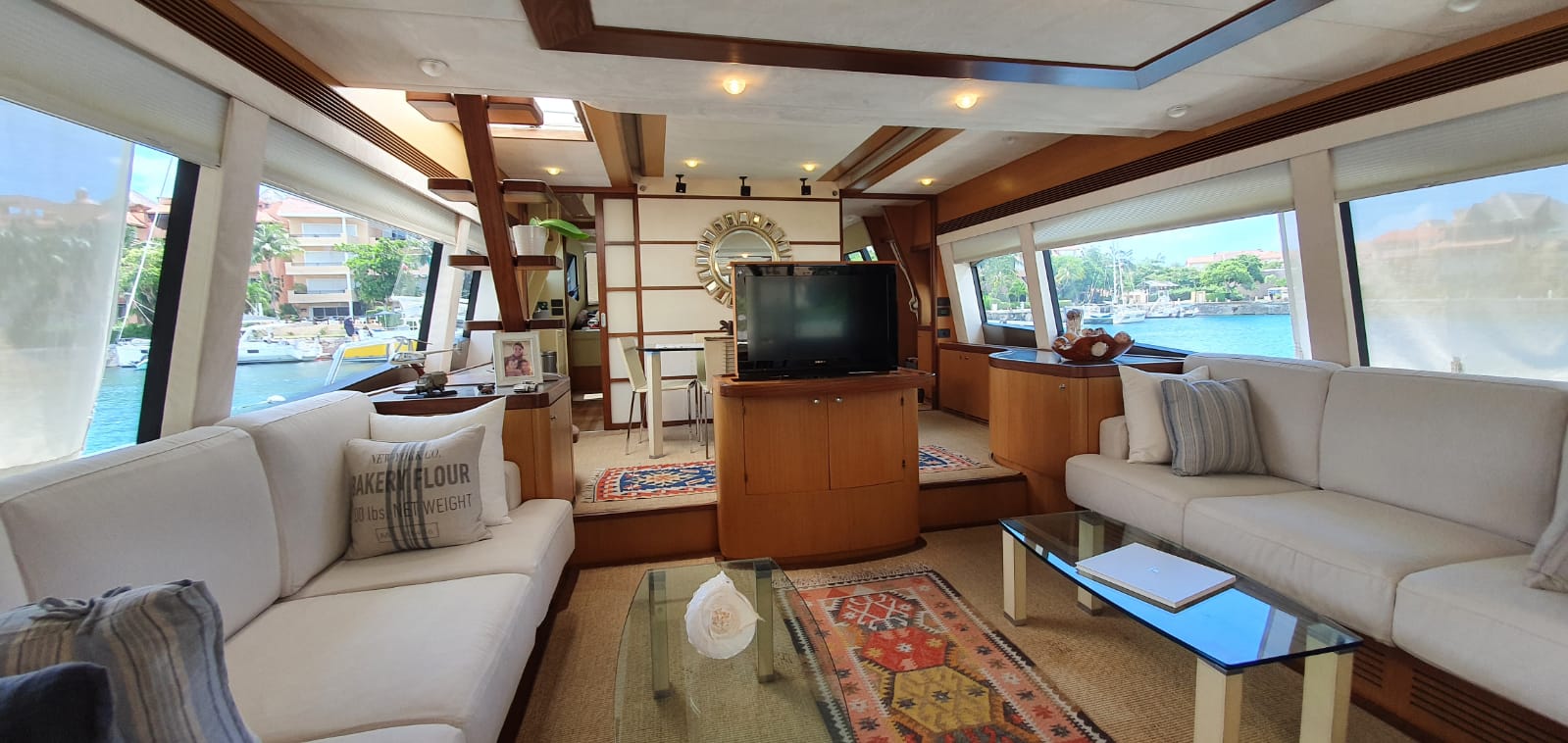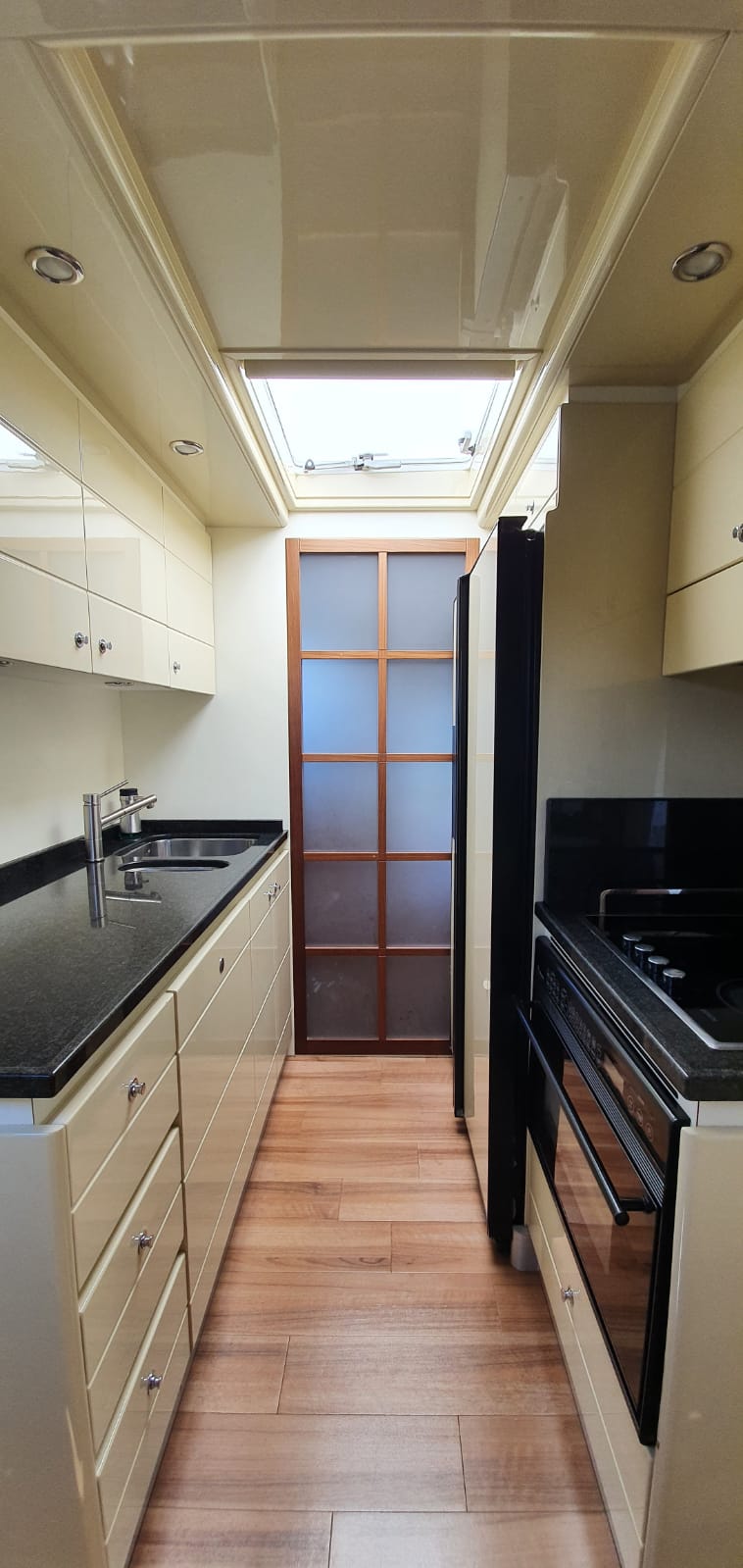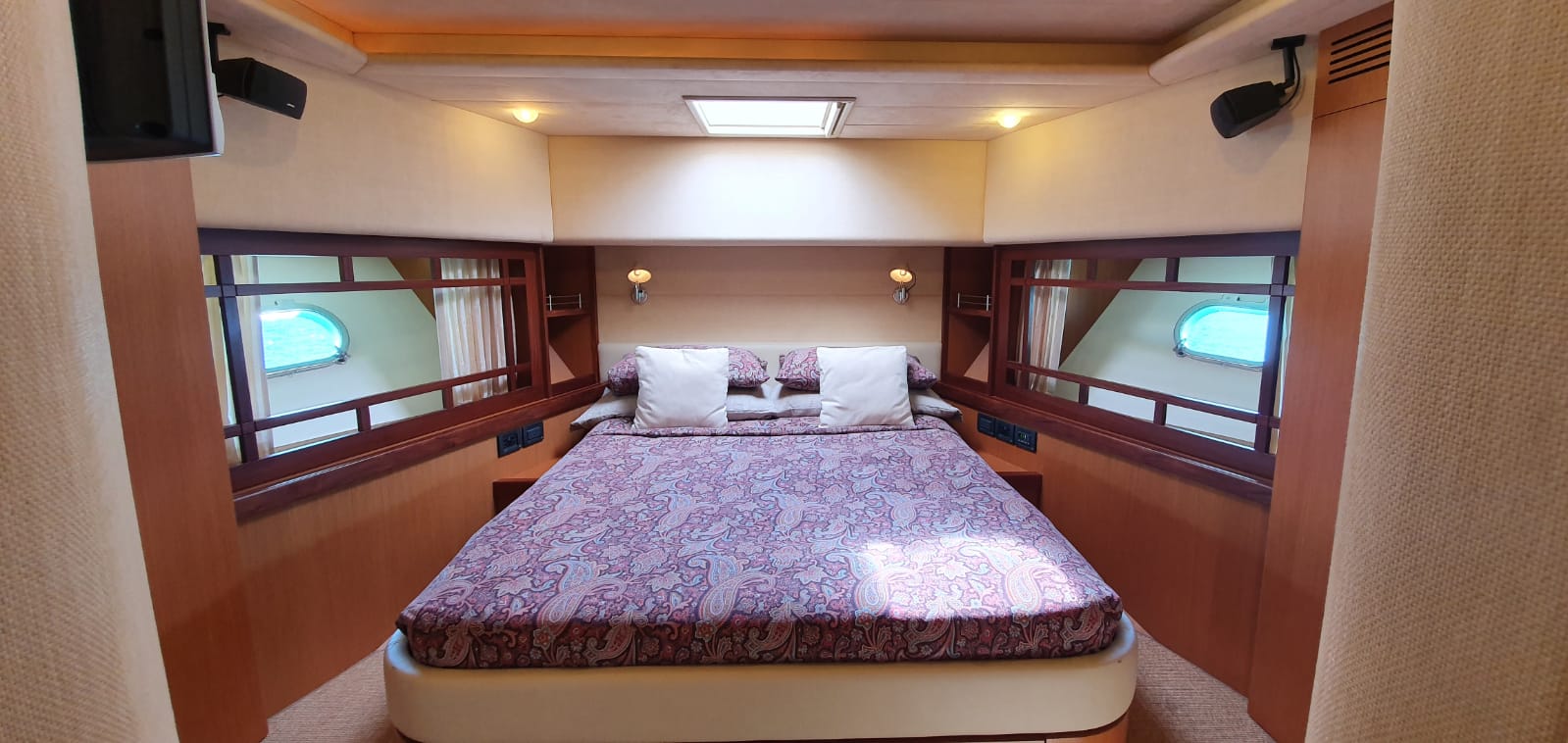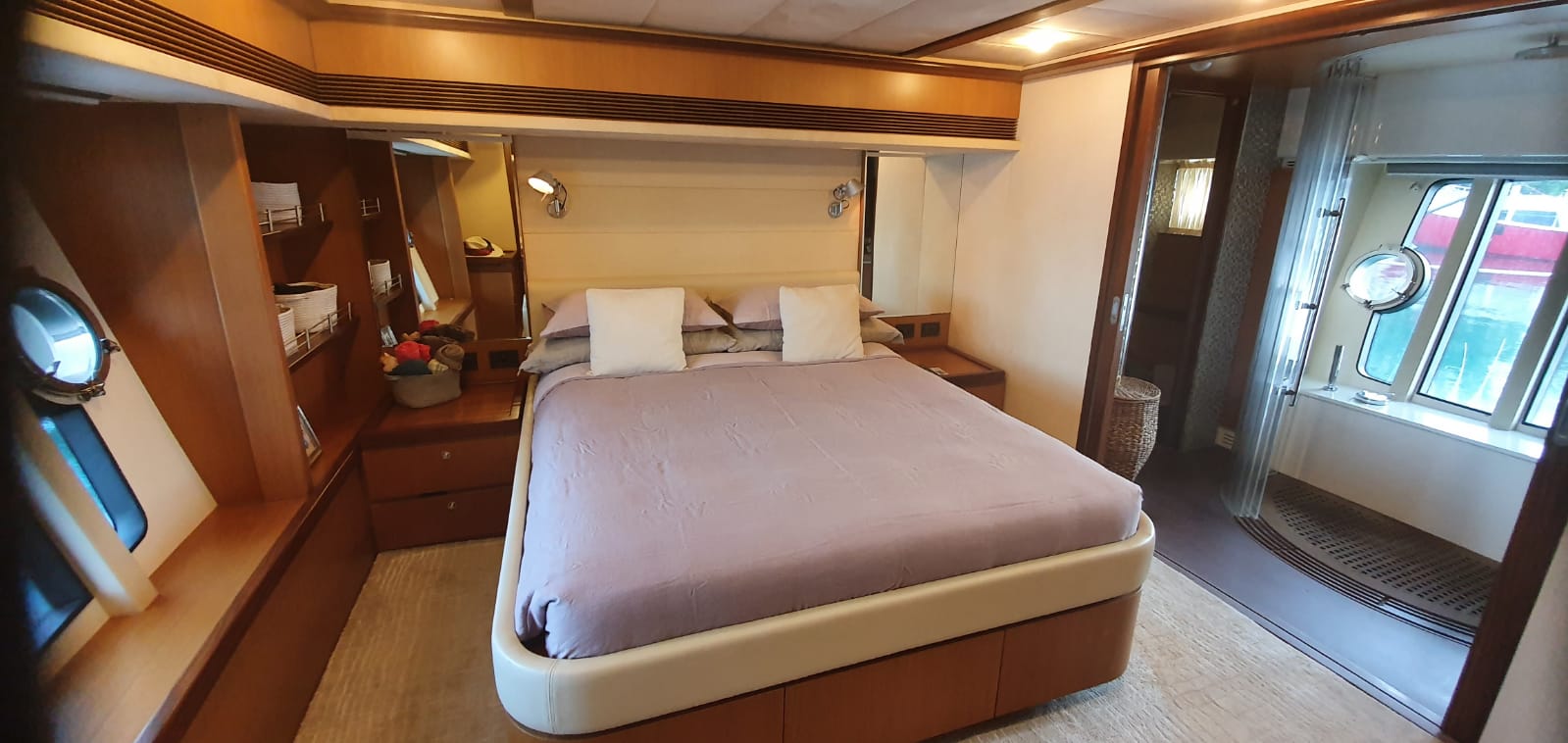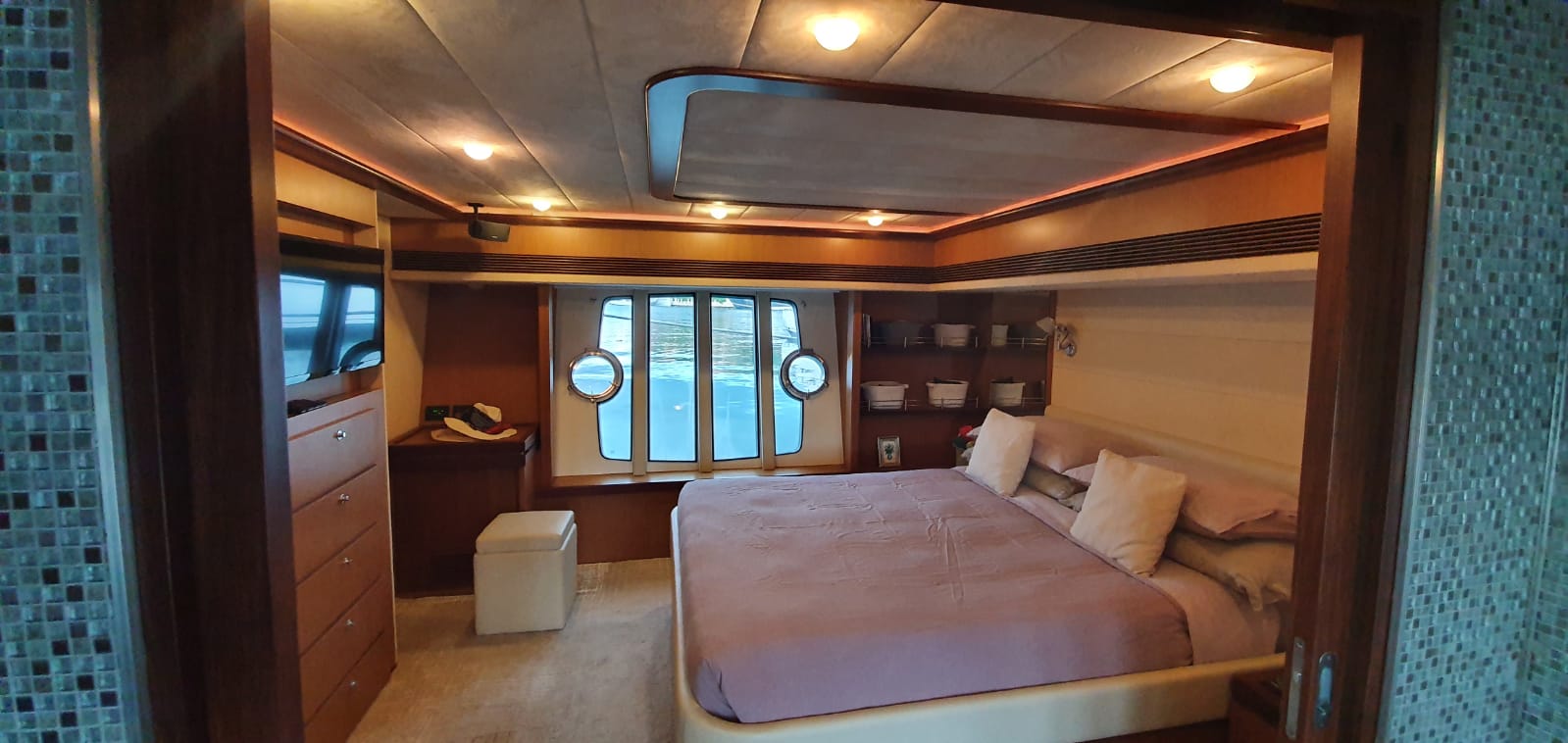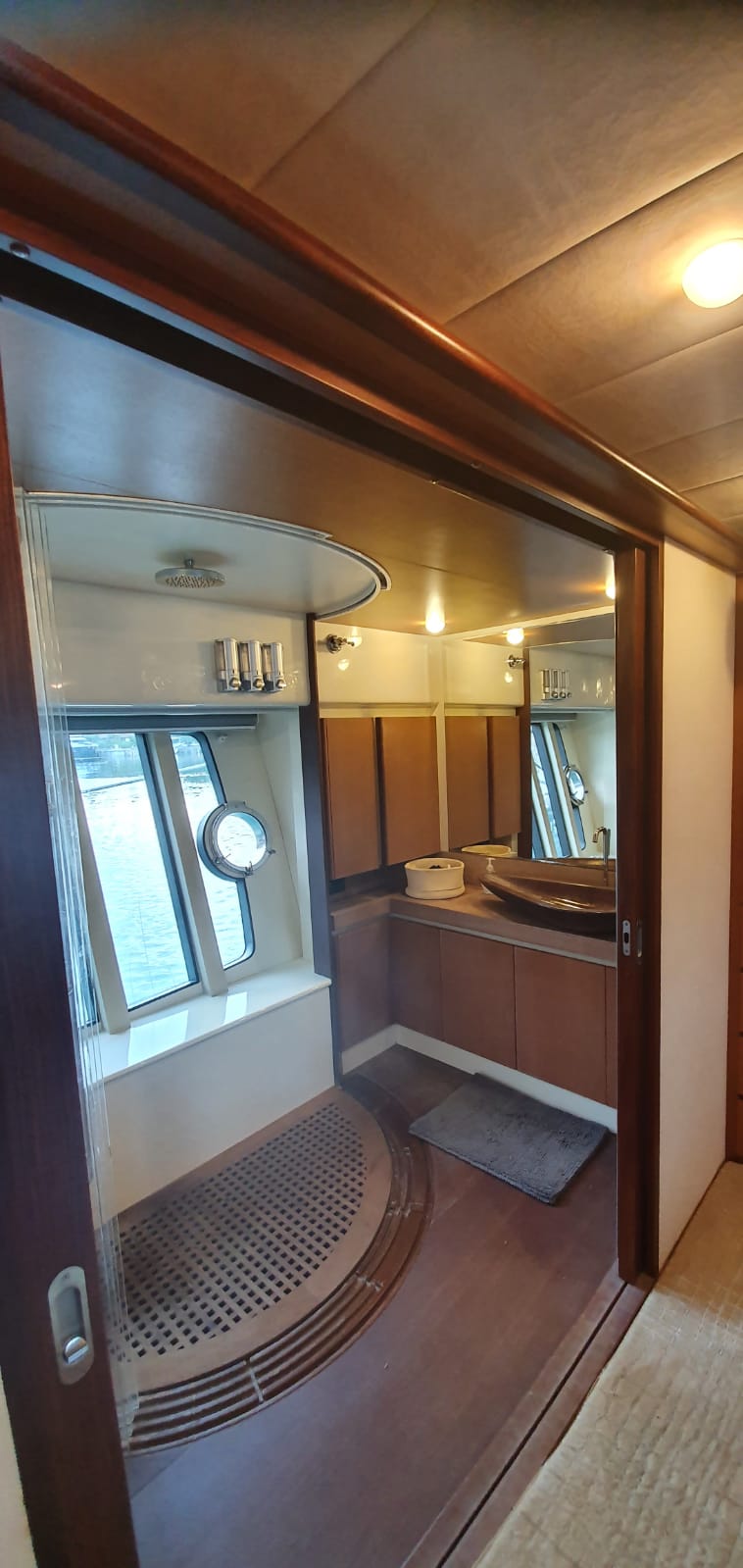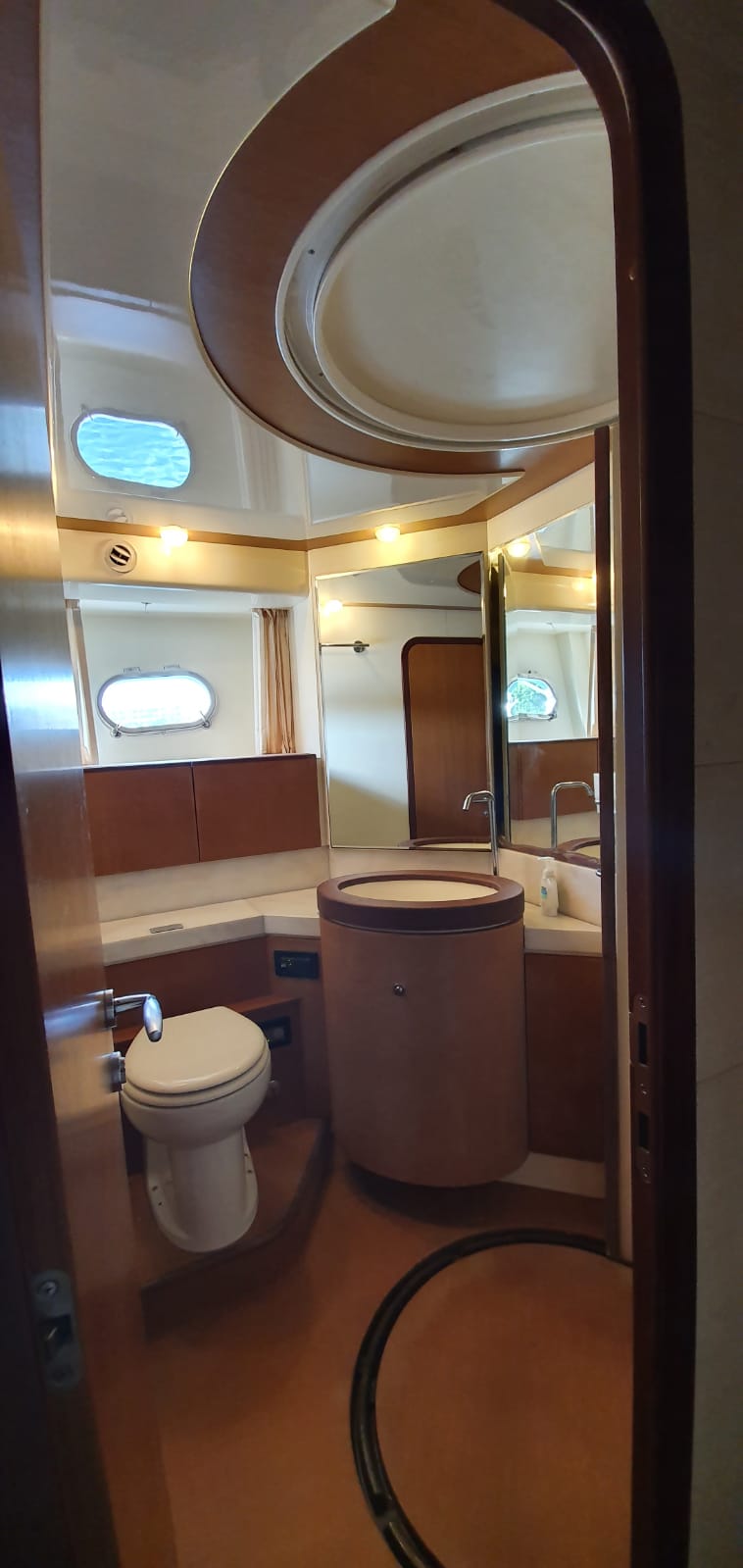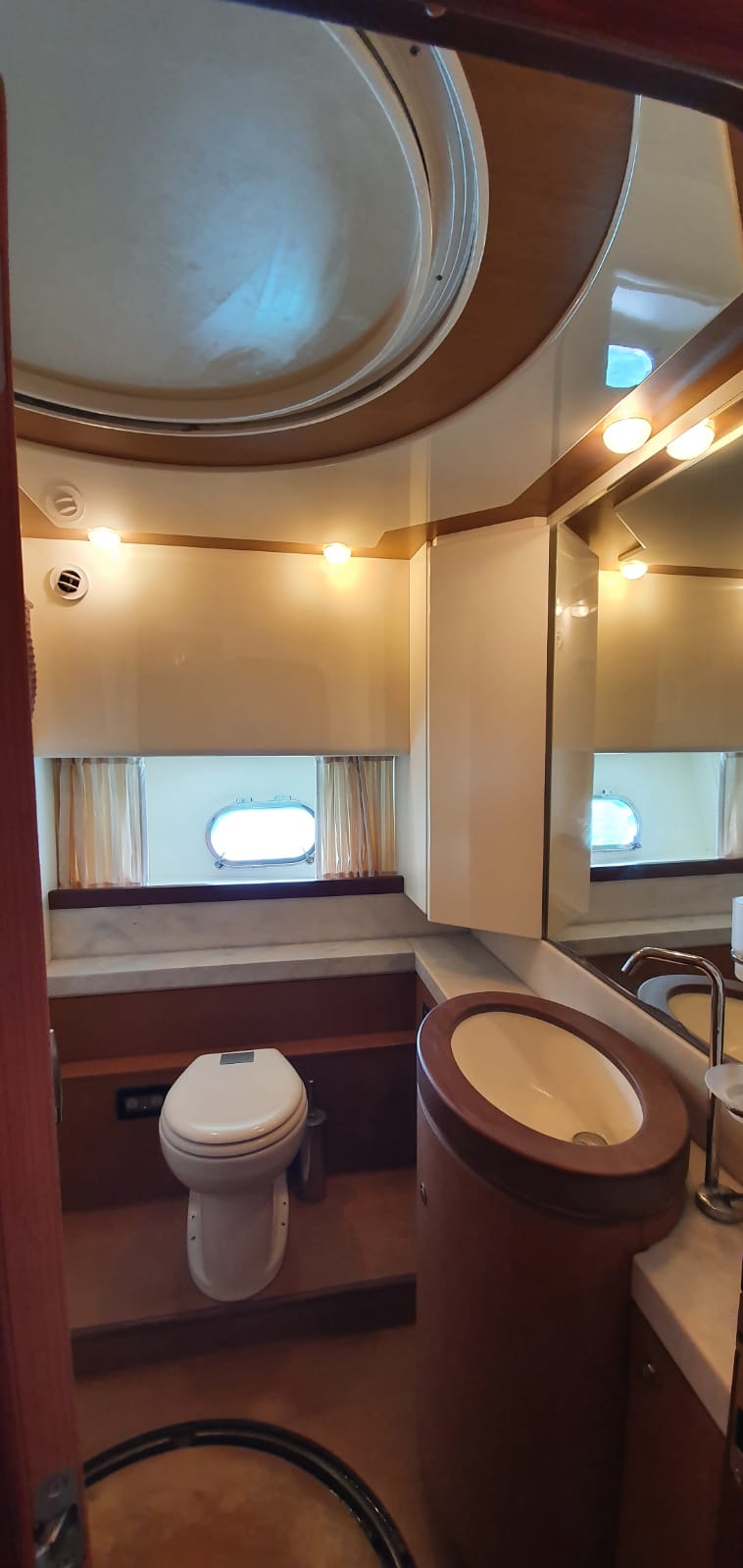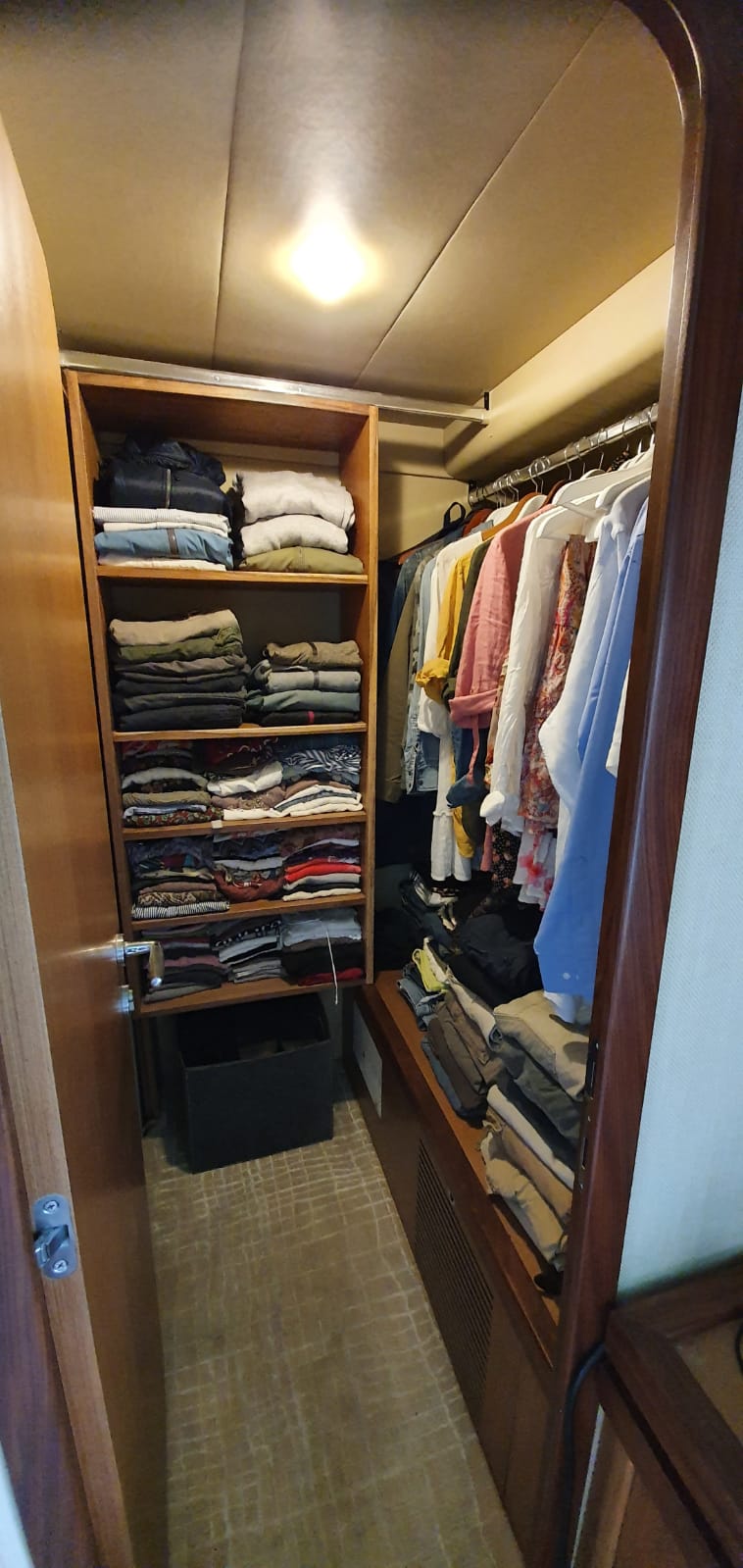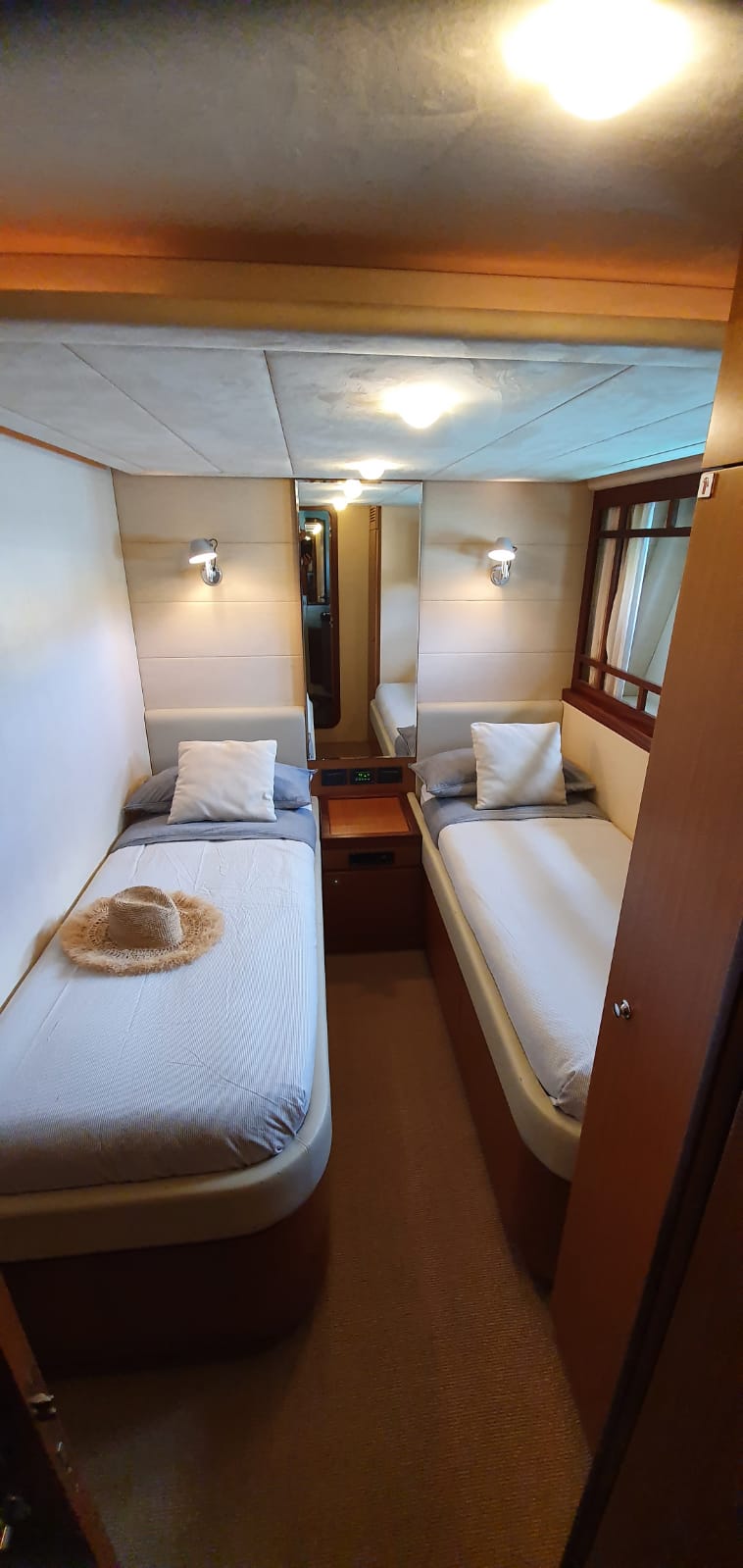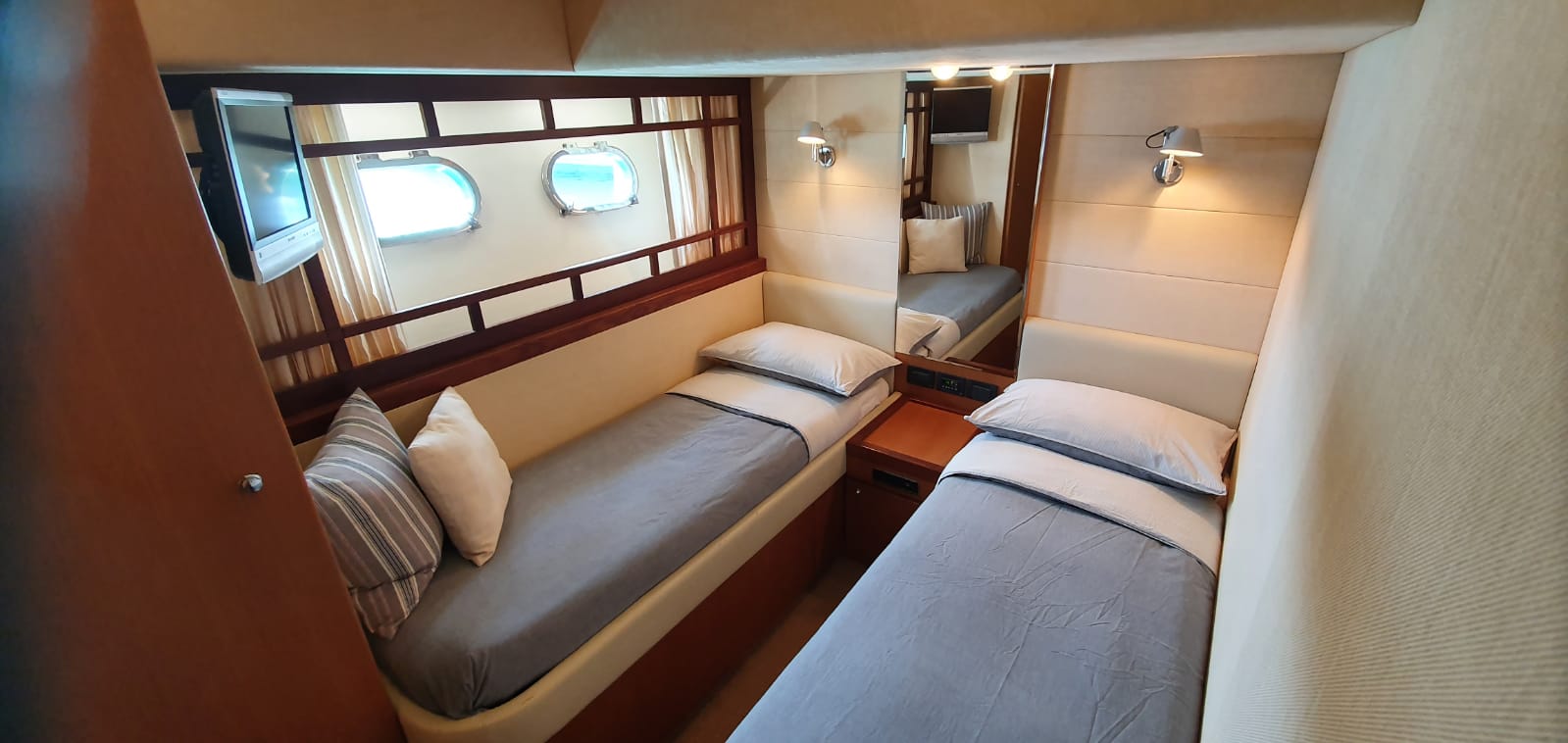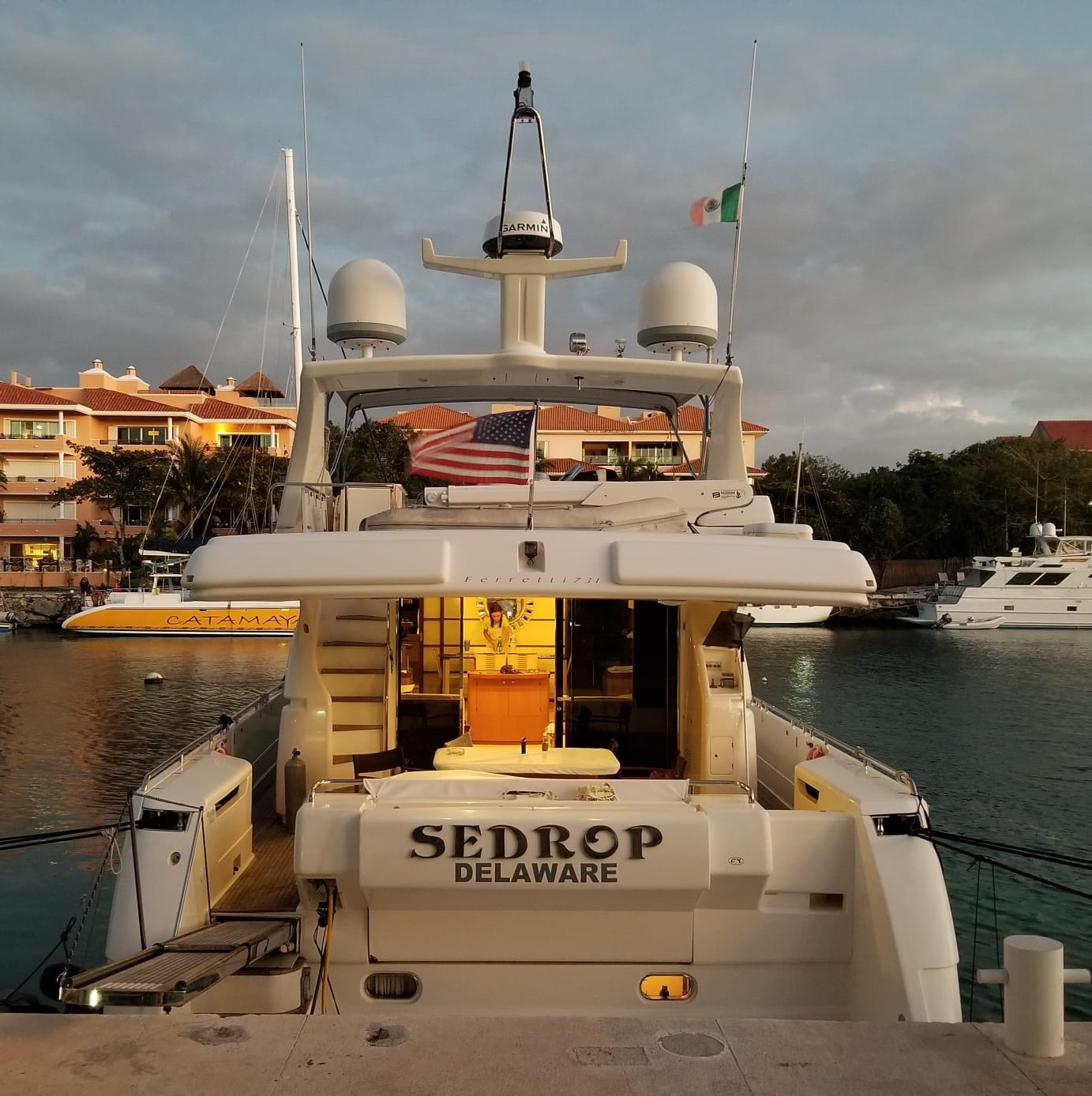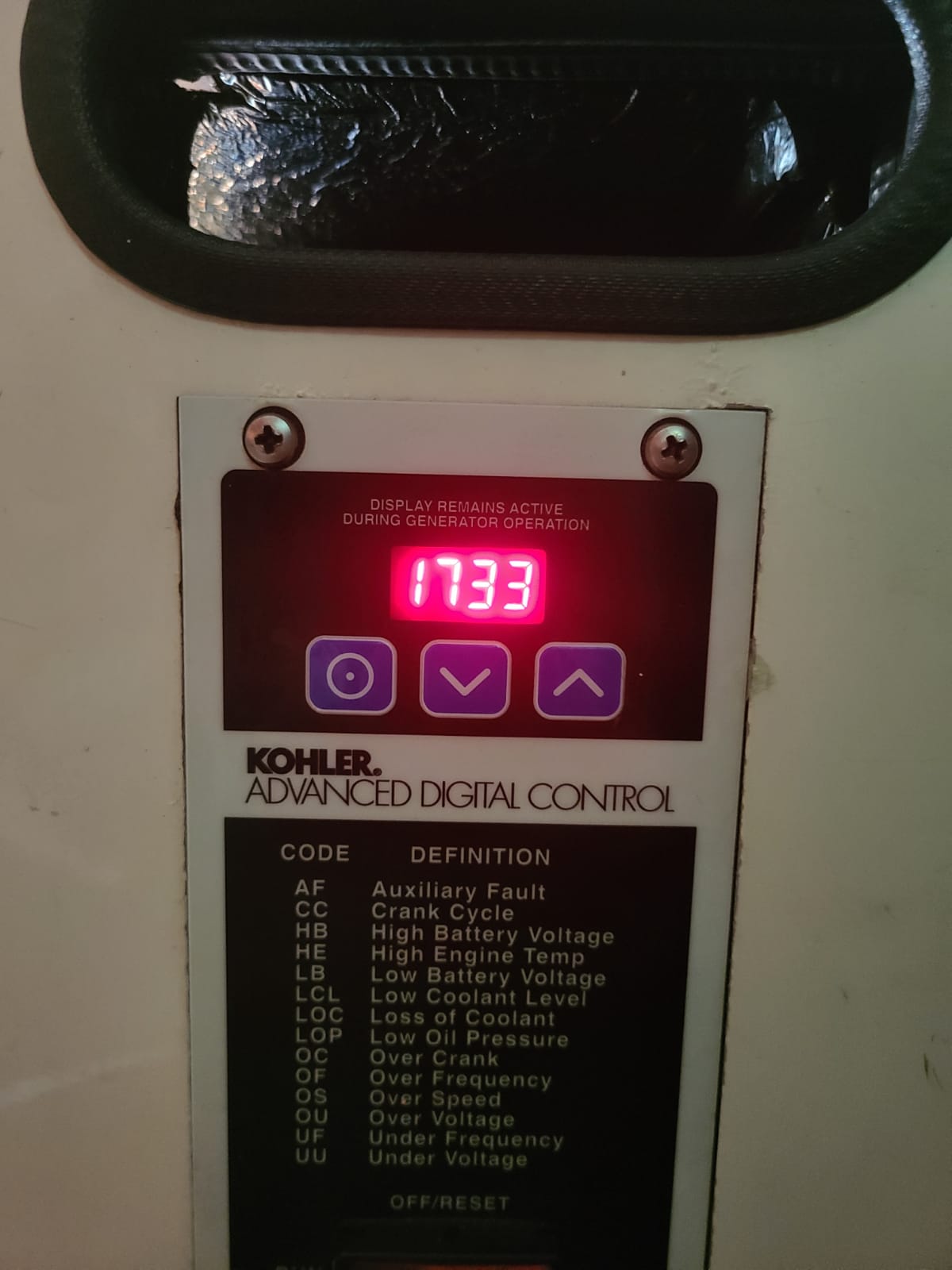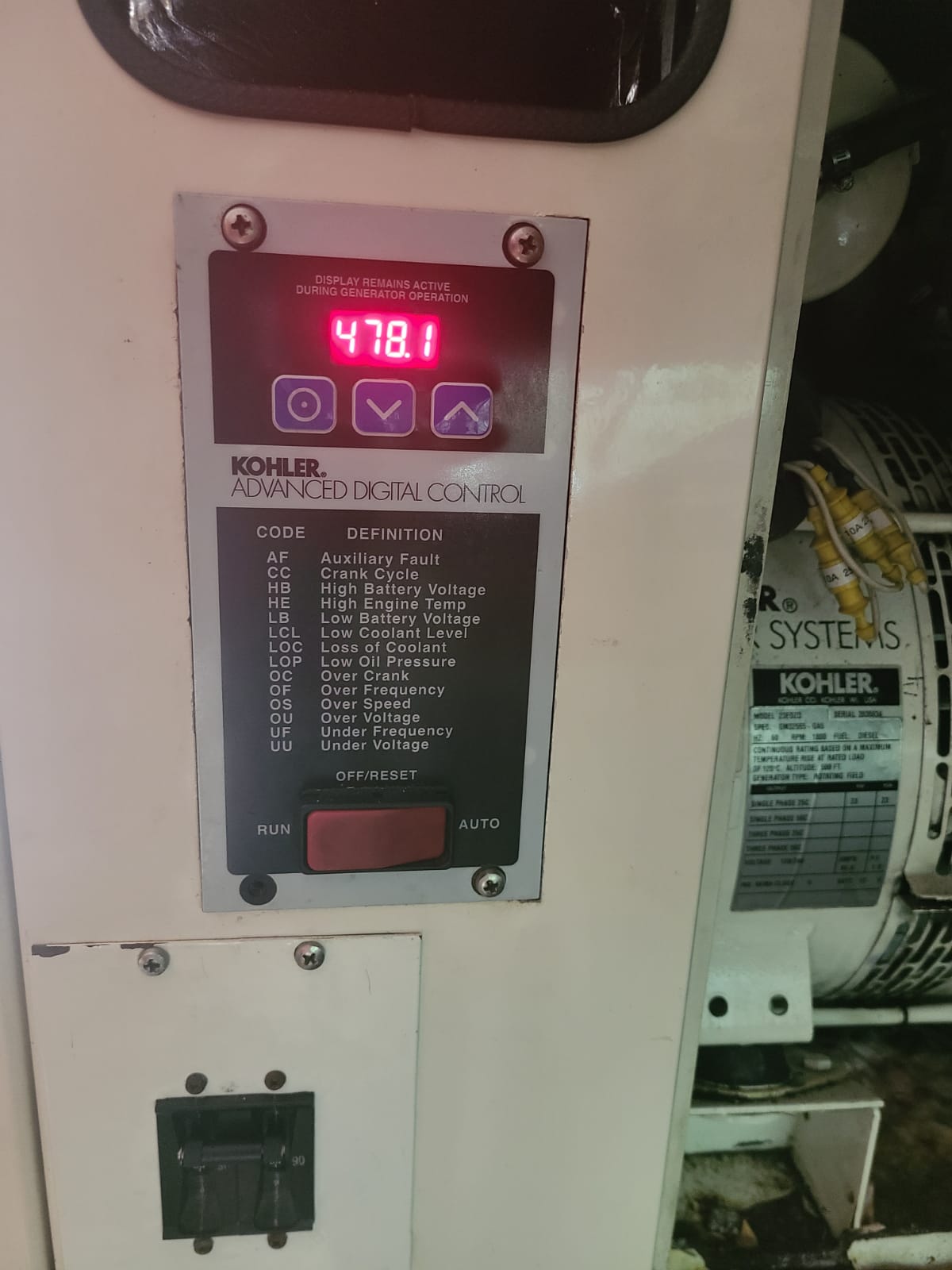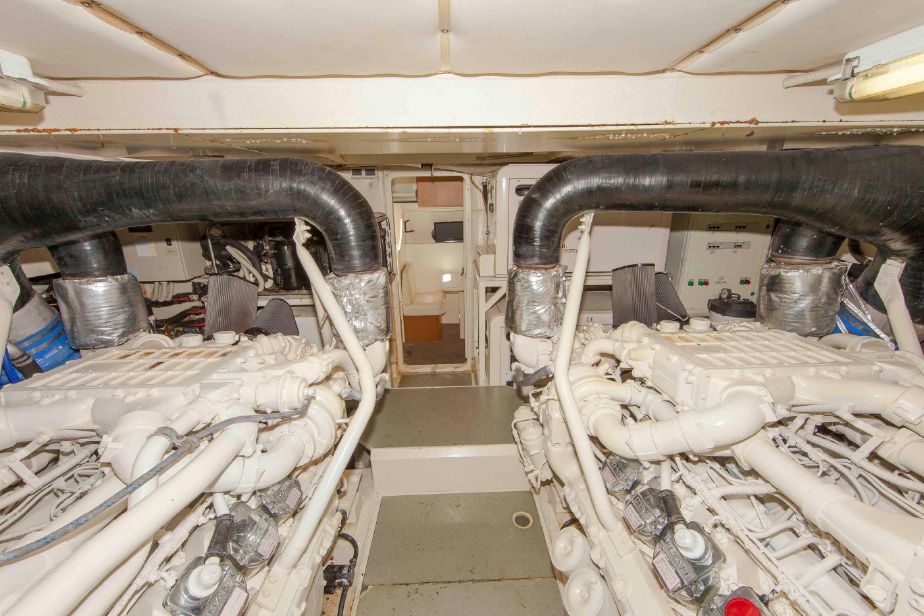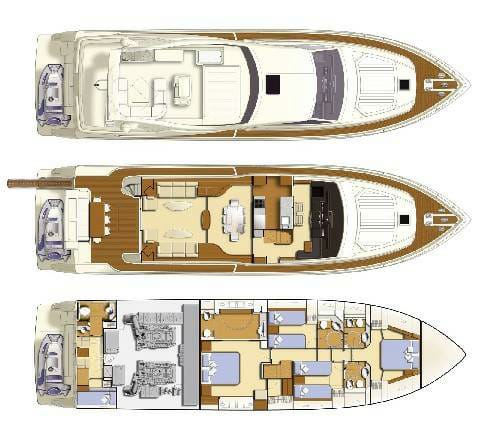 Description
Fully Loaded with Stabilizers, Ready to go.
The Ferretti 731 is the new expression of the Ferretti style: a highly innovative project born from a revolutionary concept of both outside and inside spaces. Starting from the unusual symmetric perspective of the spaces which dominates both the interior and the flying-bridge layout. The ship owner?s cabin presents the most important innovations of Ferretti in terms of light and space exploitation: placed lengthwise, it has a large panoramic window on both sides allowing an open view of the sea from each view point inside the boat, and a spacious shower, separated from the bathroom by a sliding door. The huge and comfortable living room with the luxurious furnishings in opaque teak have been totally redesigned to make life onboard even better and to enhance the brightness of the interiors. The new layout also includes a little swim platform which represents a further outside area where enjoying the sea in the utmost tranquillity.
Disclaimer
HMY Yacht Sales, Inc. is pleased to assist you in the purchase of this vessel. This boat is centrally listed by Yachtcancun.
Current Price:
$1,175,000
Vessel Overview
FERRETTI STATUS
Change oils, filters, servicing engines and generators 2017
Alignment of engines and transmissions, change of supports 2017 
Alignment and balancing propellers 2017
Air conditioning change 2017
Change Gyro cards 2017
New pc nav 2017
New Garmin radar 2017 (probe to be installed)

Bowtrhuster service 2018
New main inverter 2018
Upholstery of living room sofas 2018
Complete exterior upholstery 2018
Aft sunshade curtains 2018
Bridge desk refurbishment 2018
Master shower floor and closets 2018

Turbocharger change gen 1&2 and service gen 2019
Engine service (400hrs) 2019
New watermaker 2019
Installed osmosis system 2019
Changed interior lights to leds 2019
Installed 8 camera system with dvr 2019

External satphone antenna 2019
Water heater 2019
Hydropneumatic pump freshwater 2019

Oil and filter change (mot&gen) 2020
Change fittings (mot&gen) 2020
Anchor winch service 2020 
Stern winch service 2020
New pedal switches 2020
Inverter pc nav control bridge 2020
New tv master 2020
New icemaker 2020
New vhf flyingbridge 2020
New vhf antennas 2020
New AIS 2020
New Miele washing machine 2020

New audio aft bridge 2021
Aft storage access door 2021
Aft storage doors 2021
Rudder pump service 2021
Service crane pump 2021
2 cables 50A 100ft (plus 100A cable in rollacaboom)
Magic Box 2x50A to 100A
2 complete sets of fuel filters, fittings, engines, transmission, generators, etc.
9 Gallons of anti-vegetative paint (full bottom)
2 Series Zincs hull
Set of spare pumps blige, gray water, black water
Set 5 buoys
Set 1" mooring lines
Oil for engines, generators and transmissions, water batteries.



Cambio de aceites, filtros, revisión de motores y generadores 2017
Alineación de motores y transmisiones, cambio de soportes 2017 
Alineación y equilibrado de hélices 2017
Cambio de aire acondicionado 2017
Cambio de tarjetas giroscópicas 2017
Nuevo pc nav 2017
Nuevo radar Garmin 2017 (sonda por instalar)

Servicio de hélice de proa 2018
Inversor principal nuevo 2018
Tapizado de los sofás del salón 2018
Tapicería exterior completa 2018
Cortinas del parasol de popa 2018
Reforma del escritorio del puente 2018
Suelo de la ducha principal y armarios 2018

Cambio de turbocompresor gen 1&2 y servicio gen 2019
Revisión del motor (400hrs) 2019
Nueva potabilizadora 2019
Instalación de sistema de ósmosis 2019
Cambio de luces interiores a leds 2019
Instalado sistema de 8 cámaras con dvr 2019

Antena exterior de telefonía por satélite 2019
Calentador de agua 2019
Bomba hidroneumática de agua dulce 2019

Cambio de aceite y filtro (mot&gen) 2020
Cambio de accesorios (mot&gen) 2020
Servicio de molinete de ancla 2020 
servicio cabrestantes popa 2020
Pedal de interruptores nuevo 2020
Inversor pc nav control puente 2020
Nueva tv master 2020
Nuevo icemaker 2020
Nuevo vhf flyingbridge 2020
Nuevas antenas vhf 2020
Nuevo AIS 2020
Nueva lavadora Miele 2020

Nuevo audio en el puente de popa 2021
Puerta de acceso al almacén de popa 2021
Puertas de almacenamiento de popa 2021
Servicio de la bomba del timón 2021
Bomba de la grúa de servicio 2021
2 cables 50A 100ft (más cable 100A en rollacaboom)
Caja mágica 2x50A a 100A
2 juegos completos de filtros de combustible, accesorios, motores, transmisión, generadores, etc.
9 galones de pintura antivehículo (fondo completo)
2 series de zinc para el casco
Juego de bombas de repuesto blige, aguas grises, aguas negras
Juego de 5 boyas
Juego de cabos de amarre de 1
Aceite para motores, generadores y transmisiones, agua y baterías.



Return to Yachts for Sale
Get more information