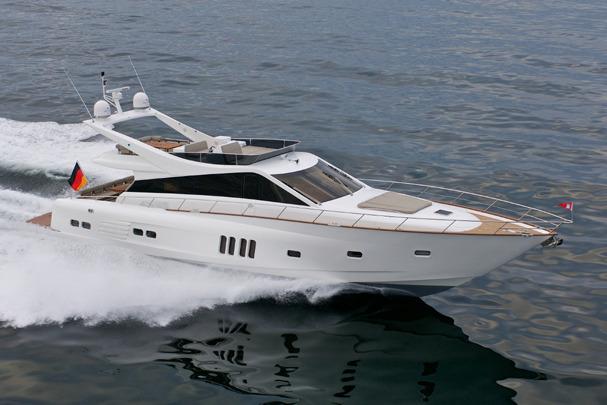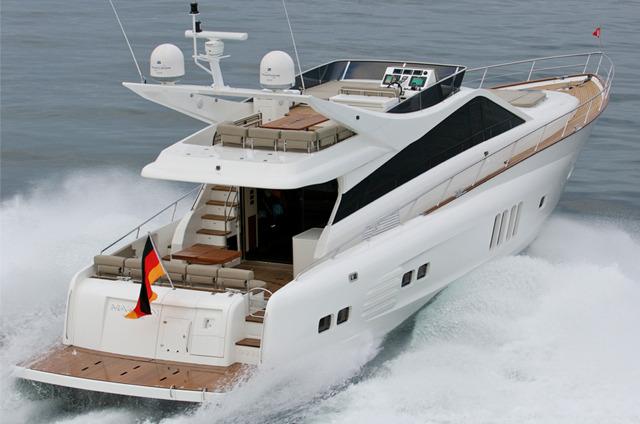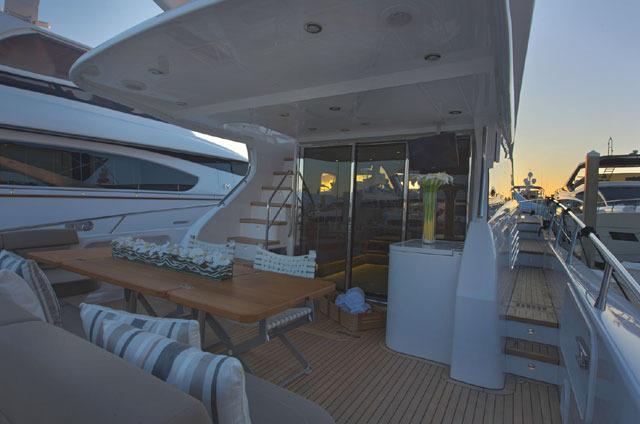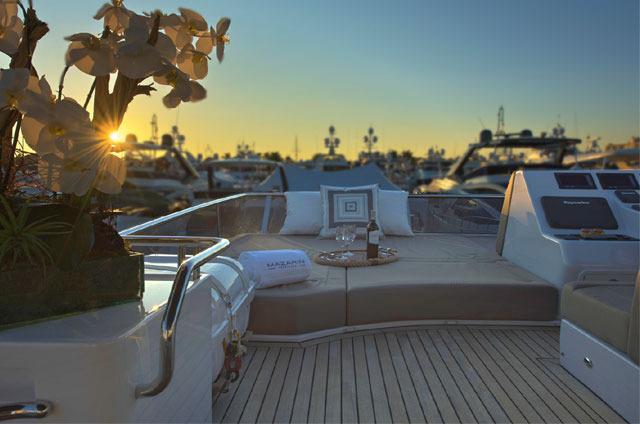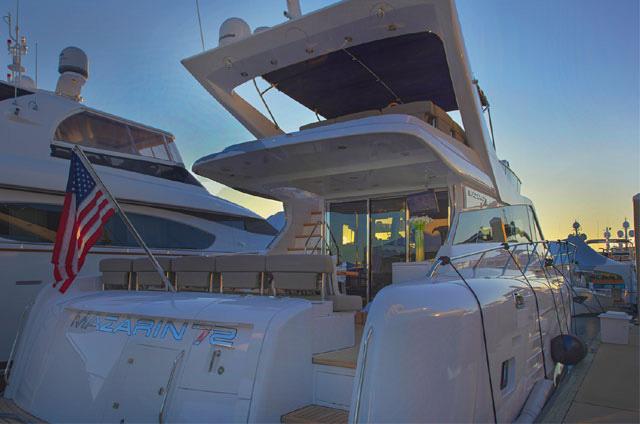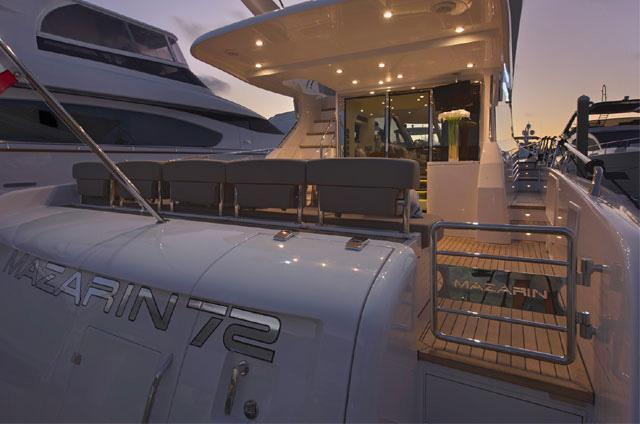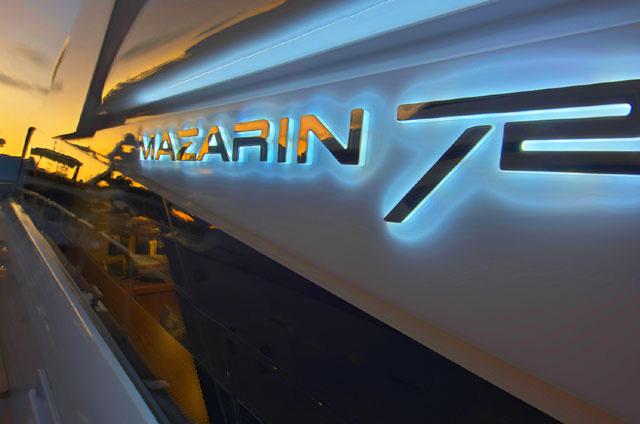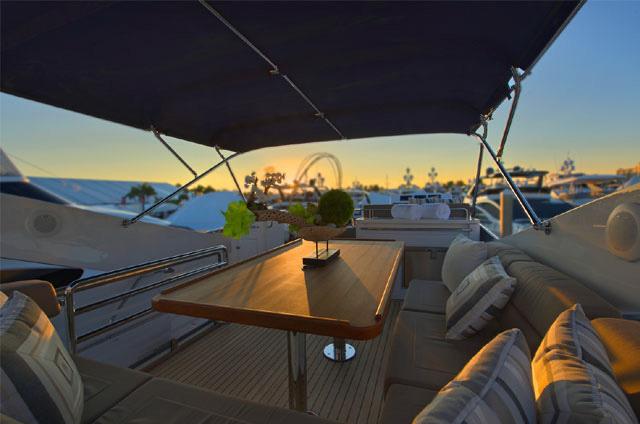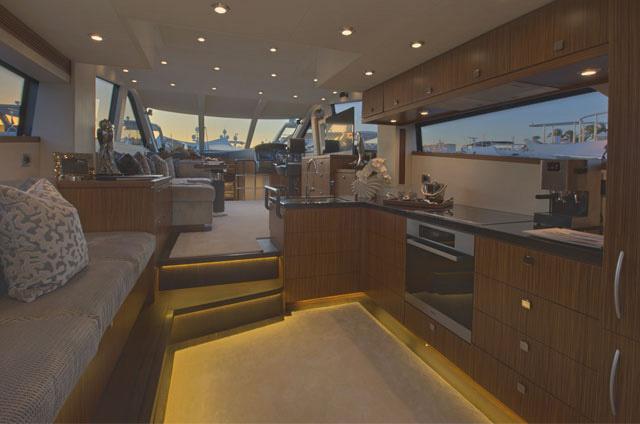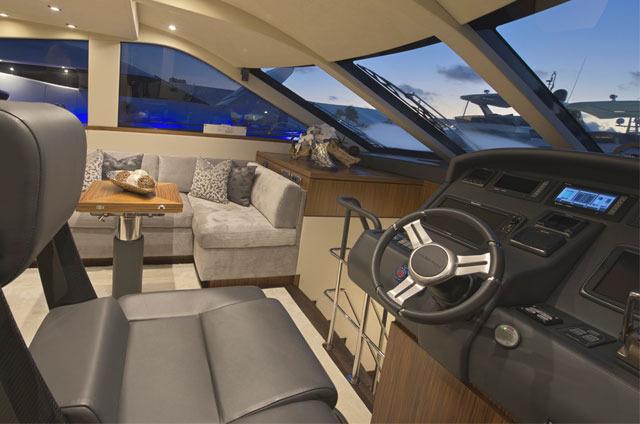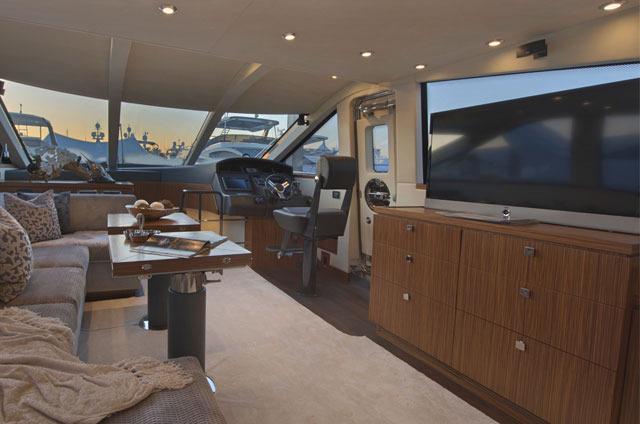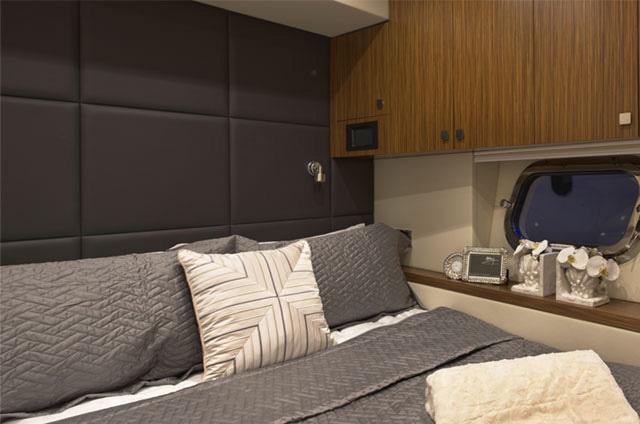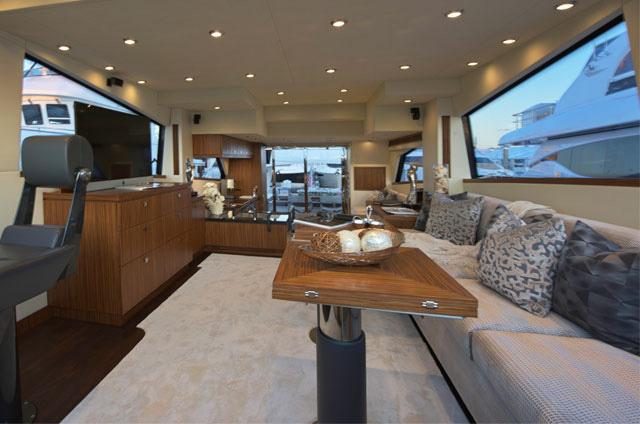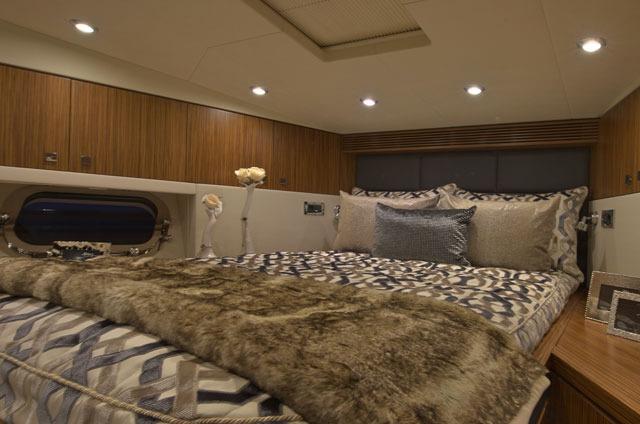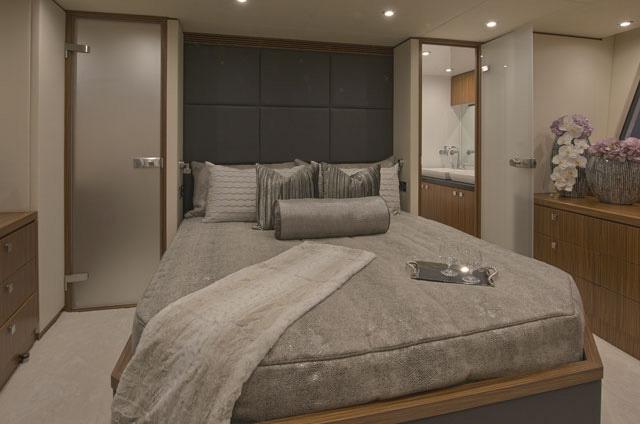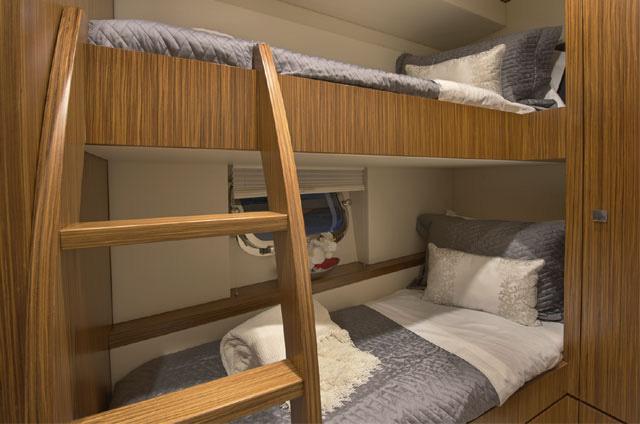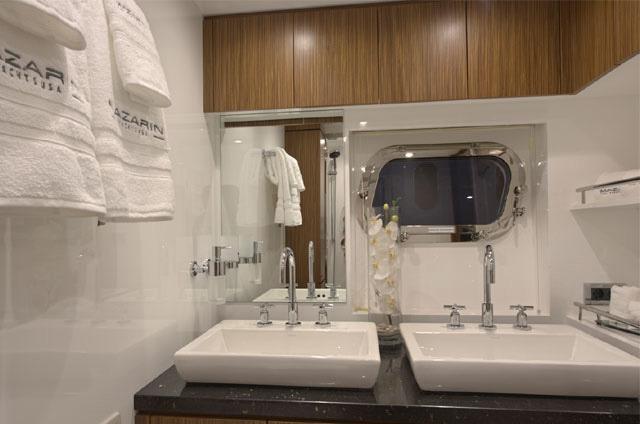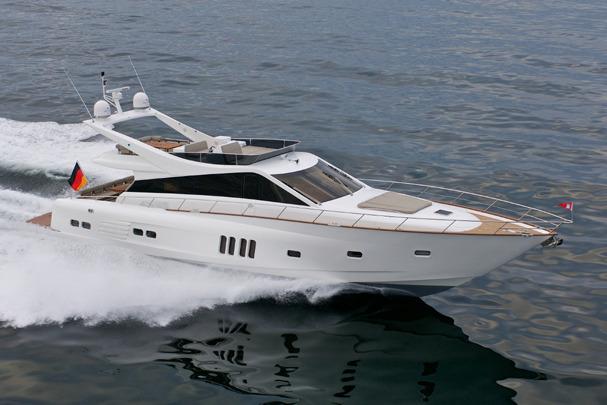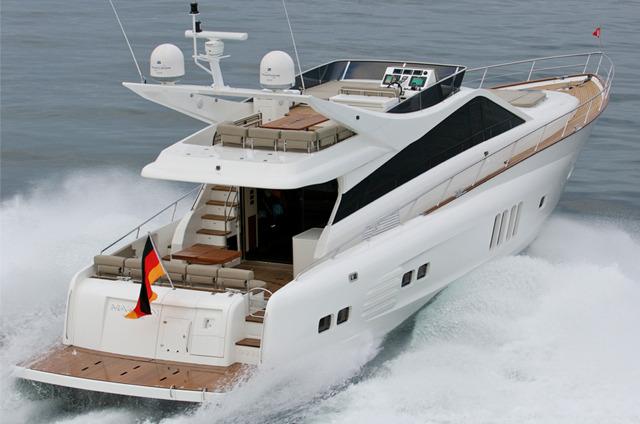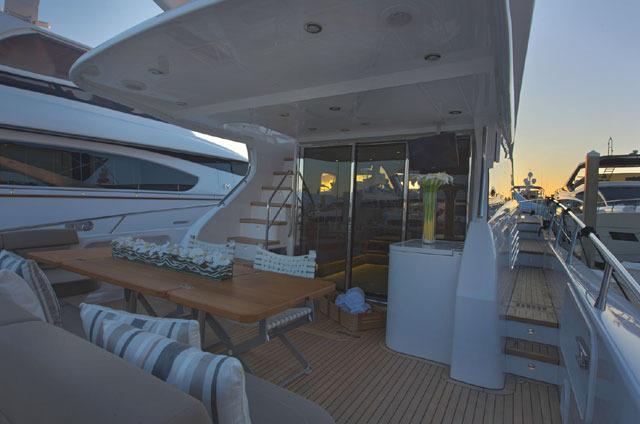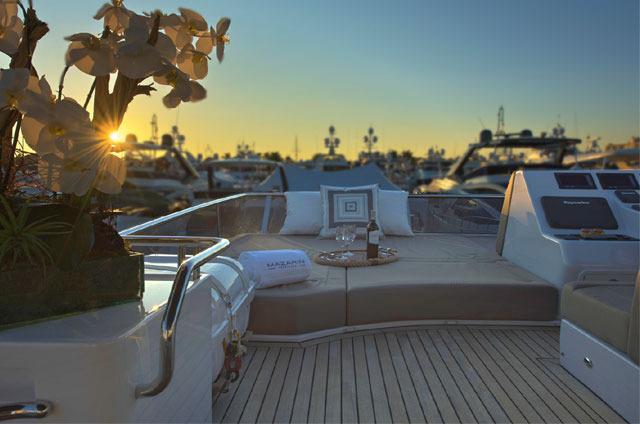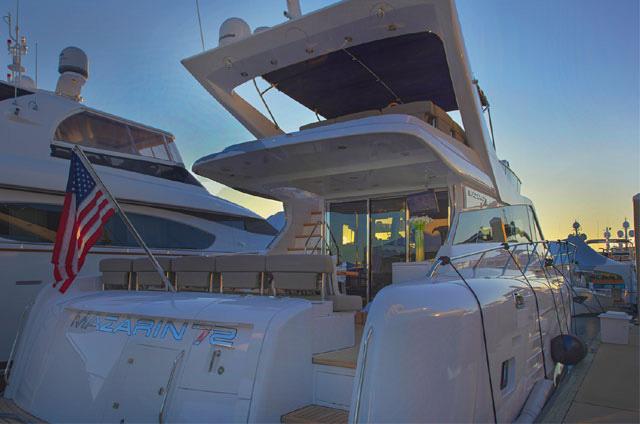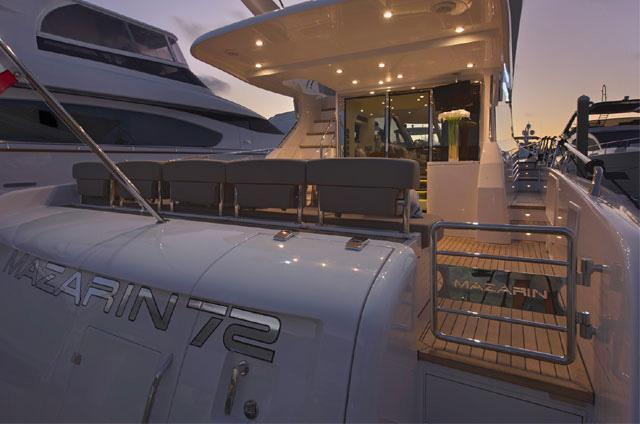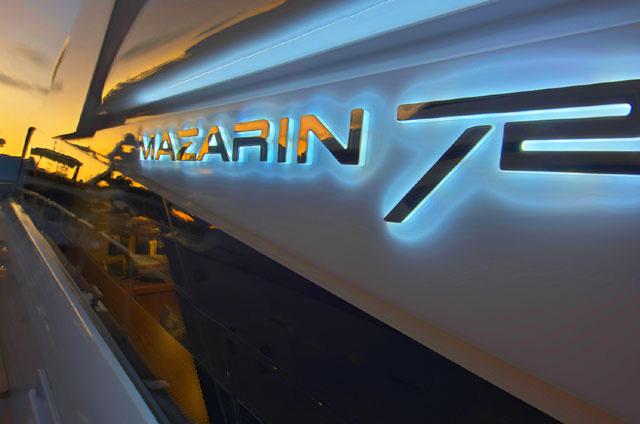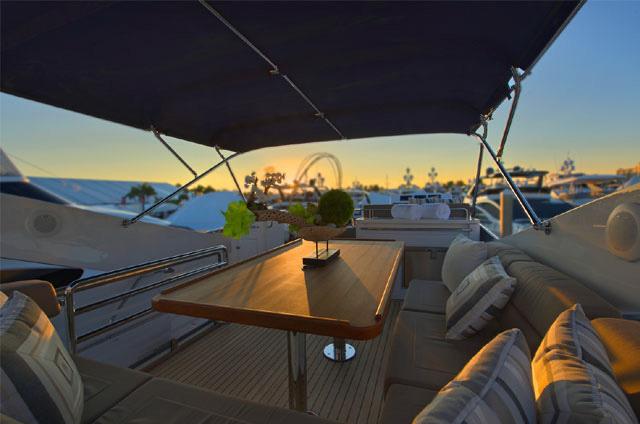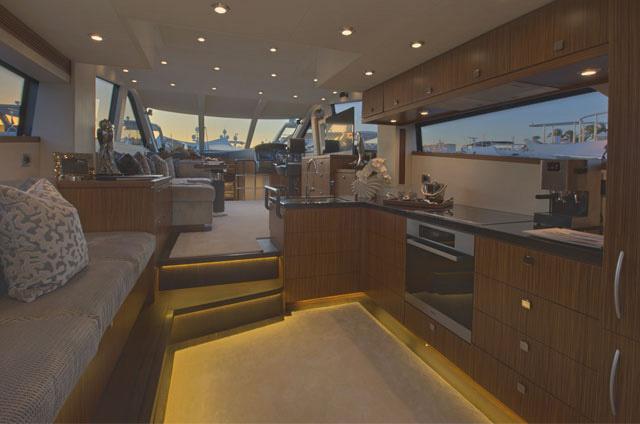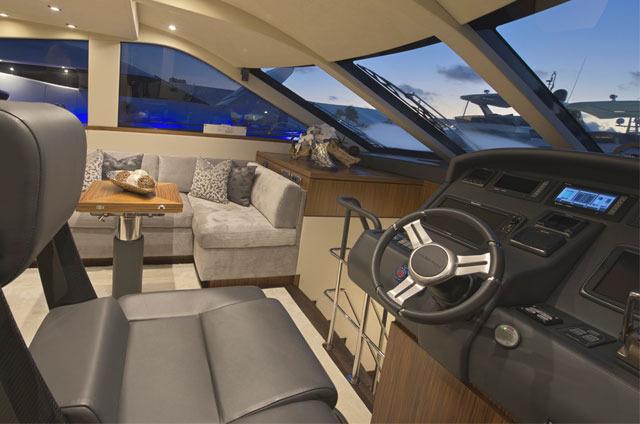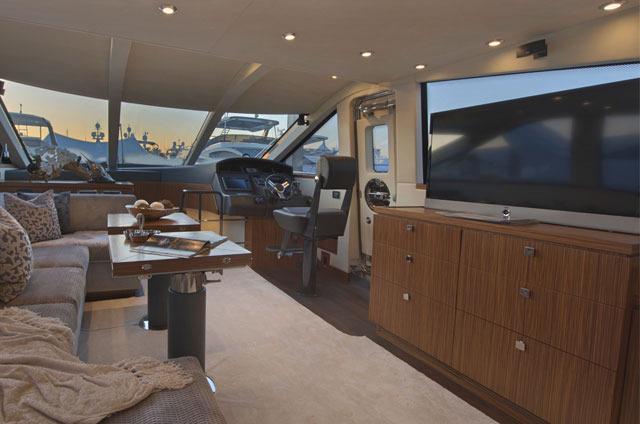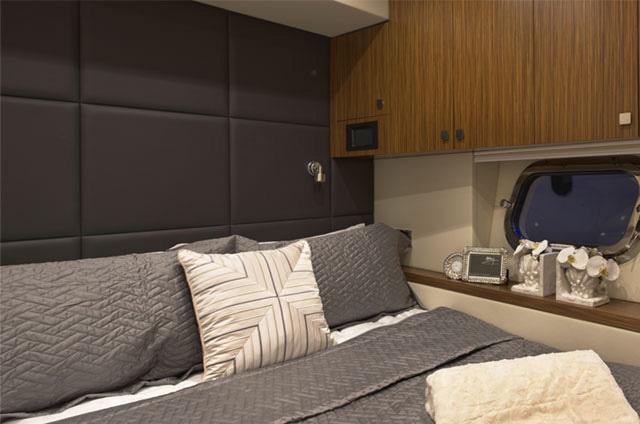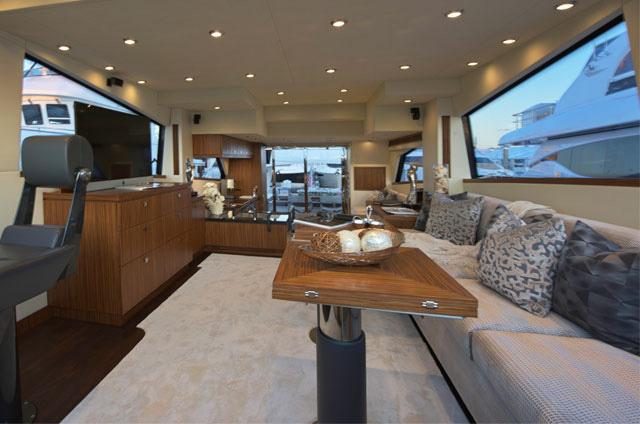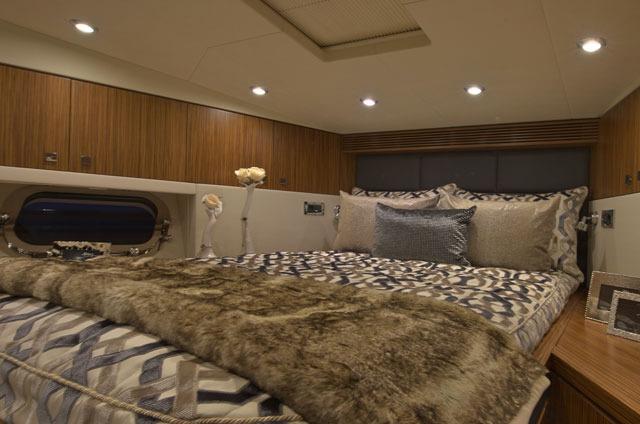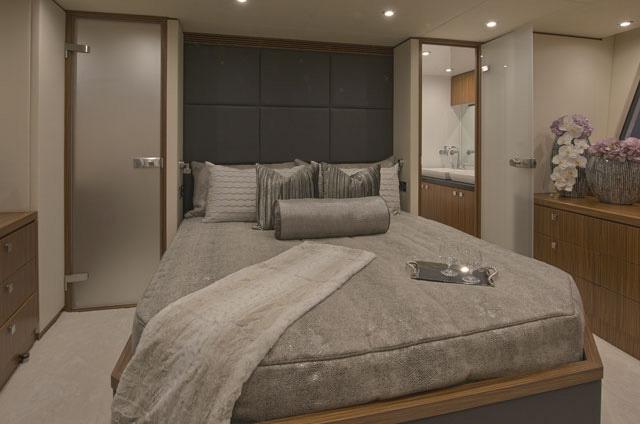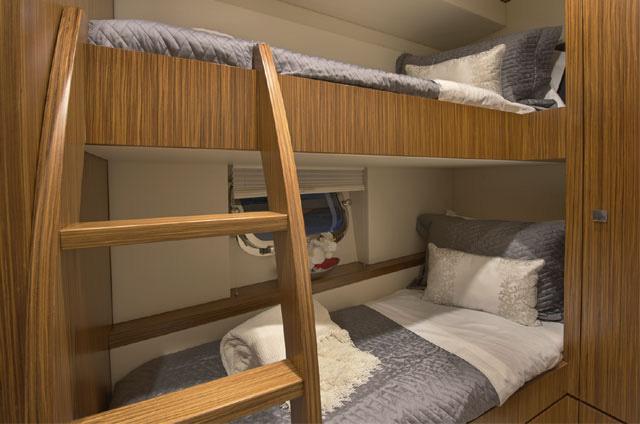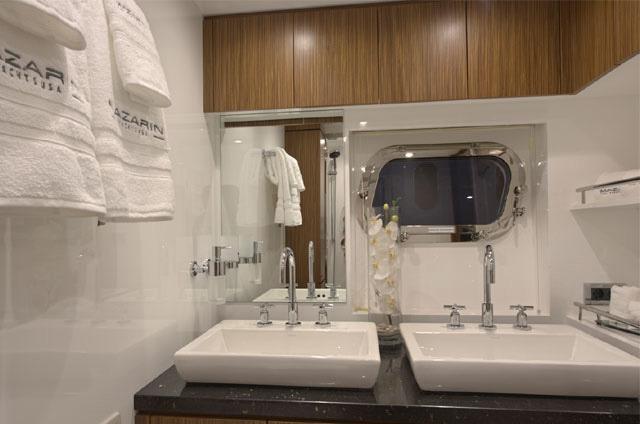 Description
This 2015 72′ Mazarin Sports Fly is well equipped and ready for its new owner. A well thought out, modern interior featuring four staterooms, two bathrooms, plus day head and crew amenities. M72 is well equipped with high end finishes inside and out
Disclaimer
HMY Yacht Sales, Inc. is pleased to assist you in the purchase of this vessel. This boat is centrally listed by Mazarin Yachts USA.
Current Price:
$2,500,000
Fuel Capacity:
1136 Gallons
Vessel Overview
Manufacturer Provided Description
This 2015 72' Mazarin Sports Fly is well equipped and ready for its new owner. A well thought out, modern interior featuring four staterooms, two bathrooms, plus day head and crew amenities. M72 is well equipped with high end finishes inside and out. 
72 Mazarin Technical Specifiations
Construction
GRP by vacuum adsorption
Gel coat including stripes
Non-powder with ethenylene coat
Strengthening simplex hull bottom
Upper Structure of the GRP hull
GRP + Carbon fiber flybridge
Deck and keel reinforced by carbon fiber
Hull reinforced by horizontal cabin and longitudinal wood floor

Flybridge
Drainage System
Exit of deck washer (optional)
Sofa, Sunbrella 5461-0000
Lockers and stowage
Teak Table with stainless steel cup holder
Stainless steel handrails
Windshield in stainless steel frame
Wet bar with sink
Vitrifrigo drawer fridge
Miele electric grill
Bose entertainment system / 2 Bose loudspeakers connected to salon
Padded Sun lounge area / Sunbrella
Radar mount
Camera on Radar mount CAM100
Lopolight LED navigation light
Radar arch with lighting
Hella flybridge deck lighting
Flagpole
12 V socket

Flybridge Helm Station
Double driver's seat
Raymarine autopilot #p70R + #SPXSOL SMART-PILOT pack
Raymarine rudder angle indicator #i70
Raymarine #i70 +#DST800 LT depth/speed transducer
Raymarine Ray 260 E VHF radio
2 Raymarine e125-12" color display for radar, chart plotter and reverse image camera
Electronic engine control #KE-5A TWIN
2 MAN engine monitoring systems with 6.3" display
1 Boening security monitoring system with 6.5" display
Boening control unit for searchlight
Boening control unit for trim tabs
Bow/stern thruster controller
Boening control unit for windlass (option)
Boening control unit for Horn (option)
Boening control unit for engine start-stop (option)
Compass
Waterproof socket 120 V and socket 12 V

Deck
Stainless steel guard rail and handrails
Teak cap-rail on bulwark
Teak floor board
One stainless steel anchor 50 kg with on 70 m chain ( 13 mm)
One electric windlass (capacity 1600 Kg) with three control units, LEWMAR
Stainless steel hawse with roller on the bow
Stainless steel pulpit
10 Stainless steel belaying cleats
Locker for mooring lines
Stowage for fenders
Sun lounge area with stainless steel handrails
Water filler
Diesel fillers in bulwark with level indicator
Deck washing system with fresh water
Deck hatch above VIP stateroom
Lopolight navigations light
Flagpole and sockets
Bathing Platform
Italy Opacmare hydaulic gangway, telescopic, with teak planking
Stairs to cockpit with teak planking
Folding stainless steel swimming ladder
Hot and cold transom shower
connection for deck washing system
Fresh water marina connection
AC shore power connection 63 a x 2 ea
Insulated cable
Access to crew cabin
Access to garage
Cover
Windscreen covers, covers for the flybridge equipment and seating, Sunbrella awning.

Cockpit
Teak deck
Drainage System
Integrated stairs to flybridge with teak planking
Large settee with high quality upholster, Sunbrella fabric 5461-0000
Fold-out teak table with stainless steel leg
Bose loudspeaker system, Phillips CD
Bar with Vitrifrigo ice-maker and sink
Italy Foresti & Suardi ceiling lighting
Hella stairs lighting
2 Lewmar C4/5 electric warping winches (capacity 1500 Kg)
Main fuse panel
Controls for gangway and garage
Access to engine room


Garage
LED lighting
Jet Ski, Sea-Doo, SPARK 60P, white
Small craft with inboard engine (optional)
Jet Ski sliding pedestal
Electric winch for Jet Ski
Water maker, Elektro-Navigation 60M24
Access to engine room
Extractor fan
Large stainless steel porthole
120 V socket

Cover
Windscreen covers, Italy, Ferrari, Bayline
Covers for flybridge equipment, Sunbrella awning 4648-0000

Salon
Stainless steel sliding door to salon
Sofa, soft goods by IK Yacht Design
2 Webasto air conditioning units, 16 000 BTU and 12 000 BTU
2 separately foldable tables
Smoked oak floor
Wood finish, ALPI
Cabinet
Italy Alcantara Ceiling
Majilite wall covering
Oceanair blinds
46" Loewe LED TV
Bose Entertainment system, with 4 loudspeakers and sub boxes
Italy Foresti & Suardi LED light
Dimmer switches
Main control board within the generator
120 V socket

Galley
Marble countertops
Dornbracht water faucet
Cold / hot water
Kitchen cabinet lift, drawer and hanging cabinet, using ALPI wood finish
Miele Integrated Fridge-freezer KF9712 ID
Miele Integrated Oven H5241B
Miele Dishwasher G5470SCVI
Miele Ceramic hob - 4 zones, KM5600
Siemens hood
Gaggia Coffee Machine
8 table wares
Webasto air conditioning unit, 12 000 BTU
Italy Foresti & Suardi LED light
Floor, wood
Sofa, soft goods by IK Yacht Design
Oceanair Blinds
Fire Extinguisher
First aid kit
Main switchboard for 120V - 240V
120 V socket


Salon Helm Station
Italy Electric carbon seat
Leather dashboard console
Italy ISOTTA adjustable steering wheel
Double driver's seat
Raymarine autopilot #p70R + #SPXSOL SMART-PILOT pack
Raymarine rudder angle indicator #i70
Raymarine #i70 +#DST800 LT depth/speed transducer
Raymarine Ray 260 E VHF radio
2 Raymarine e125-12" color display for radar, chart plotter and reverse image camera
Electronic engine control #KE-5A TWIN
2 MAN engine monitoring systems with 6.3" display
1 Boening security monitoring system with 6.5" display
Boening control unit for searchlight
Boening control unit for trim tabs
Bow/stern thruster controller
Boening control unit for windlass (option)
Boening control unit for Horn (option)
Boening control unit for engine start-stop (option)
Boening control unit for Camera (option)
Compass
Webastro Air conditioning unit, 9 000 BTU
Control for windshield wiper
Sofa by IK Yacht Design
Door to Stbd side deck
Fire extinguisher emergency switch (Seafire FM 200)
120 V socket

Owner's Stateroom
Webastro air conditioning unit, 12000 BTU
Wood finish, ALPI
Double berth with ample stowage and slatted frame
Double mattress
Reading table
sideboards with drawers
Book shelf / Storage shelf
26" Loewe LED TV
Bose Entertainment System, with 2 loudspeakers and sub boxes
Oceanair blinds
Access to bath dressing room
Italy Alcantara Ceiling
Majilite wall covering
Italy Foresti & Suardi LED ceiling lighting
Hella reading light
Dimmer switches
Carpet
120 V socket

Owner's Bathroom
Large shower
Double sink
Italy, Planus, AARPA electric toilet
Dornbracht top quality sanitary accessories (faucet, soap container, towel rack, and shower series)
Mirror
Vanity unit
Marble Washstand
Oceanair blinds
Large stainless steel porthole, opening
Italy Foresti & Suardi LED light
Extractor fan


Owner's Dressing Room
Large walk-in wardrobe
Cabinet with drawers and mirror (option)
Shoe cabinet
Safe (option)
Carpet
Italy Foresti & Suardi LED light

VIP Stateroom
Webastro air conditioning unit, 9 000 BTU
Wood finish, ALPI
Double berth with ample stowage and slatted frame
Double mattress
Ample wardrobe
Ceiling cabinets
26" Loewe LED TV
Pioneer DVD player
Oceanair blinds
Access to bathroom
Deck hatch with blinds and skylight
Italy Alcantara Ceiling
majilite wall covering
2 large stainless Steel portholes, opening
Hella reading light
Carpet
120 V socket

VIP Bathroom
Separate Shower
Single wash basins
Italy, Planus, ARPA electric toilet
Dornbracht top quality sanitary accessories (faucet, soap container, towel rack and shower series)
Mirror
Vanity unit
Marble washstand
Oceanair blinds
Large stainless steel porthole, opening
Italy Foresti & Suardi LED light
Extractor fan
120 V socket

Stbd Guest Cabin
Double berth
Webasto air conditioning unit, 5 000 BTU
Wood finish, American walnut
Bunk berths with stowage
Mattress
Wardrobe
Storage Shelves
22" Loewe LED TV
Pioneer DVD Player
Oceanair blinds
Italy Alcantara Ceiling
Majilite wall covering
Carpet
Large stainless steel porthole, opening
Hella reading light
120 V socket

Port Guest Cabin
Webasto air conditioning unit, 9 000 BTU
Wood finish, ALPI
Double berths
Double mattress
Wardrobe
Storage shelves
22" Loewe LED TV
Pioneer DVD player
Oceanair blinds
Italy Alcantara Ceiling
Majilite wall covering
Carpet
Large stainless steel porthole, opening
Hella reading light
120 V socket

Day Head
Separate shower
Wash basin
Italy, Planus, ARPA electric toilet
Mirror
Dornbracht top quality sanitary accessories (faucet, soap container, towel rack, and shower series)
Vanity unit
Marble washstand
Oceanair blinds
Large stainless steel porthole, opening
Italy Foresti & Suardi LED light
Extractor fan
120 V socket

Crew Cabin
Webasto air conditioning unit, 5 000 BTU
1 Single berth
Wardrobe
Storage shelves
Phillips 19.5" LED TV
Pioneer DVD player
Oceanair blinds
1 large stainless steel porthole, opening
Miele WT2789WPM Washer / Dryer combination
120 V socket

Crew WC/Shower
Shower
Wash basin with fixtures and accessories
Italy, Planus, ARPA electric toilet
Mirror
Stowage
Italy Foresti & Suardi LED light
Extractor fan
120 V socket

Equipment Engine Room
Two main engine Man D2842 LE443 V12-1224HP IMO/MARPOL 73/ 78 EPA Tier 2 Two ZF 500-1 IV - gear box electrical actuator ratio 1.964:1
Two stainless shaft FM 60j9 & two screw diameter 880 mm, 5 blade
Bronze P-brackets
Pyrotek sound isolation system (sound paint / Sorberbarrier
Access to engine room through cockpit
Monitoring camera Raymarine CAM50
Bilge pumps, automatic
Lighting
Automatic fire extinguishing system according to CE, SEA FIRE FD-1150M
Fuel filter /clearing system with water separator for engines and generator
One aluminum fuel tanks
Stainless steel fresh water tank
Fresh water preparation system, 60L/h
Preheating unit for engines (option)
80 liters water heater (crew cabin)
Boening Exhaust gas temperature sensor
Water filling station
Hypromarine

Electric System
Kohler Generator 23KW, 60HZ
120/240V  60HZ system, shore & generator
2 50 amp  240V shore power inlets
2 15 KVA 120/240V 50/60HZ shore isolation transformers
2 50amp shore isolatiors
DC provided with 12 V and 24 V
Inverter - 2500  W
1 Charger - 12V, 15 A
3 Chargers - 24 V, 2-100 A, 1-25 A
4 Engine batteries, 6 consumer batteries, 255 Ah / ea
1 Generator battery, 125 Ah
Windscreen wipers with washer

Nautical Equipment

2 Raymarine autopilot #p70r + #SPXSOL SMARTPILOT pack
2 Raymarine rudder angle indicator #i70
2 Raymarine #i70 + #DST800 LT depth/speed transducer
4 Raymarine Revers image camera Fly-bridge radar mount, Engine room
Raymarine Ray 260 E D-DSC VHF radio and second handset
Radar antenna, Open Array - 12KW, 48"
Searchlight with control units on Flybridge and Salon Helm Station
Compressed air horn (AFI)
Navigation lights
2 Compasses

Systems
Central hydraulic system for operation of thrusters, stern flap, gangway and bathing platform
Stern flap GECEA
Platform Tender Lift + Accessories, H+B technics
Air conditioning system, 84 000 BTU Webasto CH84 - Twin -S230V-REV W/O ELEC.
CH84-TWIN-S230V-REV W/O ELEC.
Hydraulic steering system Hypromarine HMSMG1
Pressure water pumps with header tank

Underwater Gear
Bow thruster SP220HYD, with 220 kg Thrust Jabsco GMBH, Norderstedt
Stern thruster 20 hp Jabsco GmbH, Norderstedt with Parker Hydraulic Mother
Bronze sea cocks
Zinc anodes
Underwater lighting, 6 x 20 W (4 afterwards, 2 sides)
Anti-fouling

Miscellaneous

6 mooring ropes, 2x15 m w/dia 20 mm, 4x20 w /dia 25 mm
1 boat line, 10 m w/dia 10 mm
3 collision balls, F11 w/dia 538 x L 1461    mm
3 collision balls, F6 w/ dia 279 x 1067
6 collision ball ropers, 4 m w/ dia 12 mm
Fire blanket
First aid kit
Took kit
Spare lamps
Hand-held fire extinguisher
Deck washer parts and hose
CE certificate
Owner's manual
Document box
Lifesaving equipment (Escape plan, lifejacket, life buoy...etc according to CE)
Return to Yachts for Sale
Get more information