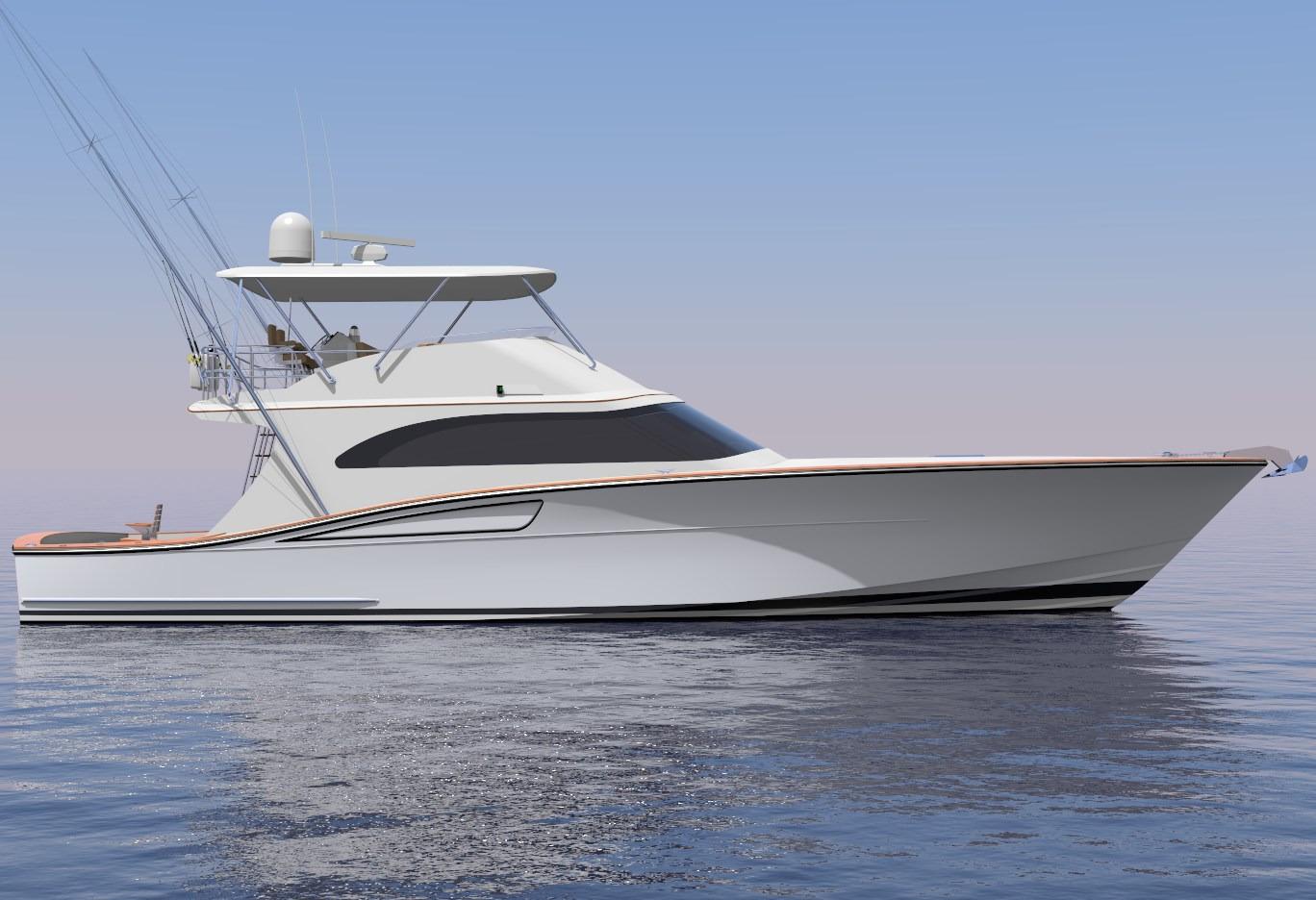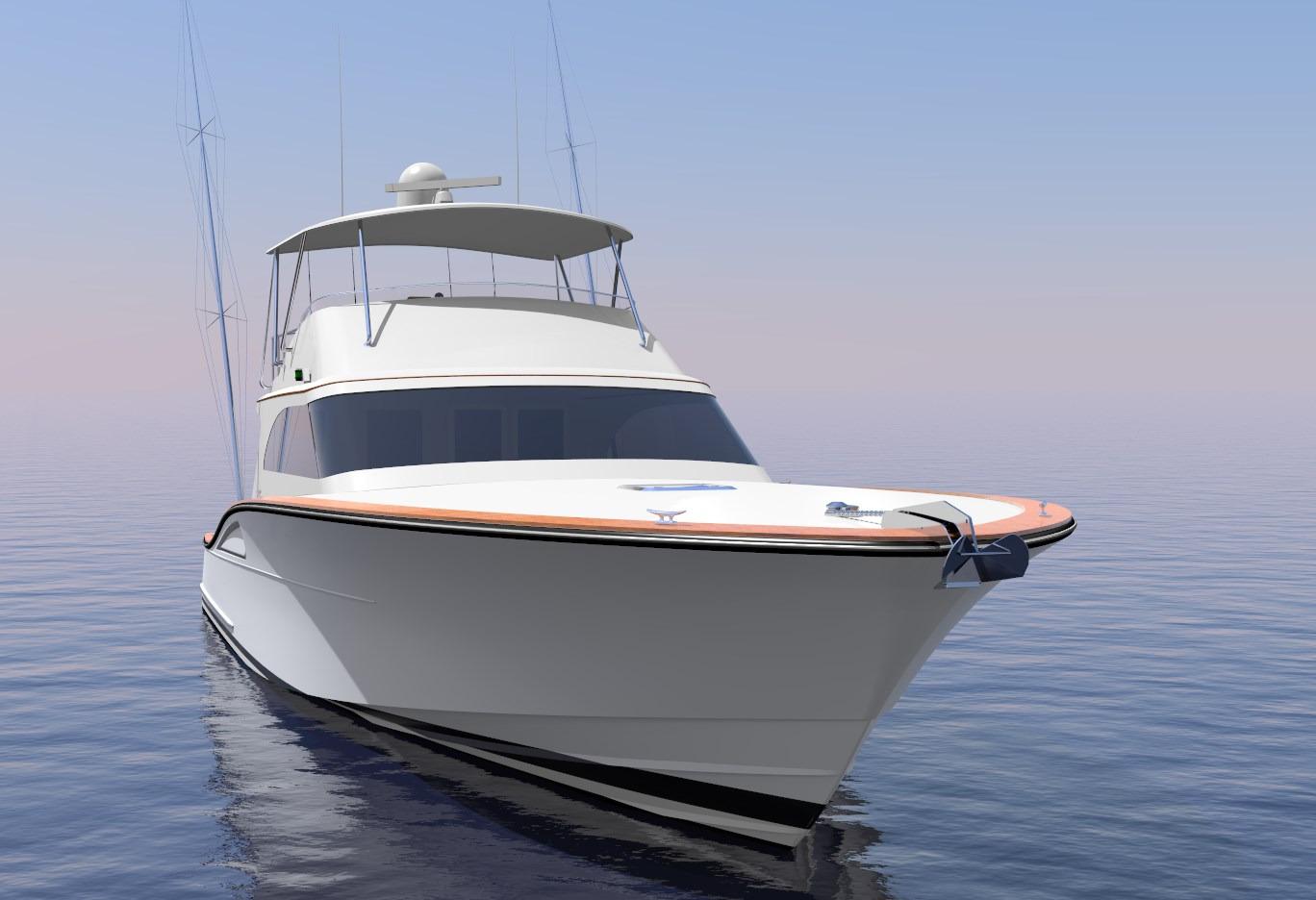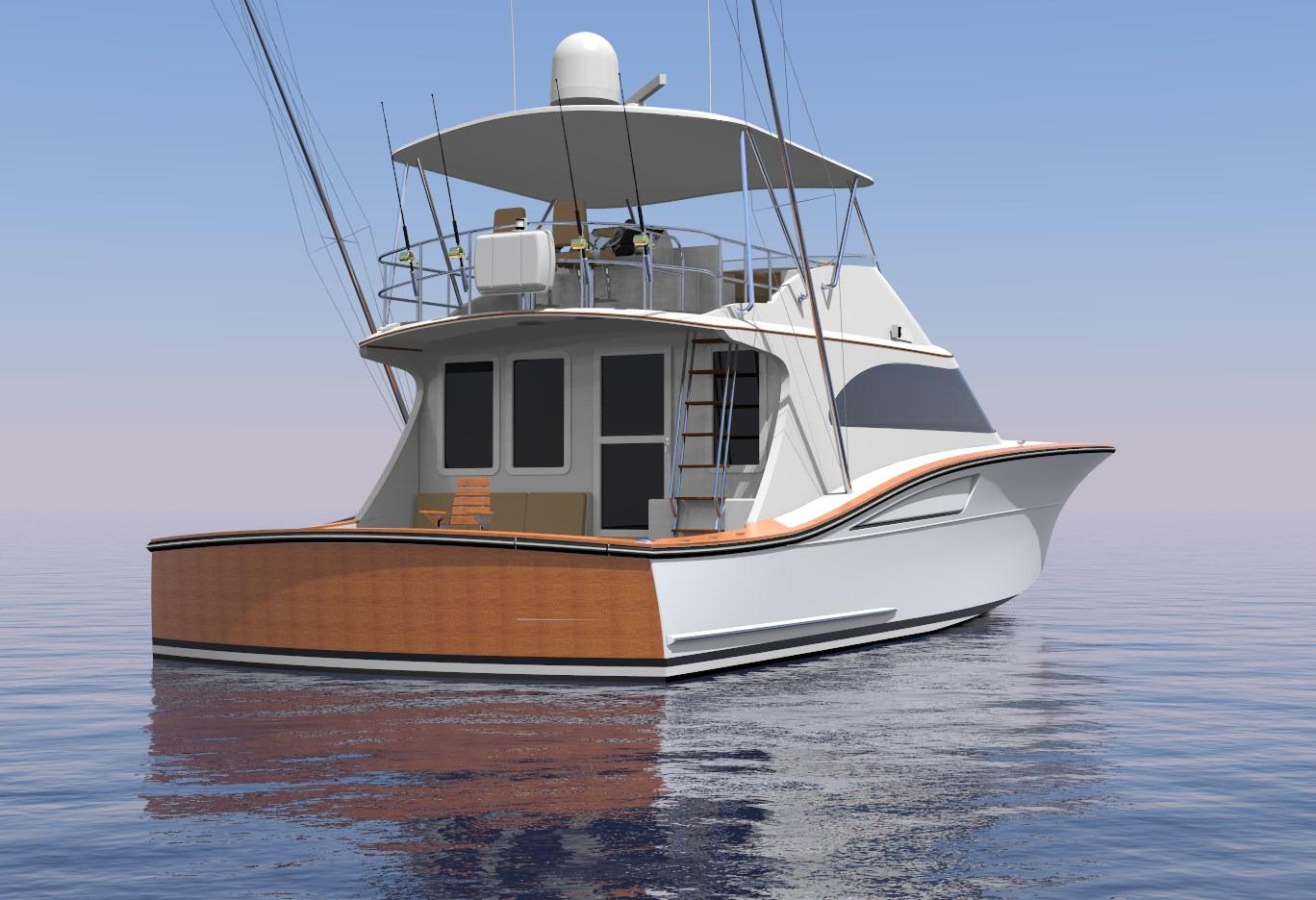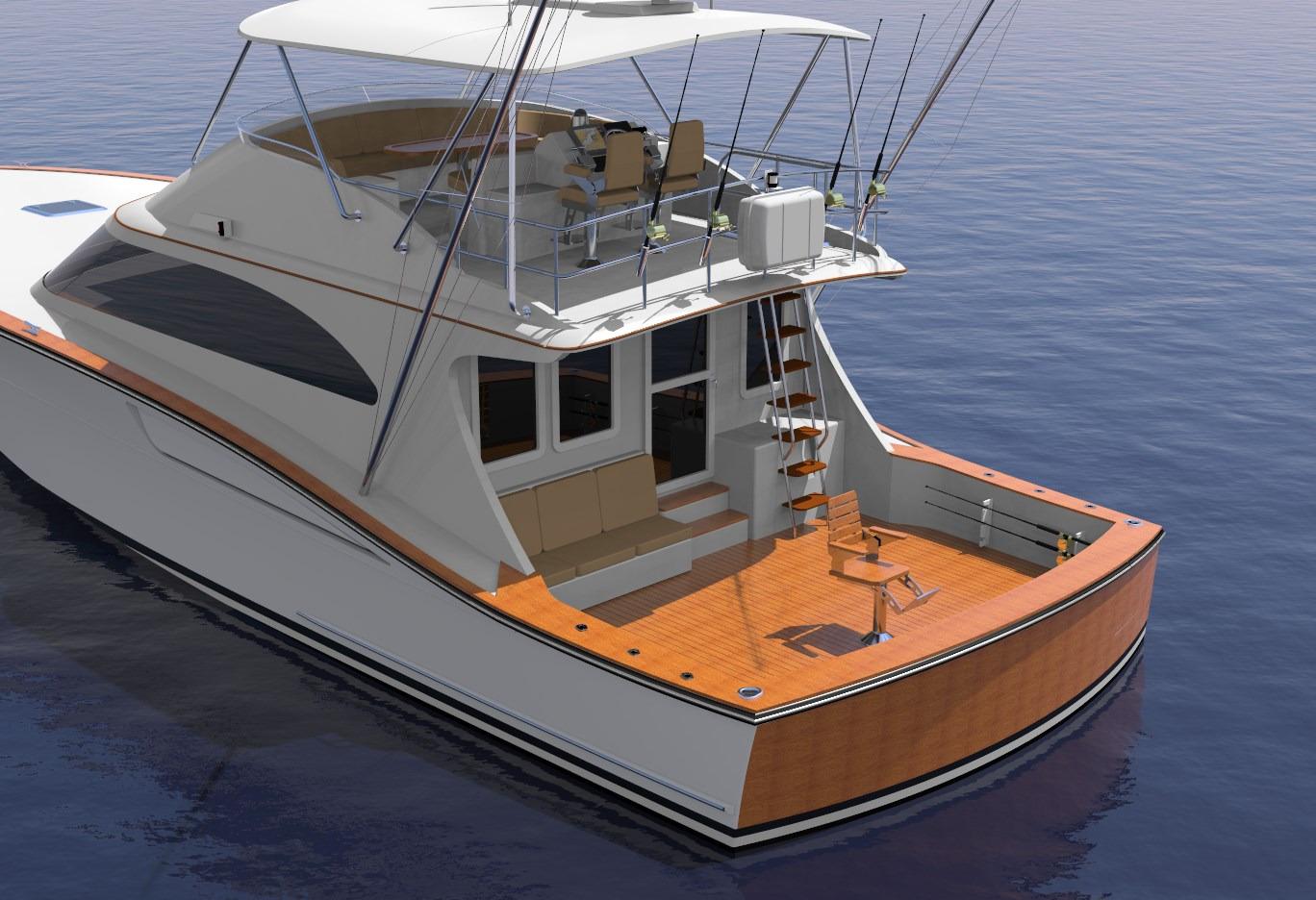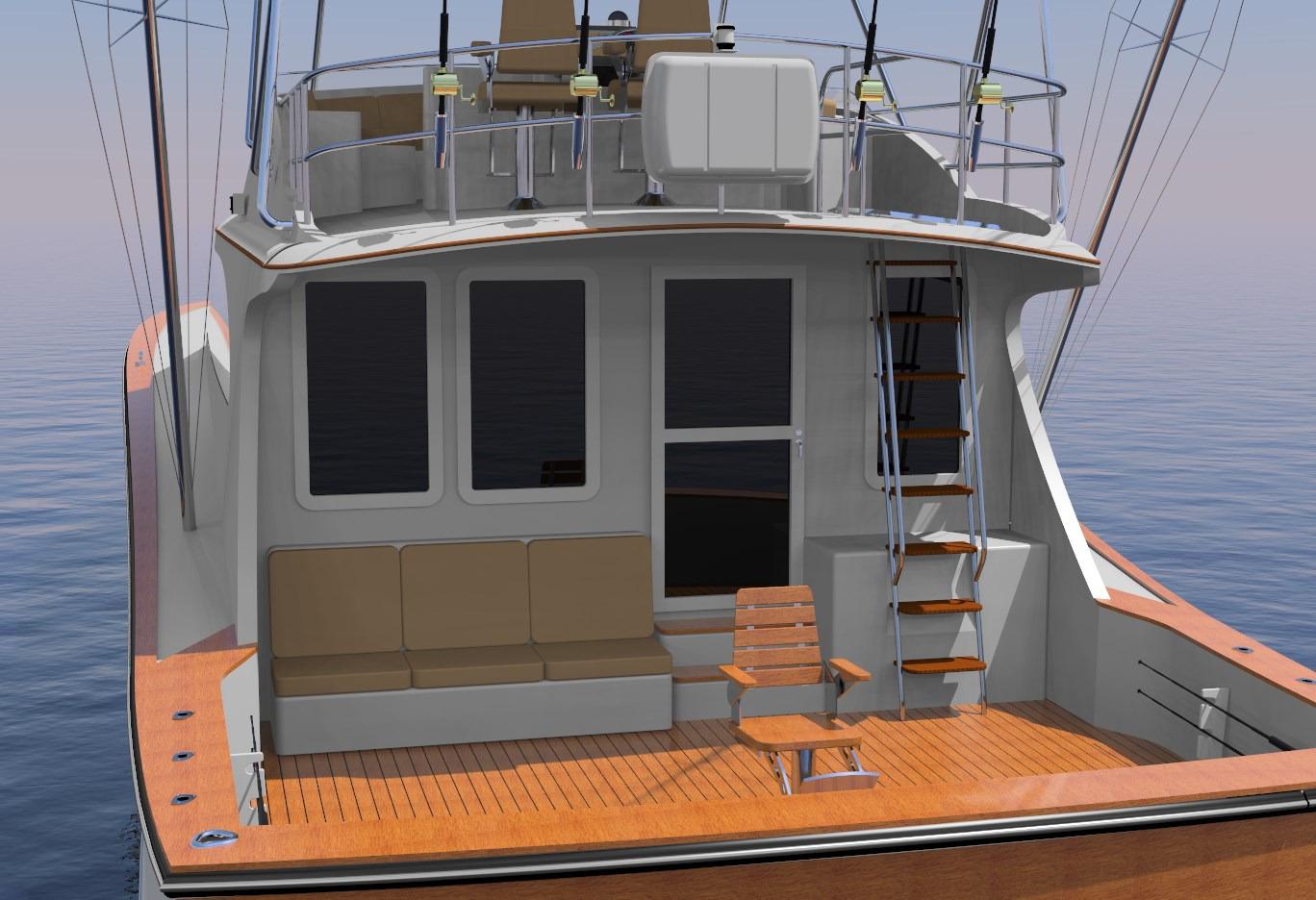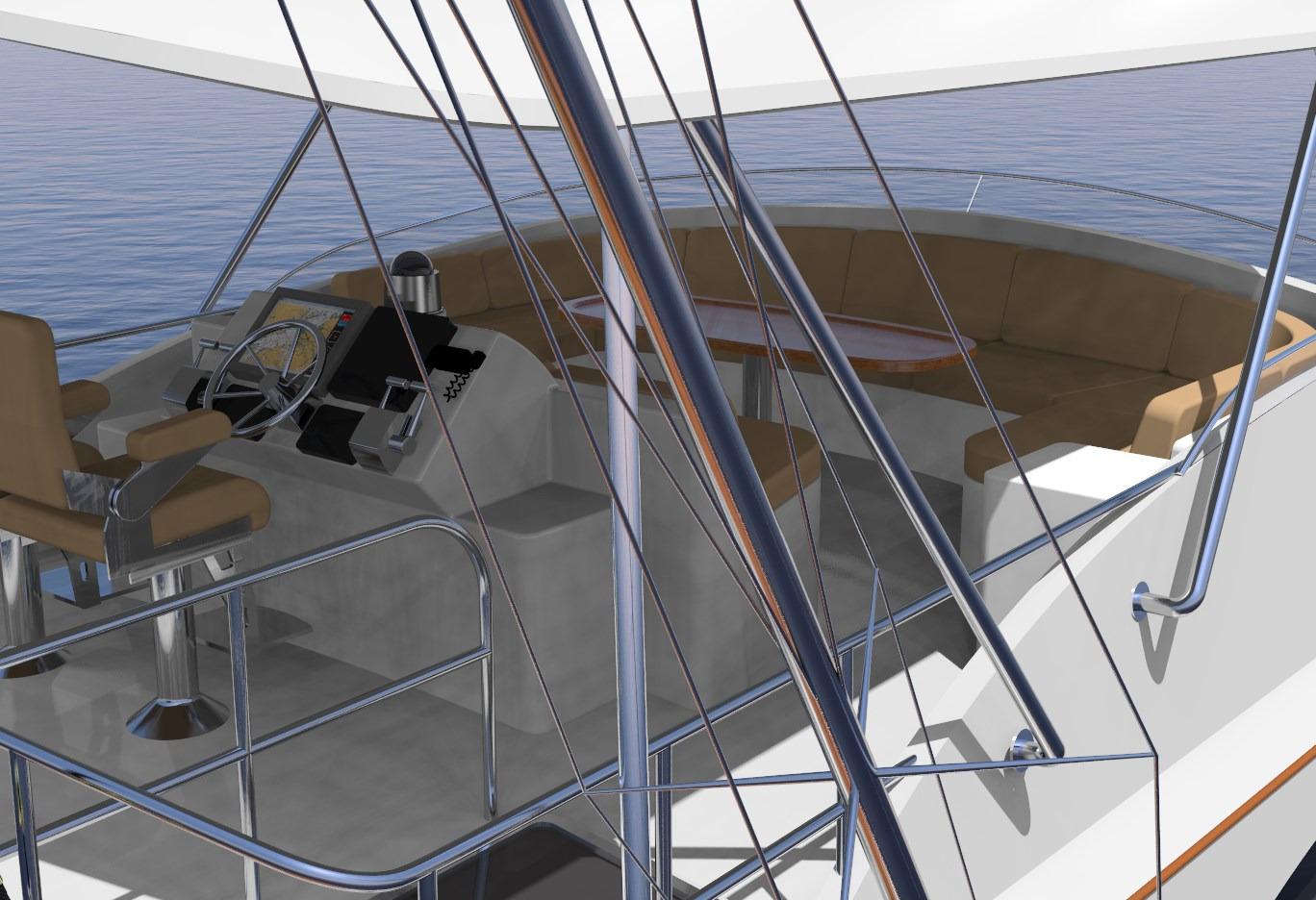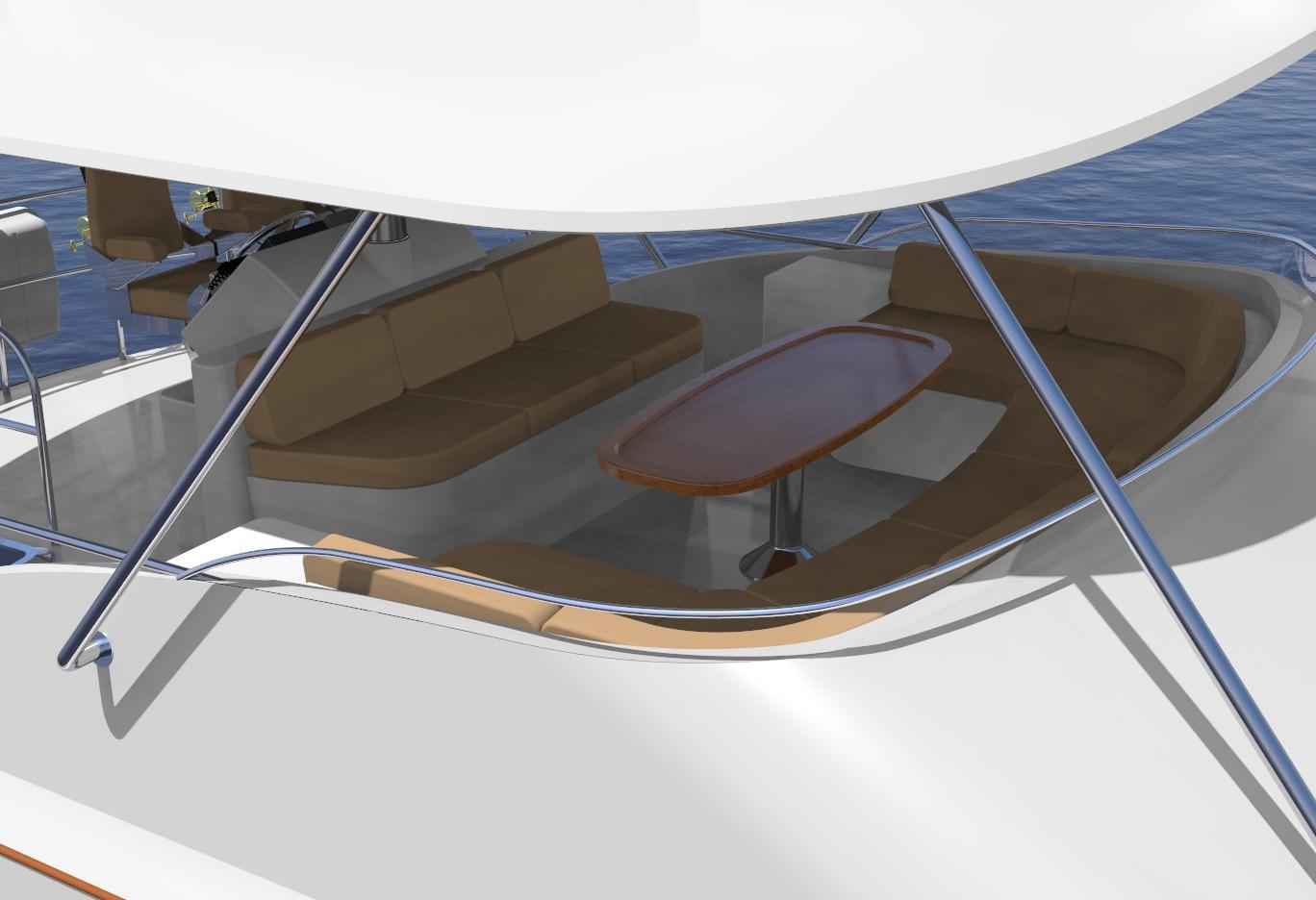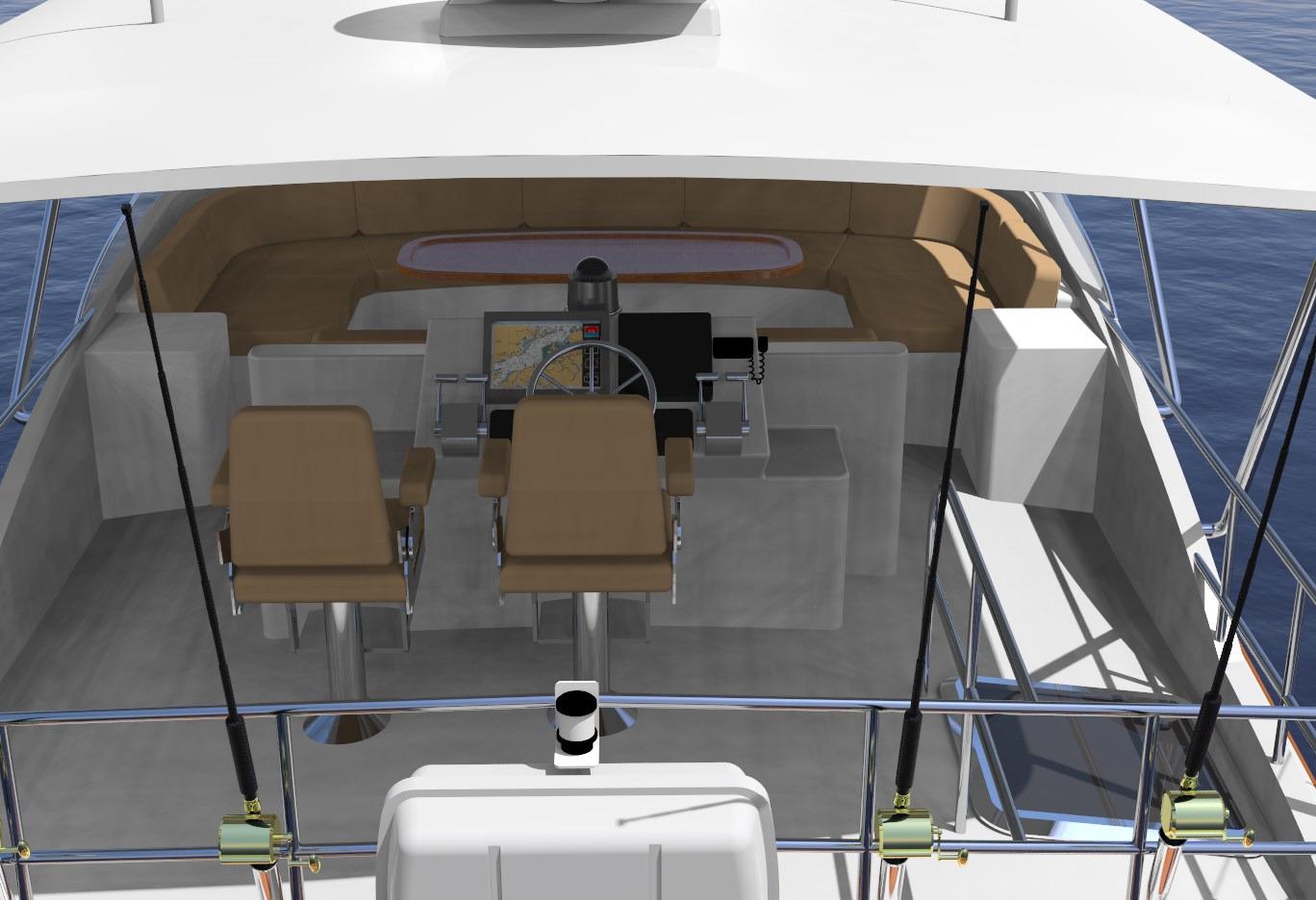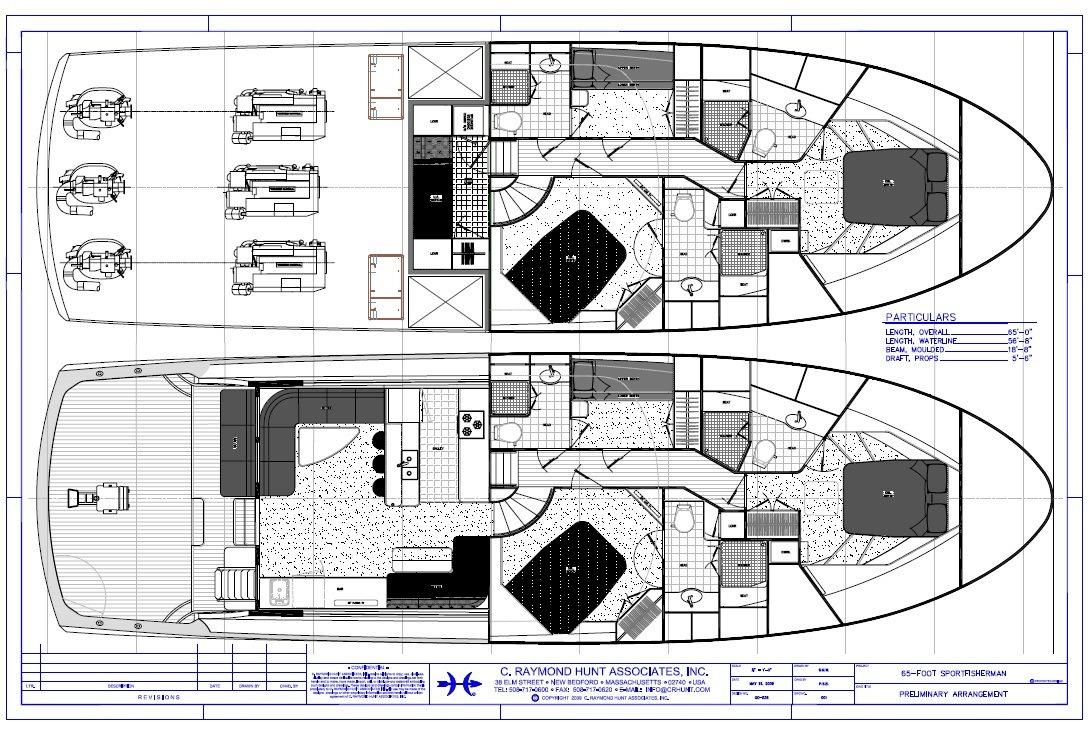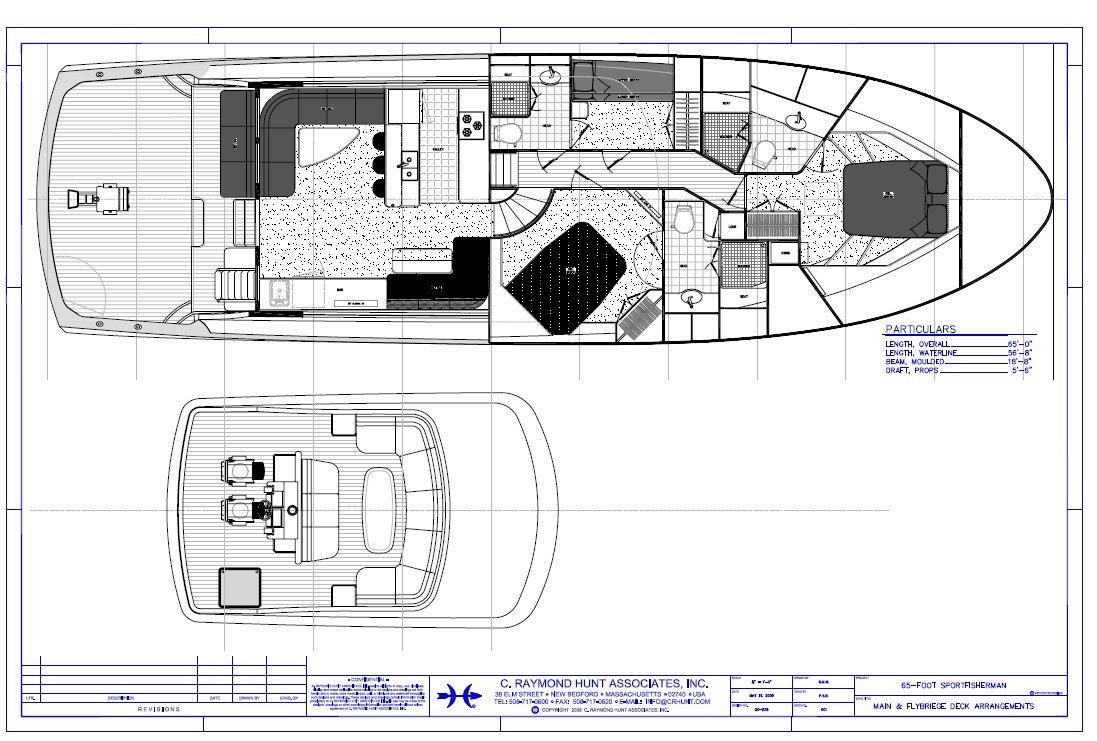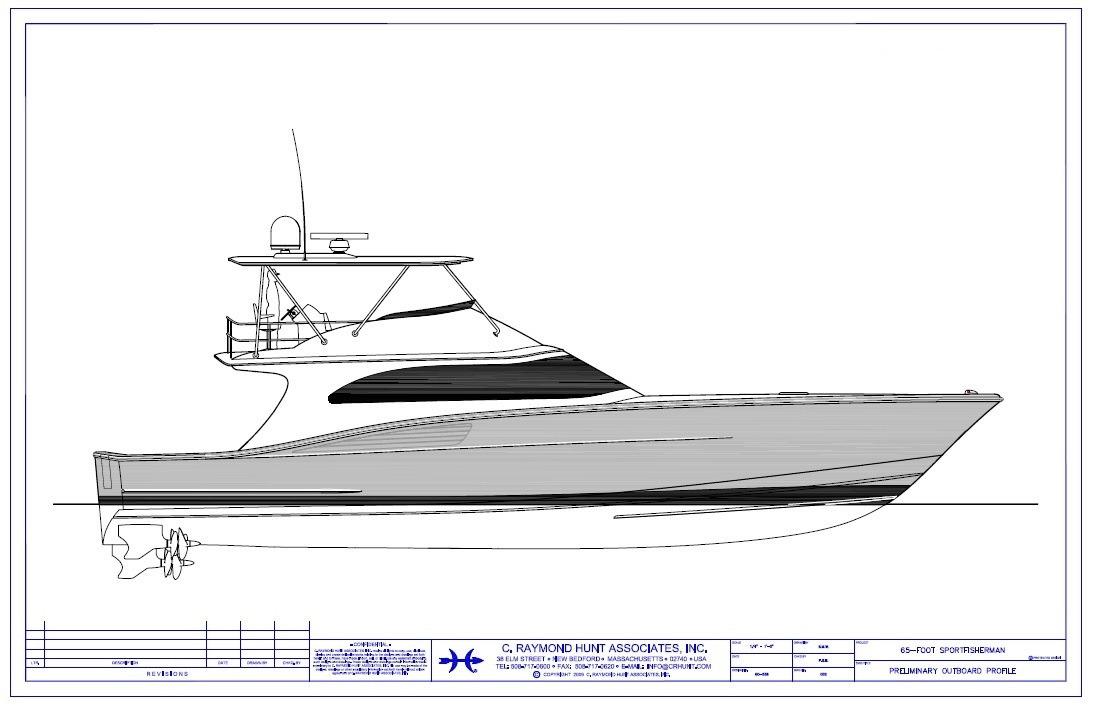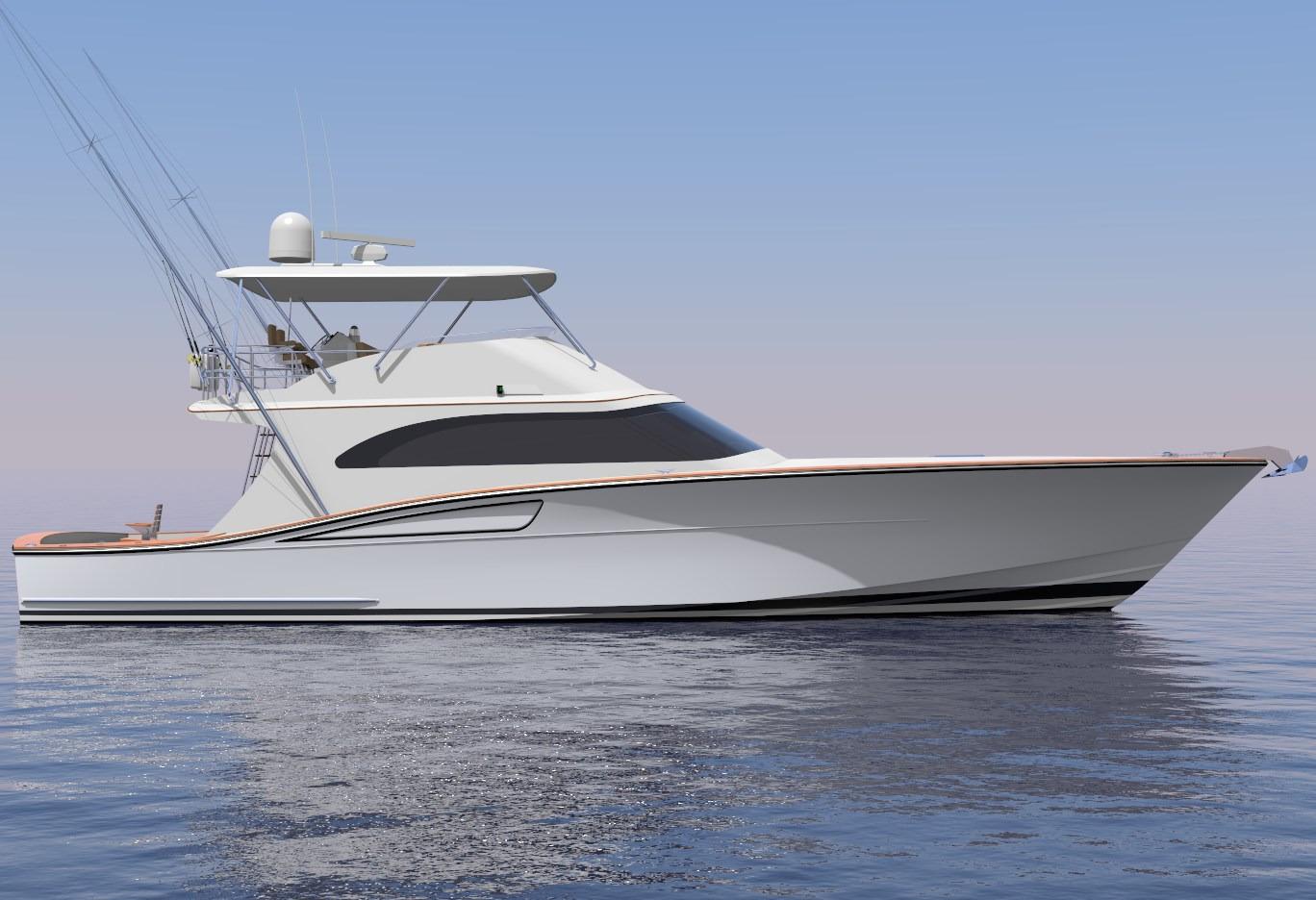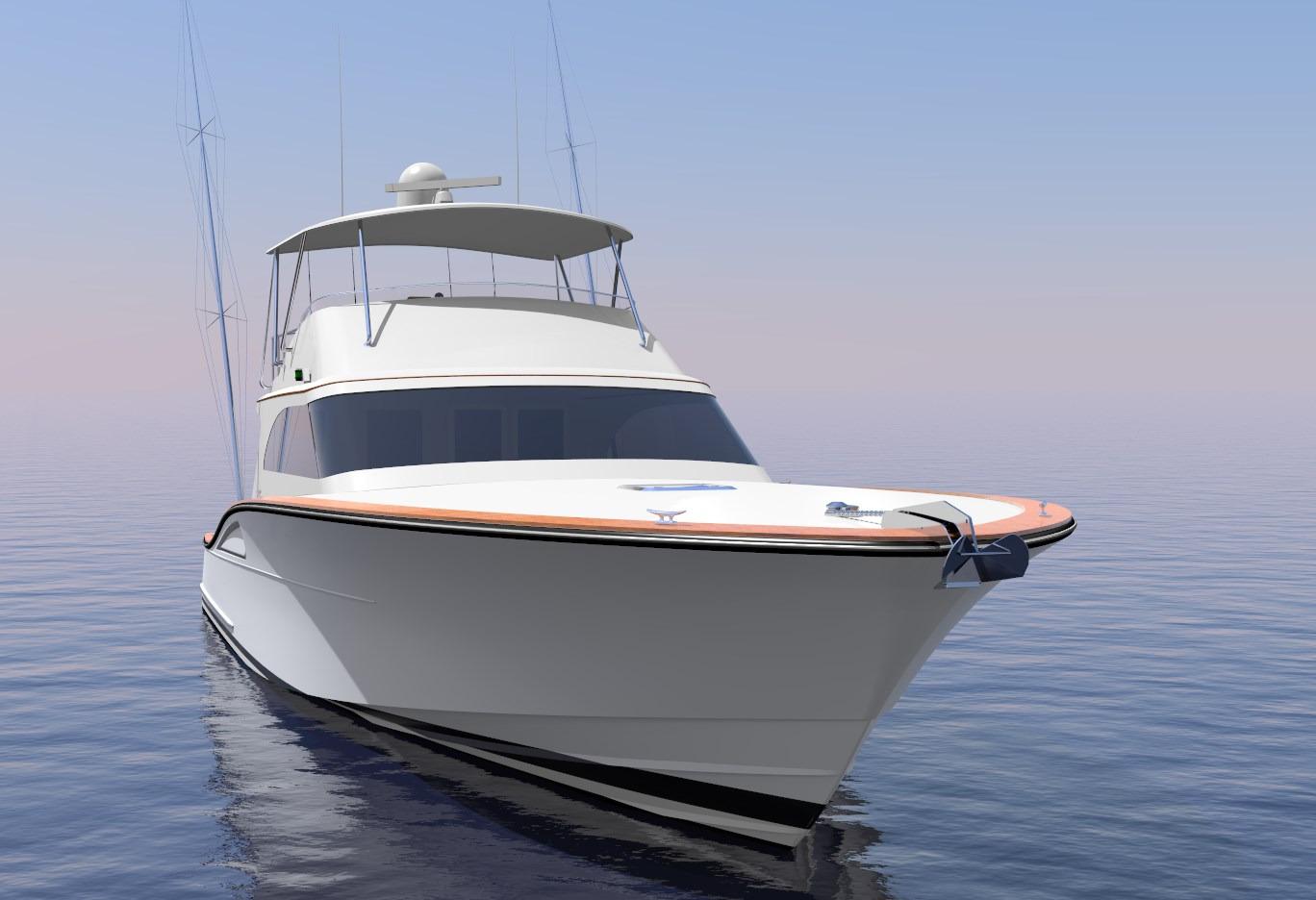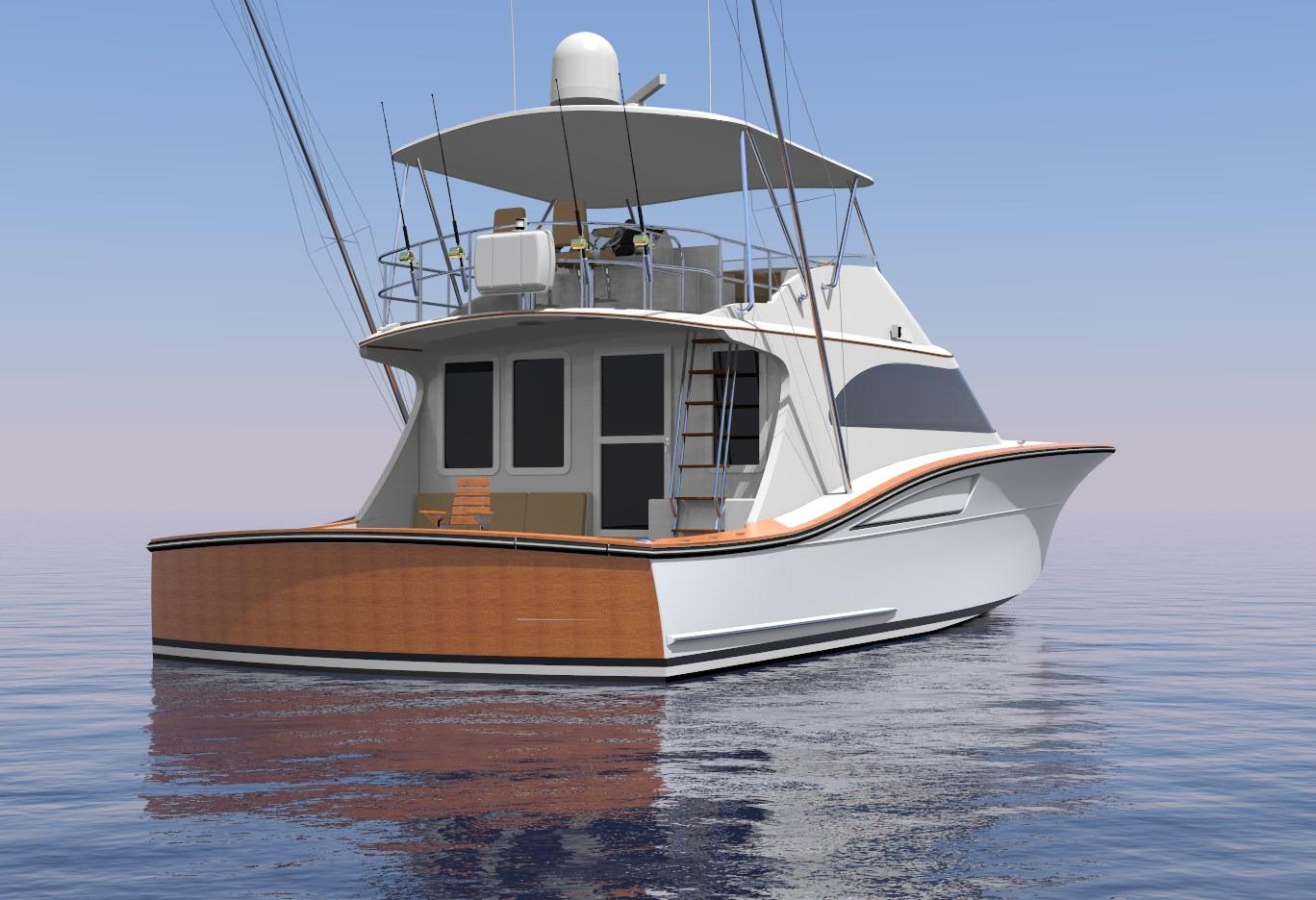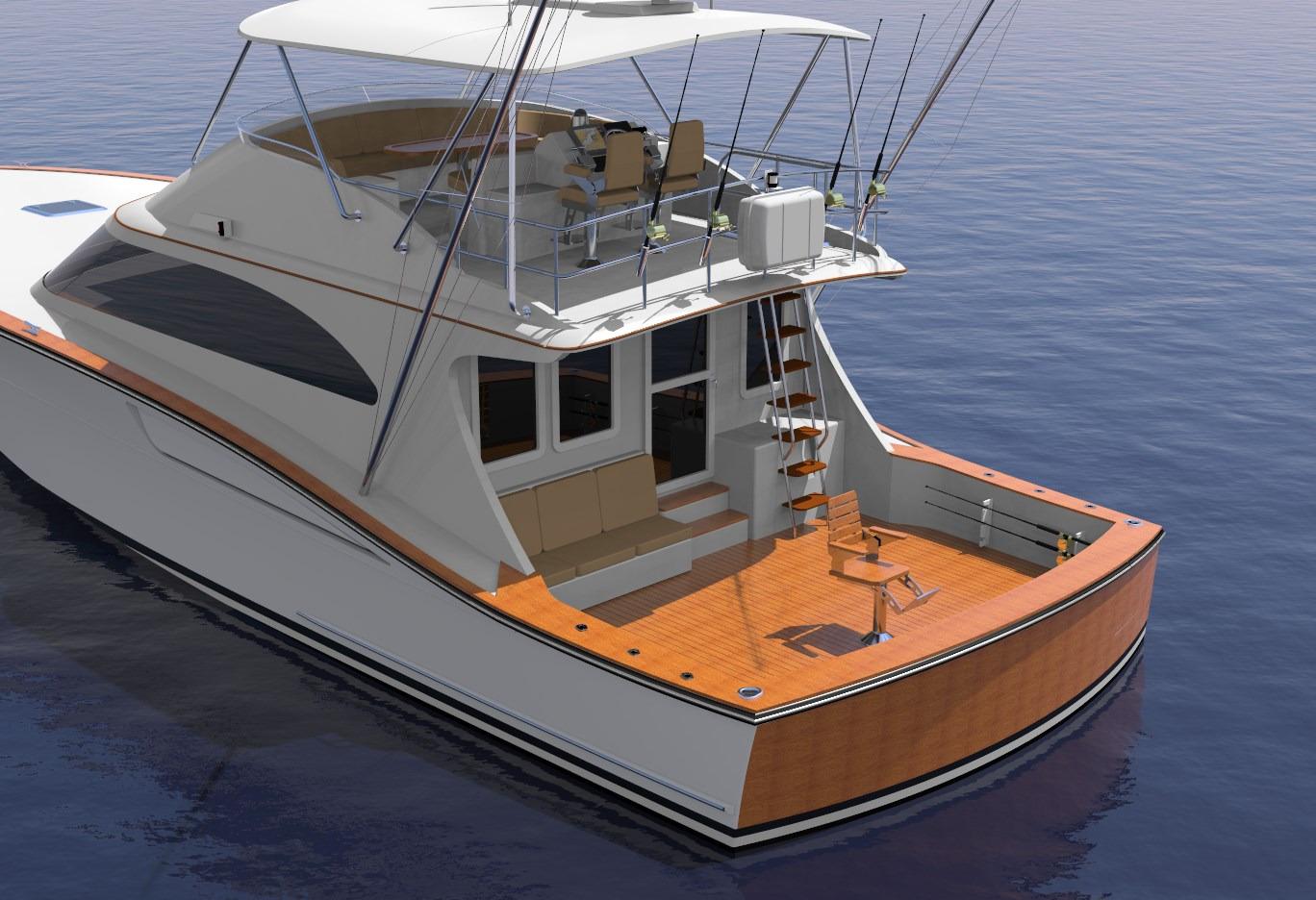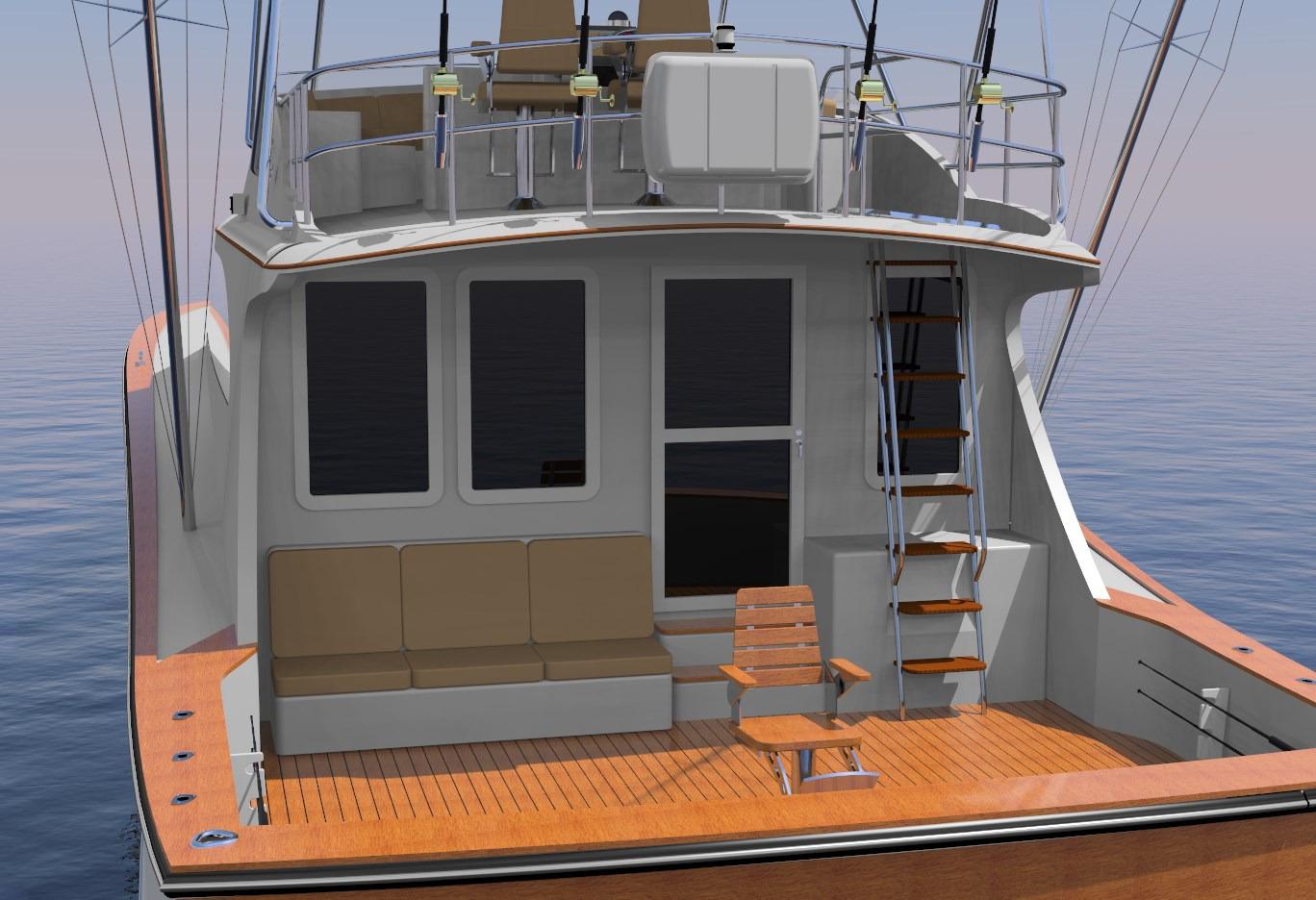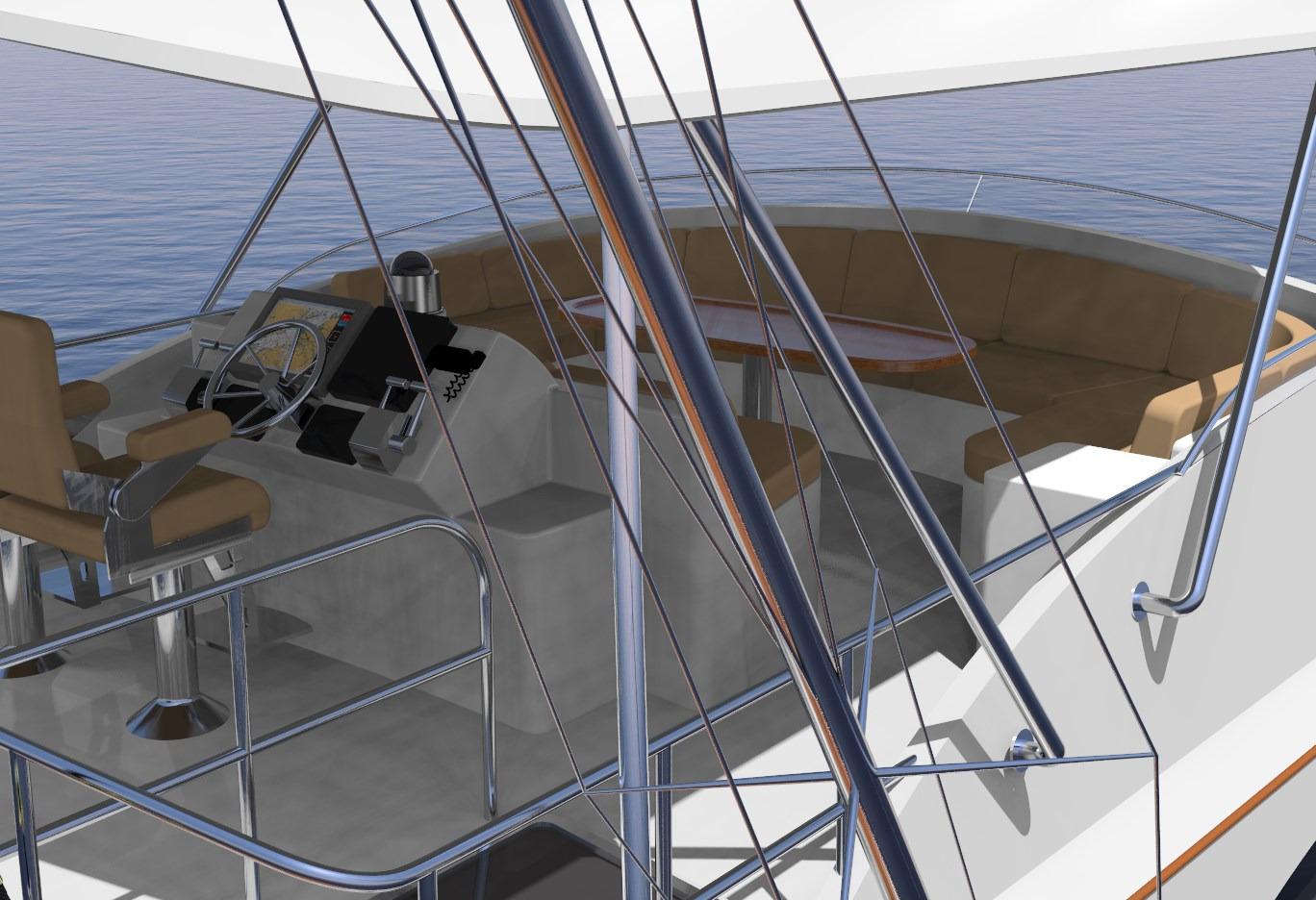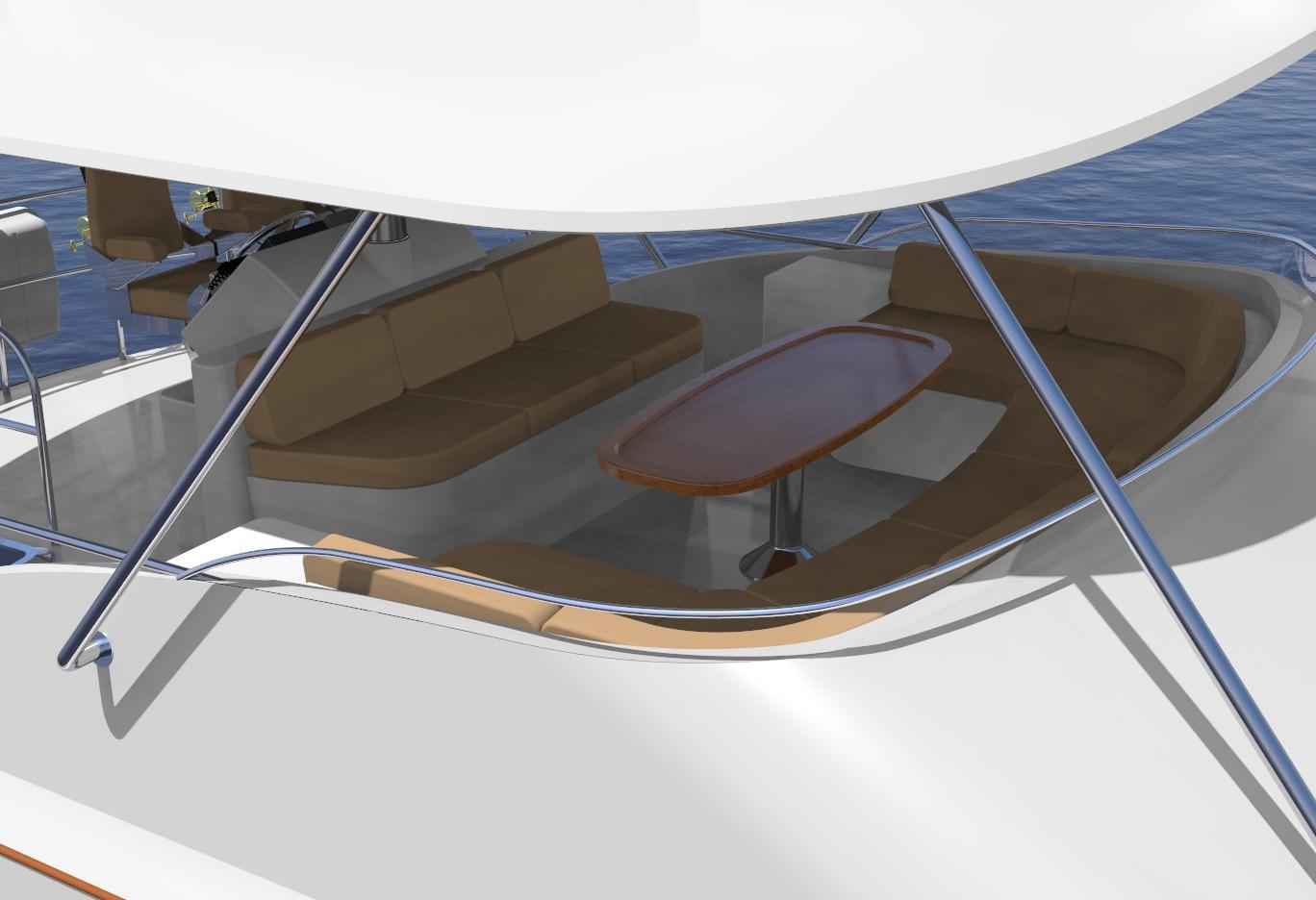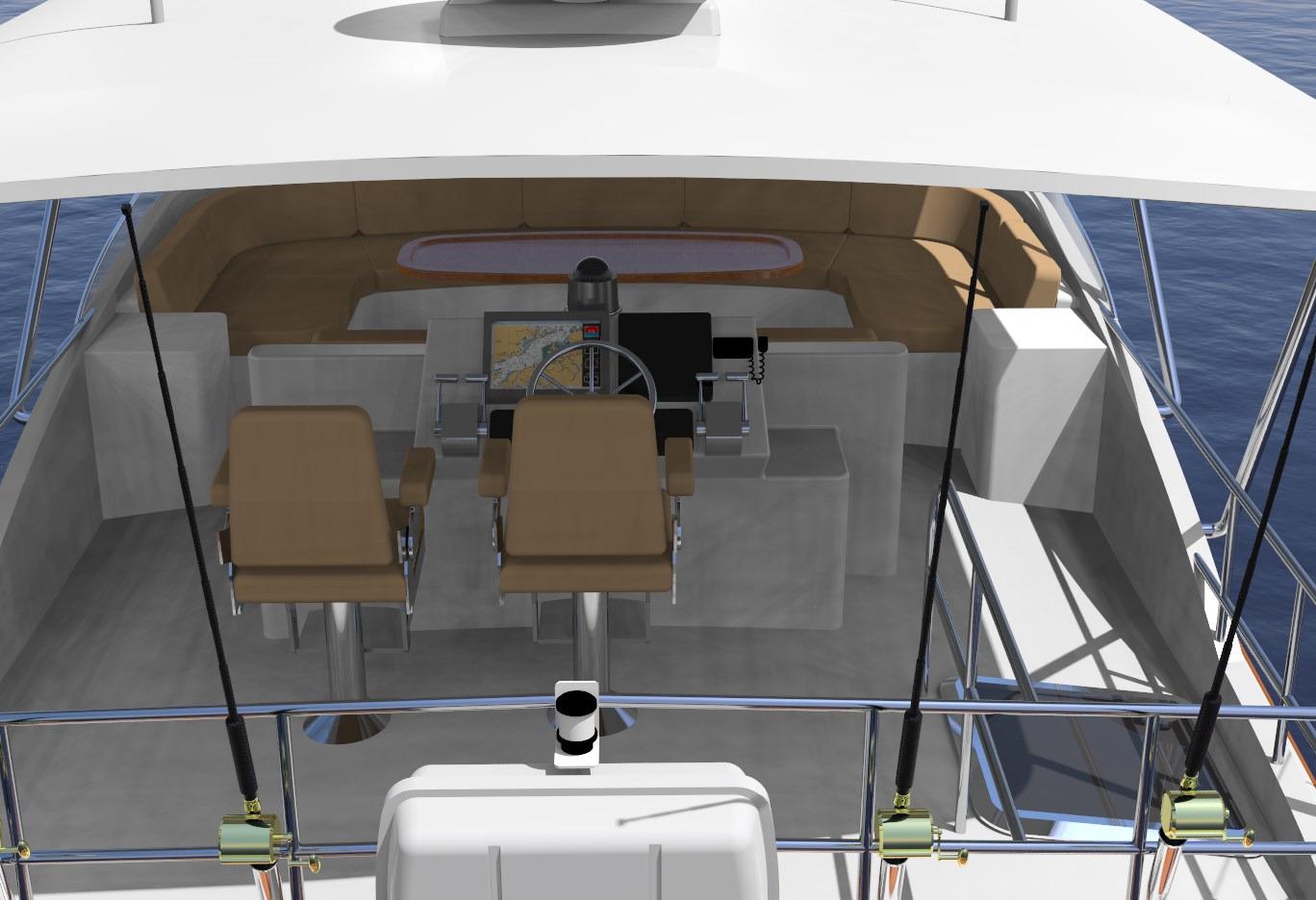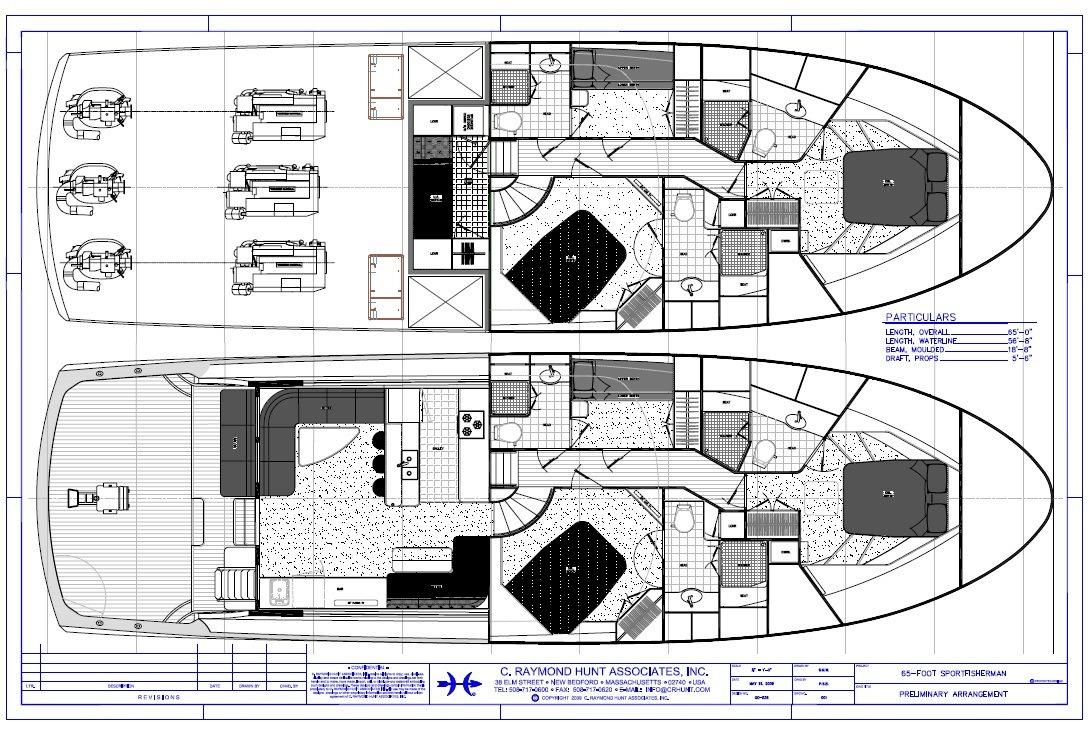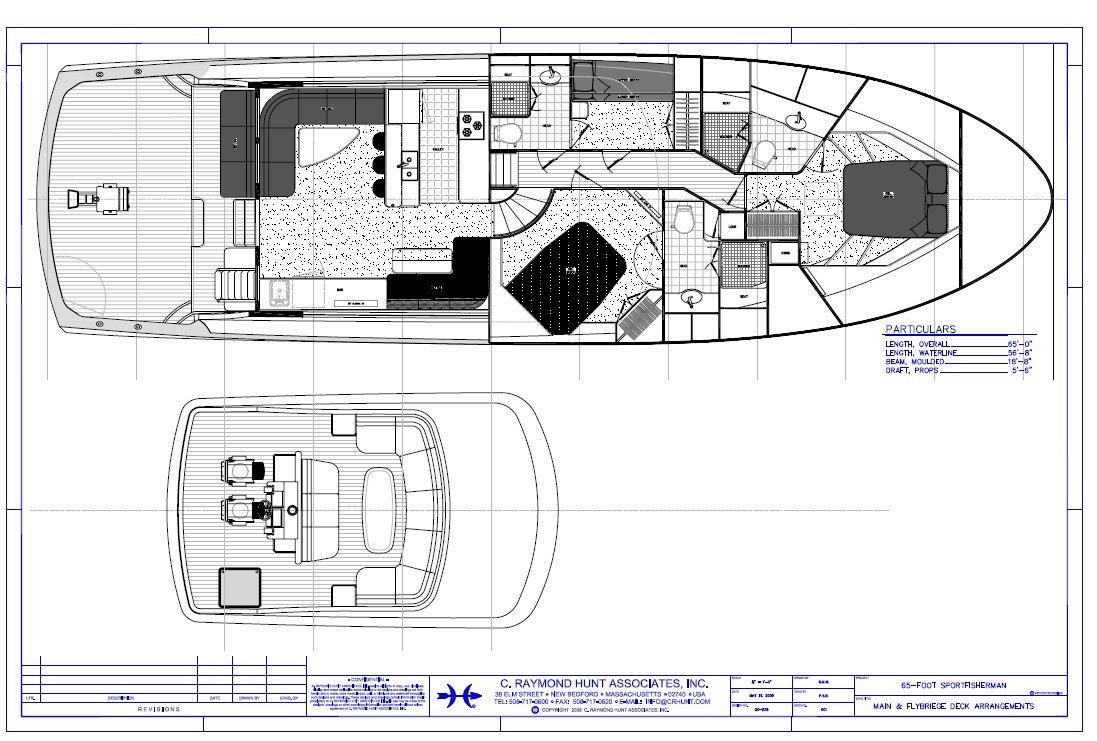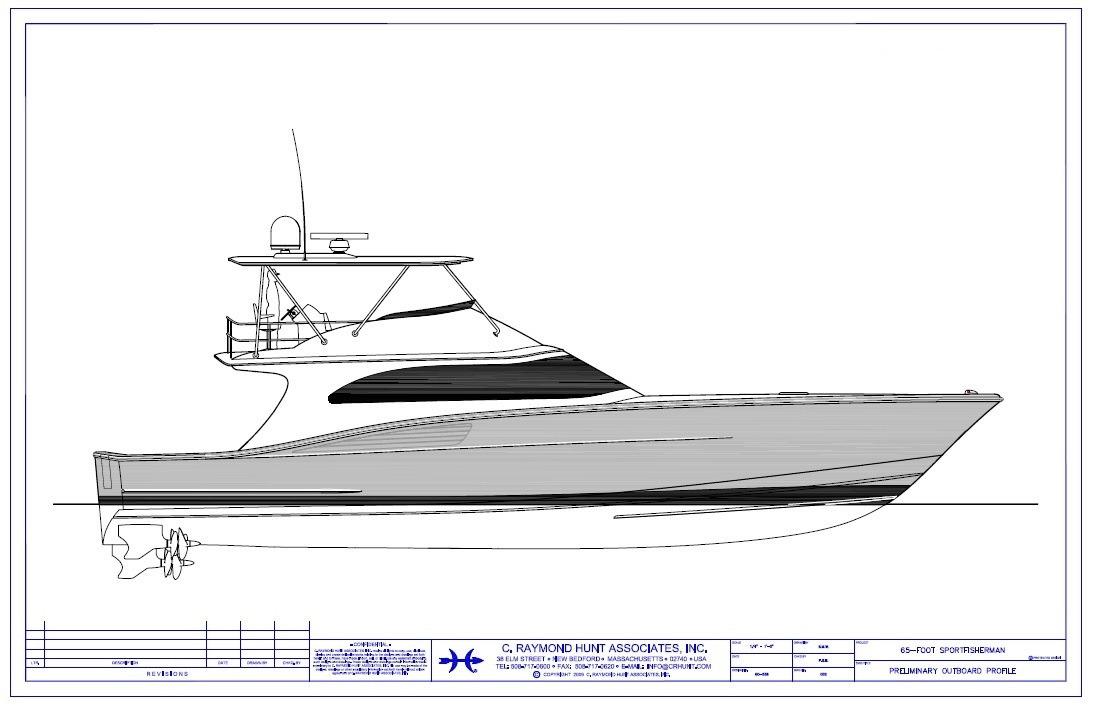 Description
Brooklin, Maine: Brooklin Boat Yard, a leader in modern cold-molded wood composite yacht construction, is expanding the range of their offerings to larger motoryacht designs. We are pleased to introduce the Brooklin Boat Yard 65' Sportfish Motoryacht in collaboration with the design office of C. Raymond Hunt Associates of New Bedford, Massachusetts.
Hunt Design has penned successful powerboats between 9' and up to over 100' length overall for numerous well known and respected yacht builders such as Burger, Grady-White, Grand Banks, Hinckley, Lee Wilbur and Palmer Johnson and many more.The desirable attributes of the Hunt deep-V hull is good rough water performance and a dry ride.
With this design pedigree in mind, the new Brooklin Boat Yard 65' Sportfish has been designed with serious offshore capabilities in mind: strong and robust, comfortable and dry. The arrangement is classic sportfish, with accommodations for six in the owner's party plus a crew of two. Aft is a large fighting cockpit overlooked by a mezzanine deck.
Our focus is to incorporate the yard's advanced wood composite construction techniques with recent advances in propulsion technology and controls. Brooklin is a true leader in the industry where the structural benefits of wood and high tech composite materials are showcased in every yacht we build. Every component of our yachts is vacuum bagged and composite fabrics are resin infused giving them optimum strength to weight characteristics and making a truly superior product. The propulsion package that has been selected is a triple Volvo-Penta IPS IPS1200 drives delivering total power of 2,700hp for a cruise speed of 35 knots. These are 6-cylinder common rail injected, turbocharged and intercooled marine diesels with incredible efficiency.
More important are the long list of user friendly options available with the Volvo IPS system including: joystick docking, joystick driving, dynamic positioning, Sportfish mode, autopilot, glass cockpit system, trip computer, cruise control, single lever mode, low-speed mode for a true fully integrated bridge experience using flush touch screens.
For the traditionalist a conventional propulsion package is available using twin MTU 12V 2000 M92L, common rail injected, turbocharged and intercooled marine diesels rated at 1,920hp @ 2,450 rpm each, with gears, shafts and propeller struts.
Disclaimer
HMY Yacht Sales, Inc. is pleased to assist you in the purchase of this vessel. This boat is centrally listed by Brooklin Boat Yard.
Fuel Capacity:
1000 Gallons
Vessel Overview
About Brooklin Boat Yard
Brooklin Boat Yard was started in 1960 by Joel M. White and is presently operated by Joel's son Steve White. The yard is located in Brooklin, Maine, on the Eggemoggin Reach. The Reach lies between Blue Hill and Penobscot Bays and is in the heart of the best cruising grounds on the coast of Maine.
We are a full-service yard specializing in wooden boat design, construction, repair and maintenance but working with boats of all construction types be it fiberglass, aluminum, steel or composites. We offer new boat construction and classic yacht restoration services. Our design office can provide new boat design drawings and shop drawings. Our service department provides repair services along with routine storage and maintenance services. In addition to the above services we also have an on-site yacht brokerage office.
Our new 80 Metric Ton Travel Lift allows us to haul out and service yachts of considerable size. There is 16,000 square feet of inside storage space and a deep water dock. In addition to our regular carpentry, painting, rigging and mechanical services, we offer a complete machine shop and a modern paint building. Our main shop can accommodate boats up to 120 feet. With a highly skilled and versatile 60+ man crew, Brooklin Boat Yard offers the yacht owner a "one-stop shopping" destination for any project large or small.
Brooklin Boat Yard custom-built boats are built to be strong and long lasting. In 1979 we started using the WEST system epoxies as a construction method and in 1981 we began vacuum bagging our laminates. This is now a common and time-saving practice here. We believe that this system produces an exceptionally light and stiff hull. Today the majority of our new construction projects are cold molded, with an occasional hull still being traditionally planked.
Many of the boats built at Brooklin Boat Yard have been designed by BBY founder Joel White. Other new boats built here have come from the drawing boards of some of the world's leading yacht designers such as Sparkman & Stephens, Dieter Empacher, Alden Yacht Design, Stephens Waring Yacht Design and now Hunt Design Associates. We continue to maintain a design office here at the yard as several employees of the company are qualified yacht designers in their own right. Having qualified designers on-site is a tremendous resource in support of the various projects.
Our crew represents the finest craftsmen in the state. They are committed to building the best boats for our customers, on time and on budget. Brooklin Boat Yard has built well over eighty boats since our start in 1960.
Return to Yachts for Sale
Get more information