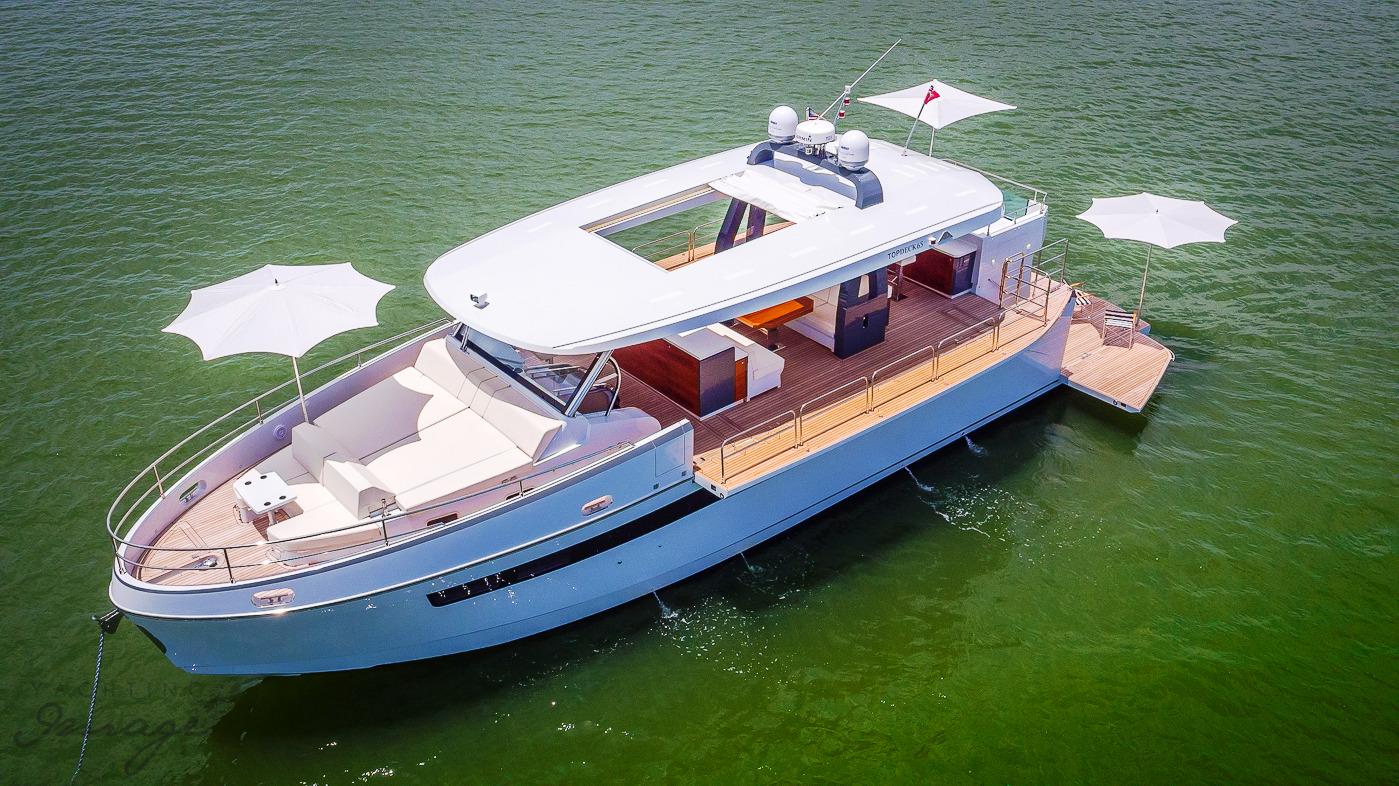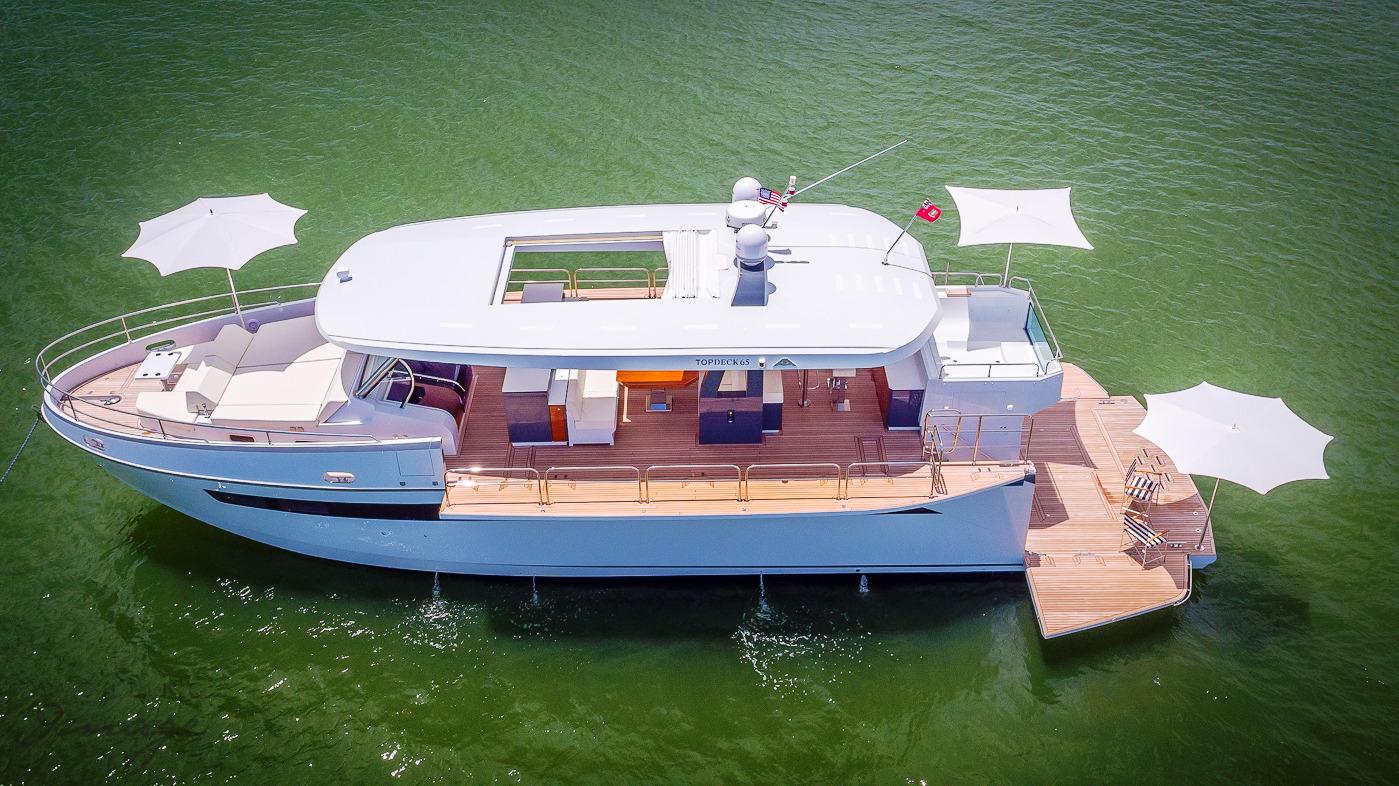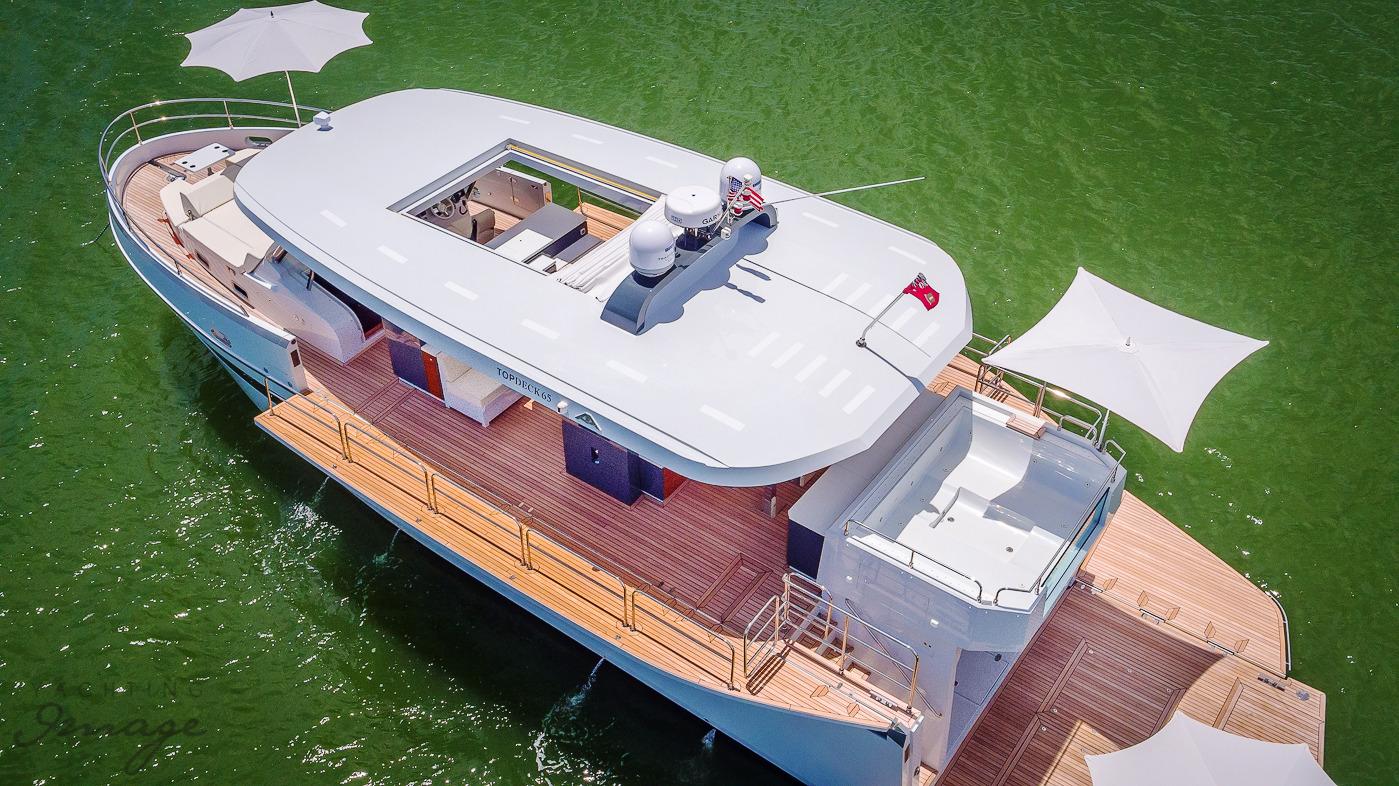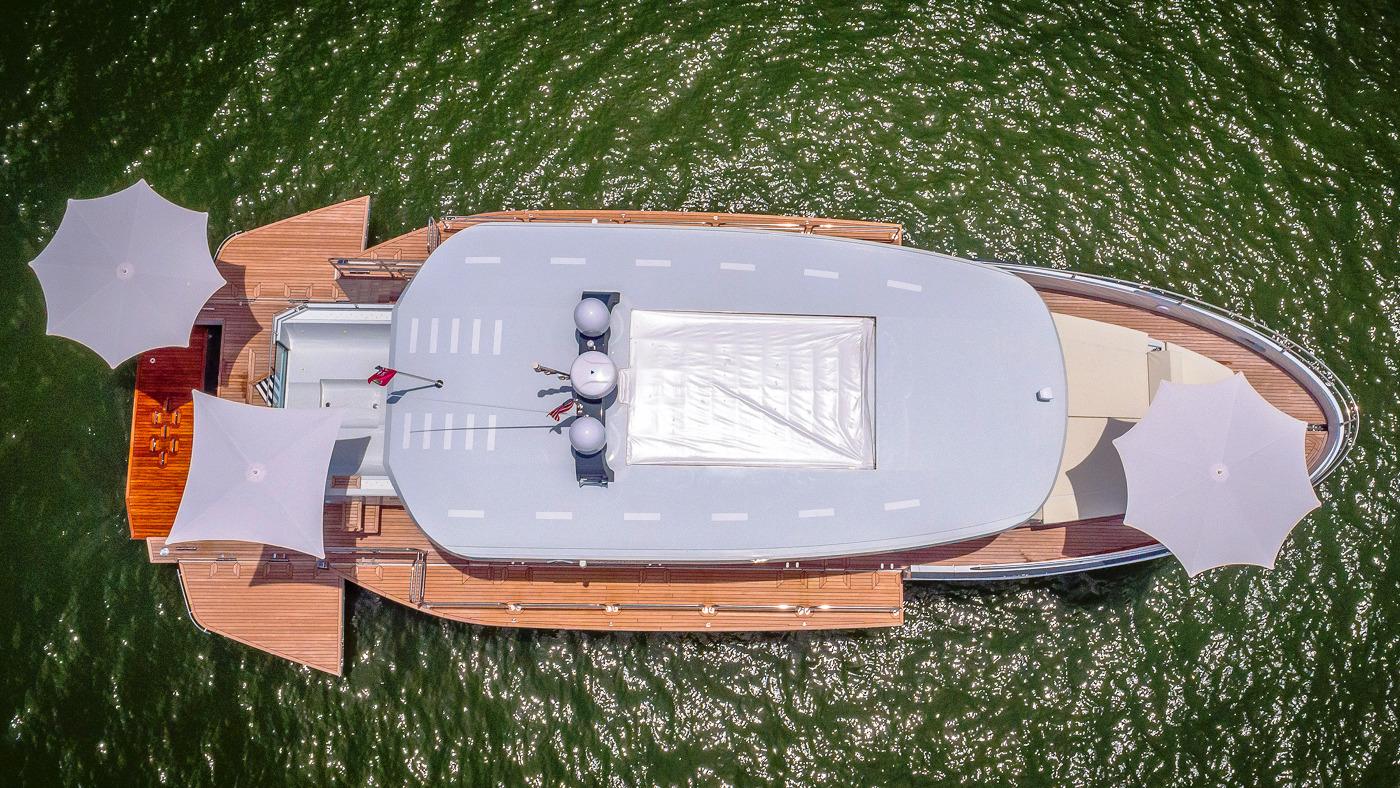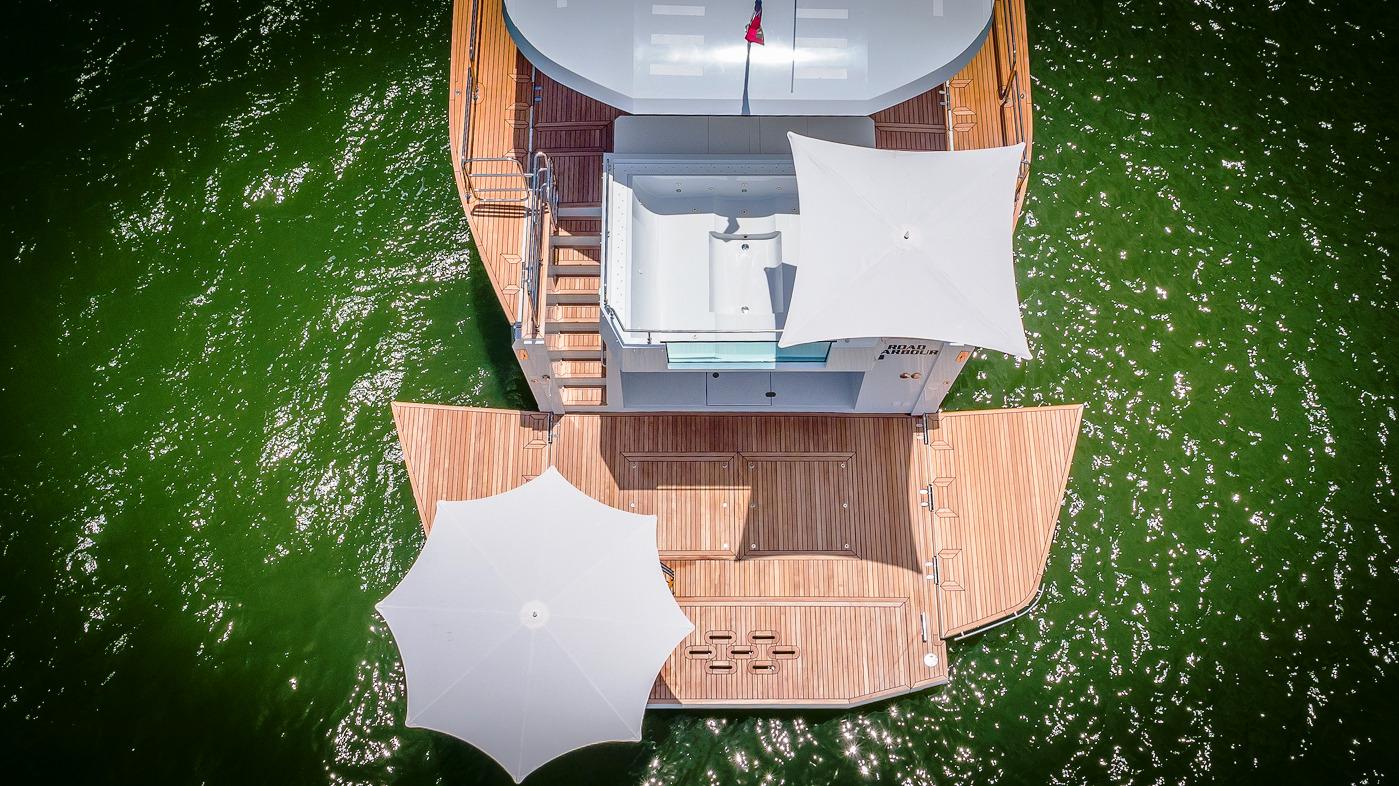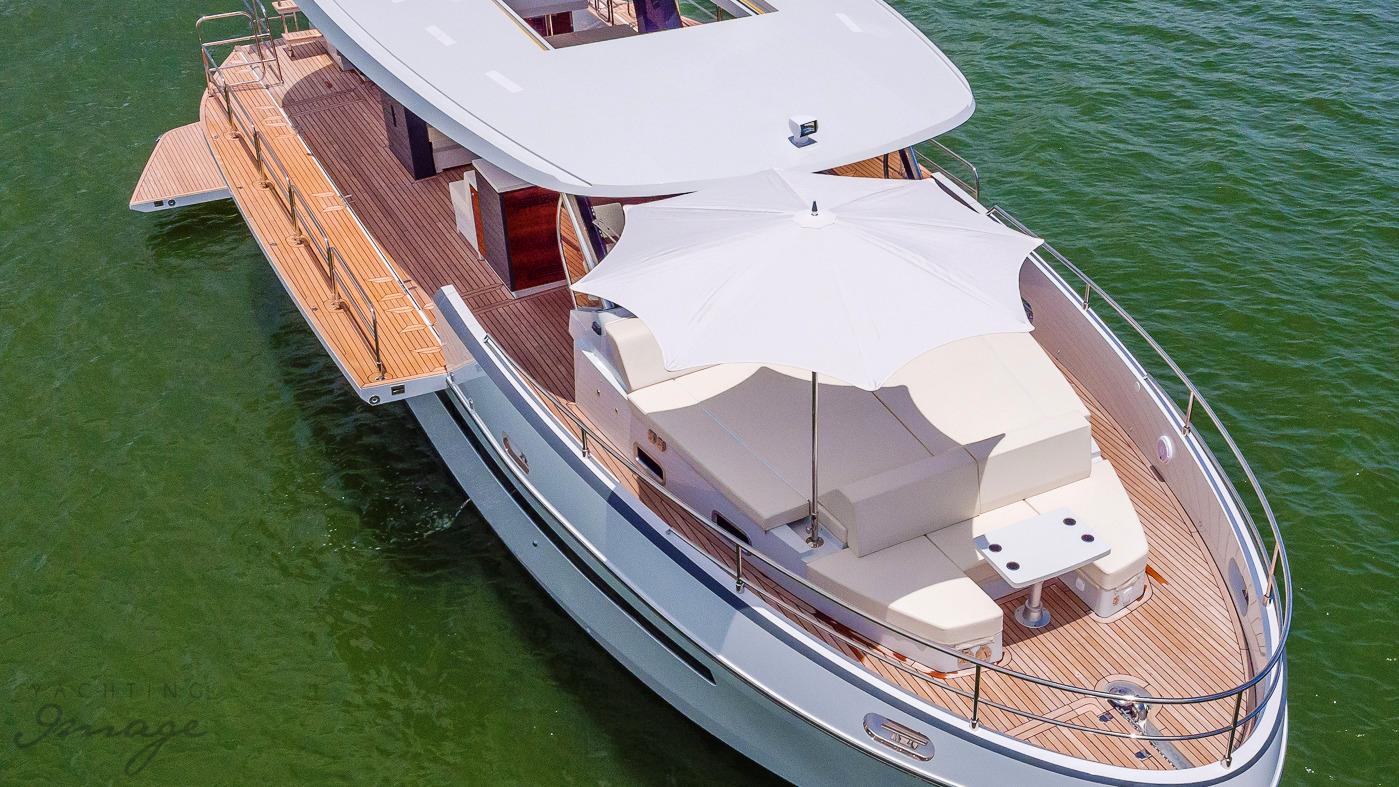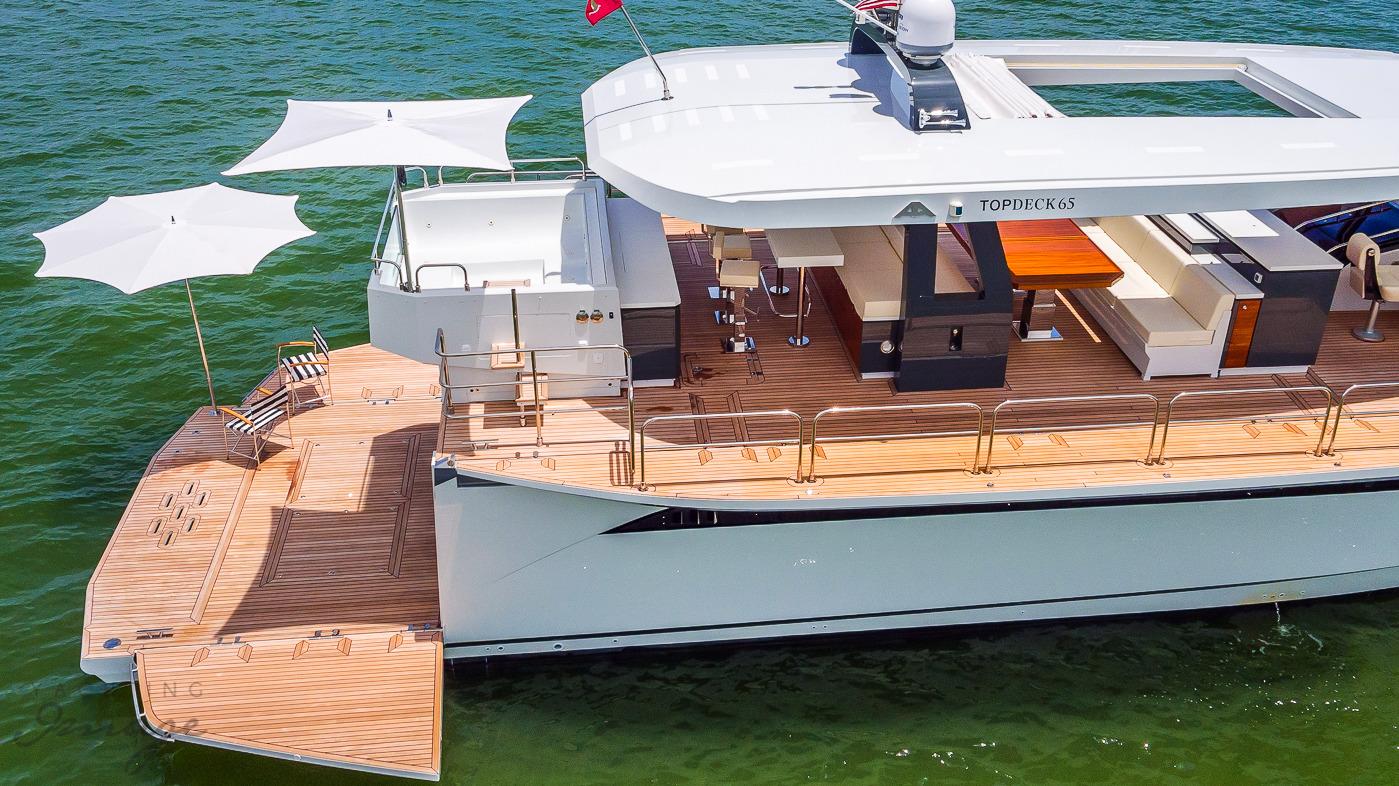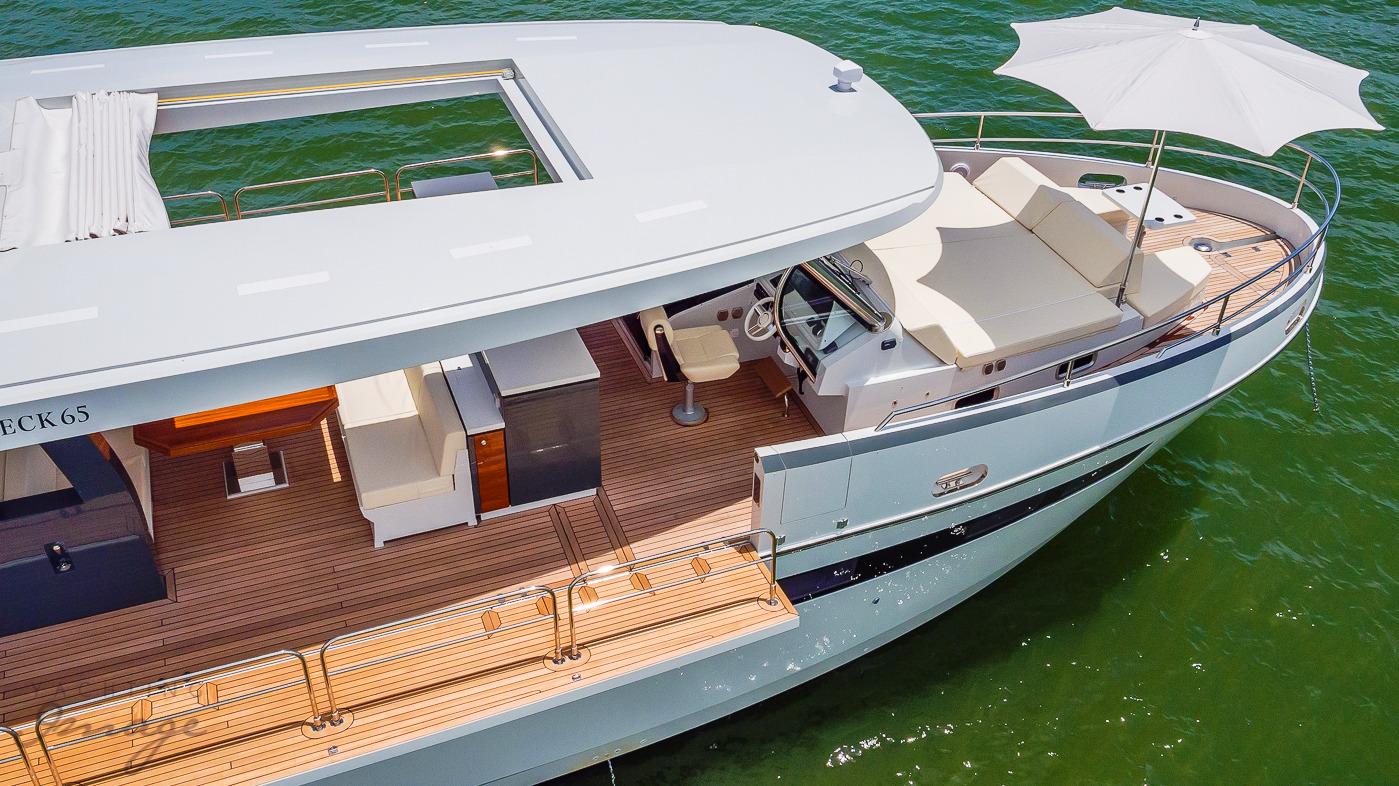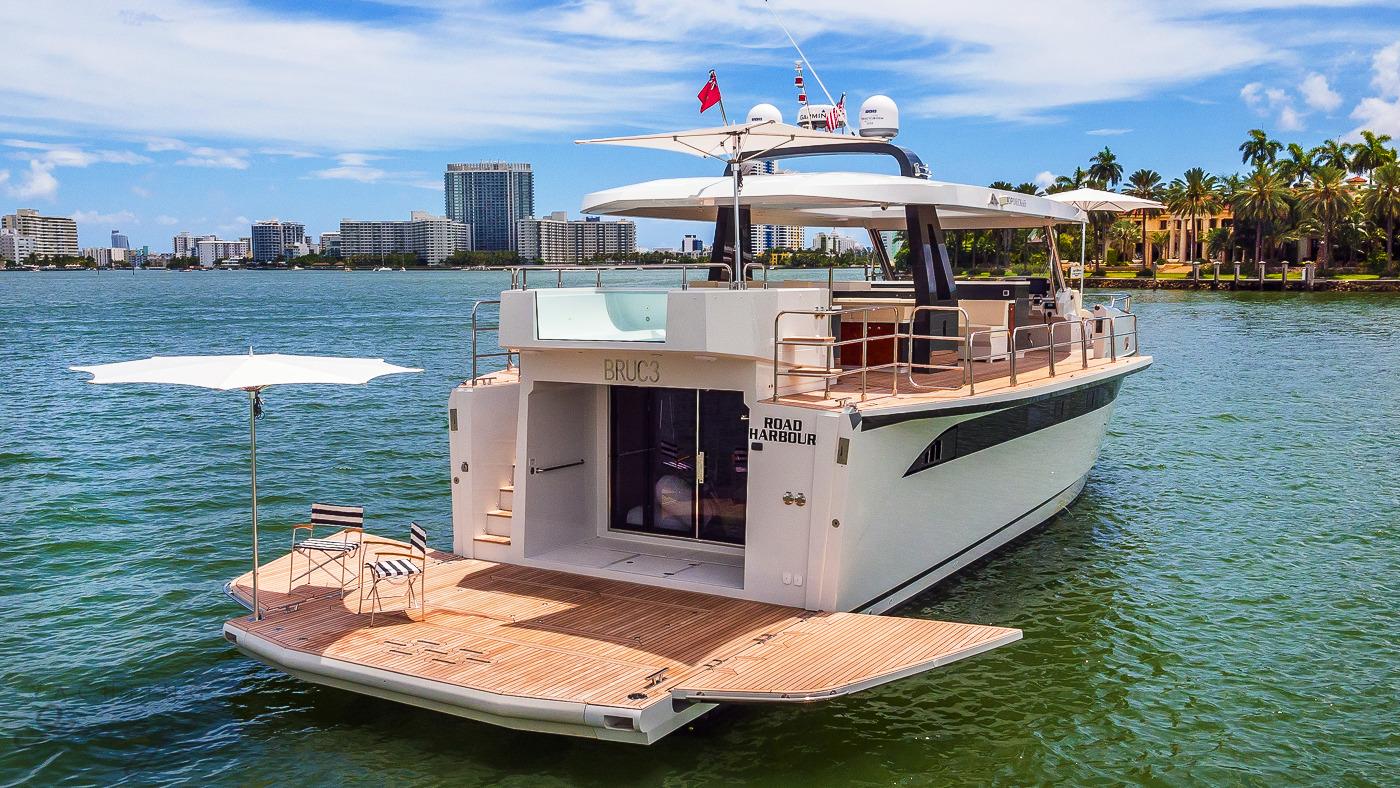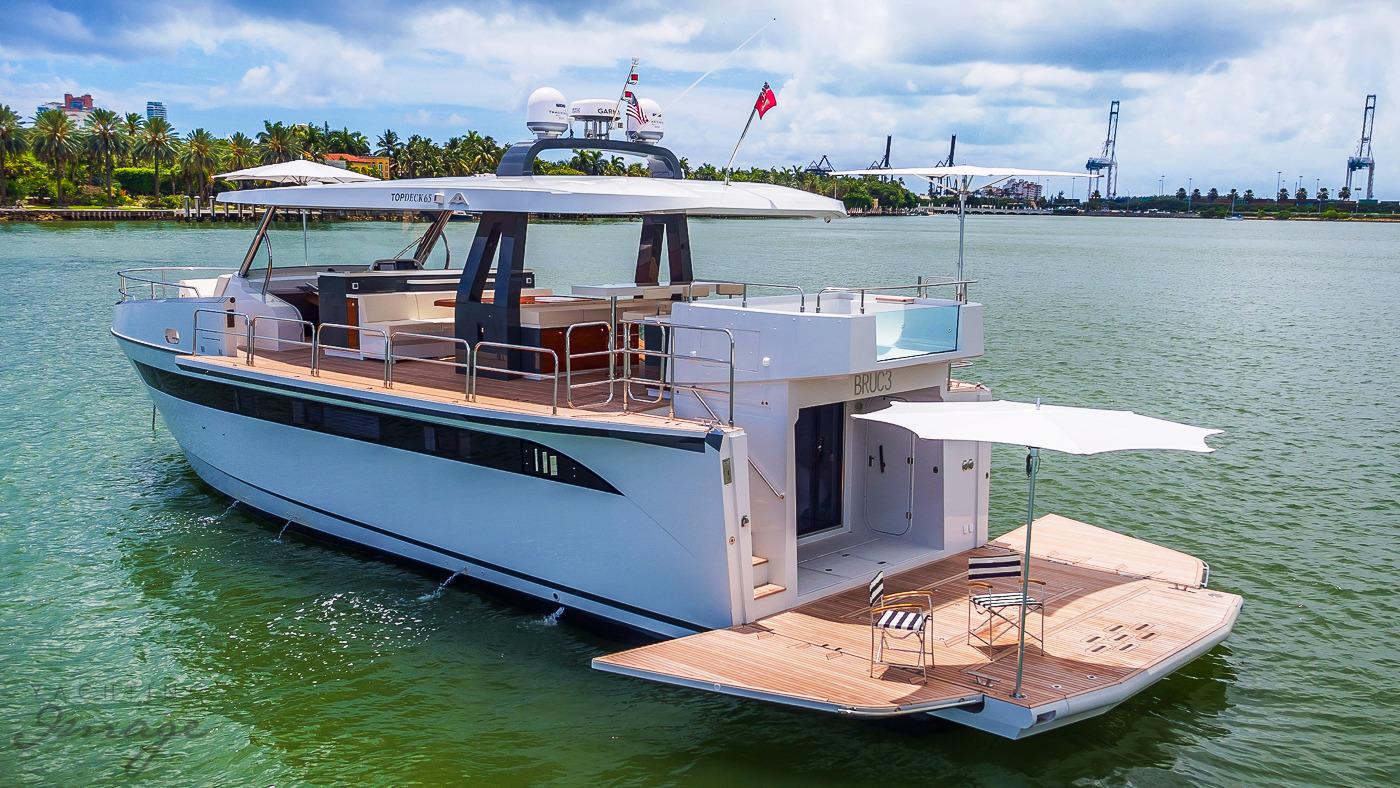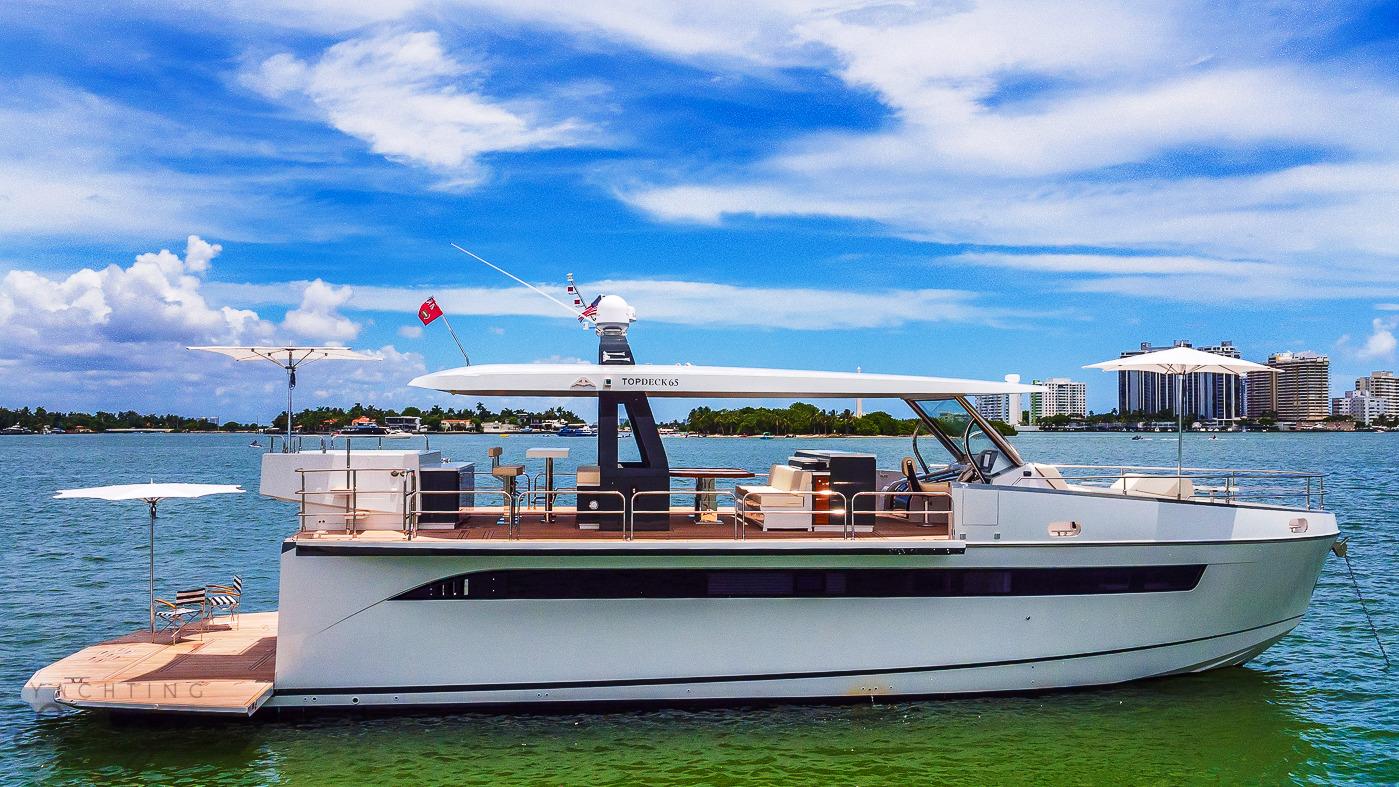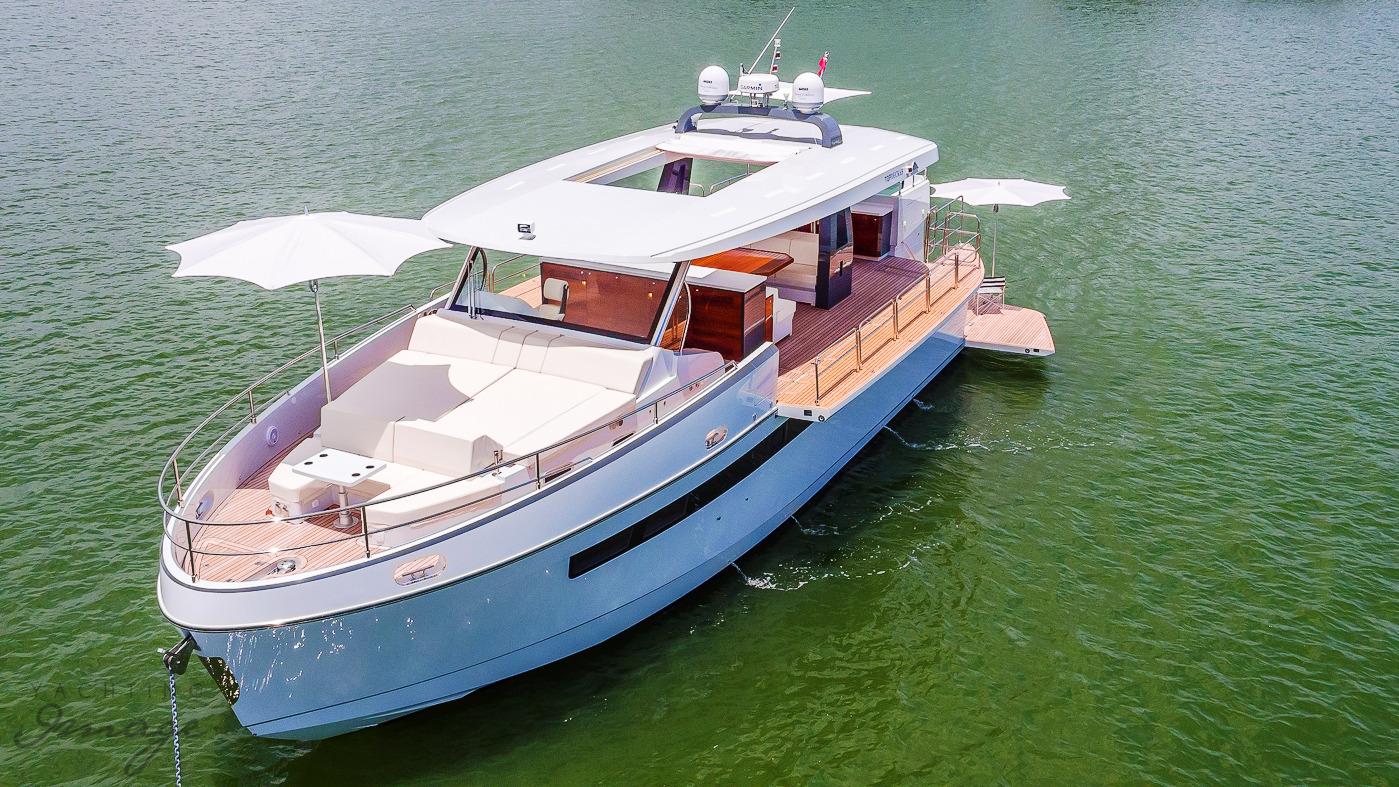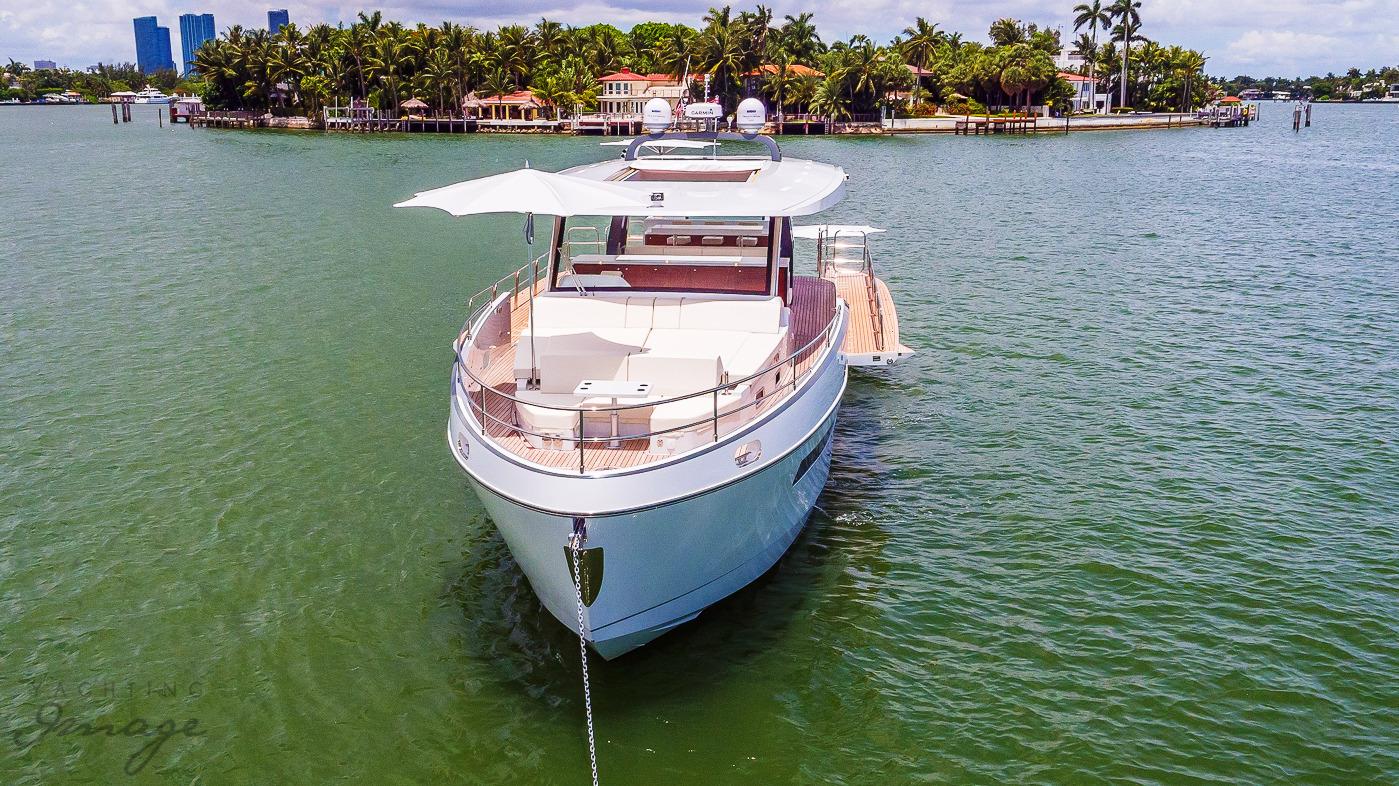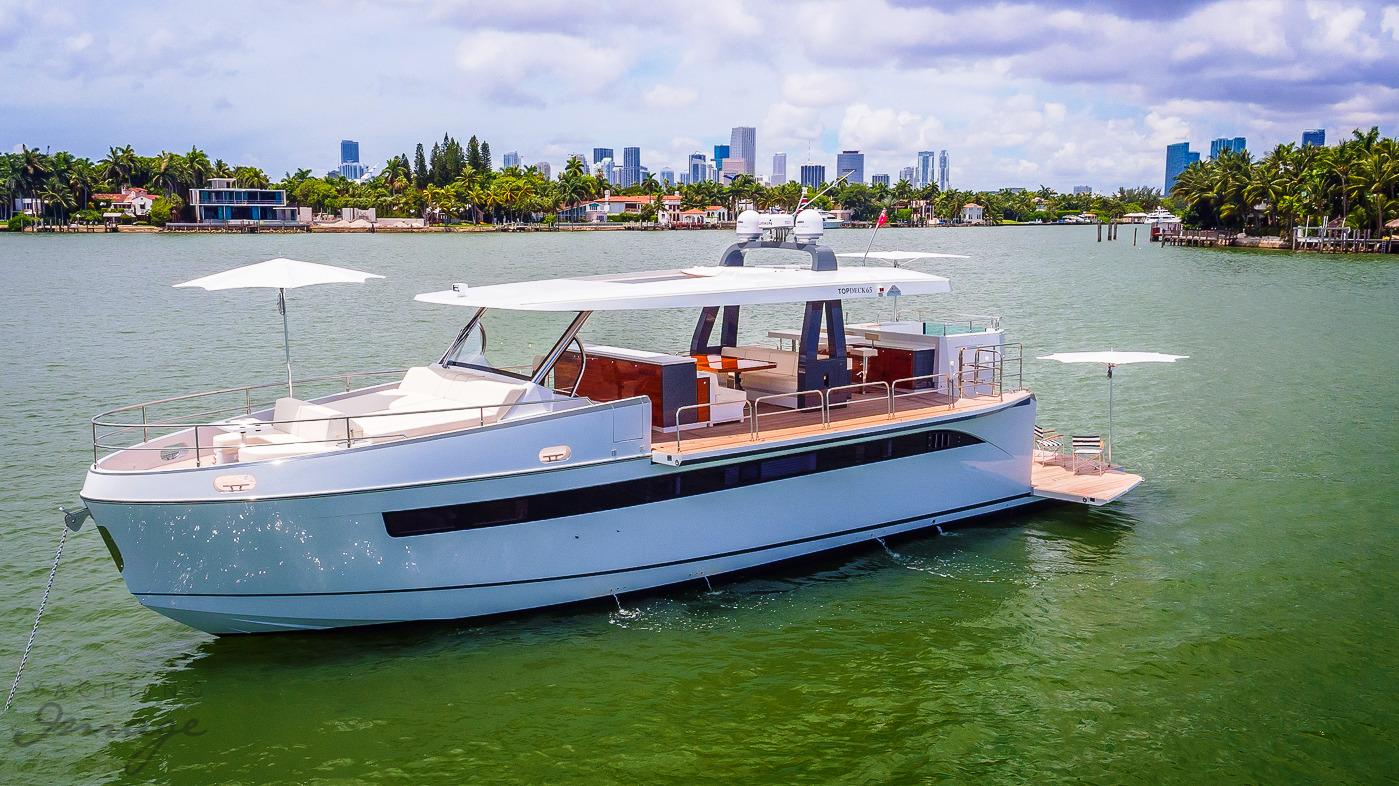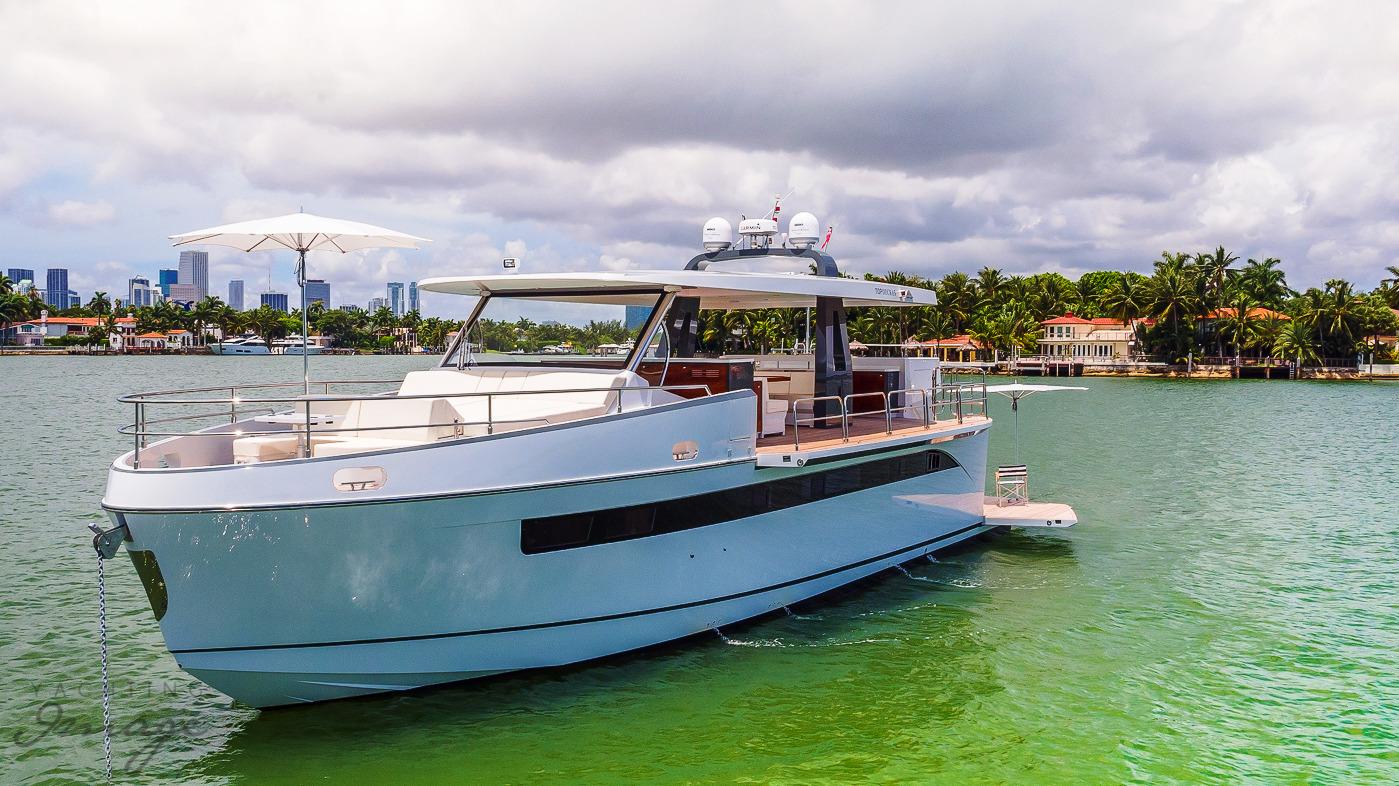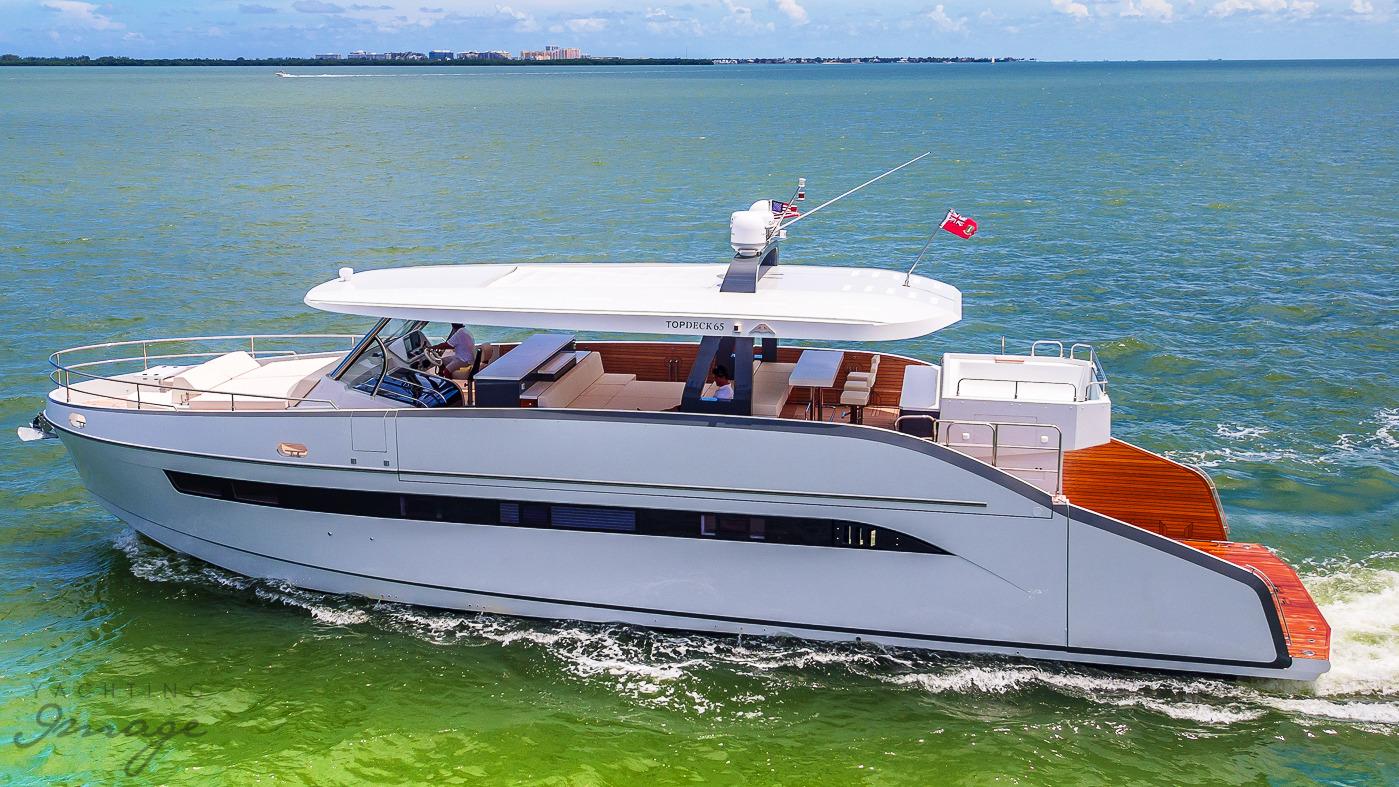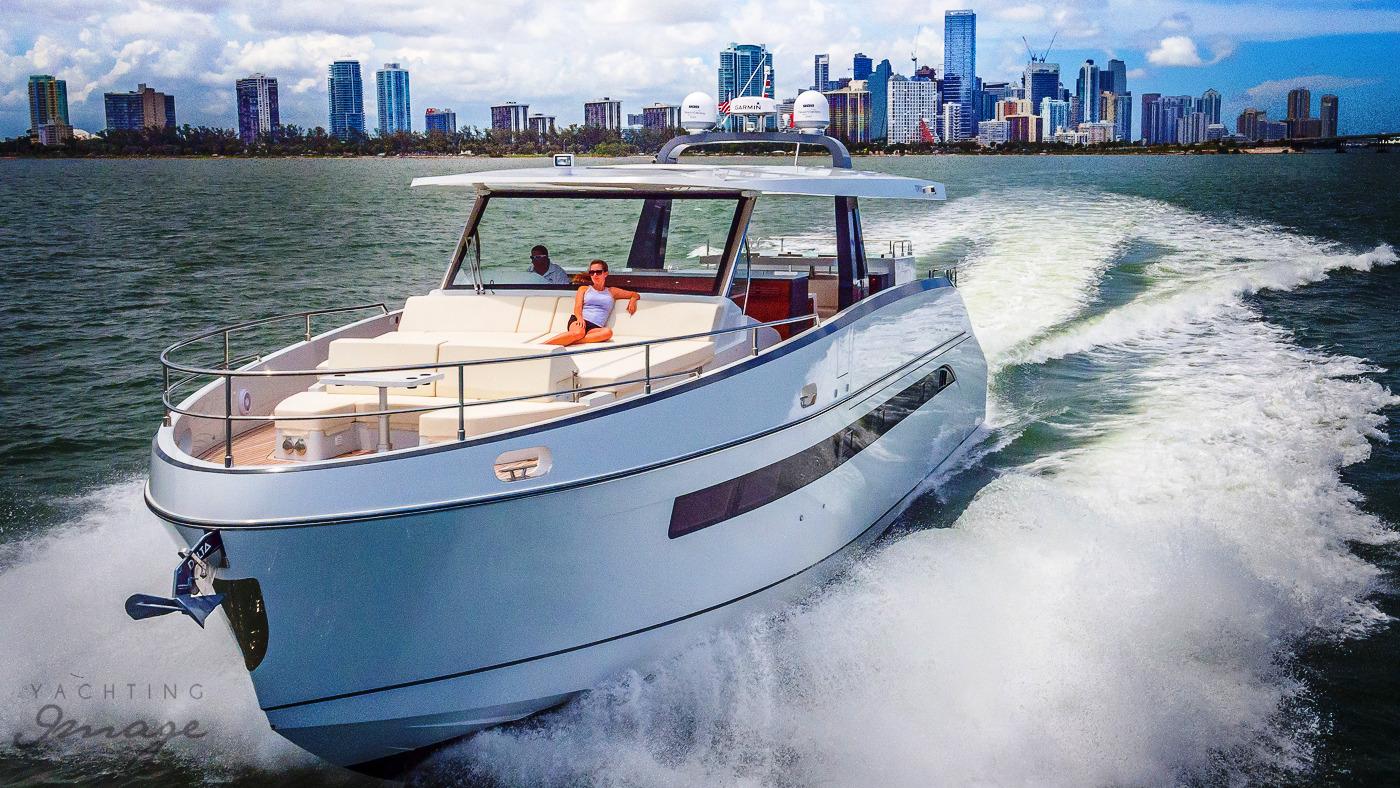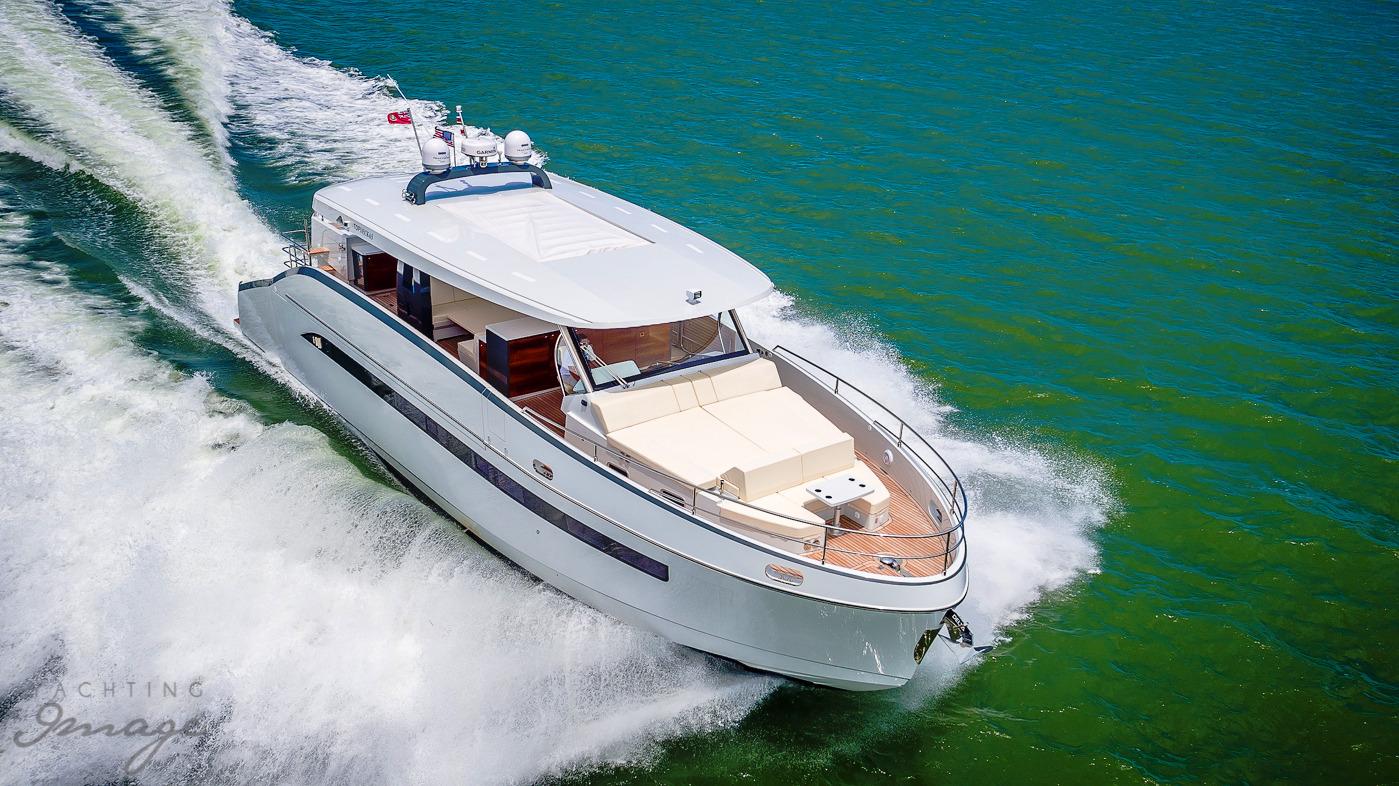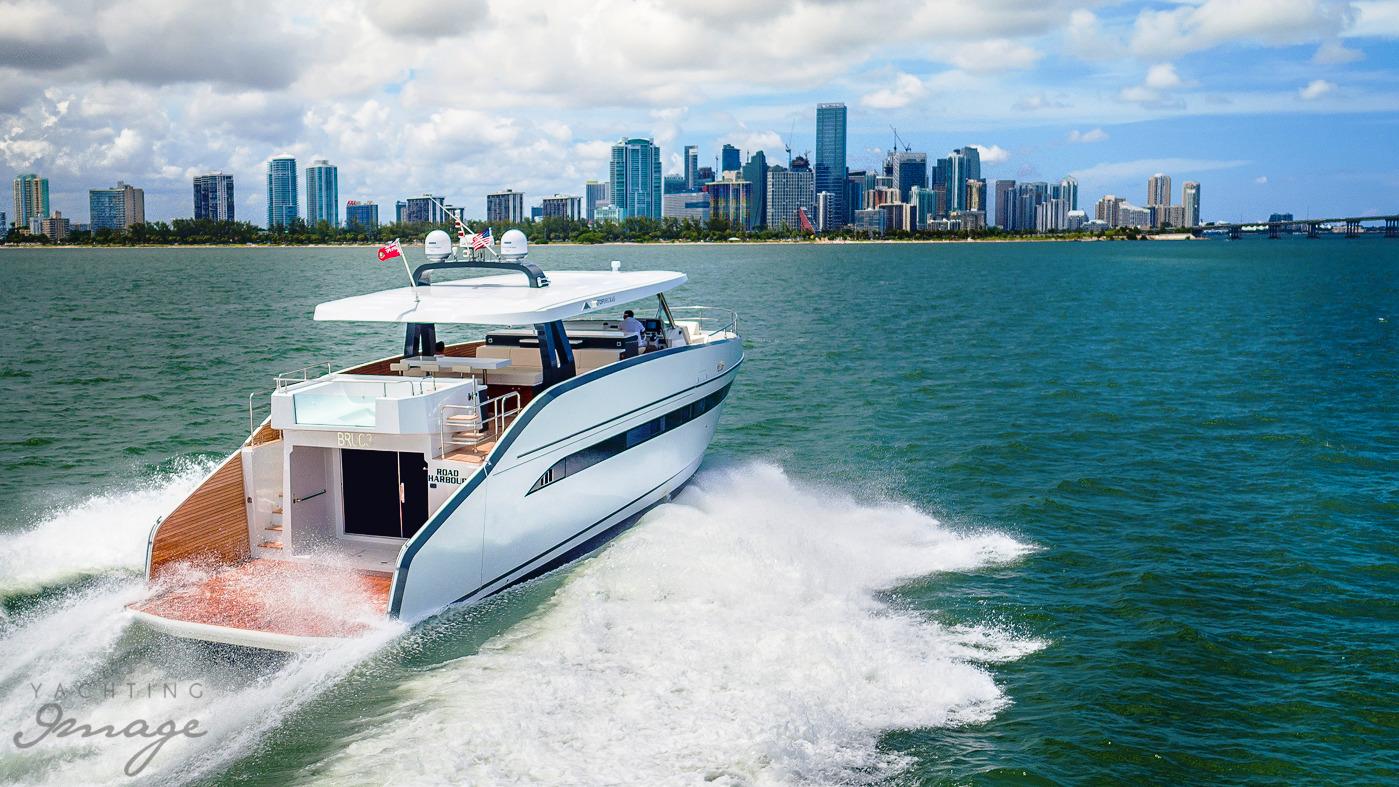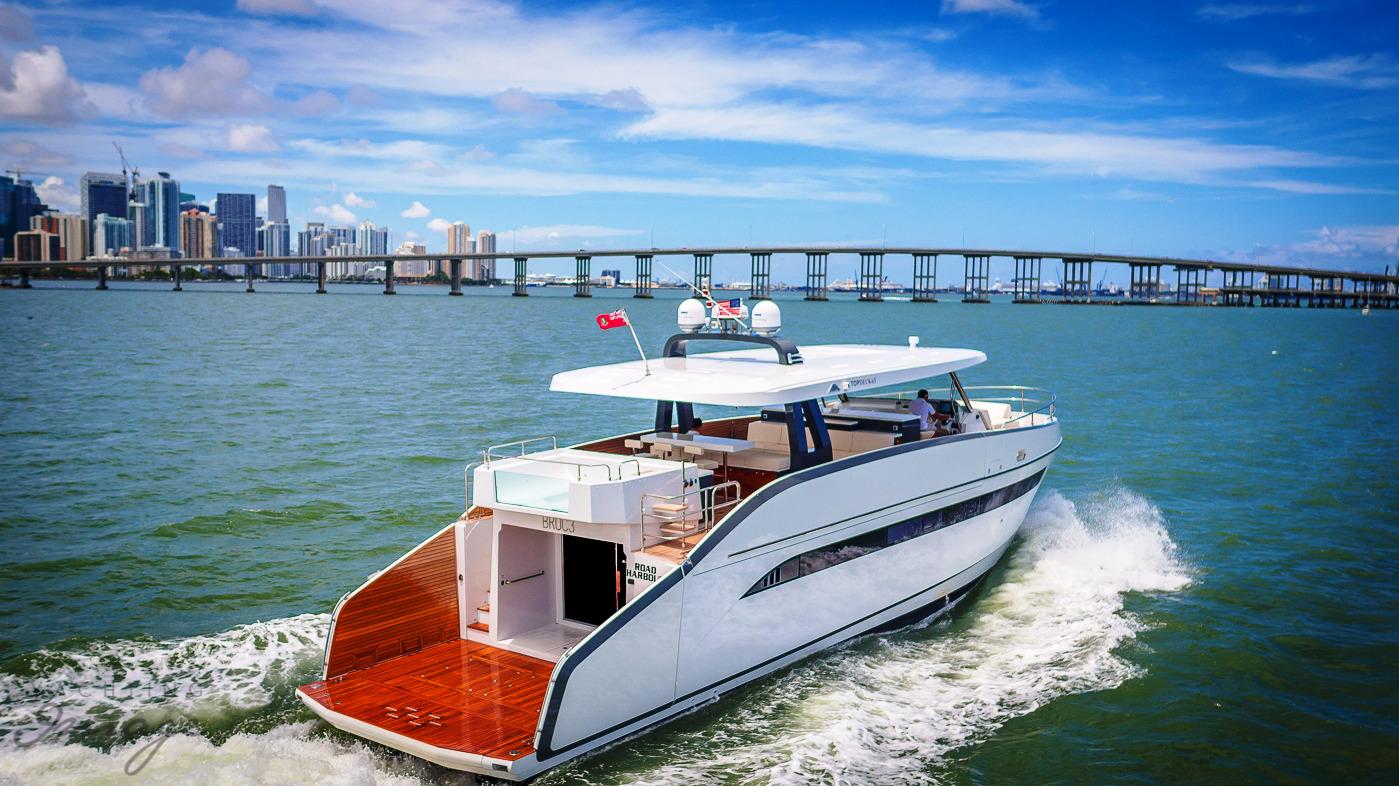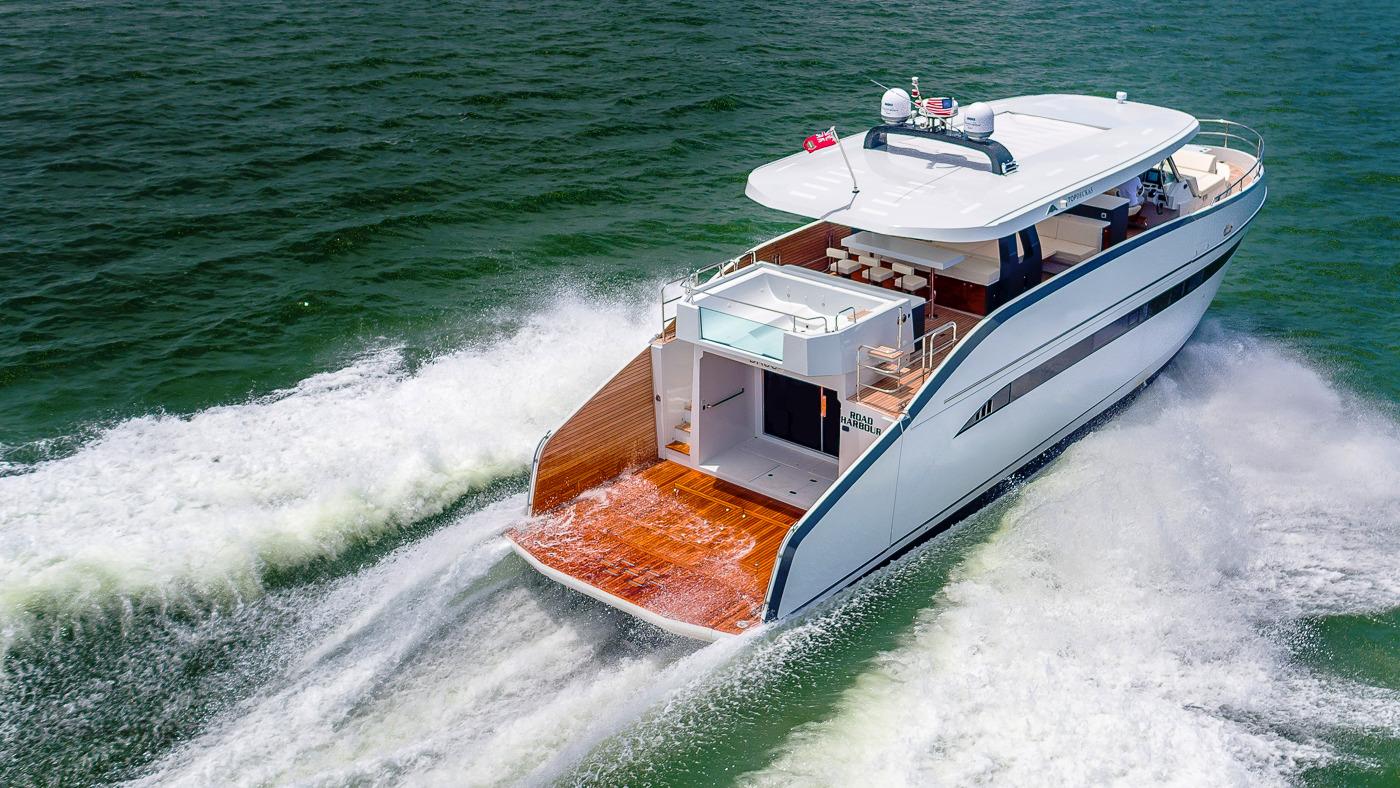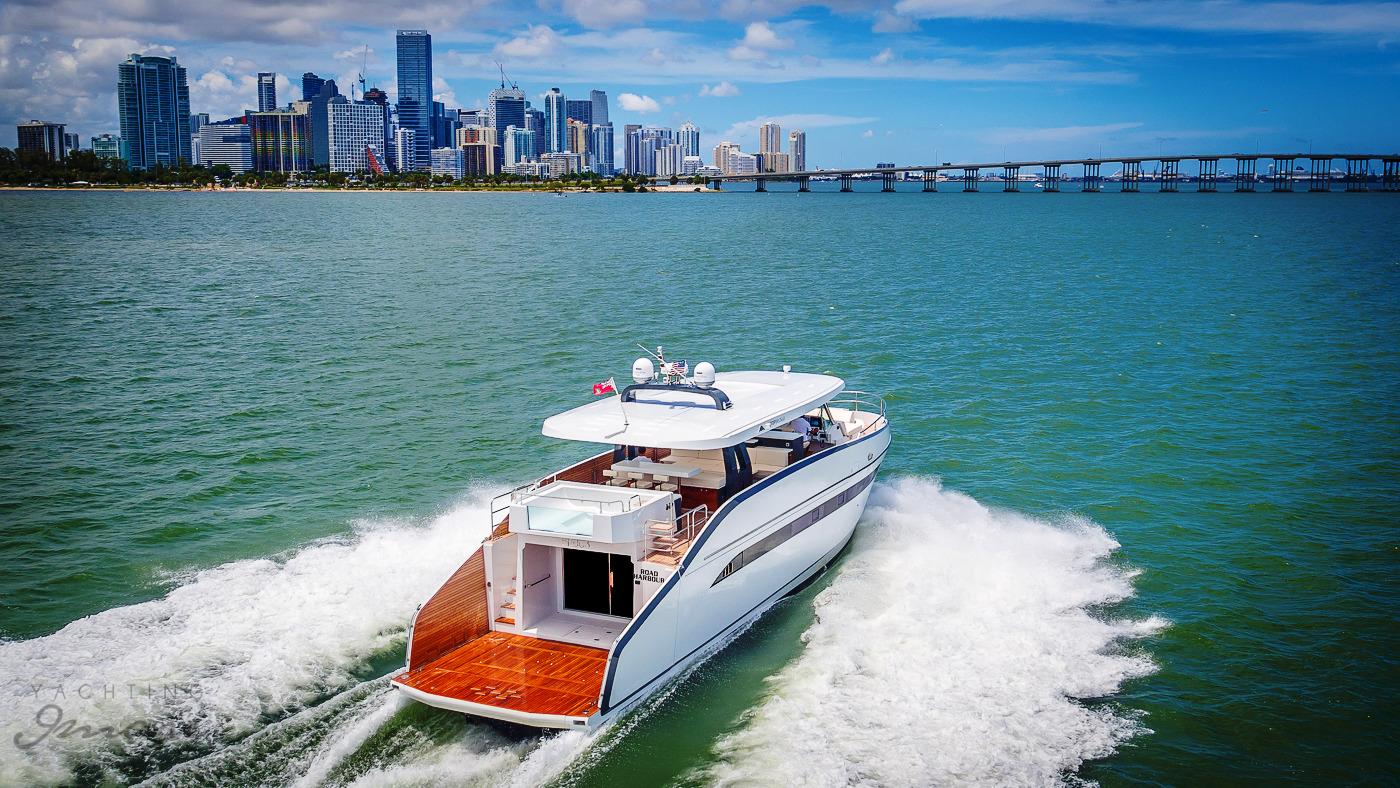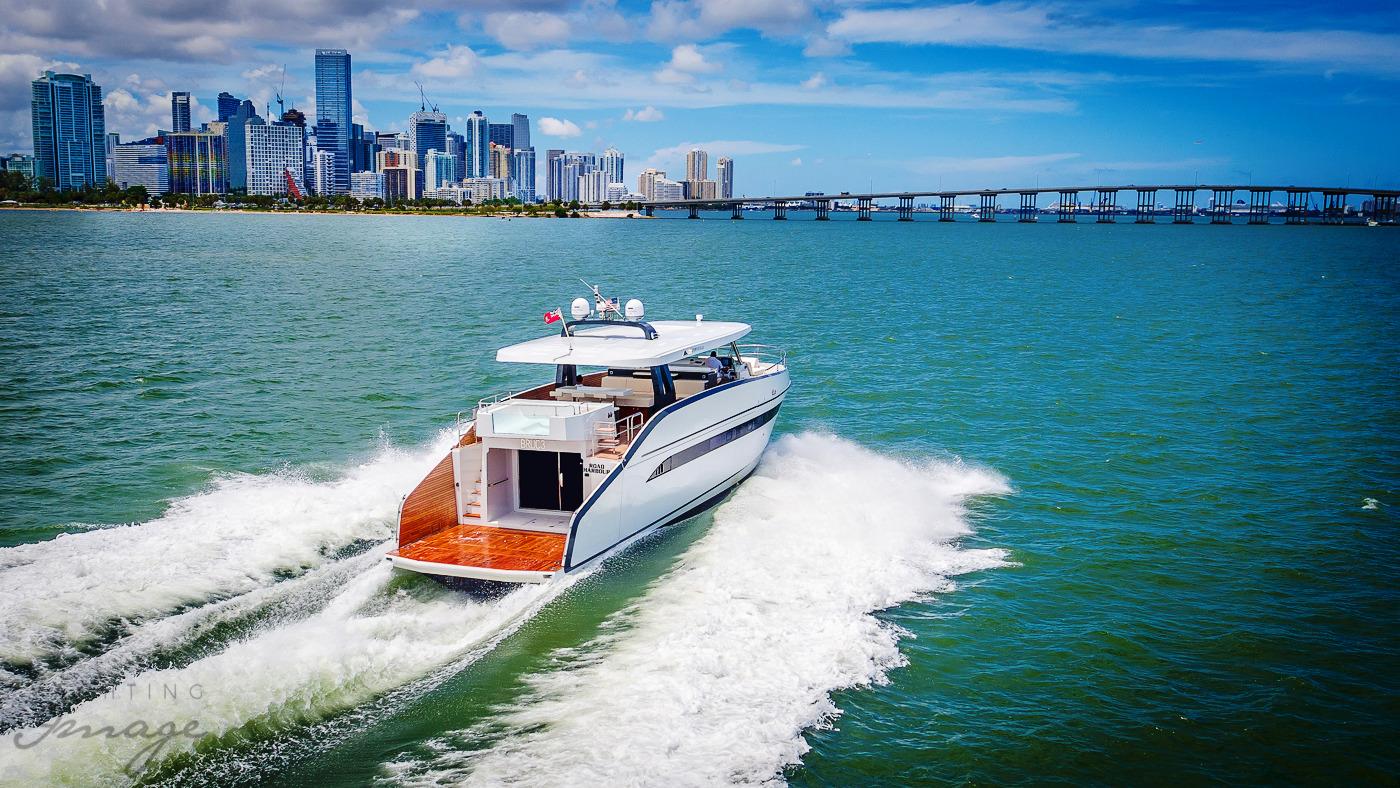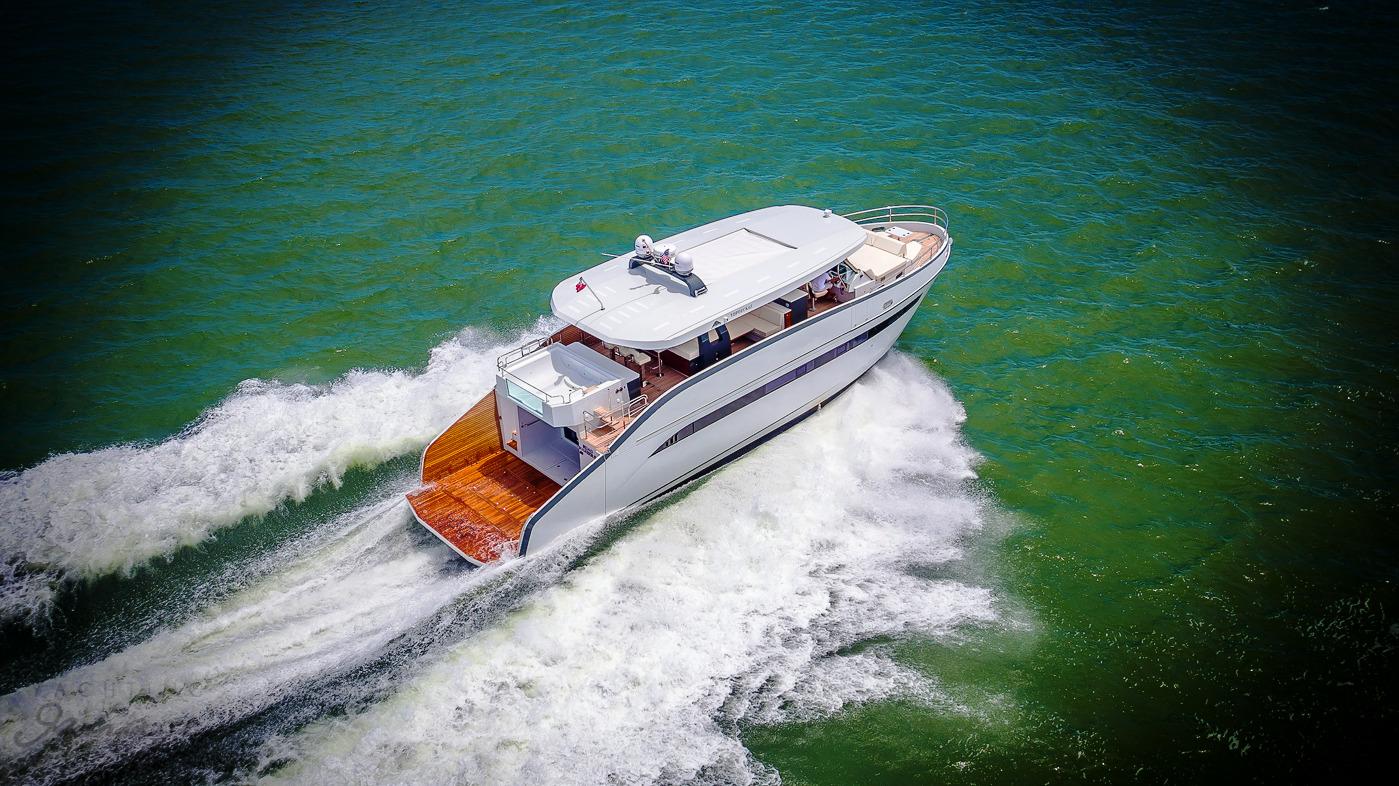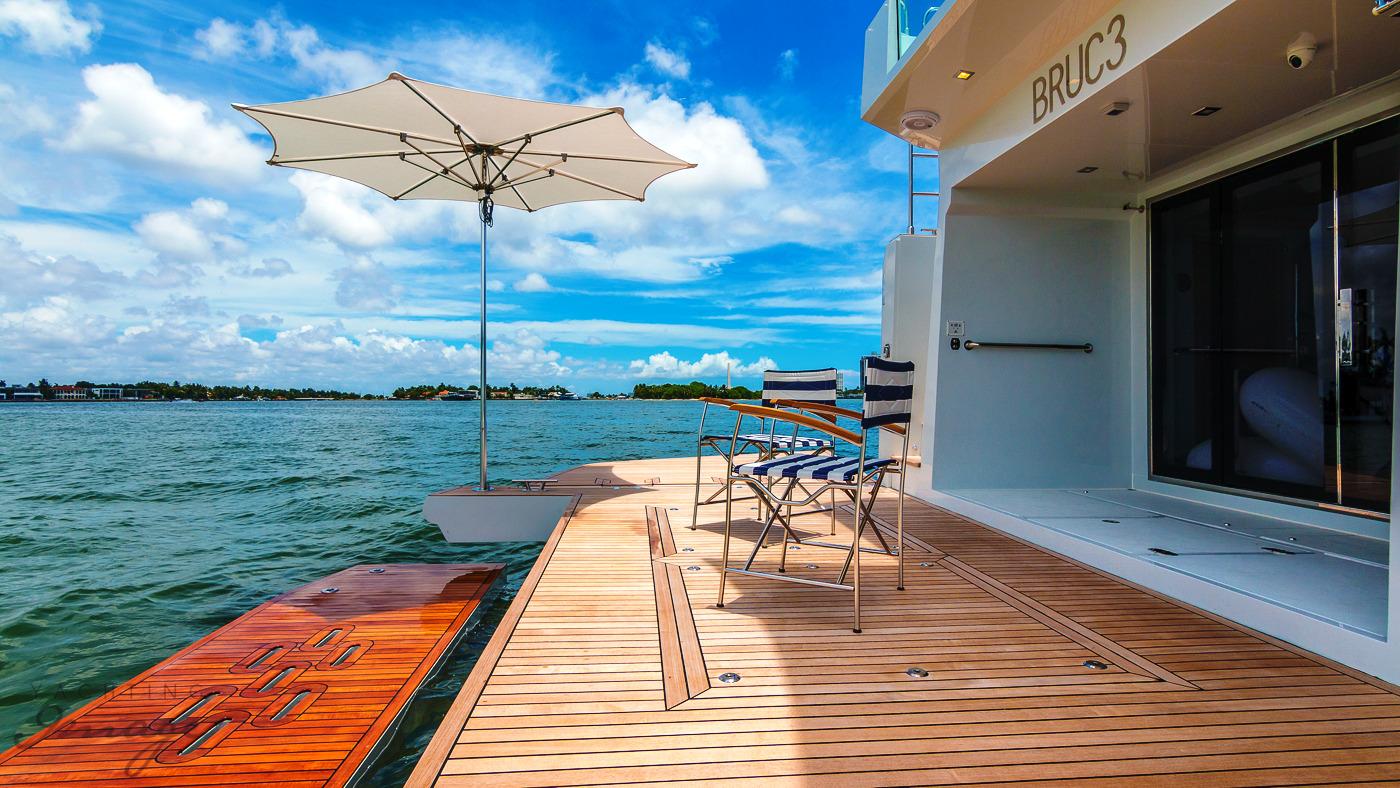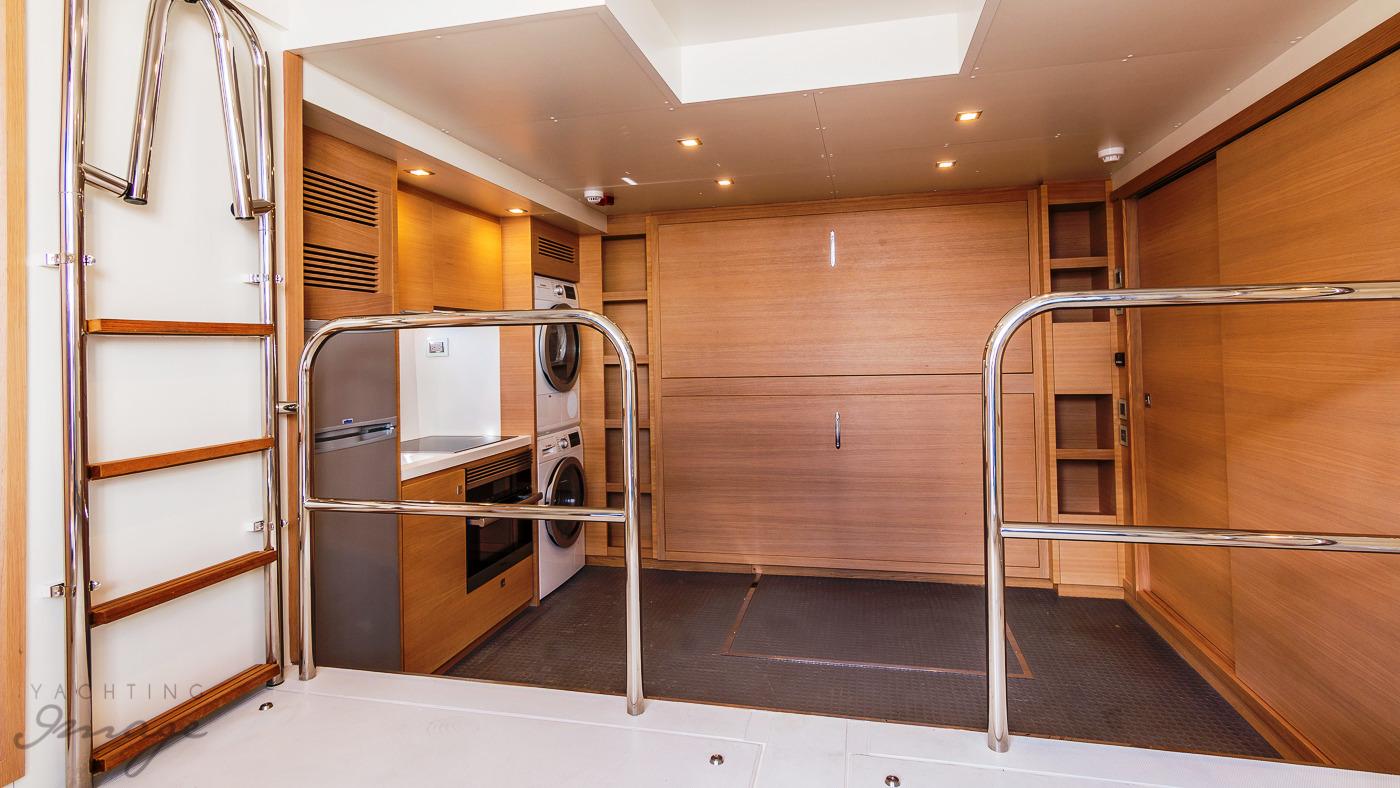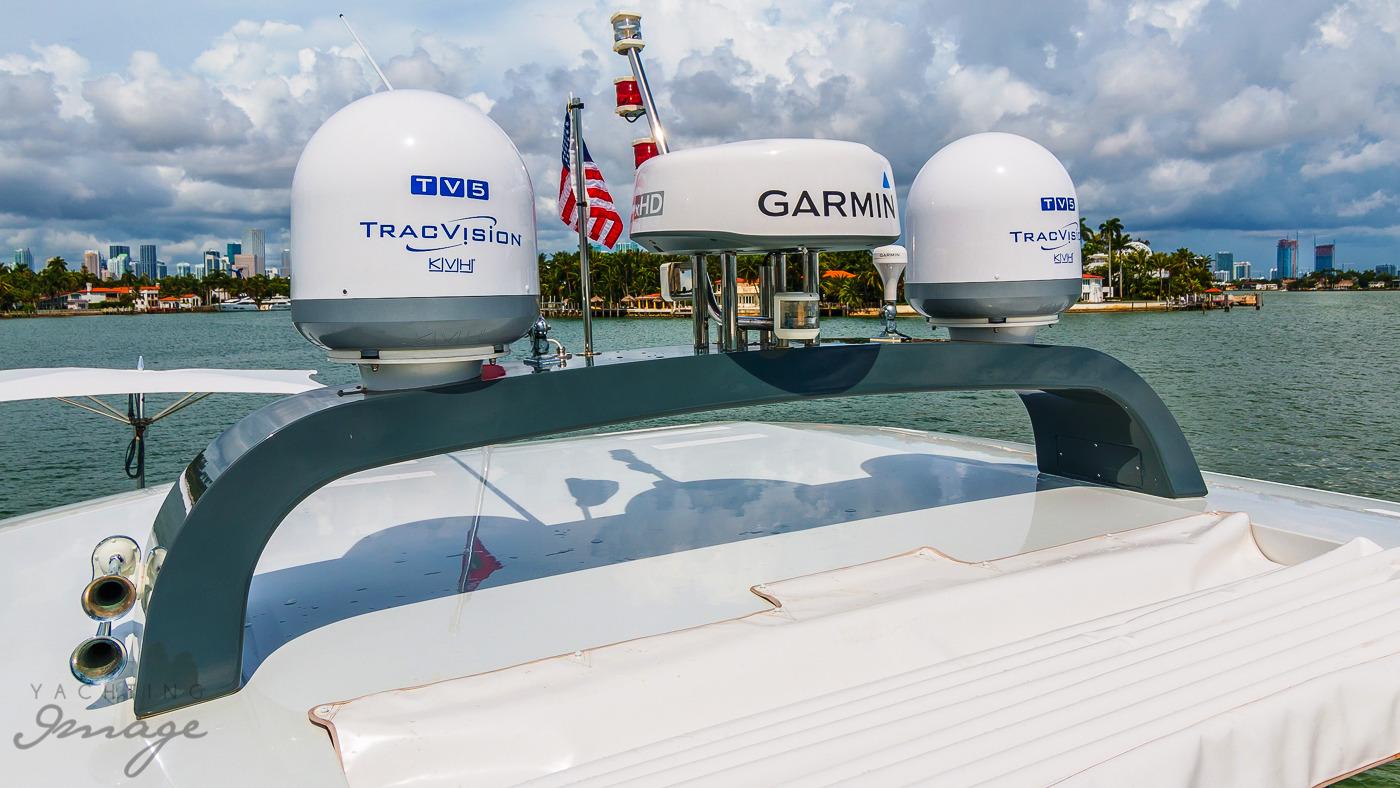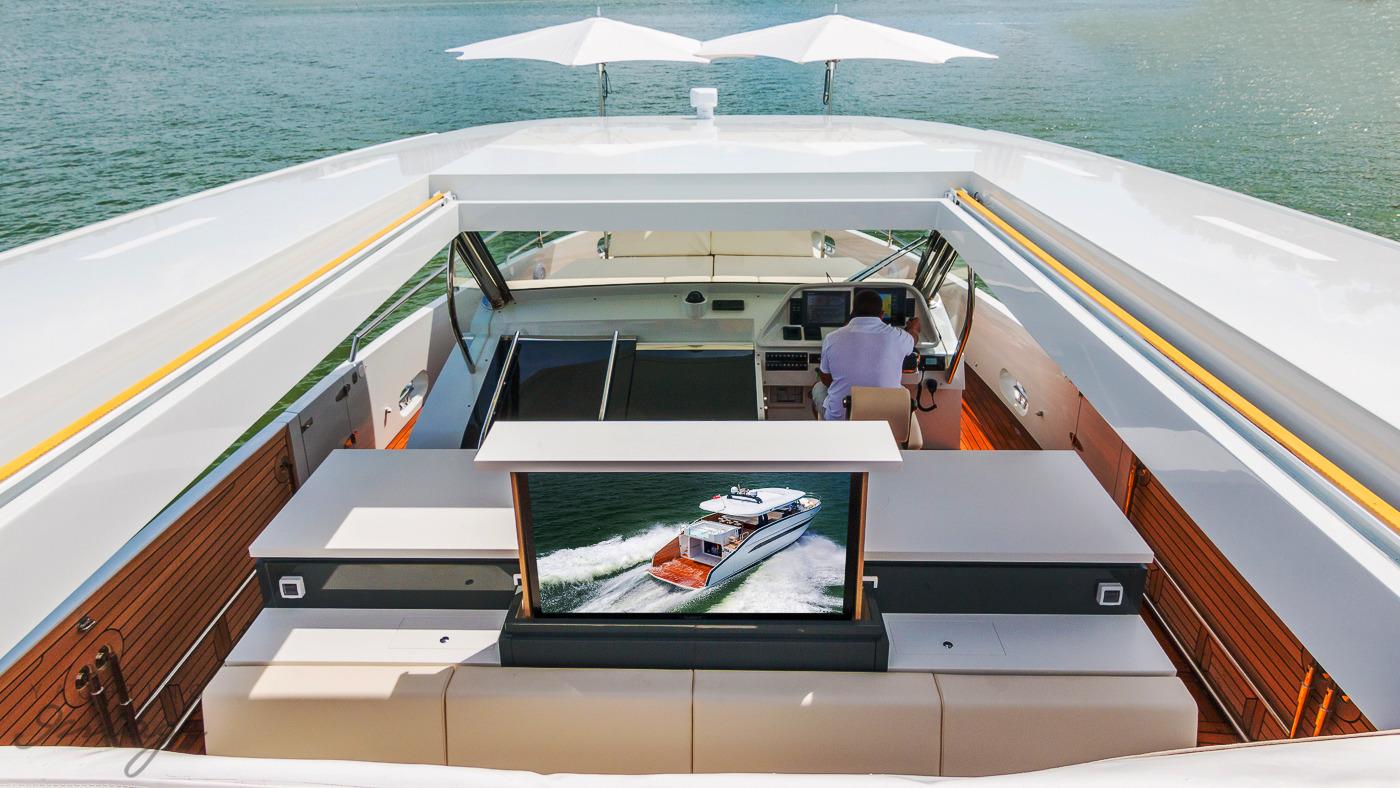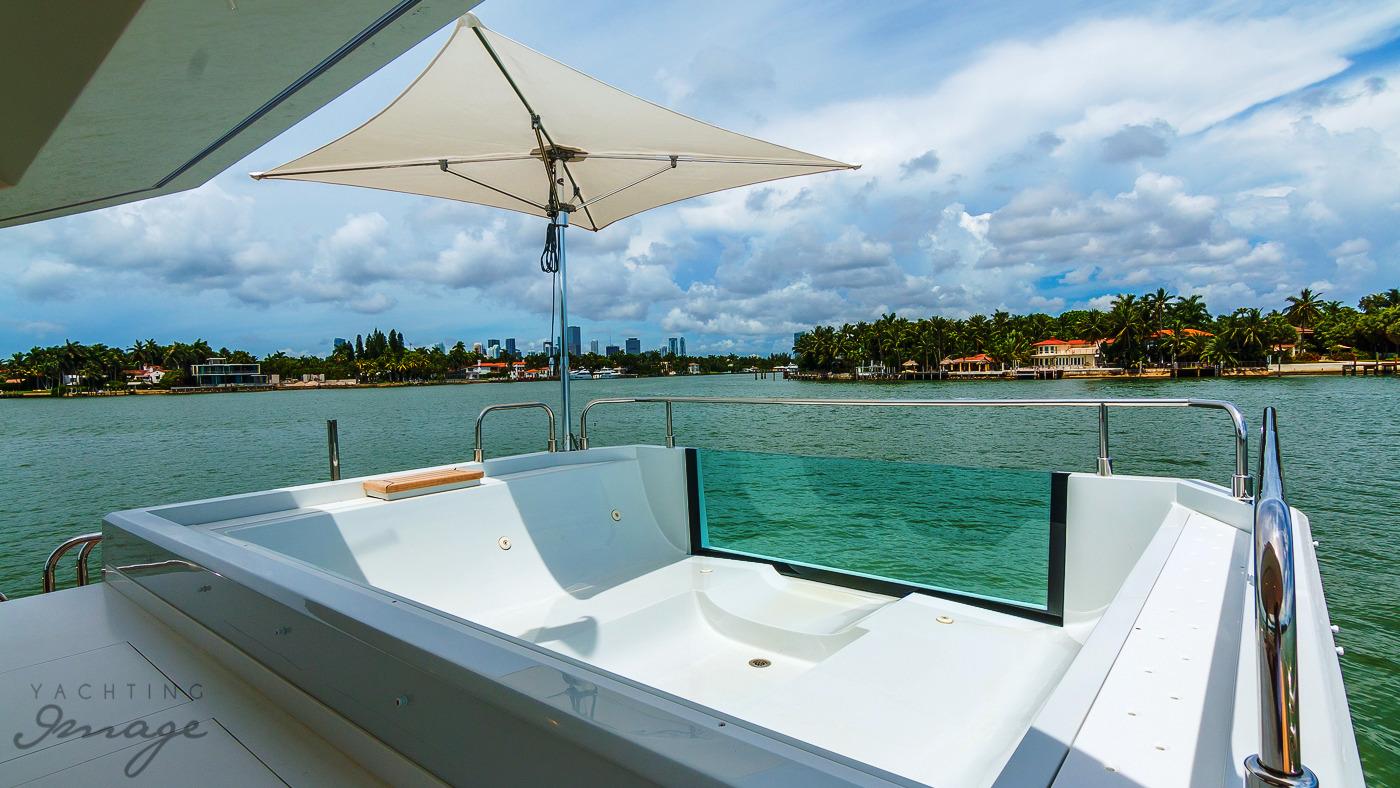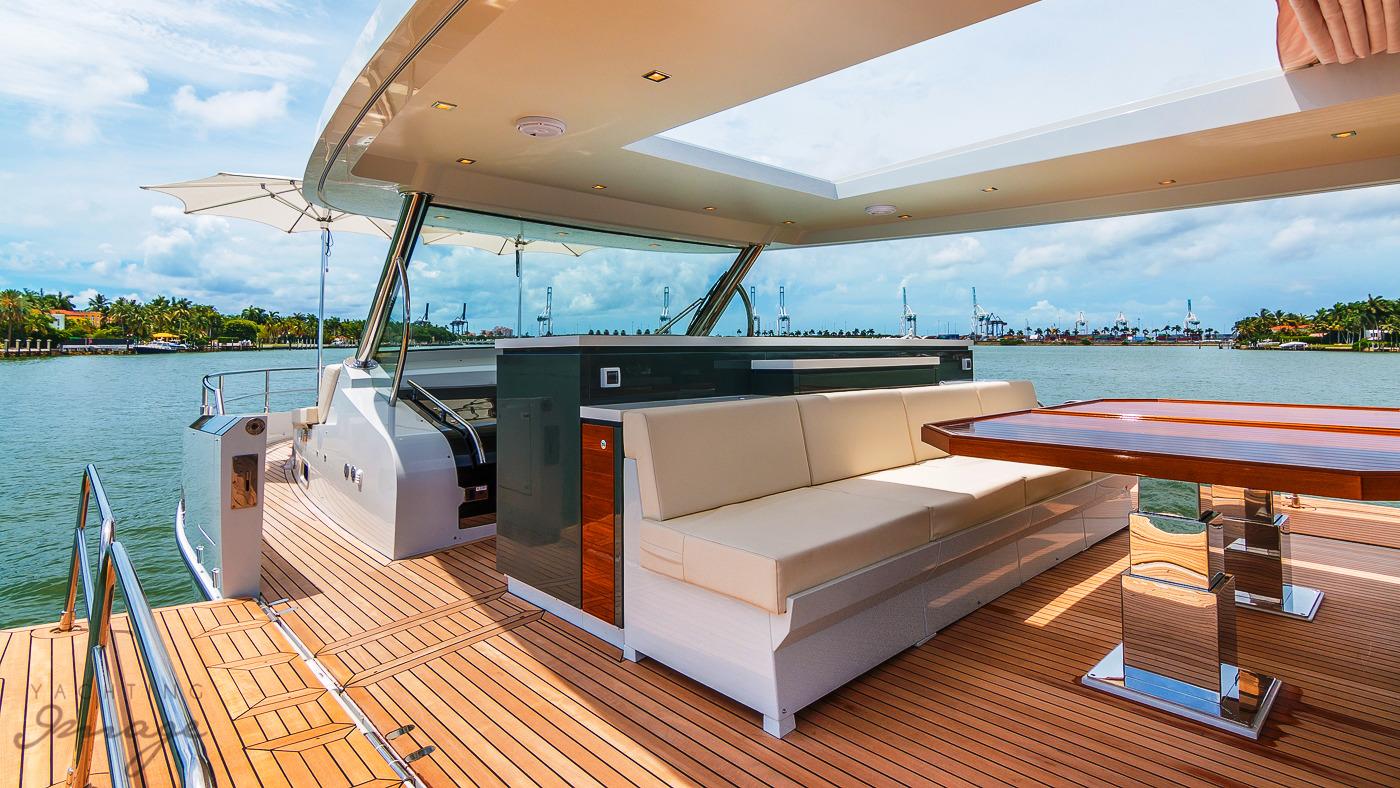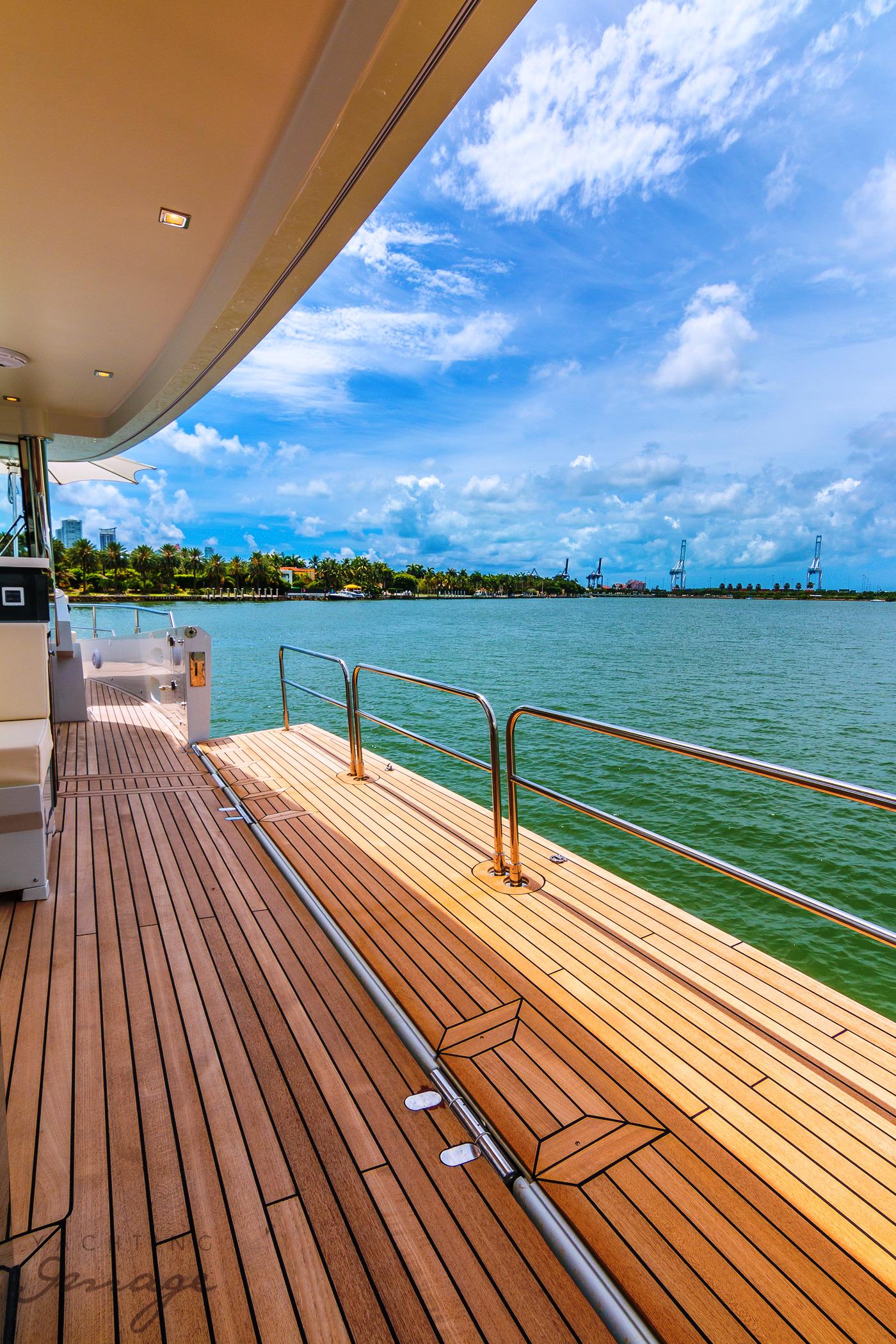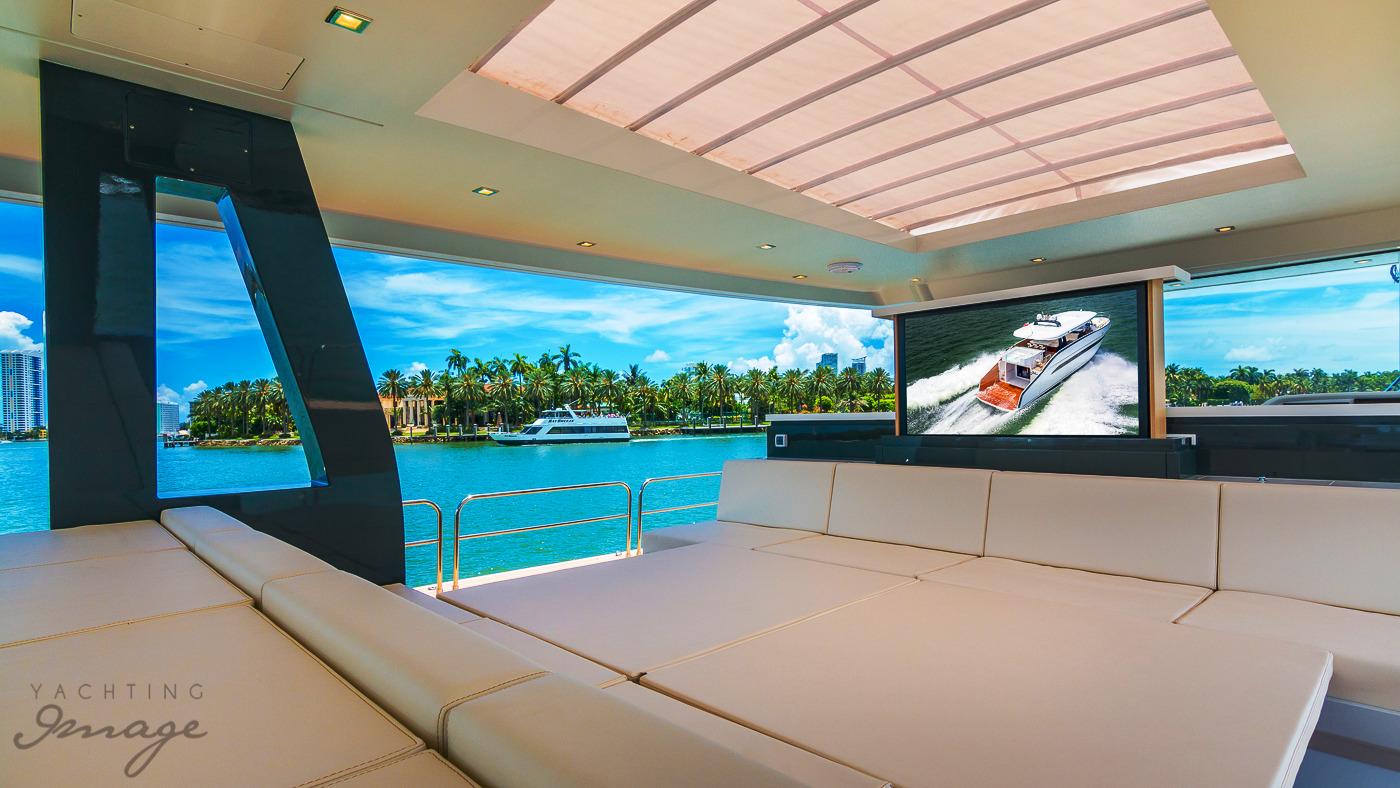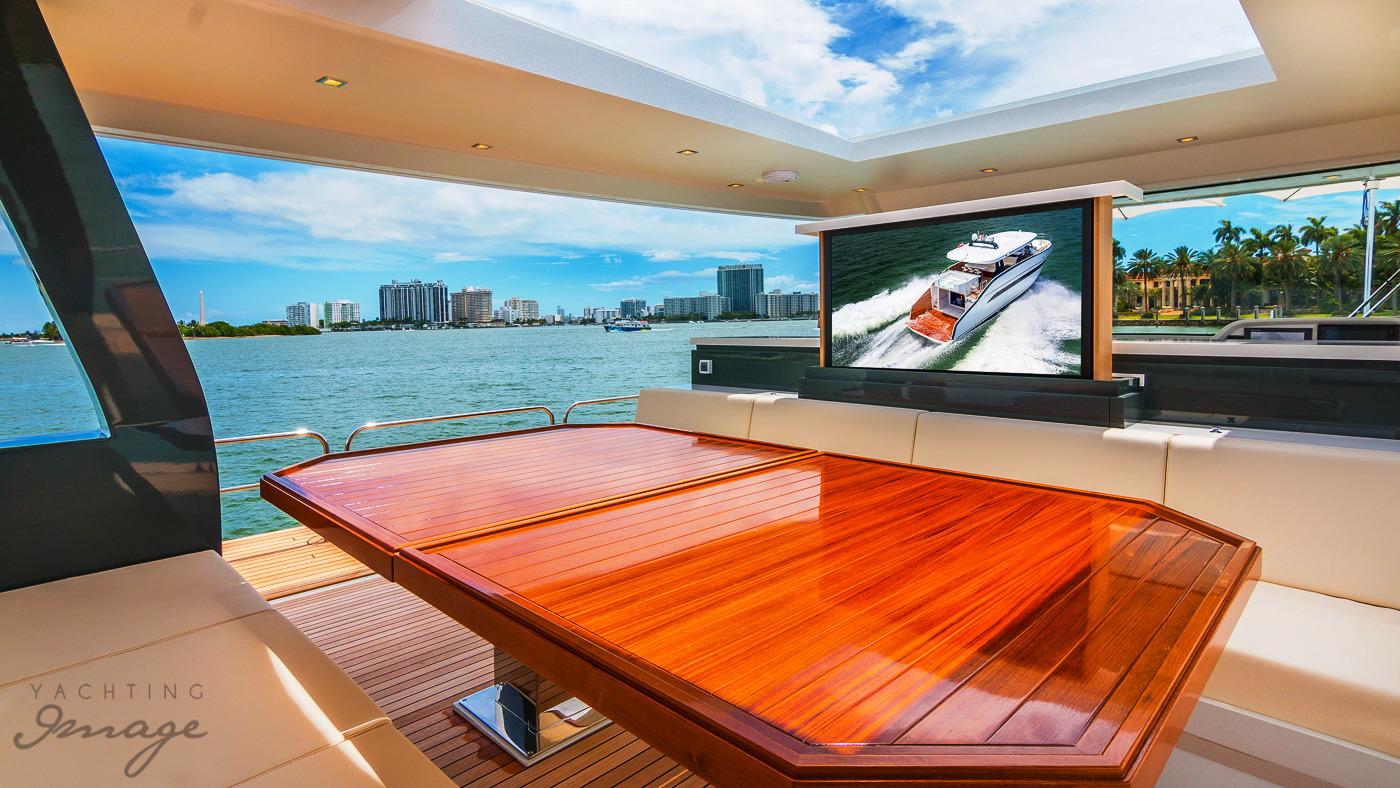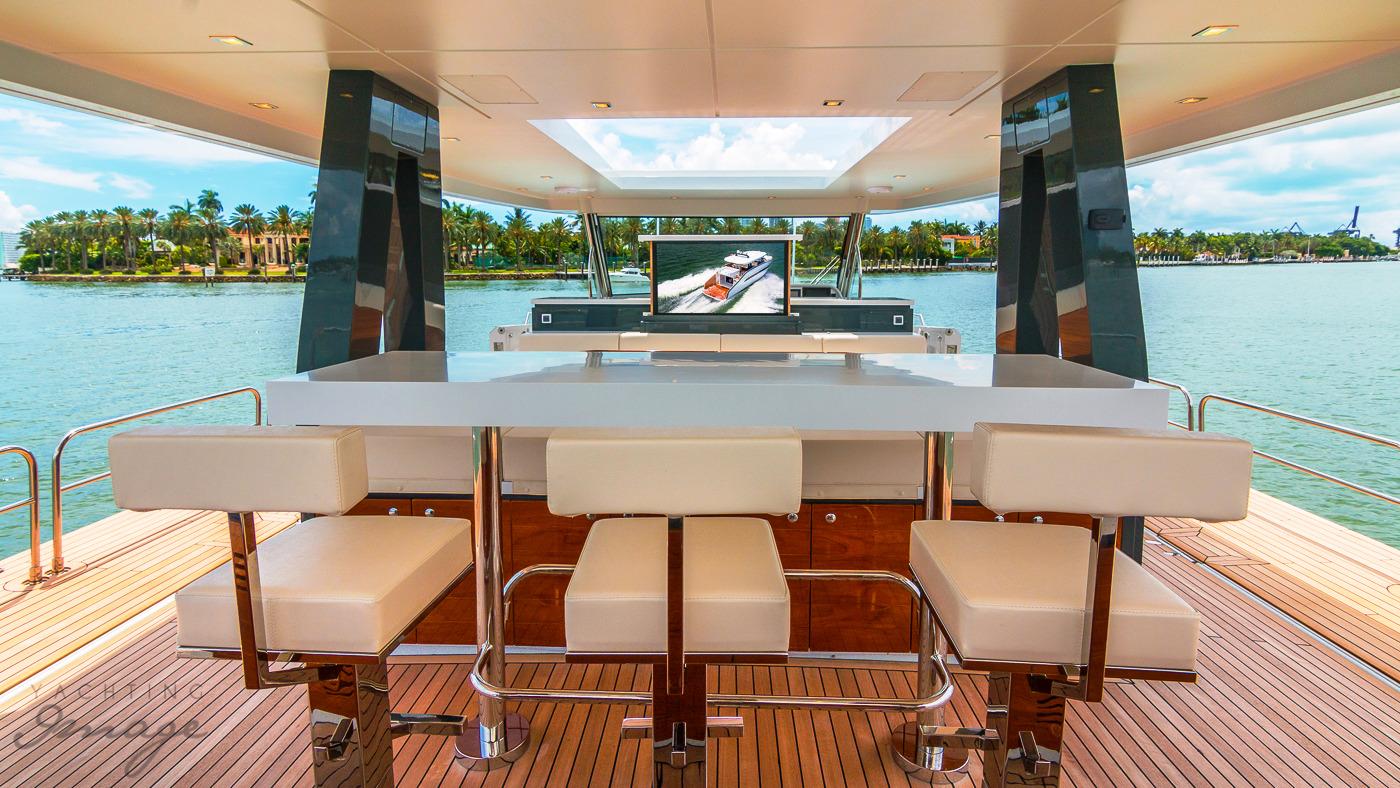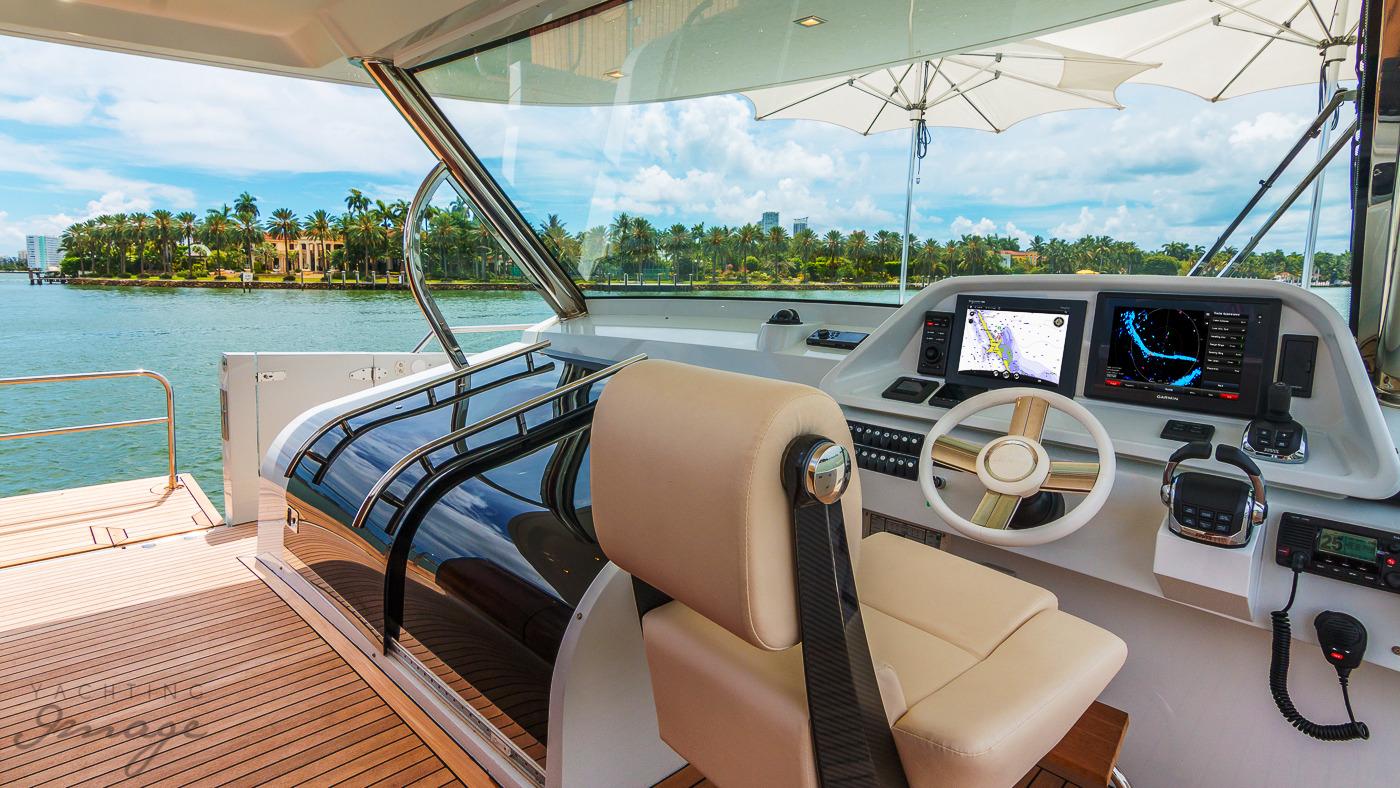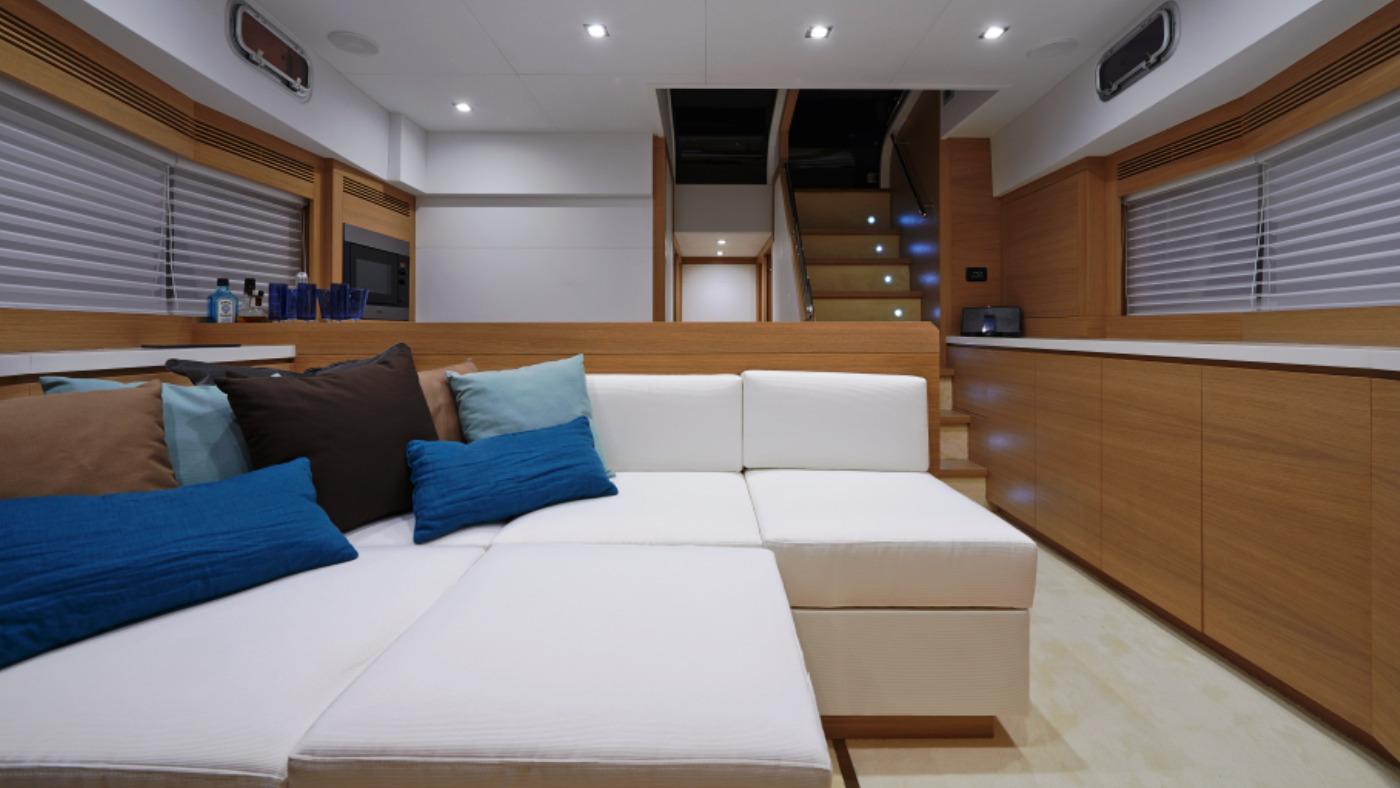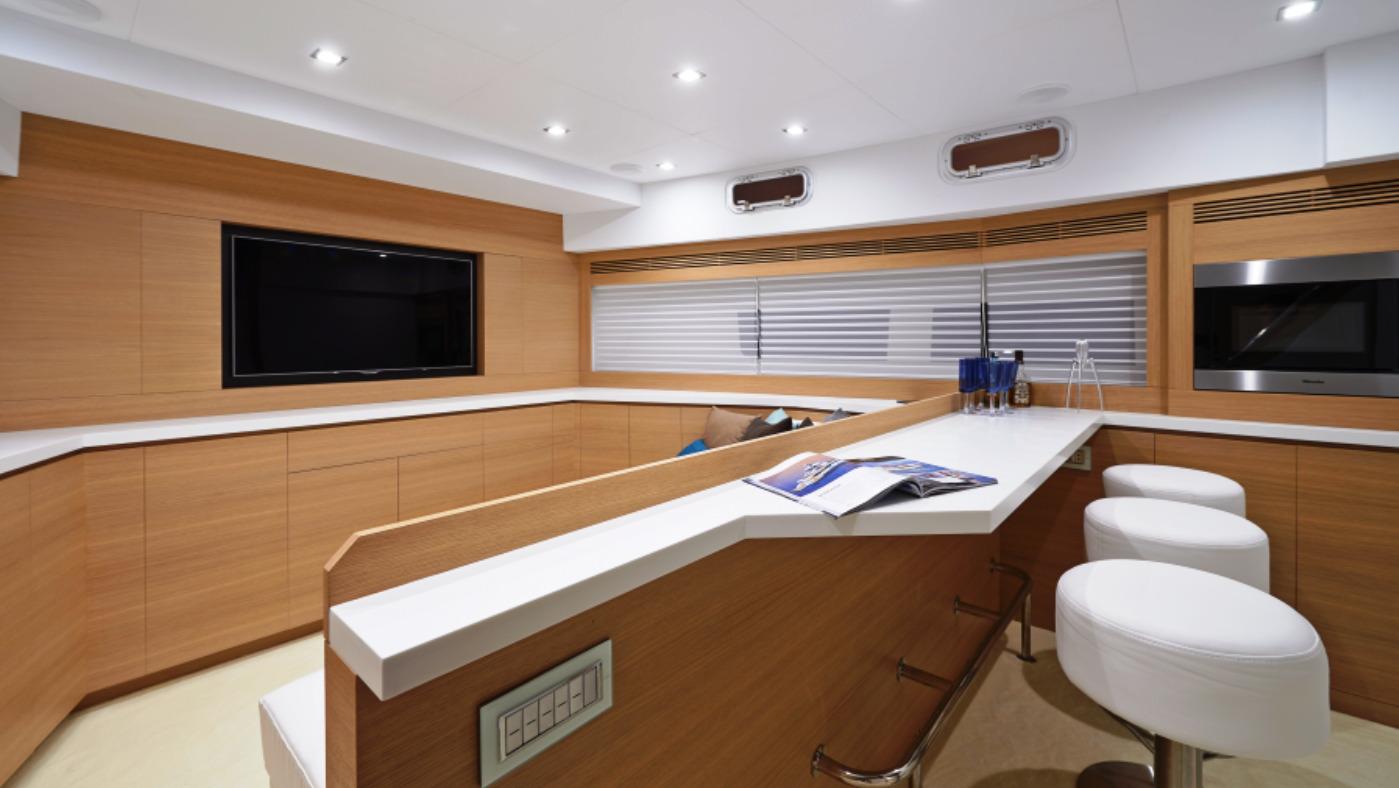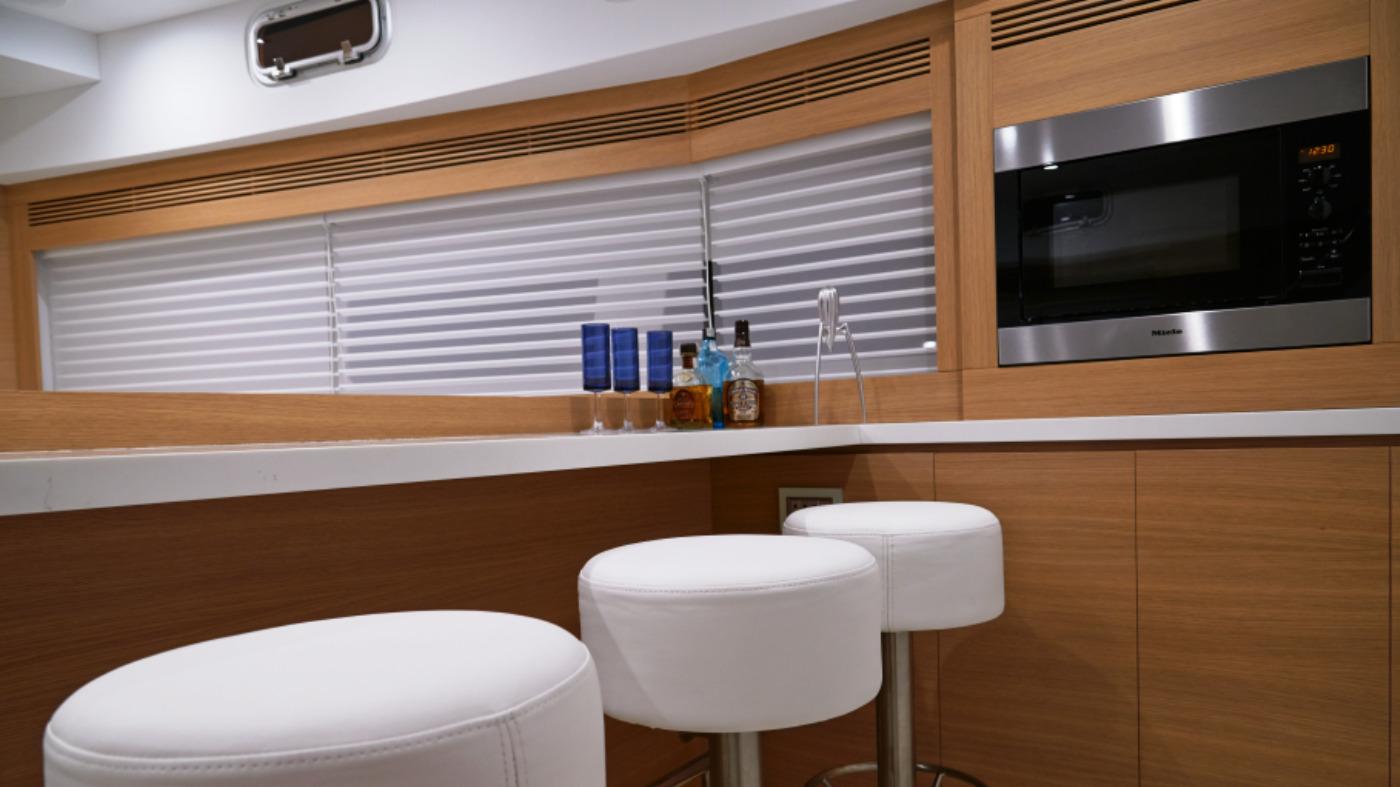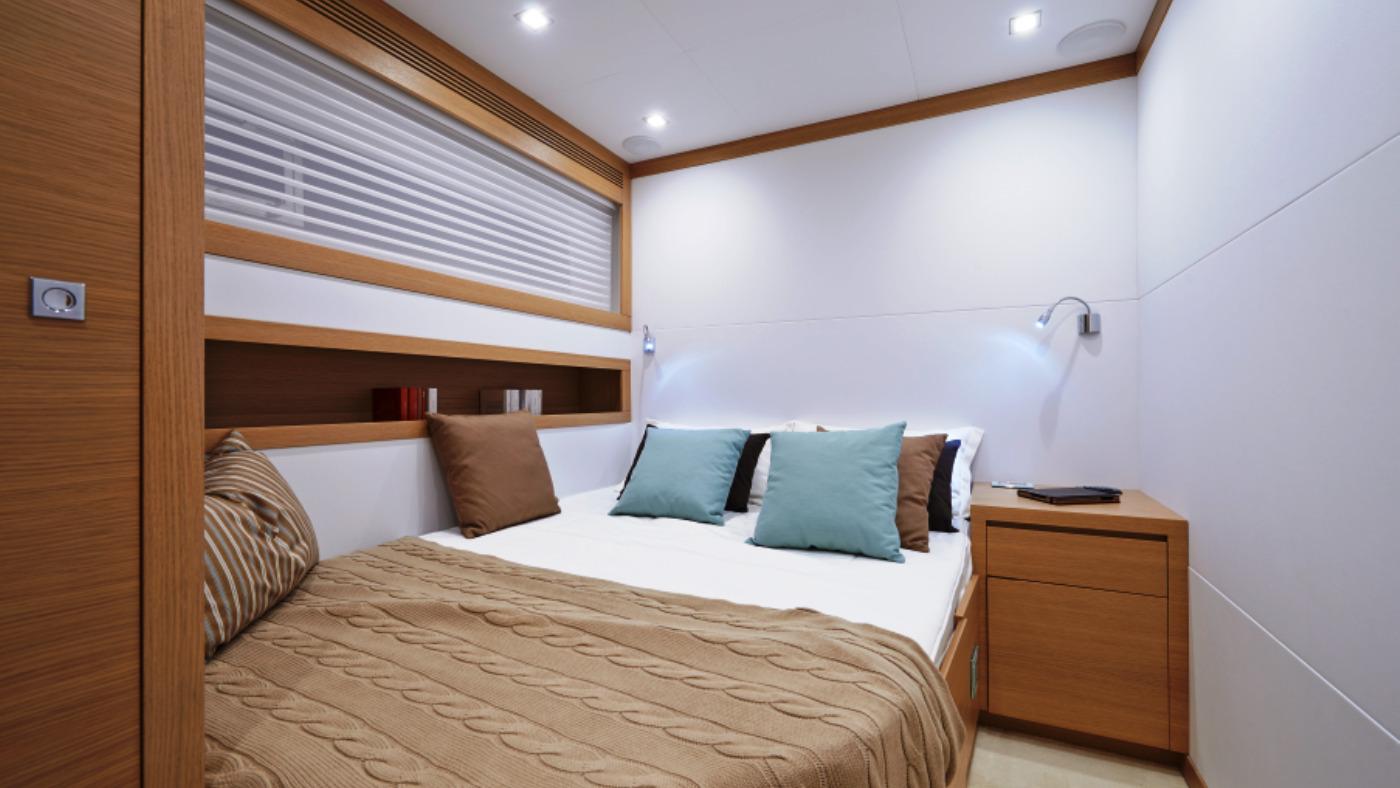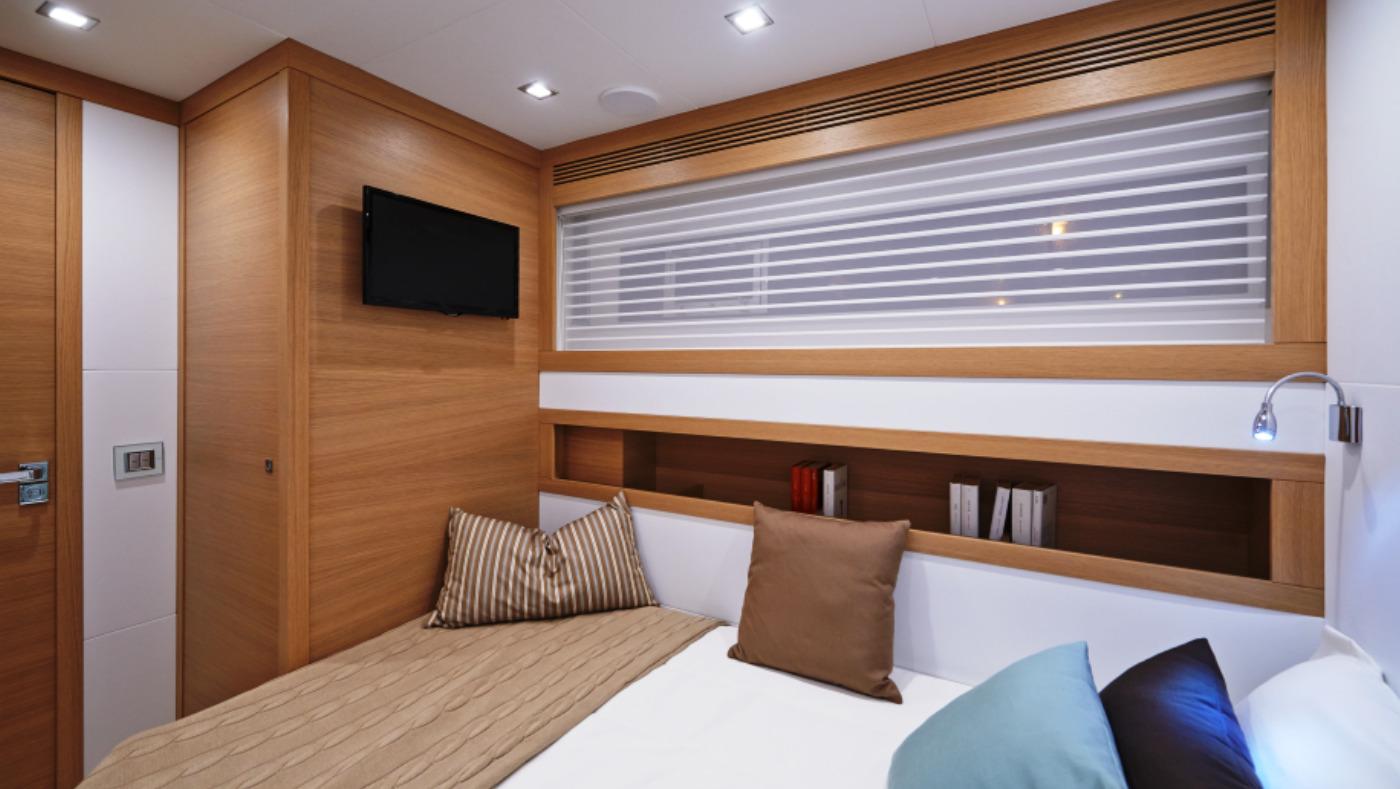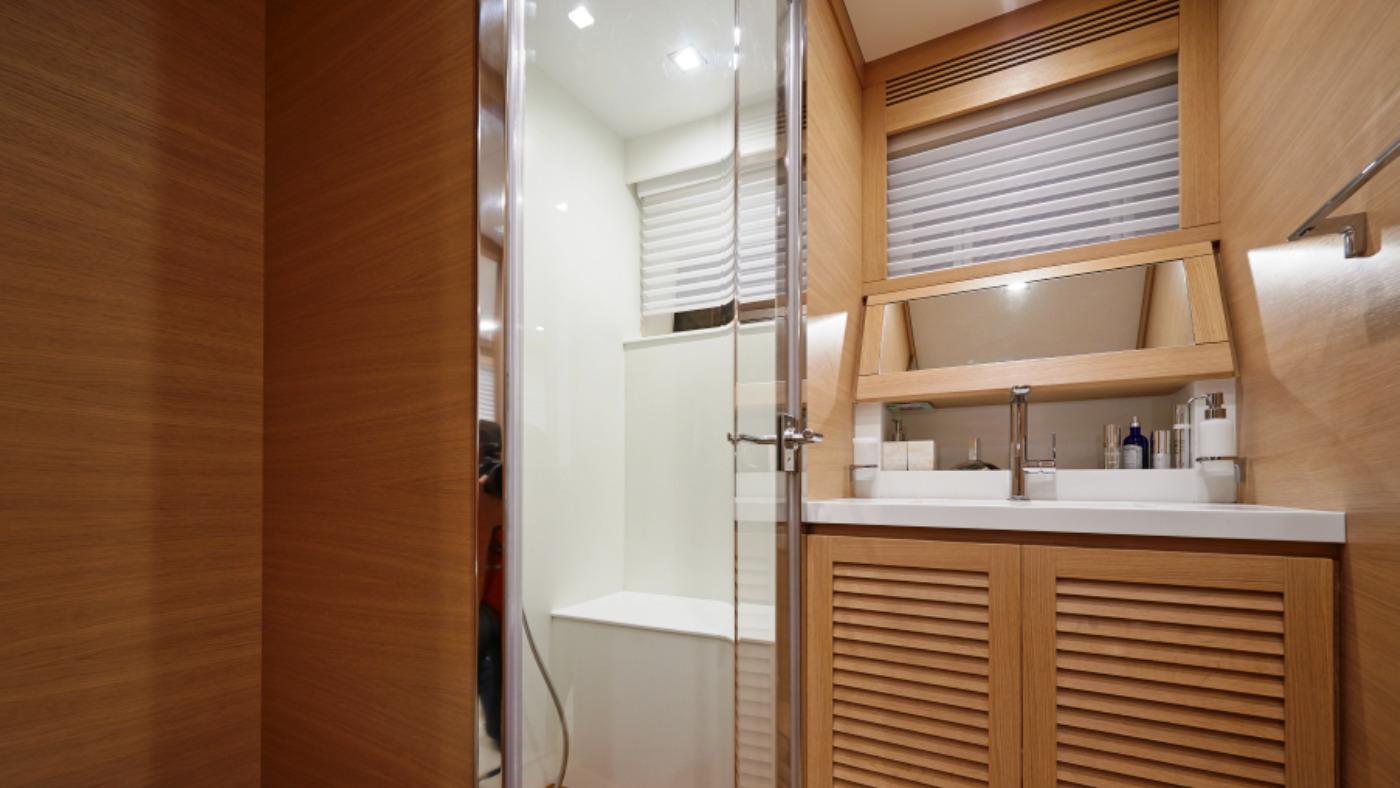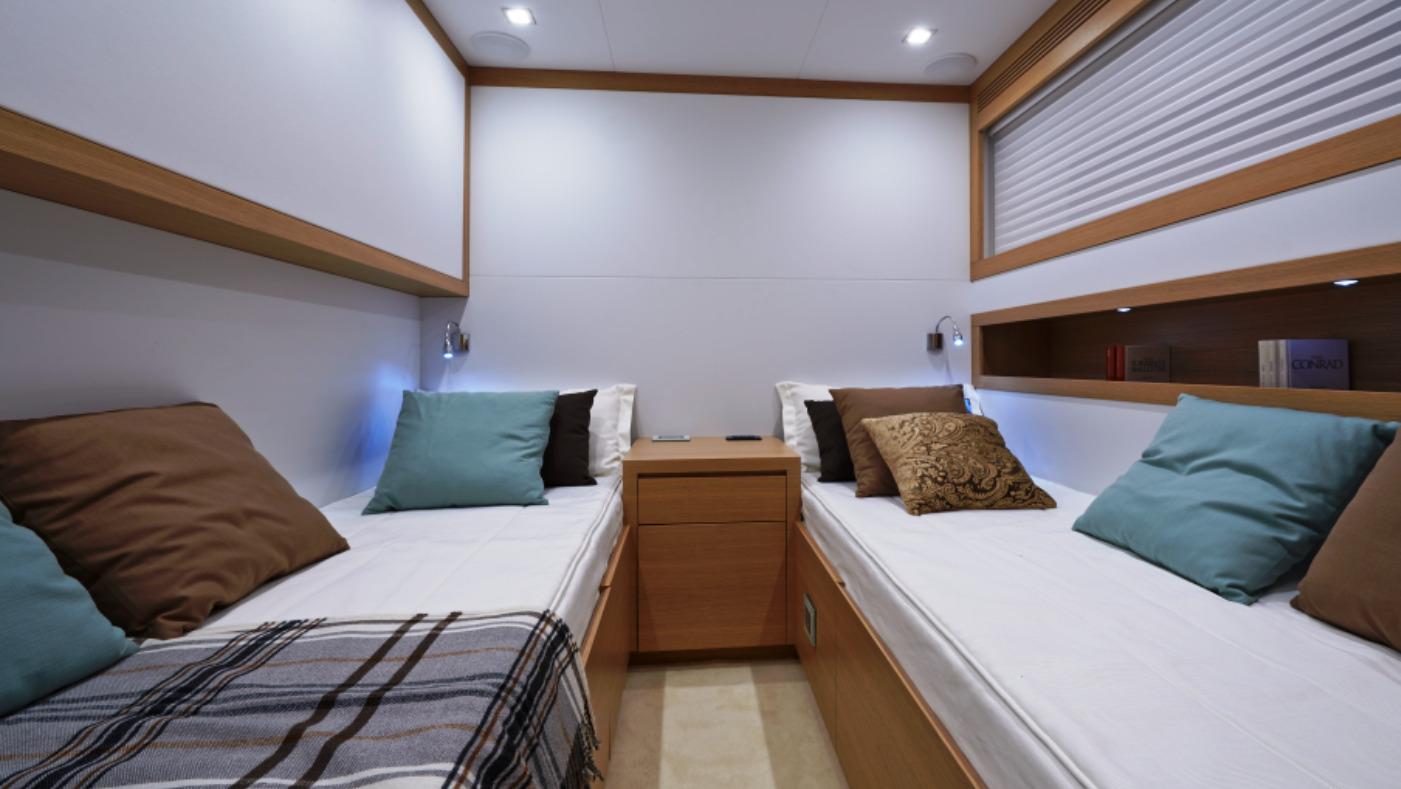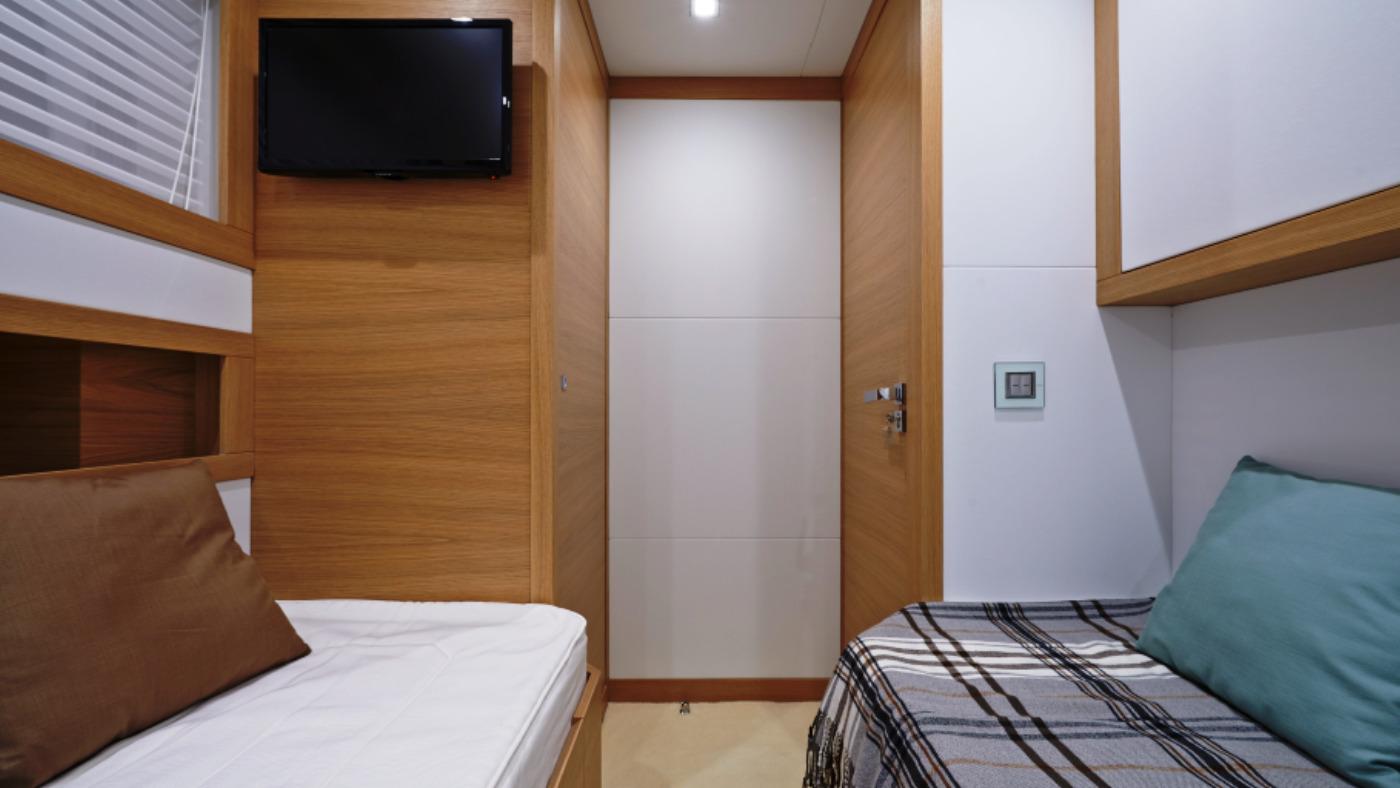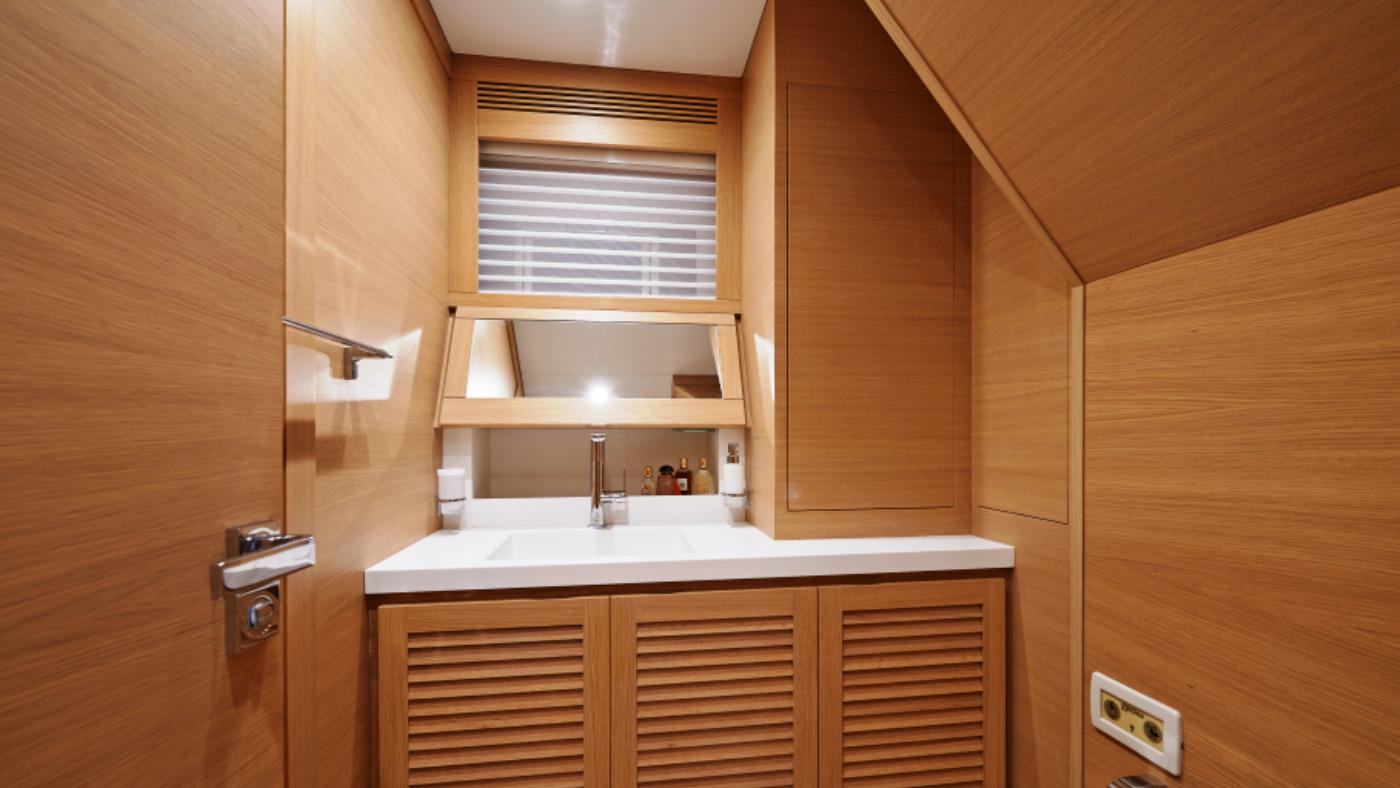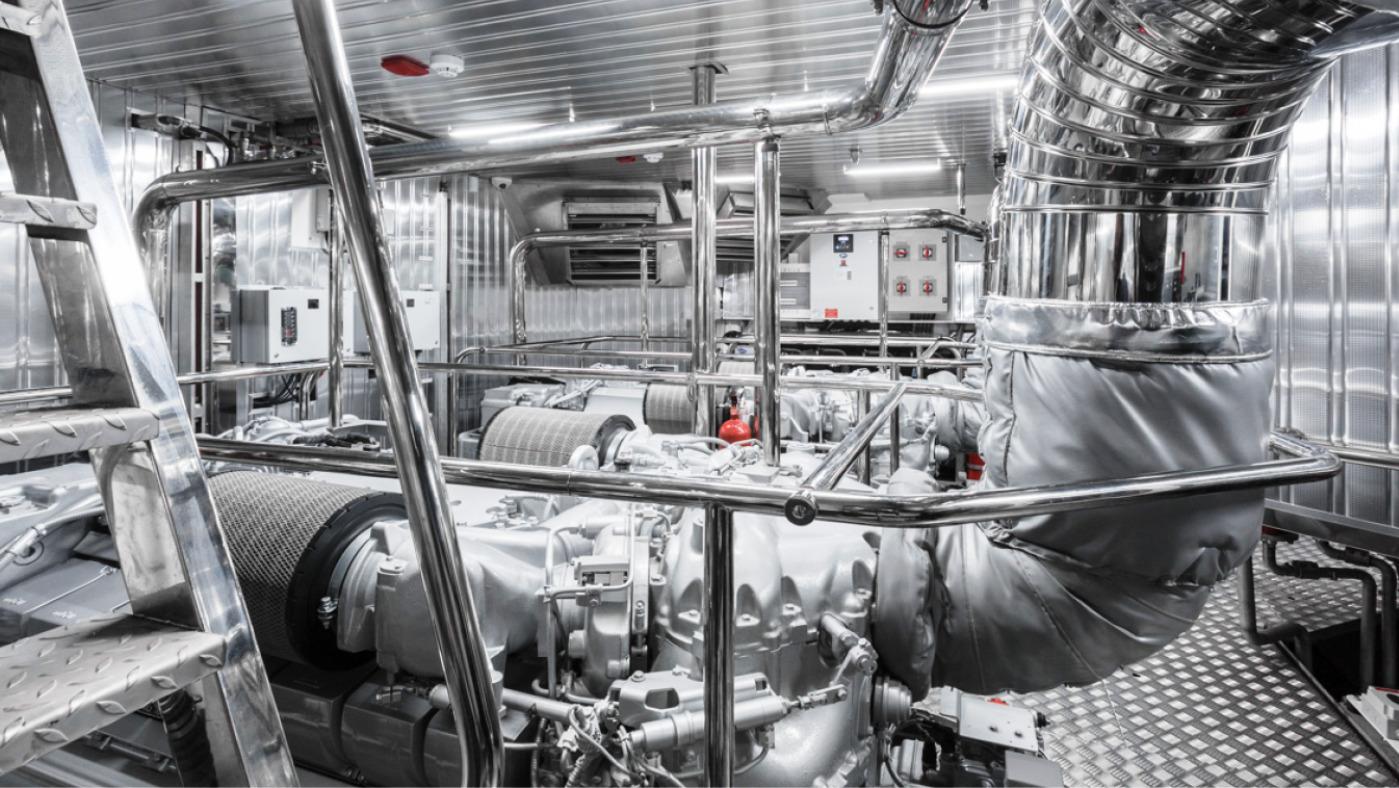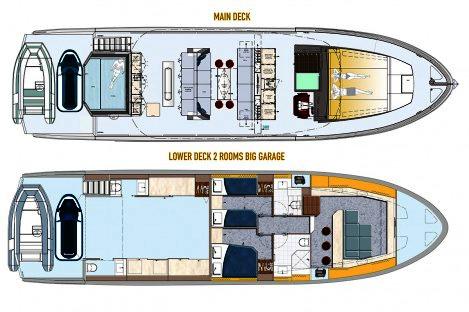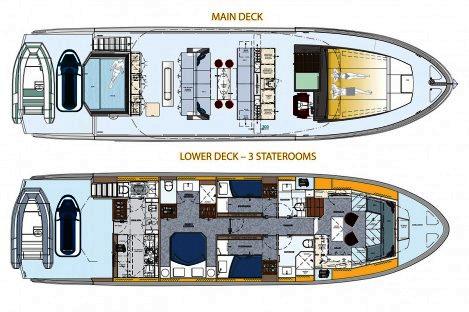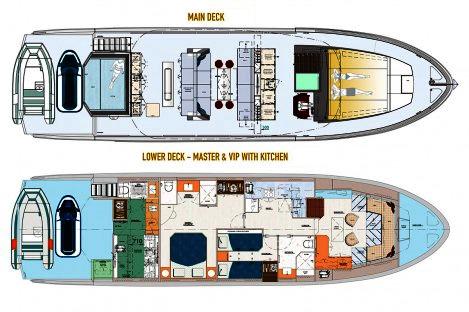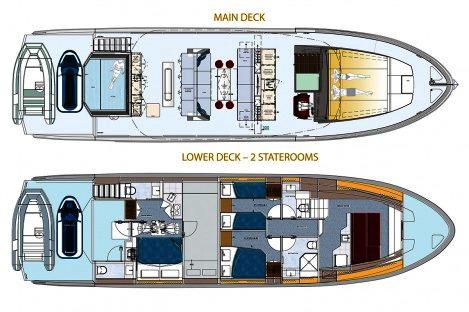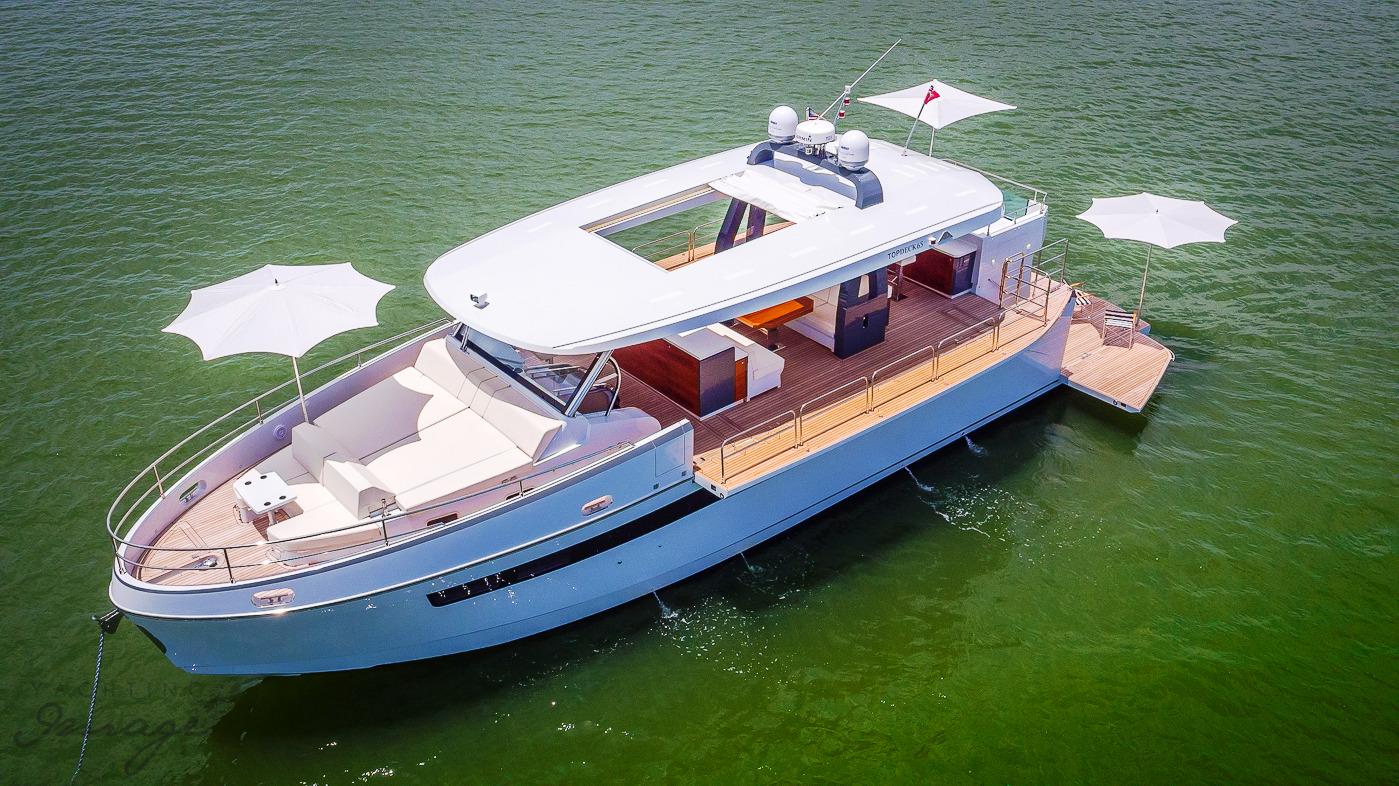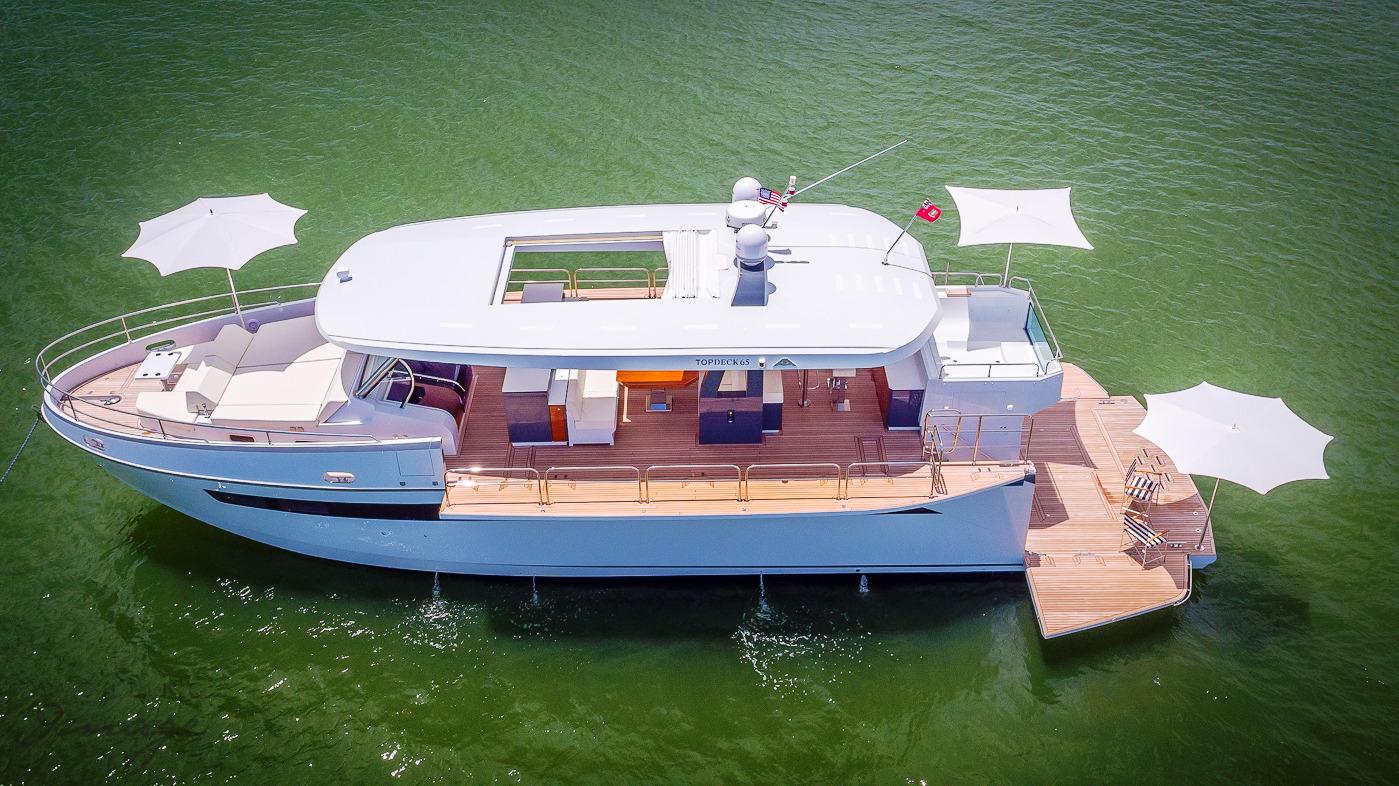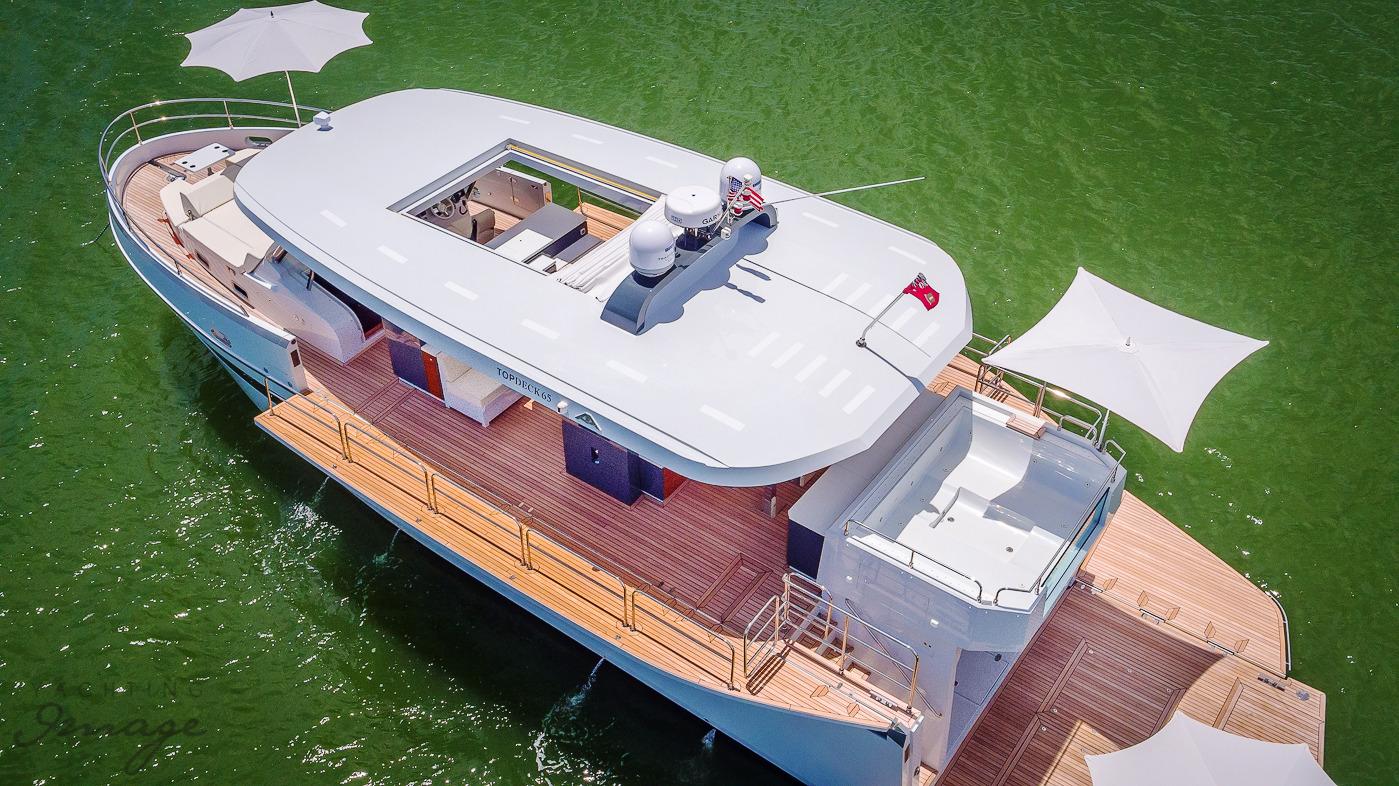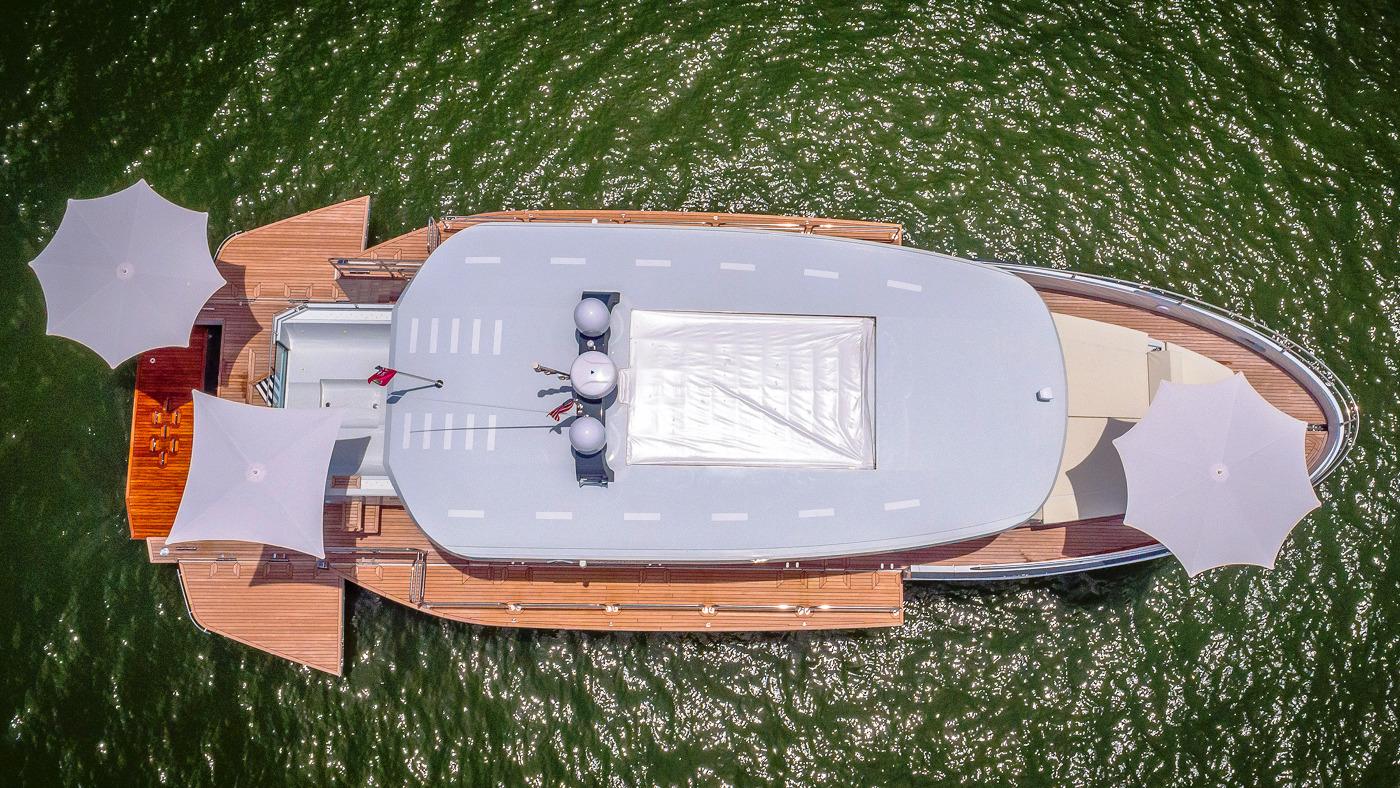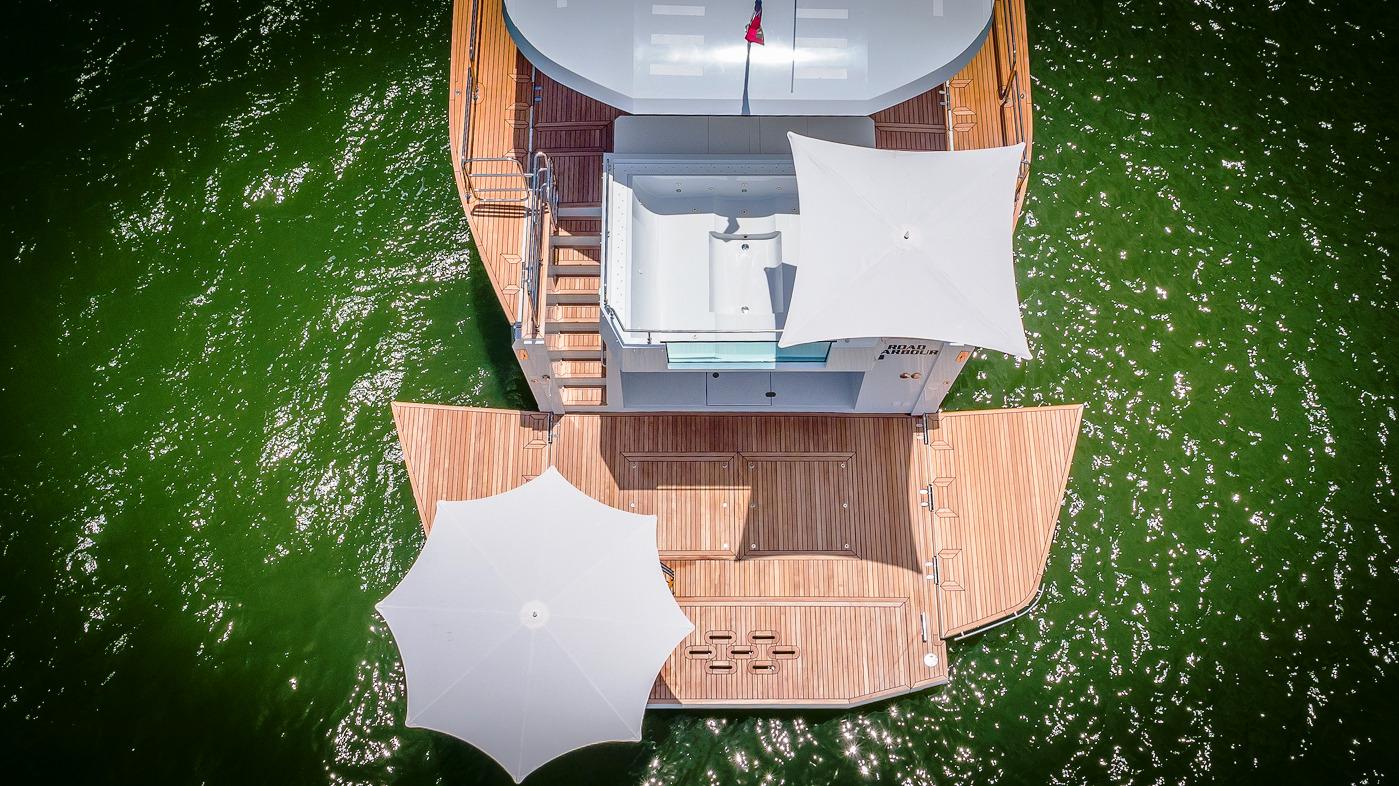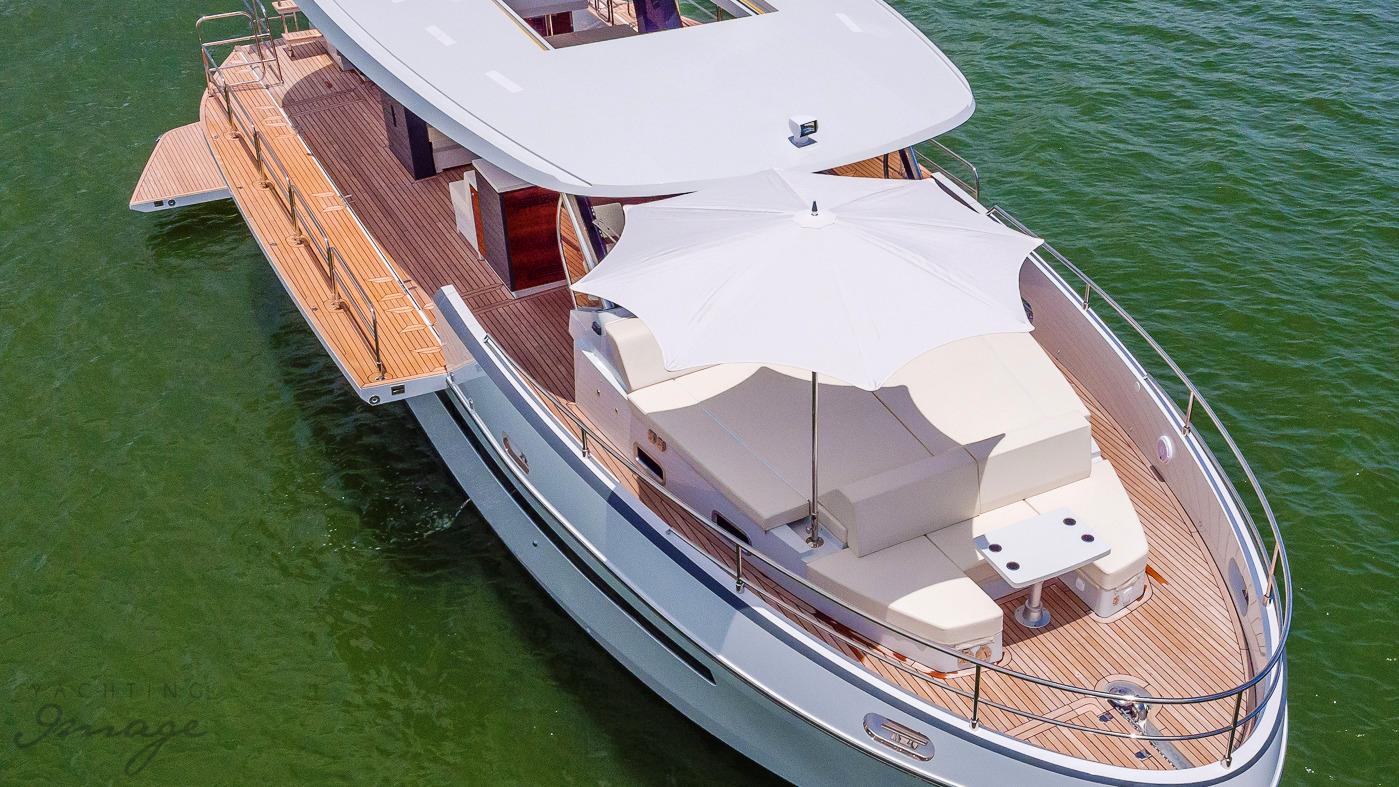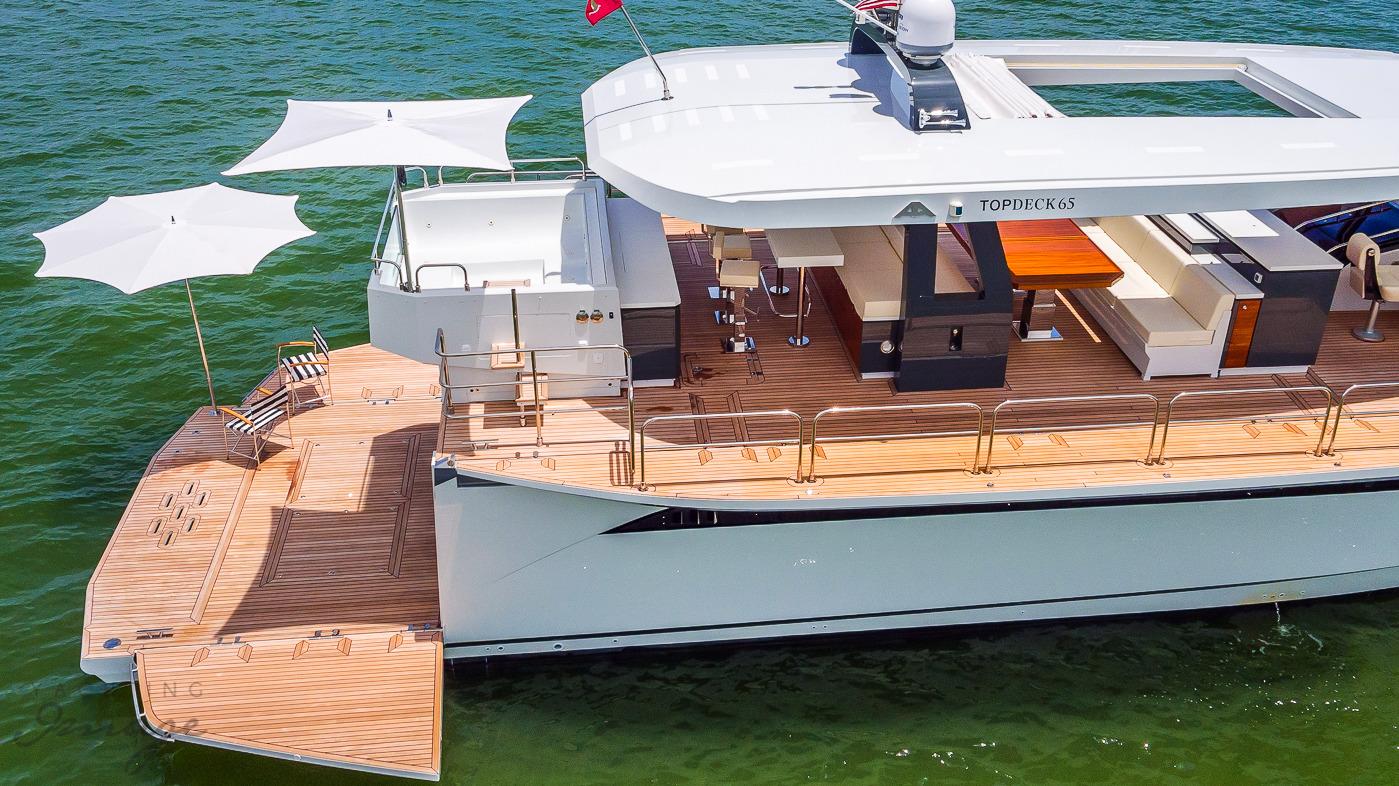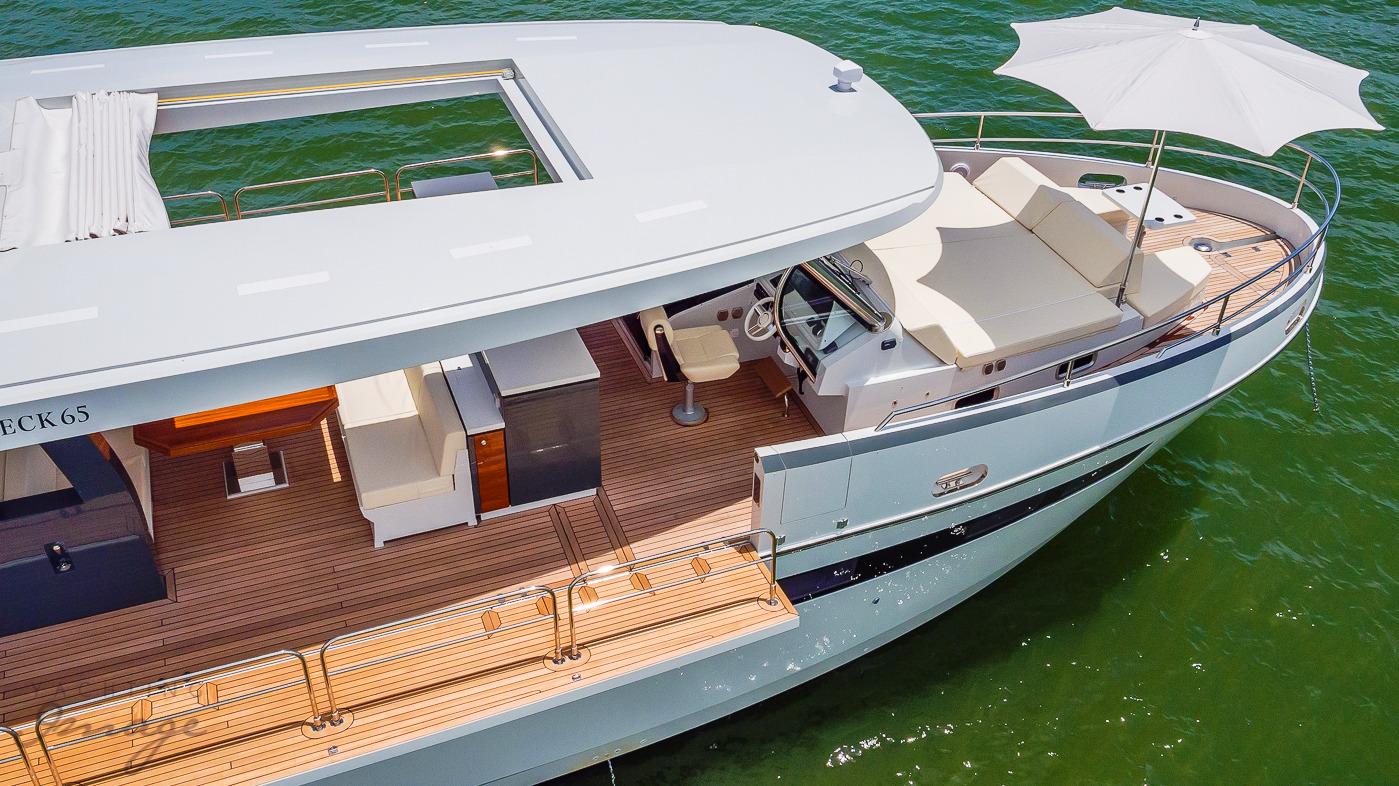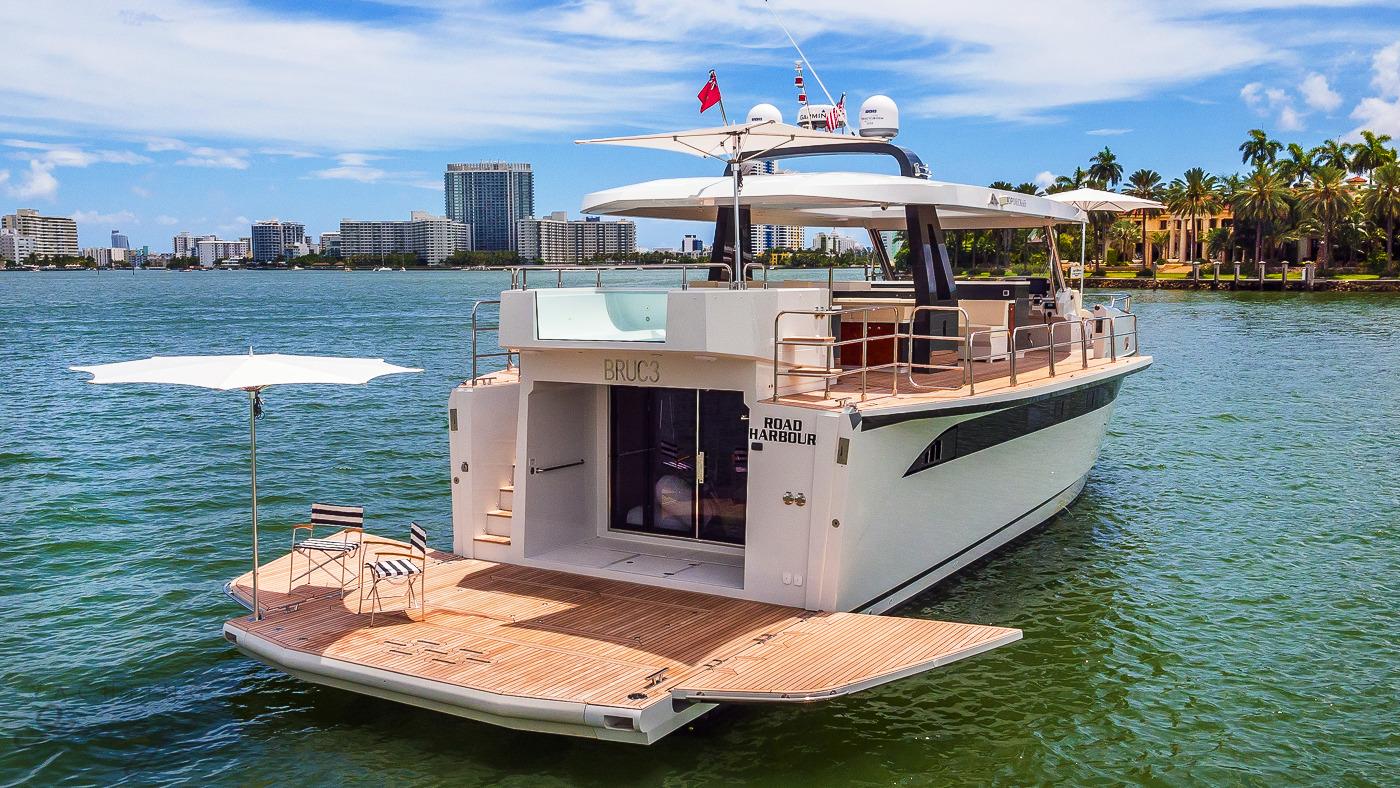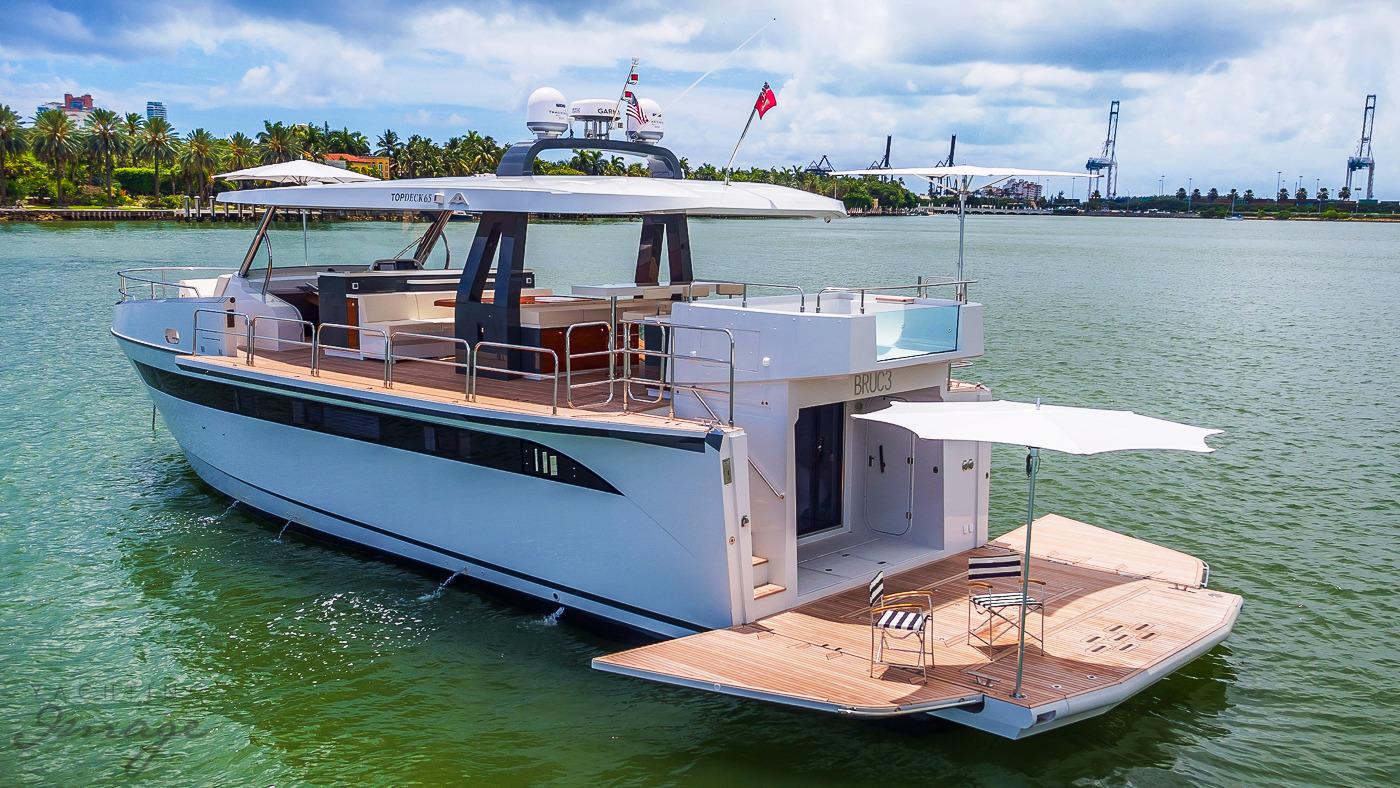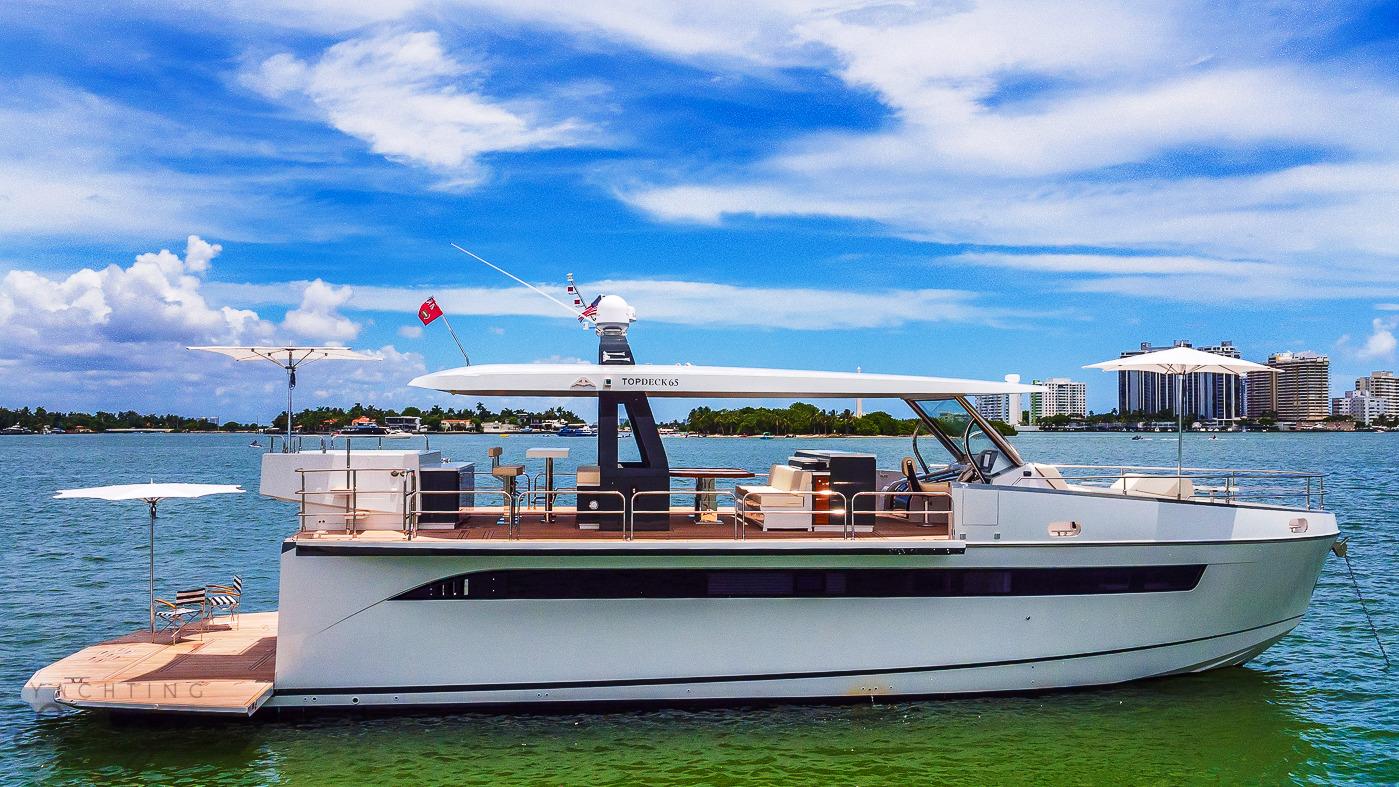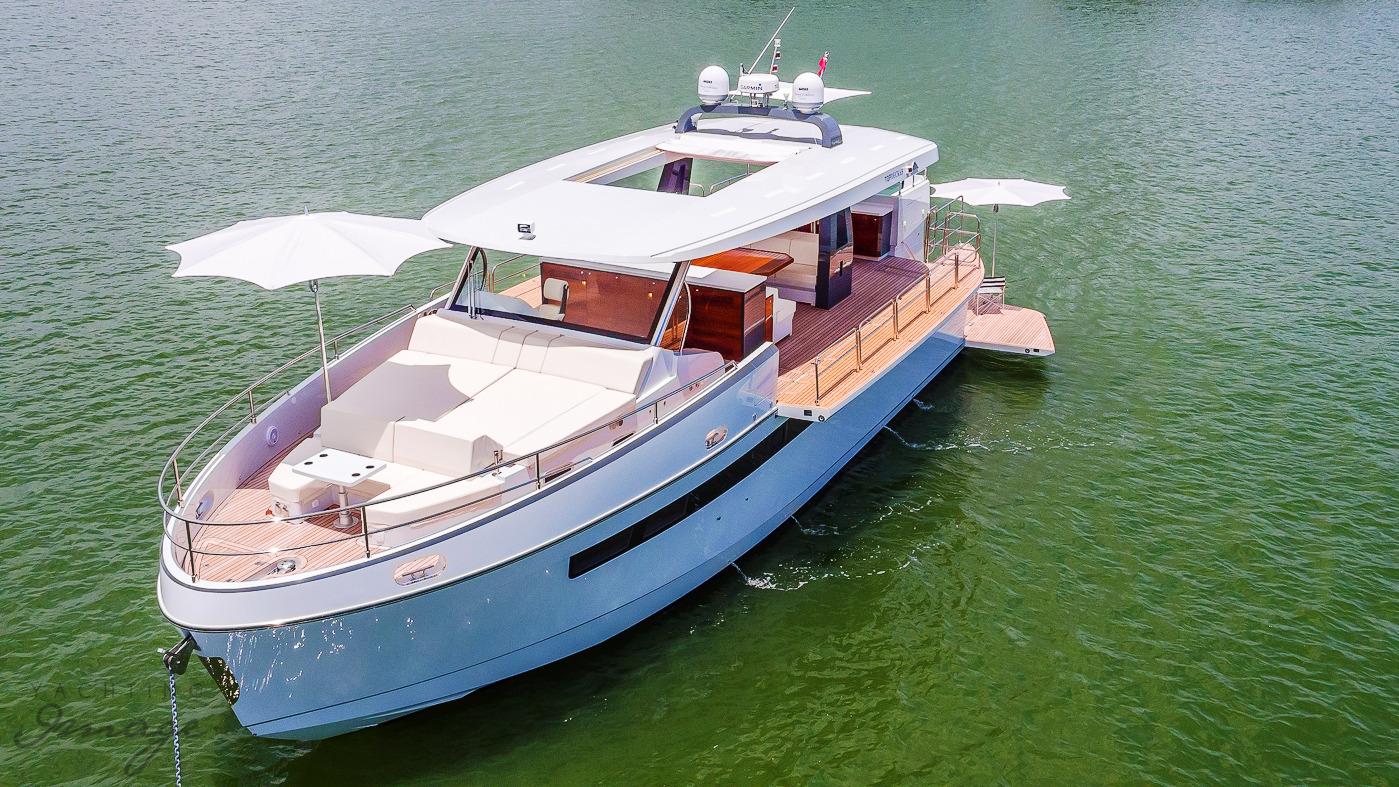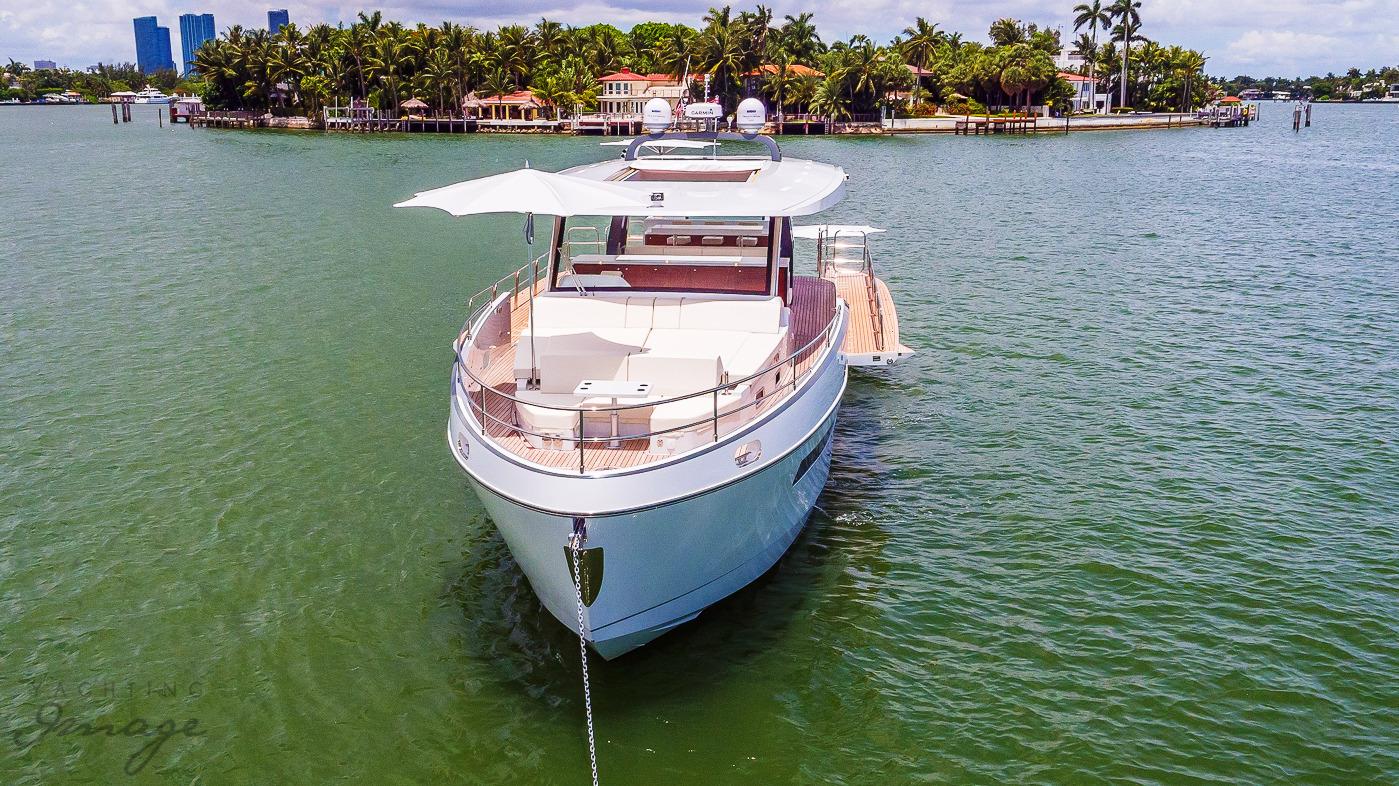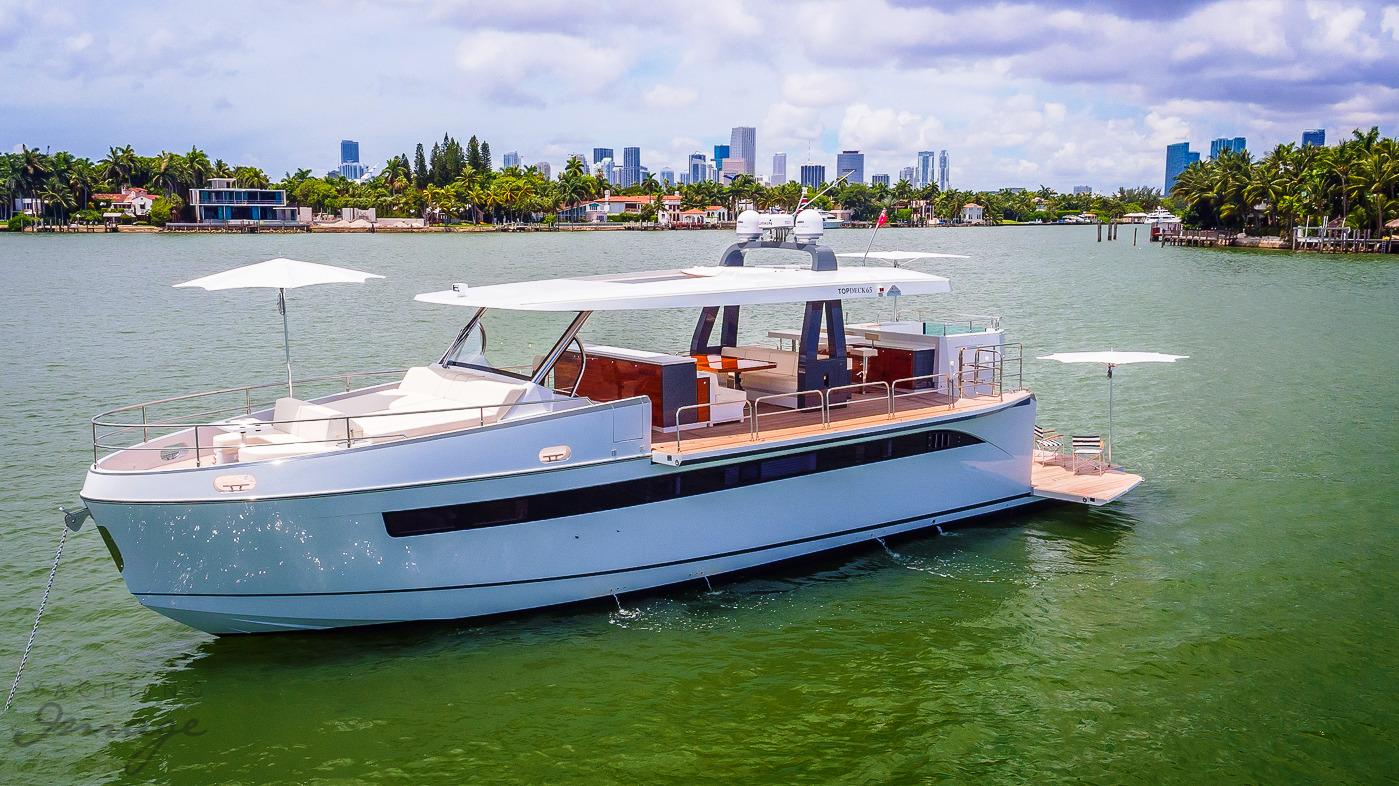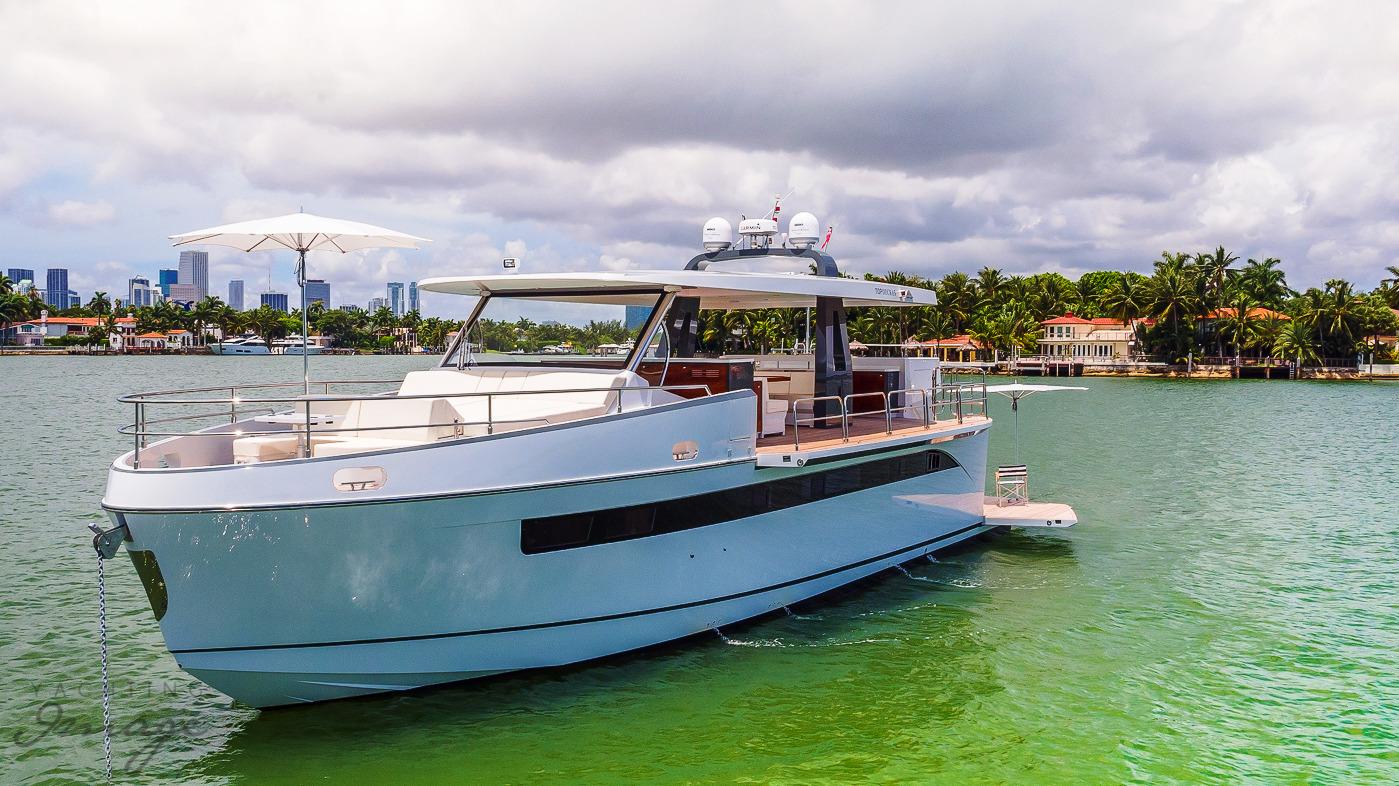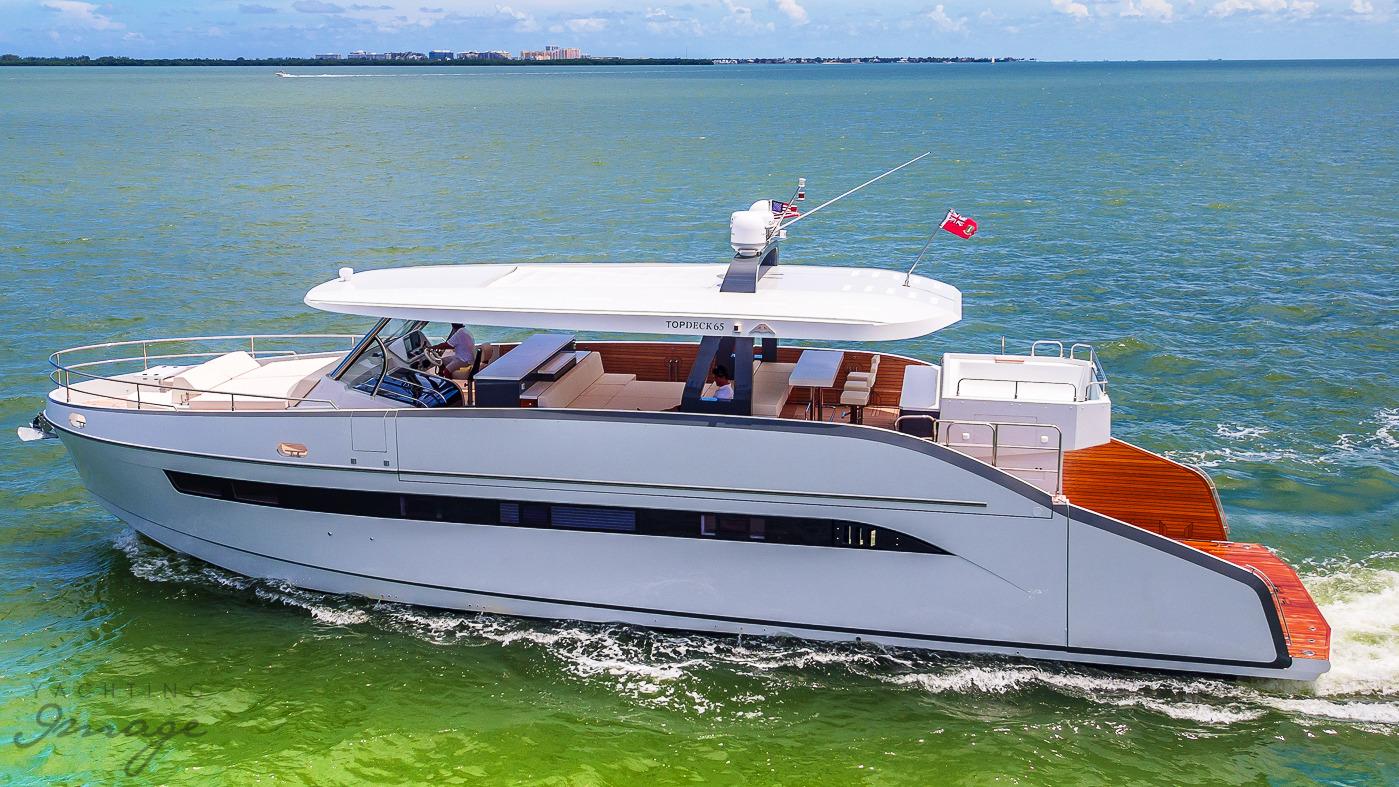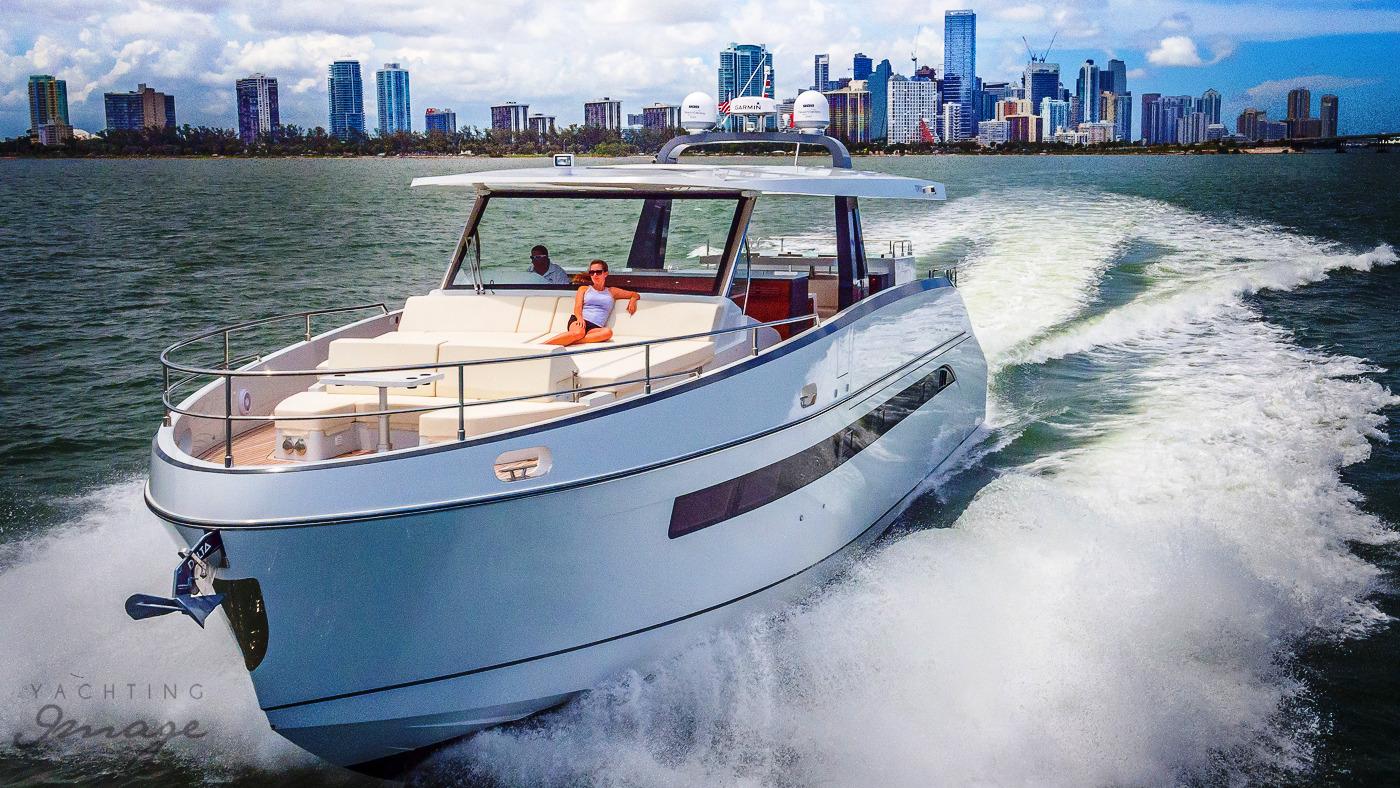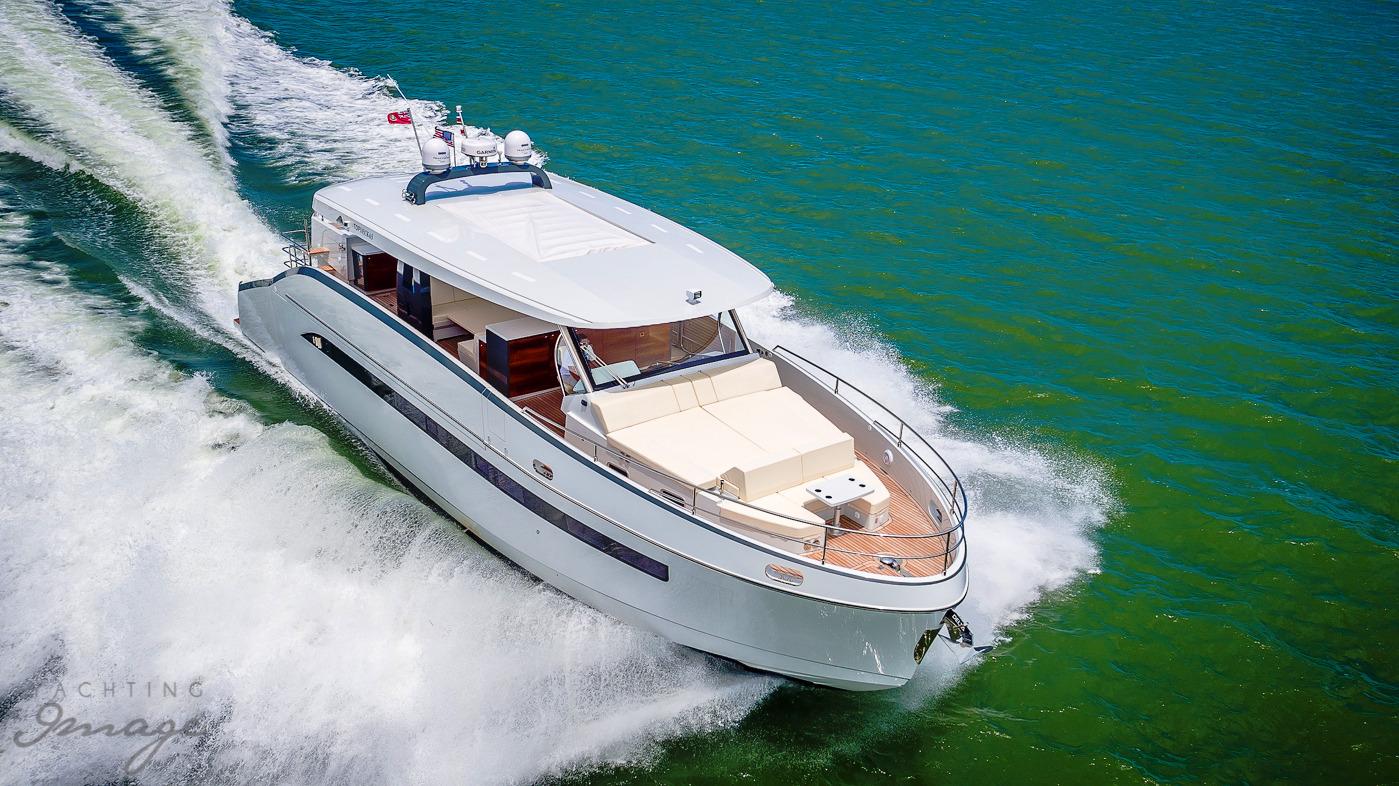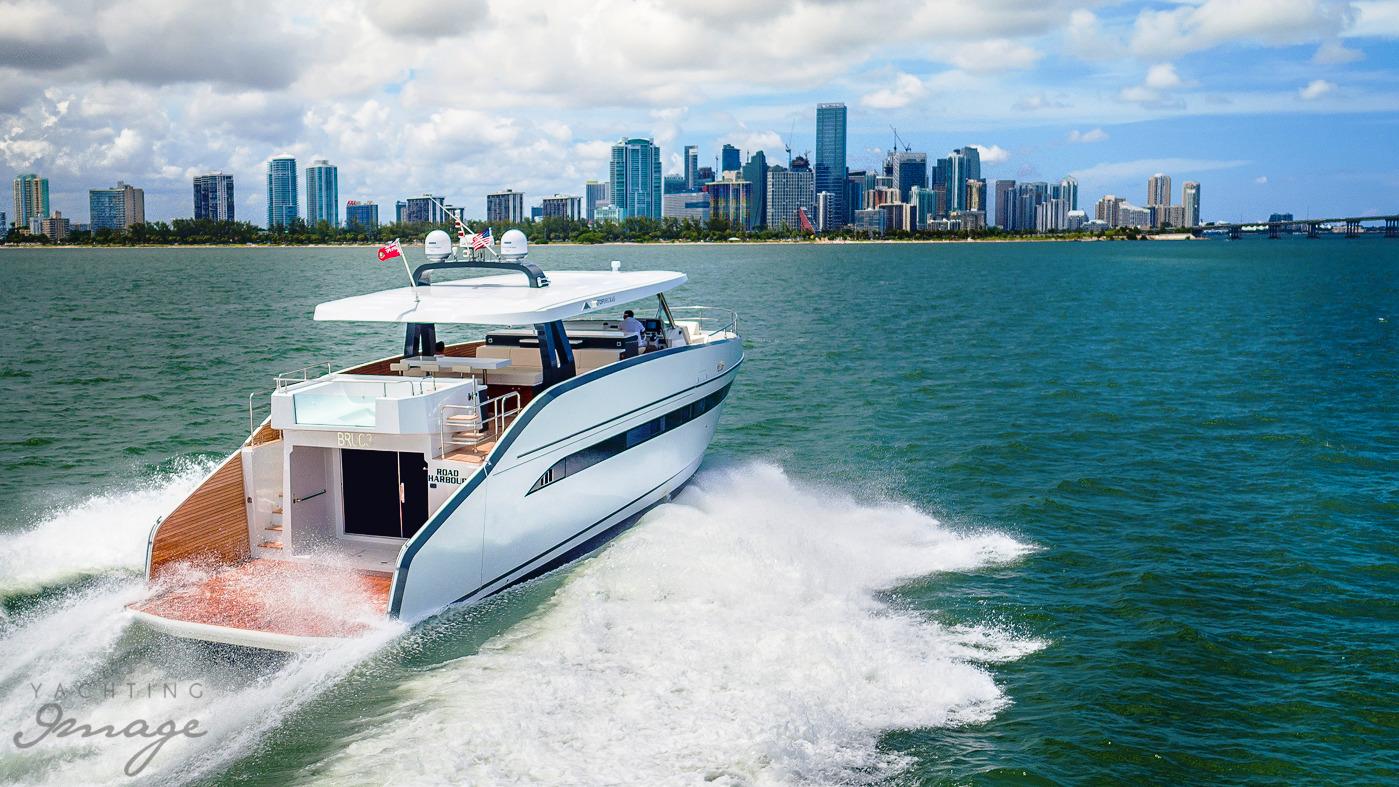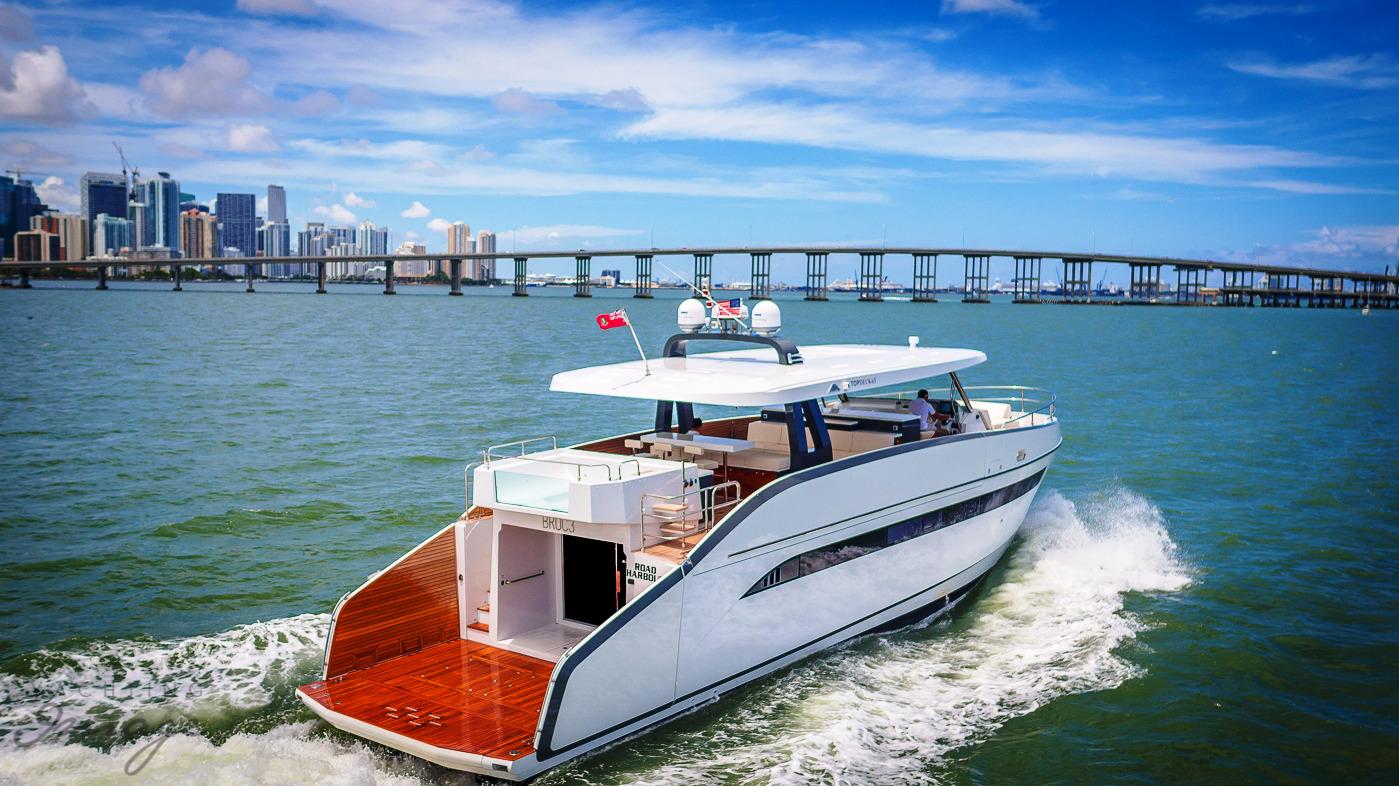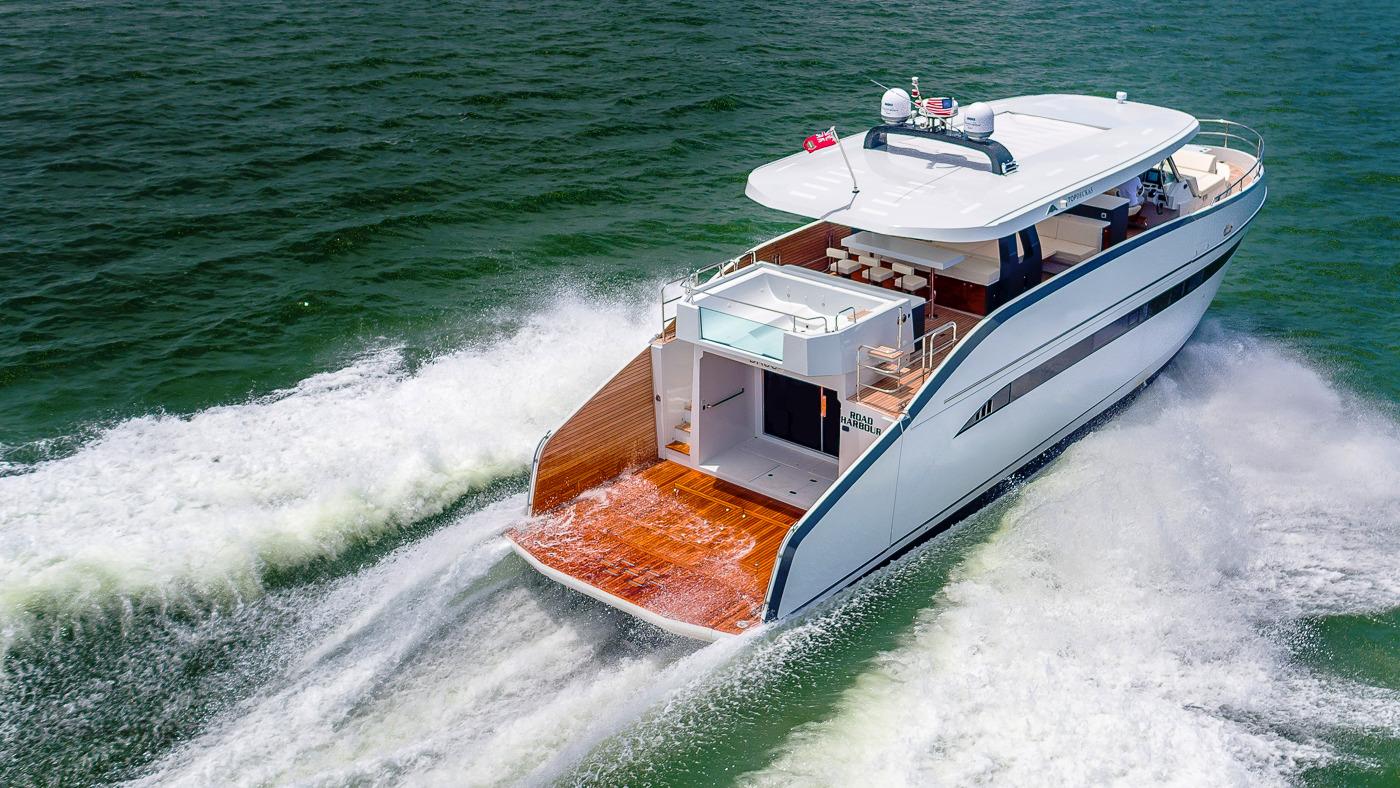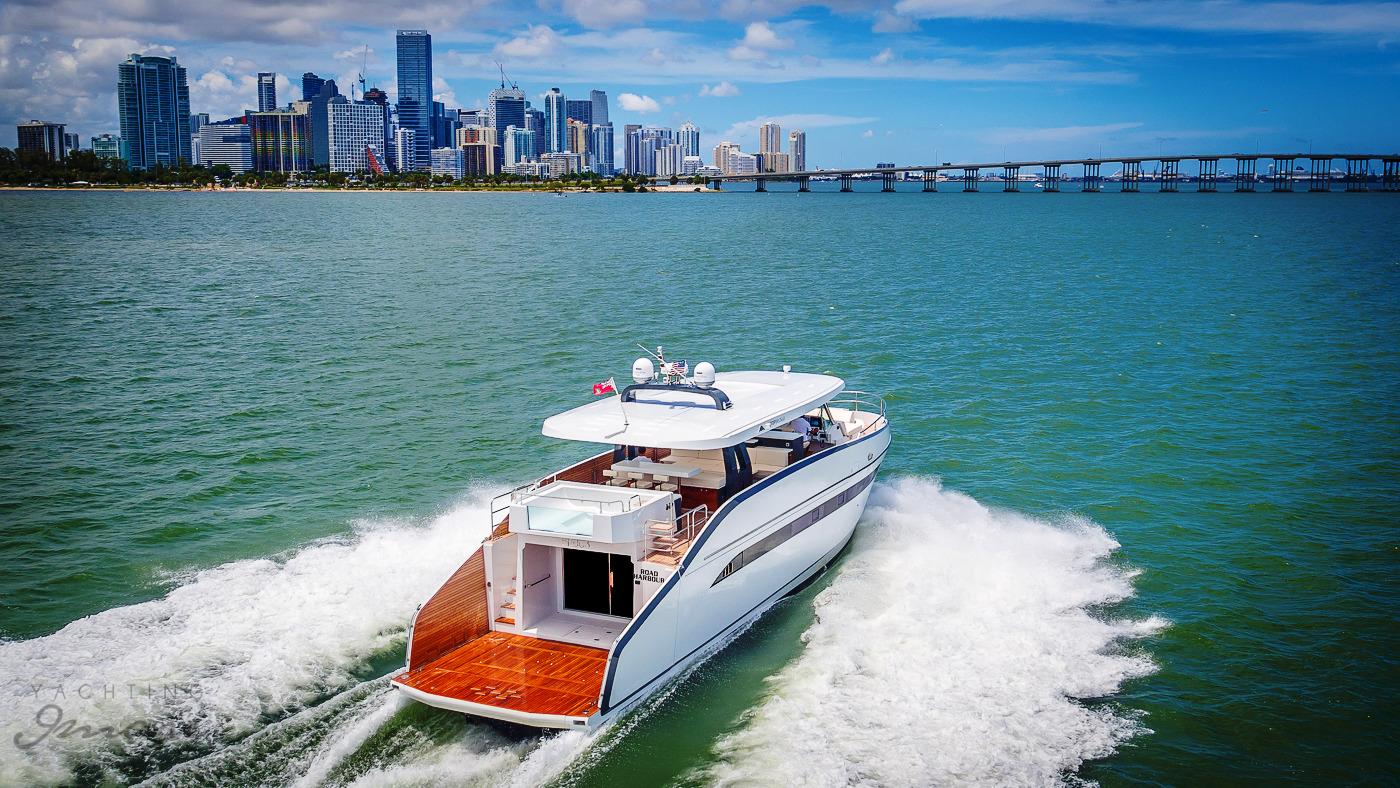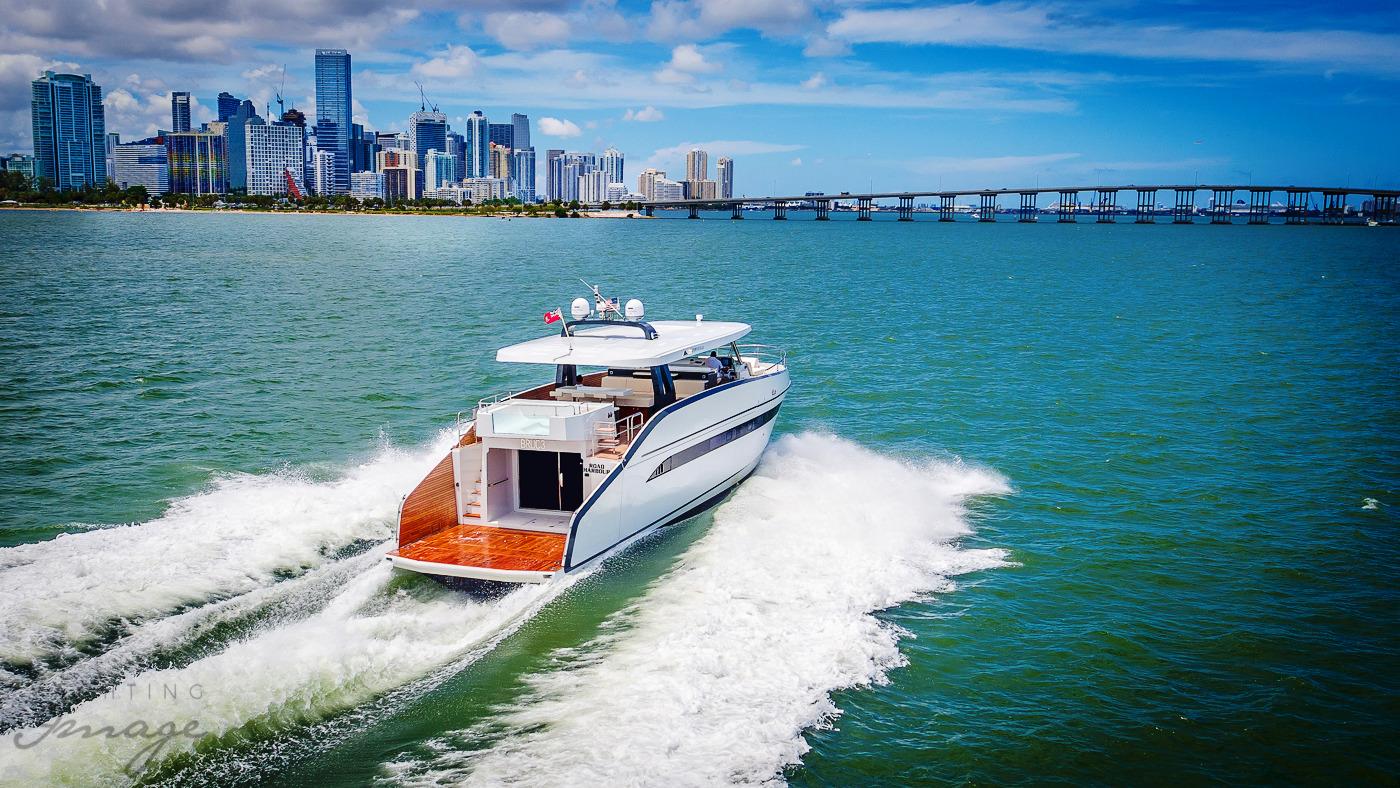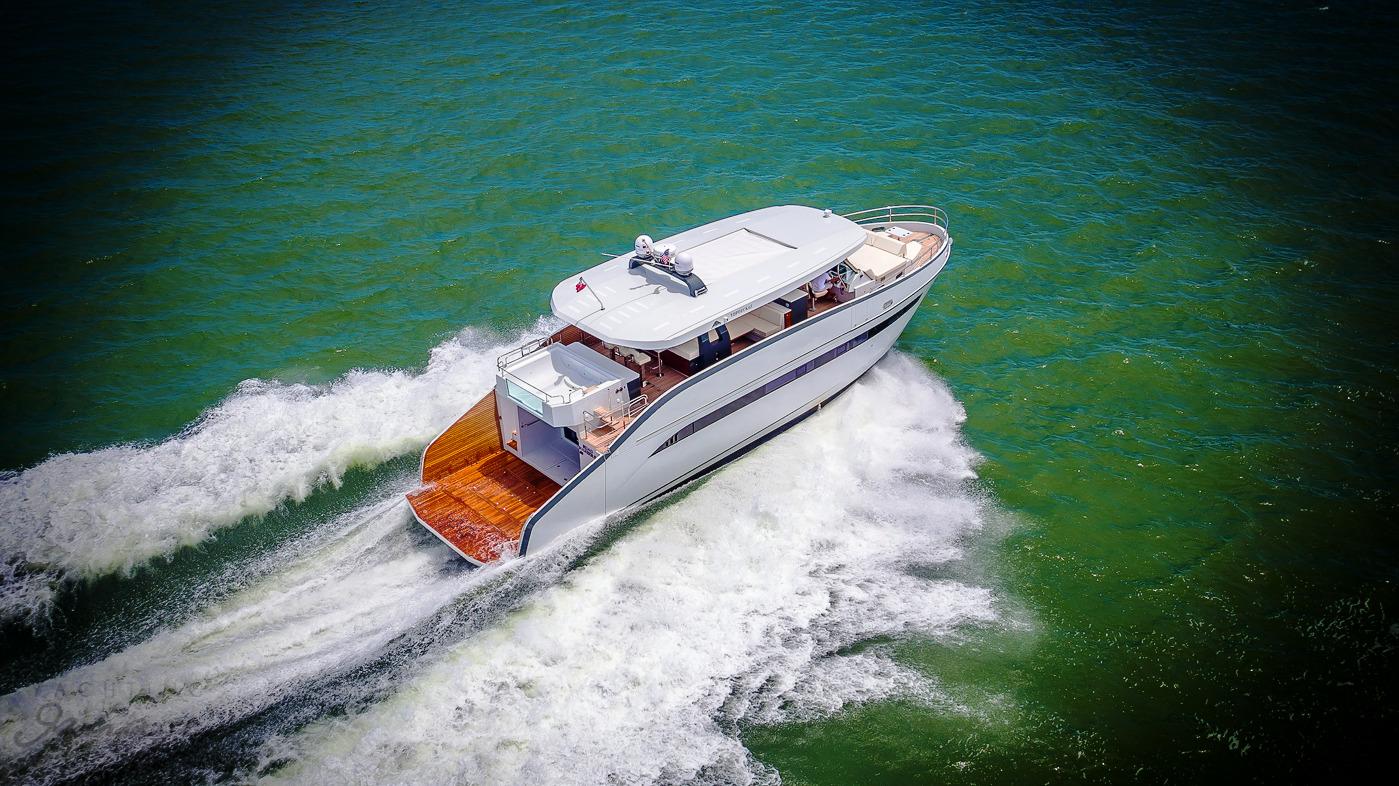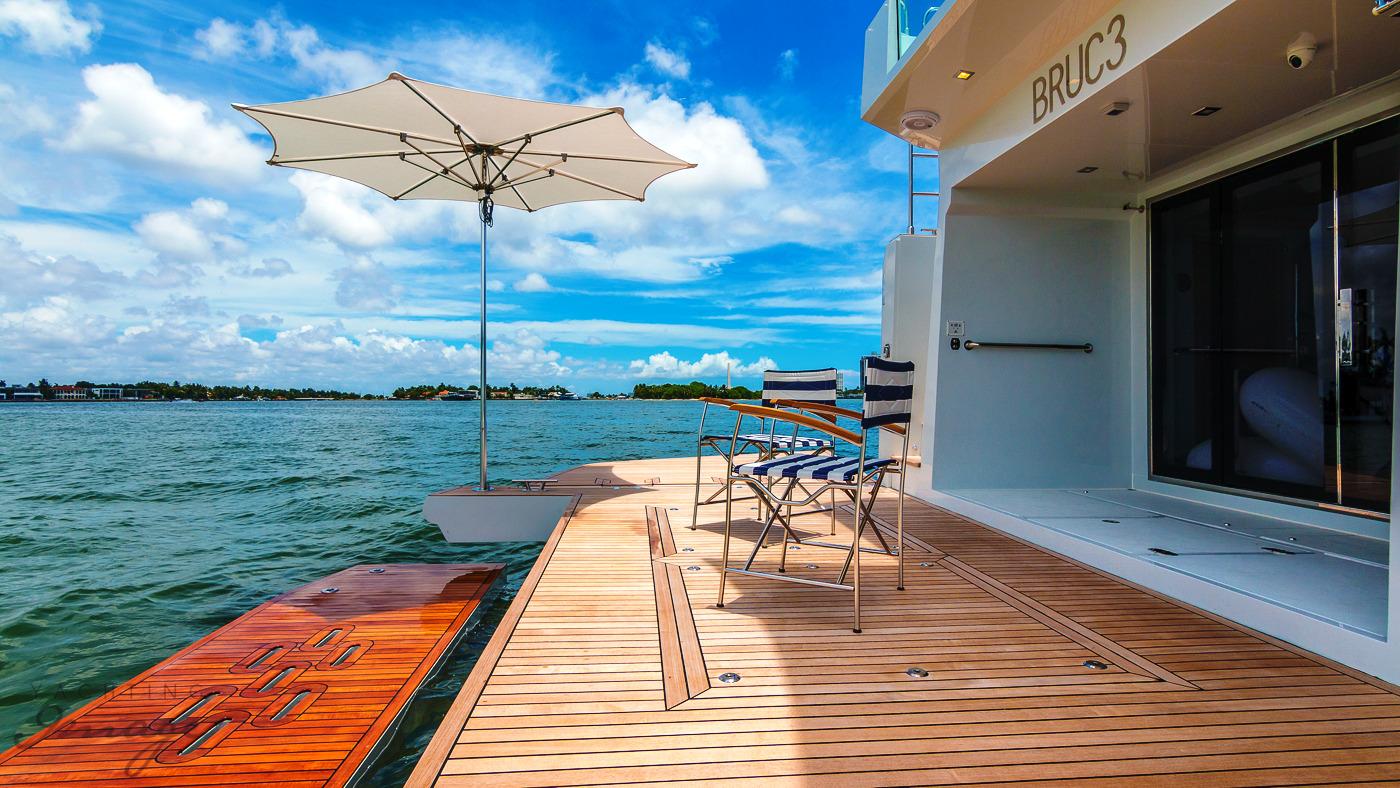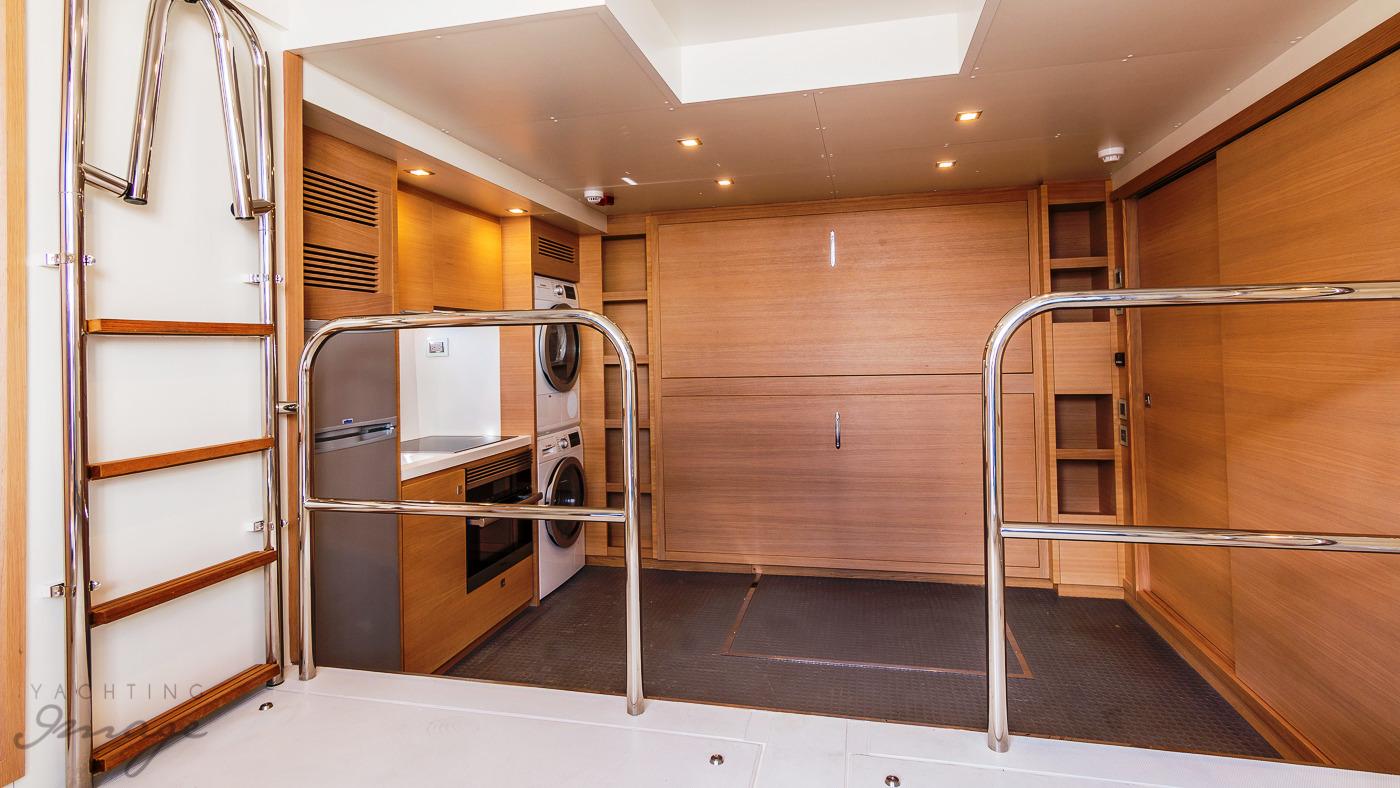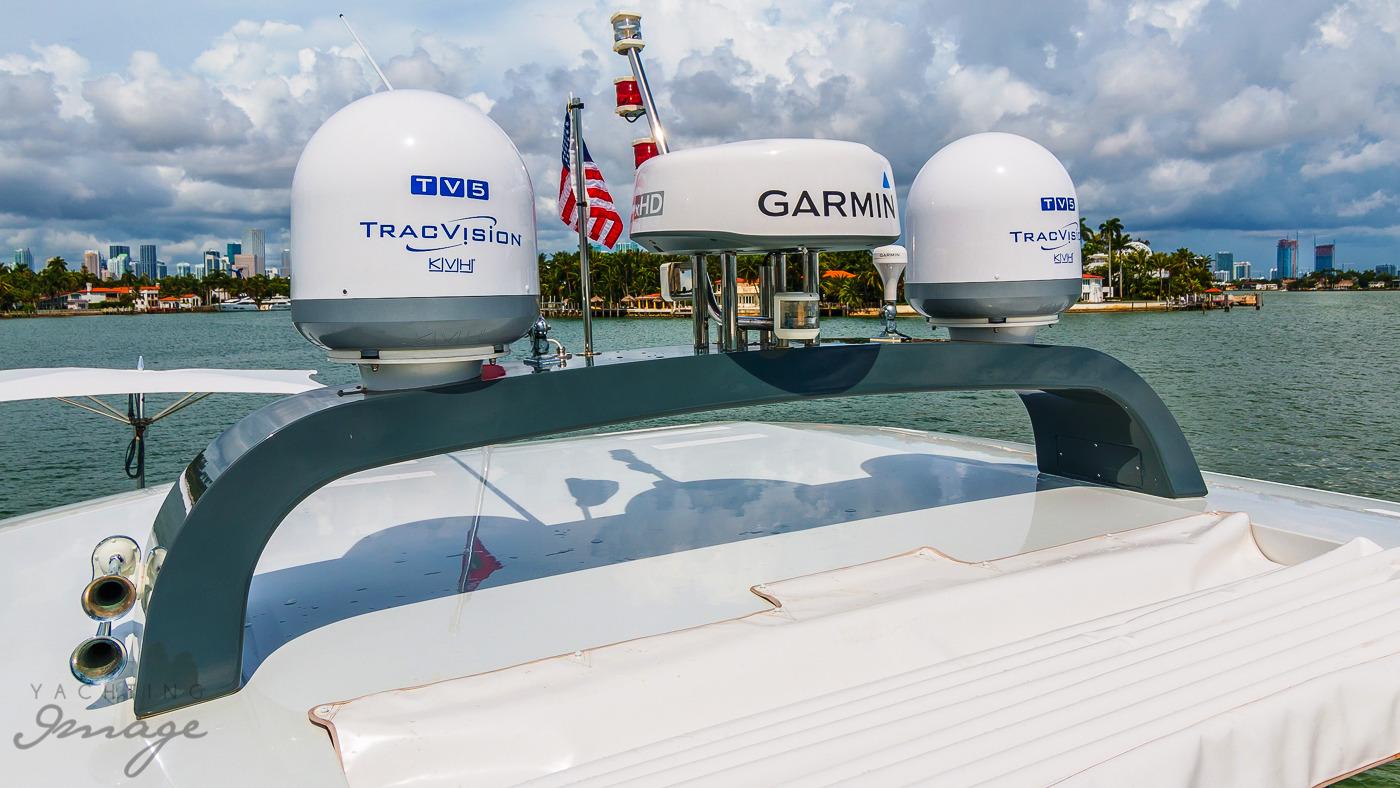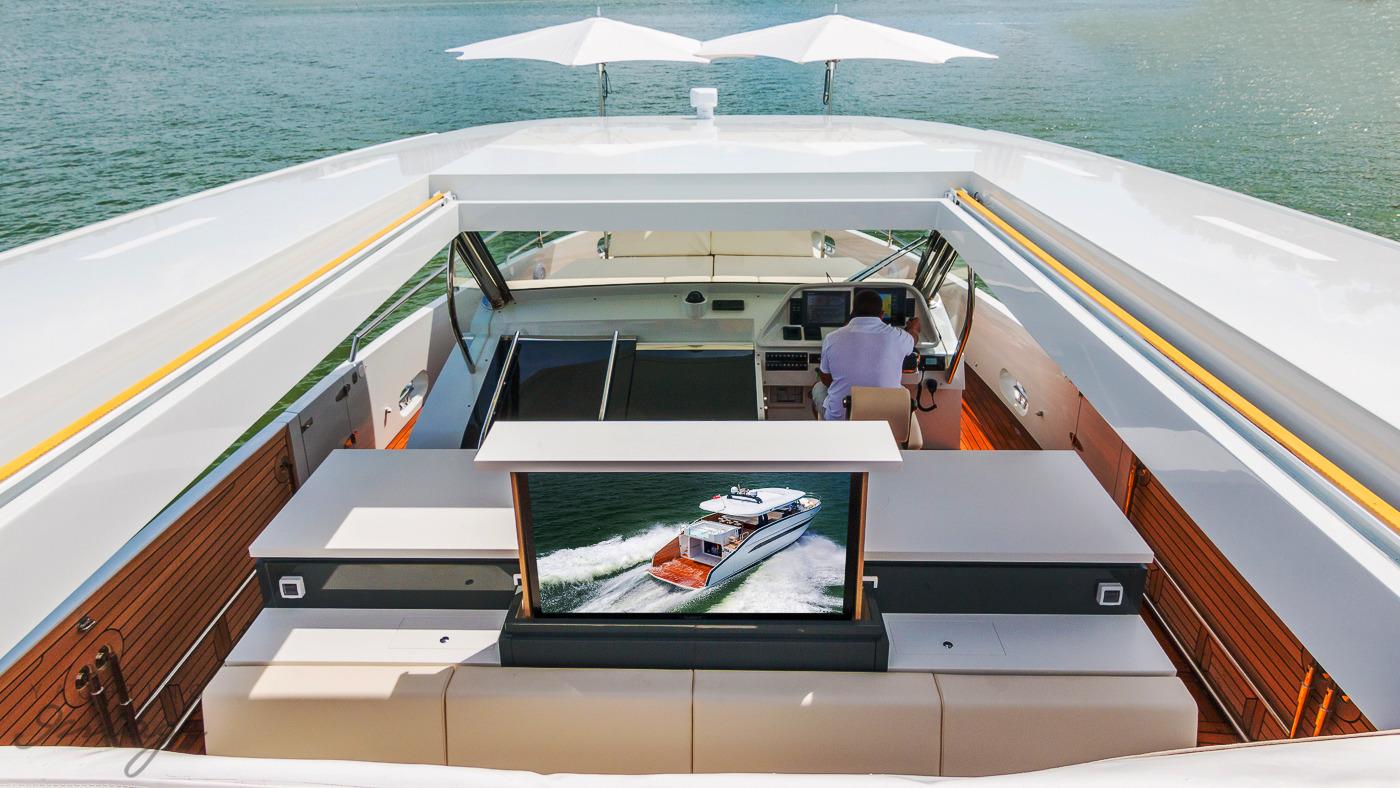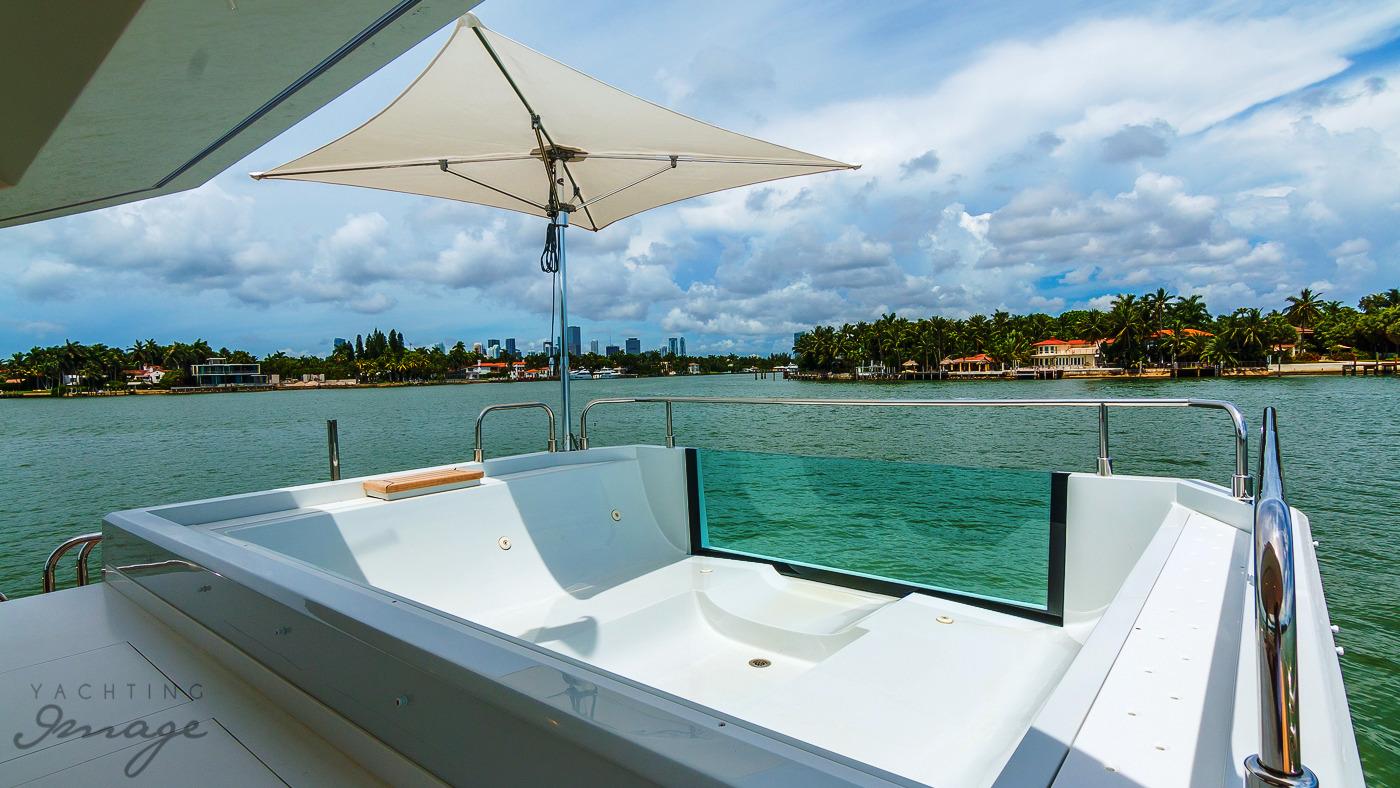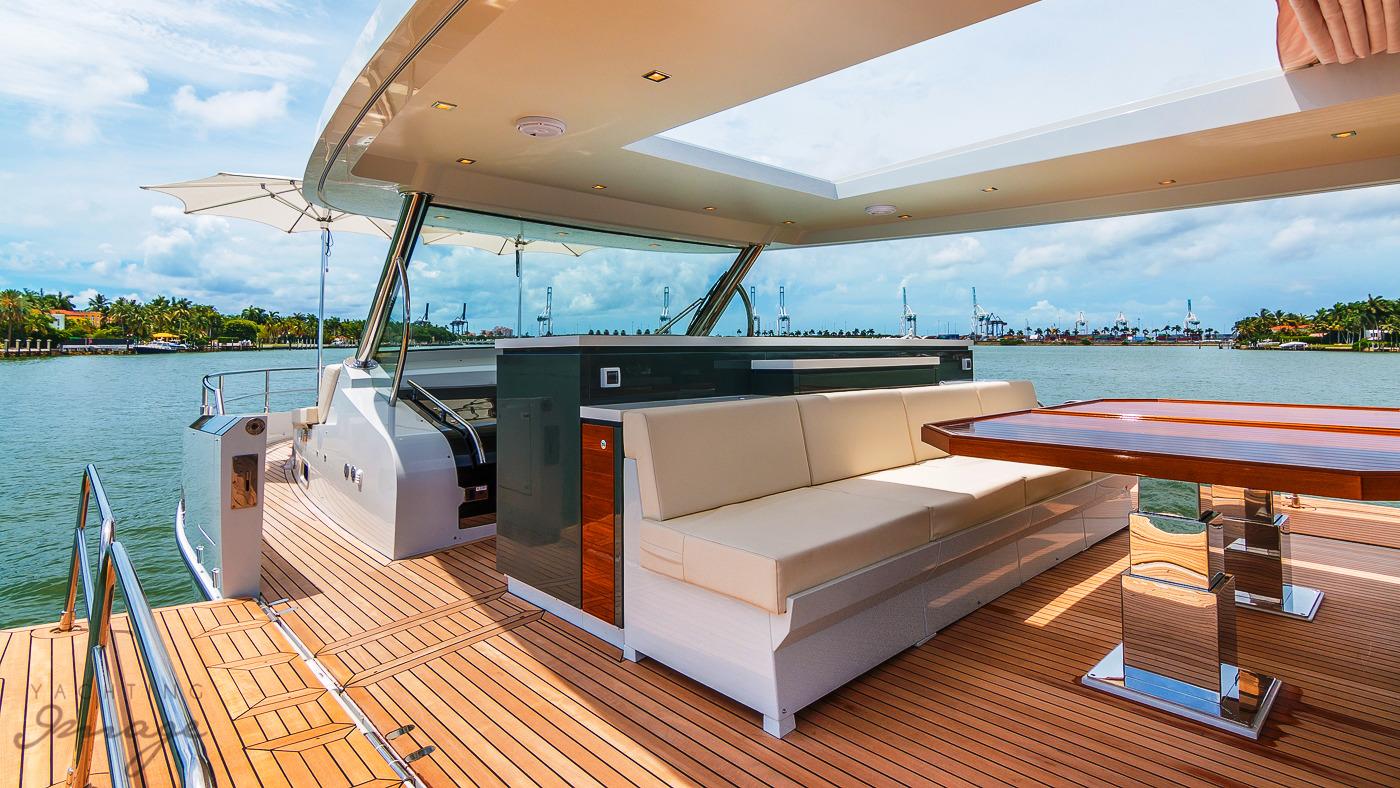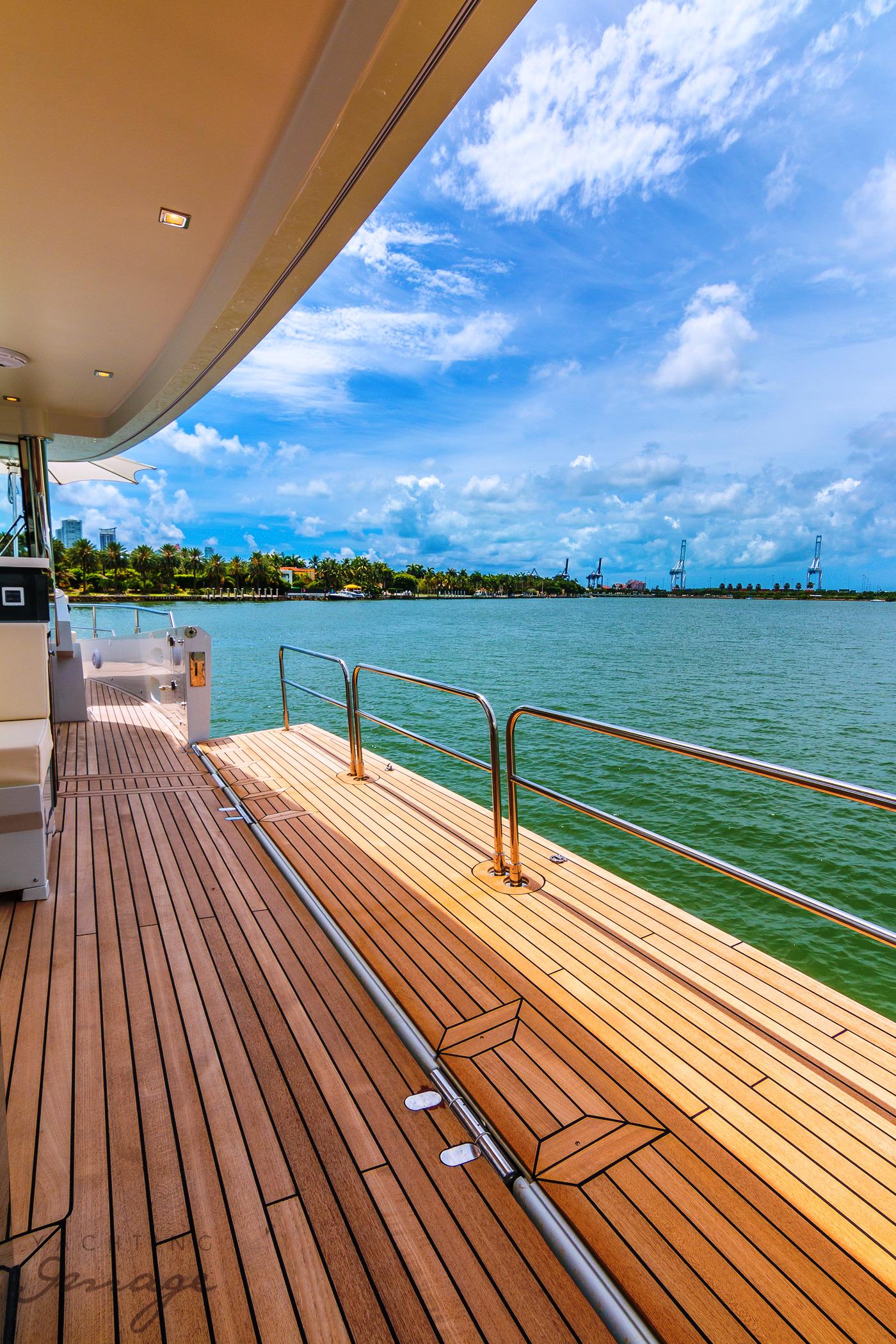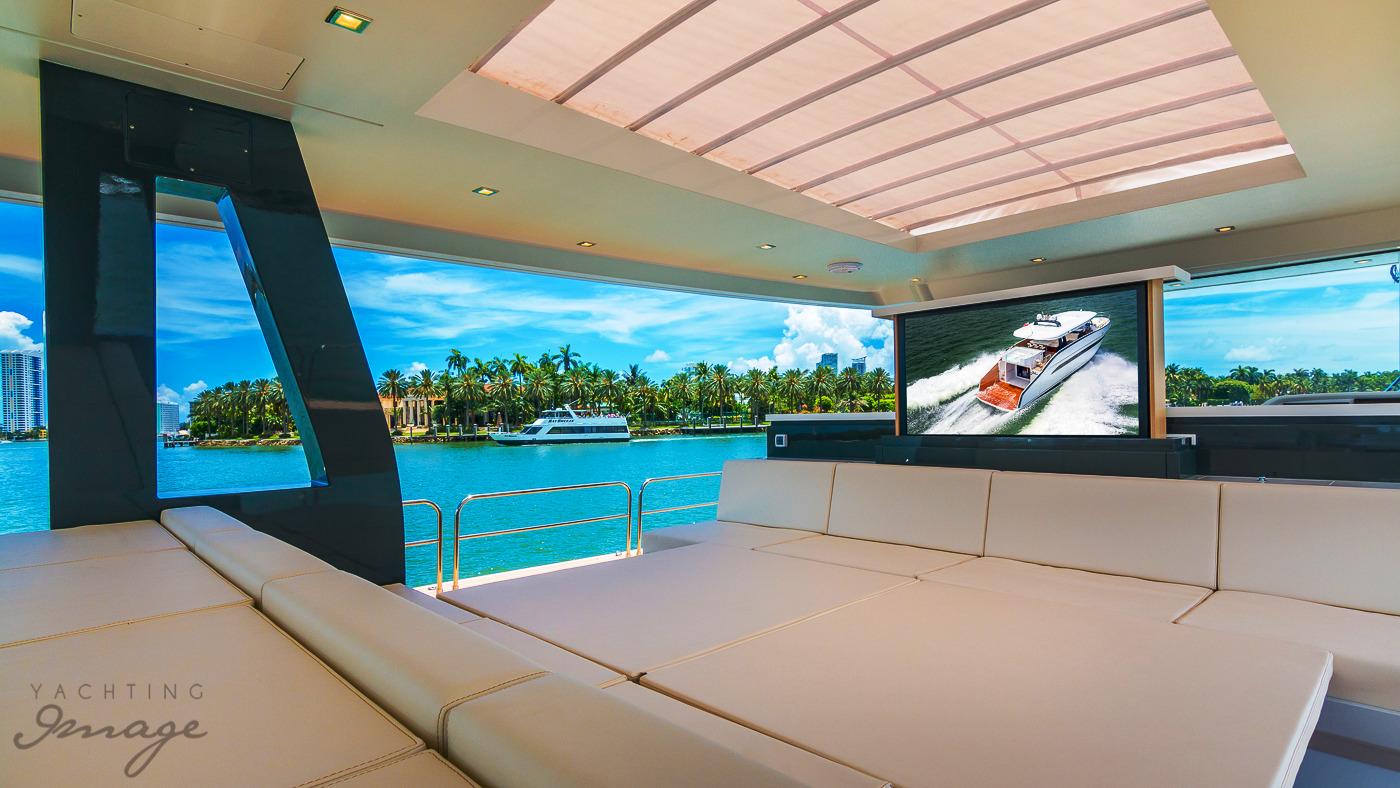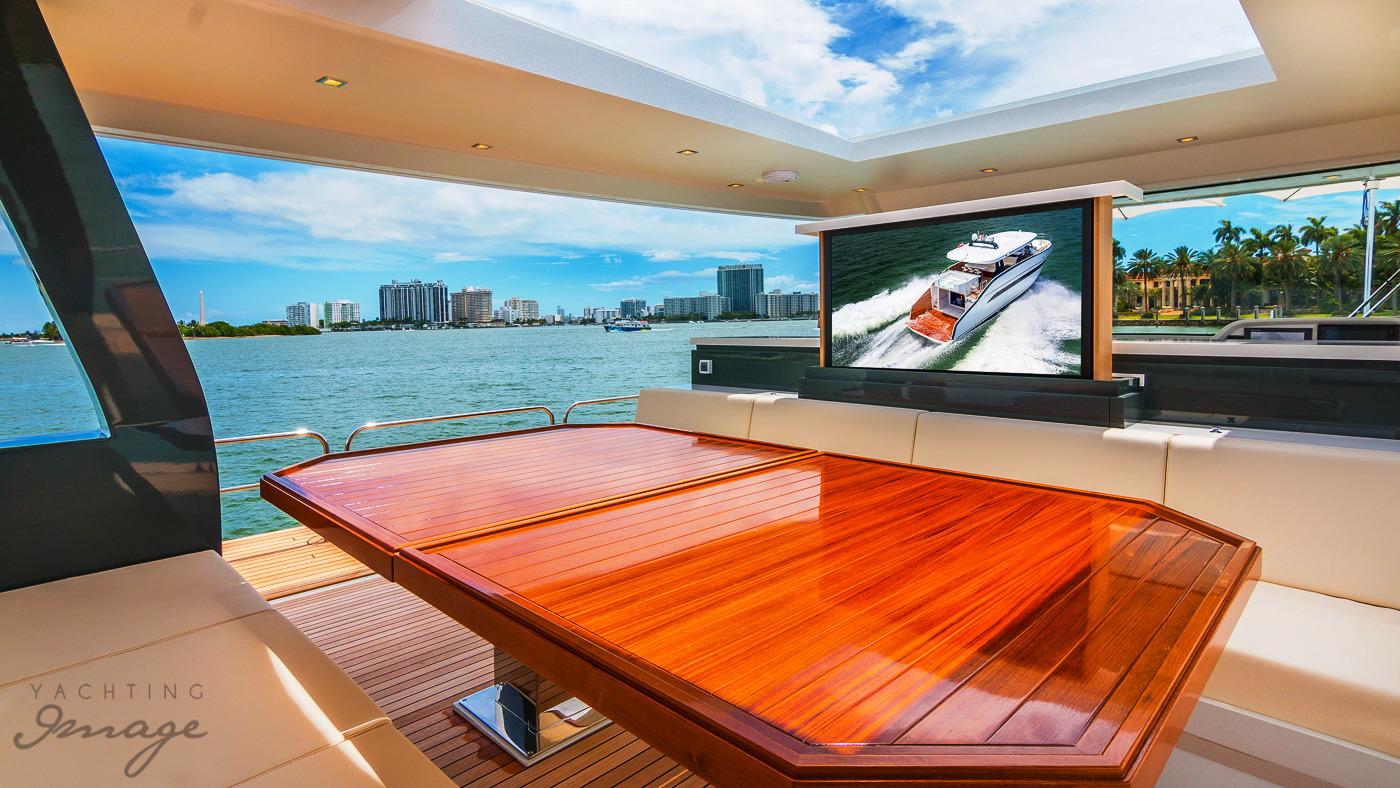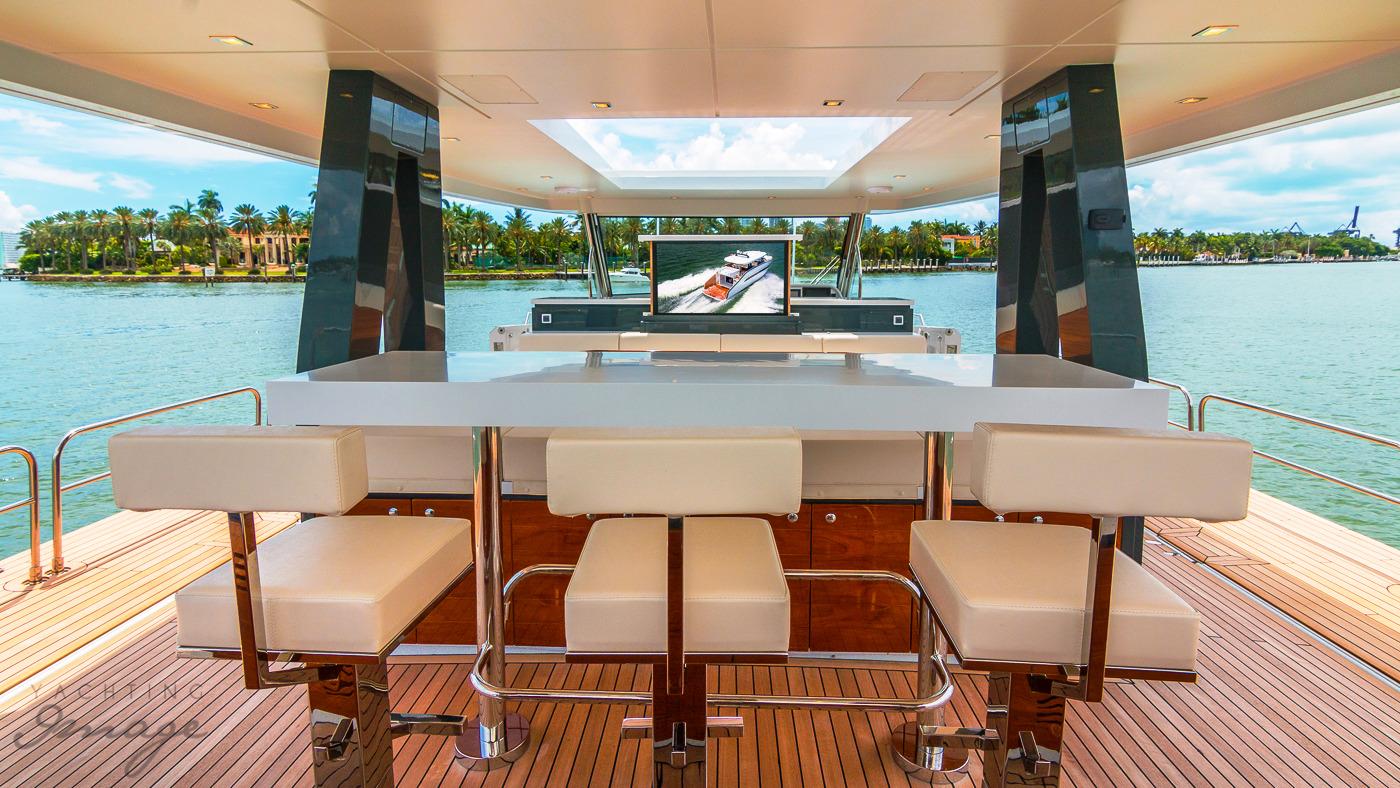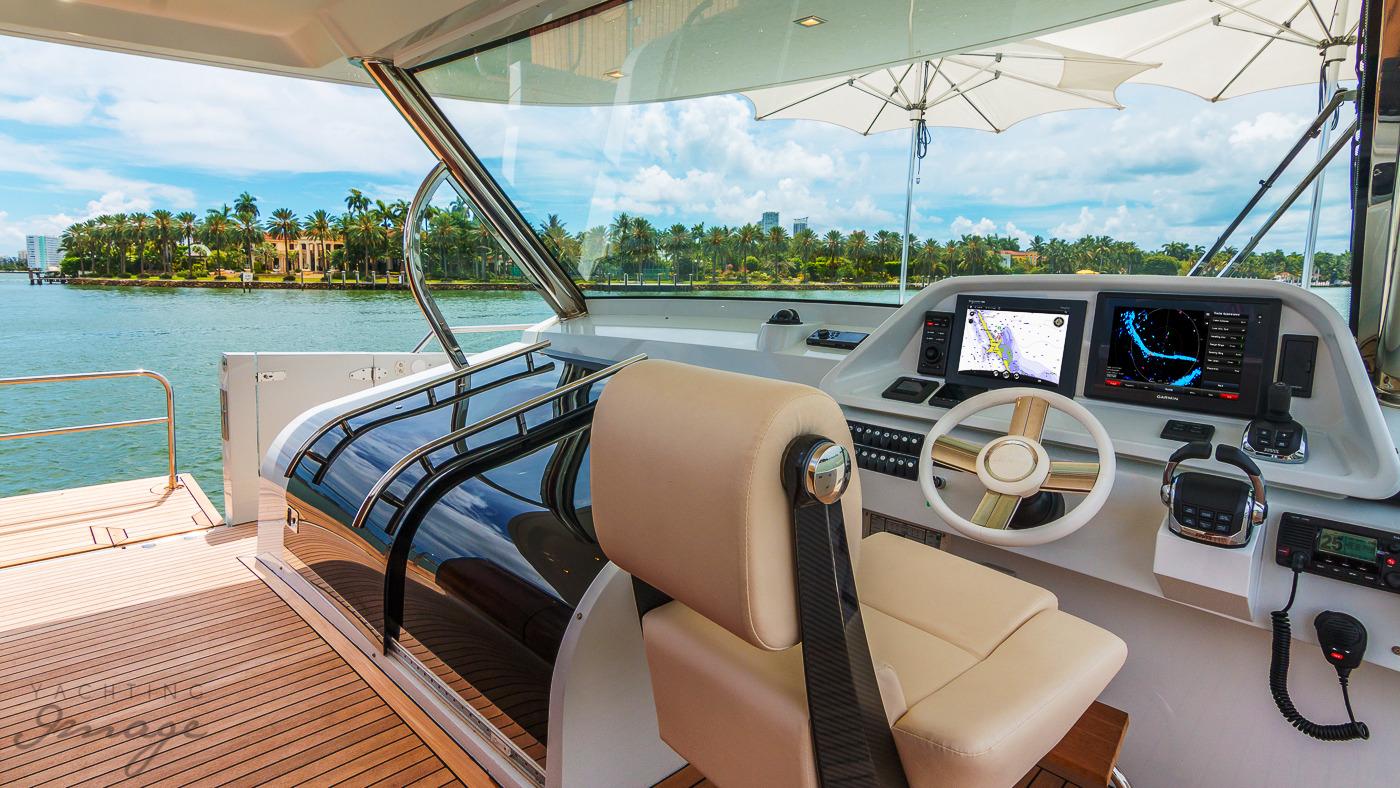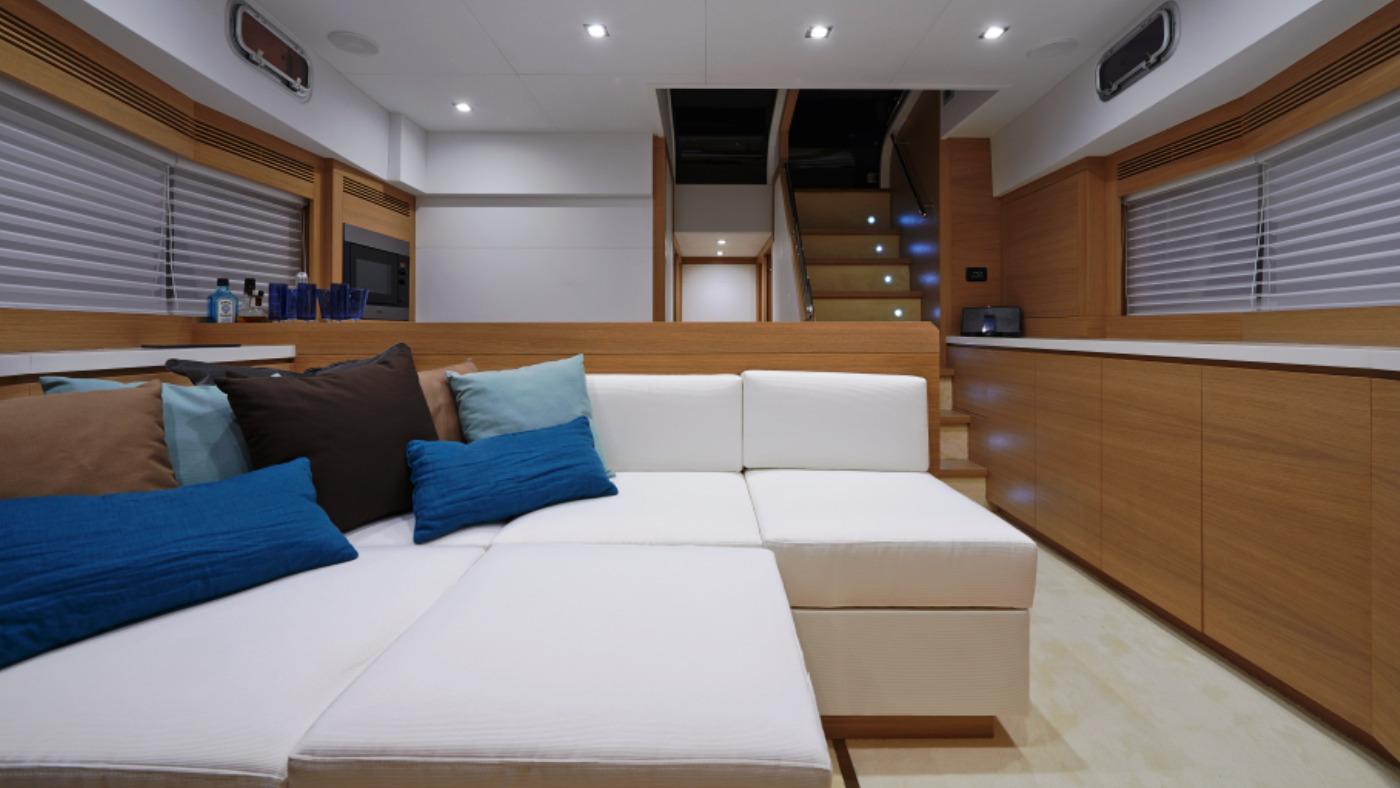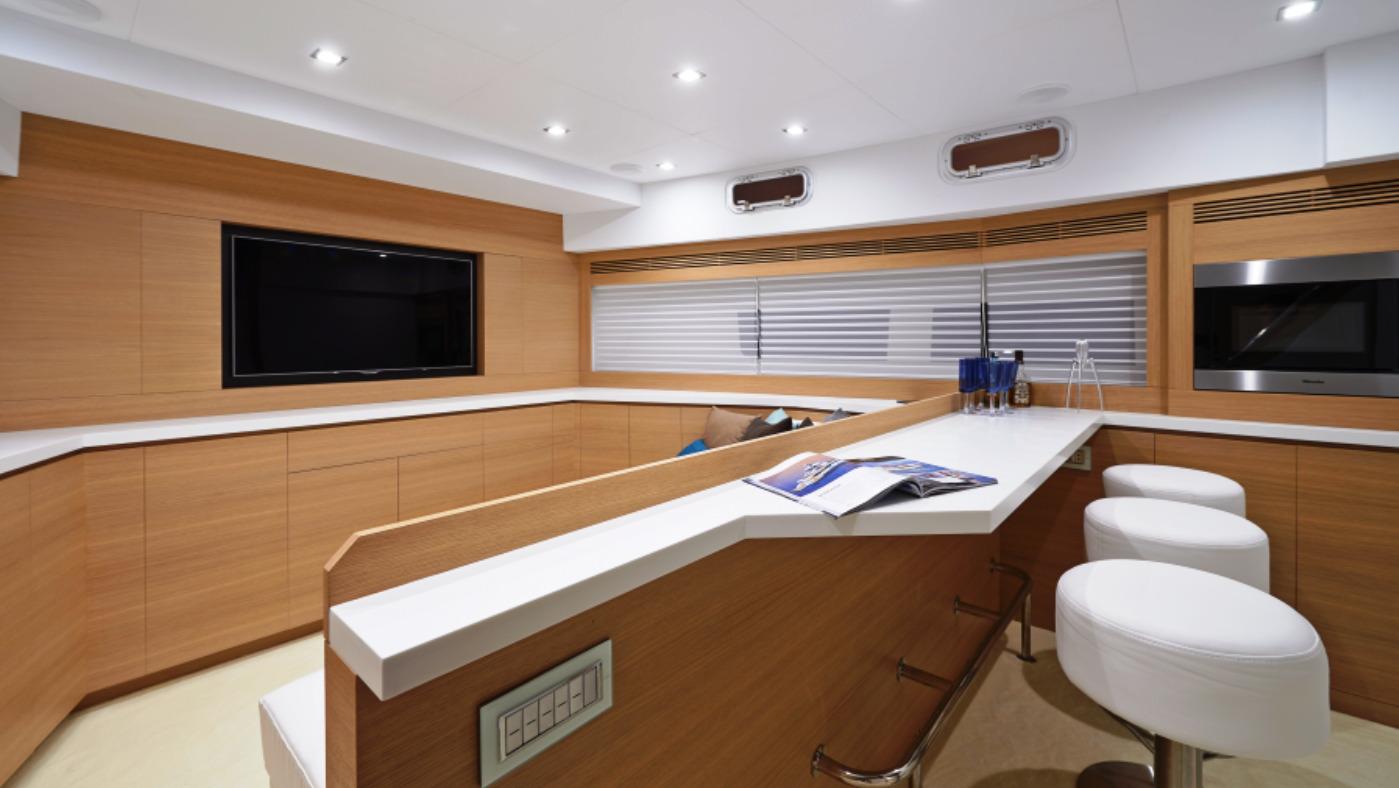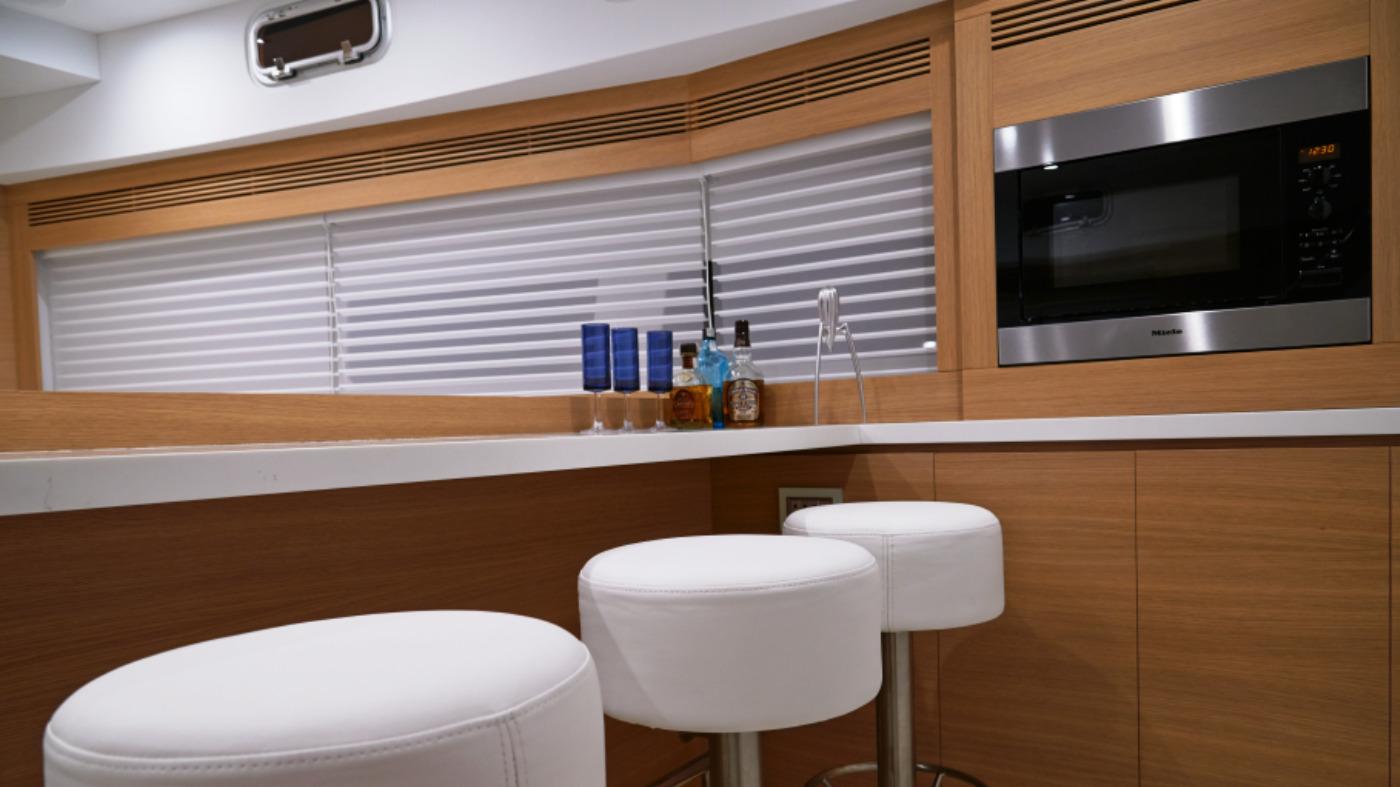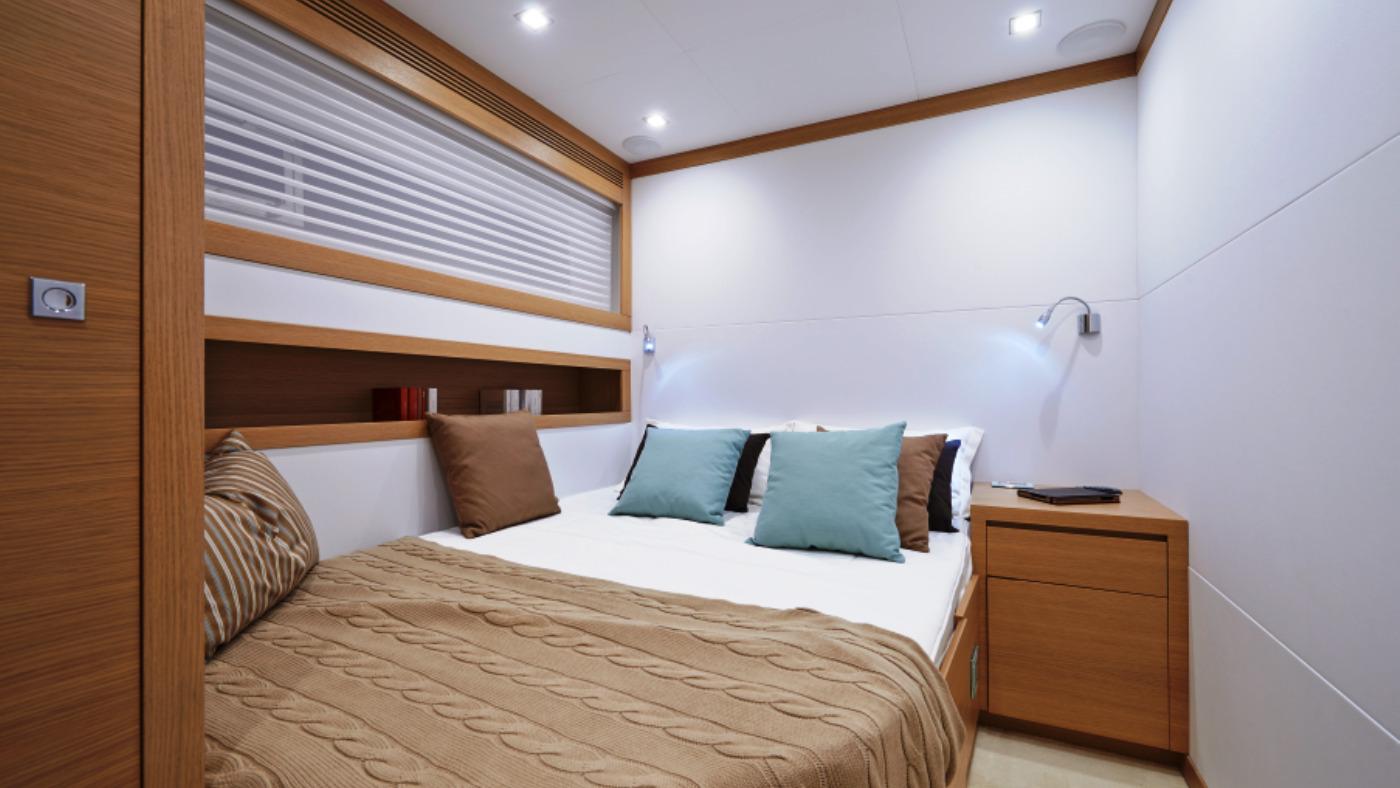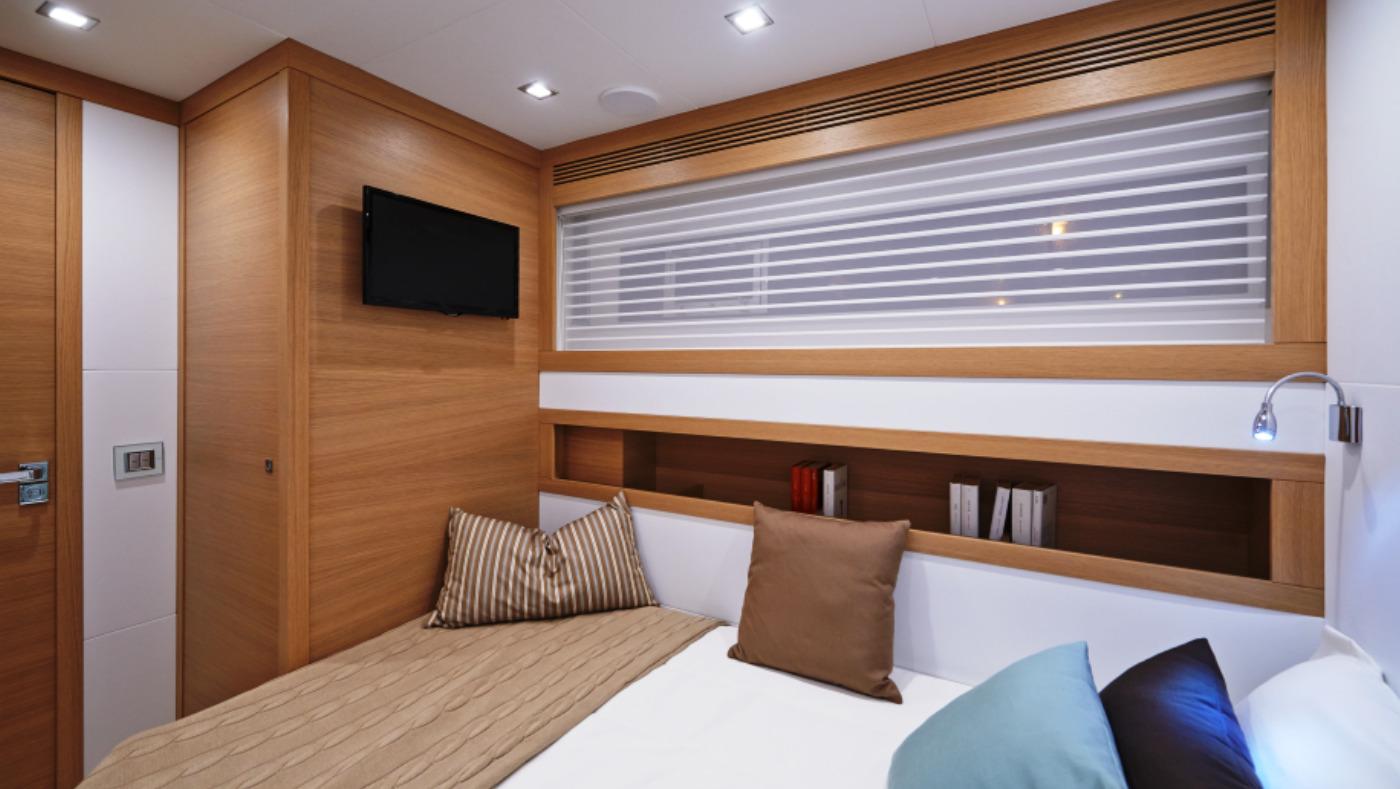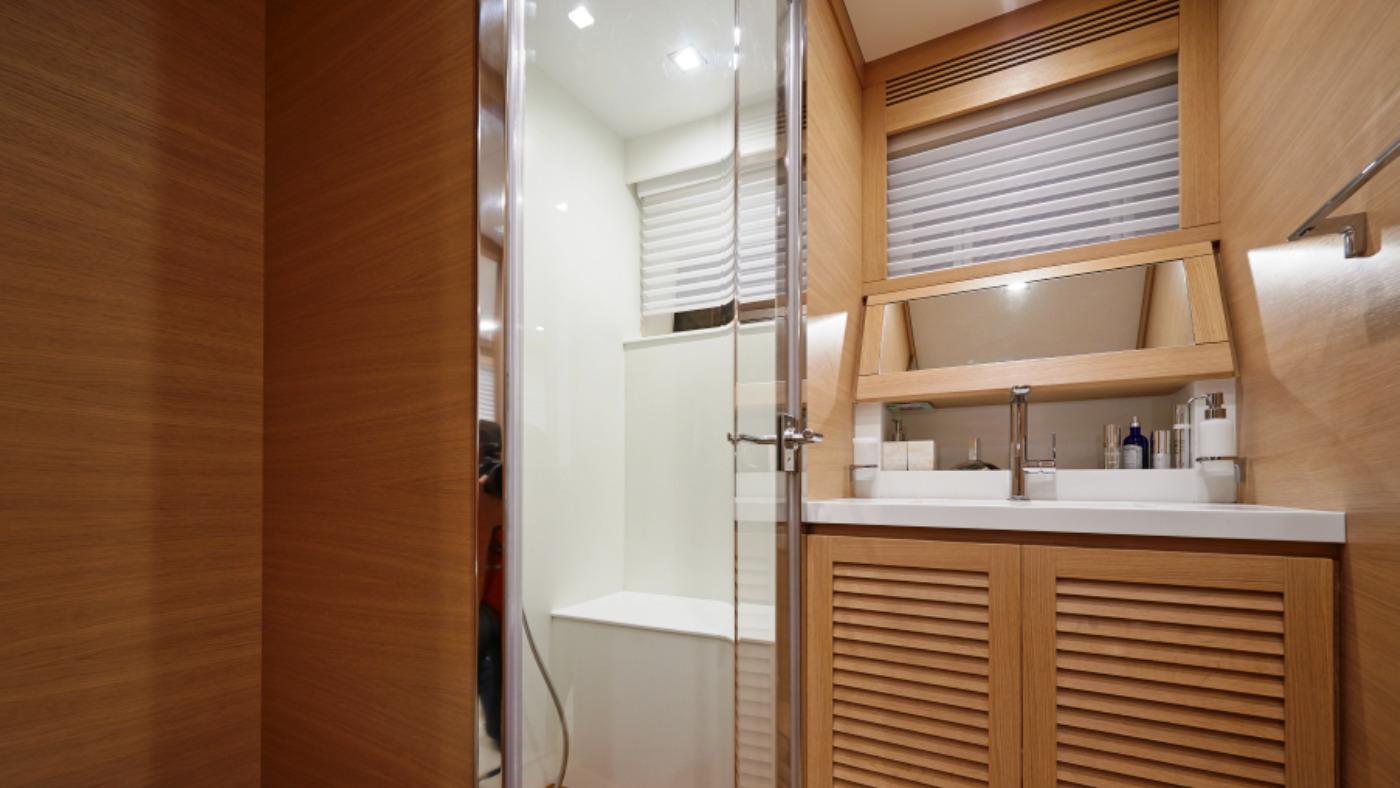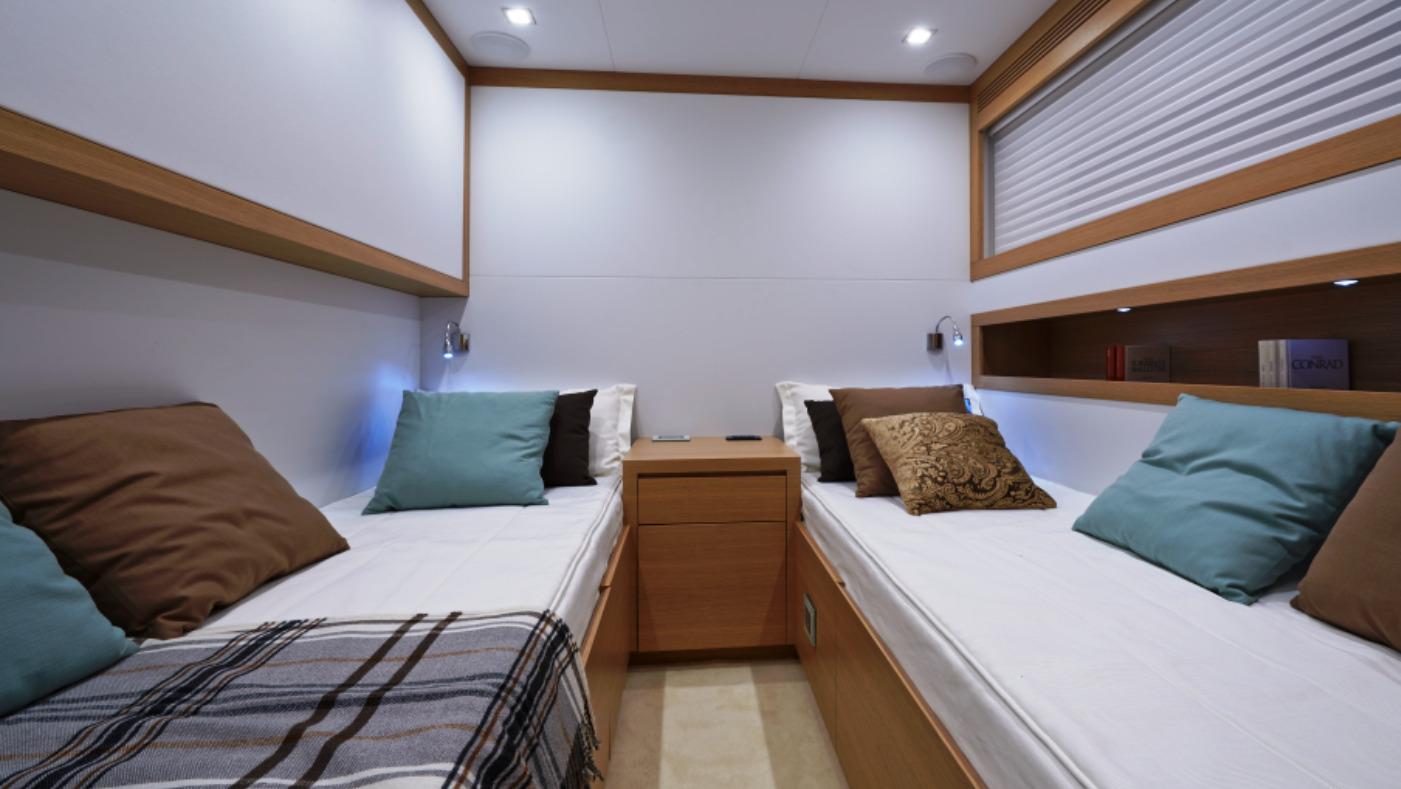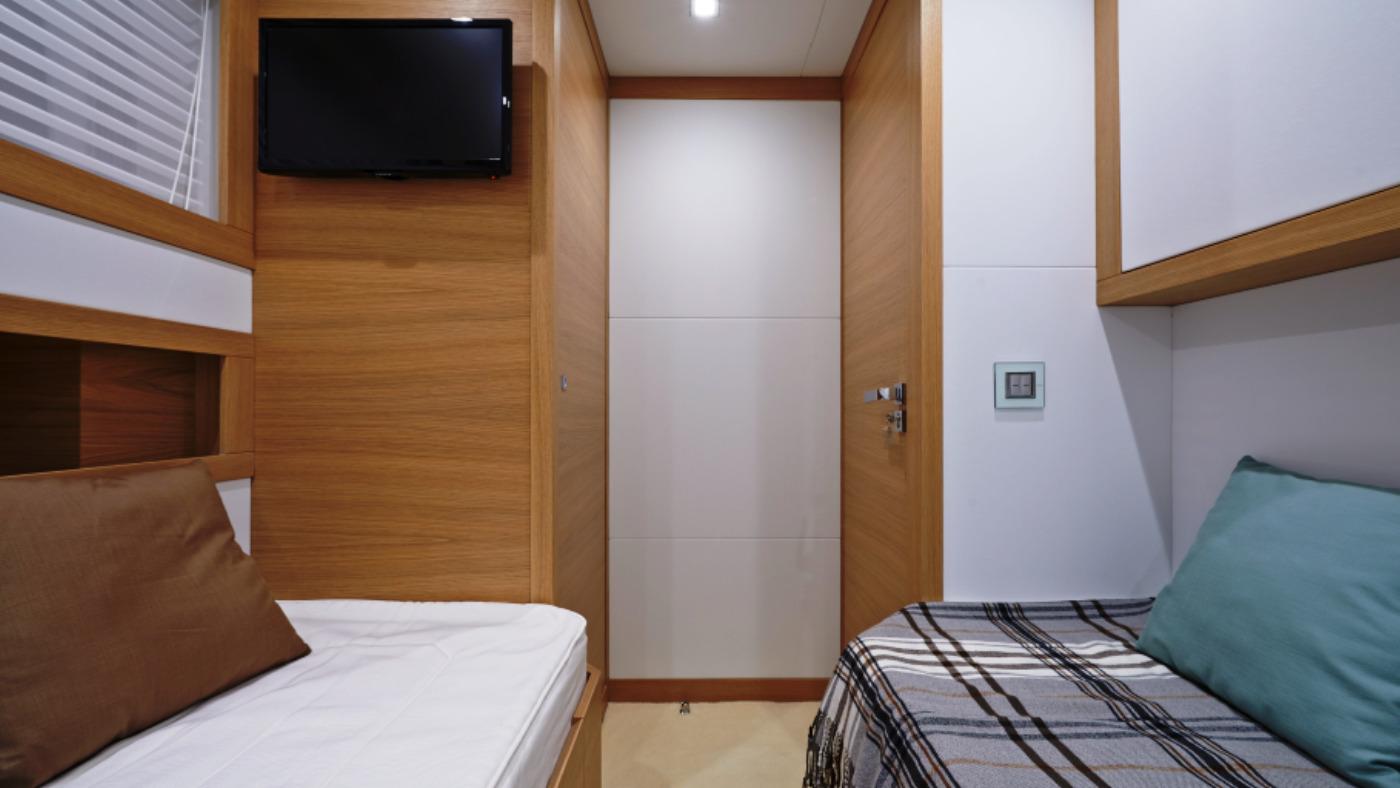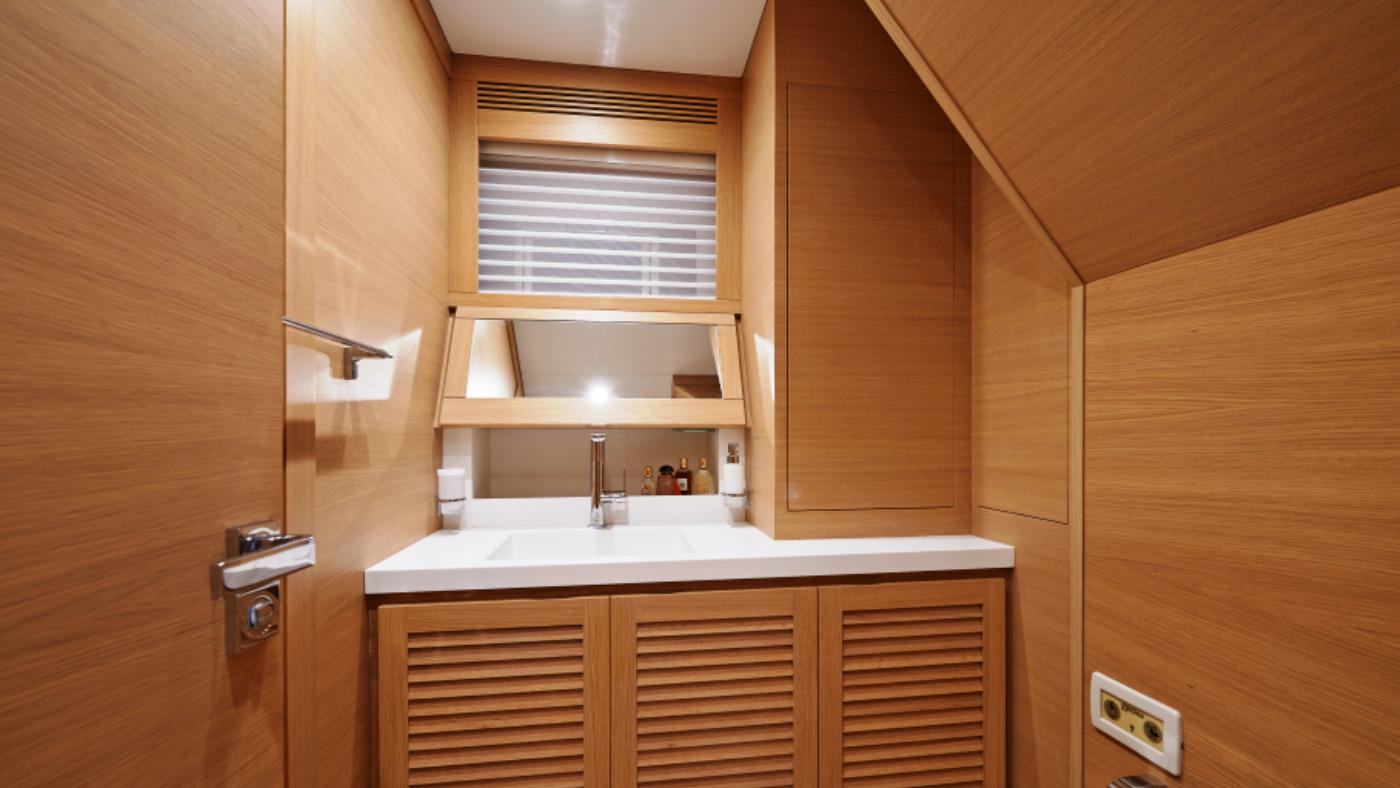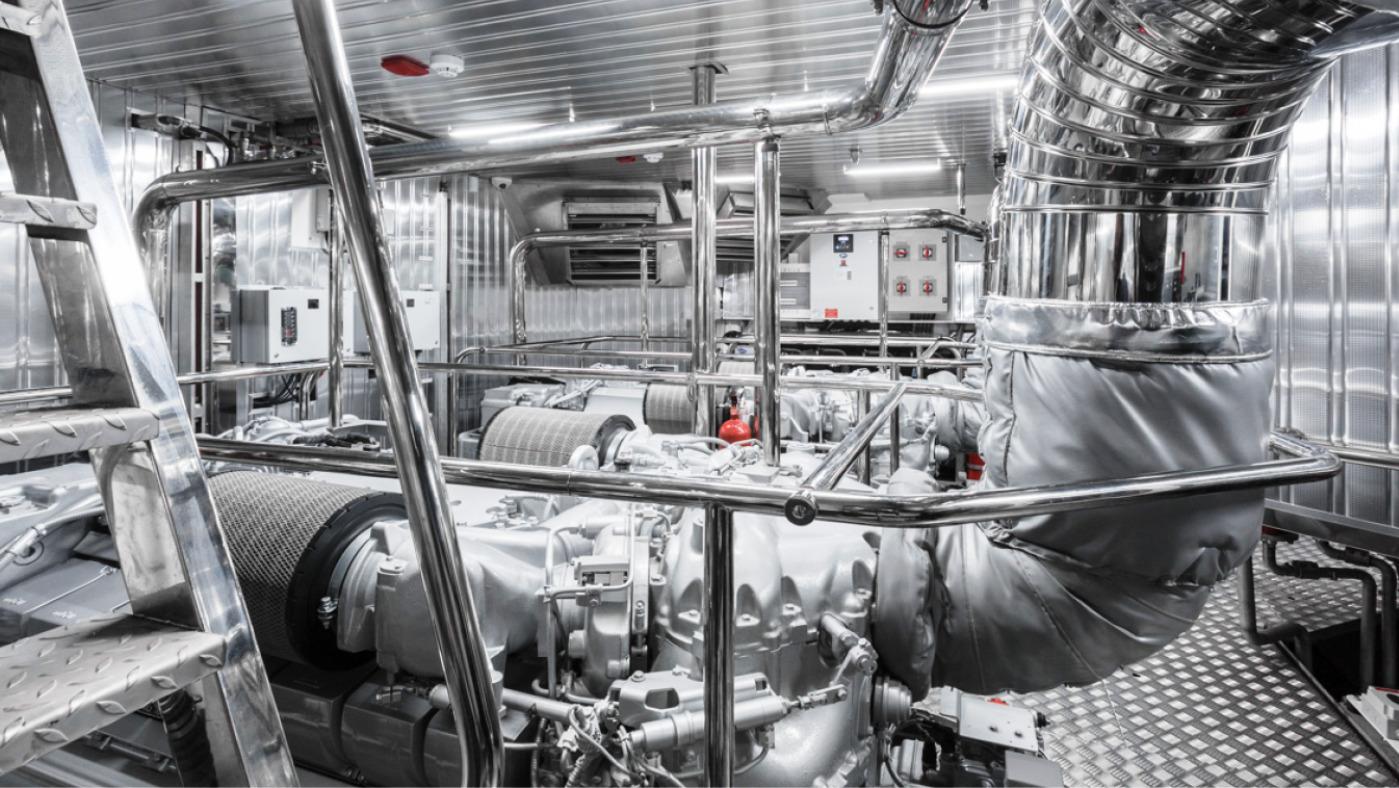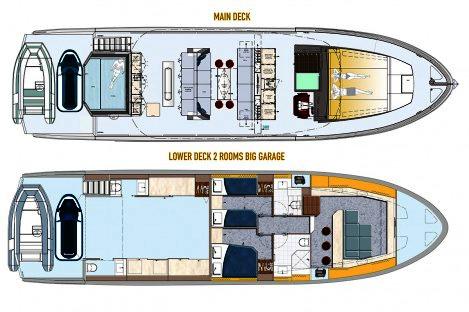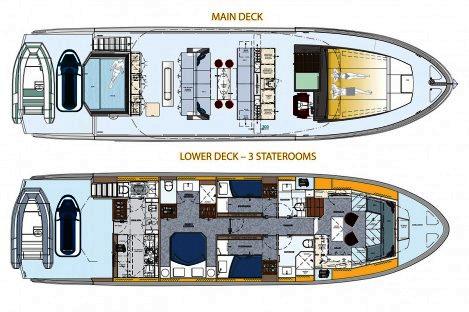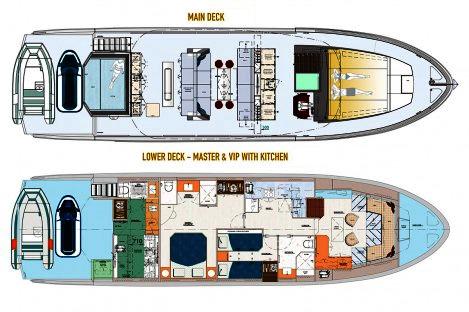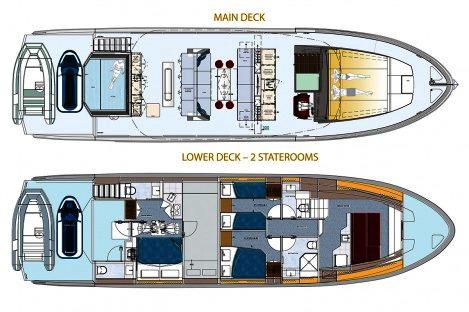 Description
The ASTONDOA 65 TOP DECK is the natural evolution of the ASTONDOA 63 TOP DECK and the only yacht in the market considered to be a Day Yacht, inspired in all aspects and never before developed by other shipyards, especially for the unique capacity of being able to carry more than 20 people on board a 65 foot yacht.
The design was conceived by award winning mega yacht designer Luiz de Basto and combined with the Astondoa engineering and construction experience. Thus, presenting its greatest creation in achieving the most extraordinary yachting experience for you, your family and guests.
The technology involved in this extraordinary model allows the conversion of spaces in a very versatile manner: an enclosed deck into a completely open one for social gatherings, or a radical transformation into a cruising beach club. The boat also comes with a swim platform like that of vessels twice its size, extending out over the stern to convert into a beach club. The stern includes a Jacuzzi with clear sides and opening balconies at the stern and sides, adding 25m2 of entertainment space on the yacht. In total, the ASTONDOA 65 TOP DECK offers over 100m2 of on-board fun.
The ASTONDOA 65 TOP DECK is a fresh and innovative concept of fun. At first glance, it looks like a private island. This elegant and versatile ship adapts to a variety of purposes with as many as 4 different layout options. One of these layouts provides for a garage with the same capacity as a megayacht.
It is easy to navigate, safe and responds quickly thanks to the IPS joystick system. The ASTONDOA 65 TOP DECK is powered by twin VOLVO IPS 950 D11 engines for 950 Hp at 2300 rpm, allowing the boat to reach a maximum speed of 36 knots and a cruising speed of 25 knots. It has also been optimized to have a convenient range of 330 nautical miles.
The ASTONDOA 65 TOP DECK is the ideal yacht to lodge two families or become a fun trip with over 20 family and friends.
Please click on the « Full Specs » tab for complete details of this Yacht
Note: This is a brand new boat, under full Manufacturer's warranty
6 Month delivery from order
Disclaimer
HMY Yacht Sales, Inc. is pleased to assist you in the purchase of this vessel. This boat is centrally listed by YACHTS INVEST.
Engine Model:
D-11 IPS 950
Engine Manufacturer:
VOLVO
Vessel Overview
Steering System
Joystick Control
Full Specs
ENGINES
Standard: 2 x VOLVO IPS 950 D11
Engine Type: Inboard
Engine/Fuel Type: Twin Diesel
Drive Type: Pod Drive
Engine Power: 2 x 950 Hp
SPEED*
Maximum speed: 36 Knots
Cruising speed: 25 Knots
RANGE*
At cruising speed: 330 nm
MAIN SIZES
Length overall, LOA (ISO 8666): 19.12 m (63 ft 0 in)
Hull Length, LH (ISO 8666): 18.50 m (59 ft 05 in)
Maximum beam: 5.09 m (16 ft 8 in)
Maximum depth: 1.46 m (4 ft 9 in)
Headroom: 2.03 m (6 ft 8 in)
Displacement unladen: 20,000 kg (60,000 lbs)
Full load displacement: 23,317 kg (65,000 lbs)
Fuel capacity: 2,460 l (650 Gallons)
Fresh water capacity: 662 l (175 Gallons)
CHARACTERISTICS
Hull type: V shape / 13 º
Building material: PRFV/GRP
Certified by: RINA
Design: Luiz de Basto
ACCOMMODATION
Number of cabins: 2/3 (see layouts)
Number of bathrooms: 2/3
Sleeping capacity: 5/7
Seating capacity: 30
ELECTRONICS
Log-speedometer
DVD player
VHF
Navigation center
GPS
Plotter
Compass
CD player
Depthsounder
Autopilot
Radar
Cockpit speakers
Radio
TV set
STANDARD INSIDE EQUIPMENT
Refrigerator
Sea water pump
Electric bilge pump
Hot water
Battery charger
Fresh water maker
Microwave oven
Heating
Electric heads
Air conditioning
ELECTRICAL EQUIPMENT
Shore power inlet
Generator 20 kW
Inverter
Electrical Circuit: 220V
OUTSIDE EQUIPMENT / EXTRAS
Liferafts, total liferaft Capacity: 2 x 12 Pax
Cockpit shower
Swimming ladder
Oversized multiple Tender garage
Hydraulic platform
Hydraulic gangway
Cockpit table
Cockpit cushions
Electric windlass
ADDITIONAL OPTIONS
Please consult with us
* Speed and range has been obtained at the following conditions: standard version displacement, 30% load, four people on board, clean hull, good weather conditions
Spécifications Détaillées (Français)
L'ASTONDOA 65 TOP DECK est l'évolution naturelle de l'ASTONDOA 63 TOP DECK et le seul yacht sur le marché considéré comme un yacht de jour, inspiré dans tous les aspects et jamais conçu par d'autres chantiers navals, en particulier pour sa capacité unique de pouvoir transporter plus de 20 personnes à bord d'un yacht de 63 pieds.
Le design a été conçu par le designer Luiz de Basto, primé pour la conception de méga yachts, et combiné avec l'ingénierie et l'expérience de construction du chantier Astondoa. Ainsi, présentant sa plus grande création dans la réalisation de l'expérience de plaisance la plus extraordinaire pour vous, votre famille et vos invités.
La technologie impliquée dans ce modèle extraordinaire permet la conversion des espaces d'une manière très polyvalente : un pont fermé en un pont complètement ouvert pour des rassemblements sociaux, ou une transformation radicale dans un club de plage permettant aussi de faire de la croisière. Le bateau est également livré avec une plateforme de bain comme celle des navires deux fois sa taille, s'ouvrant par la poupe et se convertissant en un club de plage. La poupe comprend un jacuzzi avec des côtés non-obstrués et des balcons d'ouverture à l'arrière et sur les côtés, qui rajoutent 25m2 d'espace de divertissement sur le yacht. Au total, l'ASTONDOA 65 TOP DECK offre plus de 100m2 de plaisir à bord.
L'ASTONDOA 65 TOP DECK est un concept rafraîchissant et novateur de plaisir. À première vue, il ressemble à une île privée. Ce navire élégant et polyvalent s'adapte à des fins diverses avec jusqu'à 4 différentes options de plans de ponts. Une de ces dispositions prévoit un garage avec la même capacité d'un méga-yacht.
Il est facile à naviguer, en toute sécurité et répond rapidement grâce au système de joystick IPS. L'ASTONDOA 65 TOP DECK est alimenté par deux moteurs jumeaux VOLVO IPS 950 D11 pour 950 Cv à 2300 rpm, ce qui permet au bateau d'atteindre une vitesse maximale de 36 nœuds et une vitesse de croisière de 25 nœuds. Il a également été optimisé pour avoir une autonomie pratique de 330 miles nautiques.
L'ASTONDOA 65 TOP DECK est le yacht idéal pour loger deux familles ou faire de la plaisance avec famille et amis pour plus de 20 personnes.
MOTORISATION
Standard : 2 x VOLVO IPS 950 D11
Type de moteur : Inbord
Type de moteur / carburant : Diesel Jumeaux
Type de propulsion : Embases Pod
Puissance des moteurs : 2 x 950 Cv
VITESSE *
Vitesse maximale : 36 Nœuds
Vitesse de croisière : 25 Nœuds
AUTONOMIE *
À vitesse de croisière : 330 mn
DIMENSIONS PRINCIPALES
Longueur hors tout, LOA (ISO 8666) : 19,12 m (63 pi 0 po)
Longueur de coque, LH (ISO 8666) : 18,50 m (59 pi 05 po)
Largeur maximum : 5,09 m (16 pi 8 po)
Tirant d'eau maximum : 1,46 m (4 pi 9 po)
Hauteur sous barrot : 2,03 m (6 pi 8 po)
Déplacement à vide : 20.000 kg (60.000 livres)
Déplacement pleine charge : 23.317 kg (65.000 livres)
Capacité de combustible : 2.460 l (650 gallons)
Capacité eau douce : 662 l (175 gallons)
CARACTÉRISTIQUES
Type de coque : Forme en V / 13 º
Matériau de construction : FRP / GRP
Certifié par : RINA
Conception : Luiz de Basto
AMÉNAGEMENTS
Nombre de cabines : 2 / 3 (voir différents plans de ponts)
Nombre de salles de bain : 3 / 3
Nombre de couchettes : 5 / 7
Nombre de places assises : 30
ÉLECTRONIQUE
Loch-speedomètre
Lecteur DVD
VHF
Centre de navigation
GPS Traceur
Boussole Lecteur CD
Sondeur
Pilote automatique
Radar
Haut-parleurs extérieurs
Radio
Poste de télévision
ÉQUIPEMENT INTÉRIEUR STANDARD
Réfrigérateur
Pompe eau de mer
Pompe de cale électrique
Eau chaude
Chargeur de batteries
Dessalinisateur
Four micro-onde
Chauffage
WCs électriques
Climatisation
ÉQUIPEMENT ÉLECTRIQUE
Prise de quai
Générateur 20 kW
Onduleur
Circuit électrique: 220V
ÉQUIPEMENT EXTÉRIEUR / EXTRAS
Survies, capacité : 2 x 12 pax
Douchette de cockpit
Échelle de bain
Garage à annexes multiples surdimensionné
Plateforme hydraulique
Passerelle hydraulique
Table de cockpit
Coussins de cockpit
Guindeau électrique
OPTIONS SUPPLÉMENTAIRES
Merci de nous consulter
GARANTIE
Garantie 5 ans sur la coque, 2 ans sur le reste des composants du navire
LIVRAISON
6 Mois à partir de la commande
BROCHURE DU YACHT
Disponible sur demande
PLACE DE PORT
Gestion de poste d'amarrage possible sur la Riviera Française et italienne ainsi qu'en Espagne (continentale et îles Baléares), la Grèce et la Turquie.
* Vitesse et autonomie calculées dans les conditions suivantes : version de déplacement type, 30% de charge, quatre personnes à bord, coque propre, bonnes conditions météorologiques
YACHTS INVEST est un concessionnaire agréé ASTONDOA YACHTS pour les navires neufs et d'occasion.
Virtual Tour
Virtual tour of pervious model ASTONDOA 63 TOP DECK available on:
http://www.astondoa.com/models/top-deck/astondoa-top-deck-dy63/360
Yacht Brochure
Upon request
Delivery
6 Months from order
Warranty
5 years on the hull, 2 years on the rest of ship's components
Berth
Berth place management possible on French or Italian Rivieras as well as Spain (Mainland and Balearic islands), Greece and Turkey.
Disclaimer
These particulars are given in good faith as supplied to us but cannot be guaranteed and cannot be used for contracts
Return to Yachts for Sale
Get more information