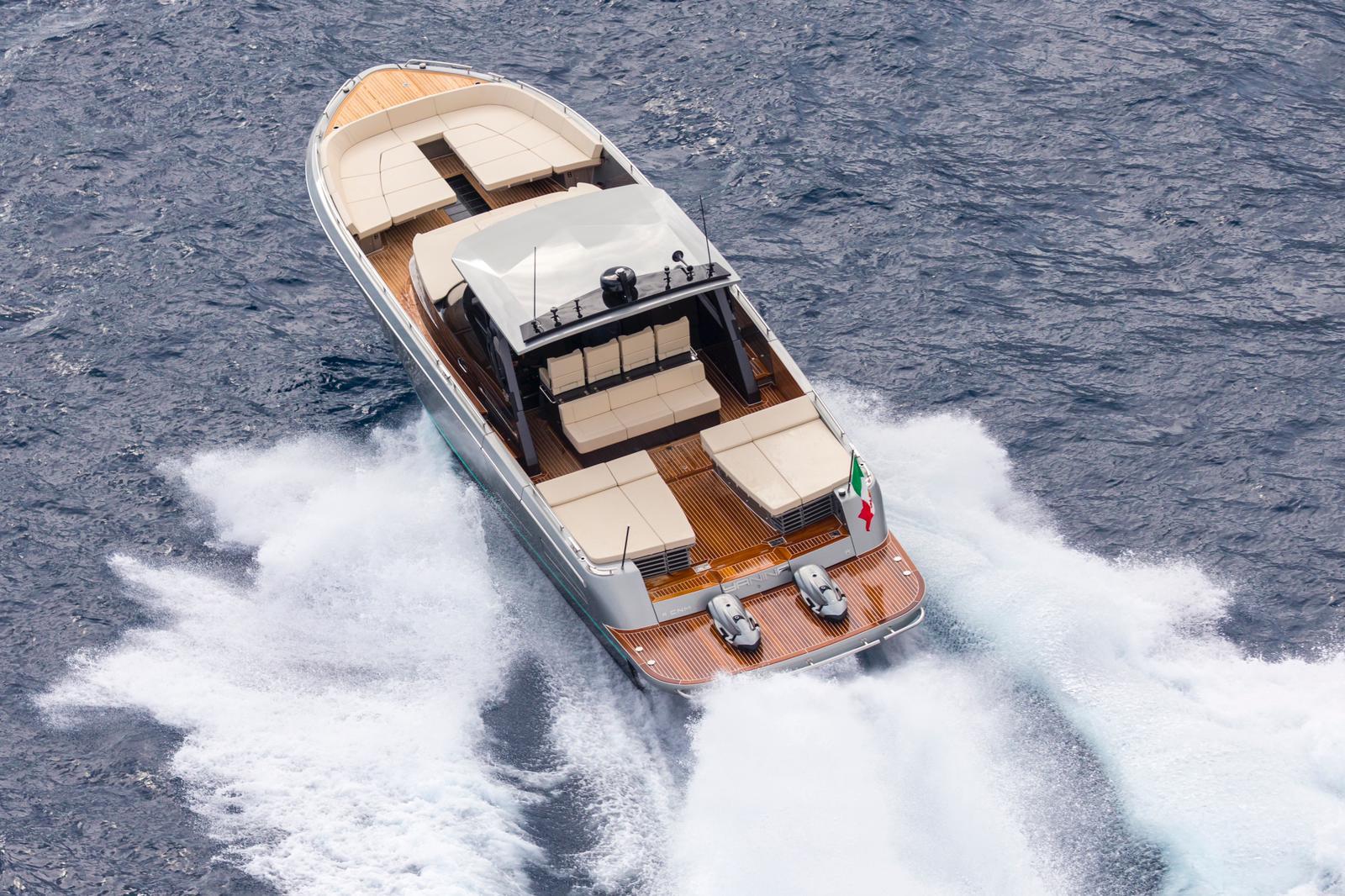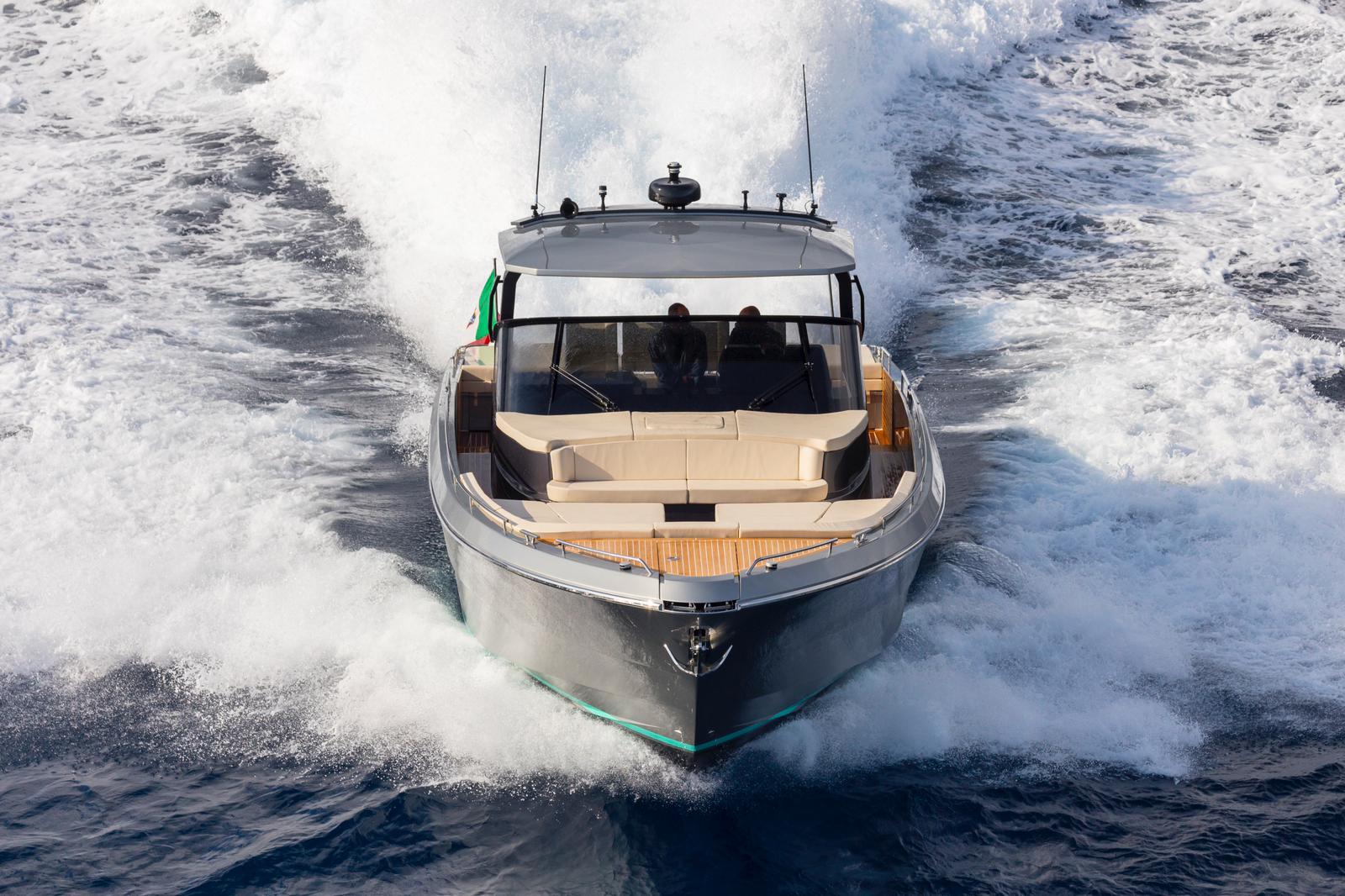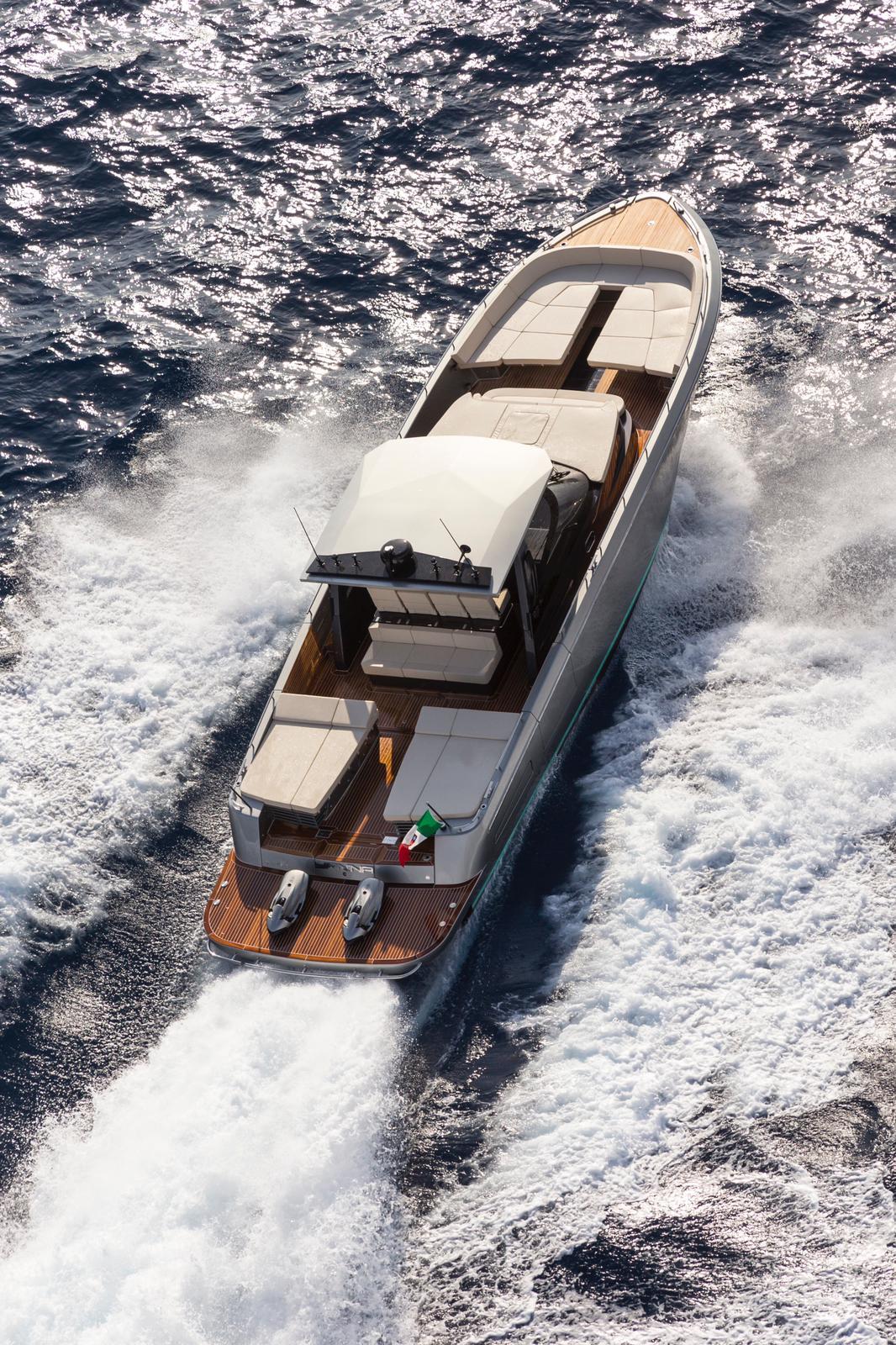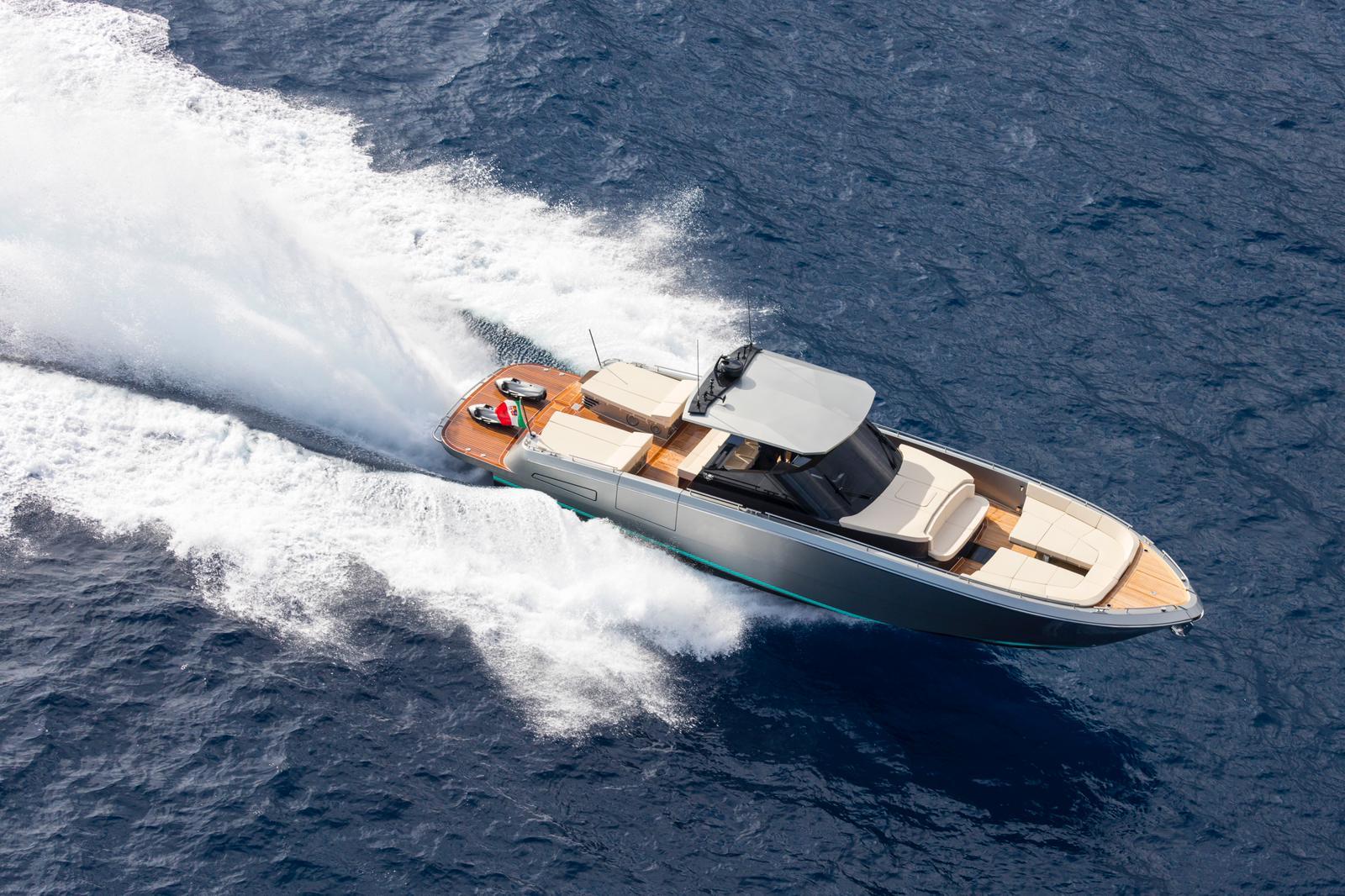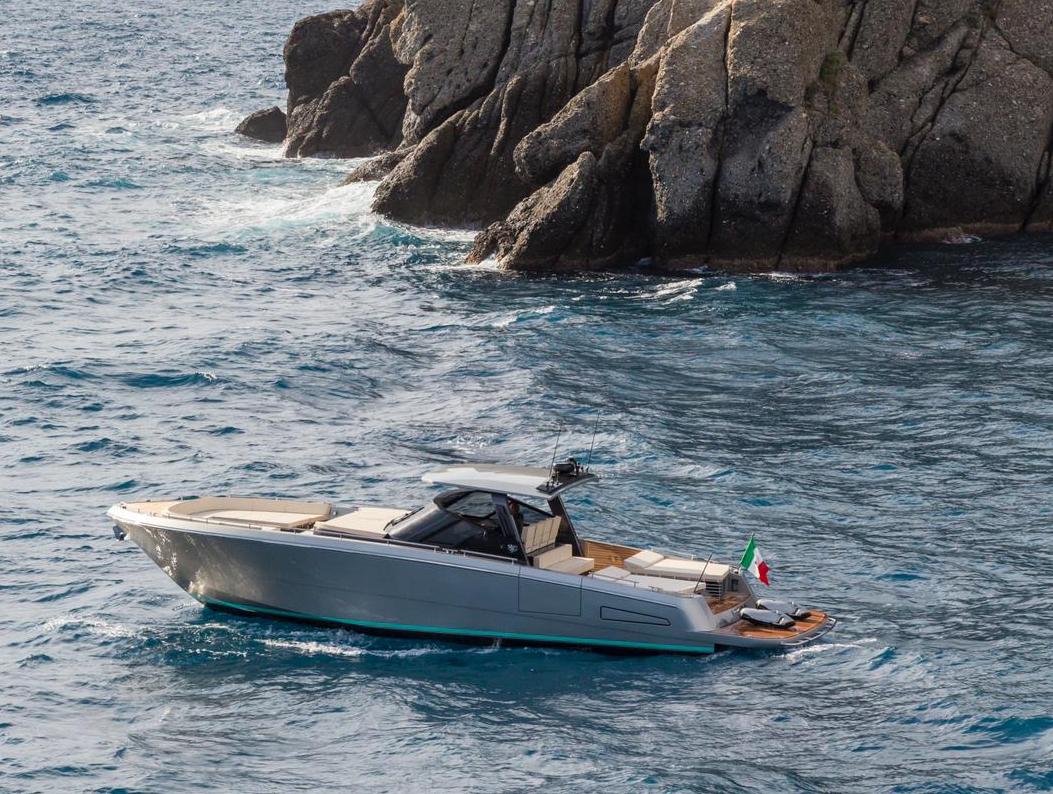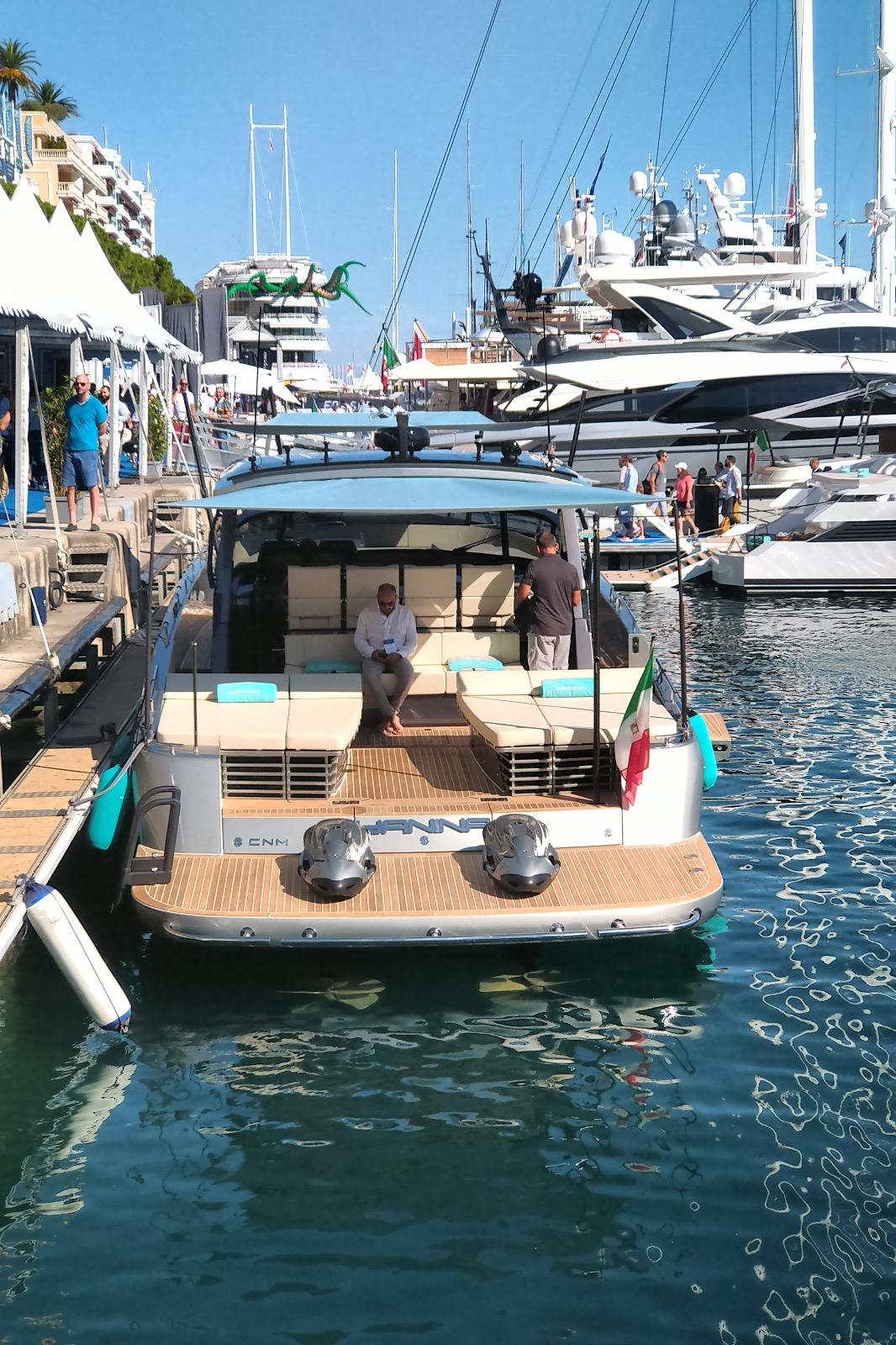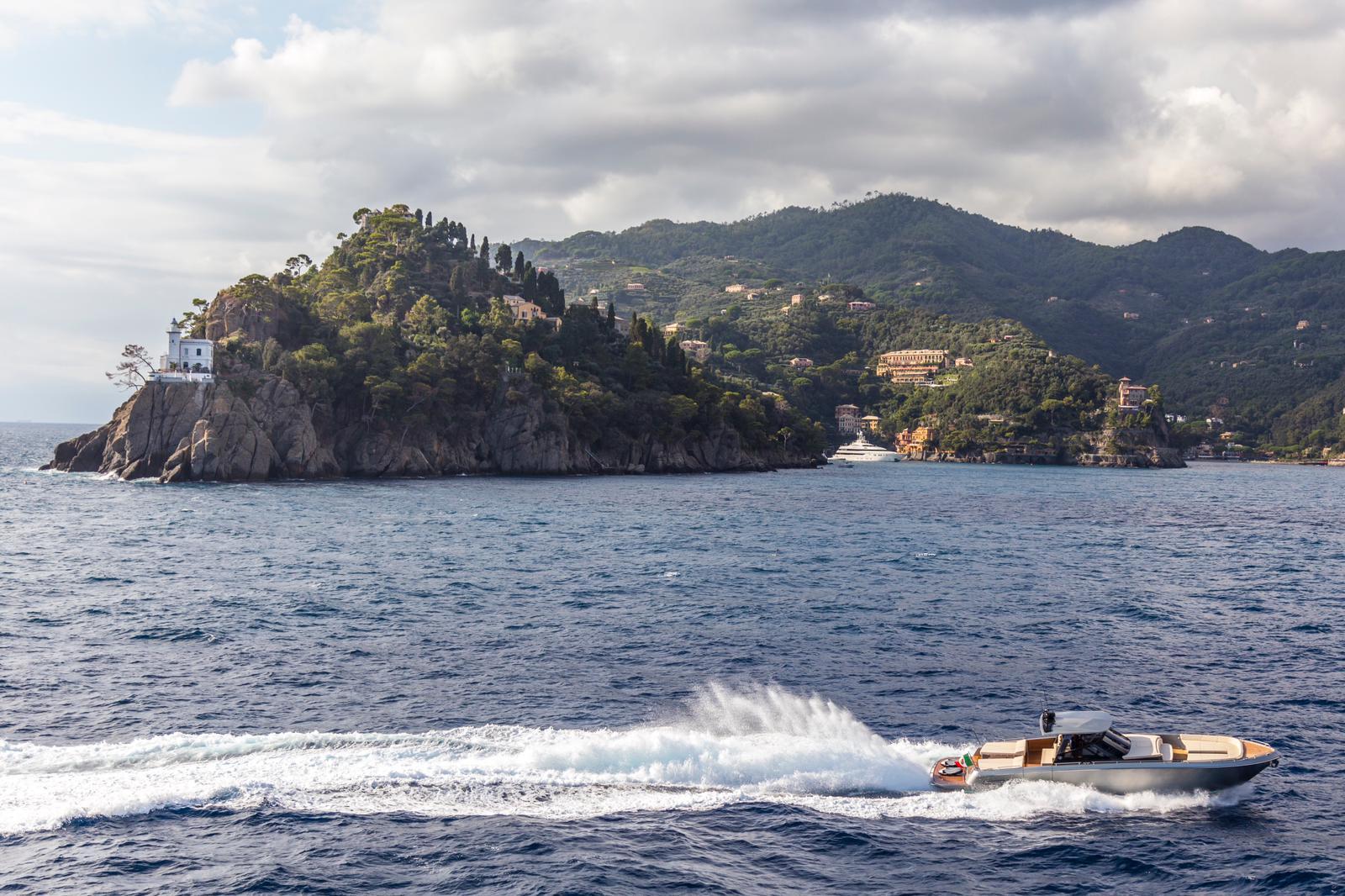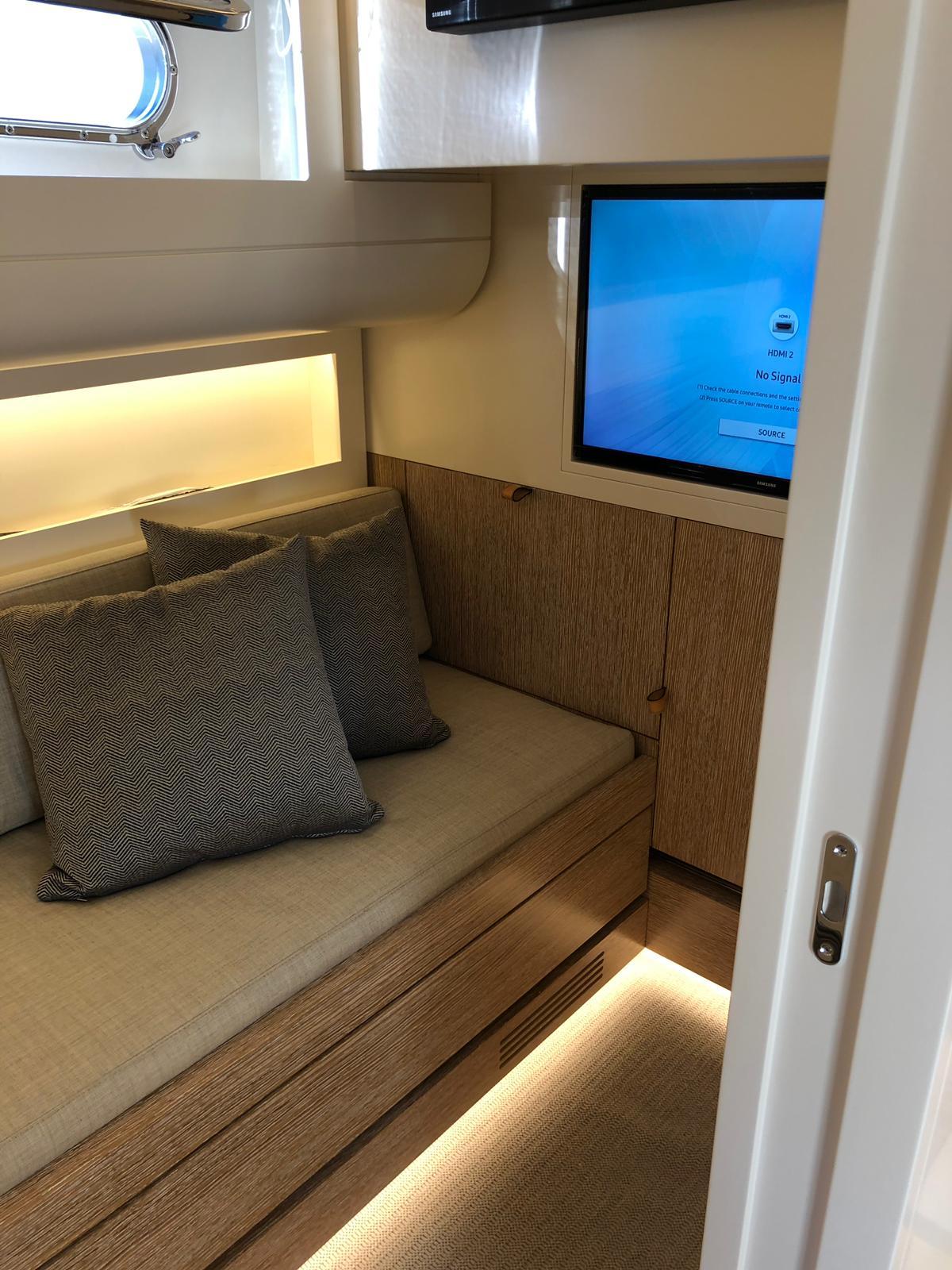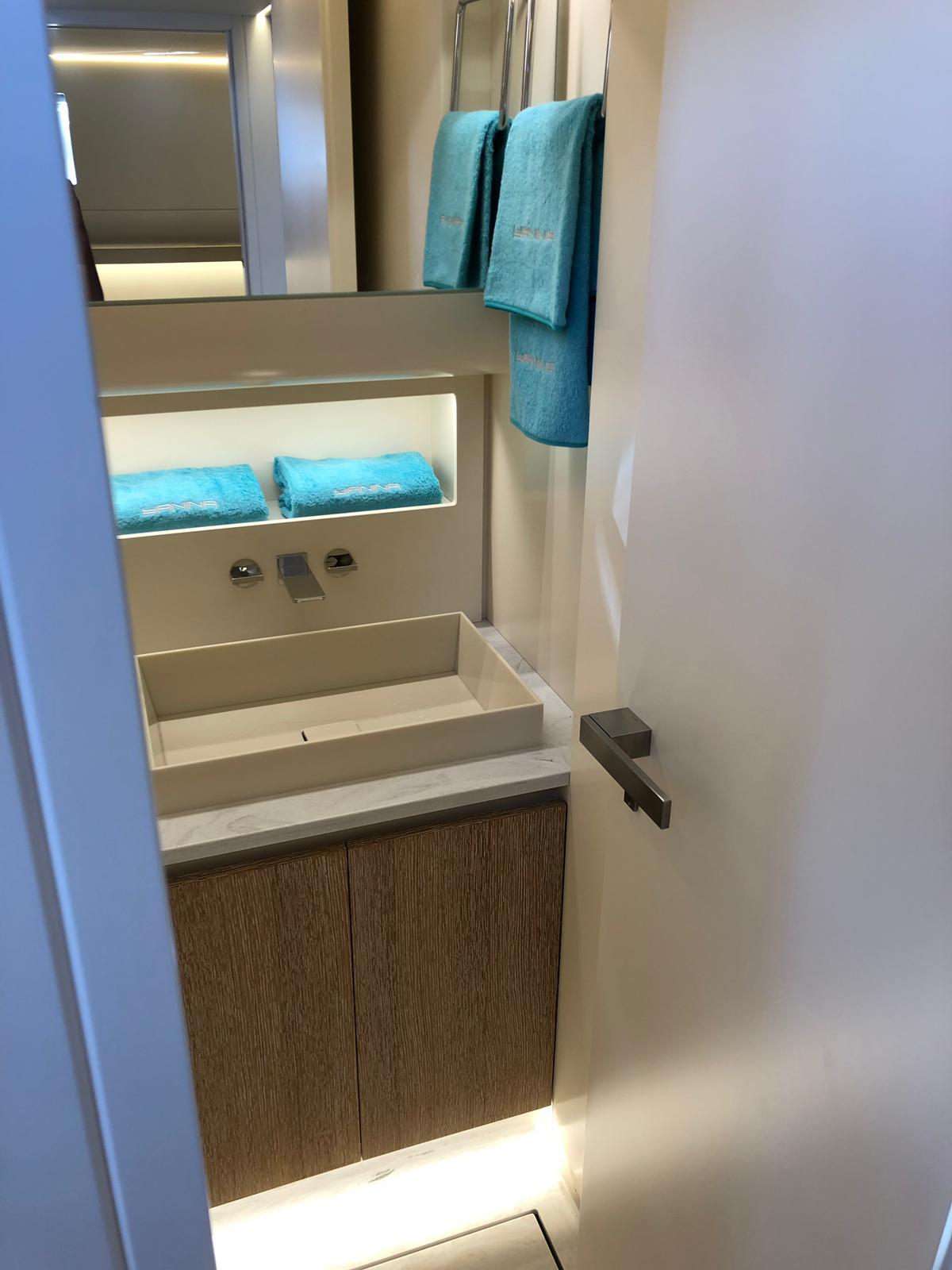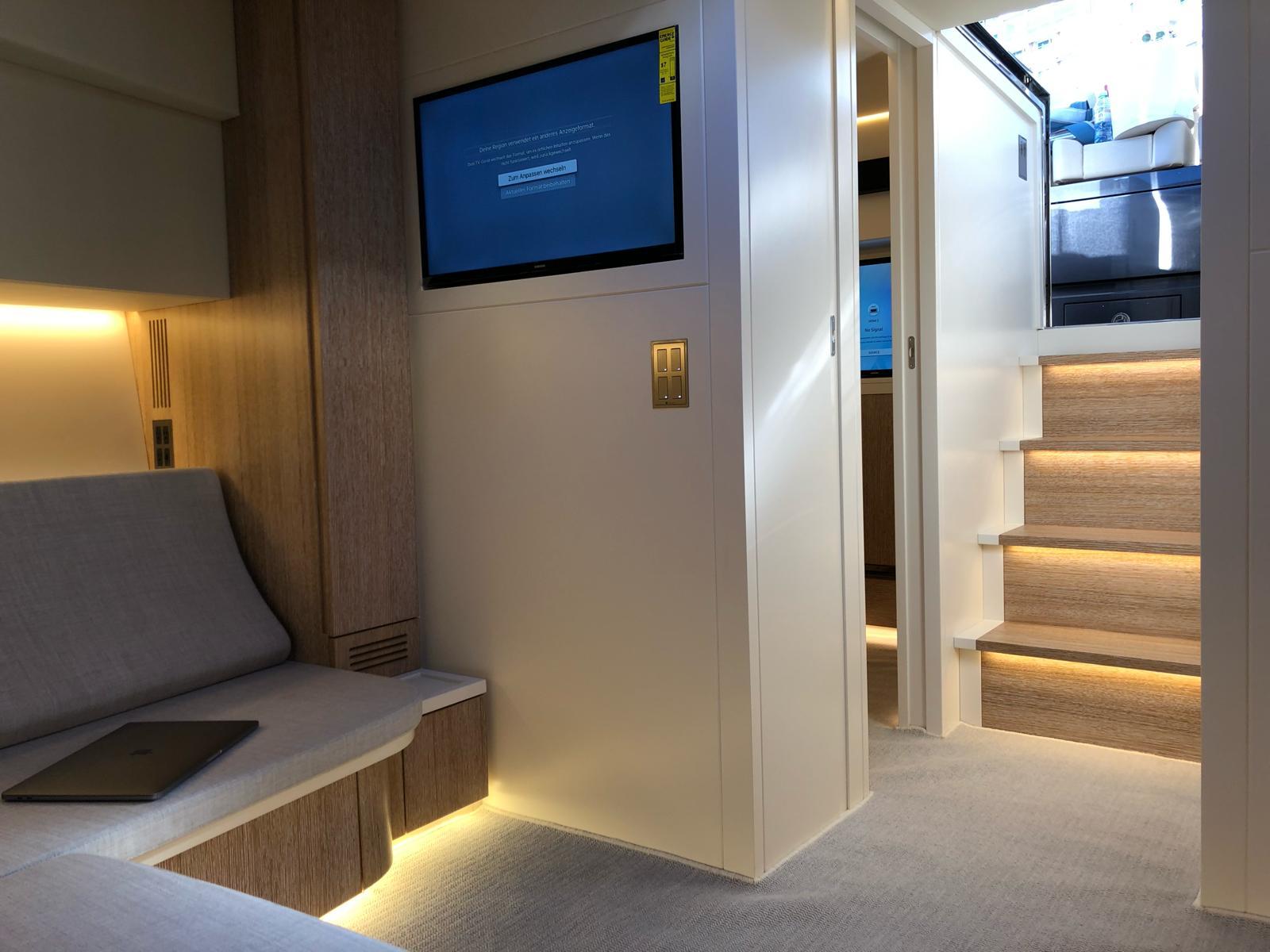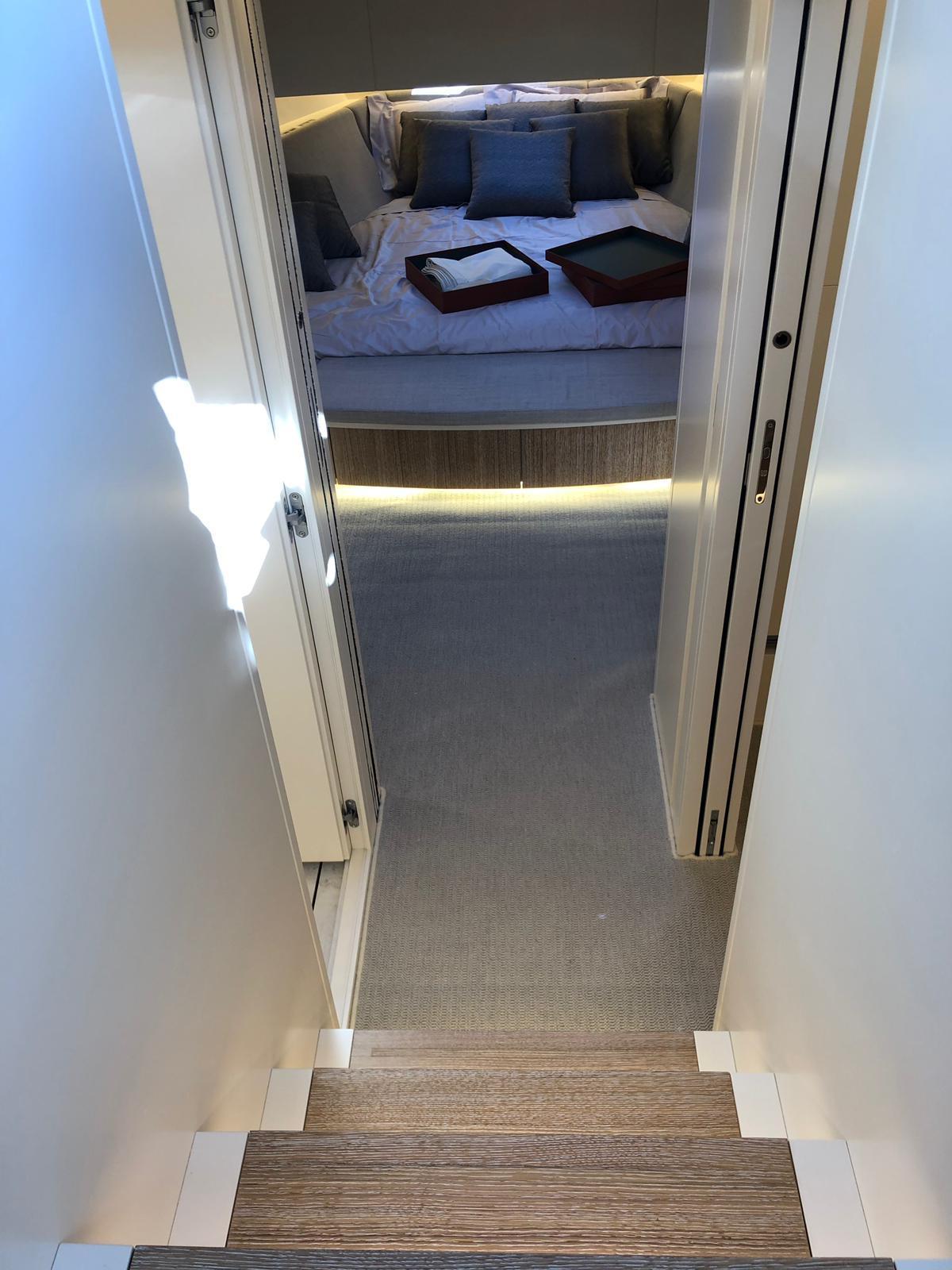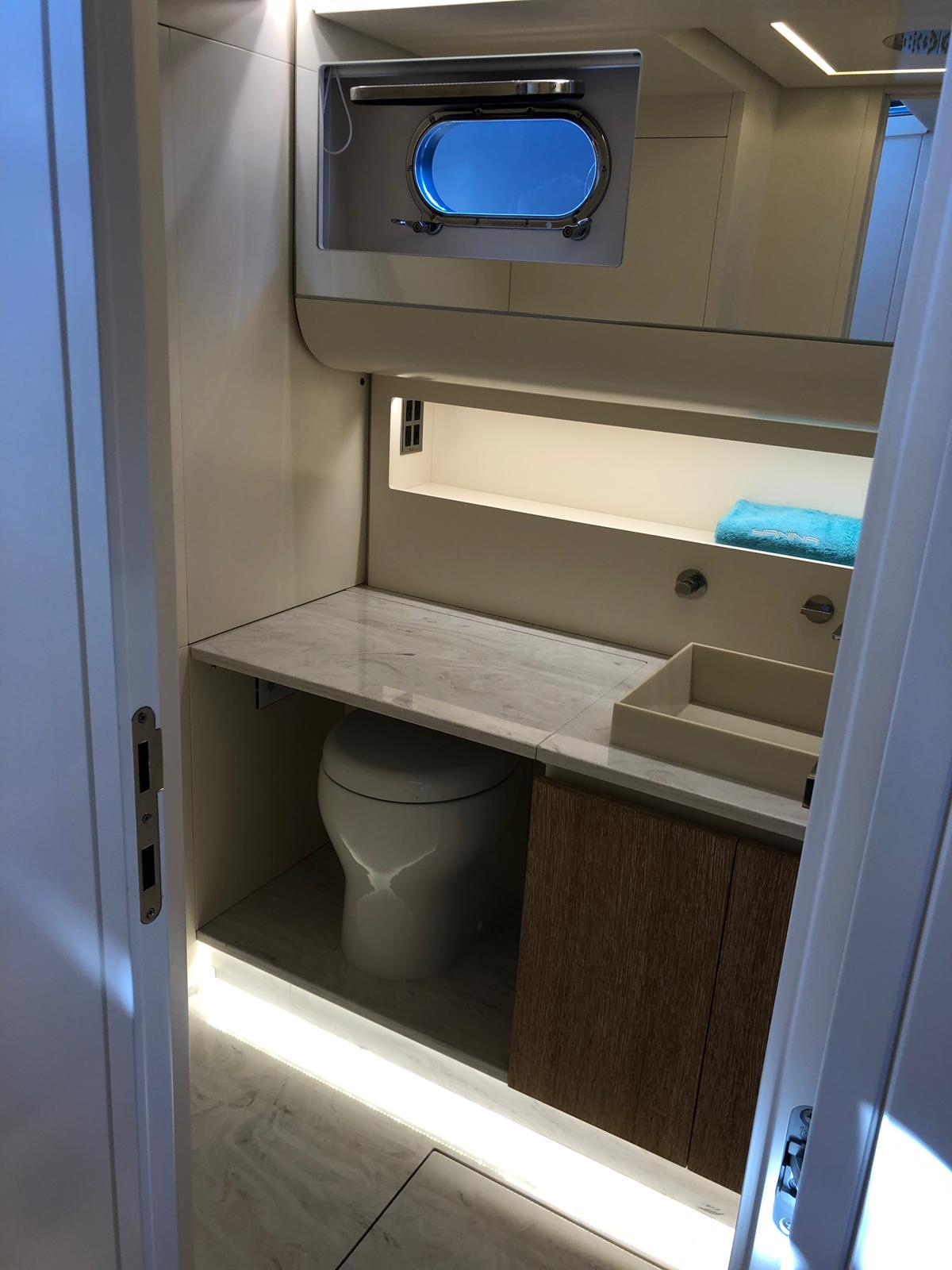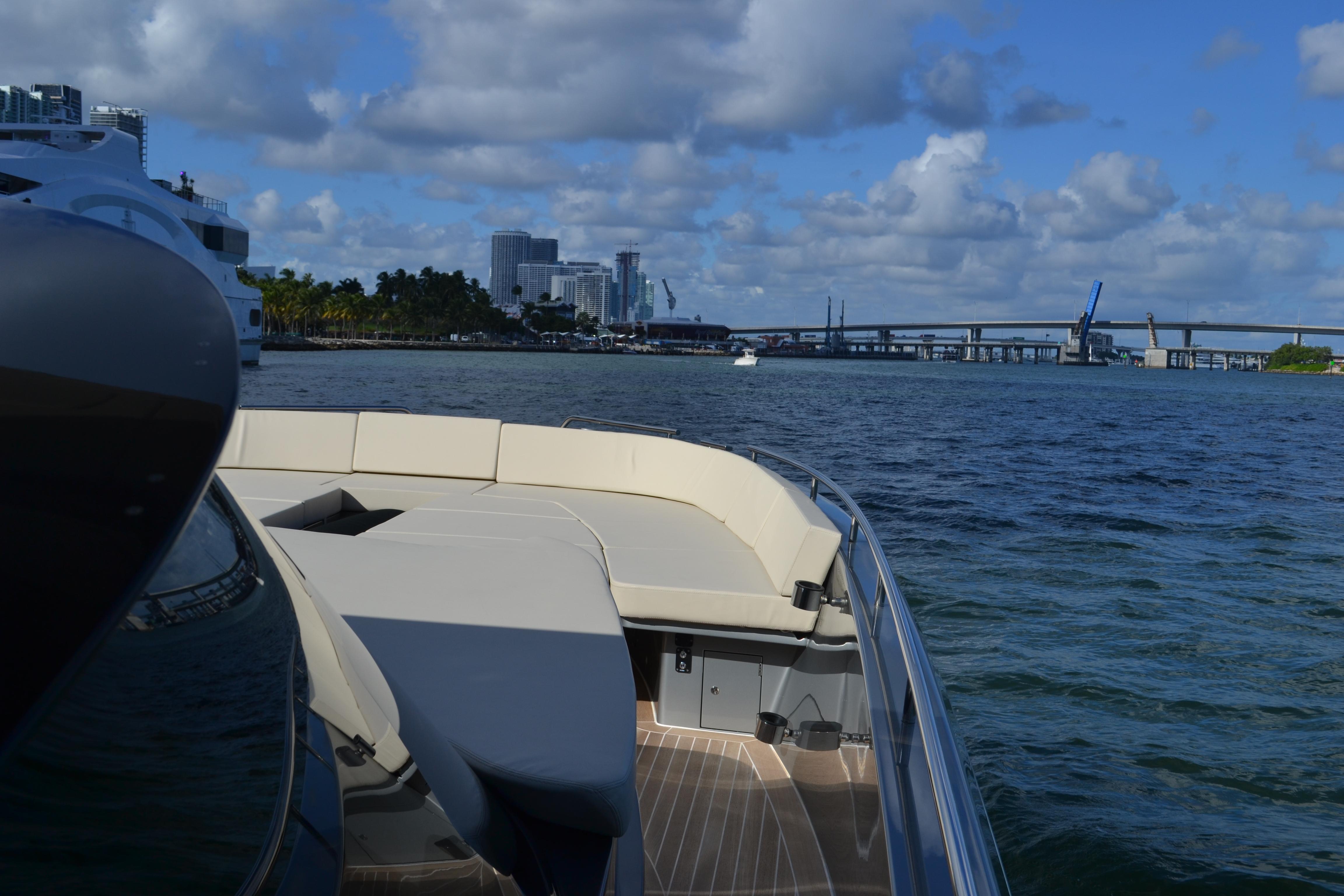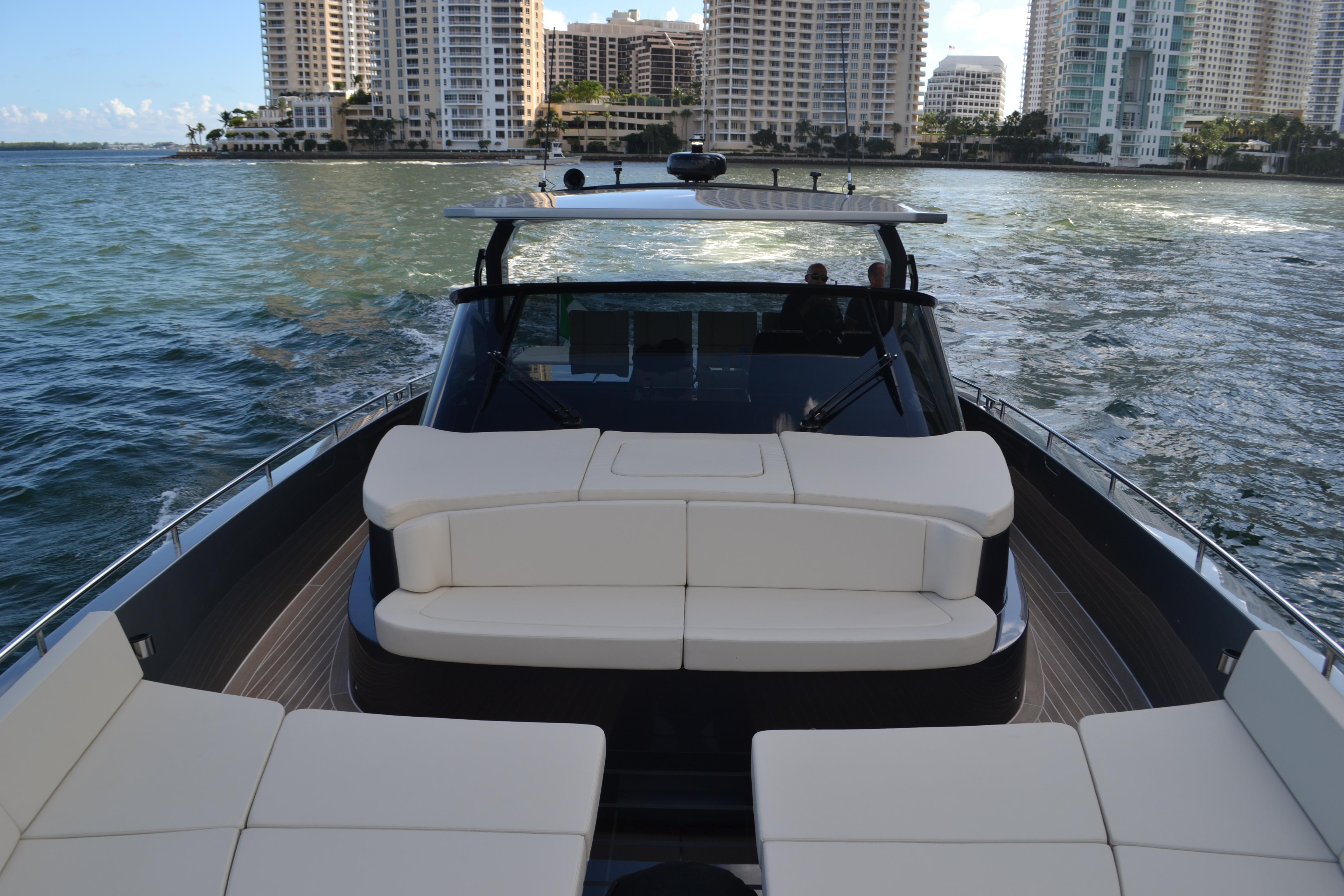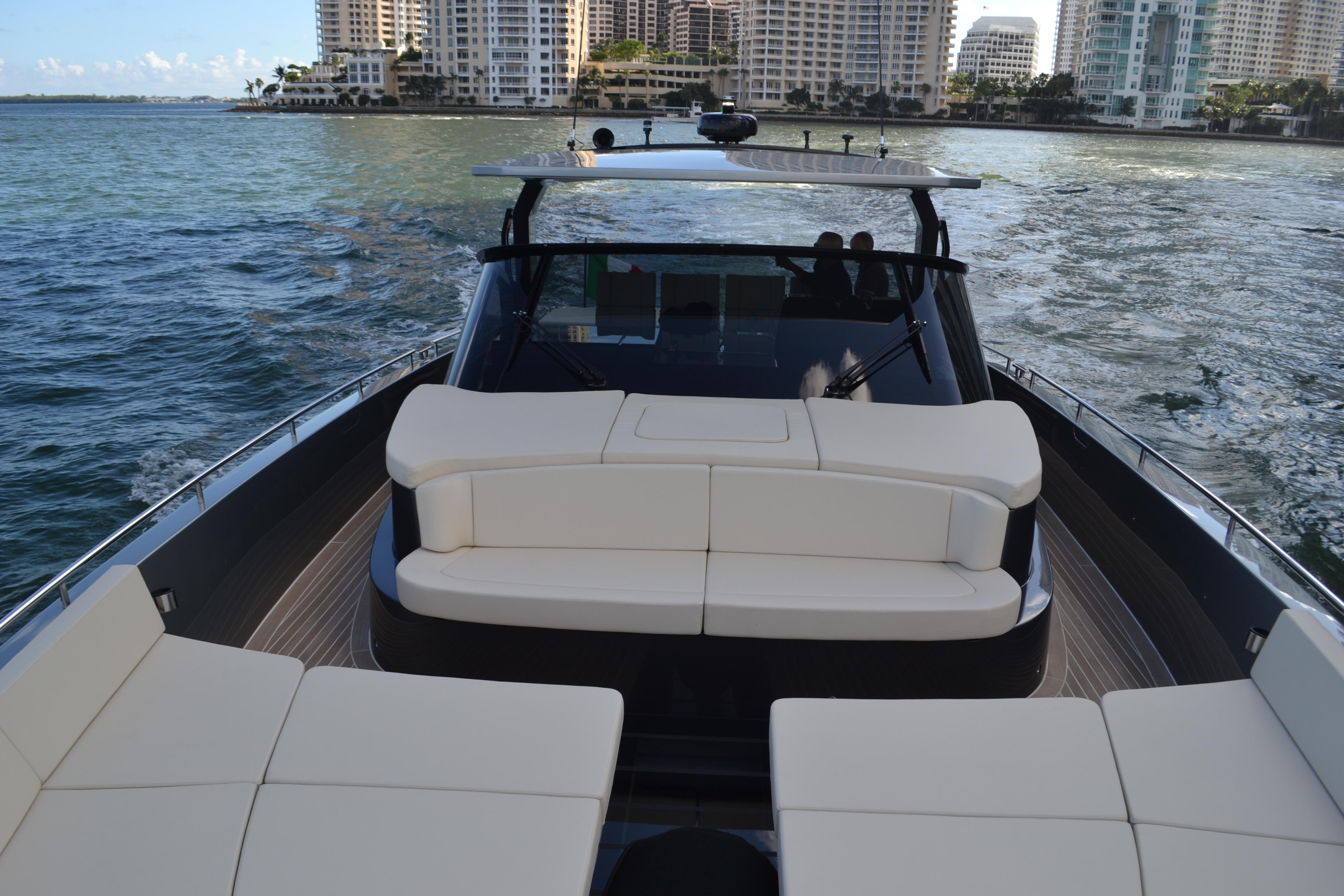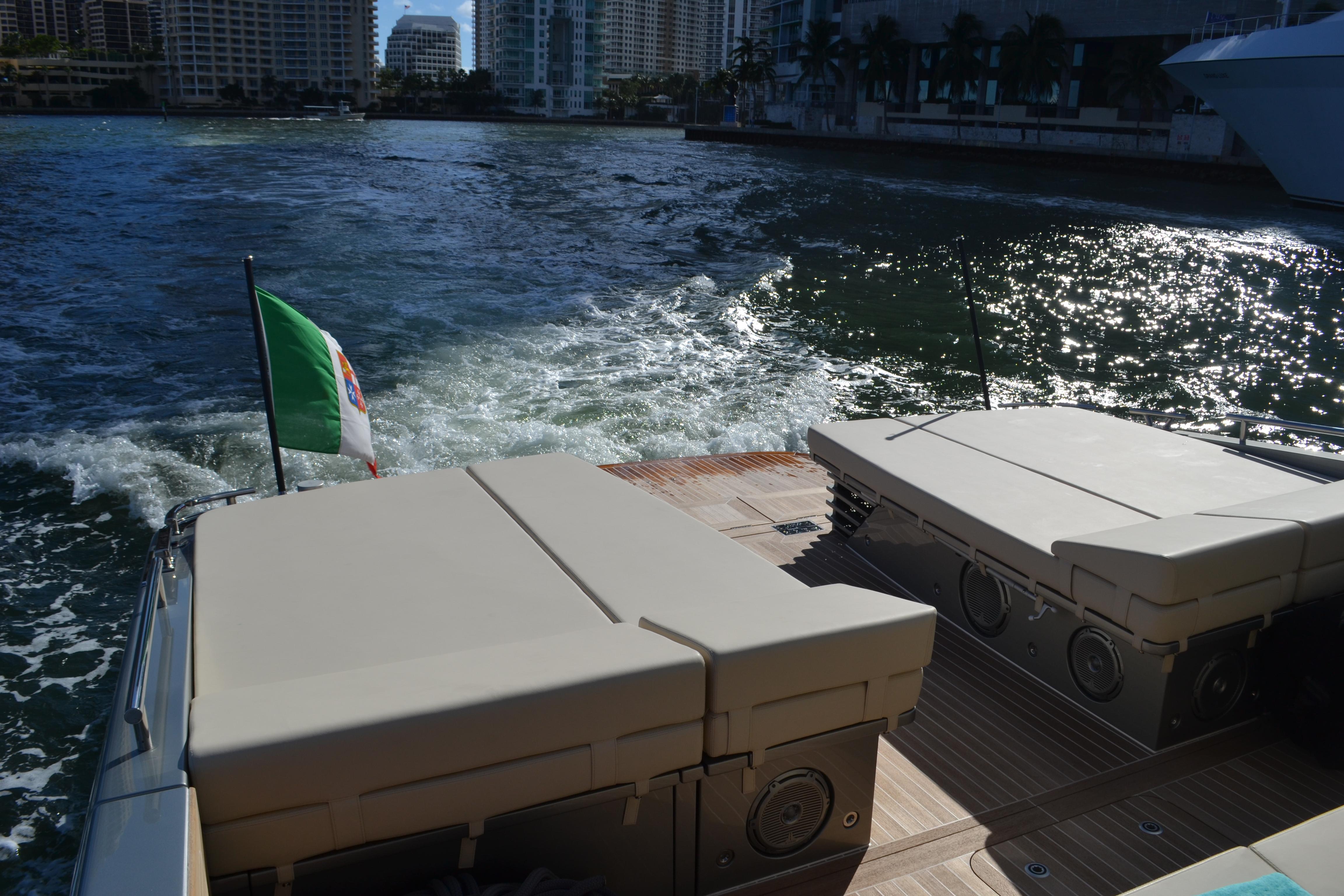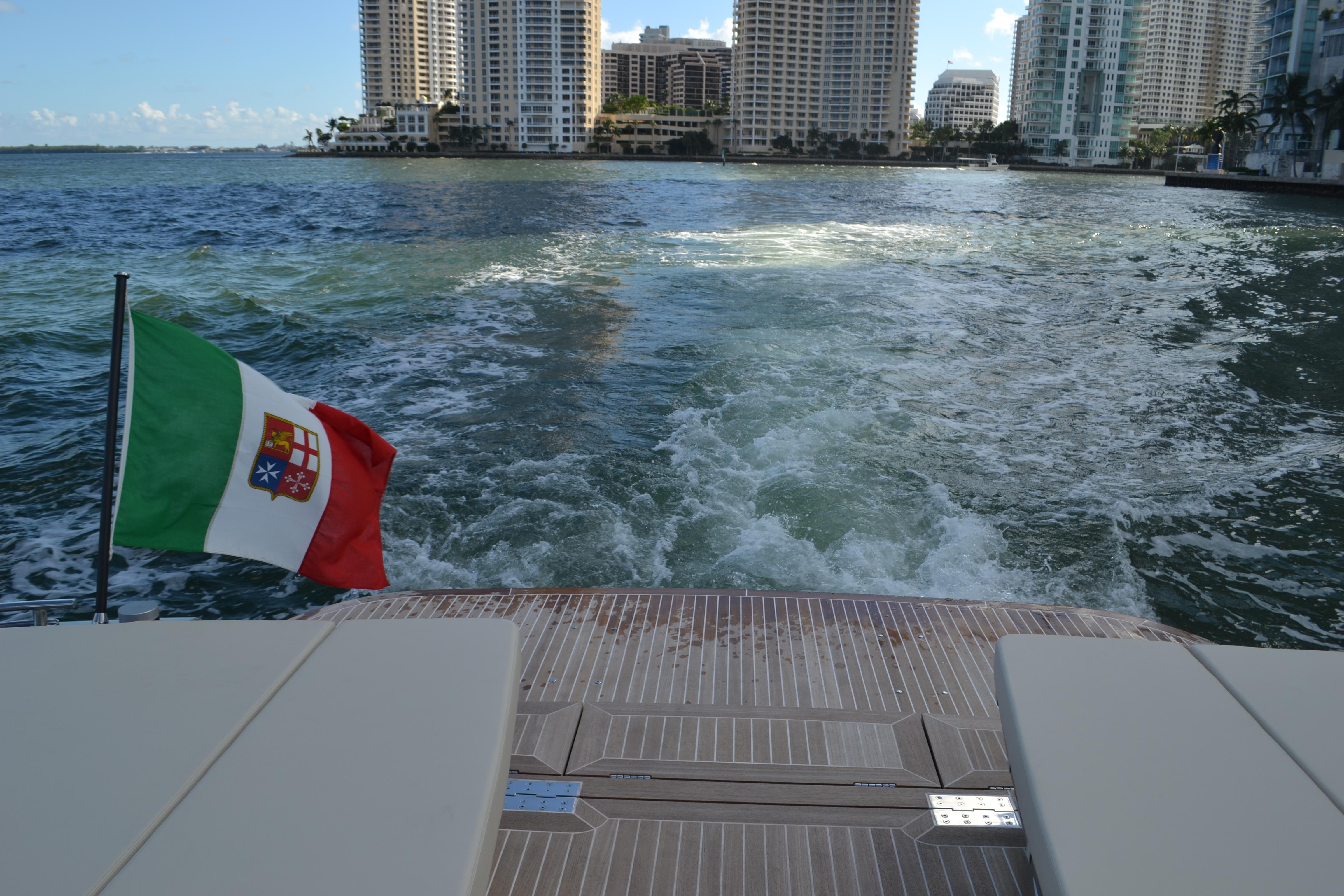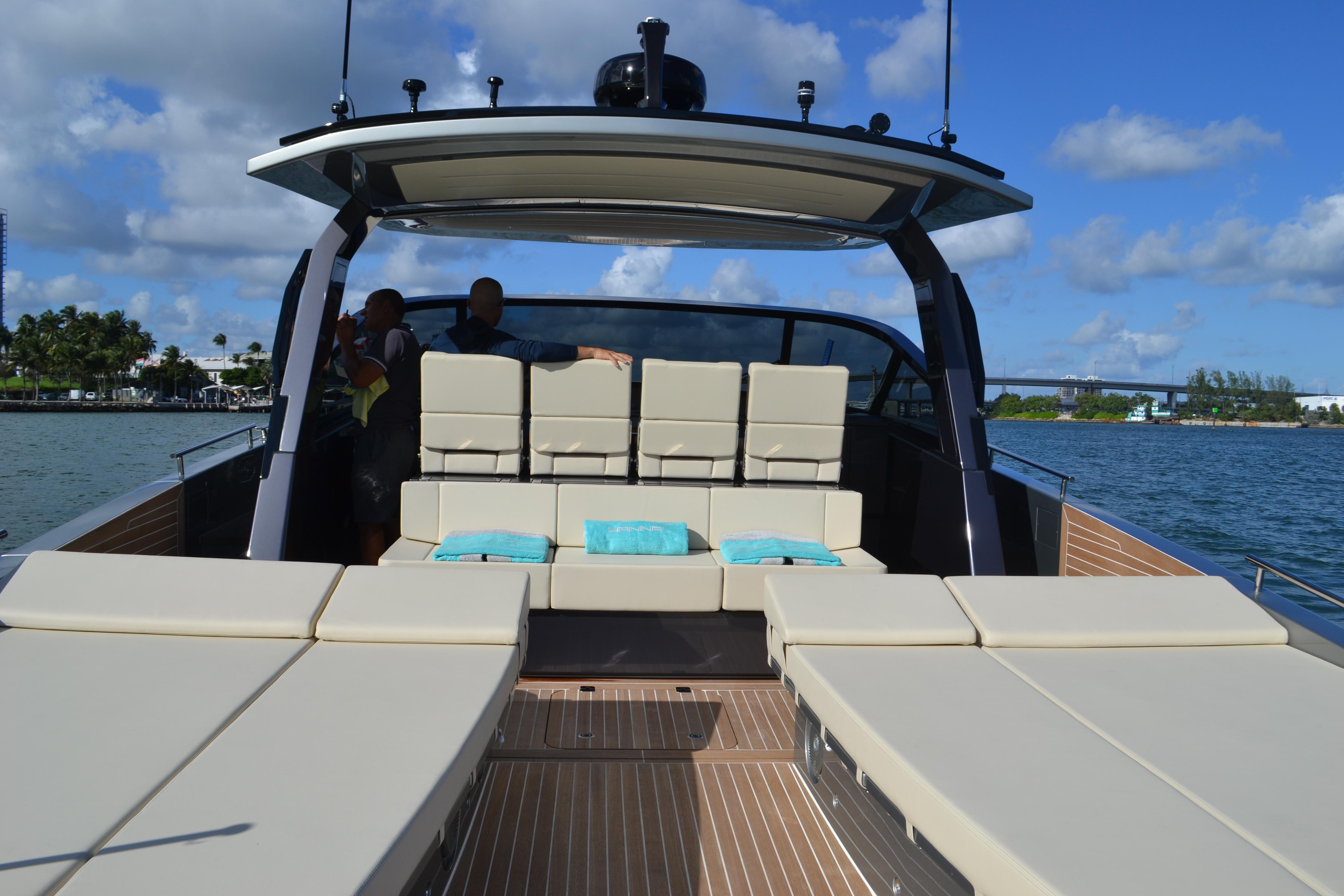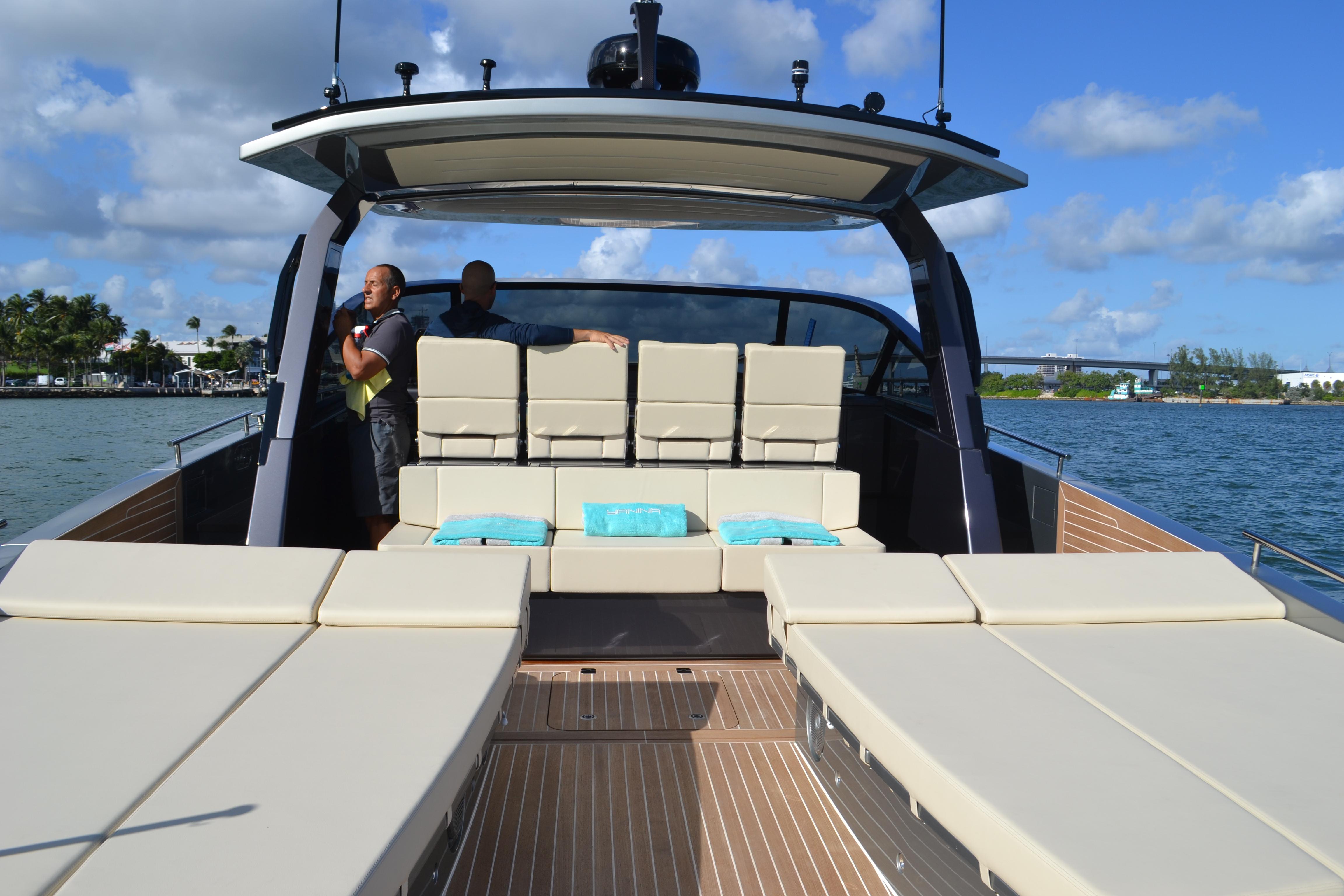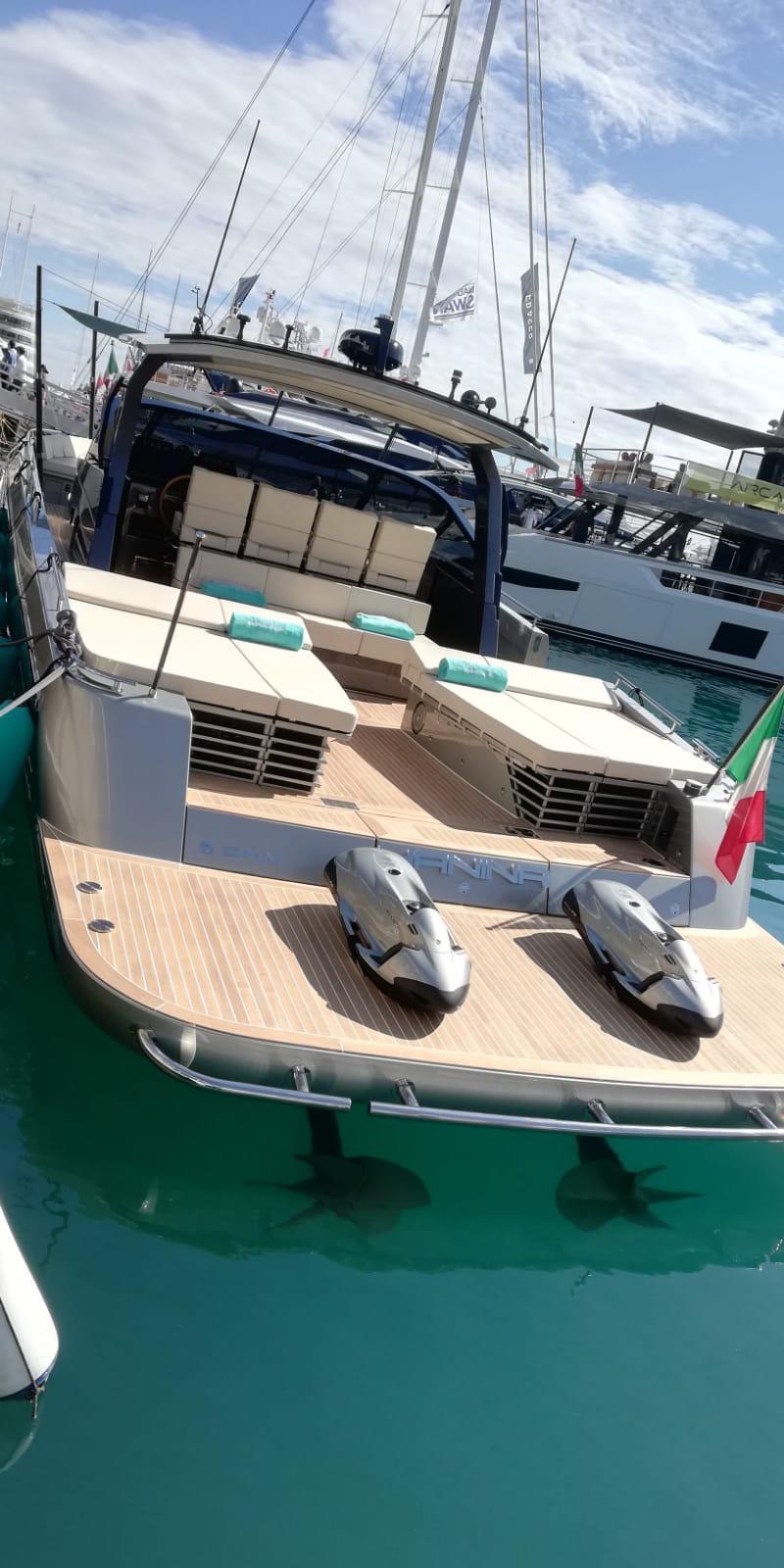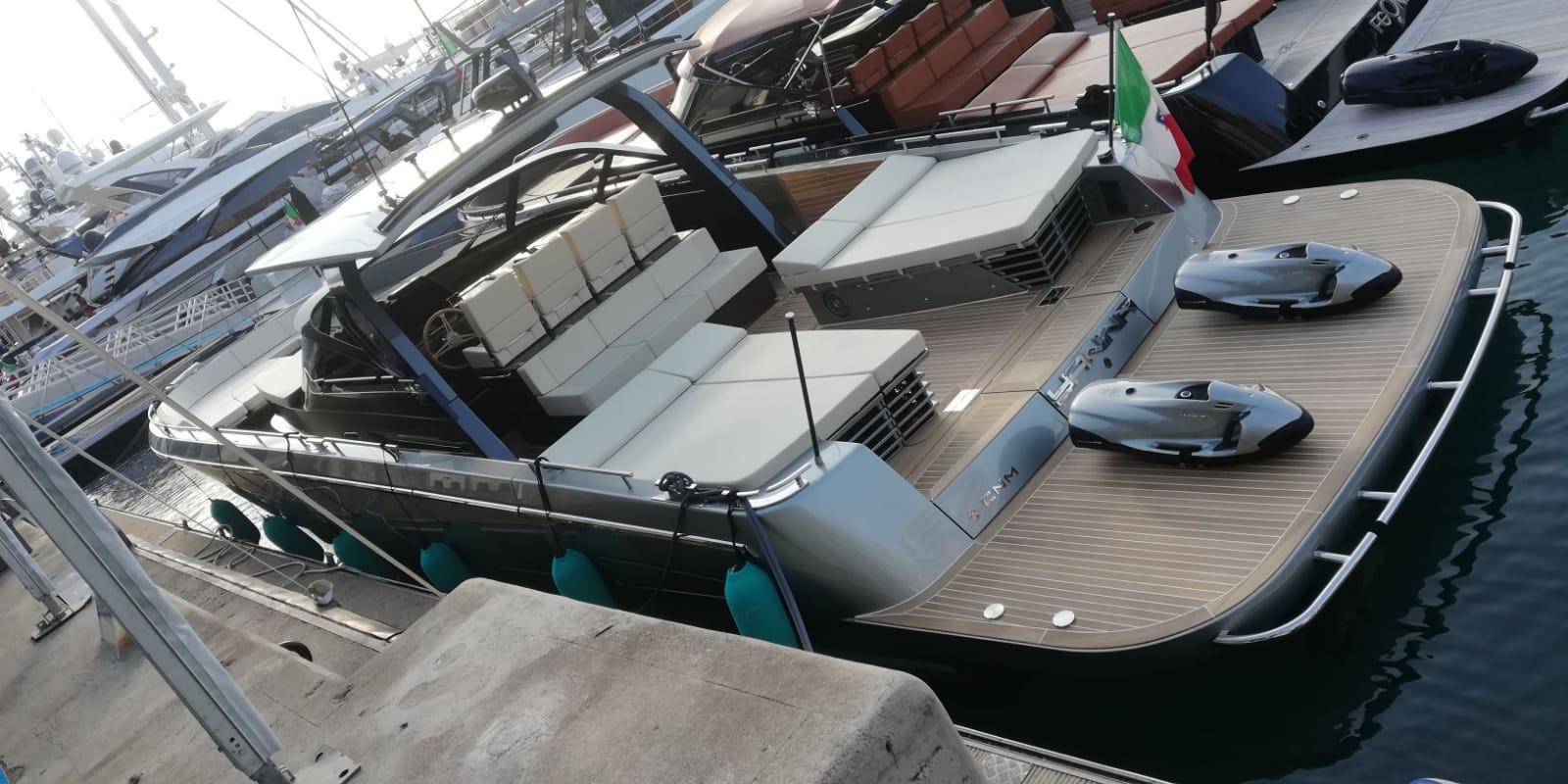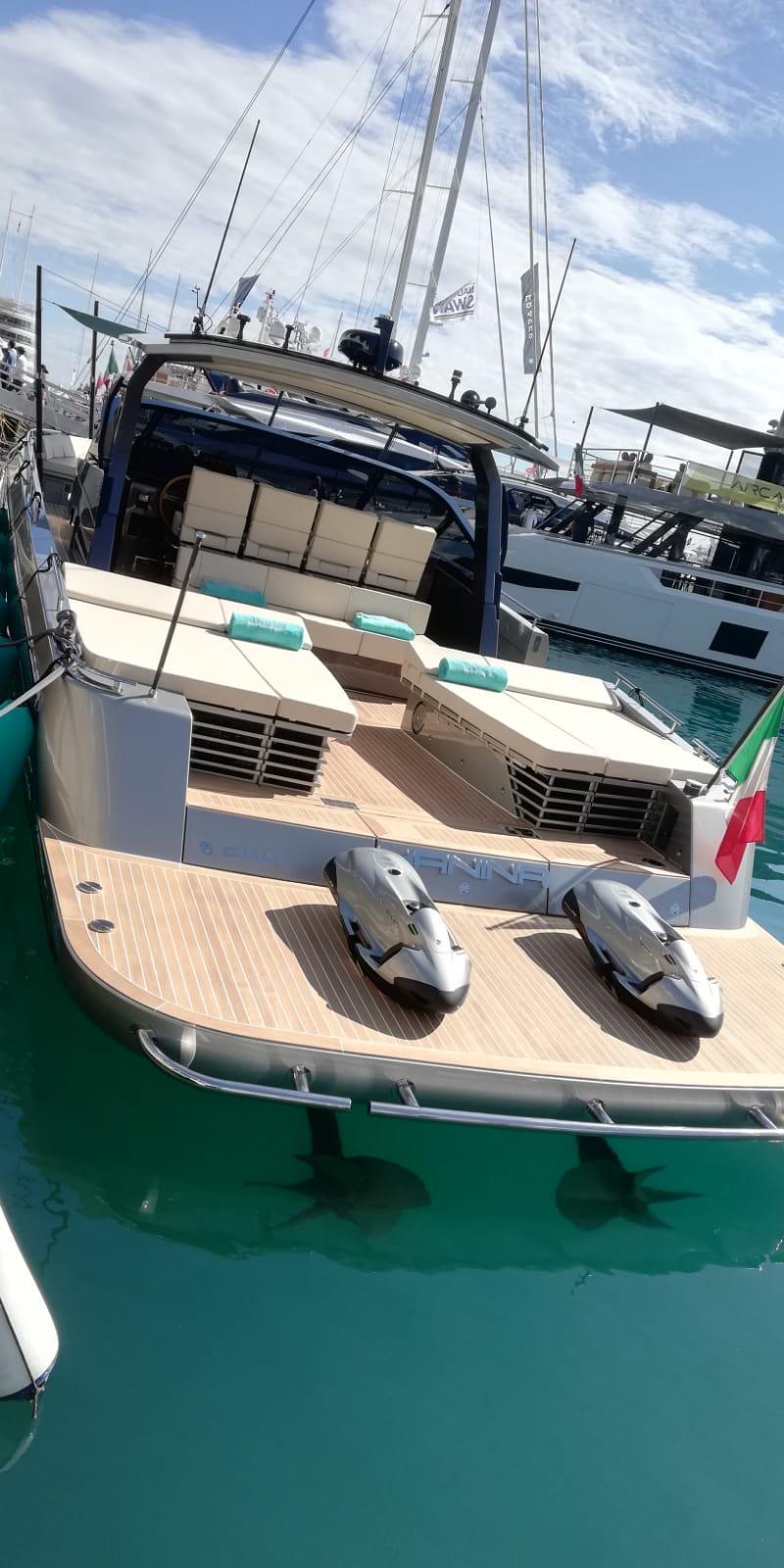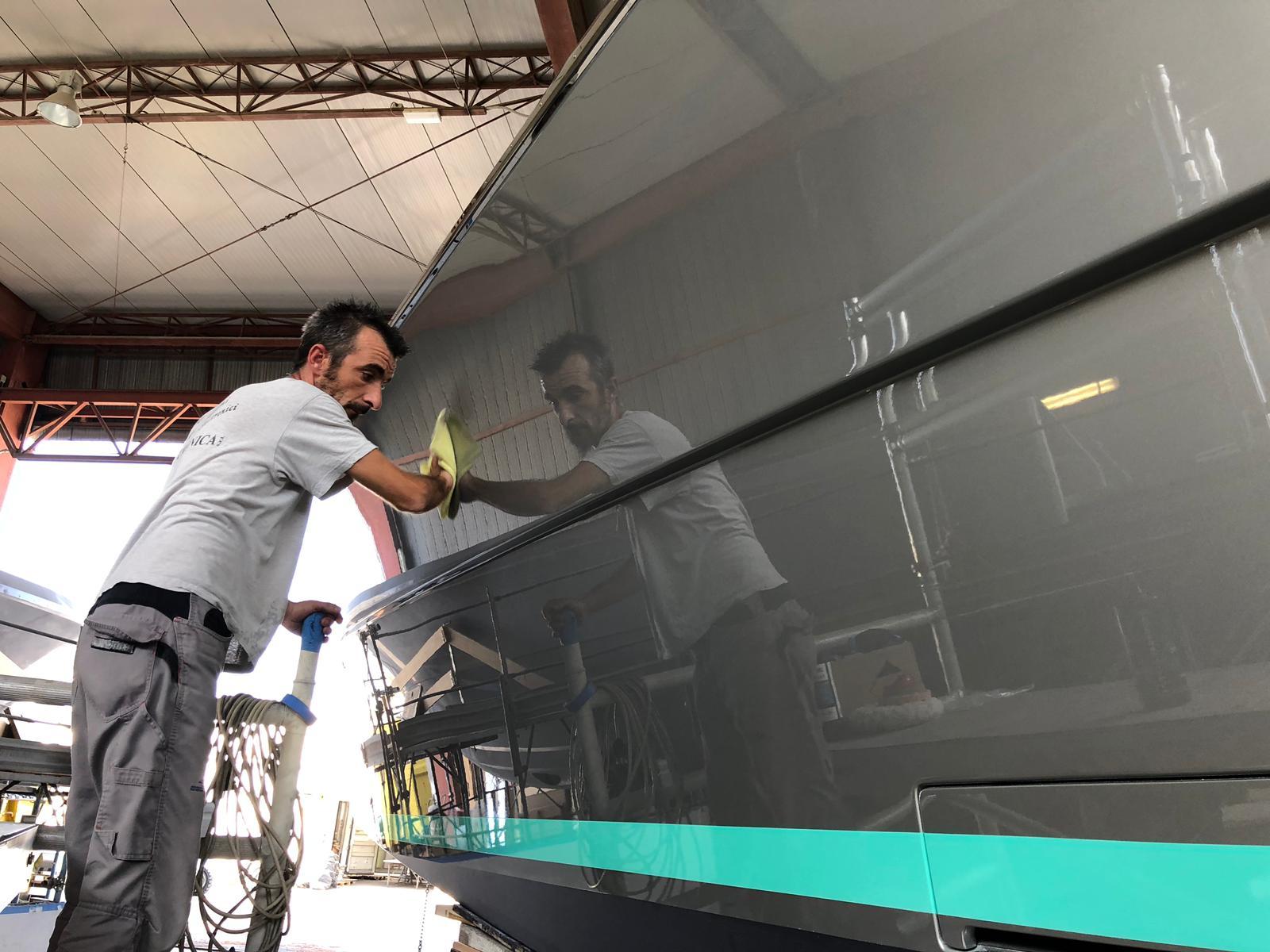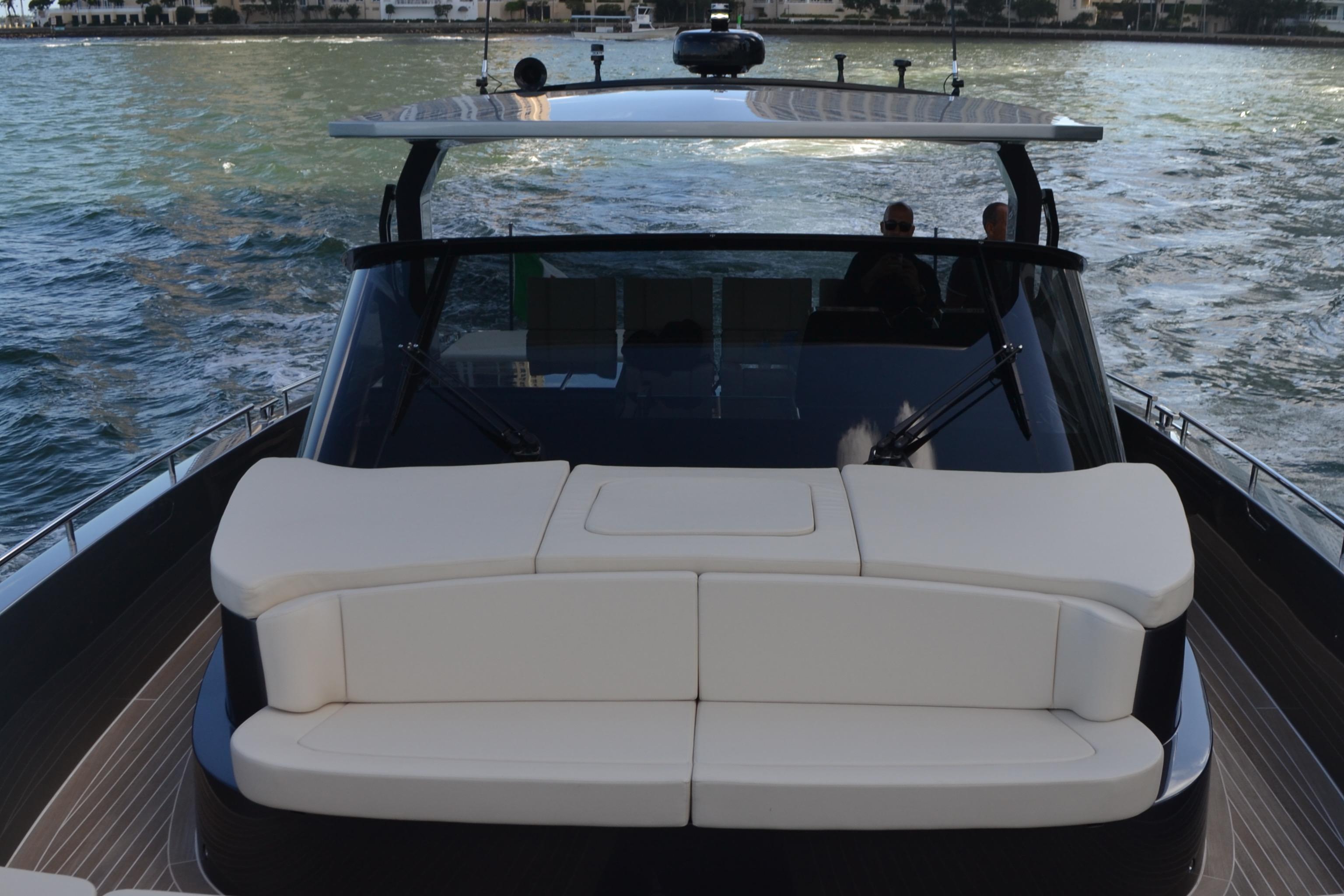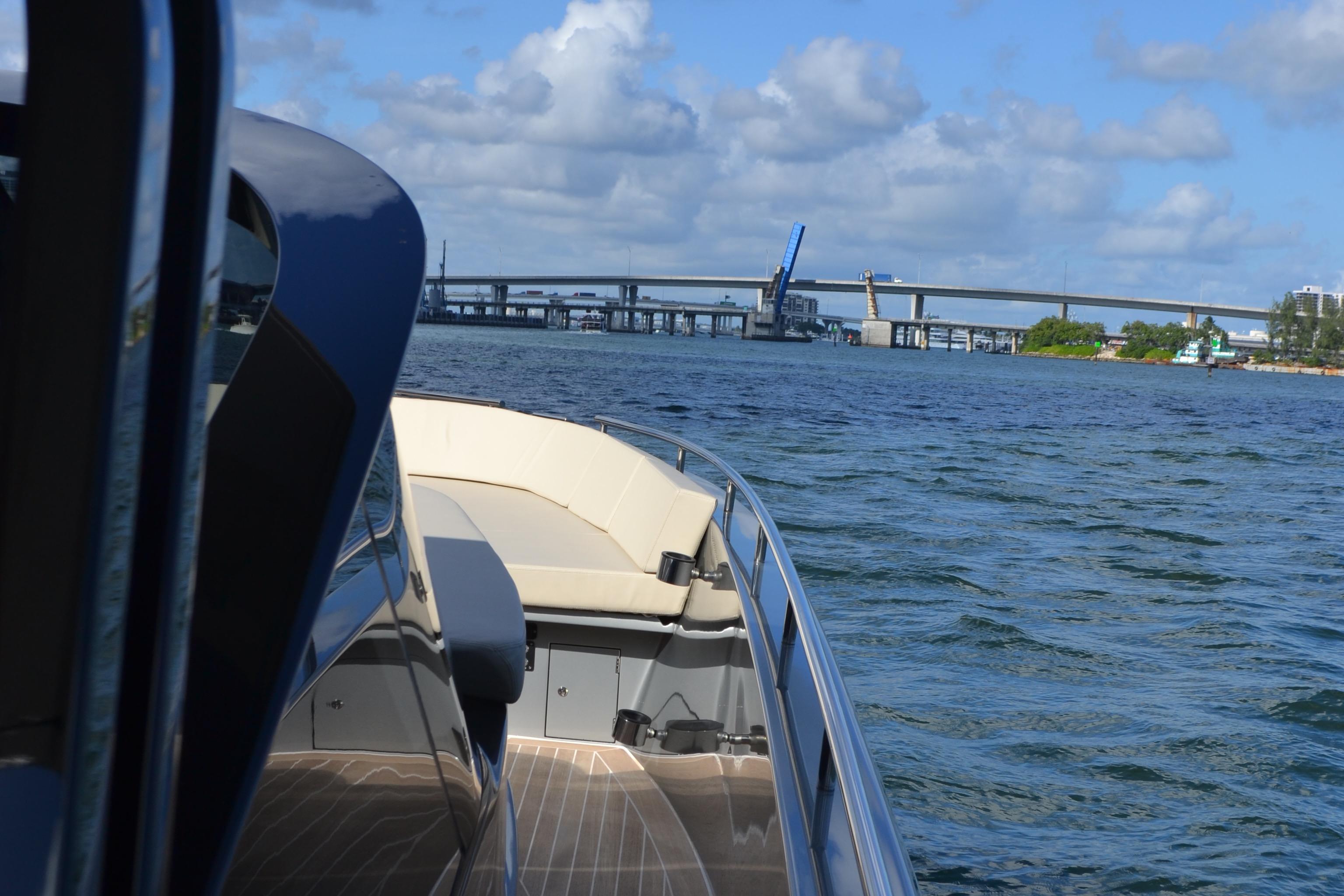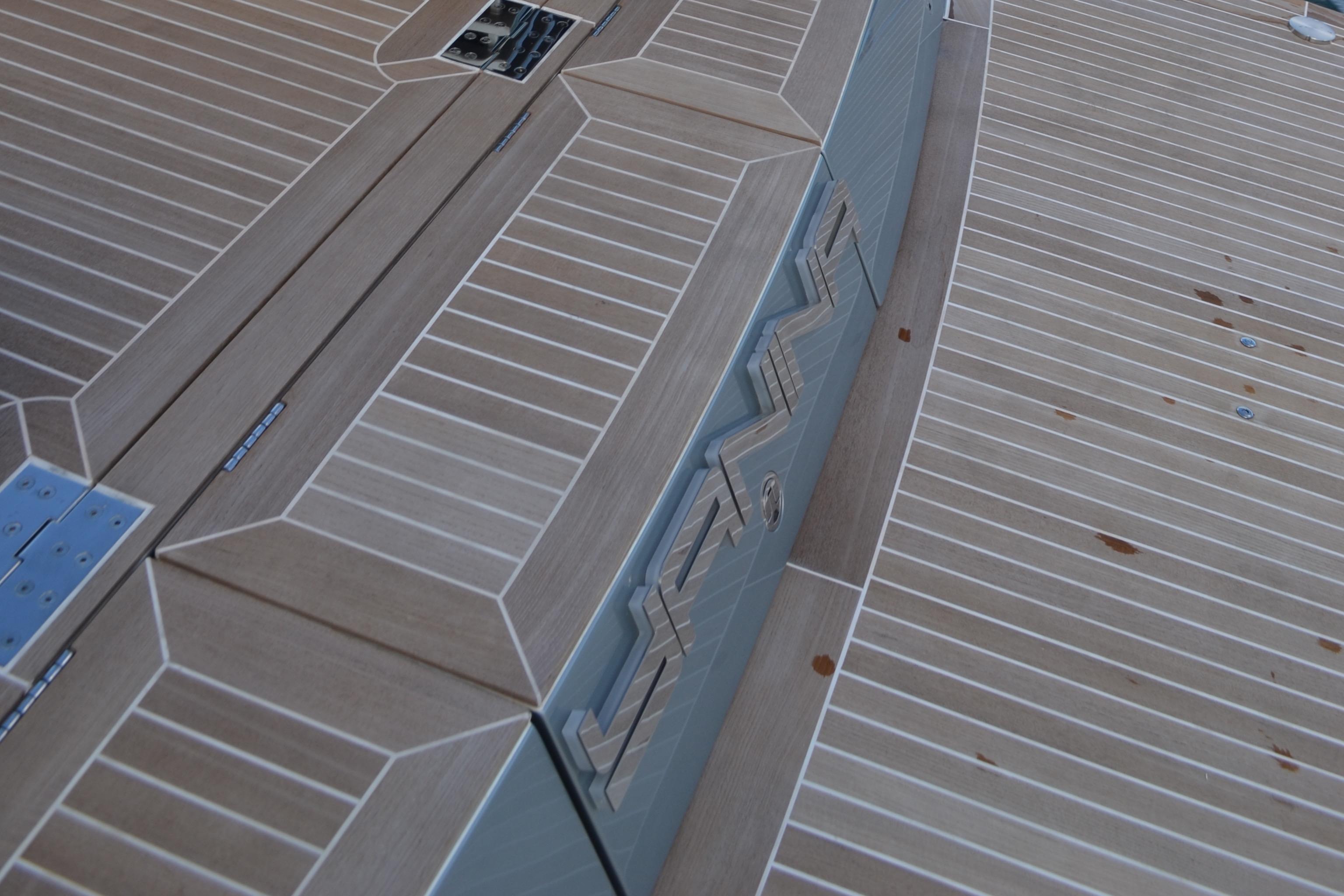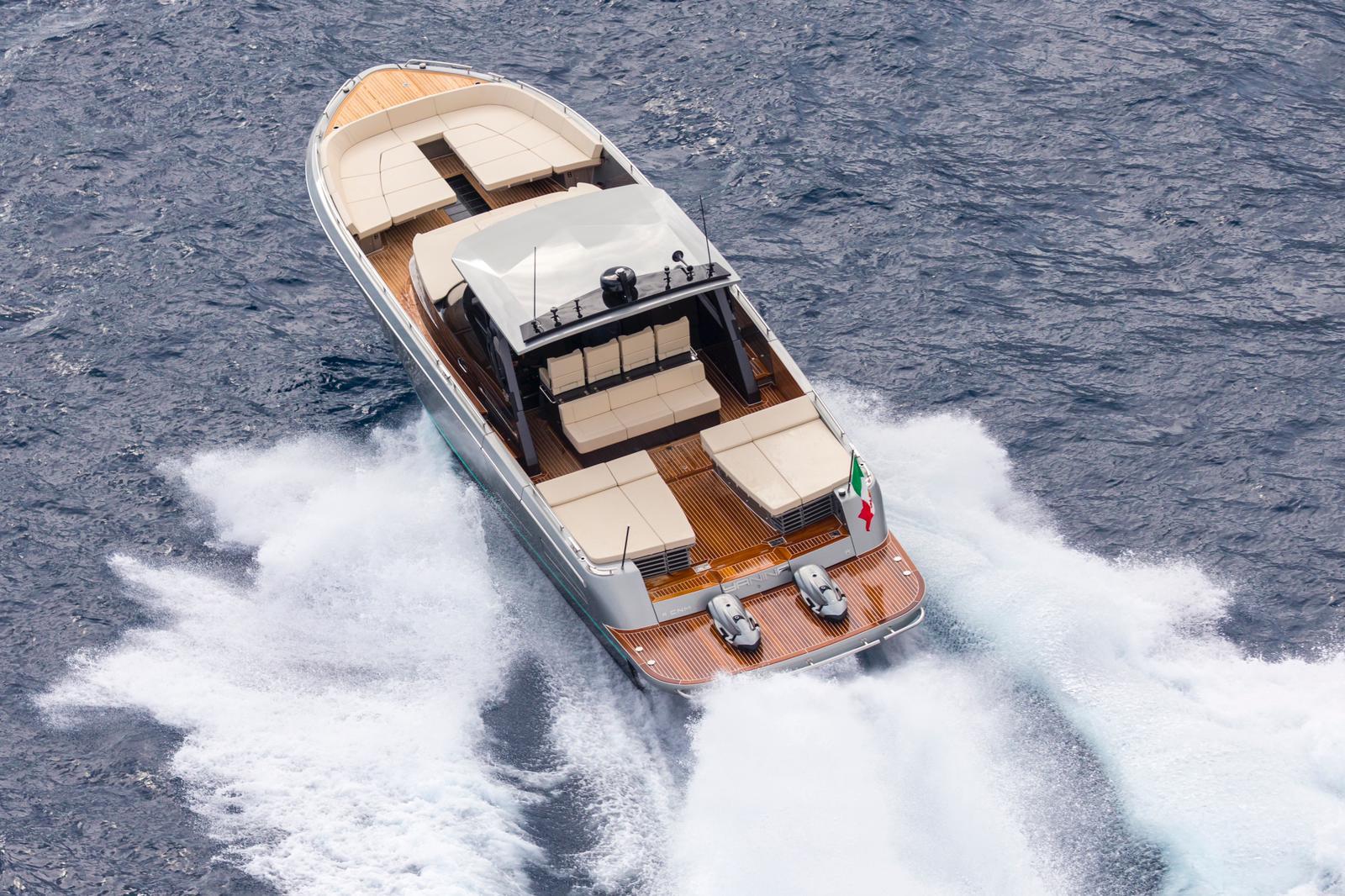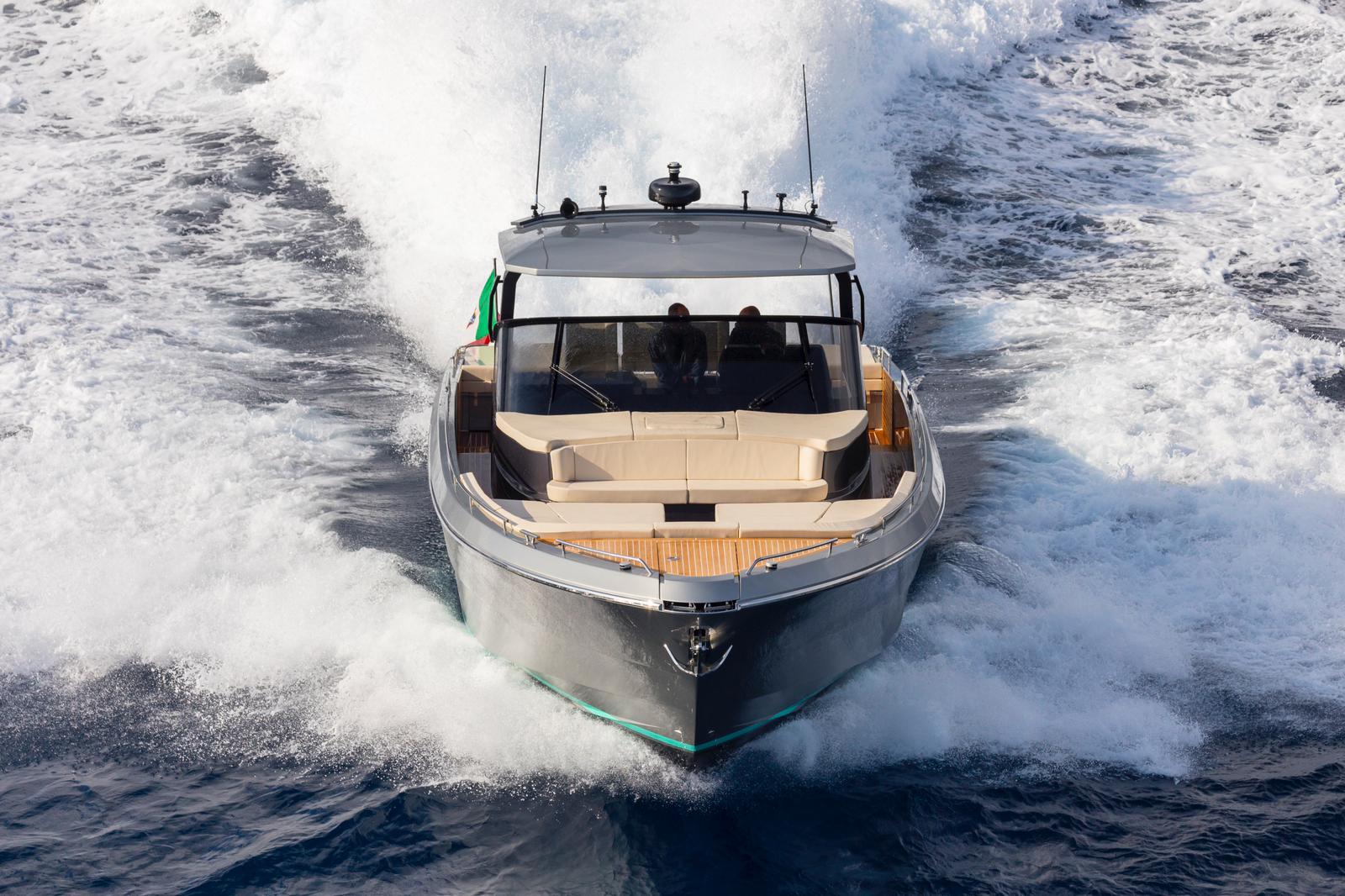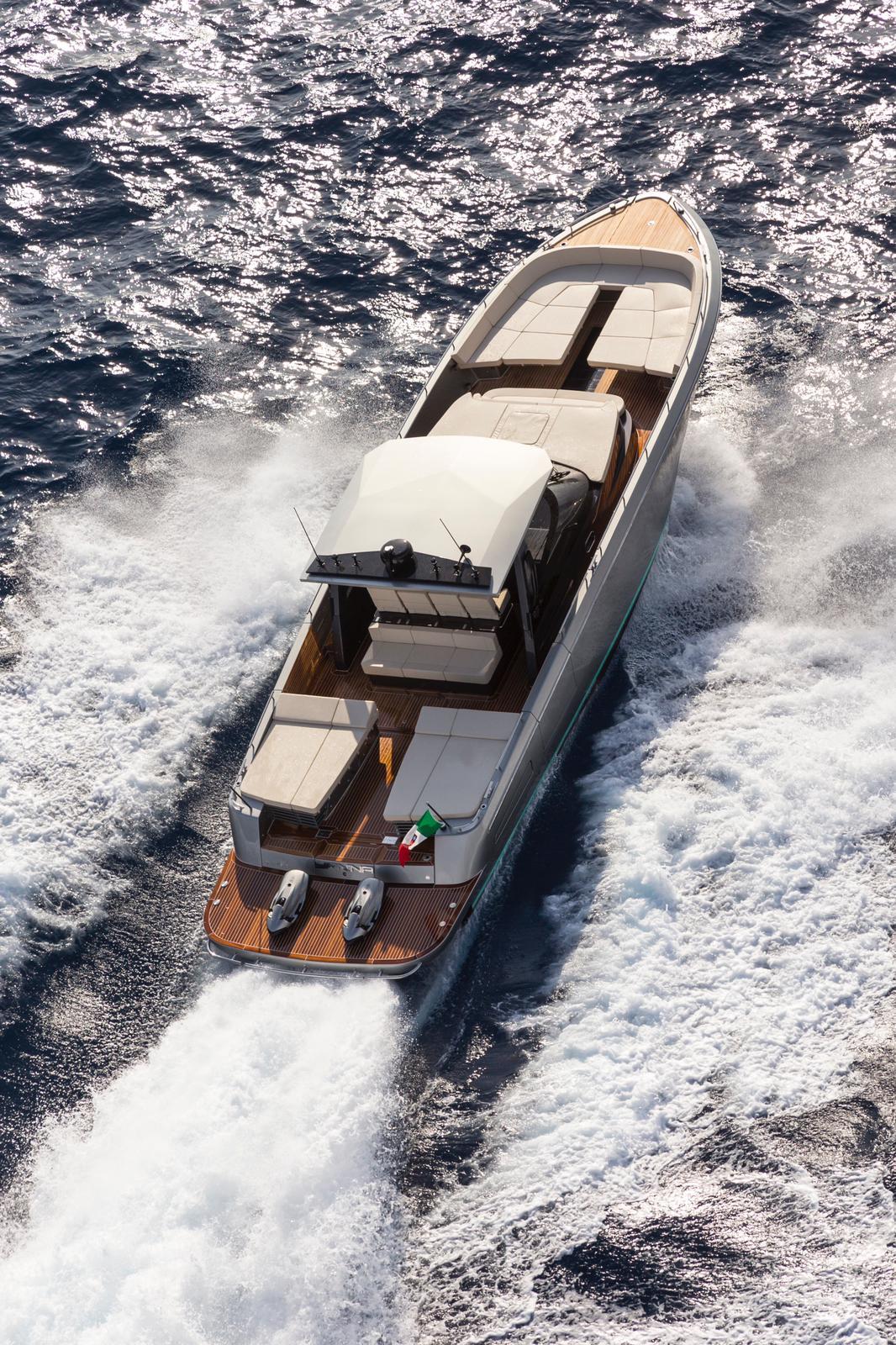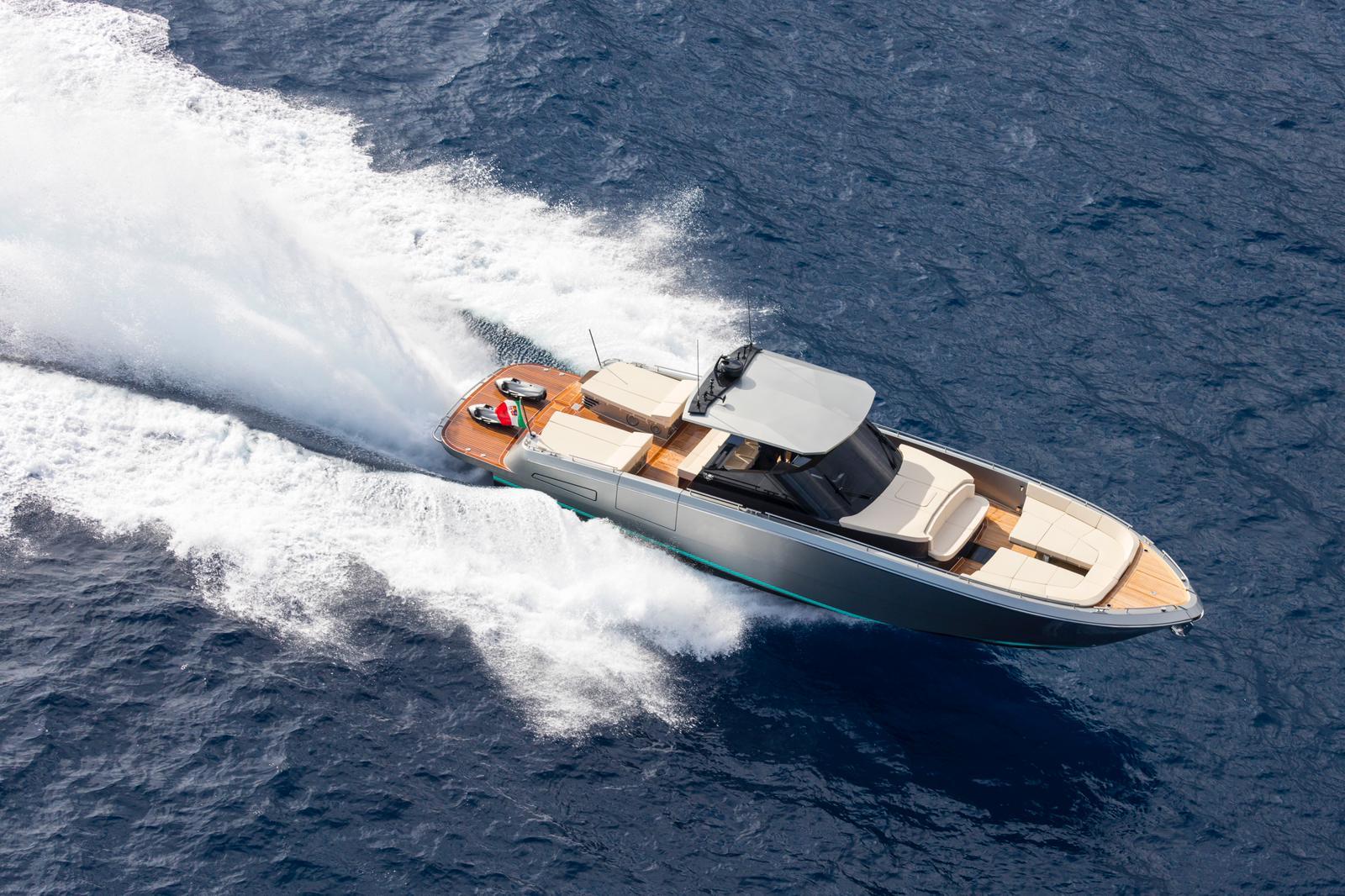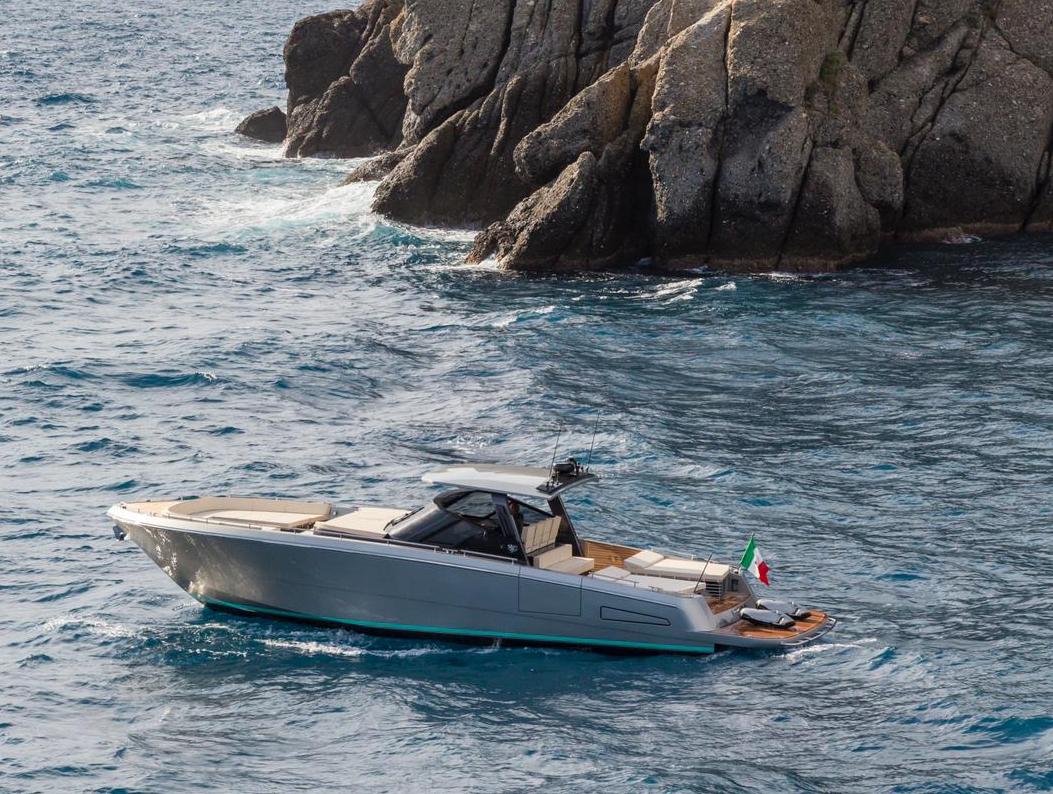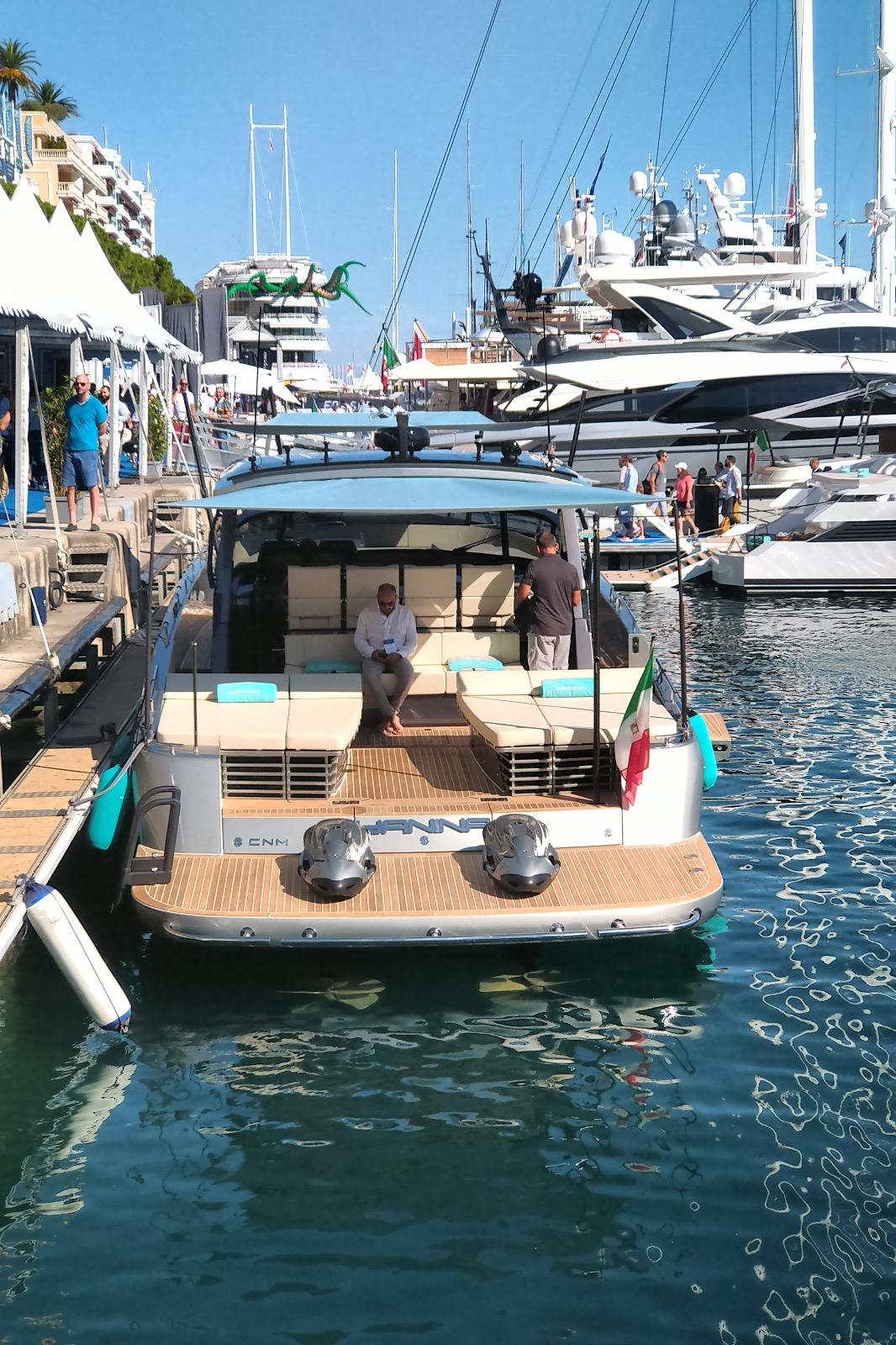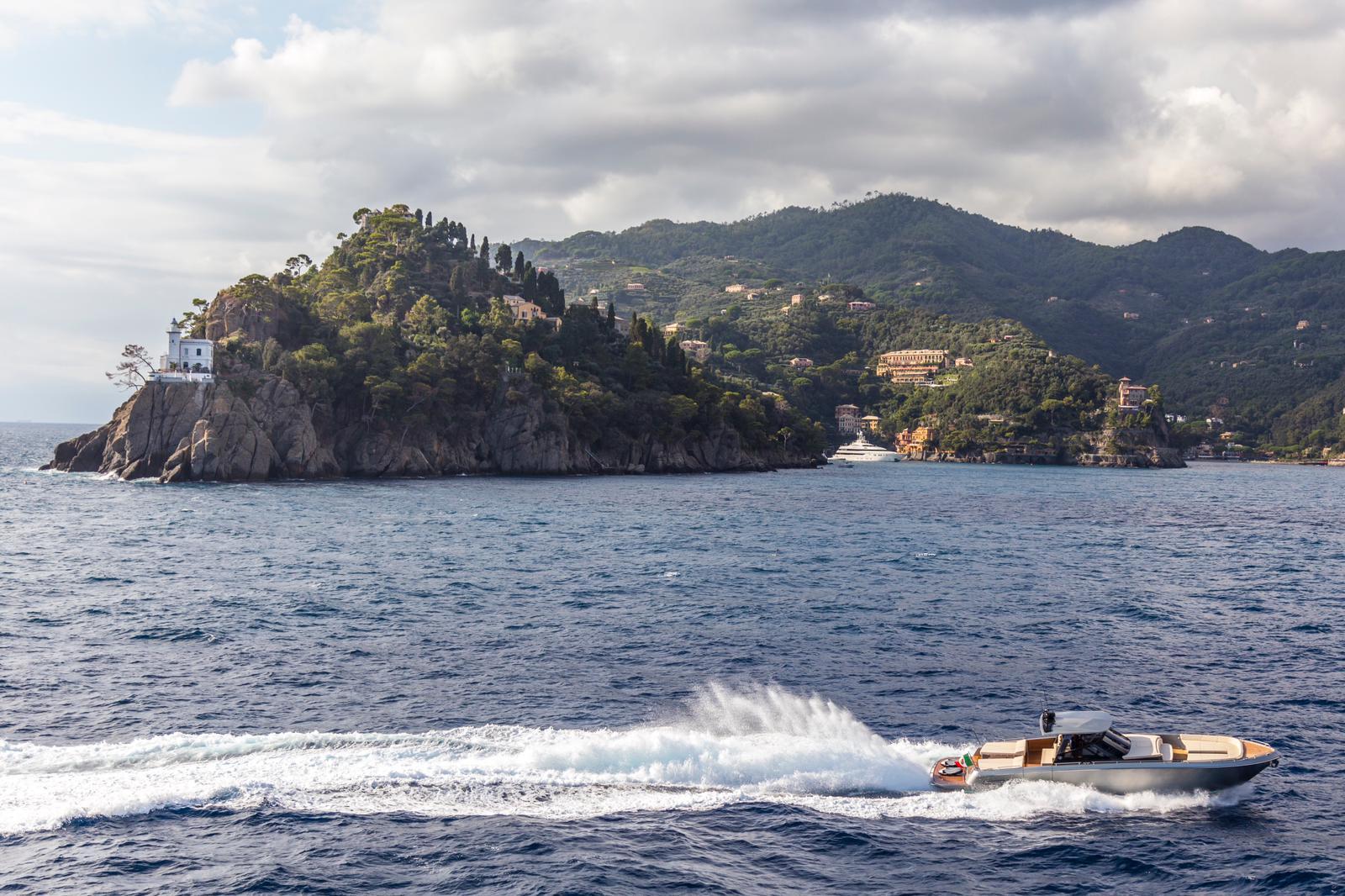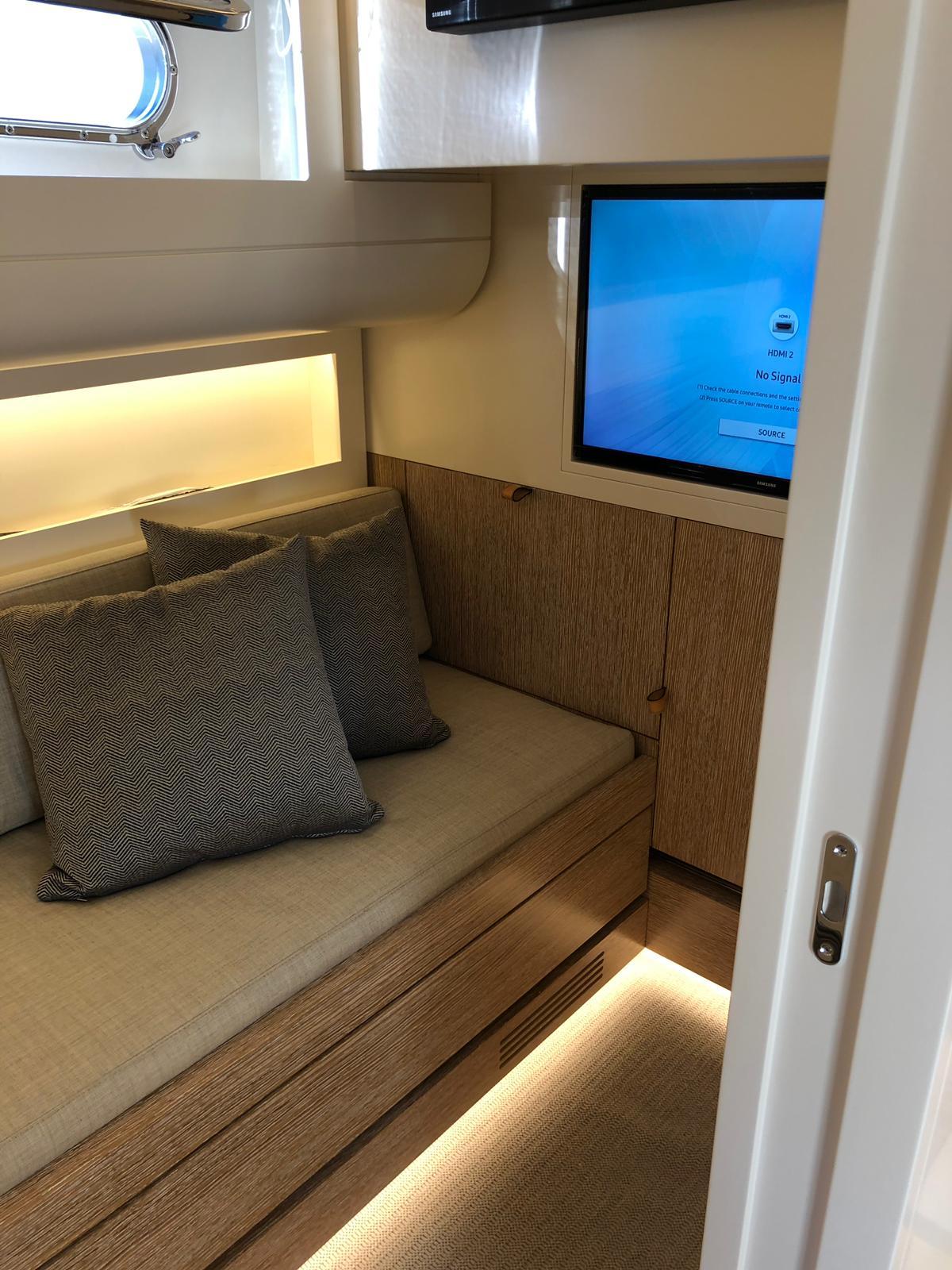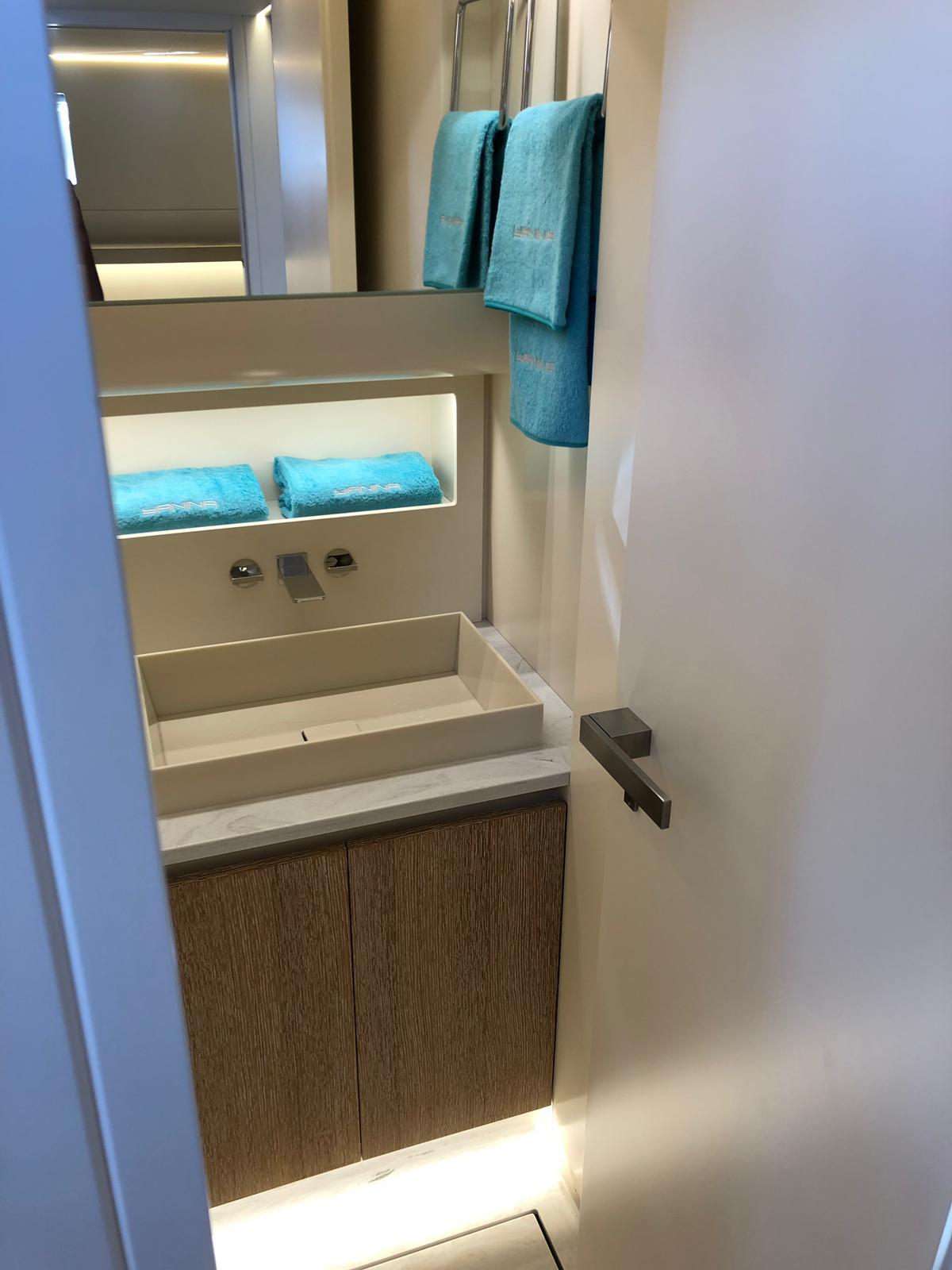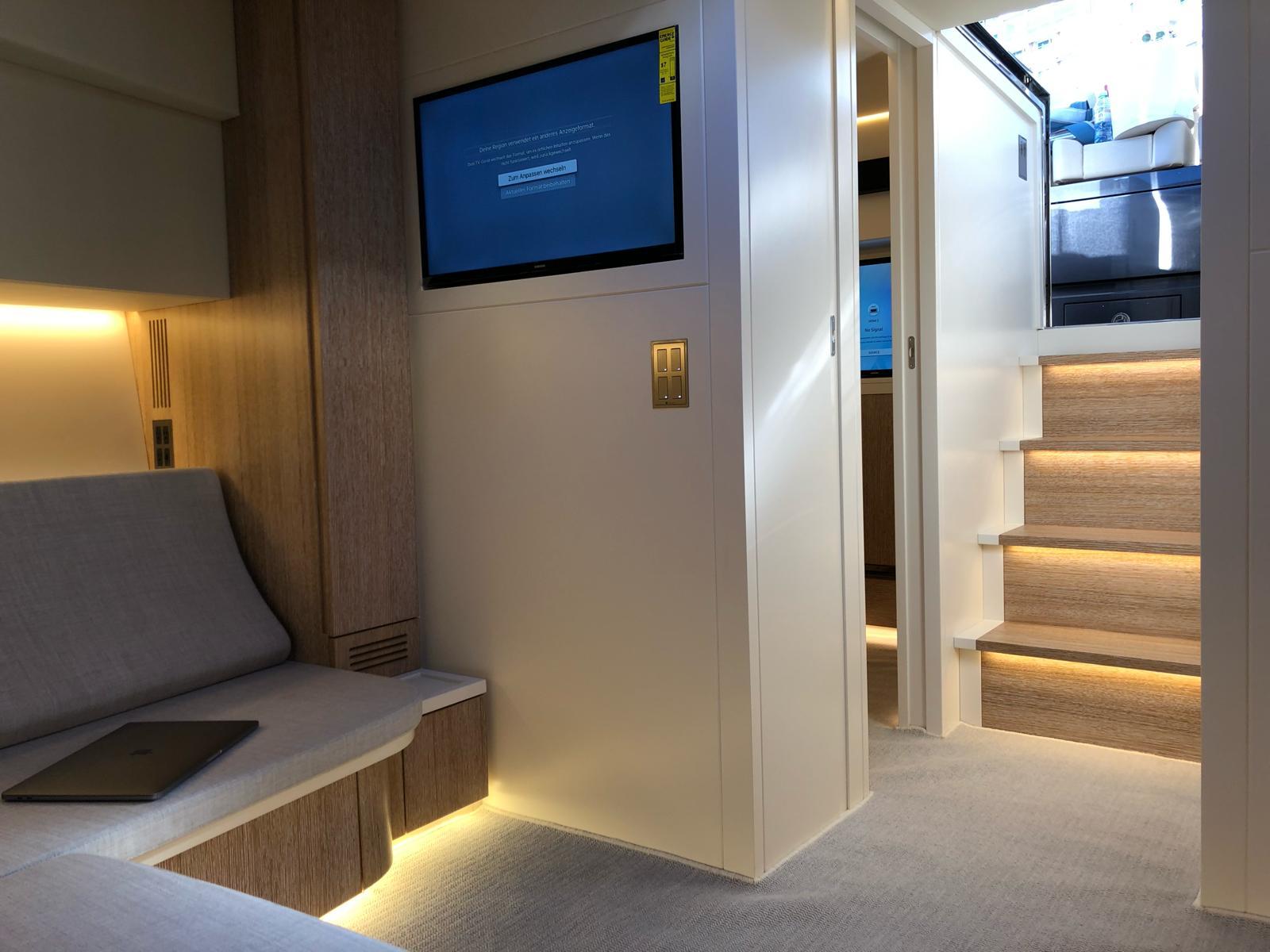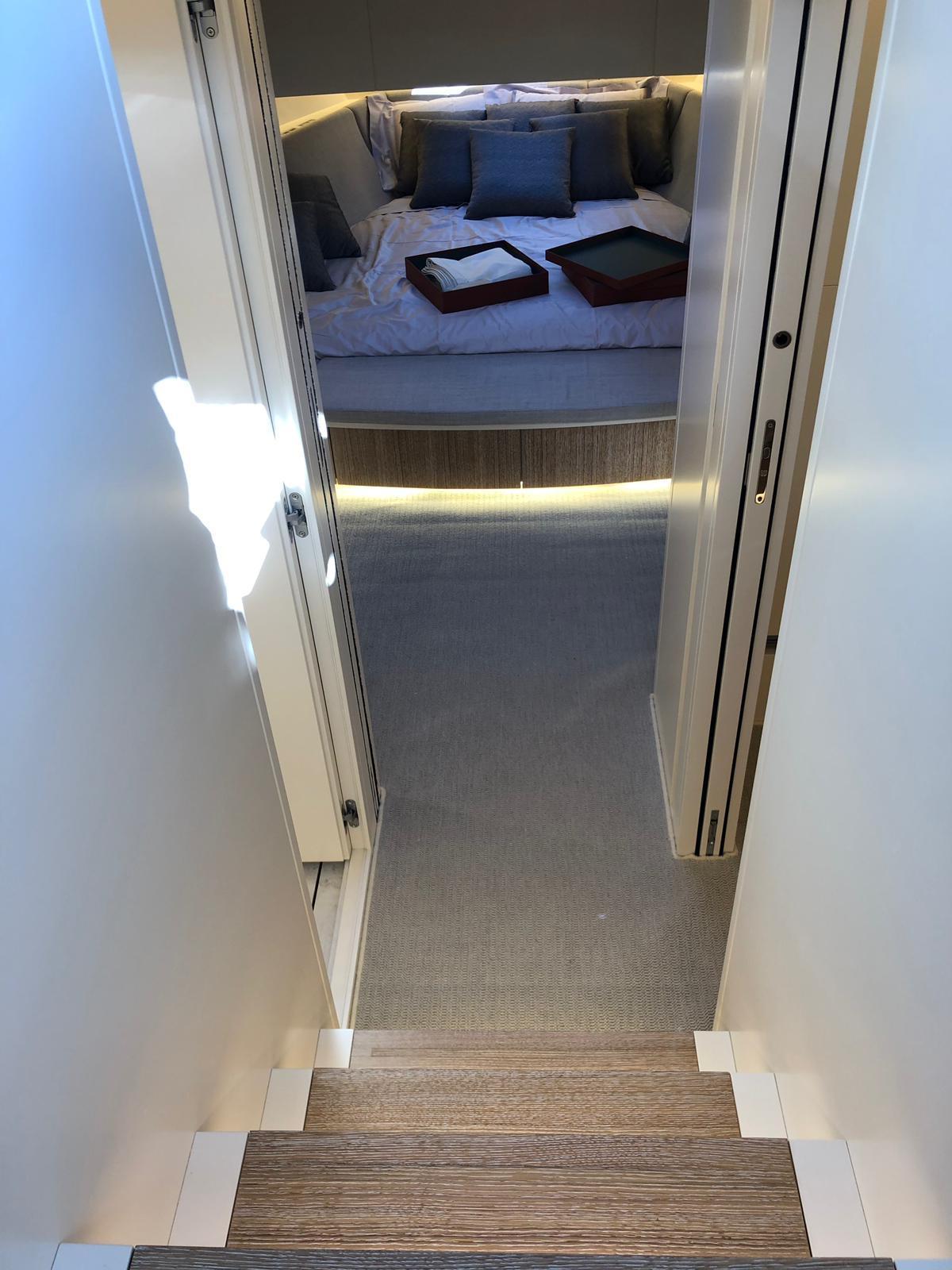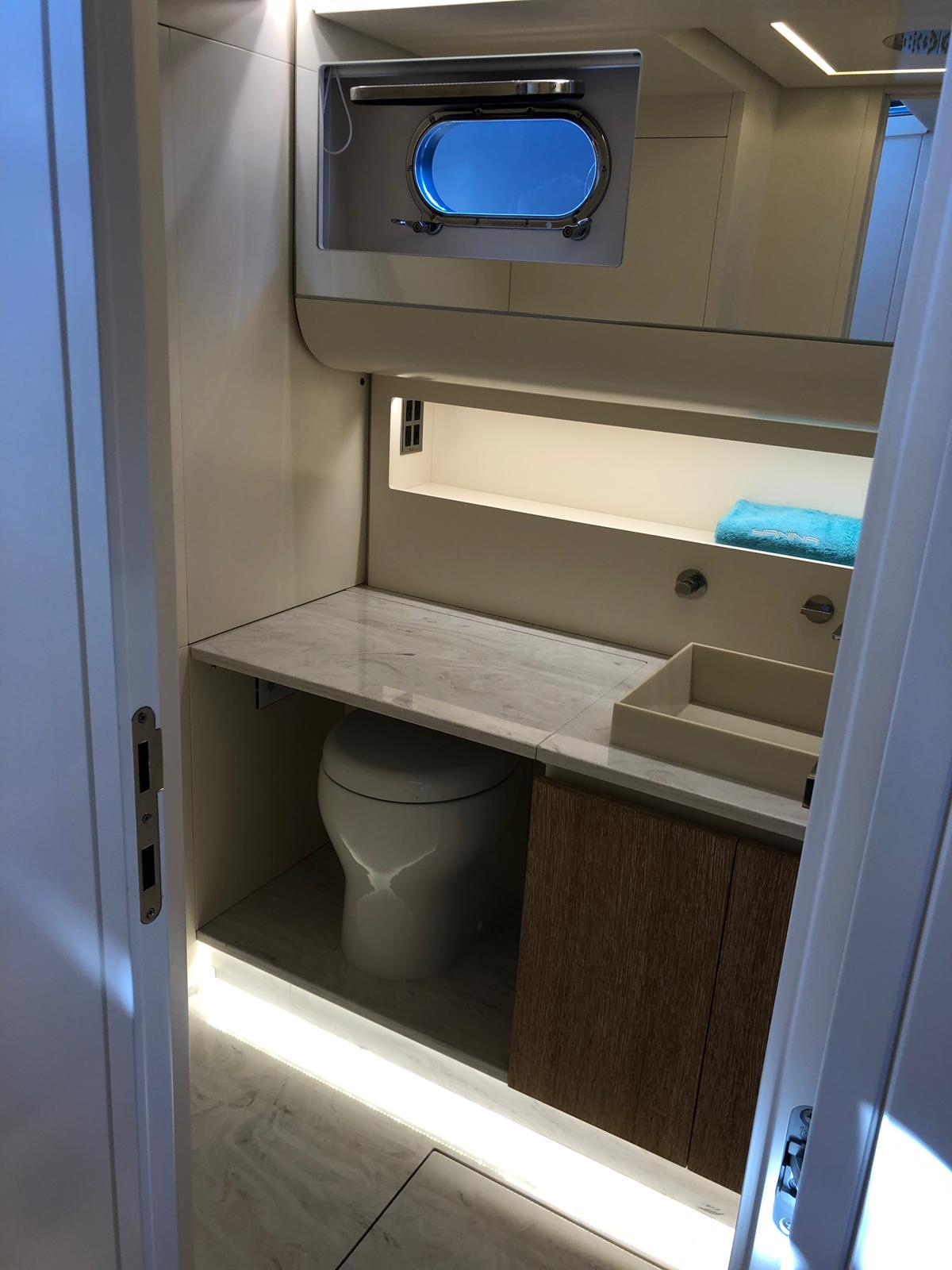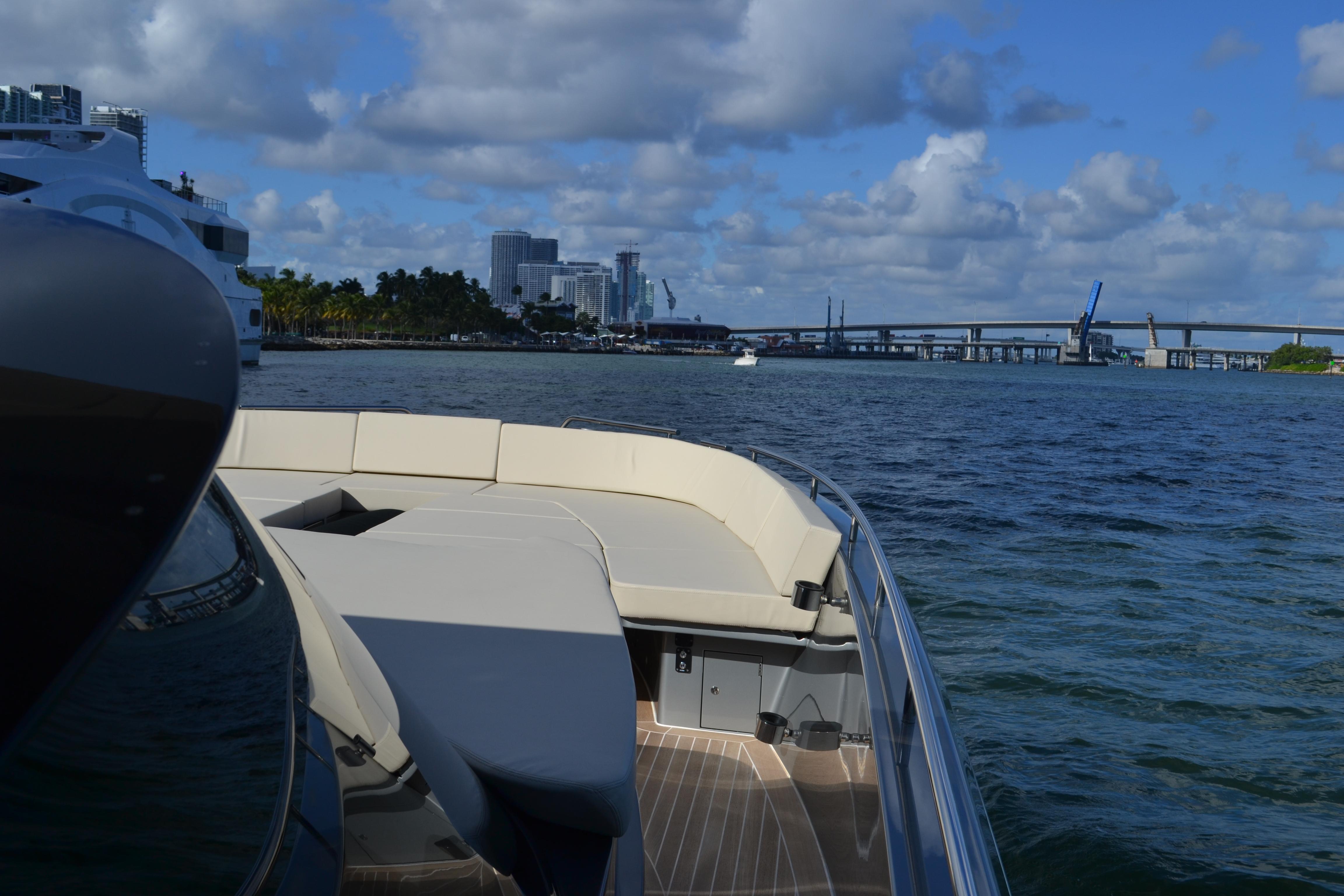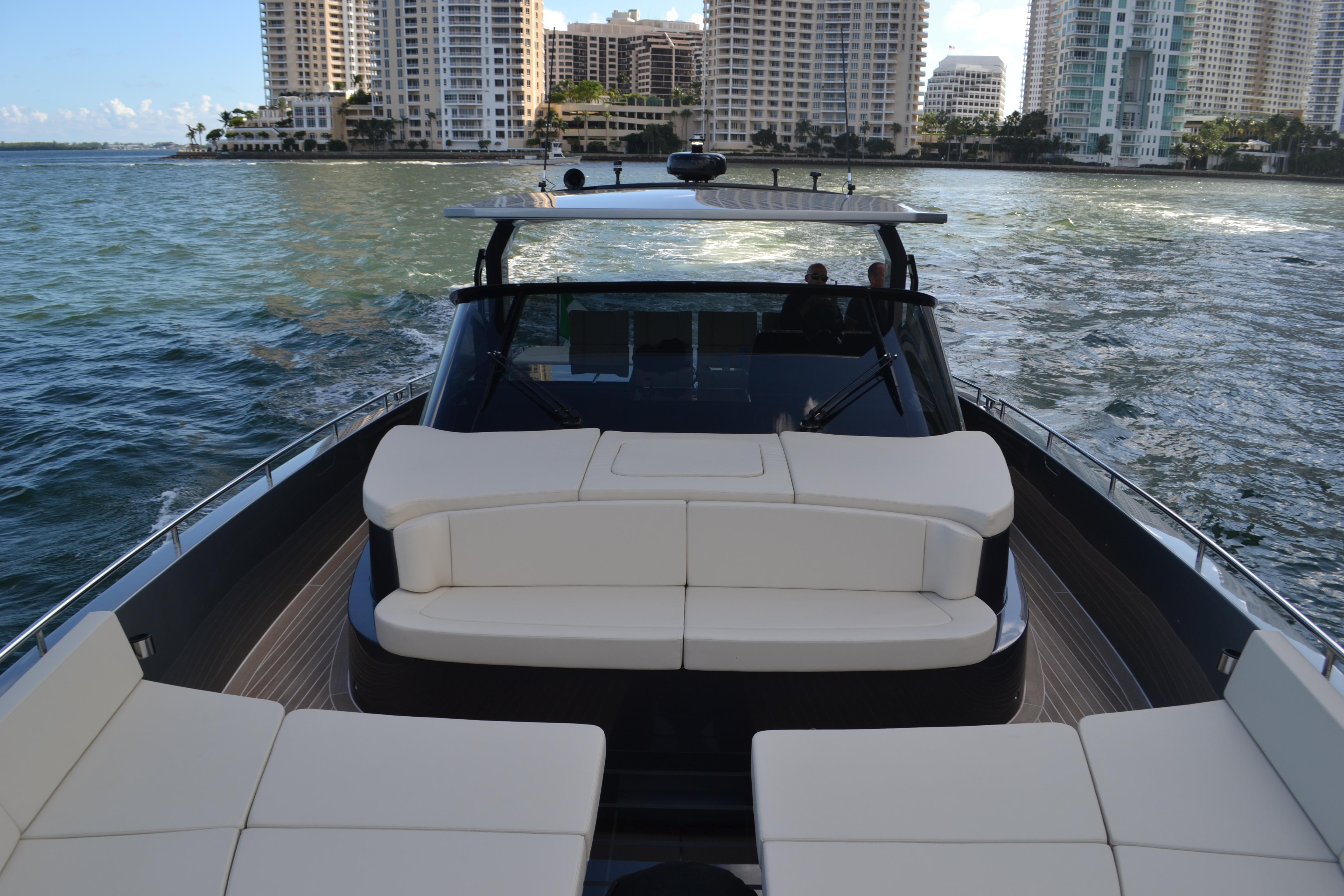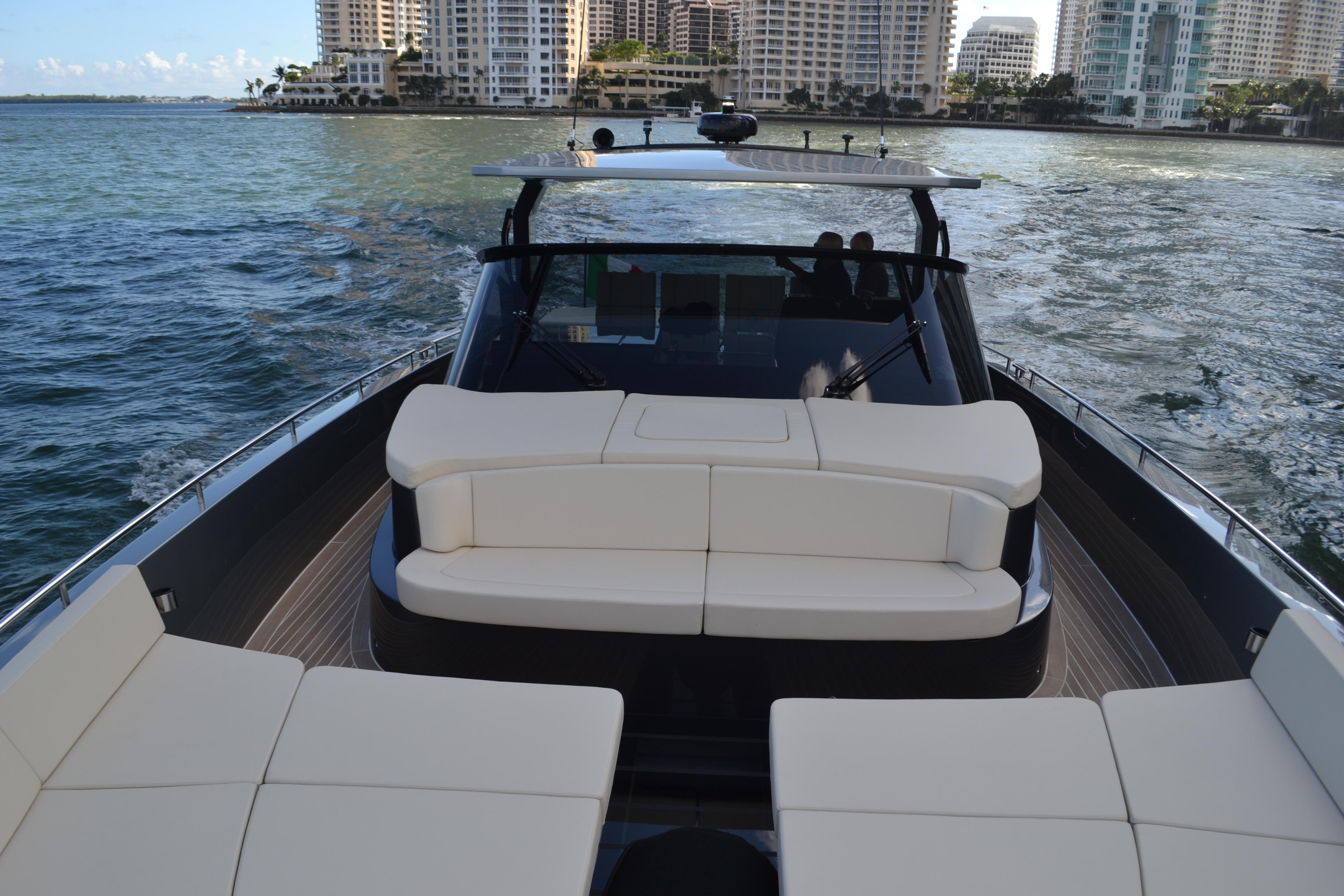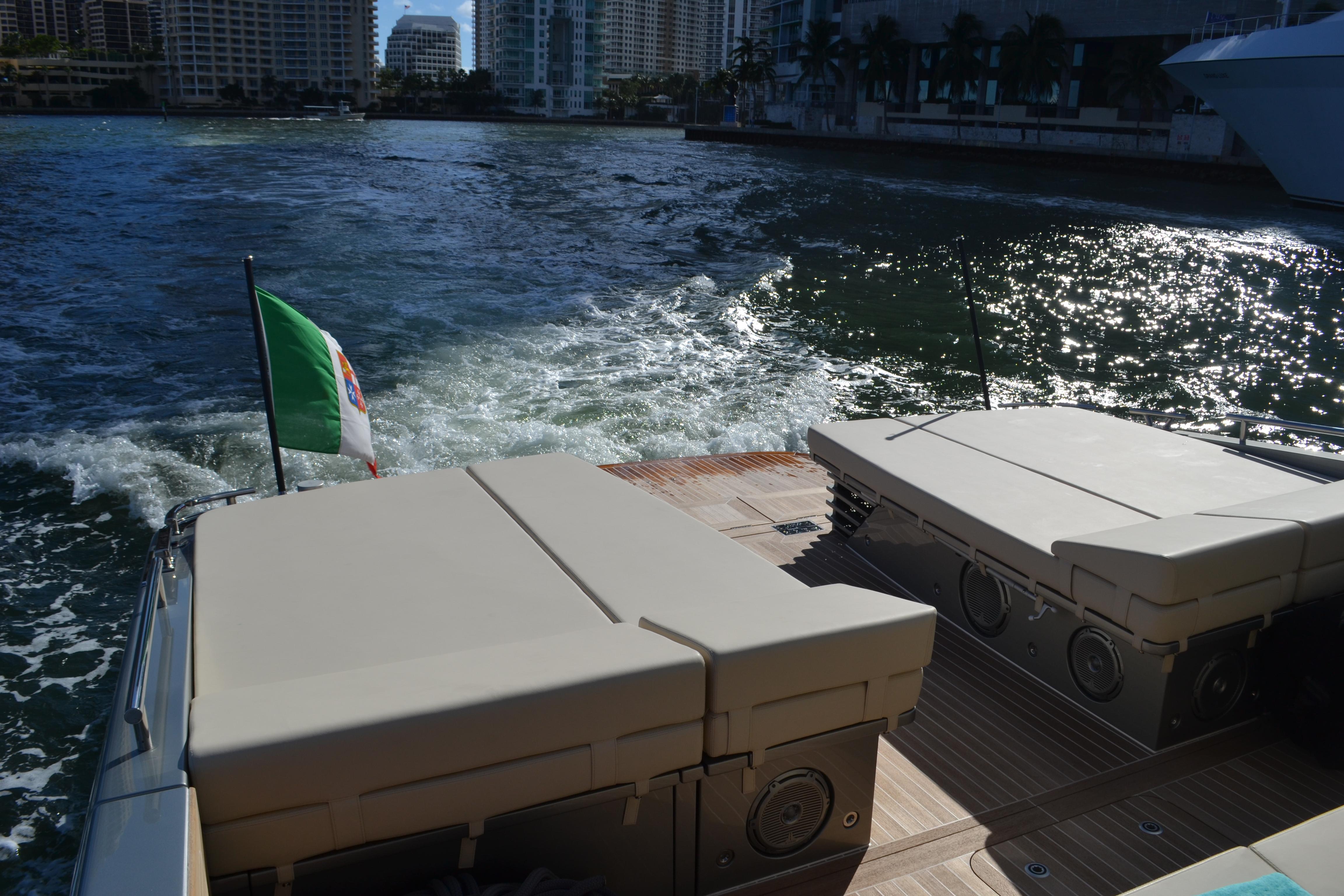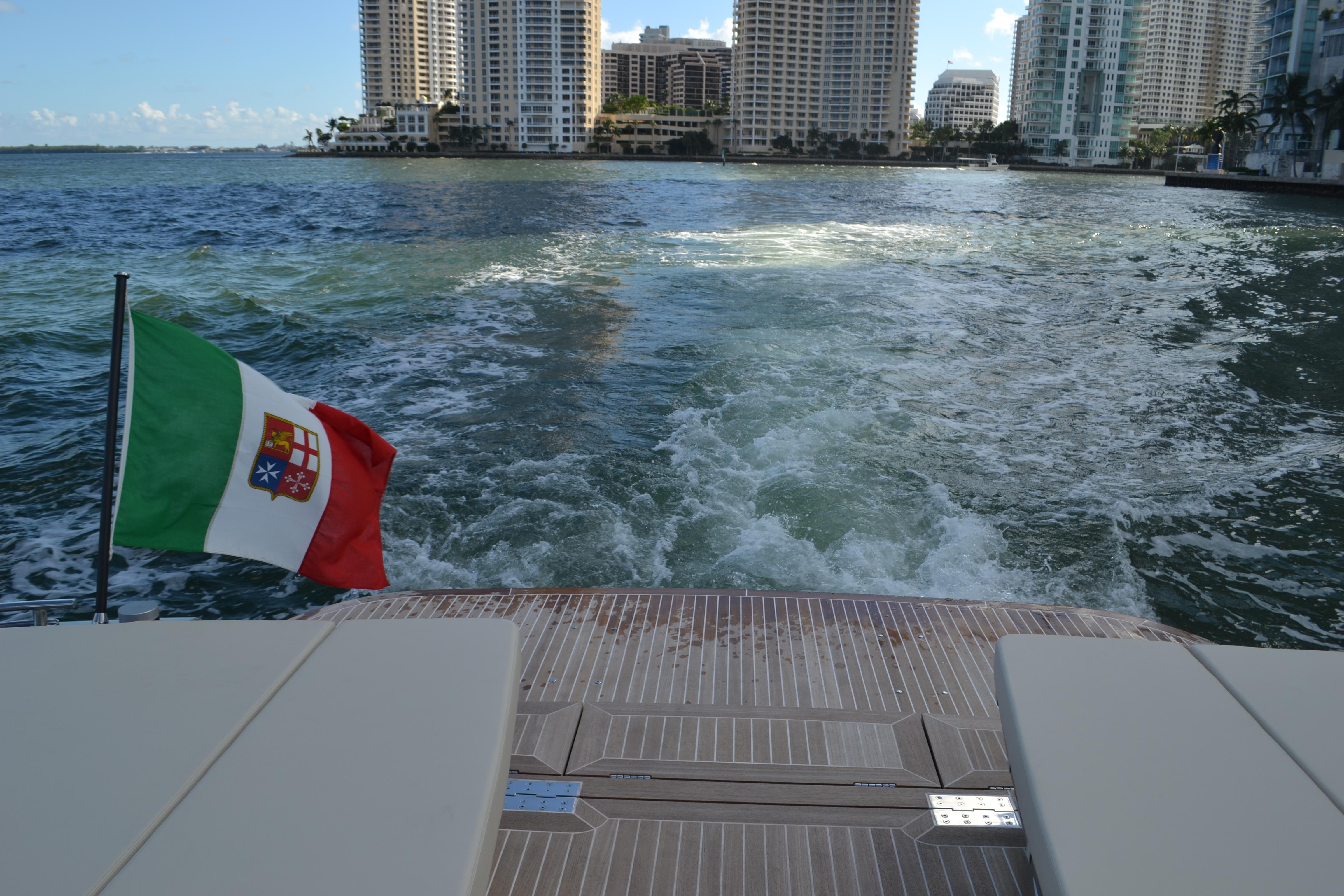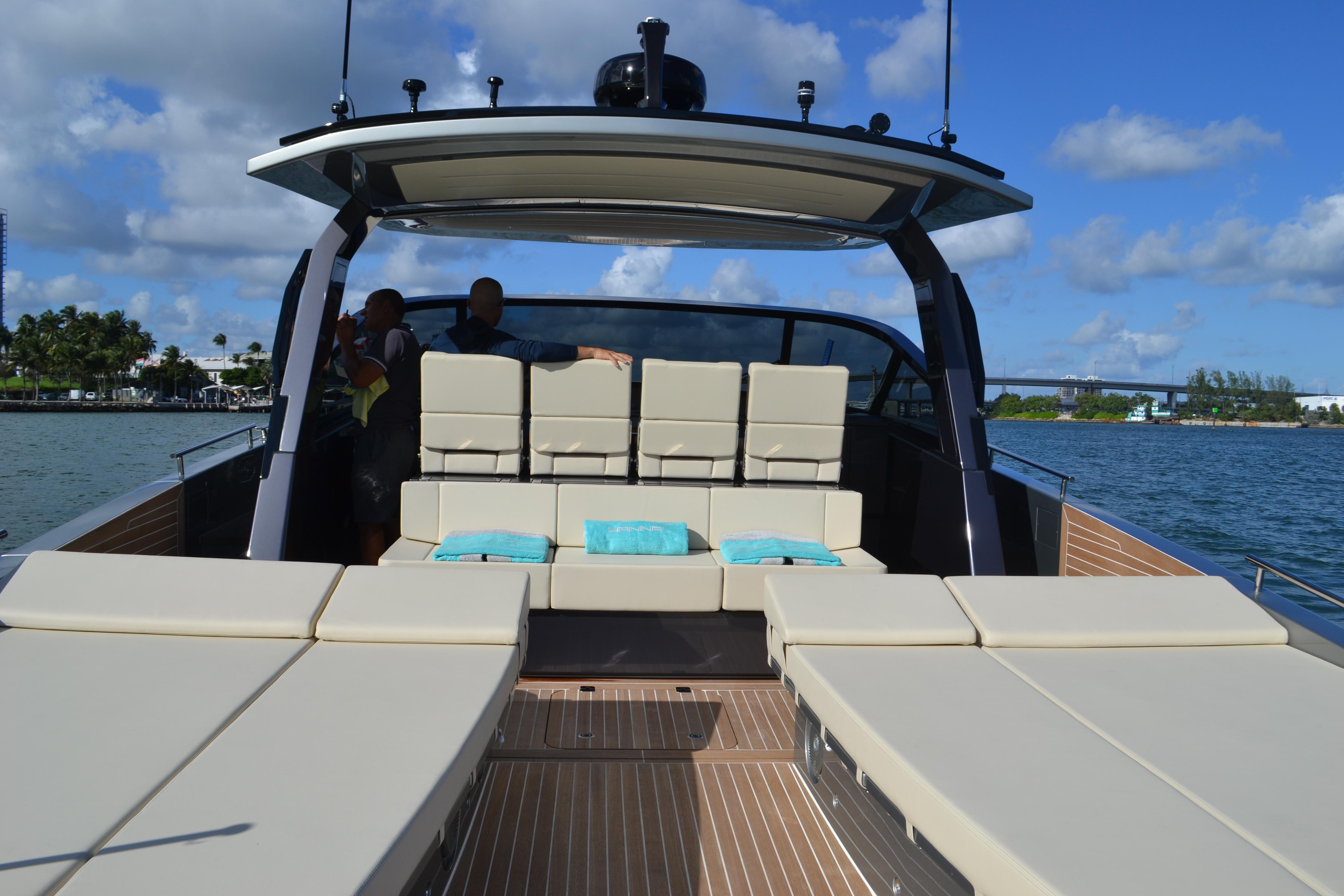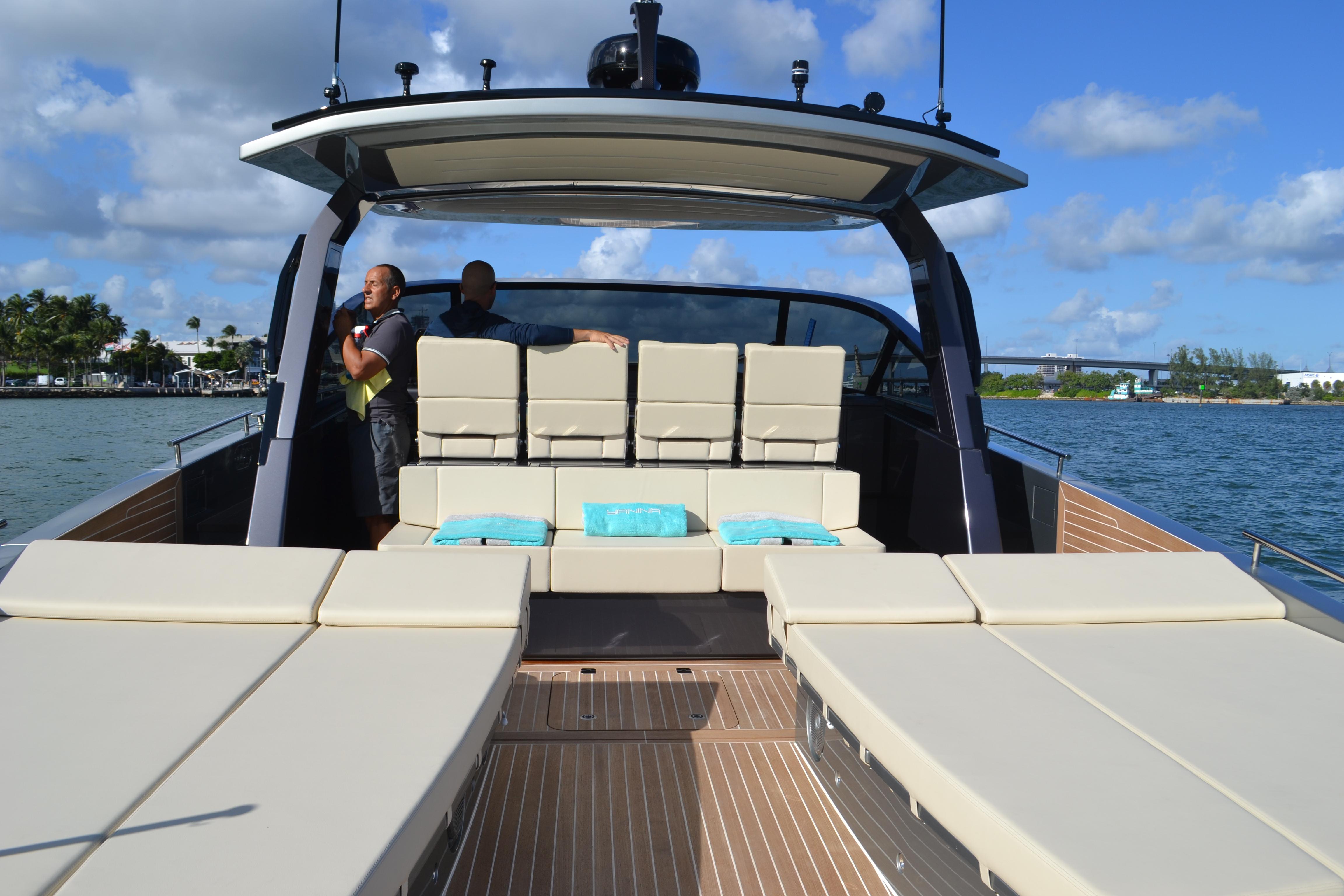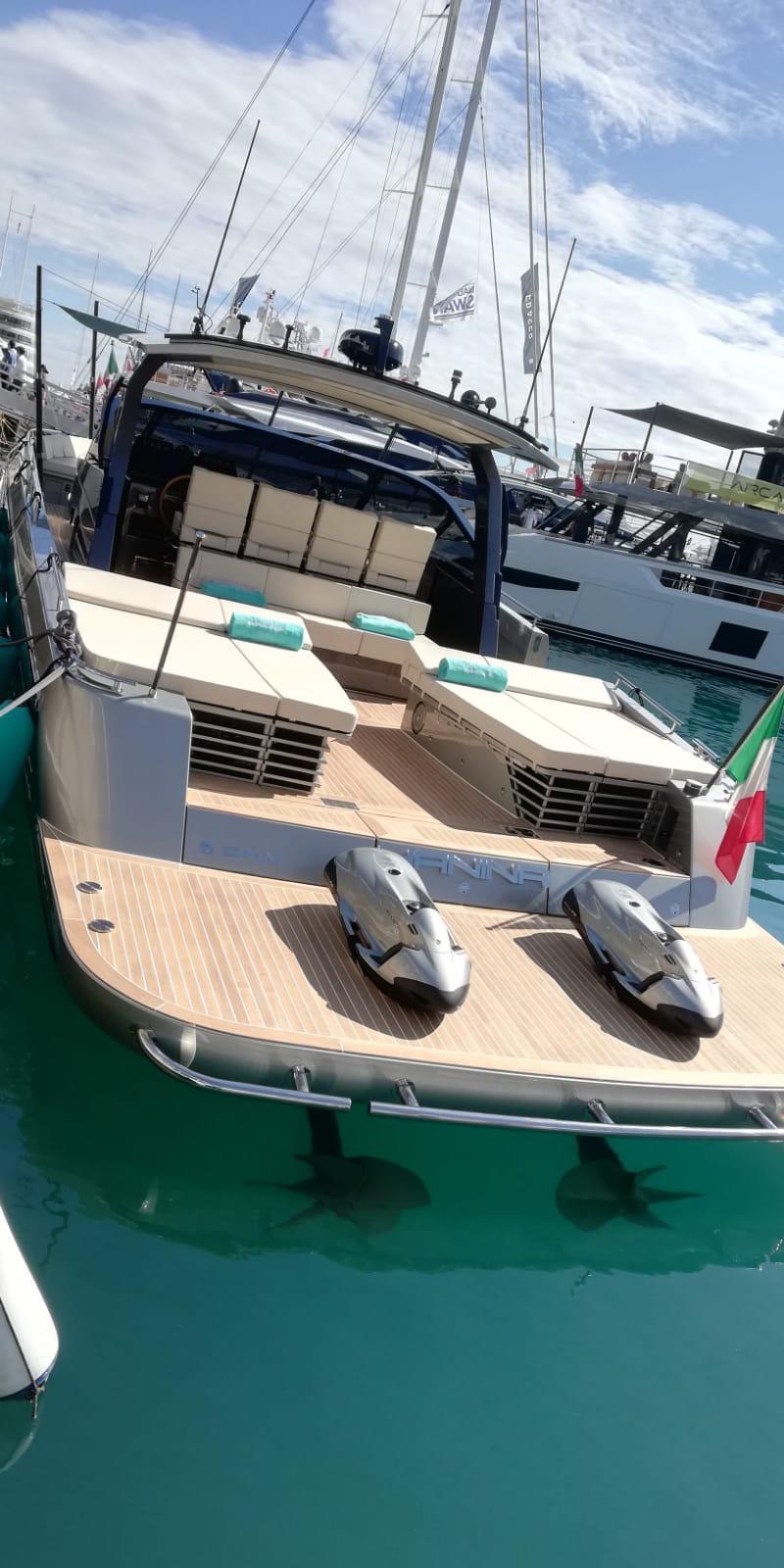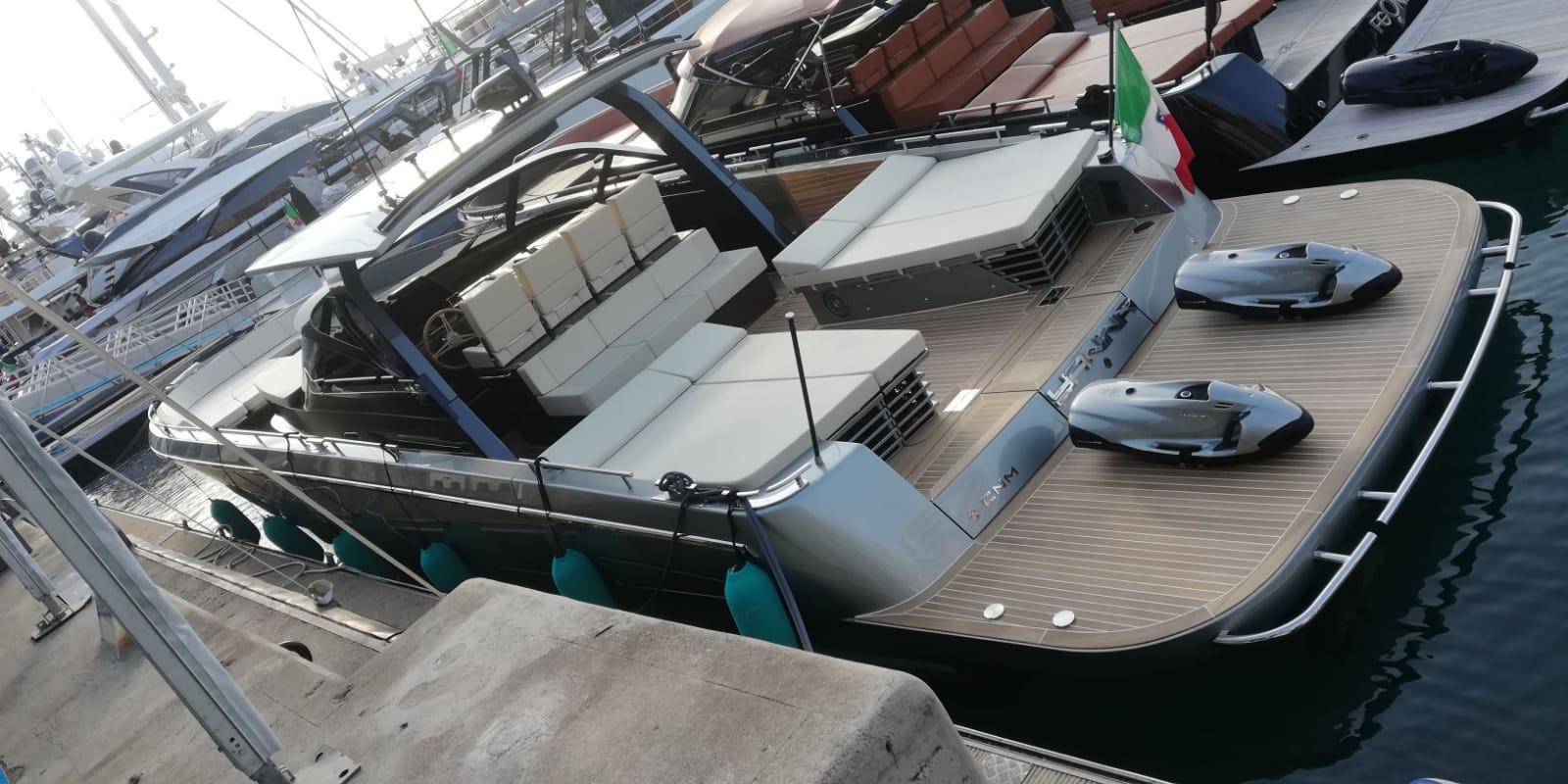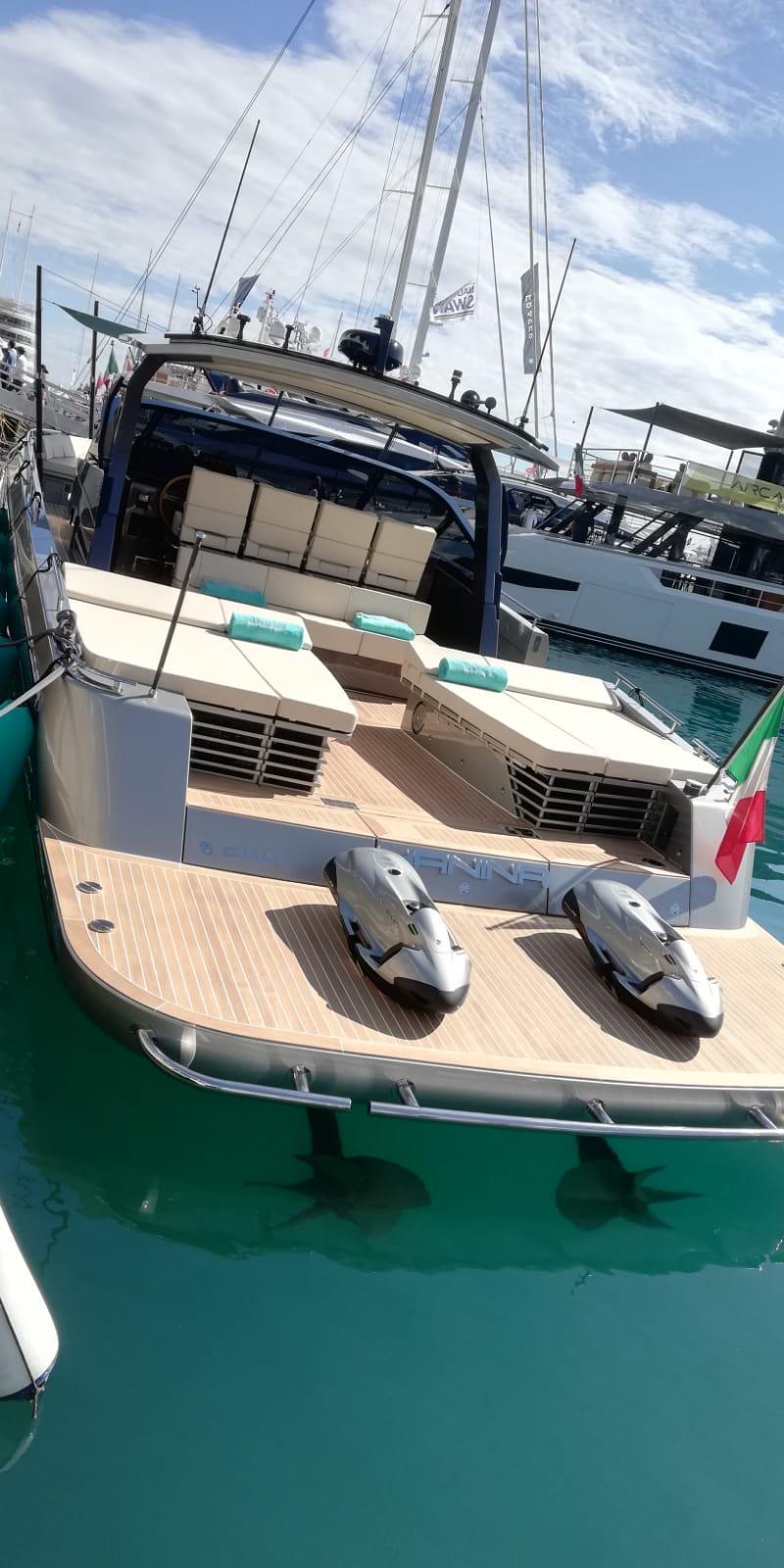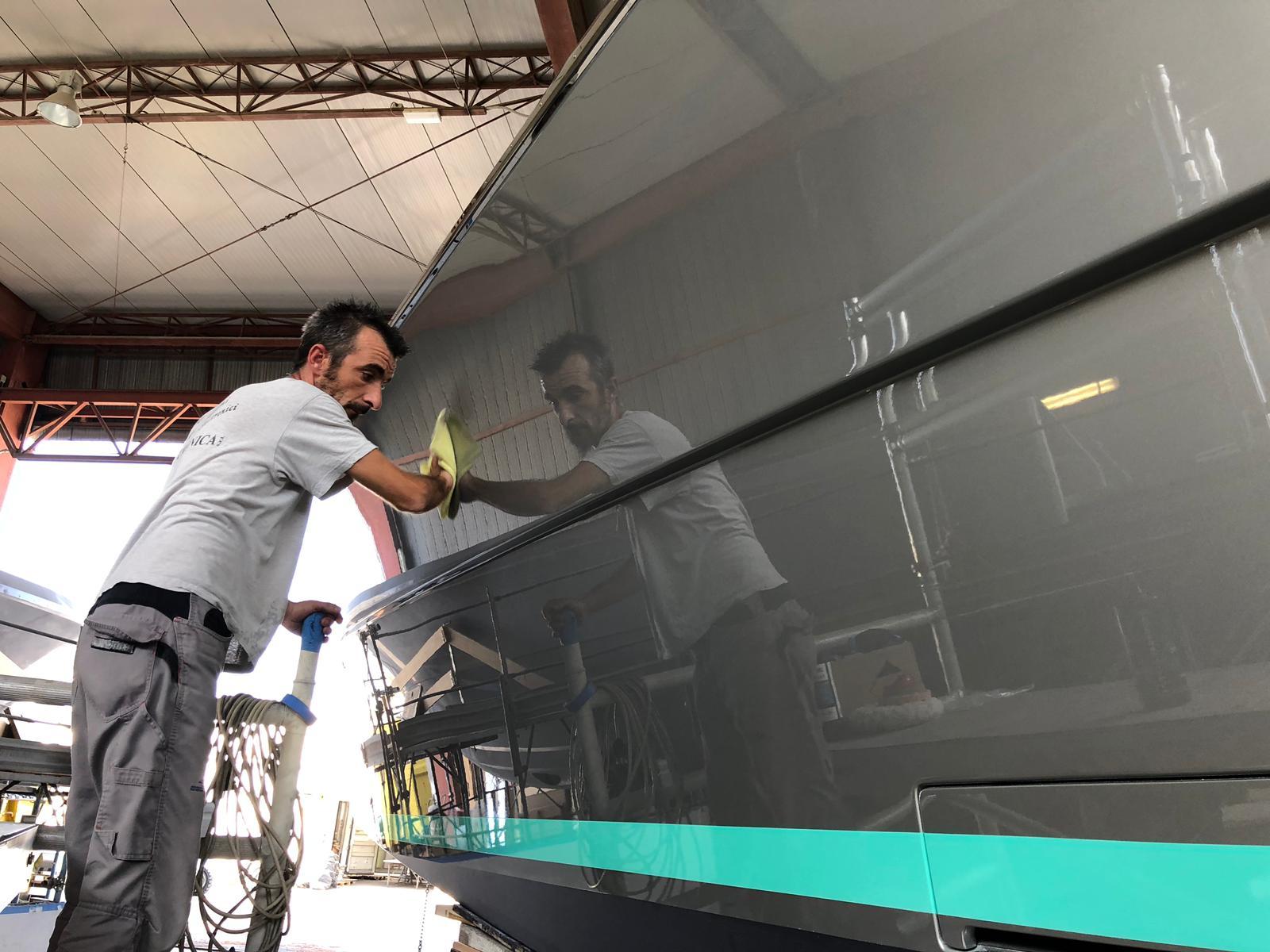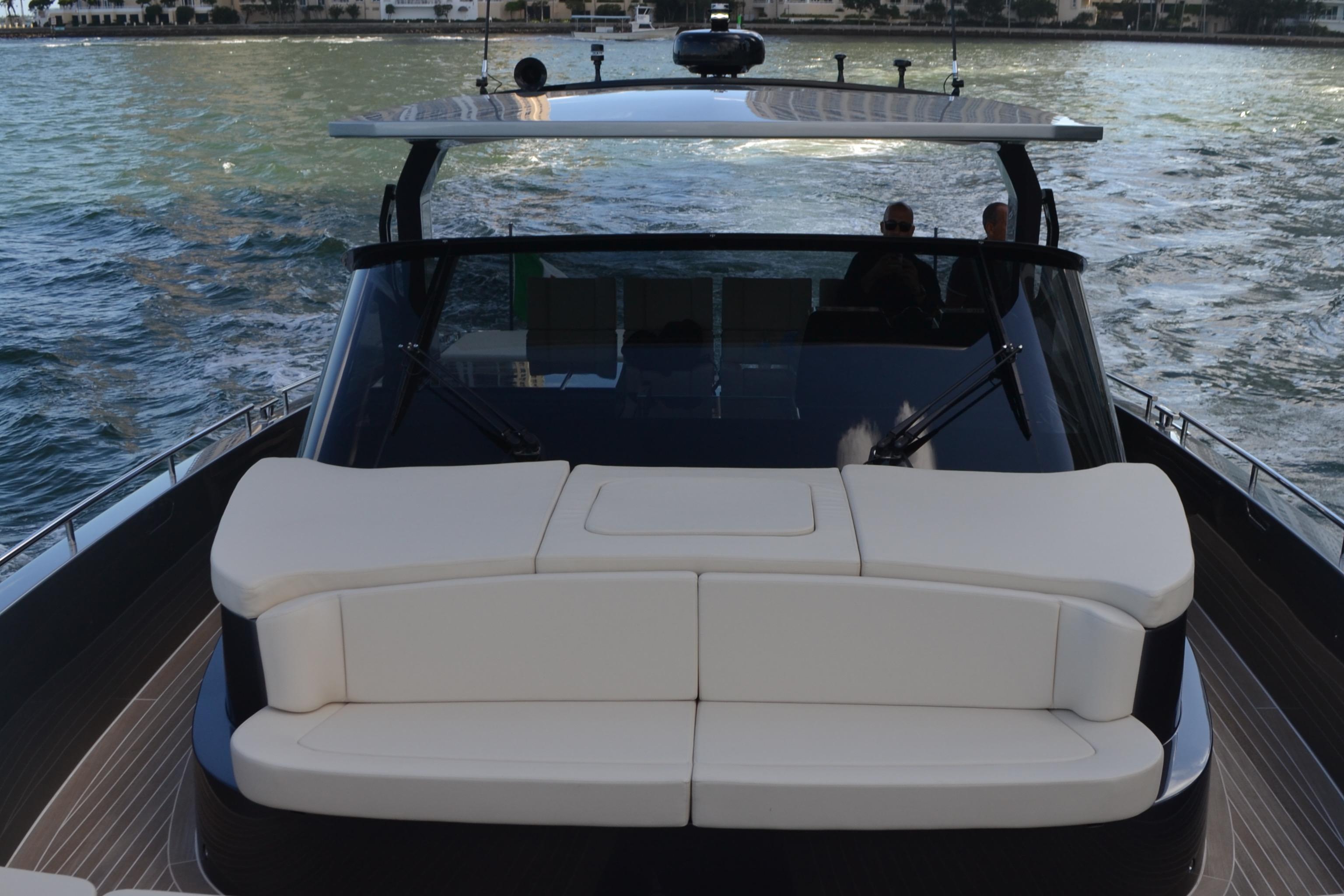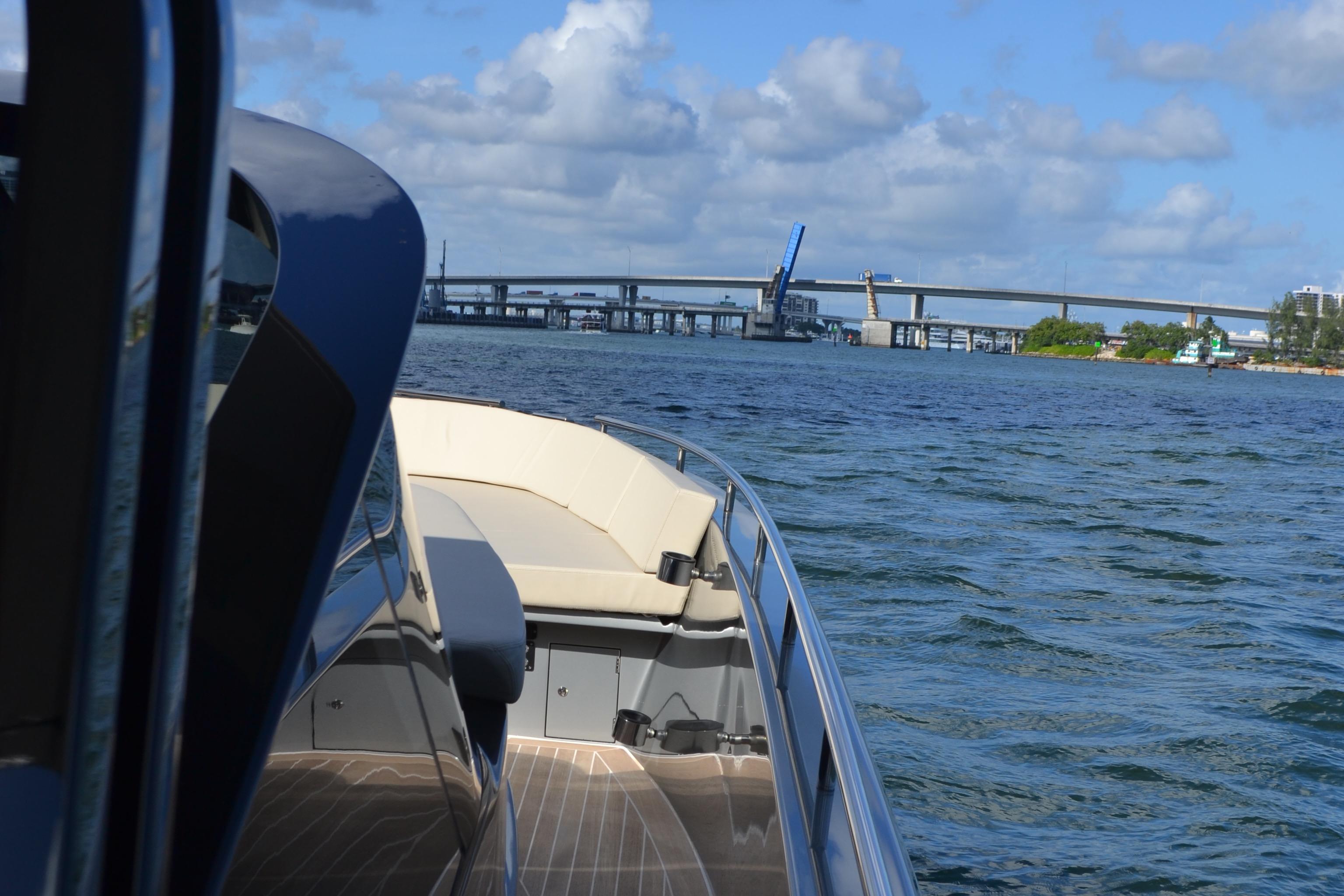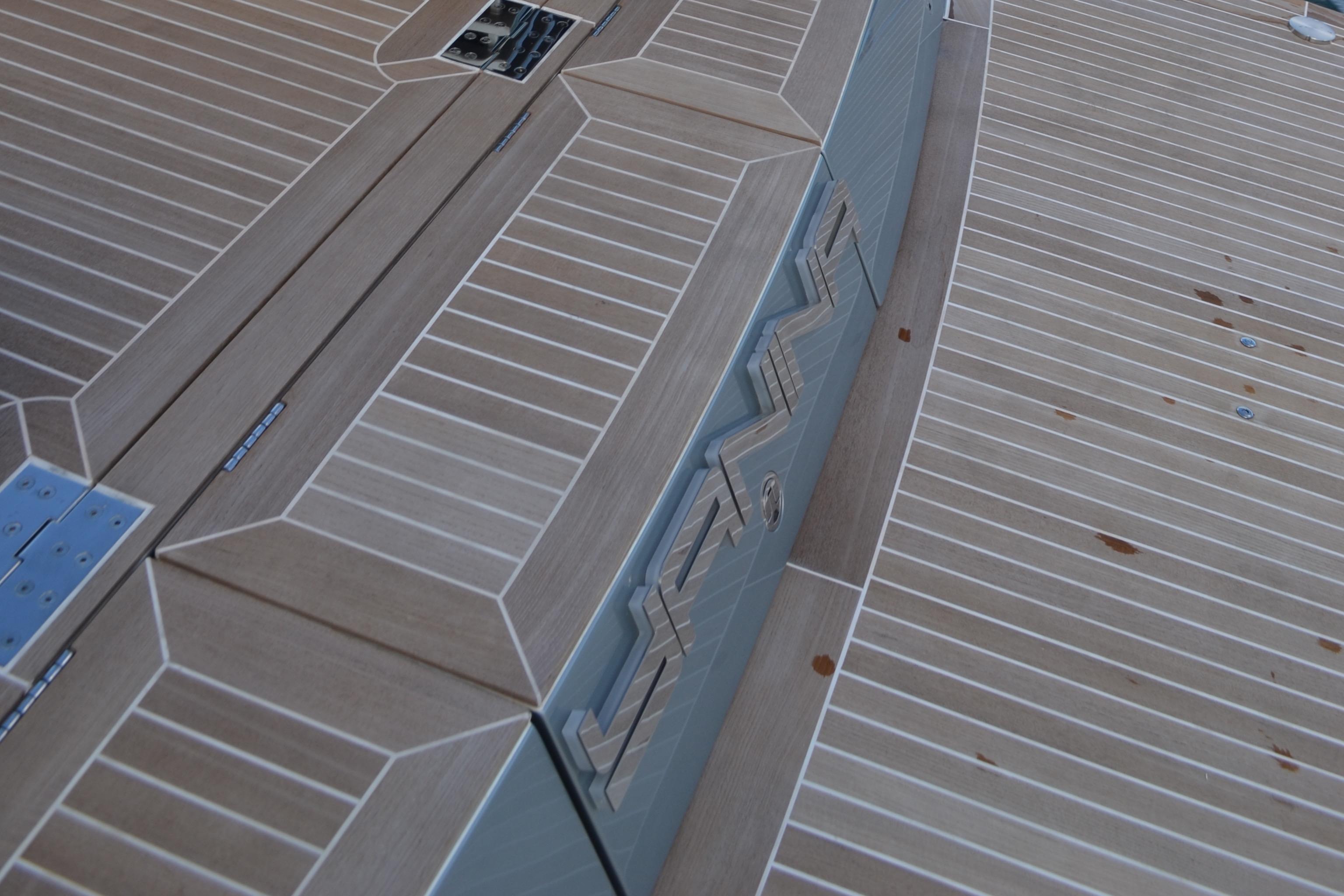 Description
ONLY CNM C54T AVAILABLE FOR SALE WORLDWIDE
BESPOKE ROLLS ROYCE PLATINUM METALLIC EDITION
TWO TONE ANTHRACITE EFFECT
AS NEW CONDITION

European Oak with Decape finish interiors

Loro Piana Fabrics through all interior with custom suede paneling

Twin MAN I6 800 hp with very low engine hours (200 hrs)

Arneson Drives extended warranty to 5 years or 2500 engine hours

45 knot top speed with 3.5 ft draft

2 cabins plus 1 crew cabin

2 side open terrace system

Humphree active stabilization

Tropical AC System Dometic 30,000 btu

Carbon fibre Hard Top with navigational awnings / soft helm enclosure

Carbon fiber swim ladder (fastening points on both side of platform)

Stainless and Carbon Fiber Standup Shower on platform

Special Helm Seats

10 speakers + 2 subwoofer / Interior Sound System by Bang & Olufsen

Additional Samsung LCD TV 32″ with soundbar and Apple TV

Interior privacy door included

Bespoke leather by Foglizzo 1921 (12 Table Mats)

Custom fender covers (Jade 11) with embroidery

Additional Böning key transponder kit – plastic

MAN Genuine spare part kit

Nespresso Machine with Additional Outlet Set-Up

Plexiglass Structures and Installation

Bespoke Loro Piana plaids and covers 

Bespoke linens by Mastro Raphael

Bespoke towels by Mastro Raphael

Bespoke dining set by Christofle

Additional fridge in galley

Pepwave Wi-Fi system

Furuno DRS4D Radar 4kW 36nm

Furuno FA50 Class B AIS transponder

Additional VHF antenna

Boning backup DPU

Kahlenber air horn

Painted instruments in Awlcraft 2000 Super Jet Black LSA

Airmar weather station

Watermaker Selmar Progress MC/80 -24 Volt

Backup DPU on Böning system

Custom drawer set up (guest cabin)

Fridge / freezer in crew cabin

US Flag / Duty Paid

Full time Captain, perfect condition, no expense spared
With its powerful stance, iconic proportions and state-of-the-art technology, the Continental 54 is a timeless interpretation of the modern luxury open yacht. Not only is Continental 54 the signature CNM, it is also the very essence of the marque. The new engines and surface drives deliver the abundance of effortless power that has always made CNM a breathtaking ride.
The hand drawn lines give Continental 54 a feeling of understated elegance and suggests movement even when the yacht is stationary. The power and dynamism of the yacht are heightened by the spotless custom paintwork. The exterior lounging areas are the largest fitted as standard to a day cruiser. Providing comfort and safety, they are an integral part of CNM DNA, and help to give Continental 54 its commanding presence.
The Continental 54 will always be of the highest quality to ensure that the CNM brand is always synonym of excellence.
Disclaimer
HMY Yacht Sales, Inc. is pleased to assist you in the purchase of this vessel. This boat is centrally listed by 1 Ocean Yachts.
Current Price:
$1,850,000
Fuel Capacity:
530 Gallons
Vessel Overview
About CNM
CNM is a subsidiary of a leading Italian real estate development and investment group. It is free from debt with any financial institutions, suppliers and any third parties in general. The whole business model relies on the impeccable reputation of the yard, the highest quality of the product and the great publicity that each one of our customers has given us throughout the years. This is why CNM IS established our company in Rome, and took over the original Itama Shipyard founded in 1969 and its experienced craftsmen, with the help of Mario Amati himself (founder of Itama). 
CNM IS the only shipyard building high end custom limited-edition yachts in the 43-110 range in the world, catering to the discerning clients who expect the best and do not conform to the norm. The company's continuous pursuit of the highest attainable build quality and design, as well as our one-to-one customer service, has allowed its 100% client retention rate for over fifteen years.
At CNM, we pursue our goal of creating the best product and offering the best service on the market and firmly believe the quality of our yachts should drive the value of the brand rather than the value of the brand to drive the perceived quality of our yachts. 
CNM uses materials and fit and finish like no other shipyard and the performance of our yachts and sea keeping capabilities are unsurpassed by no one.
This is why they are referred to as 'the acclaimed and awarded shipyard for the greatest open yachts in the world'.
CNM is a  member of the Altagamma Foundation, the by-invitation-only association founded in 1992 and gathering the High-End Italian Cultural and Creative Companies.
Recognized globally as authentic ambassadors of Italian style and beauty. Less than one hundred brands, ranging from Ferrari to Valentino, have been admitted to the Altagamma Foundation since its establishment.
CNM is the only builder in this segment to have exclusive partnerships with:
Loro Piana for all of its interiors and unique pieces developed just for CNM. http://www.foglizzo.com/
FOGLIZZO 1921. Italian Custom Leather with unique pieces developed just for CNM. https://loropiana.com
BANG & OLUFSEN for interior AV and unique equipment that is integrated into the furniture. https://www.bang-olufsen.com/en
CRESTRON System and IPAD controls for all AV, exterior lighting, etc. https://www.crestron.com
AkzoNobel Paint with unique color scheme options developed for CNM https://www.akzonobel.com/en
Rolls Royce Continental 54´ Edition- Coming Soon… 
CNM Continental 54 Brochure:
https://www.dropbox.com/s/er73wzds9j5xaw1/Continental54ED.pdf?dl=0
https://www.dropbox.com/s/bt0ahd3eksyfozj/PRC54110919_Sartore%201.pdf?dl=0
VIDEO of the C54 here: https://vimeo.com/279540464
Vessel Characteristics
Motor Yacht "YANINA" is an open planning motor yacht built in RINA Class in fiberglass with carbon fiber reinforcements, by Cantieri Navali del Mediterraneo, in Italy. The CNM 54 is the hull number 04 built.
The yacht is a single deck open composite fiberglass cored hull and deck with a raked bow, open main decks with walk- around side decks stepped to the foredeck.
HULL ID: CNMC5404H919
Official Number: 1299550
Flag: USA
Port of Call: Miami Beach, FL
Kind of Vessel: Open Motor Yacht
Model Year: 2019
Color: bespoke Rolls Royce Platinum Metallic Edition with two tone anthracite effect 
Classification: A - CE
Designer: Cantieri Navali del Mediterraneo
Builder: Cantieri Navali del Mediterraneo
Length Overall: 16.03 m - (52 ft 7 in)
Max Beam: 4.50 m - (14 ft 9 in)
Draft: 1.00 m - (3 ft 3 in)
Displacement (Laden): 19,750 kg - (43,541 lbs)
Maximum Speed: 45 knots
Capacities
Fuel tank capacity: 2,000 L - (528 US gal) (Diesel)
Water tank capacity: 400 L - (106 US gal)
Propulsion & Machinery
Main Engines: Twin MAN I6 - 800 HP (2)
Model: D2676LE423
Engine Serial Numbers:
51052808135284
51052858085284
Engine Hours: 200
Engine Type: inline six-cylinder Four-stroke Diesel engine Common Rail
Rated Horsepower: 800 hp (588 kW)
Gearbox ZF
Arneson drive propulsions ASD 11 (2)
Bow thruster: SIDE POWER SE 100/185 T – 110KgF at 21V – 116KgF at 24V
Stern thruster: SIDE POWER SE 120/215 TC – 120KgF at 21V – 139KgF at 24V
Humphree tabs with electric actuators
Humphree active stabilization
Kohler 9EKOZD (1)
Generator Hours: 530
Dometic Tropical AC system 30,000 btu
Rolla 6-blade propellers in Nibral (Nickel-Bronze-Aluminum) (2)
Accomodations
Staterooms: 2
Berths: 3
Heads: 1
Crew berths: 1
Crew heads: 1
Construction
HULL:
Construction on female mold with traditional skin-coat lamination and vacuum technique, vinyl-ester resin PVC cored sandwich
DECK:
Construction on female mold with traditional skin-coat lamination and vacuum technique, vinyl-ester resin PVC cored sandwich bulwarks
HARD TOP (custom)
Carbon fiber or aluminum structure with epoxy coating
Paint
BESPOKE ROLLS ROYCE PLATINUM METALLIC EDITION
TWO TONE ANTHRACITE EFFECT
The hull and the bilges are coated gel coat
In particular, the topsides and the superstructure are coated according to AkzoNobel epoxy coating schedule with Awlcraft SE / HDT Clear finish
The bottom is subject a double antifouling application for "high speeds" with anti-osmosis treatment. The deck areas, not covered by teak, have an anti-slip finishing
Interiors
AA European Oak with Decape finish. Interior veneer upgrade 
Loro Piana Fabrics through all interior
Master Stateroom Carpeting Westbury Light Grey AM5005-004 by Loro Piana Interiors 
Guest Stateroom Carpeting Westbury Light Grey AM5005-004 by Loro Piana Interiors 
Passageway Carpeting Westbury Light Grey AM5005-004 by Loro Piana Interiors 
Custom suede paneling
Custom drawer set up (guest cabin)
Dividing bulkheads: Lightened sandwich panels
Upholstery panels and furnishings chosen from the shipyard's samples, with gloss finishing
Parquet and carpet in the sleeping area chosen from the shipyard's samples
Door handles with revolving plug for bathrooms
Porcelain WC with electric control in all bathrooms
Complete accessories Kit in all bathrooms
IP65 spotlights in the shower box of all bathrooms
Internal chrome-plated steel carpentry with mat or glossy finish
Fabric packet curtain in all cabins
Plisse curtains in all cabins
Standard shipyard mattresses, bed covers, pillows and pillow covers
Light switches for crew areas
Ventilation system with inlet into the galley, owner cabin, main guests cabin and corridor
Air Conditioning digital control in all areas
Deck Equipment
"Bruce" type, s/s Anchor 30 kg., glossy finish and rotating joint, hosepipe and s/s bow cap with glossy finish.
Hot-galvanized steel chain
Anchor electric windlass (n. 1) with electric foot control and chain counter.
S/s Docking cleats – glossy finish:
Bow (4) / amidships for spring (2) / stern (2)
Water tank inlet (1)
Fuel tank inlet (2)
Horn
Windshield wipers for fresh water washing
Fresh water outlets (2)
Waste water extractor plug (1)
EasyAccess shore power socket
Aft external showers (2) with mixer (standup and handheld)
Seabob storage system
Stand-up Jet Ski storage system
Custom platform protective fender
Custom carbon fiber swim ladder (fastening points on both side of platform)
Standup Shower on platform
Navigation & Communication
VHF Radio with DSC (with additional antenna)
LCD waterproof marine display for navigation systems (n2)
Navigation systems with radar antenna
GPS antenna with cartographic monitoring
Fish finder with echo-sounder transducer
Magnetic compass
Autopilot
AIS Class B Transponder
Pepwave Wi-Fi system
Carbon fibre Hard Top with navigational awnings / soft helm enclosure
Furuno DRS4D Radar 4 kW 36 nm (package)
Weather station Airmar Furuno FA50
Class B AIS transponder
Böning backup DPU
Kahlenber air horn
Painted instruments in Awlcraft 2000 Super Jet Black LSA
Exteriors
Engine room emergency escape way
Bow tables (2) with teak surface, synchronized electric bases (2)
8 mm natural teak bridge floor – white seams
GRP swimming platform, teak covering - white seams
Exterior light design
Sun pads with synthetic leather cushions or fabrics
Additional 'skylights' sunpad with synthetic leather cushions
Sofa with synthetic leather cushions
Storage
Outdoor carpeting by Loro Piana Interiors
Table / Pouff with internal icebox compartment
Forward canopy
Aft canopy
Entertainment
MEDIA MASTER
Media Master radio/bluetooth JL Audio MM100s-BE (1)
JL Audio MMR-20-BE remotes (3)
Controller Radio JL Audio MMR-10W (1)
BOW
Speakers - 880-CCX-CG-WH (4)
Subwoofer - M10IB5-CG-WH (4)
Amplification - MHD900/5 (1)
STERN
Speakers - M880-CCX-CG-WH (4)
Subwoofer - M10IB5-CG-WH (1)
Amplification - MHD900/5 (1)
HELM
Speakers - M880-CCX-CG-WH (2)
Amplification - MHD400/4 (1)
INTERIORS
Amplification - JL Audio M200/2 (1)
32" LED/LCD TV (1)
Apple TV 4th Generation (1)
Pepwave Wifi System (1)
Pilot Station
Böning Helm Panels
Humphree Active Stabilization
Sliding leather pilot seats, Central seat with vertical 12v lift gear and footboard for standing drive
Pilot Station footboard
Autopilot
Rudder angle indicator
Bow/Stern Thruster Joysticks
Flaps Joystick
Arneson trim Joystick
Electronic Levers for engines RPM control
Magnetic compass
Galley
Single lever mixer
Garbage disposal (subject to approval)
Fridge (subject to approval)
Grill
Safety Equipment
In compliance with CE regulation
Return to Yachts for Sale
Get more information