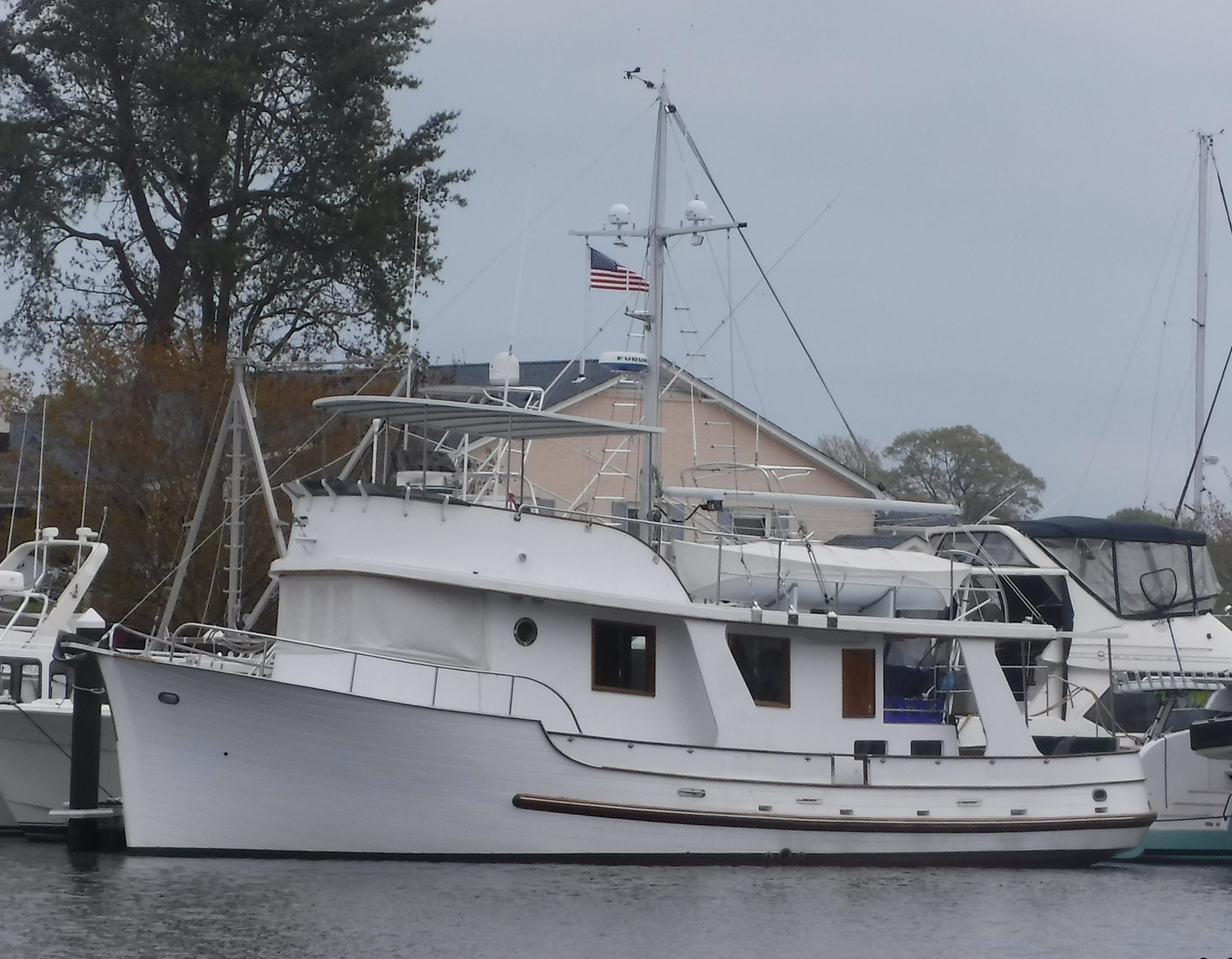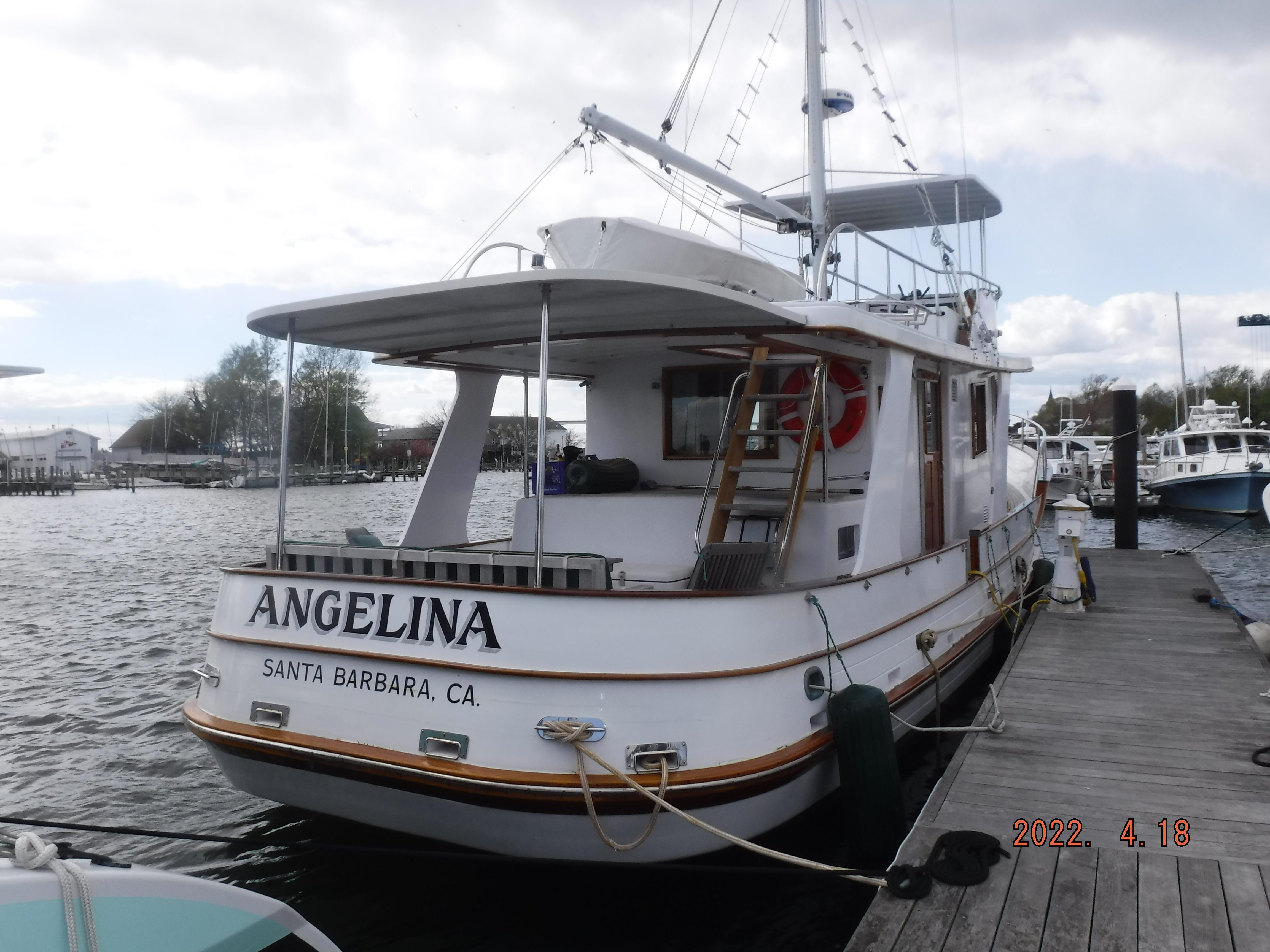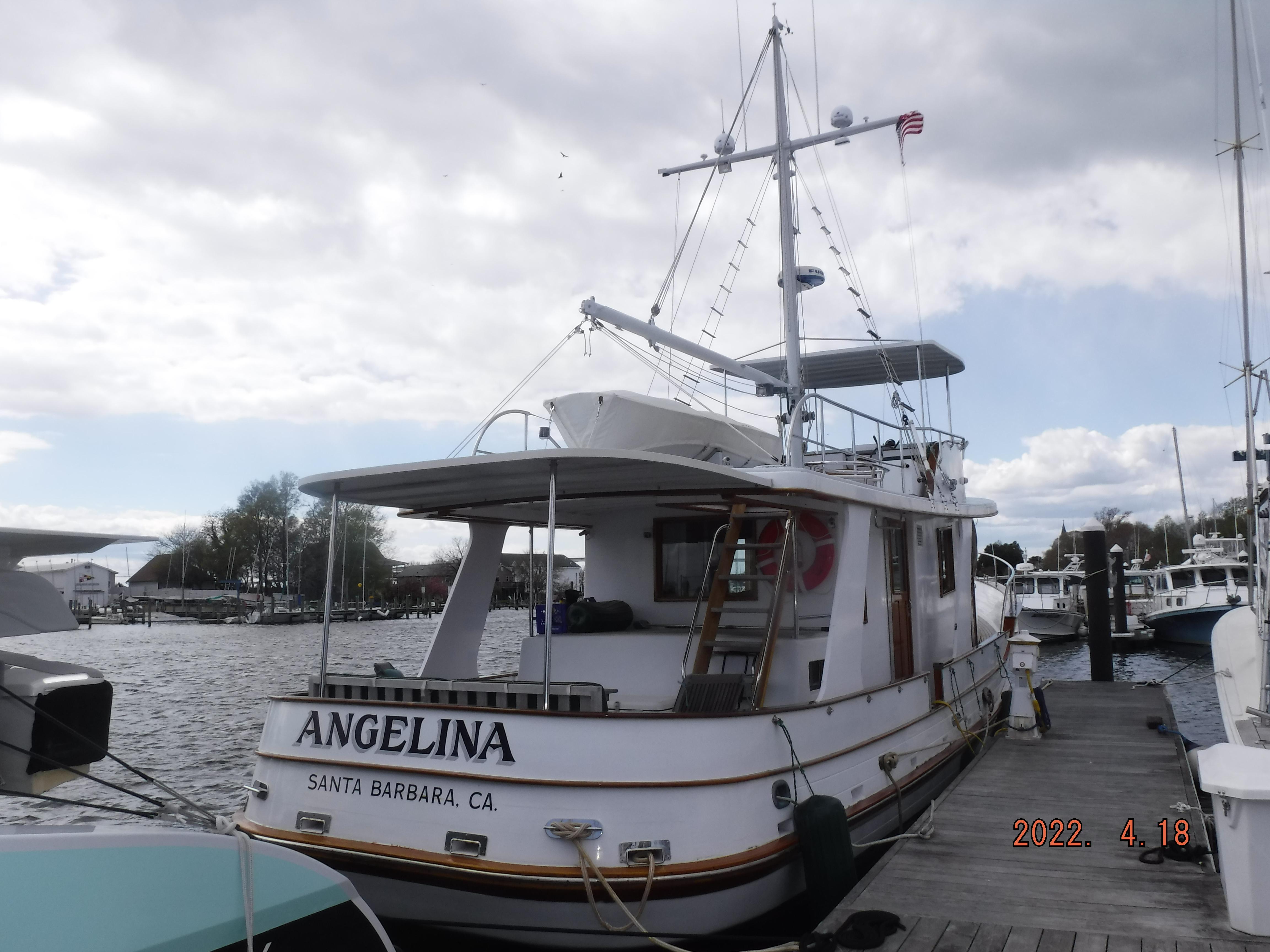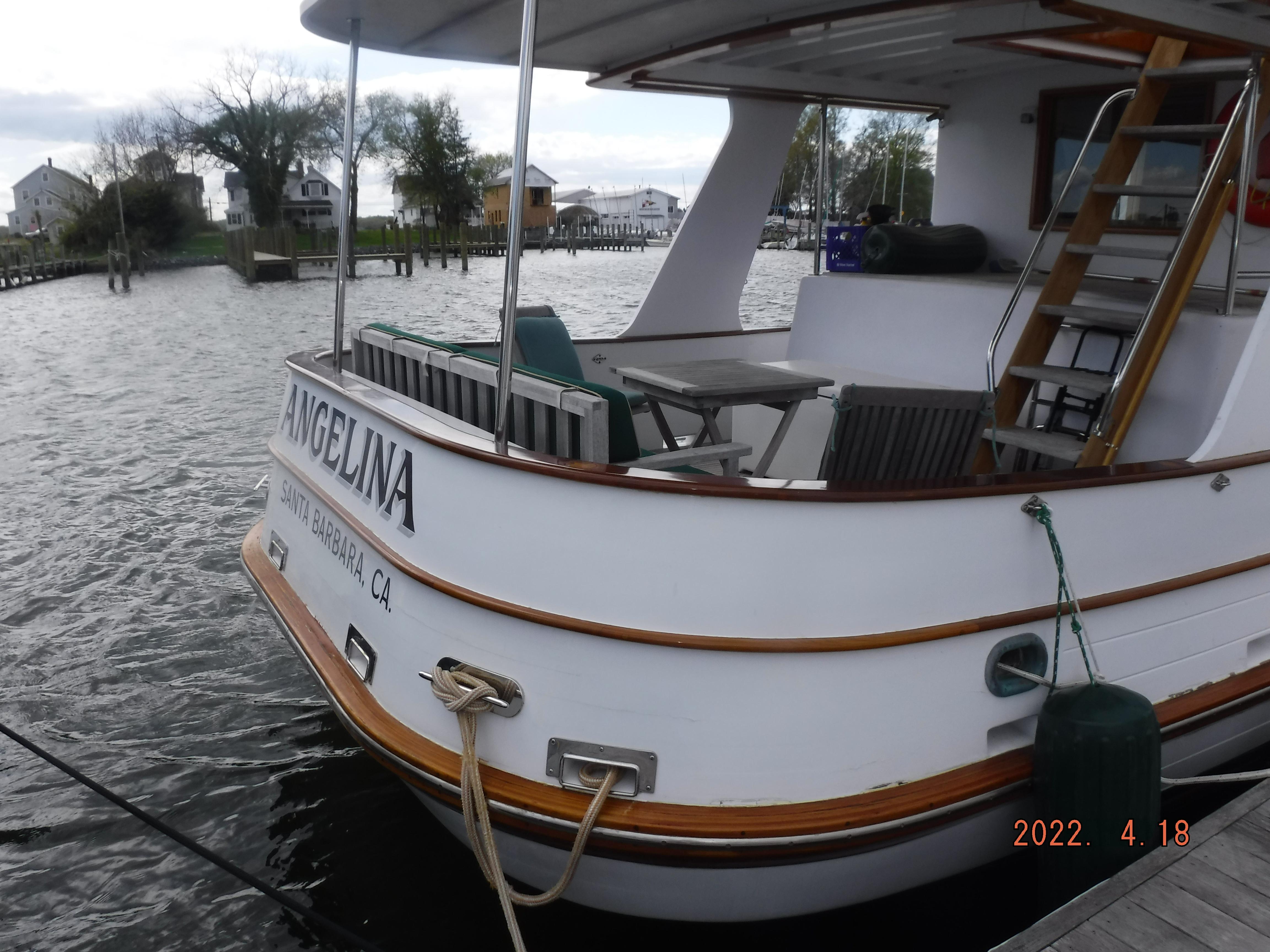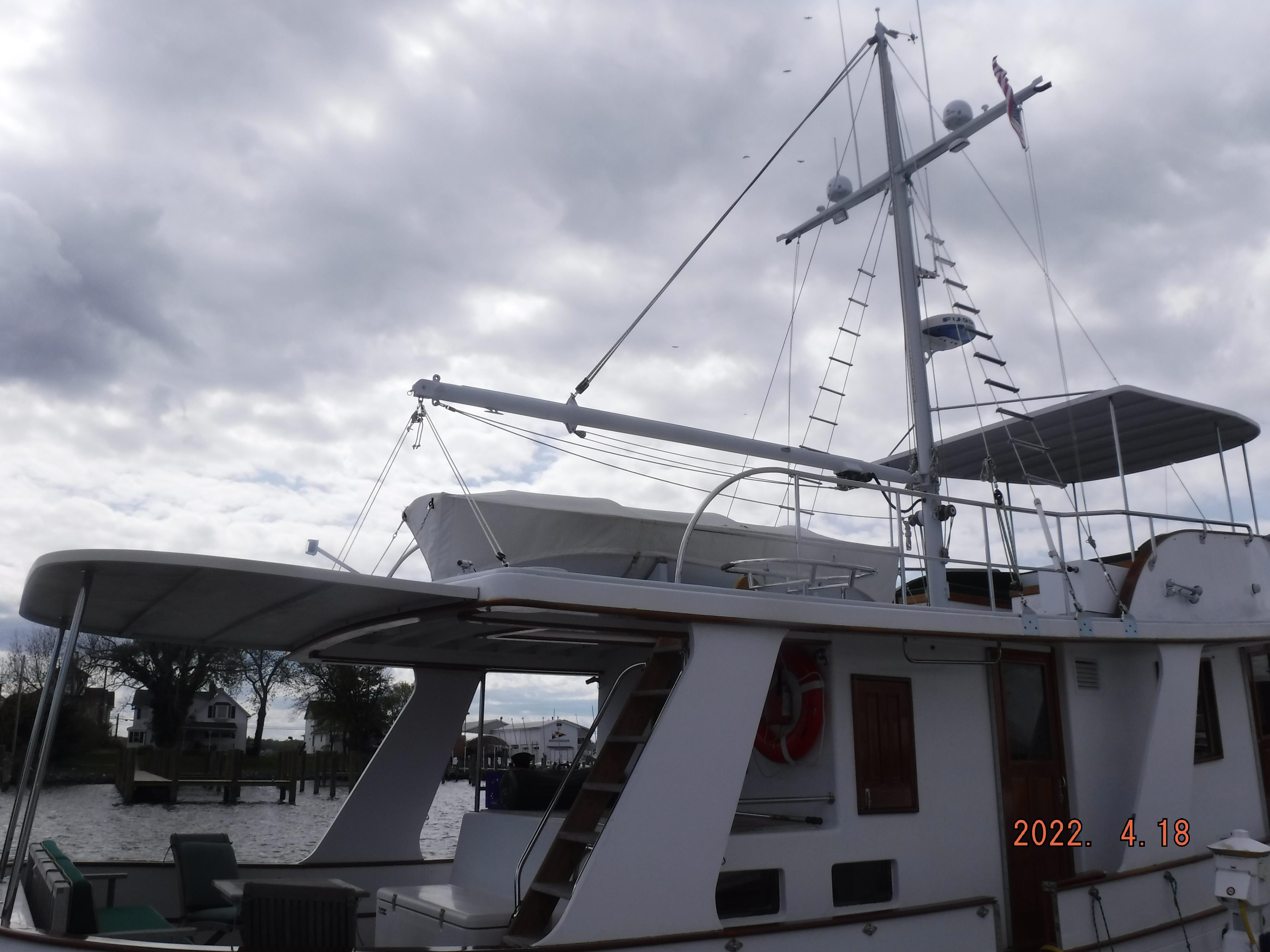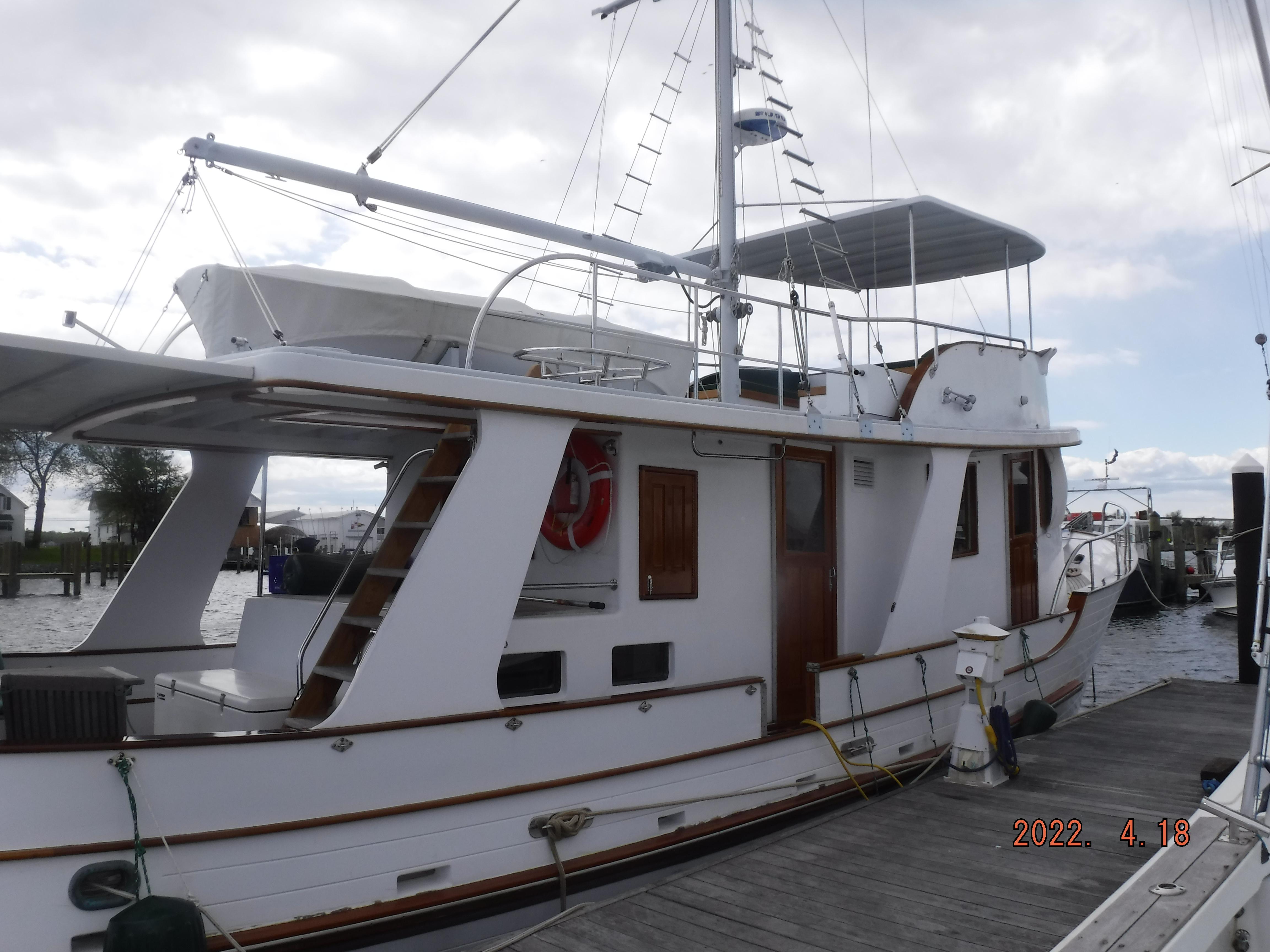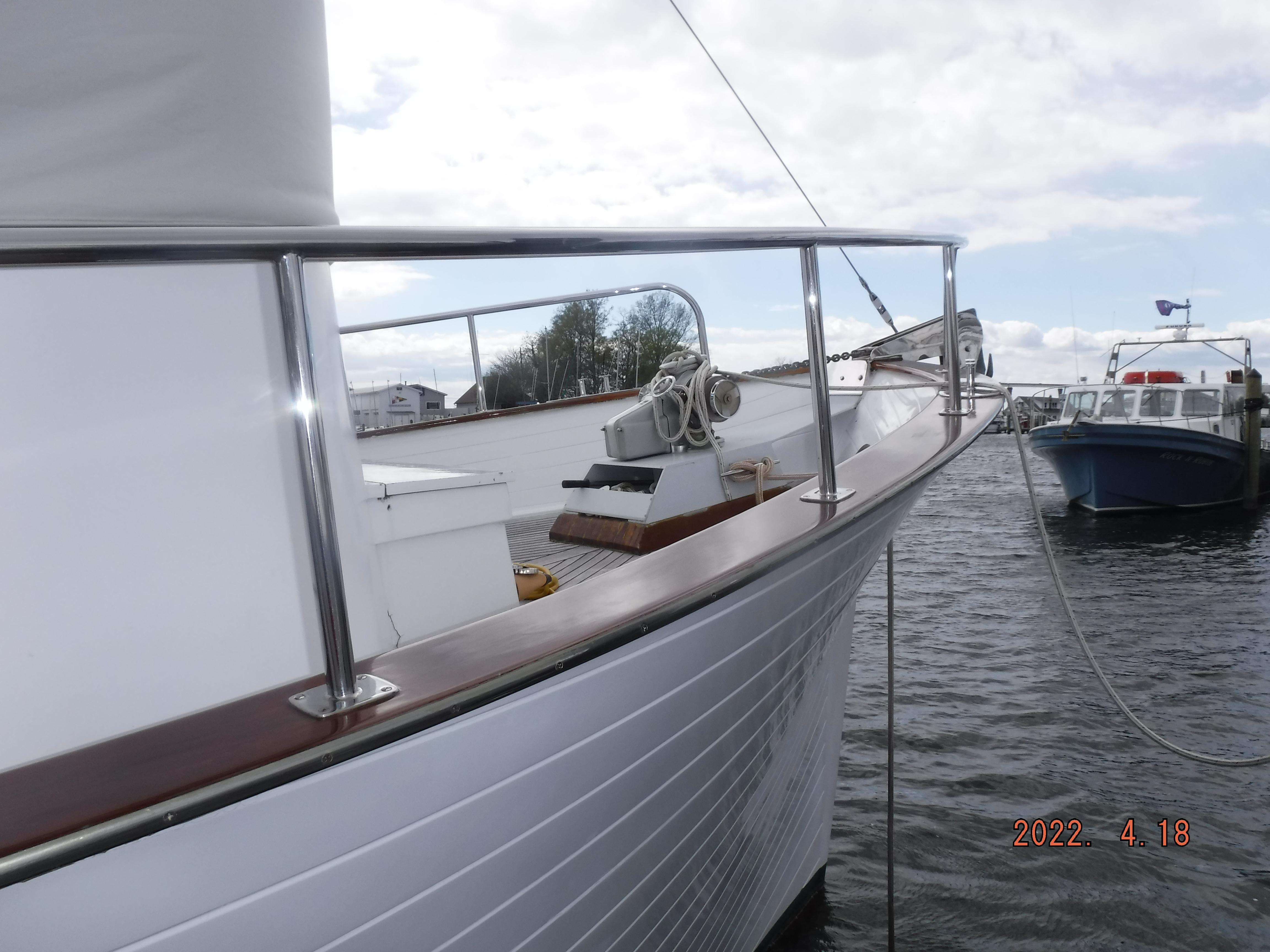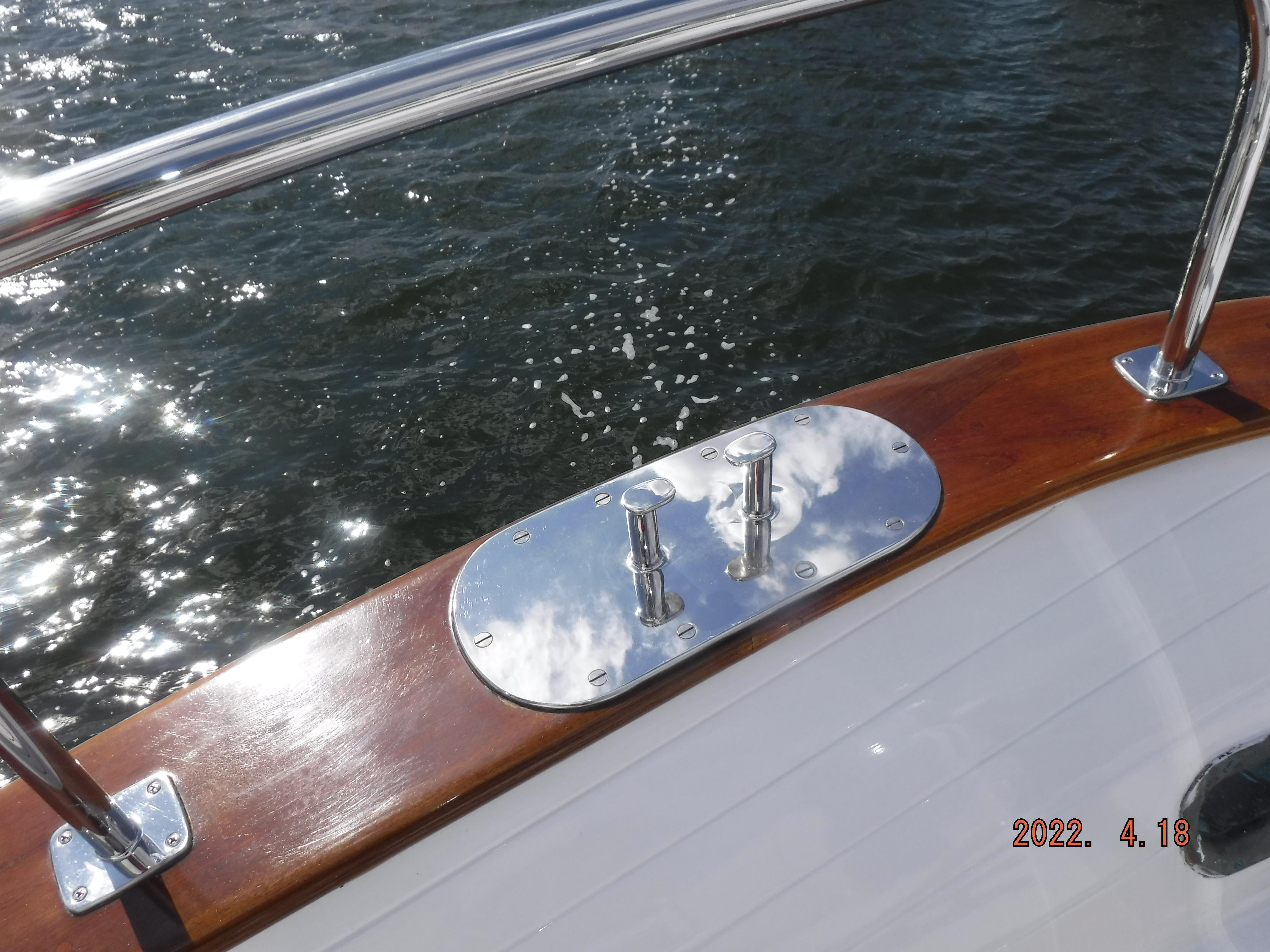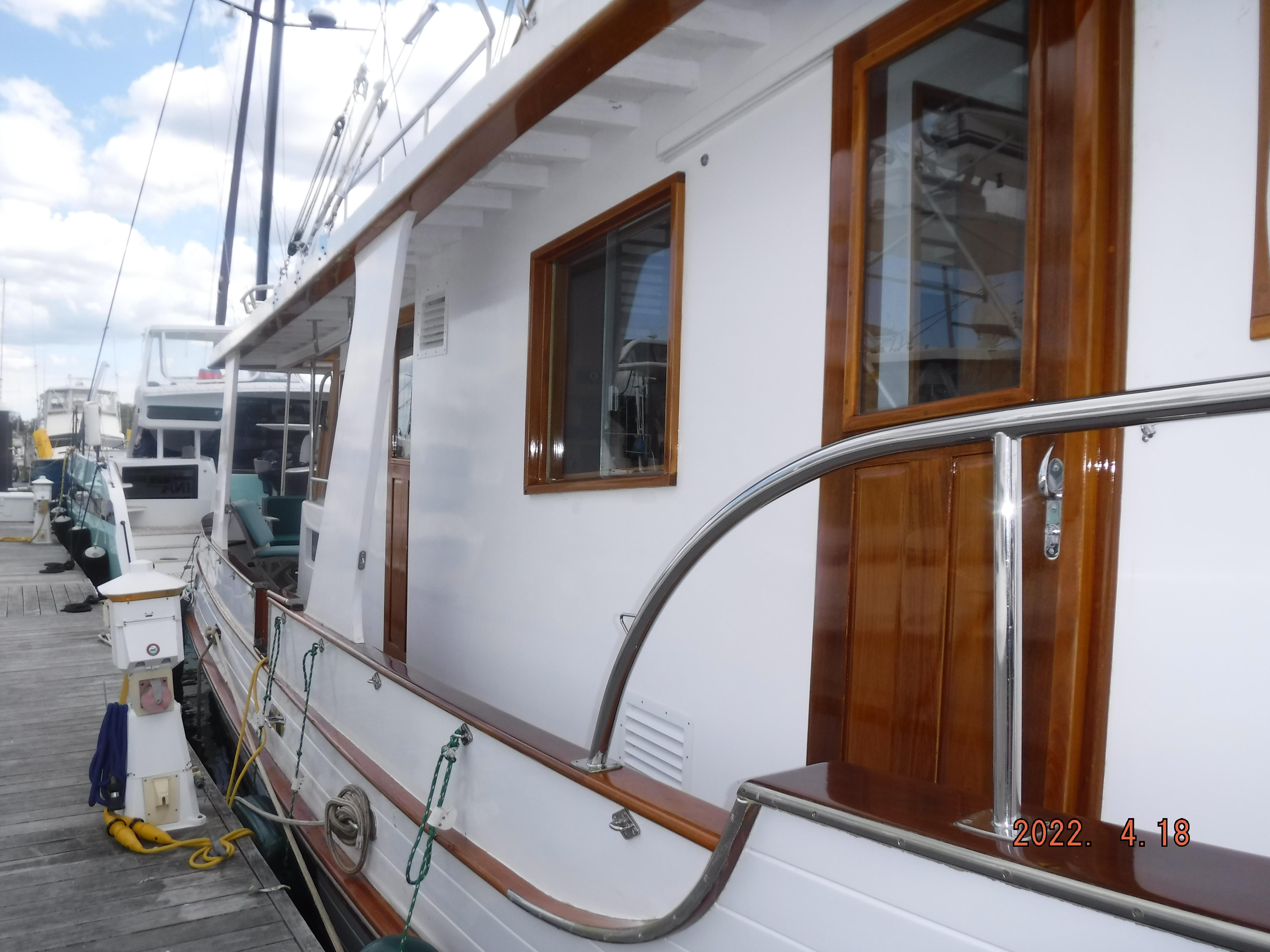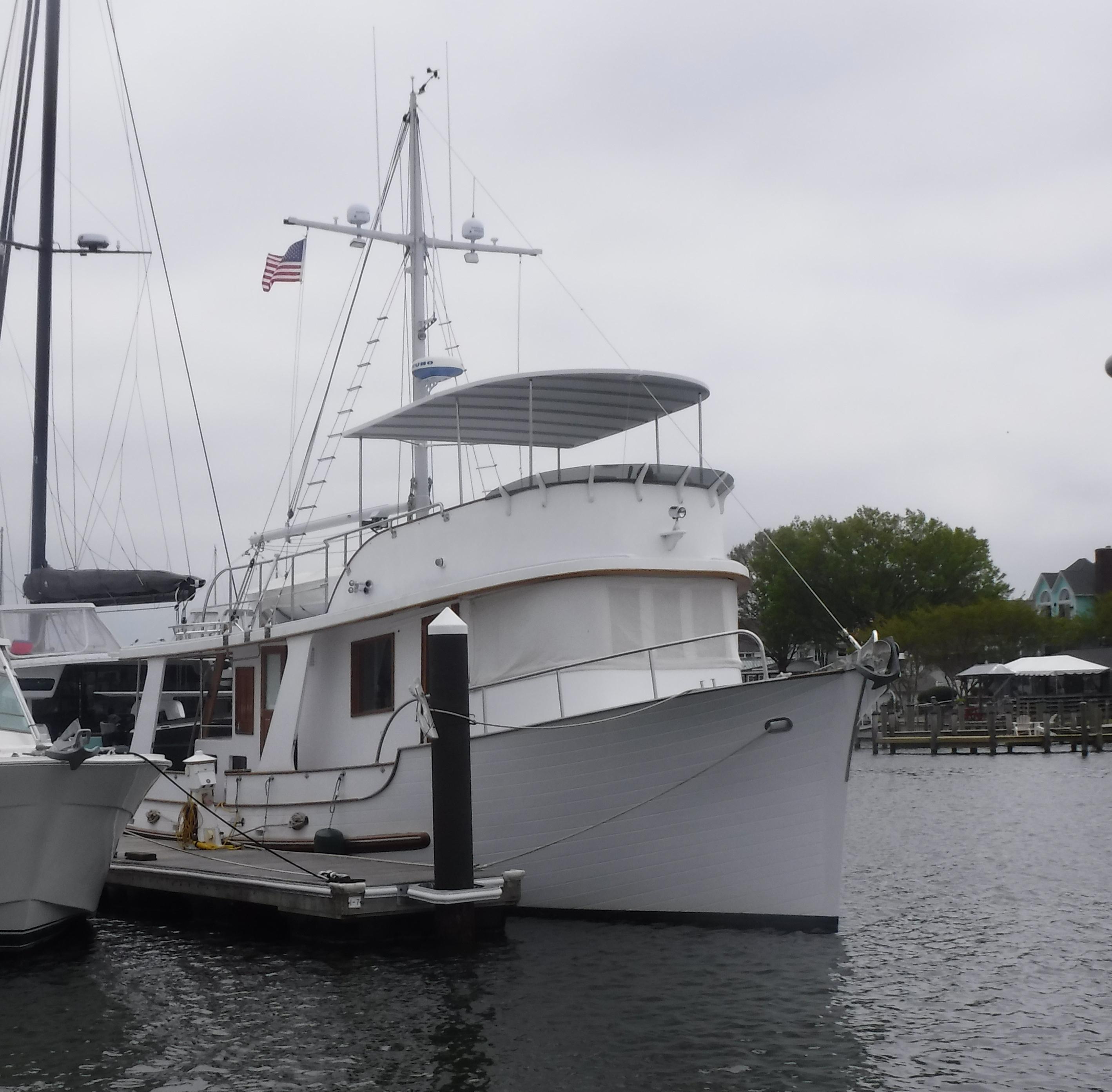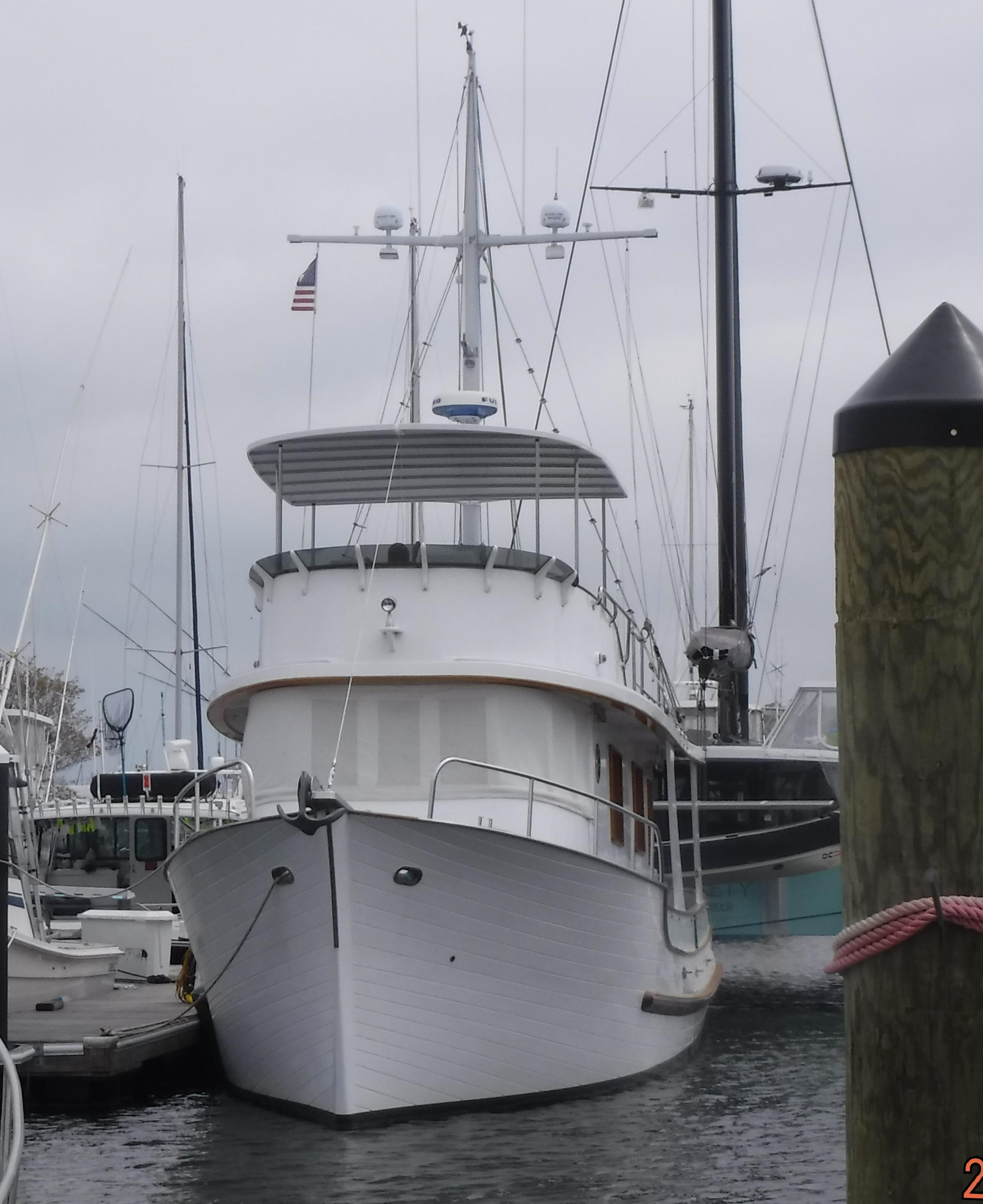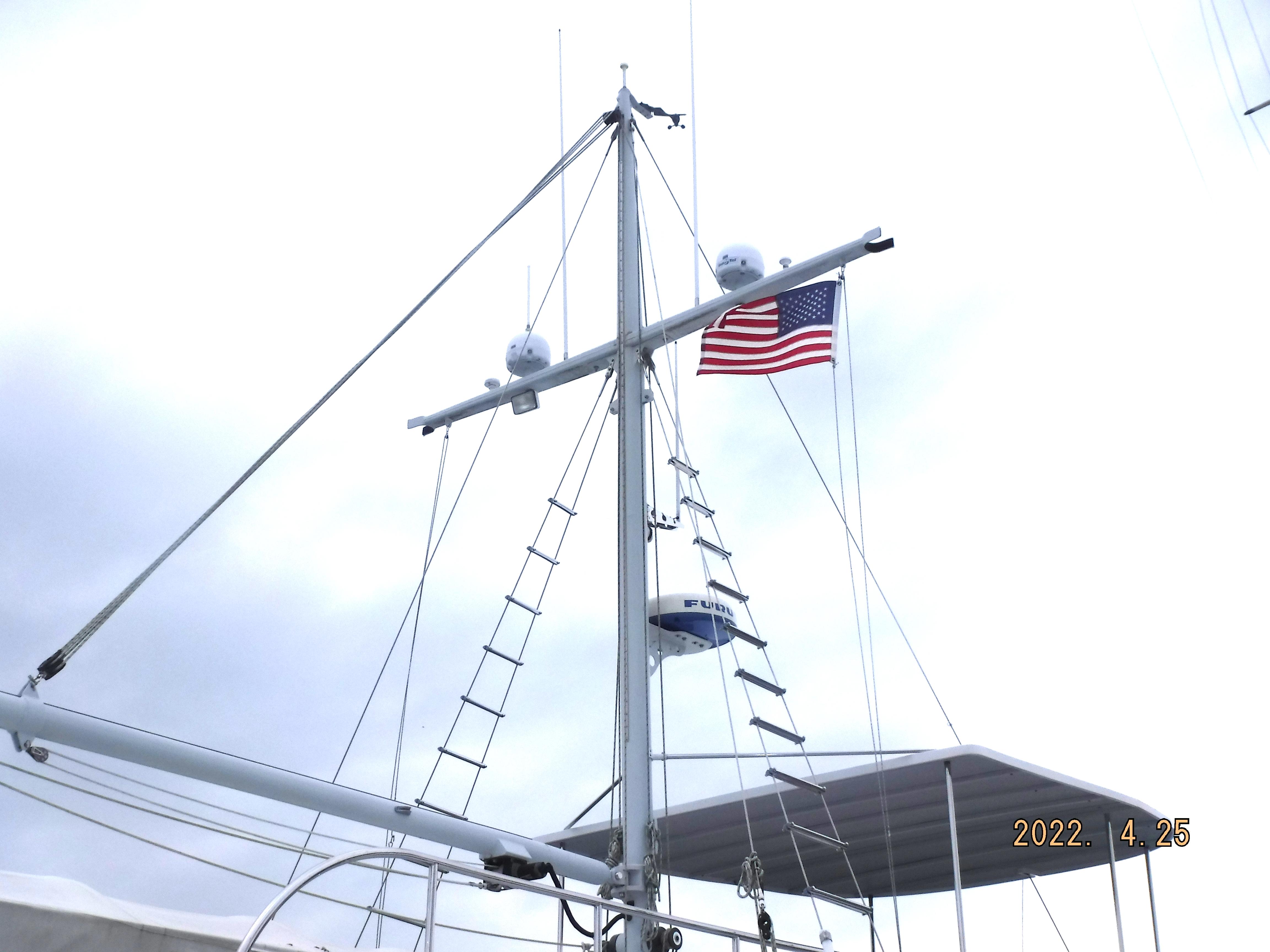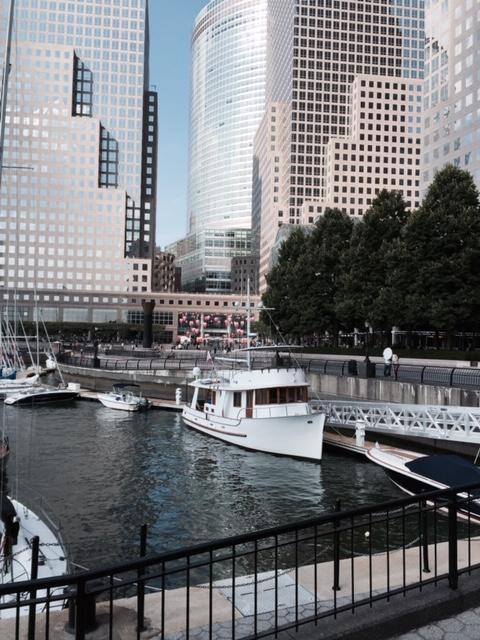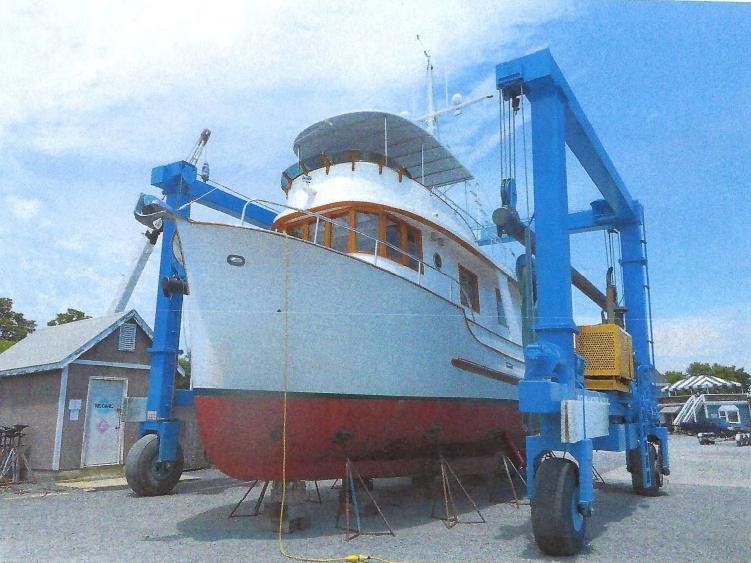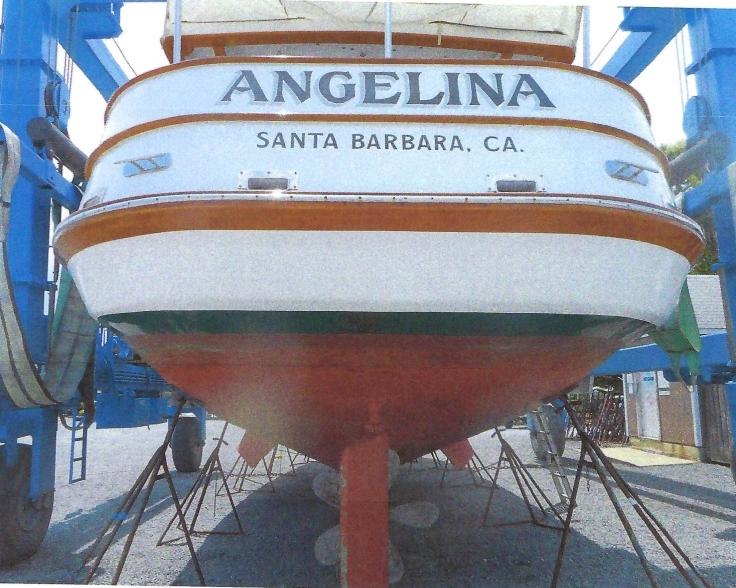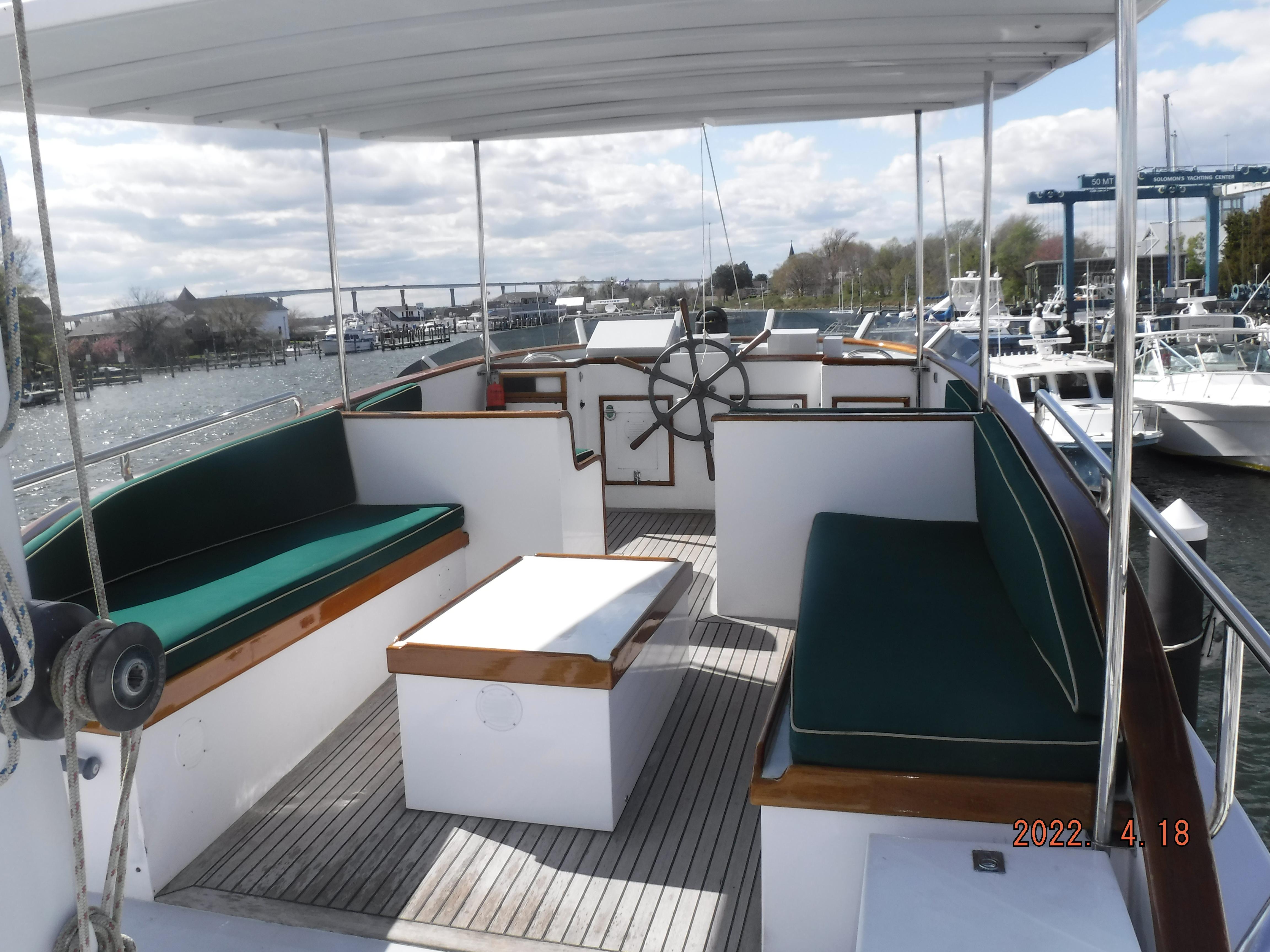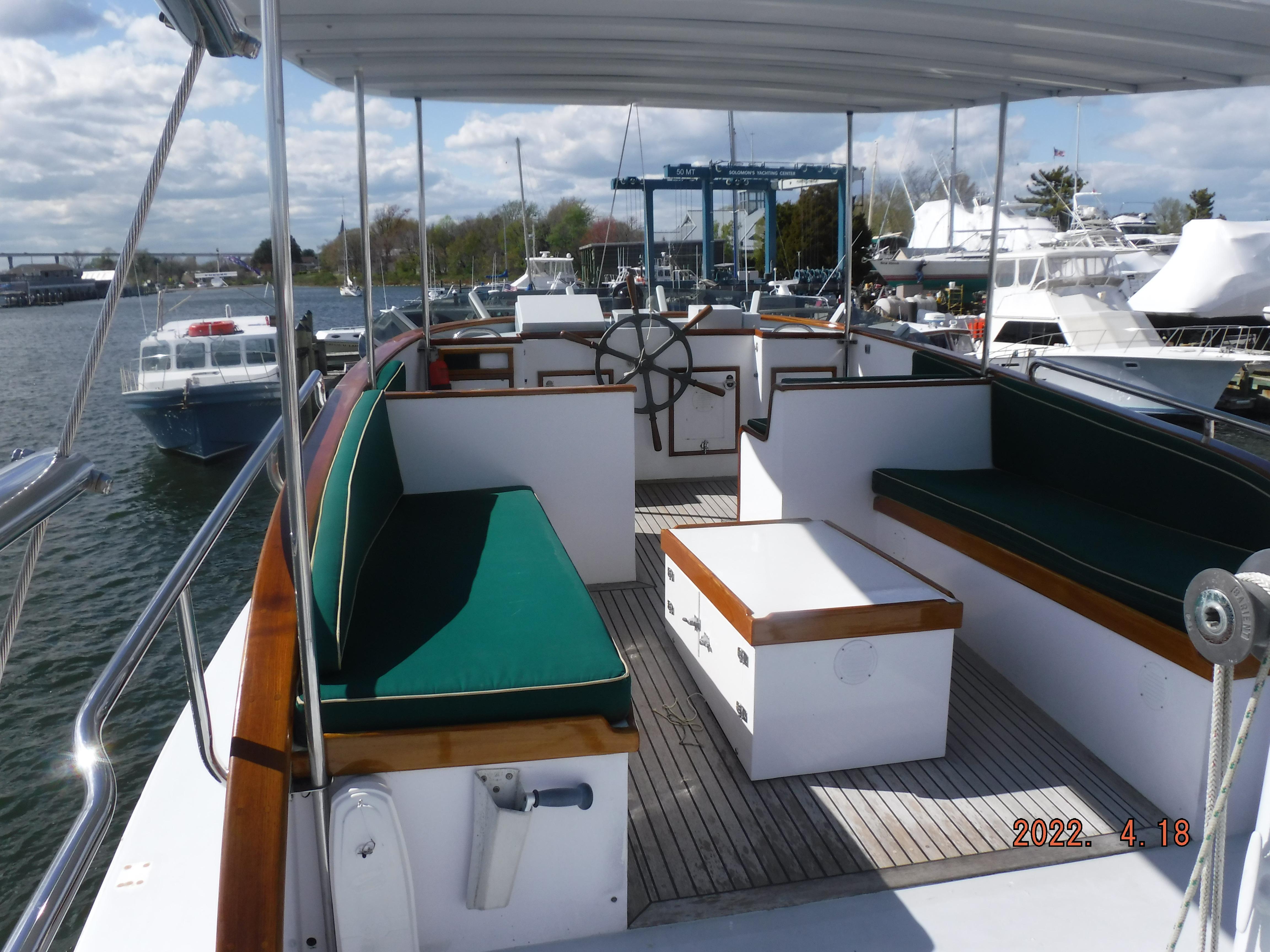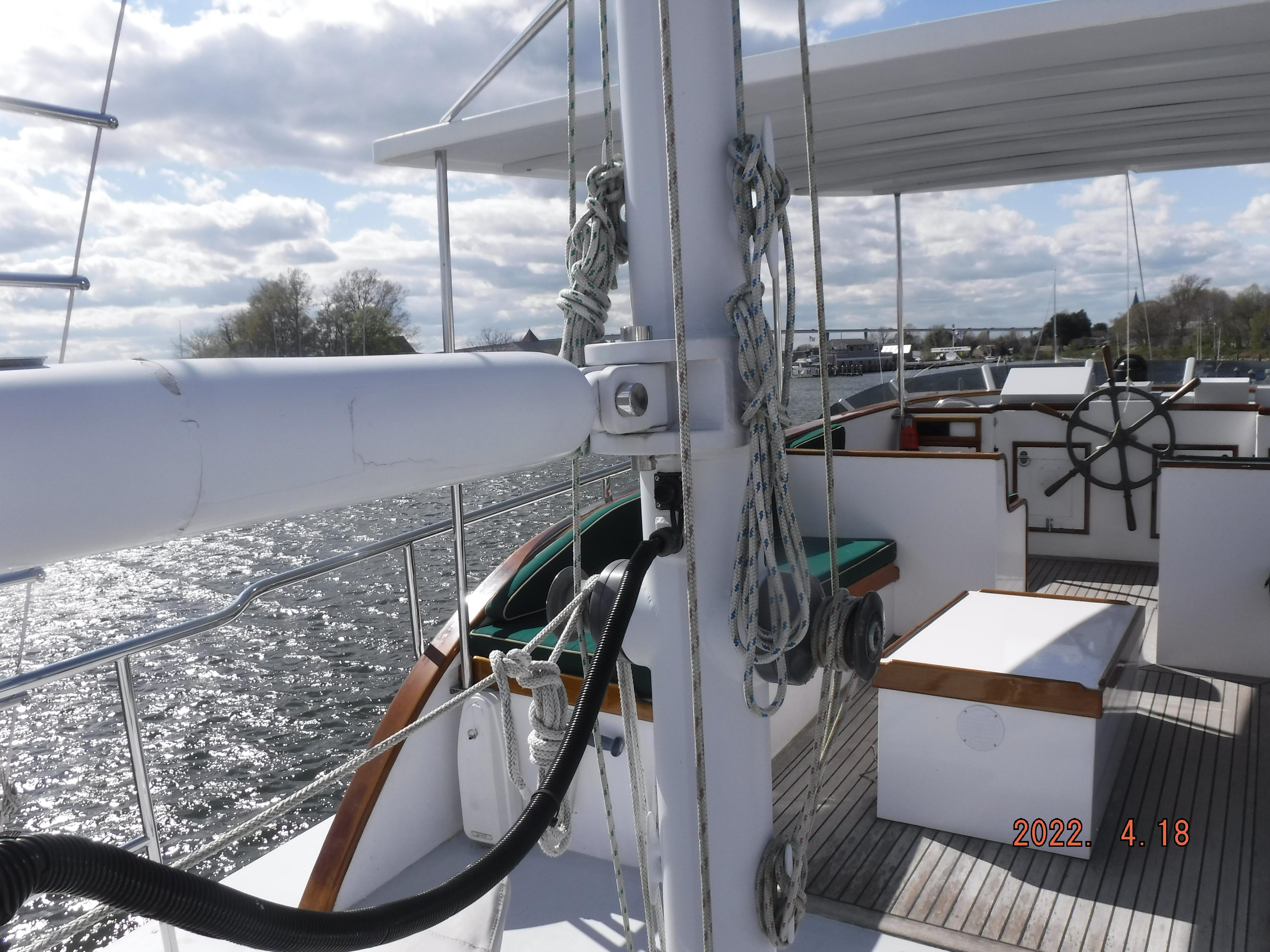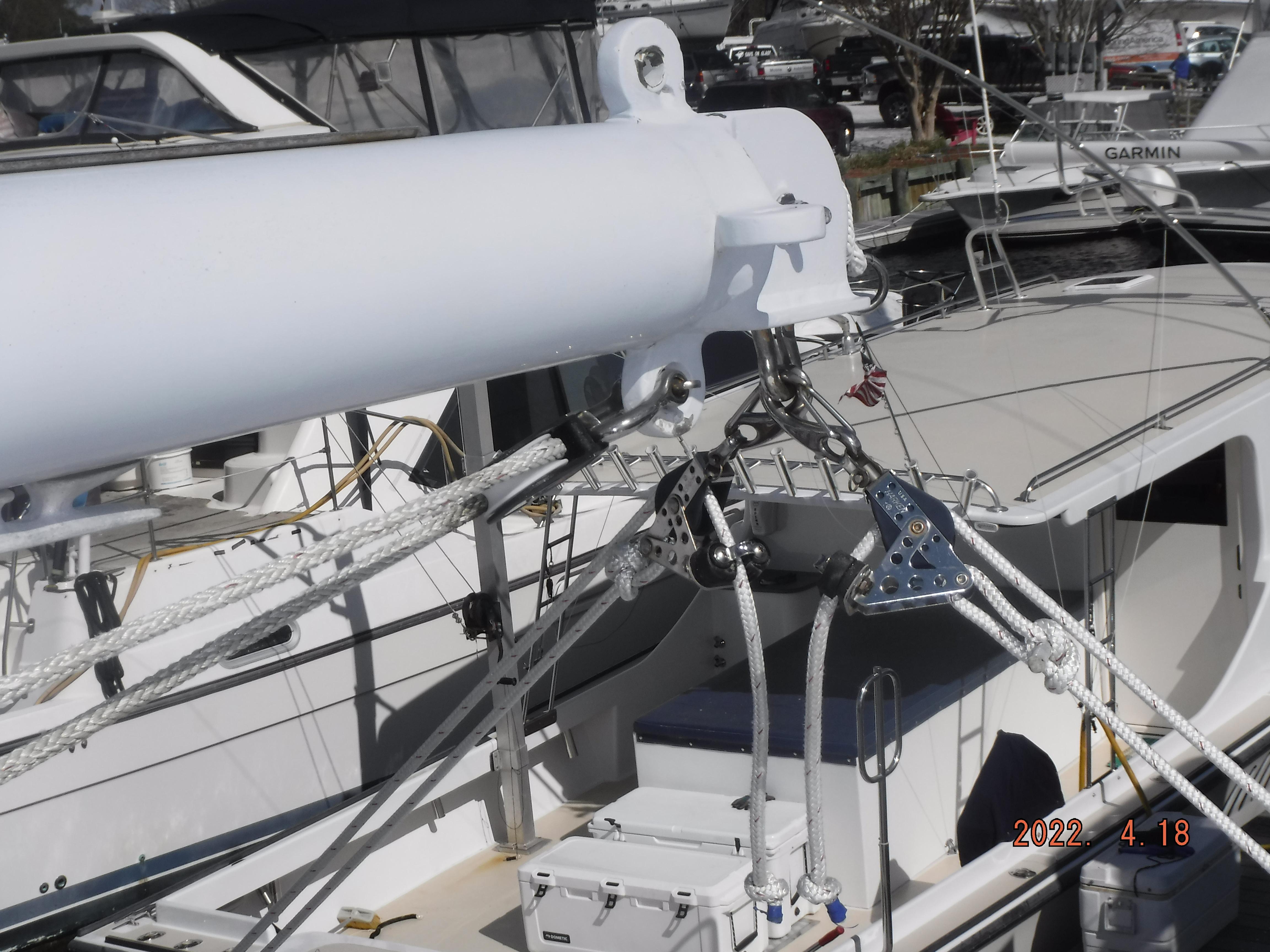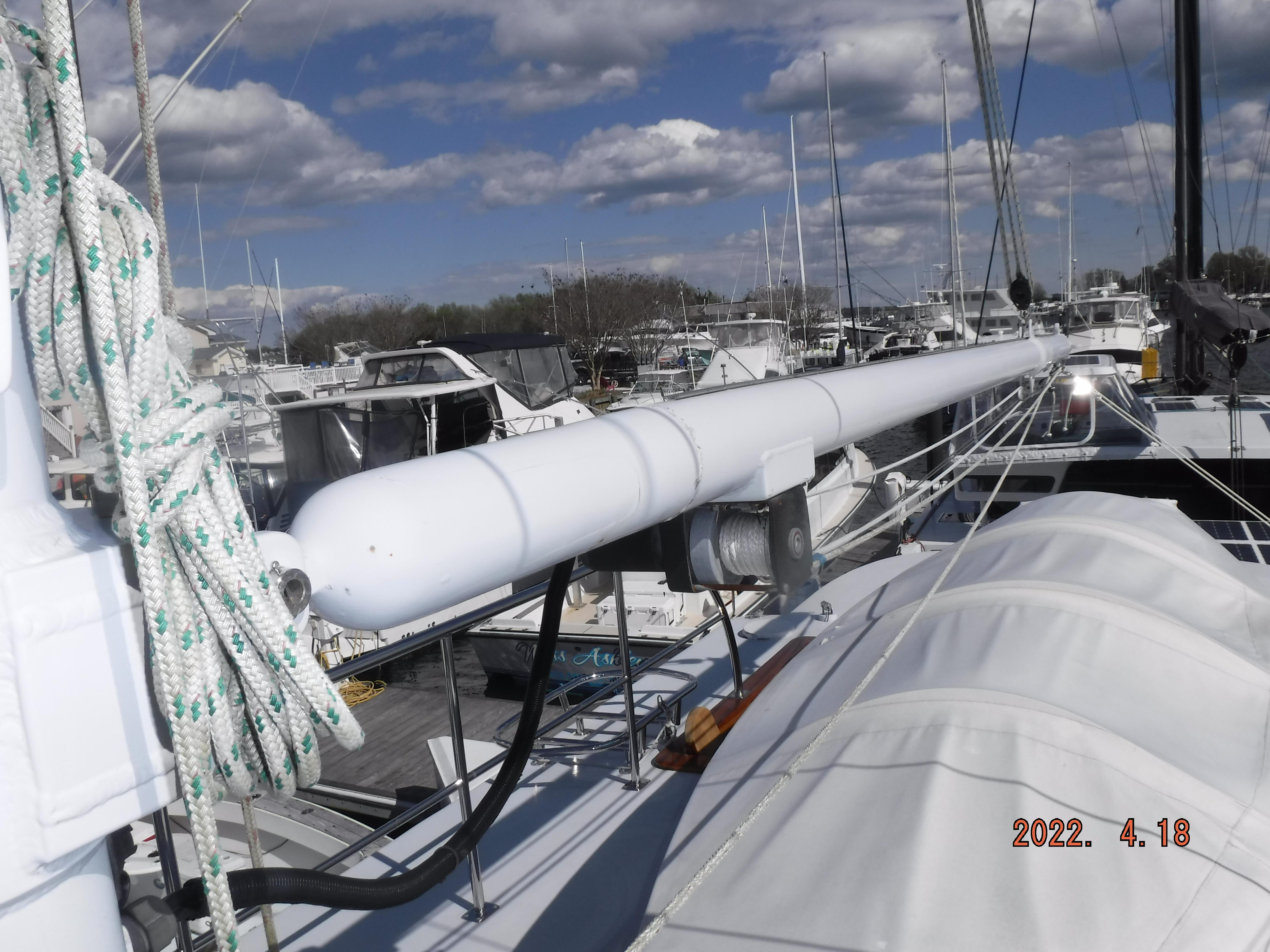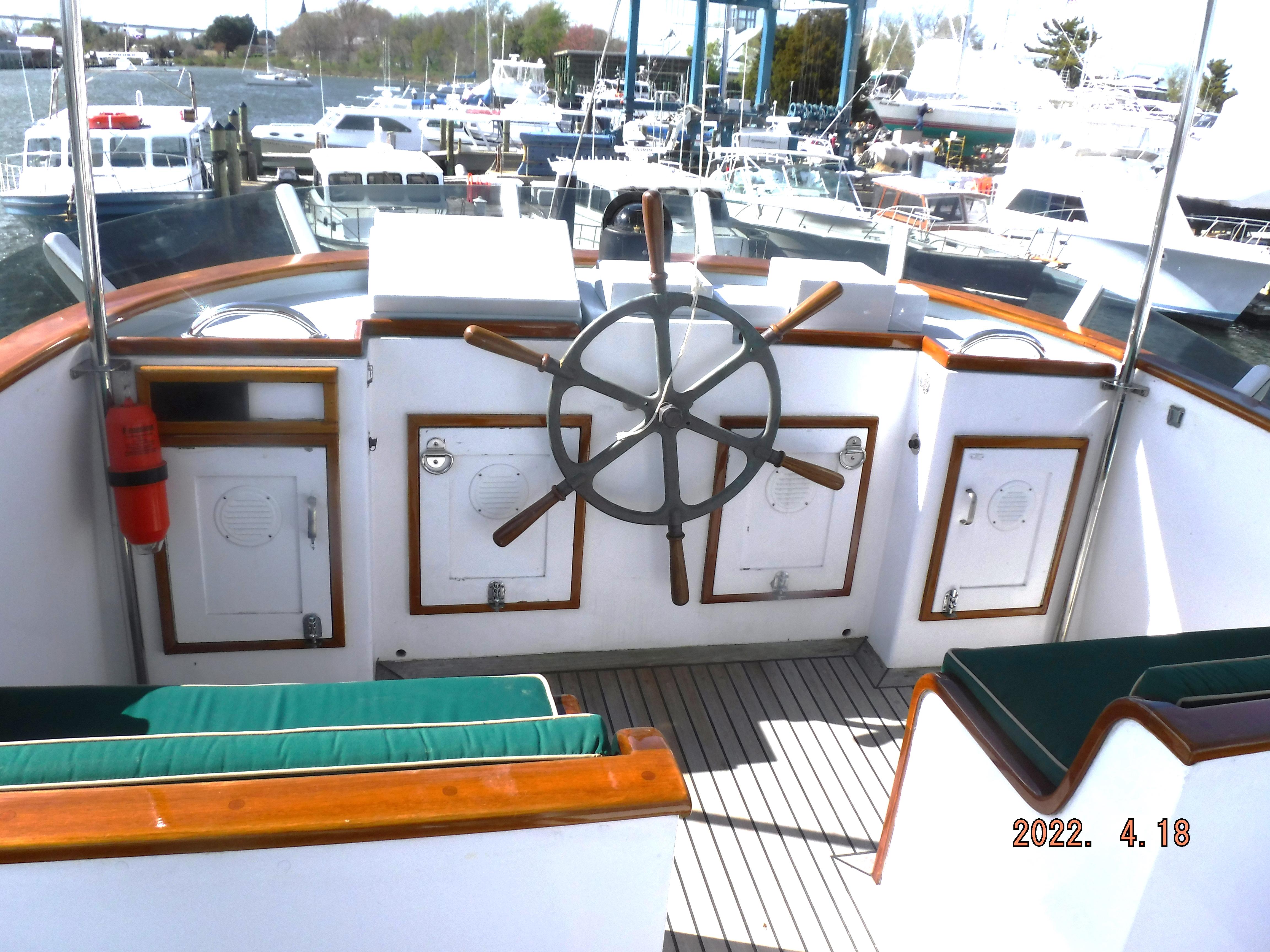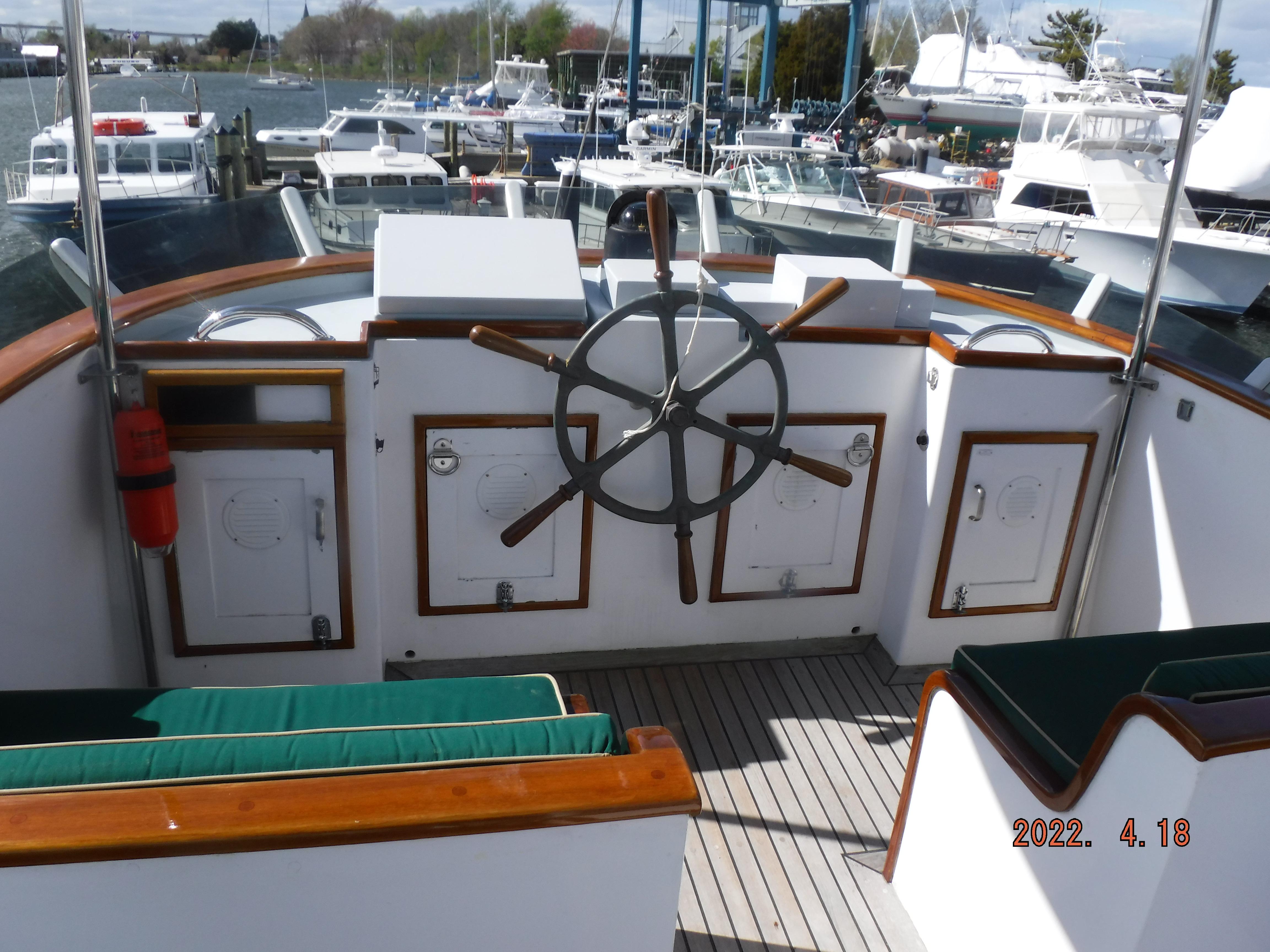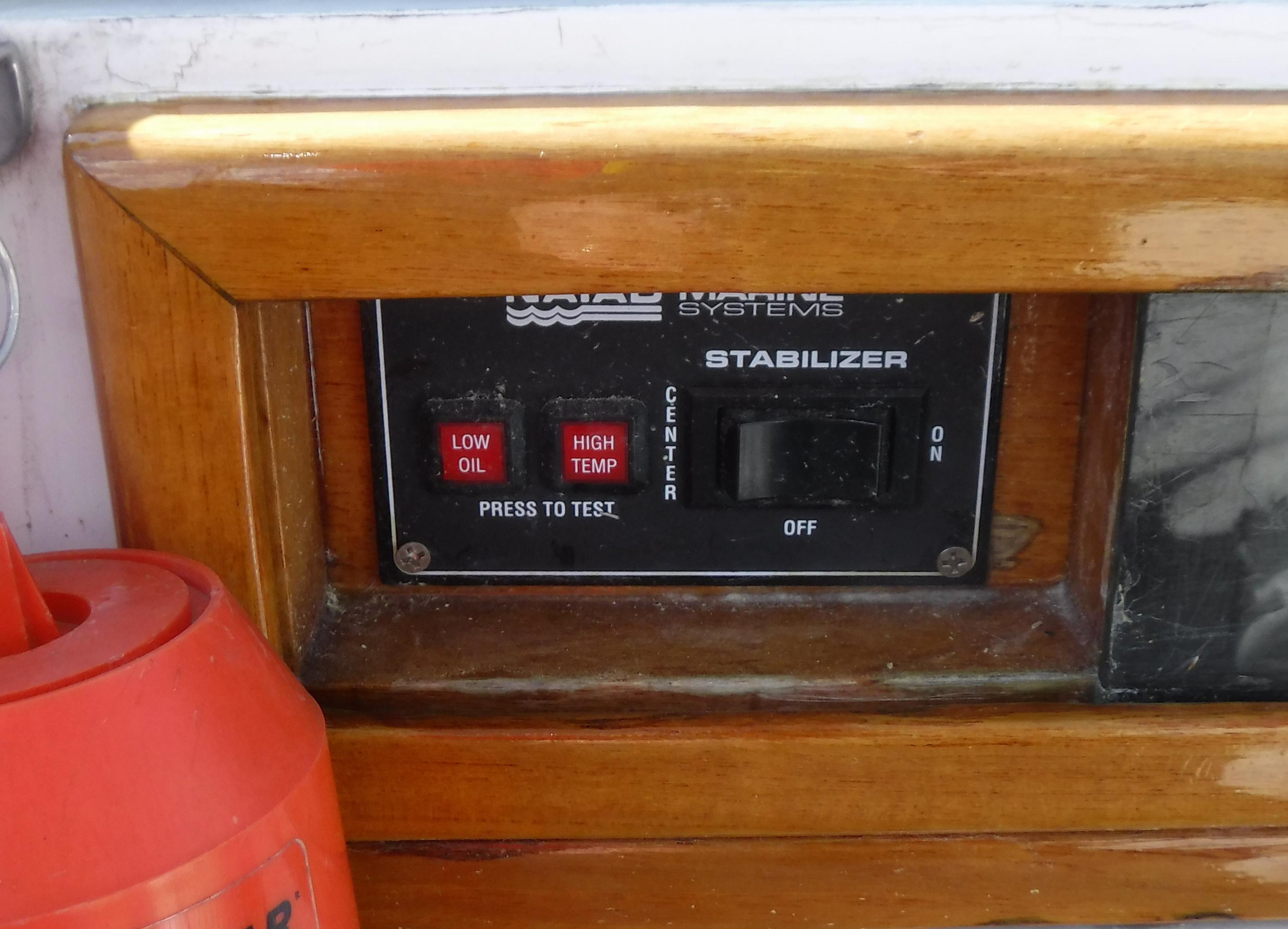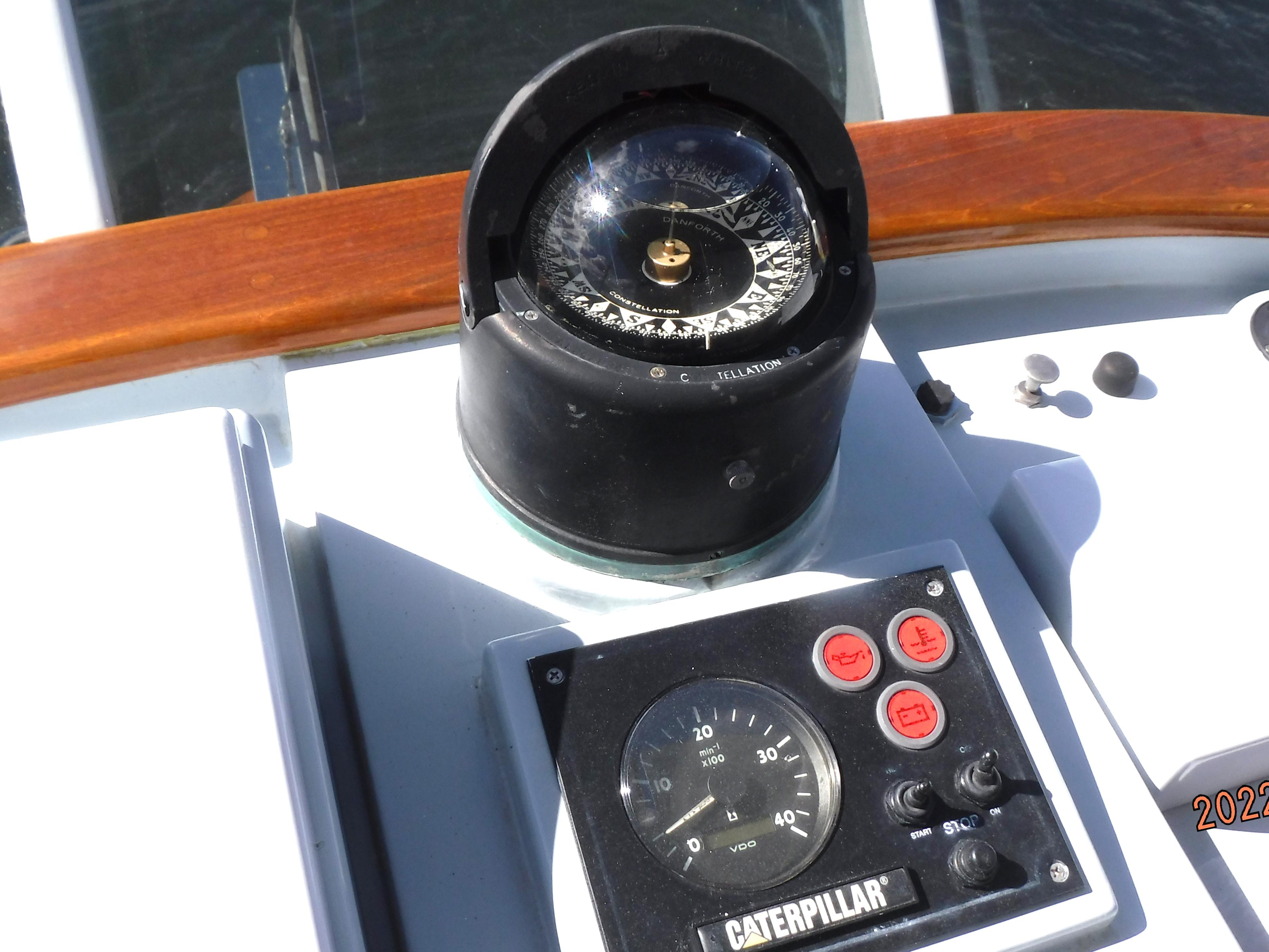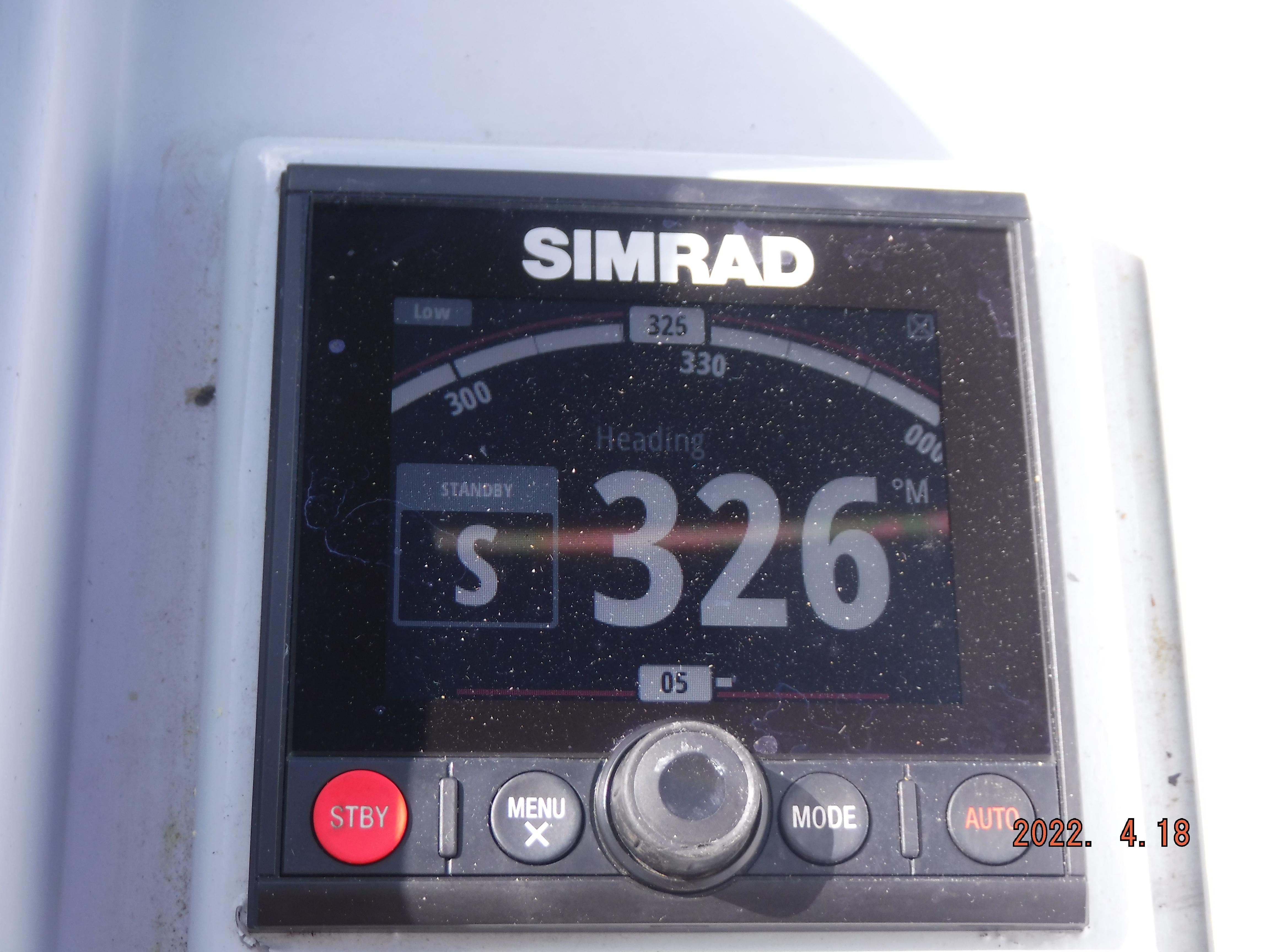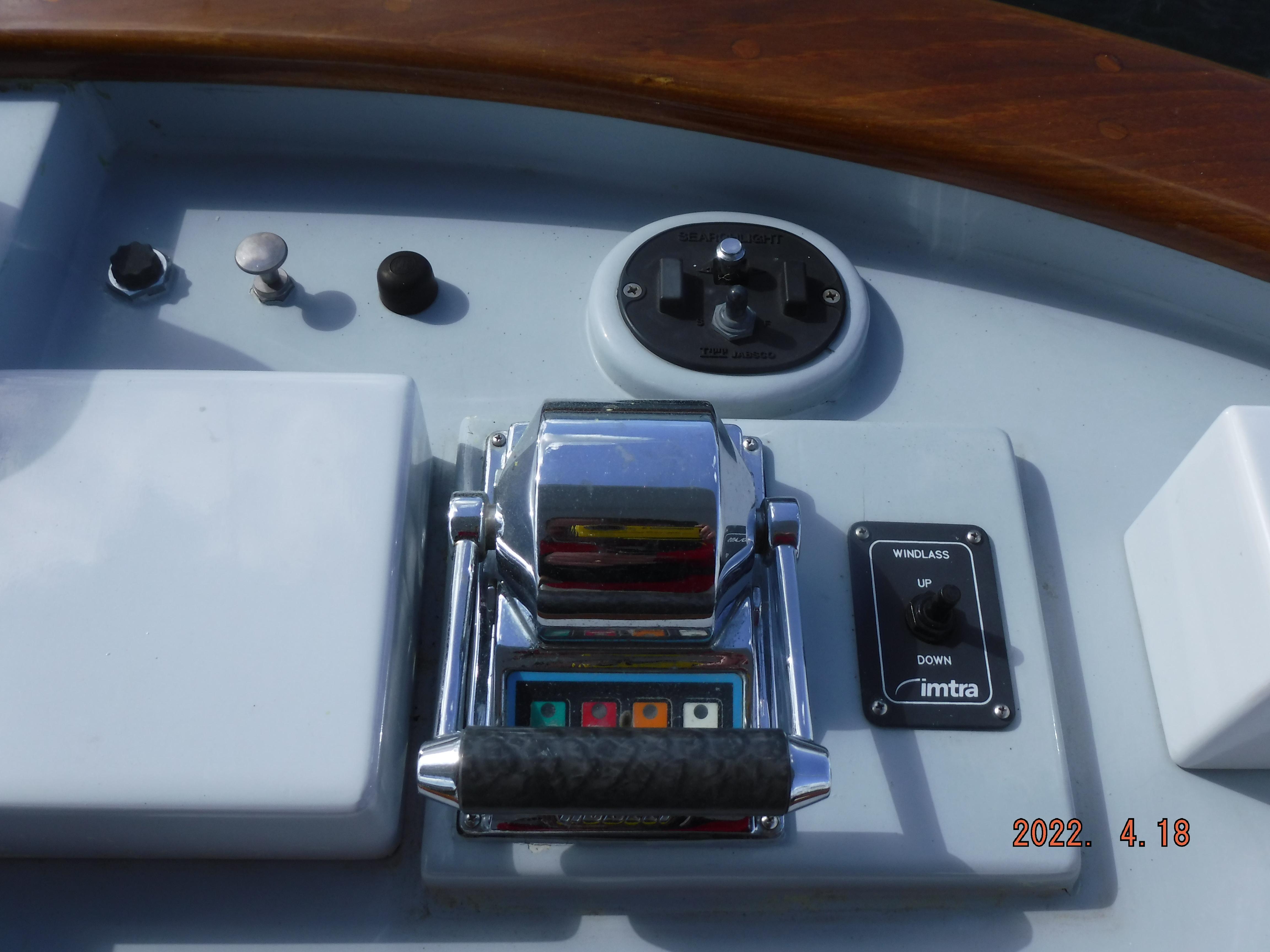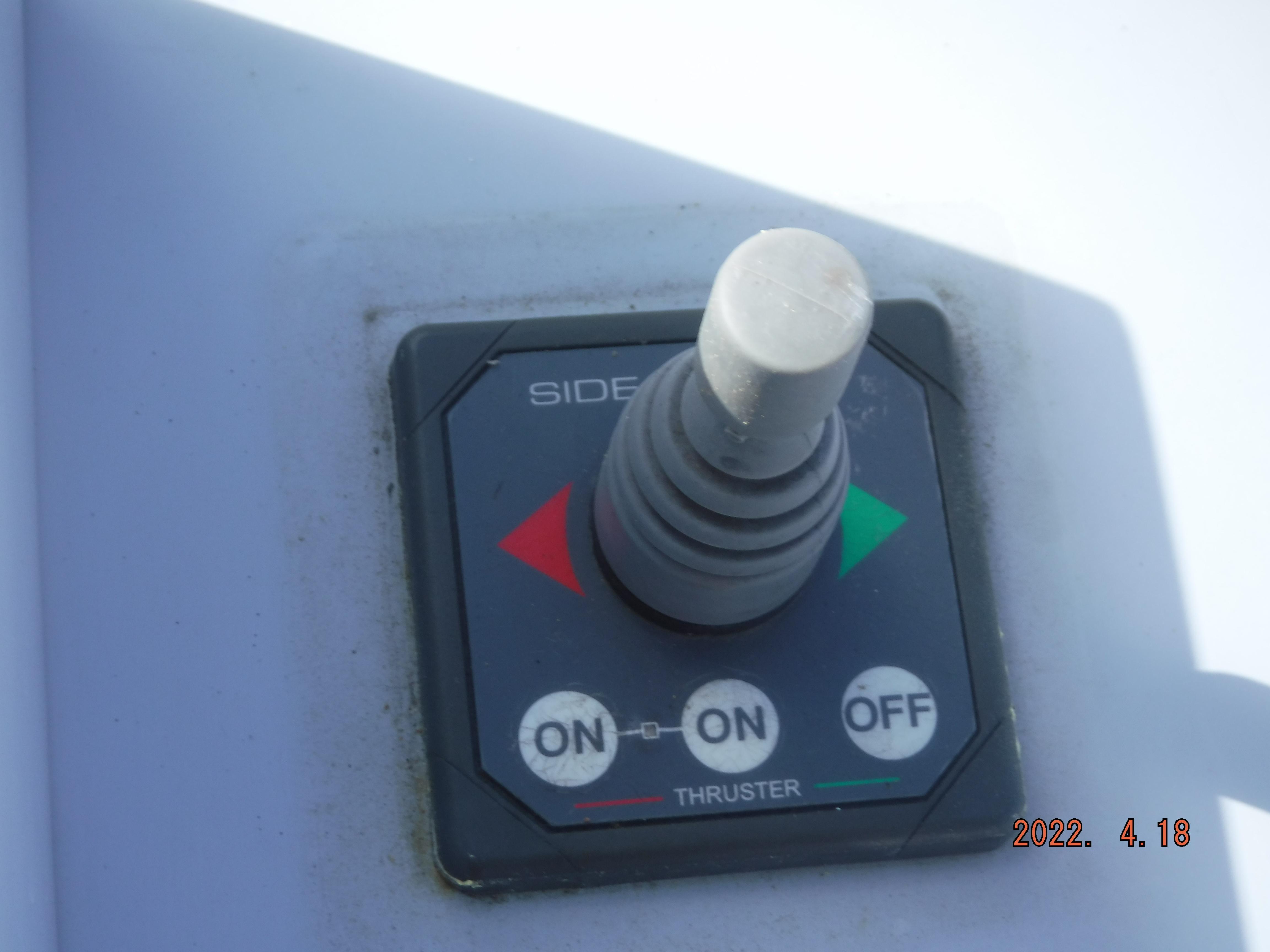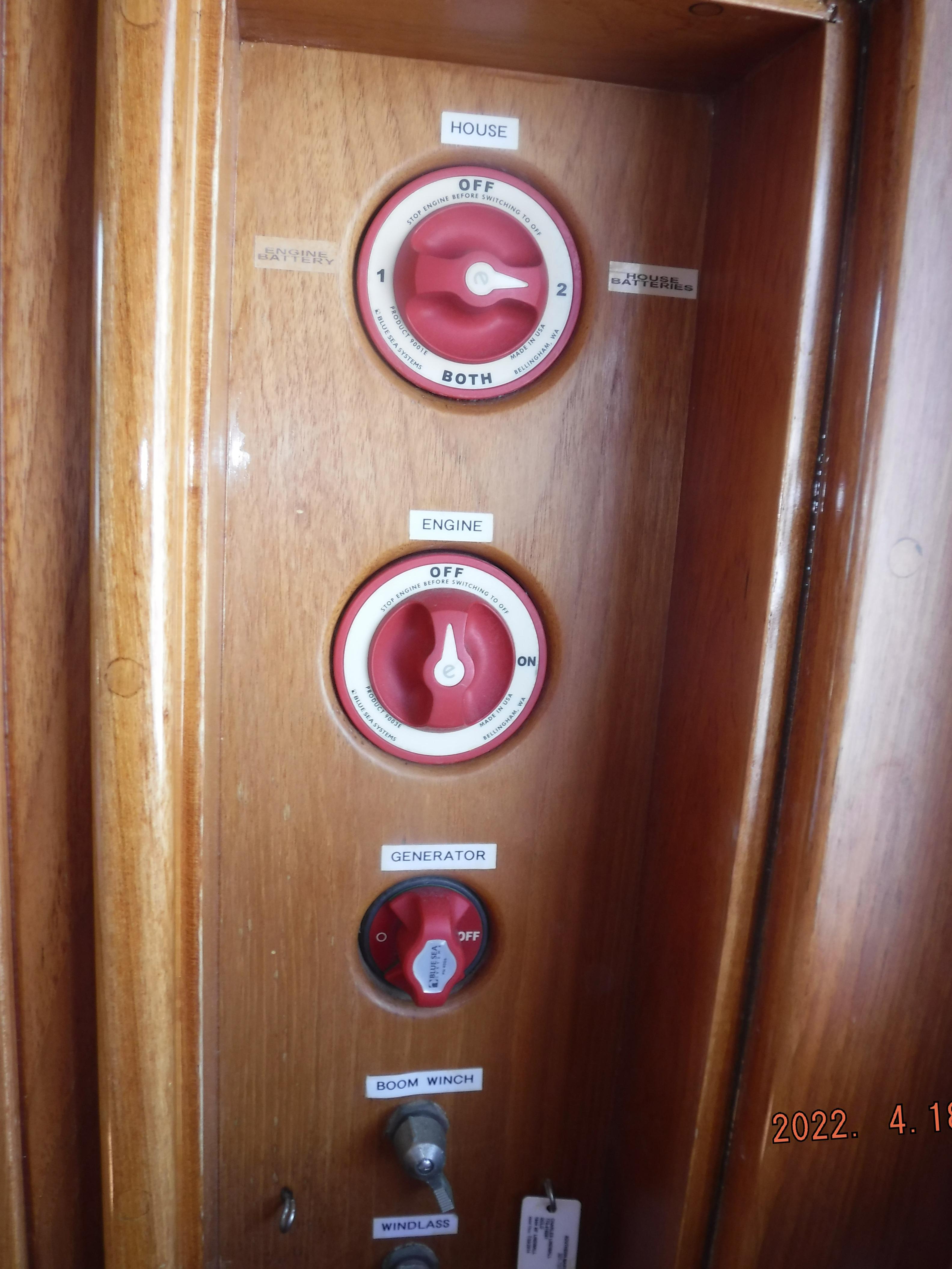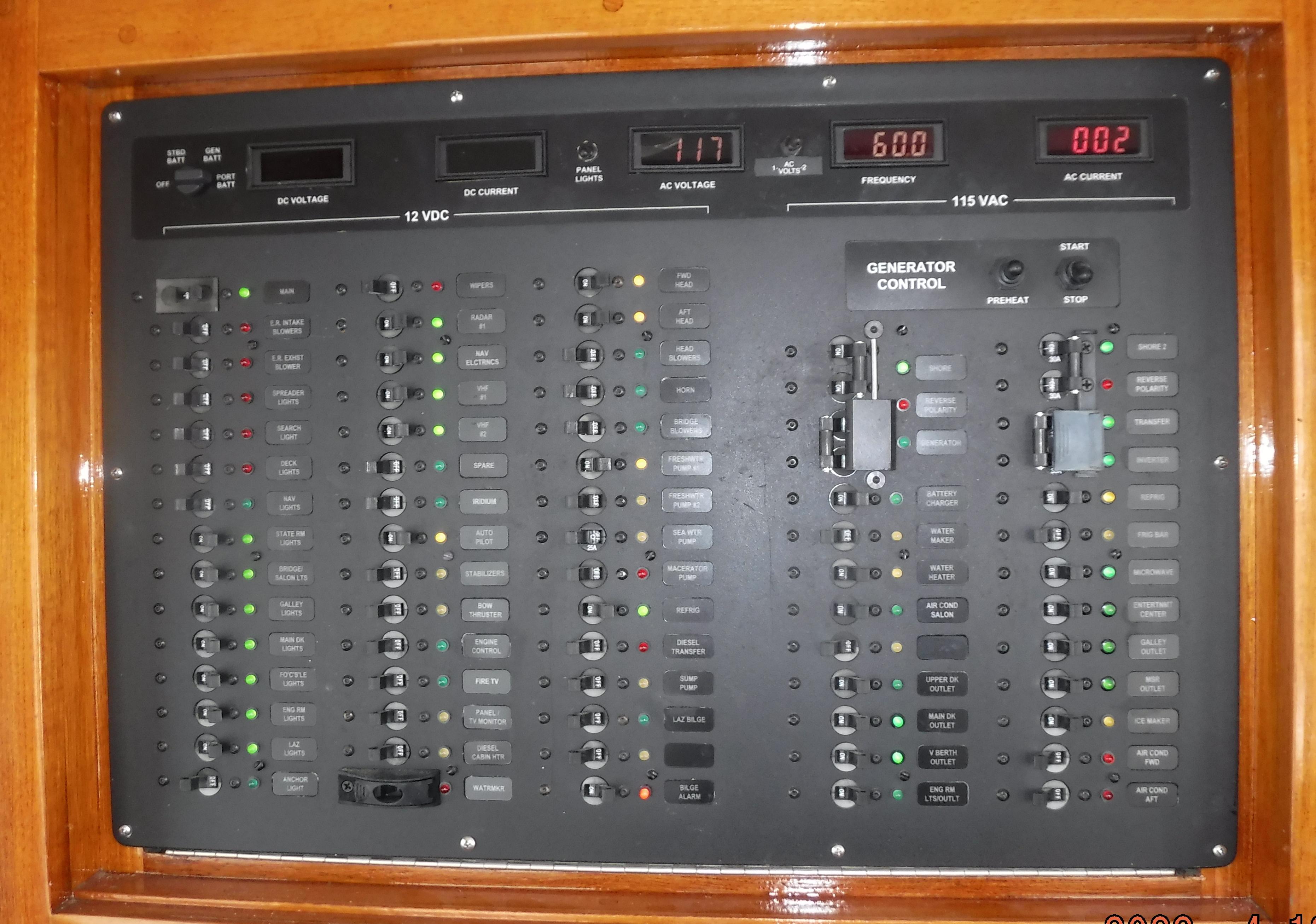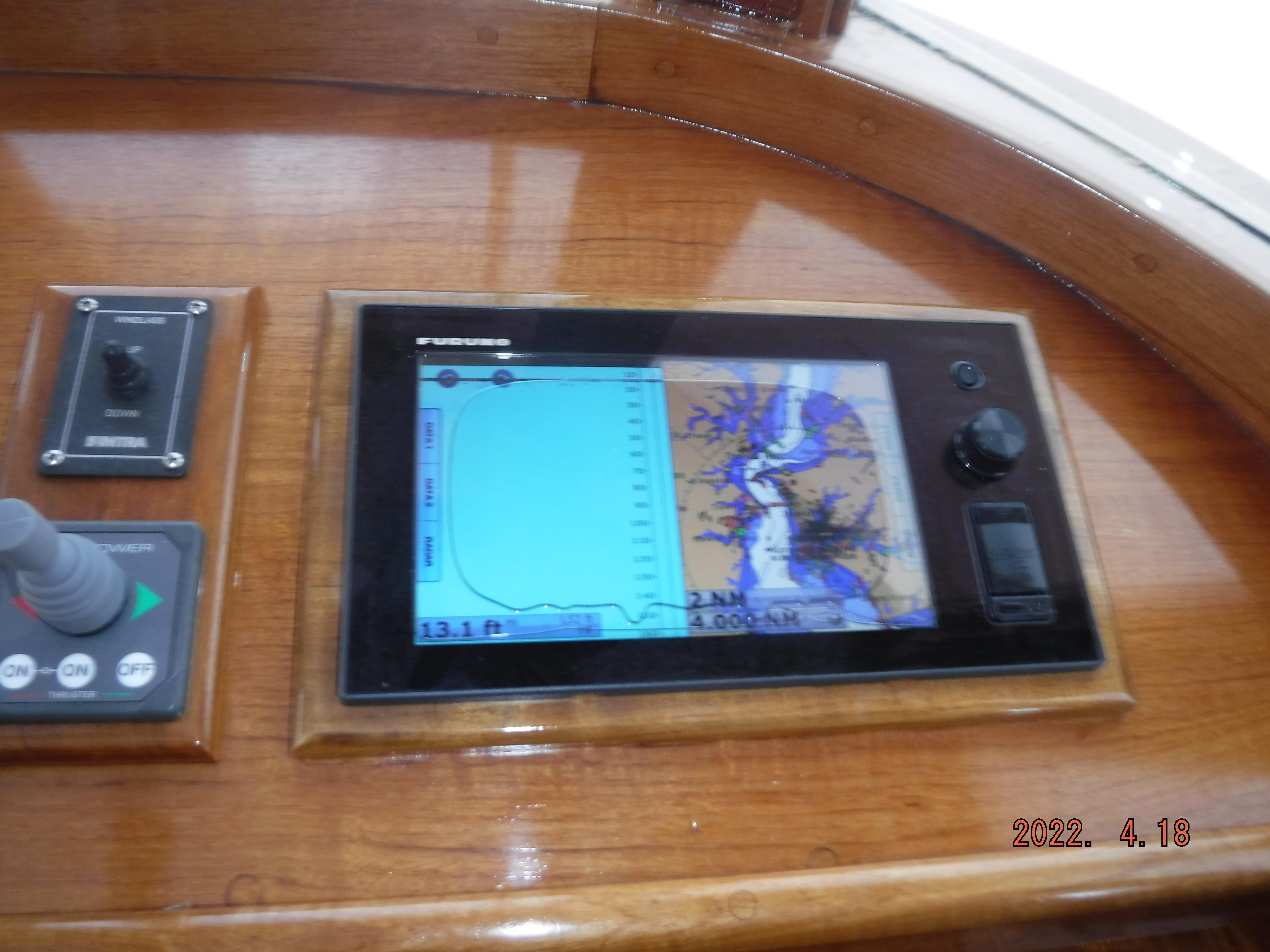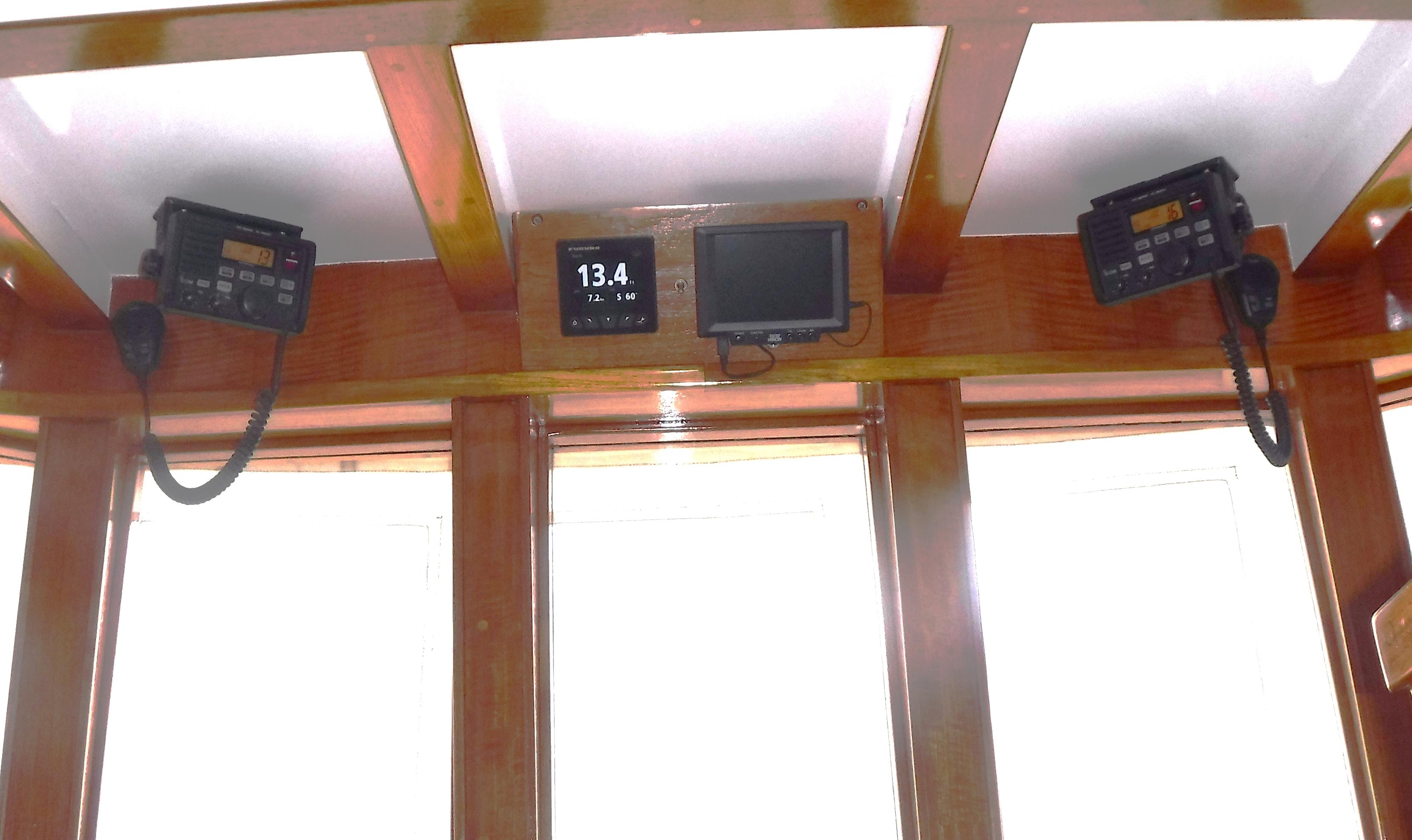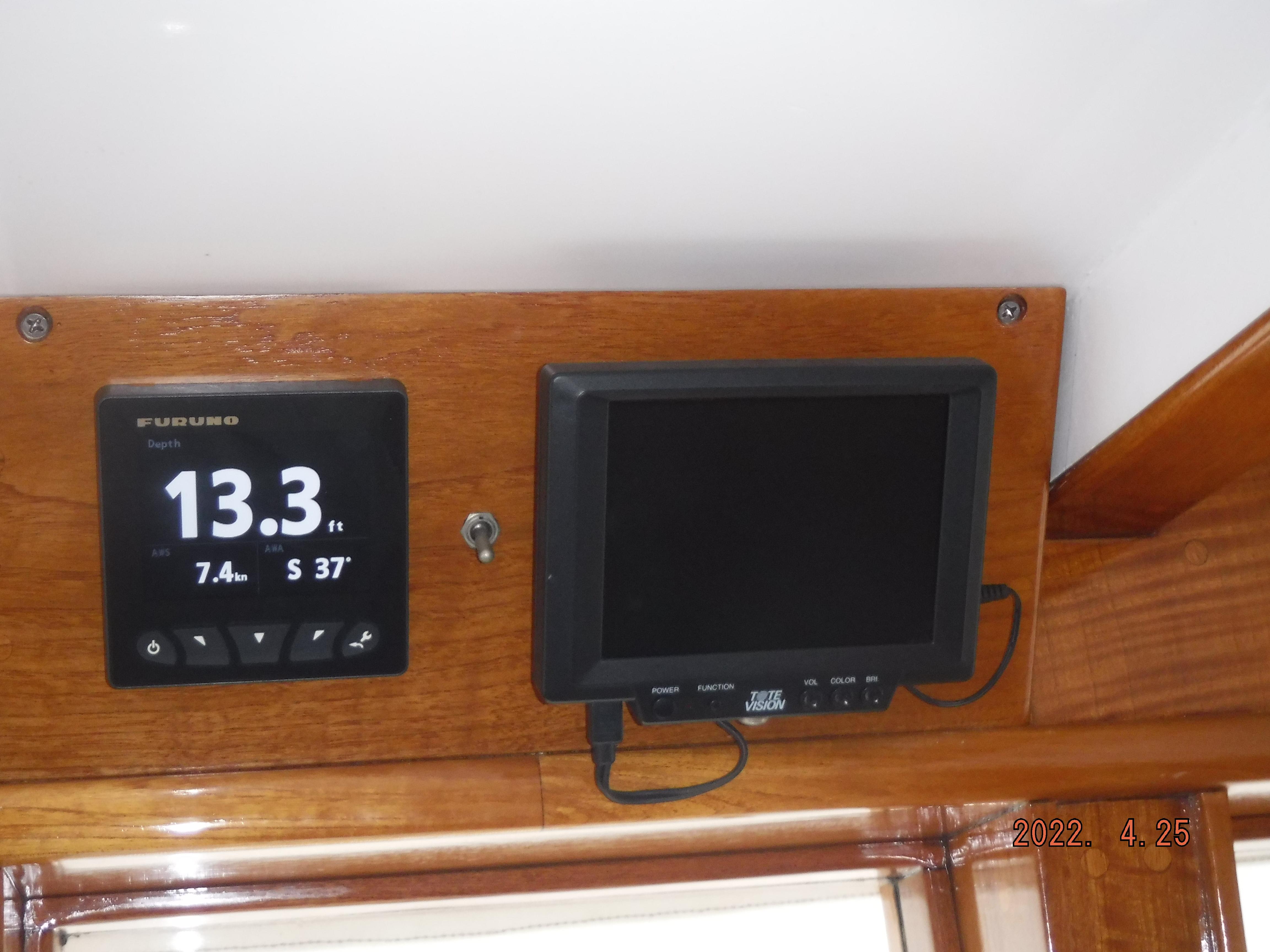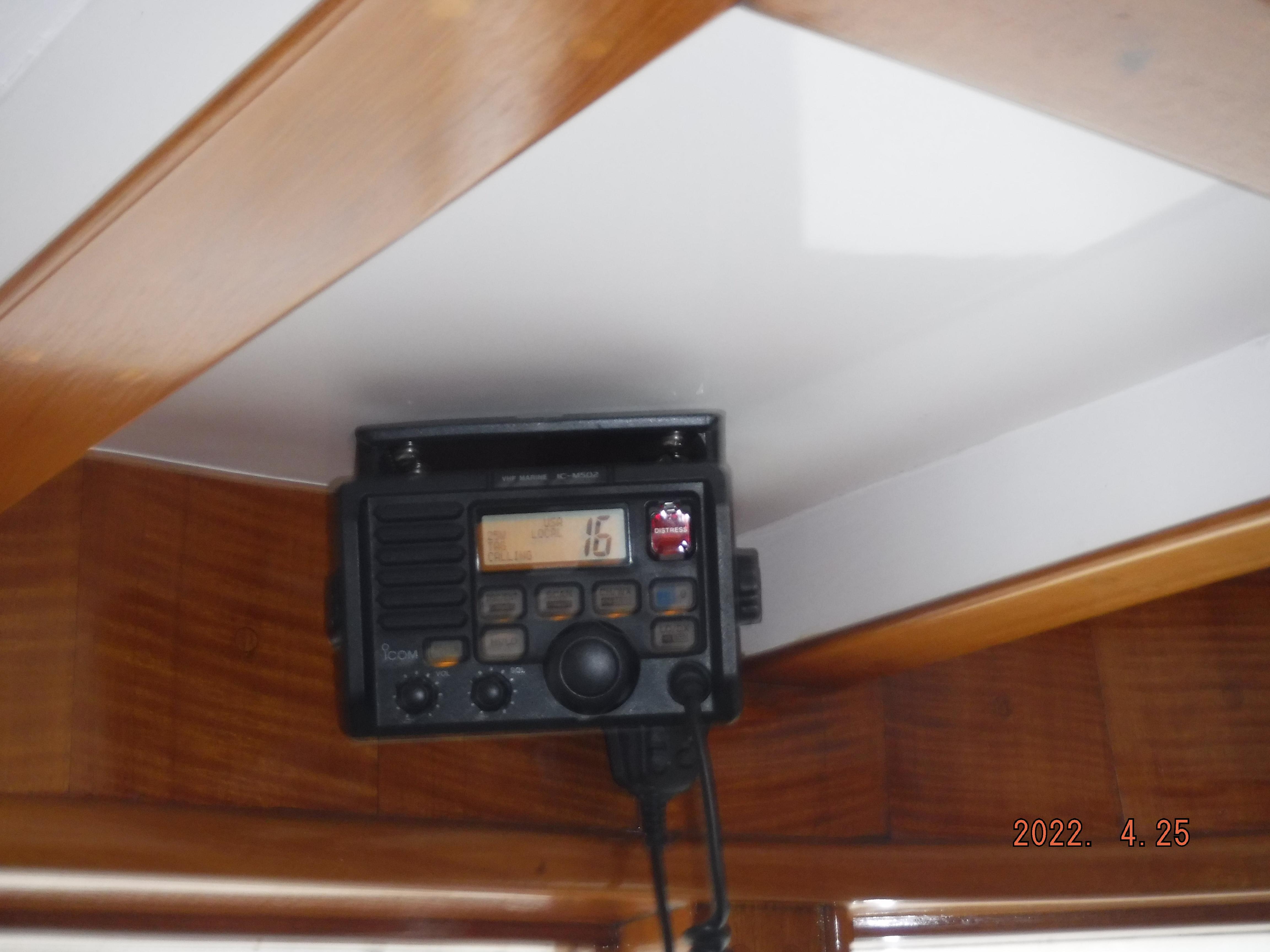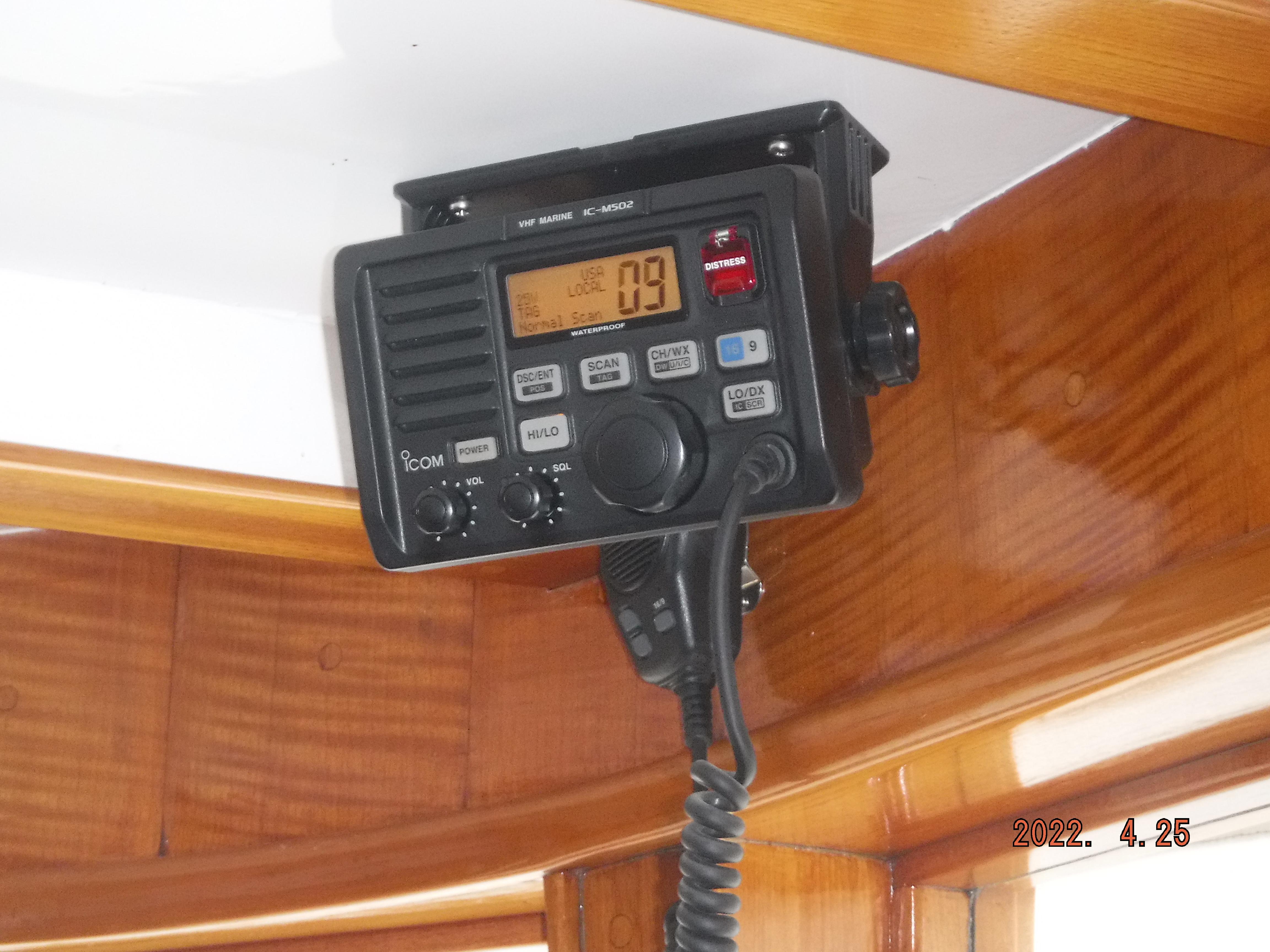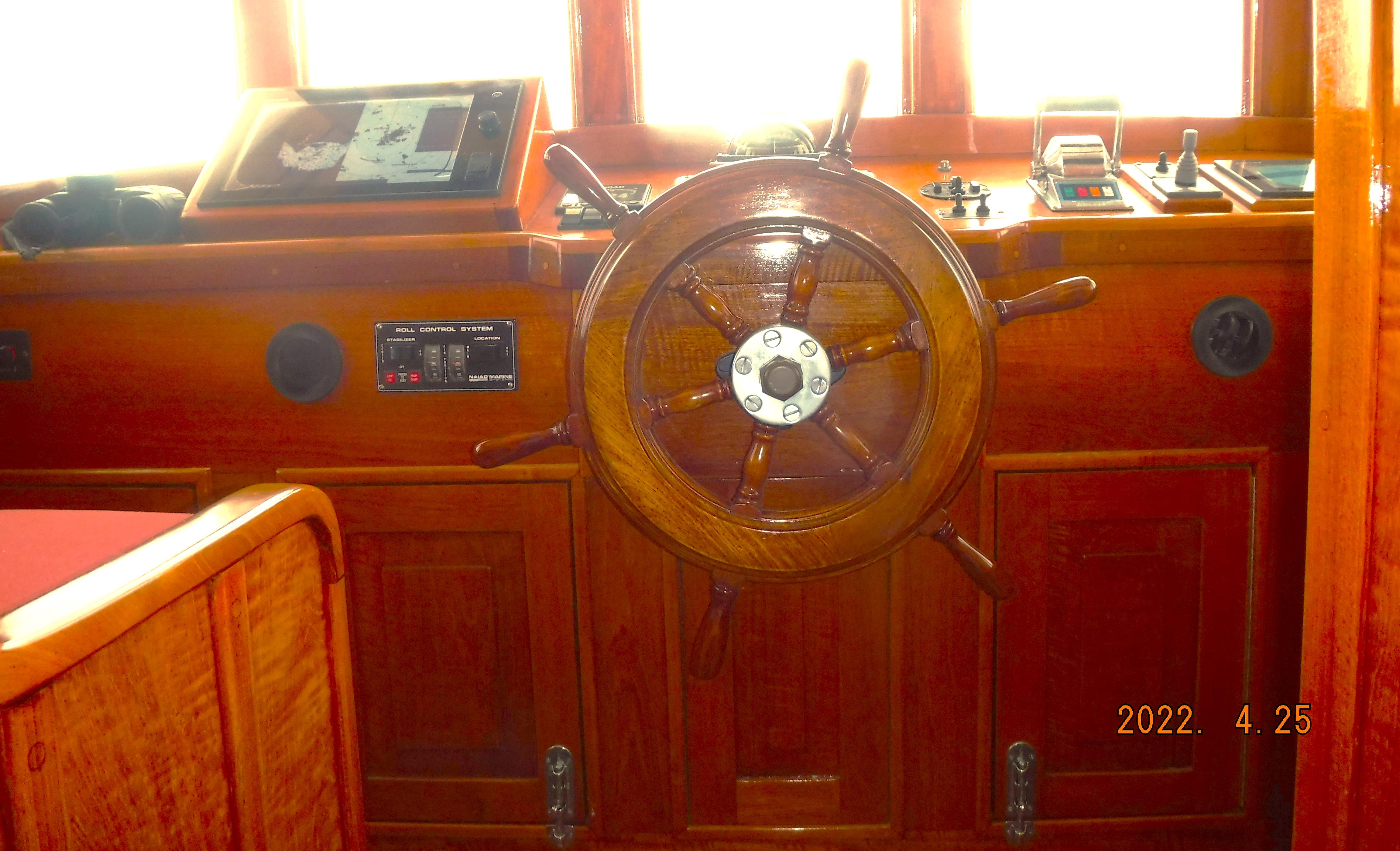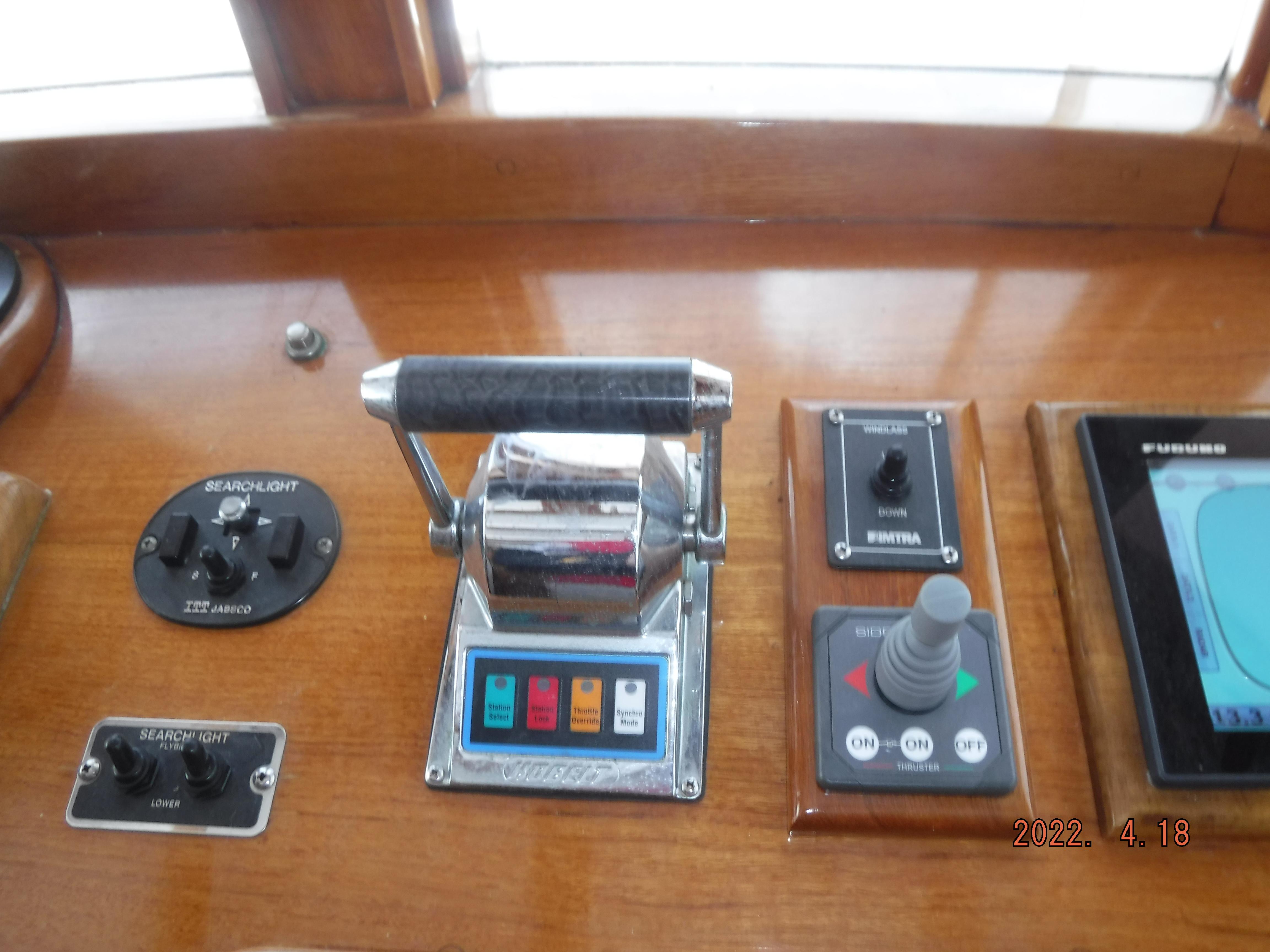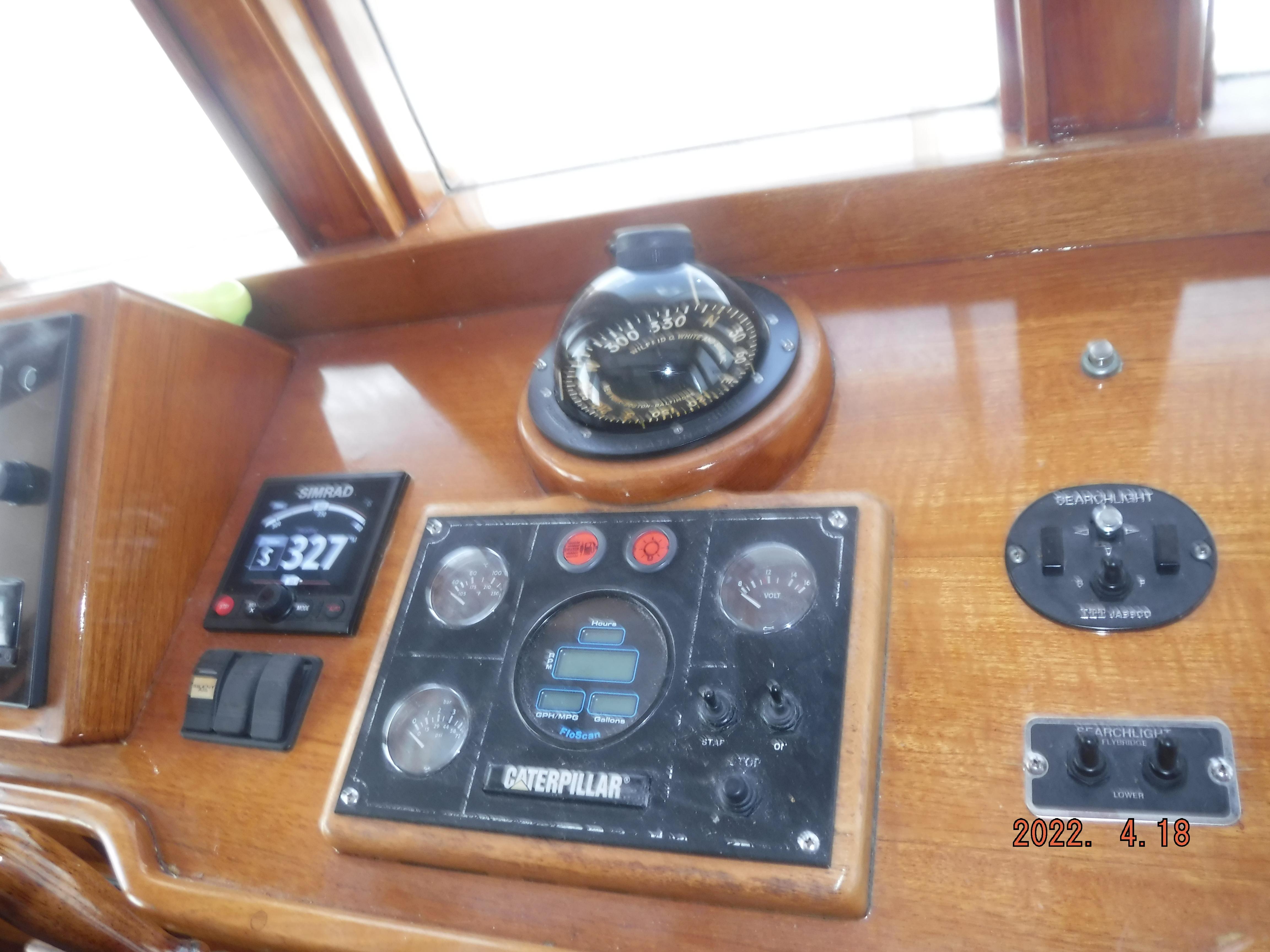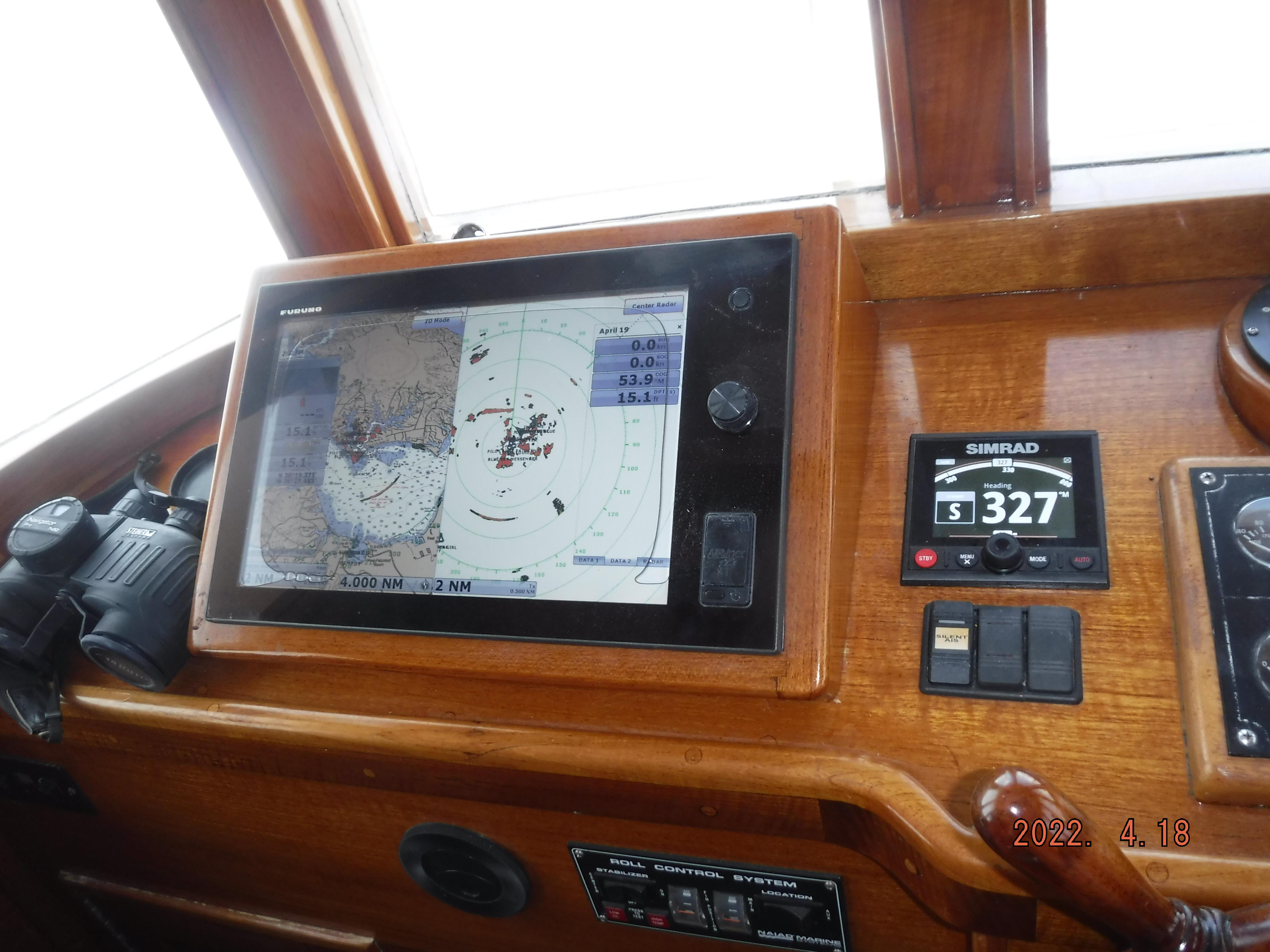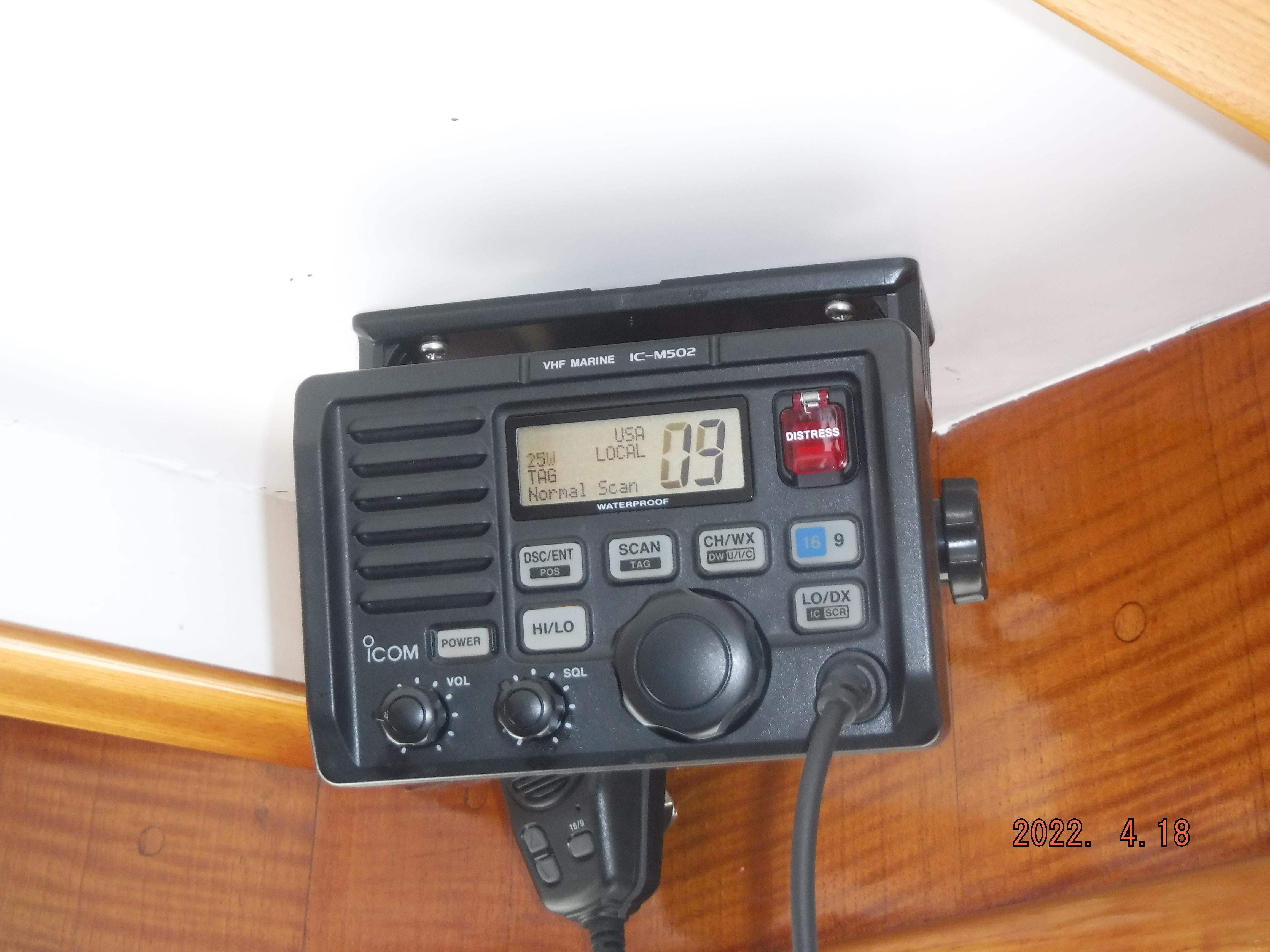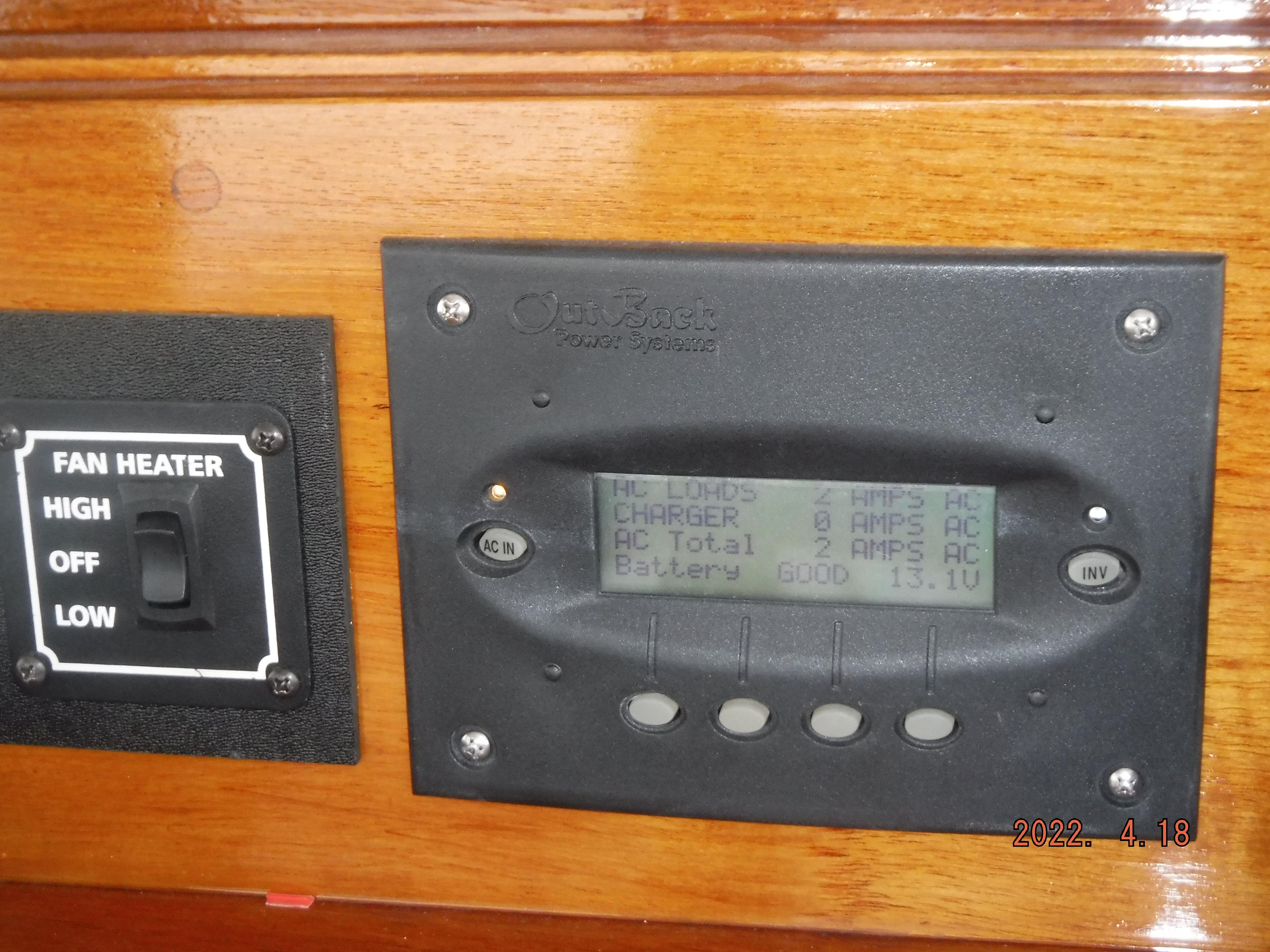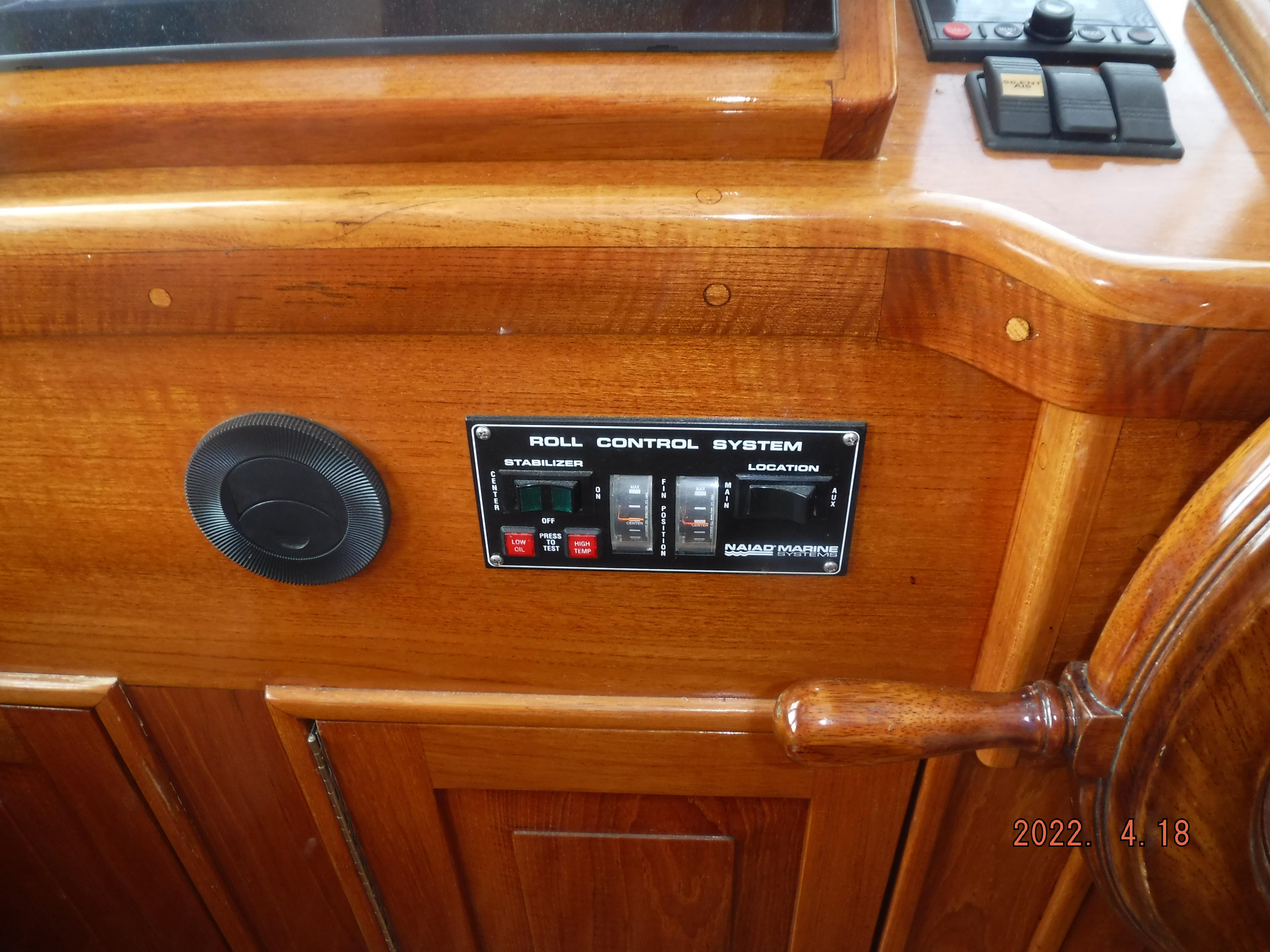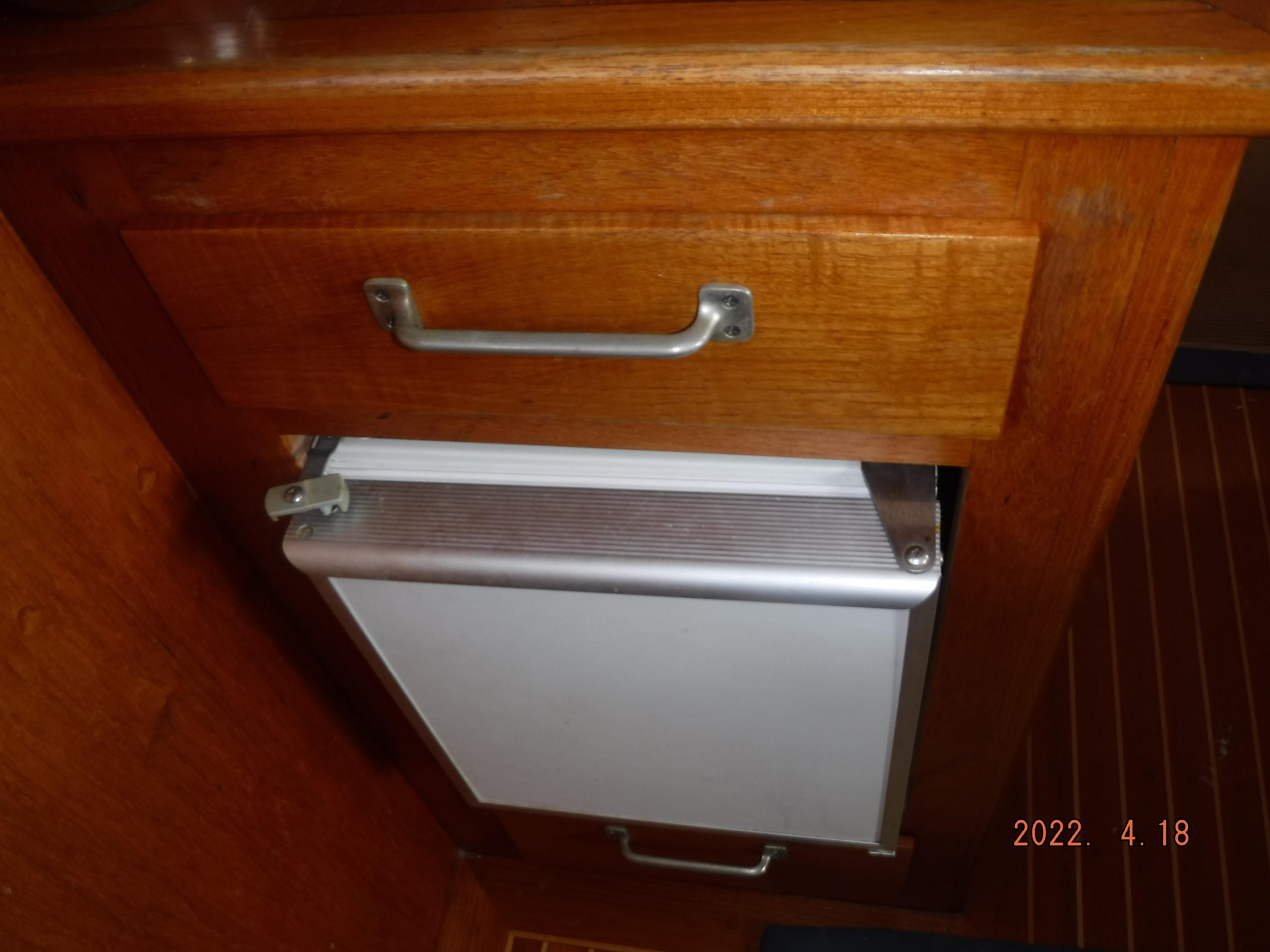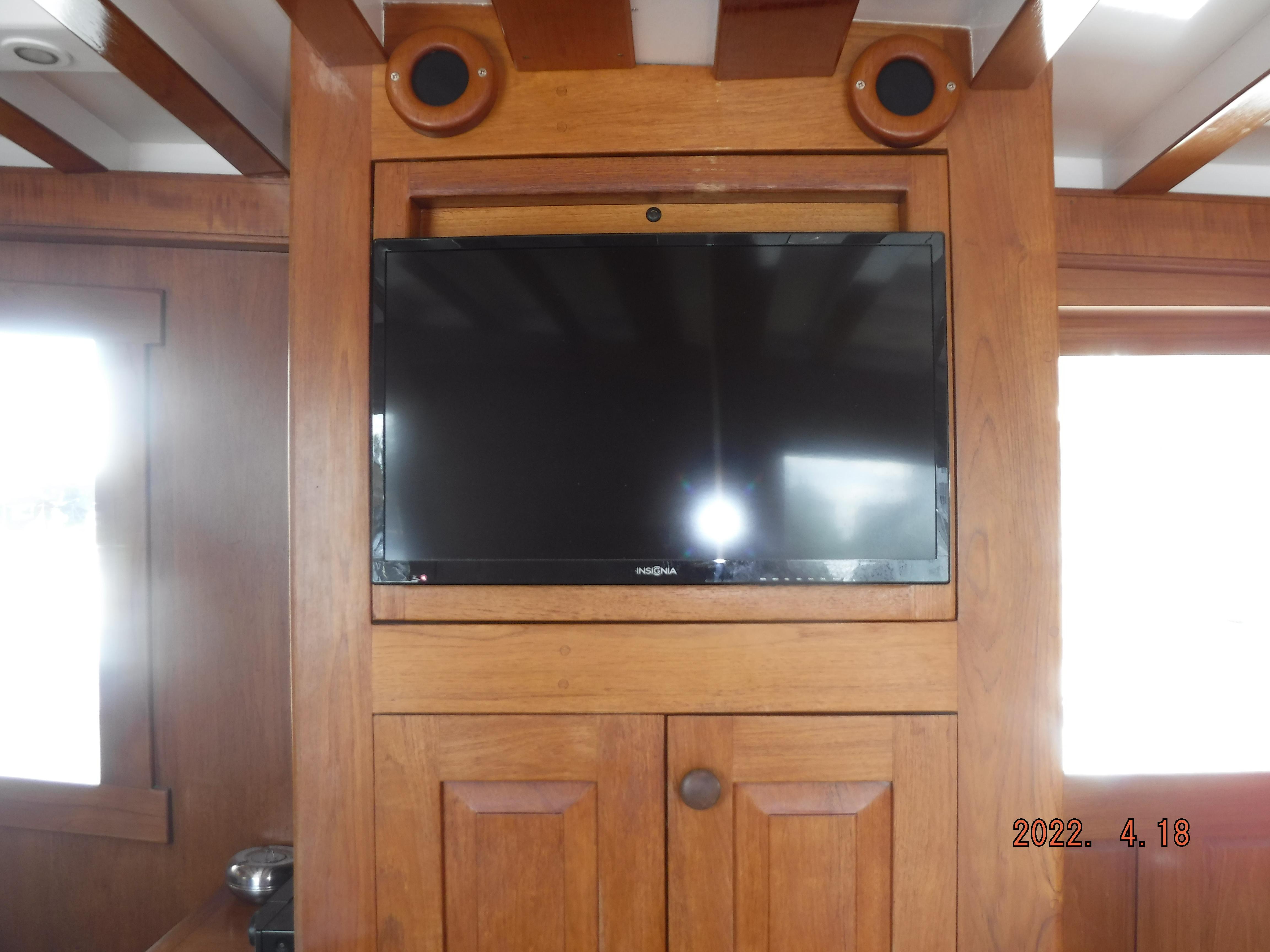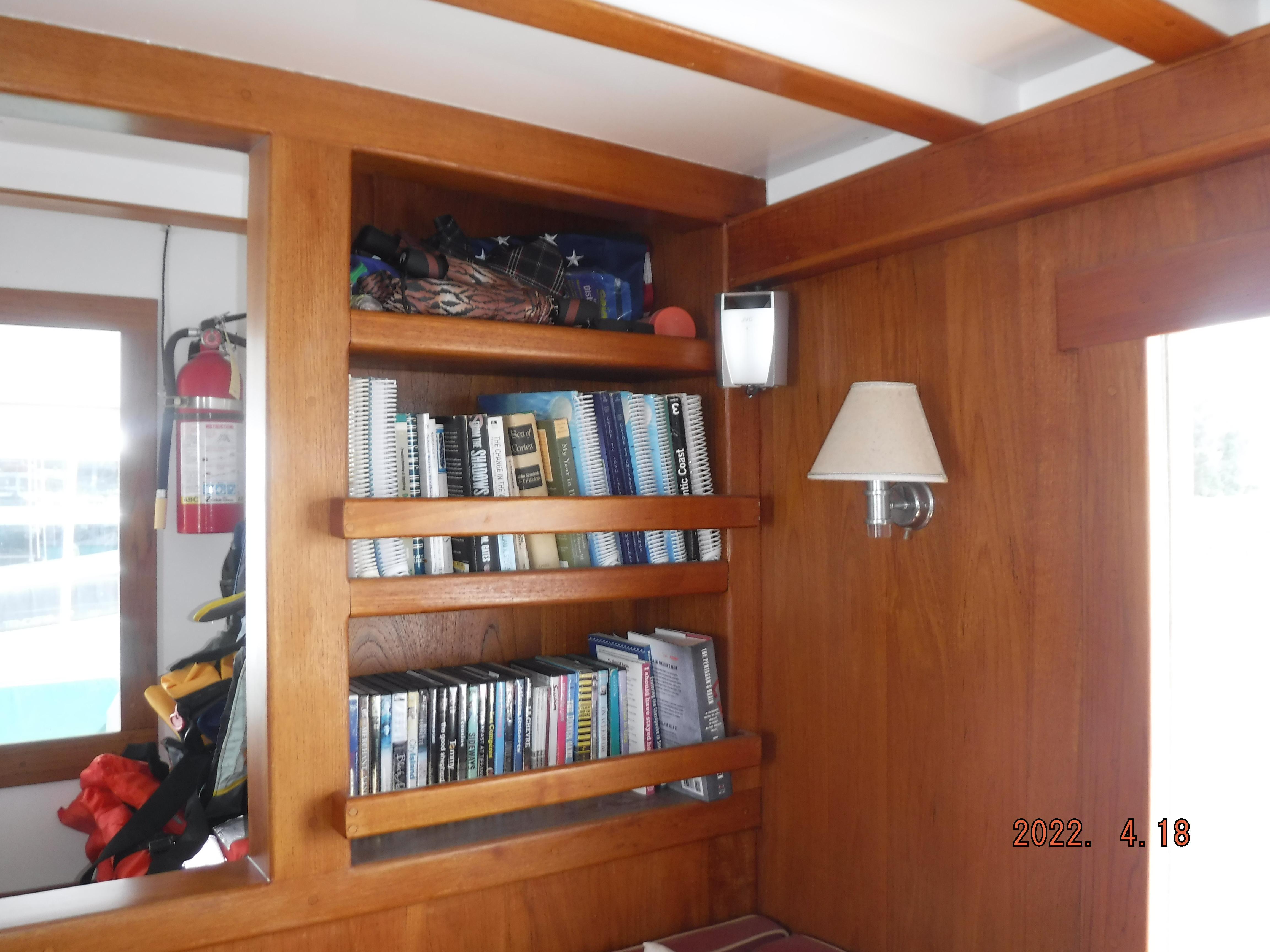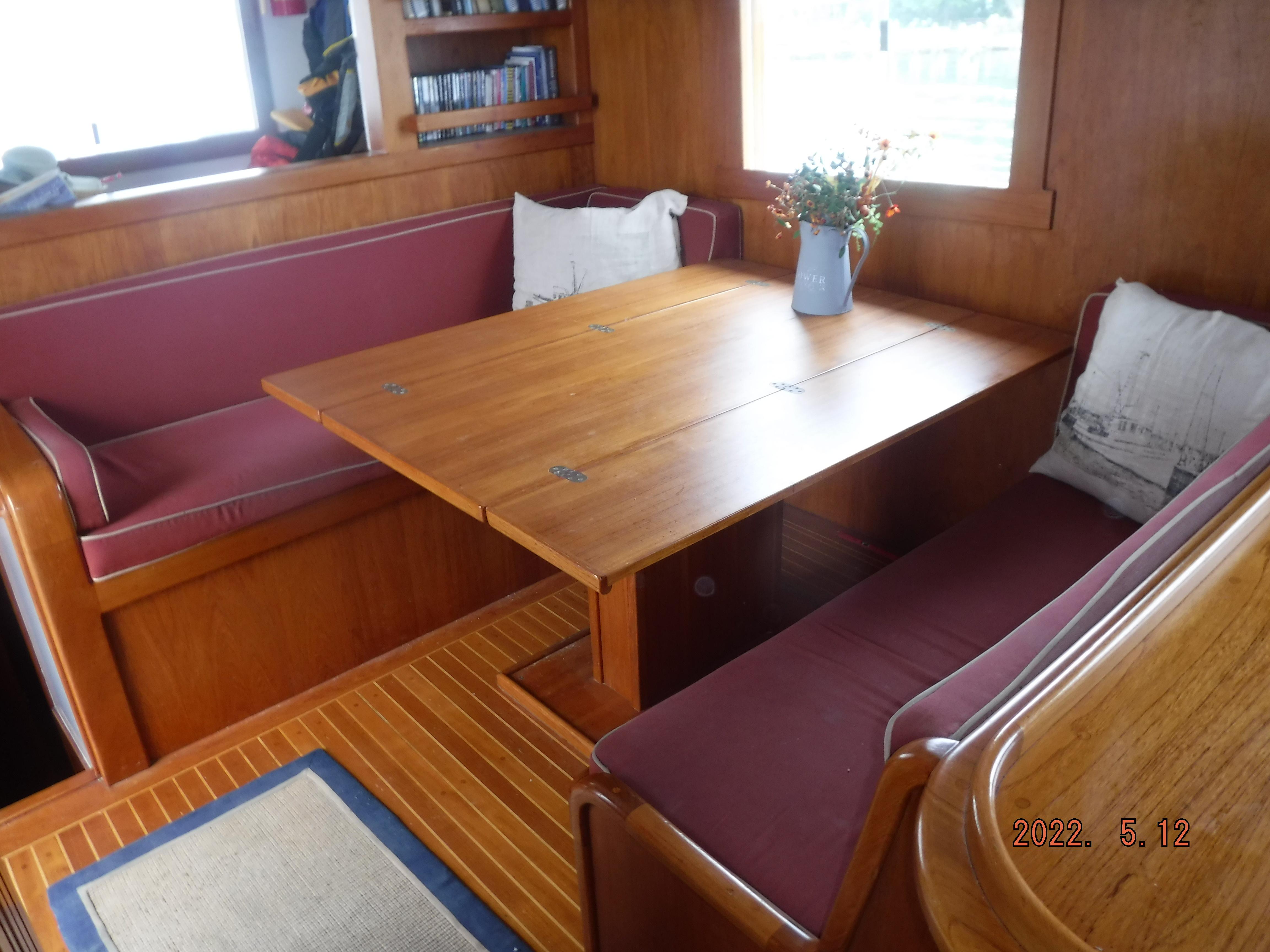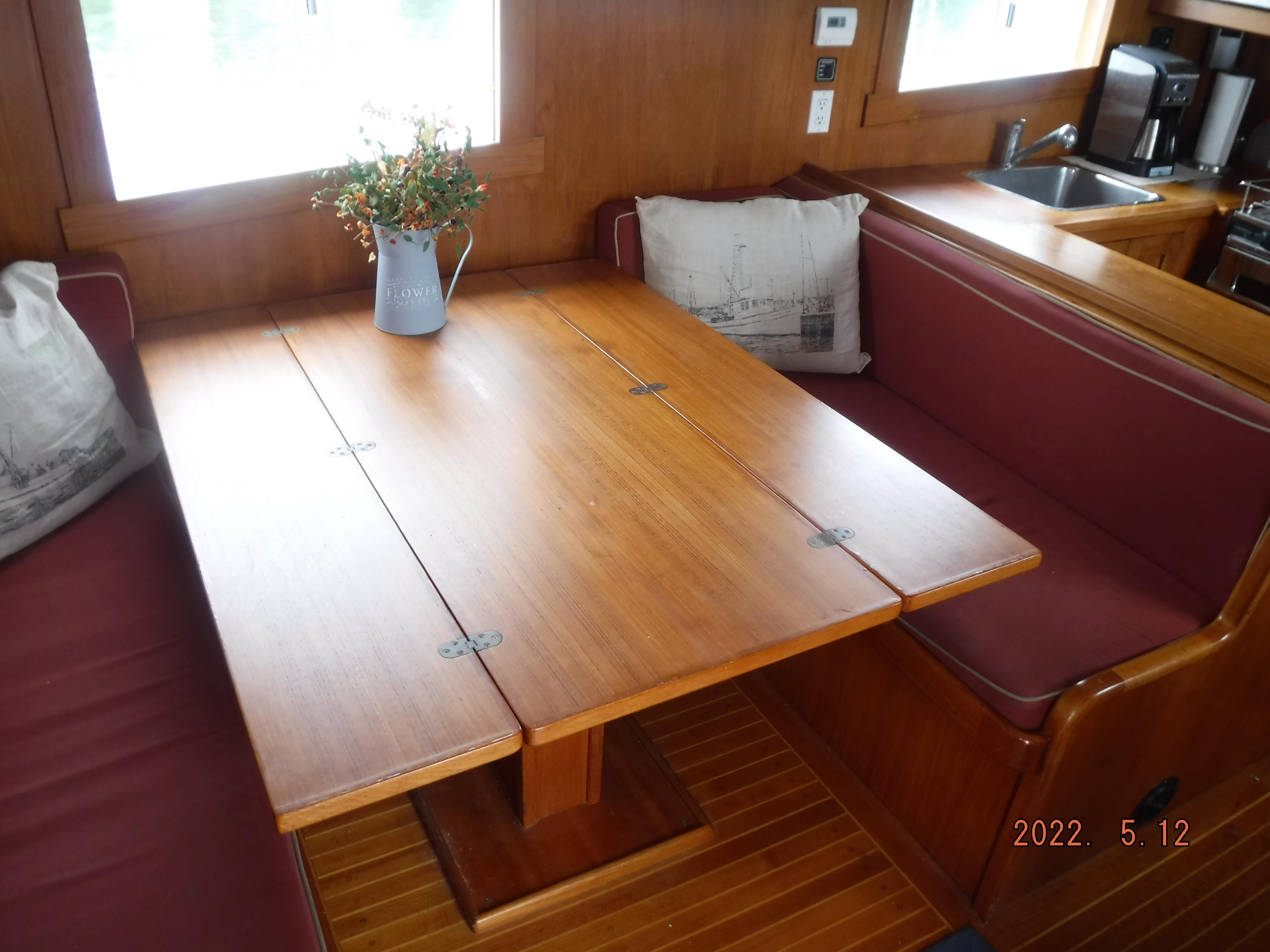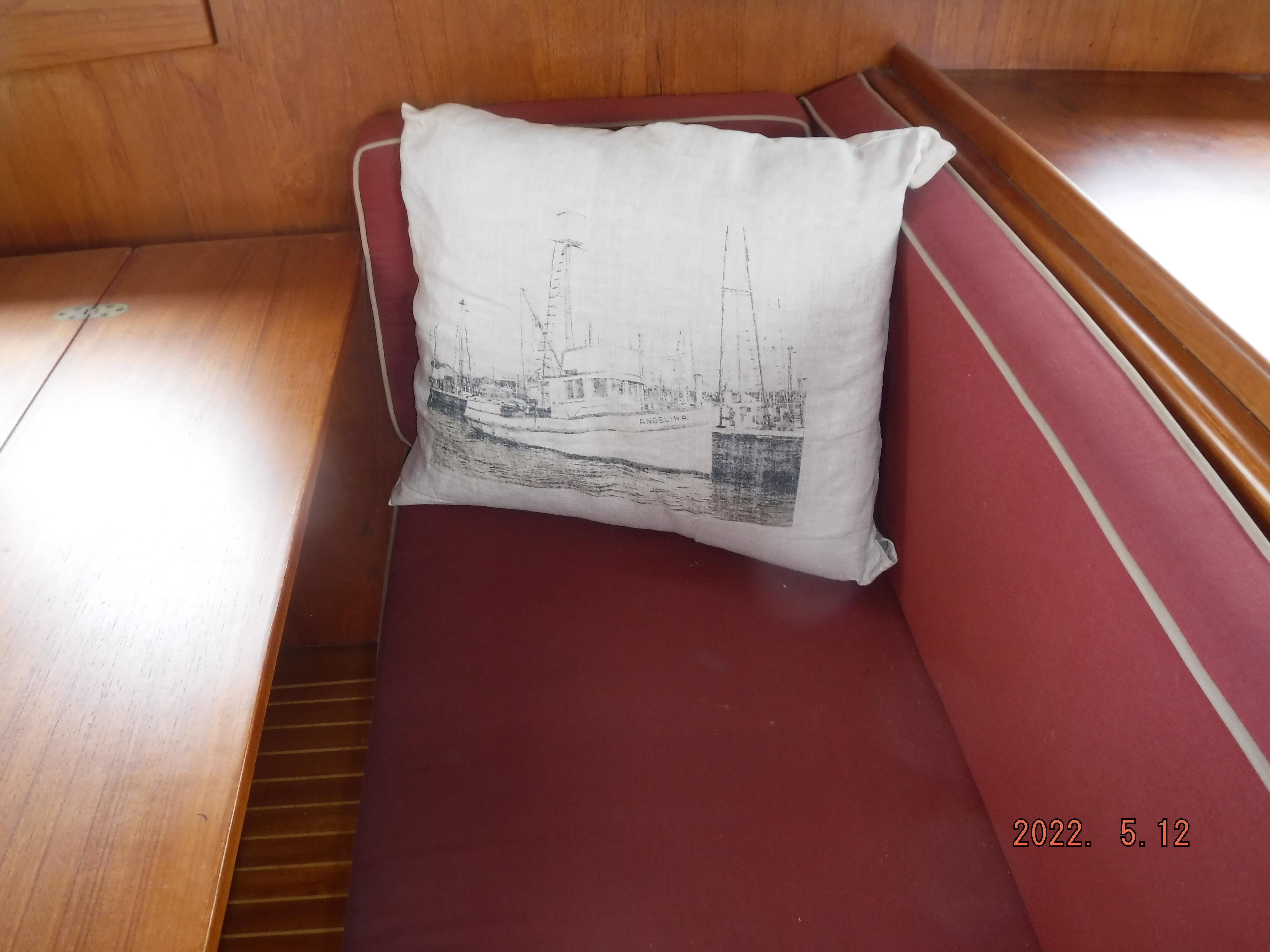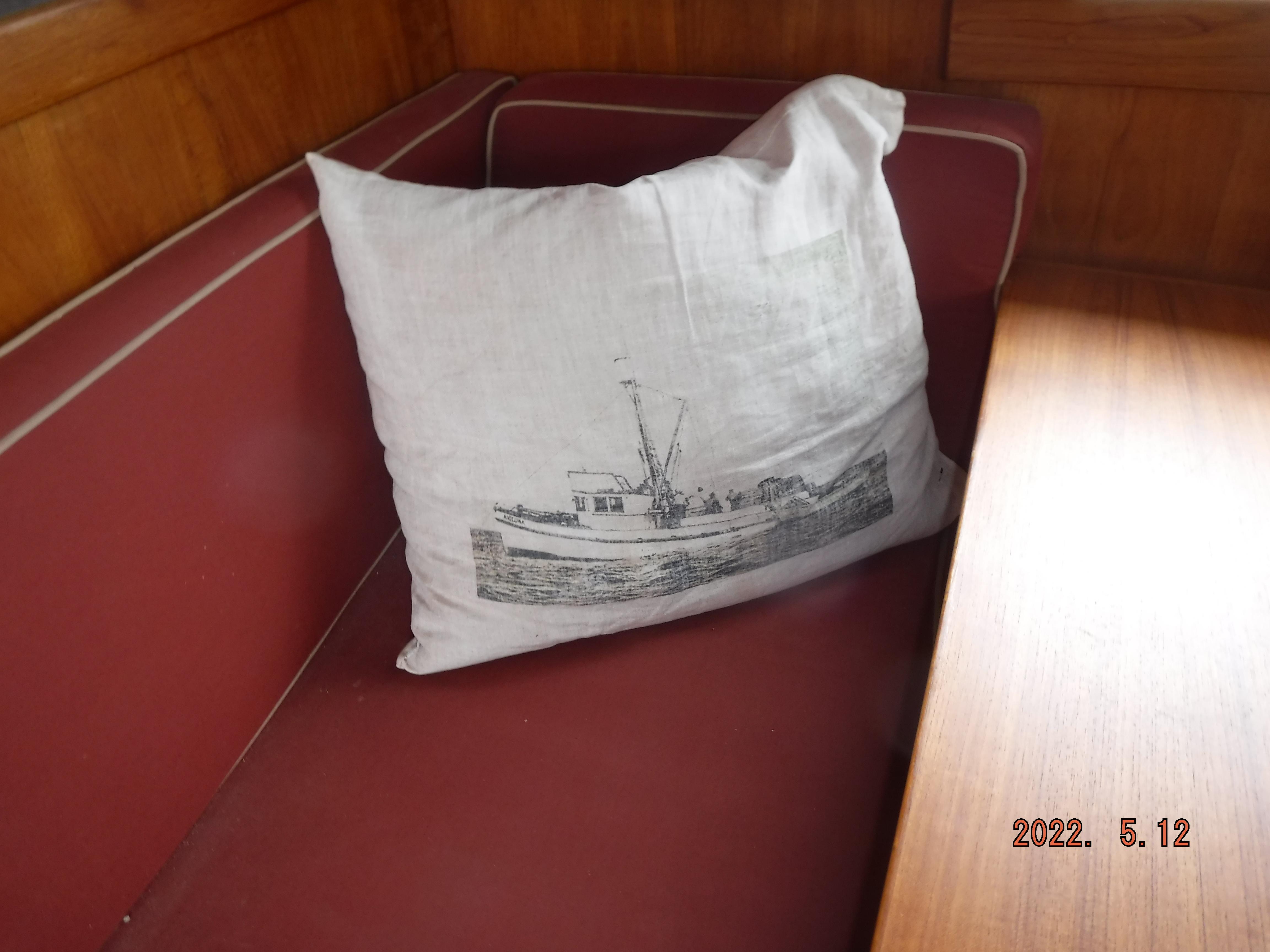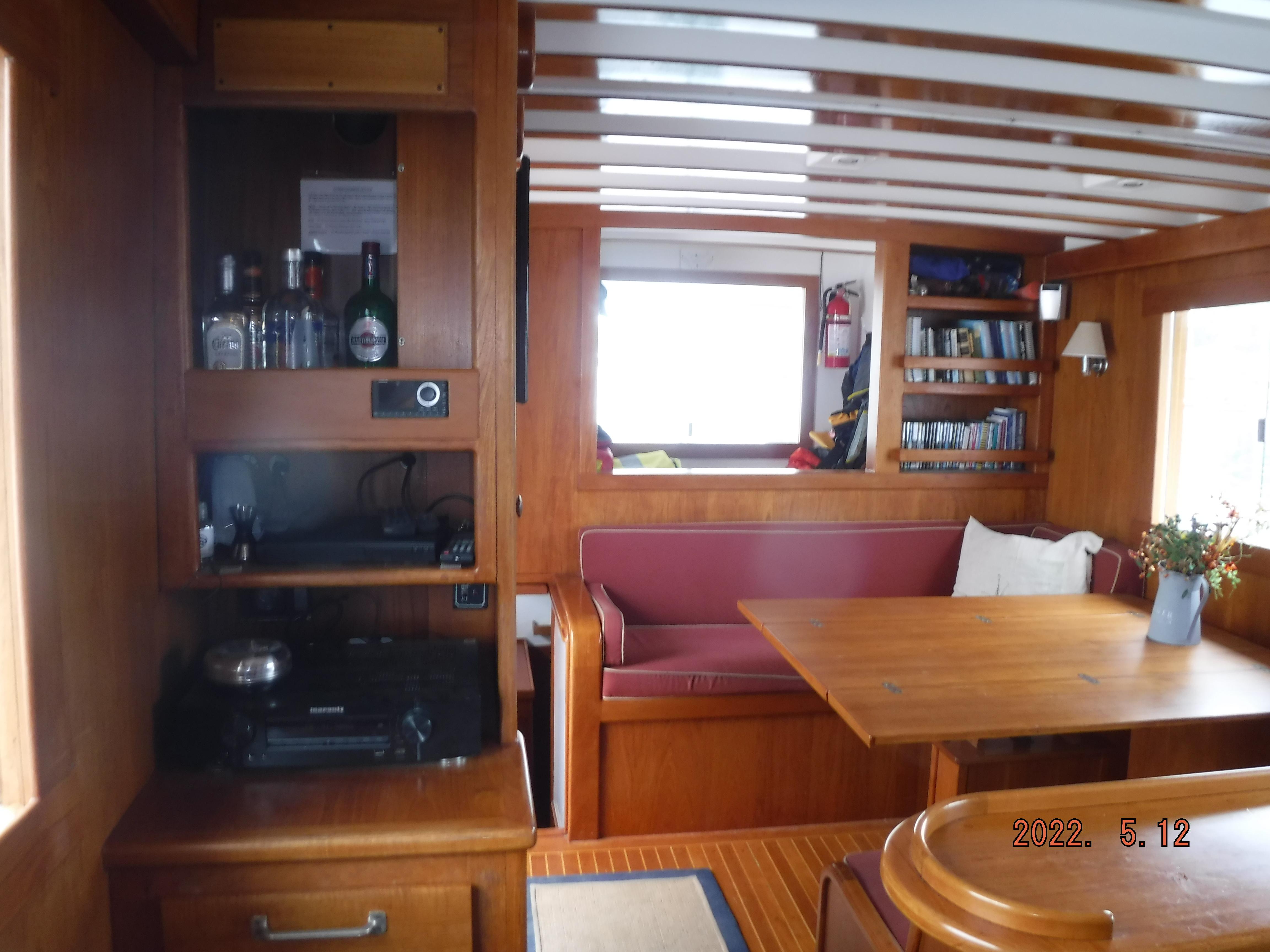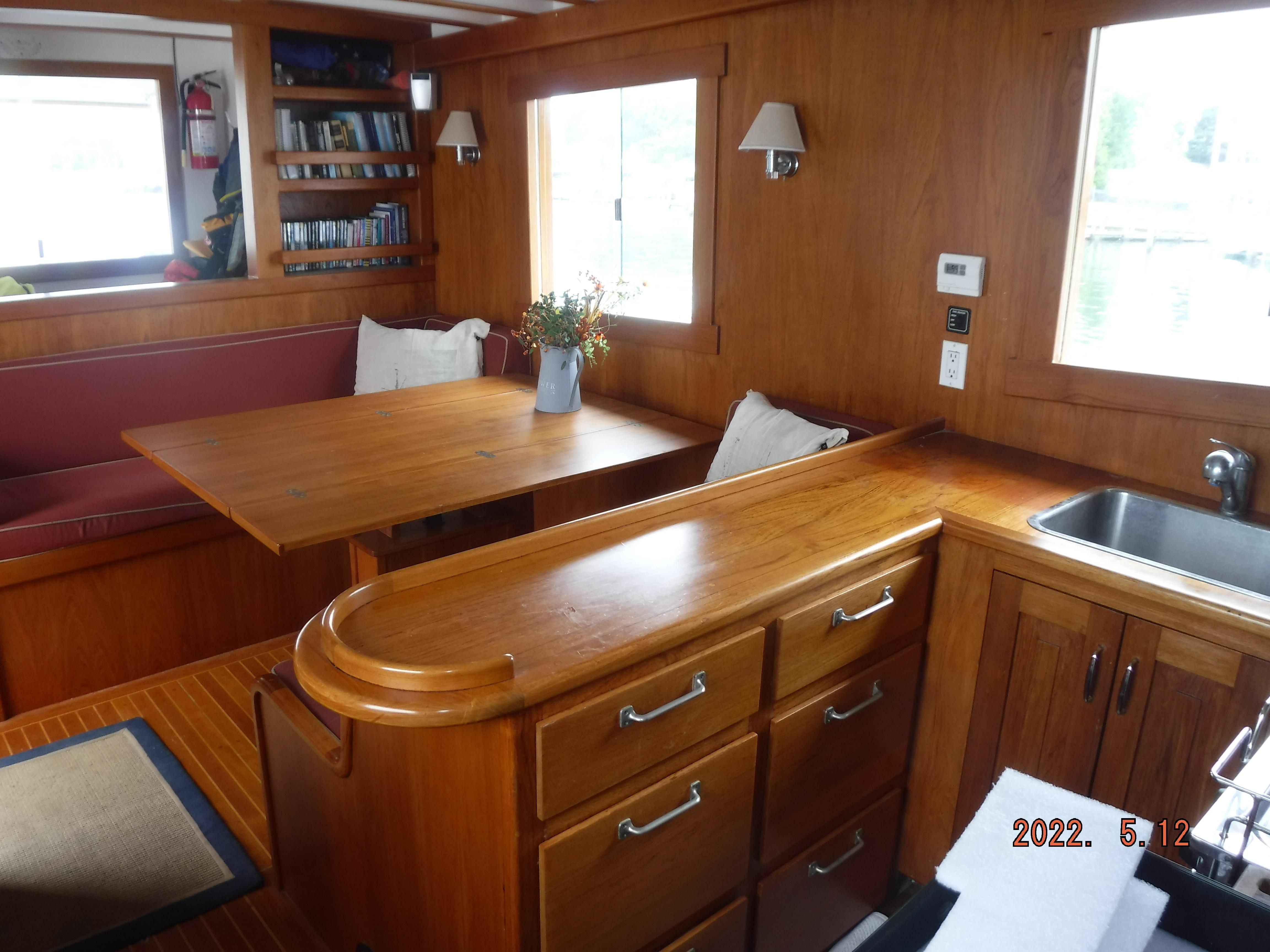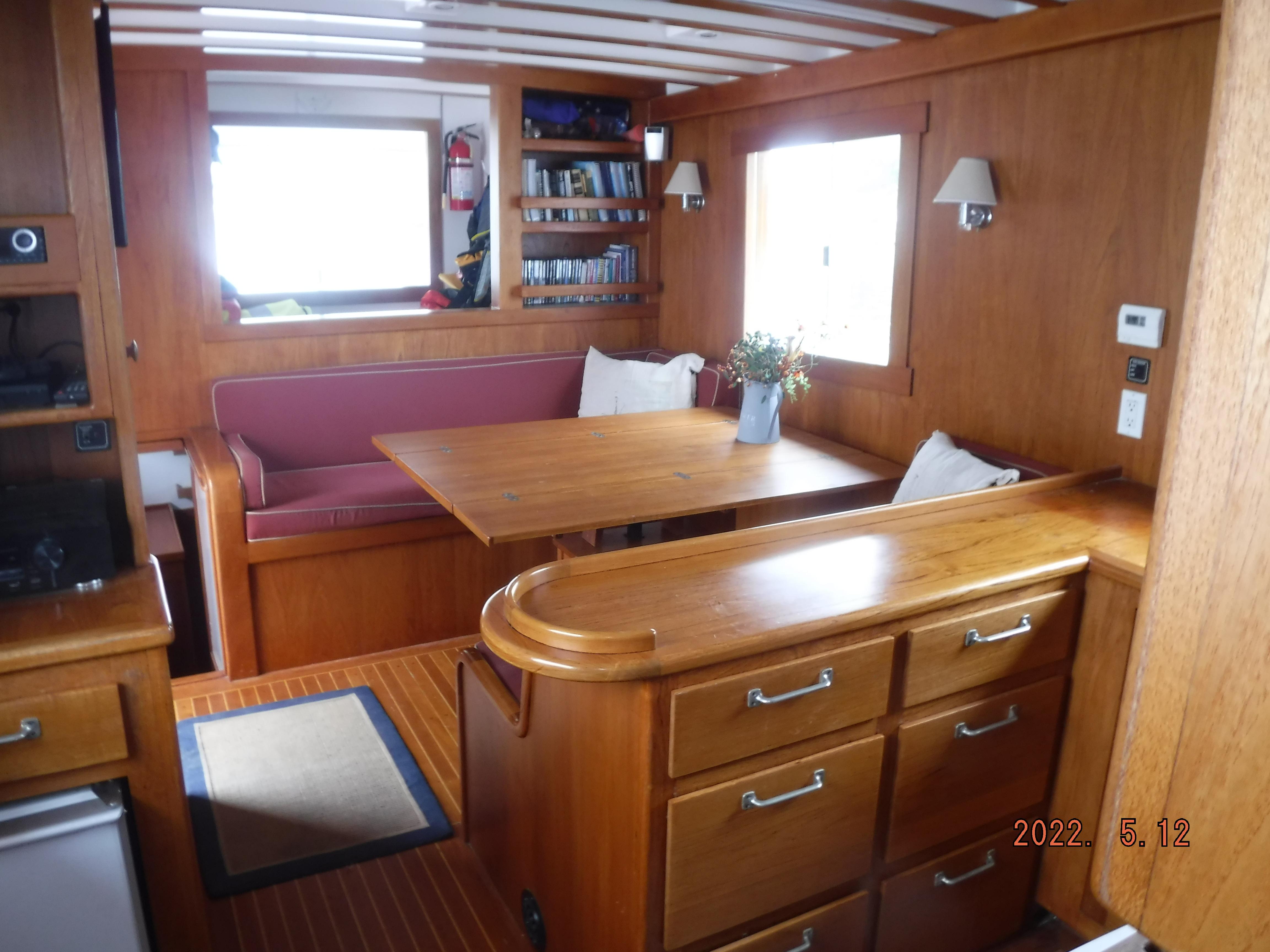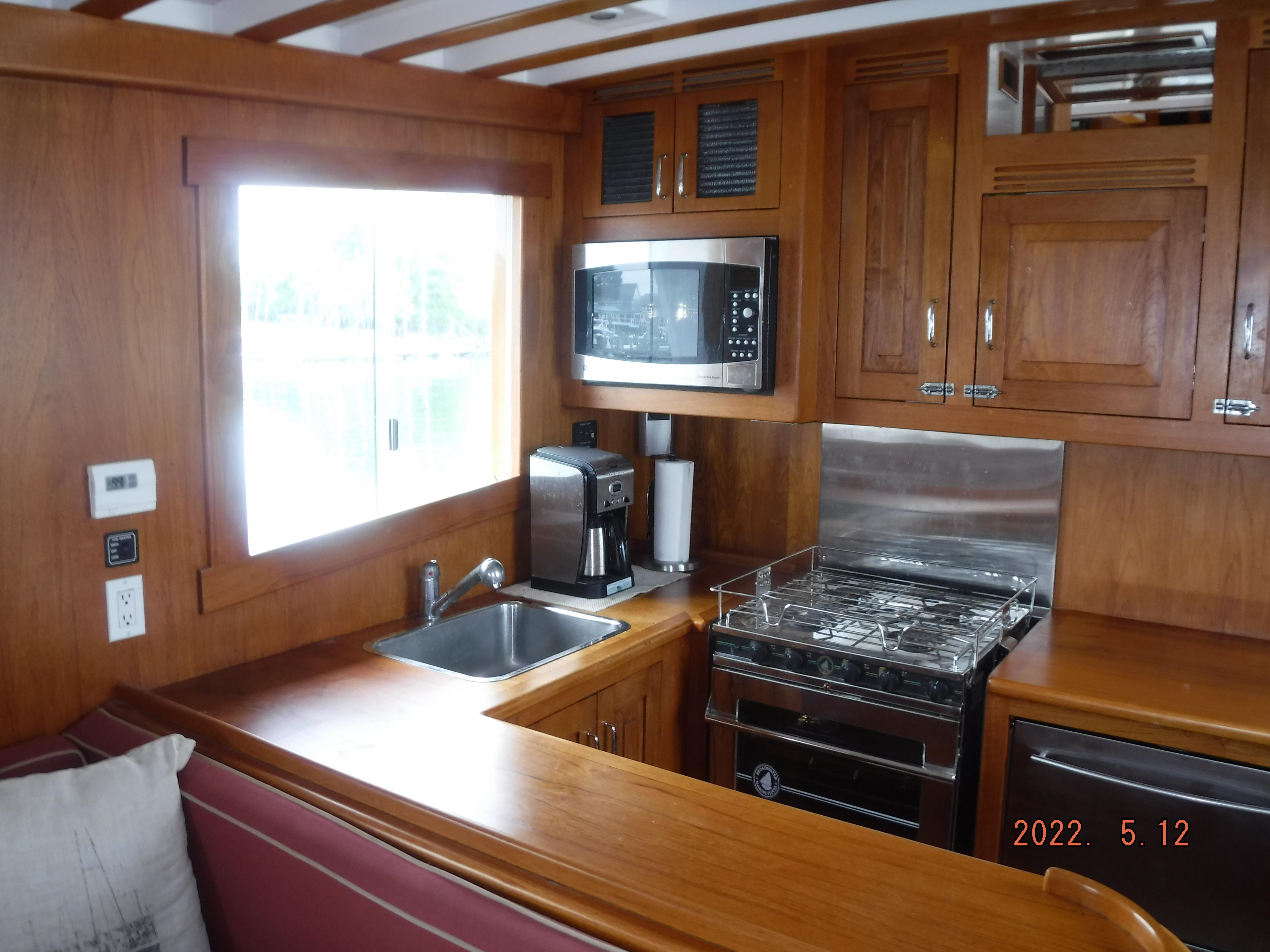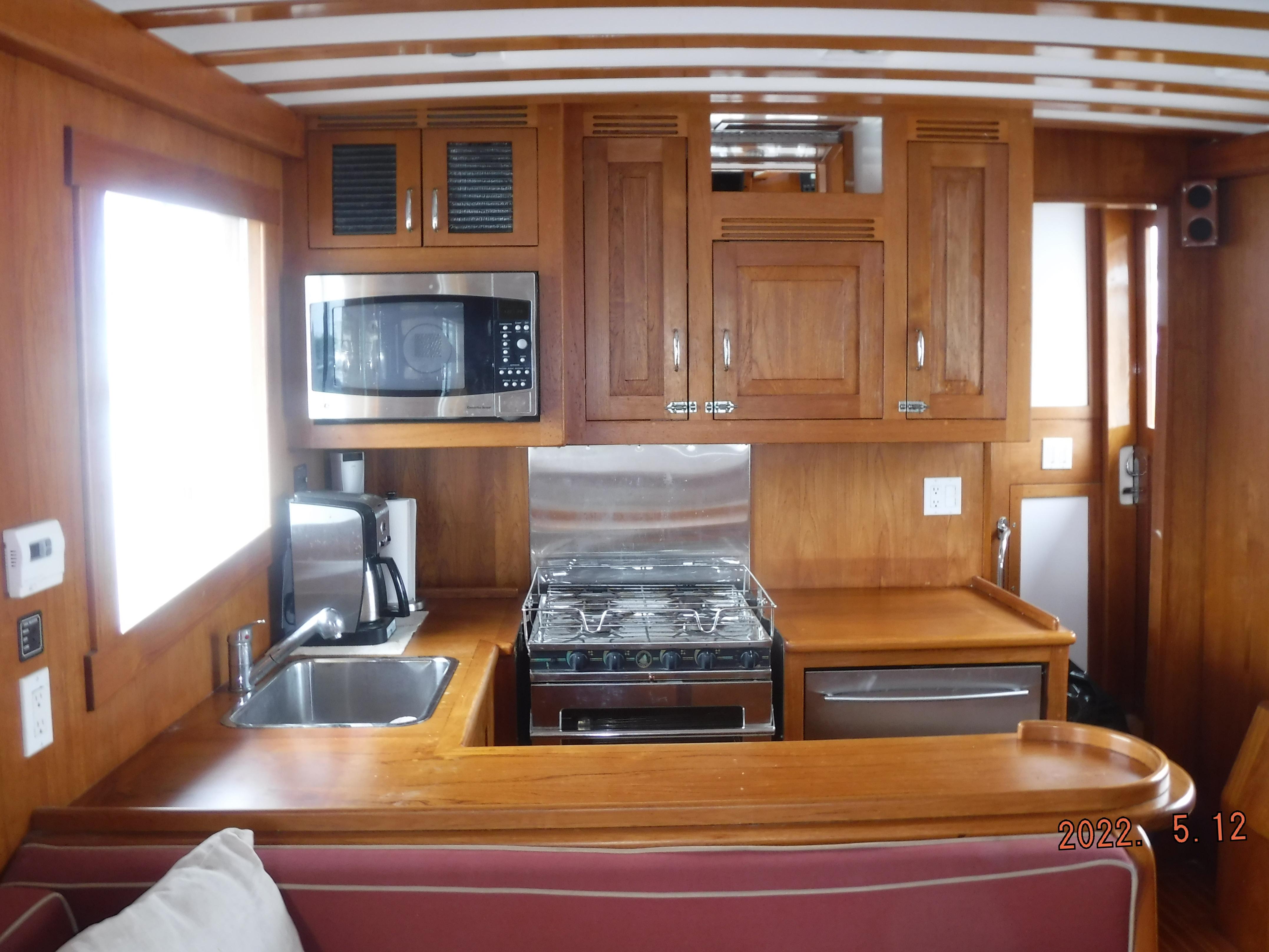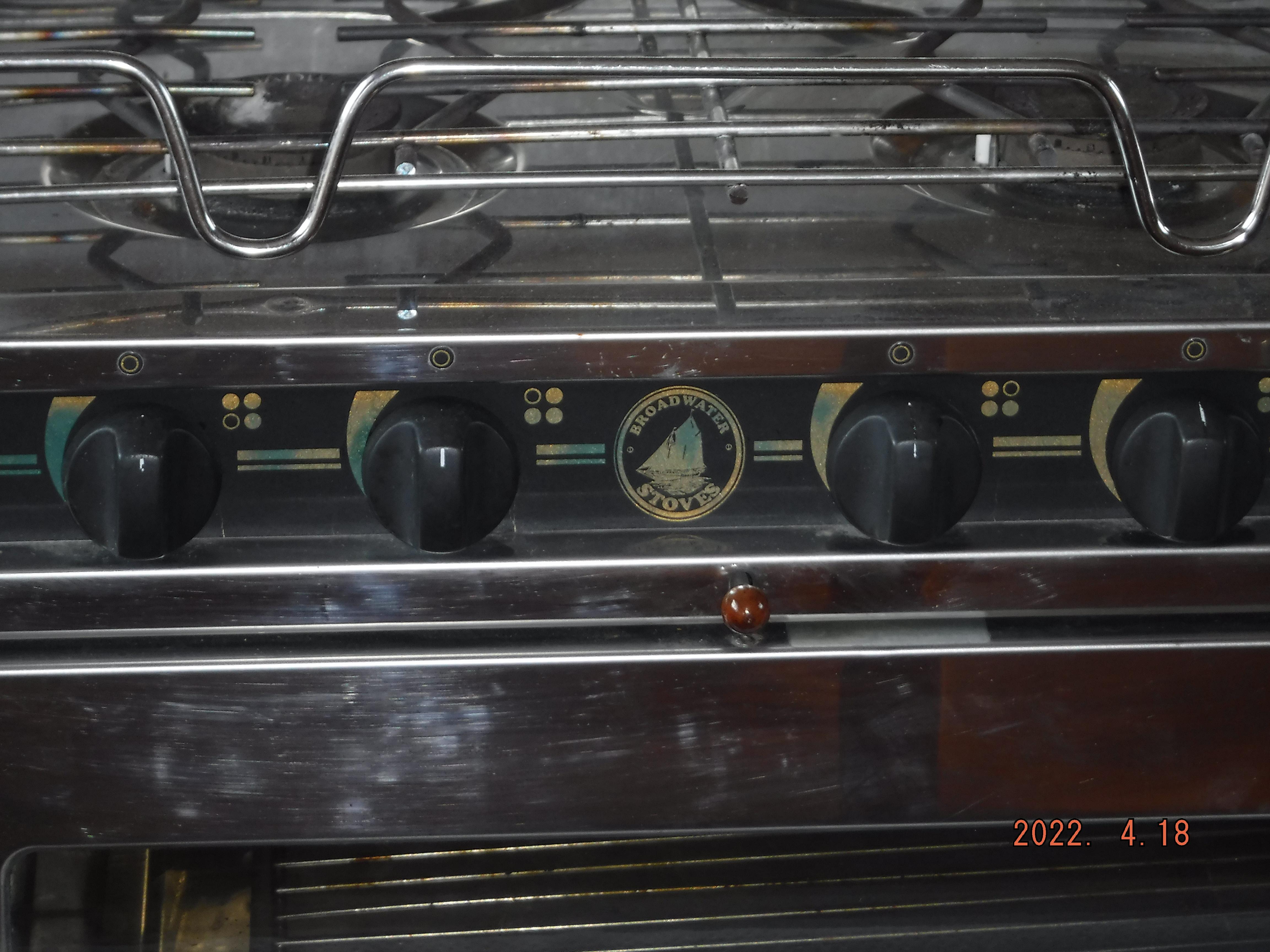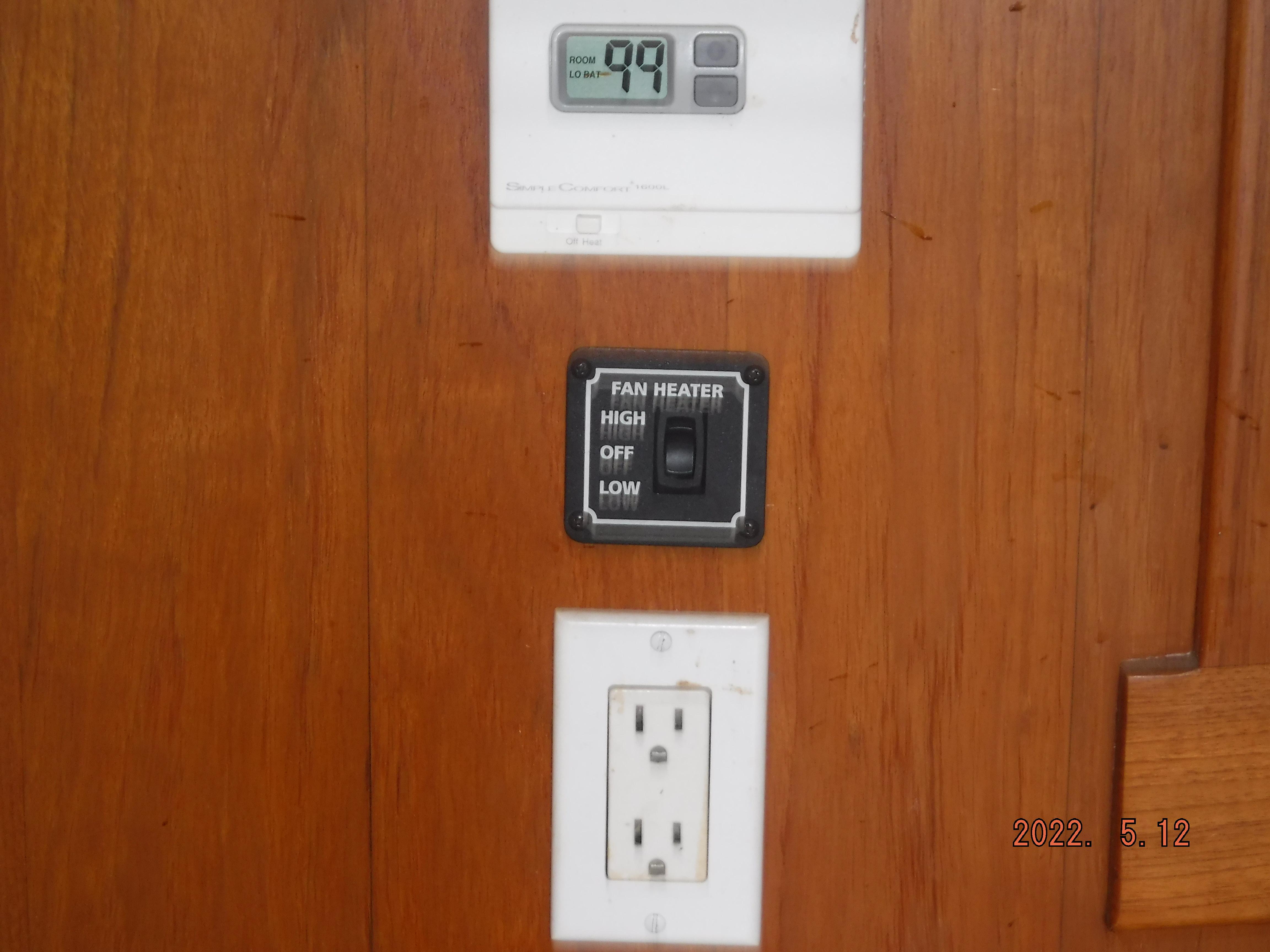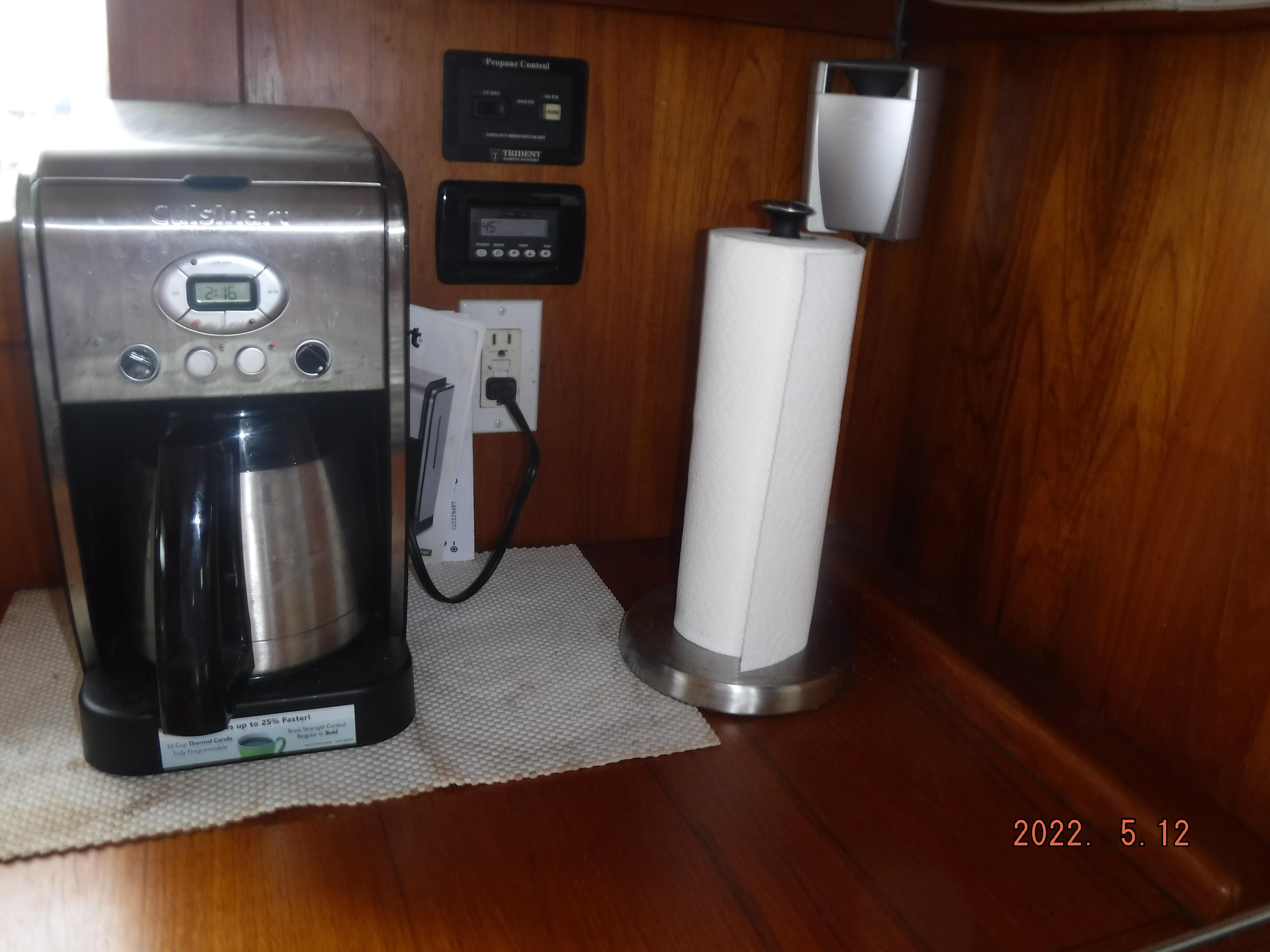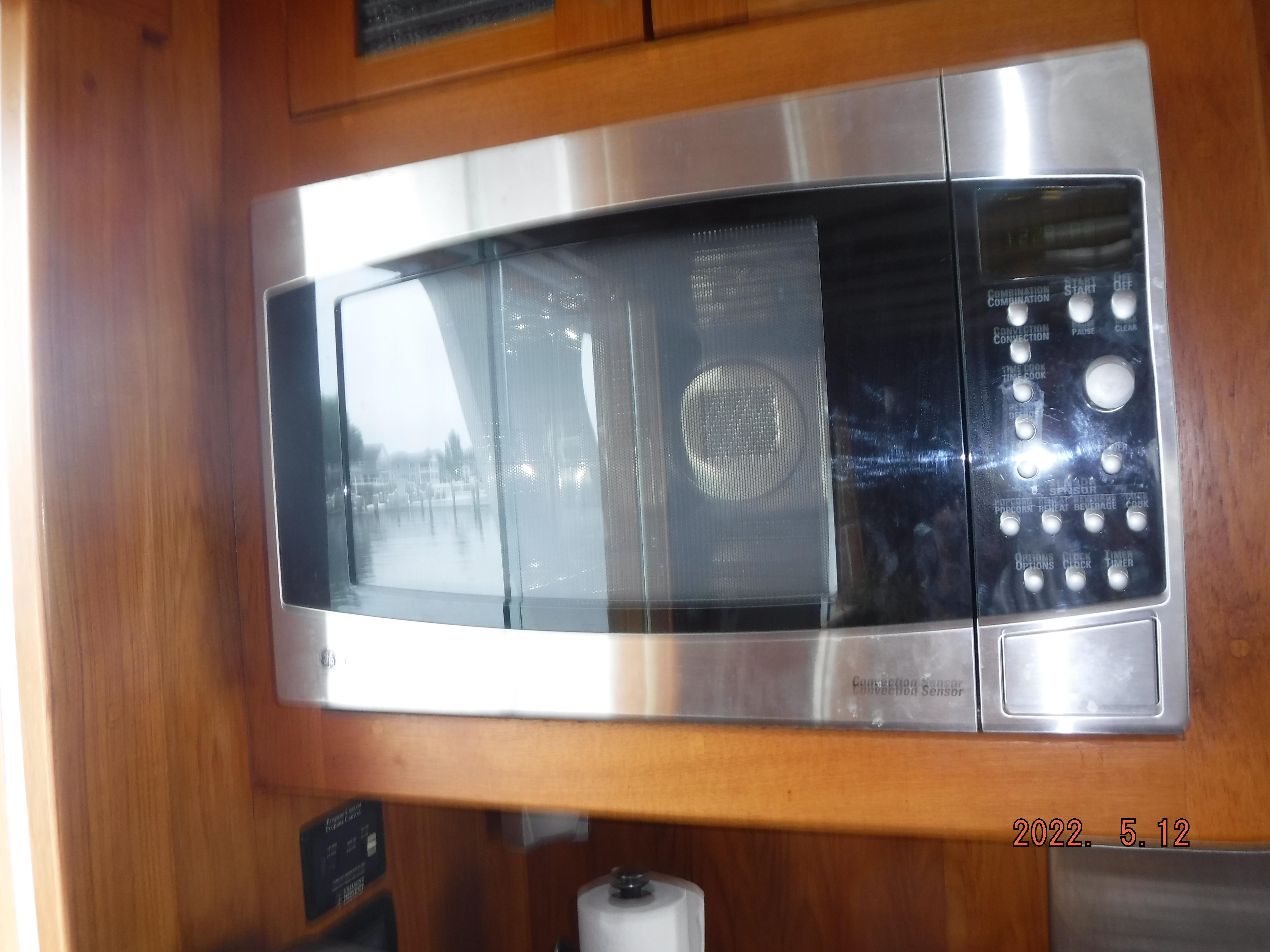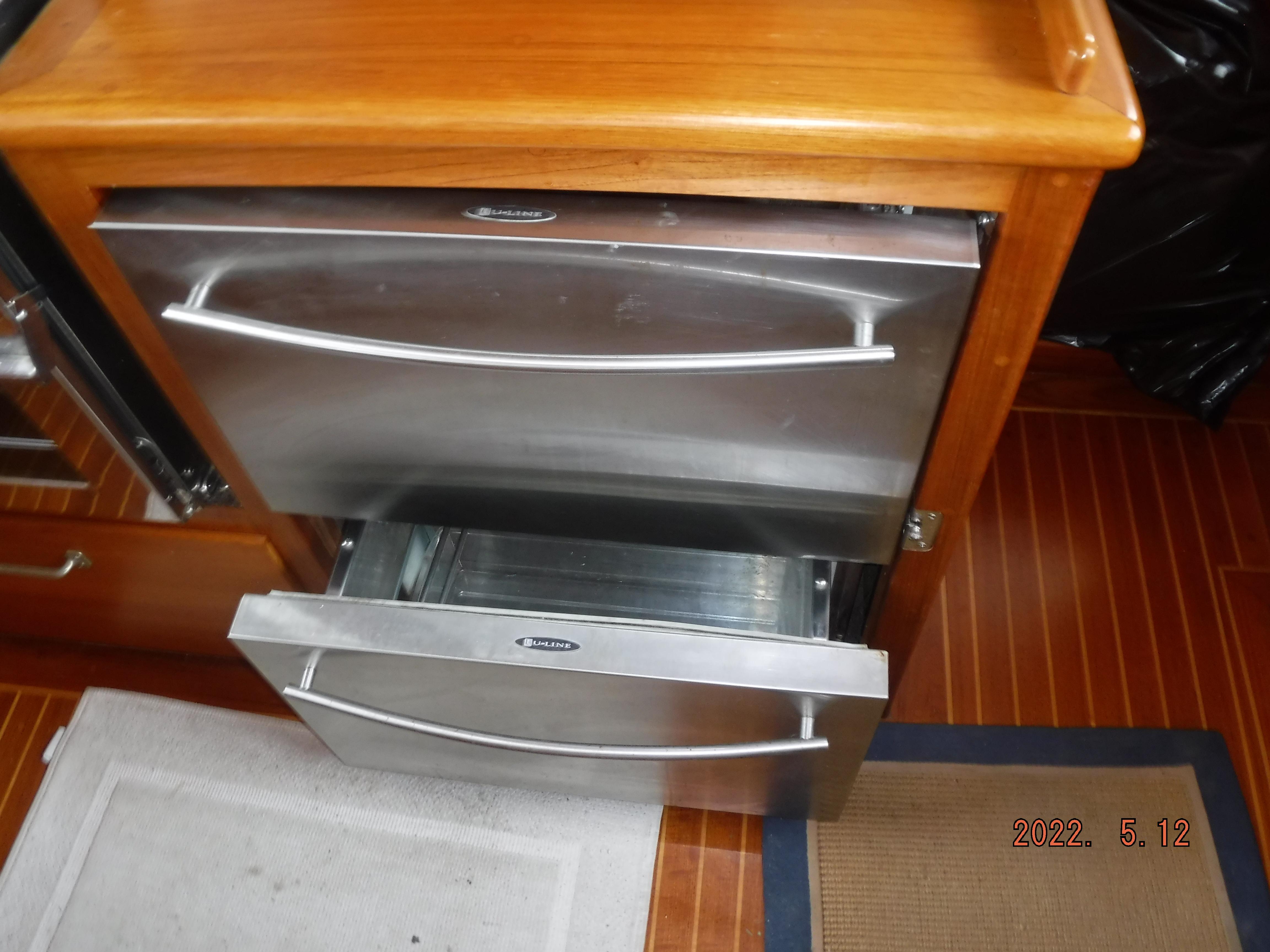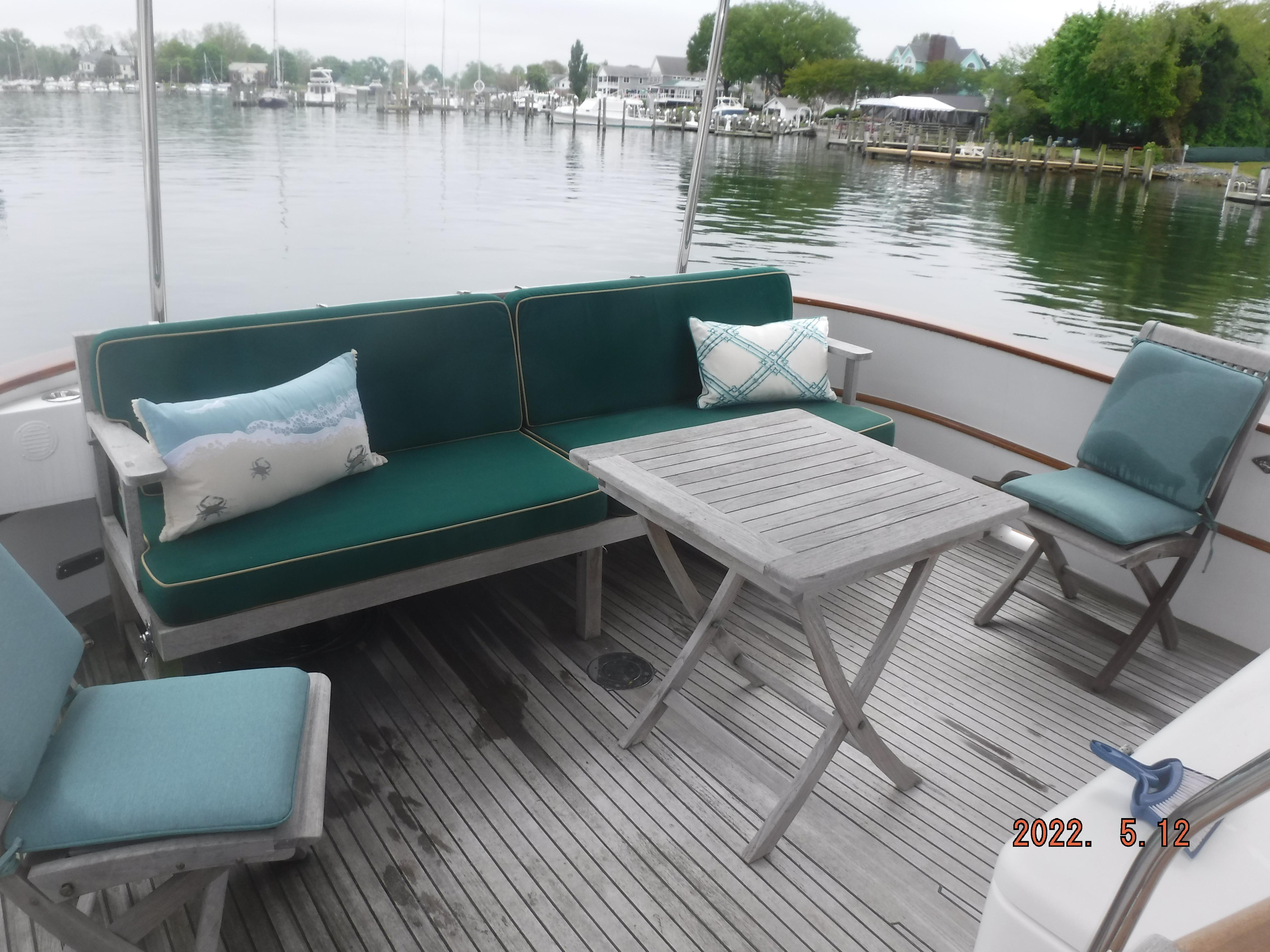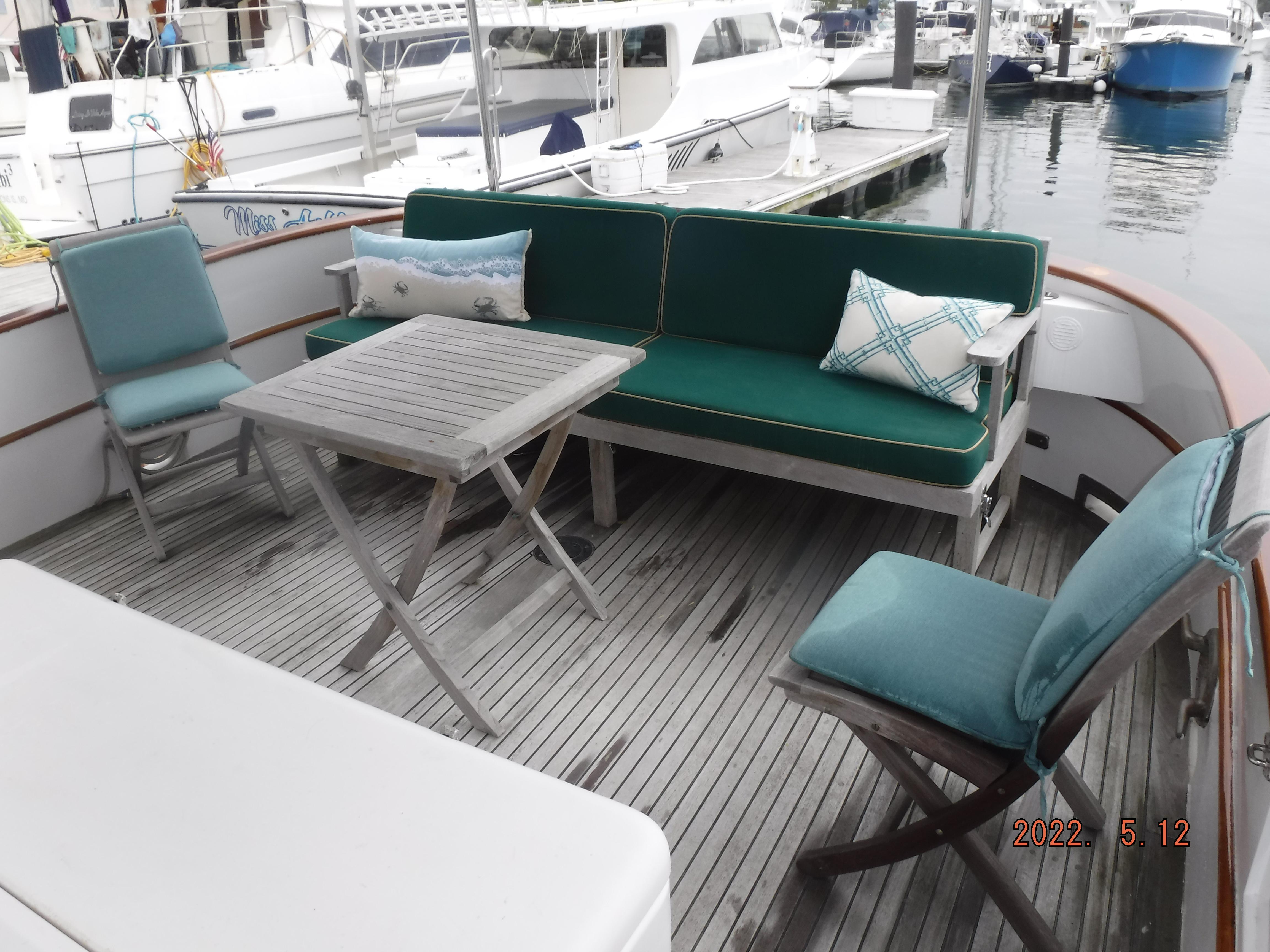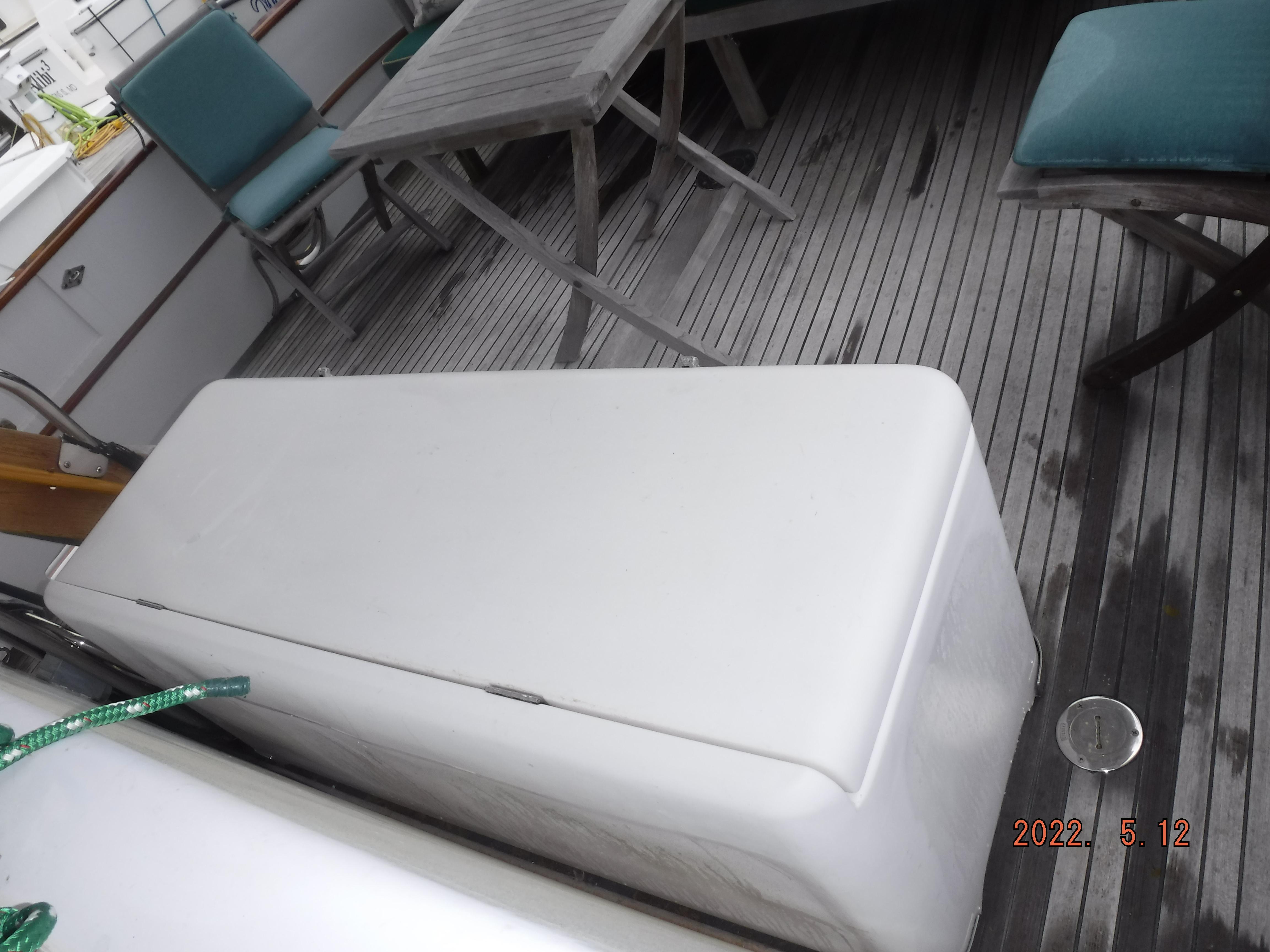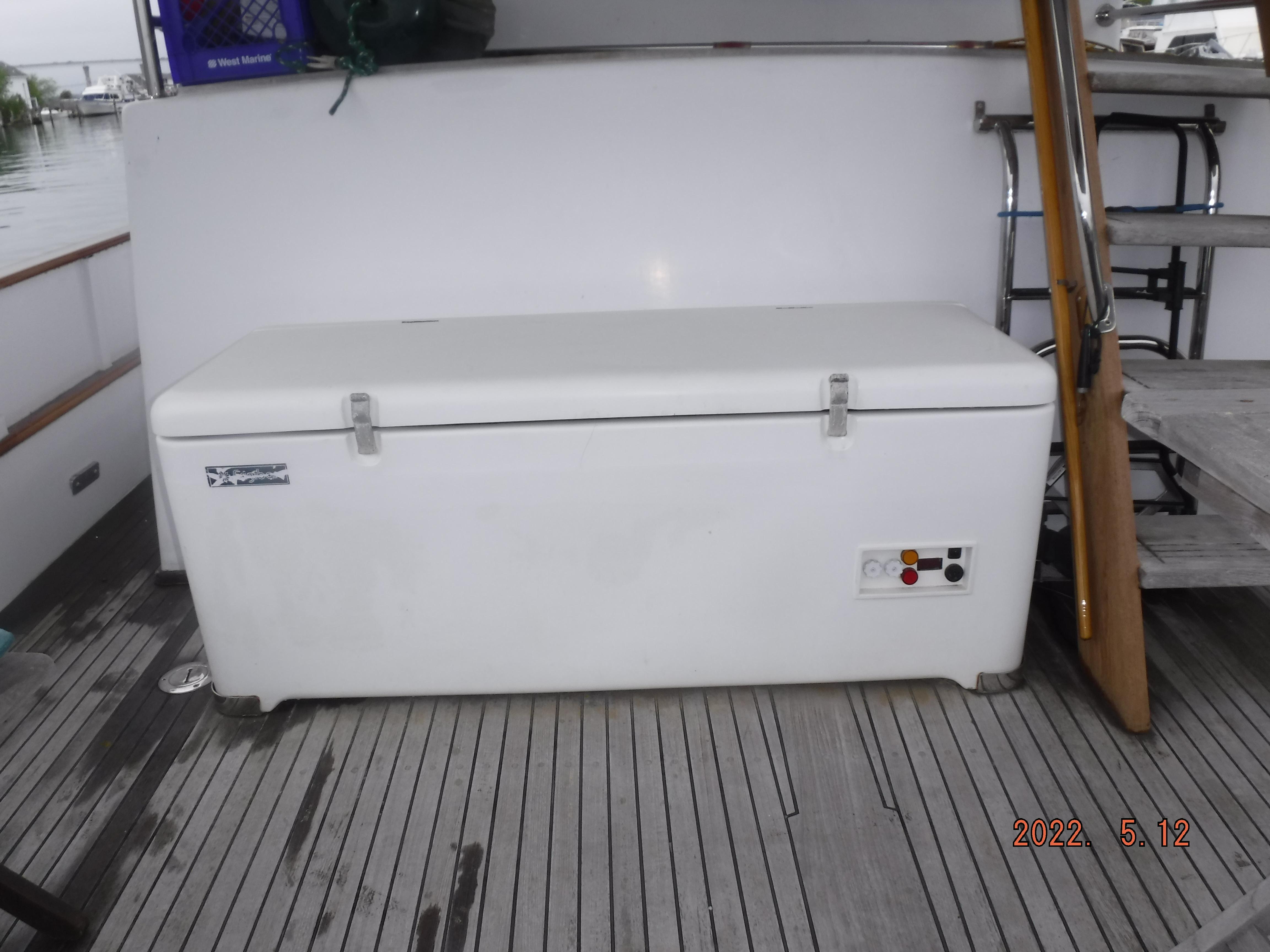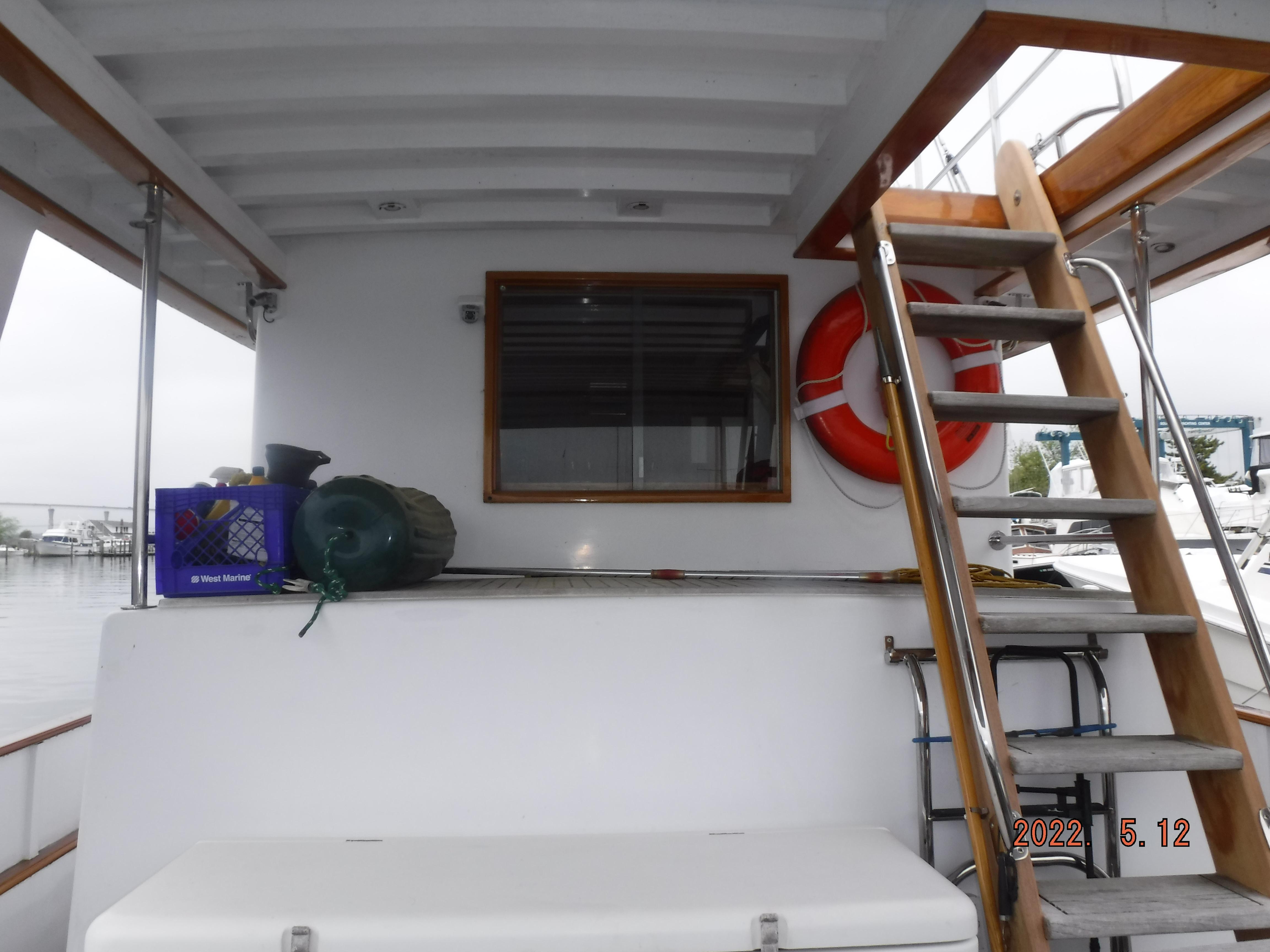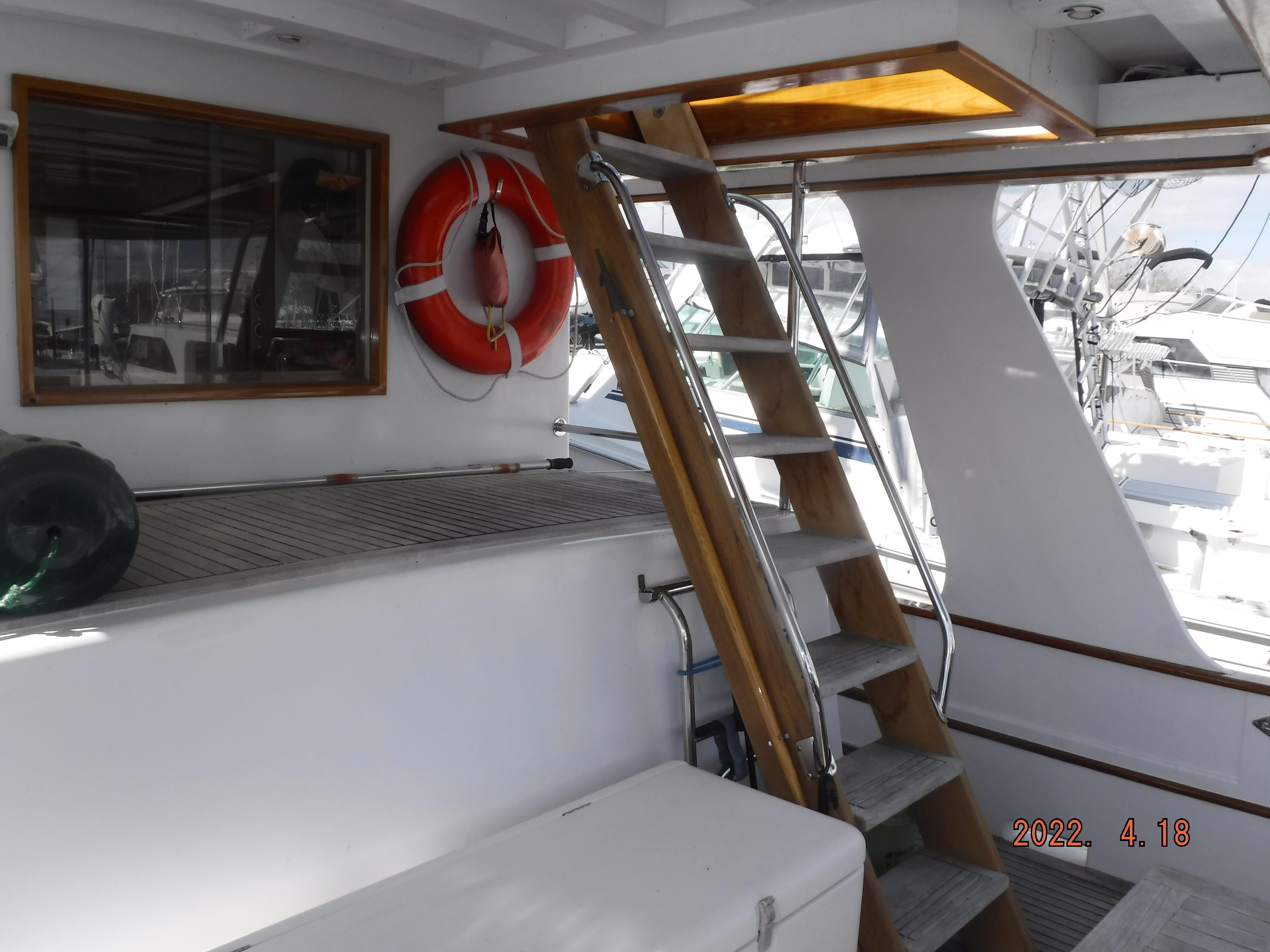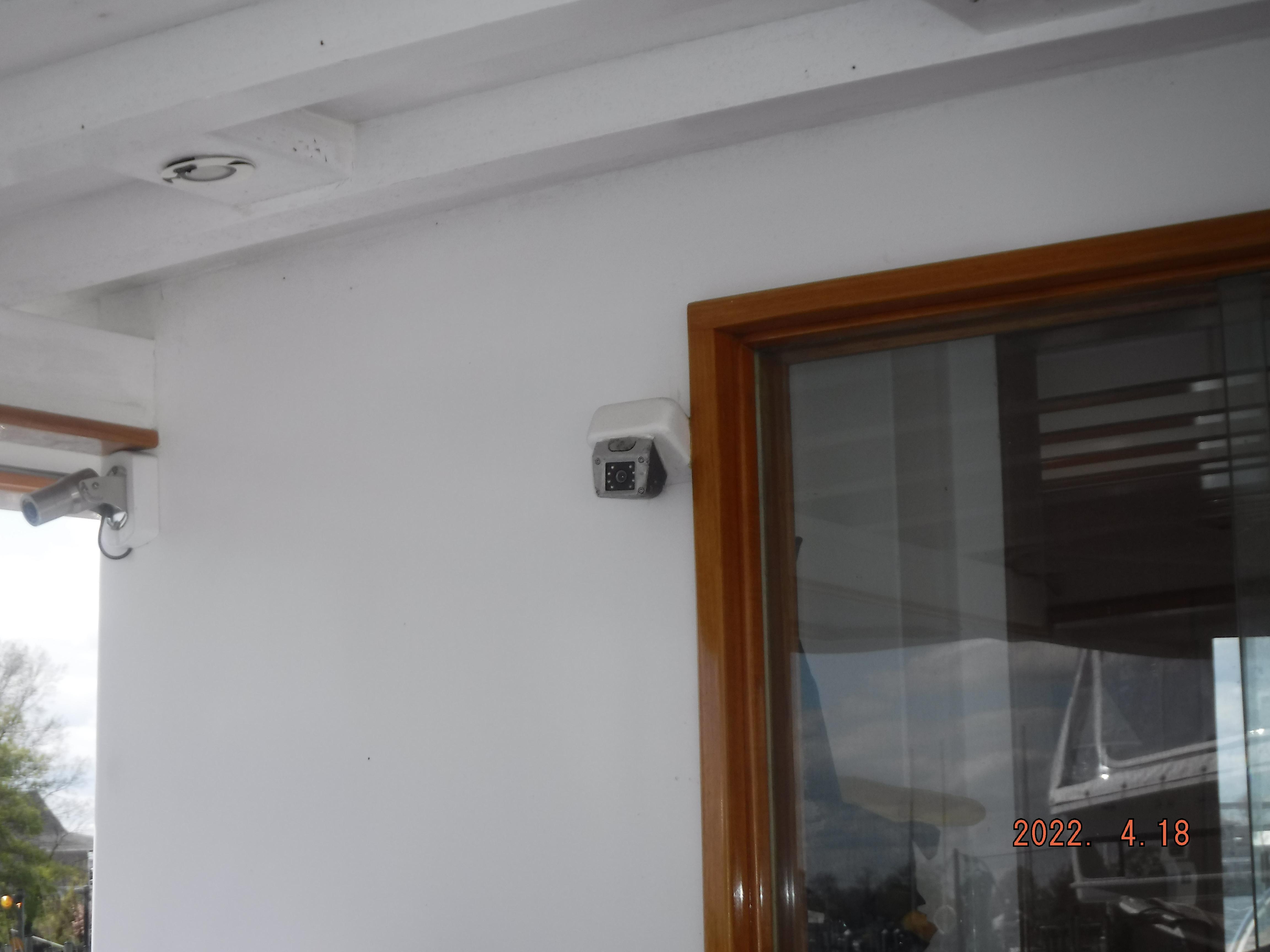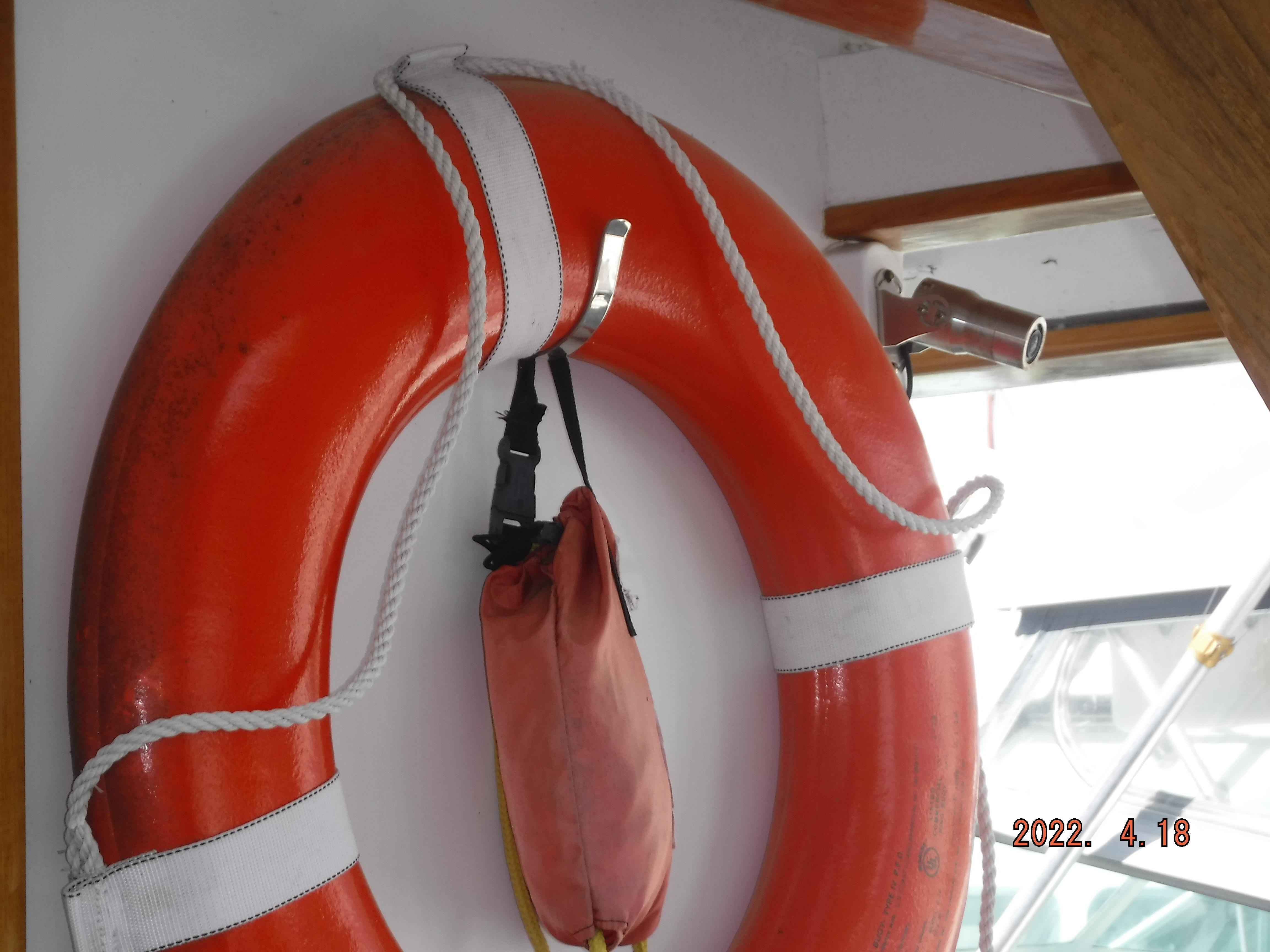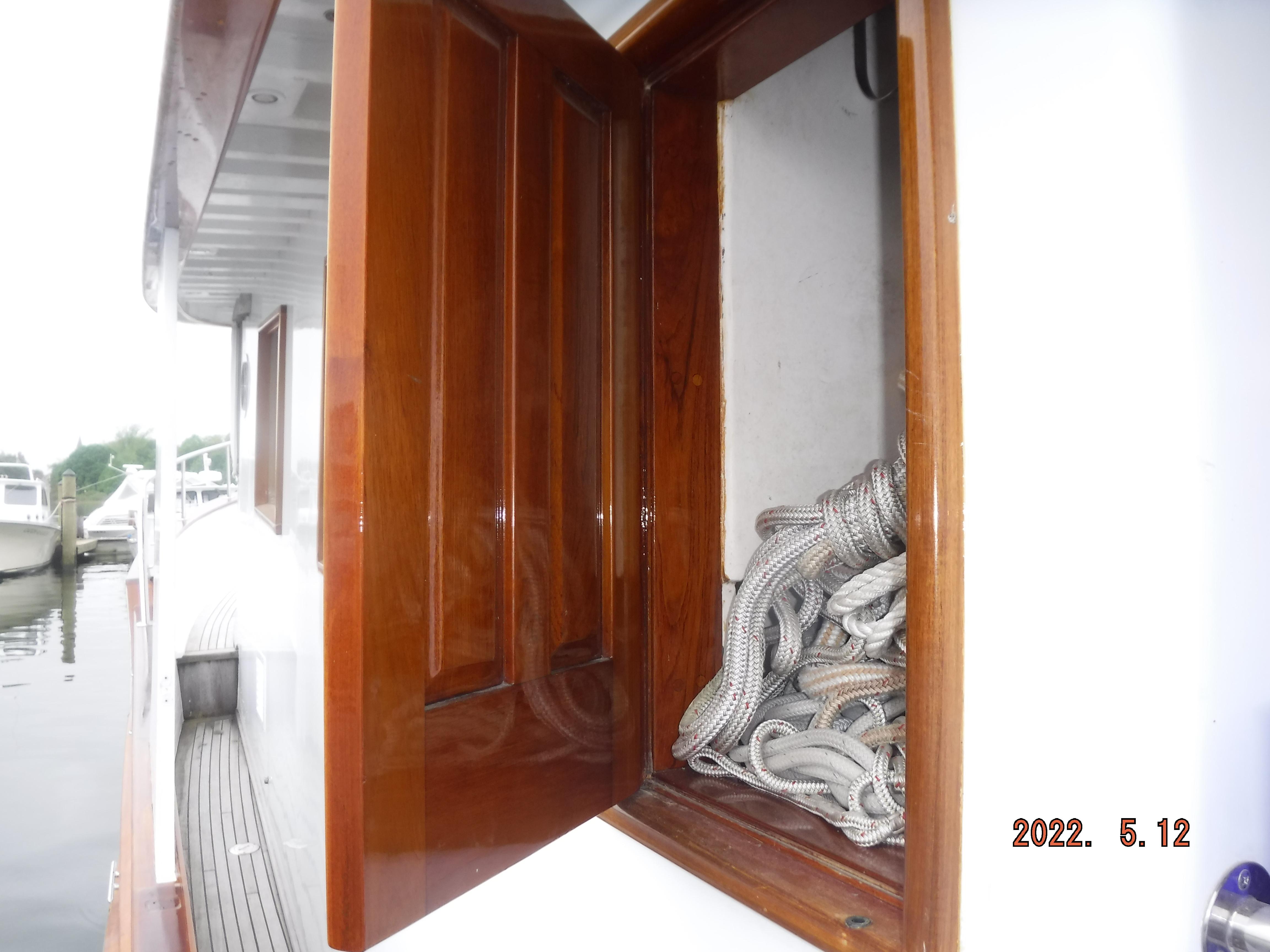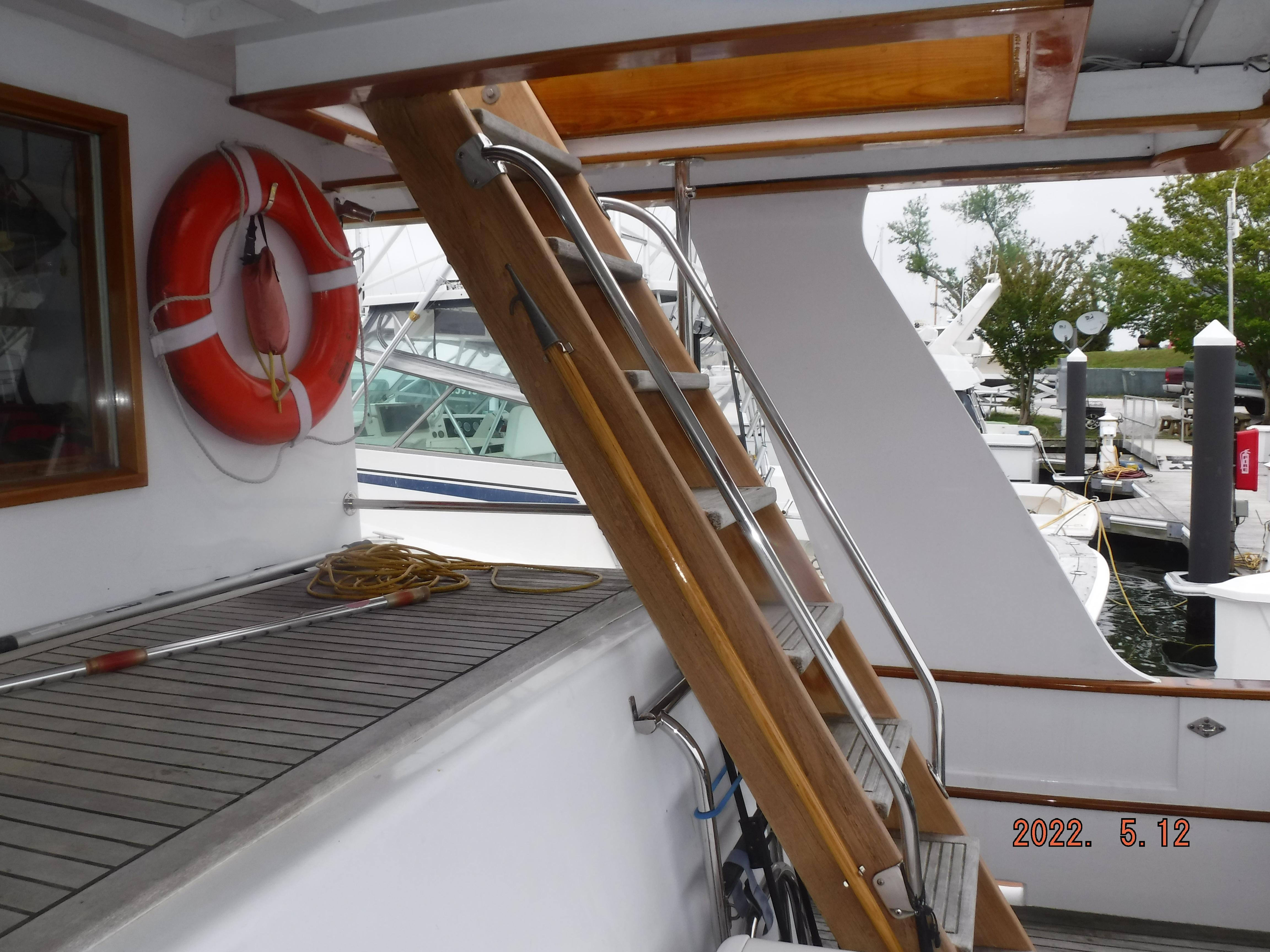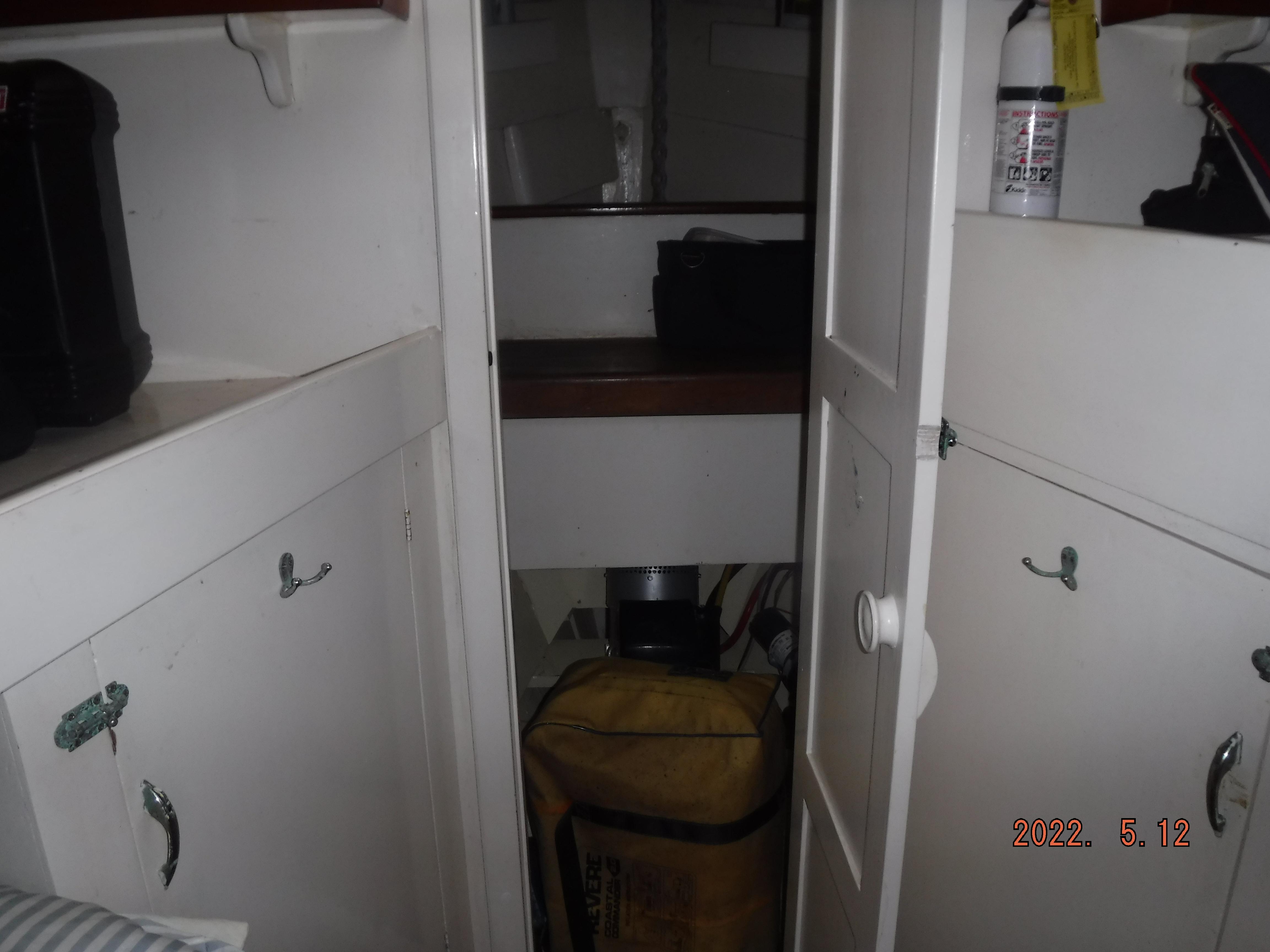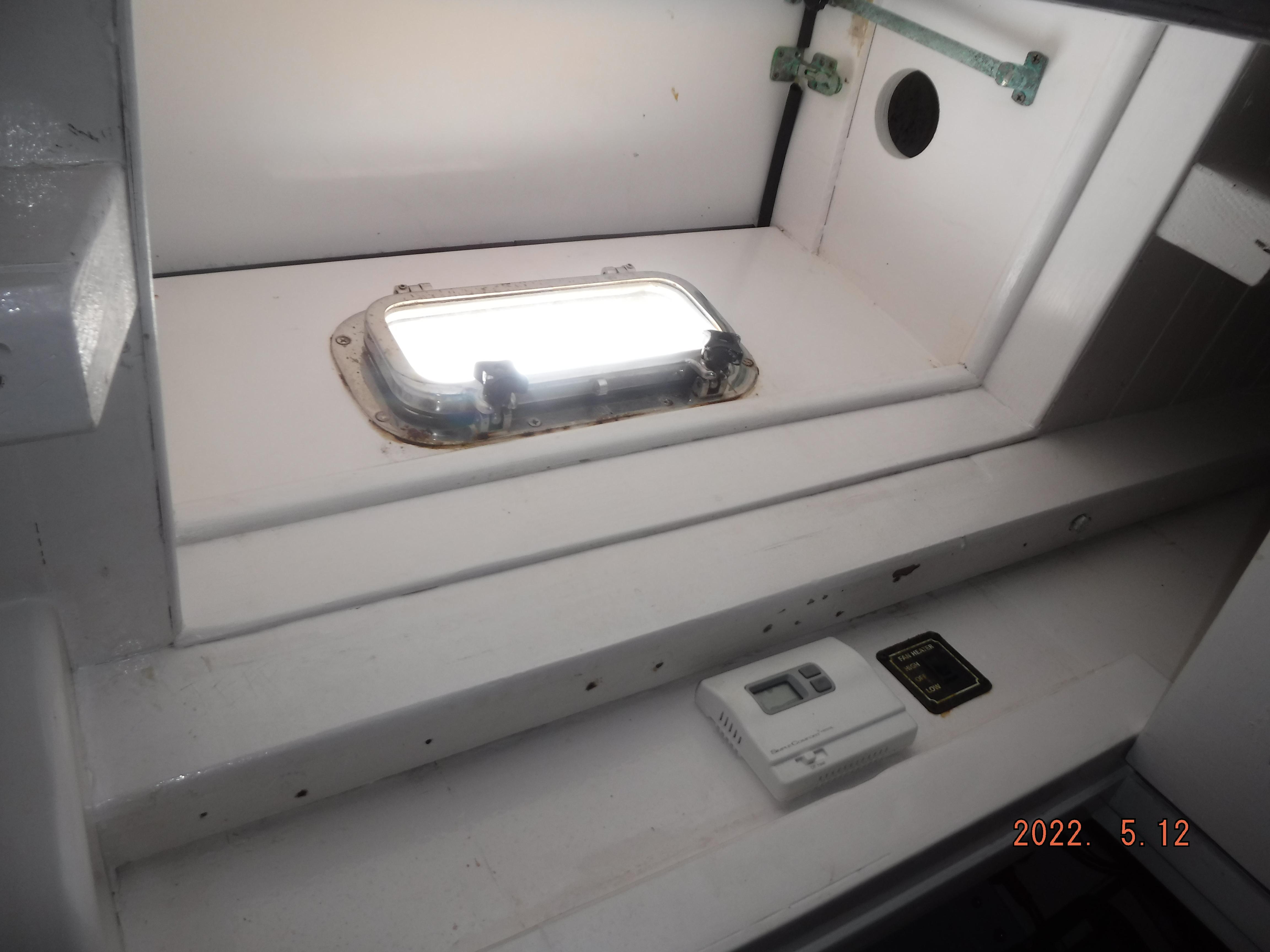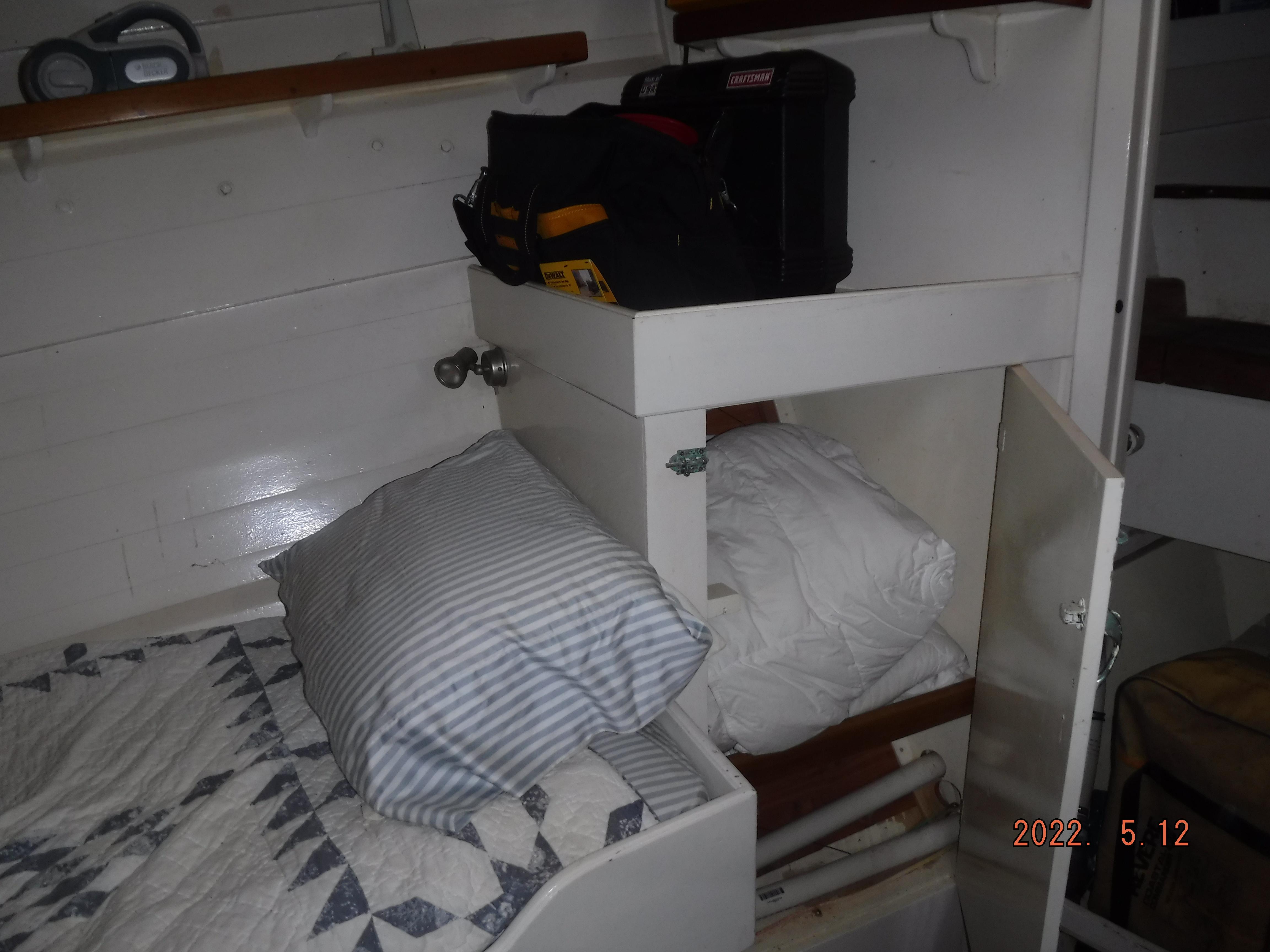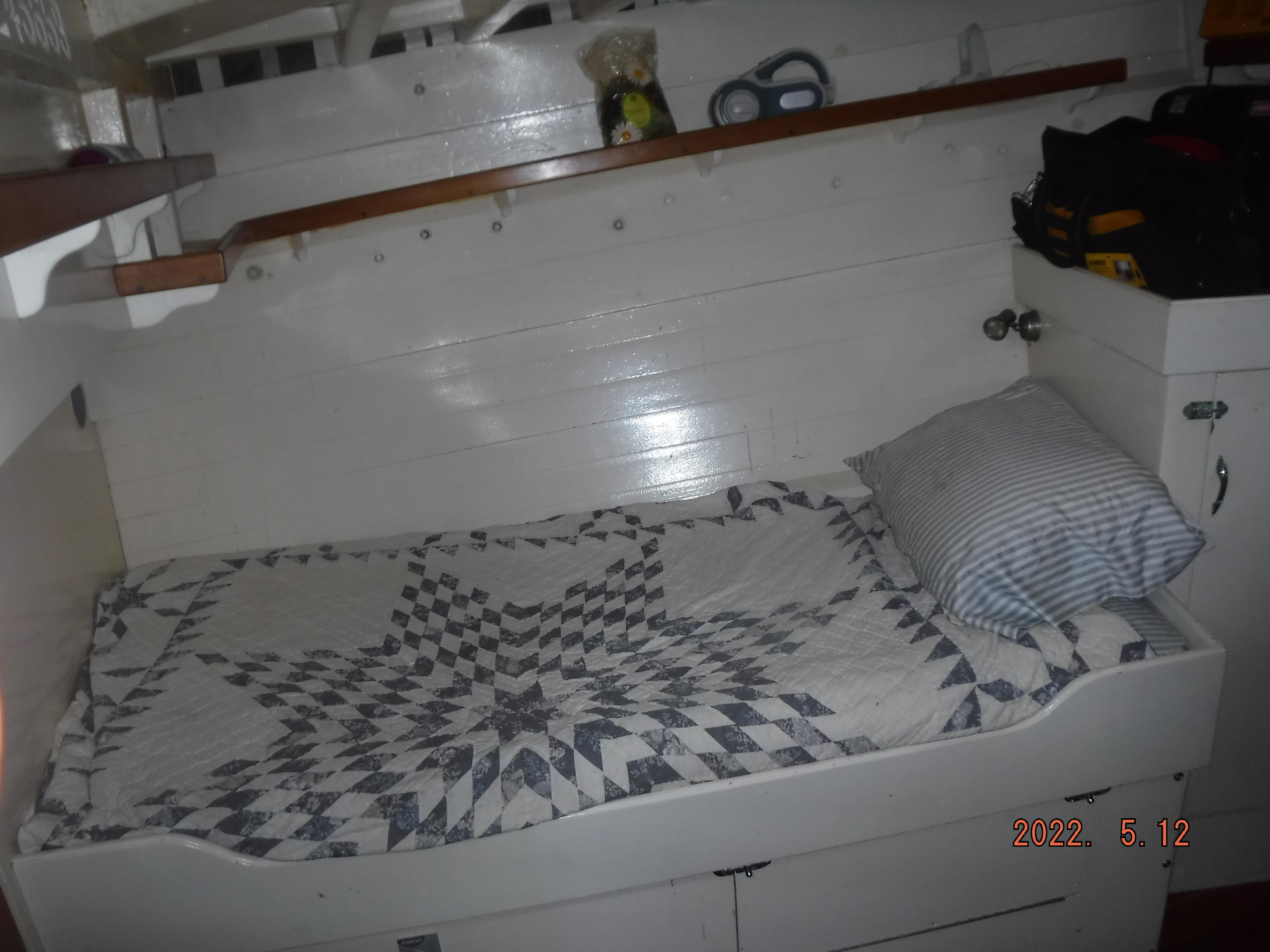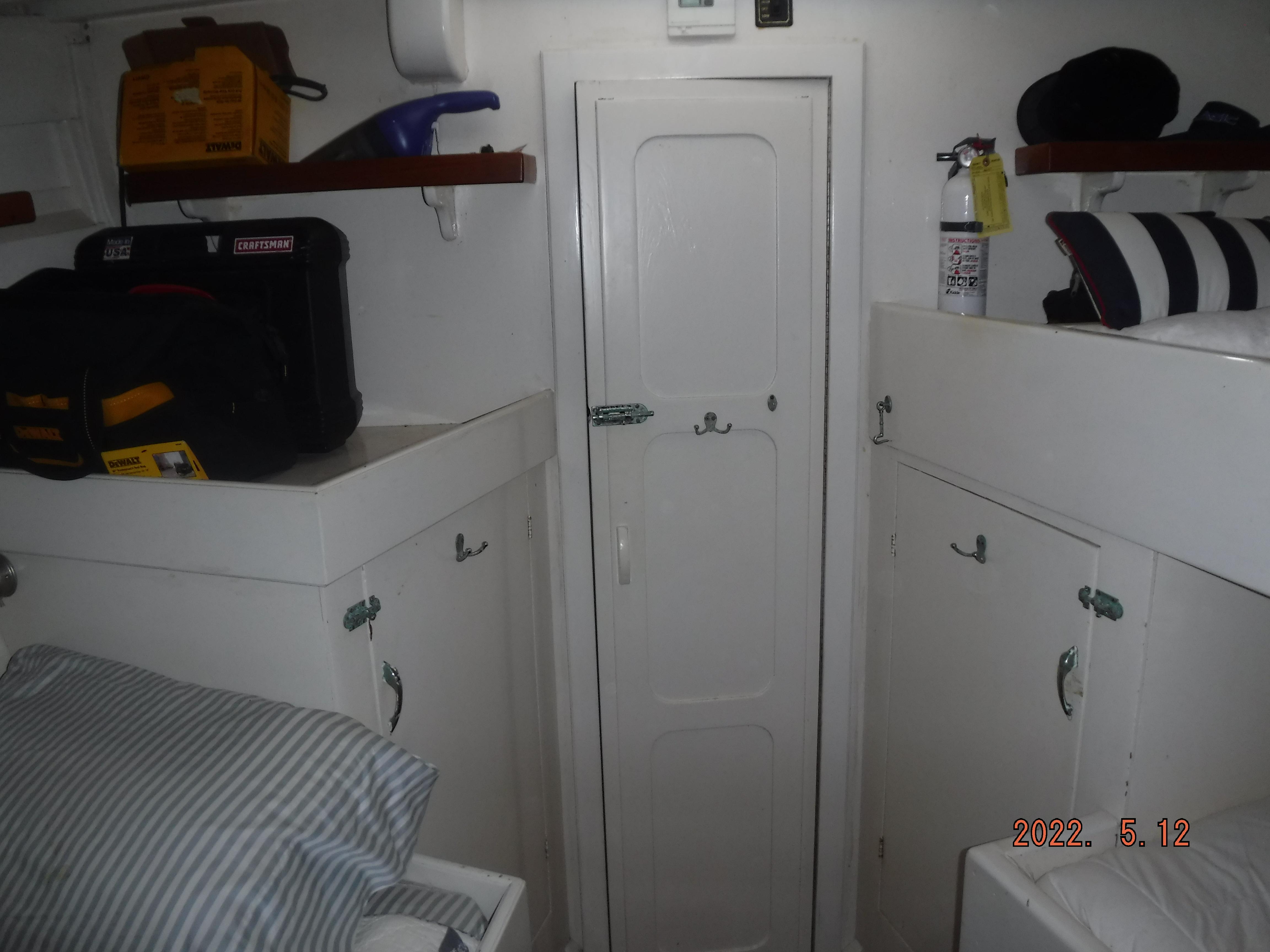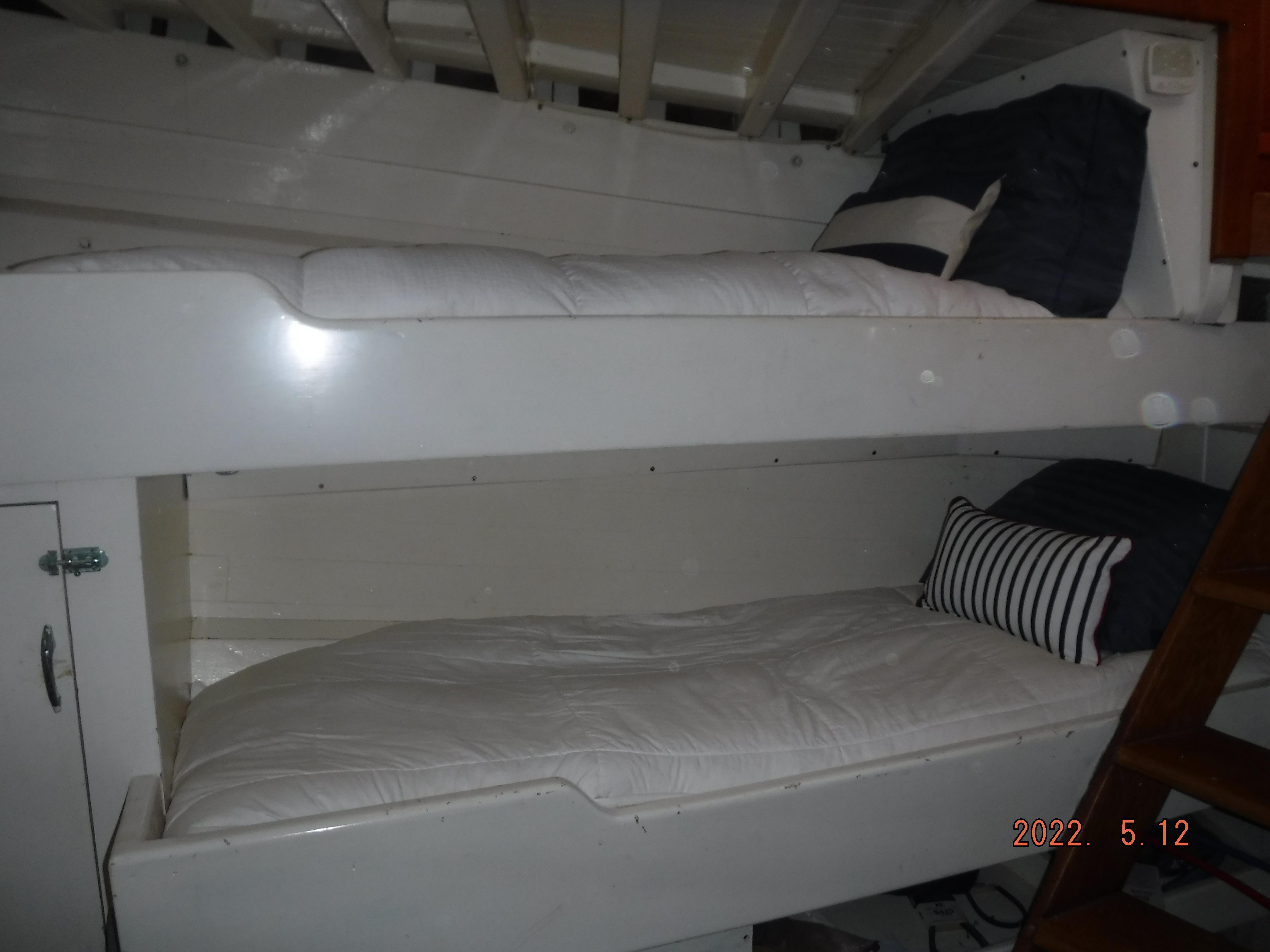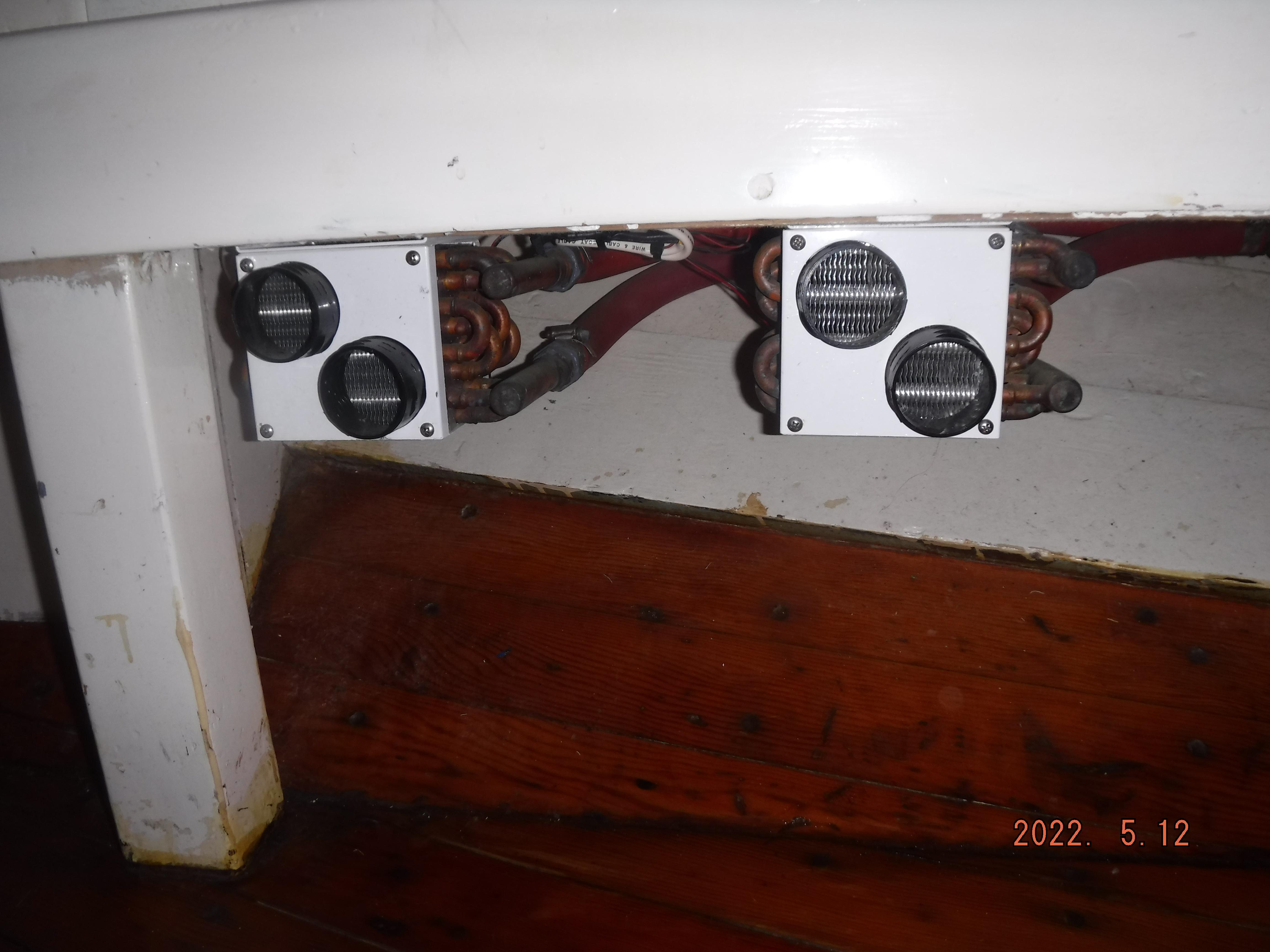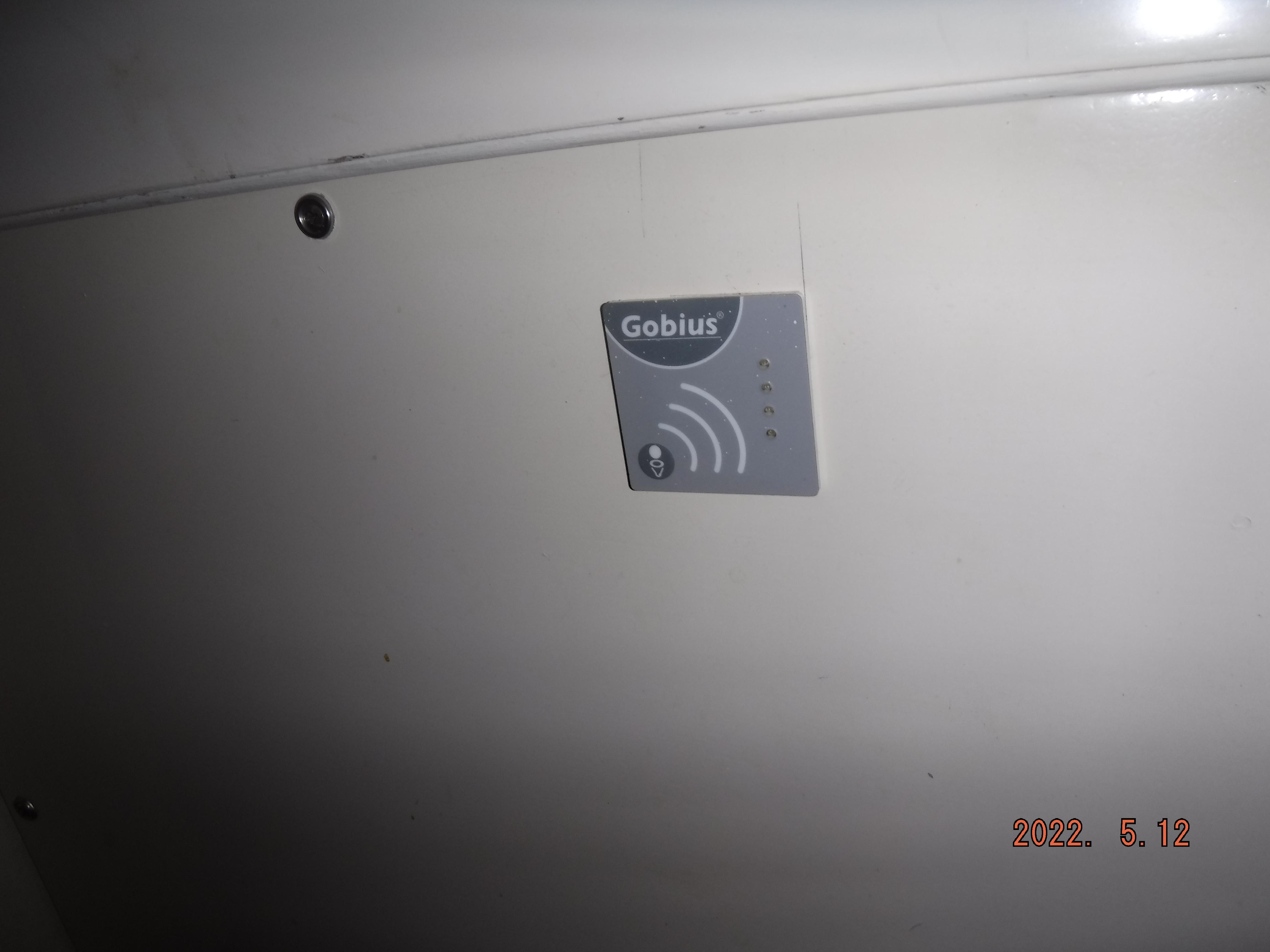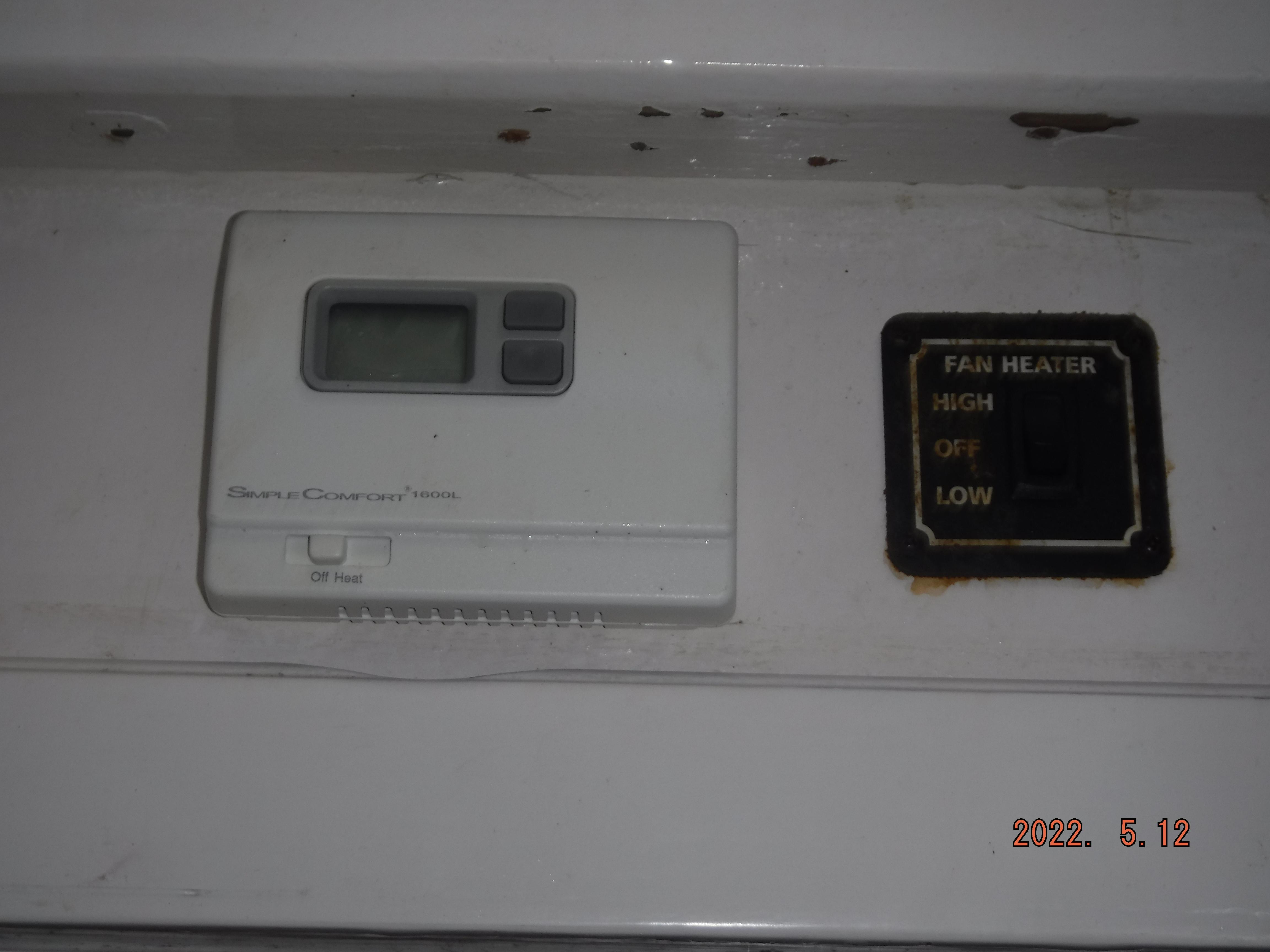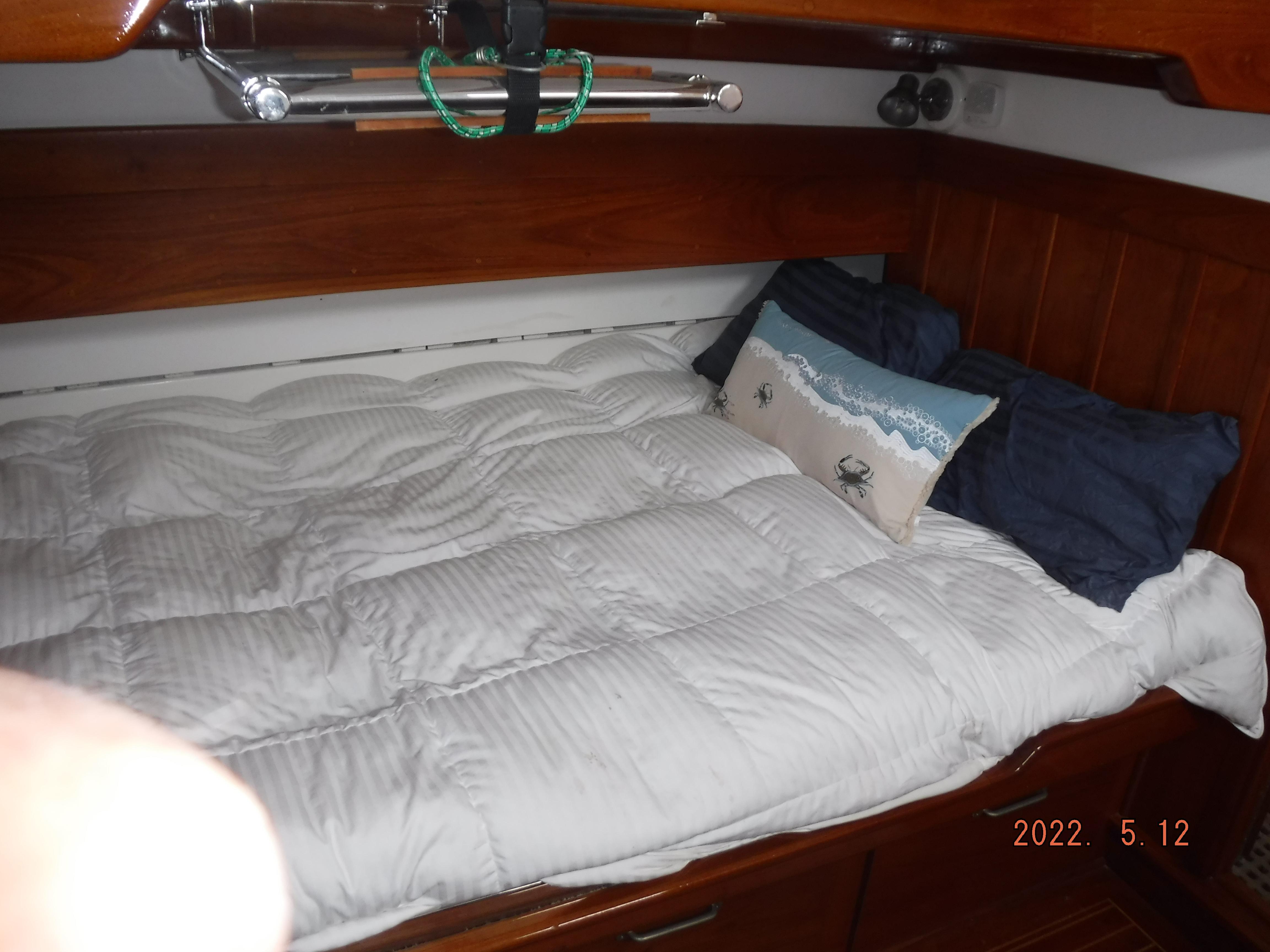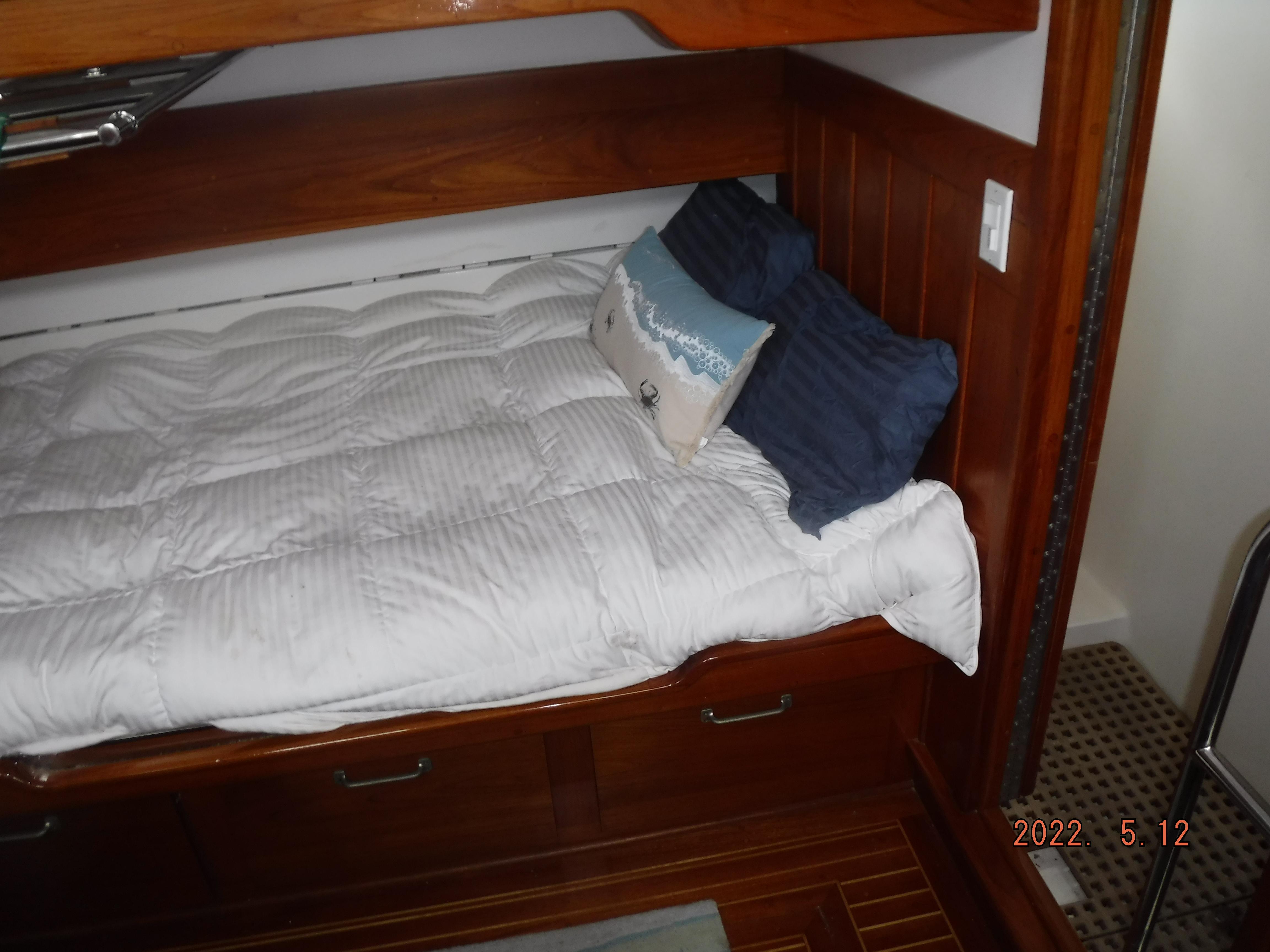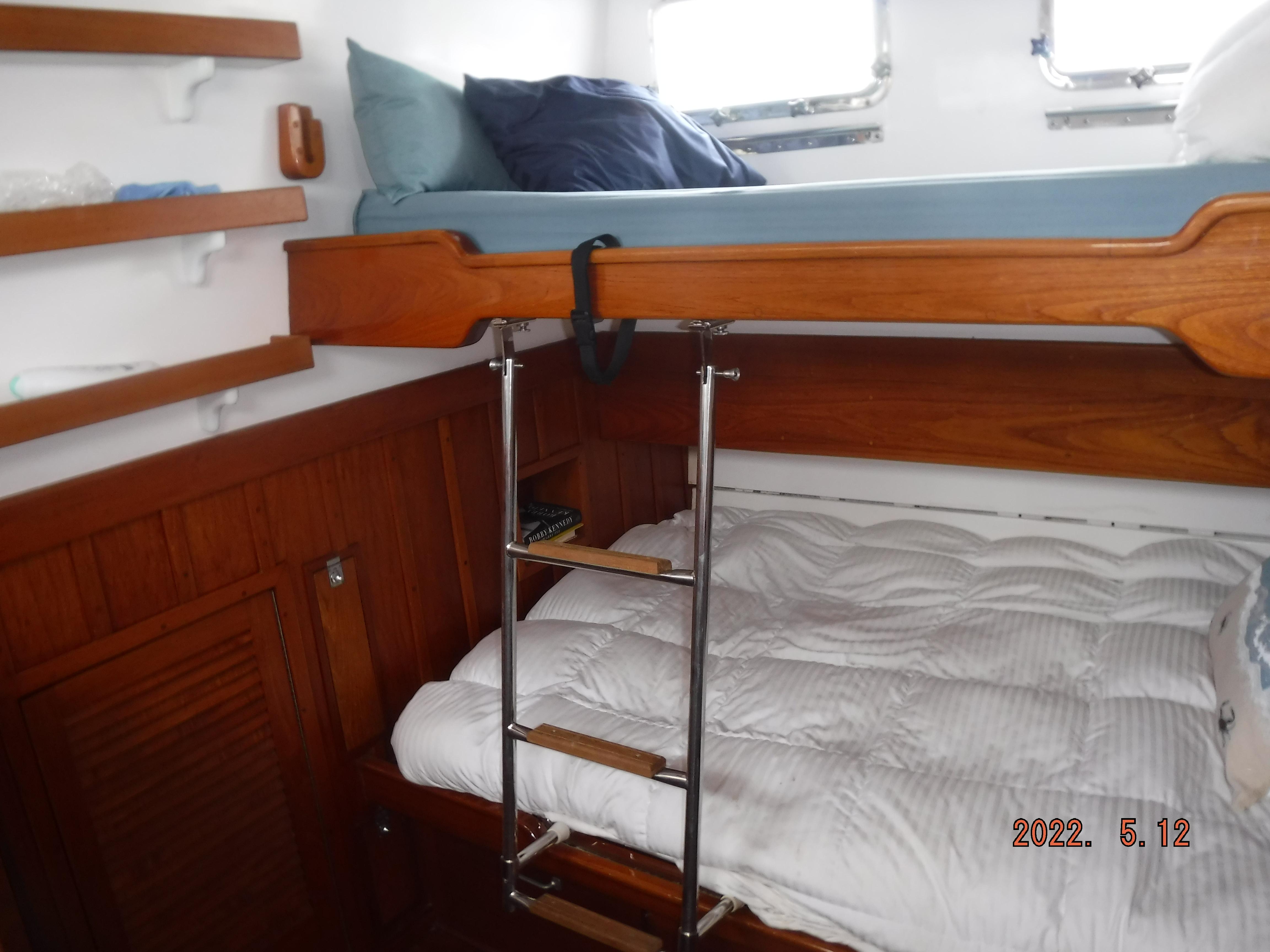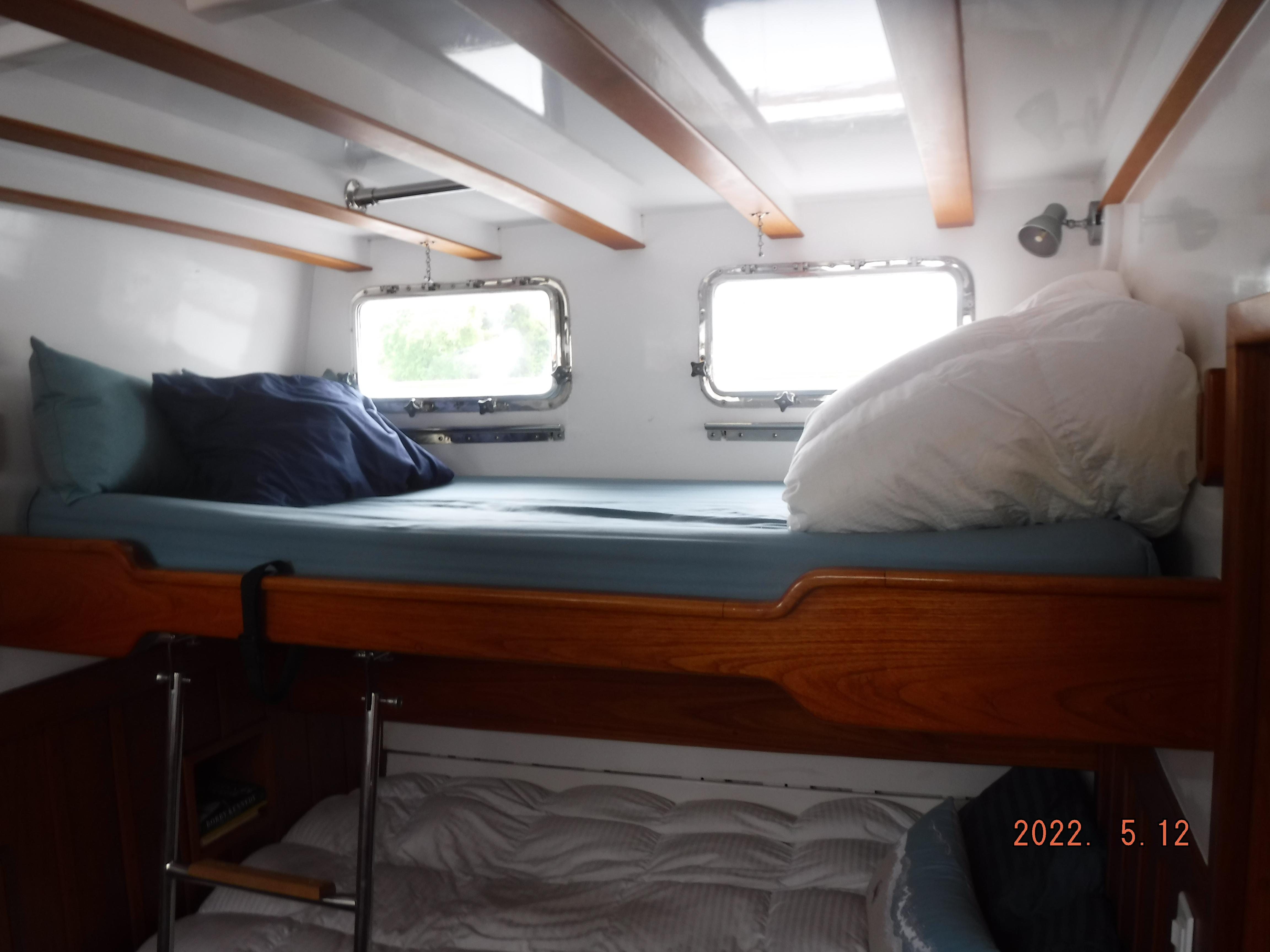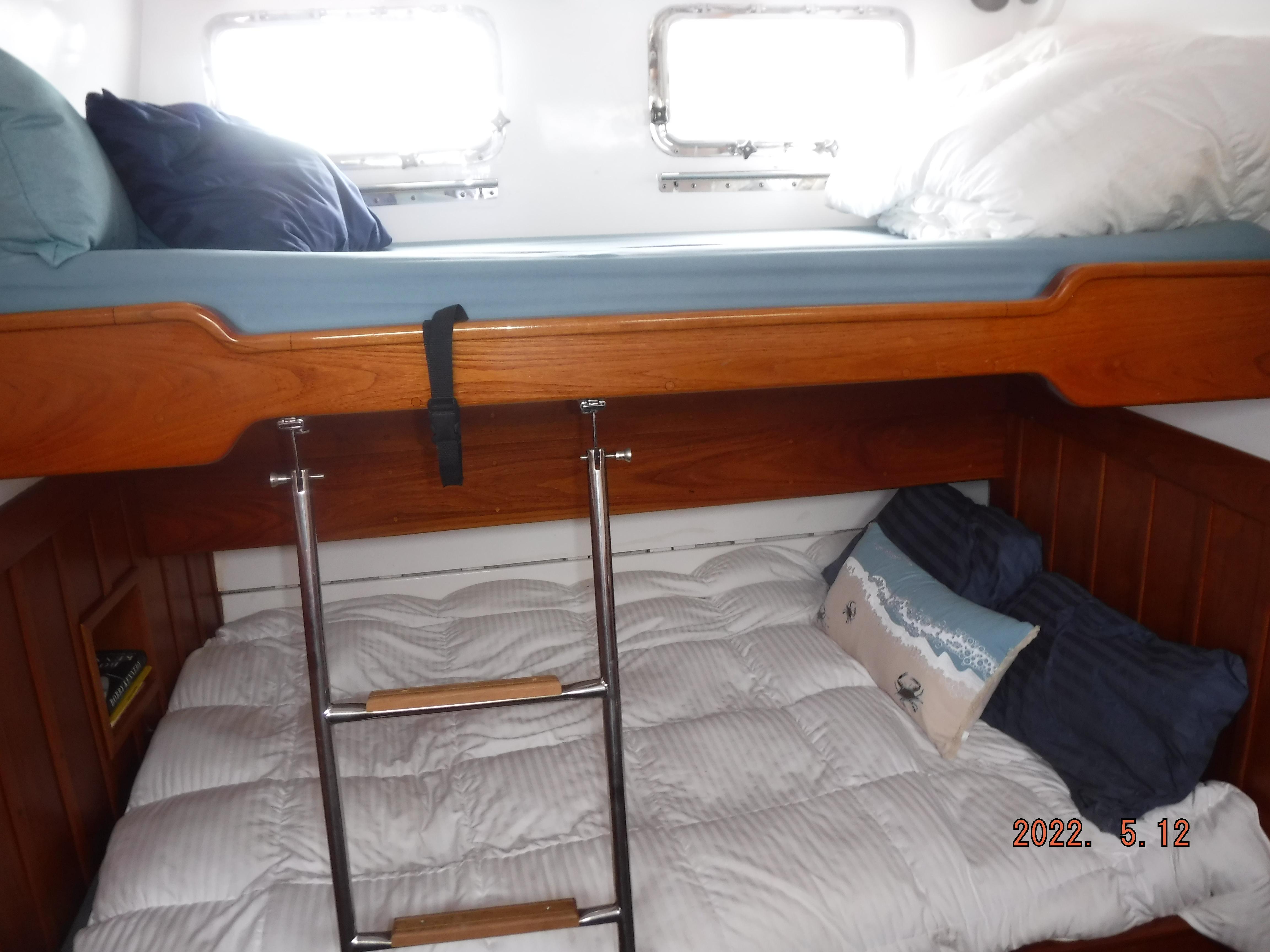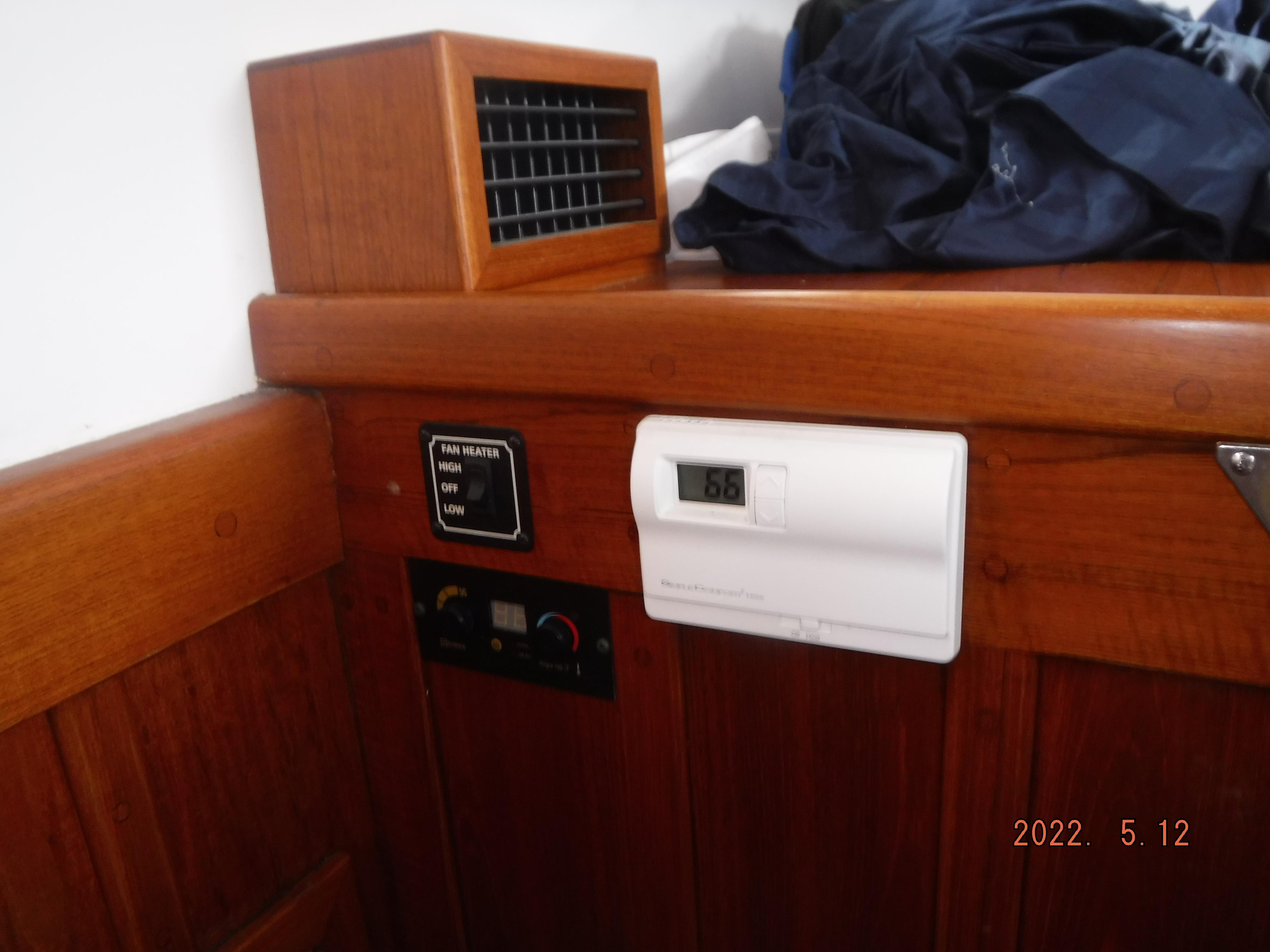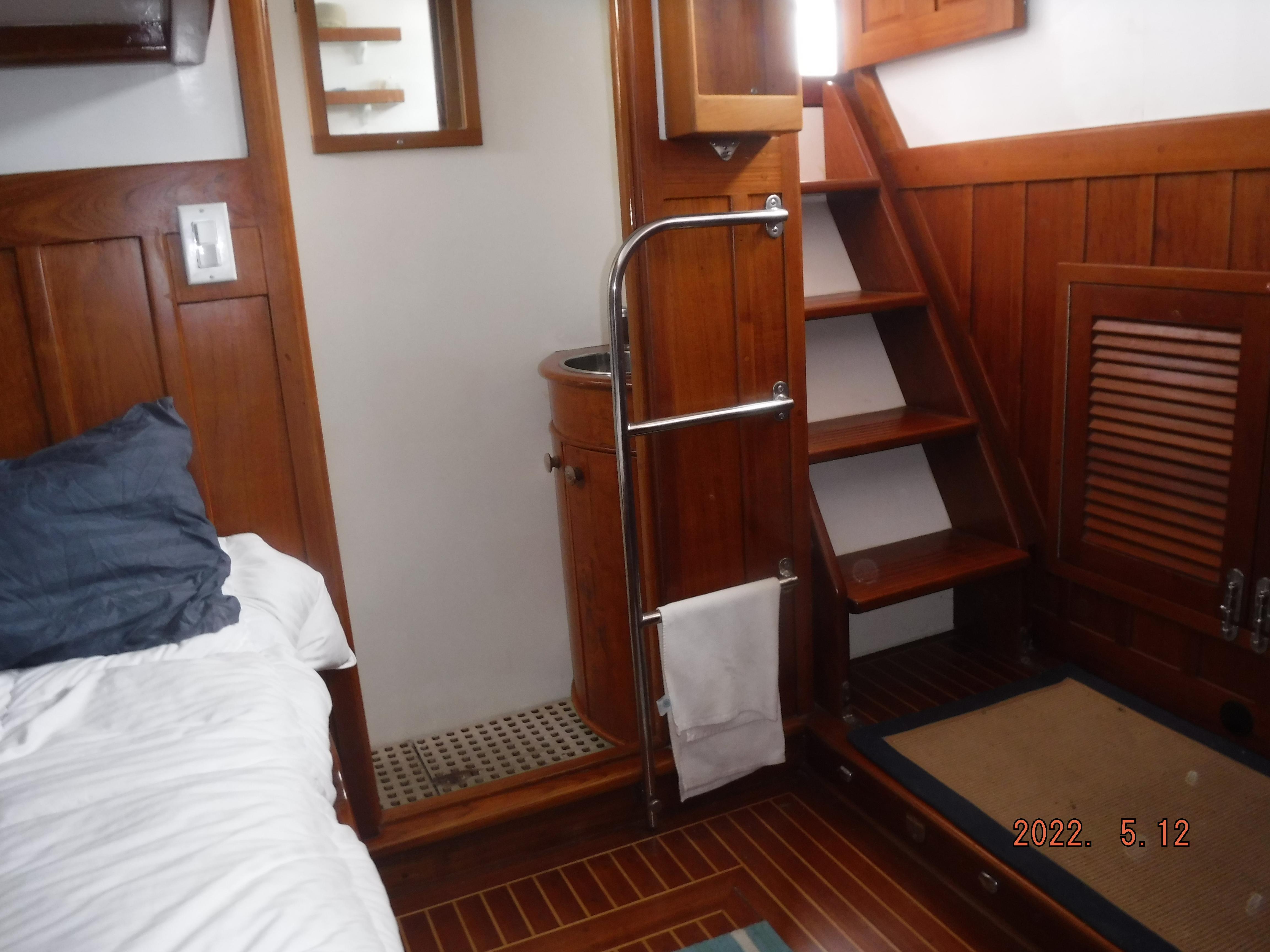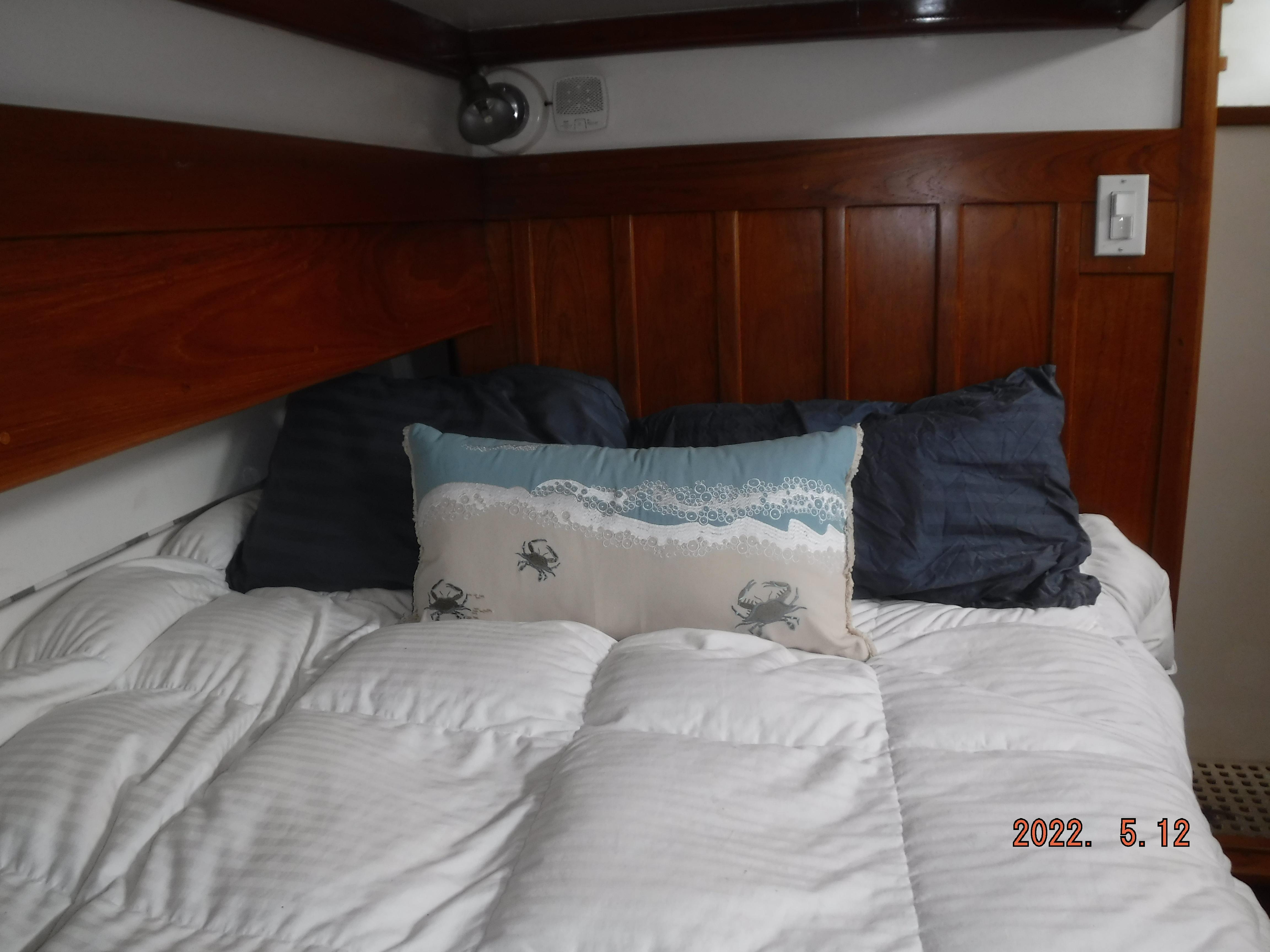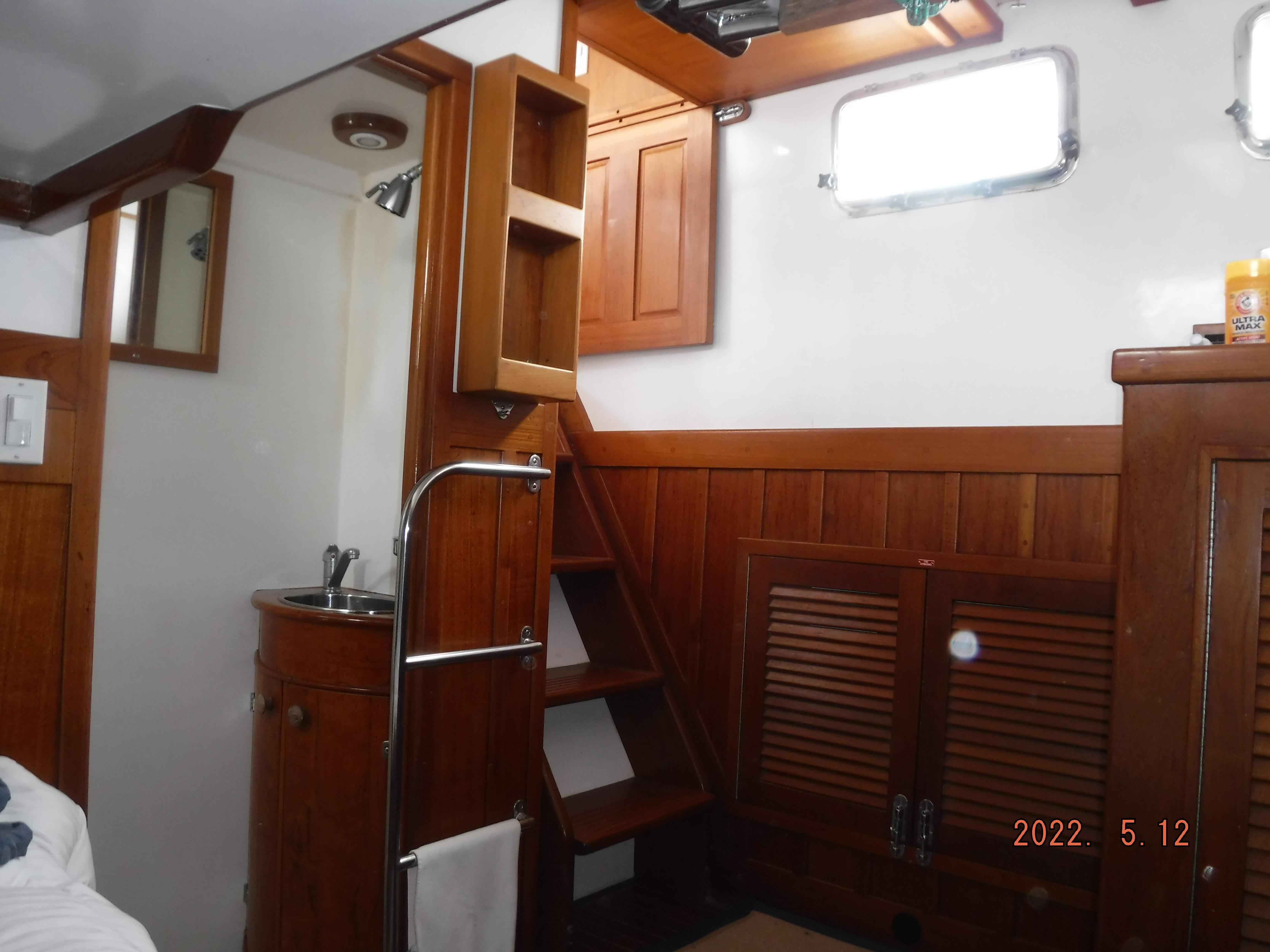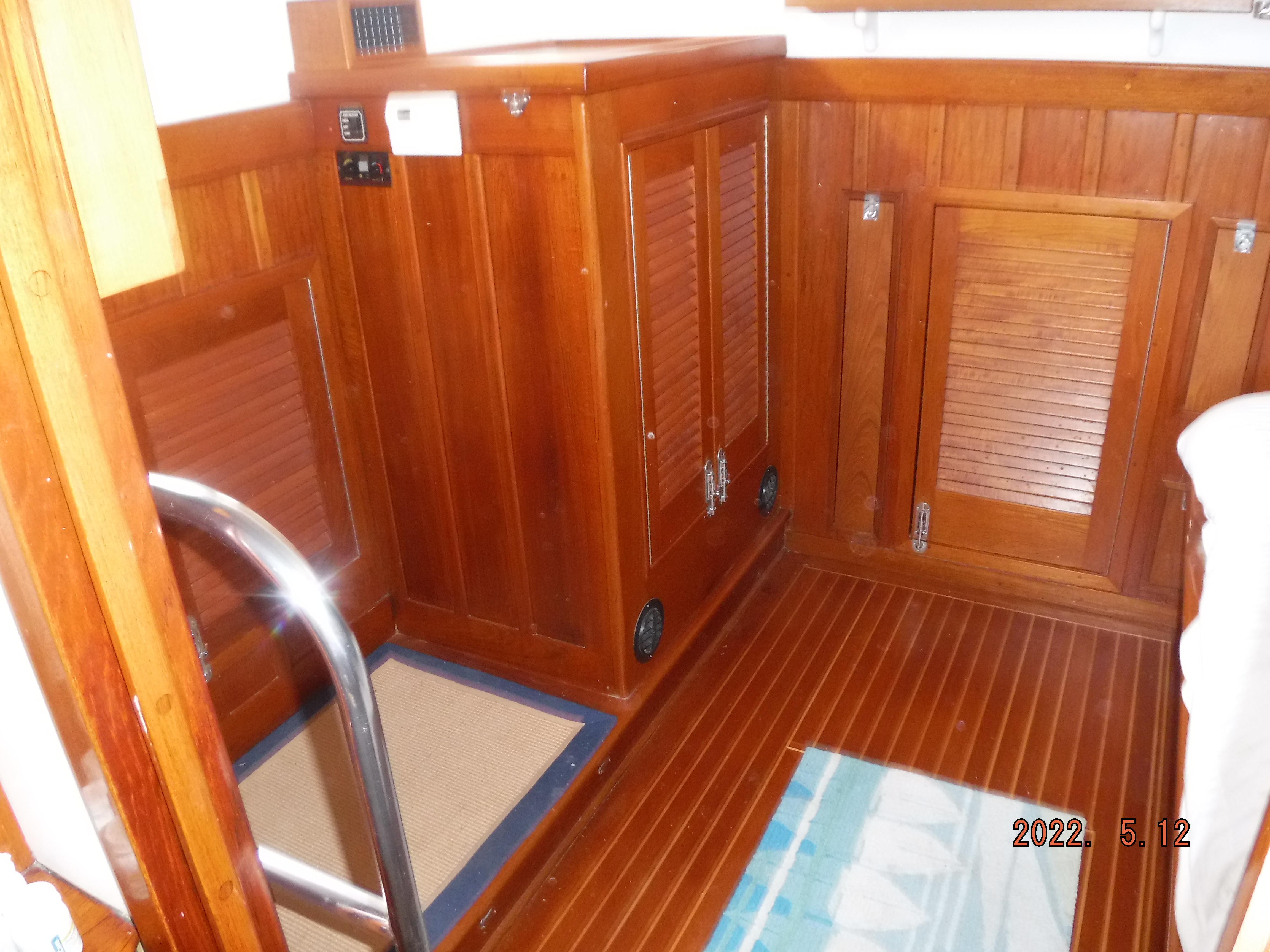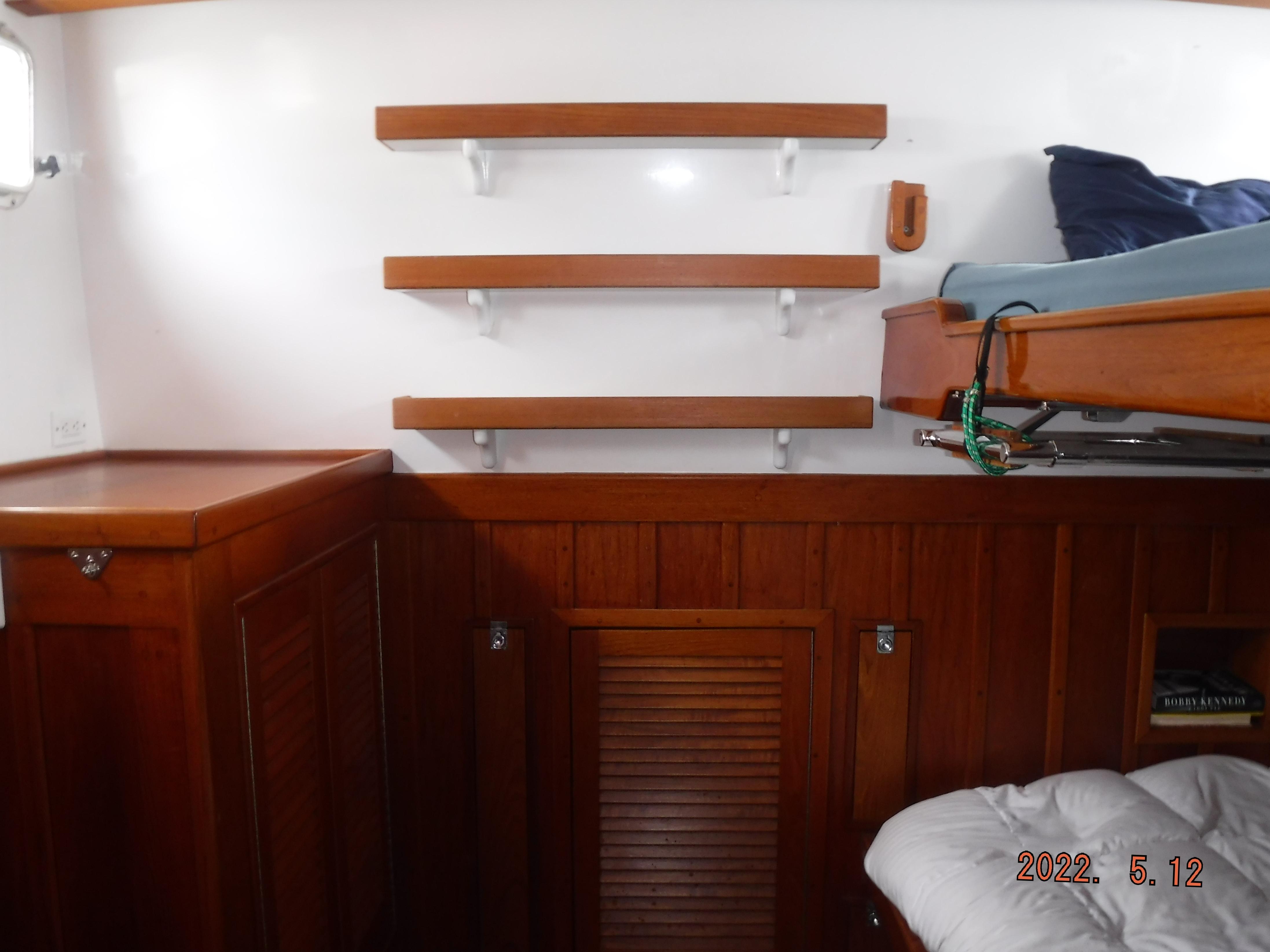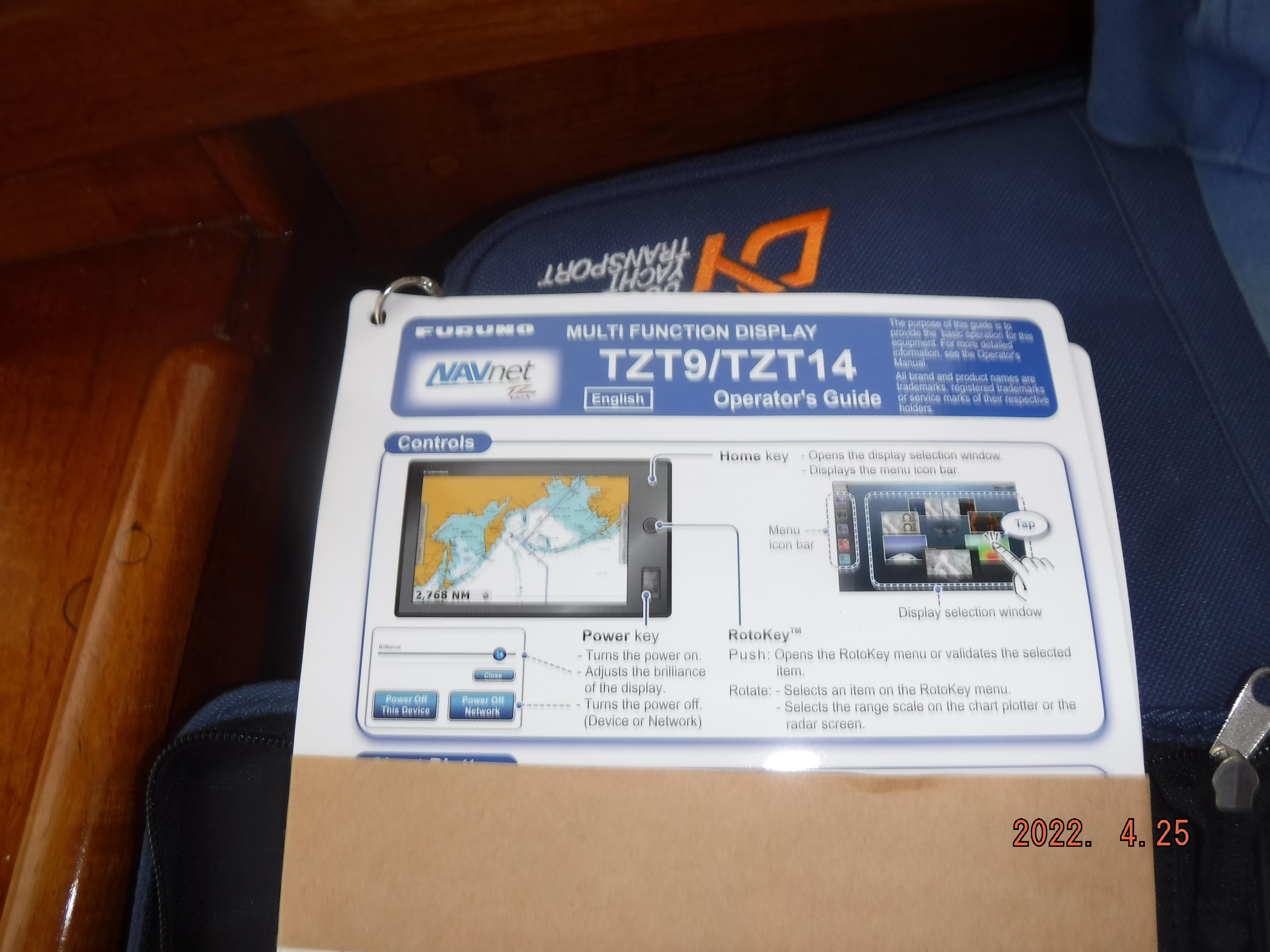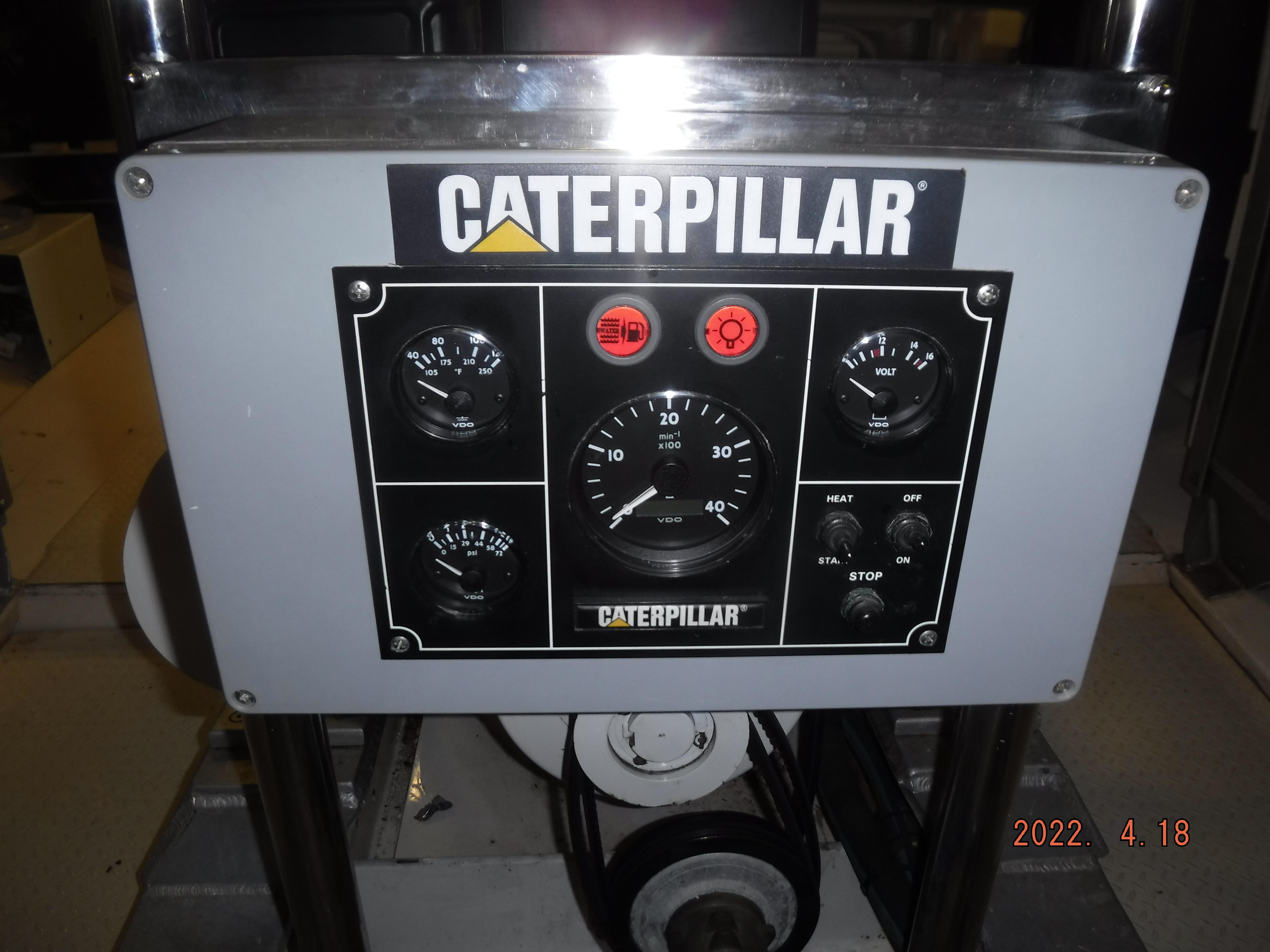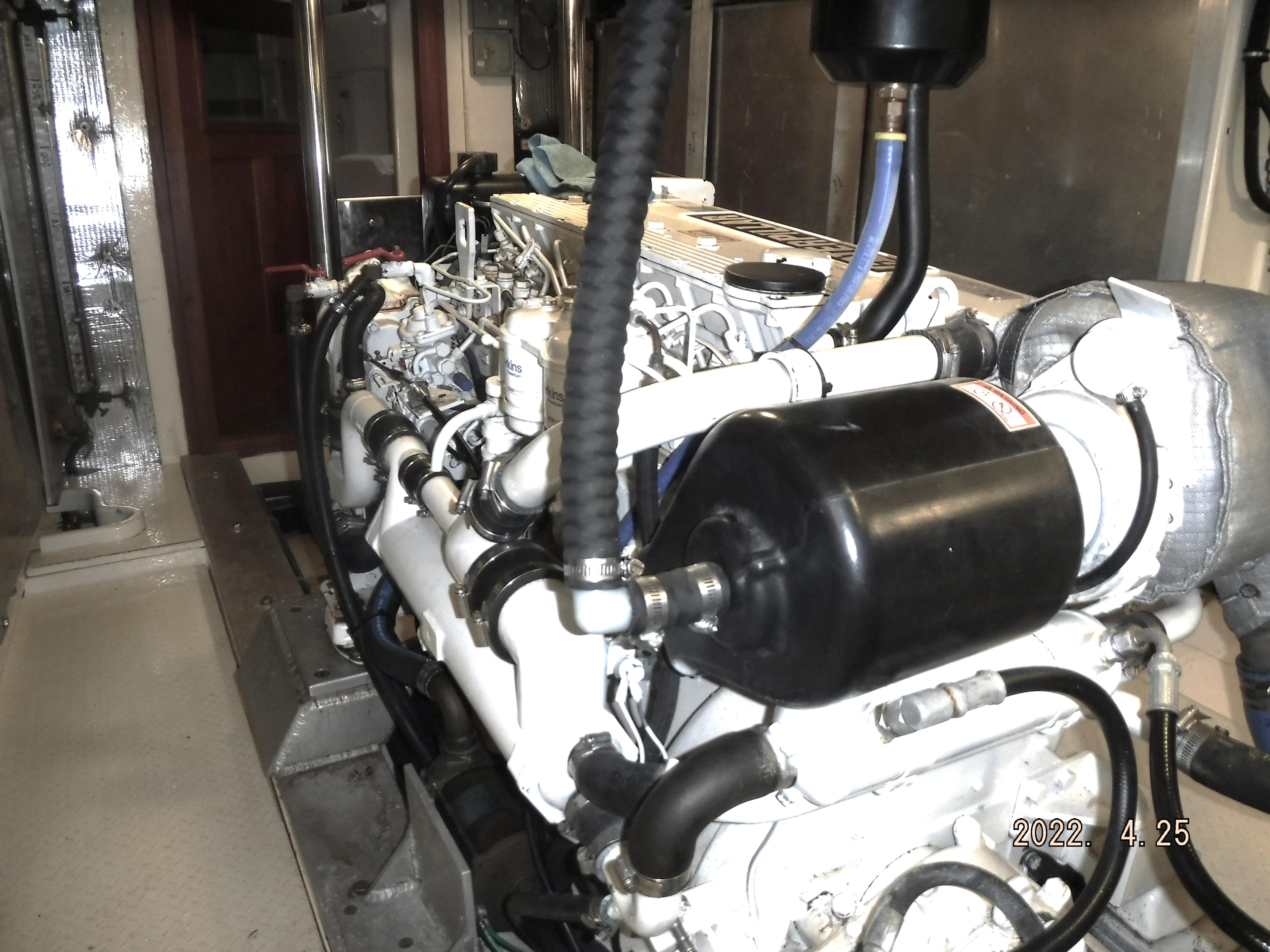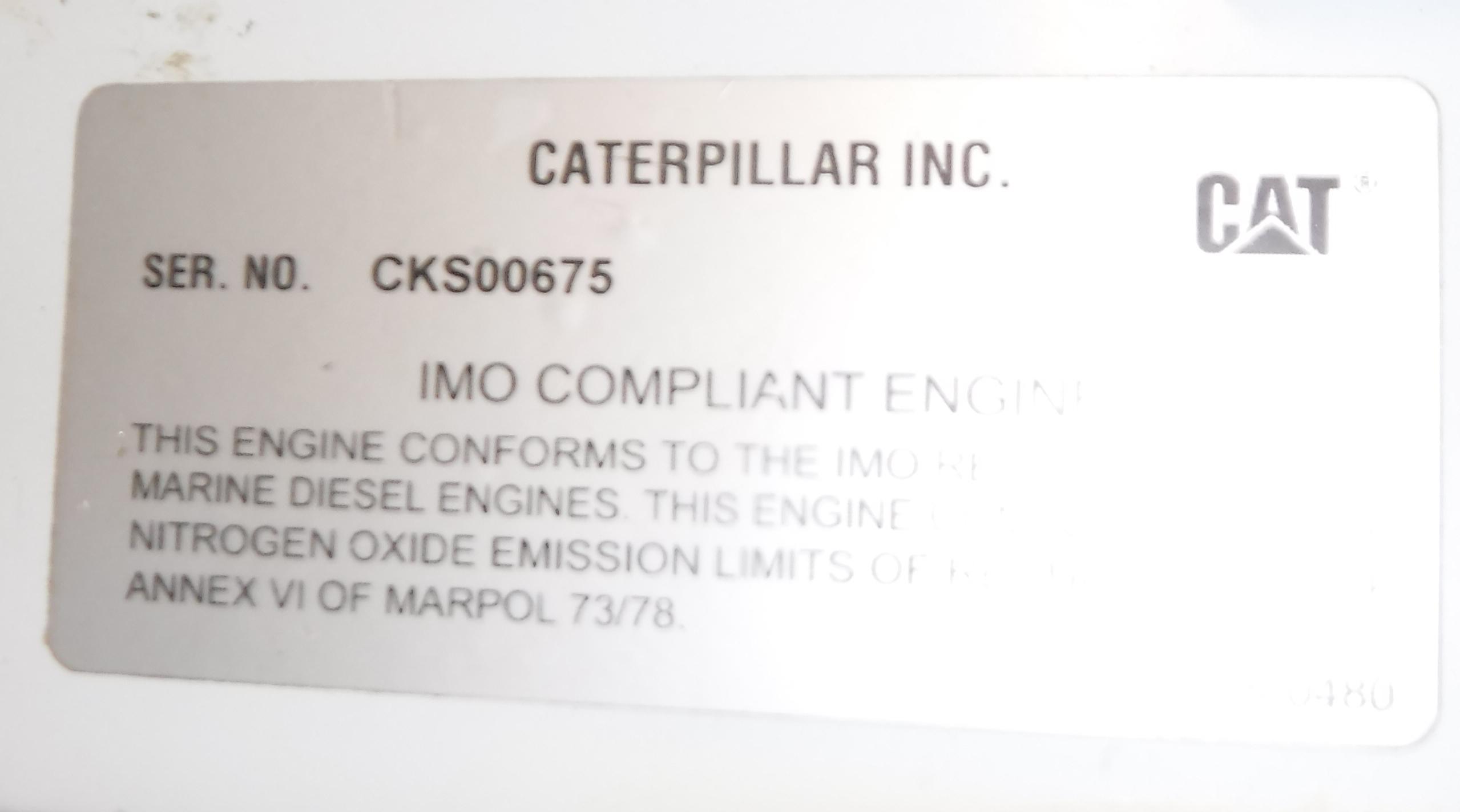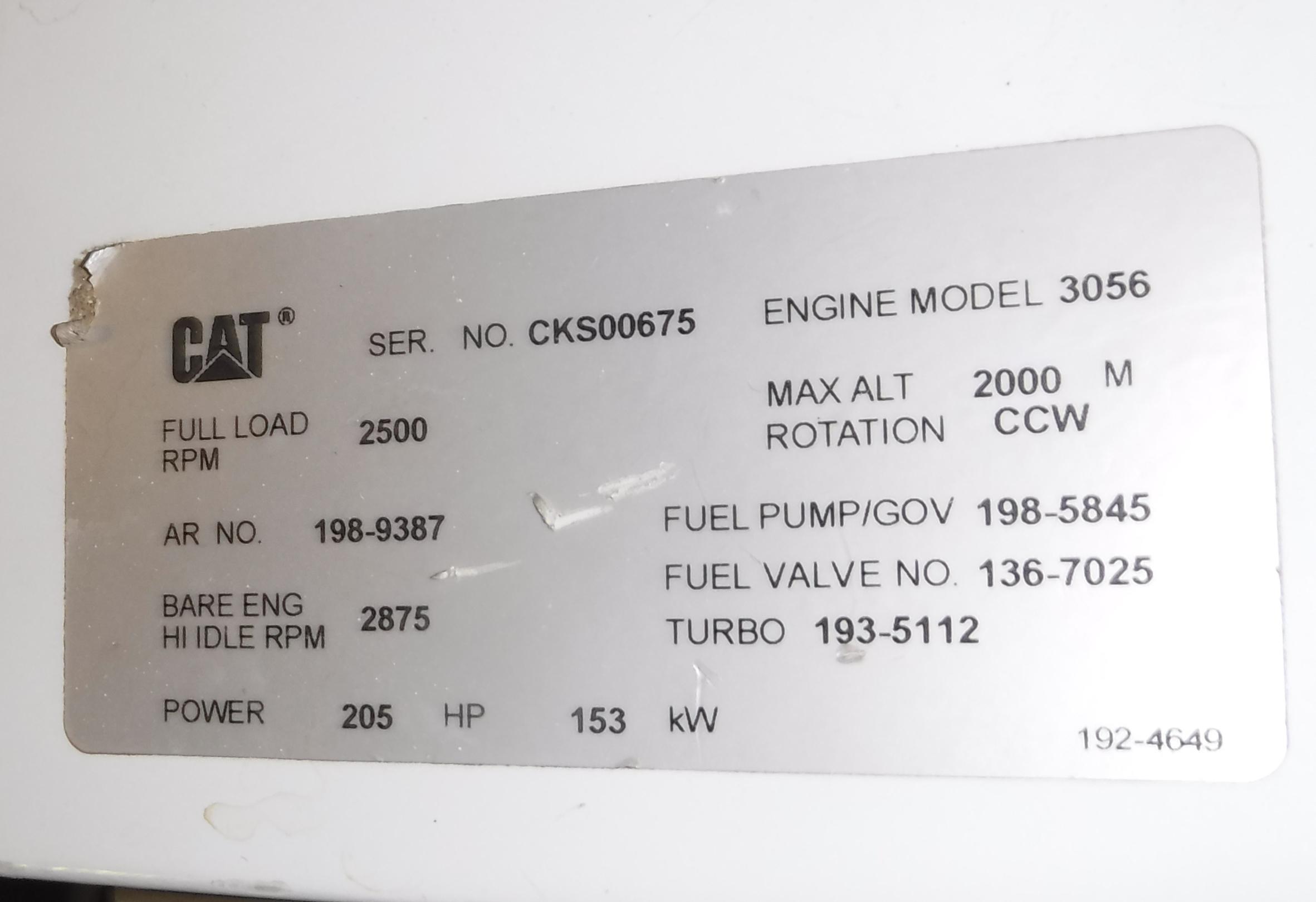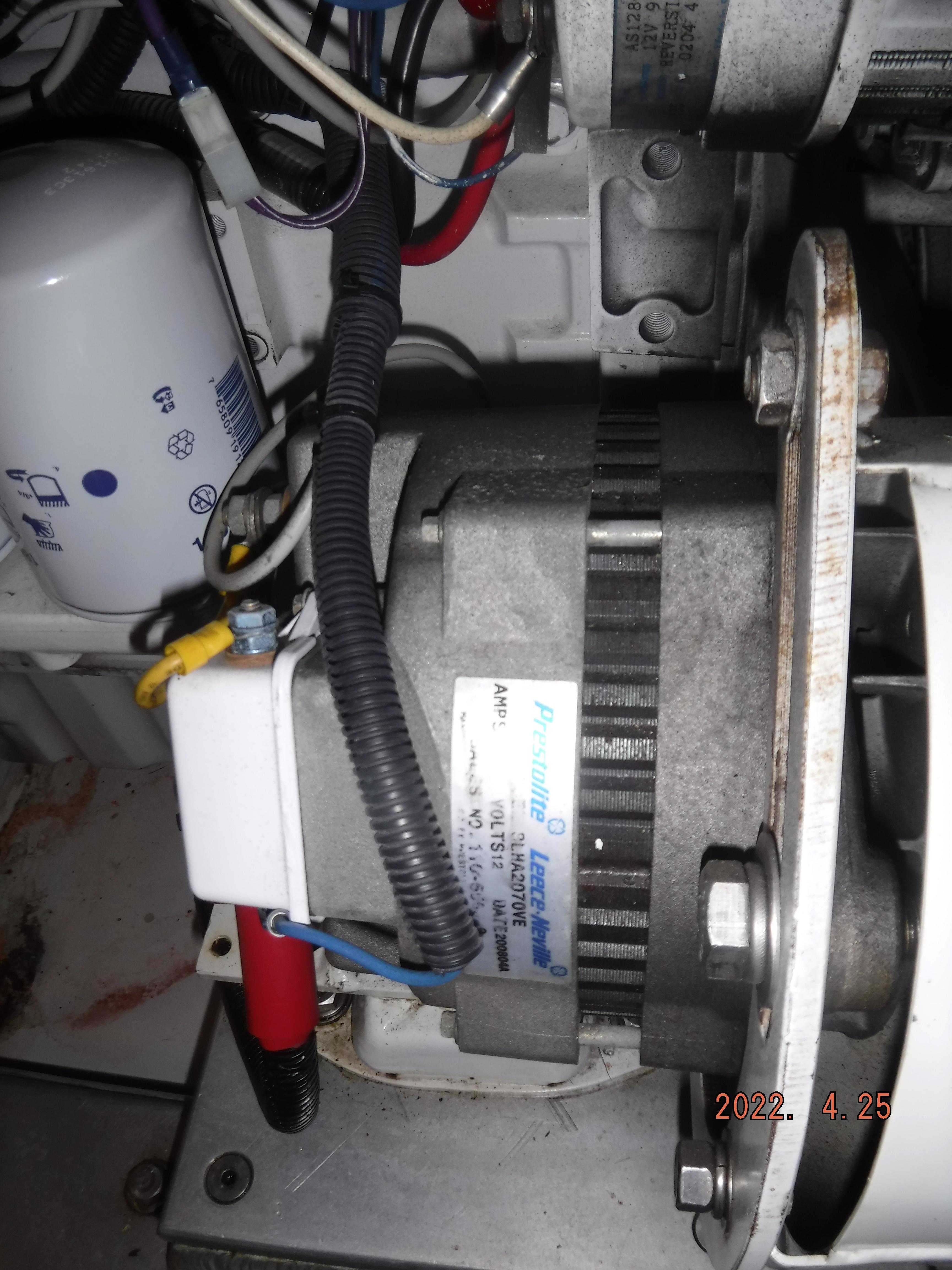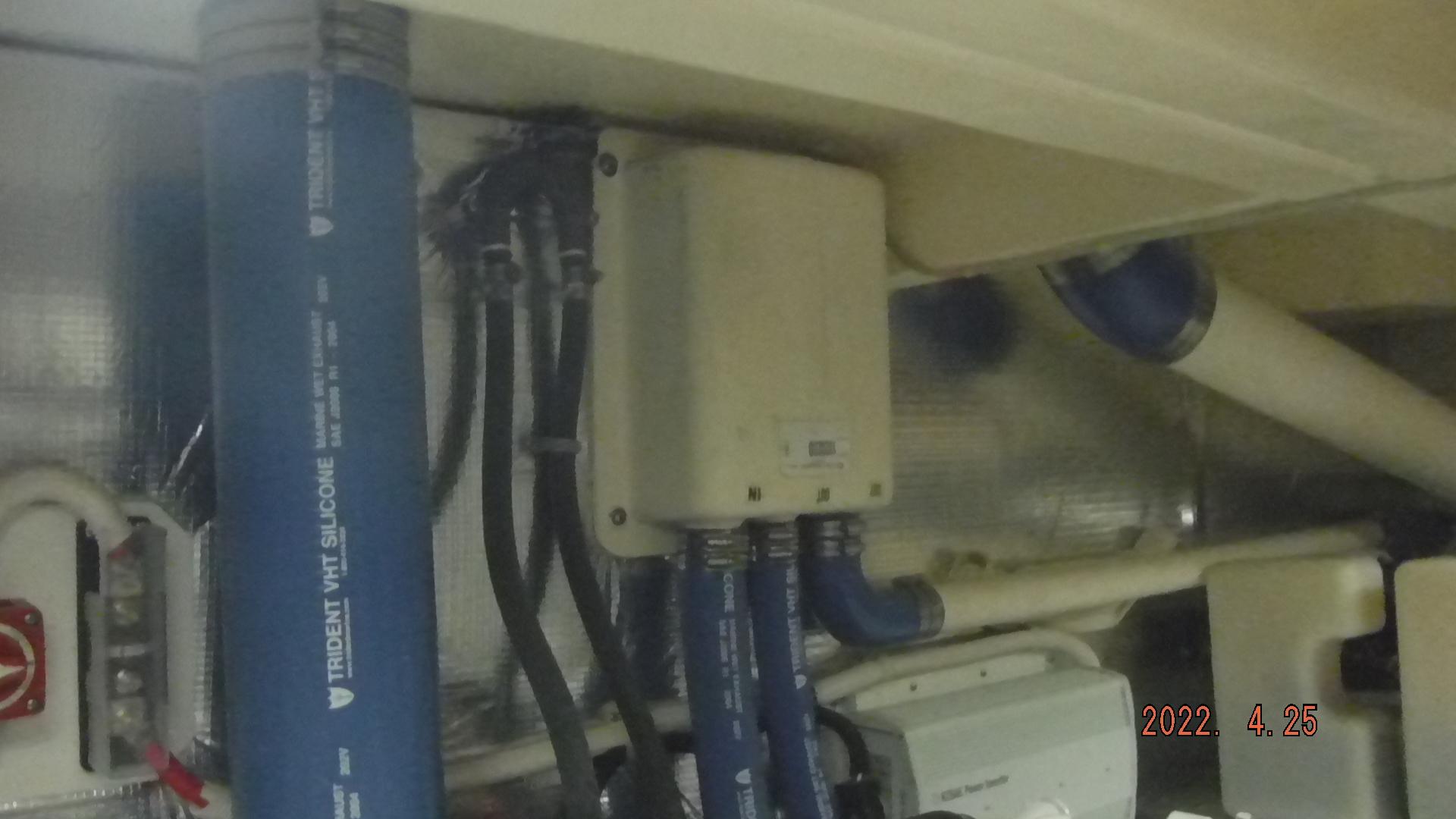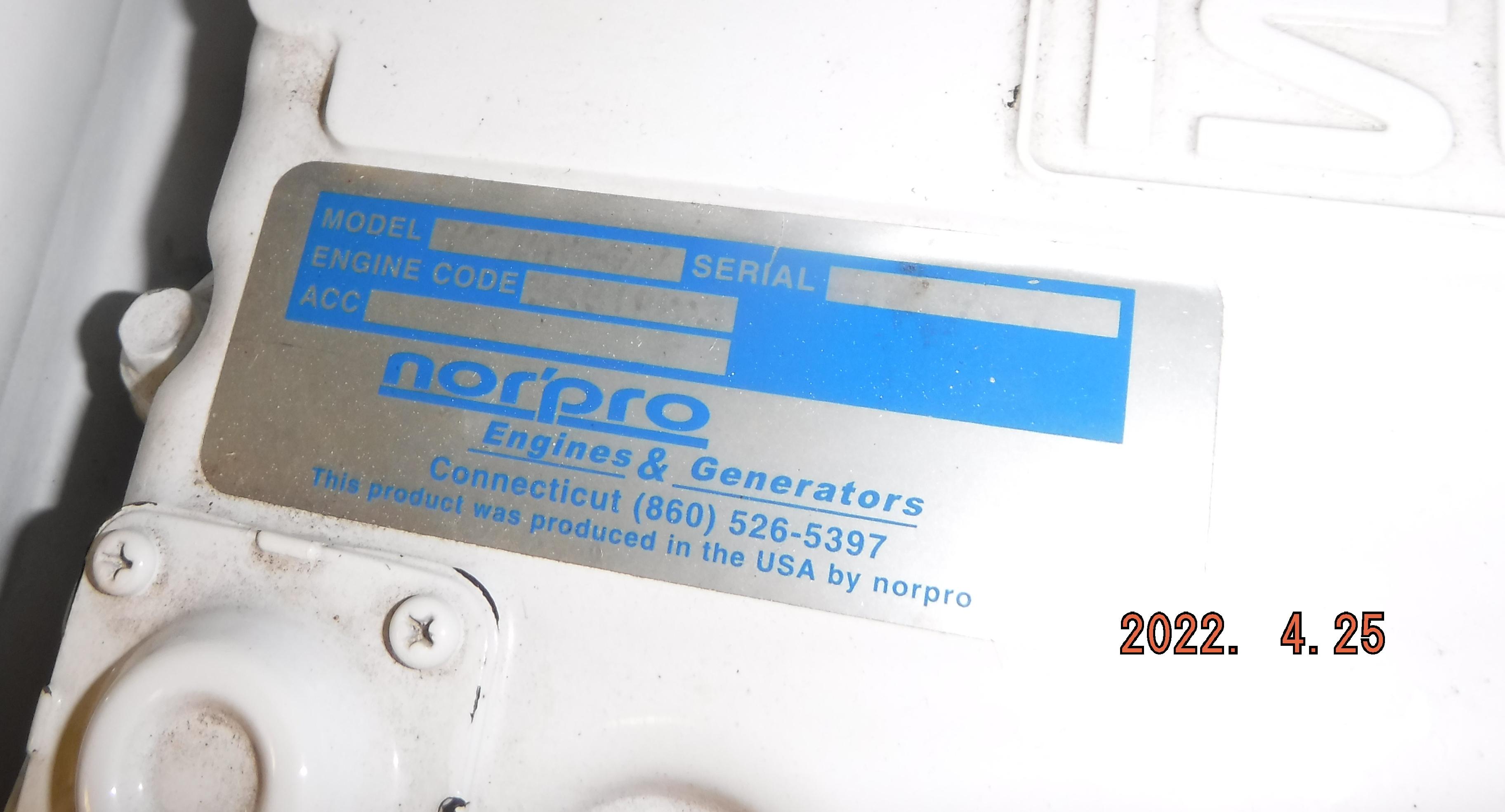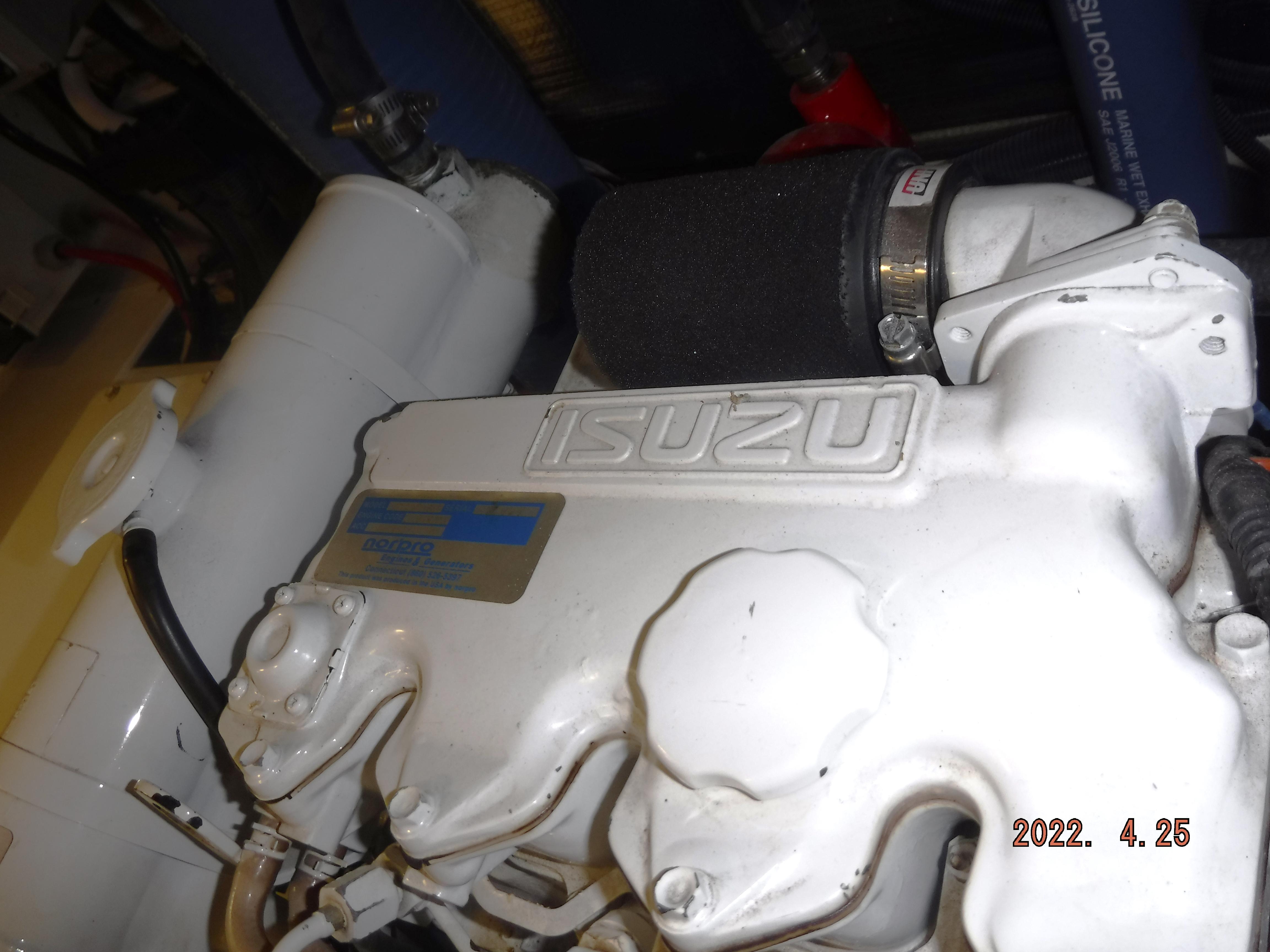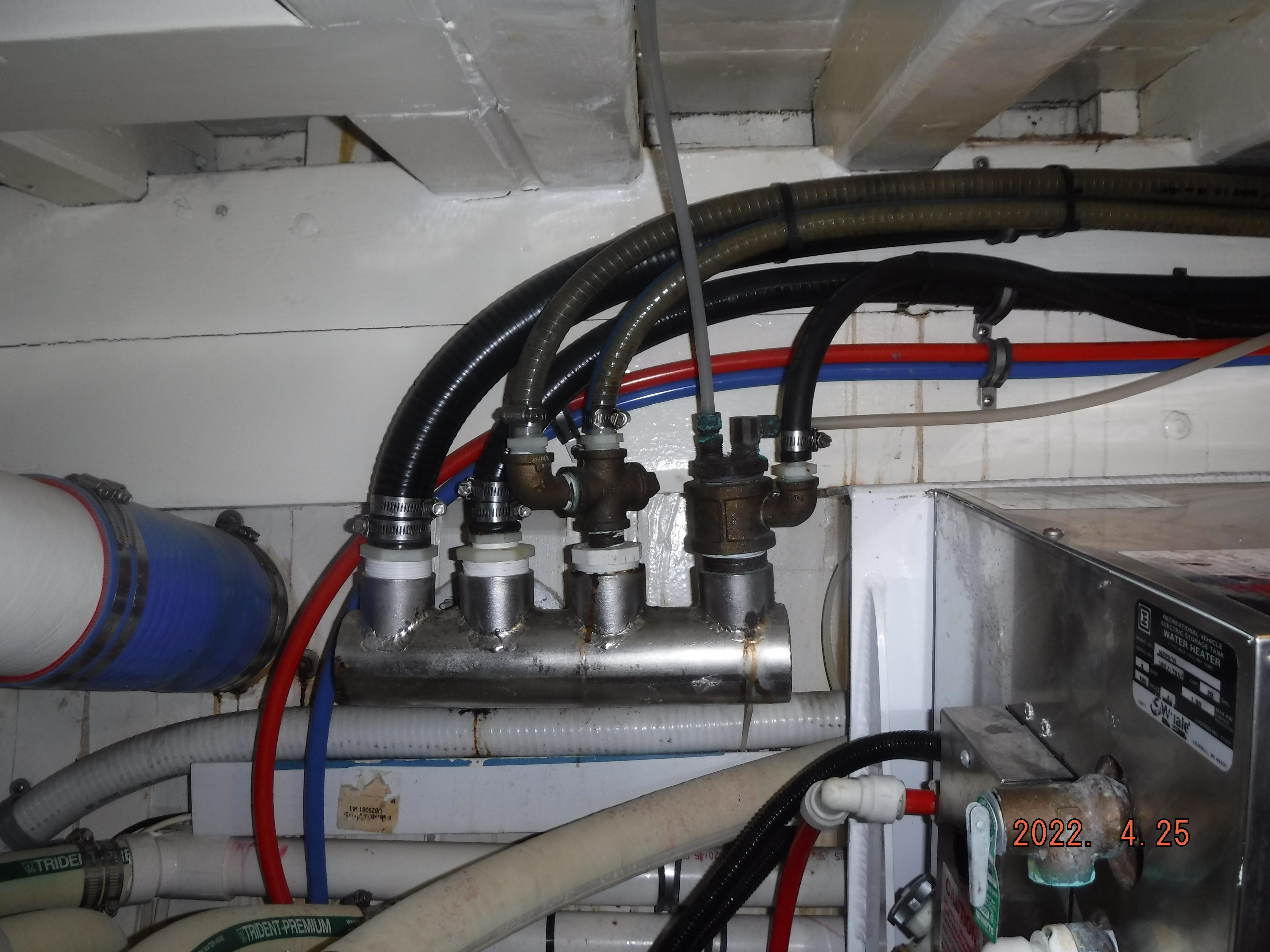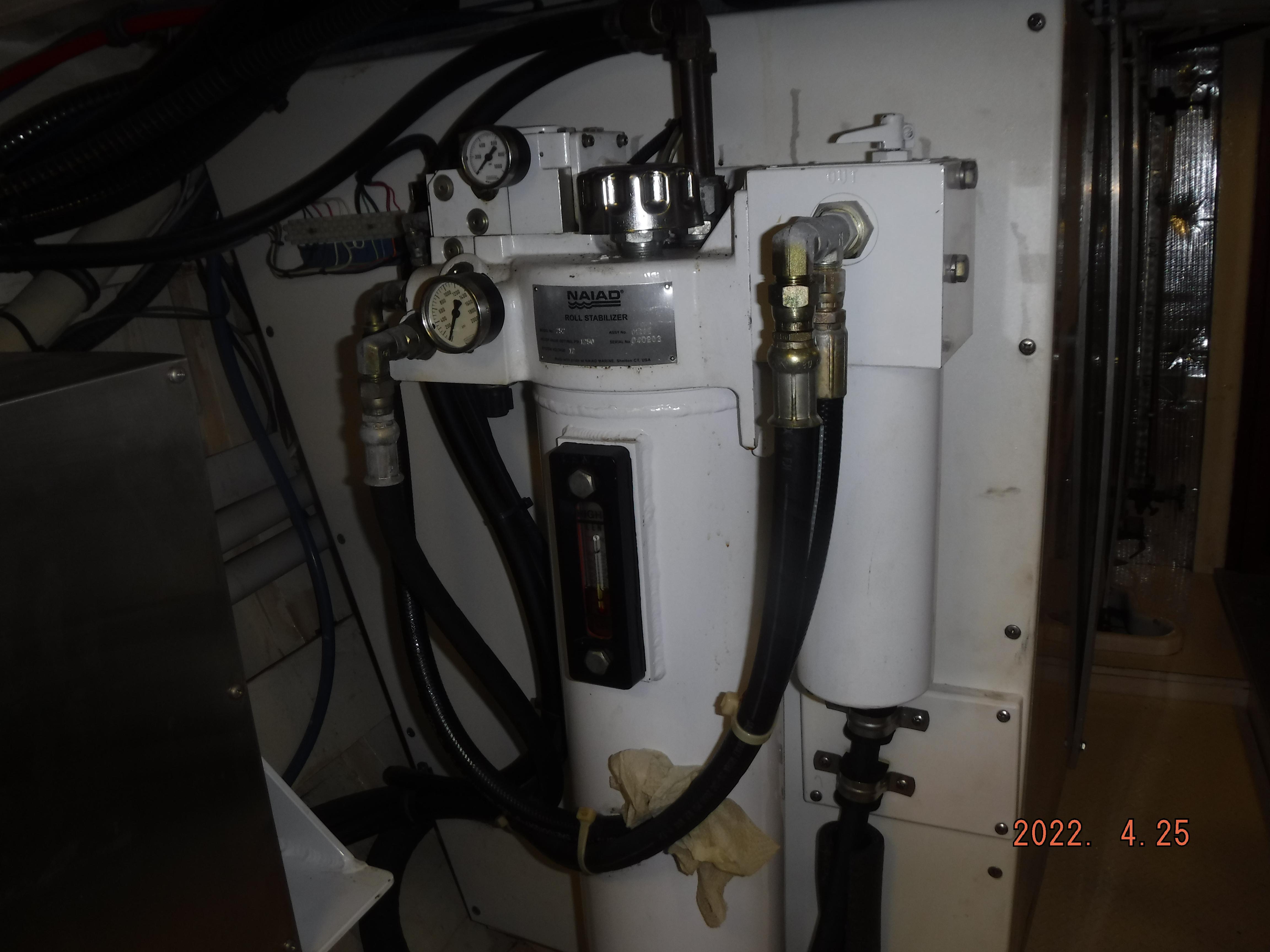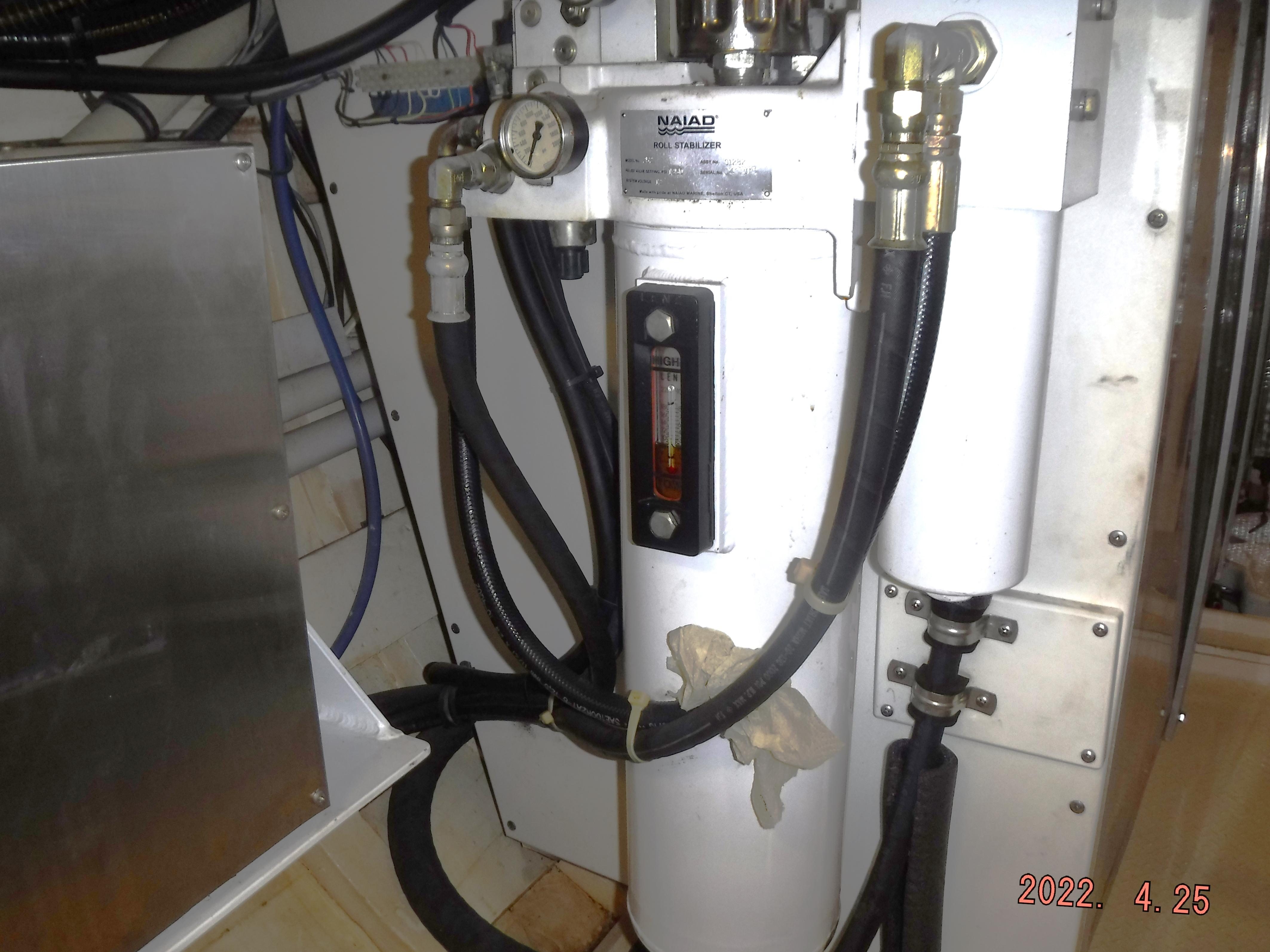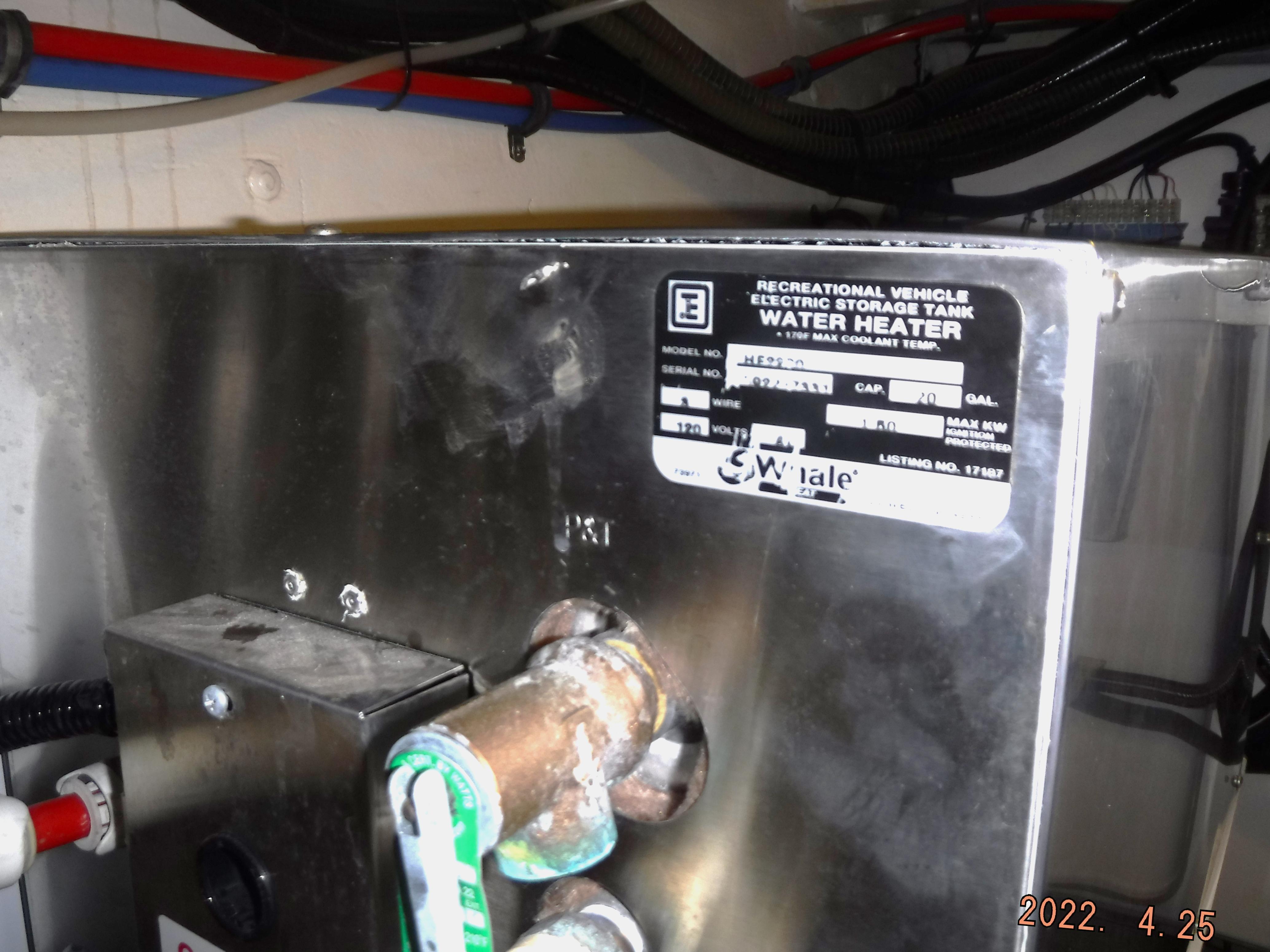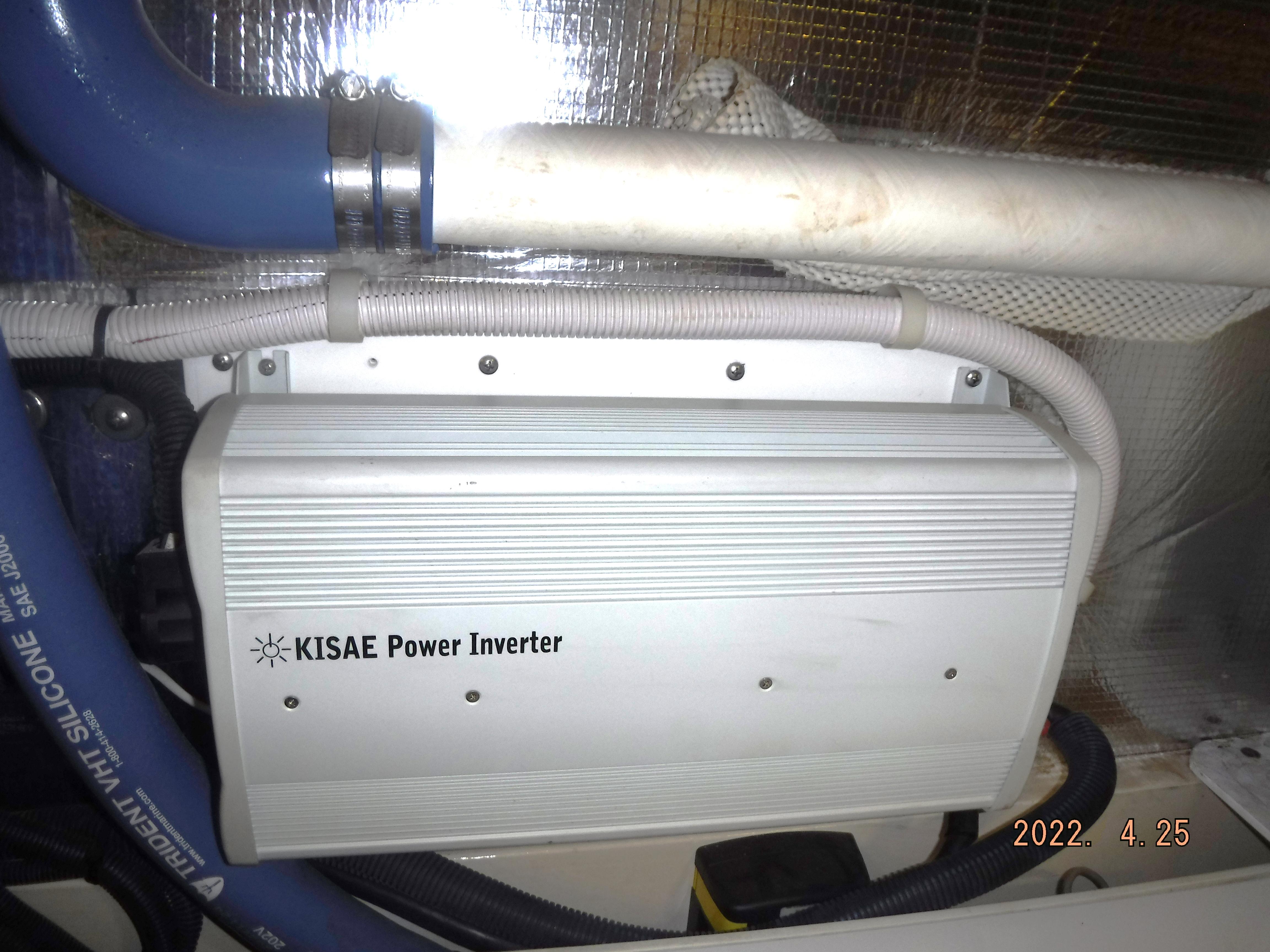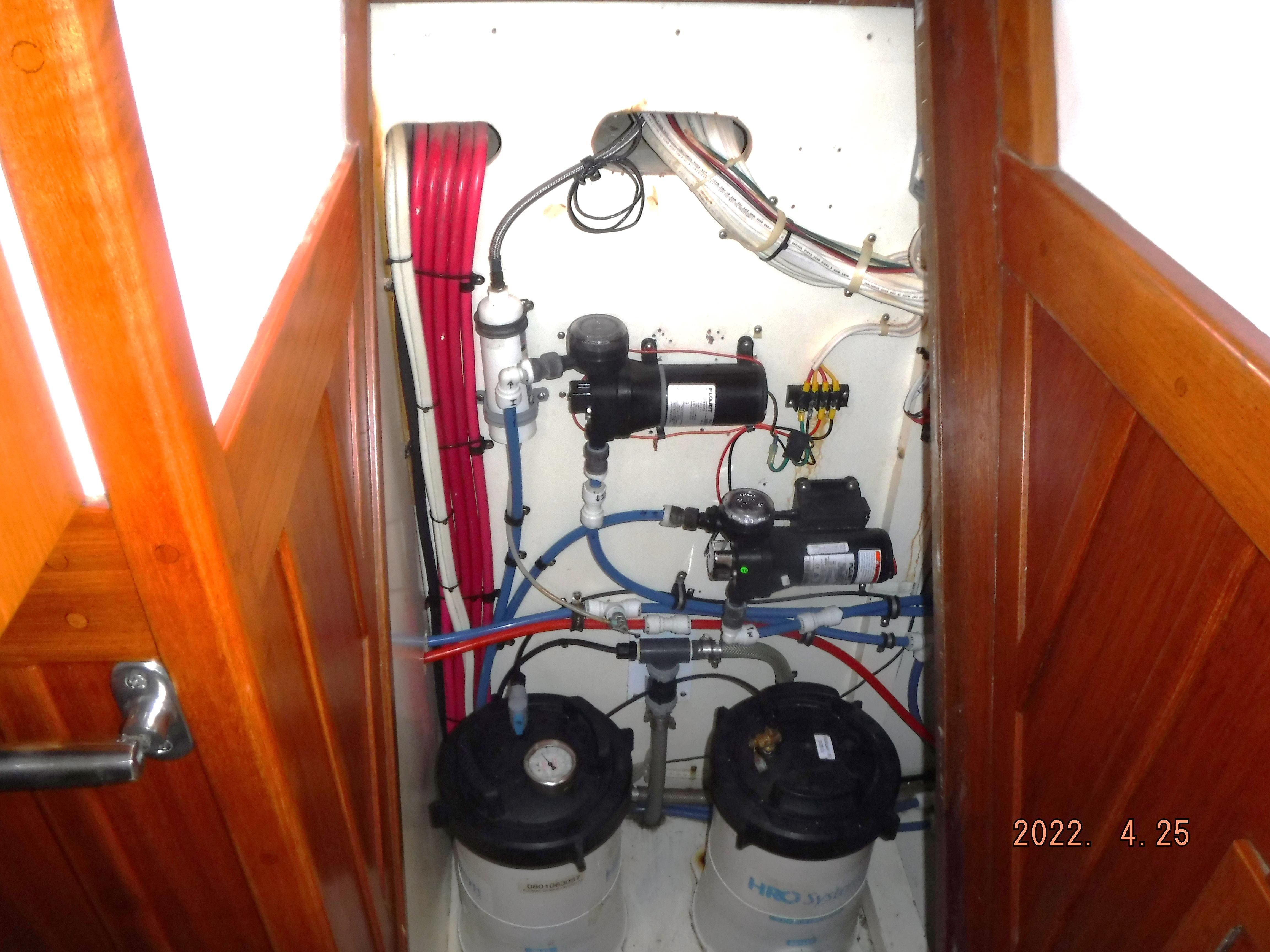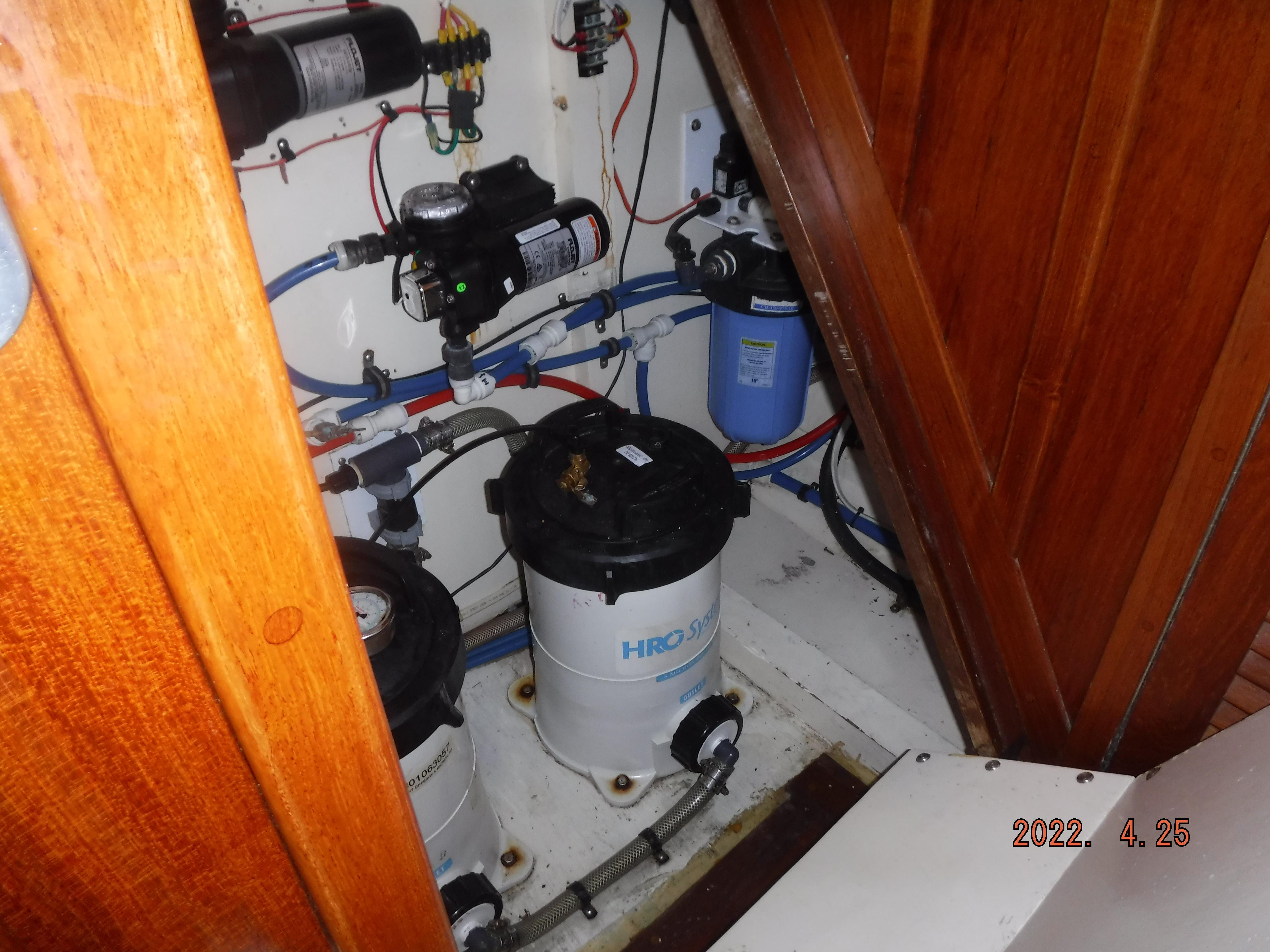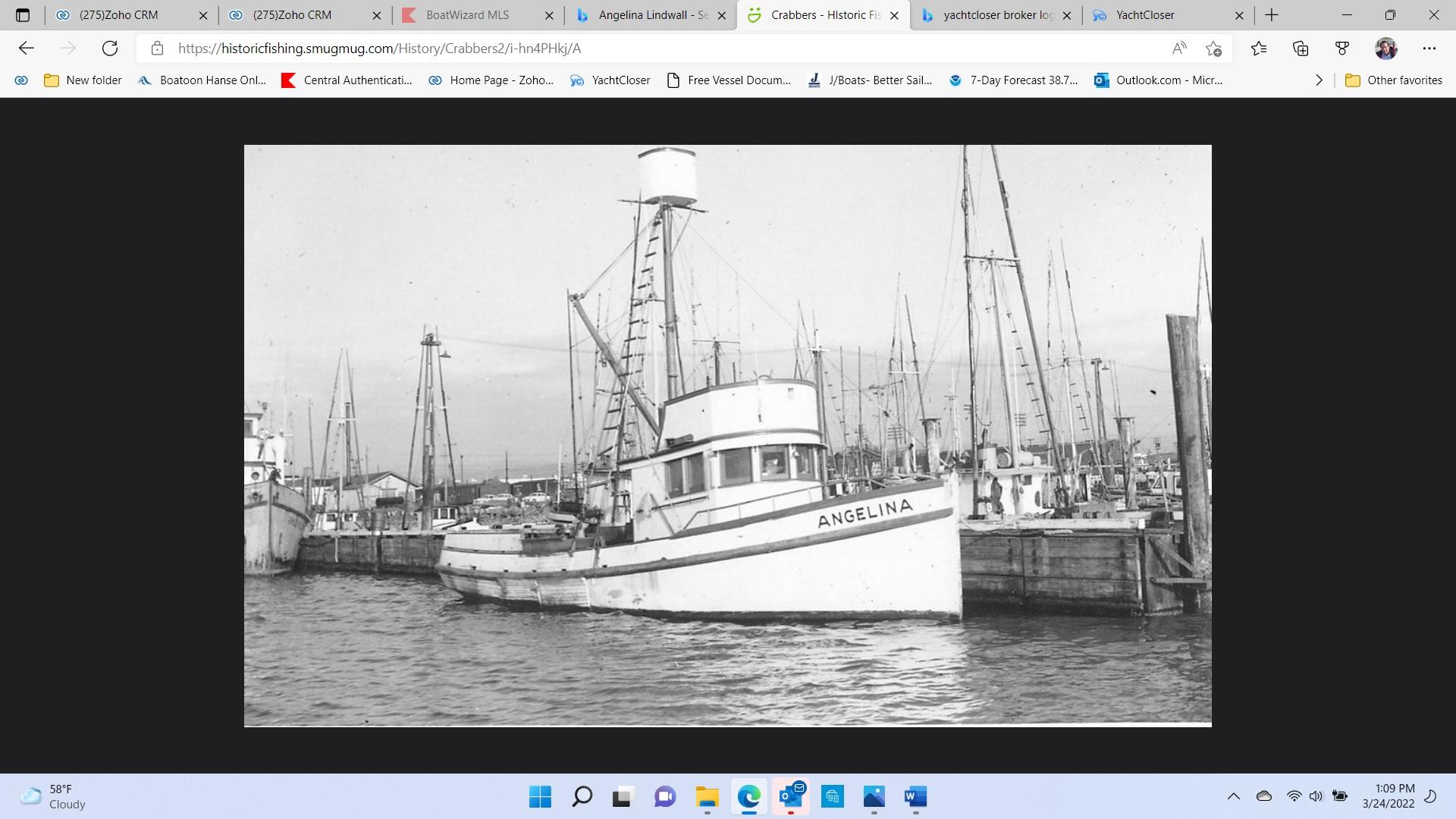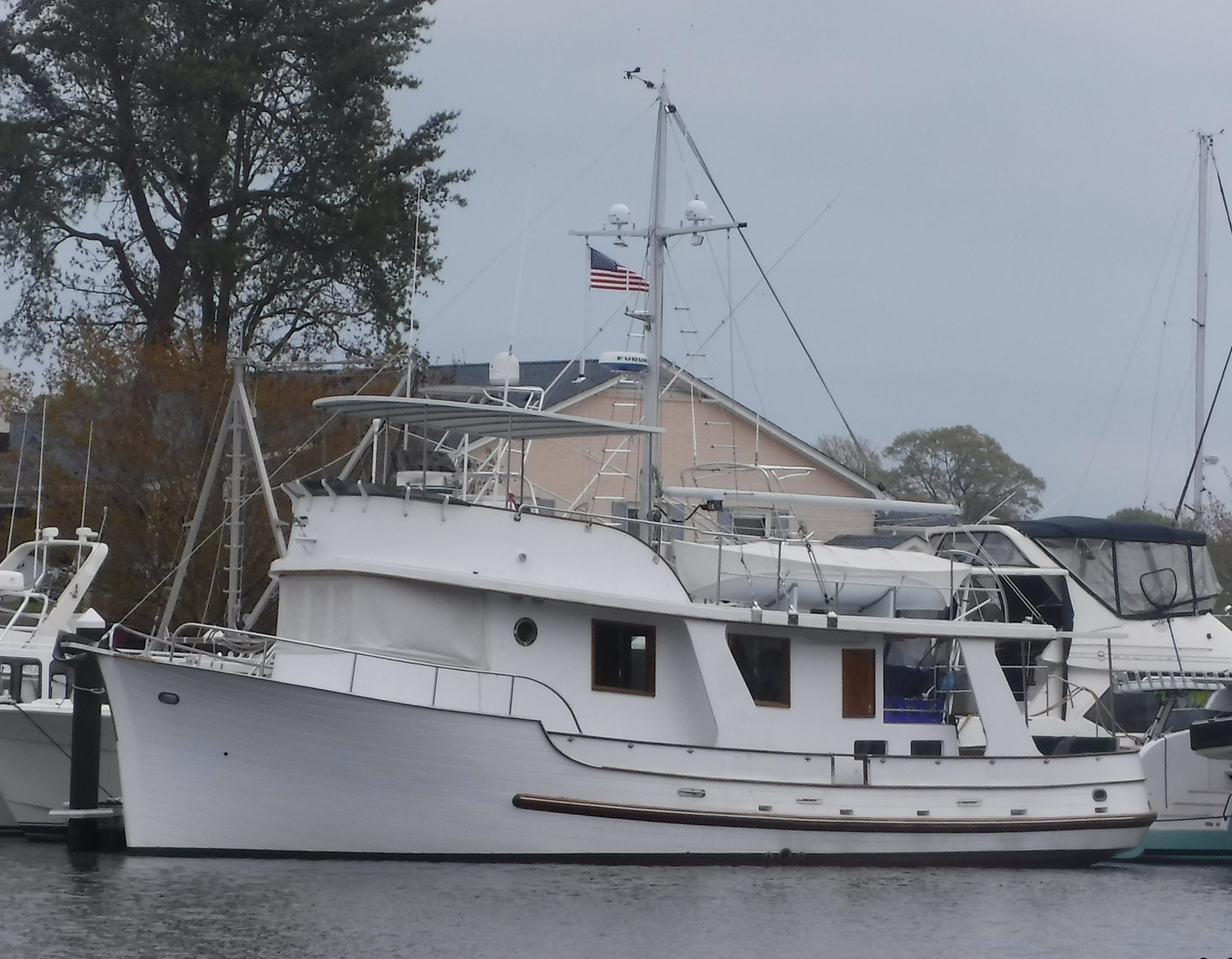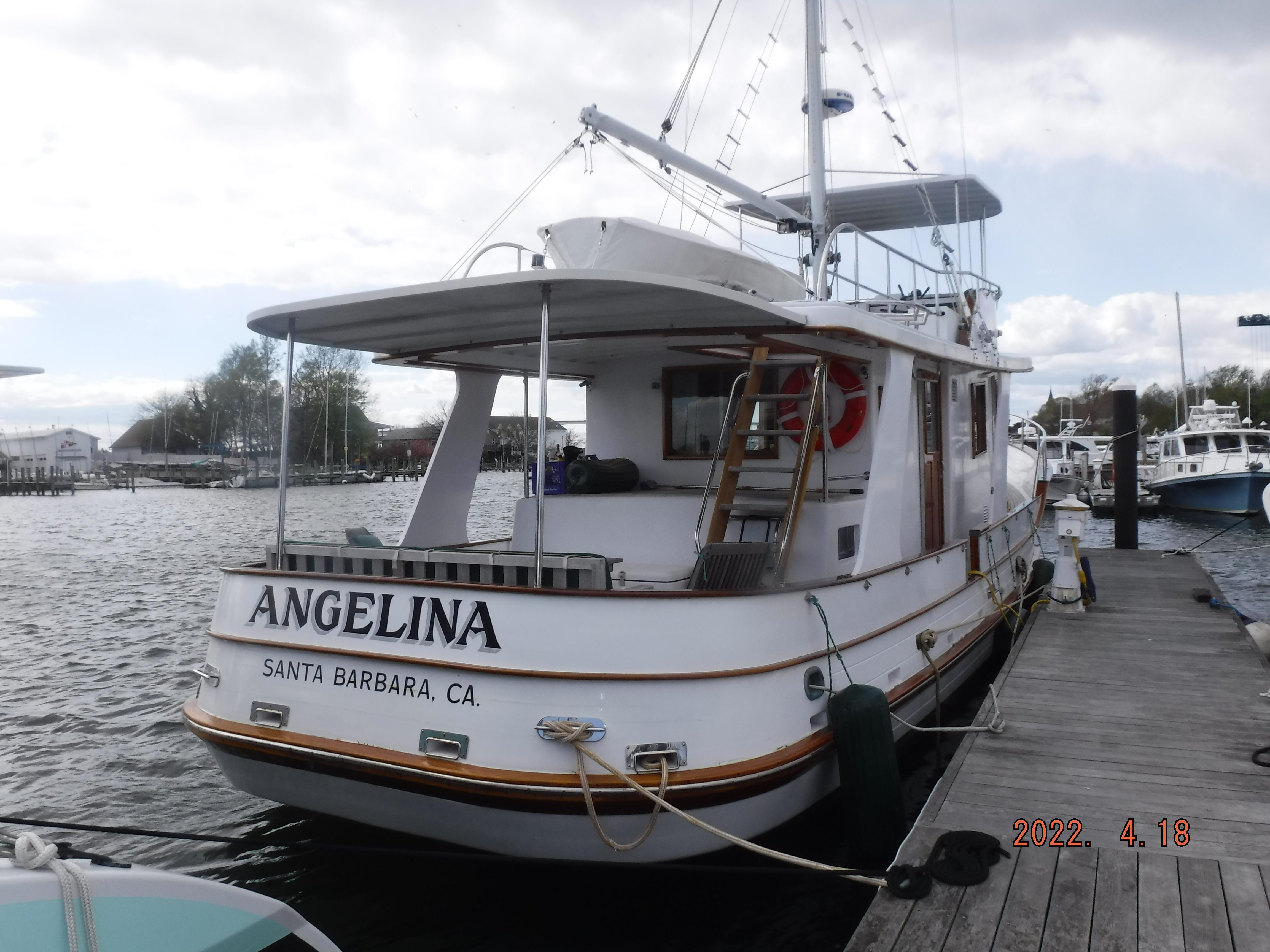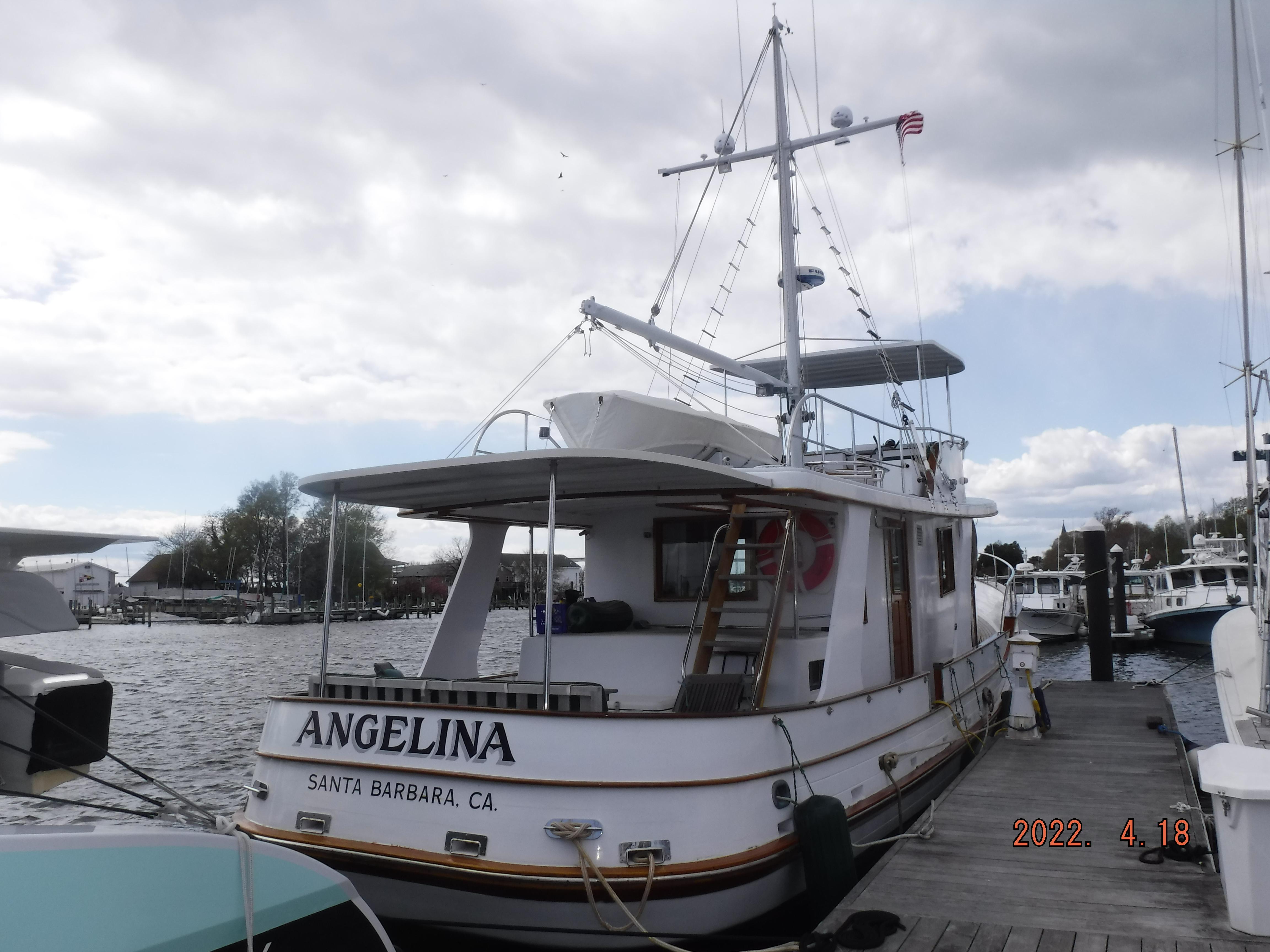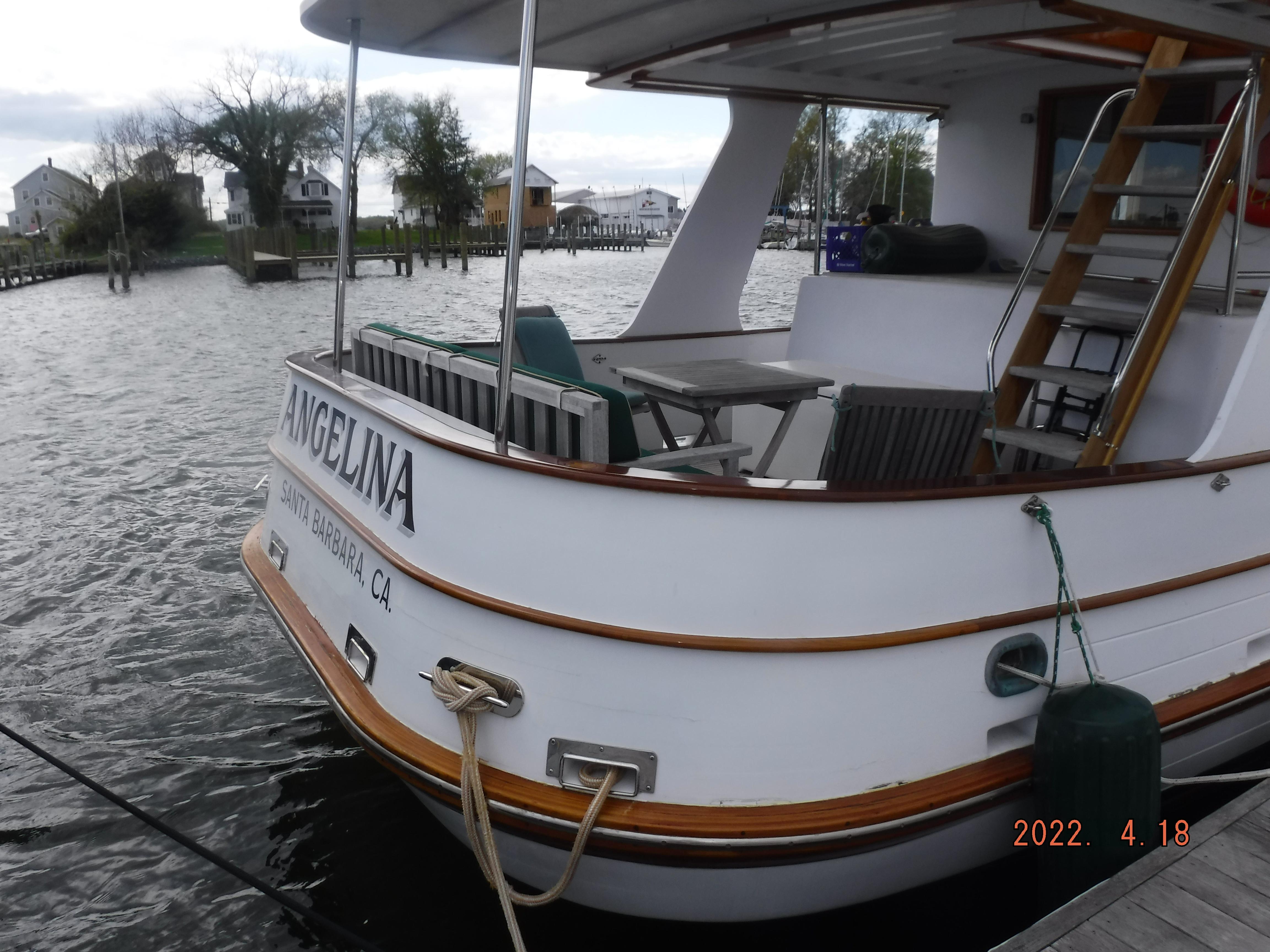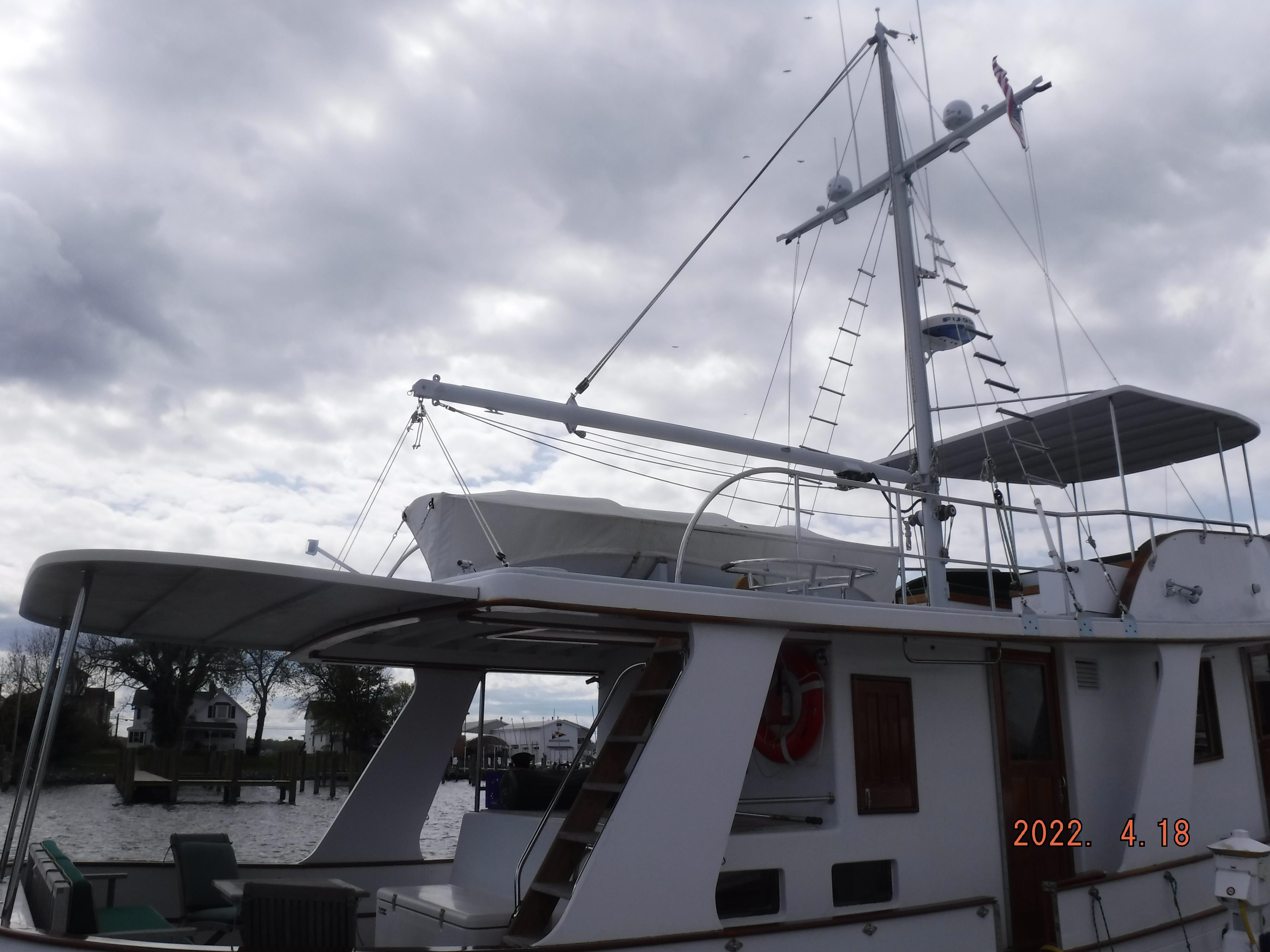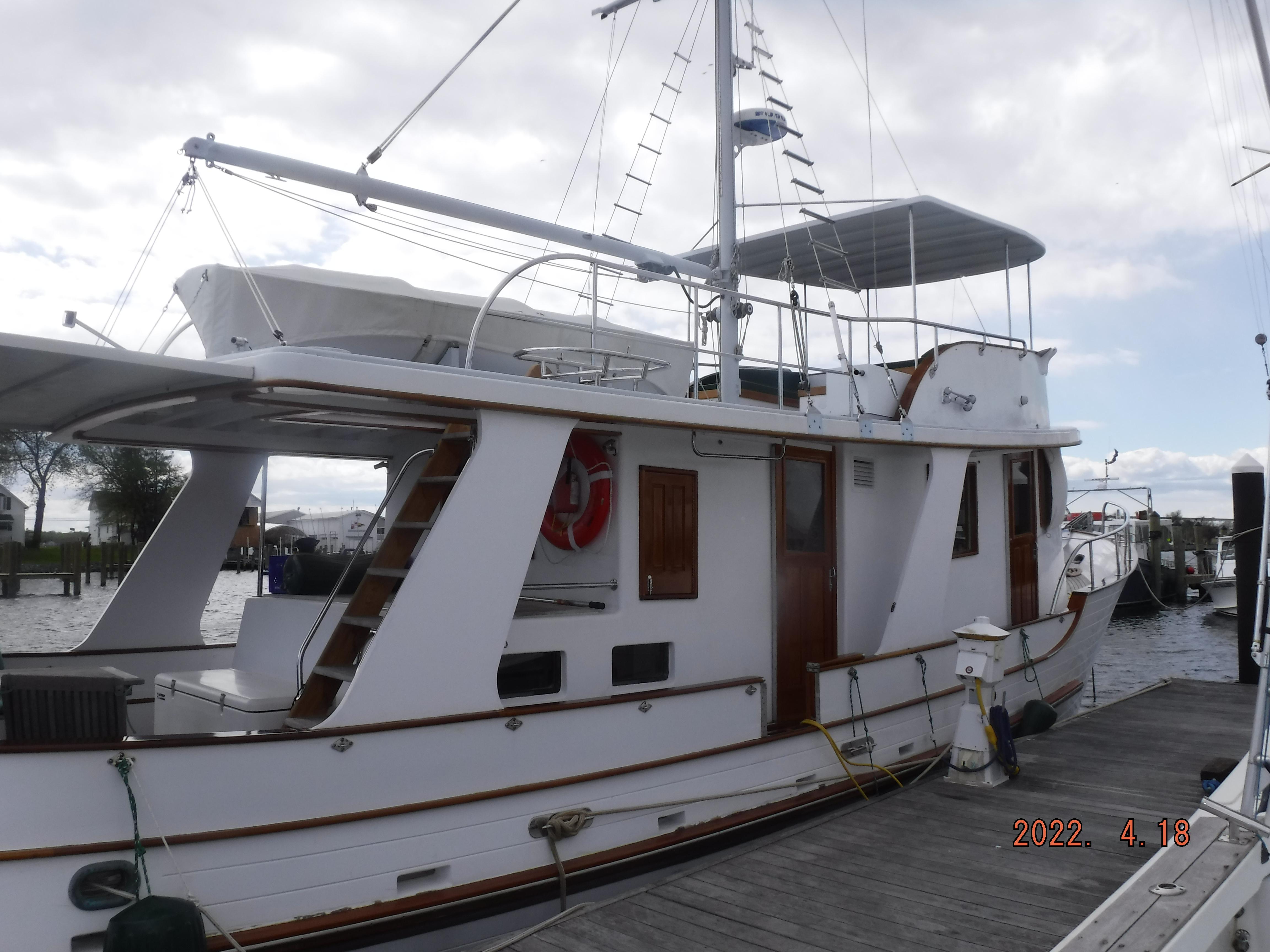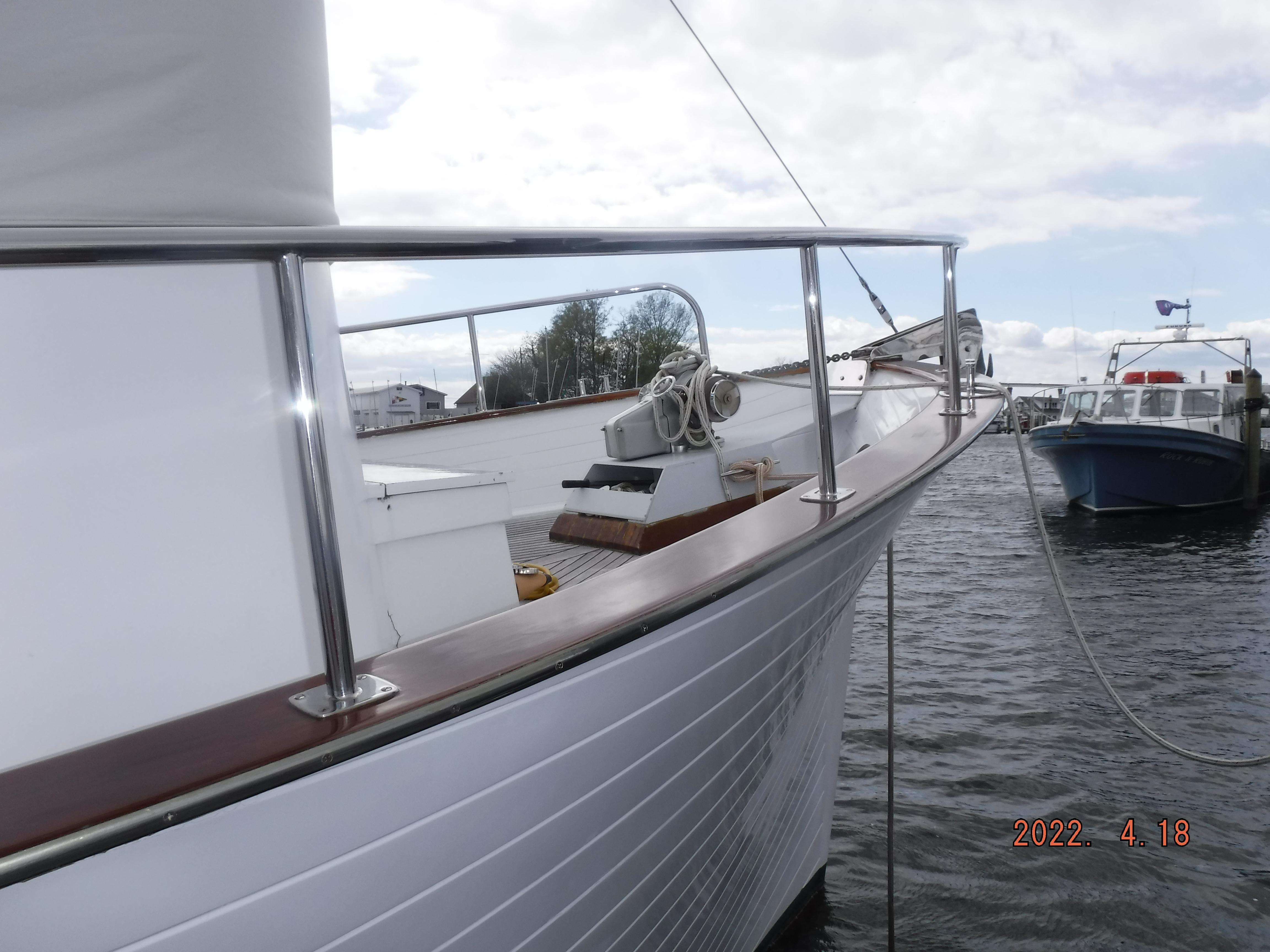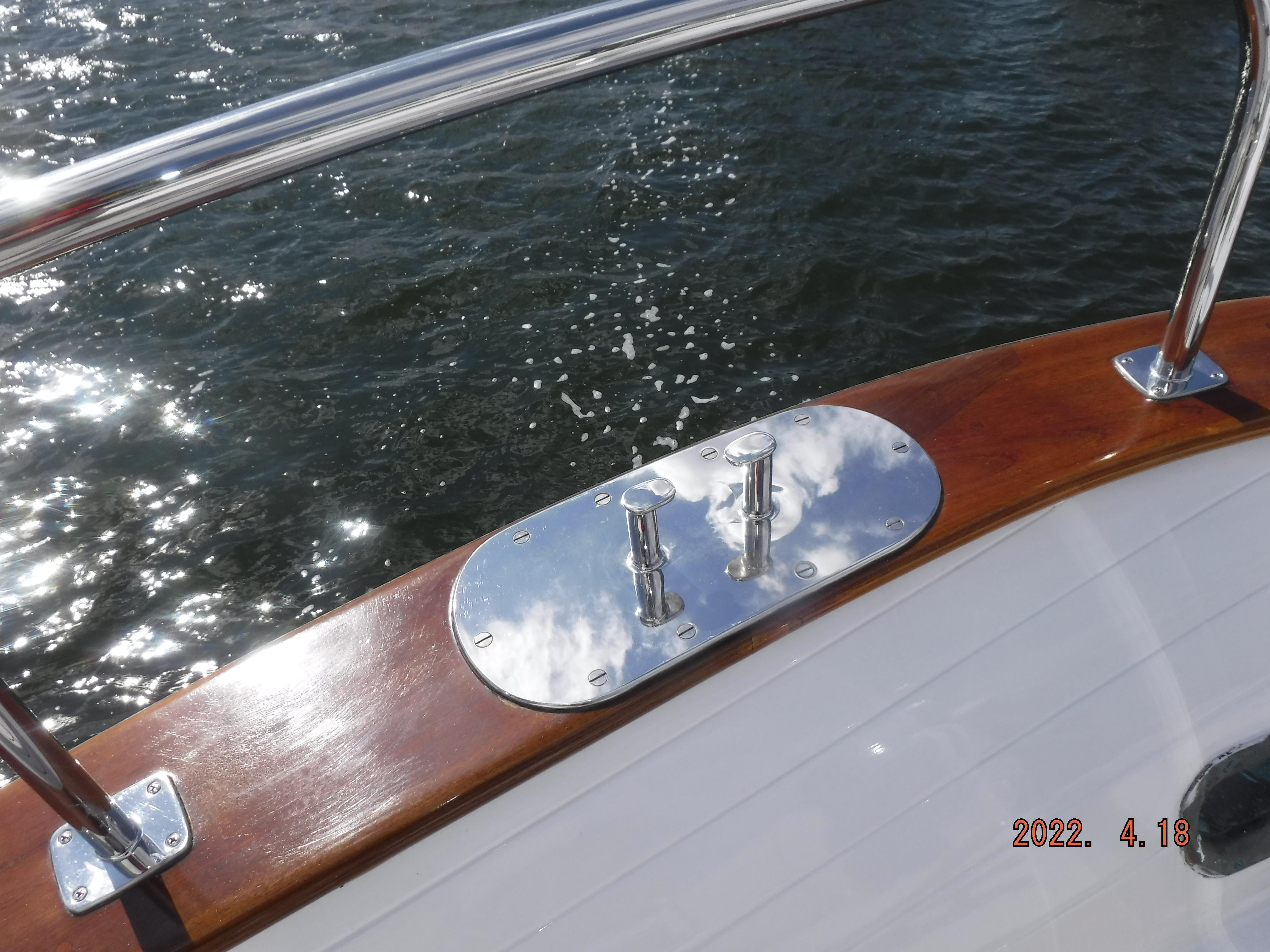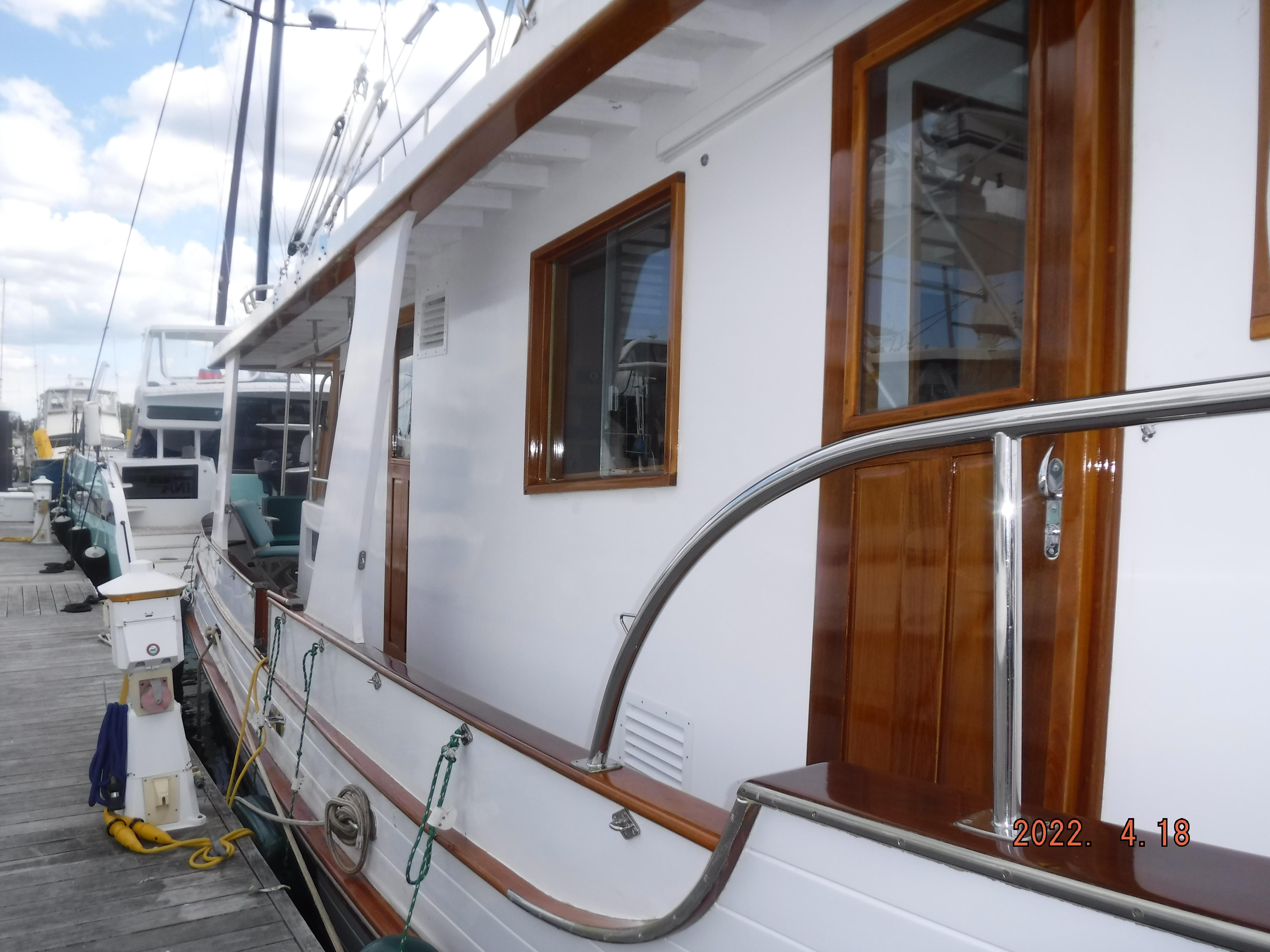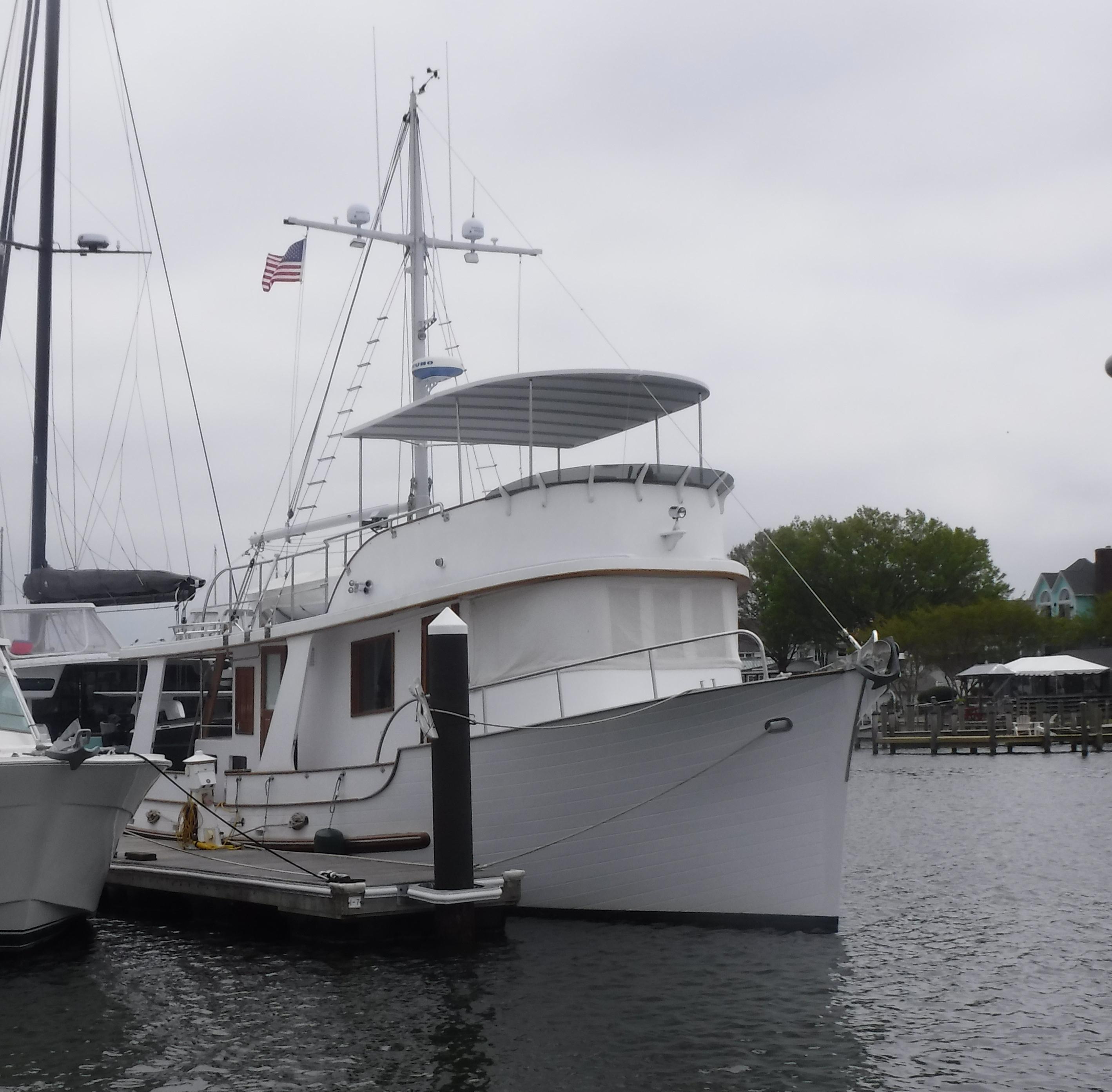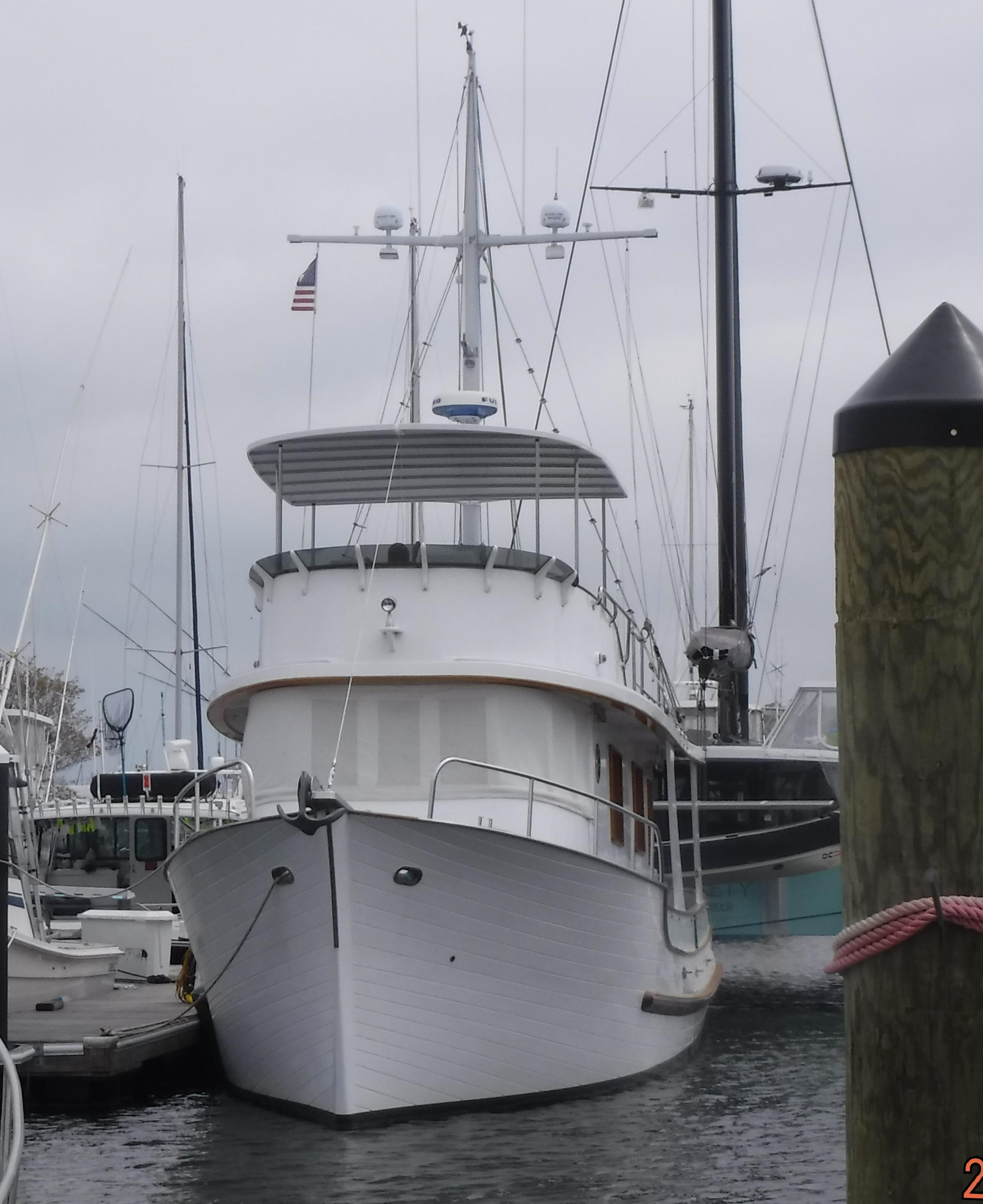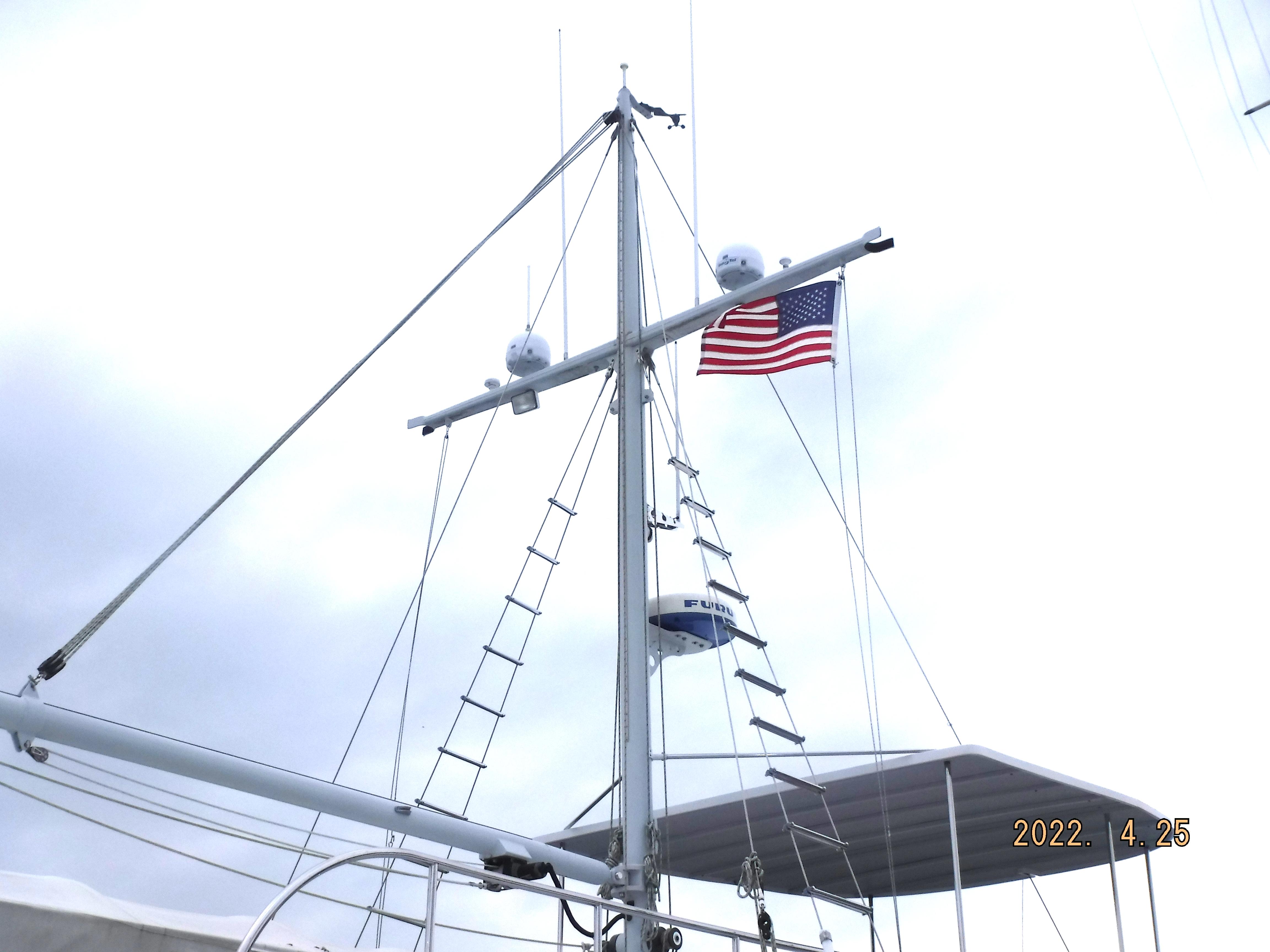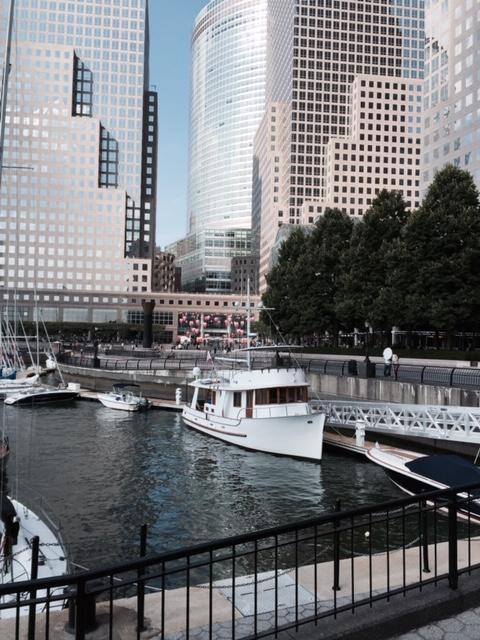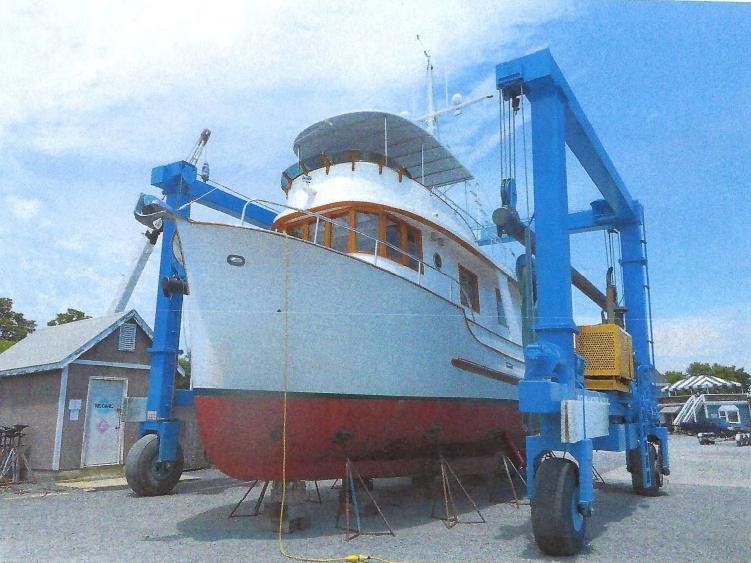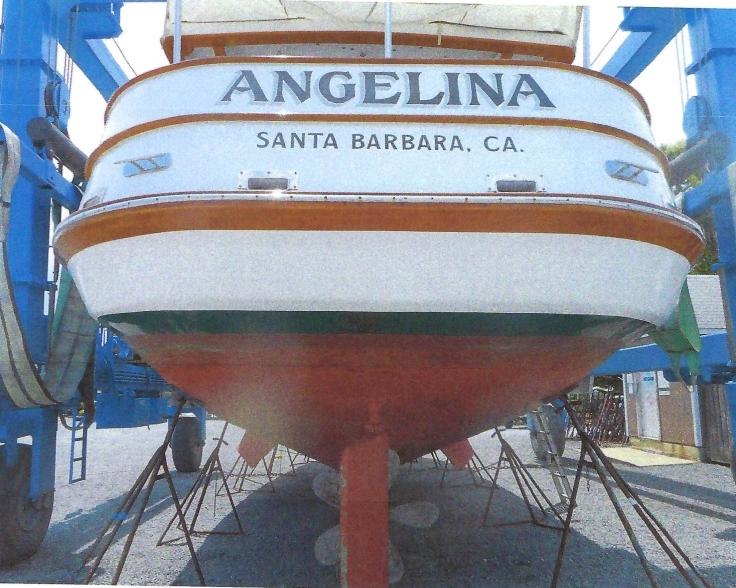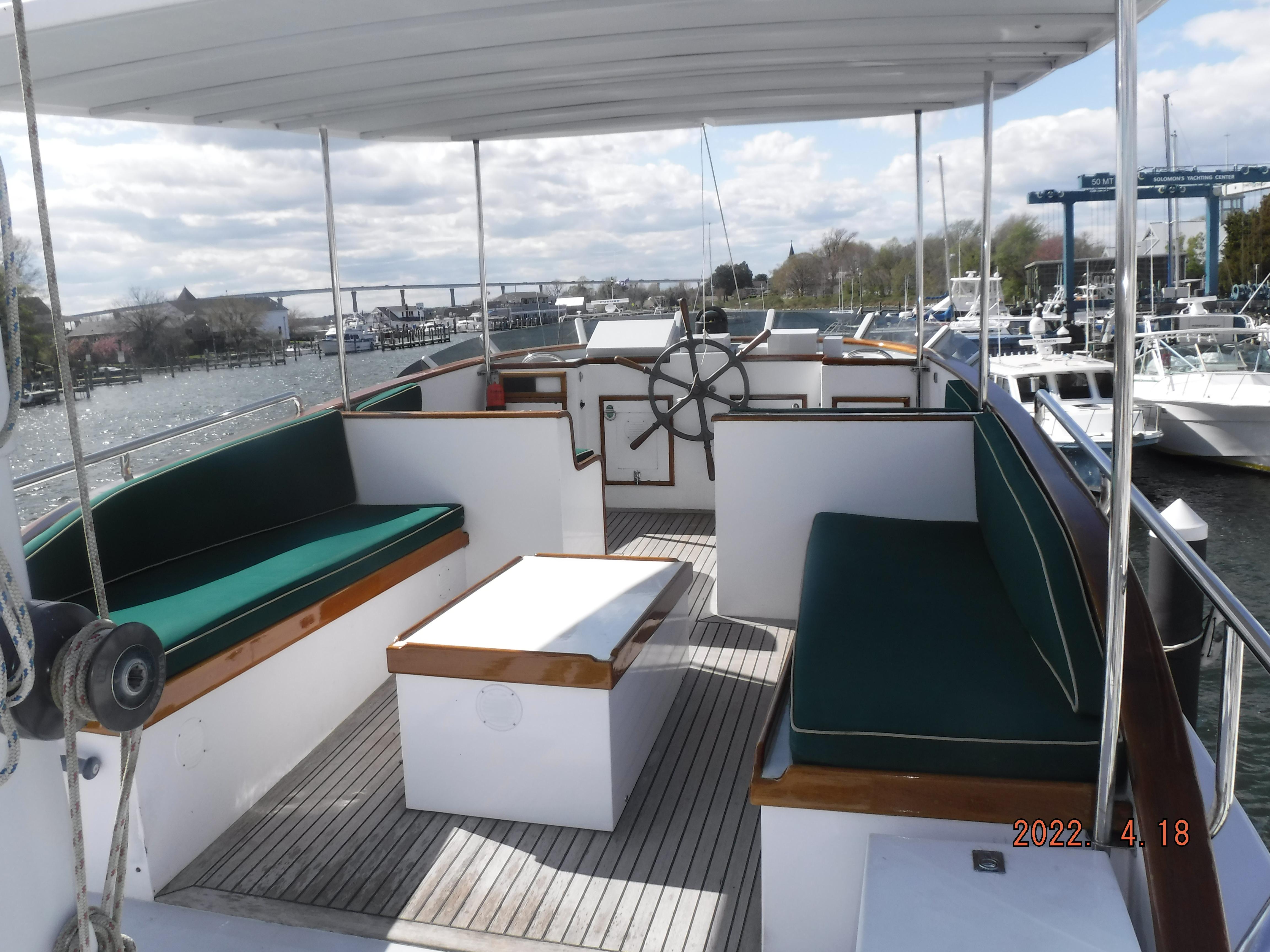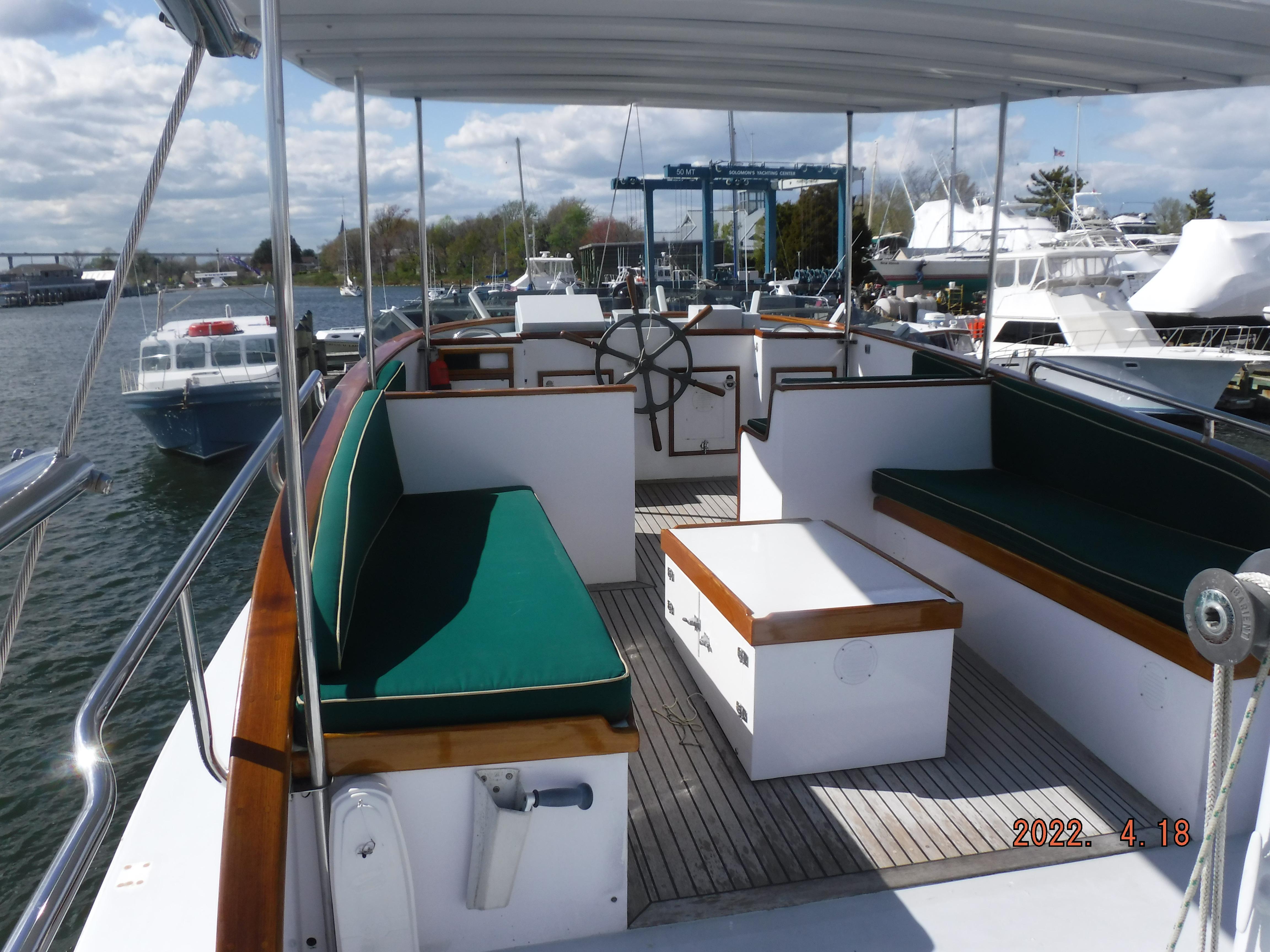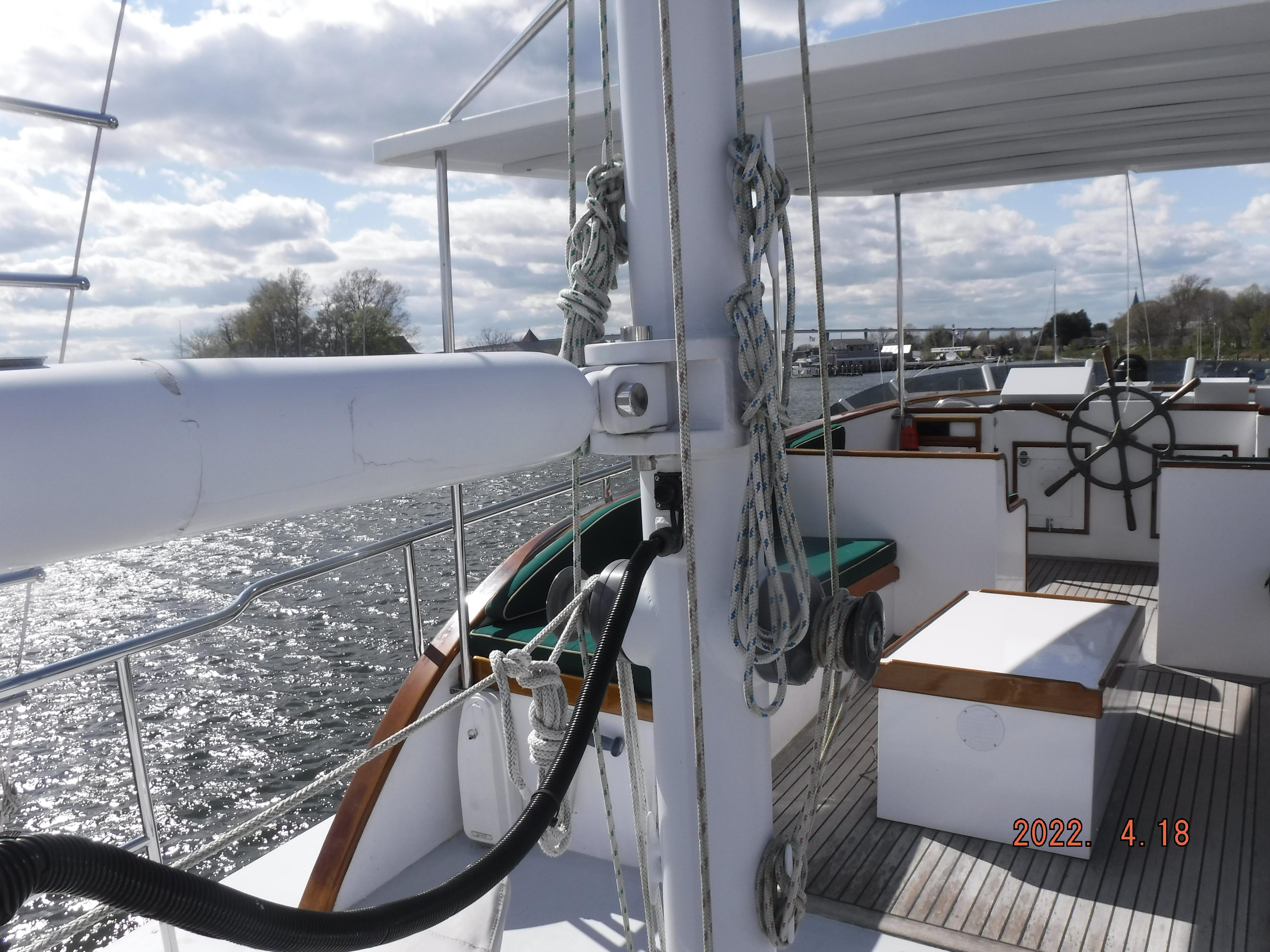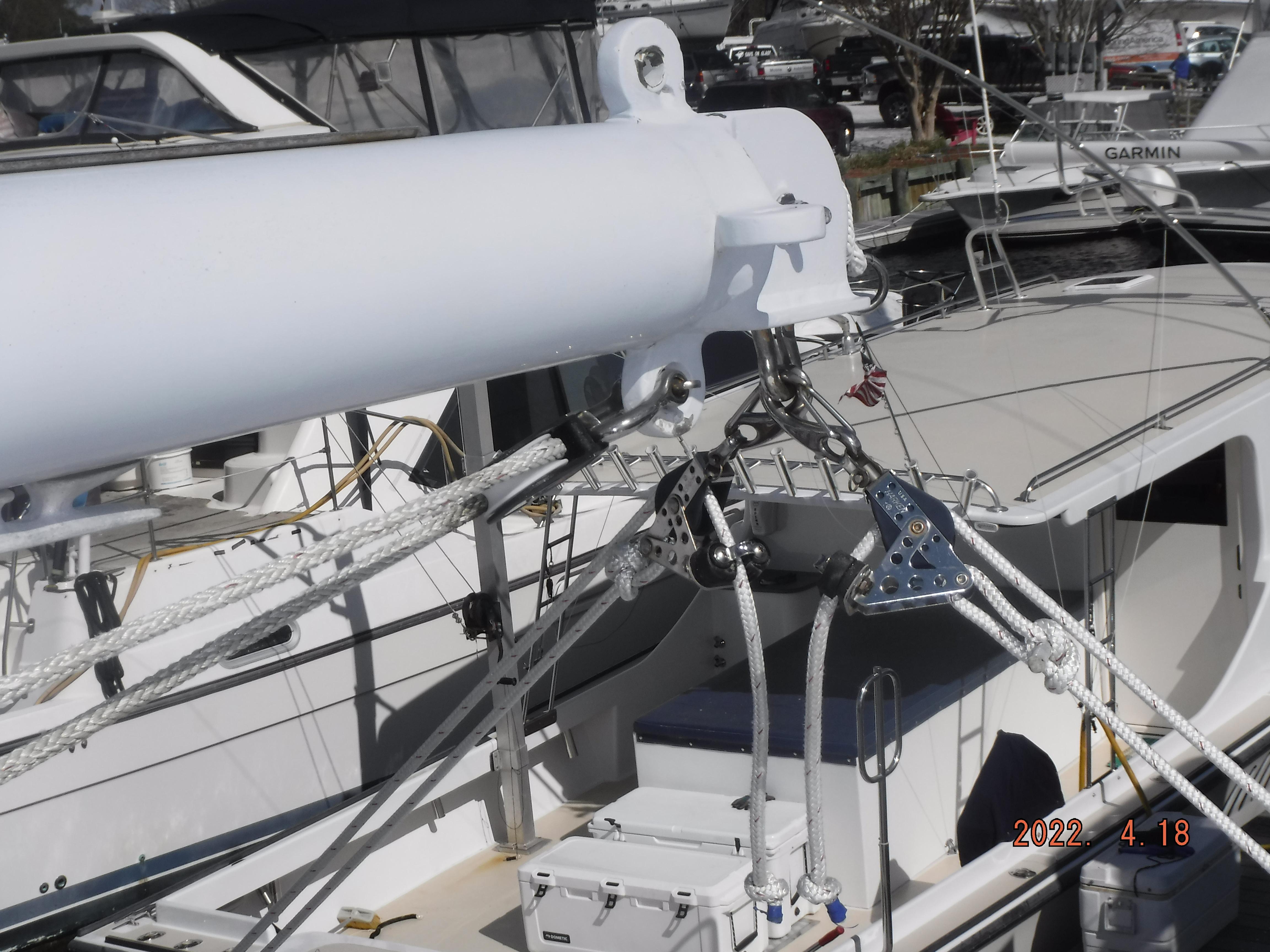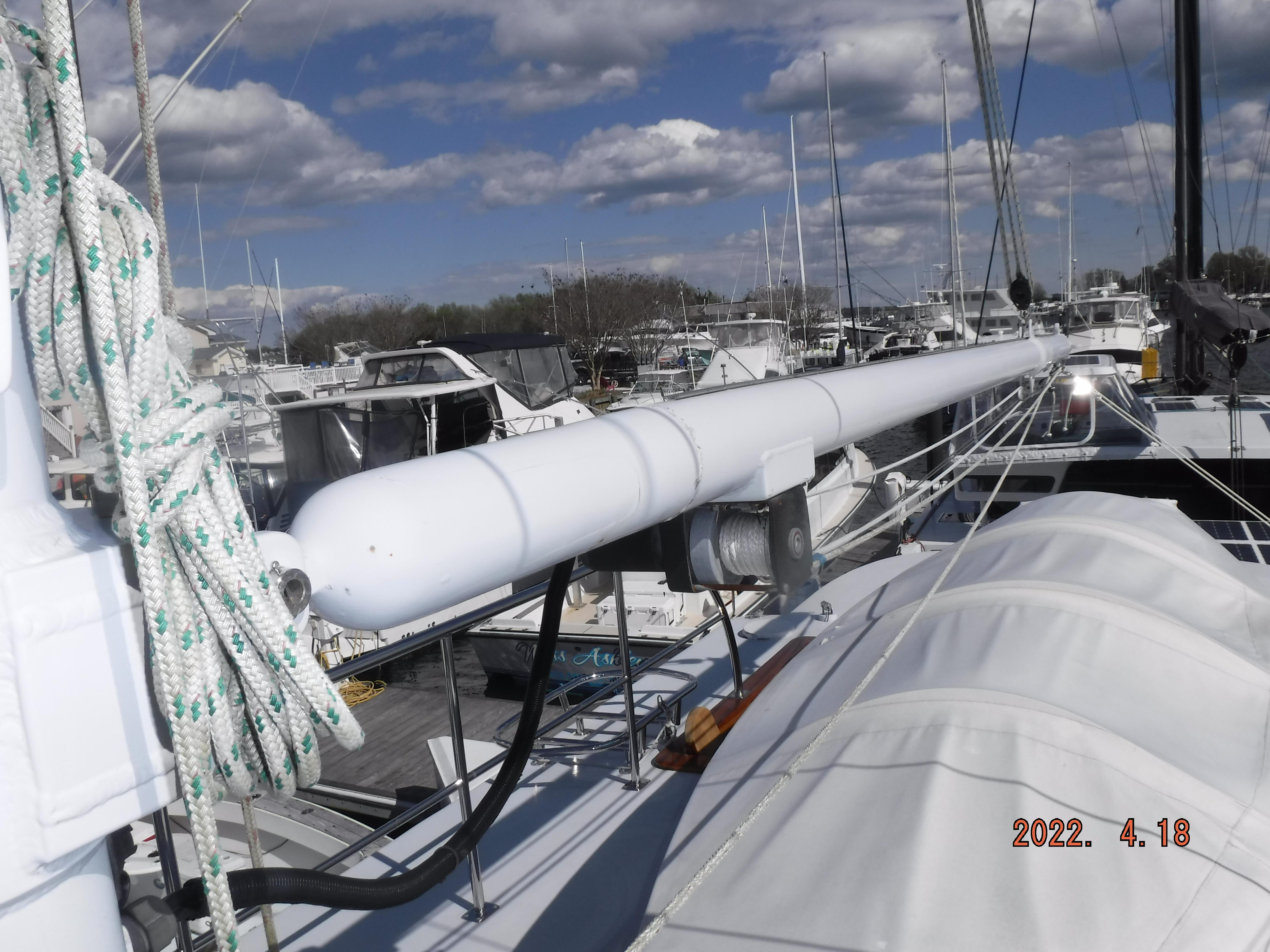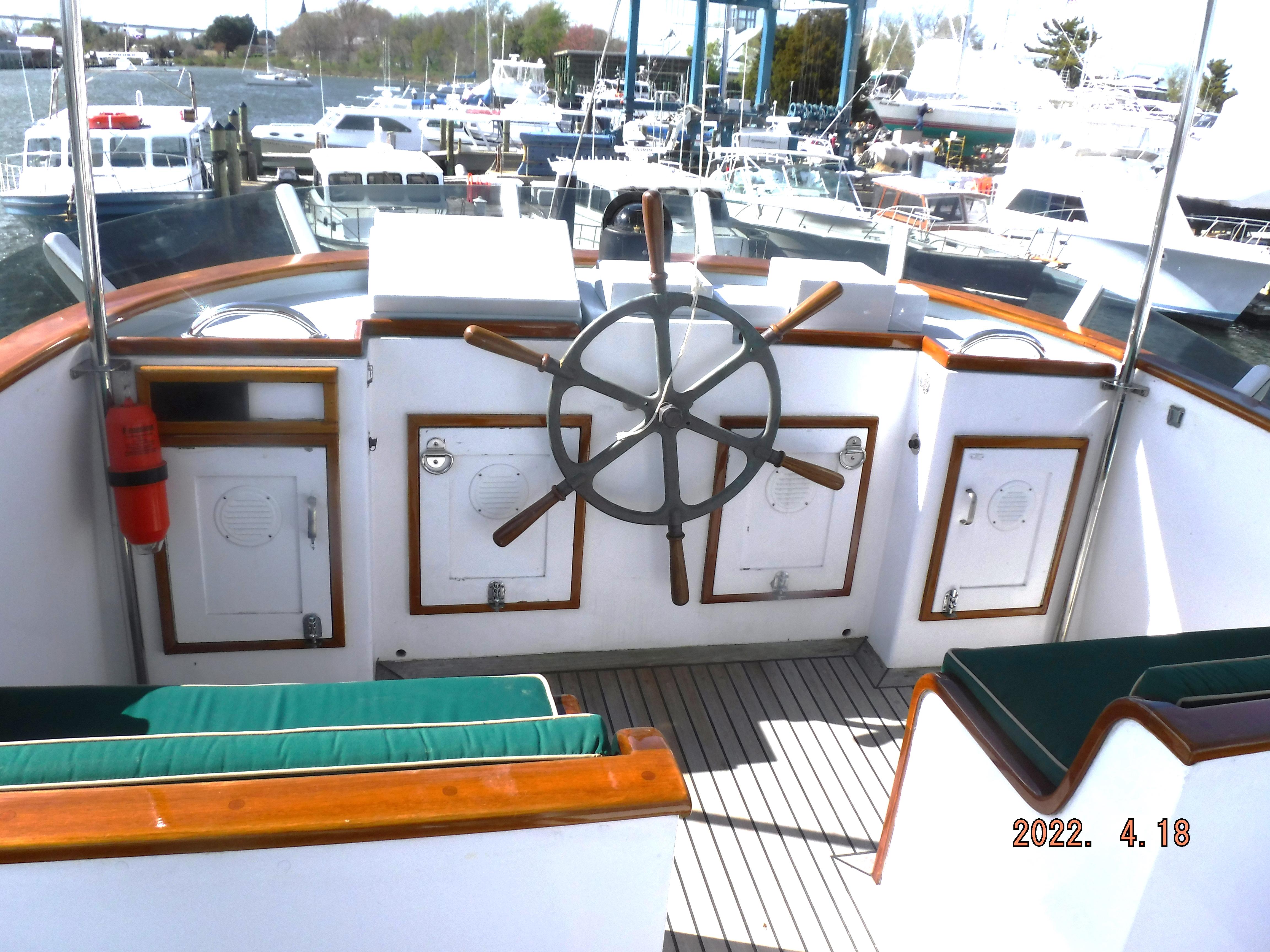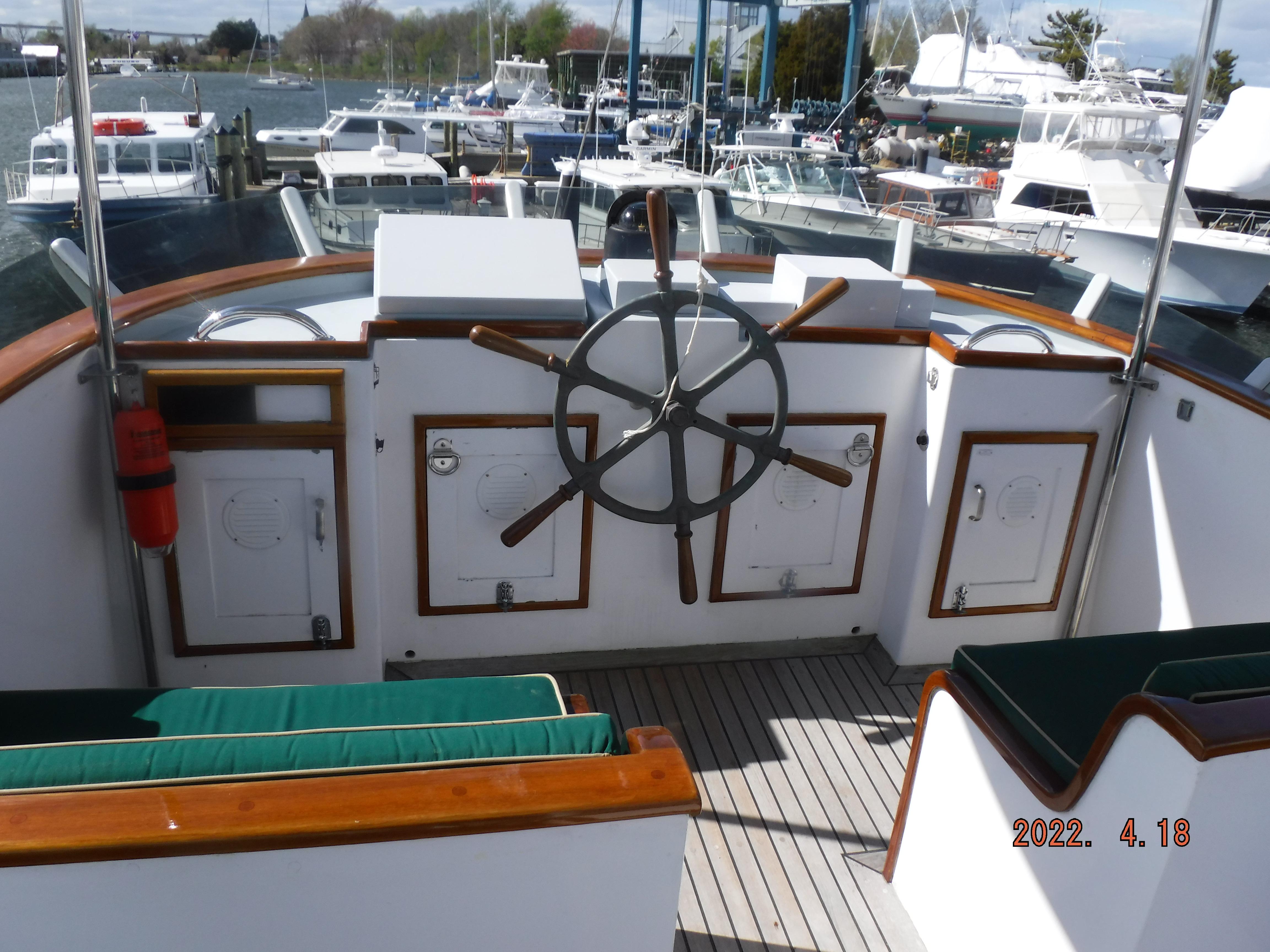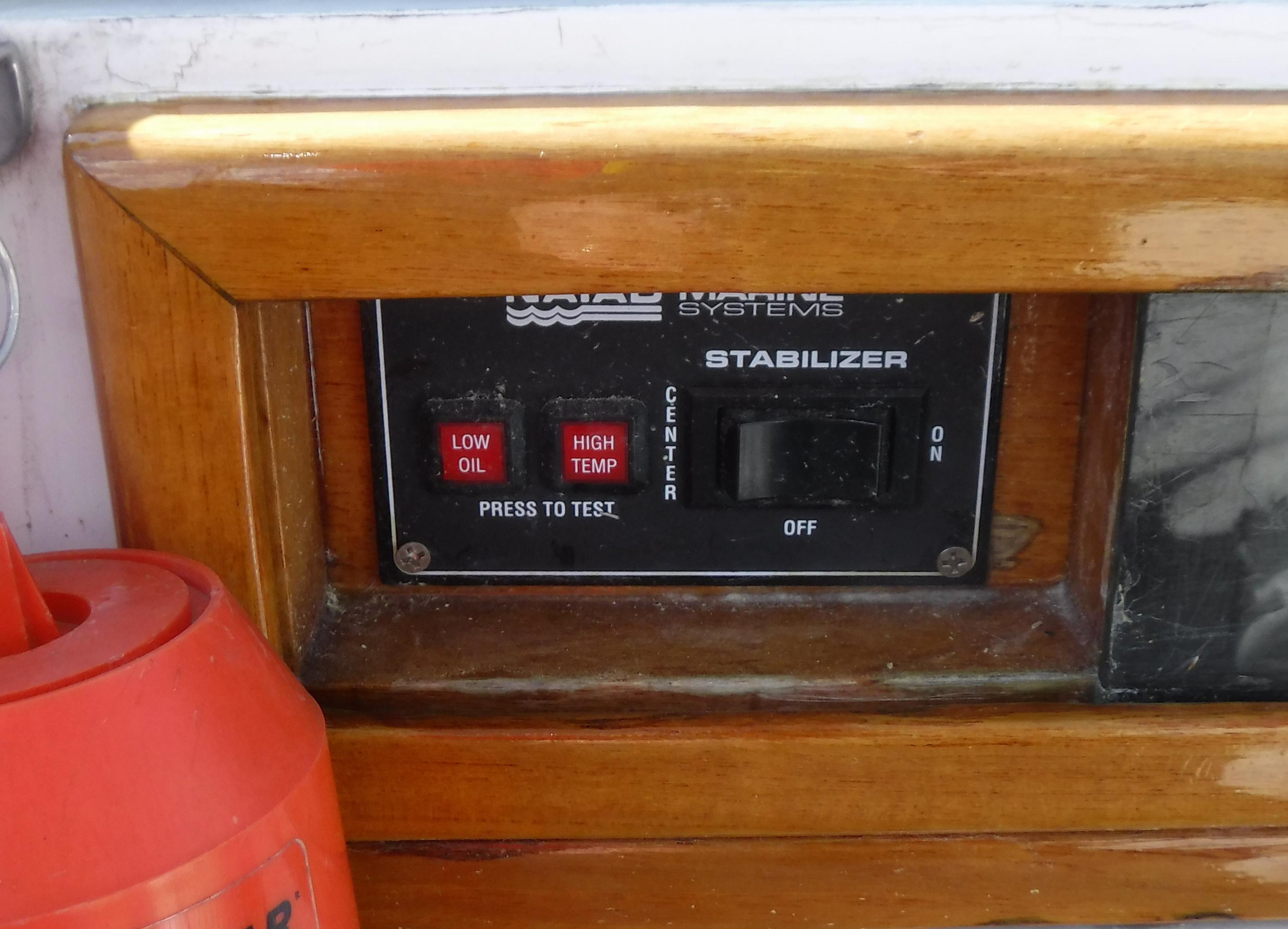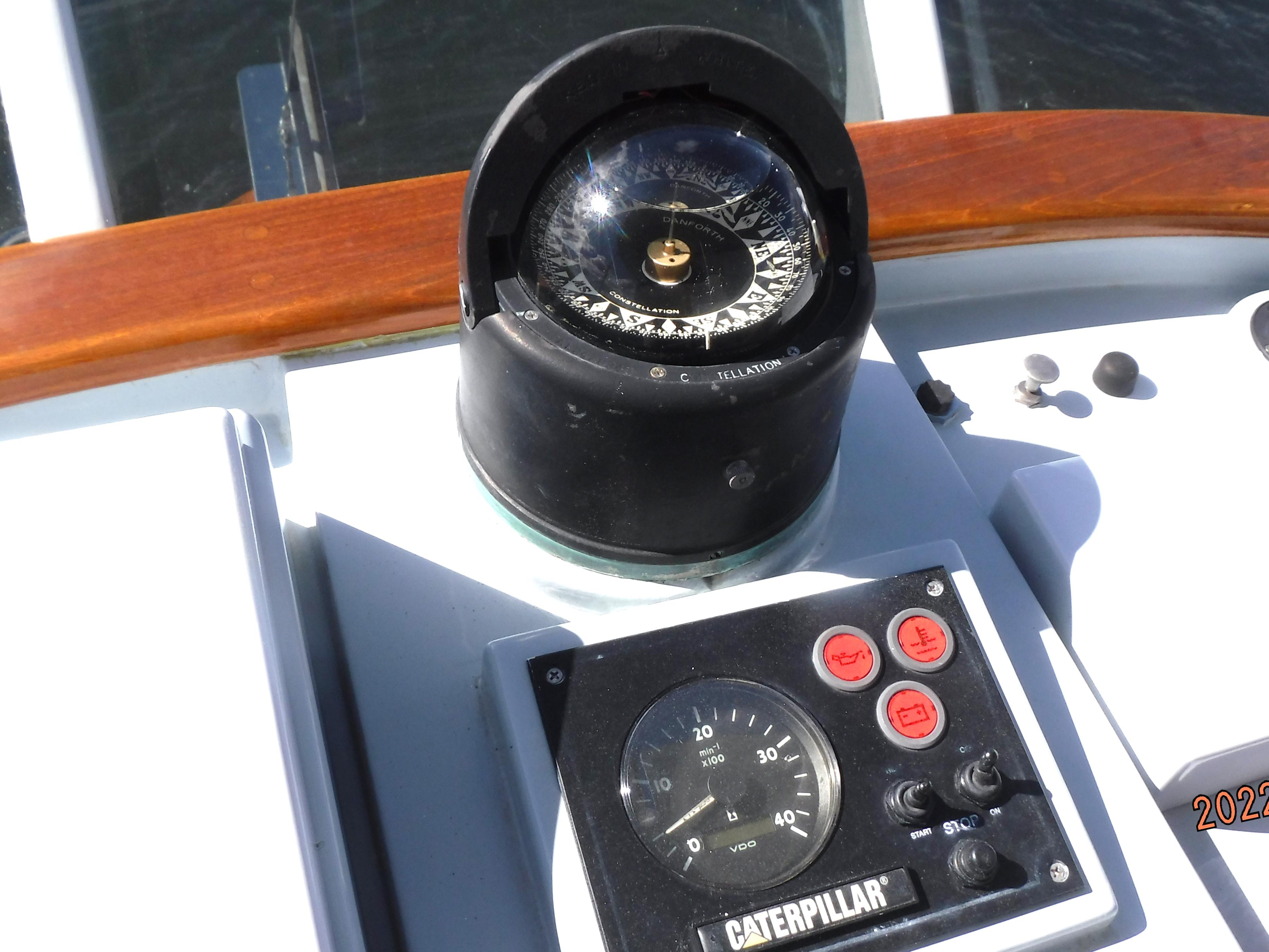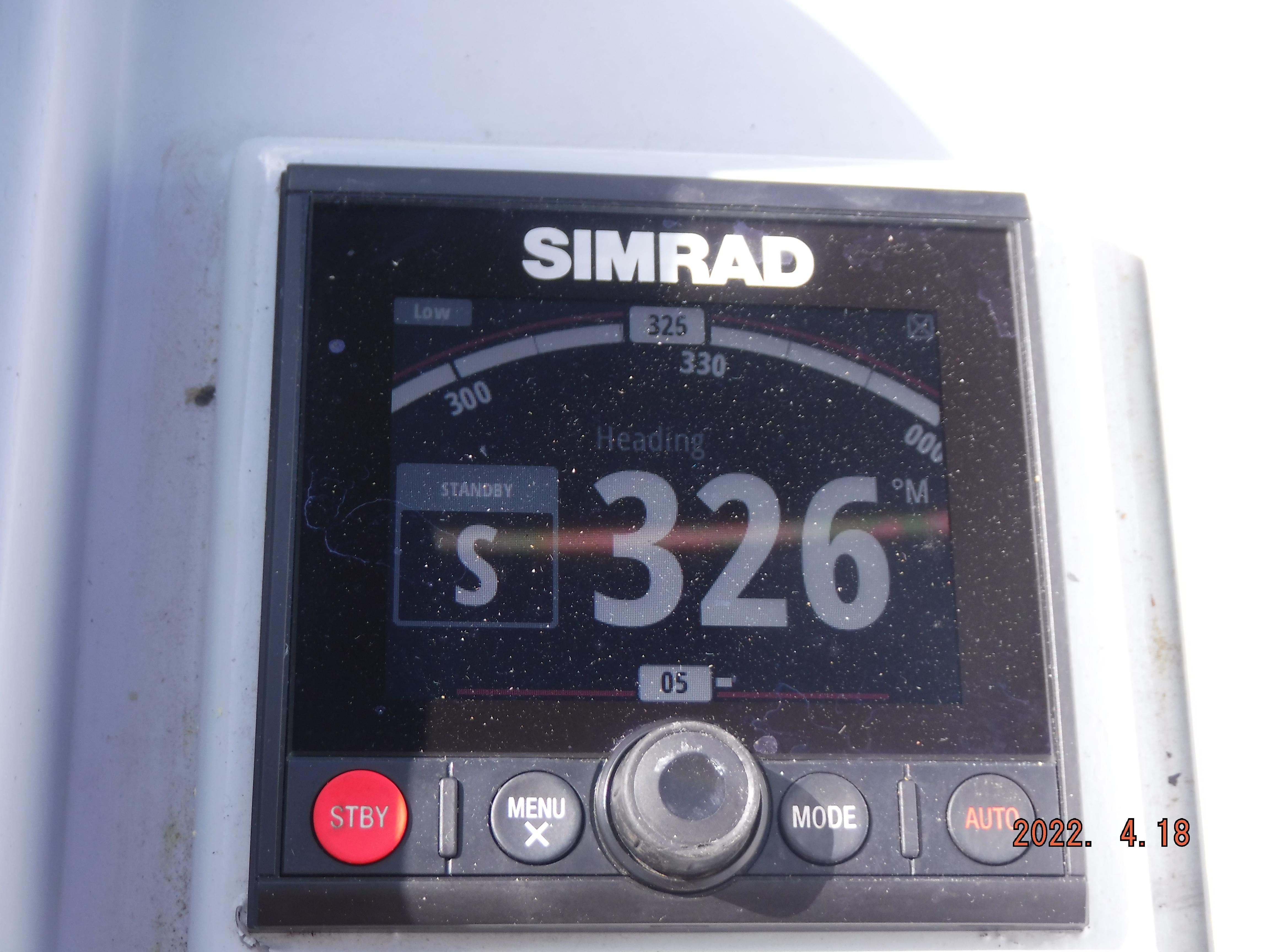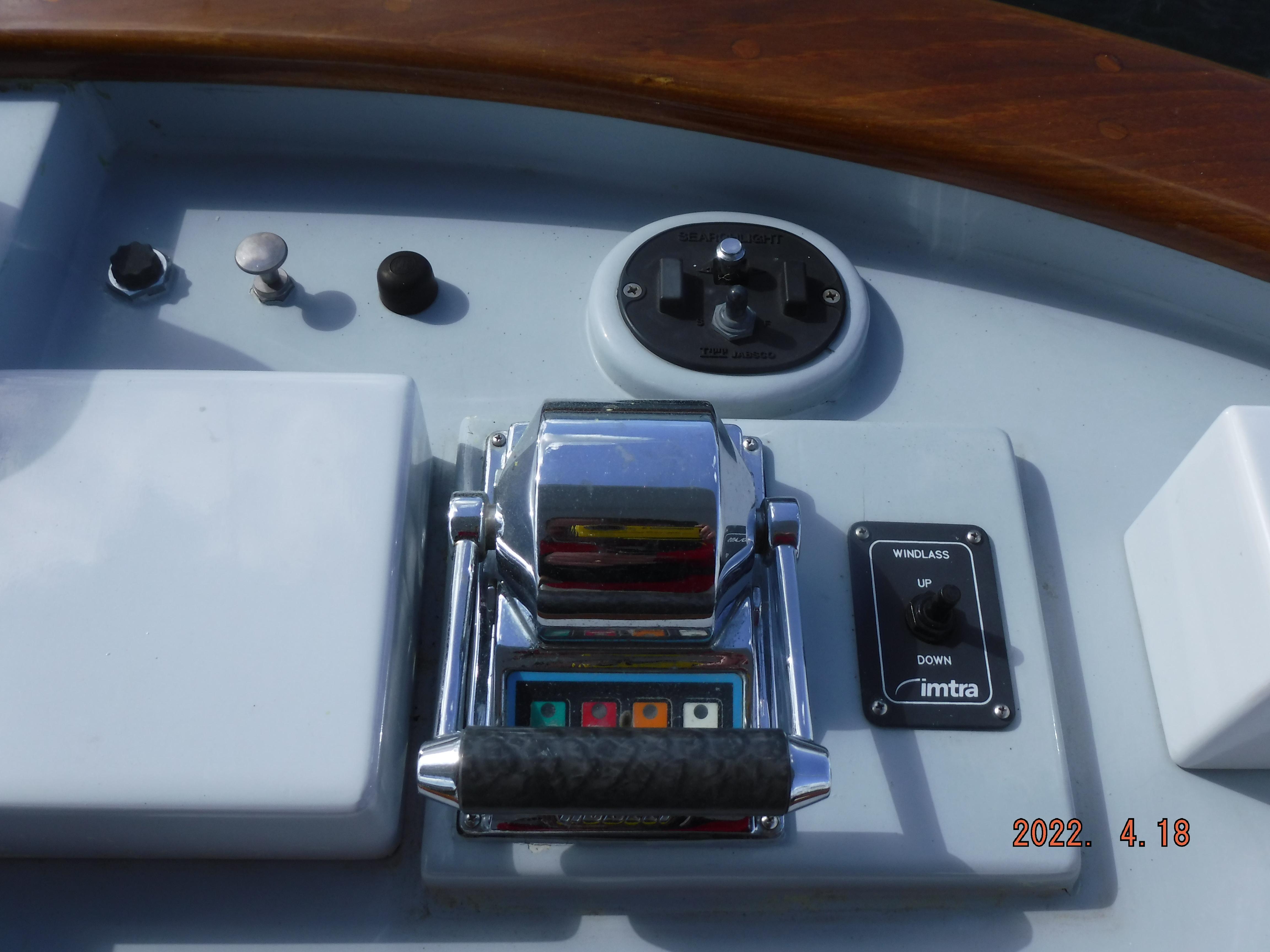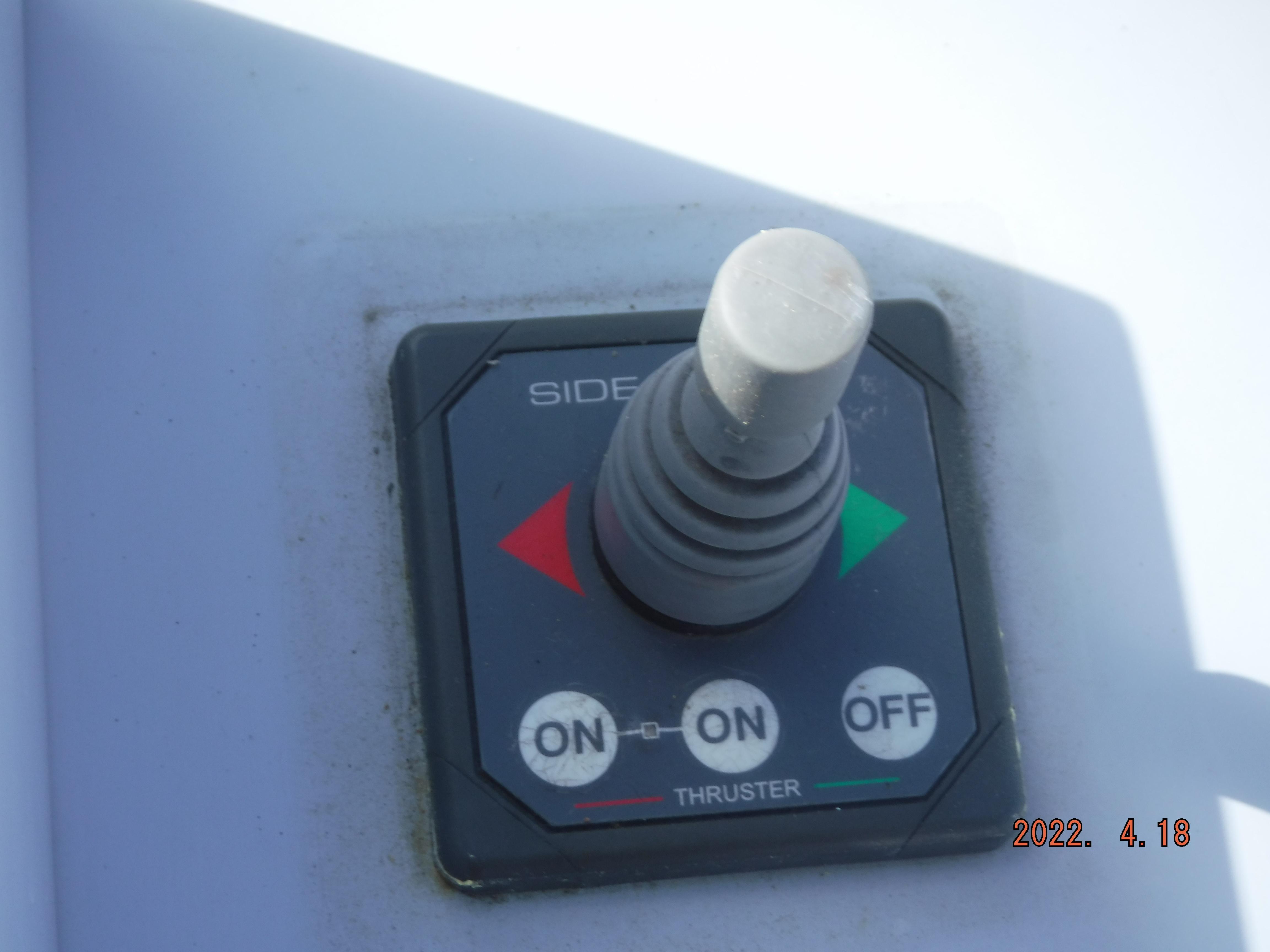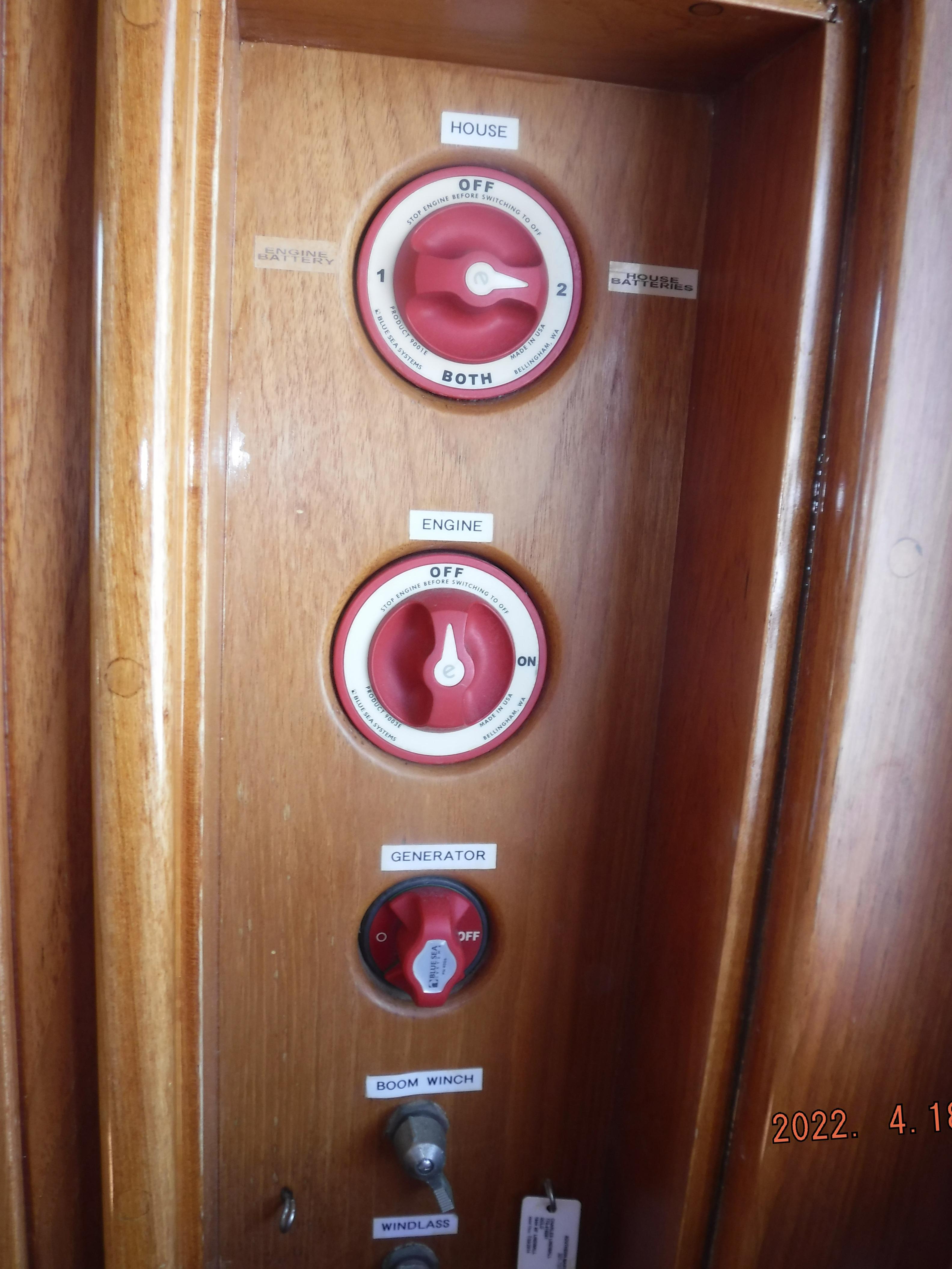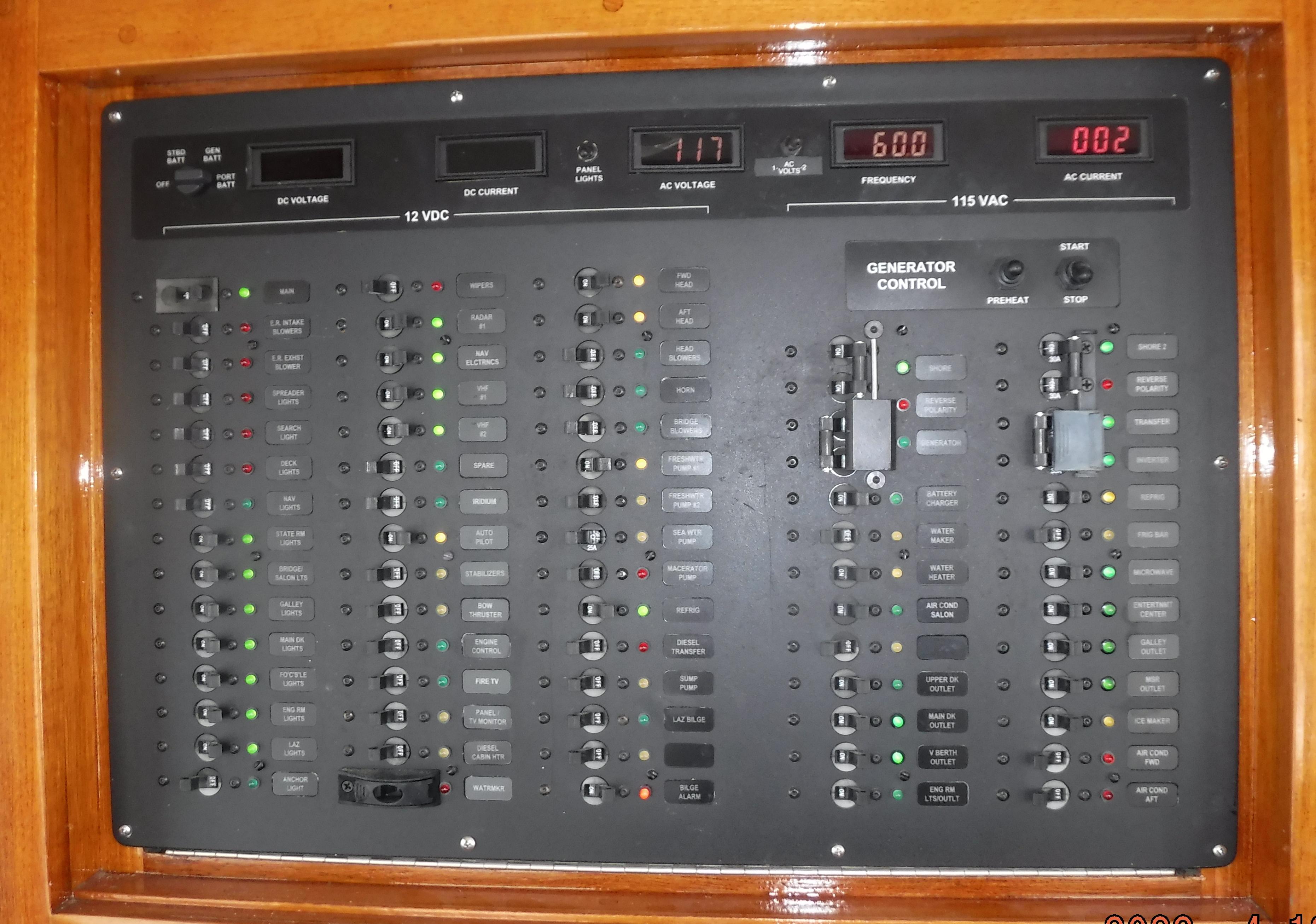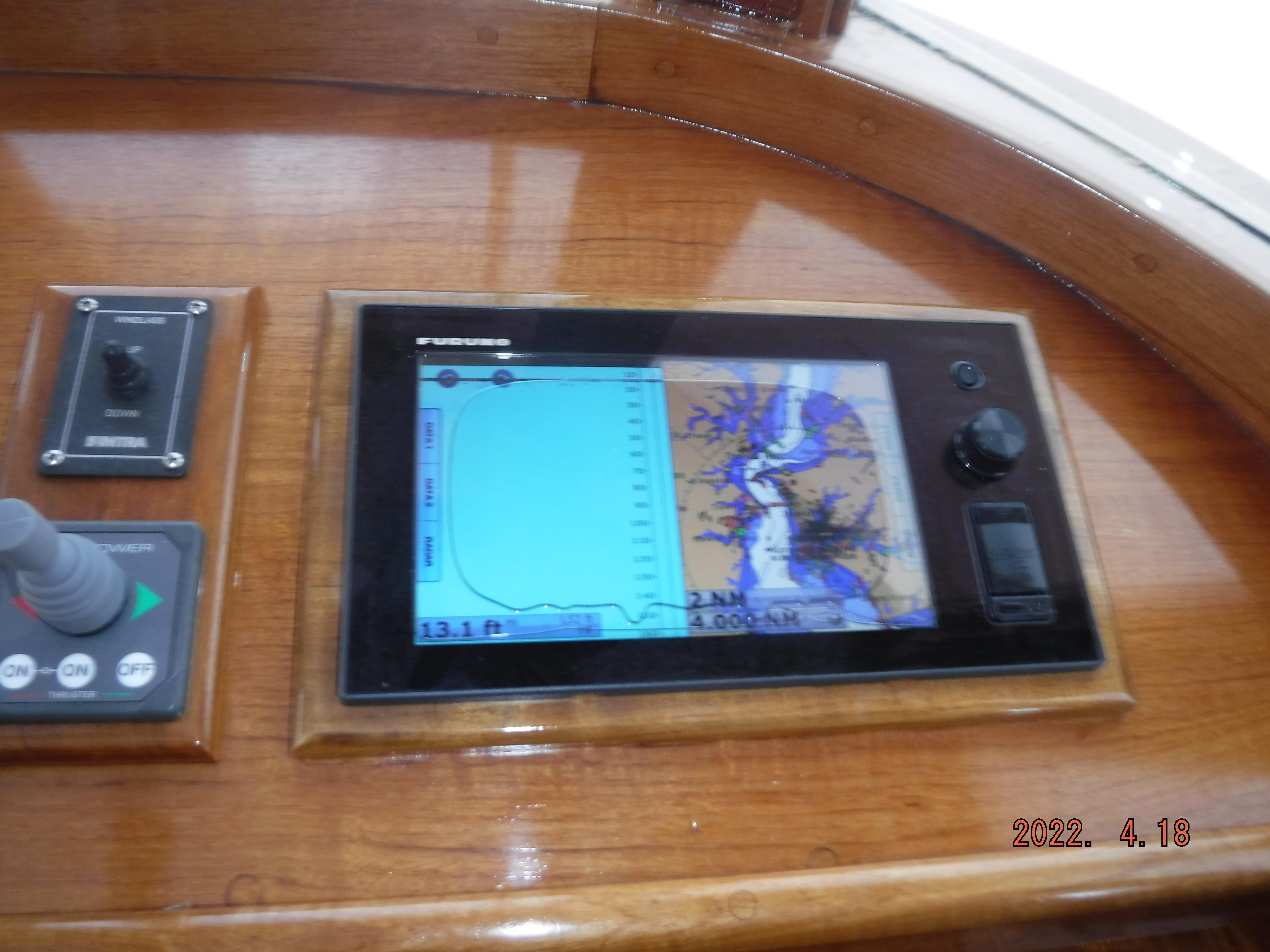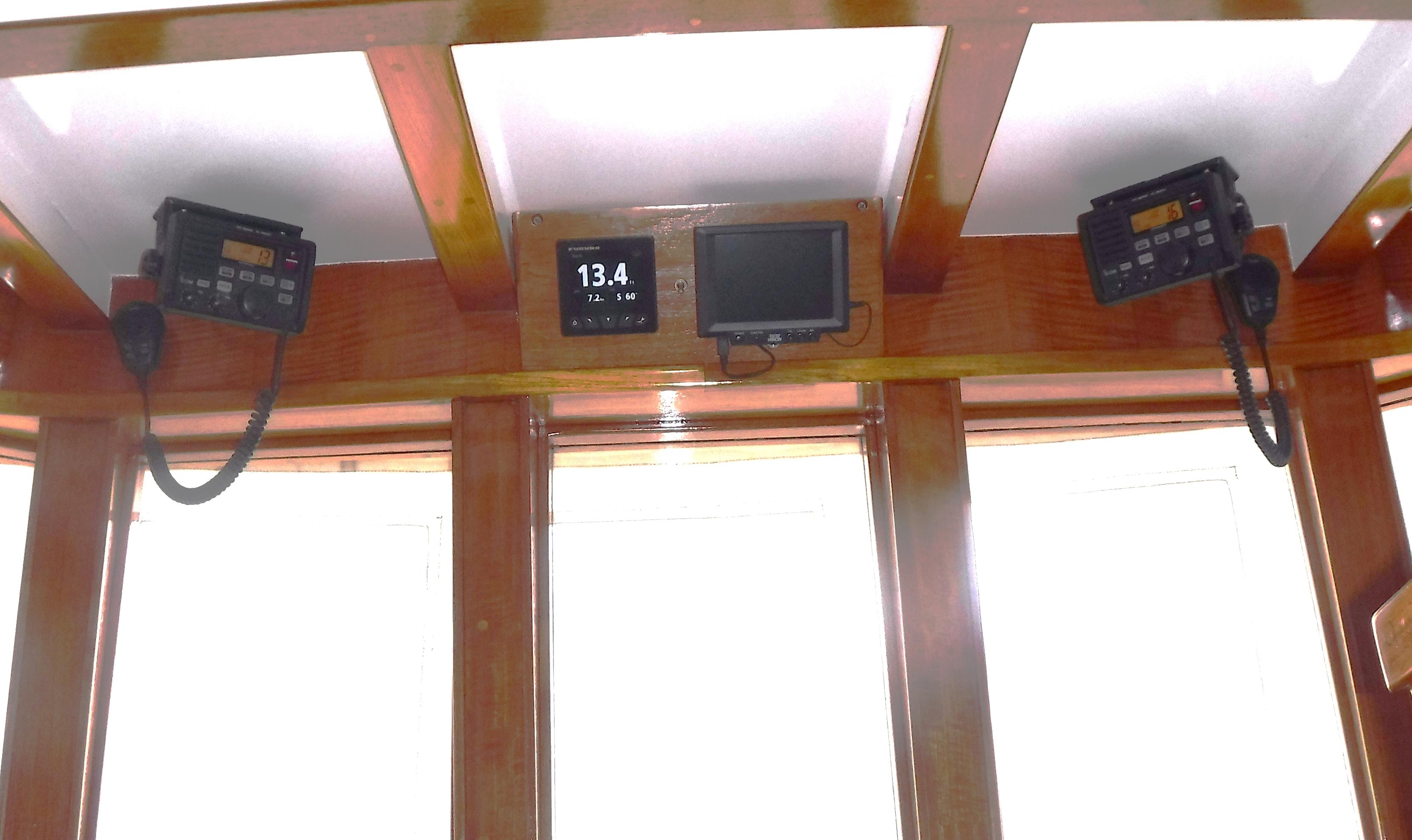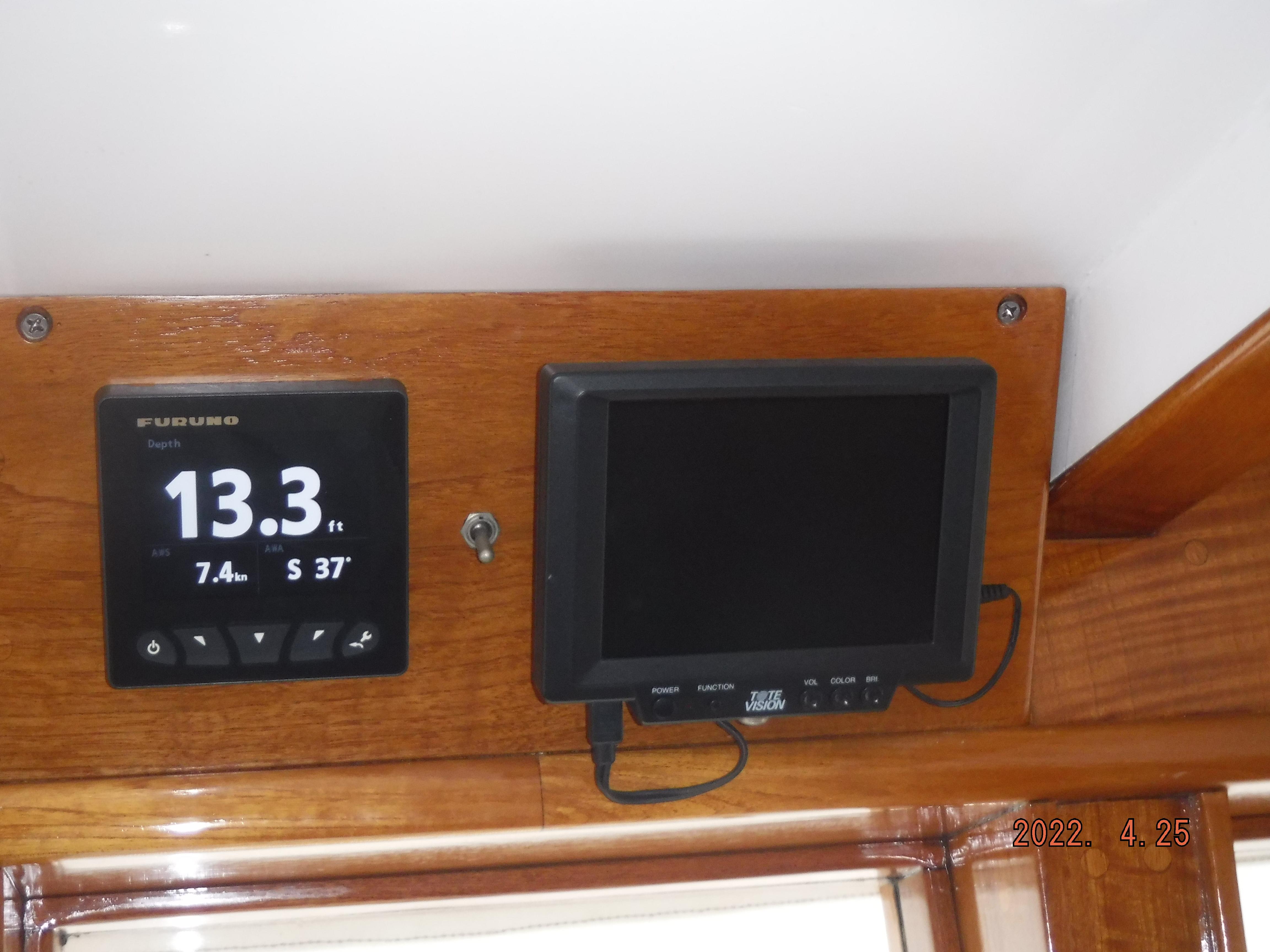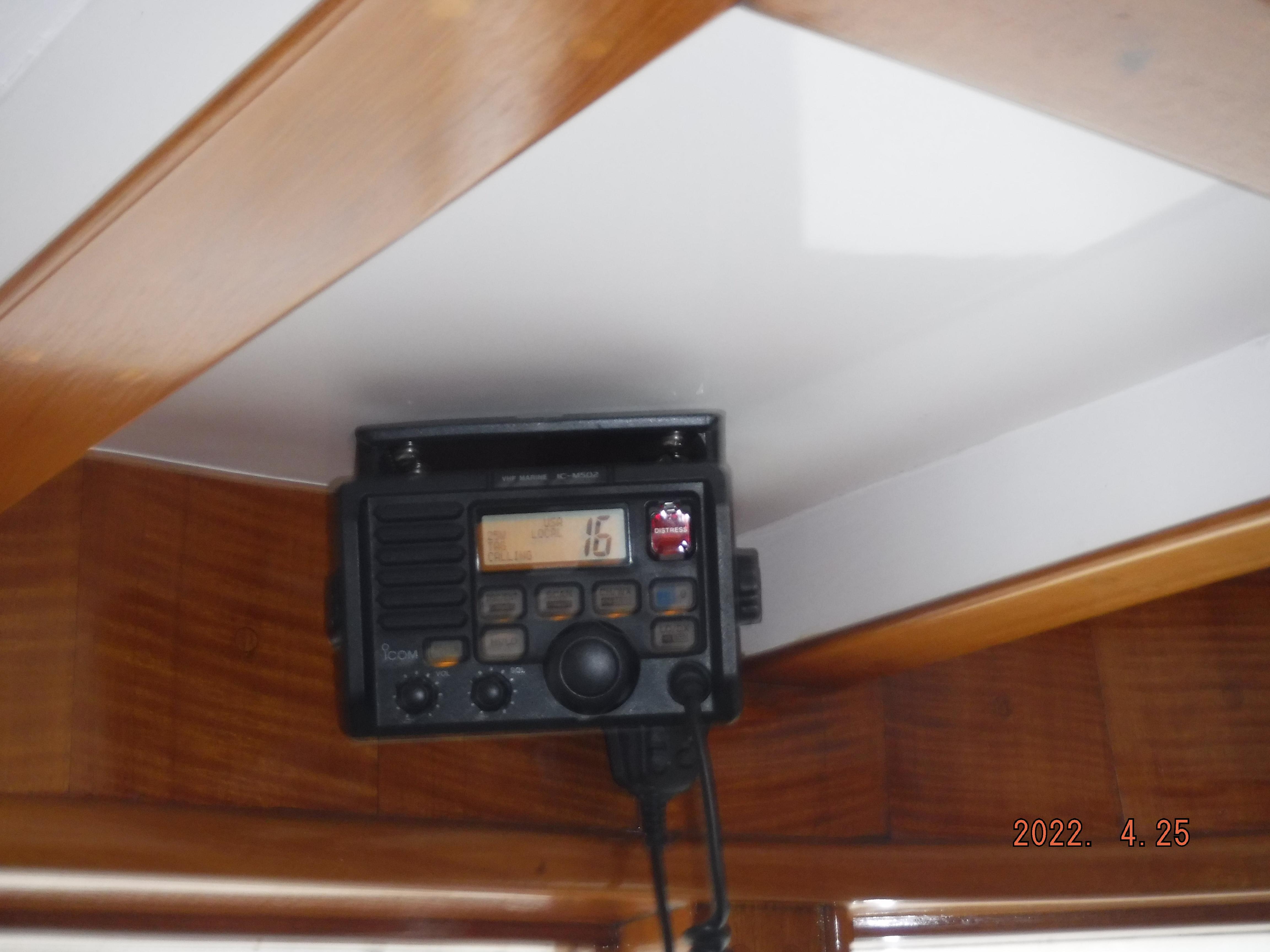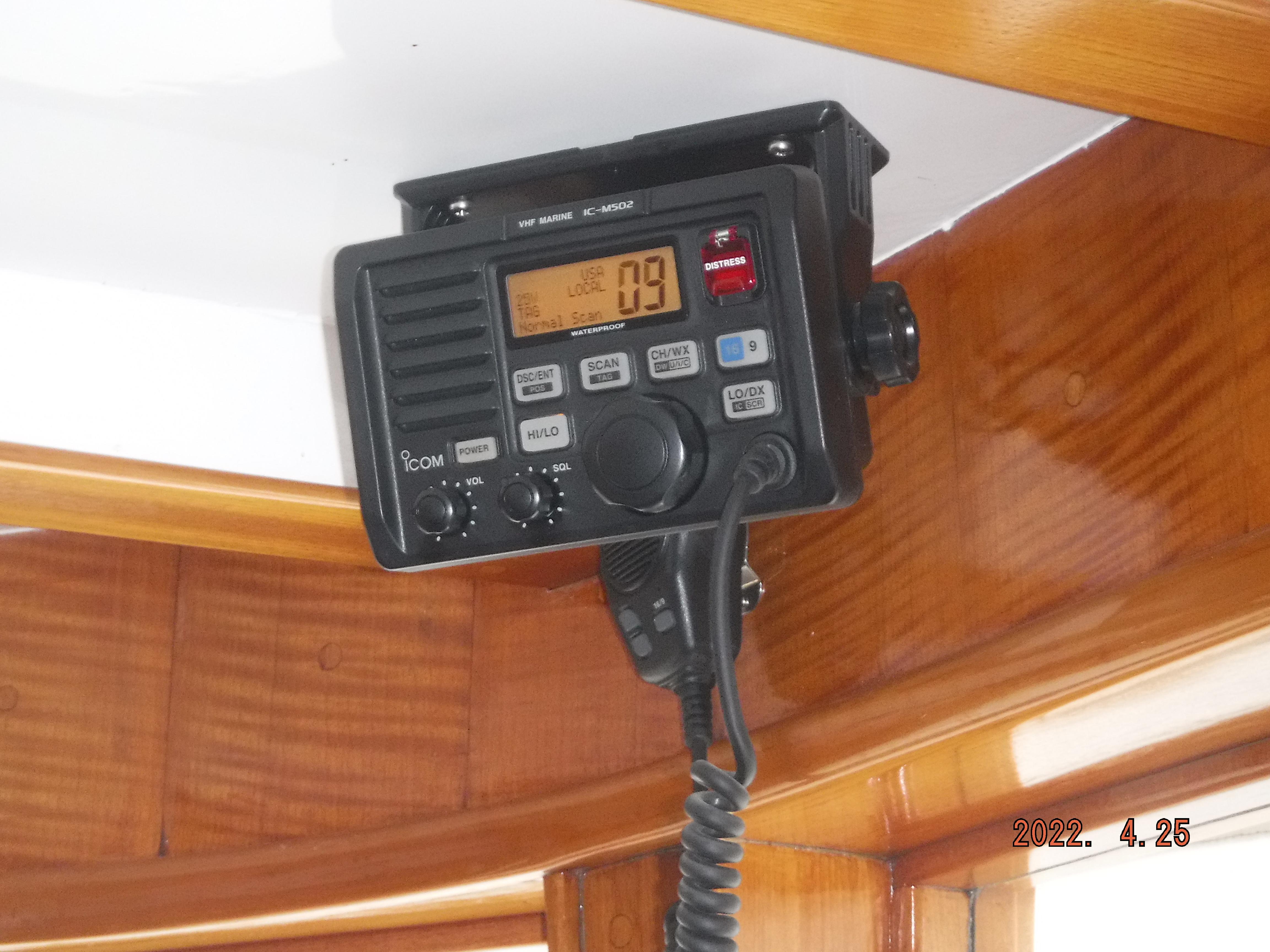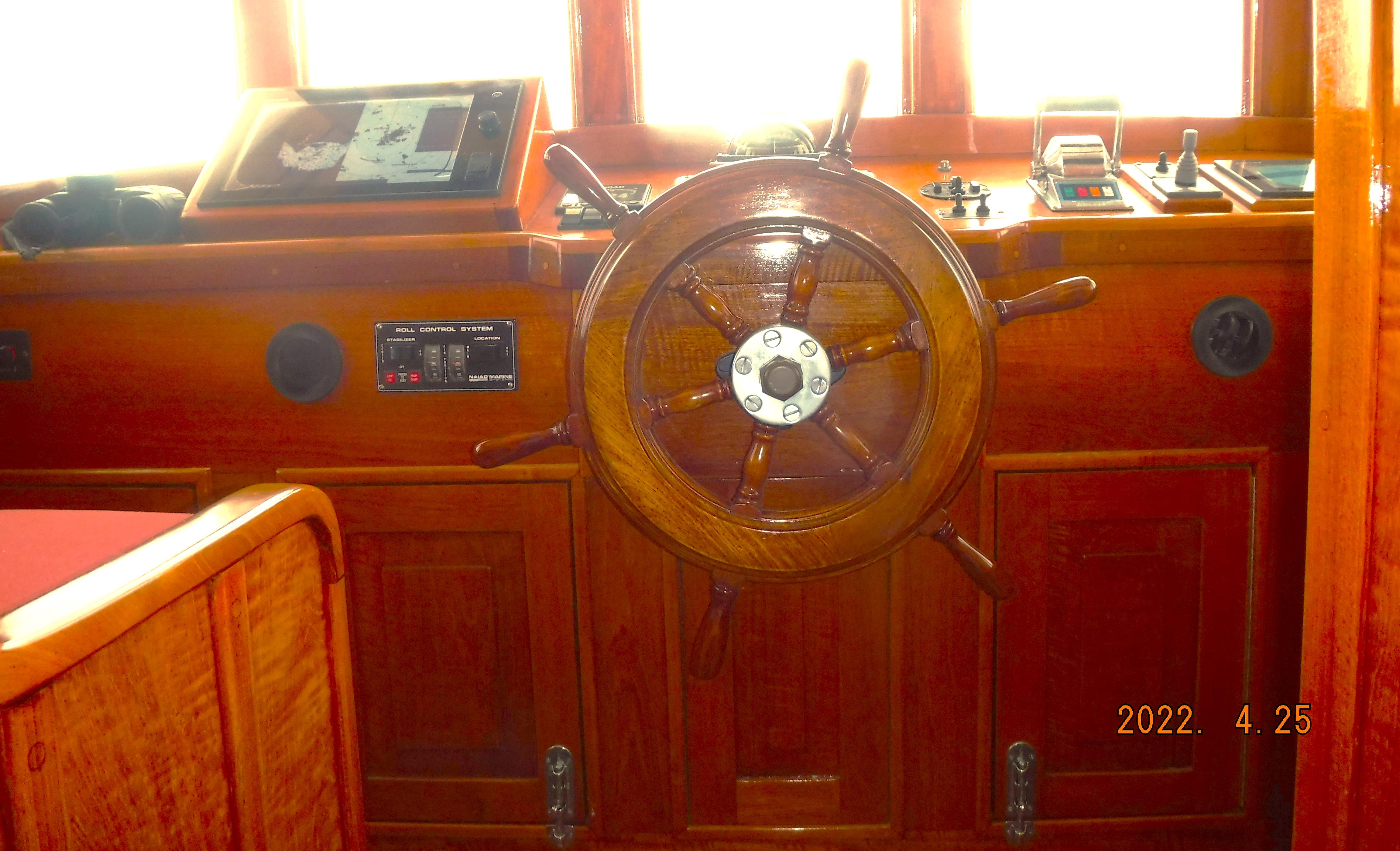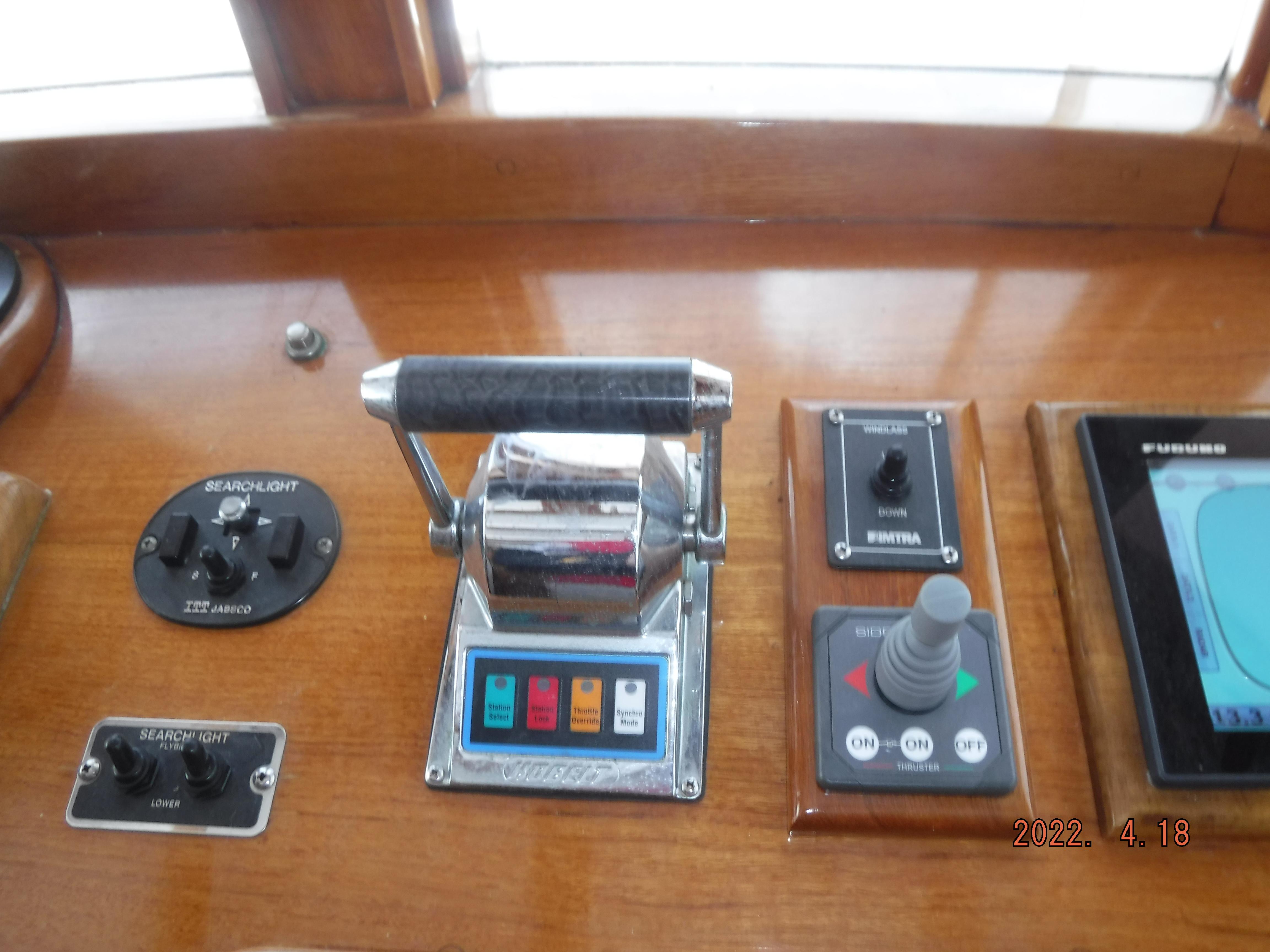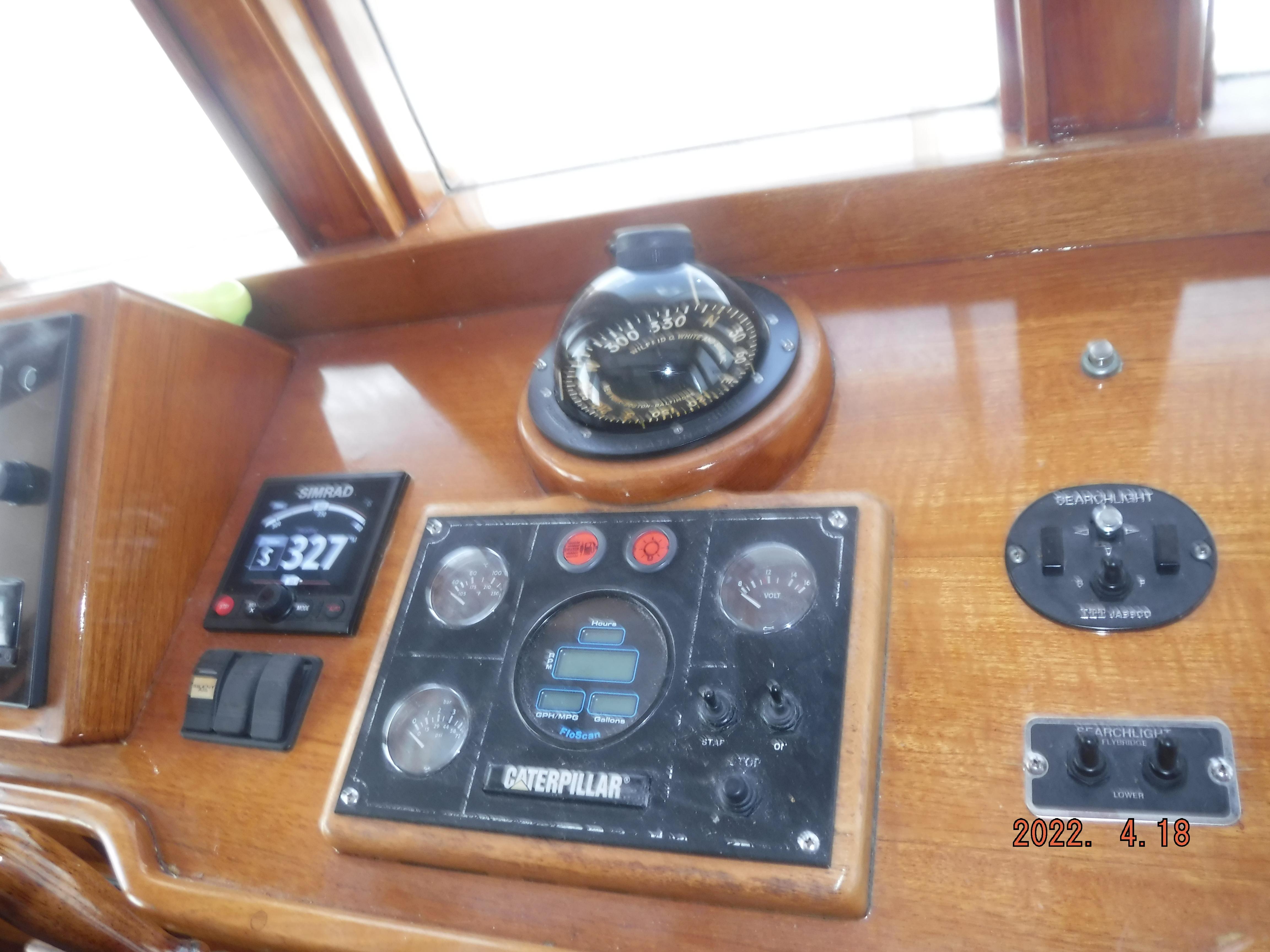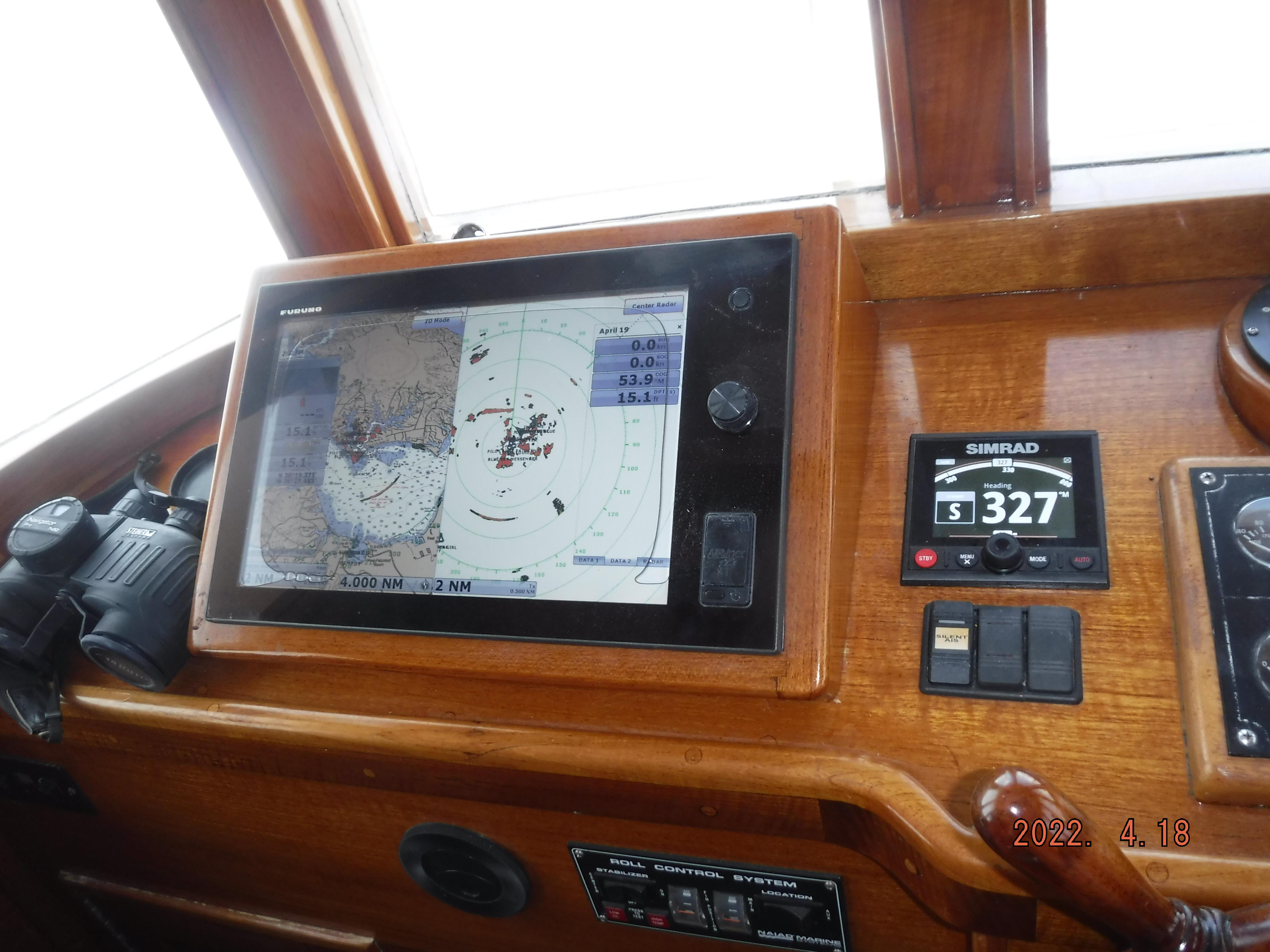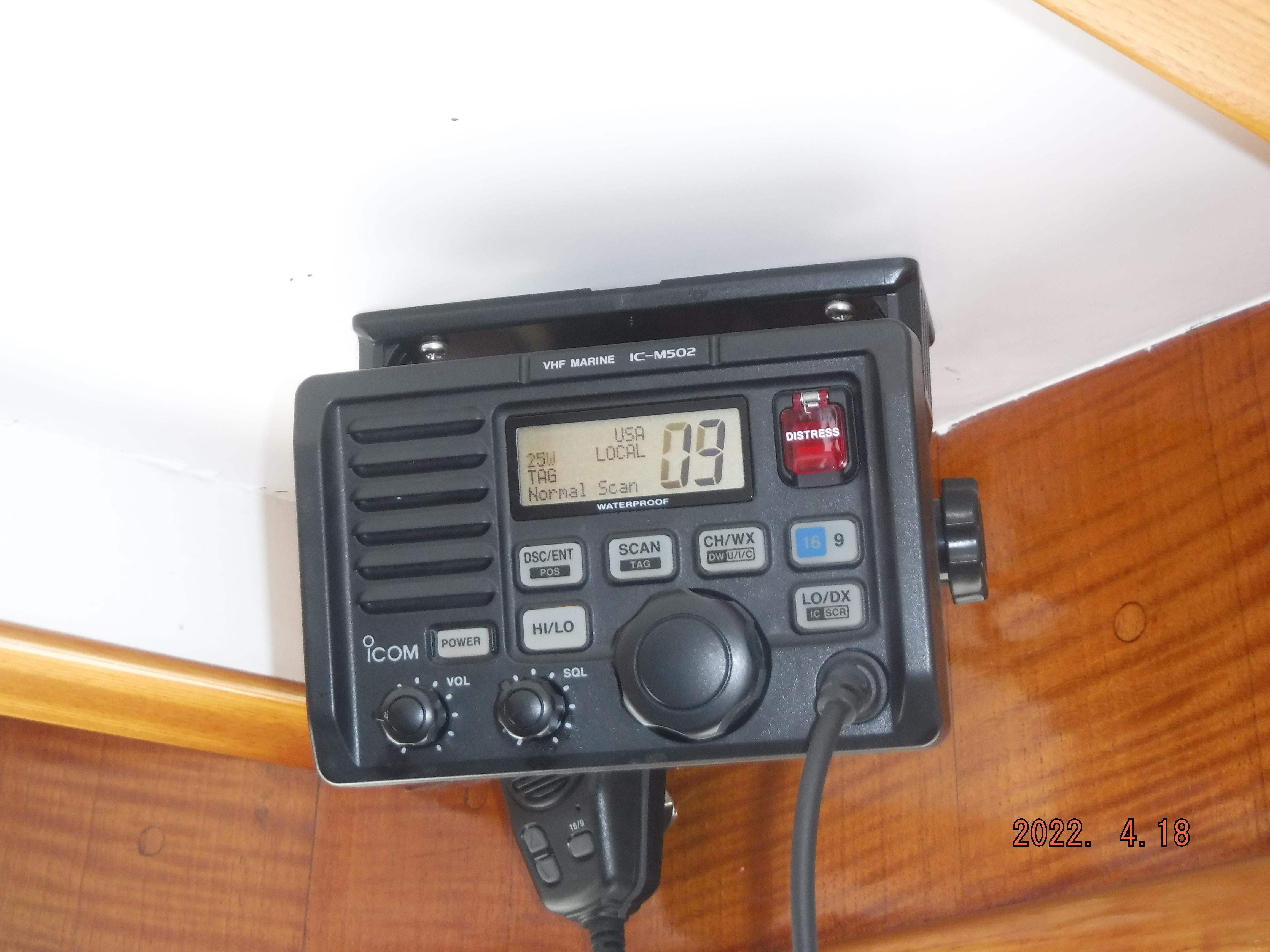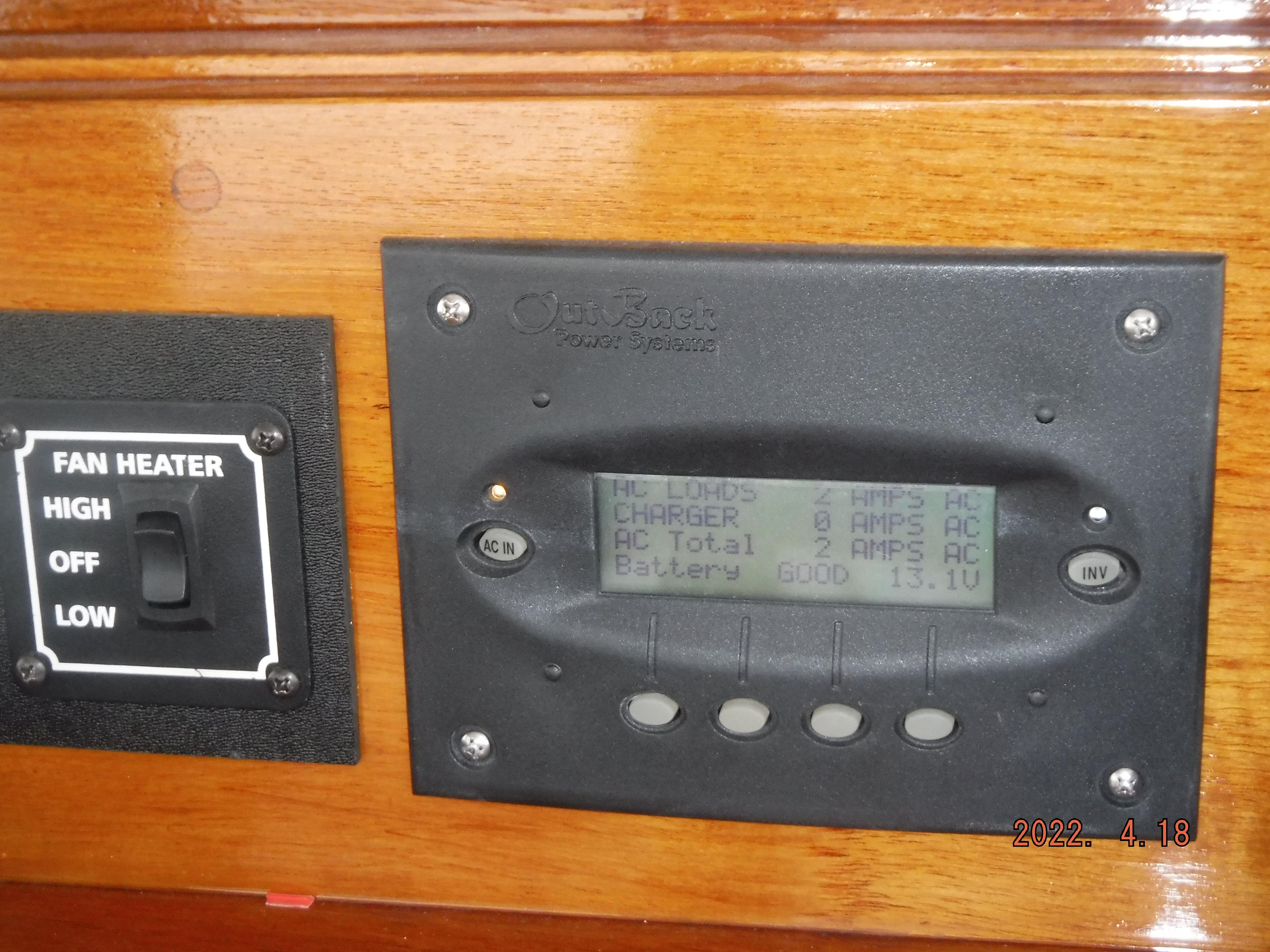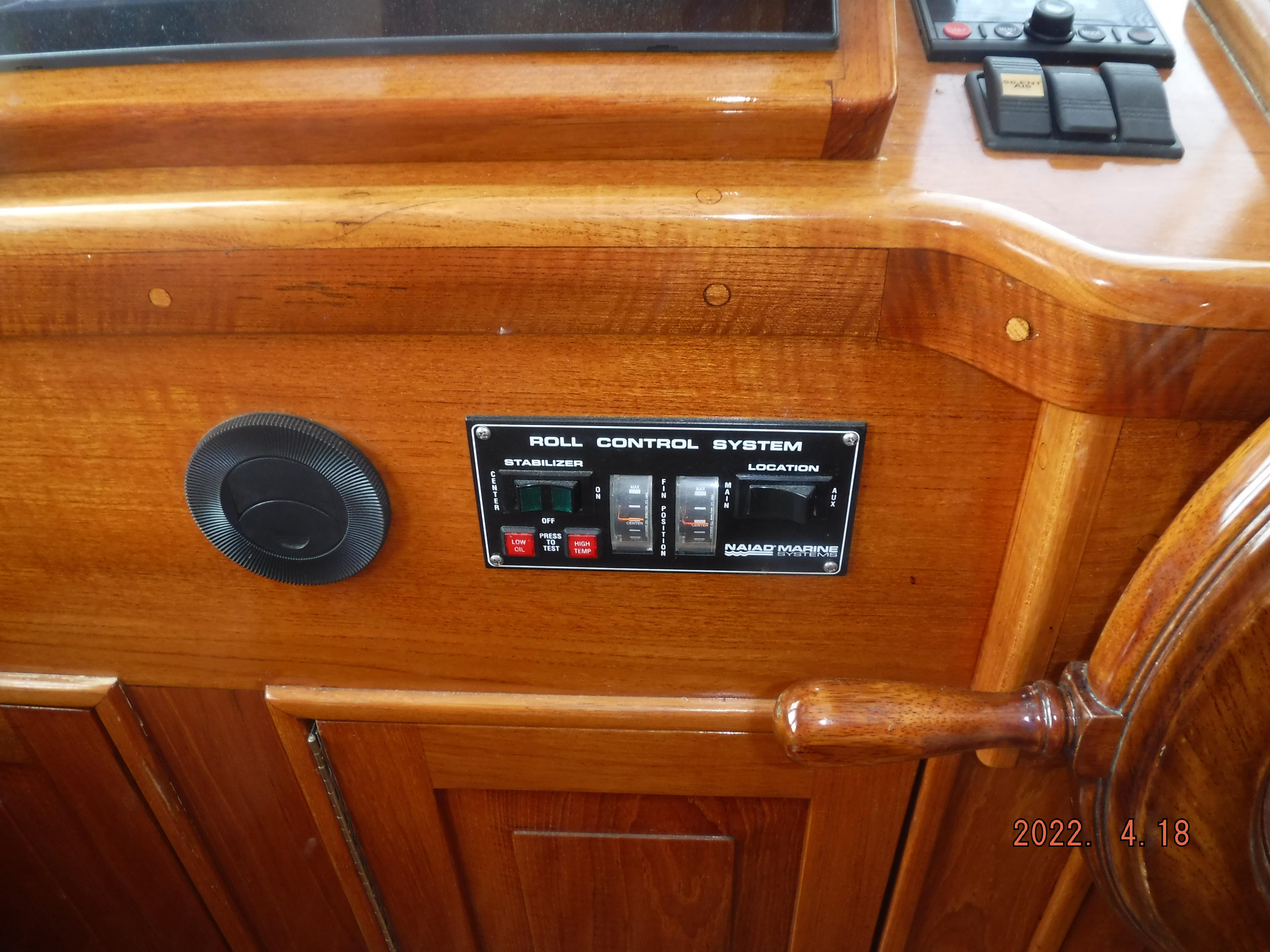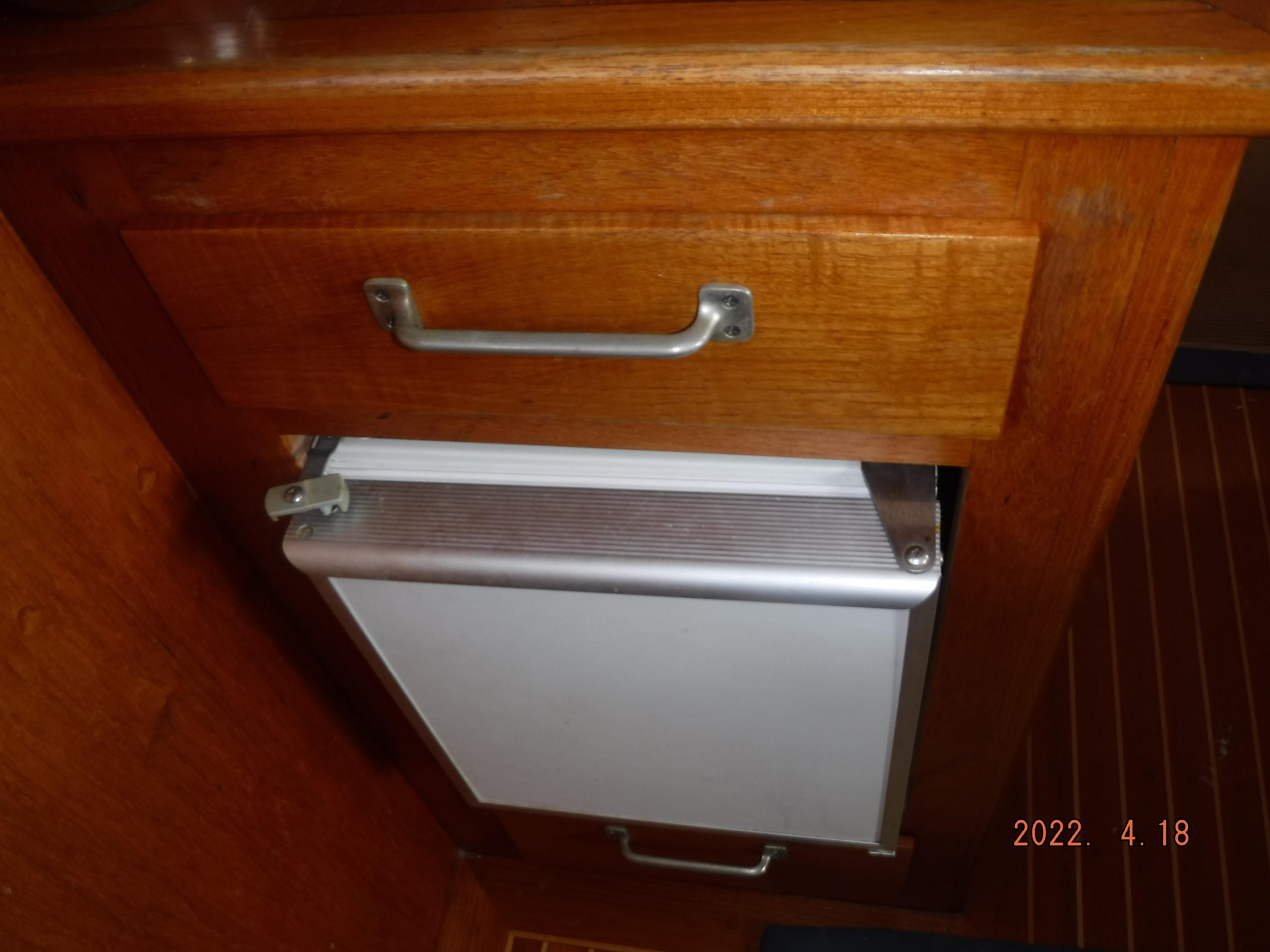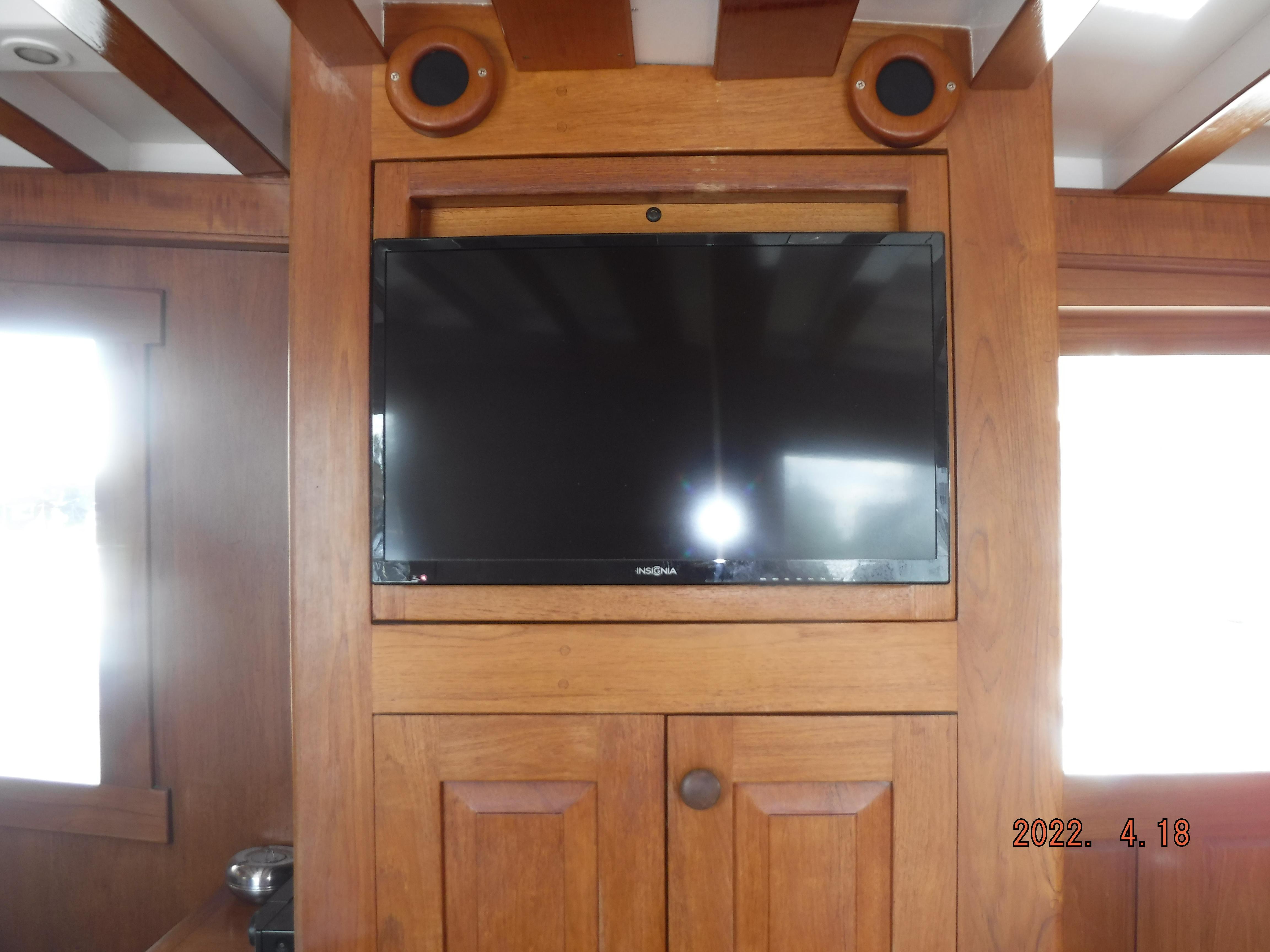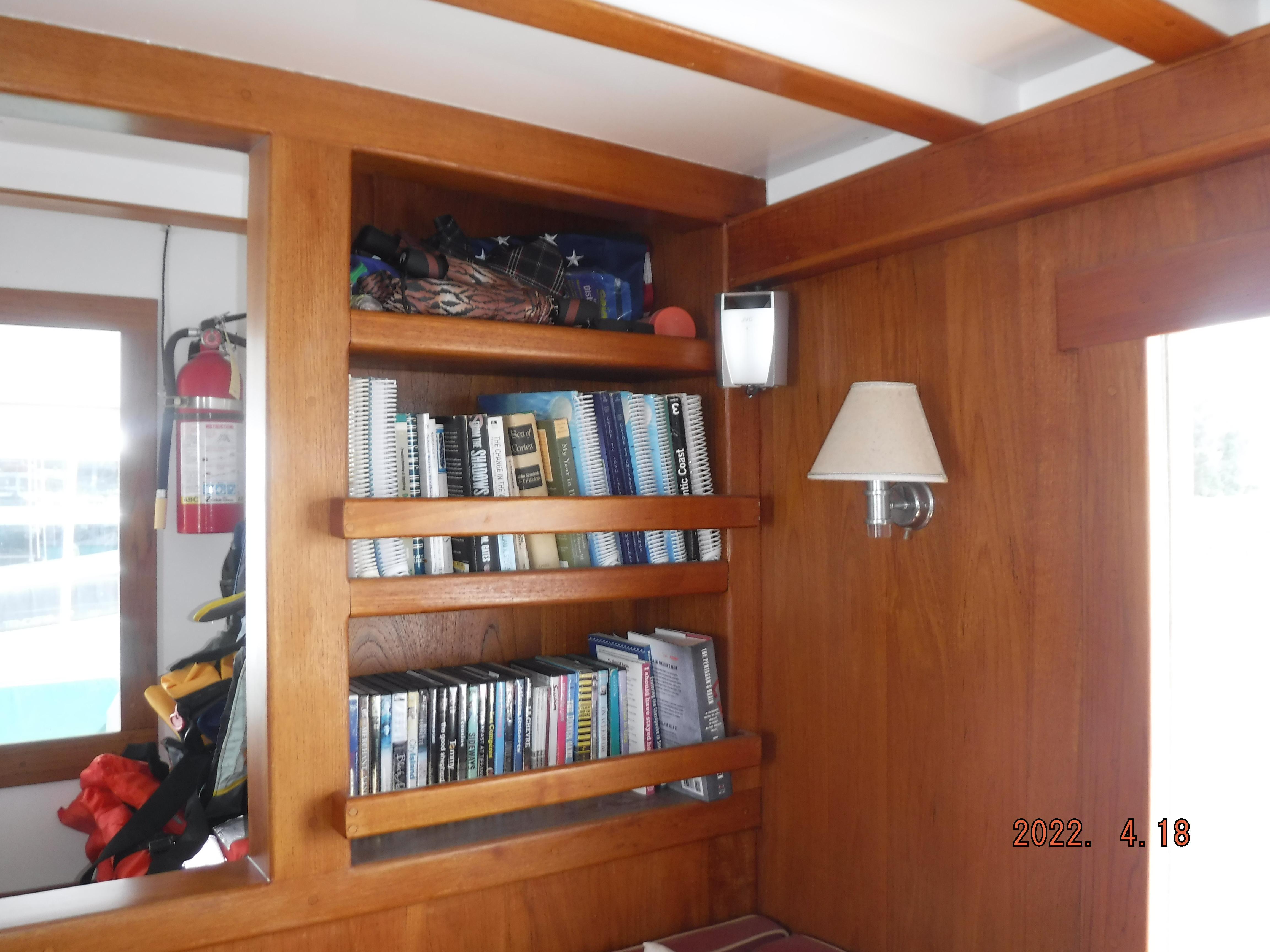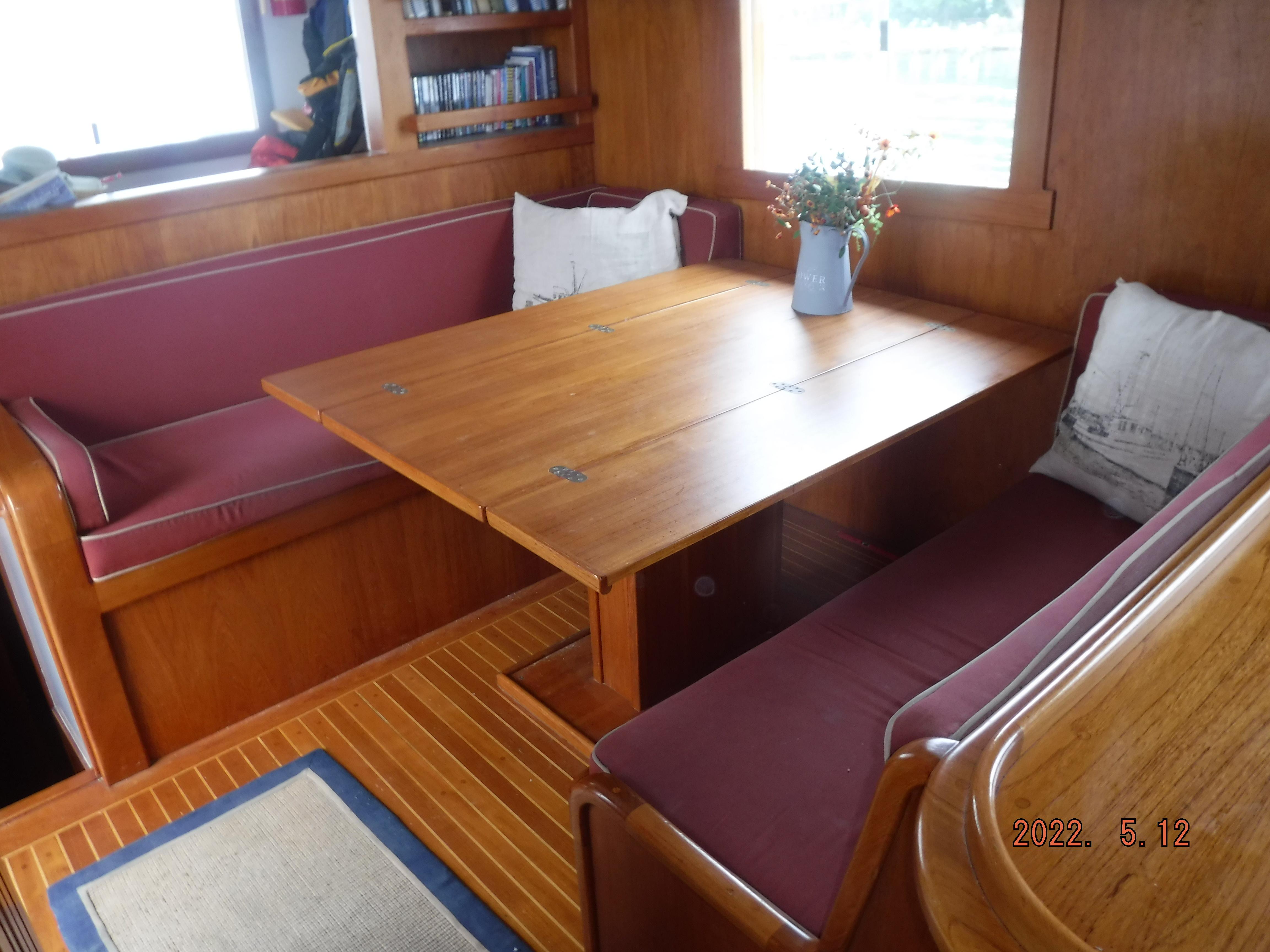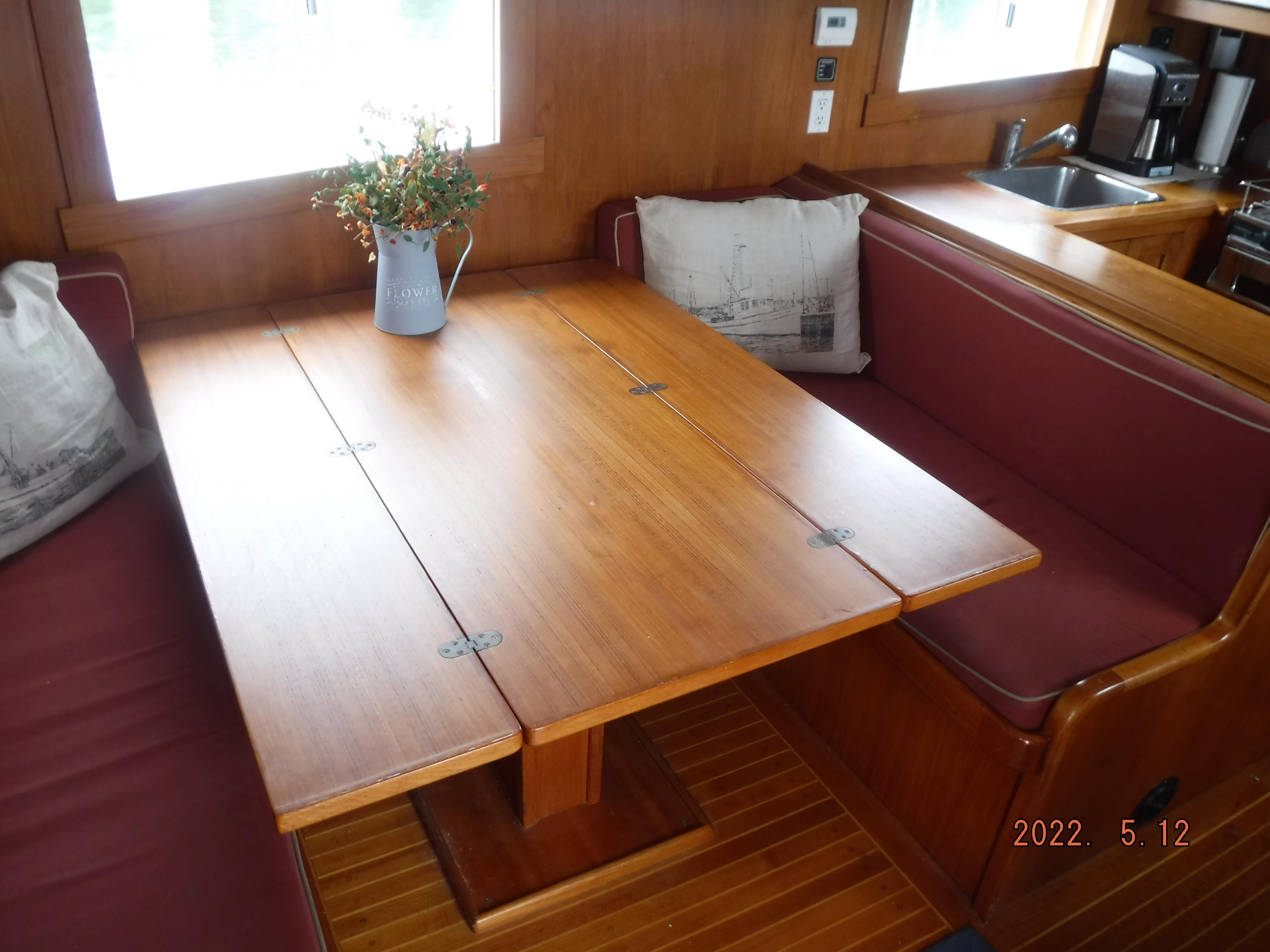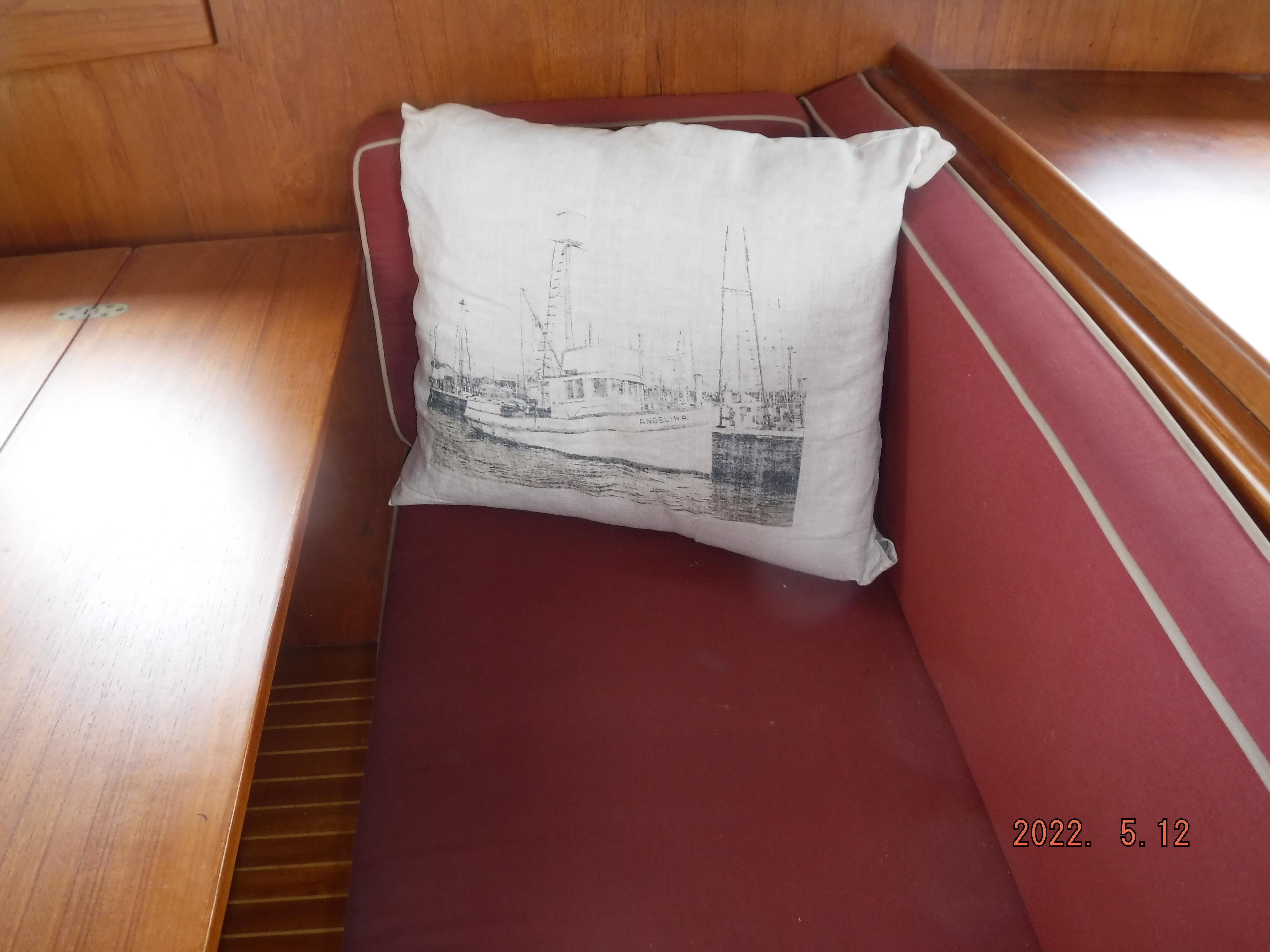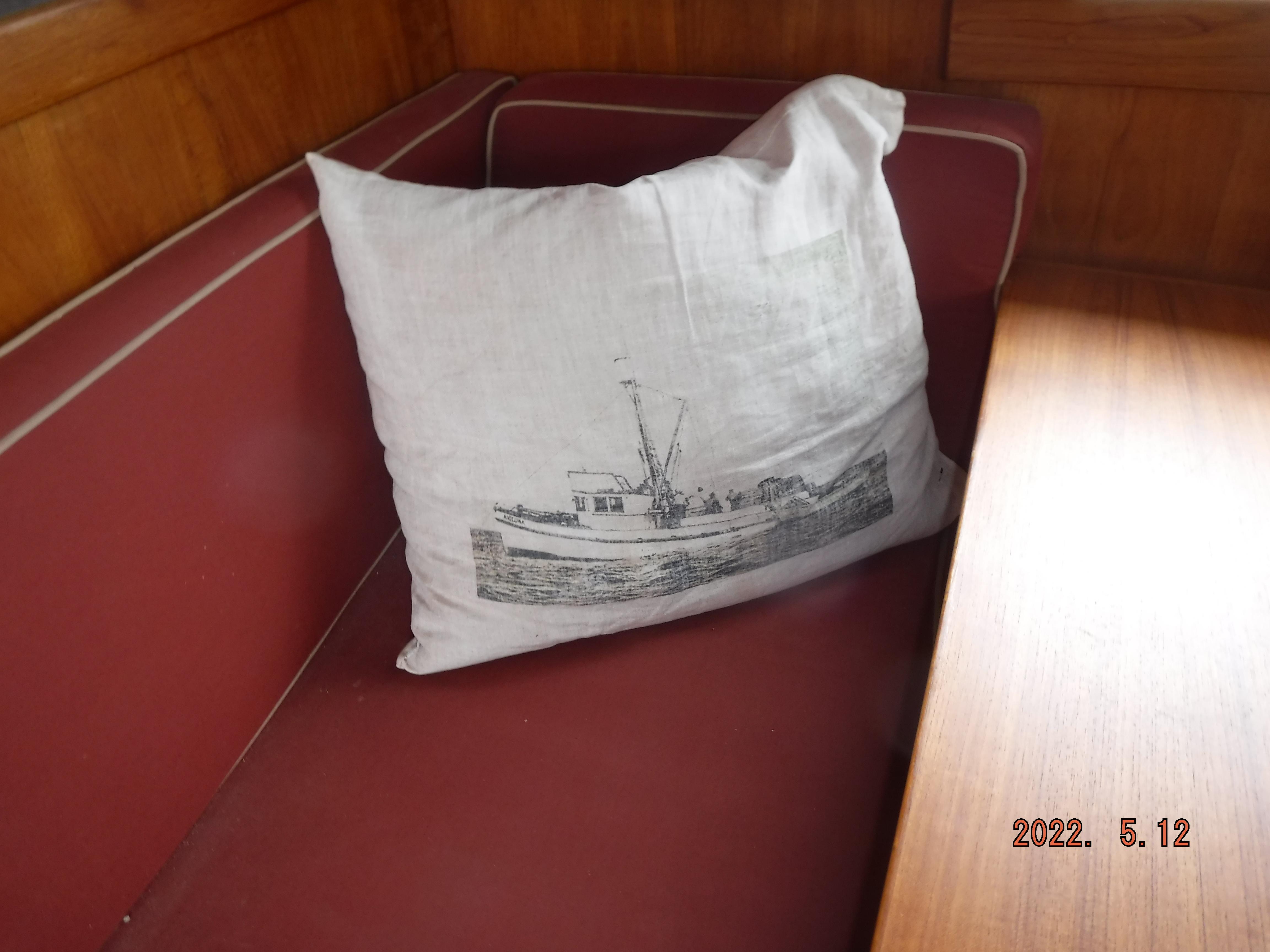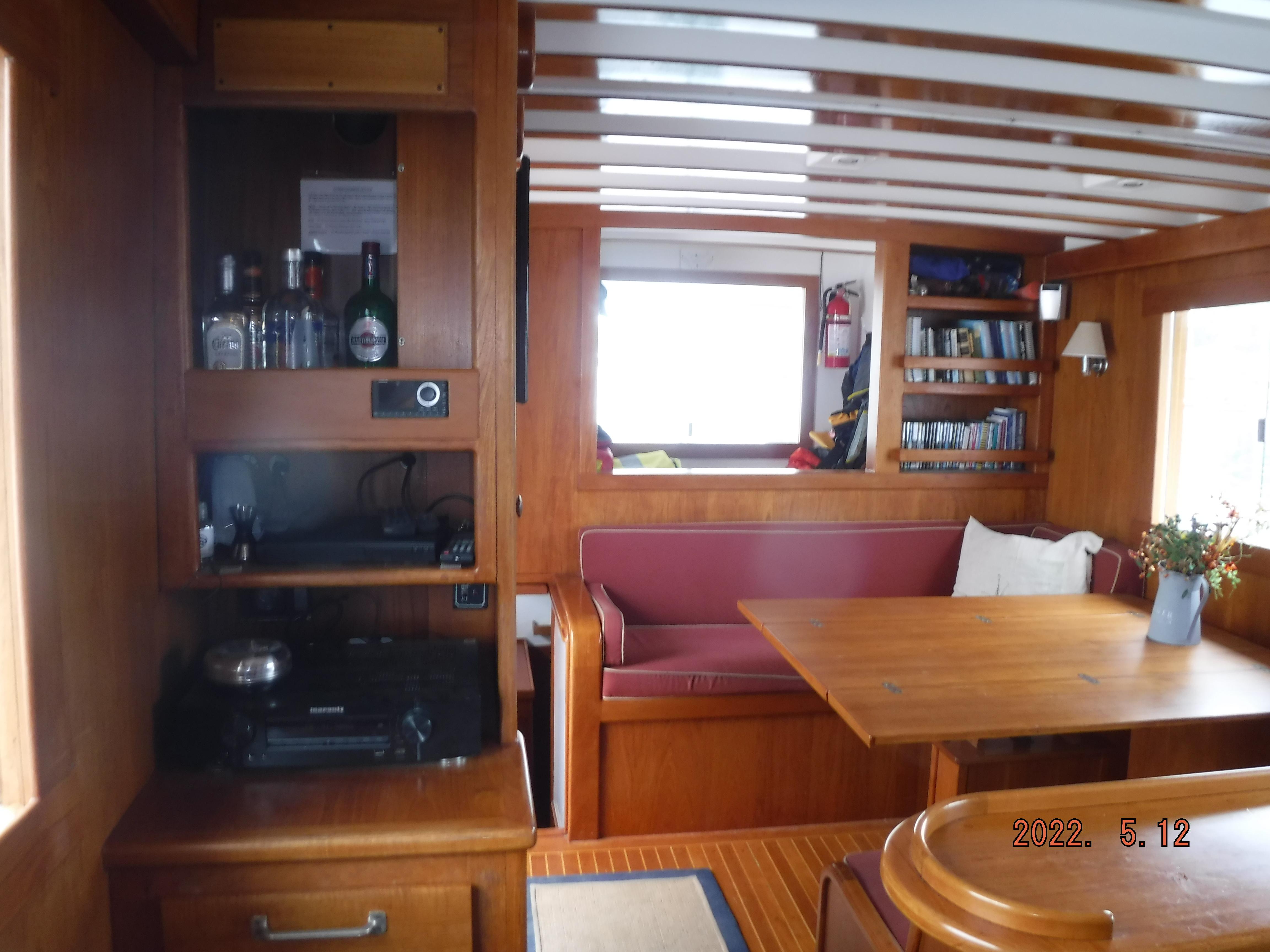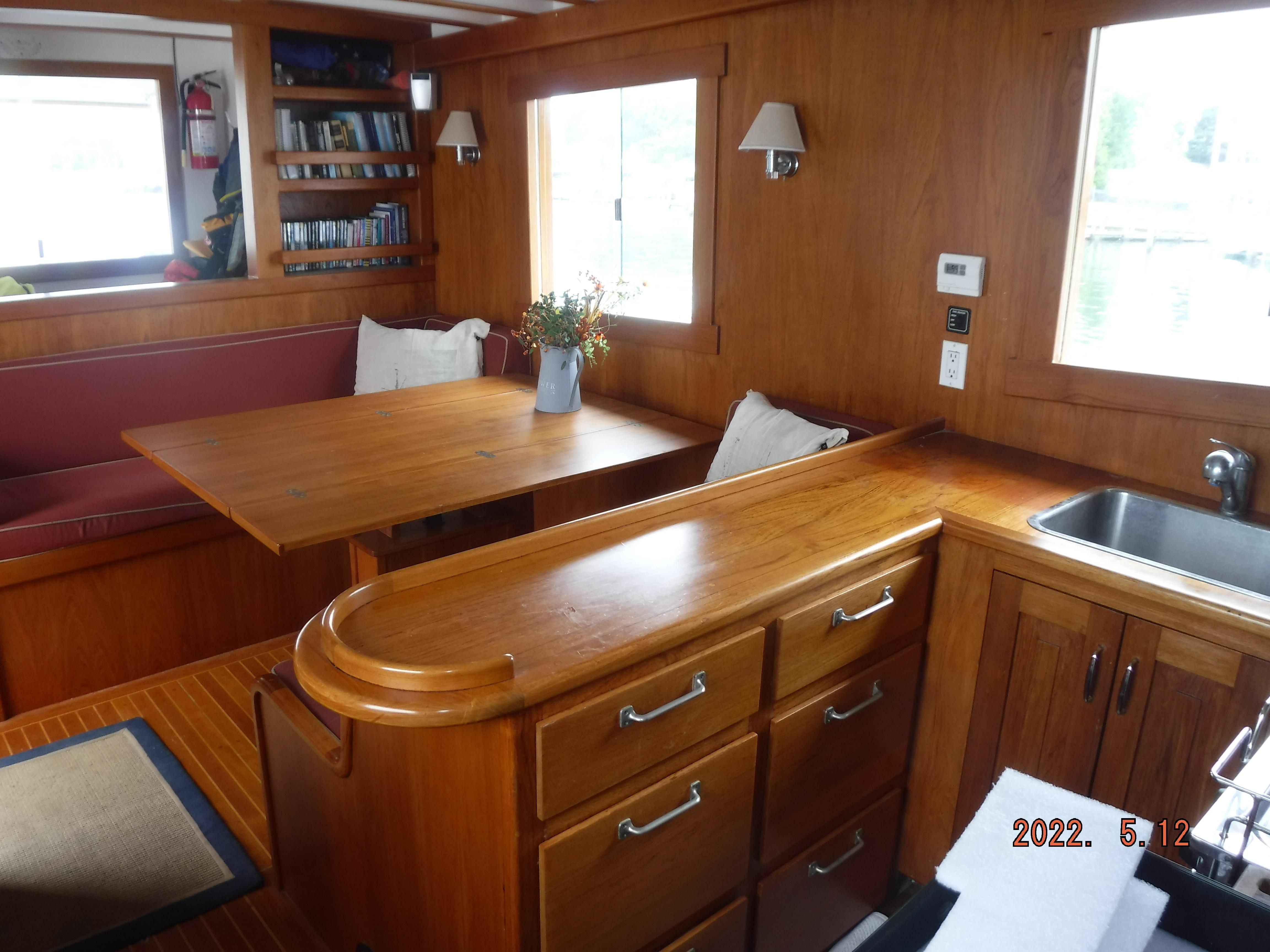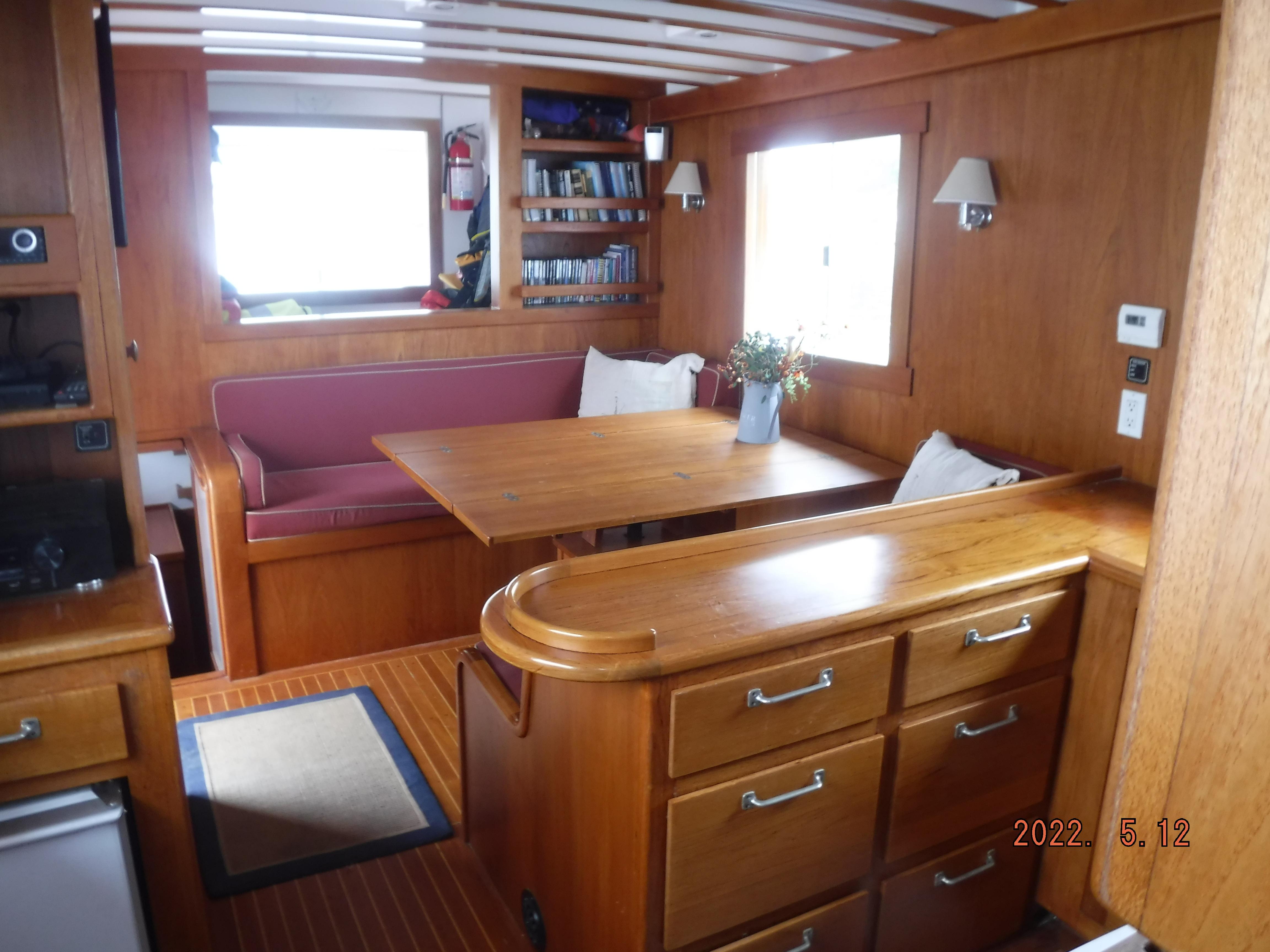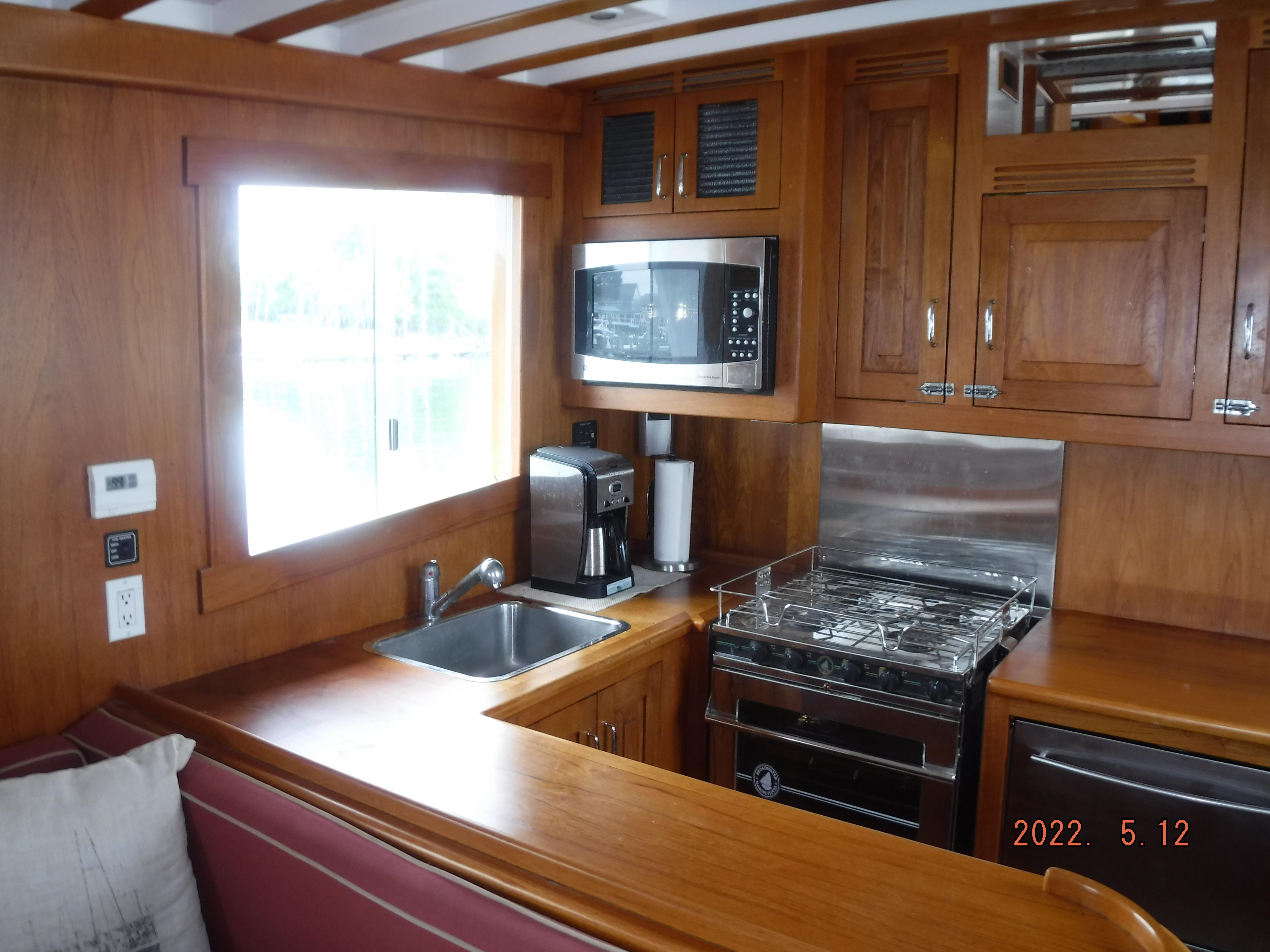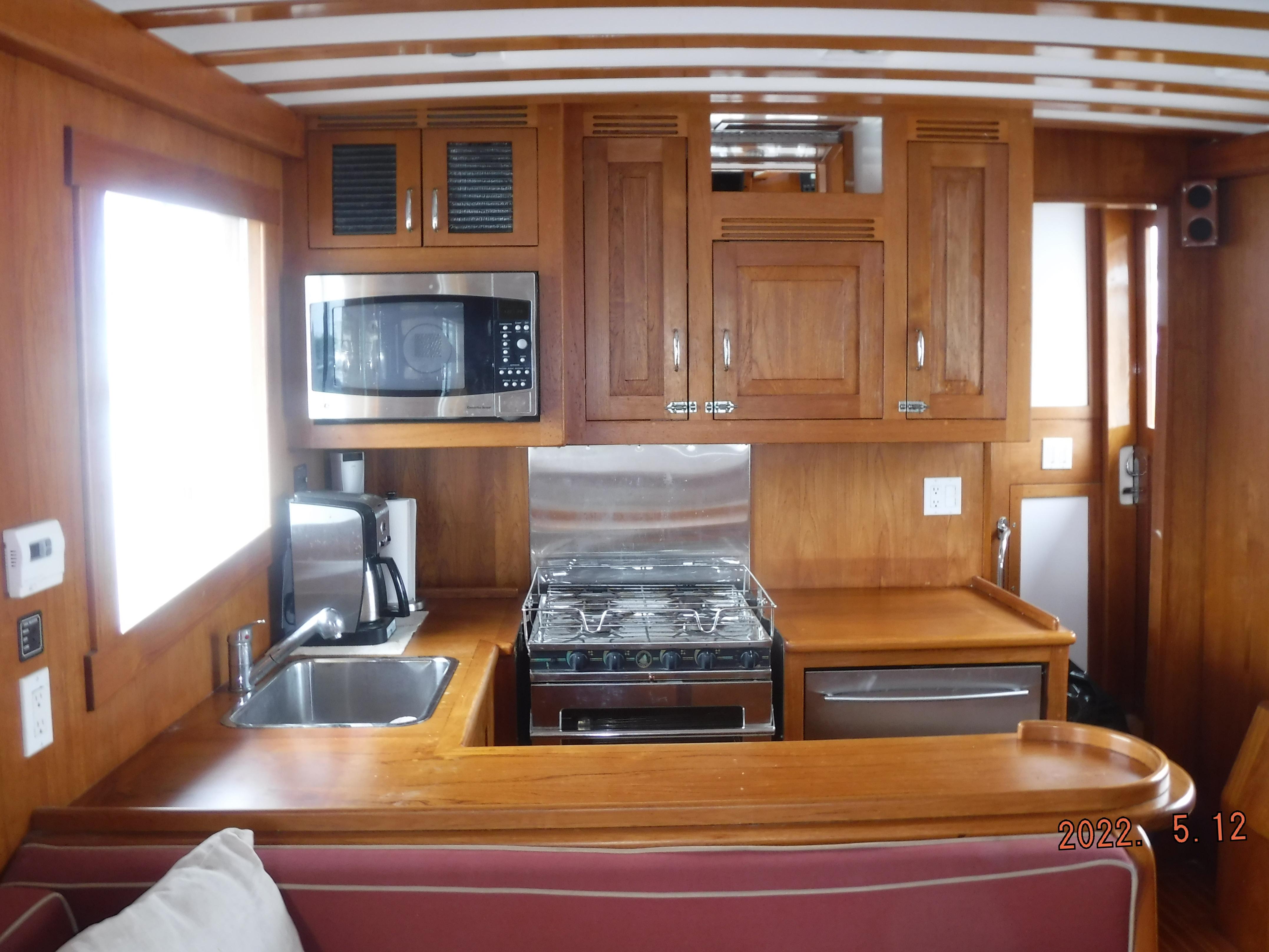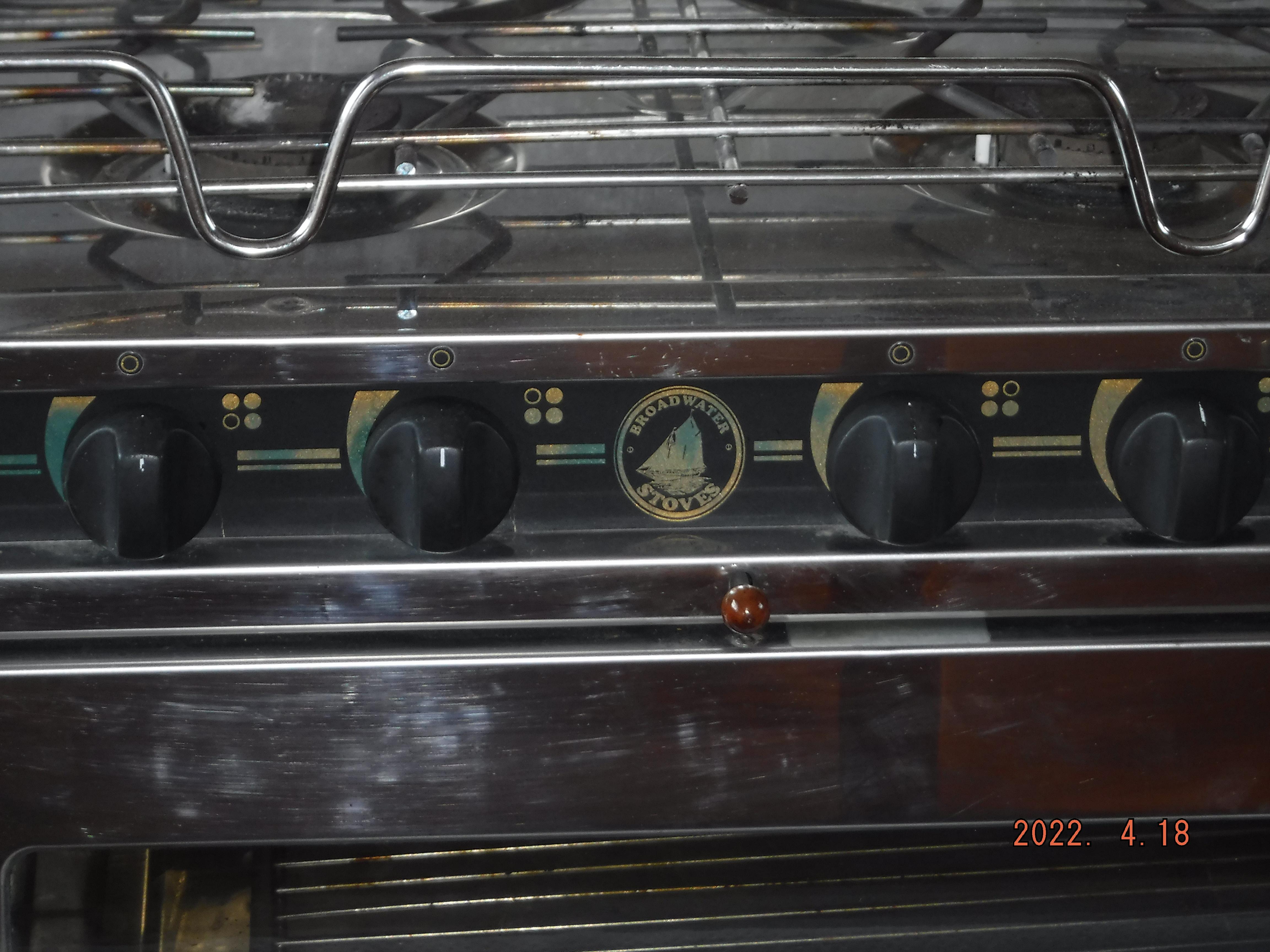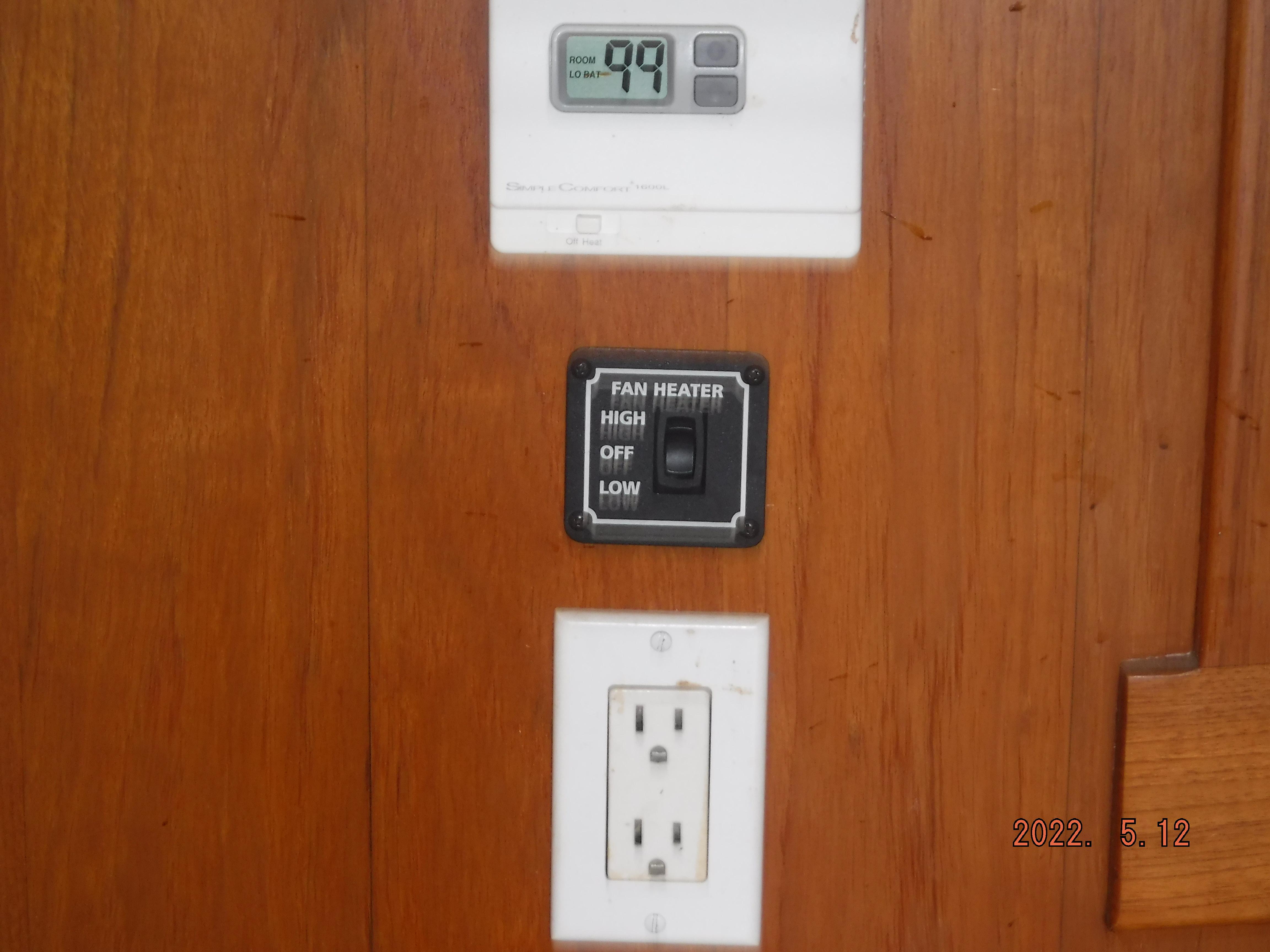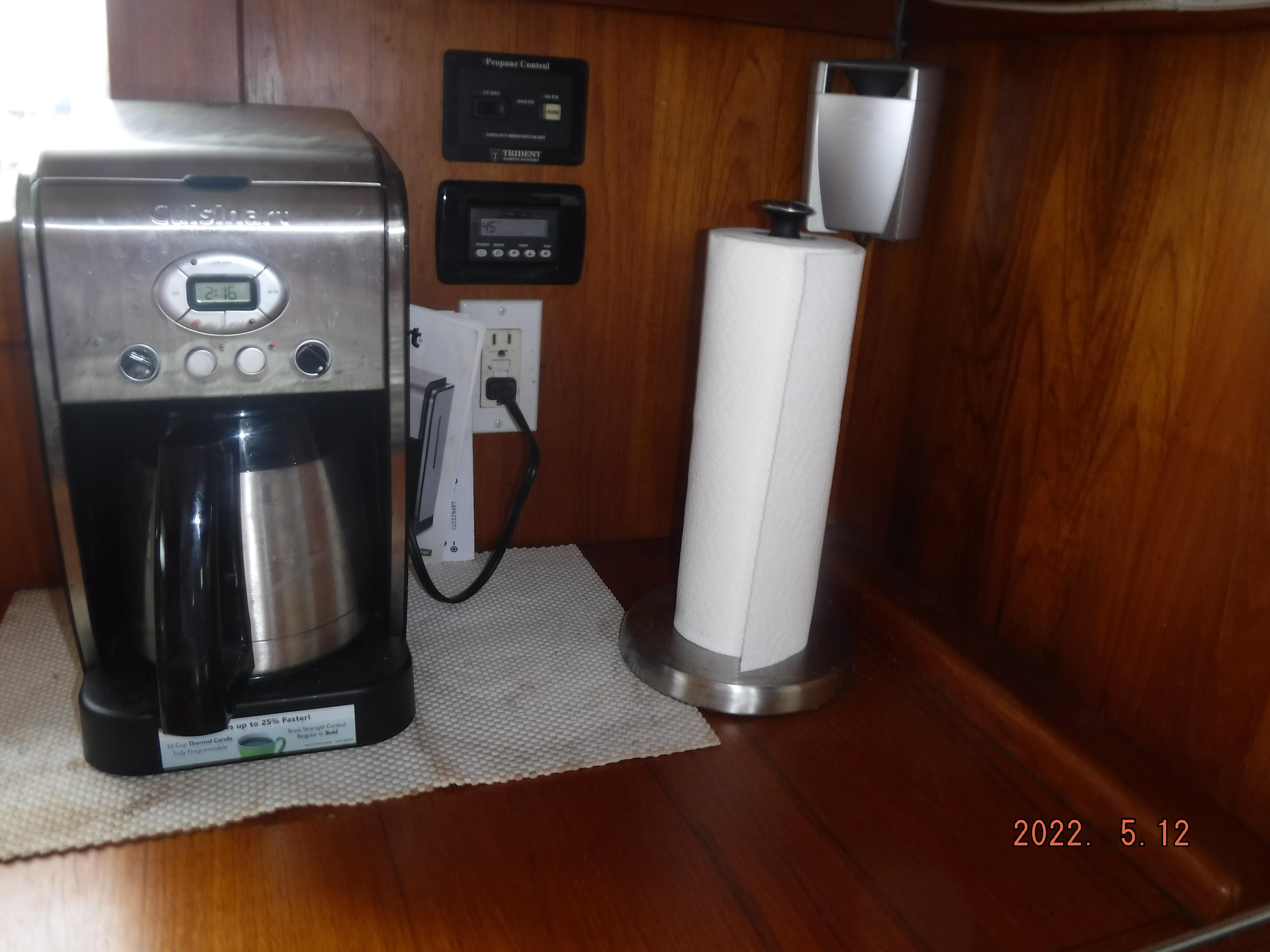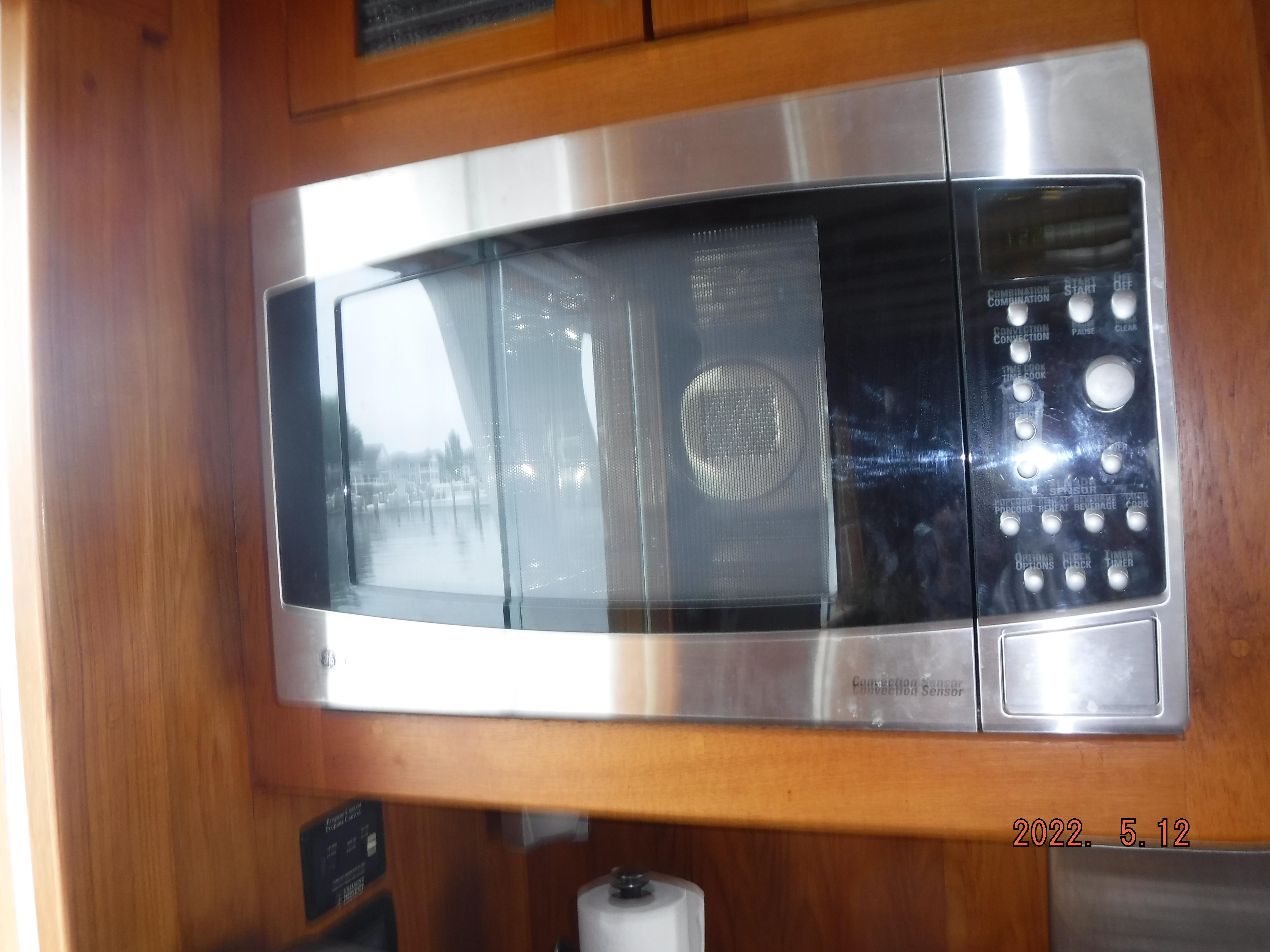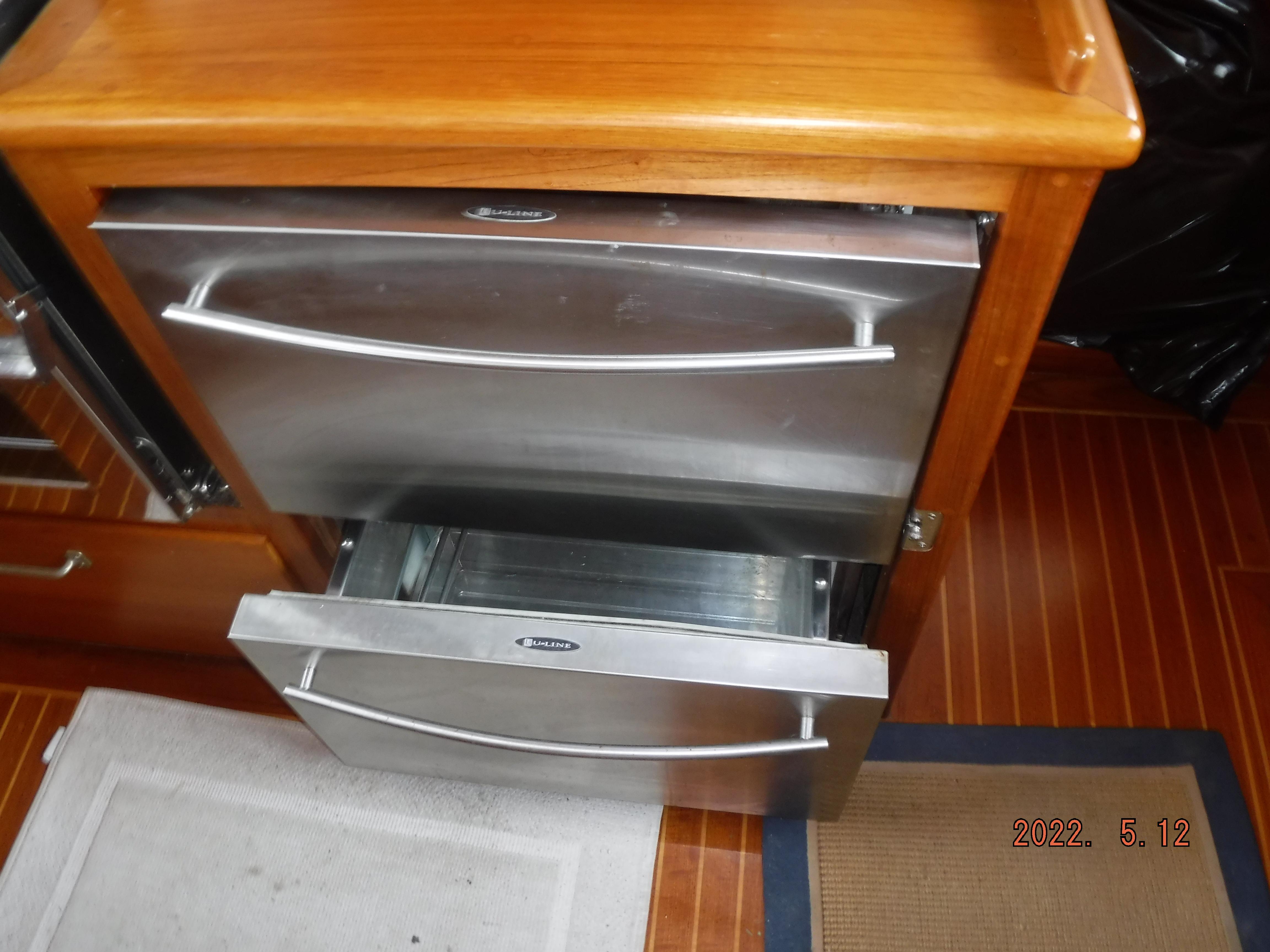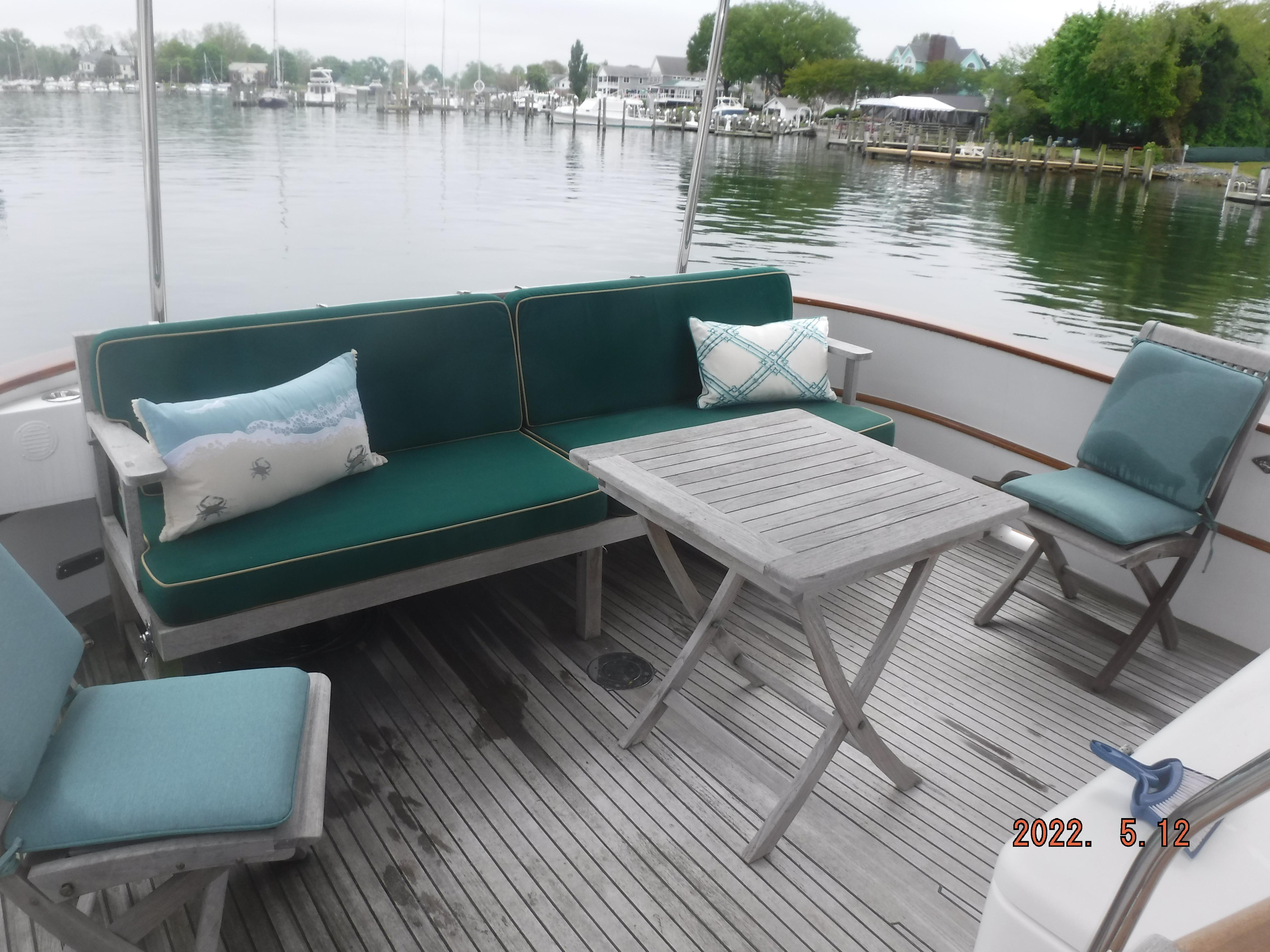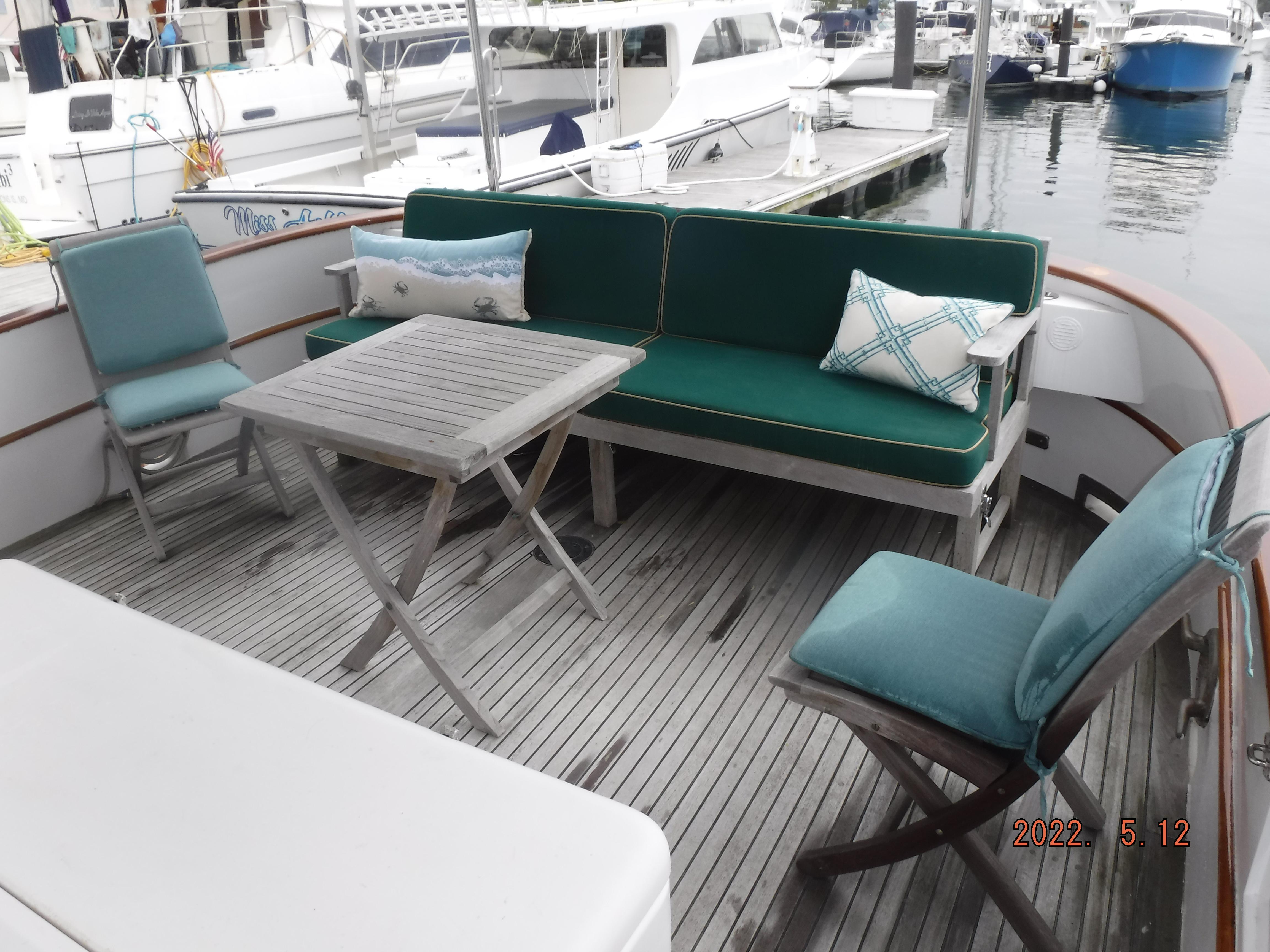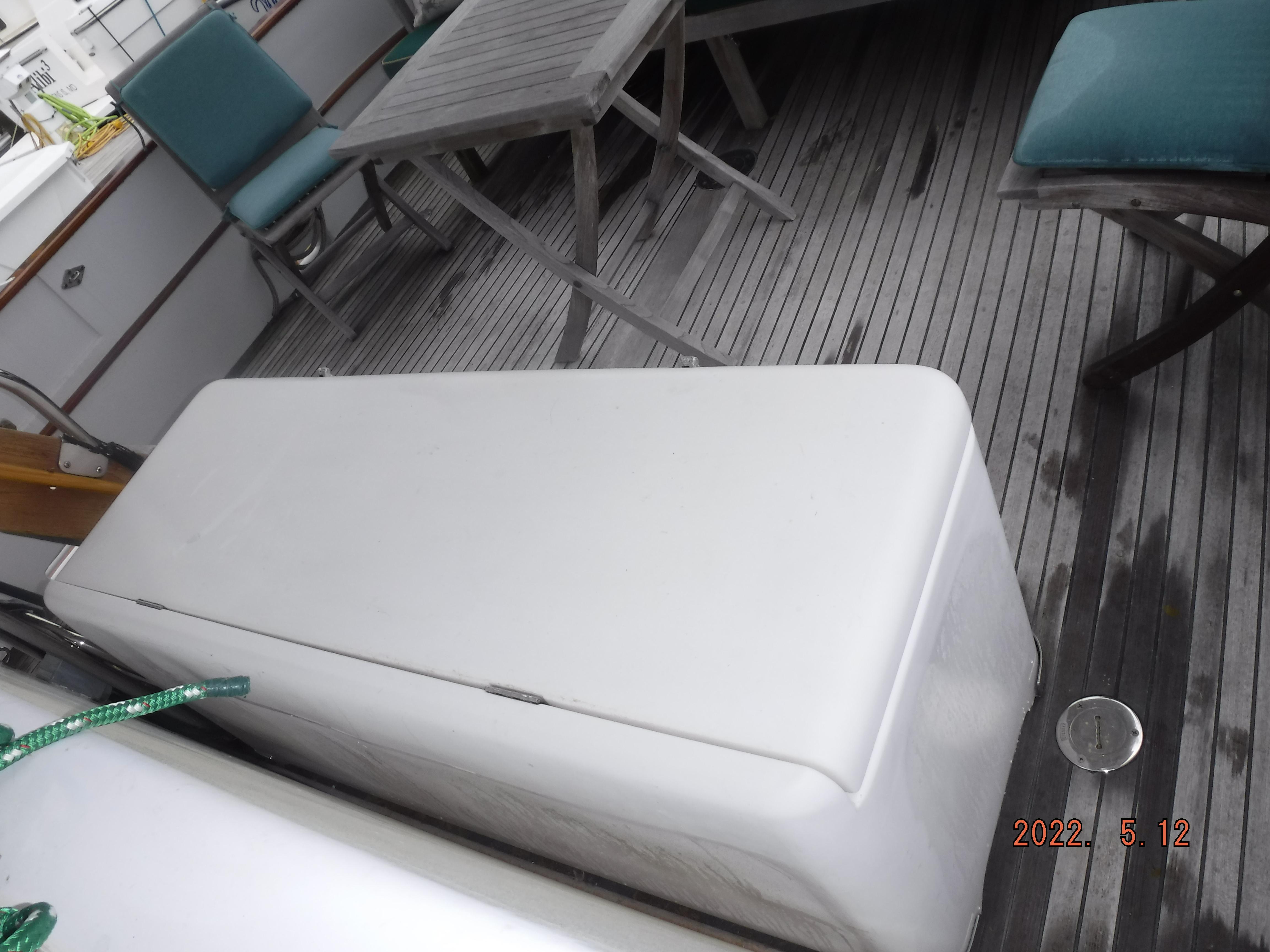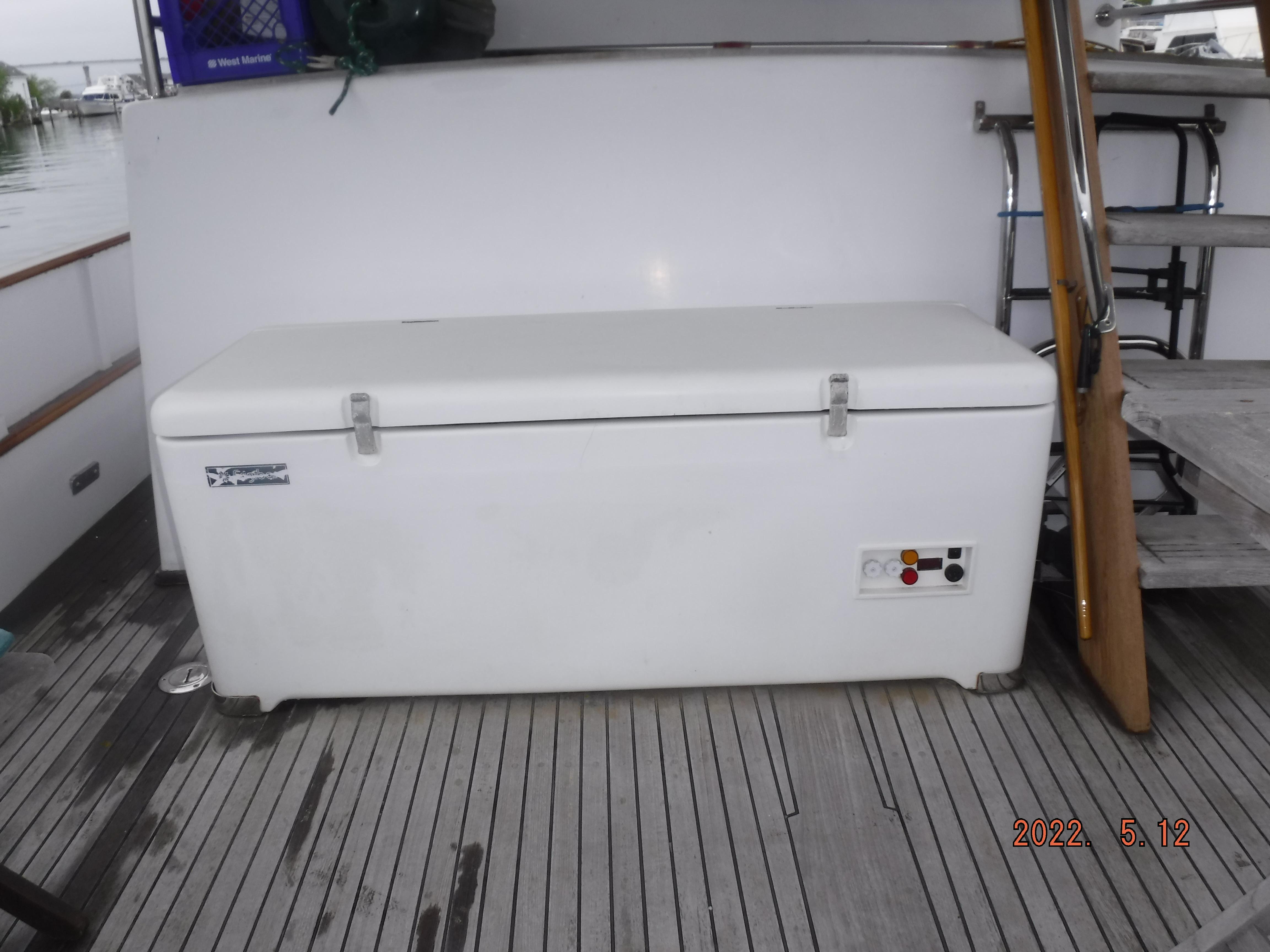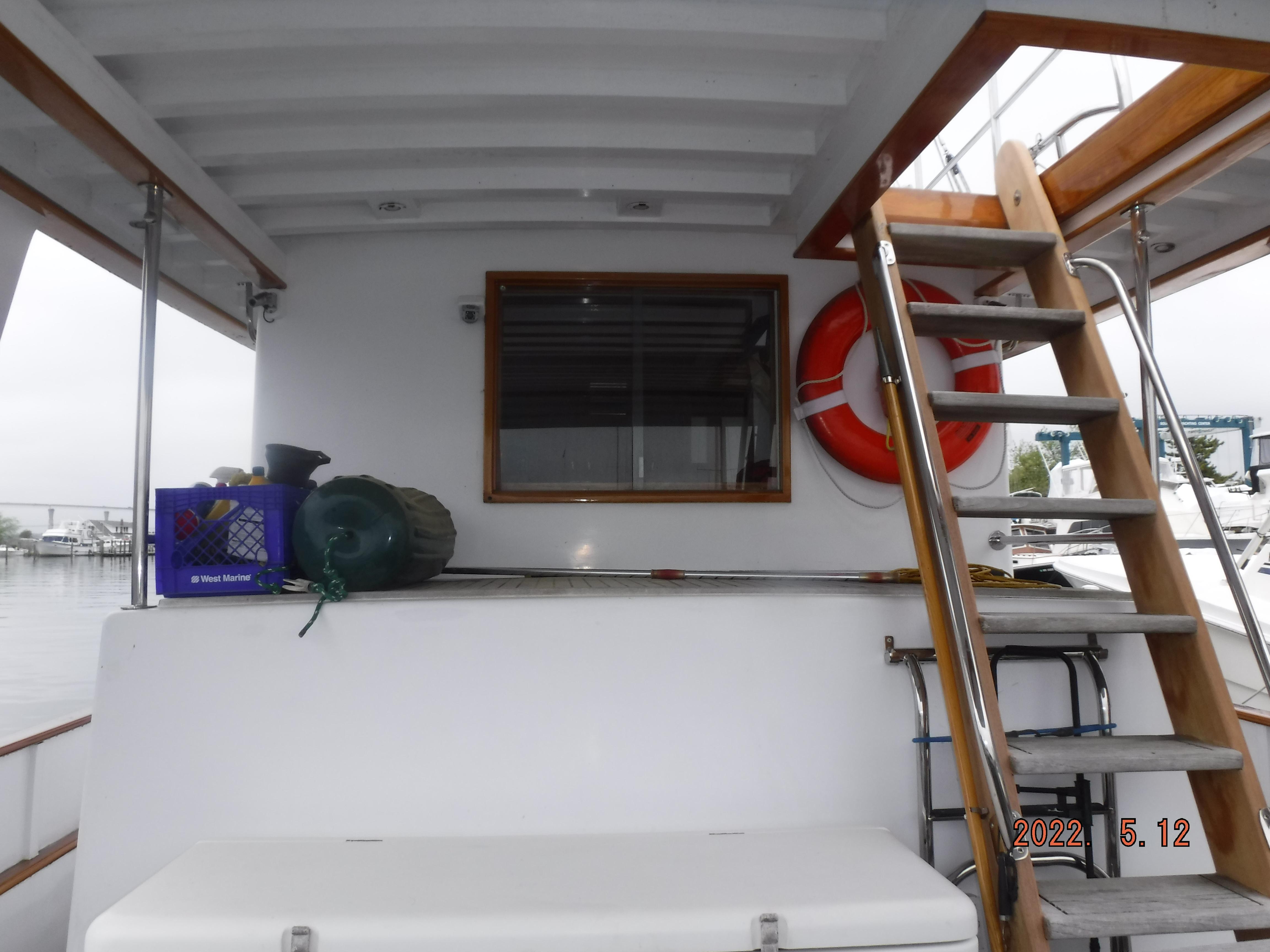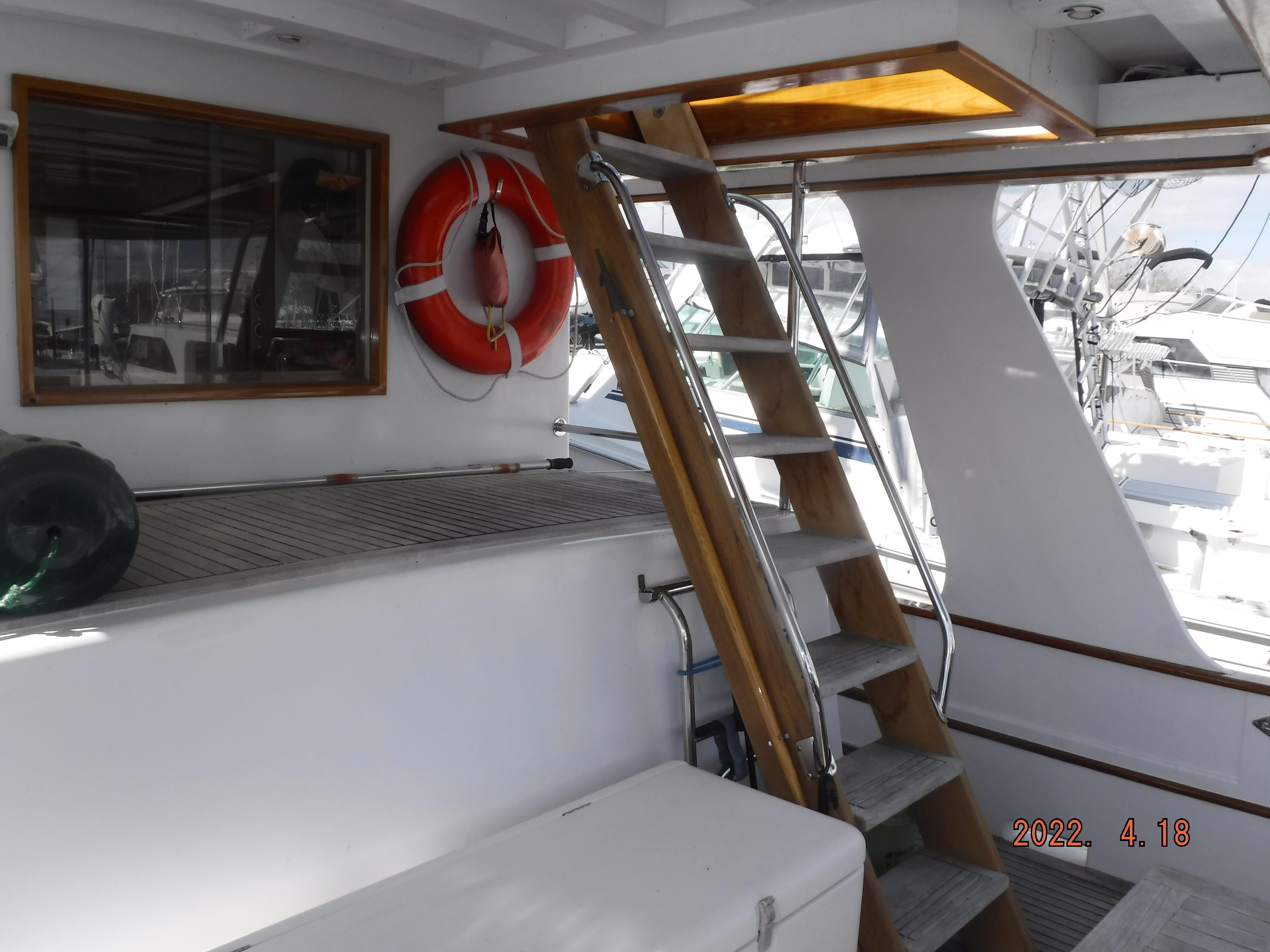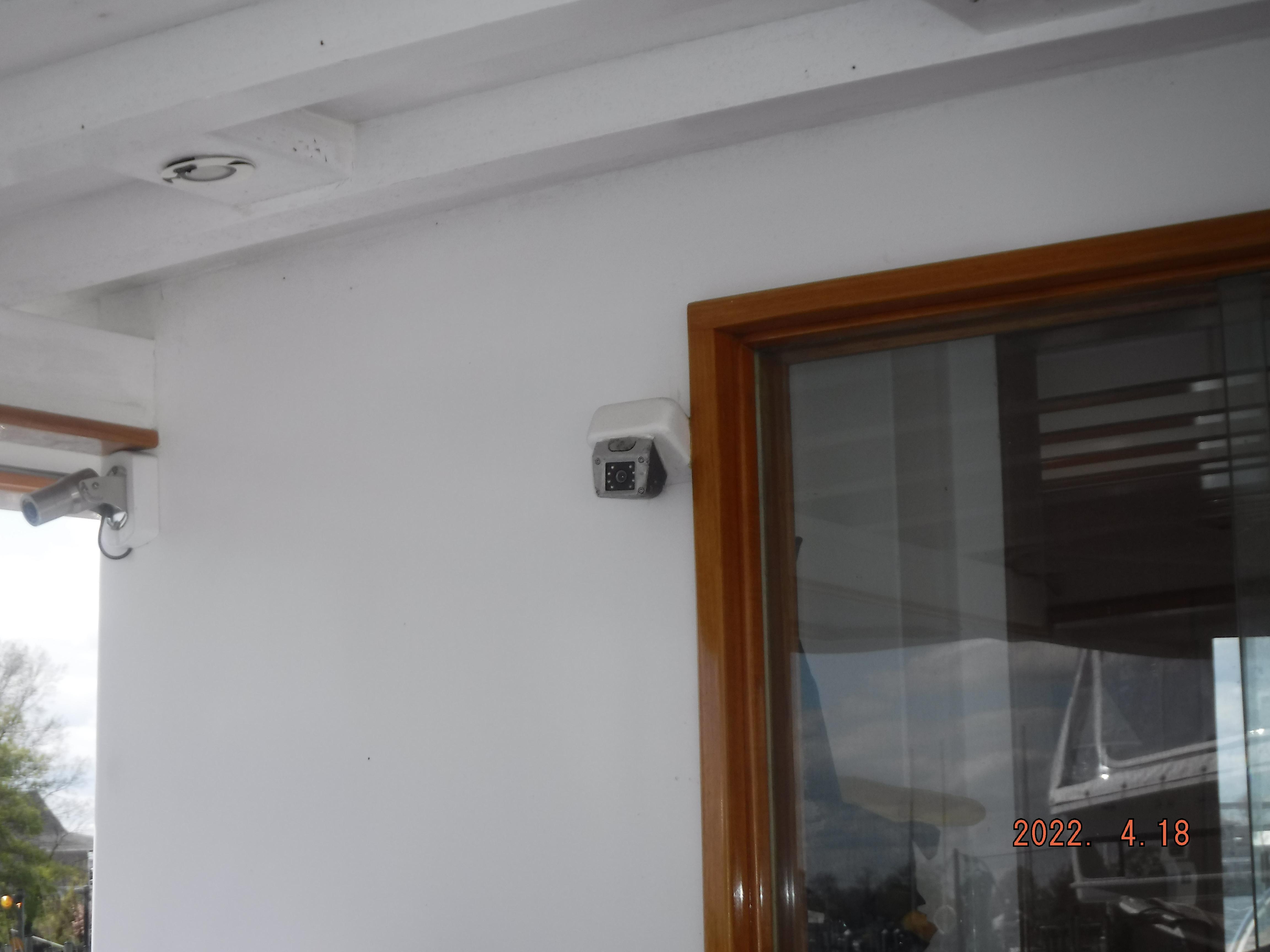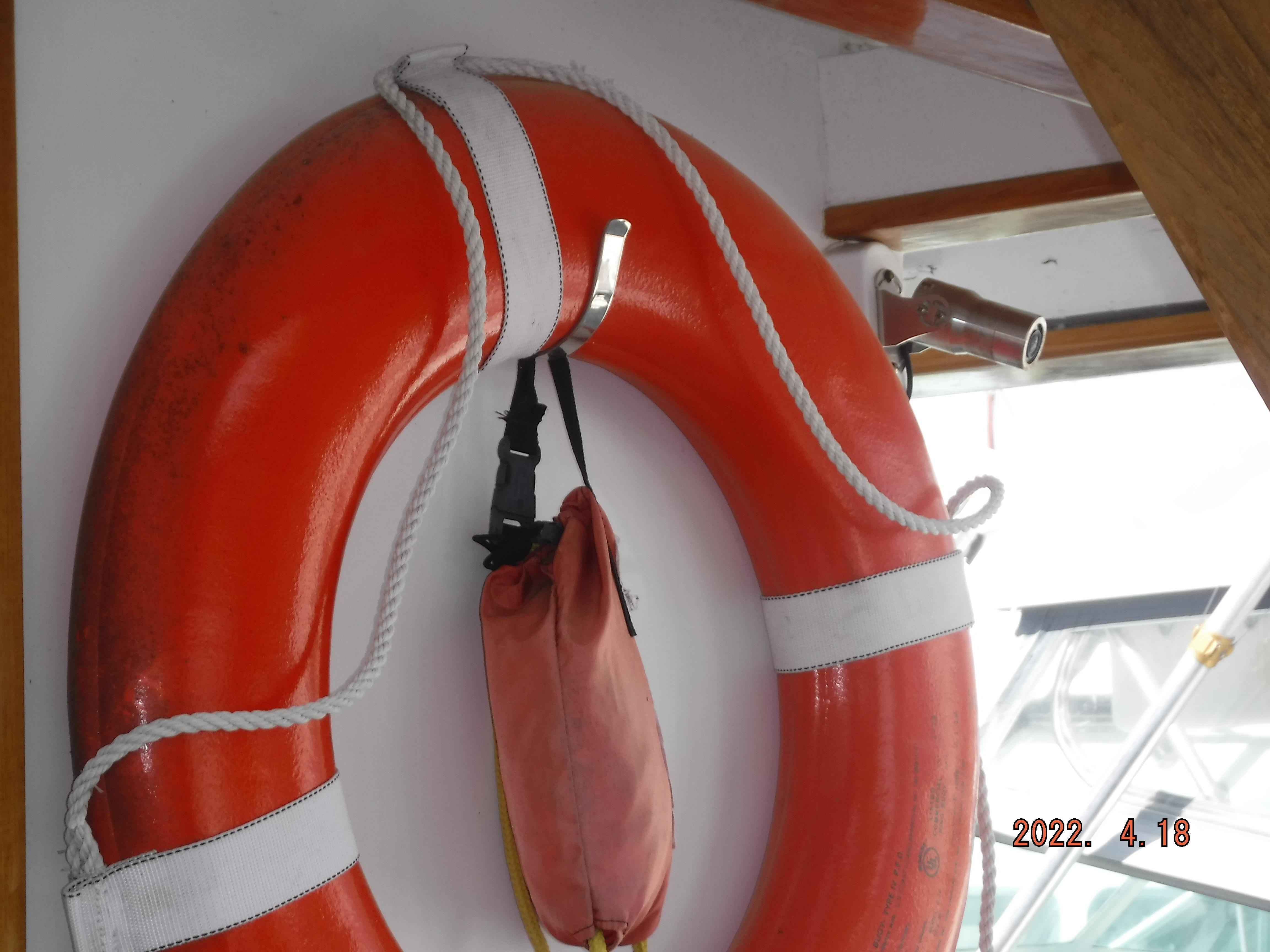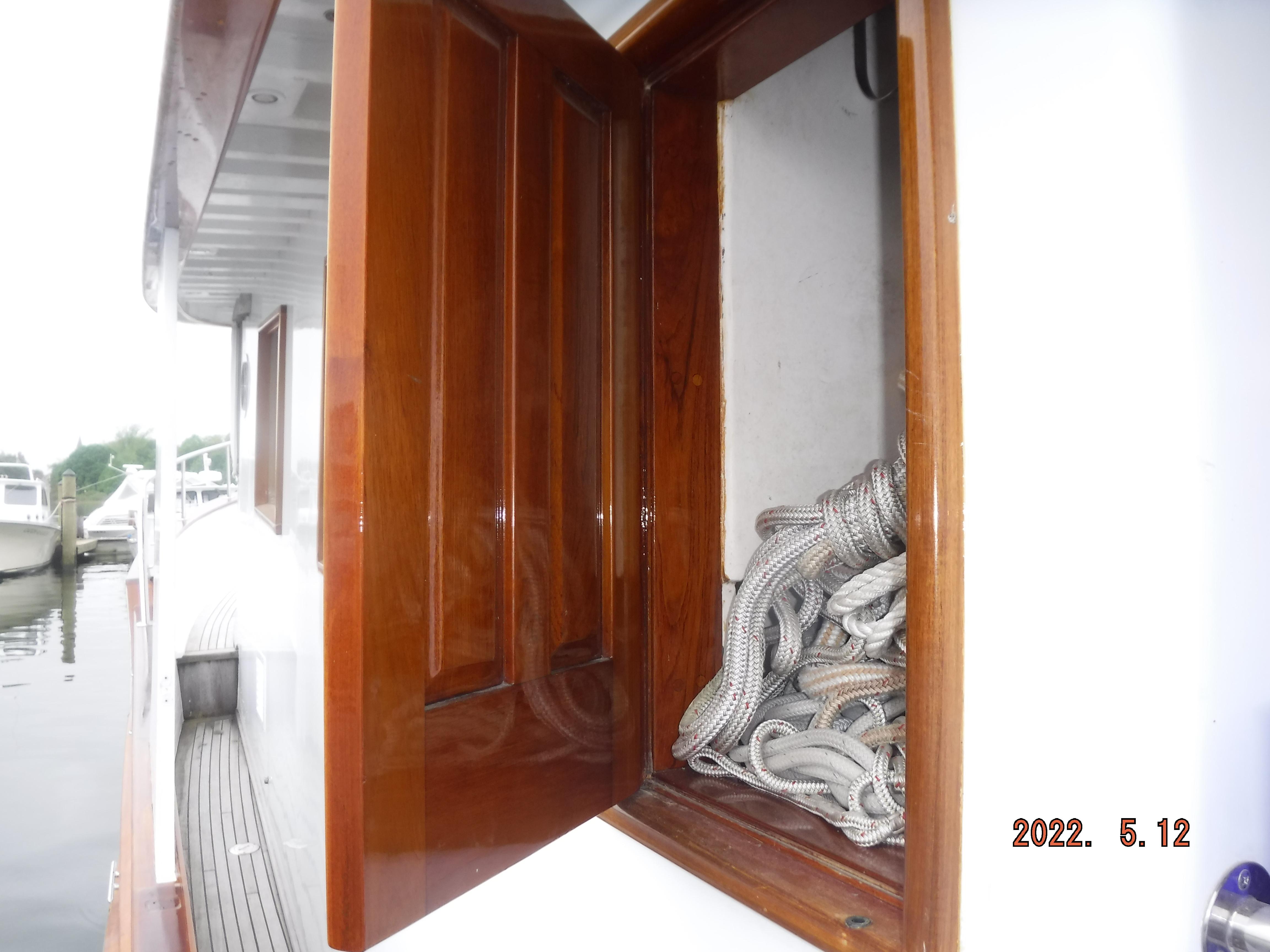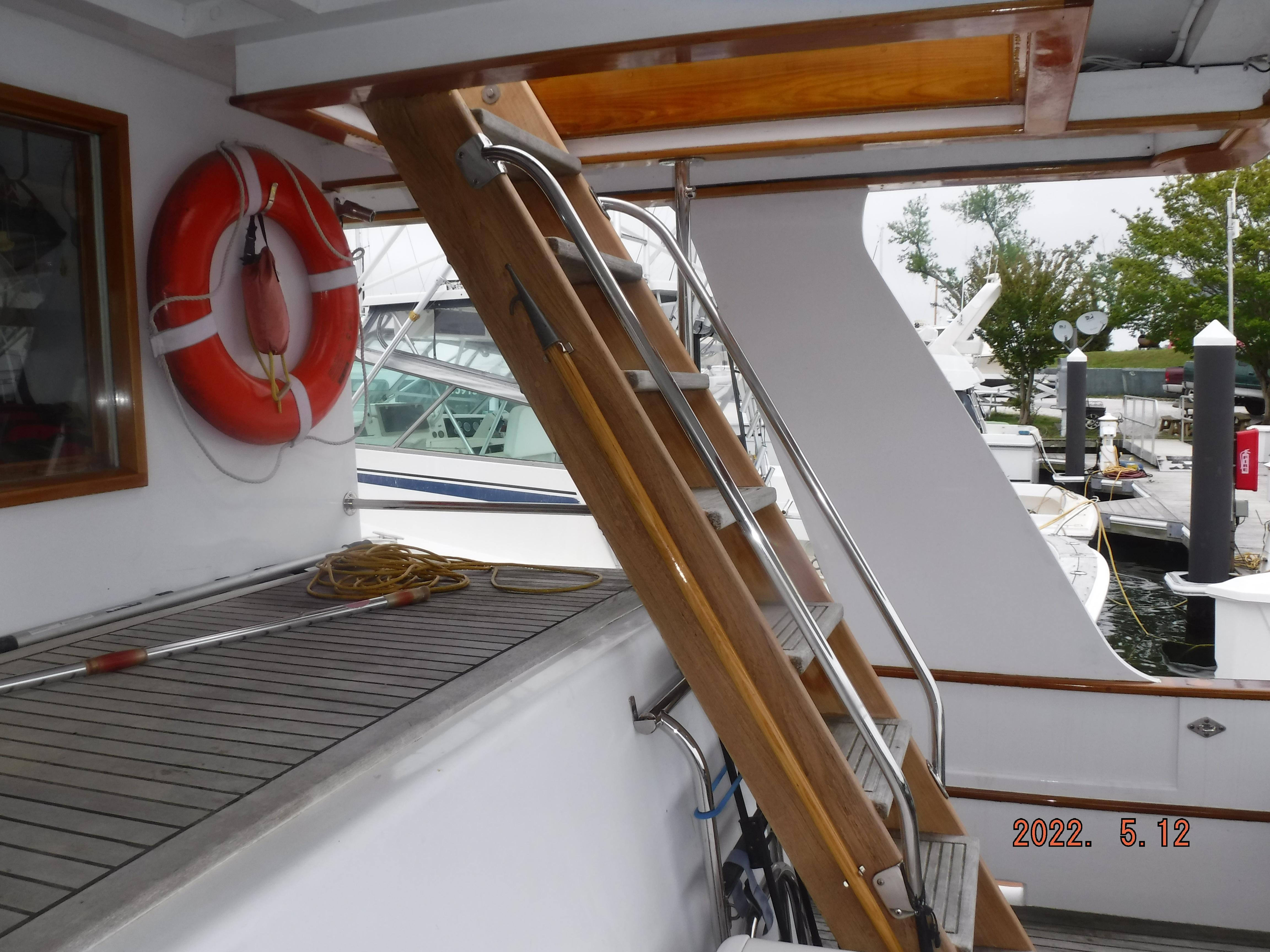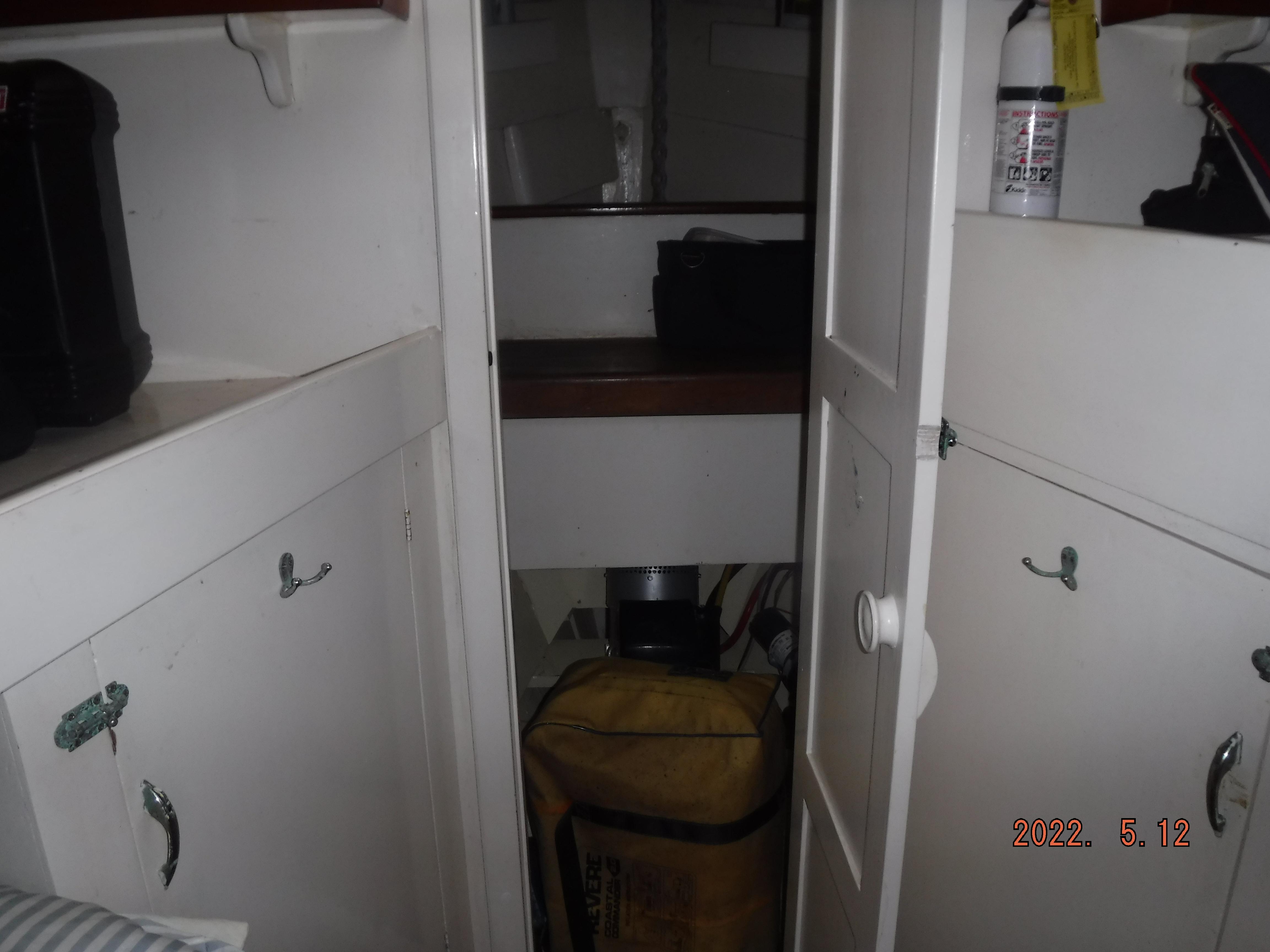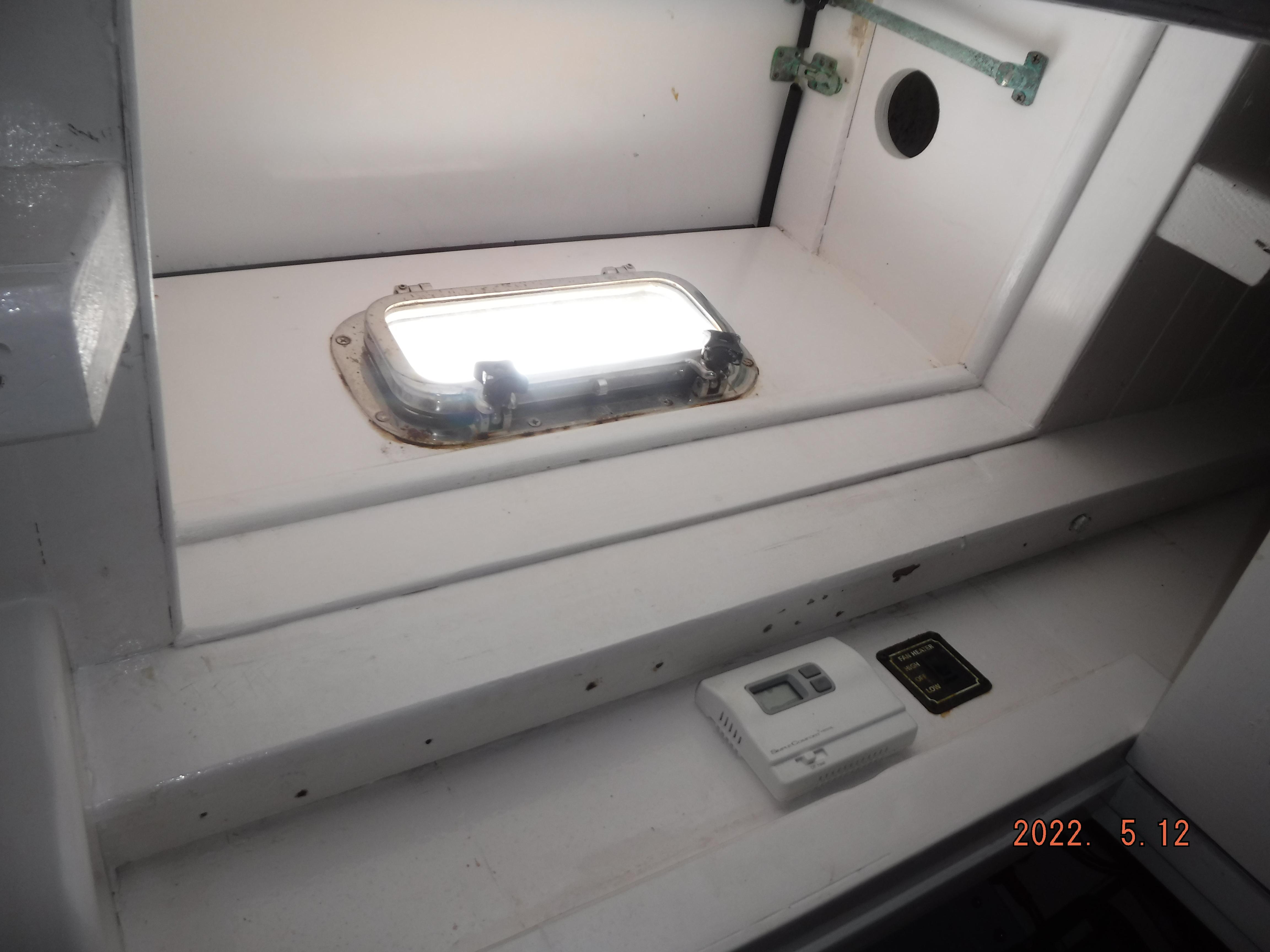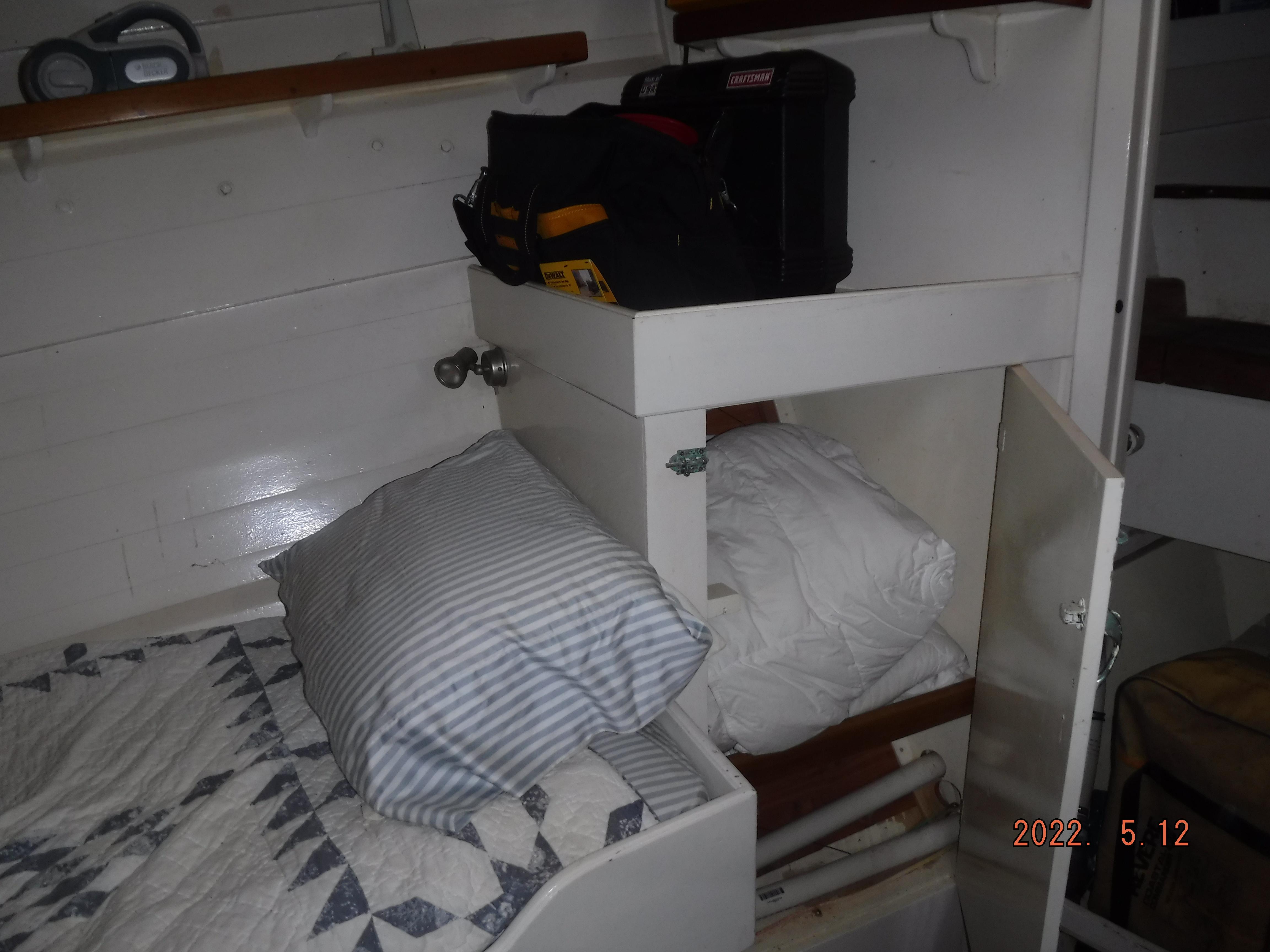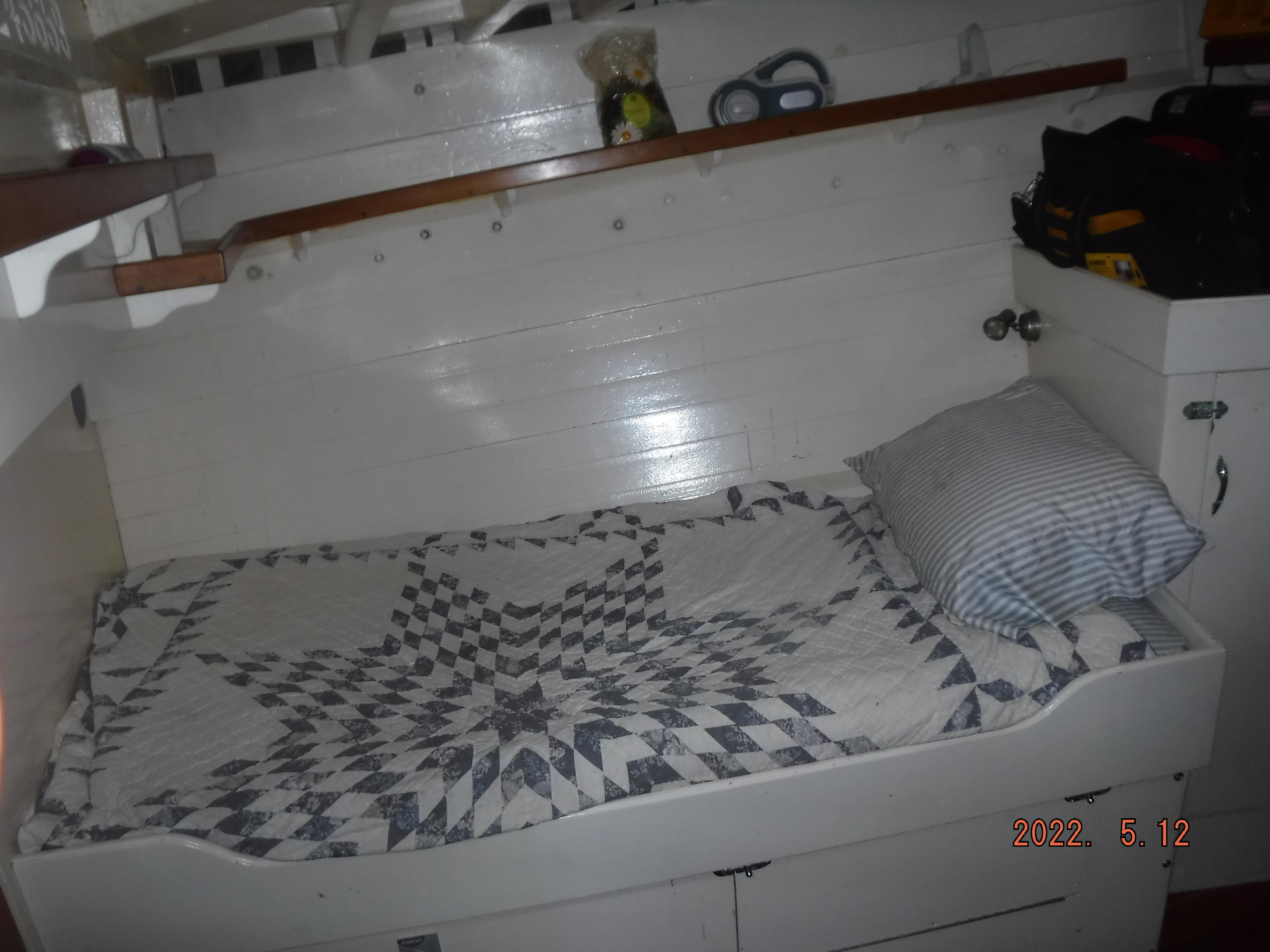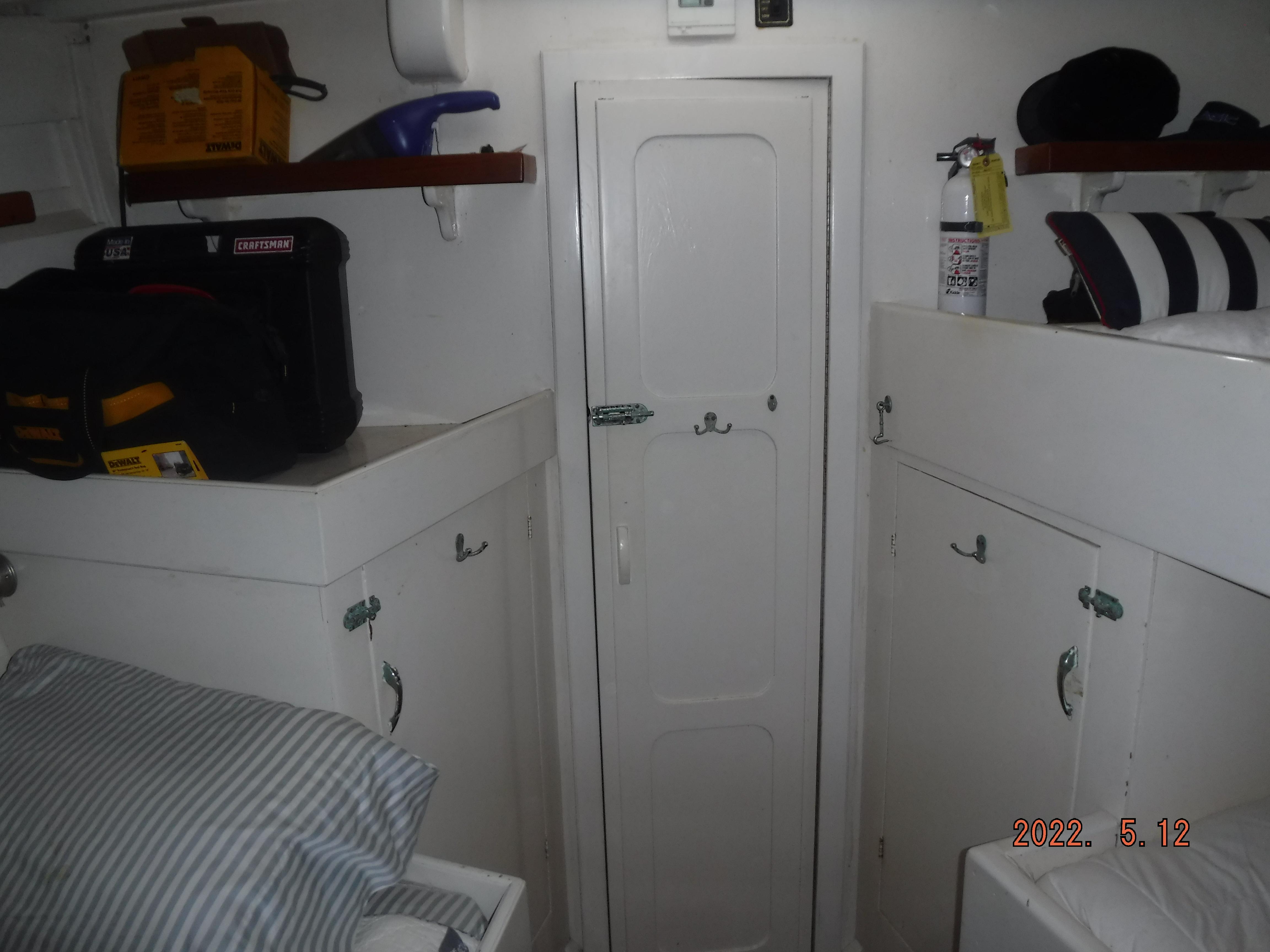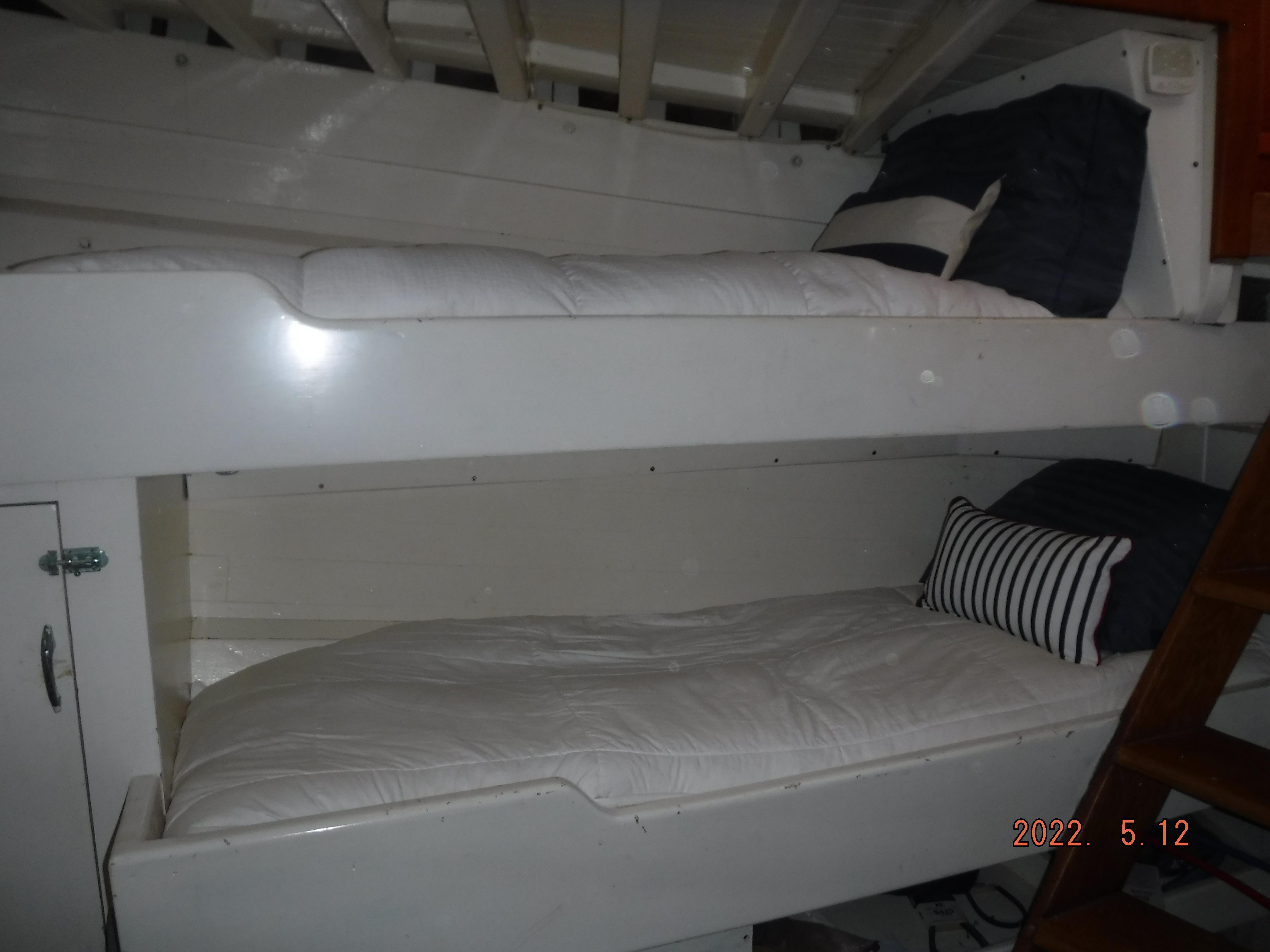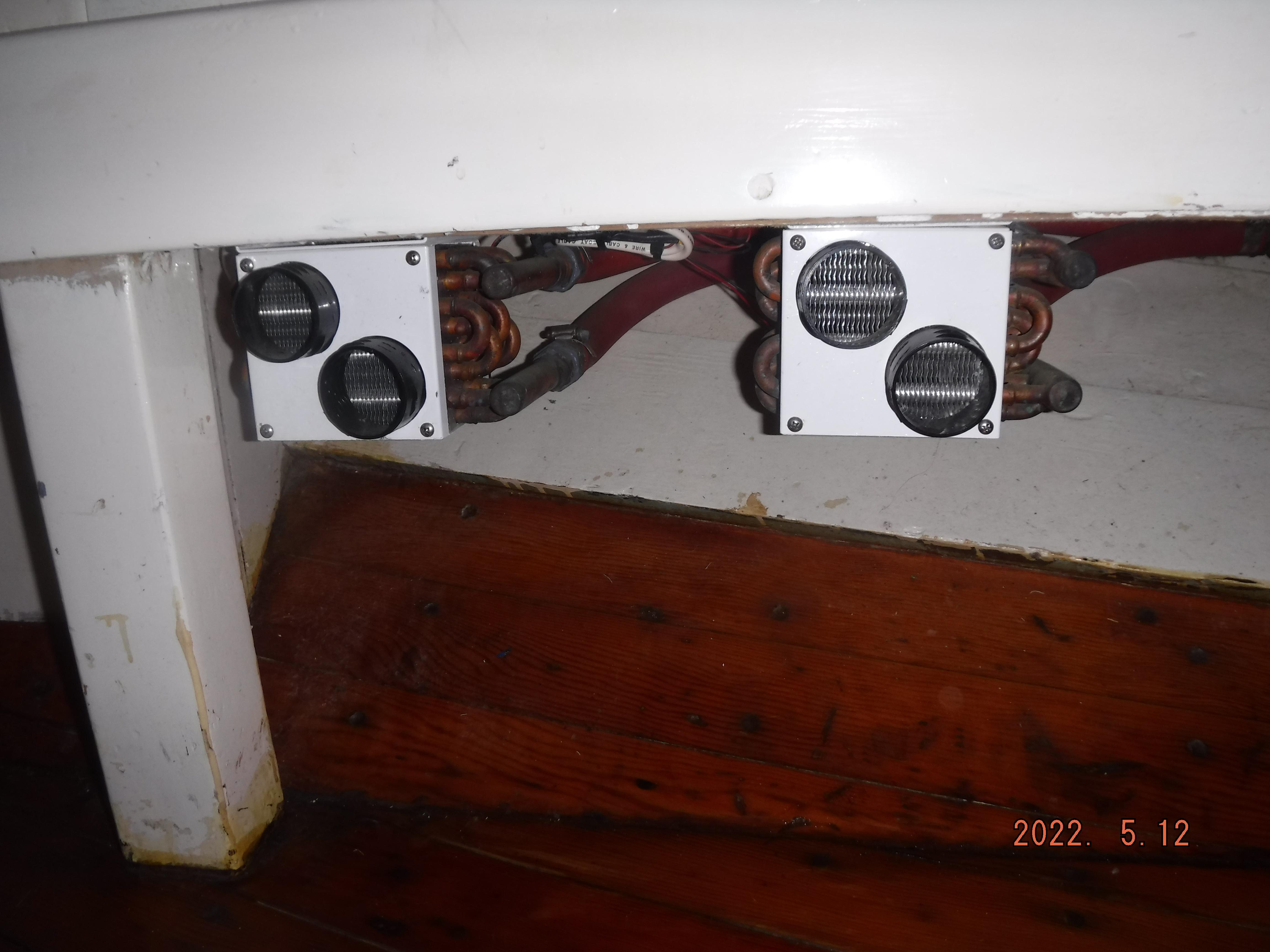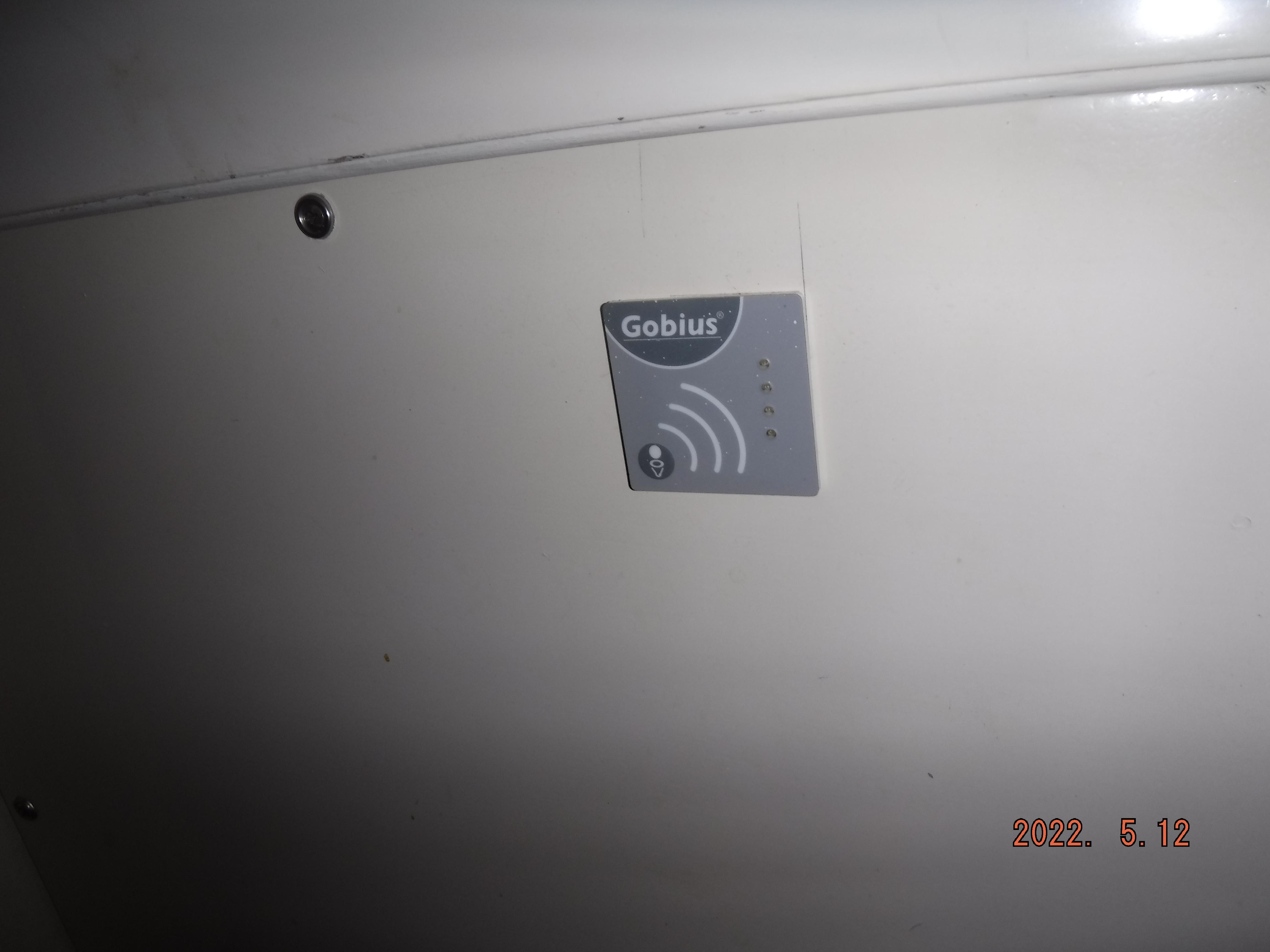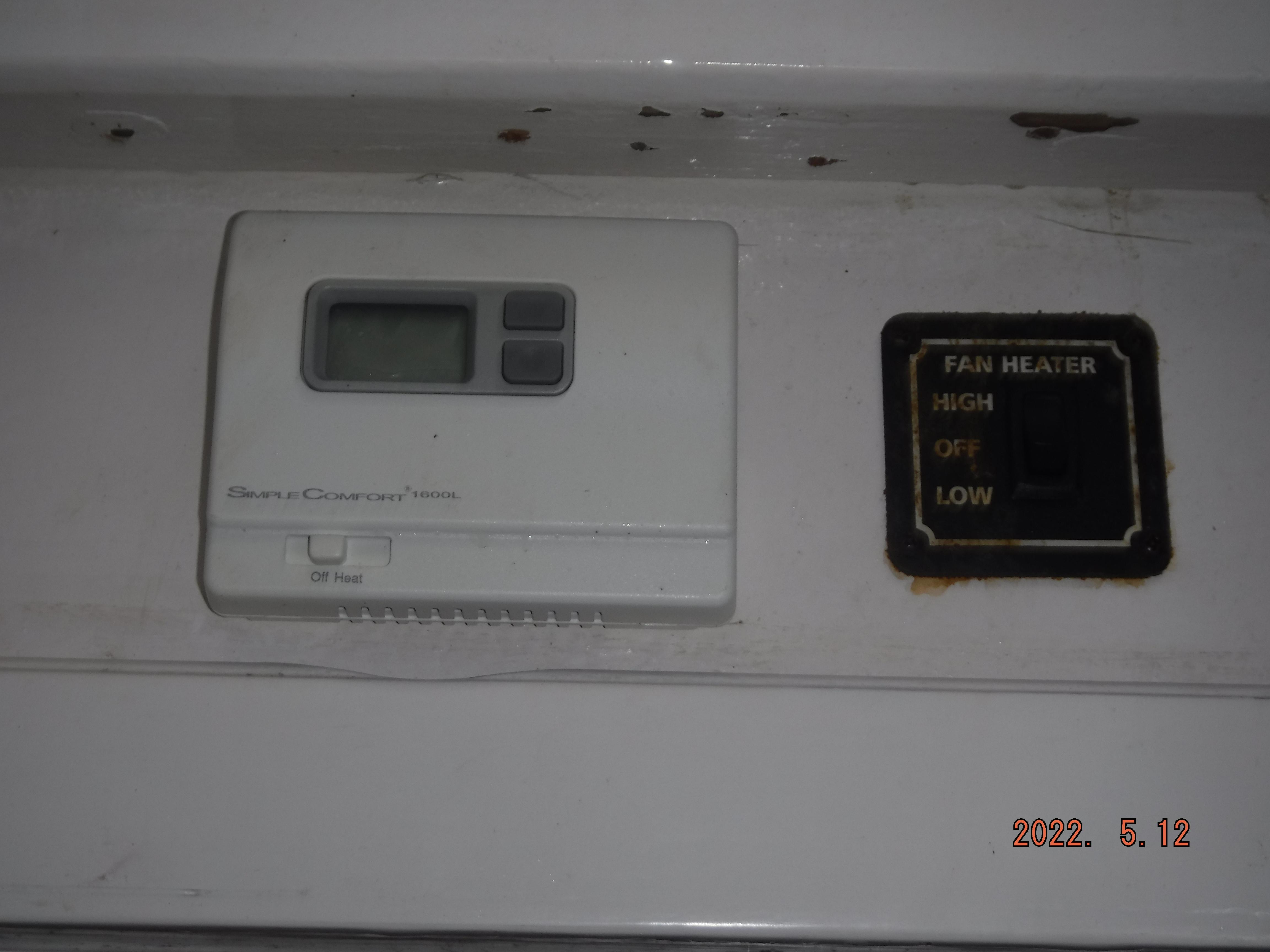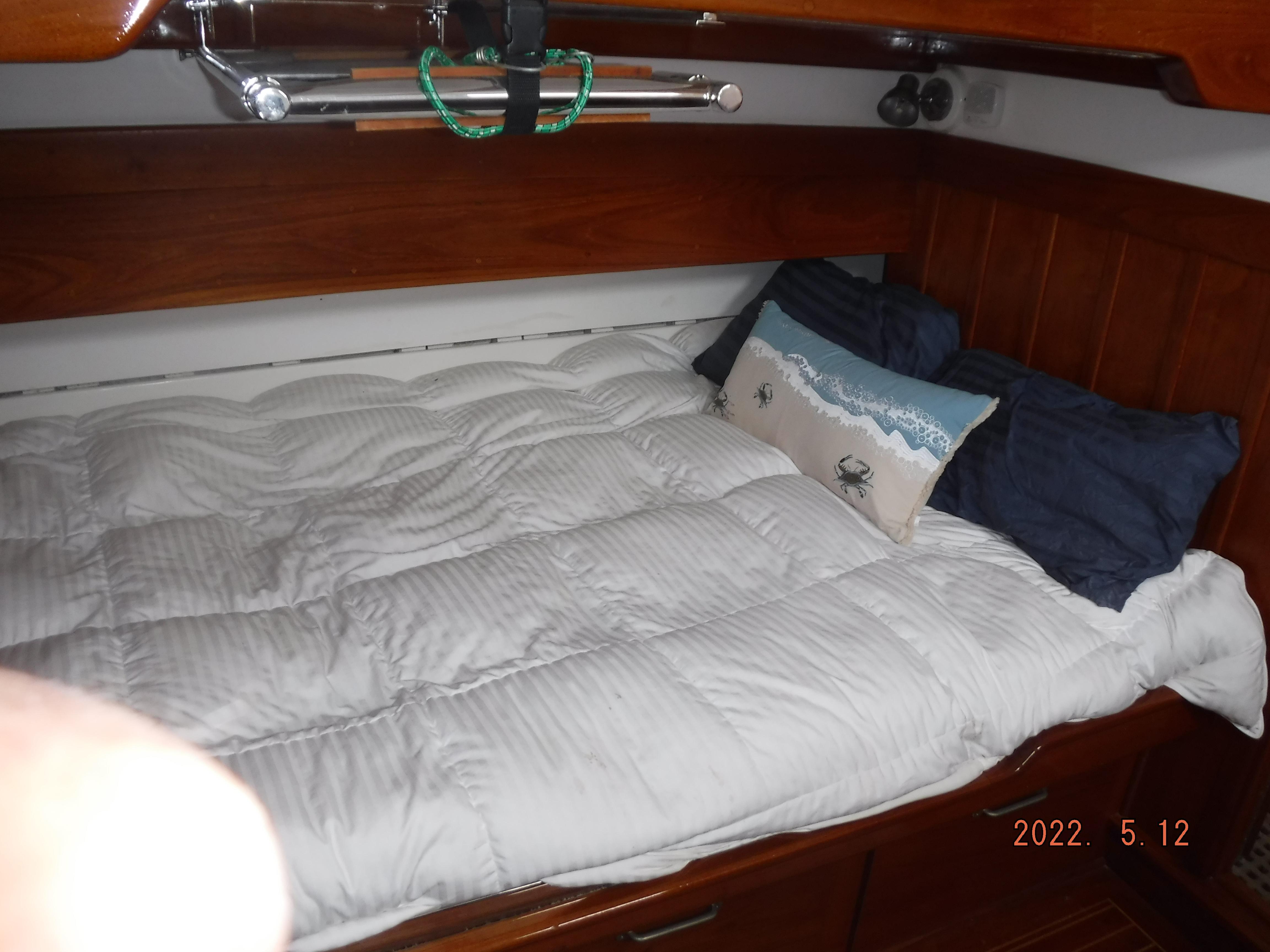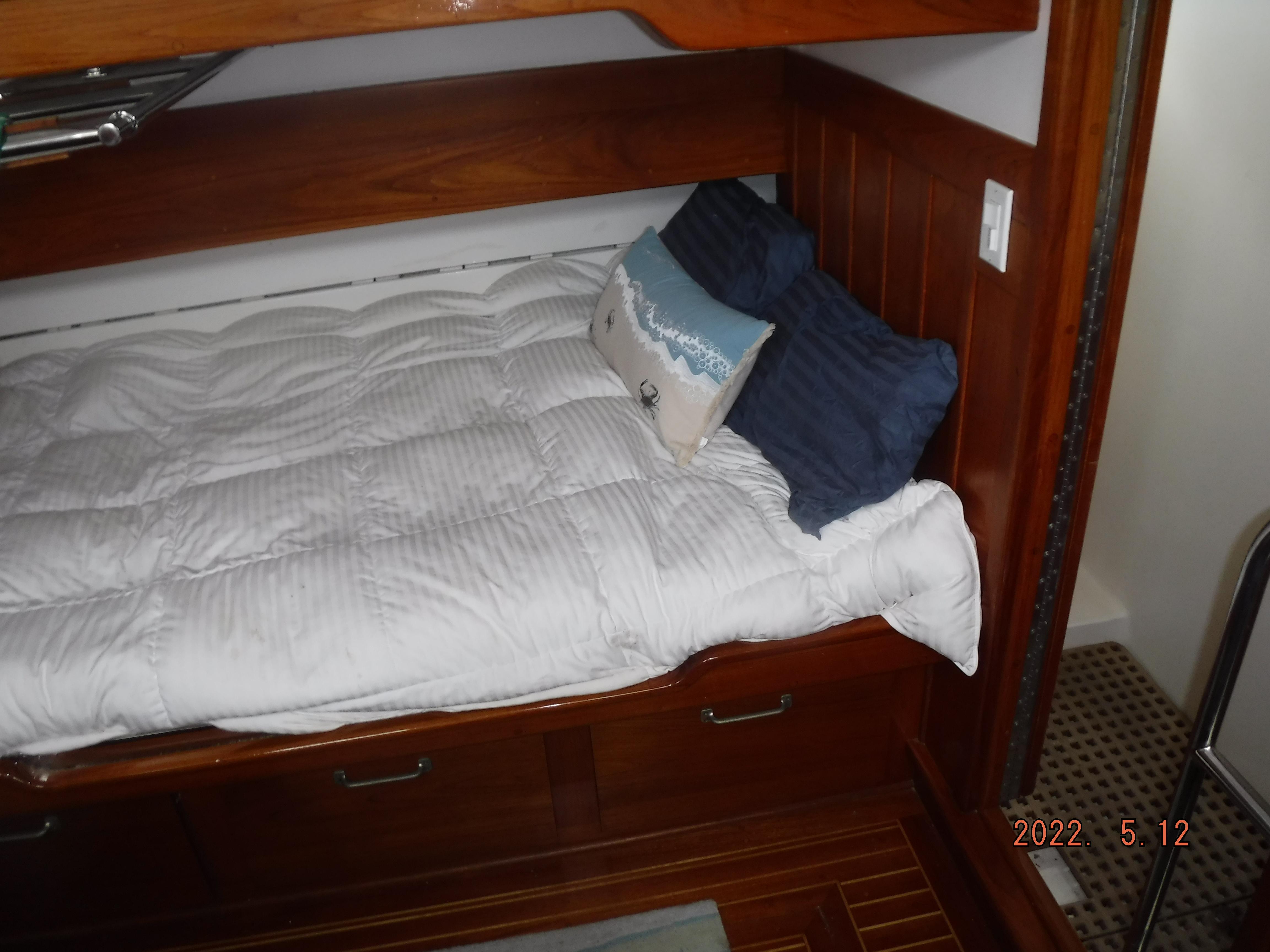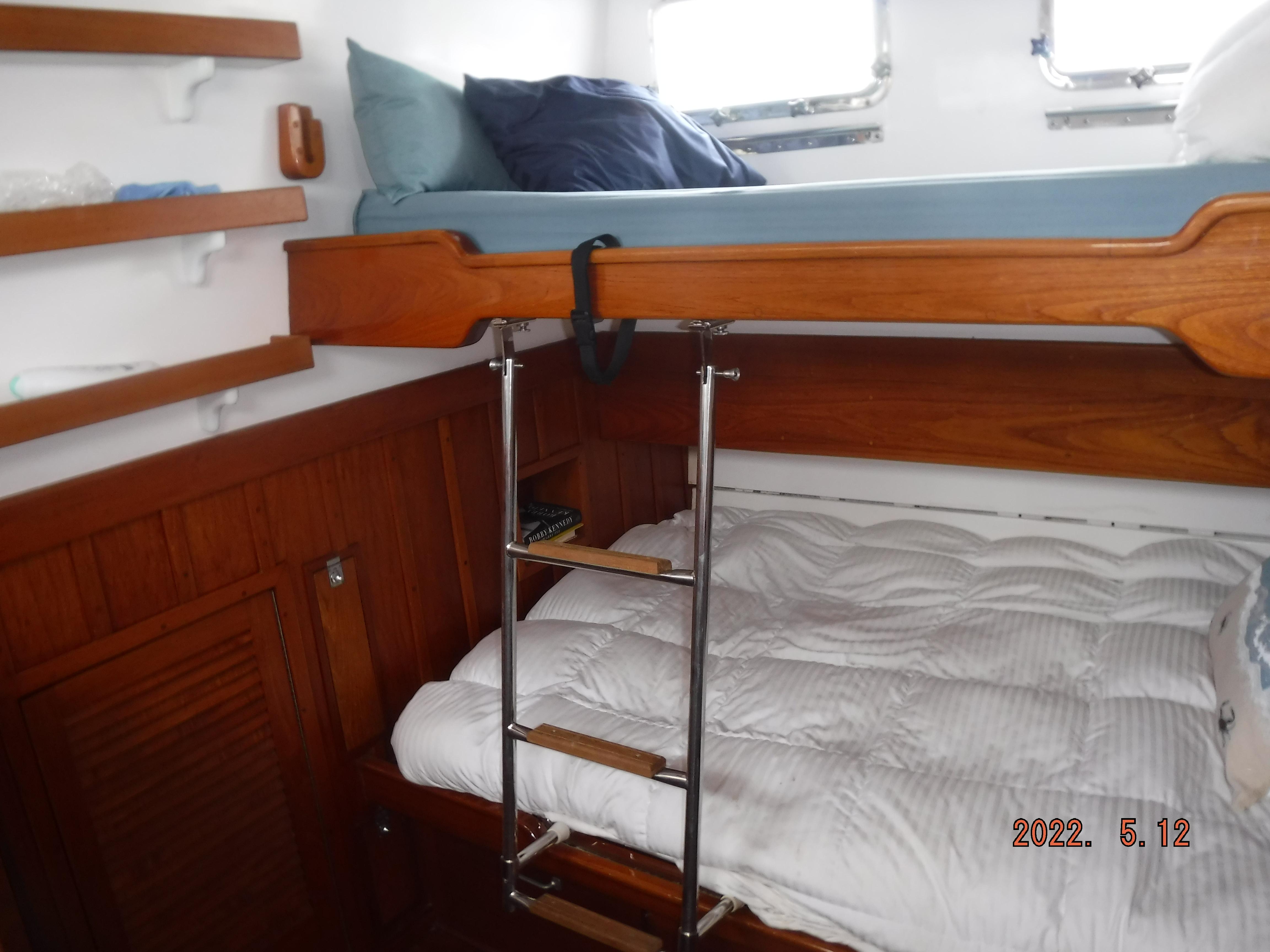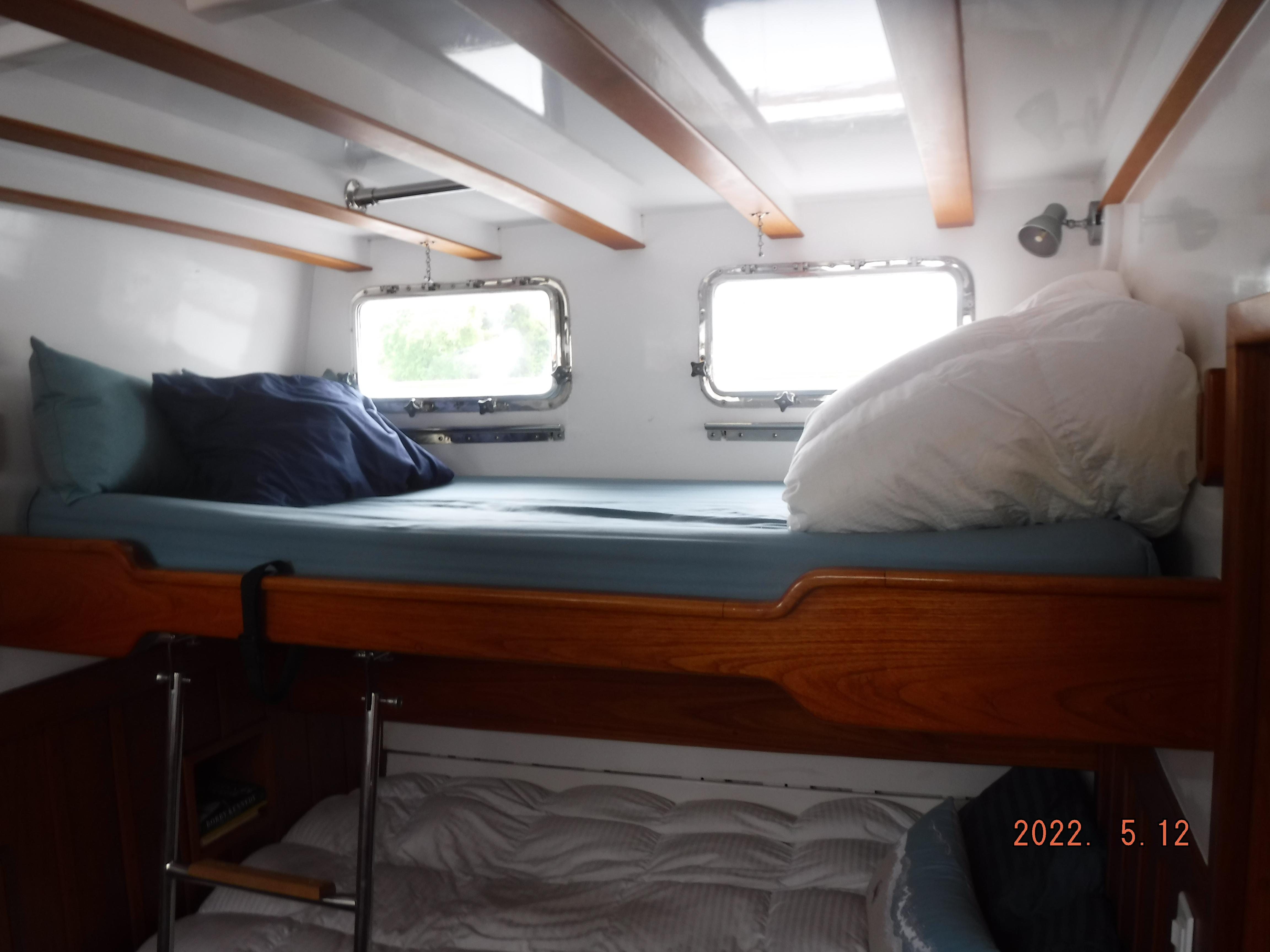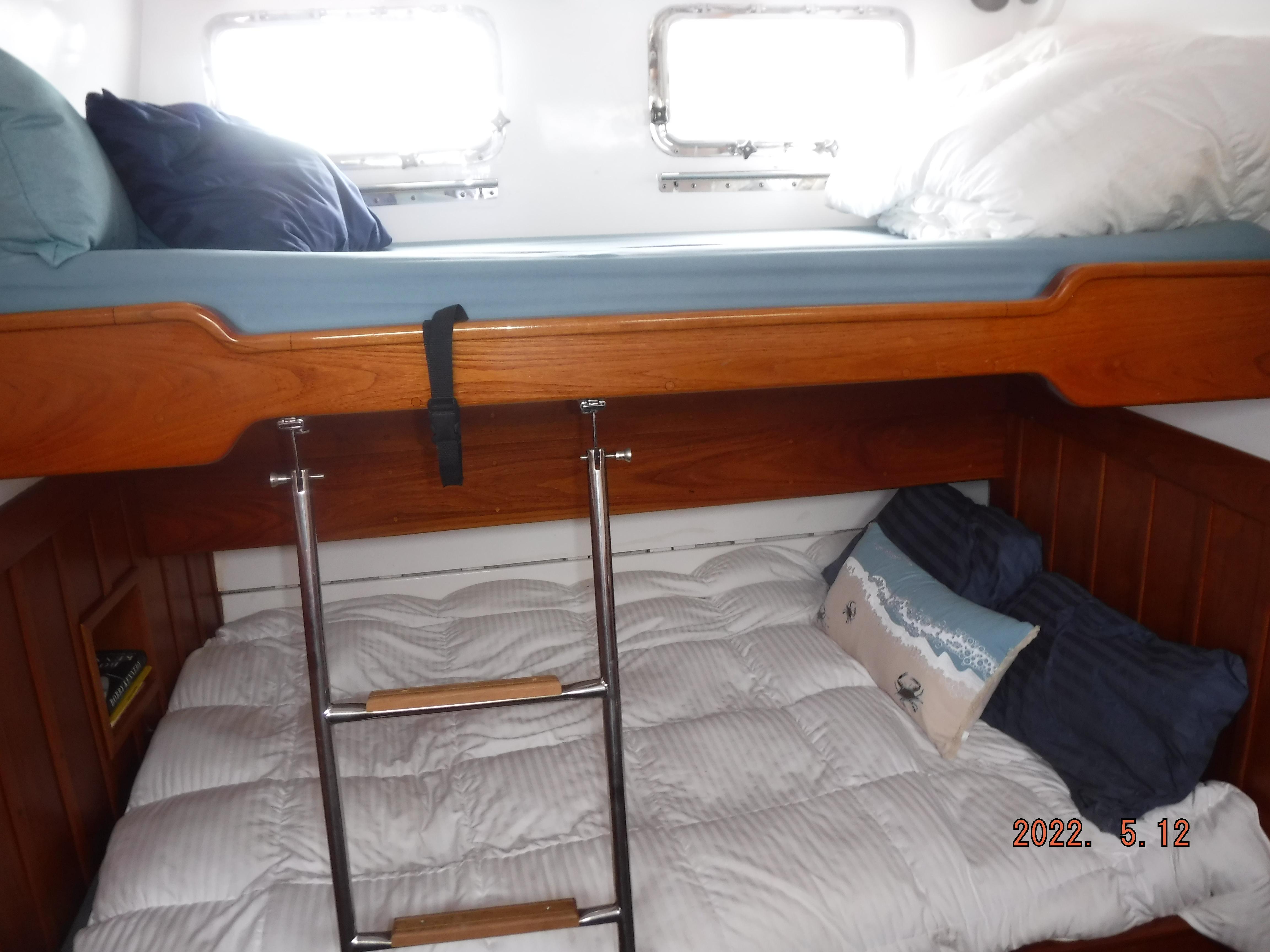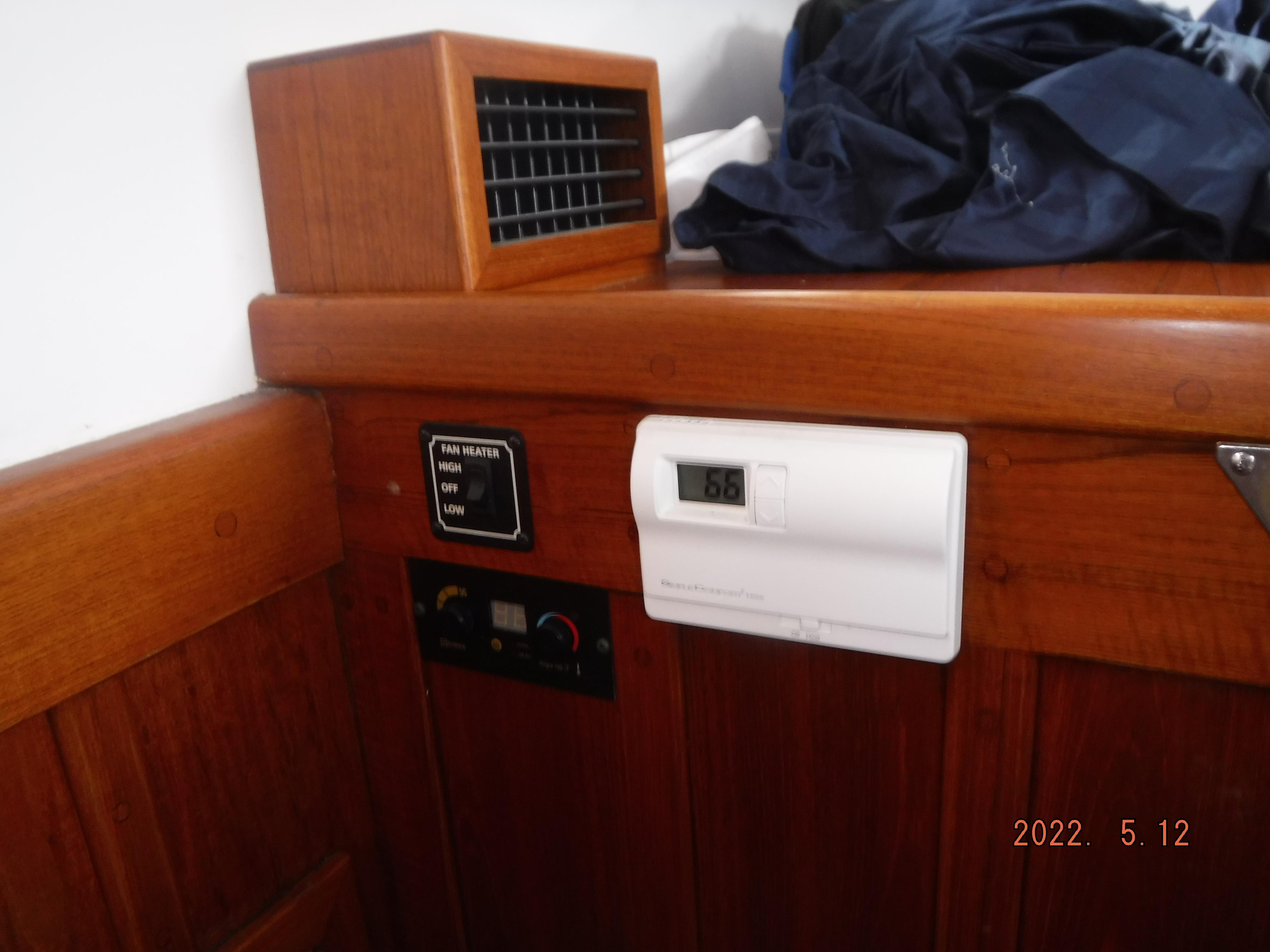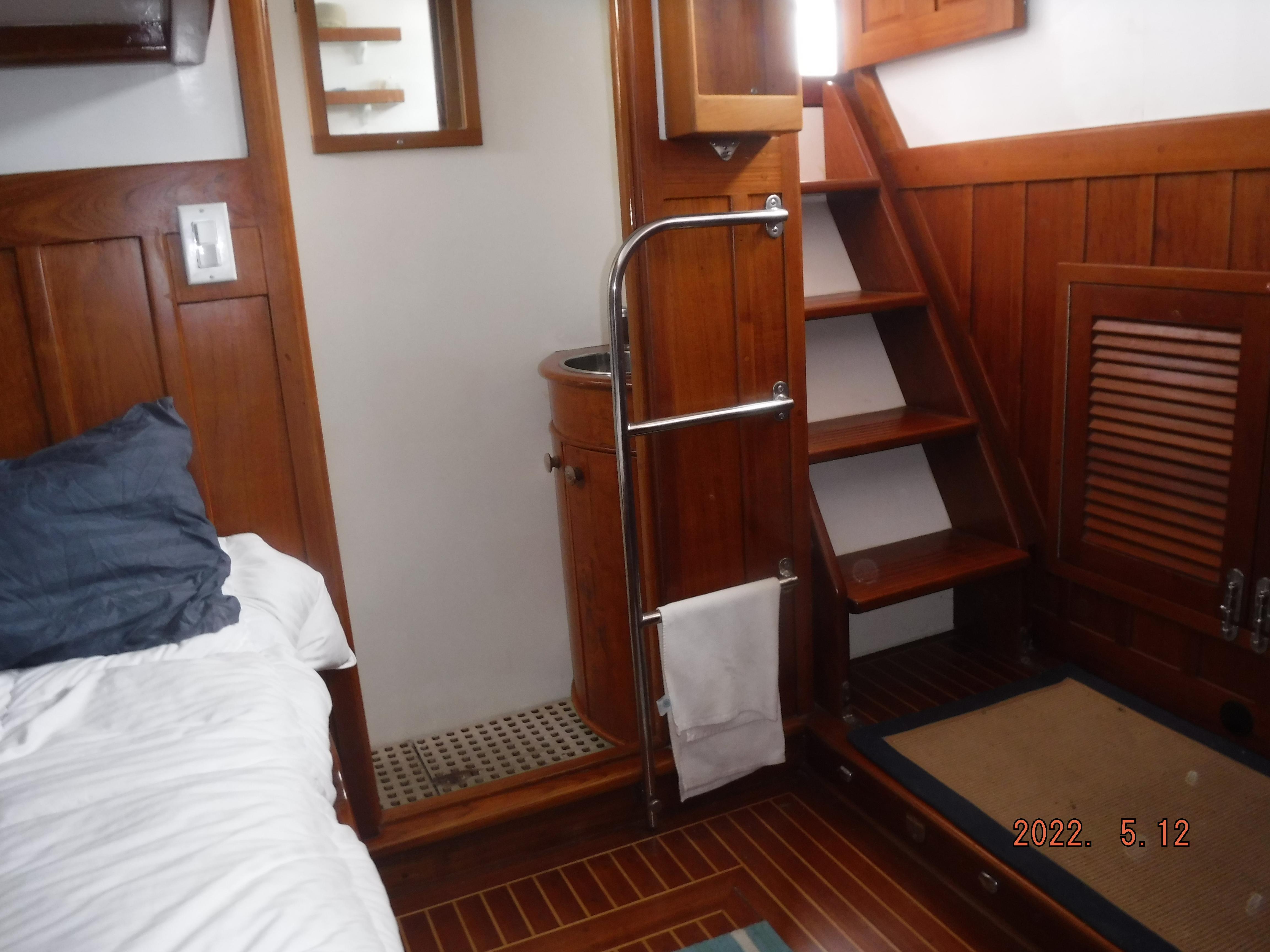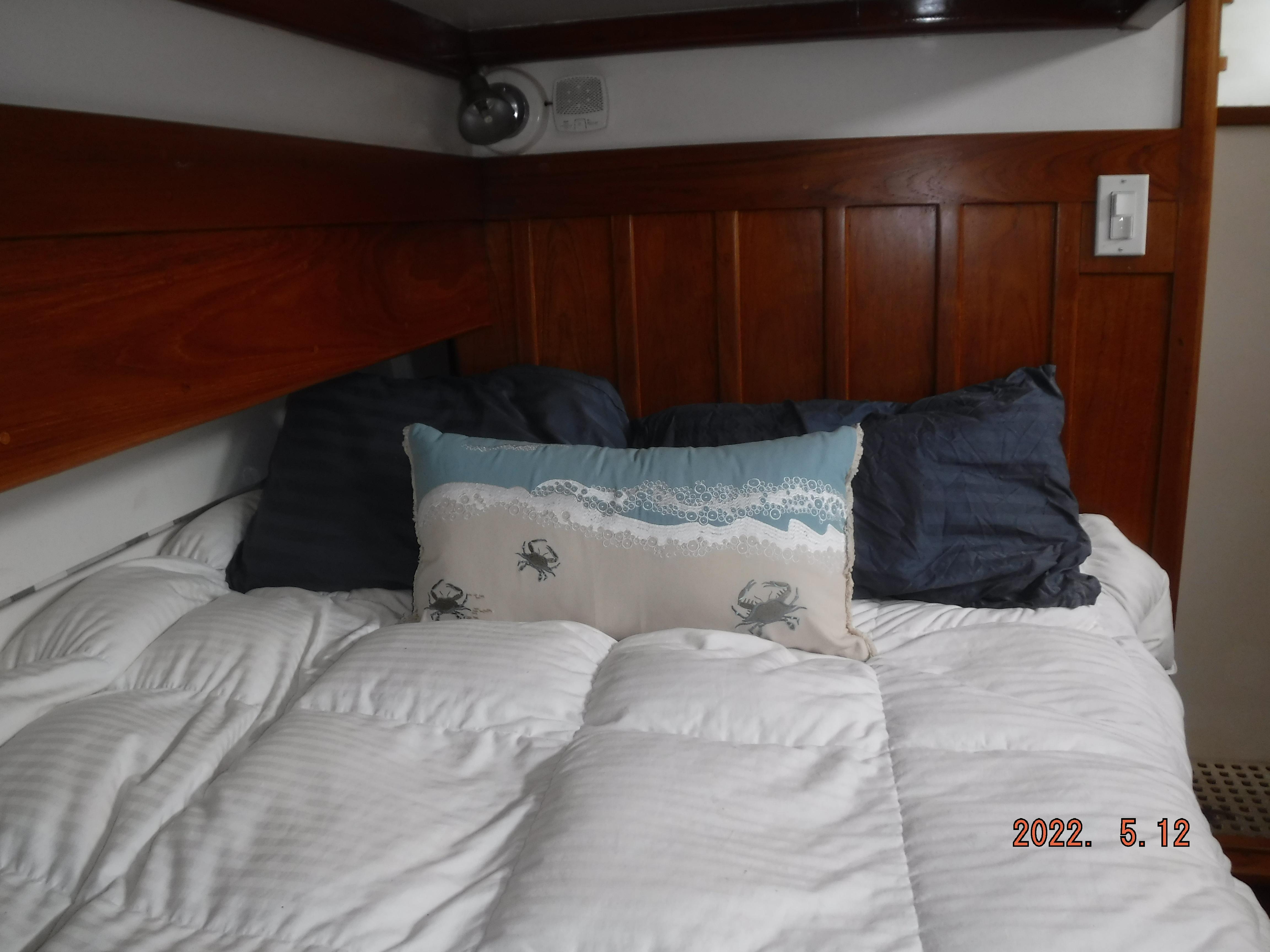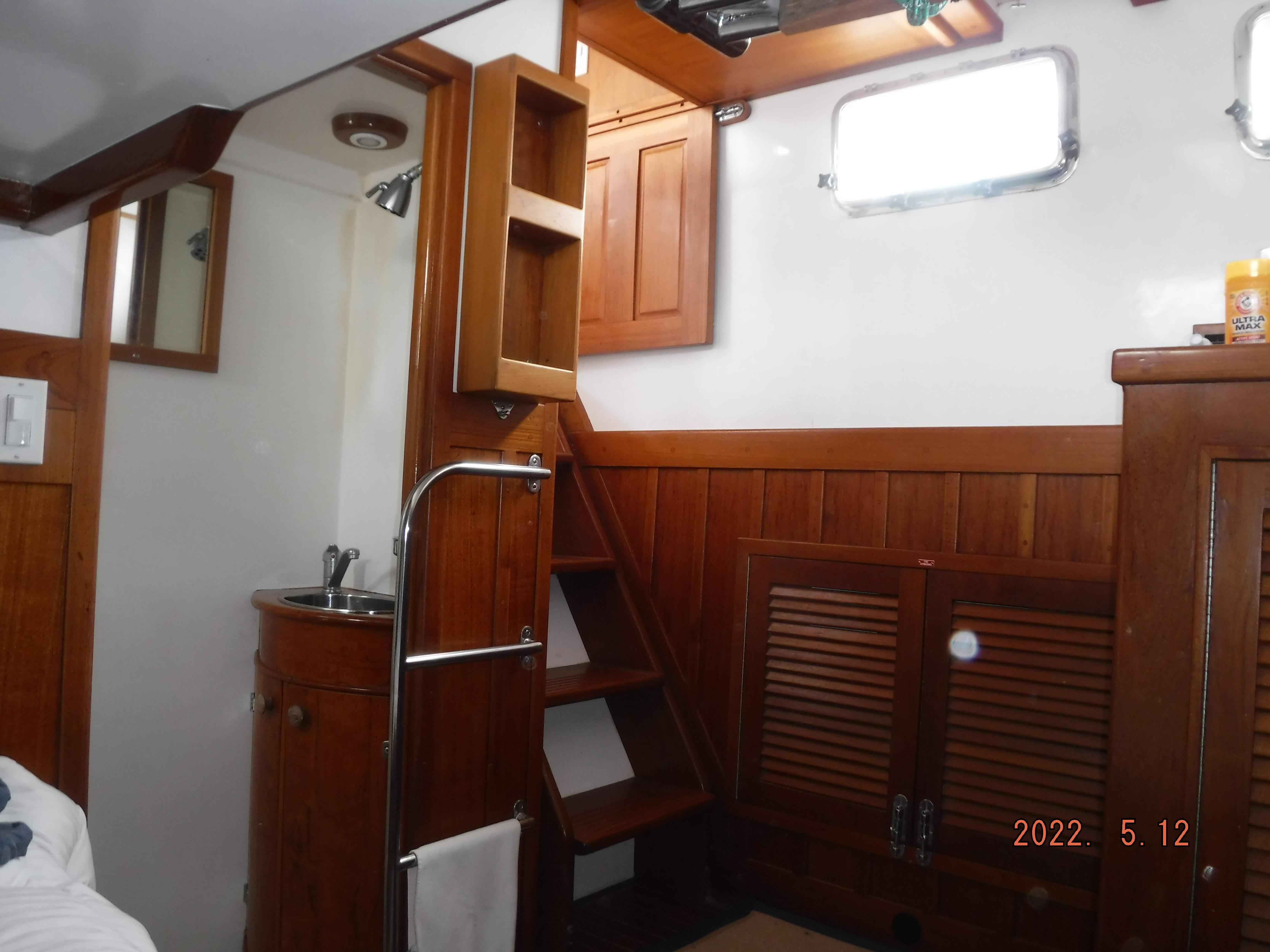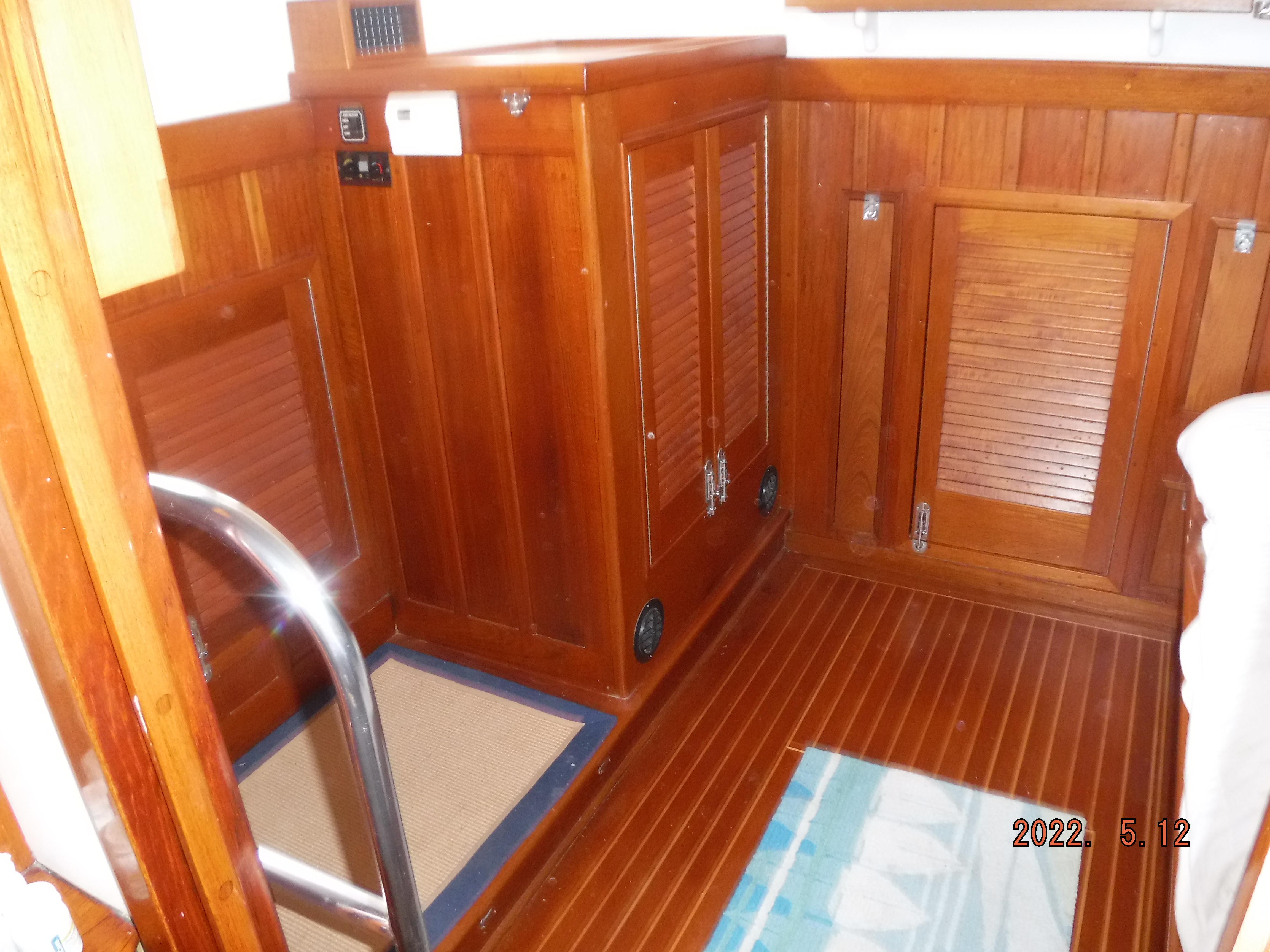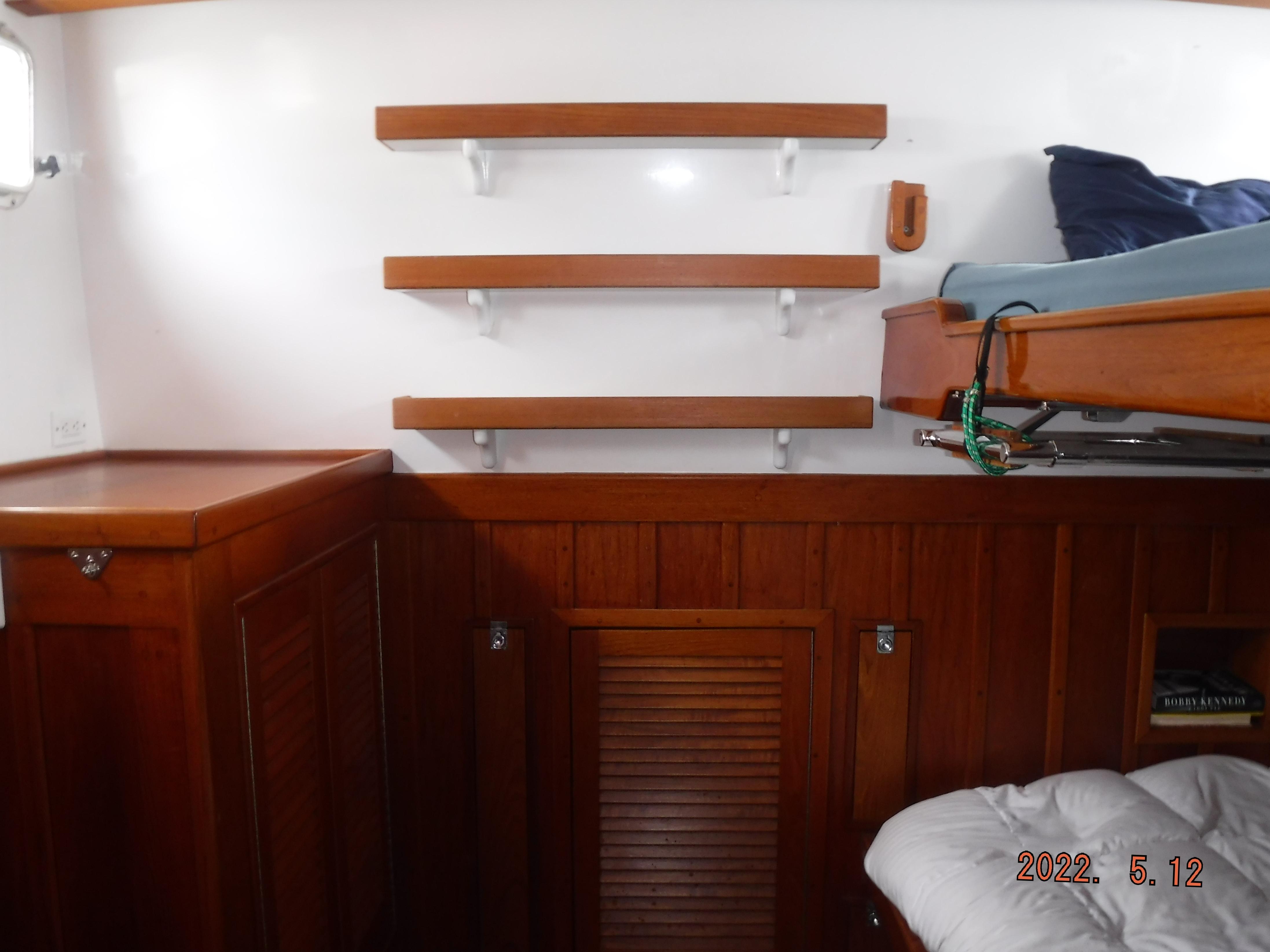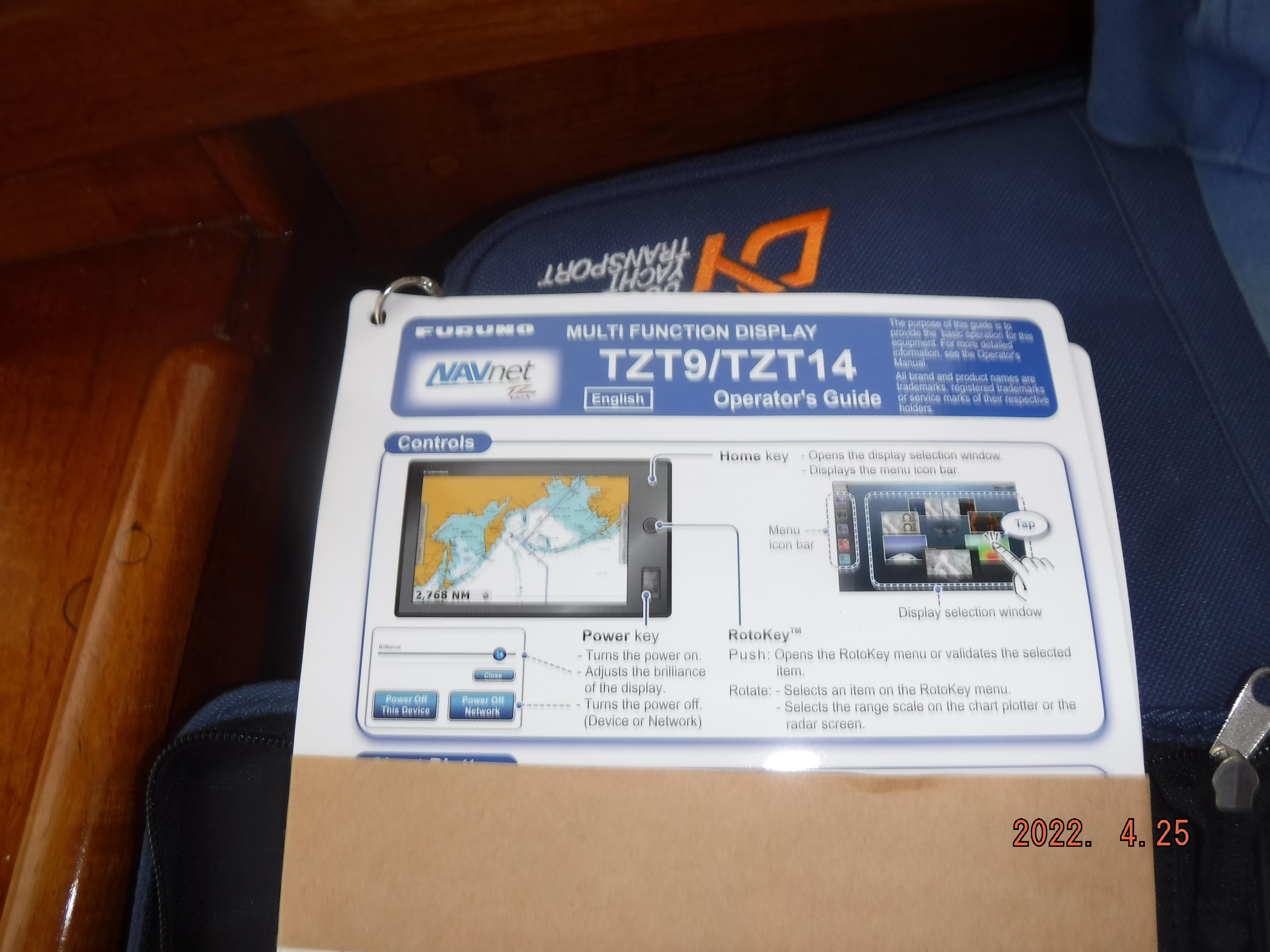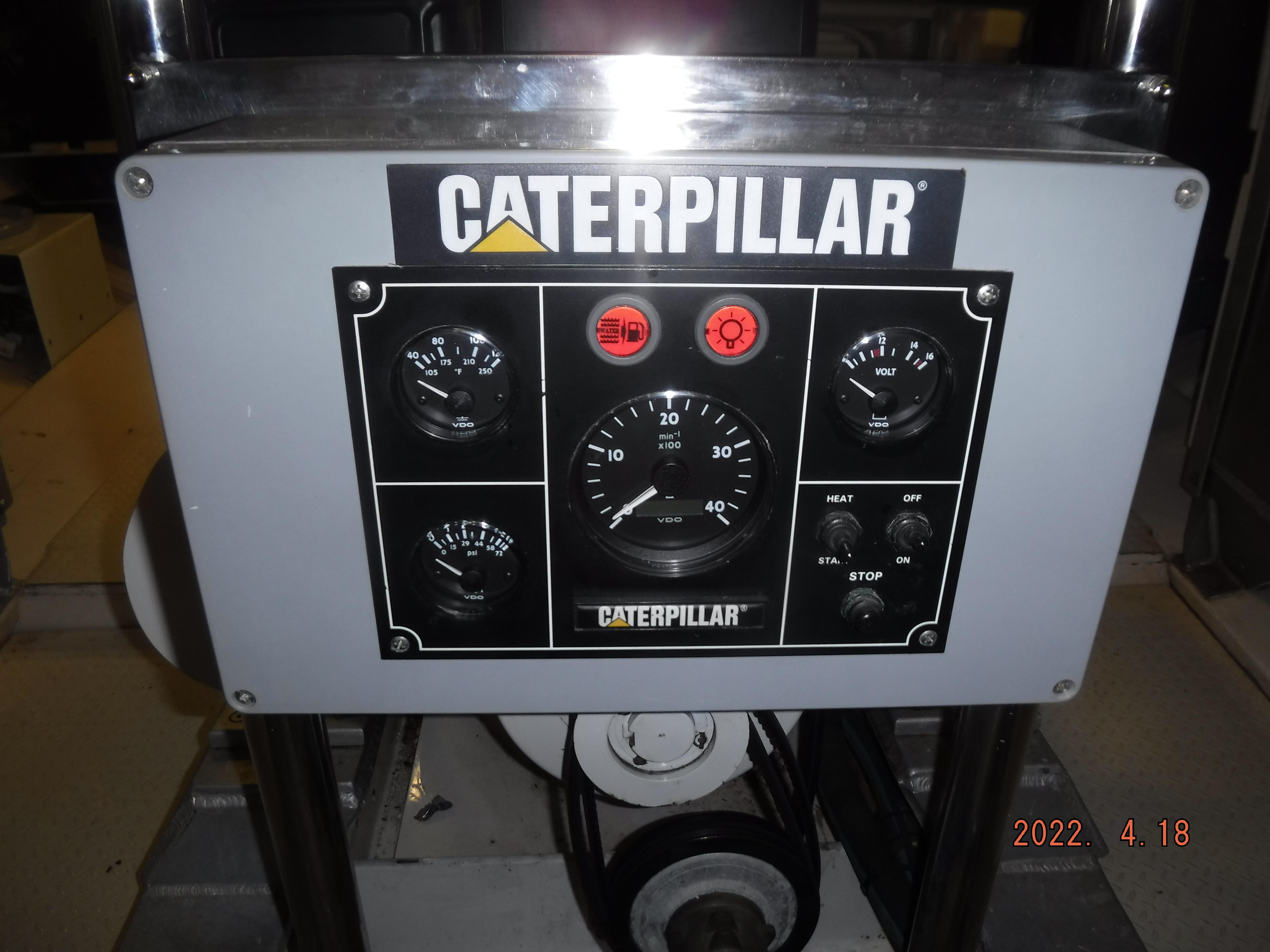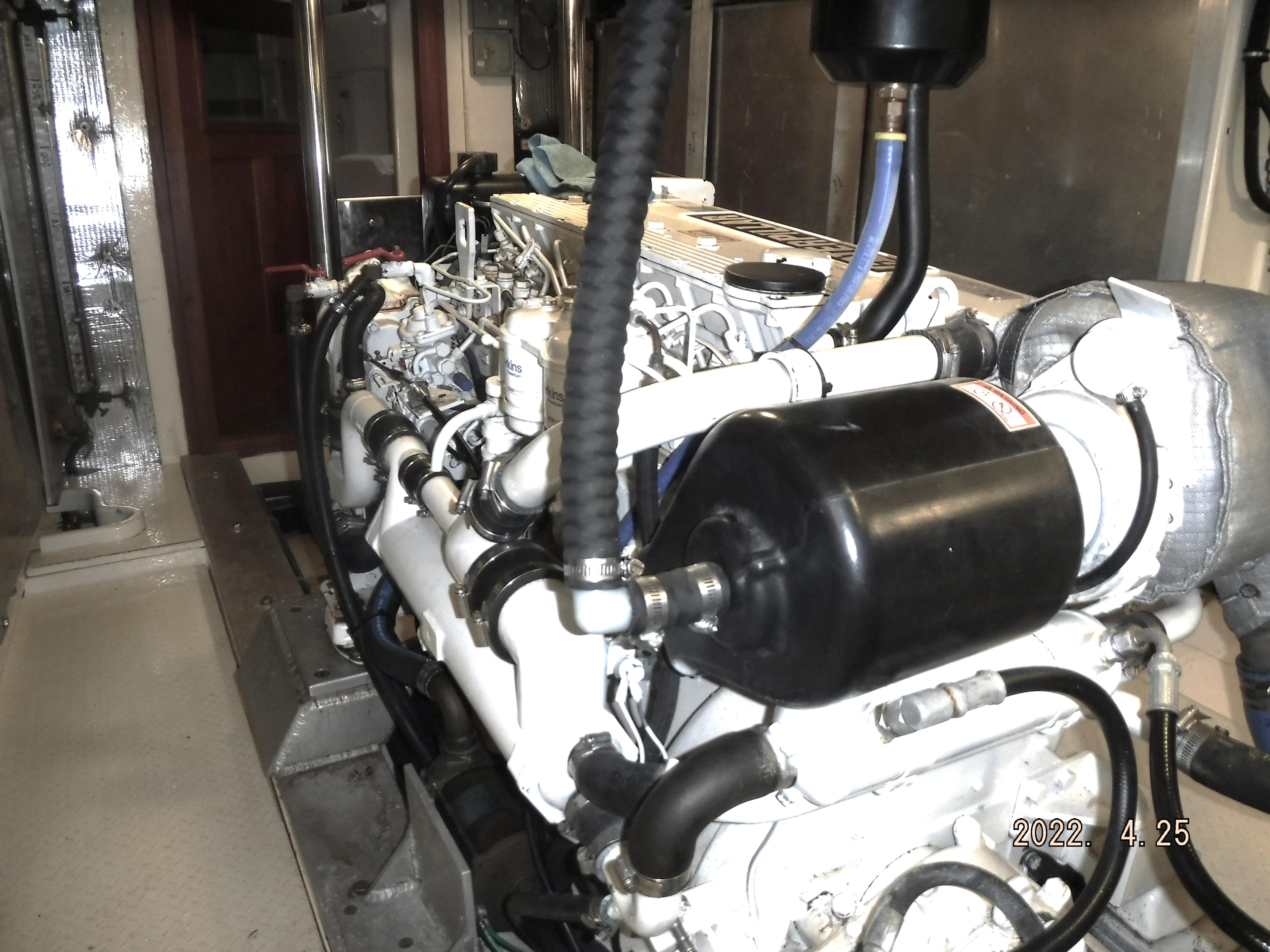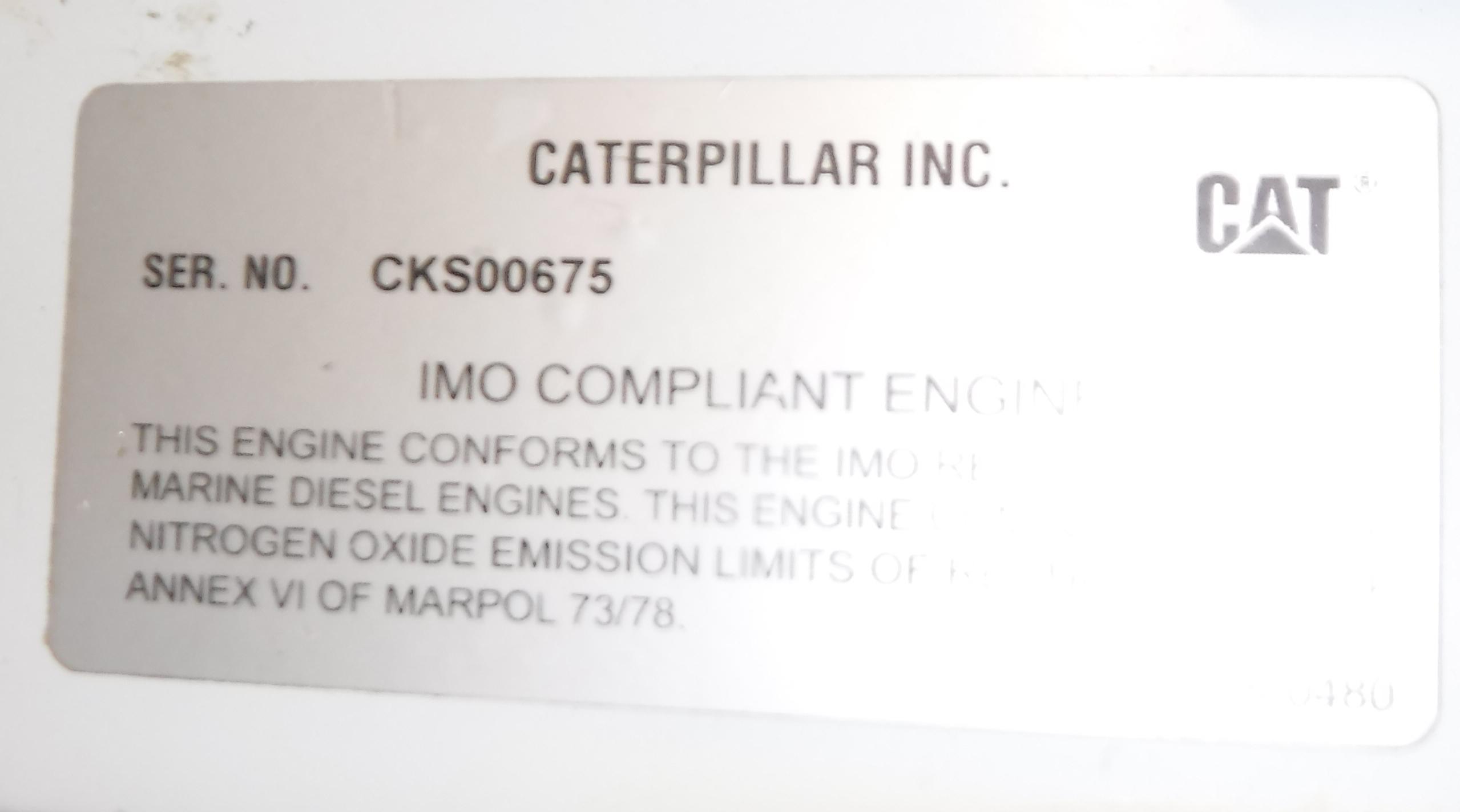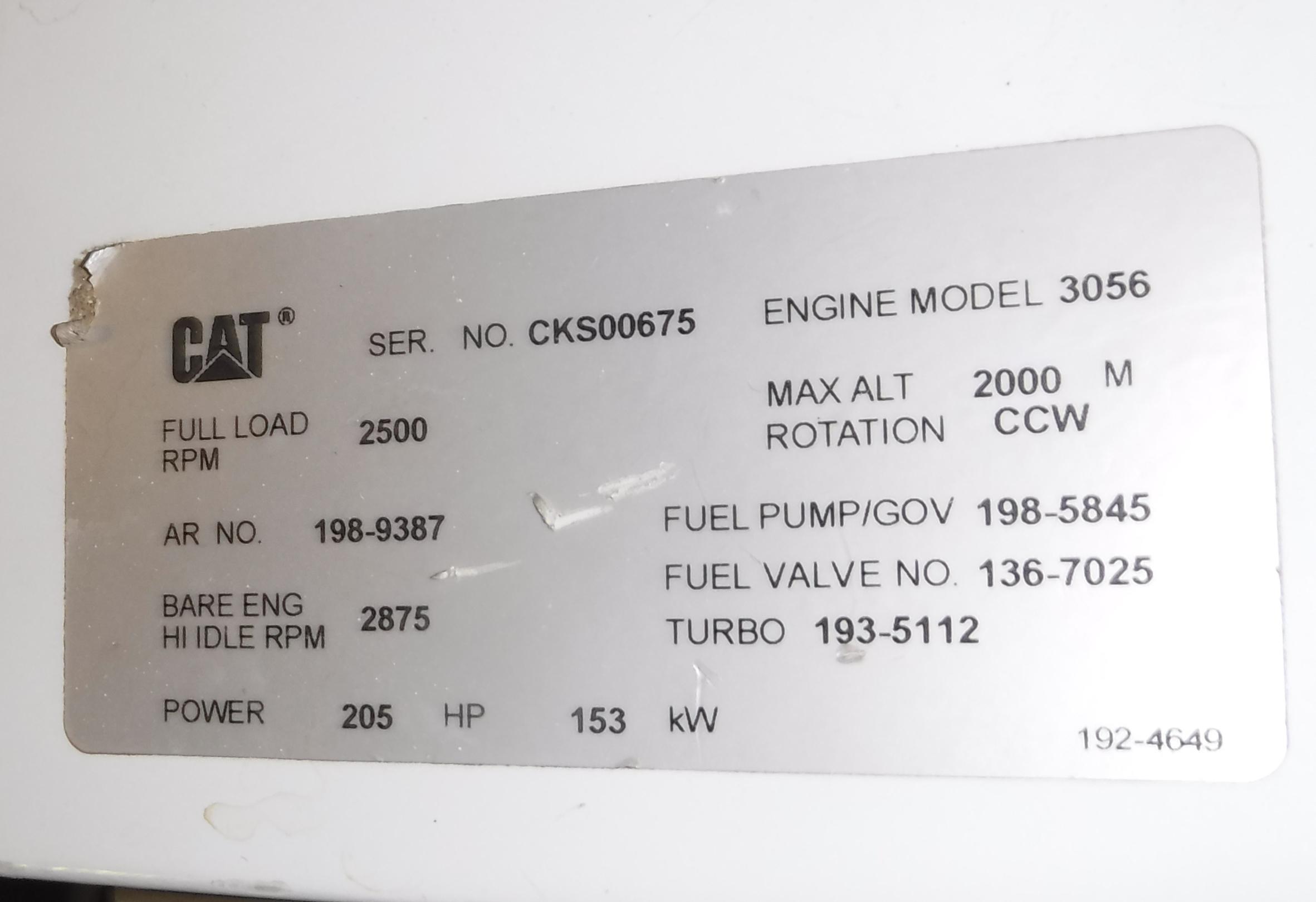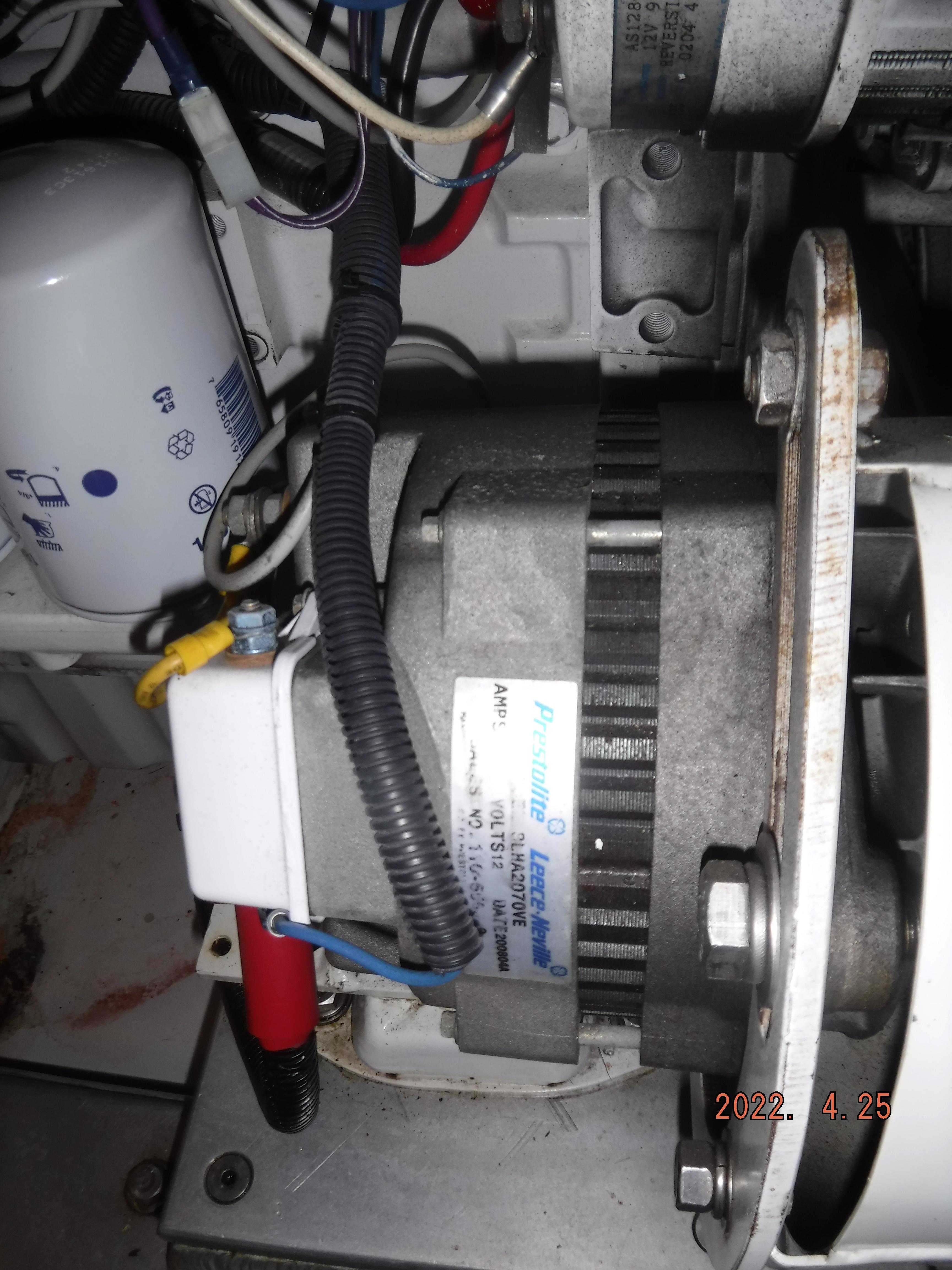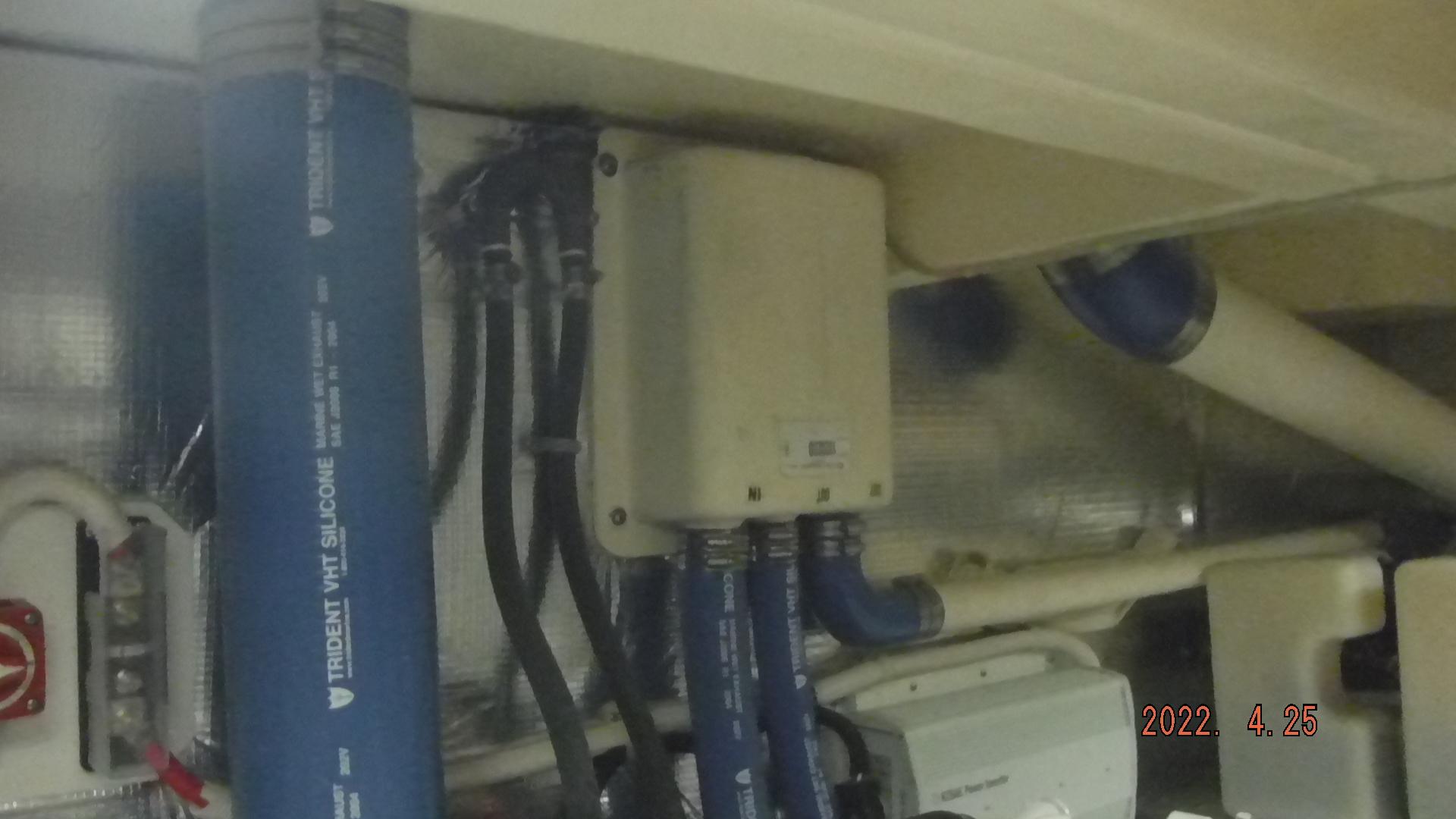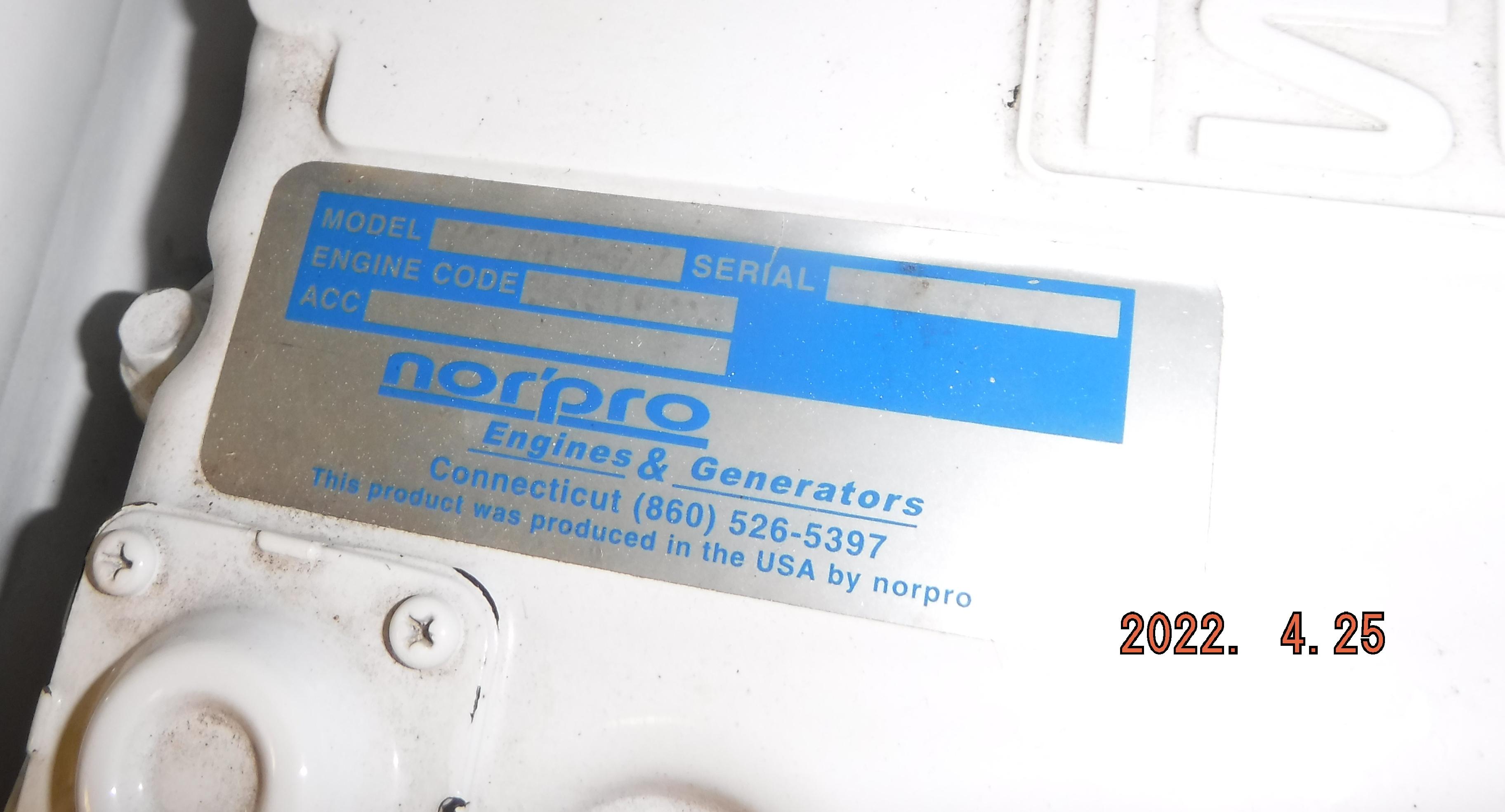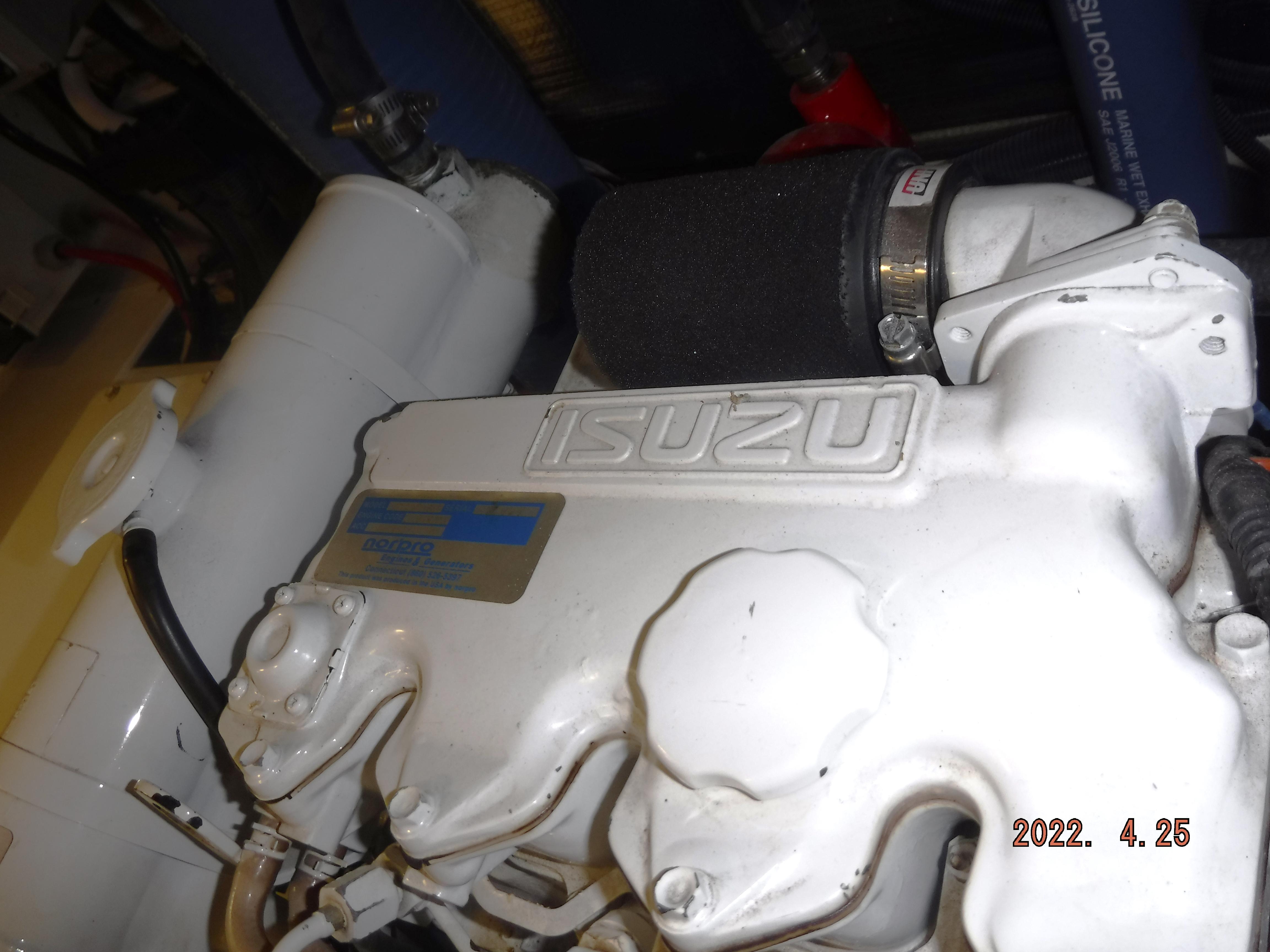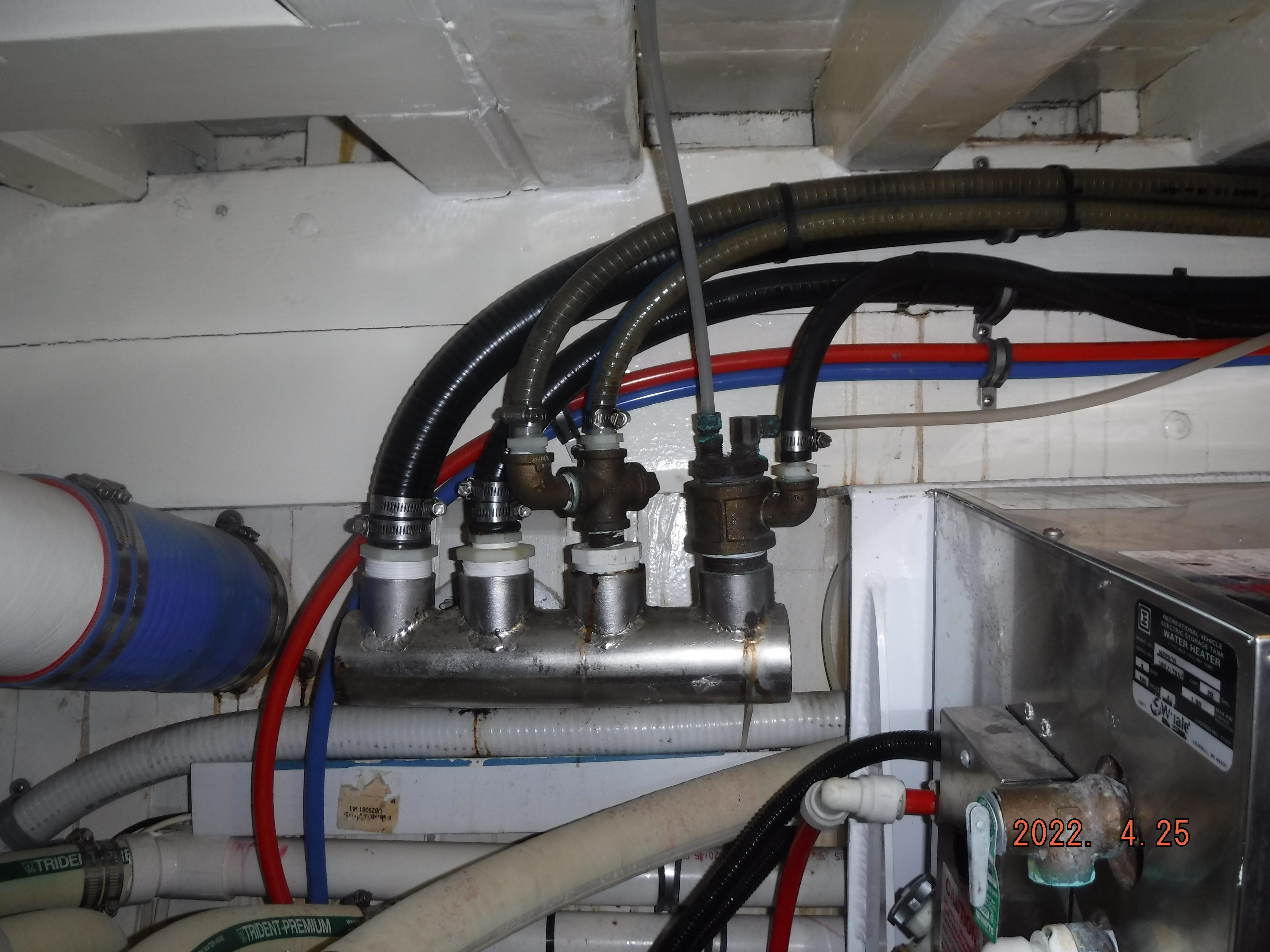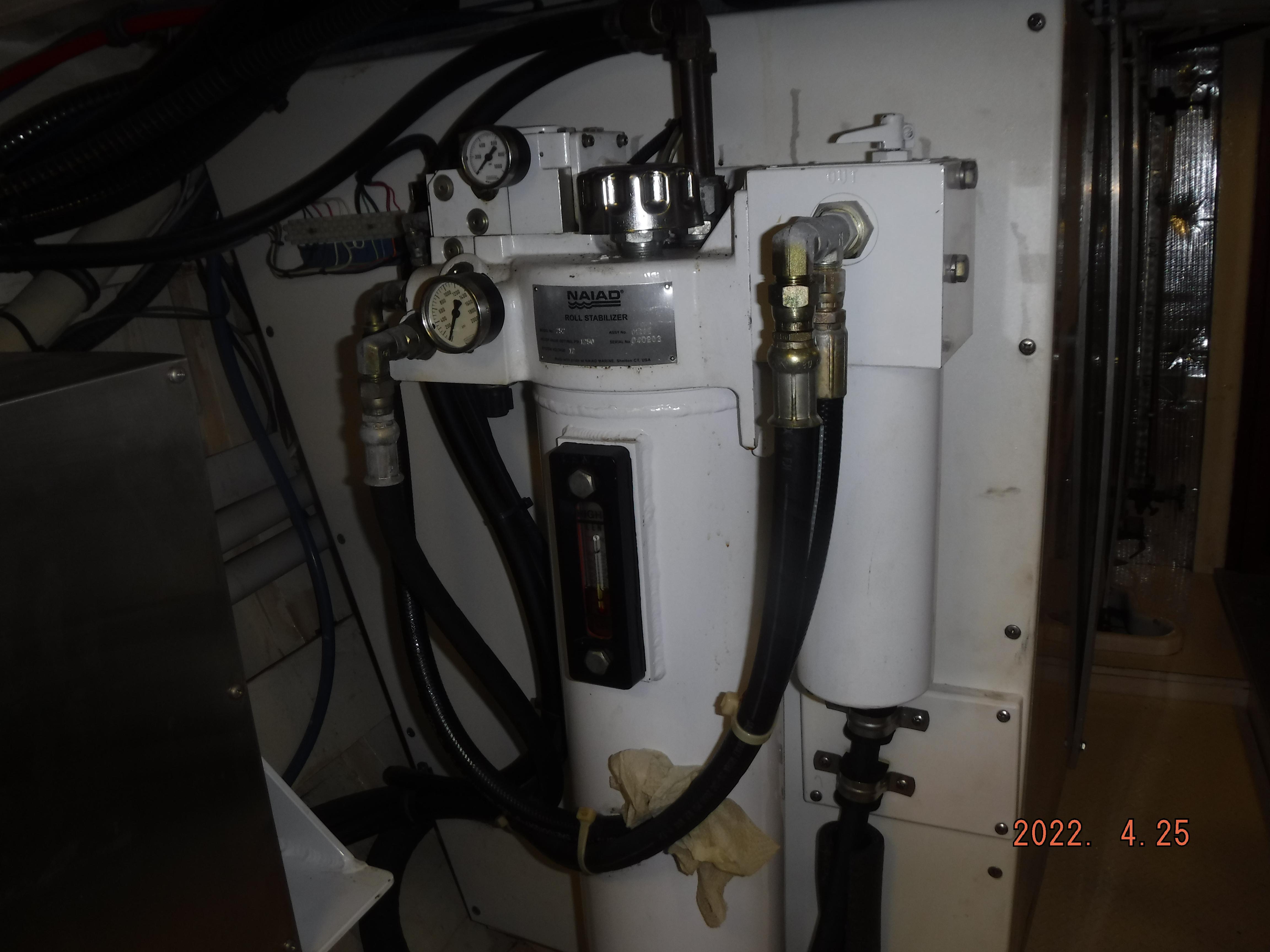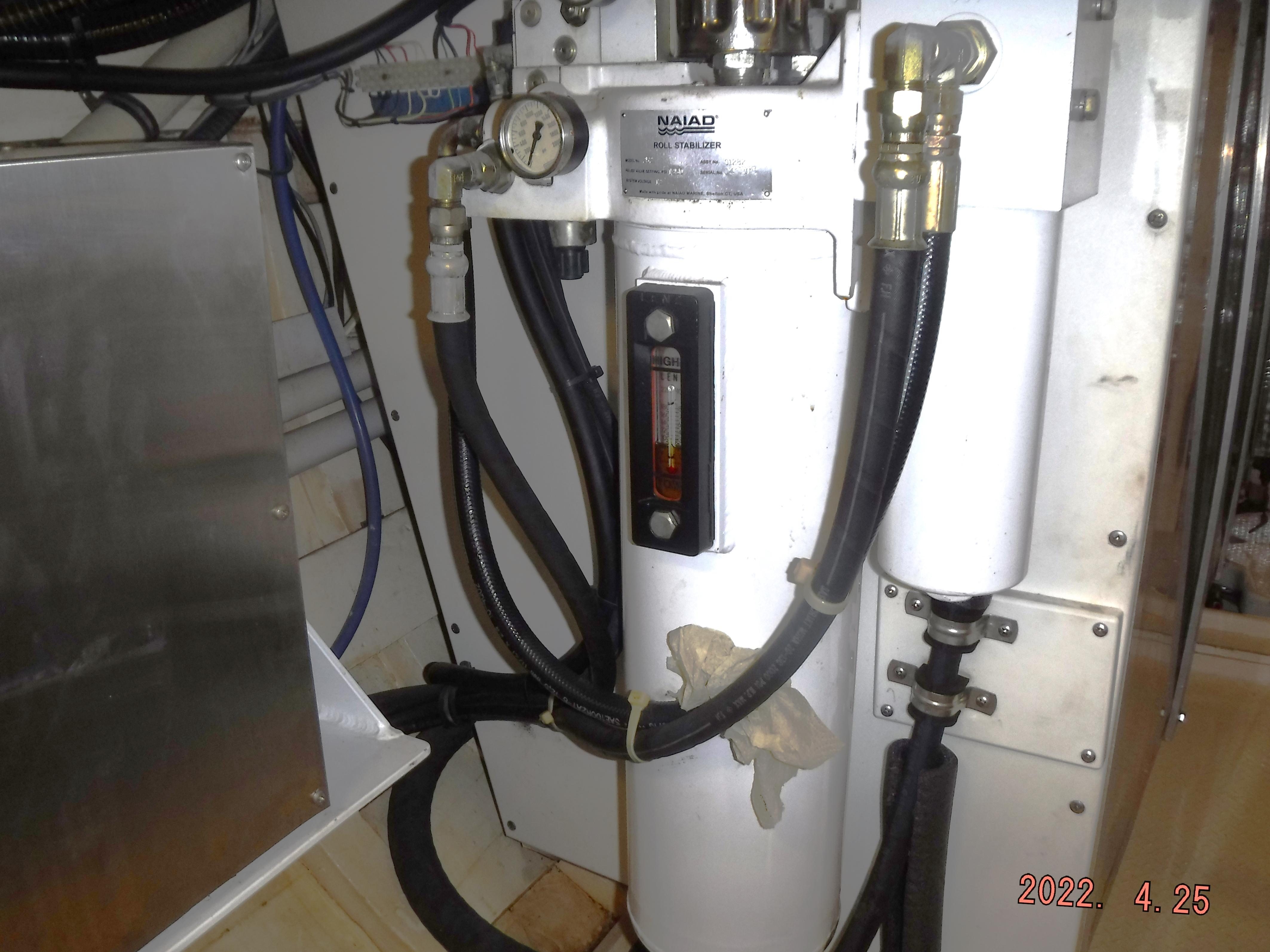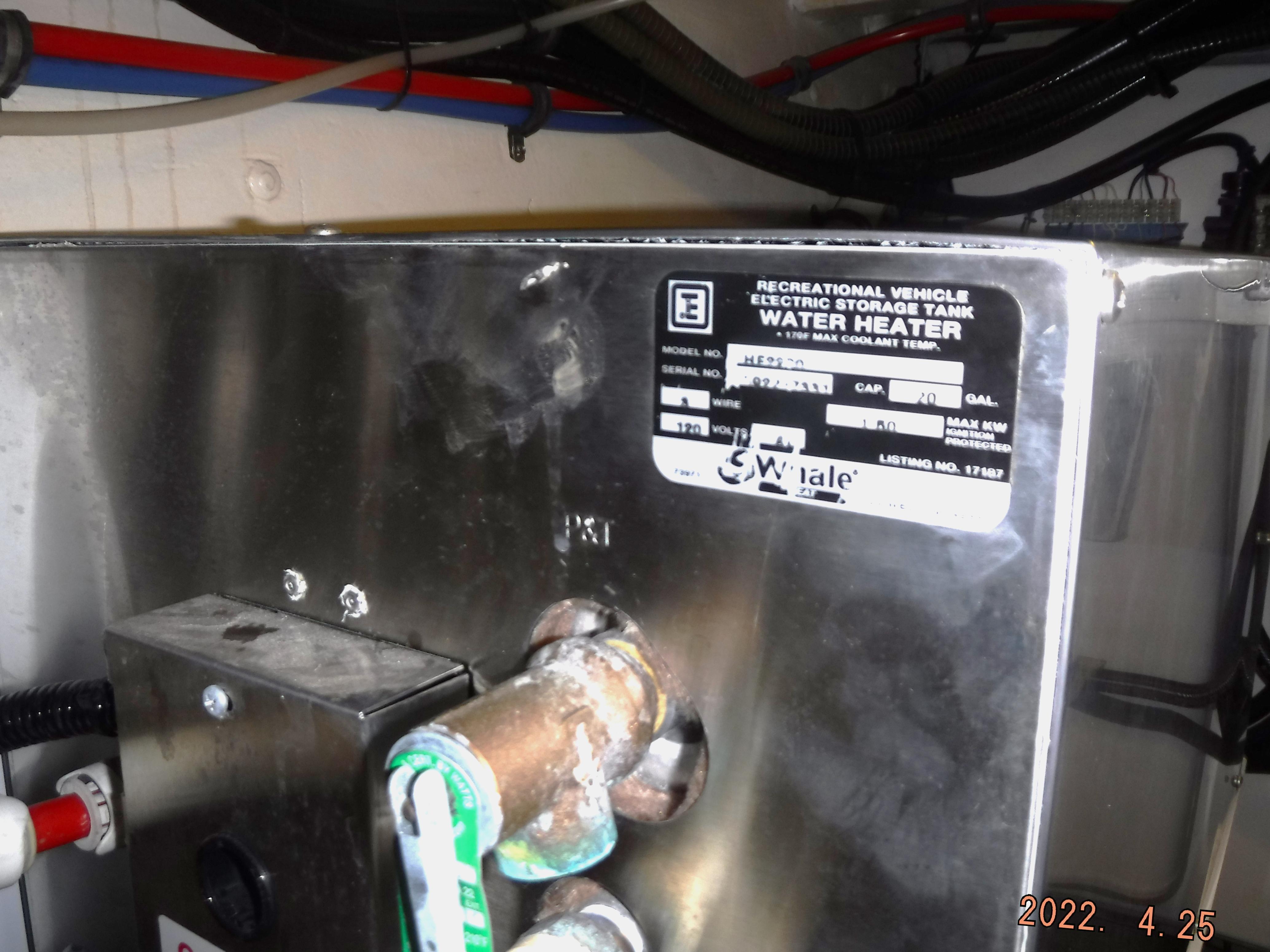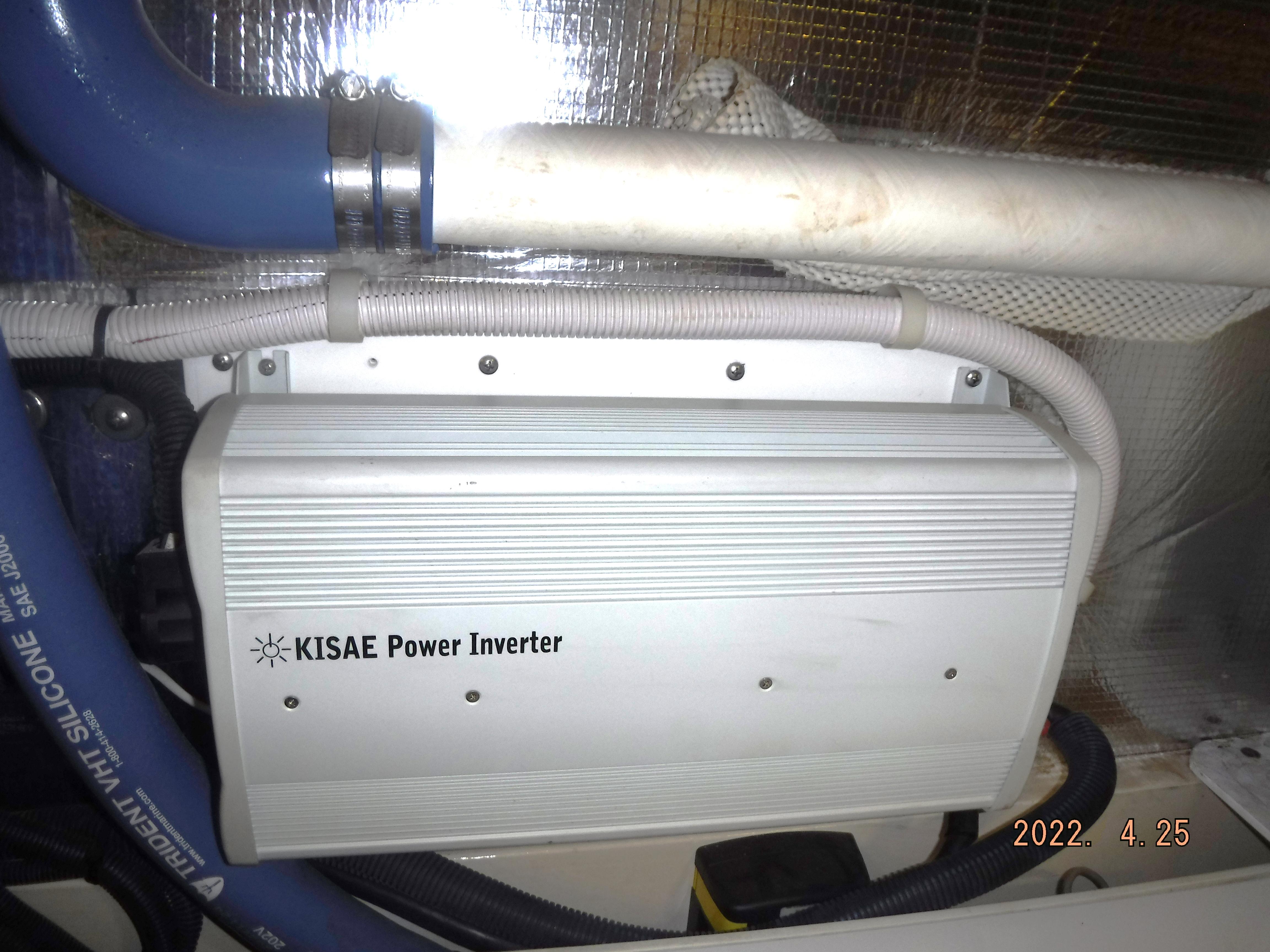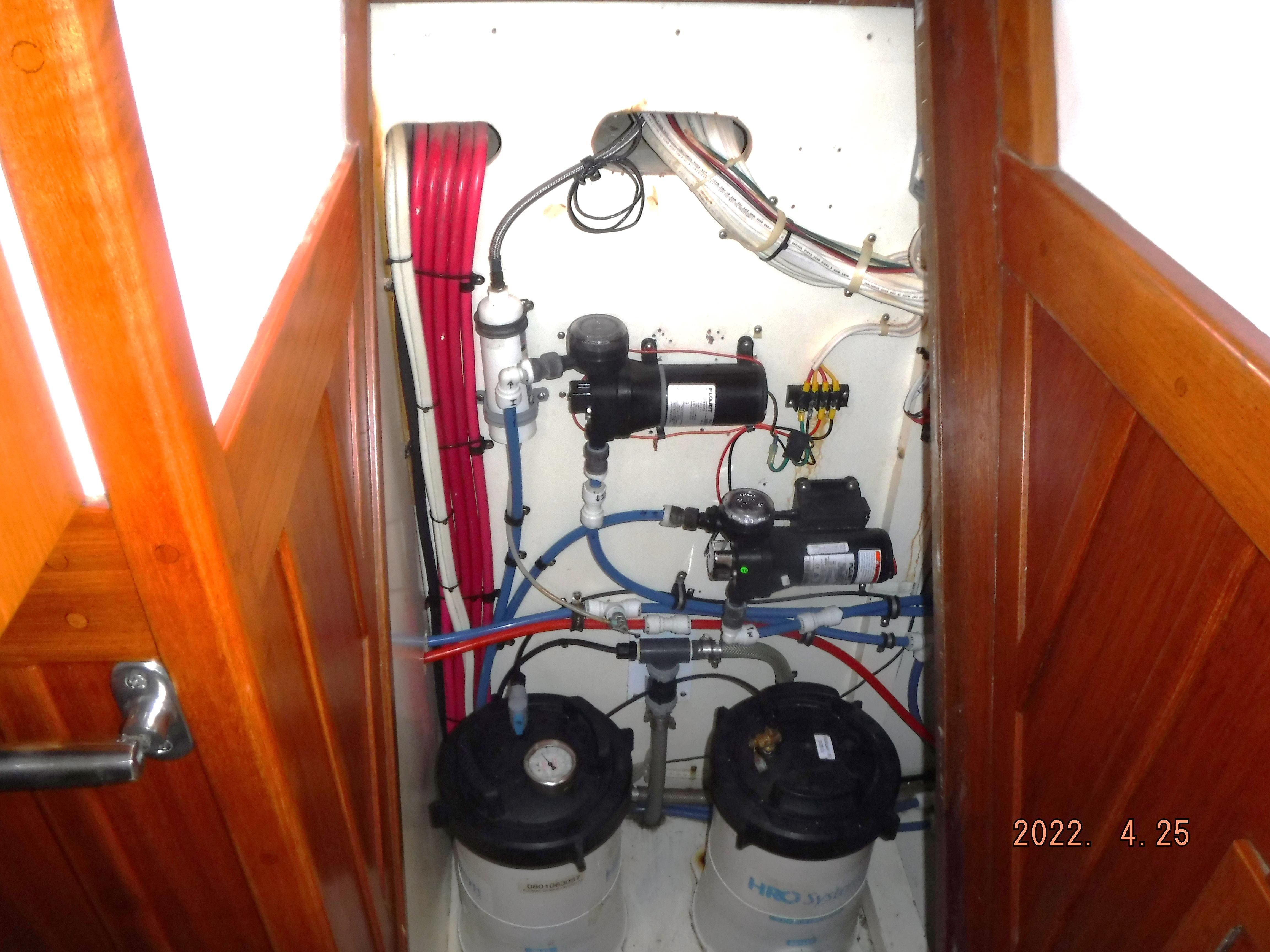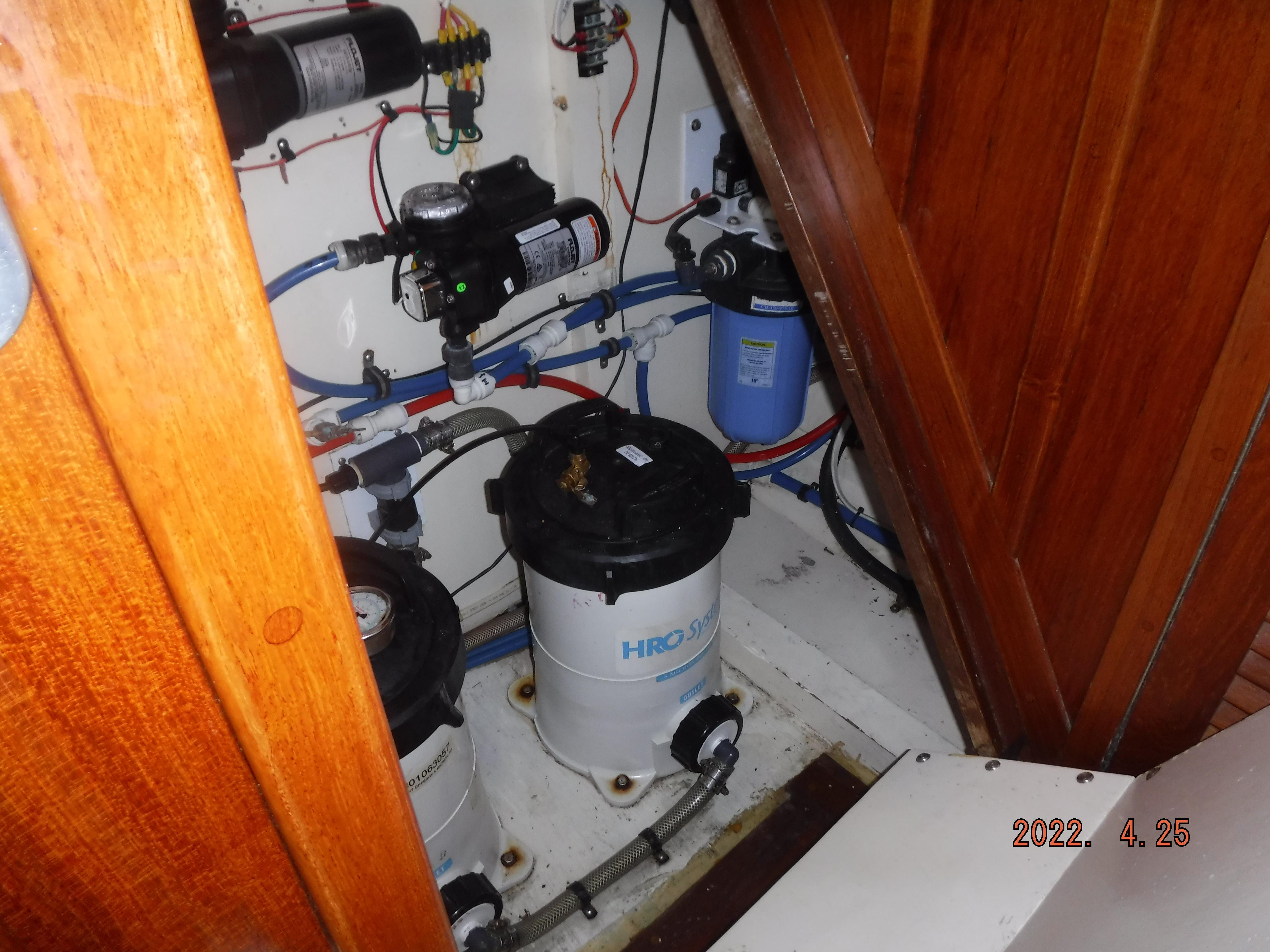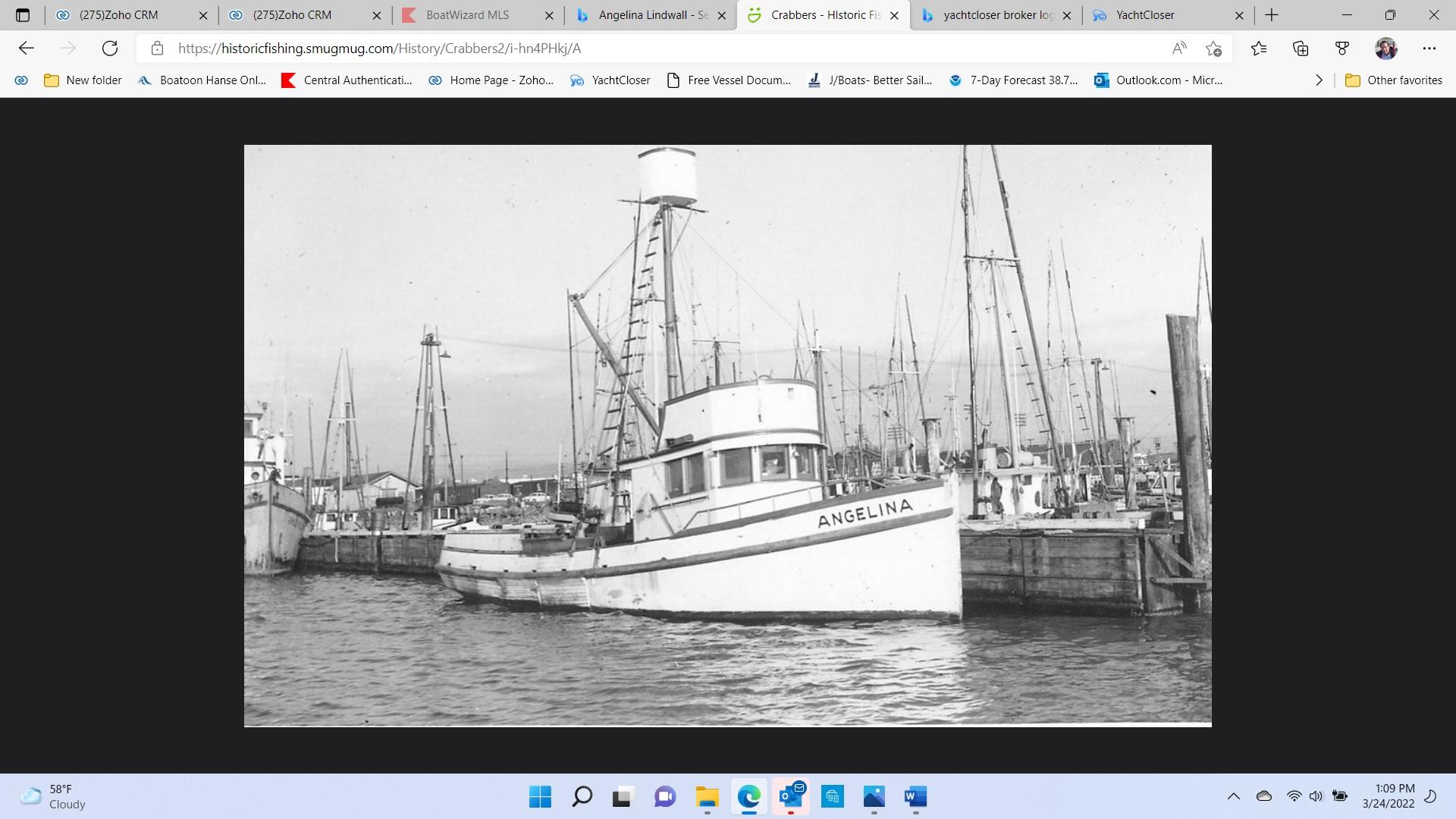 Description
"Angelina" is a treasure waiting to be discovered. Not a Project Boat.. Uniquely customized and updated by an owner who understands more about wood boat construction (being the grandson of the original builder) and quality marine equipment than most of us can imagine. Unfortunately, the time has come for her to find a new caretaker who can appreciate this 50′ trawler originally launched in 1944 as a working offshore troller built with White Oak Ribs, knees, keel, stringers, and Port Orford Cedar planks and held together with Monel Boat Ring nails. At one time, a helicopter deck was installed for one of the owners. Quality inquiries please. "Angelina" needs to be passed on to someone who understands what a high quality wood boat needs are and can appreciate the equipment and quality workmanship included with the boat. 
Disclaimer
HMY Yacht Sales, Inc. is pleased to assist you in the purchase of this vessel. This boat is centrally listed by North Point Yacht Sales.
Fuel Capacity:
1100 Gallons
Vessel Overview
Lindwall Boat works
Lindwall Boatworks was started in 1929 by Charlie Lindwall and operated on Stearns Wharf in Santa Barbara, Calif. The yard was taken over by Charlie's son, Paul (Sugar) Lindwall. 
On Stearns Wharf Santa Barbara ,  Angelina was launched in 1944 under the leadership of the current owner's father Vic Lindwall .. Vic became the owner/skipper of Angelina and fished her commercially for 12 years.  The younger son Paul (Sugar) took over the business and built nine of the first DeFever trawlers.  Angelina was purchased by the Los Angeles CAT dealer, who was the ringleader of the Pacific Cruising Association that hired DeFever to build the prototype.  Angelina was updated and modified based on the principals of the DeFever designs over the years 1958-64 and cruised over a period of 40 years in Southern California, but also Mexico, Alaska and Hawaii.  At one point, she sported a bubble helipcopter to commute from LA to her moorings in the islands.  The current owner Chuck Lindwall bought Angelina in 2003 and rebuilt her completely from the bare hull in California, brought her to the east coast, and has cruised extensively from Ft Lauderdale to Rockport Maine
Lindwall Boats:
1943 ~ Linda (# ) ~ 45-foot fishing boat used by Lloyd Lindwall to fish albacore
Linda was lost on the Columbia River Bar in Oregon
1944 ~ Angelina (#245659) ~ 50-foot wooden boat with a fan tail used by Vic Lindwall to fish albacore
Angelina was sold by Lindwall to Willard "Bill" Shepherd, Caterpillar engine dealer who added a helicopter deck.
Later owned by Fred Hepp.
1948 ~ Remora (#256659), renamed Lucy L ~ 35.8-foot commercial fishing vessel
1951 ~ Cecilia (#) ~ 49.4-foot commercial fishing vessel named for mama Cecilia Castagnola.
Owned by Tim Castagnola.
1954 ~ (#) ~ 32-foot power sport fisher
1958 ~ Vaquero II (#278560) ~ 65-foot wood-hulled cattle boat built for Vail & Vickers
1959 ~ Rapparee ~ 47-foot siener-stern trawler yacht offshore cruiser
1960~ Pau Hana ~ 47-foot siener-stern trawler yacht offshore cruiser
1961 ~ Chickadee ~ siener-stern trawler yacht offshore cruiser
1962 ~ Marda ~ siener-stern trawler yacht offshore cruiser
1963 ~ Tonina ~ (#) 60-foot long-range siener-stern trawler yacht offshore cruiser.
Later owned by Rick Fricke of Los Angeles.
1964 ~ Dulsea ~ 38-foot sport fisher
1964 ~ [?] ~ 51-foot sport fisher
1965 ~ El Vencido ~ 50-foot offshore cruiser
1965 ~ Blue Peter ~ 48-foot offshore cruiser
1967 ~ Galatea (#) ~ siener-stern trawler yacht offshore cruiser
Surveyor's Comments 2016
The 1944/2008, 50' wood fishing trawler to yacht conversion, "Angelina", was found in exceptional condition. Structurally she appeared in well above average condition, including her hull to deck joint as visible. Hull sides and bottom are built and offered good soundings indicating planking is strong and intact, where tested at the stern, garboards and transom frame. Hull is holding her lines well with no plank distortion or visible changes.
All below waterline hardware was found in good condition with no signs of galvanic corrosion. Hull was thoroughly inspected and improved during a 2004/2008 refit. All frames and structural members appeared well above average with no problems or conditions found. Bilge pitch is intact. Much of the decks and all cabin structures were replaced during the 2004 to 2008 major refit
Decks and superstructure are in close to new condition.
Caterpillar diesel engine and transmission, generator and fuel tanks were installed 2004.
A complete AC/DC shore power system is properly grounded. All required DC systems functioned. All wiring appeared to be to ABYC Standards.
Interior and exterior cosmetics are exceptional.
All safety equipment is up to date, other than emergency signal flares.
All very good cruising equipment inventory was found. New equipment and systems improvements are being continued as part of maintaining the vessel to high standards and keeping equipment current.
Hull, Steering, and Underwater Hardware
"Angelina" was launched in 1944 as a Pacific Troller by Santa Barbara Boat Works for a family member of the Santa Barbara group known as "Sugar" Lindwall, who was building commercial fishing boats (approximately 15) from 1943 to1967. She was made with Port Orford Cedar planks and White Oak Structures (Ribs, keel, stringers, etc.) all held together with Monel Boat ring nails. Length Over-all is 50' with a water line of approx. 40', Beam of 14' 3" and draft of 6' 3". She has round chines, full keel, a displacement hull (approx. 68000 lbs. with fuel and water) with a bow thruster recently added.
Steering is Vetus Hydraulic both in the pilot house and on the fly bridge with Simrad 44 Auto Pilot. 
6 Bronze Thru-hulls, 2 in Forepeak and 4 in engine room. 1 bronze transducer on port and 1 on starboard.
The Prop Shaft is 3 6 stainless steel with a 5 blade 38 X 38 right hand propeller, stern bearing and prop shaft stuffing box.
The rudder is on a stainless Steel post with bronze fittings
Single Engine
205 Hp model 3056 Caterpillar 6 cylindar Engine was installed in 2004. Serial number #CKS00675
The transmission is Newage Coventry model number #I000D4 Serial Number #2085189H0068 w/ 4:1 reduction
2 Alternators (one for House and one for the starter)
Station engine controls are Kobelt electronic with emergency controls in the pilot house.
The sweet spot is about 7.5 knots which is about 4 gph and gives her a range of 1875 nm with a 10% reserve.
 SEE 3 Videos attached to this listing.
Interior Layout
Forward "Fo'c'le" cabin with 2 starboard single berth and 1 port berth (total 3 single berths) with cabin hatch overhead for light and ventilation.  
Stairs leading up to Pilot House on starboard side. 3 main windows face forward under the eyebrow. 
Aft of the pilot house on port is the forward VacuFlush head and passage way to the forward cabin stairway or aft into the main salon. The galley is on the port side and port settee with adjustable high/low table just aft of the galley. On Starboard, is the entertainment center with AM/Fm stereo and TV. Aft of the Main Salon on Starboard is a stairway to the master cabin with 1 single raised port berth and a double bed with a separate Vacuflush head and shower on the port side.  
Fuel System, Electrical System, and Generator
There are a total of 4 tanks for fuel, 2- 300gal forward and 2-250 gallon aft bonded Aluminum tanks installed in 2004.
12 Volt Electrical System: 1 group-27 generator crank battery, 2 banks with 3 paralleled AGM batteries. All wiring was re wired 2004-2007.
Alternating Current: 110 Volt w/ 30 amp dual leg System
Generator is NorPro, Navgen, 9 KW Model #XM3341006W Serial# 378311-0403 installed with re-wiring 2004-2007.
Equipment List
Vetus Hydraulic Steering
New Side Power 210/250 Bow Thruster
Simrad AP 44 Autopilot with controls at both stations
Kobelt electronic engine controls with emergency manual controls
Naiad 252 Hydraulic stablizers
Fly Bridge now has a removable Hard Top (Quantum is currently making a Protective Cover for the Fly Bridge and the dinghy).
Helm and guest Flybridge seating with cushions
Flybridge helm and seating cover
Oversized stainless steel bow and safety rails
Dinghy chocks
Mast and 12 volt winch for tender launch and retrieval
2 Sea Tel dome antennas on mast spreaders
Large 12 volt cockpit cooler/refrigerator
Boat Hook
Fenders and dock lines
LoFrans 12 volt windlass Model Falcon EK 001692 with capstan and gypsy bow roller 250' of chain and 66 llb. anchor
Offshore Drogue and sea anchor with tackle
Amazon Fire w/ enhanced wifi system
Led 12 volt interior lighting and running lights
Remote control search light
Windshield and pilothouse side windows see thru sun screen
Spreader lights
Furuno TDZ 24 mile radar and NavNET Suite Radar Chart Plotter at both stations with AIS installed in 2015
Ram microphone for Fly Bridge
Bull Horn
2 Clima 5.2 air conditioning units
1 Cruisair 18,000 BTU Heat Pump for heating and cooling
Furuno GP1650 C-Map, GPS chart plotter
Tote Vision remote control camera monitor System
Icom handheld VHF/Fm
Weems and Plath clock and Barometer
2007 Zodiac 6 person life raft in canister 2015
Built in flat screen HDTV, XM Radio, JVC, DVD & HD Direct TV
Battery Condition meters w/ charge rate and load
AC and DC potable water pumps
High bilge water alarm and Crash Pump.
U-Line drawer type refrigerator and freezer
GE Microwave
4 Burner stove with Oven Propane cooking fuel w/ 12 volt solenoid
Uniden telephone for an Irridium Sat Phone (needs updates sim card)
New Side Power 210/250 bow thruster
Custom Built "Wherry" pulling Boat tender (14' Wherry tender with boom winch)
2 - 1" aid kits
Emergency ditch bag
2 Alternators 1-160 & 1-90 amp
Heel angle Indicator
FloScan fuel usage system
Lewco 10 Amp Battery Charger
Outback 2.8 KW inverter/125 amp charger plus separate inverter for 2 smaller AC units
Horizon Seafari water maker
Electro Guard corrosion monitor
ACR EPIRB (Exp. 9/17) 2DCC3FC470FFBFF
Spare Bilge pumps, part, tools
Yacht Ensign
Custom Flybridge hardtop (Removable) and Fantail cover is also removable.
2-30 amp shore power cords and various adapters
Simrad wind instruments
Fresh and salt water wash downs
Wind Instruments
Ice Cube Maker
Webasto diesel cabin heater with 3 Zones (uses coolant so does not need to be winterized) and Heat Pump in Main Salon
3 AC Units (one is a heat pump)
2 - Vacuflush w/20 gal holding tank and plumbing
Dual Raycors with suctionsystem
Algae X fuel polishing system
Sirius Radio
Waste Tank level gauge
Compasses at both stations
2 sets binoculars
6 Man offshore raft in valise
Framing for a "Fairclough" full winter cover. (Cover has not ben replaced)  
Recent Upgrades (2015)
Furuno
Bow Thruster
Batteries Auto Pilot
Hoses 
Regular Painting and Varnishing maintenance as needed continuing to present by professional quality caretakers.
NPYS 12
Return to Yachts for Sale
Get more information