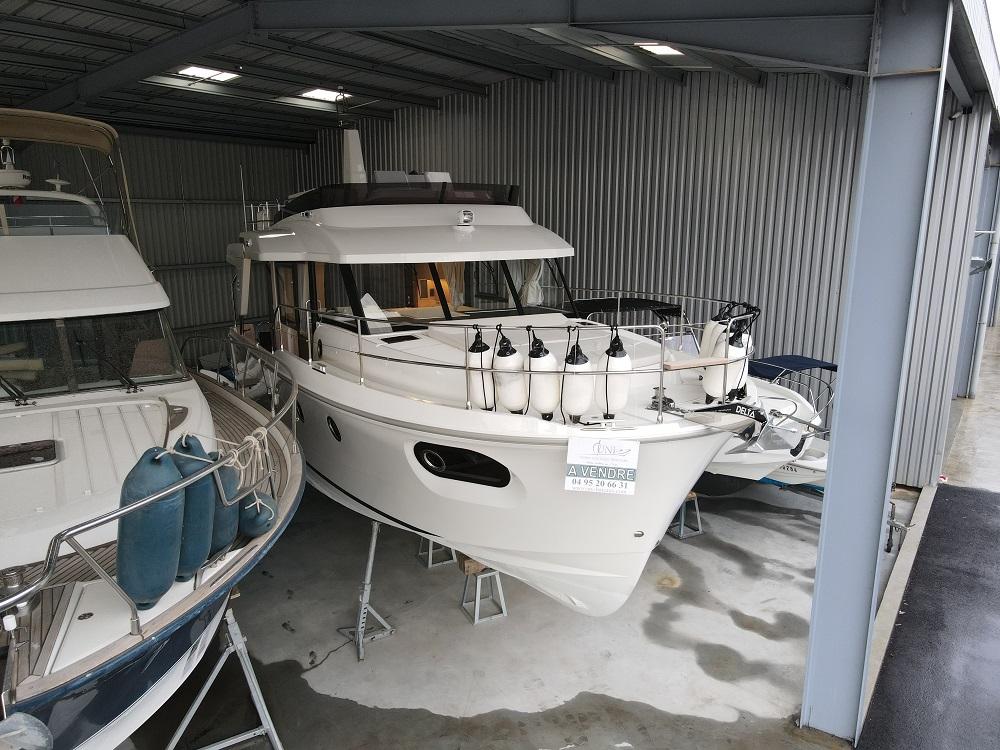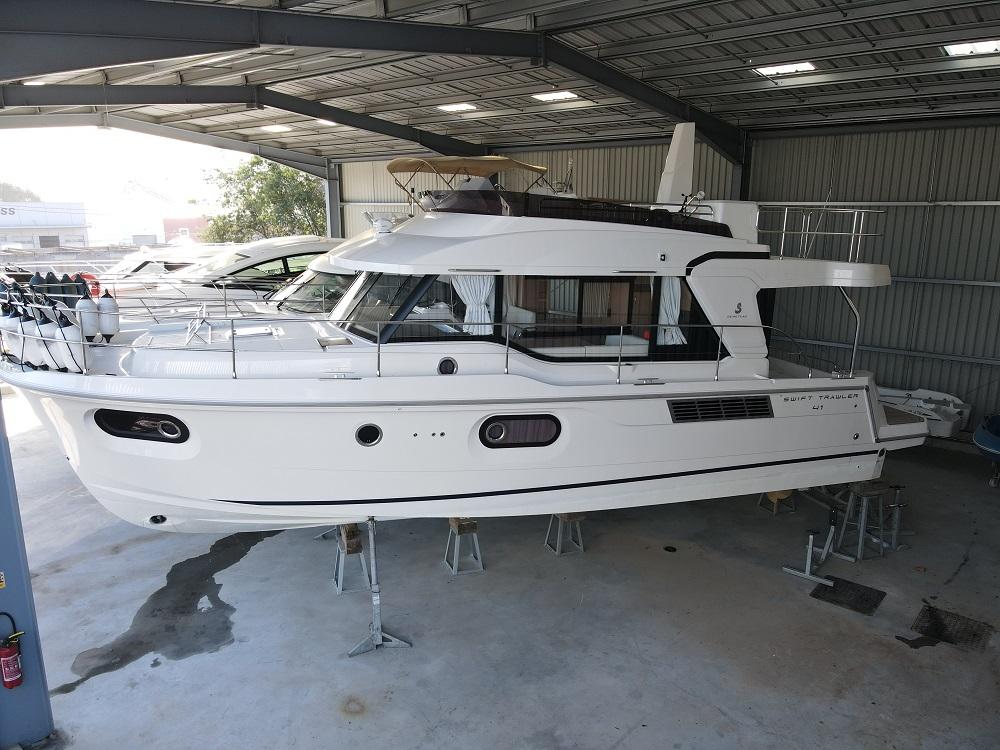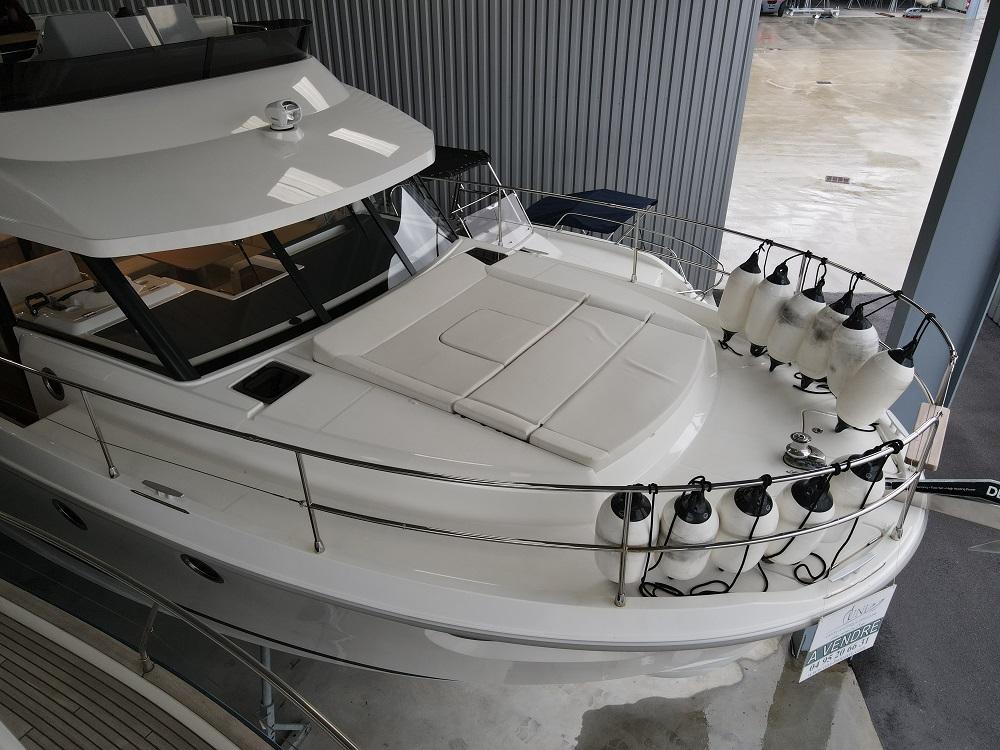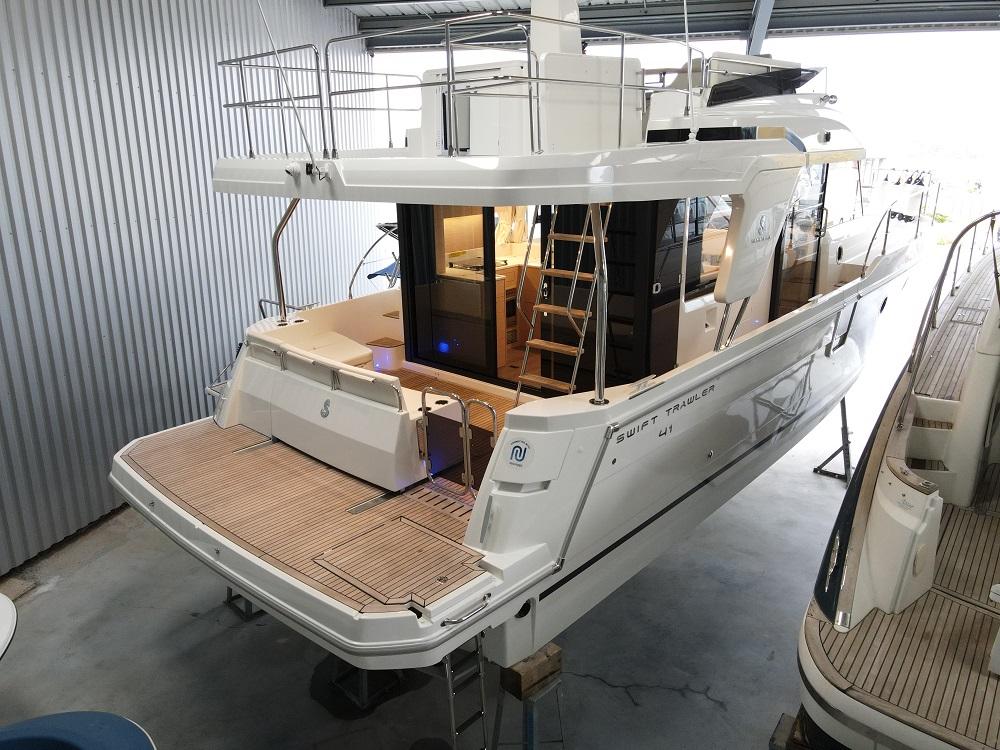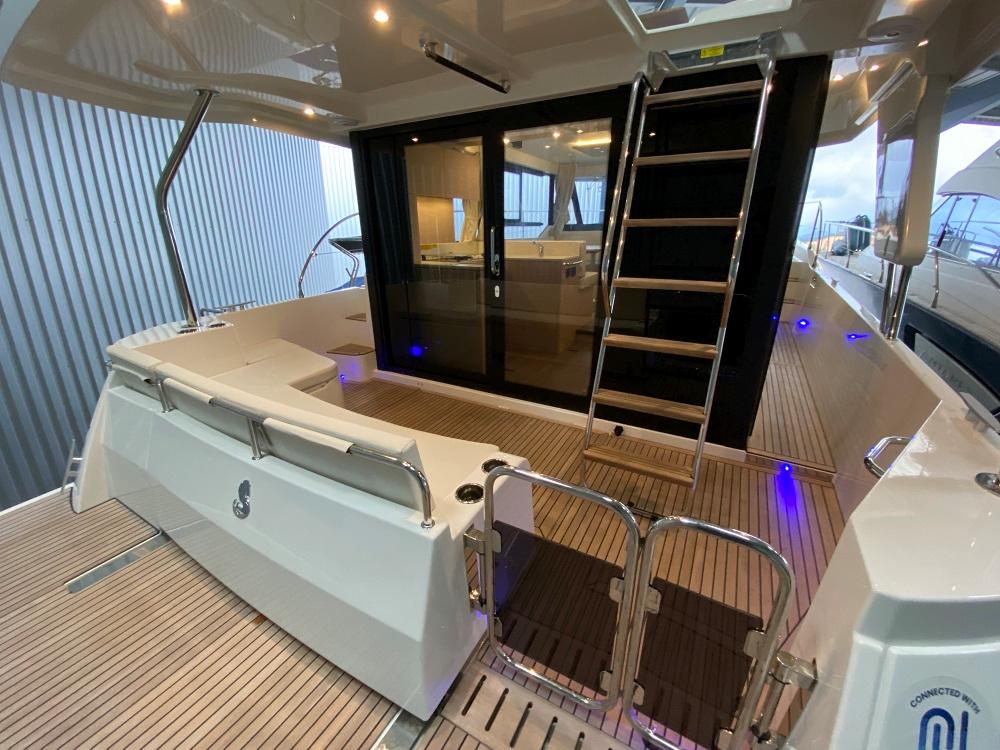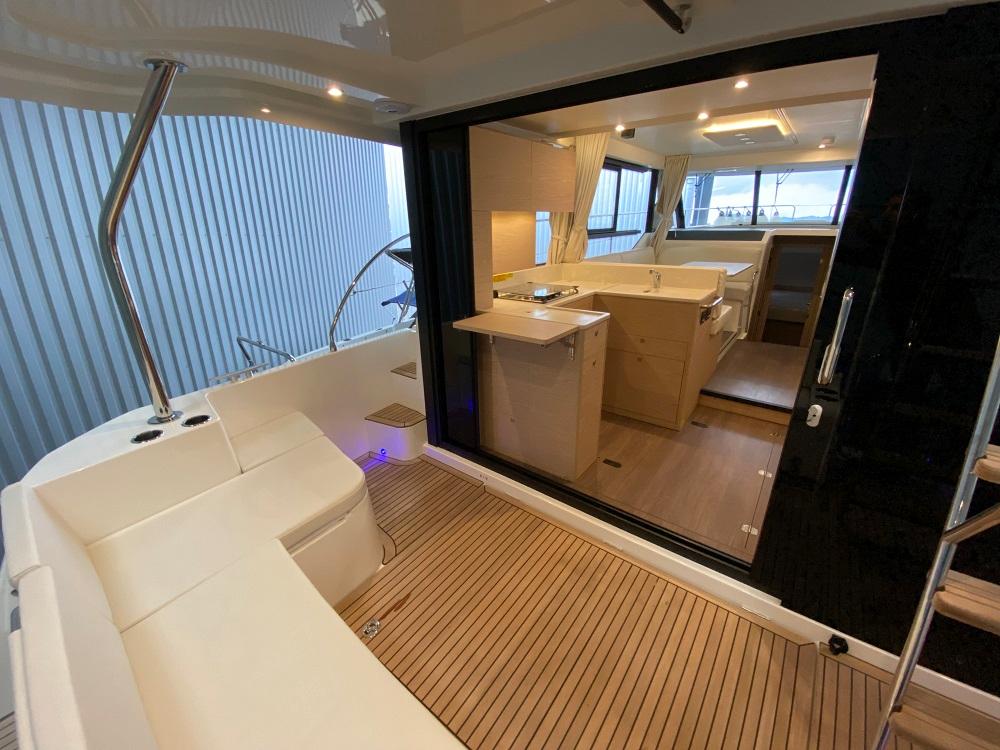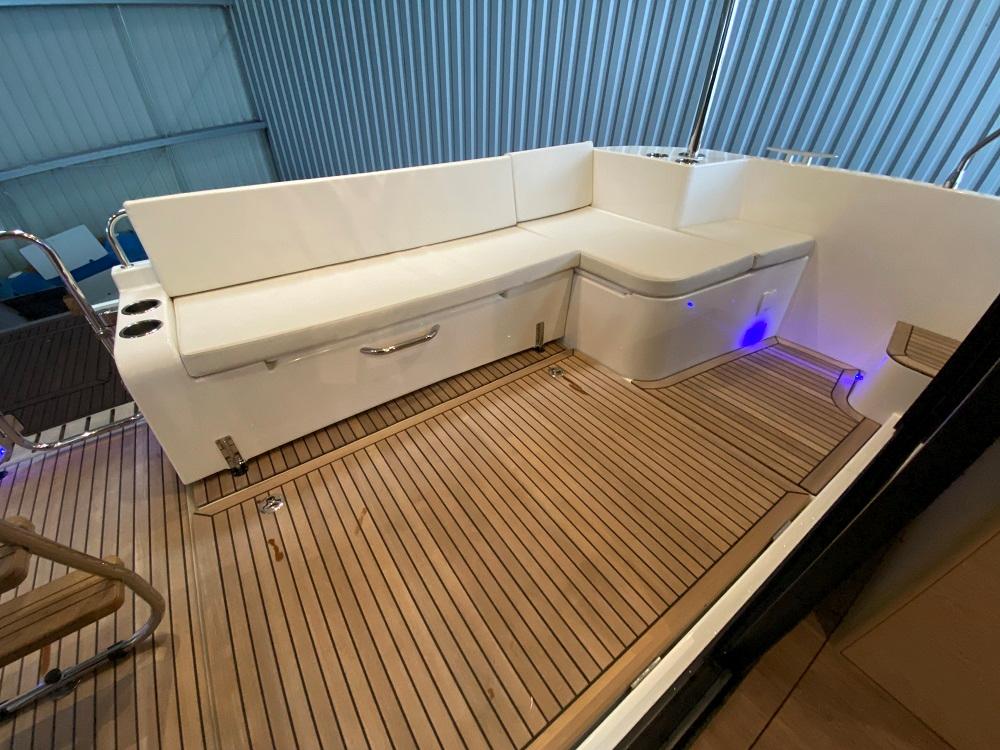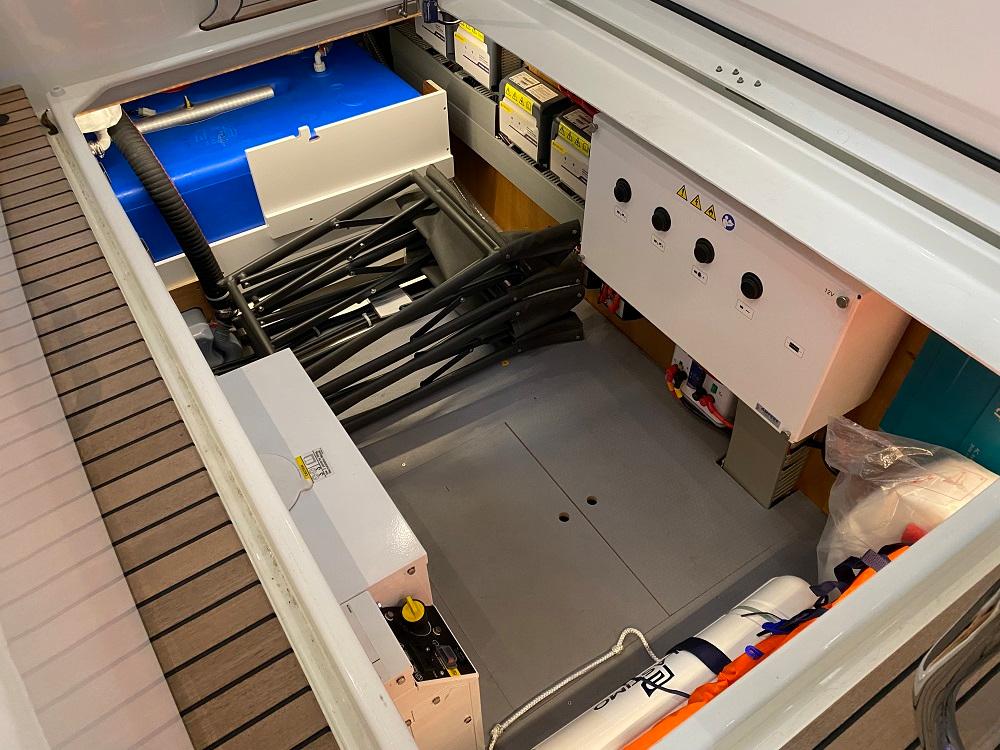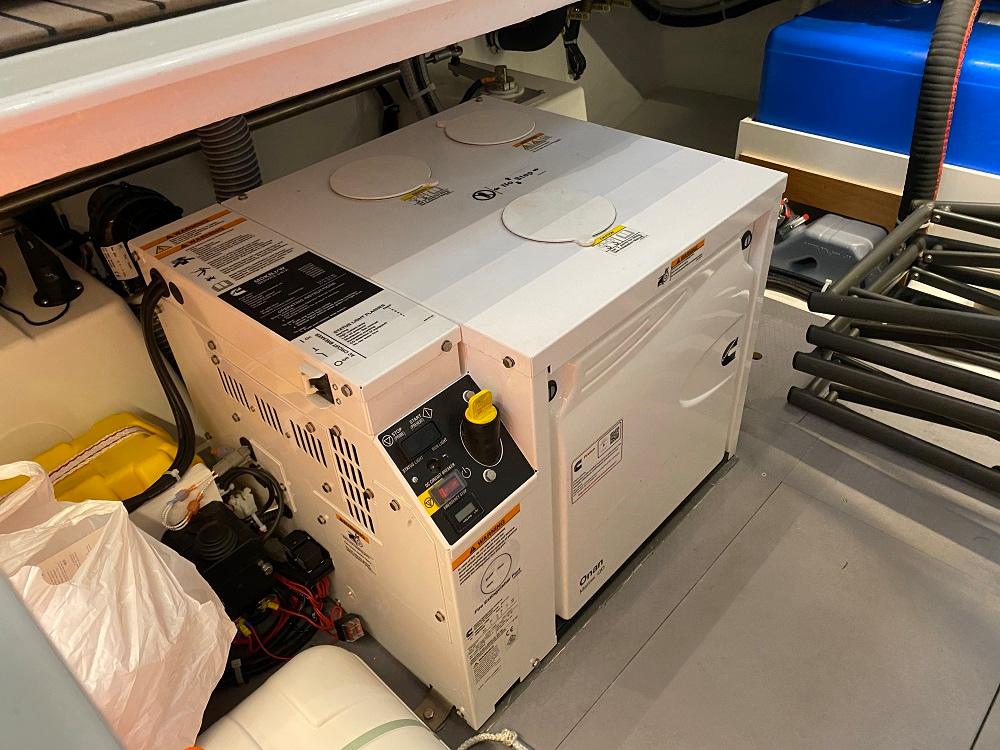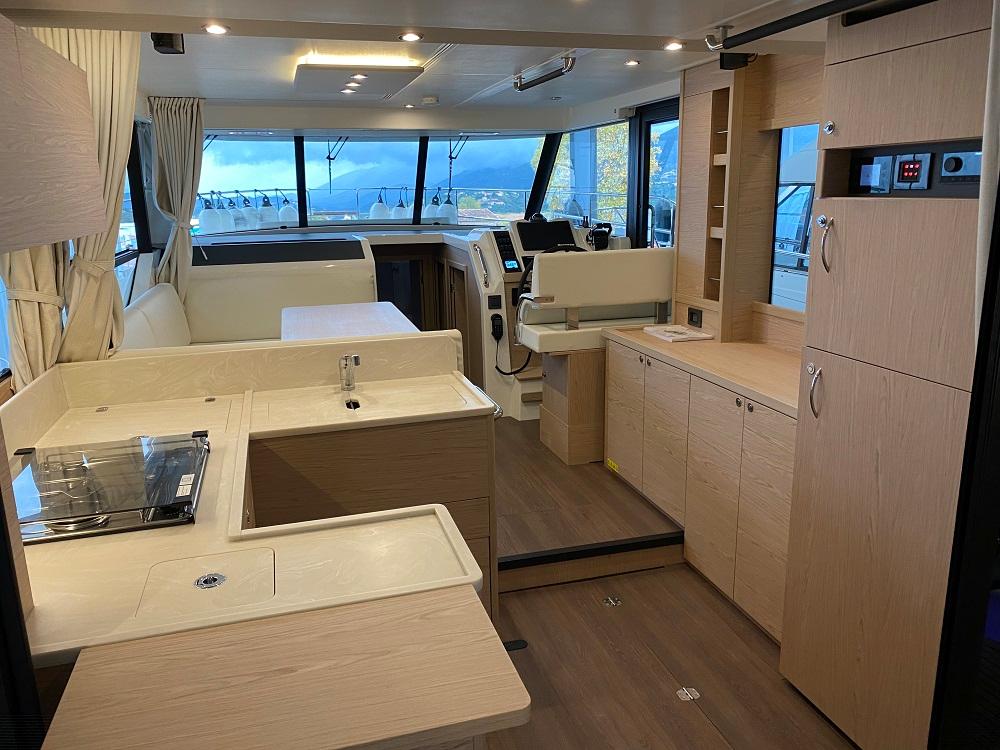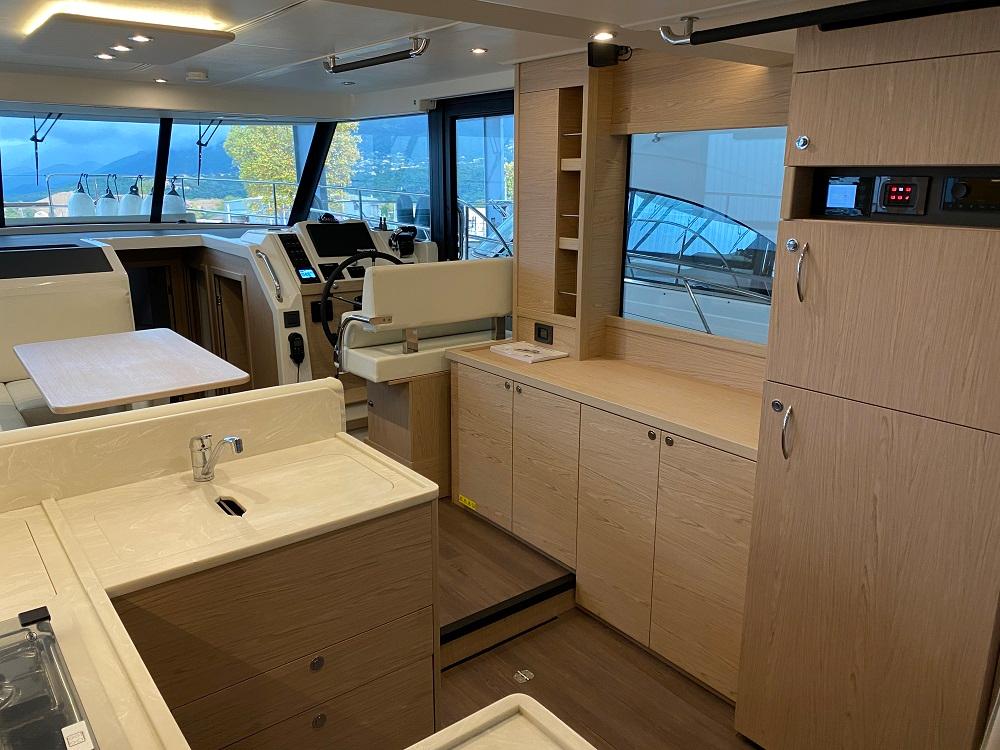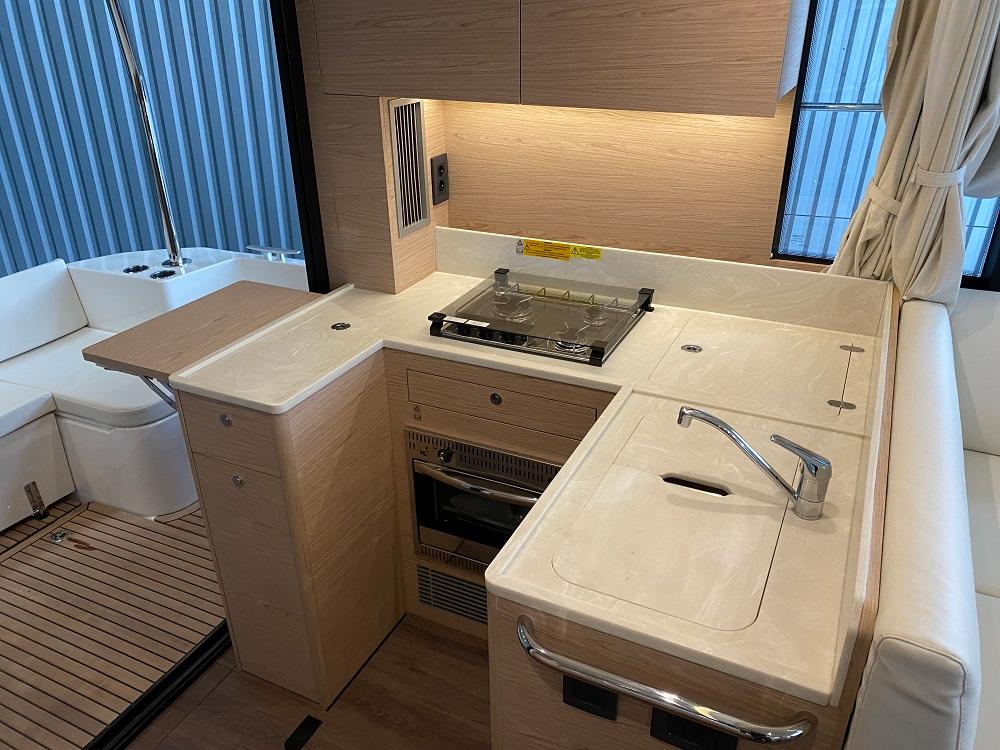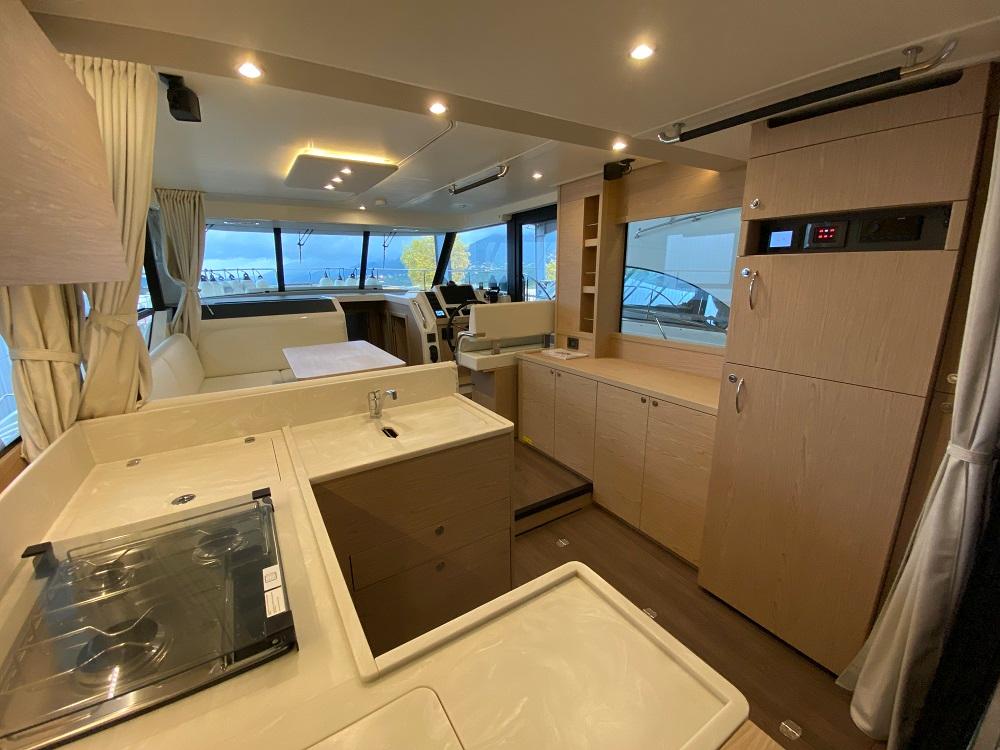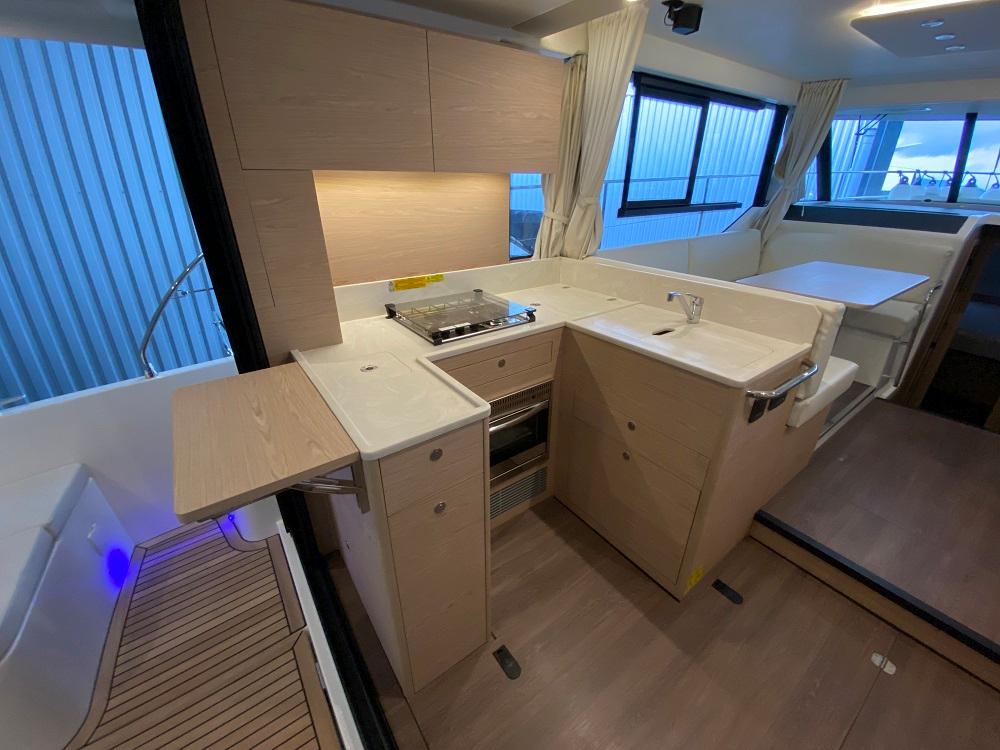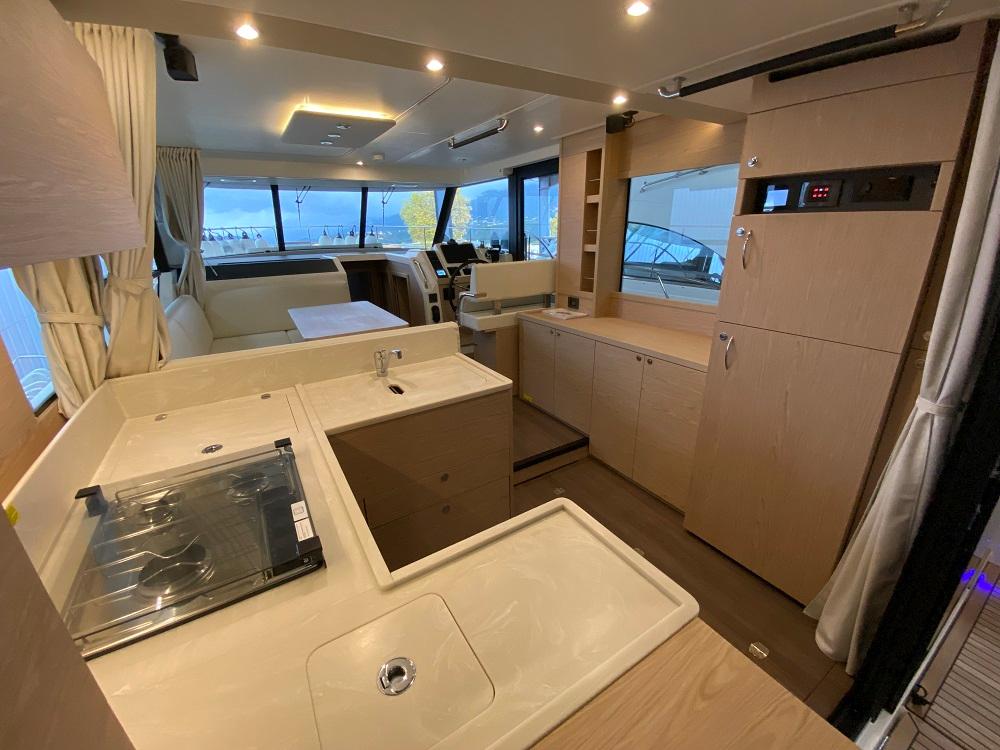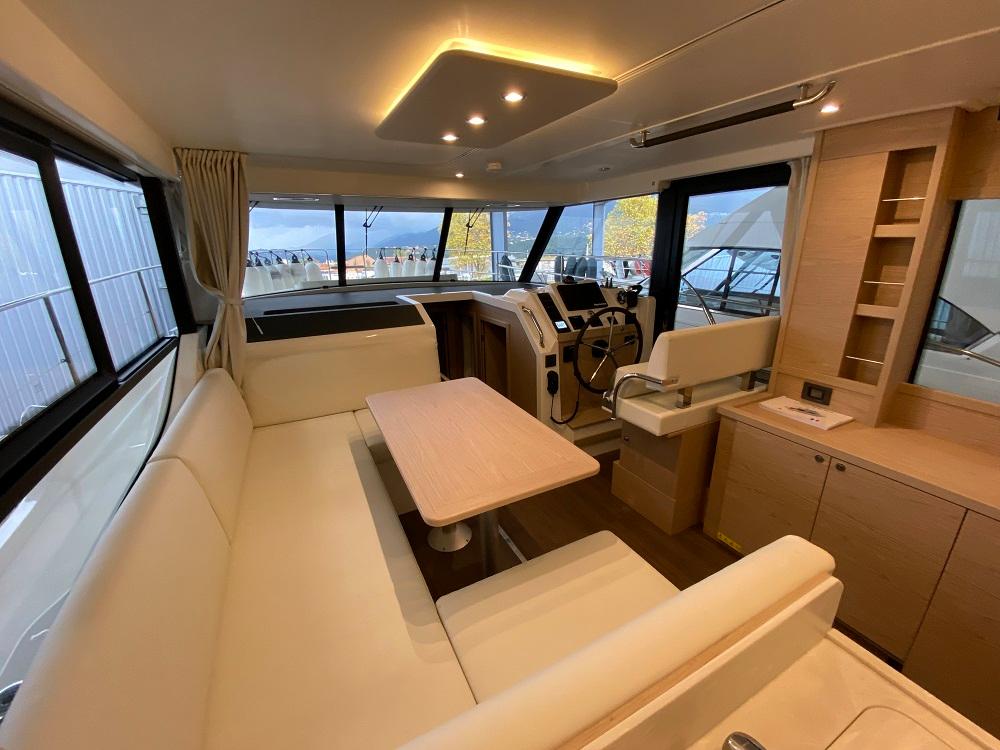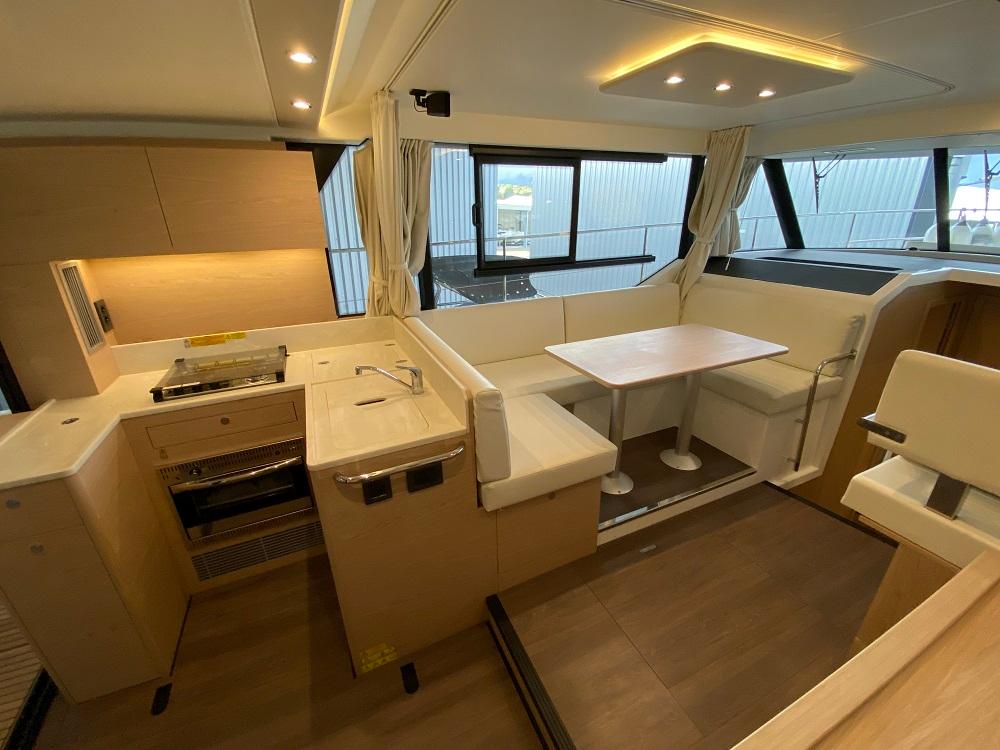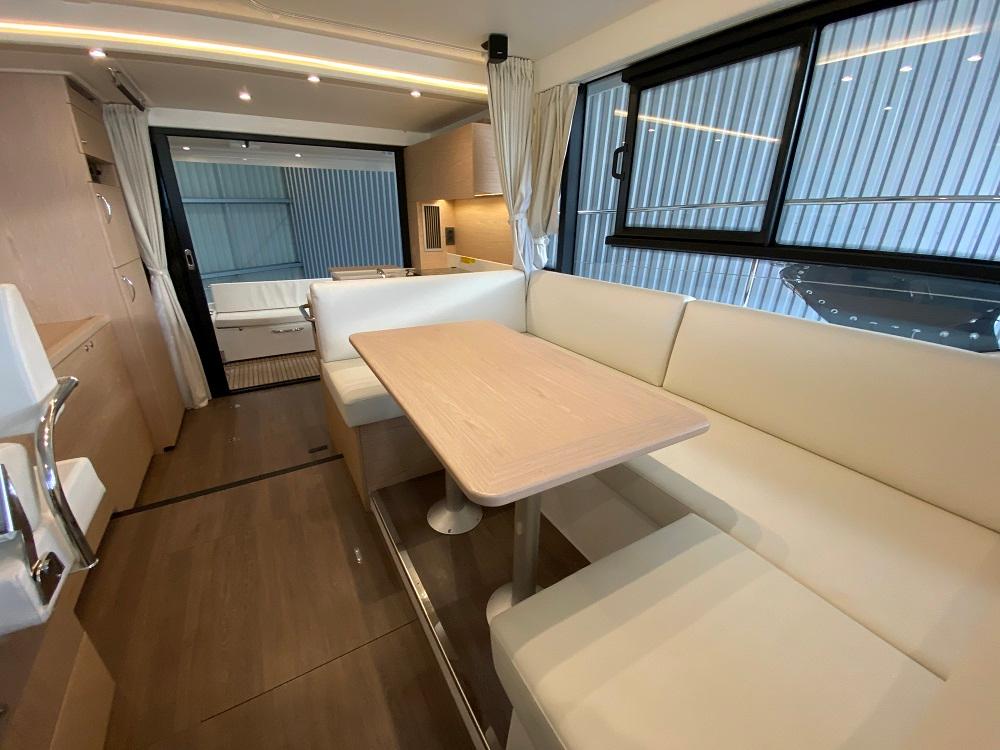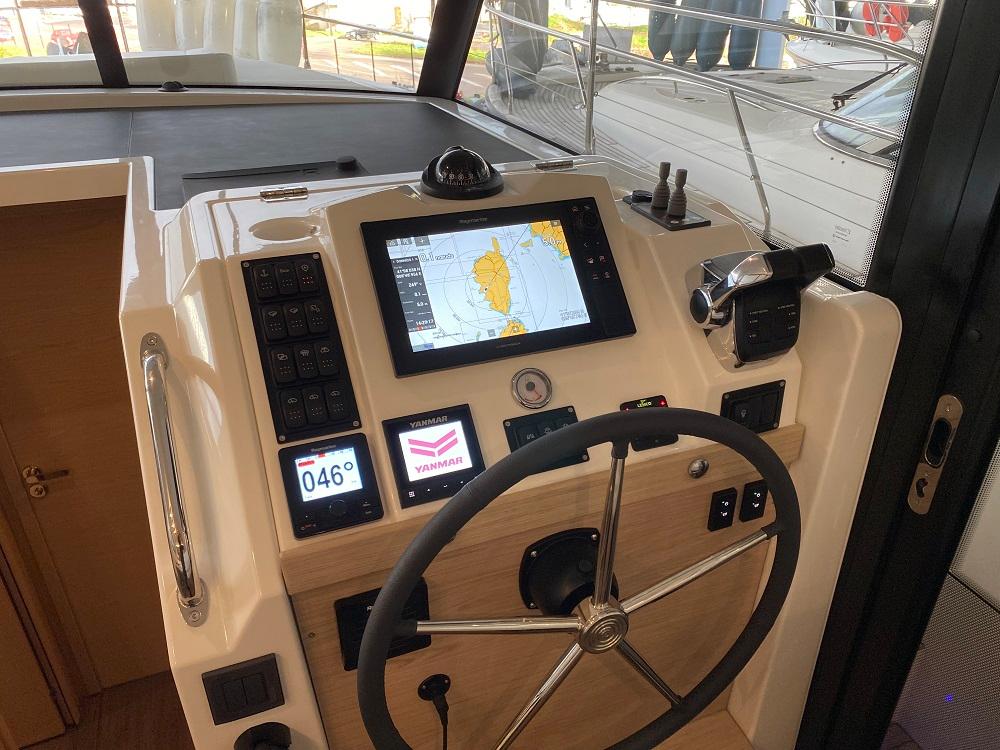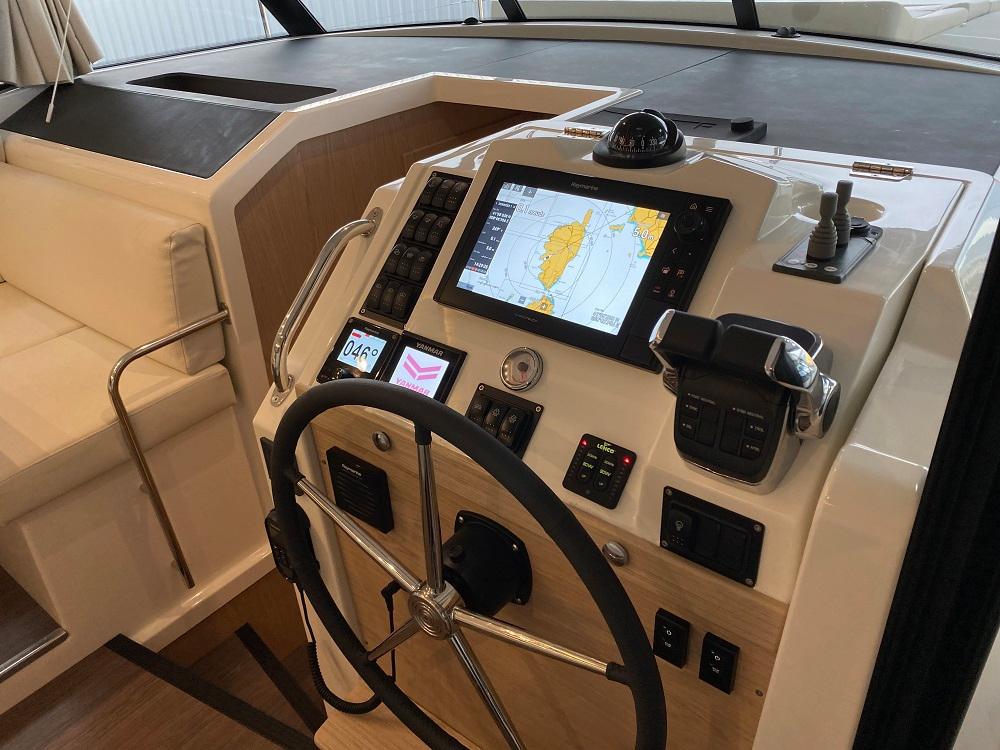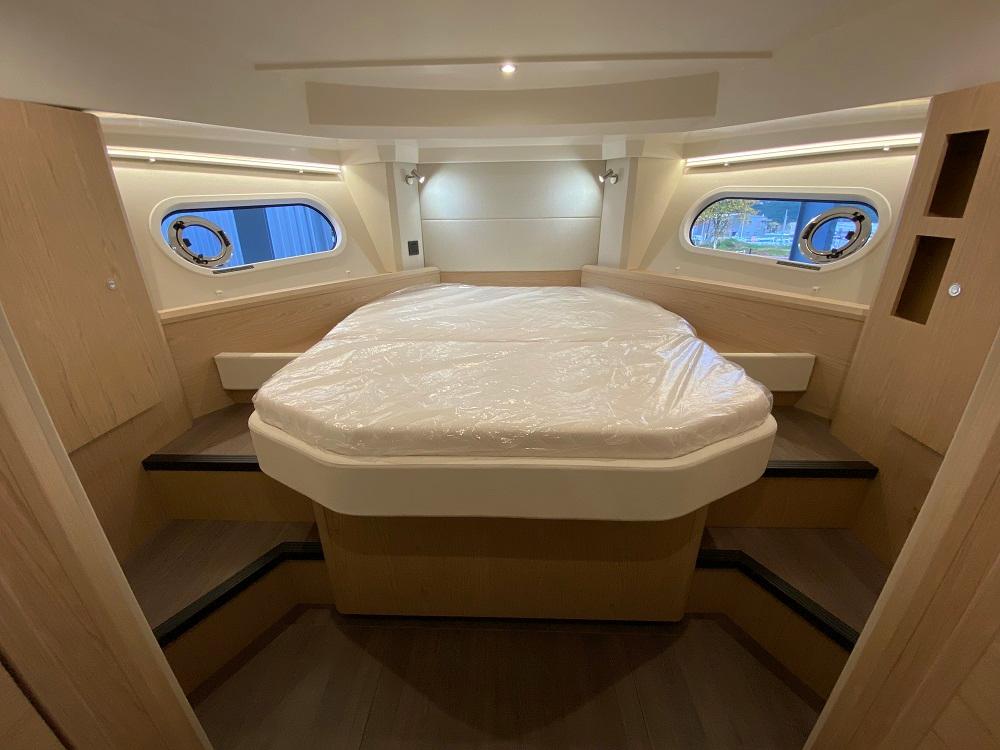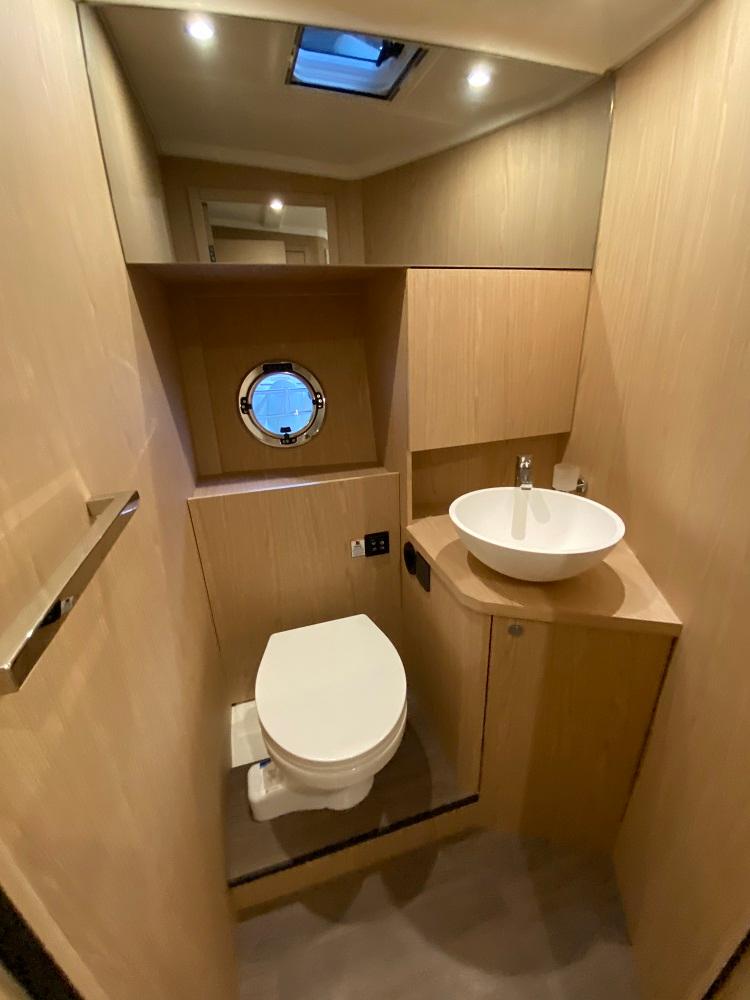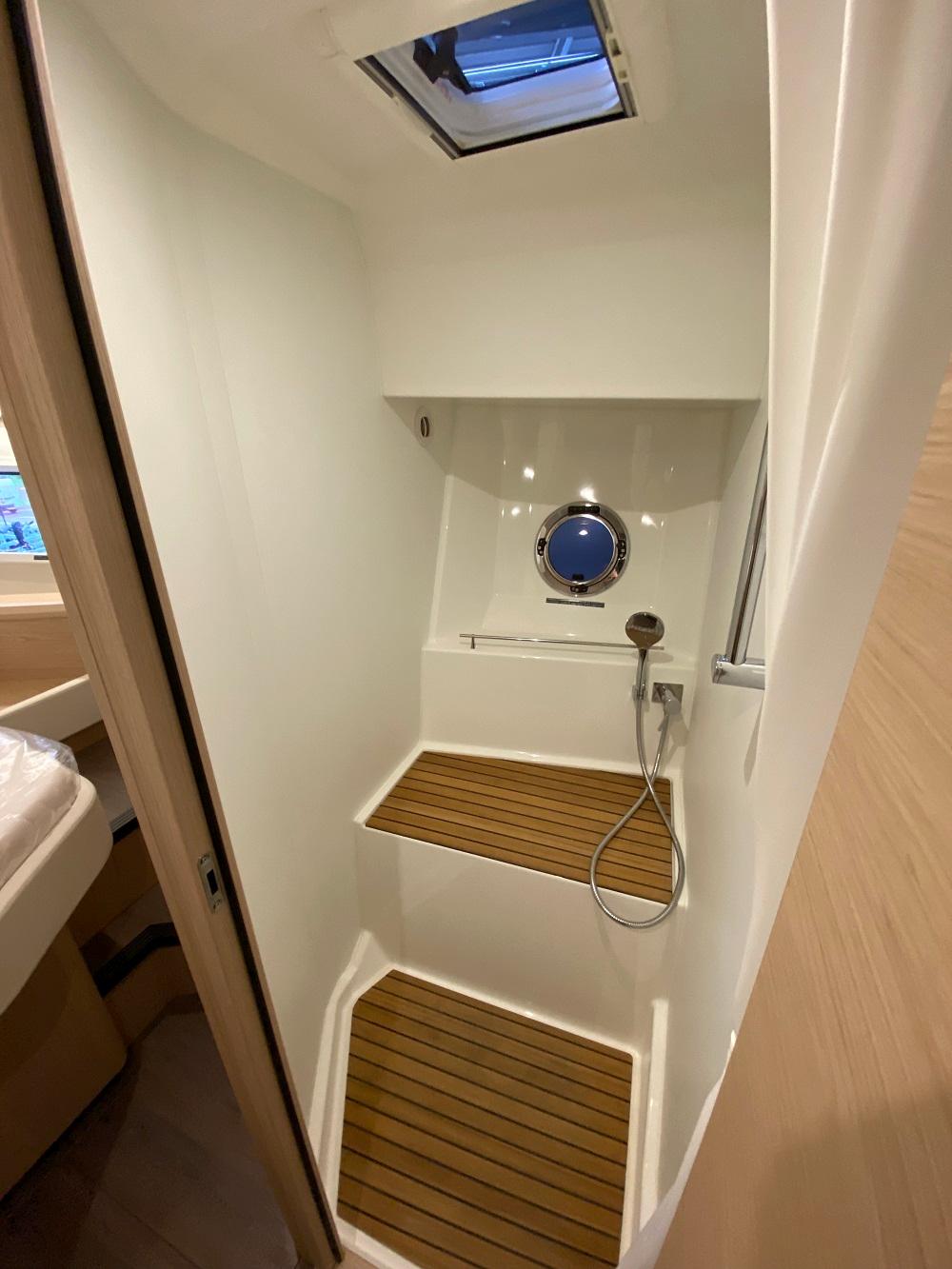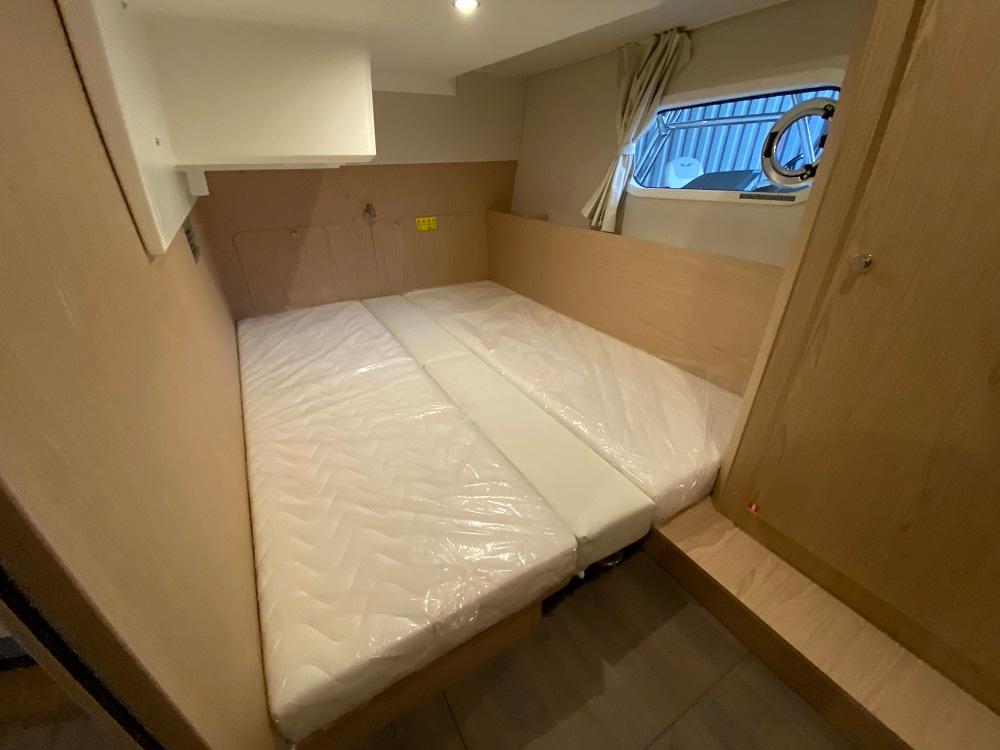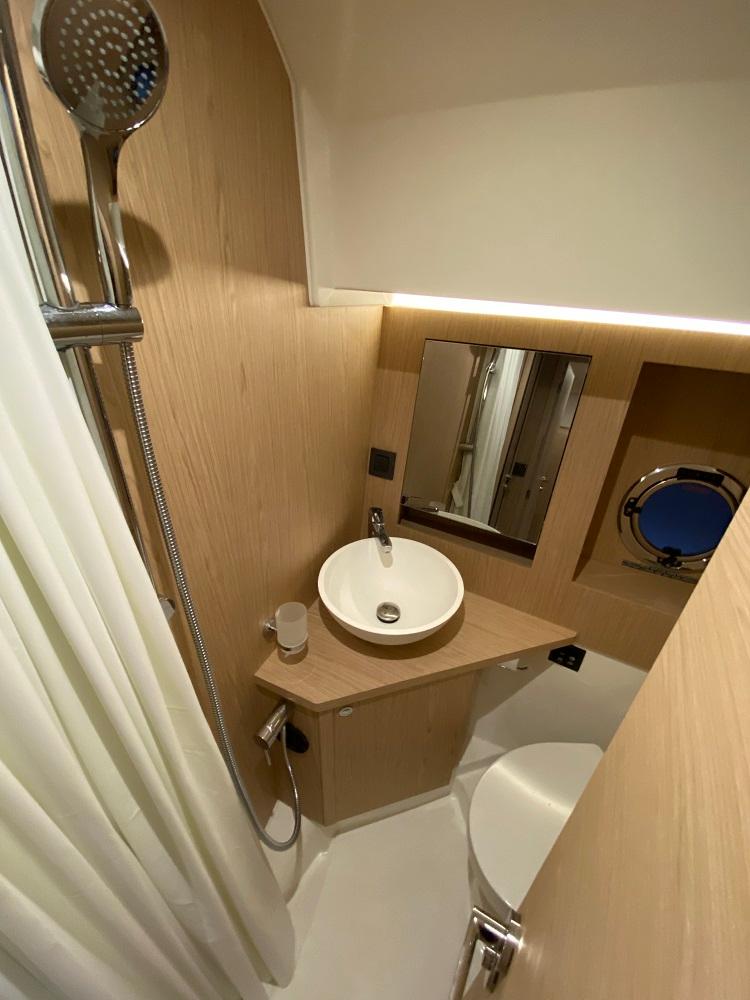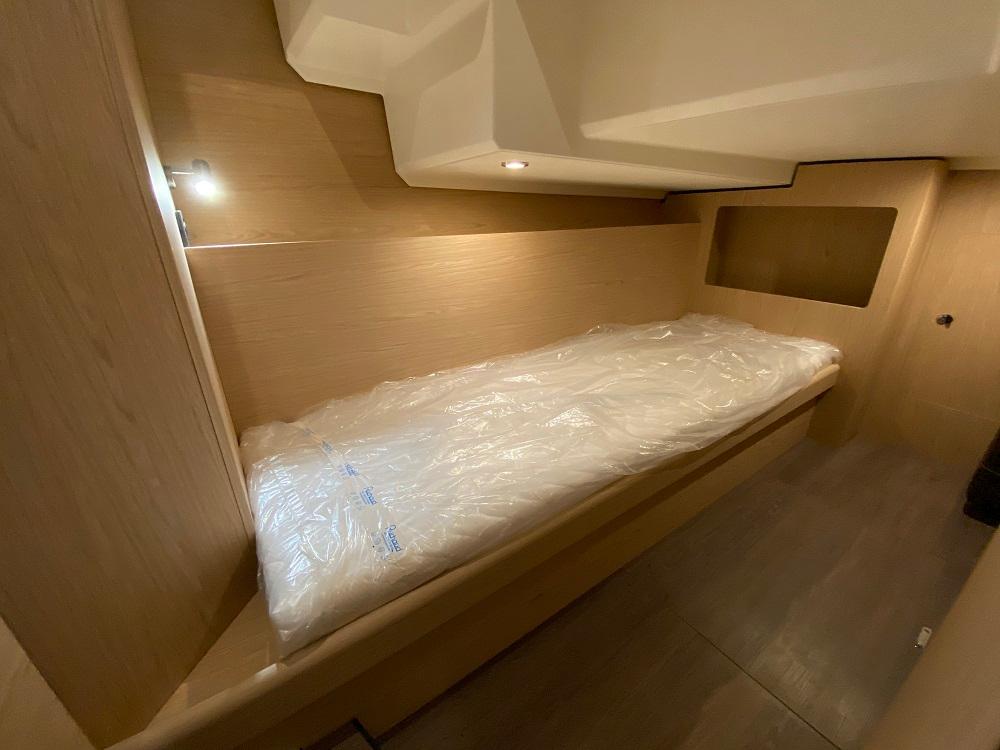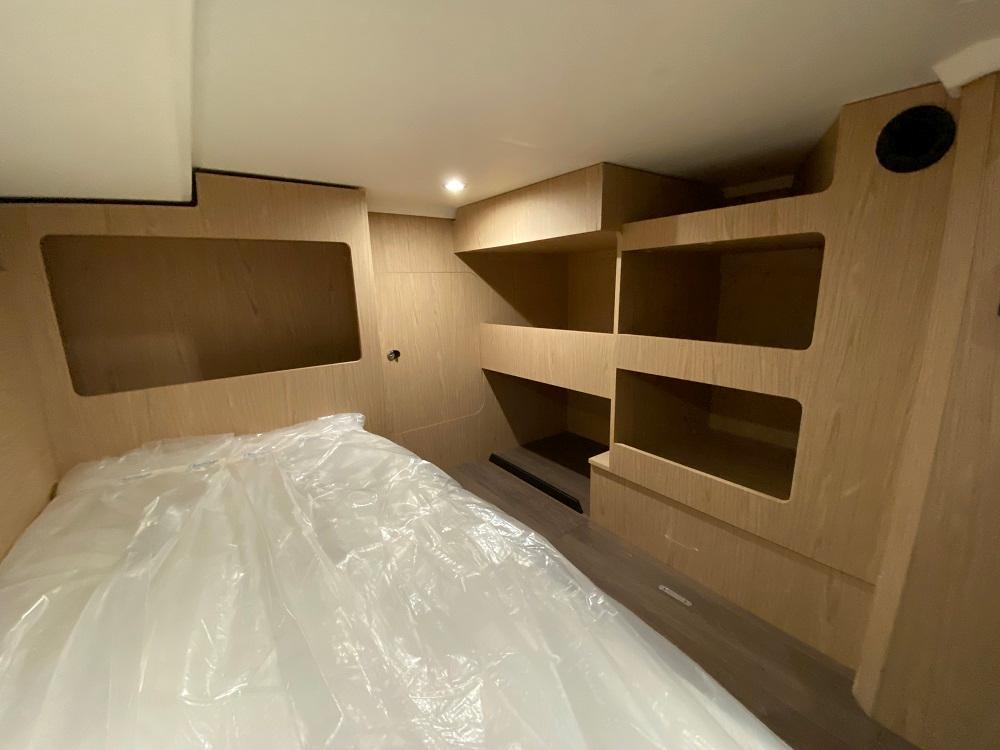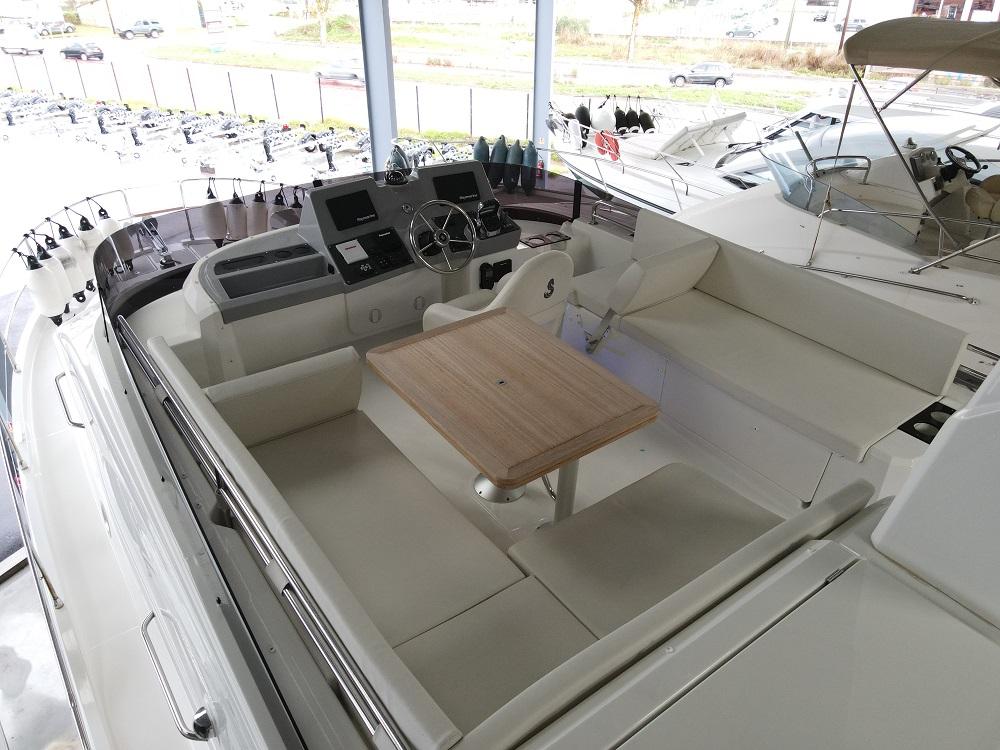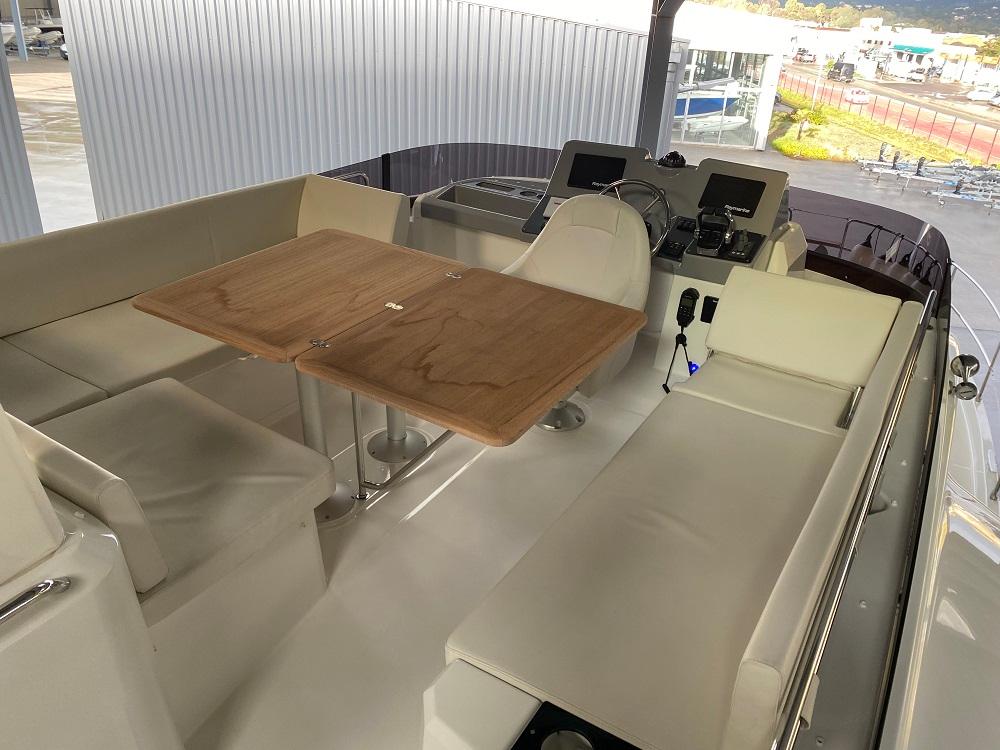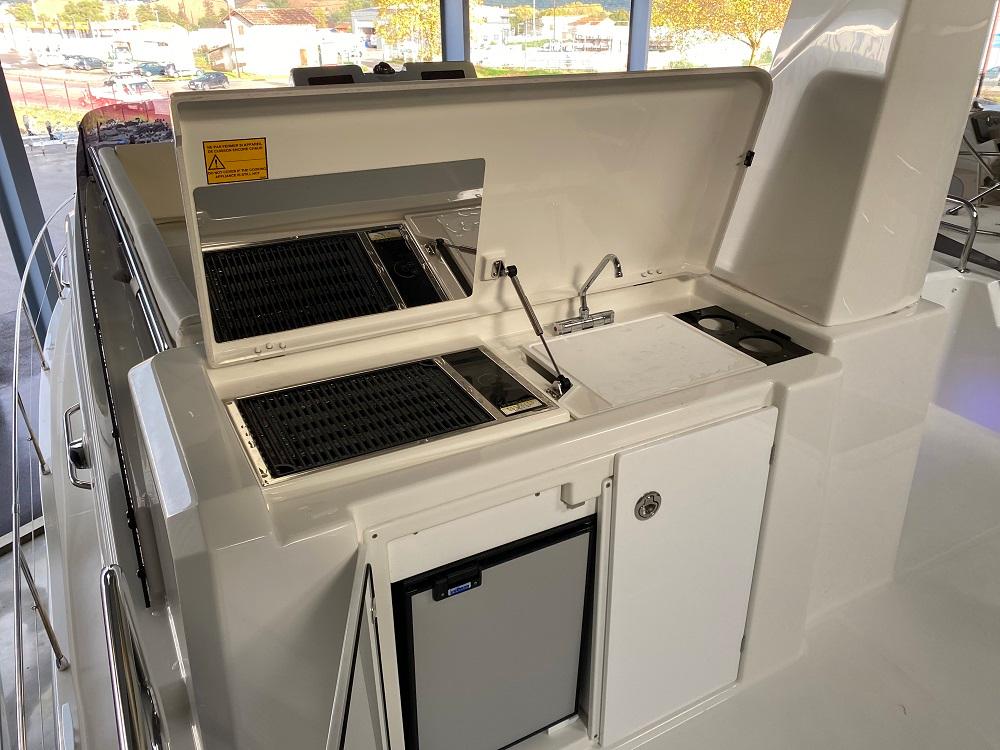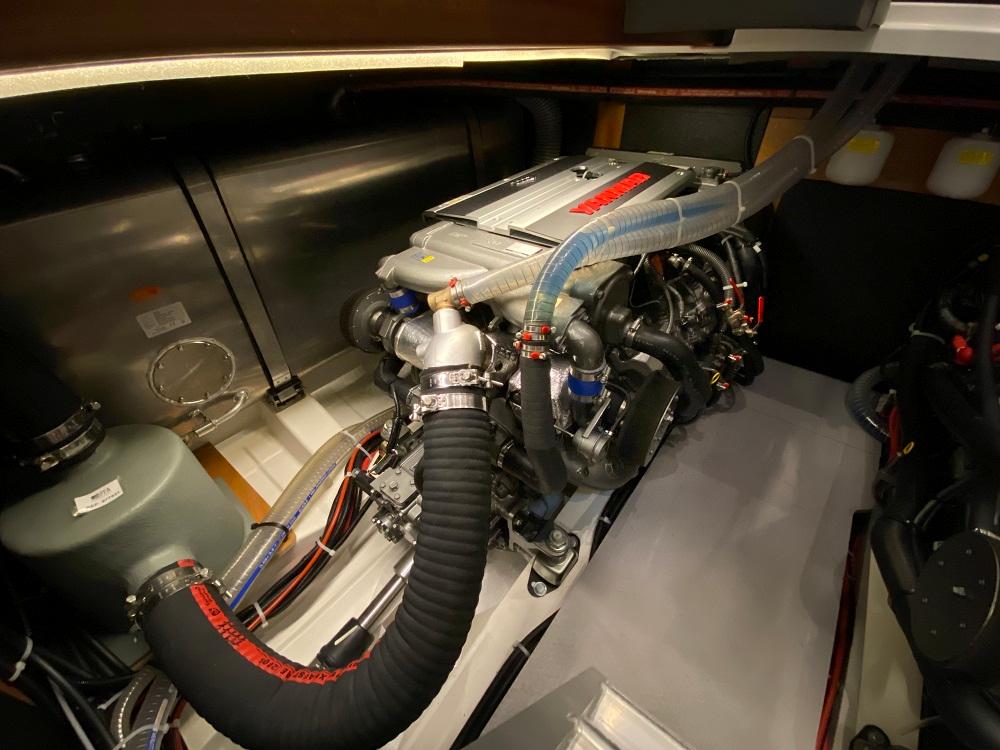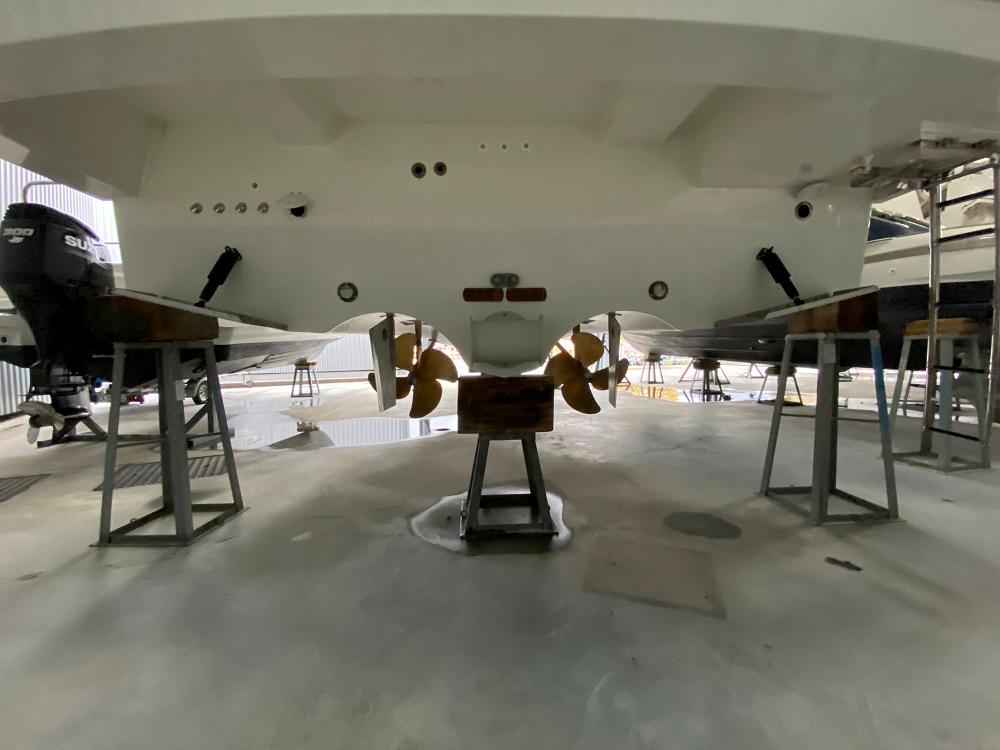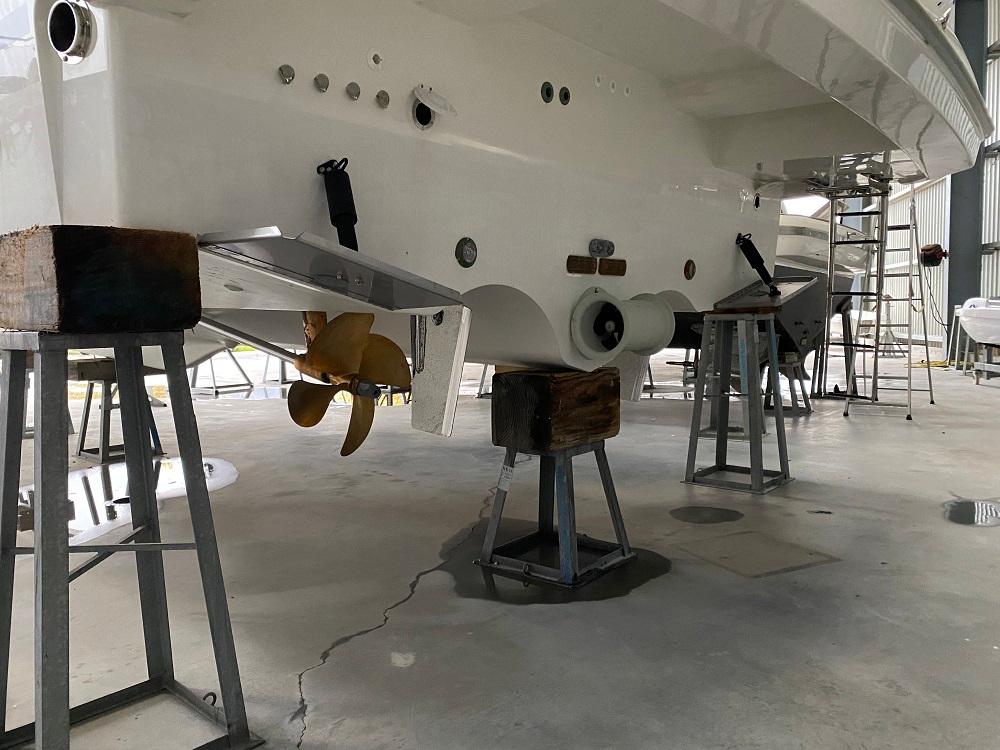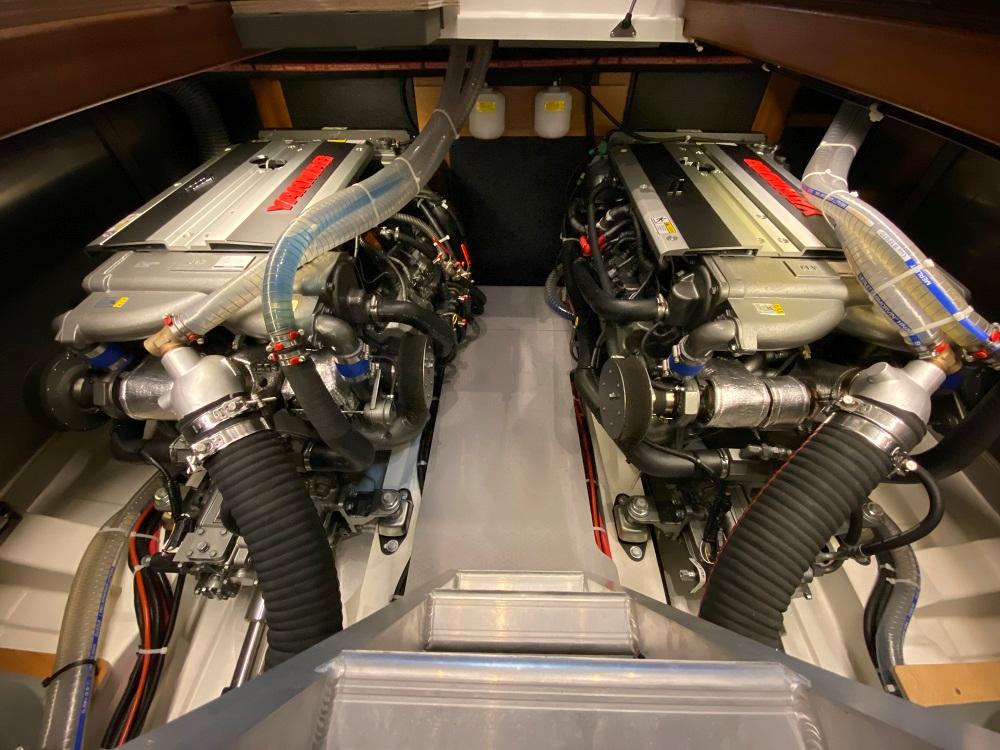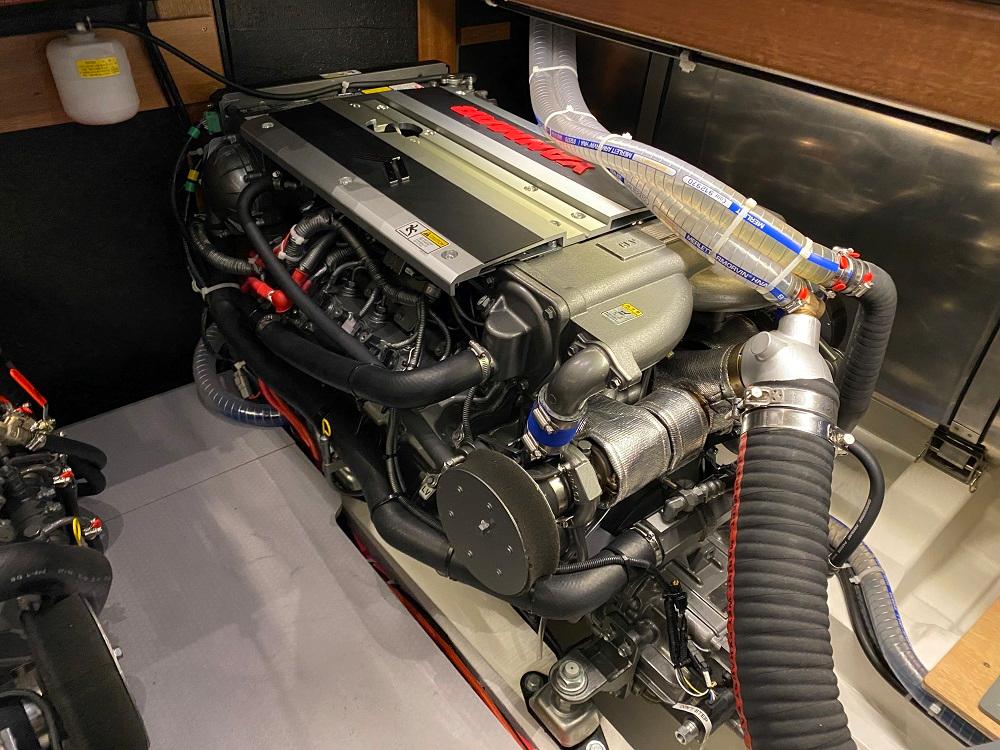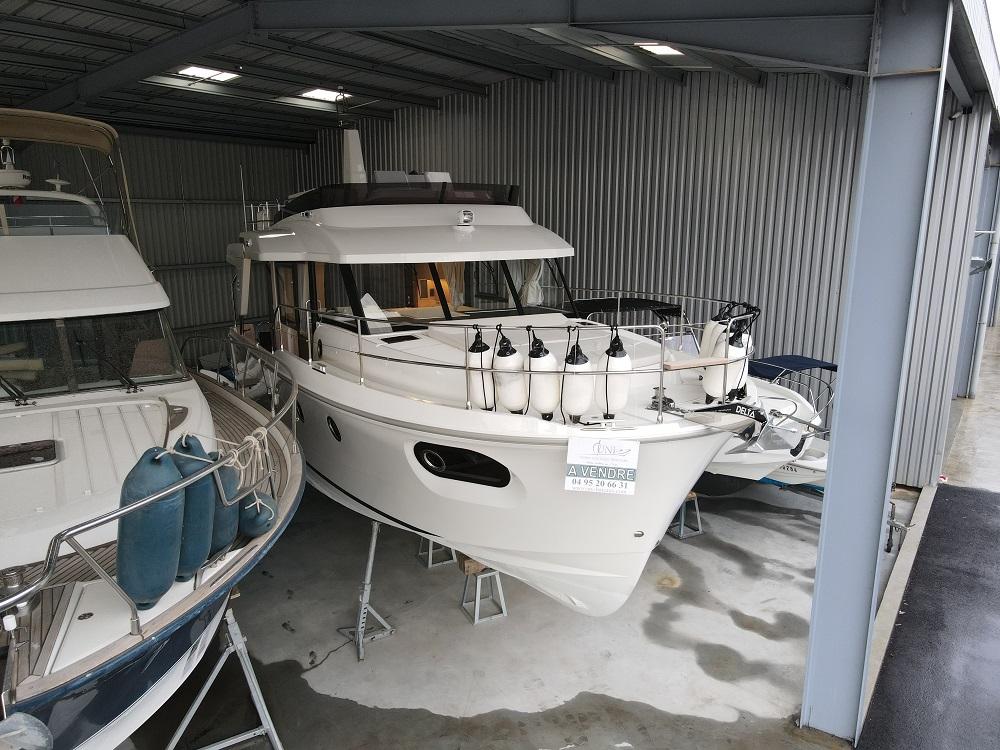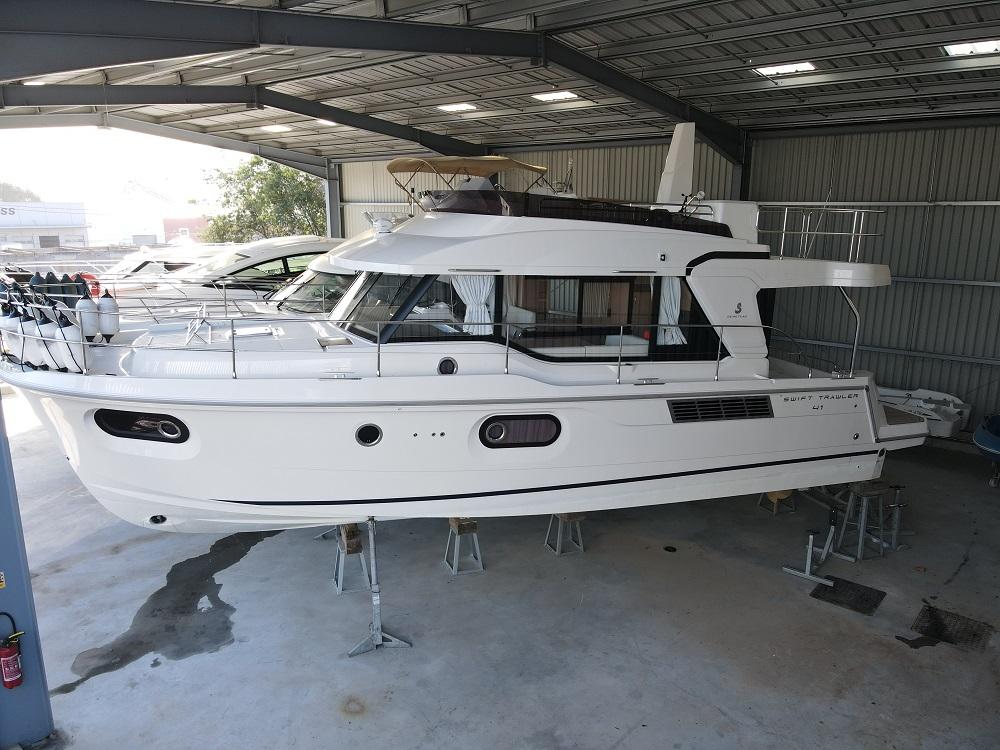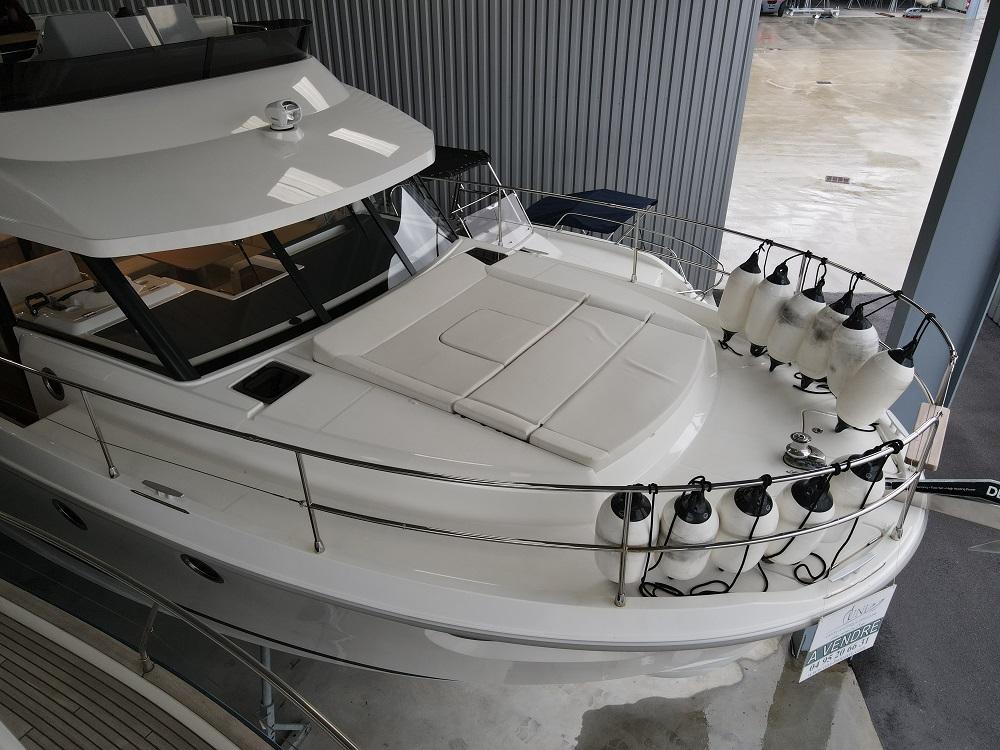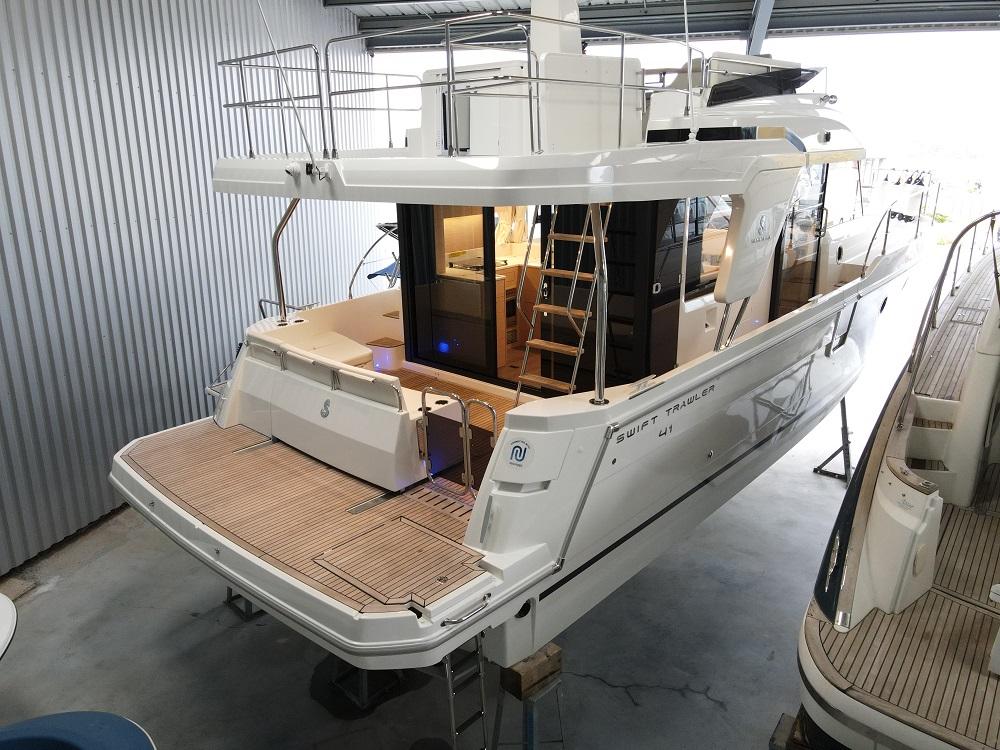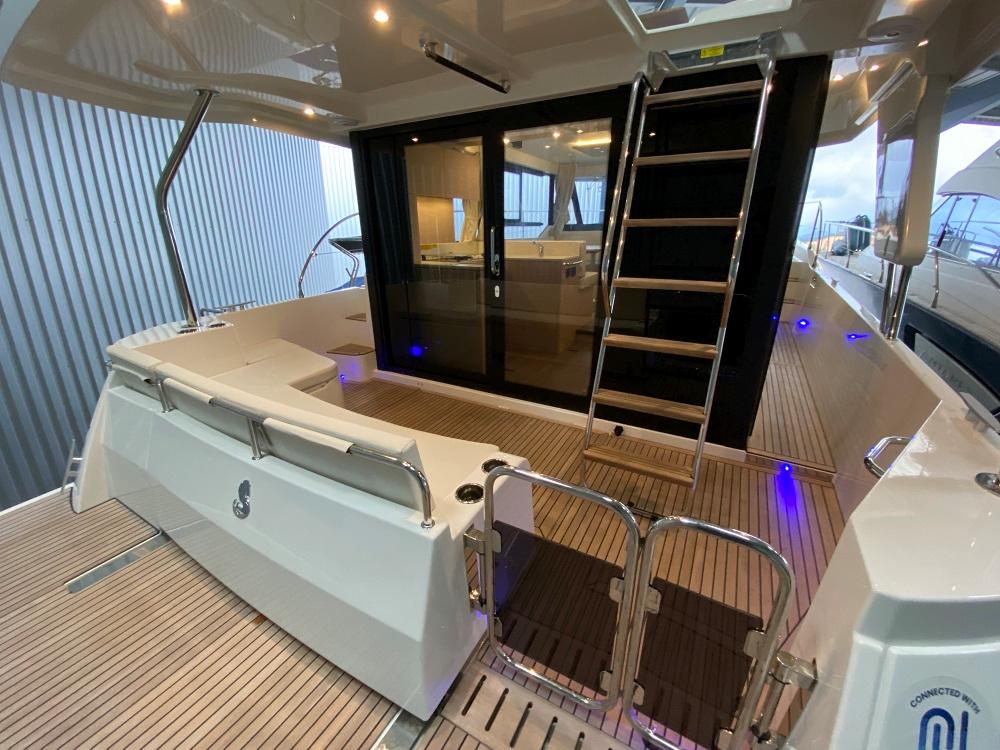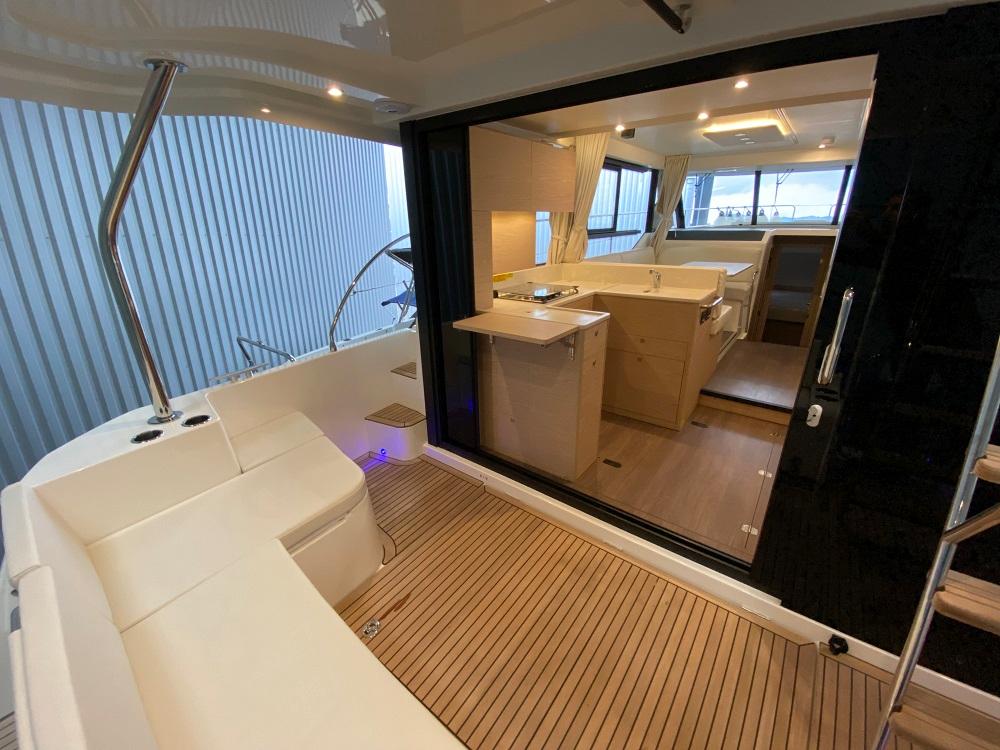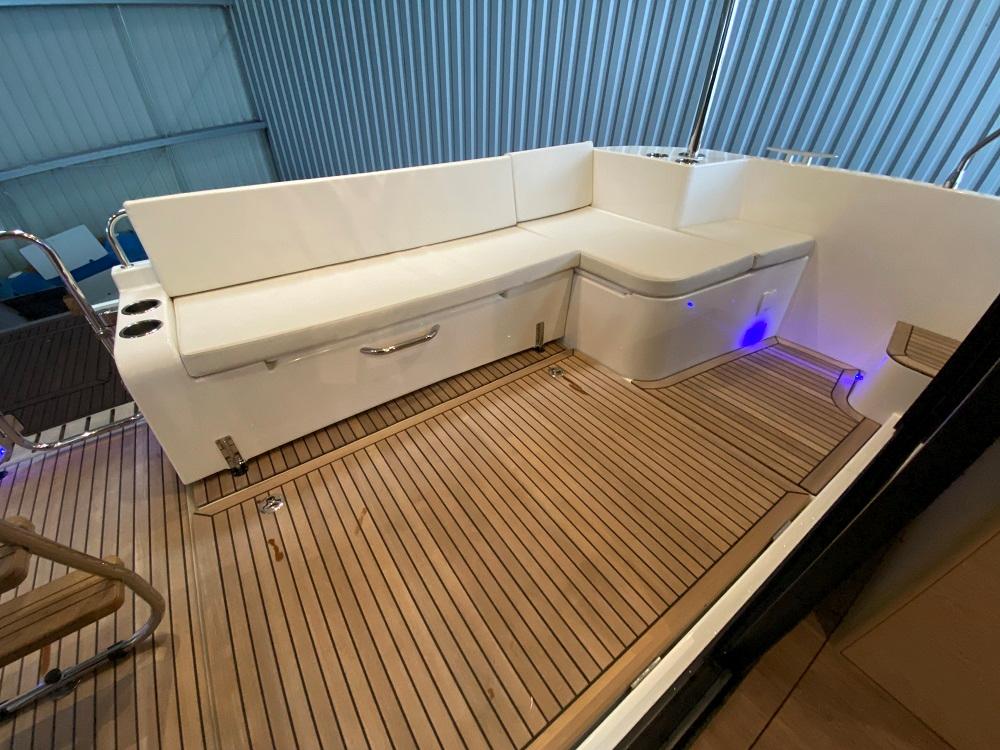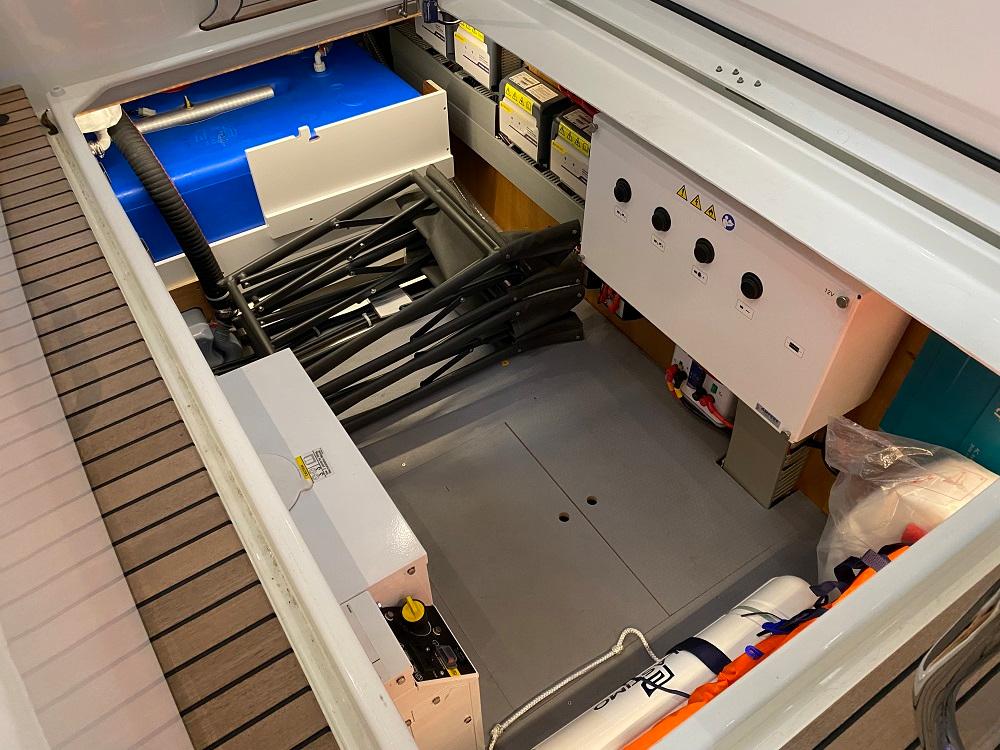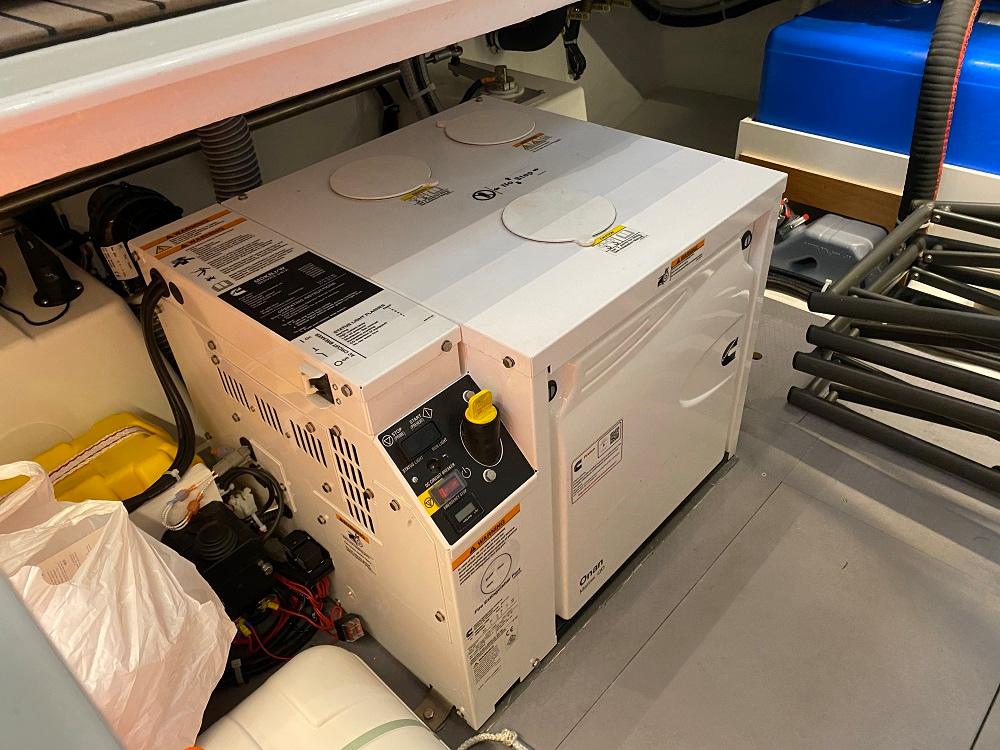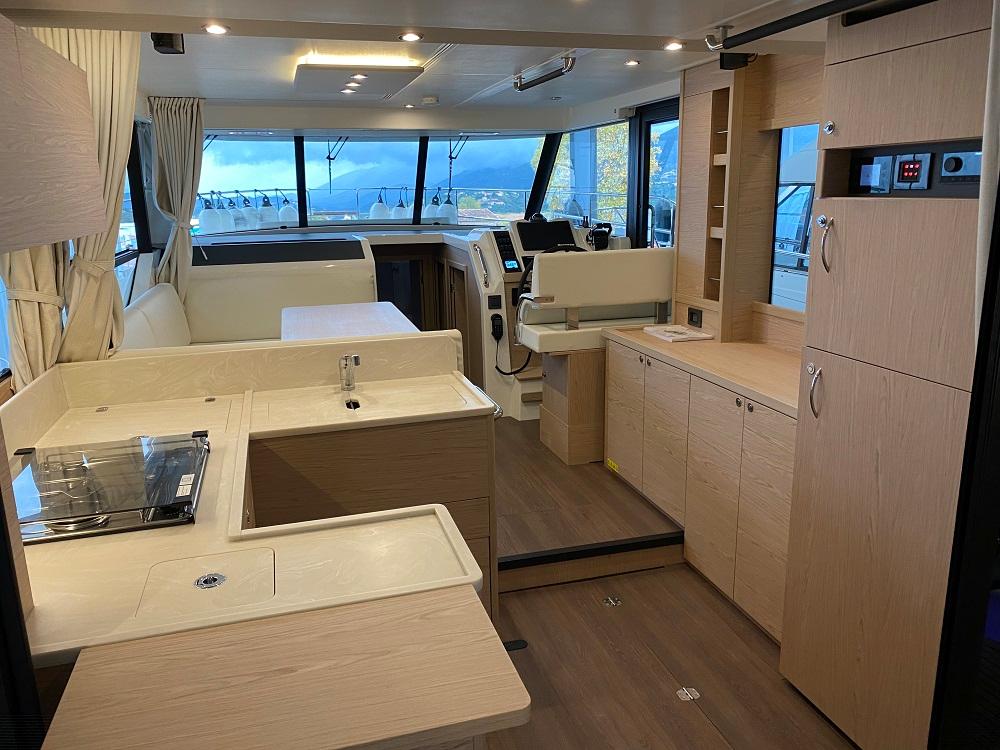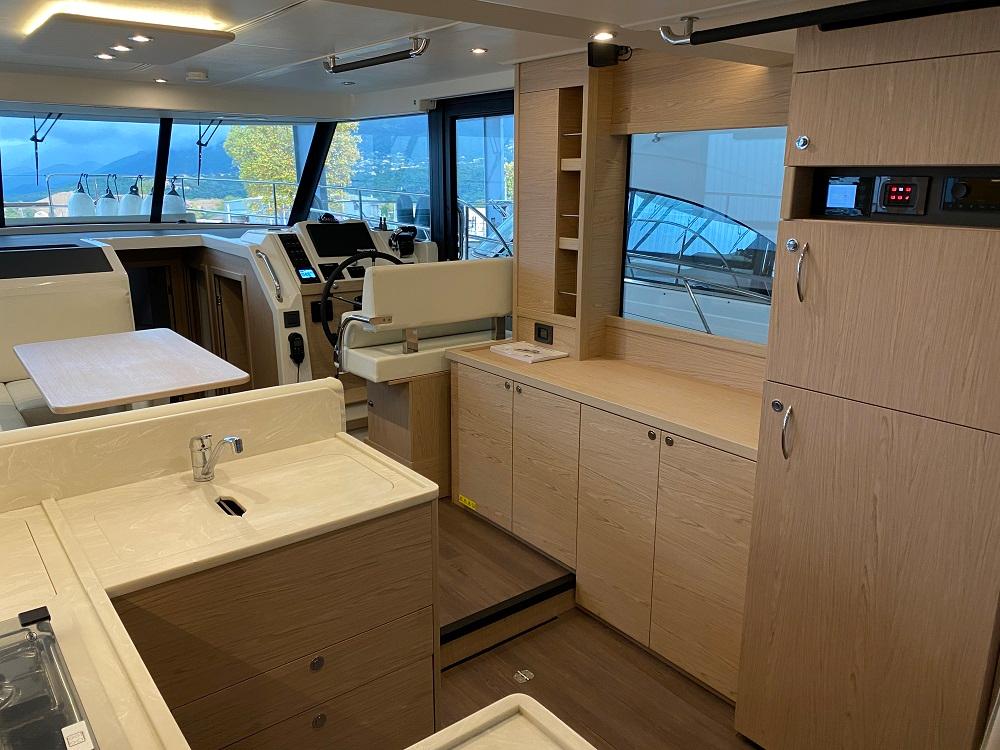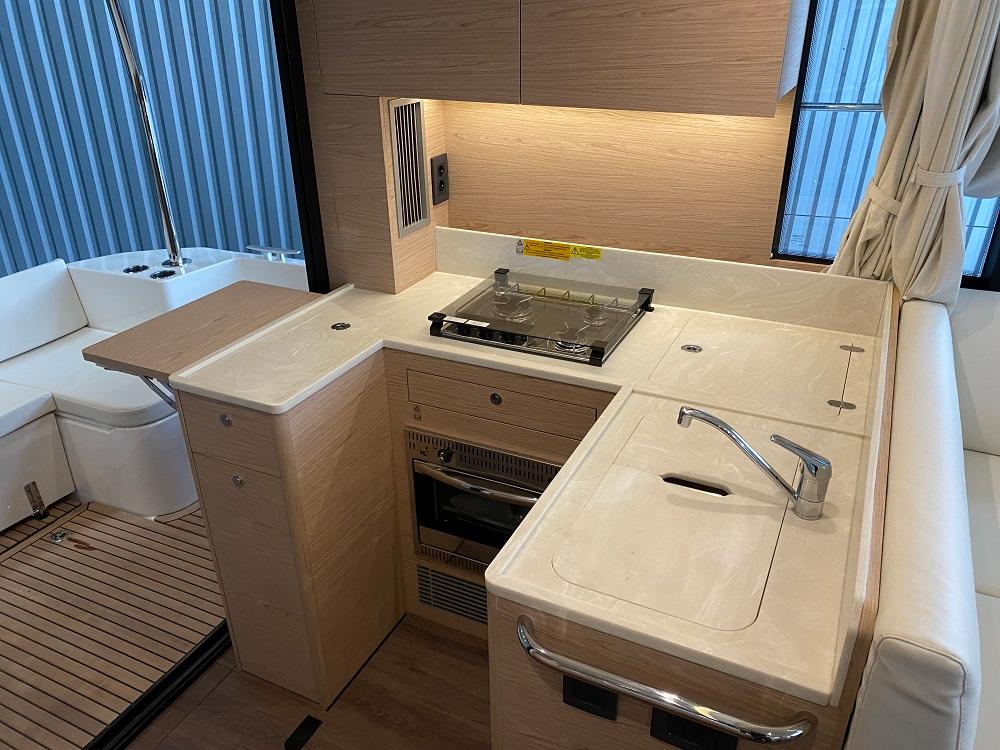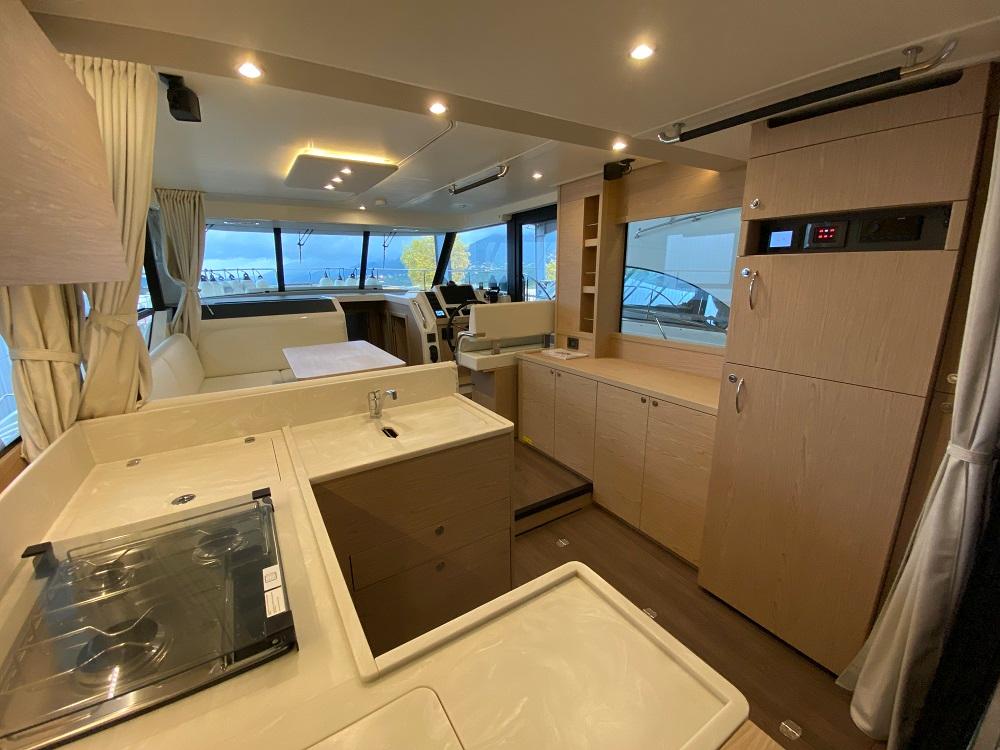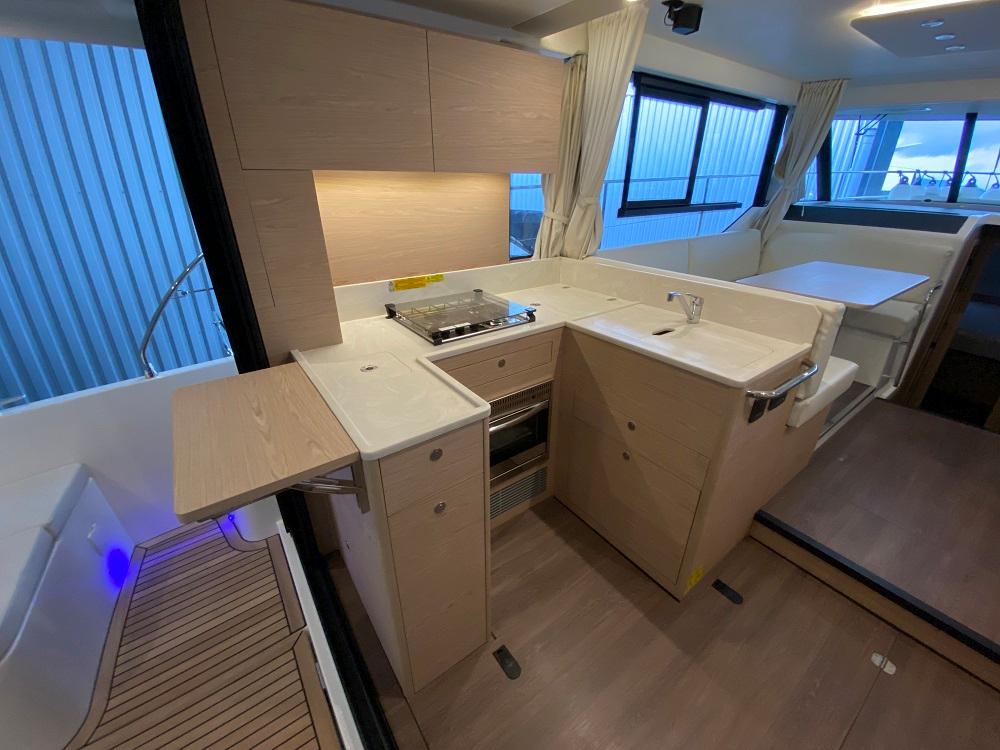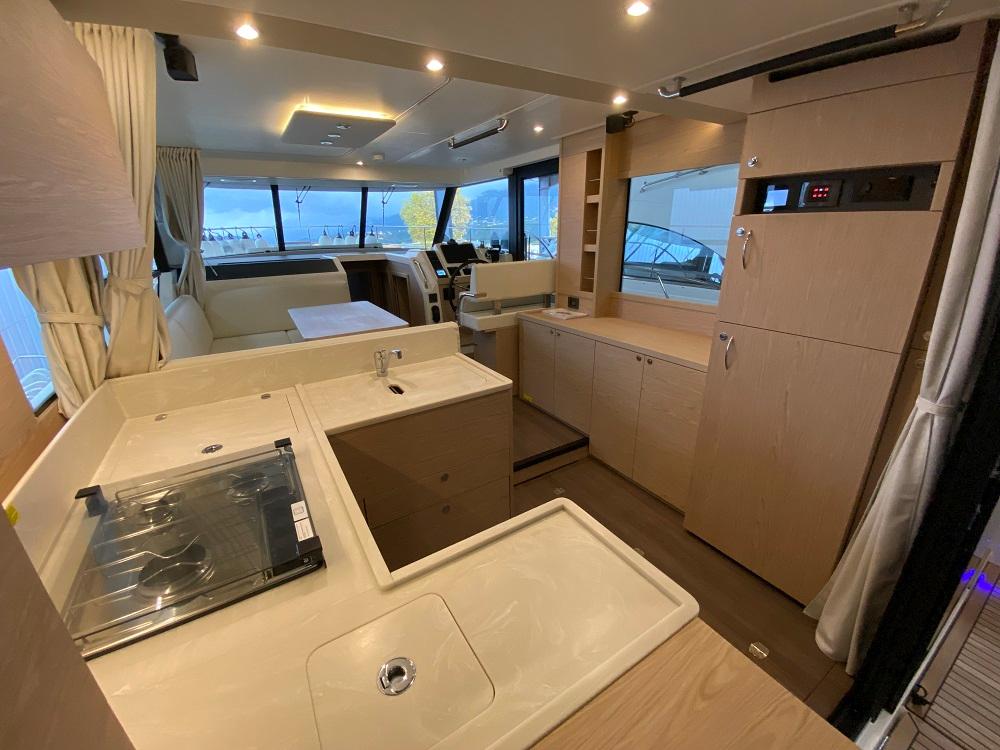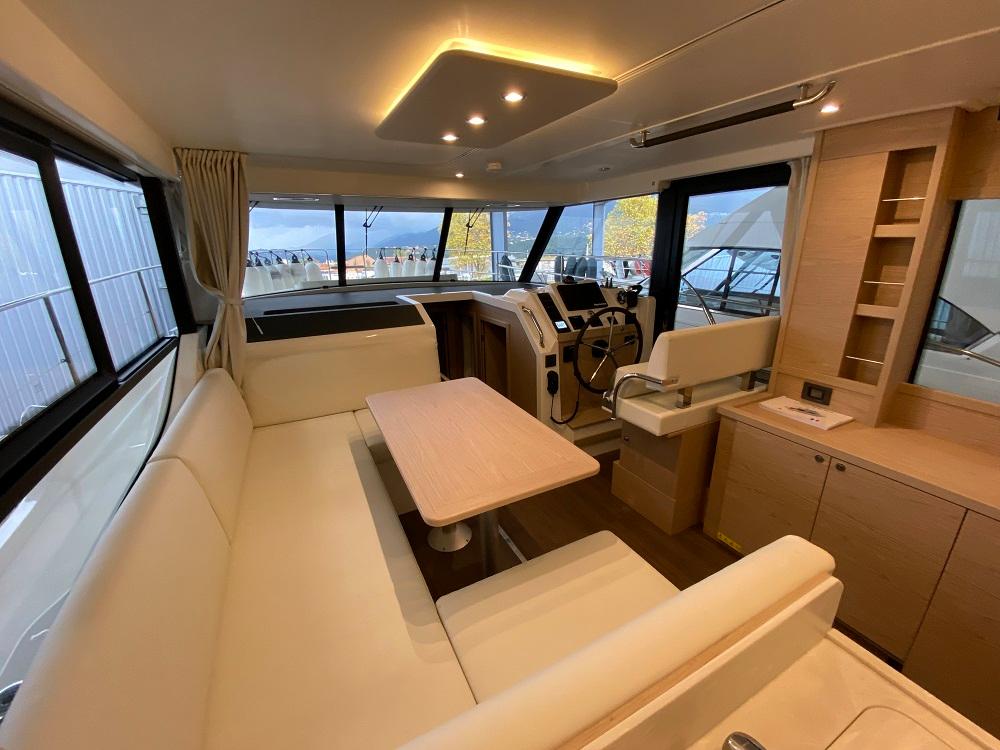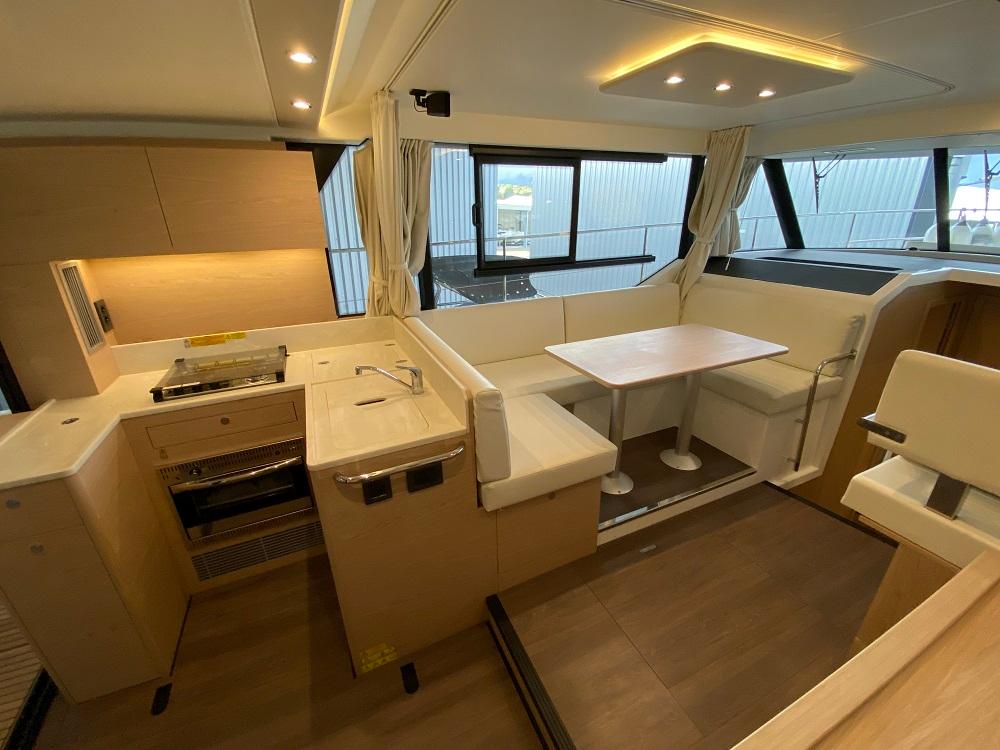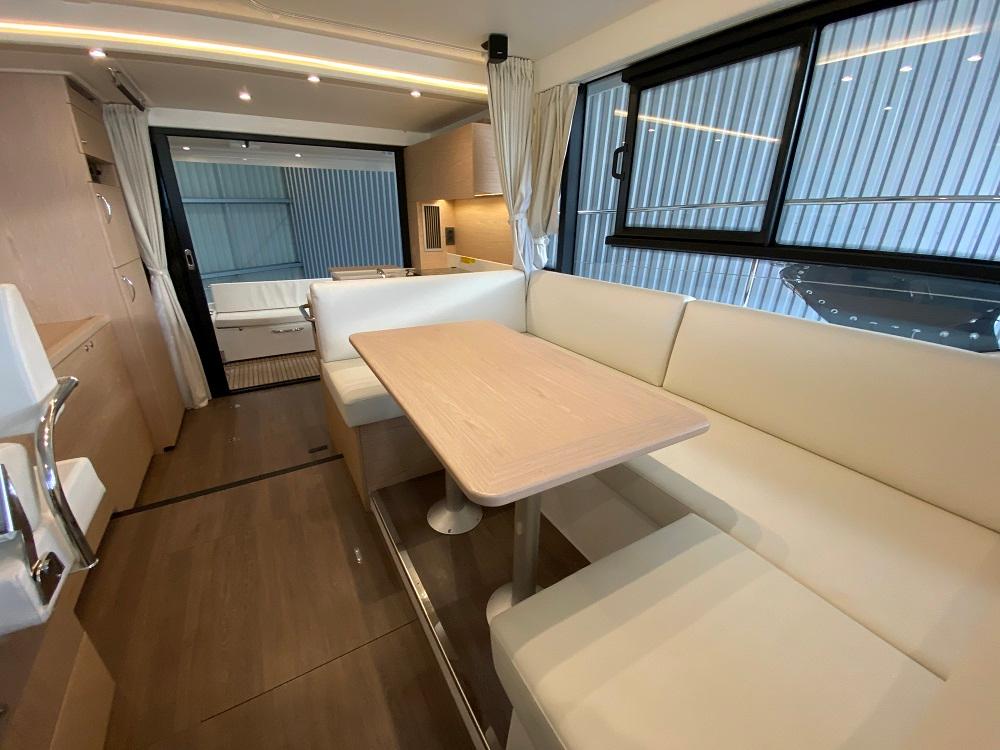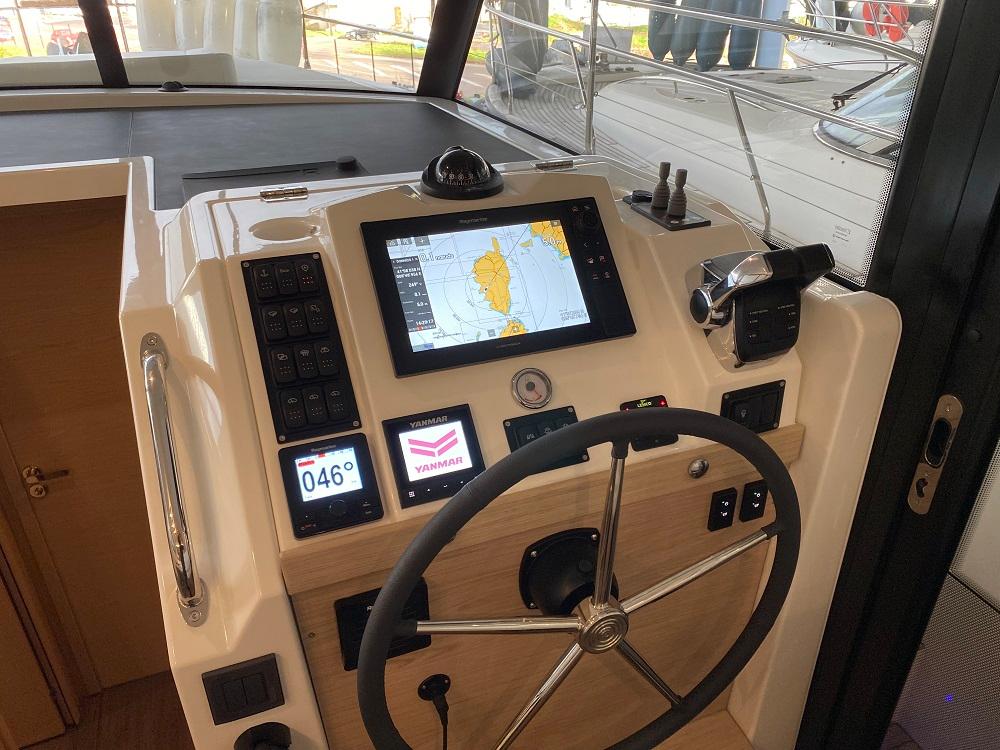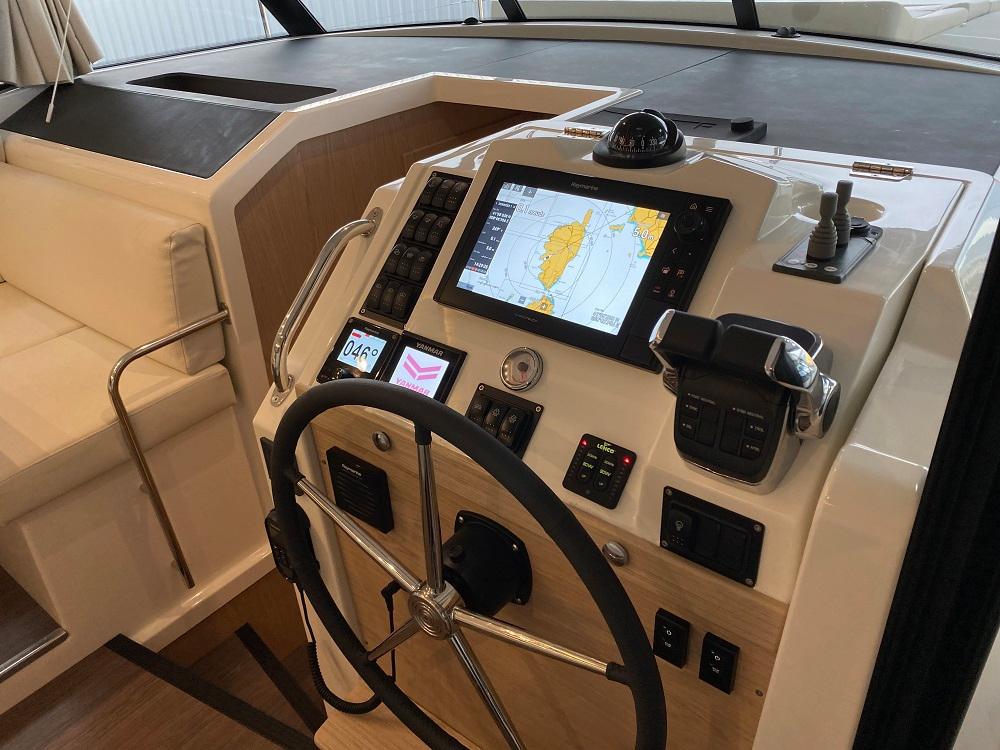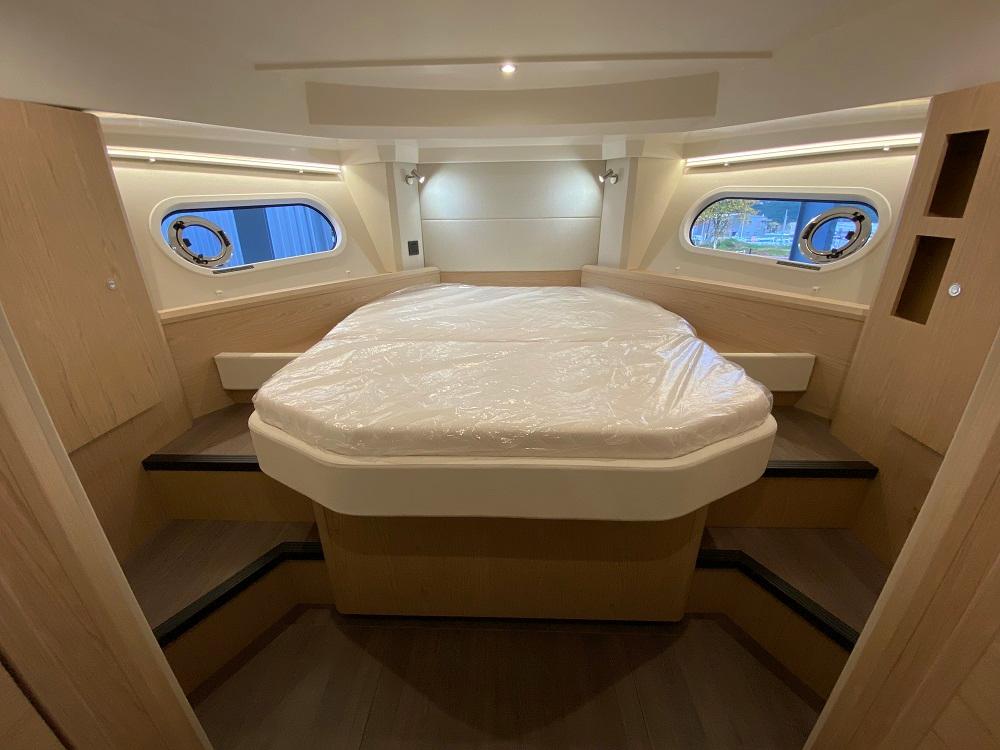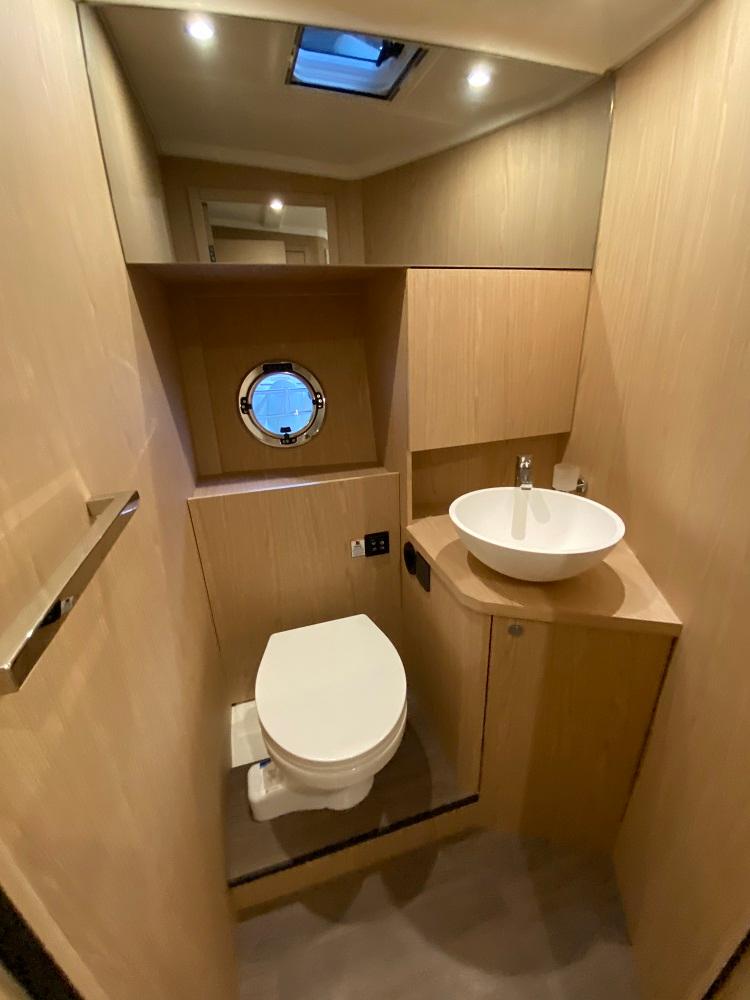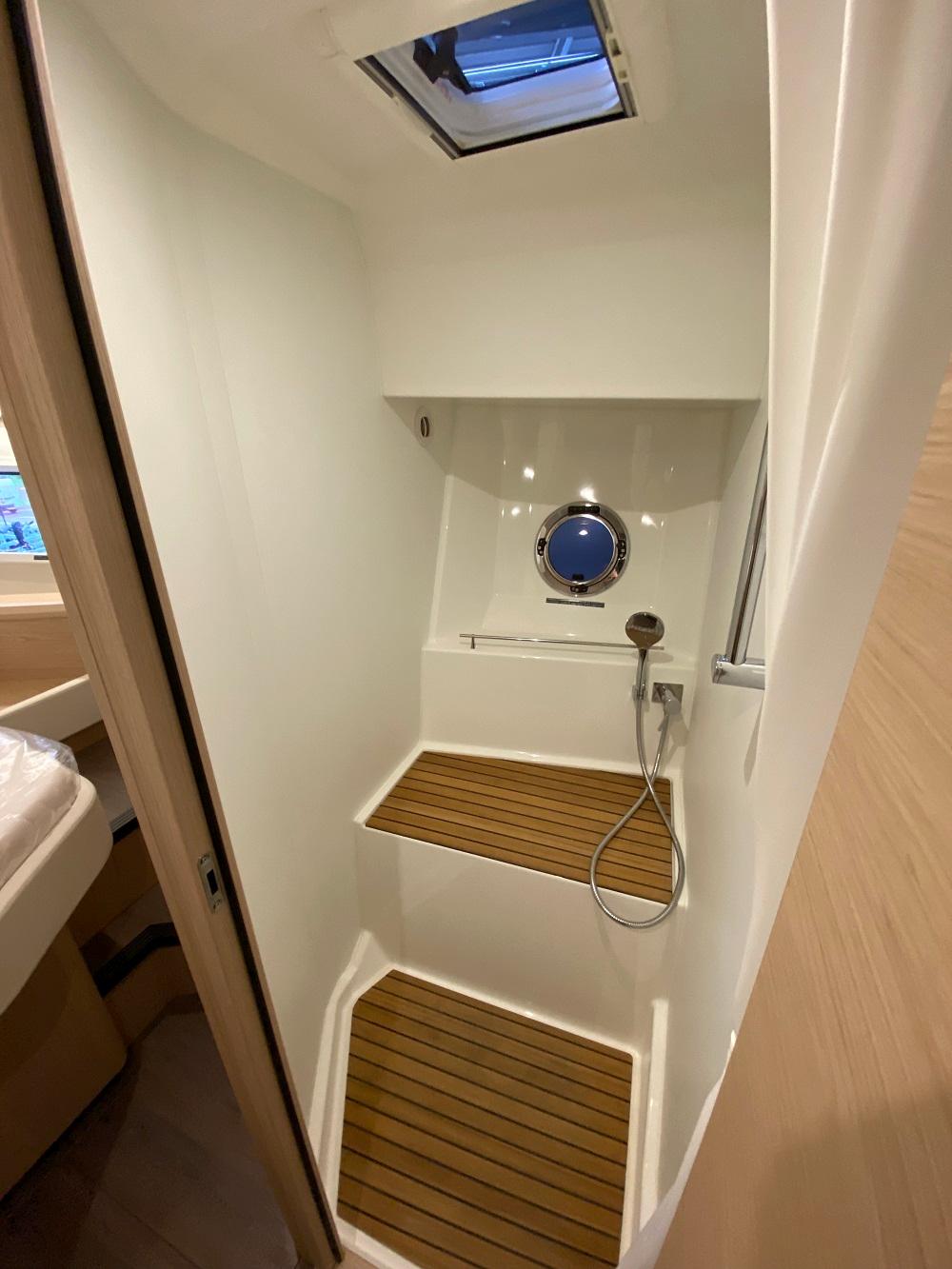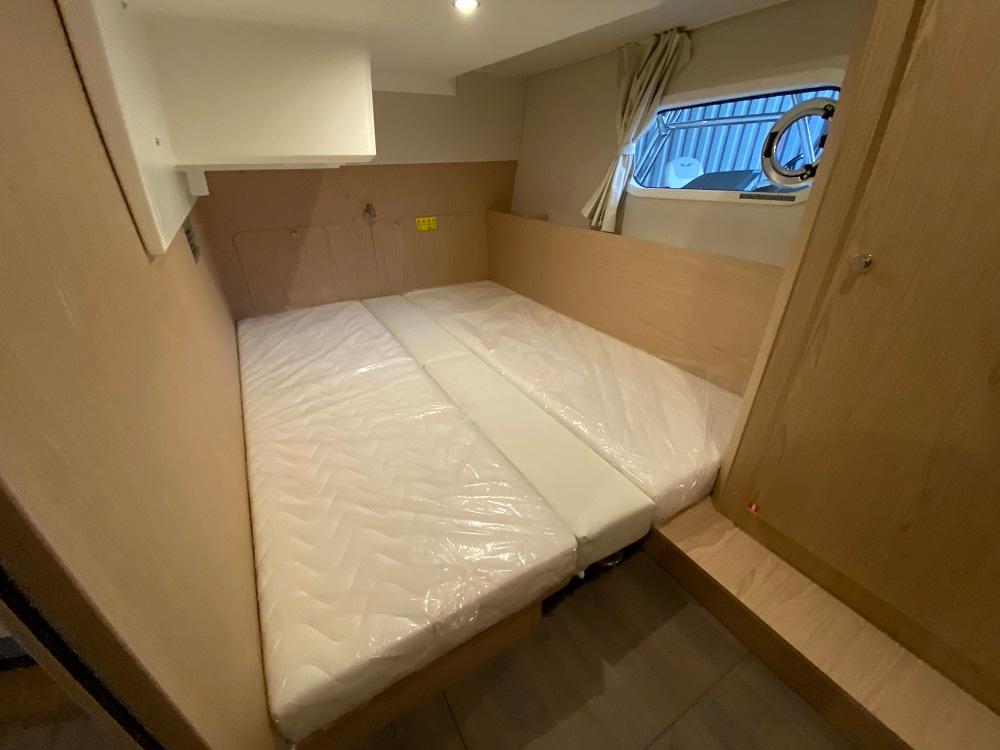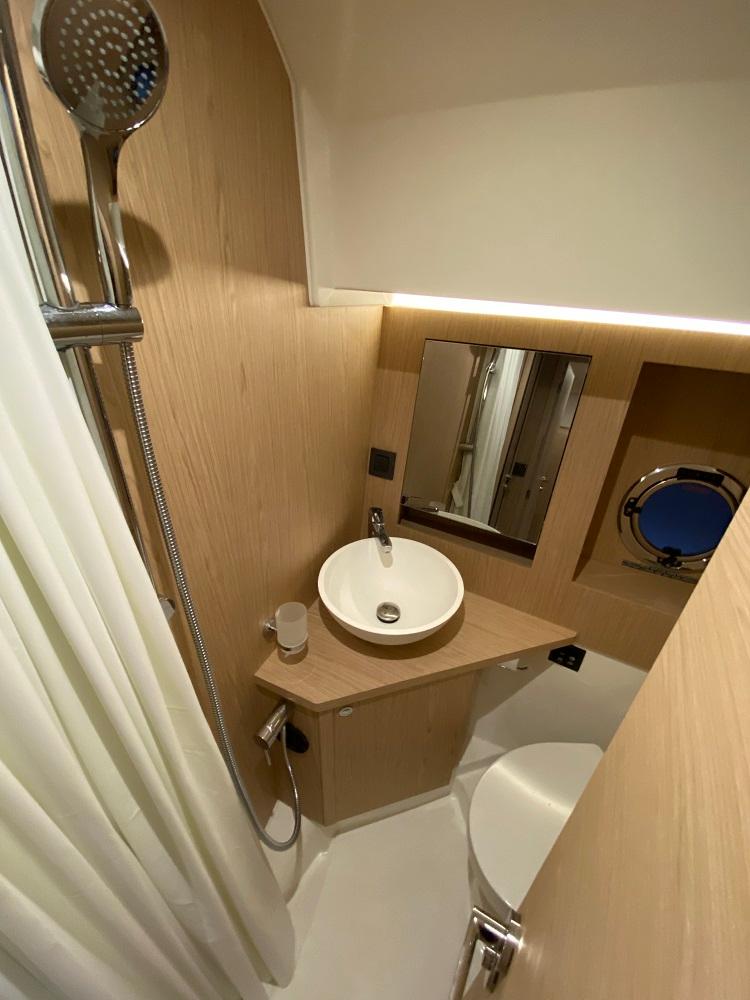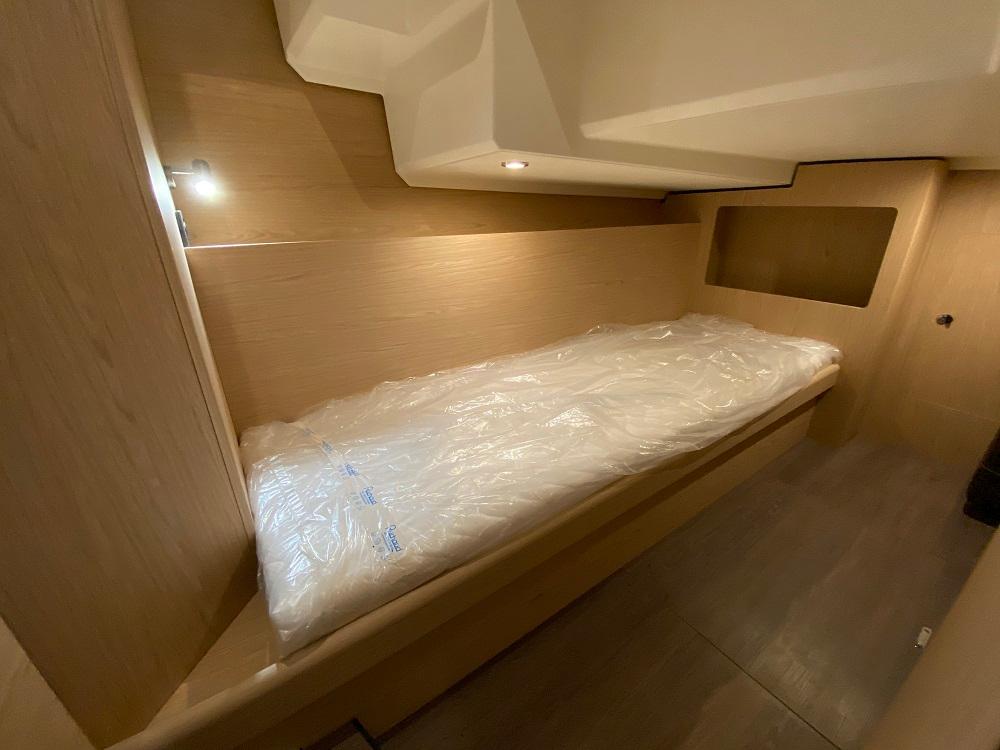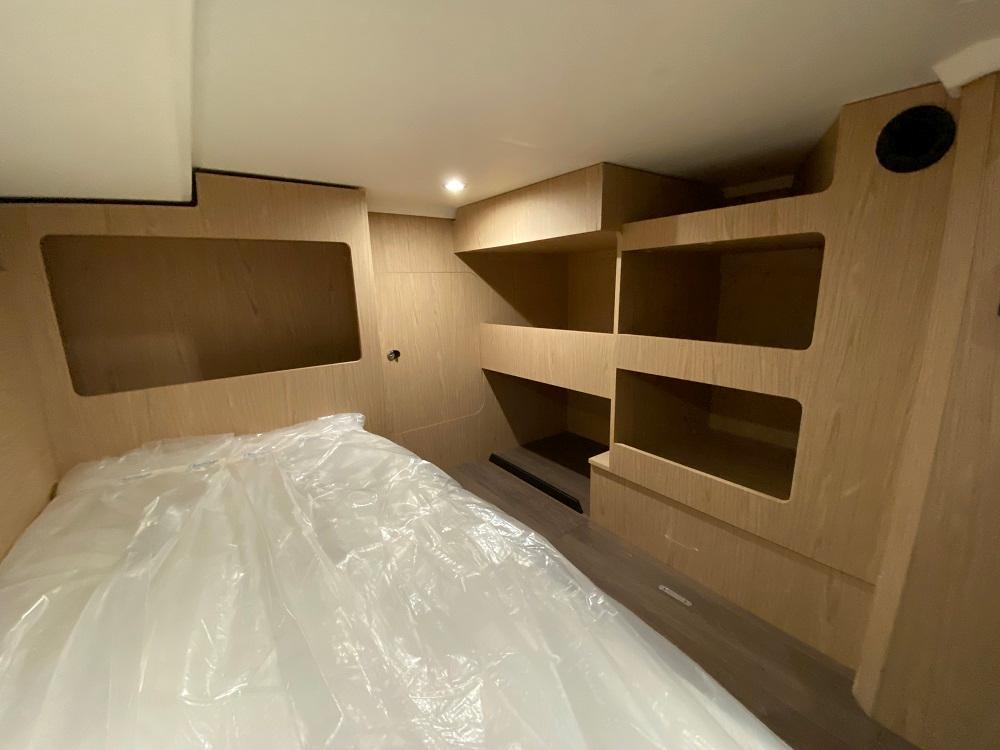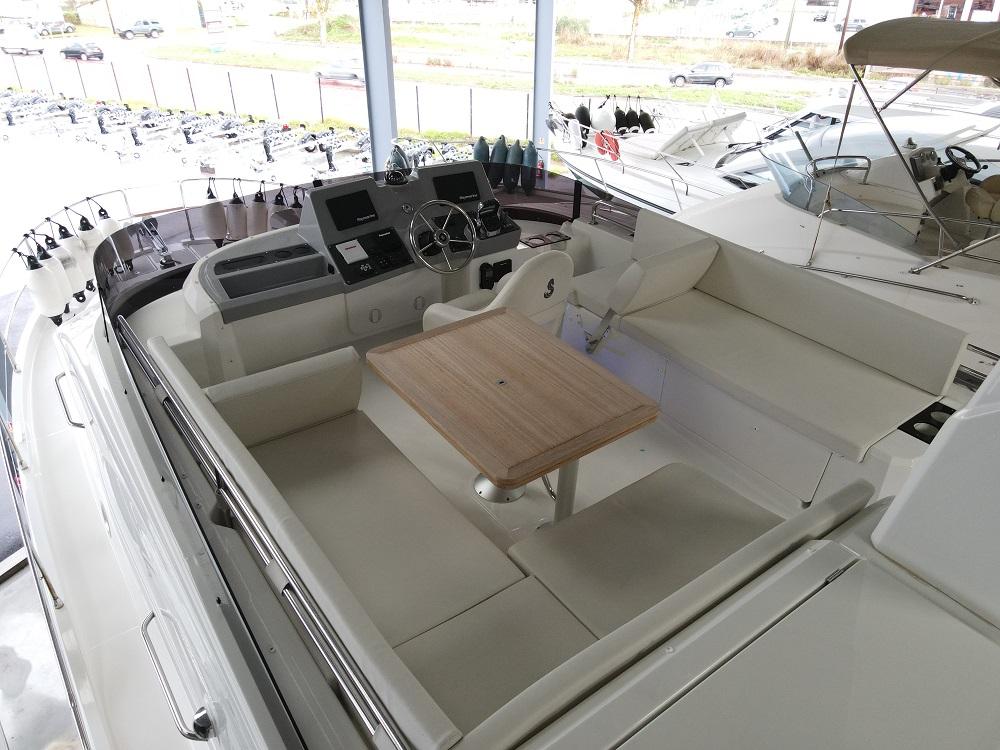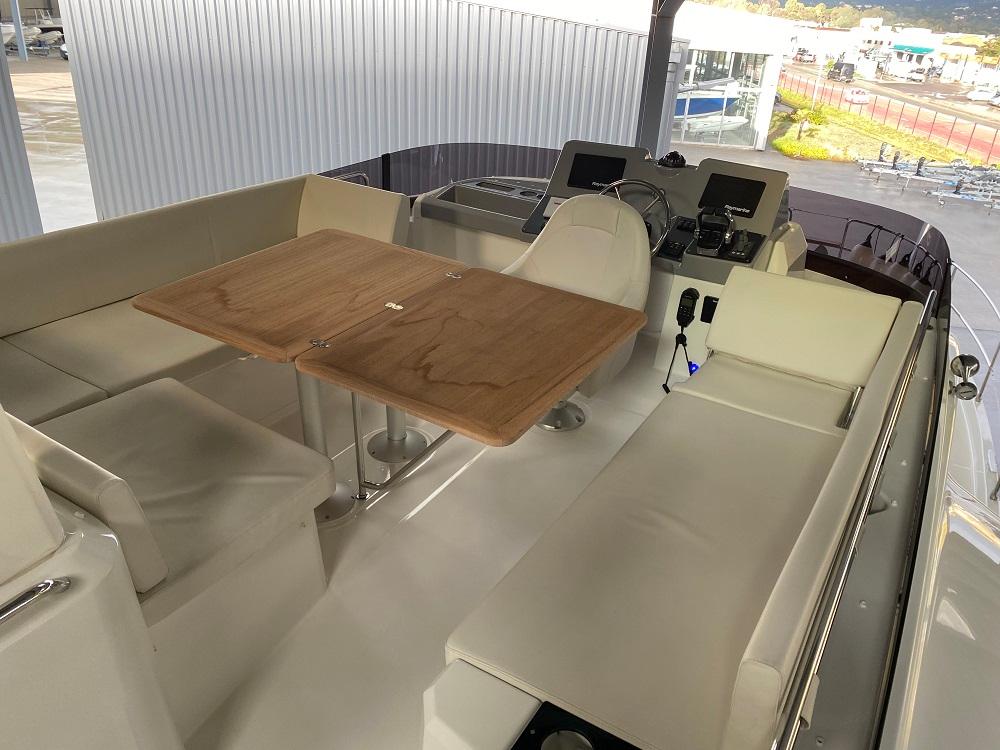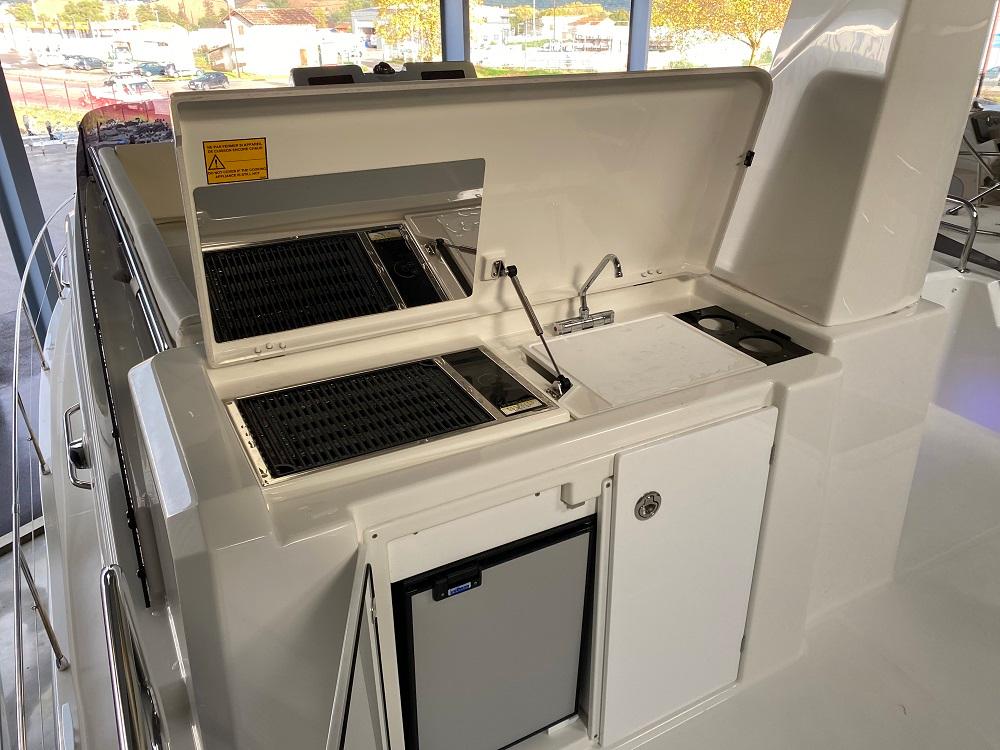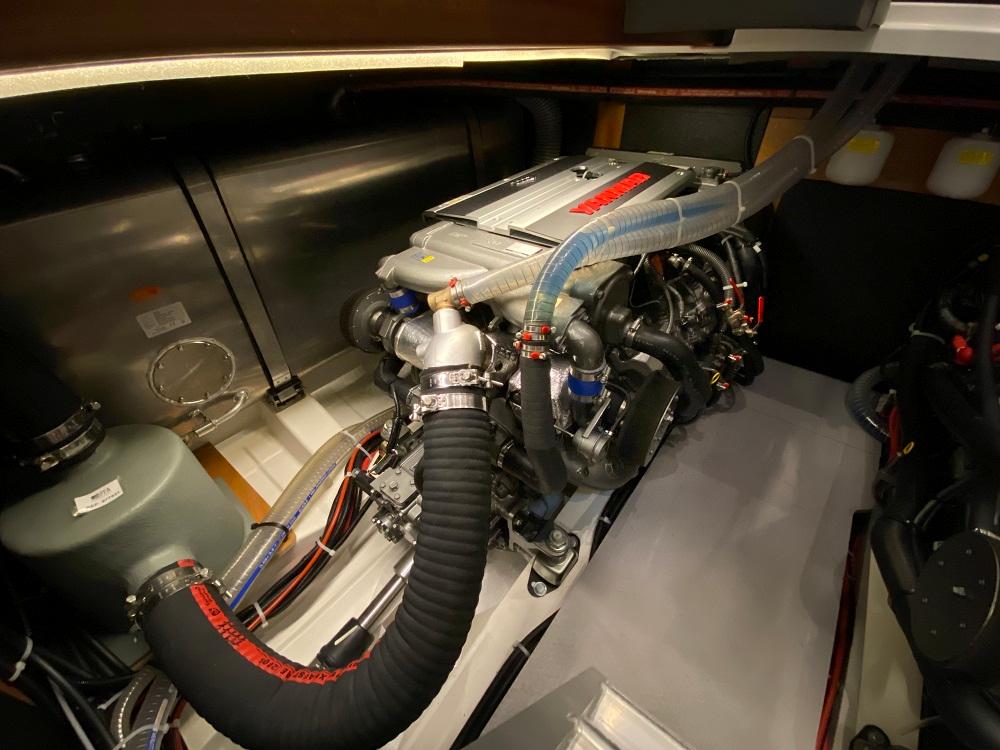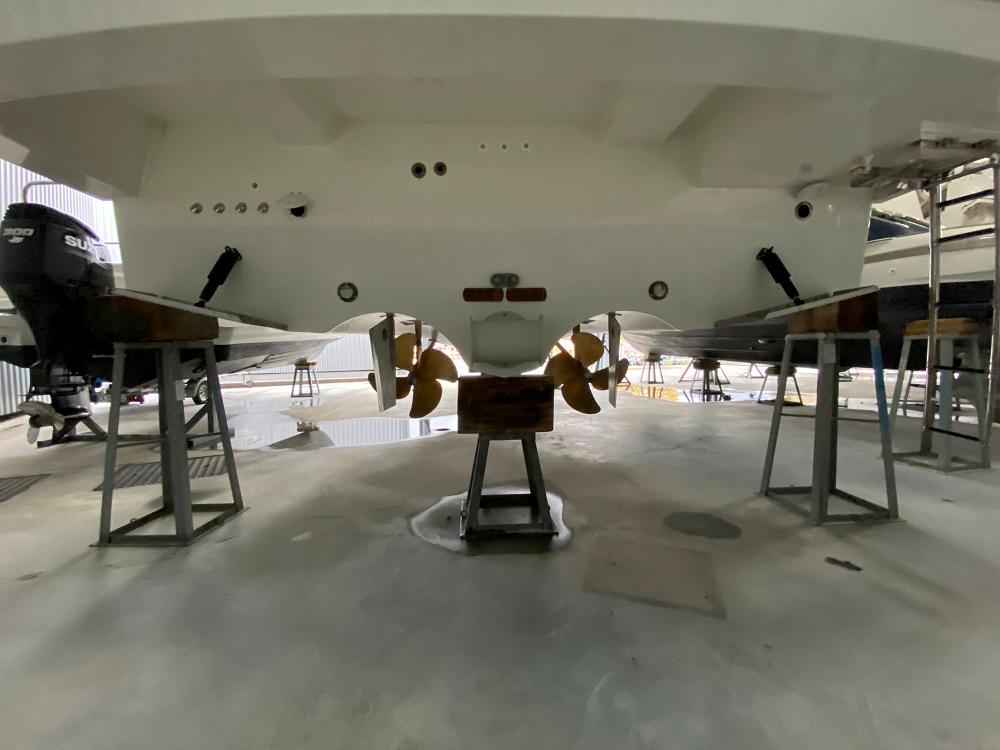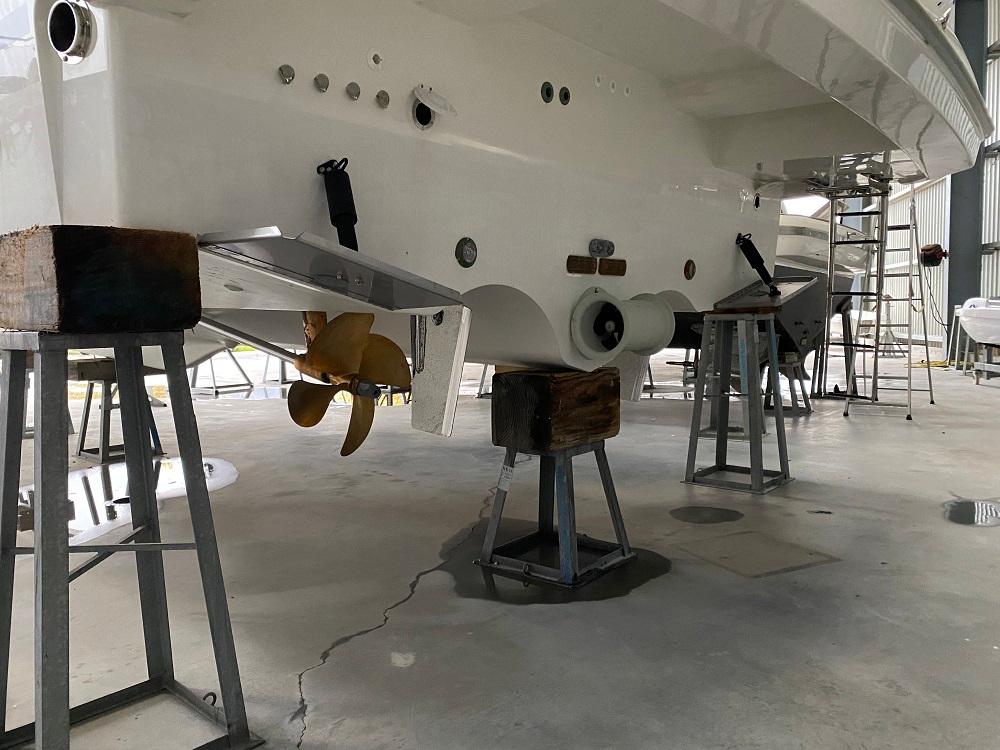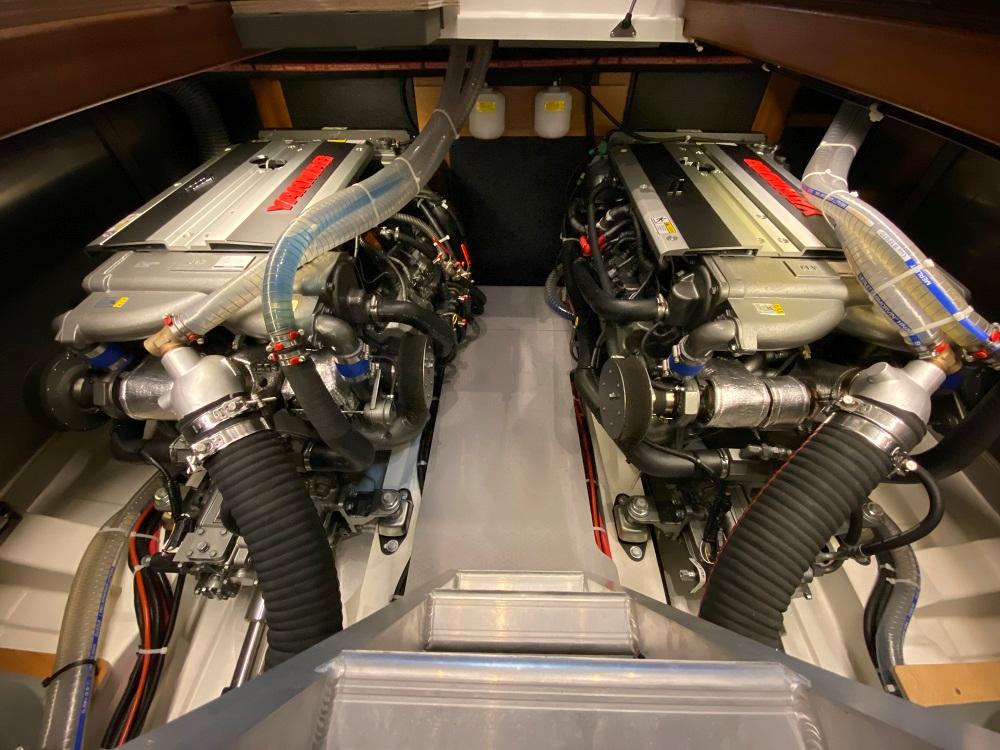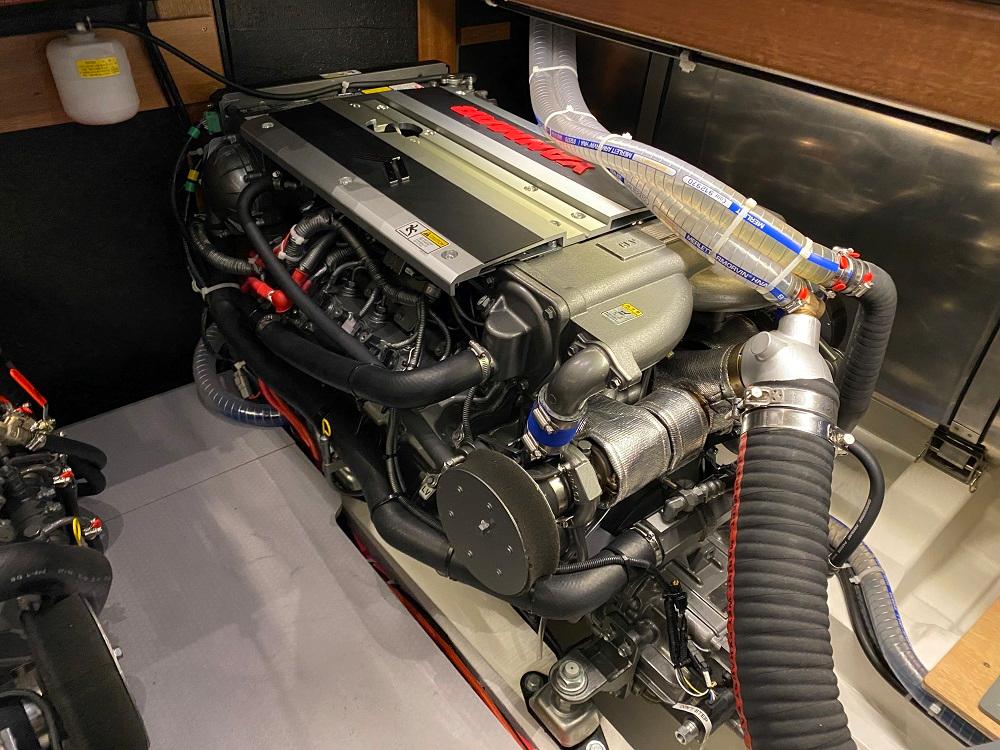 Description
UNI Bateaux le concessionnaire exclusif BENETEAU pour la Corse vous propose à la vente le nouveau BENETEAU Swift Trawler 41 2022 disponible immédiatement. Ce bateau neuf de démonstration jamais immatriculé a été exposé au salon nautique de Barcelone. Il totalise 80 heures de navigation.
Ses lignes élégantes, modernes et combatives reflètent parfaitement le renouvellement de la ligne Swift Trawler7. La silhouette fluide et équilibrée du Swift Trawler 41 est soutenue par une carène à l'étrave fine et tulipée, gage d'un excellent passage en mer. La timonerie surprend par la générosité de ses espaces vitrés, tandis que le pont avant, avec son grand bain de soleil et son haut balcon protecteur renforcent la forte personnalité de ce grand voyageur. Luminosité, convivialité et habitabilité caractérisent les chaleureux espaces fonctionnels du Swift Trawler 41. Sa nouvelle coque a été conçue pour assurer un rendement et une consommation optimum.
Configuration 3 cabines + 2 salles d'eau, boiserie alpi chêne dosse. Sellerie PVC Marlin Brillant White.
En complément de l'équipement standard, le bateau est équipé des options suivantes :
FINITION COMFORT comprenant :
Pompe de lavage de pont
Prise 12 V dans le cockpit
Pré-disposition chauffage
Pré-disposition climatisation
1 Écran 9 Raymarine intérieur
1 Écran 9 Raymarine extérieur
VHF Raymarine double poste
Portes-gobelet
Prise d'eau douce de quai
Projecteur de pont double poste
Réfrigérateur 40 L au flybridge
Convertisseur (2 kVA)
PACK CLIM comprenant :
Générateur (7,5 kVA – 220 V / 50 Hz) + COCON
Climatisation (48 kBTU)
PACK ELECTRONIC comprenant :
Ship control
1 Écran 9" Raymarine extérieur
Girouette anémomètre
Pilote automatique (2 Postes)
PACK SALON EXTERIEUR comprenant :
Table teck et deux chaises pliantes teck
Sellerie exterieur marlin brilliant white
Kit mouillage complet
Ensemble de housses de flyridge
Table portefeuille de flybridge
Matelas bain de soleil pvc marlin brilliant white
Propulseur etrave double poste
Propulseur de poupe 2 postes
Projecteur sous-marin
Grill electrique 230v50hz /flying bridge
Matelas simple dans 3eme cabine
Enceintes bose acoustimass®3 dans carre
Predisposition tv dvd 230v50
Carre teck
Camera arriere Ecran 12" en remplacement de l'ecran 9′ a l'interieur
Ais 700 transpondeur Raymarine
Passavant tribord & fond de cockpit lattes bois massif
Plage arriere latte teck
Armement de sécurité cotier 8 personnes
Preparation, grutage, mise à l'eau
Transport
Antifouling avec detersil et primaire
Valeur du bateau dans cette configuration : 677 560€ TTC
Possibilité de financement, gestion/location, reprise et place de port.
Contactez Charles CARDI pour tout renseignement complémentaire au +33649185661.
UNI Bateaux concessionnaire exclusif BENETEAU pour la Corse et agent Volvo Penta depuis 1984.
Disclaimer
HMY Yacht Sales, Inc. is pleased to assist you in the purchase of this vessel. This boat is centrally listed by UNI Bateaux.
Fuel Capacity:
1170 Liters
Engine Manufacturer:
Yanmar
Vessel Overview
Clause de non-garantie
La société offre les informations relatives à ce navire de bonne foi mais n'est pas en mesure de garantir l'exactitude de ces informations ni l'état du navire. Il revient à l'acheteur d'instruire ses agents ou ses experts afin de vérifier et de faire valider les informations de son choix. Ce navire est offert sous réserve d'une vente préalable
Return to Yachts for Sale
Get more information