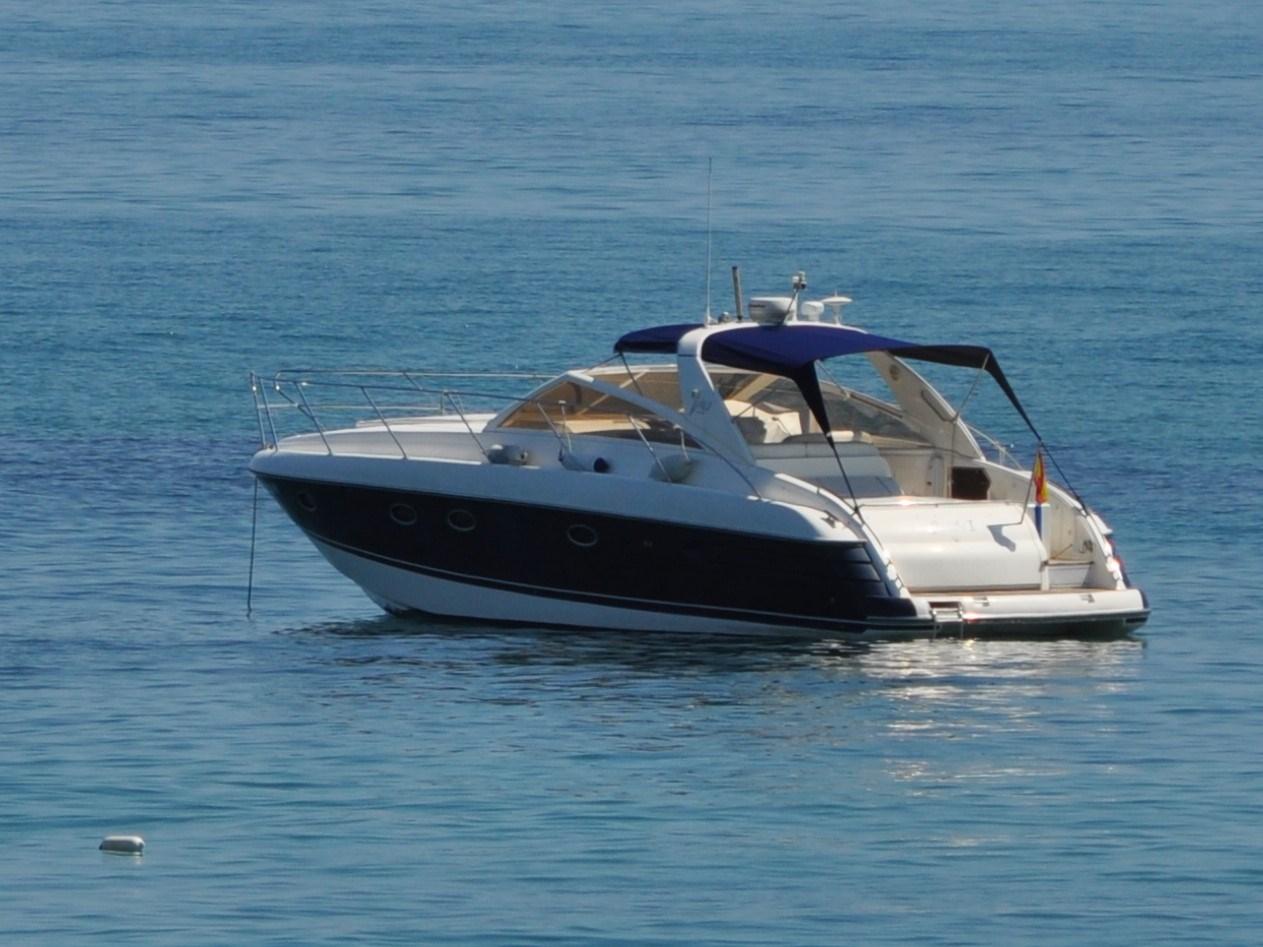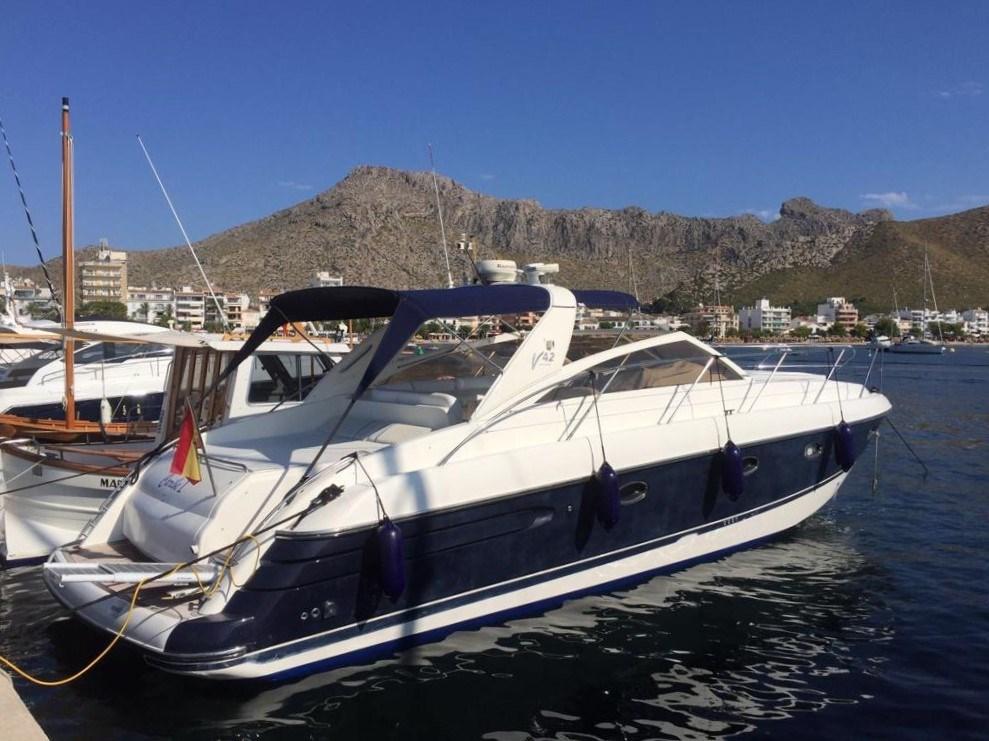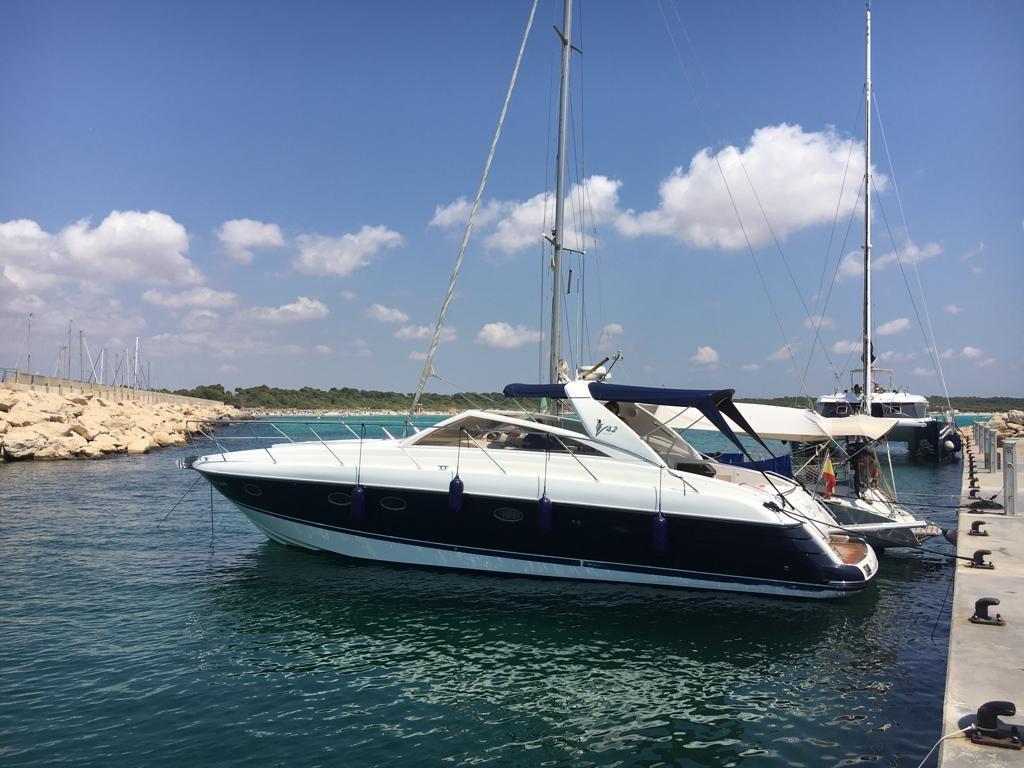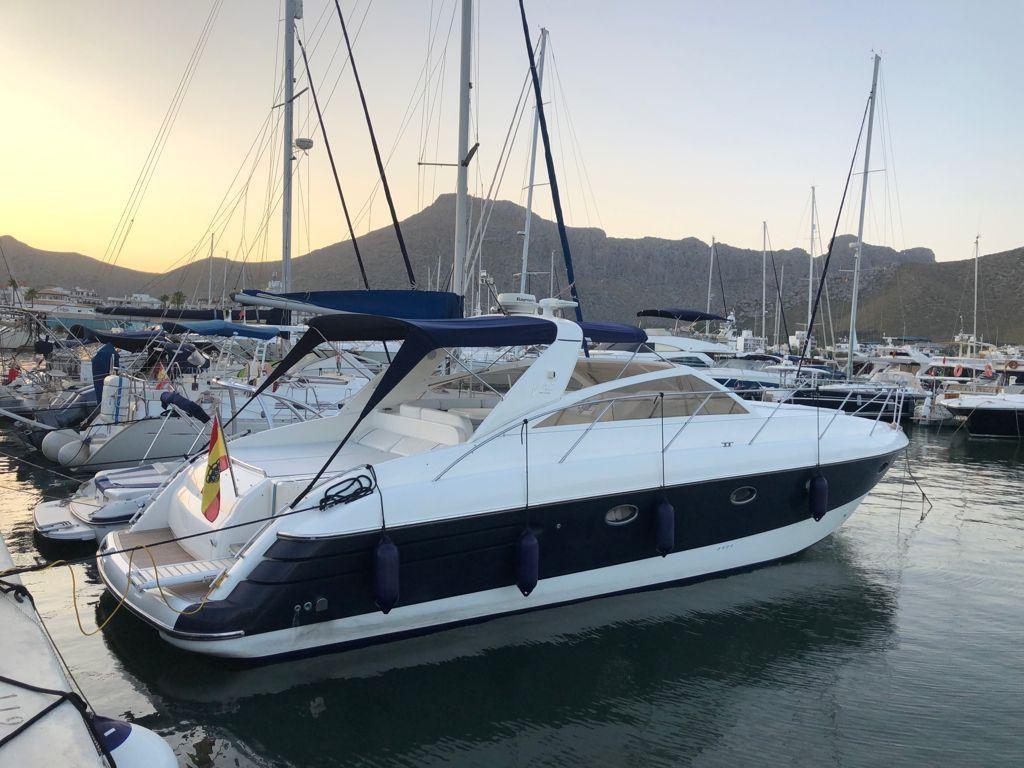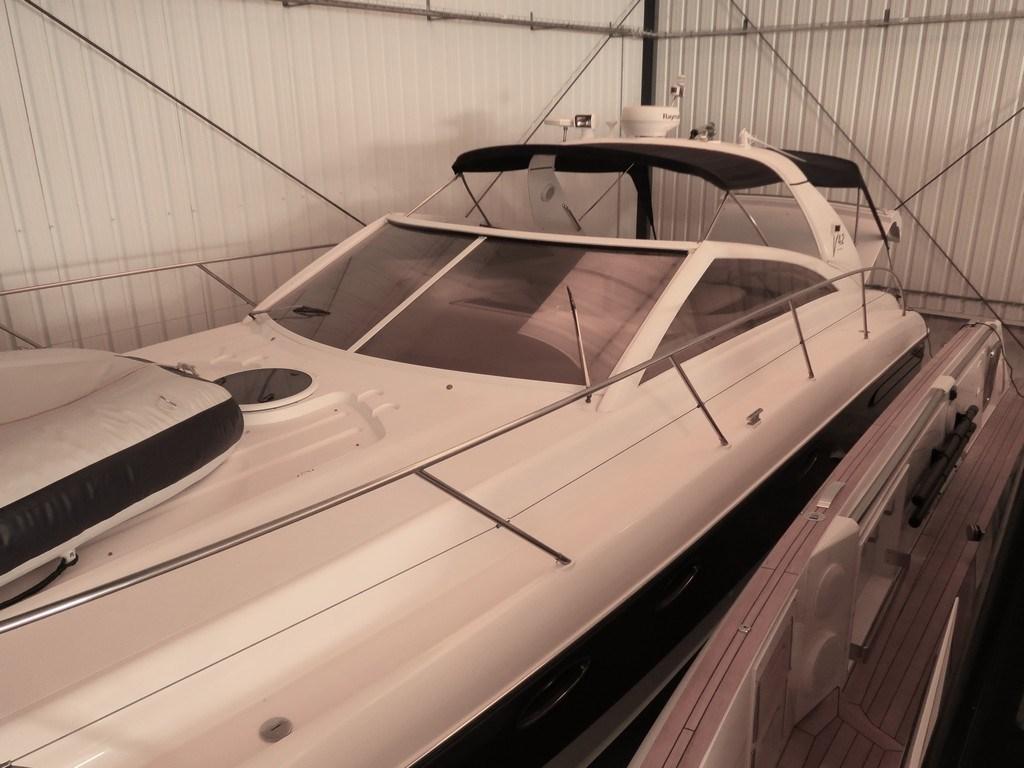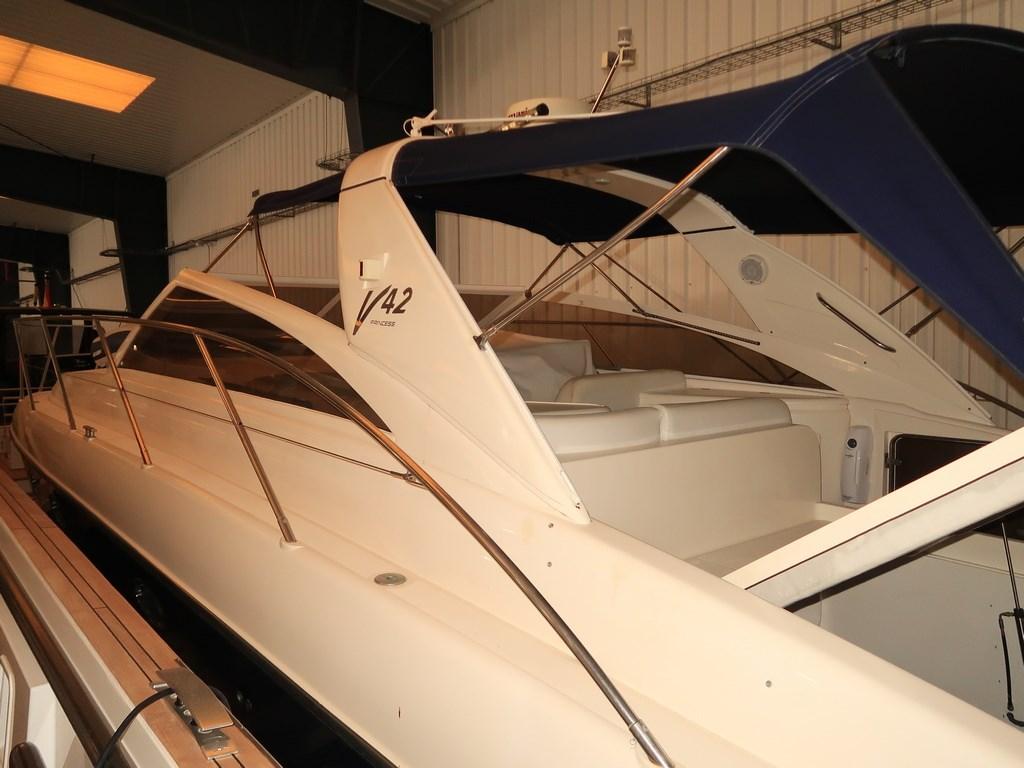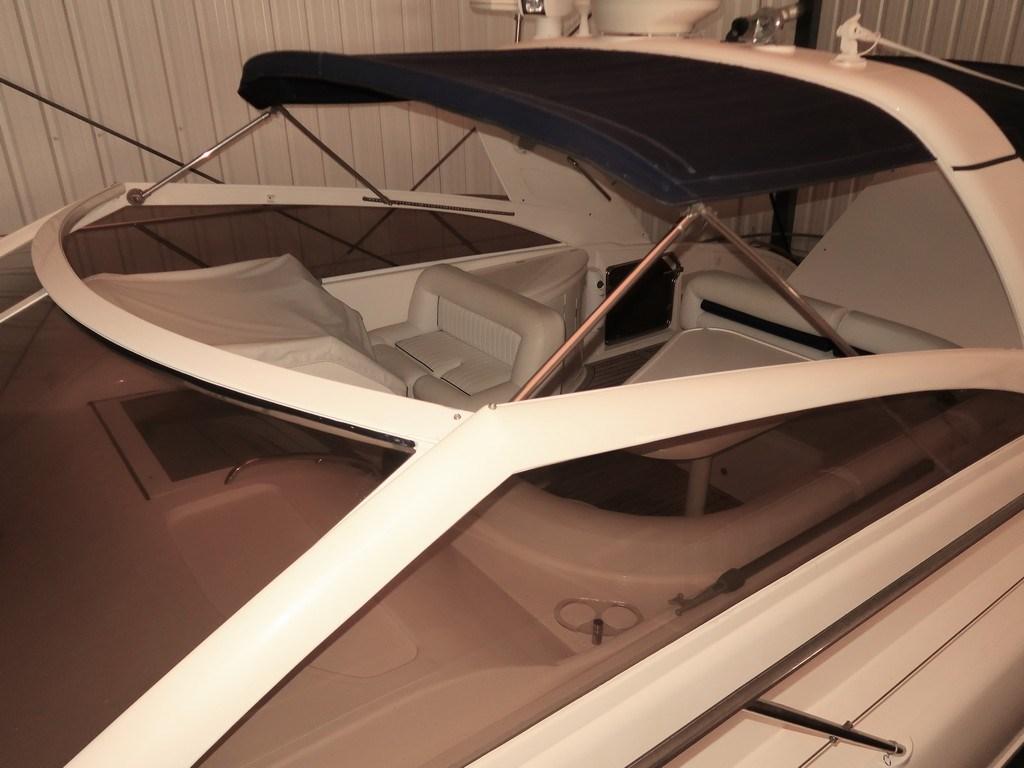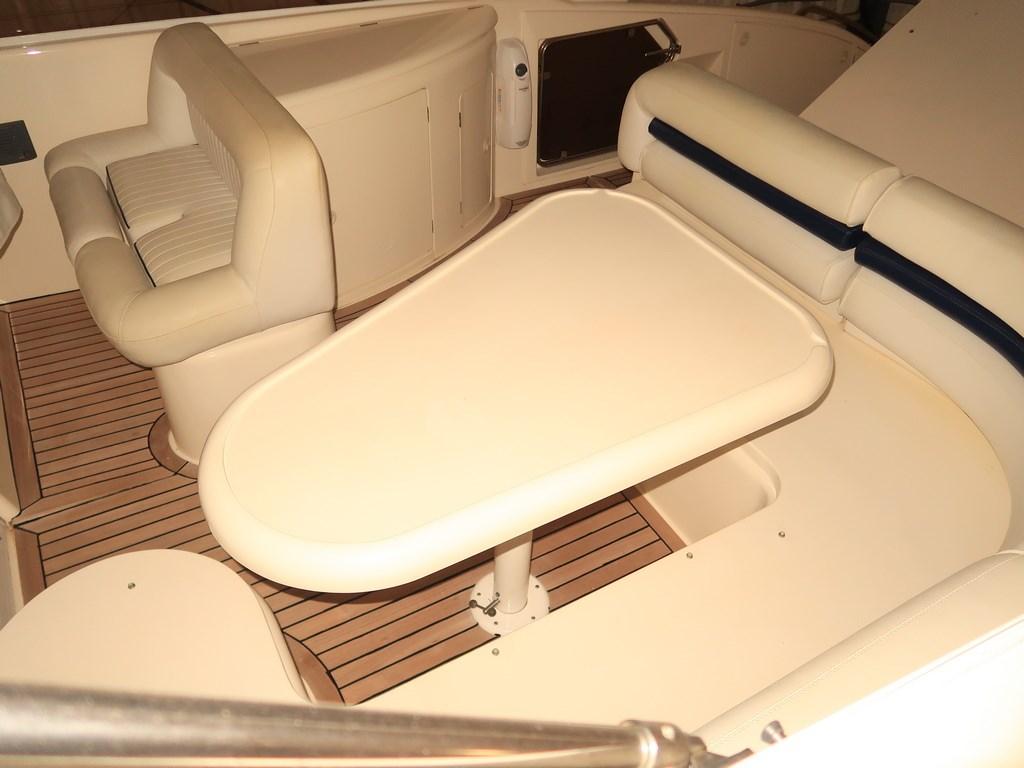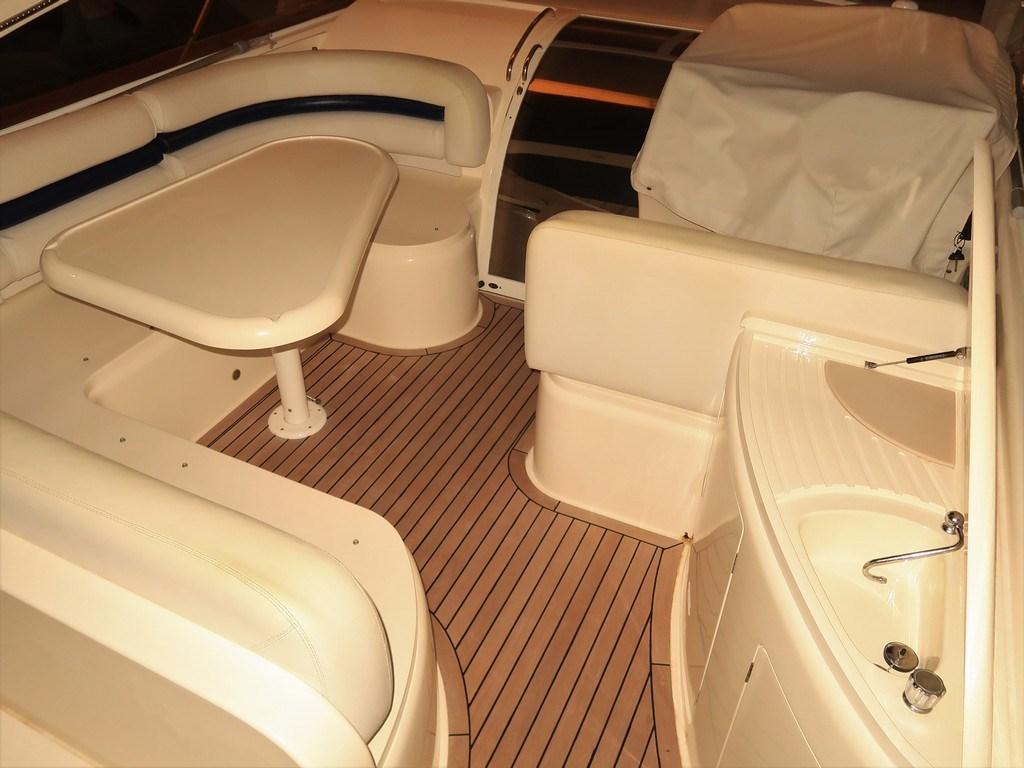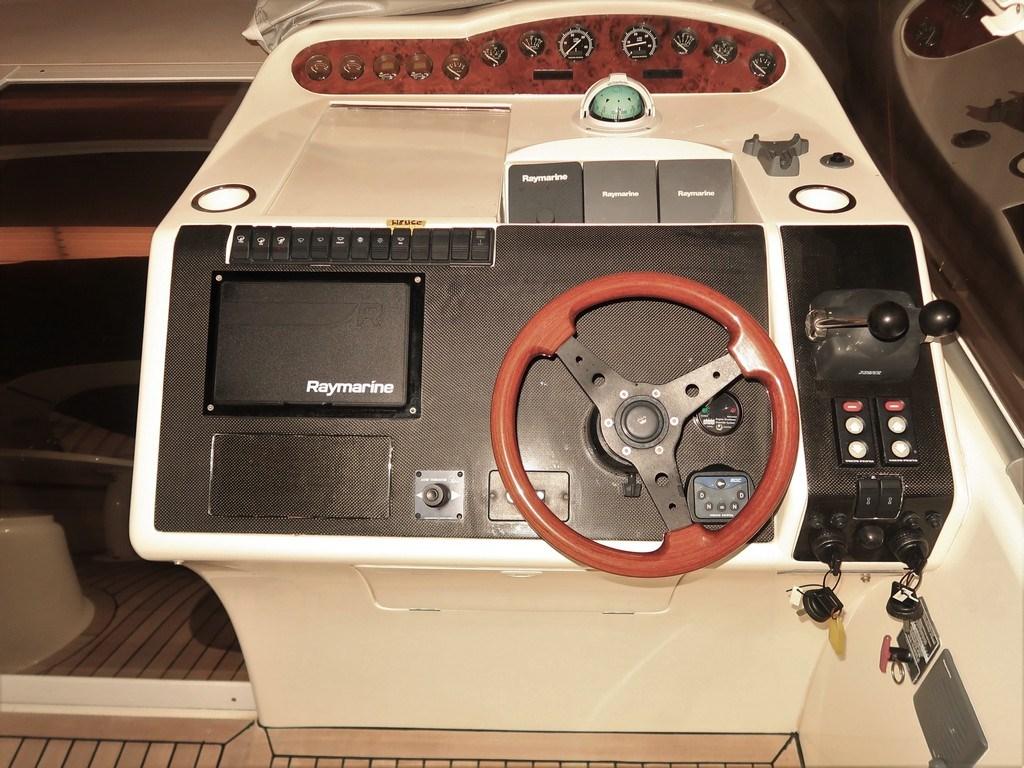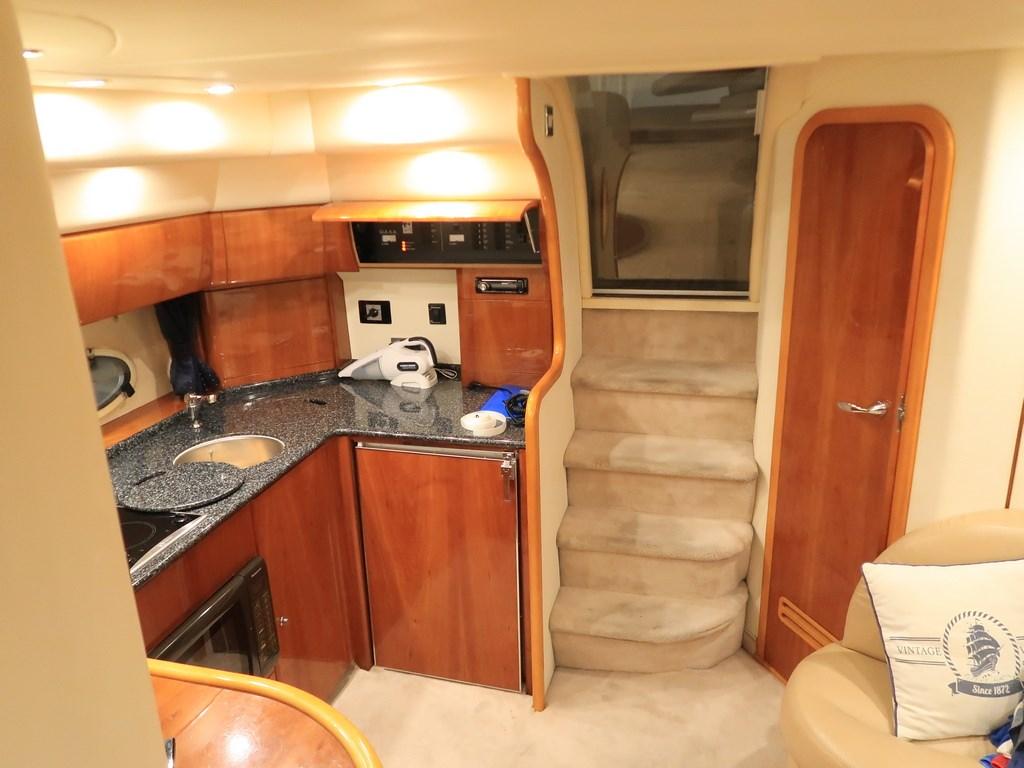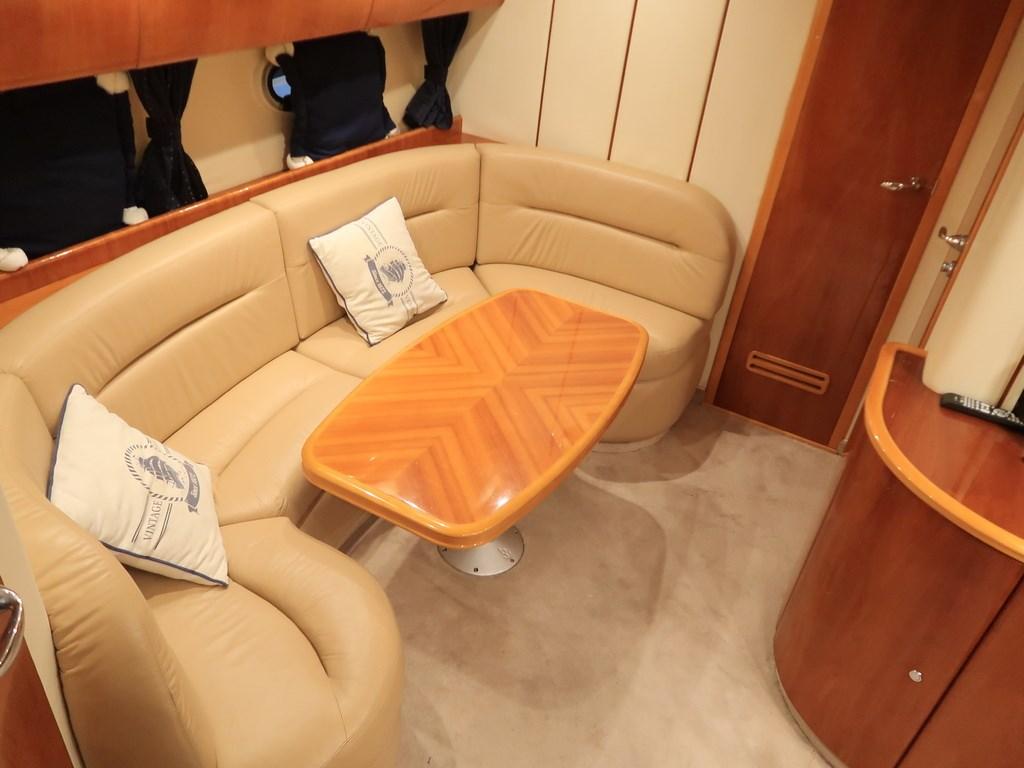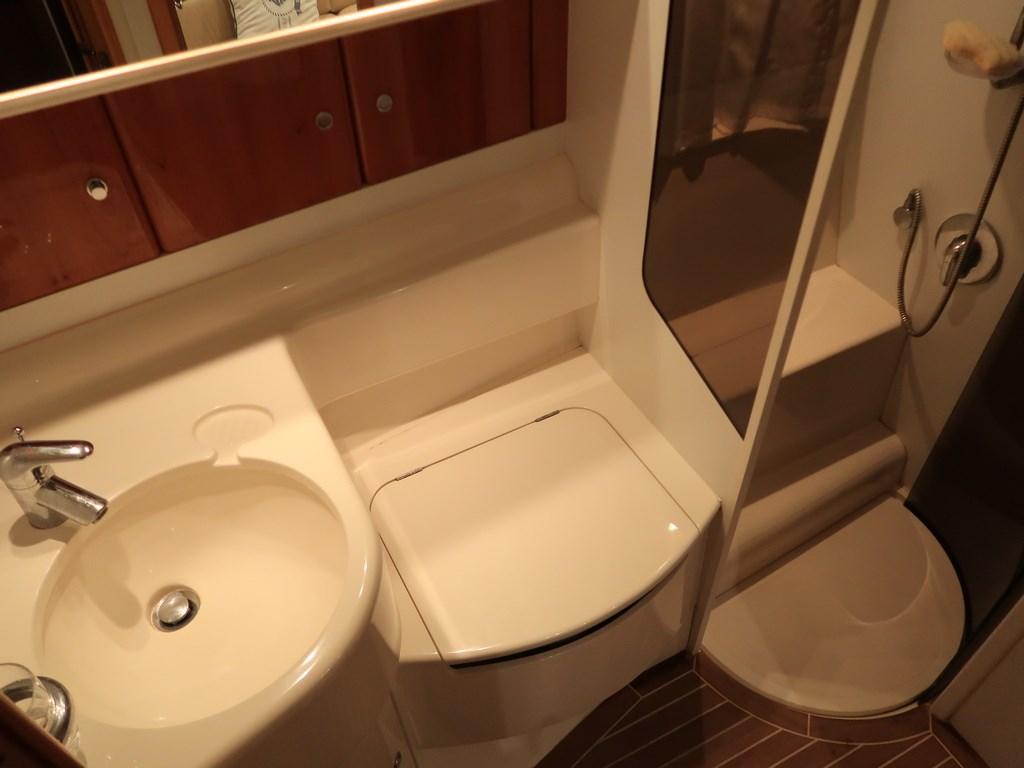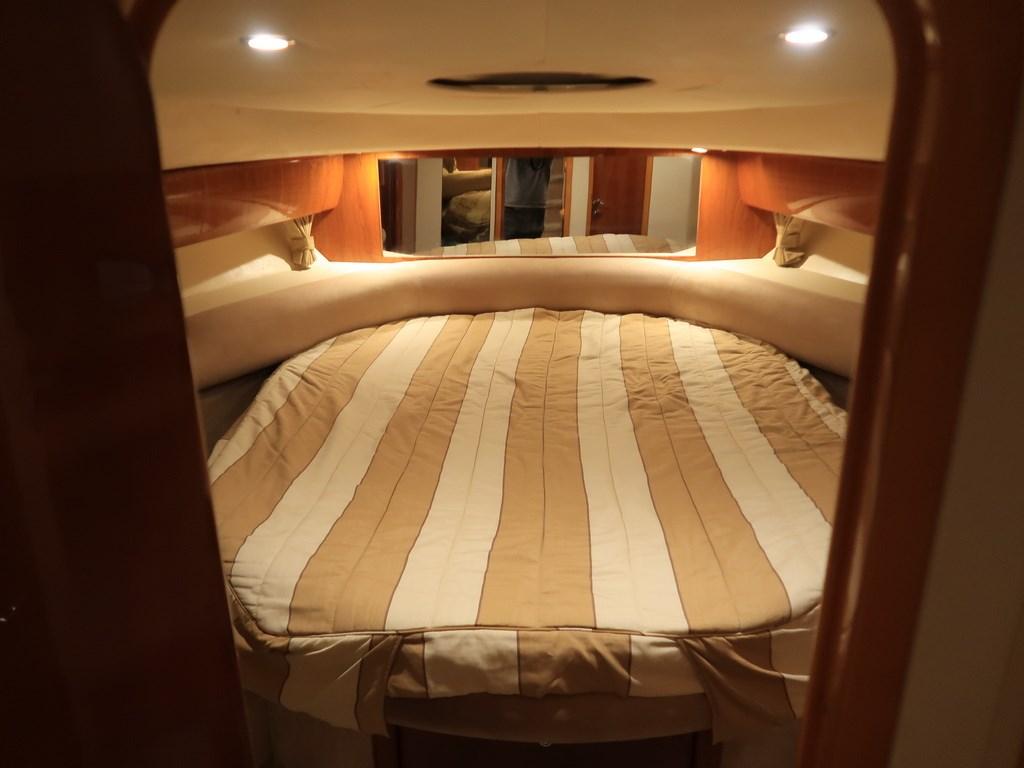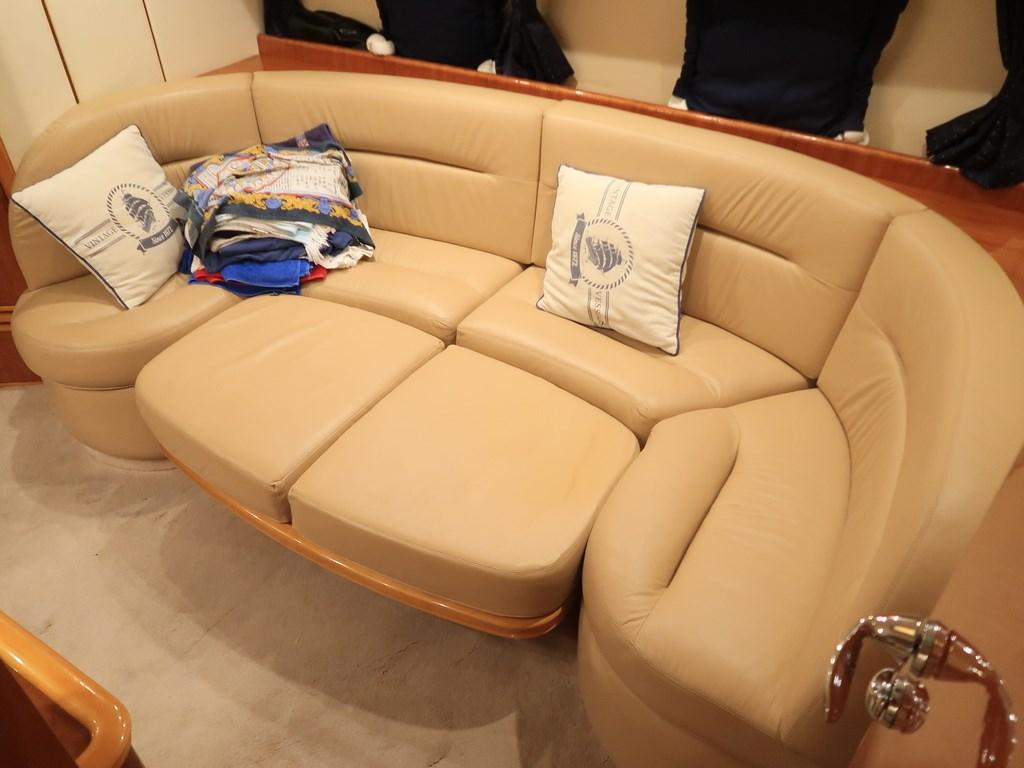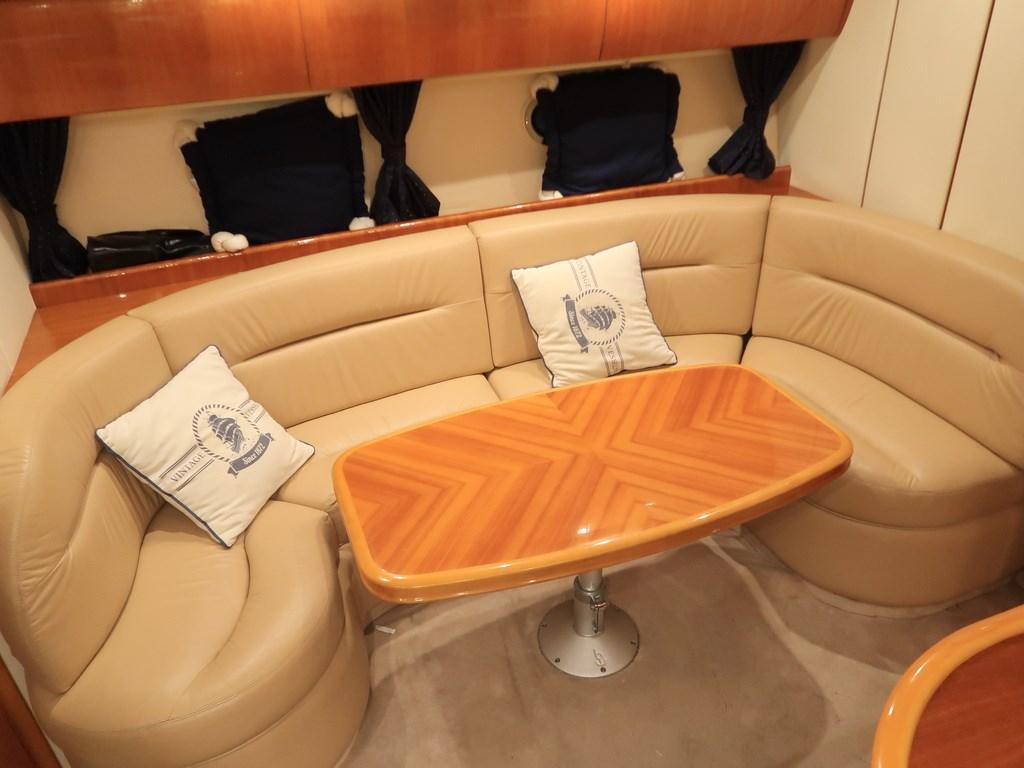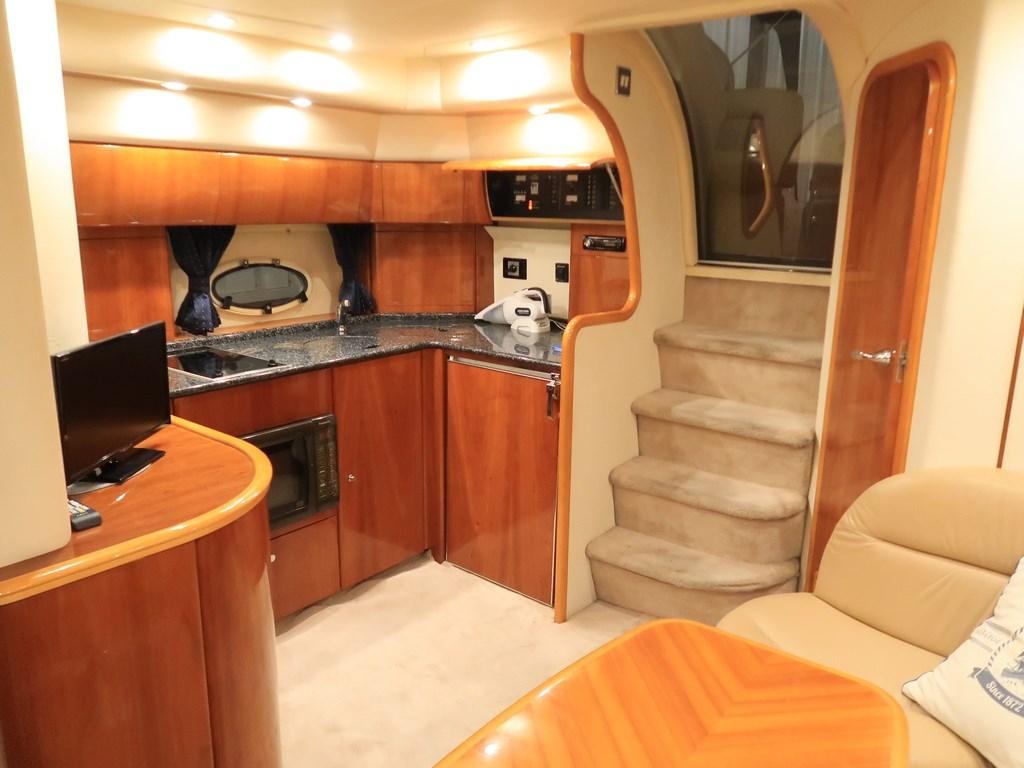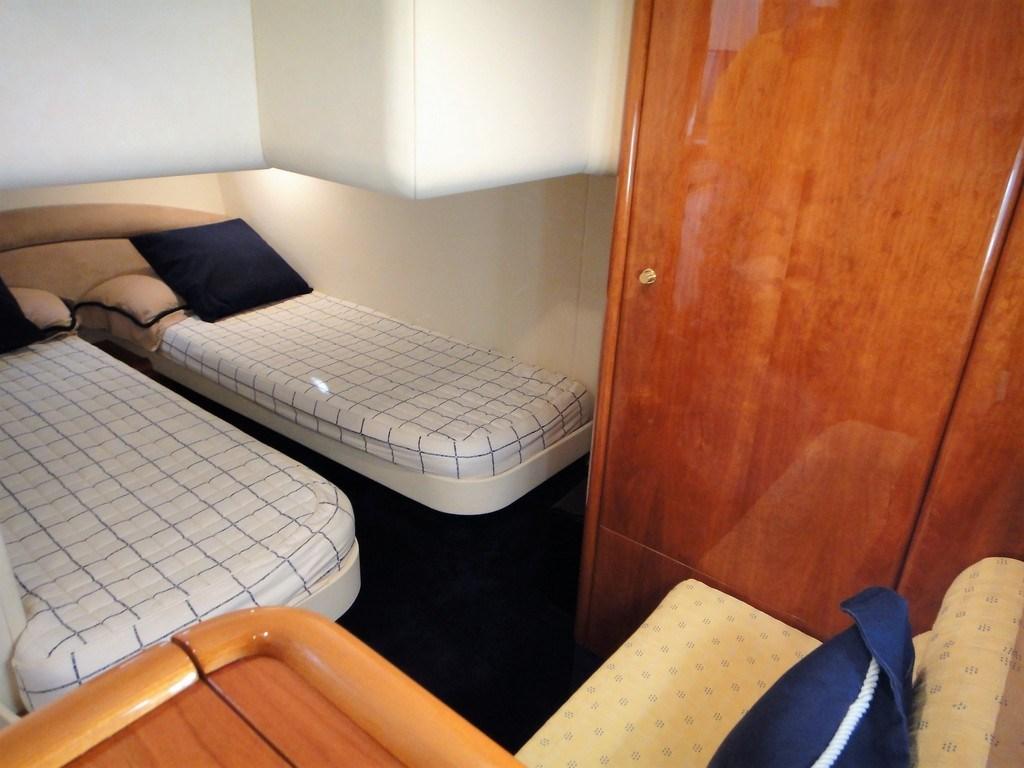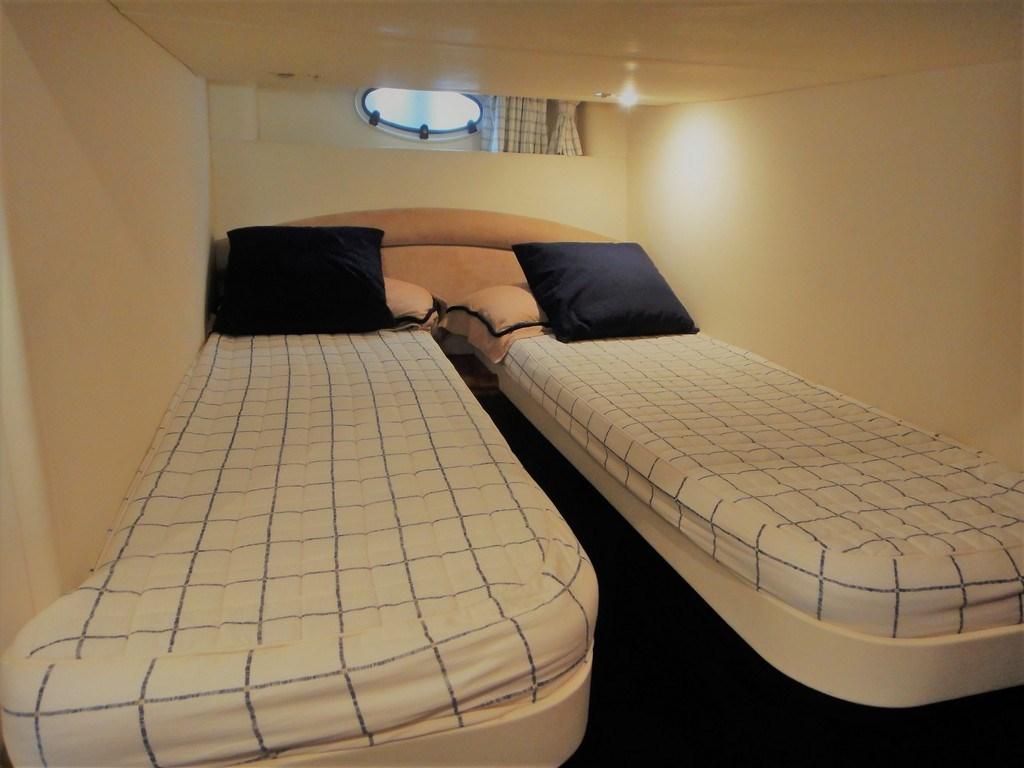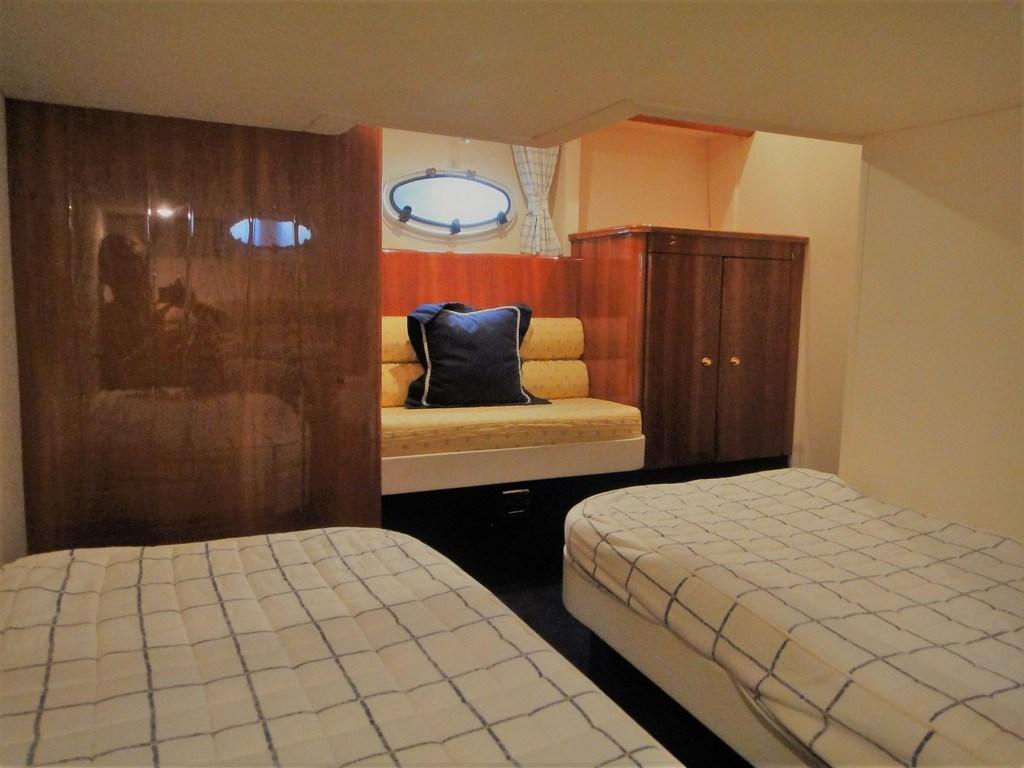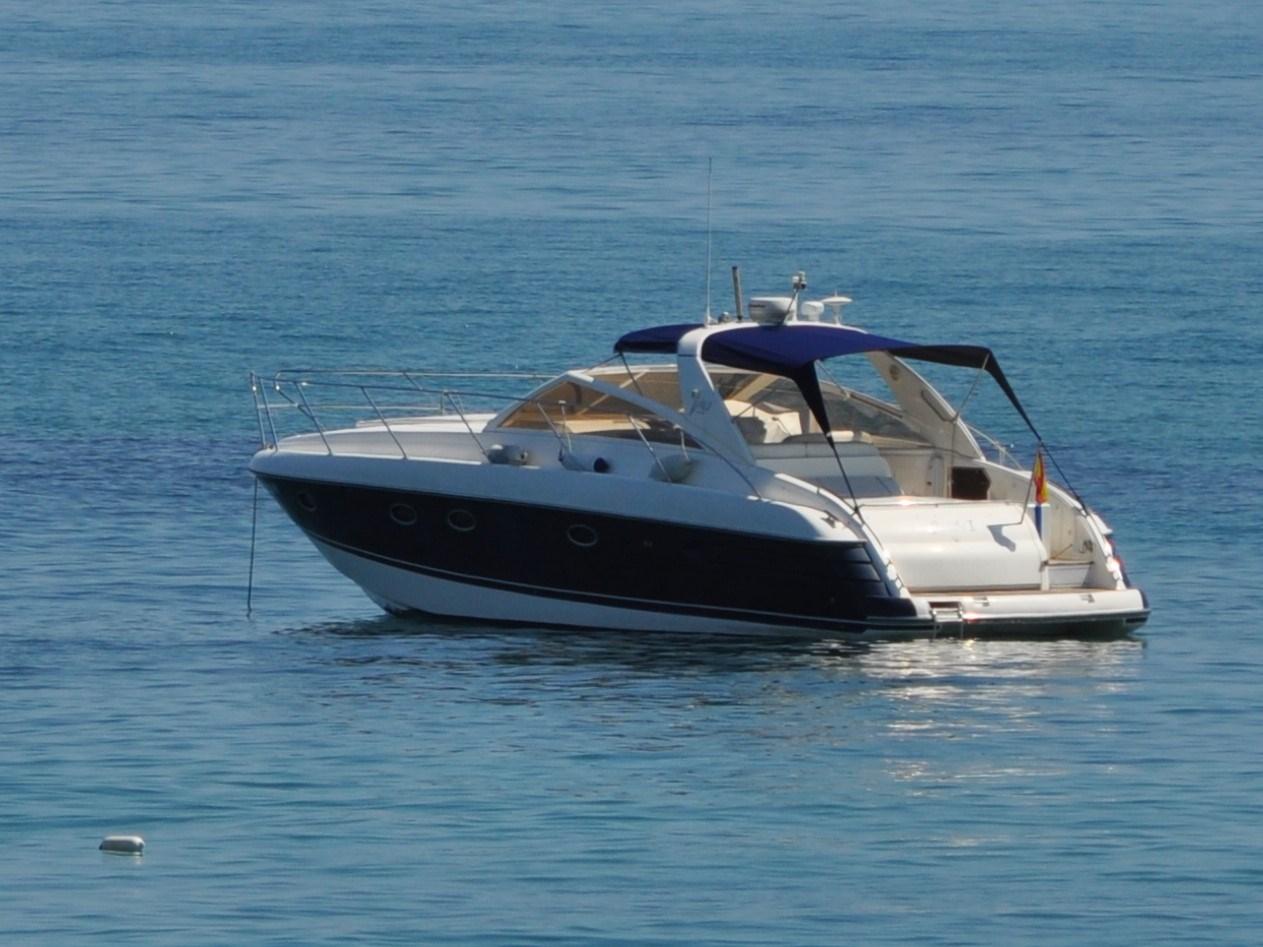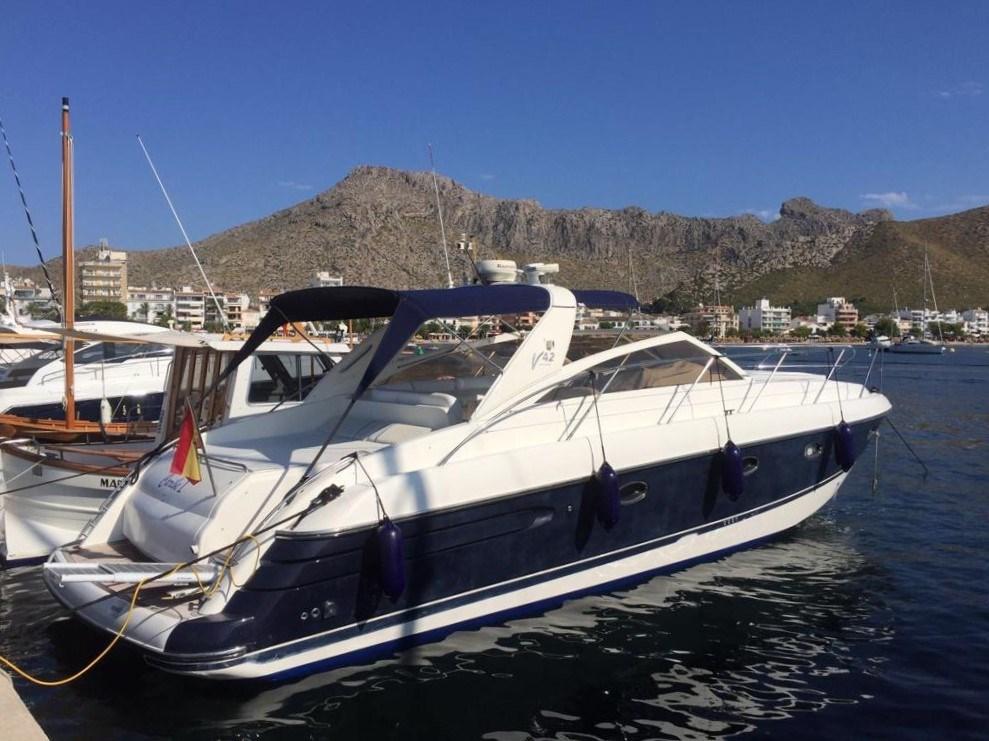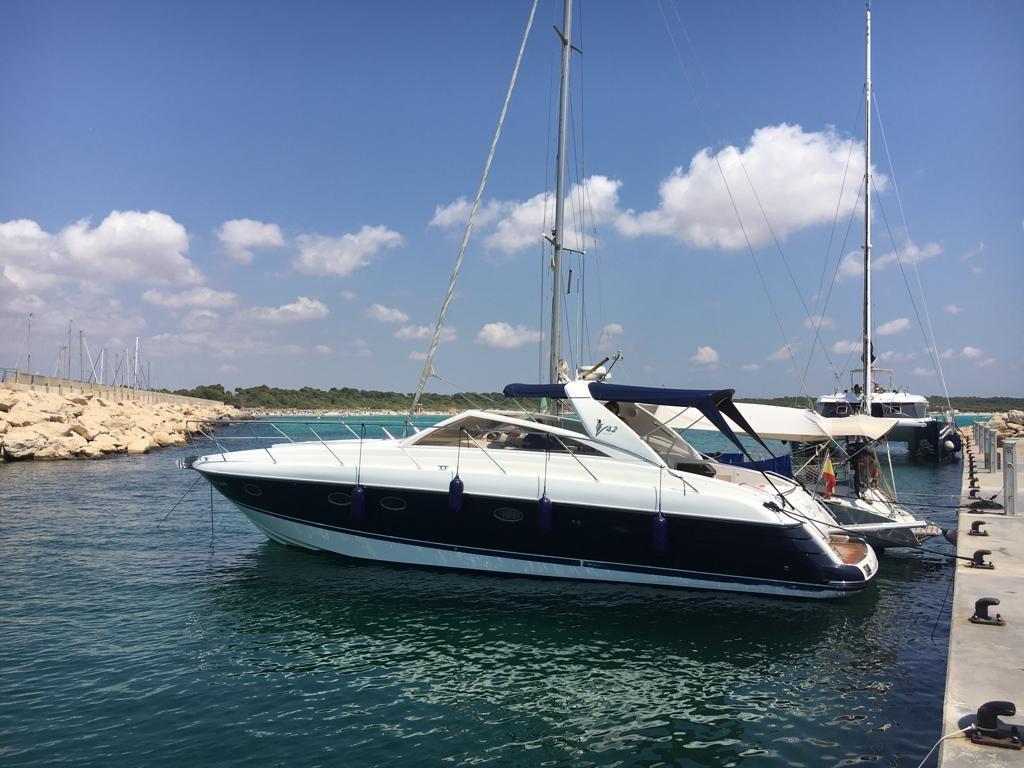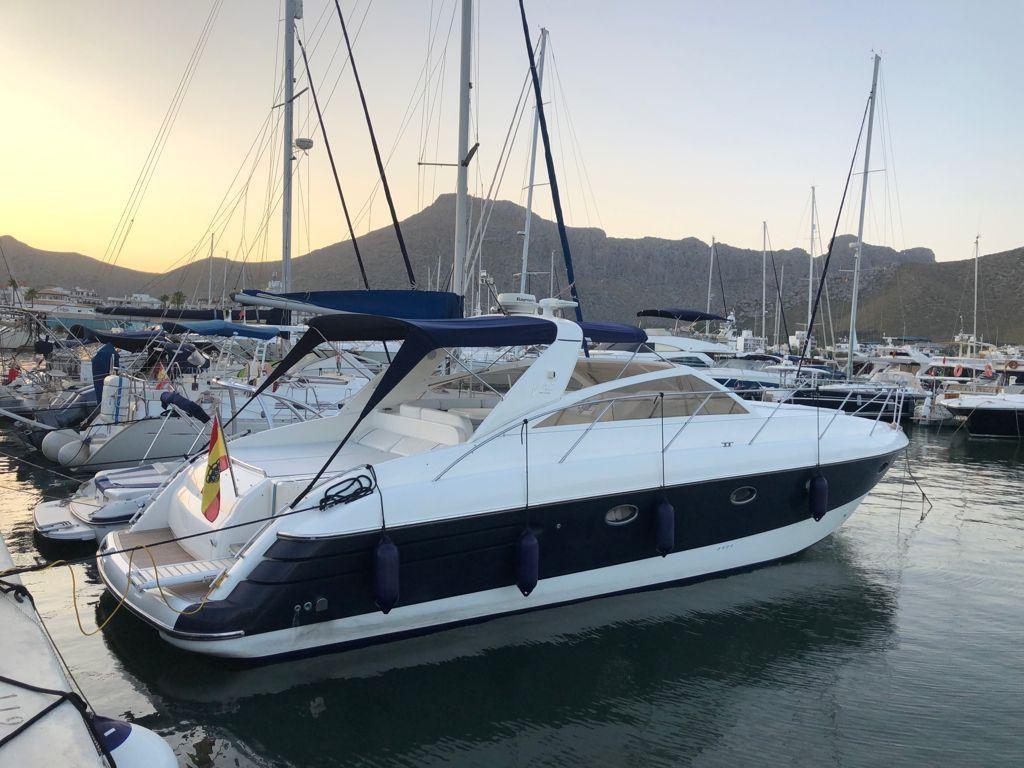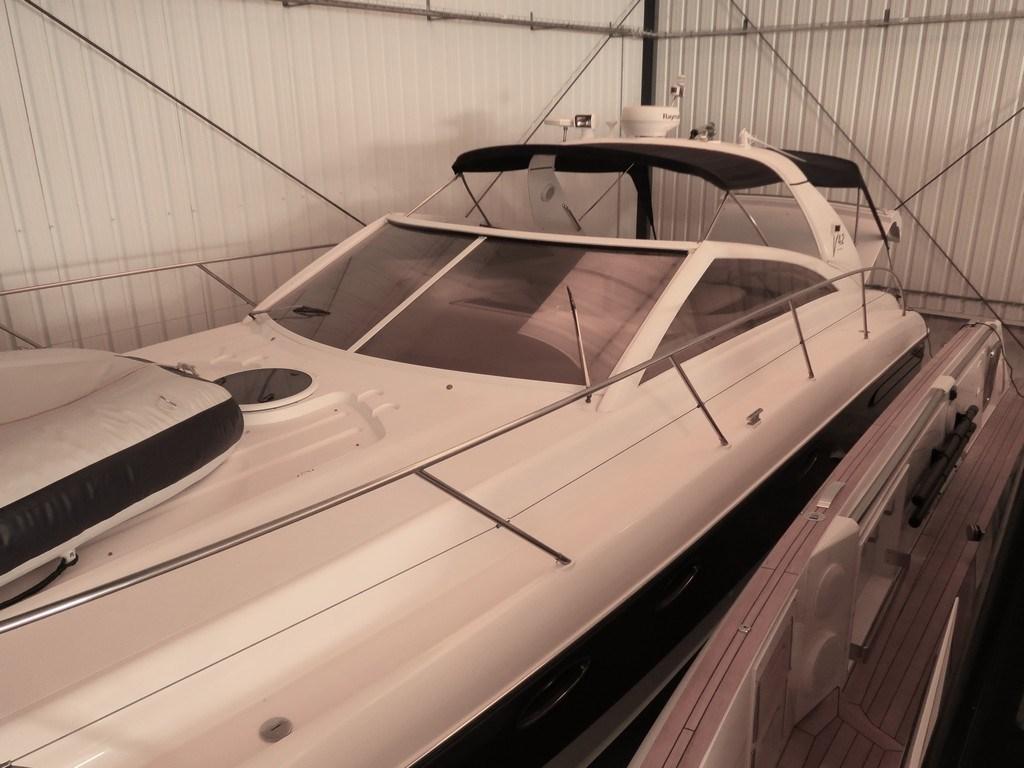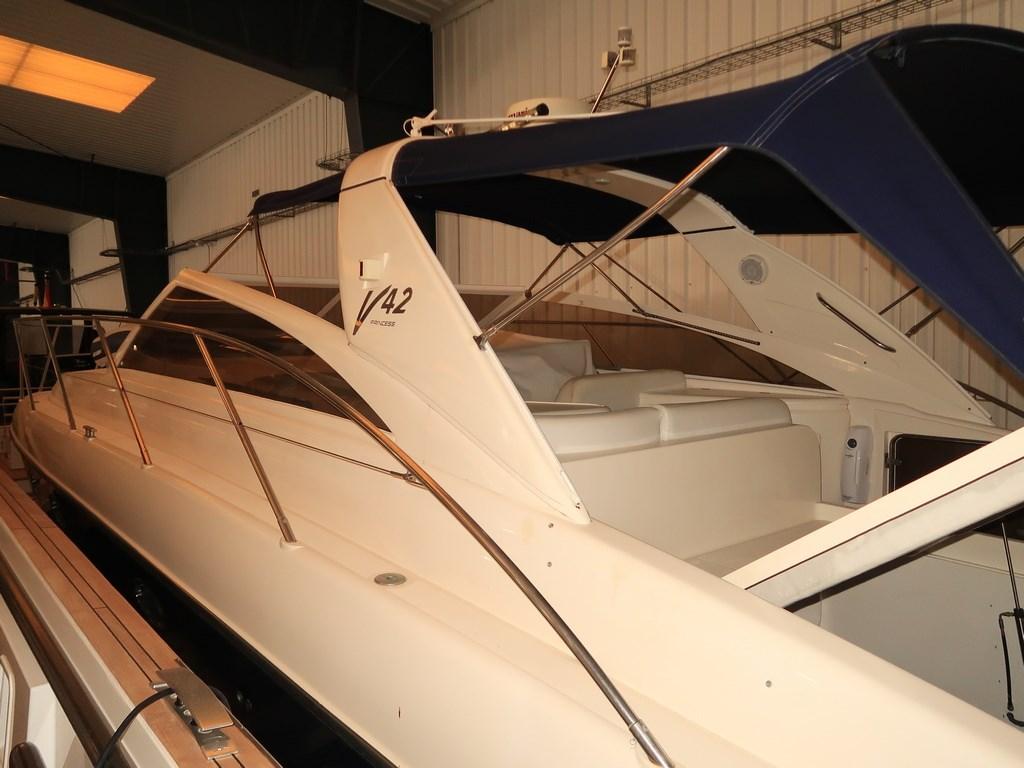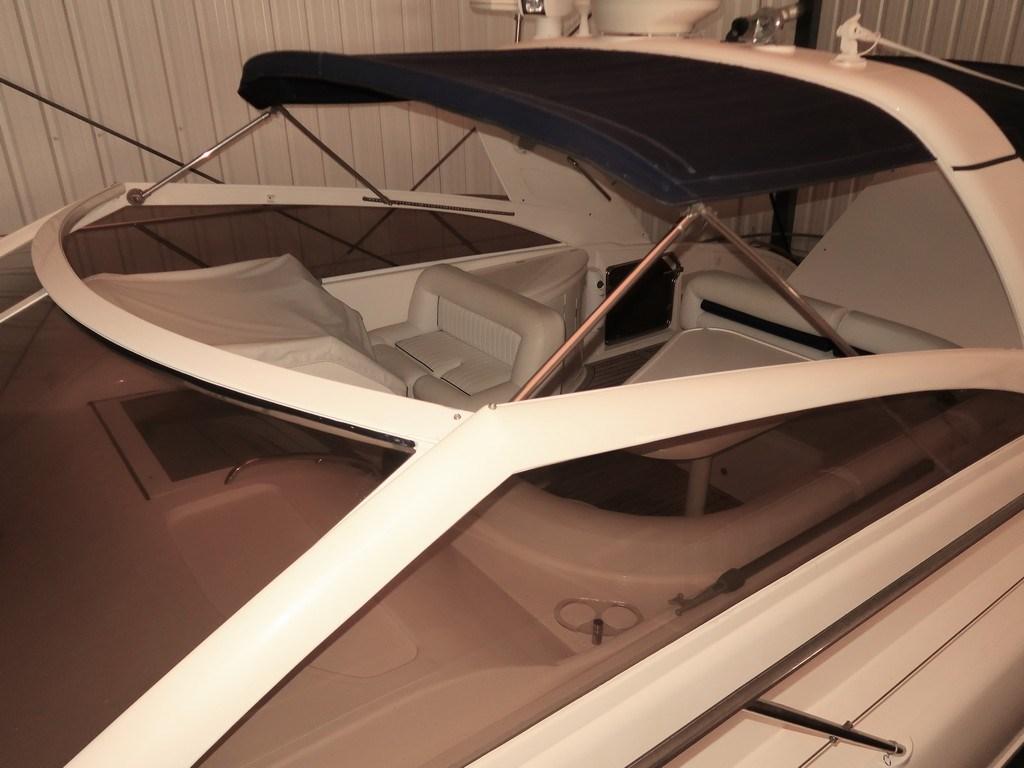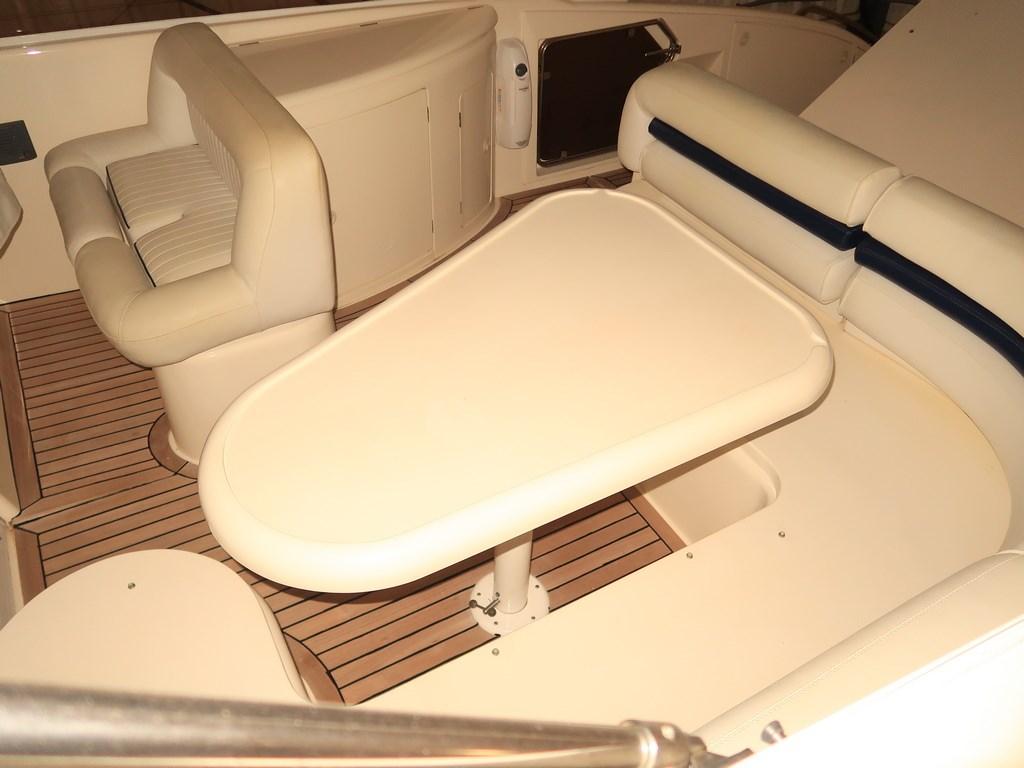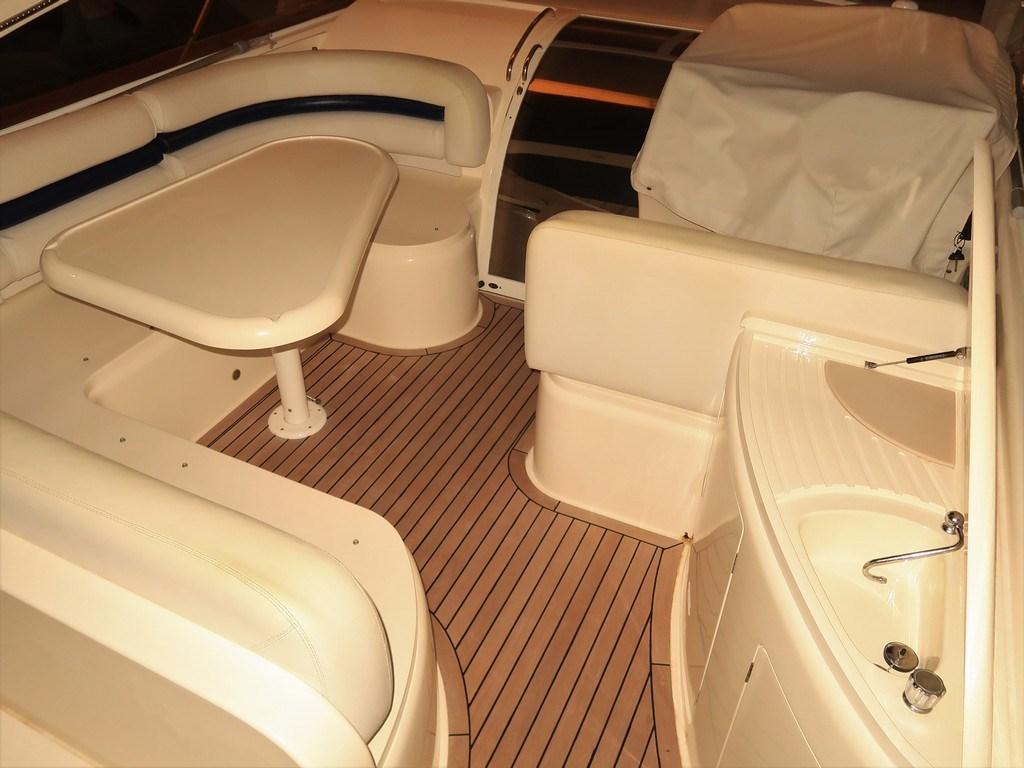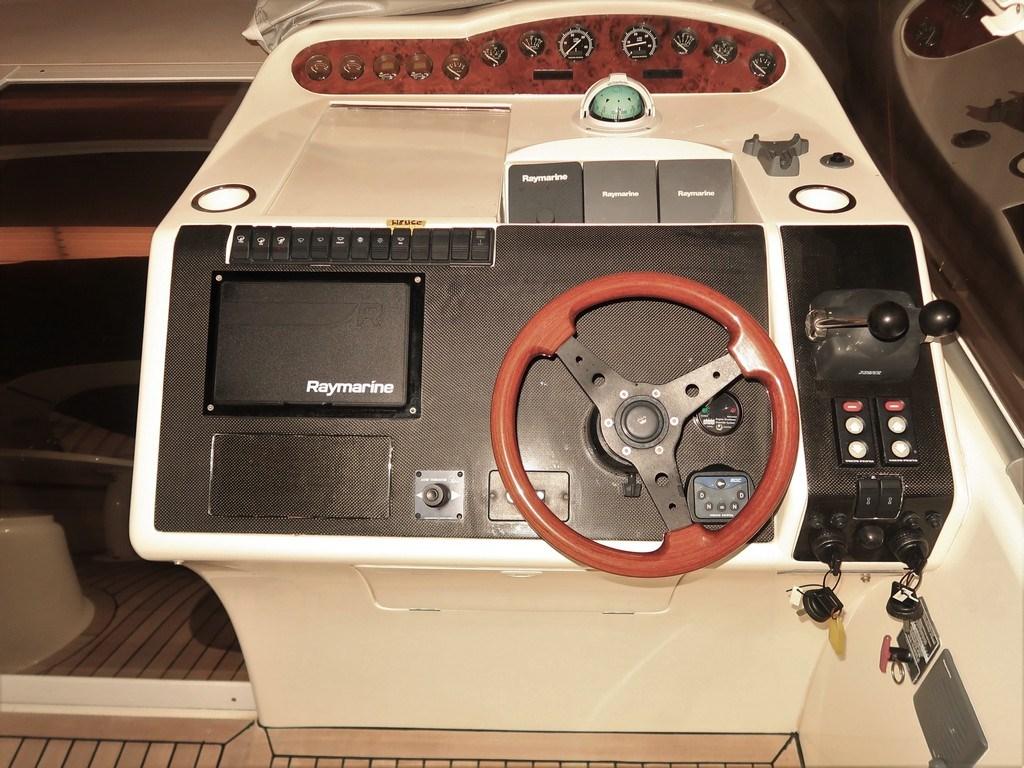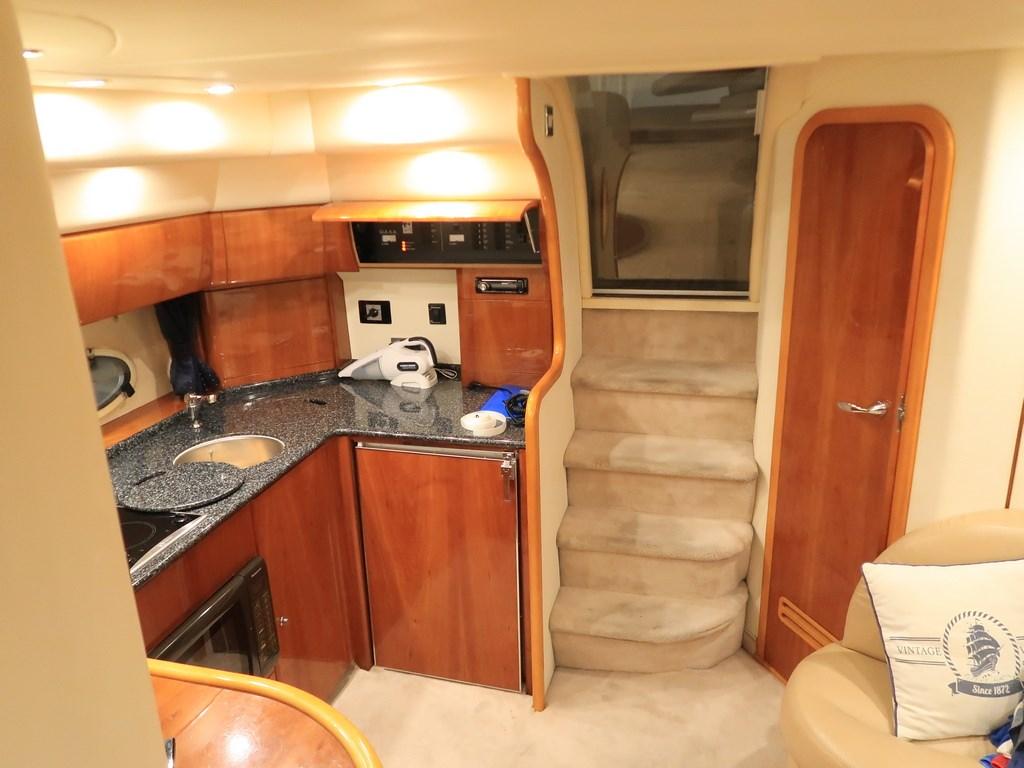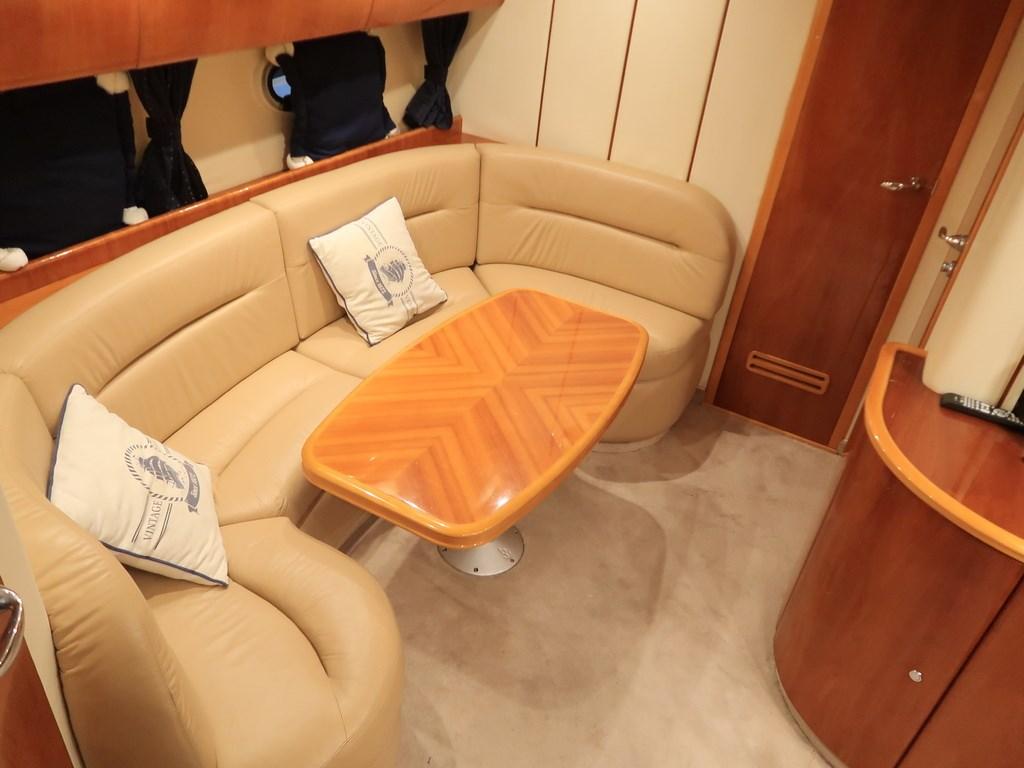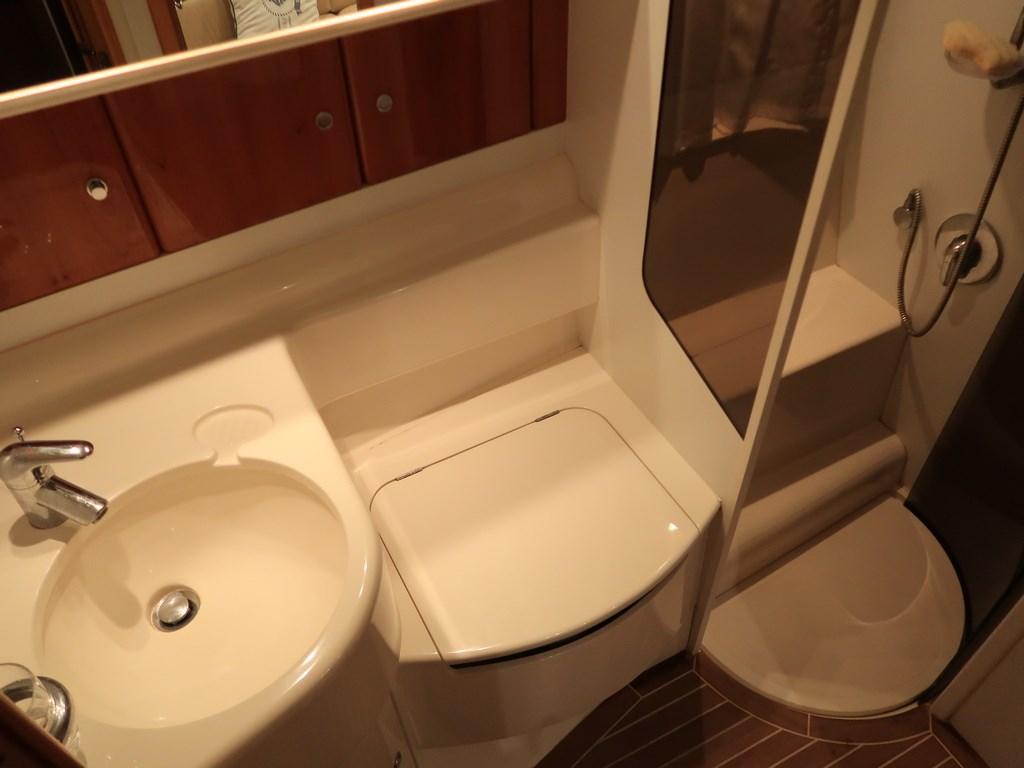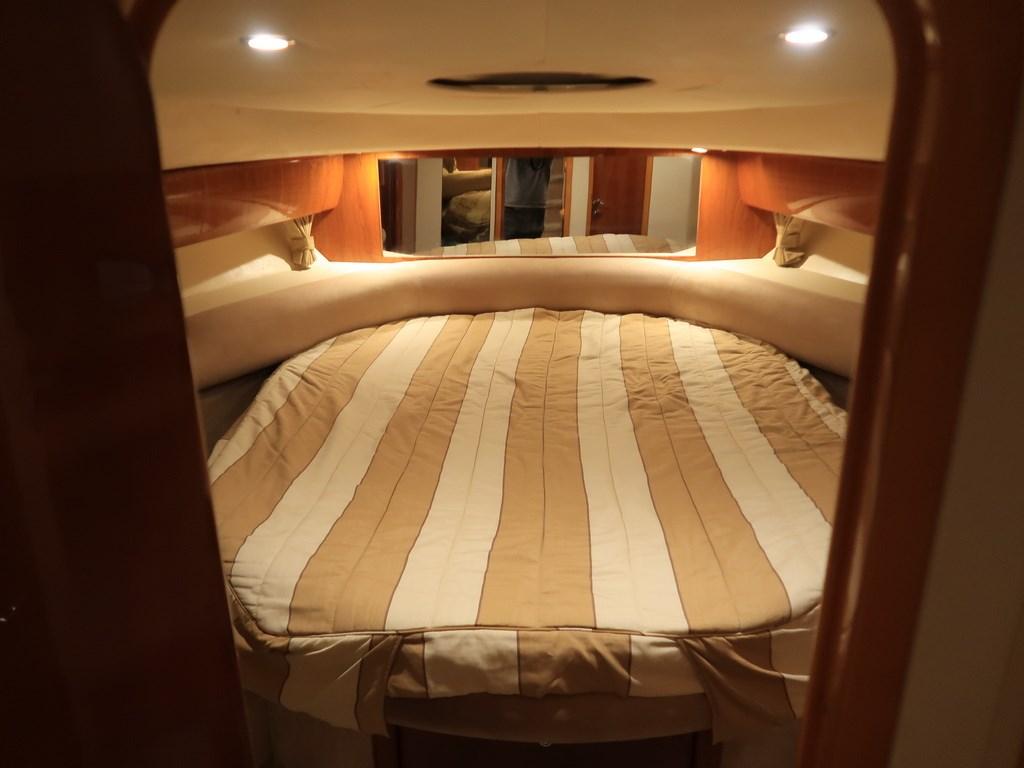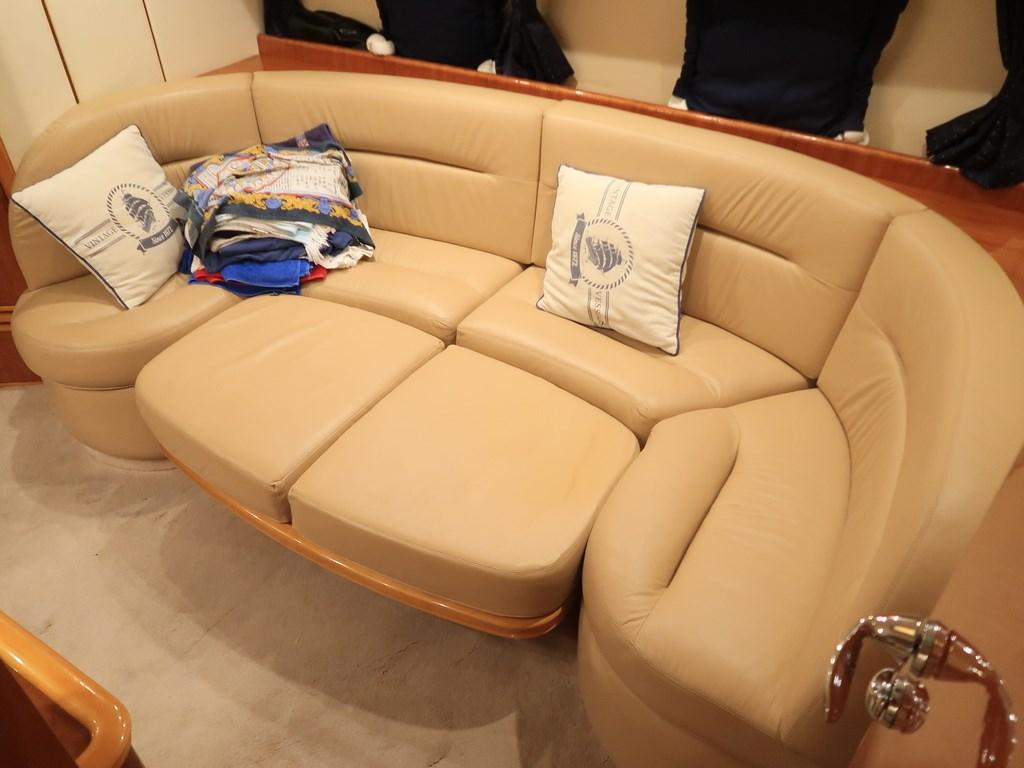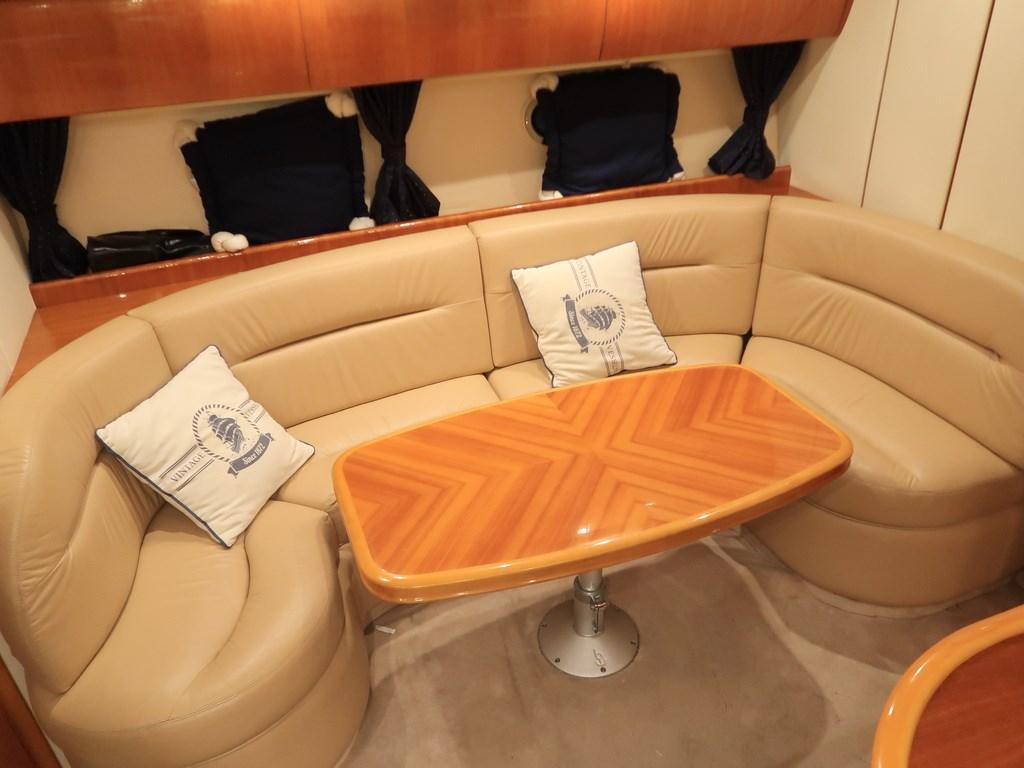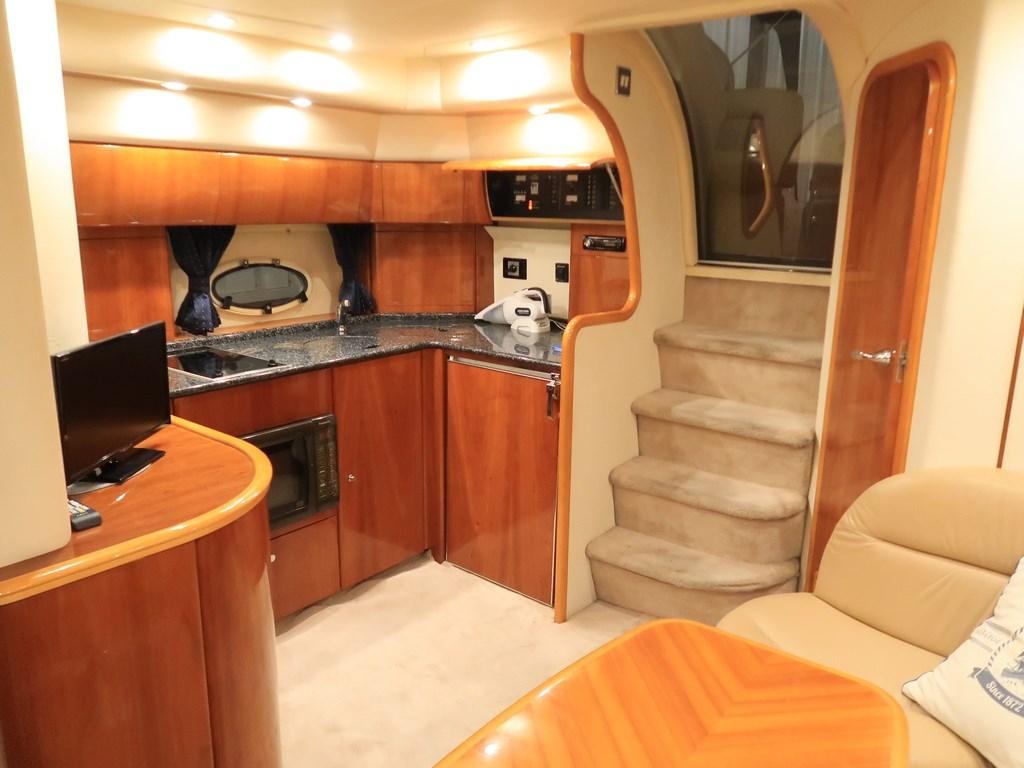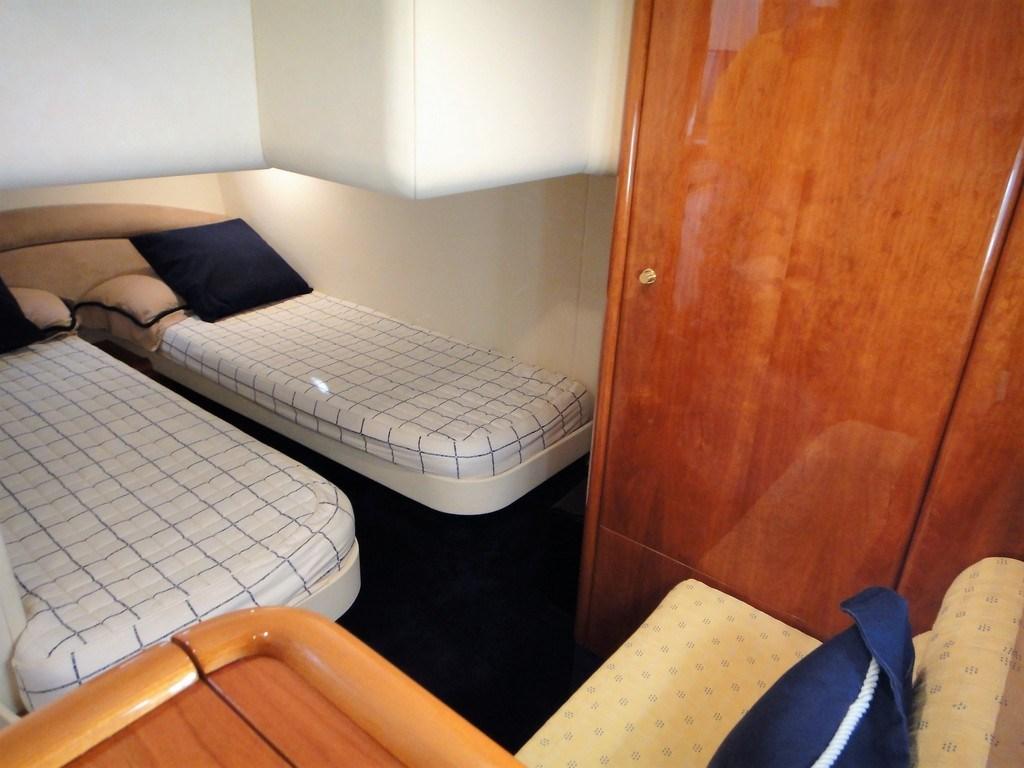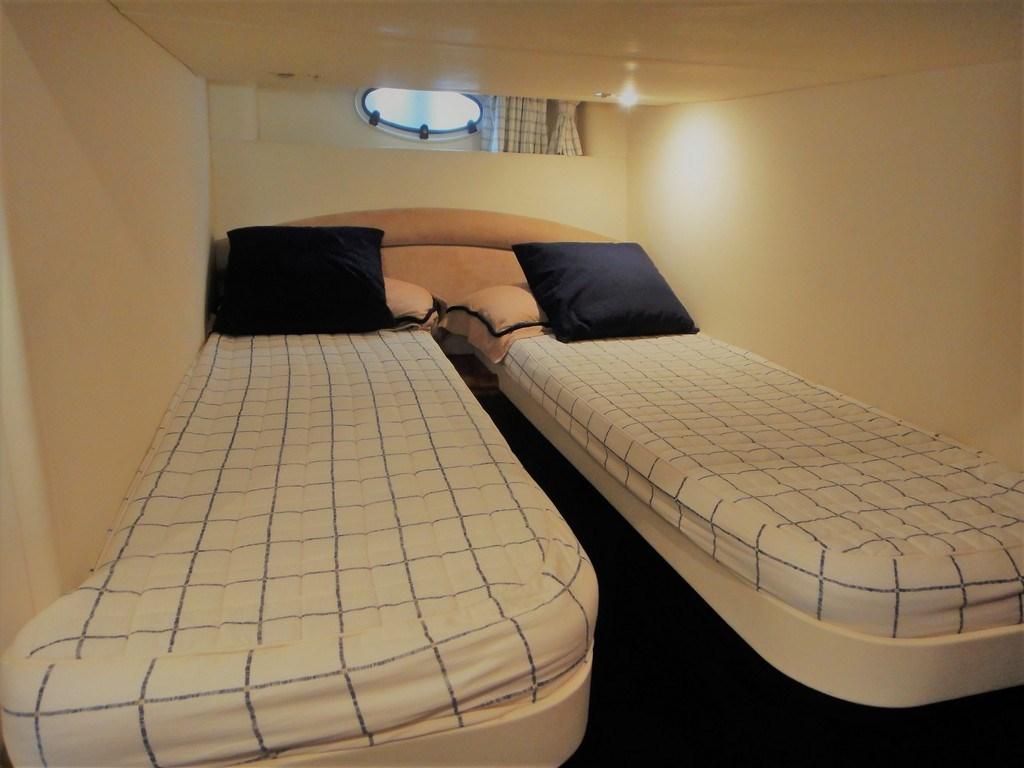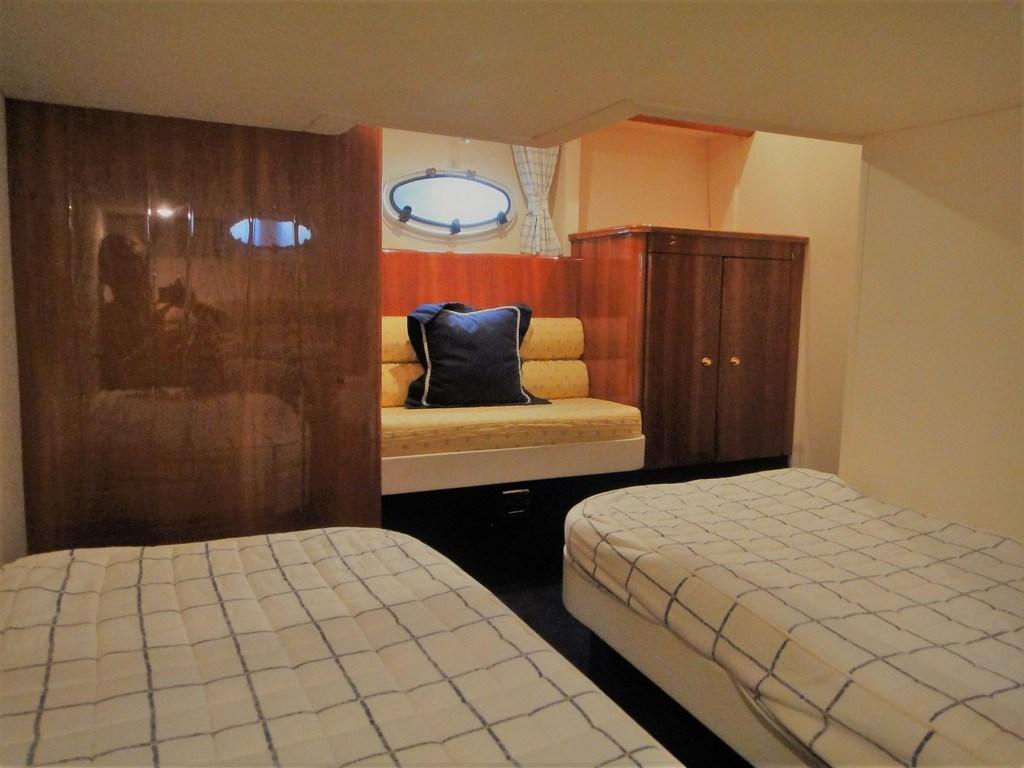 Description
This Princess V42 with aft sun bed layout is now for sale. Annually serviced and winter stored (hangar) in Mallorca. Her only owner bought it new in 2002 and kept it in very good condition. If you're looking for that precise model it's worth to visit her. VAT and spanish registration tax paid.. ITB certified until 2025. Full aintenance book since 2016.
Disclaimer
The Company offers the details of this vessel in good faith but cannot guarantee or warrant the accuracy of this information nor warrant the condition of the vessel. A buyer should instruct his agents, or his surveyors, to investigate such details as the buyer desires validated. This vessel is offered subject to prior sale, price change, or withdrawal without notice.
Italiano
Questa Princess V42 con layout del lettino di poppa è ora in vendita. Manutenzione annuale e stoccaggio invernale (hangar) a Maiorca. Il suo unico proprietario lo ha acquistato nuovo nel 2002 e lo ha mantenuto in ottime condizioni. Se stai cercando quel modello preciso vale la pena visitarla. IVA e tassa di registrazione spagnola pagate.. Certificato ITB fino al 2025. Libro completo di aintenance dal 2016.
Disconoscimento
La Società offre i dettagli di questa nave in buona fede, ma non può garantire o garantire l'accuratezza di queste informazioni né garantire le condizioni della nave. Un acquirente dovrebbe istruire i suoi agenti, o i suoi ispettori, a indagare su tali dettagli che l'acquirente desidera convalidare. Questa nave è offerta soggetta a vendita preventiva, modifica del prezzo o ritiro senza preavviso.
Française
Cette Princess V42 avec disposition de lit de bronzage arrière est maintenant à vendre. Entretenu annuellement et stocké en hiver (hangar) à Majorque. Son seul propriétaire l'a acheté neuf en 2002 et l'a gardé en très bon état. Si vous cherchez ce modèle précis, cela vaut la peine de lui rendre visite. TVA et taxe d'immatriculation espagnole payées.. Certifié ITB jusqu'en 2025. Livre d'aide complet depuis 2016.
Démenti
La Société offre les détails de ce navire de bonne foi, mais ne peut garantir l'exactitude de ces informations ni garantir l'état du navire. Un acheteur devrait demander à ses agents, ou à ses arpenteurs, d'enquêter sur les détails que l'acheteur souhaite valider. Ce navire est offert sous réserve d'une vente préalable, d'un changement de prix ou d'un retrait sans préavis.
Deutsch
Diese Princess V42 mit achternem Sonnenliegen-Layout steht jetzt zum Verkauf. Jährlich gewartet und im Winter gelagert (Hangar) auf Mallorca. Ihr einziger Besitzer kaufte es 2002 neu und hielt es in sehr gutem Zustand. Wenn Sie nach genau diesem Modell suchen, lohnt es sich, sie zu besuchen. Mehrwertsteuer und spanische Registrierungssteuer bezahlt.. ITB-zertifiziert bis 2025. Volles Aintenance-Buch seit 2016.
Verzichtserklärung
Das Unternehmen bietet die Details dieses Schiffes in gutem Glauben an, kann jedoch weder die Richtigkeit dieser Informationen garantieren noch den Zustand des Schiffes garantieren. Ein Käufer sollte seine Agenten oder seine Gutachter anweisen, die Details zu untersuchen, die der Käufer validieren möchte. Dieses Schiff wird vorbehaltlich des Vorverkaufs, der Preisänderung oder des Rücktritts ohne vorherige Ankündigung angeboten.
Español
Este Princess V42 con diseño de cama de popa ya está a la venta. Servicio anual y almacén de invierno (hangar) en Mallorca. Su único dueño lo compró nuevo en 2002 y lo mantuvo en muy buenas condiciones. Si estás buscando ese modelo preciso vale la pena visitarla. IVA e impuesto de matriculación español pagado.. Certificado ITB hasta 2025. Libro de asistencia completo desde 2016.
Renuncia
La Compañía ofrece los detalles de este buque de buena fe, pero no puede garantizar ni garantizar la exactitud de esta información ni garantizar el estado de la embarcación. Un comprador debe instruir a sus agentes, o a sus topógrafos, para que investiguen los detalles que el comprador desea validar. Este buque se ofrece sujeto a venta previa, cambio de precio o retiro sin previo aviso.
Россию
Этот Princess V42 с кормовой планировкой шезлонга теперь продается. Ежегодно обслуживается и зимой хранится (ангар) на Майорке. Ее единственный владелец купил его новым в 2002 году и сохранил его в очень хорошем состоянии. Если вы ищете именно эту модель, стоит посетить ее. НДС и испанский регистрационный налог уплачены.. ITB сертифицирован до 2025 года. Полная аналитическая книга с 2016 года.
Отказ
Компания добросовестно предлагает детали этого судна, но не может гарантировать или гарантировать точность этой информации или гарантировать состояние судна. Покупатель должен поручить своим агентам или своим инспекторам исследовать такие детали, которые покупатель желает подтвердить. Это судно предлагается при условии предварительной продажи, изменения цены или отзыва без предварительного уведомления.
Disclaimer
HMY Yacht Sales, Inc. is pleased to assist you in the purchase of this vessel. This boat is centrally listed by Marivent Yachts S.L..
Gross Weight:
19,621.14 lb
Fuel Capacity:
730 Liters
Engine Manufacturer:
Volvo Penta
Vessel Overview
Navigation category
B - Offshore
Additional accessories
Electronic tools for navigation
Rudder angle indicator, Electronic engine control, 2 Display (Raymarine (tridata)), DSC vhf (Raymarine RAY240E (renewed)), Autopilot (Raymarine (new display)), Chartplotter (Raymarine (new)).
Staging and technical
Anchor, Water pressure pump, Life Raft, Batteries, Canvas Wing, Special Colour (Blue), Electric Flaps, Tender Garage (under aft sunbed), Gangway (hydraulic), Platform, Automatic Bilge Pump, Entry door (Sliding), Shorepower connector, Tender (with 2,5 hp Honda outboard engine), Horn.
Domestic Facilities onboard
Warm Water System, 220V Outlets.
Security equipment
Barometer, Safety equipment within 12 miles.
Entertainment
4 Speakers, Hi-Fi.
Kitchen and appliances
ICE Maker, Ceramic hot plate.
Upholstery
2 Bimini (arch canvas fwd and aft), Stern Cushions, Bow Cushions, Instrument Cover.
Web Links
Return to Yachts for Sale
Get more information