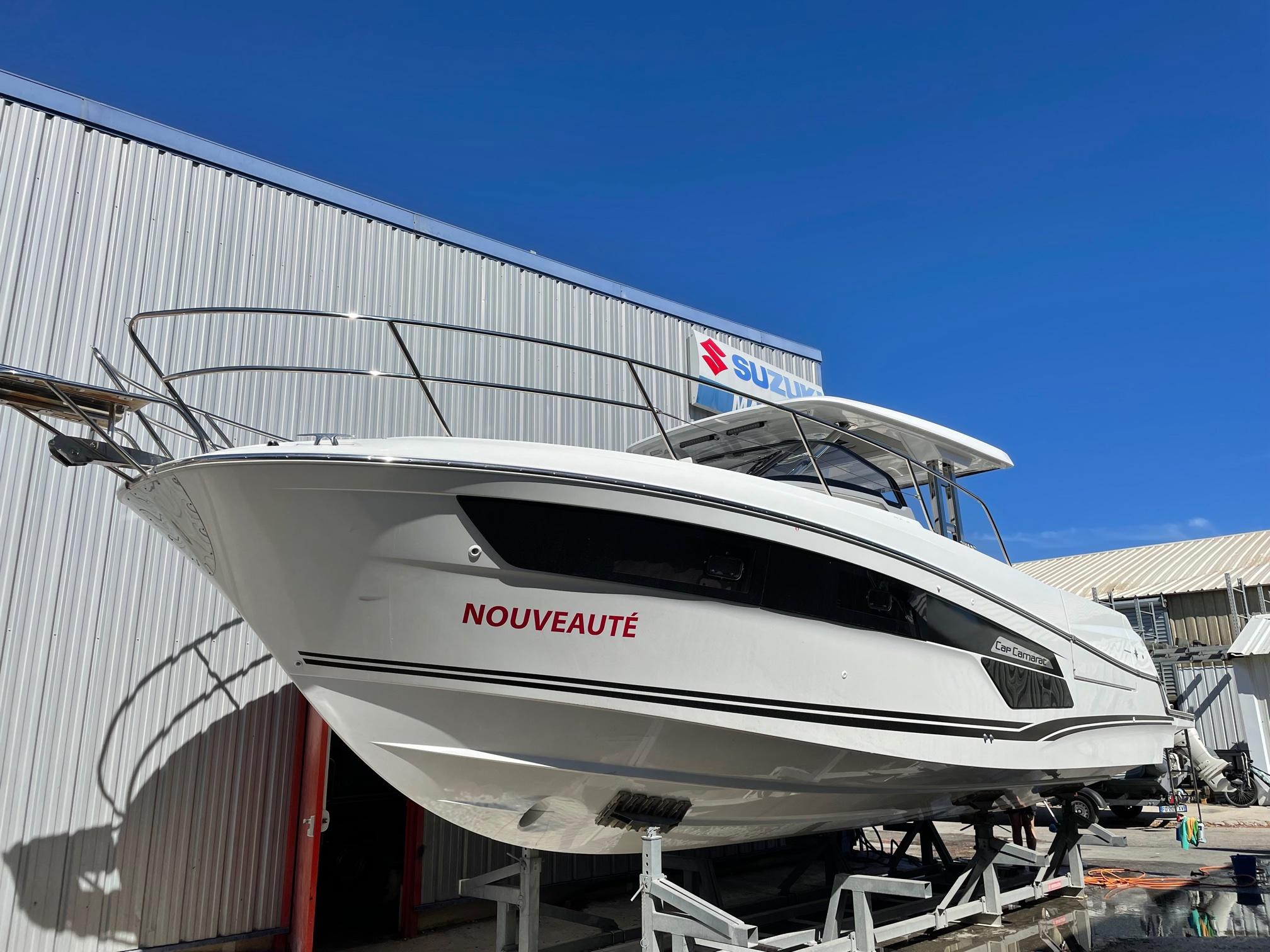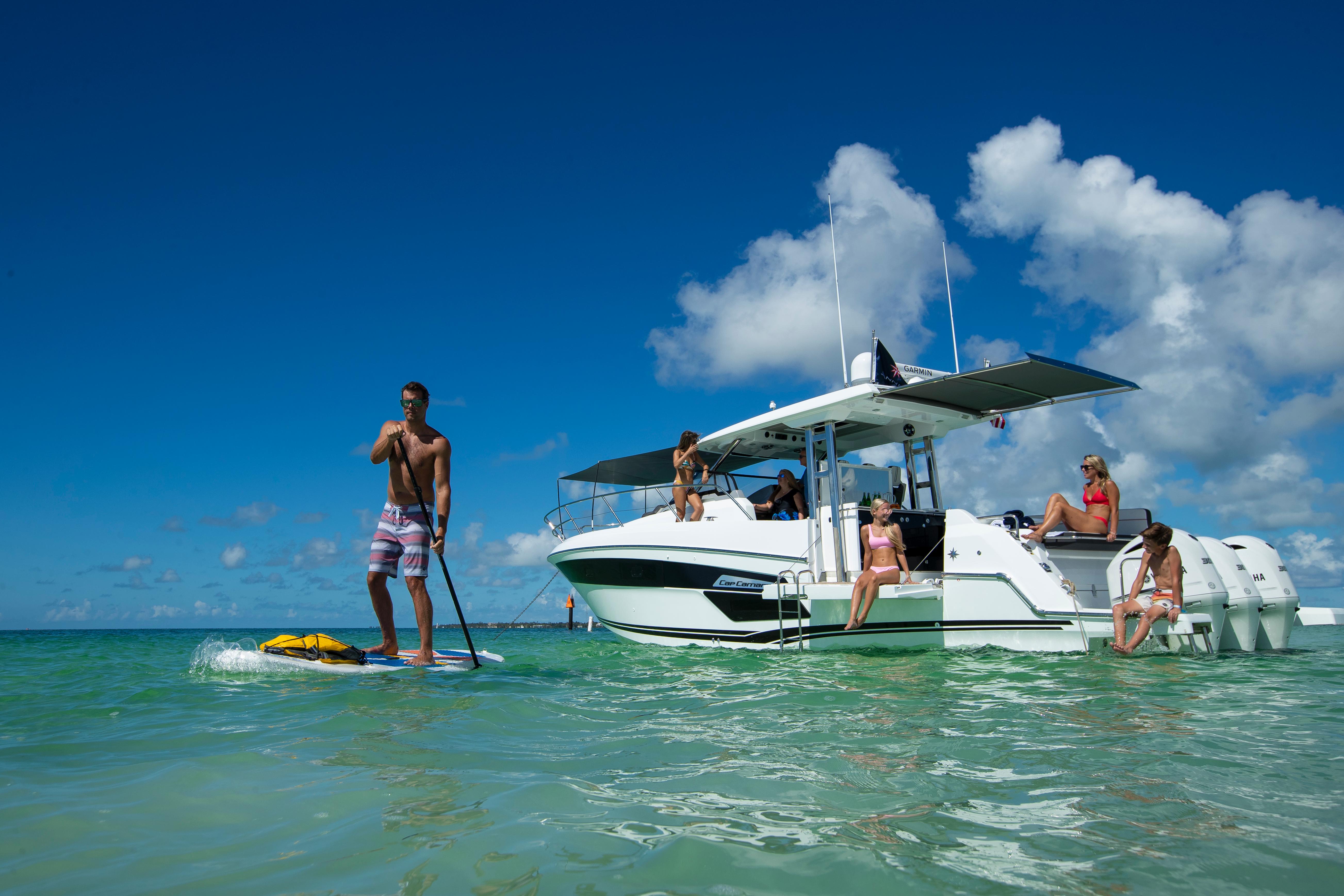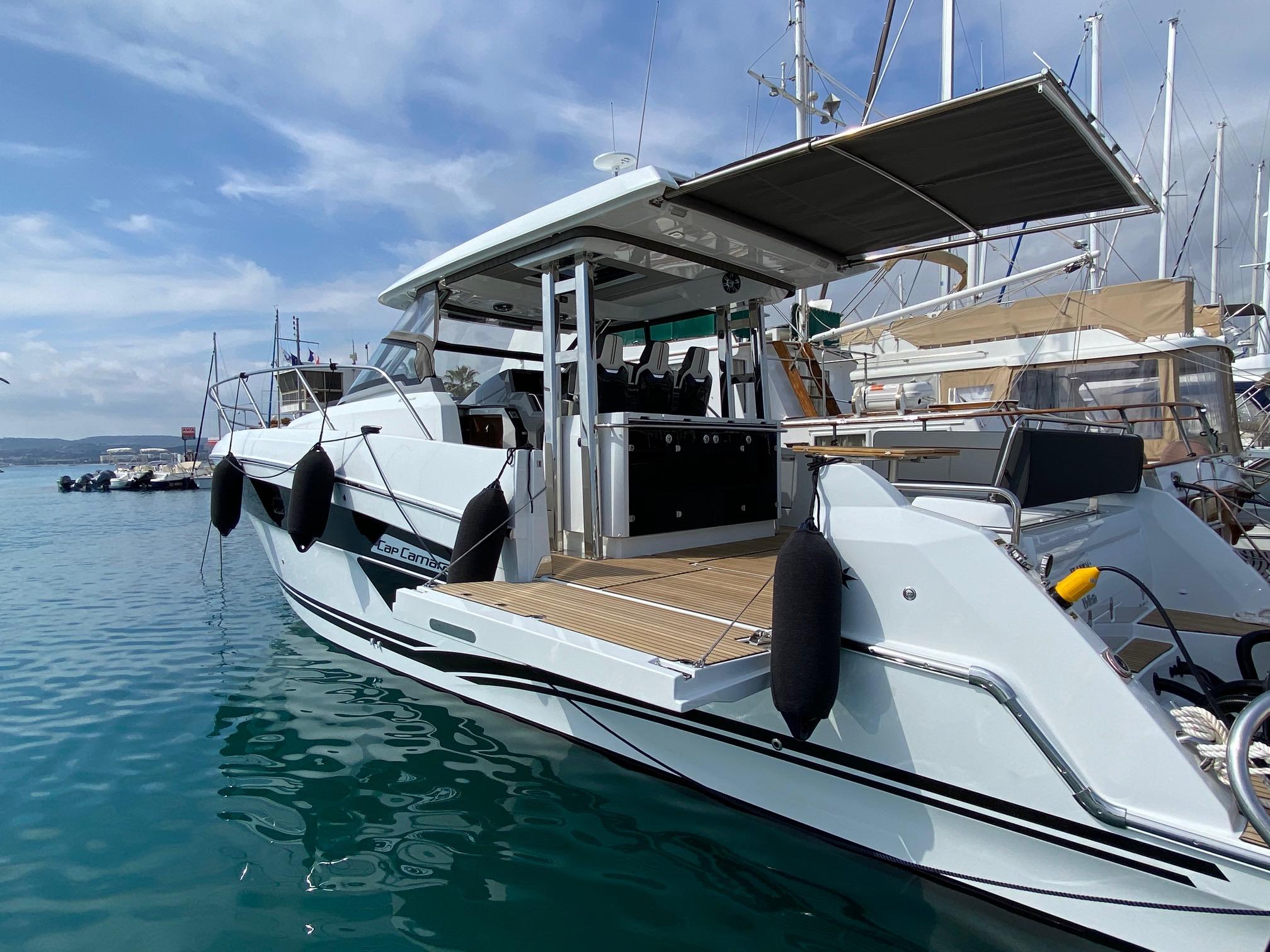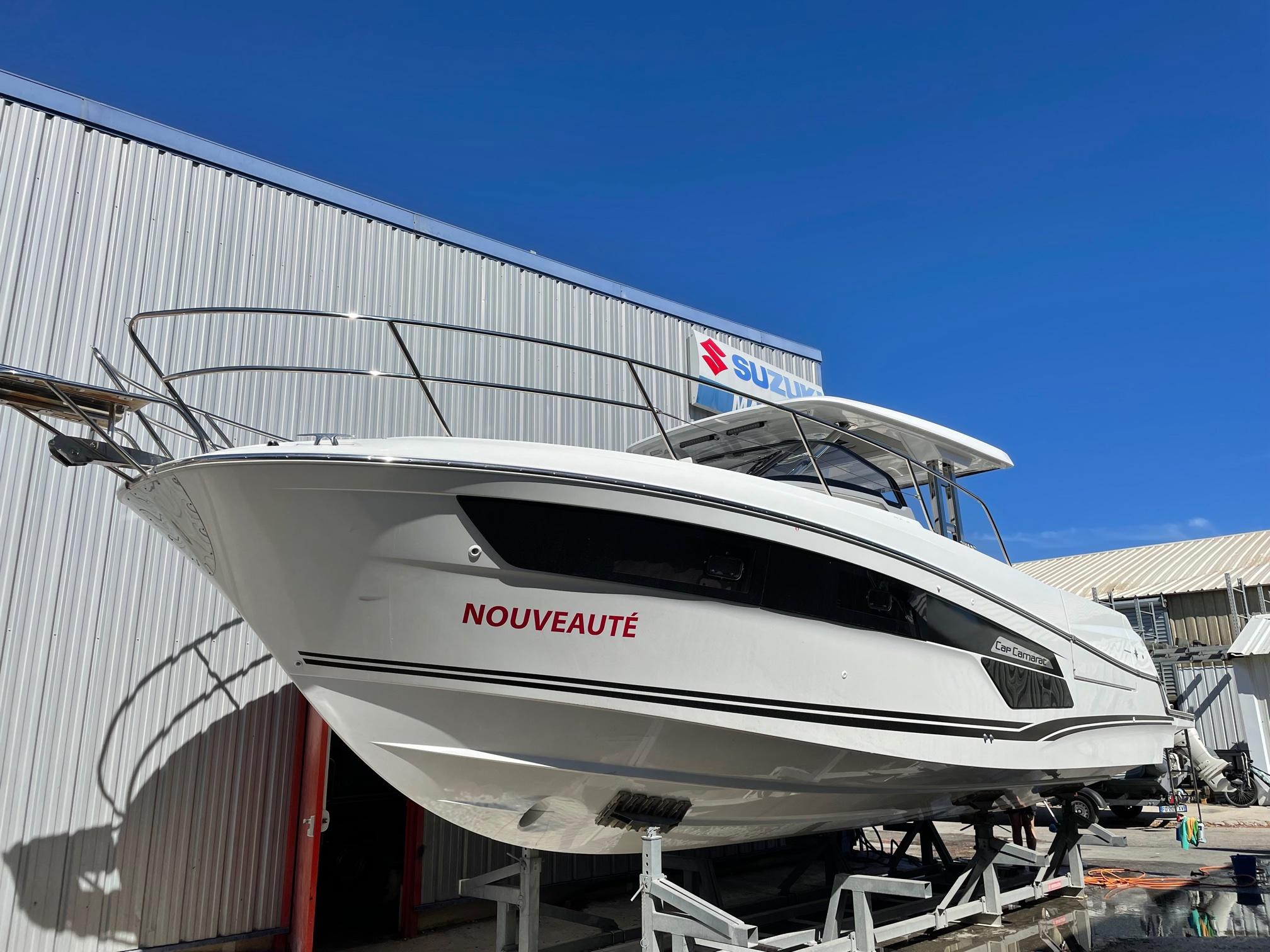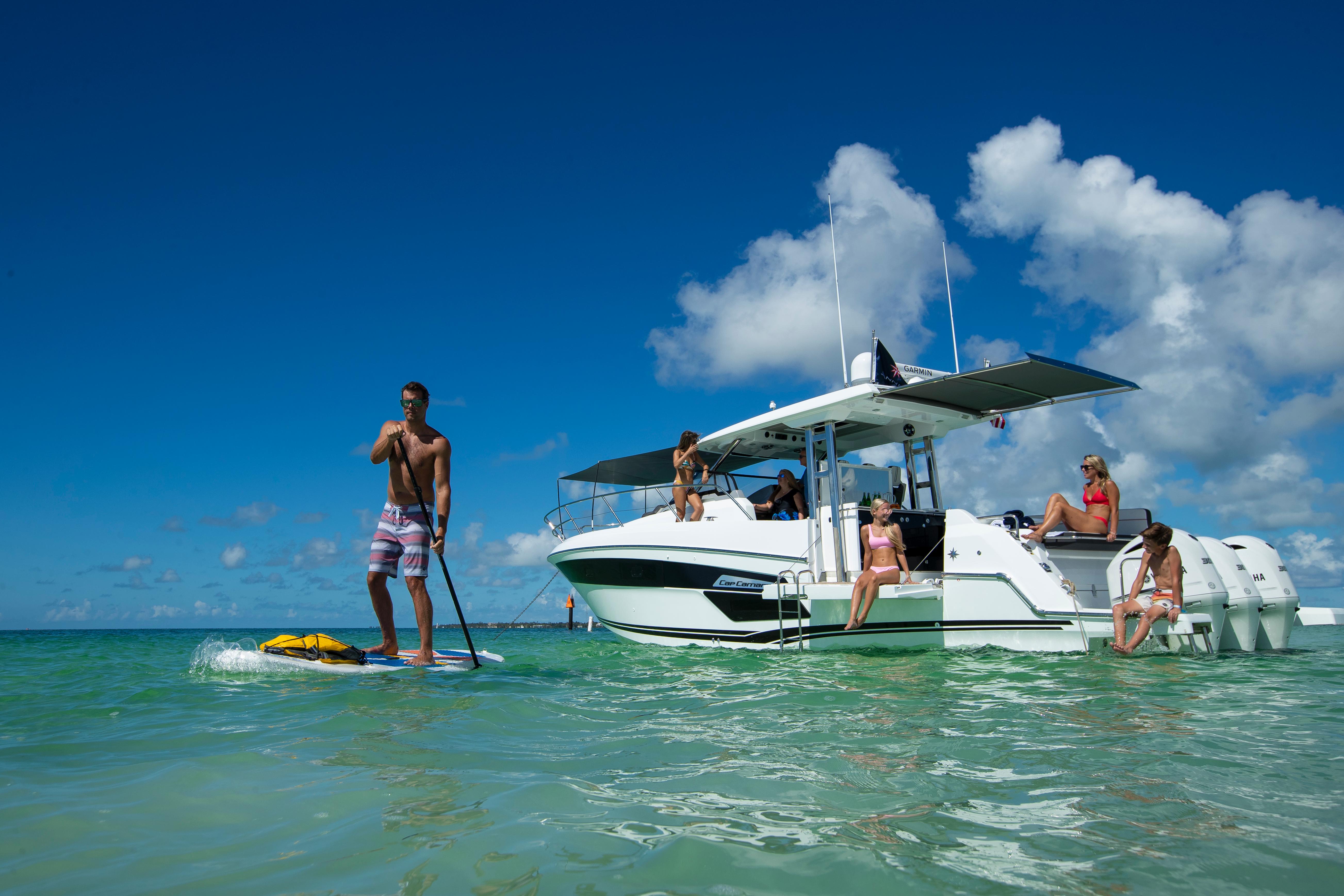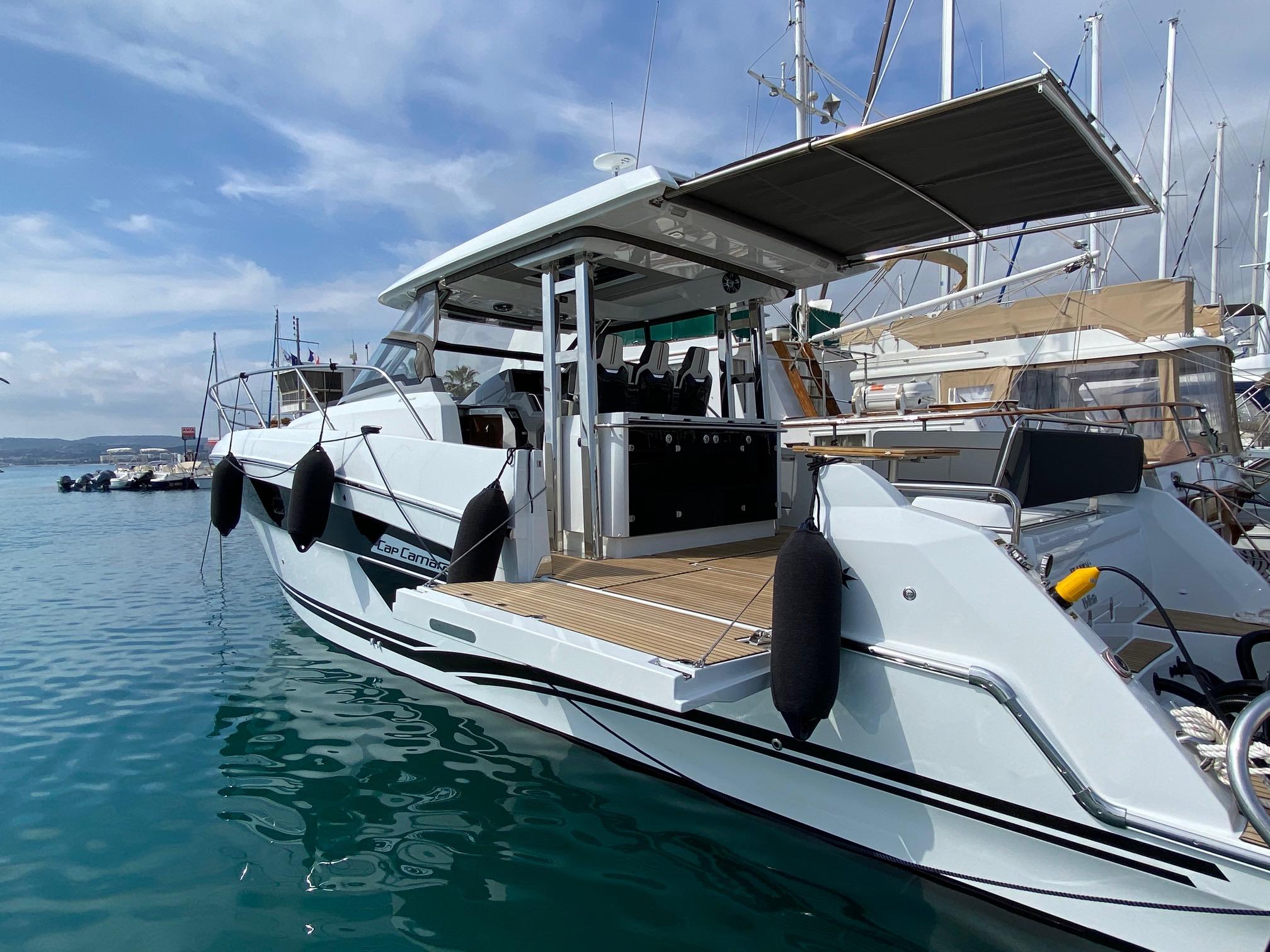 Description
Rare, stock 2022 ! Dispso spring 2022
ready to sail discounted offer ! 3x300hp Mercury + Joystick 490 600€TTC
full equipment included ! Genset, air conditioning, electric cap… etc (see def below)
leasing on measure, place of port available, possibility management renting
Your turnkey boat project in the Alpes Maritimes and the Var !
Contact us : +33 6 30 17 03 41 – +33 4 94 12 52 48
CAP CAMARAT 12.5 WA equipped with  Mercury 3 X 300 XL – CXL – XXL cold fusion JPO engines
T top with rigid roof and low bearing, including : T top with polyester roof and stainless steel legs – electric hatch – searchlight – front and rear cockpit lights (2 front and 2 rear)
Premiere finish 2022
Including:                                                           
– Windlass control in cockpit                                                 
– Forward cockpit cushions                           
– LED interior mood lighting             
– Exterior ambient LED lighting   
– Electric flaps                                                         
– 42L fridge in leaning post
2022 garmin electronics pack
comprising                                                           
– 2 Garmin GPS MAP 1223 XSV                                                 
– GT15M-IH sensor + MAP
 engine data display on garmins screens   
premium audio pack 2022 for boat with T top
Including :                                                          
Fusion RA70N pack                                                     
1 amplifier                                                       
4×2 speakers (2 interior, 2 front cockpit, 2 rear cockpit, 2
t-top)                                                                
1 subwoofer                                                           
Connection to Garmin screens   
Mooring kit
Weeting kit
Stainless steel bow protection
electric sliding hat – Dark Smoke colour
Removable swim ladder for side deck
protective cover kit
Including :                                                          
– Dashboard cover                                
– Polar and outdoor kitchen seat cover  
– Rear seat covers                                      
compatible with and without T-Top     
Removable ski mast
2 racks
teak cockpit table with telescopic legs + rear sunbathing area
Complement for front sundeck
boat propeller with batteries
Direct fresh water connection to the dock
Panda diesel generator 6.4 Kva 220V 50HZ
2 racks of led projectors on roof (requires T TOP option)
2nd cockpit fridge 49 L  
Electric cockpit grill 220V
220V ceramic hob for cockpit galley
20.000 BTU 220V50HZ air conditioning on dock and generator
Supplement for double square bed marlin pure with or jumbo pure
– Table on telescopic legs                                         
– Cushion                                                             
– Curtain between saloon and kitchen    
TV antenna
Cockpit TV premount
VHF garmin 315
2 windscreen wipers and washers
AFT cockpit – bathing platforms and deck teak slats
Side decks and forwards cockpit teak slats
Coastal safety equipment – 6 miles for 6 people
Our offer includes the above equipment as well as :
The installation over 2 days by a specialized technician, after sales service.
Assembly package – 3 engines
Preparation, delivery, registration, testing and handover package
Epoxy and anti fulling hull preparation
Euro-Voiles / Riviera Plaisance has nearly 60 employees and over 50 years of experience and passion.
We have everything to prepare your boat and accompany you on your Mediterranean voyages.
Voted best Jeanneau dealer for the 5th YEAR IN A row!
* Offer valid only on stock boat riviera plaisance euro voiles. The only applicable price is the one in force on the day of delivery to your JEANNEAU PRESTIGE eurovoiles/riviera plaisance dealer. We reserve the right to modify it without notice as well as the characteristics of the model.
Disclaimer
HMY Yacht Sales, Inc. is pleased to assist you in the purchase of this vessel. This boat is centrally listed by Euro-Voiles / Riviera Plaisance.
Fuel Capacity:
1150 Liters
Vessel Overview
Steering System
Joystick Control
EQUIPMENT
CAP CAMARAT 12.5 WA EQUIPPED WITH MERCURY 3 X 300 XL - CXL - XXL COLD FUSION JPO ENGINES

T TOP WITH RIGID ROOF AND LOW BEARING, including : T TOP with polyester roof and stainless steel legs - electric hatch - searchlight - front and rear cockpit lights (2 front and 2 rear)

PREMIERE FINISH 2022
INCLUDING:                                                           
- Windlass control in cockpit                                                 
- Forward cockpit cushions                           
- LED interior mood lighting             
- Exterior ambient LED lighting   
- Electric flaps                                                         
- 42L fridge in leaning post

2022 GARMIN ELECTRONICS PACK
COMPRISING                                                            
- 2 Garmin GPS MAP 1223 XSV                                                 
- GT15M-IH sensor + MAP
 ENGINE DATA DISPLAY ON GARMINS SCREENS   

PREMIUM AUDIO PACK 2022 FOR BOAT WITH T TOP
INCLUDING :                                                          
Fusion RA70N pack                                                     
1 amplifier                                                       
4x2 speakers (2 interior, 2 front cockpit, 2 rear cockpit, 2
t-top)                                                                
1 subwoofer                                                           
Connection to Garmin screens   

MOORING KIT
WETTING KIT
STAINLESS STEEL BOW PROTECTION
ELECTRIC SLIDING HAT - Dark Smoke colour
REMOVABLE SWIM LADDER FOR SIDE DECK
PROTECTIVE COVER KIT
Including :                                                          
- Dashboard cover                                
- Polar and outdoor kitchen seat cover  
- Rear seat covers                                      
compatible with and without T-Top     
REMOVABLE SKI MAST
2 RACKS
TEAK COCKPIT TABLE WITH TELESCOPIC LEGS + REAR SUNBATHING AREA
COMPLEMENT FOR FRONT SUNDECK
BOAT PROPELLER with batteries
DIRECT FRESH WATER CONNECTION TO THE DOCK
PANDA DIESEL GENERATOR 6.4 Kva 220V 50HZ
2 RACKS OF LED PROJECTORS ON ROOF (requires T TOP option)
2ND COCKPIT FRIDGE 49 L  
ELECTRIC COCKPIT GRILL 220V
220V CERAMIC HOB FOR COCKPIT GALLEY
20.000 BTU 220V50HZ AIR CONDITIONING ON DOCK AND GENERATOR
SUPPLEMENT FOR DOUBLE SQUARE BED MARLIN PURE WHITE or JUMBO PURE
- Table on telescopic legs                                         
- Cushion                                                             
- Curtain between saloon and kitchen    
TV ANTENNA
COCKPIT TV PREMOUNT
VHF GARMIN 315
2 WINDSCREEN WIPERS AND WASHER
AFT COCKPIT - BATHING PLATFORMS AND DECK TEAK SLATS
SIDE DECKS AND FORWARD COCKPIT TEAK SLATS
COASTAL SAFETY EQUIPMENT - 6 MILES FOR 6 PEOPLE

Our offer includes the above equipment as well as :
The installation over 2 days by a specialised technician, after sales service.
ASSEMBLY PACKAGE - 3 ENGINES
PREPARATION, DELIVERY, REGISTRATION, TESTING AND HANDOVER PACKAGE
EPOXY AND ANTIFOULING HULL PREPARATION
Clause de non-garantie
La société offre les informations relatives à ce navire de bonne foi mais n'est pas en mesure de garantir l'exactitude de ces informations ni l'état du navire. Il revient à l'acheteur d'instruire ses agents ou ses experts afin de vérifier et de faire valider les informations de son choix. Ce navire est offert sous réserve d'une vente préalable
Return to Yachts for Sale
Get more information