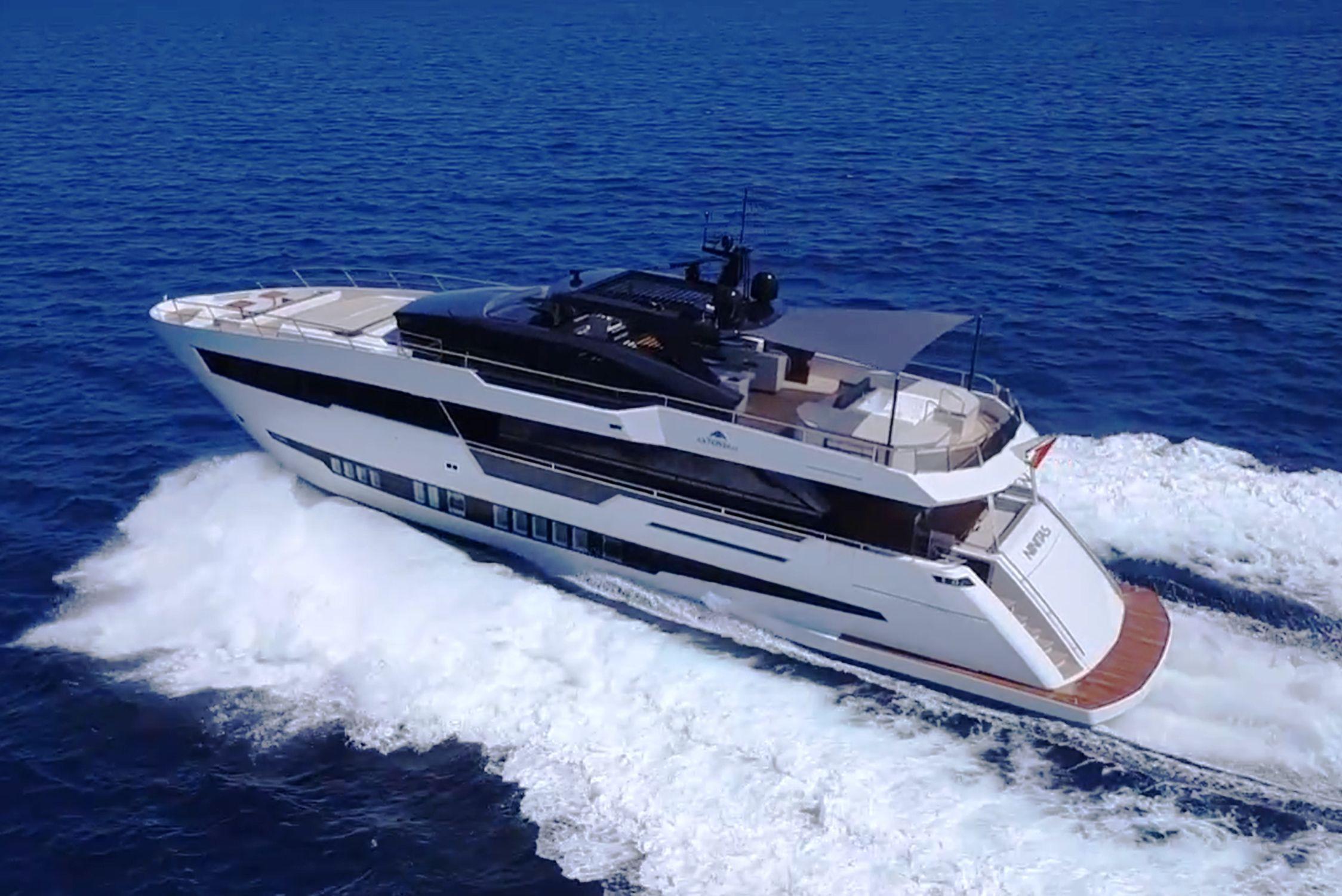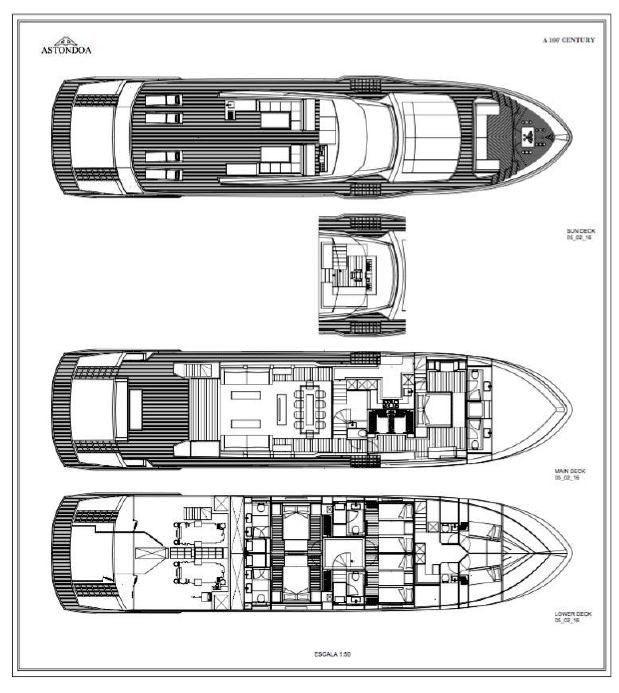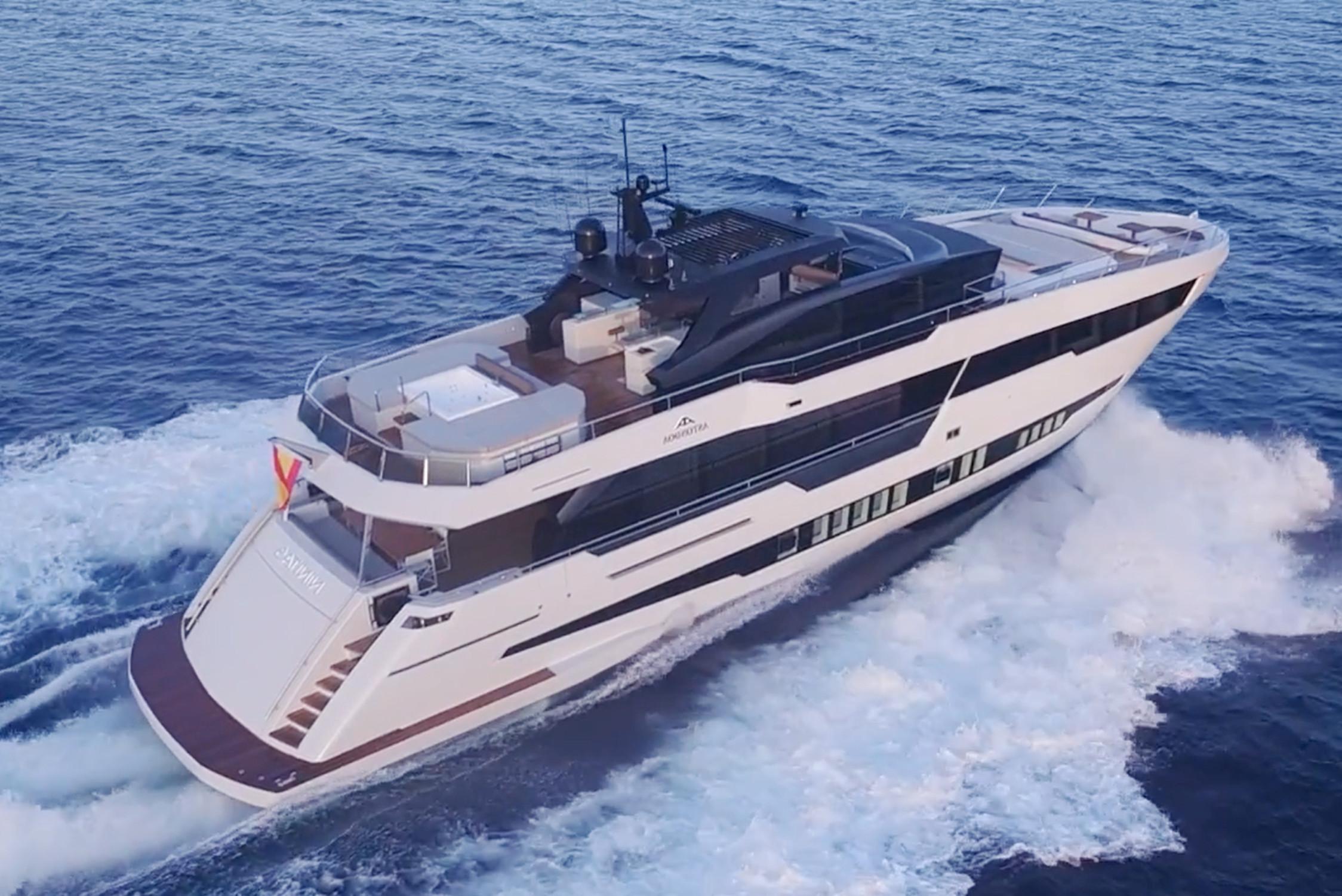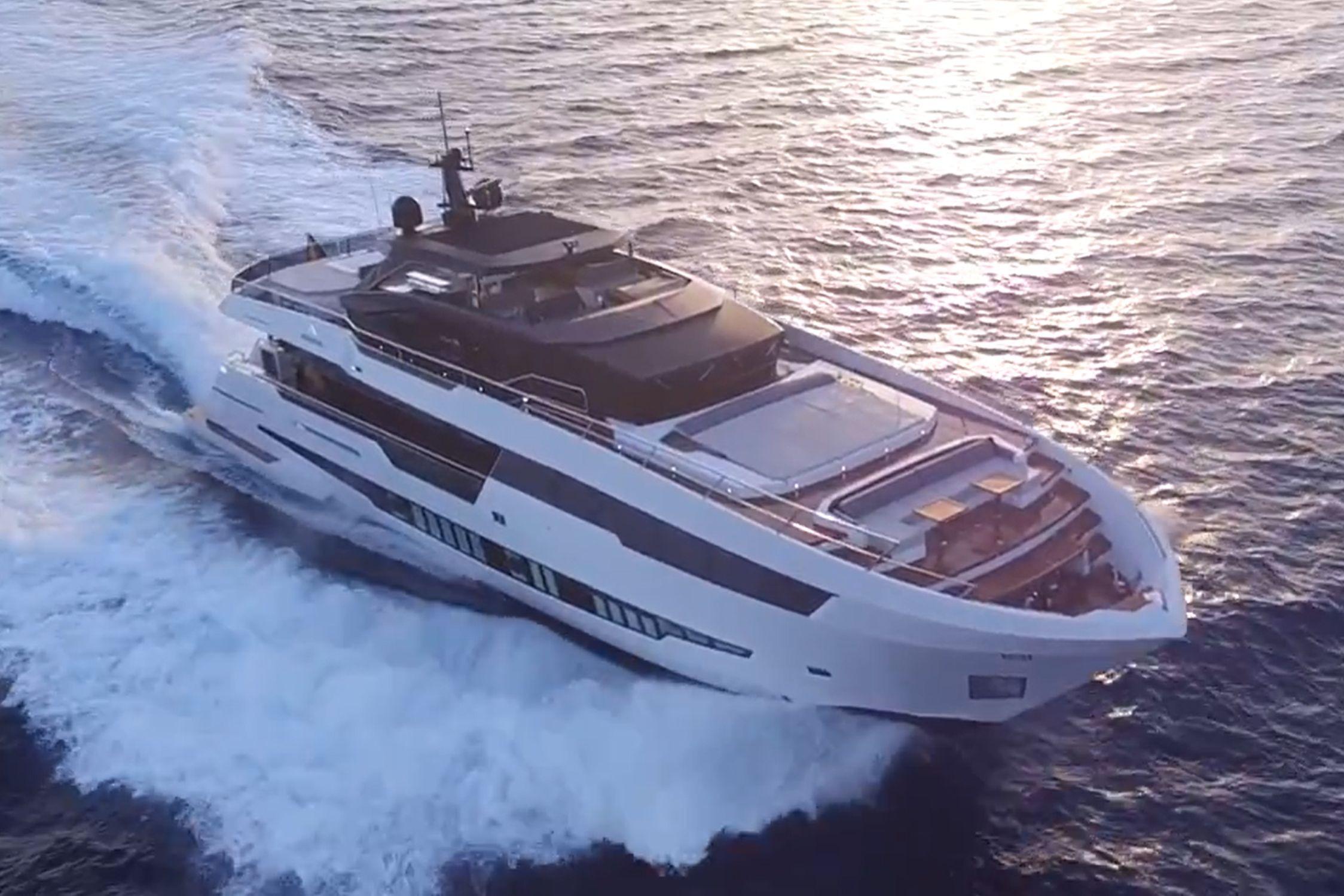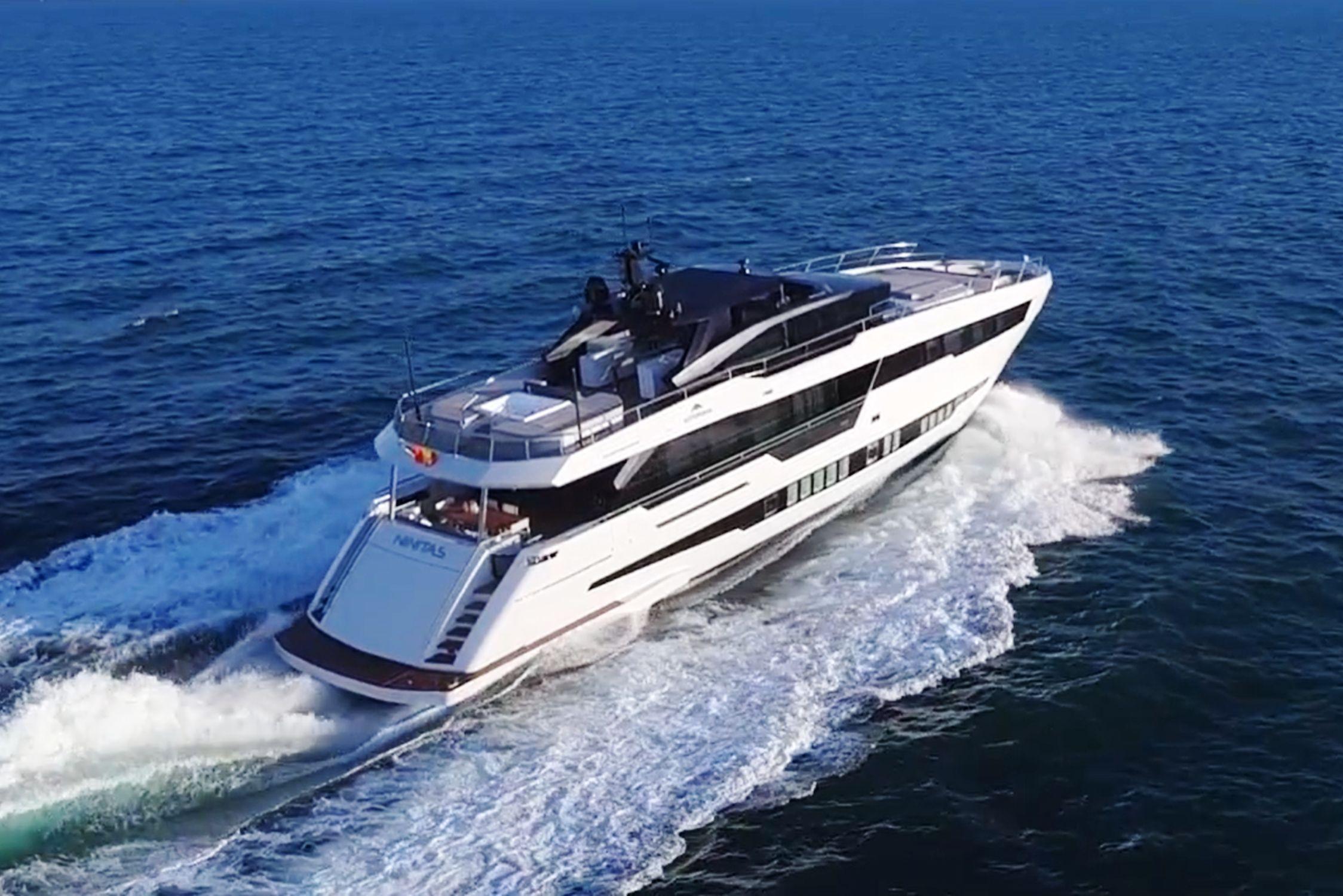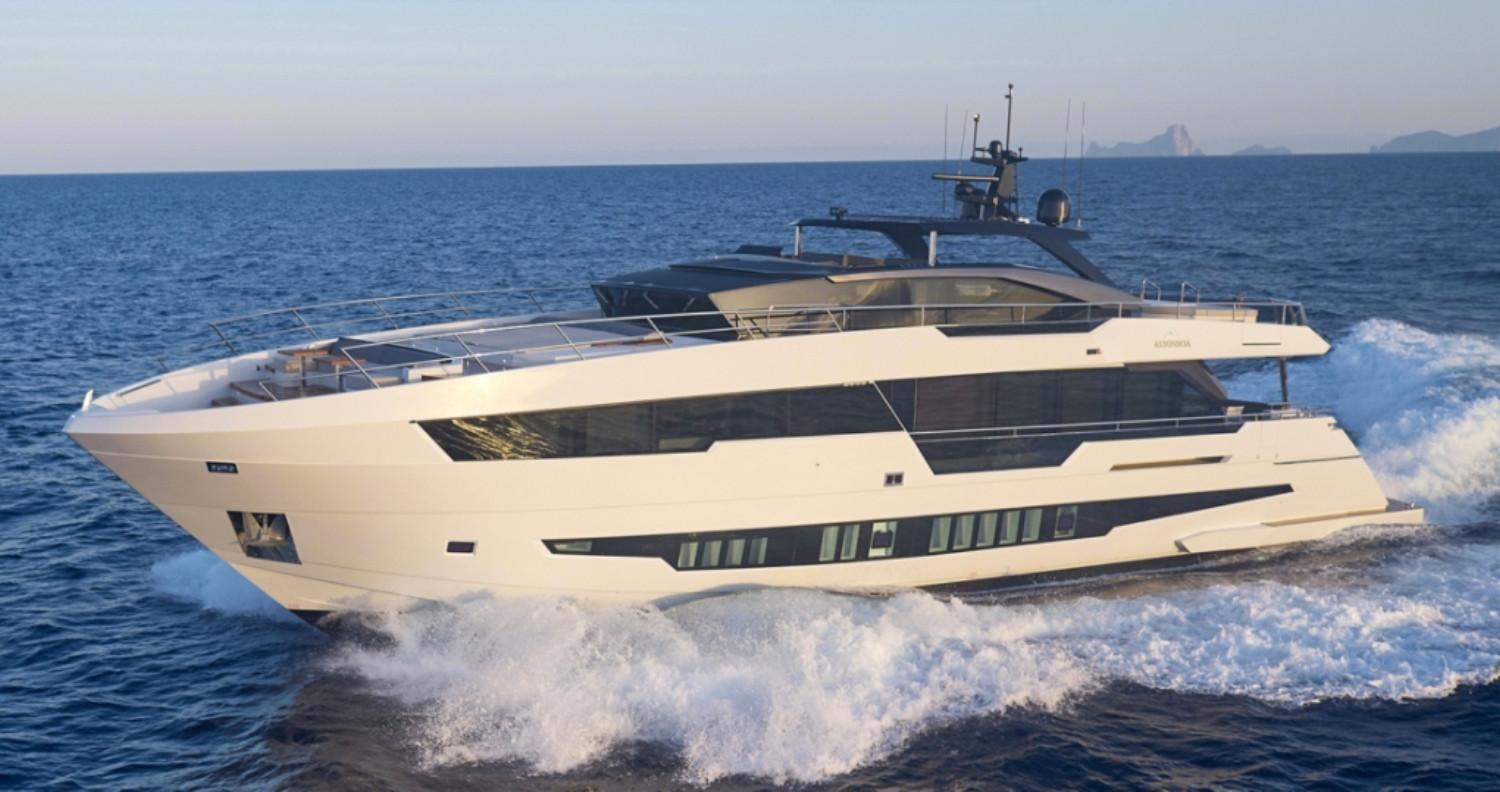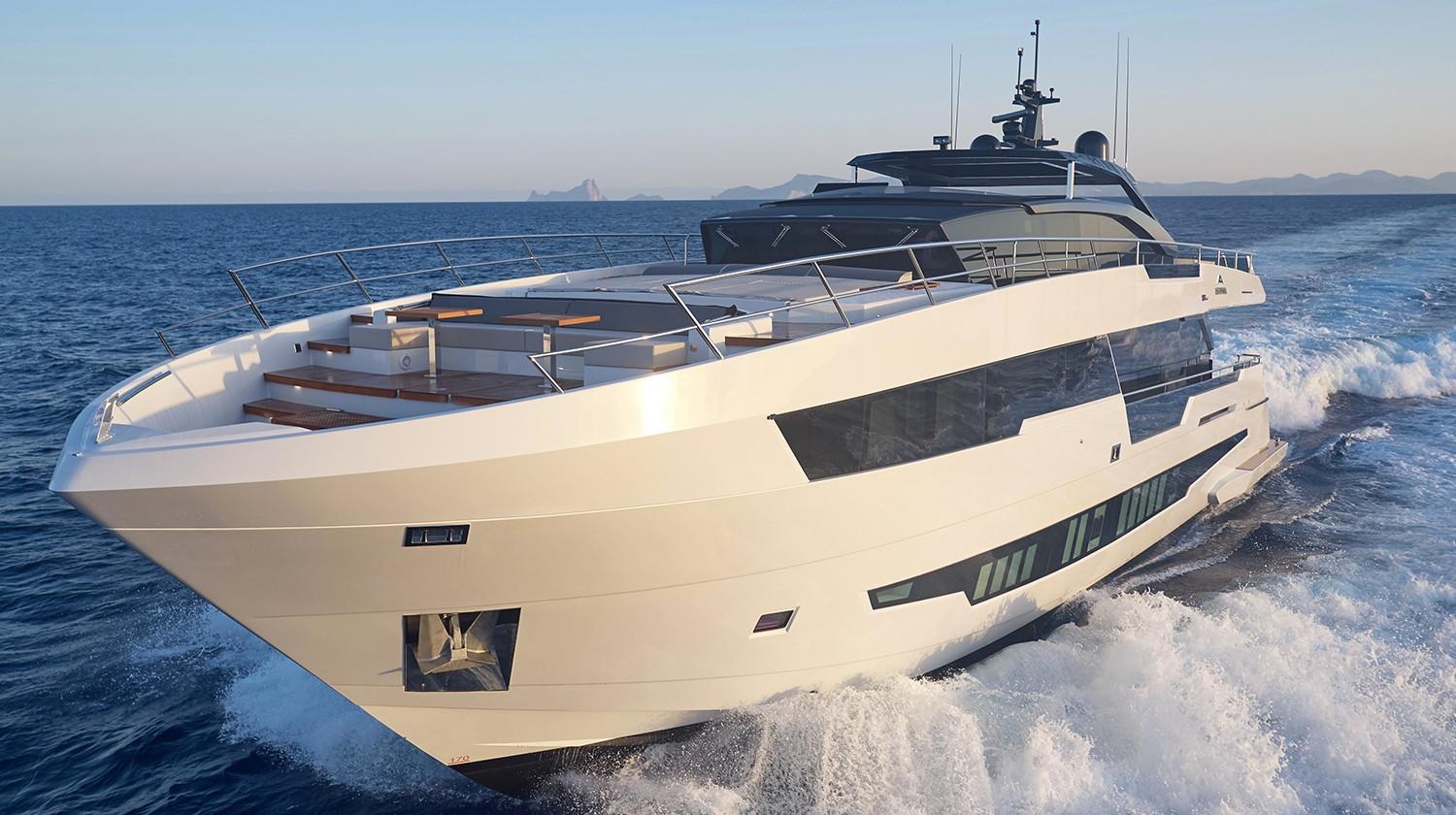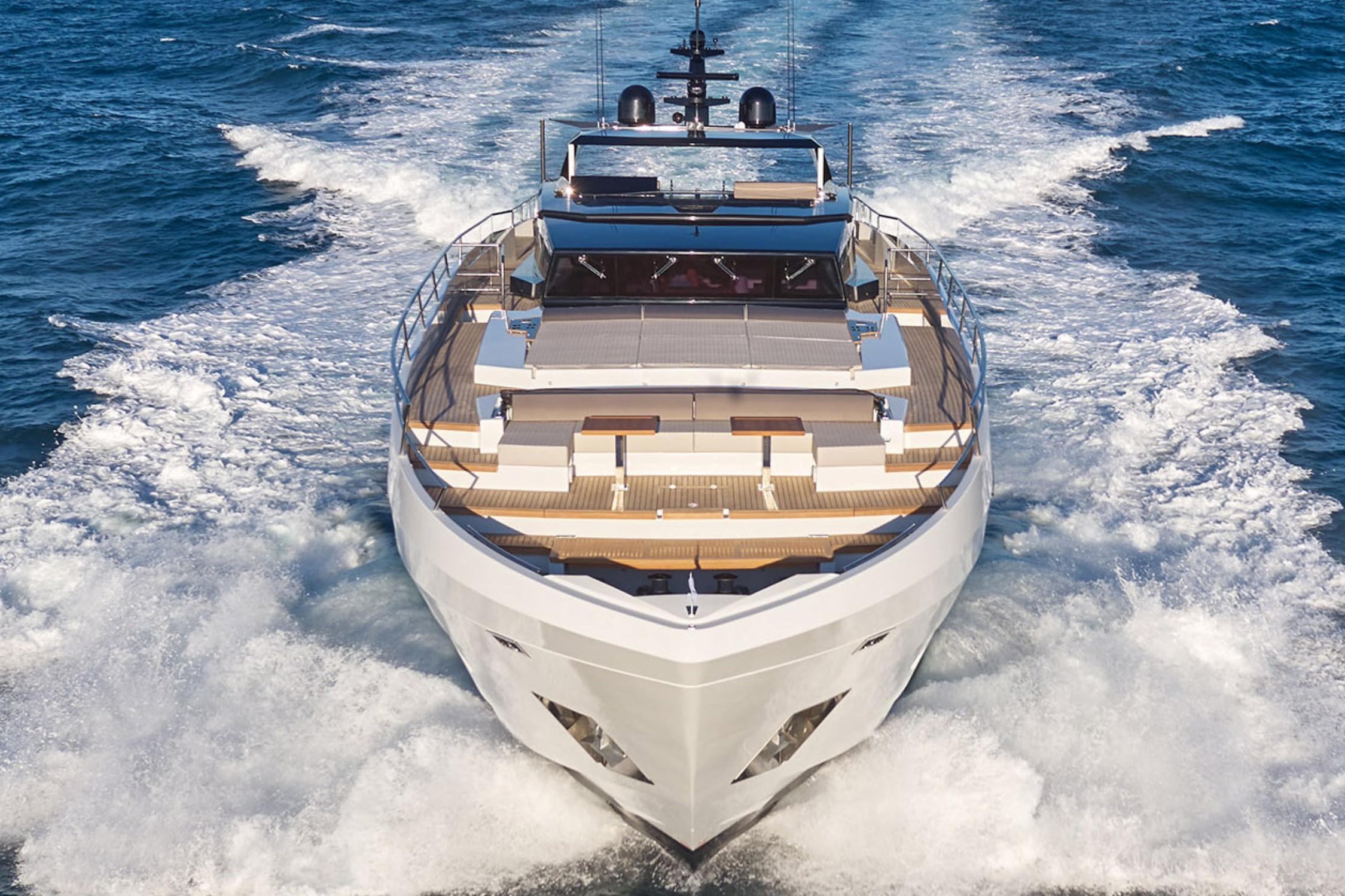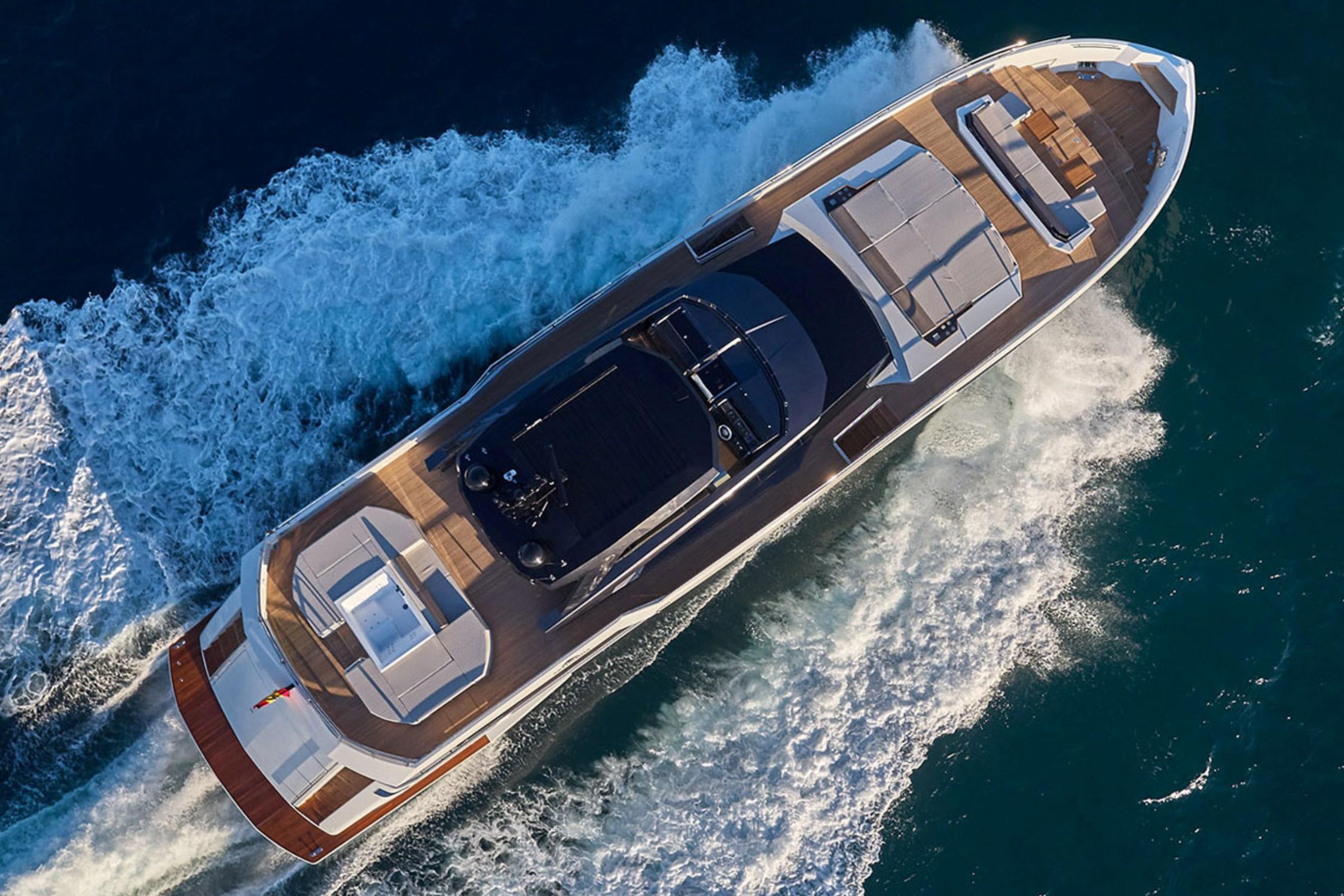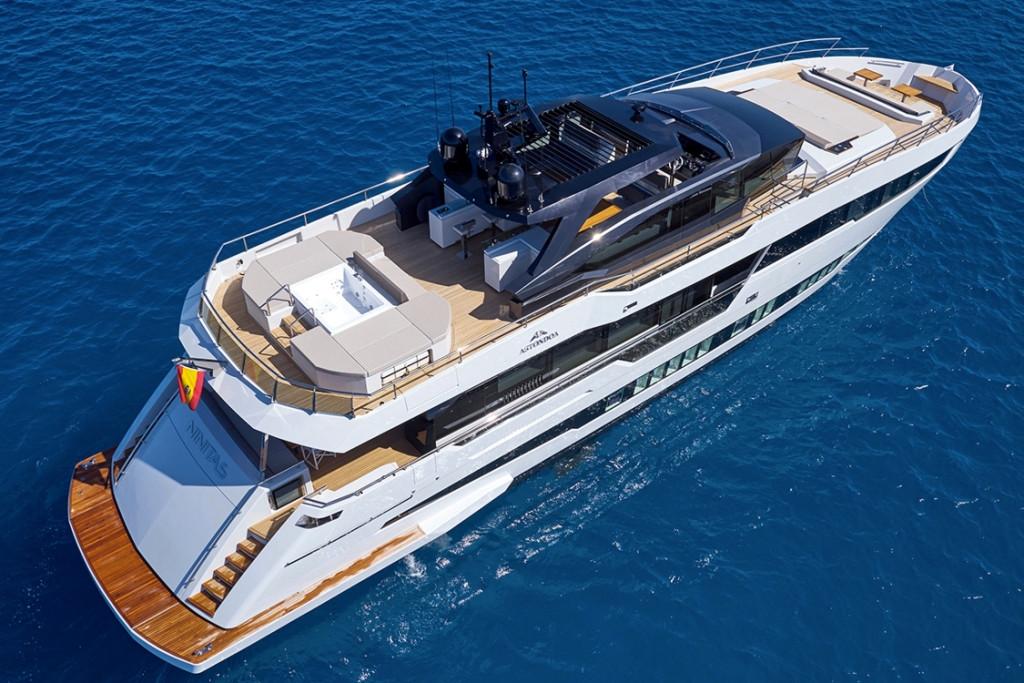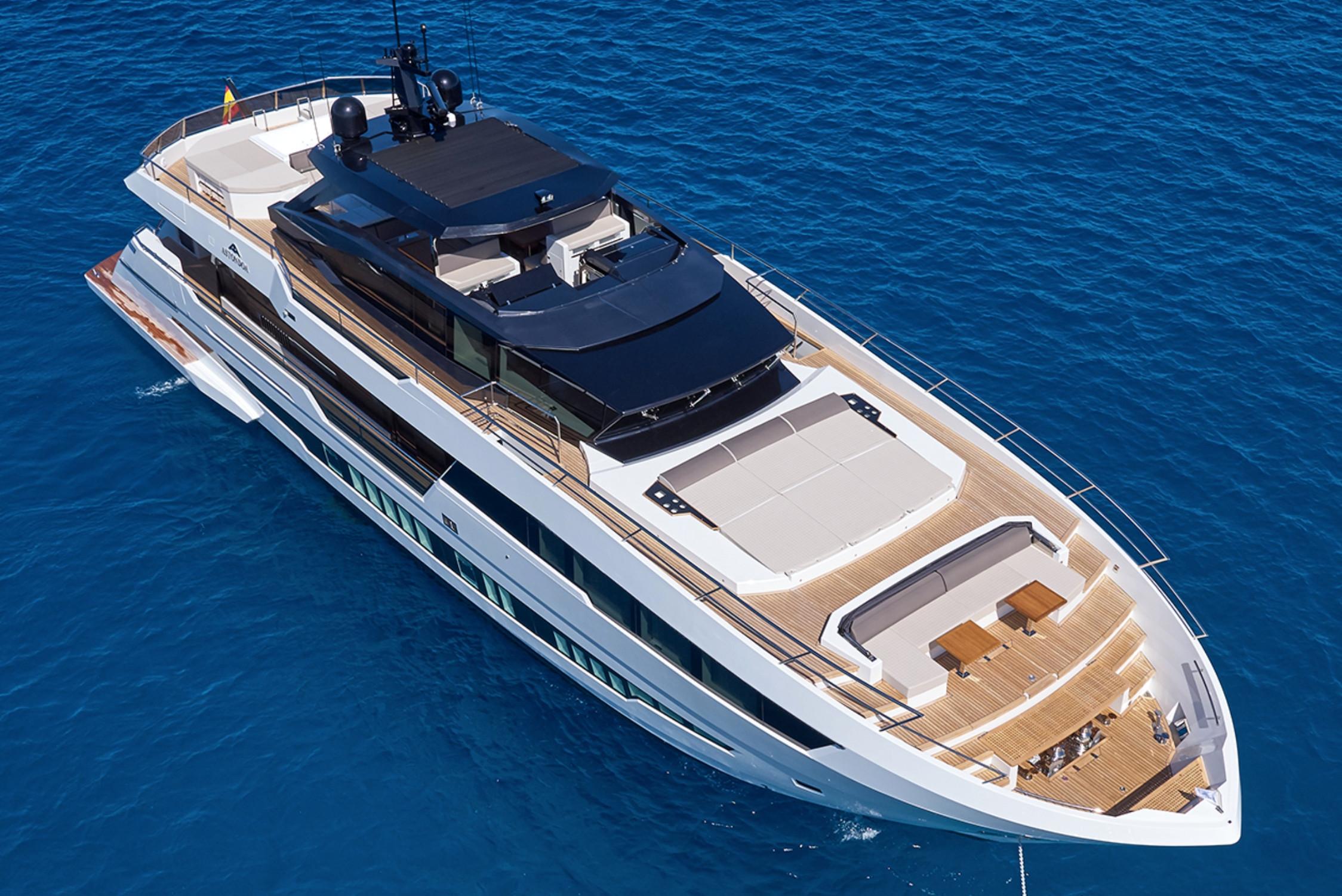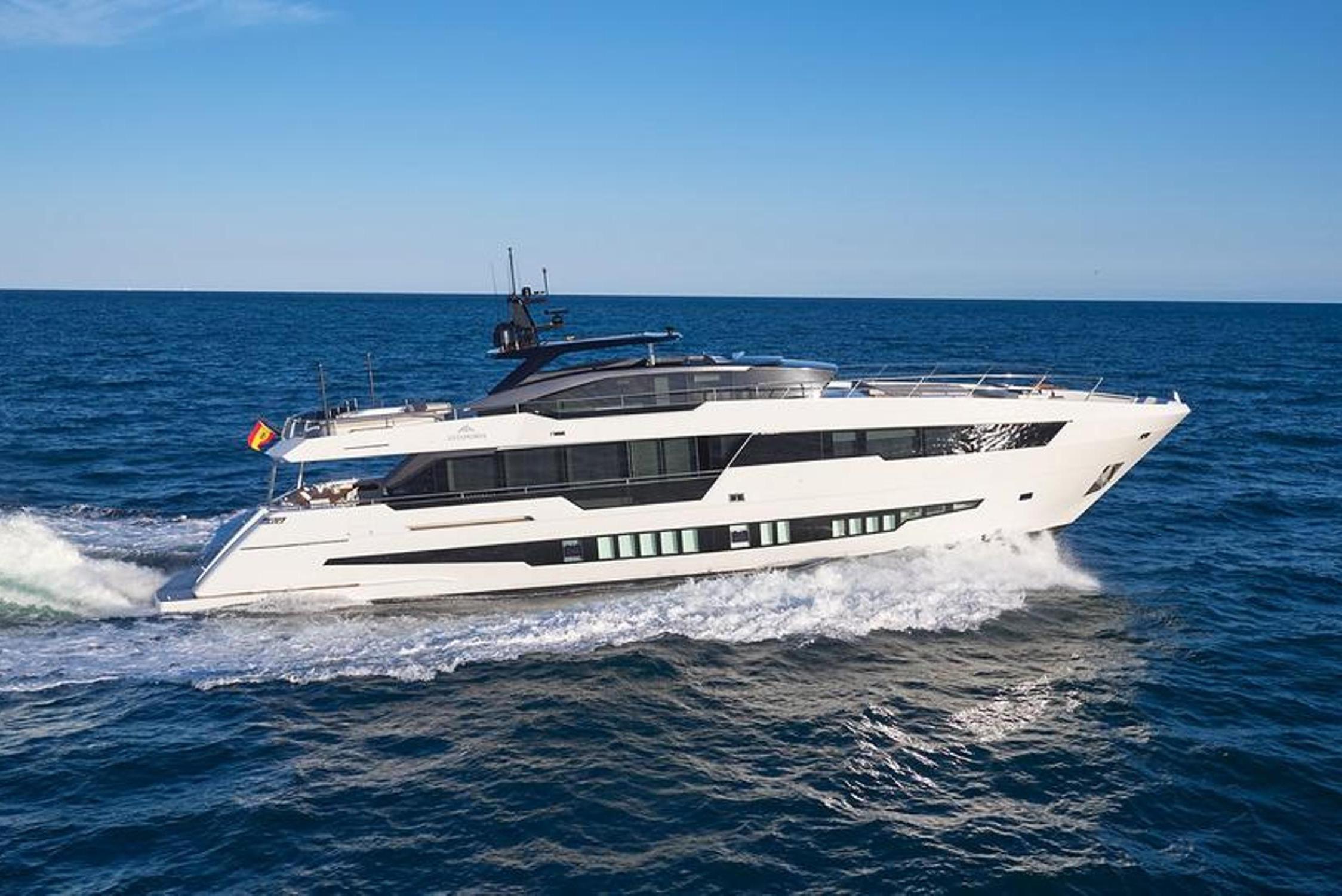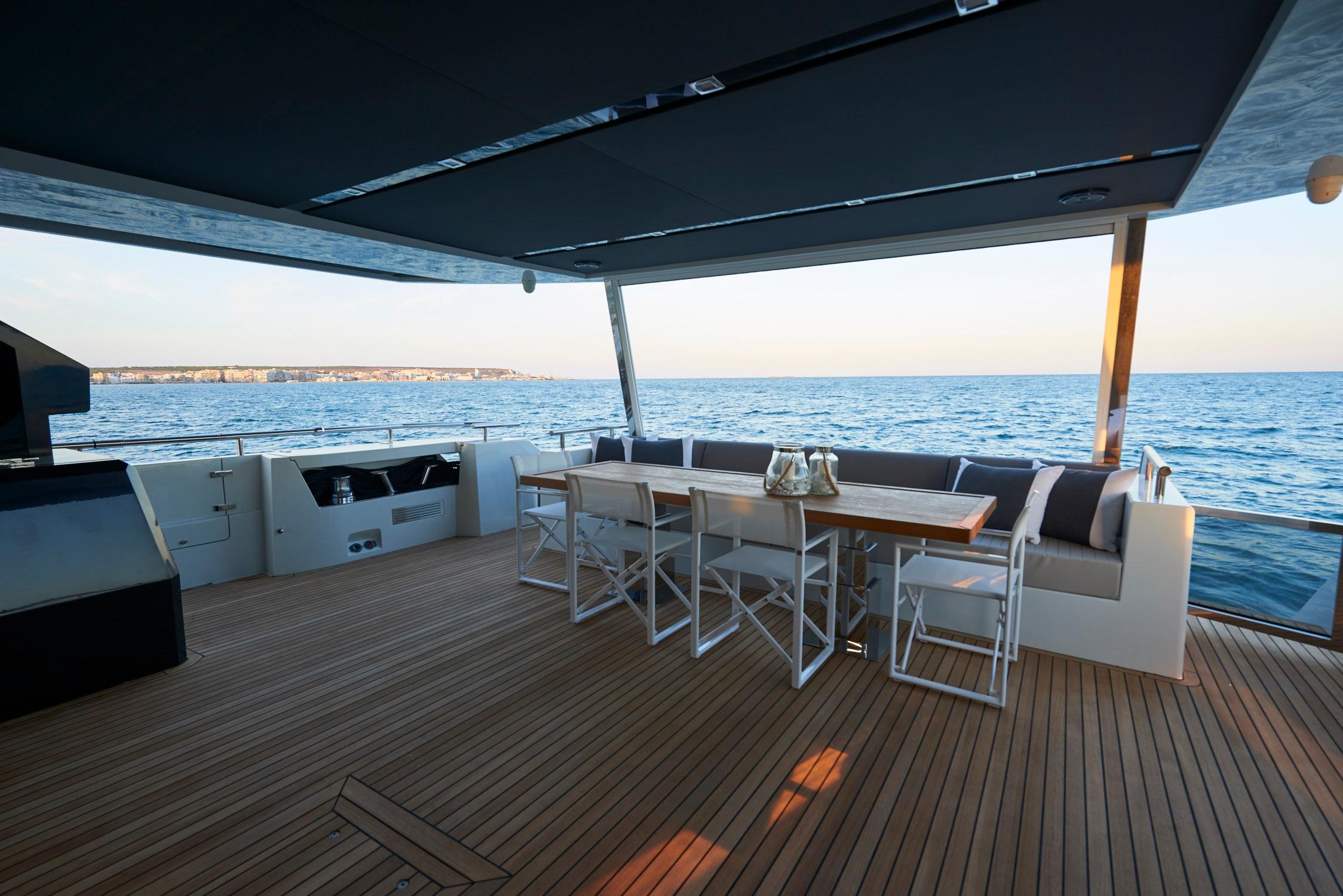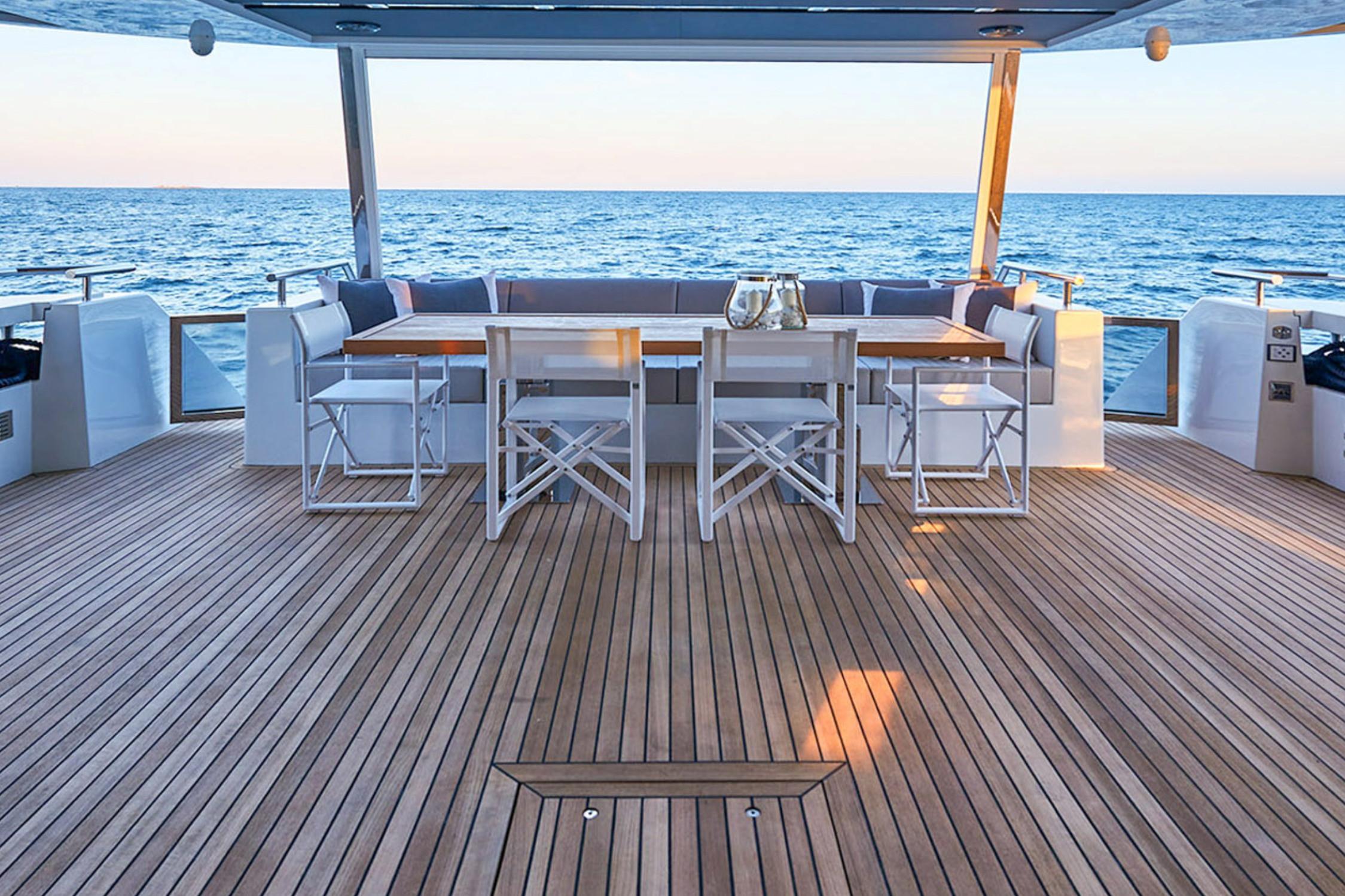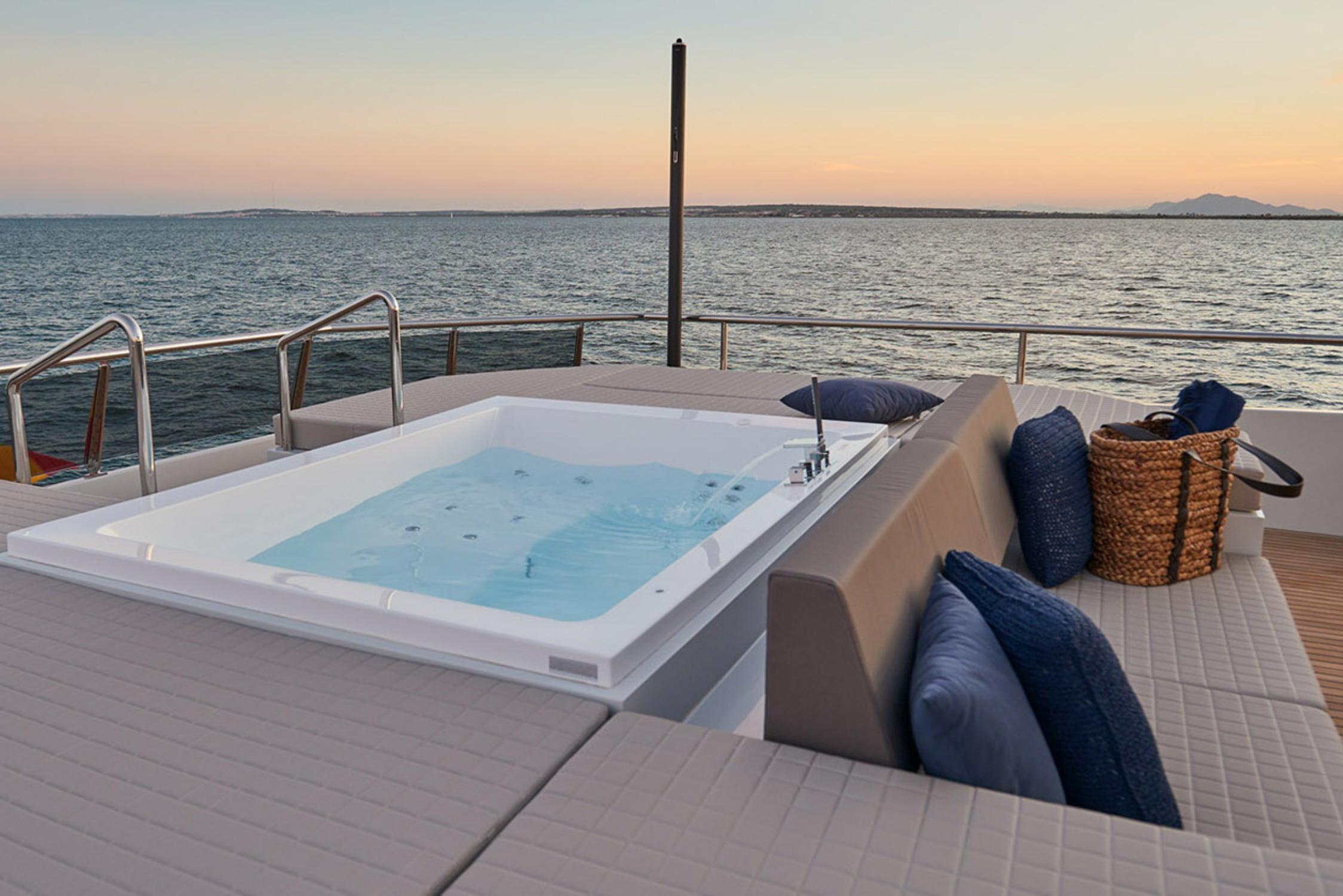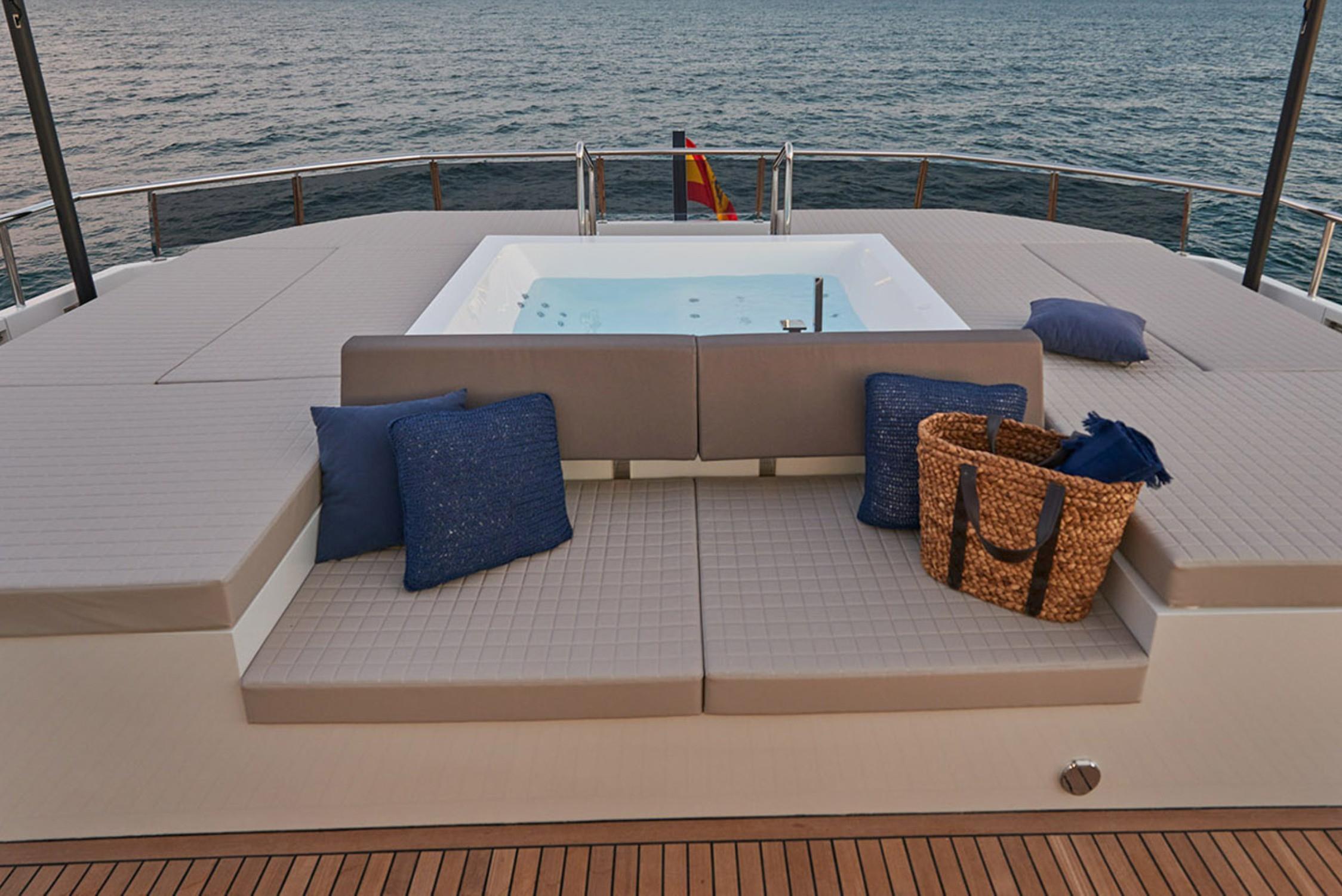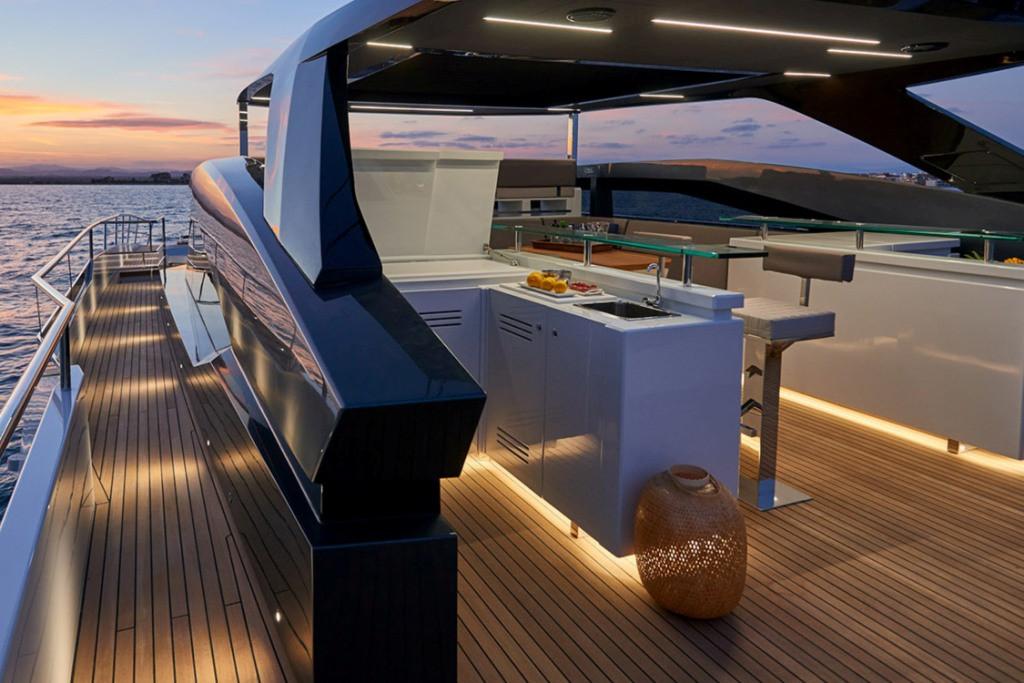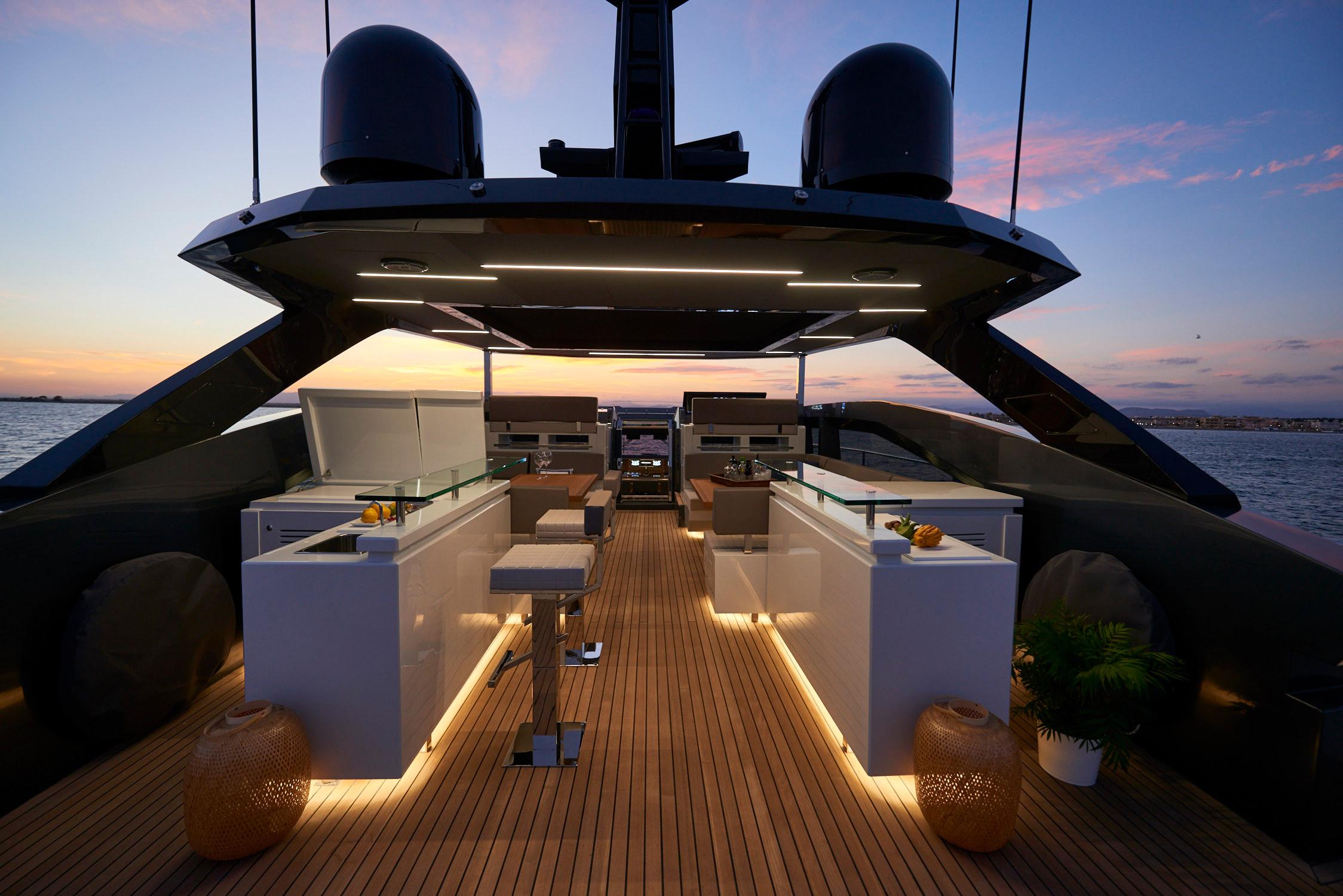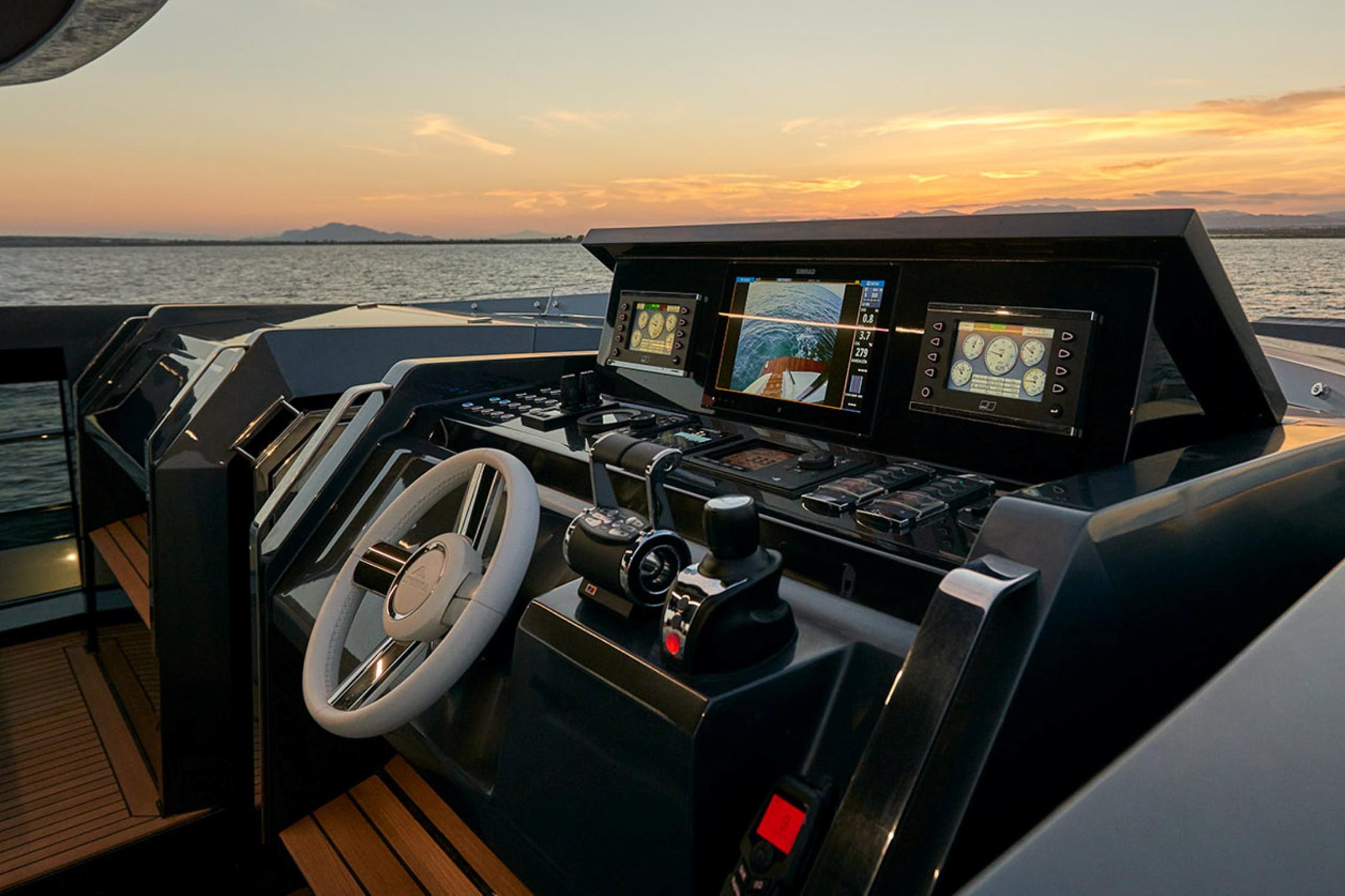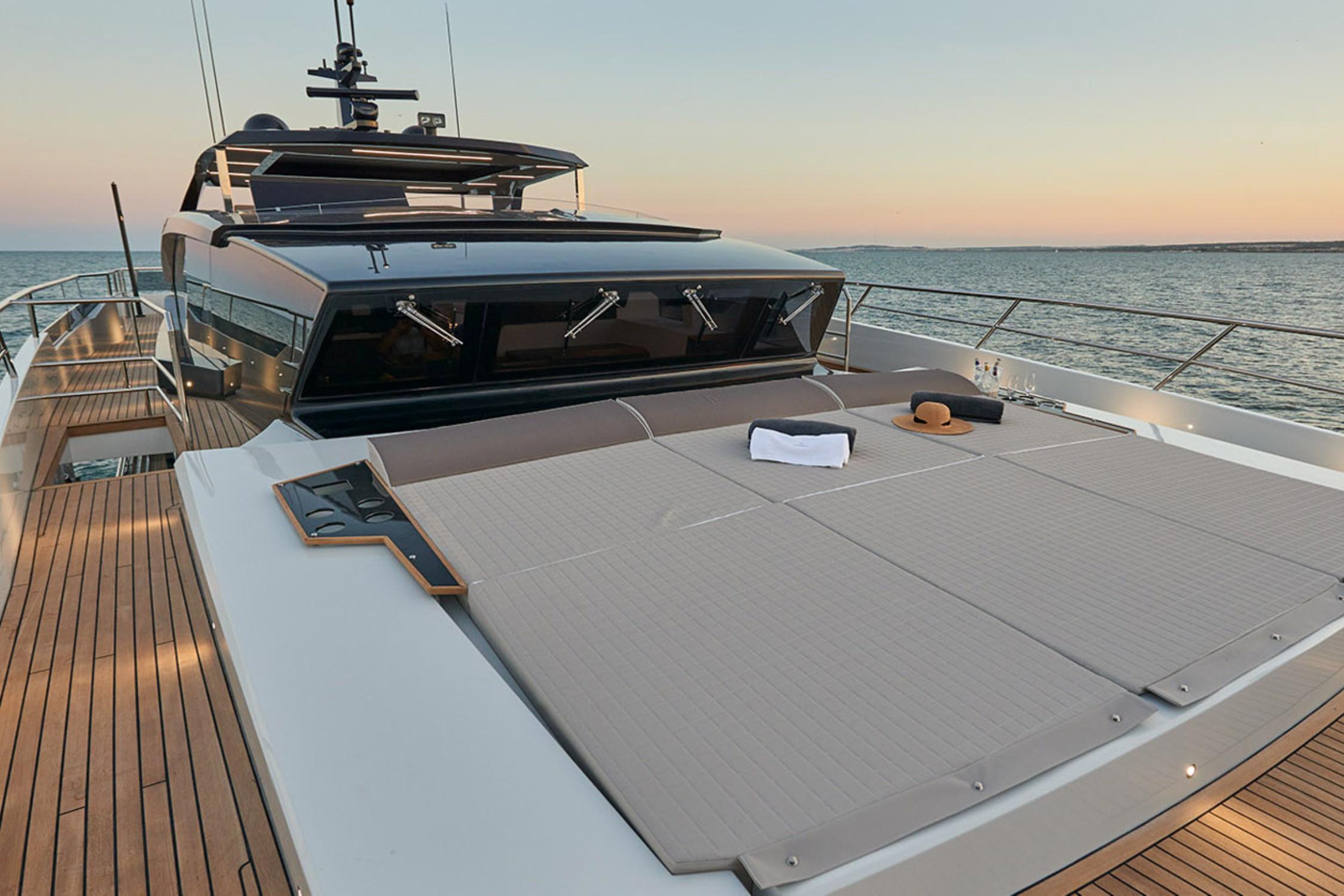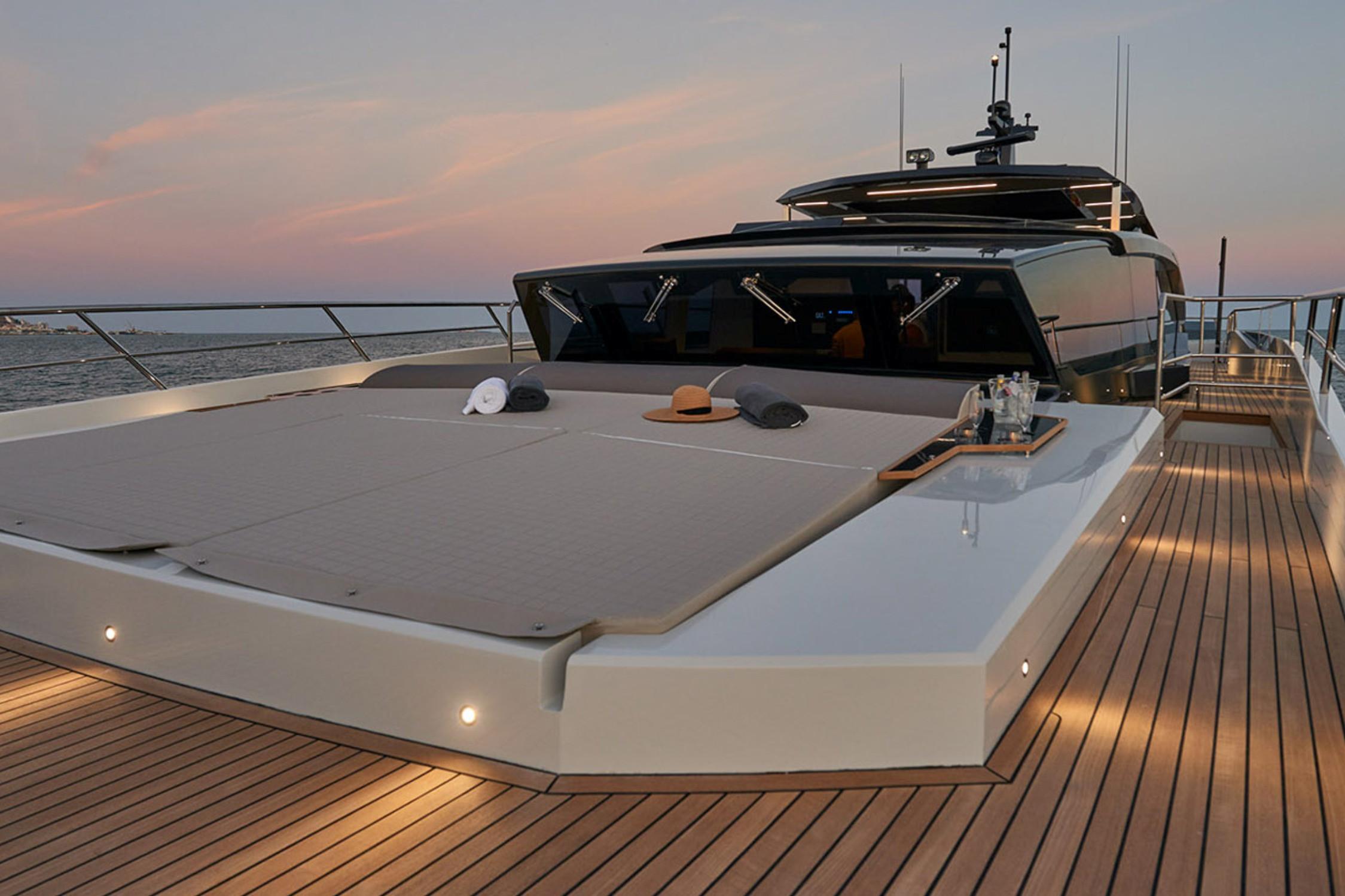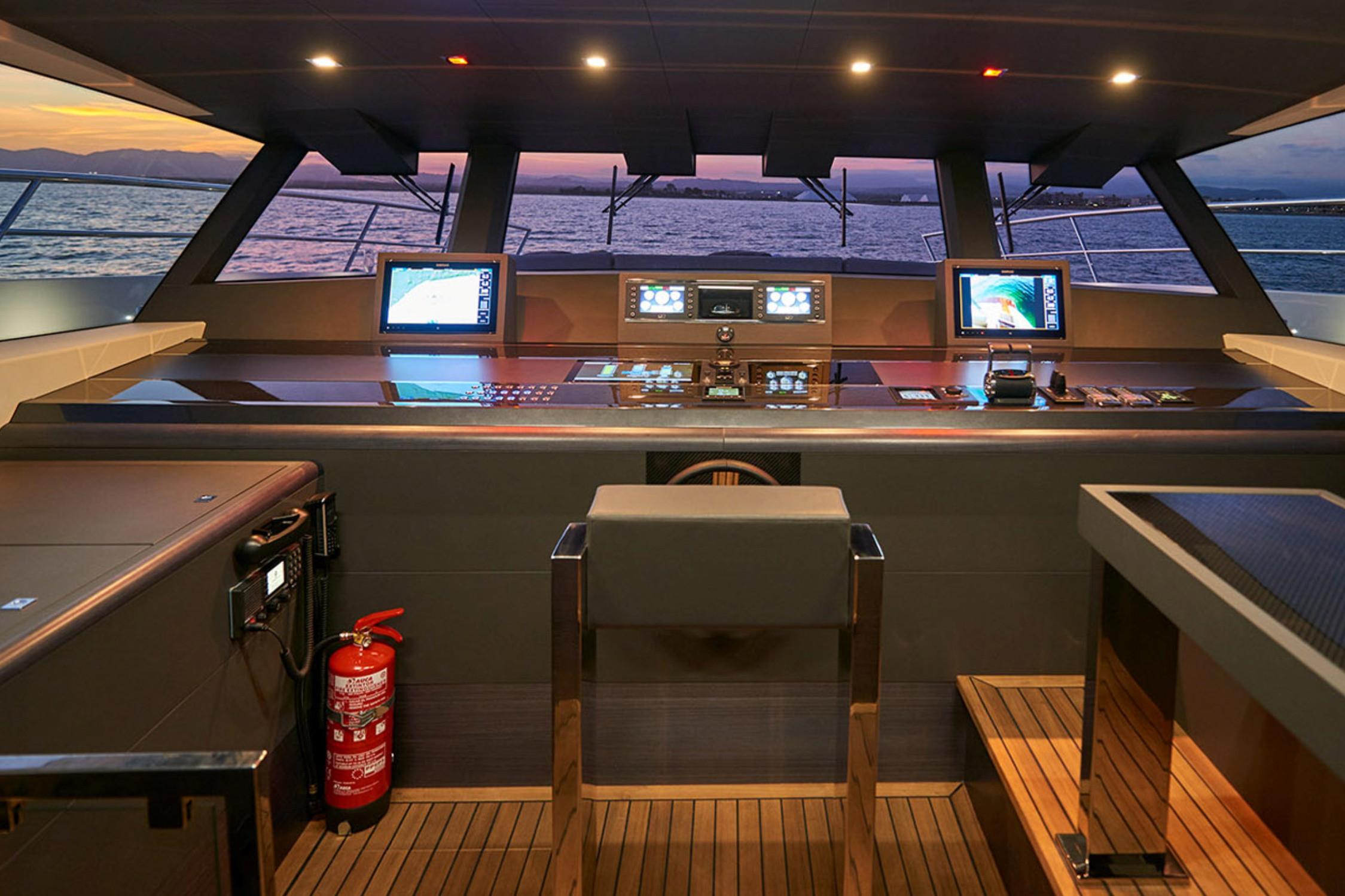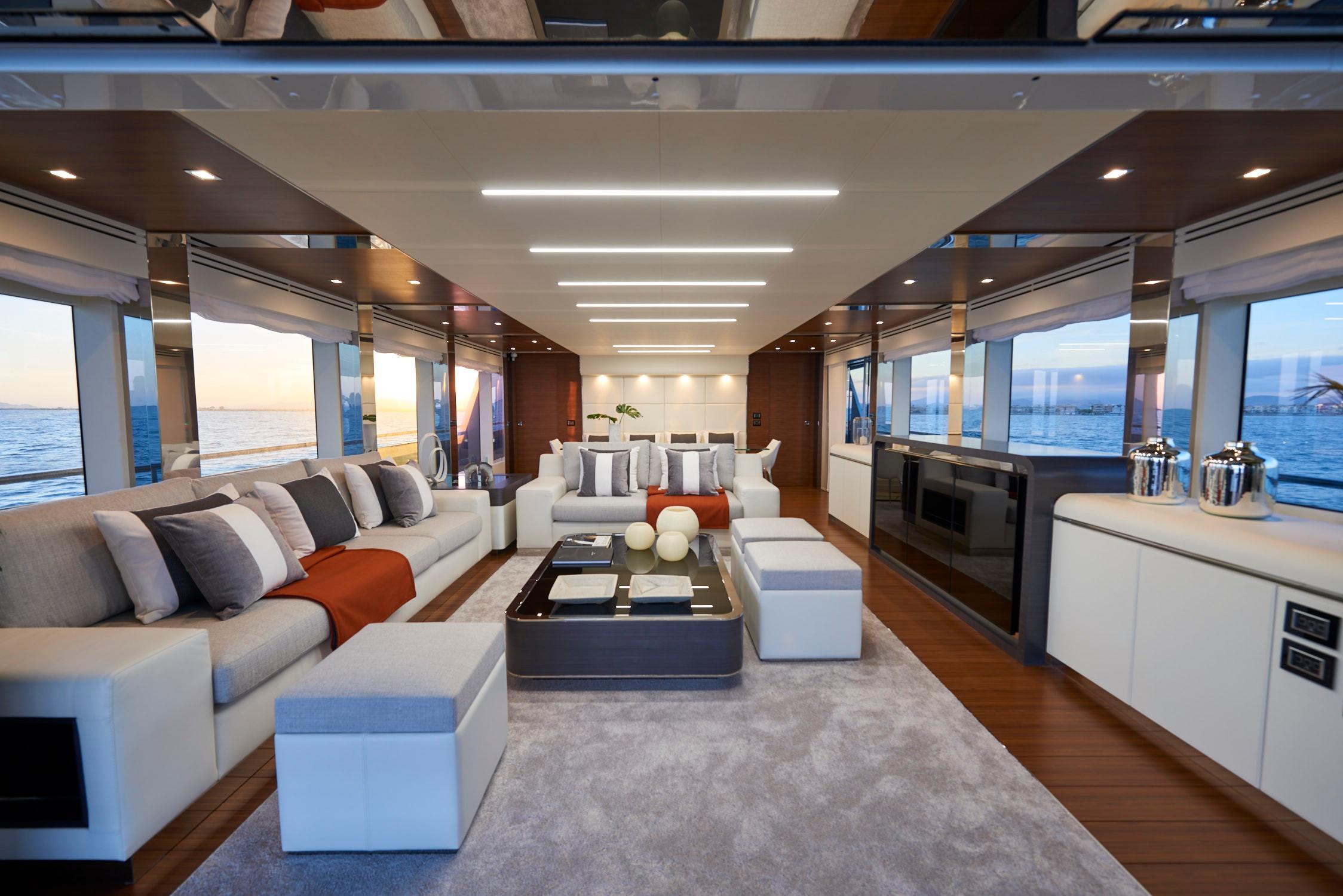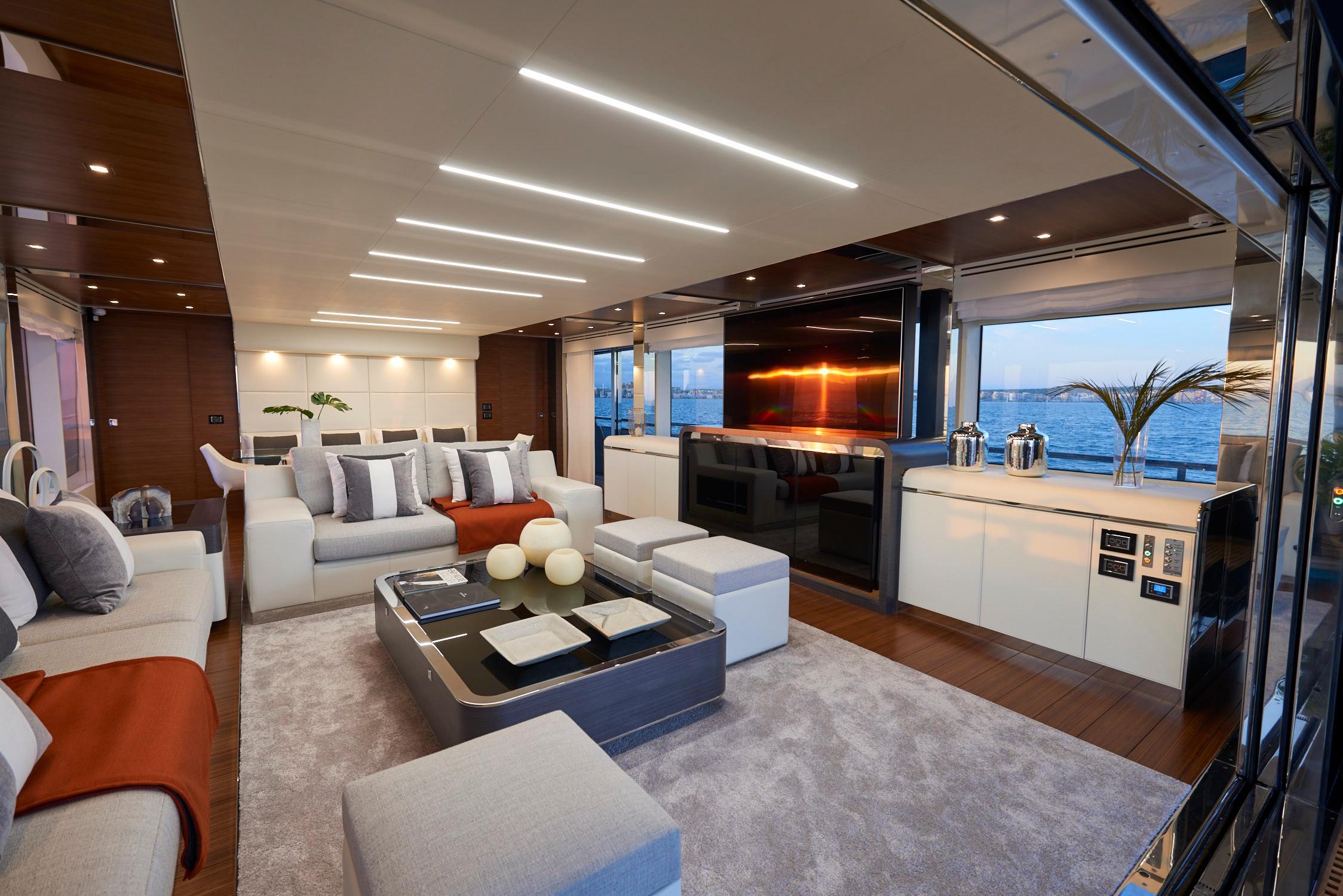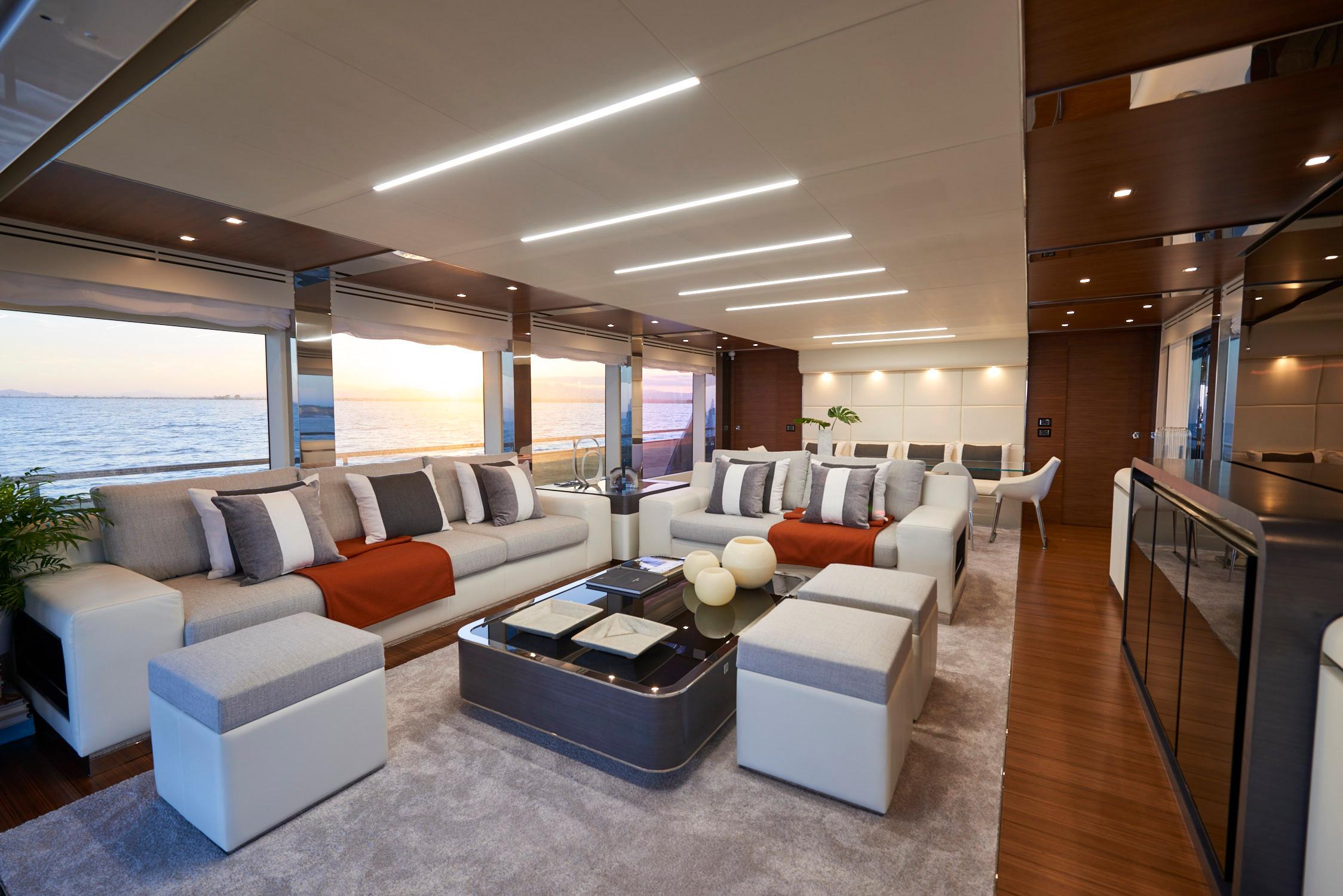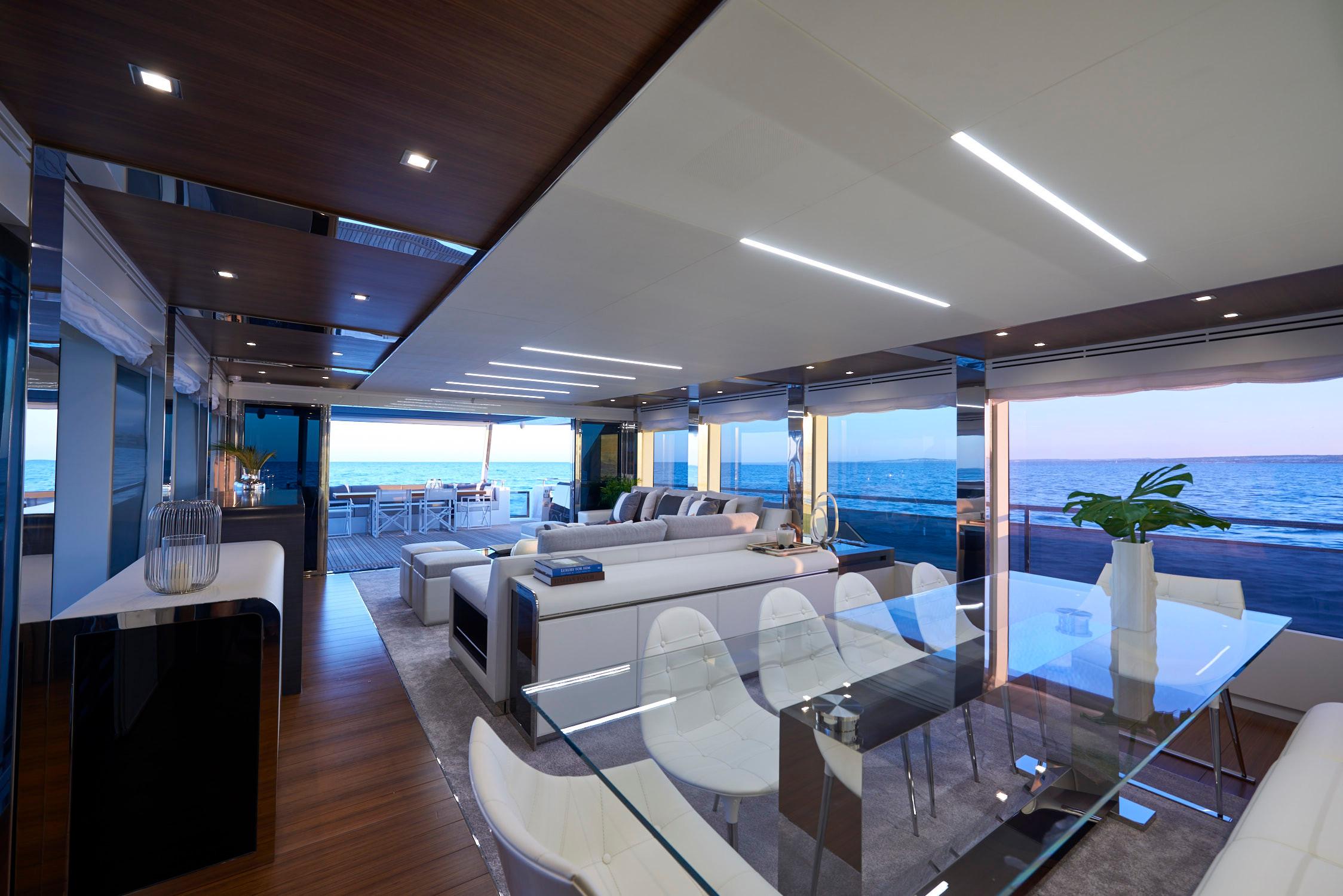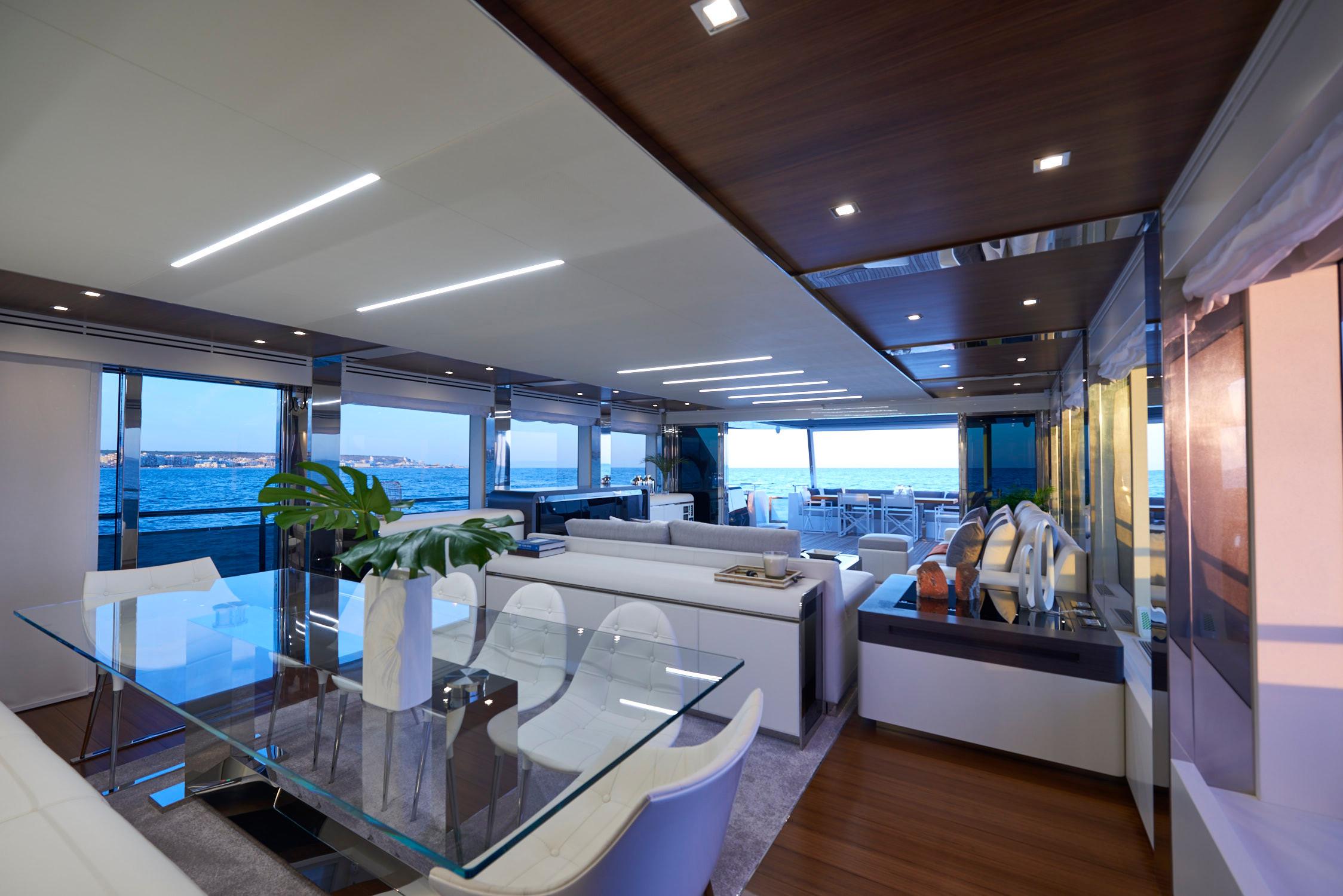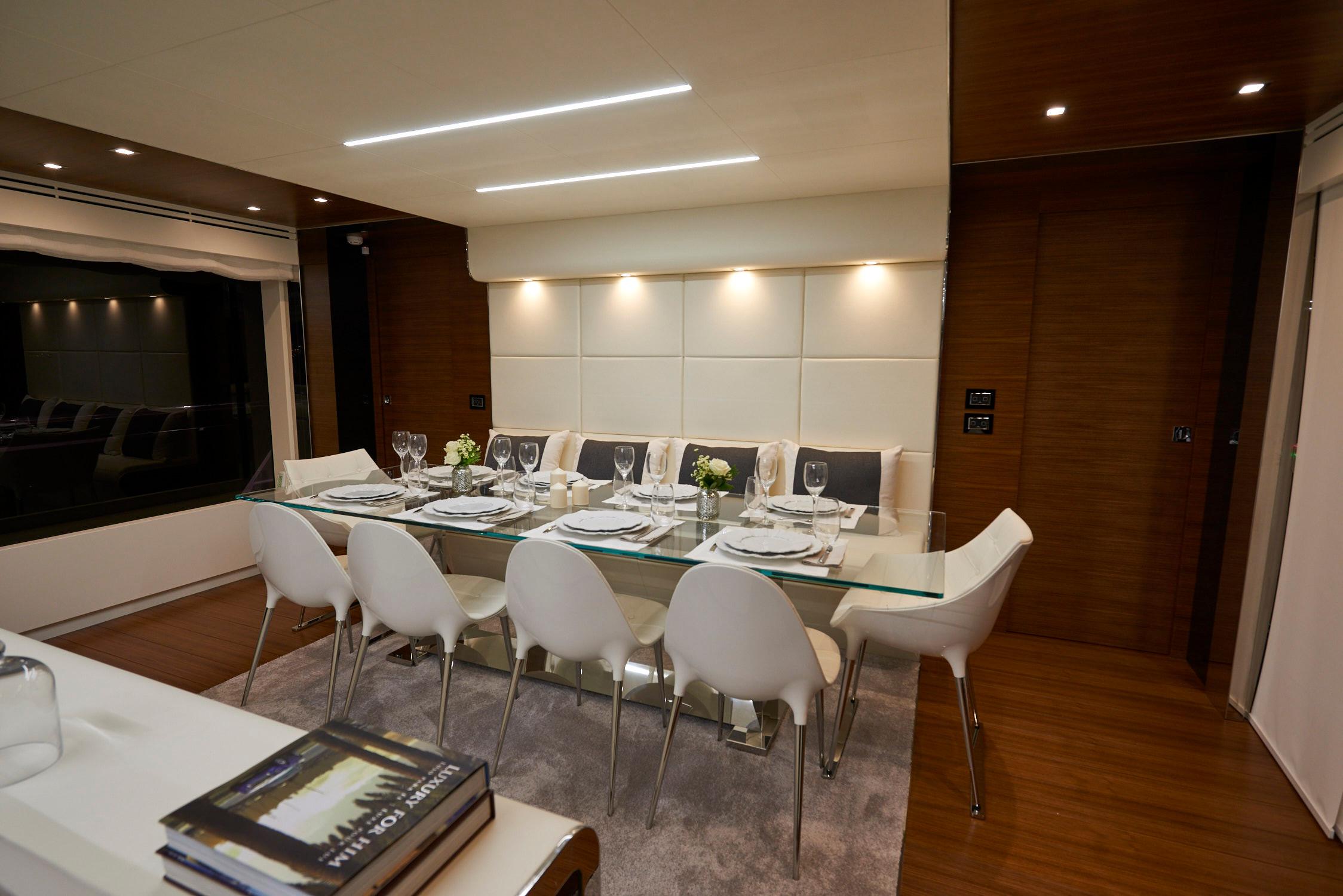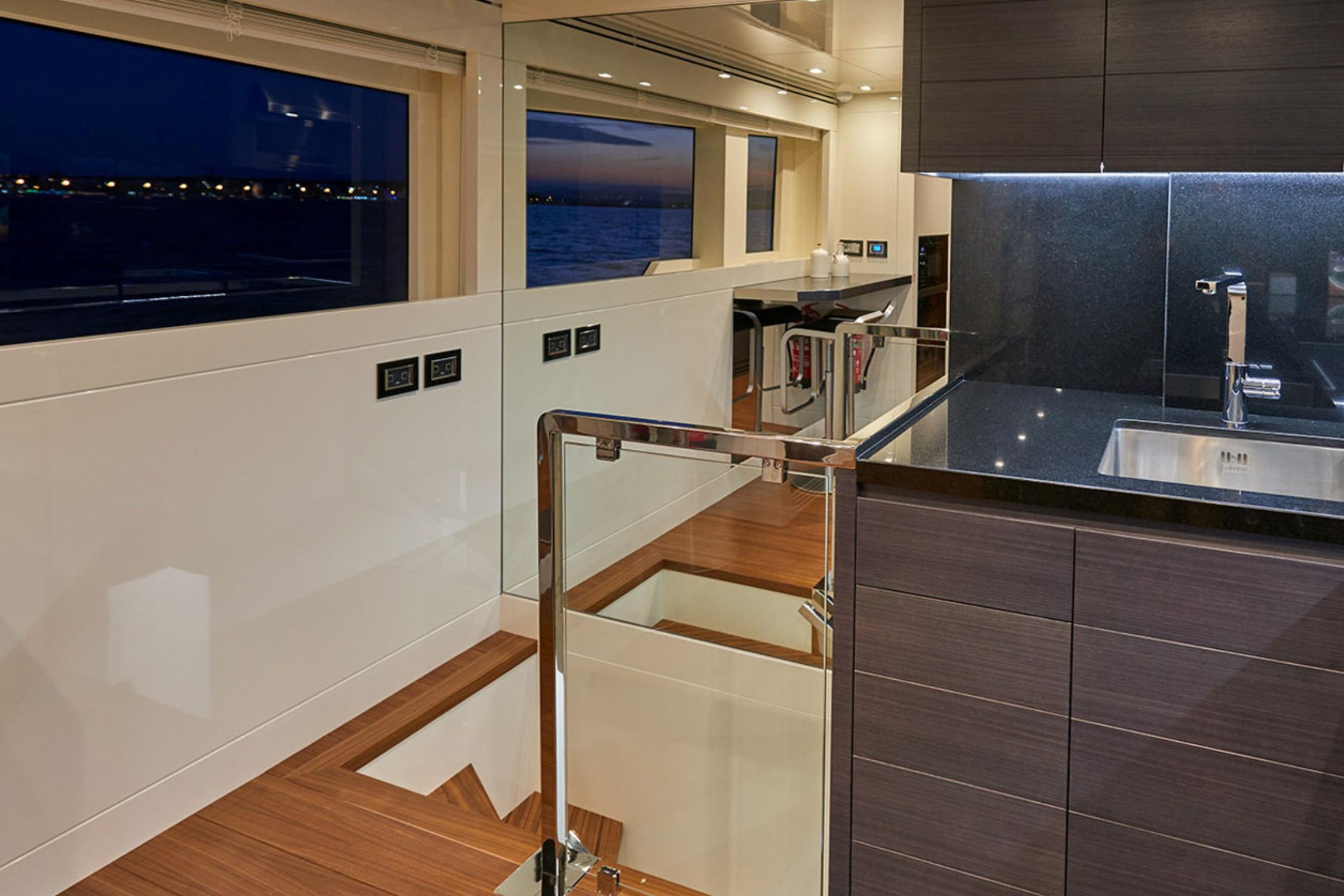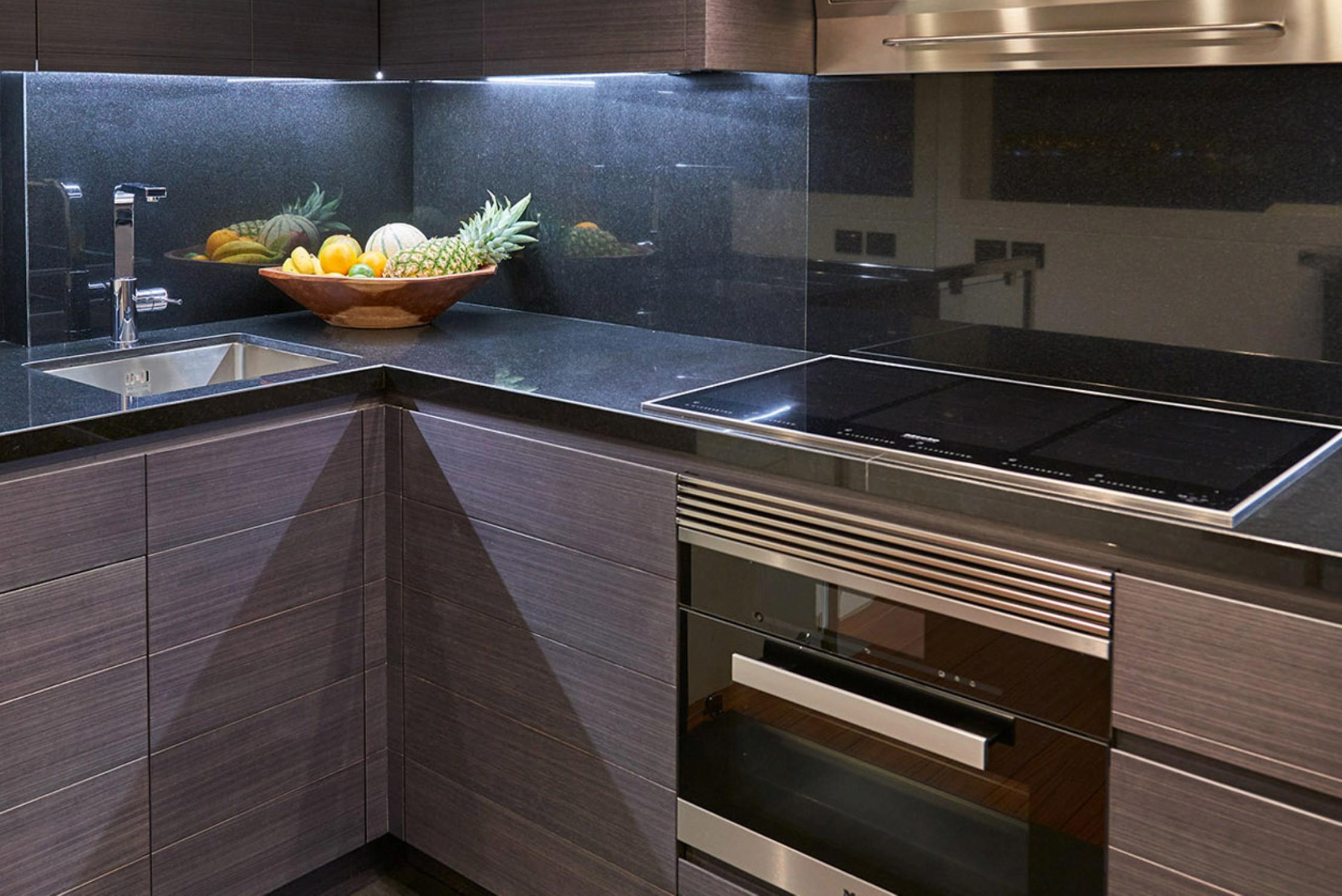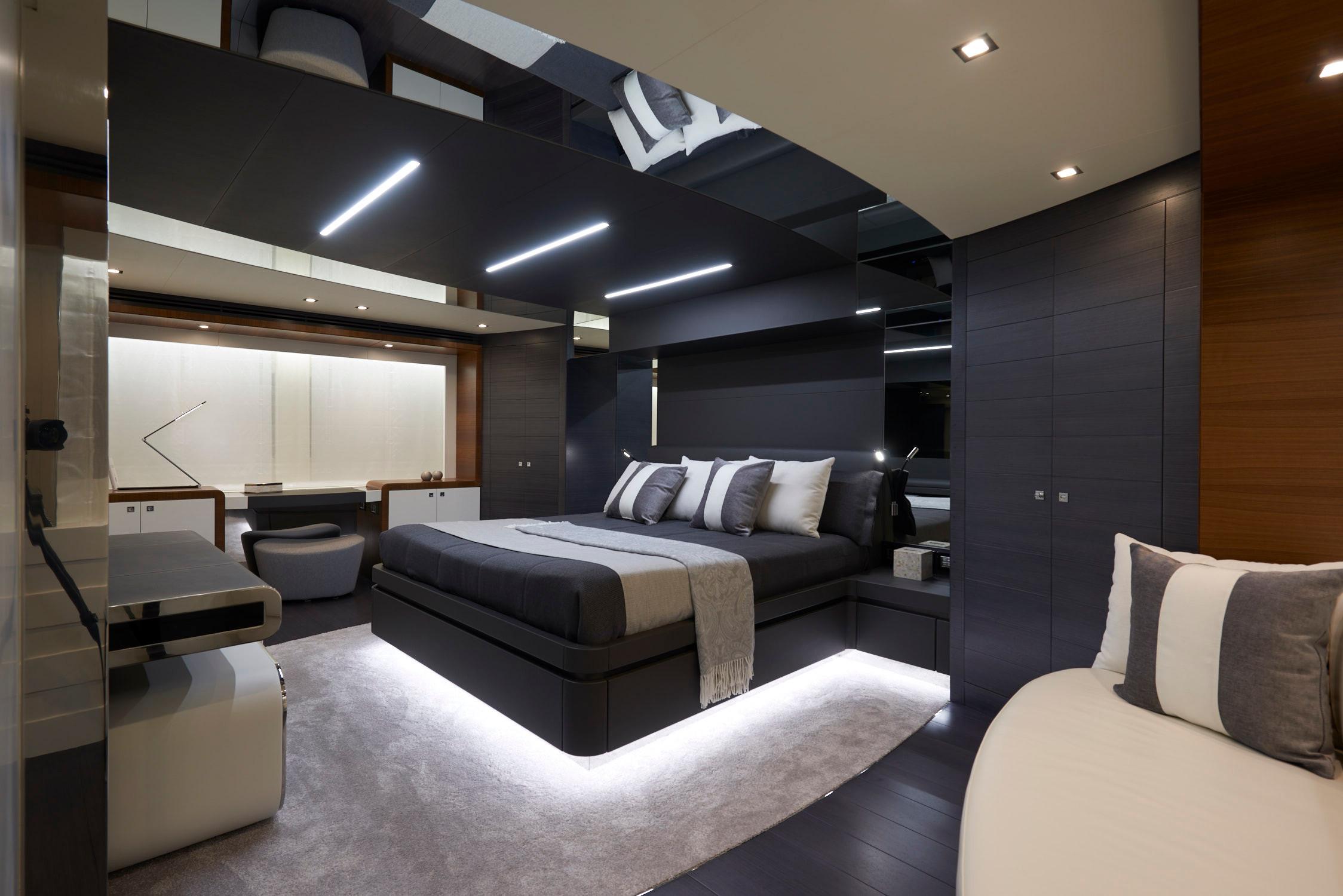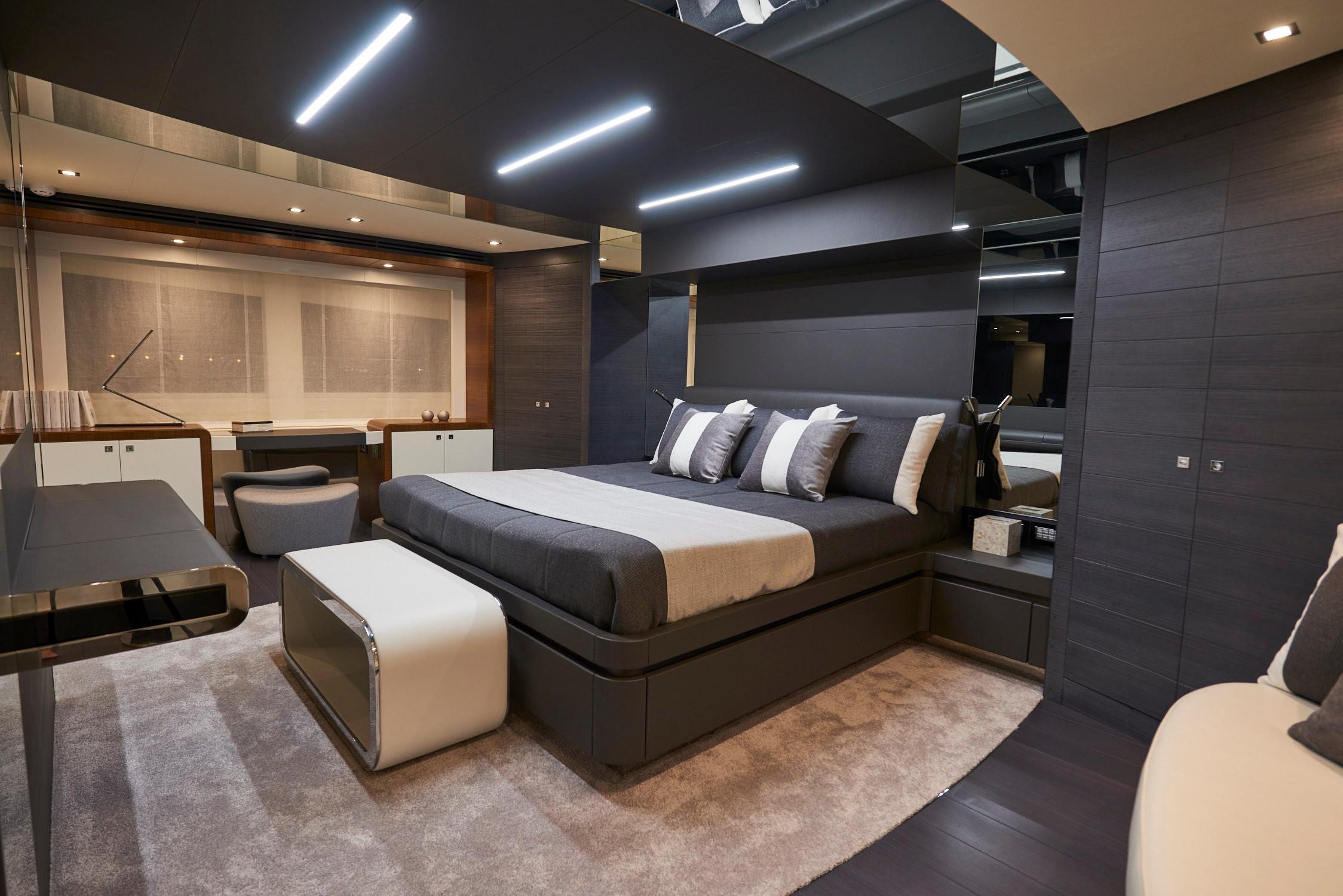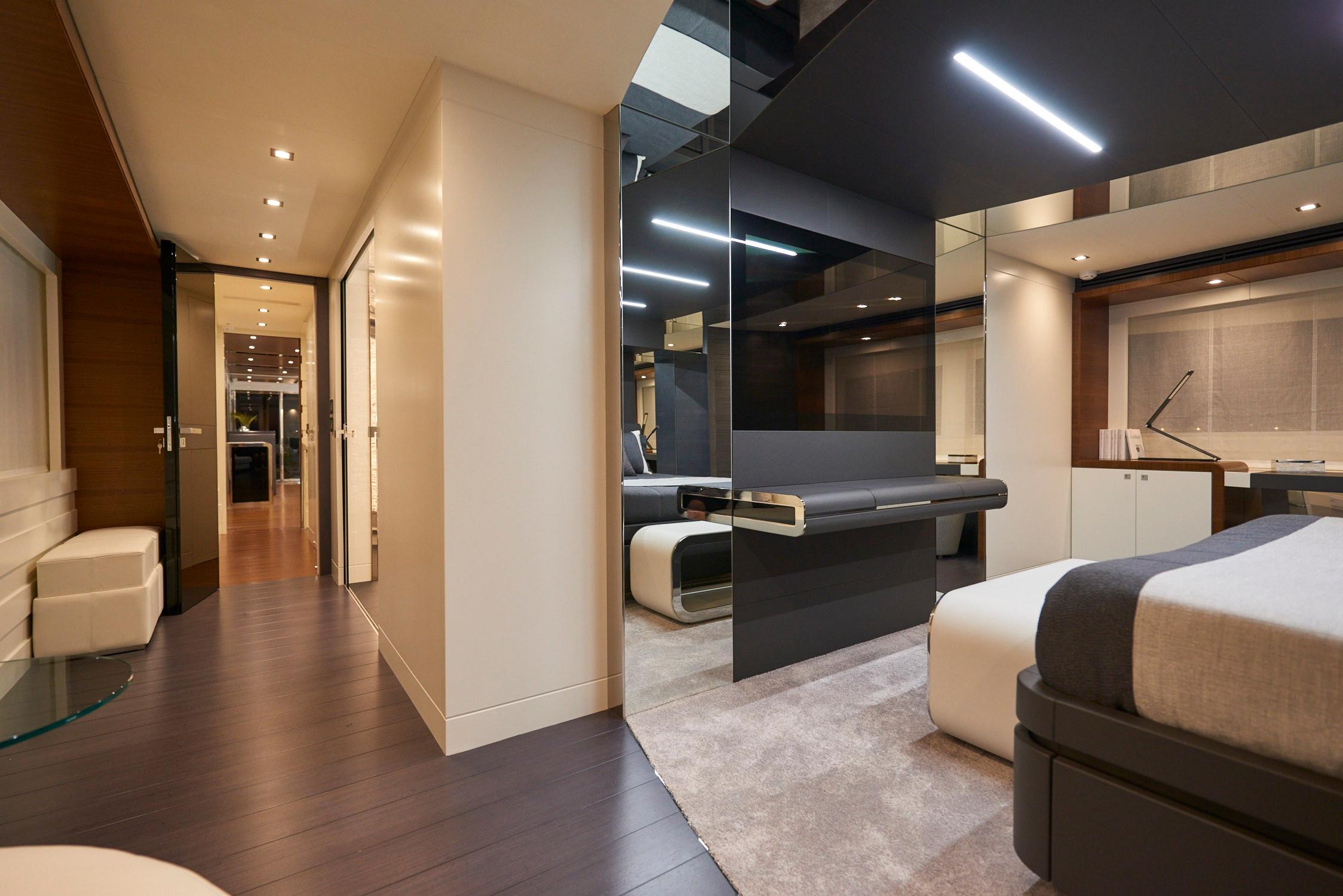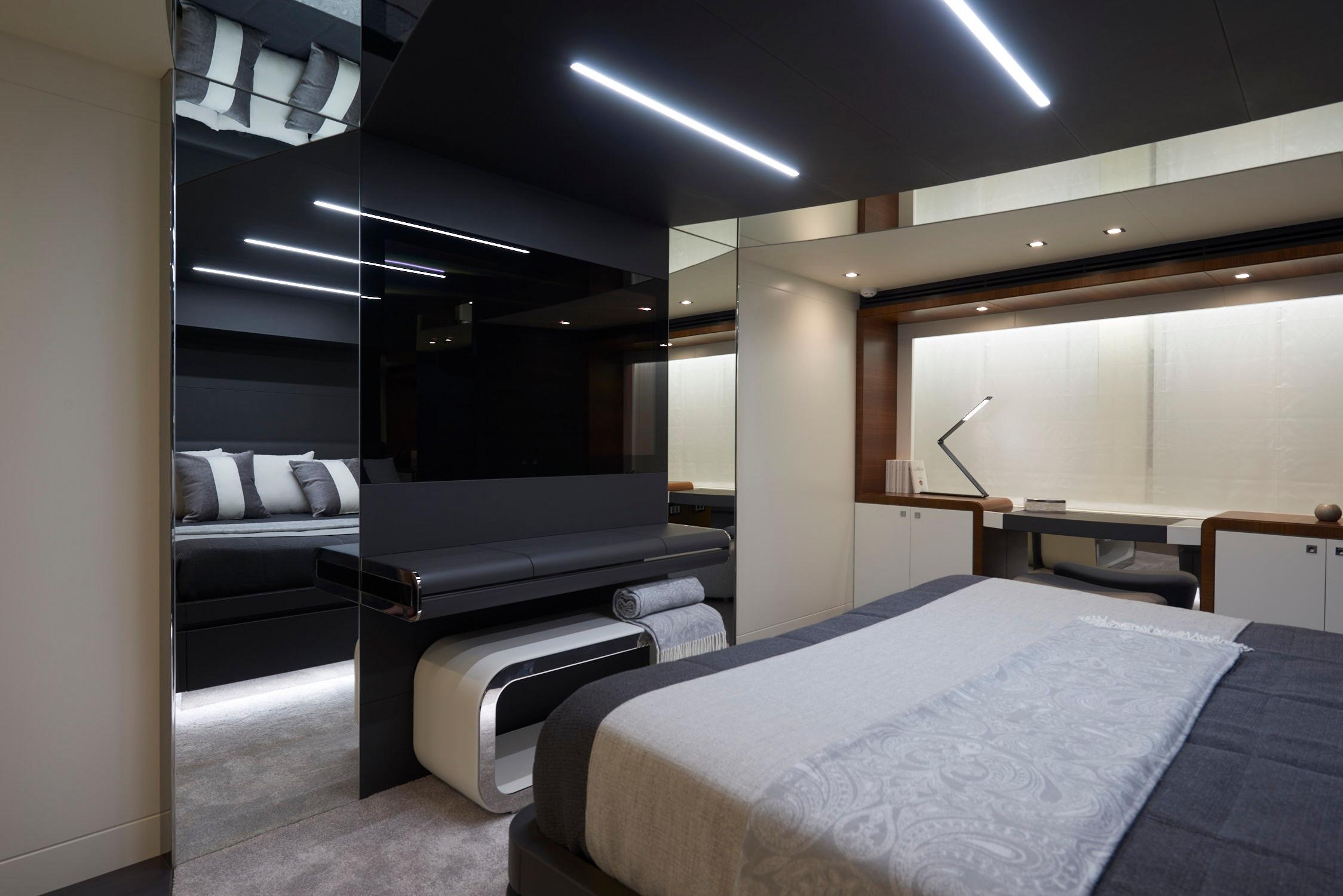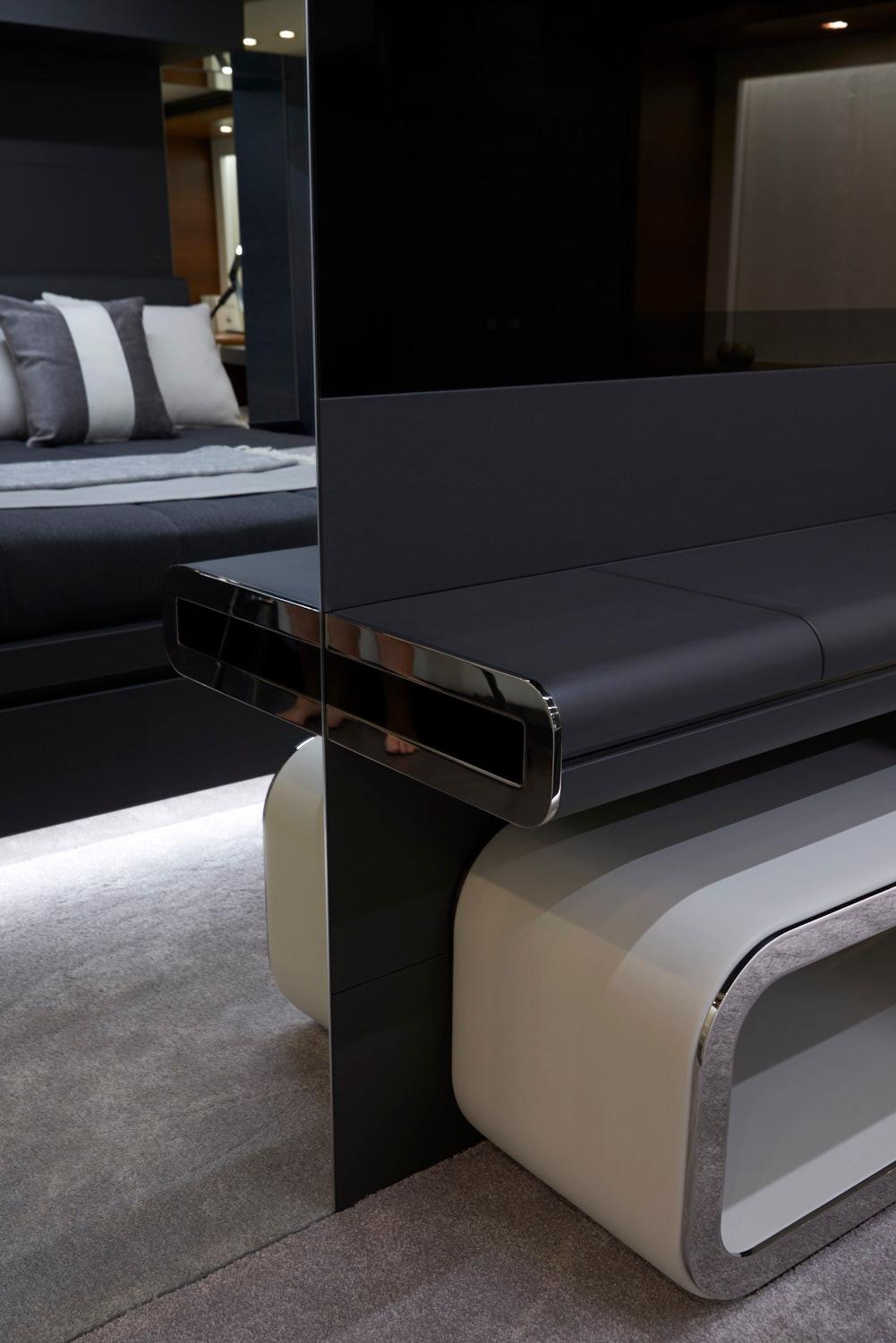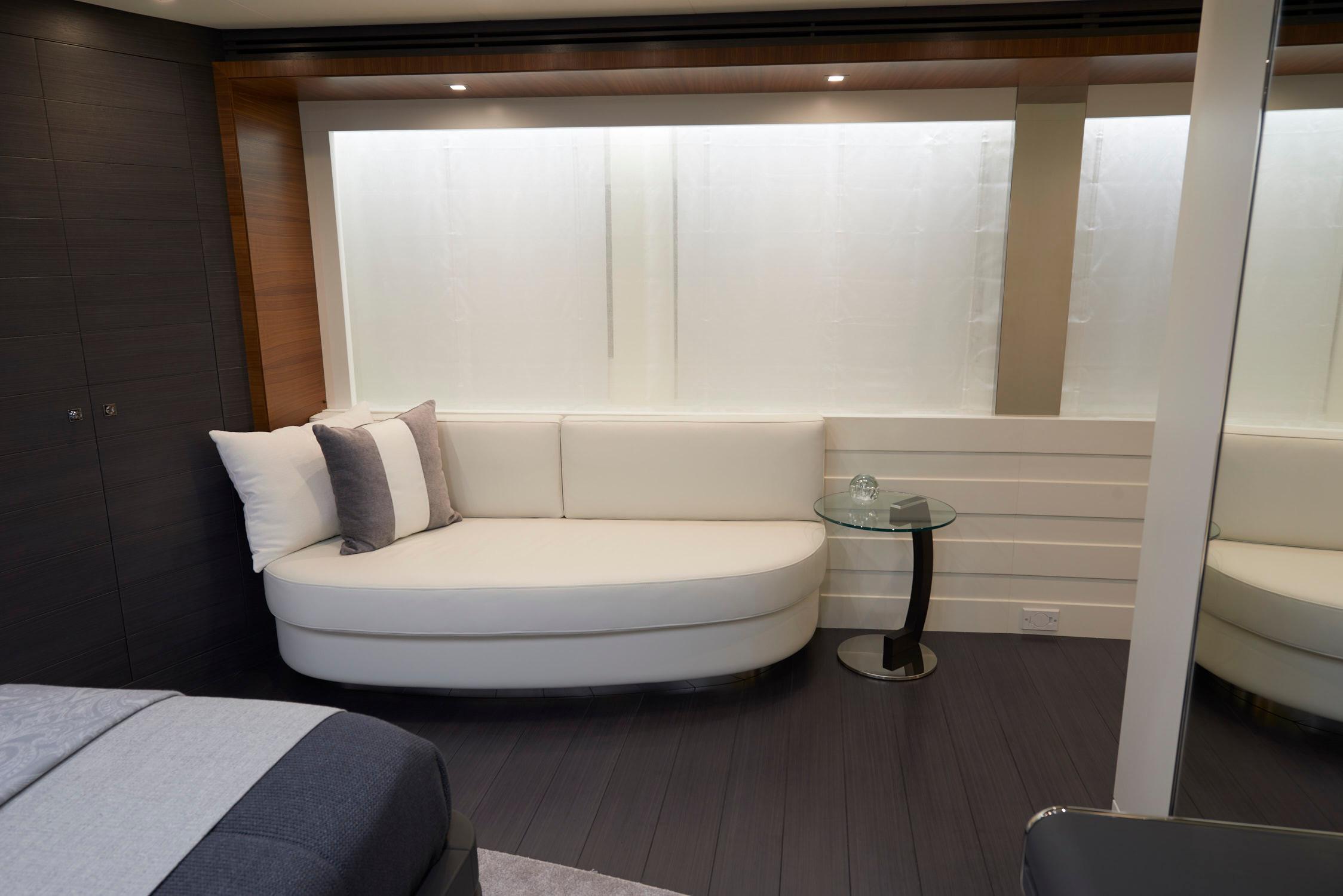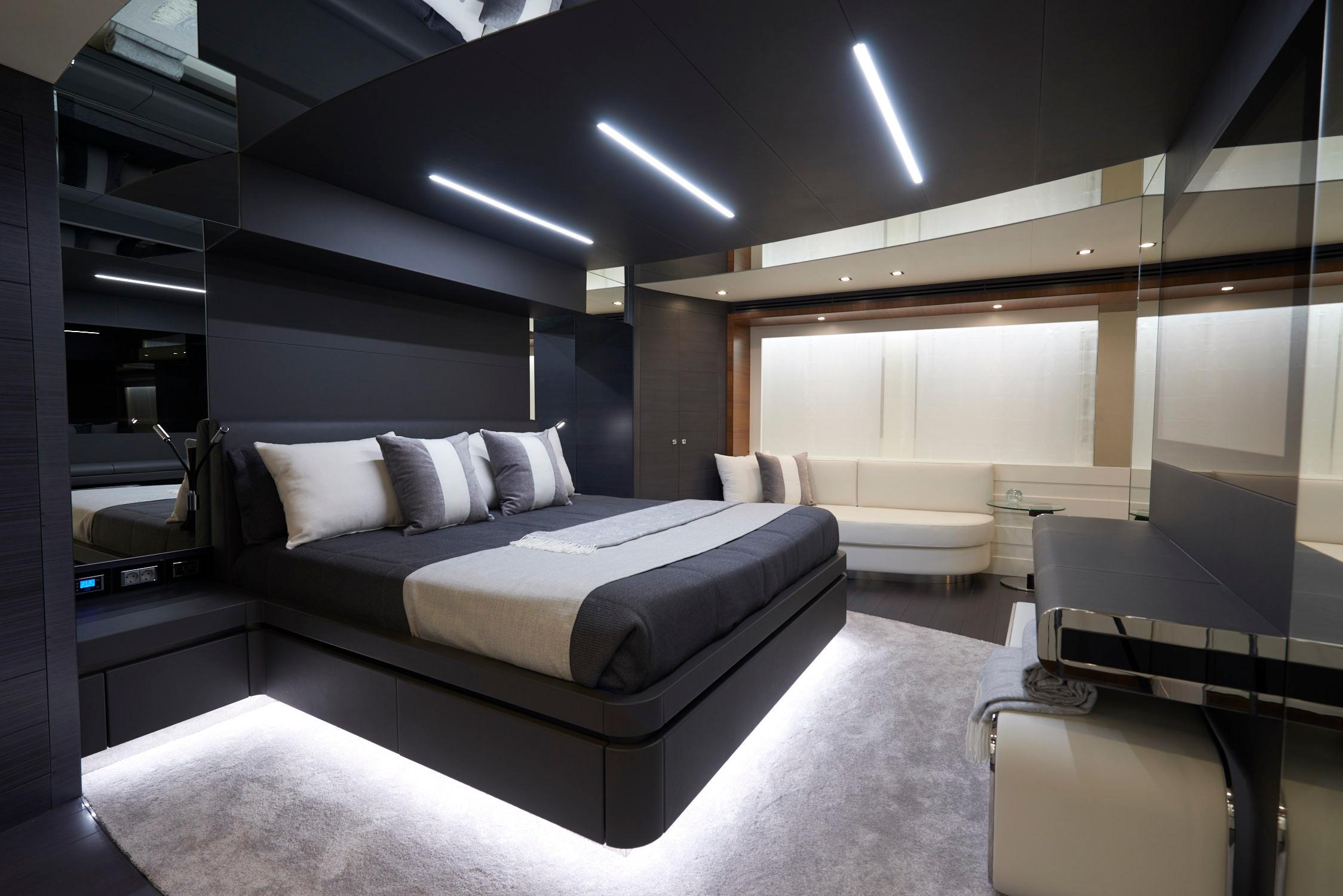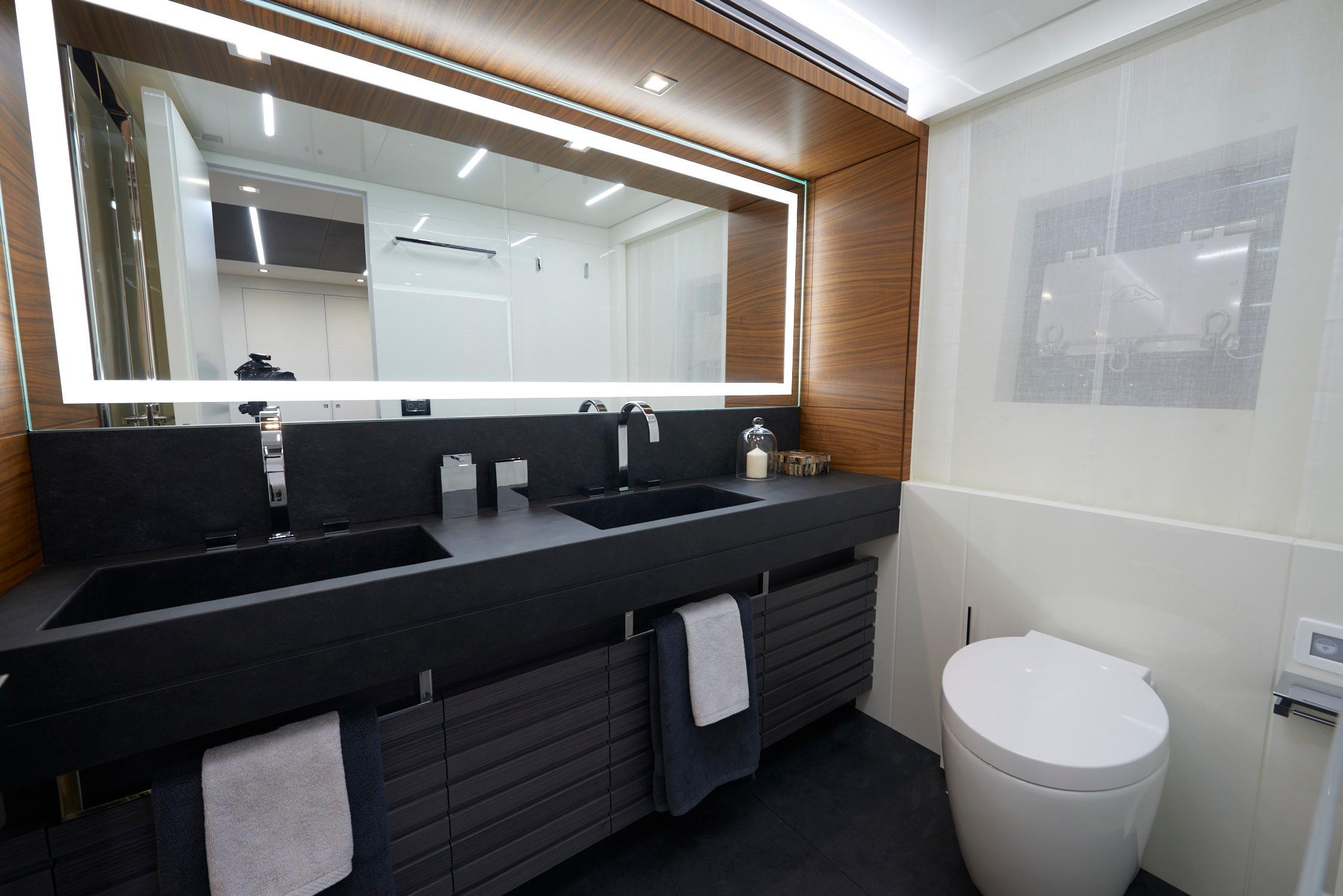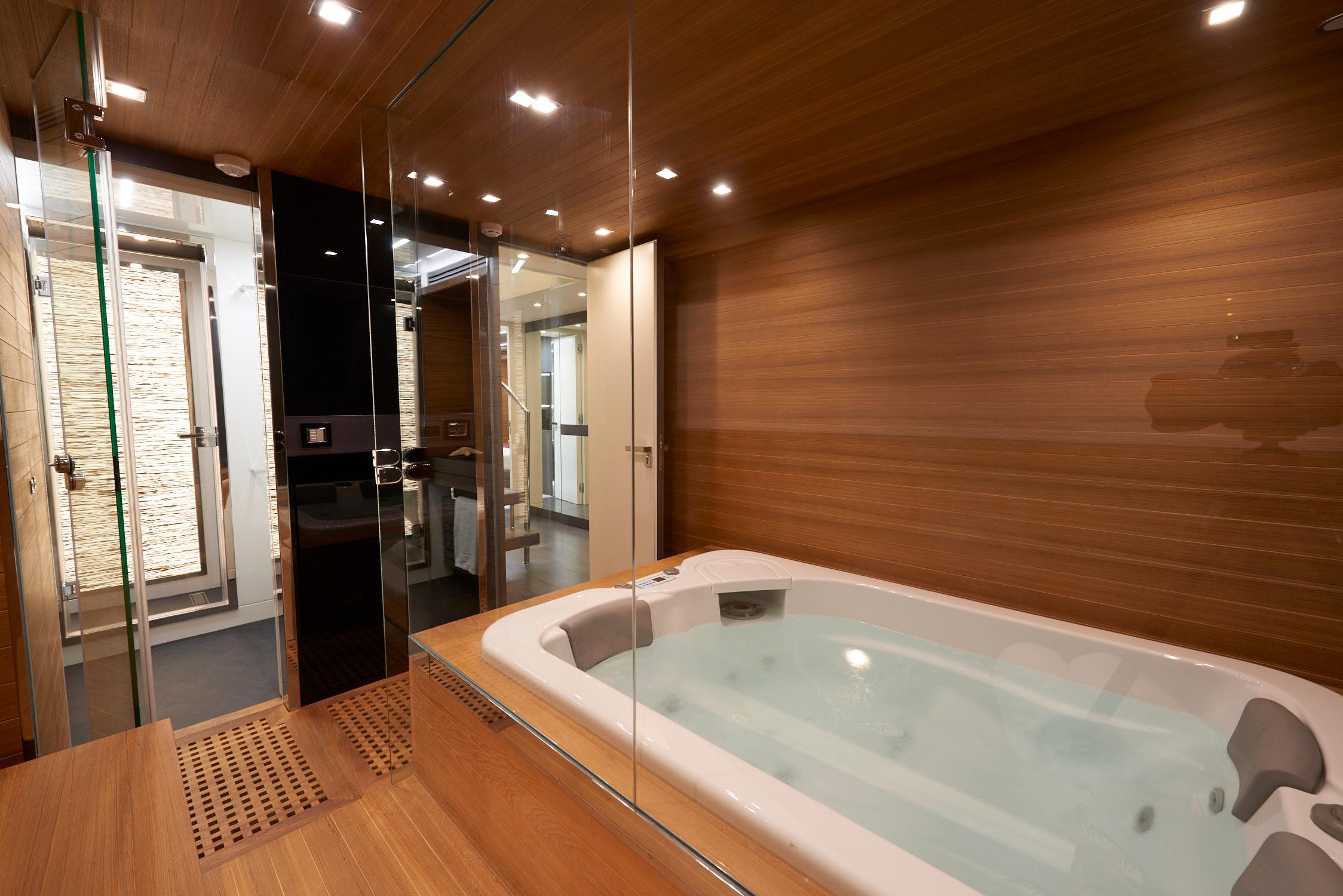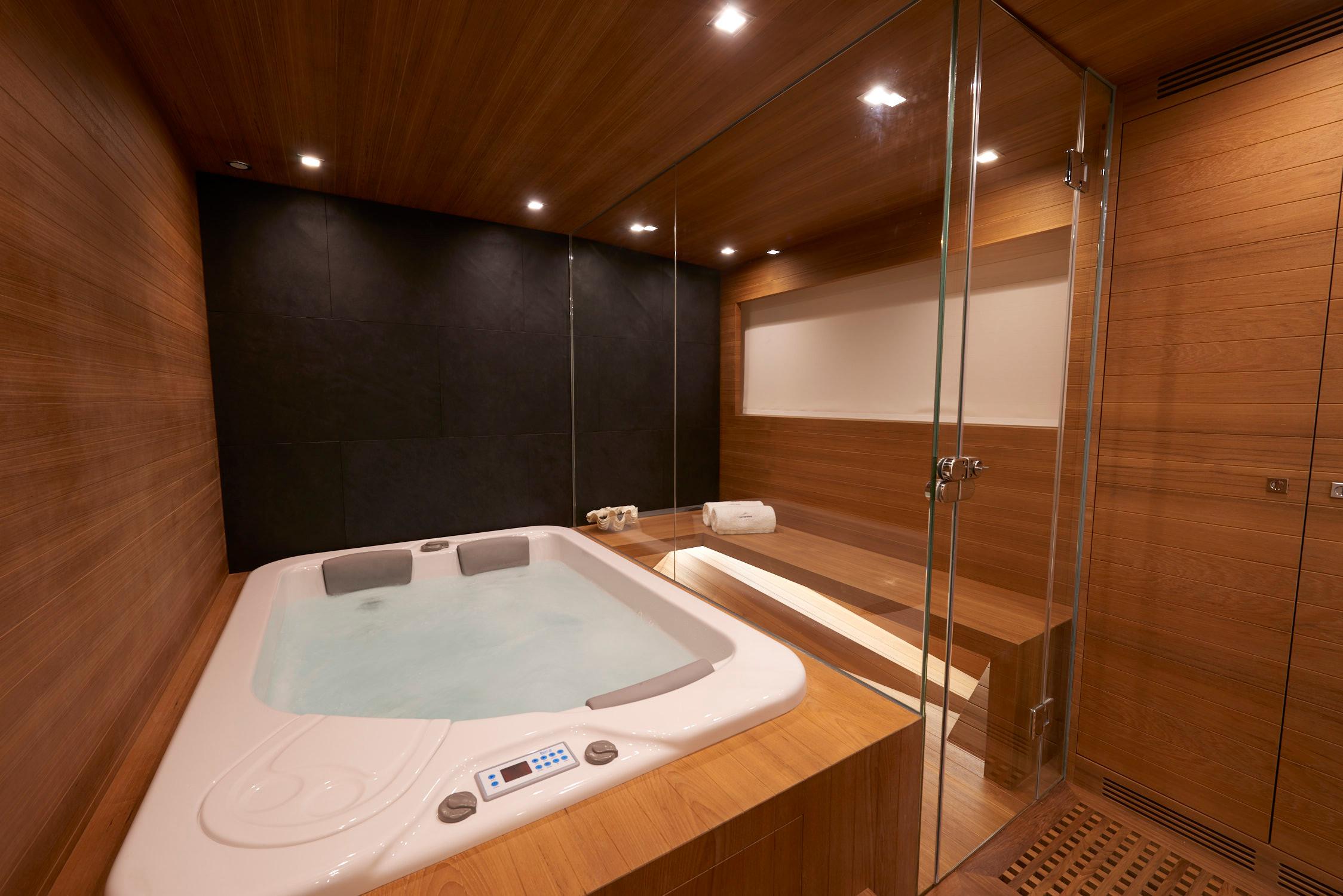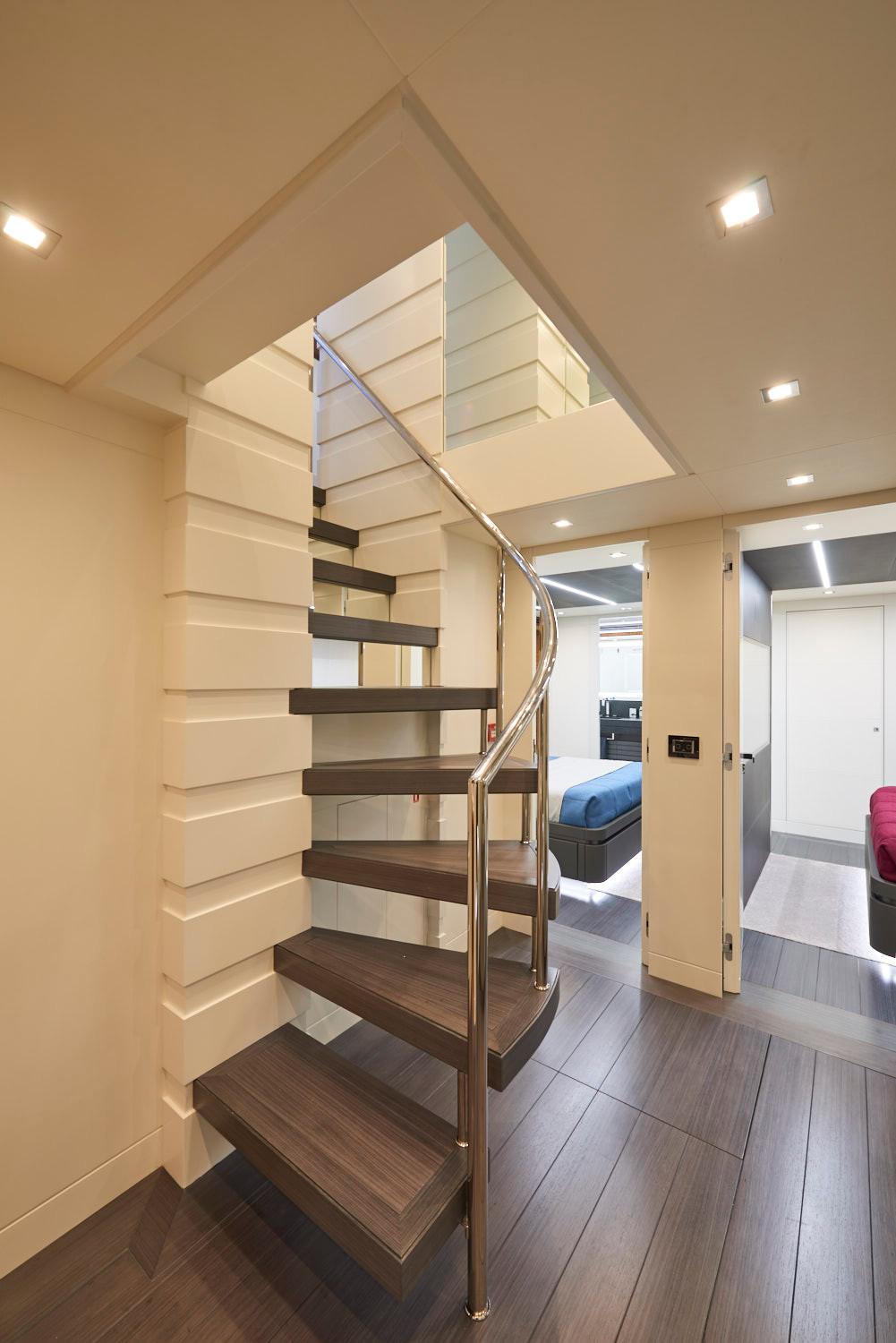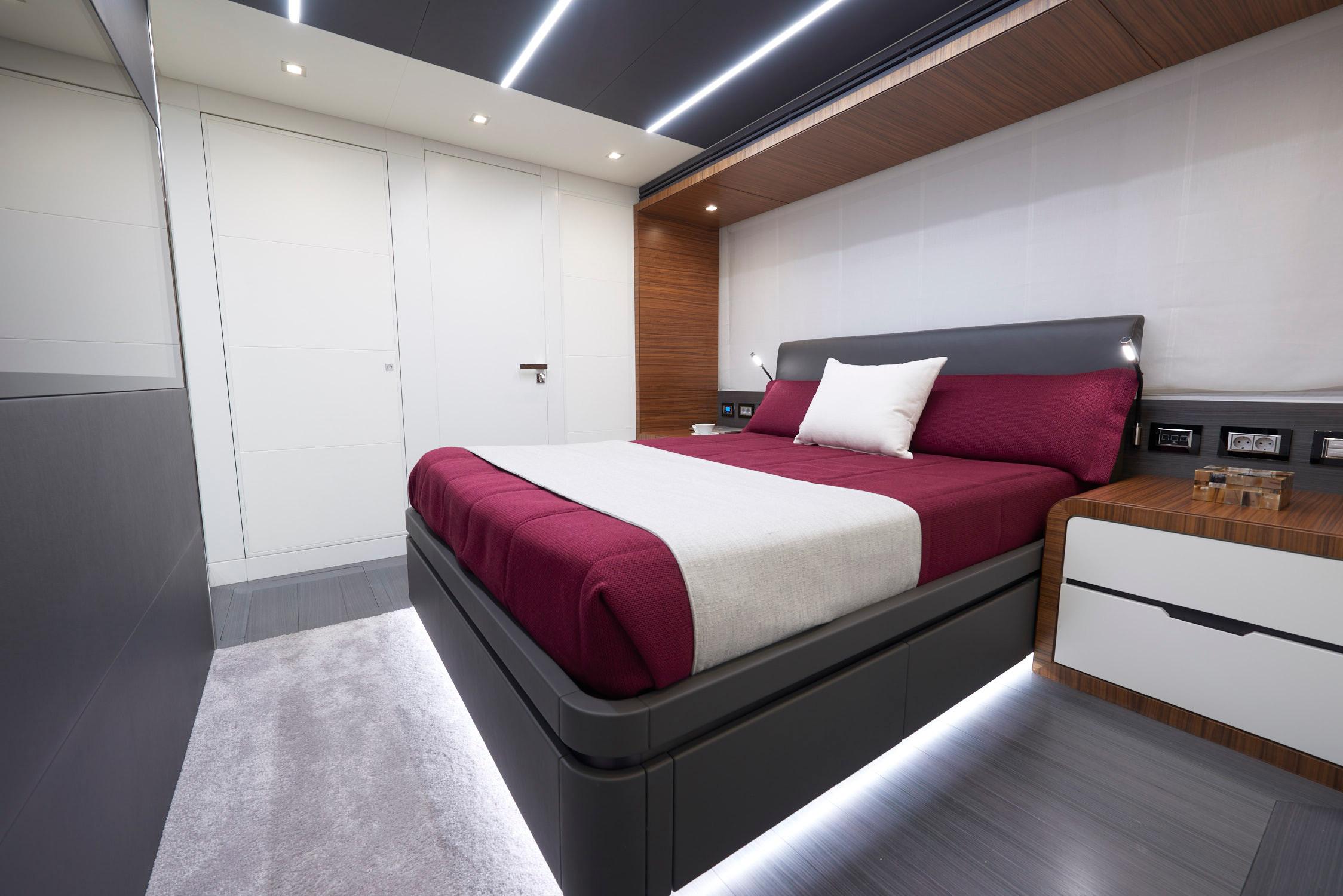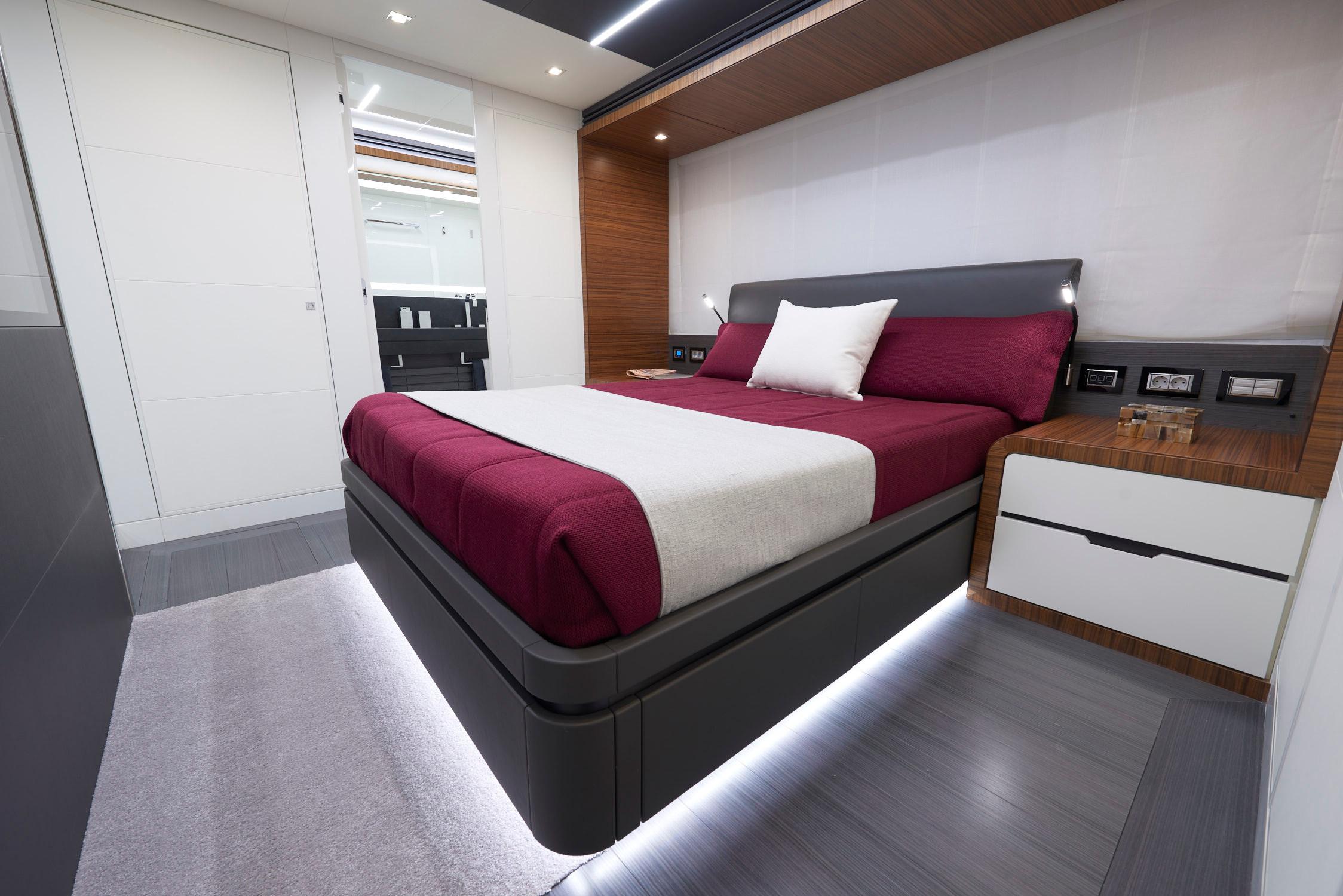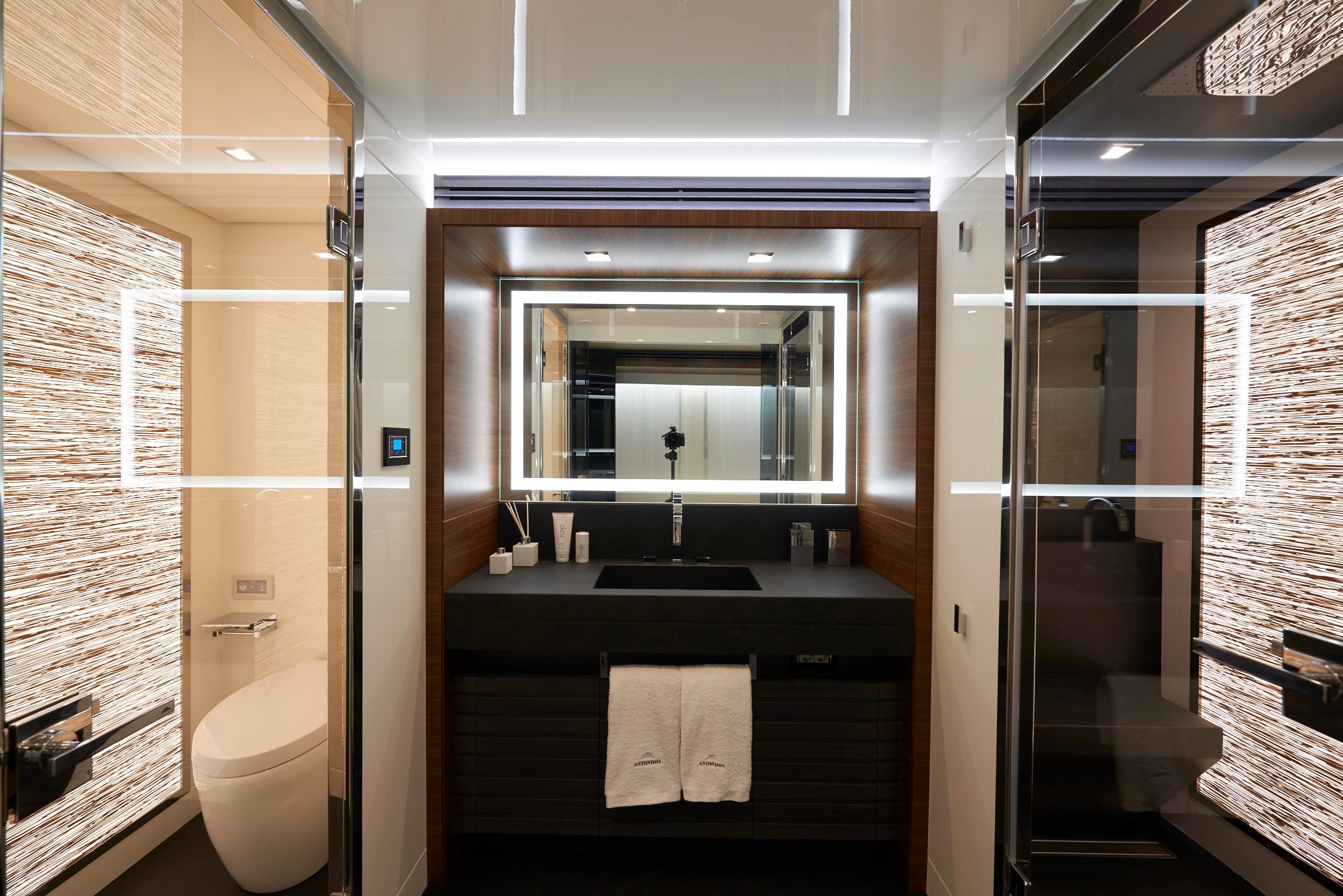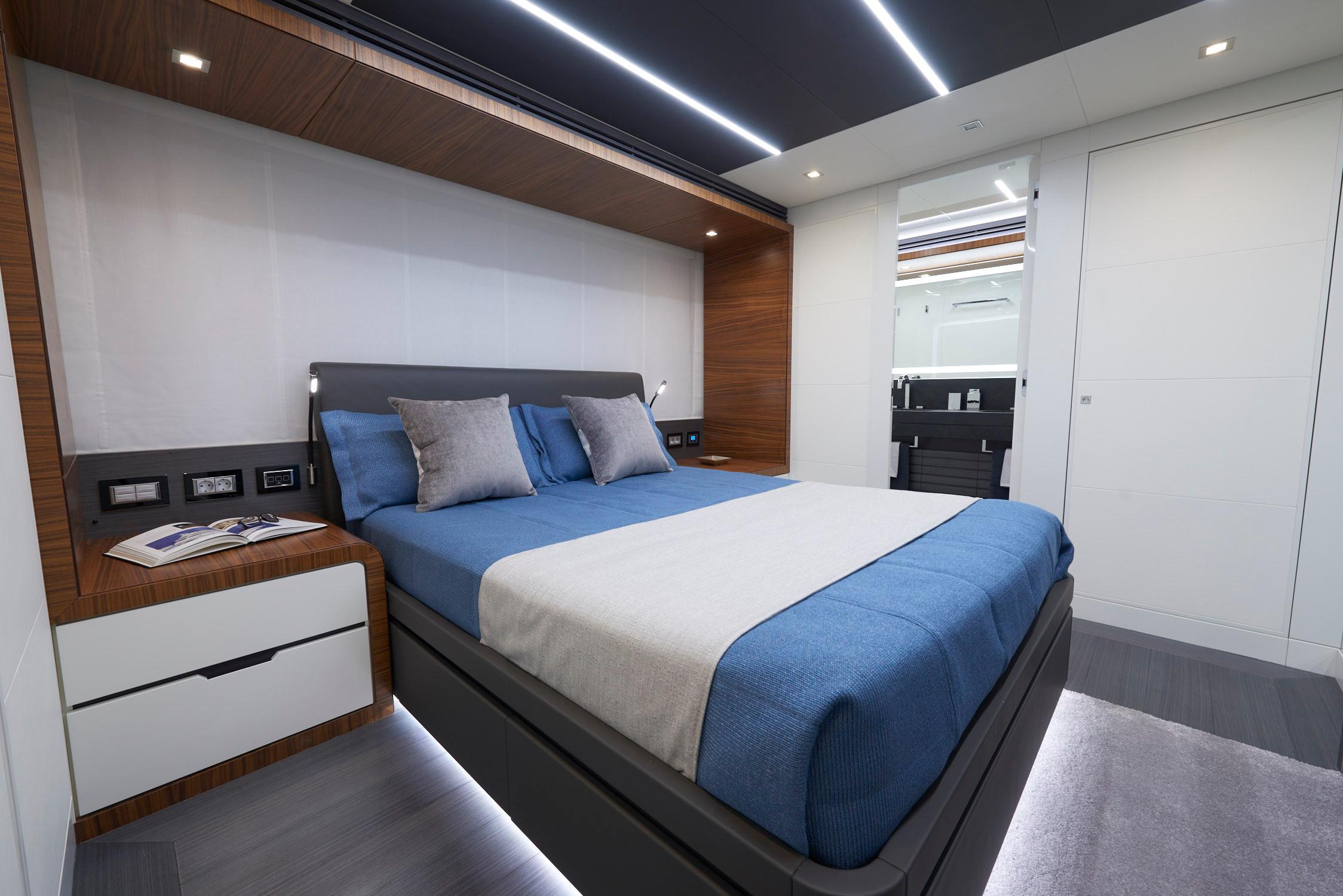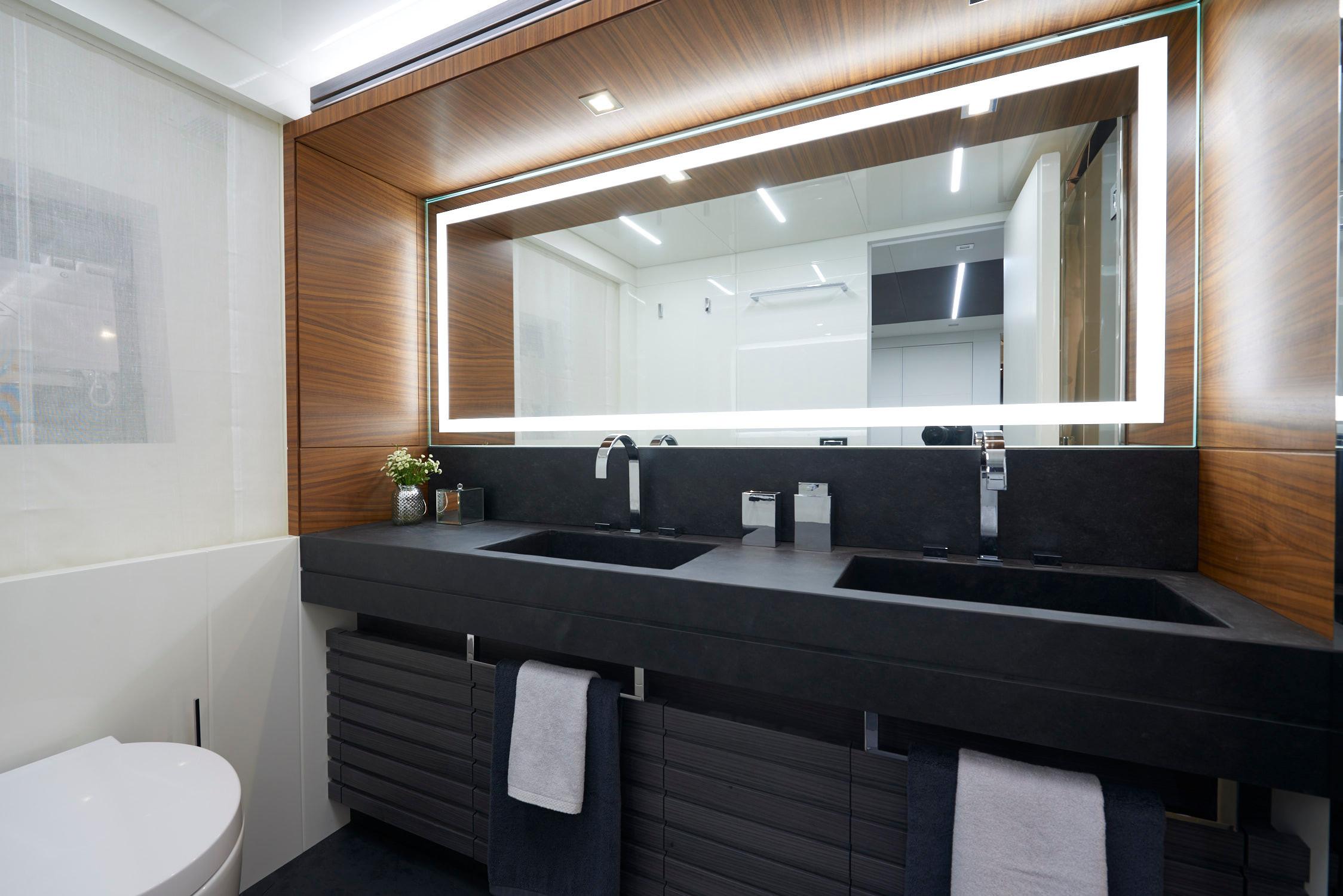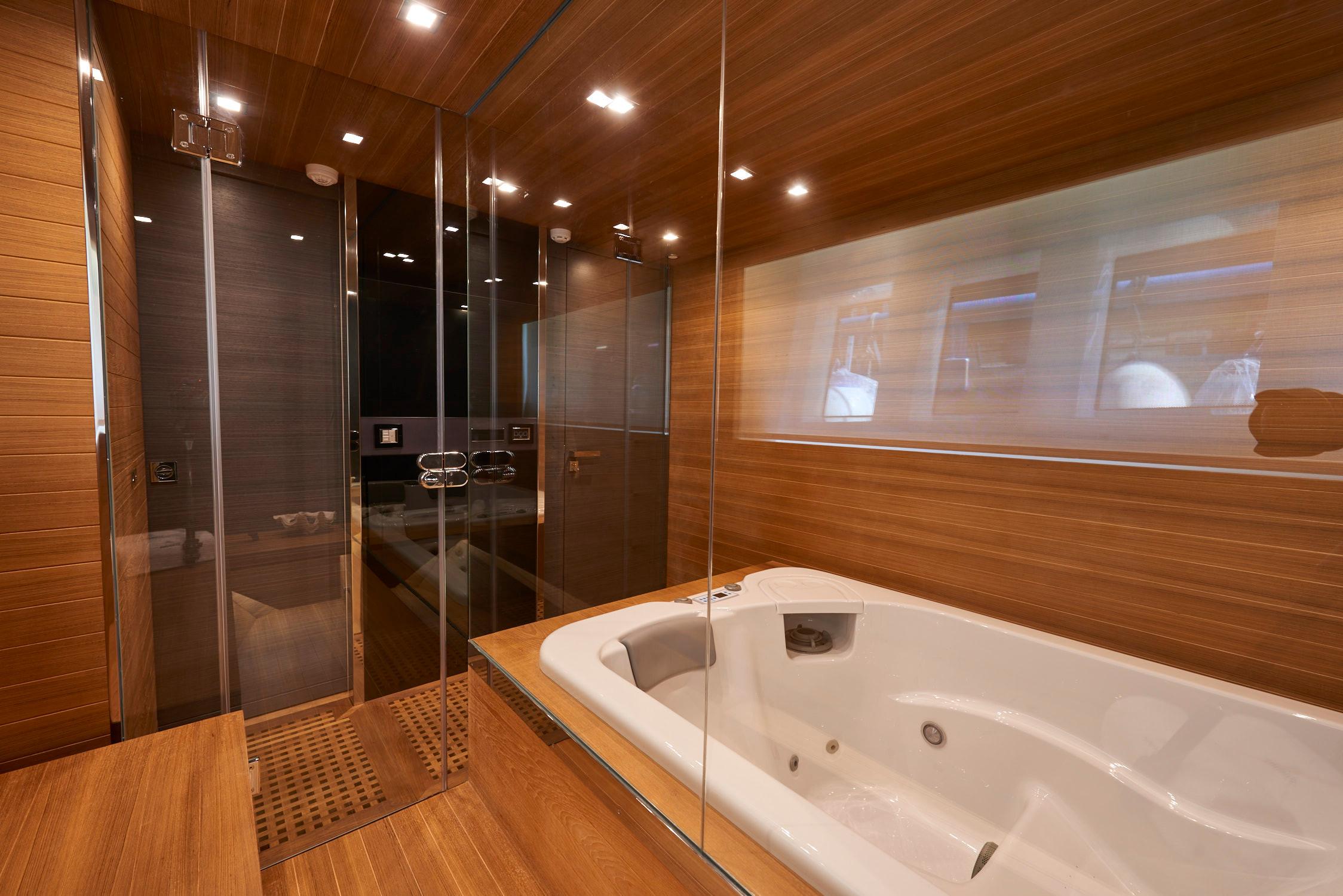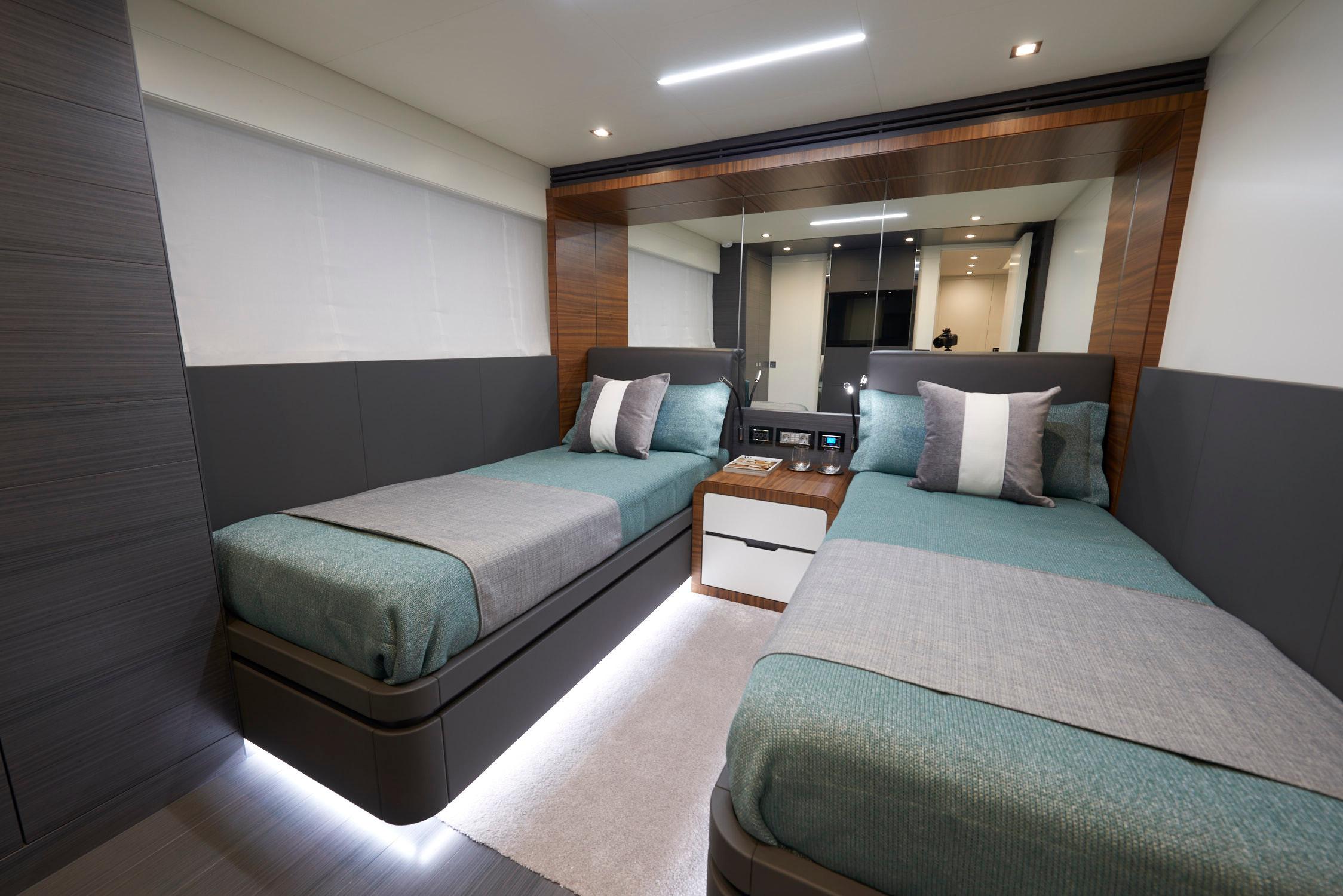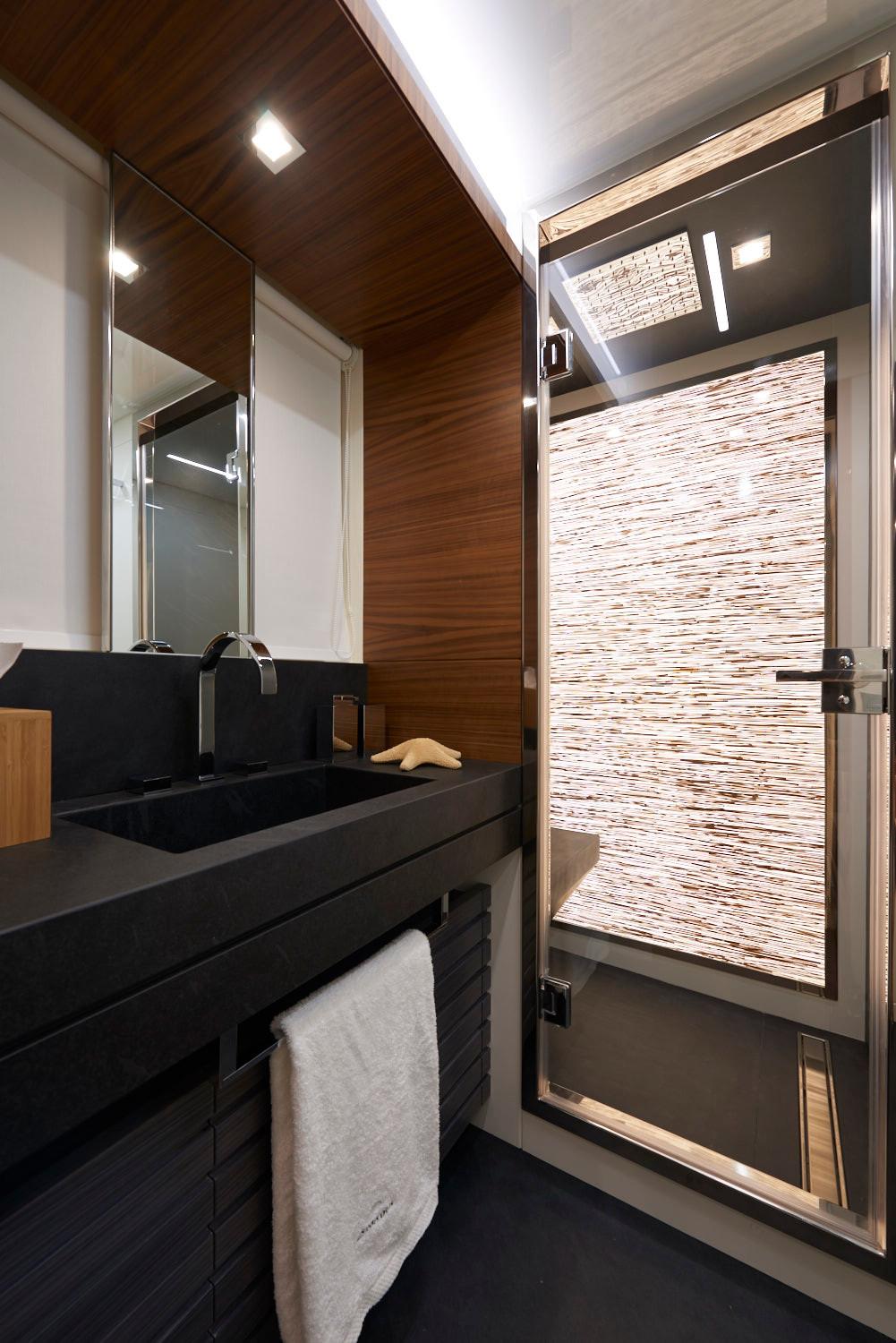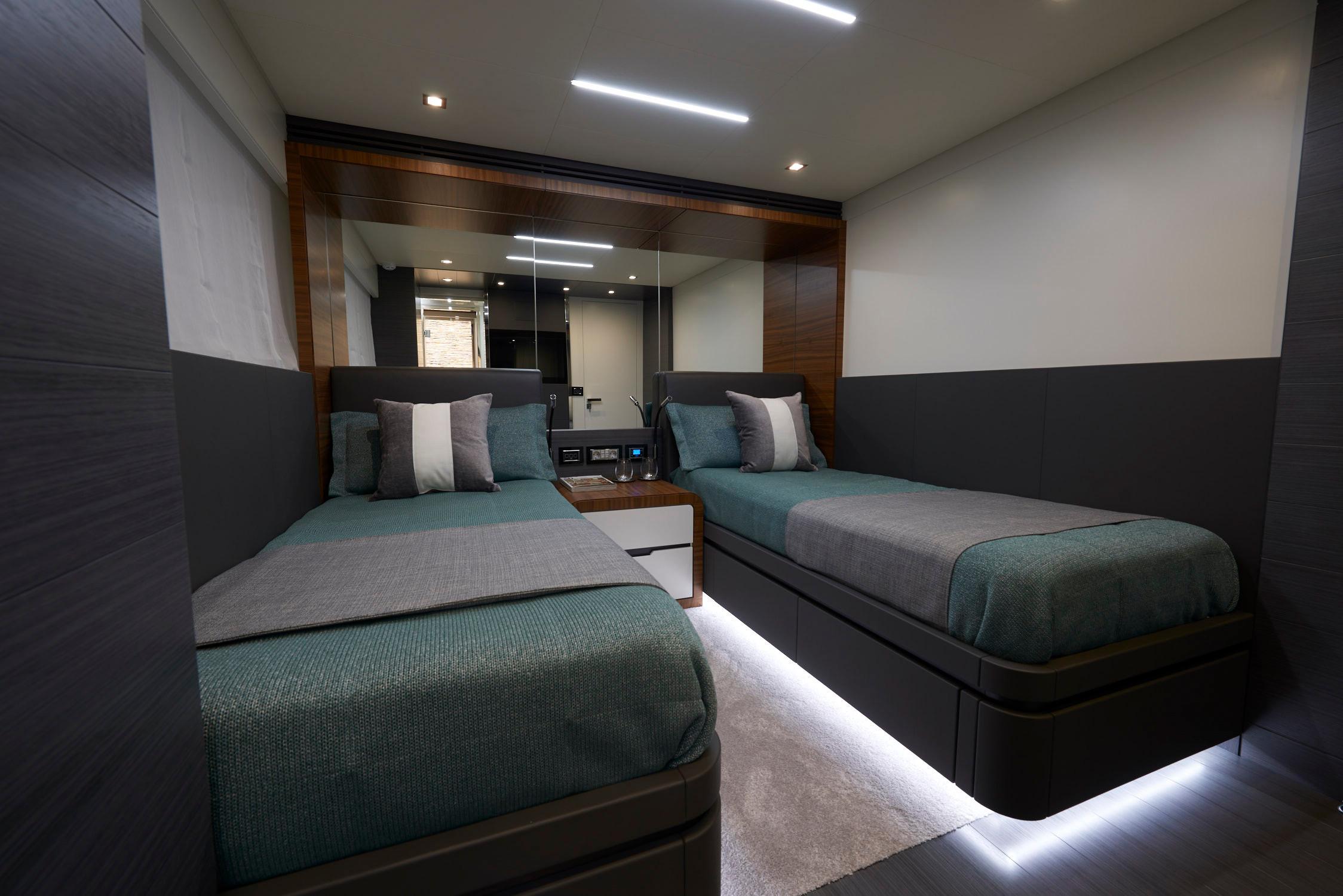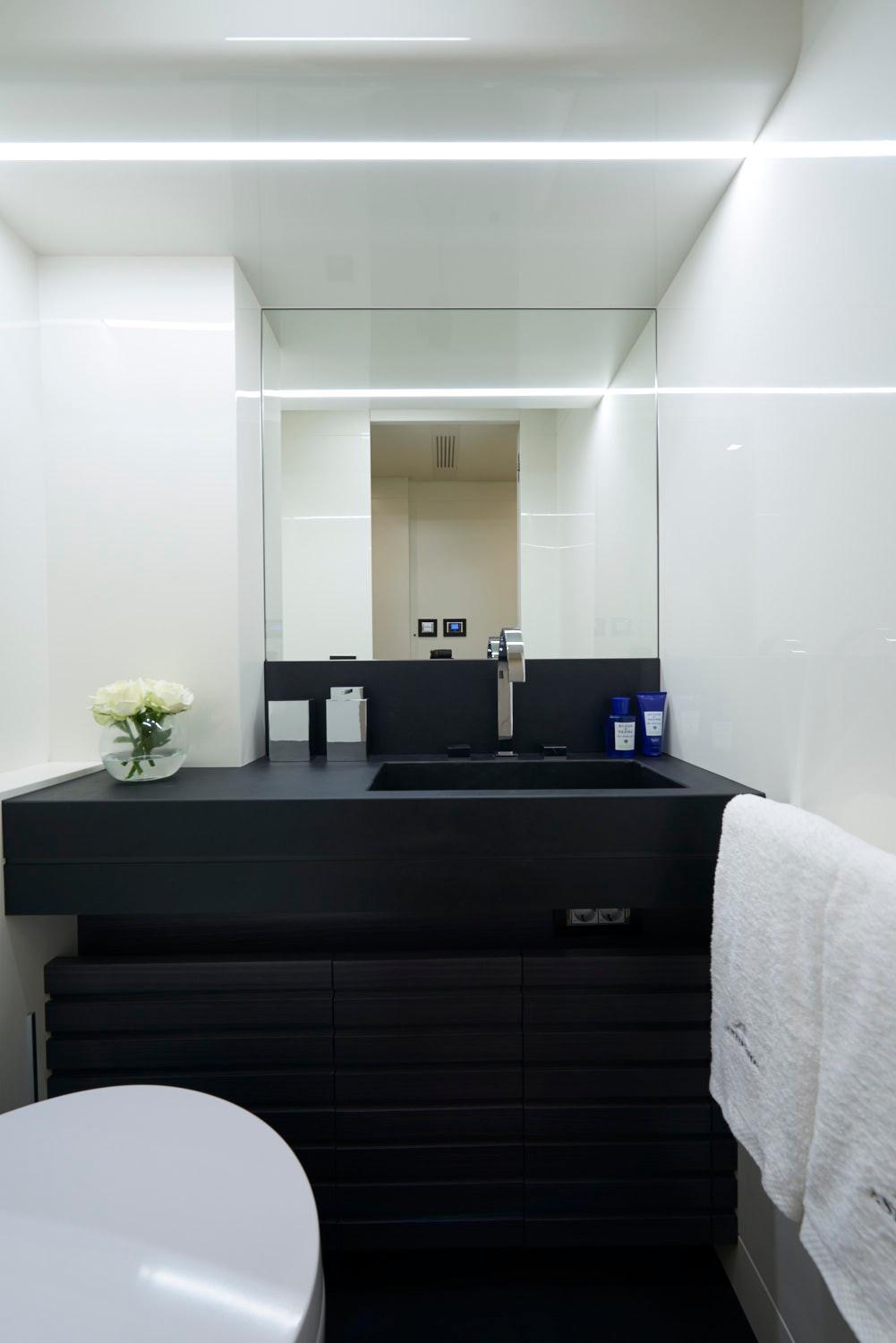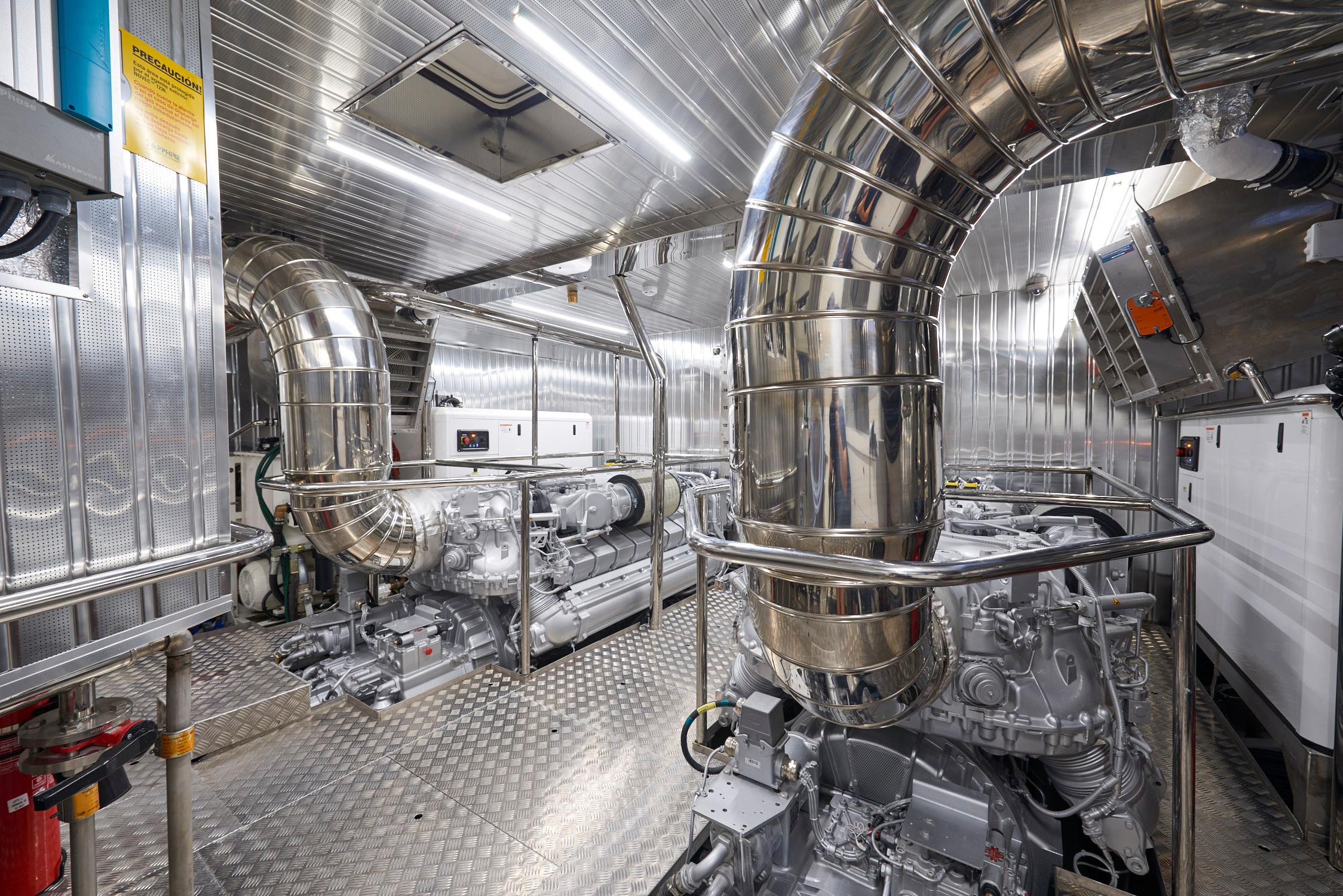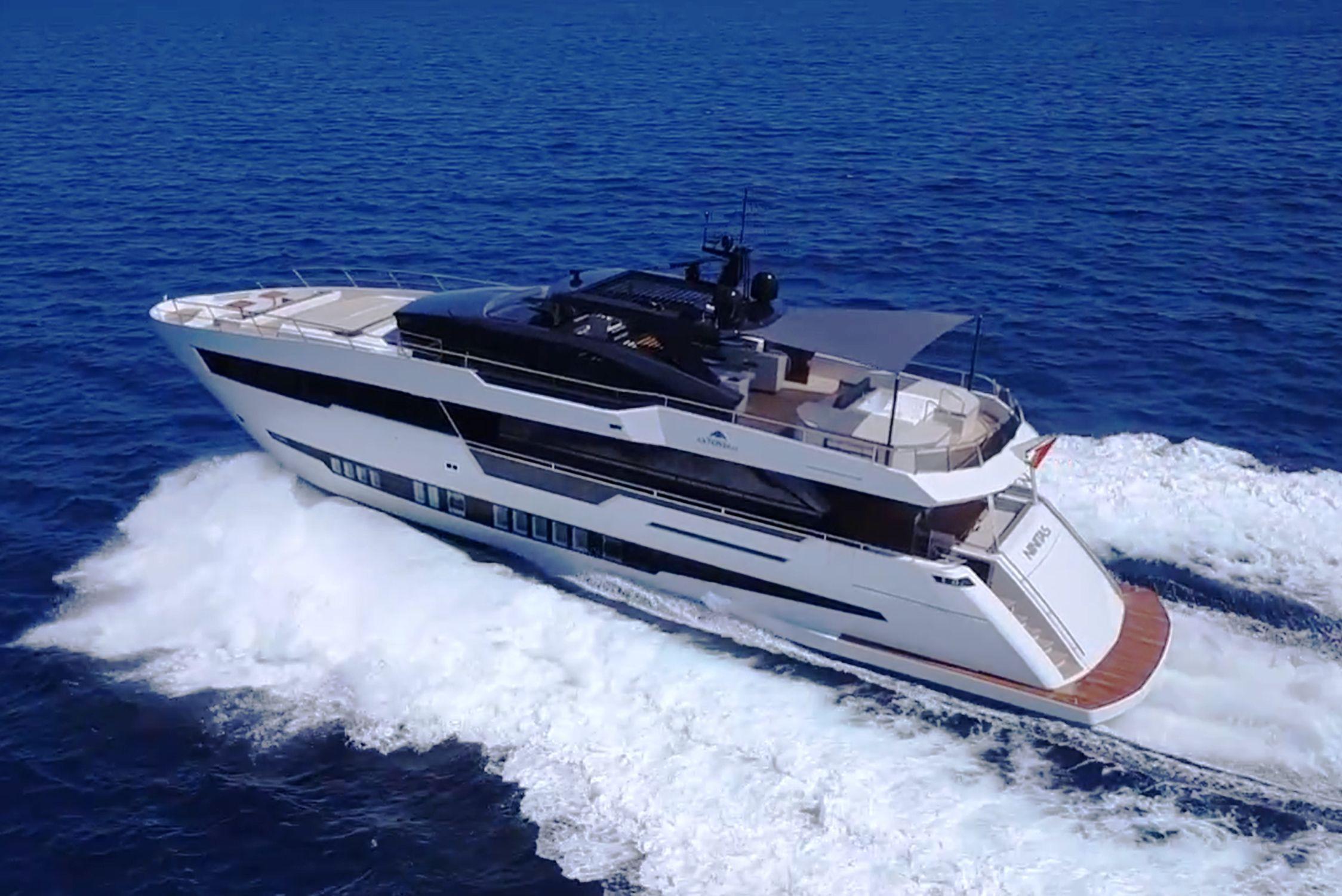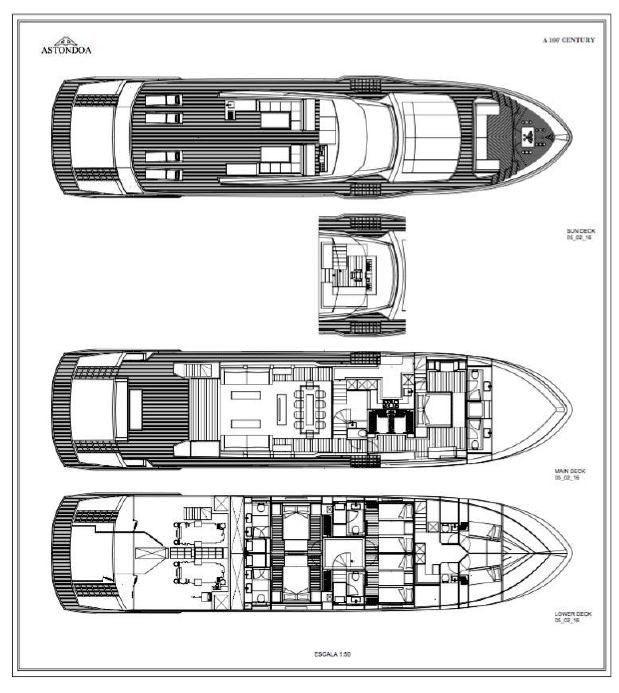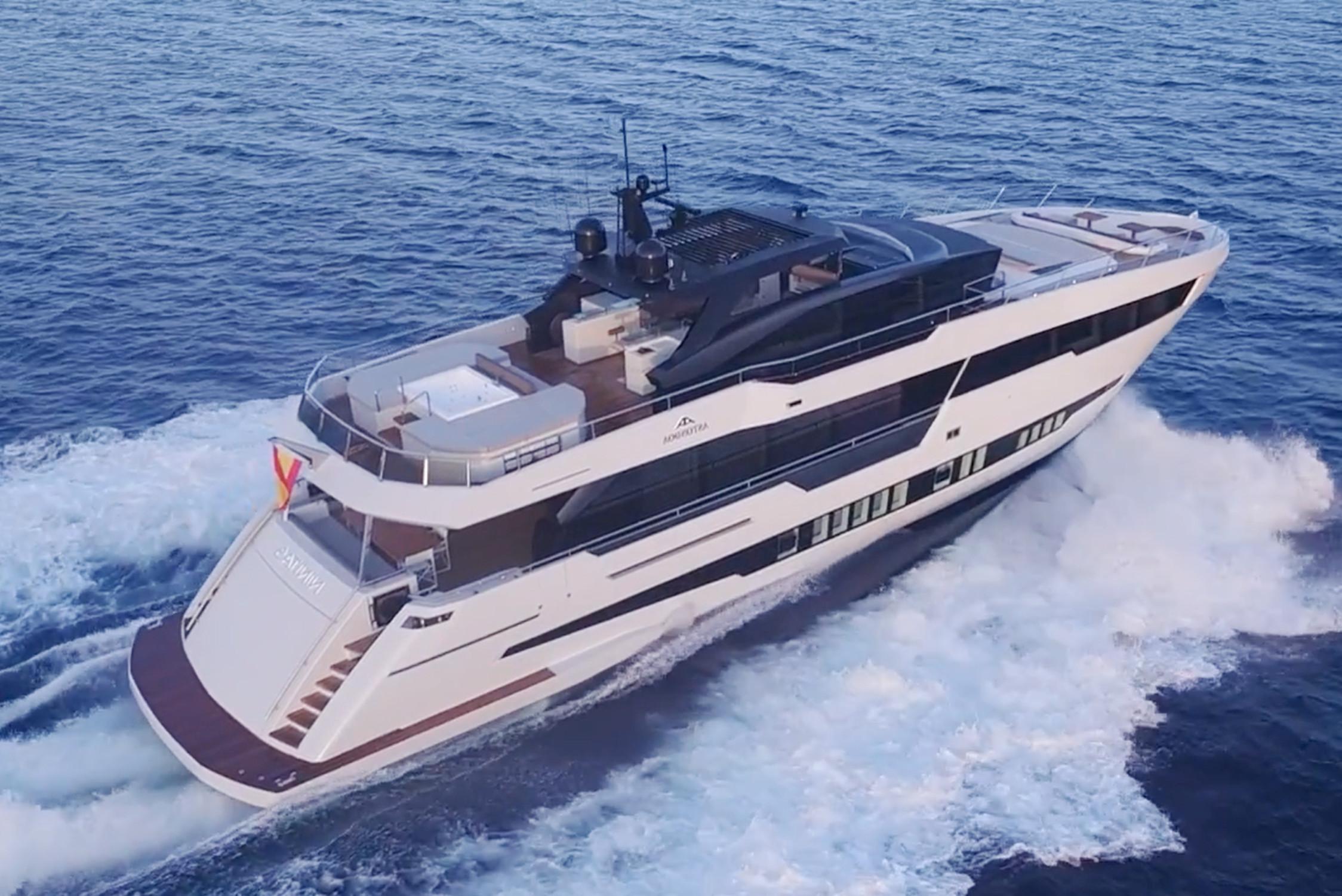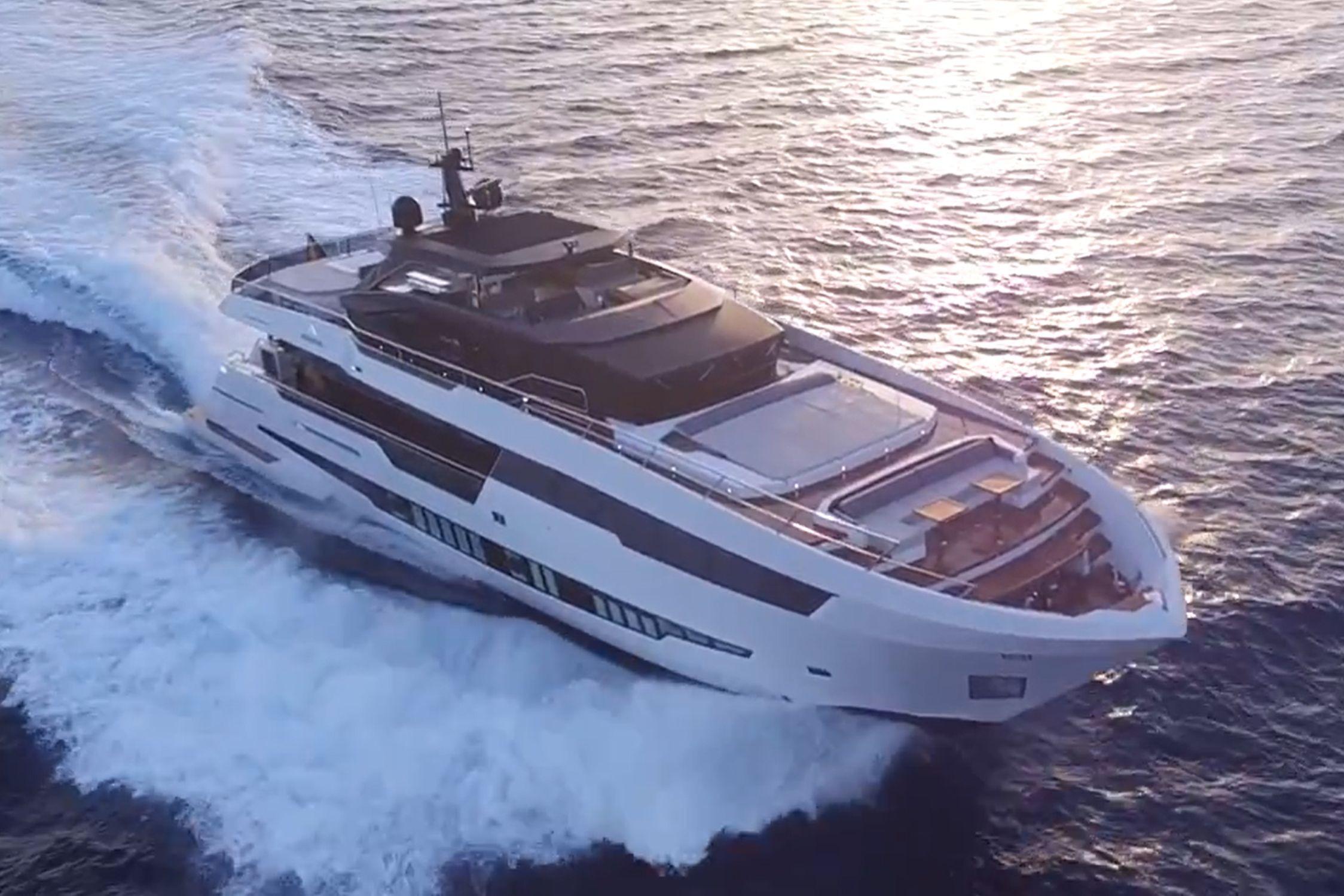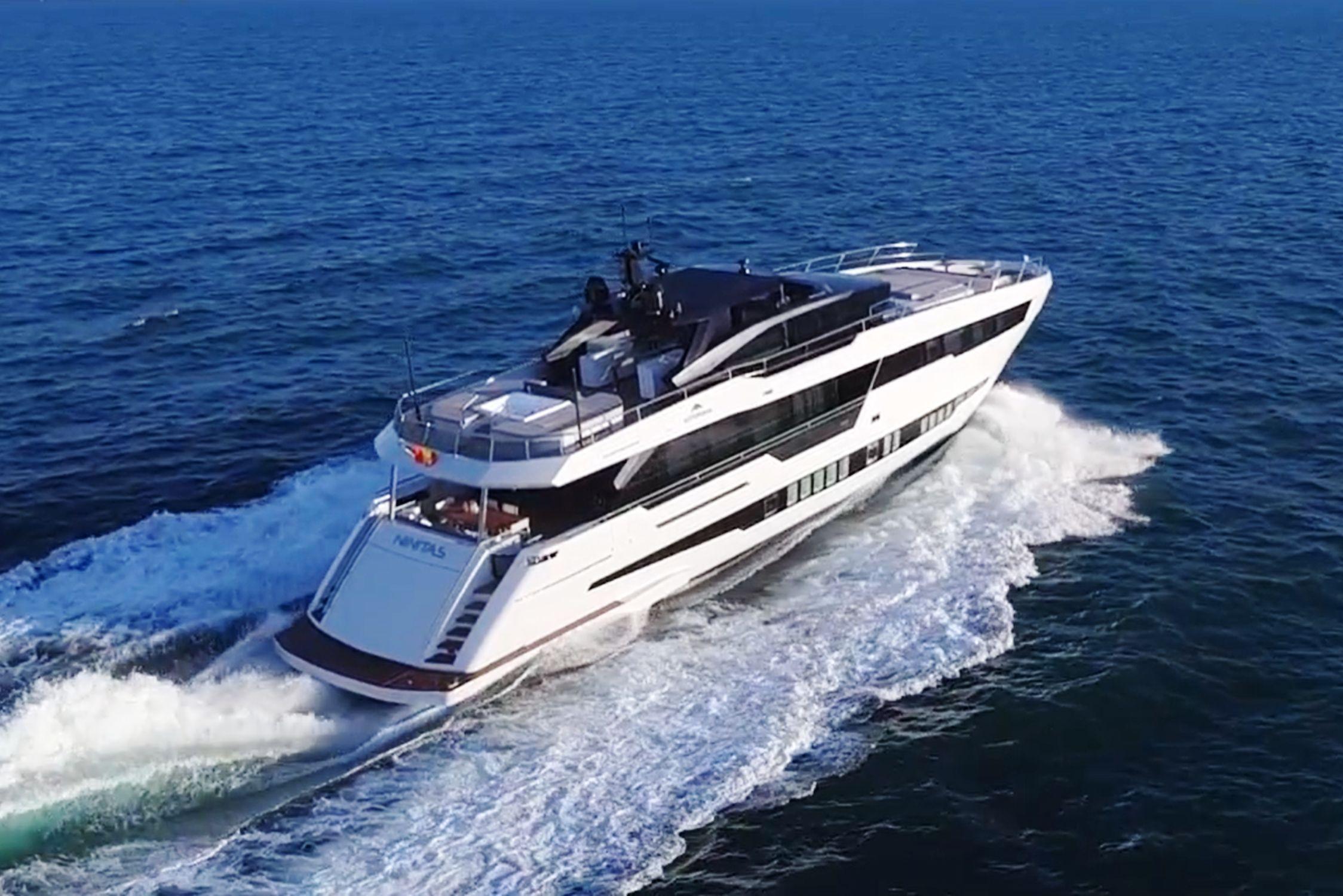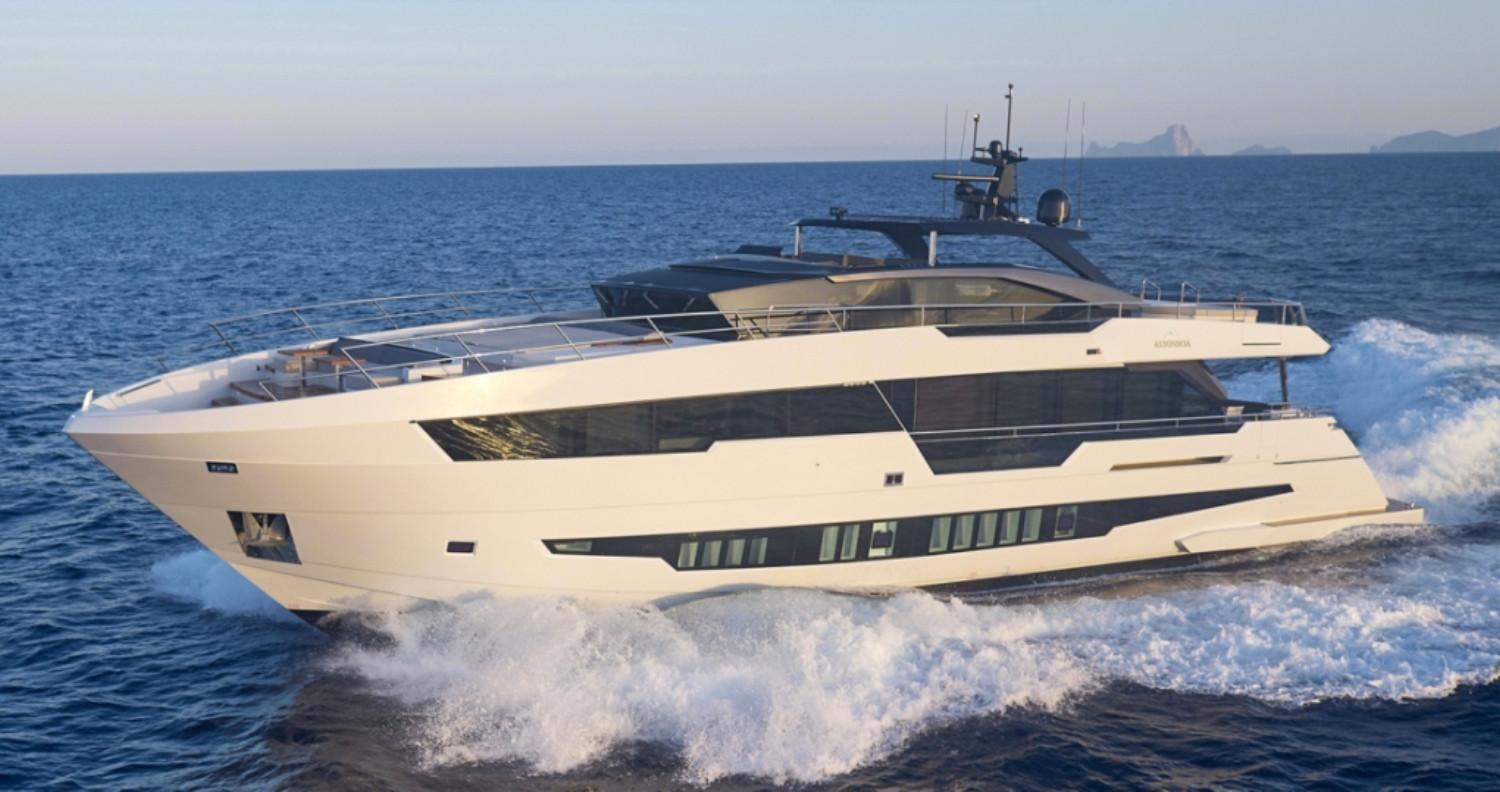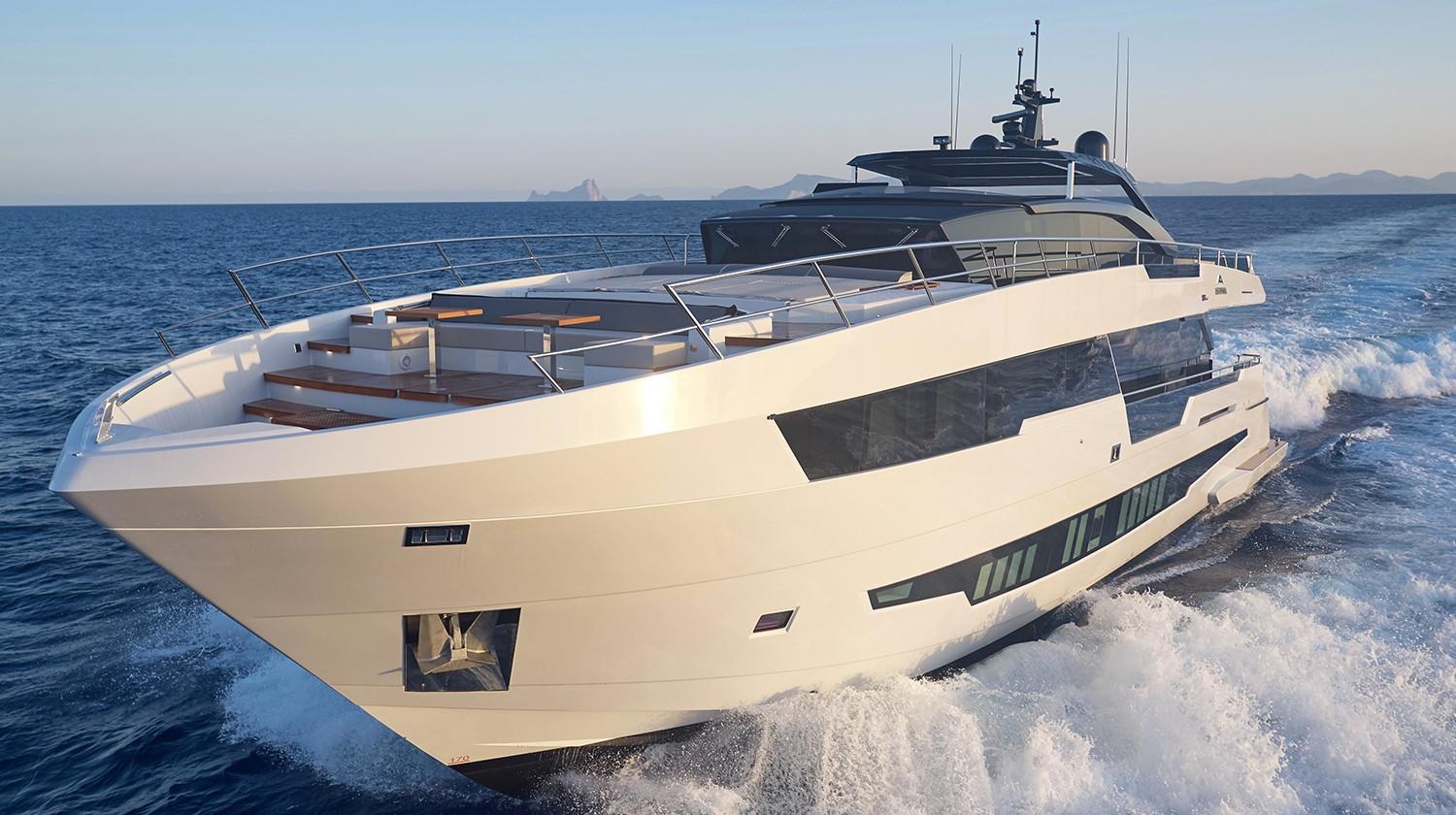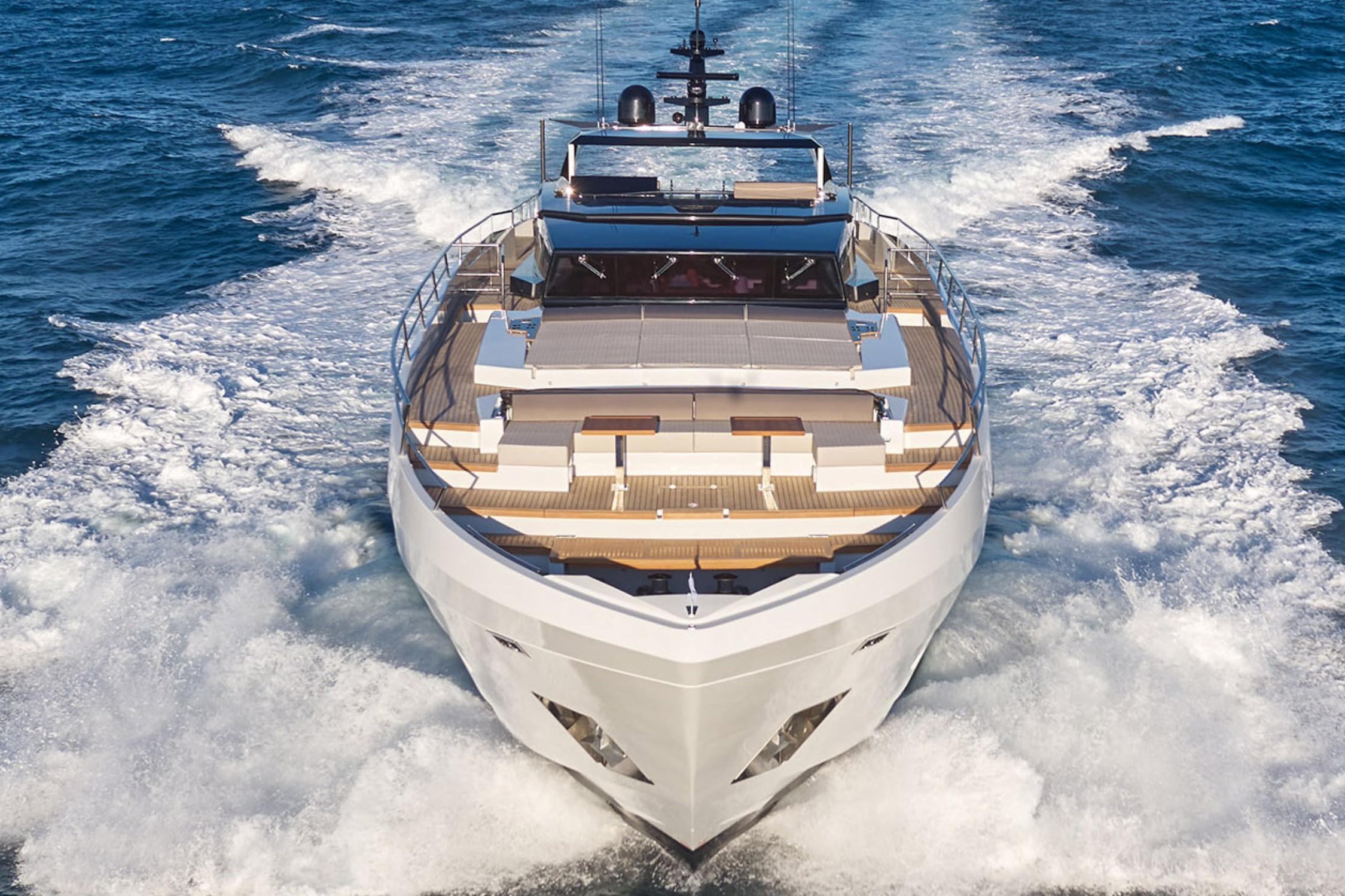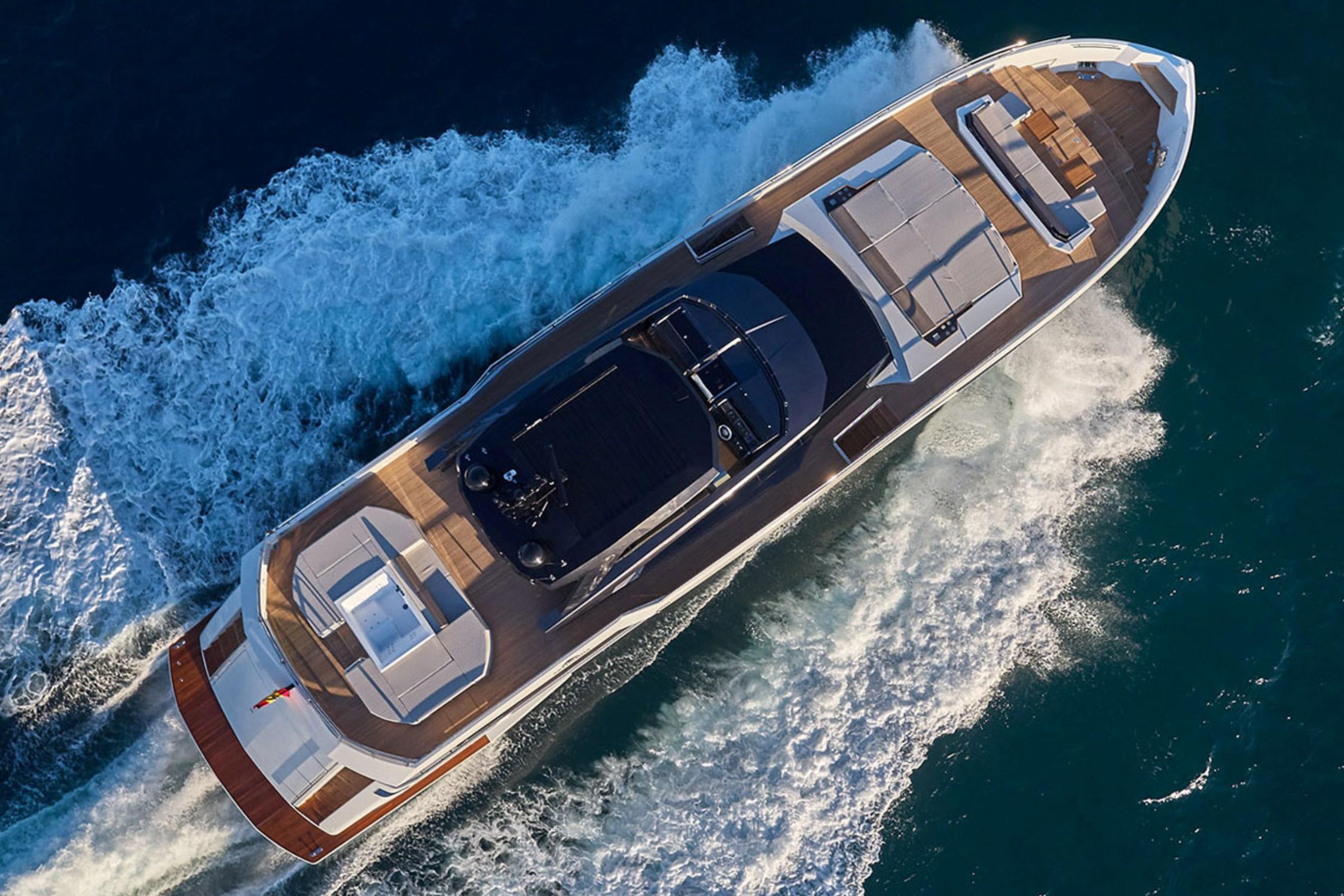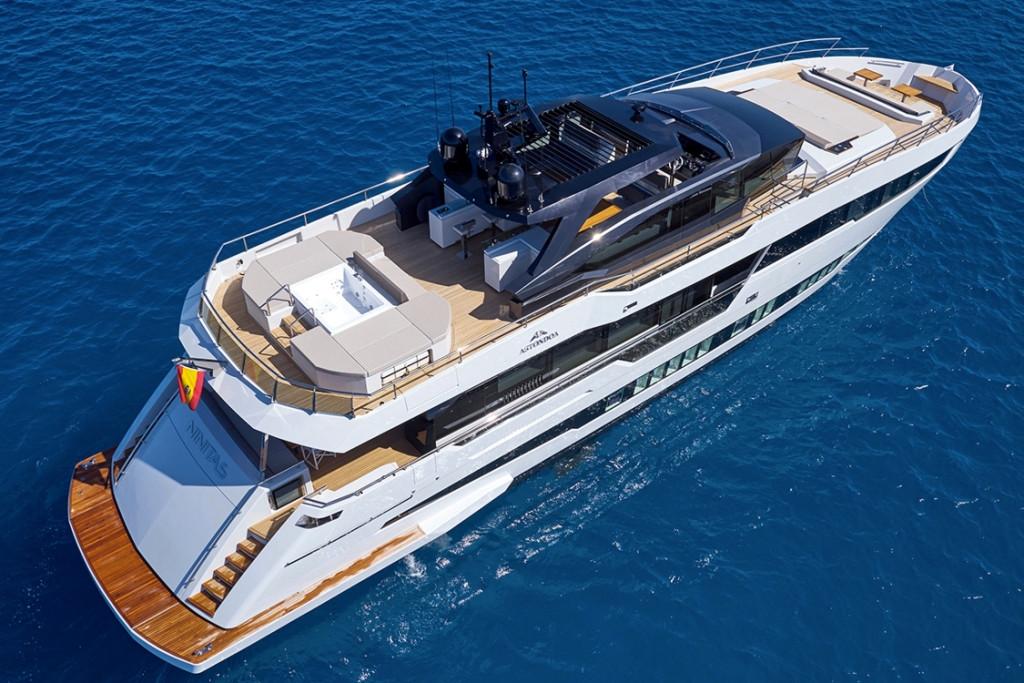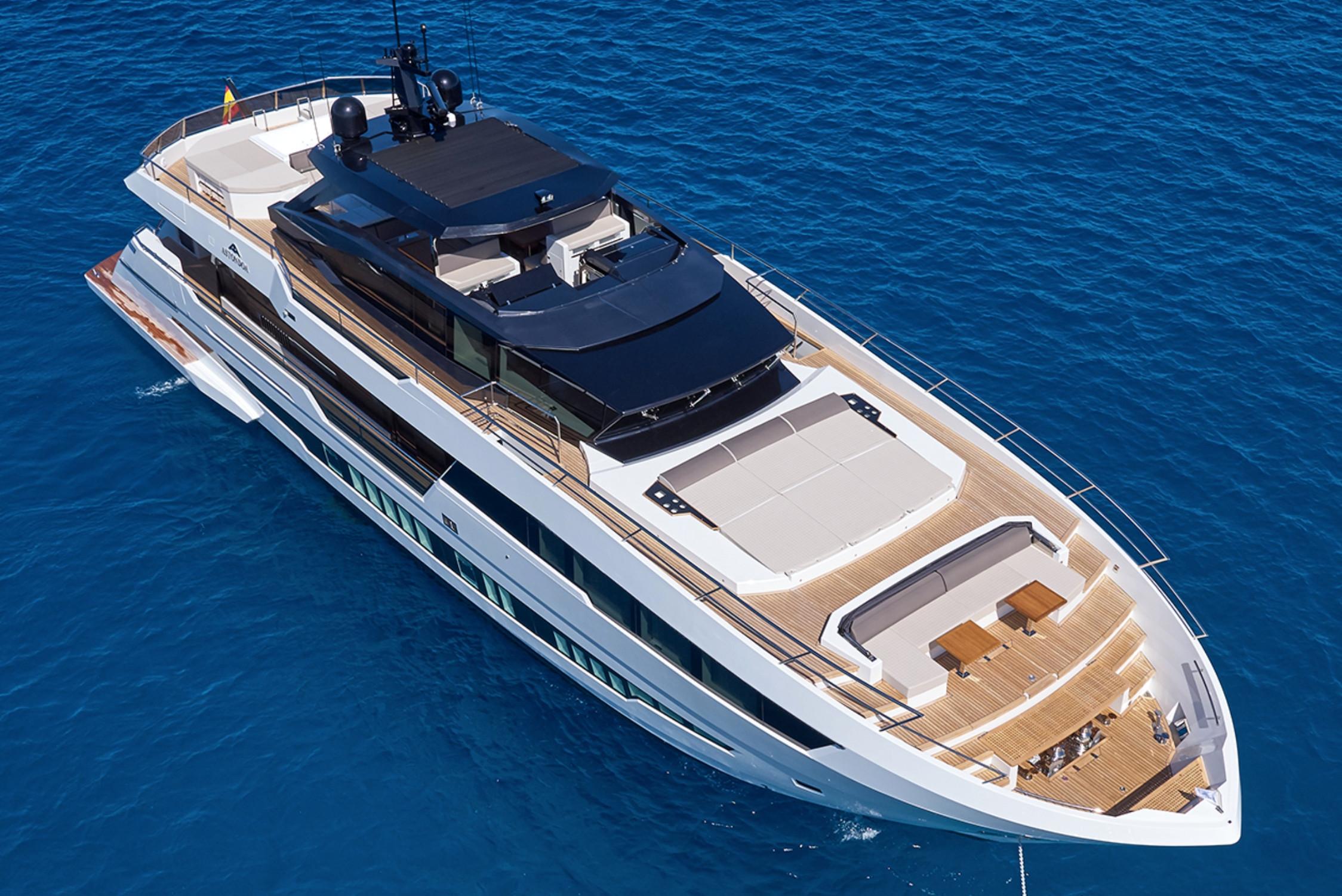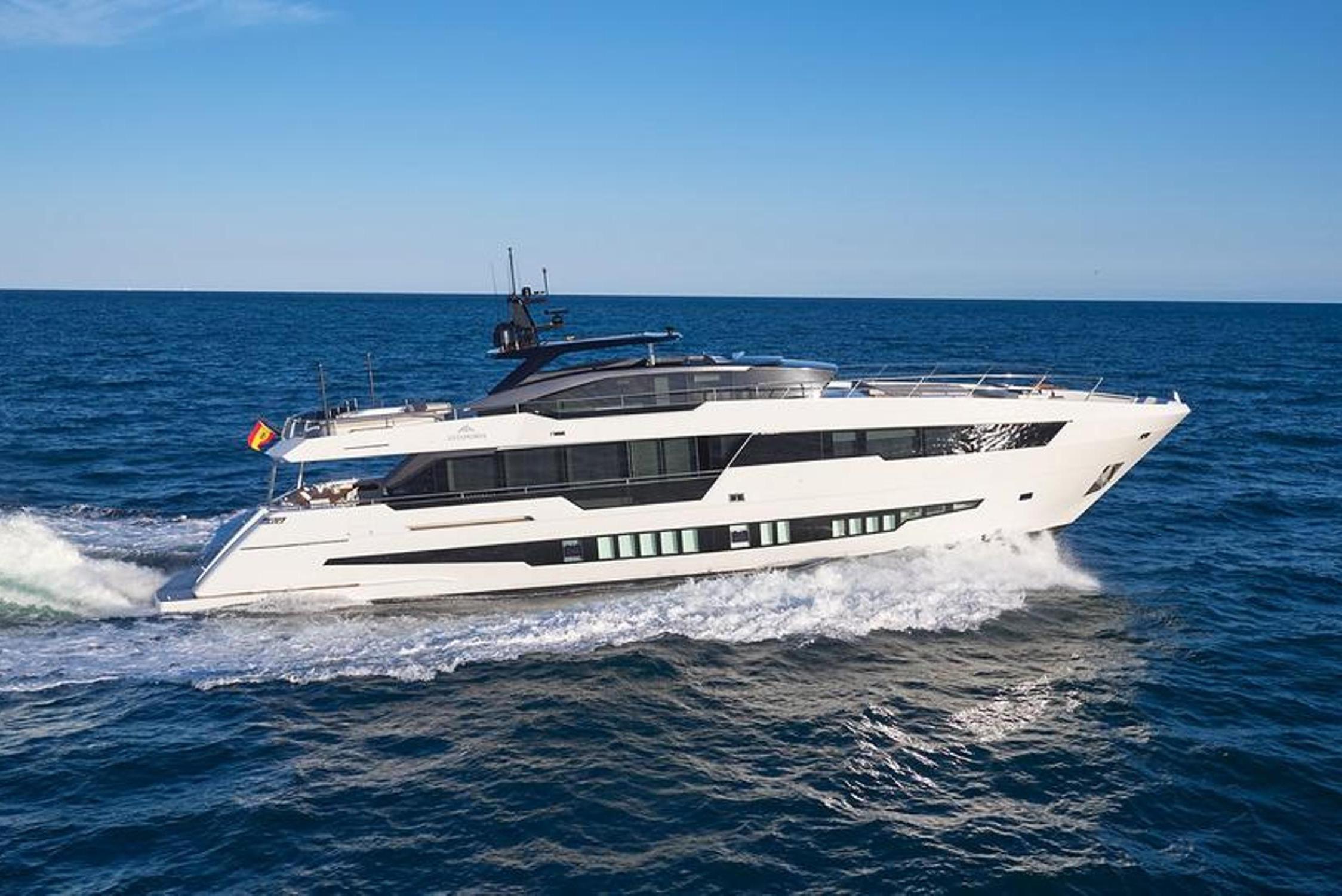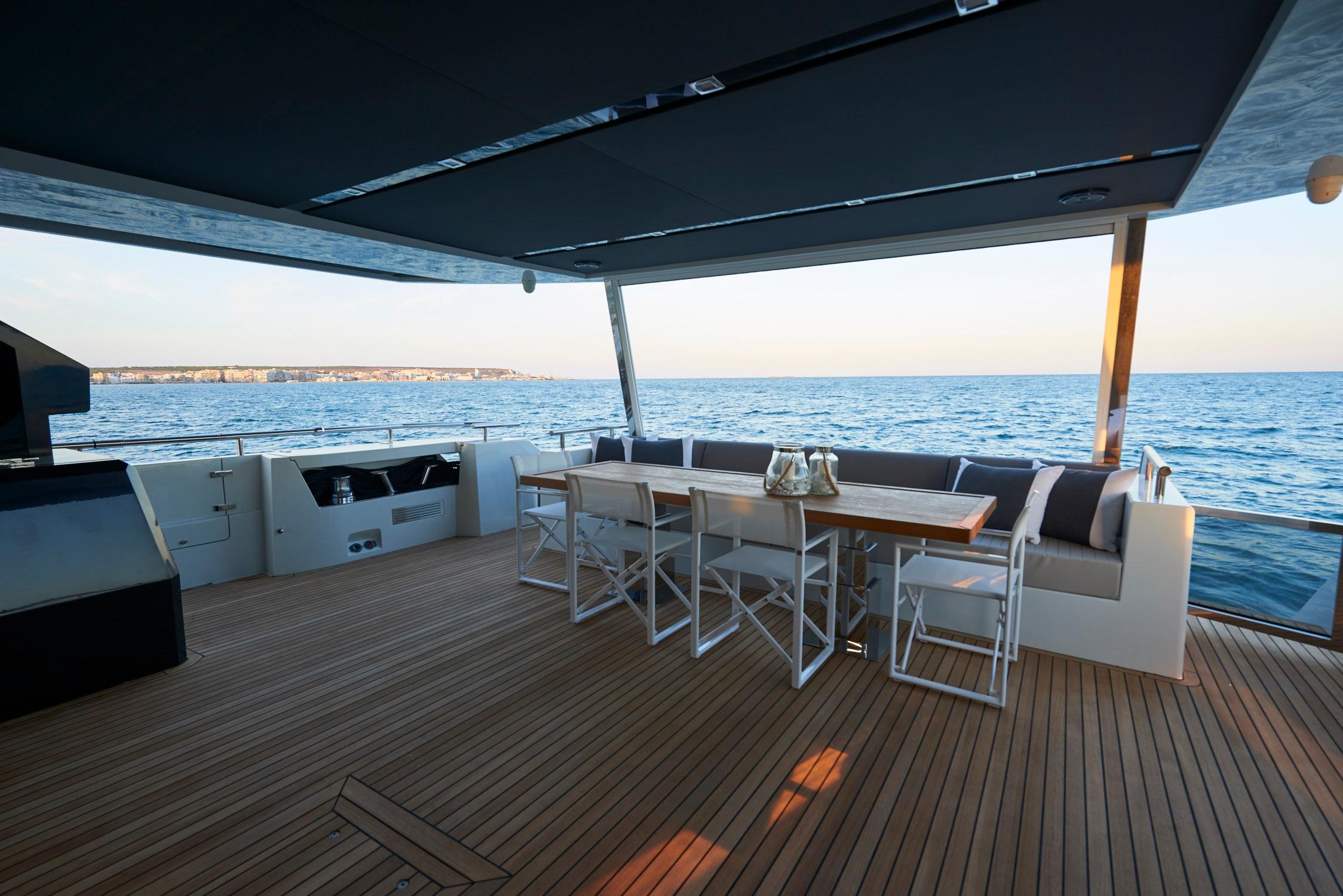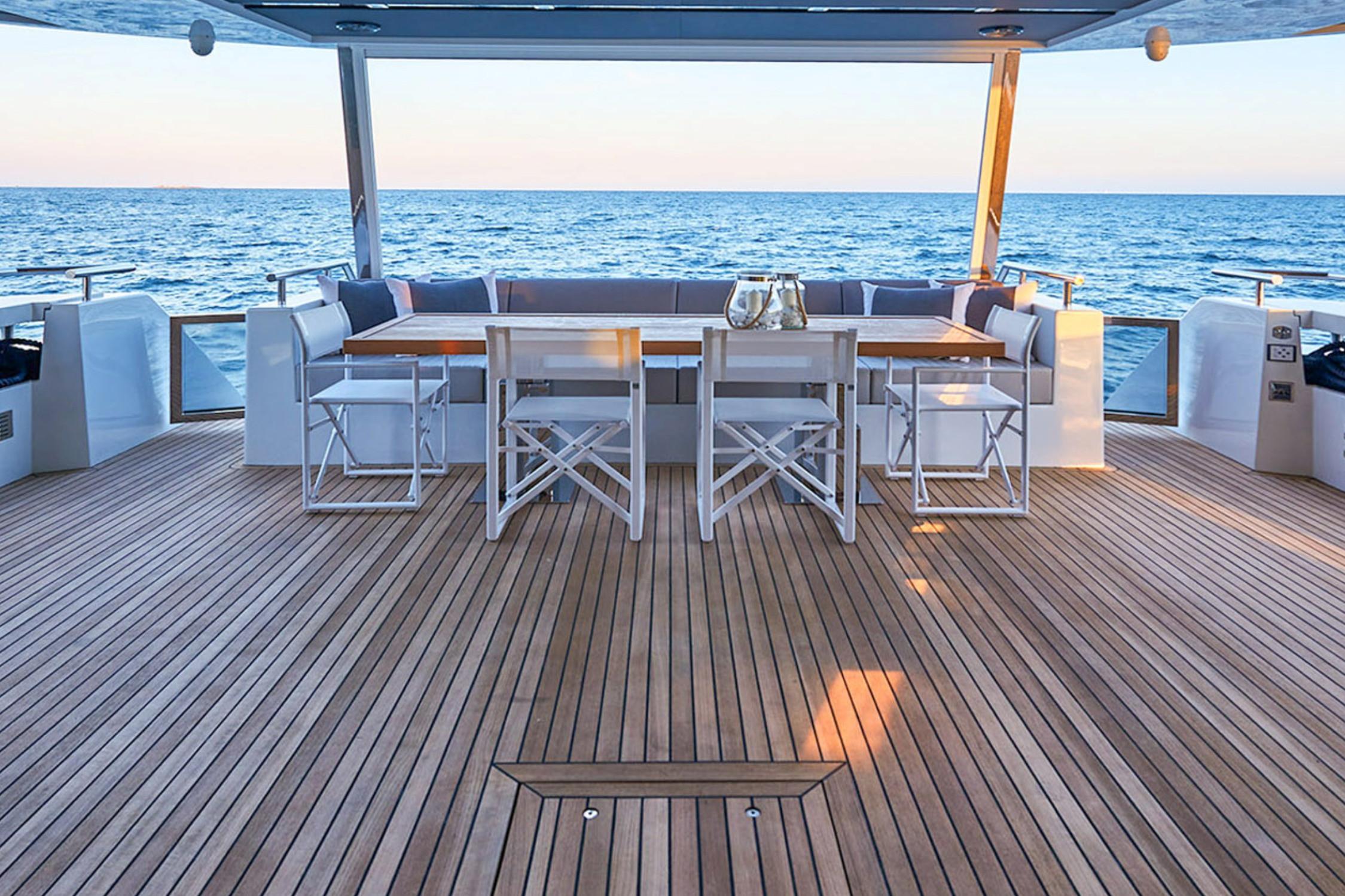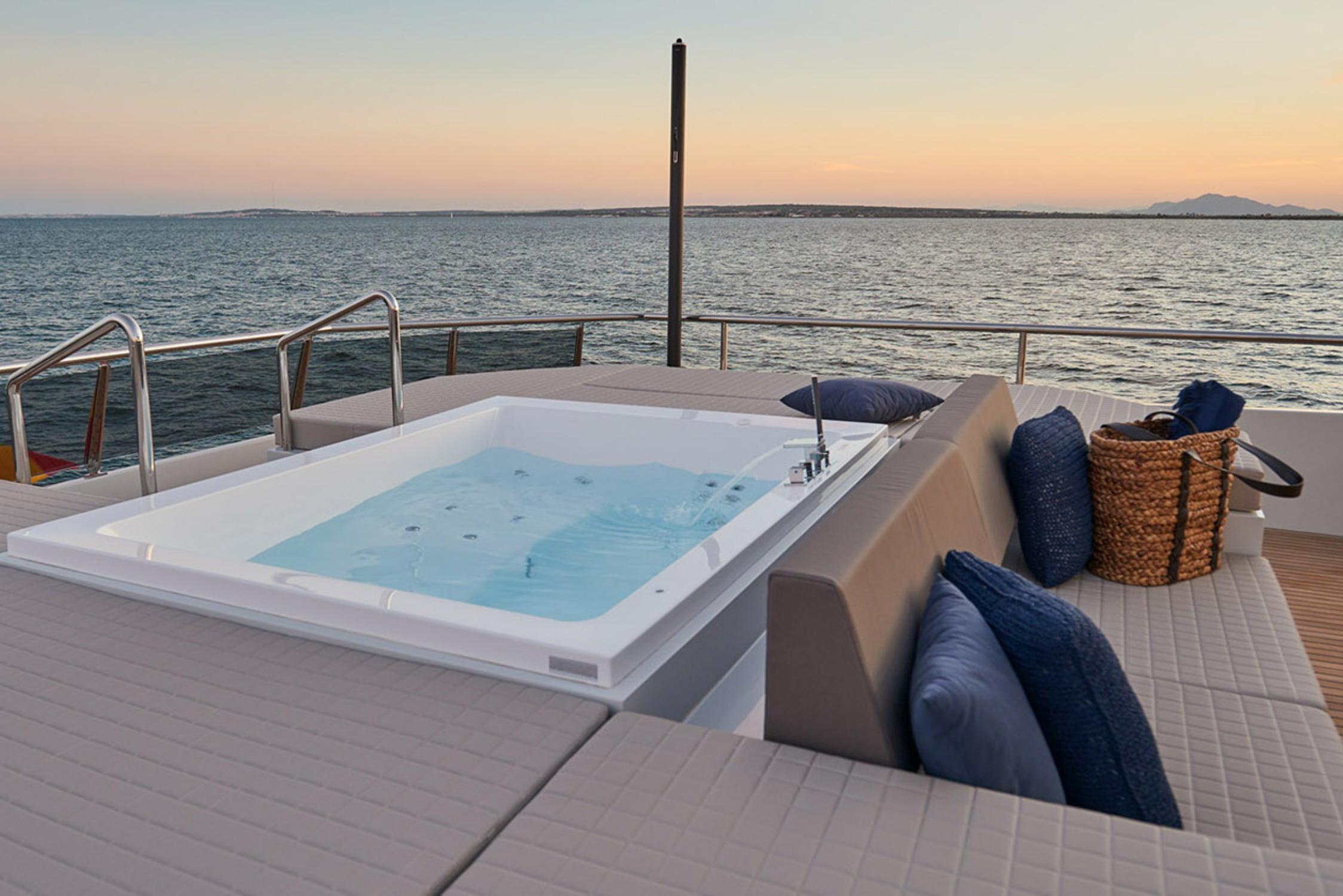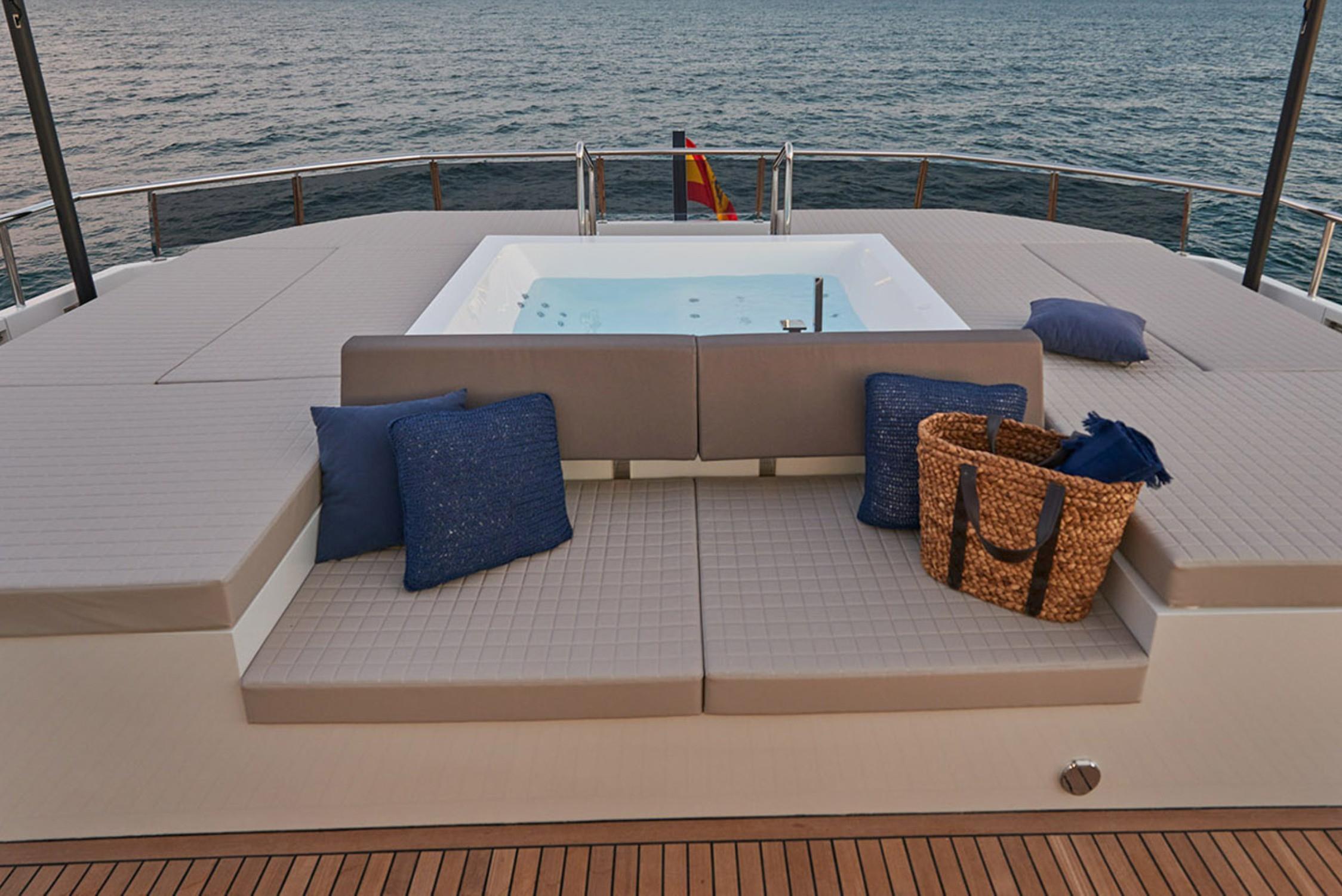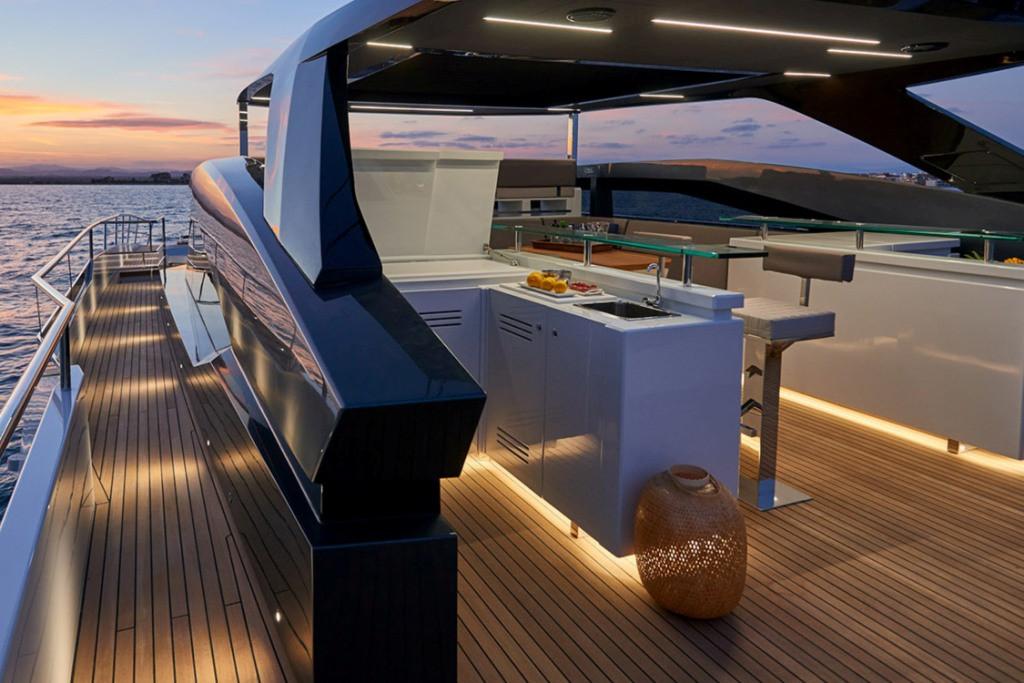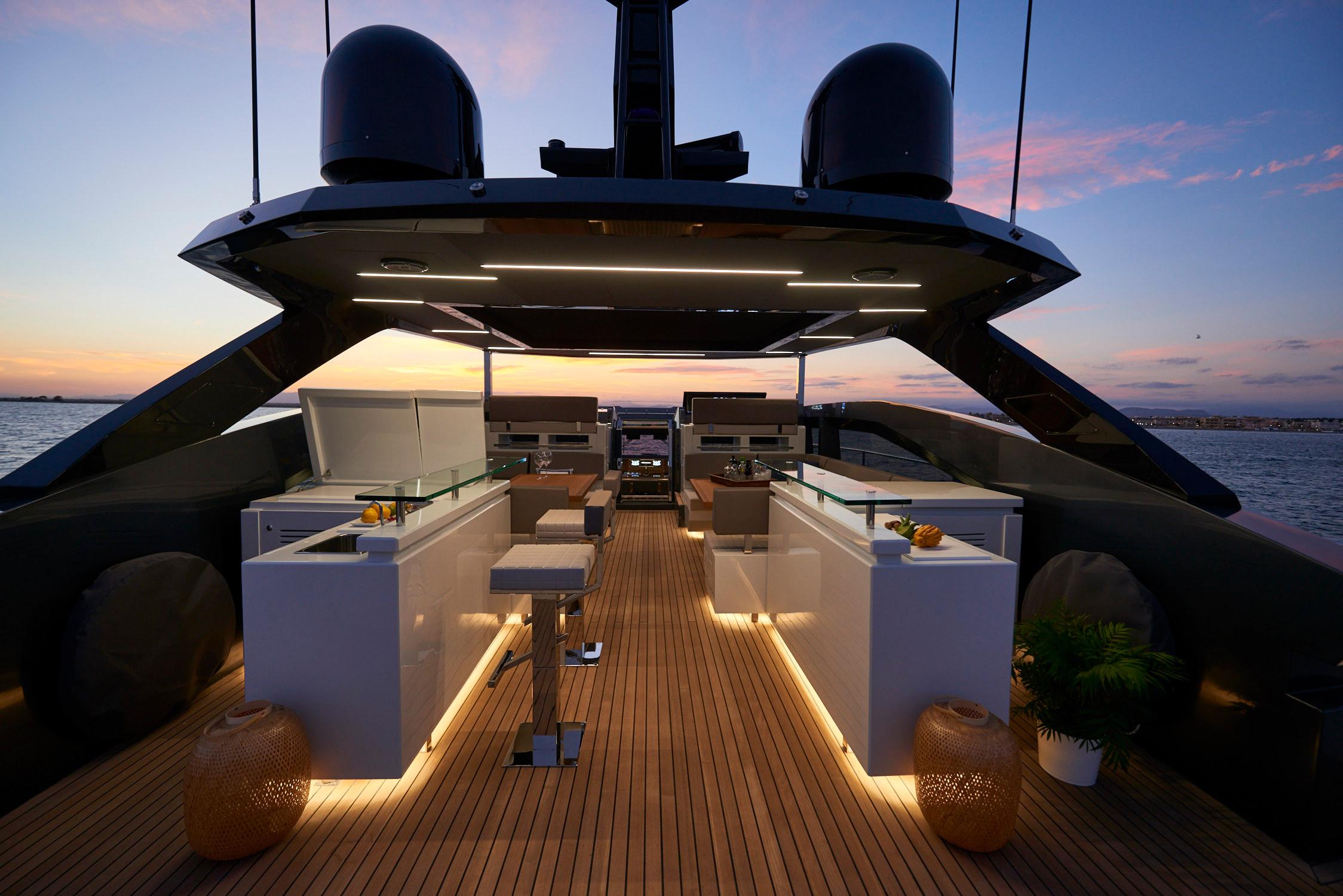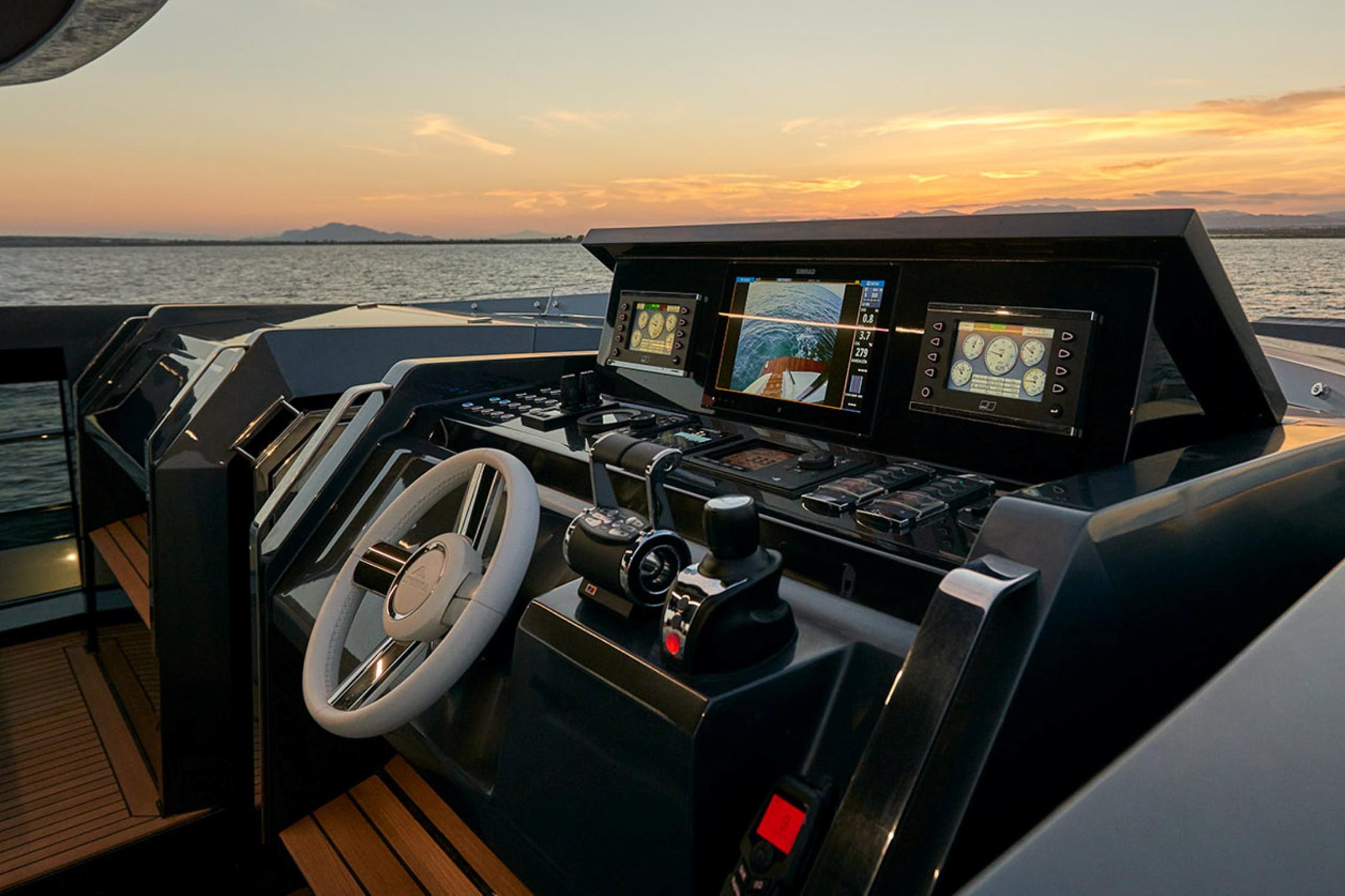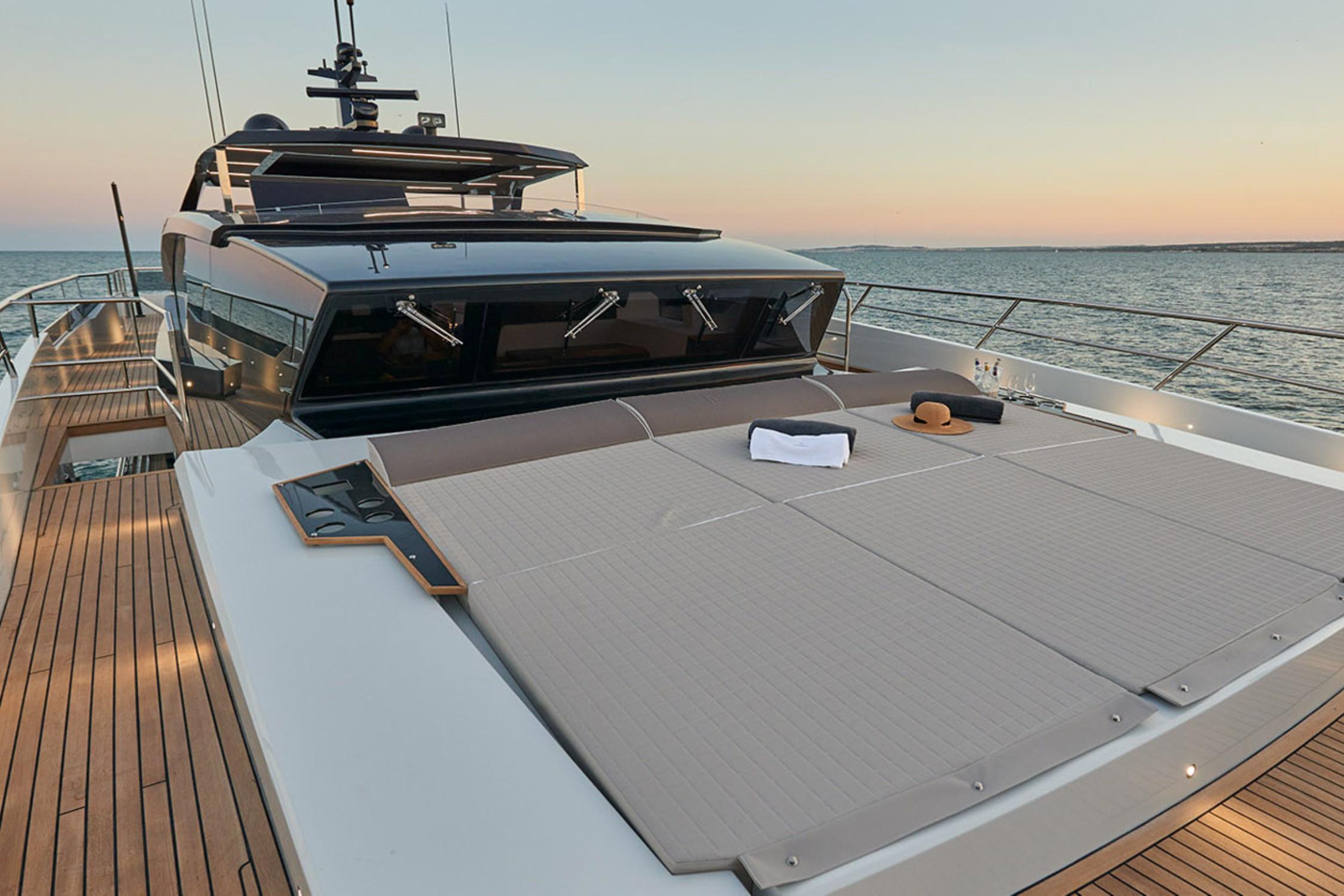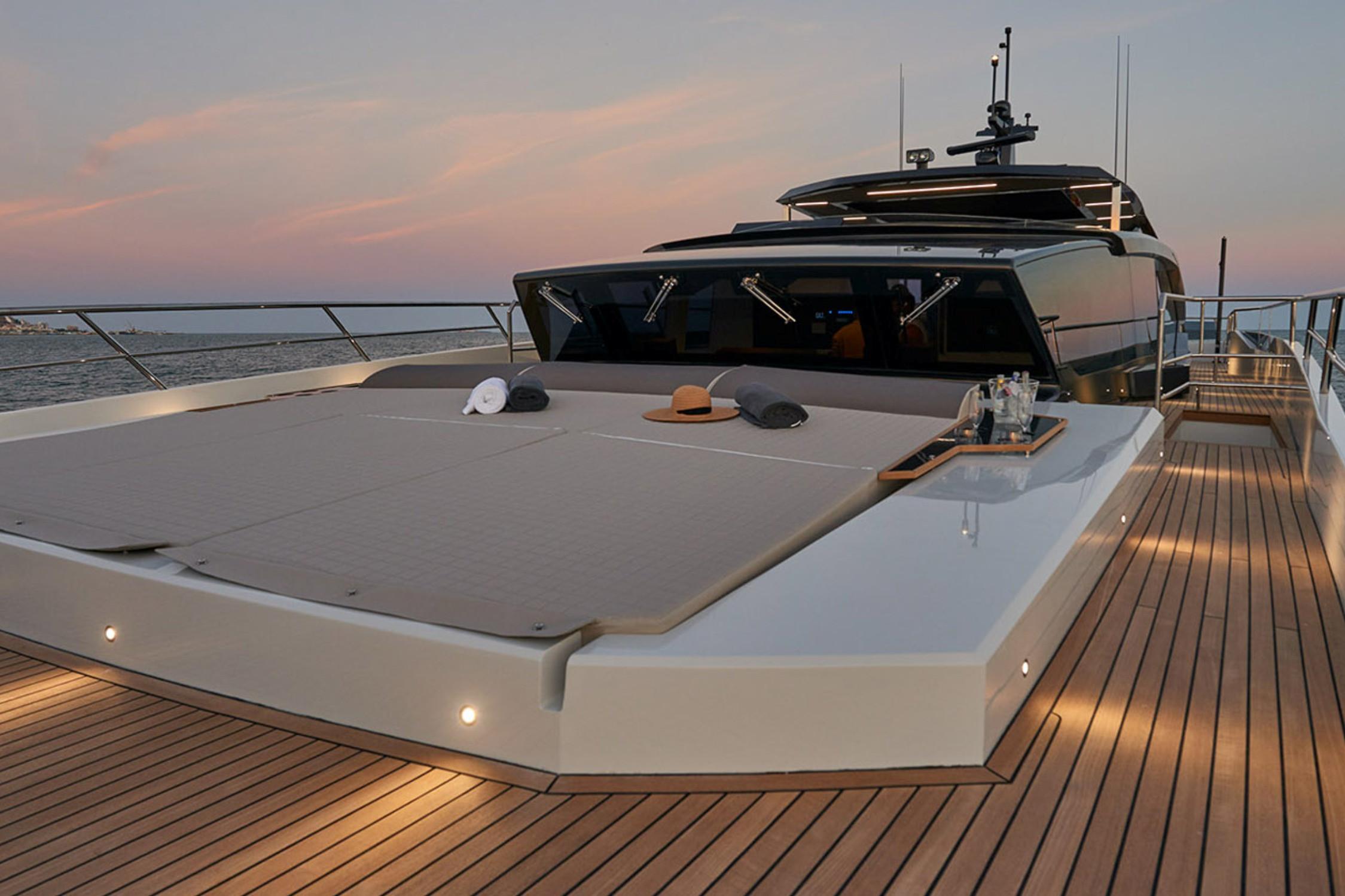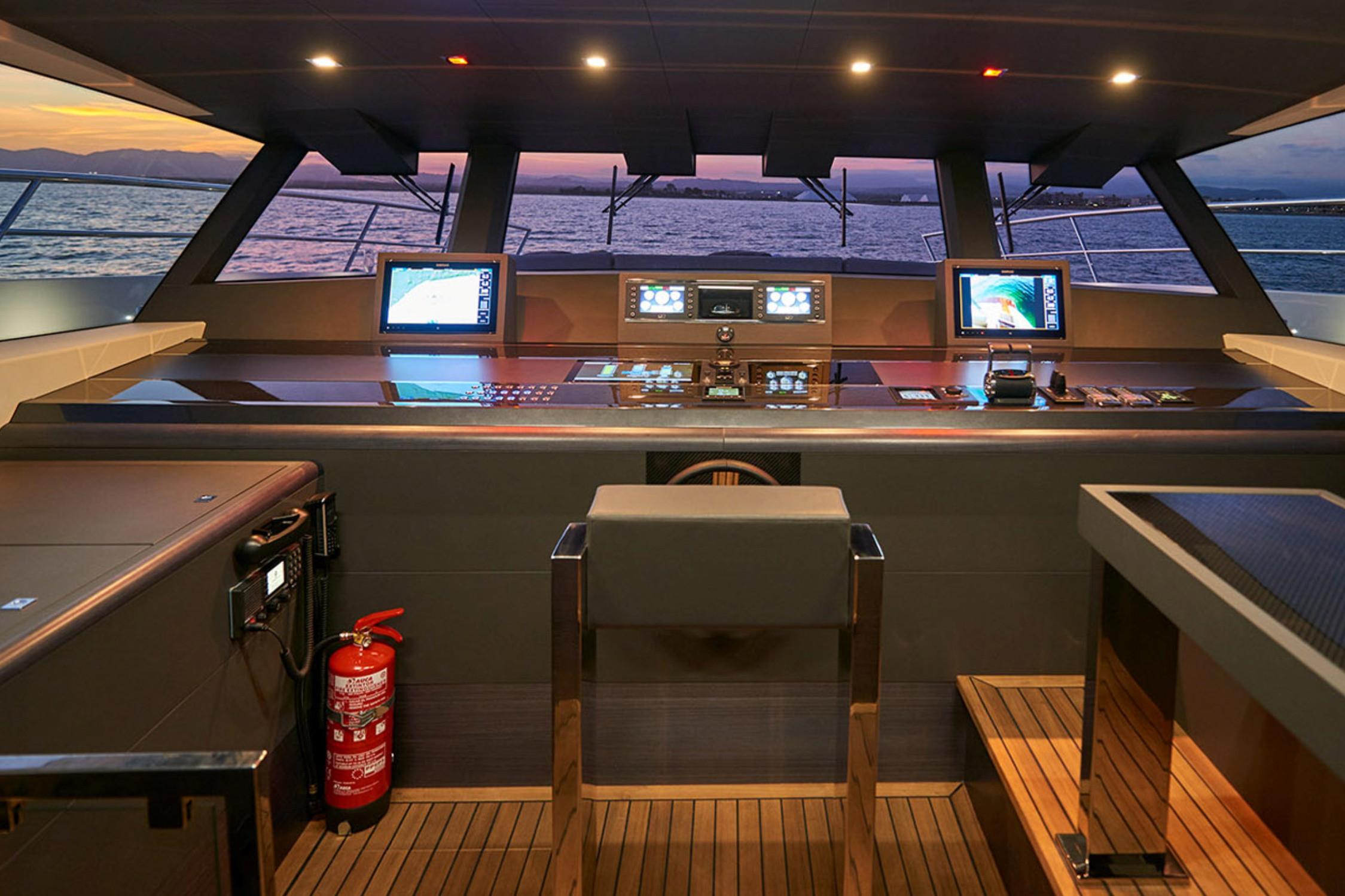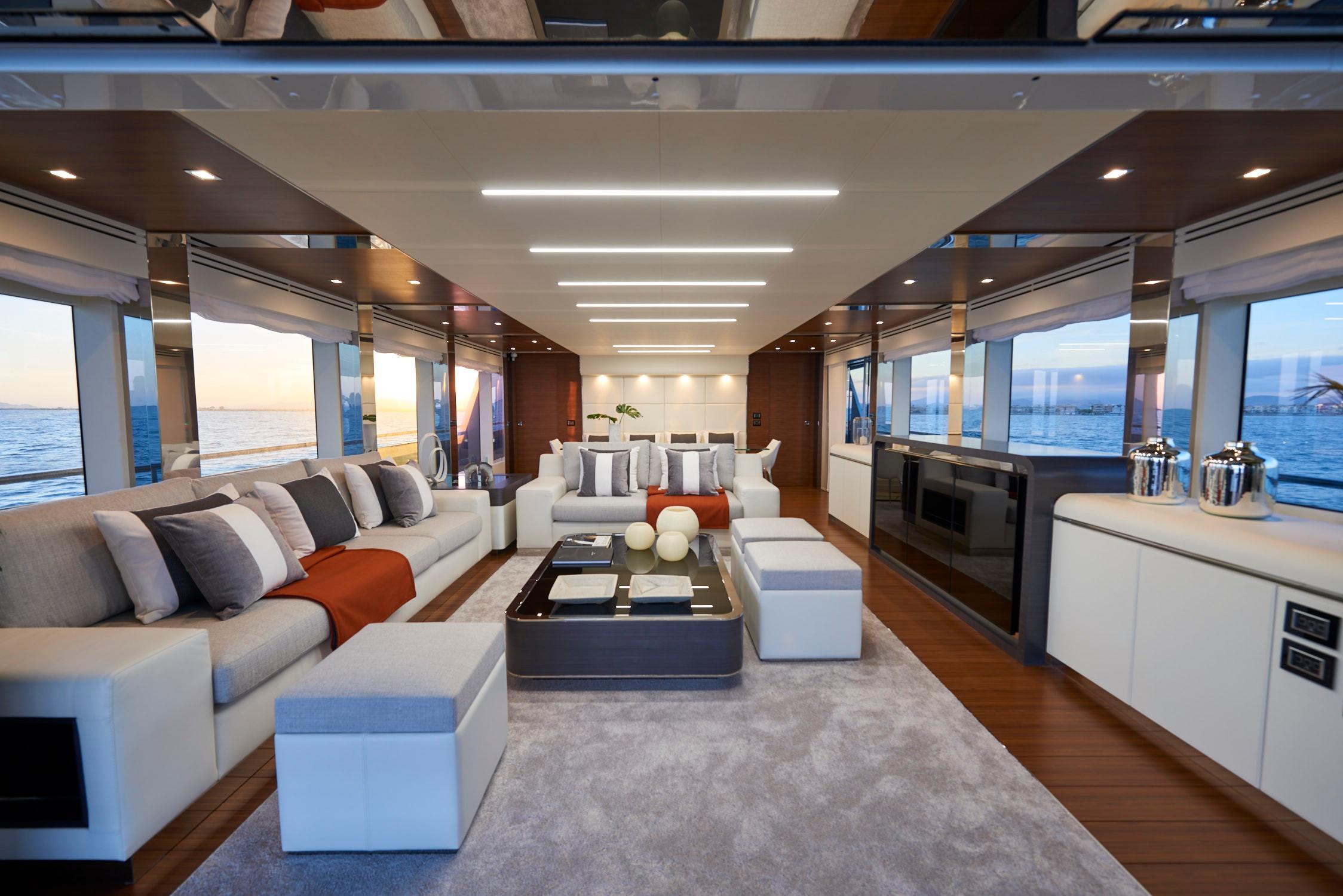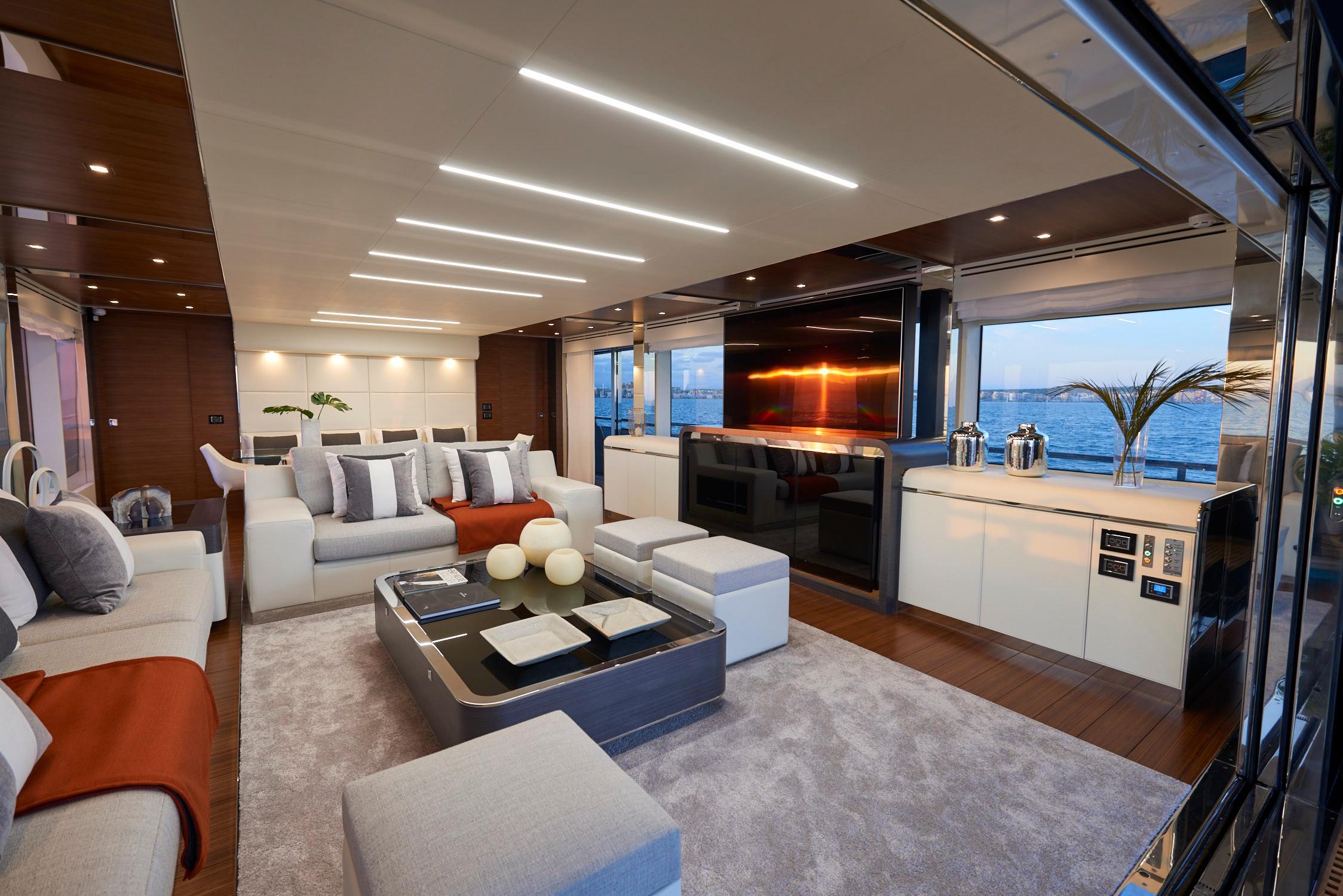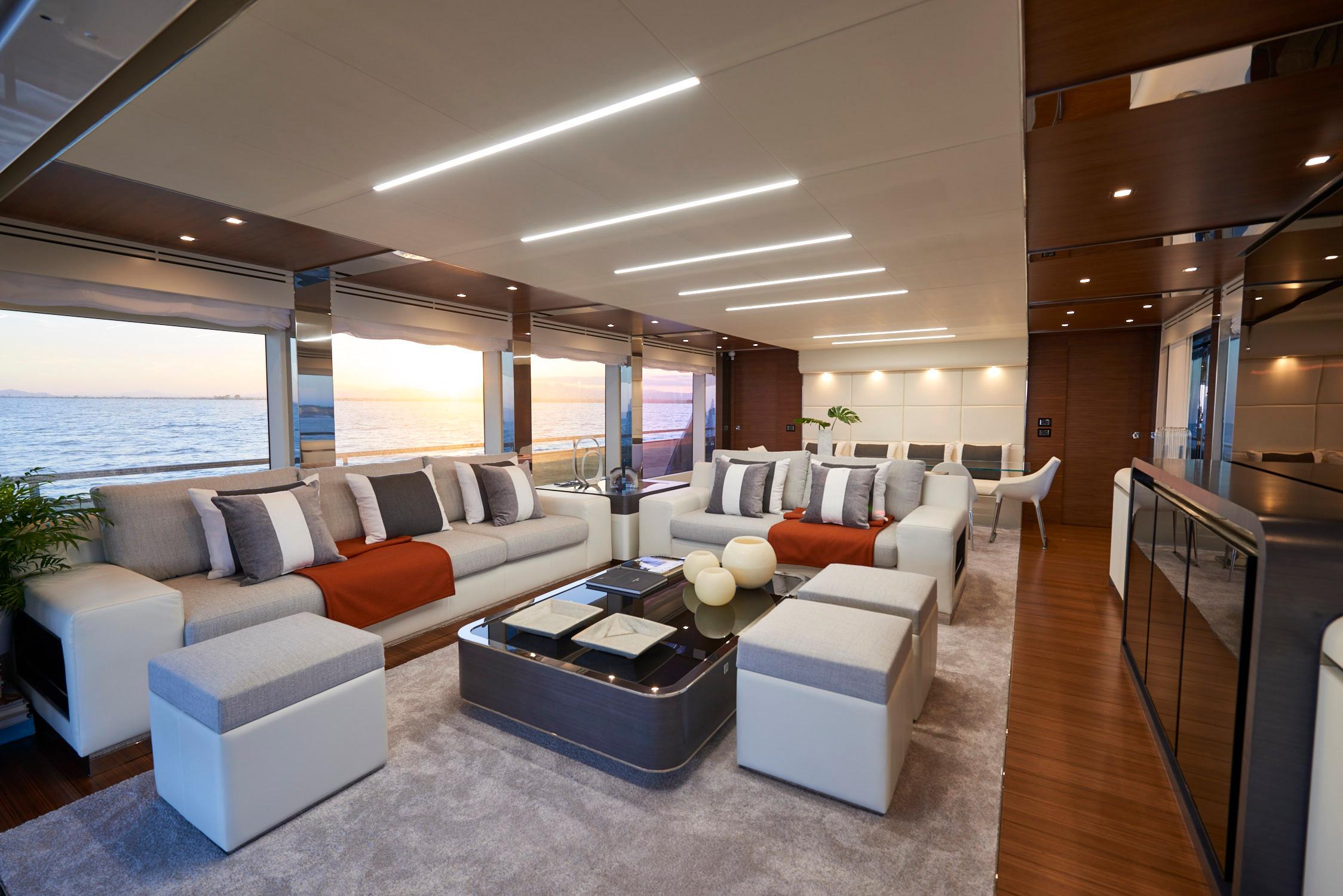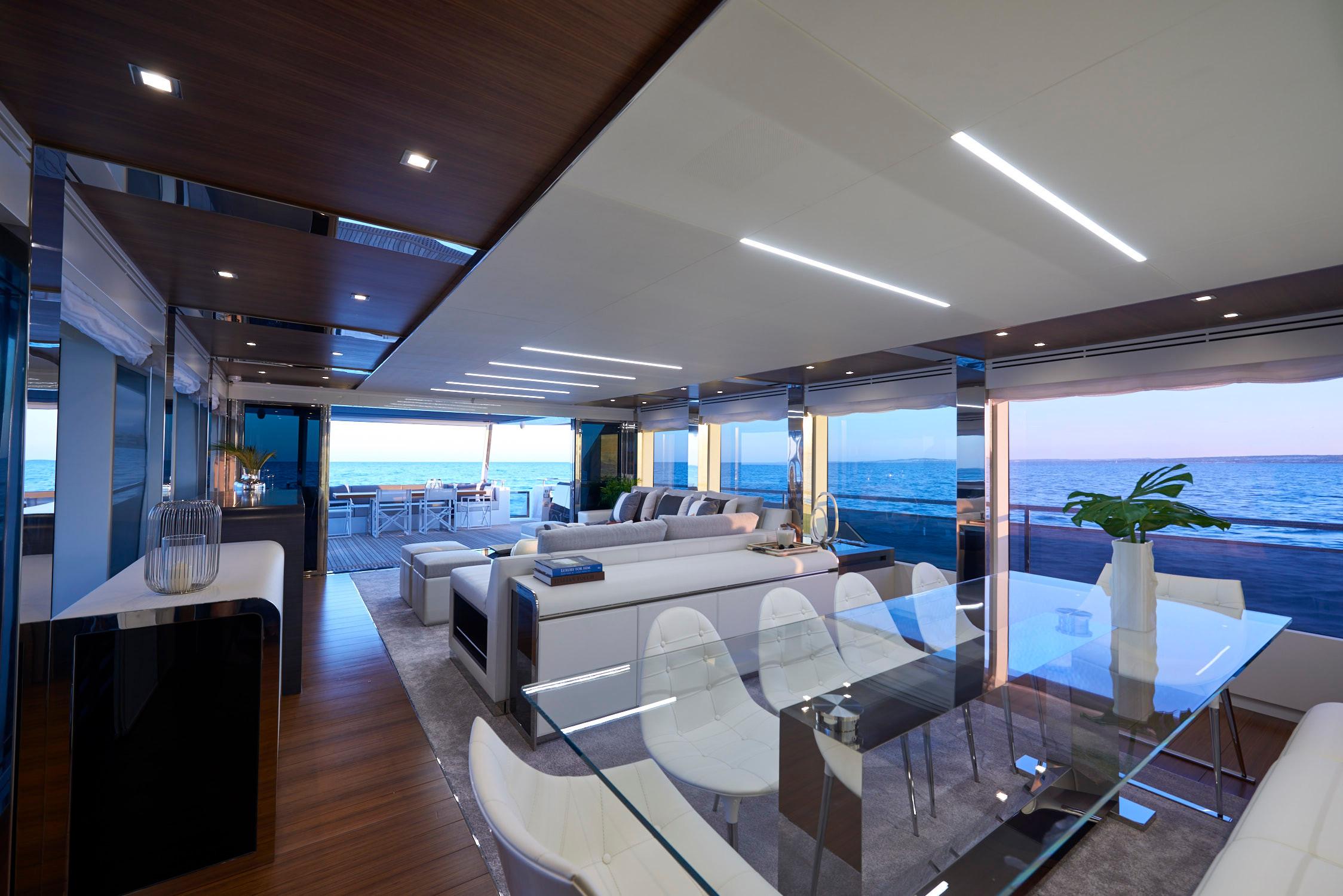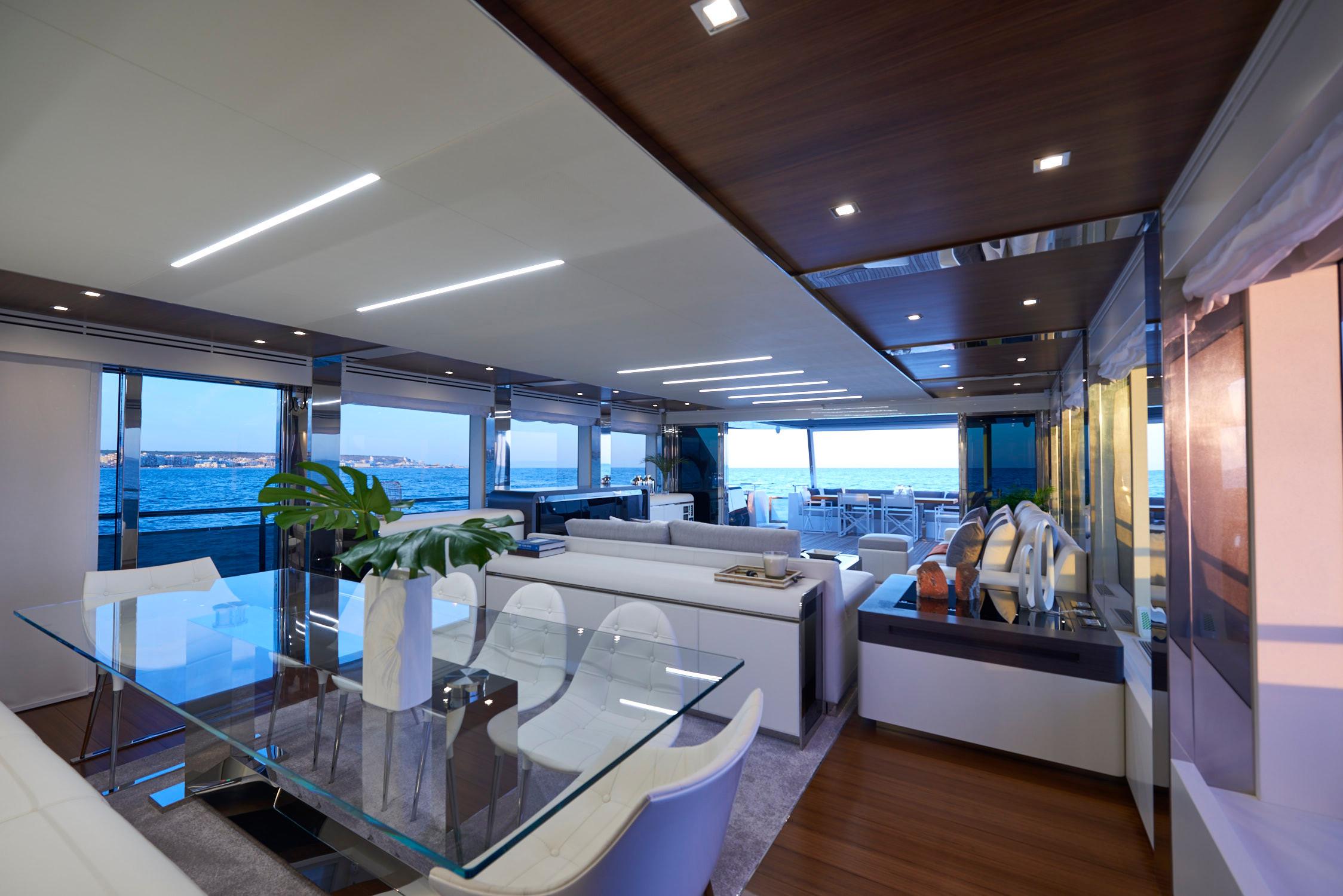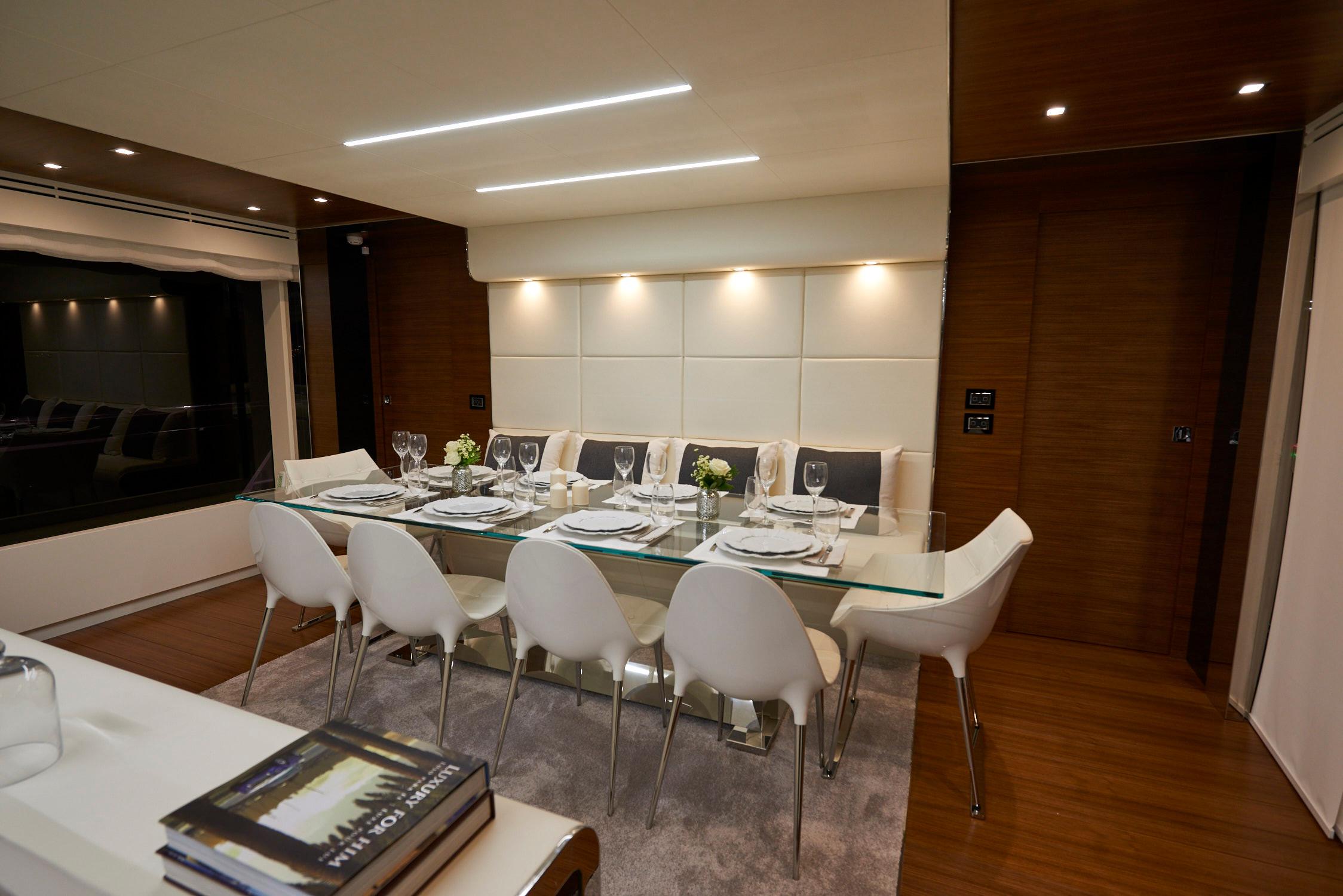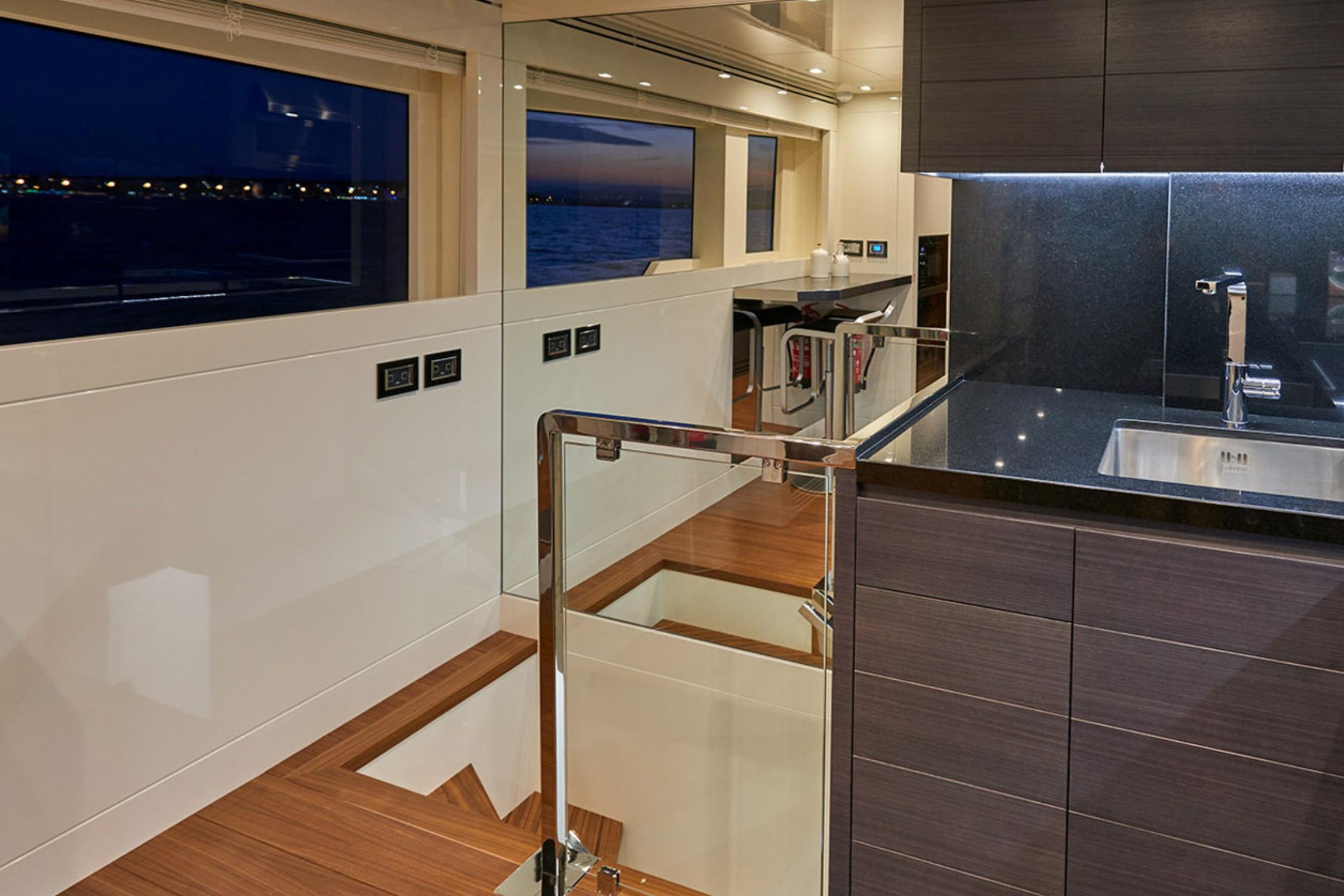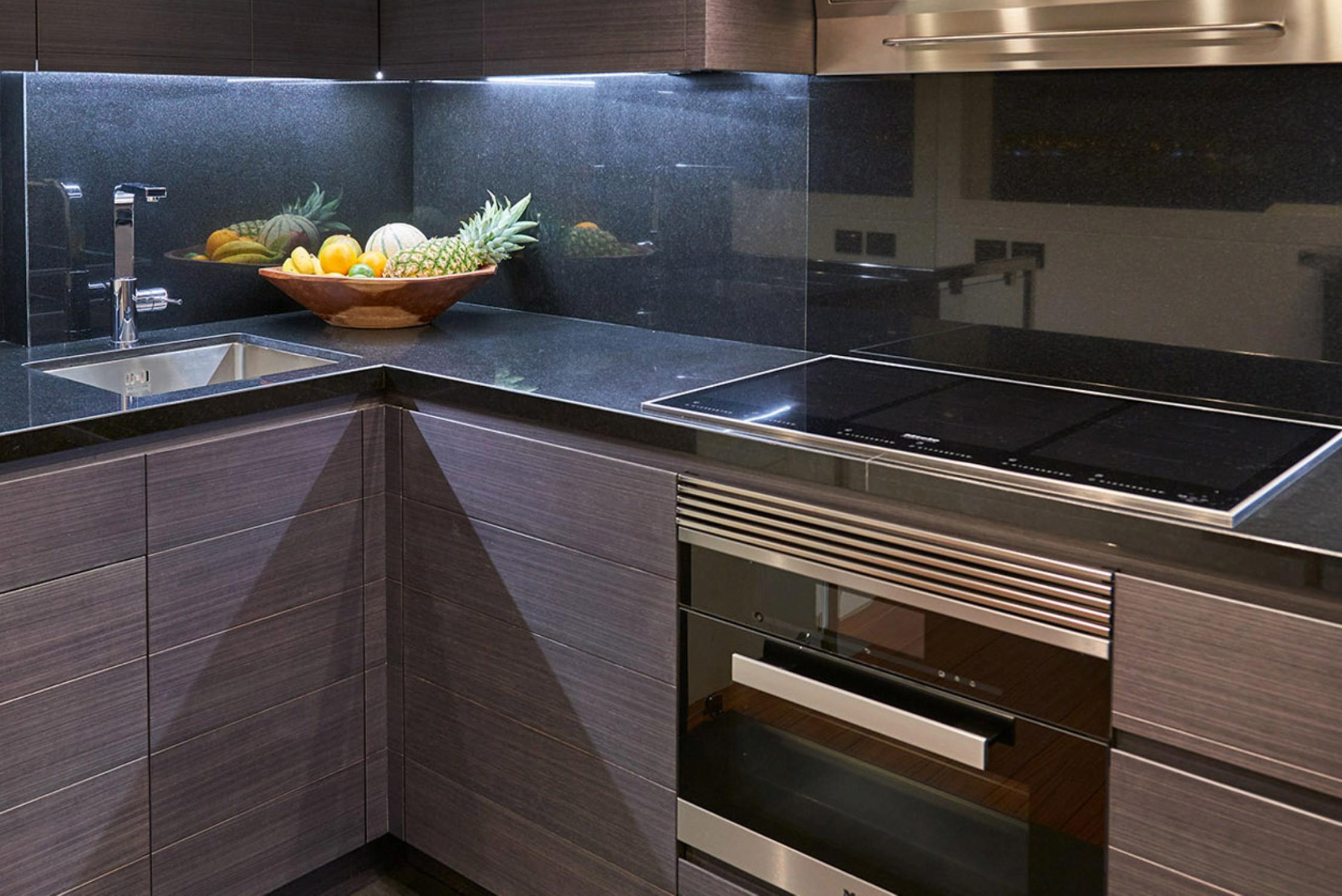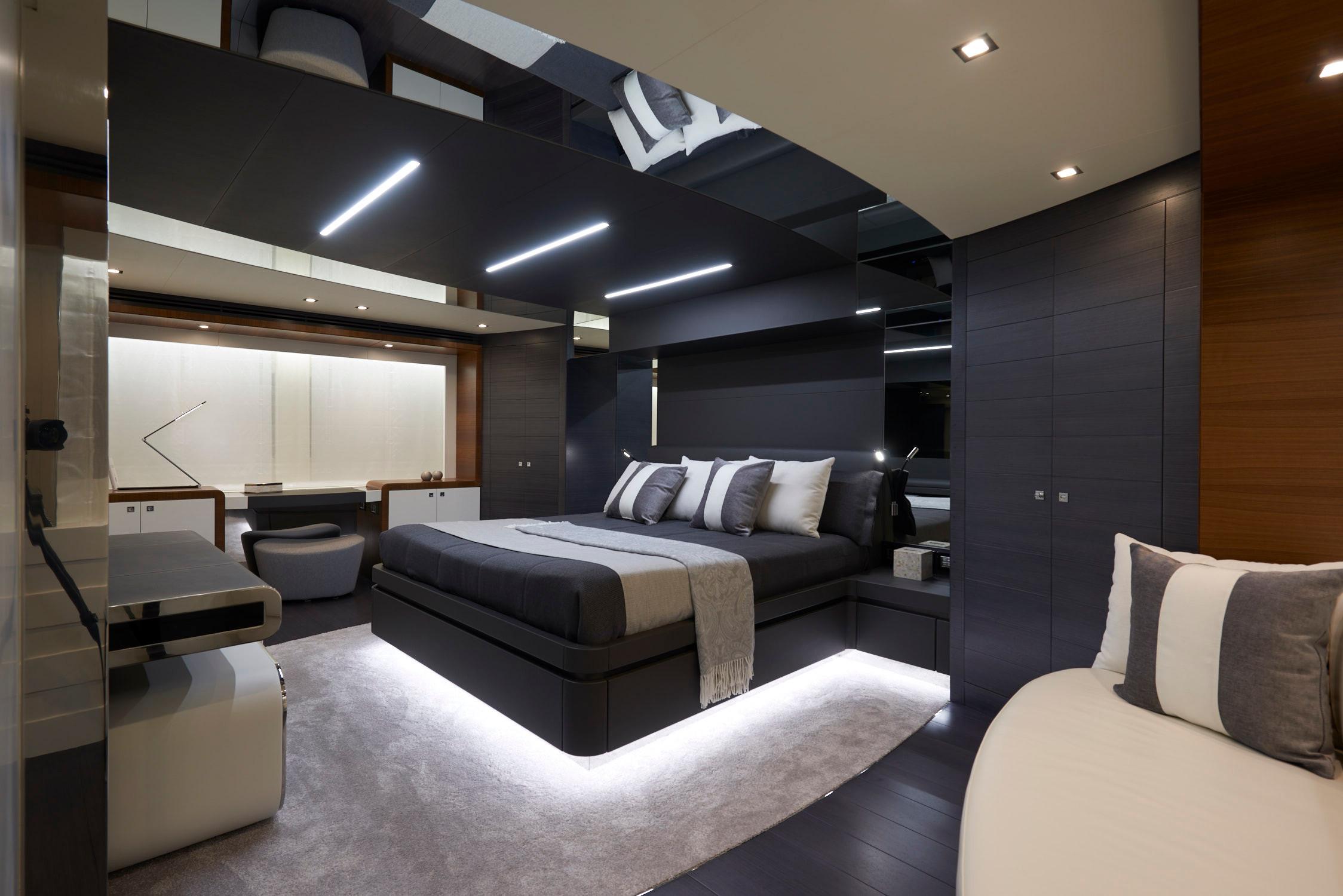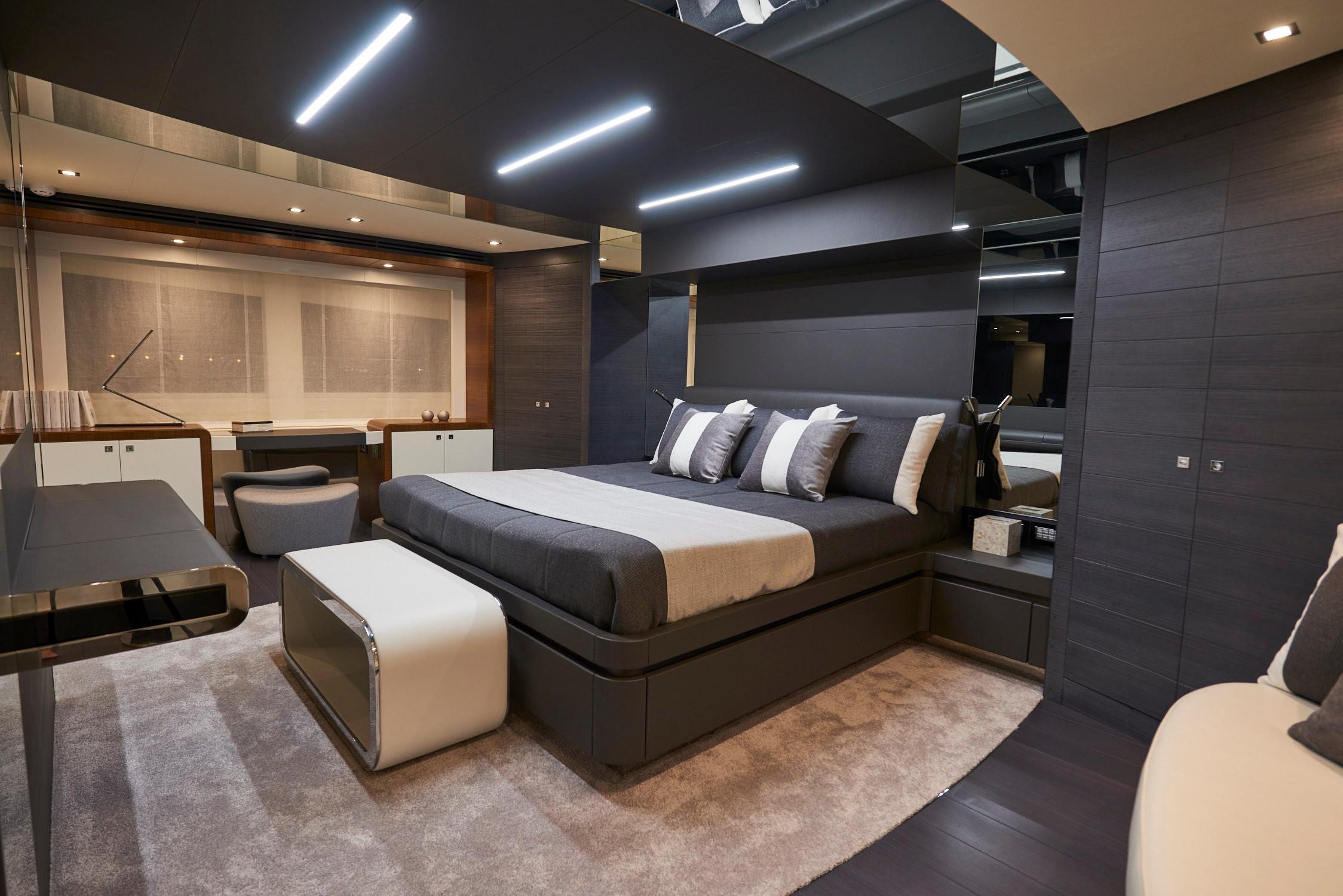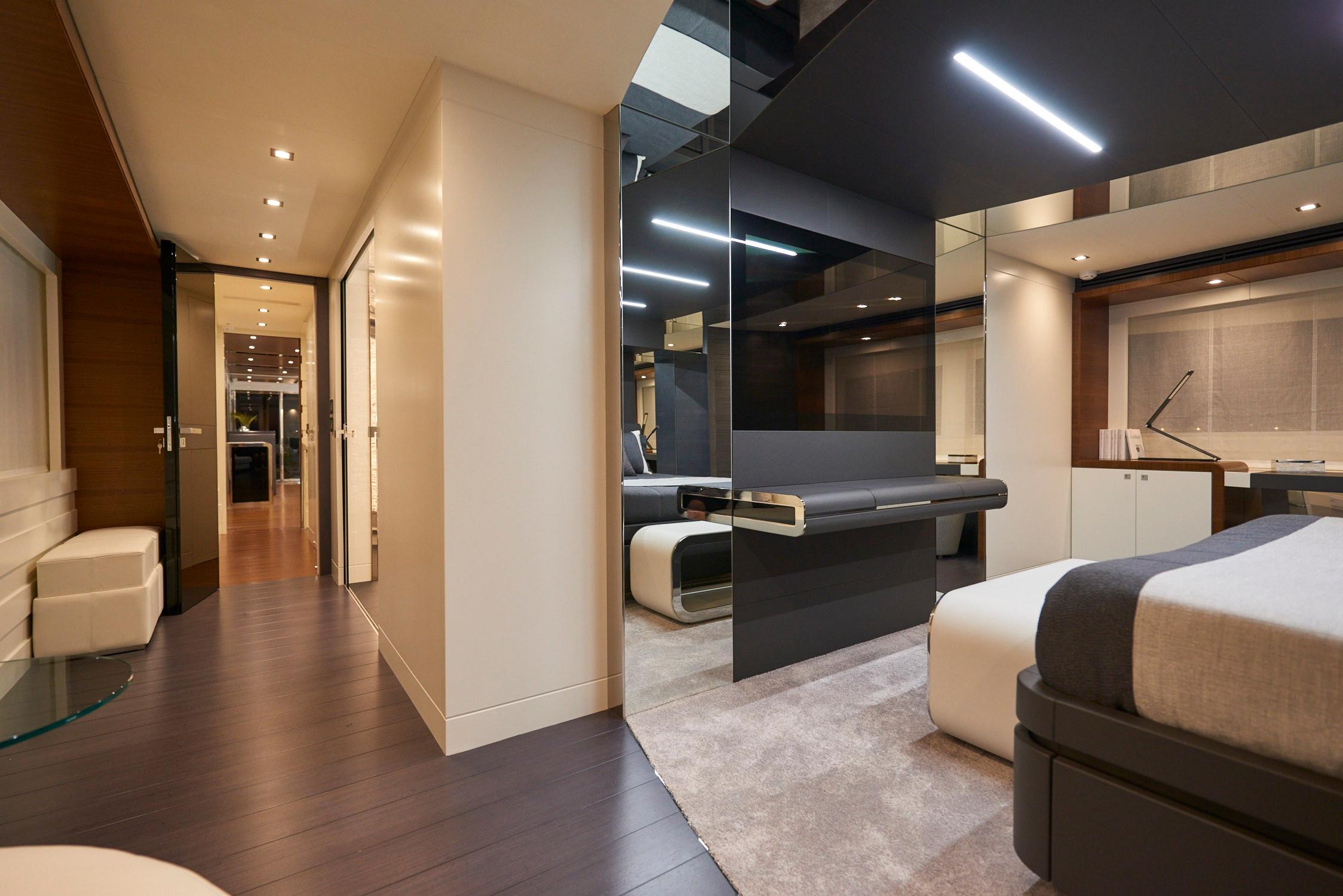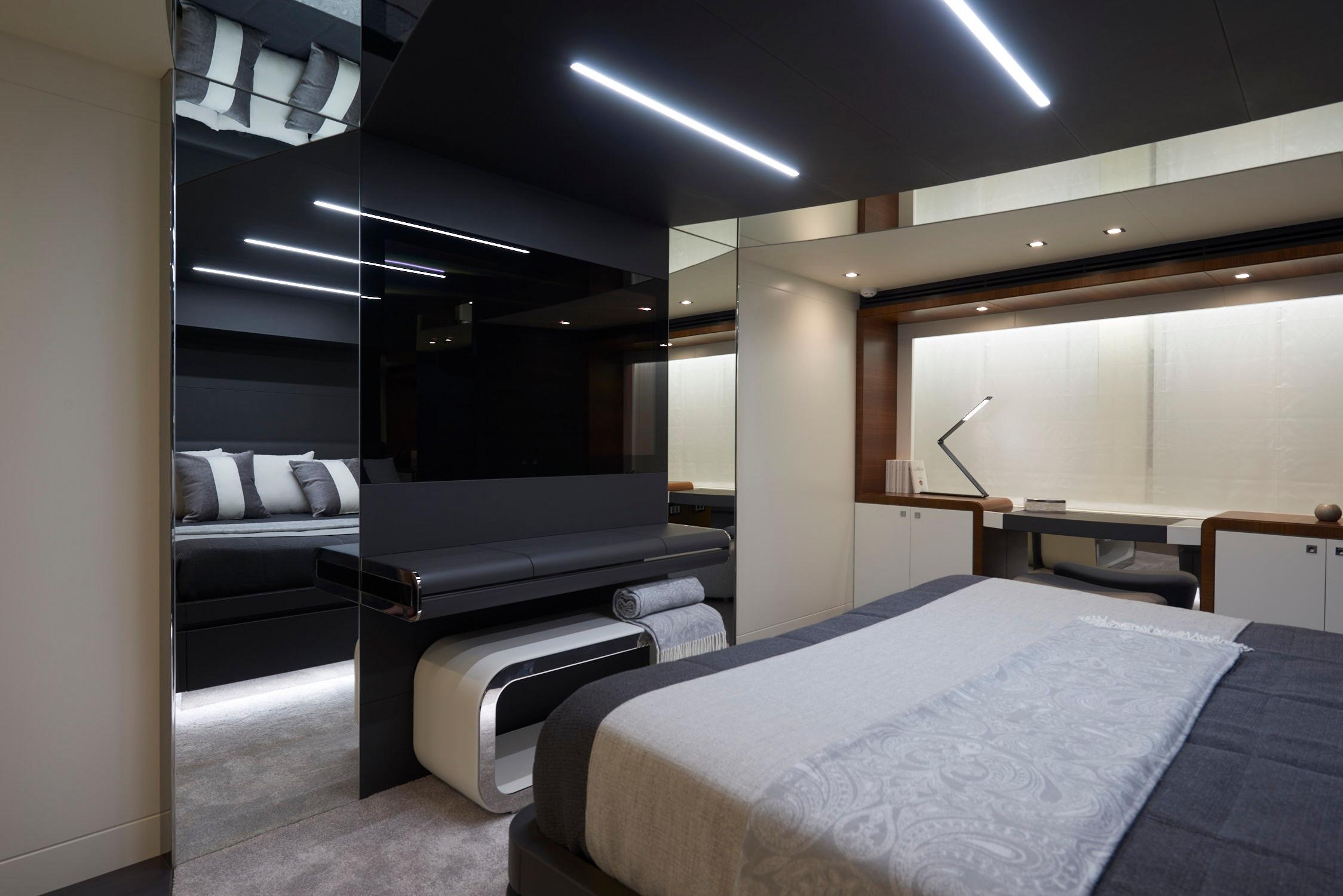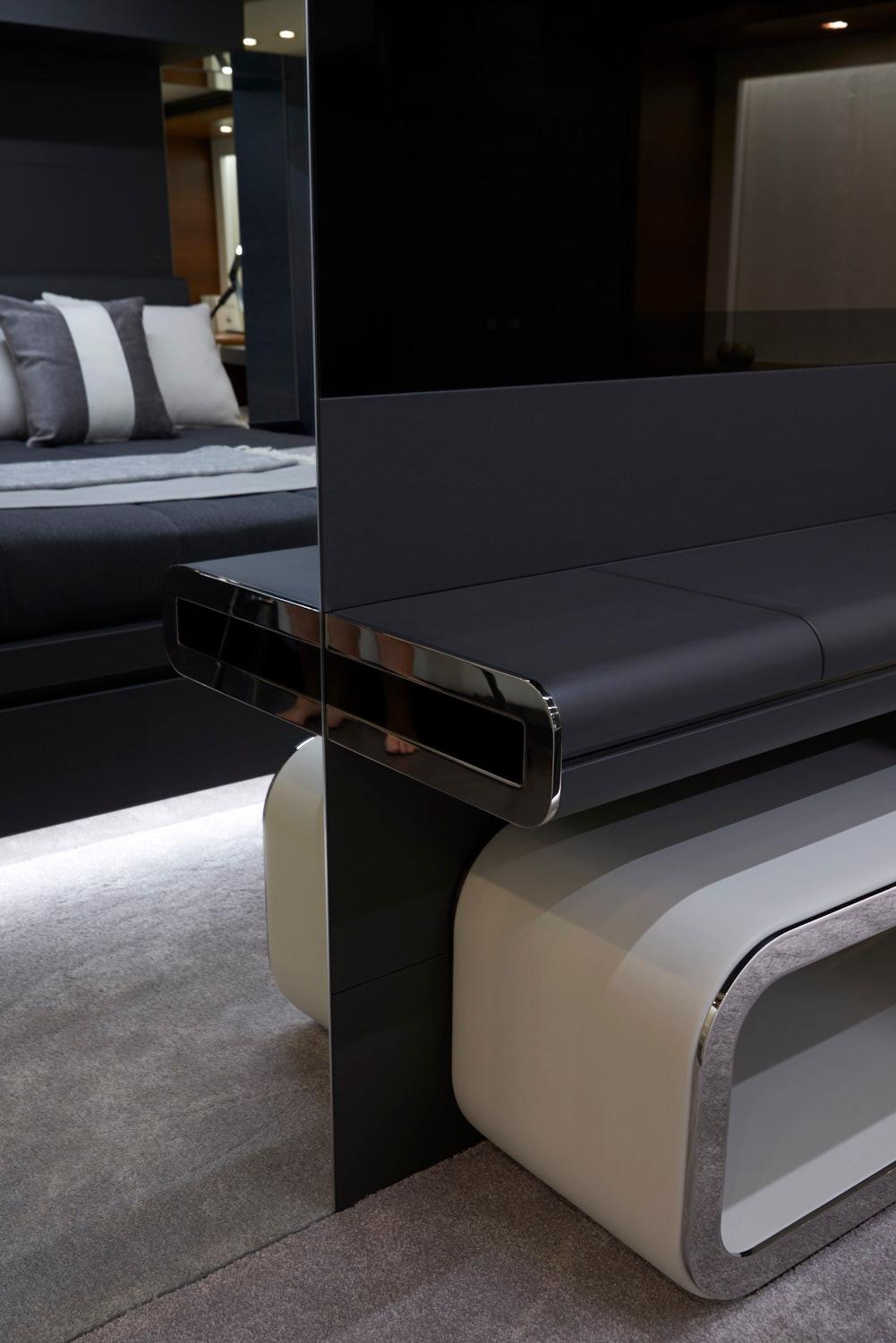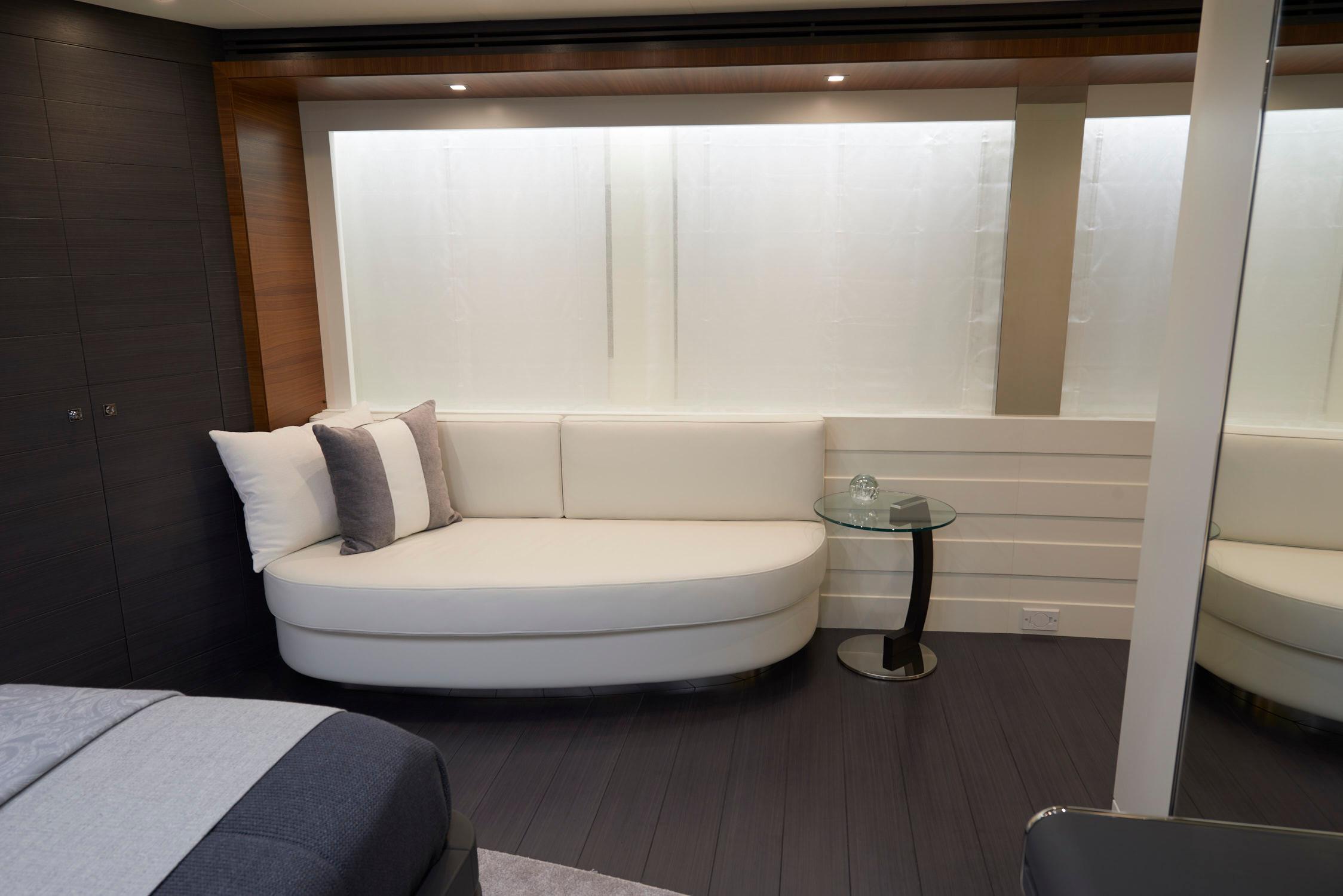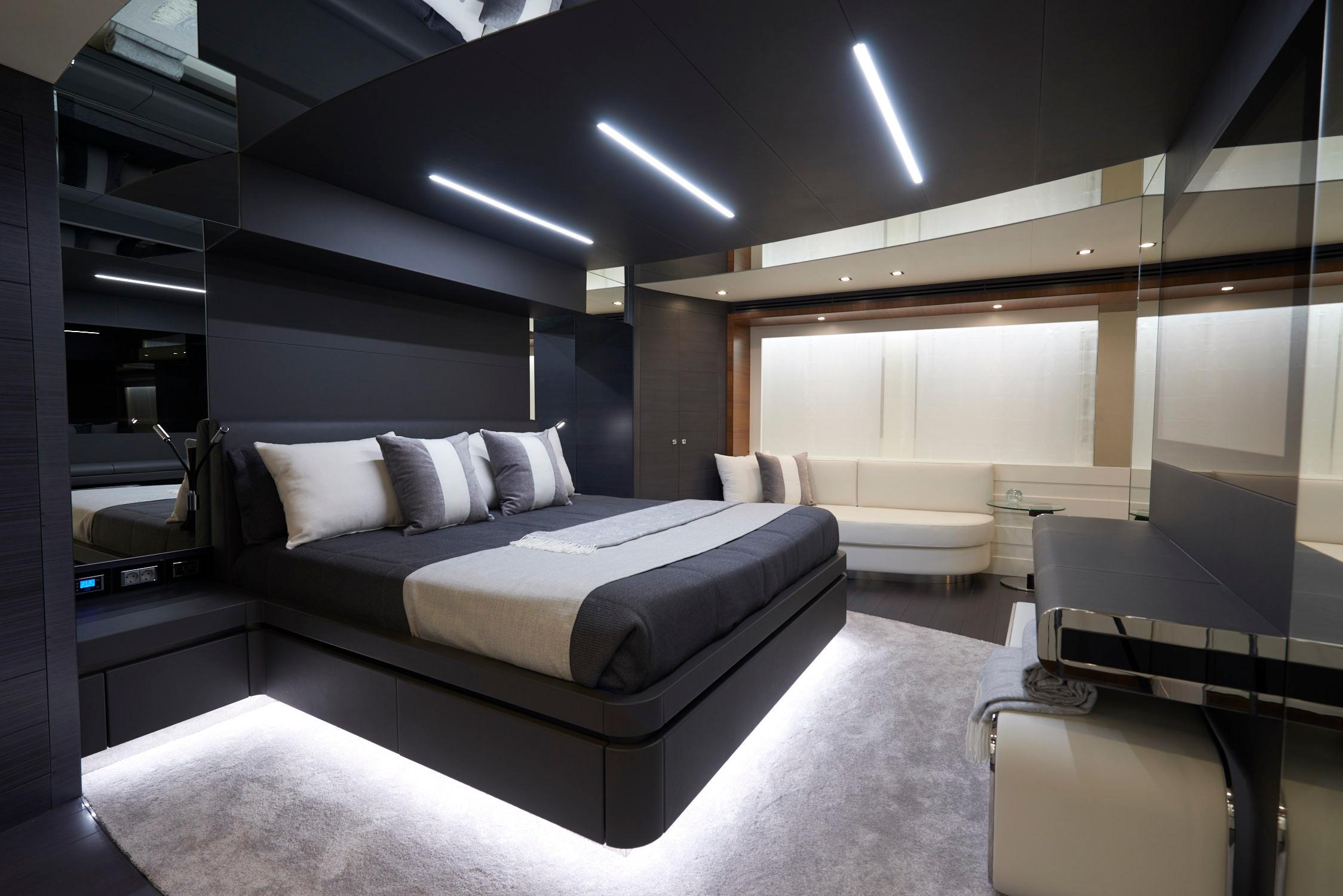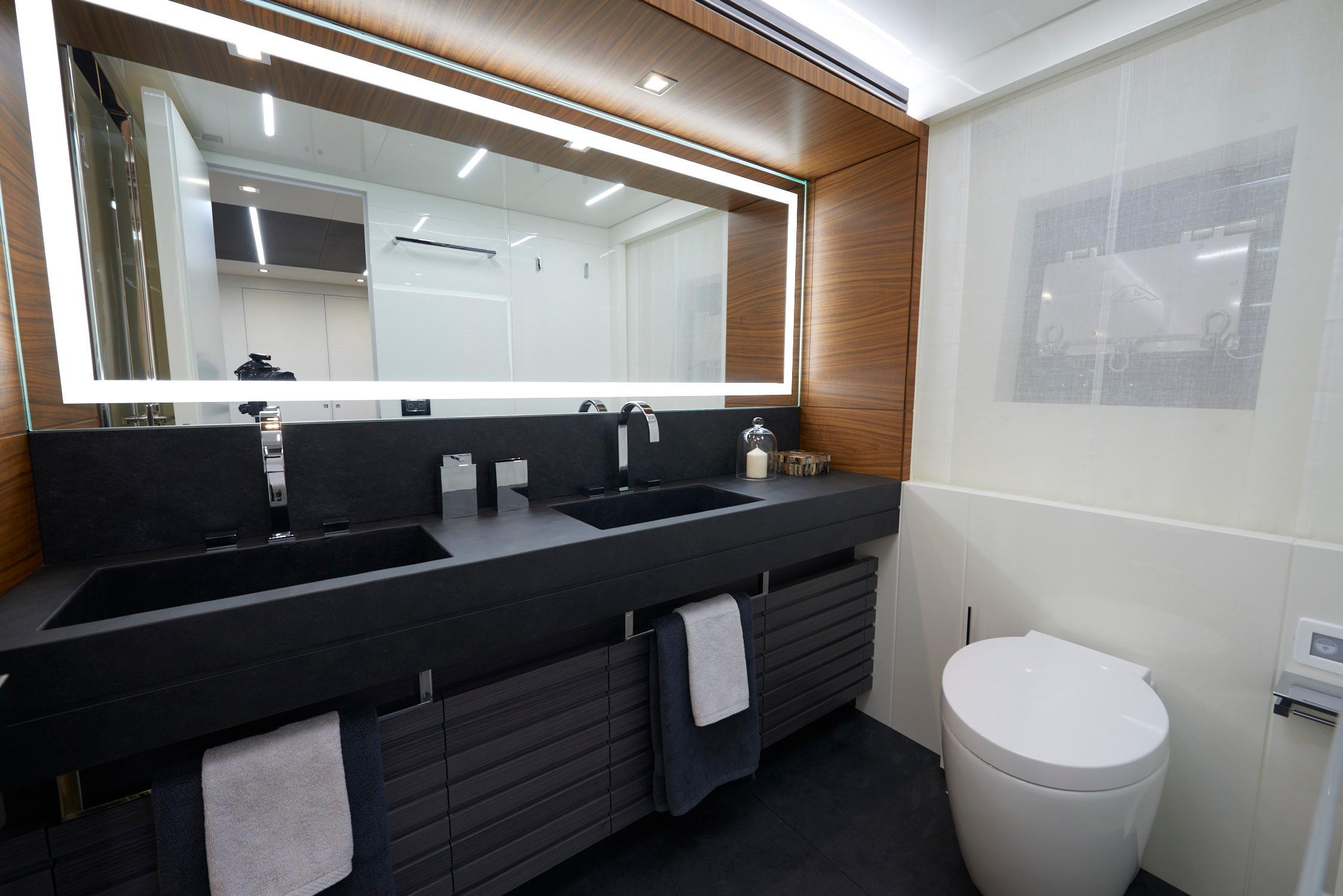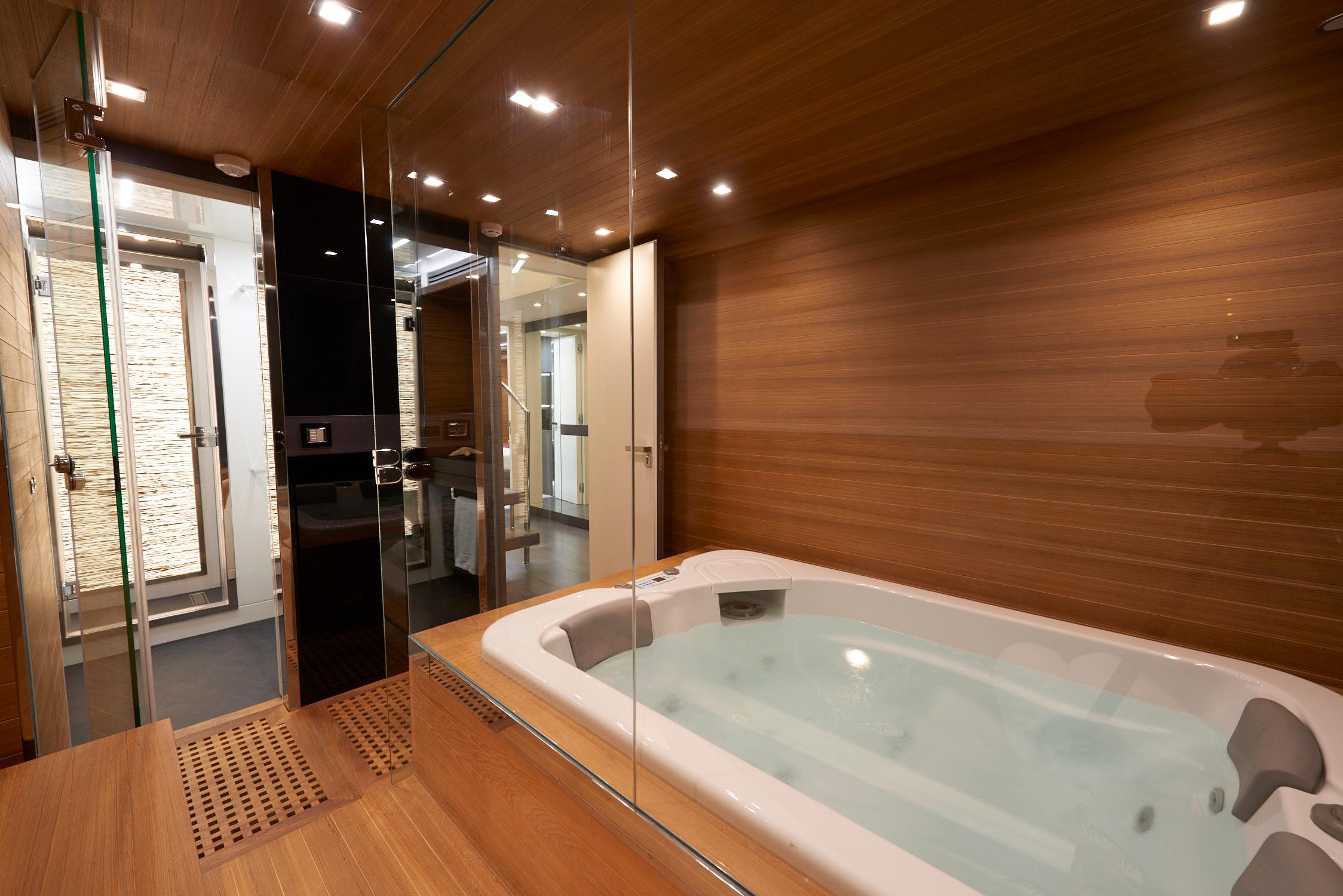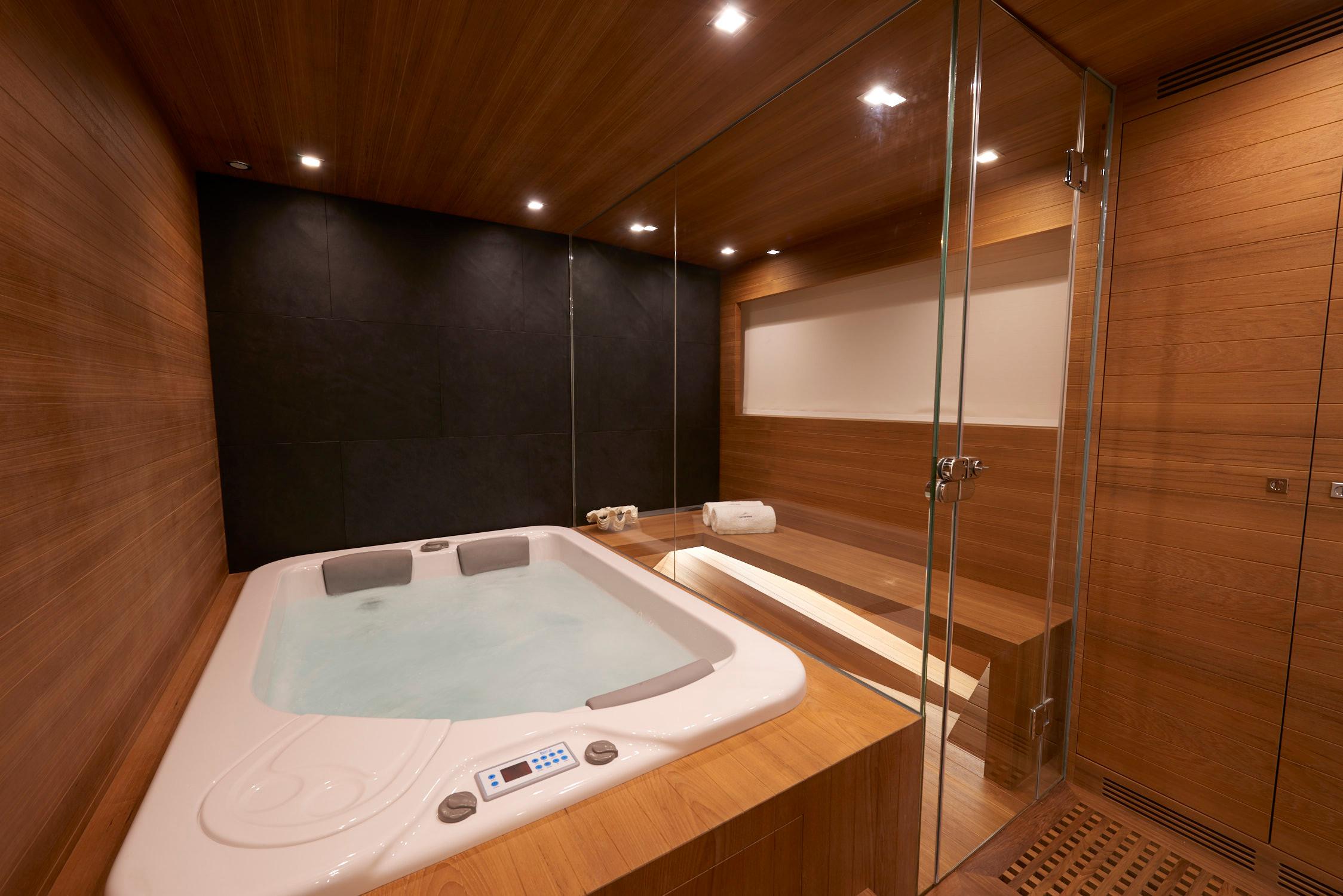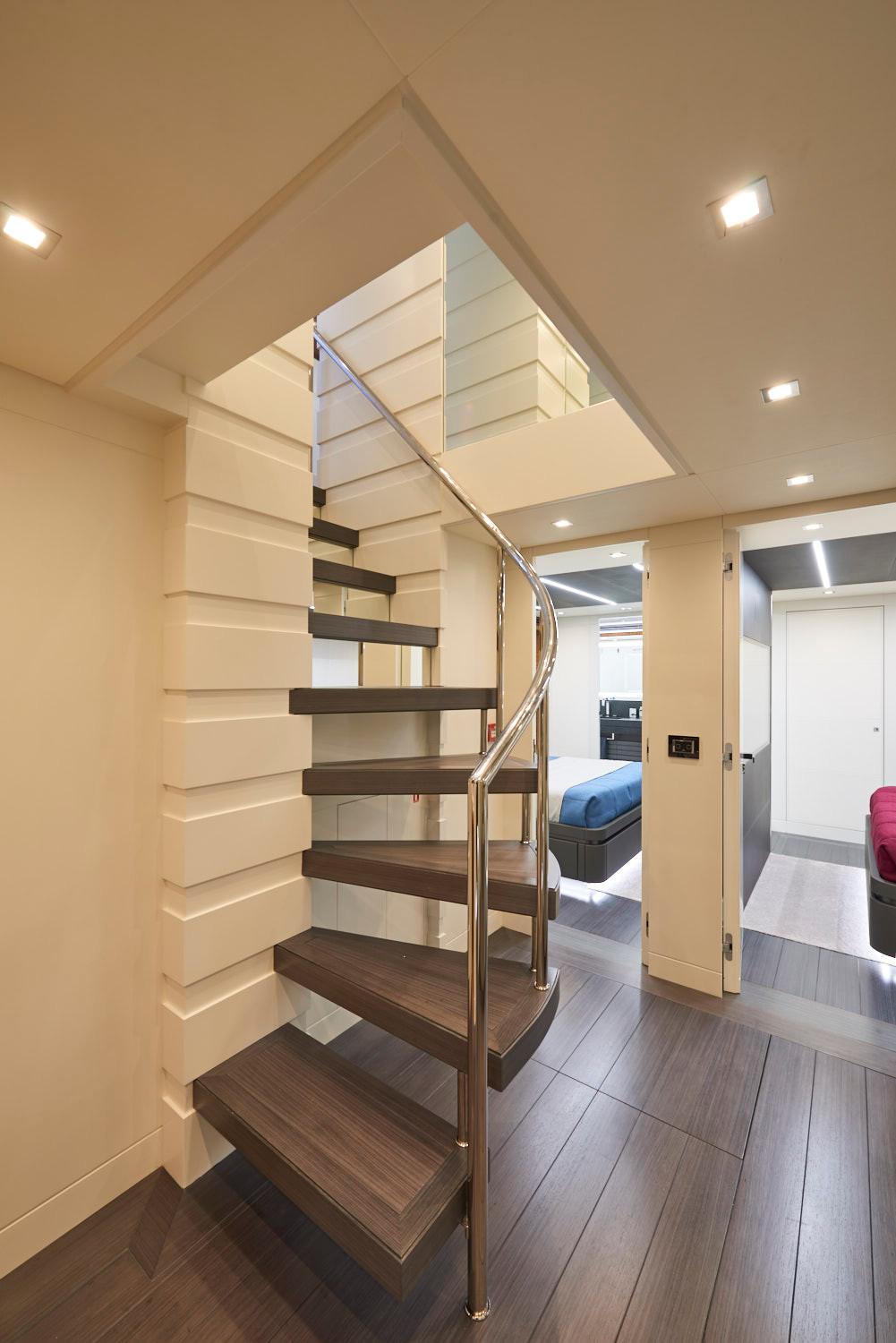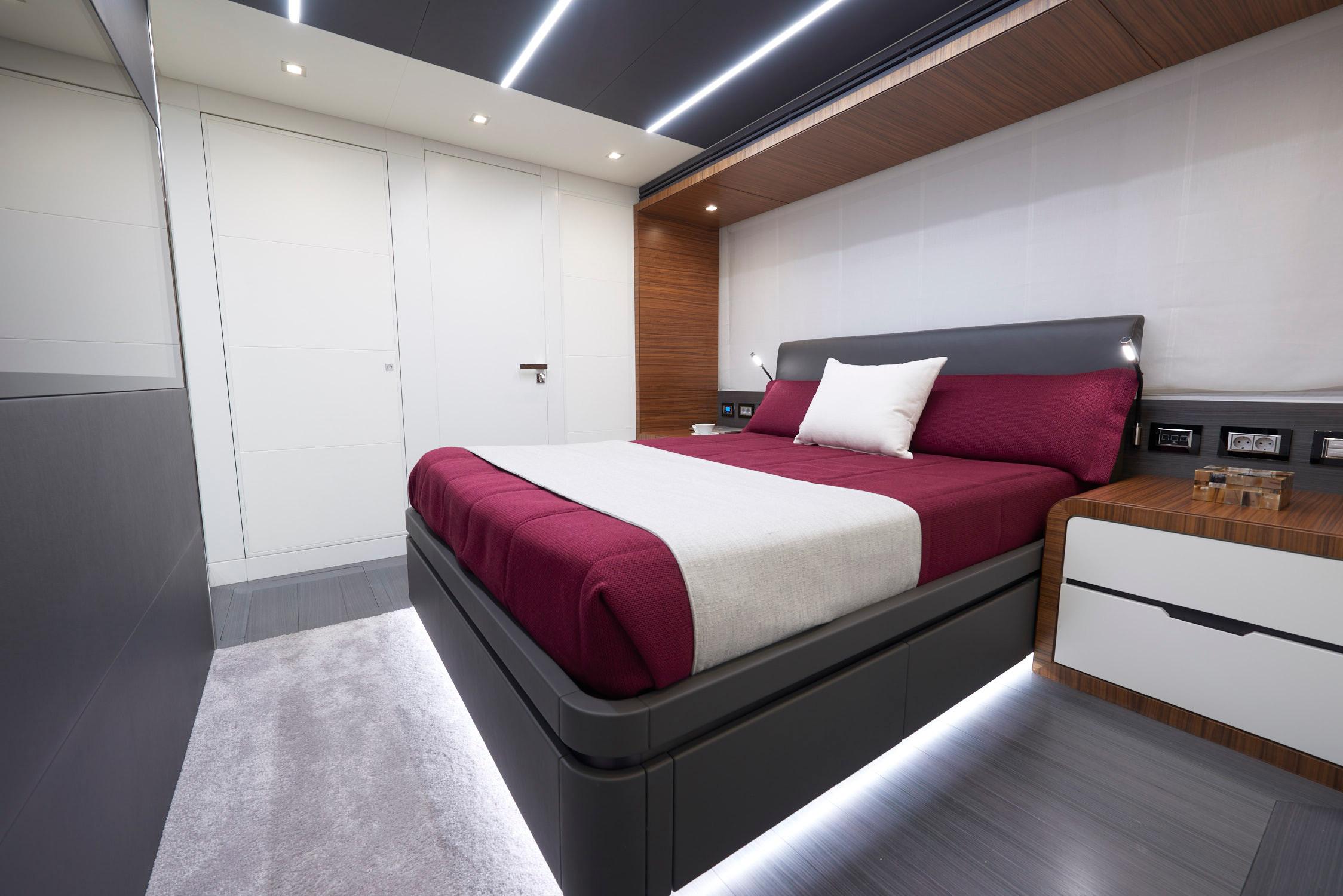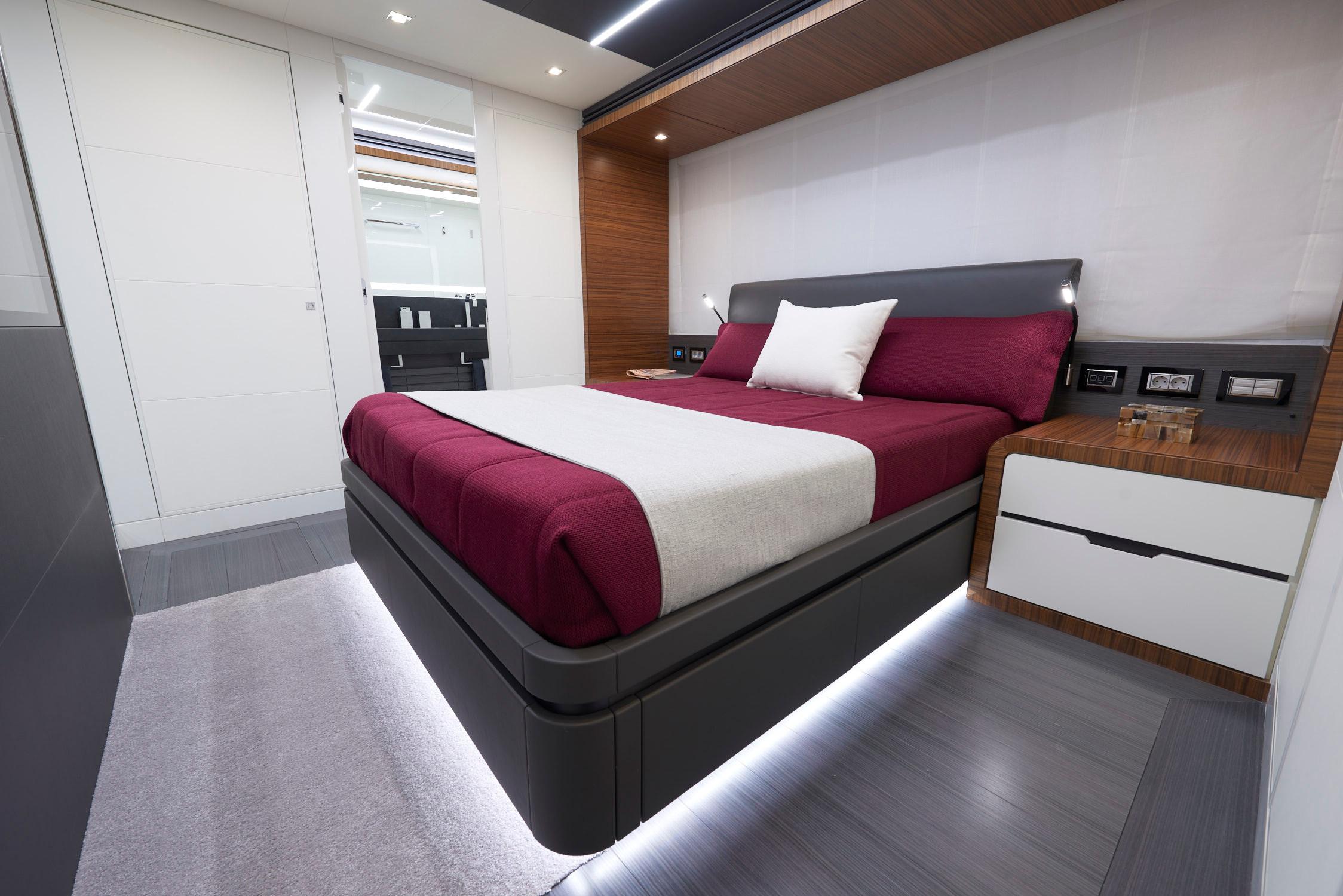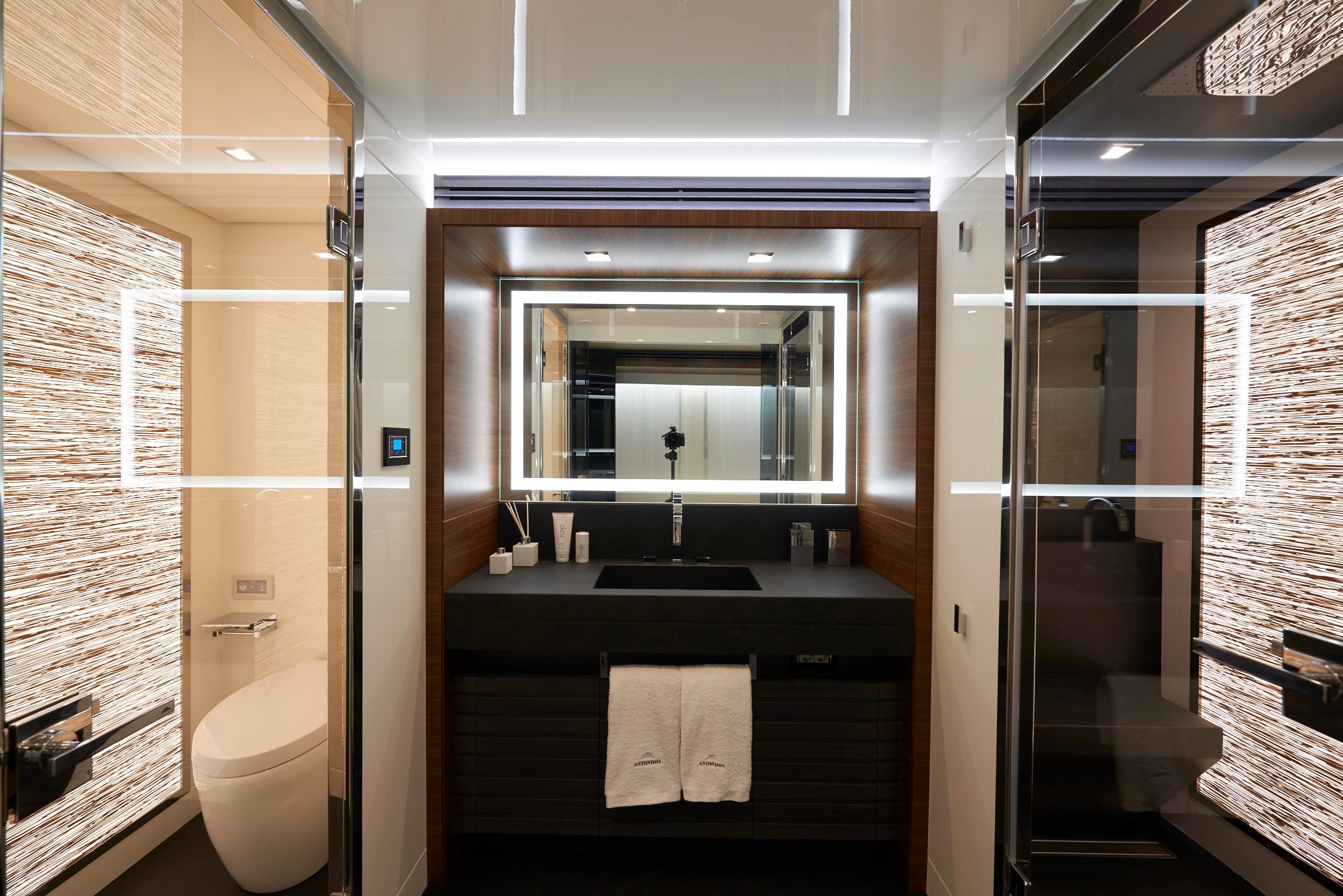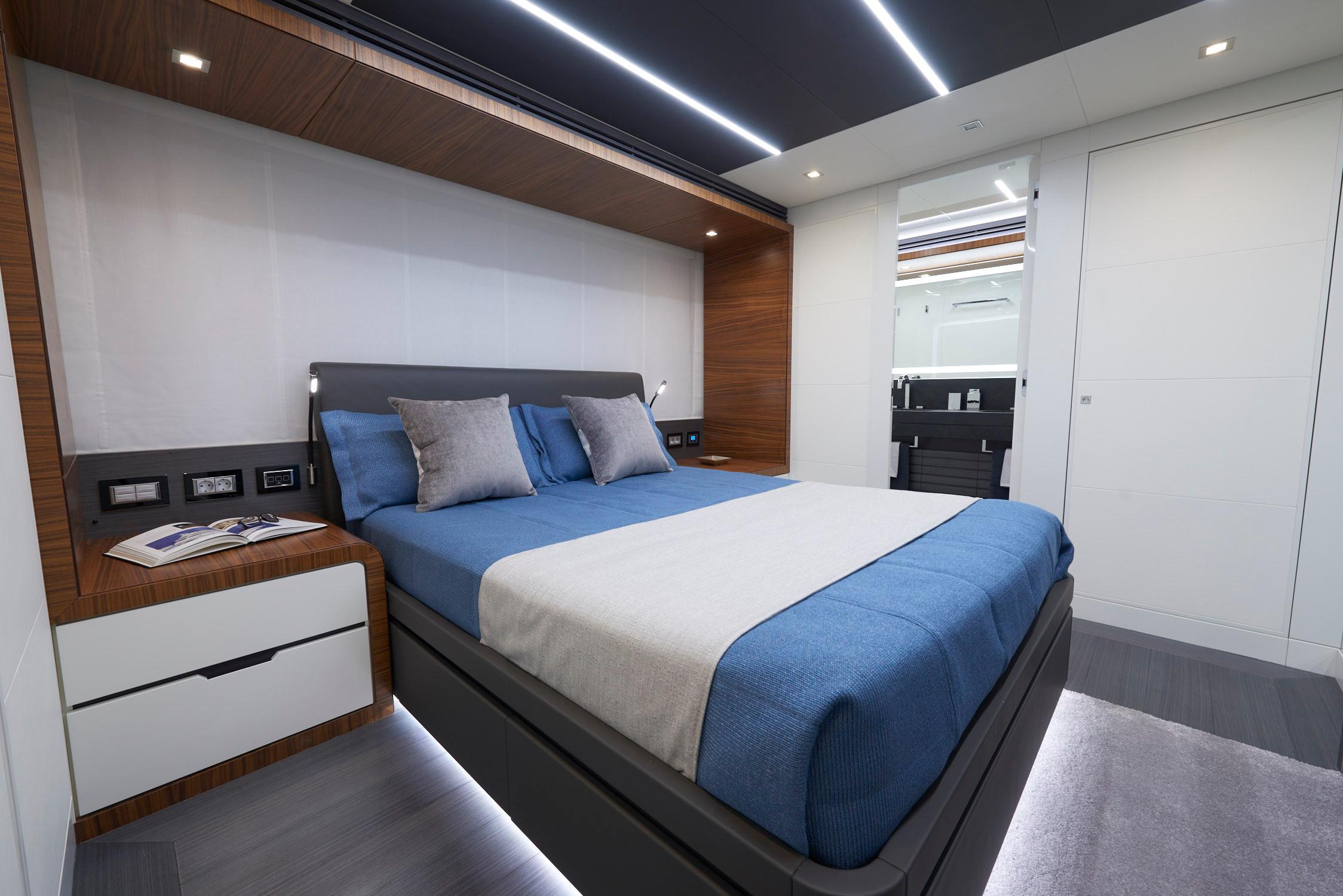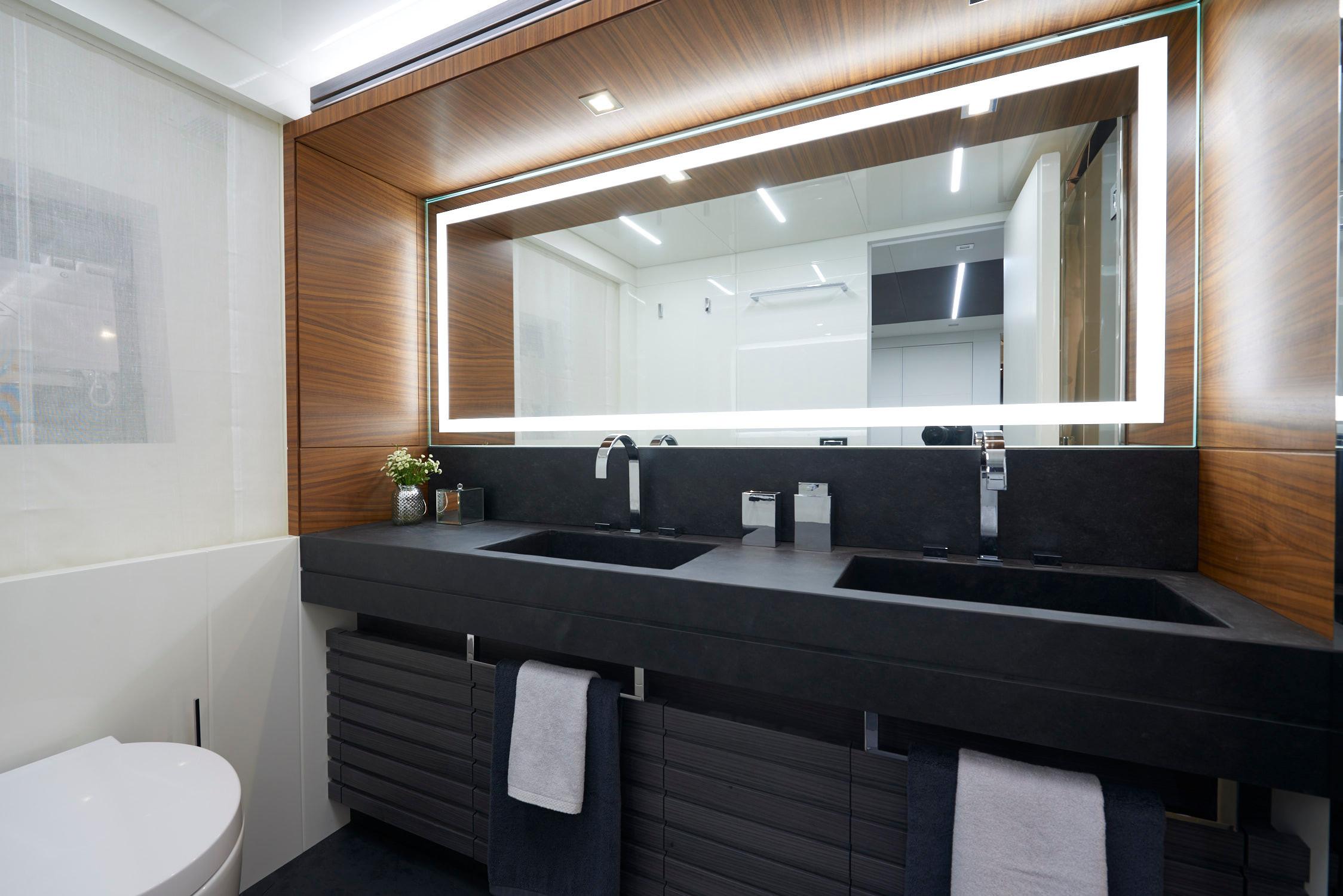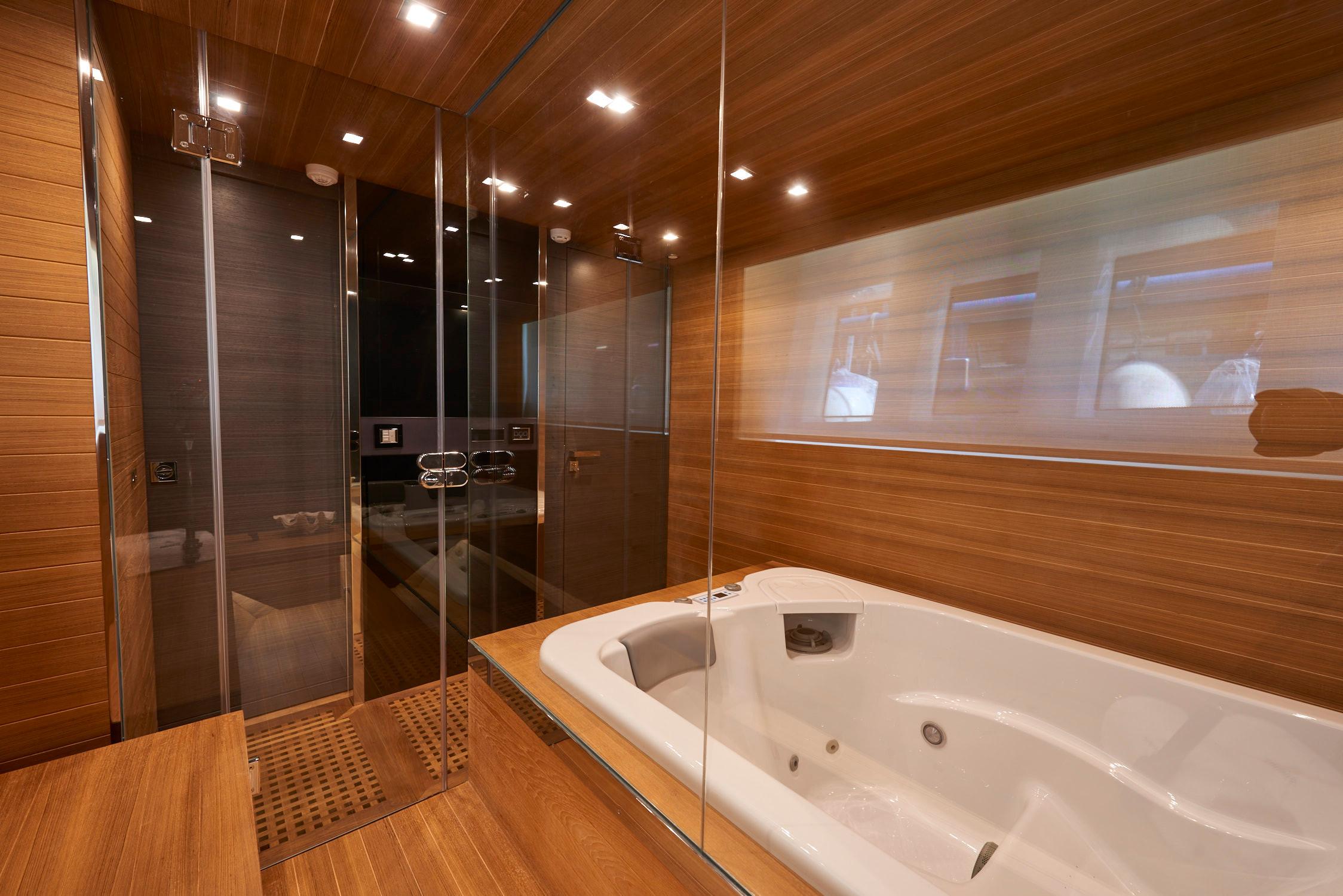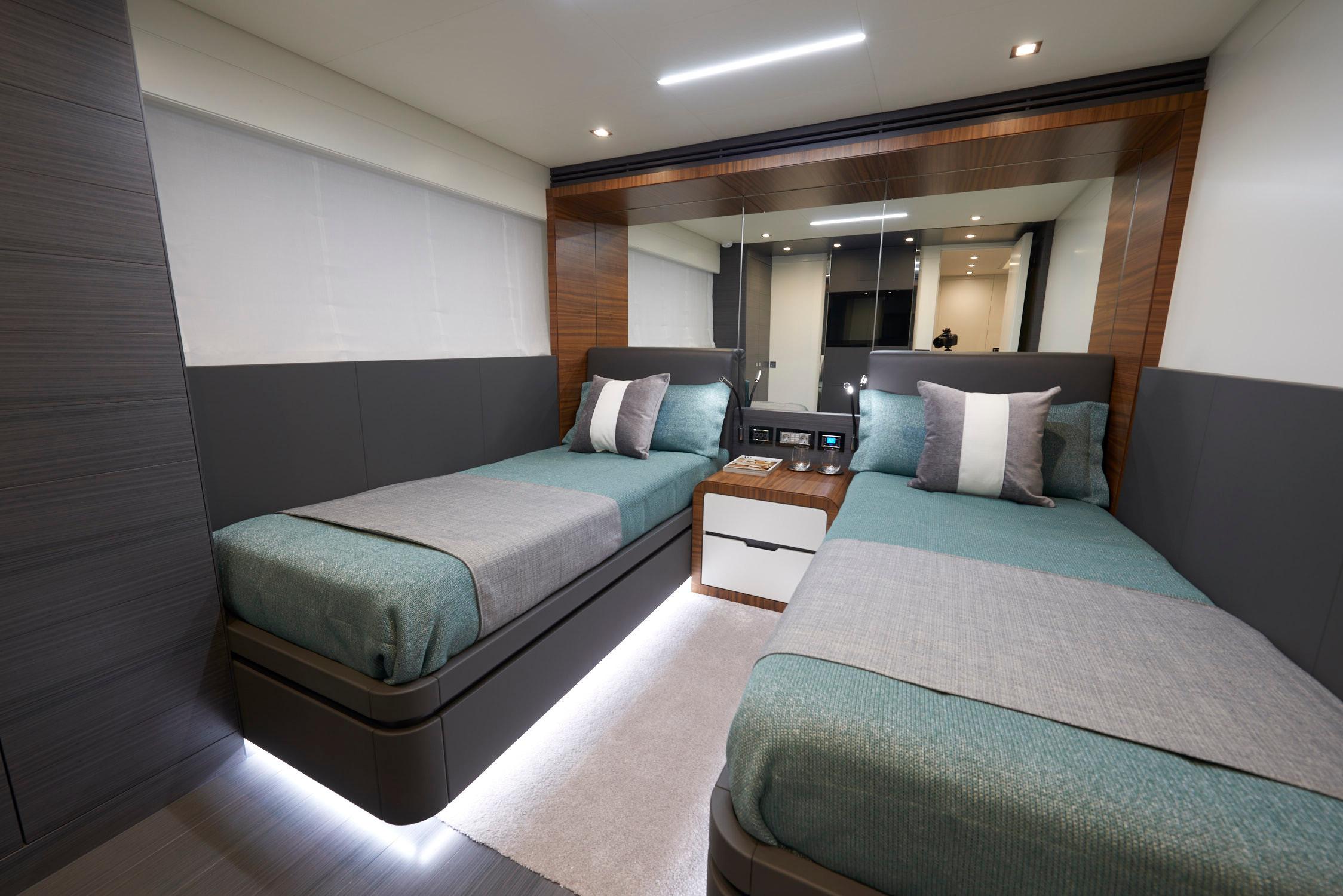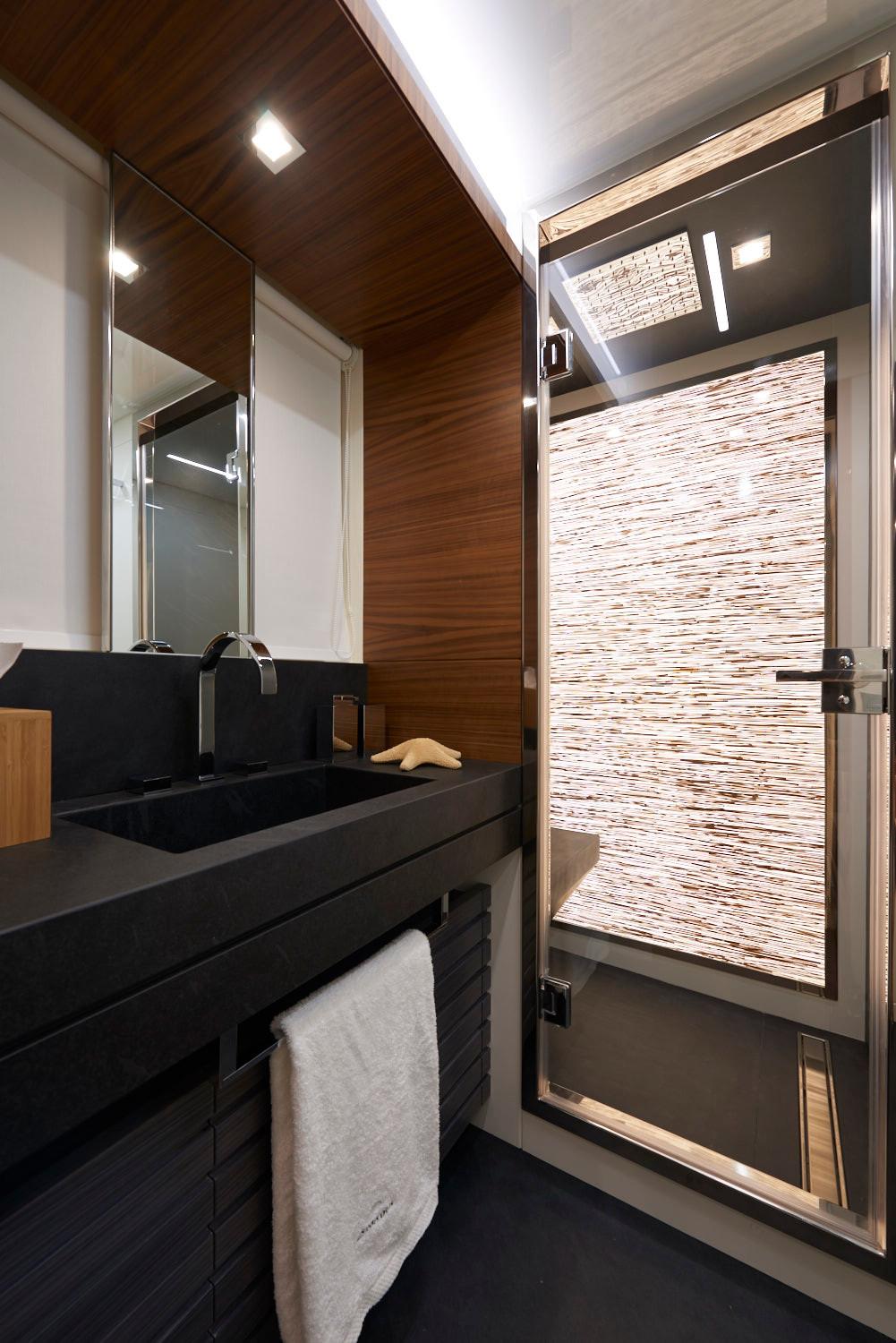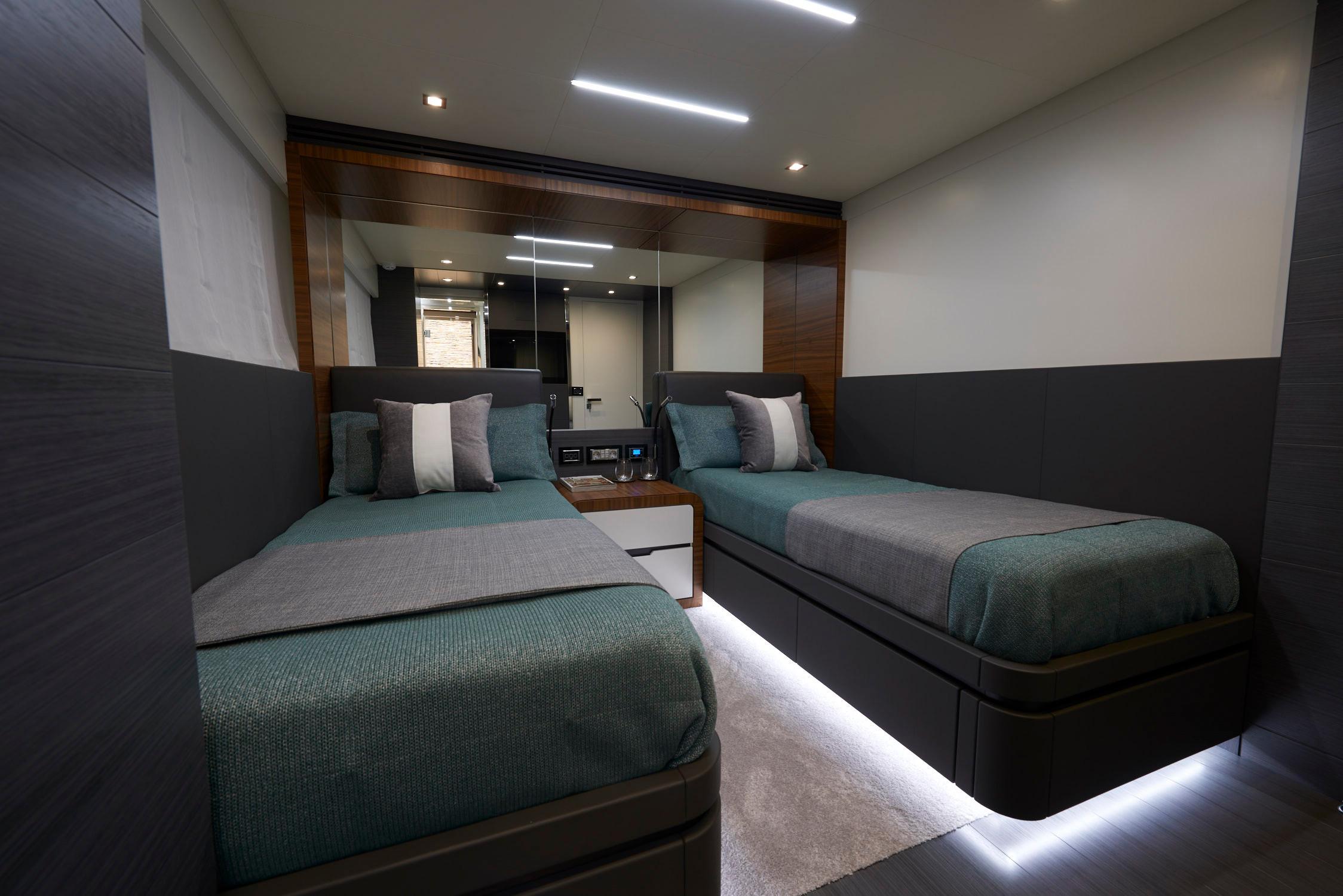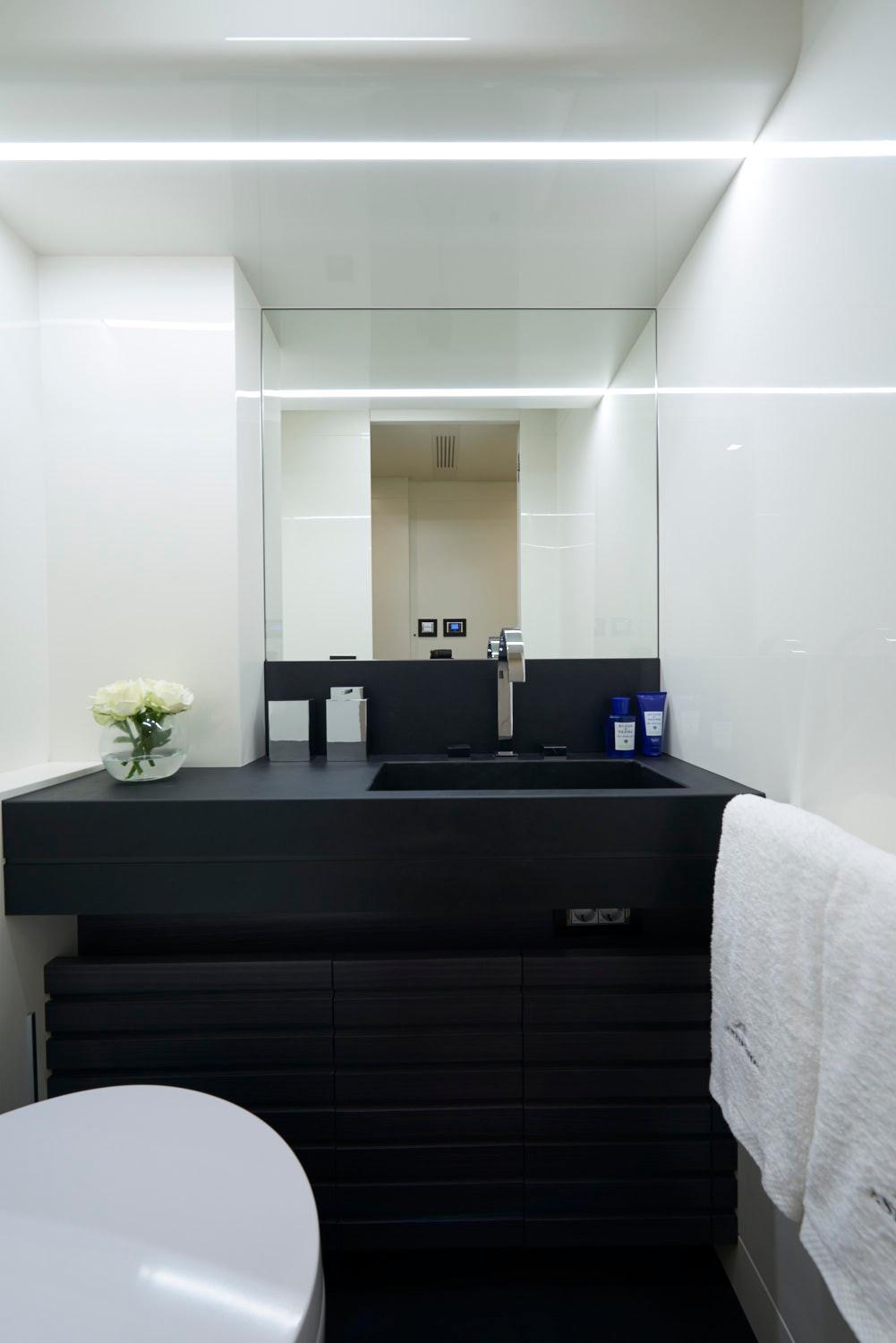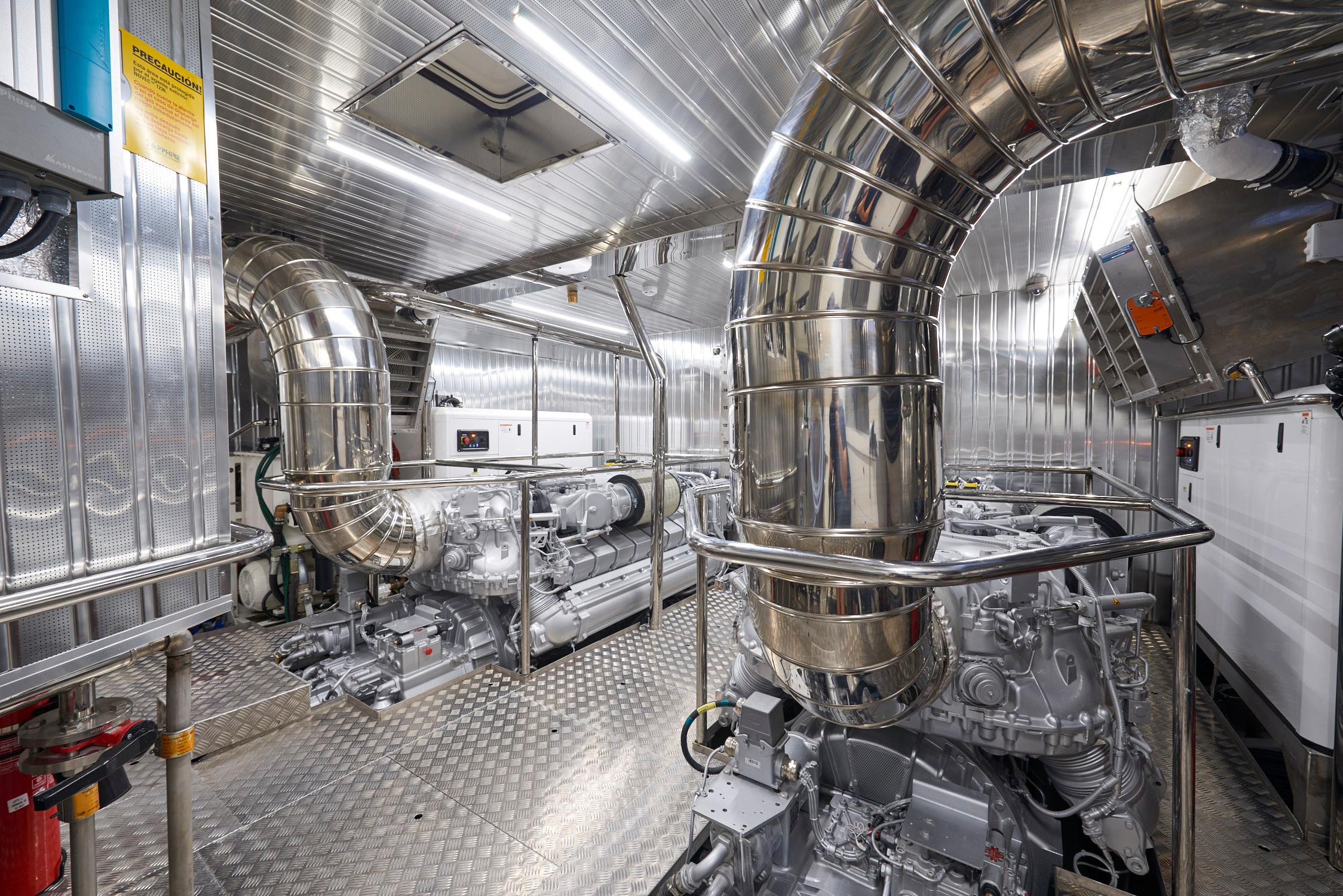 Description
The ASTONDOA 100 CENTURY is the second on the Century series built to commemorate the hundred years anniversary of the leading Spanish shipyard. The first ASTONDOA 100 CENTURY is scheduled for delivery this summer and will be unveiled at the Cannes Yachting Festival 2017 in September. This New Series Superyacht is sporty featuring sleek lines which have enhanced her chic edge.
This second model in Astondoa's superyacht line, the new ASTONDOA 100 CENTURY is as eye-catching as the Astondoa 110 Century that launched last year. With a more integrated-looking hull and superstructure, its contemporary, almost spear-shaped profile creates a larger main deck, with excellent headroom, that extends from the aft cockpit to the master suite forward.
The ASTONDOA 100 CENTURY's saloon and formal dining area look more like a waterfront apartment than a traditional yacht, with large windows bordered by stainless-steel frames that stream natural light to the wide open-plan area. The saloon's grey oak panelling is matched with a white tiled floor and loose furniture that looks exactly how a Spanish-built yacht should. Designer Cristiano Gatto did a masterful job of injecting an Iberian sensibility into her contemporary and luxurious interior, keeping everything simple, bright, and elegant.
The full-beam master suite is located on the main deck and has his-and-hers walk-in wardrobes, a large bedroom, and even separate his-and-hers bathrooms and showers. Large windows on both sides provide a waterside view. On the deck below, are located the other four guest staterooms, each with ensuite bathrooms, divided into two doubles and two twins. Forward, but through a separate entrance, are crew quarters for four.
Astondoa also makes it clear that the 100 Century is for buyers seeking for a large yacht experience without a big crew. She's meant for handling by four crew members, and crew members can easily move about without getting hampered. Astondoa designed the 100 Century with a higher-than-usual wheelhouse, so crew can walk freely from bow to stern on a single level.
With twin 2185 Hp MTU 16V 2000 M86 Diesel engines, the ASTONDOA 100 CENTURY has a top speed of 26 knots, with a cruise speed of 22 knots, for thrilling rides and fast-arrivals to destination(s). Furthermore, given her draft of only 1.8 meters, the yacht can pull into a variety of shallow areas.
Each Astondoa yacht is built with 100 years of heritage along with state-of-the-art technology, contributing to create highly personalized vessels to suit the owner's tastes and requirements.
Please click on the « Full Specs » tab for complete details of this New Series, New Model, New Construction Superyacht.
Note: This is a brand-new Yacht, under full Manufacturer's warranty.
Delivery: 10 Months from firm order.
This Splendid New Motor Yacht can be delivered in 60 days in France.
Disclaimer
HMY Yacht Sales, Inc. is pleased to assist you in the purchase of this vessel. This boat is centrally listed by YACHTS INVEST.
Engine Model:
16V 2000 M86
Vessel Overview
Full Specs
MAIN CHARACTERISTICS
Builder: Astilleros Astondoa S.A. (Spain)
Model: Astondoa 100 Century
Designer: Cristiano Gatto Design
Type: Motor-Yacht / Flybridge Superyacht / Planing Hull
Hull Material: Fibreglass (GRP)
Superstructure Material: Fibreglass (GRP)
Decks Material: Teak
Length Overall: 30.45 m (99' 10")
Beam: 6.90 m (22' 7")
Max Draught: 1.80 m (5' 10")
Weight: 117.00 T
Classification: CE Class A, RINA Hull ✠100A5 Motor Yacht
PROPULSION
Fuel / Type: Twin Diesel
Engines: 2 x MTU 16V 2000 M86
Power: 2 x 2185 Hp
Top Speed: 26 knots
Cruise Speed: 22 knots
TANKAGE
Fuel Capacity: 10,000 l (2,641.72 USG)
Fresh Water Capacity: 2,500 l (660.43 USG)
ACCOMMODATION
Guest Cabins: 5
Guests Sleeping: 10/12 with optional Pullman bunks
Guests Cruising: 12
Cabin Configuration:
Master Stateroom (double) on Main Deck with ensuite bathroom
2 x Double Staterooms on Lower Deck each with ensuite bathrooms
2 x Convertible Twin Staterooms on Lower Deck each with ensuite bathrooms
Optional Pullman bunks possible on Twin Staterooms
Guest Bathrooms: 5 plus Day-head on Main Deck
Crew: 4 in 2 cabins, each with ensuite bathrooms
OPTIONS LIST
Please contact us
Spécifications Détaillées (Français)
L'ASTONDOA 100 CENTURY est le deuxième de la série Century construit pour commémorer l'anniversaire de cent ans du premier chantier naval Espagnol. Le premier ASTONDOA 100 CENTURY fut dévoilé au Yachting Festival de Cannes 2017. Ce Super-yacht de Nouvelle Série est sportif avec des lignes élégantes qui ont renforcé son allure chic.
Ce deuxième modèle dans la ligne de Super-yachts d'Astondoa, le tout nouveau ASTONDOA 100 CENTURY est aussi attrayant que l'Astondoa 110 Century qui a été lancé l'année dernière. Avec une coque et une superstructure plus intégrées, son profil contemporain, presque en forme de lance, crée un plus grand pont principal, avec une excellente hauteur sous barrot, qui s'étend du cockpit arrière à la suite master à l'avant du bateau.
Le salon de l'ASTONDOA 100 CENTURY et sa salle à manger formelle ressemblent plus à un appartement "pieds dans l'eau" qu'un yacht traditionnel, avec de grandes fenêtres bordées de cadres en acier inoxydable qui transmettent de la lumière naturelle aux grands espaces ouverts. Les panneaux du salon en chêne gris sont assortis d'un sol carrelé blanc et de meubles mobiles qui ressemblent exactement à la décoration d'un yacht construit en Espagne. Le créateur Cristiano Gatto a fait un travail magistral pour injecter une sensibilité ibérique dans son intérieur contemporain et luxueux, tout en maintenant l'ensemble simple, lumineux et élégant.
La suite principale de largeur complète est située sur le pont principal et possède des dressings pour Monsieur et Madame, une grande chambre, et même des salles de bains et douches séparées pour Monsieur et Madame également. Les grandes fenêtres des deux côtés proposent une vue imprenable sur l'eau. Sur le pont inferieur, se trouvent les autres quatre cabines invités, chacune avec salle de bains privative, et divisées en deux doubles et deux à lits jumeaux. En avant, mais par une entrée distincte, les quartiers de l'équipage sont conçus pour quatre membres.
Astondoa précise également que le 100 Century est destiné aux acheteurs qui recherchent une expérience dans un grand yacht mais sans beaucoup d'équipage. Il est destiné à être manœuvré par quatre membres d'équipage, et l'équipage peut facilement se déplacer sans se gêner. Astondoa a conçu le 100 Century avec une timonerie plus élevée que d'habitude, de sorte que l'équipage puisse se déplacer librement vers la proue ou la poupe sur un seul niveau.
Avec une motorisation Diesel de 2 x 2185 Cv MTU 16V 2000 M86, l'ASTONDOA 100 CENTURY navigue à une vitesse maximale de 26 nœuds, avec une vitesse de croisière de 22 nœuds, pour des croisières passionnantes et des arrivées rapides vers toute(s) destination(s). En outre, compte tenu de son tirant d'eau de seulement 1,8 mètres, le yacht peut se lancer dans une variété de zones peu profondes.
Chaque yacht Astondoa est construit avec l'héritage de plus de 100 ans et la technologie de pointe, contribuant à créer des navires hautement personnalisés en fonction des goûts et exigences de l'armateur.
CARACTÉRISTIQUES PRINCIPALES
Chantier : Astilleros Astondoa S.A. (Espagne)
Modèle : Astondoa 100 Century
Designer : Cristiano Gatto Design
Type : Motor-Yacht / Super-yacht à Flybridge / Coque Planante
Matériau de la coque : Fibre de verre (GRP)
Matériau de la superstructure : Fibre de verre (GRP)
Matériau des ponts : Teck
Longueur hors-tout : 30,45 m (99' 10")
Largeur : 6,90 m (22' 7")
Tirant d'eau : 1,80 m (5' 10")
Poids : 117.00 T
Classification : CE Classe A, RINA Hull ✠100A5 Yacht à Moteur
PROPULSION
Type / Combustible : Diesel Jumeaux
Motorisation : 2 x MTU 16V 2000 M86
Puissance : 2 x 2185 Cv
Vitesse maximale : 26 nœuds
Vitesse de croisière : 22 nœuds
CAPACITÉS
Capacité de carburant : 10 000 l (2 641,72 USG)
Capacité d'eau douce : 2 500 l (660,43 USG)
AMÉNAGEMENTS
Cabines invités : 5
Invités au couchage : 10/12 avec des couchettes optionnelles Pullman
Invités en croisière : 12
Configuration des cabines :
Cabine armateur (double) sur le pont principal avec salle de bains attenante
2 x Cabines doubles sur le pont inférieur chacune avec salle de bain attenante
2 x Cabines convertibles à lits Jumeaux sur le pont inférieur chacune avec salle de bain attenante
Lits Pullman facultatifs possibles dans cabines à lits jumeaux
Salles de bains des invités : 5 plus Toilette-de-jour sur le pont principal
Équipage : 4 dans 2 cabines, chacune avec salle de bain attenante
LISTE D'OPTIONS
Merci de nous consulter.
PROCHAINE LIVRAISON
10 mois à partir de la commande).
GARANTIE
5 Ans dur la coque, 2 ans sur le reste du navire.
SALONS NAUTIQUES
Dévoilé au Yachting Festival de Cannes 2017 en Septembre, n'hésitez pas à contacter YACHTS INVEST pour plus de détails ou pour visiter ce nouveau modèle dans la série Century.
PLACE DE PORT
Gestion d'anneau d'amarrage possible sur la Côte d'Azur ou la Riviera Italienne ainsi qu'en Espagne (Continentale et îles Baléares), la Grèce et la Turquie.
YACHTS INVEST est un concessionnaire agréé ASTONDOA YACHTS pour les navires neufs et d'occasion.
Boat Shows
Unveiled at Cannes Yachting Festival 2017, don't hesitate to contact YACHTS INVEST for more details or to view this brand-new model in the Century series.
Yacht Brochure
On request.
Delivery
10 months from order, FAS (incoterms) Santa Pola (Spain).
Warranty
5 Years on the hull, 2 years on the rest of the ship's systems.
Berth
Berth place management possible on French or Italian Riviera as well as Spain (Mainland and Balearic islands), Greece and Turkey.
Disclaimer
These particulars are given in good faith as supplied to us but cannot be guaranteed and cannot be used for contracts
Return to Yachts for Sale
Get more information